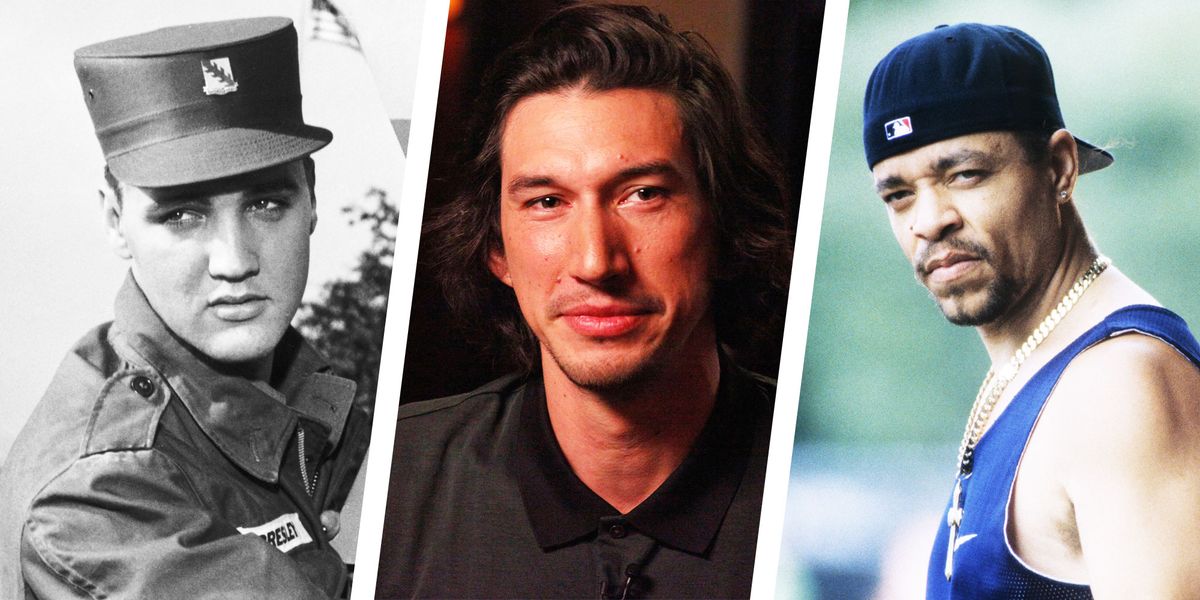 Credit: Getty Images
Prince Harry

In 2004, Prince Harry enlisted in the Royal Military Academy, and two years later, he was deployed to Iraq. Subsequently, in 2008, he was sent to Afghanistan, where he followed in the footsteps of his brother and father, flying military helicopters. He served on a tour lasting over four months, but it was noted that his presence potentially made the camps more targeted by the opposition.
Bob Ross

Bob Ross served an impressive 20 years in the US Air Force, rising to the rank of Master Sergeant. Despite his military success, he disliked raising his voice at others, vowing never to do it again. After leaving the military, Bob followed his passion for painting and became the beloved artist known worldwide today.
Pat Sajak

Pat Sajak is famous for hosting Wheel of Fortune for nearly 40 years. But before that, he served as a disc jockey in the US Army for the American Forces Vietnam Network. During his time as a DJ, he made headlines when he accidentally cut off Nixon's Christmas message to the troops.
James Earl Jones

Throughout his illustrious career, Jones has risen to become one of the most acclaimed actors of his generation, his distinctive voice being instantly recognizable in the acting world, lending his talent to iconic roles like Darth Vader and Mufasa in The Lion King. In 1949, he joined the Reserves Officers' Training Corps and subsequently served in Korea after the war.
Adam Driver

In the aftermath of the 9/11 attacks, Adam Driver quickly enlisted in the US Marine Corps, serving for almost three years. However, a fractured sternum led to his medical discharge. Despite this setback, he went on to achieve great success in his acting career, starring in renowned films such as Star Wars, BlacKkKlansman, and Marriage Story.
Morgan Freeman

Rather than pursuing a drama scholarship after high school, Morgan Freeman made a different choice and enlisted in the US Air Force, serving as a radar repairman. After four years in the Air Force, he moved to LA, where he embarked on his acting journey by taking acting classes. Little did he know that this decision would lead to one of the most legendary acting careers in Hollywood history!
Gal Gadot

Due to her Israeli nationality, Gadot was obligated to serve in the Israel Defense Forces when she turned 20. She worked as a combat fitness instructor for two years during her service. Following her military service, Gadot went on to achieve success in various films, including notable roles in the Fast and Furious series and her iconic portrayal of DC's Wonder Woman.
Jimi Hendrix

Jimi Hendrix's entry into the army was more of a consequence than a choice. After being caught with a stolen car twice, he faced a tough decision: prison time or enlisting in the army. He chose the latter but was eventually discharged because his platoon sergeant believed he would never meet soldier standards. Jimi spent more time playing his guitar than fulfilling his military duties.
Tom Selleck

After attending USC (where he dropped out to pursue acting), Tom Selleck was drafted into the US Army during the Vietnam War. Despite being enlisted, he never served outside the US. Instead, he spent six years as part of the California Army National Guard.
Don Rickles

The renowned comedian and actor enlisted in the Navy after high school and served as a first-class seaman during the final years of WW2. Following an honorable discharge, he pursued acting, eventually venturing into comedy. Celebrities like Frank Sinatra supported him during the early stages of his career.