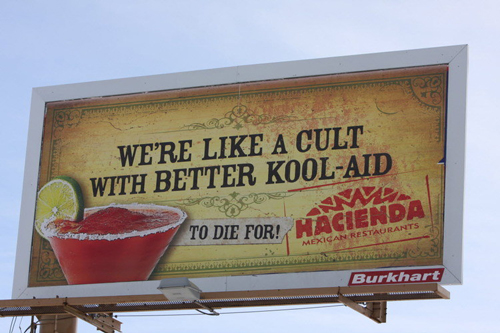 Credit: Business pundit via Marketing Works
In the fast-paced world of marketing, even the most seasoned professionals can stumble into catastrophic blunders. Join us on a cringe-inducing journey as we unravel the biggest marketing fails that left brands red-faced and audiences bewildered. From misguided campaigns to tone-deaf strategies, these missteps serve as cautionary tales in the ever-evolving landscape of marketing.
Pepsi and Kendall Jenner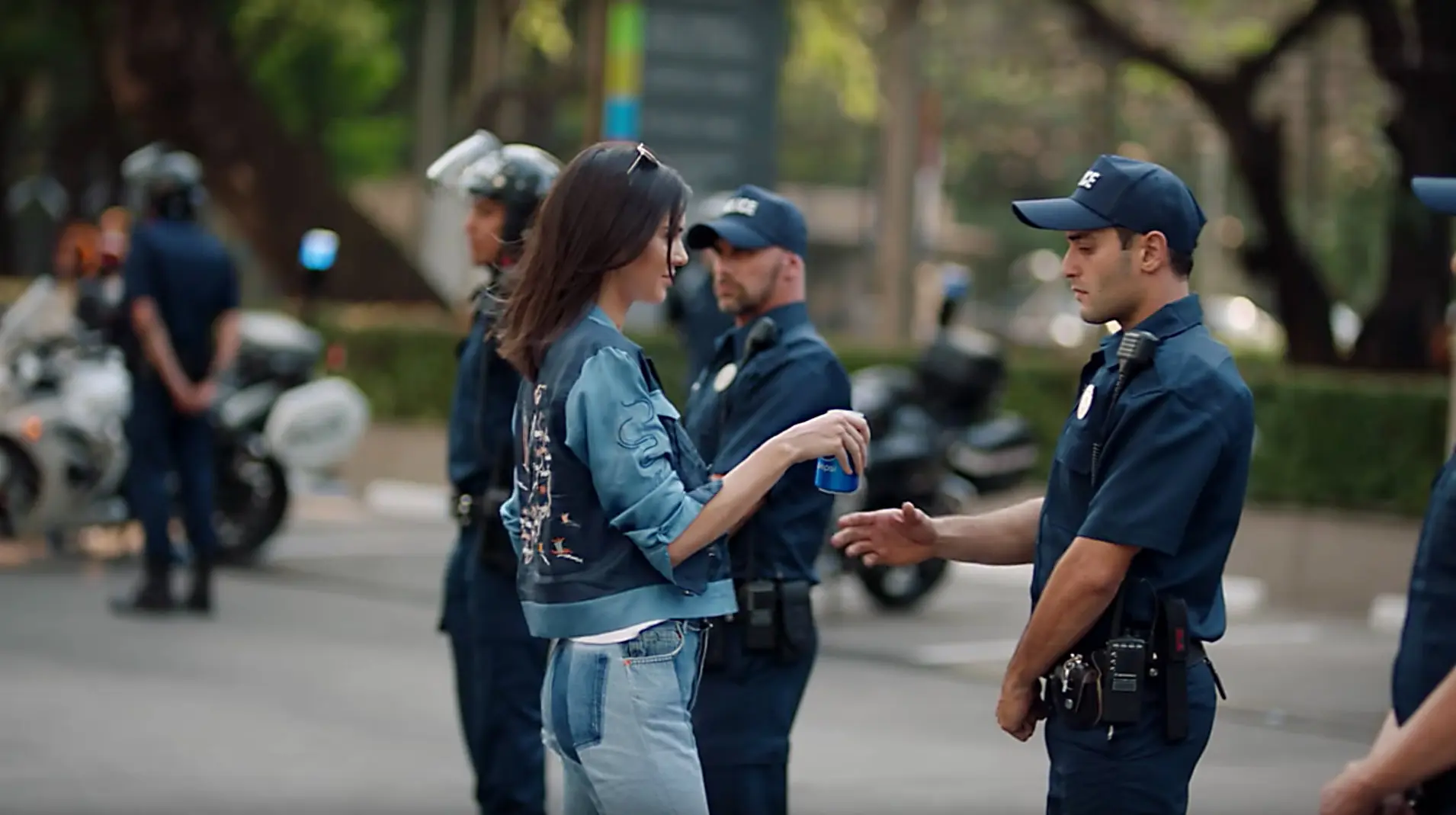 Credit: Pepsi Global via YouTube
The Pepsi Kendall Jenner advert, released in 2017, sparked widespread controversy and criticism for its attempt to capitalize on social justice movements. The commercial depicted Jenner handing a Pepsi to a police officer during a protest, suggesting a simplistic solution to complex issues, and appearing to be quite disrespectful towards what event the ad was depicting.
A refreshing take on social injustice?
Credit: HuffPost via Twitter
Viewers and activists accused the ad of trivializing serious social and political movements. The company faced backlash for being tone-deaf and accused of appropriating activism for commercial gain. Pepsi eventually pulled the ad, issuing an apology. The incident highlighted the challenges brands face when attempting to align themselves with social causes and the importance of thoughtful, authentic messaging.
Dove's body shaped bottles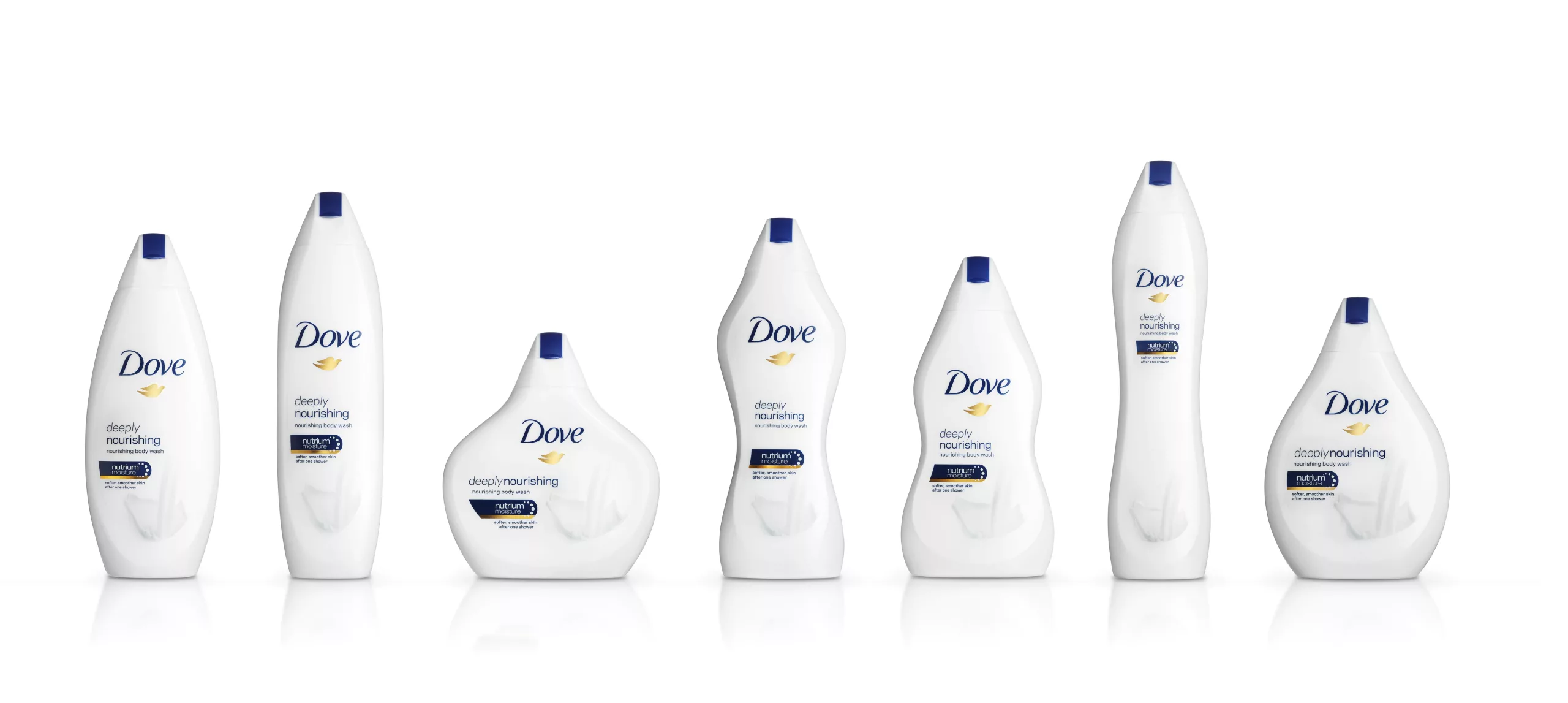 Credit: Dove via Washington Post
Dove's "Real Beauty" campaign took an unexpected turn in 2017 with the introduction of body-shaped bottles, designed to represent diverse female body types. However, the move was met with mixed reception. While some appreciated the brand's attempt to celebrate body diversity, others criticized it as a superficial and gimmicky approach to a serious issue.
Not so slick…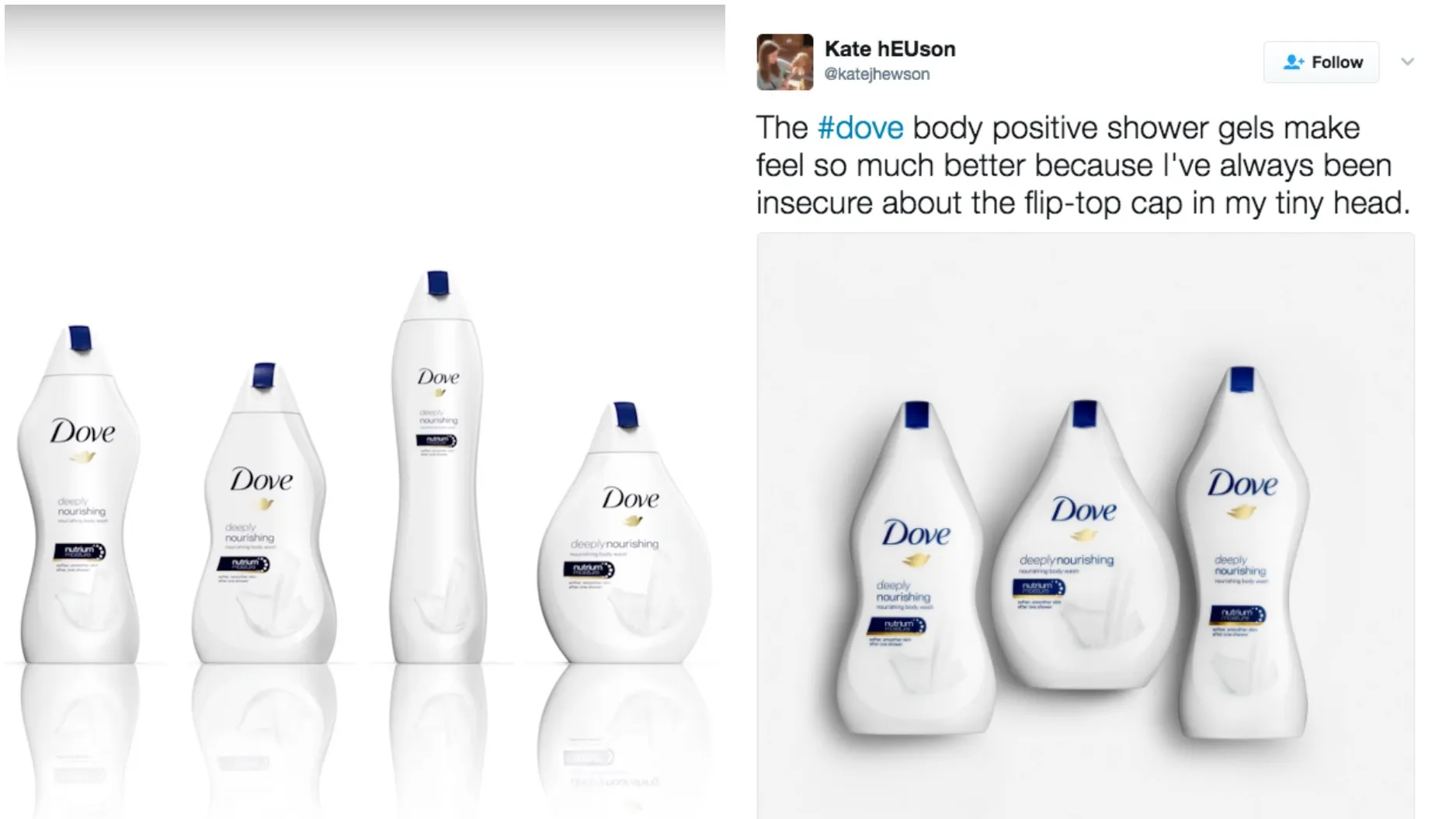 Credit: Teen Vogue
Critics argued that reducing body positivity to bottle shapes oversimplified the complex conversation around beauty standards. The campaign faced mockery and memes, and Dove eventually acknowledged the diversity discussion should go beyond physical representations. The incident highlighted the challenges of navigating body image discussions in advertising, and that it should be handled with extreme care.
McDonald's Fillet O' Fish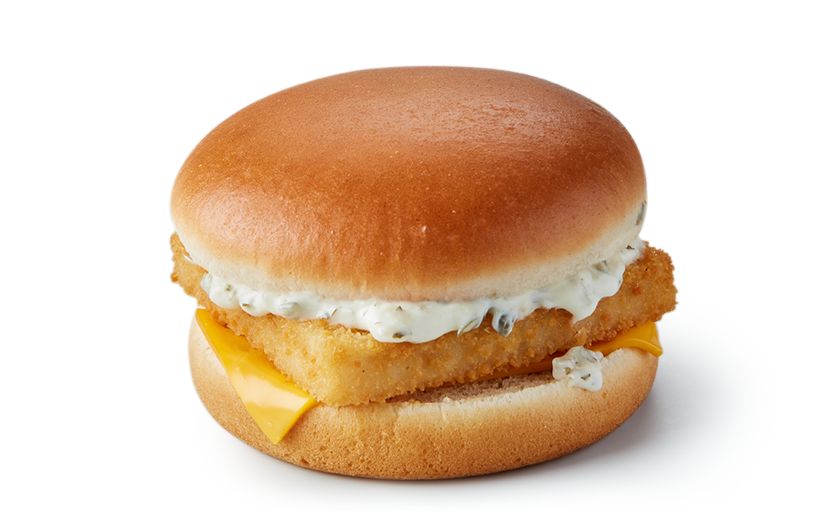 Credit: McDonald's
On May 12, 2017, McDonald's launched an ad that showed a boy trying to find similarities he may have shared with his dead father. In the end, the boy is seen happy as he finds that his father liked the same burger as he does. Sweet, right?
With a side of insensitivity…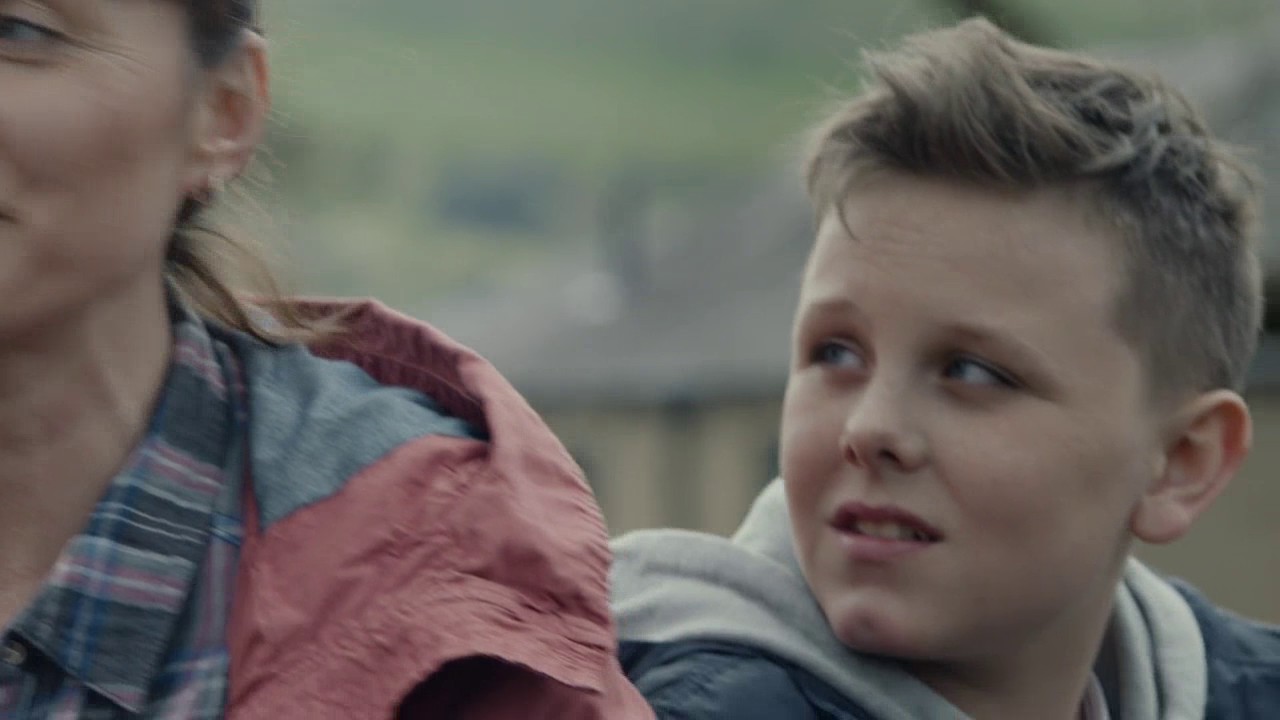 Credit: McDonald's via YouTube
Wrong. The ad was highly criticized and called upsetting. McDonald's was accused of exploiting the misery and pain of children suffering from a loss by selling food. Later, an apology was released by McDonald's in which they said "This was by no means an intention of ours. We wanted to highlight the role McDonald's has played in our customers' everyday lives – both in good and difficult times."
Ford Figo India Poster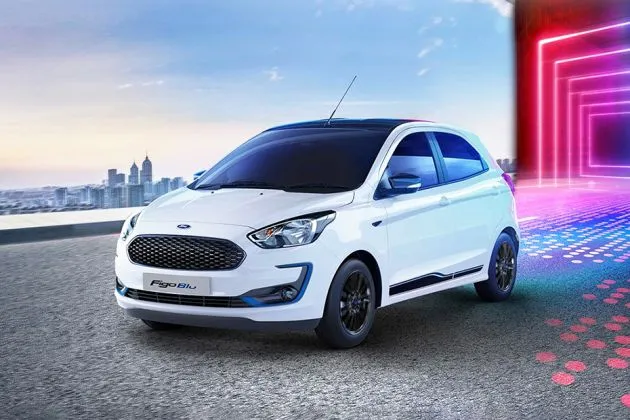 Credit: Cardekho
In 2013, Ford launched a poster campaign in India for its Figo car. It was produced by JWT India and focused on the larger trunk capacity of the vehicle. The tagline was "Leave your worries behind with Figo's extra-large boot (trunk)." Sounds kind of catchy doesn't it? Yeah, well the problem was with the accompanying image.
Stalled coming out of the gate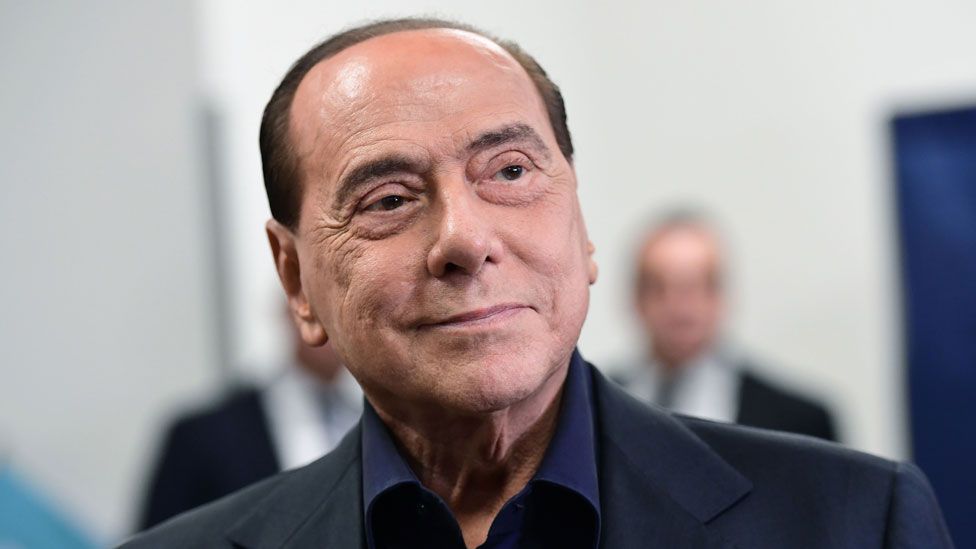 Credit: BBC
The advertisement showed caricatures of three tied and gagged women in the trunk. The caricature of Ex-Italian Prime Minister Silvio Berlusconi was shown in the driver's seat. Berlusconi was charged and was known for his many affairs. As a result, Ford faced a huge backlash. Ford Marketing chief Jim Farley officially apologized publicly. Also, it resulted in the termination of a few employees at JWT India.
Sony's PSP White poster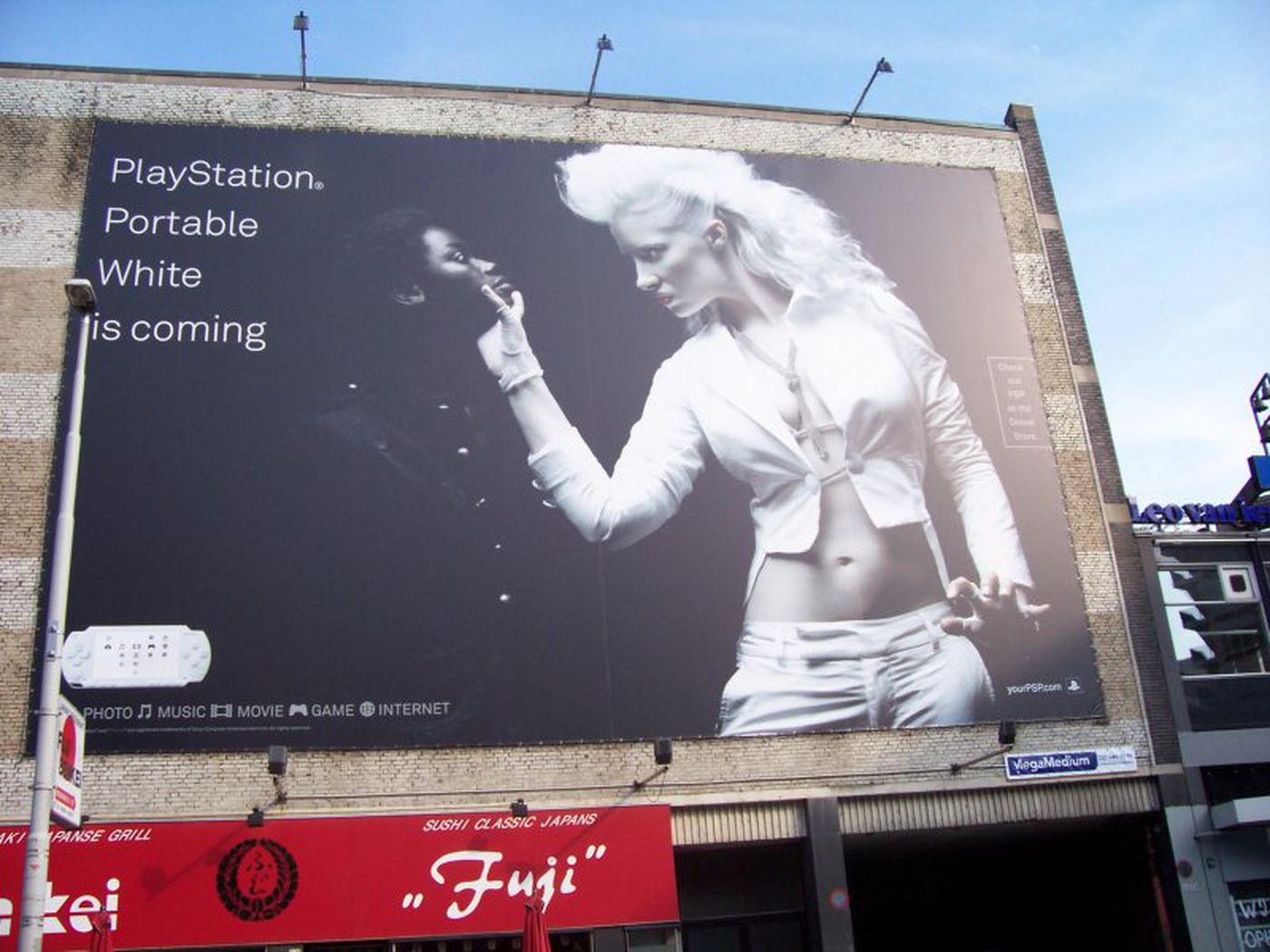 Credit: Polygon
In 2006, Sony launched a printed ad in The Netherlands to promote its white-coloured Playstation Portable. The tagline was "Playstation Portable. White is Coming." The poster showed a massive white woman with an aggressive expression tightly gripping the face of a black woman, who looks less-than-happy to be there.
Was a tad unsettling to look at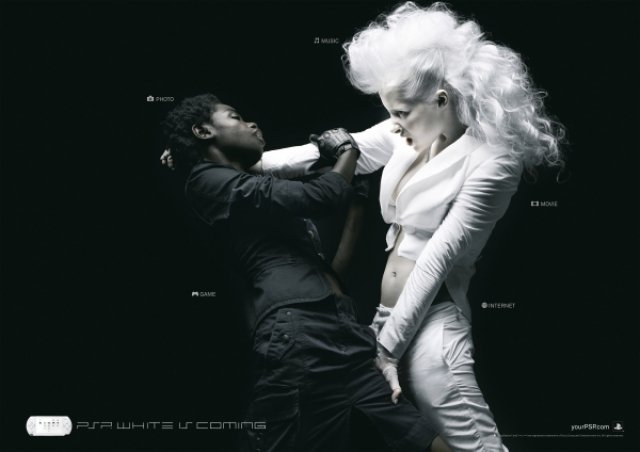 Credit: @NumbersMuncher via X
This ad was, quite rightly, called racist and was criticized a lot. Sony later withdrew the campaign and issued an apology saying: "The images that were used in the campaign were intended solely to highlight the contrast between the different colors available for the PSP." They clearly hadn't bothered to read any deeper into that.
Burger King's smartphone campaign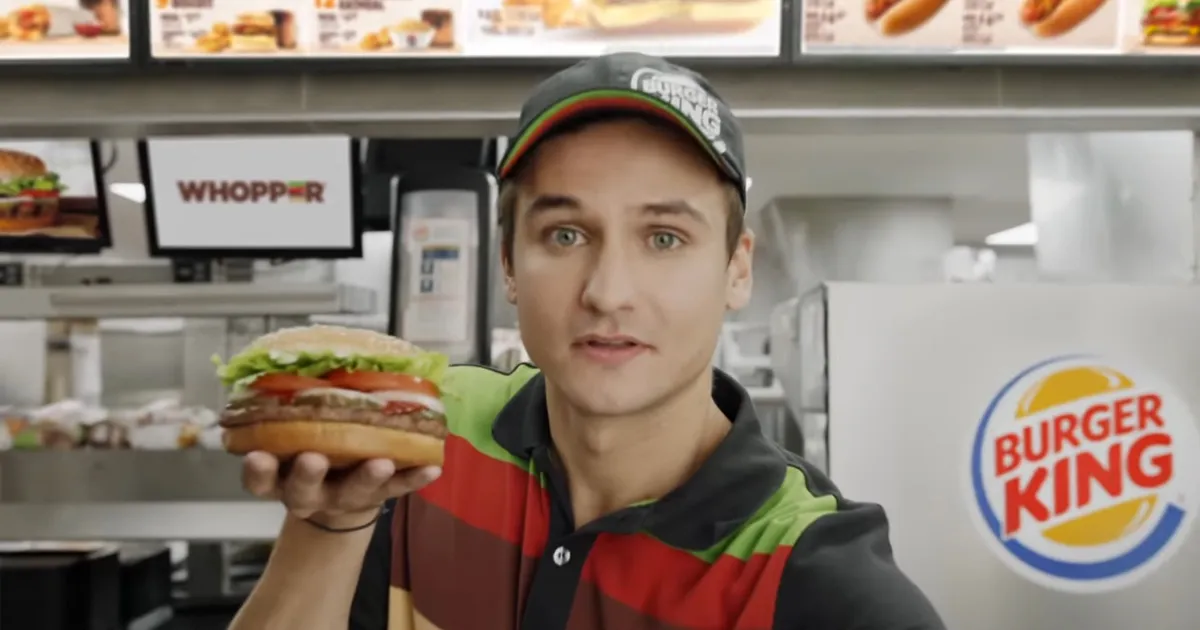 Credit: Burger King
A smartphone campaign was launched by Burger King that let users see their menu and ingredients on their smart devices. They made use of Wikipedia as a platform and this was a pretty innovative way for customers to be able to view their menus and get peace of mind about allergies. There was nothing wrong with the campaign itself.
Was not so smart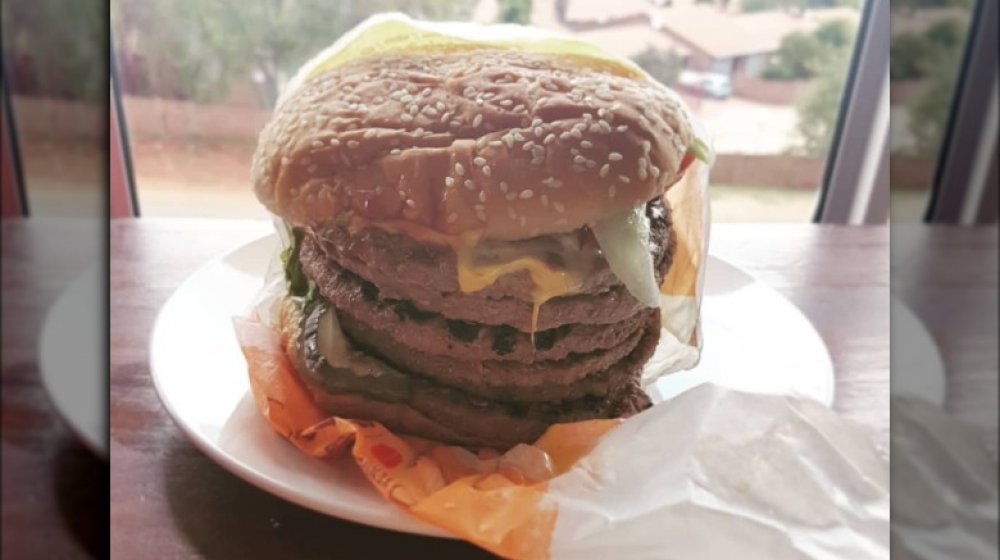 Credit: Mashed
However, the Wikipedia element of the campaign was hacked by someone who altered the name of ingredients including poisonous substances such as cyanide. This caused an overnight panic. As a result, the company had no choice but to shut down a potentially innovative marketing channel, because of its lack of security on the Wikipedia platform.
Audi's Chinese wedding commercial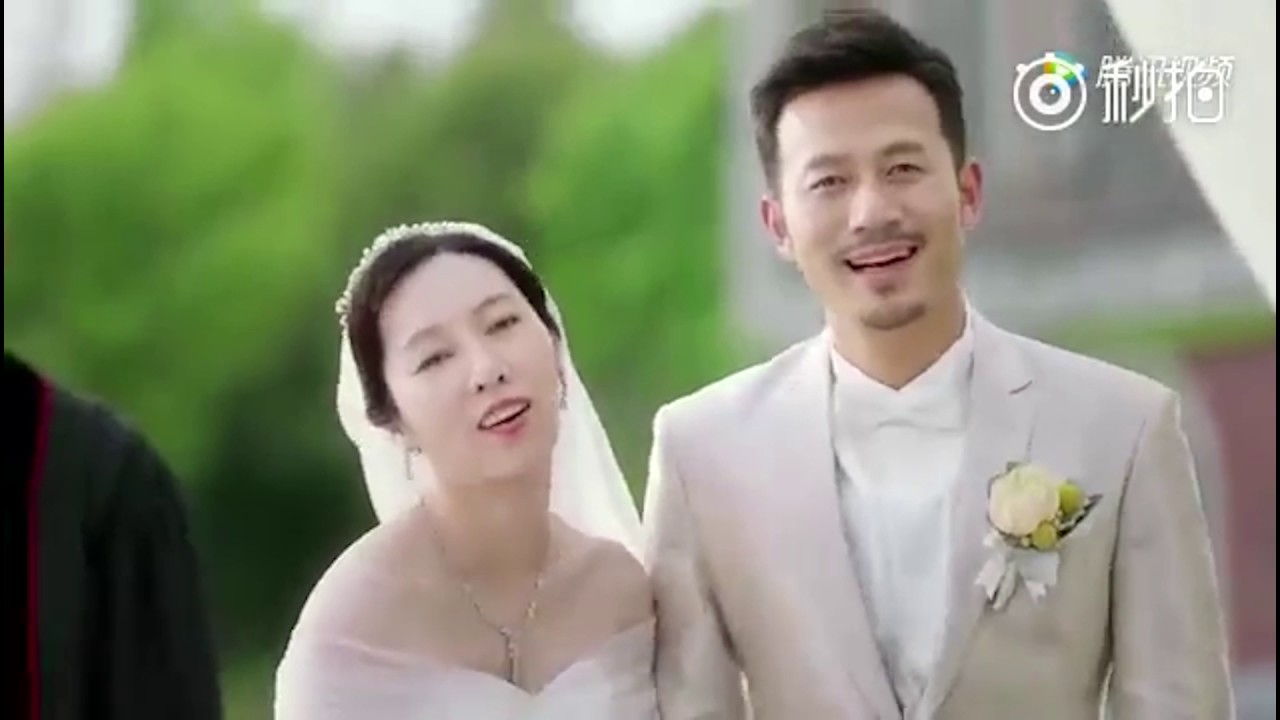 Credit: Washington Post via YouTube
The advertisement opens in a pastoral setting, with a bride and a groom about to take their vows. But the mother of the groom frantically interrupts, rushing up the aisle to "inspect" her would-be daughter-in-law. With a stare, the woman proceeds to pinch the bride's nose, pull back the bride's ear and then examine the inside of the bride's mouth.
Headed straight for divorce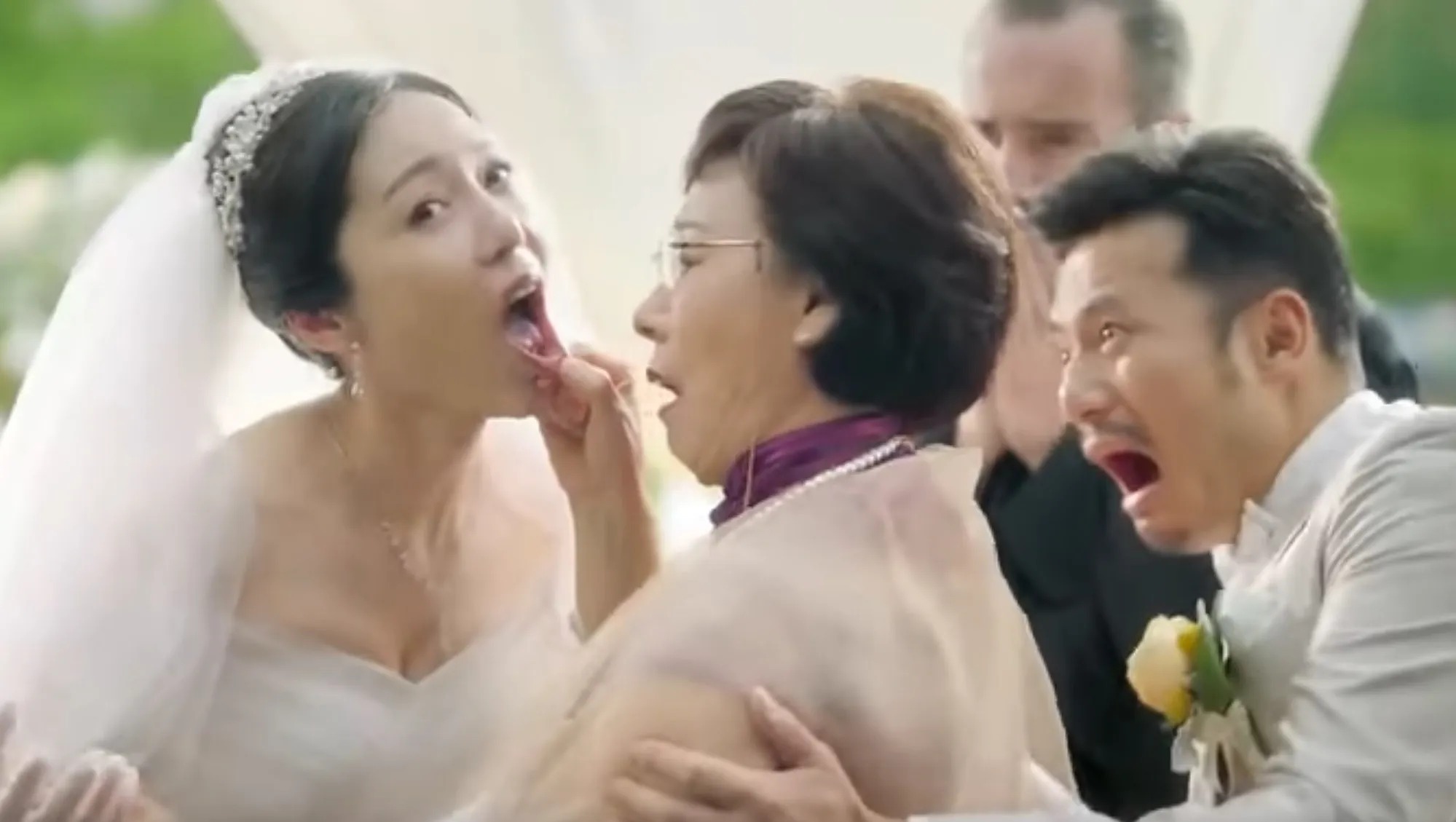 Credit: USA Today
The tagline of the ad read, "An important decision must be made carefully." Many people criticized this advert and noted that it seemed like Audi were comparing women to used cars, which didn't go down so well. It obviously has both sexist and derogatory connotations, that needed to be appropriately addressed.
Adidas' Boston Marathon email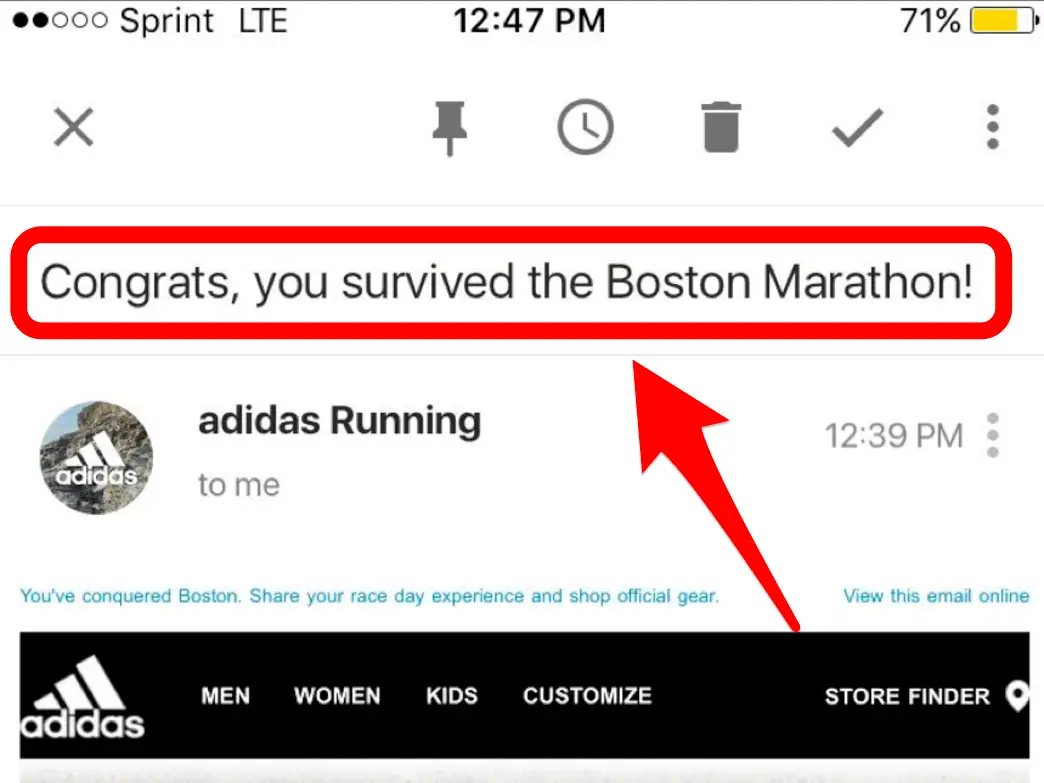 Credit: Business Insider
Adidas was the sponsor of the 121st annual marathon in Boston, named the Adidas Boston Marathon. A congratulations email was sent to all the Marathon finishers. The subject of the email read "Congrats, you survived the Boston Marathon!" – which, at first, seems relatively innocent and ordinary.
Was certainly lacking in thought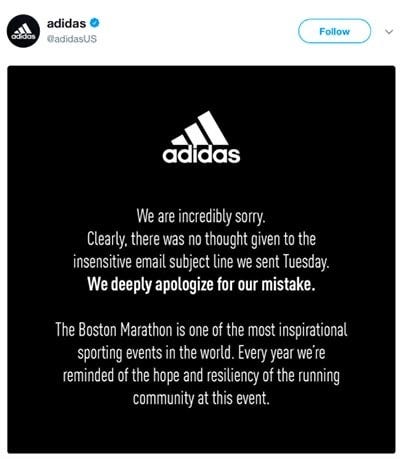 Credit: Better Marketing
It might even seem like a normal fun-filled heading, however people were deeply offended because they believed it was a reference to the tragic 2013 Boston Marathon bombing case. This incident had caused the death of three people and injured around 250. An official apology was issued by Adidas on Twitter (now X), where they recognised their insensitivity.
Ink Coffee's Gentrification sign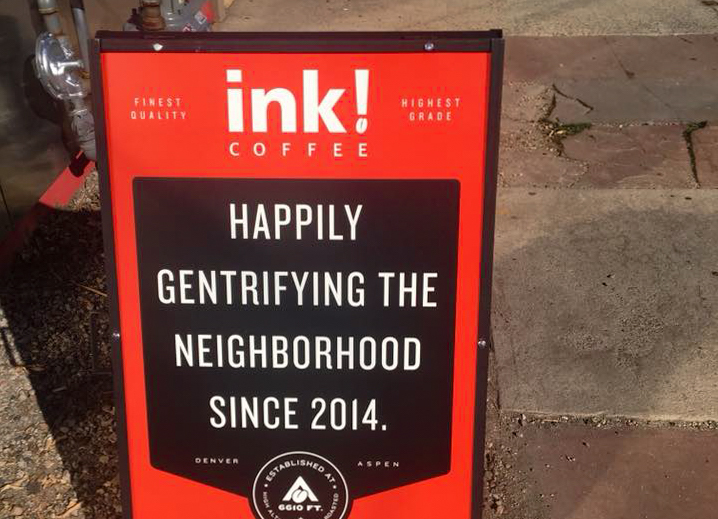 Credit: 303 Magazine
A coffee shop located in the north of downtown Denver suffered huge backlash and even vandalism because of a signboard placed outside the front of the shop. What was even worse, was that the owner stated that he wasn't aware of the connotations of the word, showing a clear lack of knowledge.
Whoever wrote this needed their morning coffee…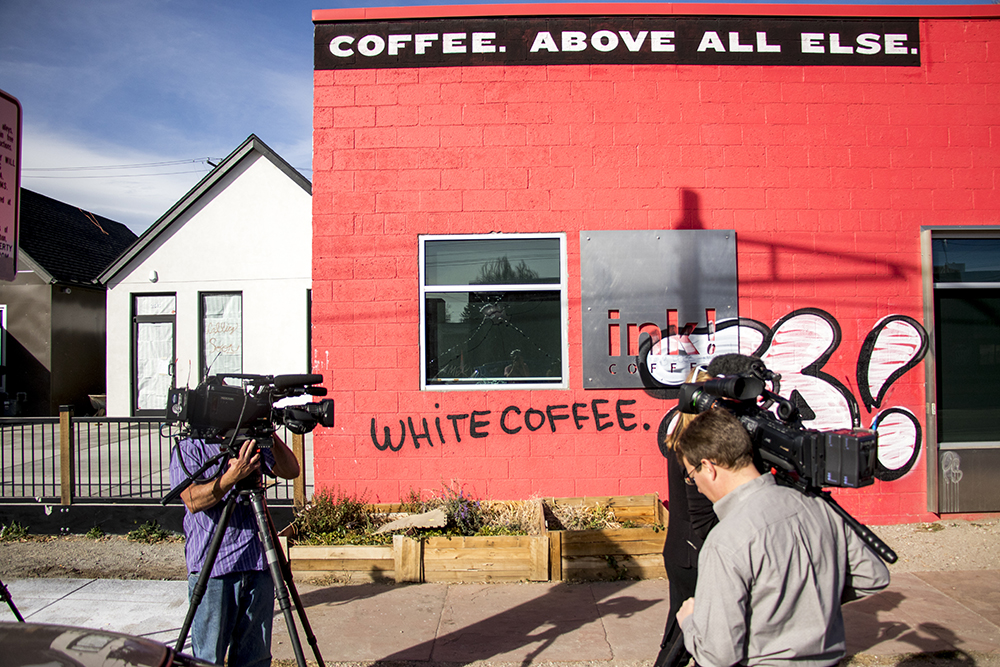 Credit: Kevin J. Beaty via The Denverite
The board stated, "Happily Gentrifying the neighborhood since 2014." The founder and owner of the coffee shop Keith Herbert faced huge crowds of protestors. He later issued an apology saying he was not exactly aware of the issues related to gentrification – one of which is the damage to surrounding areas and the lack of resources available to those in lower-income areas.
Another faux-pas for Dove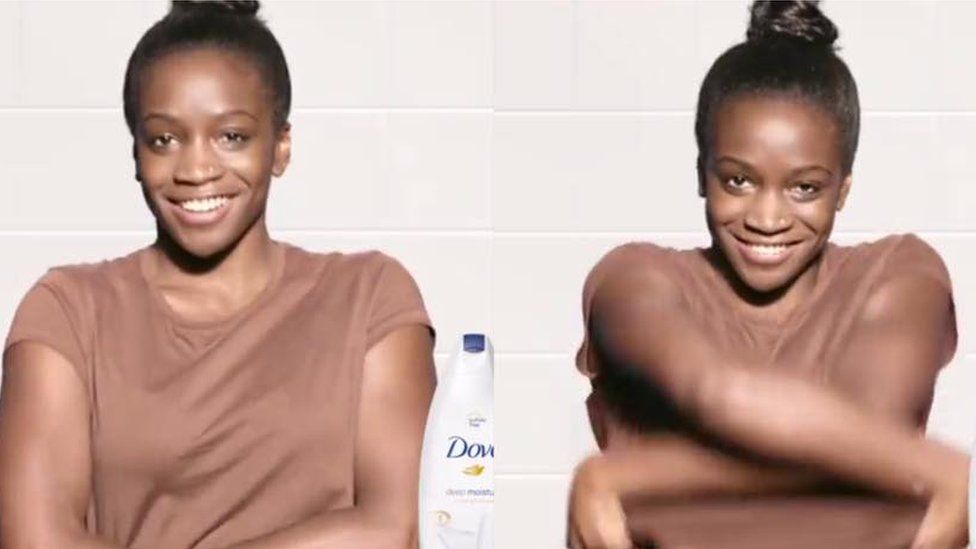 Credit: BBC
Once again in 2017 Dove landed into controversy because of its controversial Facebook ad. It was a four-panel image that had a black woman wearing a dark-colored T-shirt in the first two panels. However, as the woman removes her T-shirt a white woman in lighter colored T-shirt appears.
This time, a Facebook campaign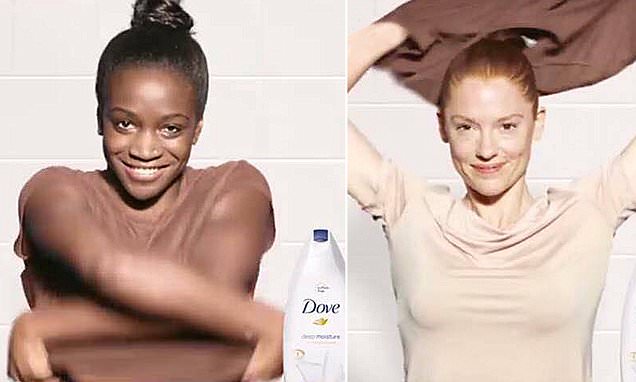 Credit: Daily Mail
The complete ad was a GIF featuring three women. The next woman was revealed as the earlier one who removed her T-shirt. As per the Company, the idea was to show "the diversity of beauty". However, the ad was highly criticized for its racist and insensitive nature. Dove removed the ad and apologized through Facebook.
Bud Light's 'Removing 'No' From Your Vocabulary'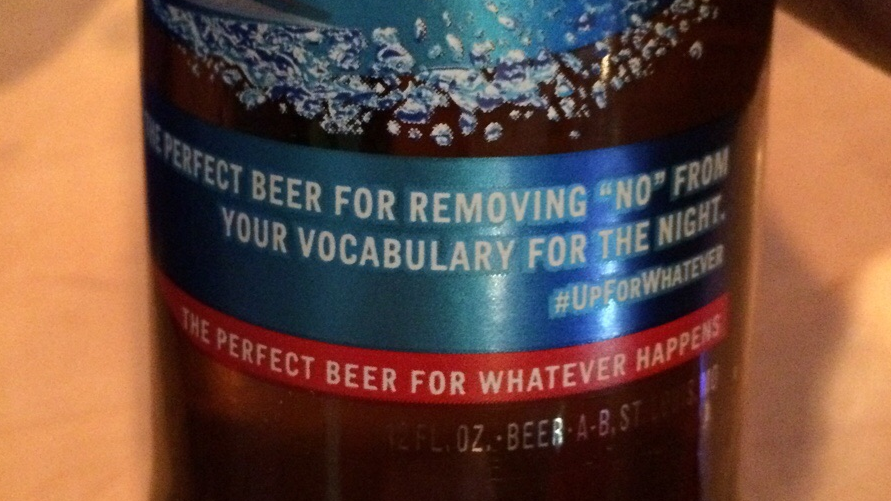 Credit: AdWeek
All the bottles of Bud Light Beer released in April 2015 had a tagline printed on the label. It read, "The perfect beer for removing "NO" from your vocabulary for the night." It also used the hashtag "Up for whatever." Yeah, someone should have thought that one through – it's remarkably inconsiderate.
Was a big no-go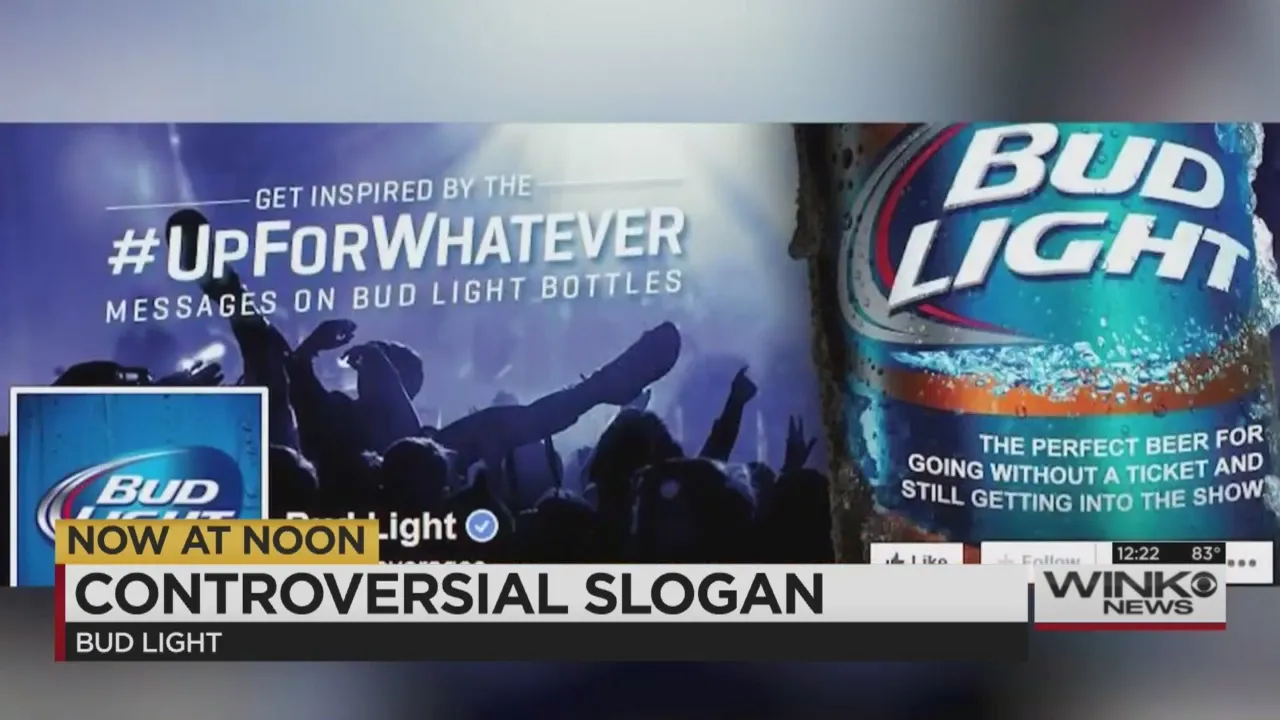 Credit: WINK News
Maybe when they wrote it they had had a beer or two themselves. People felt that the campaign was promoting rape culture and neglecting the power of consent. When you mix the campaign with the fact that they are advertising alcohol consumption, it doesn't look too good. It was a glamorisation of non-consensual activities while under the influence.
BlackBerry's tweet from iPhone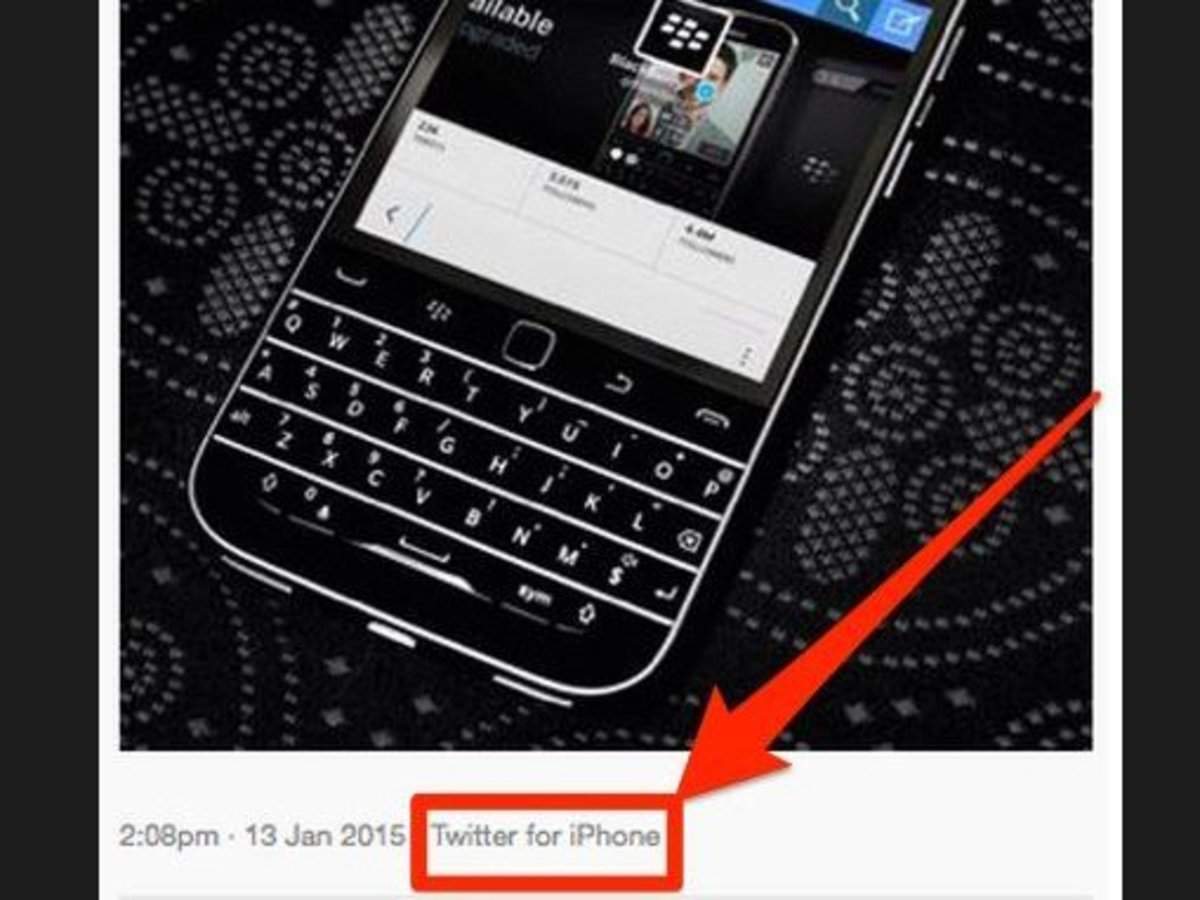 Credit: Business Insider India
The Canadian device maker behind the iconic late naughties to mid 2010s BlackBerry was caught sending out a Tweet from a competing iPhone on its official account. The Tweet featured a photo of a BlackBerry device and encouraged its followers to "keep up with the conversation" by downloading Twitter for BlackBerry.
Someone should have told them…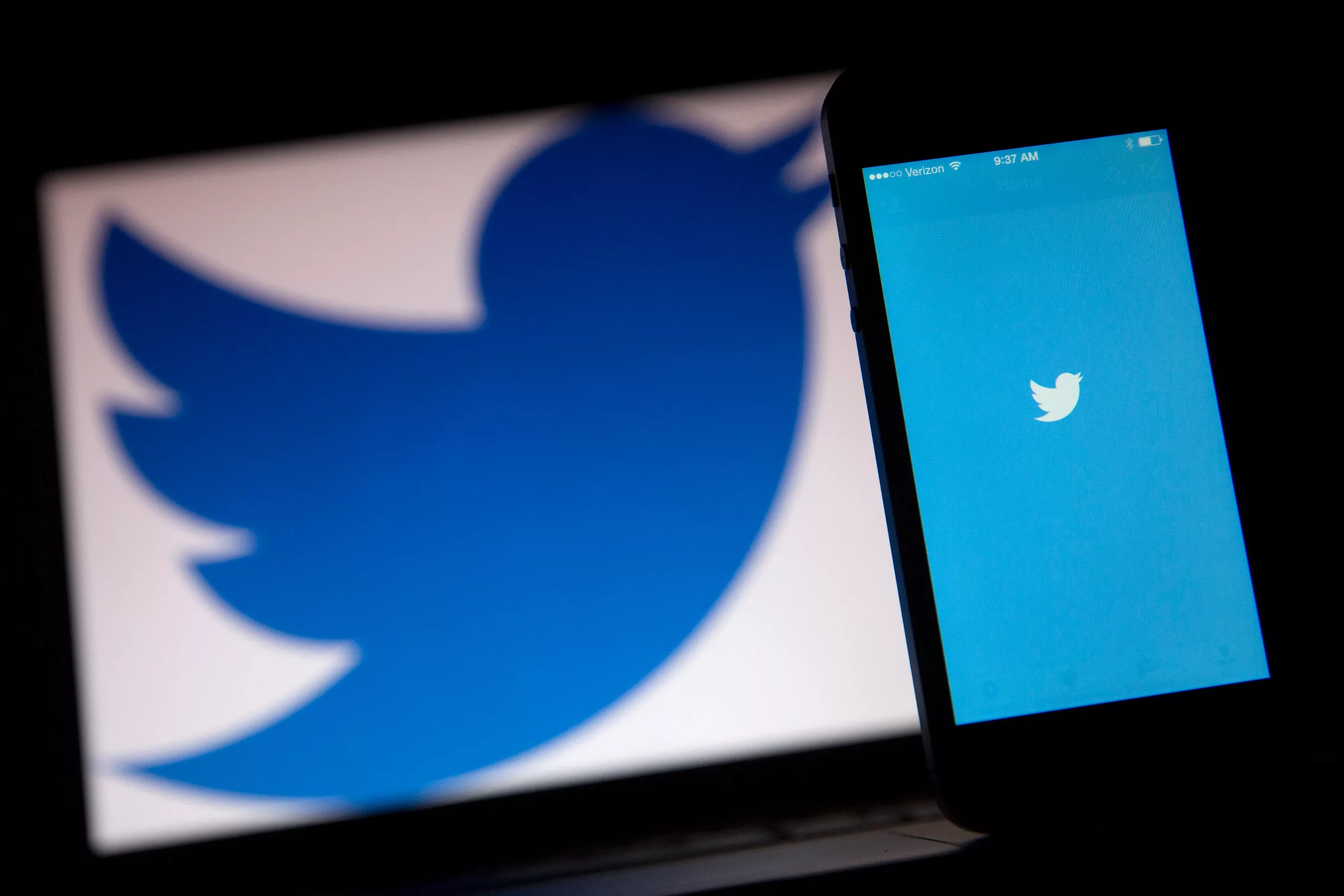 Credit: Bloomberg via Getty Images
How did everyone know that Blackberry had messed up? Well, tweets show where they were posted from, and at the bottom of the tweet, it said "Twitter for iPhone." Why did this happen? No one is sure, maybe it's just easier to type on an iPhone than on those tiny Blackberry keys – not a good example of how to use their own device.
Kurl On Malala poster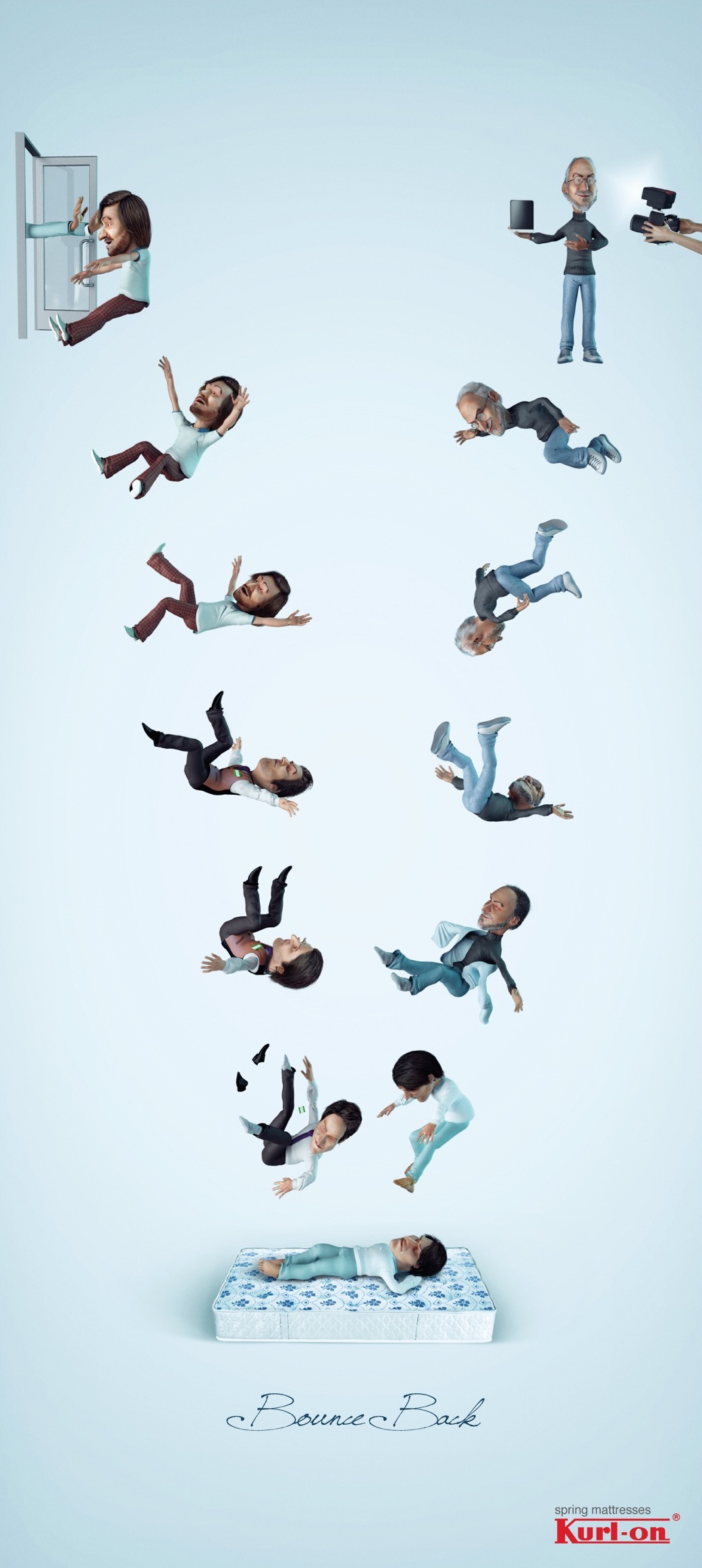 Credit: Marketing Of The World
These ads featured inspirational people, like Steve Jobs and The Dalai Llama falling onto mattresses and then bouncing back at the peak of their careers with the slogan 'Bounce Back' at the bottom, which is great. However, one of them featured Malala getting shot by the Taliban and even went as far as to picture her with a drip in hospital, which is extremely insensitive.
Put this one to bed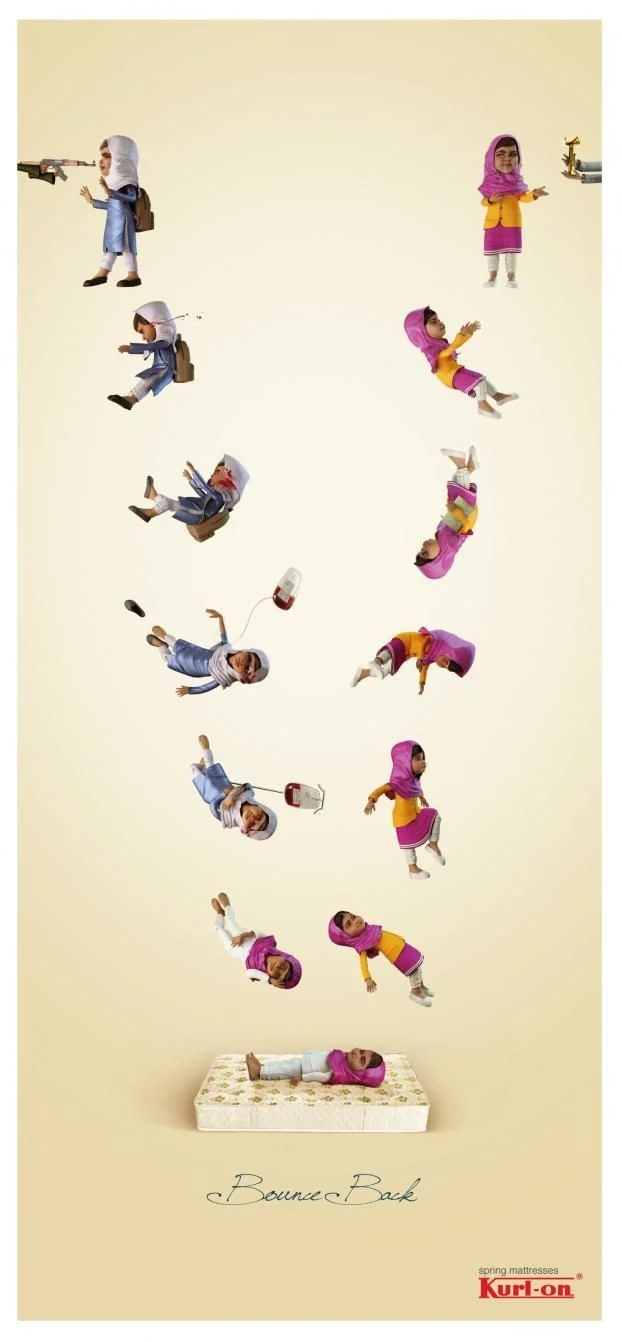 Credit: Ad Weekly
Yeah, they had a cartoon of a child being shot. It's also not clear whether these are real ads or whether they are "spec" creative — speculative ads that never ran in paid media and made only for the attention they'll get. Even so, the fact that this company took credit for this is wild, especially when it seems to be using violence against women for advertisement benefits.
Walker's selfie competition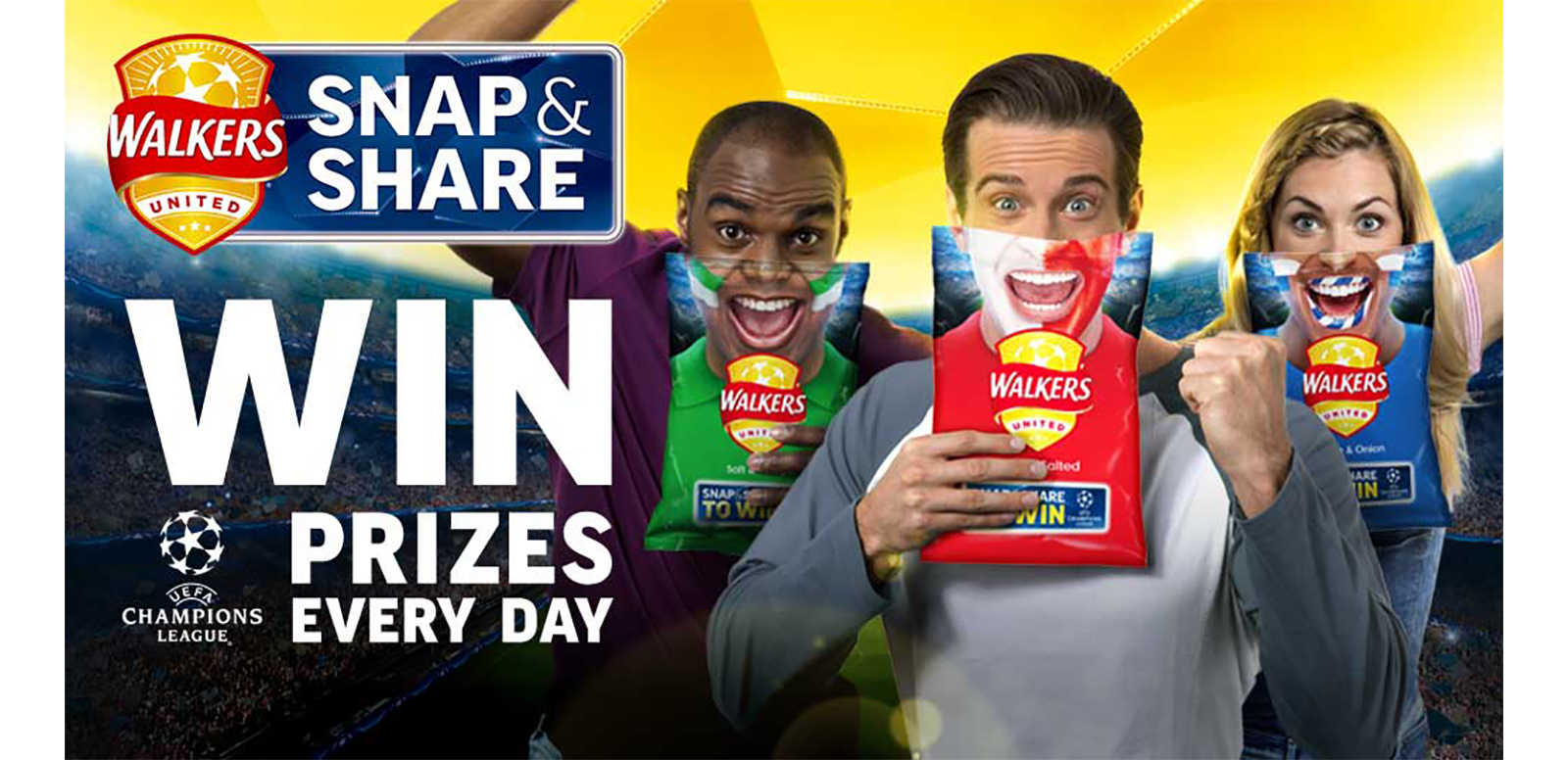 Credit: IPM BItesize
This wasn't even the fault of the UK chip company, or 'crisps' as they call them. Walkers started the #WalkersWave campaign to encourage people to share a selfie on social media to win tickets to the Champion's League final. However, people uploaded pictures of notorious serial killers instead, which shows how the public can be twisted enough to alter something relatively innocent.
A selfie of who?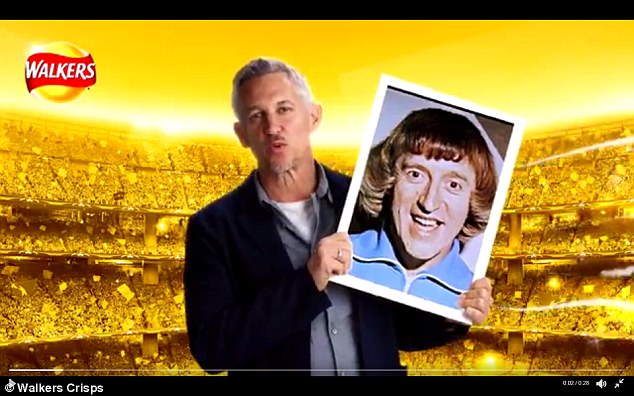 Credit: The Daily Mail
The campaign allowed consumers to tweet in a picture, after which a video was created automatically on the Walkers' Twitter feed showing Gary Lineker holding up their picture and showing the individual doing a Mexican wave. However, instead of uploading selfies people have been sending in pictures of notorious killers and predators, including Jimmy Saville and Rolf Harris.
Nivea's invisible deodorant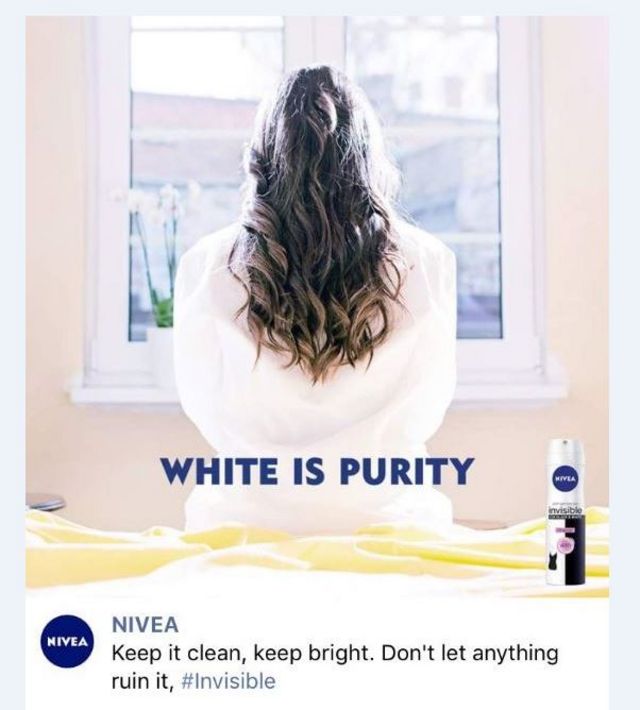 Credit: BBC
The German skincare range was advertising its deodorant that didn't leave white stains on any clothing, even black materials. However, in order to market this, some genius came up with the slogan "White Is Purity" and if that's not bad enough, the ad was targeting their customers in The Middle East…
Should have just disappeared

Credit: BBC
On top of this, the tagline just added insult to injury by saying, "Keep it clean. Keep bright. Don't let anything ruin it." If the ad didn't scream racist before, it definitely did now. The company swiftly removed the ad from social media and apologised, saying they didn't notice the blatantly obvious connotations. That seems like a pretty common excuse for these kind of campaigns by now.
Bootea shakes Instagram captions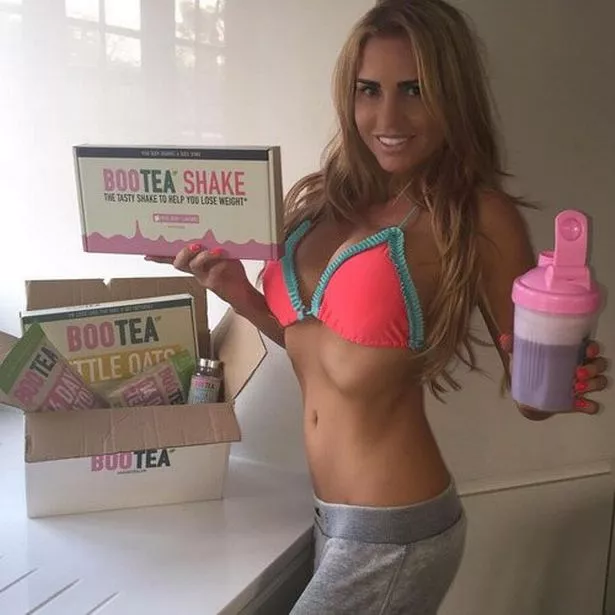 Credit: OK! Magazine
Bootea green tea weight-loss shakes have had their fair share of internet controversies, one of them being that the tea caused things to digest so quickly that some contraceptive pills weren't working and women were ending up falling pregnant! The company sued big-hitters on Instagram to try and grow their reputation, but to little avail.
Don't ask Scott Disick to do anything…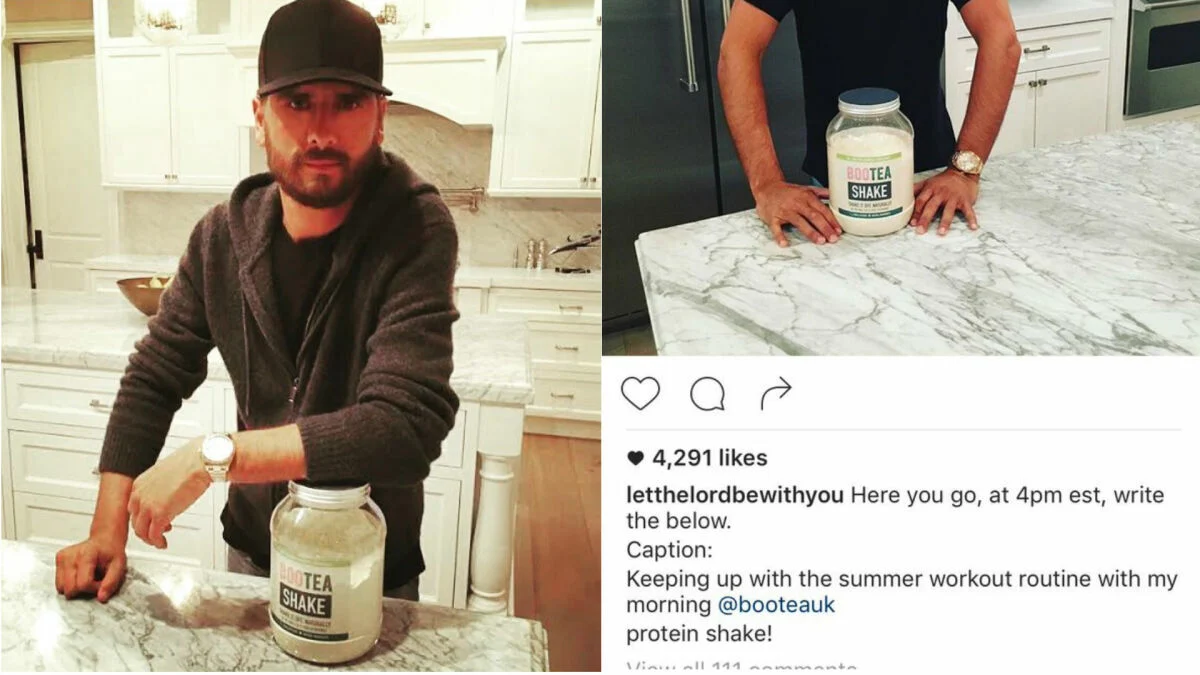 Credit: @letthelordbewithyou via Instagram
You literally had one job. Keeping Up With The Kardashians bad-boy Scott Disick did a paid sponsorship with the brand back in 2016 and evidently, just copied and pasted the entire email that he received from the company's marketing team, including the time that he was supposed to post and what he should put as the caption. So much for a "shameless" plug.
Pepsi and the free jet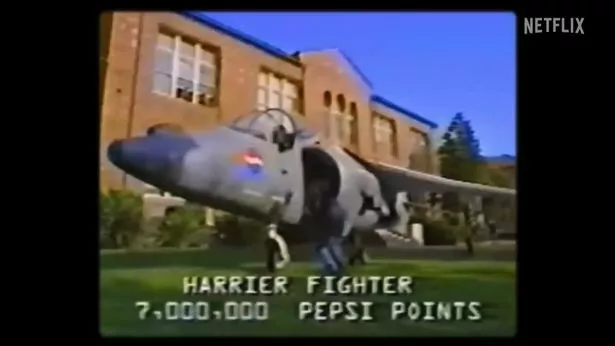 Credit: Netflix
Back in 1996, Pepsi started giving away points with their drinks that could be exchanged for 'Pepsi Stuff', such as hats, sunglasses and leather jackets. The more points you got, the better the prizes. The advert depicted a kid who collects so many points that he pulls up to school in a Pepsi fighter-jet, worth 700,000,000 Pepsi Points – equivalent to $32 million.
The most expensive fail, ever.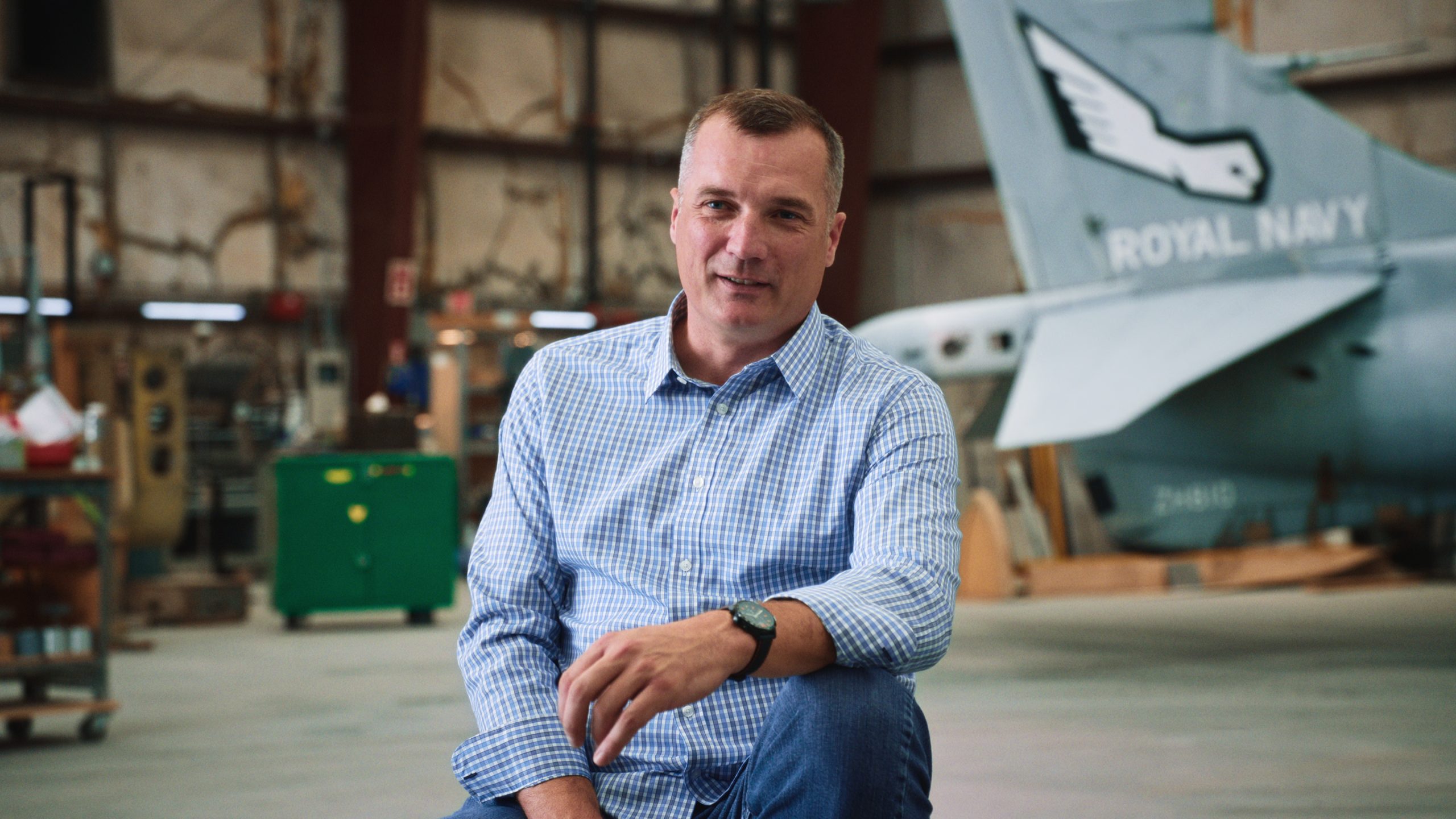 Credit: Netflix
Pepsi never stated that the jet was not an actual available prize, so one guy got investors on board, and bought enough Pepsi to actually win the jet. Pepsi started a huge lawsuit stating that no customers could have actually believed that they would be able to claim this prize. Although John Leonard didn't get his jet, this whole fiasco cost Pepsi a pretty penny.
Burger King's Women's Day tweet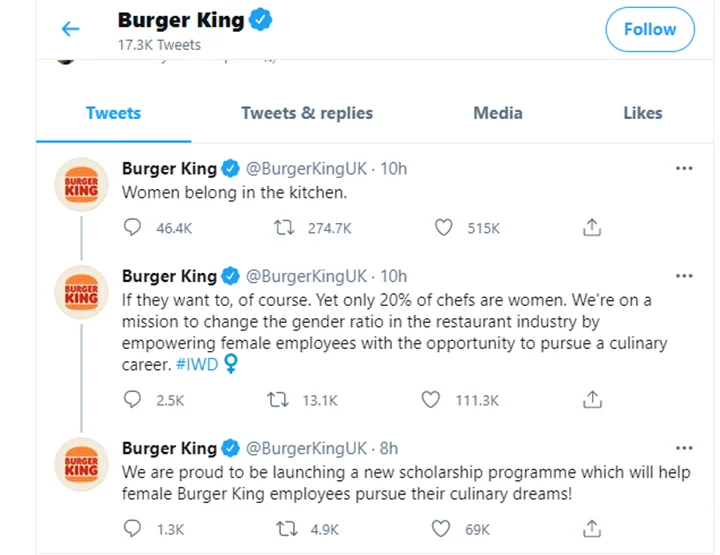 Credit: @BurgerKingUK via X
Women's Day is a great opportunity for big companies to show appreciation for their female employees and customers. Big companies love an excuse to show off their altruistic sides, and this is also a perfect opportunity to get in the good books of your local hungry feminists. Unless you completely miss the mark – it can go an entirely unprecedented direction.
Major fail…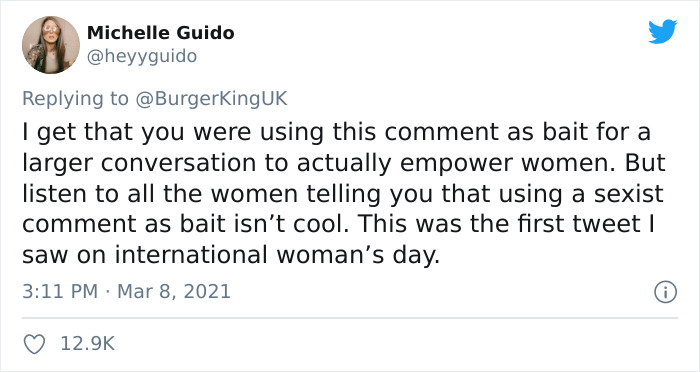 Credit: @huyyguido via X
Burger King UK were trying to launch an apprenticeship where they employed more women as chefs. However, they launched this by simply tweeting, "Women belong in the kitchen." No context. The intentions were right, but this joke caused a real flame-grilled outrage across social media and Burger King even criticized people for not reading the thread further.
American Airlines AAirpass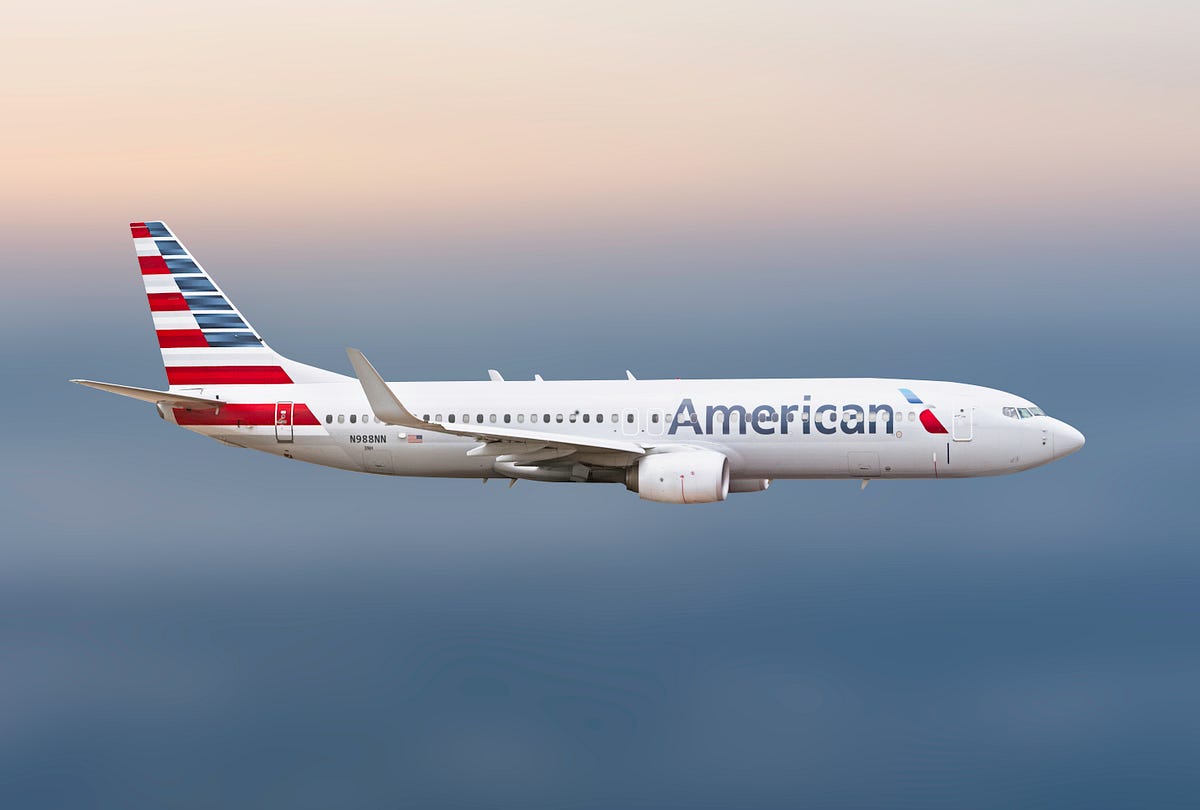 Credit: Medium
American Airlines was losing money in the 1970s, so, in 1981 they launched a card where customers paid a one-off payment of $250,000 for unlimited free air-travel for life. This may have cost a lot more than a flight, but people can really rack up those journeys when they know they're getting part of their vacation for free…
Another expensive mistake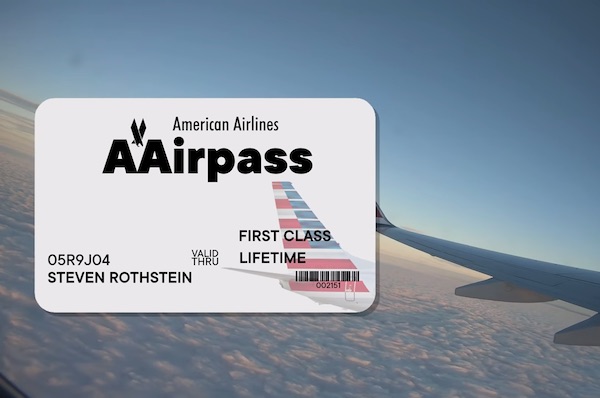 Credit: Discoverology
Shortly after the launch, American Airlines realized that they had seriously messed up and kept raising the prices until they were forced to discontinue the card in the 1990s. The company got rid of it, but they had to keep their promise. To reduce prices, they targeted their biggest users and found that they had been booking flights for strangers, so revoked the cards.
Bloomingdale's spiked eggnog ad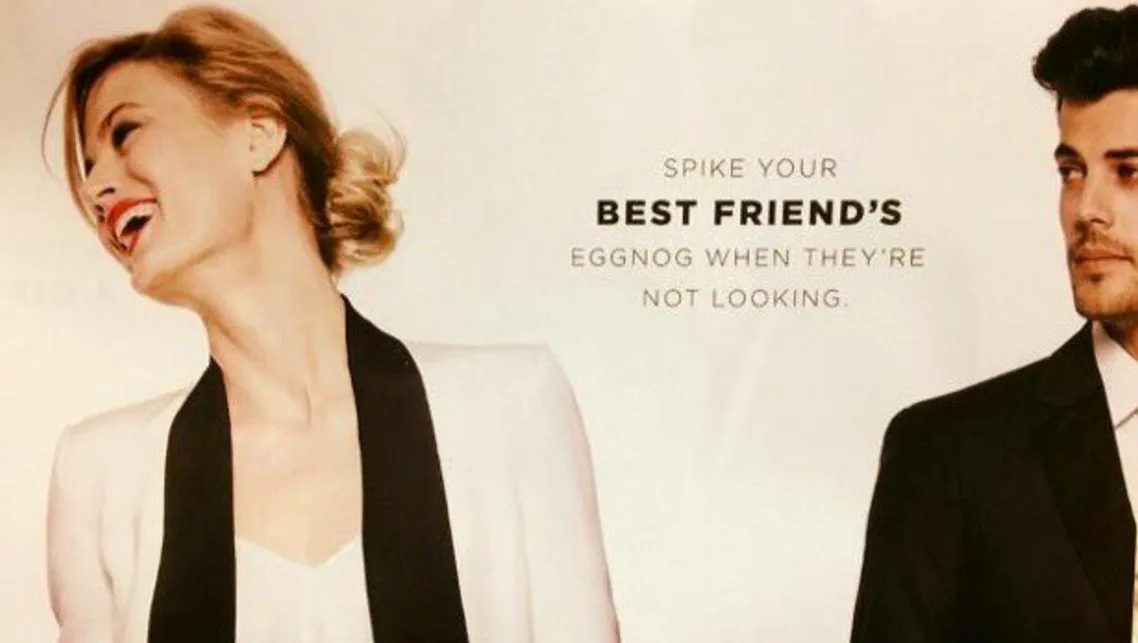 Credit: USA Today
In 2015, Bloomingdales went for an odd message in their Christmas catalogue. The advertisement features a woman laughing and looking away as a male model looks suggestively at her back. The text on the ad reads: "Spike your best friend's eggnog when they're not looking."
An unwanted holiday surprise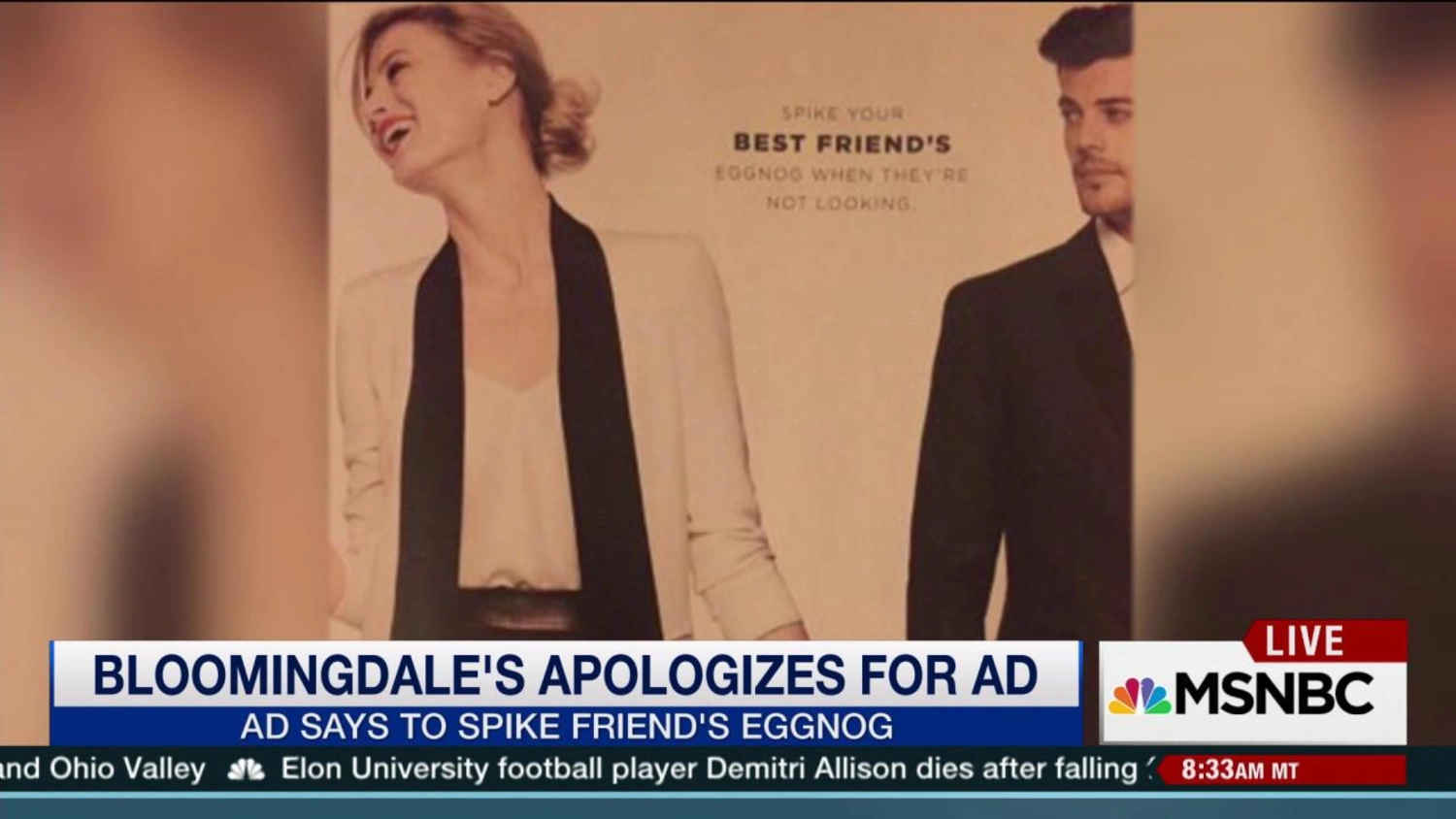 Credit: MSNBC
This one isn't even easily explained, it's just bizarre. The ad got so much backlash on Twitter that Bloomingdale's had to make a public apology, stating that "the copy we used in our recent catalog was inappropriate and in poor taste." They profusely apologized for their "error in judgement". Spiking is a huge issues, especially for women. Not much Christmas cheer to be seen here!