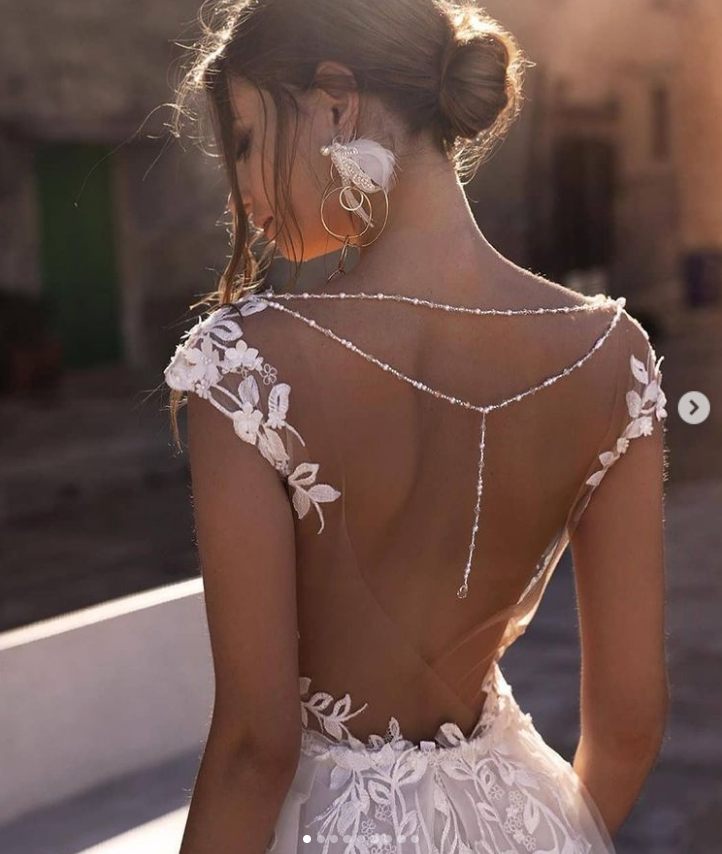 1. Ice and Fire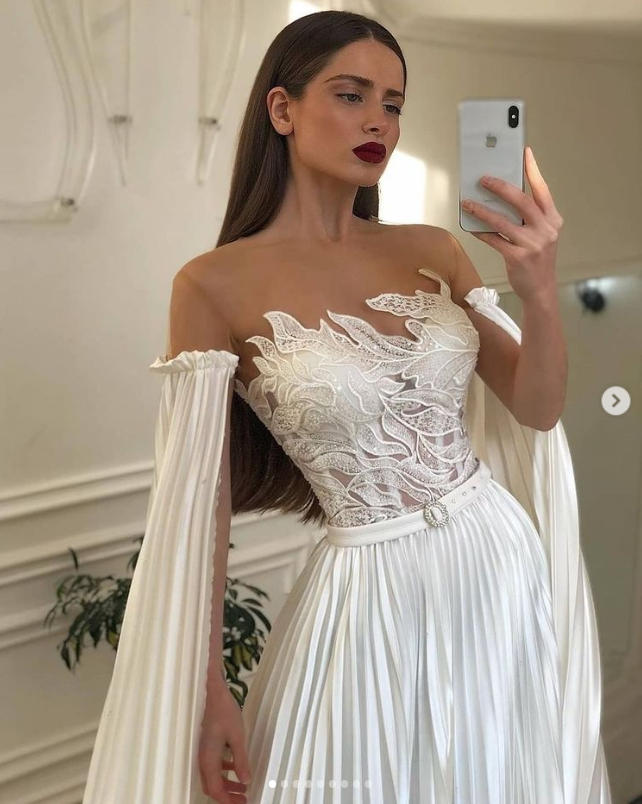 This dress exudes a sleek and sharp aesthetic, offering a range from cool and icy to fiery and bold, allowing the bride to choose her desired style. Some brides deviate from tradition, taking a unique and unconventional approach to wedding attire. A nontraditional belt wraps the waist to create a classic silhouette.
2. Glam and glow girl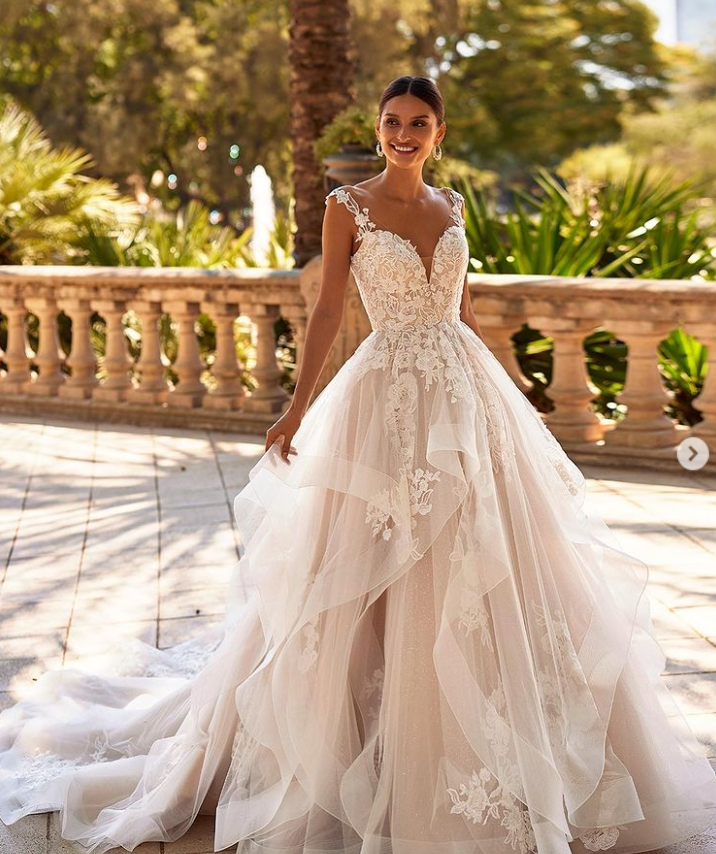 Just look at that smile! She's fully aware of her beauty, and it seems like even the weather chose to match her vibe on that particular day. It's as if every element of that day conspired to highlight her natural grace and charm. She exudes joy and self-assurance, embracing her unique allure with effortless grace.
3. Constellations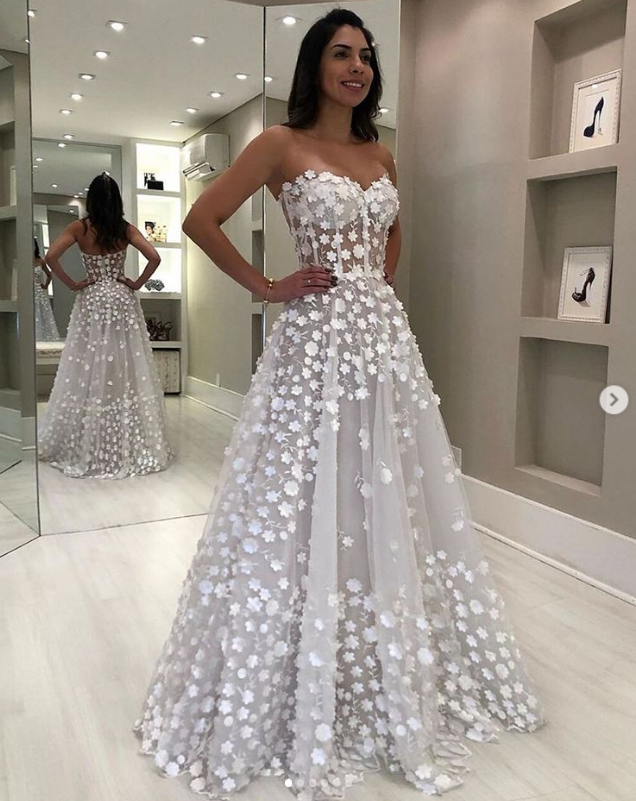 Look at this stunning dress that will make all the bridesmaids green with envy and leave the groomsmen speechless. It perfectly matches her slender figure, hugging her curves in all the right places and highlighting her natural beauty. With this dress, she radiates confidence and allure, captivating everyone in the room and creating memories for a lifetime.
4. Got your back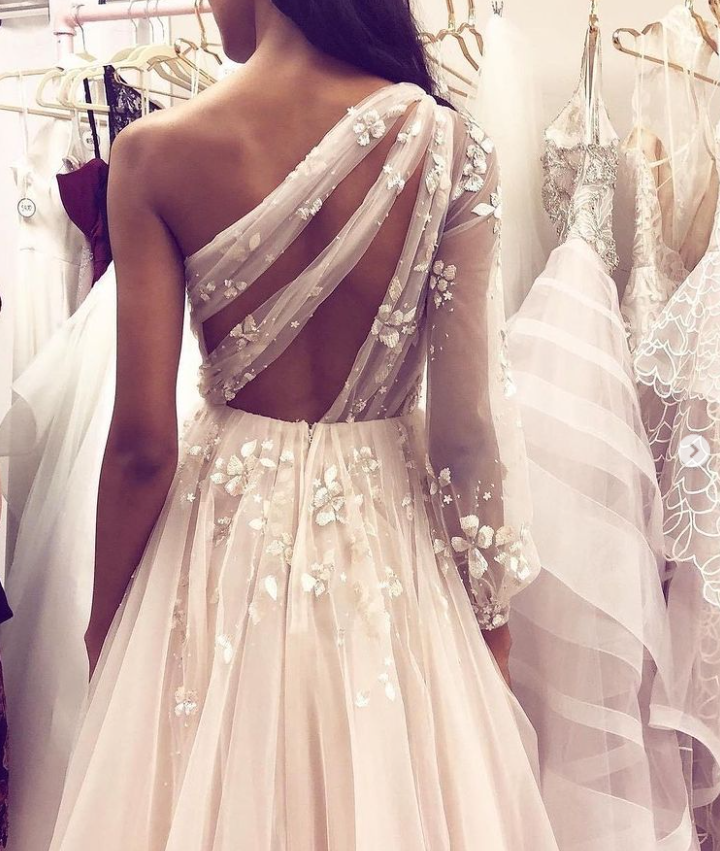 When a bride takes that walk down the aisle, all eyes are on her, capturing her in all her glory. And just when you think you've seen it all, she gracefully passes by, giving everyone a perfect view from behind. It's that moment when you realize she looks absolutely flawless from every angle.
5. Strut those legs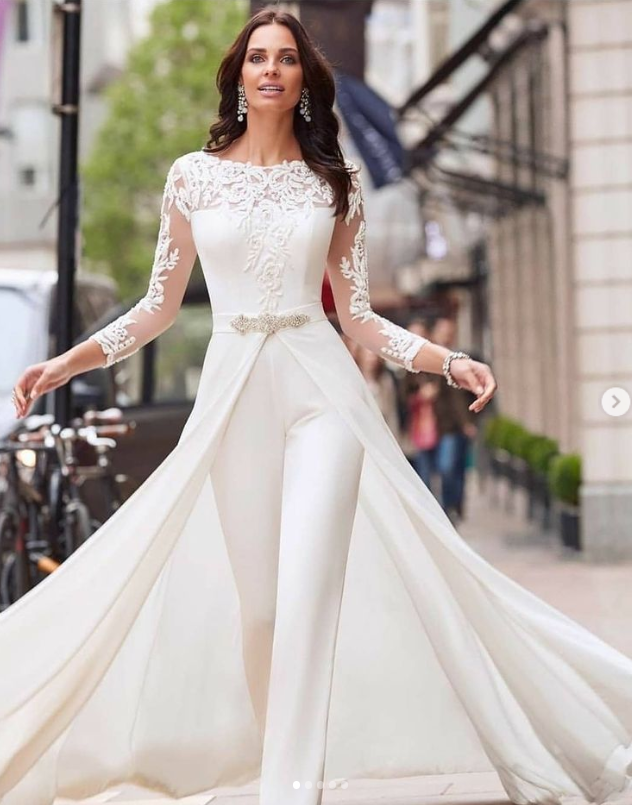 You don't come across a look like this every day, but boy, does it suit her perfectly. It's the kind of style that exudes confidence and makes any woman feel like she can conquer the world. No wonder she walks with such grace and poise. Pants at a wedding are a bold option, but well-behaved brides rarely make history.
6. Legs for days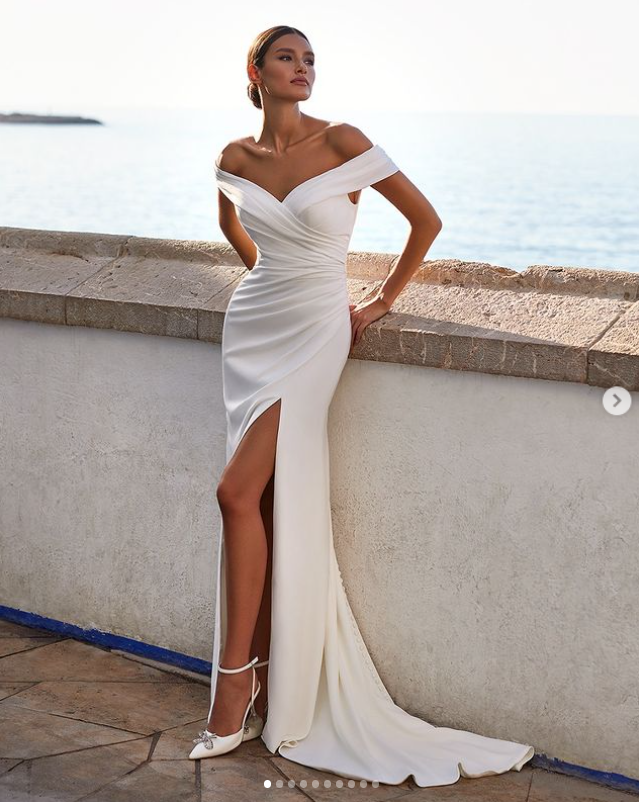 The groom better keeps his eyes on the ceremony and not get distracted by her stunning shoulders and those long, irresistible legs. After the ceremony, during their romantic honeymoon, he will have all the time in the world to appreciate every inch of her stunning physique. The wrap-around texture keeps those curves in focus all day.
7. Like an ancient sculpture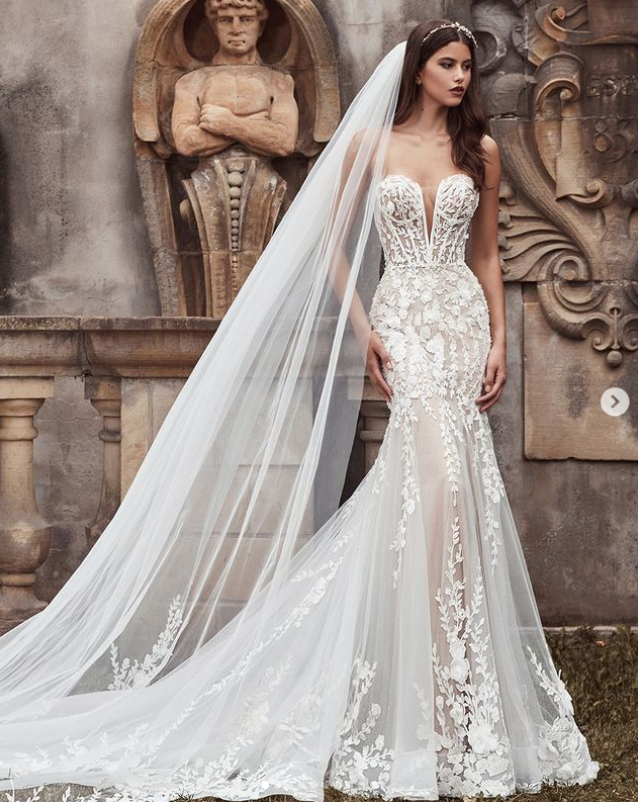 This dress truly makes her look timeless. She stuns in it, and I'm sure even strangers passing by couldn't help but stop and stare in awe. The intricate details and exquisite craftsmanship of the dress leave onlookers captivated, unable to resist stealing glances and admiring her breathtaking appearance.
8. Intricacy in details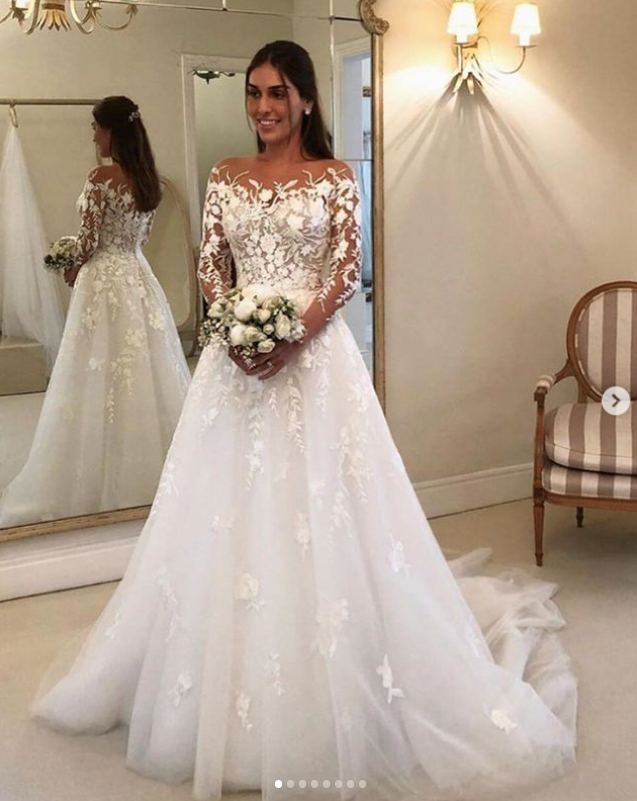 Getting into this dress must have been a challenge, with that delicate top and all. But hey, she pulled it off flawlessly and looks stunning. The dress fits her like a glove, accentuating her curves and highlighting her natural beauty. Without a doubt, she looks absolutely stunning, turning heads and leaving everyone in awe of her radiant presence.
9. Blinding beauty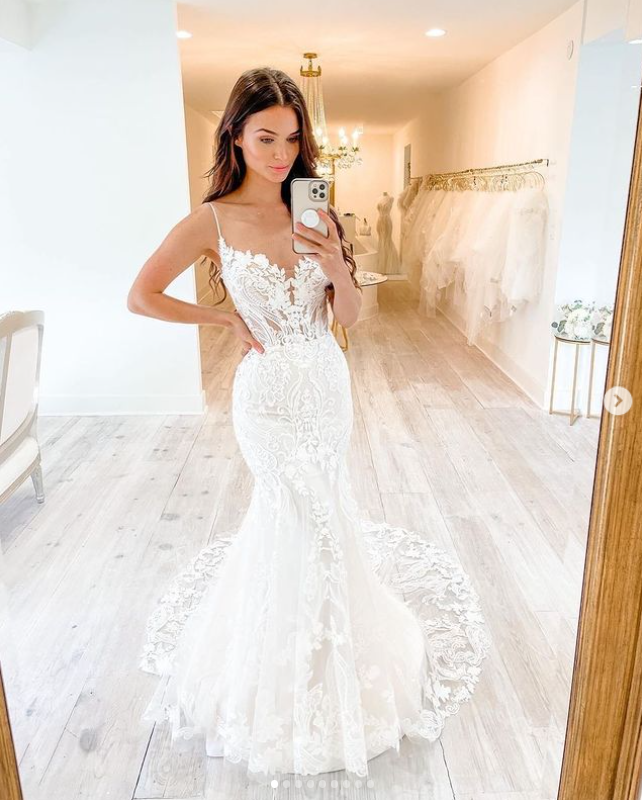 She didn't really need any help, but that radiant glow suits her perfectly. It was as if she had stepped right out of the enchanting world of Middle Earth, resembling an ethereal, elf-like creature with her serene presence and delicate features. Sheer, patterned fabrics are a very popular choice, and this dress uses them head to toe.
10. Bit of a classic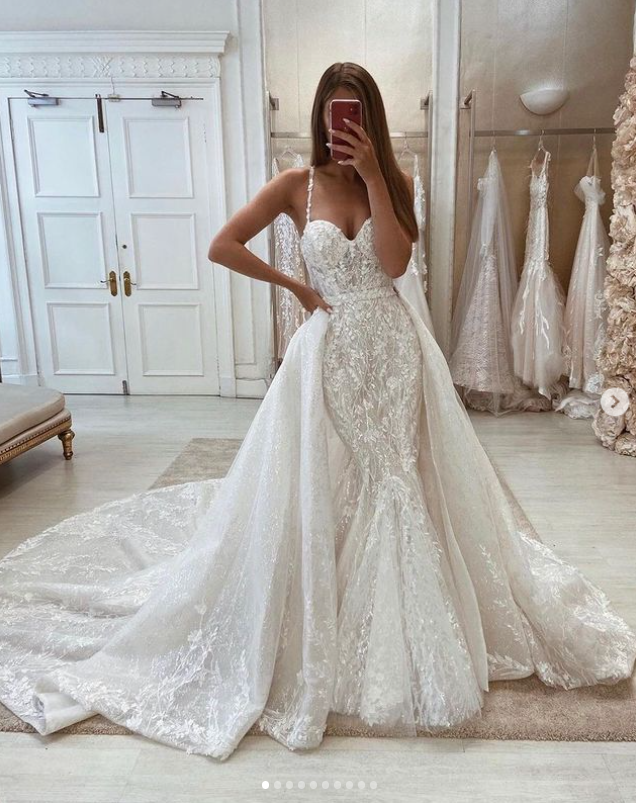 This dress is sleek and long, giving off those classic traditional wedding vibes. It's the kind of dress that makes you envision petals gently falling down the aisle, adding to the romantic atmosphere. The flowing fabric and graceful design create a sense of movement as if the dress itself is dancing down the aisle.
11. Sheer drama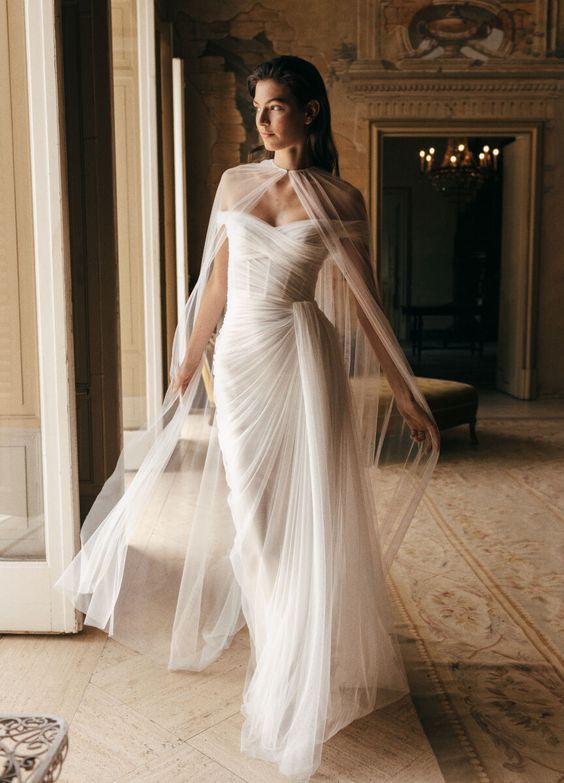 Credit: Carats and cake via Pinterest
This layered sheer garment clings to the body like fog, outlining the figure and keeping things light and delicate. The exposed chest window draws a visual contrast to the neck, where the cape frames the shoulders and cascades down with natural fluidity. Simple, dramatic, and sexy is all a dress needs to be sometimes.
12. Off-the-shoulder ball gown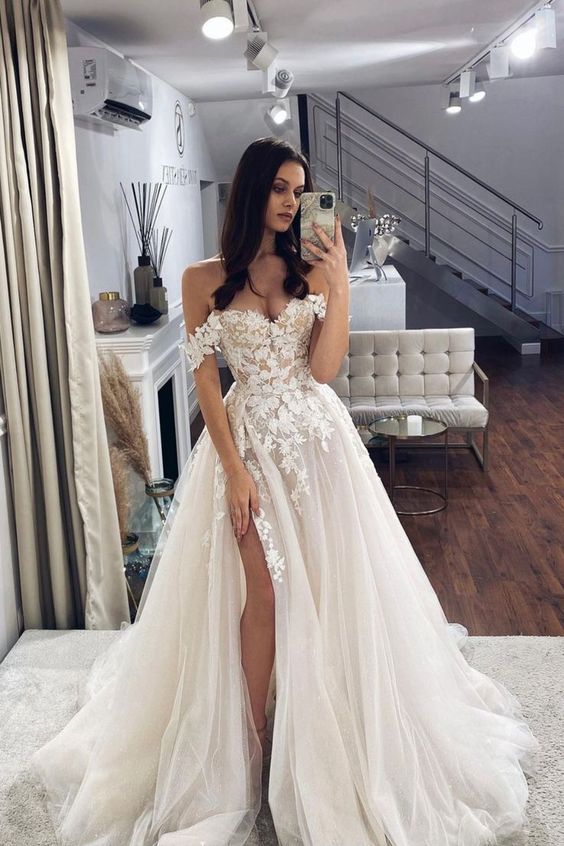 Credit: Dressmeet Official via Pinterest
The combination off the shoulder style, detailed straps, and exposed thigh window really sell this dress. Its natural, leafy embroidery and cinched waist create an enchanting fairy princess moment, capable of melting even the most steely-hearted handsome prince. Steely-hearted is optional, handsome is not.
13. Thick and luscious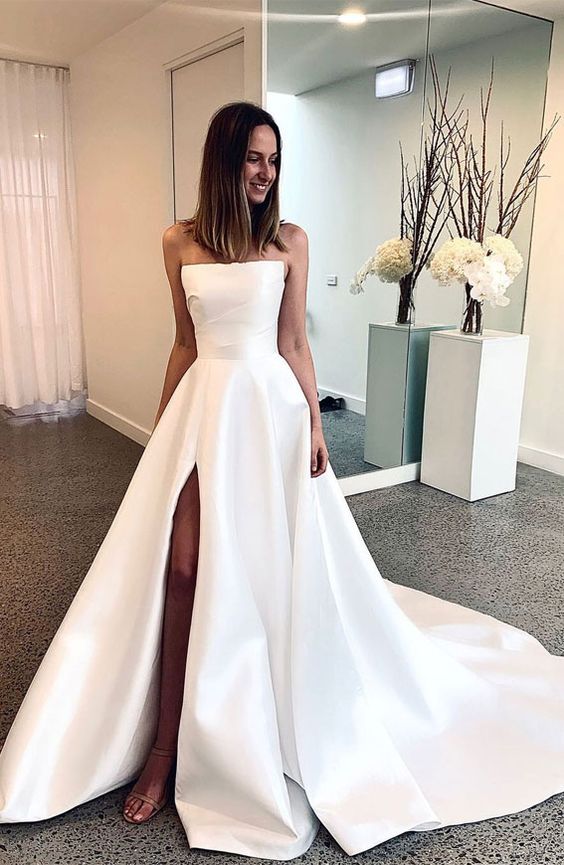 Credit: fabmoodinspiration via Pinterest
This dress is all about its texture. Its soft, almost quilted material rests firmly but gently on the curves. The thick material reflects the light making the dress shine in the light as its graceful and pronounced trail makes every step you take enchanting. Its modest neck and thigh vent mean you aren't completely covered and still get to show off as you move.
14. Thigh all the way up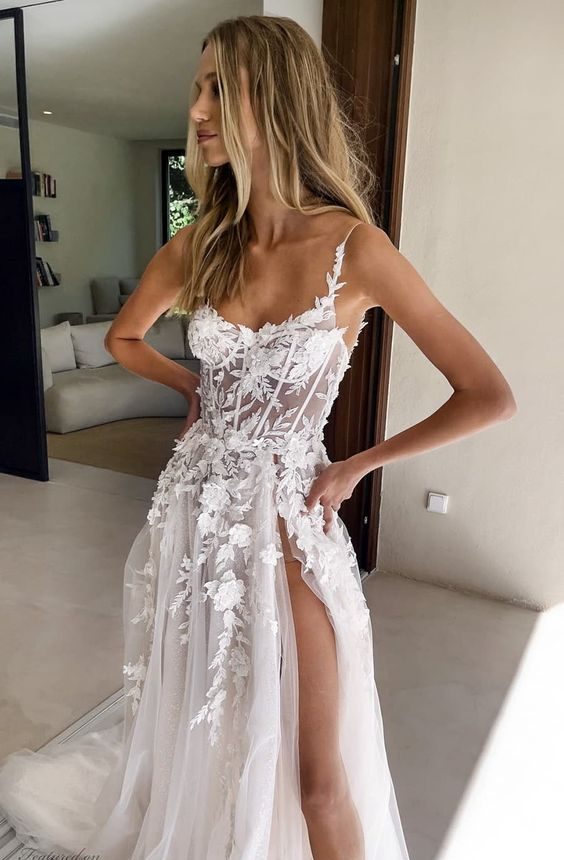 Credit: weddinginpirasi via Pinterest
For quite a simple dress, this styling has a lot going on. It's form-fitting, textured, and light, kept afloat with delicate strap features. The main draw here is the severe thigh vent, which seemingly never stops. The effect produced is the perfect combination of height, balance, and an utterly irresistible look for the big day.
15. Simplicity is key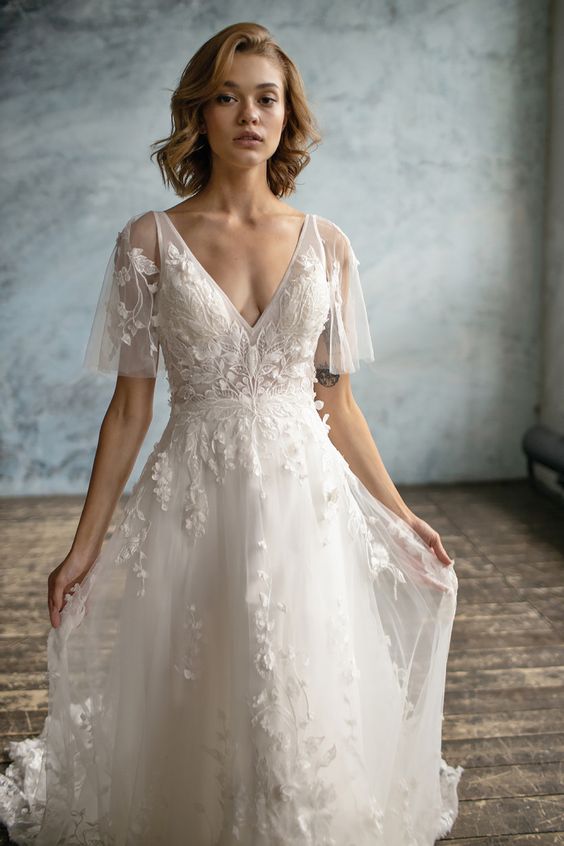 Credit: Hitched via Pinterest
This trendy yet simple boho dress gives you all the classic hallmarks of a wedding gown with a youthful twist. A plunging neckline for plenty of skin, exposed shoulders beneath a sheer short-sleeve, and a wonderful, cascading asymmetrical embossing. It's a simple shape that's taken to the next level with its subtle attention to detail.
16. Enchanted charm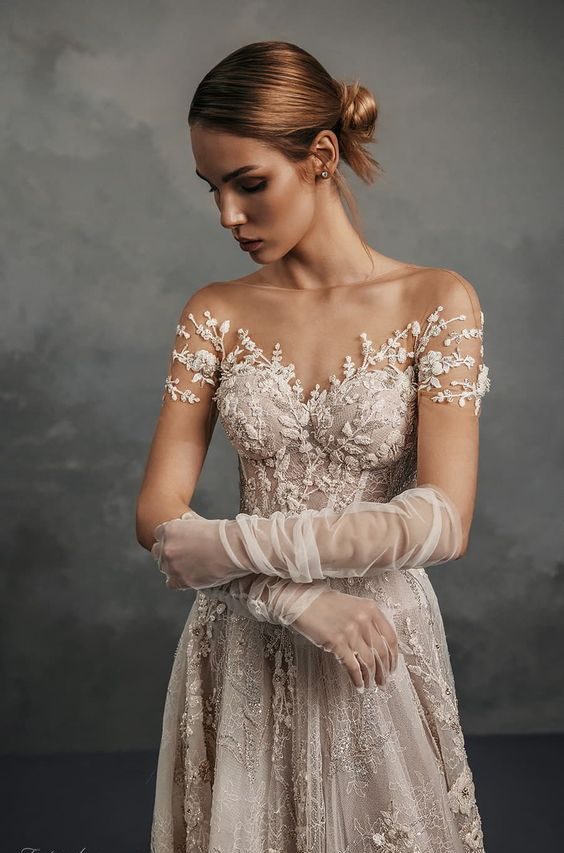 Credit: weddinginpirasi via Pinterest
This old-world meets woodland sprite ode to nature would be perfect for walking down the aisle of the Garden of Eden. Its loving detail work is full of beads, intricate stitching, a wrap sleeve, and of course the eye-catching elbow-length gloves. It's an ethereal look that takes minutes of staring to take it all in.
17. It's all in the sleeves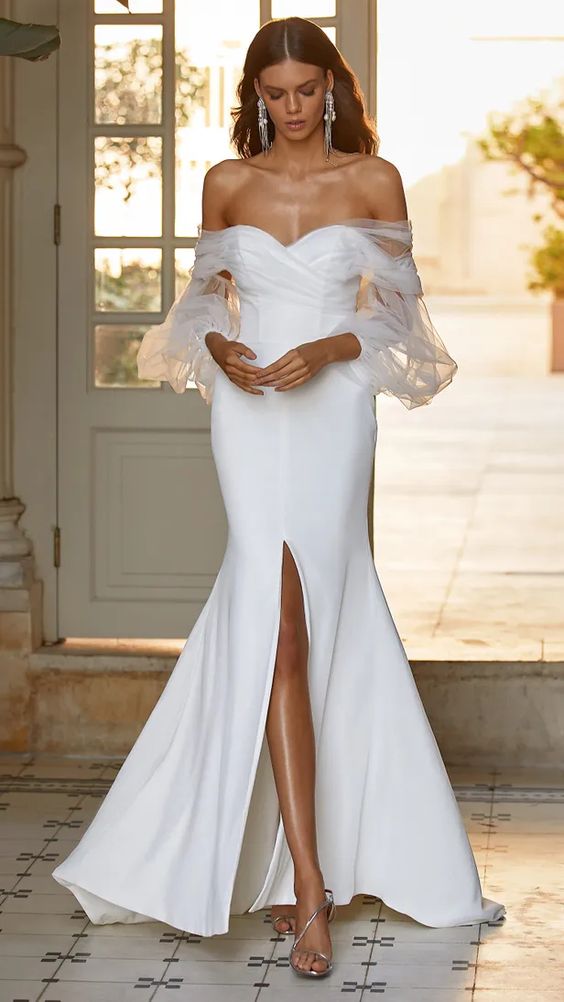 Credit: bellethemagazine via Pinterest
A gorgeous, classic shape augmented by its low-cut top, exposed legs, and gorgeous puffy sleeves. The natural drape sits on low the arms in any neutral position, meaning each picture of you carrying the bouquet, sipping champagne, and crying tears of joy will all be Insta-worthy. Its tight cuffs cut off the flow keeping it from getting in the way.
18. Tying the knot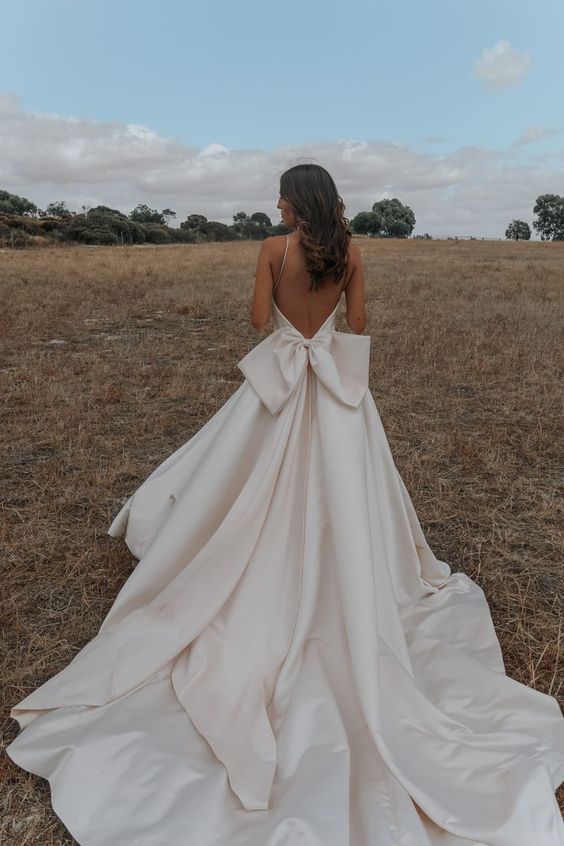 Credit: Peter Trends Bridal via Pinterest
The thin shoulder straps here are almost imperceptible next to the river of fabric running behind the trail. The exposed back and tight bow make the top half of the gown weightless, a beautiful contrast to the thick, heavy, and textured bottom half. The drama of the bow and train is all that matters in this gown!
19. Sparkle sparkle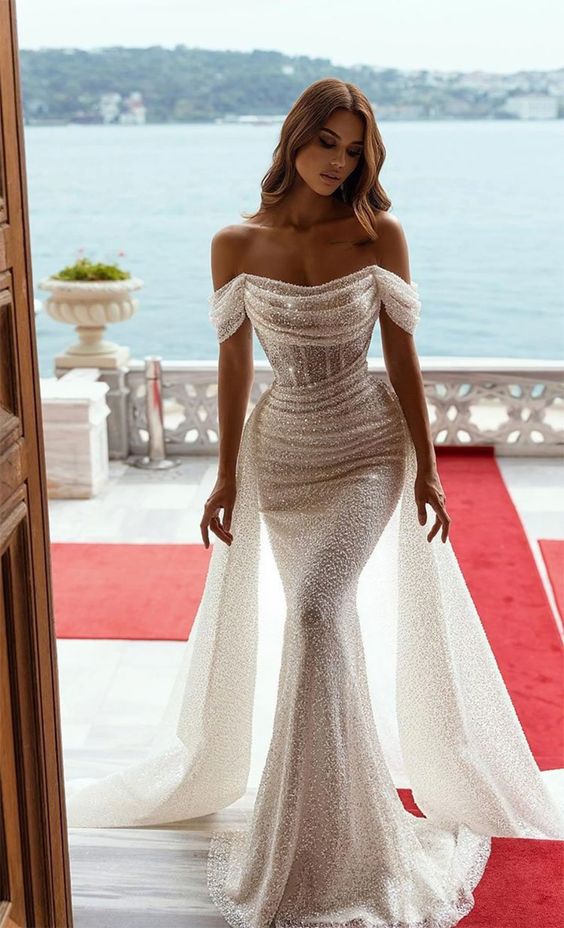 Credit: Etsy via Pinterest
Who even needs subtlety? It's your wedding and it's all about you, everybody knows that. This curve-hugging sequined mermaid gown radiates shine. With its hourglass leg shape and trail starting from the waist, the glitter only serves to draw attention to your very best assets.
19. Slim-fit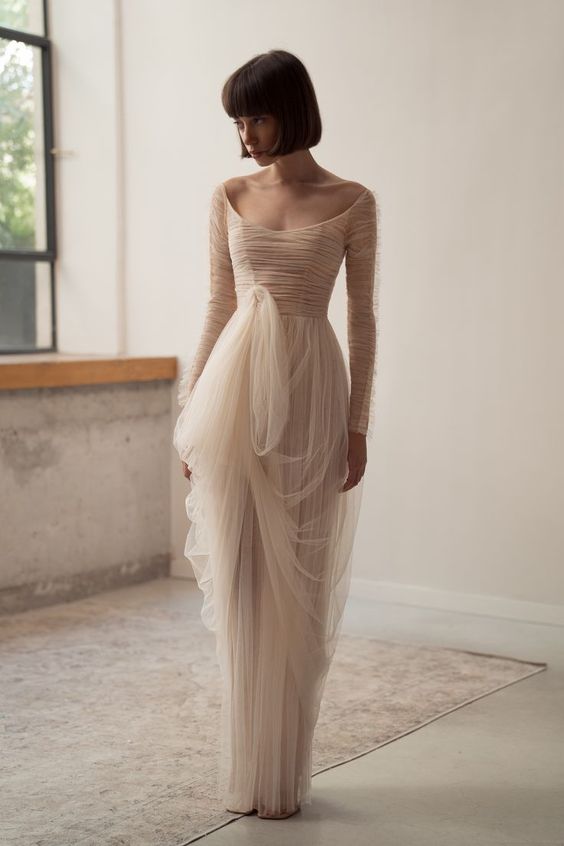 Credit: Chana Marelus via Pinterest
This striking, sharp, and slim-fitting dress subverts all the classic expectations of a bridal look. The wrap-around mesh-like top creates an elongating effect on the arms, and the trail styled as a front bow lifts the lower half. It gives an ethereal, elven kind of beauty that will live on in the minds of your guests forever after.
20. Chest piece of art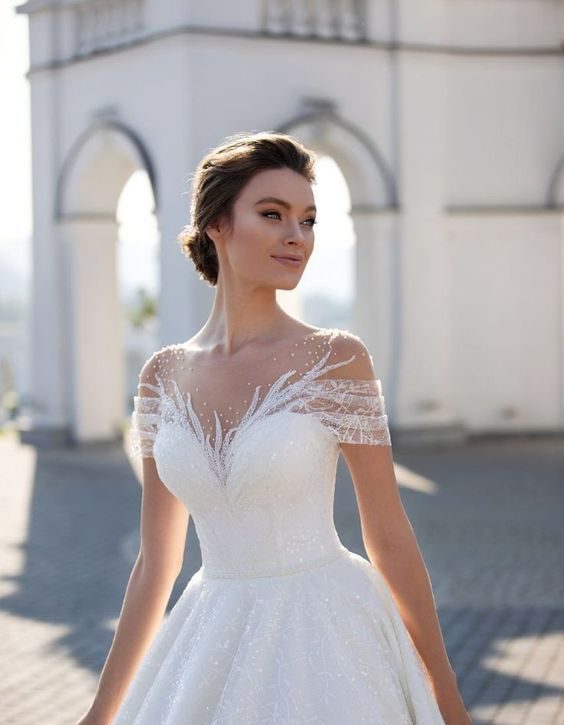 Credit: uniquefashion via Pinterest
While an exposed chest or a plunging neckline work wonders to draw the eye, this look understands that some bold detail can do an even better job. The creeping leaves from the bra area work their way up to the shoulders, accented by some darling beadwork to create the impression of dew drops on the skin.
21. Classic and elegant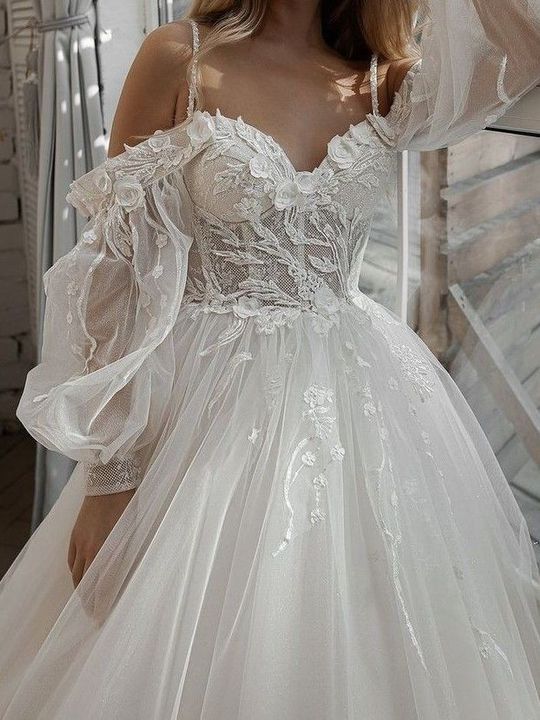 Credit: whattapad via Pinterest
This one fits a more traditional brief, with plenty of bells and whistles to keep it up-to-date and modern. The slightly looser, fit here works with the overall theme of the dress, a gentle white wave that fits like an exhale. The exquisite cuffs reign in the volume, making a stark and intentional contrast that demonstrates the intentionally weighty design.
22. Embracing femininity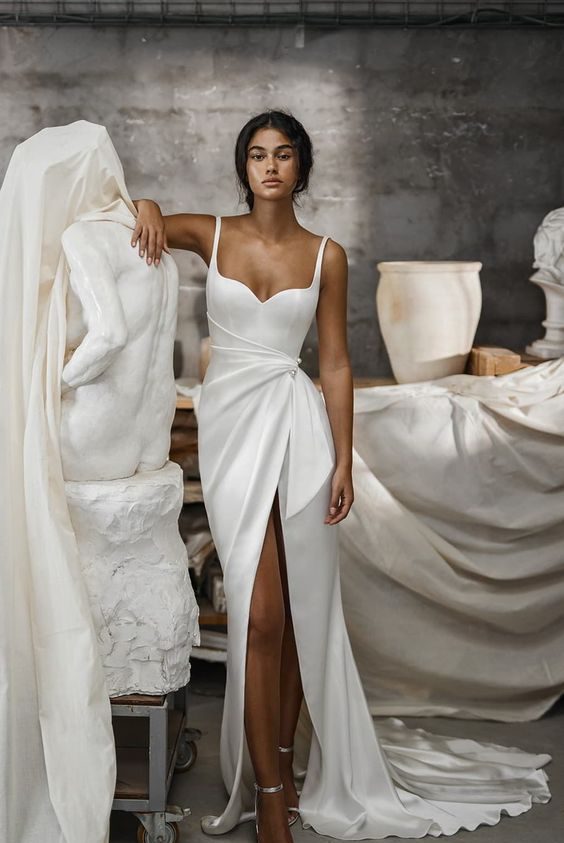 Credit: weddinginspirasi via Pinterest
This dress fits like a divine cloak. Exposed legs are always a winner, but the wrap detail sitting just above the hips creates a high-waist look that's only enhanced with the ruched material. The result is a dress that clings to you by force of attraction and, in this dress, you'd be sure to light up the room.
23. Every girl's dream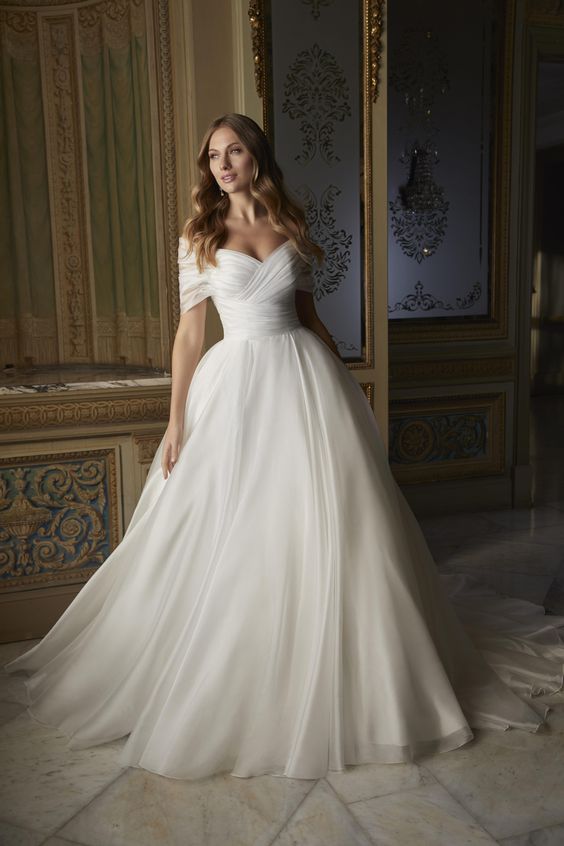 Credit: Hitched via Pinterest
You don't need to mess with the classics, as funny as it would be to Chris Pratt in Casablanca. With a simple silhouette and construction, this dress nails all the essential elements of a traditional wedding dress. It has shape, volume, beauty, just enough skin, and nothing so out there it distracts from the focus: you.
24. Not enough pearls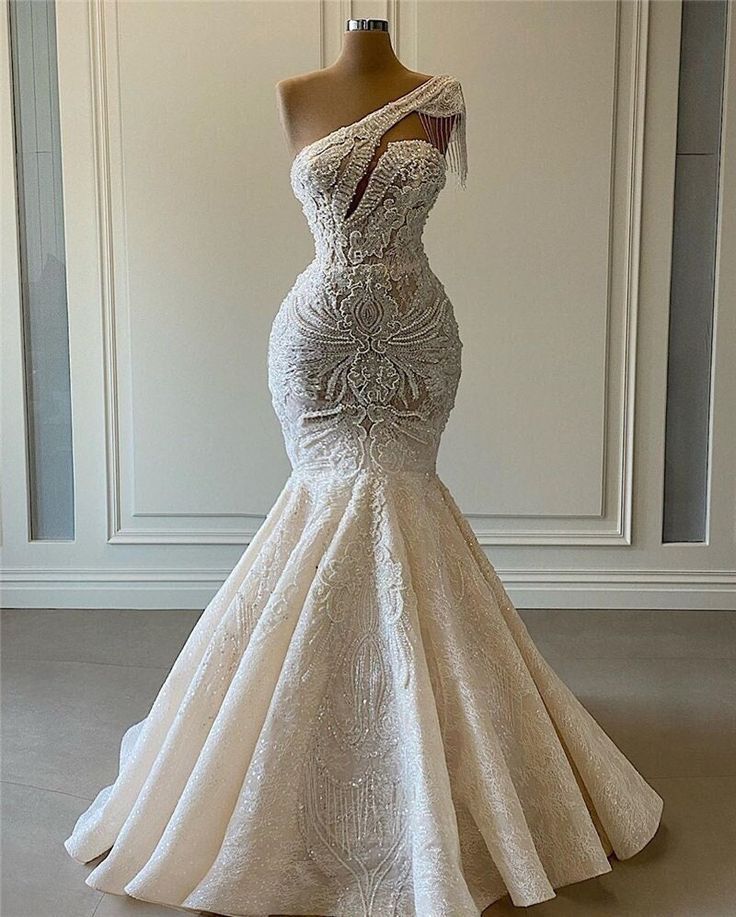 Credit: Etsy via Pinterest
This severe mermaid tail gown is so extra it's impossible to look away from. It's gaudy in the best way; beauty in excess. It hugs the waist, explodes around the hips, and did you notice the pearls? Essential for any mermaid. An understated yet wonderful addition is the single shoulder strap, just the glitter-dusted icing on the wedding cake.
25. Sound the trumpets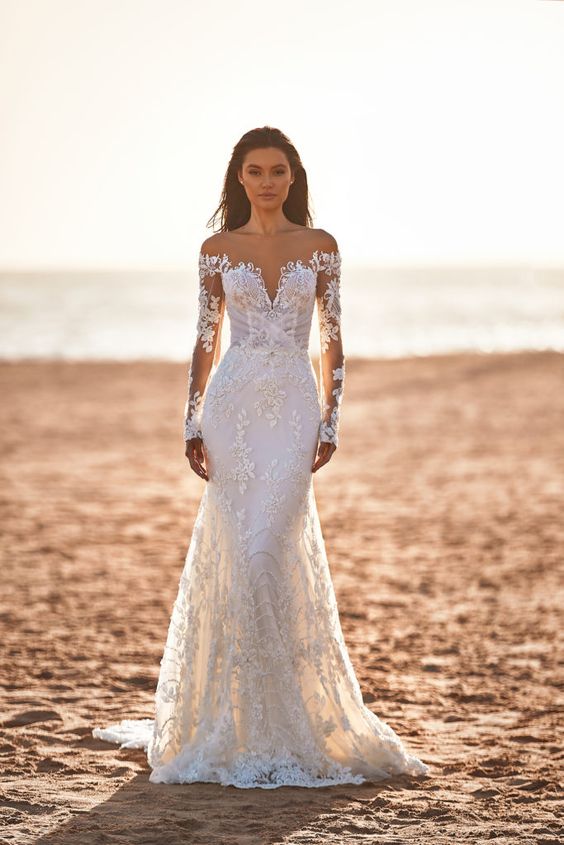 Credit: Mila Nova via Pinterest
This a perfect example of how tulle is simply magic for sleeves. The off-shoulder/long sleeve combination creates a captivating illusion of a seamless fit, while the trumpet body and ruched waist slim and elongate the torso. The trail beginning at the upper thigh gives room for movement while still leaving behind a glorious trail.
26. A rose by any other name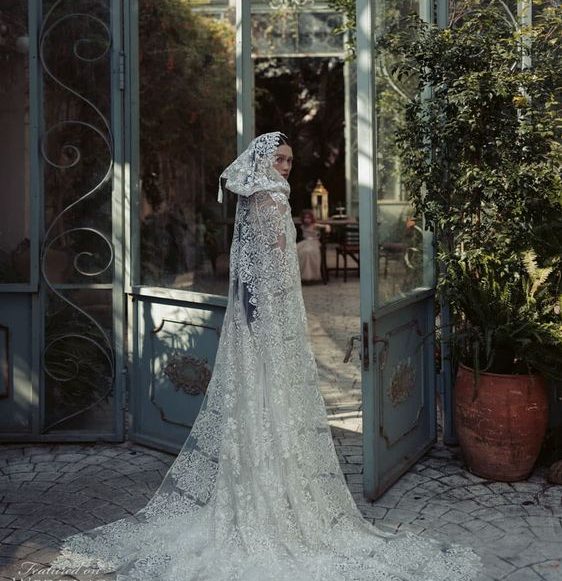 Credit: weddinginpirasi via Pinterest
This Romeo and Juliet-inspired dress exudes all the charm and romance of Verona. A pattern of baroque, almost mandala patterns run the length of the body and trail, mirroring the order and intricacies of the warring families. With its flowing trail and hooded veil, the dress's intrigue, drama, and majesty are hard to deny.
27. Flowers for the bride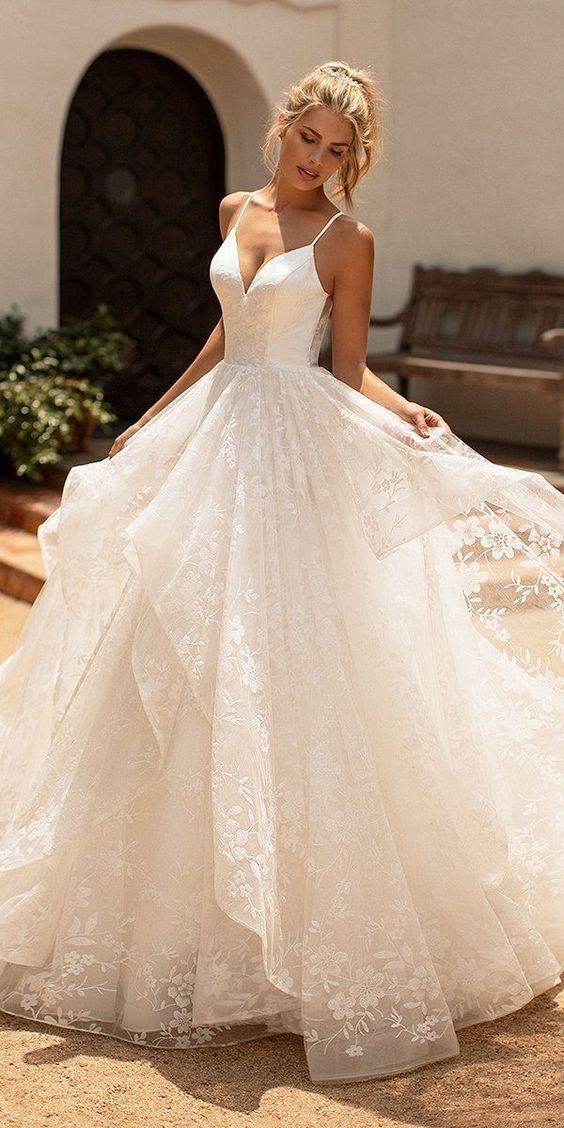 Credit: Wattpad via Pinterest
Who doesn't want to be covered head to toe in nature? The main thing here is the gorgeous and intricate flower stitching on the mesh layers. The crossing of the fabric creates a dramatic return to nature. The pattern continues up to the body, as the dress tightens up and flatters the bride's stunning figure.
28. Thin and long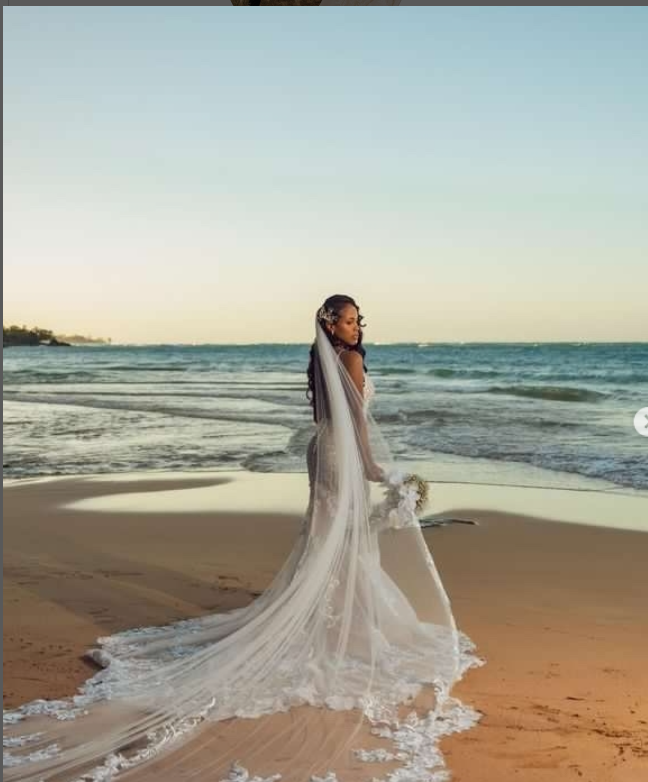 Credit: kittychencouture via Instagram
While many dresses focus on larger volumes for longer trails, this elegant number is thin, and light, and incorporates the veil into the mix to add a new dimension. Perfectly fitting the beach theme of the photo shoot, the stitched details are focused on the outer edges of the fabric, producing a vibe that's halfway between sparkles and sea foam.
29. Sequin bell of the ball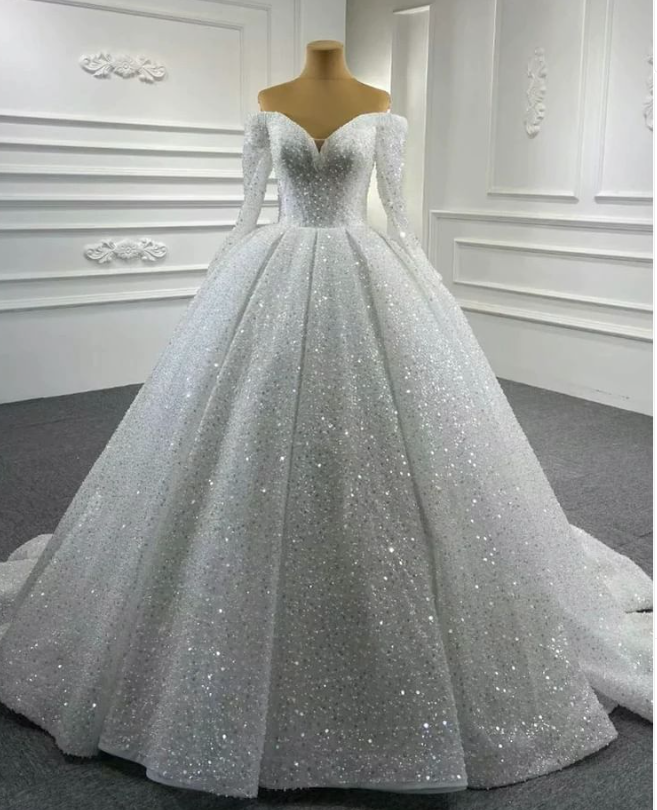 Credit: luciafashiondress via Instagram
If you're looking for an extravagant, show-stealing ball gown, you might as well go all the way with it. Sparkle your way down the aisle with the gorgeous rhinestone finish, get plenty of sultry shoulder action with the exposed cut, and swish yourself across the dance floor with its emphasized waist. It's a dress built from the ground up to steal the ball.
30. It's all in the hips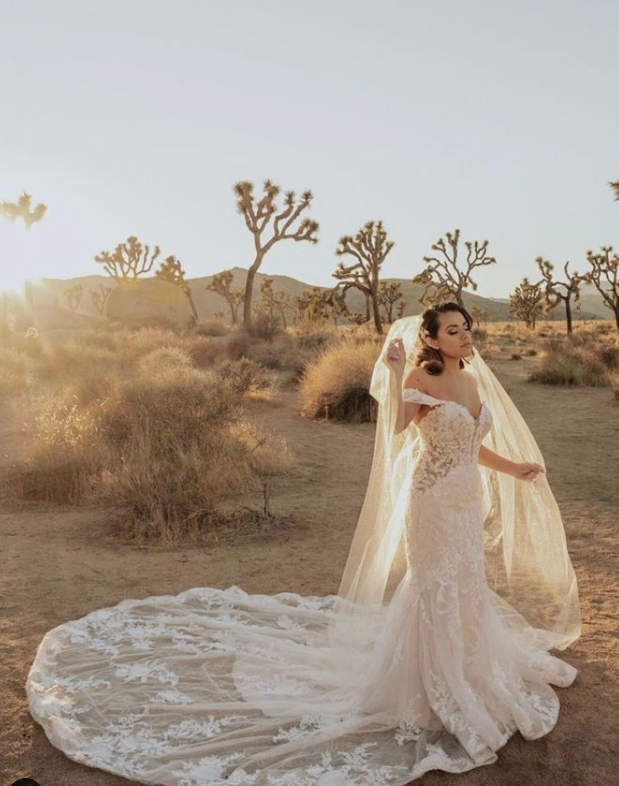 Credit: kittychencouture via Instagram
This dress layers its tulle over a traditional, opaque fabric to highlight the natural beauty of the bride's body. The legs may be covered, but the translucent waist means your hips will steal the show. Add to that the push-up bust, the scalloped detail on the trail, and a simple, classic veil, and you have a dress that marries old-school and contemporary style.
31. The long train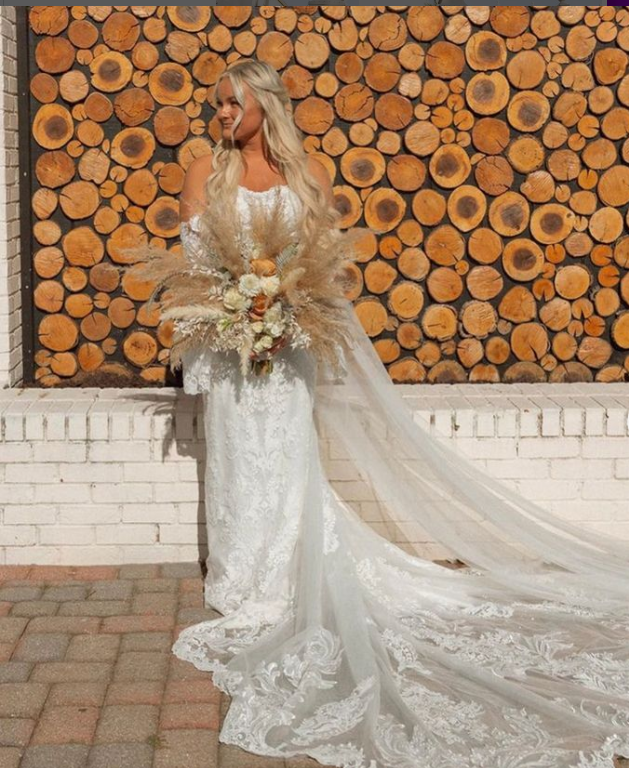 Credit: ivoirebykittychen via Instagram
This dress is unique because it focuses on the train in isolation. It's normal for trains that start below the knee to be attached to a mermaid cut, however, this dress has a comfortable, narrow fit from the hips down. The sweetheart neckline also helps keep the top half beautiful and modest, so as not to detract from the highlights.
32. Soft as silk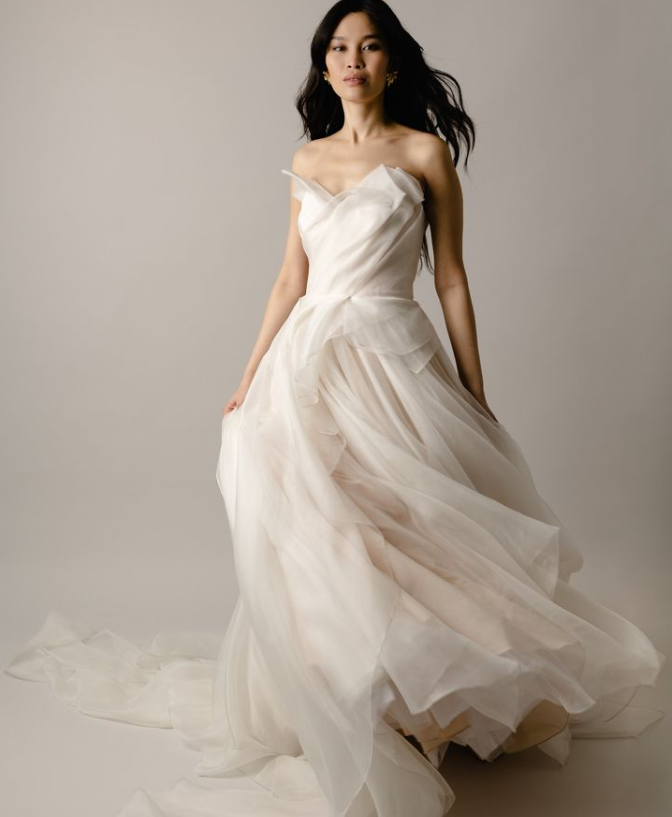 Credit: carolhannahbridal via Pinterest
Built around its texture, this piece uses its flow and shape to maximum effect. The silk organza chest creates these angular accents, great for framing the face and showing off your fierce bridal makeup. The asymmetric layers around the waist help create volume without overwhelming your shape, and the naked arms help balance everything out.
33. Night at the ballet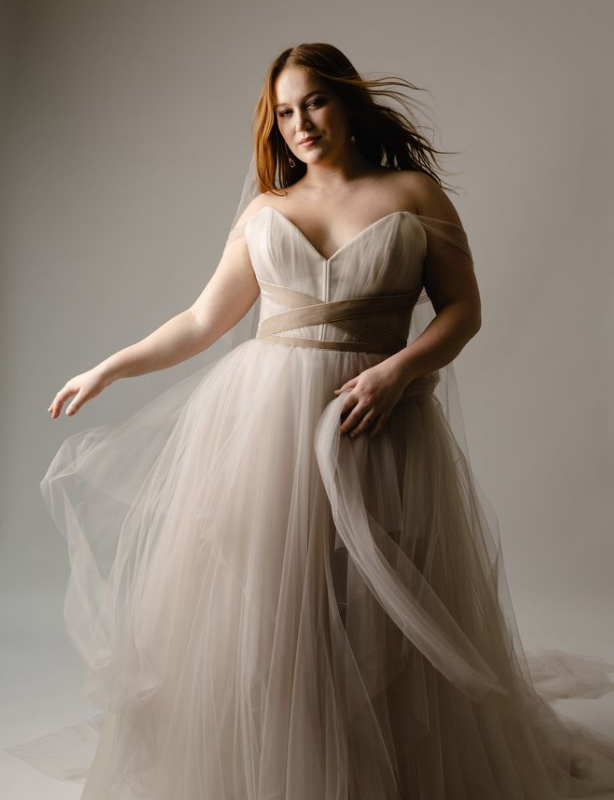 Credit: carolhannahbridal via Instagram
This dance-inspired gown mixes classical features of ballet attire to make your special day all the more elegant. The pointed arch-chest brings a lot of attention to the shoulders (a core aspect of consideration in dance) while just beneath it, you see the strap detail most commonly found in ballet shoes. The soft, off-beige tone is a nice point of difference.
34. A different take on nature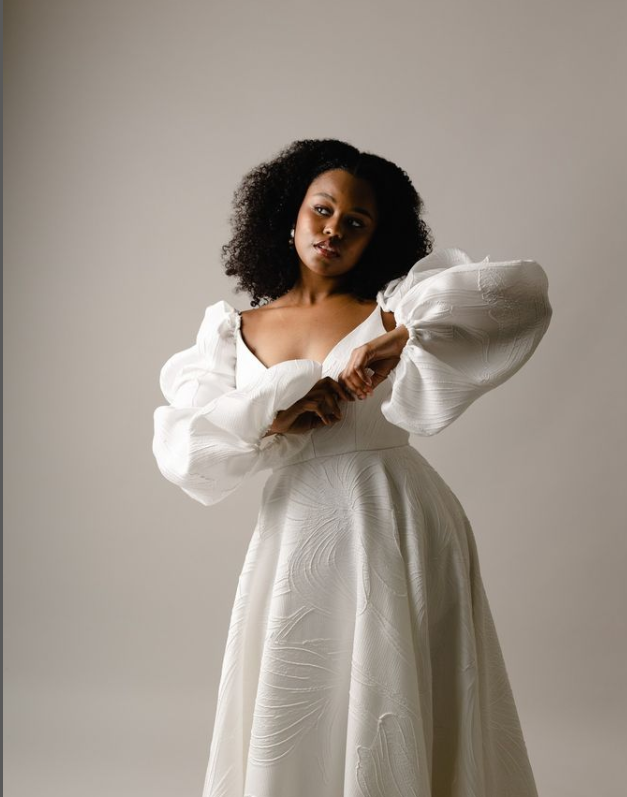 Credit: carolhannahbridal via Instagram
If tiny flowers over tulle aren't your tempo, try something like this! These giant orchid details over a heavier material give just as gorgeous a natural vibe, without having to expose too much skin in the process. The chunky bell sleeves carry the motif more delicately, on a lighter fabric boasting the same floral embossing.
35. Who needs doves when you're a phoenix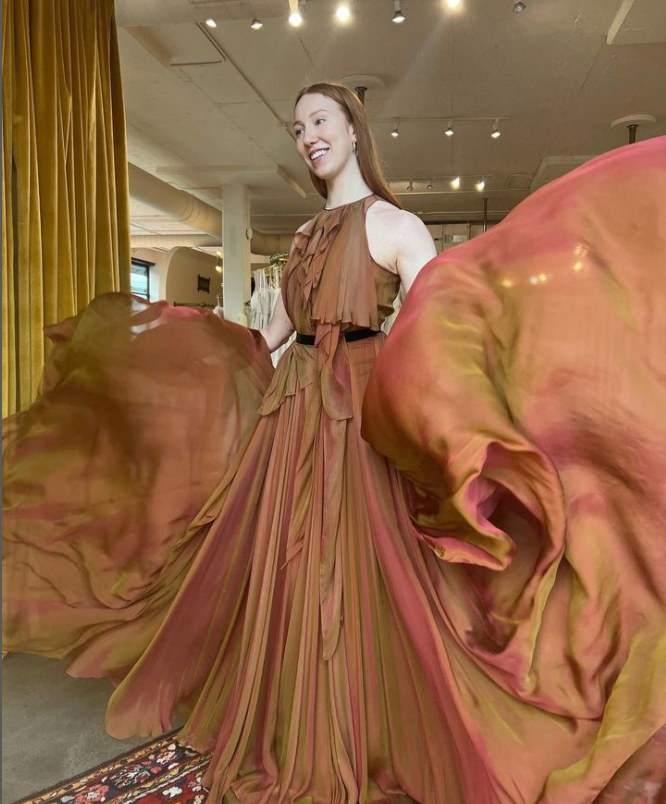 Credit: carolhannahbridal via Instagram
This translucent, iridescent shroud of flame will leave your wedding guests in awe. Stepping away from white is a perfectly common deviation from tradition, and the boho-inspired ruffles already hint at a little rebellion. The neckline and shoulder scoops give you plenty of skin on show.
36. Classy and sassy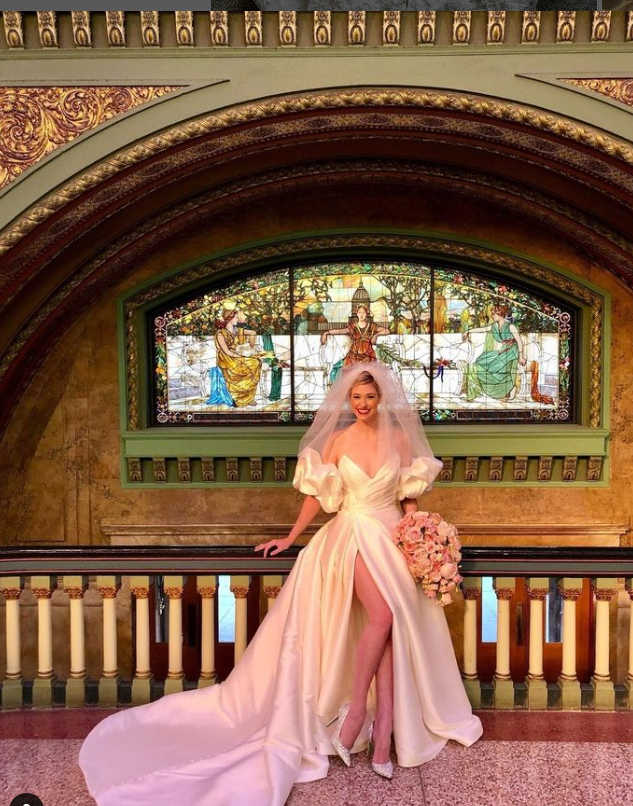 Credit: kittychencouture via Instagram
An elegant cut and high-thigh window, a V-neckline, ruched torso, what doesn't this dress have? Well, it also has really cute sleeve features, which you probably noticed. It all comes together to form a look that has plenty of classic charm, with just enough of the 20s vaudeville attitude to keep it from feeling outdated. An impressive balance.
37. Satin sleeves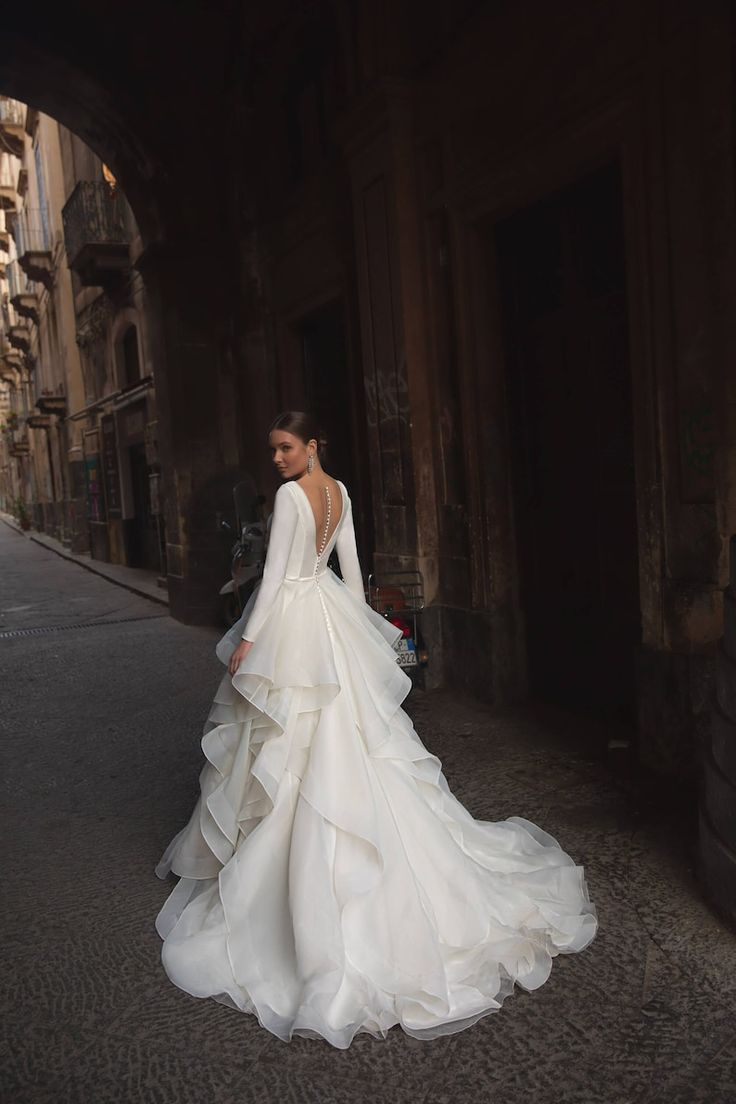 Credit: Yinbridal via Pinterest
This half-satin, half-tulle dress offers a refined, simple, stunning look. The long-sleeved top adds a touch of grace, while the open back and pearl features give a more sensual side to the arrangement. The trail is as layered, shaped, and puffed as you would imagine, with an exaggerated hip that collects behind the wearer.
38. For pleat's sake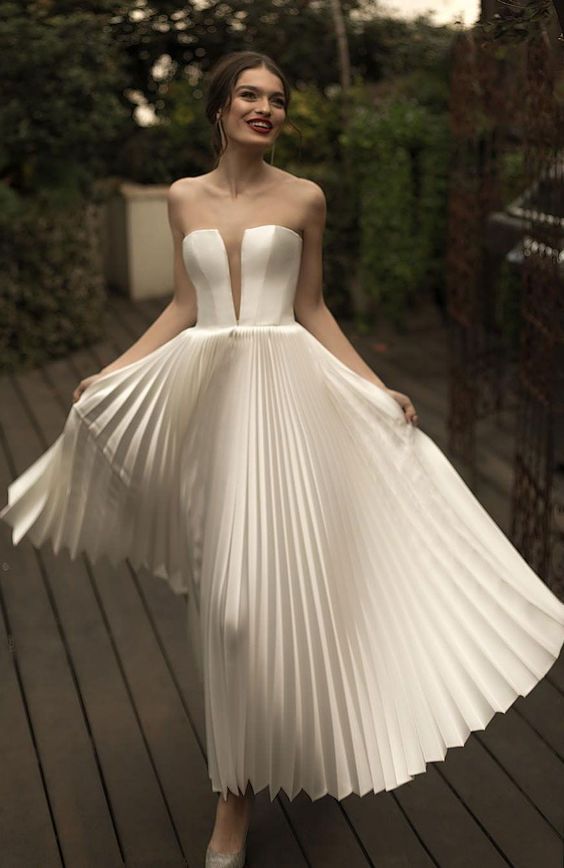 Credit: itakeyou via Pinterest
Pleats? At a wedding? On the bride? You sound like a mother-in-law right now – there are no rules here! Wear whatever you want and, if that's pleat, consider this at least proof of the concept working. The simple open-front corset is already making a statement of non-tradition, and the flowing white crimps will look dashing during a twirl.
39. Mika-i-do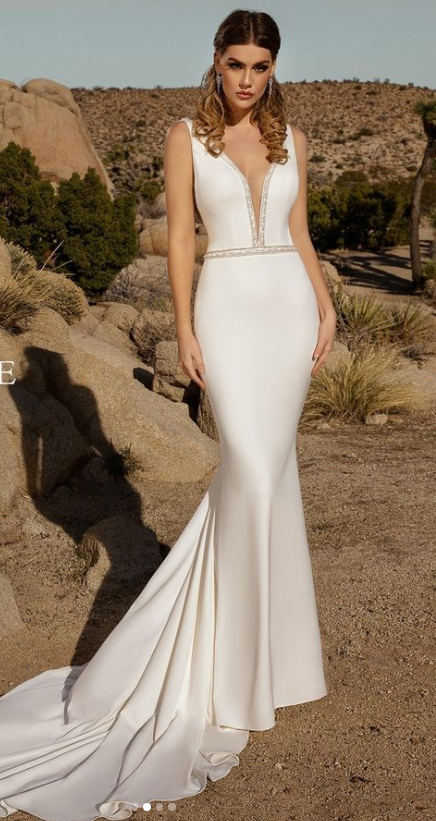 Credit: ivoirebykittychen via Instagram
This blindingly white mikado dress stands out in its simplicity. It's all about the body shape, the mermaid tail, and the beading work across the belt and torso. It would be a hard look to pull off since there is nothing to hide behind, but the plain, striking beauty of the gown speaks volumes for itself. Less is more.
40. Layered details beneath the dress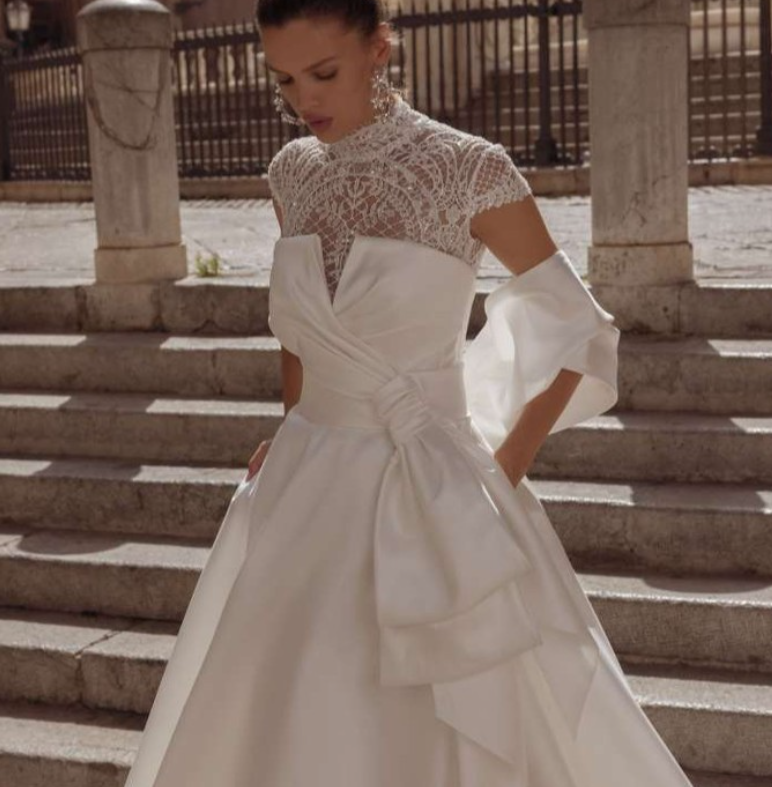 Credit: arabia weddings via Instagram
Subverting expectations, this dress takes the idea of building shape and detail through texture and inverts it. A lavishly detailed and adorned turtleneck lace top sits beneath the main gown, which uses large, flat shapes to keep everything rounded and simple. The bow and wrap-around style are clean and built on extravagant foundations.
41. Arabian wedding nights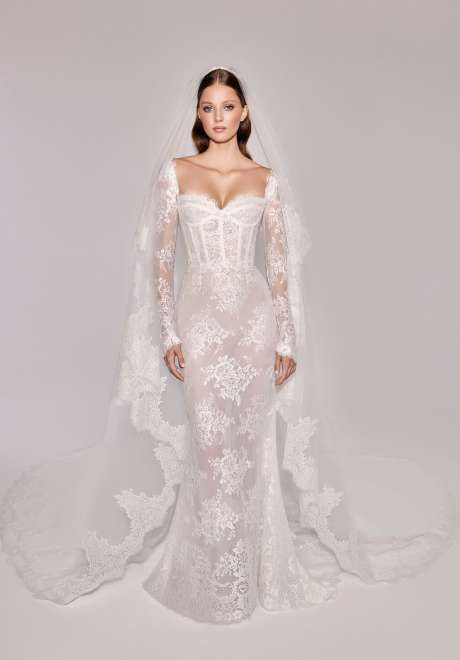 Credit: arabianweddings via Pinterest
This white-hot ball of desert fire radiates beauty with its light, delicate, intricate design. A slimming corset section bleeds down into its long and narrow skirt, adorned with lovingly detailed threadwork. The headpiece is the star of the show, a glamorous veil that falls all the way down into a short and non-intrusive train.
42. A grounded fantasy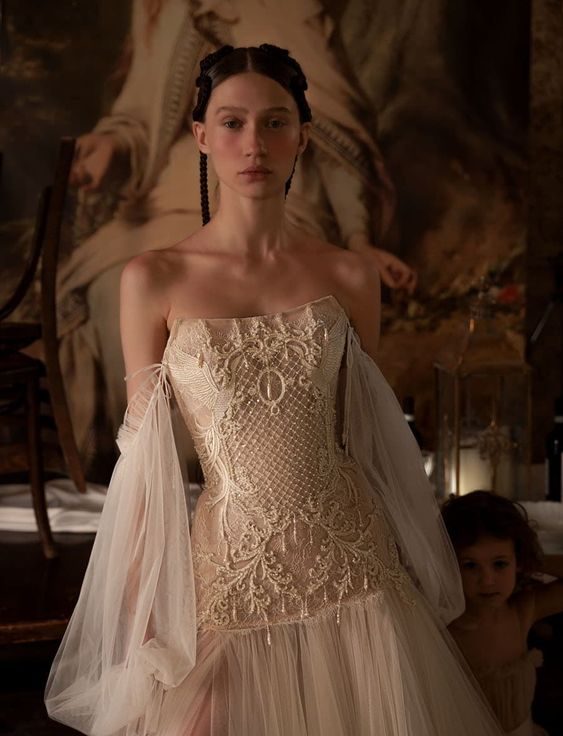 Credit: weddinginspirasi via Pinterest
Another gorgeous piece inspired by Romeo and Juliet, this one takes a much more reserved, conservative, and era-appropriate approach. A high cut, slightly sloped neckline, and bell sleeves make the shoulder area and neck the main points of interest, while the truly exquisite embroidery work on the torso mimics a confessional window. A perfect dress for a pair of star-crossed lovers.
43. Easy A-line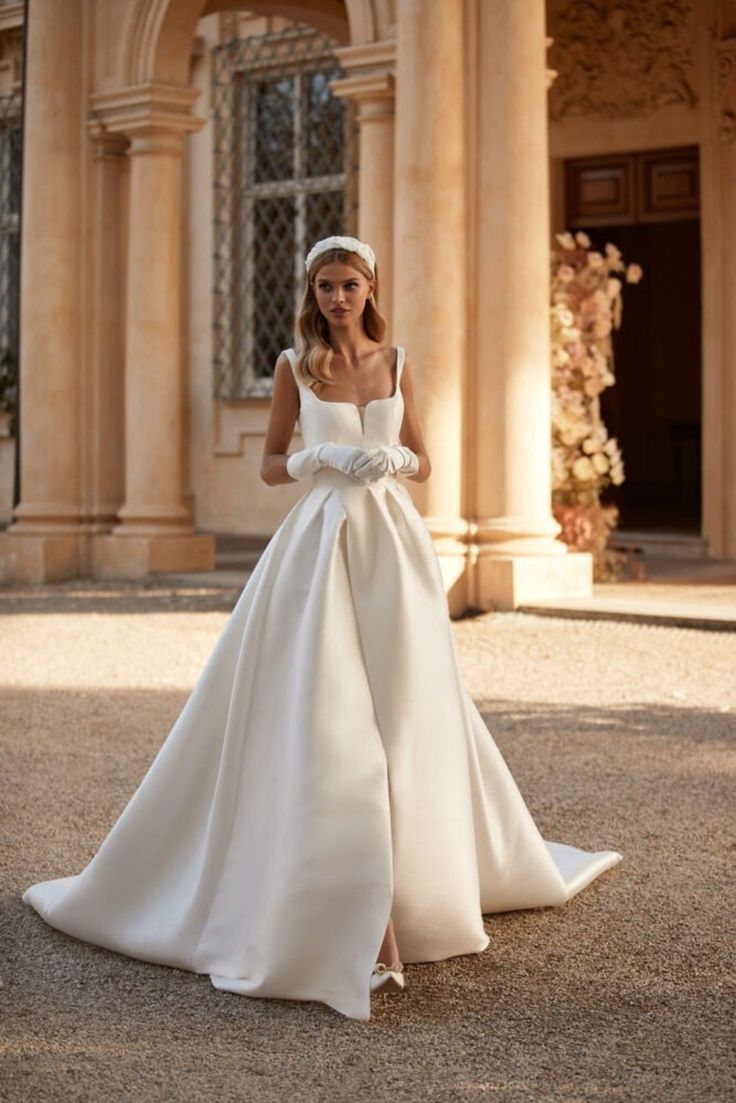 Credit: estyUK via Pinterest
You can't get much more minimalist than this! An A-line dress takes simple chic to new heights. The silhouette, features, and accessories are all takes on traditional fair, with the notable exception of an absent veil. Instead, a plain white band is used to hold the hair back, adding to that sophisticated minimalism.
44. Tulle and textured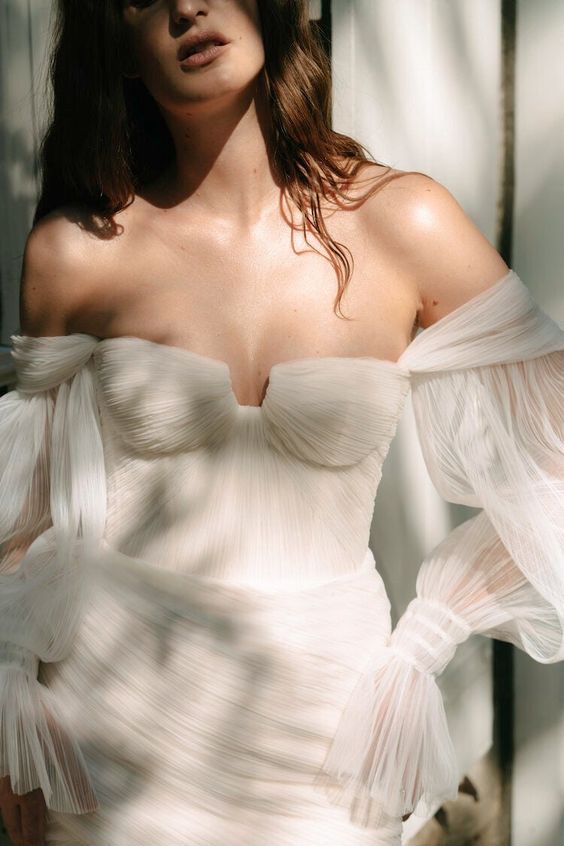 Credit: Etsy via Pinterest
In the art world, impasto refers to the visible texture of a piece, like the build-up of brush stabs that make up a scenic tree's foliage. This dress is all impasto all the time. The soft shapes created by the pleated material catch and reflect the light, making this mermaid-cut dress seem naturally ethereal.
45. Ace symmetry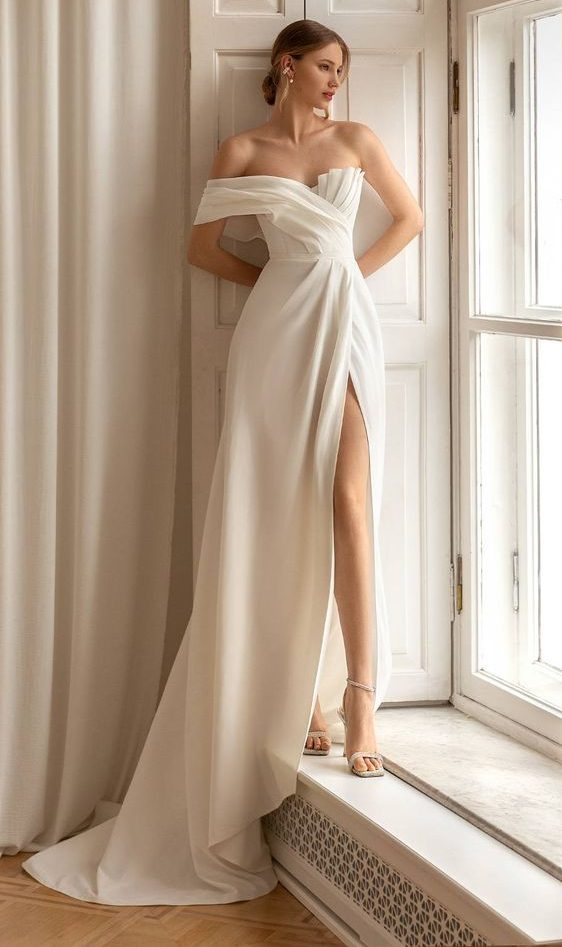 Credit: Wedding Inspirasi via Pinterest
Weight is an important factor to consider for any tailoring, and this elegant gown sits on the body like helium. The wrap-around high waist draws the eye to the very center of the dress, which helps people take in the whole dress in all its glory. The pleated, sculpted body beneath holds structure and adds so much more visual interest.
46. Aaaaand breathe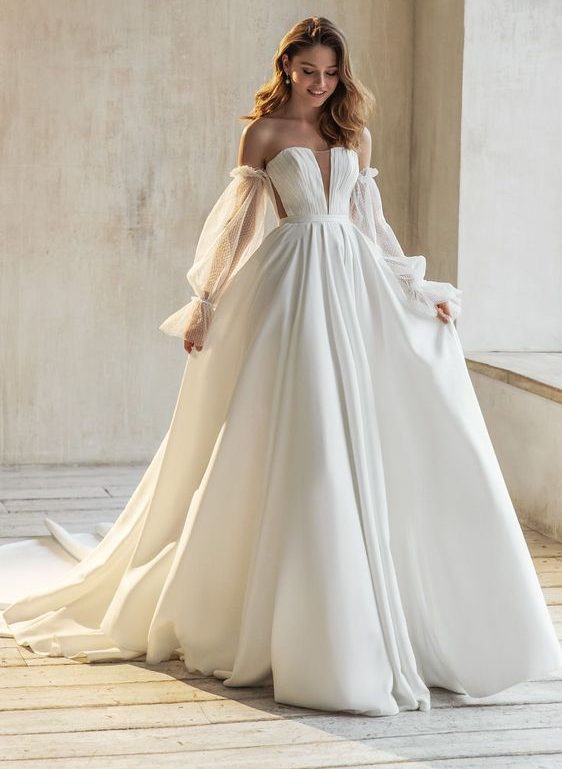 Credit: Eva Lendel via TikTok
Rarely are such visually enchanting dresses constructed with so many concessions to comfort. The high waistline isn't skin tight, and the off-the-chest A-line shape with side slits means you could walk the aisle, get through the ceremony and be halfway through your third dance before you even break a sweat.
46. Blazing the trail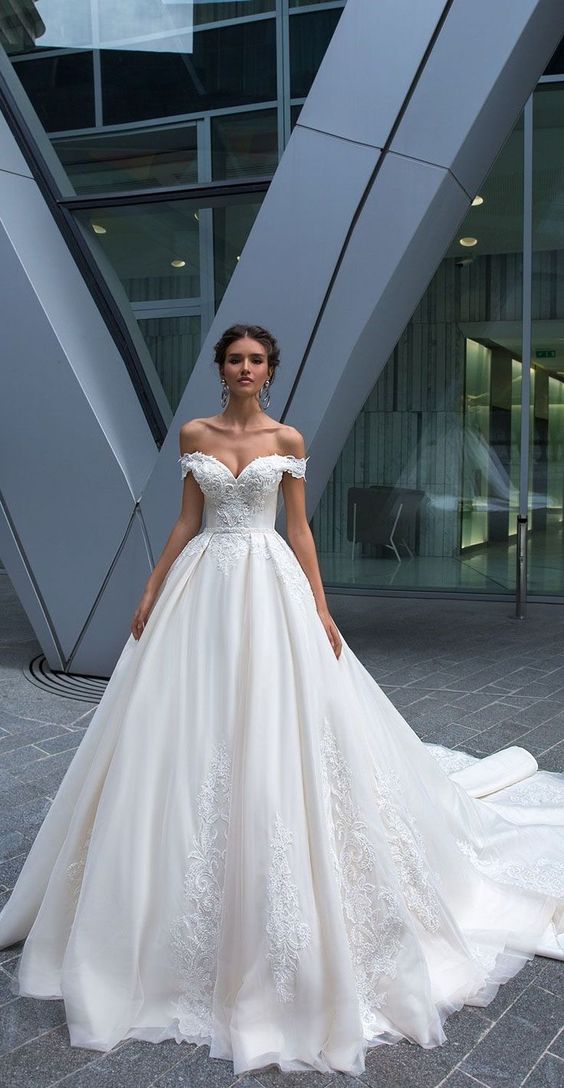 Credit: Dreamhouse via Pinterest
In a semi-traditional fashion, the bottom half of this dress is where most of the intrigue is. With a few clever and innovative design choices, though, it seamlessly blends old and new. The shorter, textured torso conveys everything you need with minimal space, and the lack of detail in the lower mid-sections emphasizes the sprouting flower effect of the trail.
47. An alternative point of view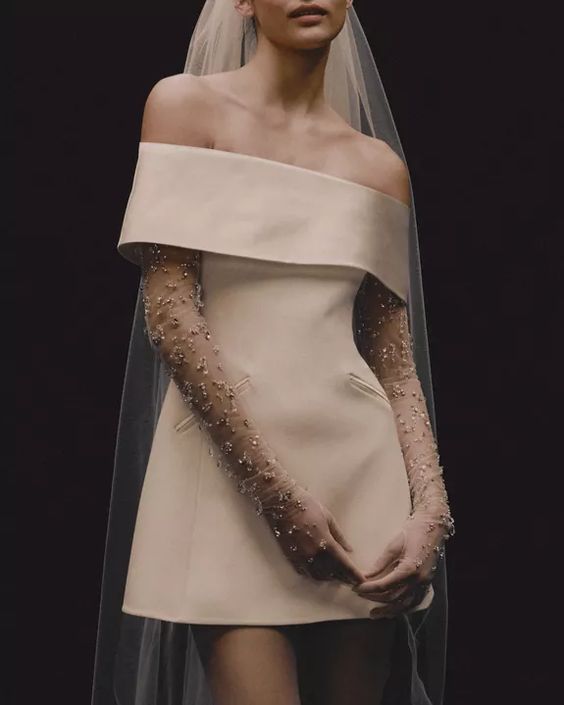 Credit: BRIDES via Pinterest
This brilliant, subversive gown takes cues from men's tailoring to play with expectations and gendered fashion construction. The emphasis on the rolled, wide and narrow neckline creates an effect reminiscent of a wide peaked lapel on a suit jacket. It strengthens the shoulders to make them prominent, while the rest of the dress serves total alt-femme energy.
48. Ocean treasures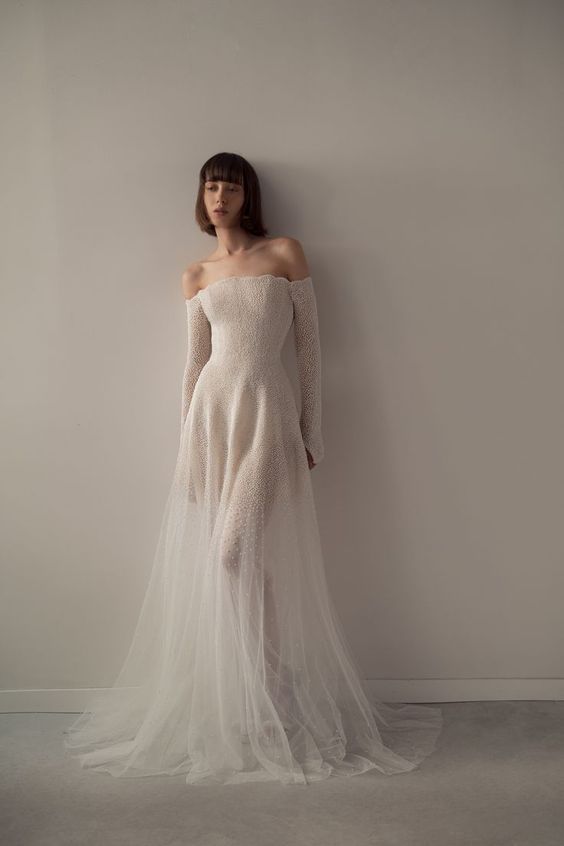 Credit: Chana Marelus via Pinterest
By taking advantage of its treasure trove of pearls, this dress sits just heavy enough to cling to the body and keep its shape without drowning the wearer in its extravagance. Small touches like the slight transparent gradient effect, the scalloped necklines, and the shaped waist make this dream dress still seem so individual.
49. A Greek myth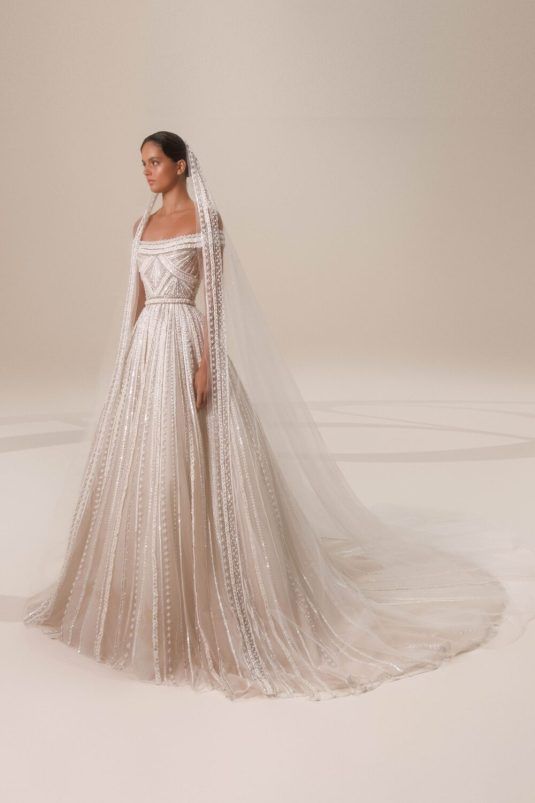 Credit: WedLuxe Magazine via Pinterest
Every bride wants a dress that tells a story, one with a surrounding mythology packed with more drama than the ancient Greeks. Taking cues from traditional garment structures, silhouettes, and adornments, it's no wonder the Trojans accepted the giant horse if it looked this pretty.
50. Be your own corsage
Credit: Gilded Social via Pinterest
Chest pieces aren't often the visual focus of wedding dresses, since there's usually so much going on everywhere else. This gown flies against this approach, dialing back everything from the sleeves to the veil to push the wonderfully ruched rose that is somehow both flowing and frozen as it sits over the chest.
51. So many layers, such selective coverage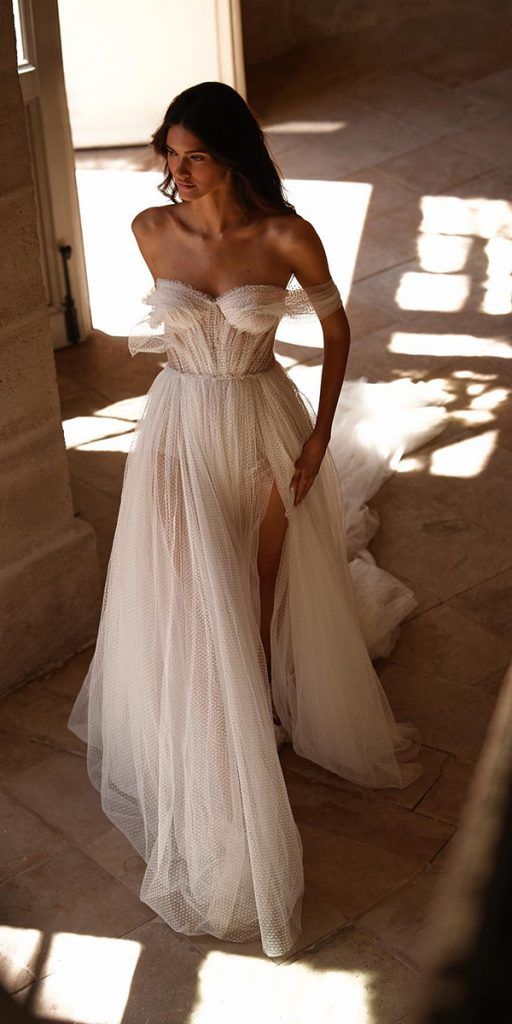 Credit: Wedding Dresses Guide via Pinterest
While many dresses incorporate tiny notes of tulle and lace to add some sultry-looking texture, this garment embraces it head to toe. It seems almost in your face to go with an open-thigh window on a dress that's designed to tease and mystify the eye anyway, but the layering here is intelligent and intentional. The wrap sleeves are a gorgeous extra touch.
52. The sky's the limit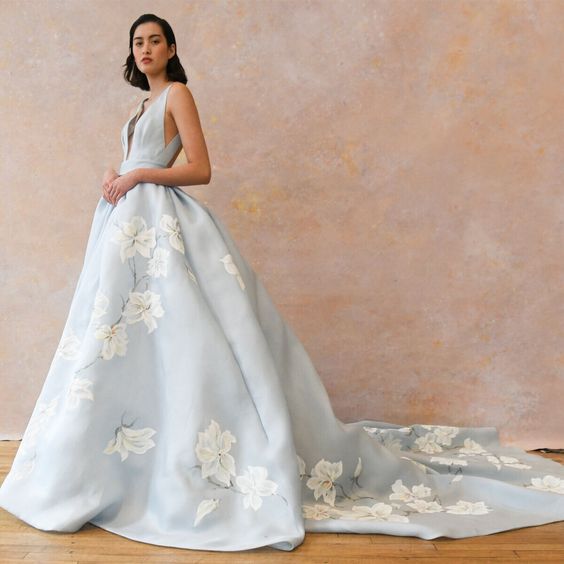 Credit: Carats and Cake via Pinterest
Plenty of non-standard gowns are featured on this list, and this divine baby-blue garment is as beautiful as any. The sleek, plunging neckline, bare arms, and orchid pattern elevate the look's natural beauty and refinement. It favors a bell shape bottom, providing plenty of breathing room and a modest train, creating a stripped-back sense of elegance.
53. Tall, tall heights
Credit: Lihi Hod via Pinterest
Certain dresses, usually those in the most beautiful fabrics you've ever set eyes on, are designed for the 'model' body type. These high-fashion style gowns are ambitious, but don't let that put you off! If skimpy gowns like this feel like traditional marriage and the fashion industry are classing, then they can fight until the sun explodes.
54. Give into temptation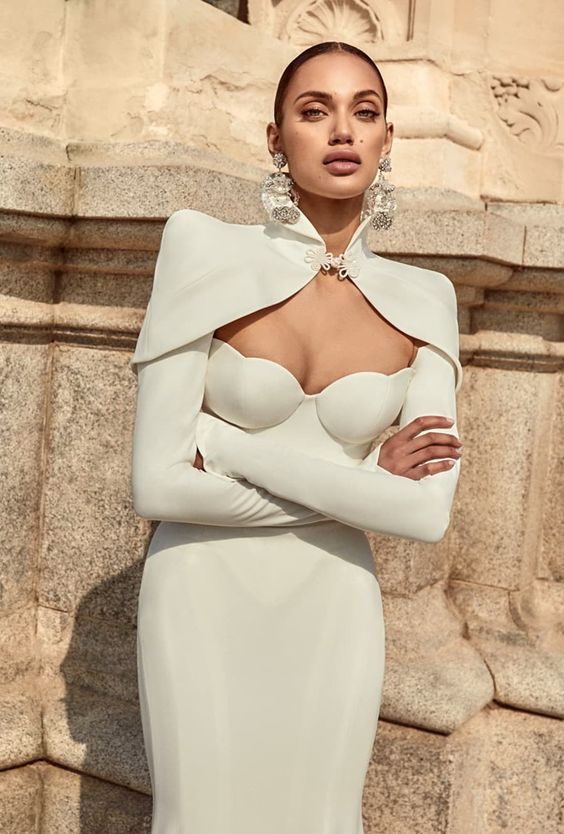 Credit: Wedding Inspirasi via Pinterest
Inspired by Georges Bizet's famous opera Carmen, this dress embodies both the piece's main characters. The sleek, skintight, almost admiral-like formality represents the militaristic and self-righteous Don José, while the scalloped bra, dramatic shawl, and decadent jewelry reflect the fiery, fierce, and feminine passion of Carmen herself.
55. Mermaid playsuit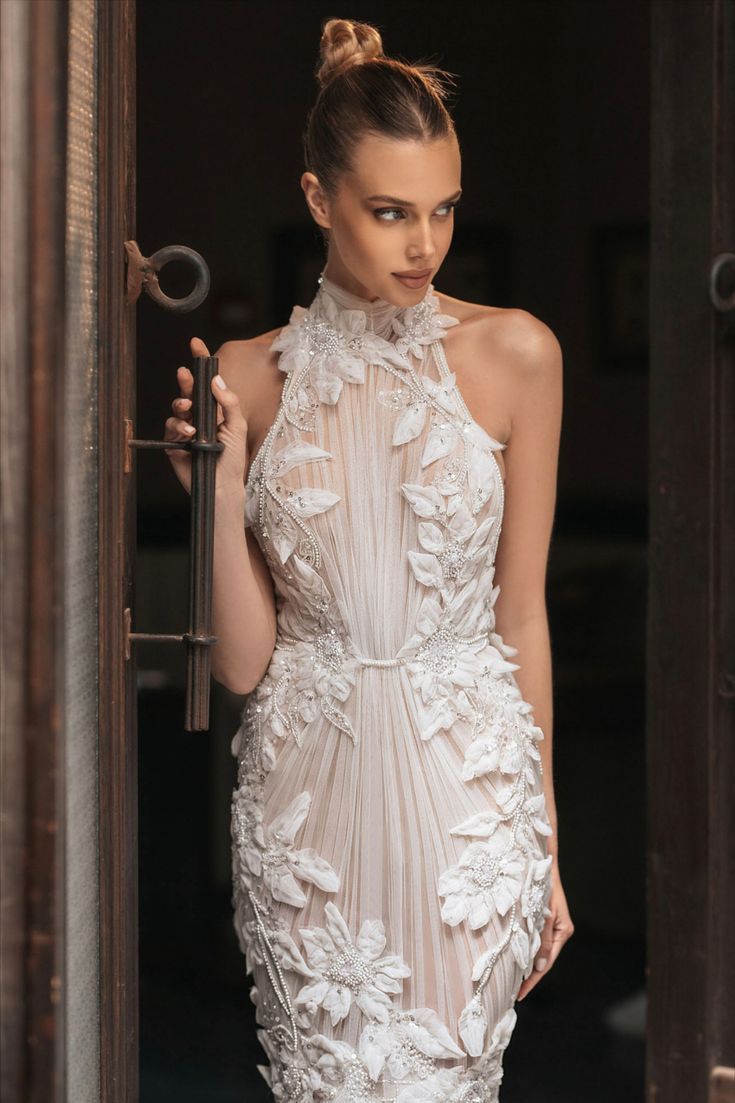 Credit: World of Stylish Woman via Pinterest
Ruches here are a genius touch, radiating from the center and creating an explosive energy that clearly outlines the enchanting mermaid silhouette. You'll notice that the embossed flower details are much thicker, bolder, and more protruding that the average dress, which when detailed with pearls and beads creates such a diverse texture.
56. Bride of a feather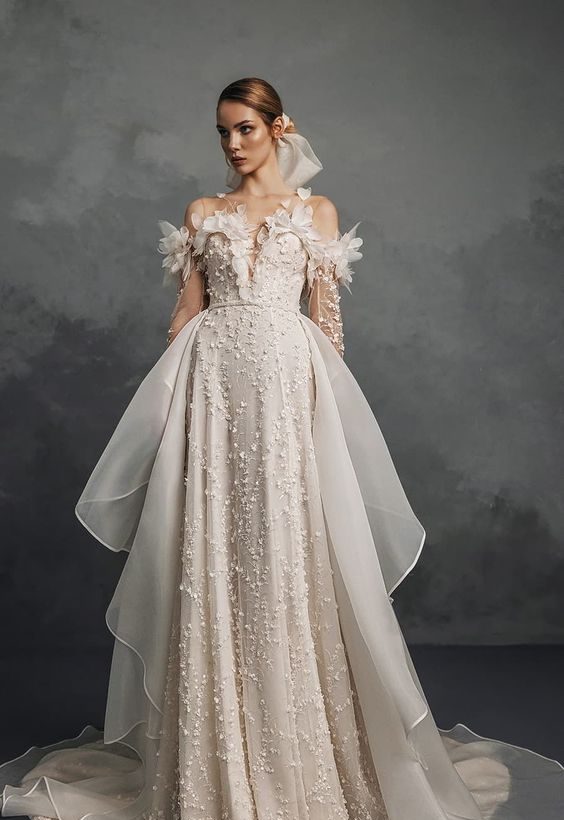 Credit: Wedding inspirasi via Pinterest
The aviary tones run throughout the design of this gorgeous piece. Its plunging neckline, partially obscured by feathers and ruffles acts like a crest. The layered accents on the hips fall in a circle with you at its center, the queen of the moment. Top it off with the hair bow and detailed sleeves, and you see why this dress soars.
57. A little white dress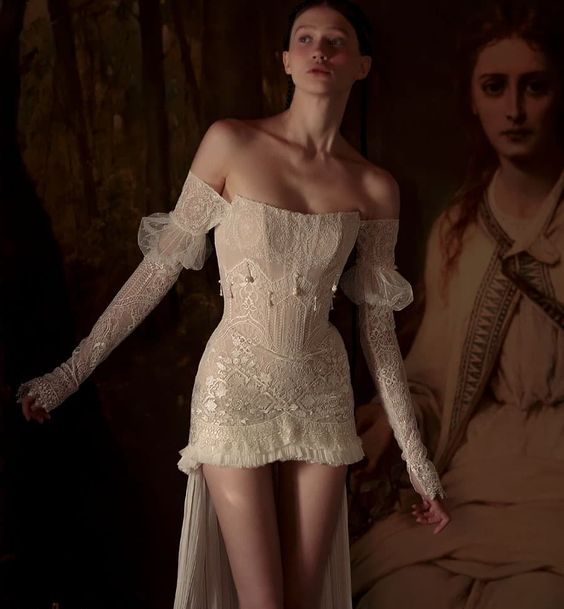 Credit: Wedding inspirasi via Pinterest
Somewhere between Renaissance and Baroque, this stunningly fantastical dress is unbelievably intricate. No inch of fabric goes without some small detail for your eyes to spiral into. The sheer mini skirt seems almost mandatory, given the detail involved. Etching those patterns into an extra 15 meters of fabric for a dramatic train would take away from its glamour.
58. Wedding night at the opera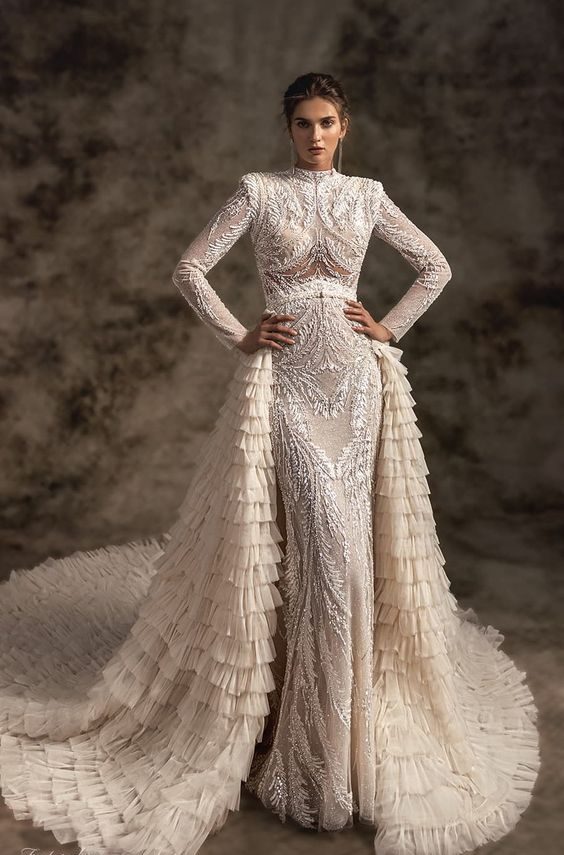 With a shape and form as powerful as Pavarotti's voice, this glamorous ball gown bellows beauty with its empress' shoulders, tight and high waistline, and an ornate take on a traditional ruffled trail. The fusion of its contemporary detailing with a more classical trail marries perfectly, making the dress as varied and intricate as even the most demanding bride.
59. Light and lacy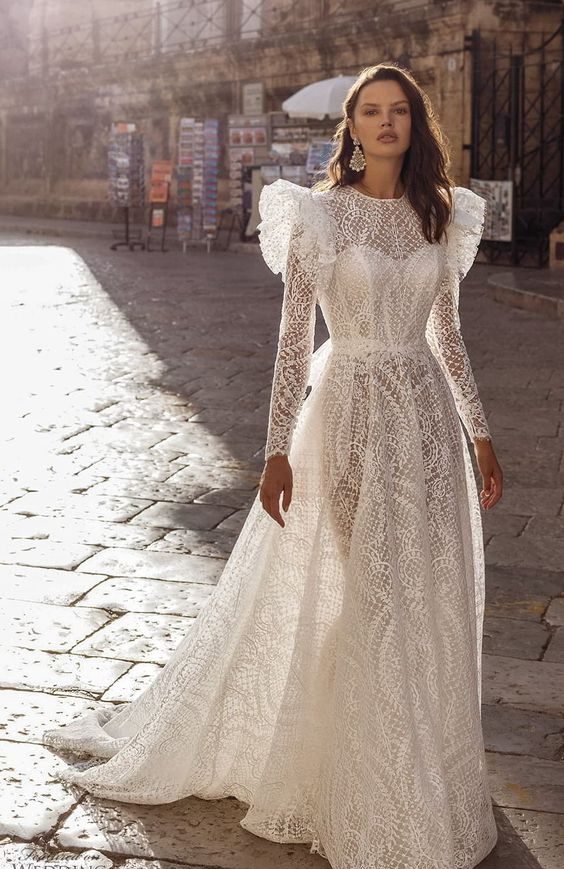 Credit: Wedding inspirasi via Pinterest
Using lace as the primary fabric for the bulk of the dress has quite a few advantages. It's light as air, sexy, and very appealing to the eye with its mesmerizing patterns. It also allows light to bleed through, which, if your wedding photographer knows how to white balance, will make you look heavenly.
60. Prints charming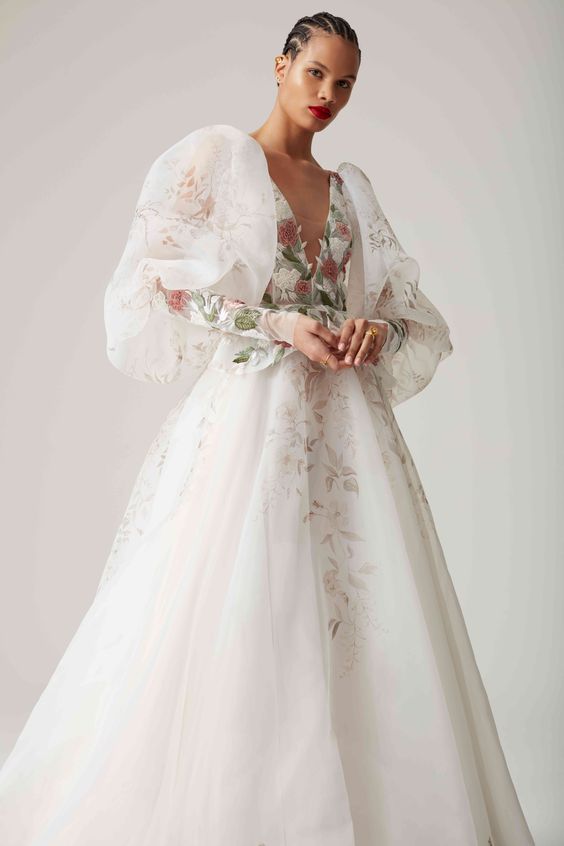 Credit: BRIDES via Pinterest
Blooming flowers and cascading vines are nothing new in the world of wedding fashion, but this piece still manages a new take on the natural motif. The printed, deep V-line chest creates an almost waistcoat-like effect and offers a splash of lightly muted color. A faded print instead of something embossed offers a unique, lusciously smooth texture.
61. Bare minimum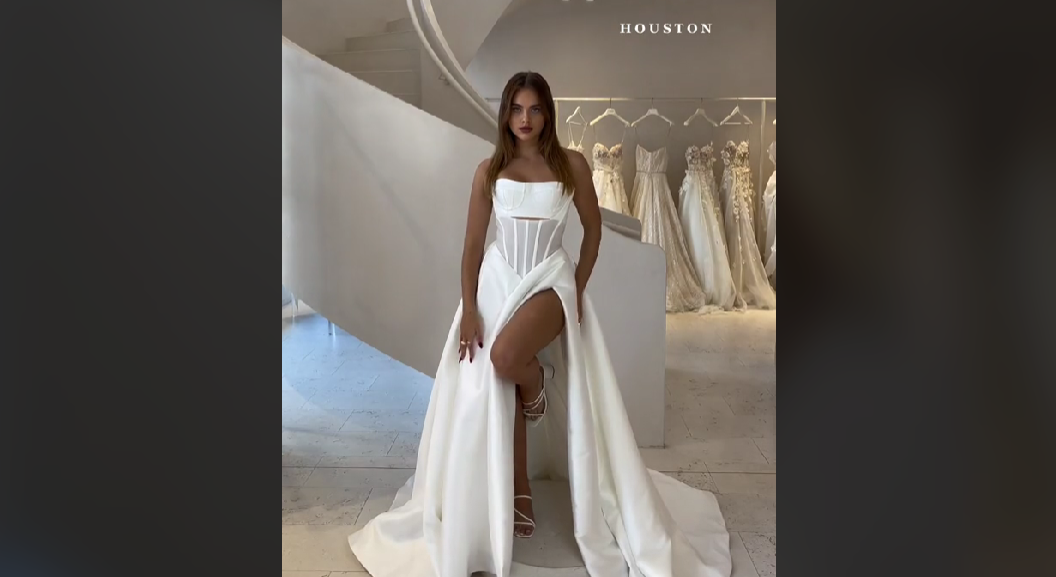 Credit: theivoryroombridal via TikTok
Hip-hugging simplicity at its finest! A bare whalebone corset keeps the waist tucked and the glamorous askew thigh window is the gap in a silky sea of white. The gorgeous white bralette is lightly textured and keeps everything in place, creating a heightening effect that you could easily boost with some killer heels.
62. Nature's pinstripes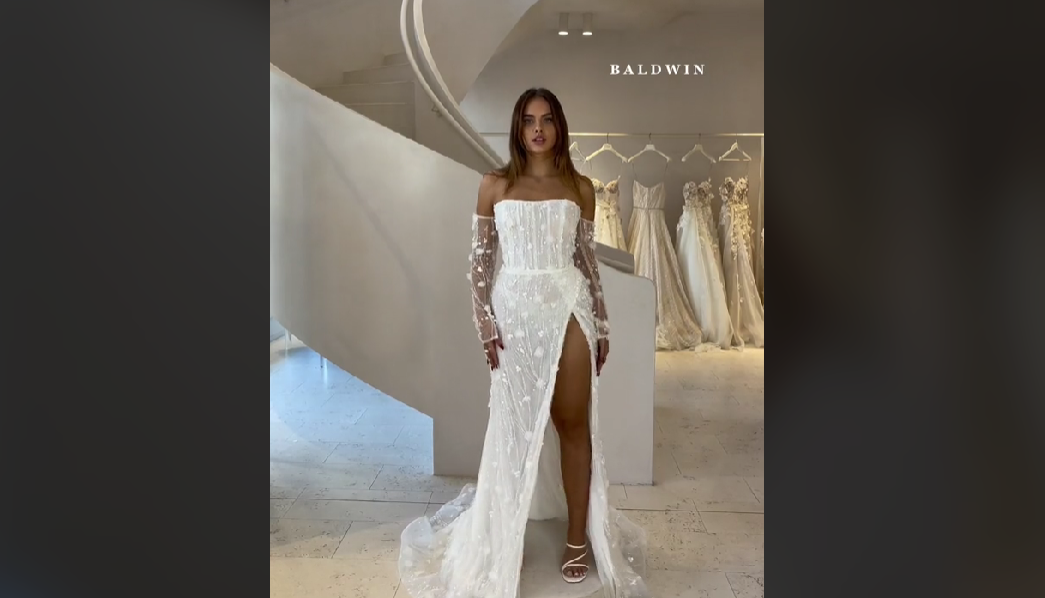 Credit: theivoryroombridal via TikTok
The very nearly symmetrical vines on this create a great height, ensuring you look as tall and powerful as you feel on your special day. With its sexy thigh vent, sleek lacy sleeves, and pooling tail, the texture and layers are modest but still float like a cloud around the body.
63. Beaded and beautiful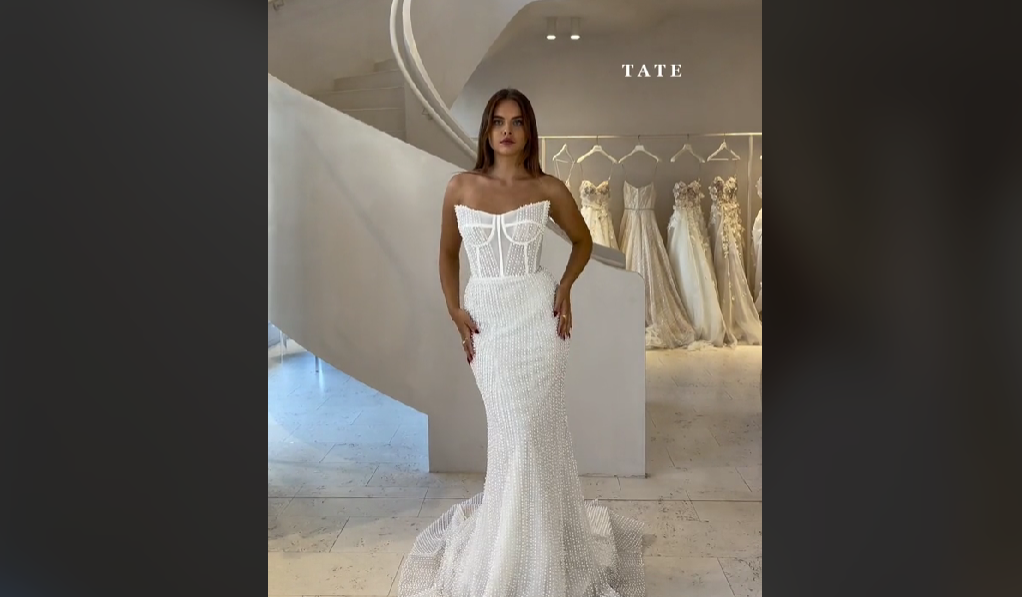 Credit: theivoryroombridal via TikTok
This classic silhouette would look just as at home on the red carpet or at the Met Gala. It plays on old-school, golden-age Hollywood glamour with its shapely waist, heavy bottom, and wide-peaked neckline, carrying the wearer across the threshold into high-class bridal bliss. A veil would just obscure the point of wearing this dress; it's all about you.
64. Embrace your wild side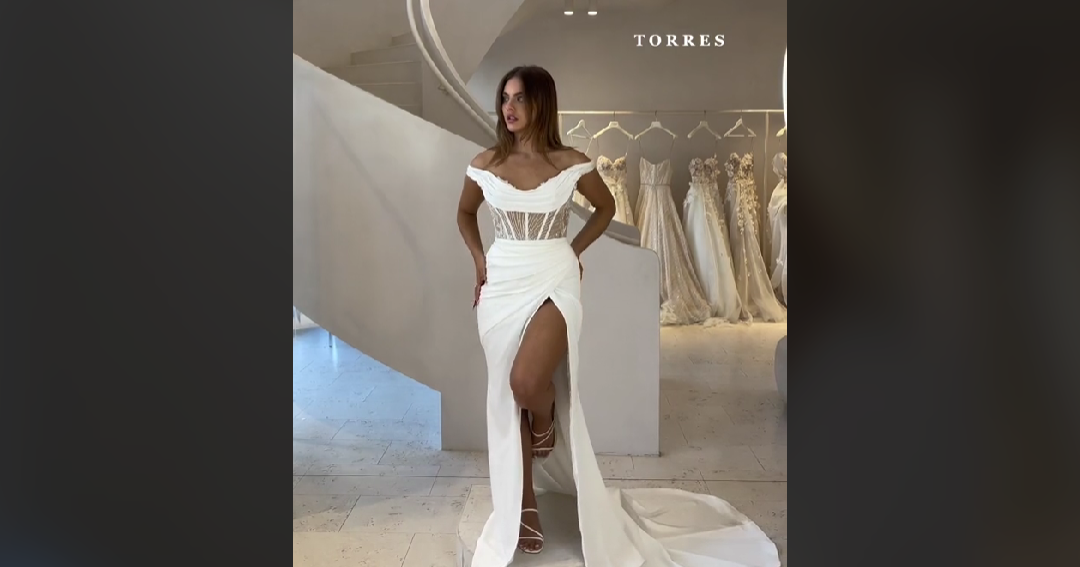 Credit: theivoryroombridal via TikTok
The textured edges here add so much raw energy to this dress. There's often an emphasis on cleaner shapes and smooth lines in wedding garments. It sometimes makes sense, they can be quite formal occasions when they're not being filmed for Say Yes To The Dress, but here you're free to go wild! The wrap sleeves and ruched waist create an irresistible central focus for the eye.
65. Peek-a-boo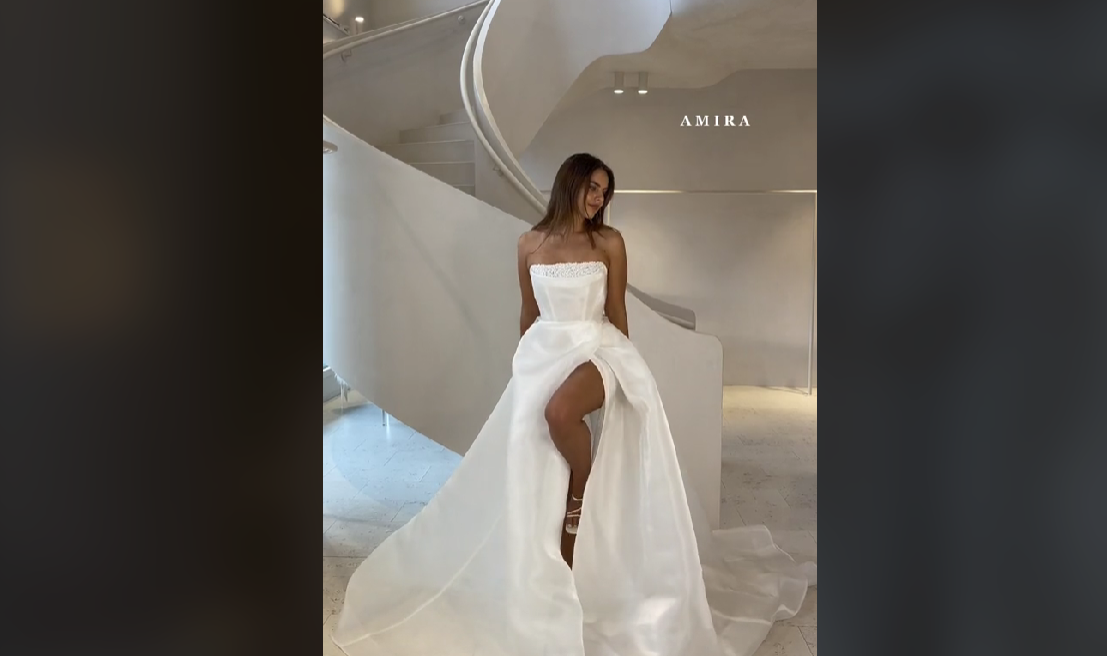 Credit: theivoryroombridal via TikTok
Modest, classical, and oh-so-pretty. The high waist and shorter chest area make the tail and legs seem as though they stretch on forever. The lace neckline covers up the chest, while the layered and slightly translucent bottom keeps things a little sultry, adding a dash of spice to this otherwise traditional gown.
66. Showstopper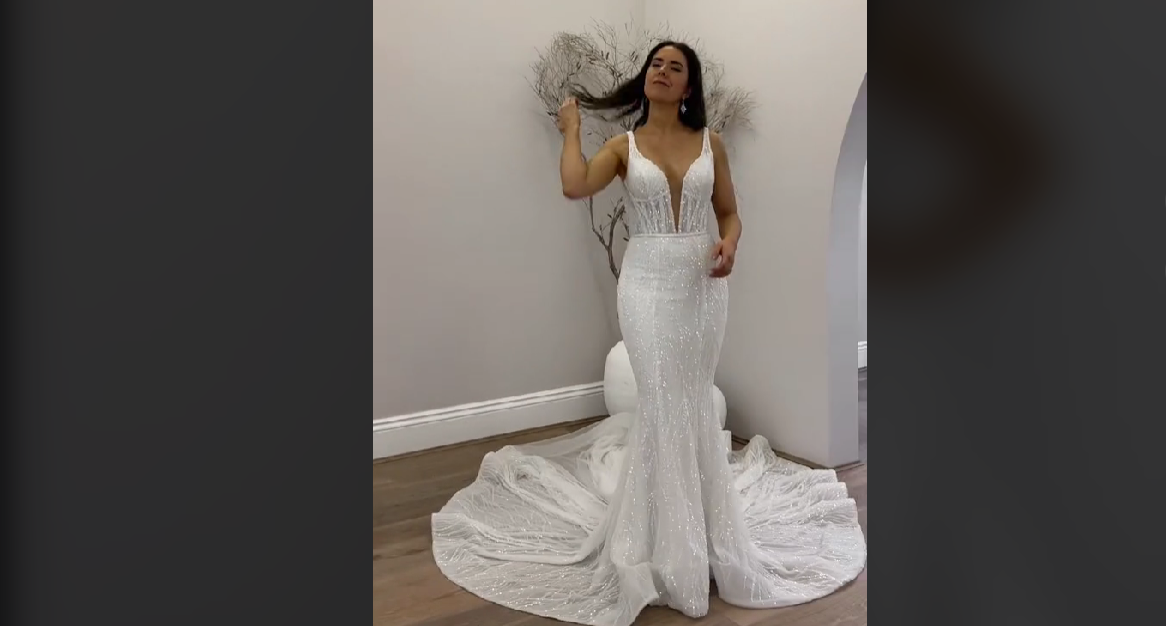 Credit: blanchebridal via TikTok
Some dresses just incorporate the best of the best and are content to call it a day. No big deal, just a plunging V-neck line with some secure yet dainty shoulder straps for safety. Embossed sequin details run from your perfectly framed hips all the way down to a medium-length trail. An absolutely stunning take on the mermaid cut.
67. Soft as satin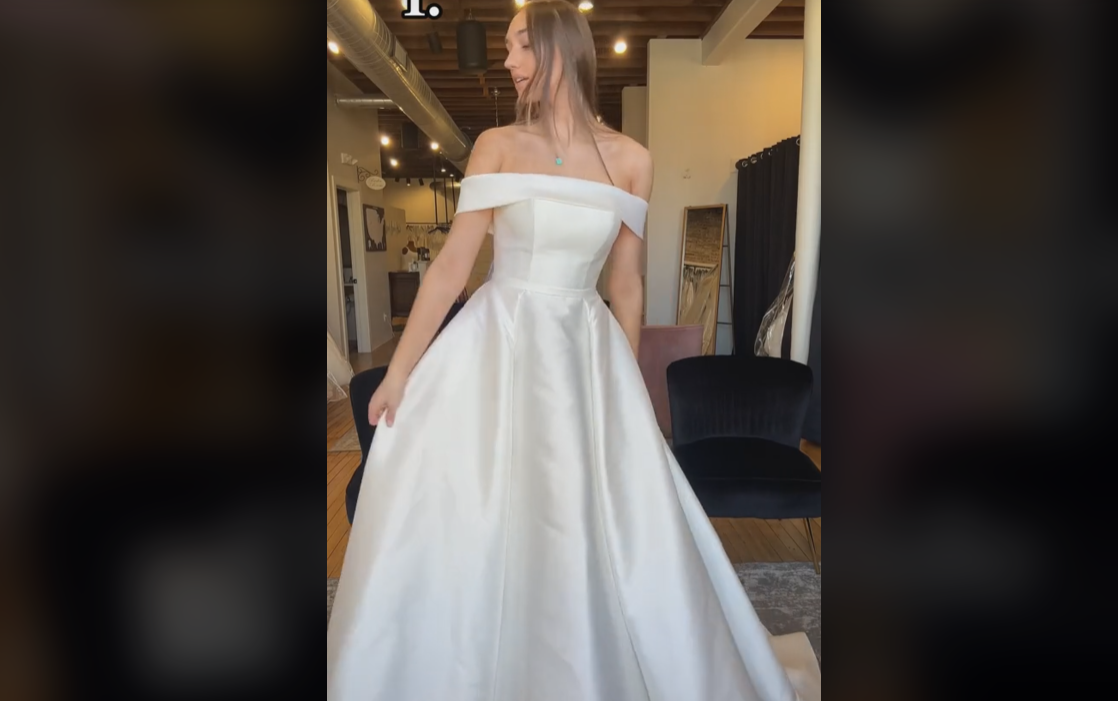 Credit: Bonbonbellebridal via TikTok
If dictionaries had pictures, this would be right in there next to 'wedding'. Its a quintessential dress for a quintessential princess bride. Soft, padded, demure. Simplicity often speaks for itself, but once simplicity saw how gorgeous you looked in this, there would be nothing but stunned silence.
68. Angel wings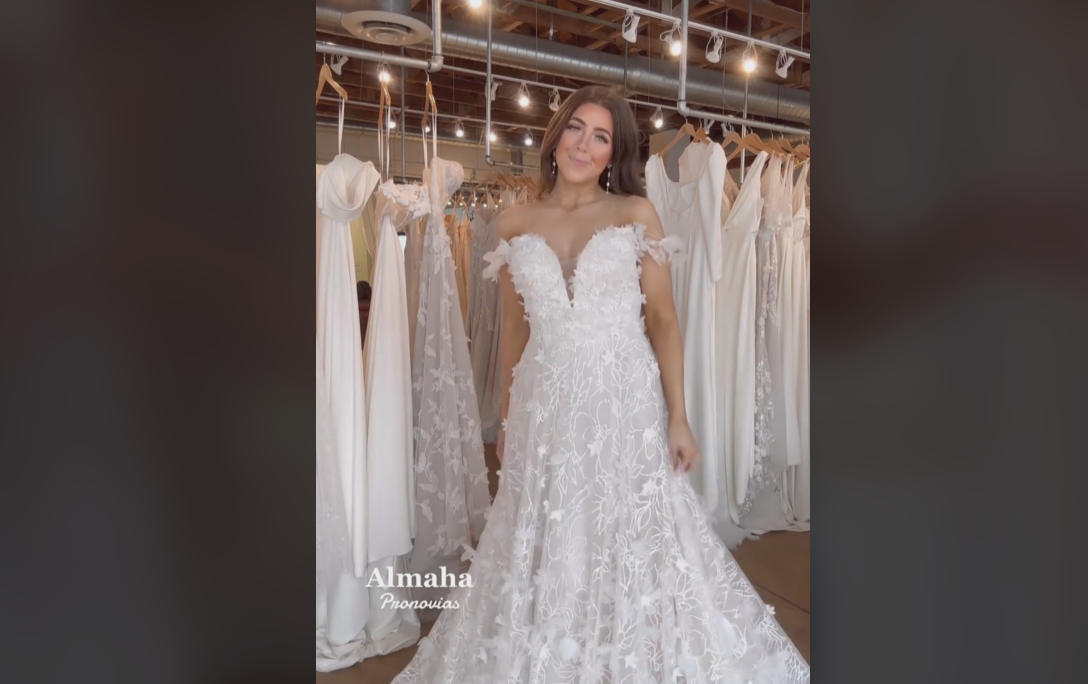 Credit: luv_bridal via TikTok
Sporting a super flattering fit that would look amazing on so many body types, any bride-to-be would be lucky to walk down the aisle in this flowing and intricate work of art. With a feathered chest piece that curves gracefully around the bust like a pair of angel wings, a relaxed waist, and bardot straps, the dress feels almost heavenly.
69. The only good spots on your wedding day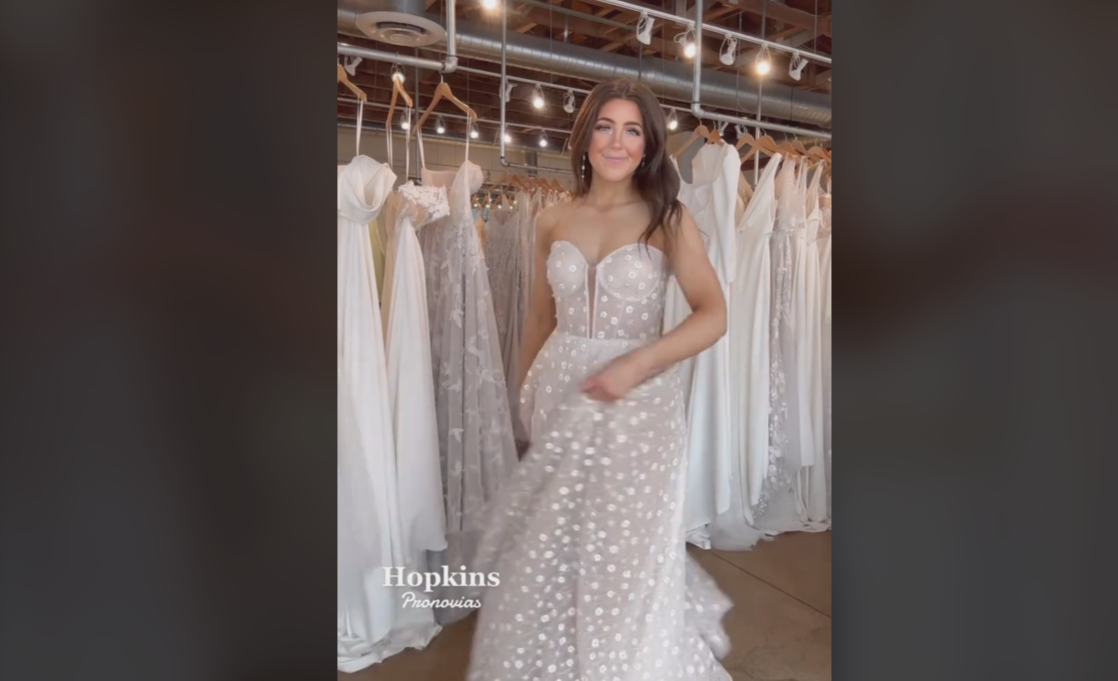 Credit: luv_bridal via TikTok
Non-traditional patterns are one of the easiest trends to adopt for your wedding day. It lets you add some personality to your dress, it creates a point of difference! This lightly flower-dotted tulle dream keeps its styling simple and clean, feeling almost closer to a sundress with its beaming, airy appeal and flow.
70. Radiance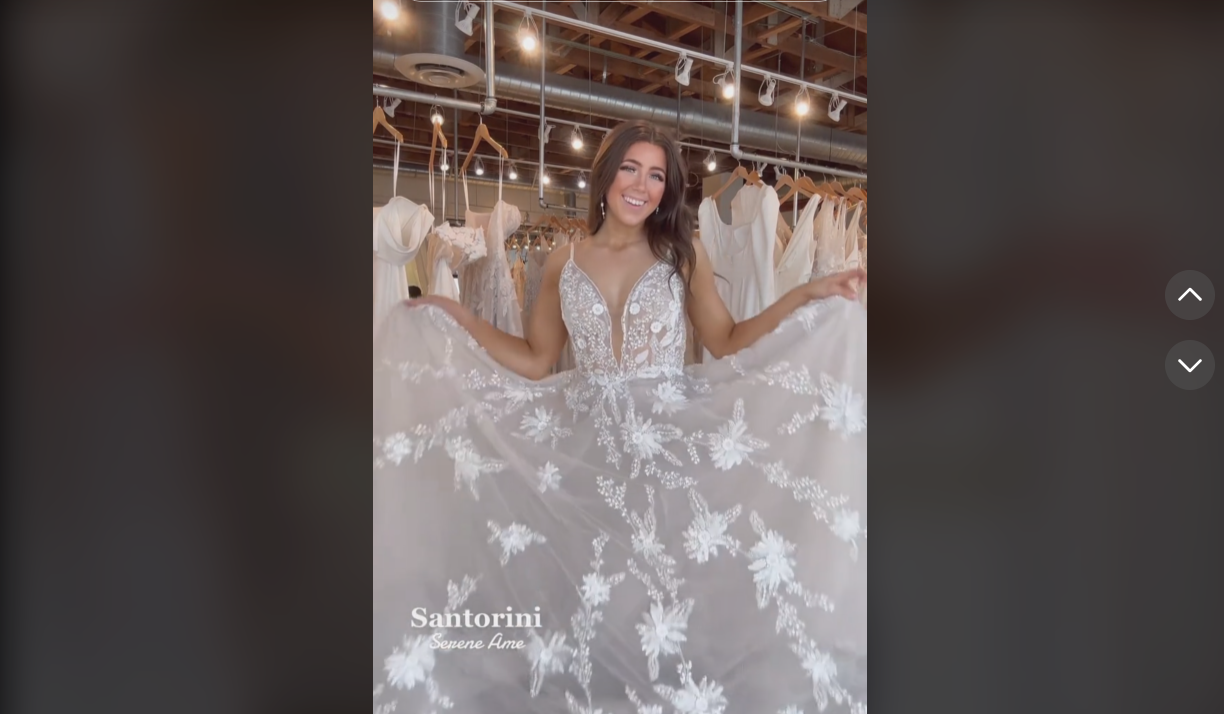 Credit: luv_bridal via TikTok
If pure snow white isn't quite your fancy, this look uses an A-line construction and lighter fabrics to bring in plenty of silver undertones, accented by the twinkling, sparkly details on the chest and stitch work. Not the pattern not quite mirroring on that chest, too! Just another slightly non-traditional twist to make the gown a bit more memorable.
71. Blooming romance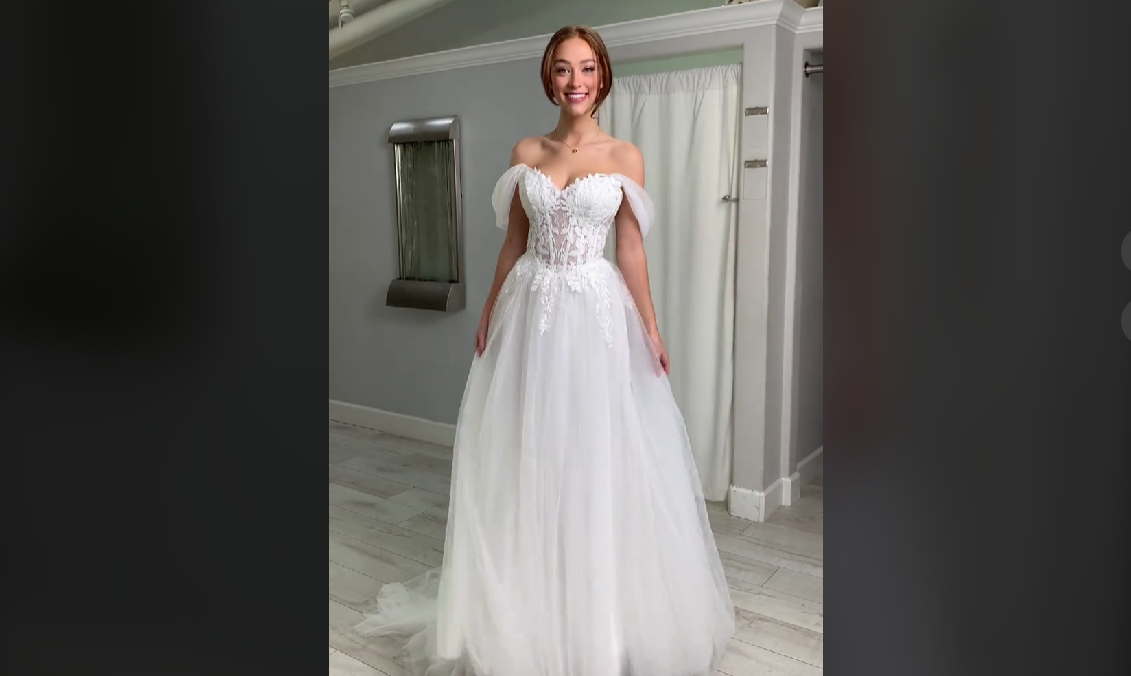 Credit: bridalbrilliancerentals via TikTok
Who says fairy tales aren't real? Just look at this, lace bodice with nature detailing that seems to melt down like white chocolate just over the hips, before setting up to frame the stunning and simple lower half. It's a dress that combines high glamour and romance with old-school charm.
72. Weight on your shoulder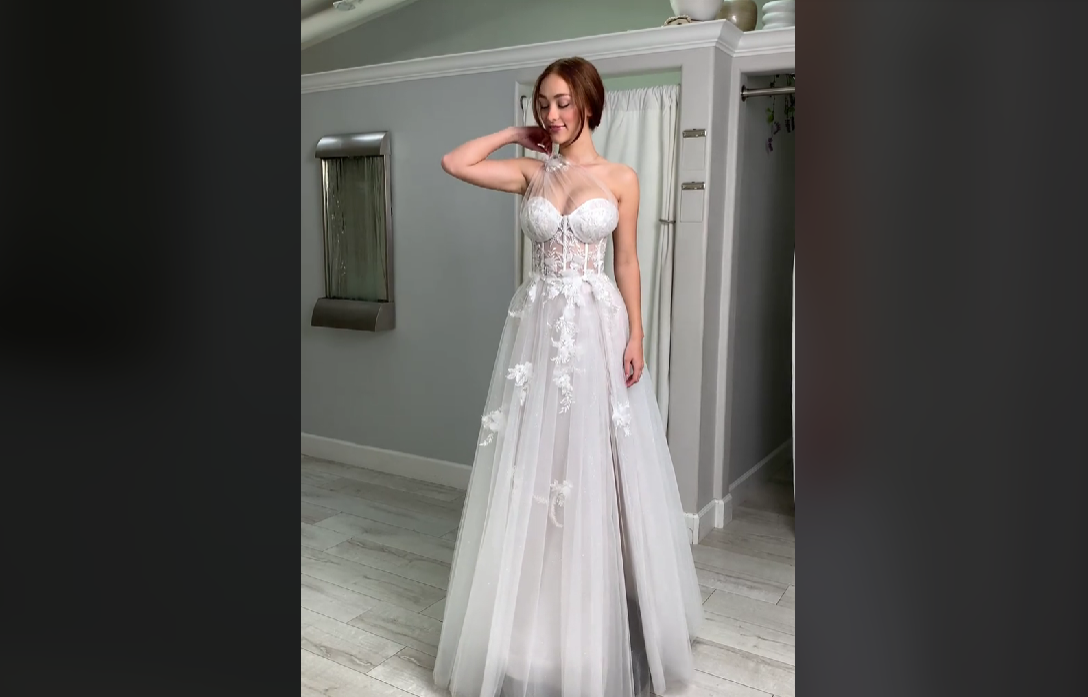 Credit: bridalbrilliancerentals via TikTok
Finally back with some of the exceptional small details that completely elevate an already breathtaking garment. Similar to the last, the lace bodice leads the eye south to the delicate details, but the emphasis on the padded bust area draws the eyes up to the exquisite tulle shoulder wrap. It adds an extra touch of nobility and grace that the dress isn't exactly lacking.
73. Shining down the aisle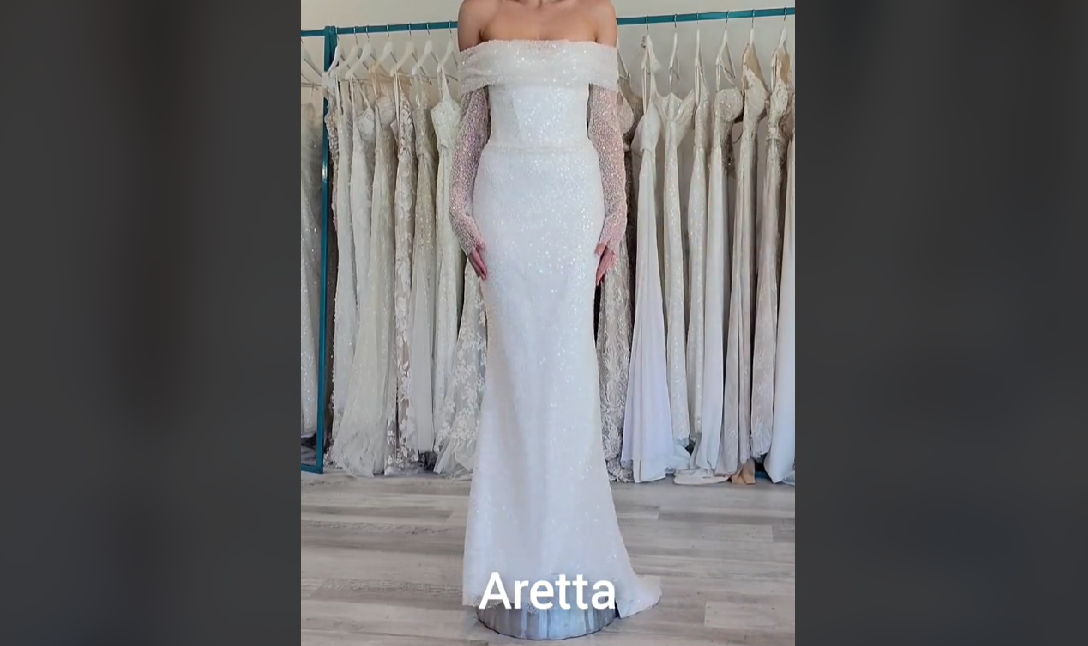 Credit: altamodabridal via TikTok
As fun as sequin details are, there is no substitute for the crystal shimmer you get from weaving the shine directly into the fabric. Head to toe this dress catches the light and reflects it back at you doing the Charleston. The rolled neckline gently drapes around the biceps, calling attention to the matching lace gloves, equally as resplendent as the rest of the dress.
74. Everything all-in-one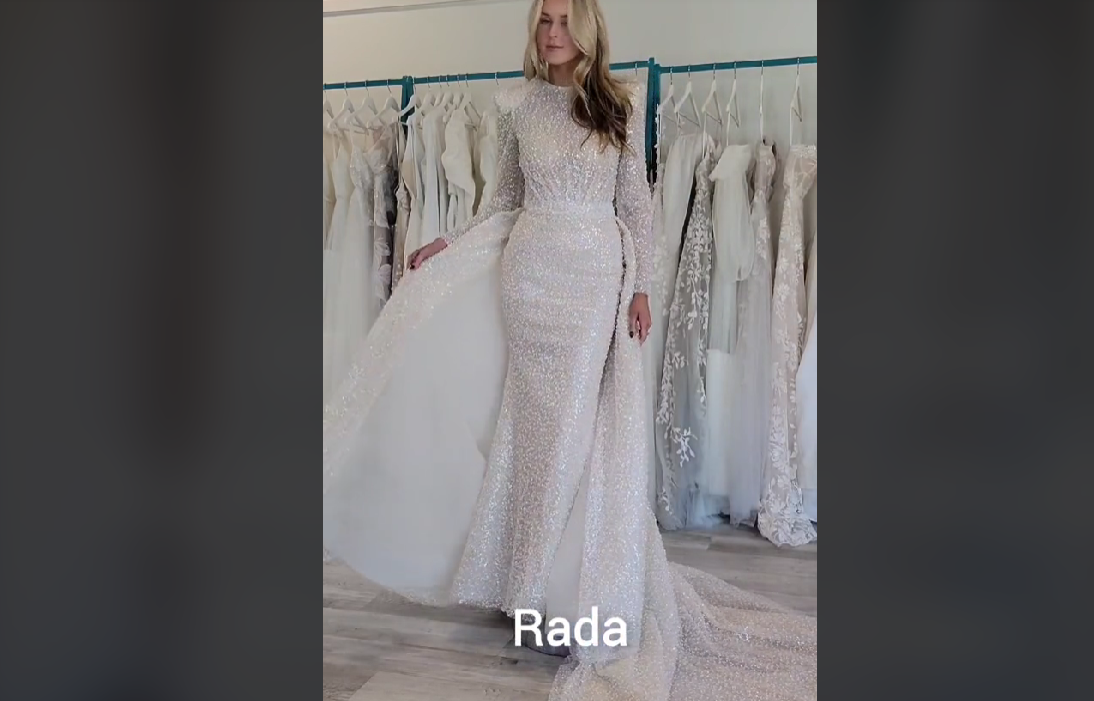 Credit: altamodabridal via TikTok
This powerful robe combines elements of vintage ballgowns and modern glamour with its padded waist and sleeker, narrow fitting skirt and does it all without expelling the slightest signs of effort. The long sleeves and high neckline cover a lot of skin, making this conservative haymaker hit hard from the first impression.
75. No straps, only sleeves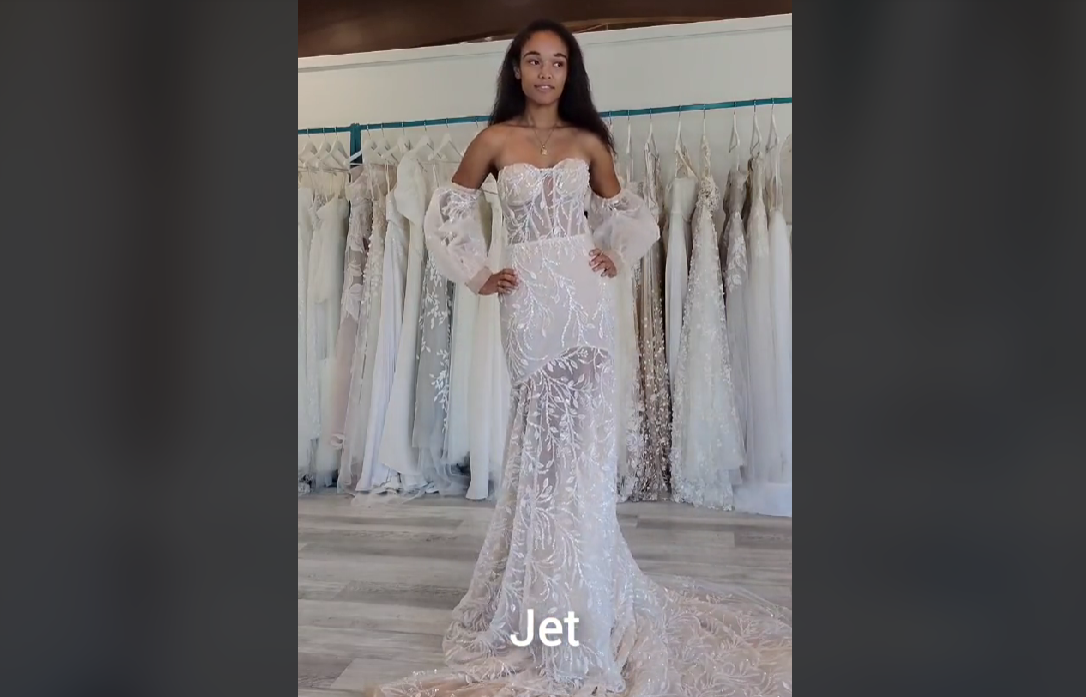 Credit: altamodabridal via TikTok
This column-fit dress relaxes a little around the hips, helping elongate the torso with its slimmer-fitting upper half. The puffed half-sleeves are a genius touch to add texture and volume around the waist, giving the dress a certain gravity. The eyes land on the sleeves and are drawn down by the snakes and ladders board worth of elegant detailing.
76. Illusive beauty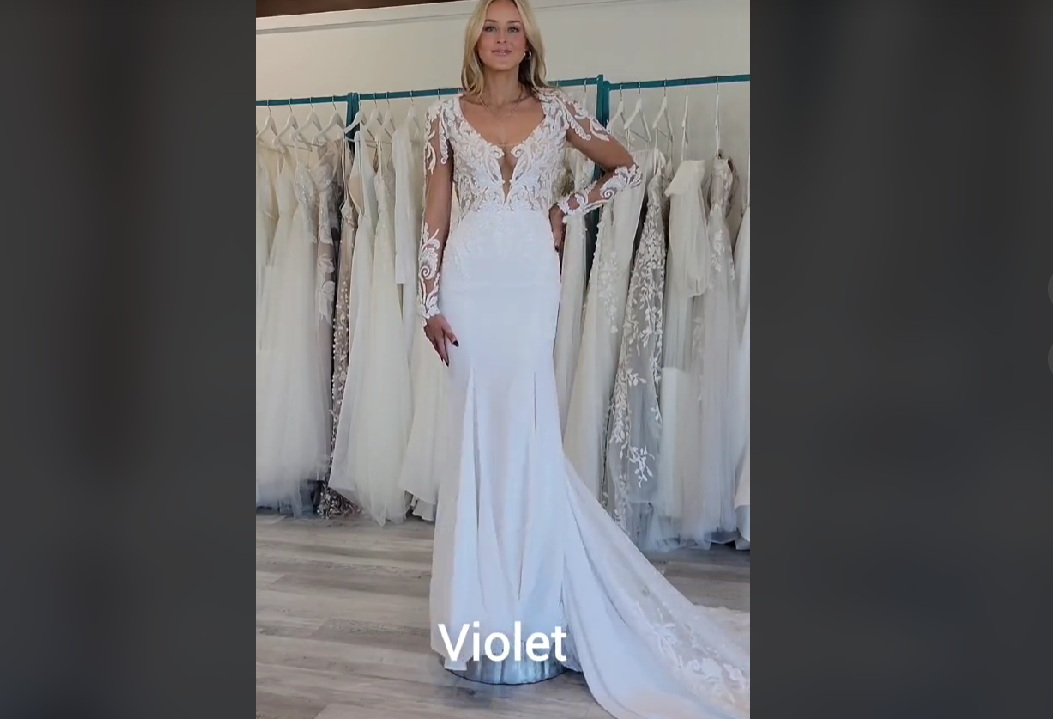 Credit: altamodabridal via TikTok
Illusion sleeves are a popular choice for many brides. They don't offer the full coverage and formality of a standard sleeve, instead focusing on detail work that stands out either in contrast to the skin tone, or the flesh-tone fabric under weave. Here they continue the gorgeous motif of the deep-cut bodice, which wraps around the back and shoulders.
77. Something a little more comfortable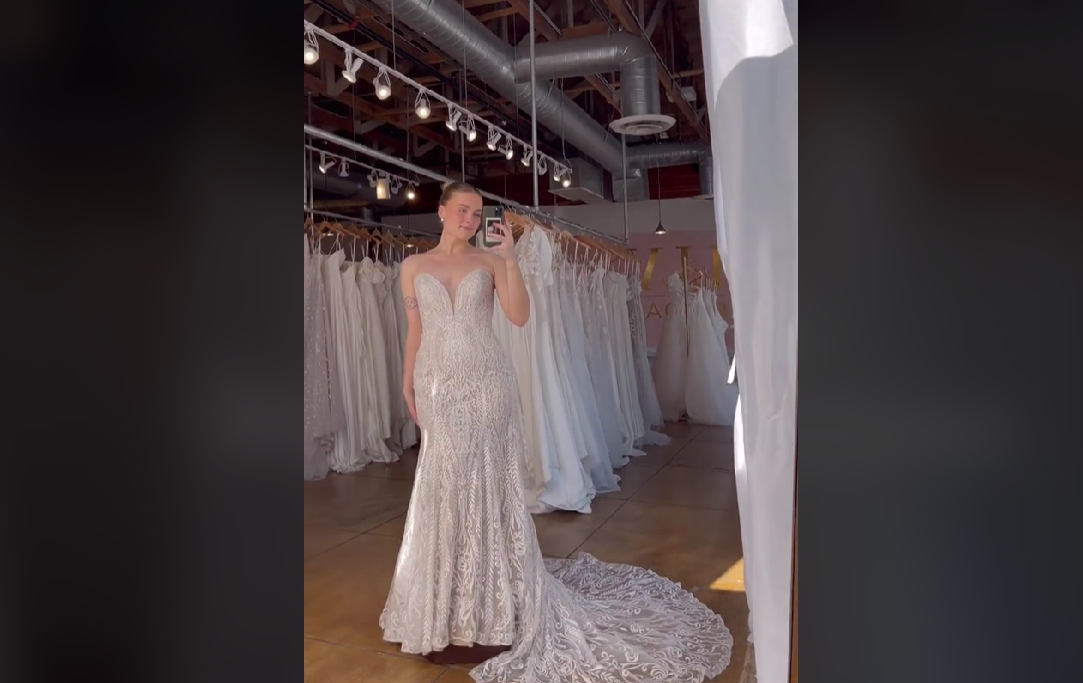 Credit: luv_bridal via TikTok
With the spellbinding lace artwork that covers this dress, you wouldn't need much else going on to call this dress exceptional. Thankfully there is still plenty to fawn over, including the graceful A-line neck, tight waist and hips for a great silhouette and slight sparkle all over. The trail will leave your guests hypnotized as you strut your stuff.
78. Hate to see you go…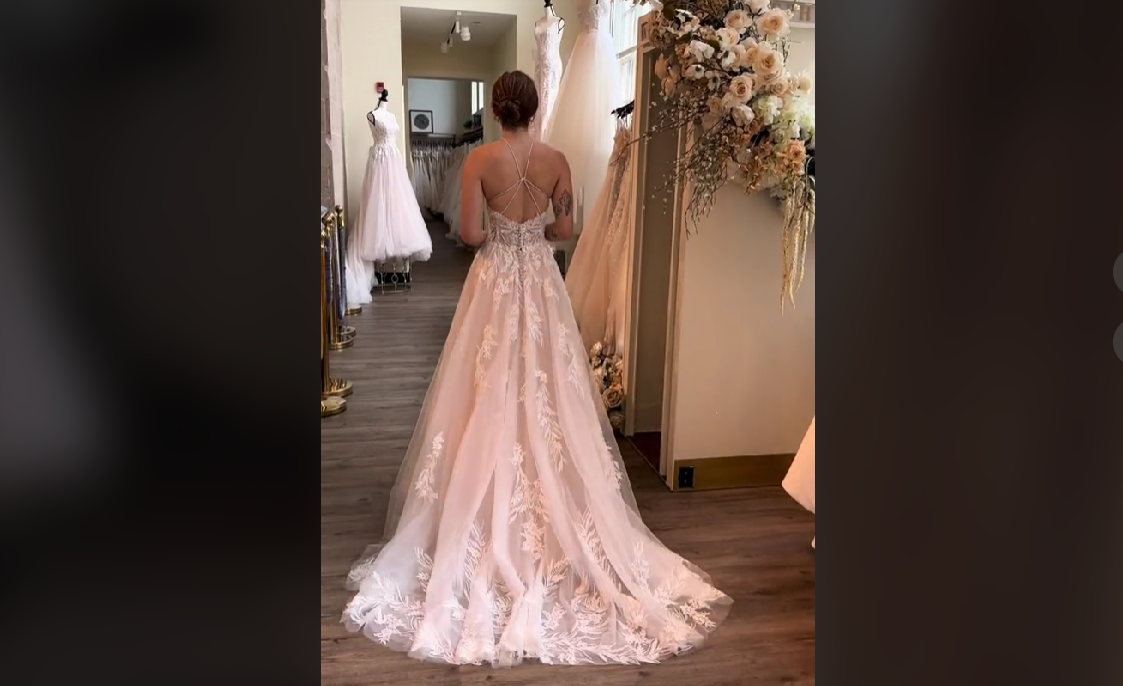 Credit: avalaurennebride via TikTok
With its subtle and supportive halter-neck back, this empire-cut dress is all about the afterimage. The tight lace body and high waist mean you leave it all out on the aisle. The trail that is, and what a trail to be dragging. Inspire adoring 'oooohs' and 'aahs' as you approach, complete with utter shocked silence as you leave your guests smitten in your wake.
79. Take a bow, or two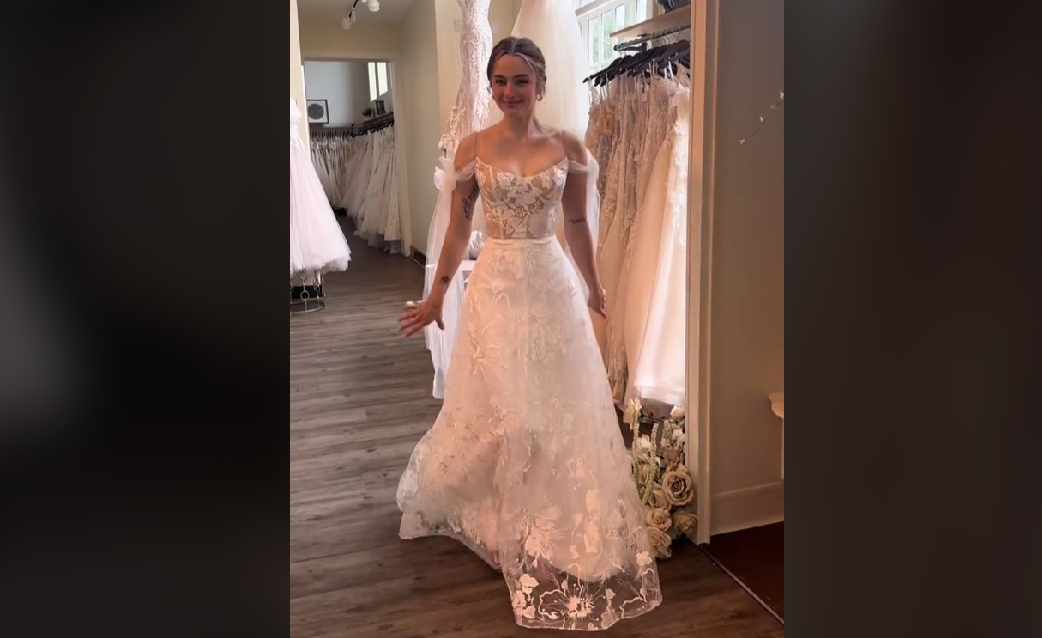 Credit: avalaurennebride via TikTok
What more can you ask for than bardot straps tied into adorable little bows? How about a lightly scooped neck and illusion straps, a gorgeous form-fitting A-line construction, and a layered skirt section? This one ticks so many boxes, being versatile but not too outside the box for those who are after something unique but classic.
80. Hopefully you can pay in instalments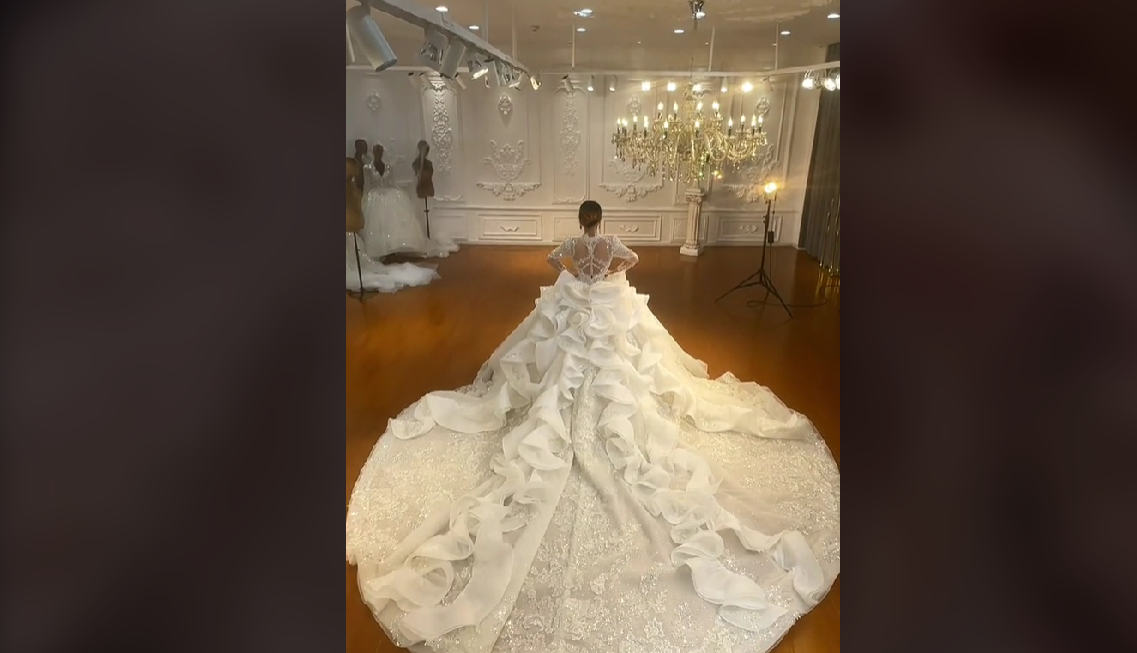 Credit: amandanovias via TikTok
Last but by no means least… in fact this dress might just be the most. The 'most' extravagant. The 'most' decadent. Uses 'most' of the world's rhinestone supply. Even the back straps are fastened with rhinestone-encrusted pins. It's not all glam for glam's sake, however, as the ruffled and ruched hips and enormous trail contrast the tight-fitting body.