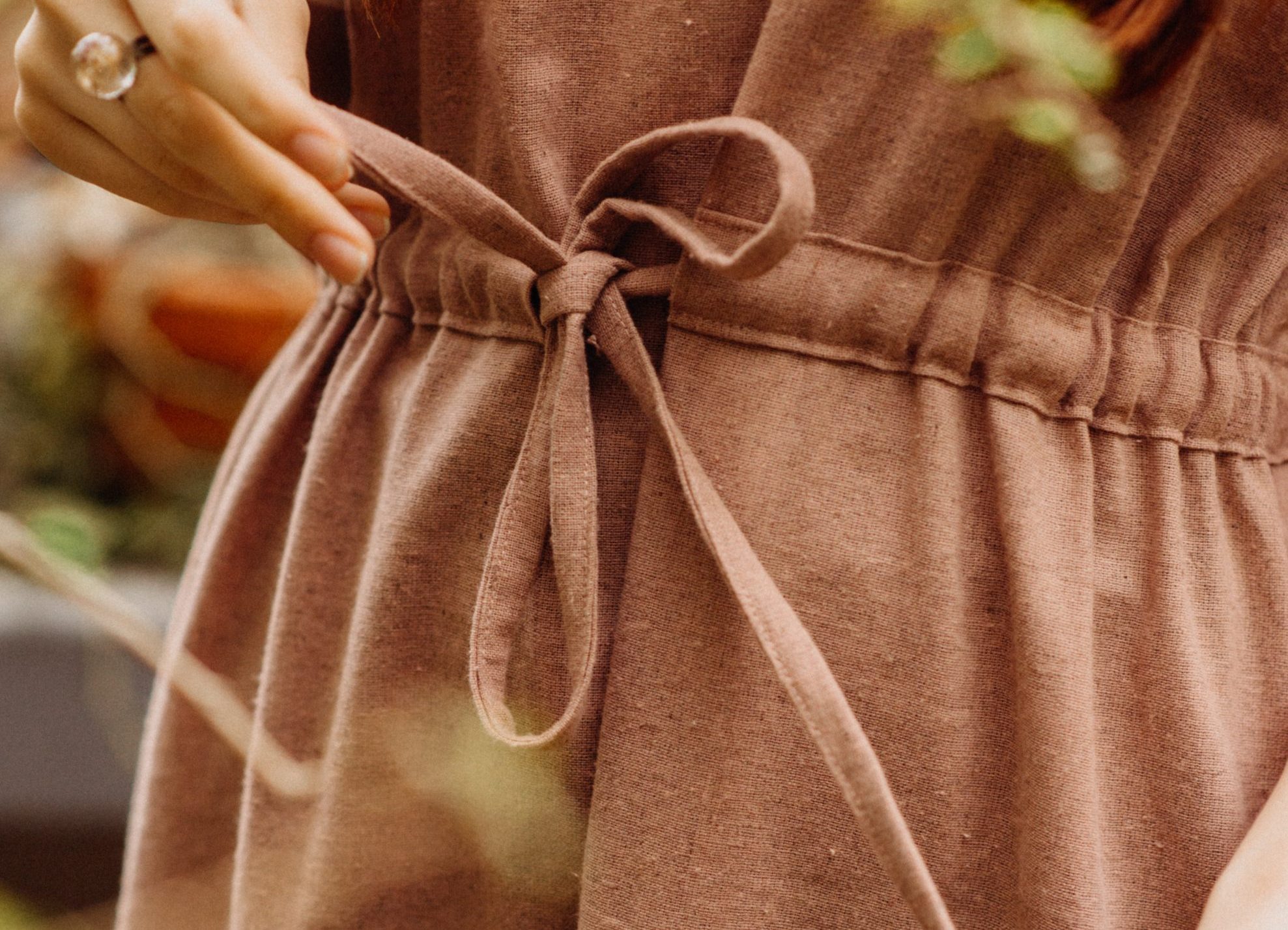 Credit: Dimitry Ganin via Pexels
Use a V-neck and necklace to redirect attention
The aim is to shift attention away from a specific area and direct it elsewhere. By wearing a v-neck top and a necklace, you can draw attention to your chest and away from your midsection. It's important to customize the look based on your bust size.
Add some style through detailing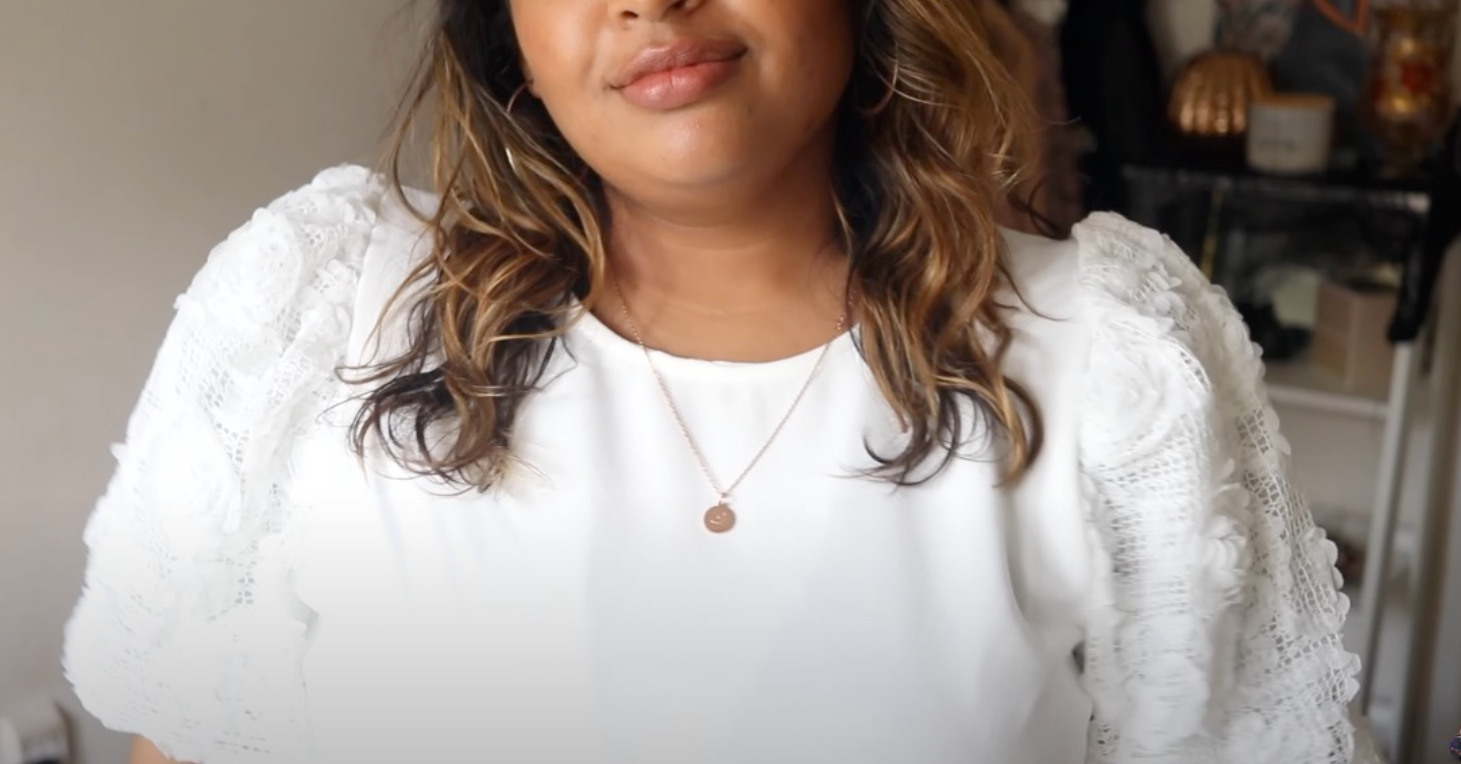 This top is a perfect example for an apple-shaped body as the intricate detailing helps to shift the focus away from the midsection. It's a refreshing change from v-necks, yet it creates a similar effect. So not only will you feel comfortable, but you'll also look stunning.
Wrap dresses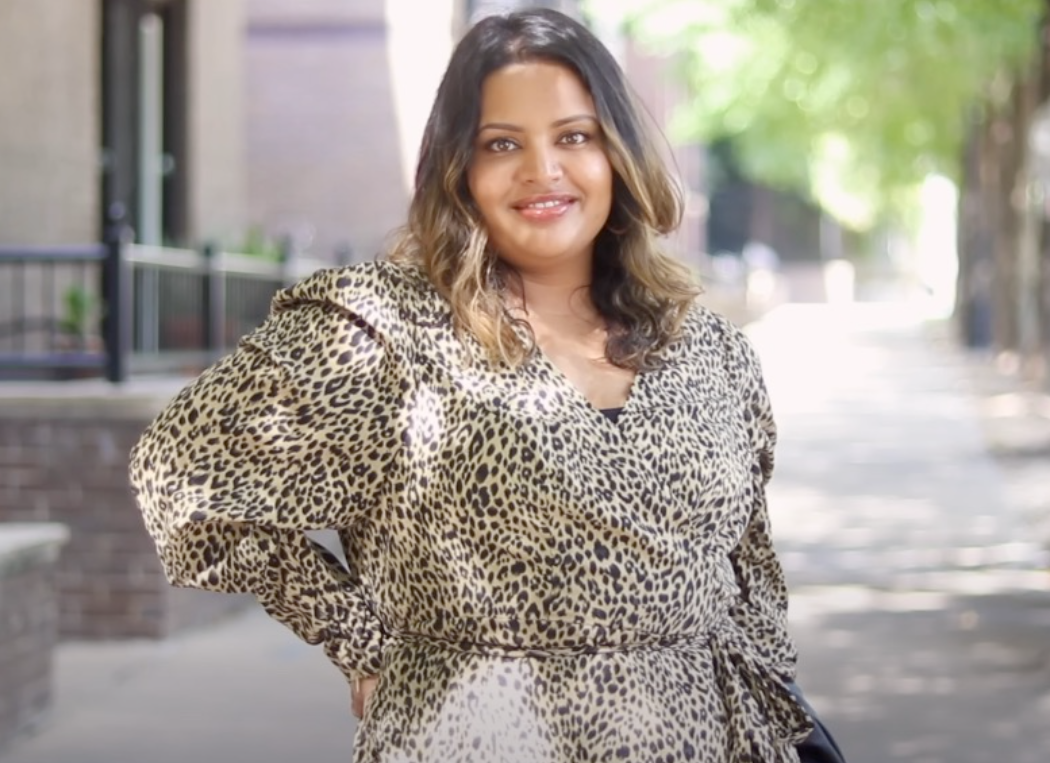 When it comes to dresses, the idea is the same. Wrap dresses create a nice flow downwards, providing a slimming effect. While you might not wear a dress every day, a V-neck cut can draw attention in the right direction, creating a vertical line that helps to give the appearance of a slimmer frame.
Create a waistline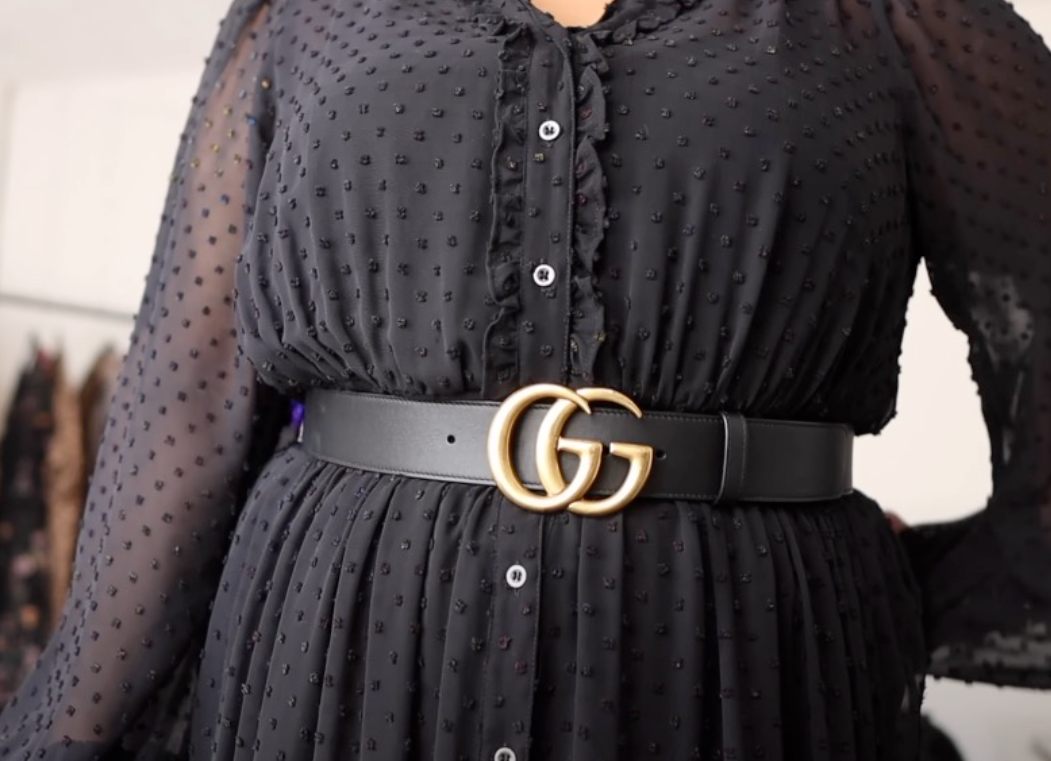 Try to create the illusion of a waistline by using a statement belt if you have a rounder mid-section. This helps avoid the appearance of a larger waist, which is what you're trying to conceal. Place the belt slightly below your ribcage and experiment with a tucked-in look, if possible.
Tuck a little higher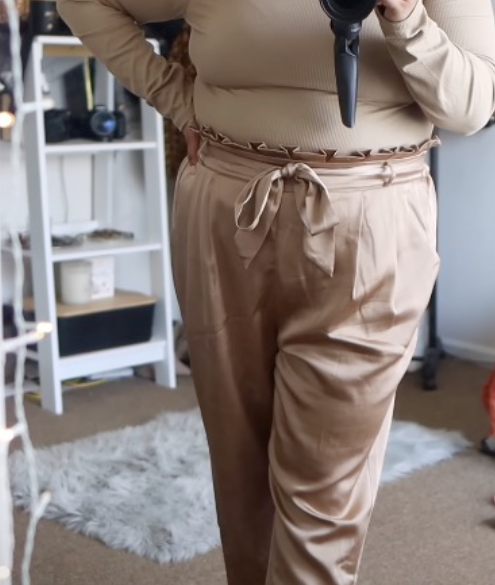 Make sure to tuck in your shirt slightly higher, but not so high that it appears awkward. Once you bring your waistline up, your pants or skirt will drape nicely over your figure. This will give the illusion of having curves again and also make you appear taller.
Flowing skirts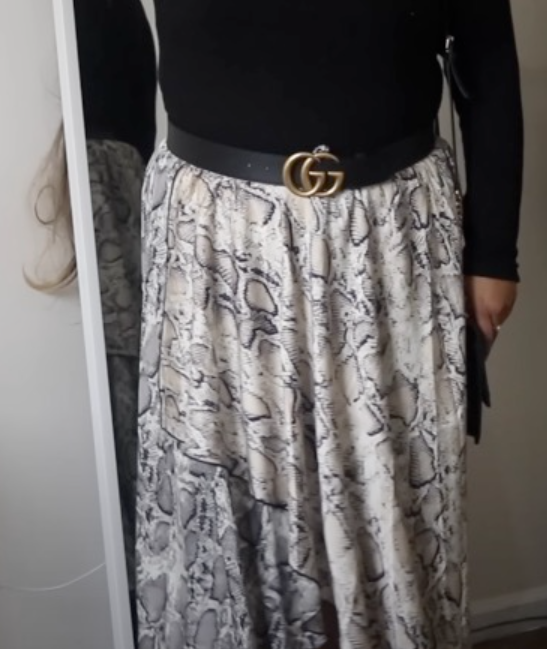 When styled correctly, the transformation is amazing. By pairing a long, flowing skirt with a belt, you can create an hourglass shape that looks both chic and sophisticated. This look also has the added benefit of minimizing the appearance of a rounder mid section.
High-waisted bottoms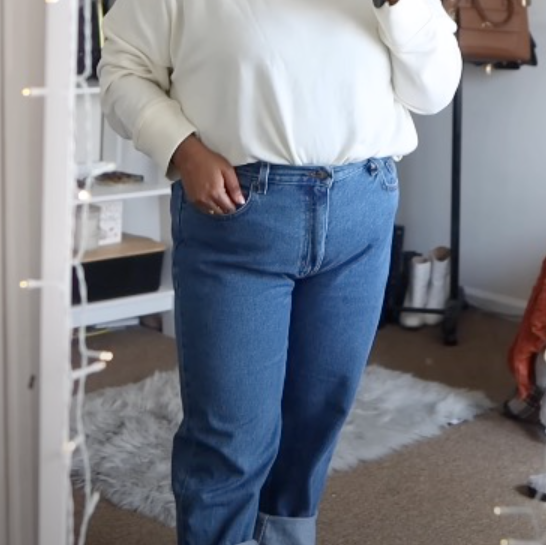 High-waisted bottoms are a great option for adding structure and support to an apple-shaped midsection. While they may be a bit more expensive, it's worth investing in a pair that fits well and flatters your body shape. With the right styling, even leggings can be a chic and stylish choice.
Peplum tops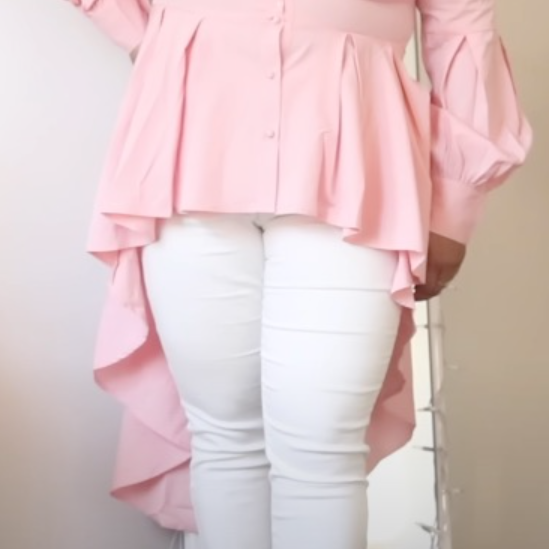 Peplum tops work wonders for apple-shaped bodies by creating the illusion of a waistline through their curve-hugging design, flaring out at the bottom. They accentuate your body in all the right ways, making them a perfect addition to your wardrobe.
Side slit tops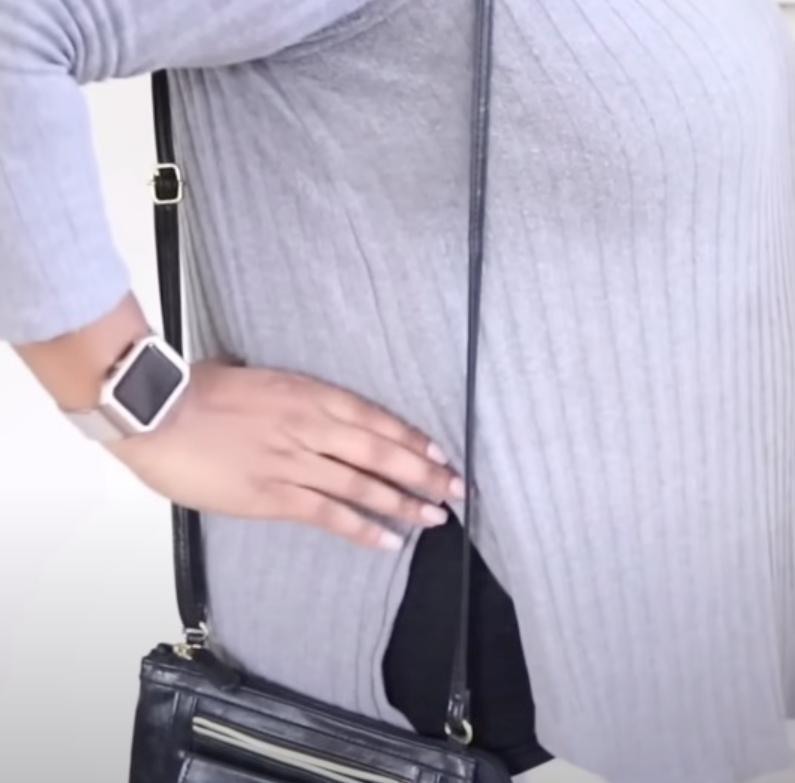 Rather than purchasing oversized clothing, tops with side slits can provide a perfect fit and flow. These allow for better coverage over the tummy area while giving more room for movement. Additionally, tops with side slits can be more comfortable as they don't feel as restrictive.
Wear layers
When done correctly, light and simple layers can help break up the monotony of an outfit. This technique can create vertical lines, which can give you a slimmer appearance. However, it's essential to choose the right layers depending on the season.
Dungarees to help fill out your figure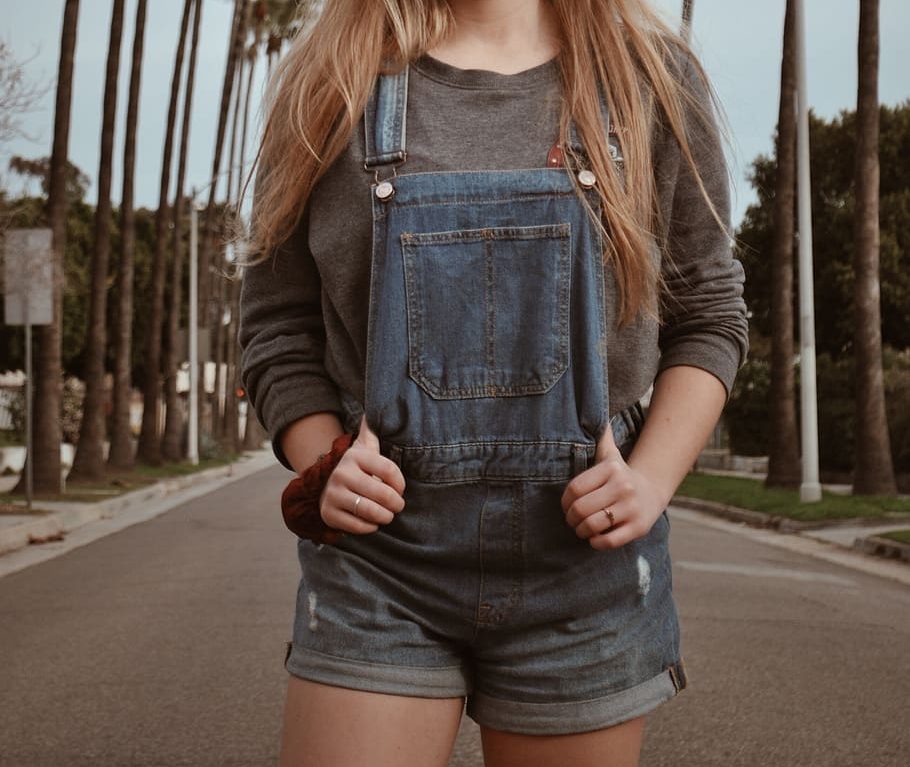 Dungarees are adorable and highly useful with their abundance of pocket space. The all-in-one overalls help adjust your entire silhouette, creating hips and pushing the bust. Depending on your look, you can go tighter at the waist, or keep them loose and comfortable for the straight line shadow the style is known for.
Block your colors carefully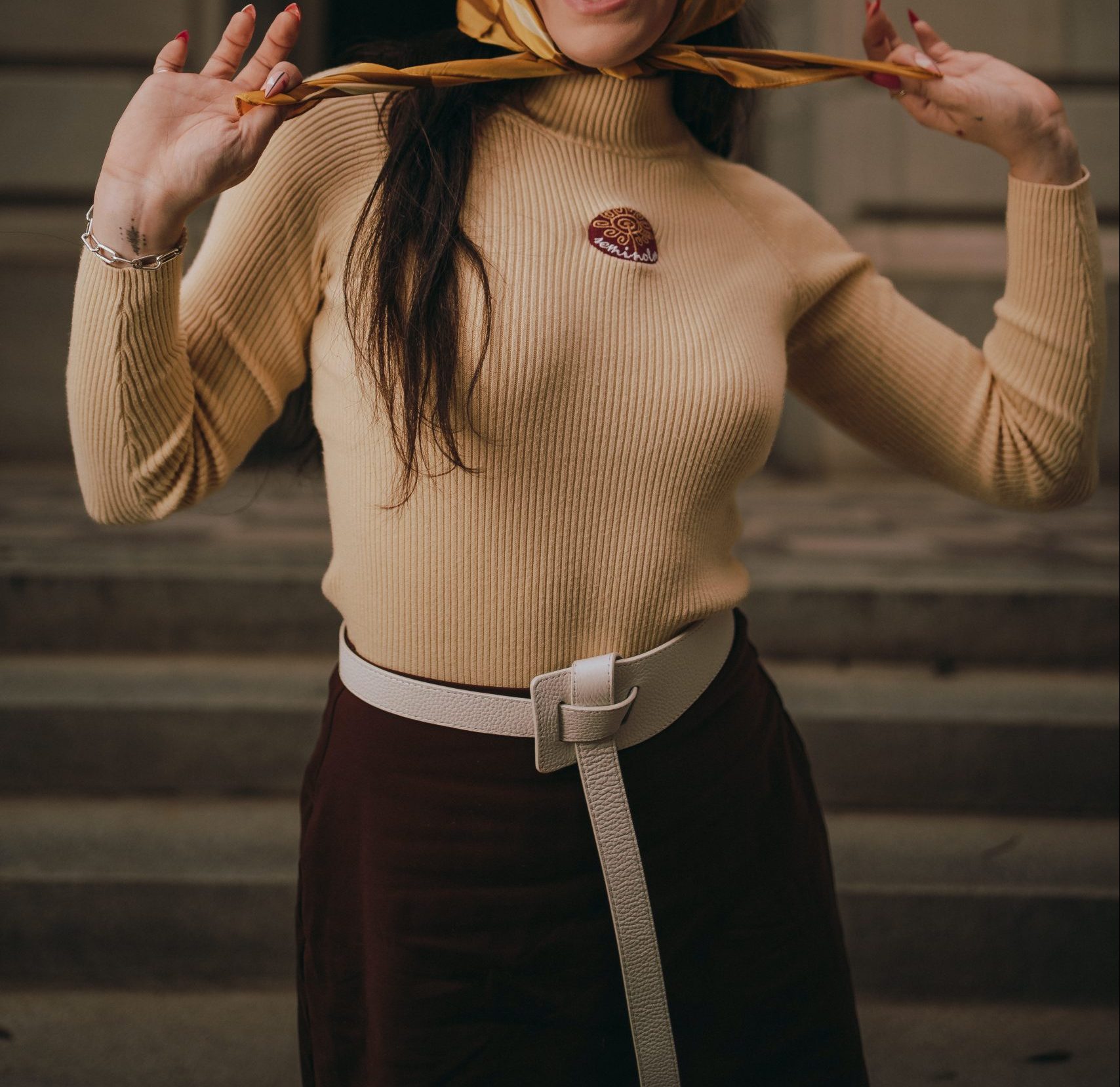 Opt for a bright, slim-fit top to accentuate your bust and keep your face the star of the show. Avoid wearing anything bottom-heavy with too many colors or fancy patterns, that will weigh you down visually. Try some darker denim jeans or a plain-colored skirt to keep everything balanced.
Go for cropped-length bottoms
Credit: Jamie via Wikimedia Commons
Avoid wearing any skirts or dresses that fall too close to your ankle, this can make you look shorter and the clothes may come across as a little ill-fitting. Ankle-cropped (or even calf cropped if you're feeling spicy) pants will draw attention to the lower legs and give you a boost while also giving you plenty more style options to choose from.
Be careful with puffy shoulders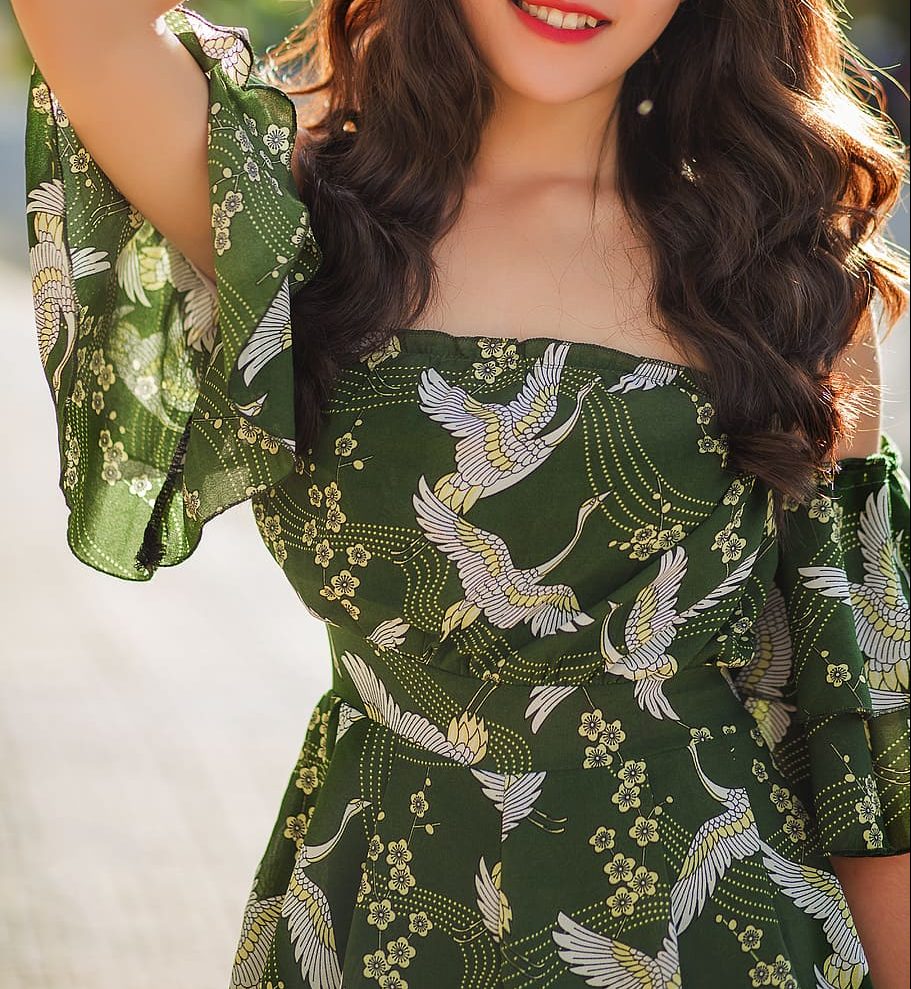 Puffy shoulder areas run the risk of shortening the arms a little, which for flat-apple-shaped bodies is something you want to avoid. That doesn't mean you can't incorporate your love of ruffs elsewhere. Ruffled or frilly details around the neckline can be a powerful draw for the eye, or around sleeves that end a little short of the wrist.
Wear overcoats that cut off at the knee
A good quality coat ties together about five months' worth of outfits, depending on where you live of course. They're also easy for tailors to work on, meaning you can get a perfect fit from a coat you love that's just a little too long. To emphasize height, have the back cut off around the knee, and bring the sleeves up to the wrist.
Go high-waisted when you want to get frisky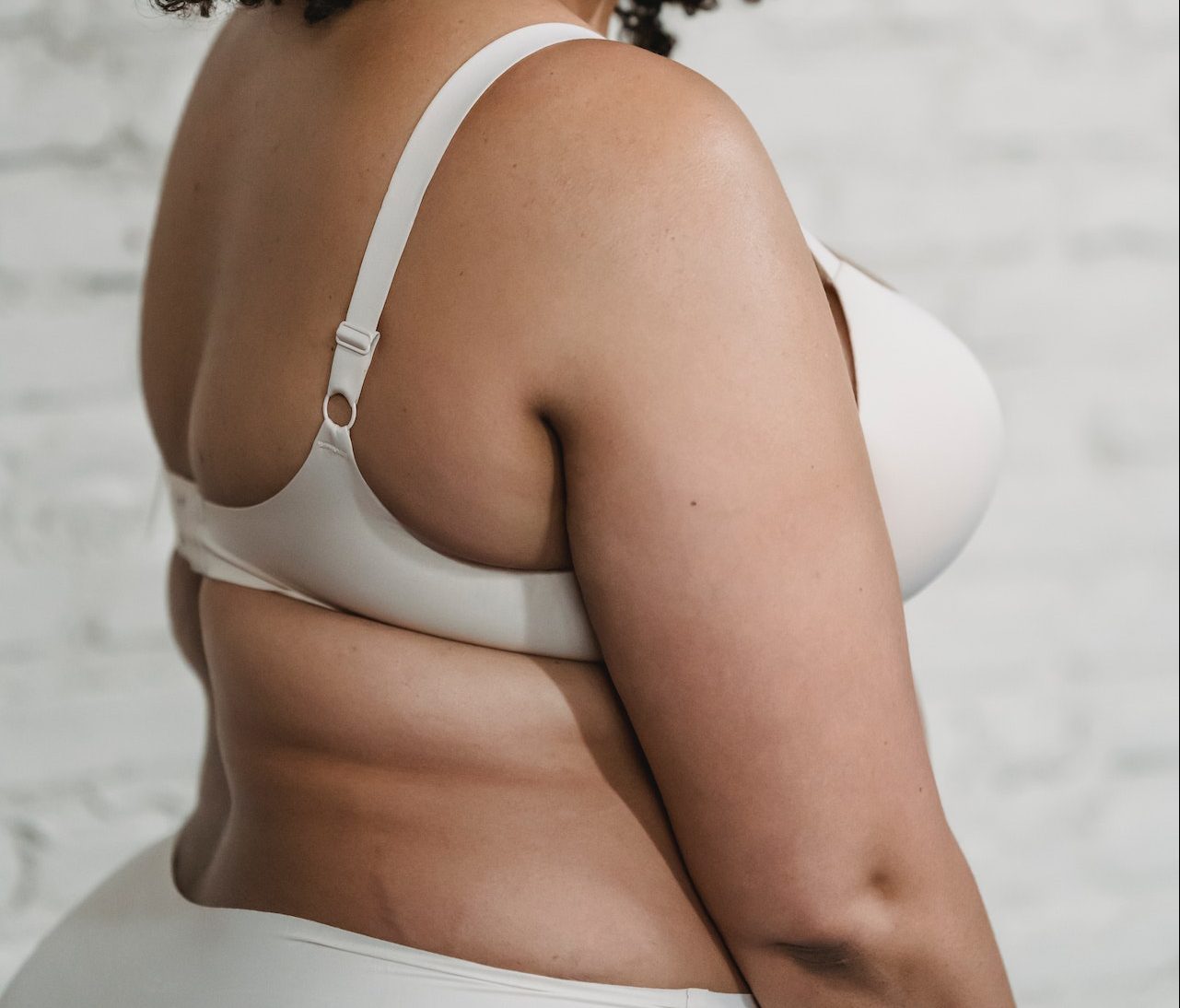 There's no reason flat-apple bodies can't get down and dirty. High-waisted lingerie works to frame the shape's best assets, giving an extra boost of confidence and femininity. They offer tons of support by resting comfortably above the hips and make your curves even more irresistible.
Ruching dresses are great for formal events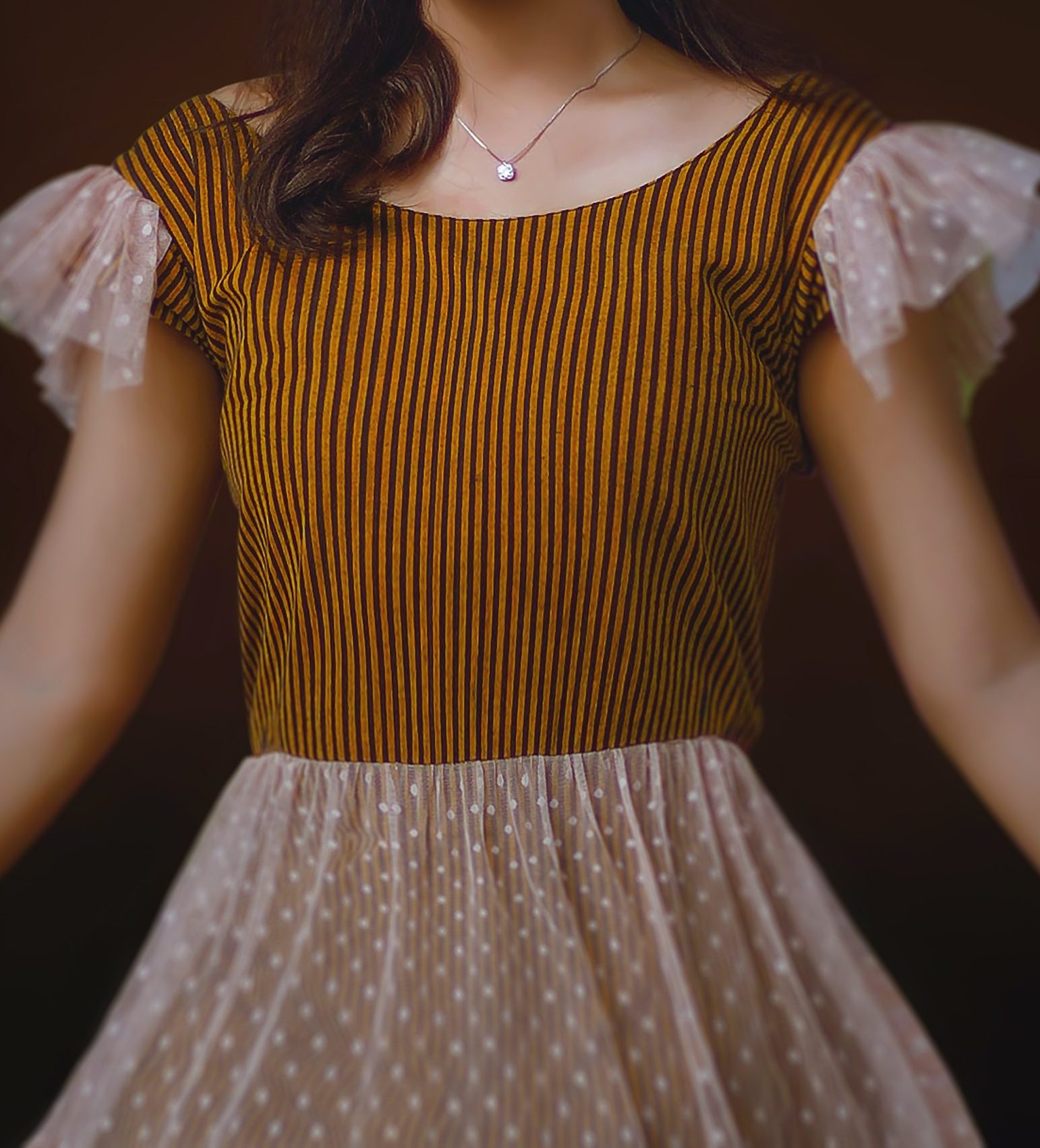 A great option for when you have to dress to impress is a dress with ruching. The shape of the gown tucks in the stomach and emphasizes the hips, while the light ruffle details help vent out the waistline. This gives you room to move around and stay comfortable whilst looking fierce.
Make sure your bras fit perfectly!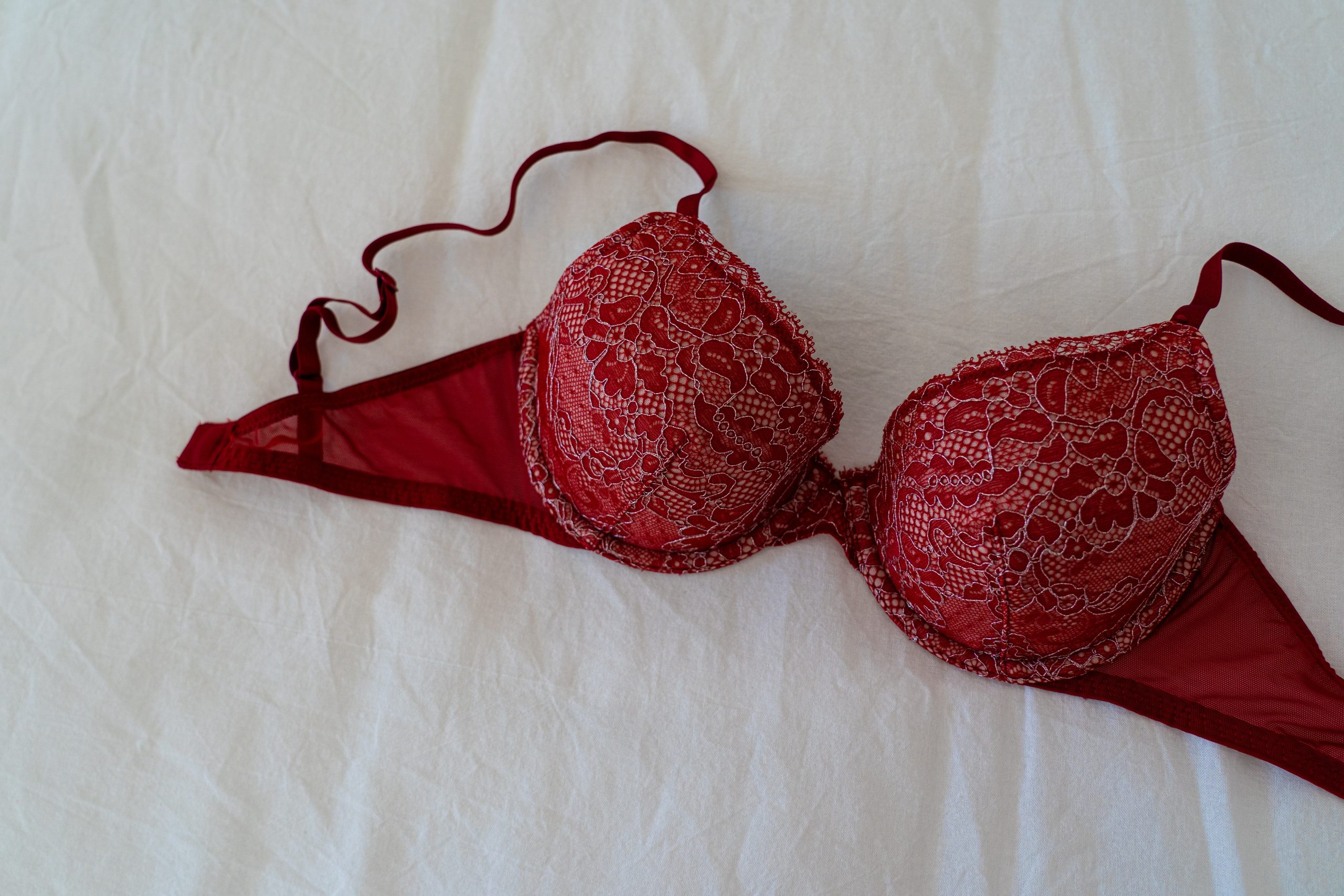 Obviously, it's not always this simple – great bras are hard to find! The main things you are looking for if you want to flatter your figure are lift and hold. By properly supporting the bust, it helps distinguish them from the stomach when draped in fabric. It will also make any V-neck a dangerous weapon.
Woven or thick nit sweaters can be flattering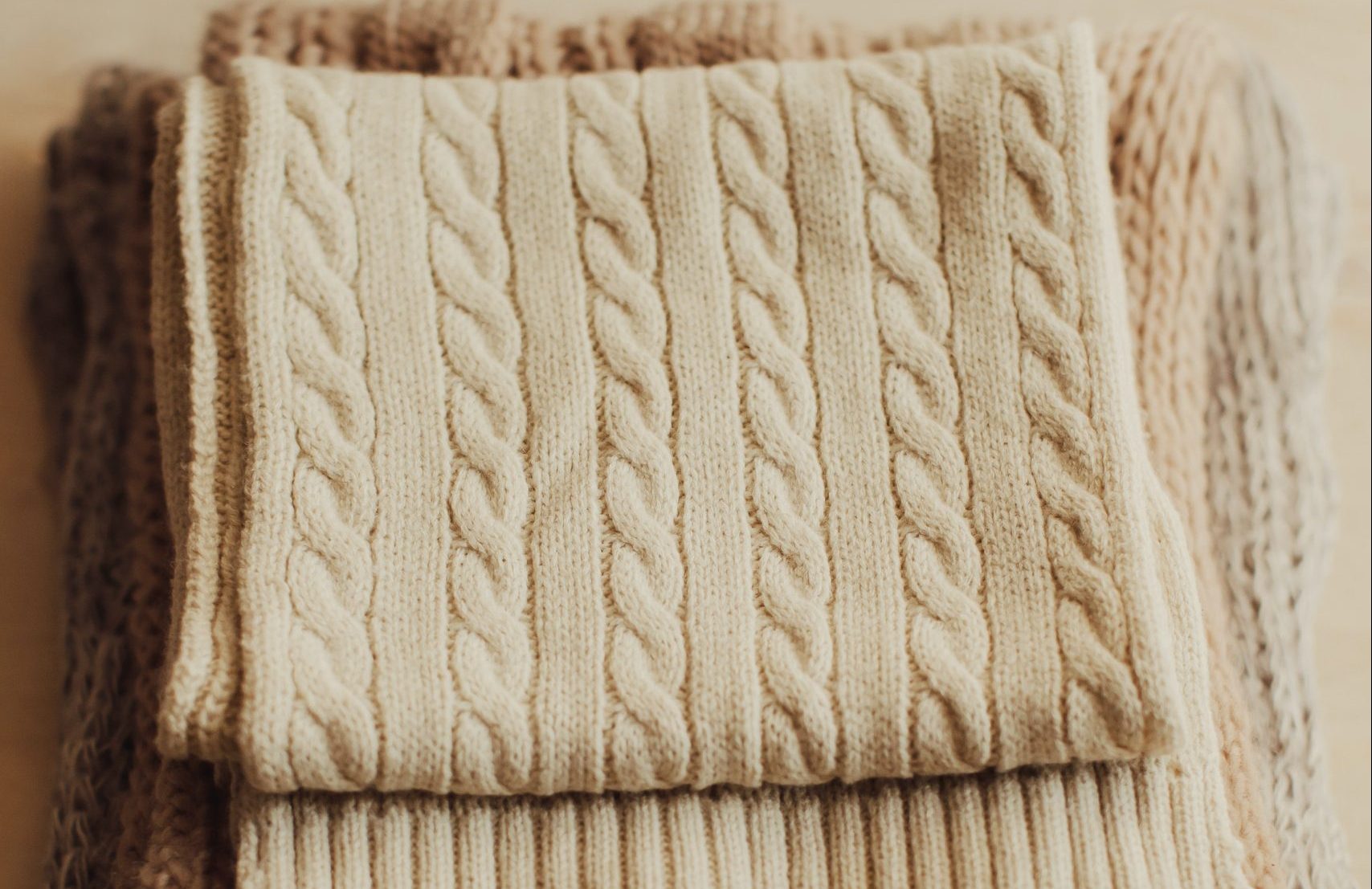 Credit: Anna Khomutova via Pexels
Channel those late-fall and winter nights by choosing looks built around thick knit sweaters and woven fabrics. The texture and natural bulk of the material help smooth out your silhouette, and they look great with skirts, jeans, or even sweatpants for a quick lunch-break coffee date.
Drape cardigans are comfy and form fitting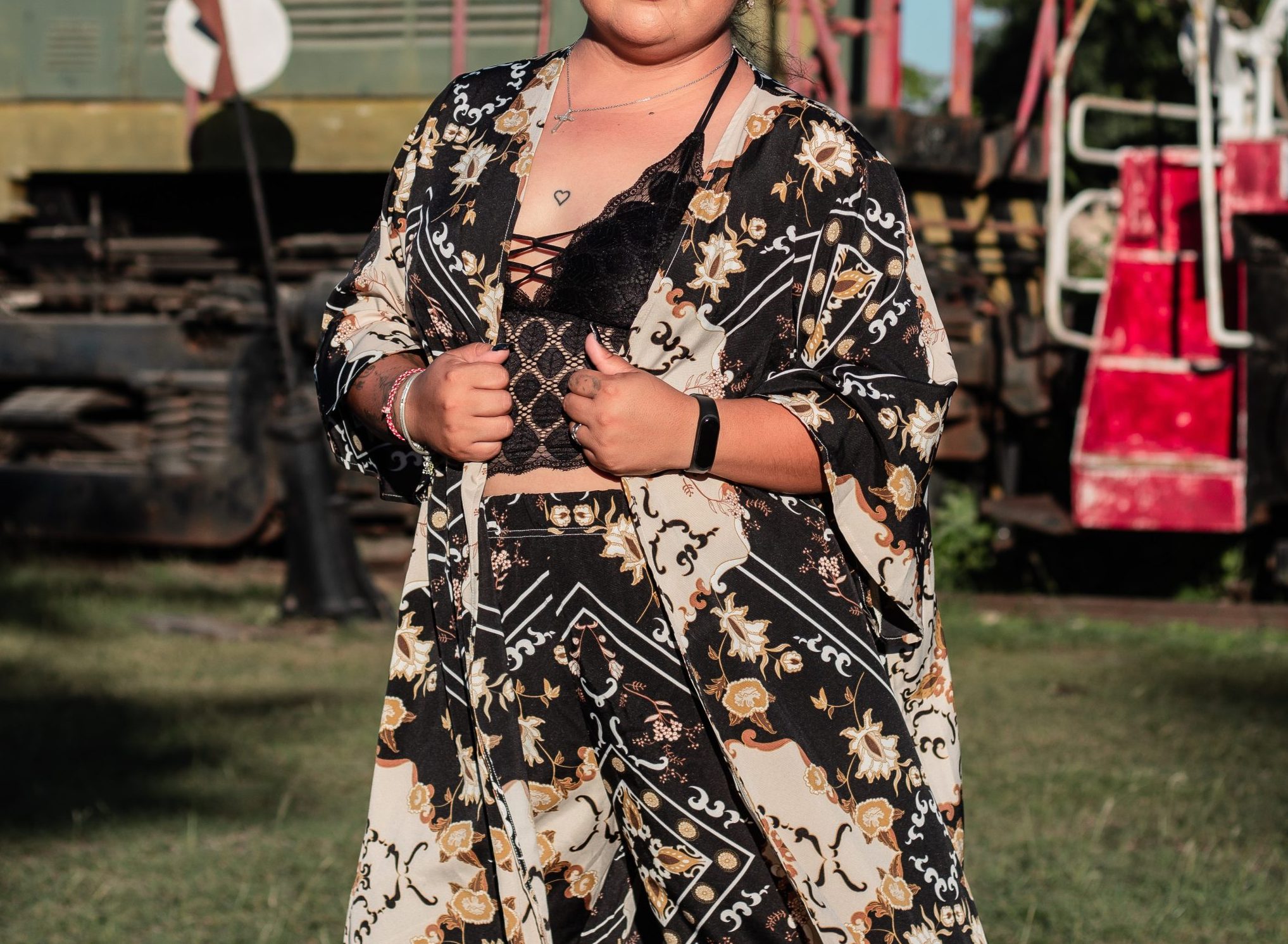 Credit: Brian Jiz via Pexels
A light cardigan can be a very delicate and refined addition to an outfit, and there are plenty of avenues to go down for apple-shaped bodies. An over-the-shoulder turtle neck drape, or an asymmetrical hem will both flatter your shape, and the texture you go for becomes another layer you can play with to find the right balance.
Opt for single-breasted over double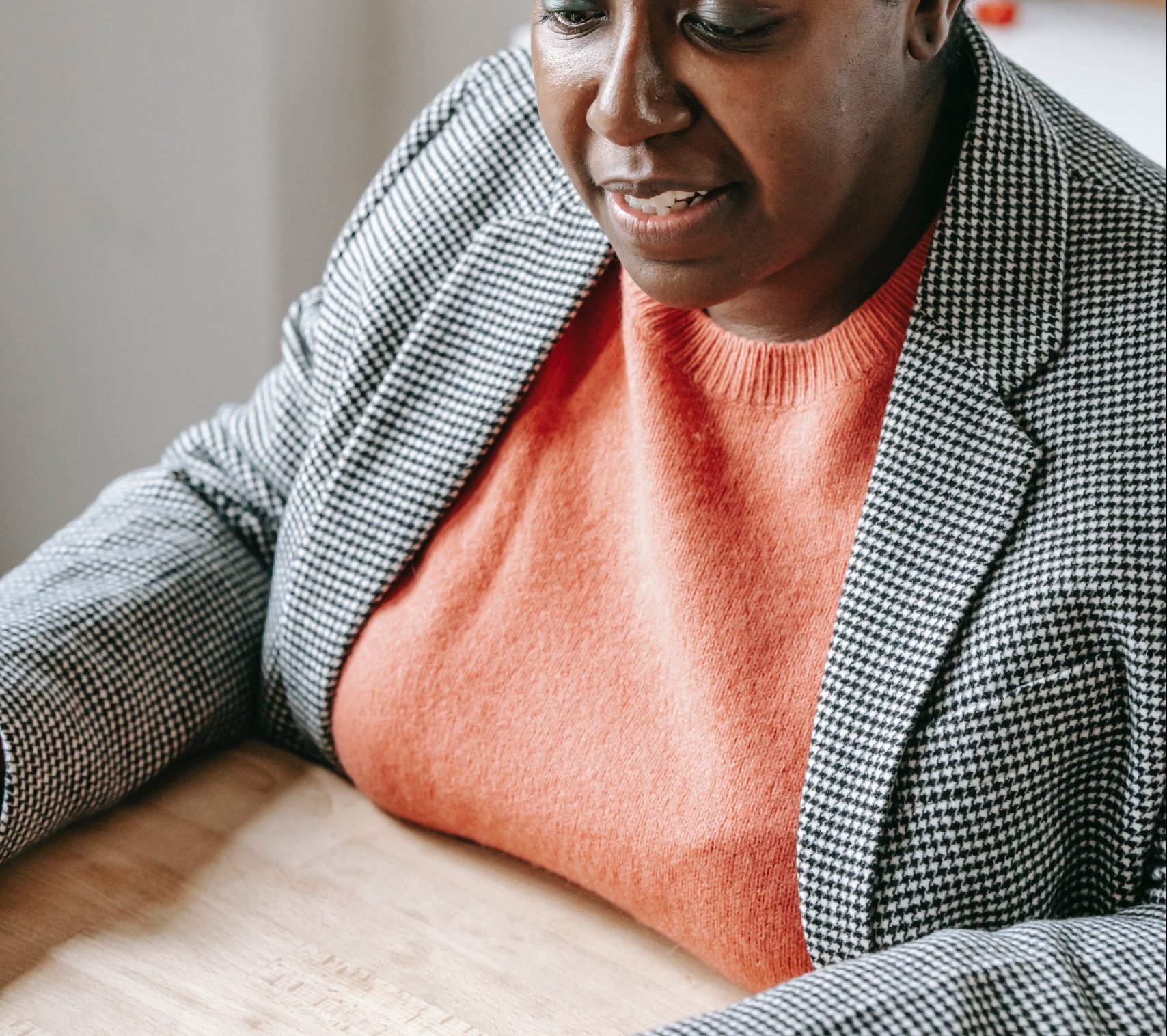 Credit: Katerina Holmes via Pexels
When looking for a blazer, jacket, or overcoat, you always want to go for the single-breasted option. Formal fabrics don't have the give that a lot of casual wear does, so the stomach-cinching tightness is going to make you look and feel restricted. The diagonal tension from the top buttons will also be pulling your bust down unless you go for something lower-cut.
Bold prints can camouflage bumps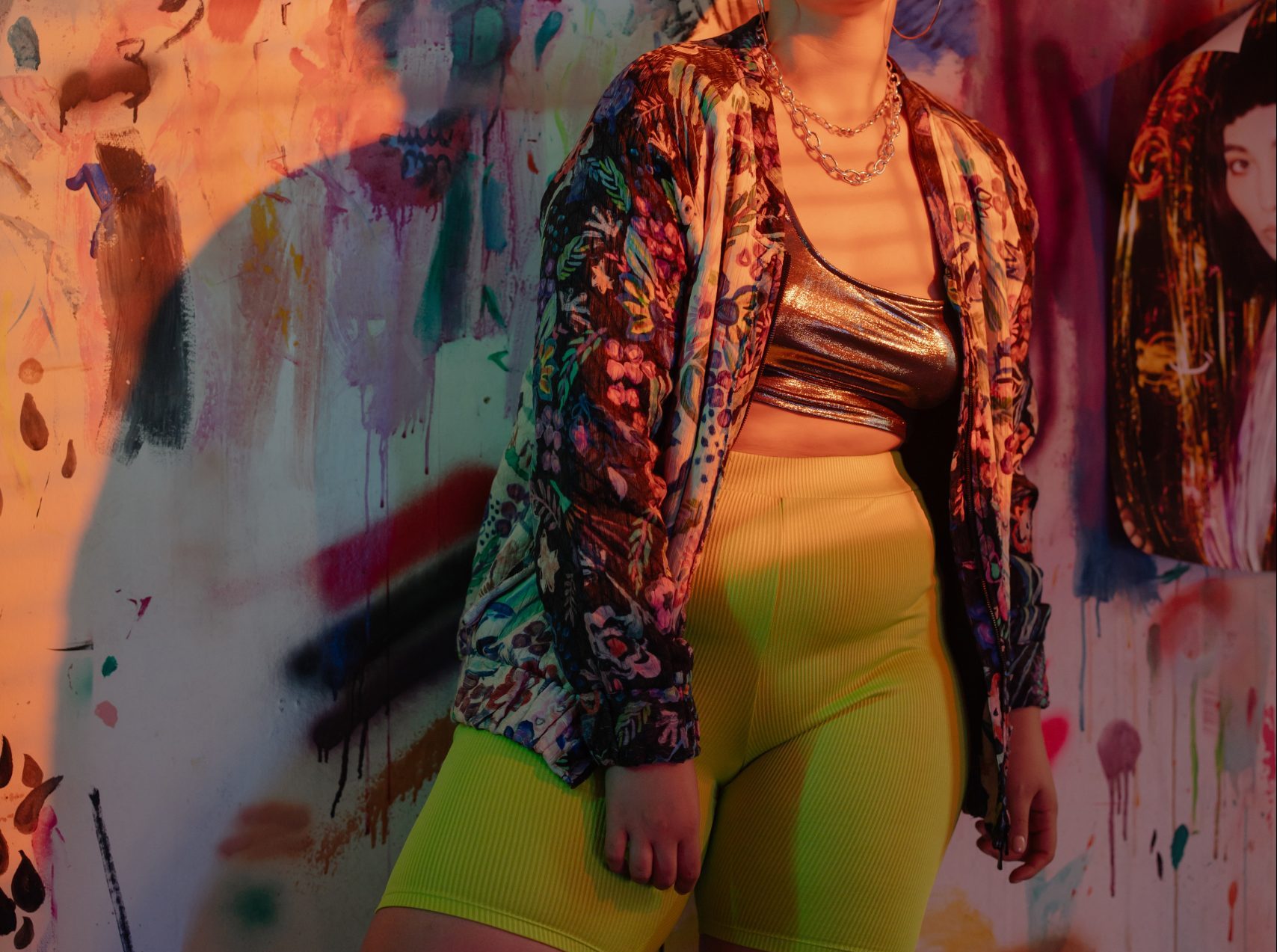 Credit: cotton bro studios via Pexels
Fashion advice straight from Mother Nature herself. Certain patterns really do have slimming effects on the eye, for the same reason that all optical illusions work. While dressing like a Rorschach test could be a bold fashion statement, a much safer one would be combining your favorite pattern dresses with other tips on the list, like a belt that sits above the hips.
Empire dresses are made for you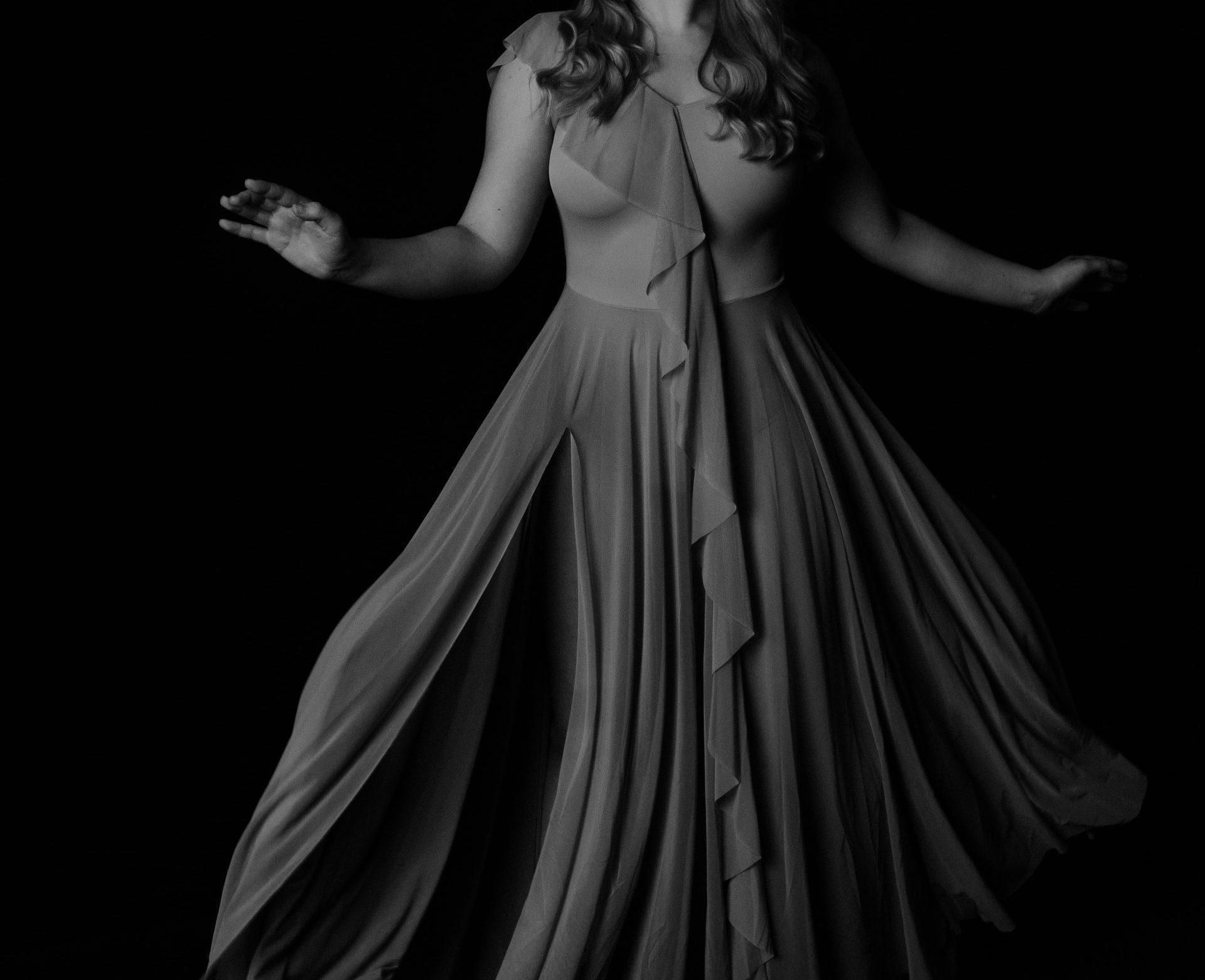 Credit: Lisa fotios via Pexels
With their tight pushed-up bust fit and snatched waist, the empire dress shape will elongate your torso and create a new shape. The color can be whatever you want, but you can use the principles in this list to help guide you. If you're a flat apple who happens to have longer legs then keep its flowing length, otherwise go for a cropped fit.
You can thin your arms with some sleeve hacks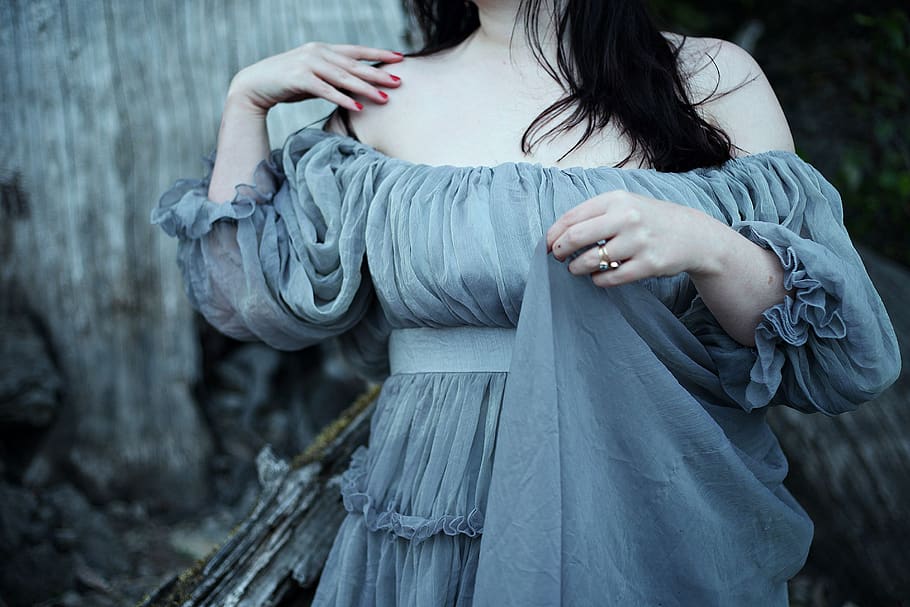 Apple bodies often carry a little extra weight in the arms, contributing to the rounded frame for which the body type is known. To make your arms seem a little lighter you can opt for something like a balloon-sleeved top, which will give your outfit a fun pop while helping create a more defined silhouette. Bell sleeves can create a similar effect.
Bishop sleeves get a special mention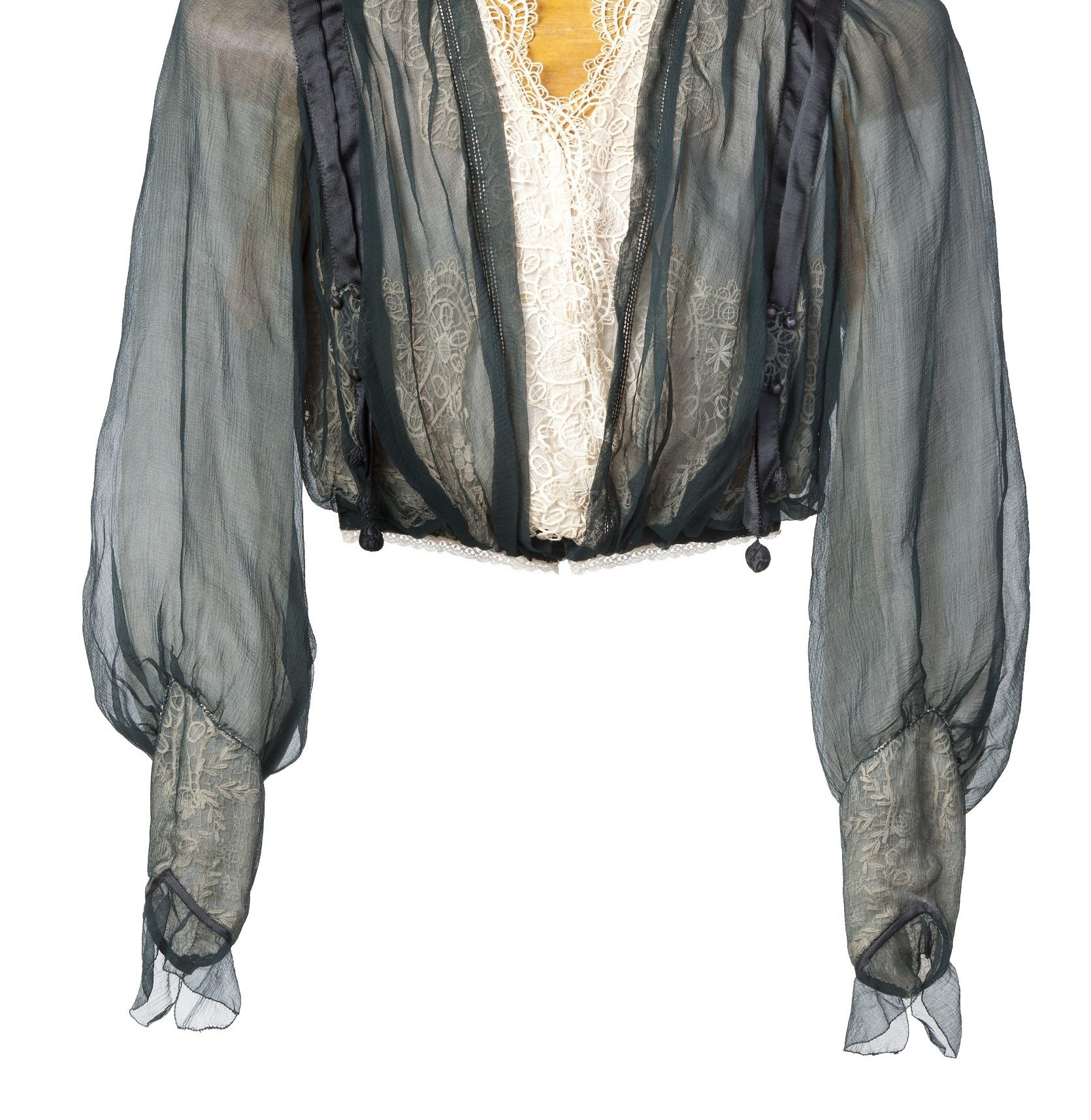 Out of all the sleeve types perfect for this body type, bishop sleeves are the most versatile and fashionable. The fabric blooms out from the elbow to the wrist, before cutting off sharply at the cuff. The effect is light and airy with a formal edge, and the cuffs and clear hands stop the volume from swallowing you up.
Believe it or not; sheer can be slimming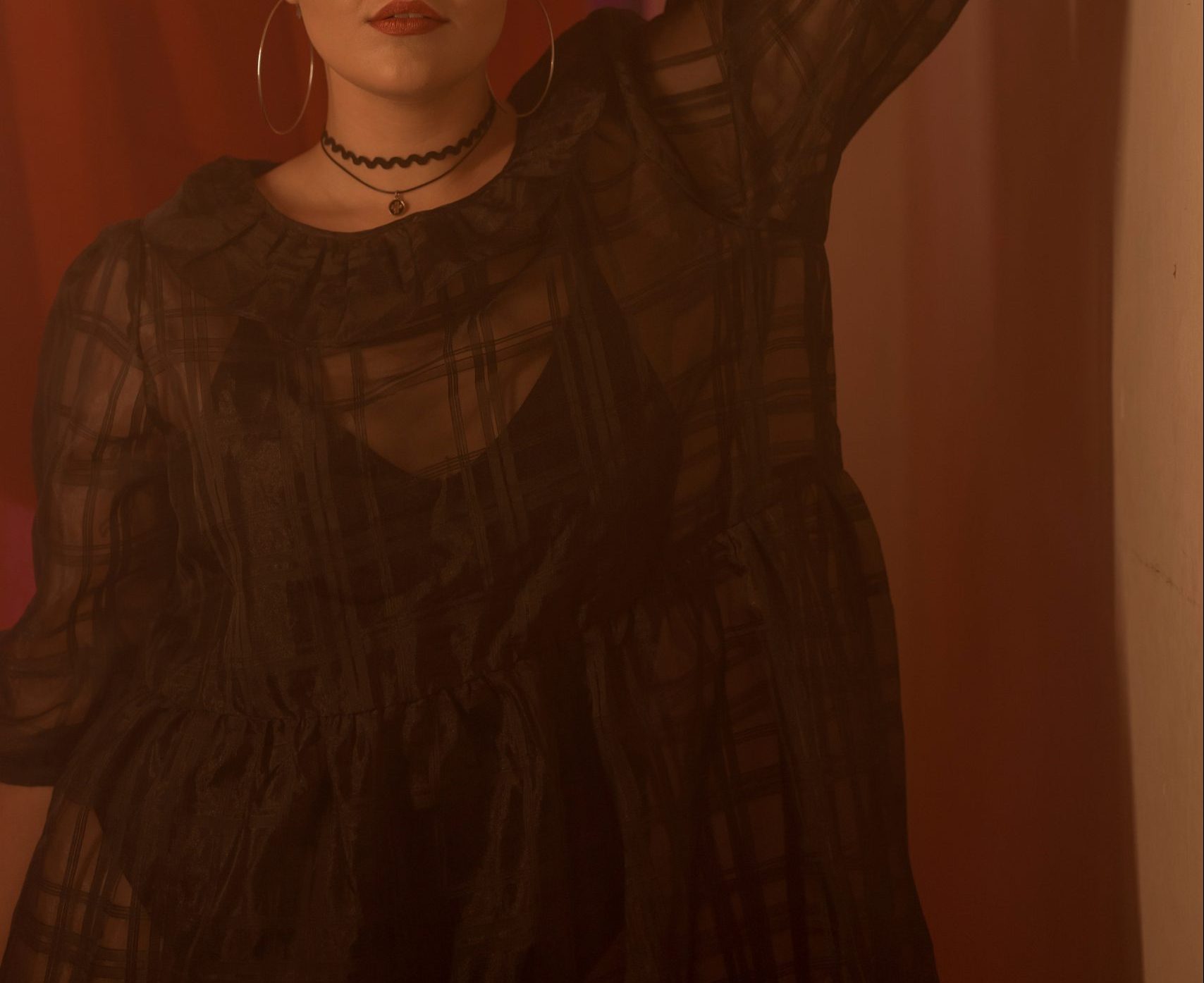 Credit: Cotton bro studio via Pexels
This doesn't try to hide or disguise anything about your body, it just helps show it in a more flattering light. Darker sheer fabrics, especially those with patterns, cast a warm and highly diffused shadow across the exposed skin, making it look smoother, slimmer, and more defined. Think of the lighting effect as a real-life filter.
Belted dresses are an all-in-one option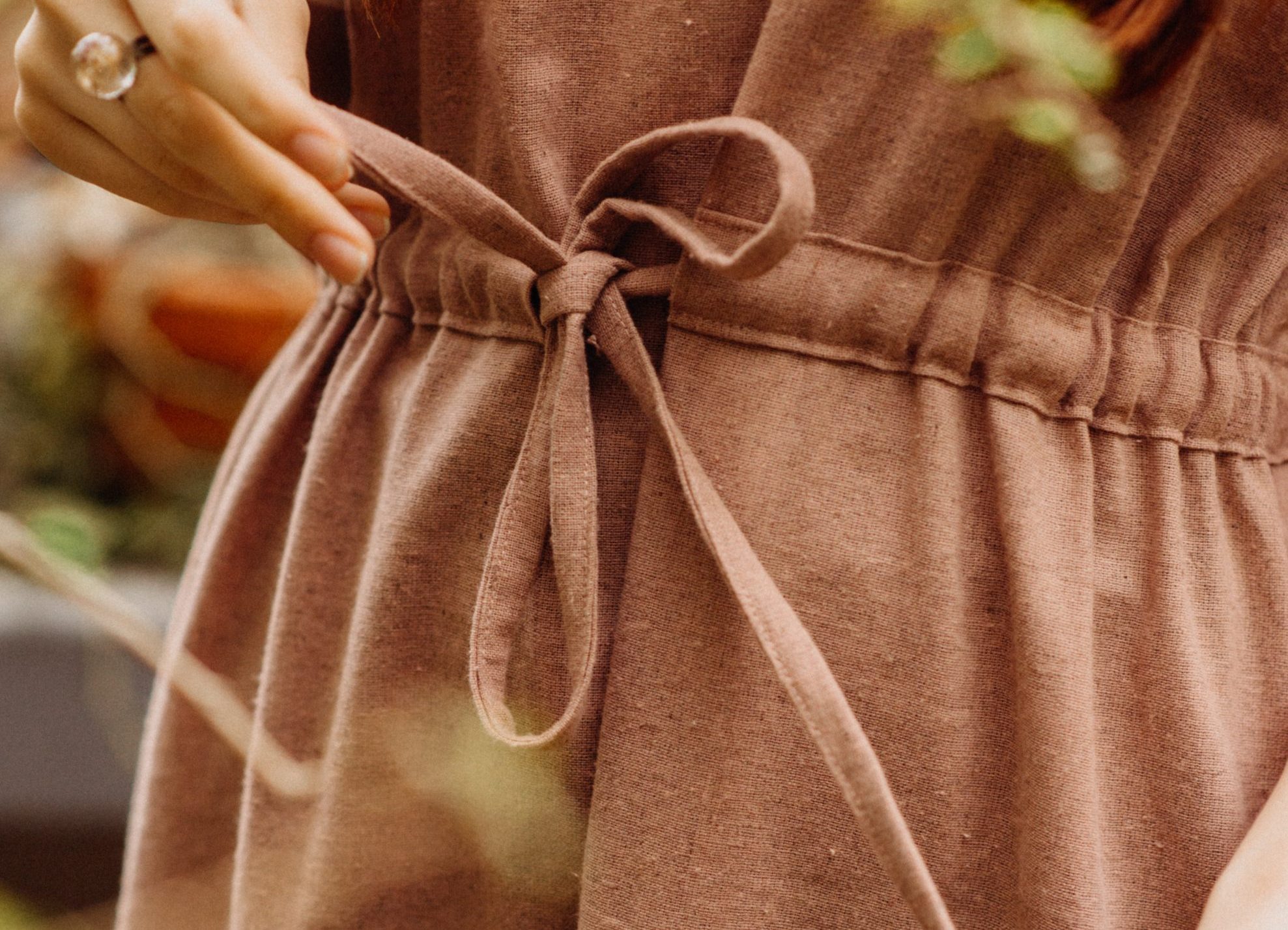 Credit: Dimitry Ganin via Pexels
Save yourself some time and effort with a belted dress. These tend to create a slimmer and more elongated torso, which can then be finished off with the belt. With the belt being built in the dress, you can go for flash with another accessory, like a statement necklace or bracelet.
Wear wide-brimmed hats to alter your shape
Credit: Jacob Bank via Pexels
A summertime staple, wide brimmed hats keep you sheltered from harmful UV rays and also let you coordinate an outfit around them. A wide brim will cast an angled shadow and helps lighten your frame, and the focus being so high up lifts a visual weight from the waist.
Consider open-shoulder looks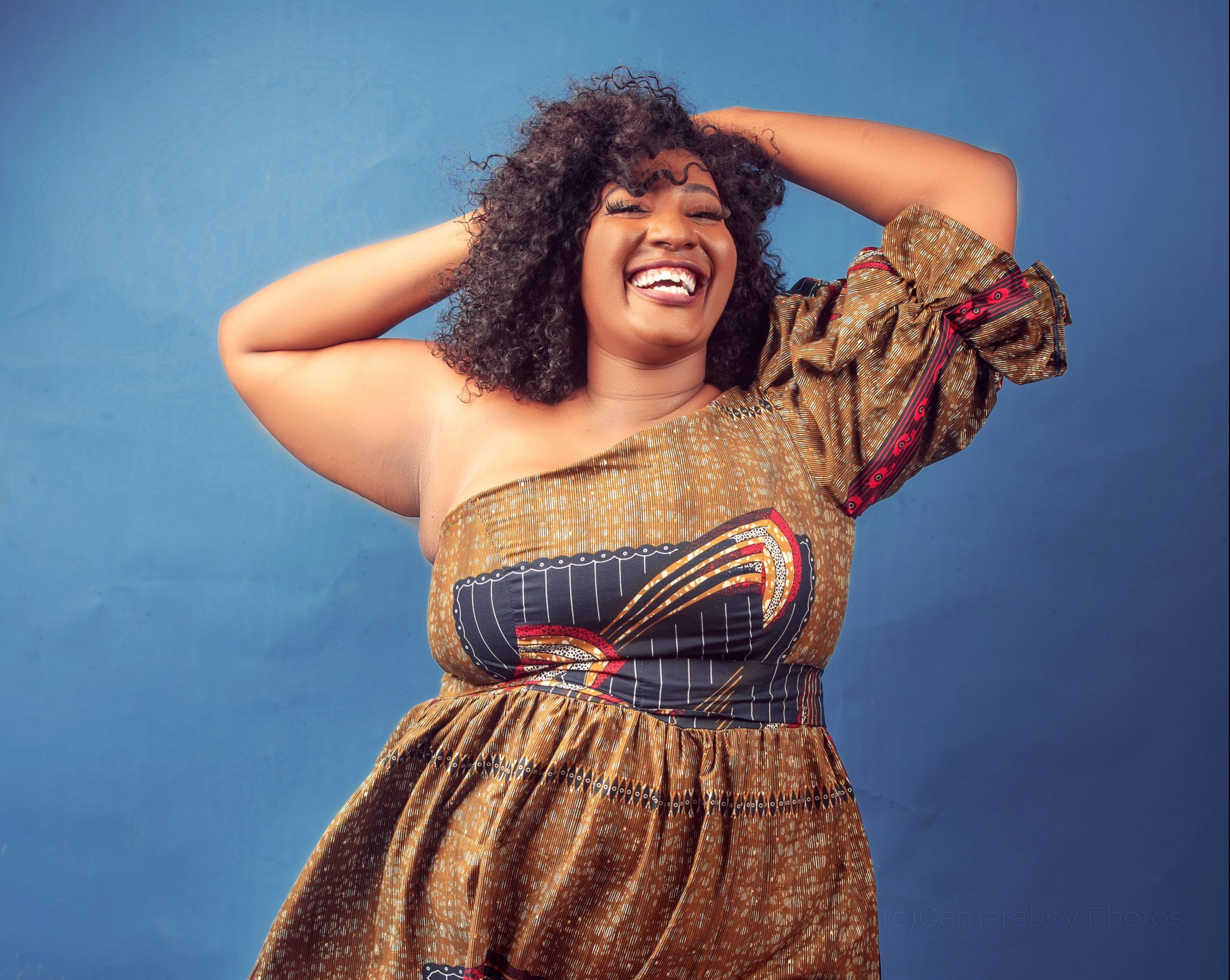 Credit: Jennifer Enujiugha via Pexels
Exposing a shoulder with an asymmetrical sleeve look is a dramatic way to make a higher point on the outfit the focus of your frame. By highlighting the shoulder, the waist seems narrower, while the hips now have a visual aid to help align them. Pairing this with other hacks can help change and balance your figure however you want.
Which jeans to wear and when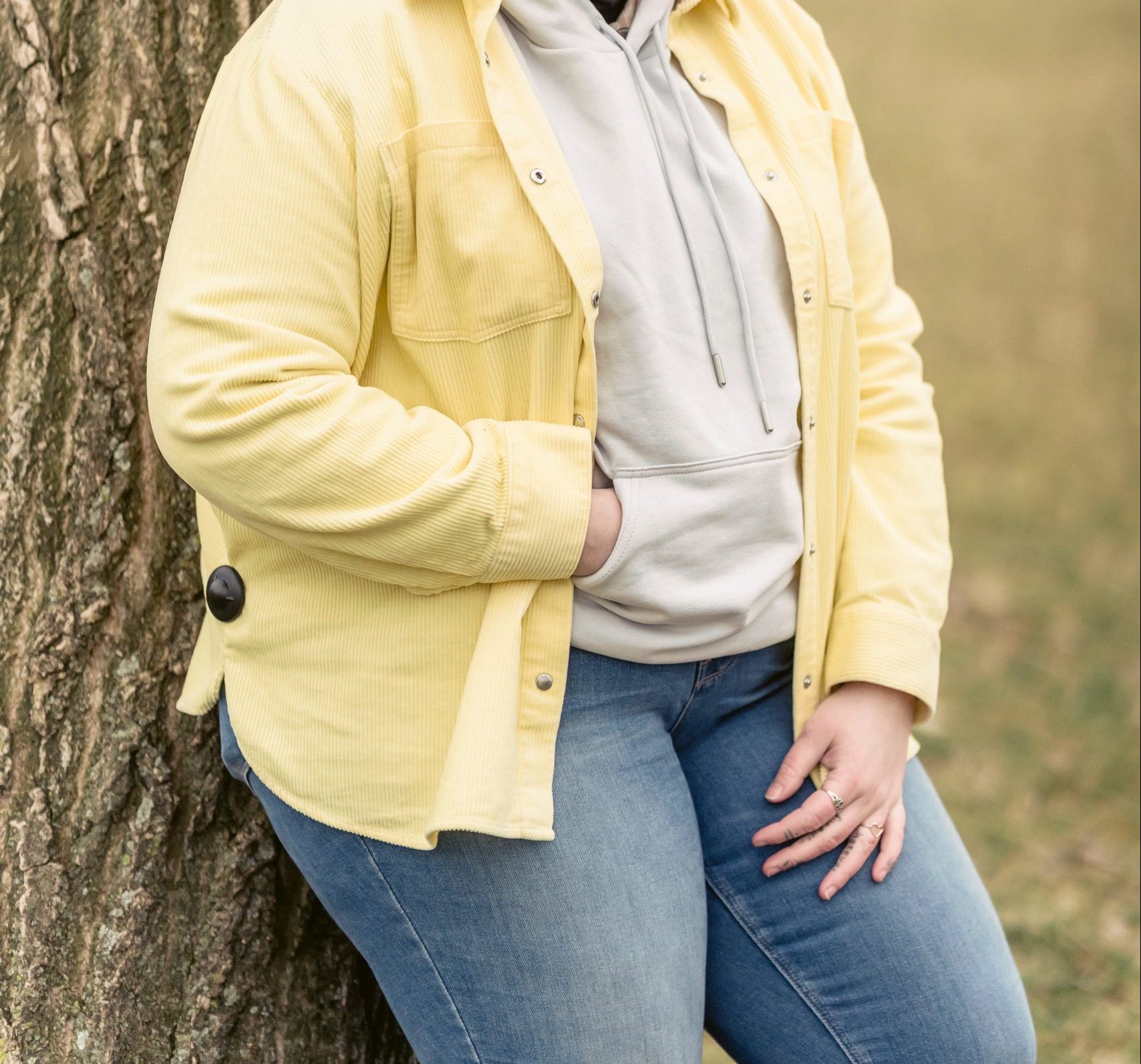 Credit: John Diaz via Pexels
For curvier women, jeans need to offer both support and comfort. A smaller woman may want to combine a high waist and boot cut, which will help hold in the stomach and create a floaty silhouette. A taller apple body may want a wider leg, cropped at the ankle. With enough experimentation, no style is 100% off-limits.
What to do about heels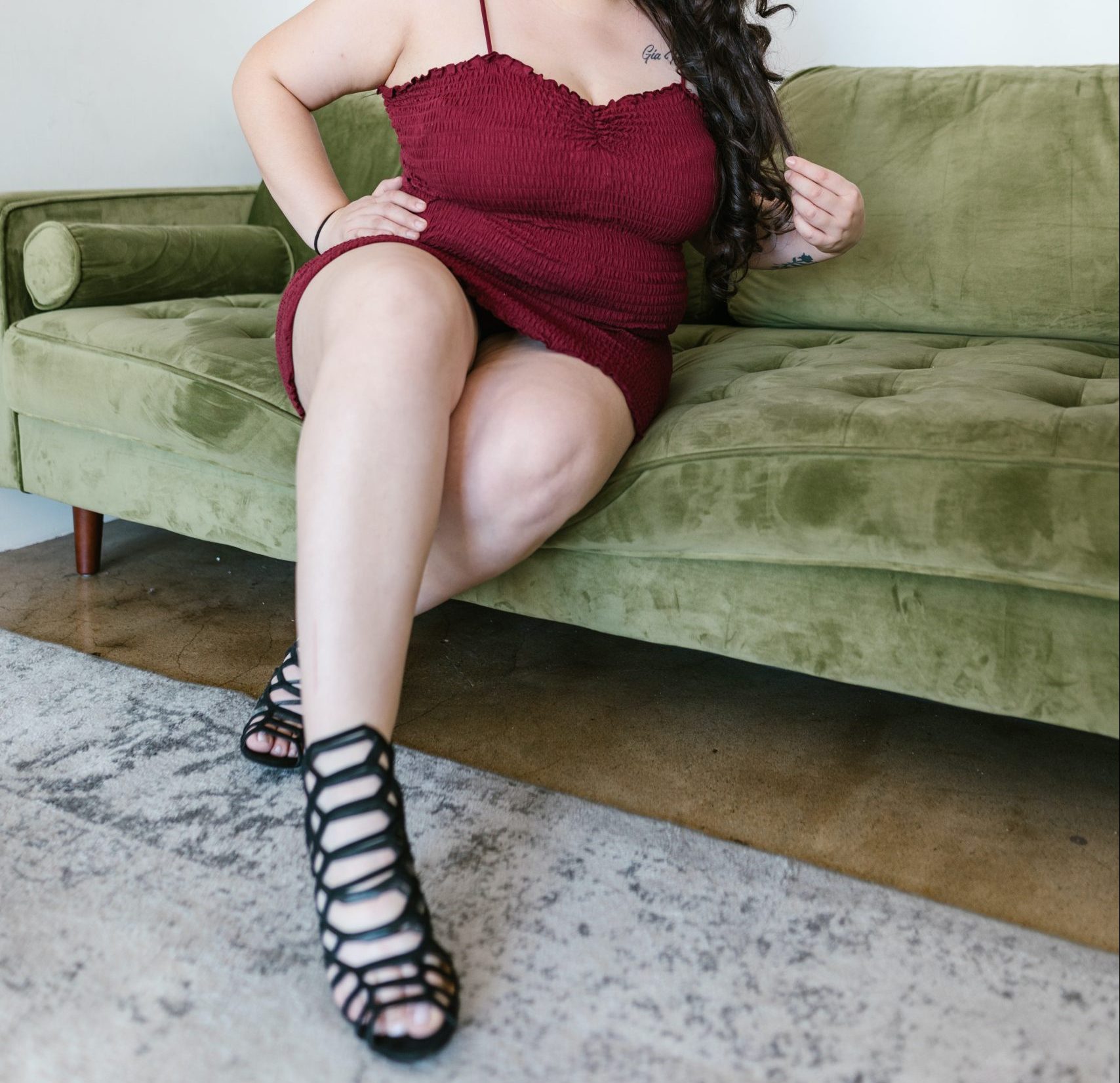 Credit: RDNE via Pexels
Some style guides will suggest you stay away from heels with an apple body, since the lift is going to push out the stomach area. As a flat apple, you have a little more freedom but still need to be careful. Heels or wedges will draw attention to your legs and bottom, and a belt or layers will keep your shape better proportioned.
Try dark, mid-rise skinny jeans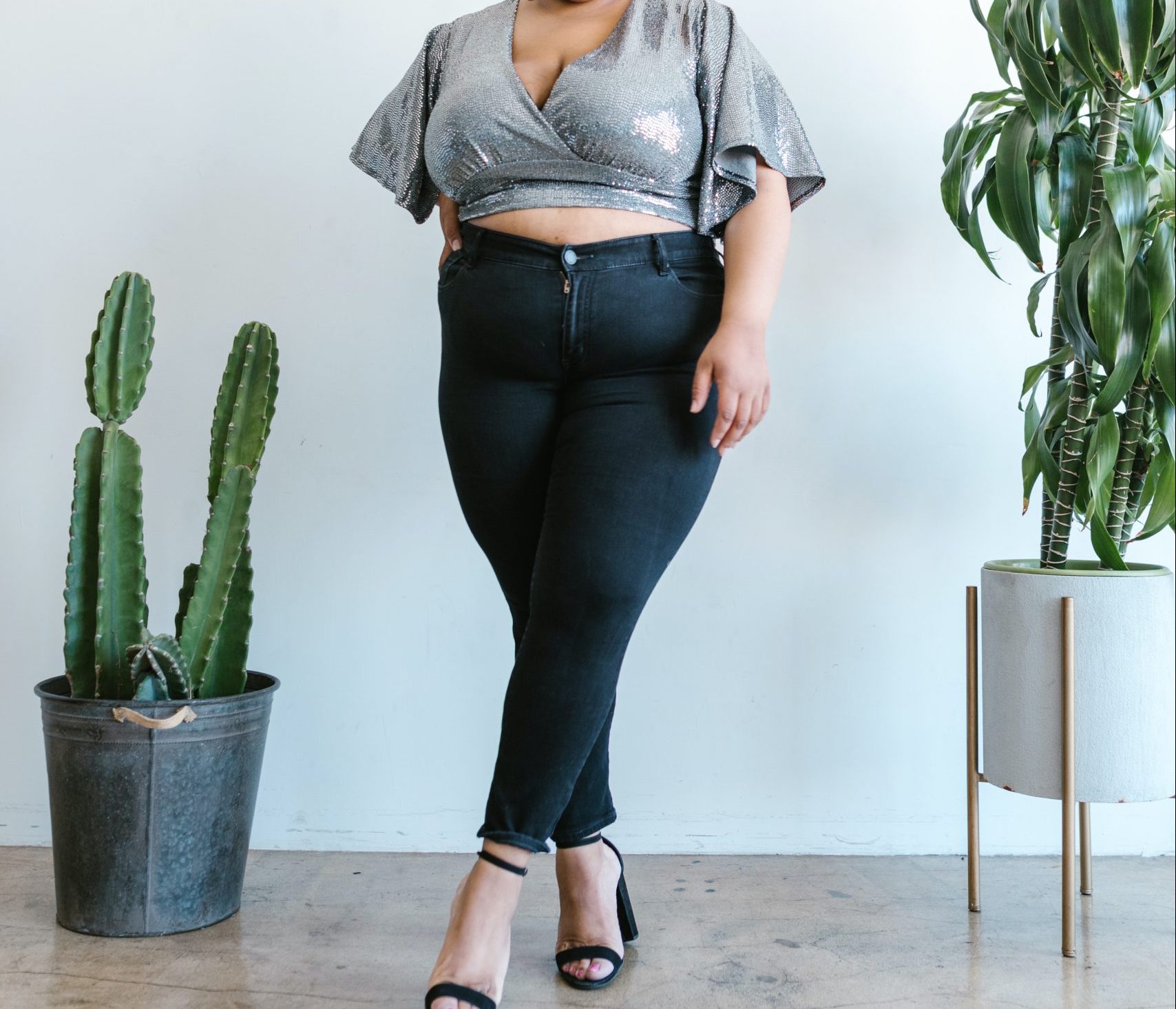 Credit: RDNE via Pexels
Skinny jeans can work with anybody, it's just about finding the right style and cut. A darker block color will help lengthen and define the legs, giving you a height boost. The mid-rise should be enough to contour your middle section, but if they sit uncomfortably, try high-waisted or find a design with an elasticated band.
Avoid boxy-fitting tops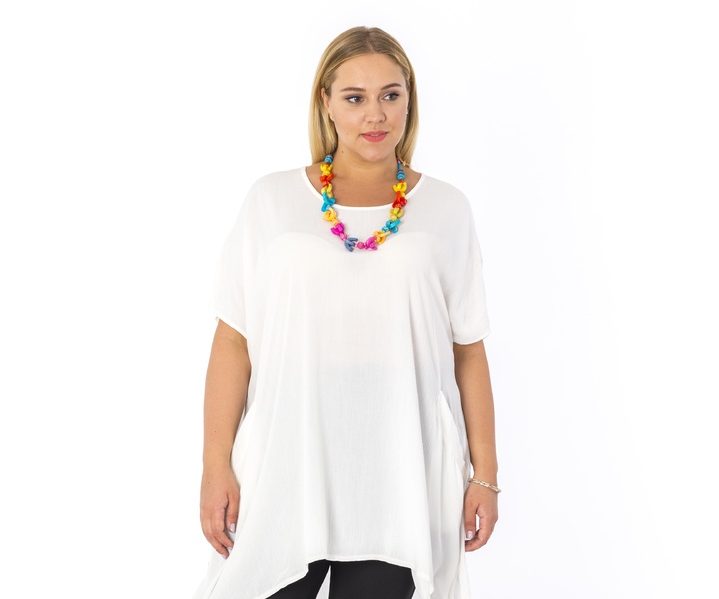 The options for styling your top half are pretty extensive, but one thing to stay away from is purposefully boxy shirts or jumpers. These at tend to create straight lines that widen your midsection, which is something you want to avoid. For similar reasons, puffy jackets like bombers tend to be unflattering too.
Choose natural fabrics over synthetic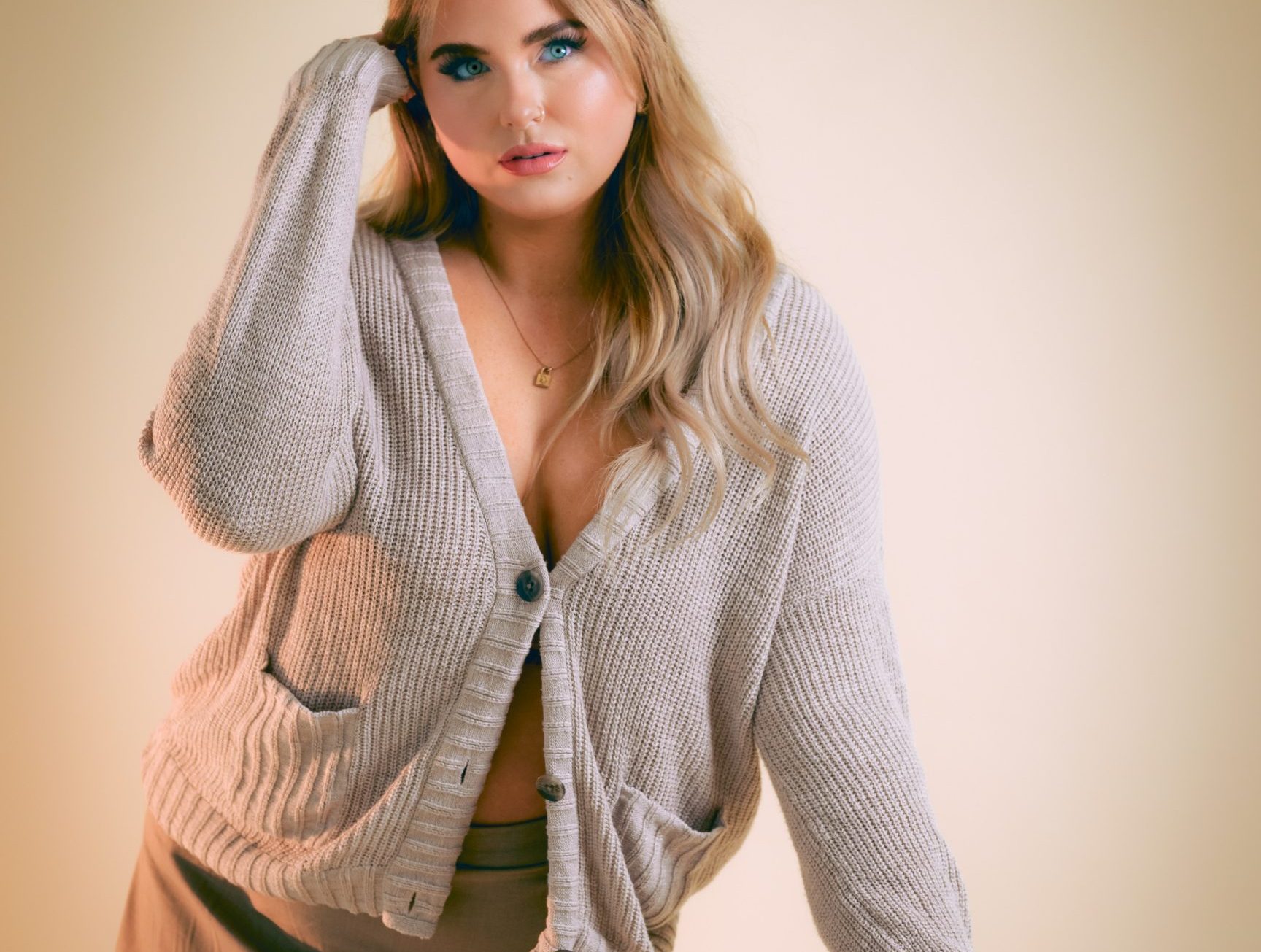 Credit: Chris F via Pexels
This is all to do with getting an organic fall on the material you use, which for apple bodies helps disguise the heavy midsection and lets you shape your assets more precisely. Non-organic fabrics, like nylon and polyester, tend to be much more form-fitting. These will give you little room to maneuver.
You can always lower your waistline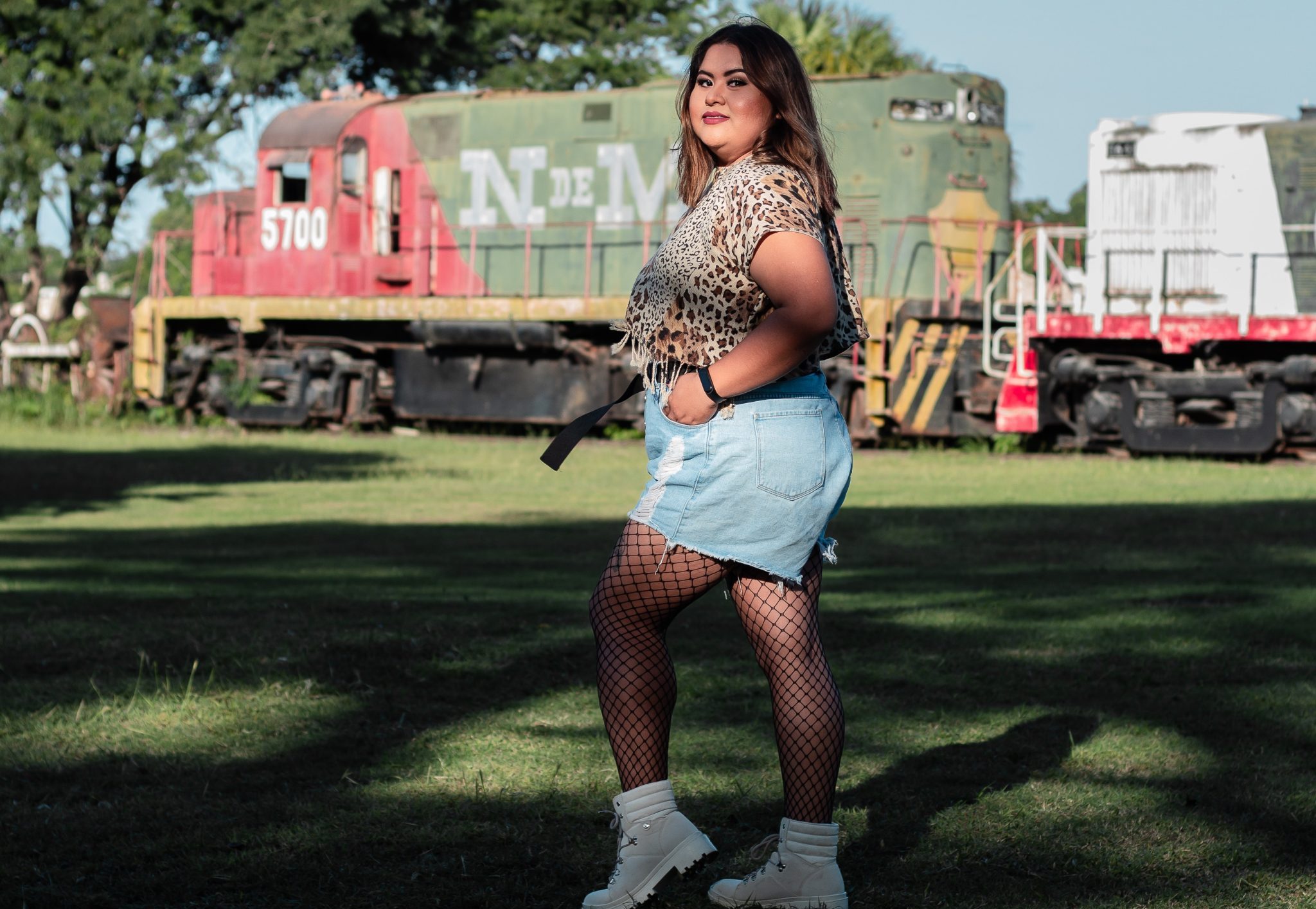 Credit: Brian Jiz via Pexels
Styling for this body type often involves creating a waist slightly above the hips. This is a great tip, but body fat can group around the hips and stomach in quite a few ways, so it may not work for everyone. Lowering your waistline, like with a tennis skirt, might be worth a shot! They can help tuck in and shape any mass around the midsection.
Covering the neck can box you off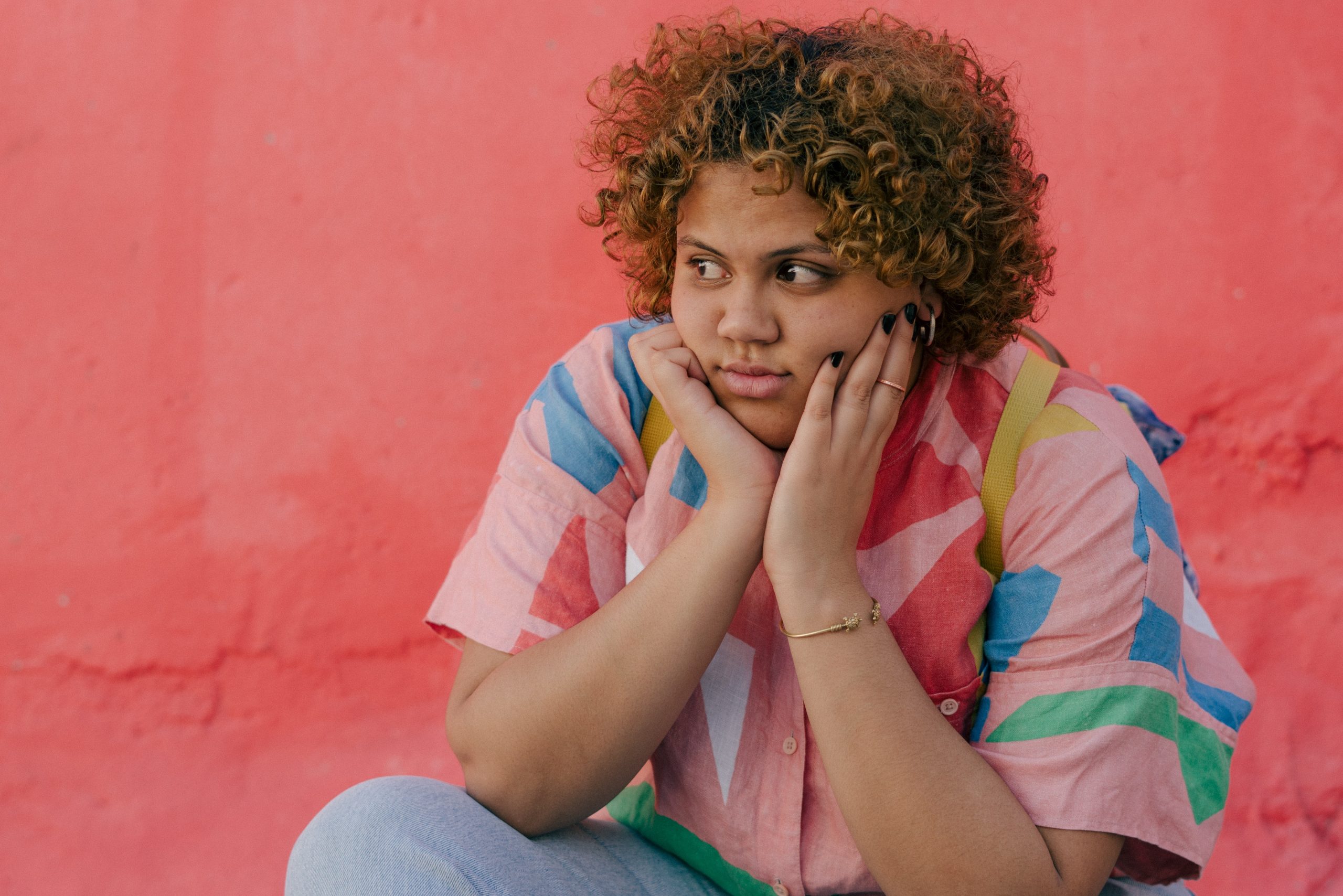 Credit: RFstudio via Pexels
Shirts that cover up the chest, like turtlenecks and roll necks, can have a sort of concentrating effect on your upper body. By keeping everything confined you minimize your torso, which is going to squish you down. If you love to look of a turtle neck, find one with cutouts. Try either a cleavage window, an open shoulder, or an asymmetrical fit.
Which skirts go best?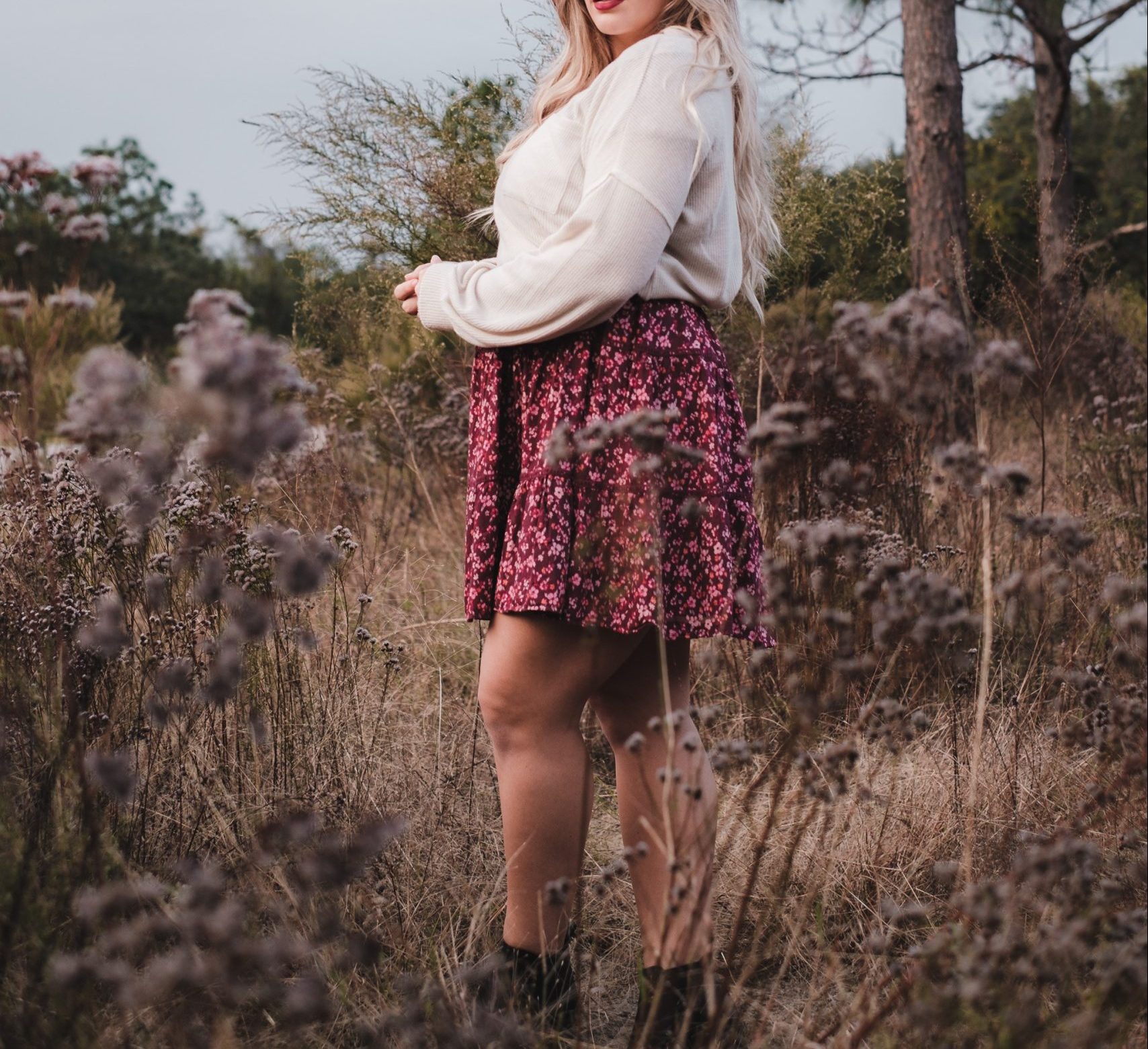 Credit: Airam Datoon via Pexels
Thankfully you have a good amount of variety when it comes to skirts, as many styles flatter apple bodies. Showing off the legs with a mini skirt will make you look taller and leaner. A line skirts will also rest comfortably at your waist, tucking in any extra skin while also shaping the legs and not dragging you down with a low hem.
For shoes, go open-toed and chunky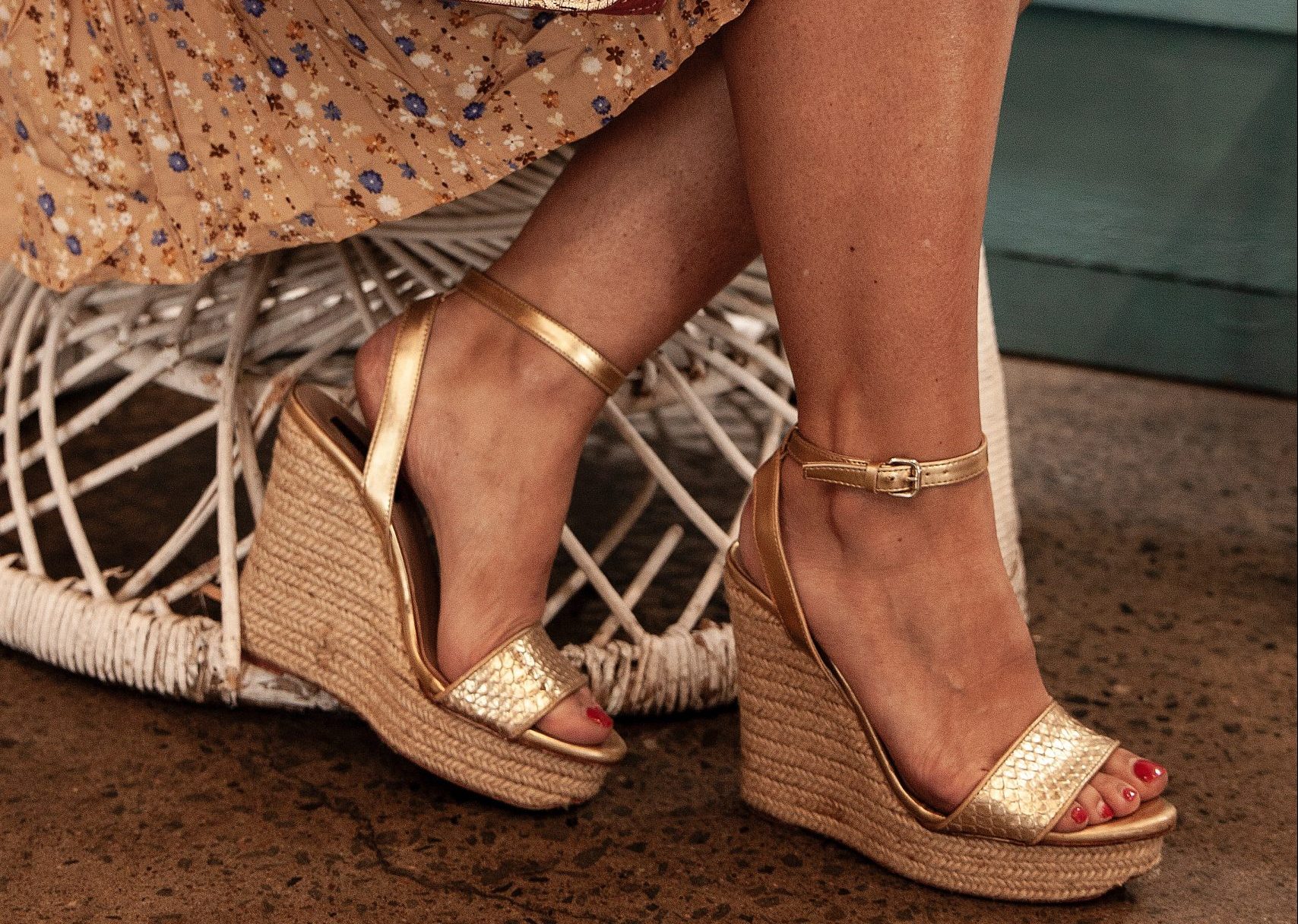 Credit: Karen Boshoff via Pexels
Gathering visual weight and attention around the feet boosts your height and will also draw the eye away from the stomach. You can do this with open-toe wedges in bright, summery colors. Or something with a wrap around detail like a sandal or pair of flats. As long as you don't wear anything too small, it shouldn't throw off your proportions.
Flattering swimwear for your body shape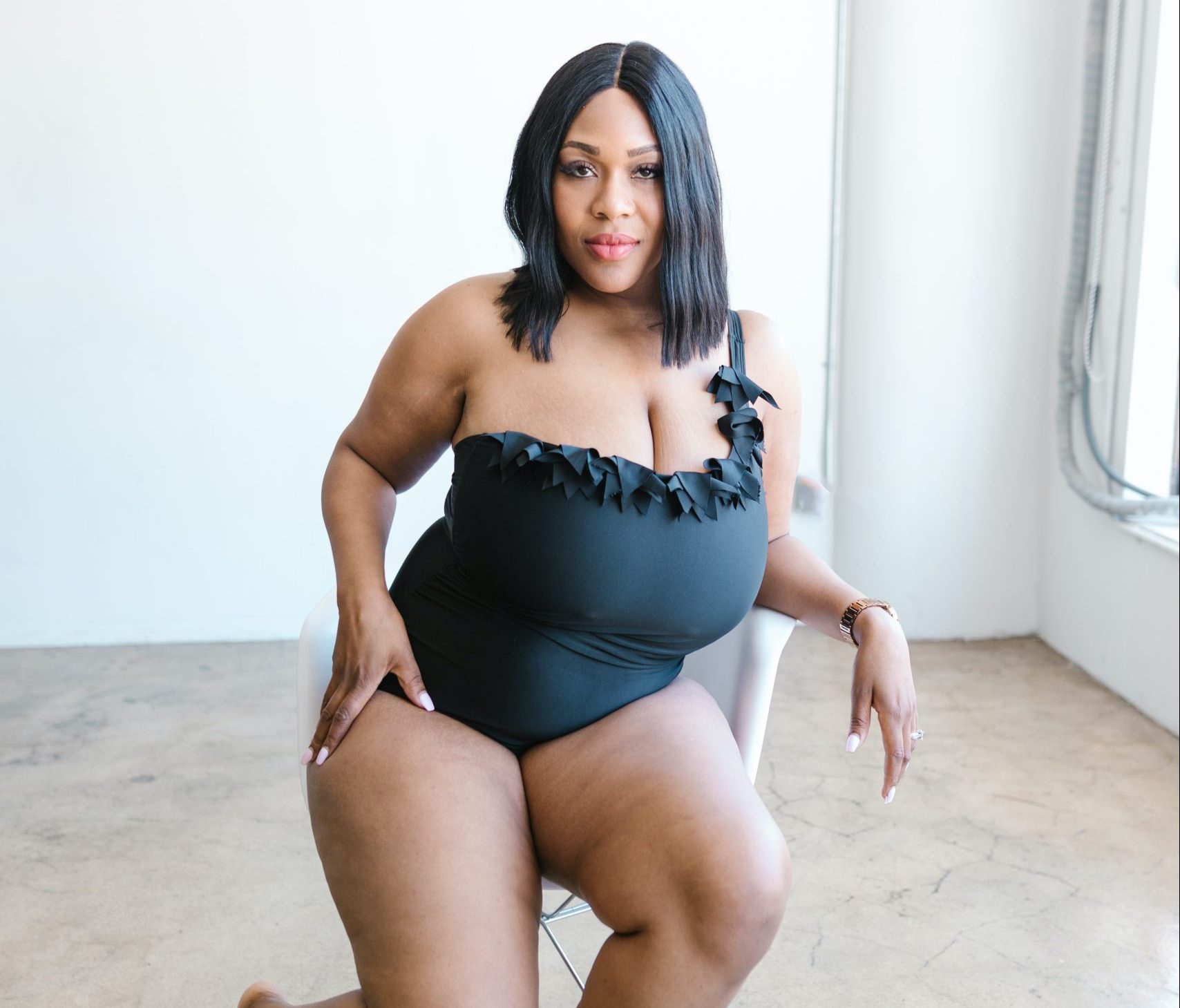 Credit: RDNE via Pexels
While showing too much skin can seem a little daunting, swimwear is purpose built and highly flattering for rounder bodies. Something with wide straps and plenty of under wiring will boost and support your assets. Side details and ruching can also provide a slimming effect, so you can tan your curves and still feel confident.
Stealing from the 90s is always cool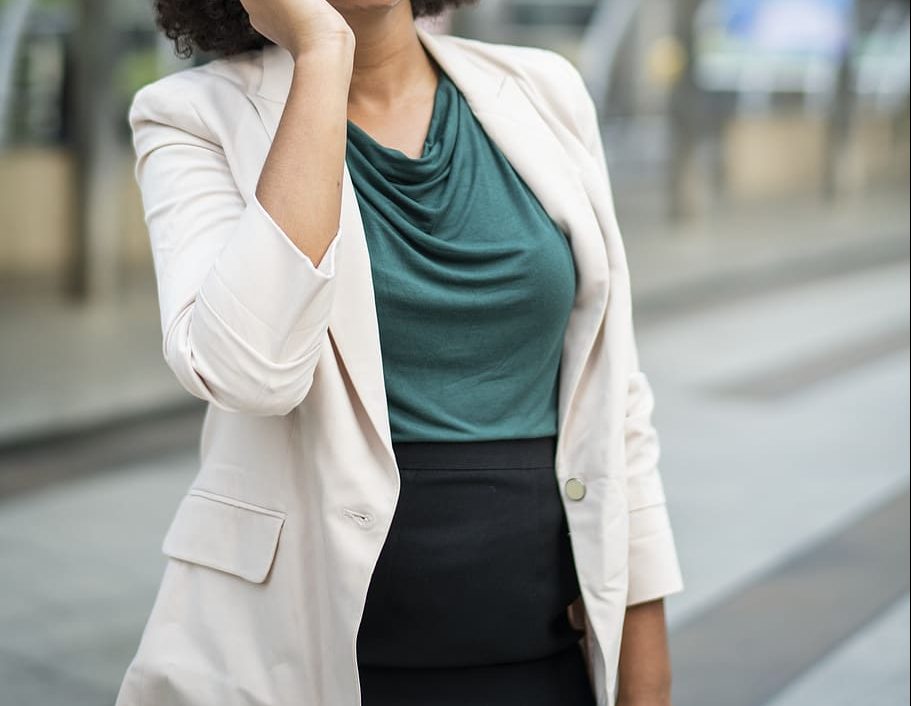 Shoulder pads are an overlooked aspect of tailoring, usually going ignored or removed to avoid the power suit look. With the apple shape, however, this style is exactly what you want! By broadening and raising the shoulders, you give structure to their roundness and instead broaden the top half of your outfit.