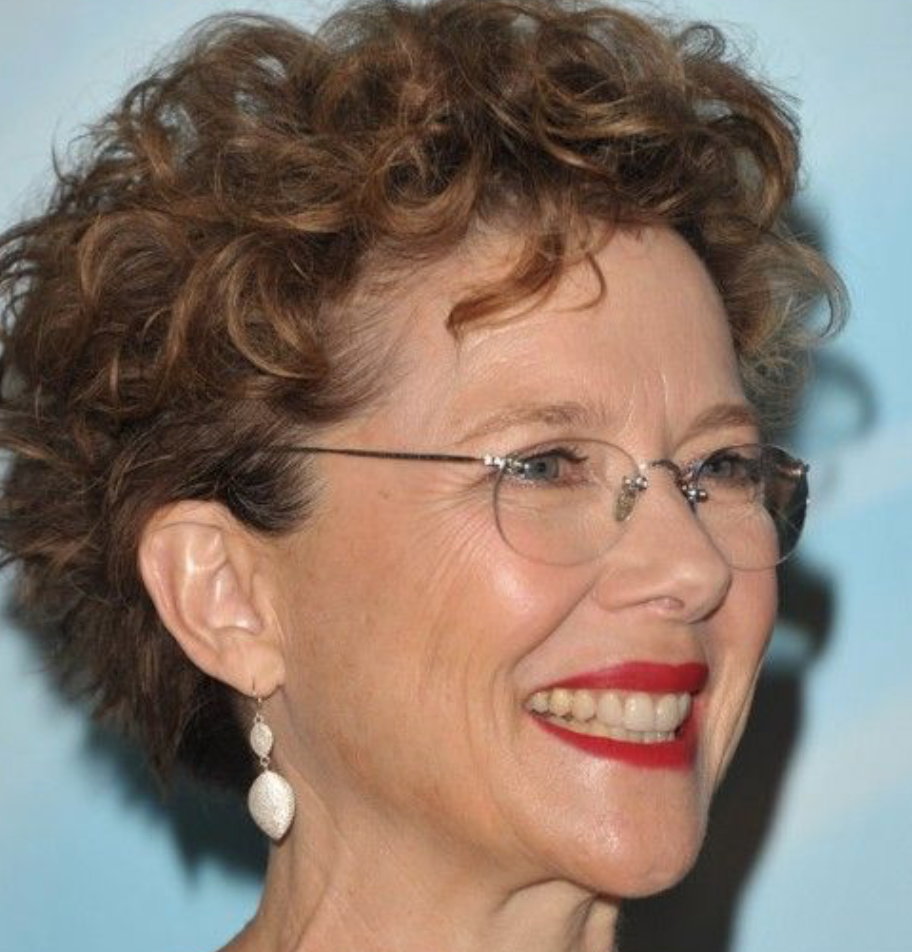 Credit: hairstylesweekly.com via Pinterest
Collarbone hairstyle with bangs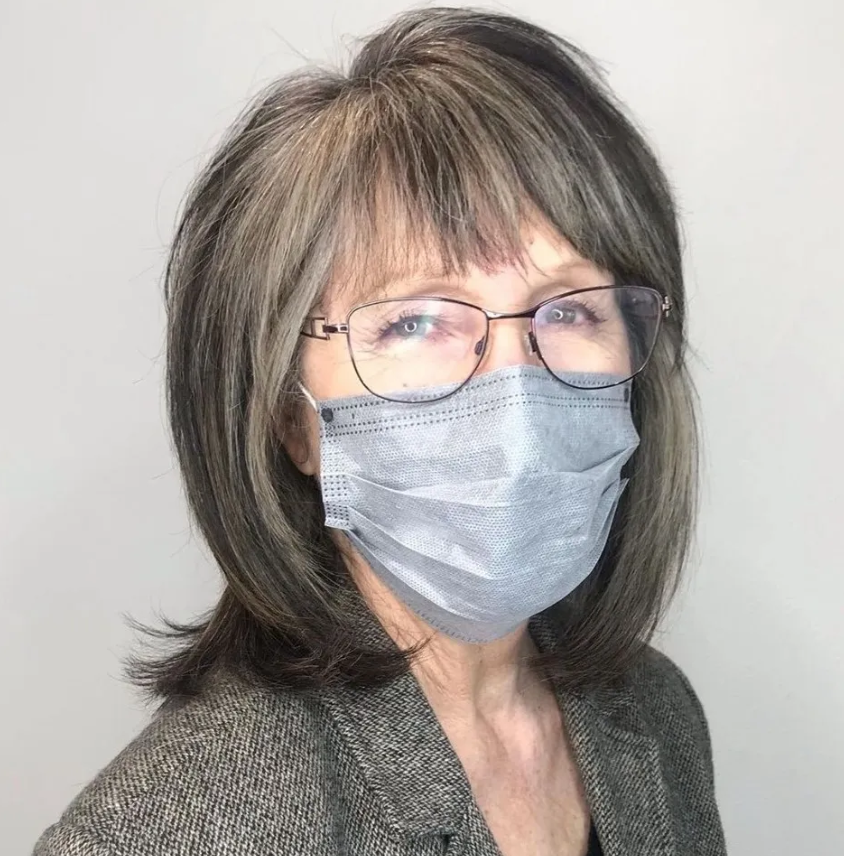 Credit: Mark Pardo SalonSpa
Unlock the best of medium hairstyles as you reach the age of 50! Combine a chic midi cut with cropped bangs that gracefully cover your forehead without obstructing your glasses. This harmonious blend will create a stylish and sophisticated look that elegantly suits your age.
Midi cut with feathered layers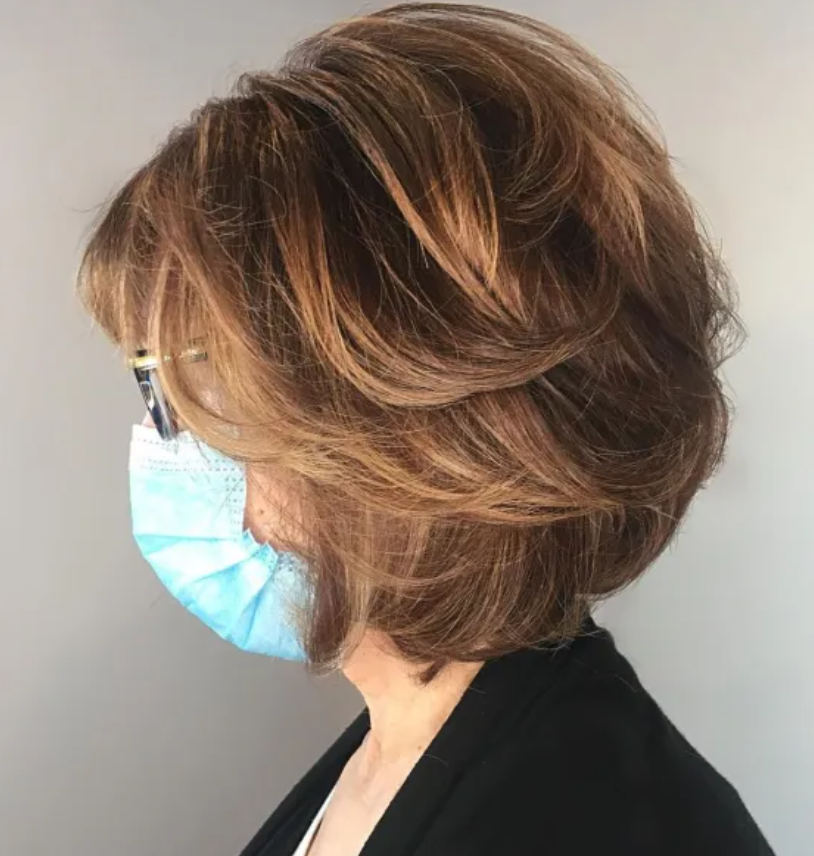 Credit: Blades Salon
The options are plentiful when it comes to hairstyles for women over 50 with glasses and thick hair. Thick hair has the versatility to carry off any length, opening doors to various creative hairstyles. One standout choice is a layered cut that adds dimension and movement. For an extra touch of glamour, consider complementing the style with stunning copper or bronze highlights.
Layered medium-length bob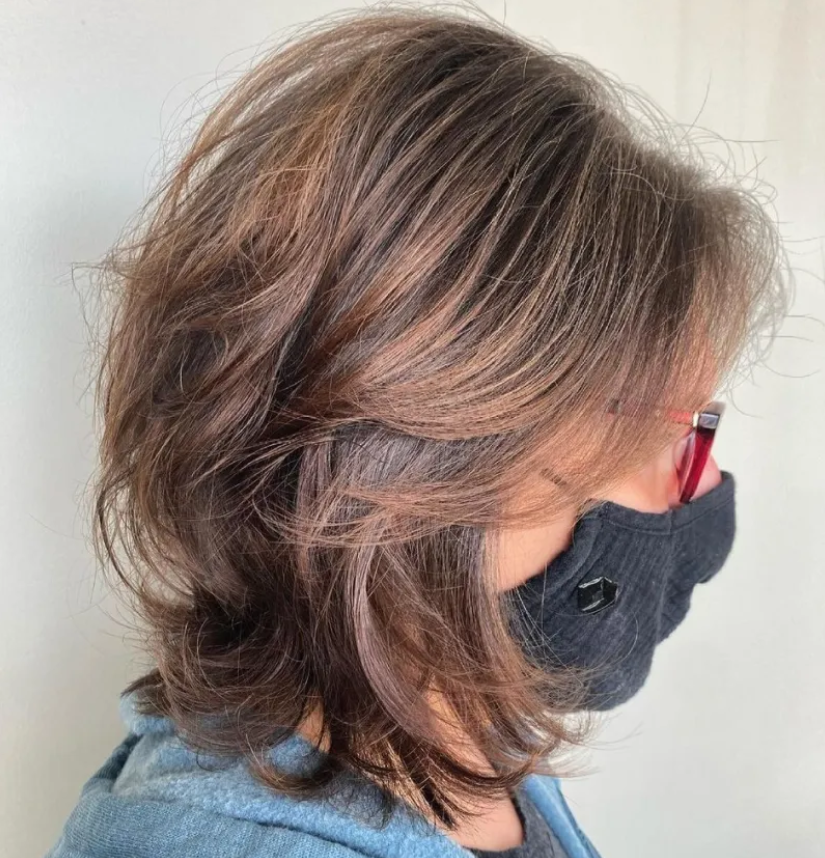 Credit: @apierce_designs via Instagram
Inject extra vitality and dynamism into your hair by opting for a layered bob, a style that particularly flatters oval faces by combining movement with texture. Whether you decide to embrace your natural hair color or experiment with a vibrant dye, the outcome is sure to be fantastic!
Combed-over bob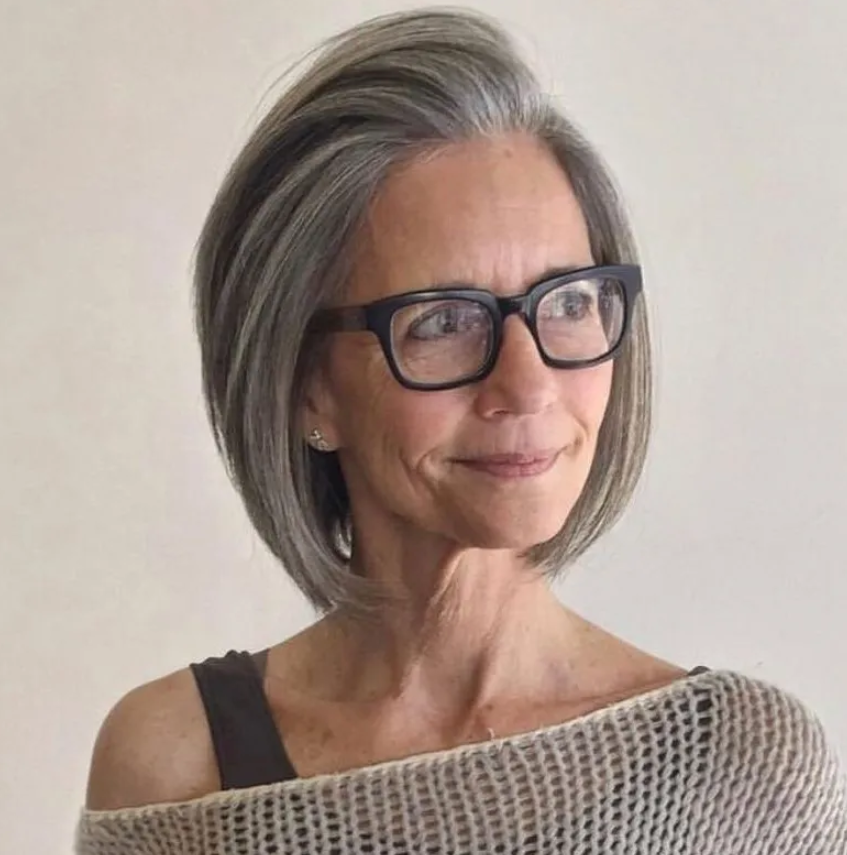 Credit: Brian Hickman
Bob hairstyles for women over 50 with glasses exude sophistication and sharpness, making them versatile for any occasion. The key is to ensure that the bob frames your face in the most flattering way possible. The added bonus of bob hairstyles is that they can be customized to suit different face shapes and glasses styles, allowing you to achieve a truly personalized and flattering look.
Crisp, short, choppy silver undercut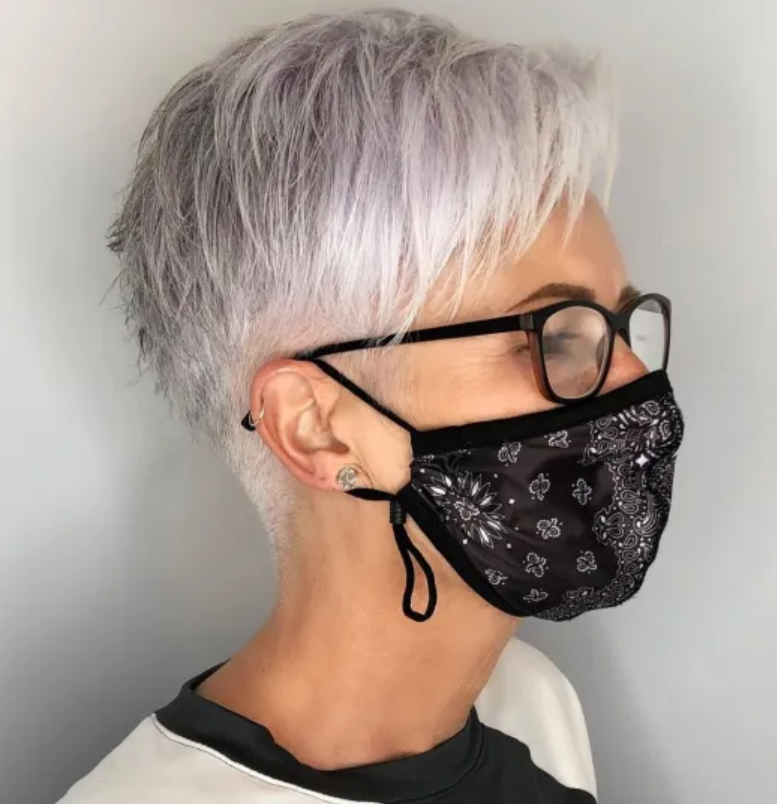 Credit: Blades Salon
Pixie cuts remain timeless for older ladies who wear glasses. These short hairstyles for women over 50 offer a beautiful, comfortable, and low-maintenance option that never goes out of fashion. They also have the ability to highlight facial features and bring a sense of confidence and elegance to any look.
Short bob with bright strands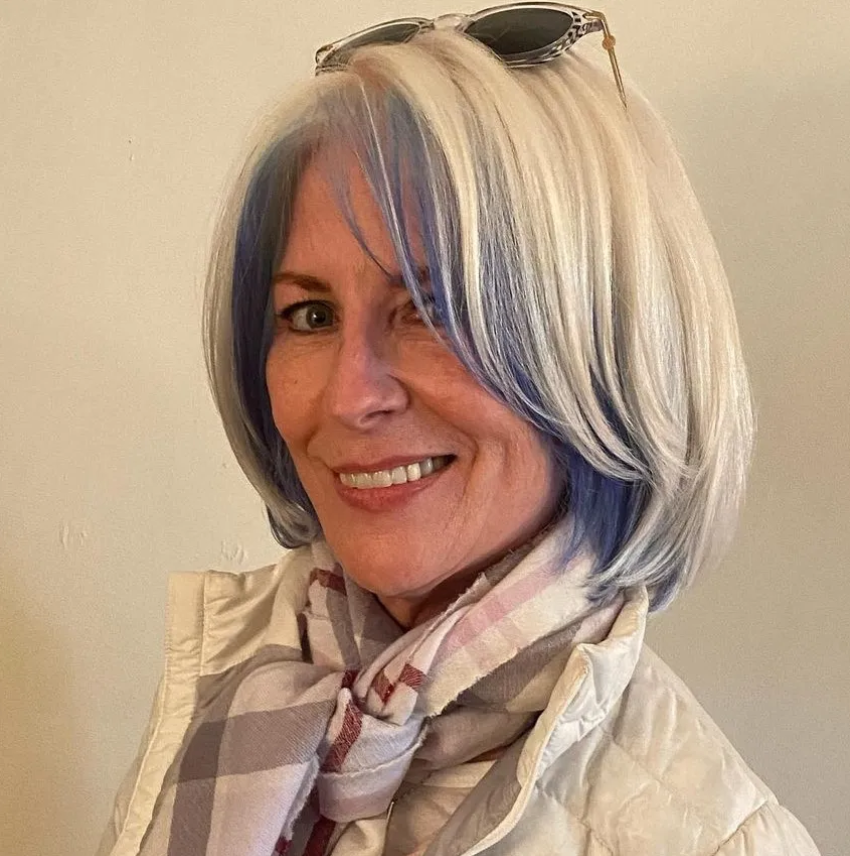 Credit: Frank Zarcone
Rock a chic and stylish look with short bob hairstyles adorned with colorful strands, guaranteed to make you the center of attention at any gathering. These vibrant styles perfectly complement your glasses, adding a touch of flair to your overall appearance.
Elegant blonde cut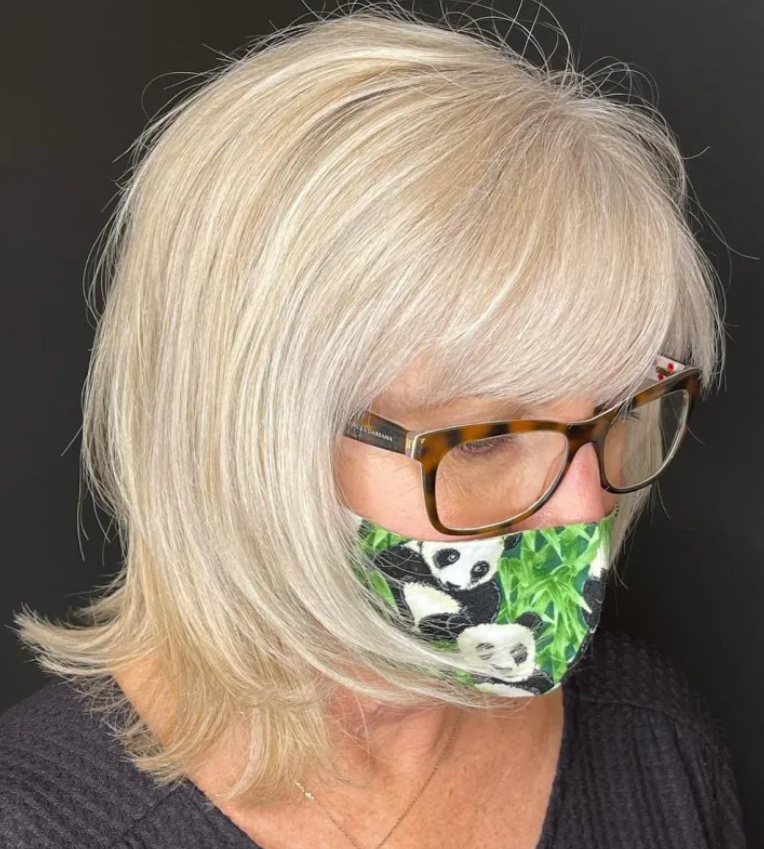 Credit: Mirella Scotto
Achieve a debonair look with sleek shoulder-length hairstyles for women over 50 who wear glasses. These versatile styles can be tailored to complement any frame and face shape, ensuring a polished and sophisticated appearance. These shoulder-length hairstyles also offer the flexibility to experiment with different styling techniques, allowing you to create various looks that suit your personal style and mood.
Haircut with dynamic layers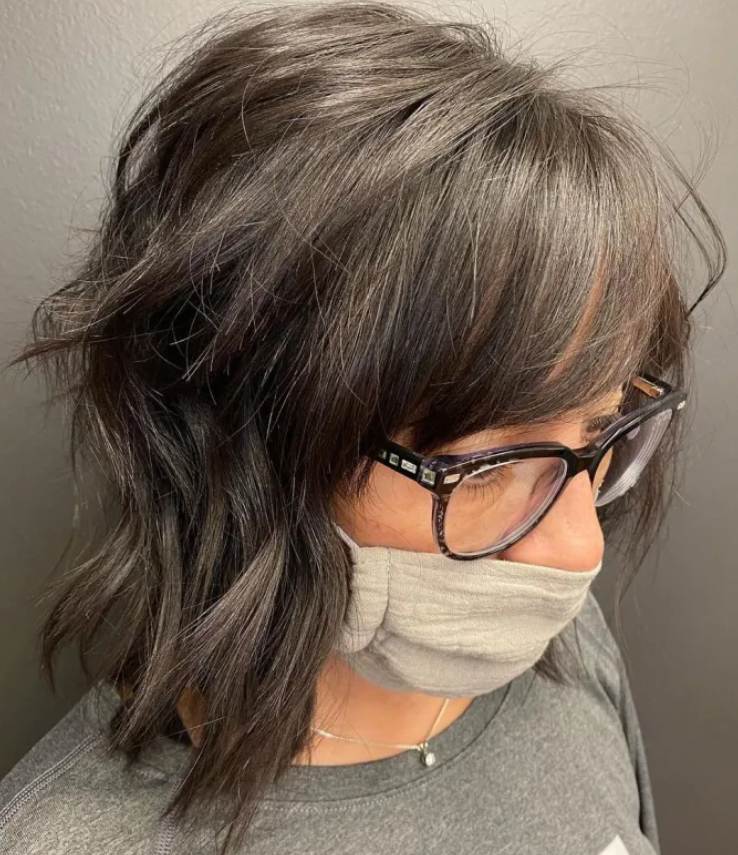 Credit: @maryanncoynehair via Instagram
Adding layers to haircuts for women over 50 not only provides additional depth and volume to the hair but also offers the freedom to explore various styling options whenever the desire strikes. Moreover, layers can help to soften facial features and create a youthful and dynamic look, making them an excellent choice for women embracing their beauty at any age.
Shaggy hairstyle for women over 50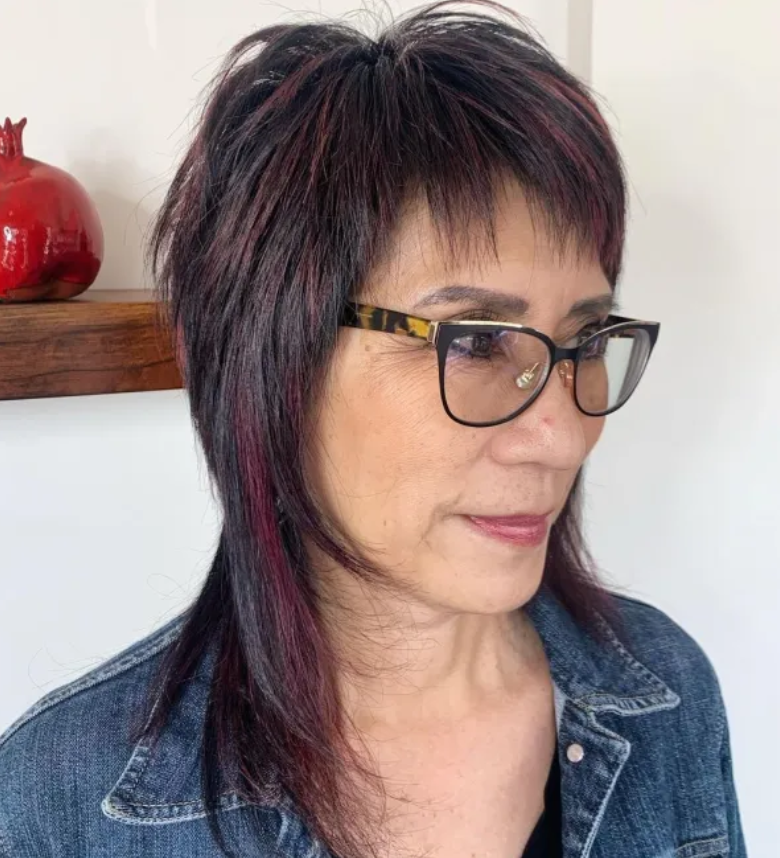 Credit: Pomegranate Salon
For women over 50 wearing glasses, there are fantastic hairstyles for fine hair that can enhance volume and add a touch of playfulness. Consider opting for a shaggy cut, which creates the illusion of fuller hair. To make a lasting impression, you can also incorporate vibrant highlights that bring an element of excitement to your overall look.
A-line bob for women over 50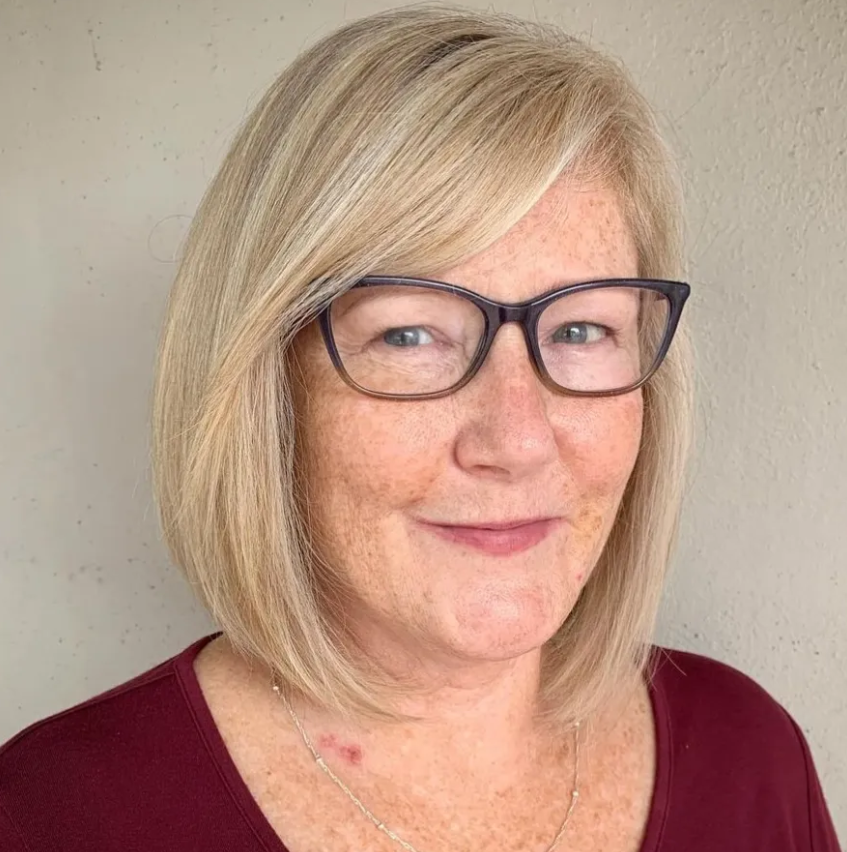 Credit: Courtney Mayer
When it comes to fine, thin, straight hair paired with glasses, hairstyles that exude sophistication and a smart-casual vibe are ideal. Embrace a refined look by considering a side part and complementing it with long, sweeping bangs. Don't be afraid to experiment with this cut, as it can add an extra touch of elegance to your overall appearance.
Razored curly crop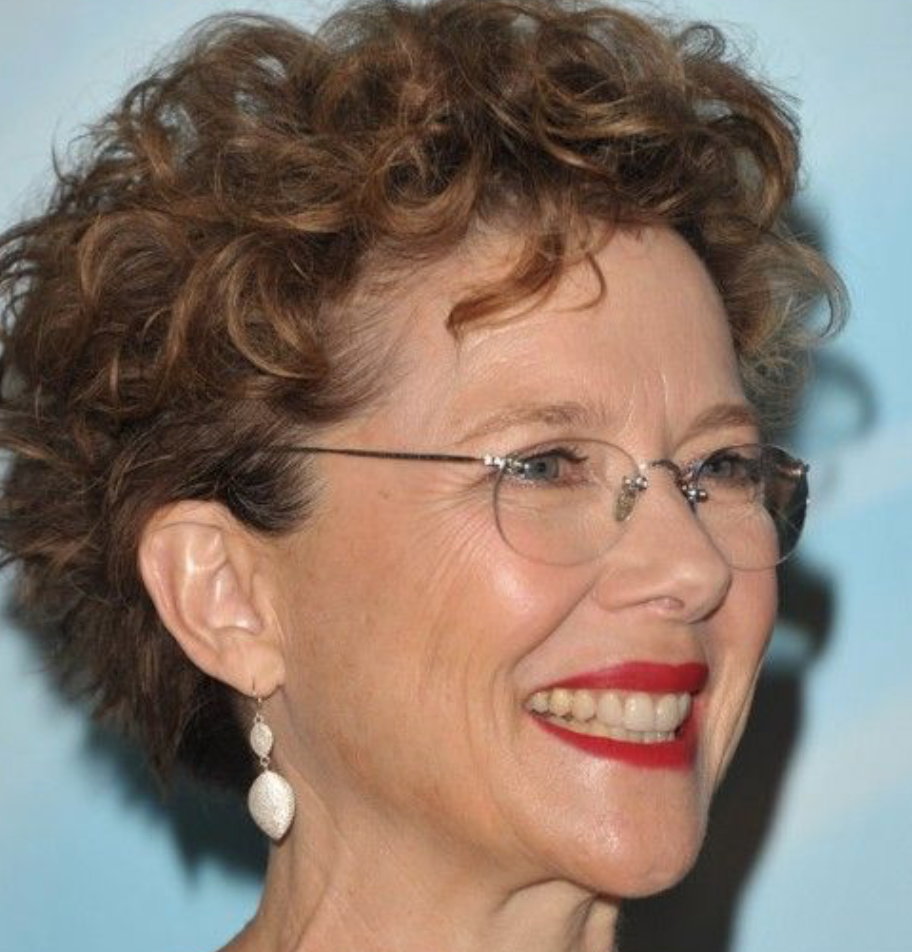 Credit: @hairstylesweekly.com via Pinterest
This variation on the ever-popular pixie crop is fabulous for women with curly hair who are looking for a style that's just that little bit different. Guaranteed to show off cheekbones and jawline to their best advantage, it's a real head-turner. Wire-rimmed glasses are the perfect accessory and red lipstick the ideal finishing touch.
Sassy salt and pepper hair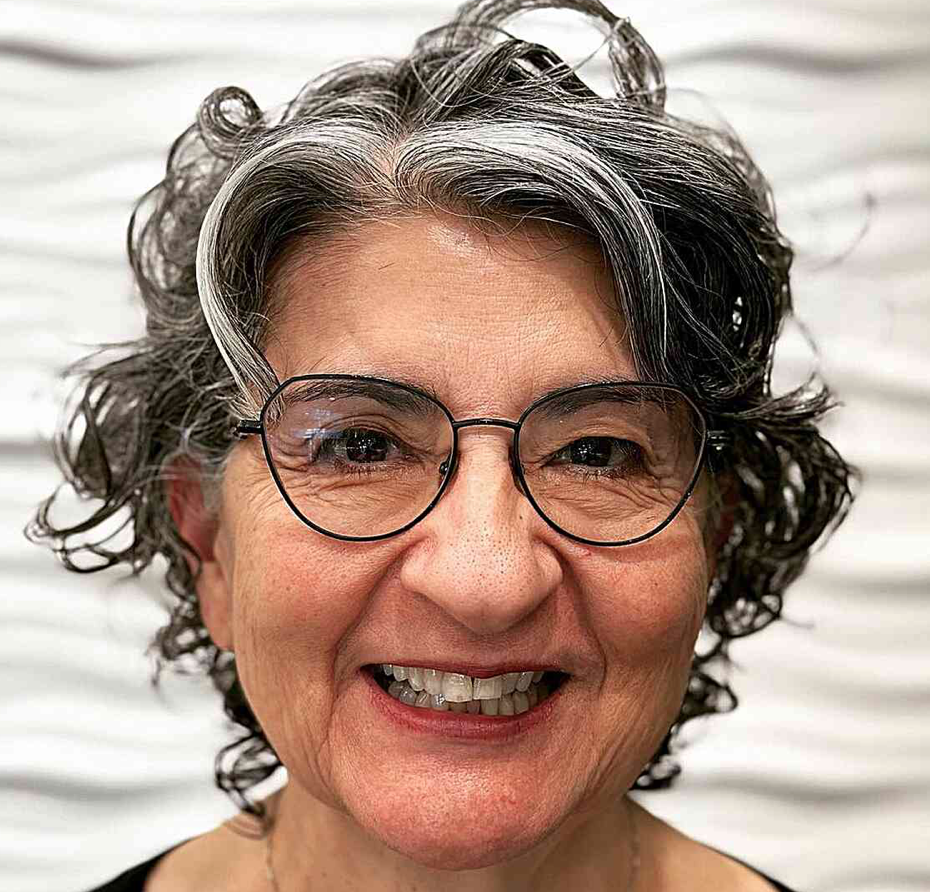 Credit: @CHARLESFOXHAIR via Instagram
Ditch the dye and embrace the changing colors of your hair with this sassy crop. Versatile and playful, it's as easy to style for the office as it is for a night on the town. It works just as well when styled for smooth, sleek look as it does when it's messy and curly.
Highlighted pixie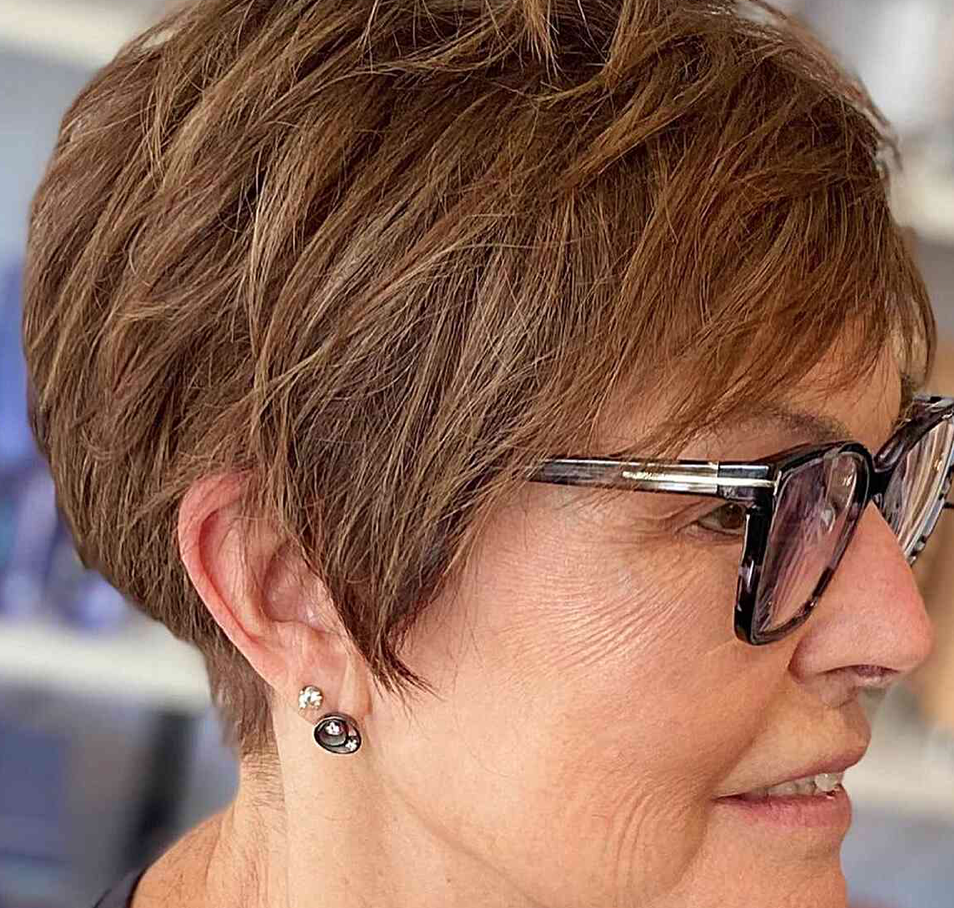 Credit: @HAIRBYLILIDASHI via Instagram
Highlights aren't only for the young. They can also provide welcome warmth to the hair – and, indirectly, also to the skin – to the older woman. Choose tones that enhance with your natural colors and then opt for a sophisticated pixie cut to show off the result.
Sleek bob for a round face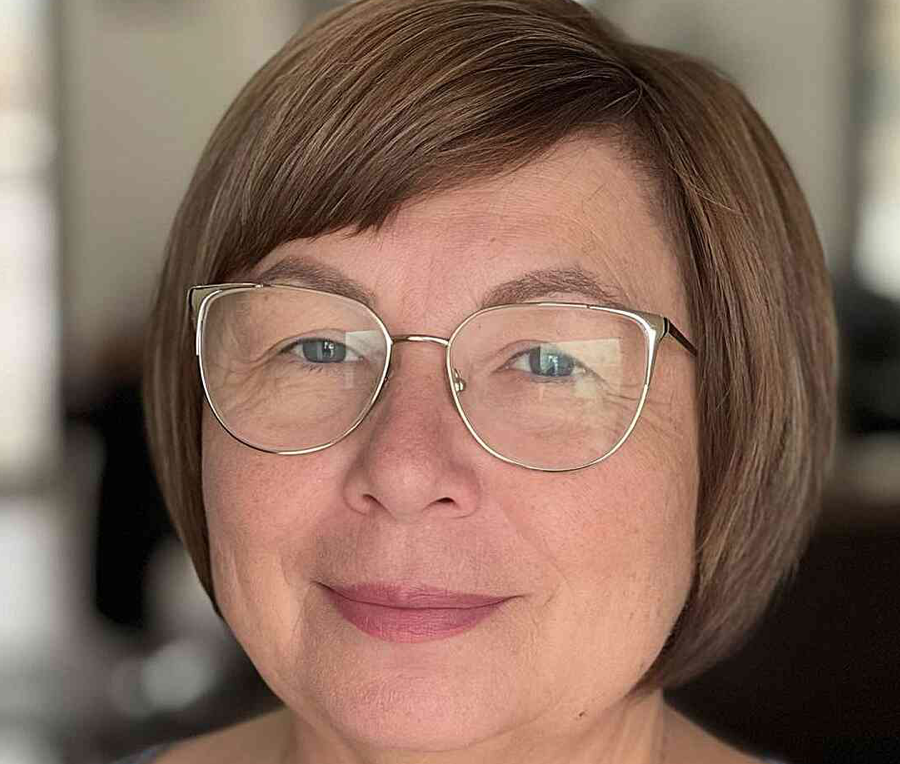 Credit: @CUTTINGEDGEHAIRSALONS via Instagram
If you have a round face, it can be easy to dismiss bobs from your list of possible hairstyles, especially if you also wear glasses. However, choosing a sleek cut, with sideswept bangs can be immensely flattering. Carefully-styled, it's also a youthful cut, if that appeals to you.
Low maintenance natural curls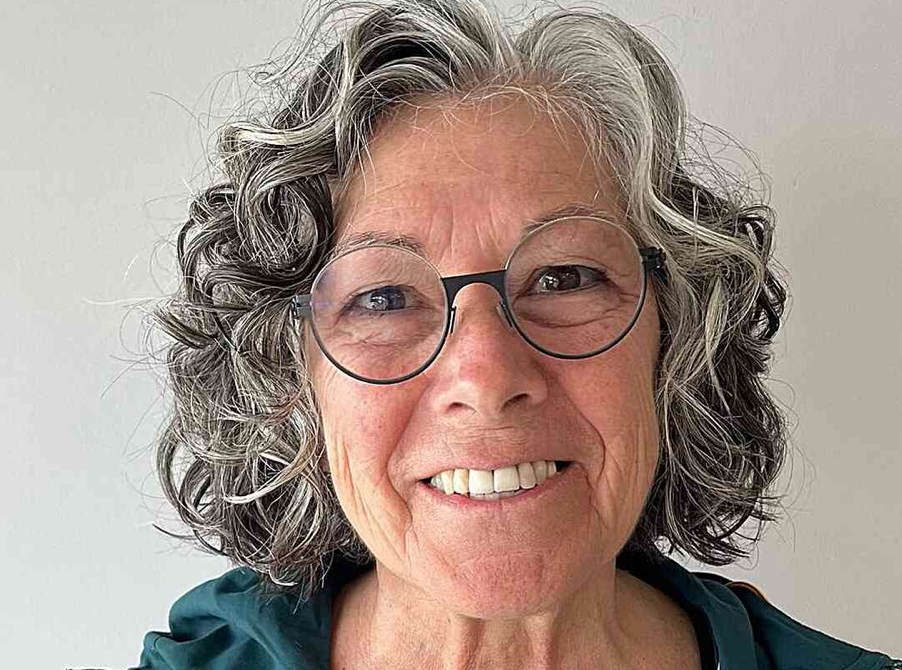 Credit: @DARLENEANNE85 via Instagram
Sometimes, you just want a style that requires nothing more arduous than wash'n'go. This can be tricky with curls but opting for a cut that works with the natural lines of your hair and then using a curl foam can work wonders. Tip your head upside down, apply the product from root to tip, scrunch the hair and, that's it, you're done!
Pixie bowl style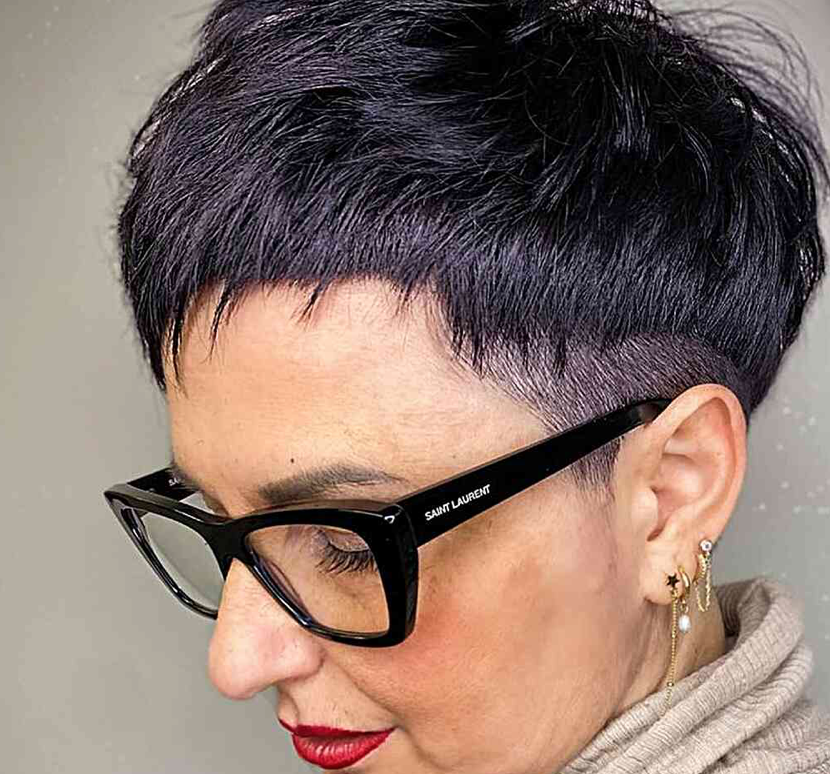 Credit: @ANTONIOGRAZIOSOHAIRLAB via Instagram
Dare to be different with a pixie bowl crop. This style incorporates a lightly-razored undercut with a longer feathered cut above. Opting to dye the hair in rich tones of dark brown, auburn or even purple give the style an even more dramatic look. This is definitely one to team with a strong, out-there pair of glasses!
Spiky-topped and short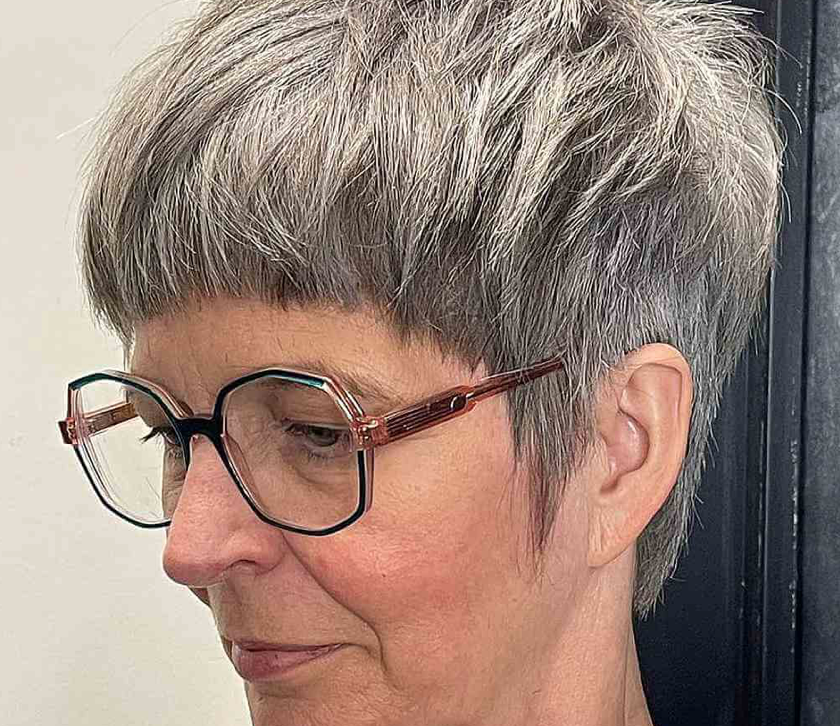 Credit: @KATTYALONSO_KAPZONE_ via Instagram
If you love the convenience of short hair and don't mind the need for regular trims, why not give your style an extra edge with a slightly spiky top! Keeping the hair soft and textured around the face stops the style from looking too masculine, and gives you more than one styling option.
Layers with babylights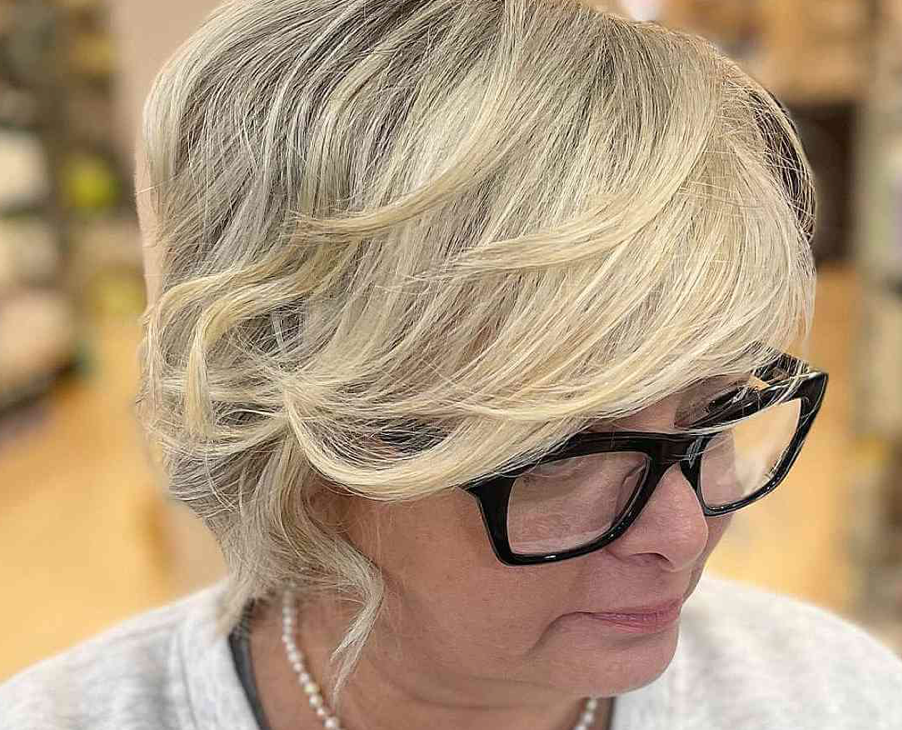 Credit: @RAFAEL_R_CHIARI via Instagram
The perfect option for a woman wanting to turn back the clock just a little, a layered cut with "babylights" is a flattering choice. More subtle and, hence, softer in appearance than highlights, "babylights" are ideal if you're worried that your skin can't take a stronger contrast with your hair. Meanwhile, the layers around the face provide an excellent frame for your glasses.
Deconstructed, stacked bob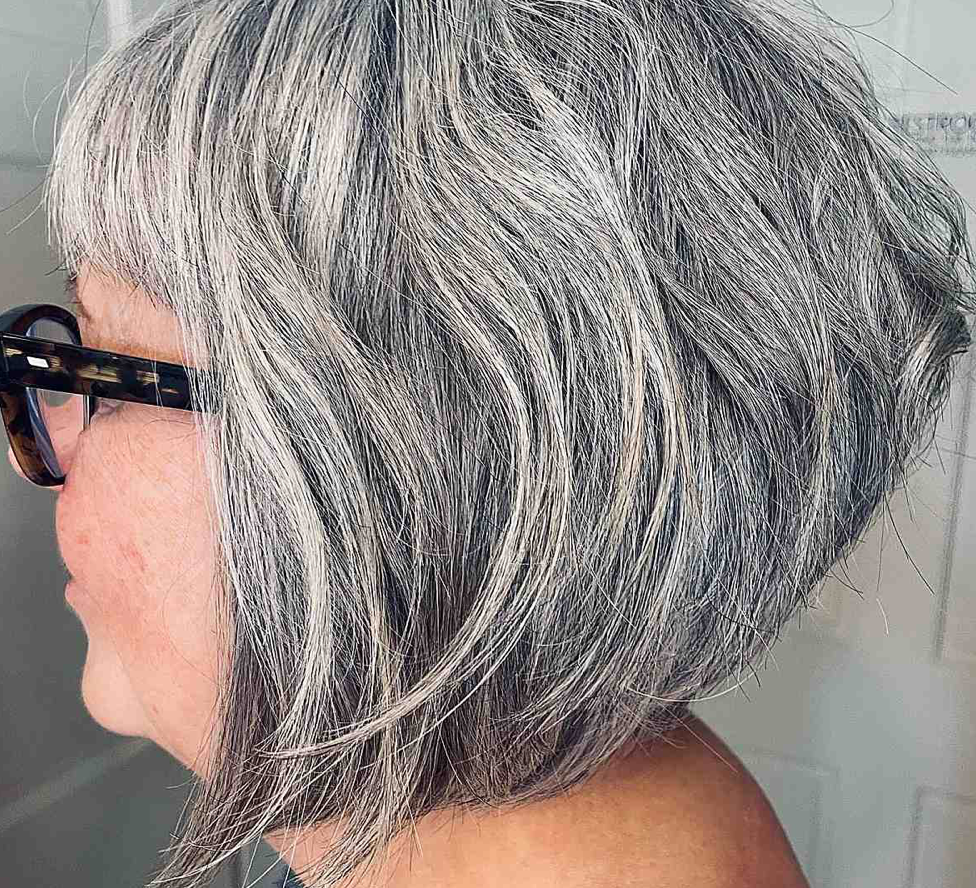 Credit: @CERAVOLOHAIR via Instagram
Get playful with the traditional bob cut by opting for a short, stacked and deconstructed style. Ideal for showing off grey hair and a great pair of glasses, this is a look that shouts self-confidence. The layers are razor-cut for flexibility, allowing them to frame the face or to be flicked backwards.
Short, chic cut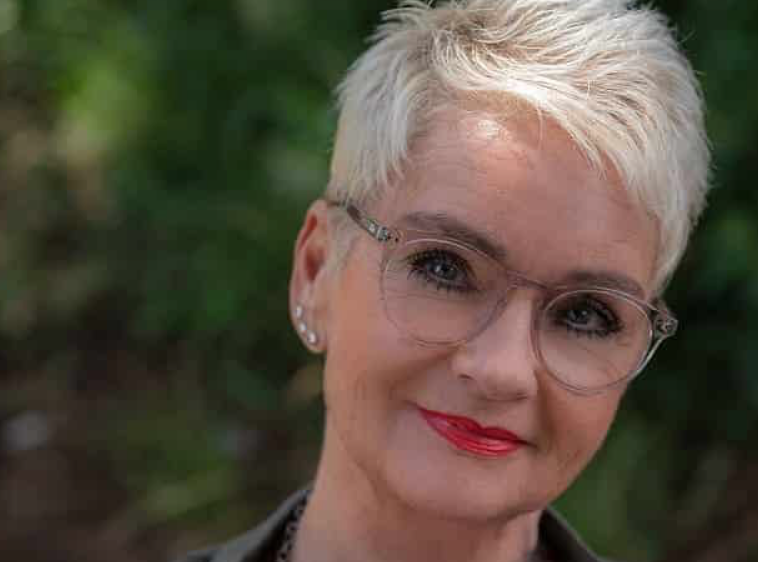 Credit: @ZAUBERFEE_52 via Instagram
Going as short as you dare is a surprisingly chic look for many women over 50. And, if you wear glasses, the look is even more striking. This hairstyle owes much of its success to the fact that the very short crop doesn't "pull down" the face and accentuate wrinkles or a sagging jawline. Instead, it allows your eyes to take center stage.
Messy, ear-length bob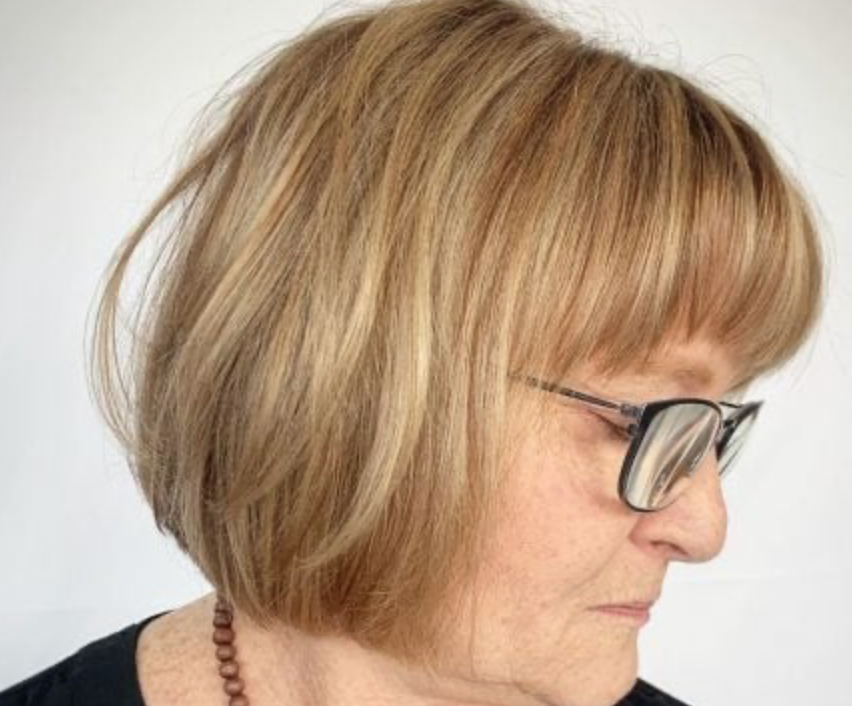 Credit: @THECREATIVEHAIRDRESSER via Instagram
Sometimes, all you want is a classic bob. Adding subtle layers is a great way to give volume to thinner hair, and allowing the cut to extend just past the ears is very successful if you prefer to keep your hair rather than your glasses as the focal point.
Angled, chin-length bob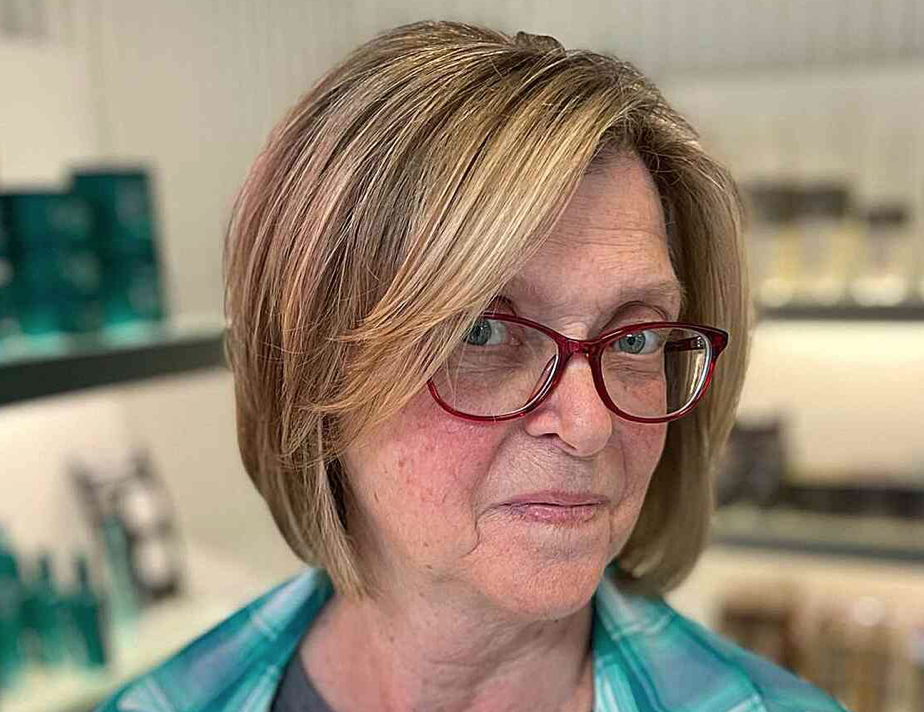 Credit: @ASHDOESYOURHAIR via Instagram
Another excellent option for women with finer hair, an angled, chin-length bob frames the face in a flattering way. Add some side-swept bangs for a more modern look that also works effectively to soften the appearance of your glasses. Finally, consider subtle highlights for the perfect finishing touch.
Feathered, curled bob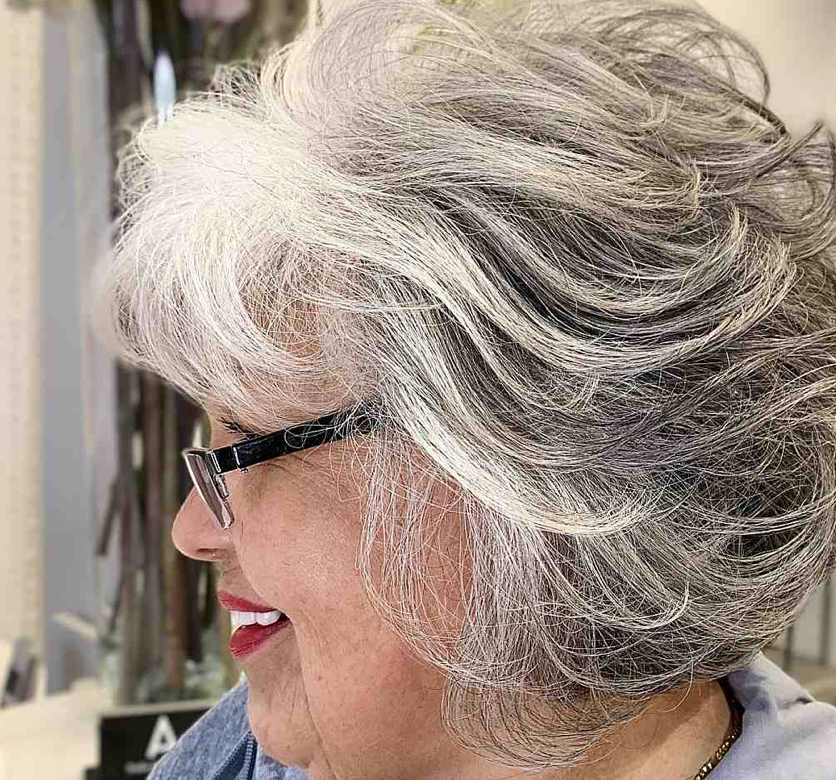 Credit: @Studio.A.Salon via Instagram
Give new life and lift to fine hair with a feathered and curled bob. The feathered layers provide softness and fullness to thin – or thinning – hair, while the curls give extra volume. On days when there's no time to curl the hair, use plenty of volumizing product and brush backwards with a round brush.
Asymmetrical bob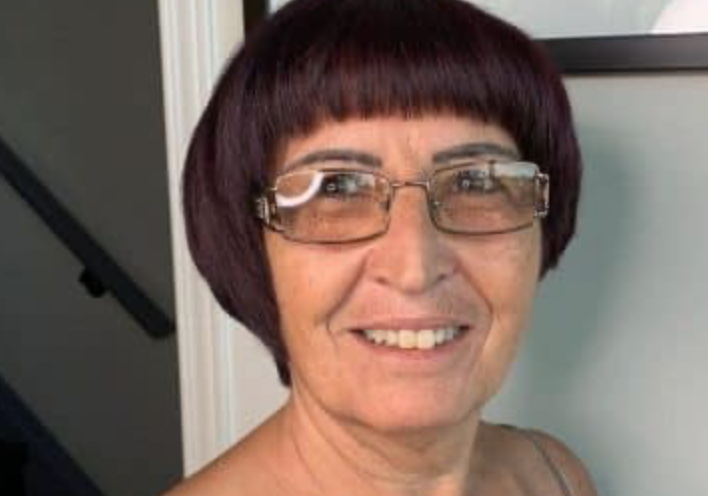 Credit: @FarrahShapiro.hair via Instagram
A fashionable asymmetrical cut isn't the preserve of the young. It can look just as fantastic on women in the fifties or older, especially if you choose a strong, solid color for your hair. And the bold styling works particularly well to compliment a fantastic pair of glasses.
Undercut with glasses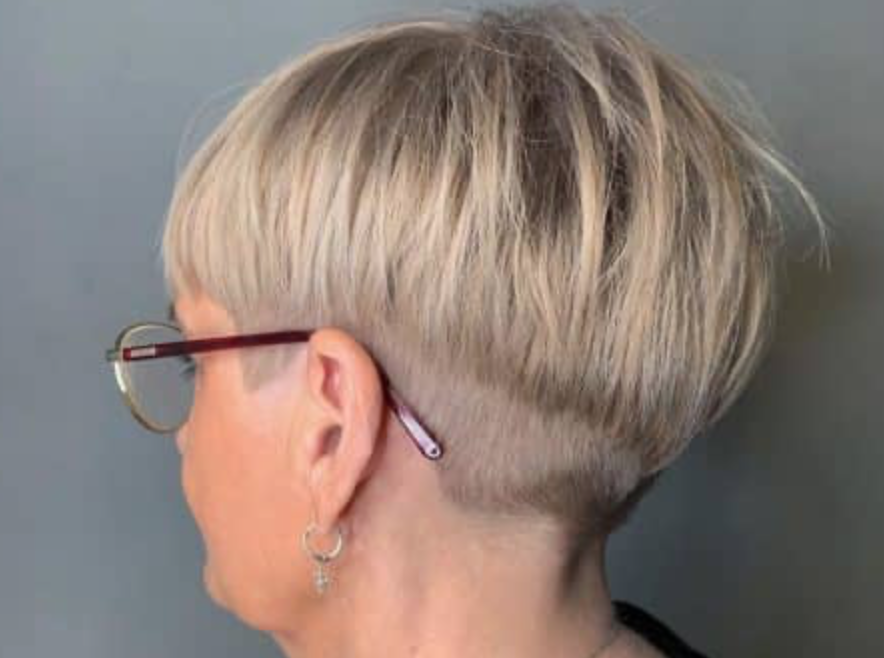 Credit: @Salonghalda via Instagram
If you have a really great pair of glasses and aren't afraid to show them off, why not opt for an undercut crop! With the undercut starting in line with the frames, this is a confident, youthful look. The only potential downside is the need for regular visits to the hairdresser.
Shaped bob without bangs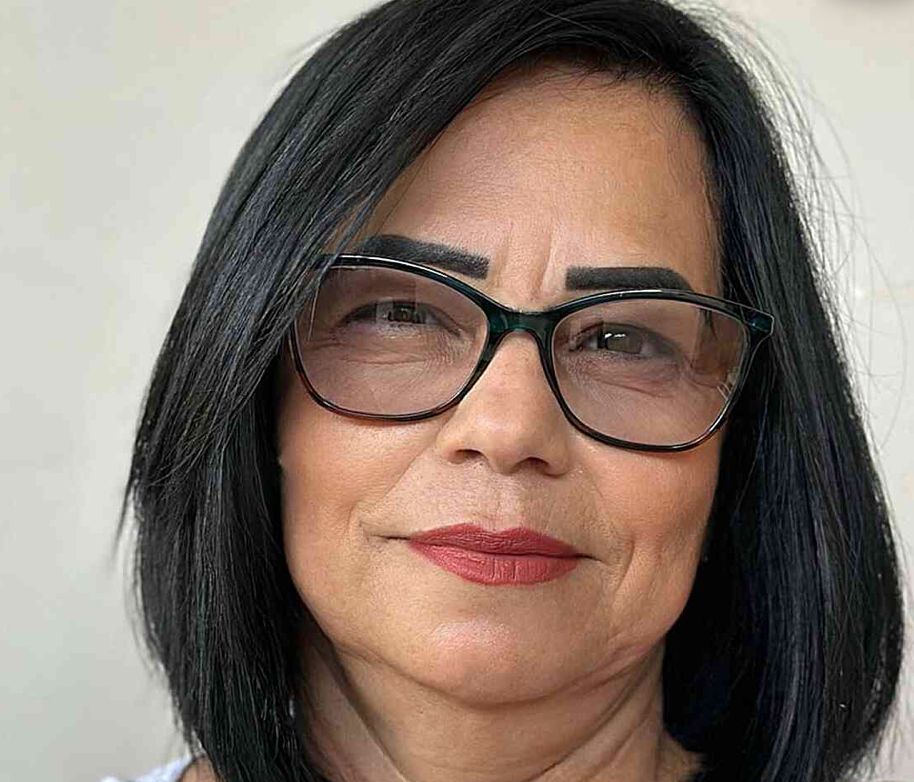 Credit: @Guilherme_Cabelo via Instagram
Bangs – even side-swept ones – aren't an integral part of a bob cut. If you're looking for a strong, classic look that also offers a degree of versatility in styling, this could be the right option. Provided you have the right products, it's also an easy style to keep looking good throughout the day.
Curtain fringe with headband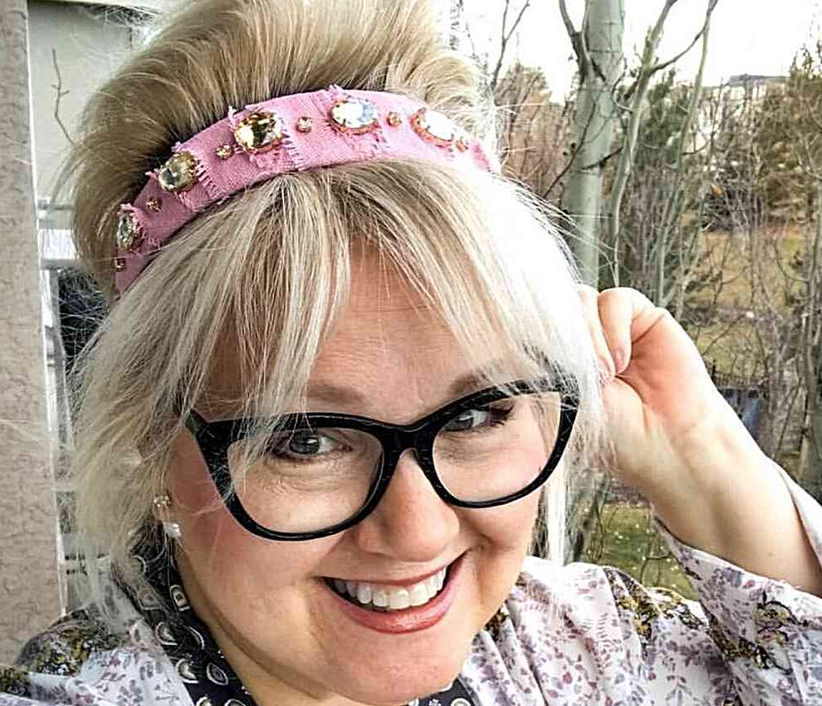 Credit: @Cat_Nerd117 via Instagram
If you thought headbands were the preserve of little girls and 1980s-style Sloane Rangers, think again! Using a headband to create an up-do is a fun and flattering style, especially if you have a curtain fringe. Ring the changes by coordinating or contrasting your headband with your glasses and outfit.
Long sleek hair with long bangs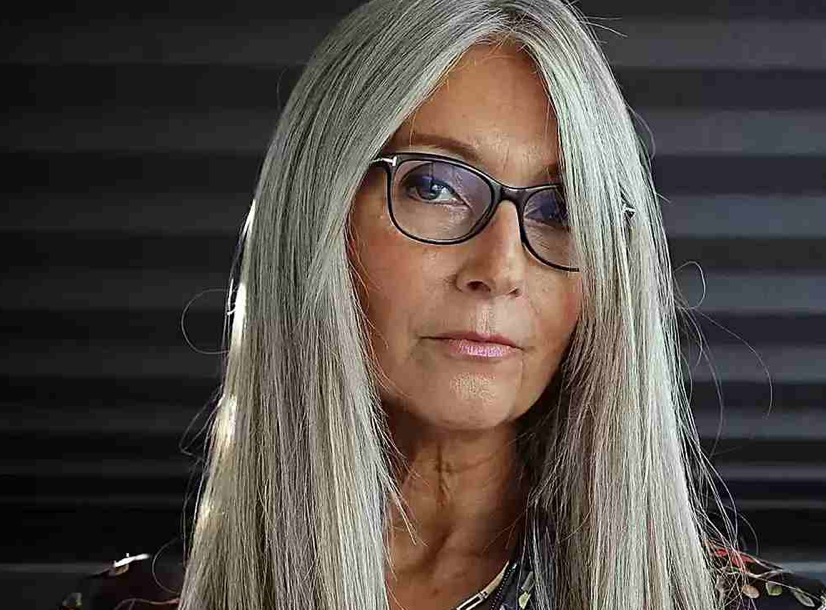 Credit: @Silversparklesonme via Instagram
Bangs aren't only for shorter styles. Long bangs can work very well as part of a long, sleek cut. The bangs soften the overall look, framing the face and the glasses while also helping to disguise any less than perfect features. This is also a style that can, if you wish, take a subtle wave for additional body.
Long hair with side-parting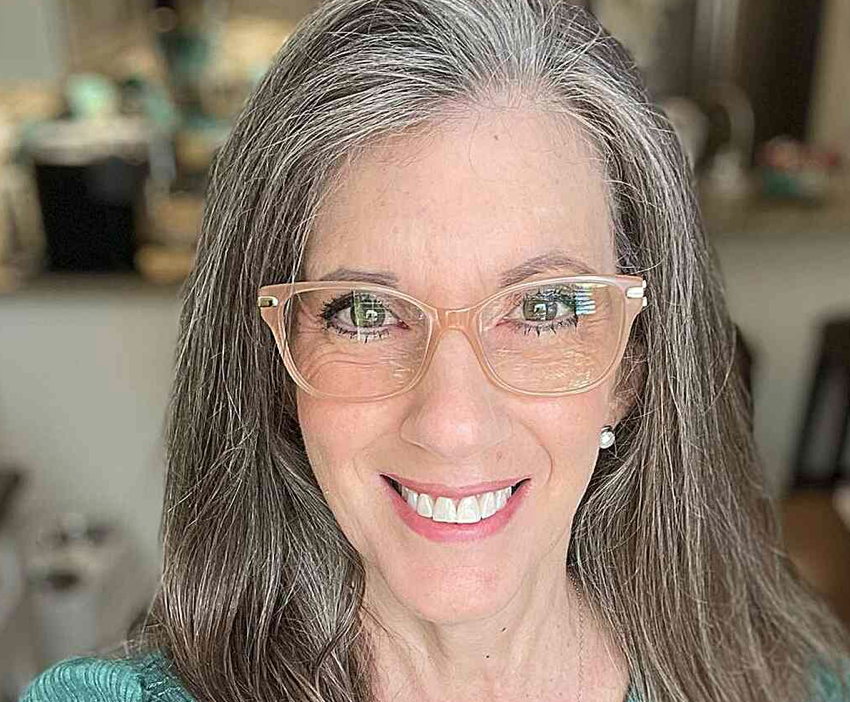 Credit: @Grey_Abounds via Instagram
A particularly flattering look for longer or oval-shaped faces, this is a style that provides body for the hair and the illusion of extra width at the chin. It's also a style that's a great foil for a dramatic pair of glasses, and works well with any color hair.
Medium-length shag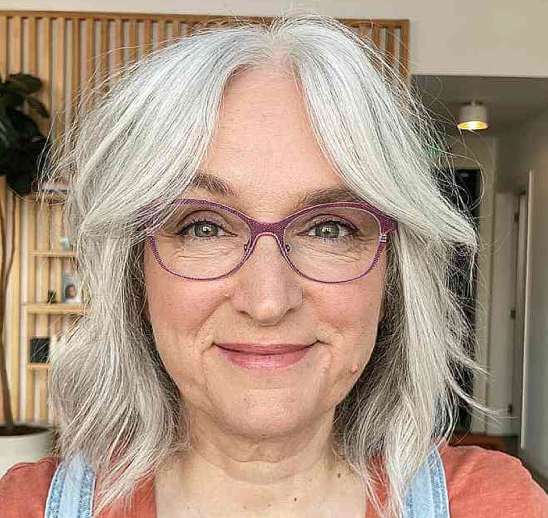 Credit: @HairbyAnneMarieJames via Instagram
If you have stunning eyes and fancy a youthful haircut, the medium-length shag highlights your peepers (and your glasses) while also telling the world that age is just a number. The middle parting and the careful waves ensure that your eyes remain very much the focus.
Grey, spiky pixie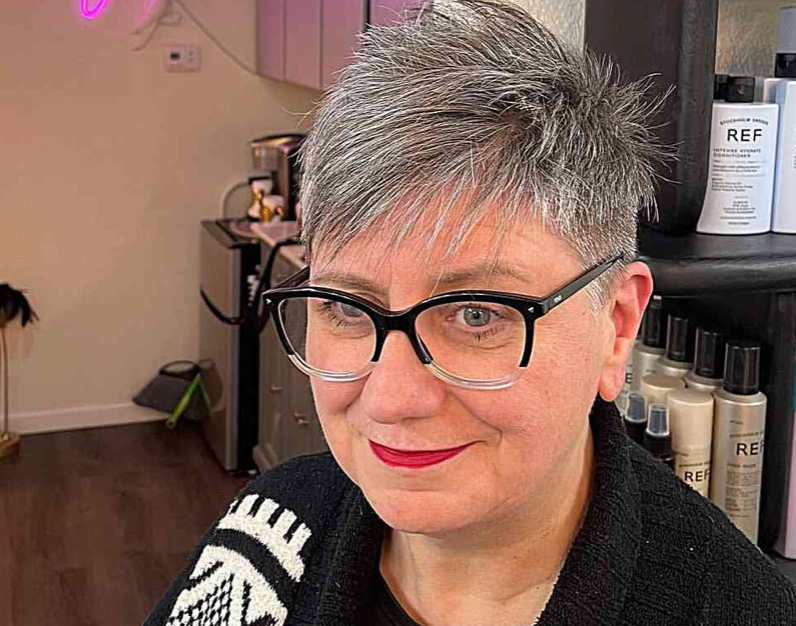 Credit: @thebirdcagehairstudio via Instagram
Give your grey hair some flair with a short, spiky pixie cut. This is a great hairstyle for anyone preparing to take the leap and stop coloring their hair: just cut off the dyed lengths and style the rest in this short, spiky and easy to maintain style.
Bold, angled bob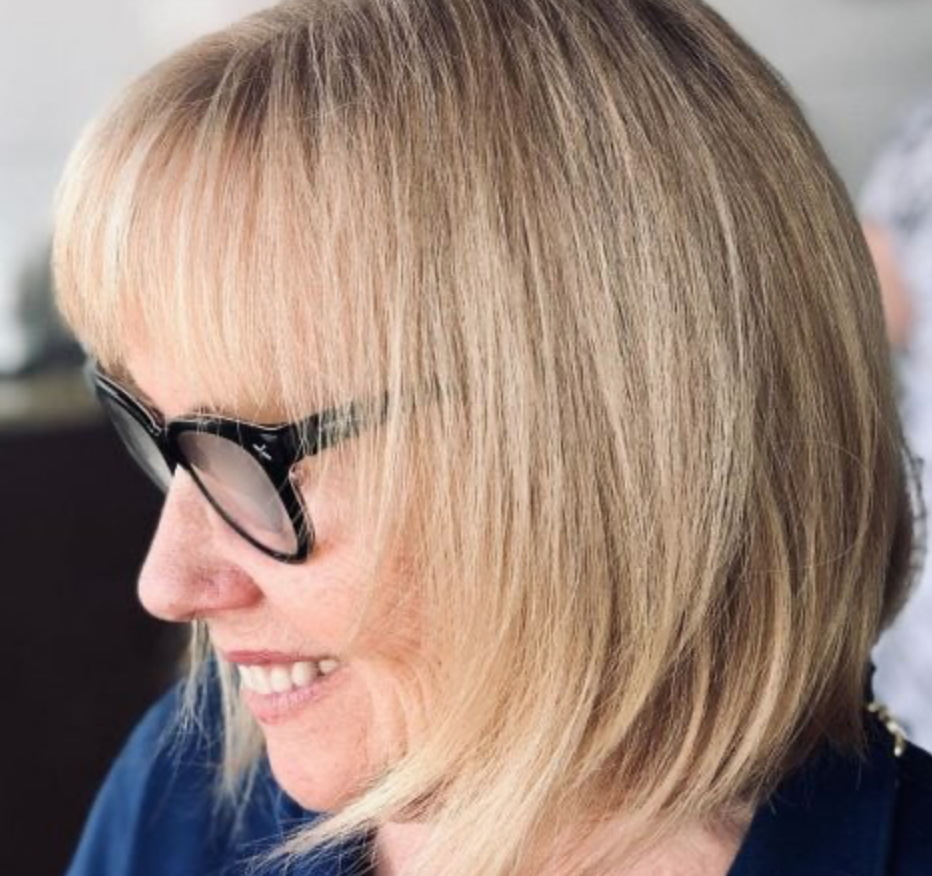 Credit: @Shania.haircuttery via Instagram
This bold variation of the bob is a sophisticated take on the style, proving that an almost shoulder length cut on an older woman need not equate to mousy of boring. The textured angled ends of the hair allow for plenty of movement, while the finishing touch is the flattering ash-blonde shade.
Full, grey curls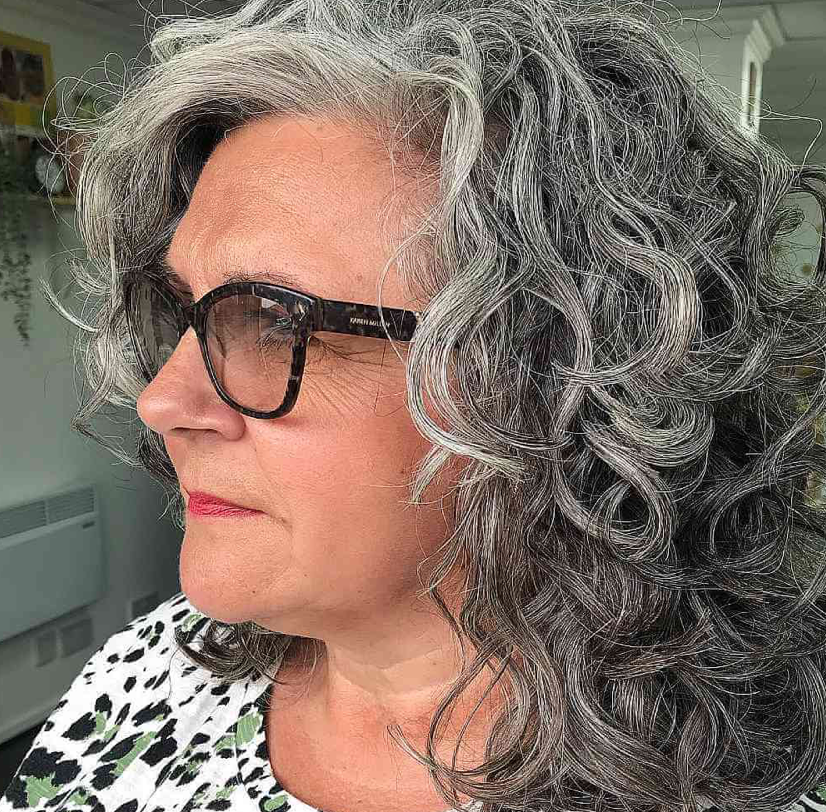 Credit: @Beehivehairsalon via Instagram
If you have beautiful curls, why not show them off with a flattering shoulder-length cut? The volume of the curls provides a nice counterbalance to the glasses while the shoulder-length cut ensures the hair doesn't have an elongating effect on the face. Meanwhile, the right toner keeps the hair color bright and shiny.
Sophisticated longer bob with off-center parting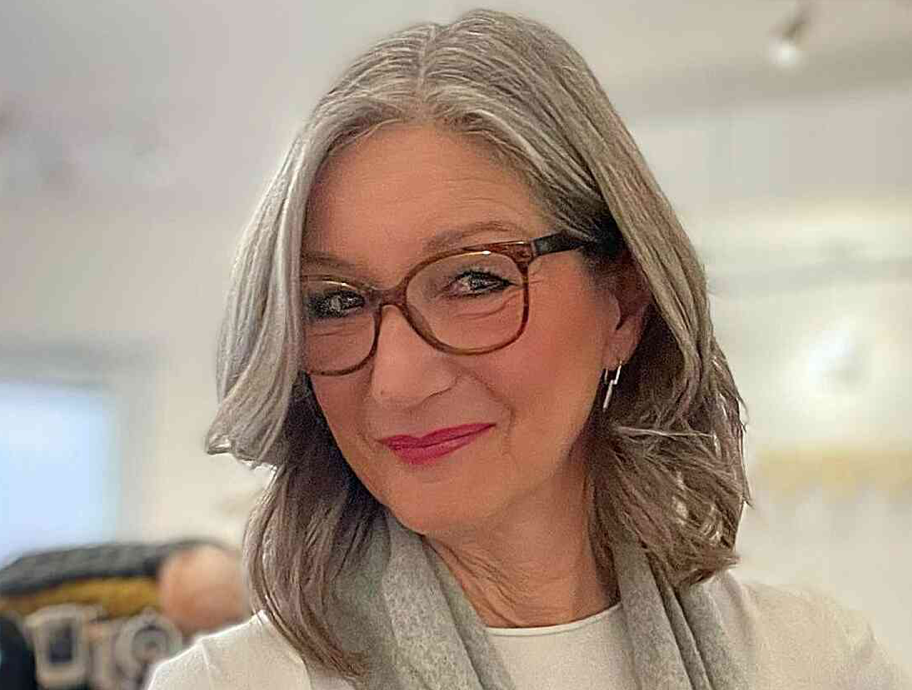 Credit: @Marieenvoguefashion via Instagram
An off-center parting is perfect for women with long, round or pear-shaped faces. Combine this off-center parting with a stylish longer than average bob, and you have a sophisticated cut that's sure to leave you feeling amazing. And, of course, the extra length also gives you the option of wearing your hair up or of curling it.
Tapered short cut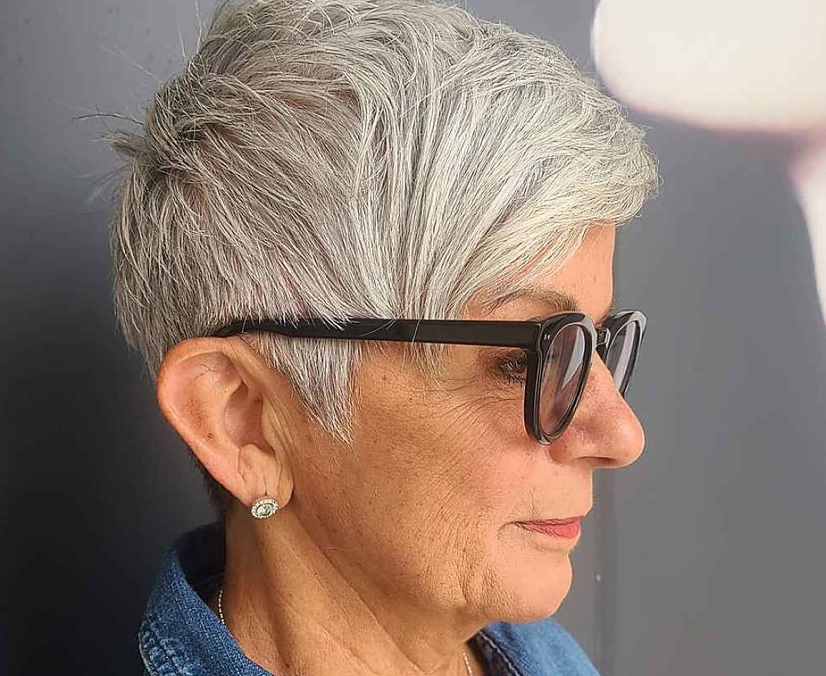 Credit: @Nadia.cutshair via Instagram
This style is perfect for accentuating round frames and for anyone who hates their hair getting caught up in their glasses. Although this is a straightforward style that's easy to care for at home, it's also elegant, just a little bit sassy and particularly striking on grey hair.
Medium-length layers
Credit: @ALICIAMARIE2204 via Instagram
Think a grown-up "Rachel-from-Friends-cut", updated for the 2020s. This style keeps the length of the hair and adds soft layers that highlight the face and showcase the glasses. Long, side-swept bangs are the finishing flourish, and work particularly well on women with a fuller face.
Shaped bob for fine hair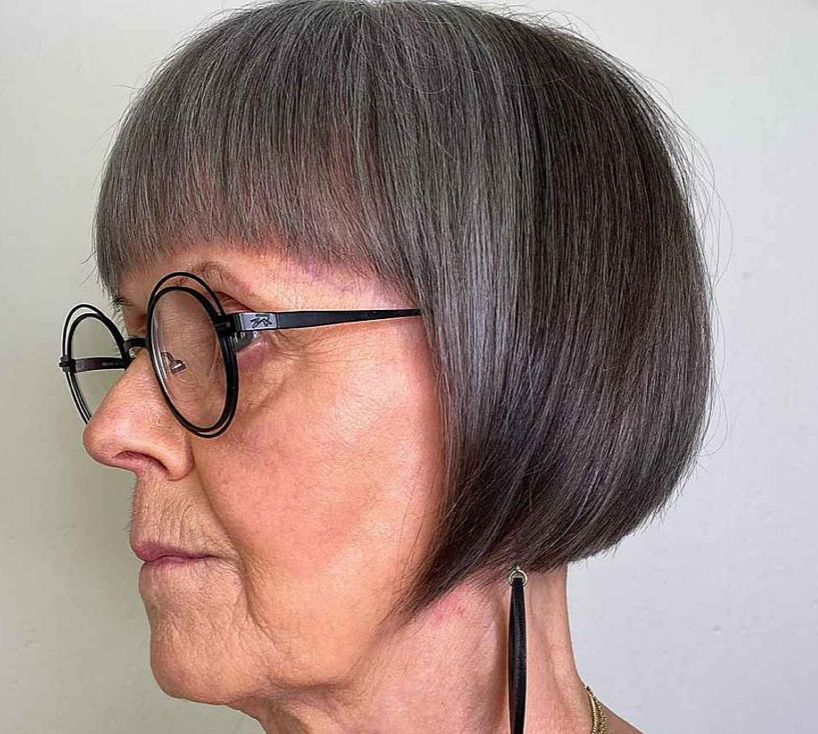 Credit: @Nina.Wella via Instagram
Bobs with bangs are often the recommended cut for fine hair and, sometimes, it can be hard to see why. Not, however, with this cut. Its elegant, careful shaping makes a real feature of both the face and the head itself. Although it's perfect as it is, blow-drying will give additional lift, if desired.
The mullet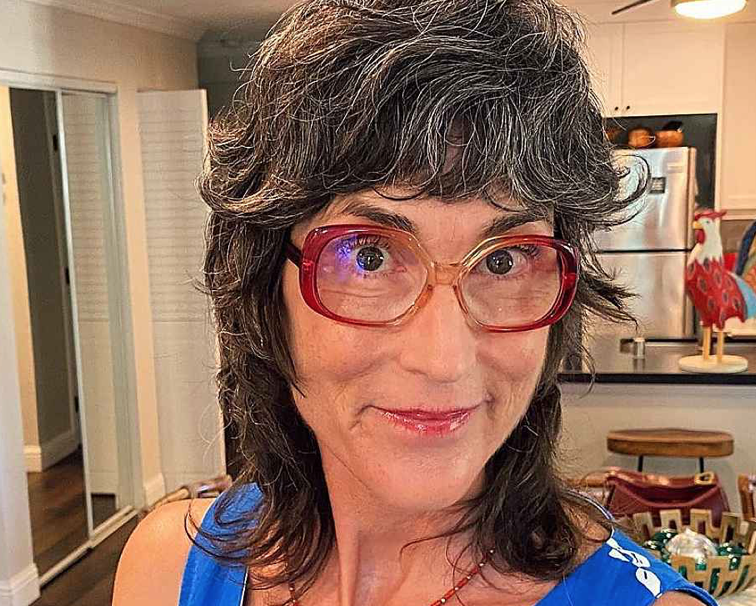 Credit: @thedressupmom via Instagram
You might think mullets belong back in the 1980s. If so, think again! It's a style that's well worth considering – especially if you have curly or wavy hair and the self-confidence to carry off the look. Shorter layers around the face allow an arresting pair of glasses to take center stage.
Pixie cut à la Audrey Hepburn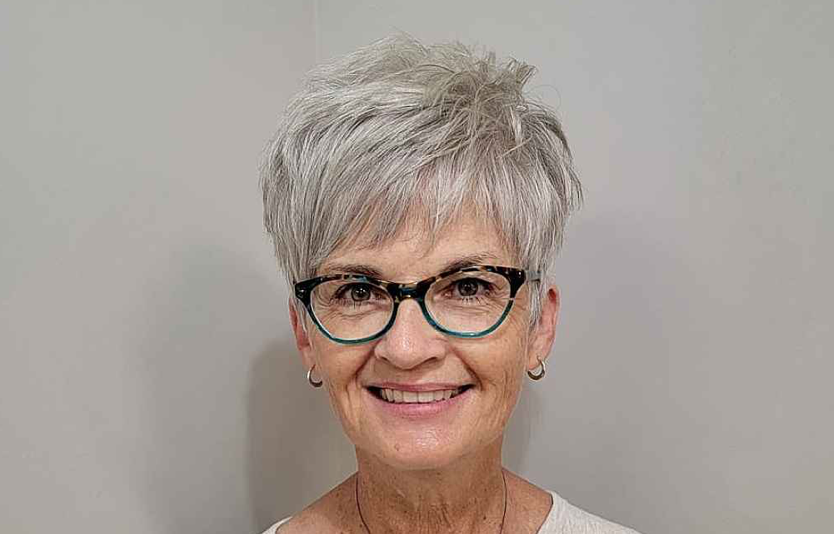 Credit: @Amyhair via Instagram
Taking inspiration from the iconic actress, this is a look that is perfect for anyone who shares her petite, gamine frame. The simplicity of the style ensures that the bone structure of the face – and, of course, the glasses – are the real feature. As a bonus, this is a quick and easy look to pull off and style daily.
Curly bob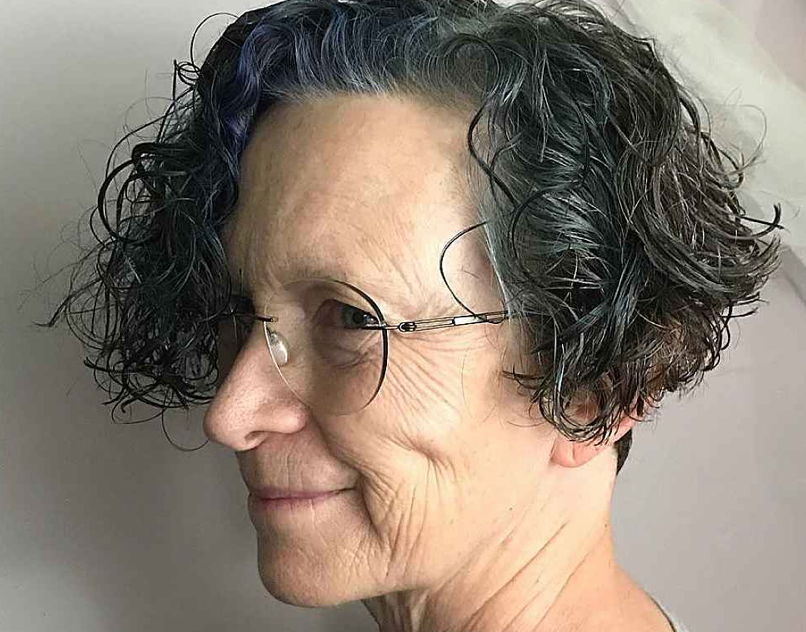 Credit: @Snipstream via Instagram
Show off your curls – and your glasses – with a short bob. The shorter length creates tighter curls or even ringlets, and a side parting ensures the look never seems too symmetrical. And, if you're so inclined, this is a style that can definitely take a little something extra in the form of a quirky color wash.