'The Nanny' – When C.C. talks about those shows that cover up when an actress is pregnant… while obviously pregnant

Credit: CBS
In season 5 of 'The Nanny', Lauren Lane, who played C.C., was pregnant in real life – and it was obvious. But, rather than trying to brush over the issue, the show ironically called it out. In the scene, C.C. enters holding a huge bag in front of her stomach and begins to rant about how she saw a show where the real-life actress was clearly pregnant and badly hid it on the show through using huge props. She then picks up a plant in front of her stomach and walks out.
'Roseanne' – The character call out that the actress playing Becky was changed multiple times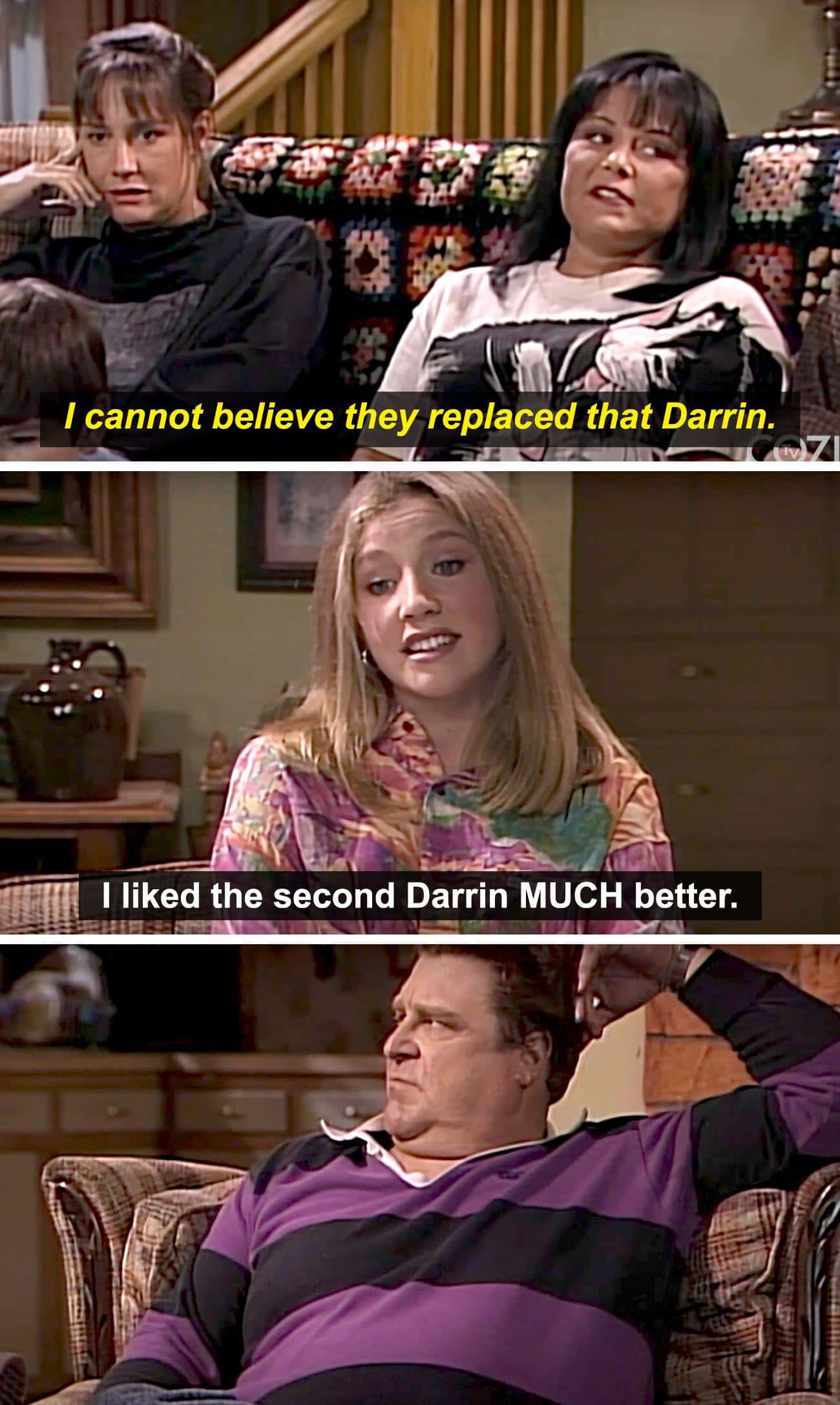 Credit: ABC
In 'Roseanne', 2 different actresses had played the role of Becky Connor, the family's eldest daughter. The show made multiple humorous references to the casting switch, including this one episode where the characters are watching 'Bewitched', where the main character, Darrin, also switched actors mid-series. In the scene, Sarah Chalke, playing the 'second' Becky, states that she prefers the second Darrin much better.
'Fresh Prince' – Jazz notices the show switched the actress who played Aunt Viv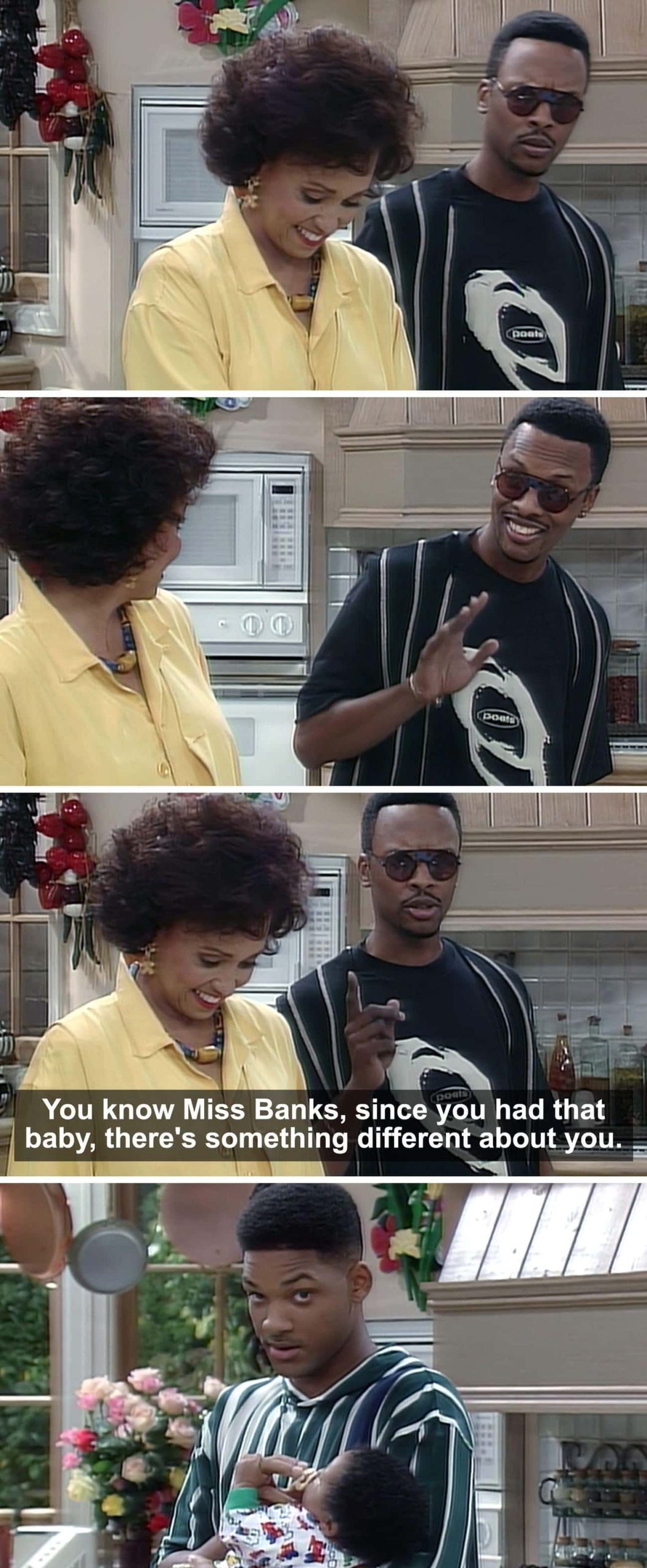 Credit: NBC
In season 4 of 'Fresh Prince', the actress who played Aunt Viv was switched from Janet Hubert to Daphne Maxwell Reid. The show doesn't mention the switch until Will's friend Jazz arrives and keeps looking to Aunt Viv with a confused expression. When he notes that something looks 'different' about her, Will looks straight to the camera.
'Frasier' – A performer asks Frasier if he knows what it's like to play the same character for 20 years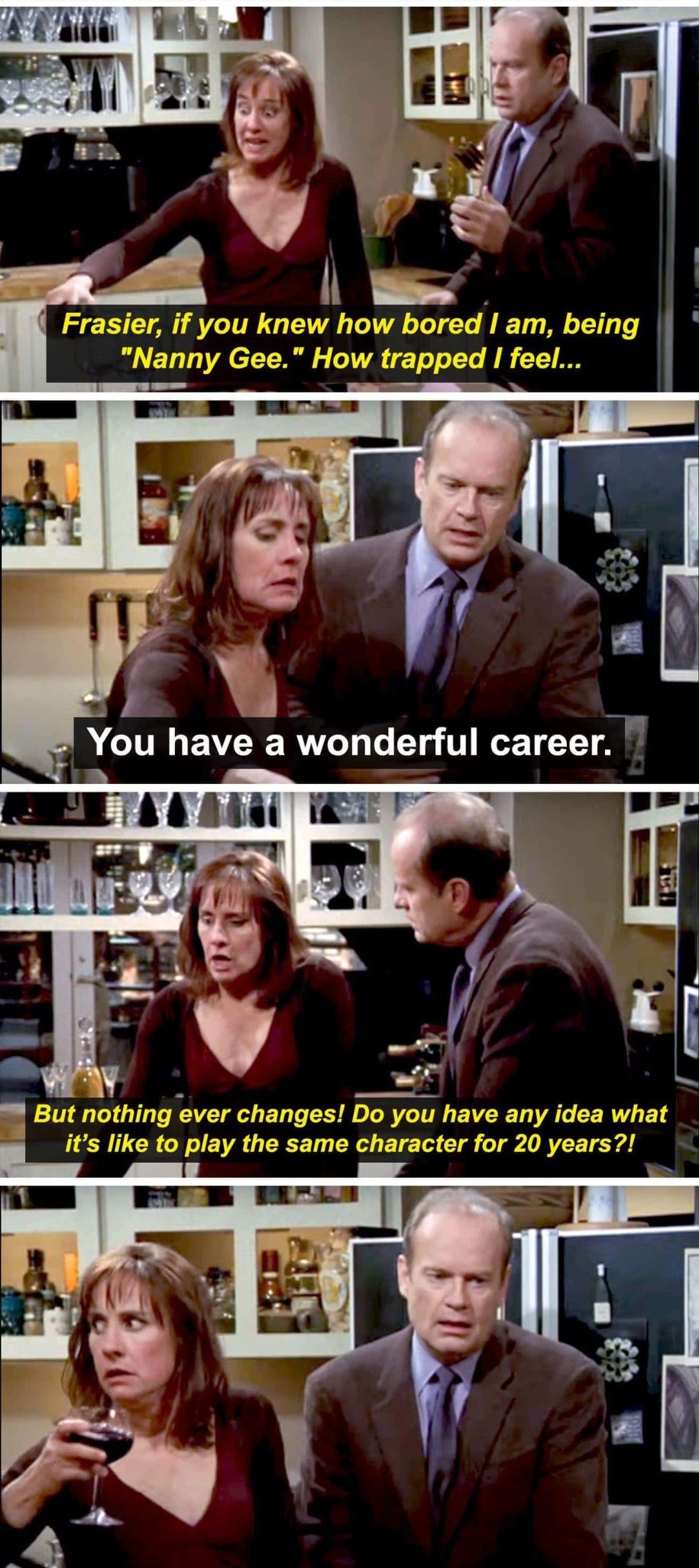 Credit: NBC
In the 11th season of 'Frasier', Frasier's ex-wife, children's entertainer "Nanny G", goes on a rant about how sick of her job she is. She states "Do you have any idea what it's like to play the same character for 20 years?!". Kelsey Grammer, after spending almost 2 decades portraying Frasier Crane on 'Cheers' and the spinoff 'Frasier', then takes a moment to think about that – which leaves the audience bursting with laughter.
'Boy Meets World' – The character rip on ABC for moving their time slot

Credit: ABC
During the 90s, ABC moved 'Boy Meets World' from its original 8:30pm time slot to a 9:30pm time slot. But luckily for them, there was an episode right around the corner for the actors to portray their annoyance. Cory's brother Josh starts complaining that his favourite TV show got moved from 8:30 to 9:30, even though he doesn't normally stay up that late. They both agreed that those 'idiots' must be 'trying to kill the show'… wink wink.
'Family Matters' – Carl and Steve notice the 'touching' music that plays when they hug

Credit: ABC
Sitcom 'Family Matters' decided to take a random turn at the end of one episode when Carl and Steve embrace and the trademark ABC-sitcom "touching music" begins to play. Often when this music plays the characters don't hear this music that gets played at the end. However, in this episode both characters look up confused and wonder where the music is coming from.
'The Simpsons' – Bart gets famous for just saying a catchphrase over and over

Credit: Fox
In season 5 of 'The Simpsons' there is an episode named "Bart Gets Famous" whereby the show is a commentary on itself. Bart wanders onto the Krusty the Clown show, accidentally knocks over the set, and says on air "I didn't do it". The crowd erupts with laughter and Bart skyrockets into fame by repeating his catchphrase "I didn't do it" over and over again – and this was a nod to The Simpsons gaining early popularity with Bart's catchphrase "Aye carumba!" and "Don't have a cow, man!".
'Married… With Children" – The characters reference the real-life woman who tried to get their show cancelled

Credit: Fox
In season 9 of 'Married… With Children', the Fox network agrees to make a sitcom called 'Peas in a Pod' based on the lives of the Bundy family. But when the Bundys gather to watch it, they find out their show has been cancelled because "some woman in Michigan didn't like it". This was a reference to a real-life protestor who tried to get 'Married… With Children' cancelled too.
'Fresh Prince' – Will references the opening credits multiple times

Credit: NBC
In season 4, episode "The Philadelphia Story", Will returns to his hometown to finally face his bully who made him leave town, Omar. Carlton asks Will who Omar is, to which Will responds that its the guy who spins over his head in the credits. In season 6, episode "Not I, Barbecue", Will begins an opening spiel to a court judge by explaining "I'm from West Philadelphia, born and raised. On the playground is where I spent most of my days".
'Fresh Prince' – Will straight-up calls out that their living room doesn't have a roof

Credit: NBC
'Fresh Prince' did not care about the 'rules' of what sitcoms could or couldn't do, clearly. In the opening sequence of a season 5 episode, the characters argue about money and how rich they are. Which leaves Will pondering: if this family is so rich, why can't they afford a ceiling? The camera then pans up to reveal the lights set of the sitcom set and the show launches right into the credits.