Credit: Lovehairstyles.com
Neck-length hairstyle with razored layers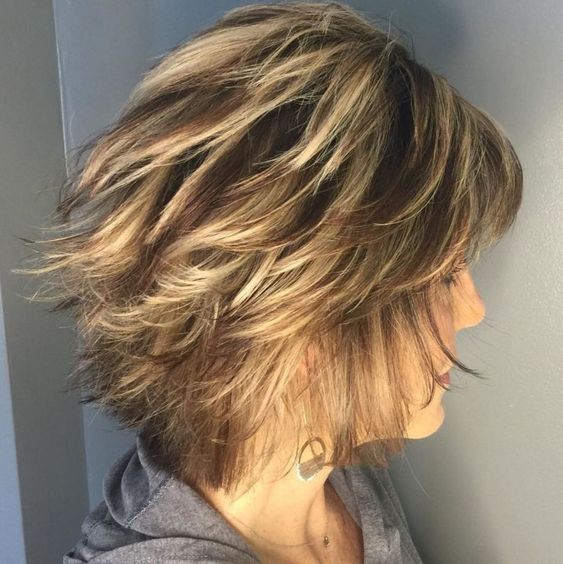 Credit: therighthairstyles.com
Feathered hair styles for thinner hair are perfect to add volume and plump up drag hanging locks. Try cutting your hair shorter to allow less hang on thin ends and a more voluminous look. Add tonal streaks through for an edgier look and a more defined do.
Medium blonde balayage with dynamic layers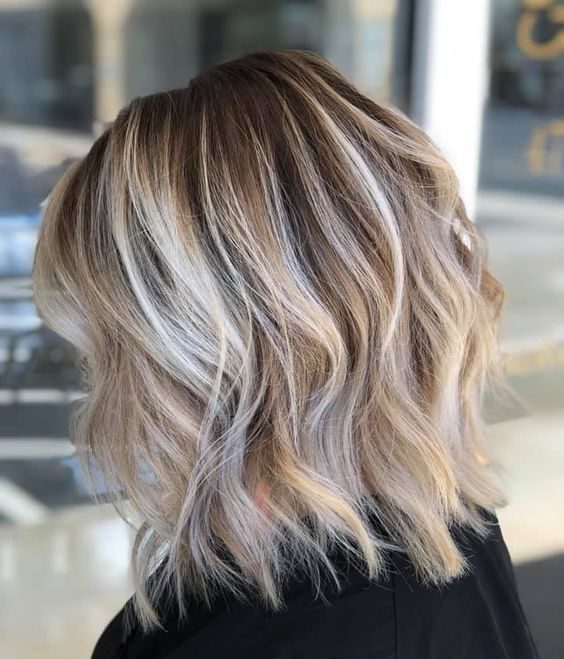 Credit: pinimg.com
Being older doesn't mean you can't have fun with your hair cut. Give a highlighted look a try with a blended balayage, and a fresh layered cut. The layers will help frame your face for a more put together and youthful look, and the balayage style is easy to maintain.
Medium layered style with bangs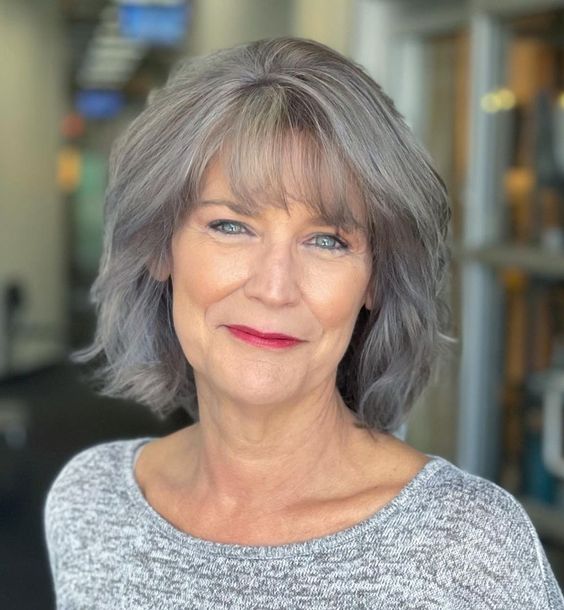 Credit: therighthairstyles.com
There is no rule or limit on age when regarding hairstyles, however hairdressers recommend shorter to medium length hair on older women, as it best suits their facial shape. Bangs are a fun way to boost the look and add a new sense of style to your everyday hair.
Blonde feathered bob with height on the crown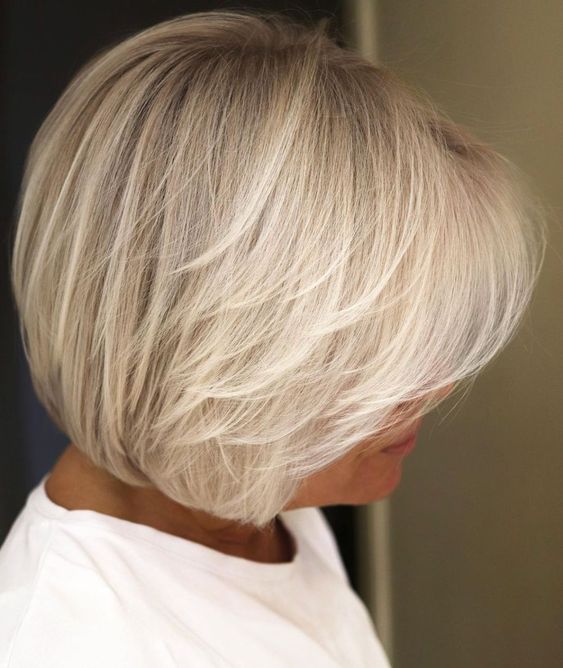 Credit: therighthairstyles.com
Feathered layers can be fun and flirty. Teasing at the back of the head creates a youthful and fuller look, also helping to elongate and slim the face. Blonde is easier to manage on gradually graying hair too and can be toned in lots of new ways.
Short and curly salt and pepper bob
Credit: therighthairstyles.com
For those with textured and thick hair, don't hide it away, instead embrace it with this curly and chic bob look. When your hair has a tight curl structure, it's easier to manage in a shoulder length bob cut than longer, this also allows your curls to fall more naturally and stay healthy.
Medium white blonde feathered hairstyle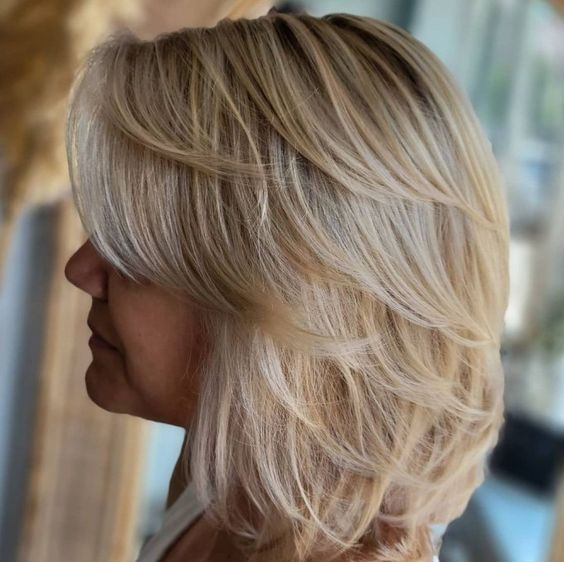 Credit: therighthairstyles.com
Medium length hair doesn't have to be boring. Adding some strategically cut layers, your hair can go from drab to fab. The layers will help boost the volume and shape overall, creating a naturally put together look every day. White blonde is also easy to maintain on lightening hair.
Haircut with feathery layers and nape undercut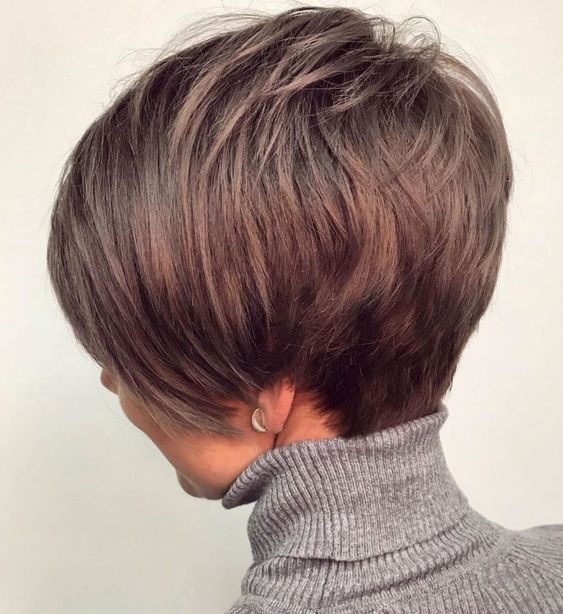 Credit: therighthairstyles.com
Short and tidy hair can be beneficial for those always on the go, running errands or seeing family. Shorter feathered styles are easy to manage and don't require lots of upkeep on a morning. A side parting can also add some volume and definition to the look.
Brown blonde layered hairstyle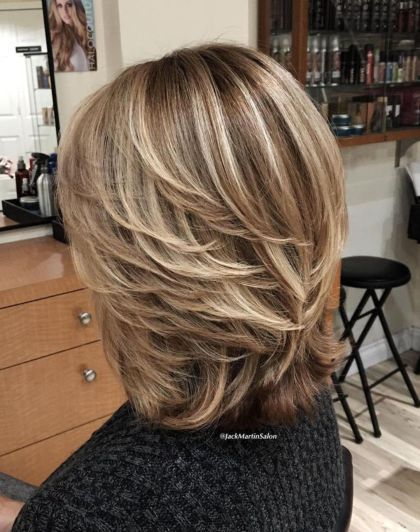 Credit: therighthairstyles.com
The mixture of warm tones of blonde and brunette add beautiful definition to the hair, and create a youthful and healthy look. The layers help with maintaining the shape of the hair and can be styled with a blowdryer and round brush, or a hair curler or straightener.
Soft curly blonde bob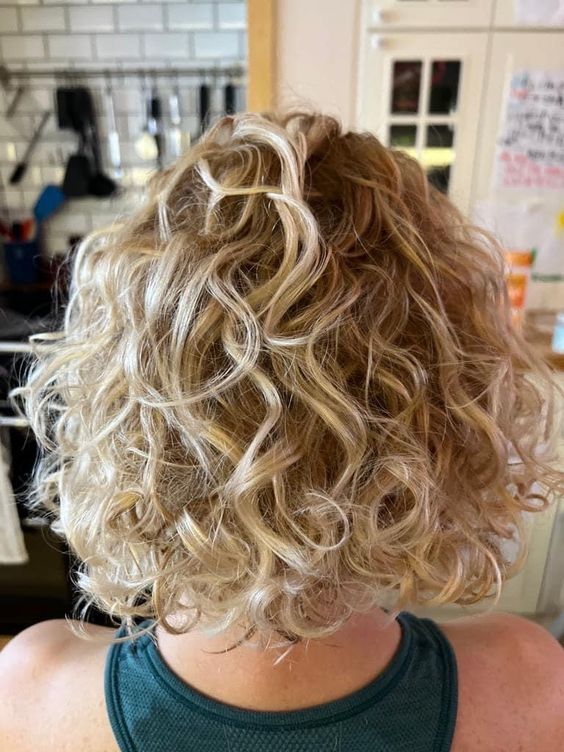 Credit: pinimg.com
This style can embrace your gorgeous natural curls. Shorter hair helps with the formation and curl pattern of your hair, as they won't be dragged down. Golden blonde highlights can uplift the curls and work well with the shine and texture of curly hair, as well as adding definition overall.
Shorter feathered red and blonde hairstyle
Credit: therighthairstyle.com
Medium to short hair with lots of swooping layers would look killer with a blend of red and blonde highlights. For those who feel slightly more daring, the red can uplift a more dull colour and add some life into it. Be sure to get matched with a red tone that best suits your skin.
Short auburn bob with layers
Credit: latest-hairstyles.com
This look can be so sophisticated and chic. The auburn tones can warm up anyone's skin for a more balanced and healthy glow, and the chin length hair can accentuate the cheek bones. For a more glamorous look, get some shinier red highlights throughout the top of the hair.
Long wavy hairstyle with face framing bangs
Credit: hadviser.com
You don't have to cut your hair as soon as you hit 50. Long healthy hair can look super youthful and fun on anyone with the right cut and colour. Face framing bangs can shape the face and depending on the colour, make your eyes pop and sparkle.
Timeless straight bob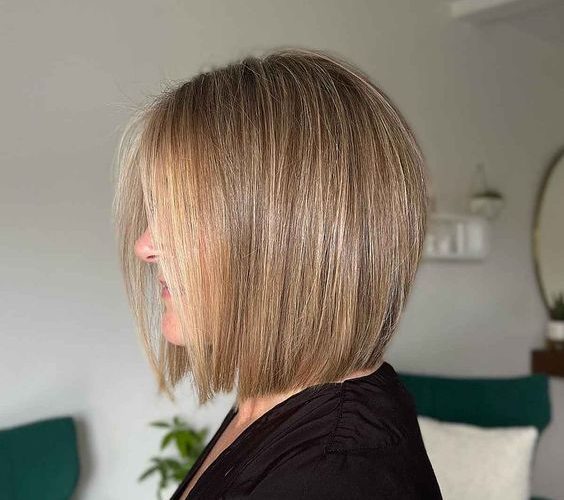 Credit: latest-hairstyles.com
If you want to look clean, chic and professional you can't go wrong with this style. Easy to manage and maintain this cut can be styled with any colour way or highlight pattern. Shorter lengths can remove dead ends and make your hair feel shiny and healthy.
Layered bob with long side bangs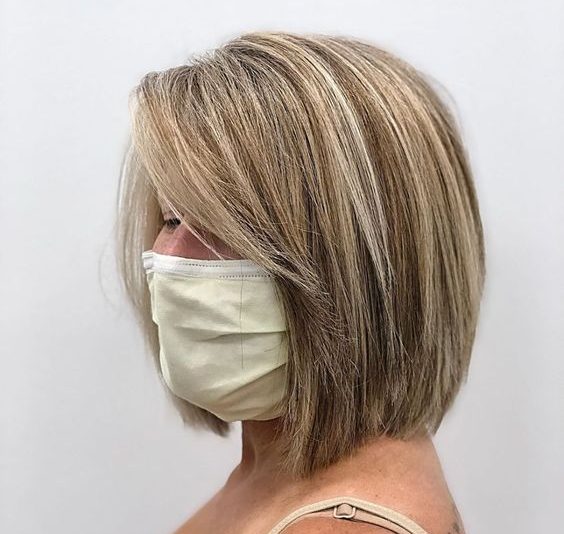 Credit: latest-hairstyles.com
Do you have super thick hair that just won't behave? The side bang can incorporate your thick hair and make it look it's best by adding volume and taking volume where needed. The side profile will create beautiful sweeps across the face, slimming and shaping.
Chin length bob with short bangs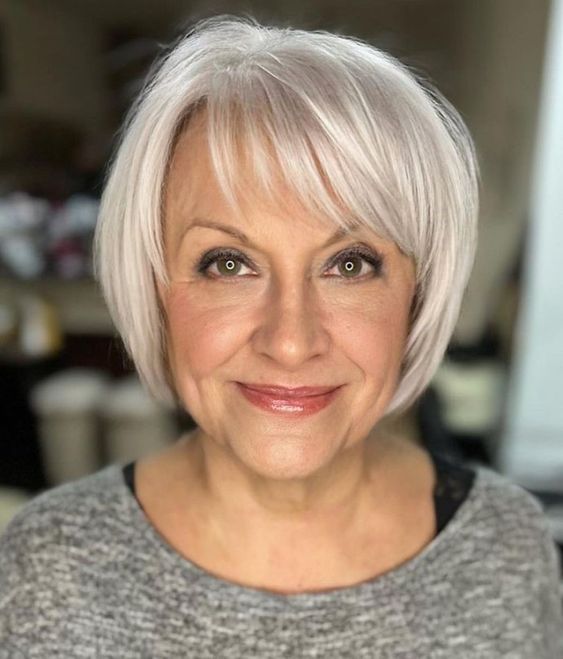 Credit: hadviser.com
This fresh and sophisticated look can work however you need it to work for you. Want to hide parts of your forehead? Want to shape the hair around the face? This cut can be blended and moulded to fit you personally and coloured in any way.
Short cut with thin baby bangs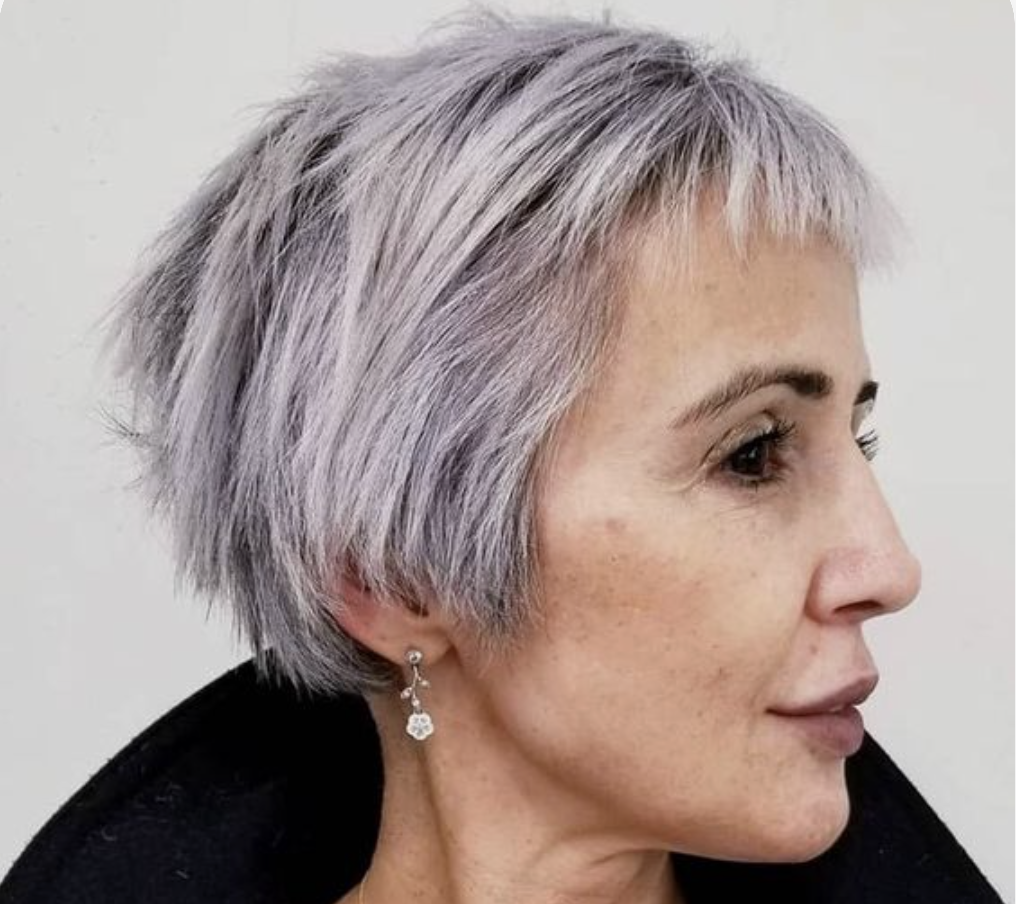 Credit: lovehairstyles.com
Not into a huge transformation or don't know if bangs will suit you? Meet the hairstylist half way with baby bangs. They can start and finish where you like, and can only cover part of your forehead to begin with. Practice styling them with a round brush and blow dryer.
Side parted medium bob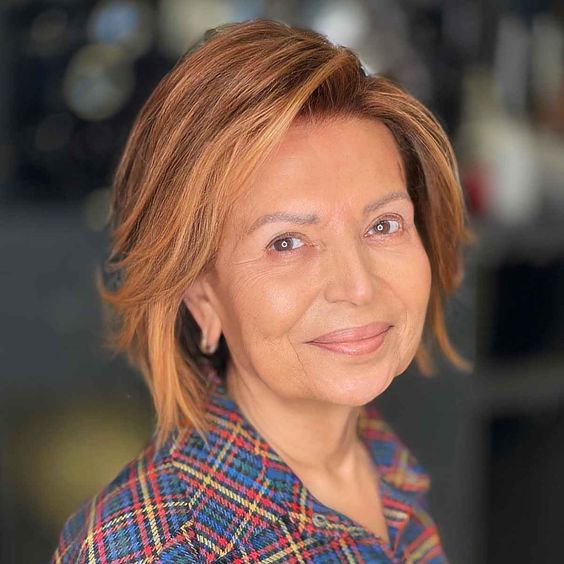 Credit:latest-hairstyles.com
Side partings are so modern and youthful, you'll blend right in with the teenagers at the mall. Side partings can work for you and choosing what side to start from can be customised at each hair appointment. They work super well with highlights and balayage, as they blonde can be blended into the root.
Neat feathered gray pixie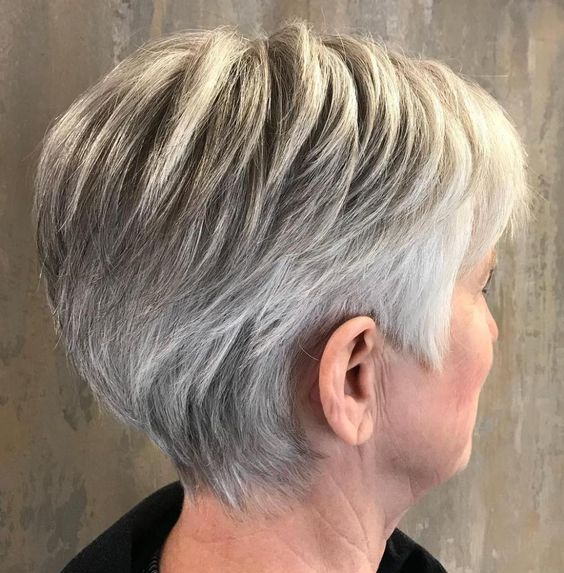 Credit: therighthairstyles.com
Gray hair is beautiful and doesn't need to be hidden if you want to embrace it. If you want to just freshen up the colour, ask your stylist for a wash toner instead of a permanent colour, to add some fun dimension to your gray. A light blue toner works really well over gray.
Long choppy bob with bangs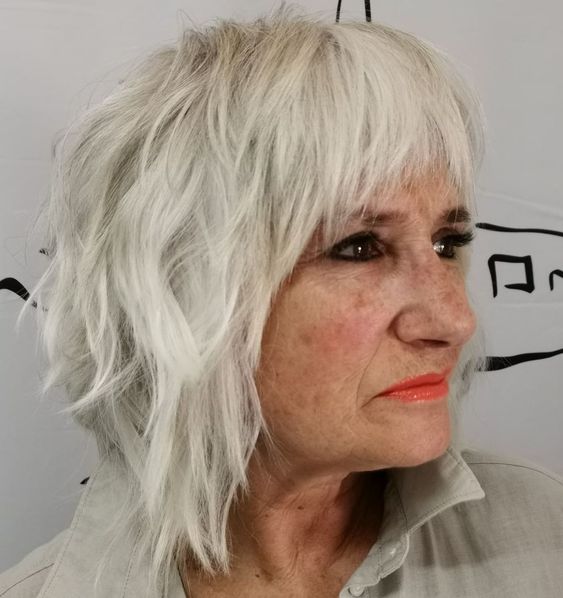 Credit: hadviser.com
Maybe soft and feathery isn't your style, and you want something edgier and sharper. Choppy bobs can look so glamorous with a blended highlight and are pretty easy to style at home yourself with a curler or hair straightener. Choppy also works well if you want to keep your hair long and flowy.
Medium hair with sweeping layers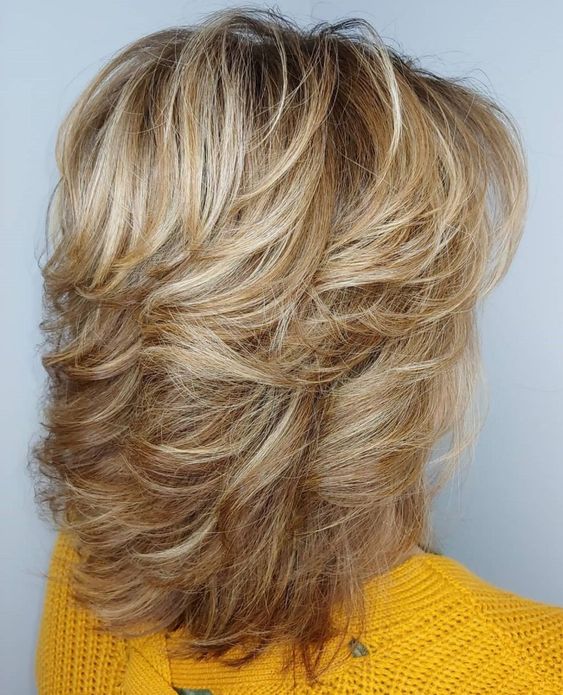 Credit: therighthairstyles.com
Longer sweeping layers look beautiful with freshly highlighted hair. The light catches the tops of the layers and makes for a defined and youthful look, they are also super easy to style at home because they're longer in the length and won't fall off your curler as easily.
Reverse ombre for short gray hair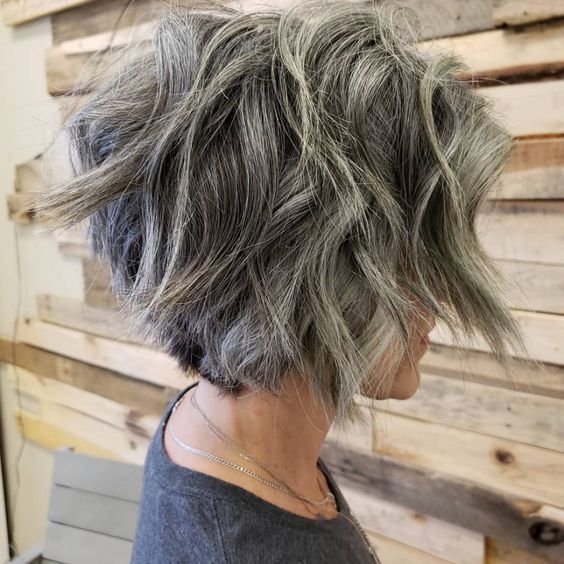 Credit: latest-hairstyles.com
Traditional ombre starts with a dark root to a light end, but this style is the opposite. The benefit to this cut is adding depth to the bottom of the cut whilst also adding light and bounce to the top. This colour combo is great for those who want to embrace their natural gray.
Lob with swoopy bangs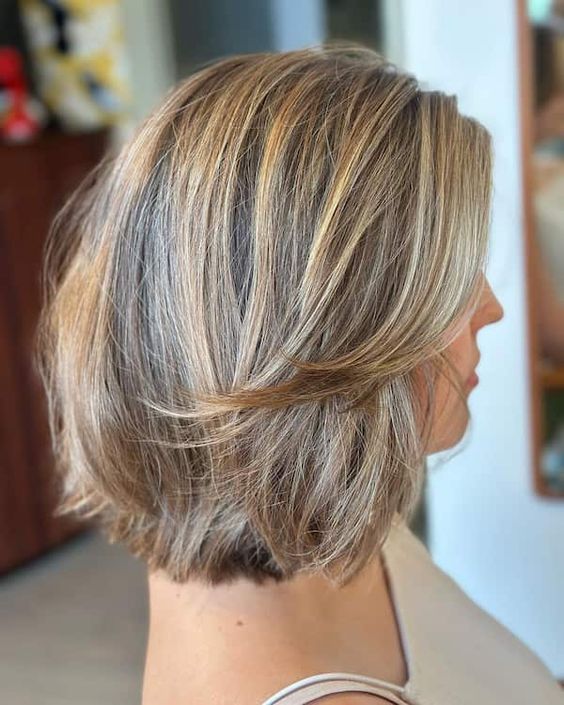 Credit: hairsheperd.com
Lobs are 'long bobs', and are perfect for those who want to keep their length, but also need to manage thicker hair. Swoopy bangs can take years off you as it's a very modern hairstyle that's been trendy with younger women for the last few years.
Choppy bronde pixie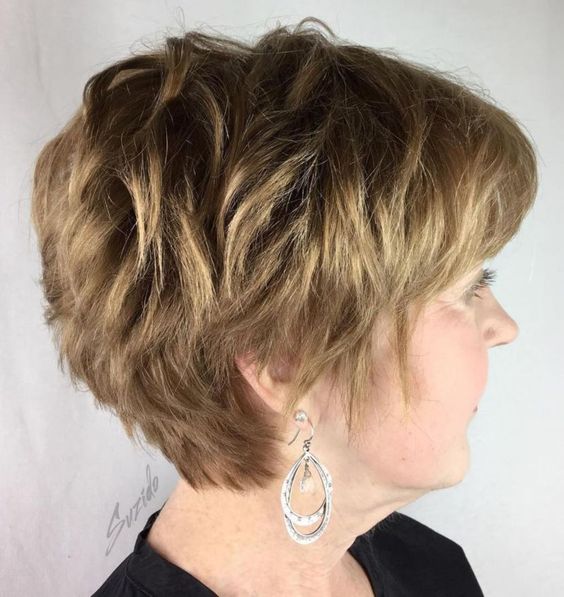 Credit: therighthairstyle.com
Go for a beautiful mix of blonde and brunette tones, for a timeless colour combo. Pixie cuts can be edgy or soft depending on your style, so can work for a lot of different people. They are easy to manage at home, and only require trims at the hair salon every 4-6 weeks.
Modern bowl pixie with bangs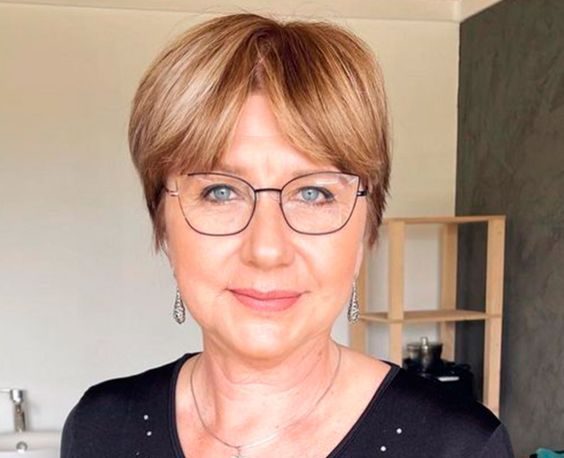 Credit: lovehairstyles.com
This isn't like your bowl cut you probably had as a kid, this is a chic alternate version. Short hair on the sides can draw attention to your bangs and therefore your eyes, making them sparkle. A middle parting is really trendy currently and would really suit this hairstyle.
Blunt bob with thin bangs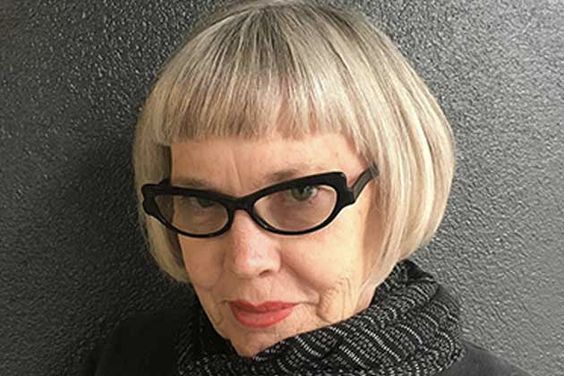 Credit: living.a.lot.com
Again if you can't fully commit to full bangs yet, try thinner ones. The wispy-ness of the bangs can create great detail and framing of the face, but not totally cover up your forehead or eyebrows. A blunt bob works well with thicker hair and can take some of the heaviness away with a thinning cut.
Messy layered bob for thin hair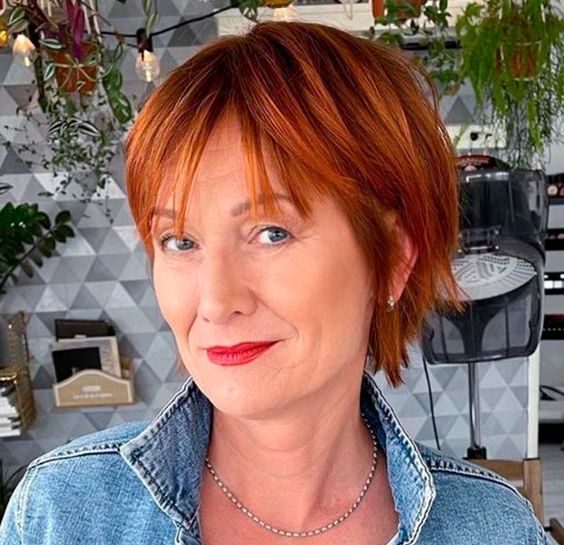 Credit: lovehairstyles.com
You may have noticed some thinning in your hair and feel unsure of how to cut it to not make it more noticeable. Going for a messier look can help add texture, creating a more fuller looking head of hair. Shorter hair is more recommended than long for thinning hair as the ends are what creates that see through look.
Curly pixie with layered bangs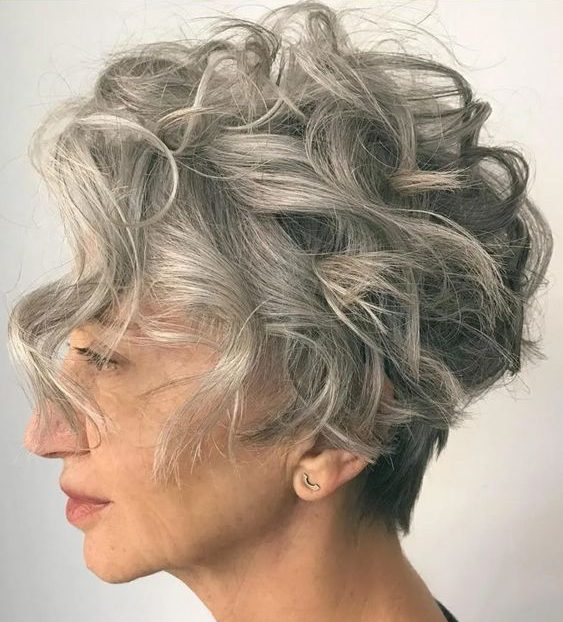 Credit: chickover50.com
Layering your curls in this sweet short style creates lots of fun dimension. You don't need to curl your hair everyday for this one, but can style it with salt spray and curling creams. This look also works well with more daring colours like pink.
Shaggy layered bob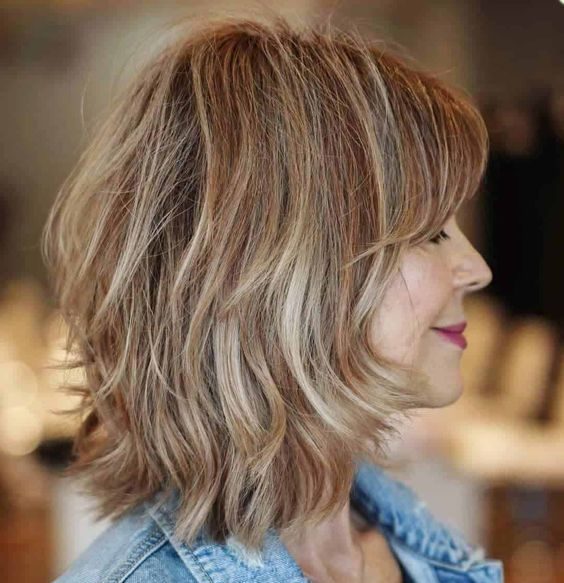 Credit: womens-club.online.com
If you're more of a low maintenance kind of person and don't want to have to spend more than 5 minutes on your hair in the morning, this cut is for you. The shaggy cut essentially styles itself as they layers will naturally fall where they need to be.
Medium cut with choppy bangs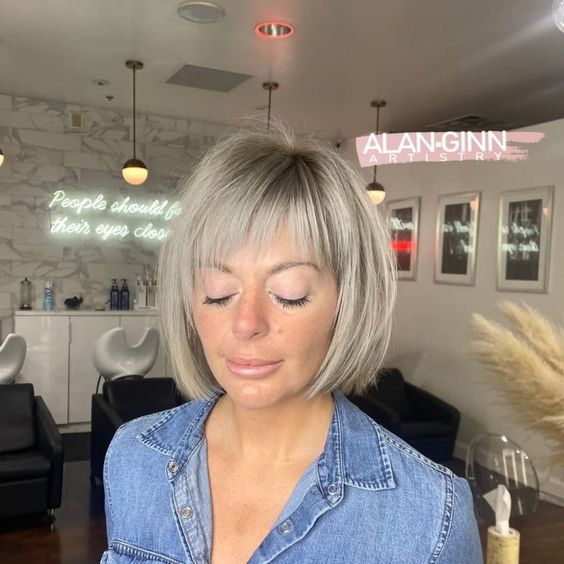 Credit: latest-hairstyles.com
Choppy bangs can bring a new look instantly as the star of the show is right on your face. Bangs can look super youthful and can also hide any insecurities like the forehead or fine lines. They are easy to style, and lots of volume can be added by using a round brush or a large barrel curler.
Asymmetrical pixie bob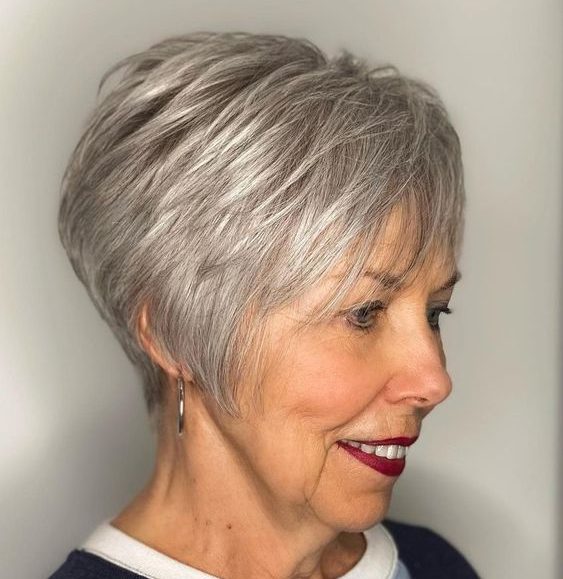 Credit: hadviser.com
If you don't just want a simple bob haircut and want something a bit more unique, try this out. This haircut leaves one side longer than the other which may seem like a no-no in the hair business, but done right and this style can look super chic and high end.
Inverted bob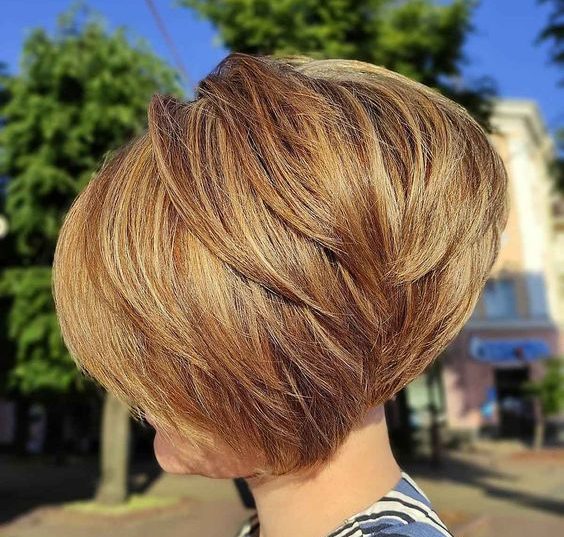 Credit: latest-hairstyles.com
Stylish and practical, this hairstyle is easy to manage and maintain, and can suit pretty much every face shape. The back is shorter than the top which creates a sleek and put together look, perfect for those who take pride in their appearance or are face to face with a lot of people on the daily.
Side bangs pixie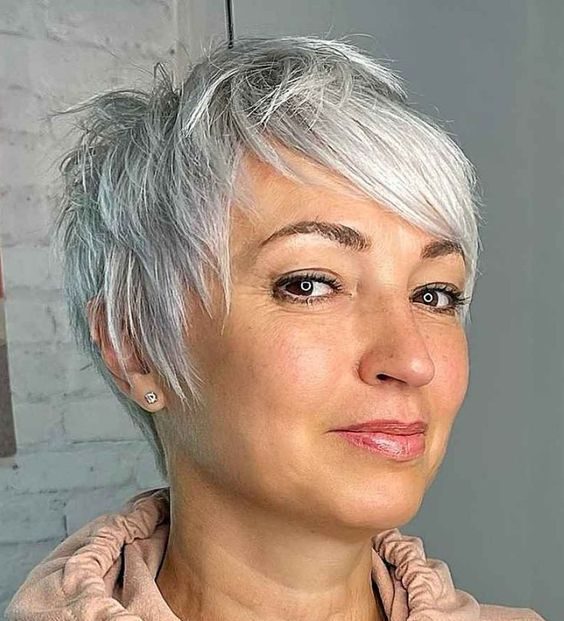 Credit: latest-hairstyles.com
This style can look super cute or super chic depending on your style. The side bang draws the eyes to the face, whilst the pixie cut always looks well maintained and clean. This cut looks great with graying hair, or blonde highlights and is easy to get trimmed regularly at the salon.
Trendy wolf cut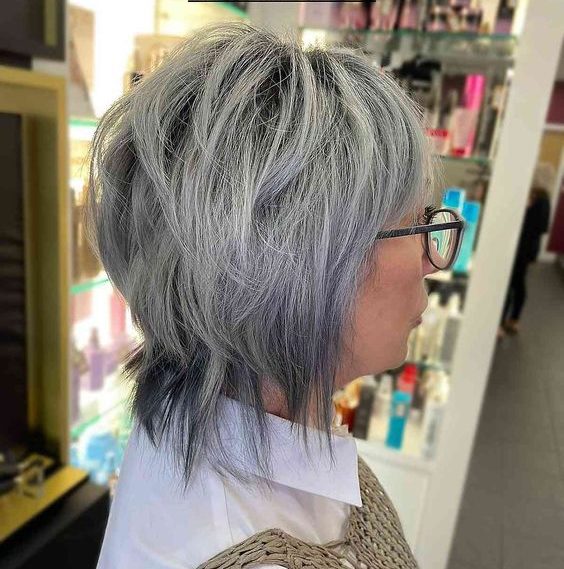 Credit: latest-hairstyles.com
This cut is so trendy right now, and it doesn't have an age cap. This hairstyle works by adding lots of layers to the back and around the face, creating a wispy and light look. It incorporates bangs most of the time for those face framing pieces.
Layered haircut with curtain bangs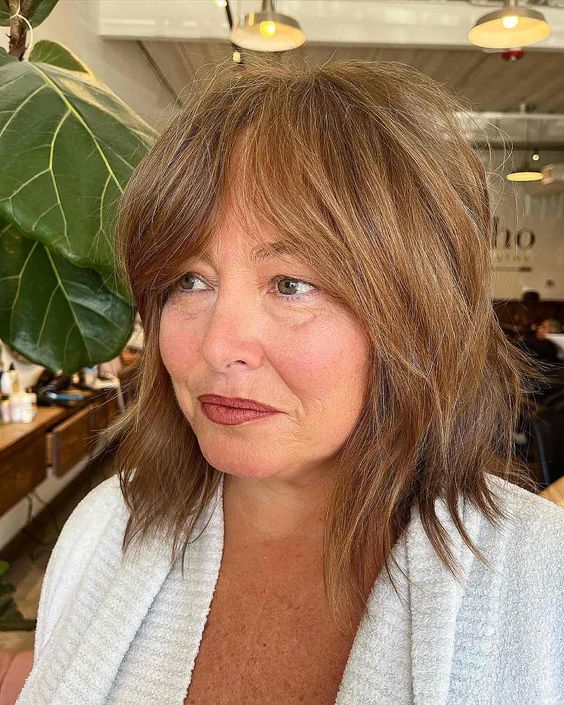 Credit: latest-hairstyles.com
Curtain bangs are a mix of full bangs and sweeping bangs, that start in the middle parting. They are timeless and are often seen in 90s blowout styles. They work well with medium to long hair and can be cut at lots of different lengths to suit your face shape.
Medium hair with blunt bangs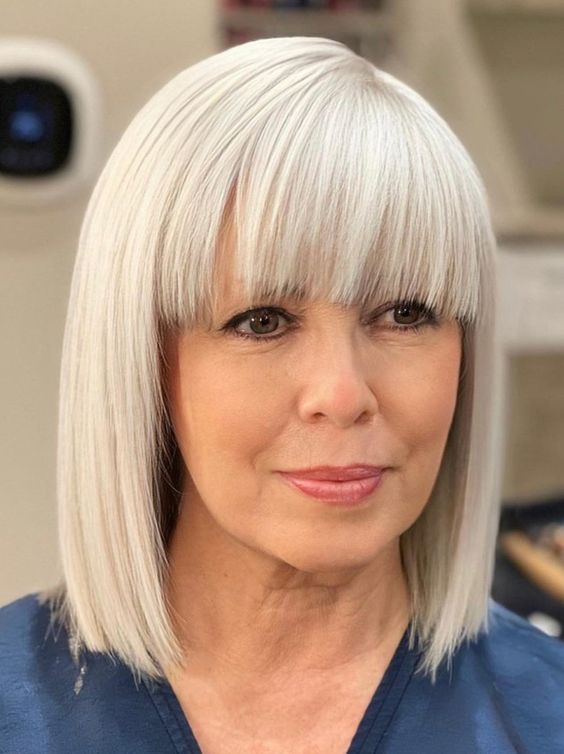 Credit: therighthairstyles.com
If you have thicker hair it should be seen as a blessing not a curse. This style embraces thicker hair and uses it to your advantage, by creating a glossy thick blunt bang to style your face. They are super easy to style at home and only require a straightener or round brush.
Wispy bangs and soft locks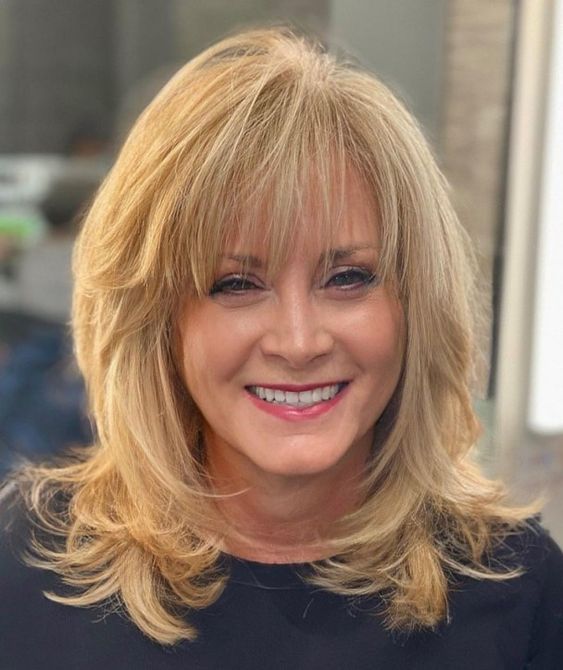 Credit: hadviser.com
Wispy bangs work really well if you have thinner hair, as they don't need a lot of volume to work and lay well. Softer style hair can accentuate your natural texture and look super feminine and fresh. Having blended highlights or fine highlights work well with this cut as they will be blended in with the soft layers.
Short piece-y crop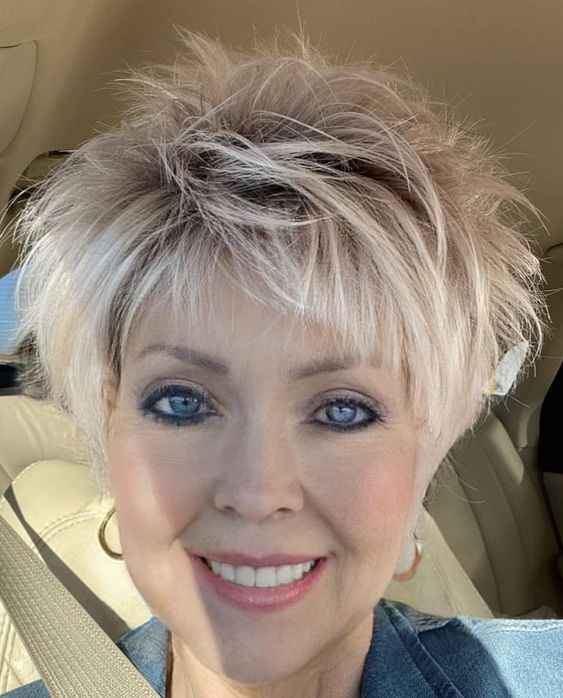 Credit: pinimg.com
Sleek crops are elegant, but piece-y ones can look edgy and cool. Grab some styling mousse or gel from the hair salon or beauty store and define those layers. This cut can be elevated with different coloured streaks peeking out from under the choppy pieces.
Mid-length feathered beige blonde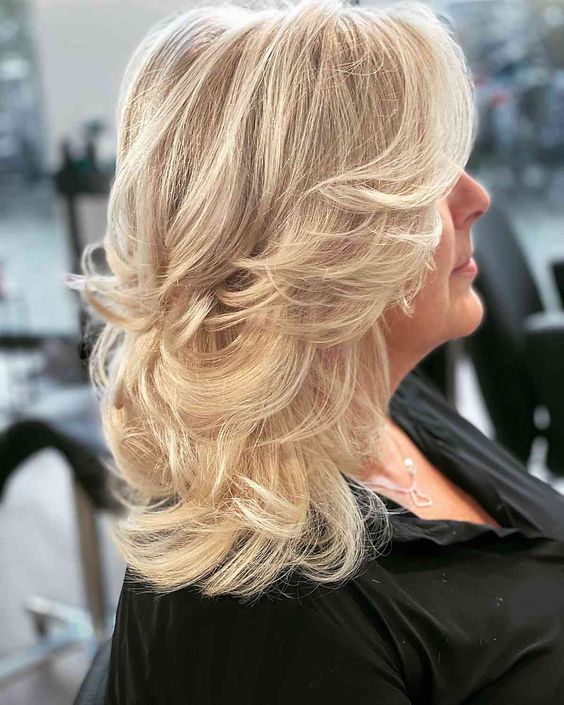 Credit: latest-hairstyles.com
This youthful style is super glamorous and can look high maintenance without the effort. Beige blonde is a really trendy colour amongst younger women, as it gives that 'this is my natural colour' look. Paired with a medium length and lots of feathered layers, you'll look super modern and young.
Blonde balayage pixie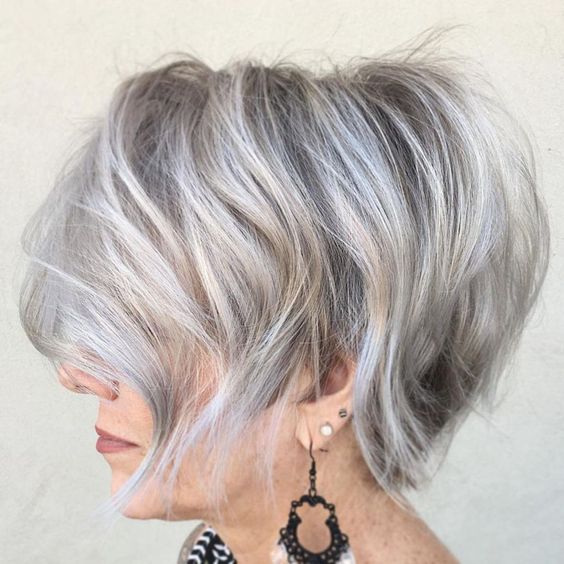 Credit: therighthairstyles.com
A darker root can add lots of dimension to your hair, making it look thicker and healthier. The pixie works great with blonde as its length is easy to manage when bleached and can be easily maintained at the salon every few weeks. It's also low maintenance at home, which is great for busy women.
Wavy shaggy copper blonde bob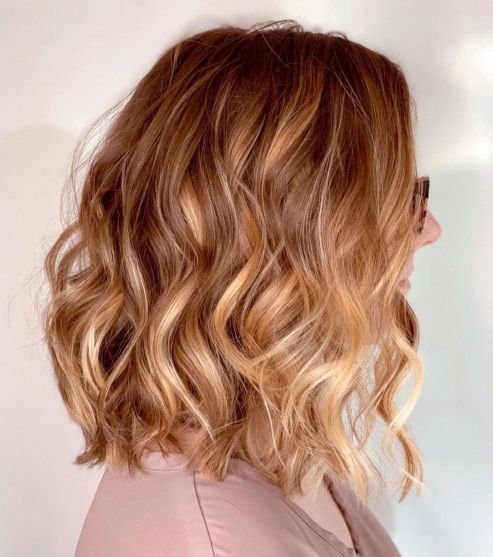 Credit: therighthairstyles.com
Copper is a great way to incorporate colour into layered hair, without going all out with bright colours. It can bring life and a glow to the skin due to its warm undertones, and can be managed with a mix into your shampoo or conditioner. It works well with shaggy hair as the light will catch and illuminate the red.