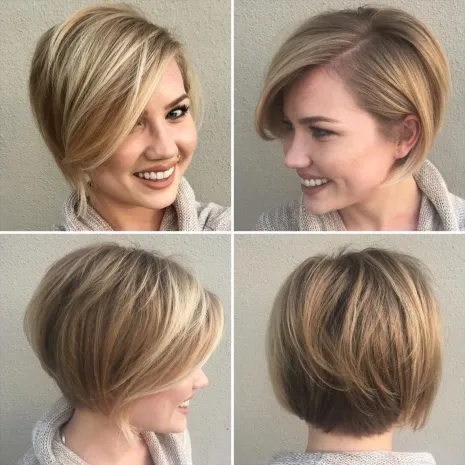 Wavy bob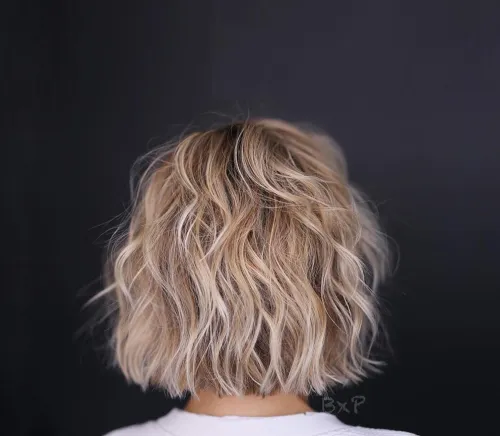 Credit: buddywporter via Instagram
When hair starts to thin out, you want to try and enhance the texture of what you have to give the illusion of thickness. A wavy one-length bob like this won't require any heat to style, which is going to help preserve your hair's condition. The waves will help each strand stack on top of each other, filling out the tresses.
Long and layered bob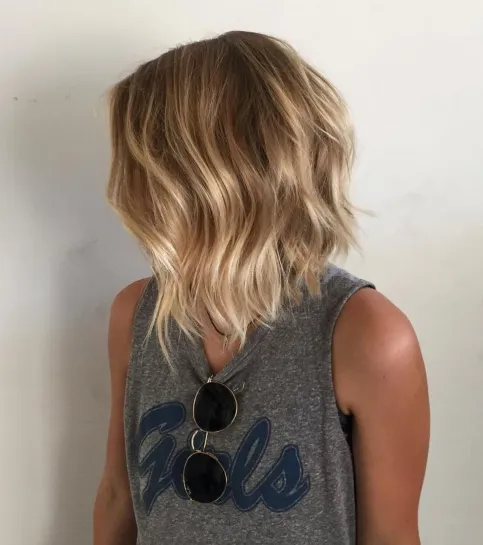 Credit: chrismcmillanthesalon via Instagram
A longer bob like this works with thinner hair by introducing a ton of motion and shine. You can add texture with waves and layers that will help keep your hair full of body, and conditioning the ends will get you plenty of reflective glow without sacrificing the volume you need around the crown.
Medium-length choppy cut with a fringe
Credit: romeufelipe via Instagram
If you have naturally straighter hair or just prefer straighter looks, going for a longer choppy cut will give you a good balance of ease and texture. When you straighten thinner hair with layers, they'll overlap and flick out while still keeping the rough shape you want. Be sure to protect it with plenty of heat-safe spray.
Medium uniform-length waves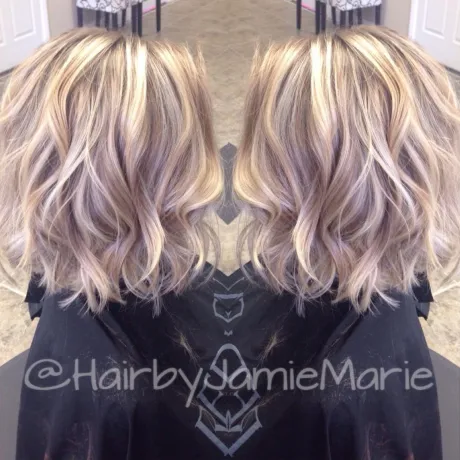 Credit: hairbyjamiemarie via Instagram
While longer hair tends to fall flatter to the scalp, that doesn't mean that just because you have thinner hair you can opt for mid-length or even longer cuts. You can achieve these tumbling, texturally explosive locks with heat, or if you'd rather avoid plugging anything in, you can use moose in wet hair and medium-sized rollers.
Bed-head lob with flicky layers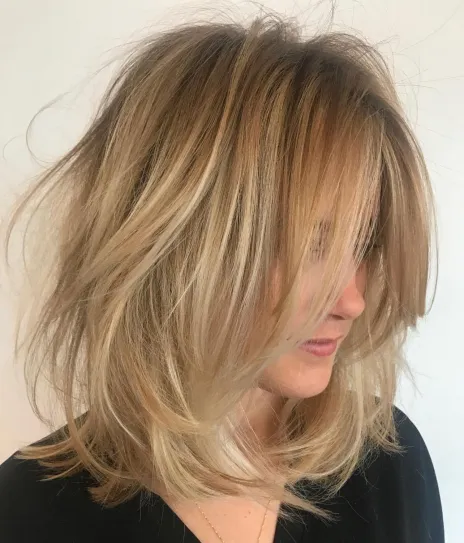 Credit: chelscaruso via Instagram
This look takes the idea of layered texture and erratic movement to get an incredible body out of thinning hair. There are layers around the jaw to help fill out the bangs, straightened ends, and a bouncy A-line fringe. You could take it a step further a with razor-cut fringe to continue the crisscrossing motif.
Bangs with a high top knot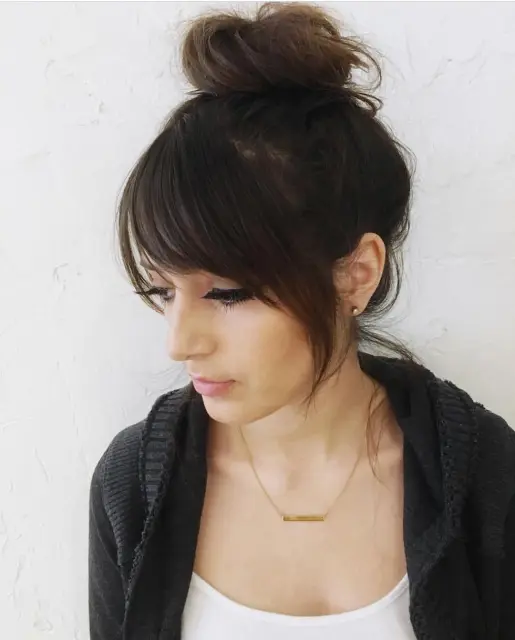 Credit: studio V via Instagram
This is a great go-to look for anyone who has thinner hair around the temples. A top knot will drag the hair up and bunch it together, covering up any areas where the follicle grouping gets a little sparse. The bangs also add a lot of width to the hair and work with the knot to give extra shade to the problem patches.
Wavy bob with highlights and lowlights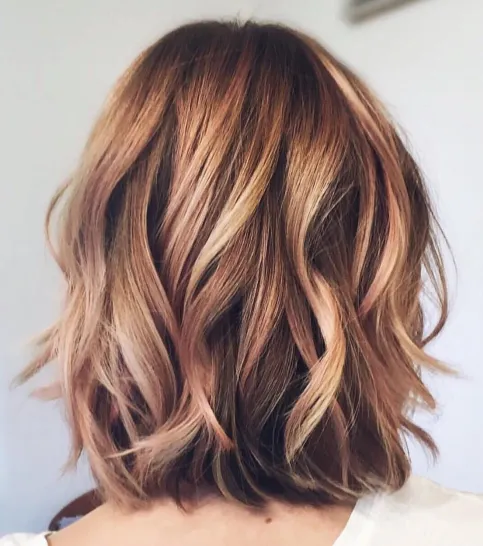 Credit: t3micro via Instagram
Color and tone are important factors to consider when trying to mask thinning hair. Having a darker base color like strawberry blonde or brunette matched with highlights worked through the tresses and ends will create lots of dynamic texture. The way it plays with the light makes hair seem much more dense.
Shoulder length and shaggy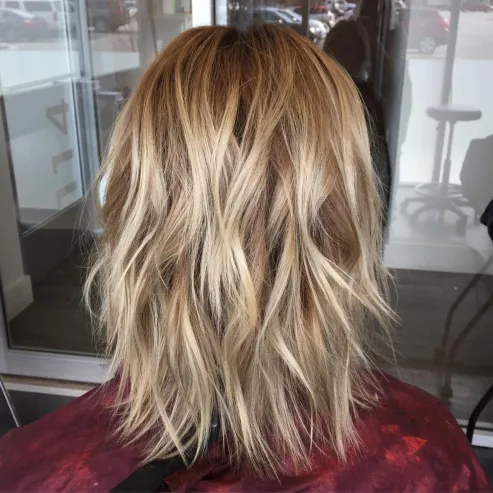 Credit: tatumraewetzel via Instagram
Shaggy hair rose to prominence in the 70s, but you see the style constantly incorporated into modern looks. The naturally tousled texture has always been an easy way to add boost and body, which helps keep hair looking full and luscious despite its texture. It also pairs well with so many different fringes.
Stacked bob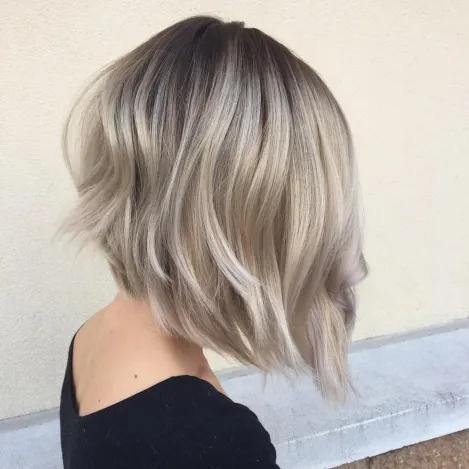 Credit: Cassderosa via Instagram
A tapered or stacked look like this takes advantage of the natural contrast between your hair's thickness to increase how thick it all looks overall. The back of the neck is cropped and tight, then the layers and volume burst out with plenty of body for you to style as you wish.
Long and layered with balayage
Credit: kristen.lumiere via Instagram
Balayage is a color treatment that focuses on natural, sunlit tones that pair beautifully with thinner hair. It creates so much visual contrast and that's before you even start working with it. Here the A-line bob structure takes advantage of waves, a choppy cut, and plenty of layers to build body and thickness.
Longer A-line bob with no layers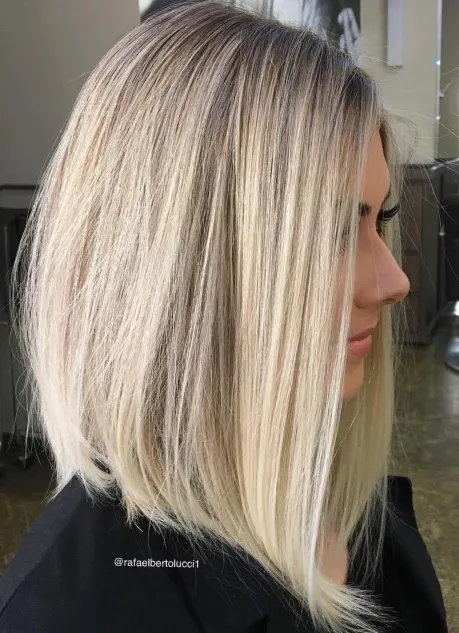 Credit: rafaelburtolluci via Instagram
If you aren't super into layers then don't worry, these kinds of block styles are still in style and look great from the chop to the grow-out phase. It's a very traditional style for thinner hair, focusing on highlighting the strengths like its weight and uniformity, instead of trying to hide it behind the volume.
Extra-thin shag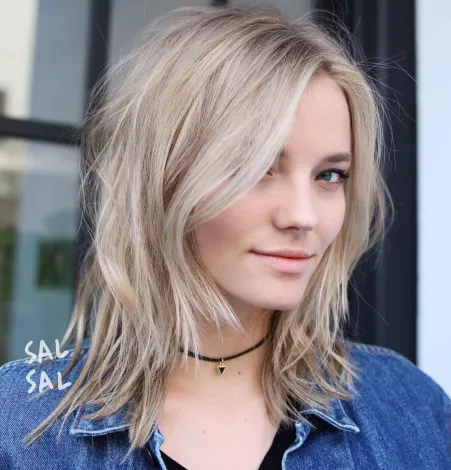 Credit: salsalhair via Instagram
This cut shows just how well shag works with thinner hair. You can see just how fine the model's hair is around the fringe, scalp, and tresses, but with the shaggy texture, it still works to frame the face perfectly with its shape. It has bounce, layers, and plenty of charm.
Bob with side swept fringe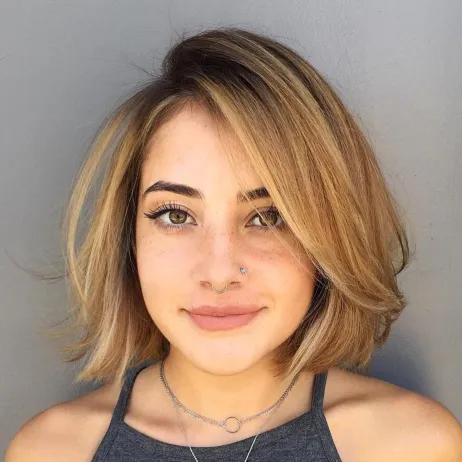 Credit: caitycaatt via Instagram
Knowing your way around a fringe will give you another tool to help add some thickness to your hair. This poofy side-swept fringe gets plenty of volume from its base and brings hair from further back on the scalp into its shaping. This adds tons of texture and falls to form another layer to give depth to your do.
Short, sweet, and swept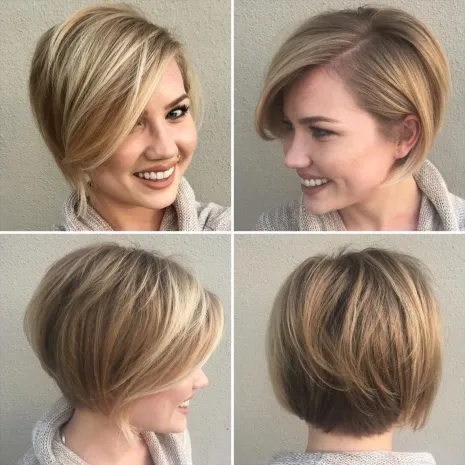 Credit: katiezimbalhair via Instagram
Plenty of shorter looks can help thin hair seem fuller in texture and energy. This look uses a cropped and blunt-cut neckline to emphasize all the layers around the scalp and around the back of the crown. The layers in the swooped fringe help it get even more lift, which combines to make a full-bodied look for your hair.
Icy blonde layers for fine hair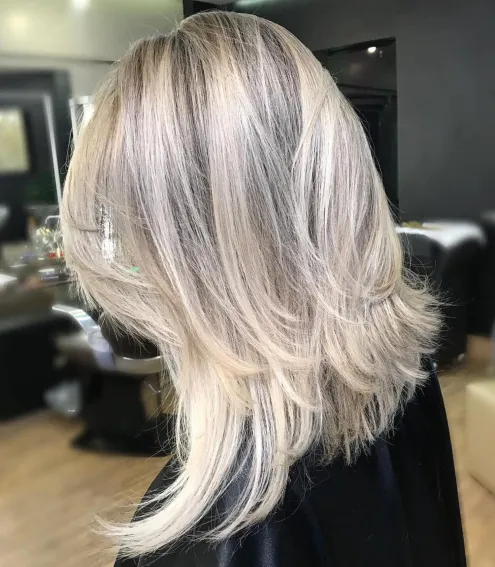 Credit: Maxwellmathson via Instagram
Cooler shades like these gorgeous icy blonde layers are excellent for reflecting light. Typically brighter and lighter tones come off as thinner, but the darker layers beneath soak up all that light before it reflects off the scalp. Not much is truly off-limits for thinner hair if you get creative with your planning.
Shadow roots with a color pop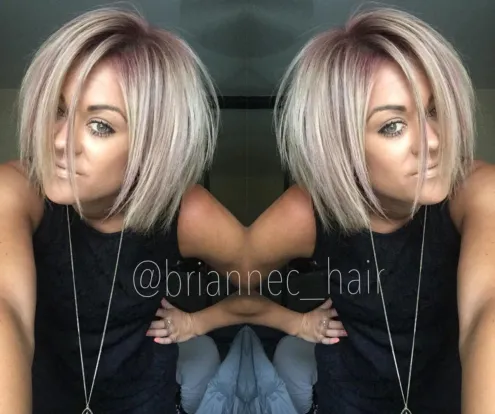 Credit: briannee_hair via Instagram
While keeping the roots dark is a good idea for thinner hair, that doesn't mean you can't have fun and experiment with color. Here a darker red is paired with an ashy blonde-grey for a wonderful color contrast that makes hair thicker before it's even styled.
Long layered hair with curtain bangs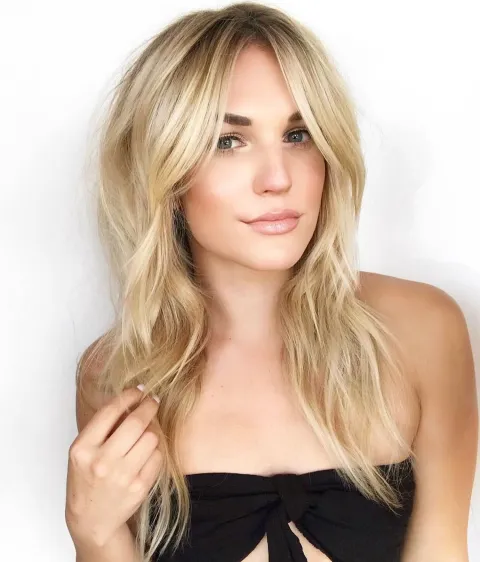 Credit: mane_ivy via Instagram
The 90s is home to a lot of inspiring looks for thinner hair. After the volume explosion of the '70s and '80s, people's hair needed a break from the heat and chemicals and suddenly long, light, and dainty looks like this were everywhere. Curtain bangs have such a natural look to them and add a lot of width that thinner hair can lack.
Sexy cinnamon cut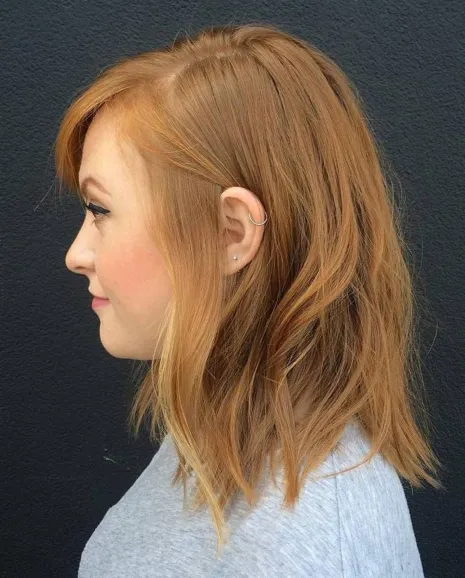 Credit: chopshopsf via Instagram
If you want a full head of color but worry about your hair's thickness showing through, try something like this caramel strawberry delight. It has a good balance of light and darkness, but never loses its warm undertones even in naturally thinner areas like the temples and along the hairline.
Ponytail with a combover front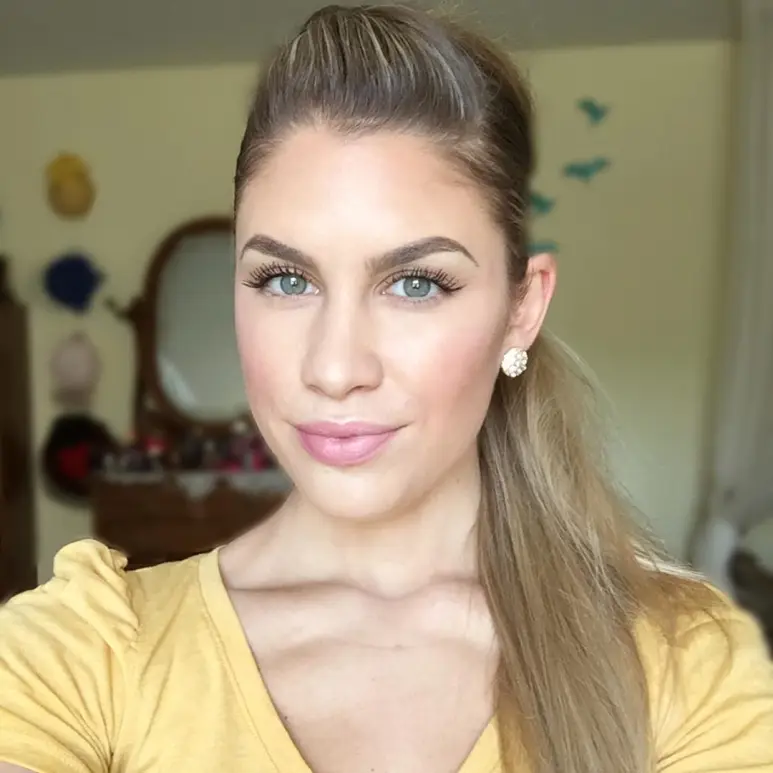 Credit: onlinebraidinglessons via Instagram
A ponytail is a really simple and effective way to make hair seem thicker. By grouping it all together you get strength in numbers and an opportunity to style around any areas of the scalp that peek through. The fringe section like the one above can be incorporated into the tail or let loose for an even more versatile look.
Back length balayage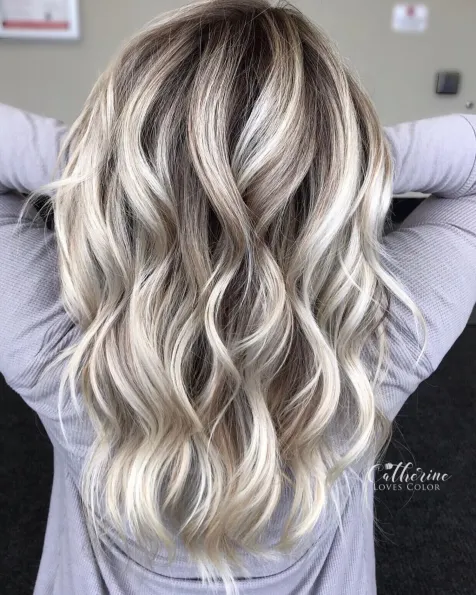 Credit: catherinelovescolor via Instagram
When thinner hair reaches this length it can be difficult for it to keep any volume under its own weight. This look demonstrates the level of lift that waves and a good color treatment can get you, creating endless layers of crossing texture and flowing tones. Avoid heat if you can, and use protection if you can't, hair gets fragile!
Razor cut bob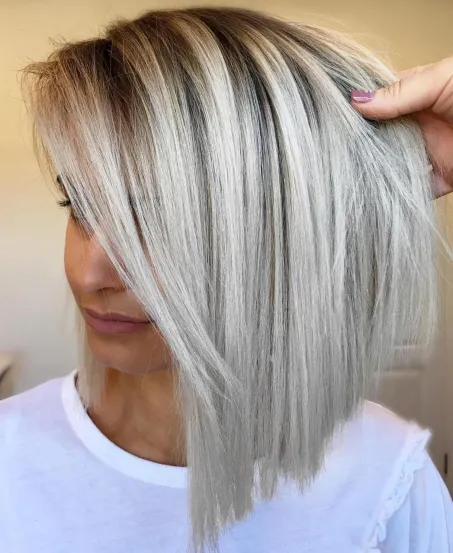 Credit: hotteshair via Instagram
Blunt cuts like this add a delicious chunky texture to any look, but shorter cuts really get the most out of the look. A deeply parted fringe means you can comb over plenty of hair to add a ton more body, which makes the overall look seem bouncy and full no matter how thin your hair.
Beach bum surfer waves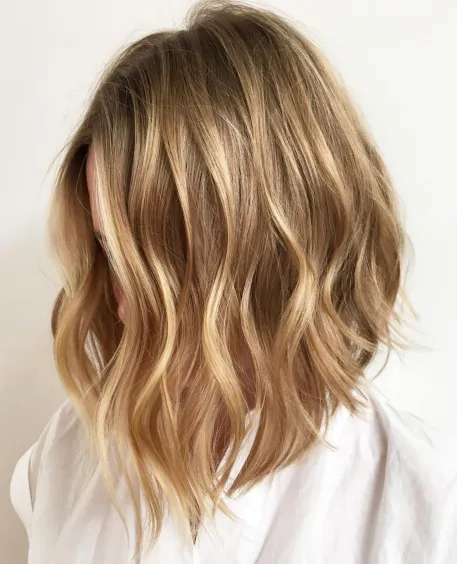 Credit: styledbylizsustatia via Instagram
You can tell these waves apart by how natural and soft they look. Core to the appeal of surfer waves is their naturally air-dried texture, which can be achieved easily with just a towel by scrunching. If your hair is very straight, consider a sea salt spray for some fast and salty curls.
Choppy lob with no layers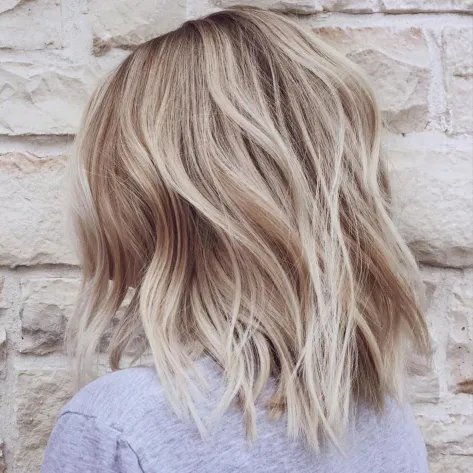 Credit: hairbyjessica via Instagram
Another look for straighter hair that doesn't require layers, a choppy lob gives you everything else you need without regular salon trips. The ends are cut super choppy for lots of crunchy texture, and some loose rollers give you gorgeous waves that ebb and flow to disguise thin hair.
The momager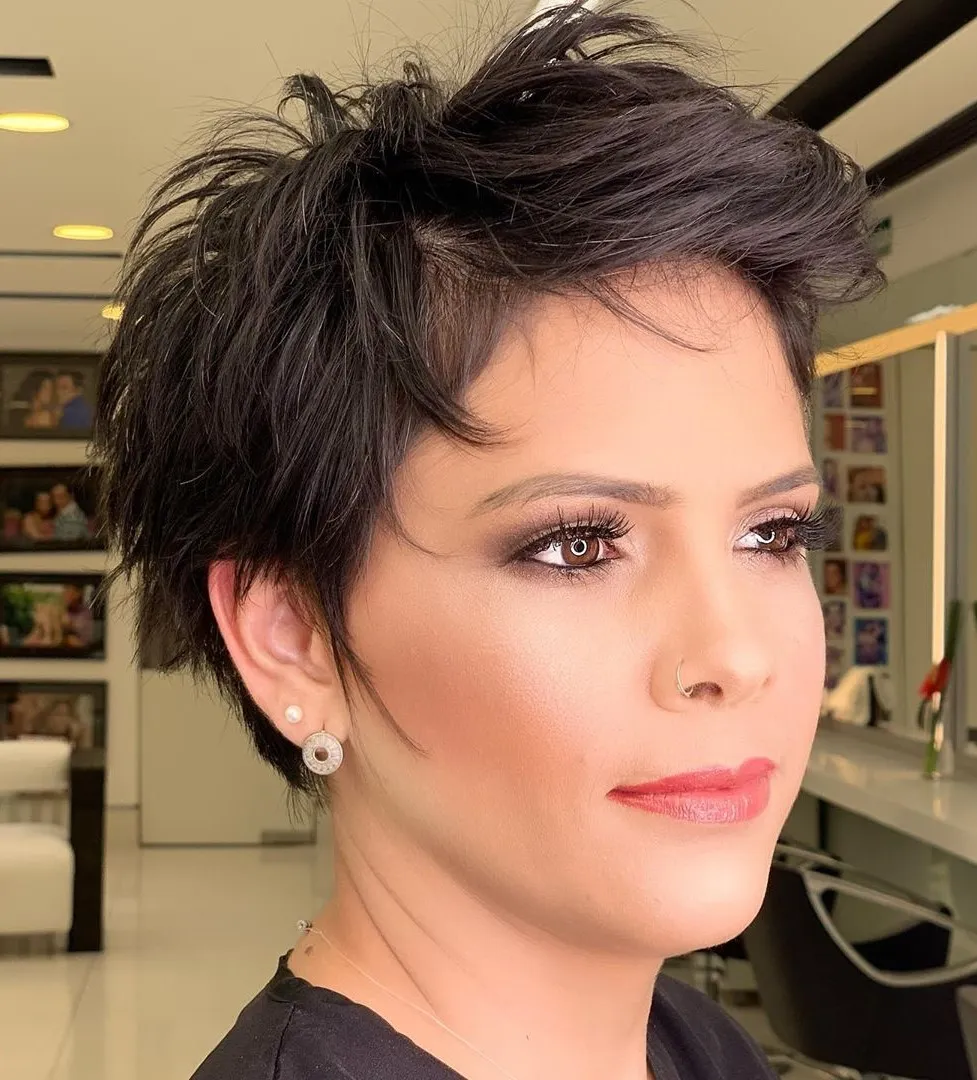 Credit: diegomarscant via Instagram
Kris has been rocking a shorter look for the better part of four decades, and it has looked fierce and sharp the entire time. This look takes things scissors short to keep a natural and choppy texture, and it can be styled with much more control than longer looks, meaning you can cover your problem areas while keeping the volume.
Longer pixie cut with beach waves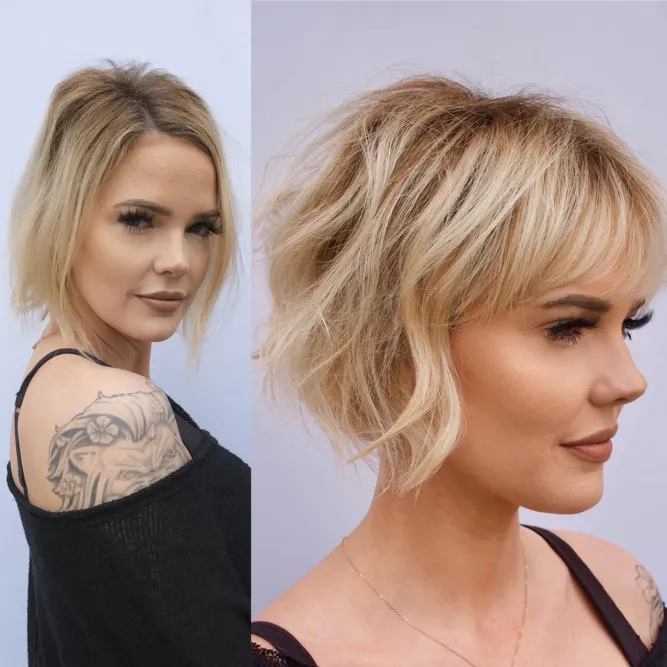 Credit: arcscissors via Instagram
If you're looking for a happy middle ground between length and texture, this cropped and messy cut is the perfect stepping stone. The choppy bangs add lots of width so it still feels like you have a full head of hair, and the jaw-length beach waves get plenty of movement to disguise their thickness.
Medium mullet shag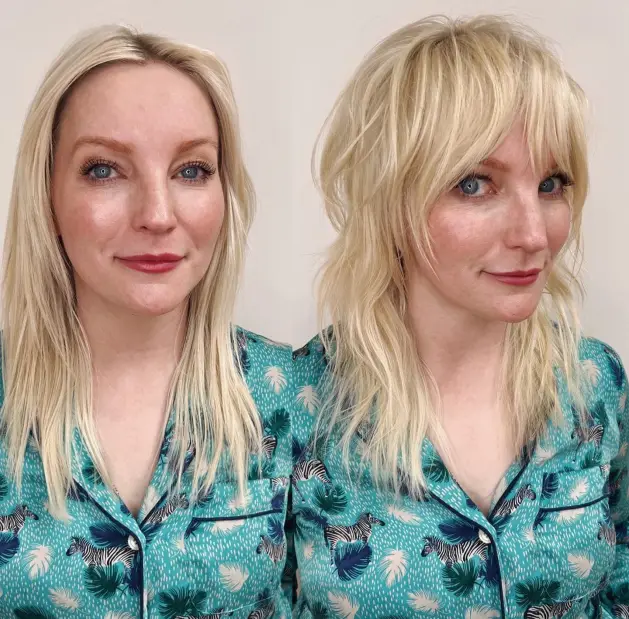 Credit: jade_edosalon via Instagram
Combining mullets and shag might feel a little bit like you're confusing your decades in theory, but in practice, you can't argue with these results. Having plenty of hair in your bangs to frame your face has a thickening quality while also making your features pop, and the layers throughout the length keep things multi-dimensional.
Feathered to the angels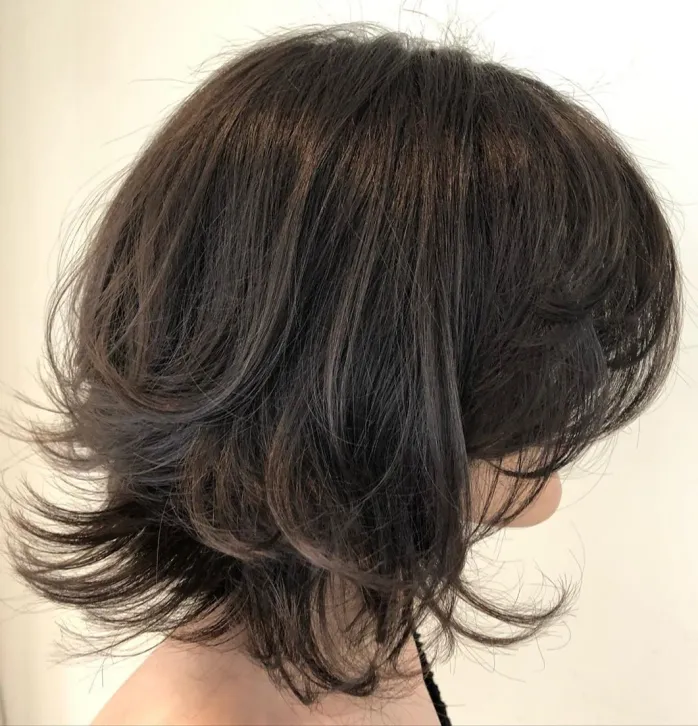 Credit: tessnogueria via Instagram
Anything between jaw length and shoulder length is going to fall right in the happy zone for thinning hair. It's the length that works best to balance weight and texture, and this 60s-inspired cut is light as a feather and dense as a thicket. Feathering creates these super-exaggerated layers that make hair seem twice as thick.
Tousled pixie with A-line bangs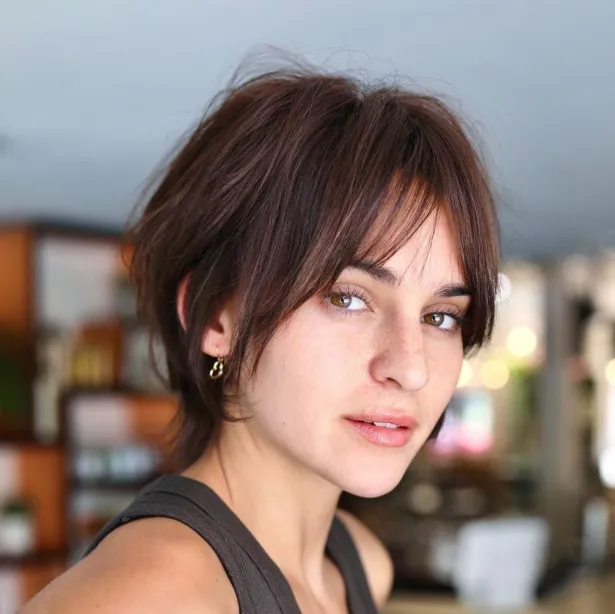 Credit: Credit: hiro via Instagram
Shorter hairstyles for women have been in fashion for decades, and it just so happens they're excellent for thinner hair too. The bangs are thickened with strands from the sides and scalp to create a meaty texture despite the dainty nature of the cut. It's perfect for those who want to avoid anything too layered.
Layered short pixie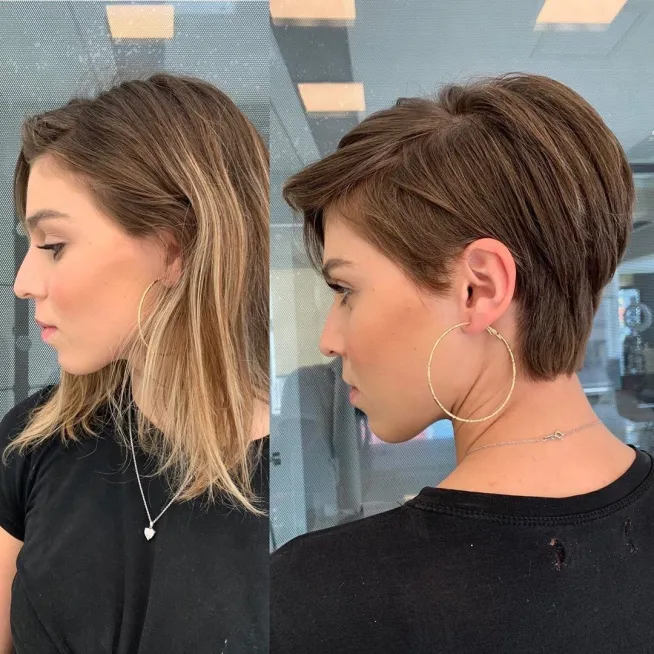 Credit: palmelacabelos via Instagram
Going for a style this short has several benefits for thin hair. It's kind of like a factory reset for your head, as everything starts growing and shaping anew but you still have something pretty to show off in the meantime. This cut adds layers and a shorter, almost undercut temple to get loads of depth out of a little hair.
Cropped and blunt bob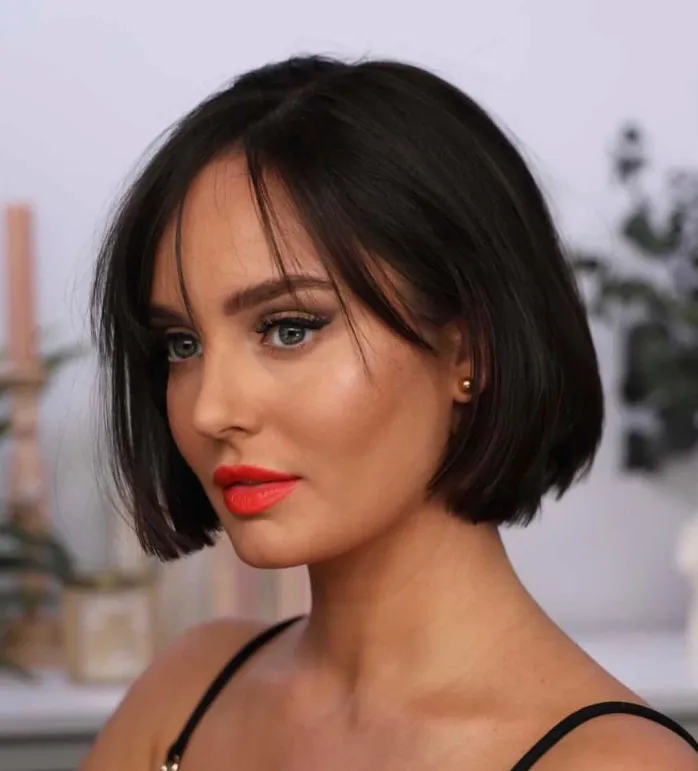 Credit: kimvosalon via Instagram
This is an incredibly stylish look that essentially gets the hair out of the way and puts all the attention on your gorgeous face. The blunt texture so high up draws the eye towards your features, the sparse curtain fringe seems incidental but adds a little more dimension, and the dark chestnut tone thickens everything up.
Longer hair with fine curls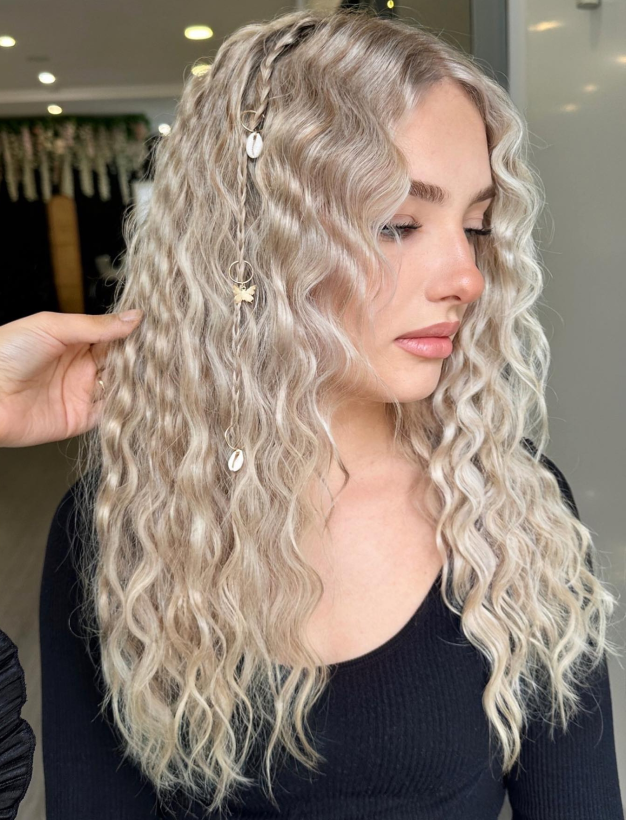 Credit: elixierph via Instagram
Naturally curly hair does often occur in people who also happen to have thinner hair, and looks like this show how wonderful that combination can be. If you have straighter hair then smaller rollers can get you a similar result and the effect is like a hall of mirrors, creating dimensions that go on forever and add incredible texture.
Twisted asymmetrical bun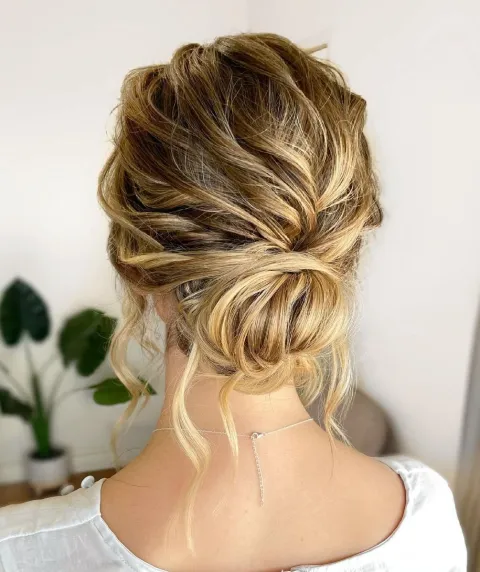 Credit: hadarah_hairandmakeup via Instagram
In the same way that curls and waves add texture to increase how thick your hair appears, updos can have a similar effect. You can achieve this style with some texturing spray and a tight clockwise twist at the nape of the neck. You can add accessories, pair it with a fringe, or keep your face free to shine.
Collarbone cut with light waves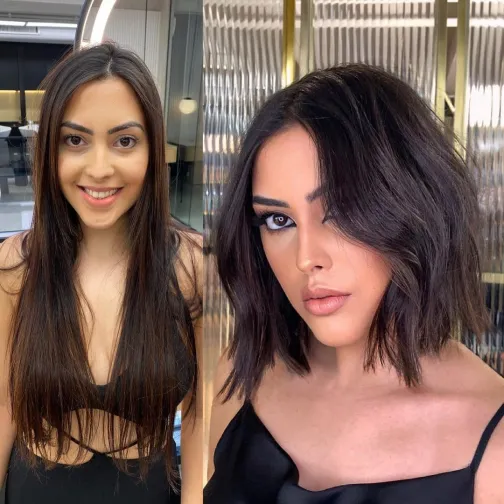 Credit: rodrigocintra via Instagram
This example shows how much spring you can get from taking off a good chunk of length. The center part is adorable and modern, and the waves in the fringe frame the cheekbones perfectly. The darker tone paired with the choppy and blunt ends ties it all together in a thick, luscious bow.
Pastel precision bangs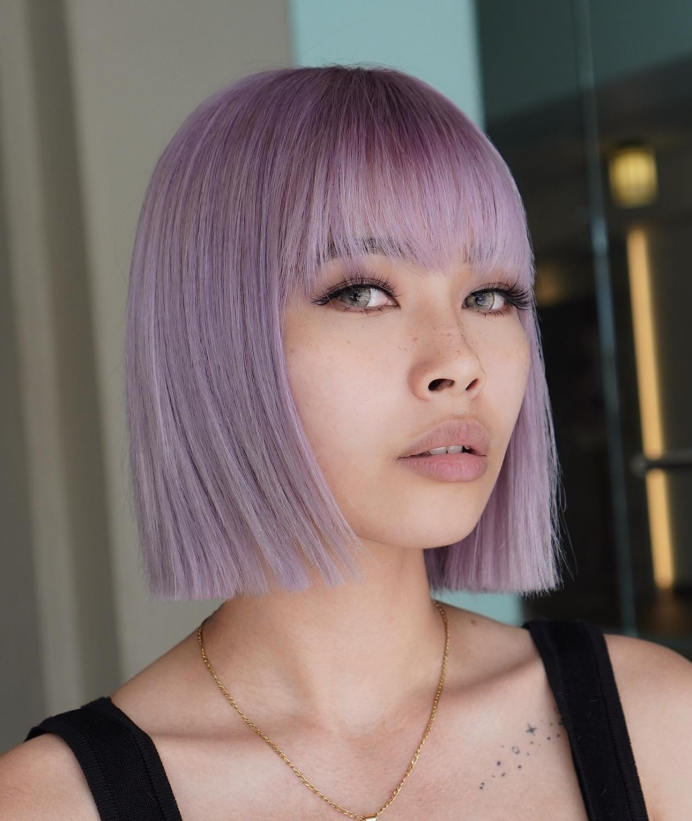 Credit: hairbykysa via Instagram
A lot of modern trends focus on interesting uses of texture, and a blunt, laser-focused bob like this is built for thinner hair. The bangs are flexible, here they cover the eyebrows to draw out the eyes, but you could easily incorporate your preferred style. With no layers and a light but cool purple, you celebrate thin hair for its beauty.
Short and curly pixie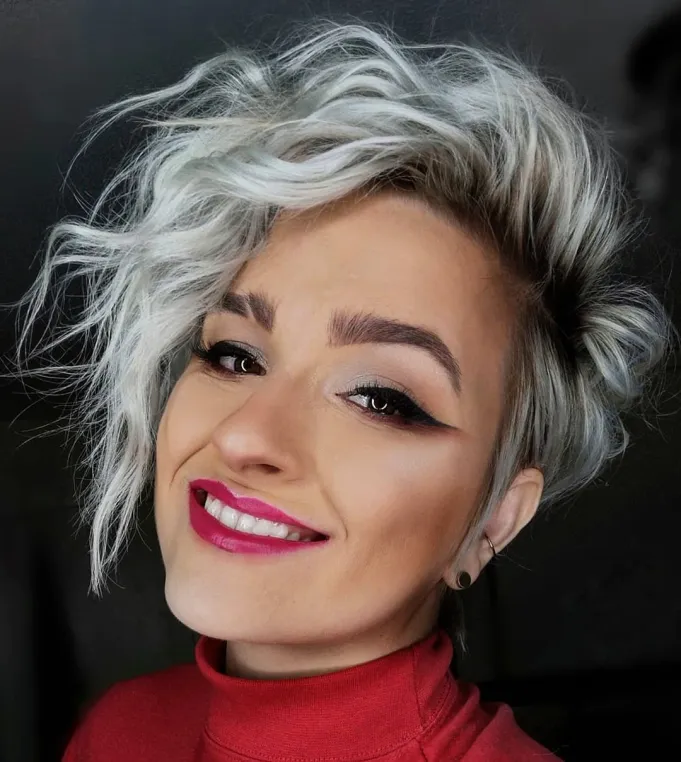 Credit: Theodoraraptis via Instagram
Combine a shorter length with plenty of volume and texture for a look that works no matter how thin your hair is. The deep-set fringe creates a huge swoop that blossoms out into some lovely textured curls, and there is plenty of hair around the temple and scalp to add some bulking definition.
The classic shag
Credit: deeprootstax via Instagram
This is about as close to the original '70s look as it gets. The full curtain fringe, lightly textured tresses, and choppy ends are all what made shag hair so famous. It uses its length and weight and covers the face a little, giving the impression that your hair is just too thick to control as it tumbles down.
Feathered and textured shag
Credit: chrishairr via Instagram
For a more modern take on the shaggy look, consider this light and airy shoulder-length cut. Gorgeous flick-y curls create a thickening effect while also framing the face for a cutesy but sculpted style. The feathering and layers add plenty of bounce and motion that make your hair seem full of life and texture.
Simple and stylish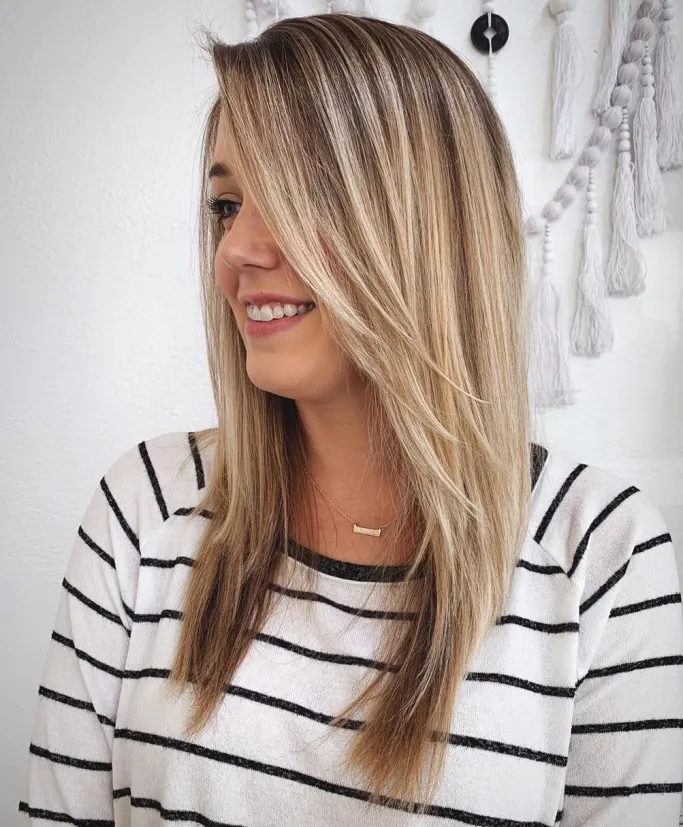 Credit: ashleyatkinson via Instagram
Going for a longer look with thin hair is all about balancing a soft and airy texture, and incorporating movement in small ways to keep things varied. Here that is achieved wonderfully with the feathered-out fringe and the choppy lowlights that give enough contrast to keep everything looking thick and full.
Short and layered with a swept fringe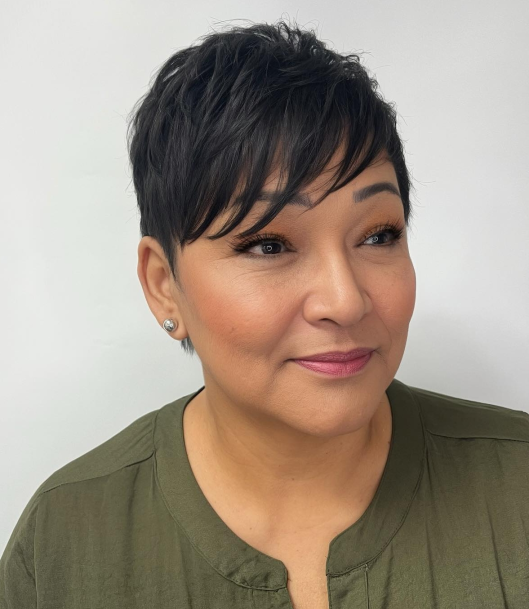 Credit: roshan_hairlove via Instagram
If you're sick of worrying about your hair's texture, opting for something short and simple like this gives you the best of so many worlds. The thickness of hair is harder to parse at this length, and the darker color means no matter how you choose to style it, it's going to seem strong and dense.
Highlighted and textured lob with a side fringe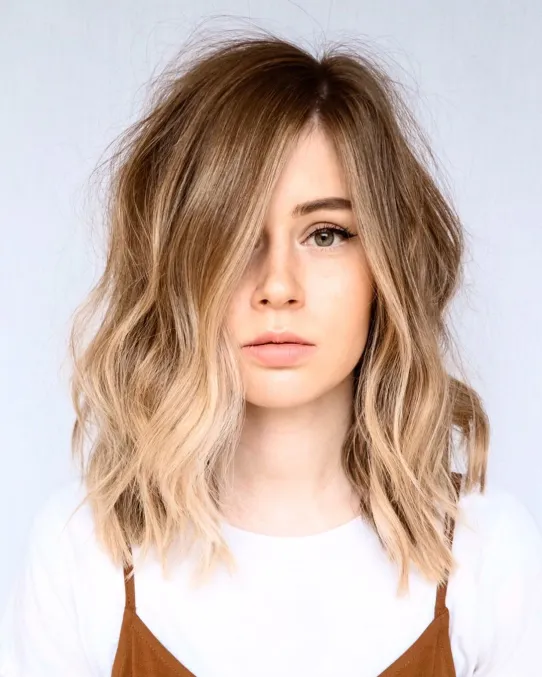 Credit: chrisjones via Instagram
This style makes the most of its length by incorporating as much visual interest into the hair as possible, giving you so much to look at that a thick texture is simply implied. Beach-y curls accented with highlights and a tousled brunette body give such a youthful and energetic contrast to instantly add dimension to thin hair.
Low knot with accessories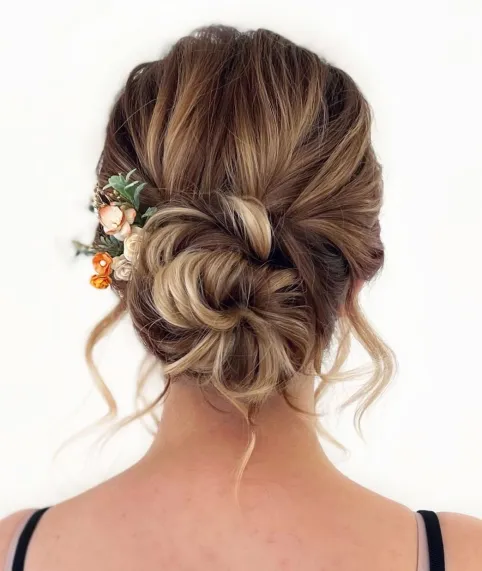 Credit: kimannelesley hair via Instagram
A really simple way the create thickness in longer, thinner hair is by going with some kind of up-do. This low knot would work great for any event from casual to formal. and comes together in a few minutes. The twists and knots and loose tresses all help add body and space to your hair, making it look thick and bunchy.