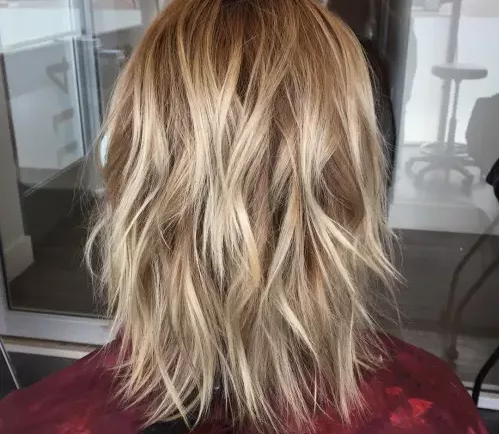 Source: Instagram via @tatumraewetzel
1. Wavy bob with layers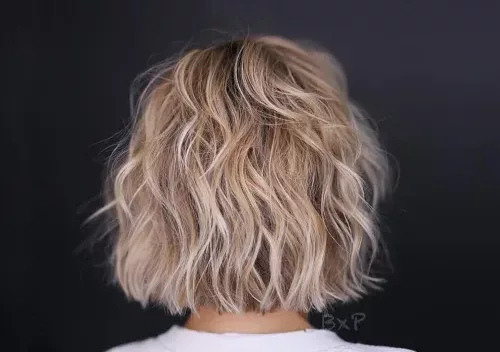 Source: Instagram via @buddywporter
One length bobs are often amazing for women with thin hair, just simply curl it to add texture and your hair automatically looks full of volume and thickness! Introduce small sections of highlights to further build the dimension and illusion of thickness and you are good to go!
2. Shattered collarbone bob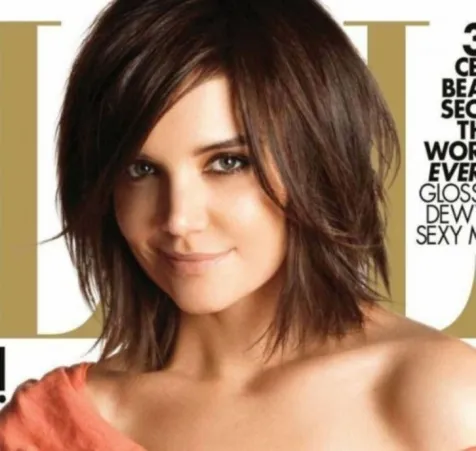 Source: Social Bliss
If you have thin hair, then you could have a classic collarbone bob with added texture. Lightly layer the edges and A-line bangs to create a trendy, messy hairstyle that creates cute chaos and an easy styling mechanism. The shattered texture means you can, again, add highlights or keep it just one colour.
3. Layered bob haircut for fine hair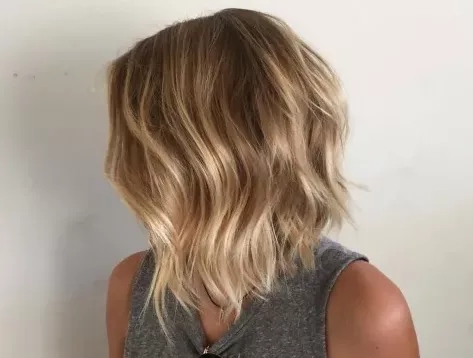 Source: Instagram via @chrismcmillanthesalon
Long thin hair is not always something that women want, it can make it look lifeless. However, trendy bobs with choppy ends is really what everyone wants nowadays. So think about getting a bob with a gorgeous balayage to give the illusion of shiny, and thick hair.
4. Choppy bob with blonde highlights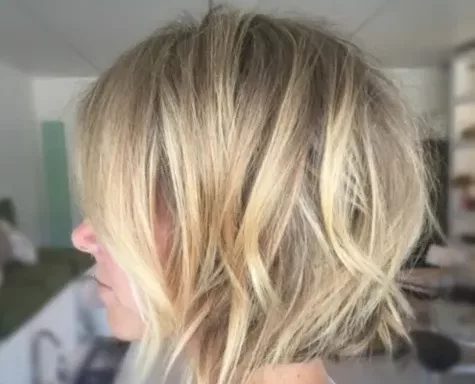 Source: Instagram via @chelseafergusonhair
Cutting and styling thin hair is easy when done right. To style a choppy cut, the best option is to tease your hair using a fine-tooth comb to add more volume. Then, using your fingers, shake your bob to create that messy look. Apply some hair spray and your done! Bobs are perfect for women with thin hair who don't want a hairstyle that's tricky to style.
5. Medium choppy cut with long bangs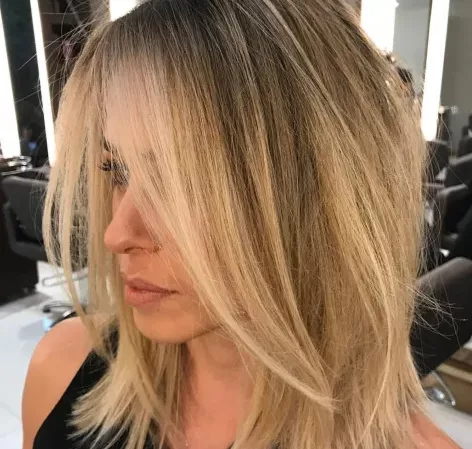 Source: Instagram via @romeufelipe
Don't want to wear curly hair? Want something other than a bob? Wear this beautiful mid-length haircut! The length allows you to style it to any of your preferences and will still keep it's thicker-looking illusion due to the choppy cut ends with strands of multiple length.
6. Medium wavy haircut for thin hair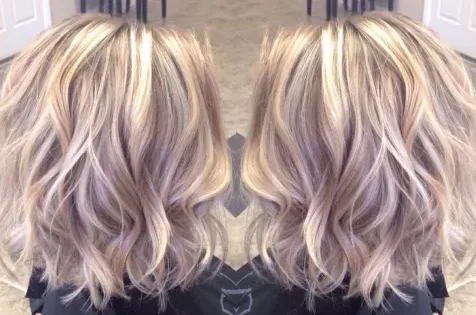 Source: Instagram via @hairbyjamiemarie
Continuing with the mid-length haircuts, there are so many diverse styling options for you to try. For example, to get the benefit of thin hair, try use a curling wand and curl your hair in different directions to achieve the thick illusion. Or use heated rollers within your morning routine.
7. Choppy dishevelled lob hairstyle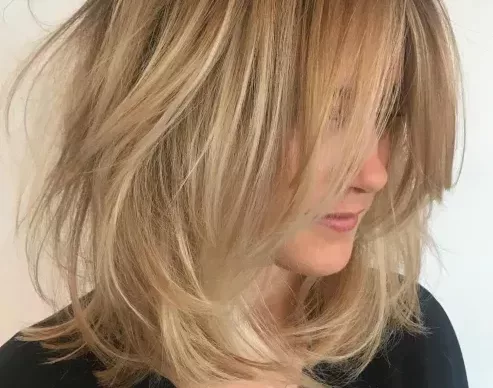 Source: Instagram via @chelscaruso
This is taking the 'I woke up like this' to the max! Due to the numerous layers within the hair, it allows for a messy, yet cute look with a foolproof styling routine to follow. Even though it gives 'messy' connotations, it's still a good option for professional women who may not have time for a full hair routine.
8. Strawberry blonde bob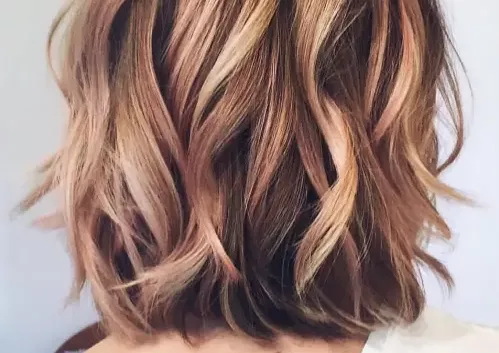 Source: Instagram via @t3micro
If the ultimate goal is to make your hair look thicker, then a strawberry blonde bob is the way to go! Give your hair a mix of high and low lights, and then with the contrasting hues bouncing off of each other, it creates the fuller look you are craving! And even if you don't want that strawberry blonde look, this technique can work with any shade – blonde or brunette!
9. Messy and shaggy haircut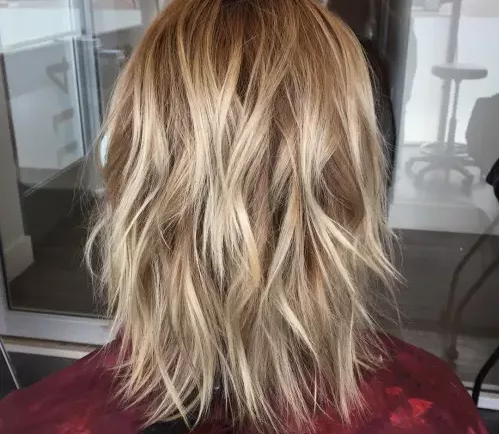 Source: Instagram via @tatumraewetzel
Do you have extremely fine hair? The don't stick to the usual 'one-length fits all' hairstyle, this will make your hair feel flat with no dimension. Instead, add texture to the hair through utilizing razors to achieve the shaggy haircut. This style is extremely diverse, with being able to wear it straight or curly – when styled right!
10. Stacked bob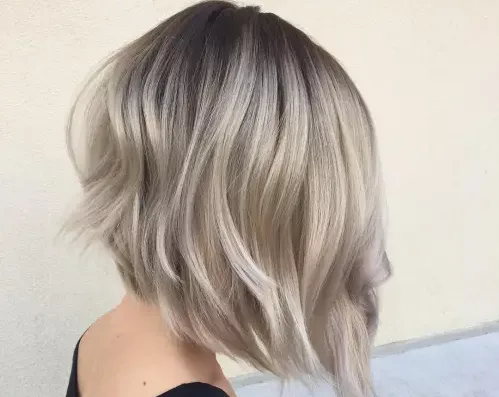 Source: Instagram via @cassderosa
This haircut is extremely under-rated and it's perfect for our professional, working women. A stacked bob is a classic cut which not only gives the illusion of thicker hair, it'll actually feel thicker too! The shortest hair begins at the back of your neck and will slowly lengthen as it goes round. This creates volume round the crown of the head and should be a staple for all!