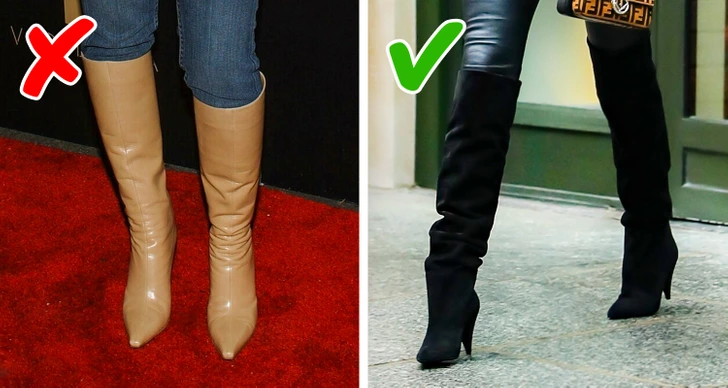 Source: East News via Axelle Bauer-Griffin
Double Denim in the same colour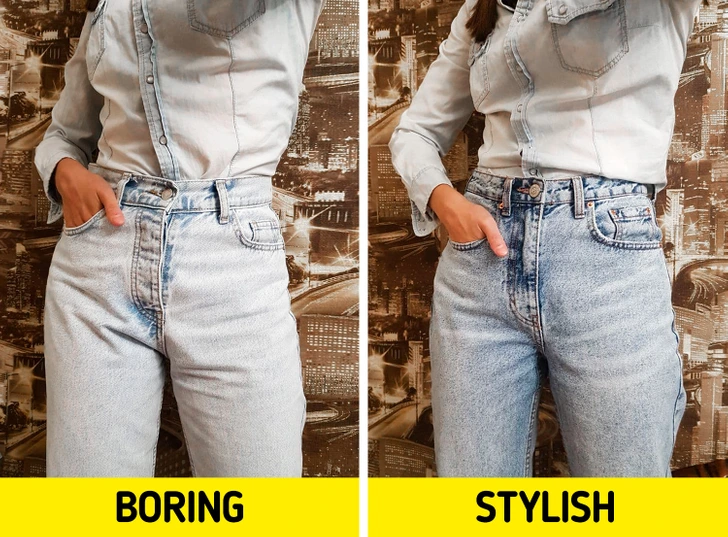 Source: brightside.me
Wearing double denim is back in fashion, so it wouldn't be right to say don't wear double denim altogether. However, avoid wearing the exact same colour of jeans and jackets and shirts, instead colour coordinate them by wearing a slightly different shade. The difference of hues creates a contrast which will make you look brighter and more complex.
Straight-cut jeans in the wrong length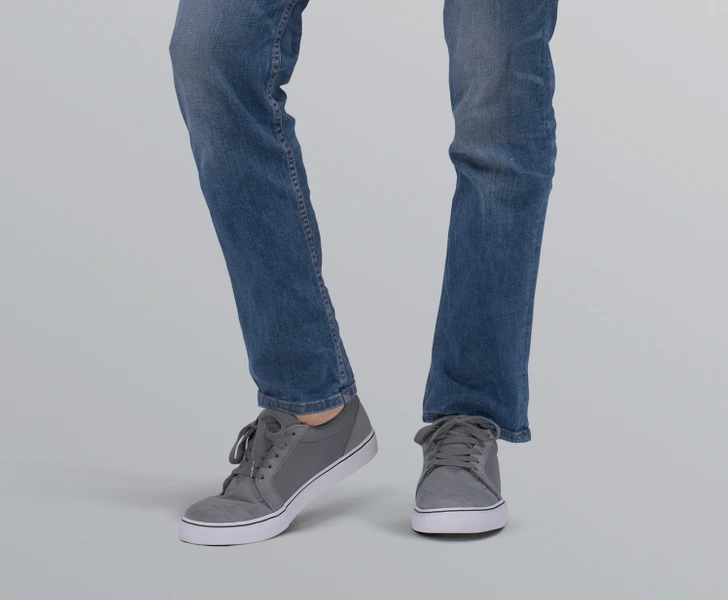 Source: Depositphotos.com
Straight-cut jeans are a staple wardrobe item that everyone should have. They back to being trendy and stylish again, and we can see why. However, don't make the mistake of getting them the wrong length. Ensure they reach your ankle, because pants that are too long can give the illusion that your legs a bigger than they actually are.
Unkempt cuffs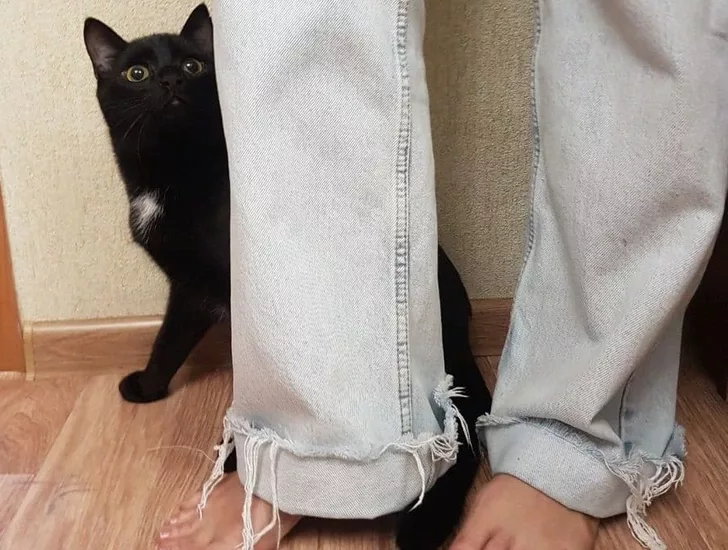 Source: Brightside.me
Cuffs are brilliant when you own a pair of pants that are too long and cannot be tailored, even if they aren't too long, you can also cuff them to add a more diverse style. However, cuffs should be done neatly, they shouldn't be uneven or messy. It's recommended to place a thumb on the hem to measure the equal distance on both pant legs.
The wrong rise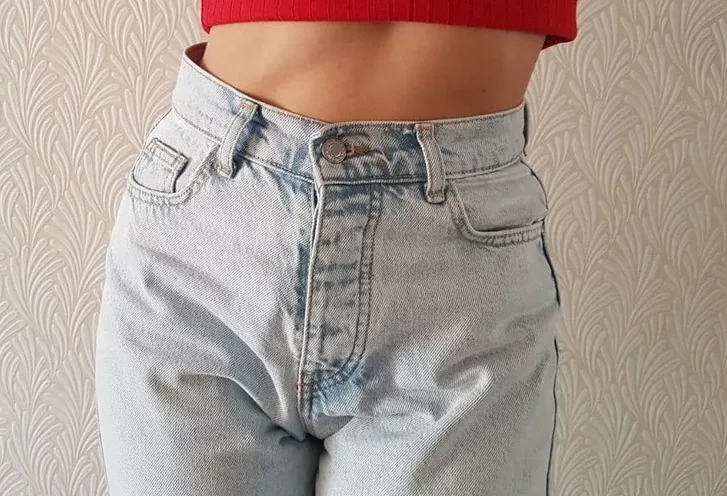 Source: saostar.vn
The height of the rise on the jean is the distance from the waist to the seam between the legs and if worn wrong – it'll ruin your outfit! Consider the individuality of each person wearing jeans. Like the length of their torso for example, even if the jeans state they have a high waist, it might still not be high enough for someone that has a tall torso.
Narrow Boots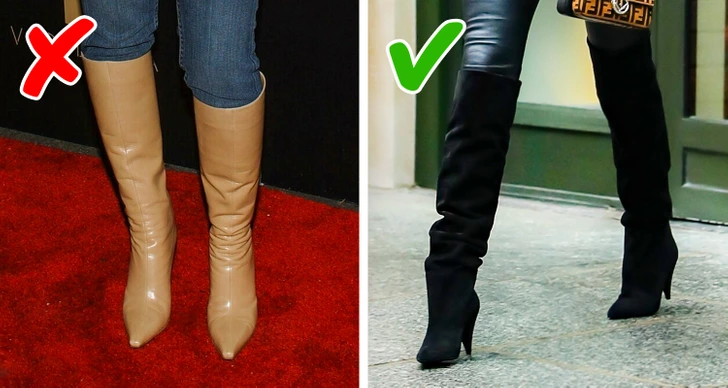 Source: East News via Axelle Bauer-Griffin
To begin with, always wear skinny jeans or jeggings when tucking your pants into the boots. Along with this, you should always opt for boots with a wide, slightly folded bootleg. This way, the tighter items of clothing are in the correct place (your legs), but you've added a diverse item to the look by contrasting it with looser fitting boots. If you want to wear loose-fitting jeans, opt for shorter shoes like trainers.
Pants tucked into ankle boots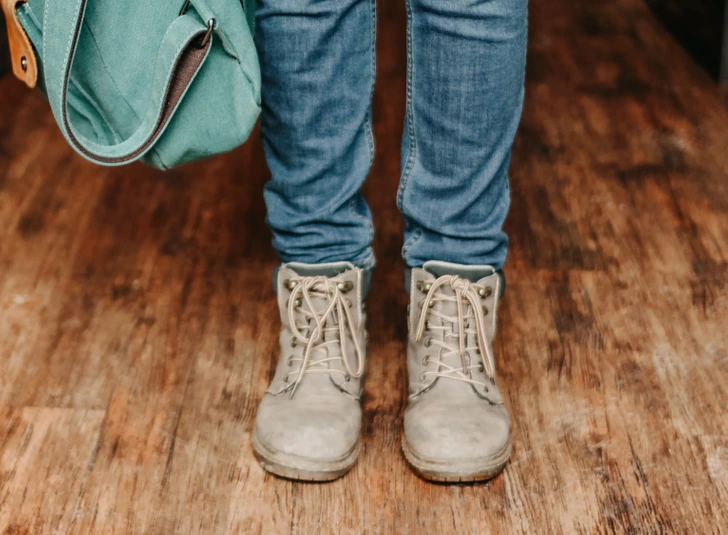 Source: Depositphotos.com
Speaking of trainers and wide-leg jeans, avoid at all costs tucking your trouser legs into the tops of your ankle boots or trainers! They should never overlap either, instead, it would look much better if the trousers lightly skimmed across the tops of the footwear.
Mid-waist jeans pulled over to the waist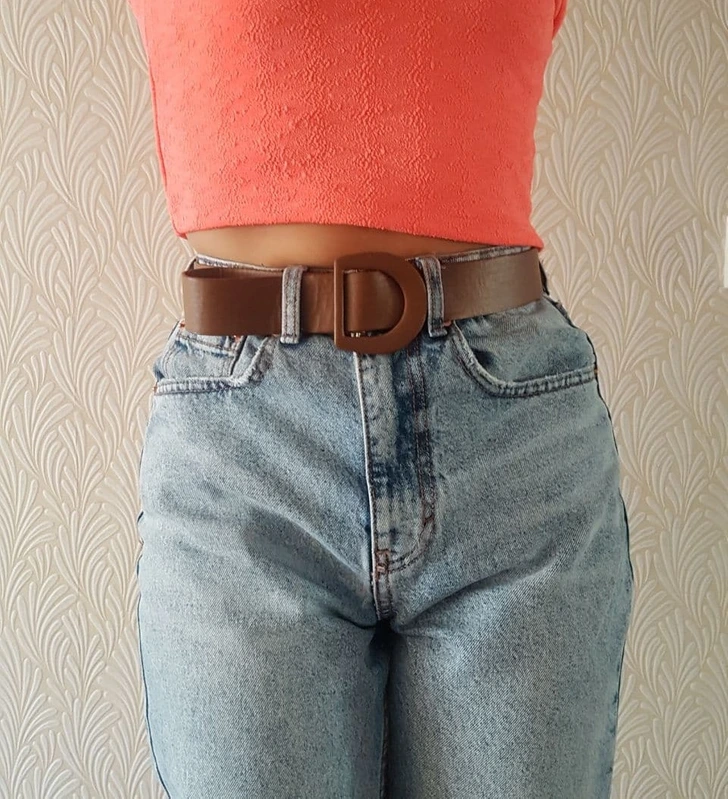 Source: youm7.com
High-rise jeans have been immensely popular for several years, it makes people look stylish and, more importantly, they are comfortable to wear. However, mid-waist jeans are something that you can wear incorrectly if you're not careful. High-waist jeans automatically go above your naval, however, mid-rise jeans shouldn't. Ensure they sit just below the navel.
A cut that doesn't fit your body shape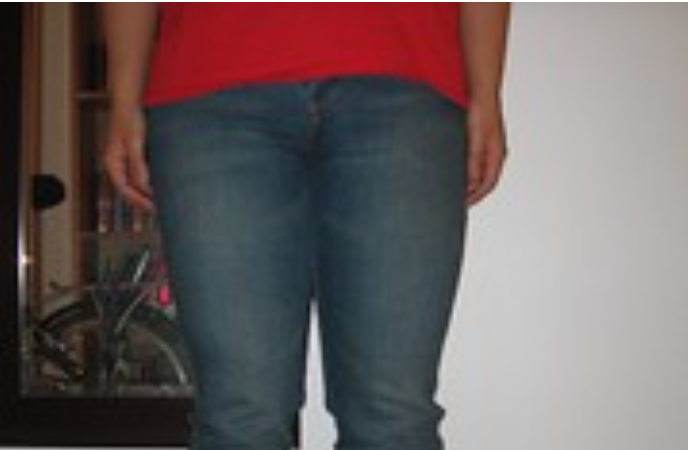 You shouldn't follow a trend and ignore the fact that it may not suit your body and figure, take into account your body shape! For example, flared jeans were a huge trend in 2020, but they are meant to be chosen so that the trouser leg starts to flare at the knee area. If the flare is too wide, it can look wrong, whereas curvy girls will look great in them.
Jeans lowered to the hips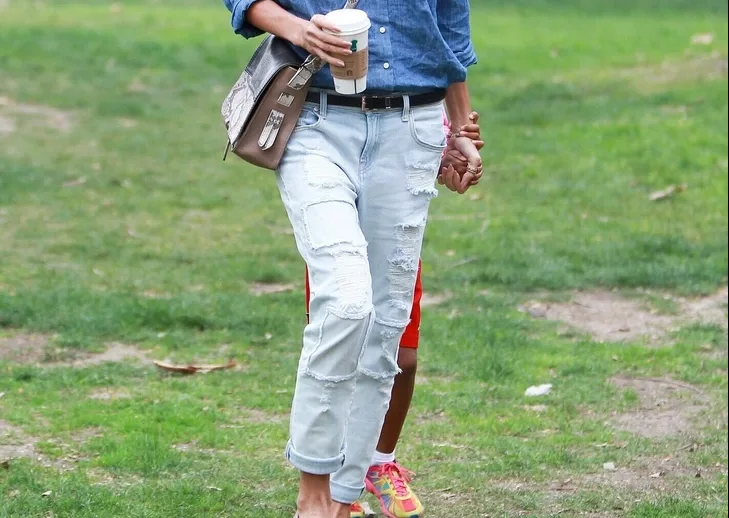 Source: East News via Bauergriffin.com
If you lower the mid-rise jeans to onto your hips, you will get a trendy and casual look. However, if you are not tall then this will not work. This is because this method can distort a nice, natural body shape. Making it unnatural and undesired.
Skinny jeans that are too long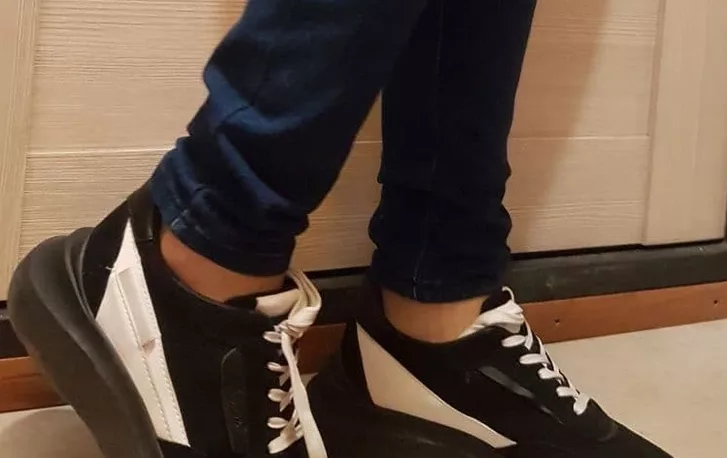 Source: Brightside.me
Nowadays, cropped jeans that are skin-tight are the trend, show off your ankles (even if they get cold) and look stylish! However, skinny jeans with a folded ankle part or scrunched up are not the trend, this will make you look outdated and should be tailor-cut or cuffed.
Not understanding 100% cotton denim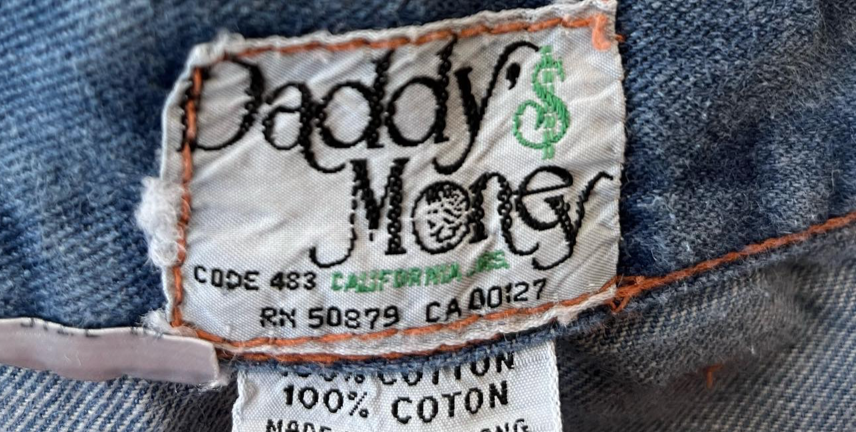 Credit: @look.vintage via Instagram
It's really important to get the stretch of your jeans right. For instance, 100% cotton denim will inevitably stretch. Washing will temporarily shrink the fibers but the jeans will never permanently return to their original shape. Consequently, if you want 100% cotton, opt for a slouchy style, which copes better with the stretching.
Buying stretch jeans that are too baggy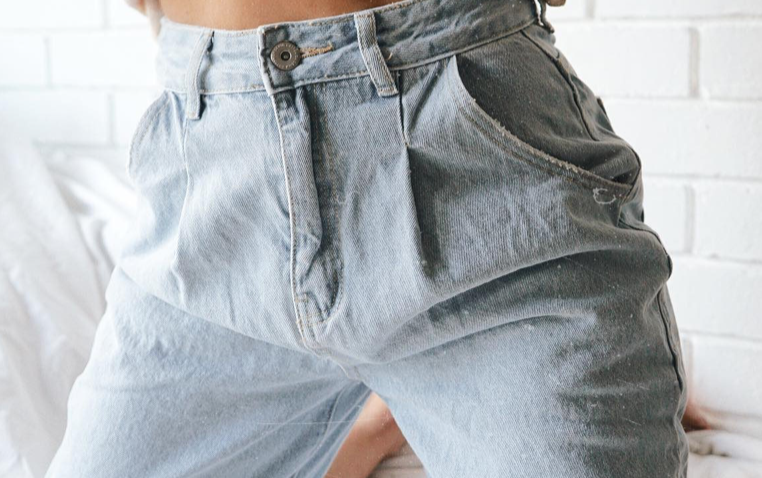 Credit: @cottonon_africa via Instagram
Many jeans sold nowadays are 98% cotton denim and 2% elastane or lycra. This makes for a comfortable fit that doesn't stretch as much as 100% cotton denim. However, these jeans do still stretch – and hot washing or drying them will exacerbate this. On the basis that they're definitely going to bag out, buy these jeans as tight as you can cope with.
Thinking premium denim isn't worth the money

Credit: @moreandmorestoreofficial via Instagram
Sorry – it absolutely is. Premium denim lasts longer, is better cut and hence provides a better fit. It also doesn't tend to bag out as easily as high street versions. Yes, premium denim is more expensive but online sales are frequent, and there's also a thriving second hand market with Vinted, eBay and Depop all on the rise.
Not knowing about wet stretching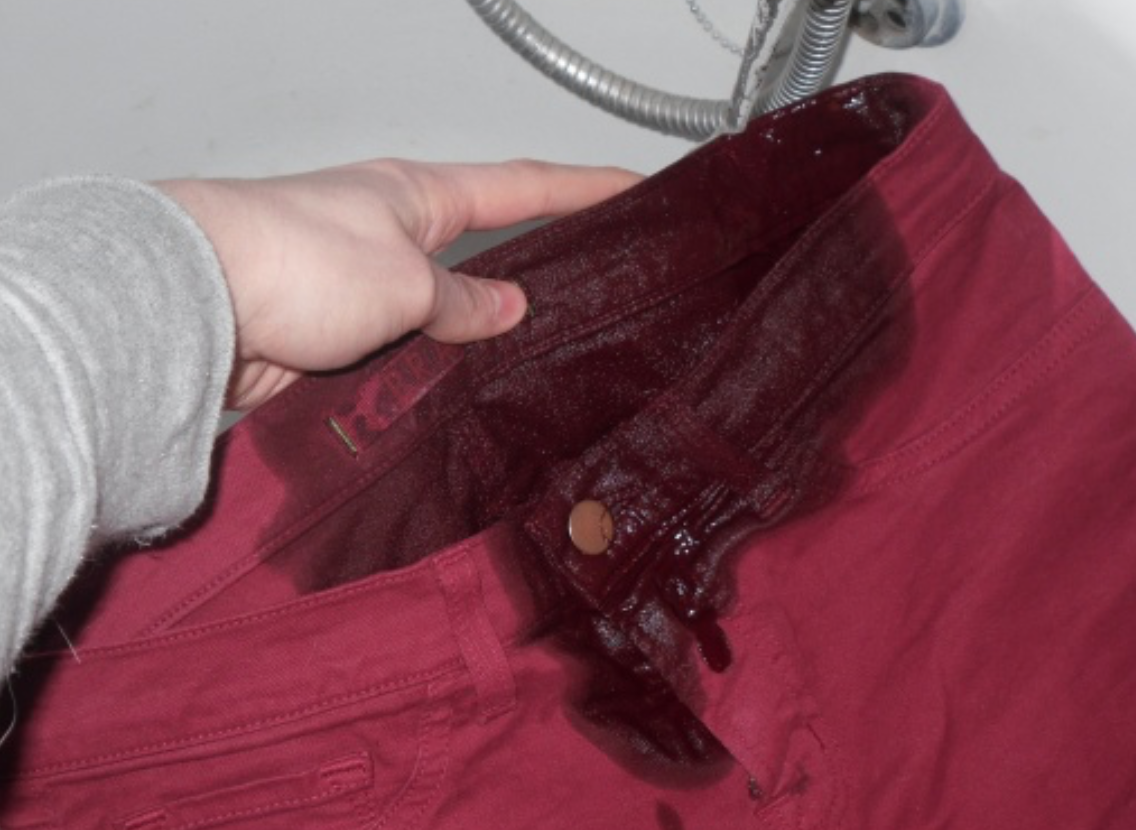 Credit: thejeansblog.com
If you favor jeans made from thicker or more rigid denim but you don't appreciate the resulting sagging in the butt and around the knees, consider wet stretching as a solution. Buy your rigid jeans in a size down, dampen the problem areas and then wear them until they fit perfectly.
The wrong pocket placement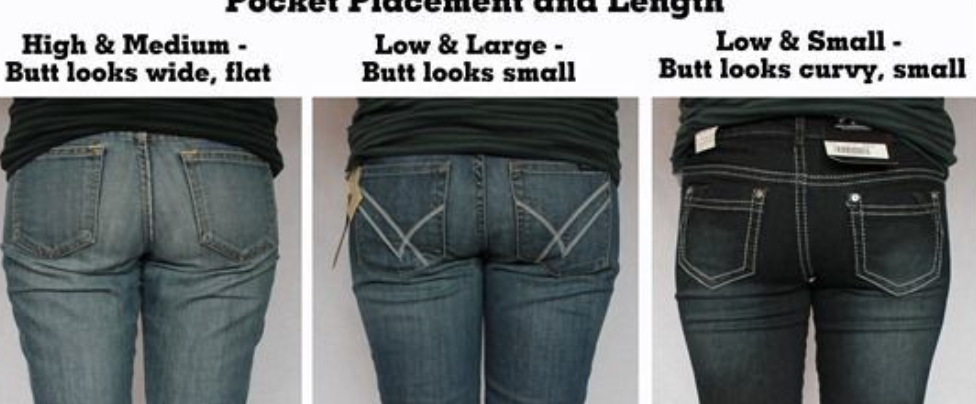 Credit: Steven Beeby via Pinterest
Most jeans have back pockets but not all pockets are equally good for your butt. Choose a pair where the pockets are placed reasonably wide apart and sit relatively low over your butt. For the most flattering look, you want the pockets to start half-way down your butt and finish level with the top of your thigh.
Bad underwear choice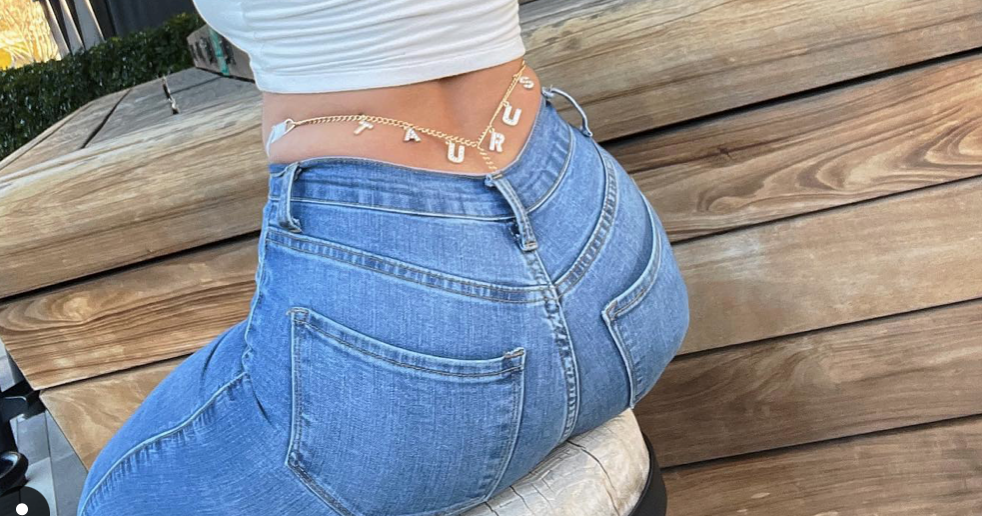 Credit: @fashionnova via Instagram
Thick seams mean that going commando isn't comfortable with most jeans. However, VPL can still be a problem, especially in thinner or tighter-fitting jeans. Choose your underwear wisely – although you may want to steer clear of the early-aughts' fashion for low-rise jeans with visible thong (or at least make a feature of it).
The lumberjack or railroad worker look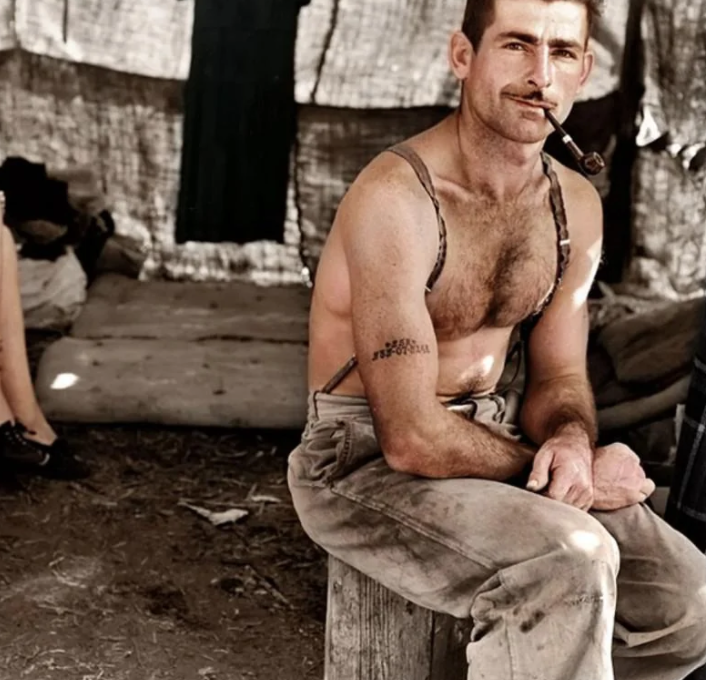 Credit: WhileFalseRepeat via Reddit
Originally designed as work wear for miners and railroad workers in the US, jeans have come a long way since. It's something of stereotype but watch out for anything that makes you look too much like you're off to work – whether that's on the railroads or, if you combine your jeans with plaid flannel, as a lumberjack.
If in doubt, go darker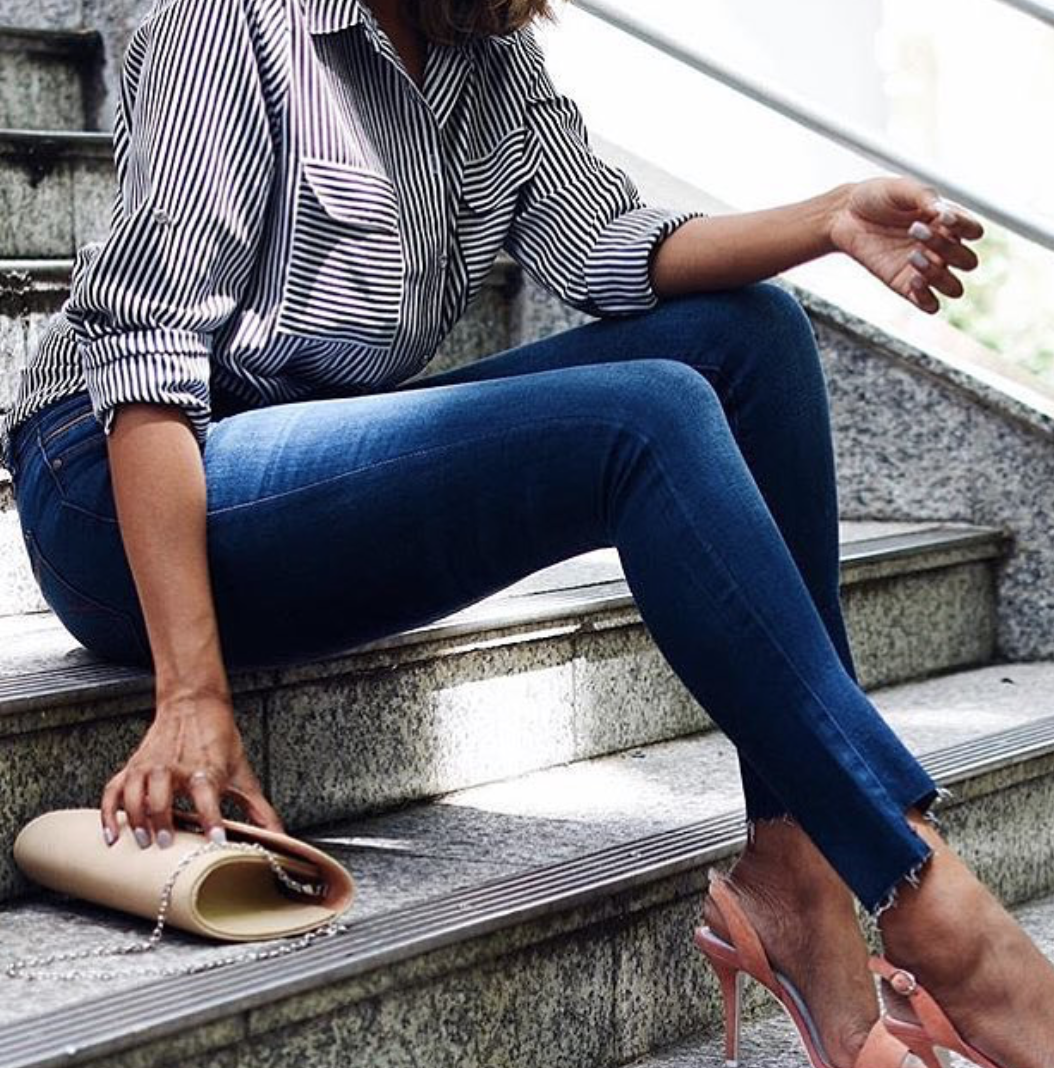 Credit: @the_jeans_blog via Instagram
If you're struggling with what shade to buy, it can be tempting to stick with the original "blue jeans" color. However, if in doubt, go for a darker hue. It's almost always more flattering, no matter your body shape or size, and will also have a slimming effect.
The wrong footwear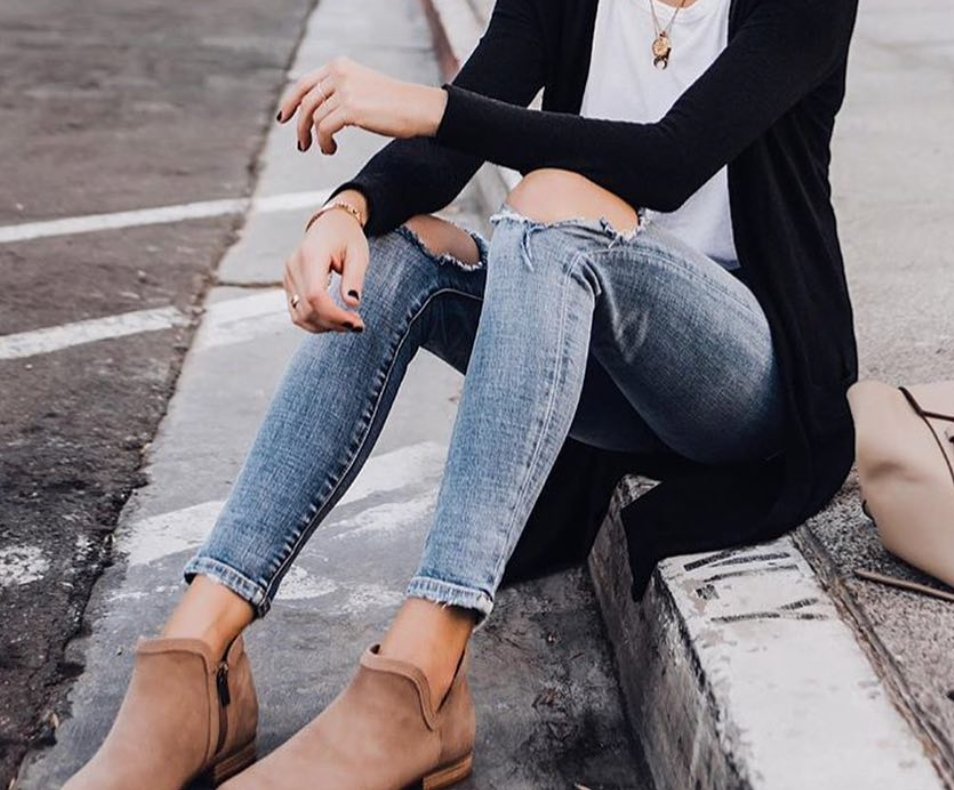 Credit: @the_jeans_blog via Instagram
To ensure your jeans look really great, you must match them with the right footwear. Heels suit almost every style (if not every pair of feet), as they elongate the leg to give the illusion of added height. However, if you're wedded to boots or flats, opt for ankle-length skinnies as these styles of footwear work well with them.
Sticking with old favorites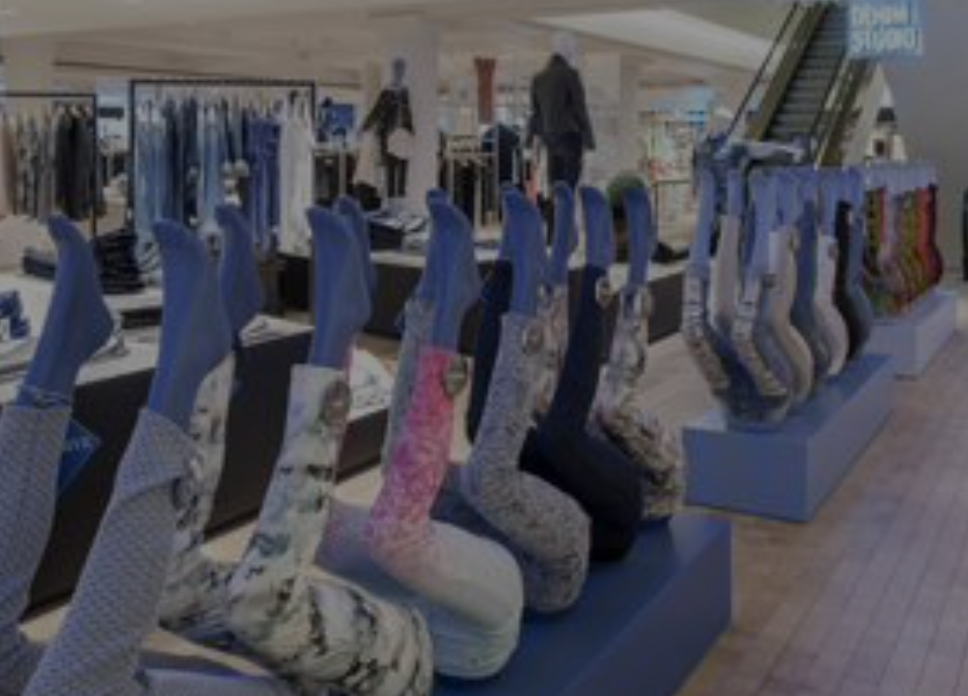 Credit: Wallpaper* via Pinterest
If your old favorites still fit, look good and make you feel great then, excellent, crack on and keep wearing them. However, it's natural for our bodies to change shape throughout our lives. Consequently, it's worth revisiting your chosen style of jeans periodically to check whether they're still the best option for you.
Ignoring the double denim trend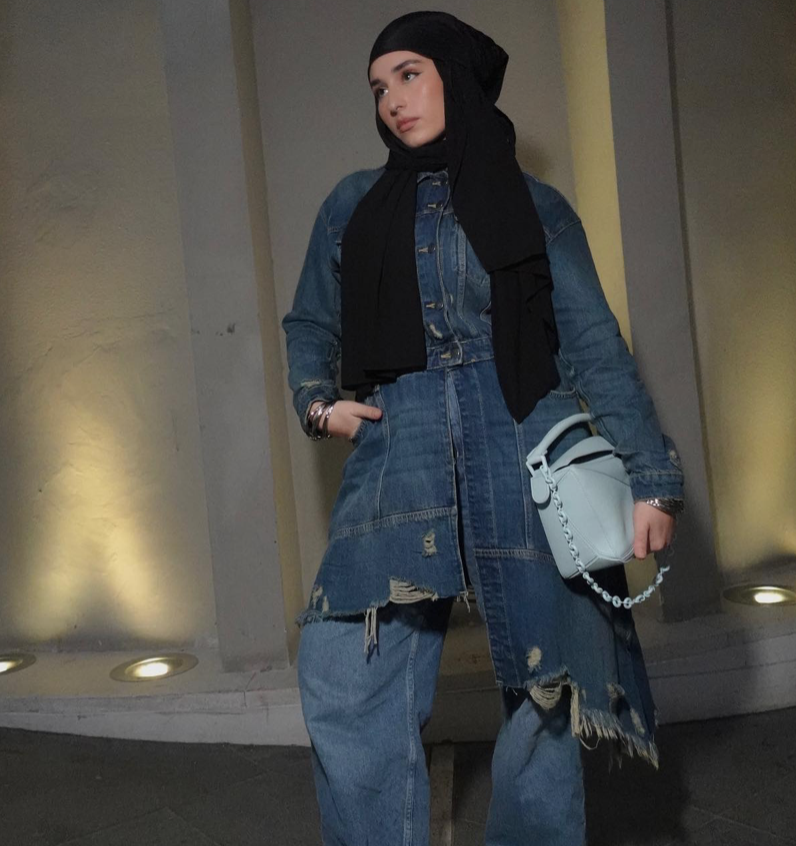 Credit: @nawalsari via Instagram
Although you might want to be wary of color matching your double denim, that's not to say you shouldn't wear it at all. (And this is true even if you remember it from the first time round.) If you're cautious, go for lighter denim on the top and darker on the bottom. Or, make a statement by opting for the reverse.
Ignoring your options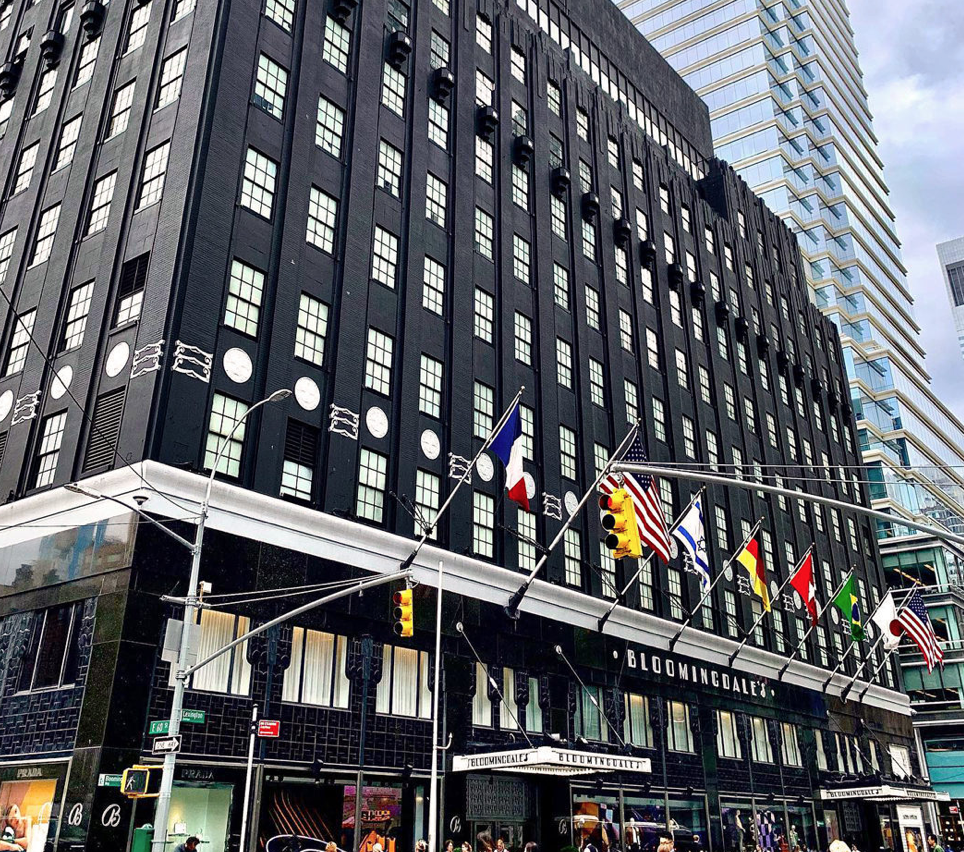 Credit: @bloomingdales via Instagram
Shopping for new jeans can be bewildering. The range of styles, denim types, and price points is ever increasing. However, to make sure you've picked the best pair for you, it makes sense to know your options. One good way to check out all the options is to visit the denim section at a large department store that carries a wide range of brands.
Forgetting about colored denim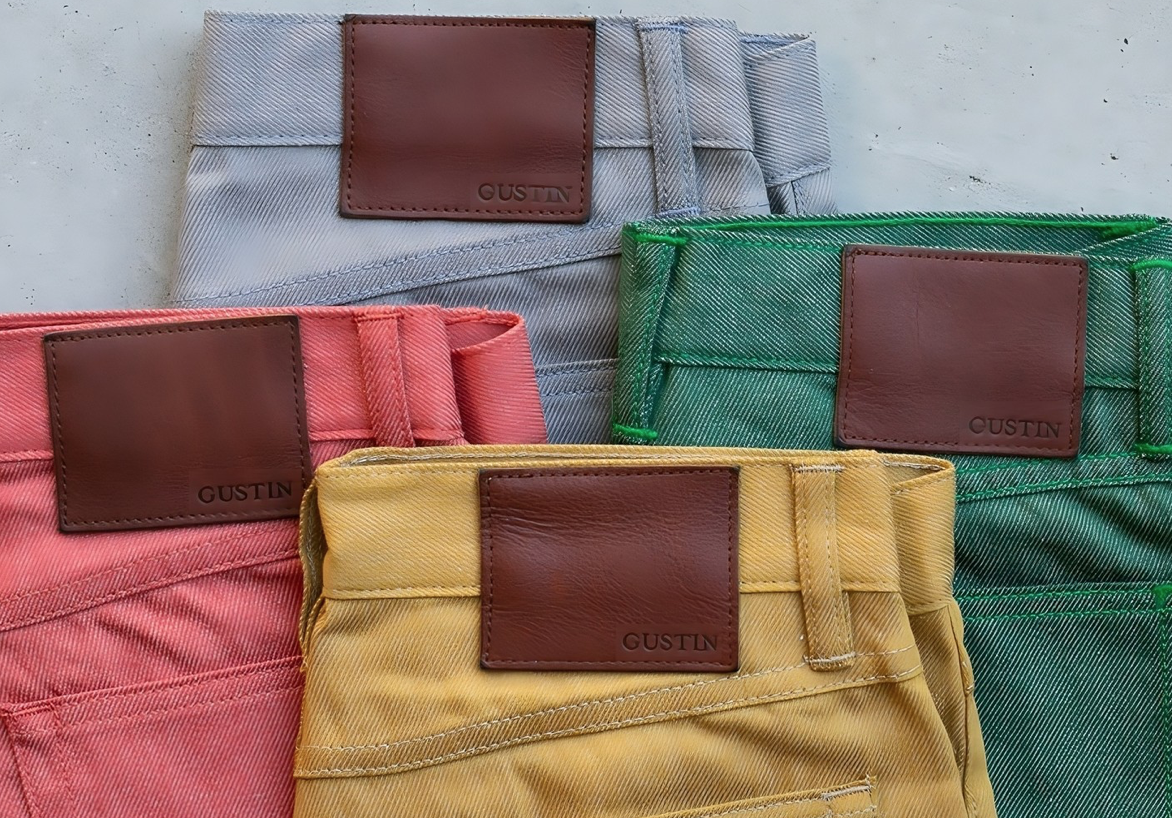 Credit: @weargustin via Instagram
Colored jeans – those in shades other than blue, black and white – come in and out of fashion. At the moment, they're firmly on trend. This means you'll have a wide choice if you fancy snagging yourself a pair of bright red, blush pink or metallic gold jeans.
Not buying multiple pairs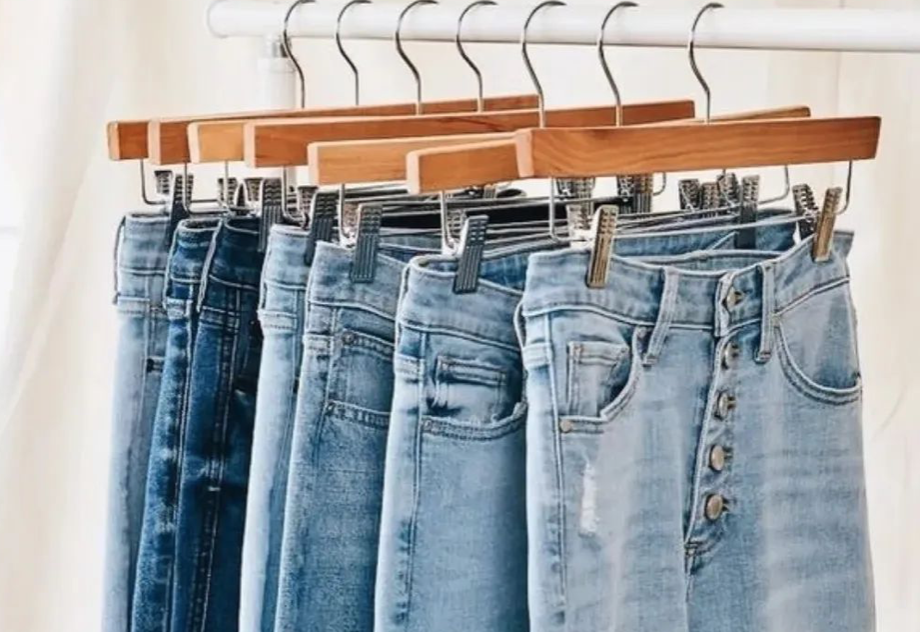 Credit: @wjeansofficial via Instagram
If you find a pair of jeans that you love, that look great and that you can afford, why not buy the same pair in a variety of shades! Big brands like Levis are great for this as they routinely offer their jeans in multiple hues of the same cut and style.
To tuck or not to tuck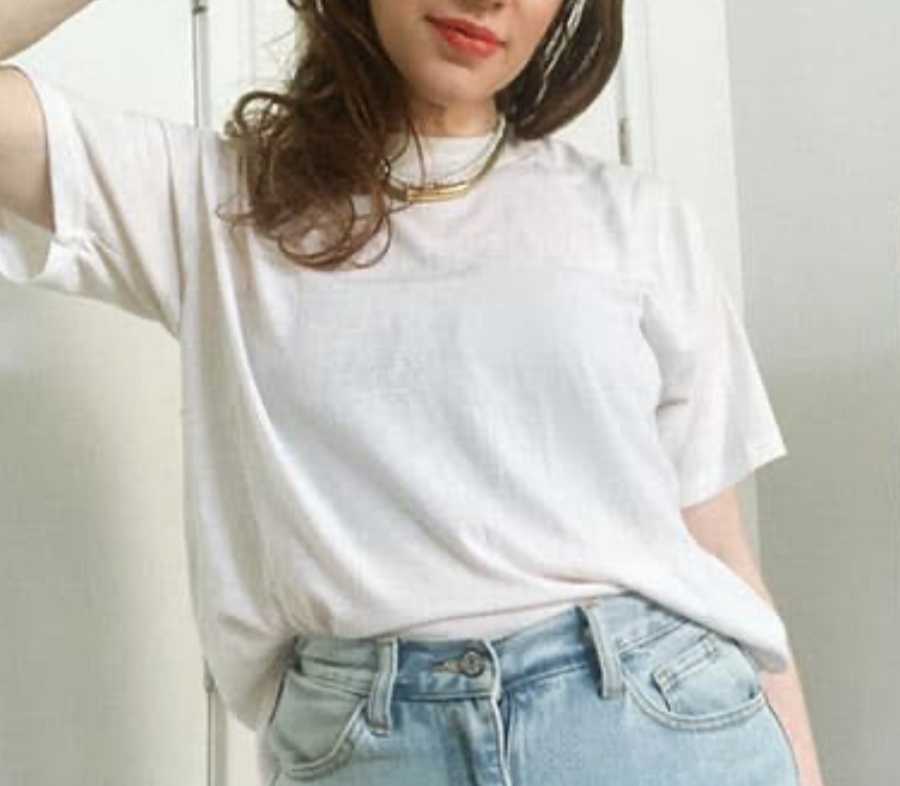 Credit: AdorableMango123 via Reddit
Yes, it's the dreaded French tuck or, in other words, where you tuck in your shirt at the very front while leaving the sides and back to overhang your waistband. Whether or not to French tuck your top into your jeans will depend on the style of both top and jeans. It works best with high-waisted denim and a loose or floaty top.
The importance of a belt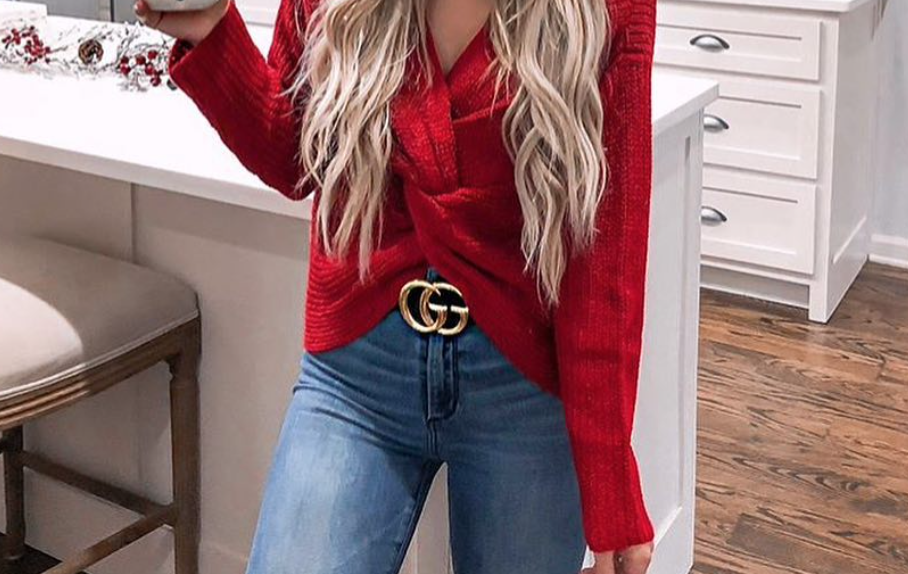 Credit: @the_jeans_blog via Instagram
The right belt can provide the finishing touch to just about any pair of jeans. Think tooled leather, western-style, big buckle or raffia boho-style – essentially anything that does more than just hold up your jeans. Color-wise, anything goes but brown leather often looks great with blue jeans, and metallics look fantastic with white.
Not checking the stitching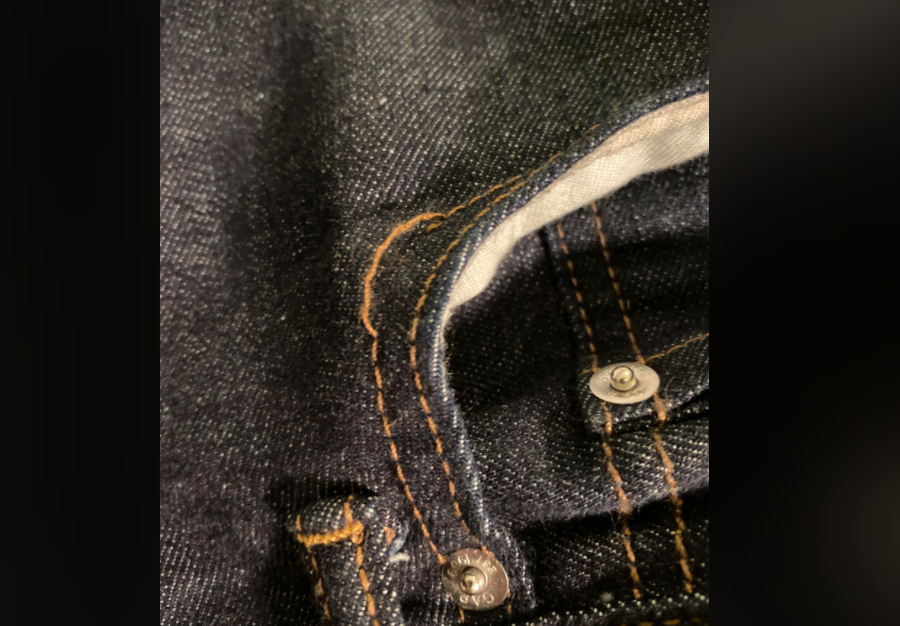 Credit: polyforger via Reddit
Not all jeans are quality pieces. However, a low price doesn't necessarily equal poor quality (or vice versa). Satisfy yourself on the quality of a potential purchase by checking the stitching in the seams. Pay particular attention to seams, side panels and pockets, which are the areas most likely to give way under pressure.
Buying for length not fit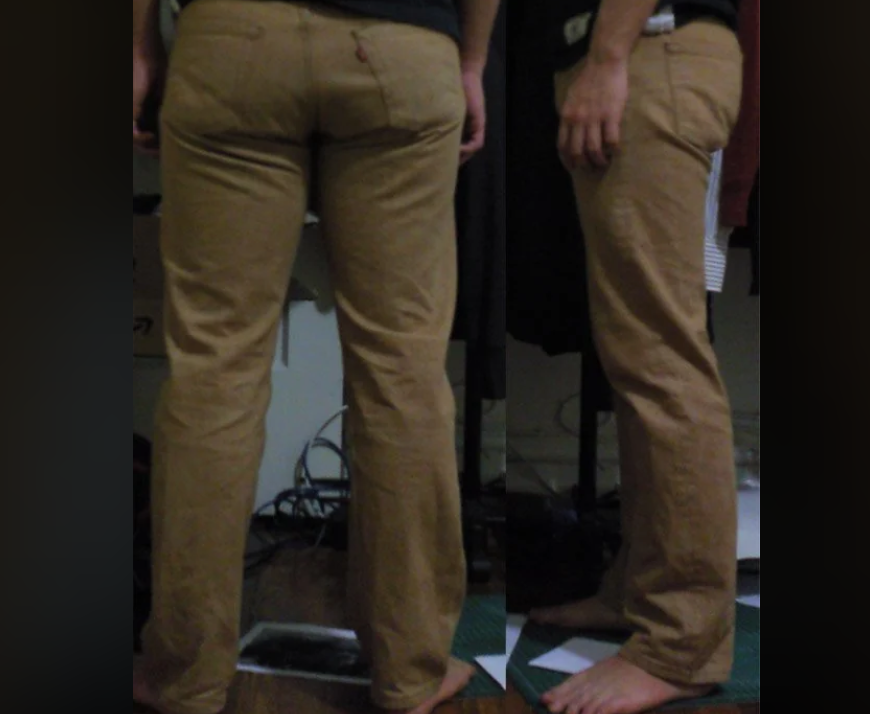 Credit: hughjazz1 via Reddit
Remember that unless you buy jeans that are too short and don't have sufficient hem to lengthen, your perfect pair can be adjusted to fit your leg length. However, altering them to fit your hips, waist, butt, and thighs is a whole other question. If it's a choice between the two, opt for jeans that fit well but that need adjusting in the leg.
Ignoring your body proportions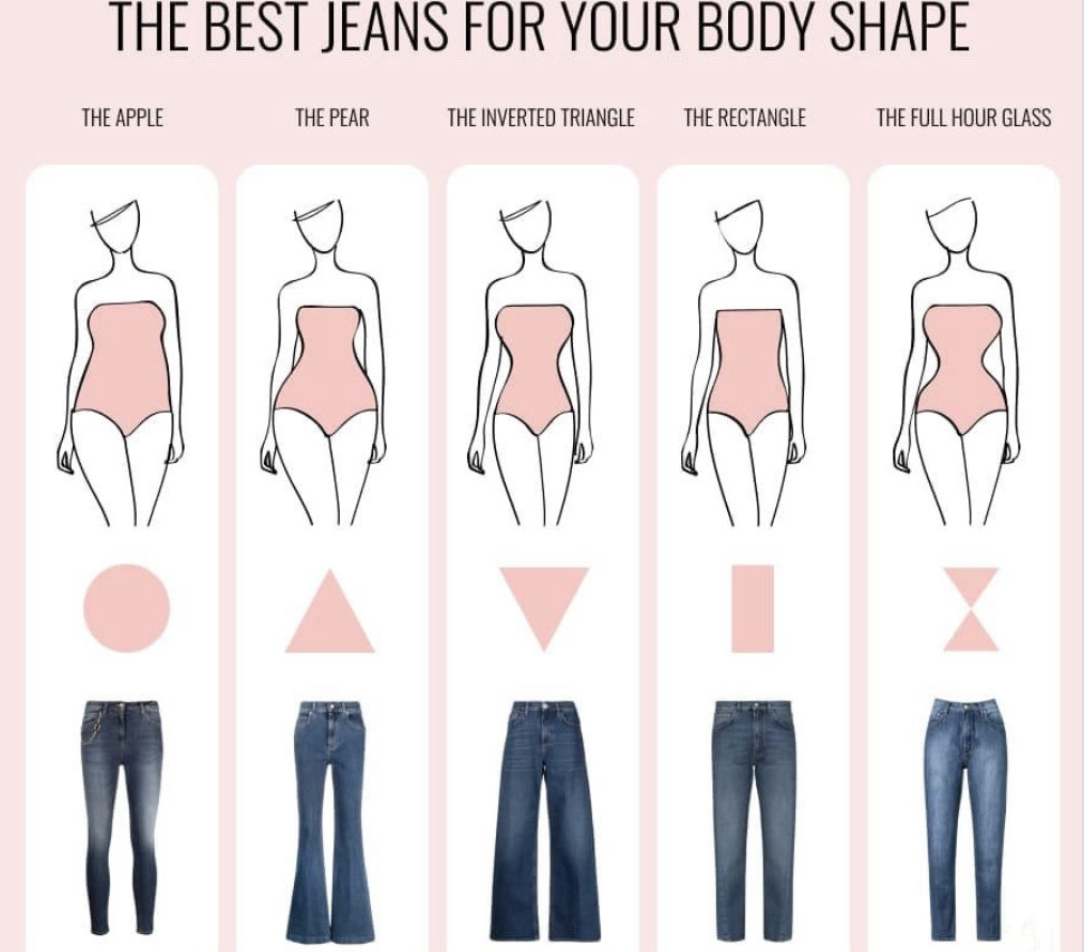 Credit: @blushmarkofficial via Instagram
In your head, you might be a 6' tall runway model. If, however, you're 5' nothing with a pot belly and no butt, you'll want a very different pair of jeans. The right pair of jeans can enhance your body proportions. For instance, high-waisted jeans will lift up your butt, flared jeans balance out bigger hips, and cropped jeans are fantastic for shorter folk.
Ignoring buttons and zippers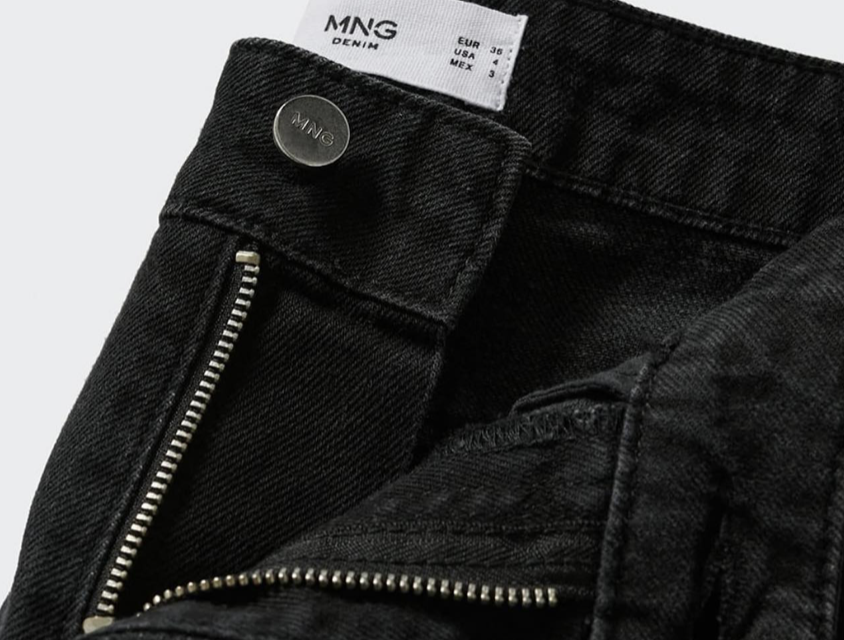 Credit: @weekend_thriftventure via Instagram
When it comes to jeans, be as choosy about the finishing touches as you are about the style, color and cut. Quality buttons and zippers, sewn on – and in – well, enhance the appearance of a pair of jeans and make them more likely to last the distance.
Choosing very thin denim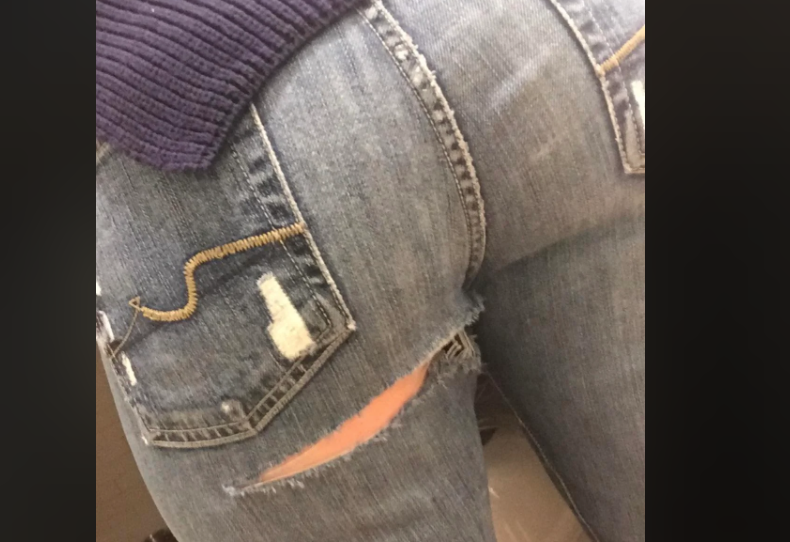 Credit: maddogvollers via Reddit
Unless you have an exceptionally good reason for doing so, steer clear of very thin denim. As well as being more vulnerable to rips and tears, it's also highly likely to bag and stretch out irrevocably very quickly. This means that you're much less likely to get value for money from your purchase.
Being beguiled by a name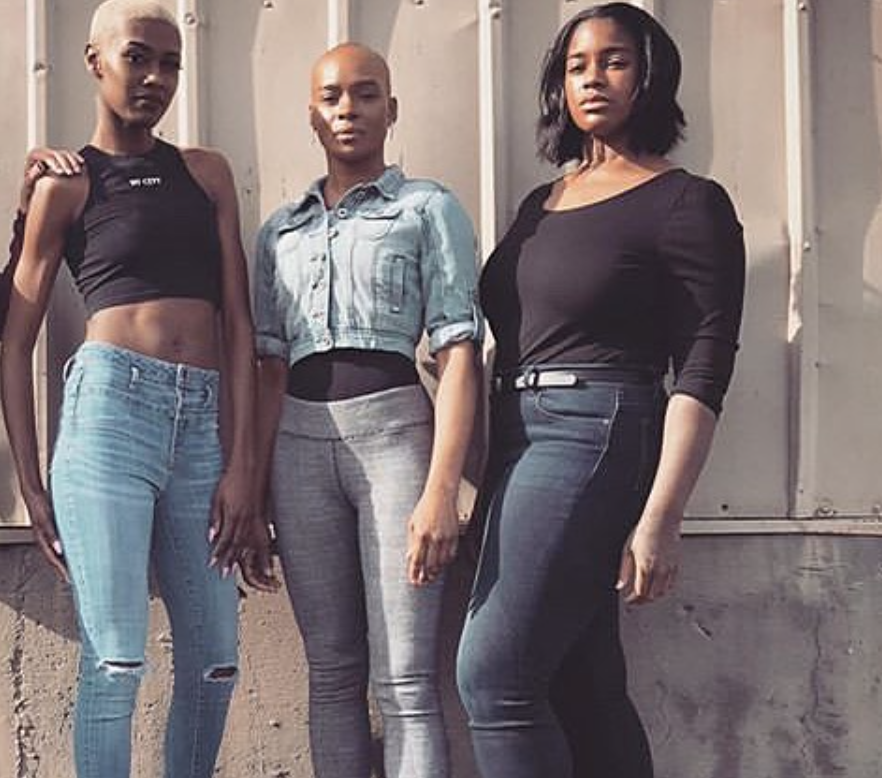 Credit: @heymantalentagency via Instagram
In the world of jeans, a number of big name brands head the market. No matter how great the appeal of the name or how fantastic their jeans look on a celebrity, your best friend, or that woman at the school gate, don't plump for a pair solely on that basis. Remember: there's no universally flattering pair of jeans or, indeed, brand of jeans.
Overlooking their versatility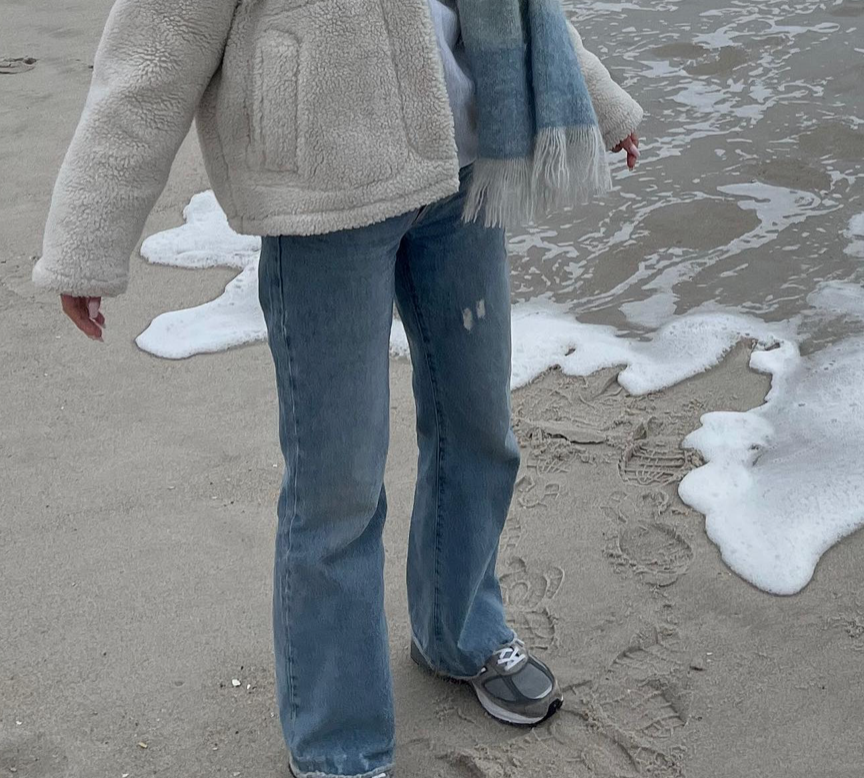 Credit: @prettyfrowns via Instagram
Used properly, jeans are one of the hardest-working types of clothing in your closet. They can see you through walks on the beach, work in the garden or on the car, watching a game, a night out and, even, into the office. Everything hinges on choosing the right style in the right color, and teaming it with the right top for the job.
Hanging on to faded denim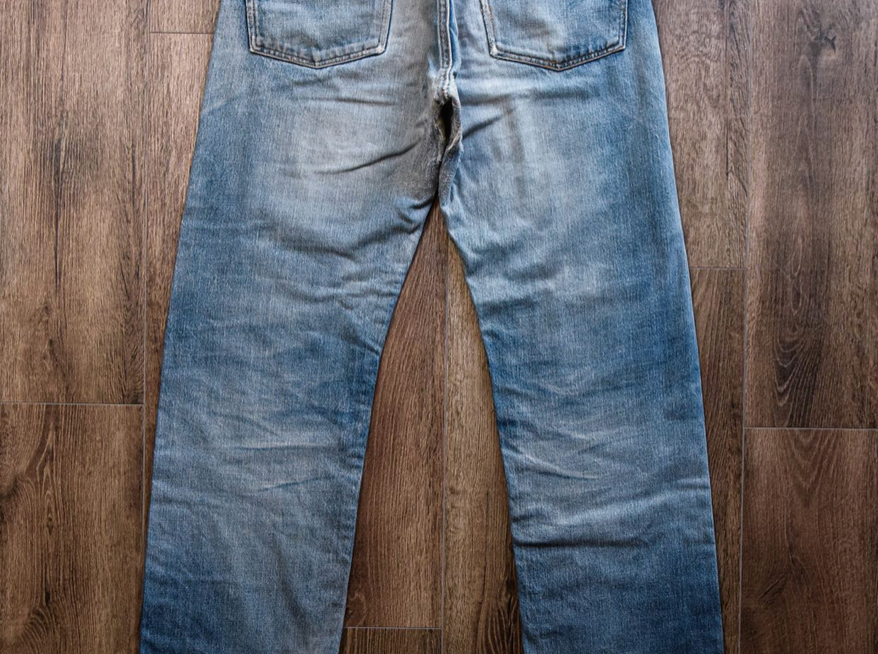 Credit: @ullcount_official via Instagram
Even if stonewashed denim is making a comeback, there's a big difference between deliberately faded jeans and an old pair that's faded through wear and washing. The first has the potential to look great. The second almost certainly looks like it should be reserved for messy decorating jobs.
Thinking distressed jeans aren't for you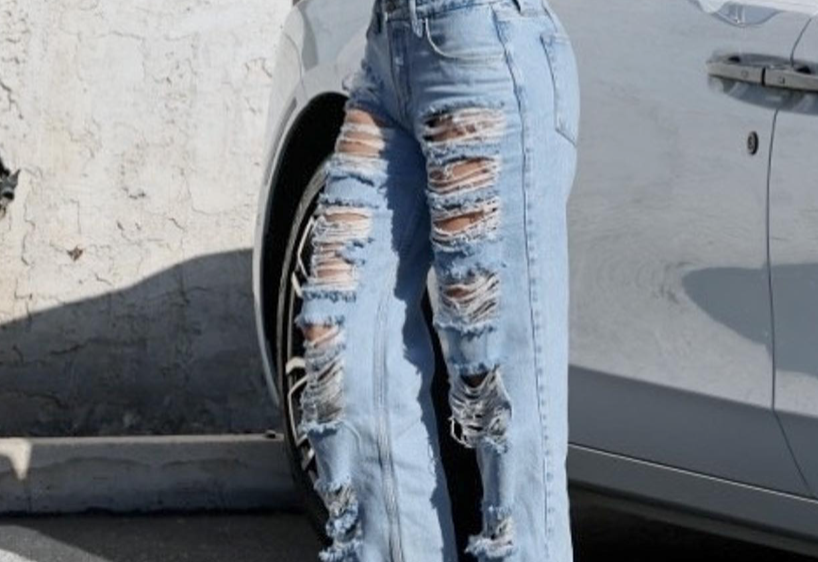 Credit: @KhloeKardashian via Instagram
Perhaps you've heard other people say how ripped jeans are only for teens or twentysomethings. This simply isn't true! Anyone can wear ripped or distressed jeans; the trick to doing so successfully is styling them right. Plus, you might want to save them for another day on those days when your daughter or granddaughter is wearing hers…..
Overwashing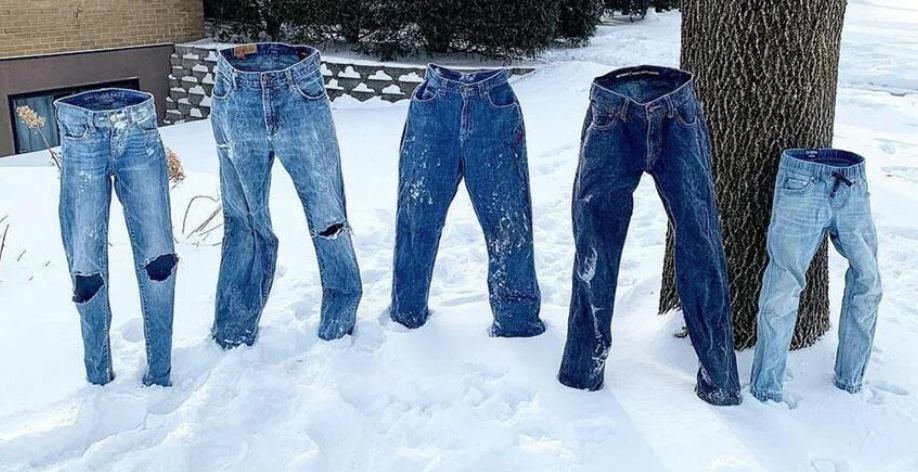 Credit: lordkennedy99 via Reddit
No, not your body but your jeans. While the old advice not to wash jeans until they can stand up by themselves doesn't hold true, the fact remains that you can overwash jeans. What's more, many people do. As a rule, if they're not dirty and they don't smell, don't wash them.
Washing in hot water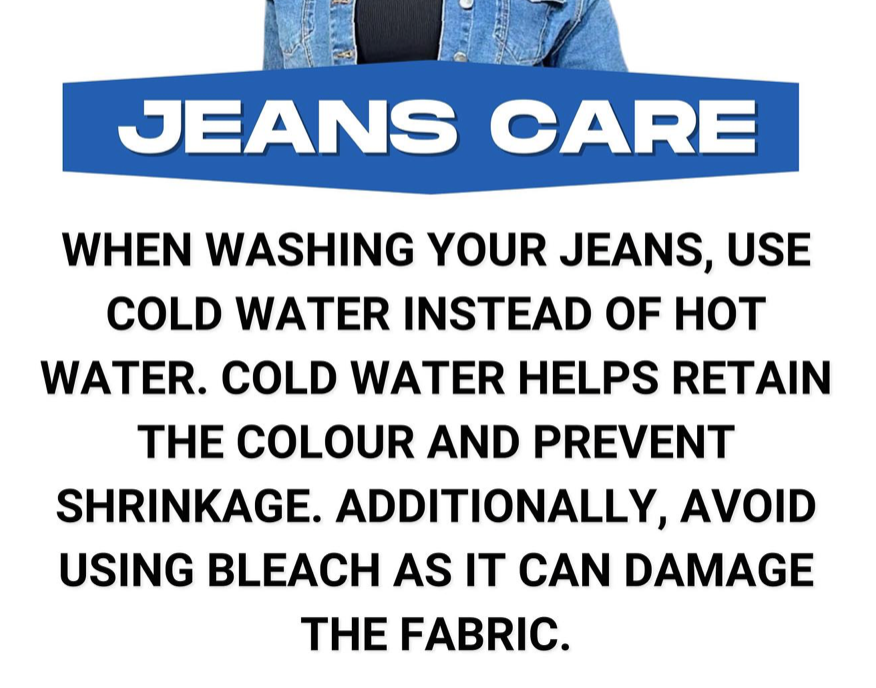 Credit: @jean.world_ via instagram
You might enjoy a hot bath but your jeans don't. Any bathtime wrinkling and shrivelling of your skin is temporary. For your jeans, however, the change in shape could be permanent. Moreover, excessive washing will fade your favorite denim. Instead, wash (and dry) them inside out and use a cold cycle in your washing machine.
Not having a choice of cuts and sizes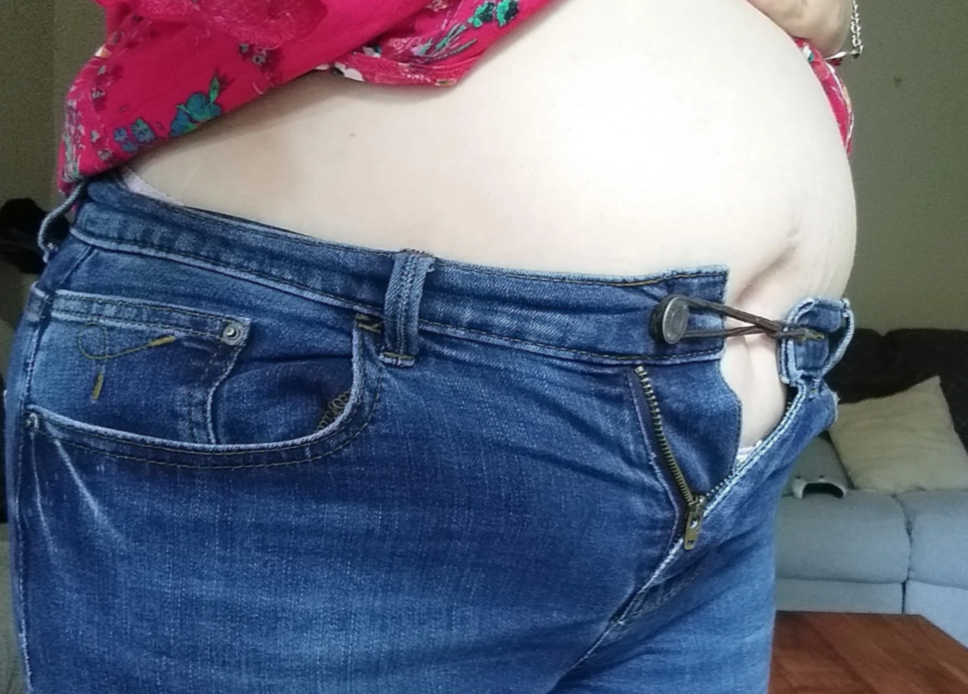 Credit: lemony_cheese via Reddit
Particularly if you're female, your belly size is likely to fluctuate throughout the month. On bloated days, your favorite pair of jeans might not fit or might not feel comfortable. Why not buy your favorite pair in a bigger size or a slightly different cut to accommodate any monthly bloat?
Lying down to pull on your jeans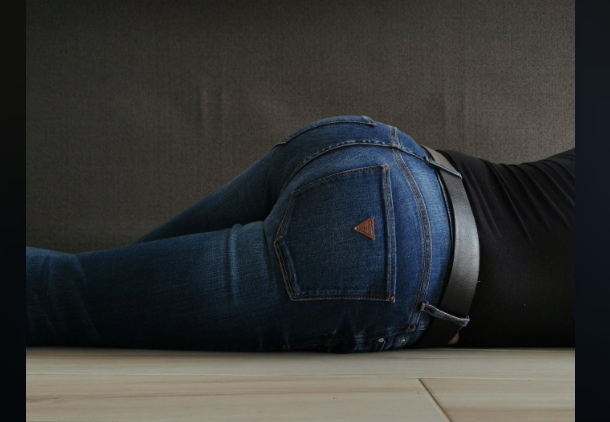 Credit: aeolover via Reddit
Top tip: if you have to lie down and wriggle hard to get into your jeans and pull them up to where they're meant to be, they may not be the right pair for you. There are no prizes for picking a particular size. Buy the one that best fits and that you can get into.
Not caring correctly for raw denim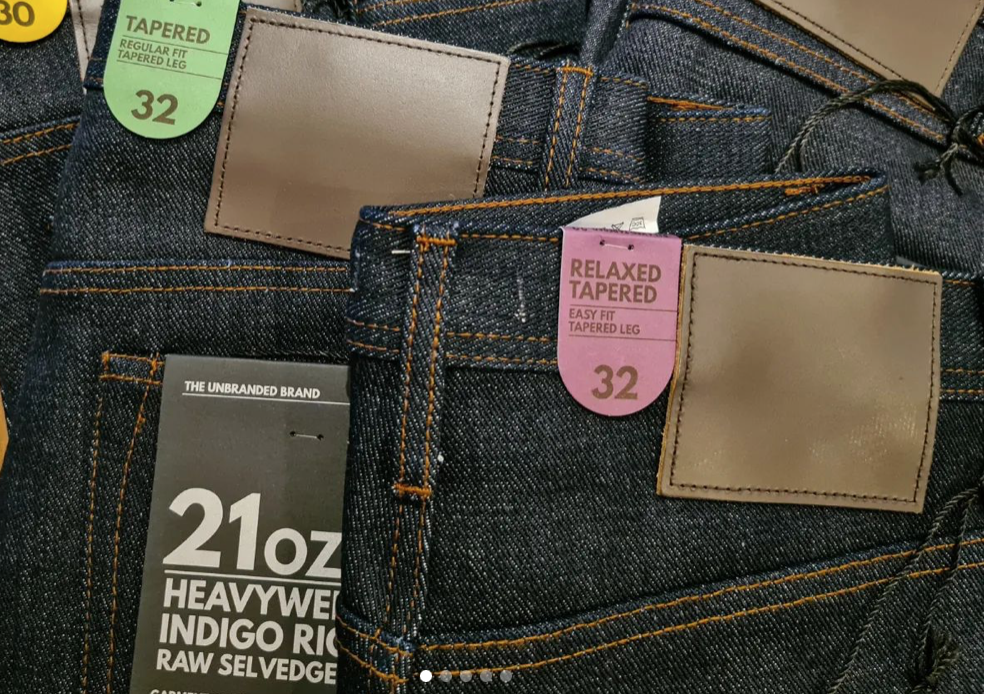 Credit: @denimhouseidm via Instagram
This is high-quality, usually 100% cotton denim that's sold unwashed. Thick and heavy, it gives you the chance to break in your own jeans for a totally unique piece of clothing. Try to resist the urge to wash raw denim. Sponging, airing and, if you absolutely, must soaking (but not washing) are all that's needed if you want them to keep that unique fit.