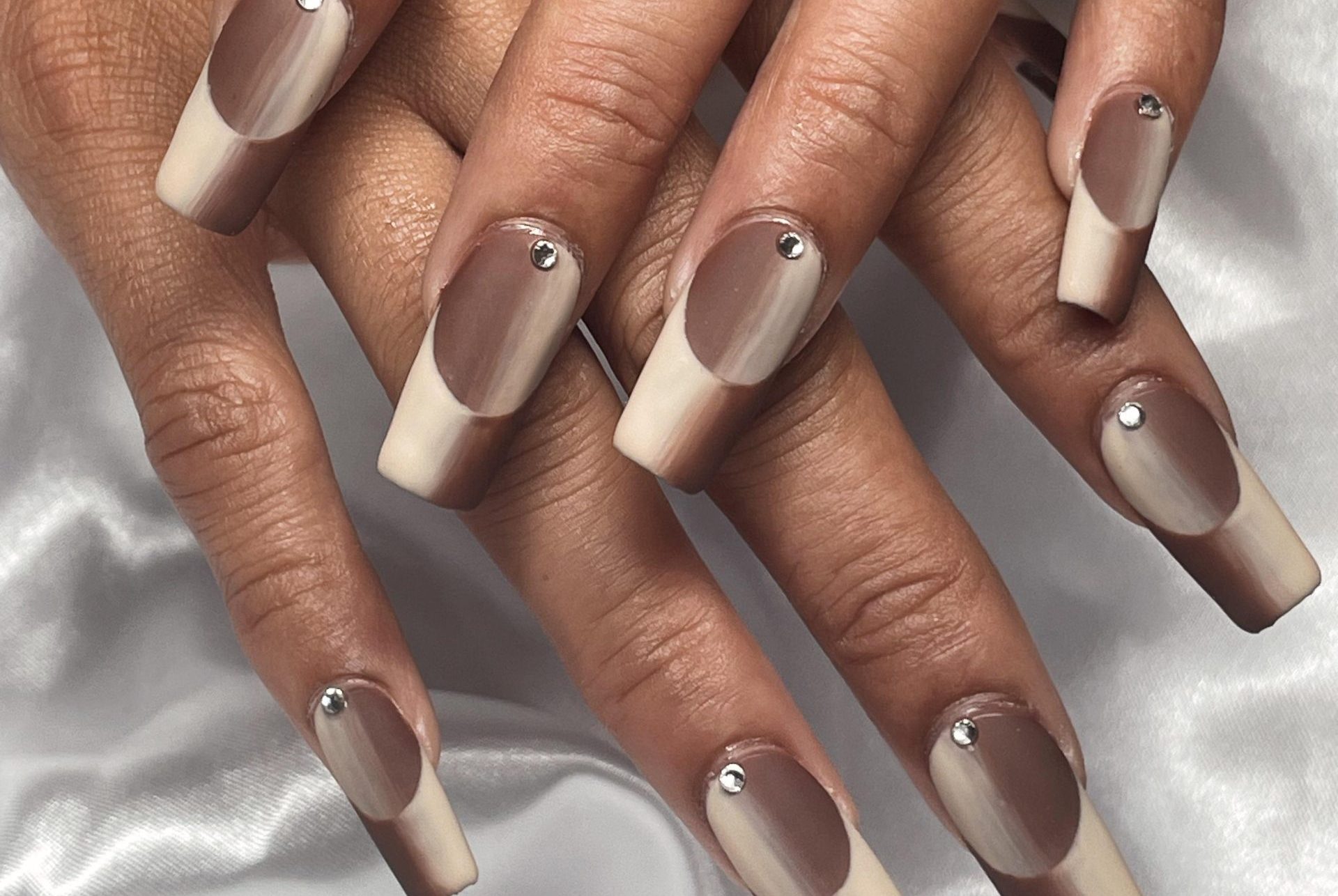 Stickers and decals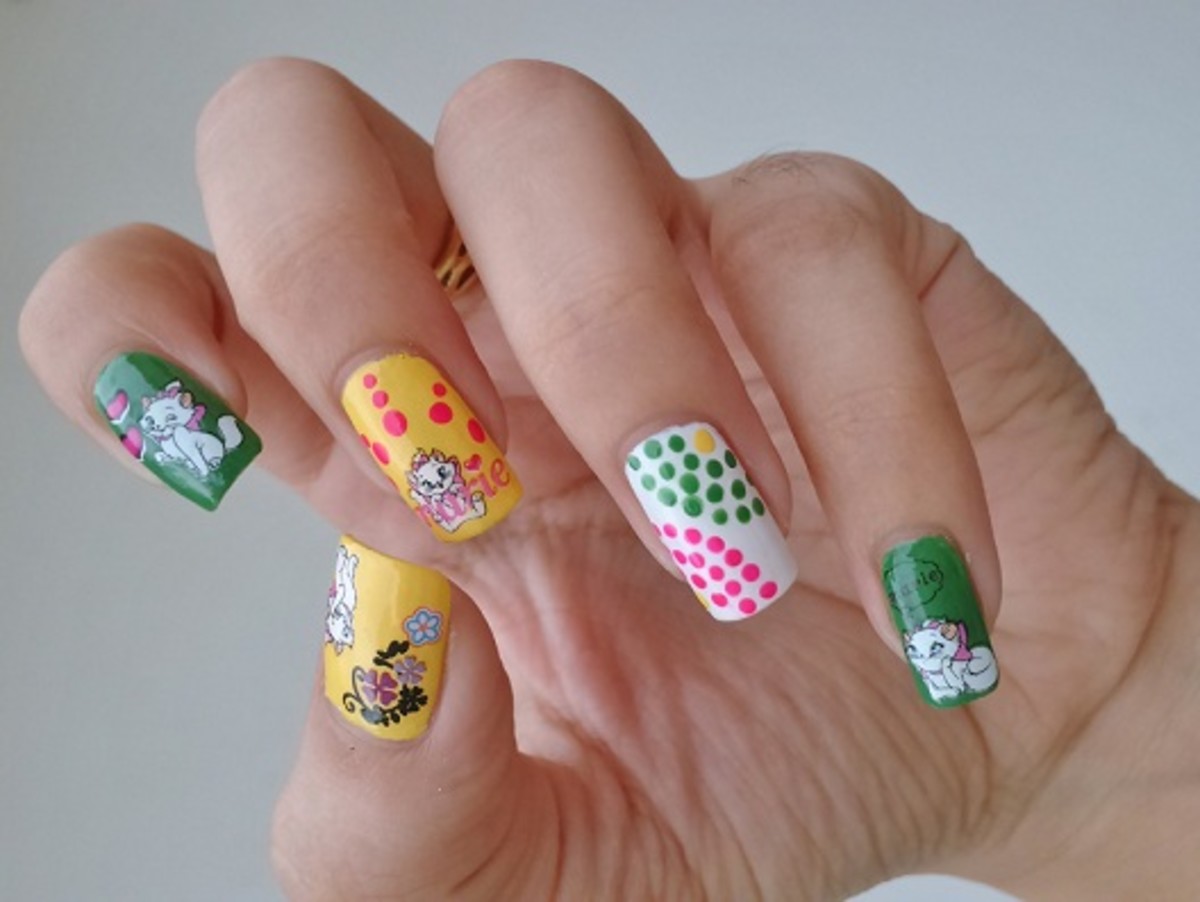 Credit: via Bellatory
Let's kick things off with a cheap and infinitely customizable trend. For the base, you can use bold colors, or keep them simple and let your accessories do the talking. If you haven't checked the internet for stickers lately, you're really missing out. They're so cheap to produce that you can genuinely find them dirt cheap and themed around anything you want!
Gilded artwork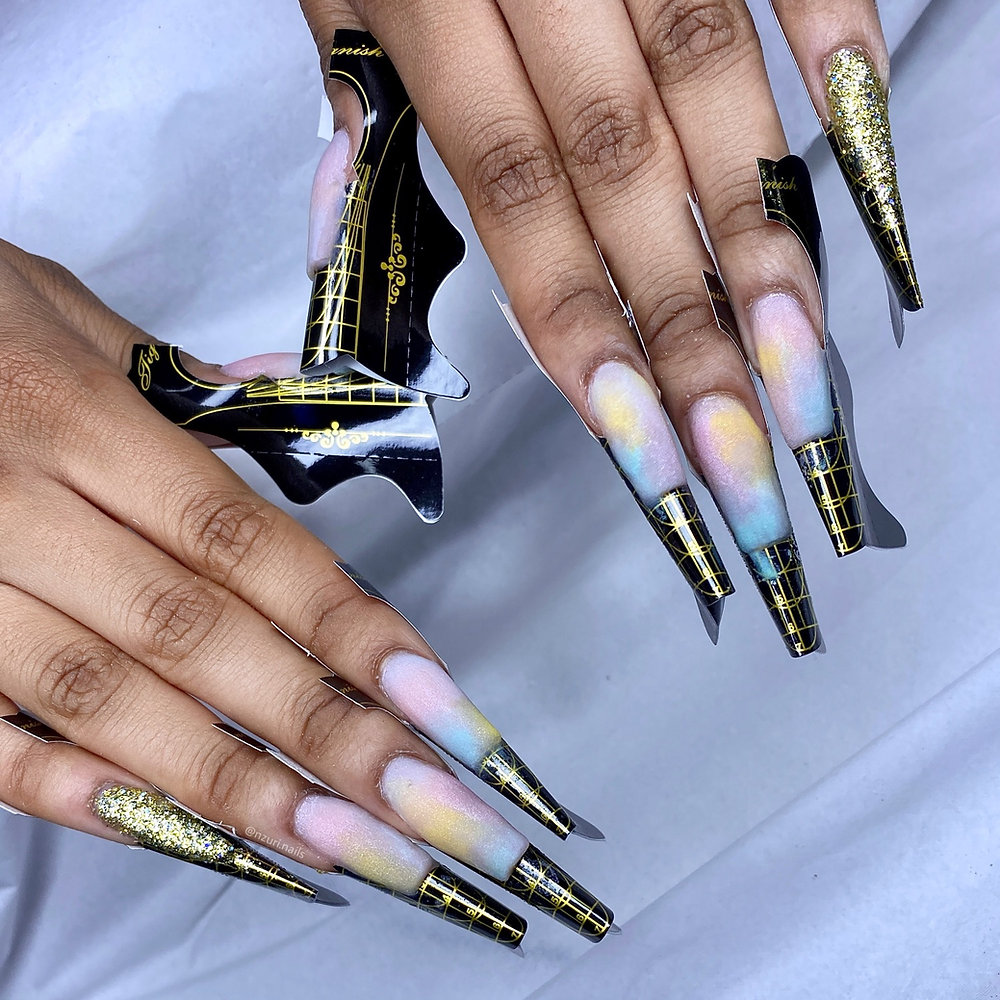 Credit: via Nzuri Nails
From simple to extravagant, these multi-layered, multi-dimensional nails take accessories to the next level. The artificial tips are closer to gloves or Wolverine claws in their bulk, and could sit a little awkwardly under your nail bed, but thankfully they're removable. You could even make these origami tips at home if you're crafty enough.
Soft and shiny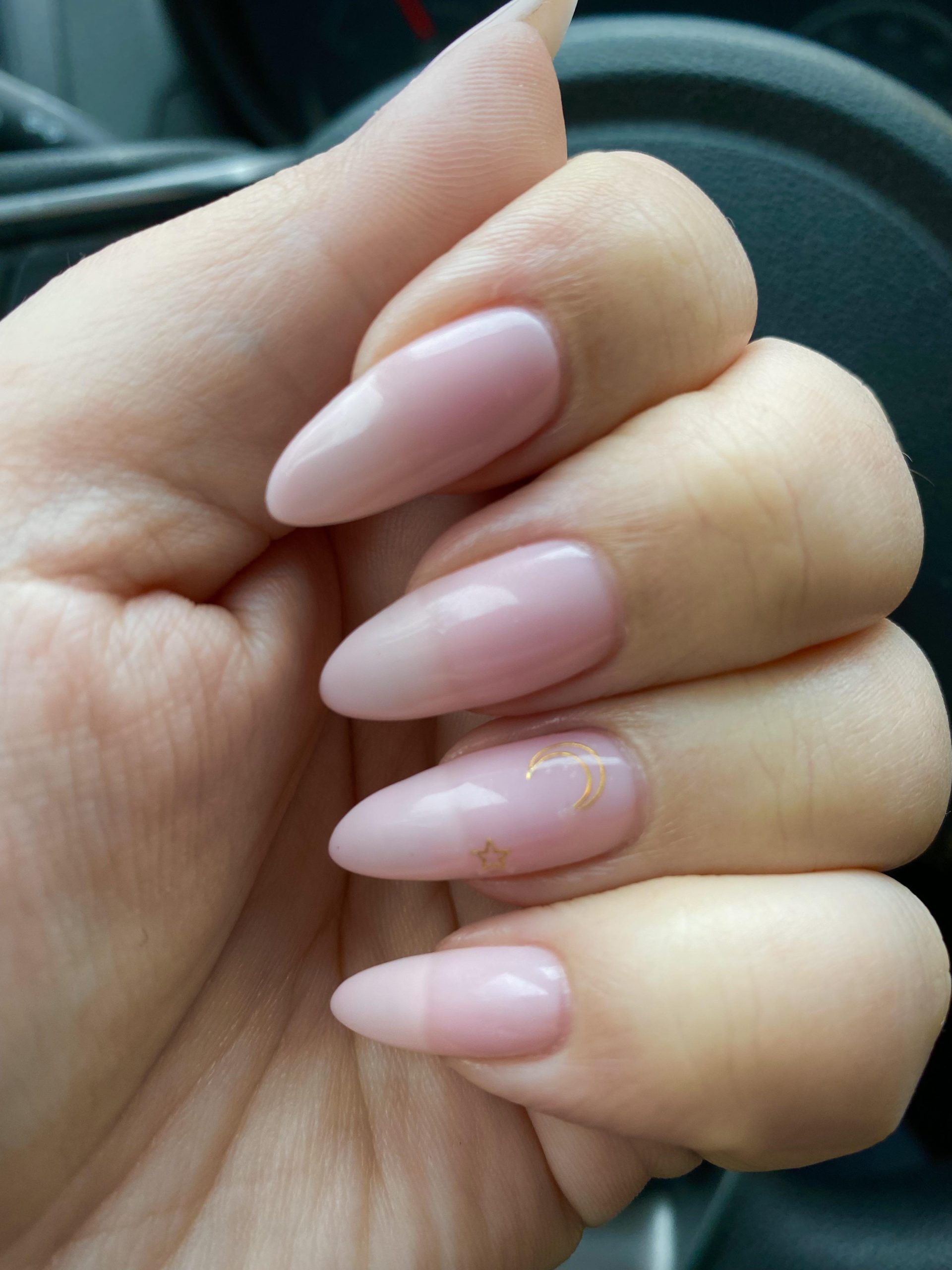 Credit: via Reddit
This strawberry milkshake mix is super gentle, but the longer almond points keep everything classy and sassy. The creamy tips sit on top of the almost pastel pink nailbed like frosting on a cake, but the tones aren't overly feminine or in your face. It's also the perfect canvas for anything you want to pop against a subtle background color, like the gold stars.
Milk duds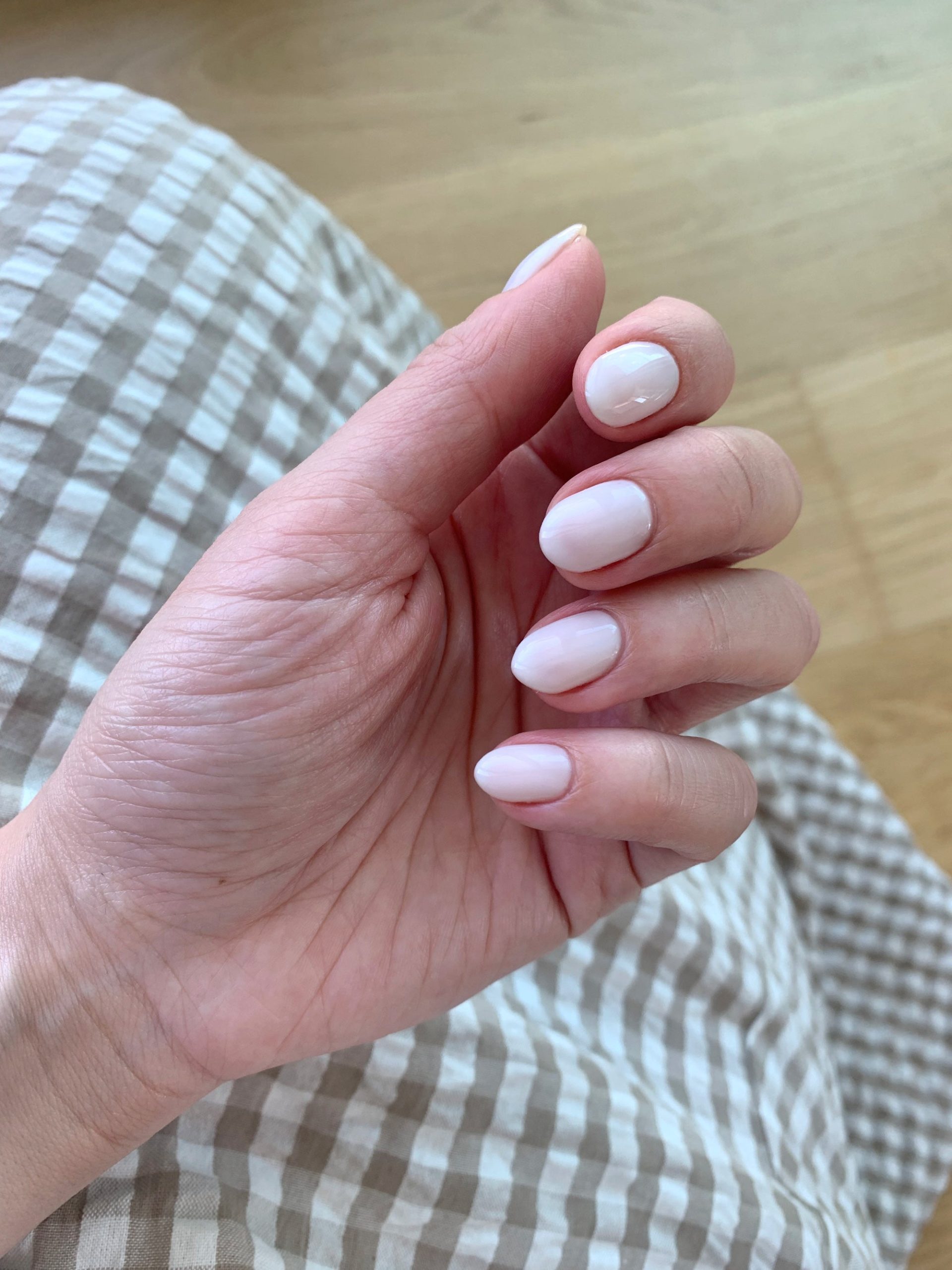 Credit: via Refinery 29
Short, blunt, and pearly white. This kind of rounded acrylic style sits naturally against the cuticle, giving the style a nice, natural touch. The baby-shark tooth enamel white is a wonderful choice for the summertime when you want to keep your entire ensemble light and flowing. They're also a great option for those who work with their hands.
Neon strobe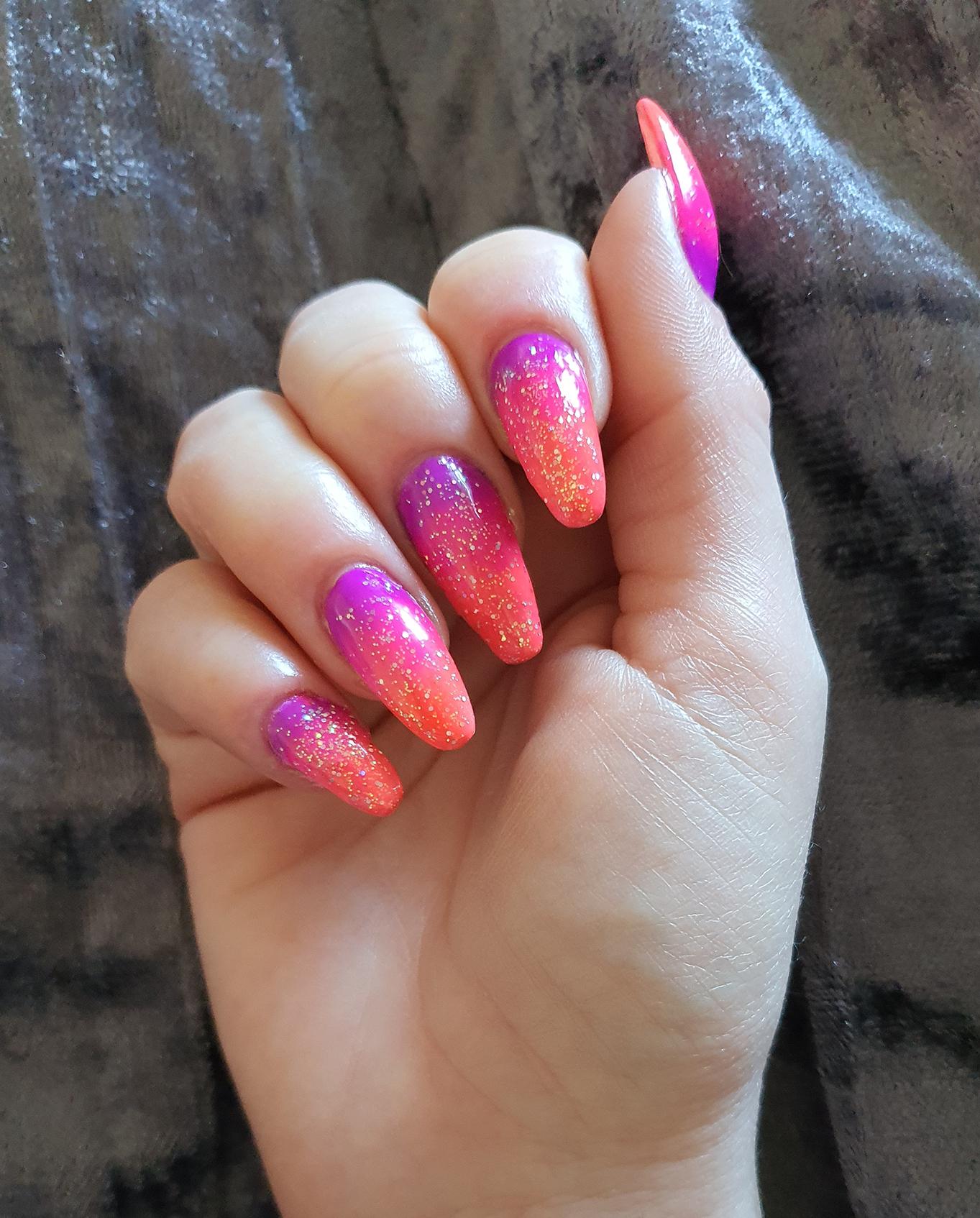 Credit: via Reddit
The people can't get enough of gold. We spent so long basing our entire lives around it and the fact it comes from chests in the ground and now it's all digital in a cloud somewhere? I dunno, sounds fake to me. The ultraviolet peach shades in the center alone are worth trying this look, but the gold flecks and squoval shape tie it all together.
Passionfruit burst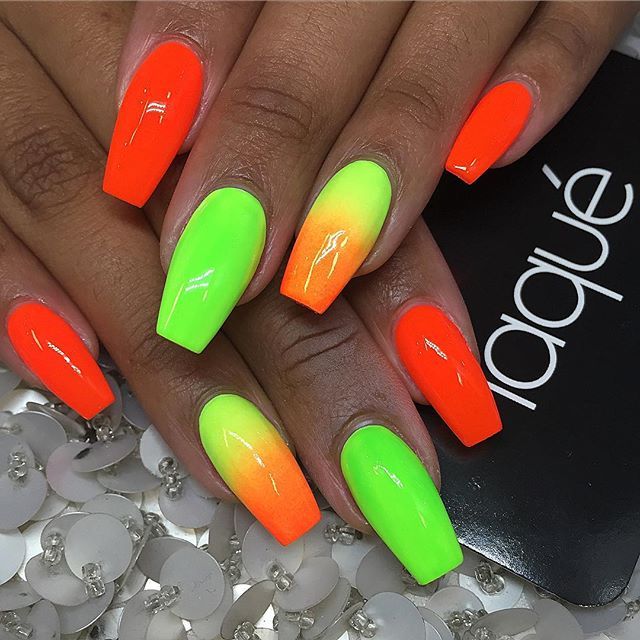 Credit: via Pinterest
These skittle-like droplets take advantage of bright, explosive colors, gradients, and a resplendent top coat. You can take advantage of these highlighter tones however you like, but the particular use of color here, block reds to border a zingy-lime green and mango, is a clever and non-obvious direction to take things in.
She sells sea shells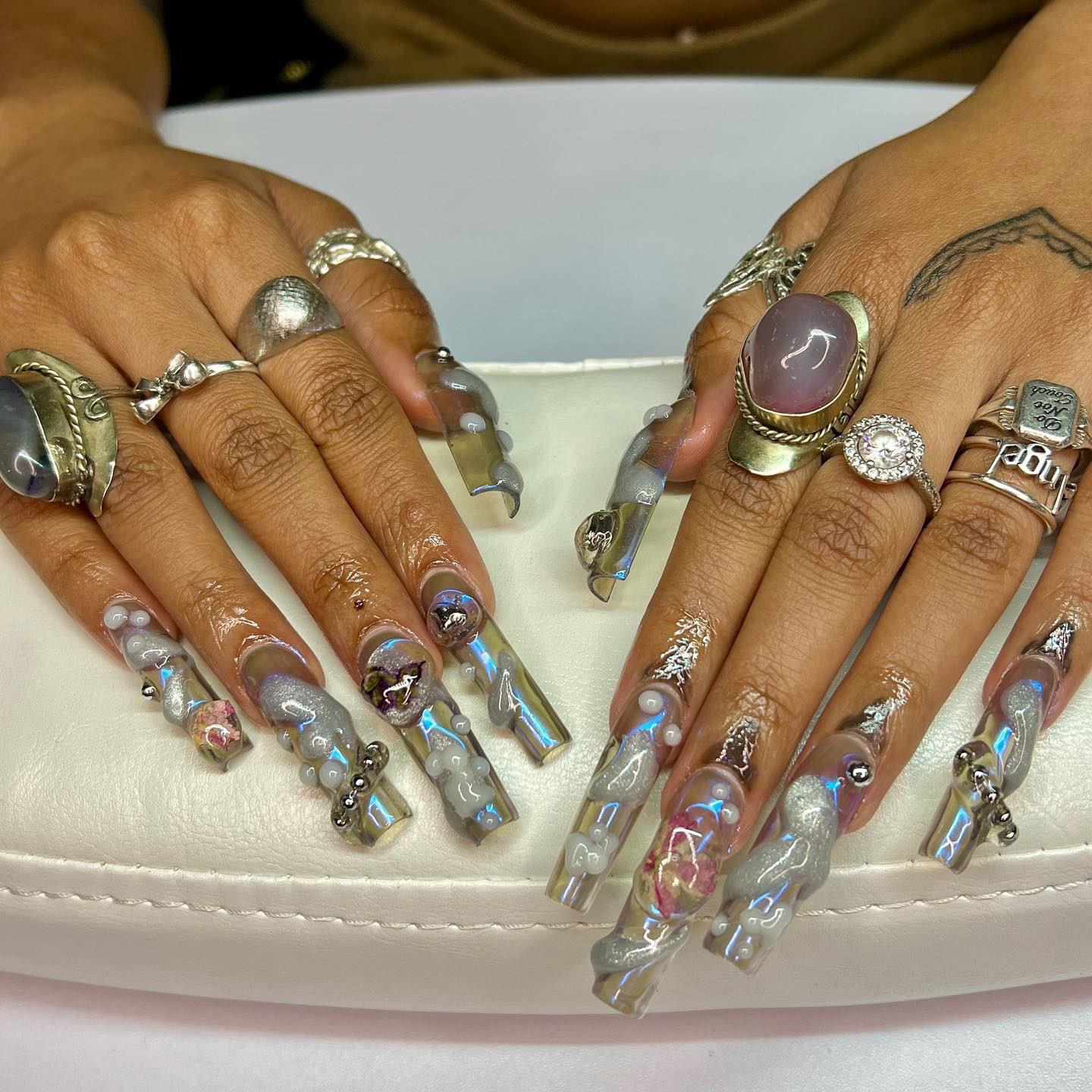 Credit: via Reddit
3-d nail art is both endlessly impressive and, often, utterly bizarre. You can buy 3-d pens relatively cheap and create your own melted plastic designs, or you buy some strong nail glue and run through a crafts store while dipping your hands in all the beads, it's up to you. This kind of twisty, twirly look is sure to spark conversation.
Glazed donut nails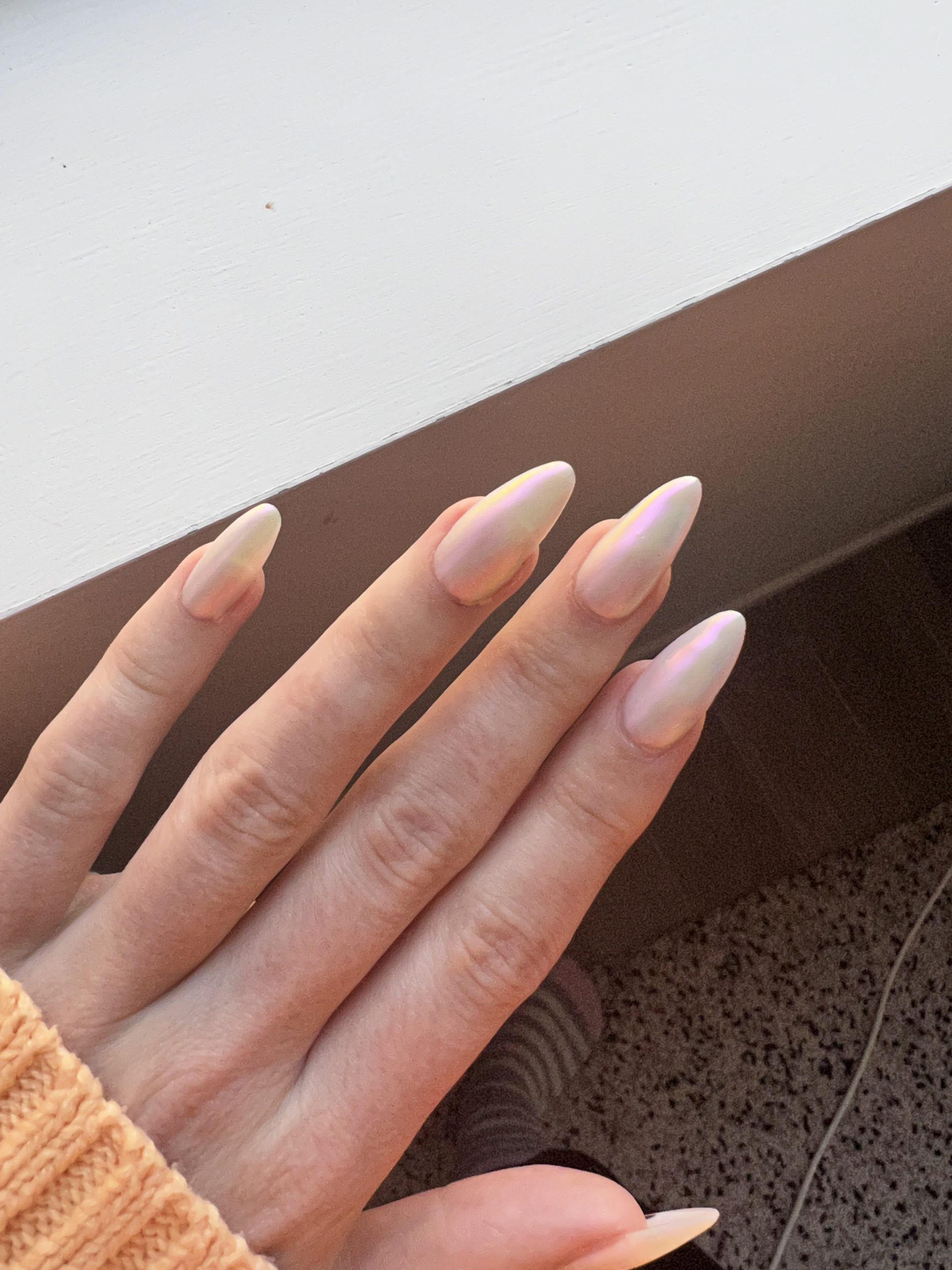 Credit: via Reddit
Some variation on holo or chrome-inspired nails will inevitably make the rounds on social media every few months, but this one is something a little special. Hailey Bieber and other Instagram titans helped popularise this subtle, shiny, and sugary sweet style. The tone is best kept natural to capture that desired light refraction effect.
Simple acrylics
Credit: via Reddit
The cost of living comes for us all, and those four-year-old half-empty tubs of polish would like a word. They're not fantastic for the environment, but billionaires are taking private jets to their second, even more, private-er jet, so don't feel too bad about stocking up on stick-on. In terms of variety, price, and accessibility, these things will always be in style.
The lip gloss hack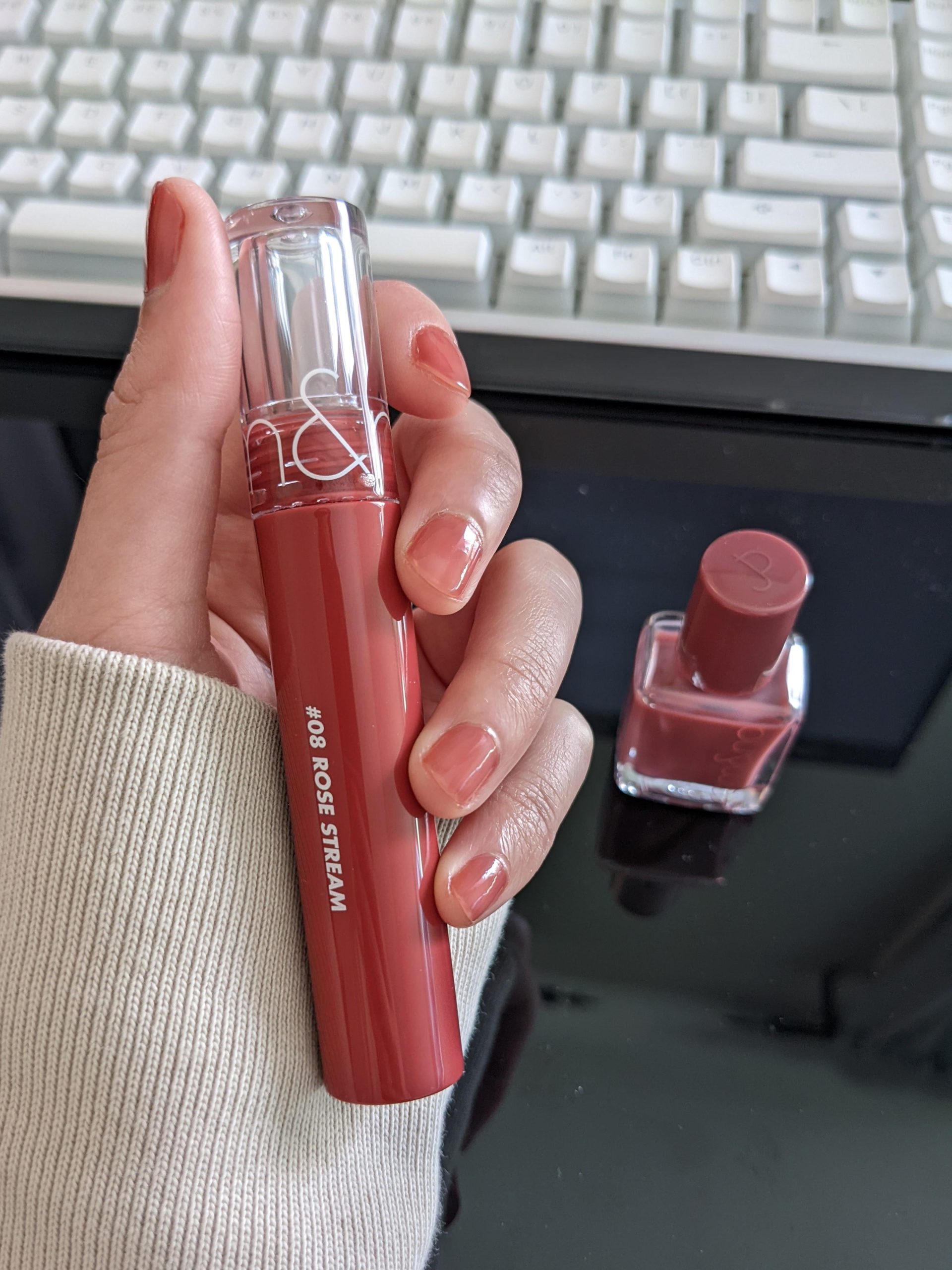 Credit: via Reddit
Another trend that's all about saving cash and getting the most out of what you have, thank you, wise Gurus. Lip gloss is around the consistency of a light polish anyway, and comes in so many colors a mantis shrimp would panic and walk away. If you're in a pinch and have a last-minute cover-up, lip gloss won't let you down.
Sugar, spice, and everything nice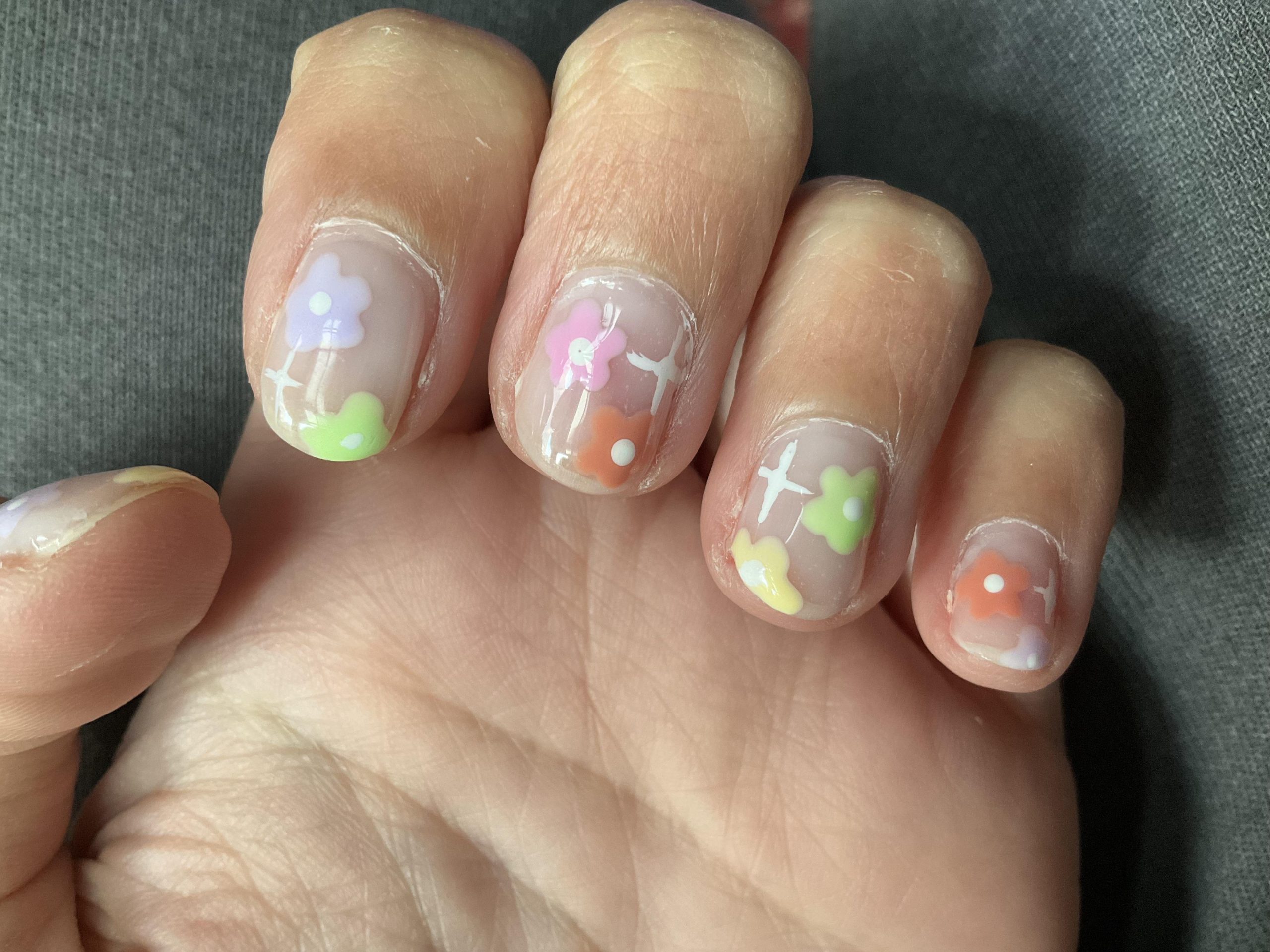 Credit: via Reddit
Printed patterns on clothing are traced back to 200 B.C. China and some of the very first garments ever created were floral-themed. As far as fashion trends go, nothing has stood the test of time like a pretty flower or two, and nail art is no different. As you can see here, you can paint onto the bare nail bed and still get something adorable.
Punk nail piercing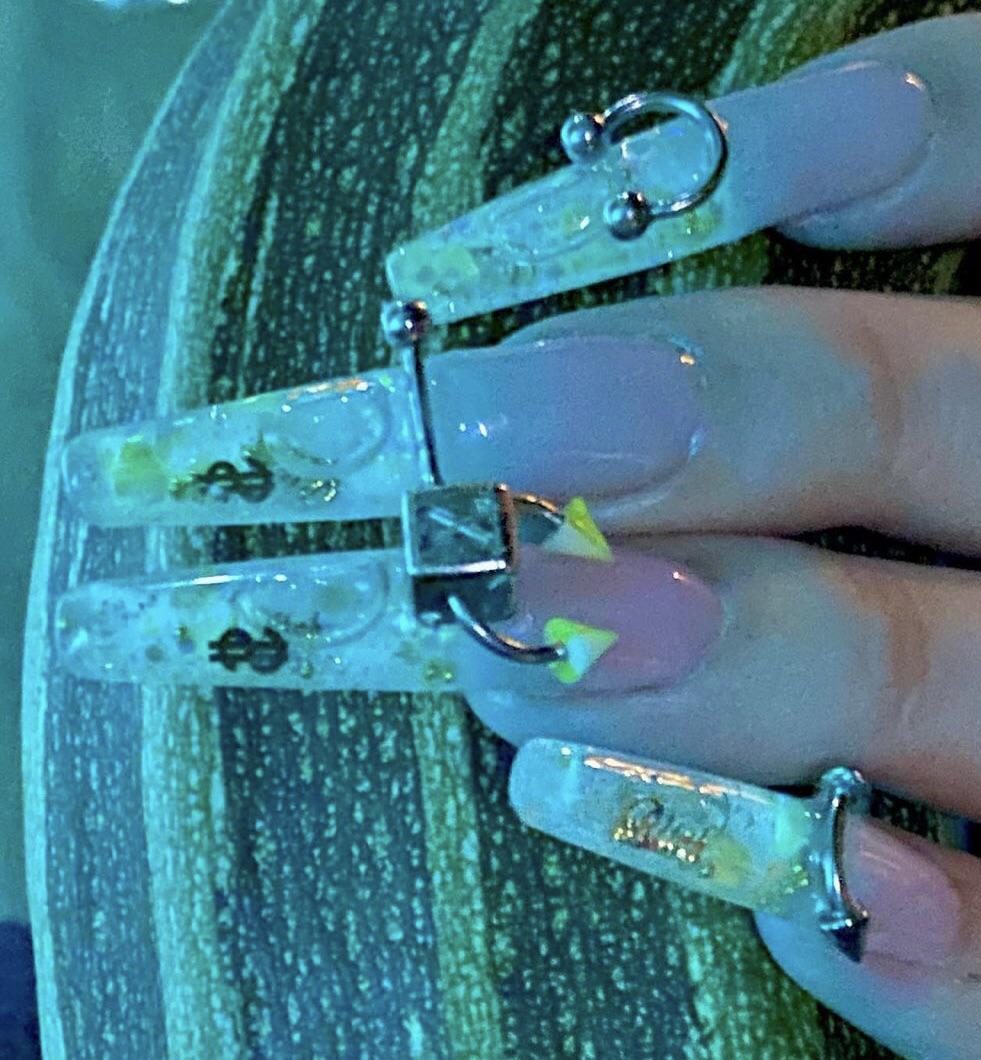 Credit: via Reddit
As far as styles go, this one may be a little loud for some, but it's nonetheless striking and original. It evolved out of the LA scene, and since it's a blank canvas, people have taken it to some radical extremes. If you wanted something less obtuse, you could try stud piercings, like rhinestones but with a unique twist.
Textured nails
Credit: via Reddit
This is another trend that can be taken anywhere. Textile trends come and go the same way nail-art ones do, so you can be cutting edge in two different worlds by paying attention to what's hot in texture. You could go rough, the chalkboard on nails approach, or soft and sleek with enamel coats.
French tips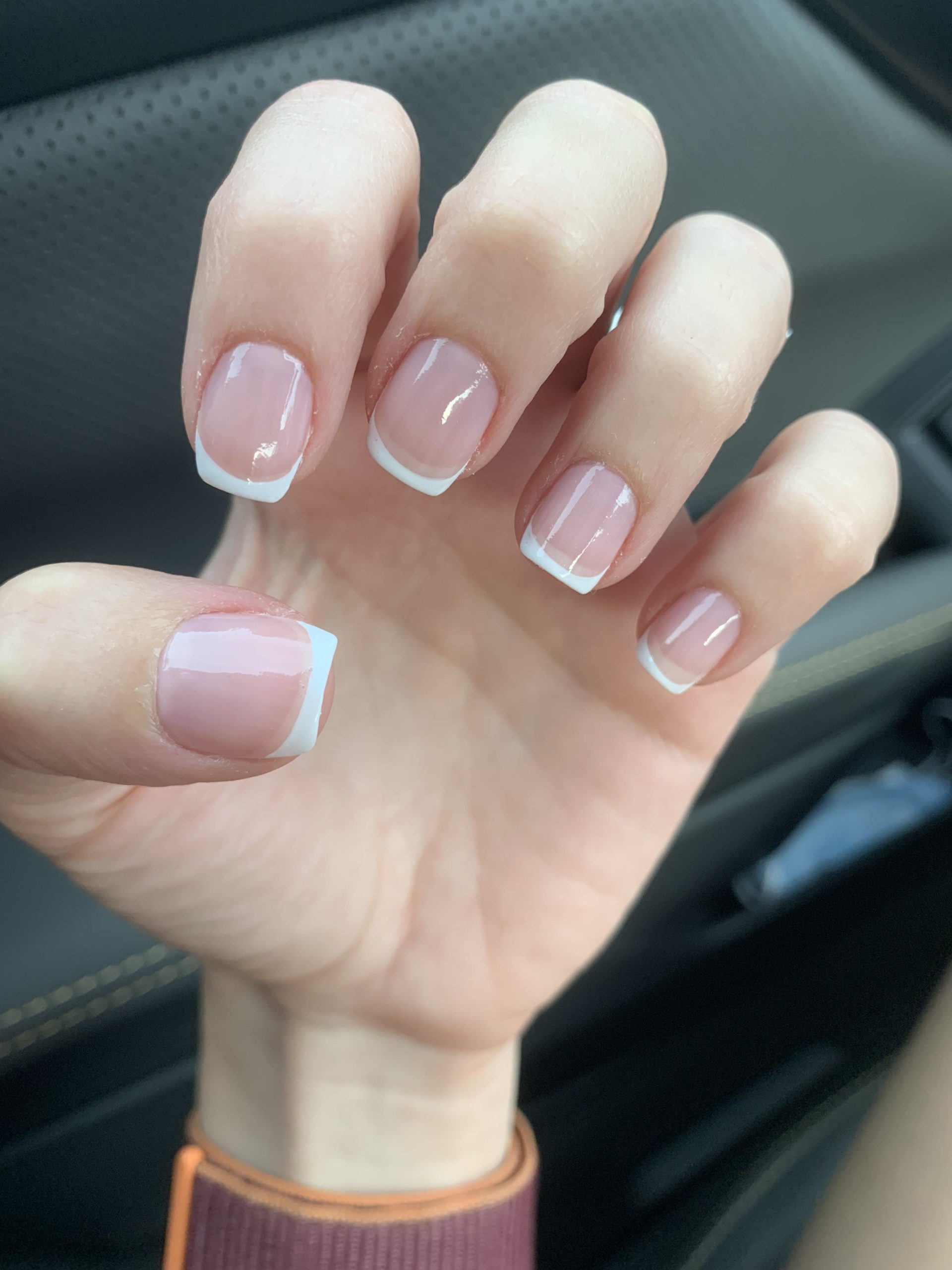 Credit: via Reddit
These are world-famous for a reason. They were initially designed to look good on screen and limit the time it took for actresses to change wardrobe and nail colors. So, historically, you are duty-bound to post pictures of how good it looks on you. The squared off-tips also add a bit of functionality, so they do work for most people.
Is there a Mr Sparkle?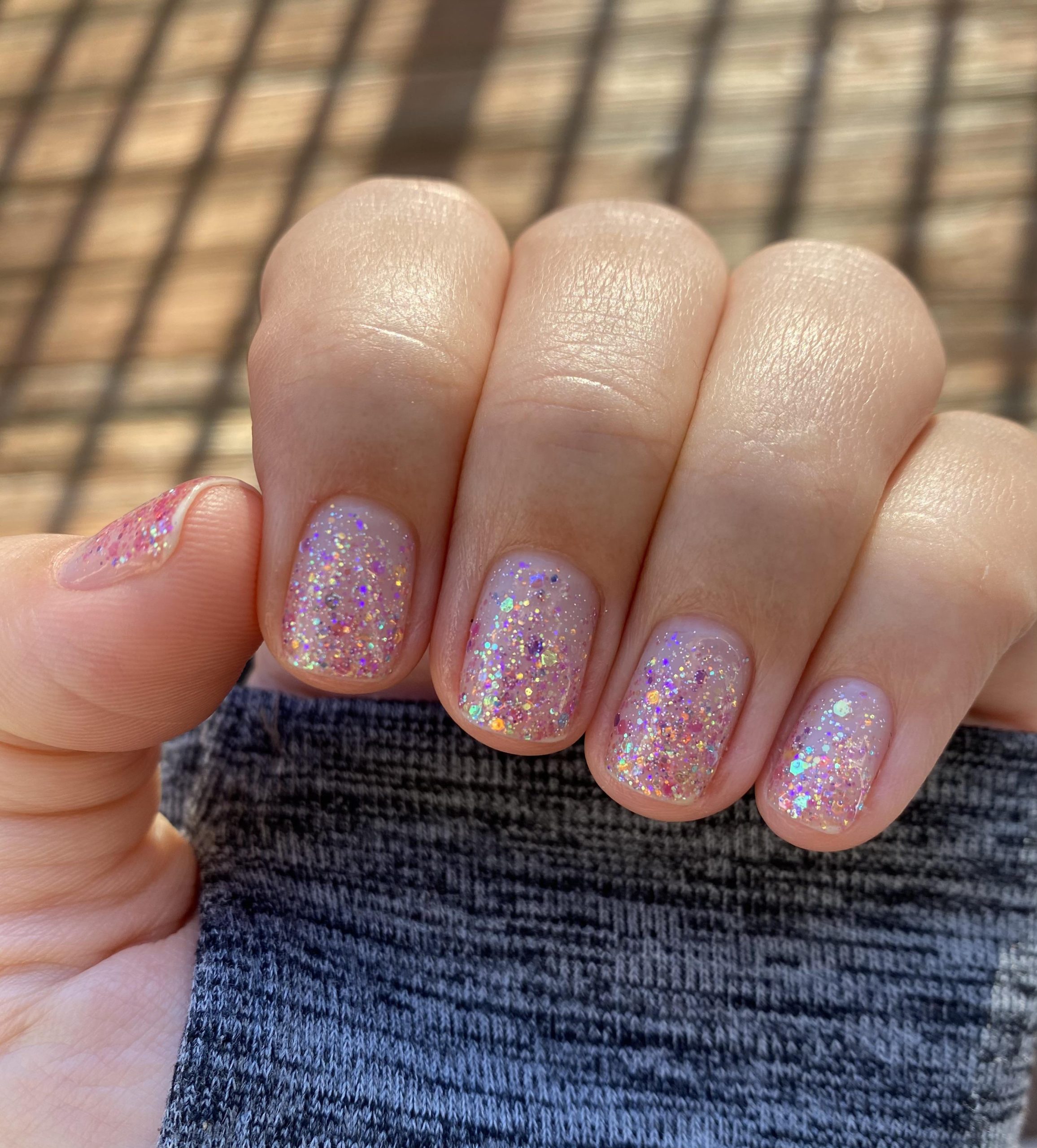 Credit: via Reddit
While it's generally a more youthful style, there's no reason people of any age can't rock glittery nails. This example has some wonderful shades of rose quartz, holographic sparkle, and a milky white basecoat. You can choose anything for the base color, but you want it to contrast nicely and let light through for maximum shine.
Optical illusions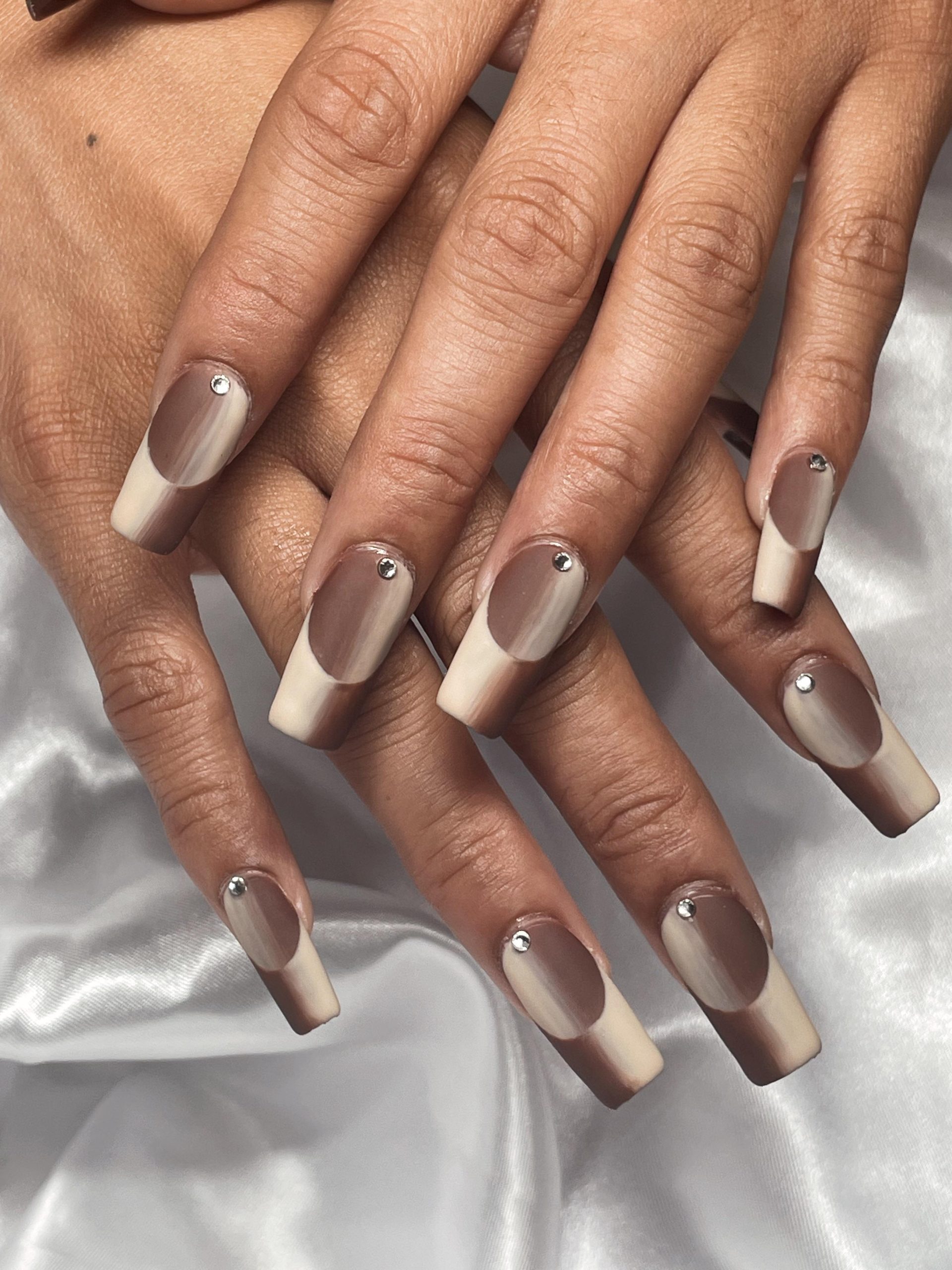 Credit: via Reddit
To really turn some heads, optical illusion designs are the way to go. Until we learn how to encode GIFs onto nails, you can't put a turning head on them, but there are tons of great examples across the web of mesmerizing manicures. The milk and white chocolate color combination and rounded nail line divide and confuse the eye's attention.
Sensory overload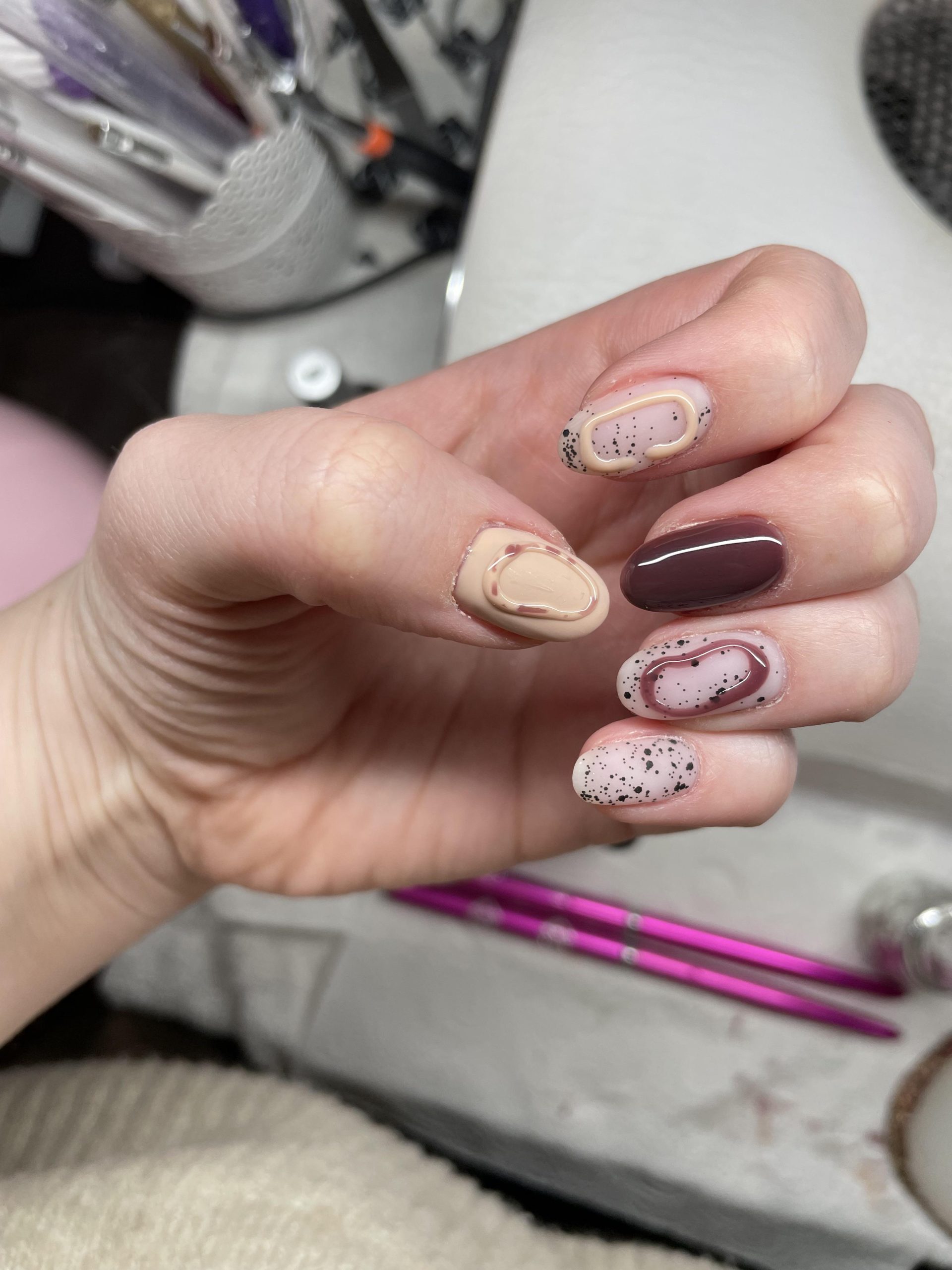 Credit: via Reddit
This trend incorporates elements of 3-D nail art and textured acrylics to create something abstract and incredibly stylish. You can mix and match patterns and shapes across each nail, add stones, stickers, accessories, or anything. That's what makes it so alluring, it's the go-to trend for wildcards.
Velvet nails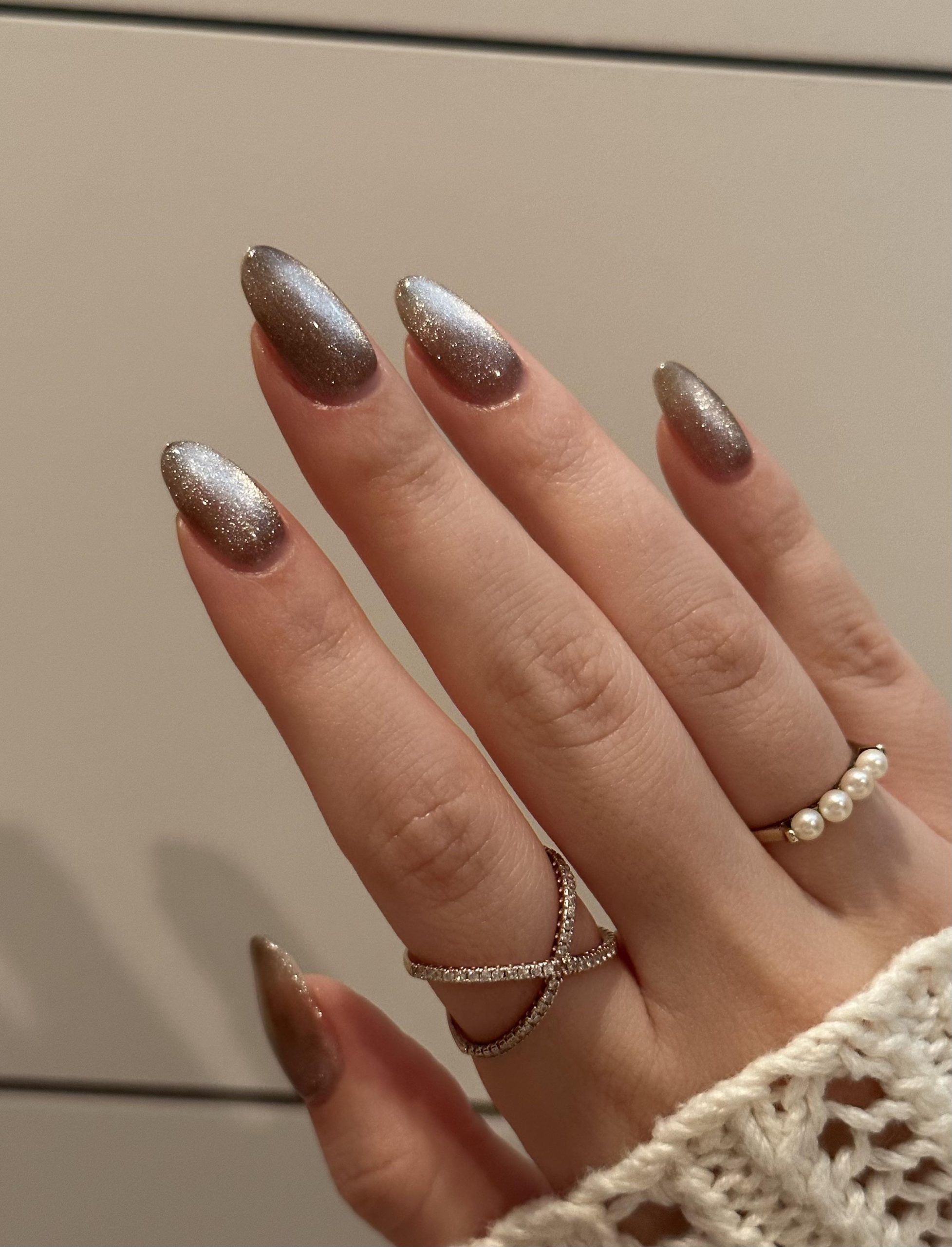 Credit: via Reddit
We're back to focusing on texture, and velvet nails are all about careful layers that mimic the folds and feel of the fabric. It's achieved by blending a few different colors and thicknesses of polish and layering in glitter and brush strokes for a result that people can't help but want a touch of. It takes time and patience, but the payoff is huge.
Colorful-shifting chrome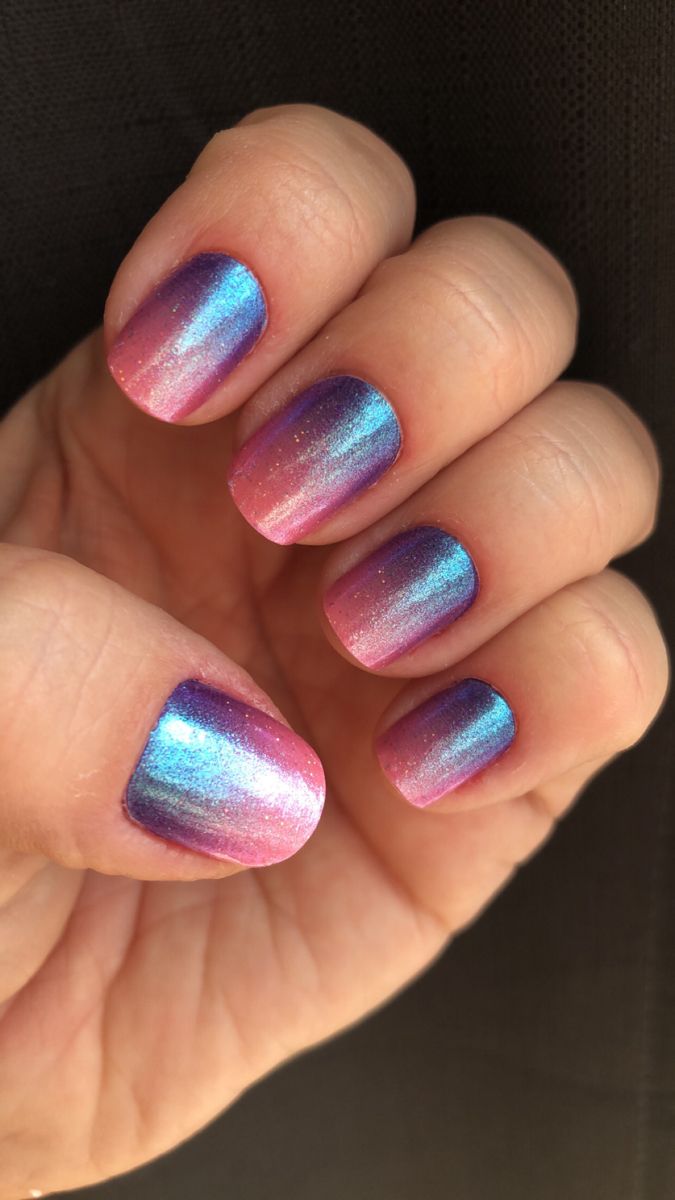 Credit: via Pinterest
While it looks stunning, this is a relatively cheap and easy-to-achieve style! It's meant to mimic a chameleon mid-shape-shift like the color is running down and morphing across the nail bed. Iridescent products like holo or glitter look great, but you'll want a see-through glittery topcoat to seal in set the shimmer.
Volcanic rock and roll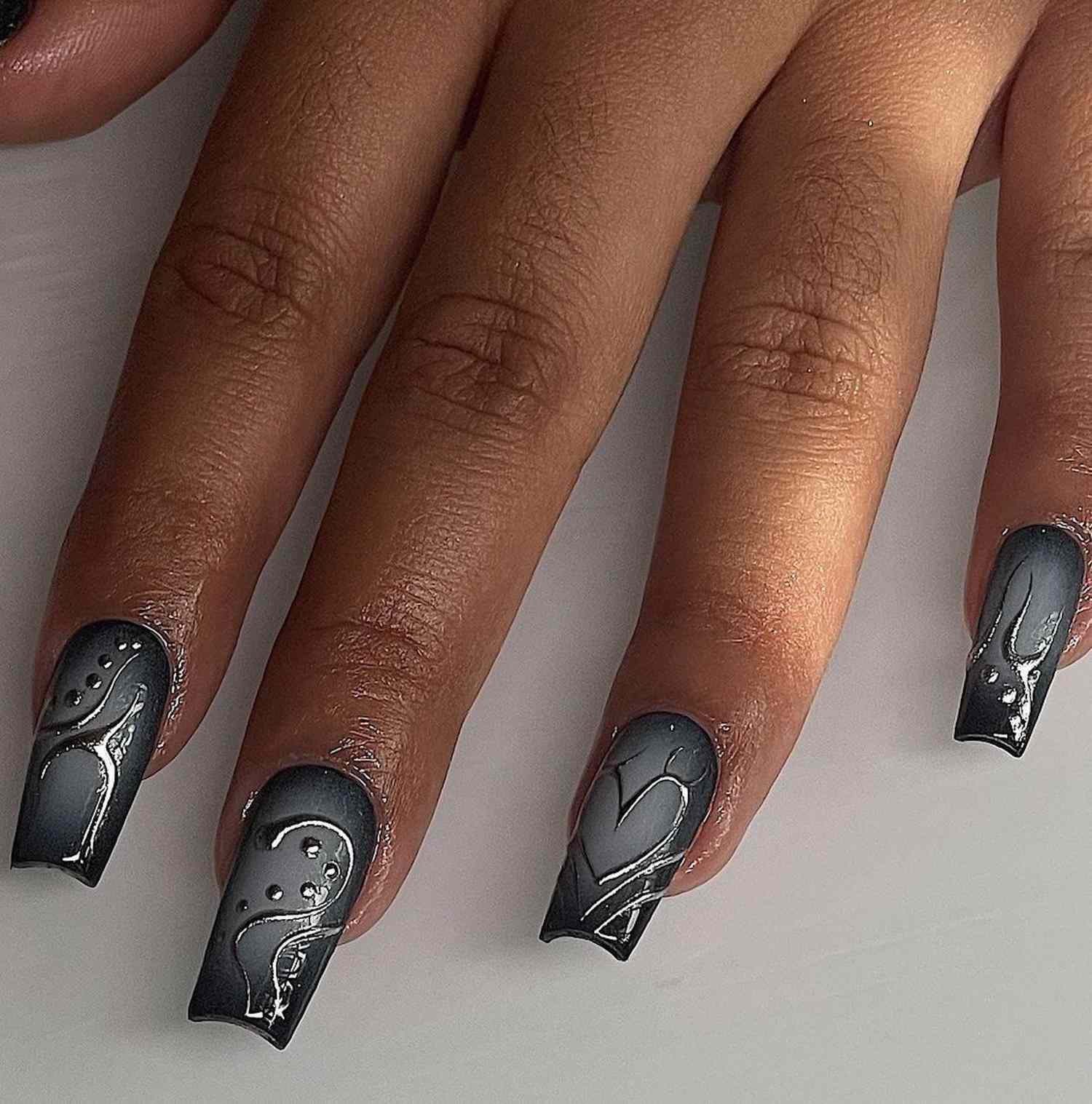 Credit: via Brydie
This gun-metal grey gradient is grungy and ready to party, very carefully. This image uses a mercury-like silver to create the artwork, which furthers that dark and mysterious vibe the design absolutely nails, no pun intended. You could go a little lighter with the colors, but the coffin cut feels tailor-made for looks like this.
It's a mood. Ring.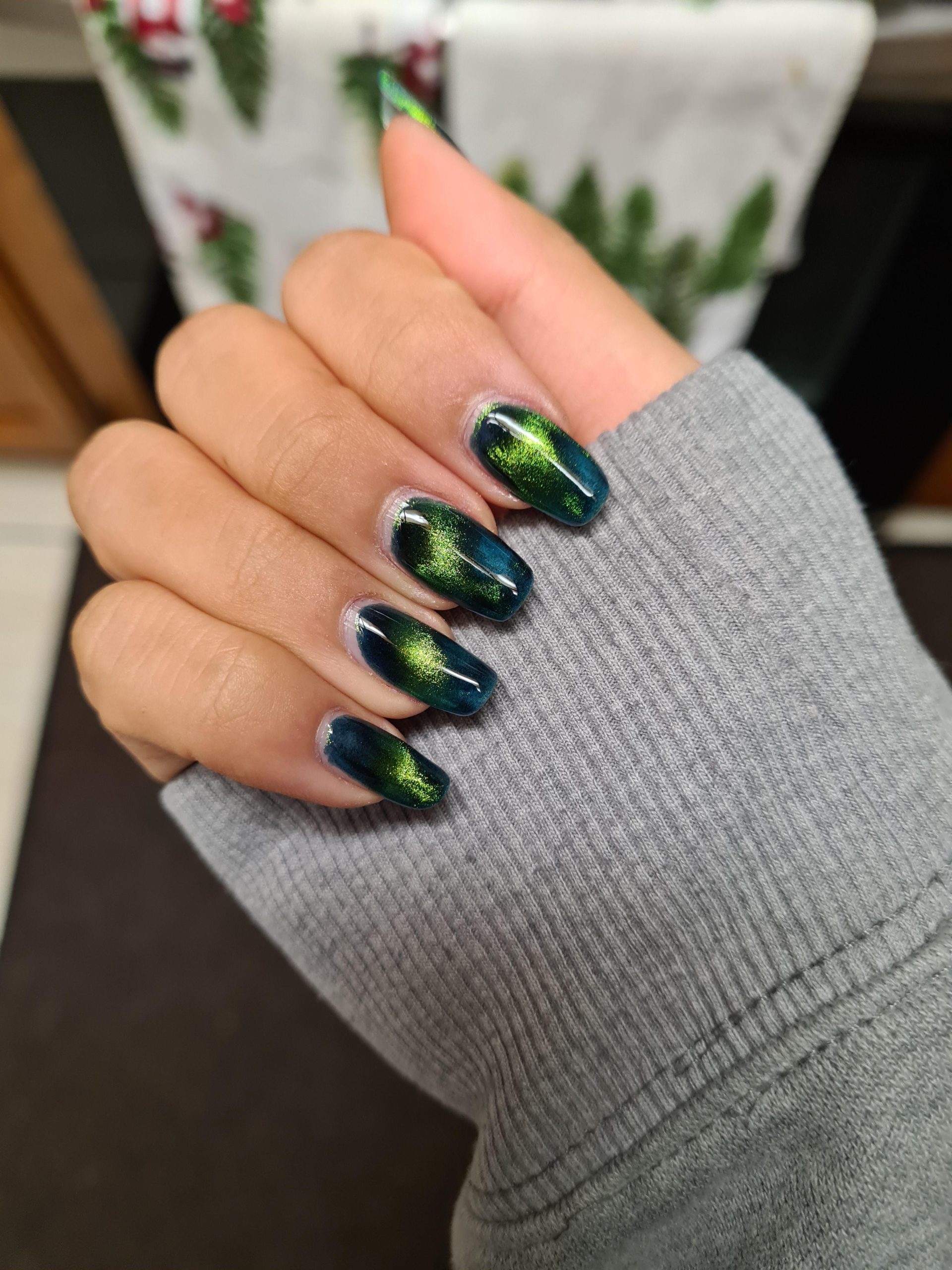 Credit: via Reddit
As nostalgic as is it beautiful, this illusion is meant to mimic the mood rings that time decided to abandon in the 90s. Mood rings themselves were usually just formed glass with thermoactivated crystals inside, which would go so hard as an acrylic nail it isn't even funny. These don't change color but still evoke the same Y2K-induced sense of belonging.
Iridescent chrome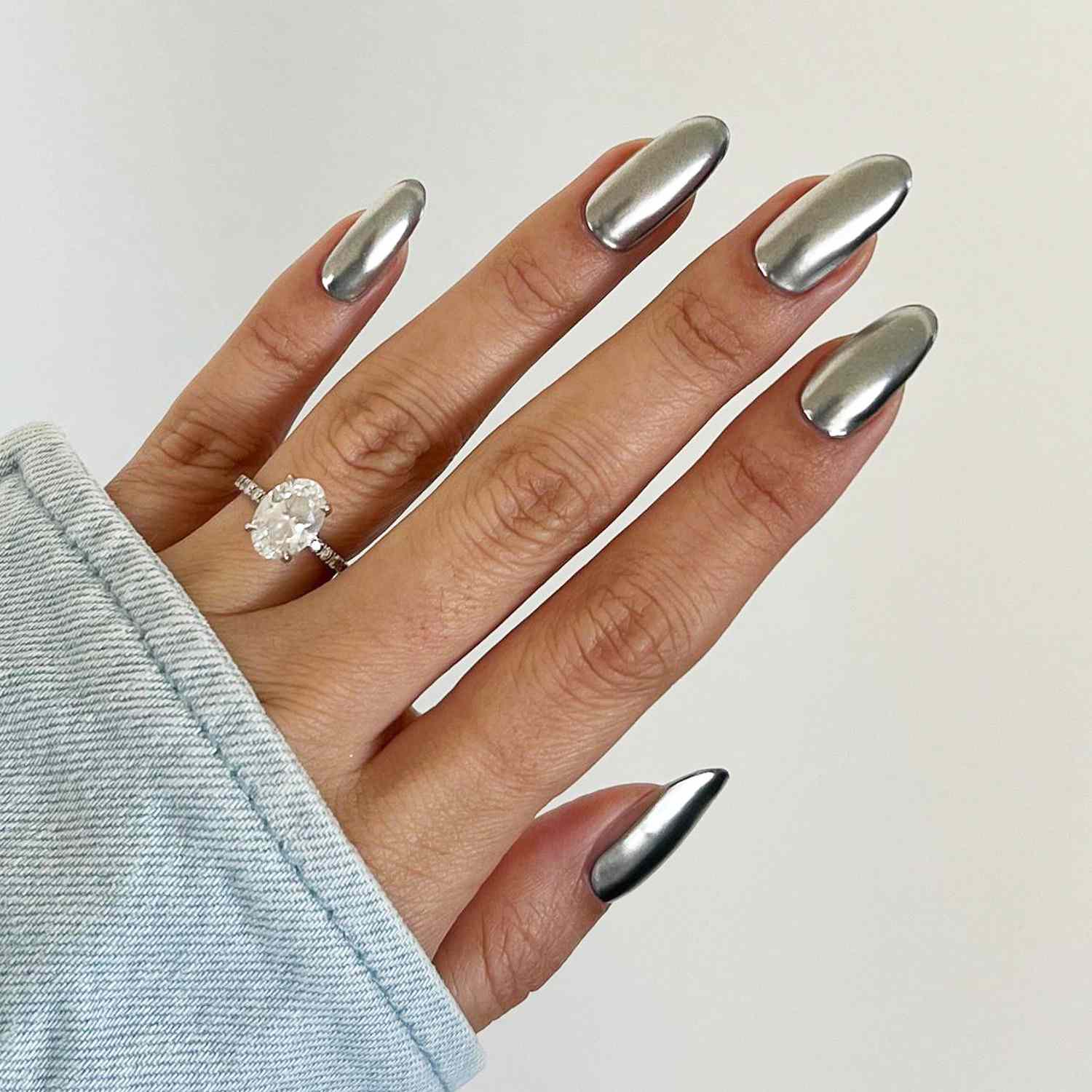 Credit: via Brydie
It's looking to be a space-age summer with all this chrome around, and nothing about that should ever change. Although simple, a clean and smooth chrome nail looks unlike anything else, and that distinction is what keeps it coming back year after year. Rounded tips tend to lend to the effect more than others, but you can always experiment.
Pastel French tips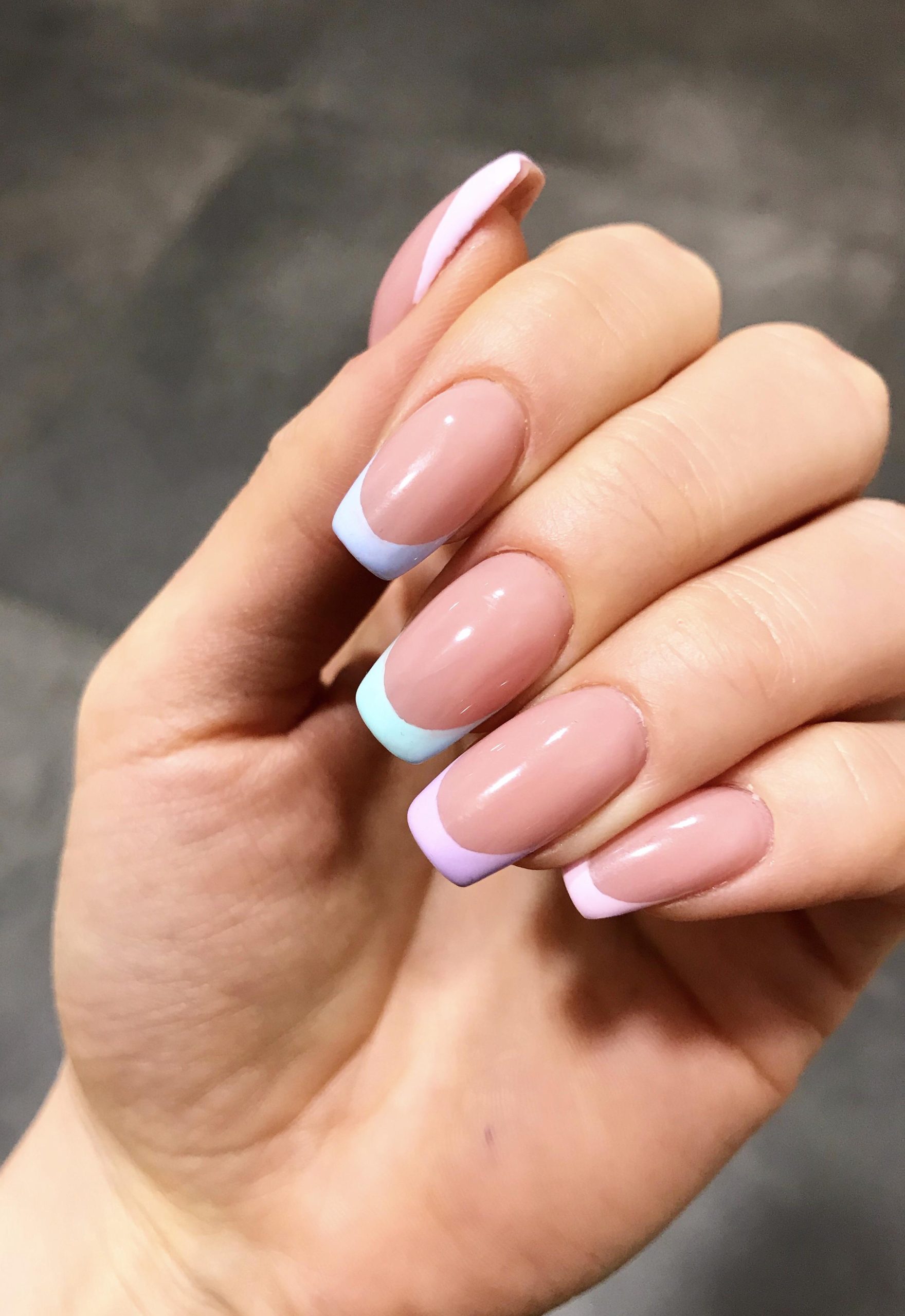 Credit: via Reddit
A variation on the time-tested French tip, this look softens the already delicate staple to achieve levels of dainty never before seen. Both the base and the tips are slightly tinted towards the pastel palette, with gentle but still very natural nude tones that do everything an OG French tip can do, but twice as quietly.
Pop-art polka dots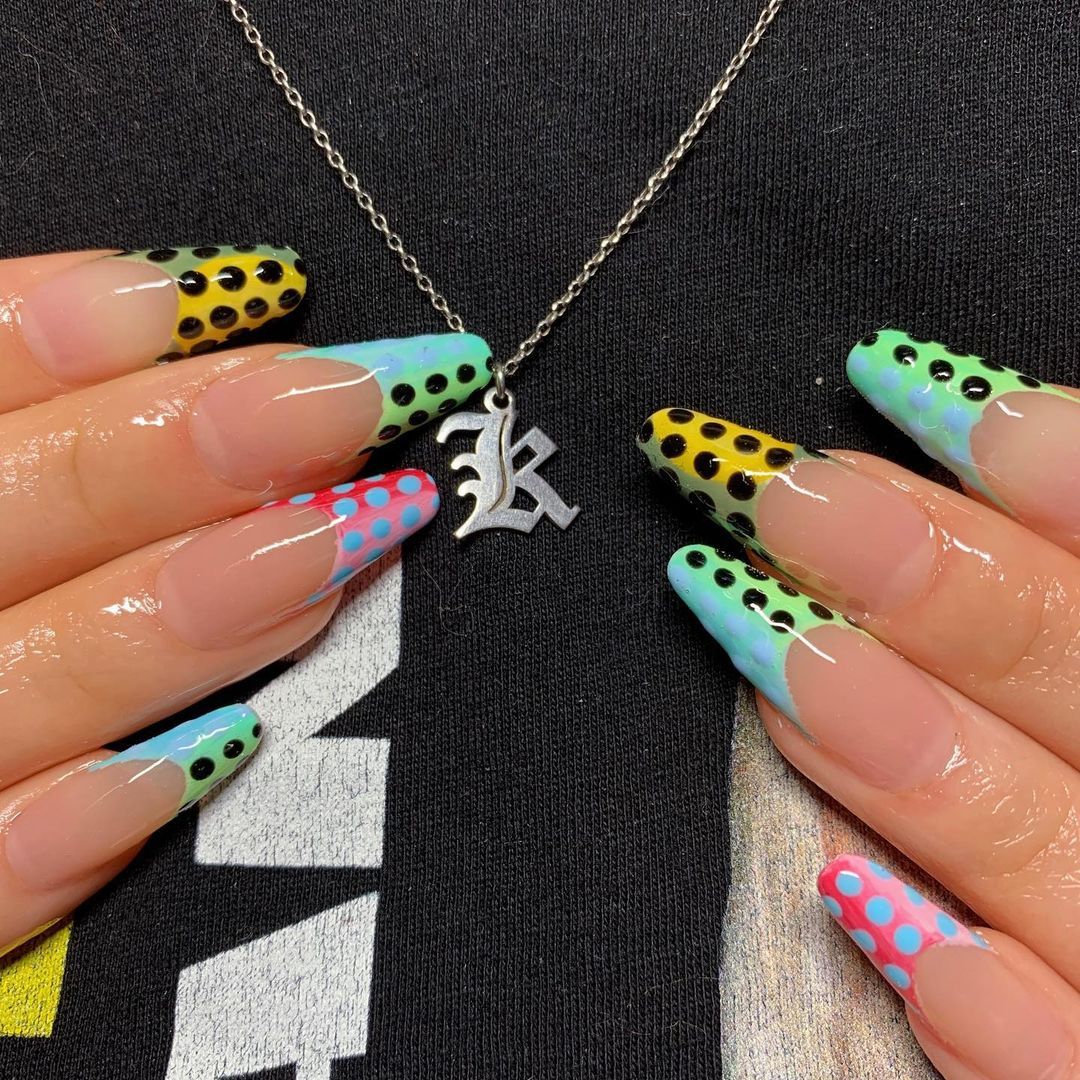 Credit: via Pinterest
As a graphic novel come to life, these nails are non-stop action from start to finish. With bright, glowing colors, bumpy textures mirrored by flat ones, and the semi-clashing choice of blending, this look is your entire super suit. You don't need a utility belt, just time, patience, talent, and a lot of nail polish remover.
Golden tips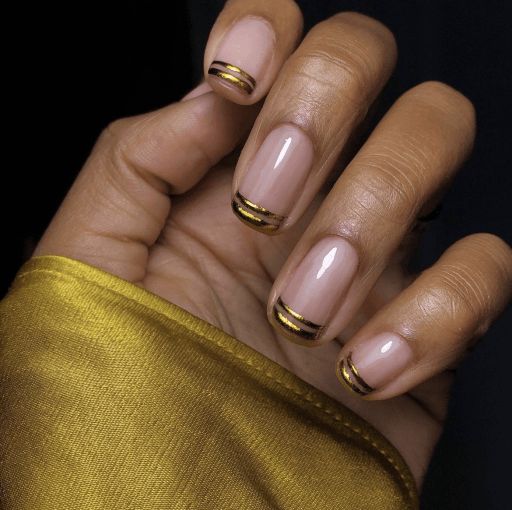 Credit: via Pinterest
You can achieve designs like this in a few different ways, and gold goes with everything so it's worth giving a go. If you're handy with papercrafts you could whip up a small stencil to keep the lines straight, but for a texture as flawless as those, acrylics are your best bet. They would look even better on a white or black nail bed.
Amber and opal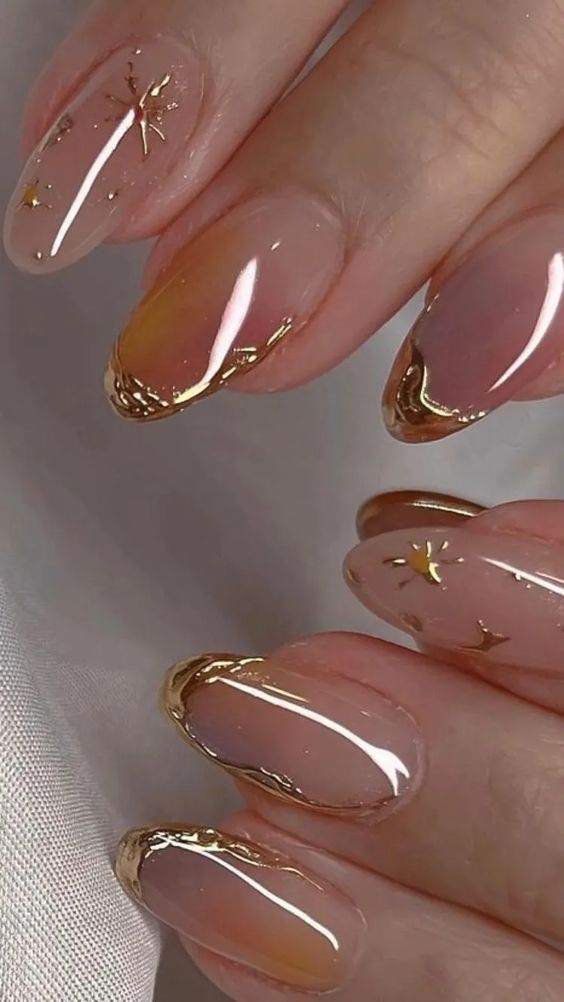 Credit: via Pinterest
Gemstones are such a wonderful inspiration for nail art. This effect uses a textured gold outline like you might find on an ornate pendant, and the jewels it frames are equally as precious. The spots of intense color are kept sparse to not overwhelm or over-orange your fingers, and the flecks of white mirror the natural imperfections of the Earth's crystals.
More flower power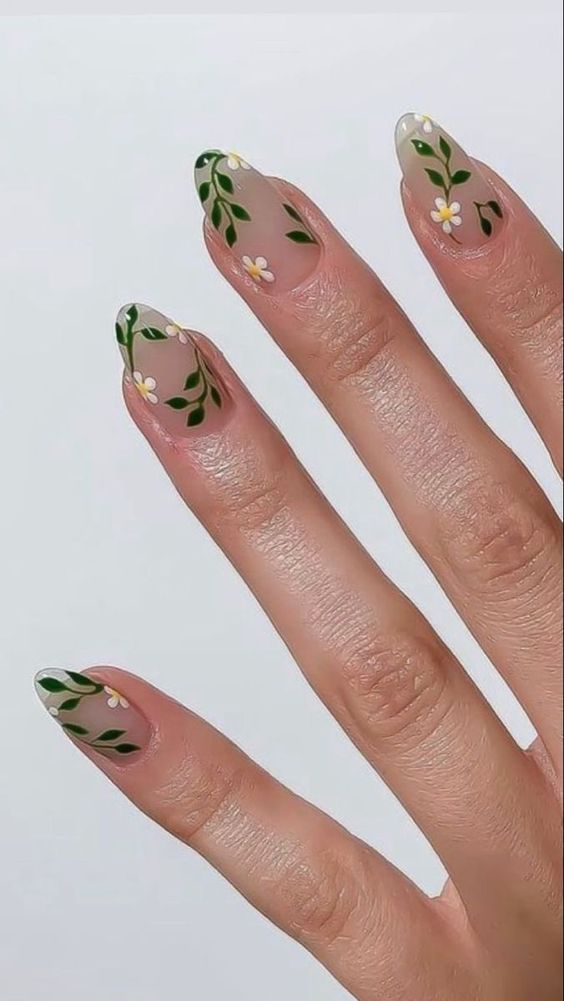 Credit: via Pinterest
When you spring for a longer body, you're giving yourself a lot more canvas to work with for your flower designs. Naturally, the next best thing is vines, which look as sprawling and bountiful on nails as they do on clothes. Getting the vines that thin can be tricky, so try starting with the leaf or drawing the outlines first.
Drippy drip drip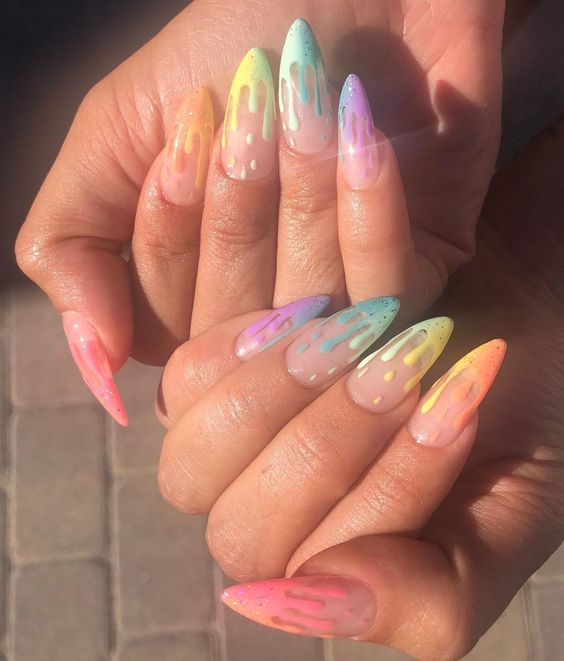 Credit: via Pinterest
There's nothing more summery than melting ice cream, and you can make any crazy flavor you want with these nails. Keeping the bed nude is for the best, all the attention will be on the tips anyway, and if you want it served just like the picture, don't forget each nail is a double scoop with two different flavors. As it should be.
Olive please, hold the drab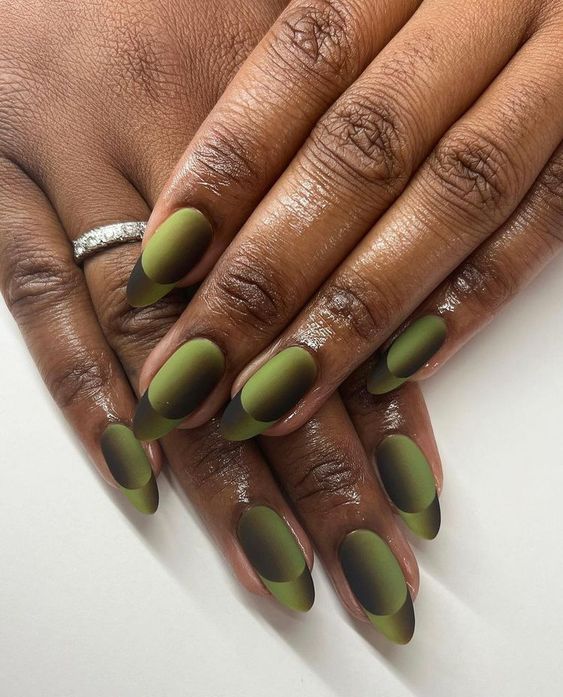 Credit: via Pinterest
This stunning interpretation of the French illusion nail uses a matte-green olive shade to play with the light. Or rather the darkness, as you can see the gradient that's so well blended it's almost invisible, looking like a natural shadow. The pointed tips reverse the pattern, which is the final flourish needed to make this design iconic.
Froggy fresh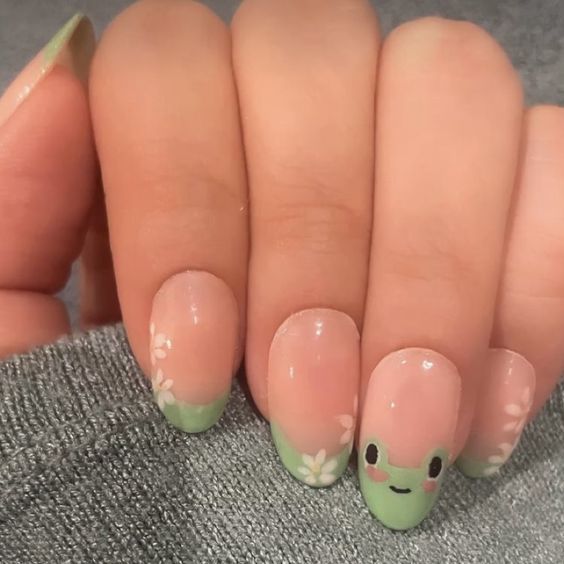 Credit: via Pinterest
You're never gonna go wrong painting little creatures on your nails, it's a guaranteed crowd-pleaser. Clearly, you want to go for something that's easy to make with simple shapes, and it helps if they're already cute so sadly, no locusts. Otherwise, pair your add-ons carefully to tell the animal's story! Here he is surrounded by lily pads, hydrated, and in his element.
Fruity French tips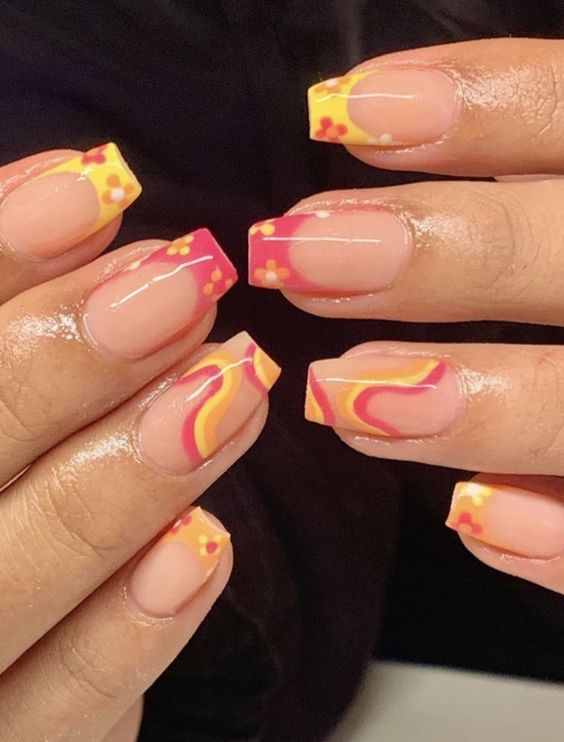 Credit: via Pinterest
You can see why they have such staying power. French tips are endlessly versatile and great for summery nail designs. This groovy 70s flow has hints of caramel, custard, and raspberry, that swirl together surrounded by mini-flower patterns. Again, a nude body is a pretty core to the French tip, so you don't want to use anything too loud.
Watermelon sugar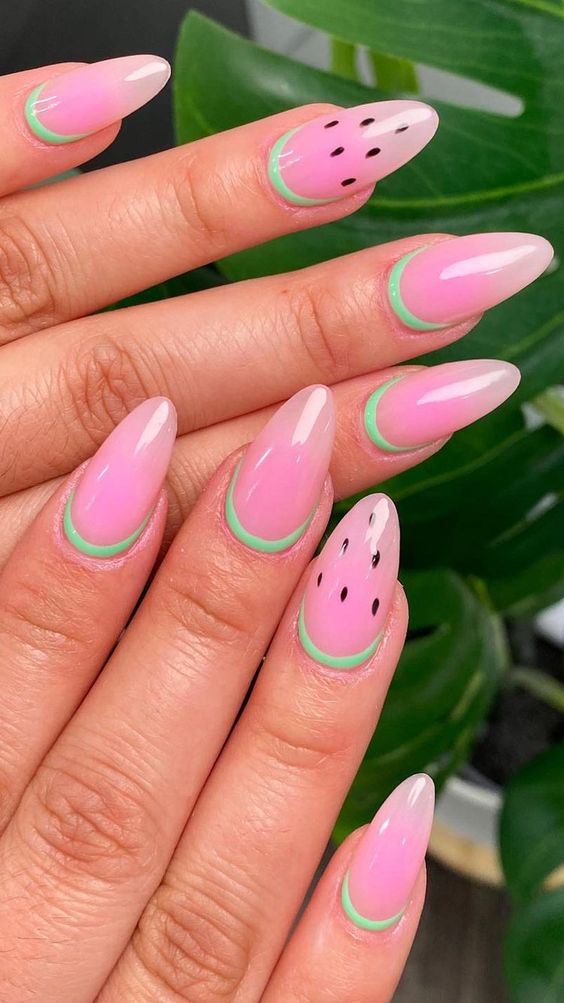 Credit: via Pinterest
Watermelons are THE summer fruit, they appeal to kids and adults alike because they're sweet and easy to turn alcoholic. It's also an instantly recognizable design and easy to recreate! A slight curve of green by the cuticle, and a body of whatever pinks or reds you have laying around. The seeds are optional.
All money almond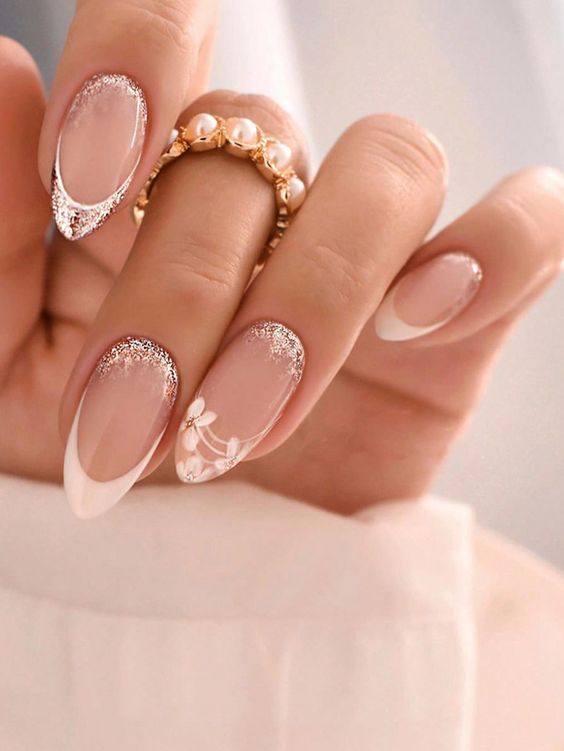 Credit: via Pinterest
There's extra, and then there's this. When only two nails on the hand have matching designs, you know you're in for something special, and these beautiful acrylics fit the bill. With a glittering halo around the cuticle, glittered tips, gloss tips, and flowers, you're touching on four or five different trends all at once.
Summer of Love
Credit: via Pinterest
No list of nail art is complete without at least one lovey-dovey design. This is far from a compulsory inclusion though, and earns its spot here with its own creativity. Nude pinks and deeper, crimson reds go together flawlessly, it's a very intimate color pairing and perfect for spreading the love with its adorable inverted heart details.
Angled art for shorter nails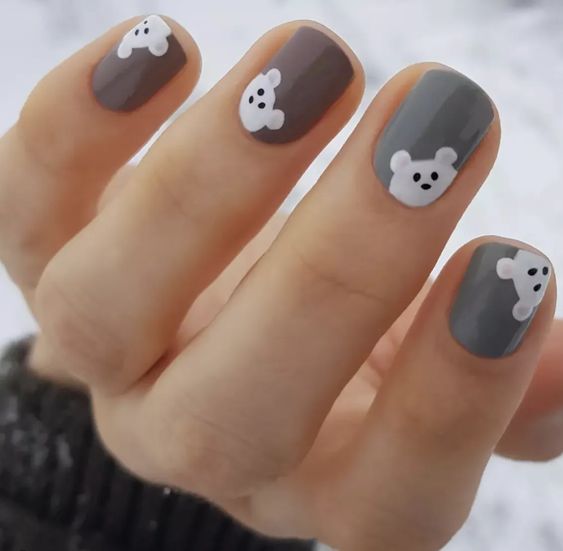 Credit: via Pinterest
The design itself is only illustrative for this point since you can swap out the animal for anything. The main takeaway is how, with clever placement and creativity, you can make the most of your space even with shorter nails. Swapping up the location and angle of designs is a graphic design trick, much like an optical illusion.
Comic-punk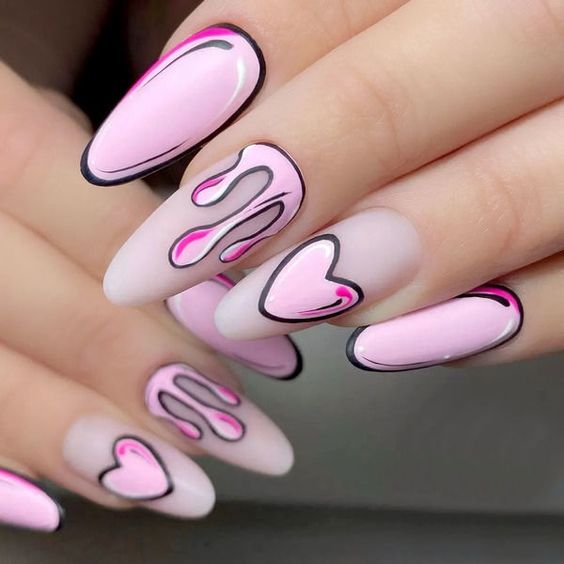 Credit: via Pinterest
Radioactive hearts and drips have bitten this model, giving her a super heightened sense of style. The neutral undertone is key to making those bold, sweeping motion lines stand out, and that's the soul of the entire look so you want to get that perfect. The darker, hot pink shading gives it that extra bit of depth.
Sweet and simple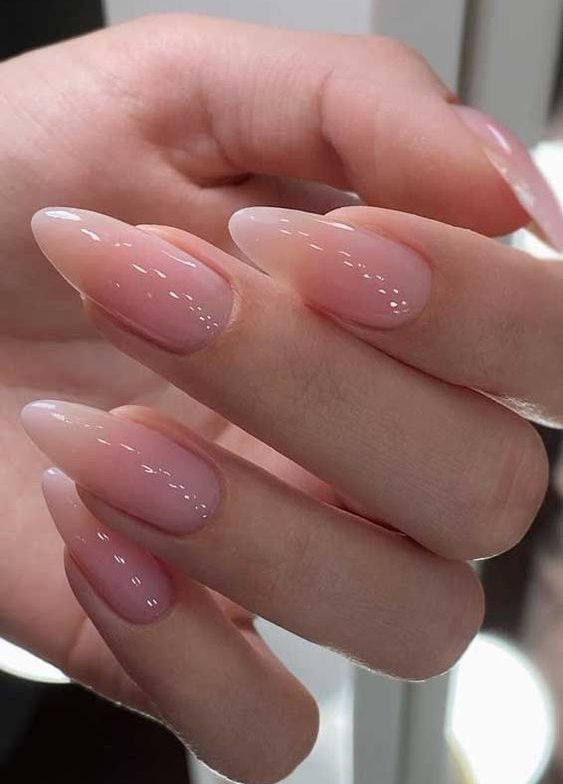 Credit: via Pinterest
Remember you don't always have to go out bringing the heat, it's getting plenty warm out there already. If you already have your summer wardrobe planned and have left your nails as an afterthought, then a clean, glossy, and sugary pink almond acrylic can go with plenty of looks. Keep them translucent for a natural approach.
No, you're the sunflower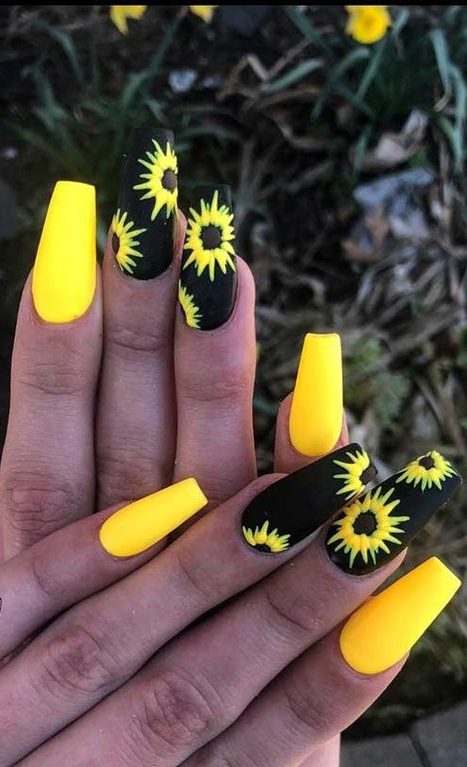 Credit: via Pinterest
One of the boldest colors you can go for in summer is black. It's unexpected, but the sunflower is a symbol of the season and pairs so beautifully with a matte black nail that you can get away with it. The bright yellow borer nails pop all the more vibrantly thanks to them sitting next to the darker colors.
Geode nails
Credit: via Pinterest
While you could model your nail after an amethyst, why not involve the whole geological process? This sharply contrasting design, split by a jagged golden crack, is like the stones you hammer away at to reach the sweet, shiny innards. This kind of three-section design works best in almond or pointed nails.
Hot pink sunset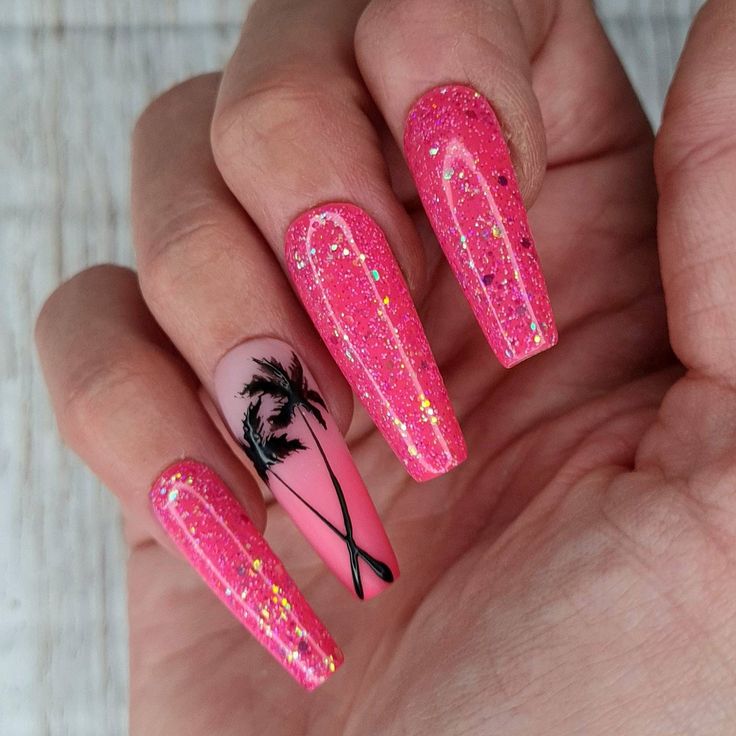 If you like it long and fluorescent, these are the nails you're after. The crushed gemstone glitter pattern and bright, hot-pink color scheme would be perfect for Barbie summer, and the palm trees are a little nod to some of her favorite Miami beachfront properties. Swapping one nail out for a matte alternative is also a little mini-trend at the moment.