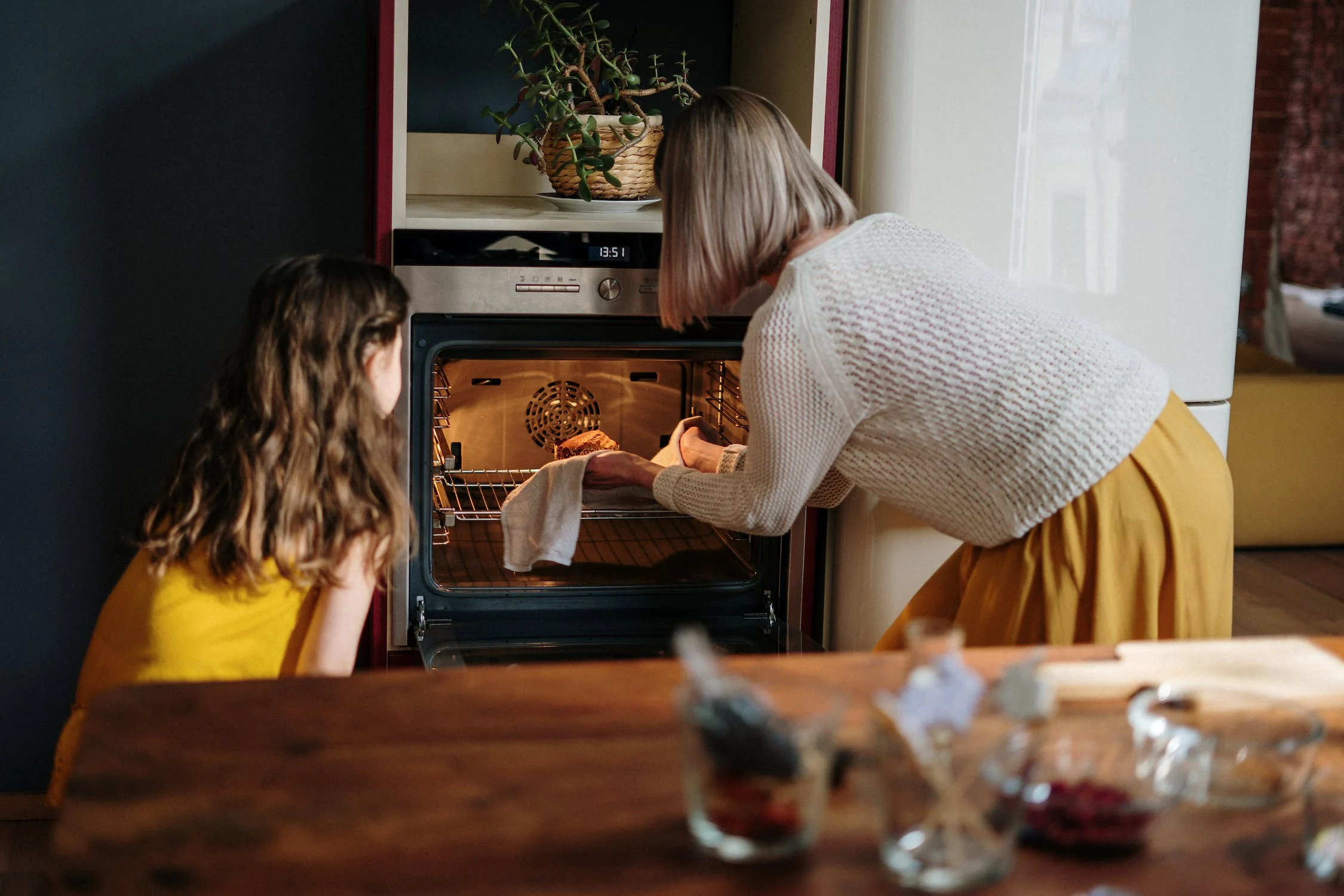 Credit: Cottonbro studio via pexels
Slow cooker green beans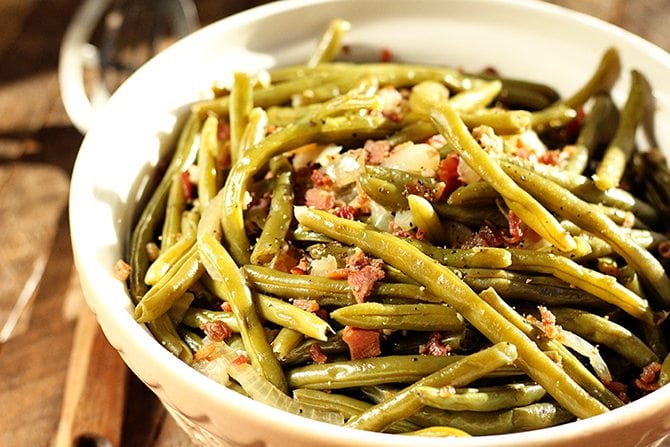 Credit: Stacey via Southern Bite
Swap the casserole with these steamed and braised beans instead. Green beans are delicious and super healthy, so they make the perfect side dish to pair with heartier foods. Because they're lower in calorie you can have a big portion of these without the guilty feeling after.
Roasted squash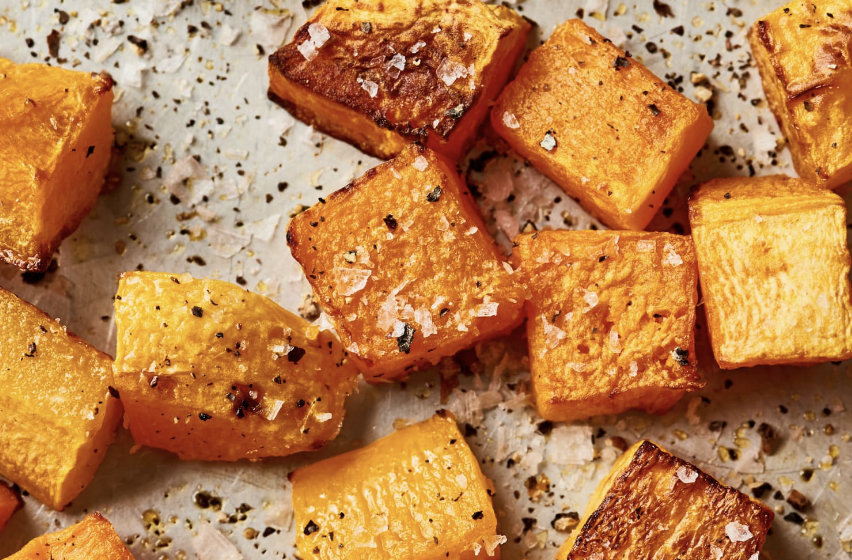 Credit: Joe Lingeman via The Kitchn
Butternut or Delicata work really well for this recipe. Squash is a versatile dish and it has lots of health benefits. If you are trying to avoid high carb dishes, bring a pot of this to the dinner table and eat instead of mashed potatoes.
Collard greens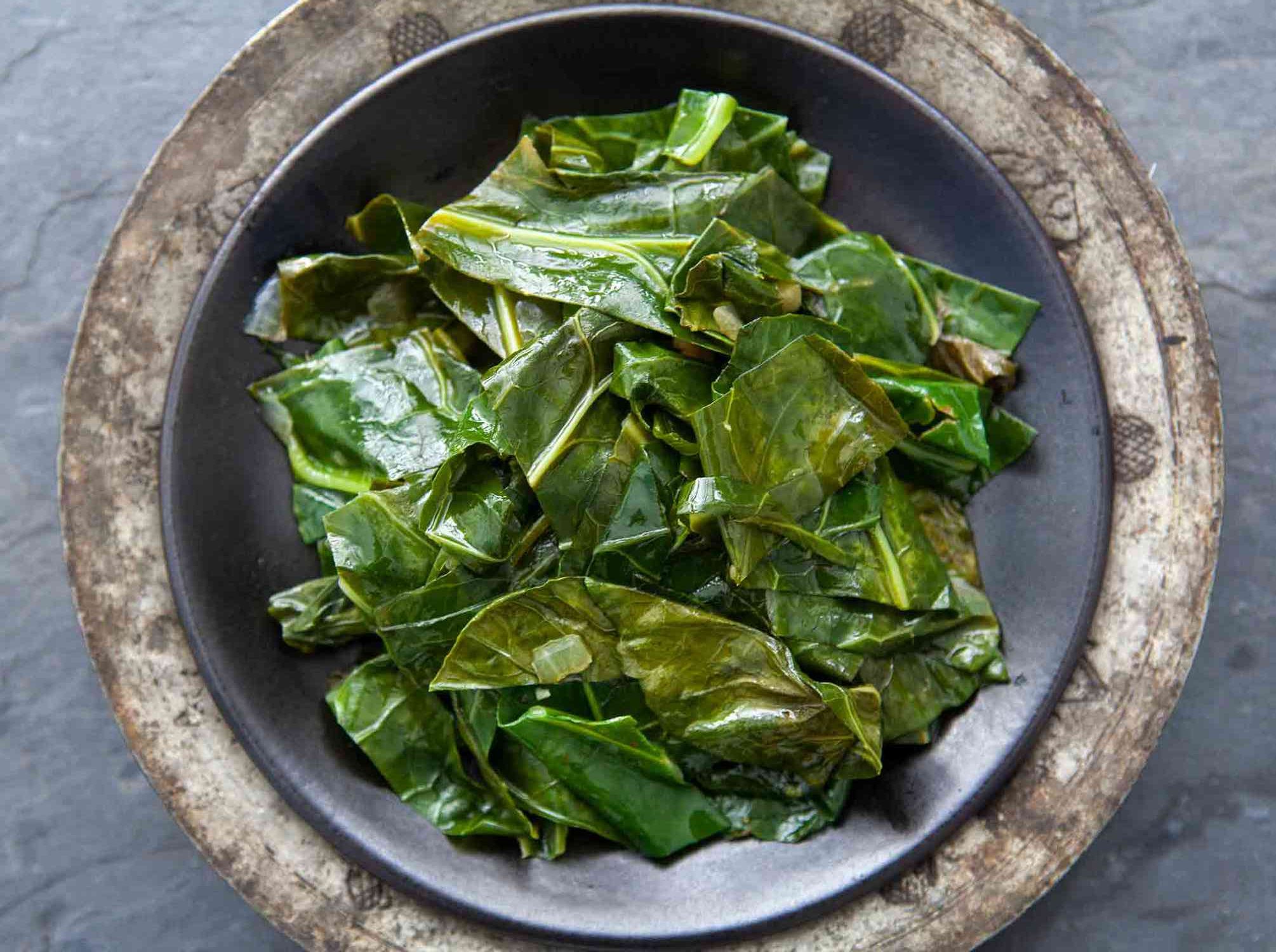 Credit: Elise Bauer via Simply Recipes
If you're not a huge fan of kale, try collard greens. They have just as many health benefits as other leafy greens and taste delicious steamed with seasoning. You can choose to add turkey meat or leave it just as the veggies so it's easy for all to enjoy.
Air fried Brussels sprouts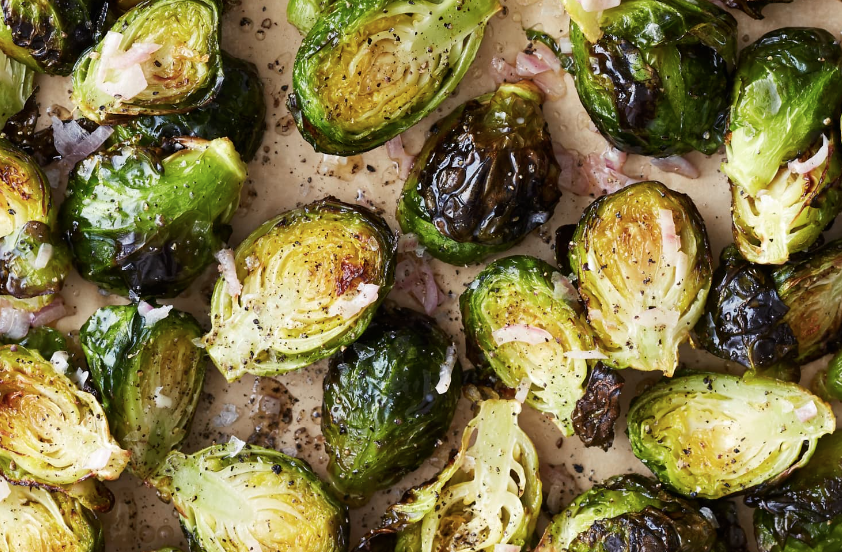 Credit: Ghazalle Badiozamani via The Kitchn
Get the kids to enjoy sprouts this way too. Simply rub in a little olive oil and your favorite seasonings and air fry for a lighter but still crispy texture. As they're crunchy, they make a super satiating side dish without a ton of extra calories. These taste great reheated the next day too along with other Thanksgiving leftovers.
Butternut squash mac and cheese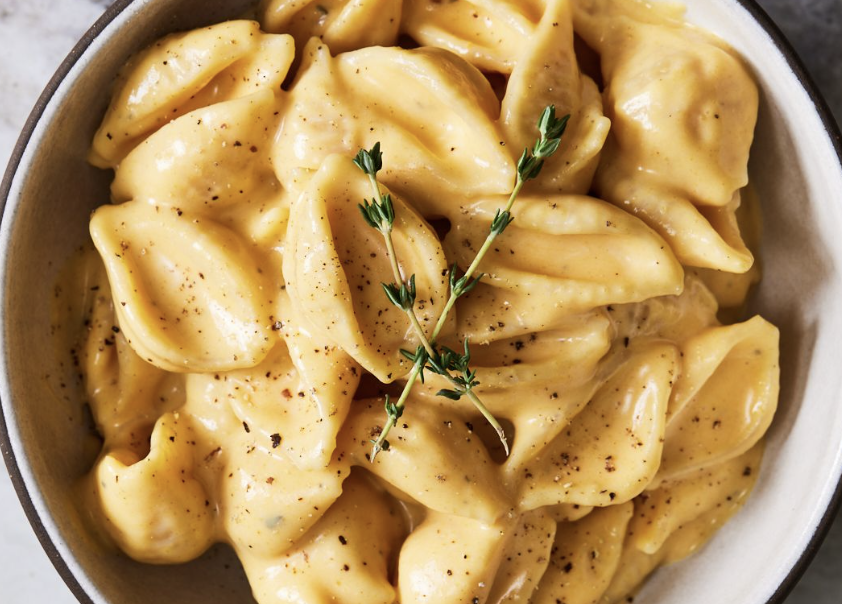 Credit: Erik Bernstein via Delish
Instead of a heavy béchamel sauce, use a smooth and creamy butternut squash sauce. Roast the squash with onion and garlic, topped with thyme and sage. Blend these together with veggie stock and add to the macaroni noodles. Top with light breadcrumbs and low fat cheese and bake.
Homemade cranberry sauce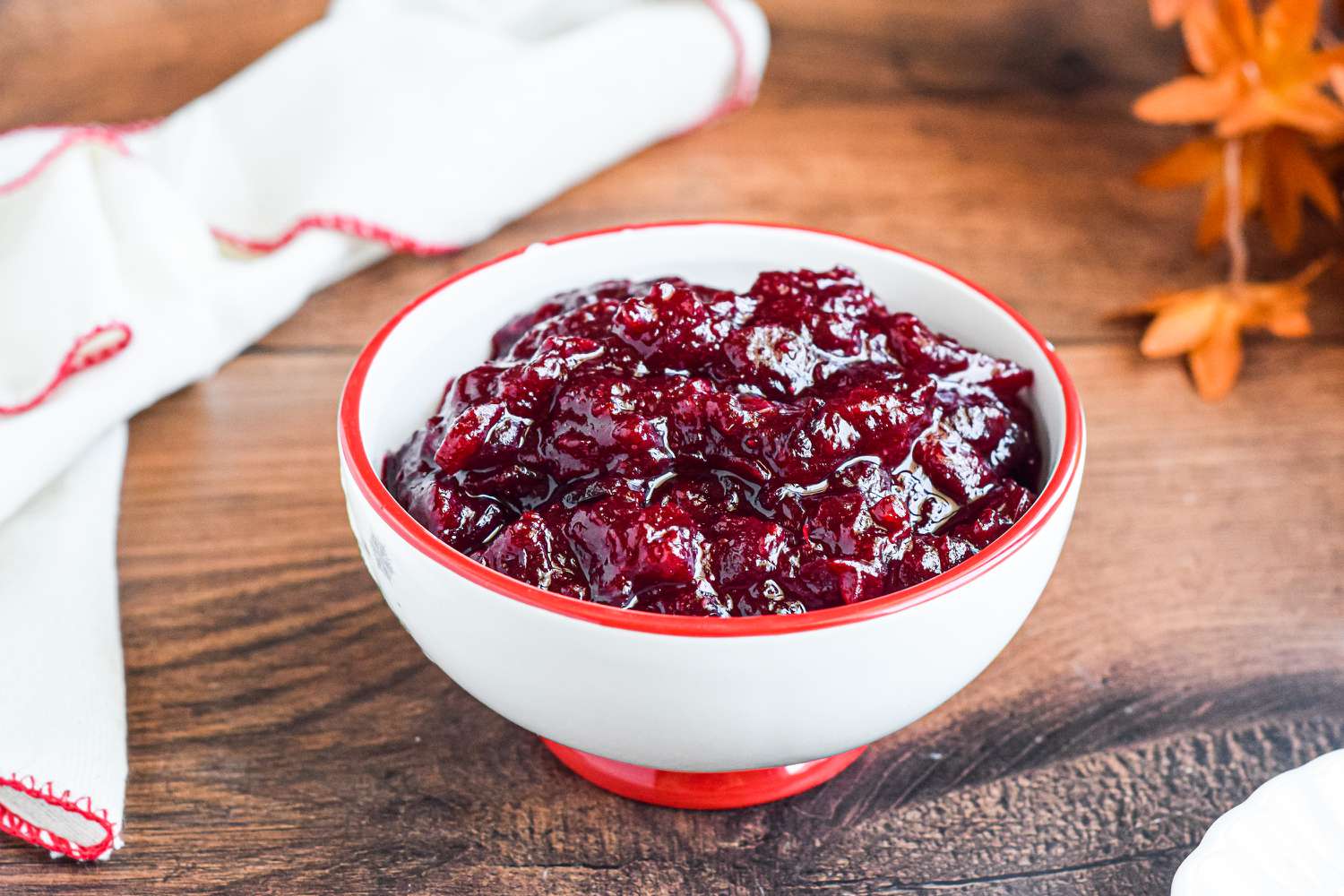 Credit: Elise Bauer via Simply Recipes
Canned or shop bought cranberry sauce has lots of added sugars into the mix, but by making yours at home you can control how much add. Or if you want to avoid added white sugar, try sweetening with maple syrup for a naturally sweet and sticky sauce.
Air fryer sweet potato fries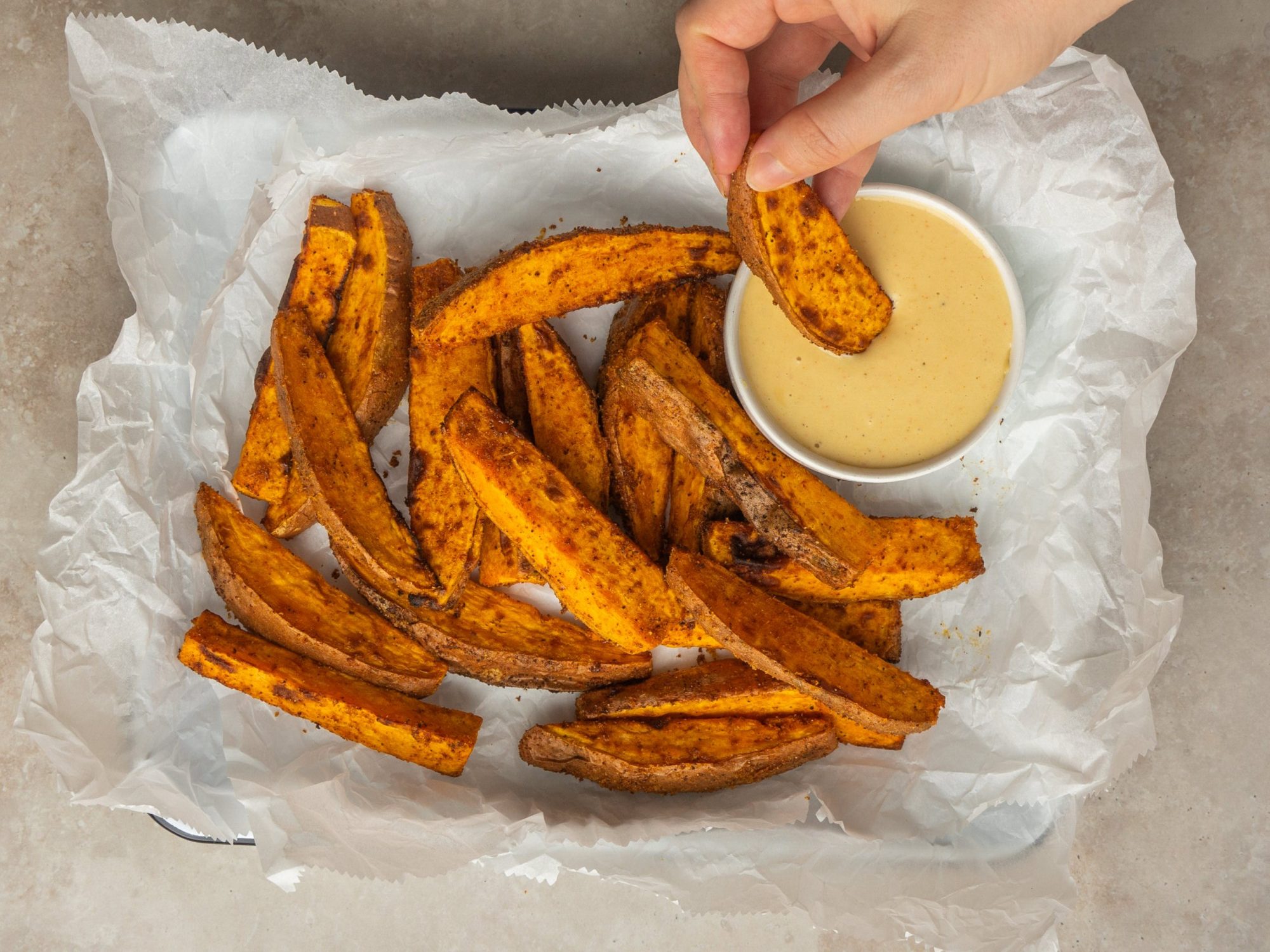 Credit: Madeline via Mad About Food
Sweet potatoes are always found on a Thanksgiving table, but try these fries for a lighter carb option. Simply cut your potatoes into chunky wedges, rub in a small amount of olive oil and add whatever seasonings you like. The air fryer will give them that crunchy texture without the deep fryer fat.
Honey glazed parsnips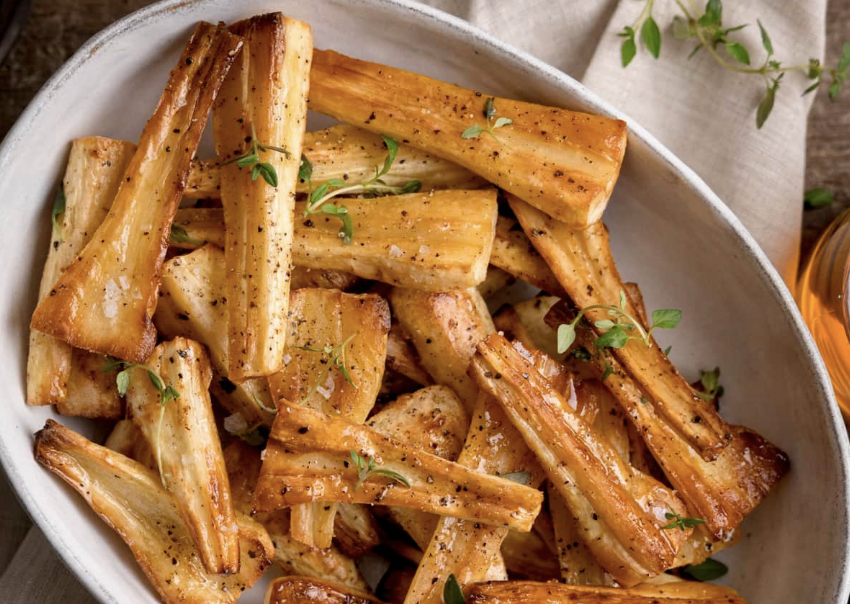 Credit: Nicky Corbishley via Kitchen Sanctuary
Parsnips are a classic festive veggie and their nutty flavor makes them the perfect side dish for Thanksgiving. Cut up your parsnips and rub them in olive oil, garlic, thyme and honey. The honey will bring a touch of sweetness but also make the glaze sticky and delicious.
Dark chocolate figs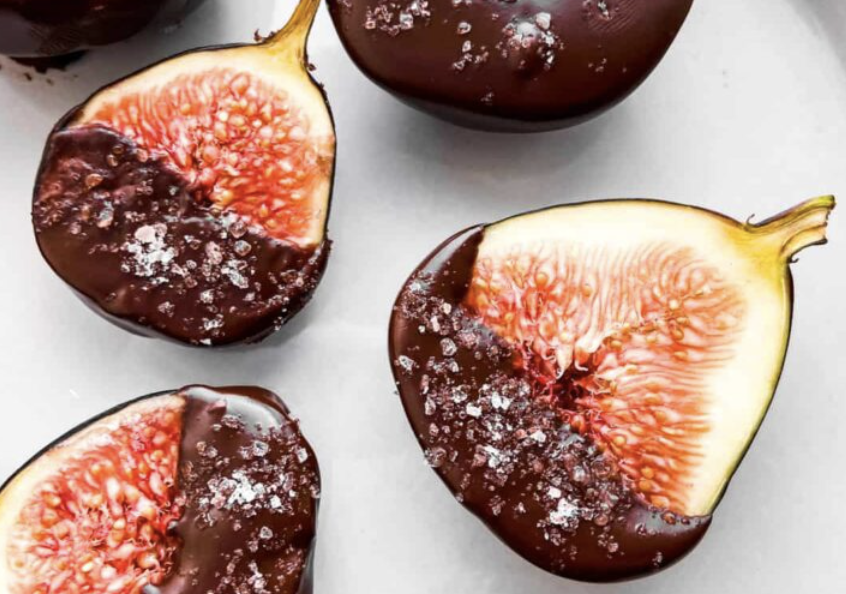 Credit: This Healthy Table
A sweet treat after a Thanksgiving meal is a must. These little desserts are super easy to prepare and are guilt free. Find fresh figs in your grocery store and cut them in half. Melt some dark chocolate and dip half the fig into the chocolate, then sprinkle on sea salt. Set in the fridge and enjoy.
Roasted cauliflower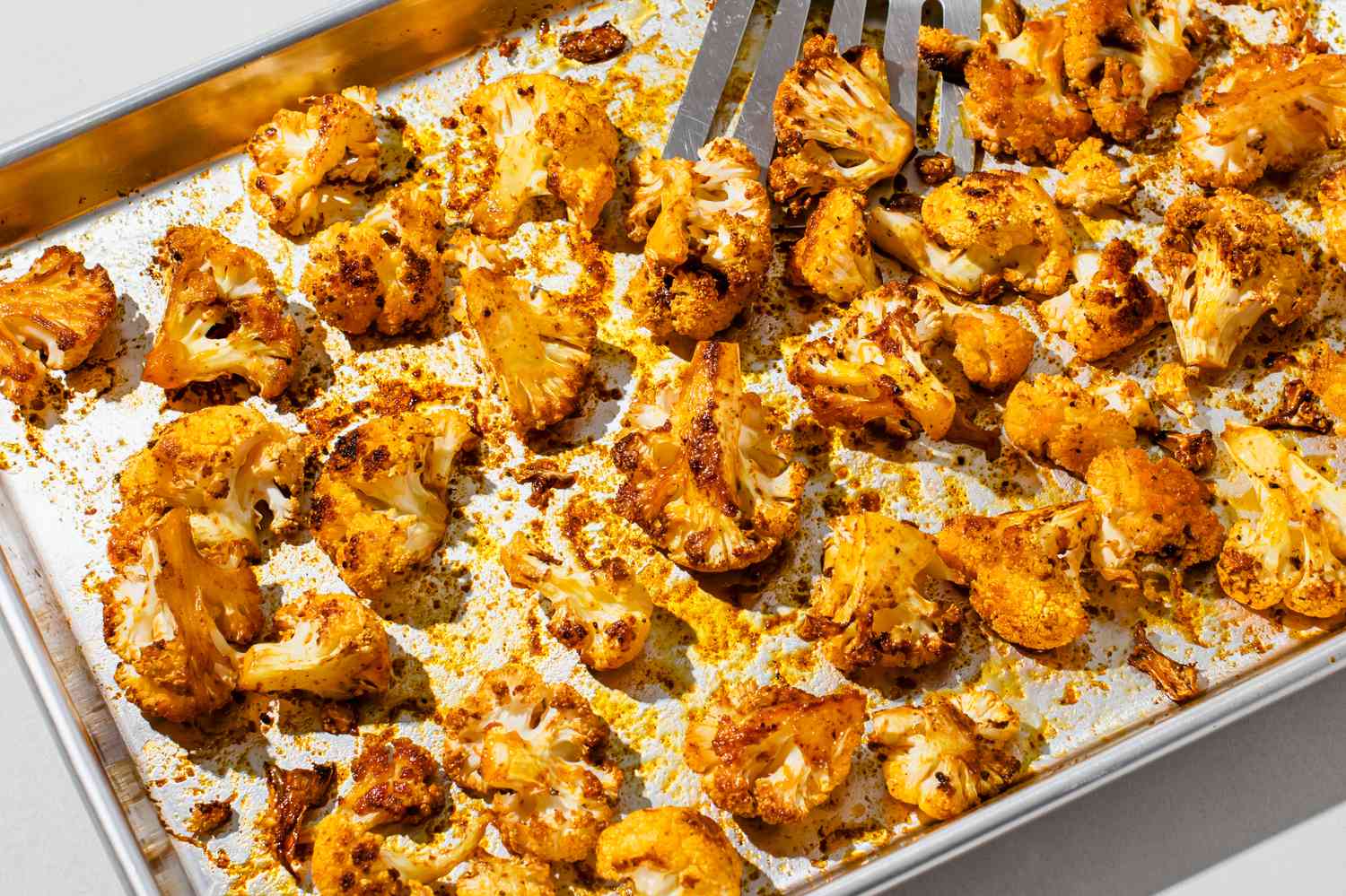 Credit: Diana Chistruga via The Spruce Eats
Crispy and caramelized! Cauliflower is super good for you and is also low in calories, so you can eat a big bowl of this stuff. Roast a head in the oven on a large baking tray with garlic and honey and a drizzle of olive oil. The honey adds a sweet and caramel taste.
Garlic green beans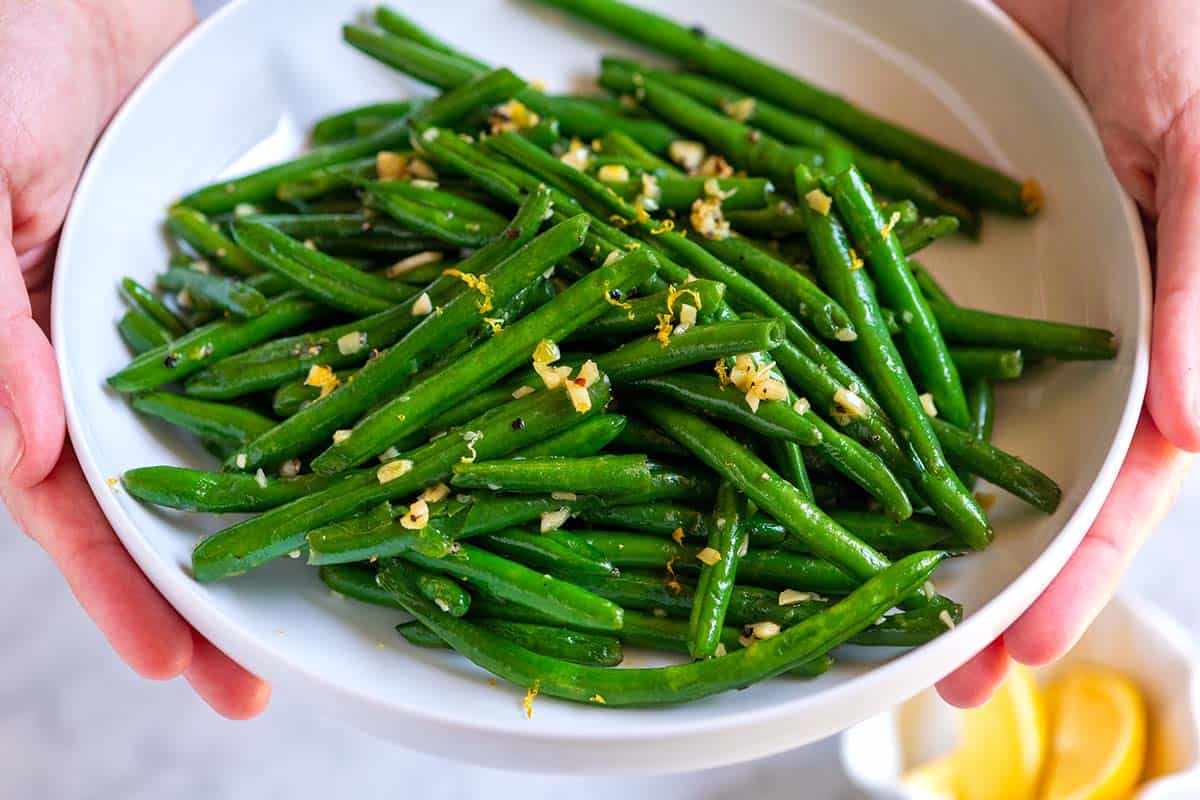 Credit: Inspired Taste via YouTube
A really simple dish to prepare but tastes delicious. Steam green beans either on the stove or microwave steamer, and add a mixture of chopped garlic, lemon zest and a spoon of butter. The beans stay crunchy and have a strong garlic flavor. Add a sprinkle of salt to taste.
Mashed sweet potatoes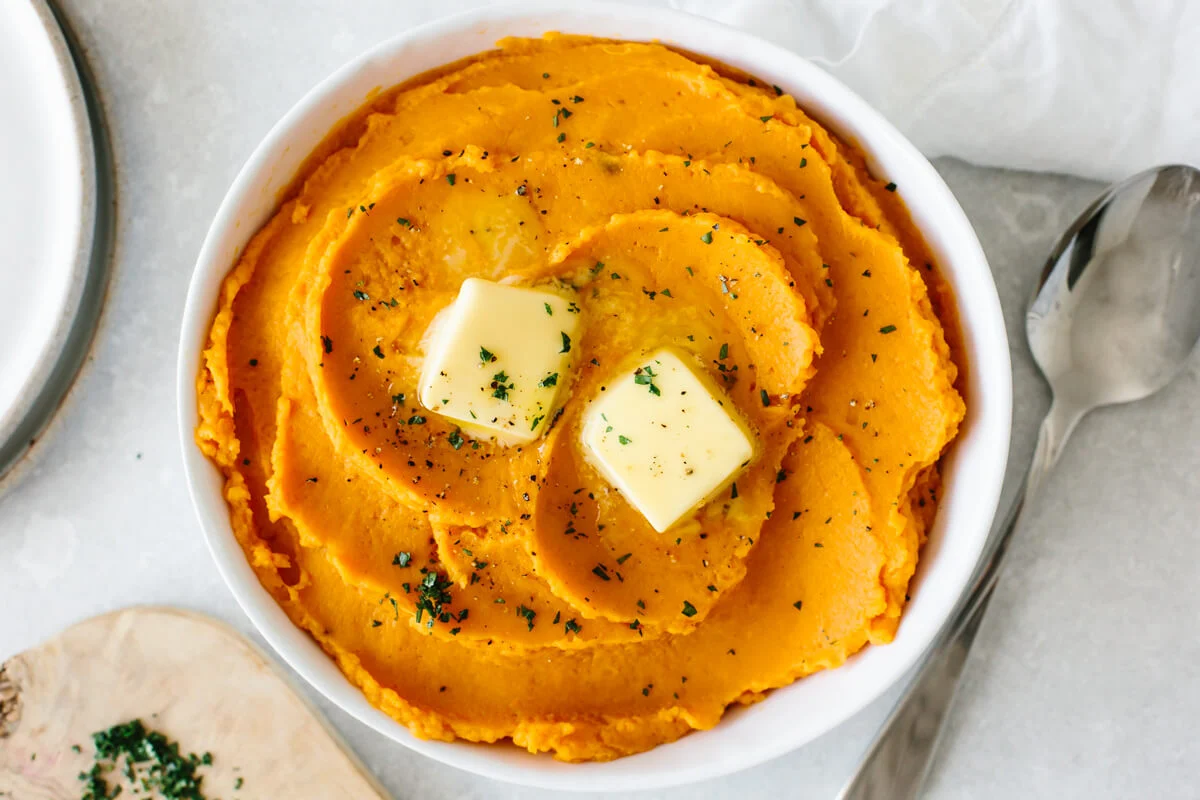 Credit: Lisa Bryan via Downshiftology
Skip the traditional mash potato and try sweet potato instead. Sweet potatoes are more nutrient dense and because of their sweet flavor they don't need as many additives to add flavor. Simply add a small spoon of butter and black pepper for a delicious side.
Maple glazed carrots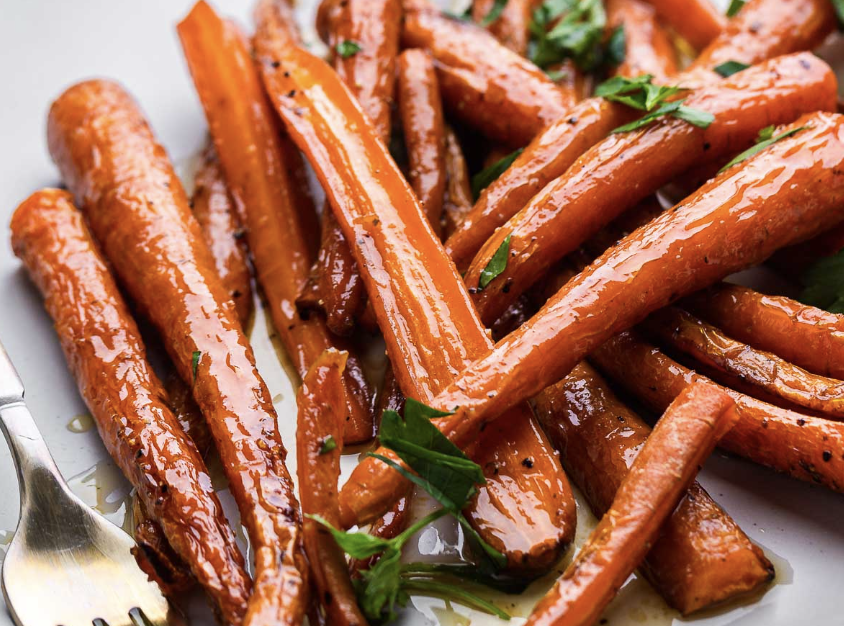 Credit: James via Sip & Feast
Add a boost of flavor to your carrots. Carrots are super healthy and full of vitamins, and are also low in calories. Roast your carrot batons in the oven with a mixture of maple syrup and garlic. The maple syrup will give them a sweet and sticky taste.
Butternut squash and coconut soup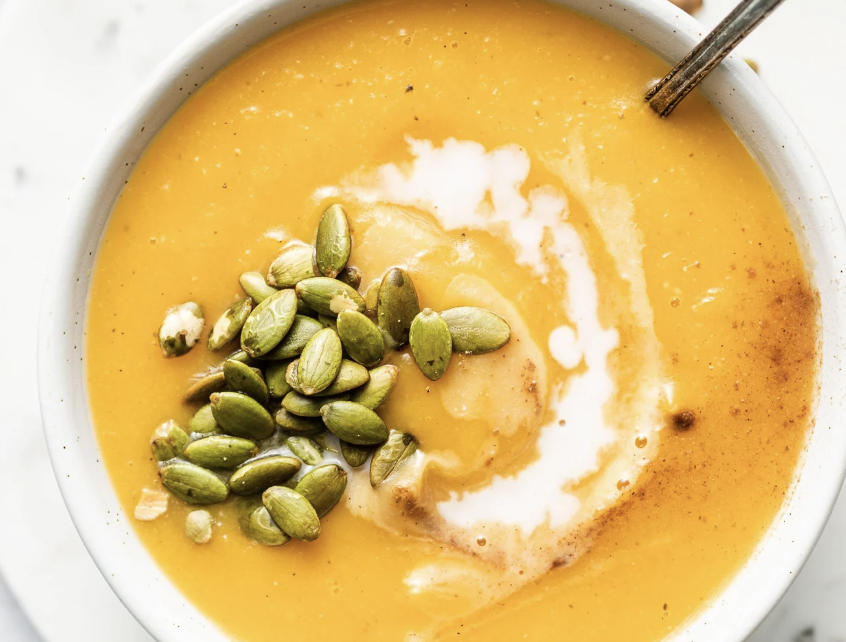 Credit: Nora via Nora Cooks
Using an immersion blender makes this soup even creamier. Butternut squash has lots of vitamins and makes a great soup base as it's a fleshier veggie. The coconut comes from the addition of coconut milk or cream, which makes the soup super rich but not too high in calories or sugar.
Cauliflower au gratin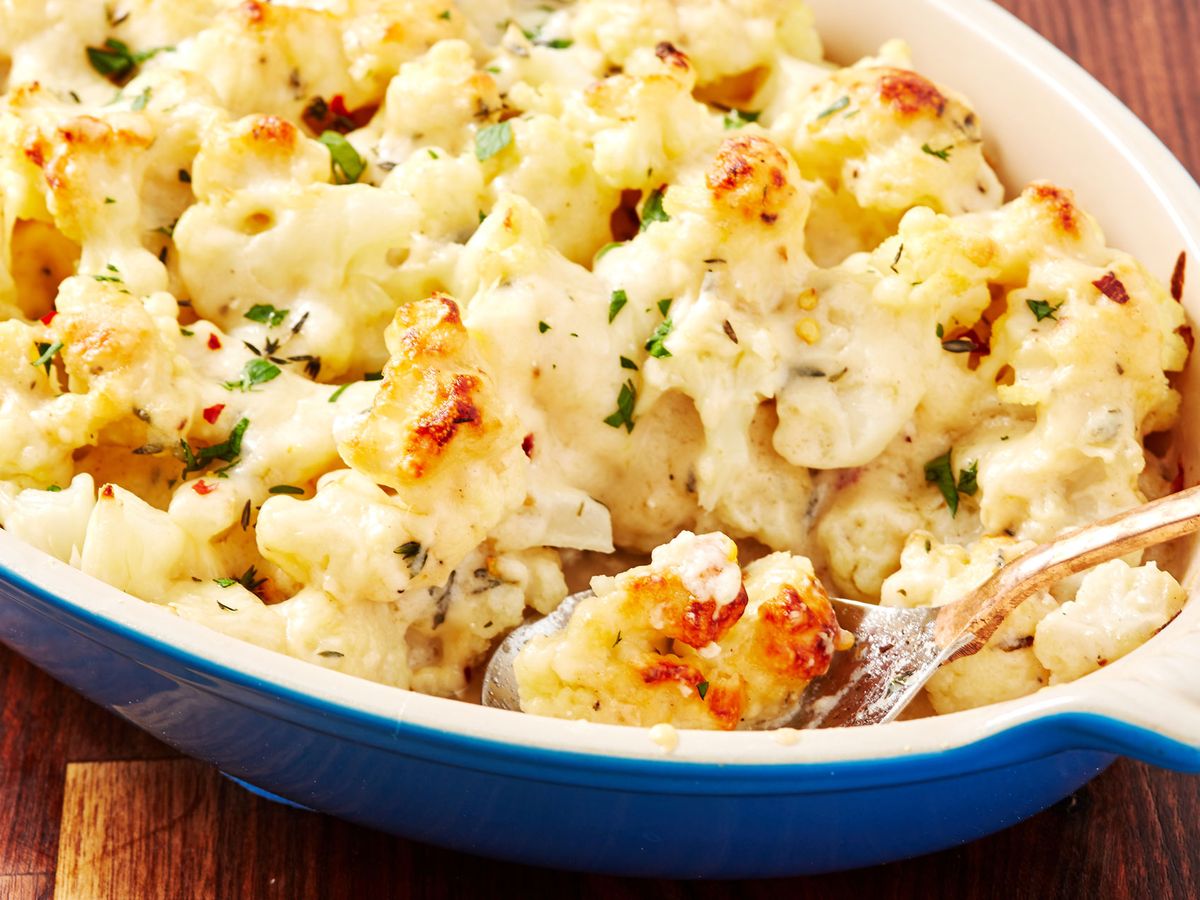 Credit: Parker Feierbach via Delish
If you love potato gratin, you'll love this. This recipe is simply a swap out of potatoes to cauliflower. Follow the same recipe as you would make the sauce and layering, but uses florets of cauliflower to replace the sliced potatoes for a lower calorie option.
Miso roasted carrots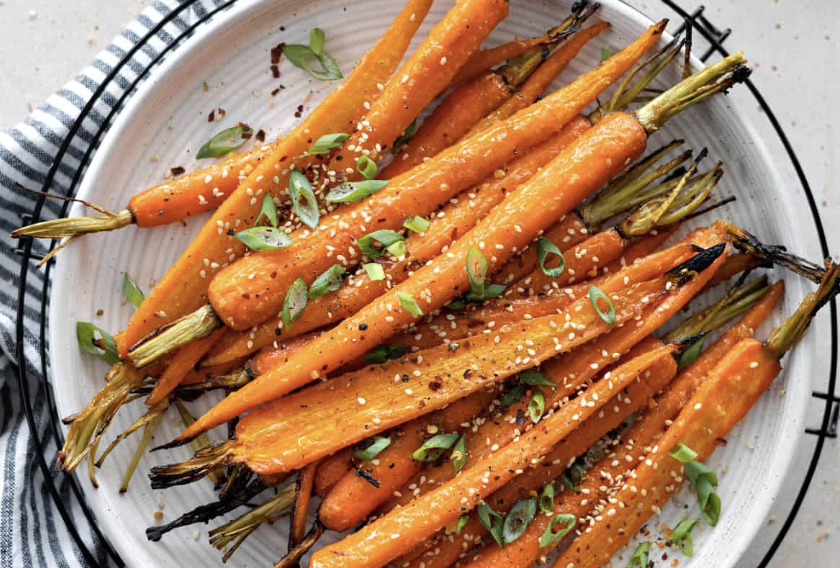 Credit: Melissa Huggins via Vegan Huggs
Miso is a salty and savory taste that is usually used in broths, but it can make a great marinade too. Mix up miso paste, honey, olive oil and crushed red pepper flakes in a bowl, and pour that mixture over your cut up carrots on a roasting tray. Roast for 40 mins and enjoy.
Apple and pear crisp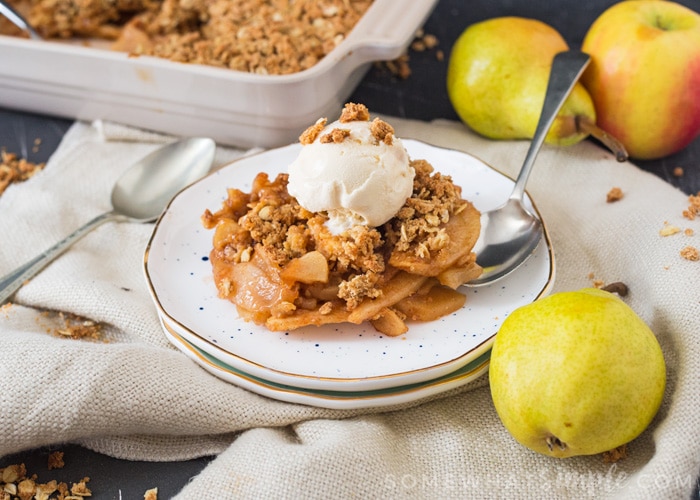 Credit: Creative Team via Somewhat Simple
Ready in under an hour and fully customisable. This dish is made up of sweet cooked fruit and a crunchy oat topping. Mix oats, cinnamon, vanilla, coconut oil and maple syrup together and sprinkle on top of chopped apples and pears that have been covered in lemon juice and honey. Bake until golden and jammy.
Air fried broccoli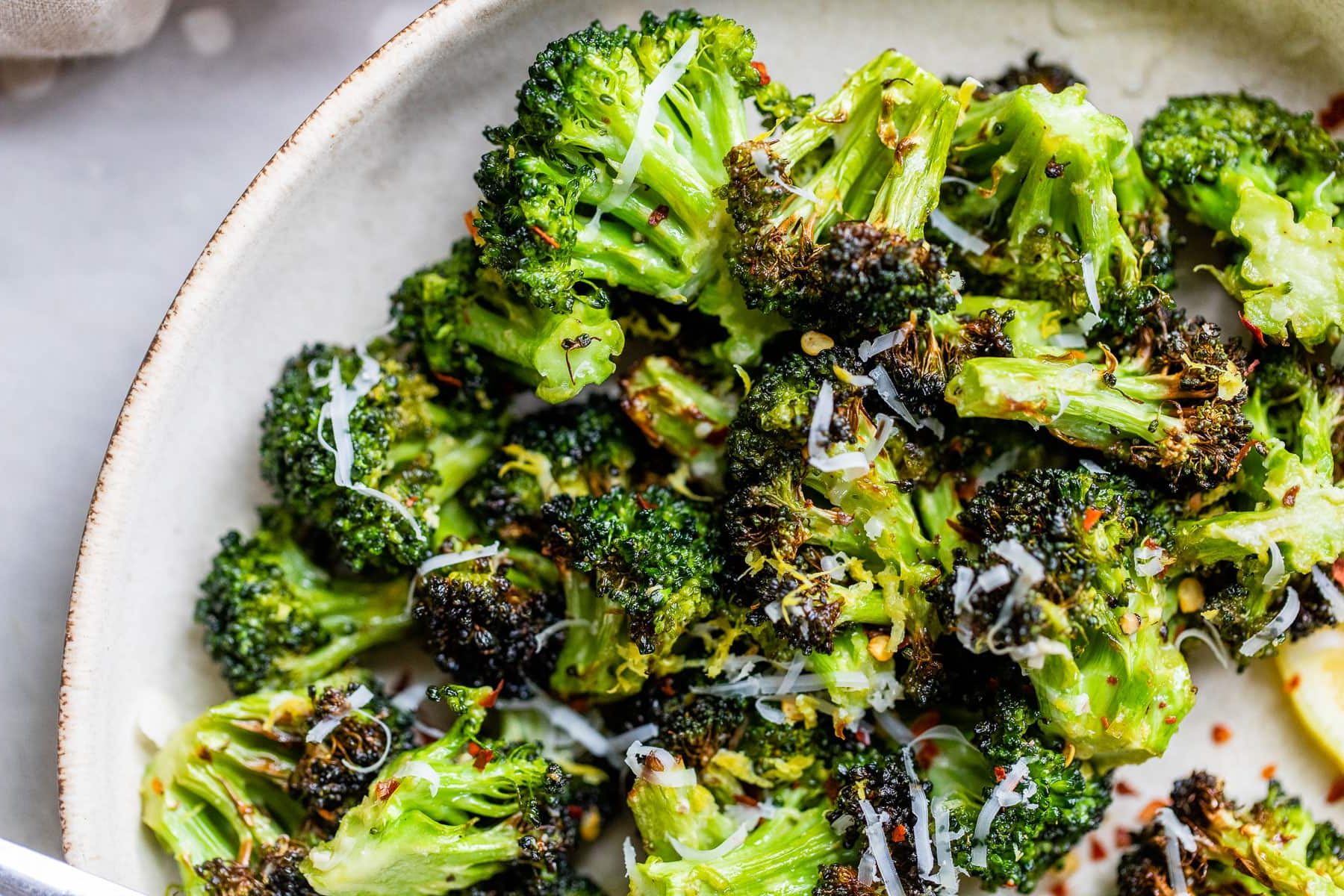 Credit: Well Plated by Erin
This is super easy to prepare and makes veggies taste even better. Broccoli has lots of health benefits so this makes the best side dish. Simply rub florets in olive oil, salt and pepper and air fry for around 10 mins. It will end up crunchy and tender.
Honey and balsamic Brussels sprouts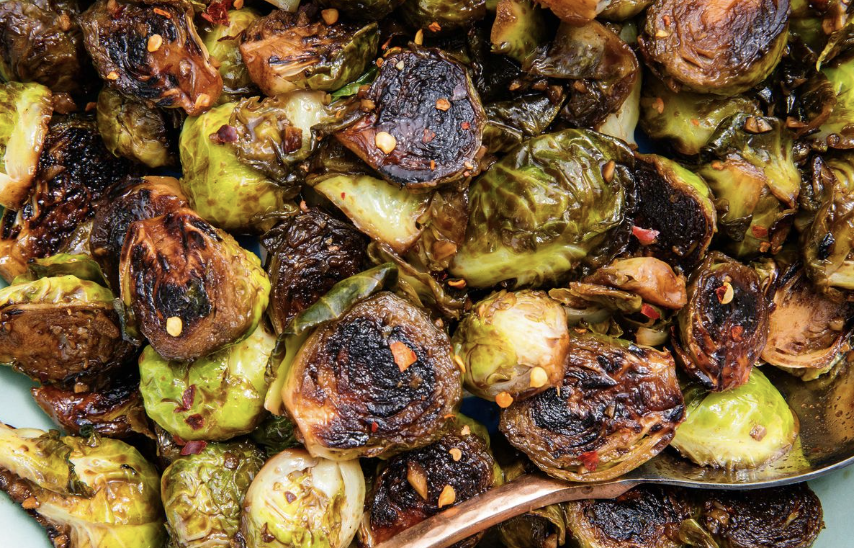 Credit: Parker Feierbach via Delish
Tasty and healthy too. Steam your sprouts first in a pan with a little water until they're just tender. Remove them then add honey, mustard, garlic and vinegar to the pan and simmer until thick and syrupy. Add the sprouts back to the pan to coat in the sticky sauce.
Kale and apple salad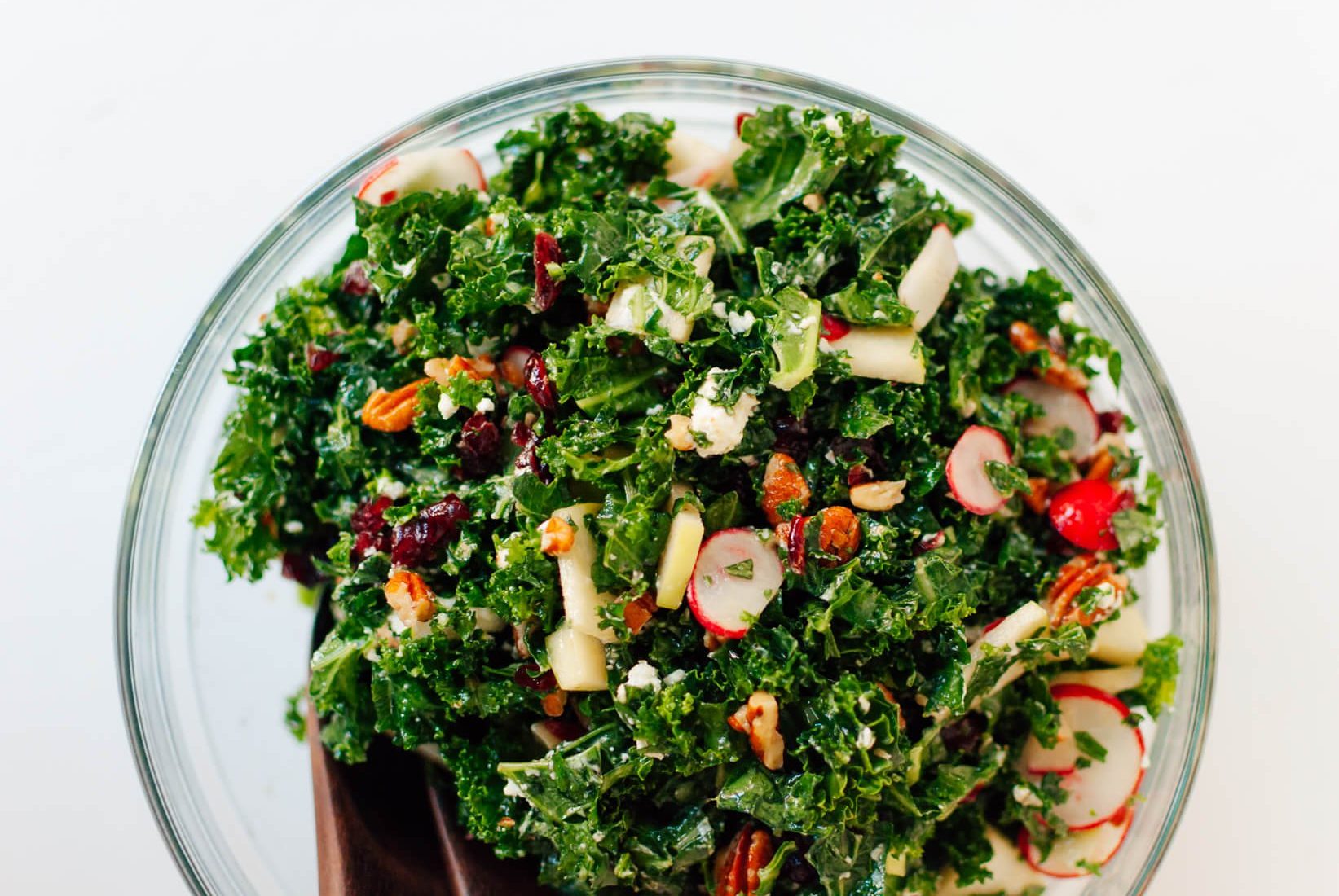 Credit: Cookie and Kate
Light and refreshing, this salad is also packed with vitamins. Mix washed kale with olive oil, red wine vinegar, salt, pepper. Top the salad with sliced red apples, toasted almonds, finely chopped red onion and feta. This can be topped with any nuts and fruits you enjoy, like cherries or pecans.
Mashed cauliflower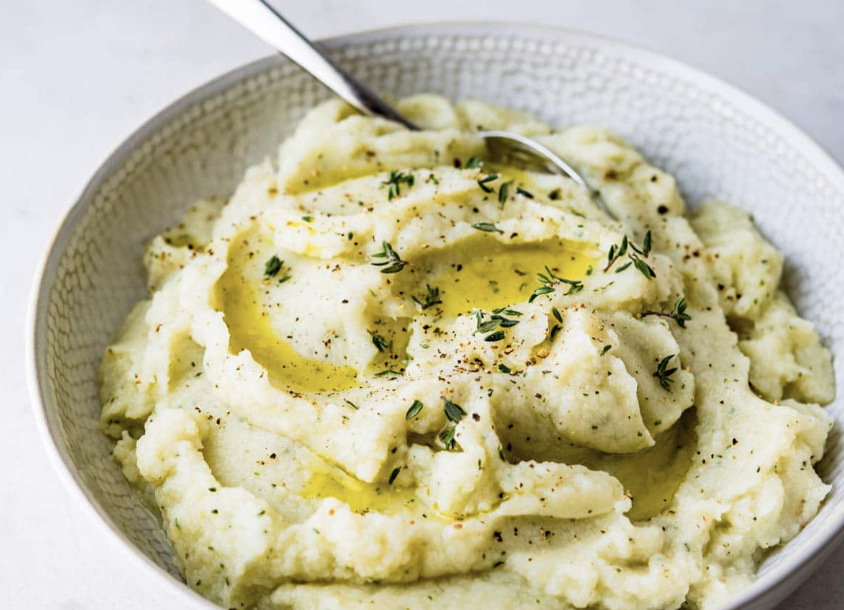 Credit: Lisa Lotts via Garlic & Zest
A great swap for those trying to eat less carbs. This creamy mashed cauliflower is full of nutrients and makes a great side dish to heavier foods. Simply steam and mash up your florets, and season with a spoon of butter, splash of milk, salt and pepper, touch of nutmeg and a small sprinkle of parmesan.
Roasted parmesan asparagus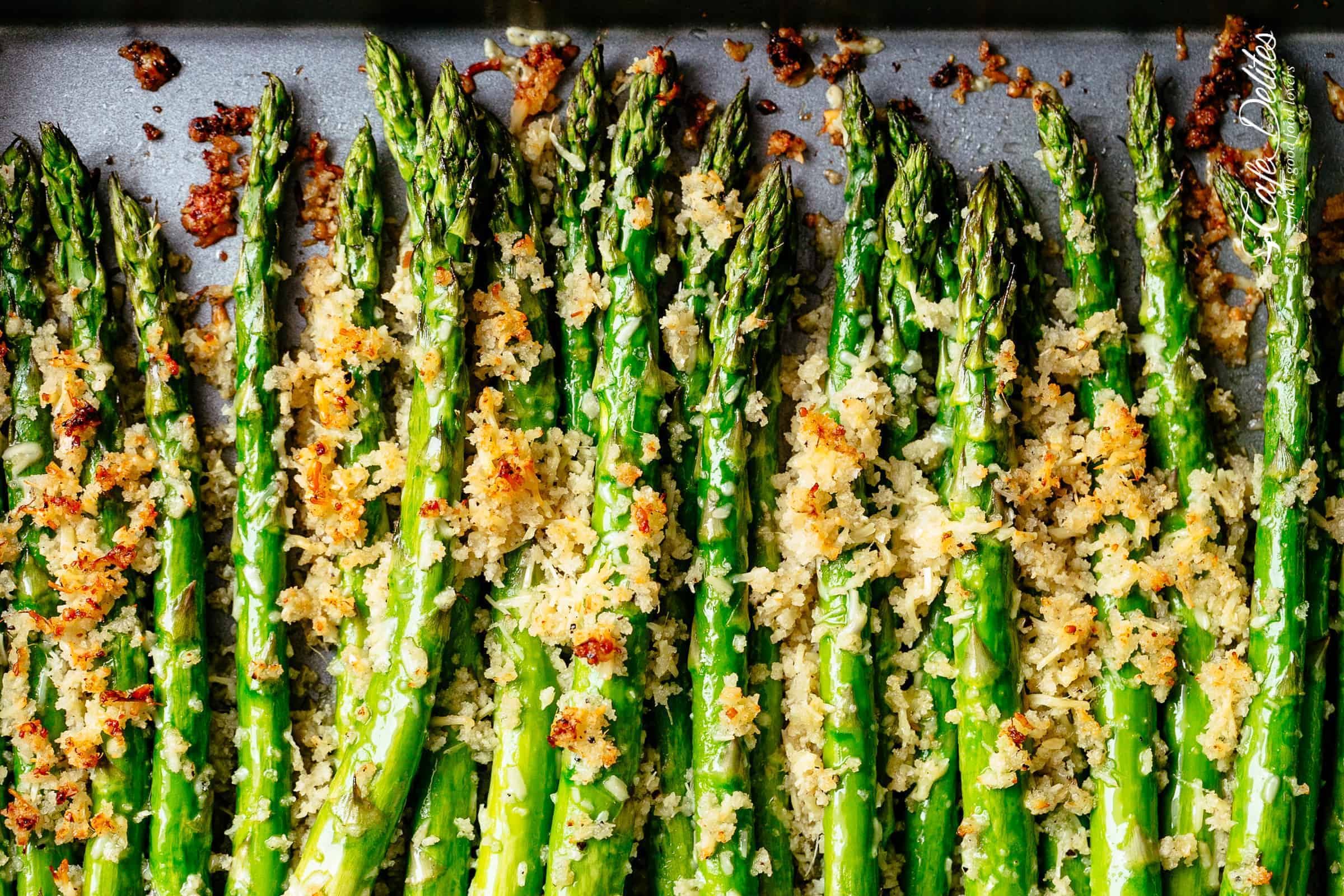 Credit: Karina via Cafe Delites
Asparagus is full of vitamins and has a great crunchy texture. Roast your asparagus stems with olive oil, salt and pepper and a sprinkle of parmesan. They'll come out the oven tender and have a great rich and cheesy flavor. Finish with lemon zest for a refreshing side dish.
Garlic and pine nut spinach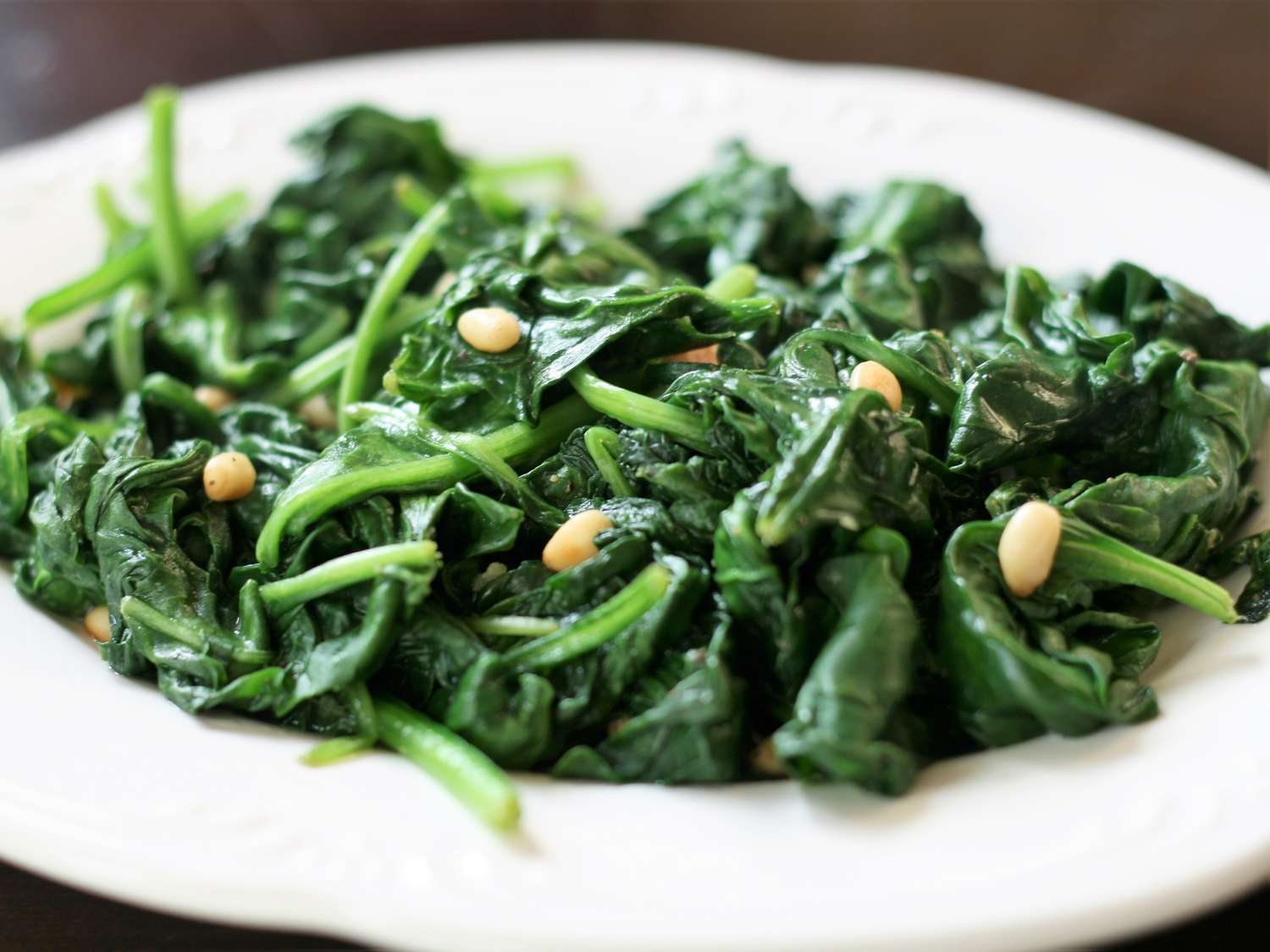 Credit: France C via All Recipes
Spinach is so good for you and it is so easily prepared. Steam your spinach as you would normally, but add a garlic dressing. Mix pressed garlic with olive oil, salt and pepper. Pour over the steam spinach and add a handful of toasted pine nuts on top for texture.
Stuffed tomatoes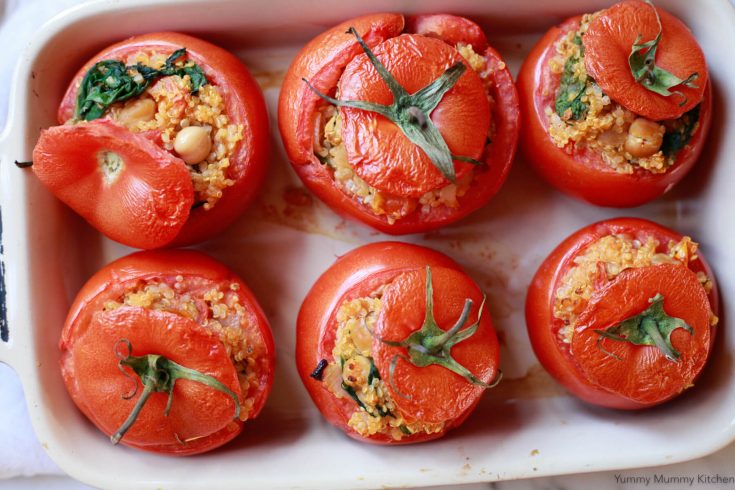 Credit: Yummy Mummy Kitchen
These make great main alternatives to those who are vegetarian and won't be cutting into that turkey. Beef tomatoes work the best as they are big enough to stuff, and you can stuff with whatever filling you enjoy. Quinoa or wild rice works really well in this dish.
Garlic Kale and Pea Sauté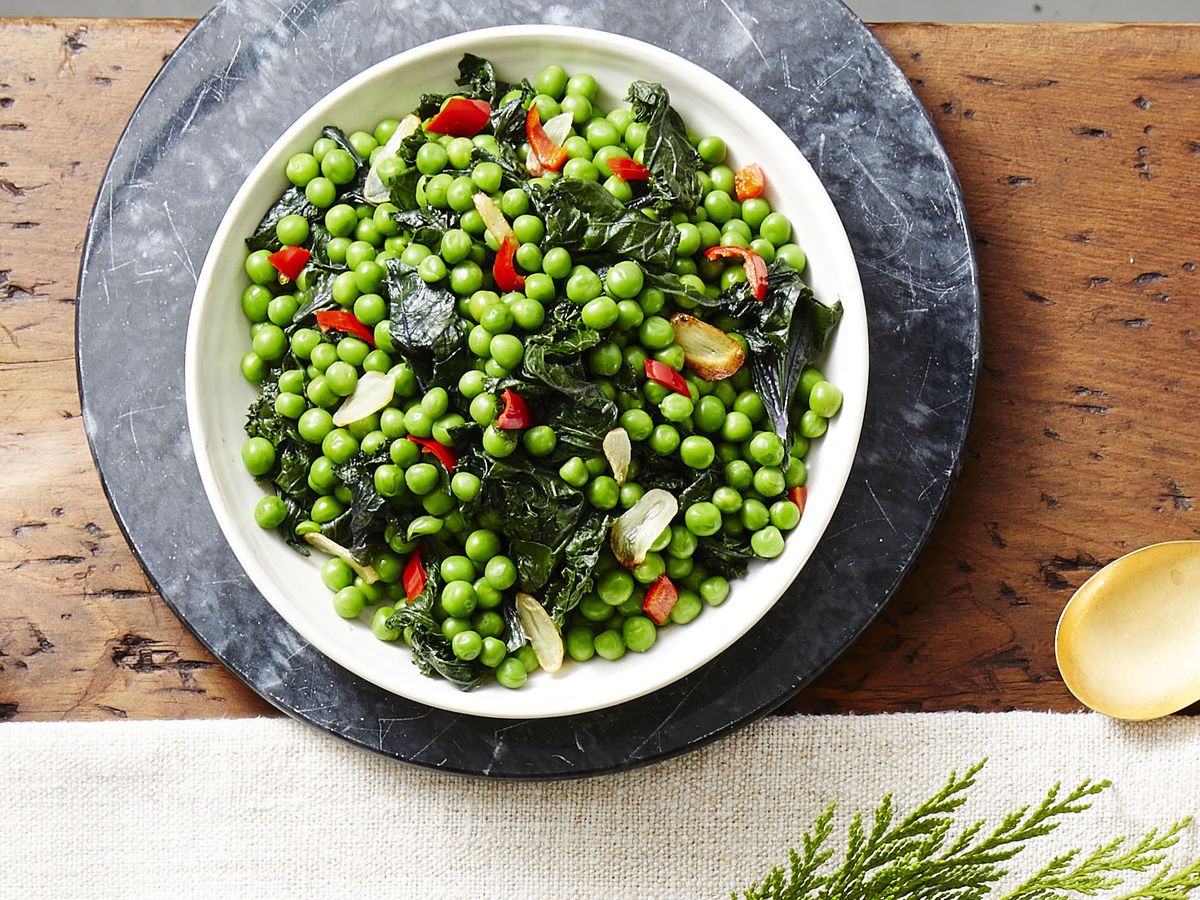 Credit: Mike Garten via Good Housekeeping
Have a boost of vitamins with your turkey. This side is super easy to prepare and is under 90 calories per serving. Simply cook garlic and olive oil in a pan and add your kale to wilt. When tender, add the peas and sauté together. Serve with a sprinkle of salt.
Pear and walnut salad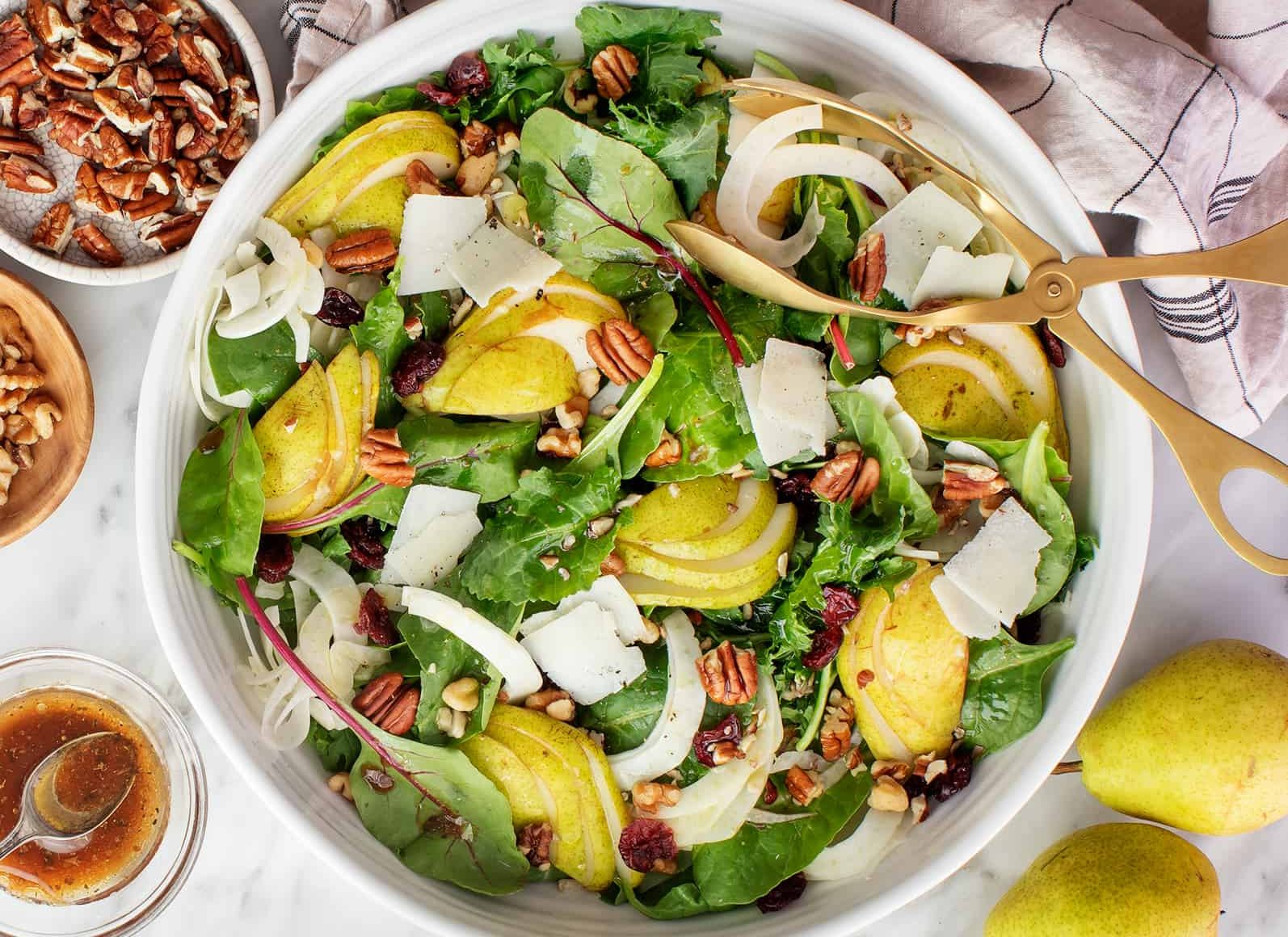 Credit: Love & Lemons
This can be built however you like but the stars of the shows are walnut and pear. Toasted walnuts make a great nutty flavor and pears are fresh and super good for you. Use arugula as a base to add more aromatics and add a healthy fat like feta or avocado.
Cauliflower tots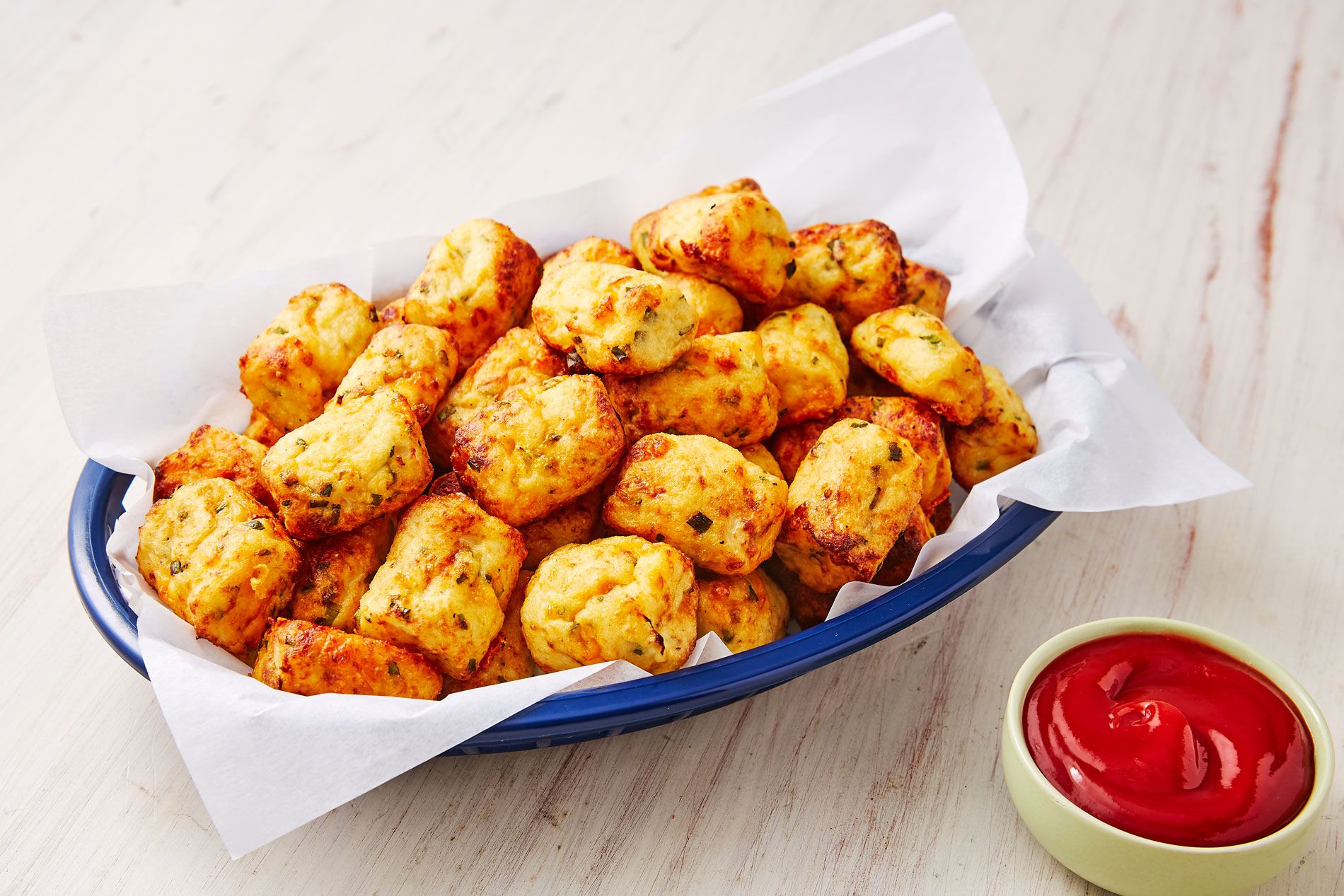 Credit: Lauren Miyashiro via Delish US
Move over tater tots. These tasty cauliflower tots are essentially made the same but replace the potato with cauliflower. Mash steamed florets, mix with egg, pack into little tot shapes, and add your choice of flavorings. Spring onions, basil or cheese makes these extra yummy. Bake in the oven for a crispy shell.
Stuffed bell peppers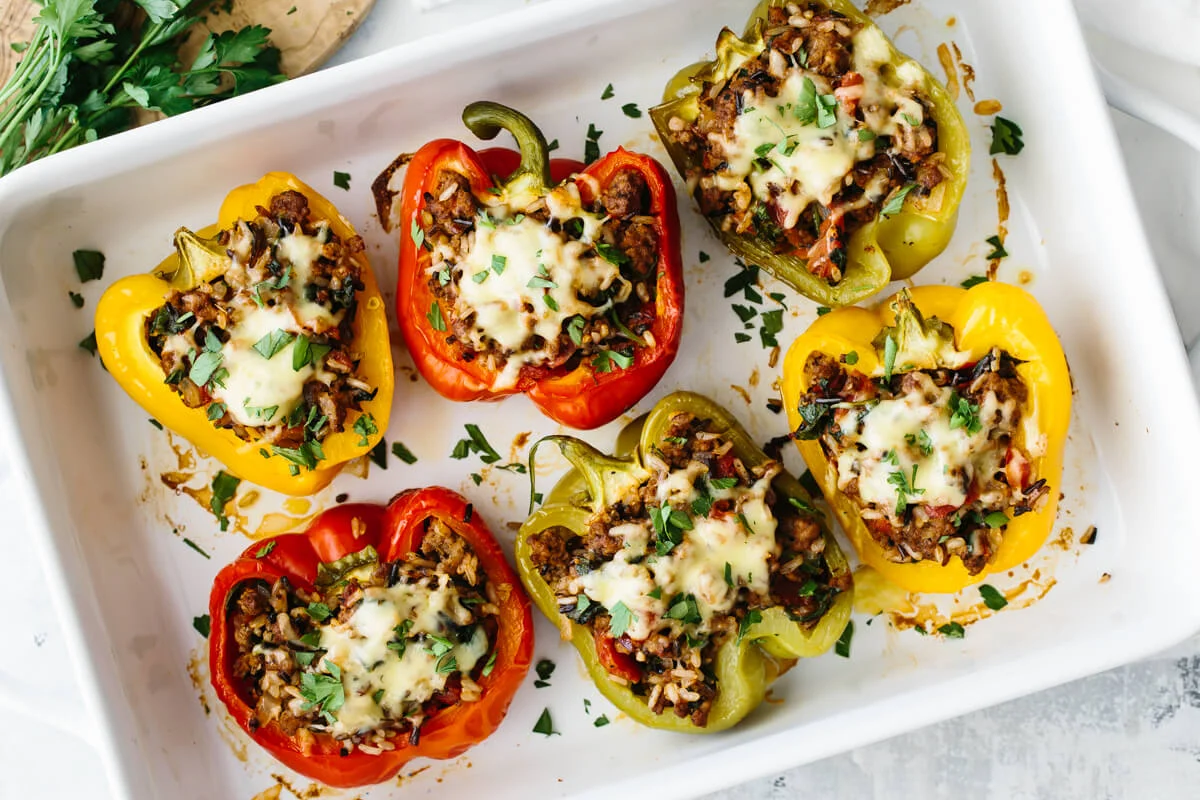 Credit: Lisa Bryan via Downshiftology
These are great as satiating mains or big sides to fill you up. Bell peppers get juicy and soft when roasted in the oven and they make great veggies to hold a filling. Choose your stuffing of choice, but brown rice or quinoa work really well with other toppings mixed in.
Sauteed cabbage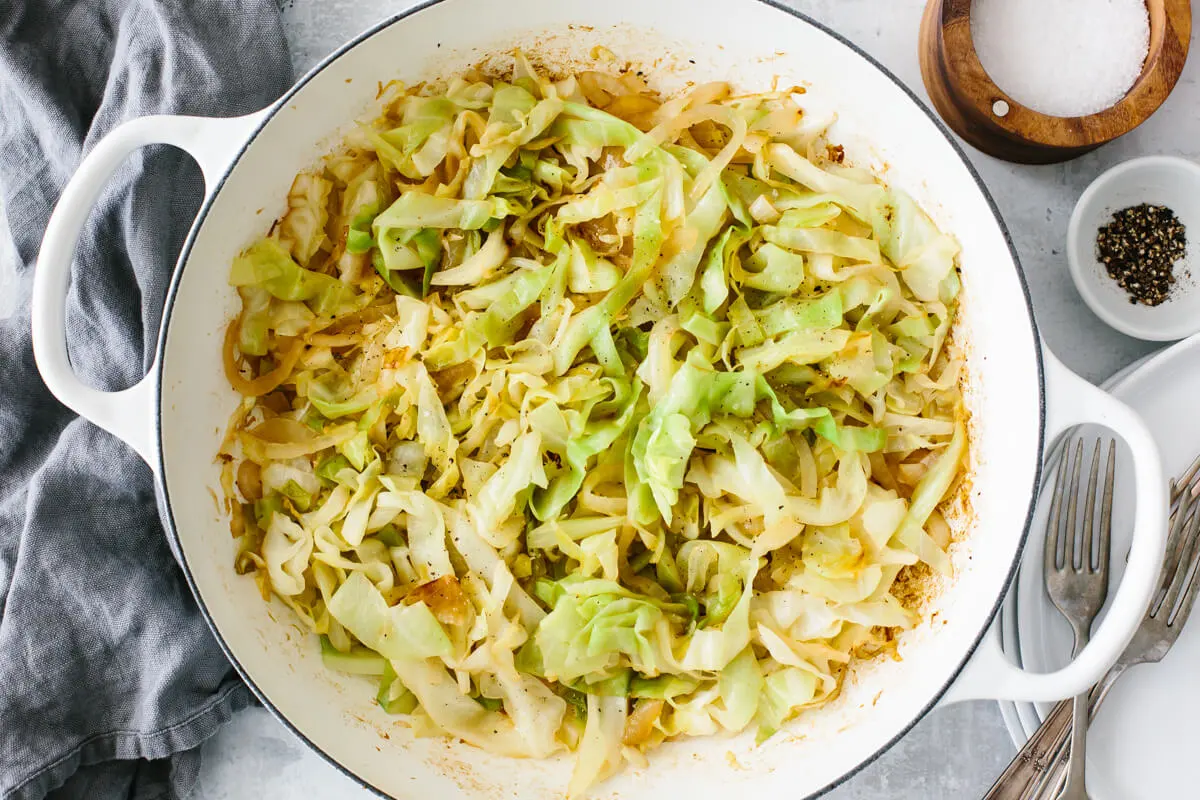 Credit: Lisa Bryan via Downshiftology
Cabbage is an underrated veggie, but it can make great side dishes. Sauté your cabbage in a pan after shredding it with onions and garlic. It will make them sweet and caramelized, the perfect pairing to have with turkey. Cabbage is also super low in calorie so you can have a good portion of this.
Roasted pepper and chickpea salad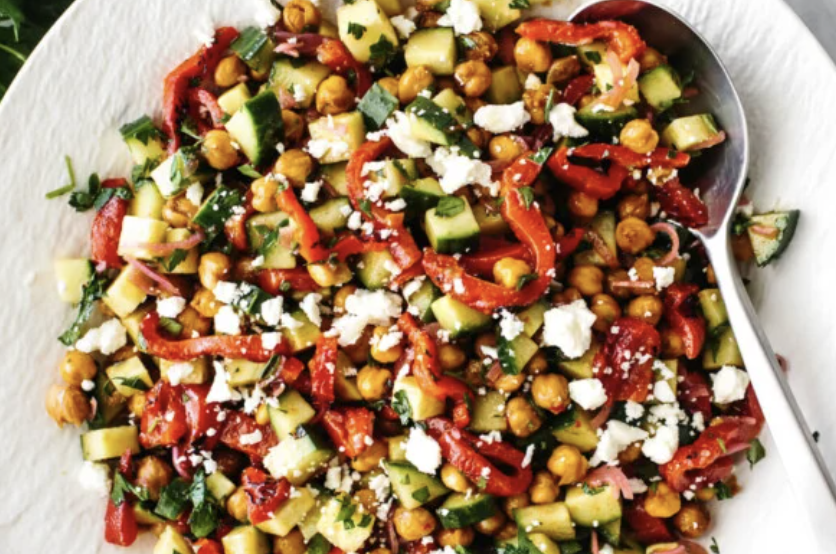 Credit: Lisa Bryan via Downshiftology
This is just a big bowl of health that tastes great too. Roasted peppers have a great sweet taste and chickpeas are super good for you. Roast a can of chickpeas either in the oven or air fryer, and add to a base of cucumber, cherry tomatoes and red onion. Top with feta.
Broccoli tots
Credit: Justin Coit via Cooking with Coit
The perfect little appetizers. Grate or mash steam broccoli in a bowl and drain the moisture in a kitchen towel or cloth. Mix in an egg, seasonings of your choice and shape into little tots. Bake in the oven until golden on top and enjoy with your favorite dips.
Sweet potato soup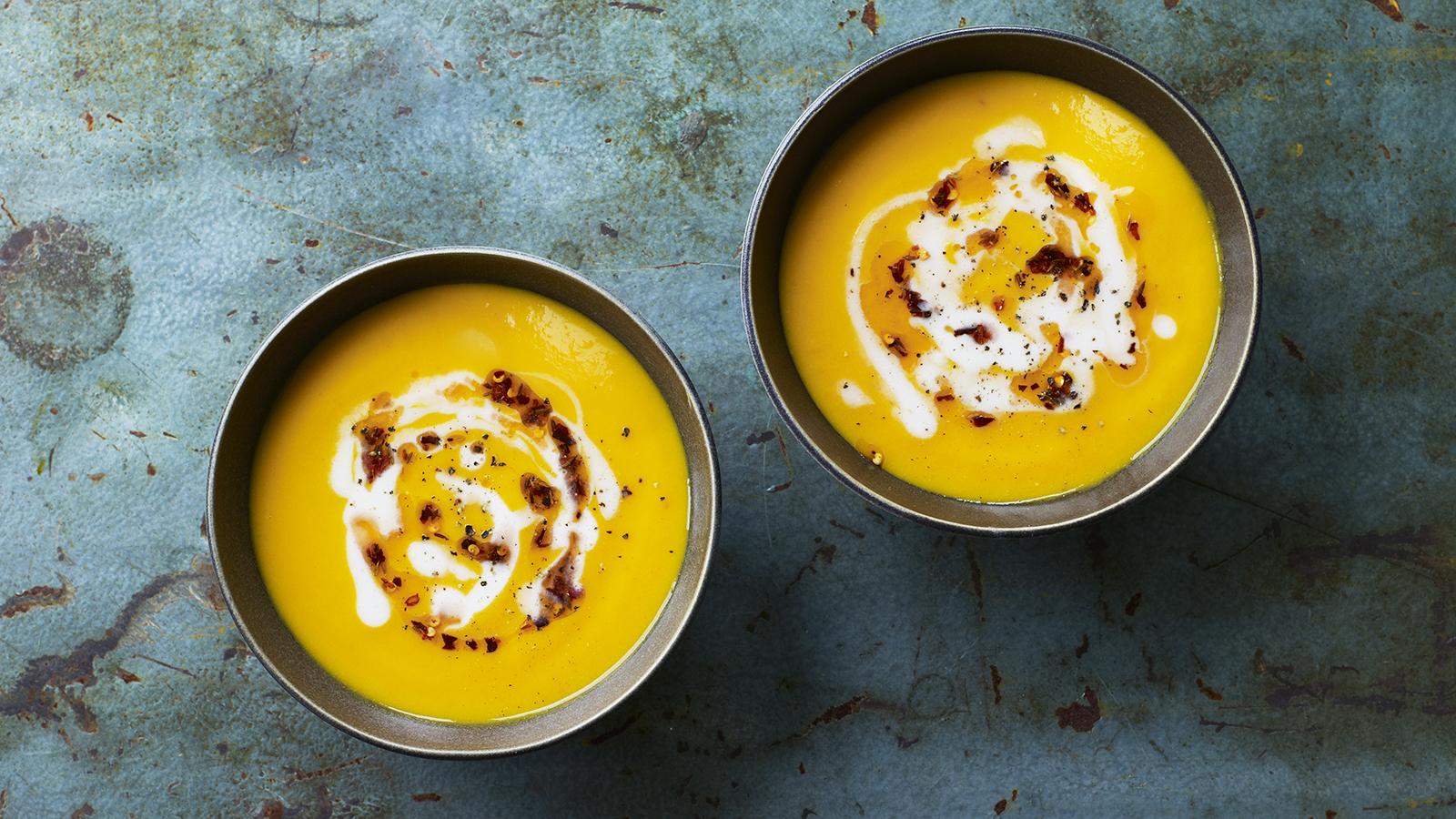 Credit: Rachel Phipps via BBC
If you want a creamy and comforting soup at the Thanksgiving table, try this out. Sweet potatoes are full of vitamin A which is great for health. Boil your potatoes and add them to a blender with cooked onions, garlic and carrots. Blend and add spices of your choice and a dash of coconut milk for creaminess.
Cauliflower stuffing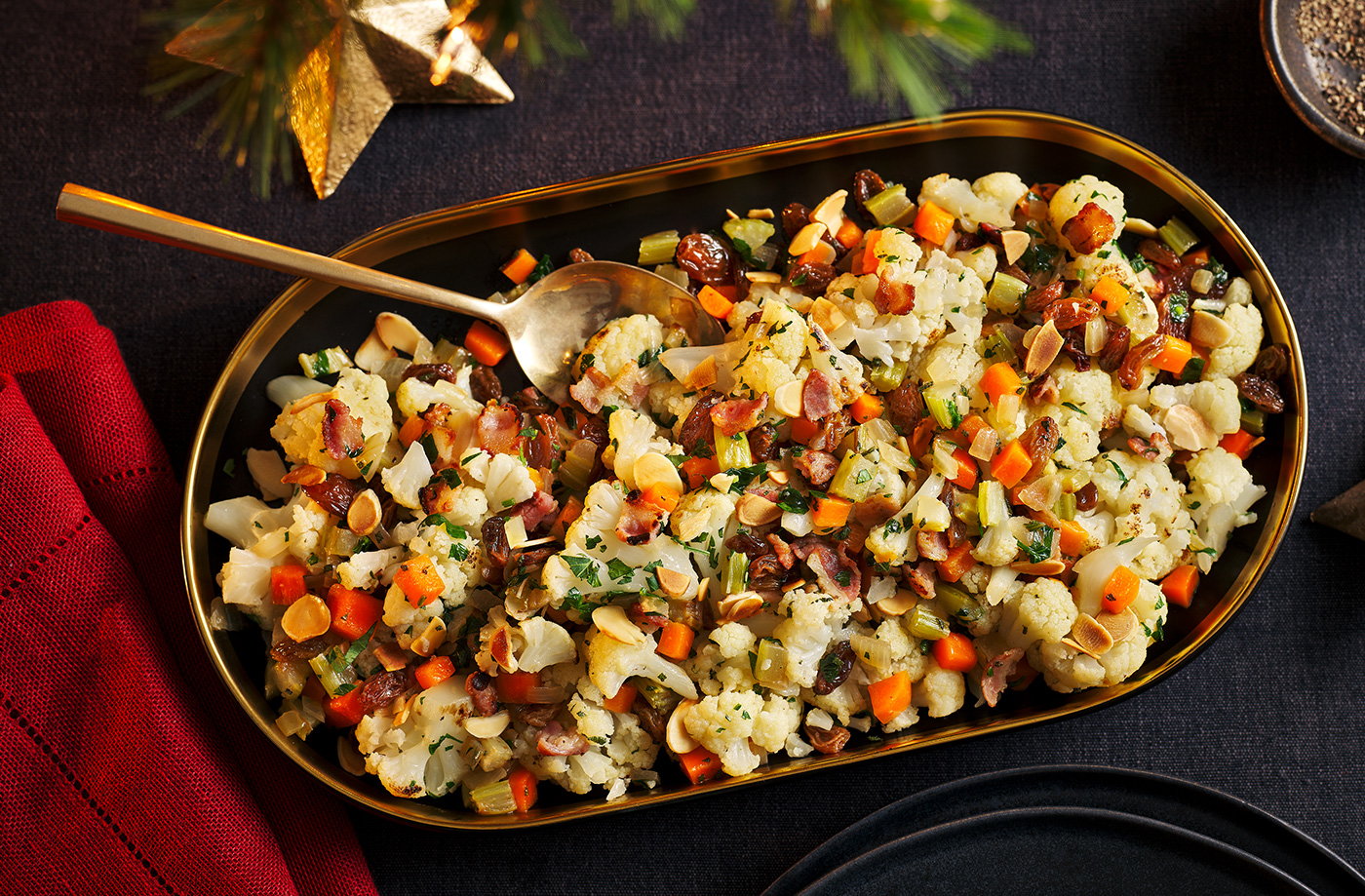 Credit: Tesco Real Food
This hearty stuffing takes away the bread element but doesn't skimp on flavor. Simply sauté onions, carrots and celery until soft. Add cauliflower and mushrooms and salt and pepper and cook for about 10 mins. Add a broth of choice and cook until fully absorbed.
Shaved Brussels sprout salad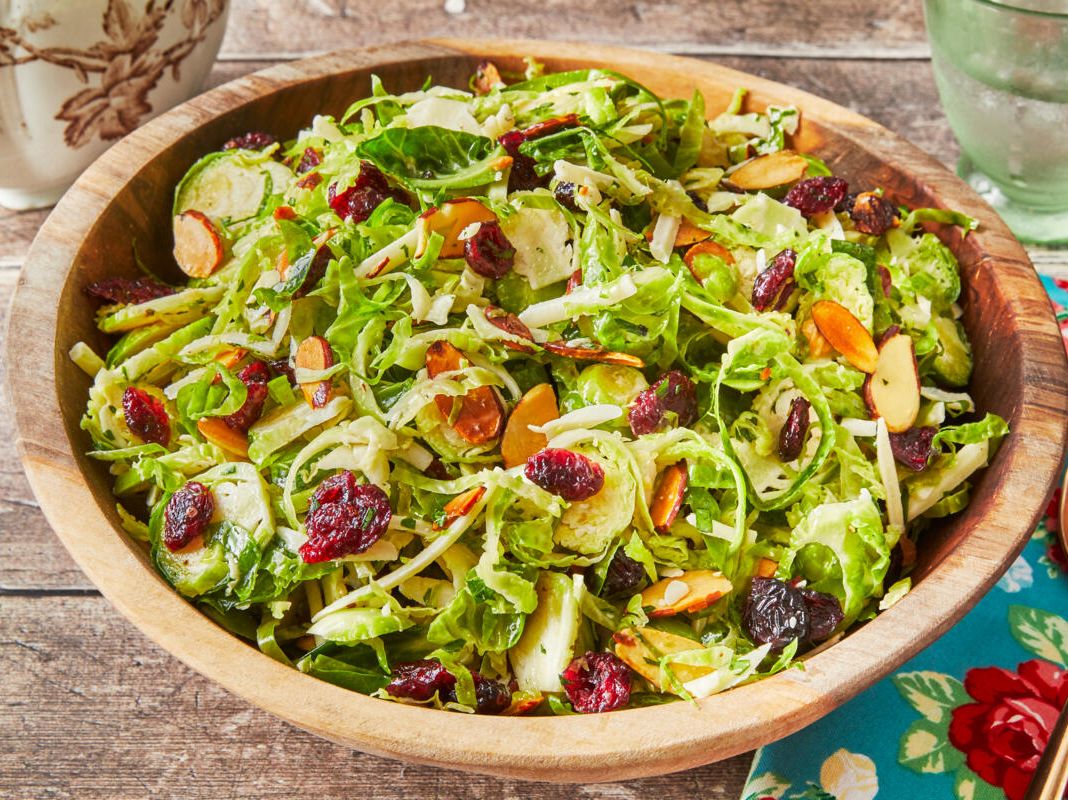 Credit: Caitlin Bensel via The Pioneer Woman
Full of nutrients and low in calories, Brussels sprouts make the best salad base. Simply slice your sprouts super thin or use a mandolin and add to a big salad bowl. Add cranberries, almonds and light cheddar and top with any light dressing you like. Honey mustard works really well with this salad.
Stuffed acorn squash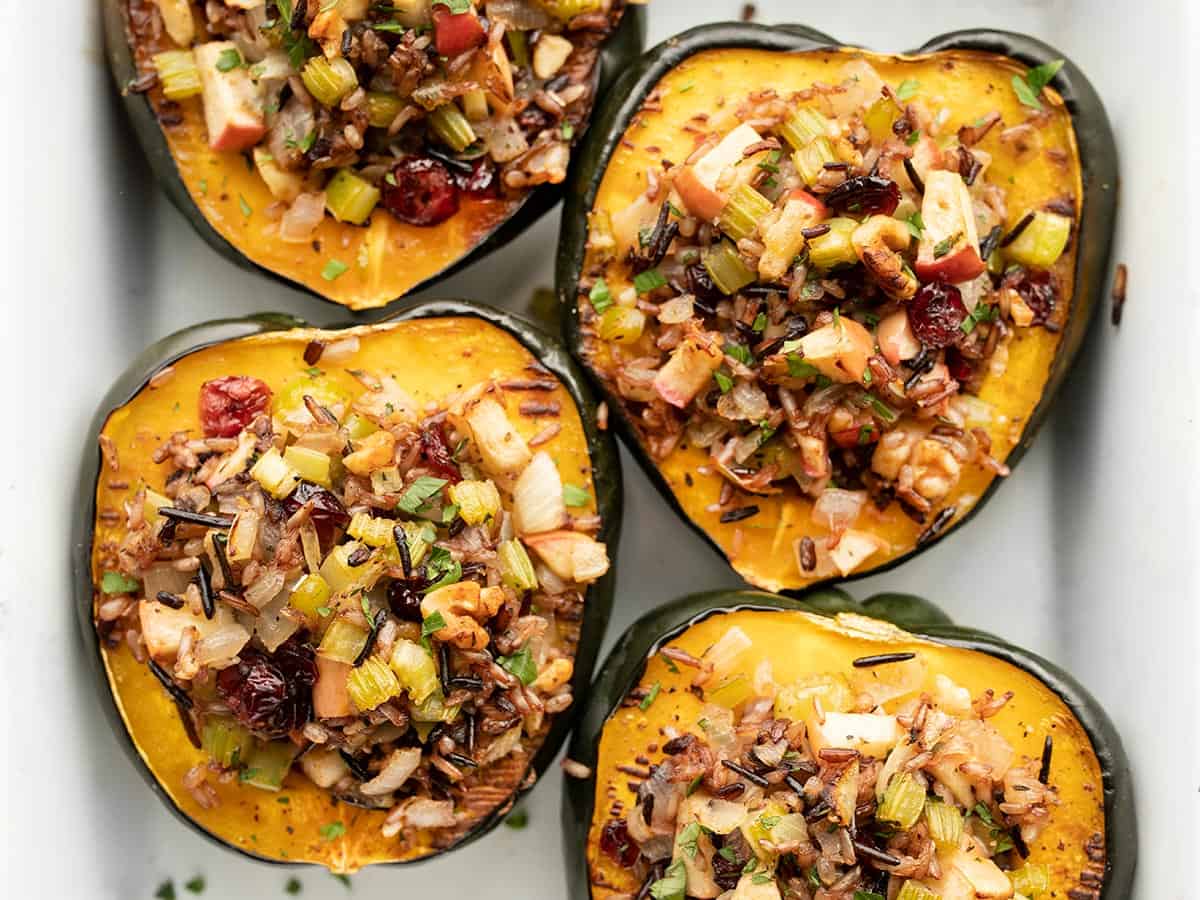 Credit: Beth via Budget Bytes
Sweet and satiating, acorn squash makes perfect little boats for festive fillings. Cut your squash in half and roast for 30 mins before stuffing. You can mix together any filling you enjoy, such as sausage mix or seasoned wild rice. Fill your squash and sprinkle some light cheese on top for a golden baked top.
Couscous salad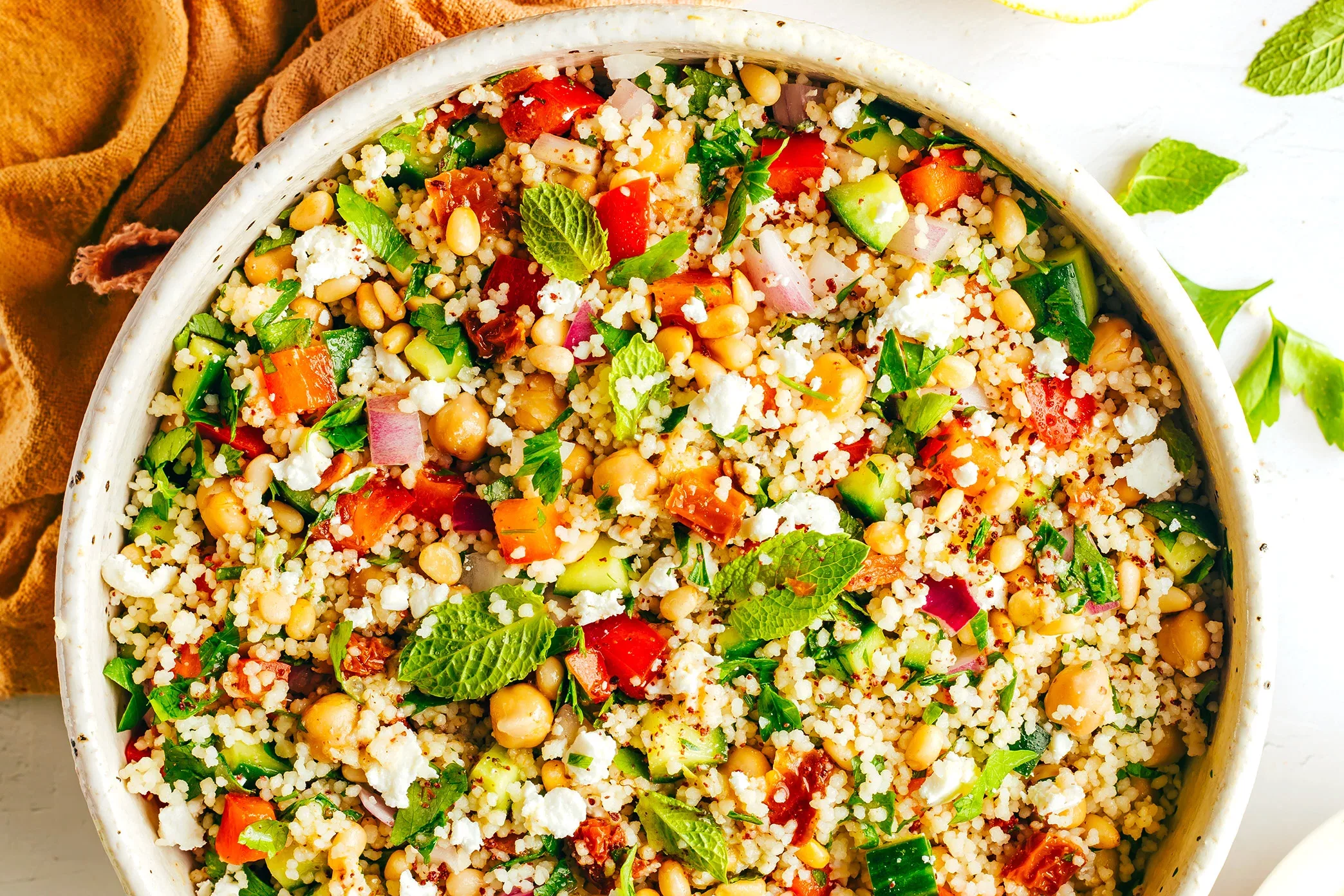 Credit: Ali via Gimme Some Oven
Couscous is a grain that contains selenium which helps to boost the immune system. It also makes a great swap for pasta in pasta salads. Prepare a big batch of couscous and make your favorite pasta salad base to add to it. It absorbs dressings super well too.
Low fat spinach dip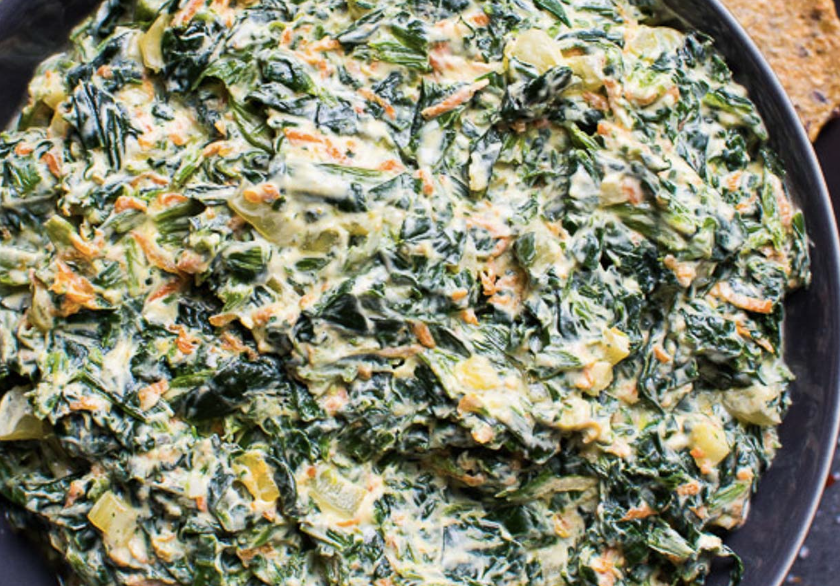 Credit: Olena Osipov via ifoodreal
This dip is always a favorite at parties or restaurants, but you could make it at home for way less calories and fat. Instead of a ton of mayonnaise, use a low fat plain greek yogurt for that creamy taste and also added protein. Season with garlic and black pepper and eat with cut up veggies.
Loaded baked sweet potato
Credit: Maya Krampf via Wholesome Yum
Loaded potatoes are a great comfort food, but they don't need to be so high in calories. Bake a sweet potato for added nutrients and fiber, and choose lighter toppings. Instead of bacon and cheddar, try out light sour cream and turkey bacon with spring onions.
Root vegetable mash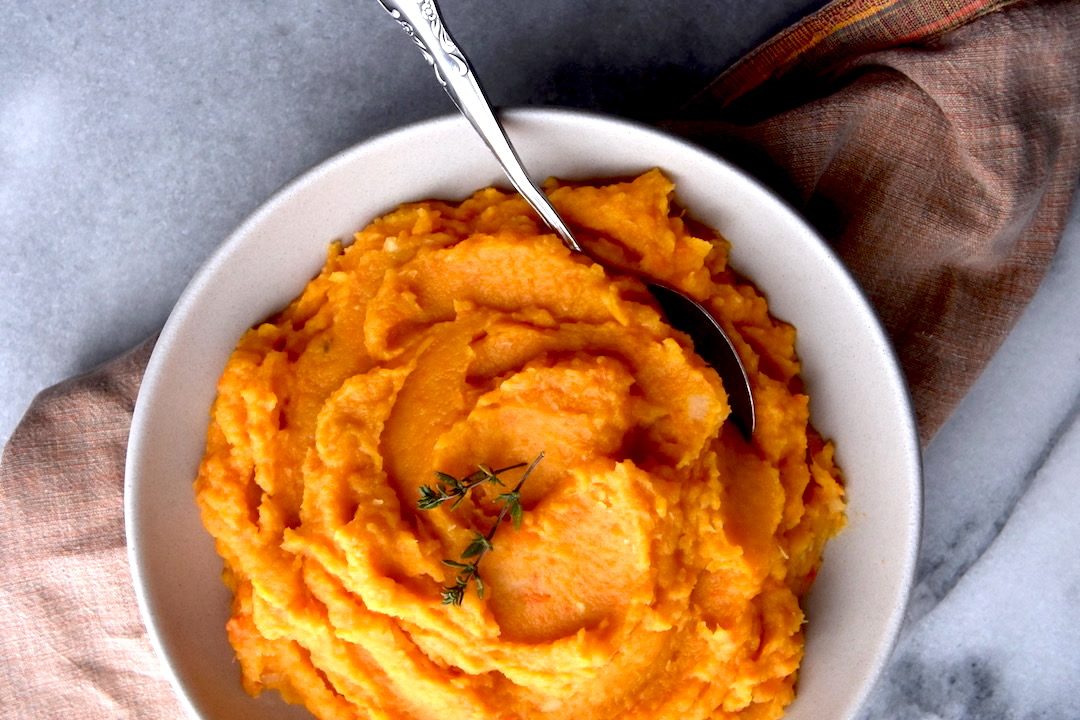 Credit: Marisa via Uproot Kitchen
Root veggies are so versatile, so they taste great either roasted or mash. Instead of carby potatoes, try parsnips, carrots and celeriac mashed together in a delicious sweet dish. Simply steam or cook as normal and mash them up, seasoning with a touch of butter, splash of milk and lots of salt and pepper.
Baked apples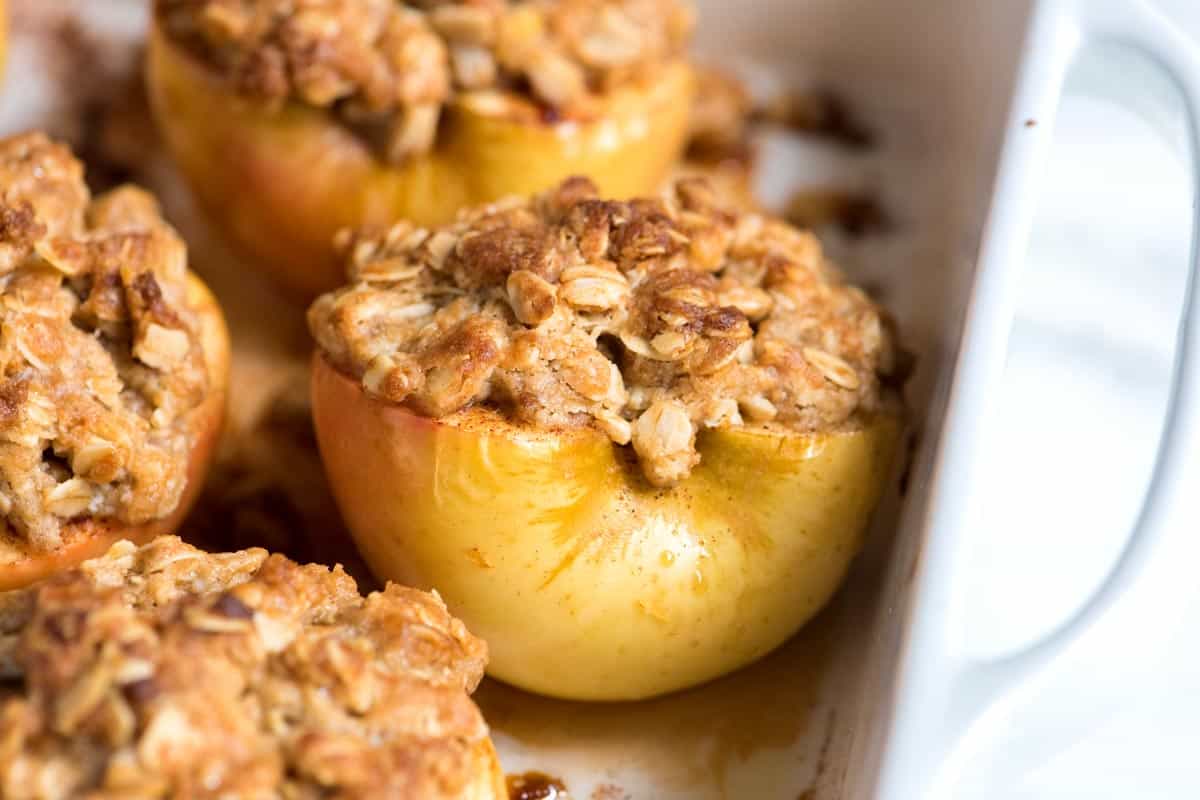 Credit: Inspired Taste via YouTube
Apples get super sweet and soft when baked, and they make the perfect light dessert. Apples are full of fiber and nutrients so they make a great balanced addition to your Thanksgiving meal. Cut your apples in half and take out the center, and stuff with oats, sugar, cinnamon and butter. Bake in the oven until golden.