This article originally appeared on eightieskids.com
We're often given the impression that the most famous people in the world are in some way flawless, but you don't need to look too closely to see that isn't the case. Even some of the biggest names in show business have their share of scars, ailments, and in some case what might be considered genuine deformities. Take a look at the following celebrities, how you might not have known had little physical differences.
30. Tom Cruise – 'monotooth'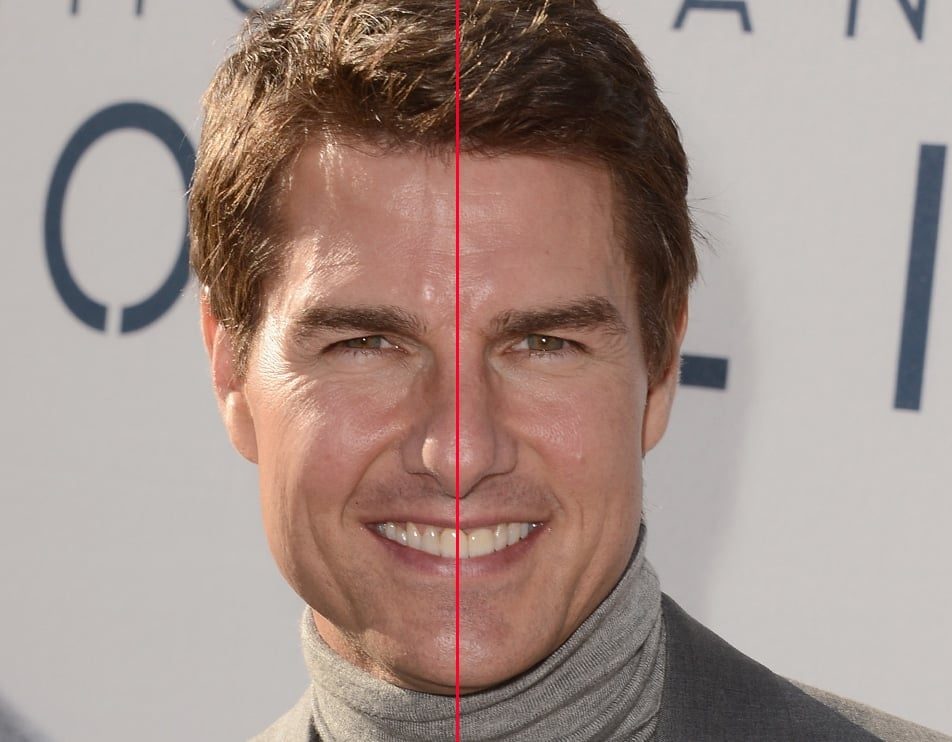 It's generally considered that the most perfect faces are those with the greatest symmetry. However, long-standing superstar and heartthrob Tom Cruise's facial features have a rare quality: the midline of his teeth is not aligned with the midline of his face, leaving him with a curious middle tooth.
Dental experts have explained that, while most people have seven teeth one either side of their upper row, Cruise is missing his second premolar on the left, causing his other teeth to naturally shift over and fill that space. Thus we get the Cruise 'monotooth', which is but one feature of the surprisingly eventful dental history of the Mission: Impossible star.
29. Denzel Washington – crooked little finger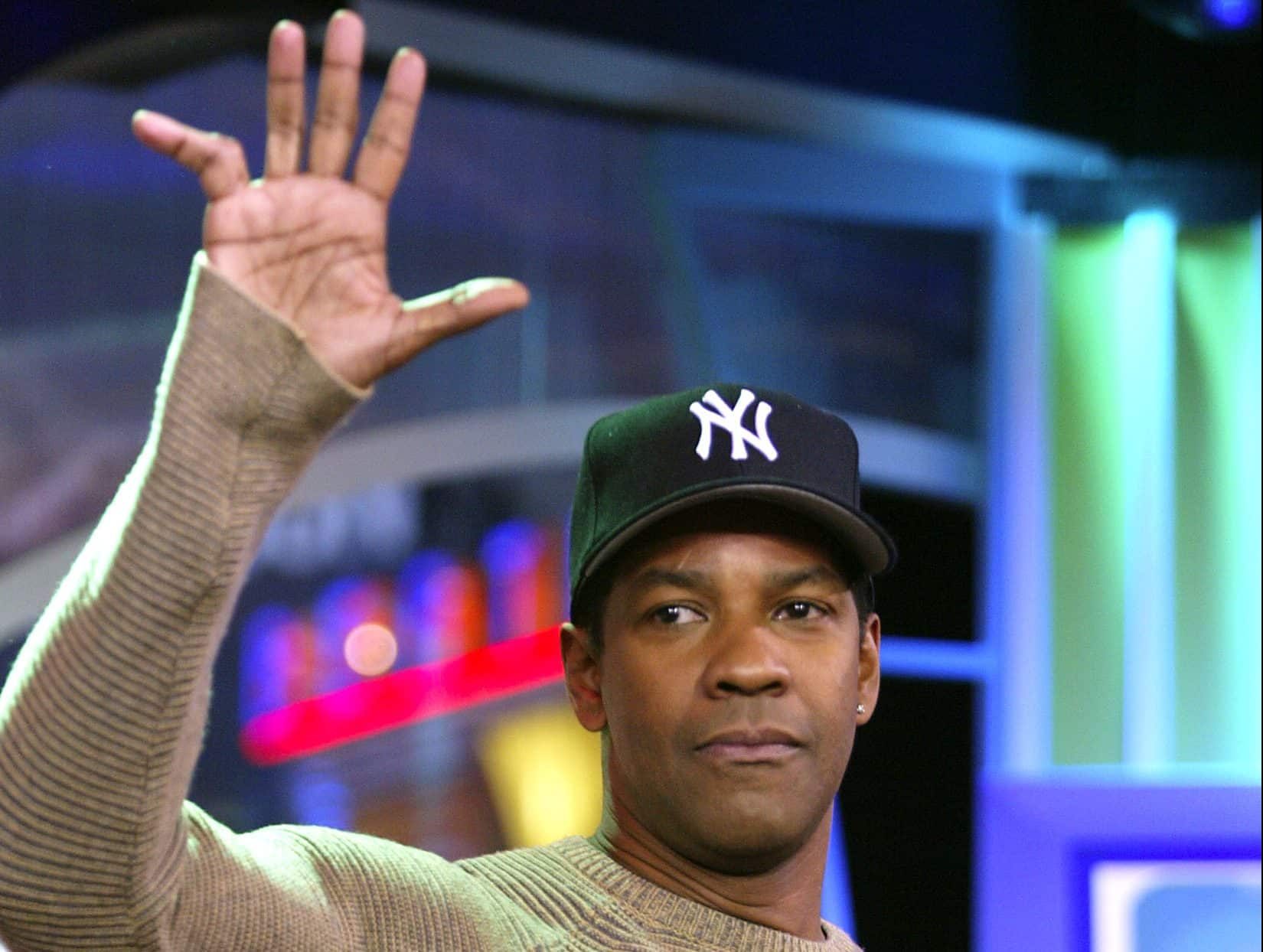 Credit: Scott Gries/Getty Images
Not even two-time Oscar winner and eternal heart throb Denzel Washington comes without his flaws. Denzel has a damaged pinky finger on his right hand from playing sport as a younger man, an injury so prominent that the actor has decided to talk openly about his crooked digit.
Washington told Graham Norton in 2014, "It's like a gummy bear in there… I went up for a pass playing American football and dislocated it." As result, the finger could easily slip out at a 45 degree angle, requiring Washington to casually slip it back into place. The actor has since had work done to help keep the finger relatively straight.
28. Harrison Ford – chin scar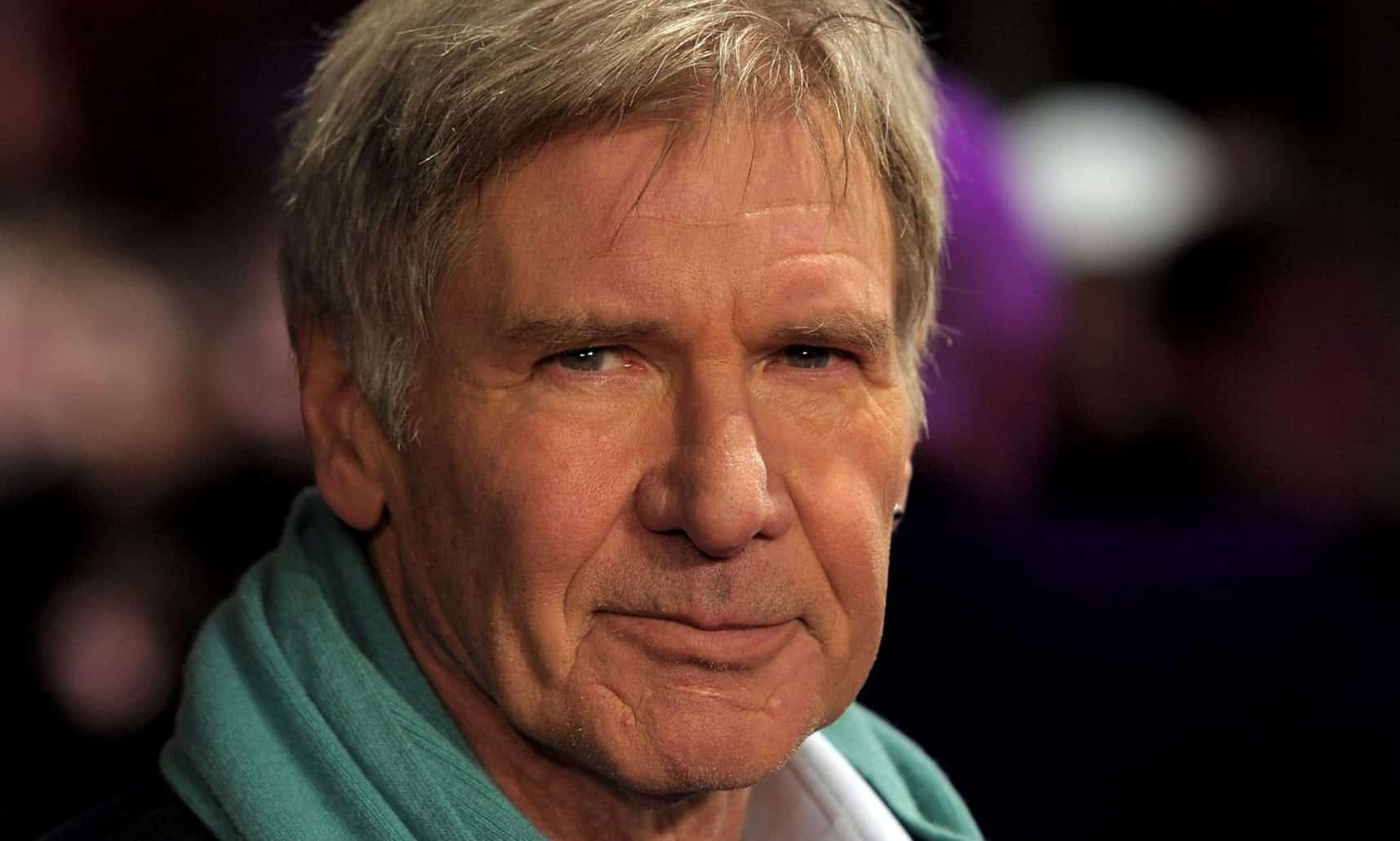 Credit: Ian Gavan/Getty Images
Did you ever notice that Harrison Ford has a prominent scar on his chin? Long before Ford hit the big screen as Han Solo, he was driving down a freeway near Laguna Beach, California. The actor was on his way to work at a department store when his car veered off the road.
Ford crashed straight into a telephone pole while messing about with his seatbelt and injured himself quite badly. His face slammed straight into the steering wheel after the airbag failed to deploy. Luckily, the actor can joke about the ordeal now, and blames some "inept emergency surgery" for a scar that's been prominent in all his big screen roles.
27. Kate Middleton – scar on skull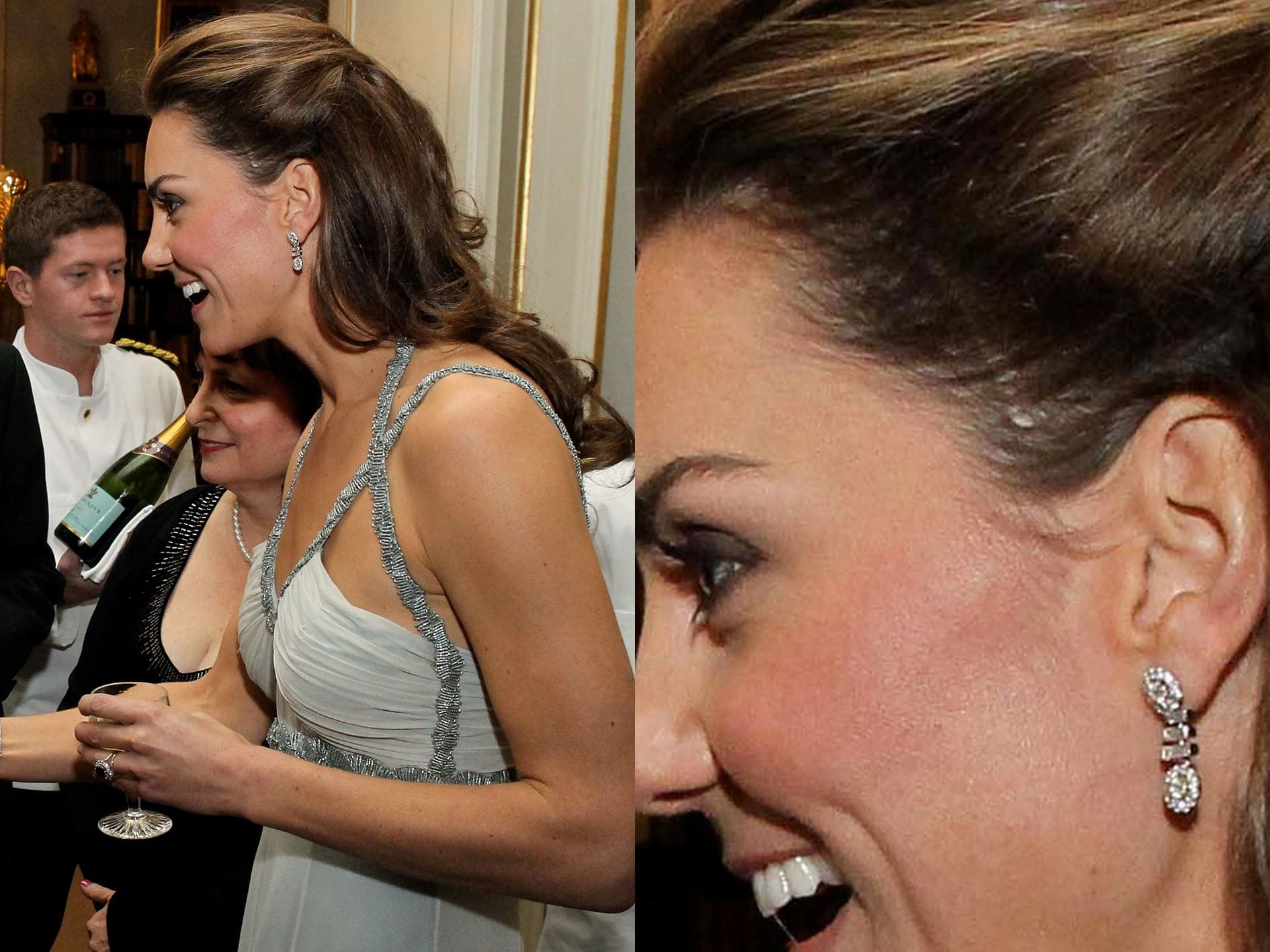 Credit: Paul Burns/Clarence House via Getty Images
As a member of the Royal family, the Duchess of Cambridge is used to looking her best. However, Middleton once accidentally revealed a flaw to the world's media after pinning her hair back at a charity event: a visible scar along the left side of her skull.
At first the Duchess was reluctant to explain the mark, but eventually Buckingham Palace released a statement explaining "the scar is related to a childhood operation." Senior royal sources also claimed the operation had been very serious, although some doctors have disputed this, saying it looks like a scar from a birthmark removal.
26. Ed Sheeran – cheek scar
Credit: Gareth Cattermole/Getty Images
Pop superstar Ed Sheeran has a remarkable story behind the scar on his right cheek. Sheeran was in attendance at a Royal party hosted by Princess Beatrice, with other celebrity guests including fellow singer James Blunt, who joked to the Princess after a few drinks that he wanted to be knighted.
Going along with the joke, Beatrice swiftly picked up a ceremonial sword and pretended to knight Blunt – without realising that Sheeran was stood directly behind her. One source claimed: "She must have misjudged the weight or something and, instead of lightly tapping him on the shoulder, she swung it back, not knowing Ed was standing right behind her."
25. Britney Spears – psoriasis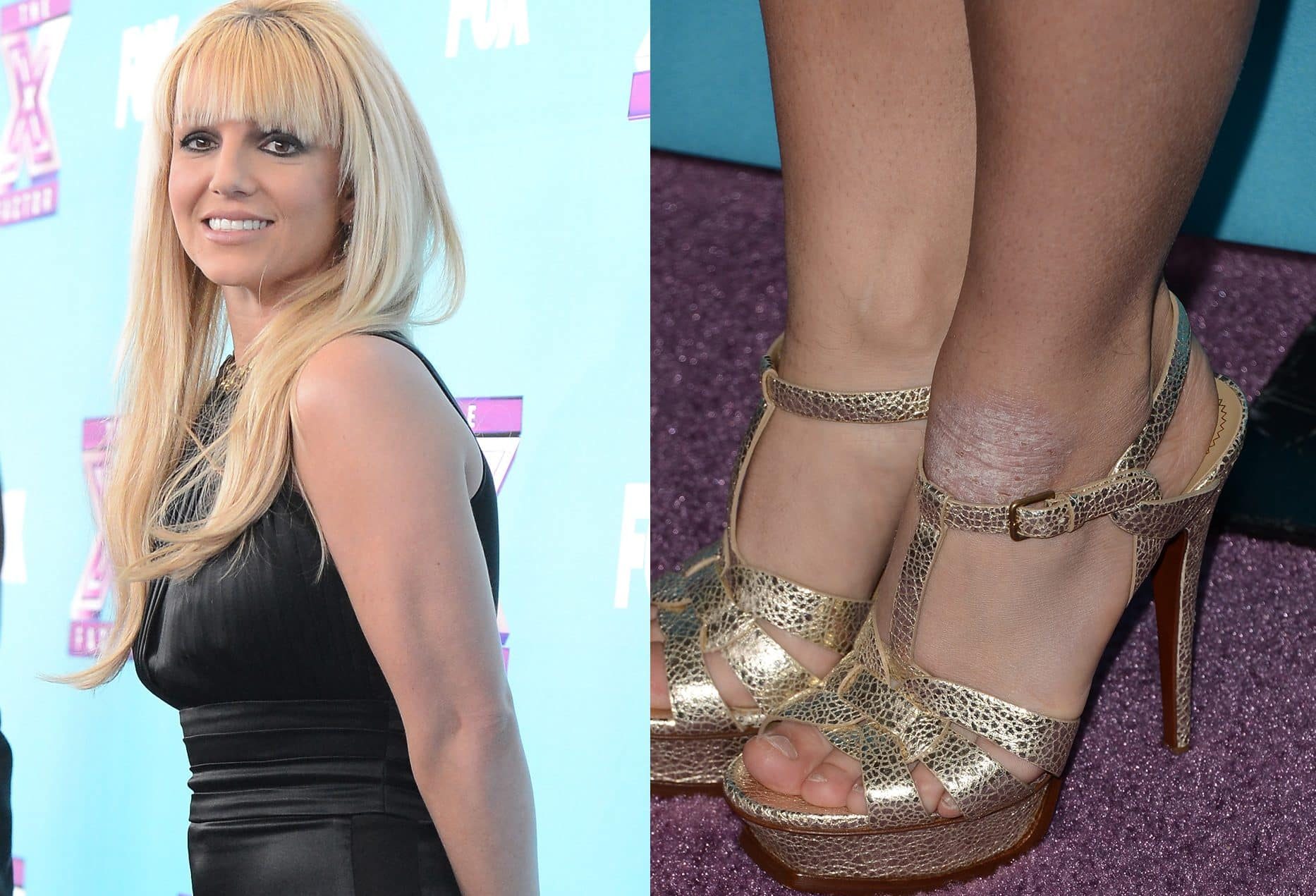 Credit: Jason Merritt/Getty Images
Pop princess Britney Spears, like 125 million people worldwide (or 2-3% of the global population), is said to suffer from psoriasis, a skin condition characterised by scaly red patches that can flare up when the sufferer is under pressure. It's understandable that Spears would suffer the odd breakout, as her personal struggles are well documented.
Areas commonly affected by psoriasis include the scalp, knees and elbows, plus the feet, where Britney has previously been affected. Spears isn't the only one. Kim Kardashian, LeAnn Rimes and legendary folk singer Art Garfunkel have all suffered from psoriasis in their time.
24. Tom Hardy – permanently curled finger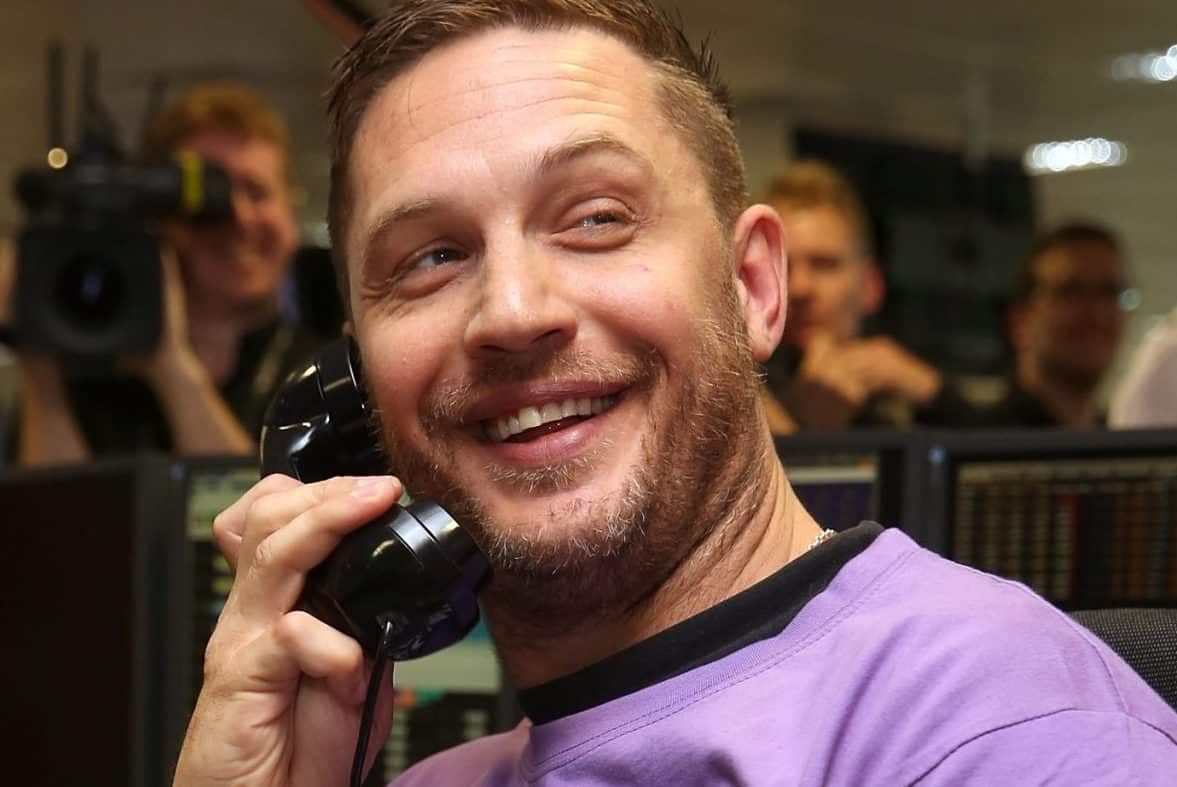 Credit: Tim P. Whitby/Getty Images
On-screen he's famed for his fearsome performances, but Tom Hardy's off-screen reputation for intensity isn't entirely unearned, either. As a younger man, Hardy was a hellraiser, and one accident left him with a deformity that he carries to this day.
A mishap with a chopping board and a kitchen knife saw Hardy stab through the little finger on his right hand, severing a tendon. The injury required three operations to allow Hardy to make a fist, but Hardy's finger now remains permanently bent. He also has a scar on his face, which he got when he "fell off a chair superbly doing a dance class in contemporary ballet".
23. LeBron James – scarring on back of skull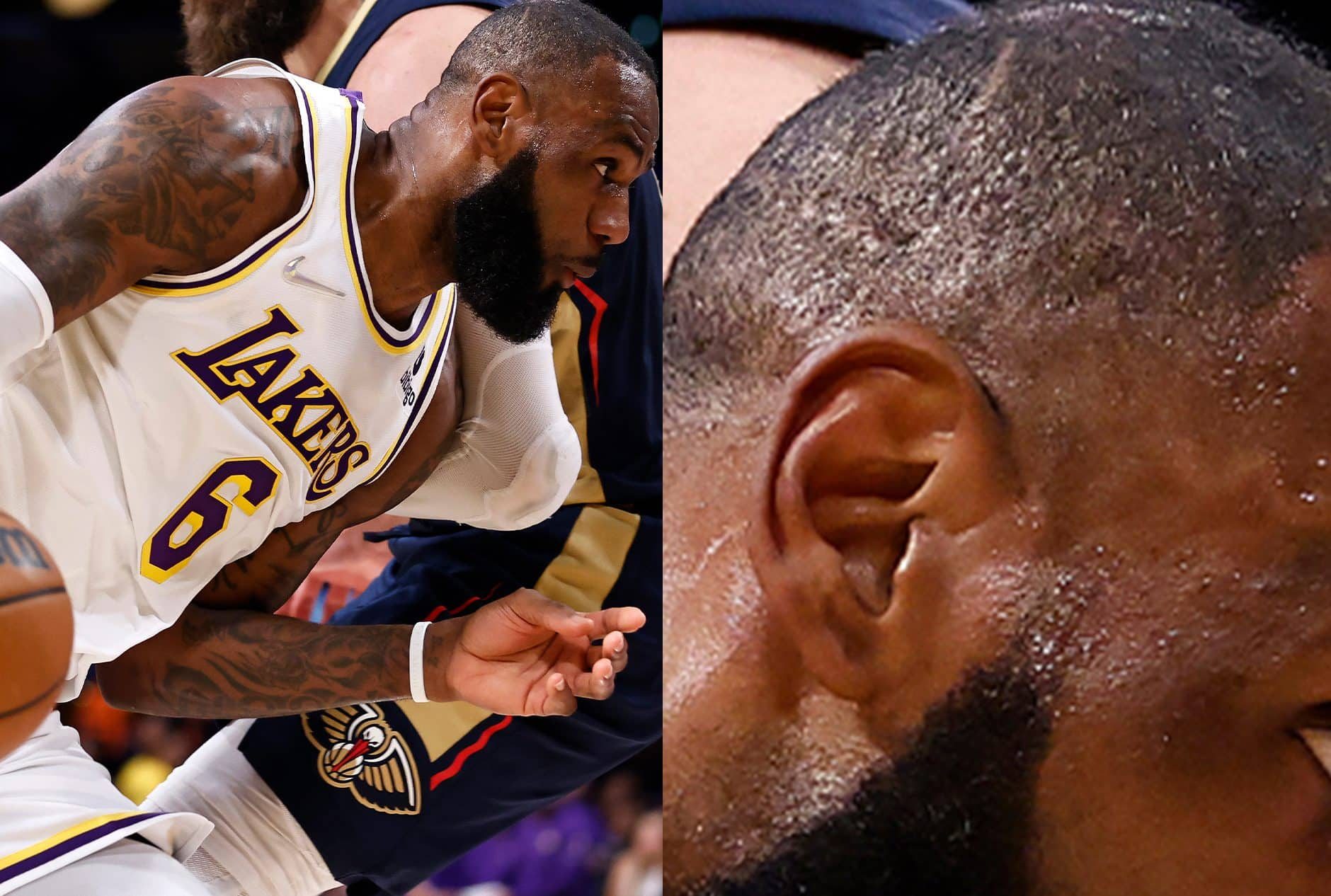 LeBron James is usually moving around so quickly you probably wouldn't have noticed the scars on the back of his skull. However, people can't seem to agree on how the basketball player was scarred in the first place. Some claim they appeared after he tripped during a game and fell into a camera at the side of the court.
Most people think James actually has the scars as a result of hair transplant surgery, with the lower scar in particular apparently a classic case of 'strip scar' resulting from a hair transplant procedure. The basketball player himself has never publicly confirmed or denied it.
22. David Bowie – permanently dilated pupil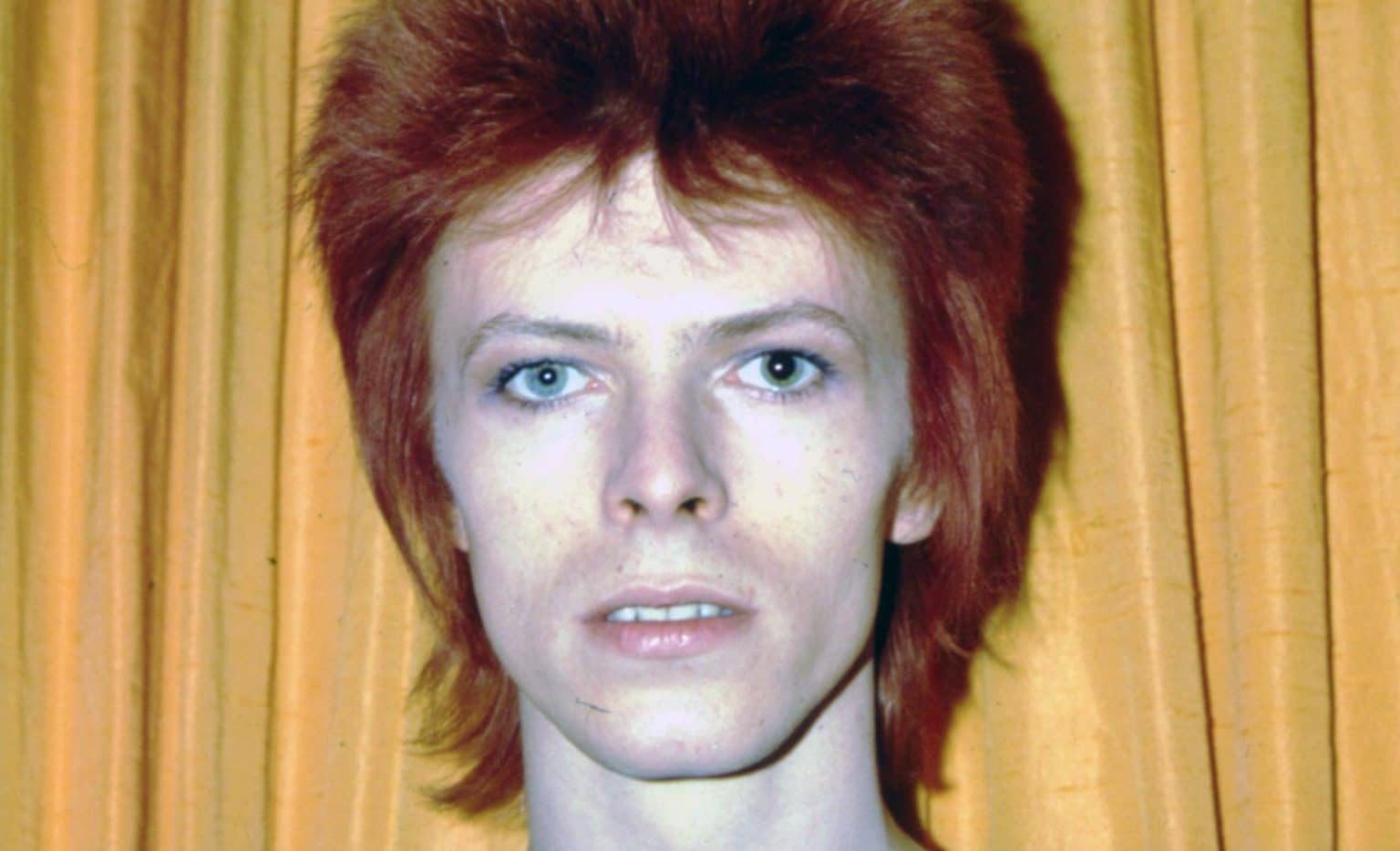 Credit: Michael Ochs Archives/Getty Images
Part of David Bowie's extraterrestrial mystique was his otherworldly eyes. The sadly missed music legend had eyes which didn't match, leading many fans to believe he was afflicted with heterochromia. In fact, the singer-songwriter had one permanently dilated pupil due to an incident in his high school years.
Aged just 15, Bowie (or rather David Jones, as he was then known) got into a fight with a school friend which saw his right eye clipped by a fingernail. He was hospitalised for four months, and even after multiple operations Bowie was left with faulty depth perception and the dilated pupil that would become a trademark.
21. Dan Aykroyd – webbed feet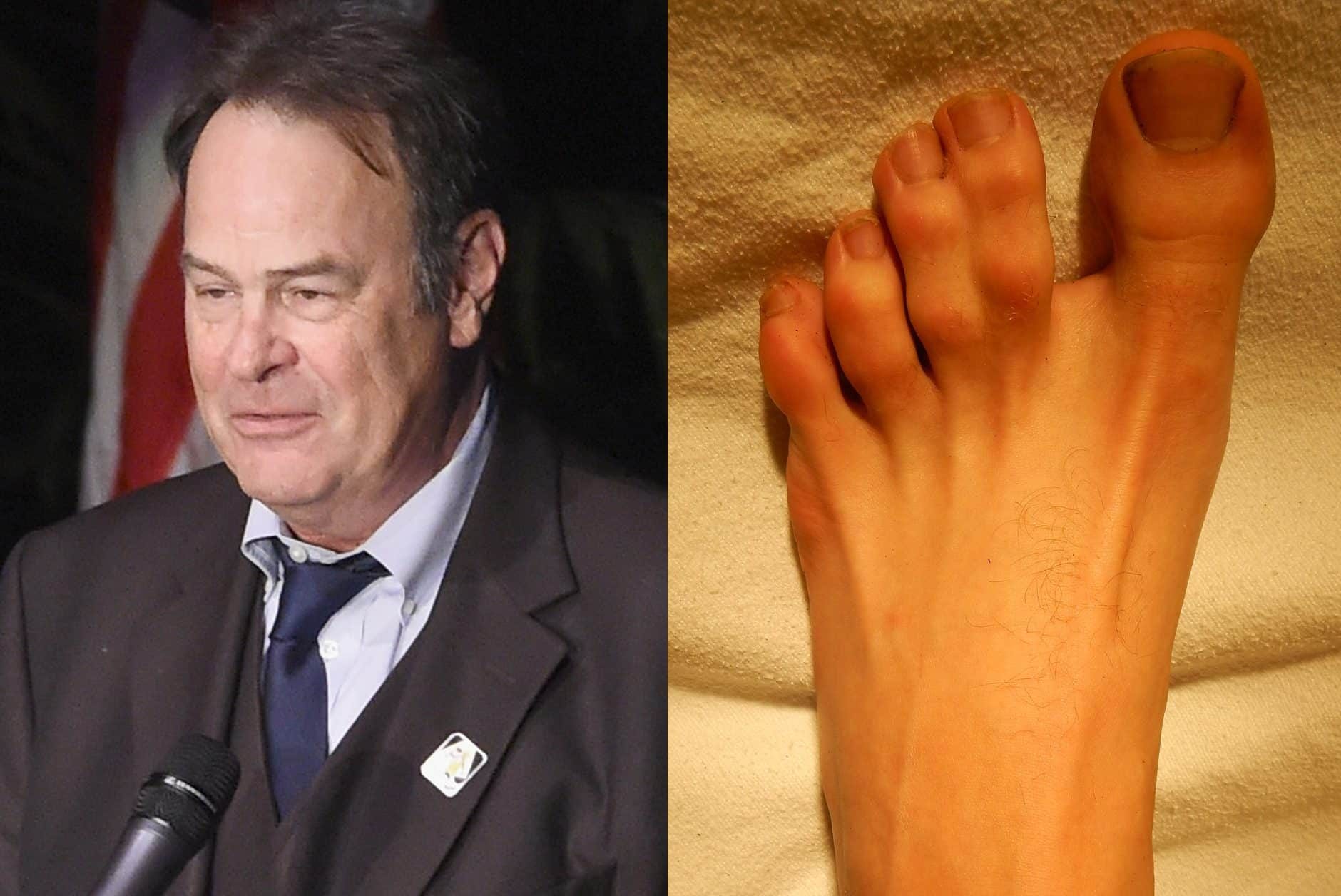 Credit: Kevin Winter/Getty Images/James Heilman, MD via Wikimedia Commons (NOTE: this is not Dan Aykroyd's foot)
Busting may make him feel good, but Dan Aykroyd might not feel quite as positive about the state of his feet. You wouldn't know it, because he very rarely allows his feet to be seen on camera, but Aykroyd has syndactyly. Also known as webbed feet, the condition sees fusion of two or more digits.
For Aykroyd, having syndactyly means two digits apiece being fused together on both of his feet. At birth, human beings have a one in 2,000 chance of having the condition. There is no known cause. Aykroyd isn't the only celebrity with the condition, either: actor and presenter Ashton Kutcher has a less severe form of syndactyly in his own feet.
20. Harry Styles – extra nipples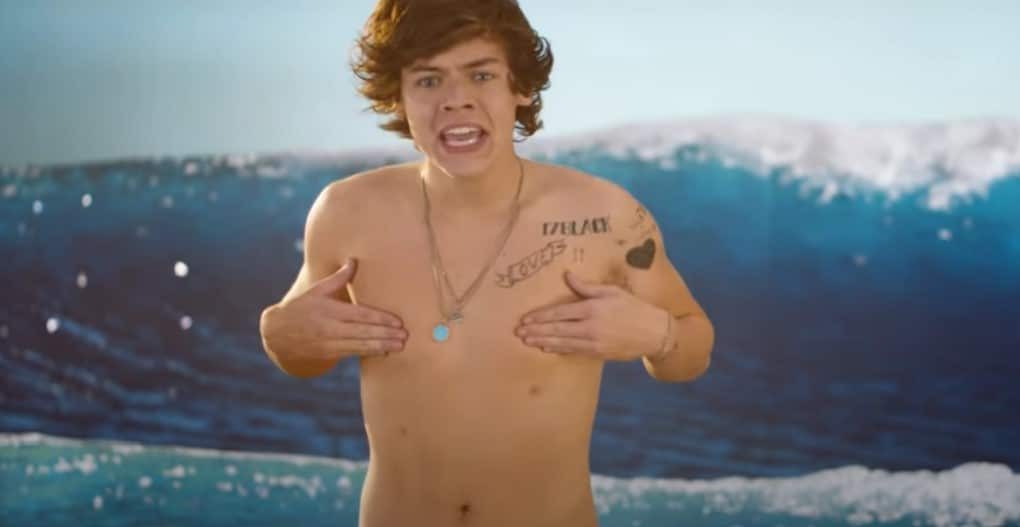 Aside from being the most successful solo performer from the now disbanded One Direction, Harry Styles certainly has his former bandmates beat in the nipple department. Styles doesn't have one extra nipple, but two. This has been noted from his shirtless appearances, including the Kiss You video.
The singer definitely has a sense of humour about his polythelia (that's the technical term for having one or more extra nipples), once remarking in an interview, "I think I must have been a twin, but then the other one went away and left its nipples behind."
19. Jonah Hill – scarred arm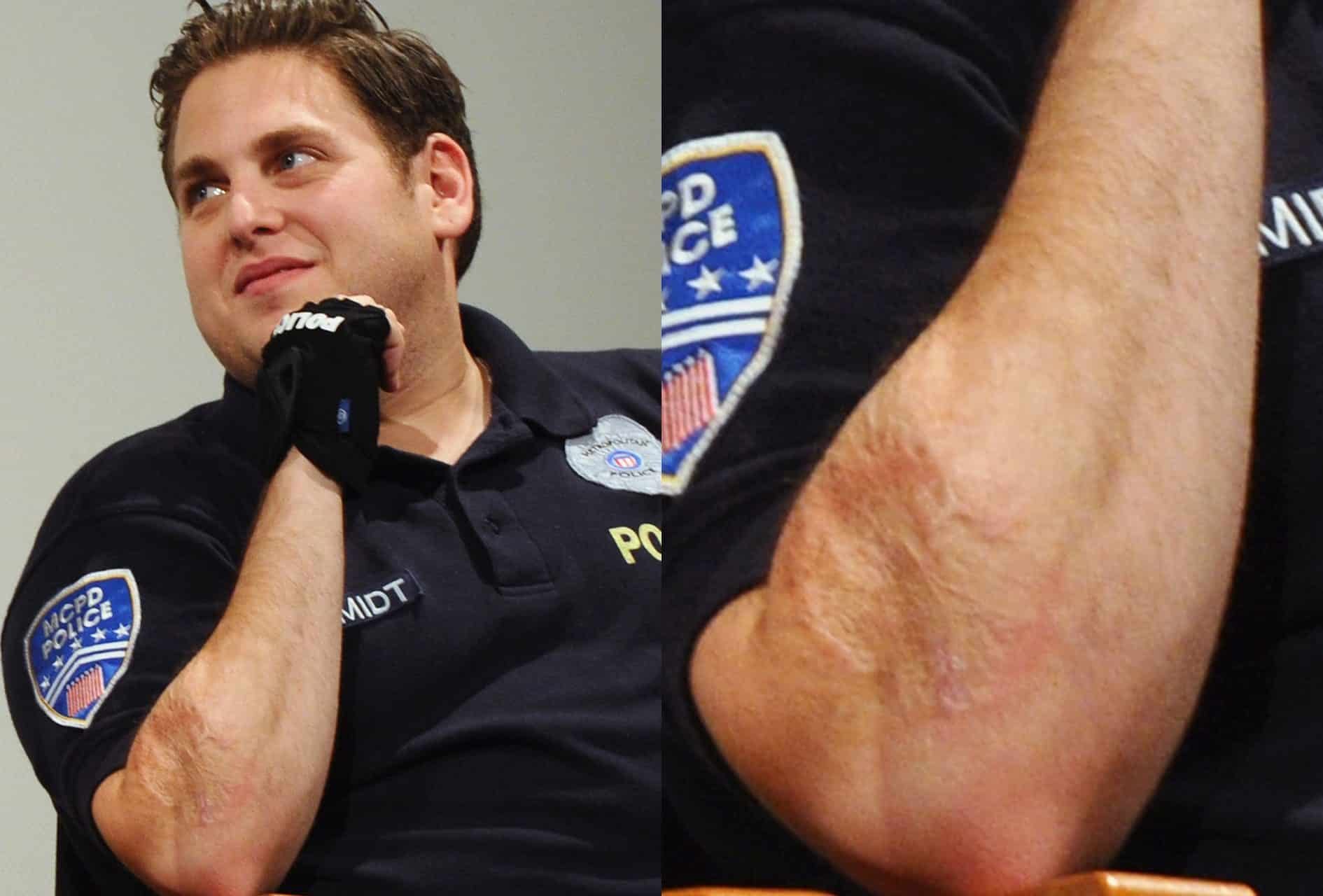 Credit: Michael Buckner/Getty Images for SXSW
He's one of Hollywood's most popular funnymen, but there's one thing Jonah Hill doesn't ever joke about, and that's the scar on his right arm. Looking from afar like a deep burn, Hill's scar is actually the result of teenage misadventure. When he was 15, Hill took to acting out, which culminated in he and a friend joyriding around LA in an SUV.
As Hill stuck his arm out of the window, the car crashed, dragging Hill's arm along the road and leaving it horrifically damaged. Hill woke up to doctors discussing whether or not to amputate, but thankfully they decided they could save the arm. He today calls the scar "One of the biggest things ever in my life", and a constant visual reminder to work hard and be successful.
18. Joaquin Phoenix – lip scar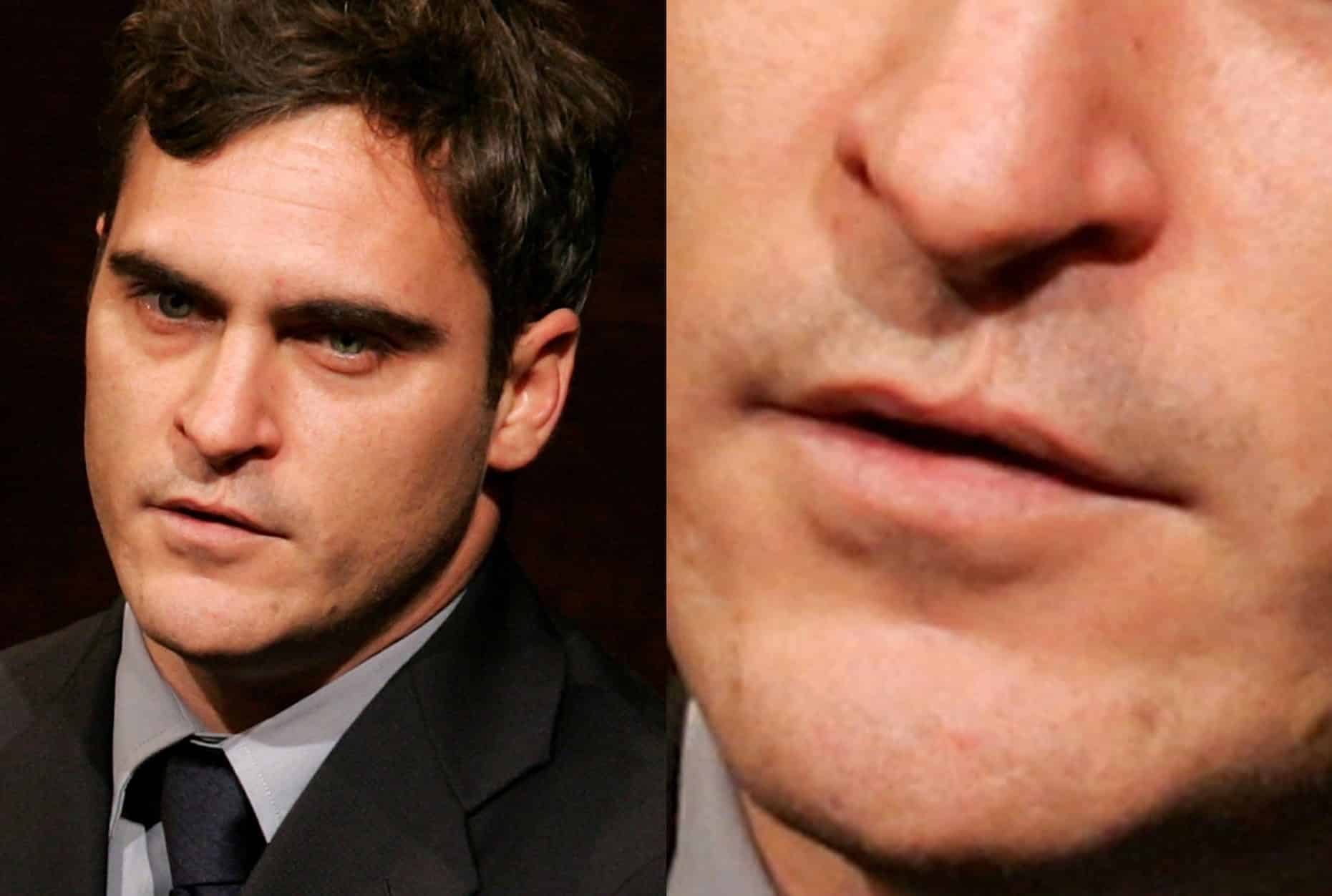 Credit: Kevin Winter/Getty Images
Joaquin Phoenix has a scar above his lip which we typically see as the result of an operation for a cleft palate. According to the Oscar-winning actor himself, however, his distinctive feature was already there on his face at birth, and was not actually the consequence of any surgical procedure.
Phoenix has instead claimed in interviews that his mother, during pregnancy, felt a sharp pain while carrying Joaquin, which she later felt was in some way linked to her son's lip. Other notable actors with a lip scar (in their cases, definitely the result of cleft palate surgery) include Jason Robards and Stacy Keach.
17. Tina Fey – scar on left cheek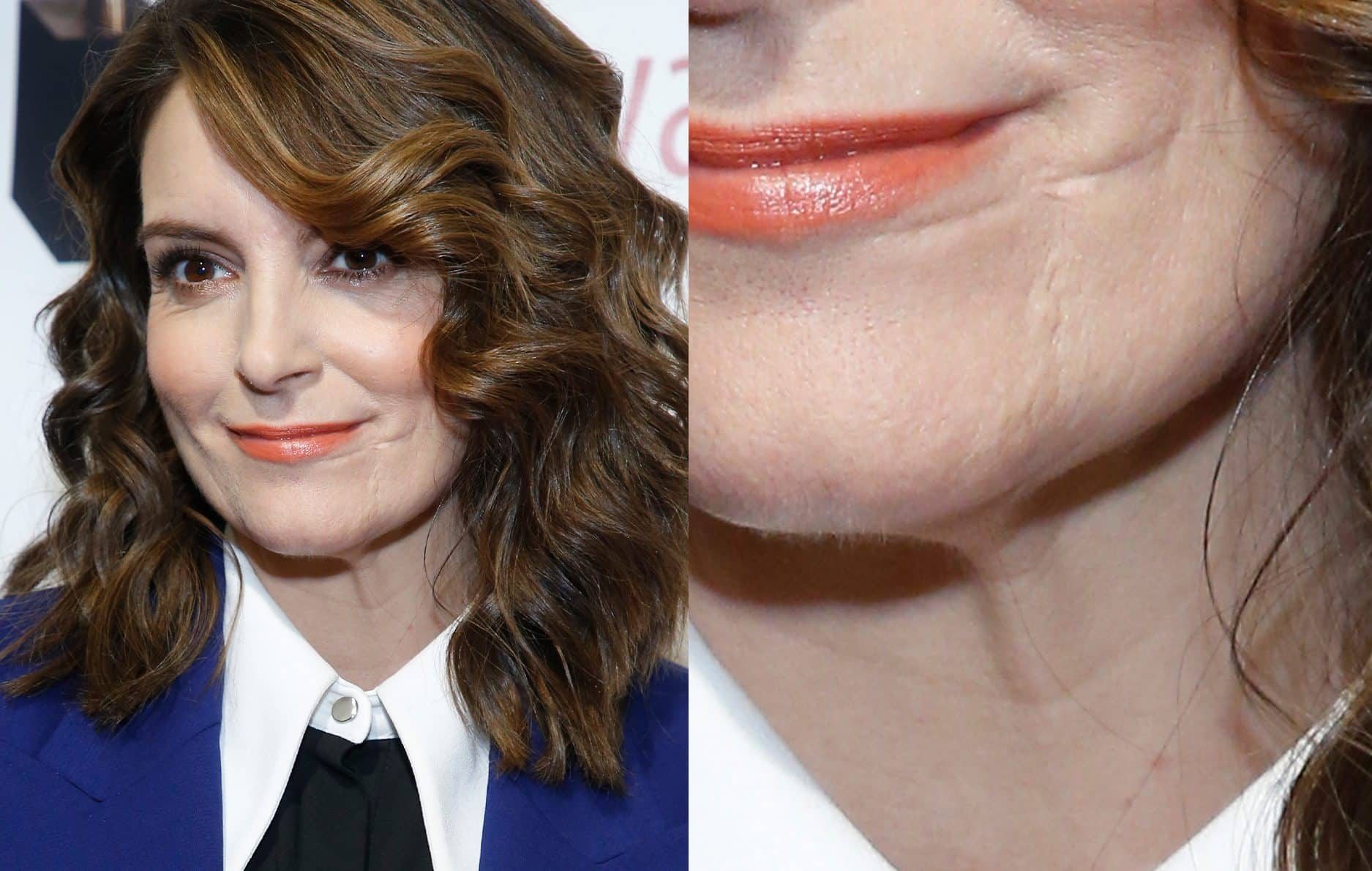 Credit: John Lamparski/Getty Images
Funny lady Tina Fey has a particularly awful story behind the prominent scar on her left cheek. When Fey was a very young girl in kindergarten, a man with a knife attacked her in the alley behind her house and ended up slashing her in the face. Fey mentions the incident in her book Bossypants but declines to go into detail about the event.
Fey remembers how the scar turned her into a celebrity in her local neighbourhood: "My scar was a miniature form of celebrity. Kids knew who I was because of it. Lots of people liked to claim they were there when it happened. I was there. I saw it. Crazy Mike did it! Adults were kind to me because of it."
16. Megan Fox – clubbed thumbs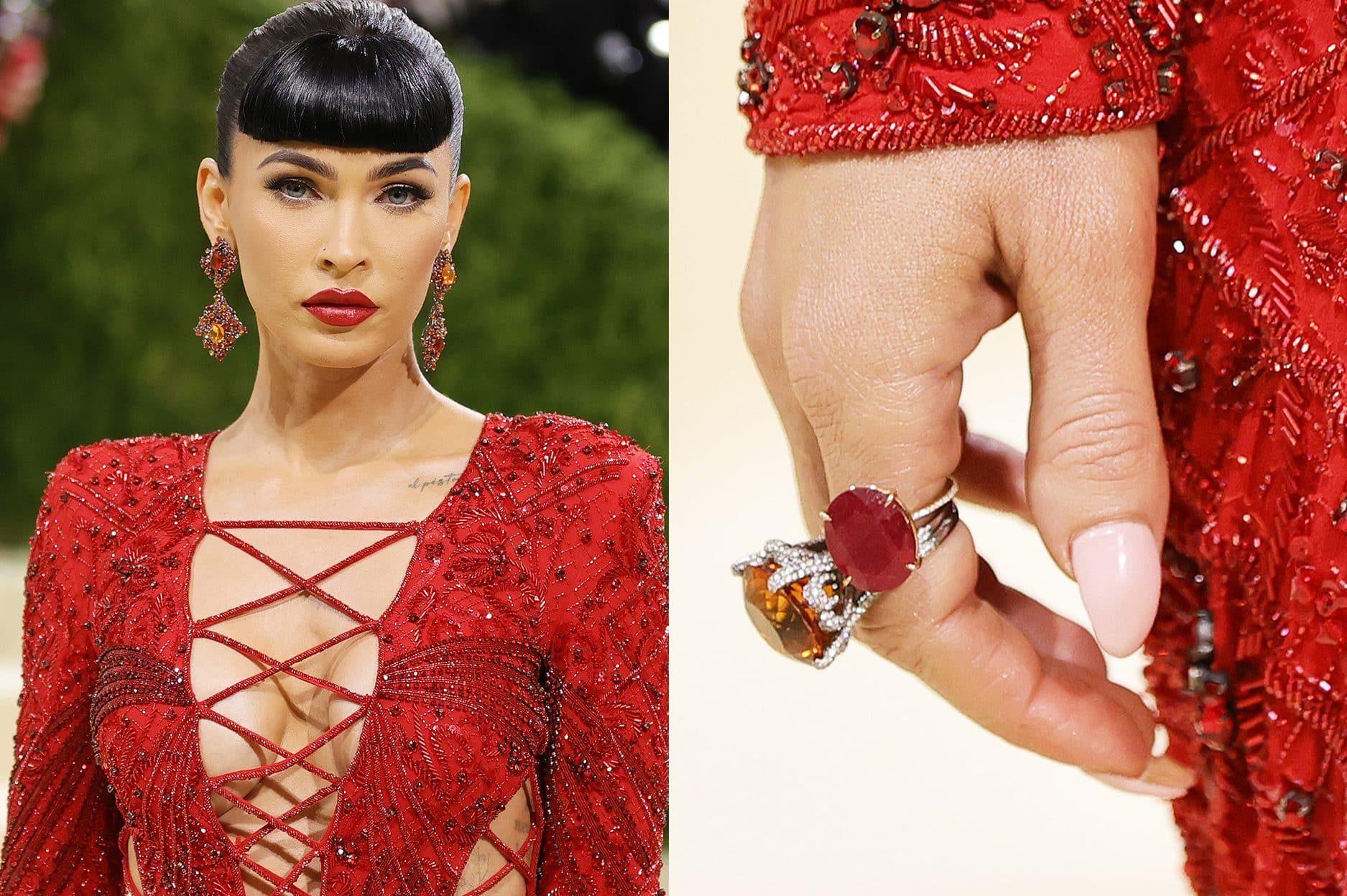 Credit: Mike Coppola/Getty Images
One would have to look very closely, and with an overly critical eye, to notice anything physically 'wrong' with Megan Fox. However, the actress does have an easy-to-miss deformity: clubbed thumbs, more technically known as brachydactyly of the thumb. This is a genetic condition, characterised by one or both of the thumb nails being clubbed and the thumb being fat and round.
Typically, the distal phalanx – or, the 'end bit' – of the thumb for people with clubbed thumbs is two-thirds the normal size. Fox's online haters have called them 'toe thumbs,' but none of this has kept Fox from being considered one of the dominant screen sex symbols of the past 20 years.
15. Jason Momoa – eyebrow scar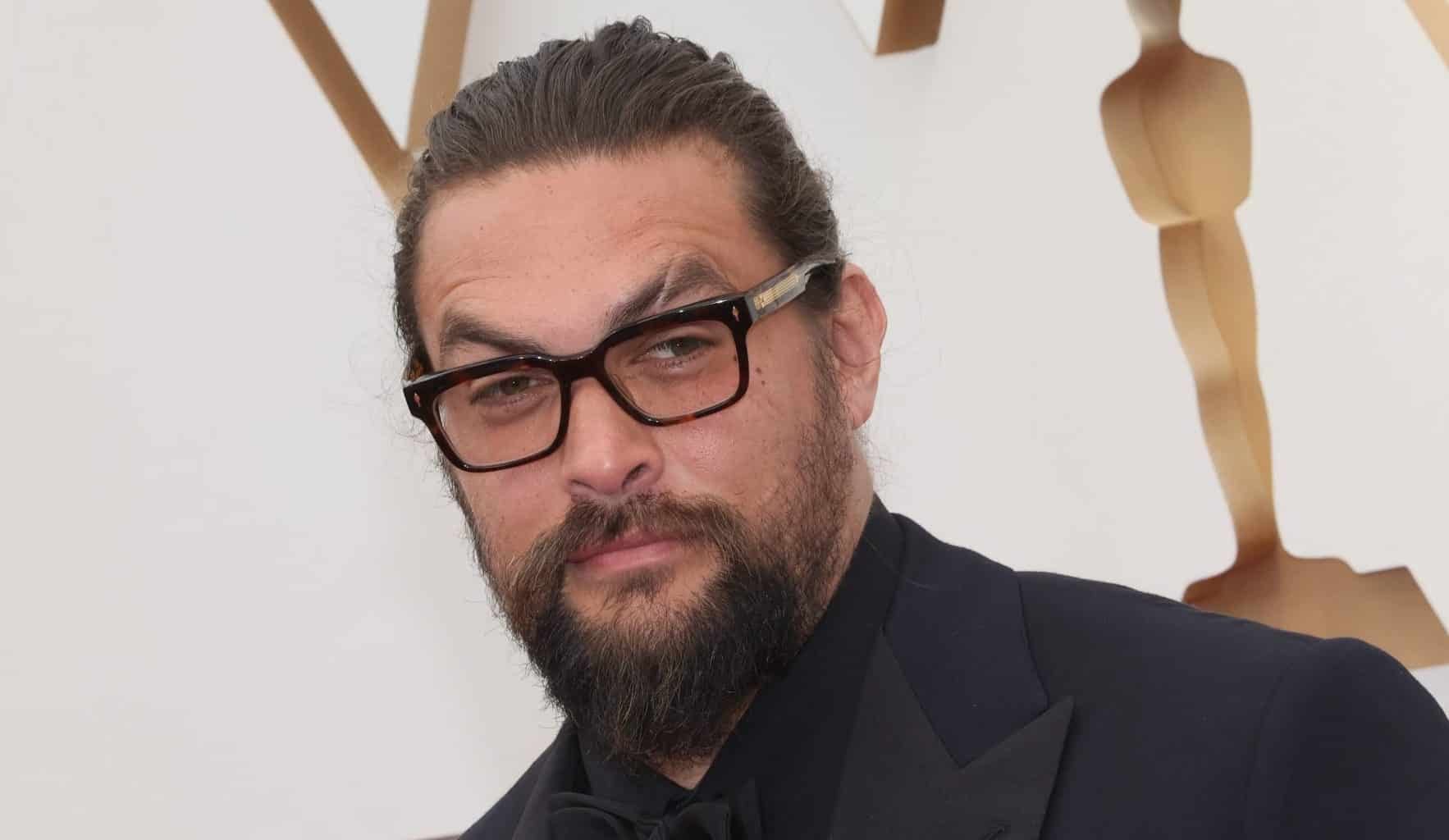 Credit: David Livingston/Getty Images
Jason Momoa is another celebrity with a traumatic story behind his facial disfigurement, and in his case it came in adulthood. In 2008, he was enjoying a drink at a Hollywood bar when a fellow drinker approached the actor and slashed him in the face with a broken beer glass.
Momoa ultimately had reconstructive surgery which involved a grand total of 140 stitches on his face, but left him with a very visible eyebrow scar in the wake of the incident. It doesn't look as though the scar dampened his spirits though, and in fact Momoa credits his mark with transforming him from a 'pretty boy' into a mature tough guy actor.
14. Daryl Hannah – missing fingertip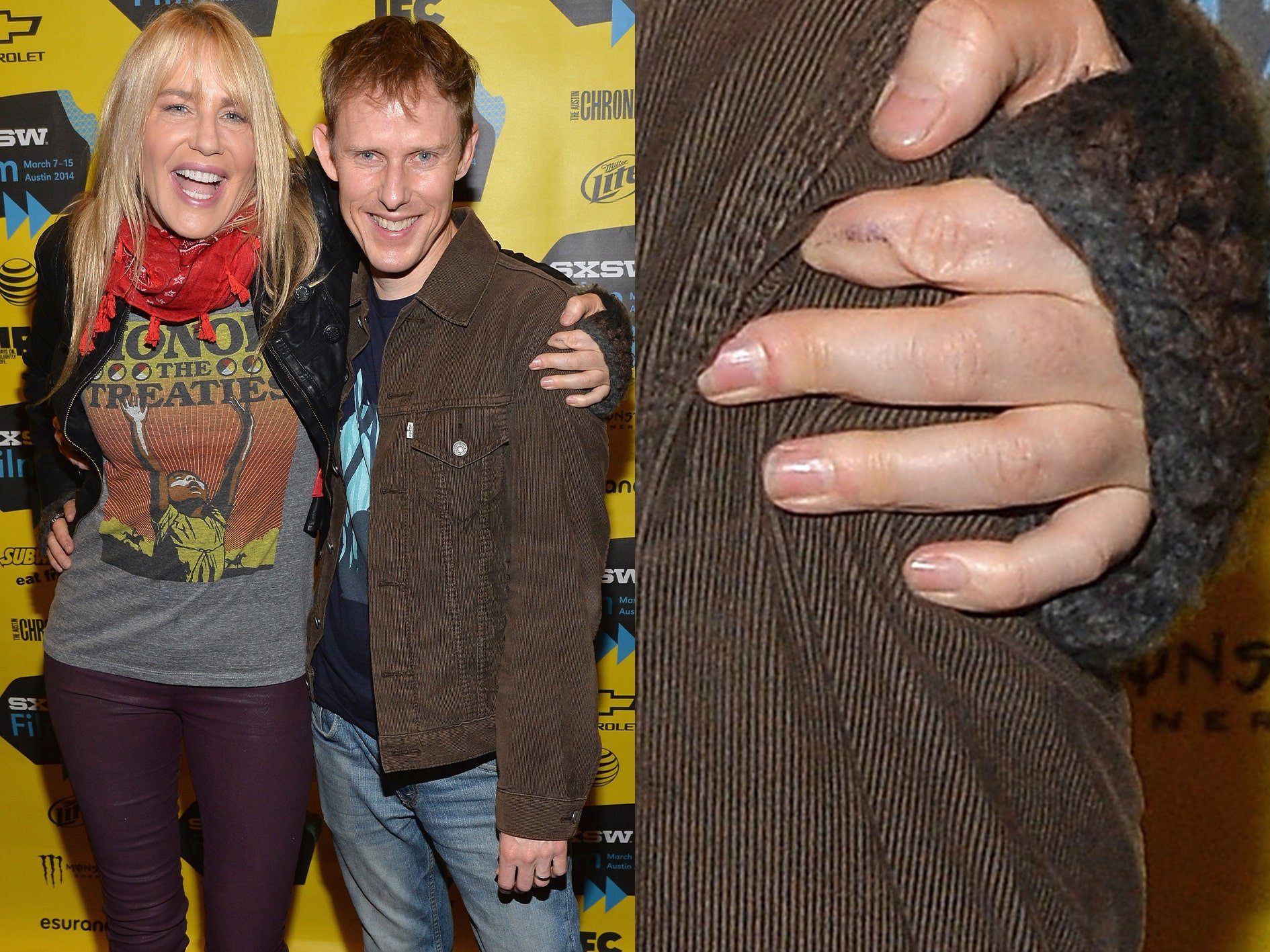 Daryl Hannah with director John Fiege (Credit: Michael Buckner/Getty Images for SXSW)
As a child, future Splash star Daryl Hannah was playing around on her grandmother's stairlift when the device trapped the index finger on her left hand. After the accident, Hannah's index finger was left missing two joints – not that you'd know it from watching her movies.
Often, Hannah's absent half-a-digit has been obscured in films or even disguised by a prosthetic. The actress doesn't want to hide it in real life, though. She says "It was terrifying, but could have been so much worse – and it has bestowed on me an ability to be a more compassionate person."
13. Mary J. Blige – eye scar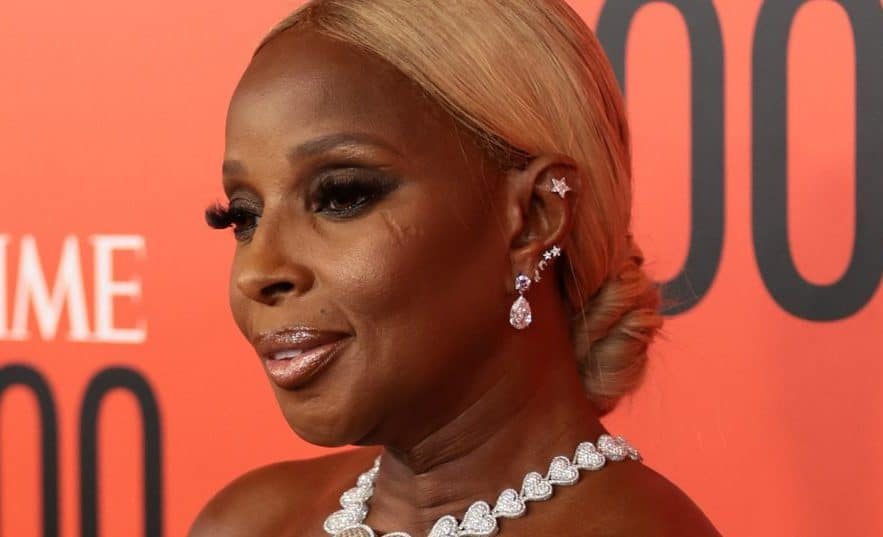 Credit: Dimitrios Kambouris/Getty Images for TIME
Even the biggest fans of singer and actress Mary J. Blige might not have noticed the scar on the left side of her face, underneath her eye. Blige has been reluctant to confirm how exactly she got the mark; some believe it was from a fight, while others claim that it has to do with a traumatic event that she refuses to discuss with the media.
Blige has always refused to discuss the scar, but has said she fully accepts it, explaining "If I don't accept the scar on my face, the lips that God gave me, the big giant feet, the long legs, whatever it is that I'm deformed with, I got to love it so everybody else can love it. And I started loving it."
12. Jennifer Garner – crooked toe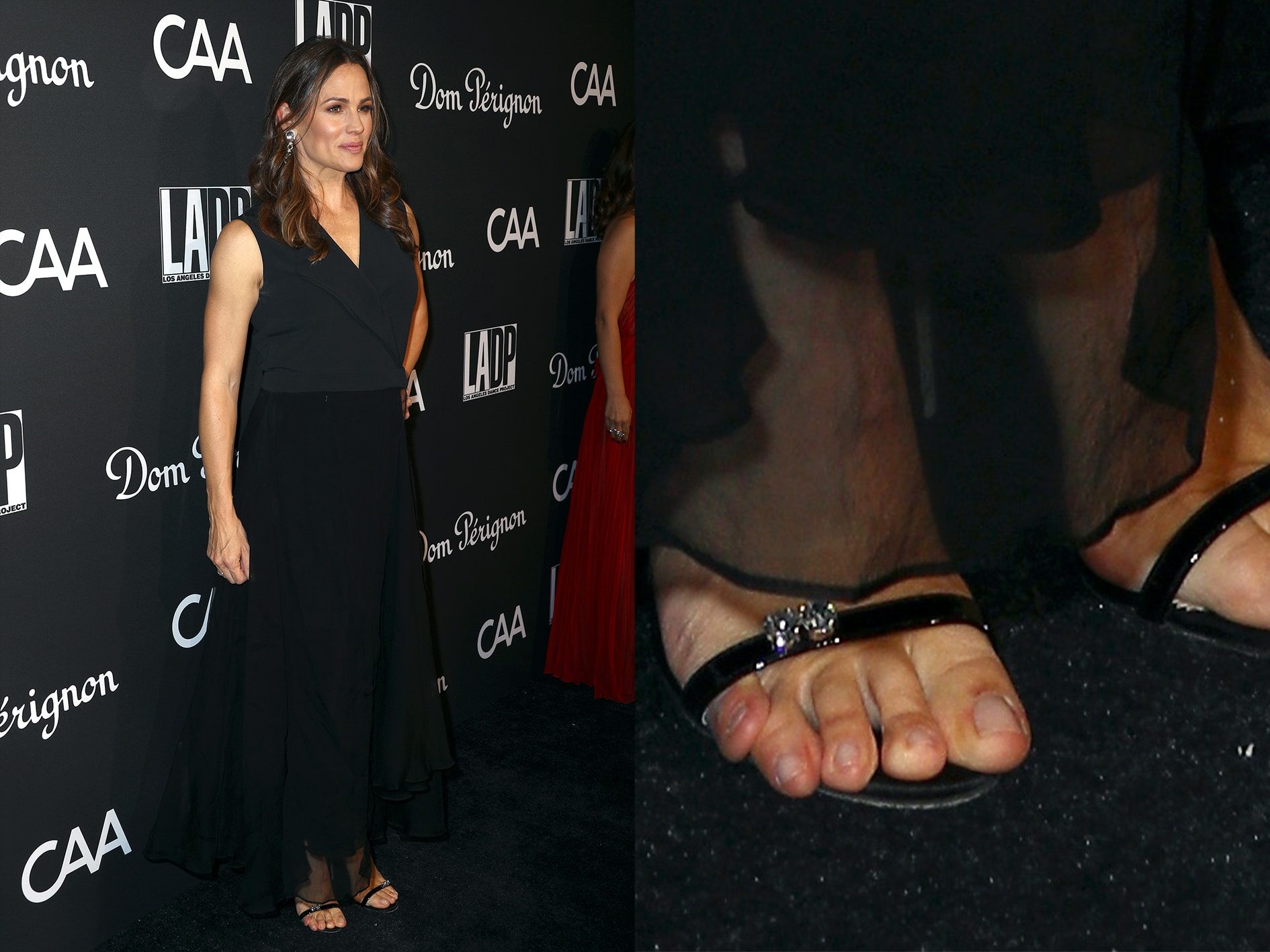 Credit: Frederick M. Brown/Getty Images
Have you ever taken a good look at Jennifer Garner's feet? If you had, you'd notice that the actress has an unusual feature on her right foot. Garner has something called brachymetatarsia, more commonly referred to as floating toe, owing to how the digit hovers above the others.
Though we don't know how Garner got the bent pinky, it's probably the result of a genetic condition. More commonly, brachymetatarsia happens when one of the bones in the foot is too short, leaving the toe to overlap. The condition is most commonly found in women, so Garner can take comfort in knowing she's far from alone.
11. Kesha – tail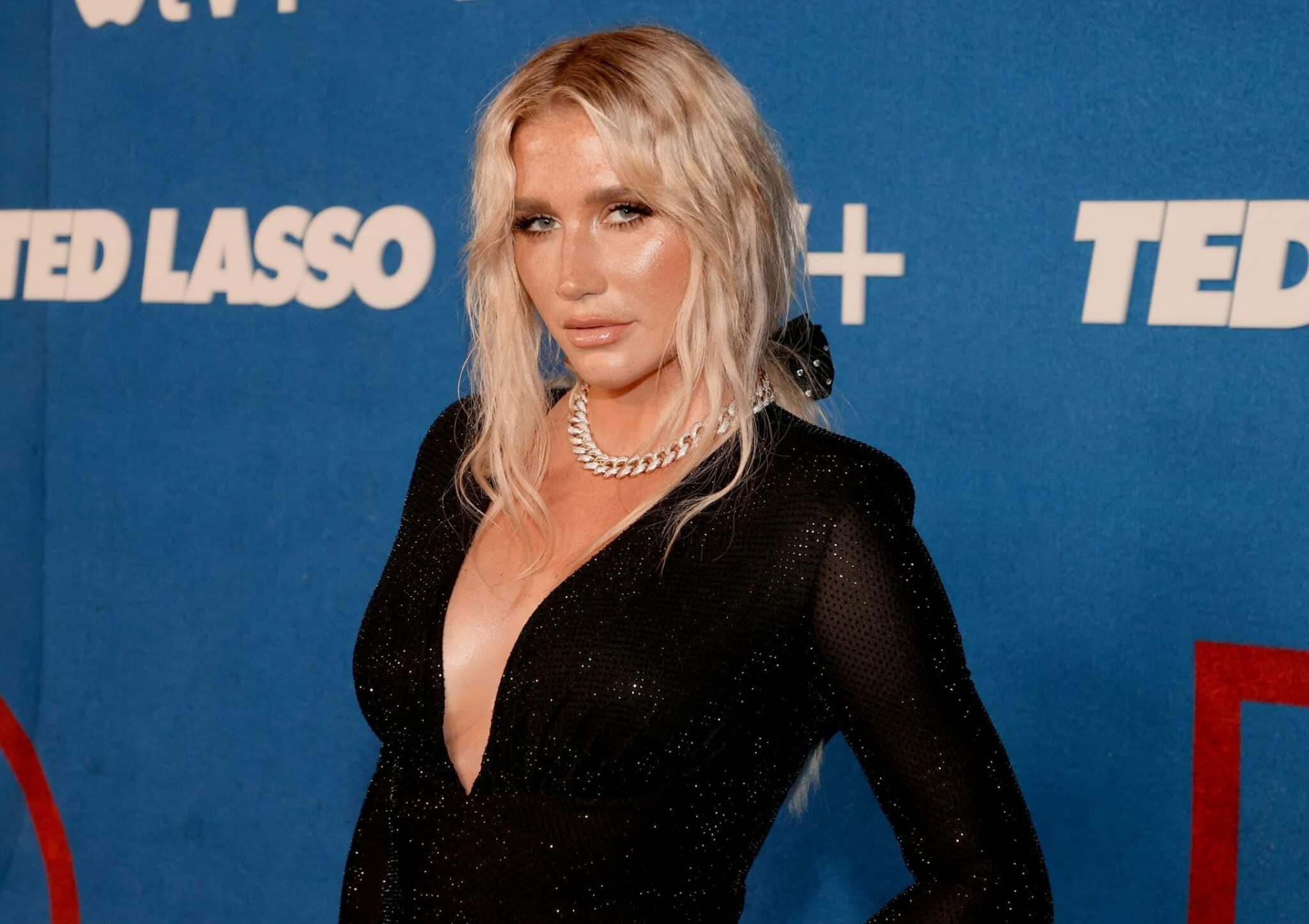 Credit: Kevin Winter/Getty Images
Pop star Kesha (or Ke$ha, if you prefer) has made the bold claim of being born with an extra body part. In 2013, Kesha told Heat magazine that she had a tail at birth: "It was a tiny tail, about a quarter of an inch. They chopped it off and stole my tail when I was little… I'm really sad about that story."
While Kesha may regret losing what most people would consider a deformity, being born with a tail isn't all that strange. When inside the womb, everyone develops a 'tail', an echo of our primate roots. This eventually disappears for most foetuses as they develop, but some people are still born with a vestigial tail, though it's commonly removed.
10. Matthew Perry – partially severed middle finger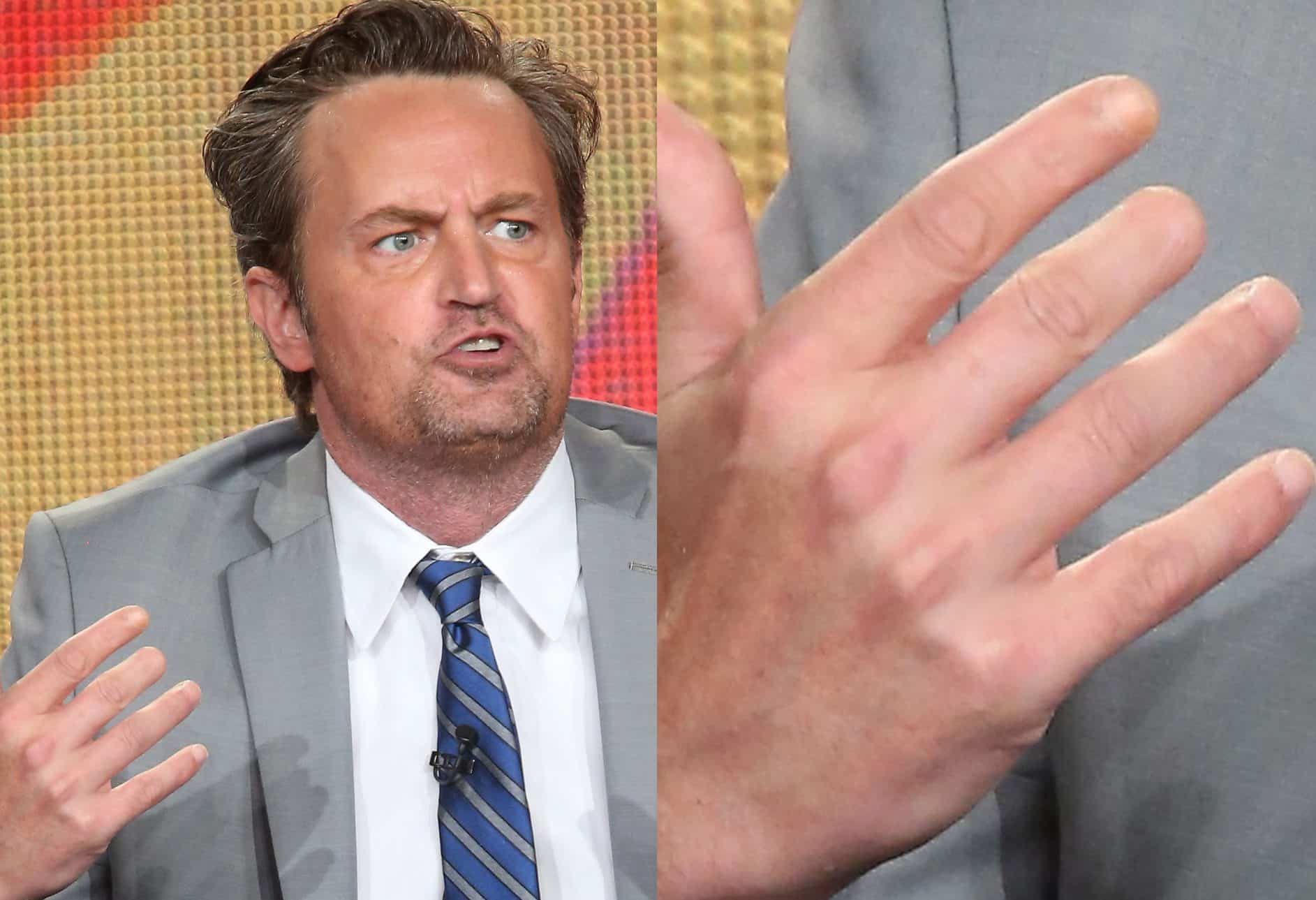 Credit: Frederick M. Brown via Getty
Matthew Perry's Chandler was always one of the quirkier members of the Friends ensemble, and it turns out that Perry himself has a distinctive physical quirk. The American actor is missing the tip of a finger due to an unfortunate accident in his childhood.
When Perry was a child, his grandfather accidentally closed a car door on the young boy's hand, resulting in the loss of part of his finger. The Friends writers later made a cheeky nod to this, having Chandler lose part of a toe when Courteney Cox's Monica accidentally drops a knife on his foot.
9. George Takei – deformed foot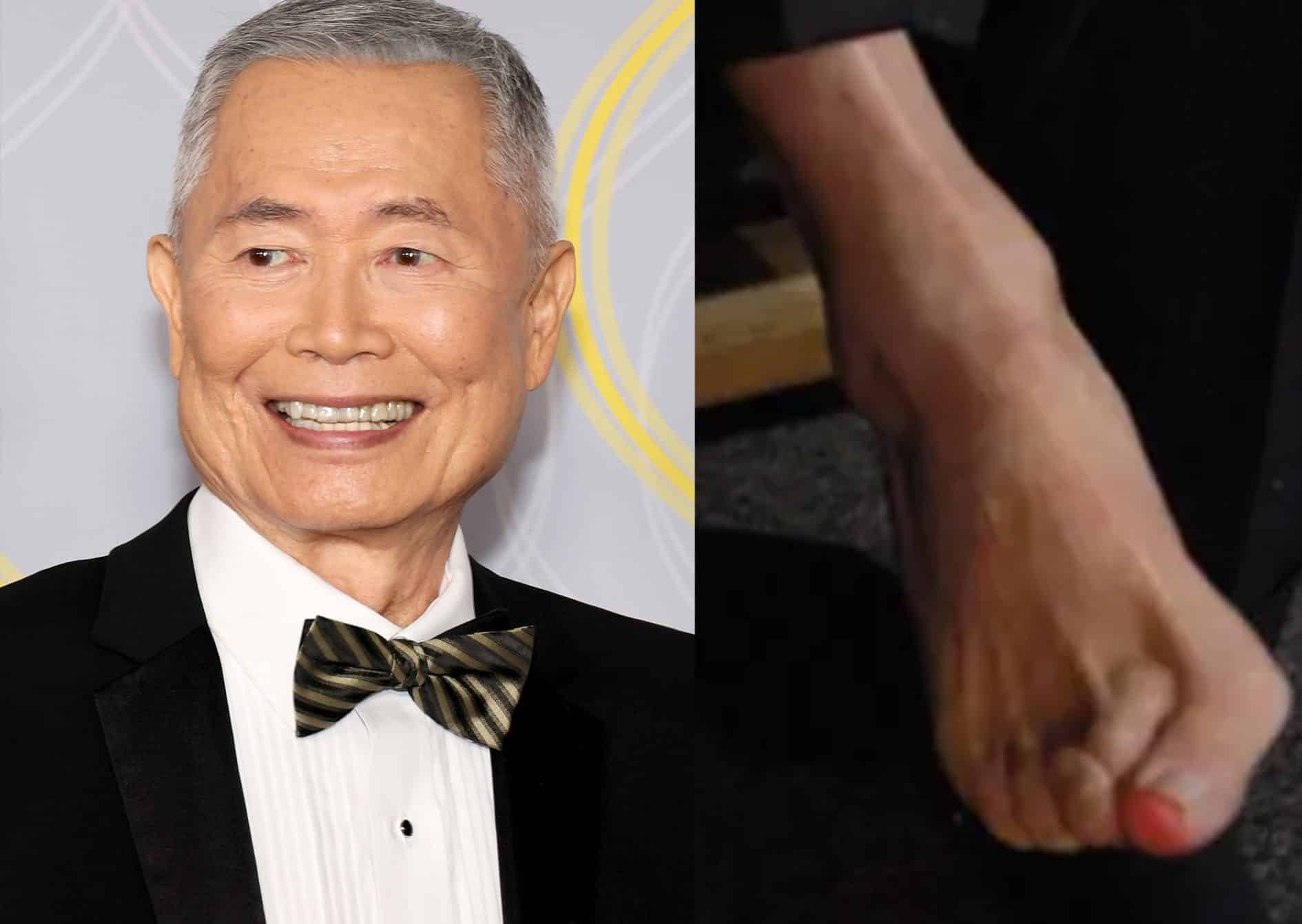 Credit: Dia Dipasupil/Getty Images
Unfortunately for Mr Sulu, one of his feet boldly went where no foot has gone before… and it never returned. According to Star Trek star and LGBT activist George Takei, one of his feet is now permanently cramped, the responsibility lying with one well-intentioned but ultimately life-changing fan.
Years ago – we're talking back in the 70s – Takei received a pair of running shoes from a fan that the actor subsequently wore on a 10k run. After the run, Takei's right foot "got the most horrific cramp and all the muscle on my right side cramped up". Takei had surgery to correct the damage, but after a short while the foot returned to its (now permanently) curved state.
8. Charlie Puth – eyebrow scar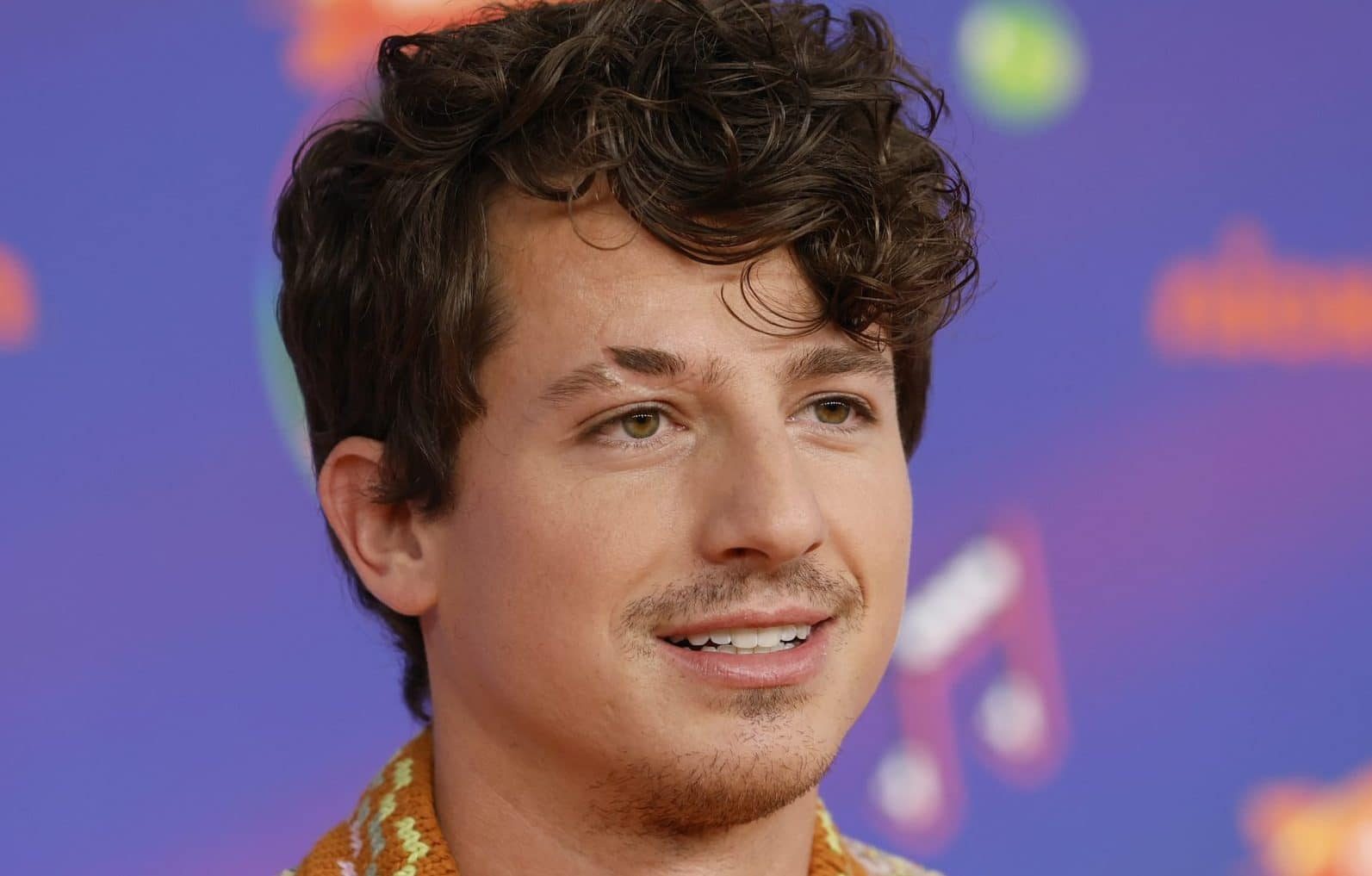 Credit: Frazer Harrison/Getty Images
Charlie Puth has spent a lot of his short life in front of the camera as a singer-songwriter and budding YouTube star, meaning it's hard for people not to notice the prominent eyebrow scar on the right side of his face. The story behind how Puth got the mark is a little grisly to say the least.
When Puth was only 2 years old, a dog attacked him, with baby Charlie subsequently nearly passing away from his wounds. Fortunately doctors were able to save Puth, who bears the scars to this day. Some Puth fans have been known to shave their eyebrows to try and mimic the star, but he's gone on record to say he doesn't shave his own just to look cool.
7. Billy Corgan – port-wine stain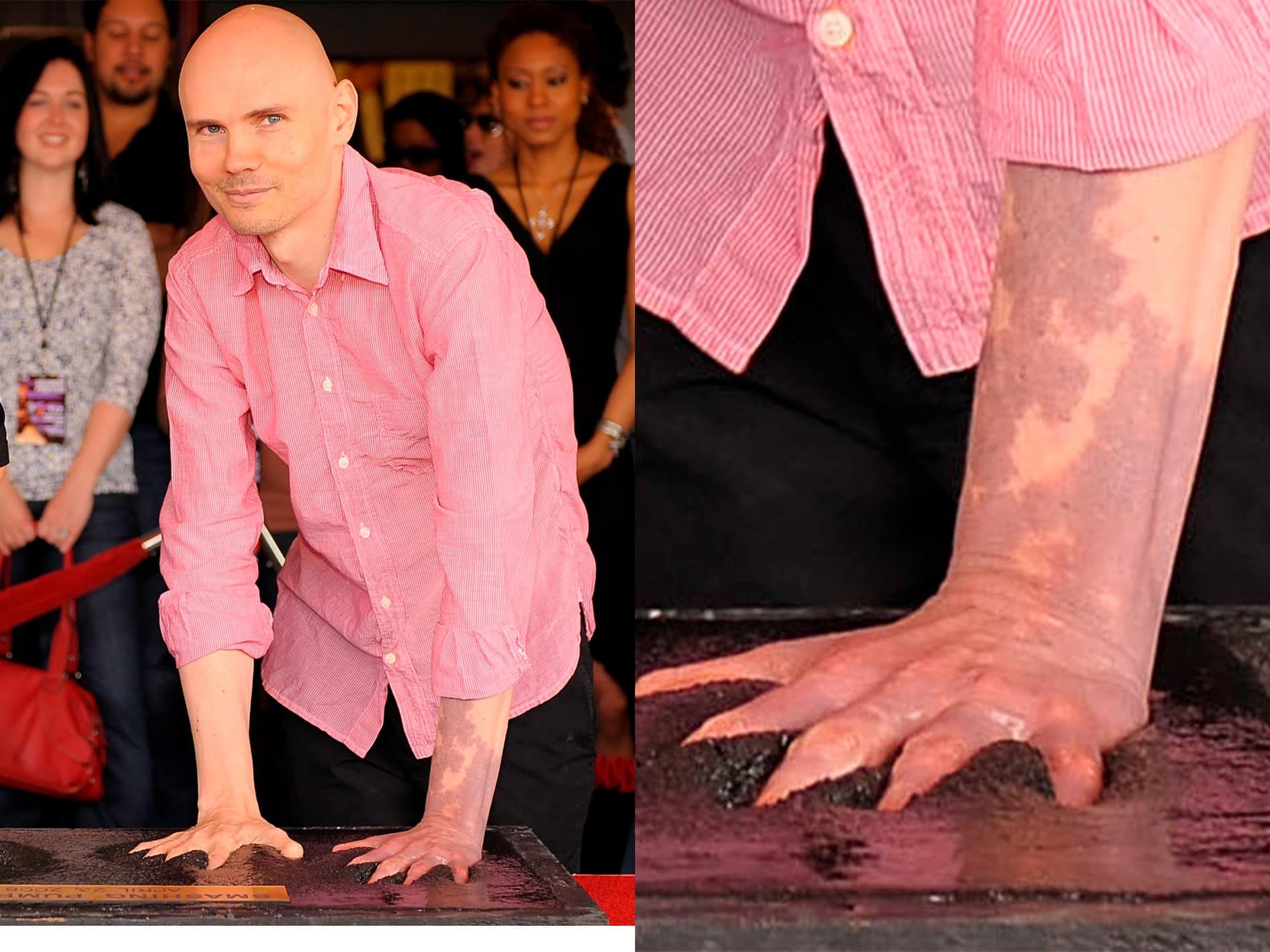 Credit: Charley Gallay via Getty
Billy Corgan, front man of alternative rock band Smashing Pumpkins, is among the most famous people with nevus flammeus, also known as a port-wine stain or firemark. These are birthmarks which result in a purplish discolouration in the affected area, which in Corgan's case is over his left hand and forearm.
The distinctive colour is why the mark is most commonly referred to as a 'port-wine stain'. This is because it looks like wine or port has stained the skin. Other well-known people with a firemark include Mikhail Gorbachev, who has one on his forehead, and Tina Turner, who has one on the back of her right shoulder.
6. Michael K. Williams – facial scar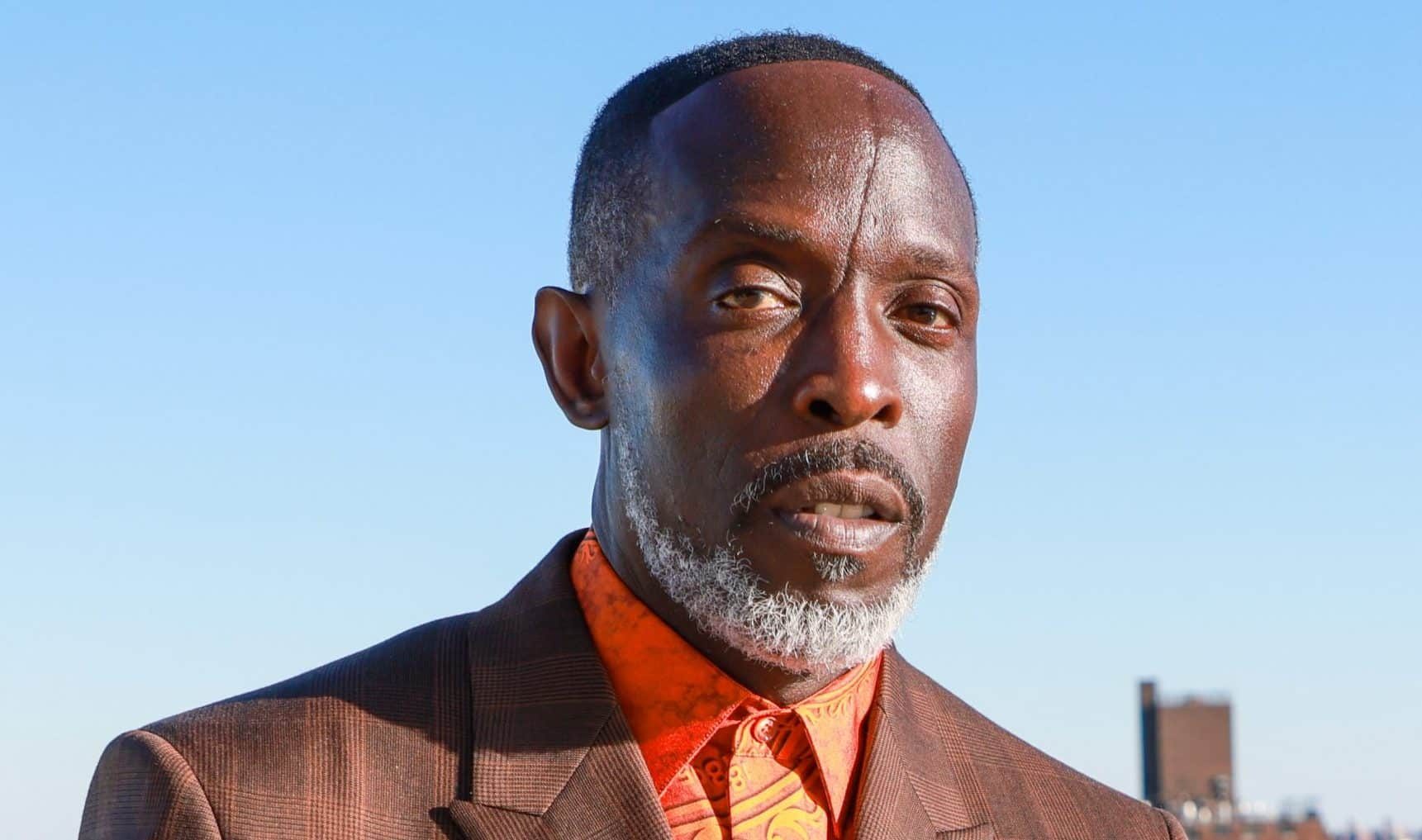 Credit: Arturo Holmes/Getty Images for ABA
Before his untimely death in September 2021, Michael K. Williams was among the most acclaimed American TV actors of his generation, appearing in a string of small screen hits including The Wire and Boardwalk Empire. On top of his indisputable skill as an actor, Williams was noted for his striking features – which, of course, included an unmissable facial scar.
Williams got the scar when he was 25 years old, when attempting to break up a fight that began at a house party in Queens, New York. Williams' assailant brought out a concealed razor blade and struck the actor in the face, slicing him from the top of his forehead and all the way down his cheek.
5. Lily Allen – third nipple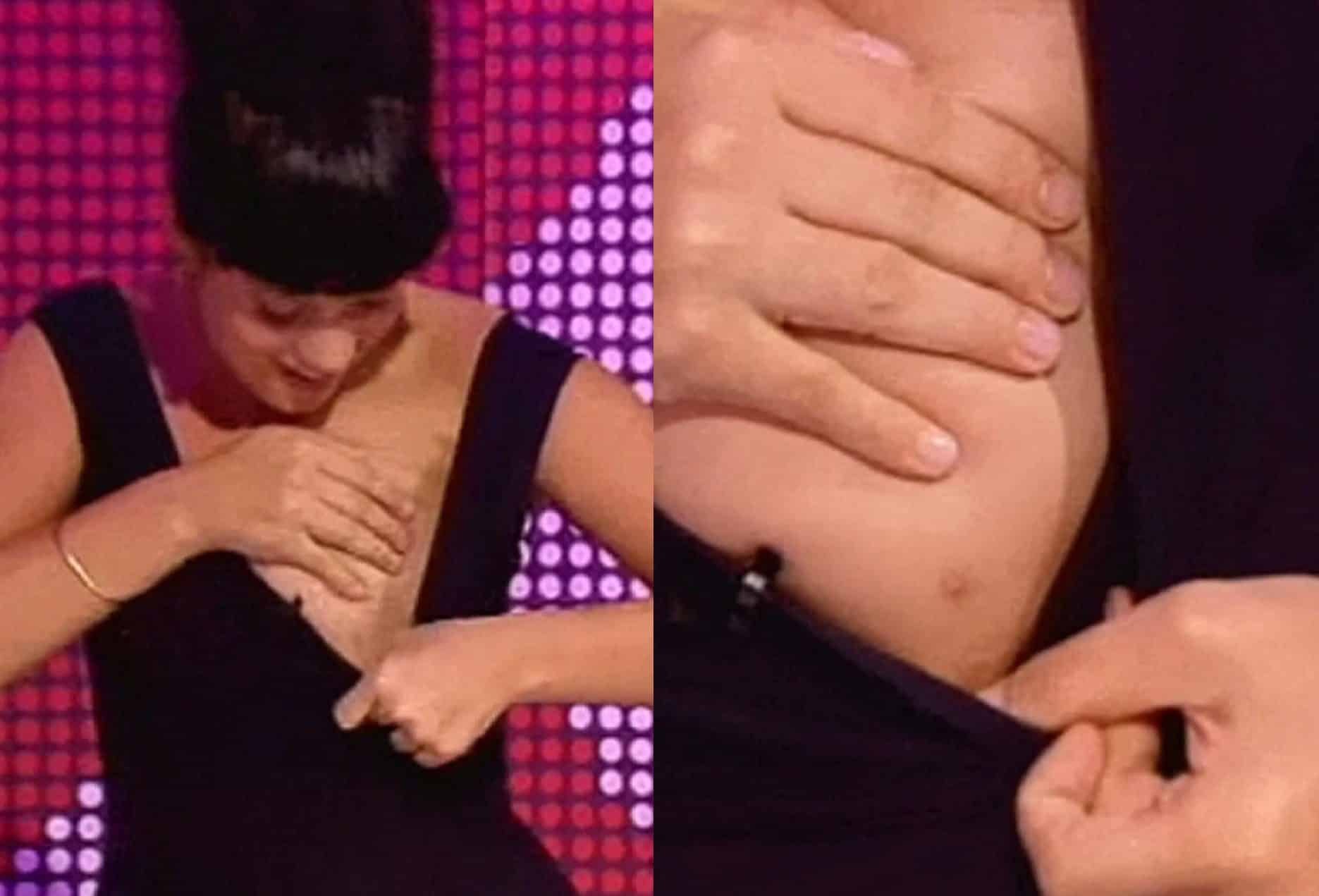 Lily Allen, not known for being the most reserved British celebrity, did something outrageous back in 2007. In classic fashion, she decided to flash the entire country live on British television, to reveal an extraneous third nipple on the side of her left breast.
According to research, as many as one in every 18 people are born with more than the standard two nipples, with the extras in most cases mistaken for birthmarks. Allen isn't alone: Zac Efron and Tilda Swinton have third nipples of their own, as does another big name star…
4. Mark Wahlberg – third nipple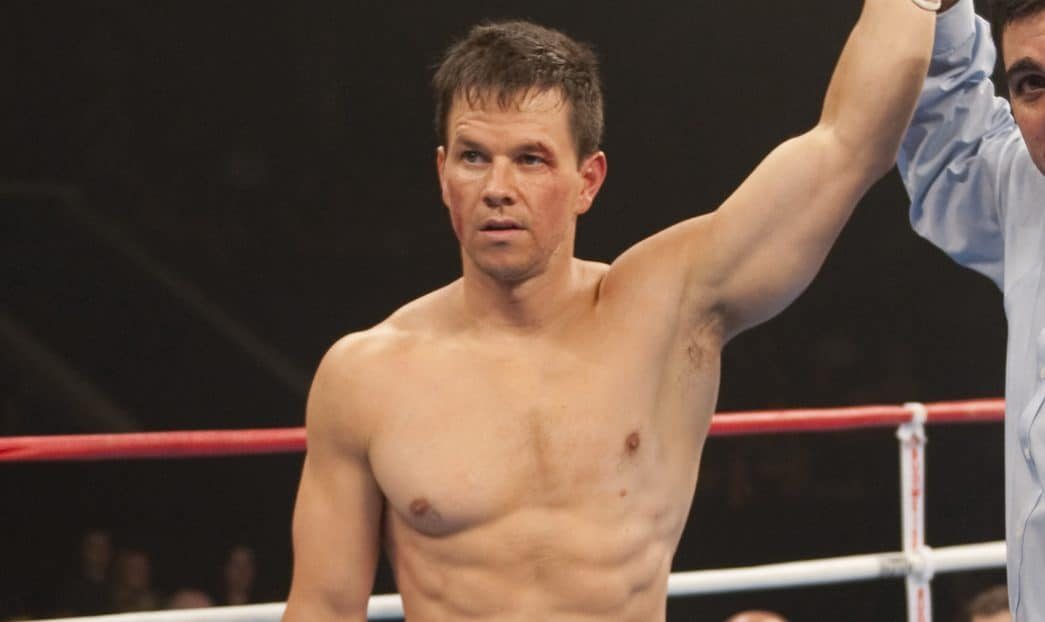 As you can see from the photo, along with Allen, Efron and Swinton, actor Mark Wahlberg is also a member of the esteemed trip-nip club. The former Marky Mark is more than happy to talk about his third nipple, which can be found just below his left (full-sized) nipple.
"It's actually the size of an infant's nipple, it didn't grow," Wahlberg has said about his polythelia. In Wahlberg's early days as an underwear model for Calvin Klein, the nipple was always getting airbrushed out or covered up with makeup, but Wahlberg says he's never considered having it removed.
3. Karolína Kurková – missing bellybutton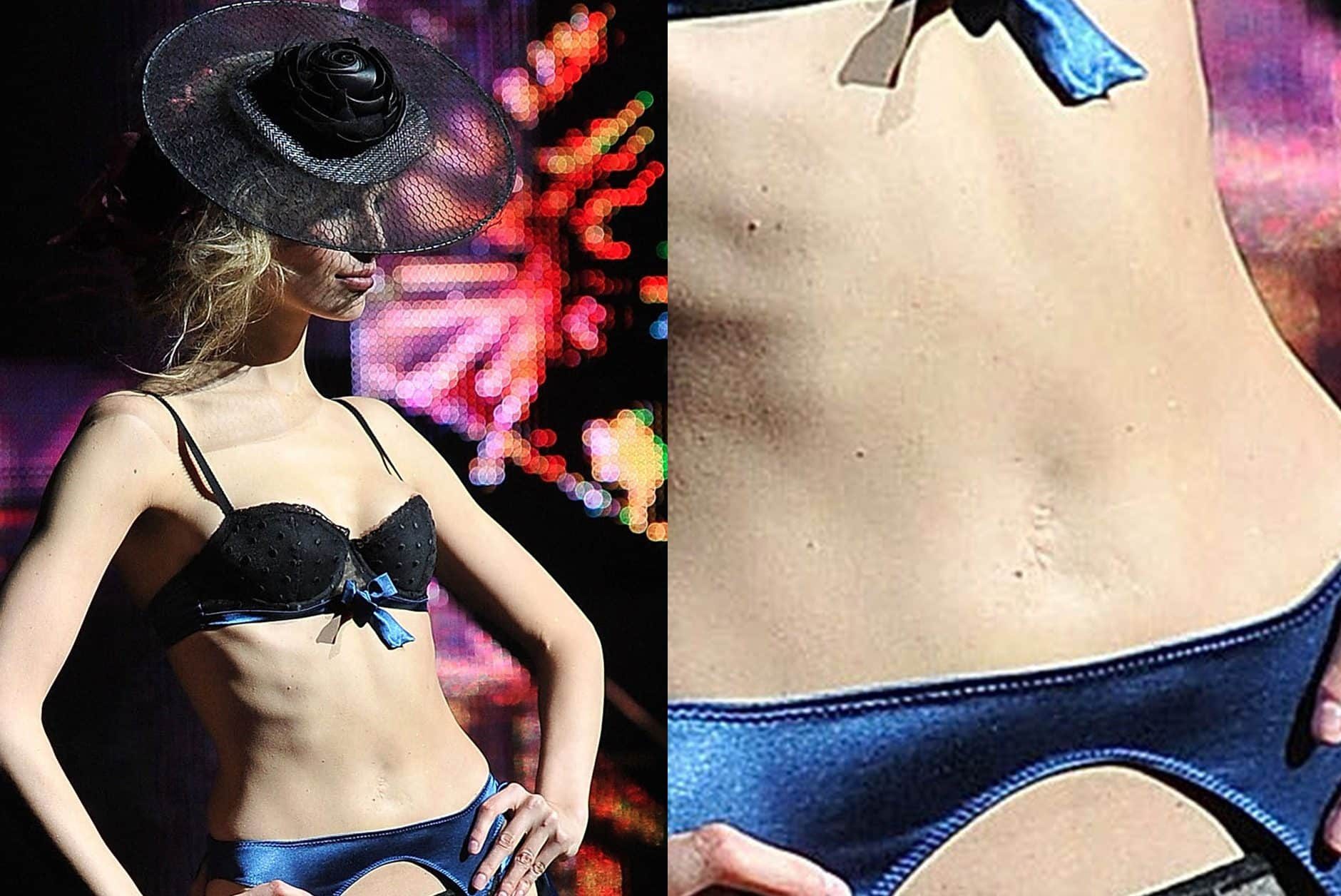 Credit: Pascal Le Segretain via Getty
Czech model and actress Karolína Kurková is proof that you don't need to be flawless to make it in the modelling world. Kurková's career has seen her work as a Victoria's Secret Angel and appear on the cover of Vogue, whilst American Vogue editor Anna Wintour once declared her the "next supermodel".
All this in an infamously perfectionistic industry, despite Kurková having an obvious physical imperfection: a smooth indentation where her belly button should be. Nobody knows for exactly why, although the BBC speculate it is "a result of the surgery needed to correct abdominal problems at birth".
2. Vince Vaughn – partially severed thumb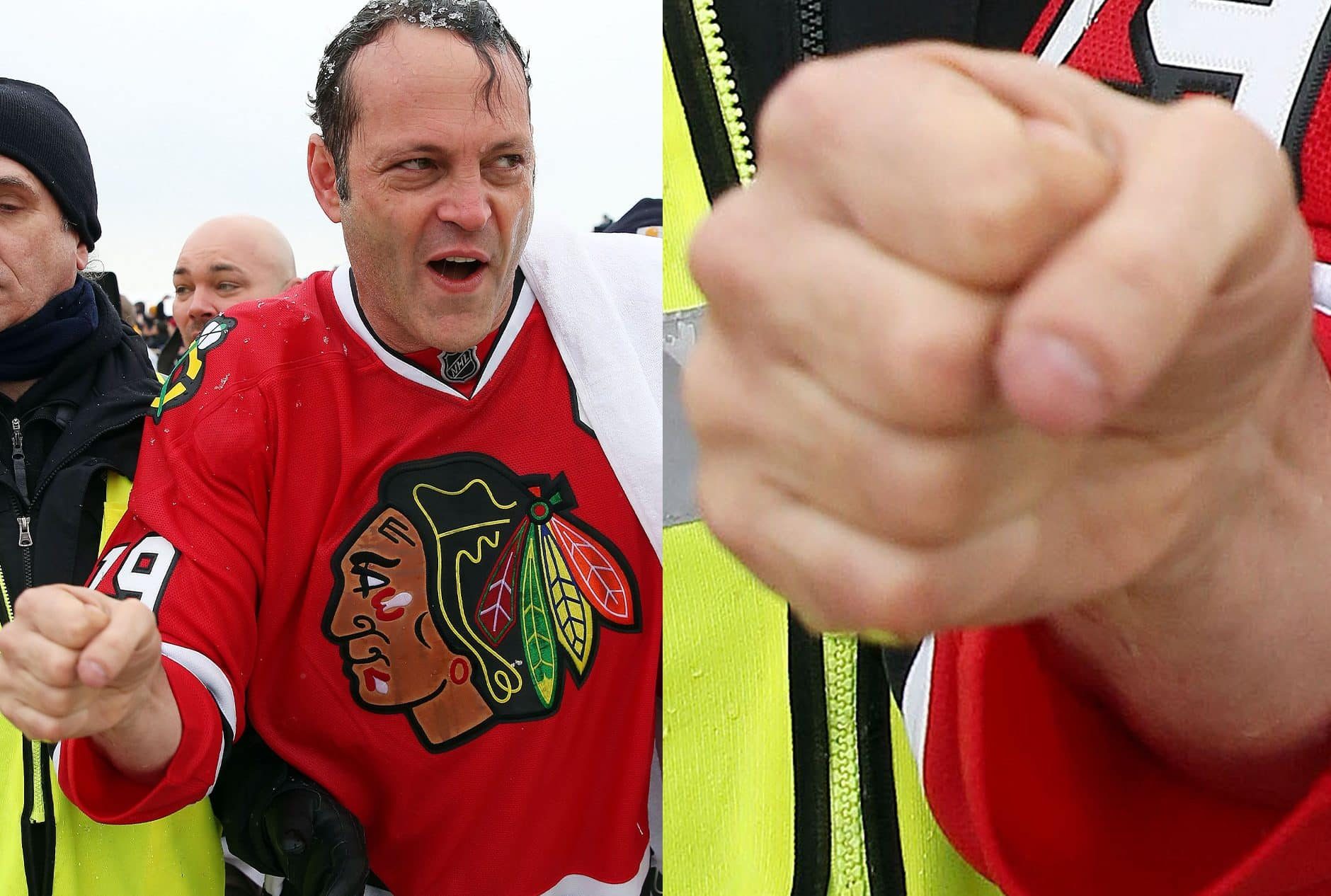 Credit: Tasos Katopodis via Getty
When he was 17, actor Vince Vaughn got into a car accident, luckily walking away with his life but – less fortunately – not all of his body parts. The crash left Vaughn with the end of his thumb missing. This derailed Vaughn'sambitions of being a pro sportsman: he had been a passionate polo player, but doctors advised him to stop after the injury.
Vaughn has embraced the accident with good humour, though: he calls his mangled thumb a "penis with a fingernail." Fortunately for Vaughn, the accident was also a blessing in disguise. No longer being able to play polo, Vaughn invested more time into another of his passions: theatre. And that, as they say, was that.
1. Martin Sheen – short left arm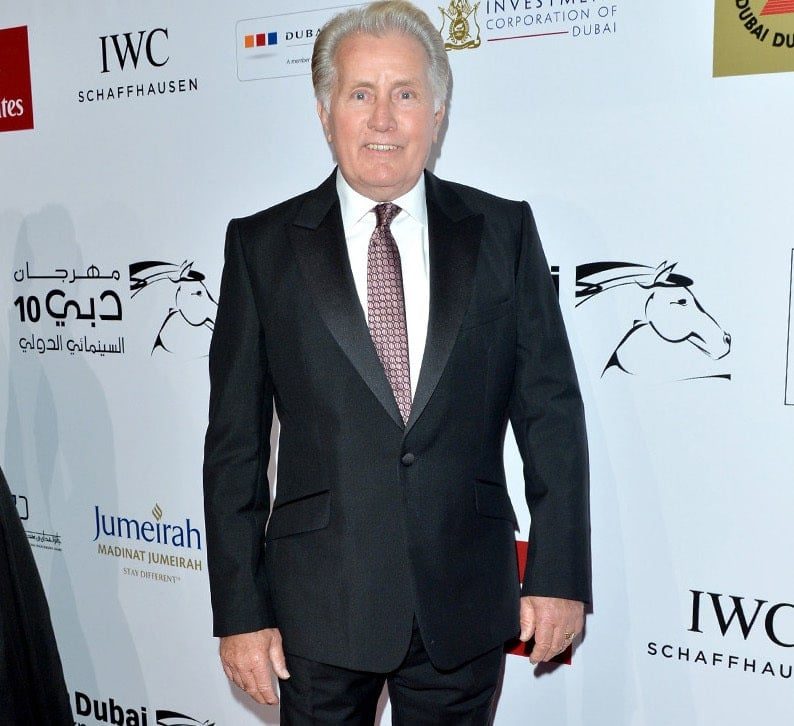 Credit: Andrew H. Walker via Getty Images
Martin Sheen's deformity is so subtle, you've probably never noticed it, even after his decades of screen work. In Sheen's own words: "I've got this deformed left arm, three inches shorter than the right, can't do a thing with it." Unfortunately, it's been that way for Sheen since the day that he was born.
During a difficult birth, Sheen was brought into the world with forceps, which crushed his left arm. This was actually a serious incident which ended up affecting the actor for the rest of his life. The botched forceps gave Sheen's left arm limited lateral movement, and by adulthood it was three inches shorter than his right.