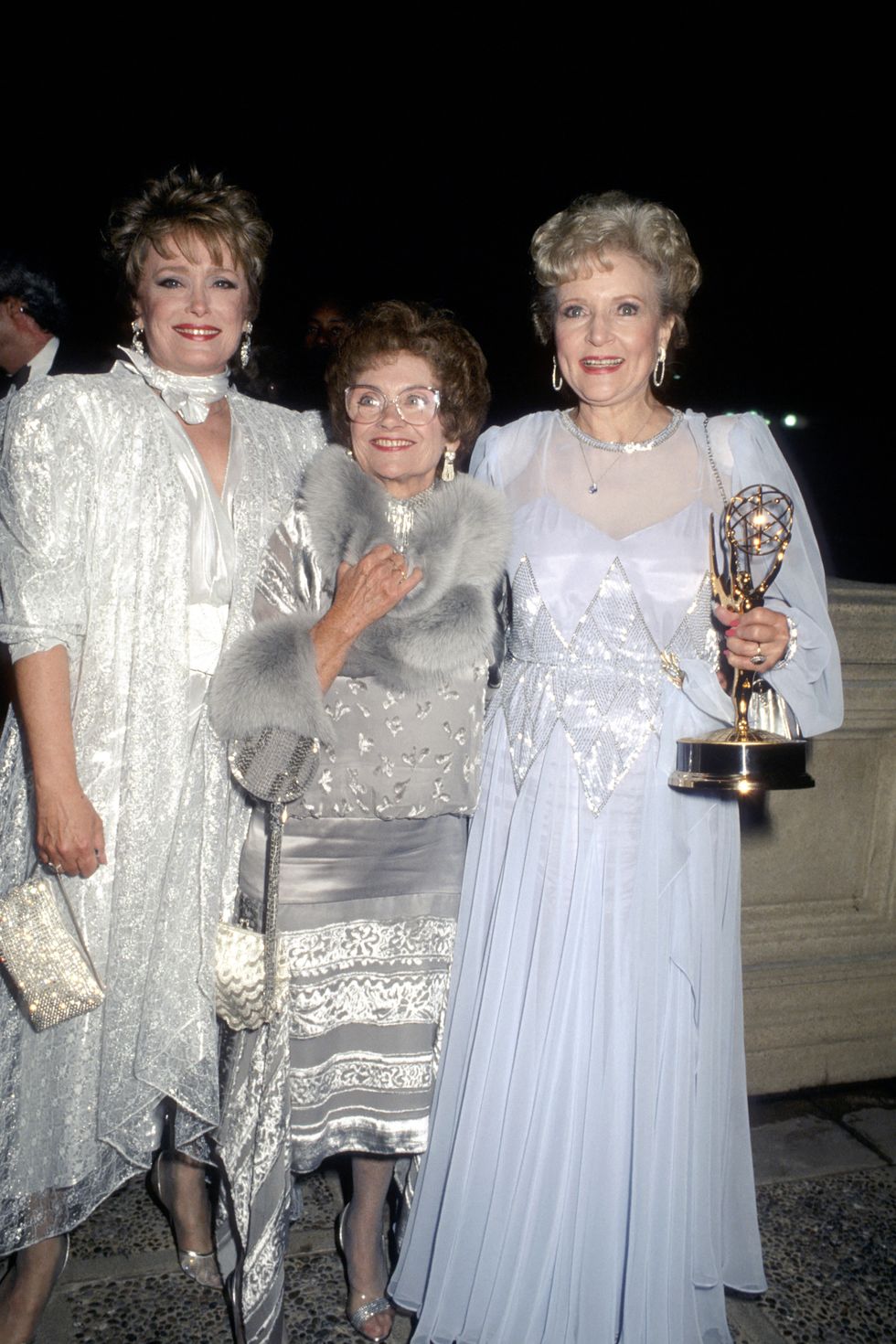 Credit: Getty Images
Betty White was one of the most legendary Hollywood stars and, despite her passing in 2021, she remains an American cultural icon. Best-known for her stint on The Golden Girls, White set a Guinness World Record for the longest-running TV career as a female entertainer. Here are some stunning unseen photos of her throughout the years.
1. 1949: Her TV career begins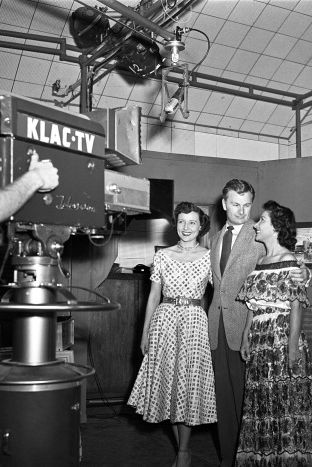 Credit: Getty Images
Born in 1922, White's family moved to Los Angeles when she was just two years old. Her career was launched after she sang at her high school graduation, as she was subsequently chosen to participate in a special experimental TV broadcast in 1939. She started off in radio, before transitioning to a career on the small screen.
2. 1952: Her TV career takes off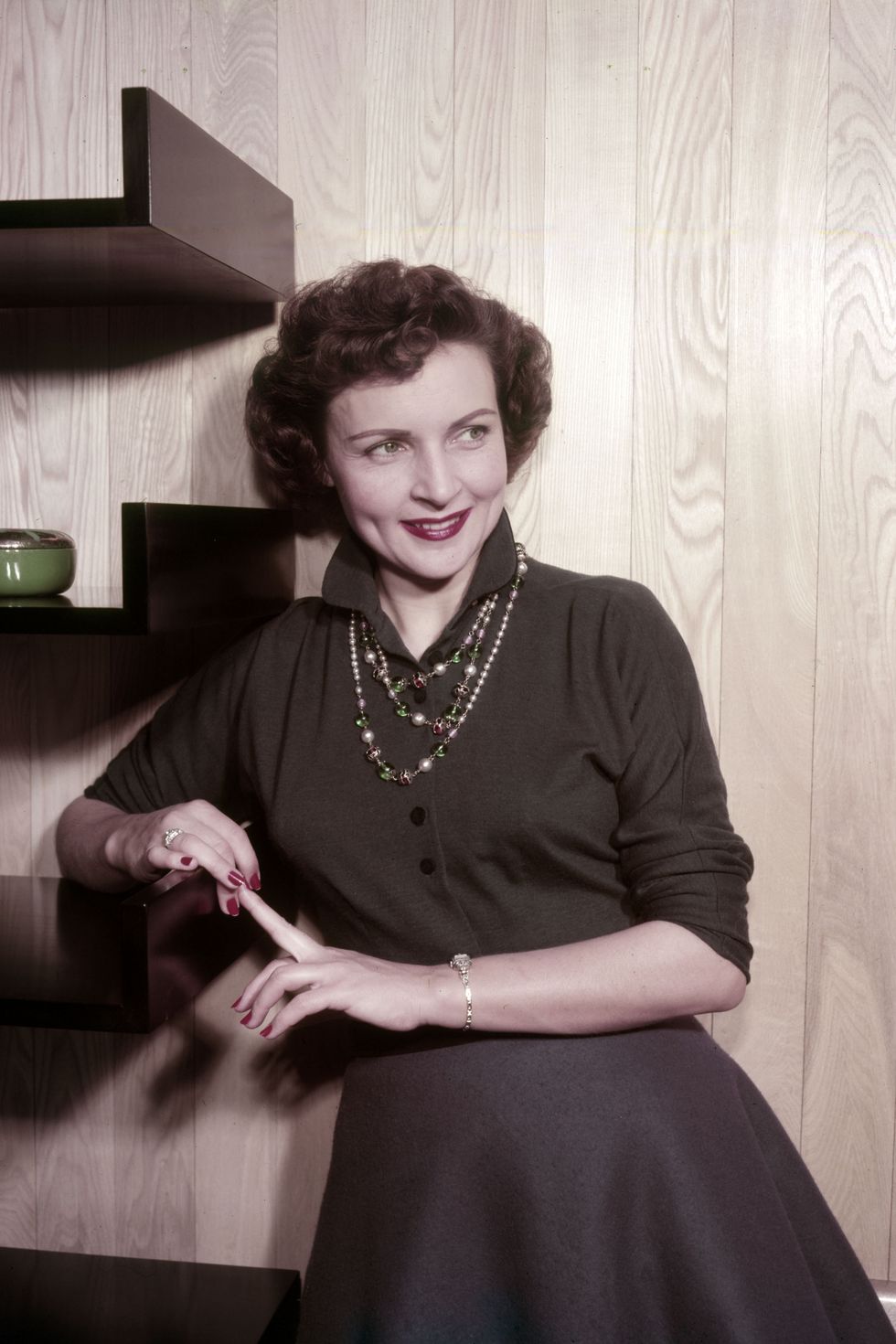 Credit: Getty Images
After a mixed start to her career, White's career really took off in 1952 when she produced and starred in her first TV sitcom, Life With Elizabeth. The show was a modest success, running for just two seasons – but it sure put White on the map and set the tone for what was to come!
3. 1954: At home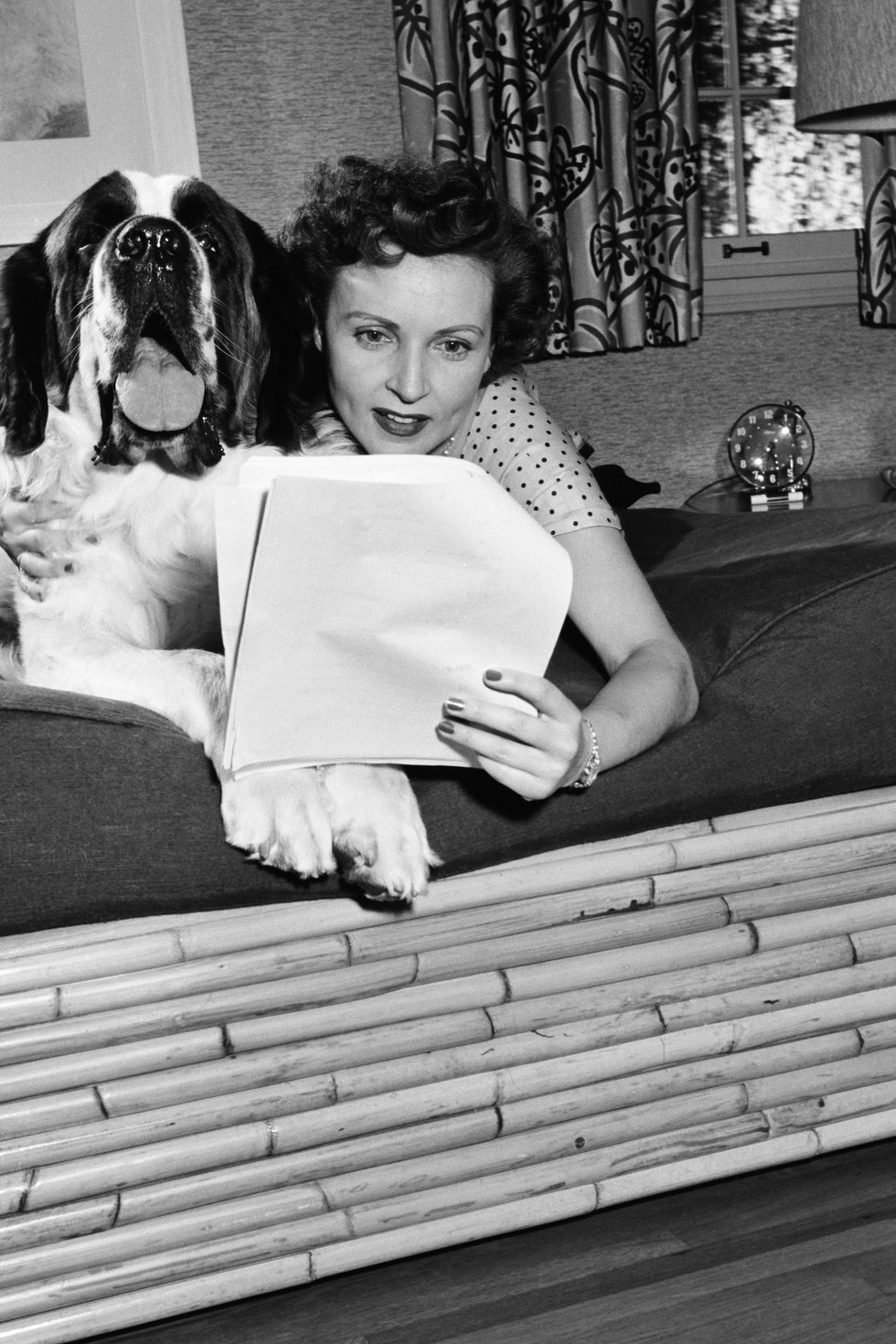 Credit: Getty Images
It is rare to see stars relaxing in their own homes, and having a bit of down time away from stage or screen. This is one of the best and most personal photos of the star, in a tender moment with her pet dog Stormy. She seems focused yet relaxed, and ready to tackle the challenges ahead.
4. 1954: In the Spotlight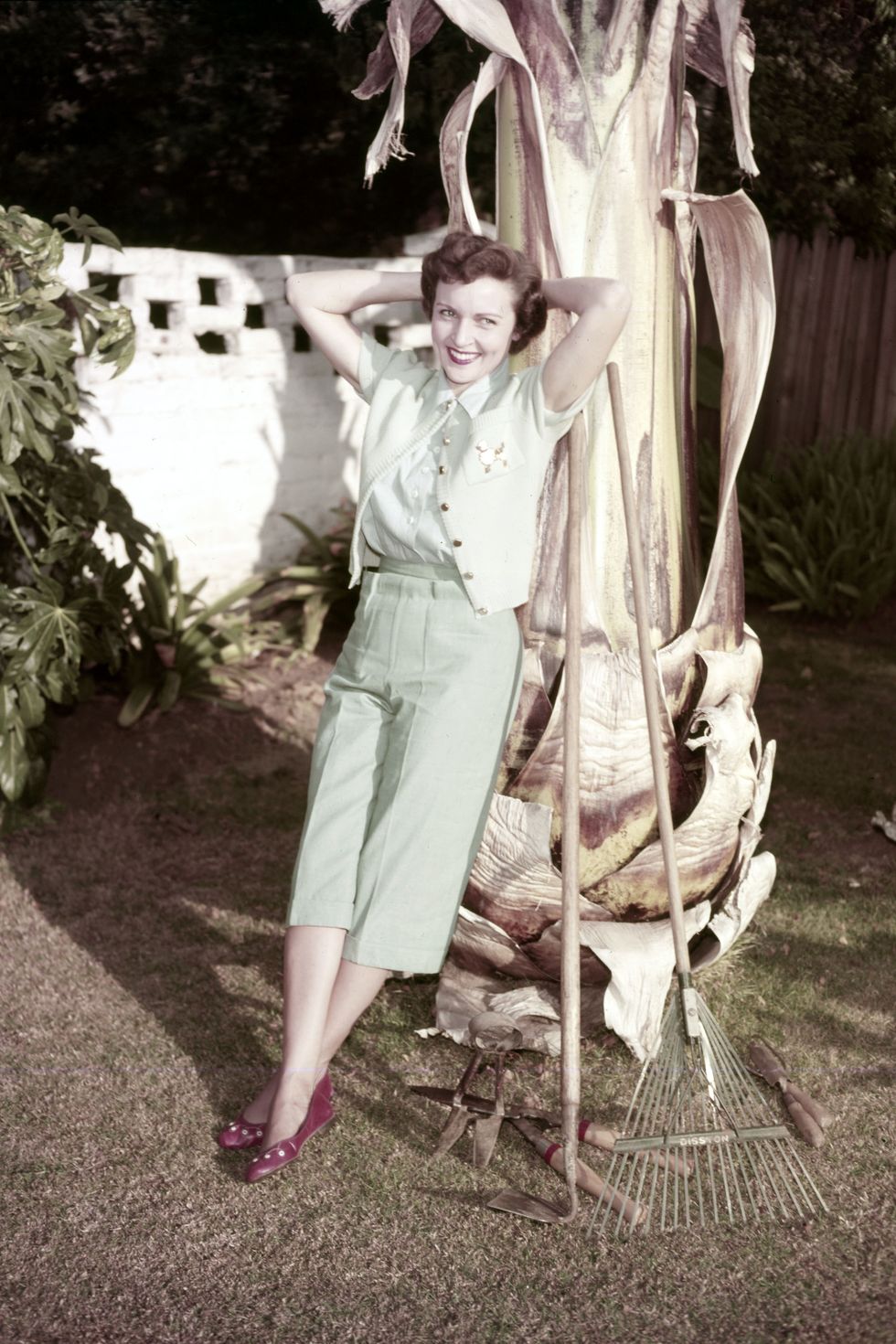 Credit: Getty Images
Even back in the '50s the big stars of the time were expected to take part in press duties and publicity shots. This is a great picture of Betty, relaxing against a tree, and striking a pose for a glamorous publicity shoot. This was just one of many shoots that the actress would have been getting involved with.
5. 1954: Animal lover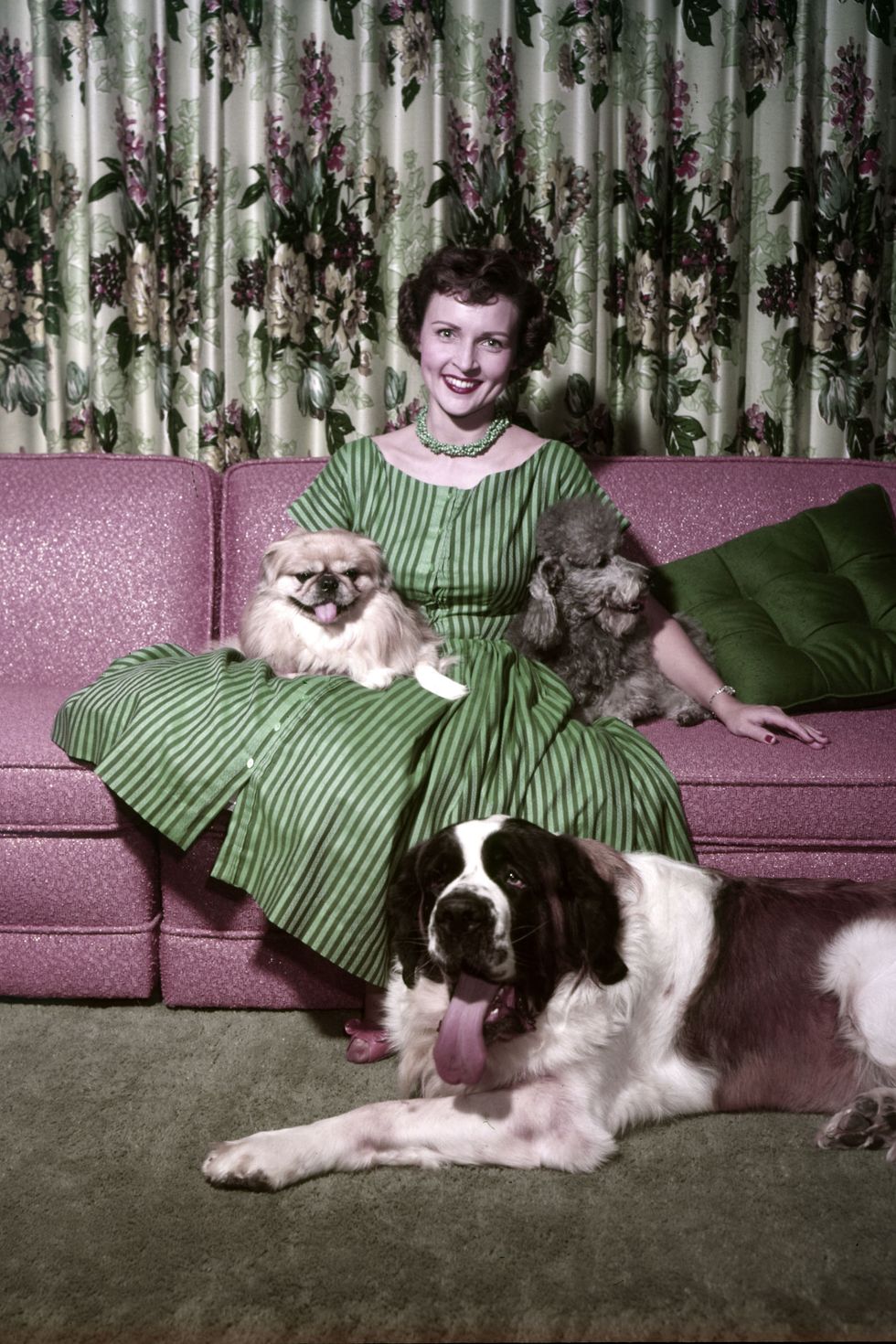 Credit: Getty Images
Many movie stars like to travel with their pets and it seems that White was no different. This is a super-cute photo of her posing at home with her three dogs, Bandy, Danny, and Stormy. She seems full of love for her pooches, and even named her production company after Bandy!
6. 1955: Christmas parade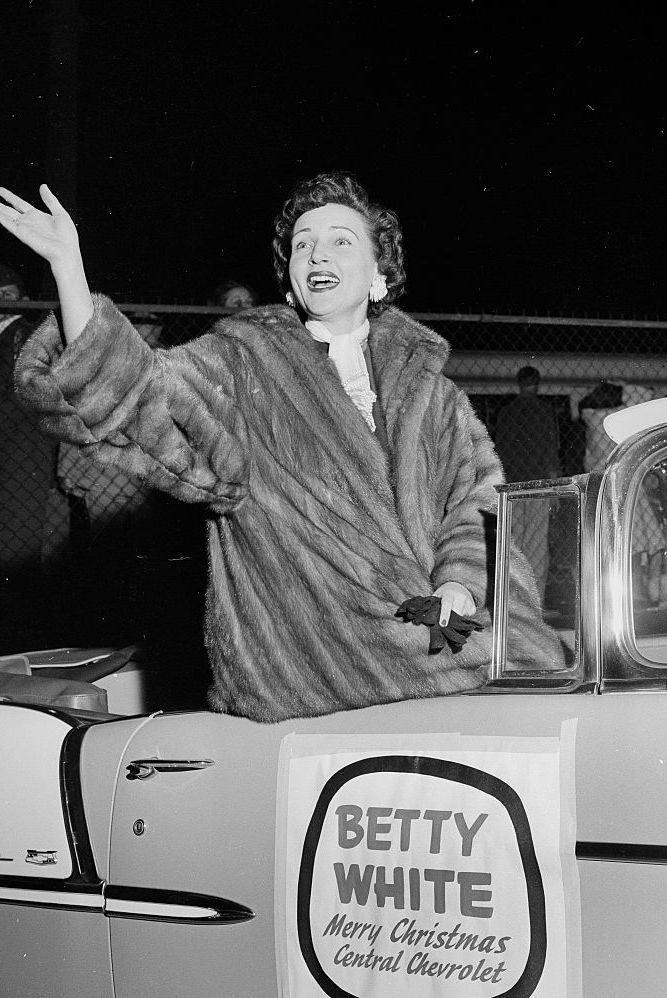 Credit: Getty Images
The '50s was the decade in which we really saw the rise of the movie star for the first time. This meant that successful actors and actresses, such as White, could expect a dedicated fan or press following when they left the house. Here is a rare image of White captured during a Christmas parade in Los Angeles.
7. 1957: A new show
Credit: Getty Images
Following the modest success of her first sitcom, White secured the lead in a new sitcom two years later. In 1957, she starred in Date With the Angels, which ran for two seasons. The show followed a new bride and her insurance salesman husband, and this glamorous photo captures the star during this exciting new period of her life.
8. 1957: On the set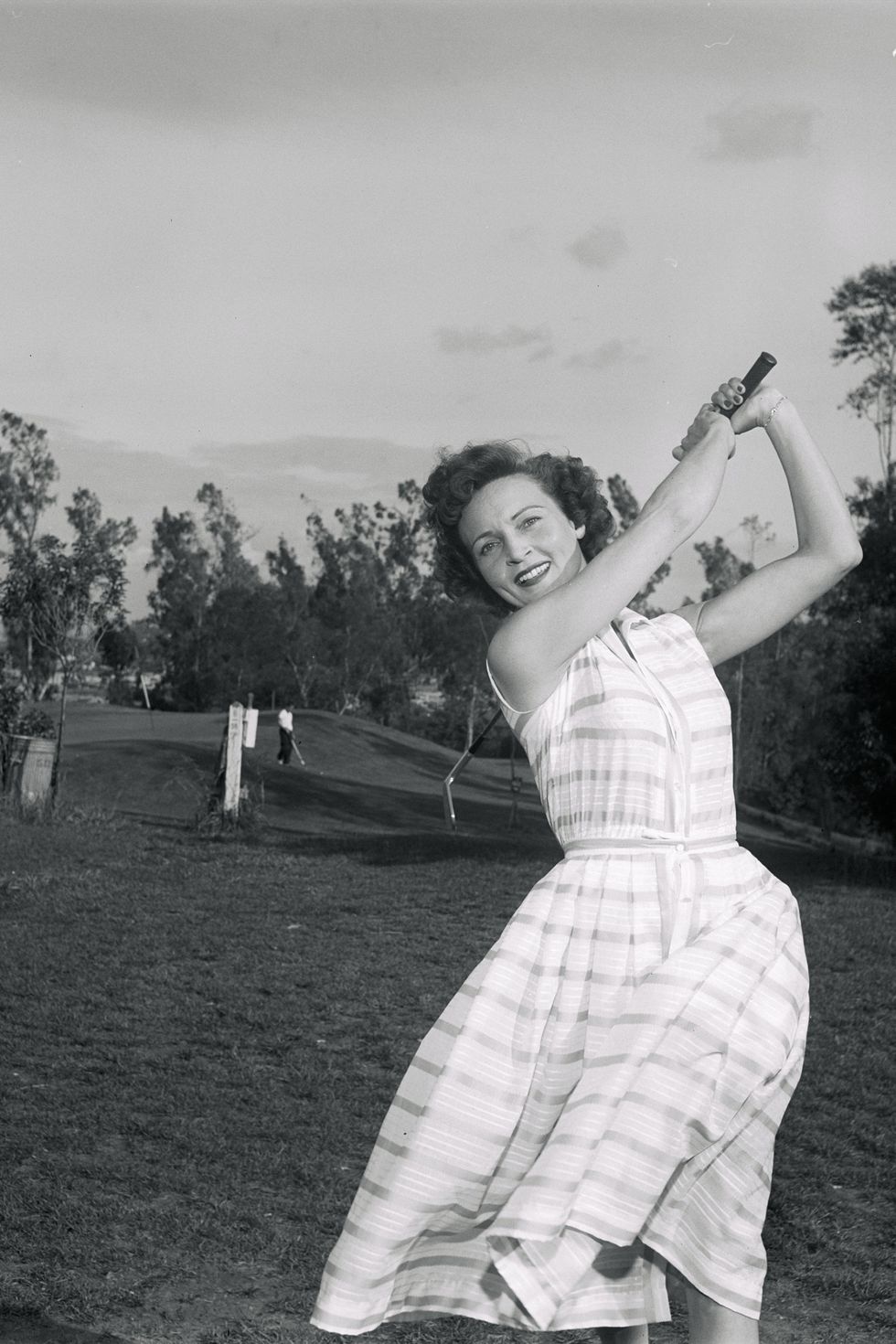 Credit: Getty Images
Check out this on set photo from Date With the Angels that captures the playful charm that was always associated with Betty White. Swinging a golf club on the lynx with a mischievous look on her face, this is one of those rare pictures that captures a star at the peak of her powers.
9. 1963: Marrying the love of her life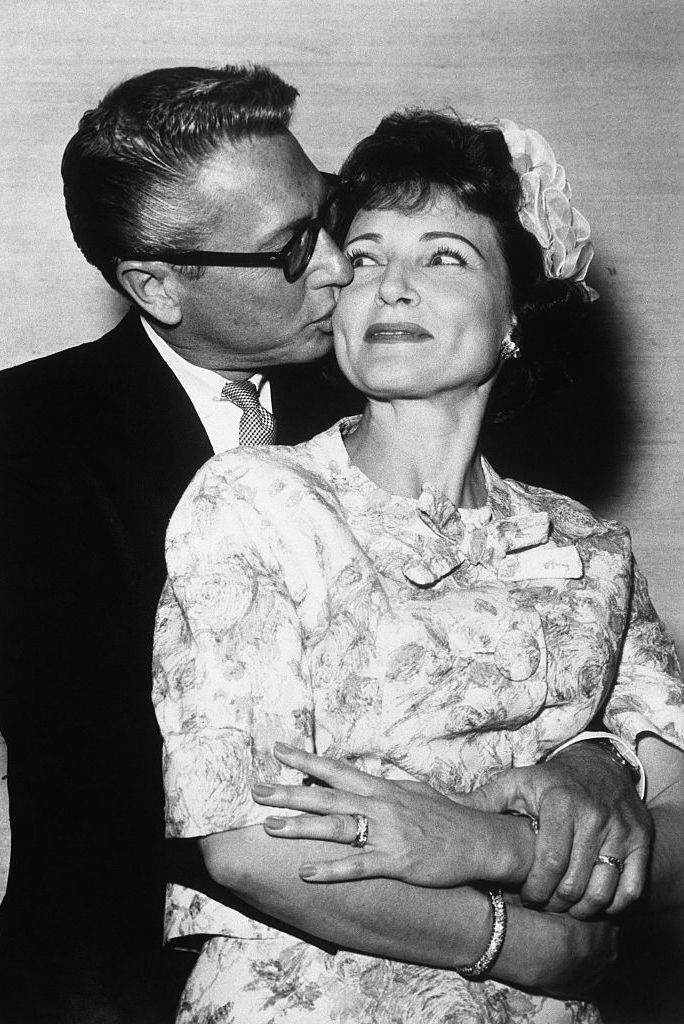 Credit: Getty Images
During her stint as a frequent guest on the popular game show Password, White met her husband Allen Ludden. The host of the show clearly took a shine to the charismatic actress, and the two were soon an item. Having previously been married twice in the '40s, Ludden became White's third husband.
10. 1963: The happy couple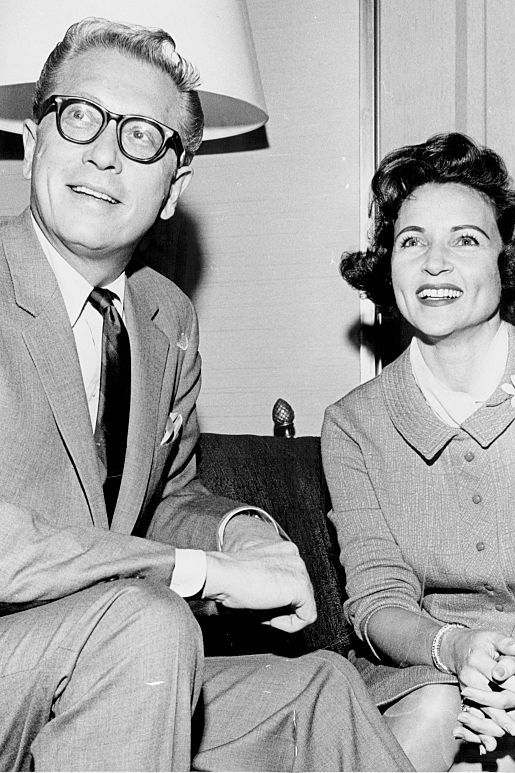 Credit: Getty Images
Unlike her previous marriage, the coupling with Ludden was one that would go on to last decades. The happy duo would wind up tying the knot in 1963, when White was 39, and she legally changed her name to Betty White-Ludden. The couple would remain married until Ludden's death in 1981; she never remarried.
11. 1965: Co-hosting the Thanksgiving parade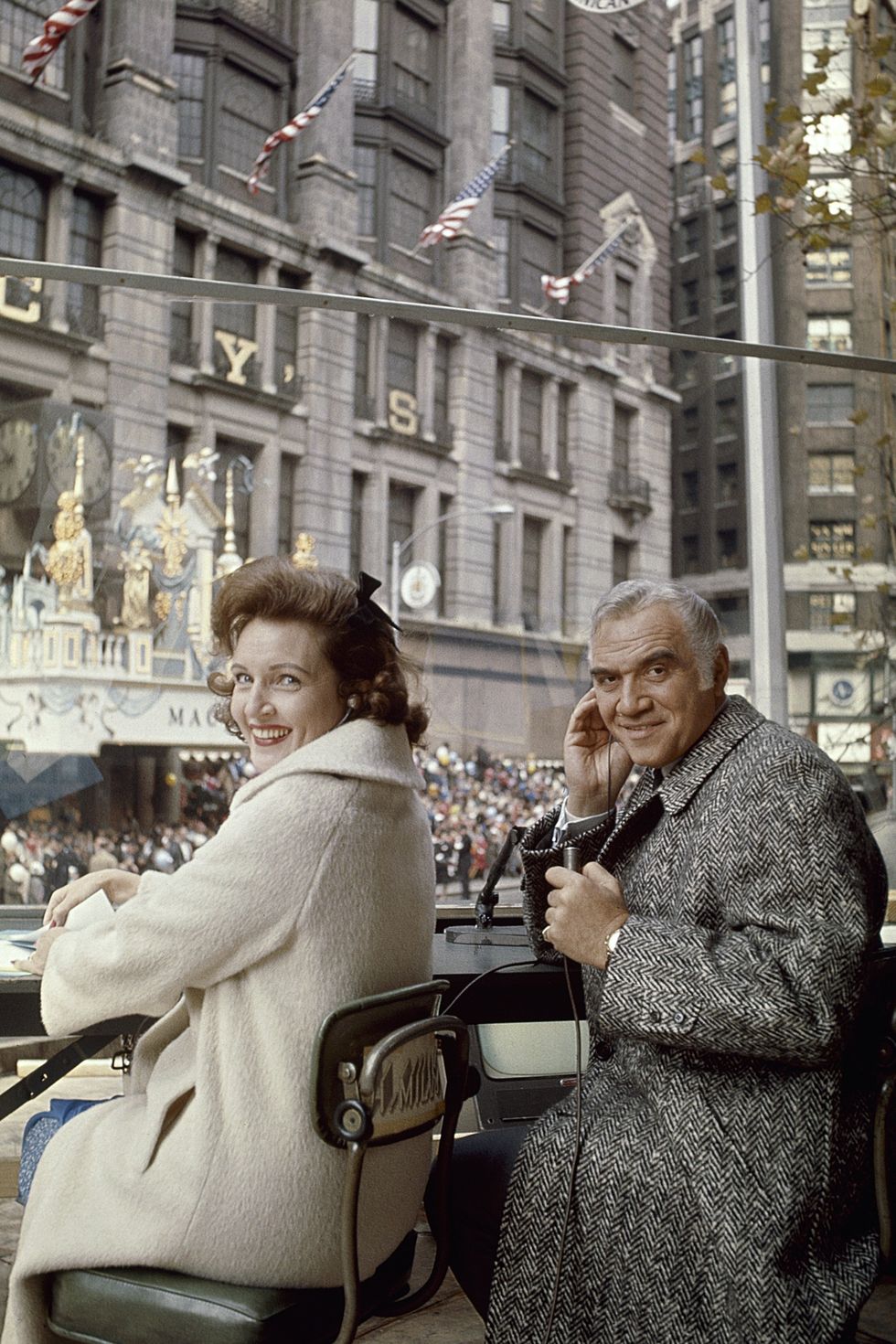 Credit: Getty Images
In addition to lighting up the big and small screens, White also tried her hand at hosting to great success. In this photo, you can see the relaxed star enjoying a quick break during her stint co-hosting the Thanksgiving parade in New York City, with actor Lorne Greene, of Bonanza fame.
12. 1966: At the Emmy Awards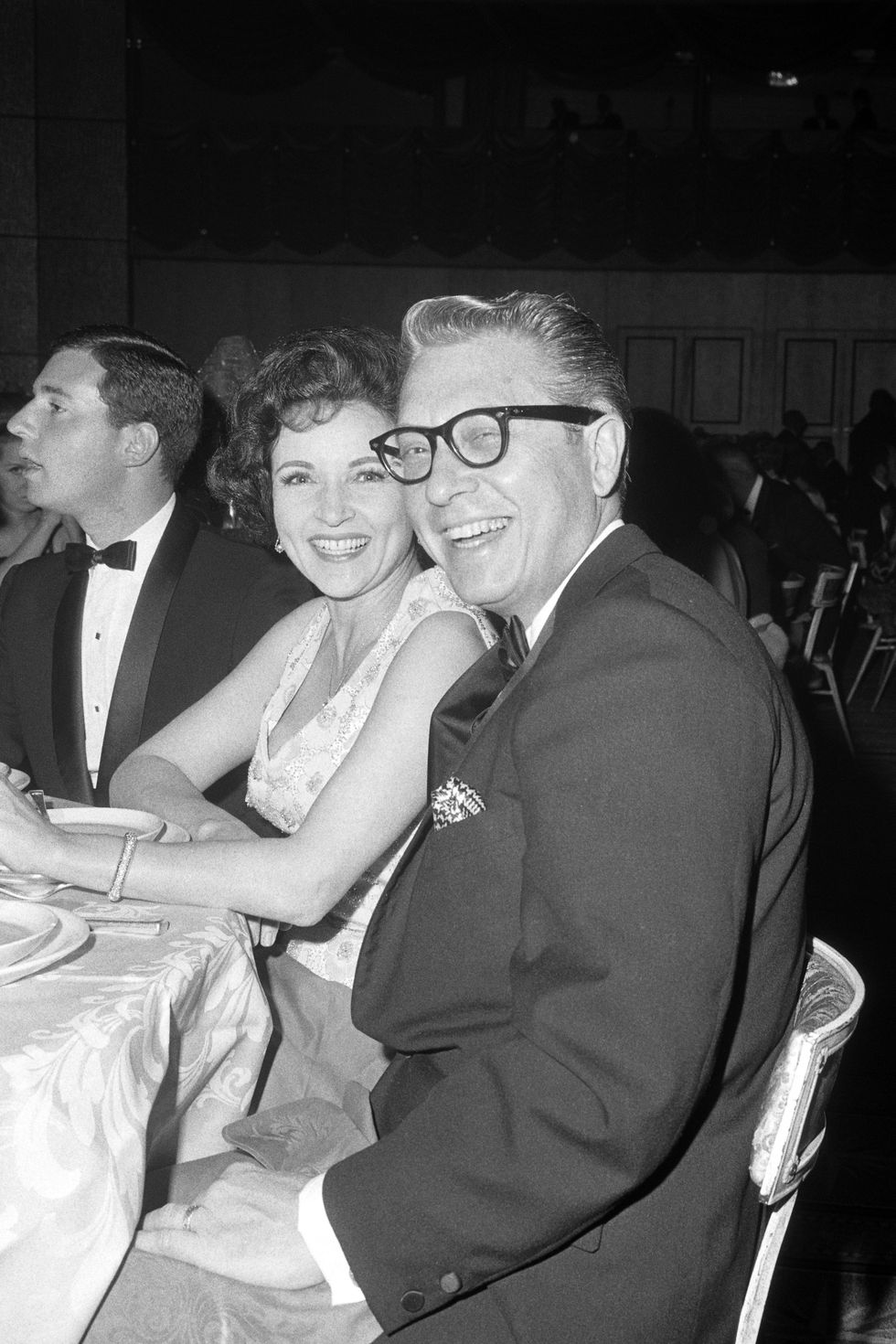 Credit: Getty Images
Over the course of her career, White won an impressive 5 Emmy Awards, and was additionally nominated for a further 16 awards. This sweet picture shows White and her husband attending the annual Emmy Awards in 1966, when the star was not up for any nomination and could simply enjoy a night of glitz and glamor.
13. 1966: Back for another parade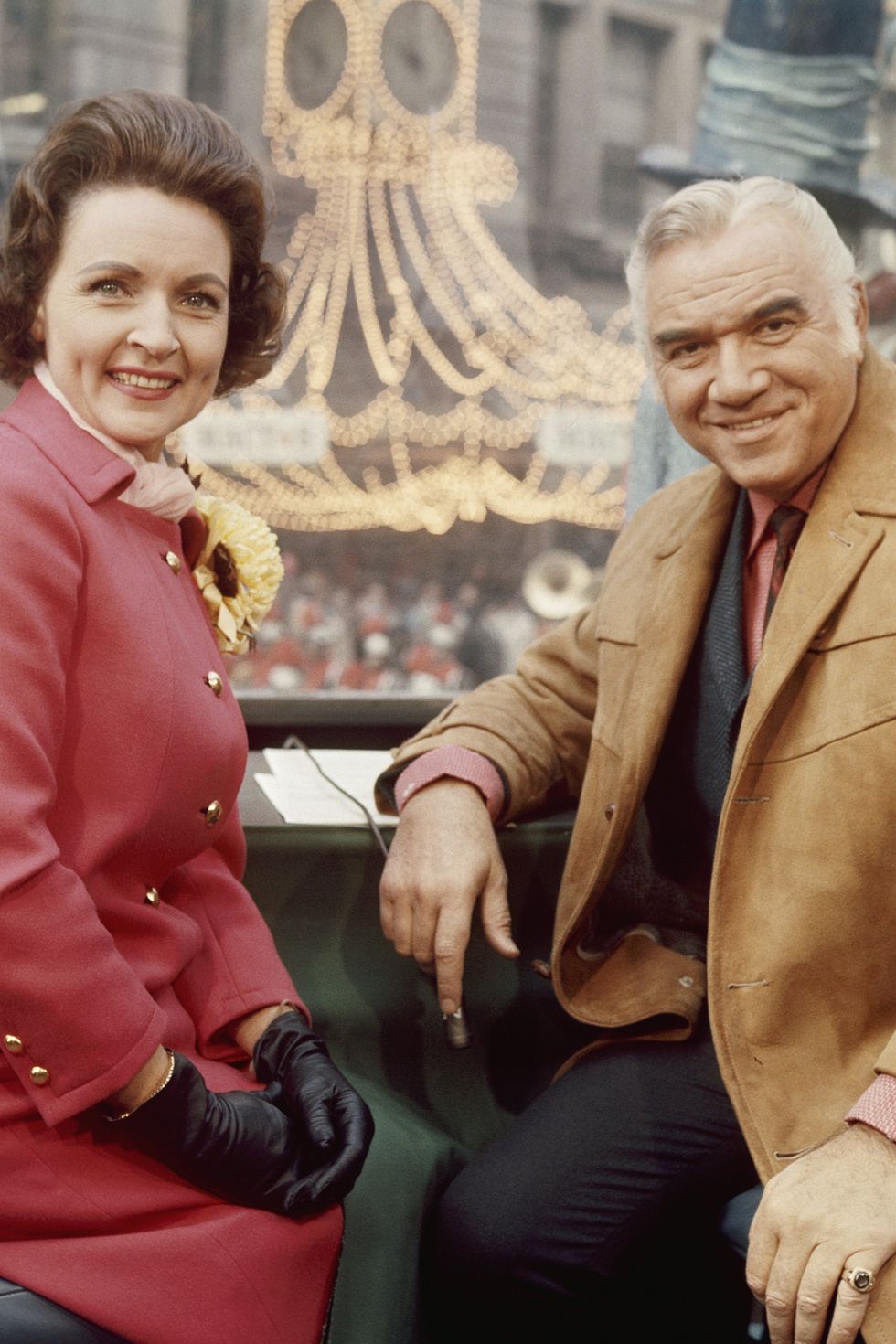 Credit: Getty Images
Her first stint at co-hosting the Thanksgiving parade in New York with Lorne Greene was so successful that she was welcomed back with open arms the next year. By the mid-60s she had become a hugely recognizable star, with a big fanbase. This is one of the things that led to her being called back.
14. Game show guest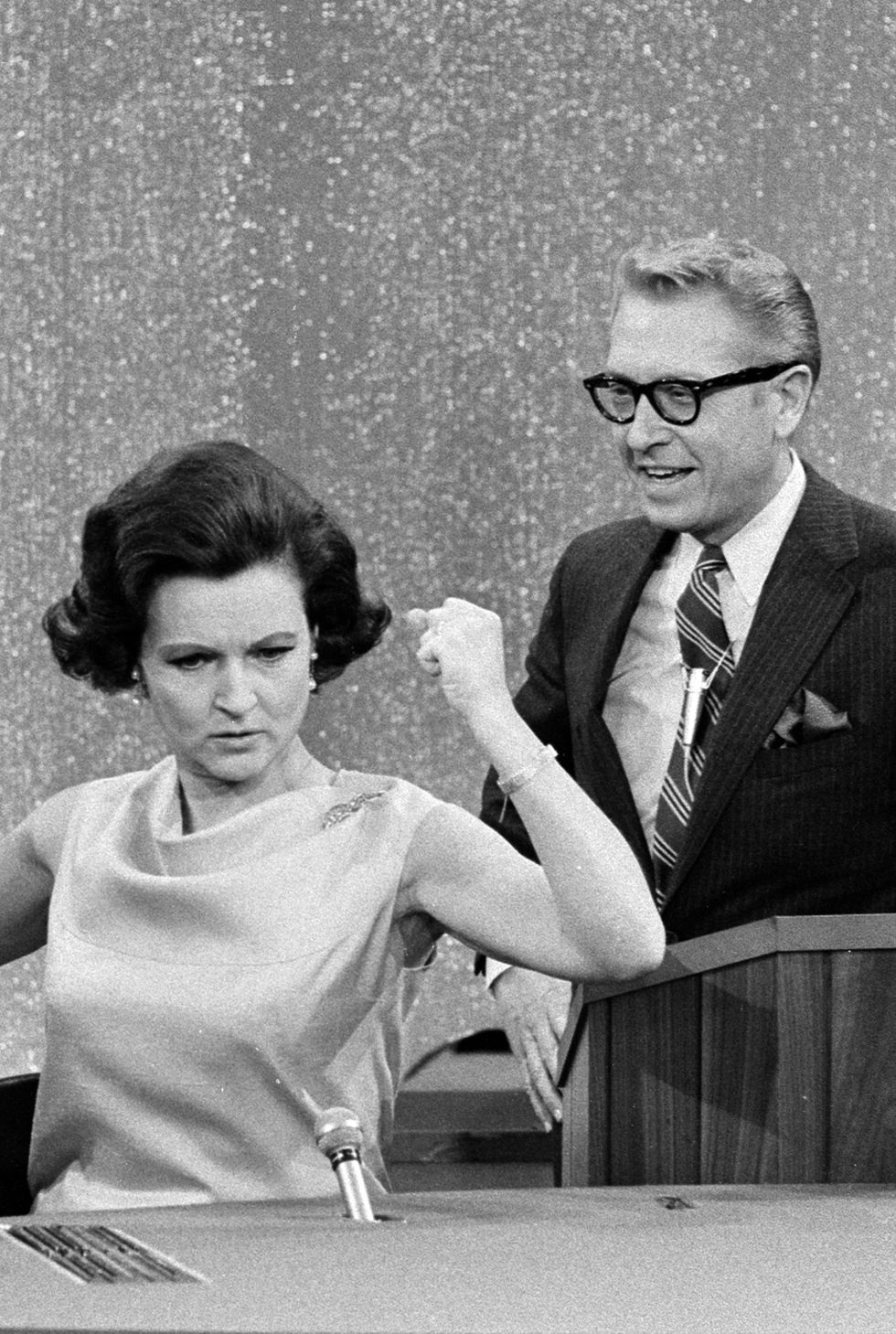 Credit: Getty Images
As we know, White met her husband when she was a regular guest on the game show Password. With her happy and positive disposition, the fact that she always seemed to be enjoying herself makes this a wonderful picture, highlighting just how she became such a national treasure. As a regular on the show, she became a firm fan favorite.
15. 1972: Tournament of Roses parade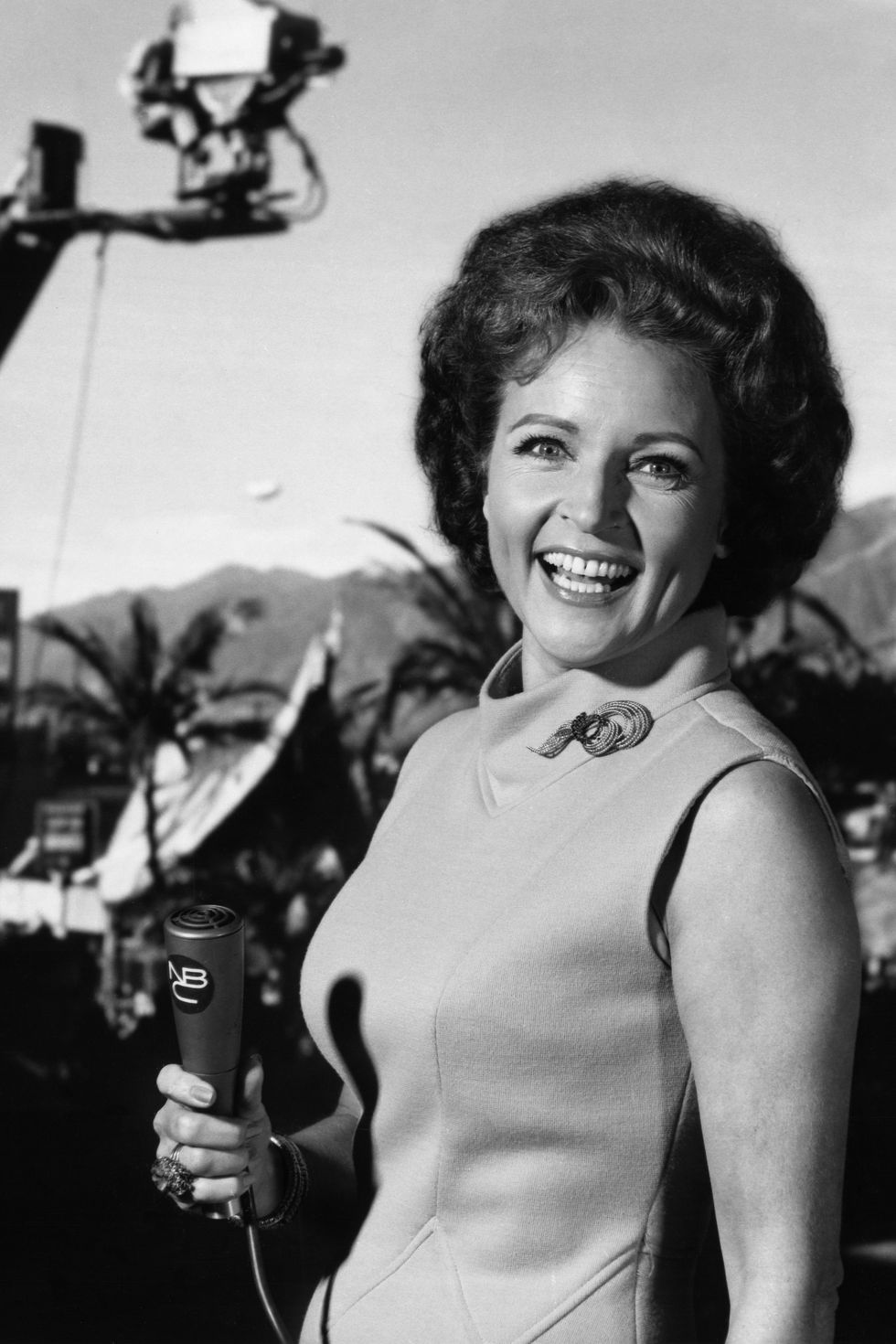 Credit: Getty Images
One of the best and most recognizable stars in the world, White was a huge fan favorite in a lot of ways. This glamorous picture shows the radiant star in the midst of hosting the Tournament of Roses, where her affable charm and infectious personality shone through.
16. 1973: Another game show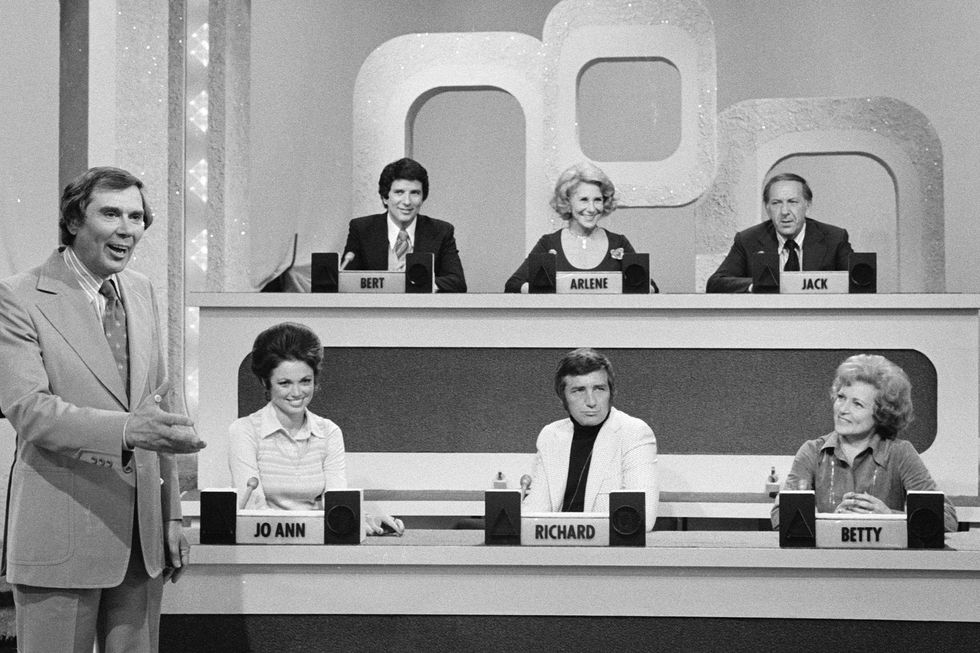 Credit: Getty Images
Betty White was not just a household name in terms of acting, she was also a big star who was a popular fixture on TV. And this photo is a great option that proves this, showcasing the famous star and her appearance on another game show, this time the fan favorite Match Game.
17. 1975: Her breakout role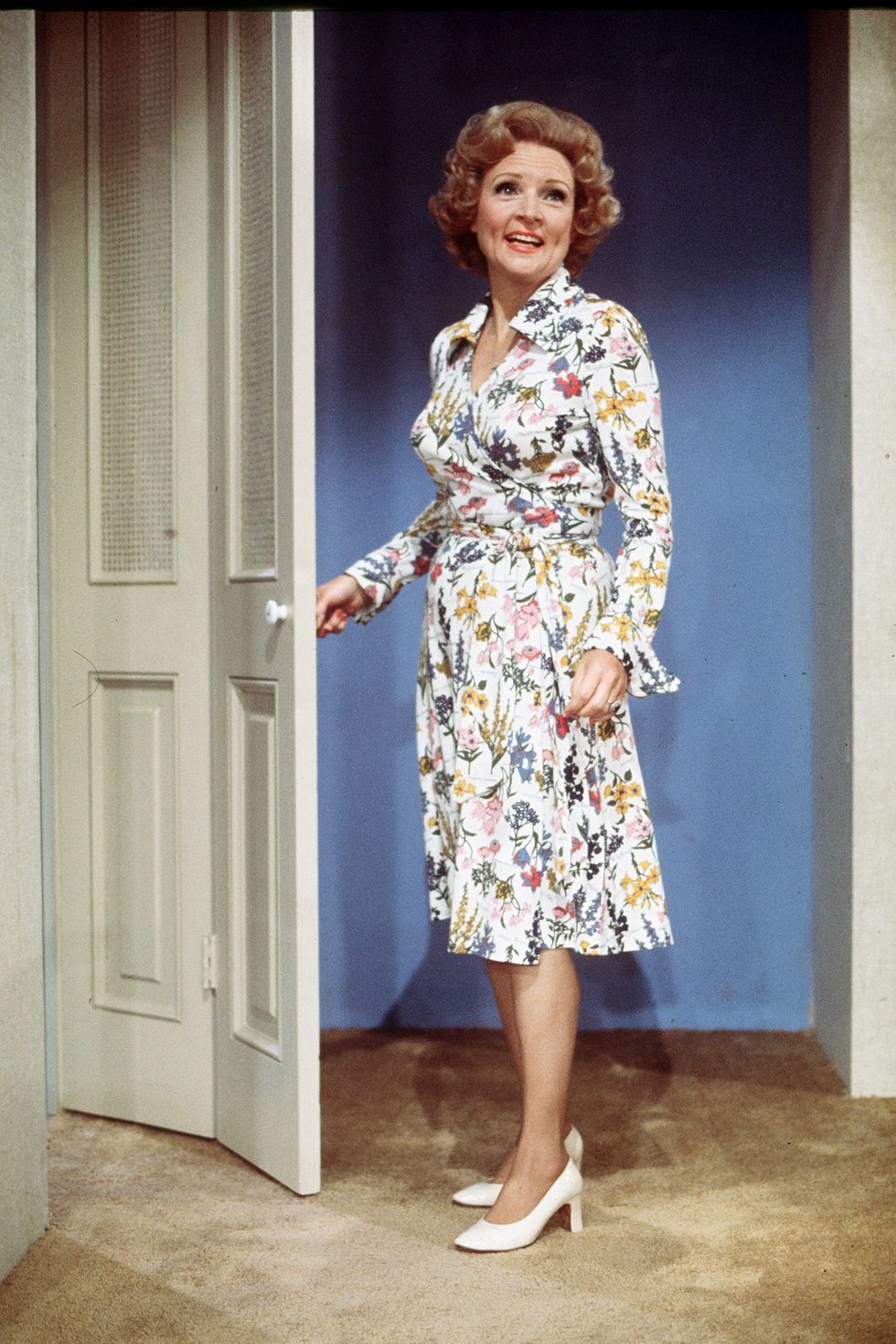 Credit: Getty Images
Though White had enjoyed early success, it was mostly modest success, and she wouldn't get her big break until the age of 53. She joined the third season of The Mary Tyler Moore Show, as Sue Ann Nivens. With her cheery and likeable demeanor, as well as her cheerful delivery, White became an enormous fan favorite, and was one of the bright sparks of the show.
18. 1976: Emmy win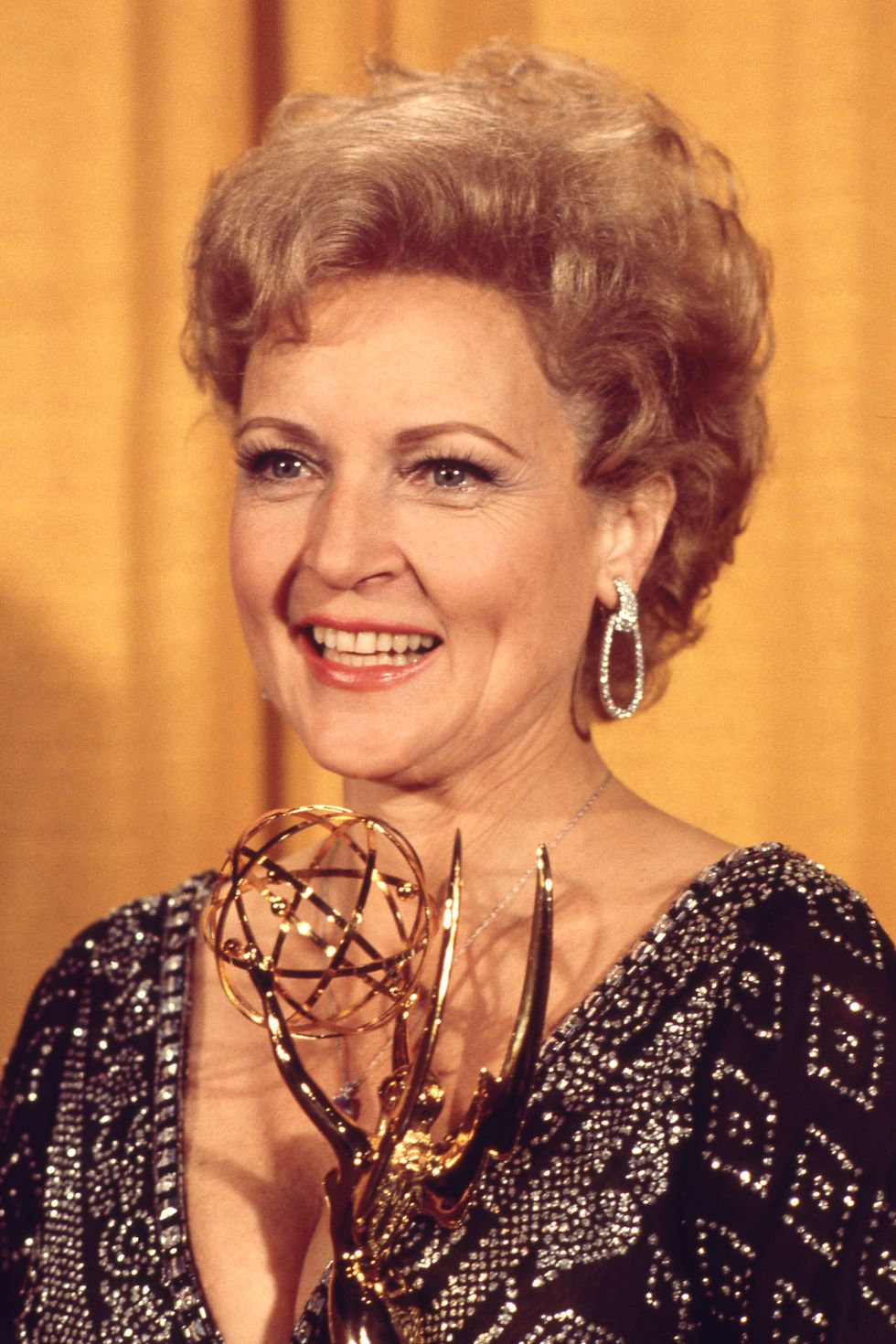 Credit: Getty Images
Indeed, White's success on the show led to the recognition she had always wanted, and this finally came to a head when she scooped her first Emmy win in 1976. This photo captures the post-euphoria of her win for The Mary Tyler Moore Show, and she looks every inch the glamorous star, as she smiles, posing for snaps backstage.
19. 1977: Another TV series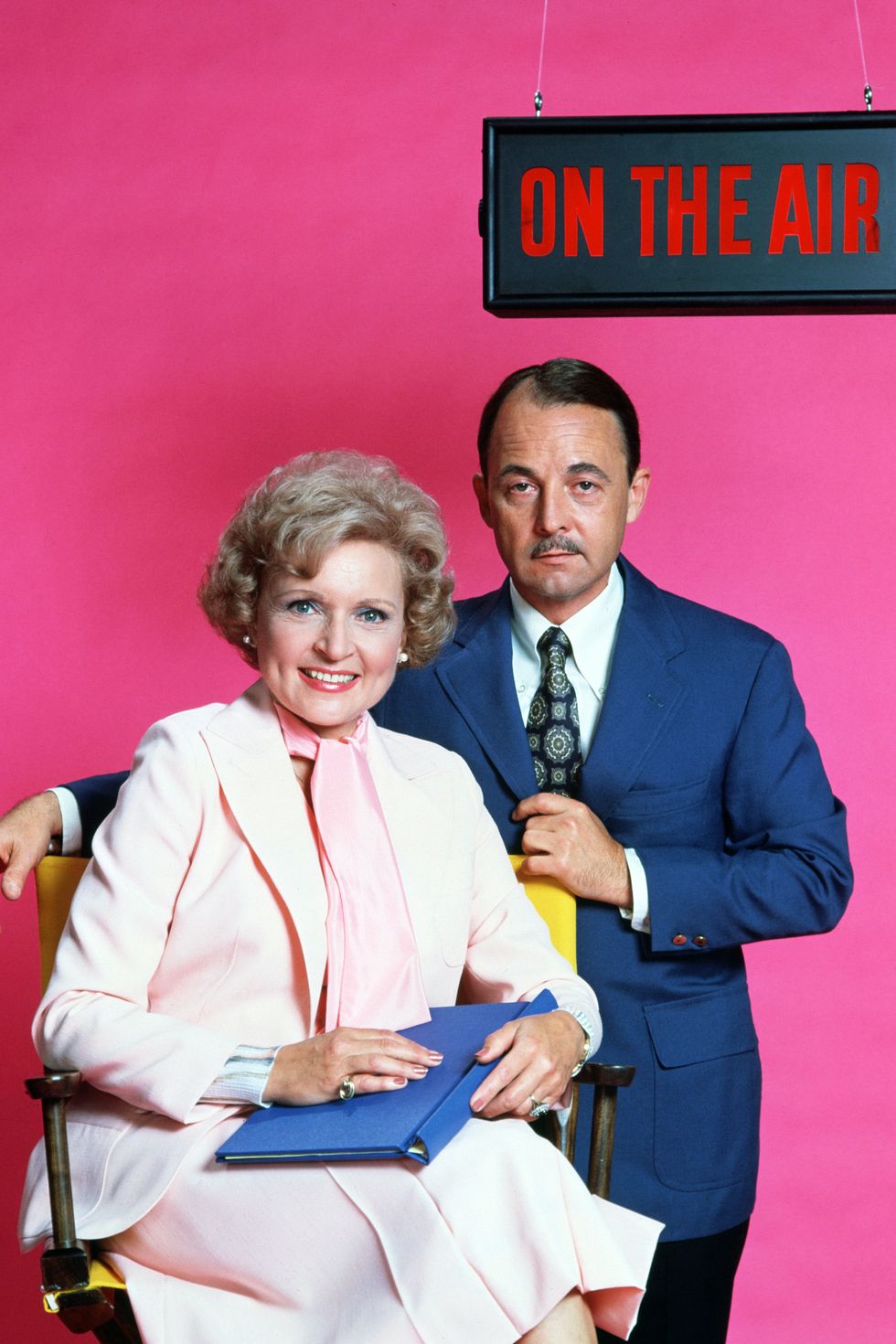 Credit: Getty Images
Following that long overdue Emmy win, White's star was on the rise as she became one of the darlings of American television. This culminated in the actress securing a role in a new TV series, The Betty White show, with John Hillerman in the role of her ex-husband.
20. 1981: On the Tonight Show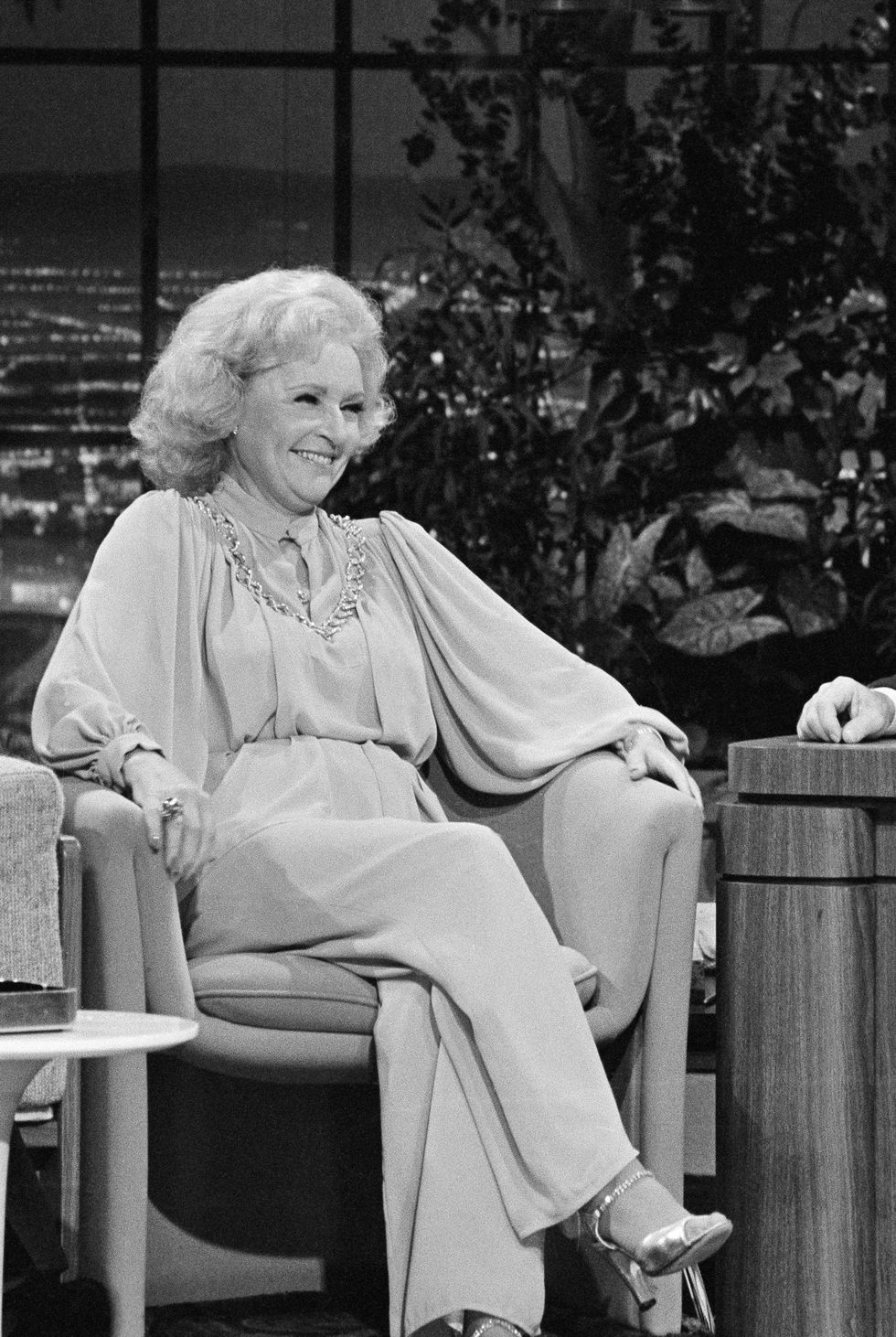 Credit: Getty Images
By this stage White was a household name in the United States, and she was always a welcome guest on The Tonight Show. Her chemistry and banter with host Johnny Carson made for a unique treat for viewers, and her appearances on the show were cherished fondly by viewers.
21. 1985: A new hit series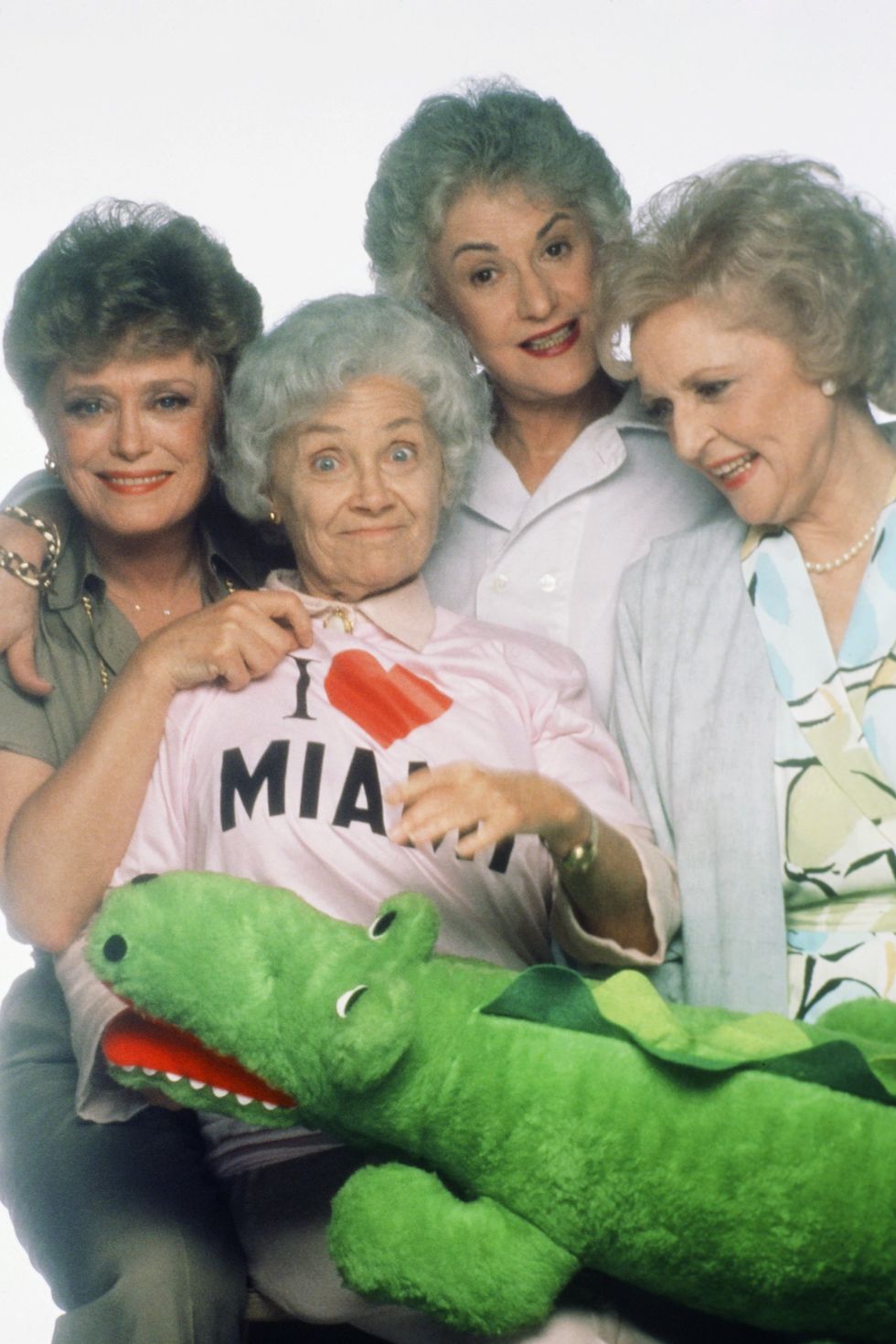 Credit: Getty Images
1985 was the year that everything transformed for Betty White. The year she went from household name to national institution, and that's because she starred in hugely successful sitcom The Golden Girls. The show was a mega hit and ran for 7 seasons, making White a mega successful star.
22. 1986: Winning an Emmy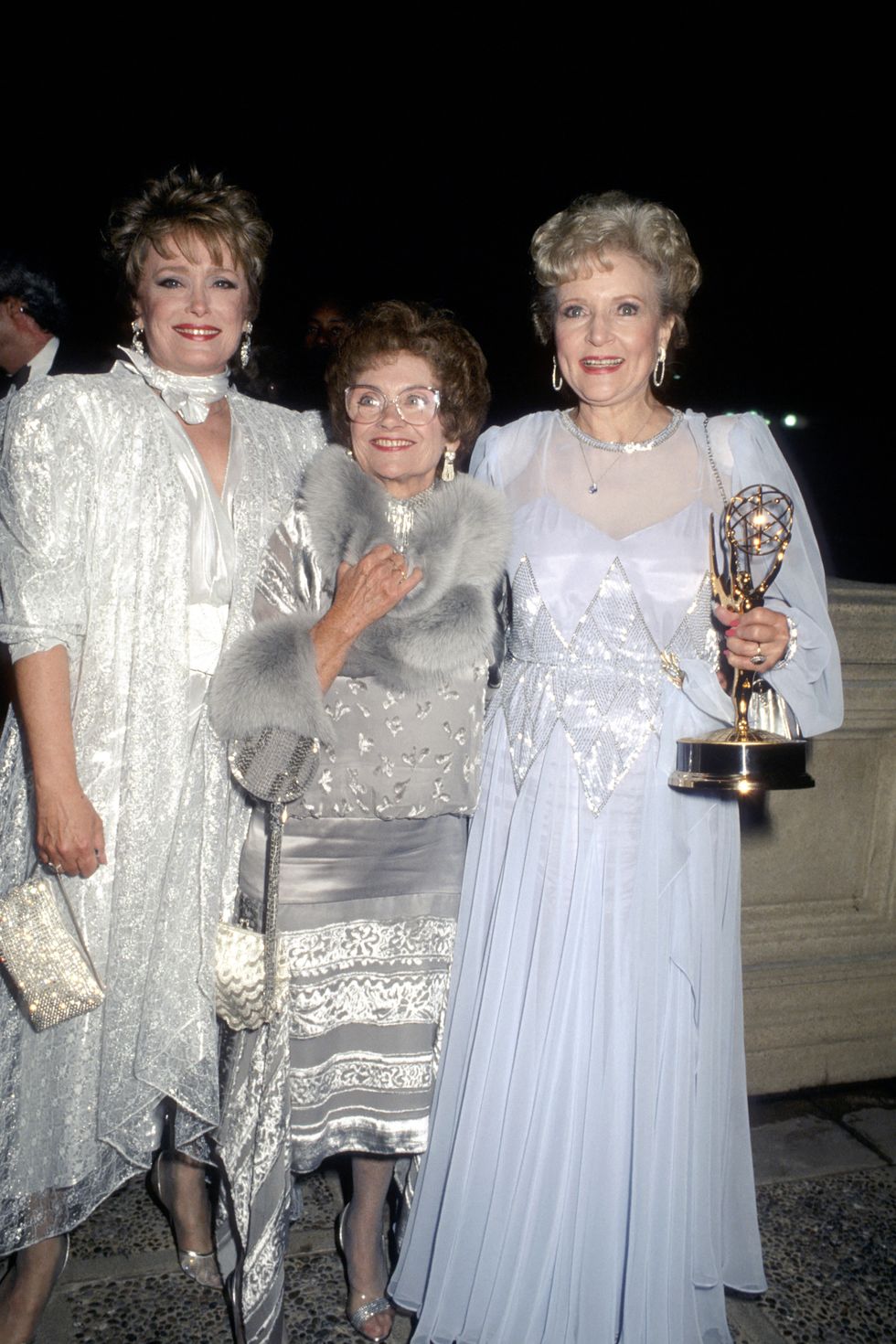 Credit: Getty Images
The show was a runaway success, and, in addition to running 7 seasons, it also won a whole slew of awards. As you can see from this amazing photo, White poses with her Golden Girls co-stars, as she proudly clutches the Primetime Emmy Award she won for her role as Rose.
23. 1987: Sharing a laugh with a friend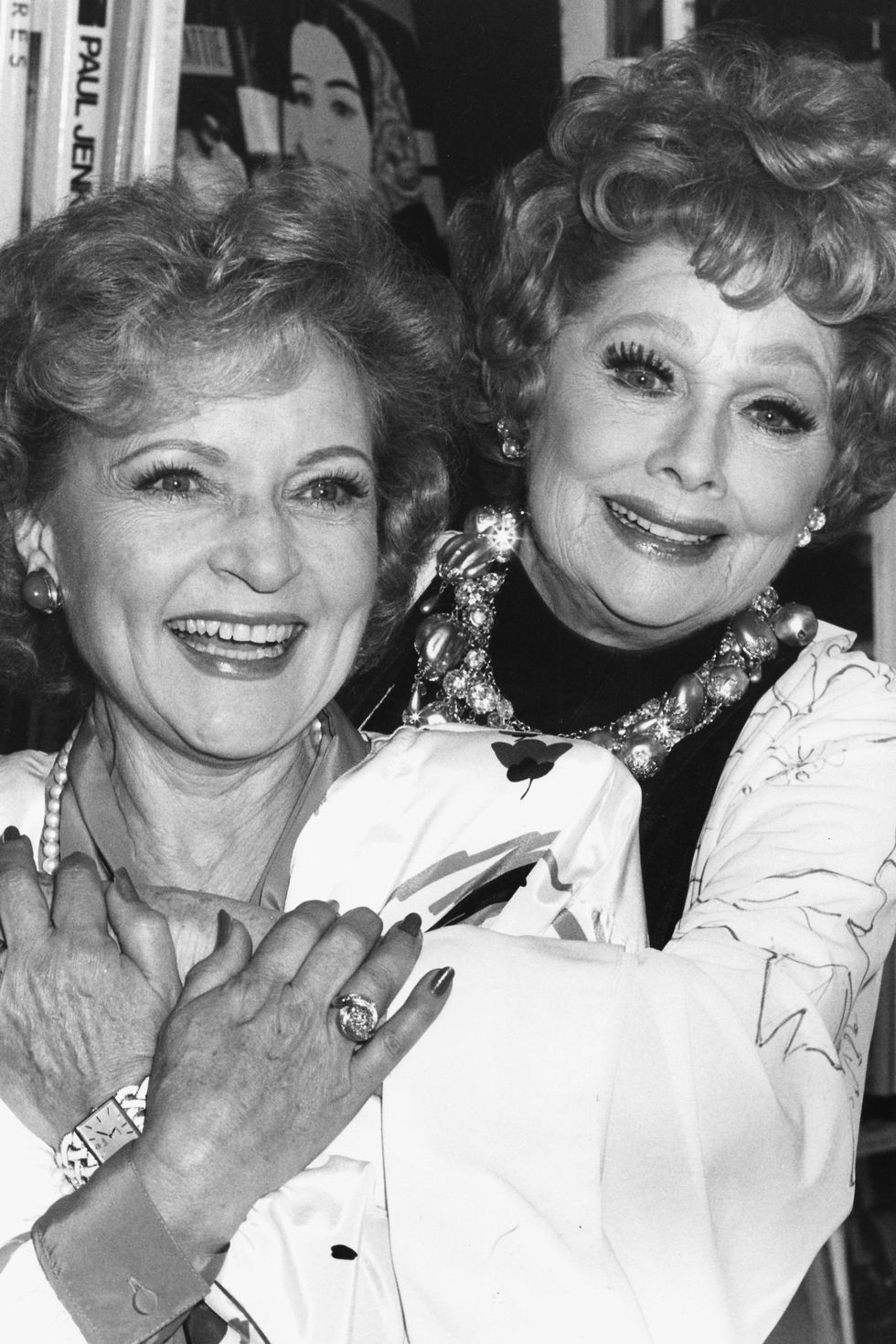 Credit: Getty Images
As an A-lister by this point, it made sense that White would have friends in high places. Here she is pictured with close friend, the comedienne Lucille Ball. The pair are sharing a laugh and a warm embrace at a book signing in Los Angeles, and it's clear they were close friends.
24. 1992: Another Emmy ceremony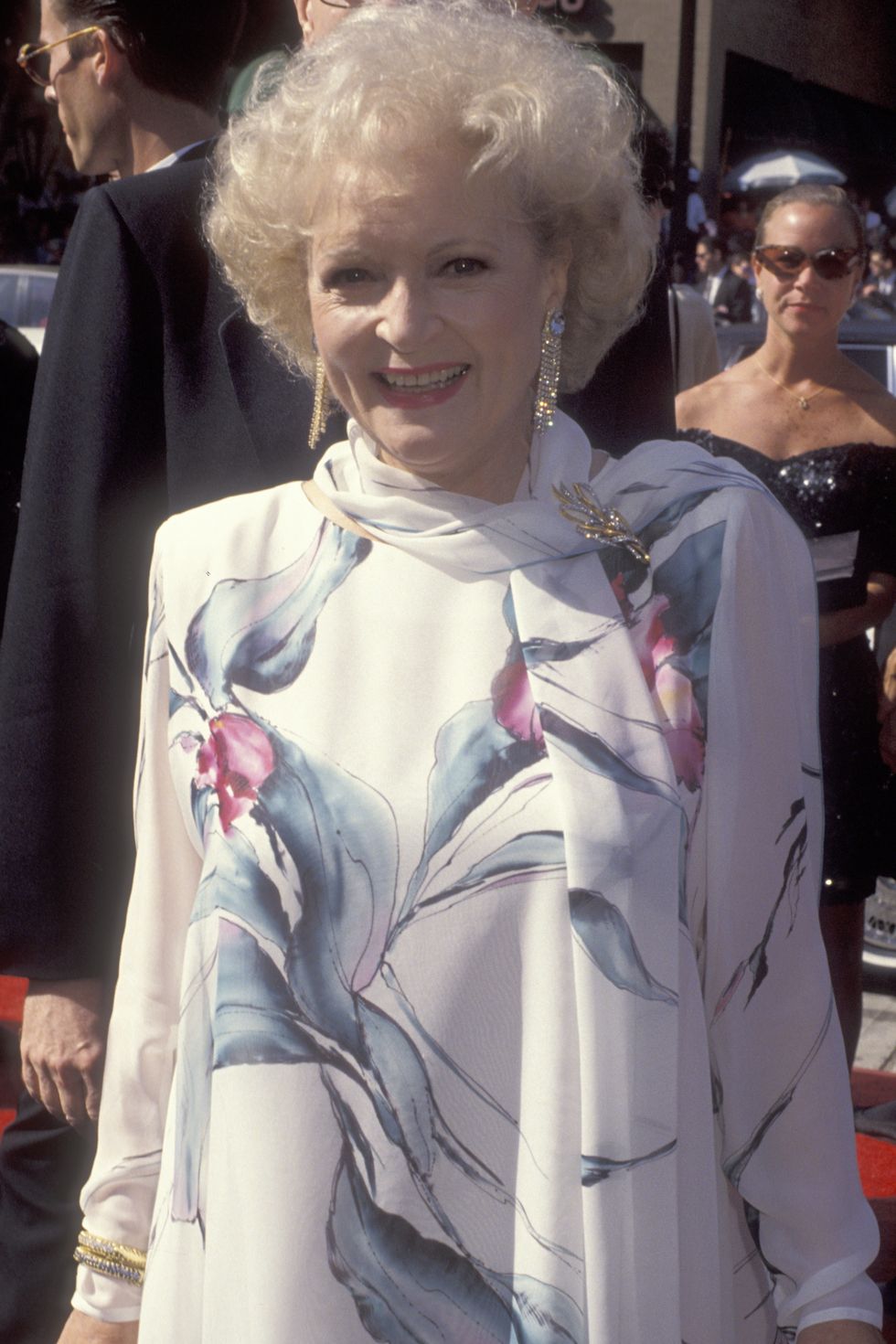 Credit: Getty Images
By the early 90s, Betty White was a staple at the Emmy Awards and had already won 3 of those awards by this point. Not as much in the public eye as she had been, White was still a stylish and enjoyable presence at these awards, still working closely with various animal charities as well.
25. 1996: Another Emmy win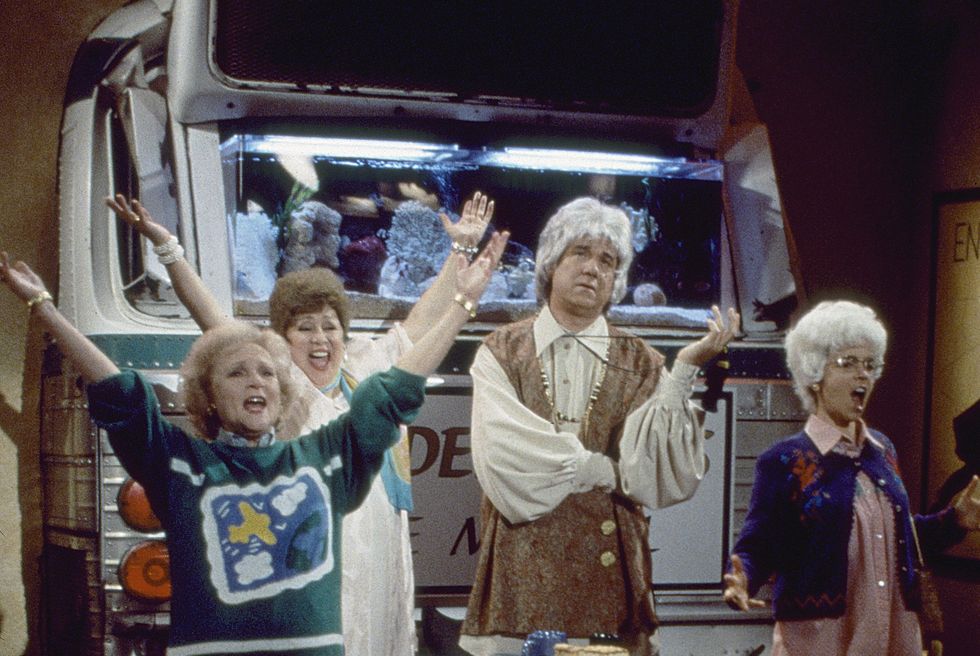 Credit: Getty Images
1996 saw White guest star as herself on the popular sitcom The John Larroquette Show, where her sharp wit and effortless comic timing earned her yet another Emmy award. It was the penultimate Emmy of a glittering career and one of her most memorable performances.
26. 2002: Always fashionable
Credit: Getty Images
This stunning red carpet shot is one that showcases the amazing fashion sense the seasoned star still had, even in her later years. At this 75th anniversary celebration at New York's Rockefeller Center, the star looks as beautiful and glamorous as ever. Few people can pull off white on white like Betty White!
27. 2003: Epitomizing elegance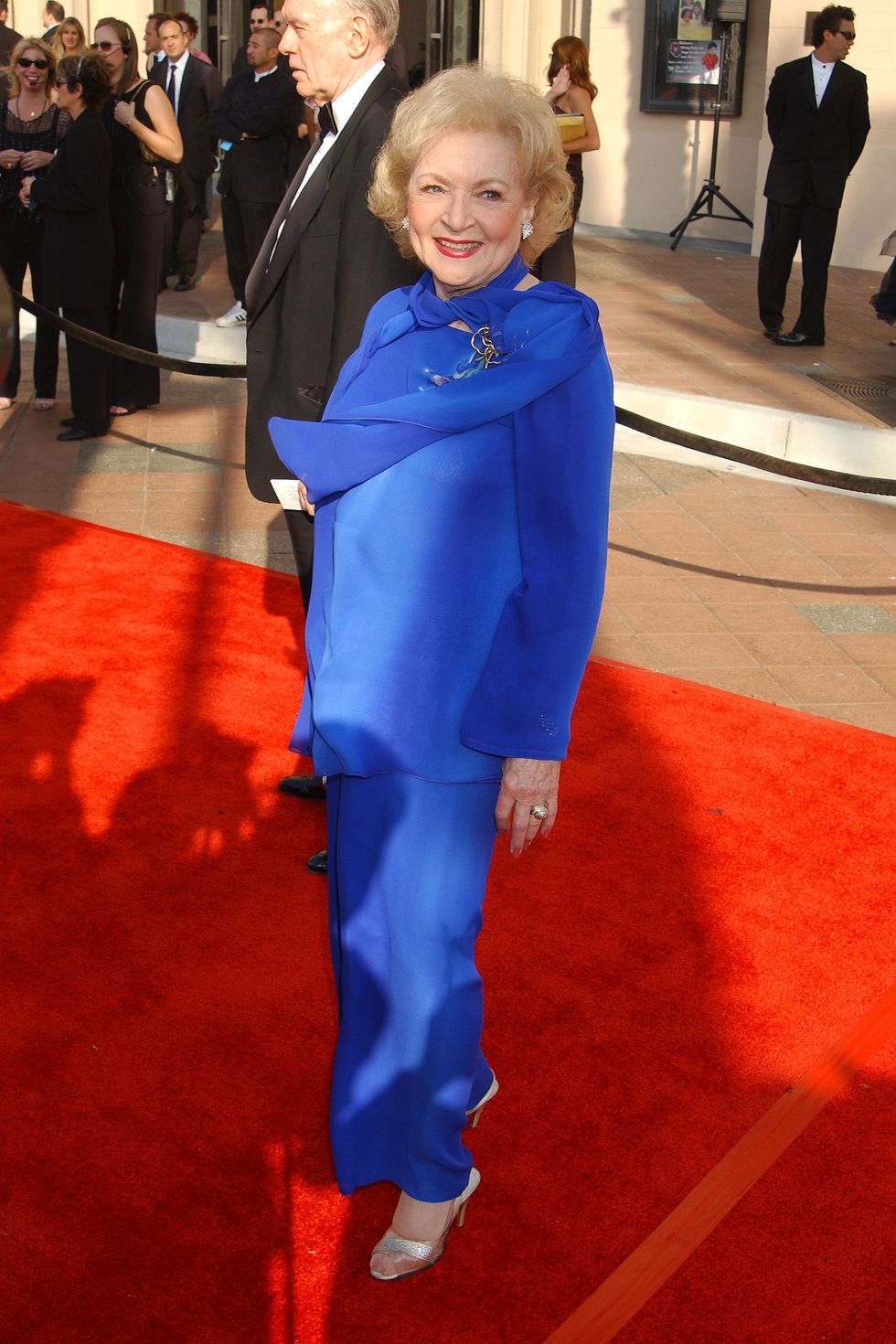 Credit: Getty Images
Another stunning red carpet snap for the elegant performer and this one has her wearing an all blue ensemble. In this picture, White is bedecked in an opulent and striking royal blue dress, which matches perfectly with her sparkling blue eyes. Even at this point in her life, she's a natural beauty. This color helps her stand out and truly shine.
28. 2004: Arriving for the Emmy Awards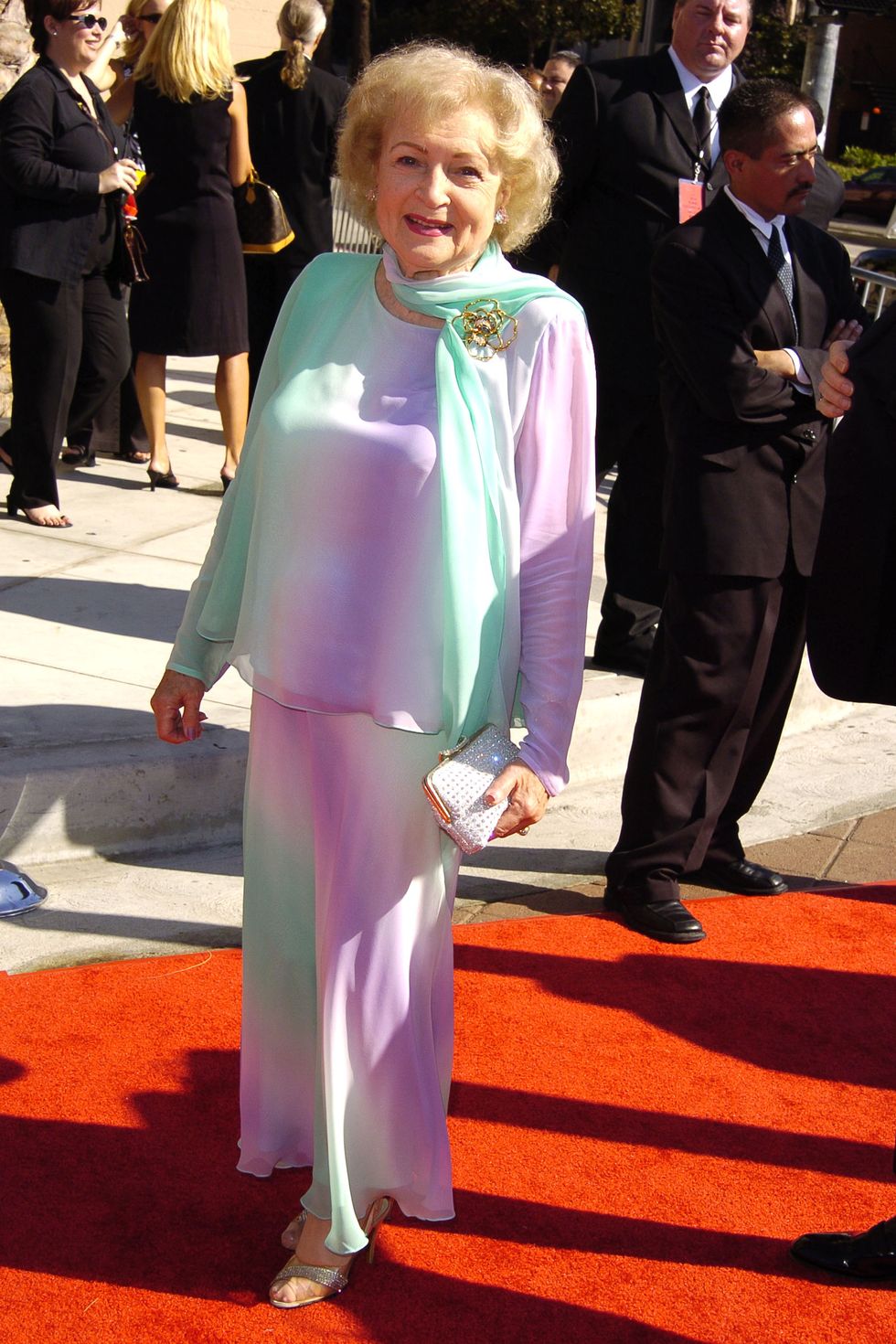 Credit: Getty Images
Another unique and seldom-seen photo of Betty White, this time at the 2004 Emmy Awards. Here, she received a nomination for her role in The Practice. In this photo, she is perfectly turned out in a sherbert-colored chiffon number, and looks every inch the regal star.
29. 2004: Leading ladies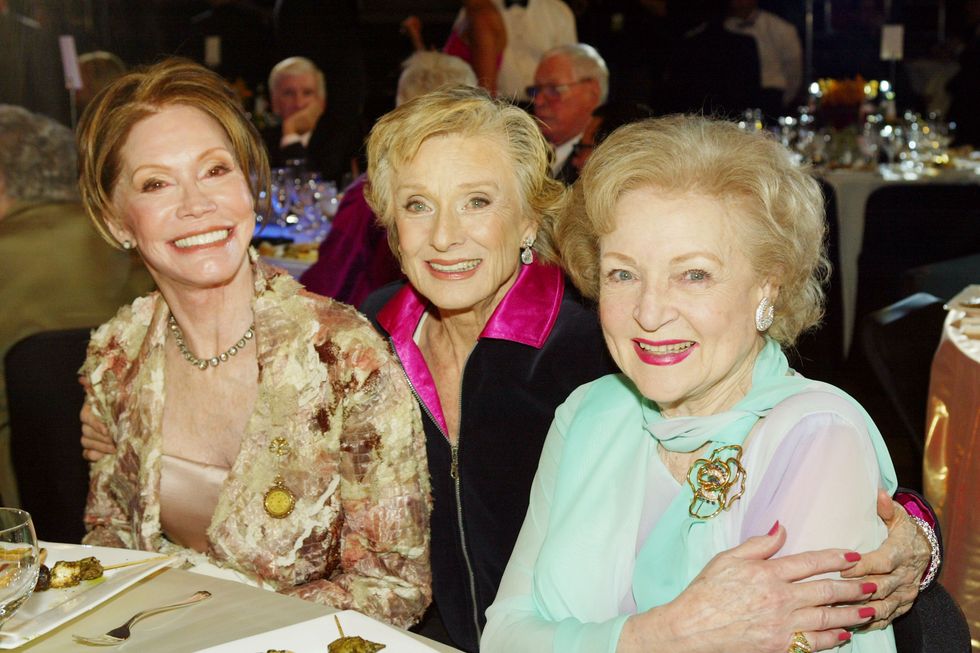 Credit: Getty Images
This is a wonderful snap from the TV Land Awards, showing Betty with her friends and former co-stars Mary Tyler Moore, and Cloris Leachman. The trio worked together for many years on the Mary Tyler Moore show, and remained close throughout their lives and careers.
30. 2006: Game show reboot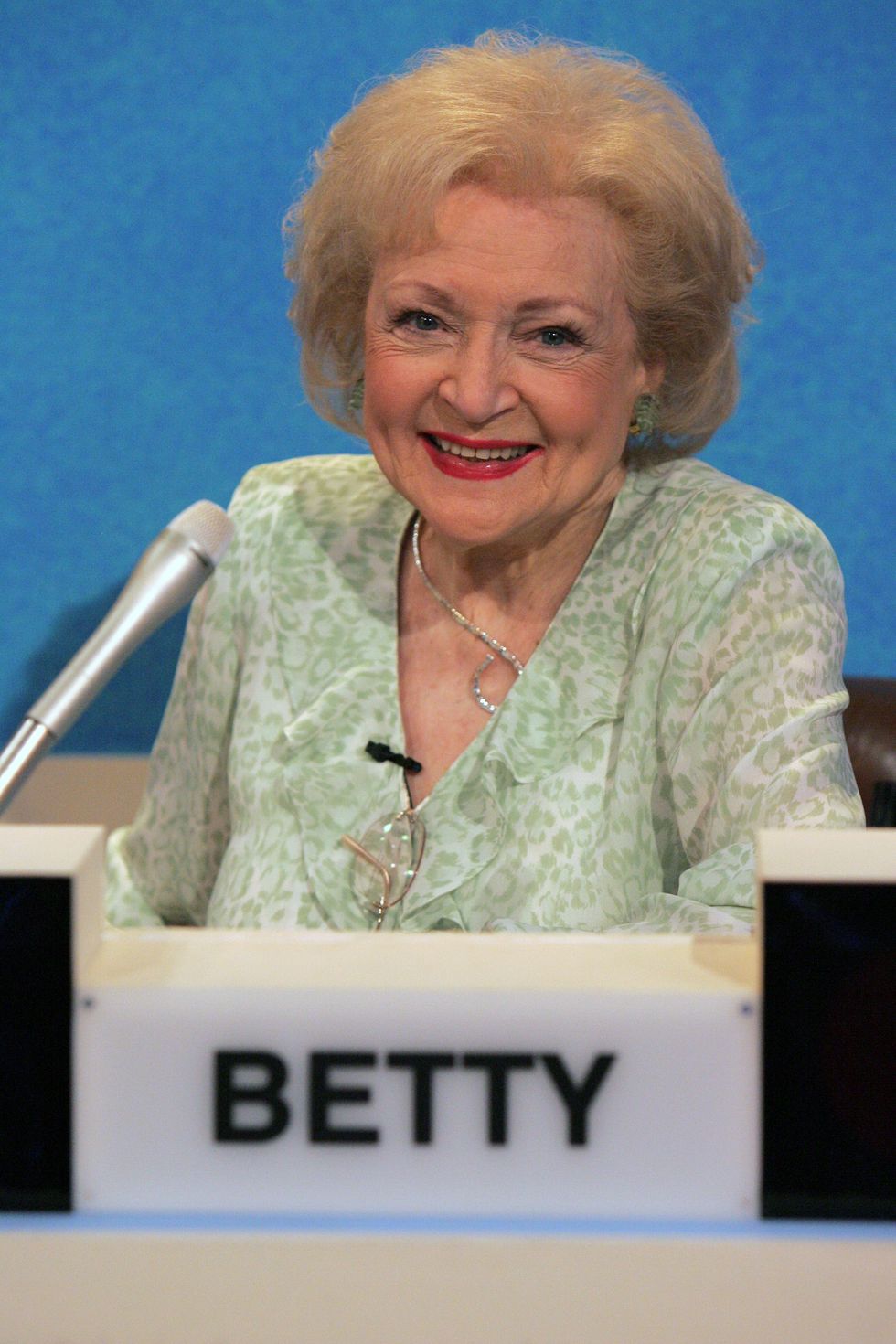 Credit: Getty Images
By this point in her career, White's appearances on game shows were almost as common as her appearances on TV shows. This picture is a snapshot of the star on a mashup of the classic game show Match Game, which she had numerous appearances on in the '60s, and was a formidable opponent.
31. 2010: Another appearance on the Tonight Show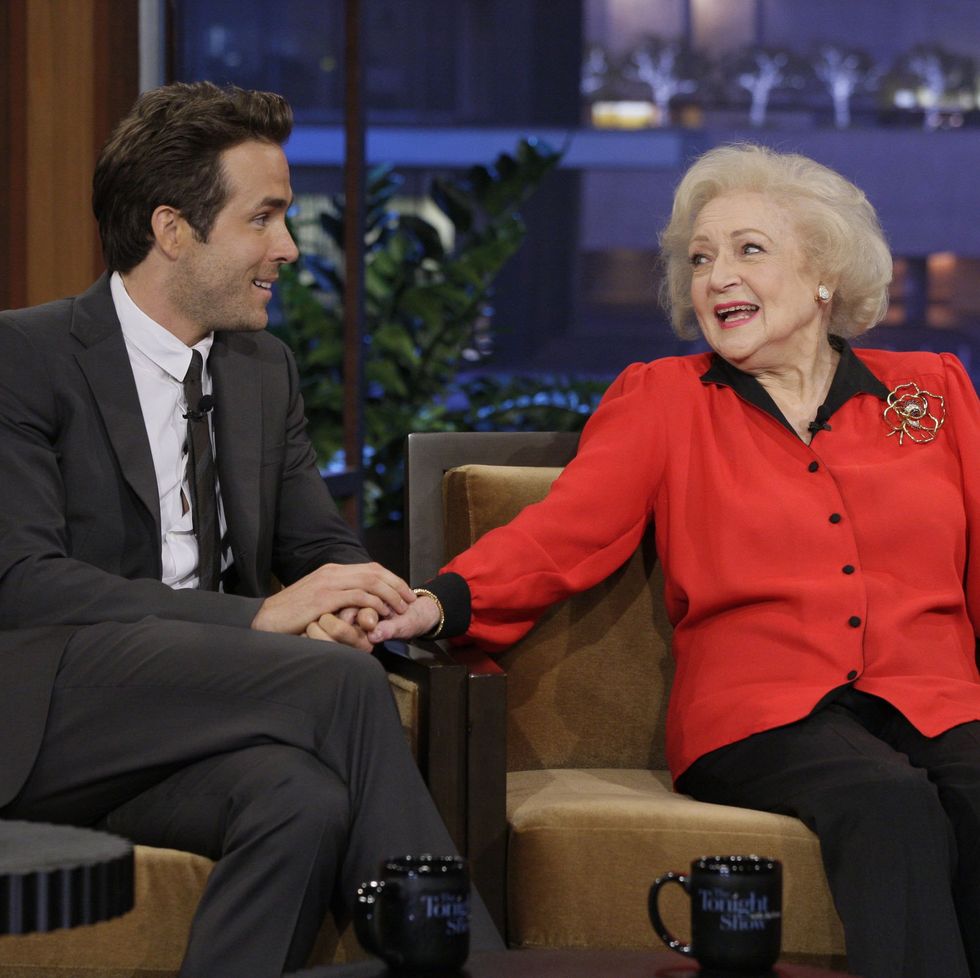 Credit: Getty Images
Betty enjoyed more exposure this year, and her fame skyrocketed once again, bringing her to the attention of a new generation following her iconic Super Bowl ad. This photo shows the star clutching hands with Canadian actor Ryan Reynolds, who seems like he is completely charmed by the octogenarian,
32. 2010: Always game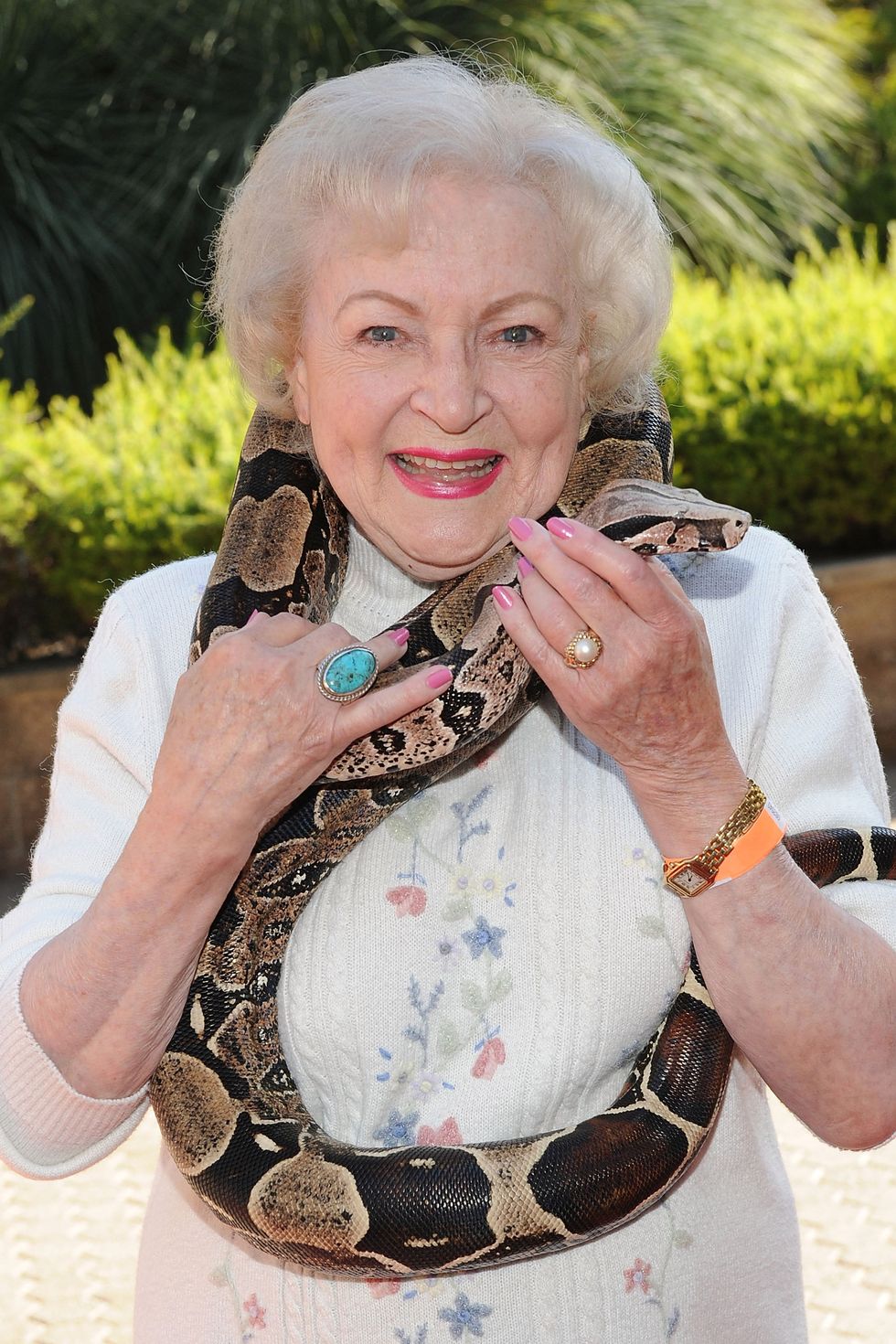 Credit: Getty Images
The great thing about White was that she was always a charming, affable presence, and was also always interested in other challenges. This snap shows the glamorous star at Los Angeles Zoo's annual fundraiser ball, showing her support and enthusiasm by posing with one of the zoo's slithering residents!
33. 2010: Arriving at an awards ceremony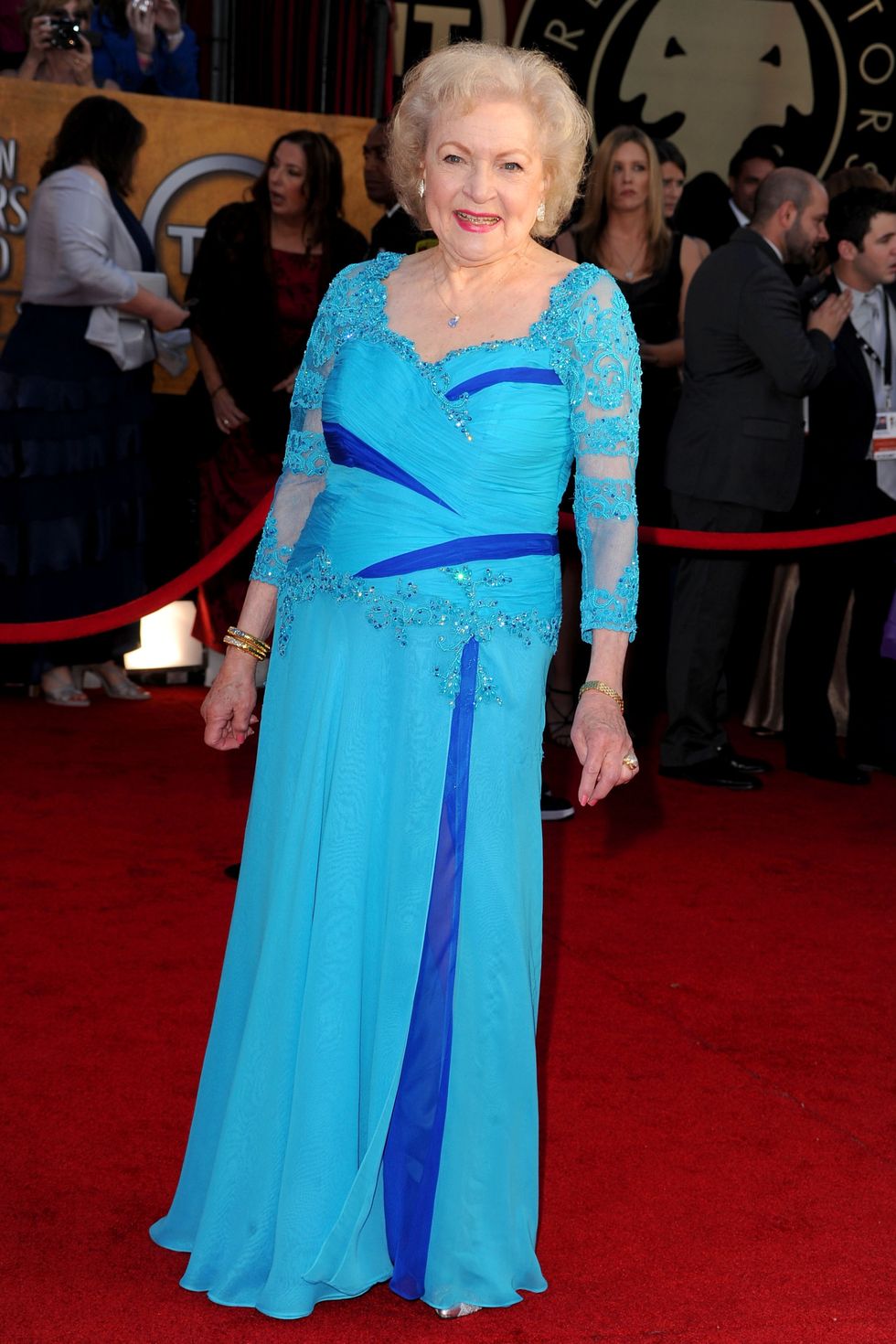 Credit: Getty Images
Blue is clearly a good color for Betty, as this is another radiant blue dress the actress selected for a red carpet appearance. Rocking this stunningly beautiful blue gown at the Screen Actors Guild Awards certainly turned heads, and helped the star look as amazing as ever.
34. 2010: Hosting SNL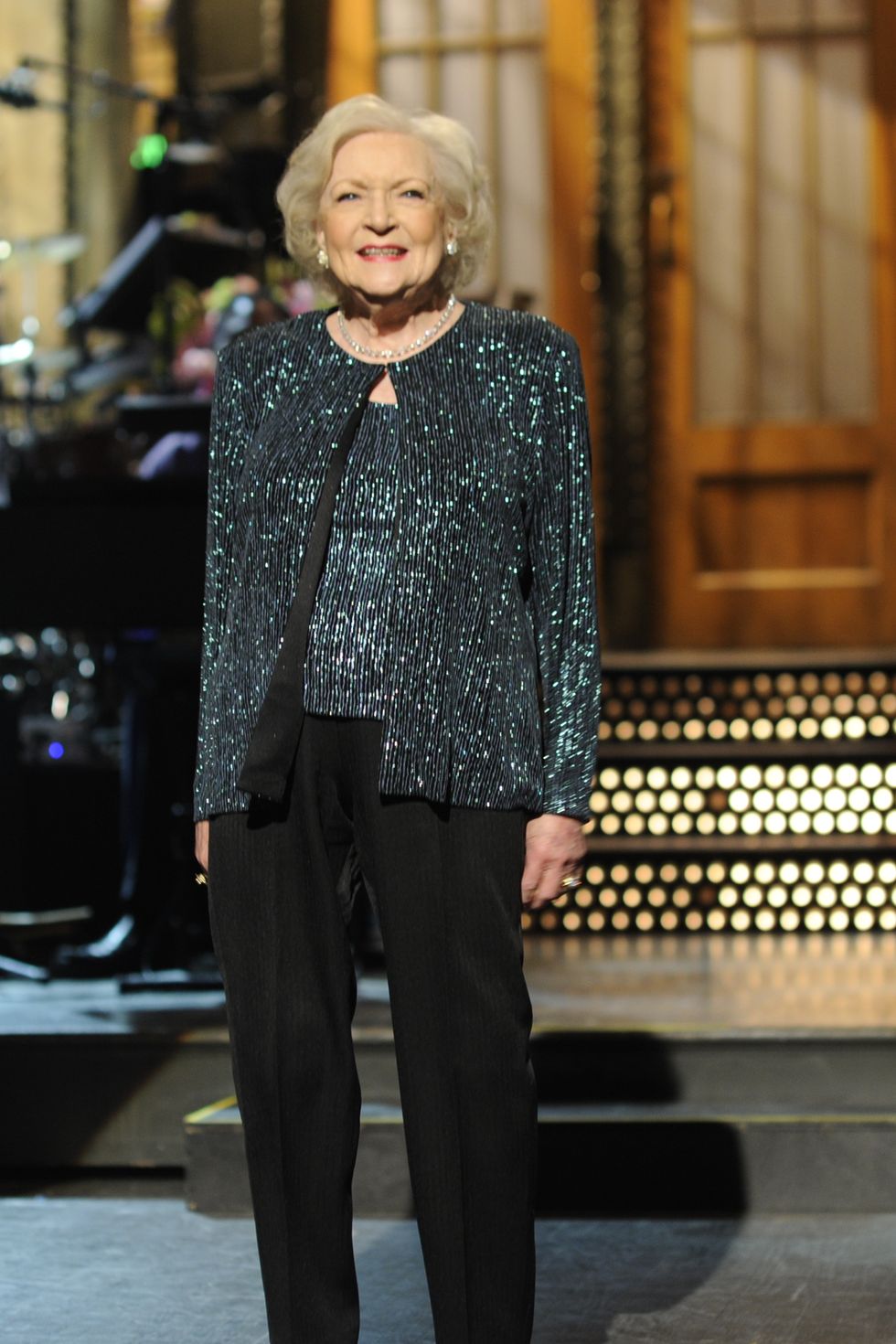 Credit: Getty Images
Saturday Night Live has become one of the longest running and most iconic shows in US history, and fans of the show launched a Facebook campaign to try to get White to appear. She was asked to host, and delivered a very amusing, naughty opening monologue that was vintage White.
35. 2010: Yet another TV series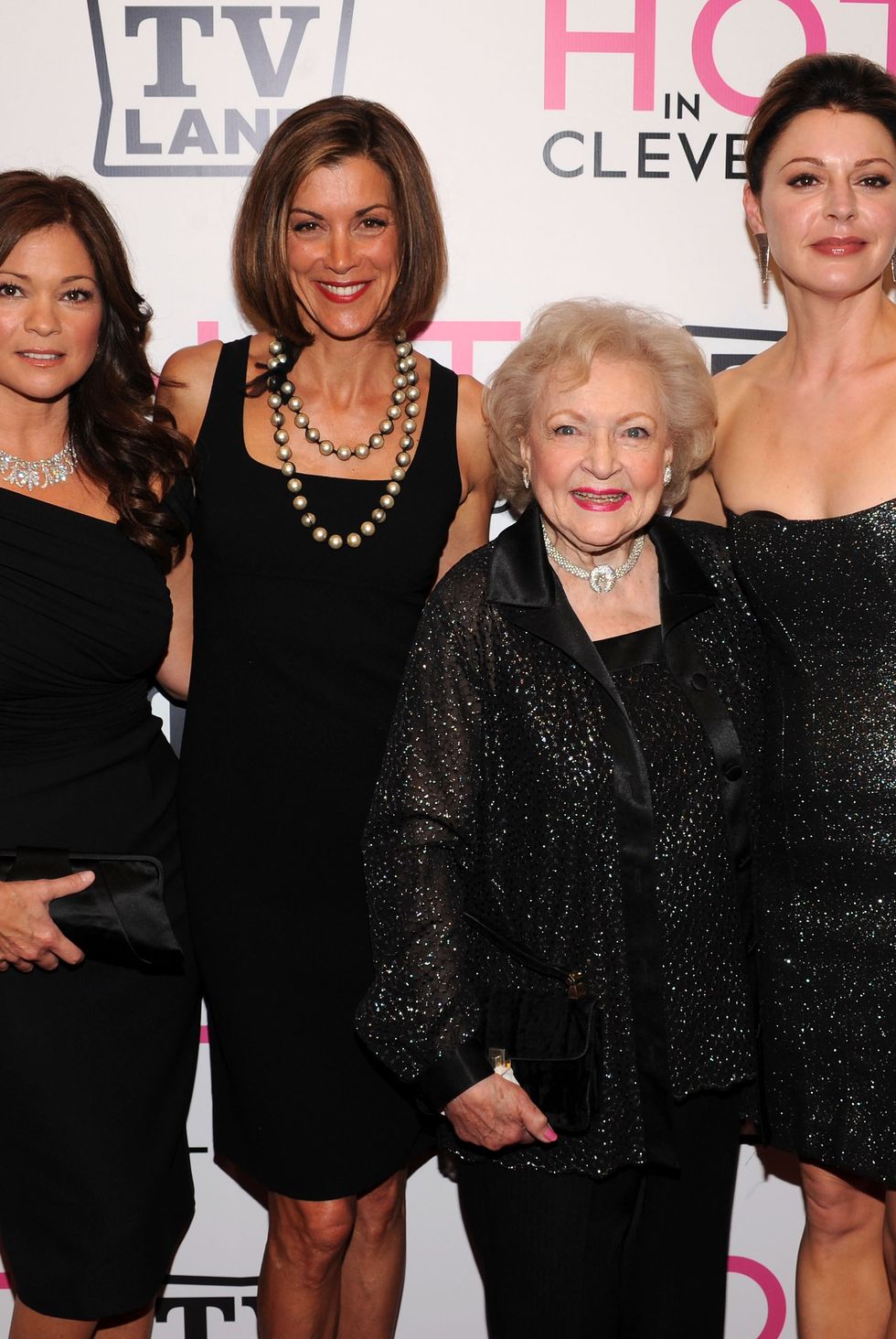 Credit: Getty Images
2010 was a big year for Betty White, and one of the big steps she took in this year was to star in yet another TV show. Appearing alongside comedy stars Valeri Bertinelli, Wendie Malick, and Jane Leeves, she made an appearance in Hot in Cleveland. She joined for the show's entire 6 season run, despite initially only signing up for the pilot.
36. 2011: Speaking out for animals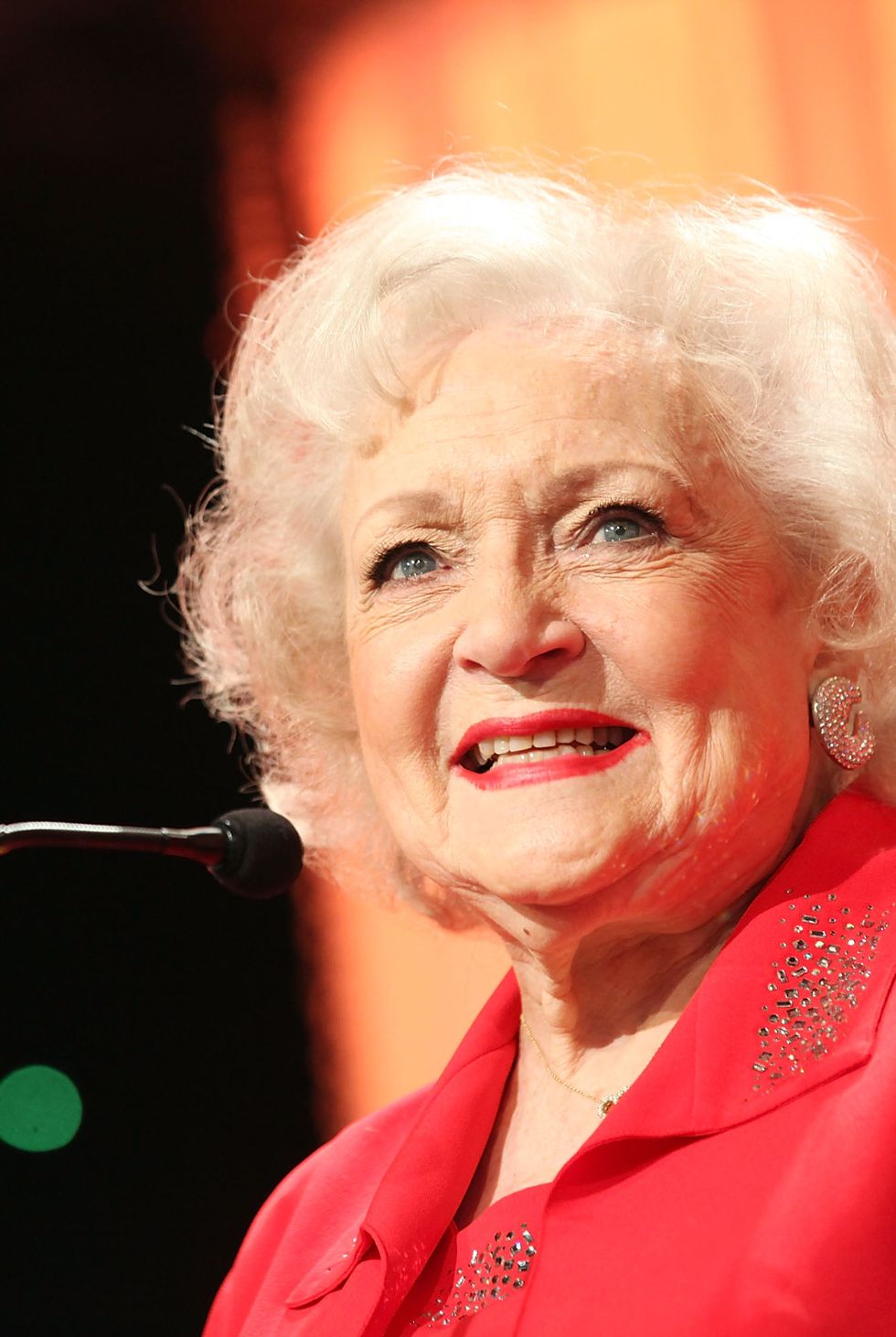 Credit: Getty Images
Not content with starring on the big and small screen, appearing on game shows, or stunning on the red carpet, White also has an affinity for animals. In this photo, she's speaking at the American Humane Association's Hero Dog Awards in Beverly Hills, lending her time and status to this cause.
37. 2012: At a book signing
Credit: Getty Images
In addition to her acting and philanthropic causes, White has also enjoyed success as a published author, signing with G.P. Putnam' Sons, and she even won a Grammy Award for Best Spoken Word Recording. Here she is pictured at a book signing for her book Betty & Friends: My Life at the Zoo, written about her charity work with Los Angeles Zoo.
38. 2013: Supporting the animals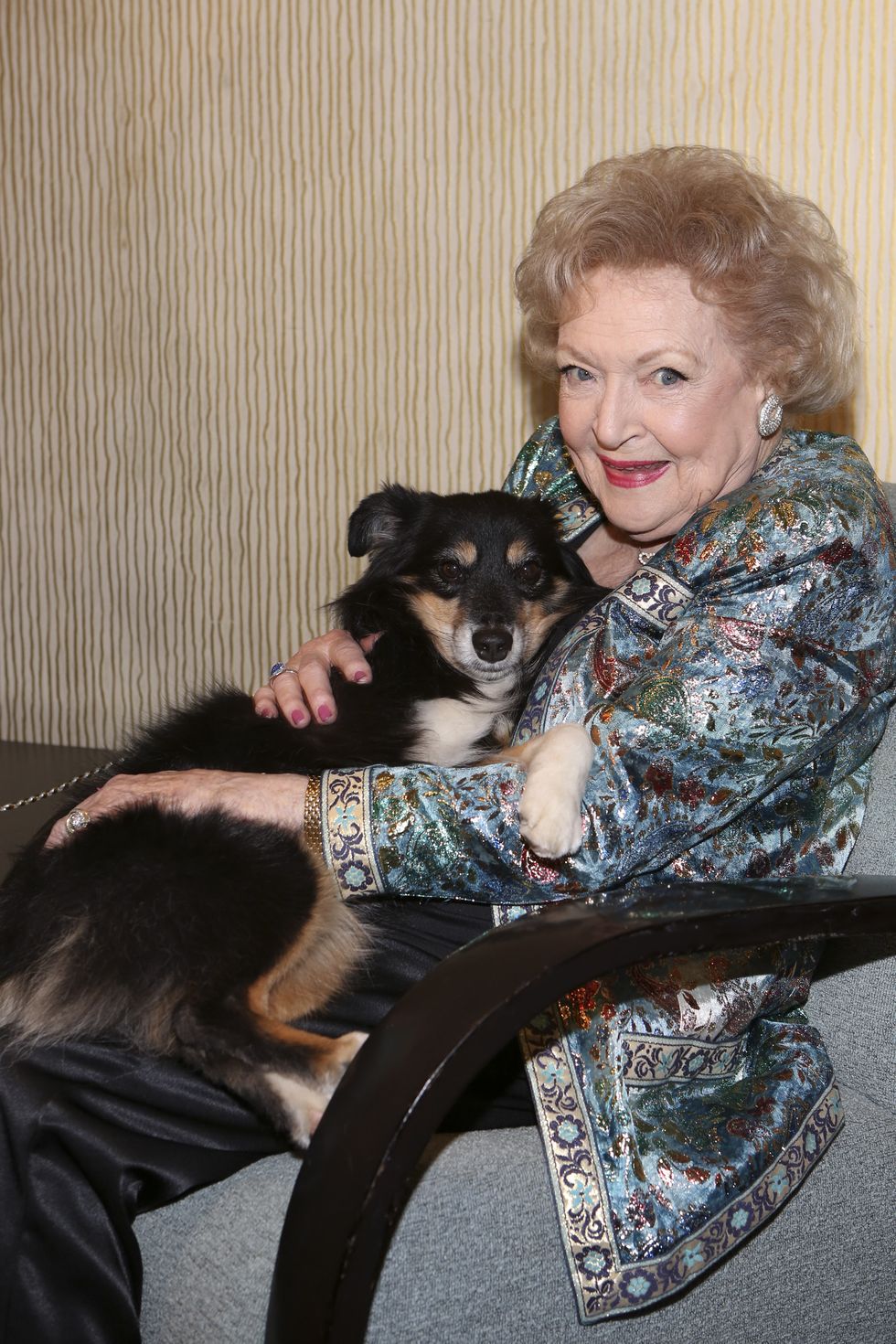 Credit: Getty Images
We all know how much Betty White loved animals, and this is the perfect picture to illustrate that fact. In this photo, White poses with Cassidy, a super cute three-legged pooch nominated for the 2013 Hero Dog Awards. We think this is an absolutely adorable photo, and Betty looks fabulous!
39. 2015: Receiving the Lifetime Achievement Award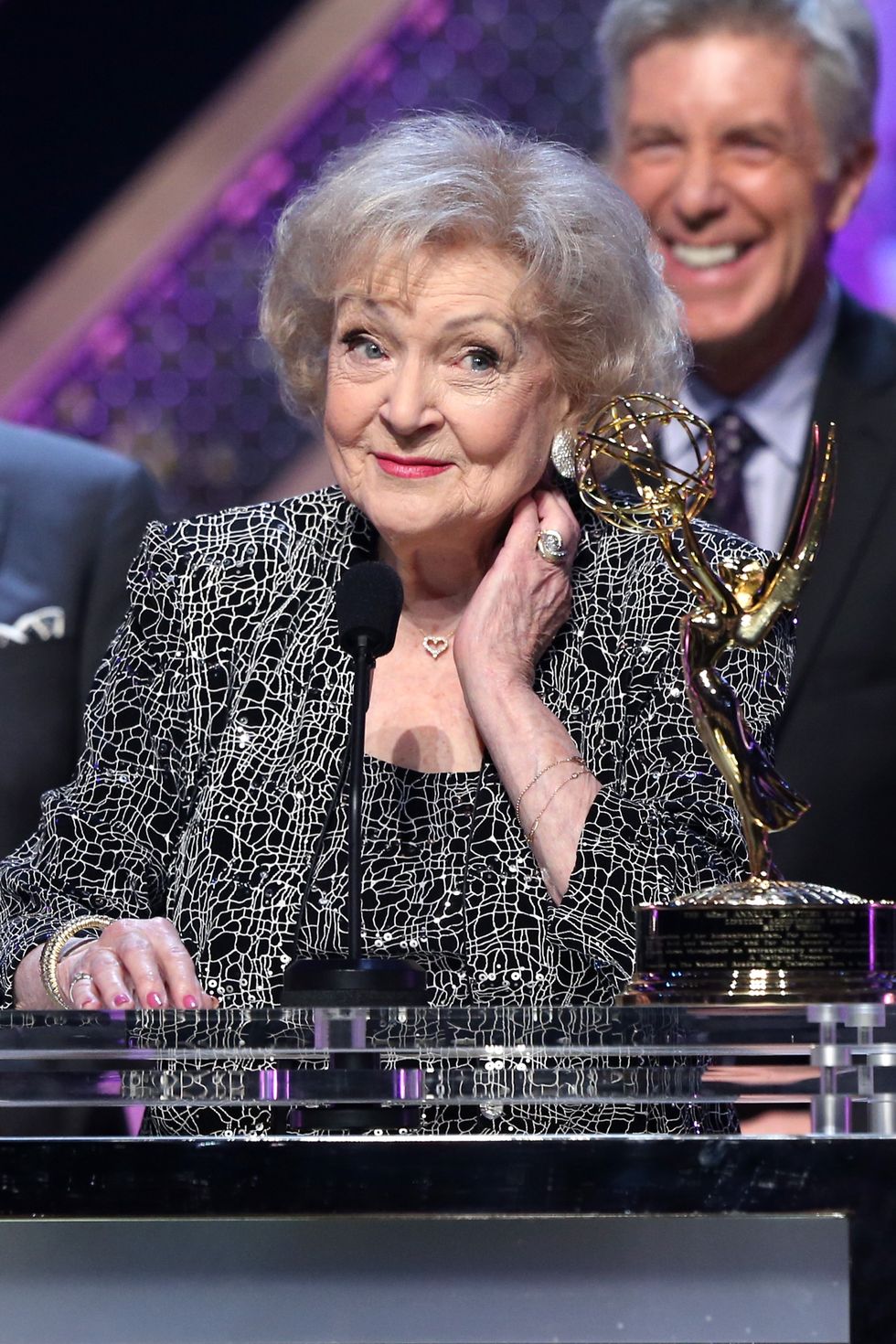 Credit: Getty Images
It seems inexplicable that an entertainer as iconic and popular as Betty White would only be getting a Lifetime Achievement Award in 2015. As you might expect, in true White style, her acceptance speech was short but sweet. She was as snappy, charming, and full of the quick wit as ever, truly justifying her status as a household name.
40. 2018: Attending the Emmy Awards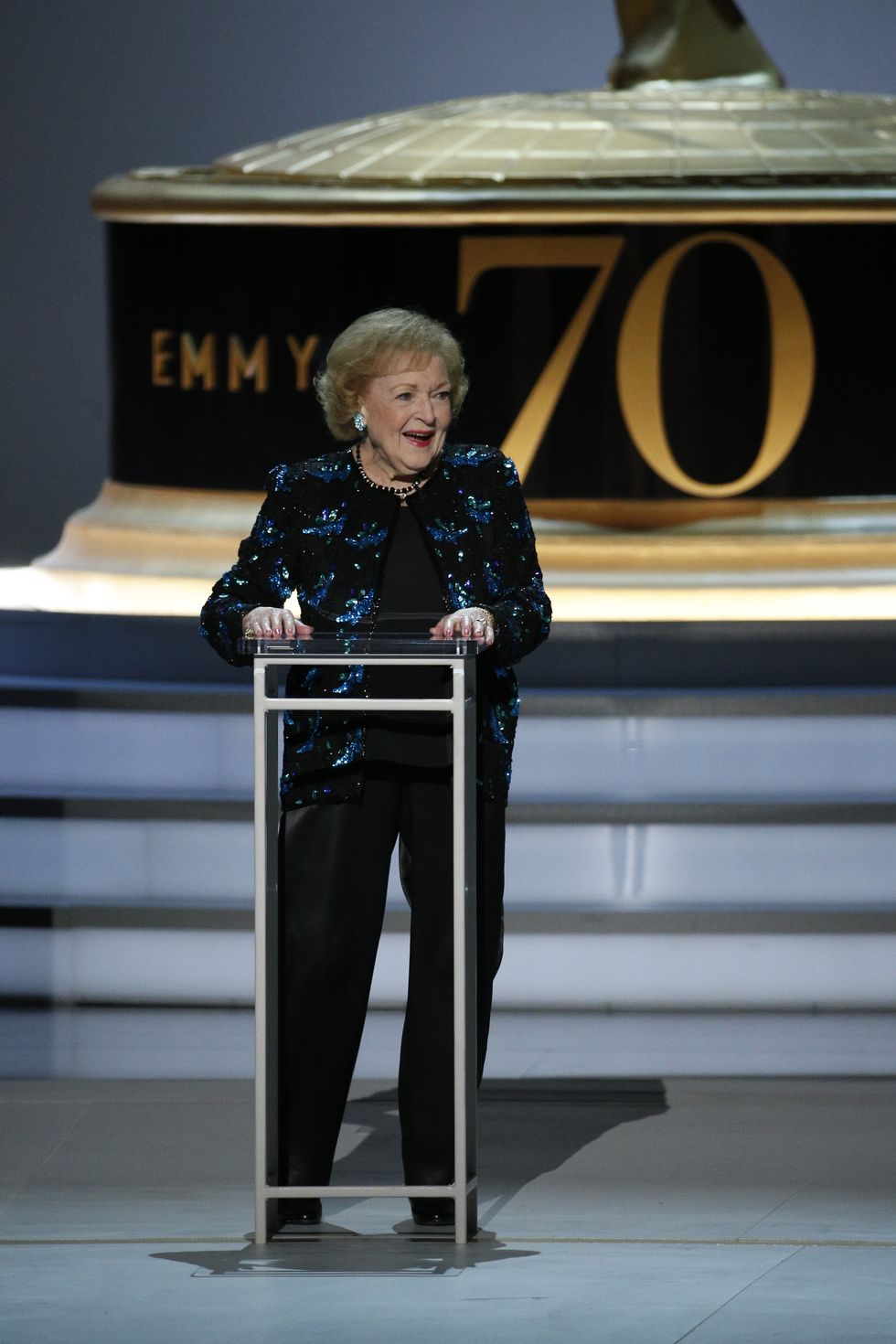 Credit: Getty Images
Things came full circle here. Betty attended the first-ever Emmy Awards in 1949 and attended this, the 70th, as she was honored on stage. She looks smart, sleek, and sophisticated here, and has the air of a woman whose career has set the benchmark for many in the industry; a true legend.