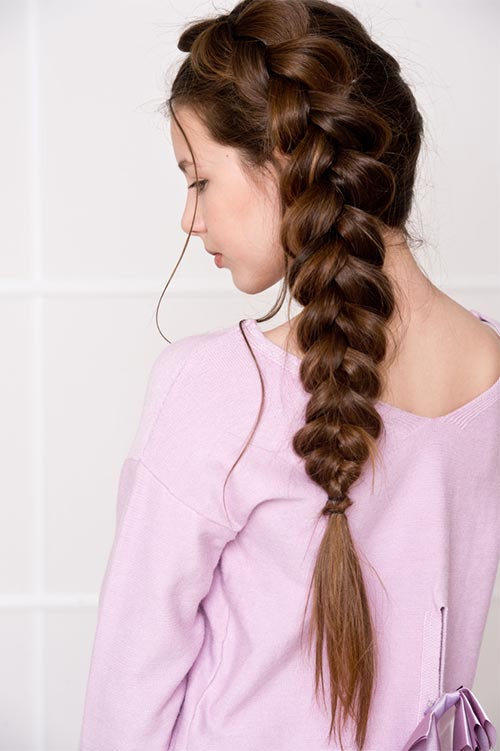 Credit: Shutterstock
Braids are an amazingly effective and versatile choice of hairstyle, and can be matched really well to any outfit, and to match any personality or occasion. There are plenty of stunning braided hairstyles to choose from, and here are some of the simplest to get you started today:
1. Lace twist with a fishtail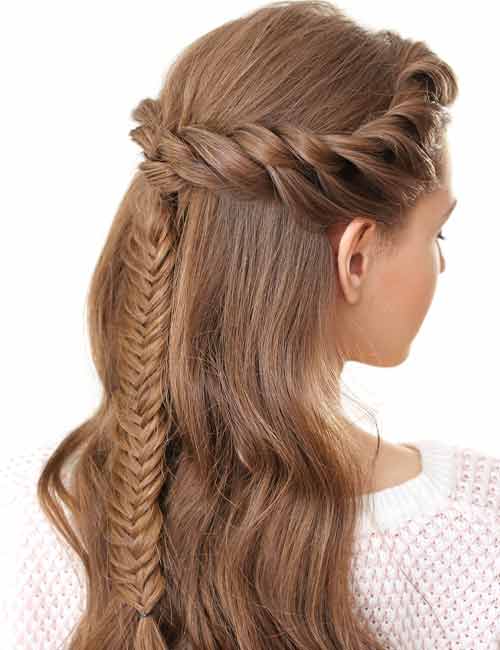 Credit: Shutterstock
The great thing about this effortlessly elegant style is that it is effectively two hairstyles in one. With French braids twisting along the hairline, and fishtail braids hanging down the middle this is the perfect option for a hairstyle that will give you the best of both worlds.
2. French side braid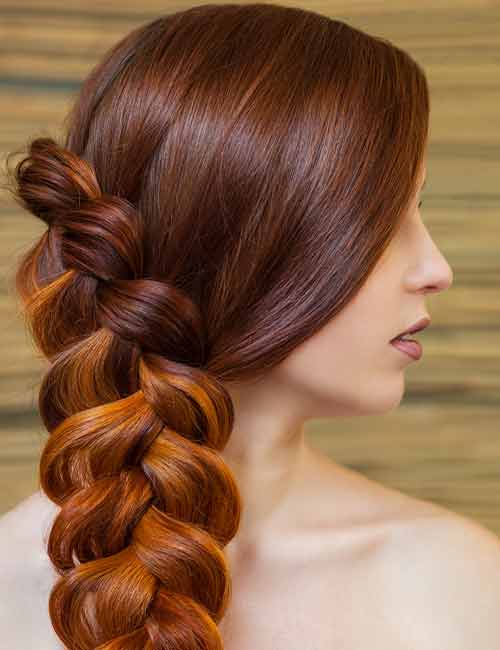 Credit: Shutterstock
For the maverick who likes to do things differently, we present the French side braid. Perfect for thick hair, and weaved from one ear, before slanting to the nape at the other end, this is the ideal option for ladies who'd like to make a statement, and who like to march to the beat of their own drum.
3. Double braided crown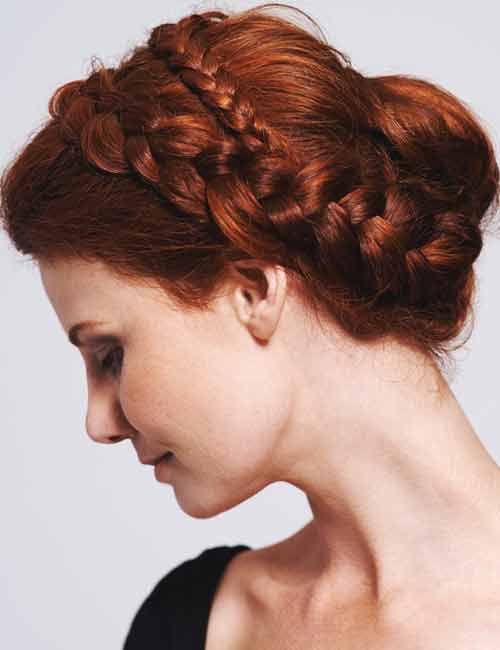 Credit: Shutterstock
There is something of a regal elegance to this hairstyle, and, honestly, it's something we could imagine a refined actress like Kirsten Dunst sporting in a period drama! Beautiful and sophisticated, this variant of the Milkmaid braid doubles up with a thick and thin braided crown, and this would be ideal for a wedding celebration.
4. Messy braid bun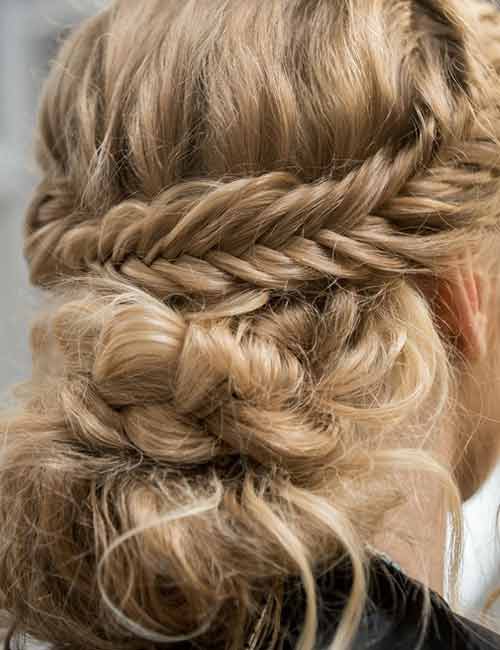 Credit: Shutterstock
If you want a change of pace or simply to "let your hair down" (pun intended), this would be a wonderful way of achieving that. This messy braid bun is the perfect antidote to the clean and slick hairdos you usually sport. Perfect for a day at the office, or a dinner party with friends.
5. Colored yarn braids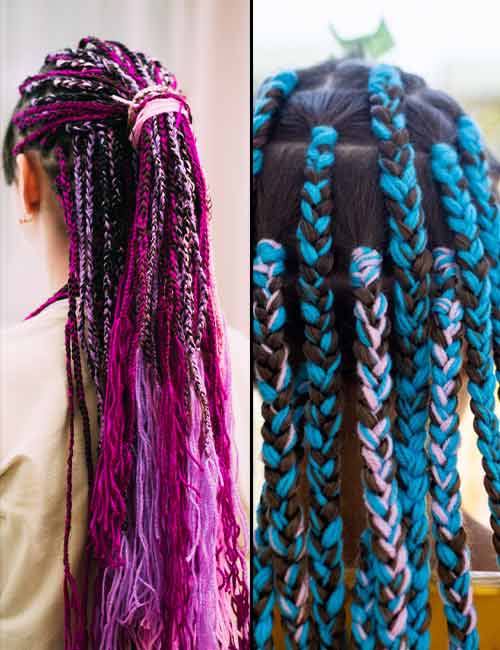 Credit: Shutterstock
For those who seek a bit of vibrancy and color in their lives, the colored yarn braids are the ideal option. This low-maintenance hairstyle is the perfect way of looking and feeling great with minimal effort. The best thing is they can last a couple of months with the proper care and maintenance.
6. Dutch heart braid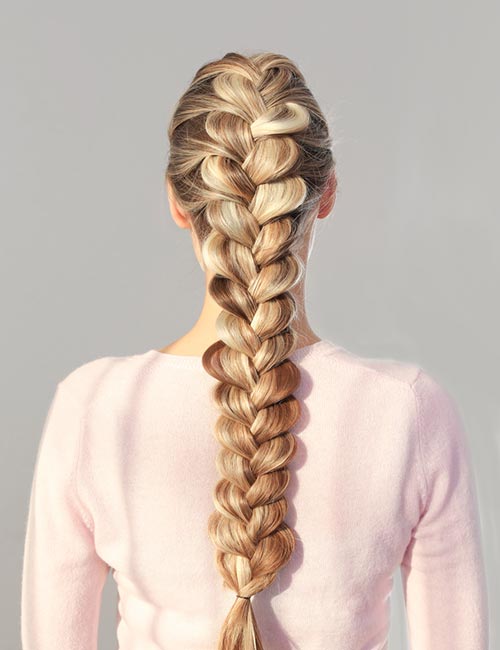 Credit: Shutterstock
One of the most elegant and beautiful braid hairstyles, the Dutch heart is gorgeously glamorous, and will leave you feeling confident and sexy. A key hack to get the best outcome is to pancake the braid by pulling the hair up instead of out. This might be more work, but the results are truly stunning.
7. Crown braid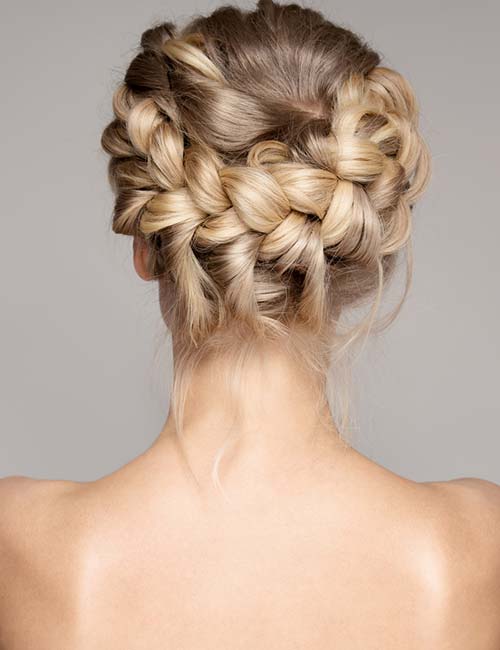 Credit: Shutterstock
The crown braid is one of the best options for any formal event, whether it's prom night, a wedding, or homecoming. It's the perfect choice for women with curly or wavy hair, and it can be wonderfully accessorized by adding some leaf-design pins, for a fantasy-style aesthetic.
8. Defined French braid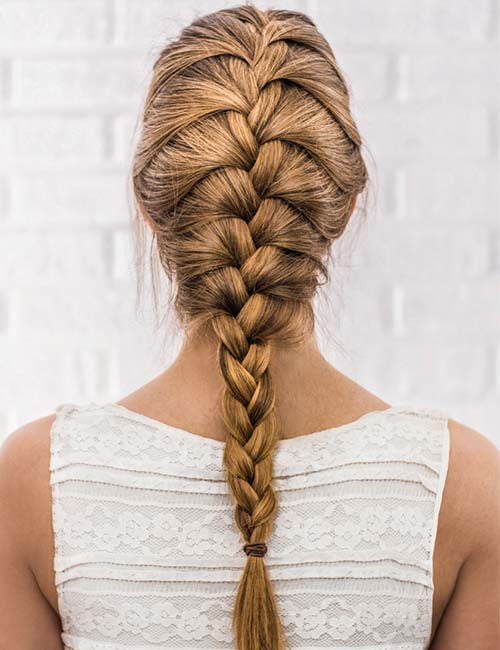 Credit: Shutterstock
Smart, professionals, sleek, and timeless, the defined French braid is the ideal option for any situation, be it business or pleasure. This will take a more experienced hand, but we're sure you'll agree that the results are well worth it. Keep working on your braiding skills until you can do this one easily.
9. Double Dutch braids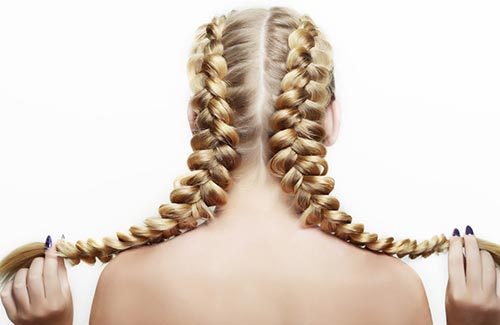 Credit: Shutterstock
The playful choice; ideal for those who enjoy fun, adventure, excitement, and who might be a little left of center. Double Dutch braids are ideal if you have gotten new highlights, and you're keen to show them off, as they are a great way of highlighting natural hair color, along with new highlights.
10. Boho braided half 'do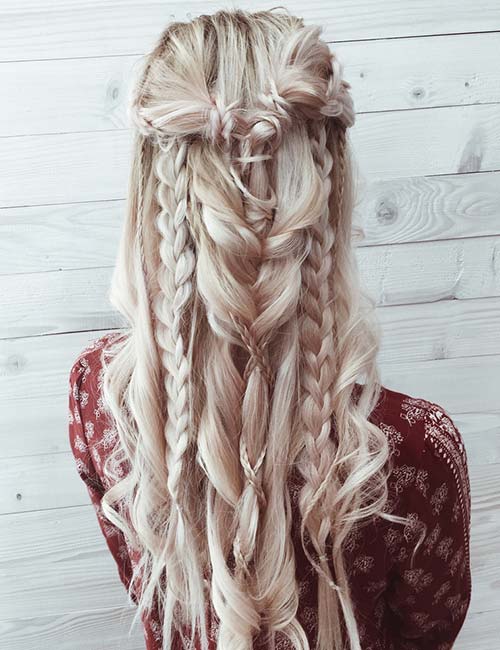 Credit: Shutterstock
Amazing, unique, and utterly artistic, this is the kind of style you go for when you don't want to conform. It walks that perfect line between messy and classy, truly effortless yet styled hair, and it's popular for a good reason. This is such a versatile do that you might find yourself sporting it more than you thought you would!
11. Braided top knot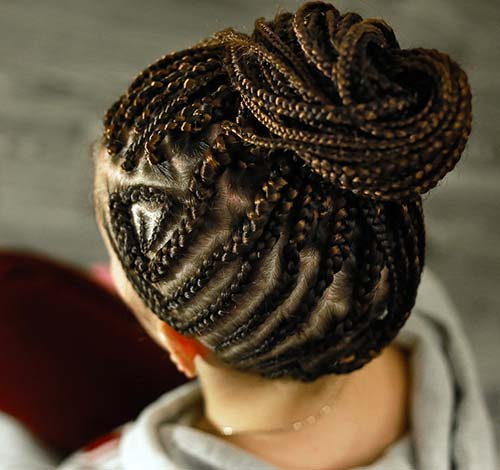 Credit: Shutterstock
Sometimes, you can't beat a classic. In terms of protective braid hairstyles, the braided top knot rules the roost. This hairstyle is quick and easy; all you have to do is gather your braids together and wrap them in a top-knot, holding them in place with an elastic band. This is a style that signifies independence, self-assuredness, and strength, giving you the perfect edge from the boardroom to a date!
12. Double-braided single fishtail braid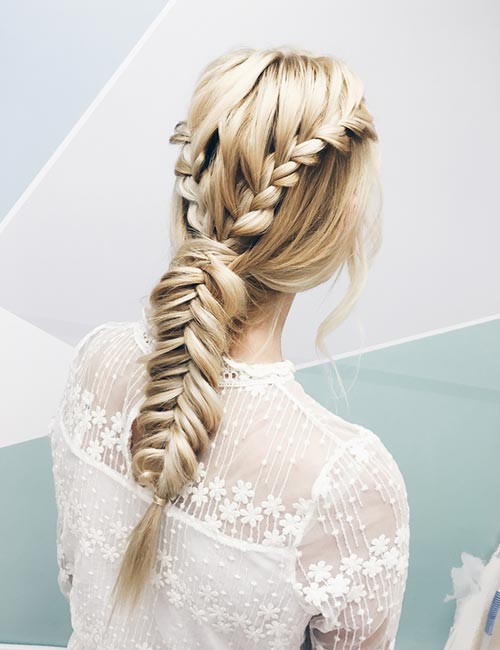 Credit: Shutterstock
If you want something a little different, or something that looks complicated but is secretly pretty easy, the double-braided single fishtail braid is the perfect choice for you. Using a combination of two, regular three-strand braids and a singular fishtail braid, it connects the regular braids together in a waterfall that meets at the top of the fishtail.
13. Boho fishtail braid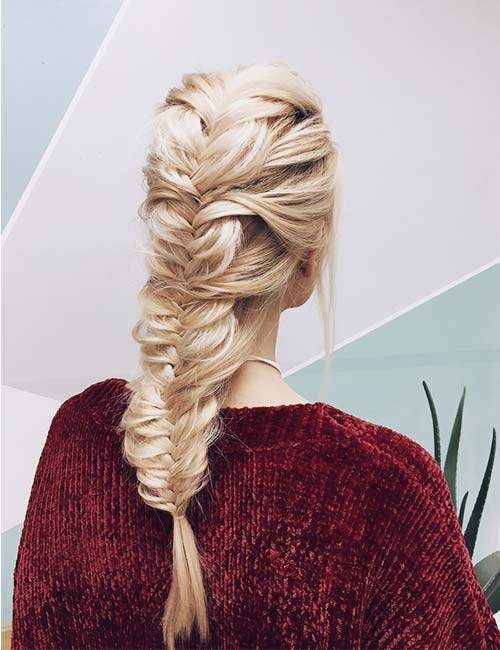 Credit: Shutterstock
If you're looking for the ideal hairstyle for those long winter's nights, this is the ideal choice. Leave some hair out at the sides before you begin weaving and, once the braid is finished, pull the side hair through the stitches to give you the ultimate fishtail braid for those cold nights beside the fire.
14. Pouf braided Mohawk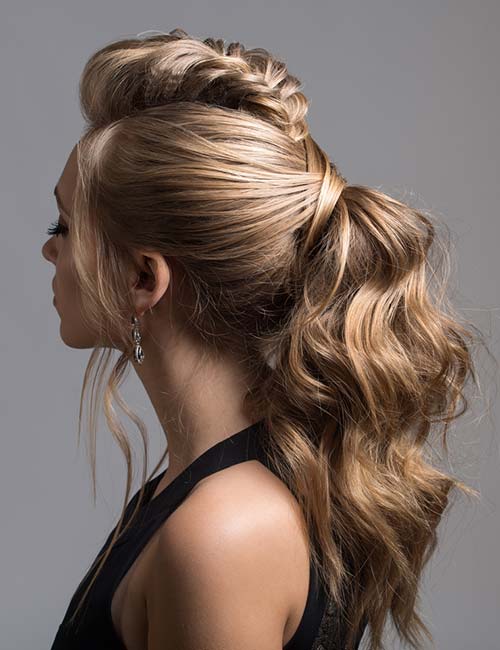 Think sassy, unique, edgy, badass. The kind of do you could imagine Natalie Dormer lighting up the big screen with. Adding a braid to a mohawk is one of the greatest inventions since sliced bread. Backcomb the mohawk for some height, then neatly comb the top and start braiding. Finally, tie the rest of the hair in a ponytail for added oomph.
15. Messy elegant braid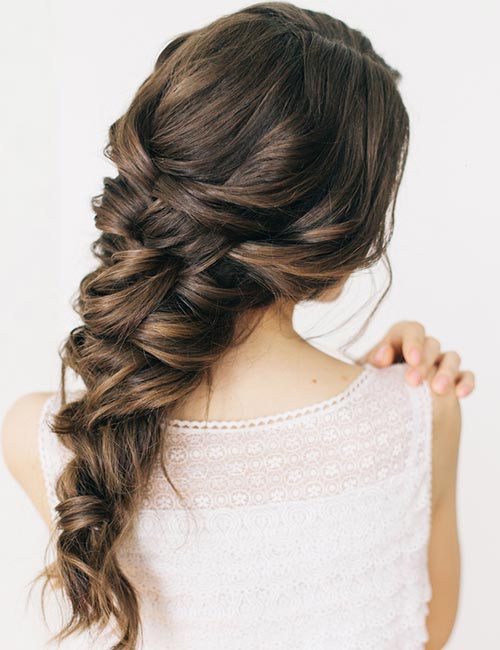 Credit: Shutterstock
This one does exactly what it says on the tin. It's slightly cheating, in that it isn't actually a 'true' braid, but it looks so good, we can overlook that! To create this one you're going to curl all the hair and weave just a small section, then pinning it in place to create the illusion of a messy braid. Ultimate life hack!
16. Five Dutch braid ponytail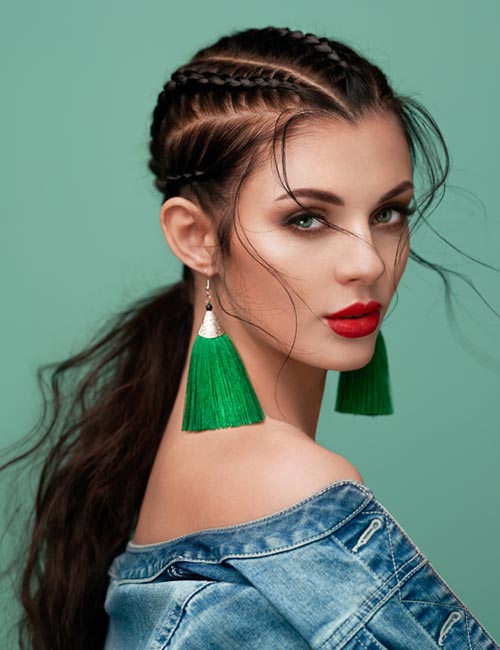 Credit: Shutterstock
This is the ultimate choice for the sporty girl, who likes to work out and attend sporting events. It's ideal because it looks really stylish and will retain its style even if you're exercising. Divide your hair into five Dutch braids, and tie the ends back into one regular ponytail to get this stunning style.
17. Heart braids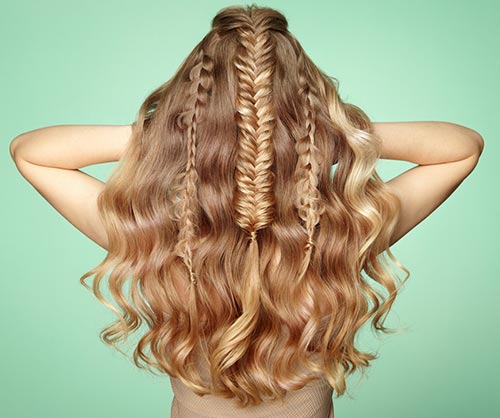 Credit: Shutterstock
Perfect for Valentine's Day, date night, or a casual day at the beach, heart braids are very cute – ideal for the girl who wears her heart on her sleeve. Combining a regular braid with the fishtail is the perfect way to produce this light-hearted and fancy-free hairstyle.
18. Double rose braids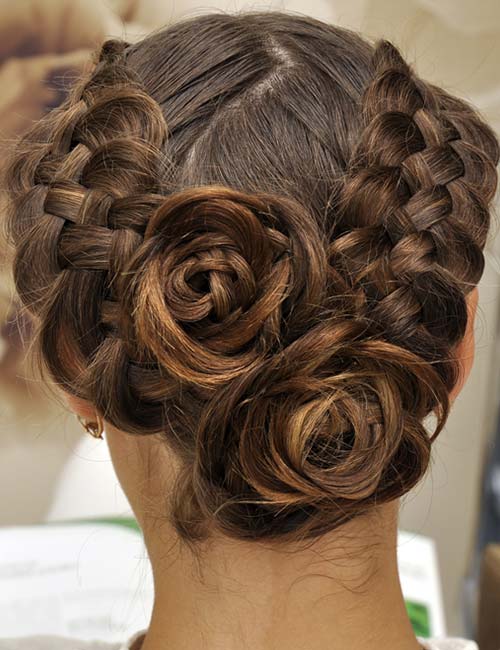 Credit: Shutterstock
The type of hairdo you might expect to find on the red carpet, the double rose braids are elegant, feminine, and incredibly trendy. To create them you need to weave your hair into two four-strand braids, before pancaking the braids and rolling them up in the shape of roses.
19. Pancaked side braid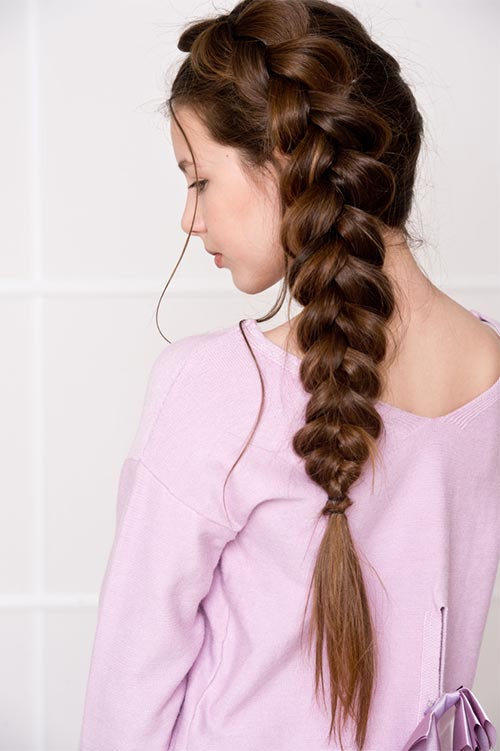 Credit: Shutterstock
Speaking of pancaking…this pancaked side braid is a showstopper! The process involves pulling apart the stitches of the braid to make it appear larger, and really make it the centerpiece of your aesthetic. You can pancake it slightly differently to give a flatter or fuller appearance, depending upon what you want to achieve.
20. Rope half braid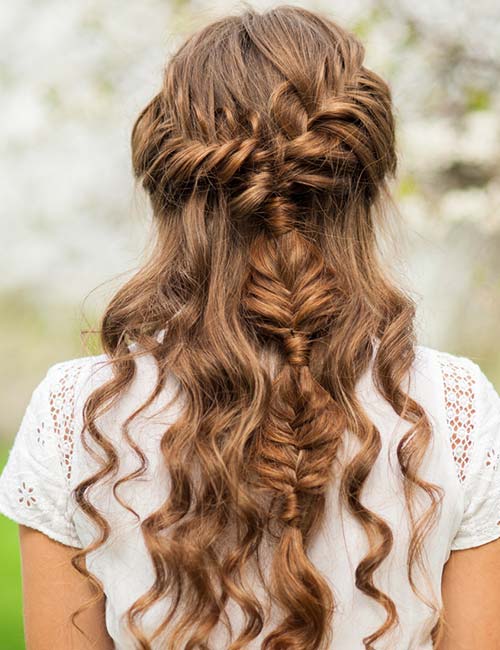 Credit: Shutterstock
A more rustic and bohemian type style, this is a 'do that combines a lot of ropes, twists and curls.They all come together to form one messy, classy, blended style that would be ideal for more rural surroundings. You could picture this fitting in perfectly at an outdoor wedding, for instance.
21. Braided updo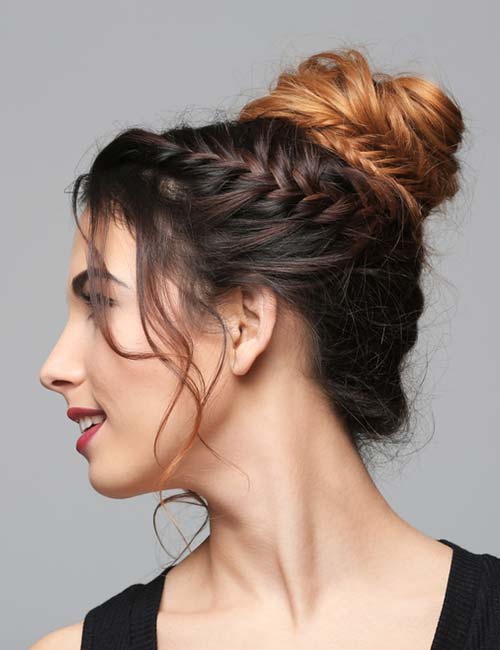 Credit: Shutterstock
The weapon of choice for the fempreneur, this contemporary and modern do is the perfect accompaniment for your boardroom presentations, but will also look just as fitting when you join the girls for wine and tapas after work. Weave French braids on each side of your head, then bun it at the top to help you look like a boss b-!
22. Light pink semi-crown braid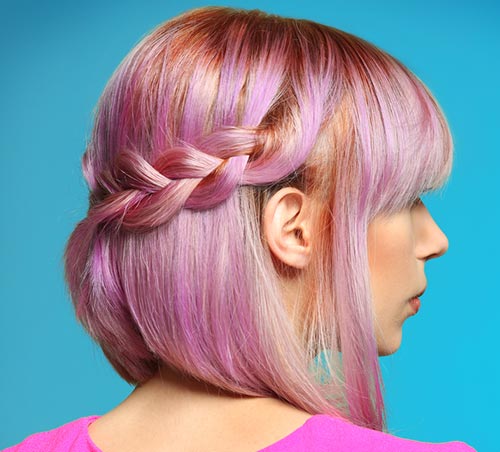 Credit: Shutterstock
One of the simplest and best-looking hairstyles around, this can easily be crafted with non-pink hair but we just think the extra color gives a new dimension to the look! To create it, take some hair from the sides and weave them into an individual braid, then join them together below the crown for stunning results.
23. Quad Dutch braids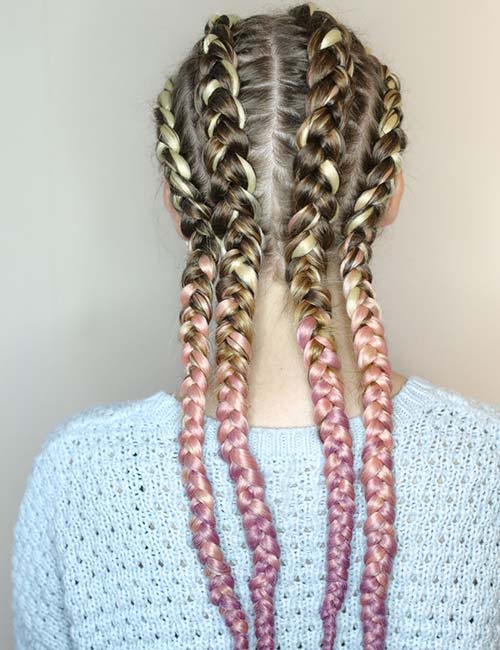 Credit: Shutterstock
For women feeling ambitious, who want to showcase their personalities through their hair, this is the perfect choice for you. Not only is this quad Dutch braid as trendy and versatile as they come, but it also conveys that you are a strong, confident person who is sure of themselves, and who people aren't going to want to mess with.
24. Rope crown braid
Credit: Shutterstock
Adorable, different, effortless, and stylish, the rope crown braid is the perfect choice for those seeking trendiness and comfort. This is a really simple and quick hairstyle to create, and that, combined with the stand-out qualities, makes this a really popular hairdo with school and college-age kids.
25. Messy twisted braid
Credit: Shutterstock
The messy look suggests you are fanciful and care-free. A person who likes to march to the beat of her own drum, and doesn't take life too seriously. Of course, getting just the right amount of messy is key, and this messy twisted braid helps encapsulate that, bridging the gap between messy and styled with ease!
26. Loose double braids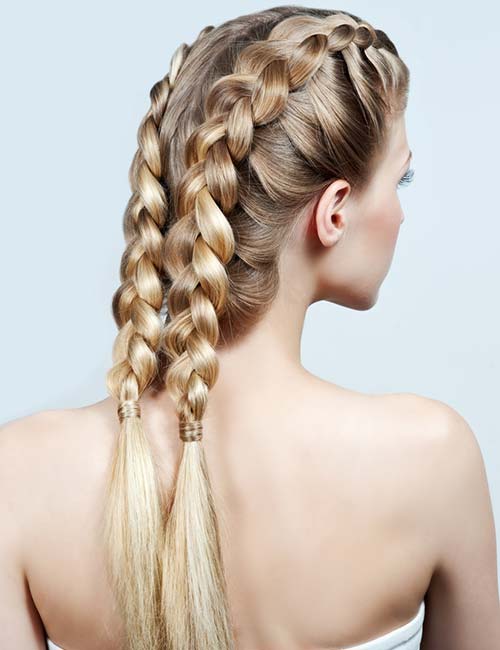 Credit: Shutterstock
If you want a fun, playful, and iconic hairstyle then the loose double braids certainly rank among the best options. One of the best things about this braid is that it keeps your hair tidy, and the loose French braids give it that chic and fashionable edge as well.
27. Marley twists high ponytail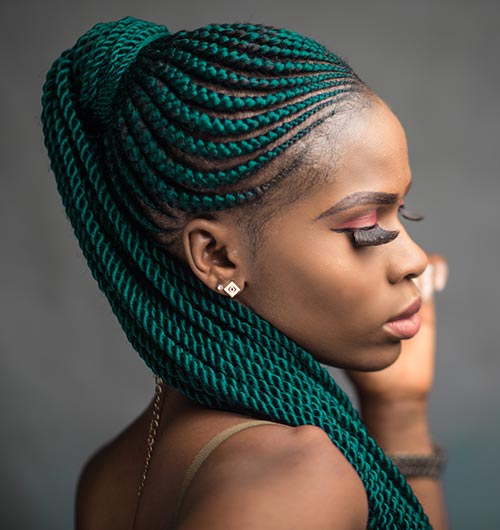 Credit: Shutterstock
This is another of the most common and popular protective braid hairstyles you will no doubt have come across, and it's very user-friendly. Marley twists are done as cornrows before being tied back in a ponytail. Of course, they'll need proper maintenance and scalp care to help them last up to a couple of months.
28. Braid tied updo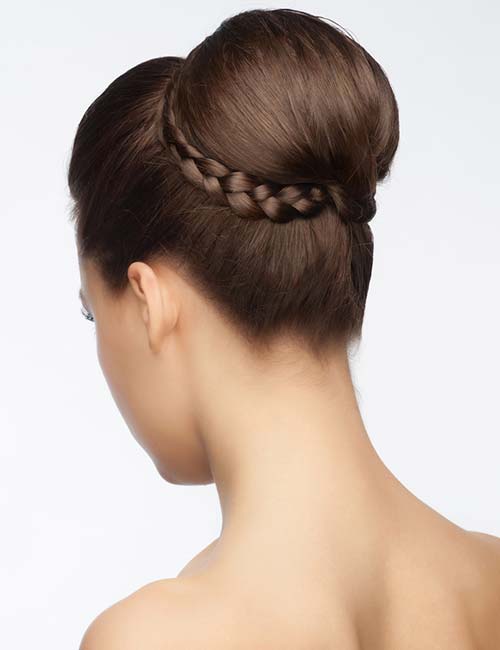 Credit: Shutterstock
Sometimes less is more, and this is the perfect example of that. Complementing your top knot with a simple braid adds a degree of elegance. All you need to do is gather your hair29. Folded braid up-do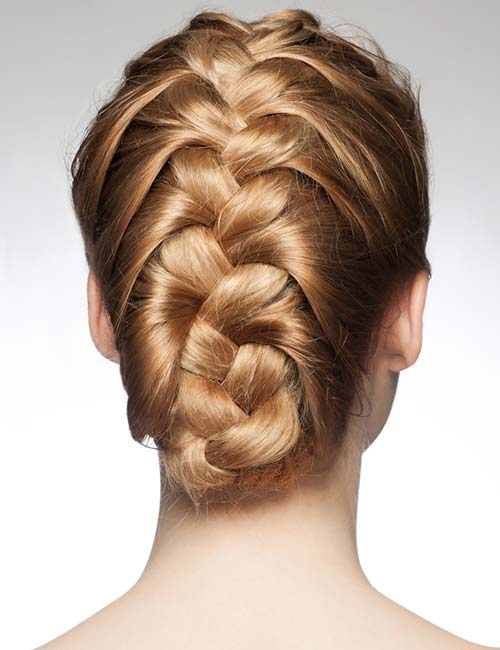 Credit: Shutterstock
This is a pretty unique and stand-out version of the French twist, and a great way of being able to enjoy a braid style with a difference. Weave your hair into a French braid, then fold the bottom of the braid and tuck it underneath the braid above, pinning it in place for the perfect look.
31. Mermaid side braid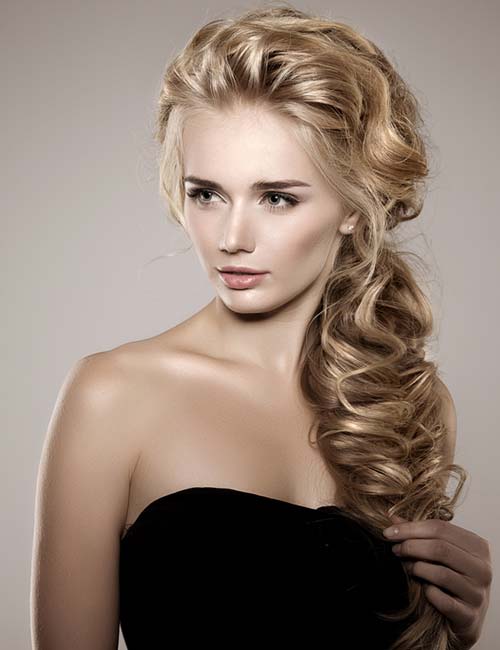 Credit: Shutterstock
Become your very own Ariel with this gorgeous mermaid-style hair. The mermaid side braid is going to be a game-changer and will help to complete your glamorous look, turning heads, and amplifying the qualities your hair already possesses. Oh, and it's pretty easy to do as well!
32. Tree braids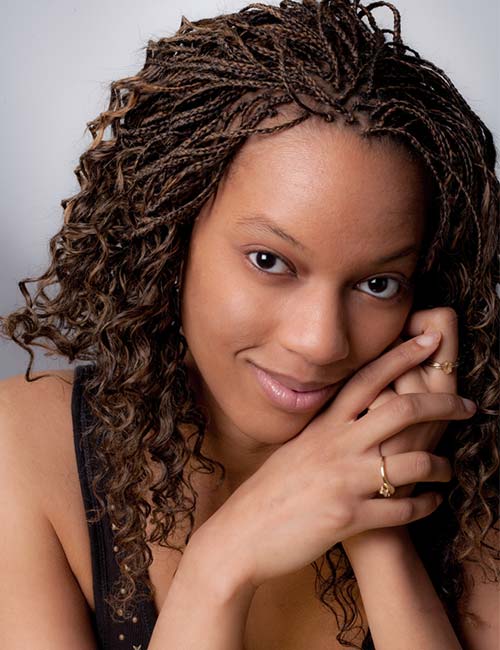 Credit: Shutterstock
Tree braids are micro braids that are weaved just a few inches from your scalp, and then the hair is left to fall free after that. This is one of the best options you can use to show off your lustrous locks, as well as demonstrating braids with a bit of a difference.
33. Reverse braided buns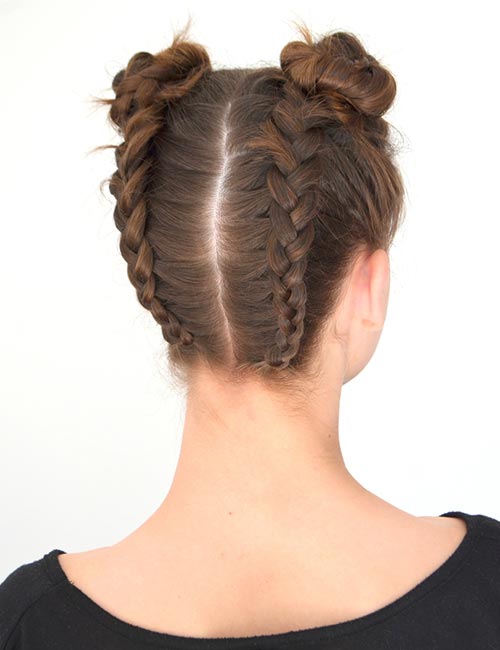 Credit: Shutterstock
Reverse braided buns show ambition and creativity in your style, and that's what makes them a wonderful addition to any scalp! Flip your hair over, part it down the middle, and then create a reverse French braid on each side, before styling them into buns at the top of the head.
34. Loose historical braid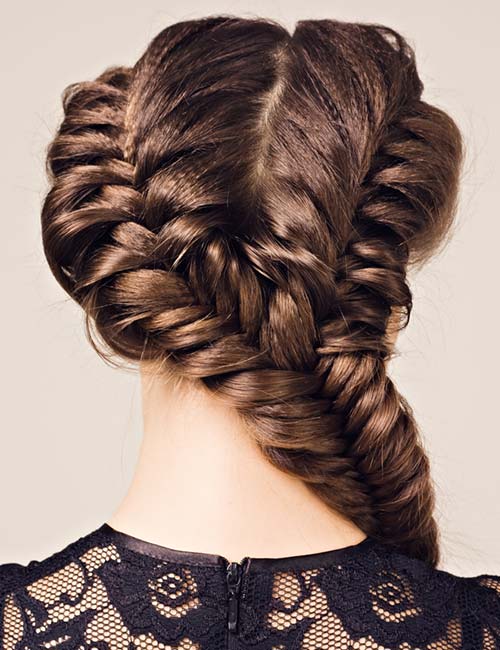 Credit: Shutterstock
For women who like to blend eras, this is pretty much the perfect choice. It has the distinctly vintage large double braids, which then lead into the far more contemporary fish tail, adding a nice contrast to your do without ever feeling like it's too much.
35. Bridal crown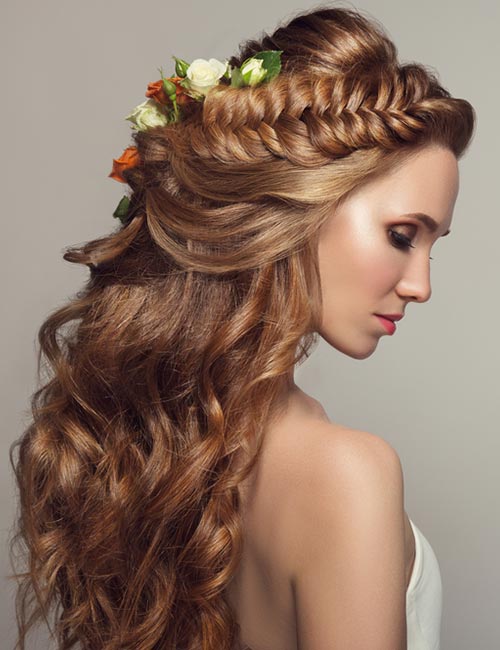 Credit: Shutterstock
Your big day is going to be full of style and sophistication, and this combo of curls and braids makes you look remarkable on your big day. If you want to look and feel like a fairytale princess, try out this full, stunning style that really amplifies your hair's beauty.
36. Loose highlighted half 'do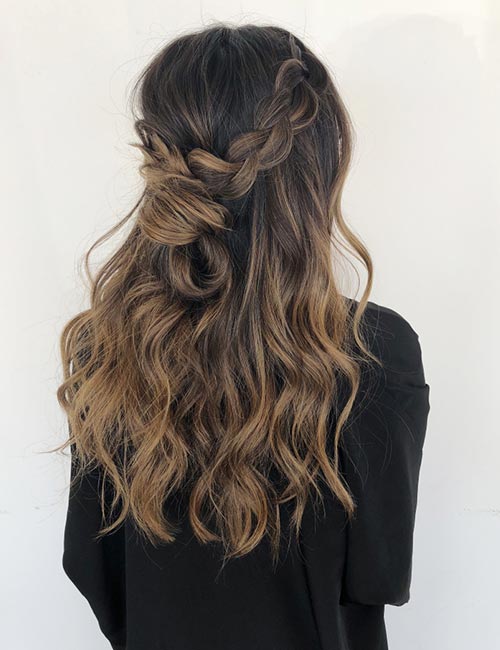 Credit: Shutterstock
There are so many amazing braid options, but this one is pretty special. It's effortless, classy and oh-so simple, with the perfect combination of smart and casual. Weave hair from both sides into braids, keeping them loose, and wrap the ends into a loose bun before pinning them in place.
37. Rolled roses braids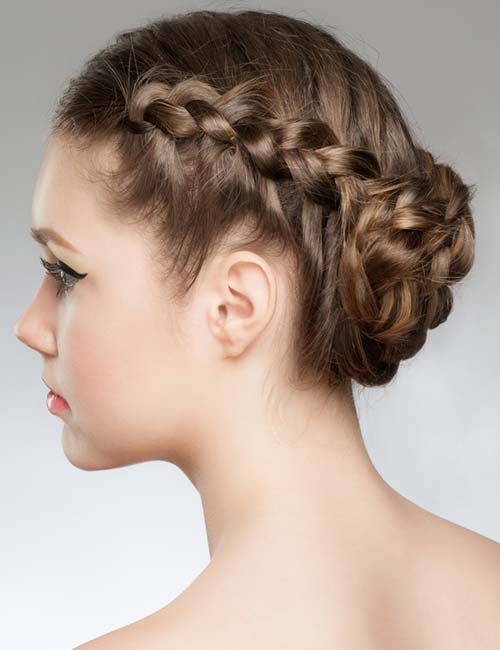 If you're all about looking as striking and artsy as possible, these rolled roses braids are perfect for all types of hair. A funkier take on the milkmaid braid but, instead of braiding across your head, wrap the braids into rose buns and pin them into place.
38.Greek goddess braid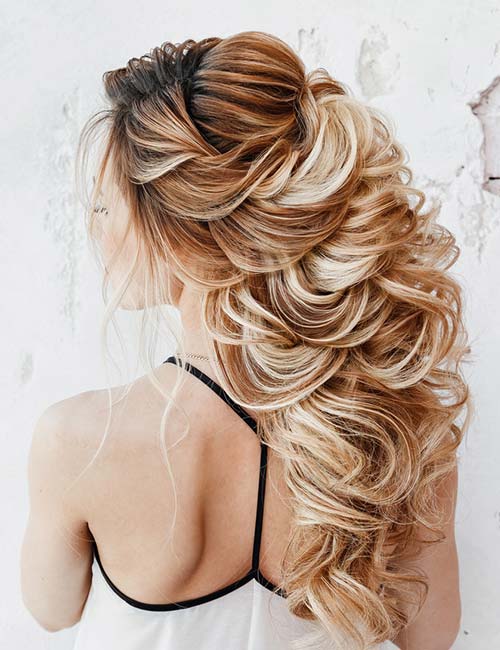 Credit: Shutterstock
If you want to look like Helen of Troy, one of the best ways of doing this is to go for this full and luscious hairstyle. Start by curling your hair into big curls, backcombing to create a pouf at the crown, and then pinning in place. The results are simply breathtaking!
39. Loose pancaked side braid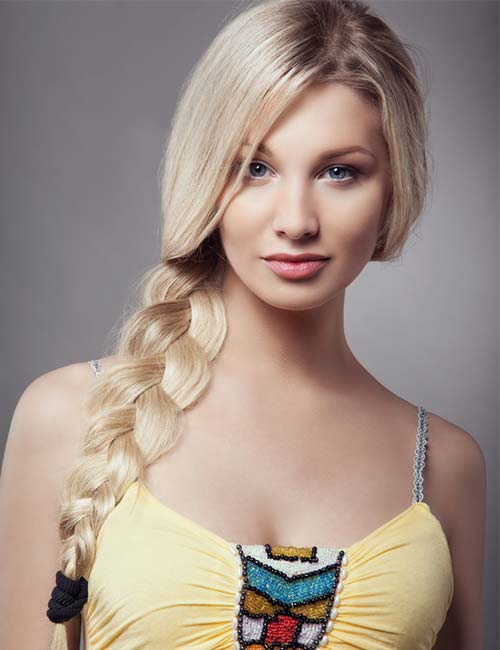 Credit: Shutterstock
There's something about side braids that just works, and it's actually much more diverse and versatile than a lot of women think. This hairdo is a great example of that, with a loose, pancaked braid that becomes tighter at the bottom. Pull out the stitches to give it a fuller and more striking look.
40. The waterfall braid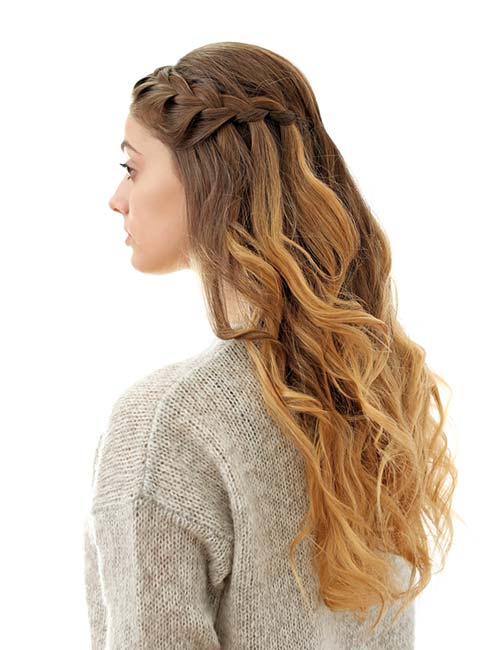 Credit: Shutterstock
One of the most iconic favorites on this list, the waterfall braid is the ultimate style for combining a striking braid with gorgeous natural hair. This is the ideal option for occasions where you want to shine and stand out, and you can accessorize it by using beads, or going for floral additions.