Natural hair with bangs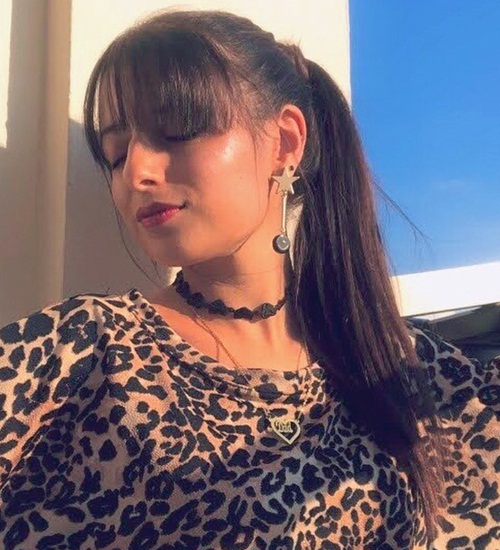 Credit: stylesatlife via Pinterest
You're going to be seeing quite a few pairs of bangs on this list for obvious reasons. There are a couple of different kinds of big foreheads, usually based on the hairline, sideburns, face shape, head shape, and bone structure. Most of these things you can't change and it can't be stressed how little they matter, but bangs happen to fix everything, so?
Bold colors with shaggy bangs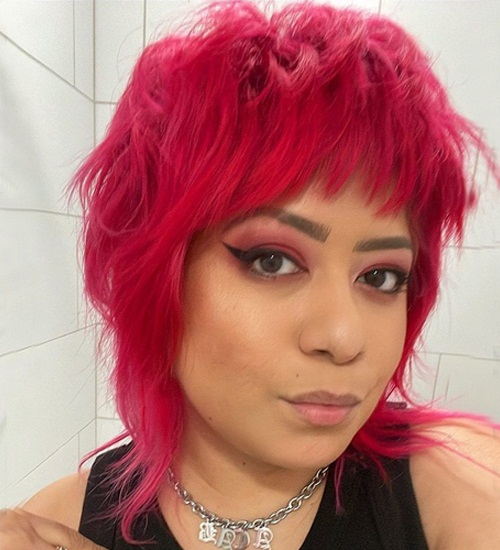 Credit: stylesatlife via Pinterest
Bold colors help change how your entire head looks, which makes pairing it with a choppy texture and plenty of volume an excellent choice for those who want to cover up a little. The rough cut on the bangs will need to be topped up every three to four weeks to make sure you have enough coverage but that your eyebrows aren't lost.
Mid-length curtain bangs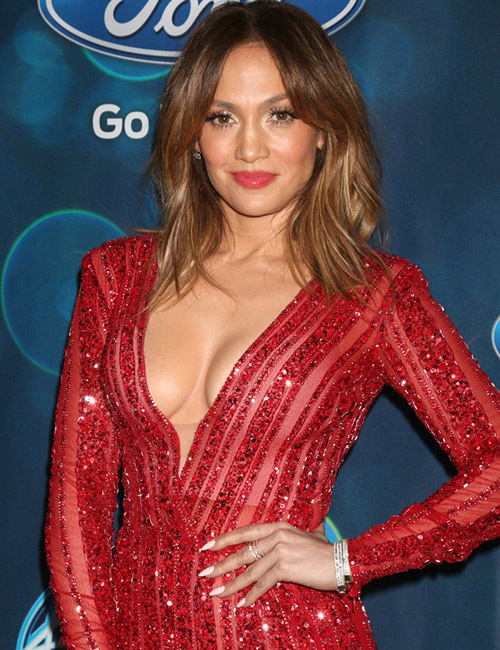 Credit: via Shutterstock
While receding hairlines are more common in men, women can experience hormonal hair loss, or gradual wear and tear on their finer hairs that appear similar. Curtain bangs are great for covering any thinning or damage where the temple meets the parietal, and the length will help reshape your face by framing the eyes and jaw.
Choppy pixie cut
Credit: via Shutterstock
Shorter cuts offer several advantages for people with bigger foreheads, regardless of gender. The natural volume boost you get from keeping everything light helps balance everything in proportion, and you can go a few different directions with the fringe. This look opts for thick, organic curls and a little product for texture, which casts a shadow over the forehead.
Side buns with bangs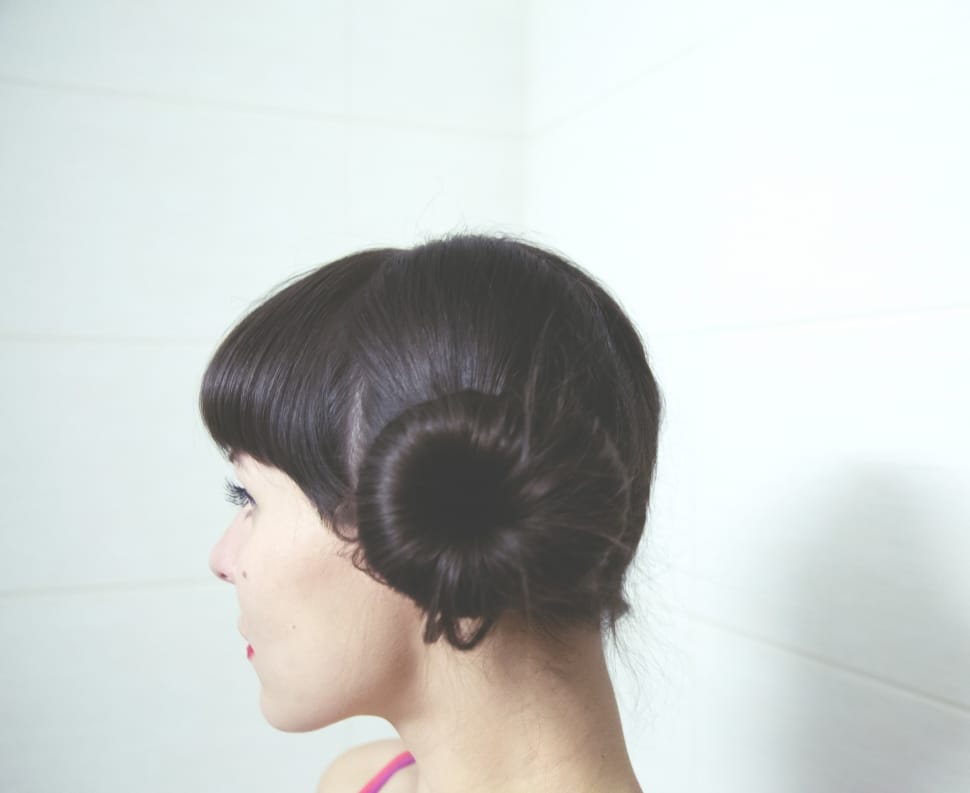 Credit: CC via Pxfuel
Nothing about having a big forehead that means you can't pull off something playful and cutesy. Single-side buns are something we'll tackle later, but creating these wonderful side buns puffs your hair out and shrinks the head. When you pair that with full curtain bangs, you make your entire face look smaller.
Side-swept bangs with wavy length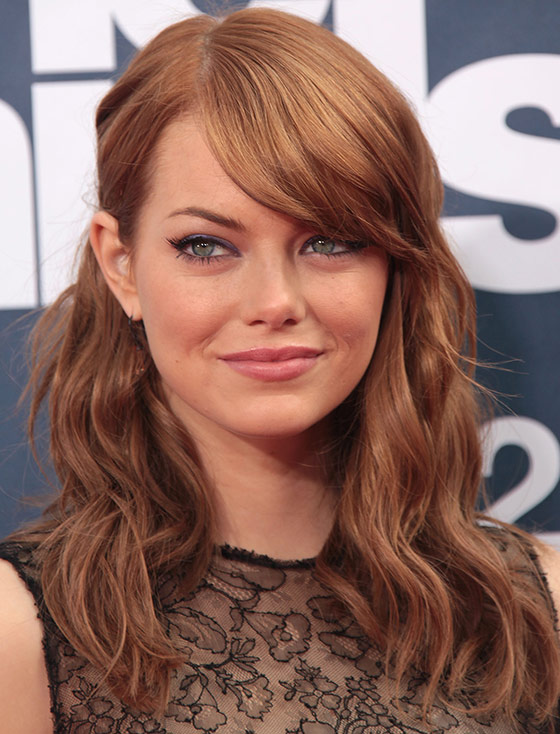 Credit: via Shutterstock
Side fringes are another classic option for masking a forehead, and this one creates some gorgeous leading lines and slopes to draw the eye. Another tip for big foreheads is having one side pulled back with the part slightly centred, which alongside the sweeping fringe helps change your face shape. The light natural curves help draw the eye down the fringe towards the shoulders.
Messy half bun
Credit: via Shutterstock
On top of bangs, you're also going to see a lot of volume, and this messy half-updo is a super simple way of achieving that. The head and face seem smaller among all of the fluff, and natural looking, tousled volume gets you that volume and lift in no time. A set of similarly scruffed-up bangs can strengthen the look.
High honey sweep over with faux bangs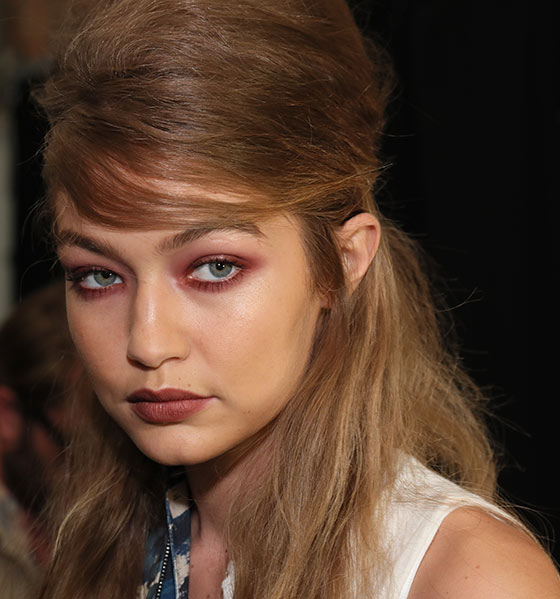 Credit: via Shutterstock
Just south of a beehive, brushing hair over like this builds tons of friction, which once you manage the hold gives you incredible volume. It gives the appearance of a much thicker fringe and hides the hairline, so you can work with the basic technique no matter what your hair type. It's a 60s-inspired modern-day look mixed with modern-day chic.
Taylor's shaggy bob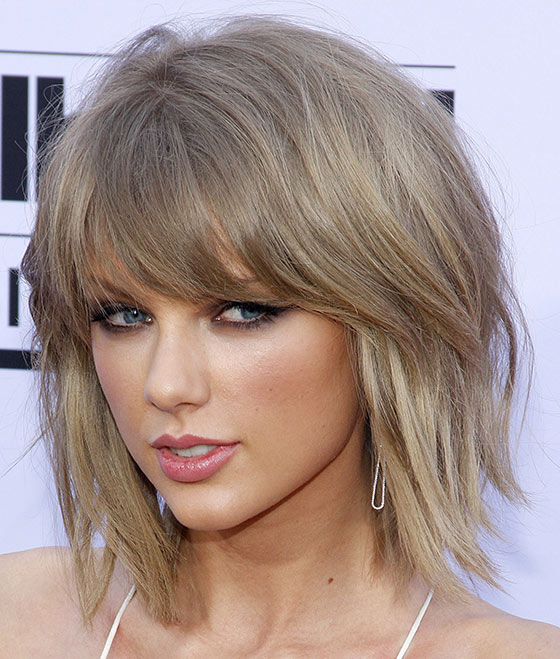 Credit: via Shutterstock
While this look has been sported by iconic female musicians for decades, Taylor has had some pretty bad bang days, so she deserves some credit for this one. Most of the volume is focused around the crown area and it's on the tidier end of the shag, meaning you can get most of the way with some root-boosting products and a pair of straighteners.
Centre parting with layers for thicker hair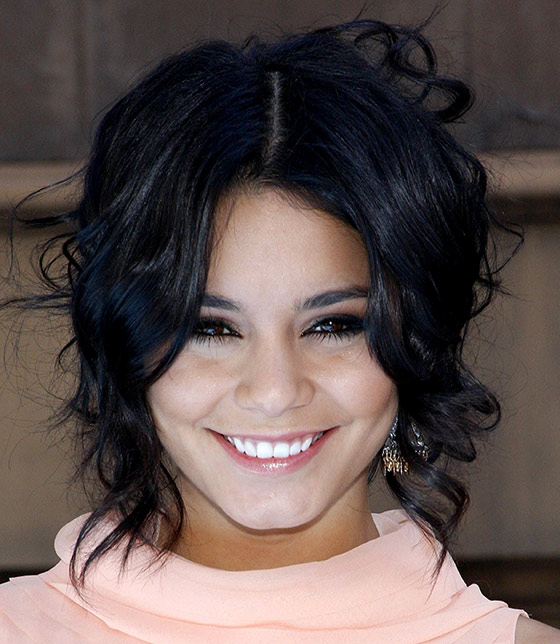 Credit: via Shutterstock
You'll want to keep everything mid to long and preferably not straight to get the most out of this illusion. It involves layering the bangs with curls that begin further back along the scalp, which makes them look twice as thick and gives you more body to work with, which you can tailor to suit your problem areas.
Curly bob with straight bangs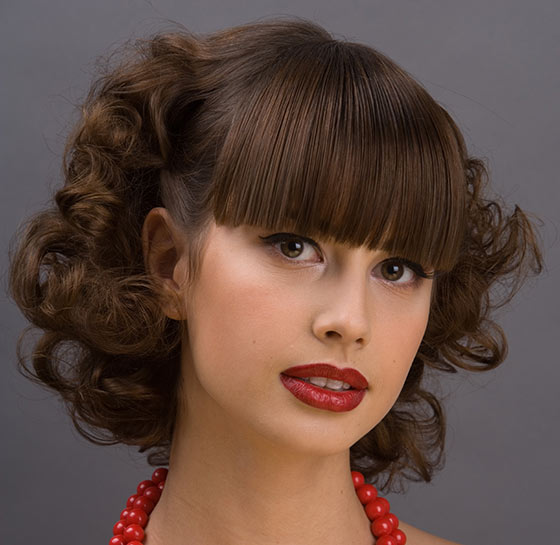 Credit: via Shutterstock
Playing with contrasting textures is a great way to confuse the eye, and it looks spectacular to boot. Straight-cut bangs like this already hide the entire forehead, but this look goes the extra mile with product keeping the fringe slick and tidy, while the unkempt curls are brought around from the back of the head to add some depth.
Medium-length curtains with layers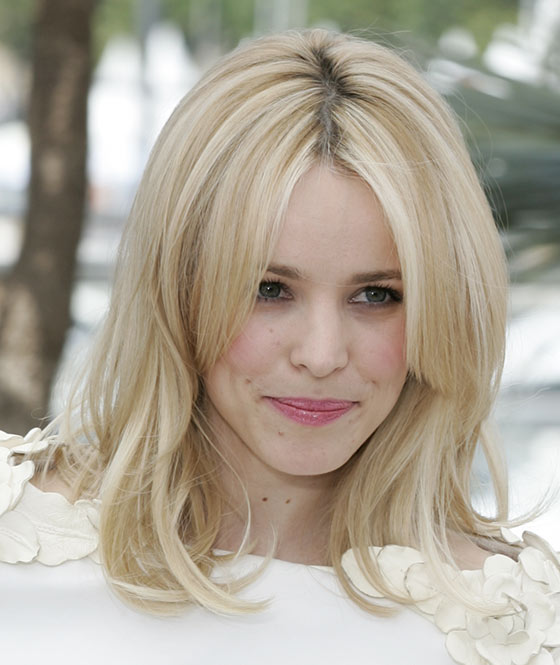 Credit: via Shutterstock
This is a beautiful and natural look for those who'd rather keep maintenance to a minimum, The mid-length curtain bangs hide a lot of the forehead corners, and the natural volume from the layers means you get a pleasing, rounded shape to the hair. There's also plenty to experiment with at the ends.
Loose and long curls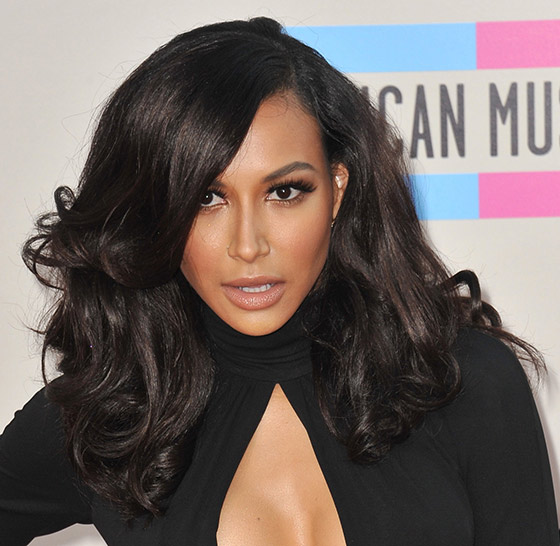 Credit: via Shutterstock
For those with thicker hair like pictured star Naya Rivera, you can opt for this enchanting set of mixed curls. The slight sweep in the fringe which then falls heavy over the eye is not only dramatic but shades the forehead while ending in a light curl that kicks off the look's main draw. There's a mix of tight and looser swirls for a more natural feel.
Fishtail braid crown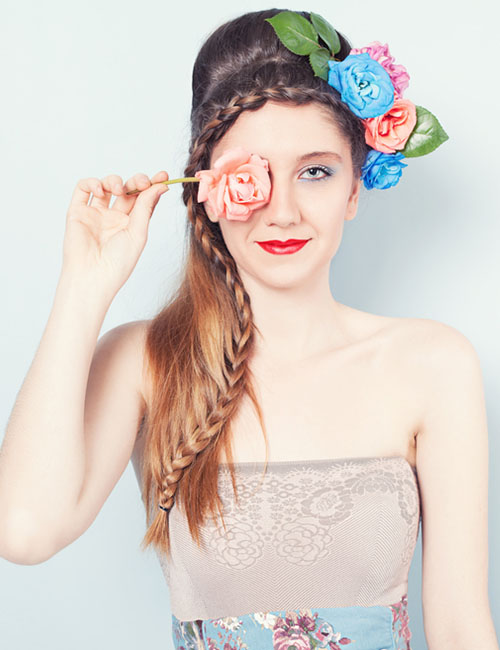 Credit: via Shutterstock
This fishtail crown uses sections from past the hairline to bulk out the braid and let it sit lower down on the forehead without sagging. The tight pleat can then work its way around the entire hairline, making a wonderful frame for your face while also keeping everything visible and glowing beneath your hair halo.
Summer crown braid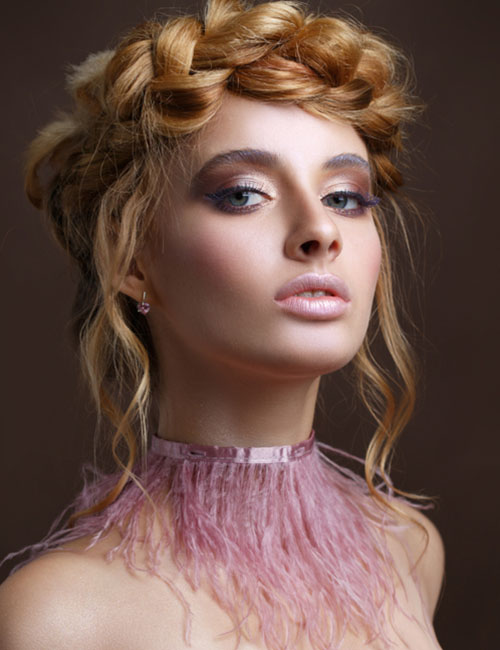 Credit: via Shutterstock
This is an unconventional style, which is exactly what makes it so alluring. It takes the idea of a braid covering the forehead and mixing the back of the hair with the front for extra volume, which makes it perfect for lowering the visible hairline. All in all, it isn't too complicated, and you could use one larger braid if you have the length.
Boho milkmaid braid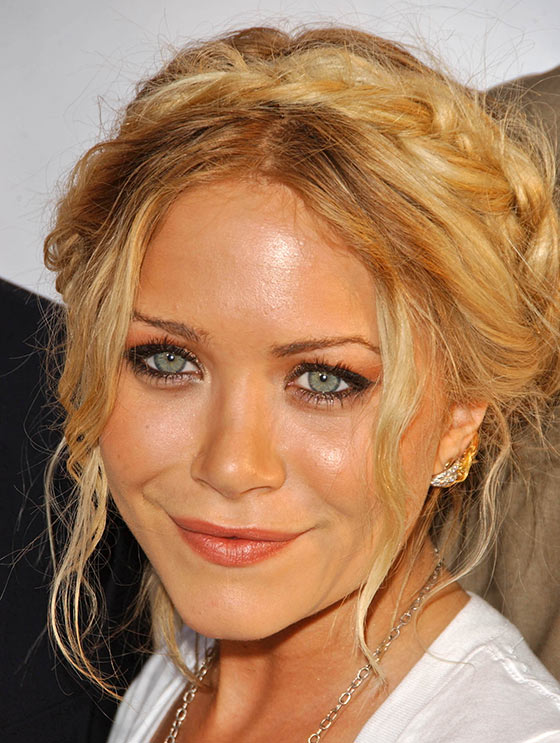 Credit: via Shutterstock
Combining disheveled bangs with braids is a great way to double up the forehead-covering power of your hair. The braid creates extra volume and visual interest, while the wispy bangs and stray hairs give an intentionally rushed "Oh, I just woke up like this" energy that we could all use more of in our lives.
Glamour soaked updo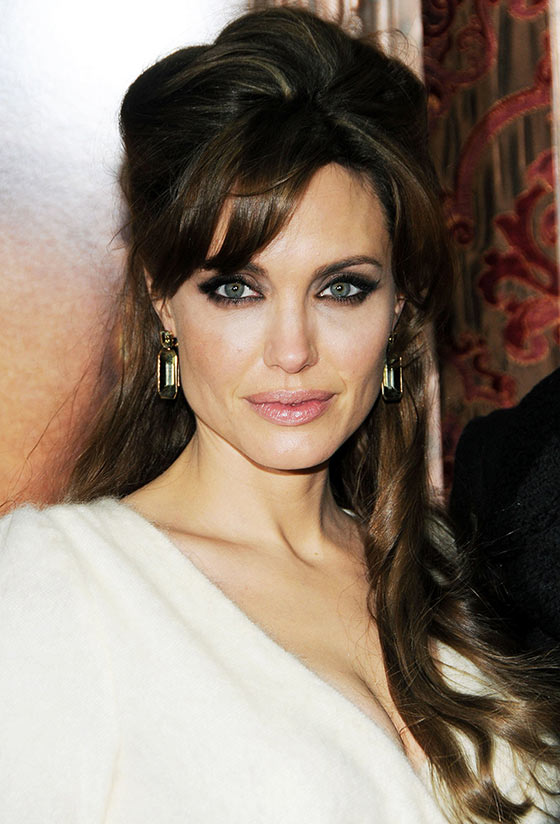 Credit: via Shutterstock
For more important events, we want our foreheads on their best behavior. Jolie's sweeping bangs here aren't covering very much, but they do just enough to bring the eyes into focus and create some softly rounded lines. The also curls fall in perfectly parallel to the jaw, which is the kind of touch her stylists make the big bucks for.
Scrunched side sweep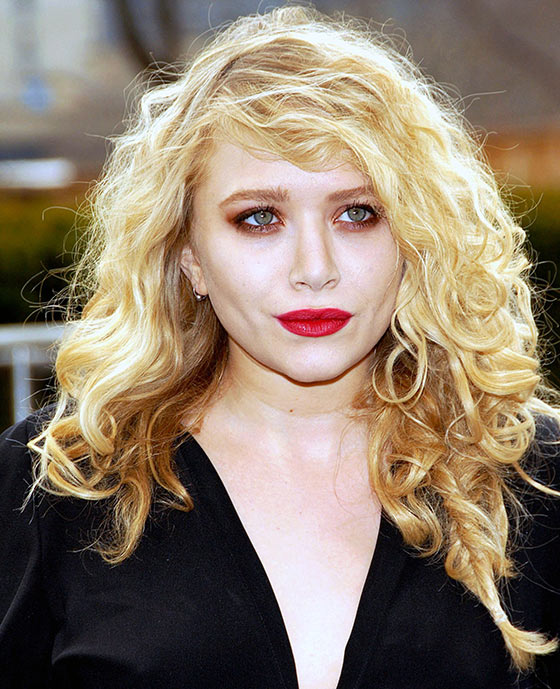 Credit: via Shutterstock
Here we see Mary-Kate Olsen channeling her much-beloved role as the high school witch in the 2011 masterpiece, Beastly. The magic at play is a great scrunching method she likely keeps in the family vault but can be achieved without chemical treatments by cupping and squeezing your curls while they dry. She's also played with the parting to cast a spell on the eye.
Fast and loose side ponytail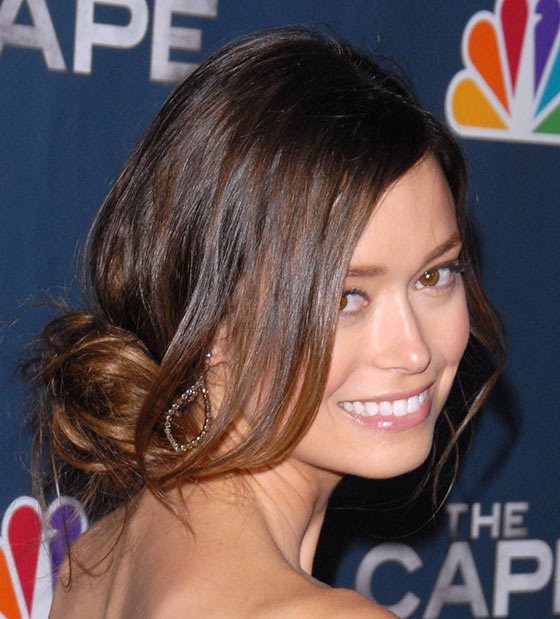 Credit: via Shutterstock
The great thing about this look is that it isn't bangs. It's more like the side part of your hair was meant to be out of the way, but the darn thing just won't be contained. It's a wonderful rough and ready energy that you can get looking fabulous in a couple of minutes if you treat your hair very well the night before.
Side part bob with lift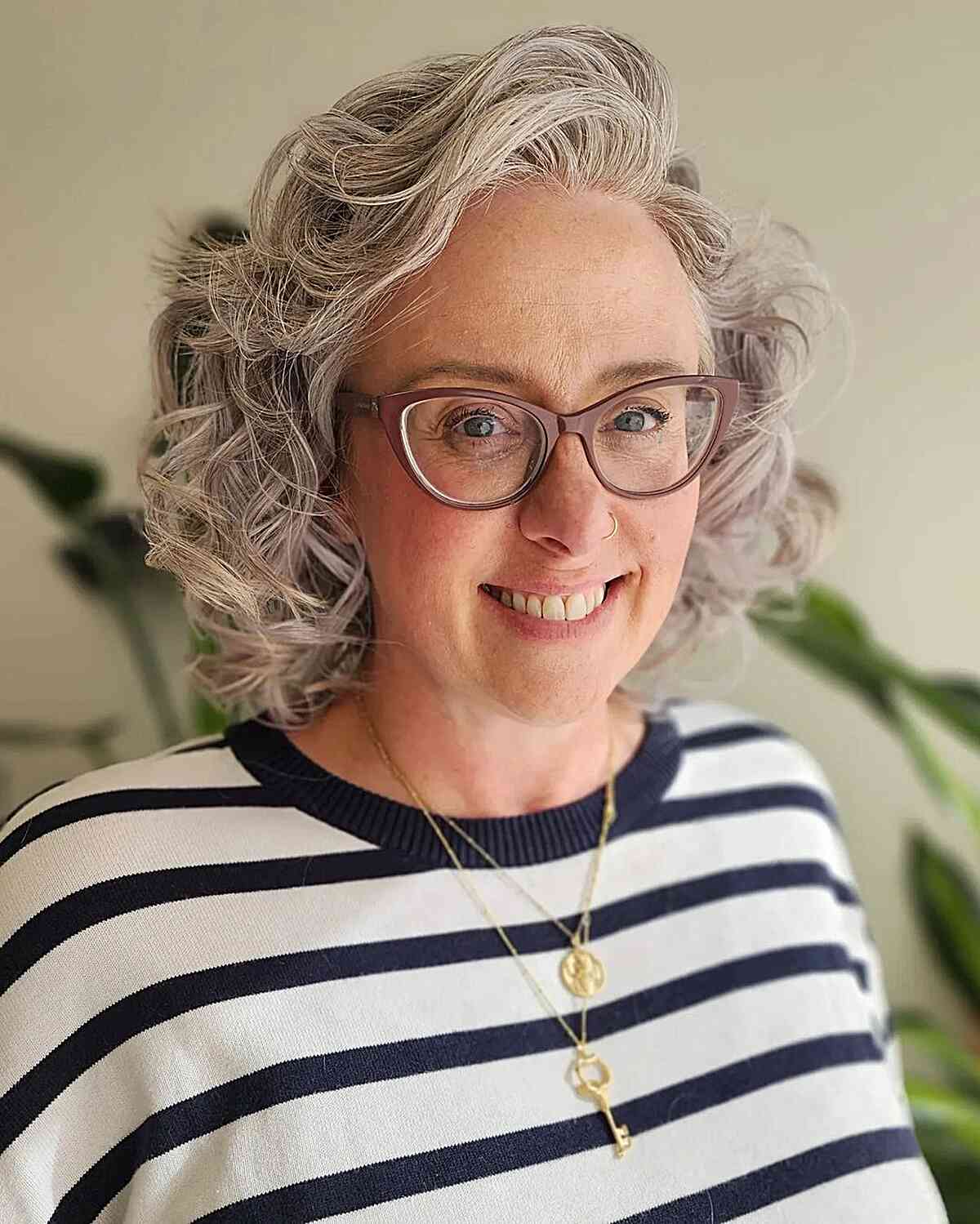 Credit: thegracefulhairstylist via Instagram
Styles like this show that hiding the forehead isn't the only way to make it look smaller. Volume out the sides is often used to shrink it down, but you can do the same with volume on top too! This would suit any texture hair and, while the model is rocking her grey-era, could be paired with bold colors for more contrast.
Pixie cut with a side fringe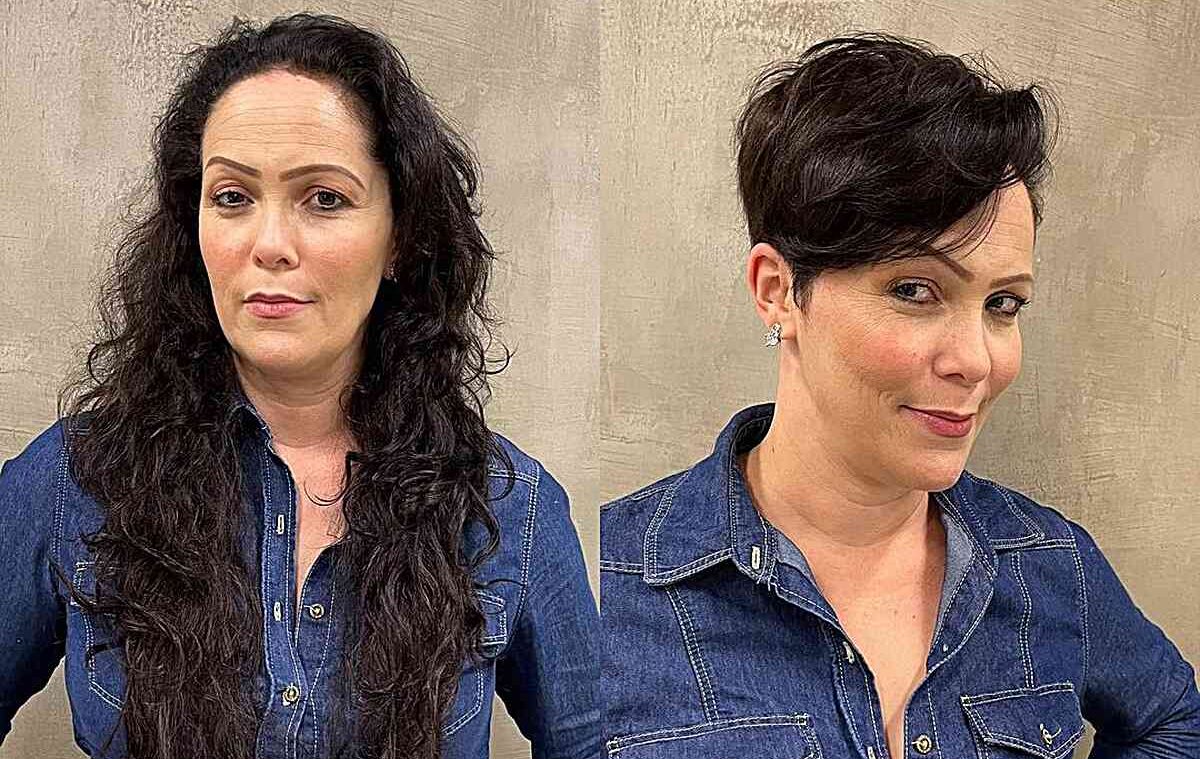 Credit: se_augusto via Instagram
This a classic and time-tested look for all genders. It's refined and sharp but once you add a few choppy layers and some product, you find there is plenty to work with in the length for any kind of forehead. You could experiment with the parting and go for something high volume and proud, or try slick and sleek.
Soft and shaggy for thinner hair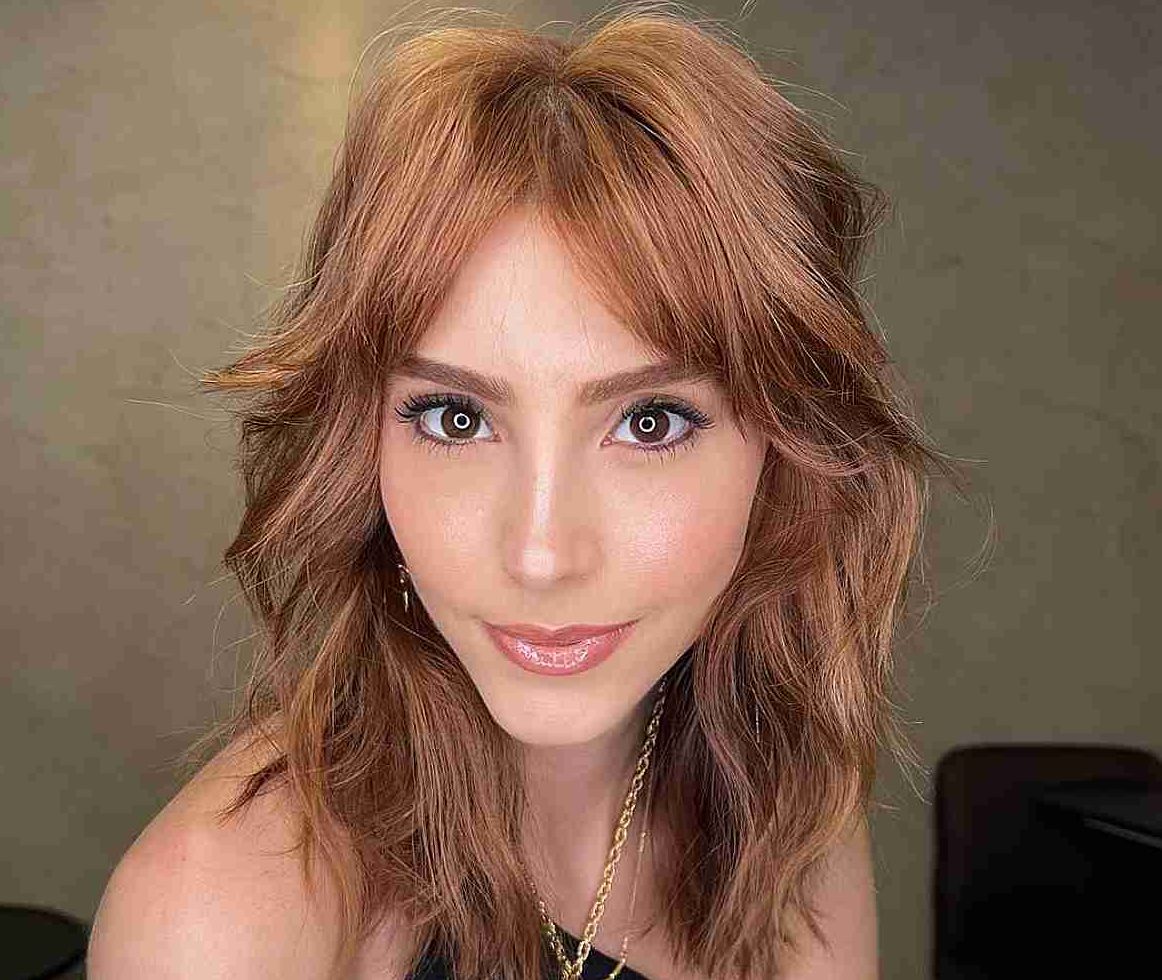 Credit: jhonyveiga via Instagram
This ultra-thickening cut uses loads of intricate and choppy layers to create a shag look that works perfectly for thinner hair. The a-line fringe is a nice touch but you could pair the style with whatever works best for your needs, just make sure to get plenty of texture with some soft curls and boosting up your roots.
Blunt fringe with plenty of length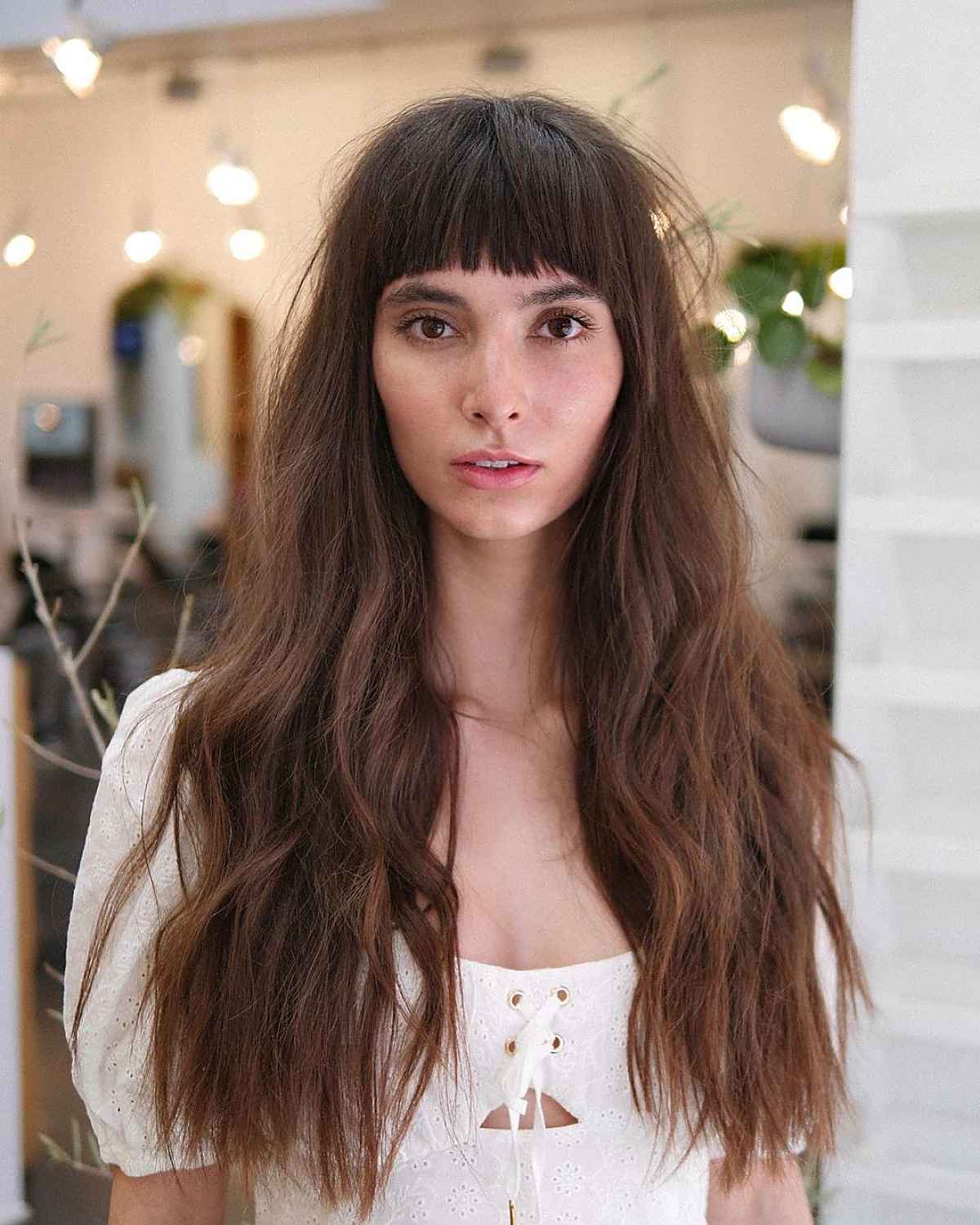 Credit: yukistylist via Instagram
Playing with dimensions and visual interest is key to the appeal of any style. The blunt fringe, natural bed-head bounce, and waterfall density cover not only the forehead but a lot of the shoulders and neck too. All these shadows change the shape of your entire upper half, but watch the ends don't become too disheveled.
Wispy peek-a-boo bangs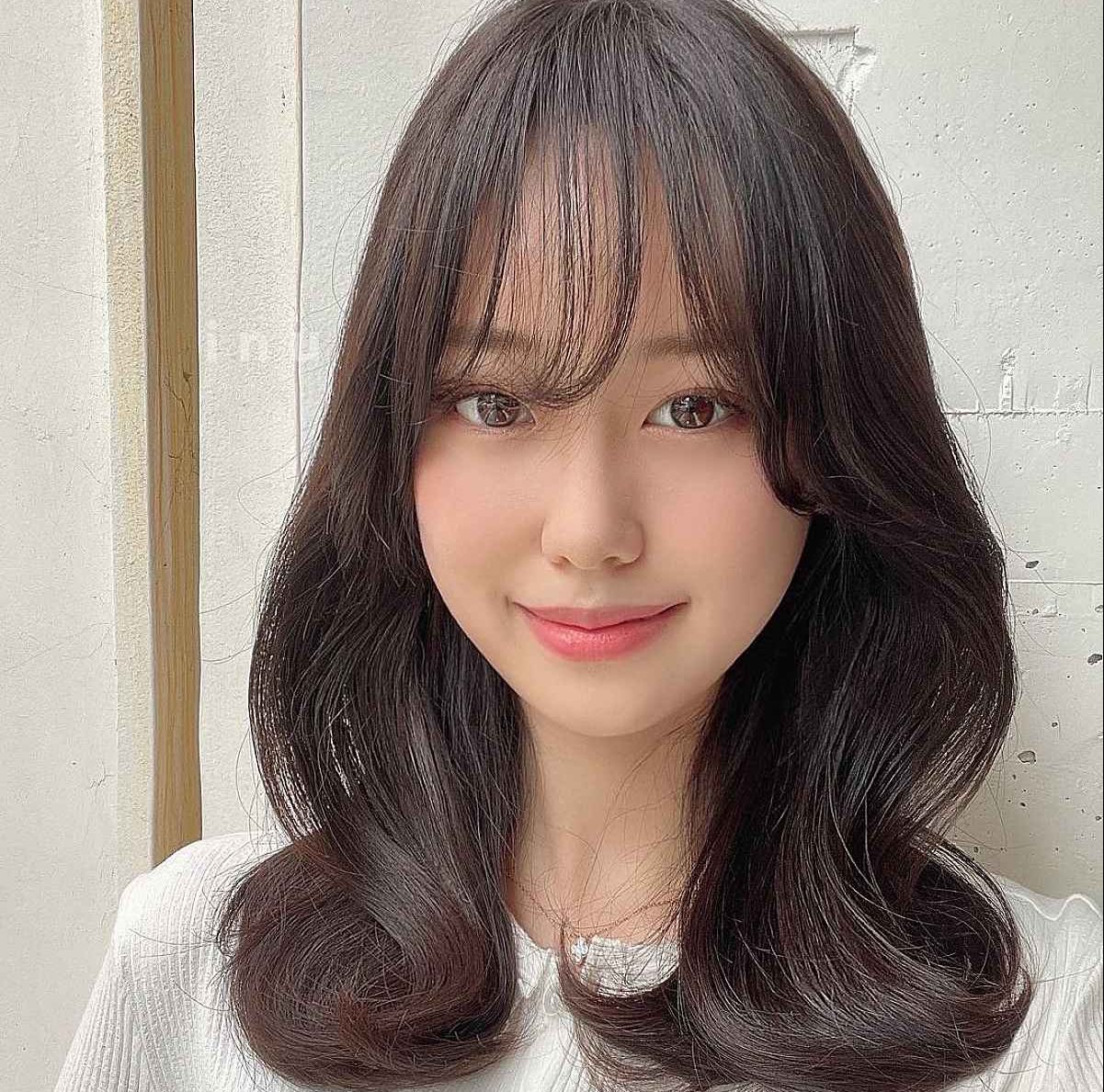 Credit: inwooxx via Instagram
These slightly open-curtain bangs are a popular choice for many women with larger foreheads. They cover a good deal despite the name, especially around the temples, which is where the volume starts to kick up. You could even take the rest longer in length or let it grow out naturally, as long as the bangs are maintained.
Braided bangs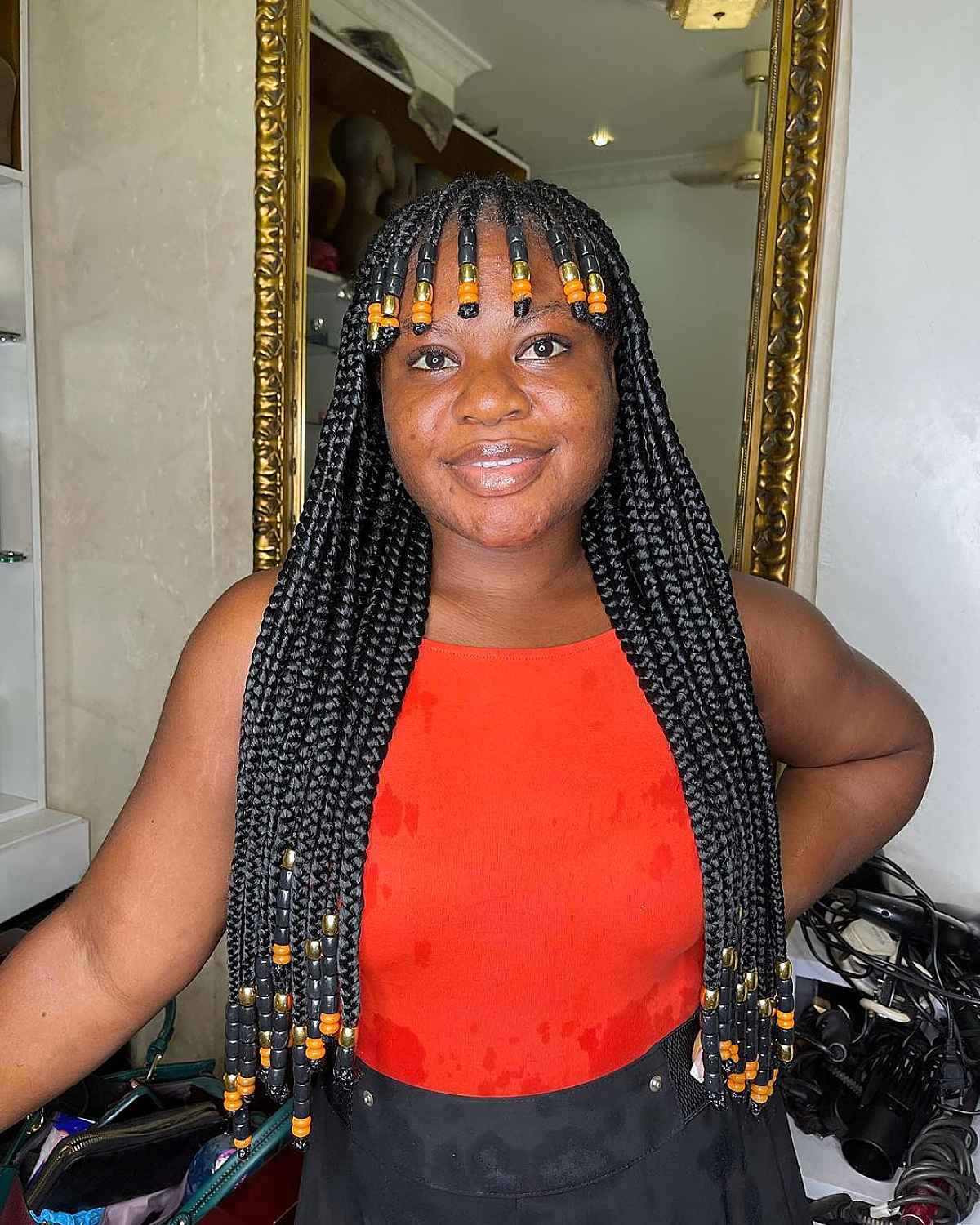 Credit: adorabeautys via Instagram
This is an incredible choice for women of color who want to keep their curls longer with minimal management and fuss. Beaded dreads use the same principle as all hair accessories when it comes to big foreheads, which creates tons of depth and visual interest. The weight of the braids also cast flattering shadows across the jaw and cheeks.
Chic A-line bob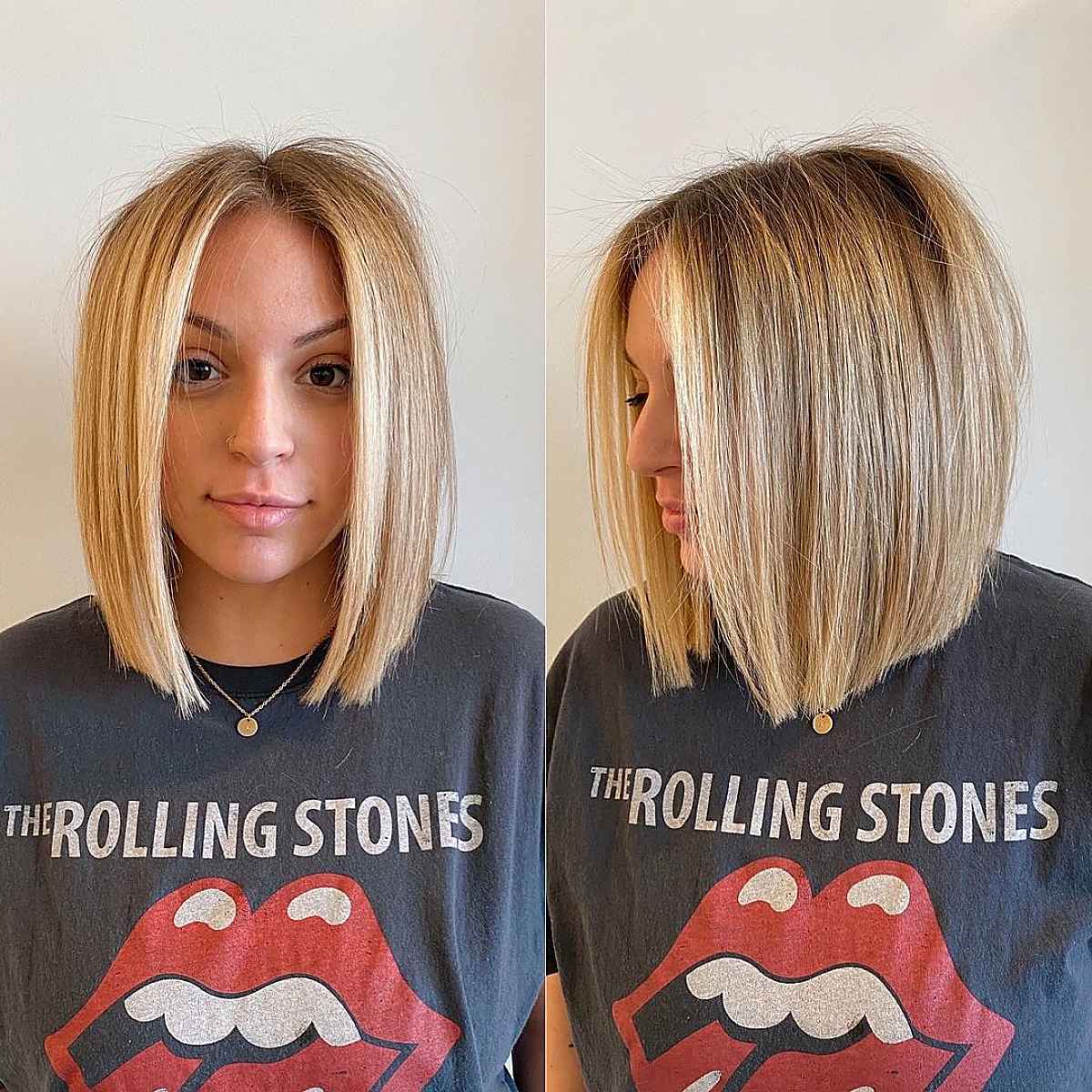 Credit: hairbyallybarone via Instagram
Another easy and accessible hairstyle for big forehead havers of all shapes and sizes. Blunt-cut bobs like this work with hair of any thickness and cover a lot of exposed skin thanks to their rounded shape and severe stop. It's also really easy to add accessories like bandanas or headbands thanks to its symmetry.
Cropped pixie cut with a natural fringe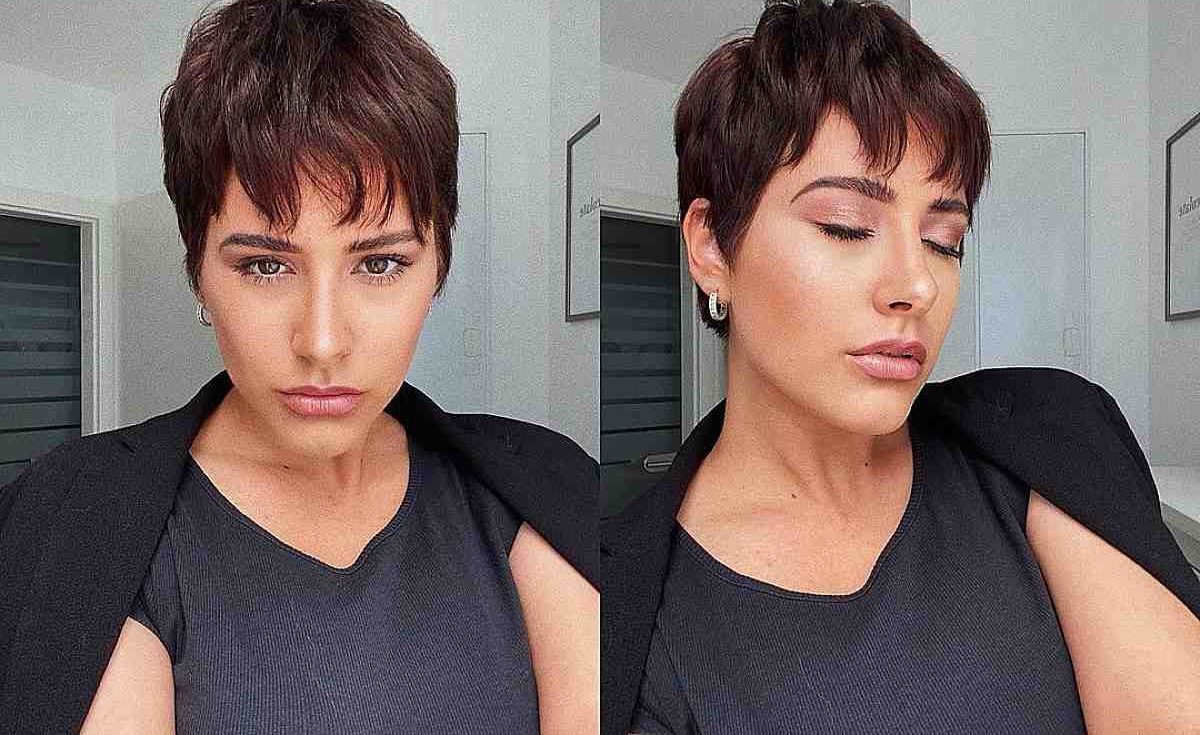 Credit: vivianncristilli via Instagram
For a cut as low-maintenance as it gets, go for this short and super sweet pixie cut. Jamie Lee Curtis has rocked this look periodically throughout the decades and it has never once been out of style, acting like a palette cleanser for the hair as it starts growing out. The rich, fresh-cut hair texture will stay where it's needed.
Swept curtains with longer ends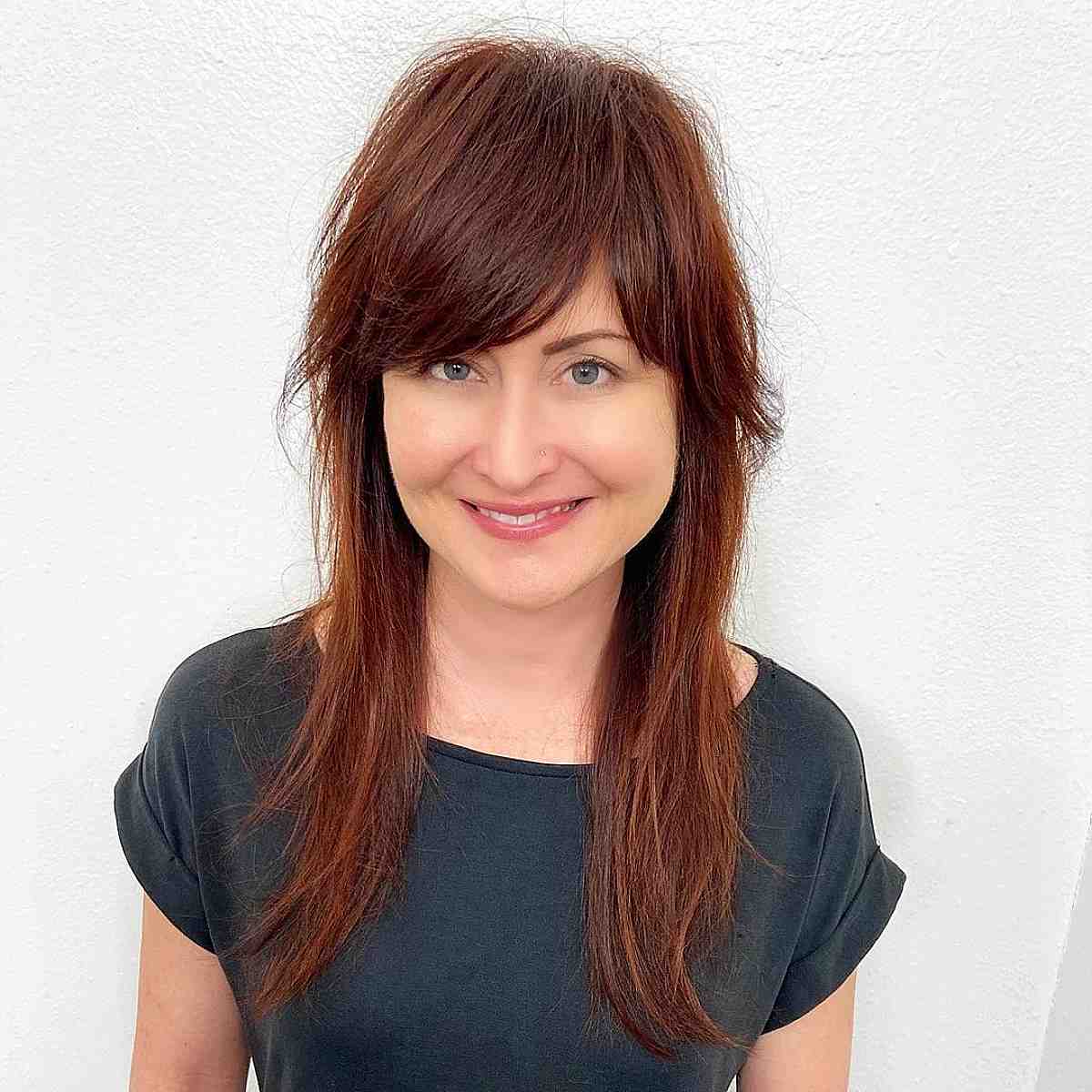 Credit: mina.luvcraft via Instagram
A full sweeping fringe like this hides the forehead without making it obvious you're hiding your forehead. The razor-cut ends, along with a little brush curling while drying, shoot out just above the eyes in natural flicks that celebrate your eyes and draw them eyes down. You could leave the ends as they are, or add some more flick curls for extra layers.
Messy and mysterious
Credit: joeltorresstyle via Instagram
For something with a ton of energy and intrigue, this messy mid-length do is the perfect option. It has shaggy cut layers, the volume you can get from backcombing or texture spray, and plenty of fringe to cover up. It's a great look for those who want to even out proportions with a little hint of grunge to keep you going.
Long, layered, and natural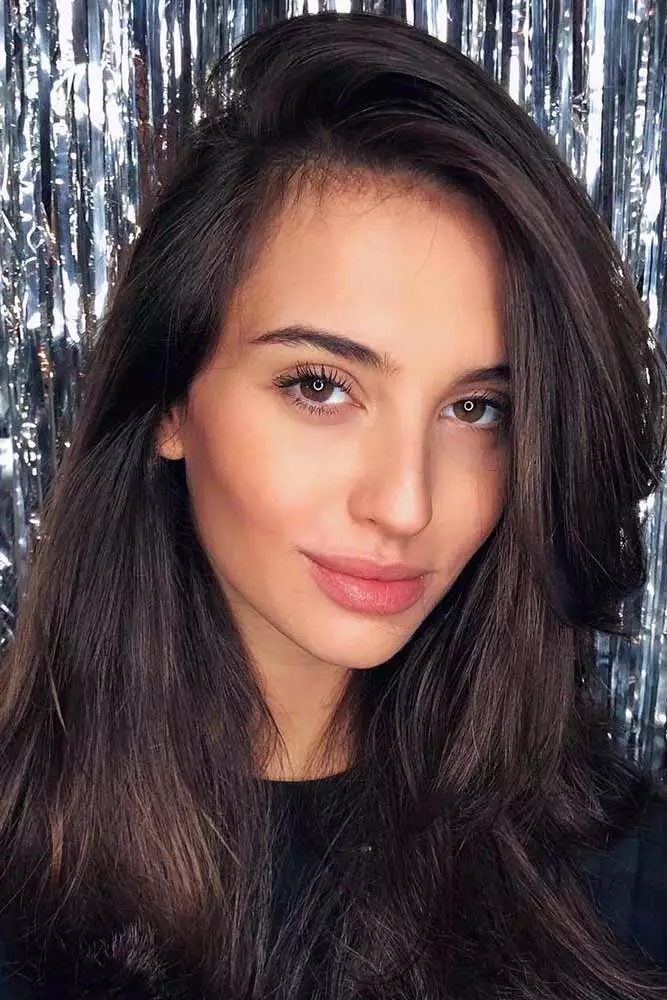 Credit: ryabchik.moscow via Instagram
Here's a style that proves you don't need any fancy tips or tricks to flatter the forehead. A long and sloping side parted fringe gives you all the curvy lines that help flatter the face and only hide a smidge of the forehead, and the thick falling layers create a lot of visual contrast that makes the head seem smaller without hours of effort.
Beachy blonde waves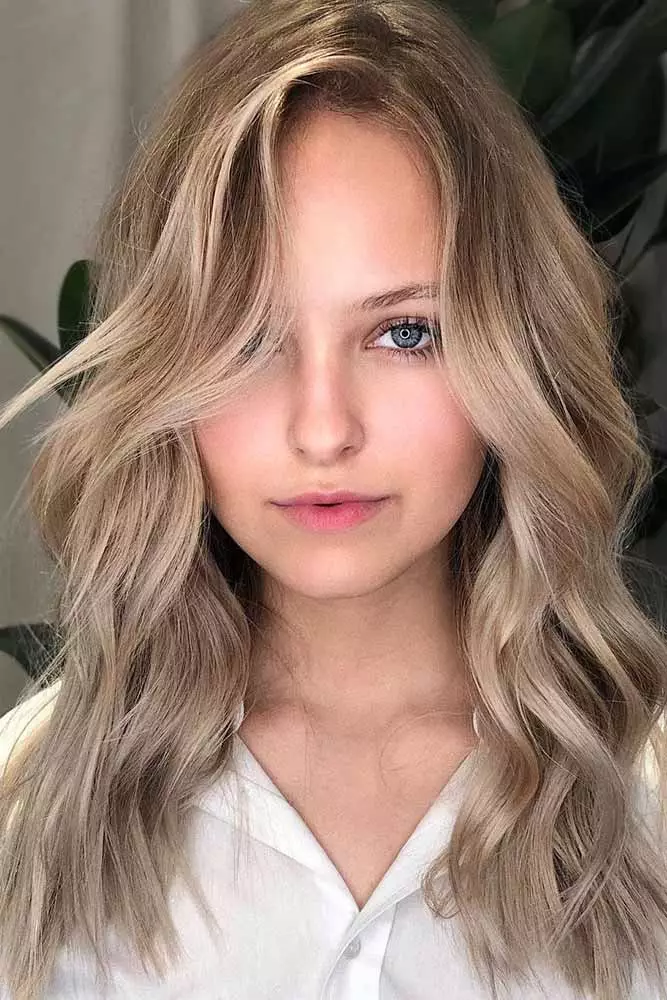 Credit: ryabchik.moscow via Instagram
Centre partings are often thought of as the enemy of big foreheads, but they're more like spiders; more afraid of you than you are of them. It's a good place to start framing a face, and the flowing waves cover up plenty while offering soft diffused shadows across other areas of the face. Plus, it's rarely the center of the hairline where problems start.
Beach waves with a side fringe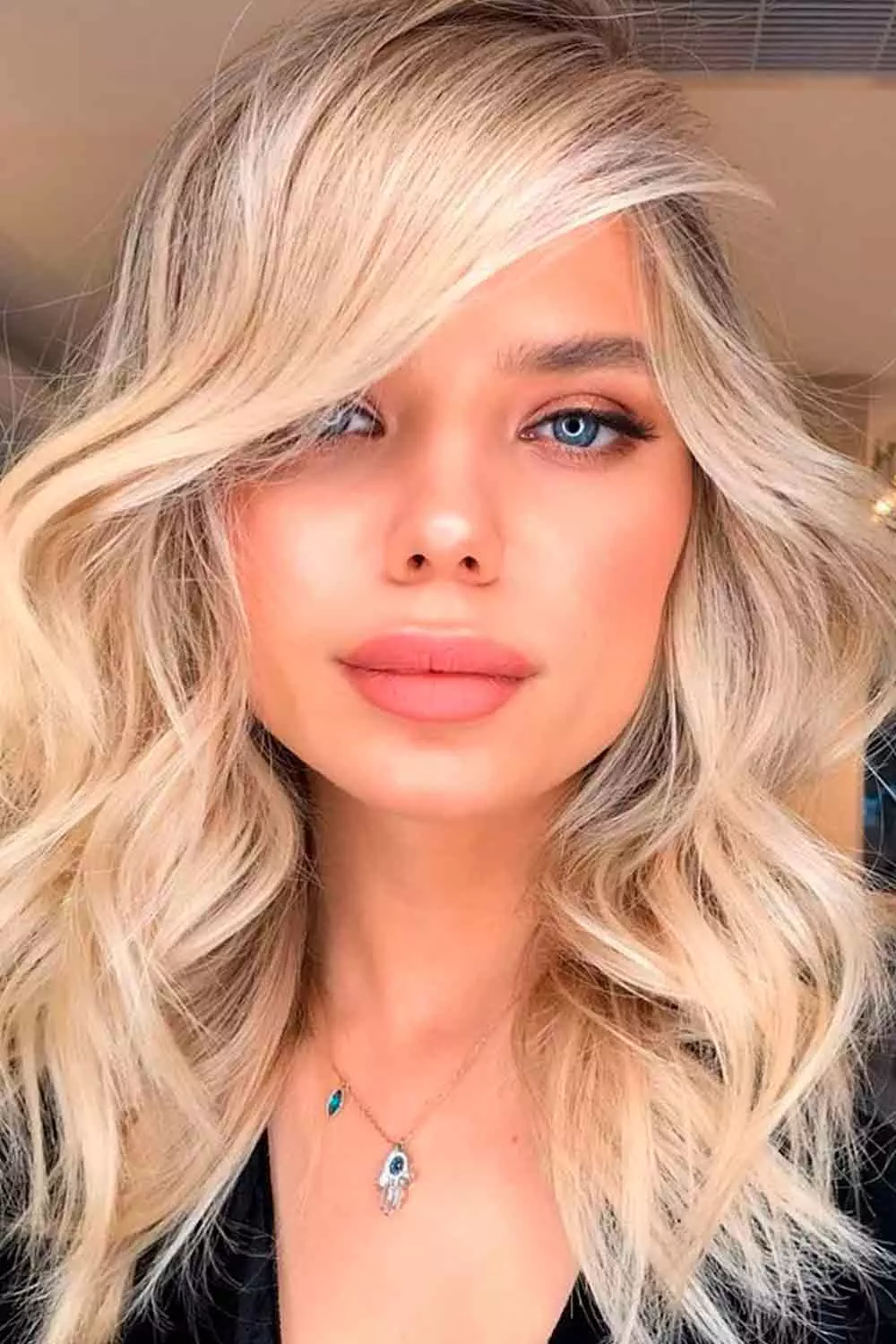 Credit: parisrosehairartistry via Instagram
If you love the idea of the surfer girl waves but a center parting is a little too jazzy for you, this rounded side part is a great alternative that still fits the style to a T. It's got the same wonderful direction lines, the same face flattering structure, and by lowering the part a little like this model, you can create the illusion of a lower hairline.
The French bob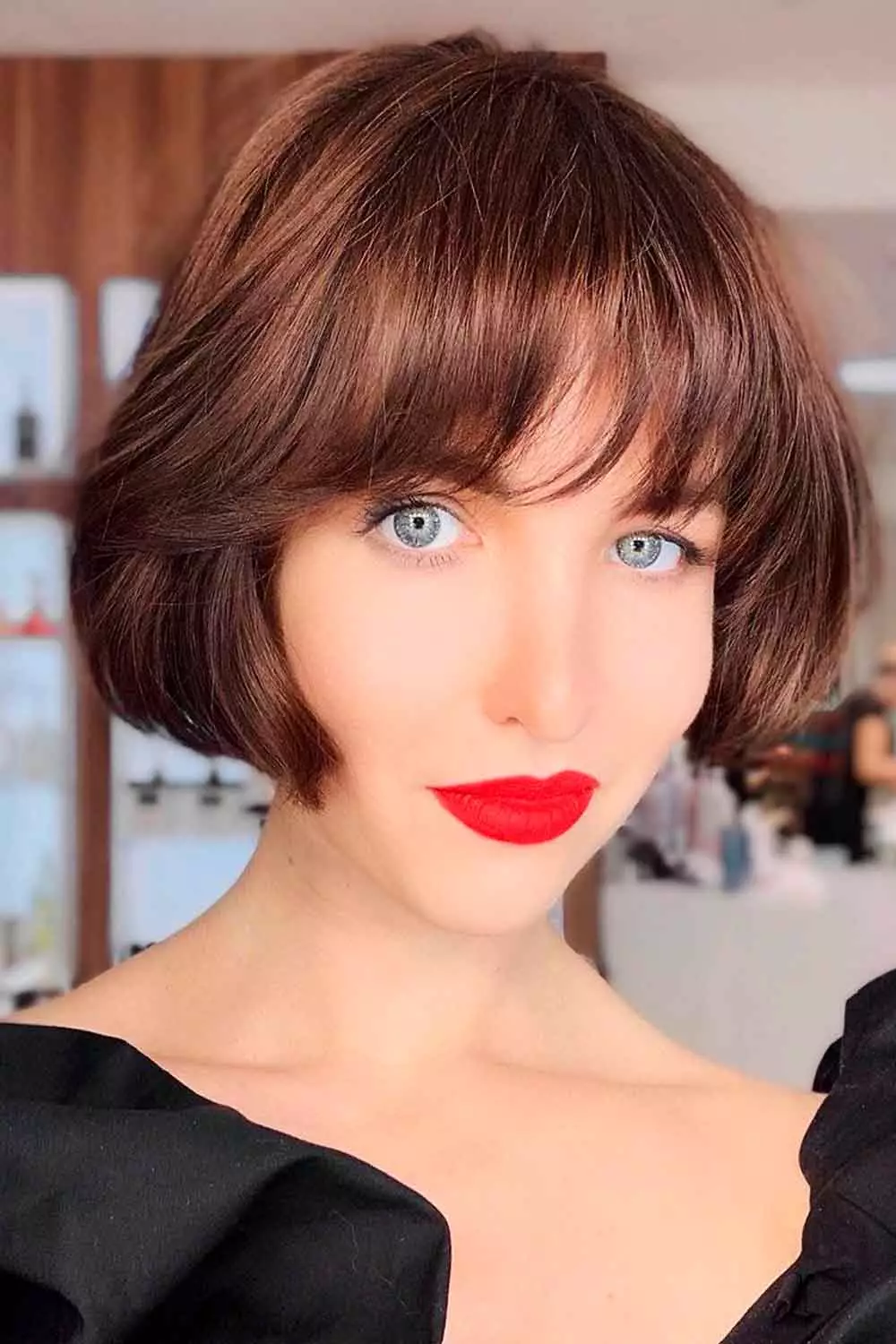 Credit: mainpointsalon via Instagram
Short and delightfully devilish, the Amelie bob does suit those with sharper facial features more than rounded ones. If you decide to be brave and take the plunge, go all the way and have the bangs stop just around the cheekbone, and dry with a curling brush to reach your desired level of flick all around.
Modern and stylish bowl cut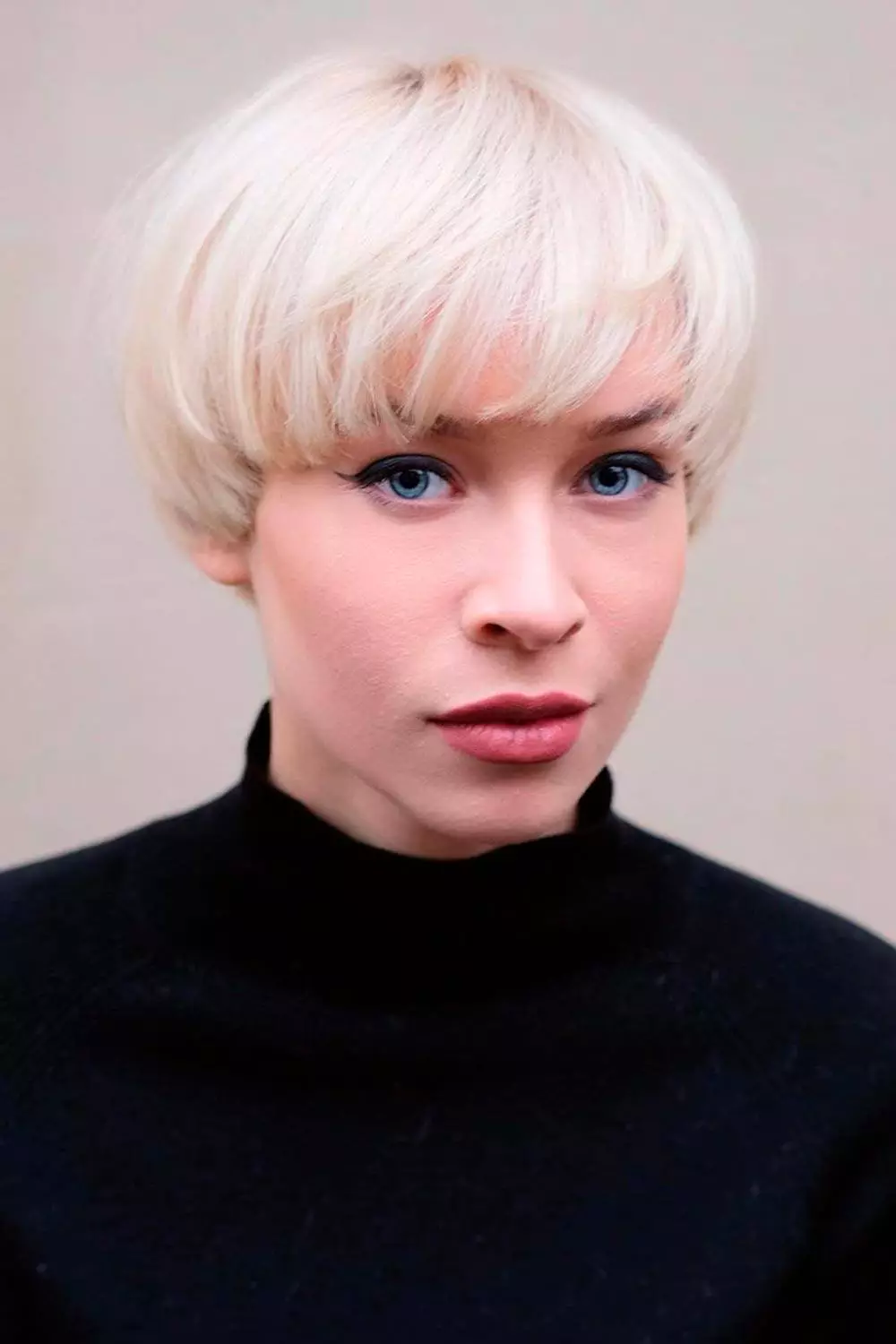 Credit: mainpointsalon via Instagram
Though it's even shorter than the French bob, this style strangely suits a wider variety of face shapes. It helps to have a bold color like this stunning icy blonde, which is going to reflect light and give the face-framing hairline more coverage. Having all the hair brushed towards the face with a bit of extra volume will add a bunch of texture.
Super short with a baby fringe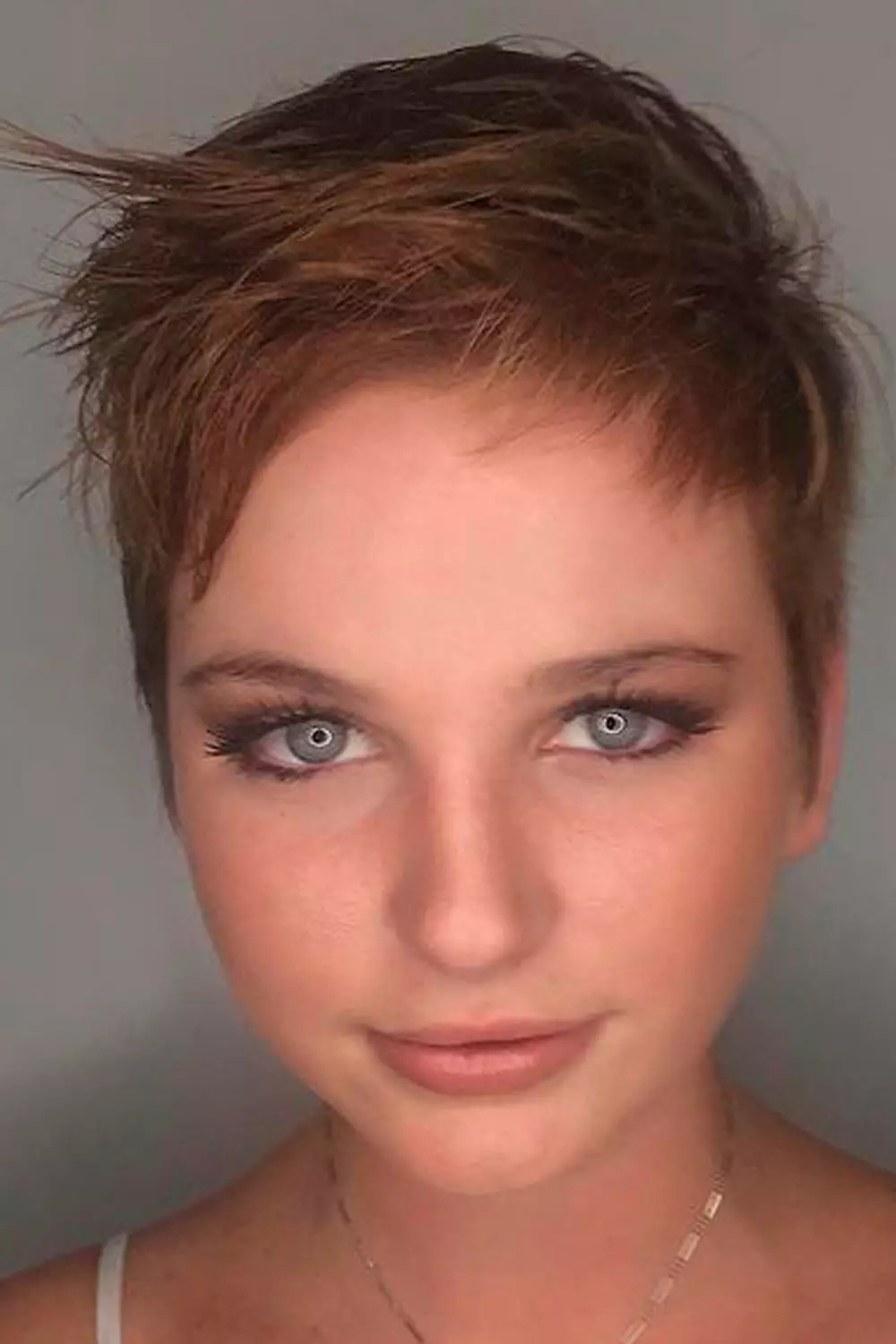 Credit: cut your hair via Instagram
This is by far the shortest look on the list, but don't let that deter you! A razor around the sides and some scissors on top can completely transform the shape of your face, and the fringe still has plenty of versatility and length to sculpt around your hairline. You can incorporate the sides into your coverage in a way longer looks just can't achieve.
The boy band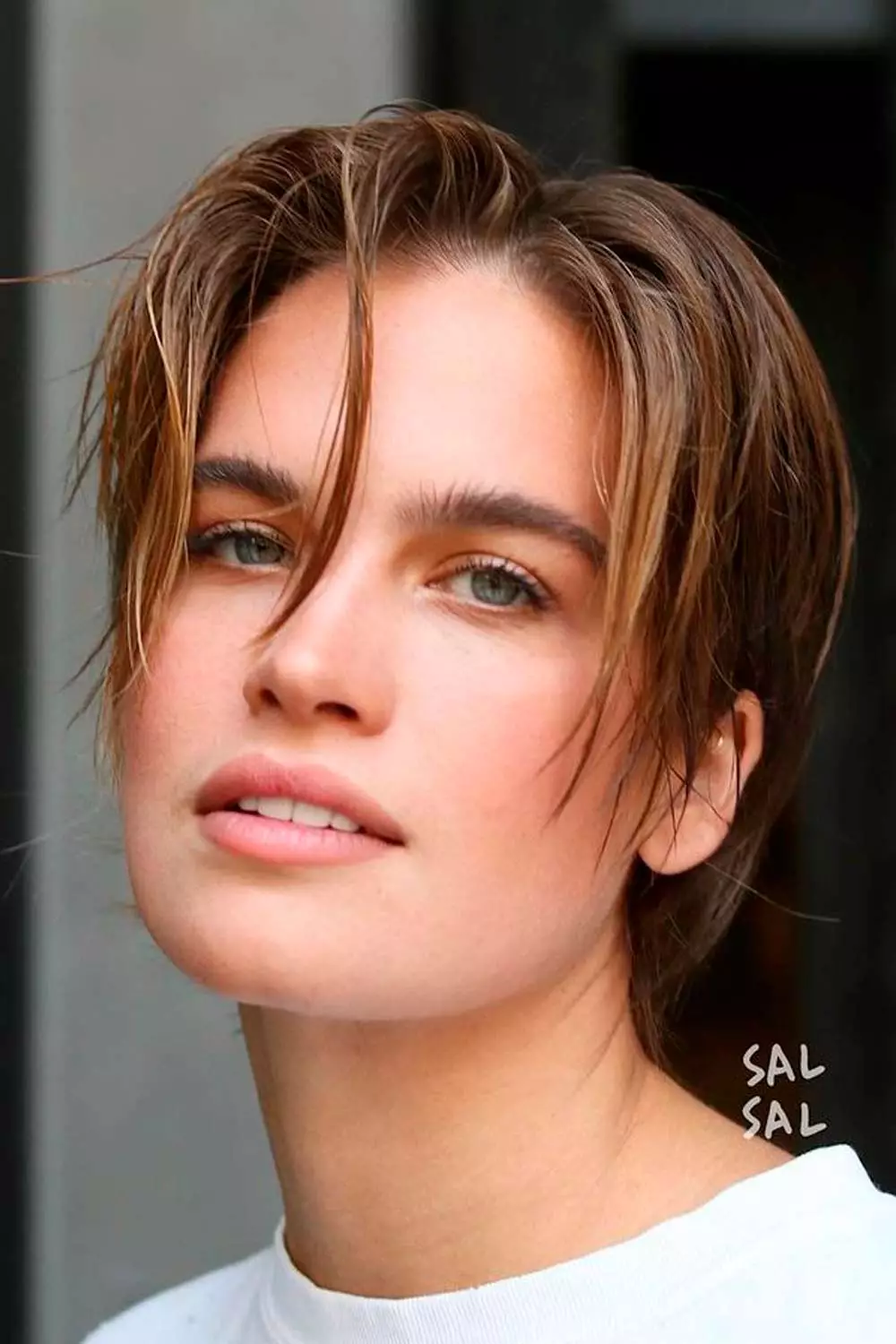 Credit: salsalhair via Instagram
You could go straight to this length or grow it out from a pixie cut, but either way, you're going to be serving androgynous N-Sync glamour. It's easy to overdo it with the extra dangling bang sections in an attempt to cover more, but the look is all about perfectly framing the forehead, and then slicing its size in half.
Pinned back high bun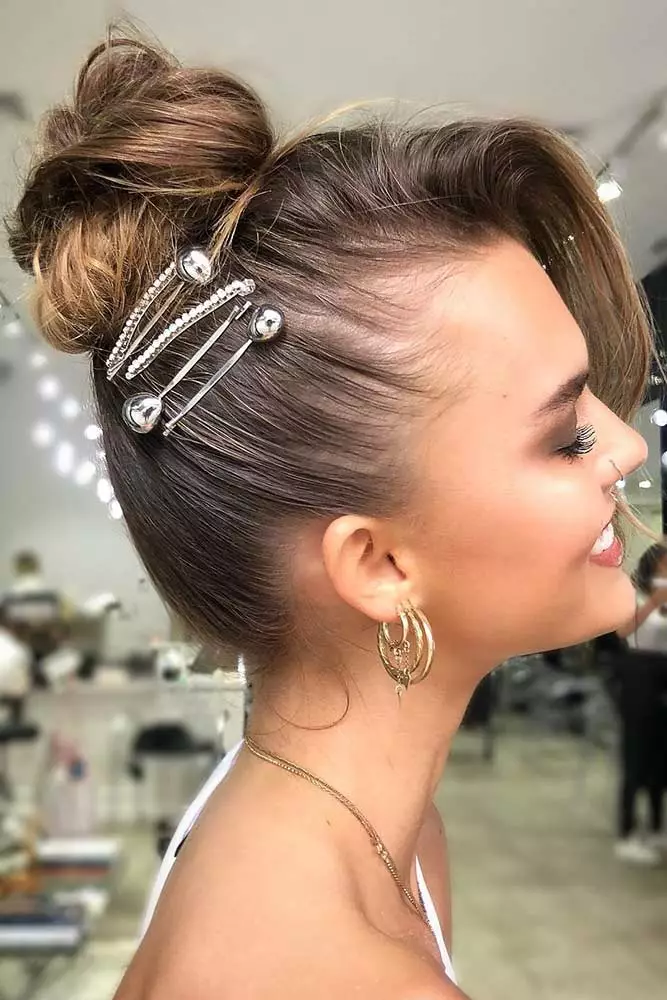 Credit: natalieannehair via Instagram
Any look with one side that's either short or pulled taught and one side that carries volume, texture, and a fringe, is great for the cause. You also get a major face life from the tension, and plenty of light on the face. It would look great with an extravagant eye look, which is another gorgeous and effective way to shorten the forehead.
Headband with a side braid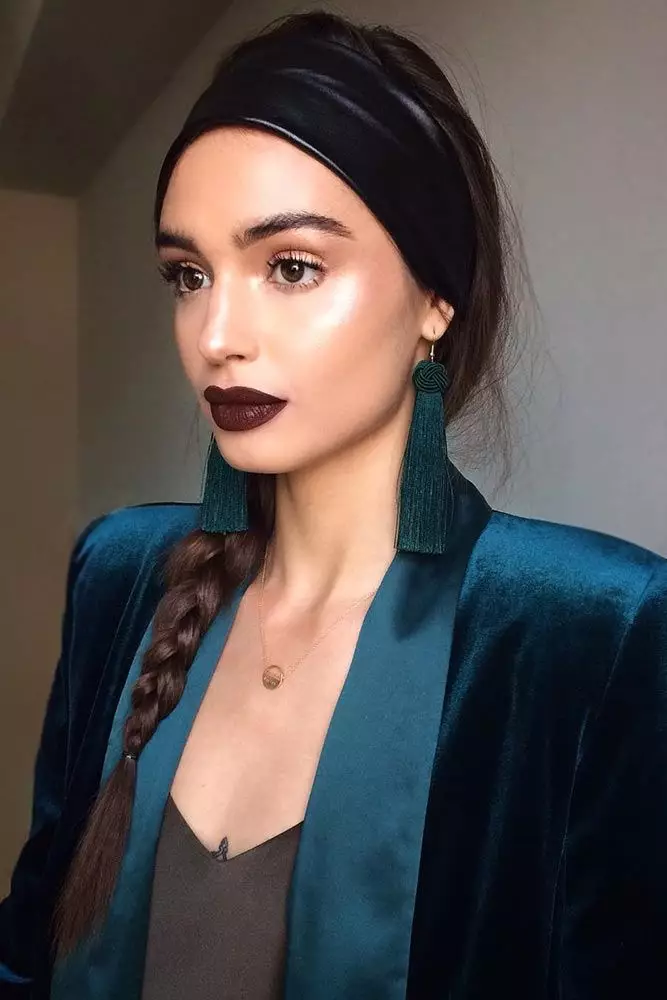 Credit: brittsully via Instagram
You have probably picked up on the concealing power of accessories by now, and this style offers a simple and dangerously elegant use of one. You can adjust the height and angle of the band and the braid to suit your face shape, and by changing a few small touches you have something that fits the vibe whether that's the gym, the club, or buying milk.
Low pony with some loose framing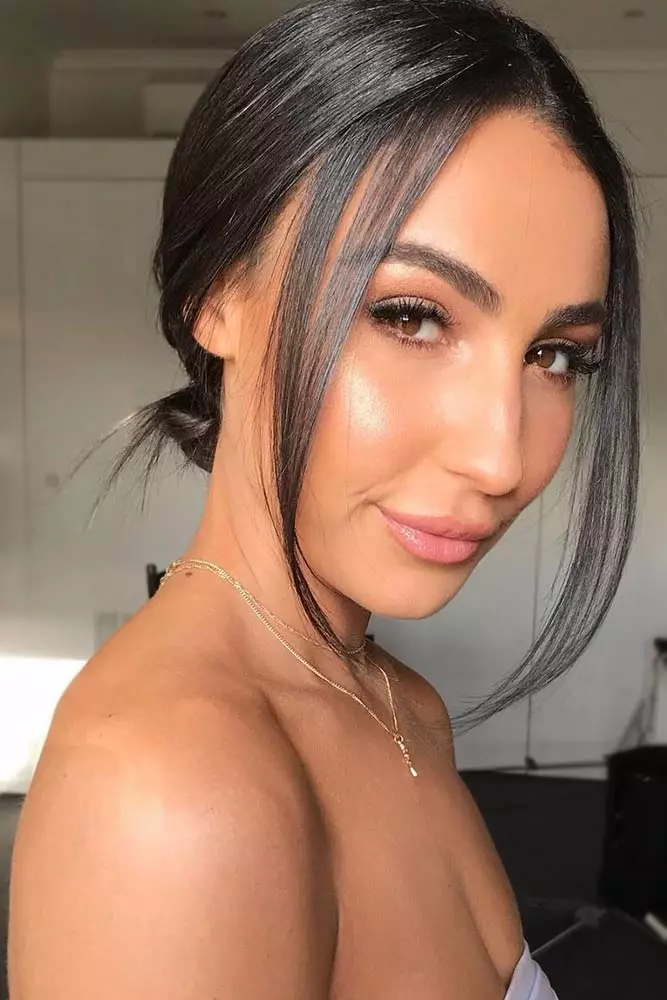 Credit: harlen_hair_melbourne via Instagram
This is the ultimate go-to look for medium to long hair. It works for every hair texture and face shape, and it's also cute as a button. There really aren't any drawbacks, the low pony can be as loose or tight as you like, and you can pull the hair for the framing bangs from anywhere along the hairline you need coverage.
Lazy half ponytail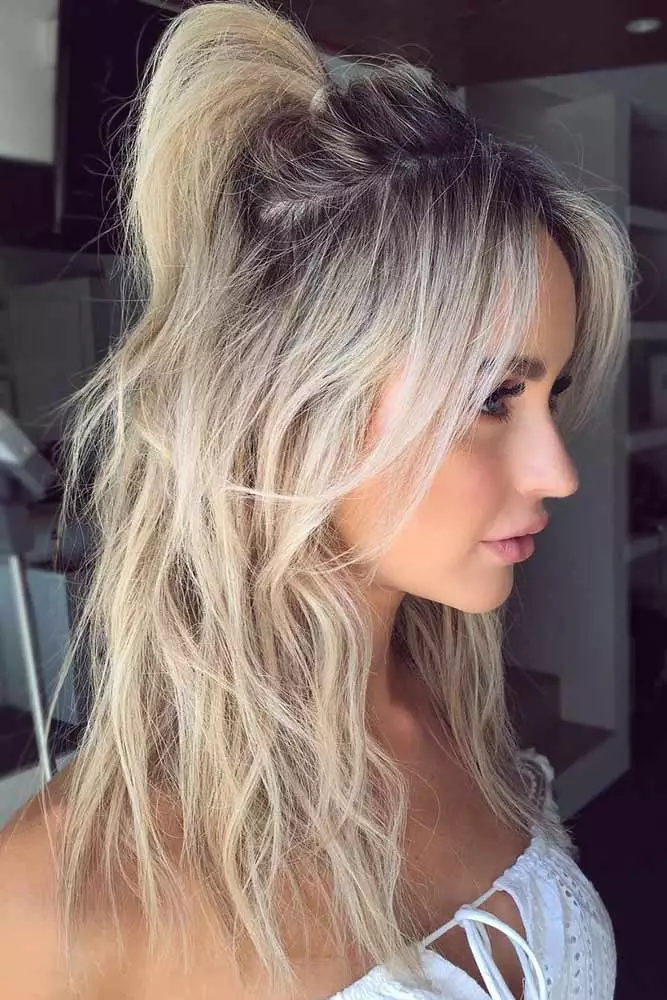 Credit: harlen_hair_melbourne via Instagram
Another quick and easy go-to that works for any occasion. This hasty half pony takes only a portion of the scalp section to tie up, which gives the hair an immediate boost in volume and dimension without sacrificing any coverage. You still have your entire head of hair to play with and enhance the forehead hiding spell of the high tail.