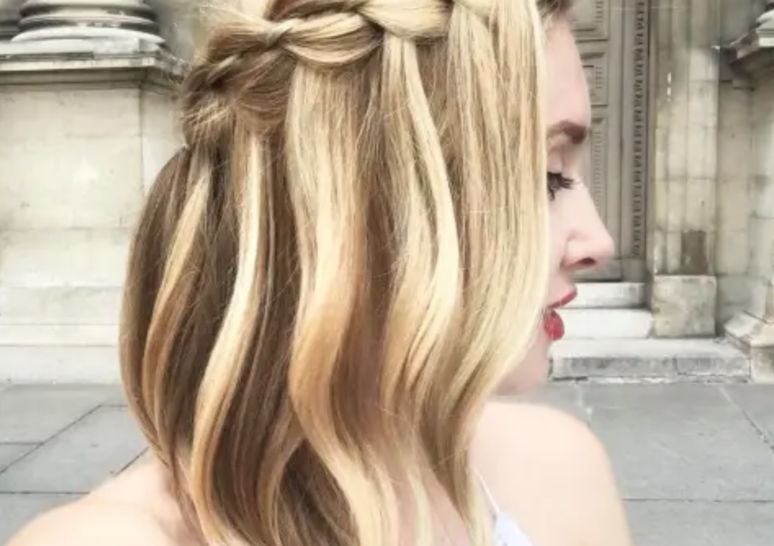 Credit: @lilithmoonlight via Instagram
Curls for short hair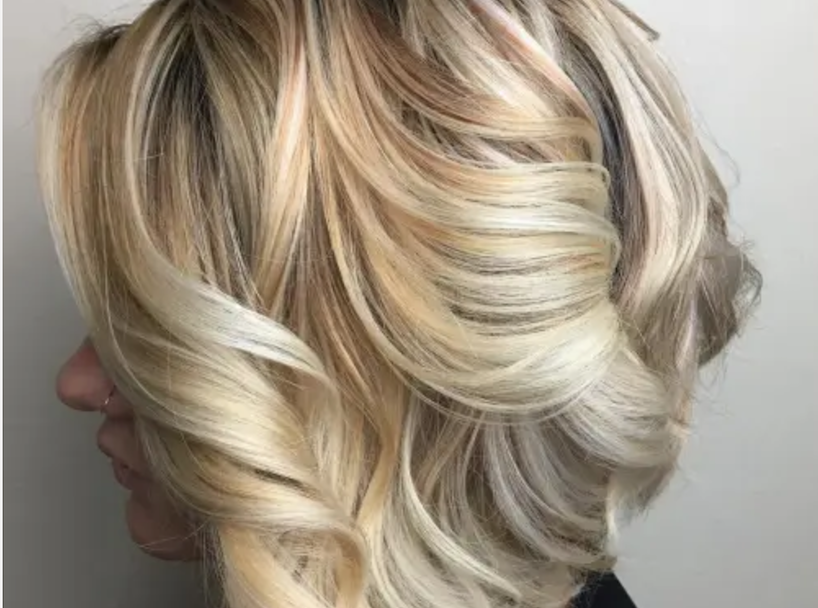 Credit: @__kellyalexandra via Instagram
Even if your hair is short and fine, curls can give it the oomph you might feel it's missing. Hot rollers – as large as your hair can go around – will give you swift results. Maximize volume and impact by curling upwards and outwards instead of downwards and inwards.
Beach waves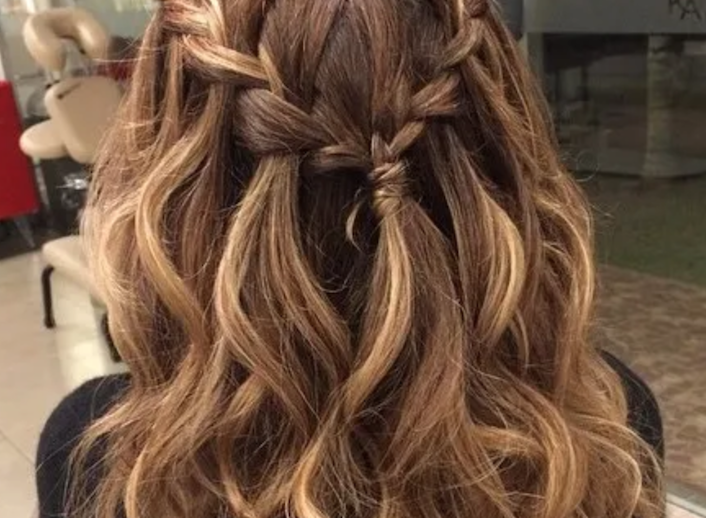 Credit: @kakagomes via Instagram
If you're already a fan of beach waves, whether achieved via a day at the ocean or with the help of a salt spray, why not use the look for your next special occasion? Braiding the crown of your hair takes the style up a notch. You could even tuck in tiny flowers or diamanté clips.
Waves and highlights for a long bob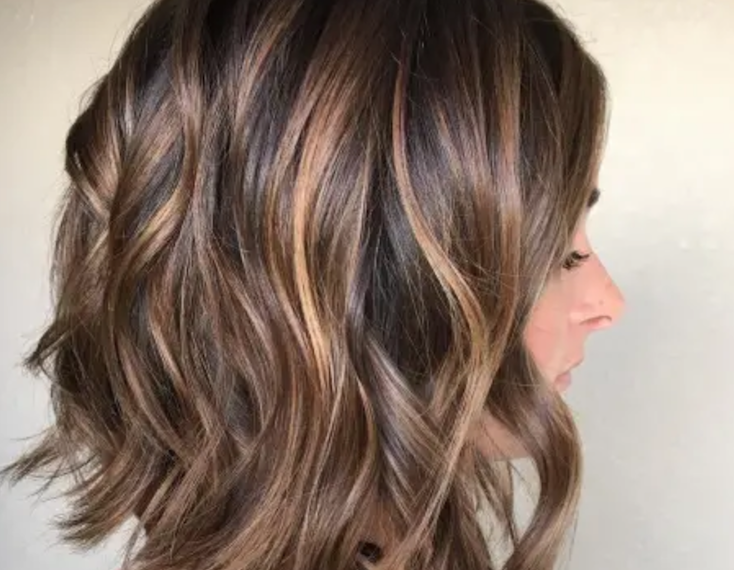 Credit: @hairbykatlin via Instagram
If you have a bob that's at that tricky growing-out stage, it can be hard to know how to style it. Highlights will brighten your natural hair color: go for dark or reddish-brown if you have black hair, caramel or copper if you're brunette, and platinum if you're blond. Finally, add some subtle waves to show off the colors.
Mermaid waves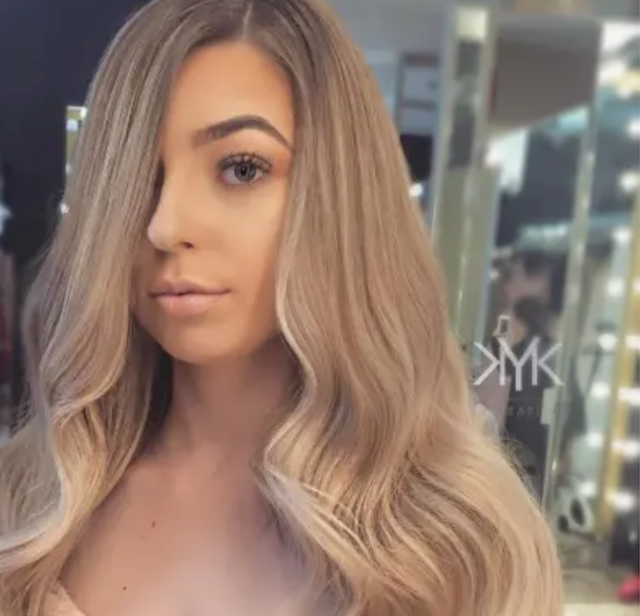 Credit: @kykhair via Instagram
Distinguishable from more casual beach waves, mermaid waves are carefully styled with the aid of large rollers and plenty of setting product. Perfect for formal occasions, this style looks fantastic with long dresses. Why not choose a metallic fabric to really rock the mermaid look.
Natural curls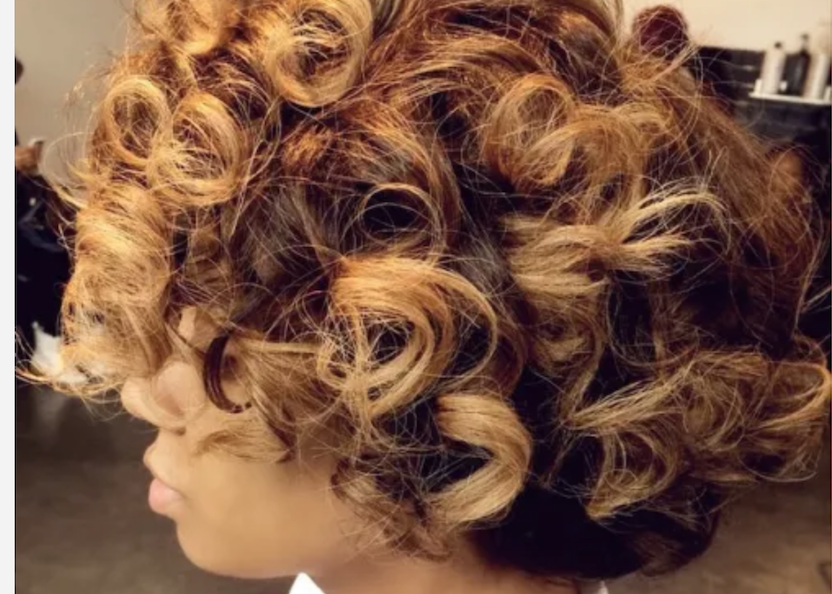 Credit: @rachel_redd via Instagram
It's tempting to straighten natural curls into submission, especially for a special occasion. However, every once in a while, think about embracing the curl and going natural for the night. Opt for highlights if you feel you need added interest but, with or without them, there's an excellent chance you'll be the envy of every straight-haired woman in the room.
Semi-formal chignon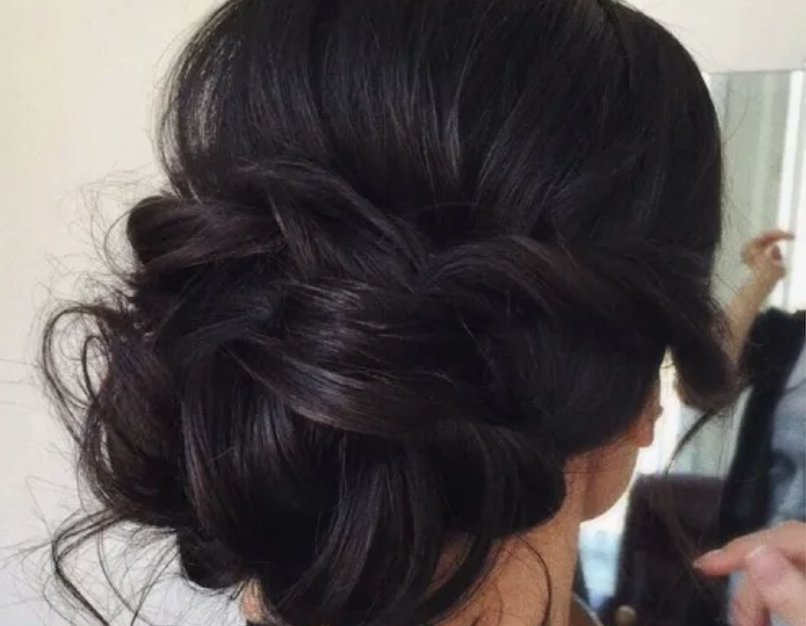 Credit: @tonyastylist via Instagram
Give this enduring classic a new spin by making it less structured. Begin by twisting small sections of hair just above your ears and fastening them with grips. Next, take sections of the remaining hair, twist them loosely and secure them with more grips. Don't worry if small tendrils of hair escape from the resulting style – that will add to the appeal of the look.
Chunky highlights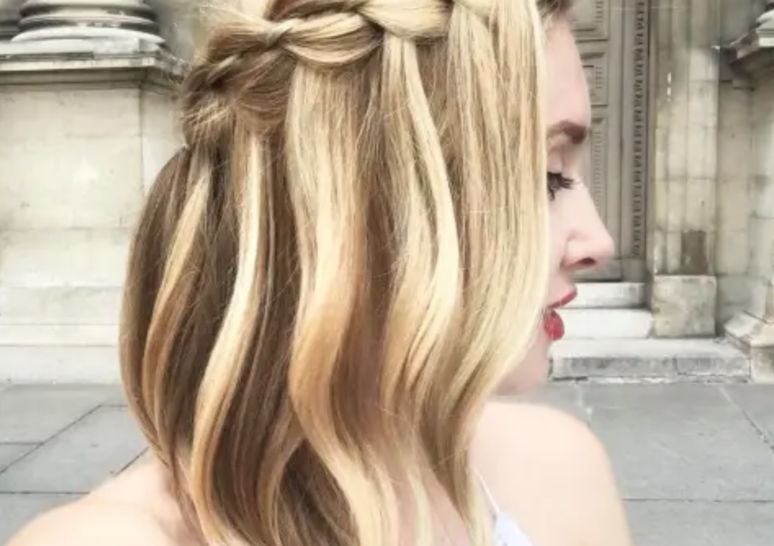 Credit: @lilithmoonlight via Instagram
If everyone around you is embracing the ombre or bronde trend, why not look back to the aughts and go for thick, chunky highlights? Once you have them, make sure you show them off to best effect by keeping your hair long and loose. A braid encircling part of the crown can add structure if you feel it's needed.
Air dry and side-sweep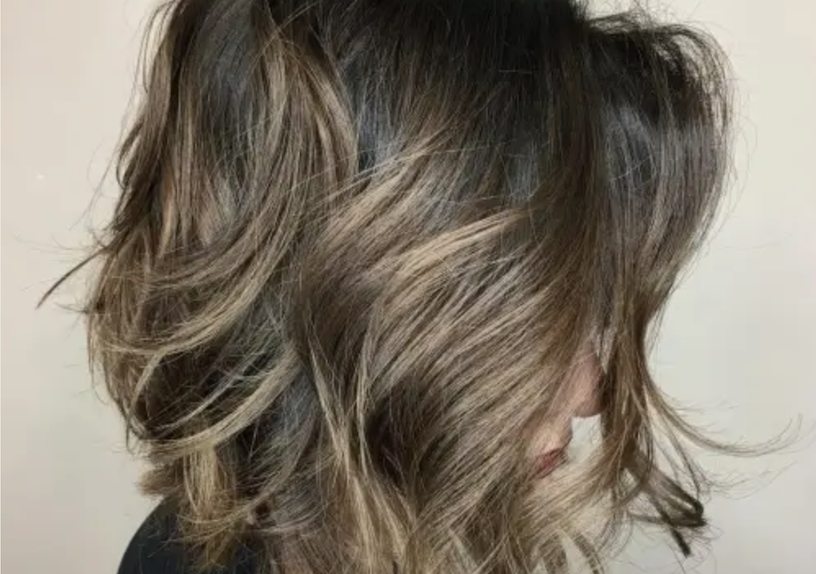 Credit: @muhamed_balasiev via Instagram
Sometimes you have neither time nor inclination for complicated styles or visits to the hairdresser. Allowing freshly washed hair to air dry before sweeping it to one side and allowing it to fall where it wants can look fabulous. And, if you like the result, keep it in place for your special event with the help of your favorite setting product.
Highlights and layers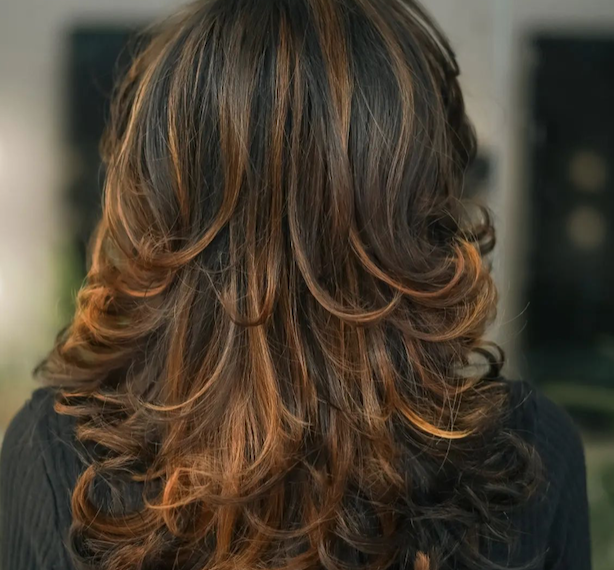 Credit: @kellsalon via Instagram
If you think the combination of highlights and layers sounds dated, wait! For a very modern look and hair that's full of texture and movement, choose highlights with a distinct contrast to your natural tones. Curling the hair at the roots before flicking it backwards at the tip of the layers makes this look special enough for any occasion.
Side bun and braid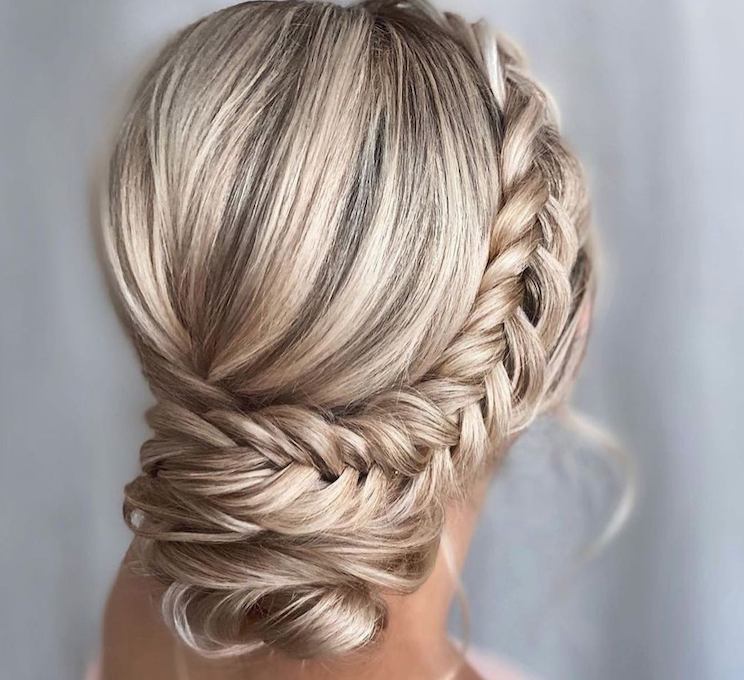 Credit: @number4haircare via Instagram
As perfect for fancy picnics as it is for proms, a side bun and braids hits that sweet spot between overly sculpted and too casual. Keeping the braids slightly tussled and allowing a few tendrils to escape here and there ensures this style will never veer too close towards prim.
Textured layers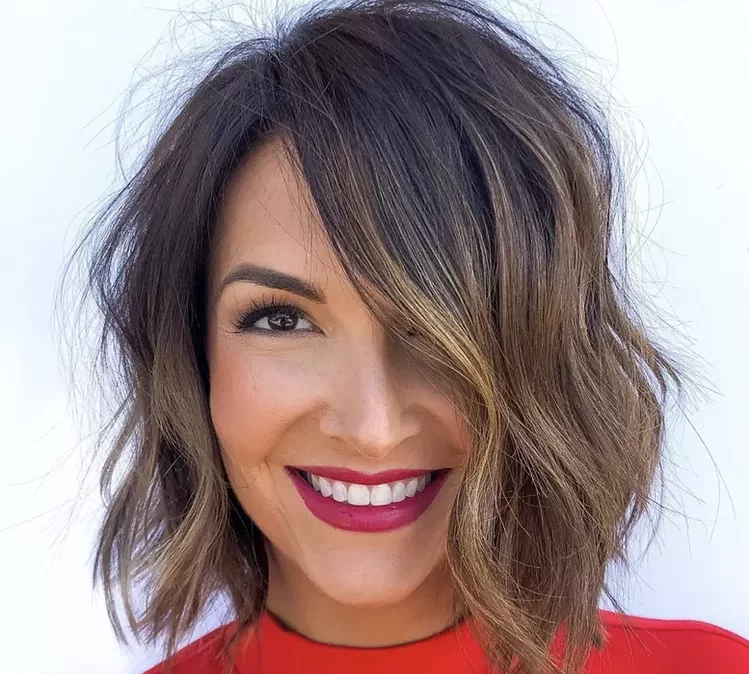 Credit: @CHRISJONES_HAIR via Instagram
This is a classic style that works for any occasion. Whether you're attending a wedding or simply wish to try a new look at the office, opting for layers can spice up your look in no time flat. Layers add movement and lightness to your hair, turning bland and drab into stylish and sleek.
Shaggy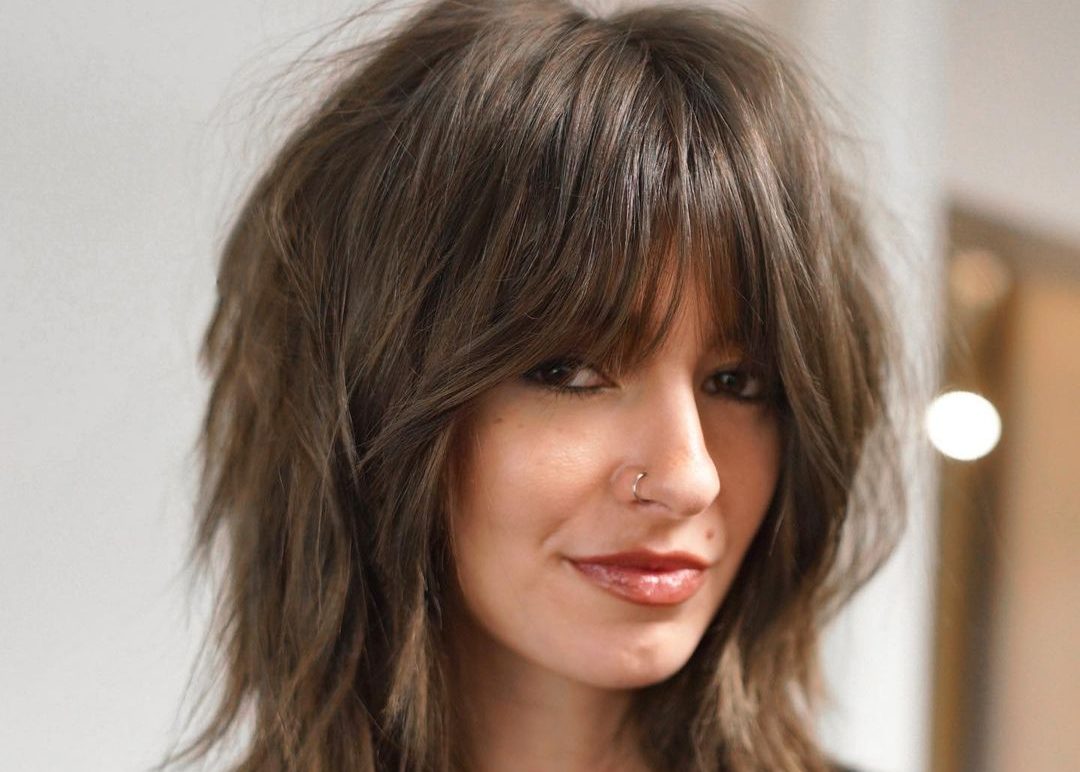 Credit: @yukistylist via Instagram
Shaggy styles are all the rage right now, making them the perfect hair-do to make a bold statement. Mixing a sense of modern youth with 70s punk, shag cuts offer versatility when it comes to styling options, meaning you can mold your locks to suit each and every occasion.
Blunt collarbone cut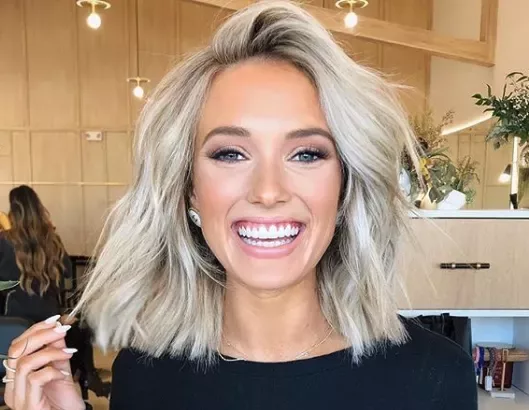 Credit: @HAIRBY_CHRISSY⁠ via Instagram
Whatever your style or color, consider going for a cut that sits just above your collarbone. This hairstyle frames your face nicely, accentuating all of your best features. The blunt ends also create the illusion of thicker and fuller hair, making it the perfect hack to hide any limp and wispy strands.
Candlelit brunette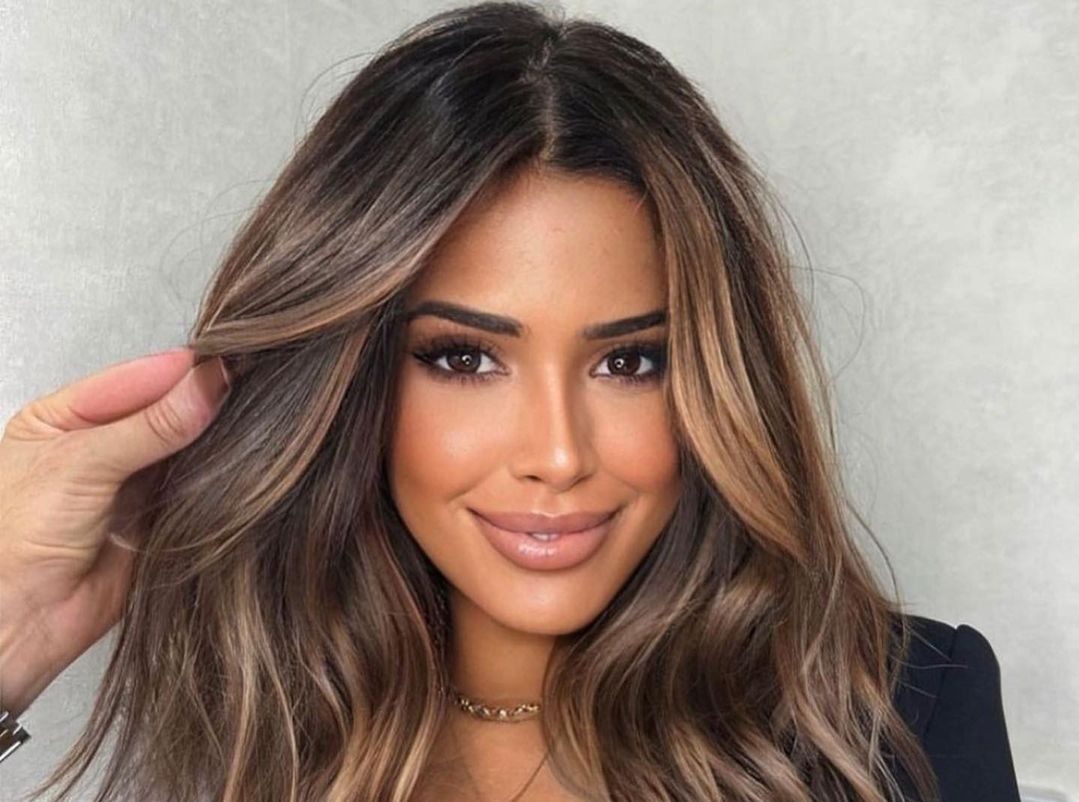 Credit: @locateyourlook via Instagram
No other color can hold a candle to this stunning trend. Mixing bold browns with beautiful blonds, this dye job uses brunette shades as a base mixed with gorgeous golden highlights. The lighter shades of hair reflect the light, bringing a sense of warmth to your skin tone.
Bixie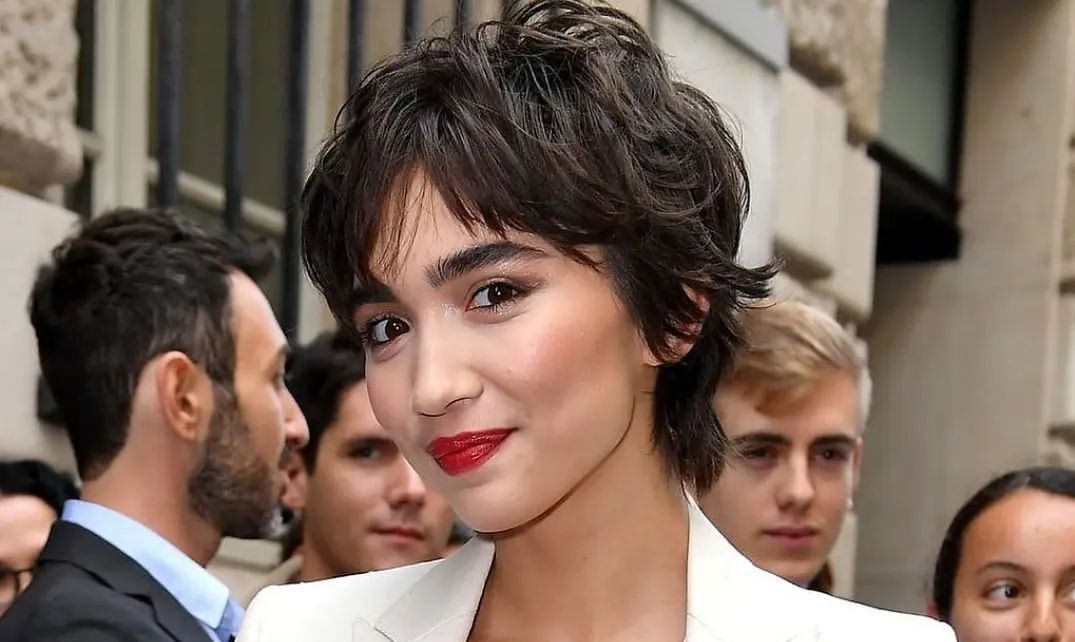 Credit: @inespereiramaia via Instagram
The bixie cut blends the classic bob with the pixie cut, allowing you to experiment with a shorter style without taking the full plunge. Using a mix of choppy layers and feathered ends, this style is incredibly easy to manage on a day-to-day basis, requiring just a few minutes of TLC before you're good to start your day.
Wavy uptown blond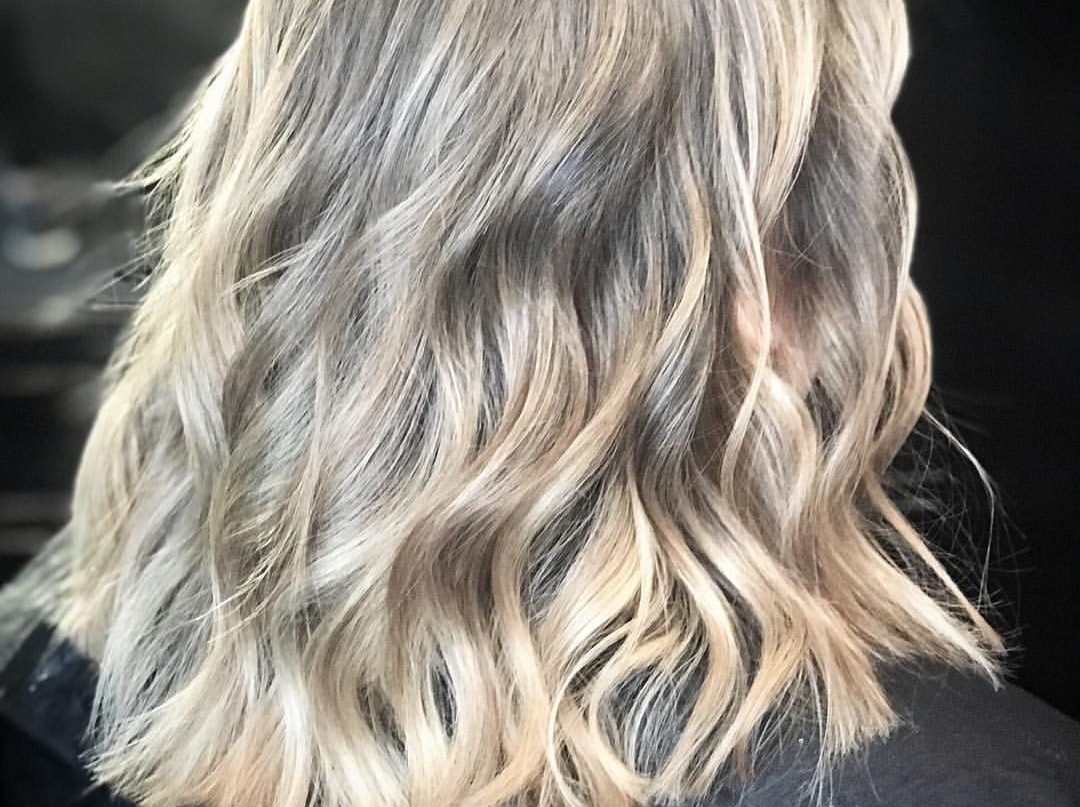 Credit: @glam_dallas via Instagram
Golden shades of yellow are the in thing right now, creating a polished, expensive-looking mane. While an uptown blond look paired with waves does bring a sense of timeless glamour, it doesn't come without a cost. Constant upkeep is required to prevent your roots from being on show, so only go for this style if you're willing to commit to frequent visits to the salon.
Messy low bun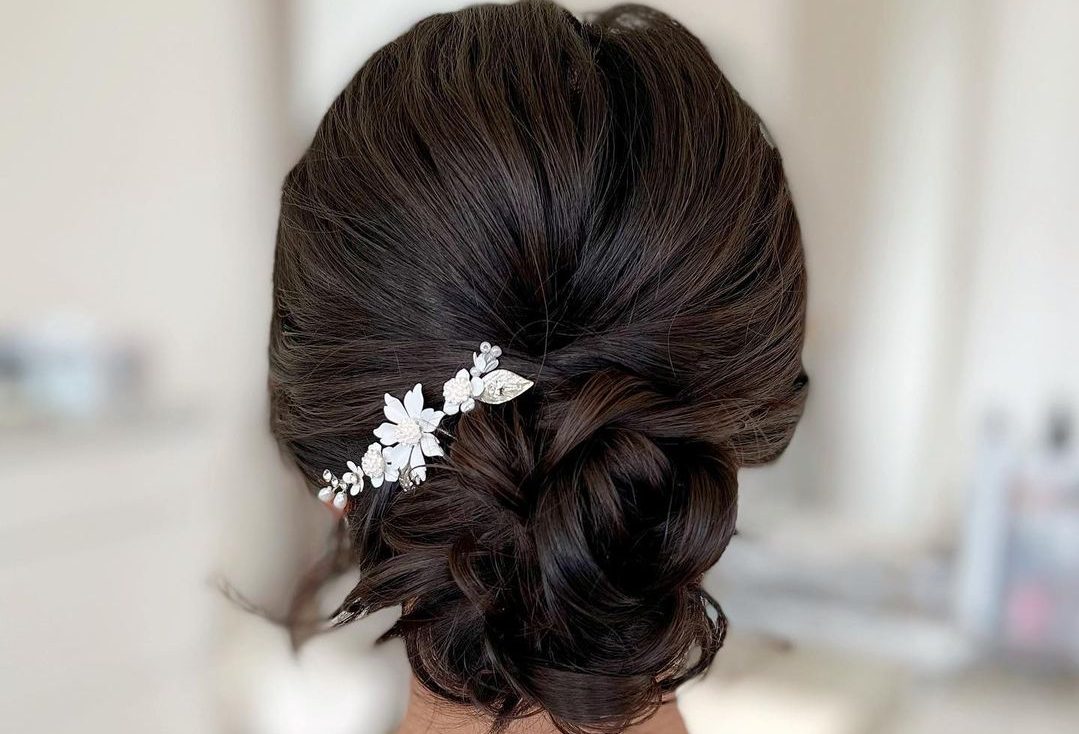 Credit: @urbanbeautyloft.fiona via Instagram
Opting for a messy bun shouldn't just be reserved for lazy days – it can also be incorporated into a stylish look that's fit for any event. Loosely piece your hair together, keeping your hair's natural shape, before finishing off the look with a stylish pin, adding an extra flair of elegance.
Curly ponytail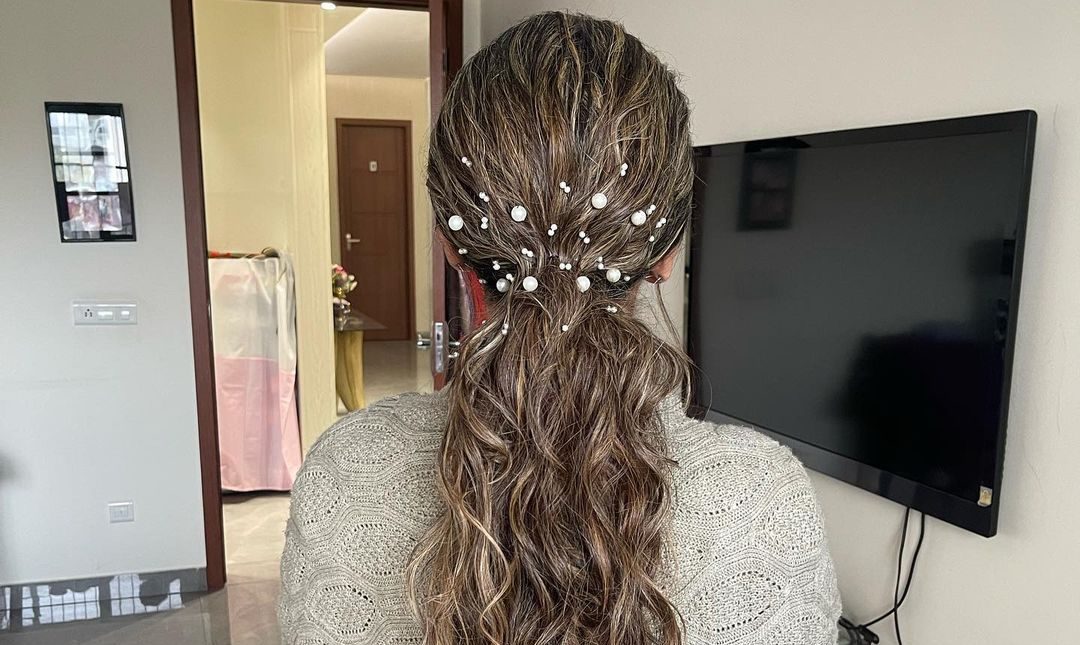 Credit: @anuragkashyap_hair via Instagram
A ponytail can look beautiful, particularly if you curl your hair before placing it in the hair tie. This hairstyle allows your locks to flow down your back, cascading in swarm of color and texture. All you have to do is curl and tease your hair, before placing it in a ponytail to achieve a stunning, adaptable look.
Elegant twisted bun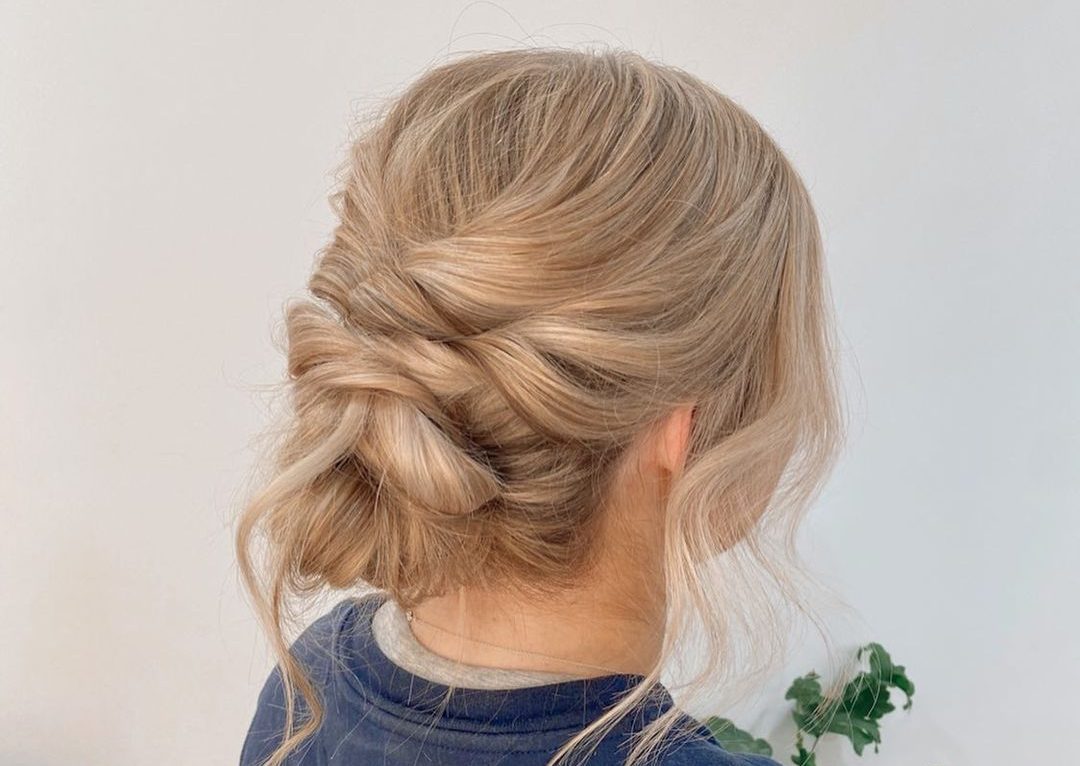 Credit: @nfmhair via Instagram
You can achieve this stylish look without even going to the salon. Simply make two pigtails, before twisting them both into two long plaits. Then, twist the plaits together into a bun, ensuring you cover any stray ends. Fix it in place with some bobby pins and voila – you've got yourself a stylish look that takes minimal effort.
Half curls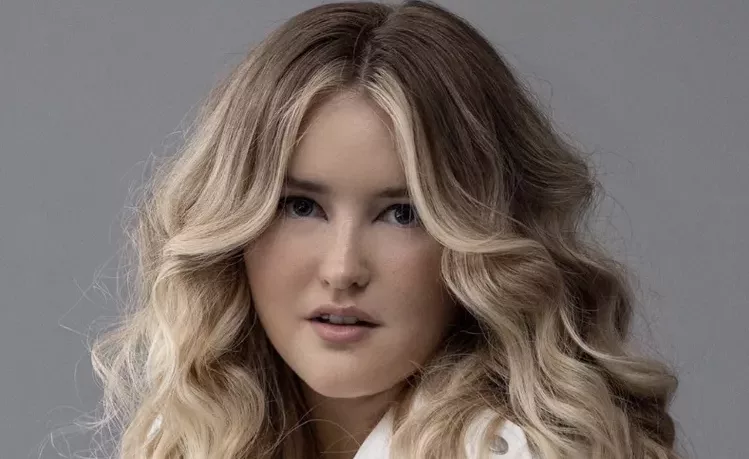 Credit: @hairbylindal via Instagram
Instead of curling your hair from the bottom, try curling your hair from your roots to its midsection, leaving the ends to stay flat. Simply use a curling tong on the top half of your locks, creating gorgeous rings of texture. This hairstyle is unique, ensuring that you'll stand out from the crowd.
Top knot with falling strands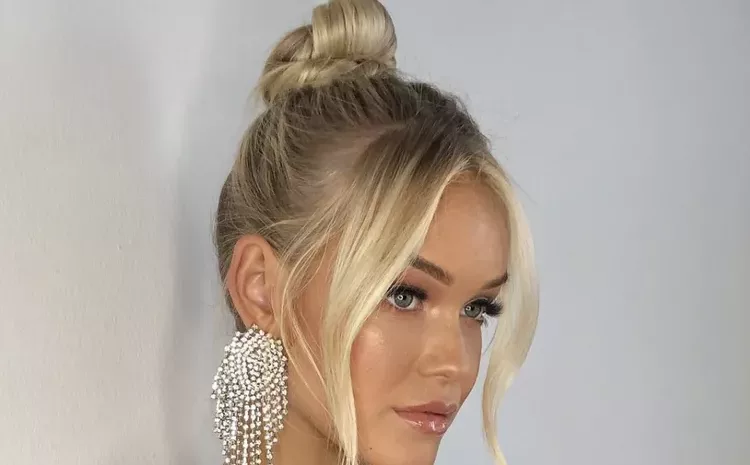 Credit: @ashleyantoinebeauty via Instagram
This hairstyle is quick to put into place, but it creates a gorgeous aesthetic. Place your hair into a firm topknot, ensuring you leave some wispy bangs hanging loose, helping to frame your face. Once your hair's in place, it'll stay there for the entire duration of the event, leaving puffy, out-of-control locks as a thing of the past.
Curtain bangs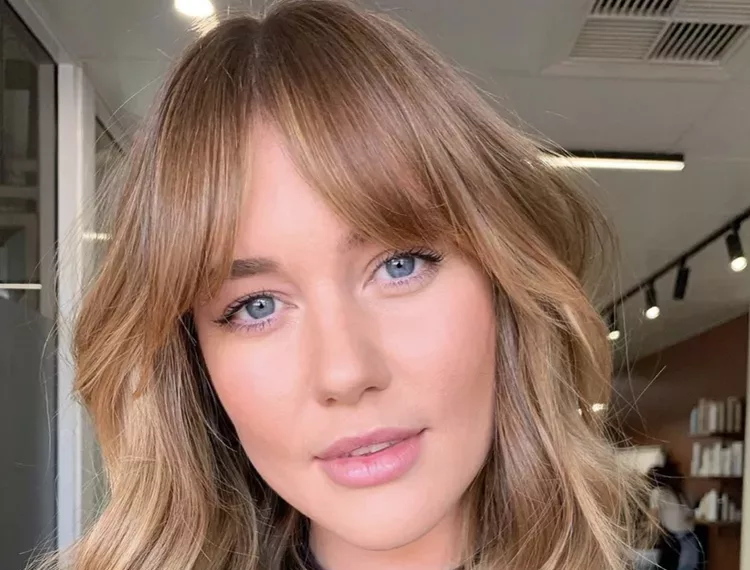 Credit: @STUDIOLIONESS via Instagram
Soft curtain bangs combine 90s fashion with modern stylings – a perfect blend of old and new. Unlike swooping bangs, you won't have to sacrifice huge chunks of hair at the top of your head, keeping your crown looking voluminous. As these bangs grow out, they can also serve as face-framing layers, making them multi-functional.
Sleek and snatched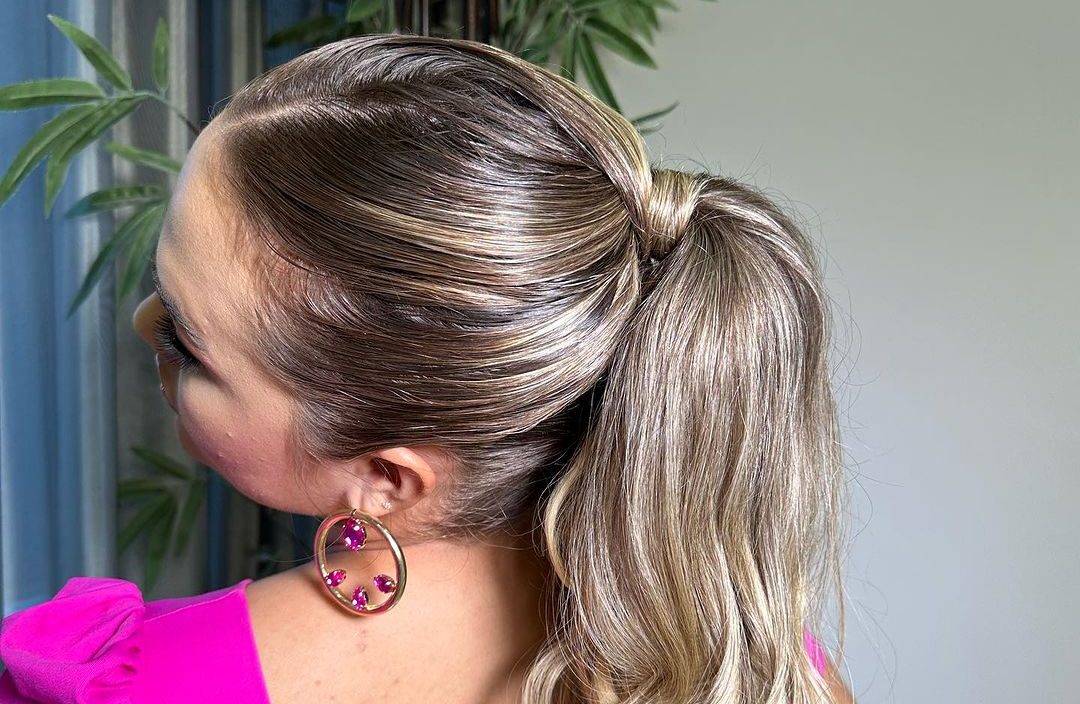 Credit: @vanessaolivie1 via Instagram
Going for wet-look, slicked-back hair is one of 2023's biggest trends. Ensuring that every strand of hair is kept in place, this hairstyle is sure to bring an edge of modern style to any event. Whether you put your hair up in a ponytail or leave it to flow beyond your shoulders is completely up to you – just ensure that every hair is snatched up tight.
Bouncy blowouts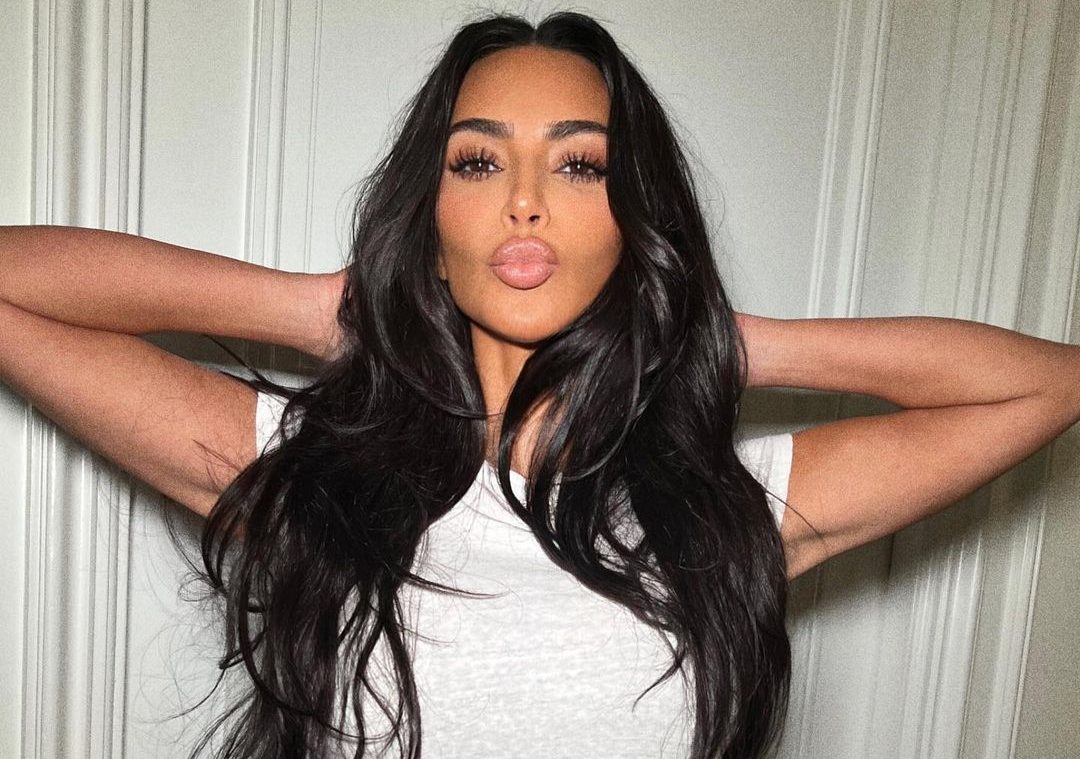 Credit: @kimkardashian via Instagram
Follow in Kim Kardashian's footsteps and opt for a blowout that adds heaps of volume to your hair. This hairstyle features stunning sculpted waves, ensuring that your hair bounces with every step you take. The styling options are limitless, allowing you to mold your locks to suit any event or activity.
Liquid brunette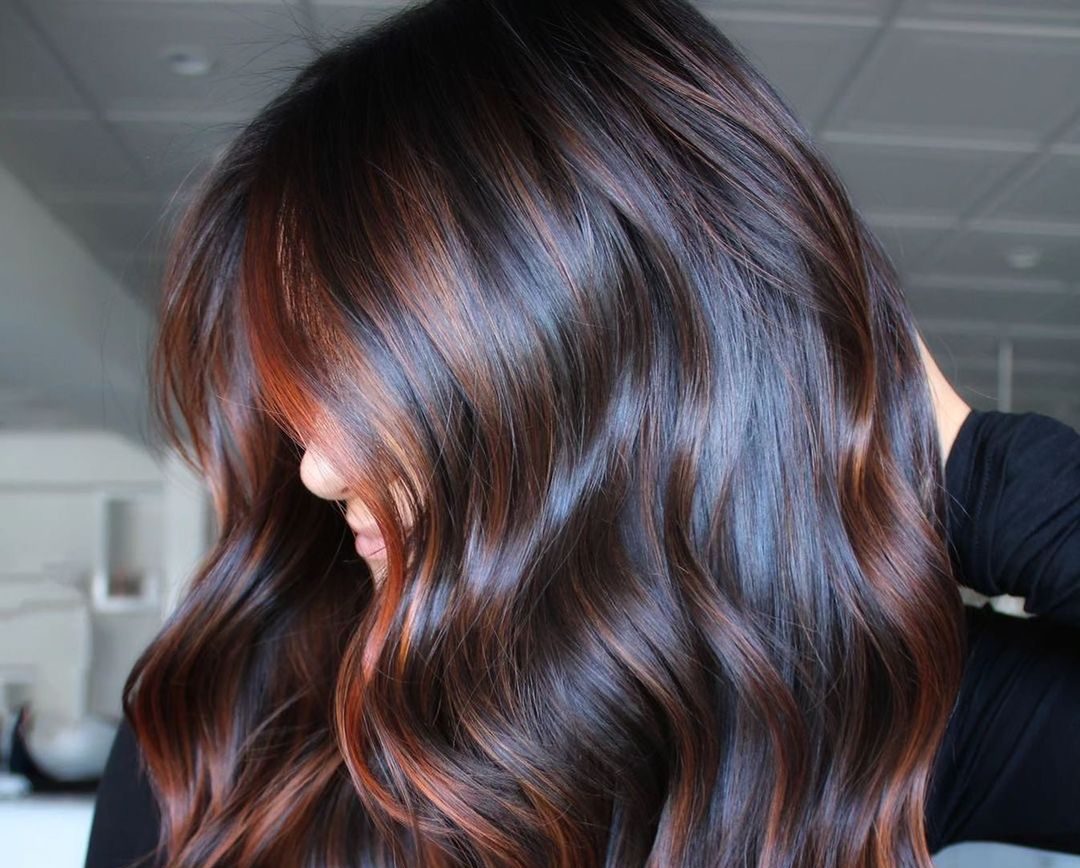 Credit: @joico via Instagram
This look takes brown hair to the next level. Instead of using bland, dull colors that absorb light, the liquid brunette trend sees hair that's impossibly glossy and shiny. To best achieve this look, it's recommended that you visit your hairdressers, where they'll use in-salon treatments to make your hair truly shine.
70s feathered curls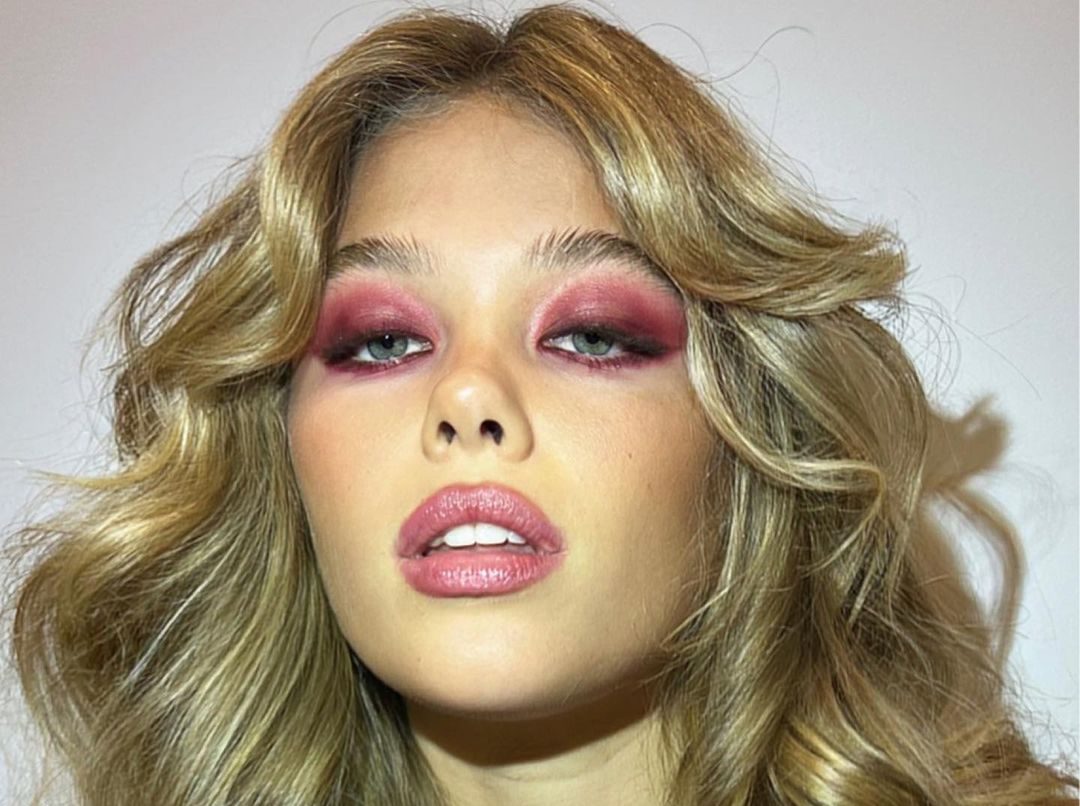 Credit: @claytonhawkins via Instagram
All trends eventually make a comeback. This year, it's the return of 70s-inspired feathered curls, opting for big hair that makes a big statement. This style boasts heaps of volume and texture, making it the perfect do for those who want to bring a touch of old-school cool to their locks.
Up-do with flowers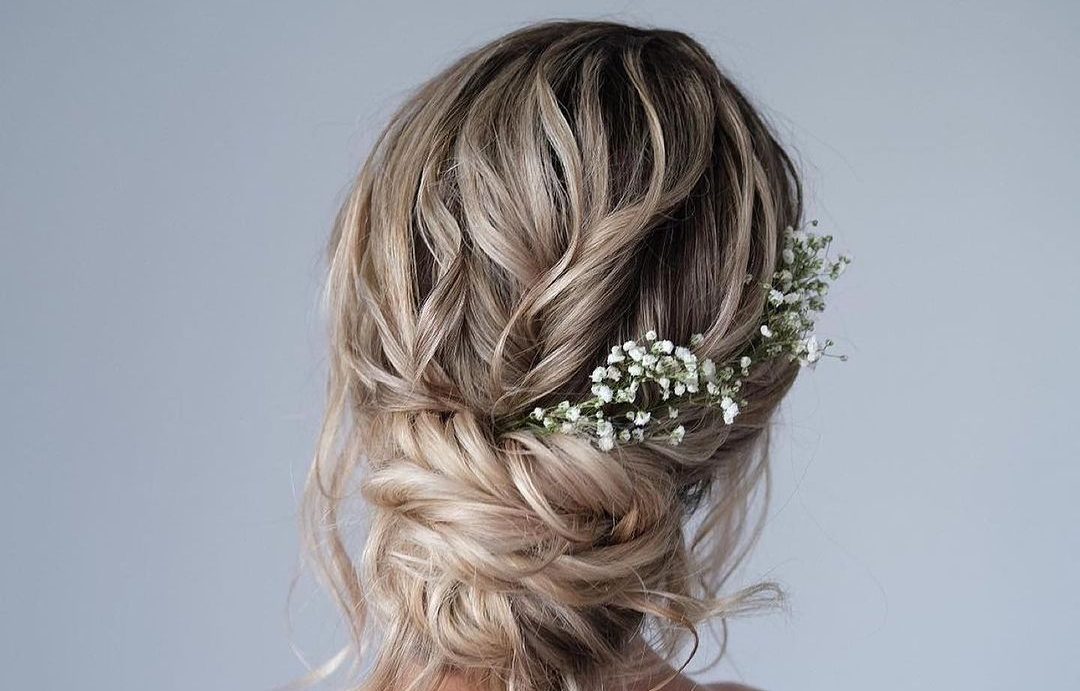 Credit: @kristinagasperasmua via Instagram
Incorporating some flowers in your hairstyle doesn't have to be reserved for weddings – they can also be used for garden parties, dinner events, and days out with your gal pals. Create a simple, layered up-do, and add some flowers that currently represent the season for a classic, feminine look.
Middle-parted, straight hair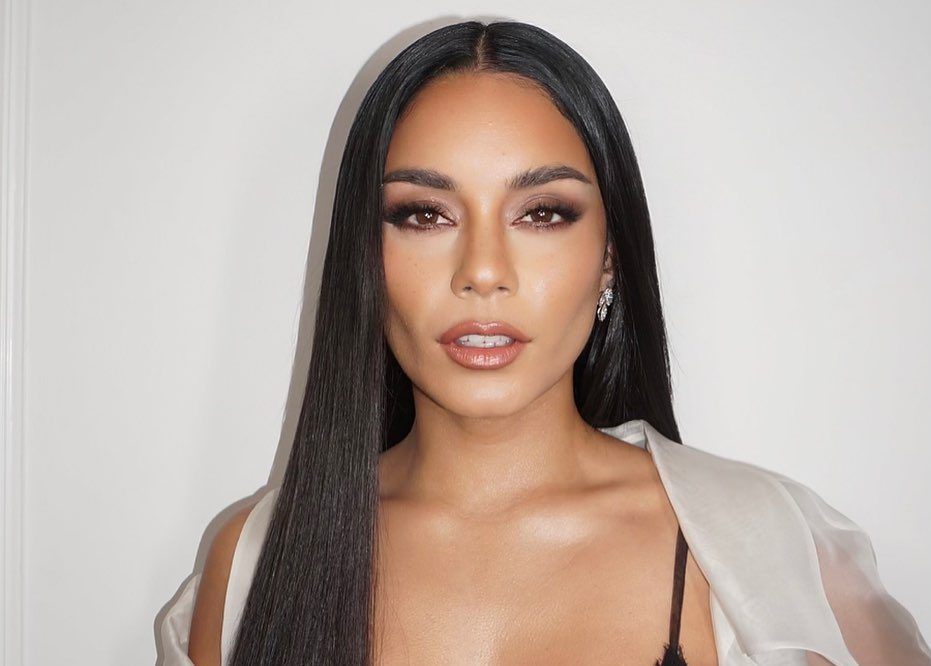 Credit: @daniellepriano via Instagram
This dramatic hairstyle is sure to make an impact. Simply find your middle parting on your crown, and straighten your hair until all of your strands are locked in place. Secure your hair into position with a hefty amount of hairspray and you're ready to tackle the day, oozing style wherever you go.
Ballerina bun
Credit: @ilary_blasi_fanpage via Instagram
This cute and dainty look keeps things simple, while offering a stunning effect. Originally used by young ballet dancers to enable their teachers to survey their frames, the haircut has now been adopted by the modern woman, using a chic and simple cut that oozes old-school glamour.
Go messy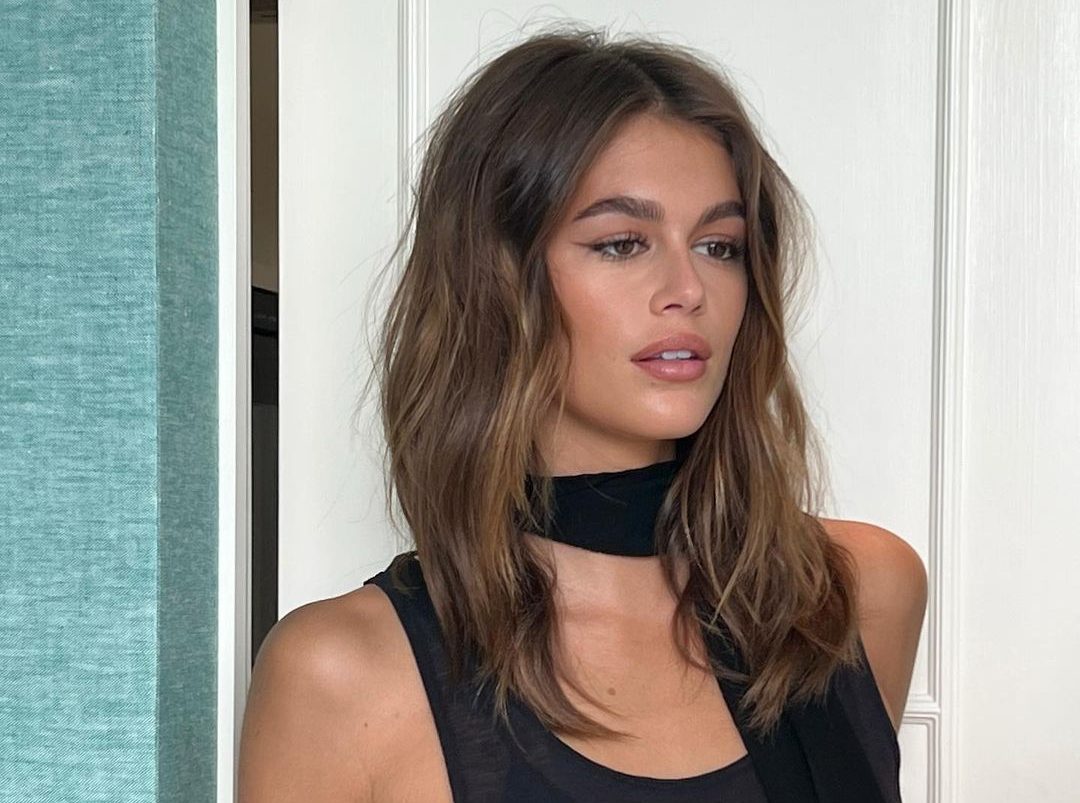 Credit: @kaiagerber via Instagram
Unruly locks of hair used to be looked down upon as a sign of laziness. Now, however, messy hair is picking up steam, becoming one of the hottest trends of the year. Taking beach waves one step further, this grunge-induced bed hair adds a sense of rebellion to your locks, mixing ease with style.
French twist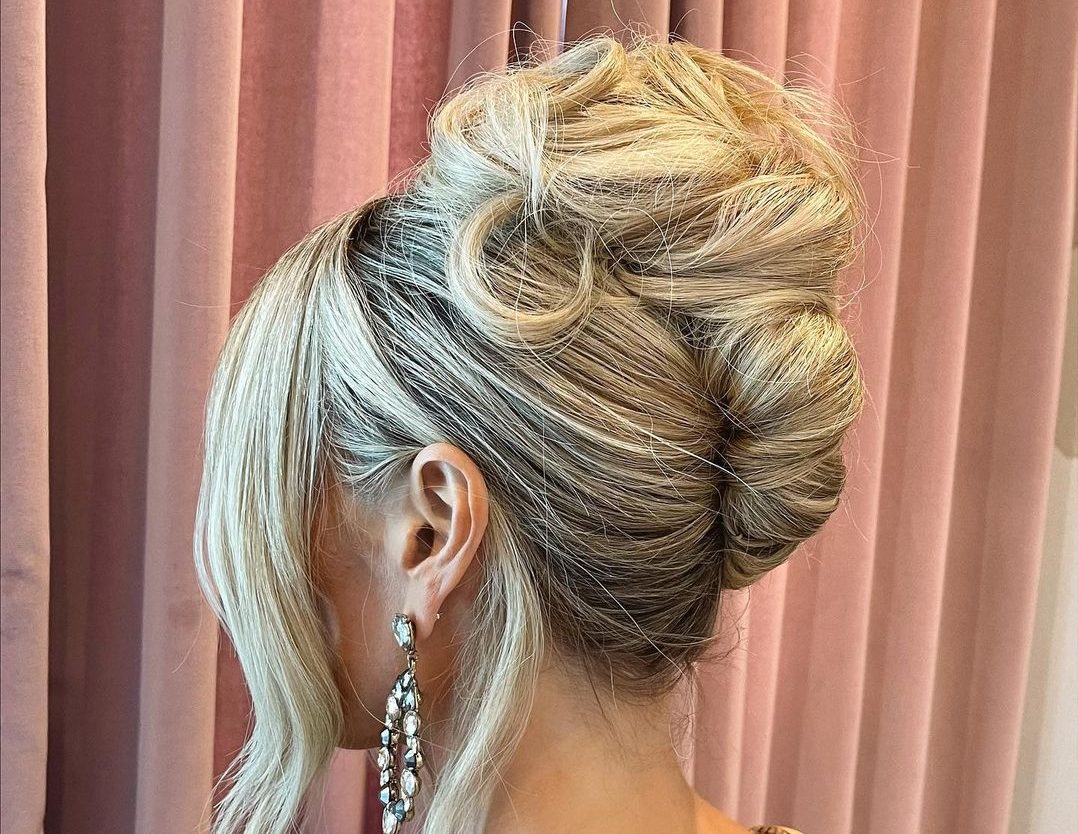 Credit: @justinemarjan via Instagram
A French twist is perfect for any formal occasion, looking sophisticated and chic. Working best for women with medium-length hair, this style can be altered to your desire – whether you use a tight, slicked-back look or a free, puffy effect is entirely up to you. If you're feeling extra fancy, consider adding some glam hair ornaments to elevate the entire look.
Crimped hair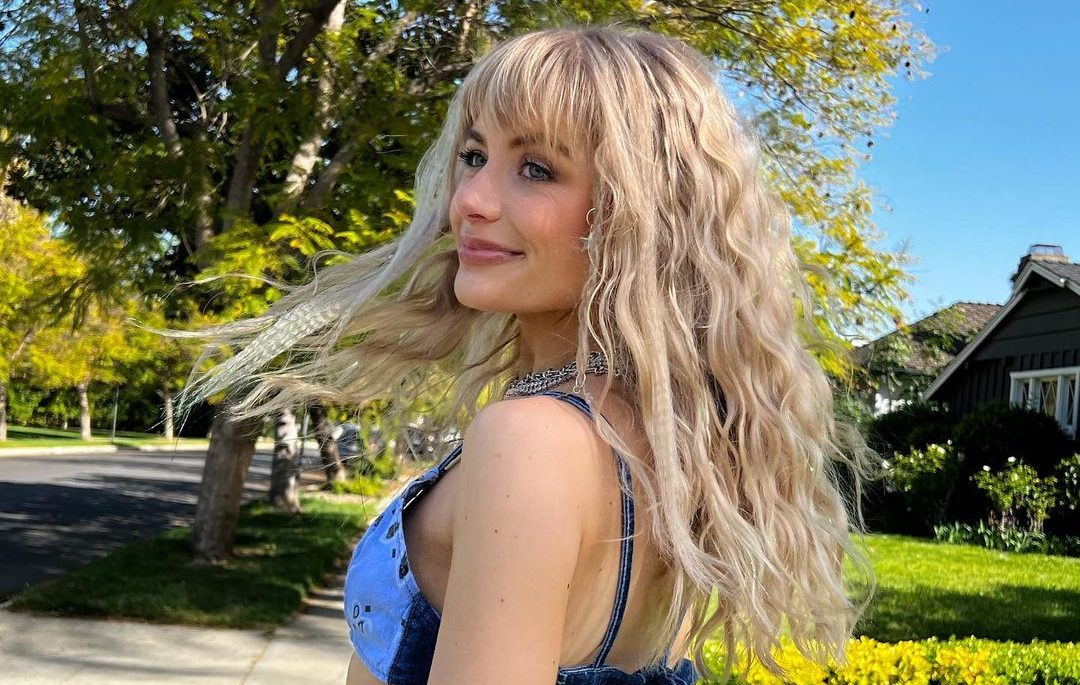 Credit: @hairbycarafeder via Instagram
Another trend from times gone by – but one not to be shunned. Adding some texture into your hair is the perfect way to spice up any look, allowing you to stand out from the crowd, turning dull locks into an artistic array of tresses. Simply invest in some crimping irons and get to work adding some depth to your mane.
Side bangs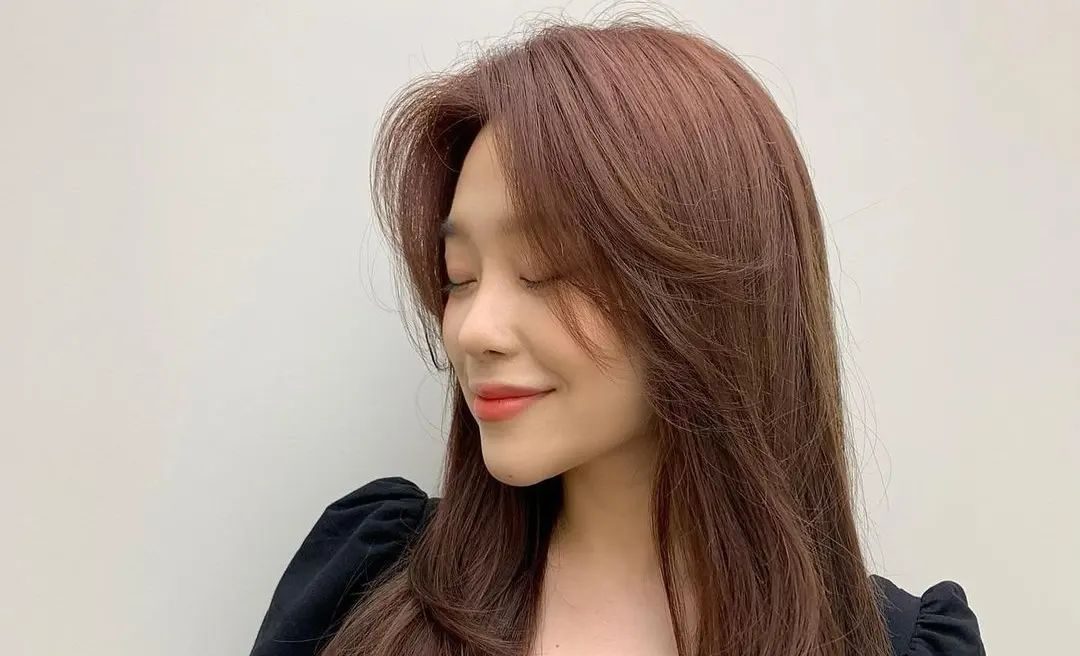 Credit: @miel_bykorea via Instagram
Side bangs have all the benefit of a full fringe, just without the high amount of upkeep. To train your locks to stick to one side, brush them with a round brush while blow drying, then pin them in place for around 20 minutes. Over time, this method will keep your bangs in place, offering a modern twist on classic bangs.
Finger spirals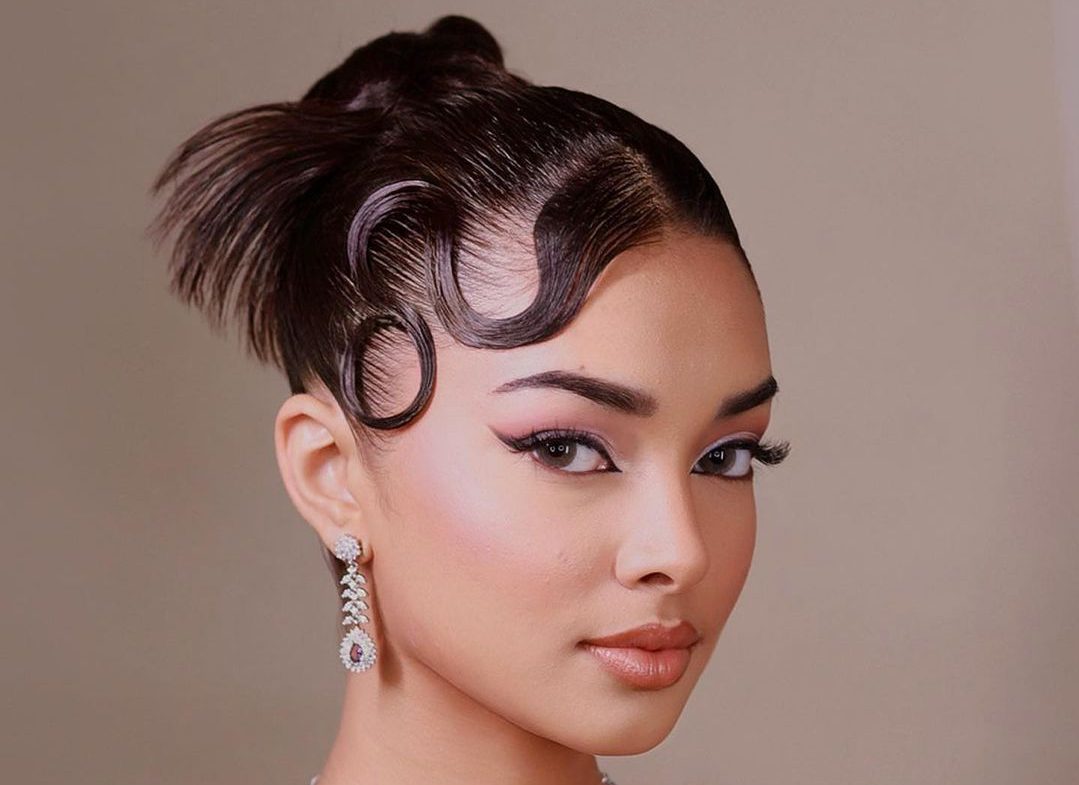 Credit: @javed_ali_hair via Instagram
These intricate little waves pack heaps of style, bringing a glimmer of old-school Hollywood glamour. The height of fashion in the Roaring 20s, the style has made a comeback a century later. To achieve this look, untangle your hair and moisturize it. Then, part your hair and style your waves, backcombing your locks until they stick in place.
Go big or go home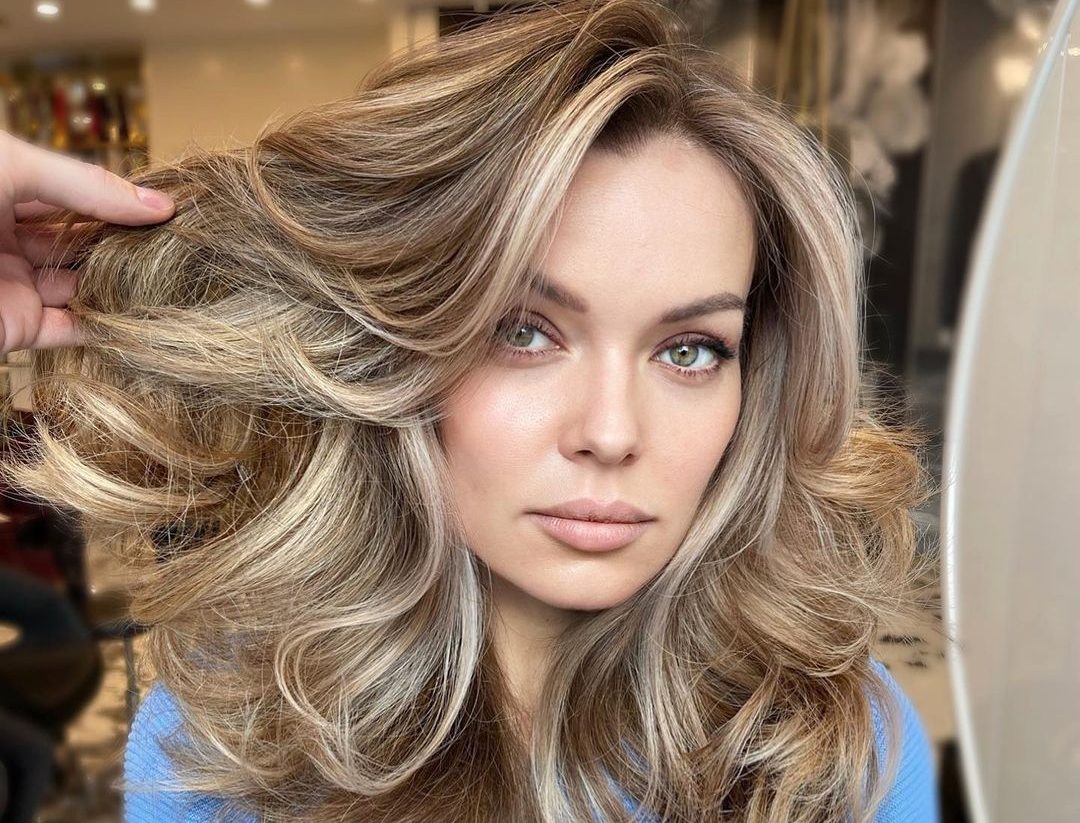 Credit: @wellahair via Instagram
If there's one way to make a statement, it's to ensure your hair is full of volume. In fact, the bigger the hair – the better! Whether it's through gravity-defying curls or eye-grabbing waves, incorporating volume into your hair is the perfect way to celebrate a big occasion. Just ensure that you use some heat-resistant spray to protect your locks from any damage.
Braided crown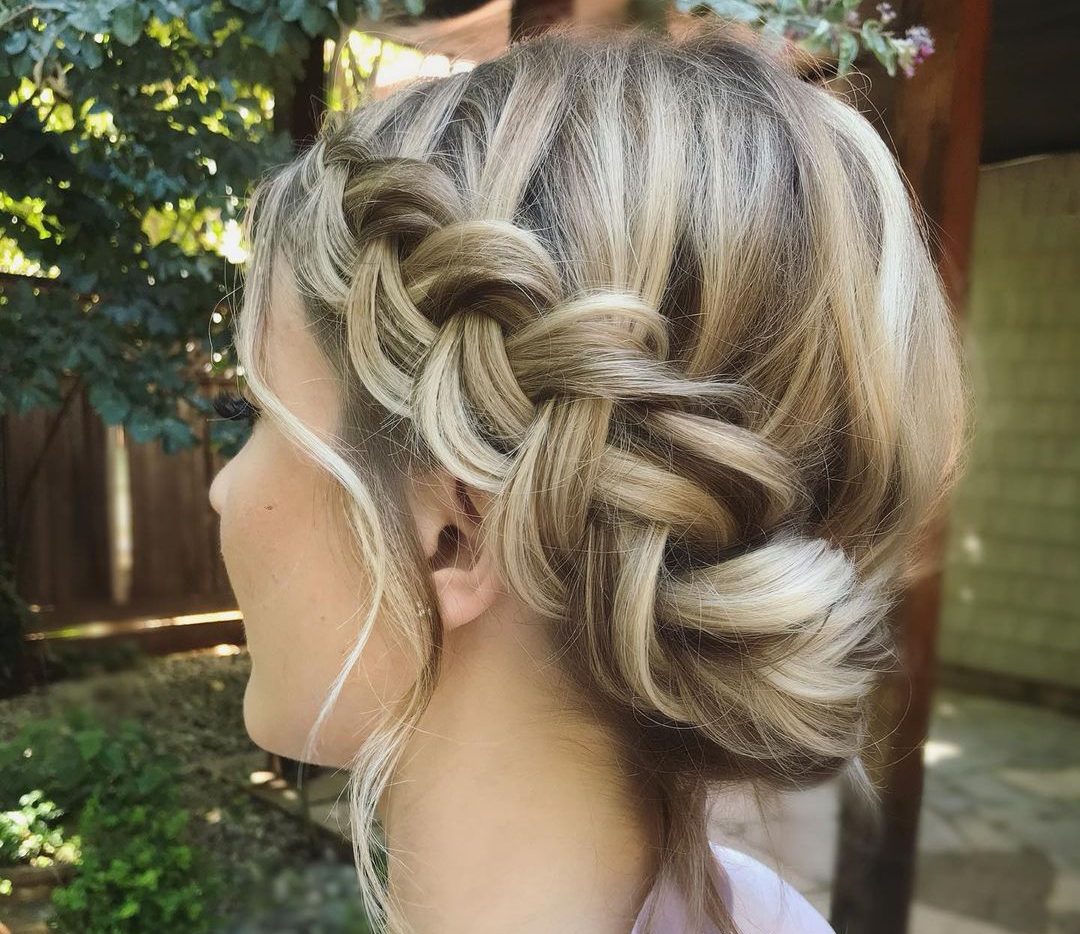 Credit: @lavendersalonandblowoutbar via Instagram
You may want to save this one for your fanciest, most memorable events. The braided crown is sure to make any woman look like a princess, offering structure and timeless beauty. This style can also be used as a hack, perfect for locks that are in that pesky in-between phase. Instead of leaving limp strands hanging, put them in a braid!
Asymmetrical bob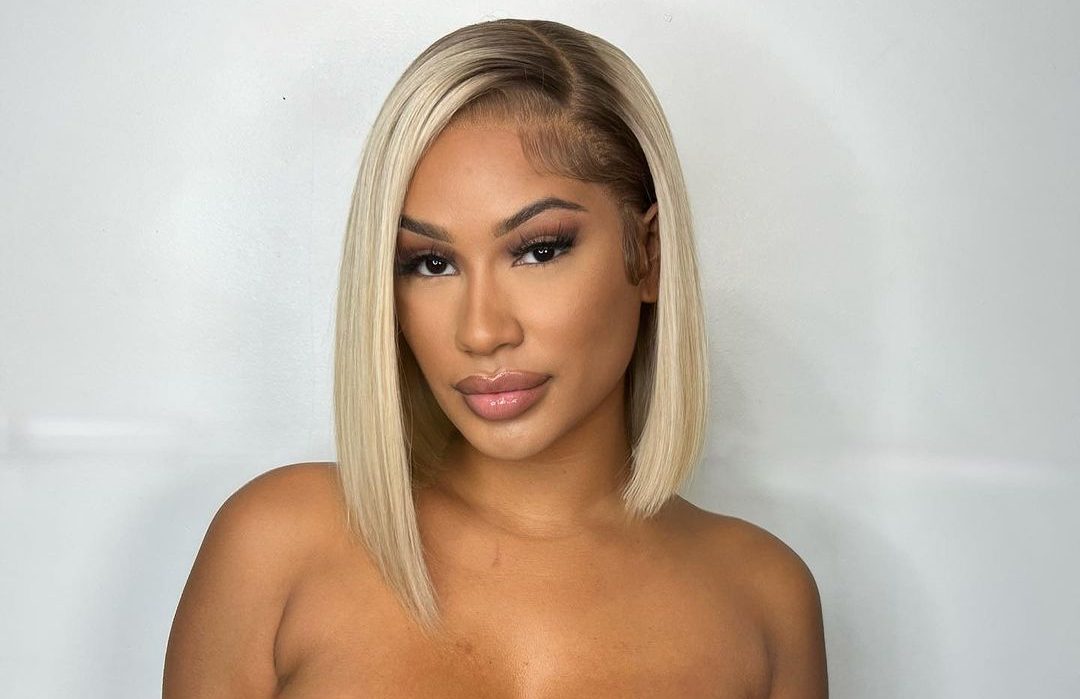 Credit: @hairbytyflyy via Instagram
Sometimes, the simplest look is the most effective. An asymmetrical bob ups the style factor of the regular do, adding an edgy finish. To really finish the look, consider having your roots on display, adding yet another dimension to your hair that's sure to turn heads.
Baby bangs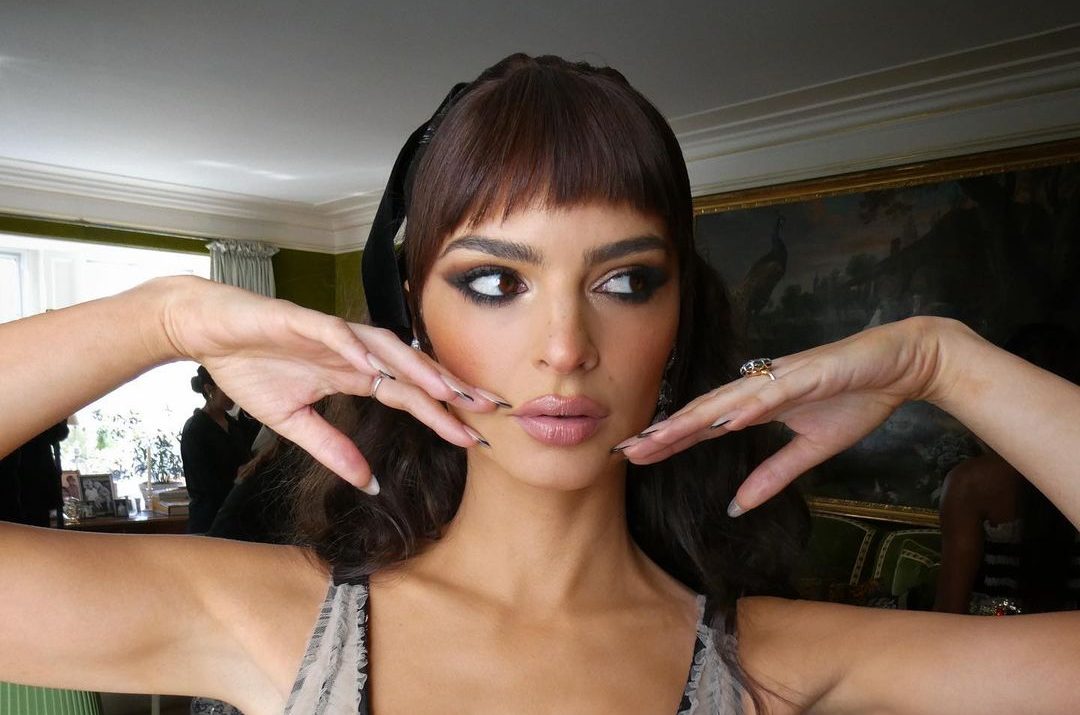 Credit: @emrata via Instagram
Baby bangs can highlight your best features while covering any imperfections. These tiny fringes can also help to frame your face, granting you a slimming, youthful glow. Baby bangs can be paired with almost any other hairstyle and suit any hair type, making them a great choice for women who are seeking to mix up their look.
High buns and ponytails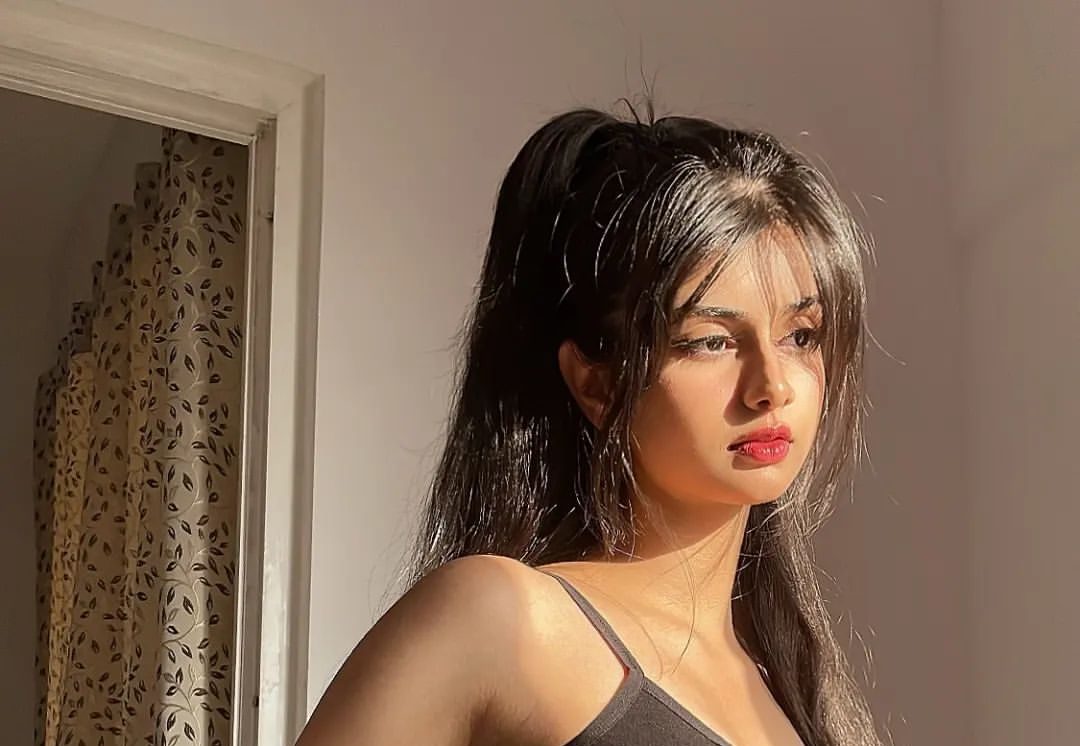 Credit: @aish_creamm via Instagram
Forget the dull, standard ponytail – style your hair with a high, tight pony for a chic, professional effect. This style adds height to the top of your frame, helping to highlight all of your best features. If your hair isn't long enough for a ponytail, opt for a high bun to achieve the same effect.
Bob with bangs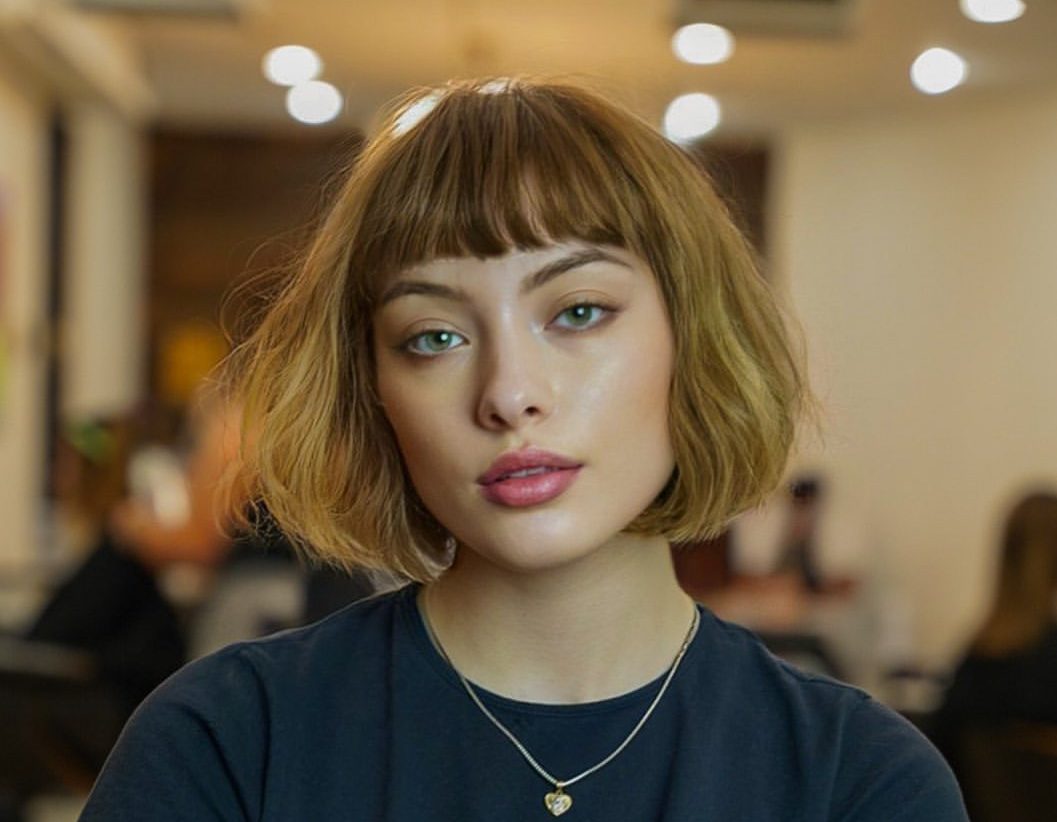 Credit: @joeprofita via Instagram
If the classic bob doesn't quite do it for you, consider pairing the cut with some stylish bangs. This style works particularly well with round faces, helping to introduce angles that add a sense of definition. Better still, this style can be apt for any event, requiring minimal fuss.