The comics below show how dark it can be inside the mind of a depression sufferer and the brave face they feel they have to put on day after day. The comics may be helpful to people who have a loved one suffering from depression and want to try to understand this devastating illness.
1. Kristian Nuggard shows how dark depression sufferers feel and the act they put on, pretending everything is OK.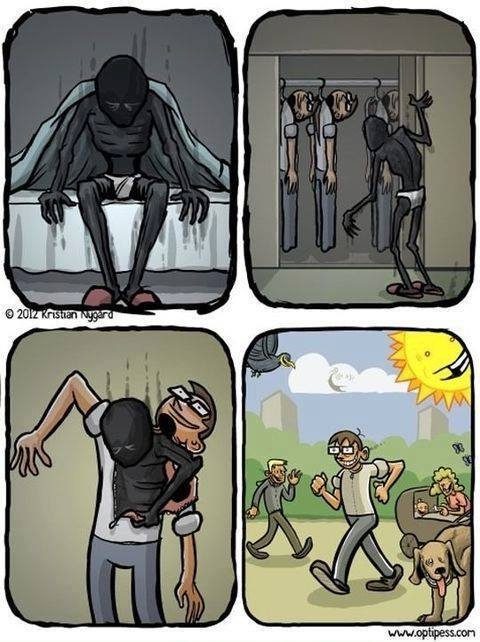 2. In the comic strip titled 'Amateur therapy' the dog and the rabbit show the struggle between two friends where one is suffering from depression. The rabbit can't cheer up and the dog can't think of what to suggest.

3. This simple poem from anythingcomic.com shows how our four legged friends can sense depression and how they can sometimes help a depression suffer fell just a tiny bit better

4. Another comic from Kritian Nuggard shows that being given medication doesn't necessarily make dark thoughts disappear.

5. This depression comic from Robot Hugs has become popular on social media over the last year. It shows the type of support a depression sufferer needs.

6. Sylvie Reuter shows us how any mental illness can slowly creep up on you and take hold of you.
7. This comic shows what depression can feel like but also shows that there is still hope, that love can help and it is there, in the form of your family and friends.