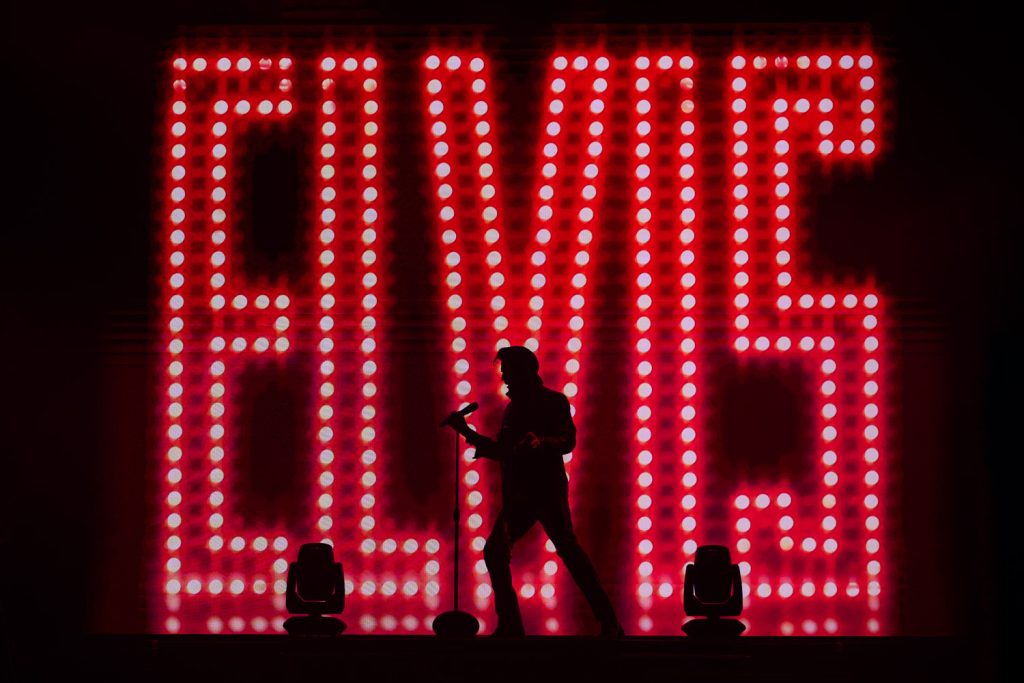 Dean Z via Schaefer Photography
From a small town in Memphis to a residency in Las Vegas; Elvis Presley is one of the biggest music icons of all time. It's no doubt that his life has been well-documented, but here are some crazy facts that you probably didn't know about "The King" that will change how you see him completely.
1. Elvis's jet-black hair wasn't all natural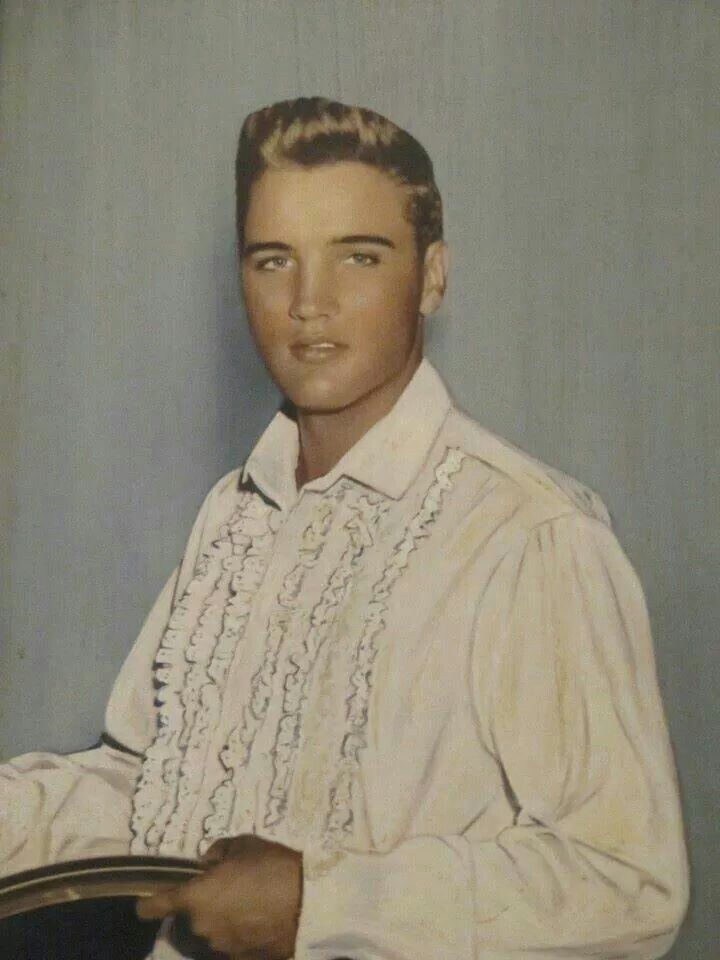 Charlie Kerlinger via BenVaugn.com
Although Elvis is known for his sleek, black hair, his hair was dark-blond naturally. He started dying his hair during his teenage years and when he began to rise to fame, he became quickly famous for his jet-black hair and ice-blue eyes that came to make audiences around the globe swoon.
2. Elvis was a black-belt in karate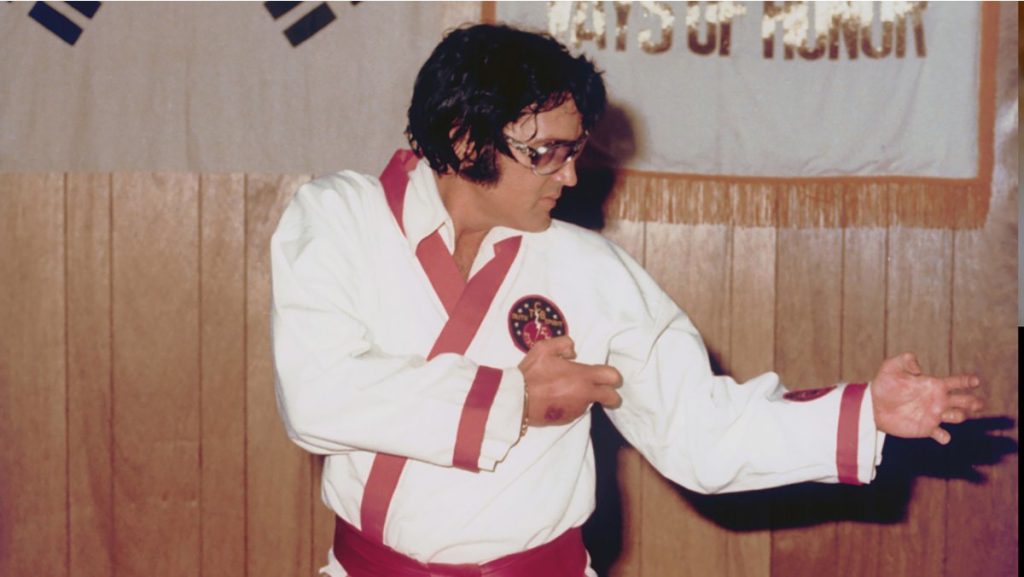 wfk.net via Elvis's Graceland
Between 1970 and 1974, Elvis trained under Master Khang Rhee in Memphis and became a qualified karate instructor and black-belt. Elvis's love for the martial art even became a staple of his live shows where he would perform karate moves along with his famous dance moves.
3. His favorite childhood toy was a bicycle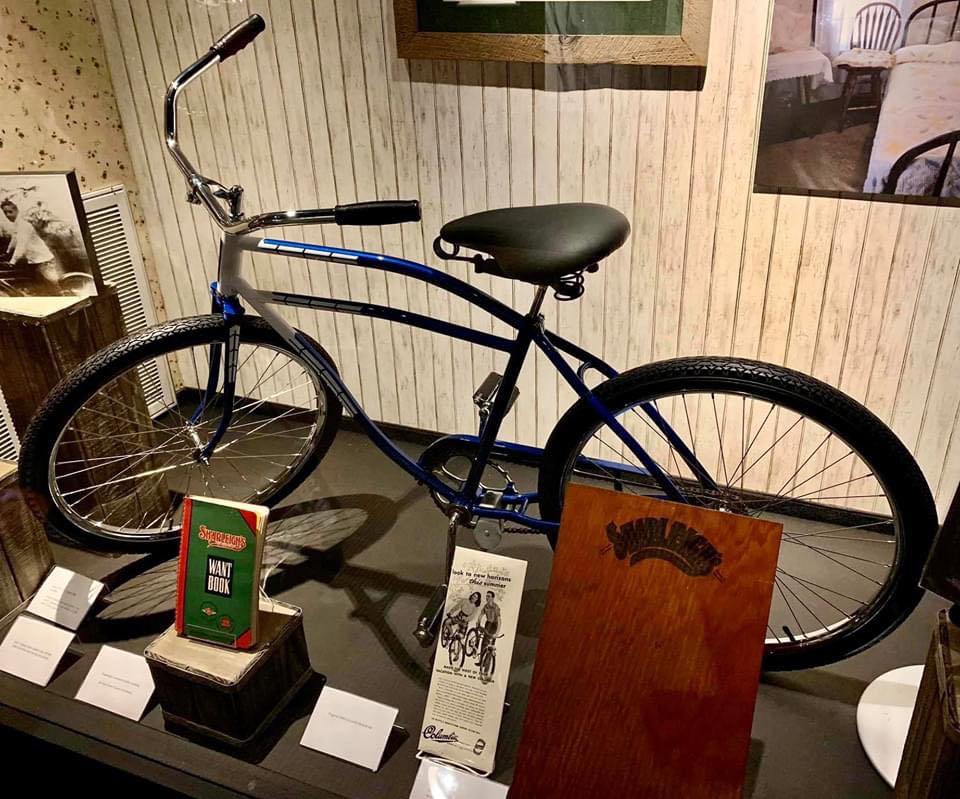 Elvis Presley Fans of Nashville via Facebook
When Elvis was 11 years old, his father Vernon bought him a Shapleigh Special 1946 bicycle from a Tupelo hardware store. Elvis was known to be very sentimental and kept this prize possession his whole life. The bicycle is now fully-restored and on display at Graceland.
4. As a teenager, Elvis worked at a move theater.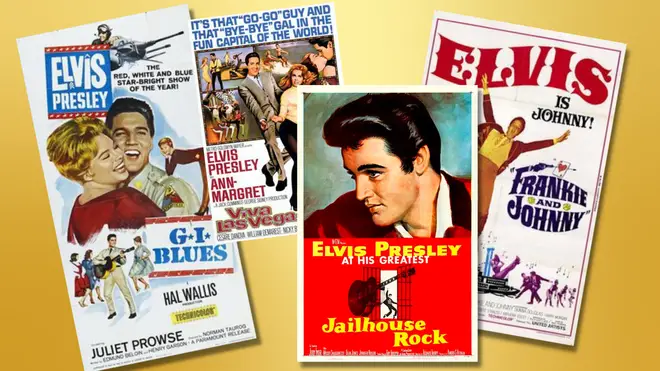 Tom Eames via MGM
Presley worked in Leow State's Theater in 1952 when he was 17 years old. After a few months working here, however, he was fired from his job as an usher due to an altercation with another staff member. Rumor has it that this started because the other usher was jealous that a female colleague had eyes for the young Mr Presley.
5. Presley had a twin brother who died at birth.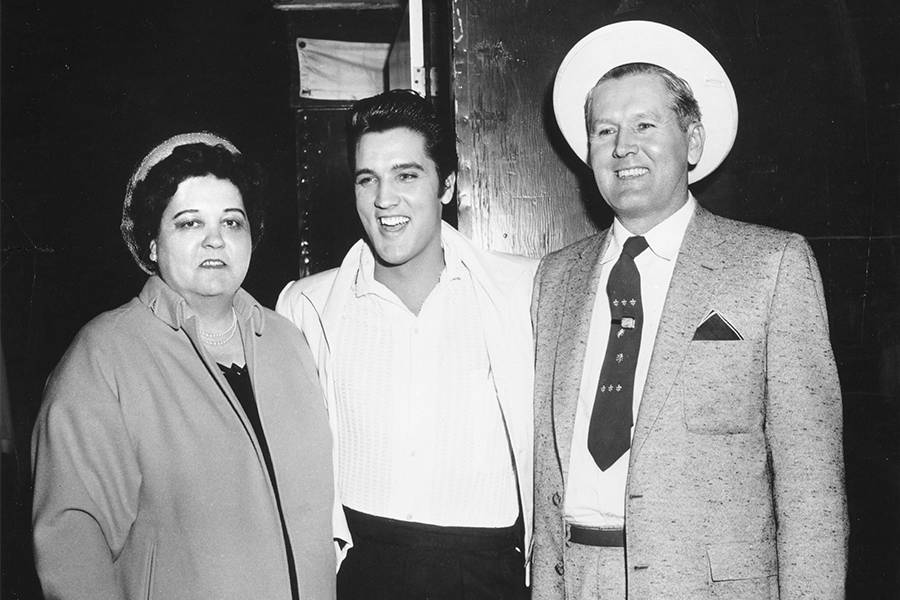 Michael Ochs Archives via Getty Images
Elvis was born in a two-room house in Tupelo Mississippi in 1935. Sadly, Elvis's identical twin brother, Jesse Garon Presley, died 35 minutes before Elvis's mother, Gladys delivered Elvis. Elvis and
6. He first recorded music as a gift for his mother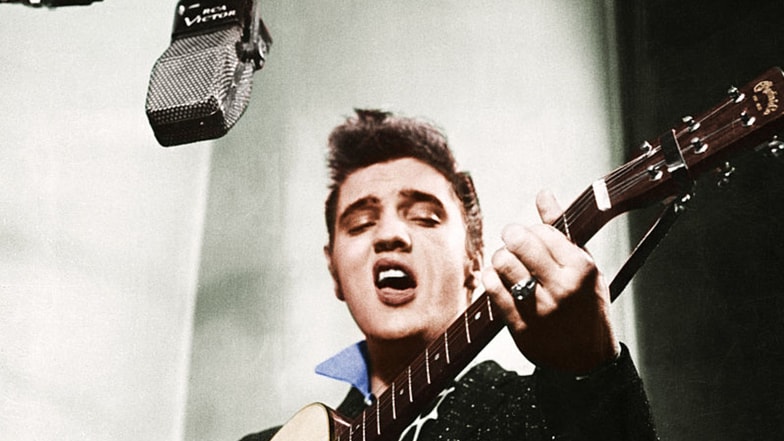 Bettmann via Getty Images
In 1953, when Elvis was only 18, he walked into Sun Records in Memphis and paid just $4 to record "My Happiness" as a present for his mother. "That's All Right" became Elvis's first hit, which was recorded just a year later in the same recording studio and sold around 20.000 copies.
7. Elvis owned a ranch in Mississippi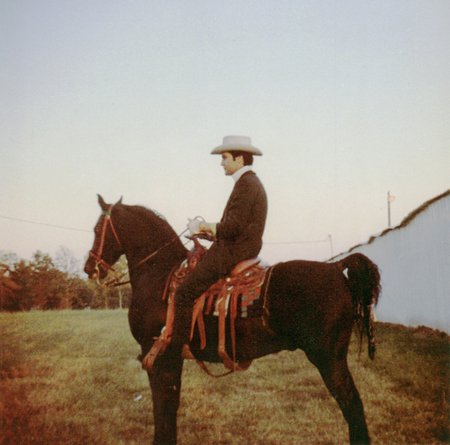 Russ Howe Archives via Mississippi Magazine
Known as "Circle G Ranch" or "Graceland Too", Elvis's ranch was an 163 acre property with a white house, lake and stables where Presley frequently went to ride horses and escape the pressures of life in the public eye. Presley frequently entertained family and friends here.
8. He owned several peacocks and a chimpanzee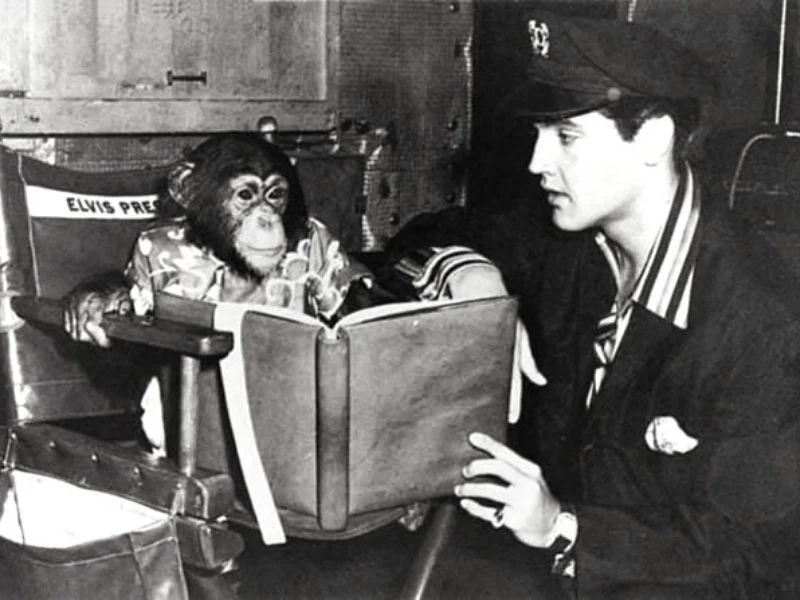 Elvis.com via Far Out Magazine
Elvis had a fondness for animals and had many pets over the years including cats, dogs and more exotic animals like peacocks who lived on his ranch and monkeys called Mojo and Scatter. He also gifted his mother, Gladys, a pomeranian for Christmas named Sweet Pea.
9. Elvis collected police badges from across the United States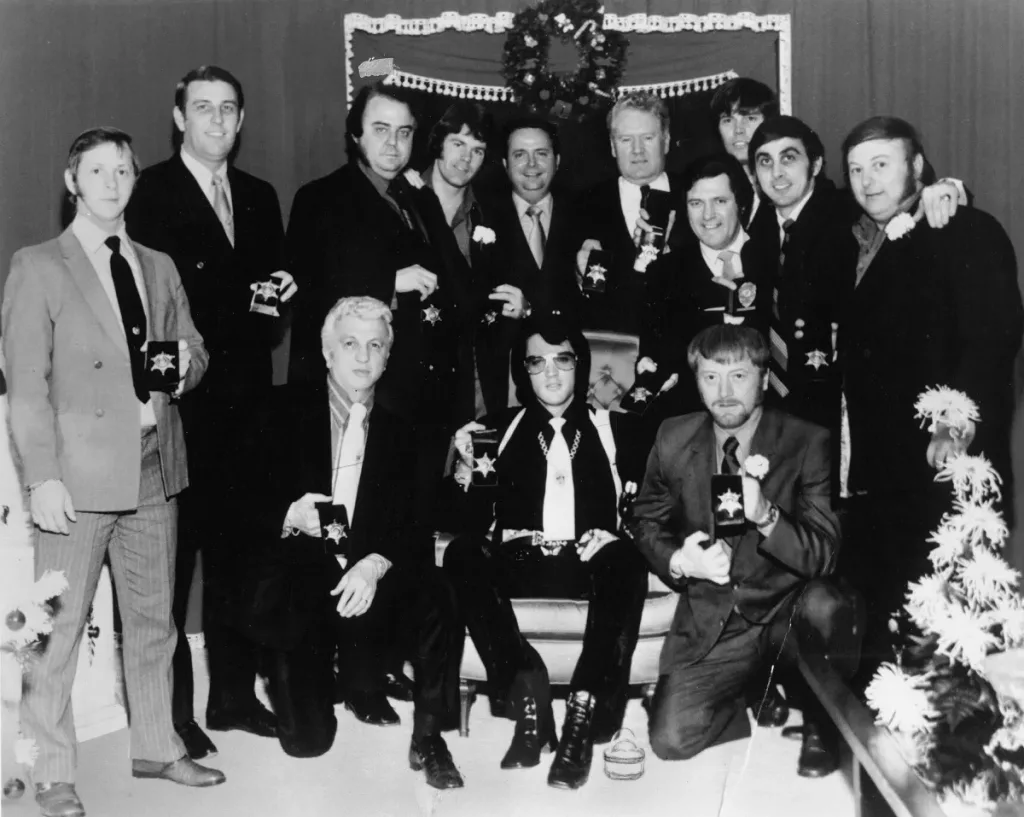 Michael Ochs Archives via Getty Images
In 1957, a girl at a roller rink in Memphis gave Elvis a silver special officer police badge and after that, he was known to collect police badges from every city that he visited. Some of these are on display in Graceland along with other police memorabilia he collected over the years. Some of these have also been auctioned online and sold to Presley's biggest fans.
10. Presley shared his concerns about The Beatles with President Nixon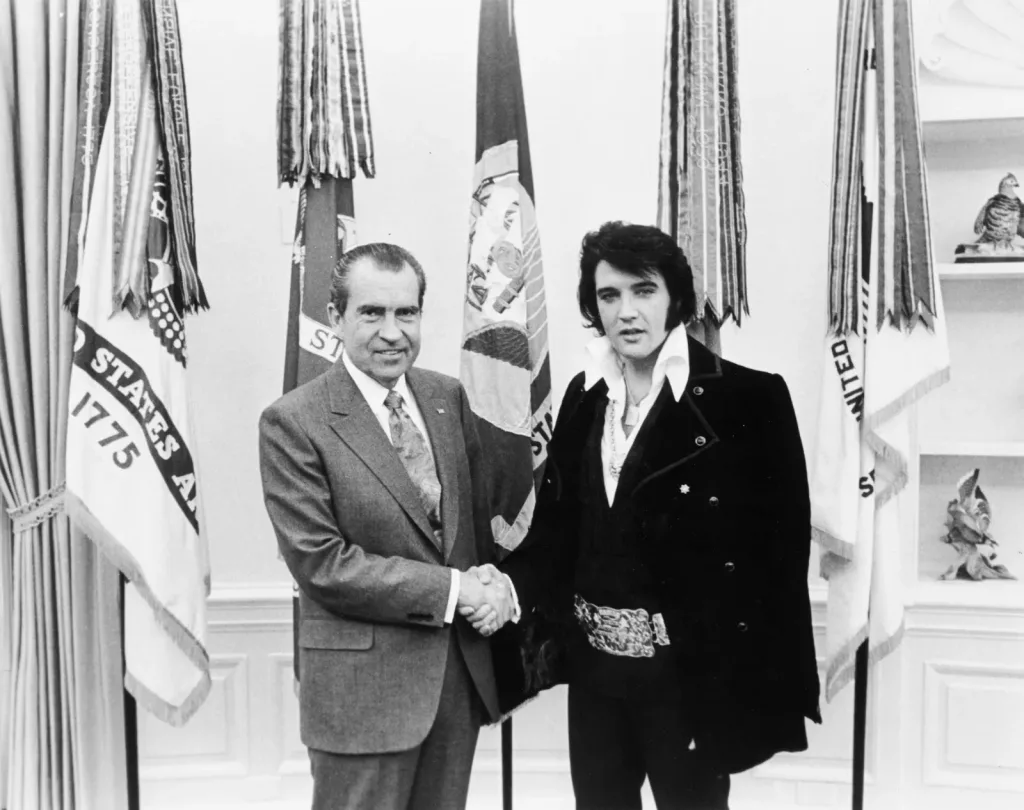 MPI via Getty Images
Although Elvis's career overlapped with the Beatles', The King wasn't the biggest fan of the British rock group. In a famous meeting between Elvis and President Nixon in 1970, he expressed concerns that The Beatles were spreading an "Anti-American spirit" He also was known to have said that The Beatles looked "filthy" and made "suggestive music". No Beatlemania for Presley.
11. Elvis has been inducted in 5 Halls of Fame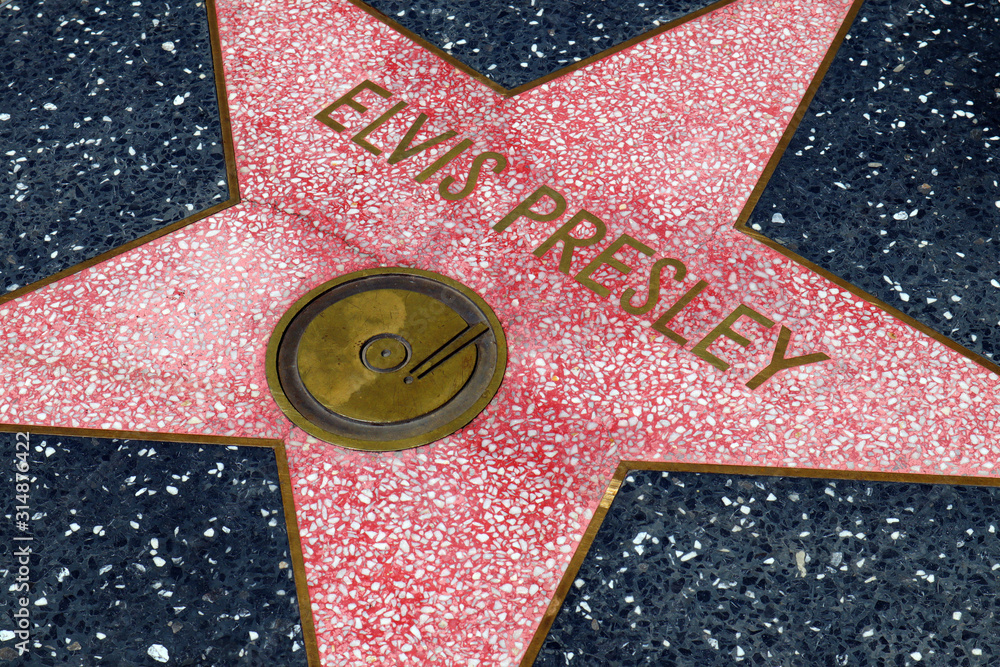 Walter Cicchetti via Adobe Stock
Although Elvis is commonly known as "The King of Rock & Roll", he made waves across several genres. He was inducted into the Hall of Fame for his Rock & Roll, Gospel, Rockabilly and R&B music. This music legend has also sold over 1 billion records worldwide and had over 150 albums and singles certified gold, platinum and multi-platinum.
12. Elvis's recording of 'Hound Dog' is one of the best-selling singles of all time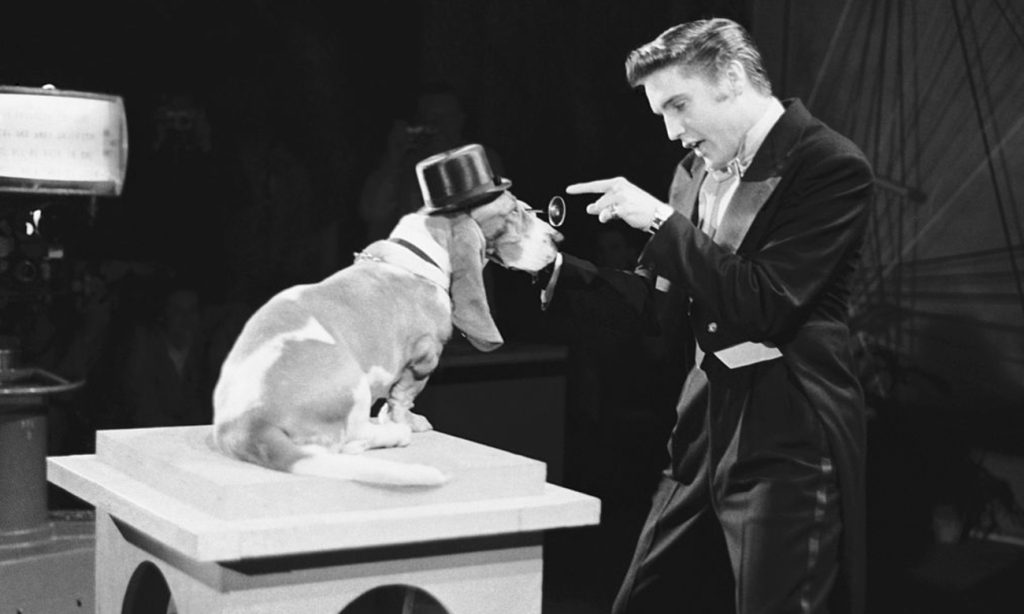 NBCUniversal via Getty Images
Up there with other classics such as Whitney Houston's "I Will Always Love You" and Elton John's "Candle in the Wind 1997", Elvis Presley's "Hound Dog" is the 8th best-selling single of all time in the US; with over 5 million physical copies sold. The single also went platinum four times.
13. Elvis didn't write any of his own songs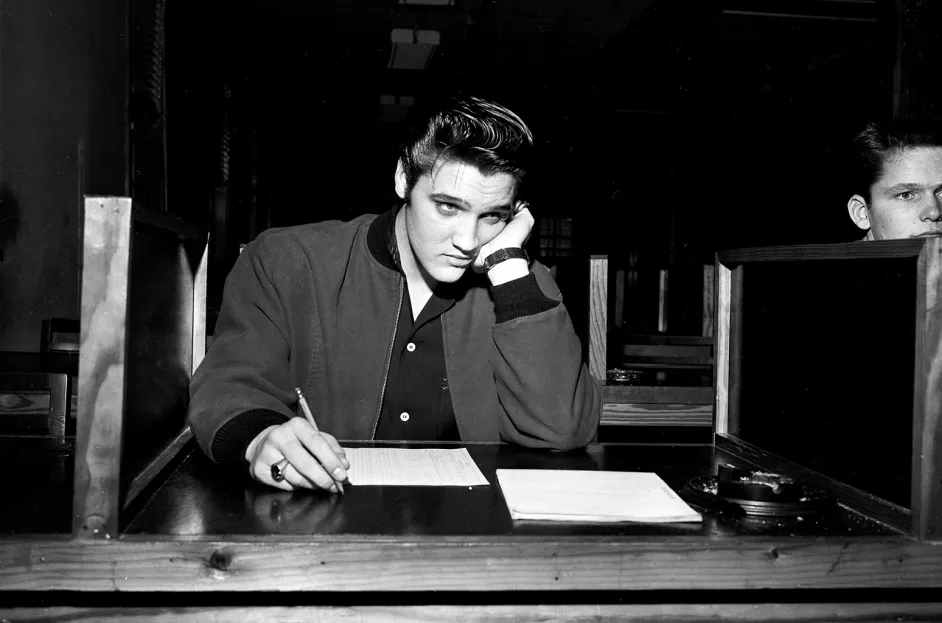 AP Photo via Billboard
Despite having recorded hundreds of singles over his career, Elvis never actually wrote any of his own songs. Although he is co-credited on a lot of his hits such as "Heartbreak Hotel", "Return to Sender" and "That's Someone You Never Forget". Presley also admitted that he actually wasn't great at songwriting and had no interest in it!
14. He performed in concert over 1,000 times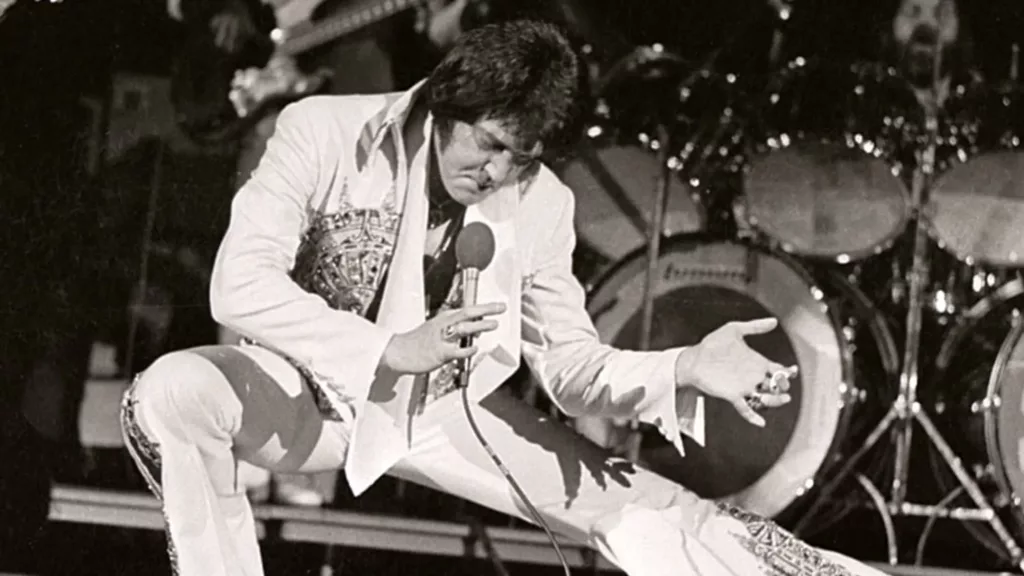 Ronald C Modra via Getty Images
In fact, Elvis performed 1,684 times. 767 of these were performed in Las Vegas and the other 917 were performed across the US and Canada. His biggest year was 1972, when he performed a whopping 96 shows. Elvis' biggest show was in Pontiac, Michigan where he performed to around 60,000 people.
15. Presley owned a custom-designed Rolls Royce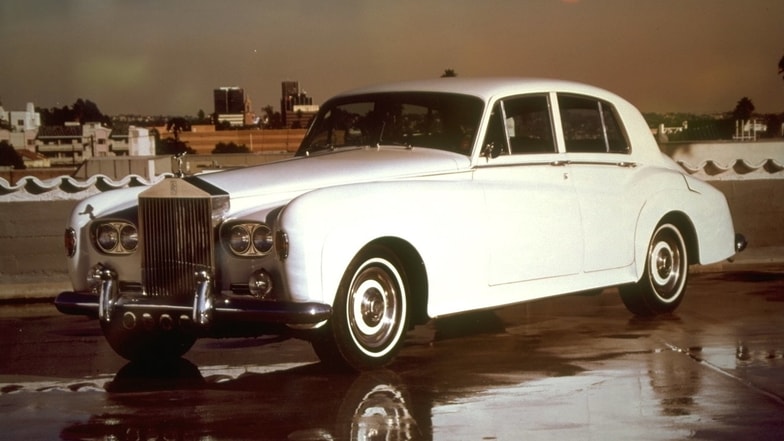 Mathieu Polak via Getty Images
in January 1961, Elvis signed a contract with Hal Wallis, a film producer, and to celebrate, Presley bought himself a Rolls Royce Phantom V. He went out and bought it from a Hollywood dealership, only to bring it home to his mother's house where her chickens pecked at their own reflections in the shiny finish.
16. He owned an extensive gun collection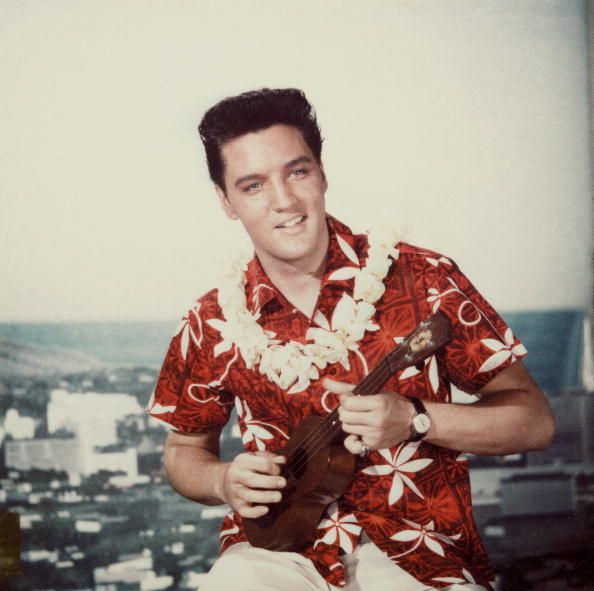 Paramount Pictures via Getty Images
Presley was a keen collector of firearms and owned 37 firearms and one machine gun. Presley had his own shooting range in Graceland where he practiced often and he was even known to have kept a semi-automatic pistol in his boot during performances in Las Vegas. This is known because the gun fell onto the stage during his set, luckily, the gun never went off.
17. His favorite snack was a peanut butter, bacon and banana sandwich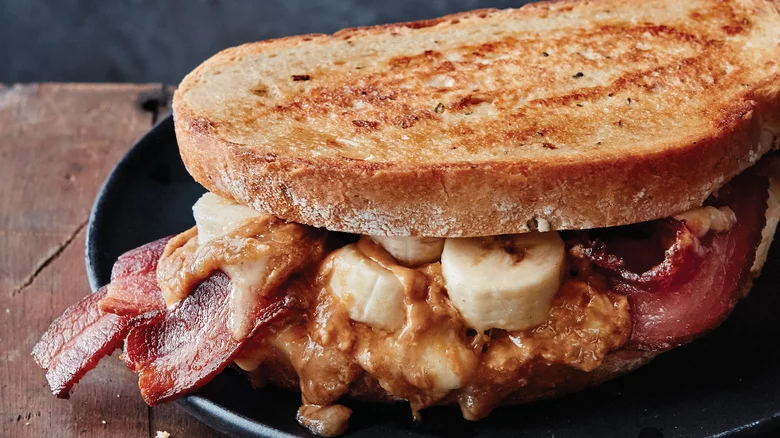 Colin Prive via TastingTable
The King was known to be fond of a sandwich or two, and once even flew 800 miles in his private yet just for a "Fool's Gold Loaf" from one particular eatery in Colorado. This colossal sandwich contains over 8000 calories of bacon, peanut butter and jelly. Although Elvis's favorite variation contained banana instead of the jelly for a sweet kick.
18. Elvis's final concert was held in Indianapolis in 1977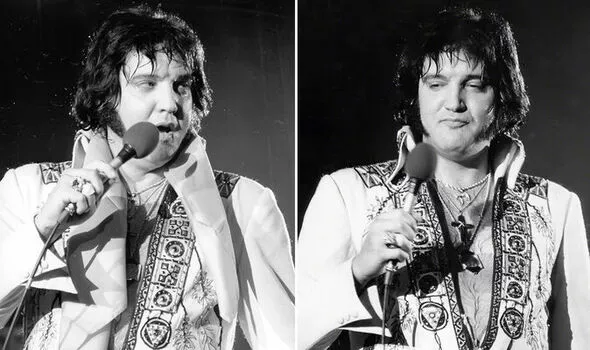 Ronald C Modra via Getty Images
On August 16th 1977, Elvis performed live for the last time in Indianapolis, Indiana. Videos of Presley performing "Unchained Melody" during this concert have gone down in history as The King looks very overweight and is surrounded by empty Coca-Cola cups. Sadly, Elvis died two months later of heart disease.
19. He had an intense fear of being alone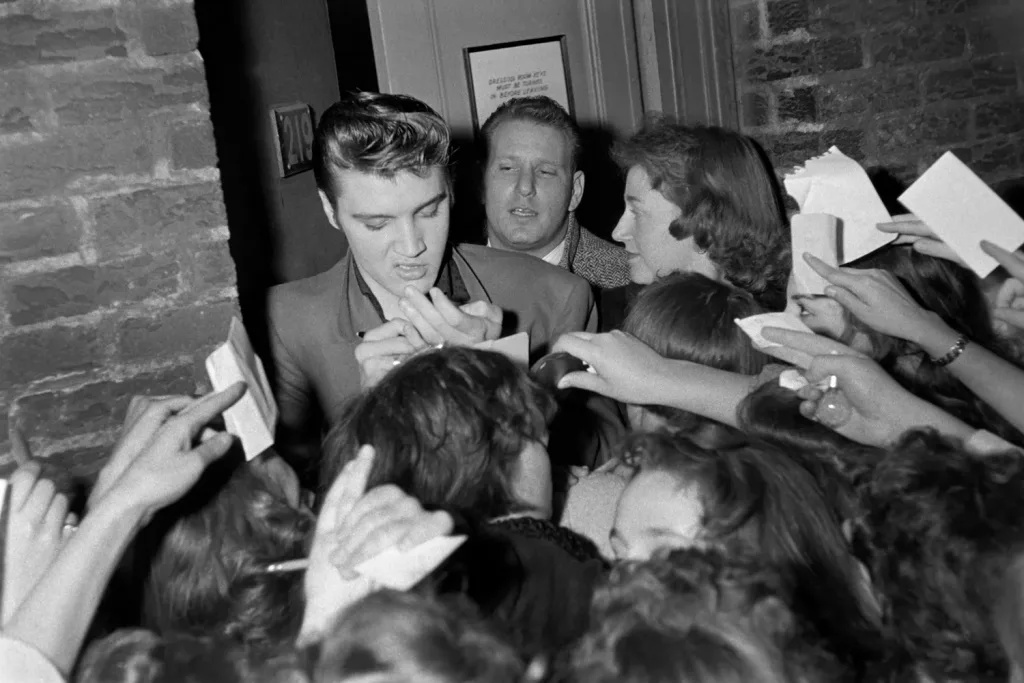 Alfred Wertheimer via Time Magazine
Throughout his career, Elvis struggled with life in the limelight and had a manager who made controversial decisions that jeprodized Presley's career and wellbeing. To combat this, Elvis liked to always be around friends, family and a trusted security team. He was also known for being incredibly generous towards friends and strangers.
20. He was posthumously awarded the Presidential Medal of Freedom by former President Donald Trump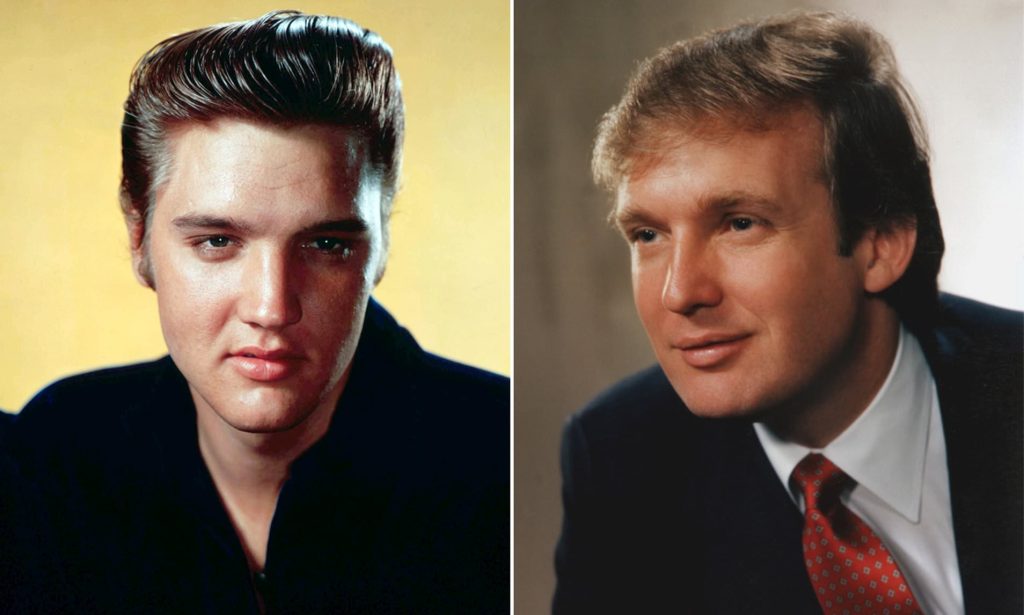 Francesca Chambers via Daily Mail Online
Trump awarded Presley this medal because he "defined American culture to billions of people around the globe." This probably comes as no surprise, given Elvis's achievements throughout his career. After he was awarded this medal in 2018, he joined the ranks along other music legends such as Bruce Springsteen and Diana Ross who also received this recognition.
21. Elvis was a fan of Monty Python
Monty Python via Netflix
Despite the fact that he didn't appear in a lot of comedic films; Presley enjoyed a comedy skit or two and apparently used to quote lines from Monty Python. According to Terry Gilliam, a member of the Monty Python troupe, Elvis was known as "Squire" among friends, a character from their "Nudge Nudge" sketch.
22. He was known for his charitable acts and donated lots of money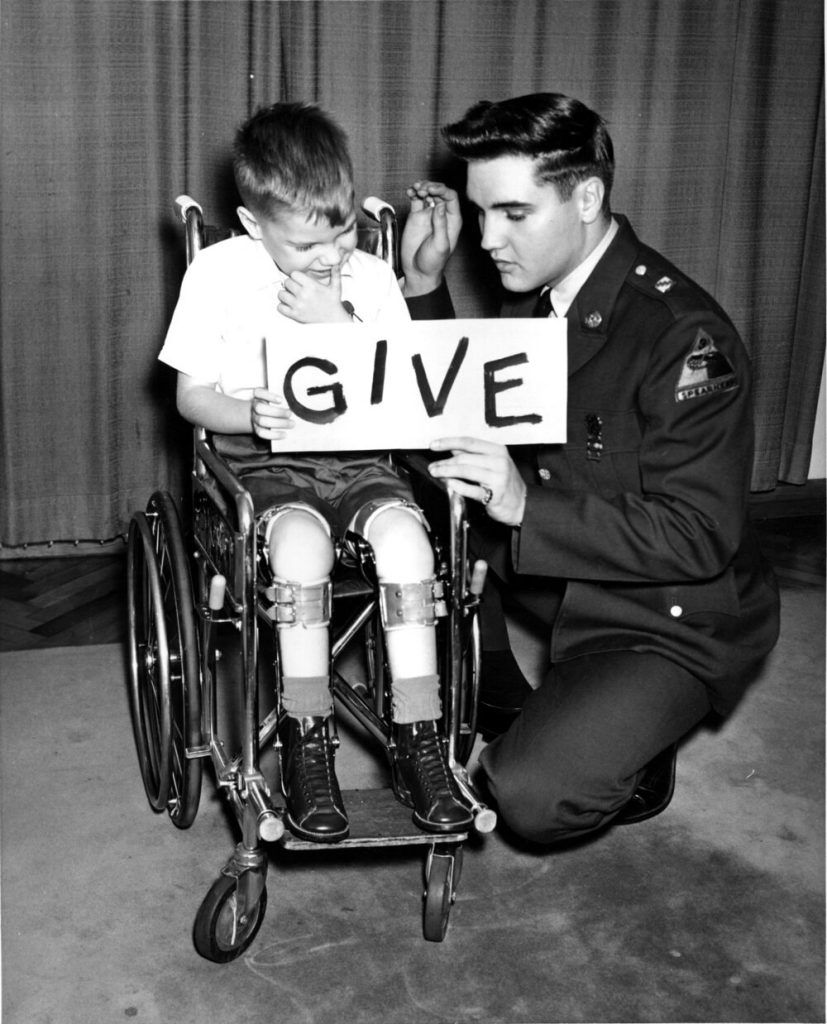 Bob Pakes via Facebook
Elvis was known to be incredibly generous among friends, but it didn't stop there. Throughout his career, he donated thousands to charities, non-profits and those who needed help. Early in his career, he donated toys to a Marine drive for children and he helped all students from a local Memphis school to attend a football game. Presley loved using his career to give back to his fans.
23. Elvis's favorite meal was fried chicken and mashed potatoes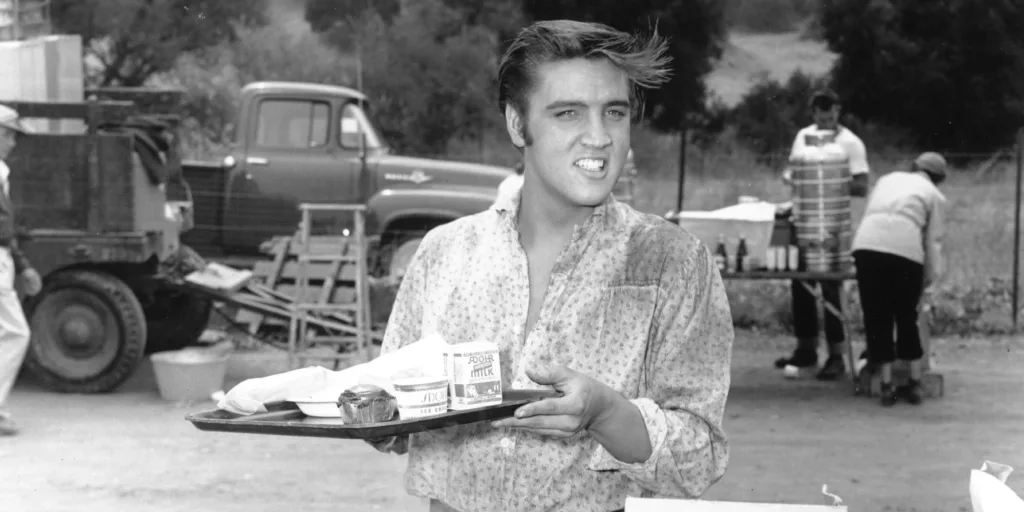 Michael Ochs Archives via Getty Images
Over the course of his career, Elvis's diet became part of people's fascination with the musical legend. It's no surprise, hailing from Memphis, that Elvis loved good old Southern cooking. He was known to enjoy his mother's fried chicken and mashed potatoes served with gravy, cornbread and collard beans. And of course, some coconut cake or banana and chocolate pudding for dessert.
24. He won Grammys for his gospel music recordings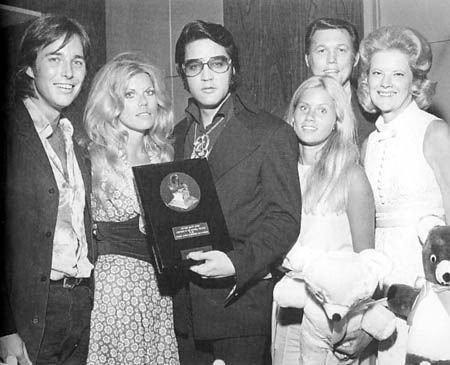 Elvis News via Twitter
Although Elvis was undoubtedly "The King of Rock & Roll", he actually won all three of his GRAMMY Awards in the gospel category. He took home the "Best Inspirational Performance" category in 1972 with a performance of "He Touched Me" and two years later won the same category again.
25. Elvis's Graceland mansion is the second-most visited home in the US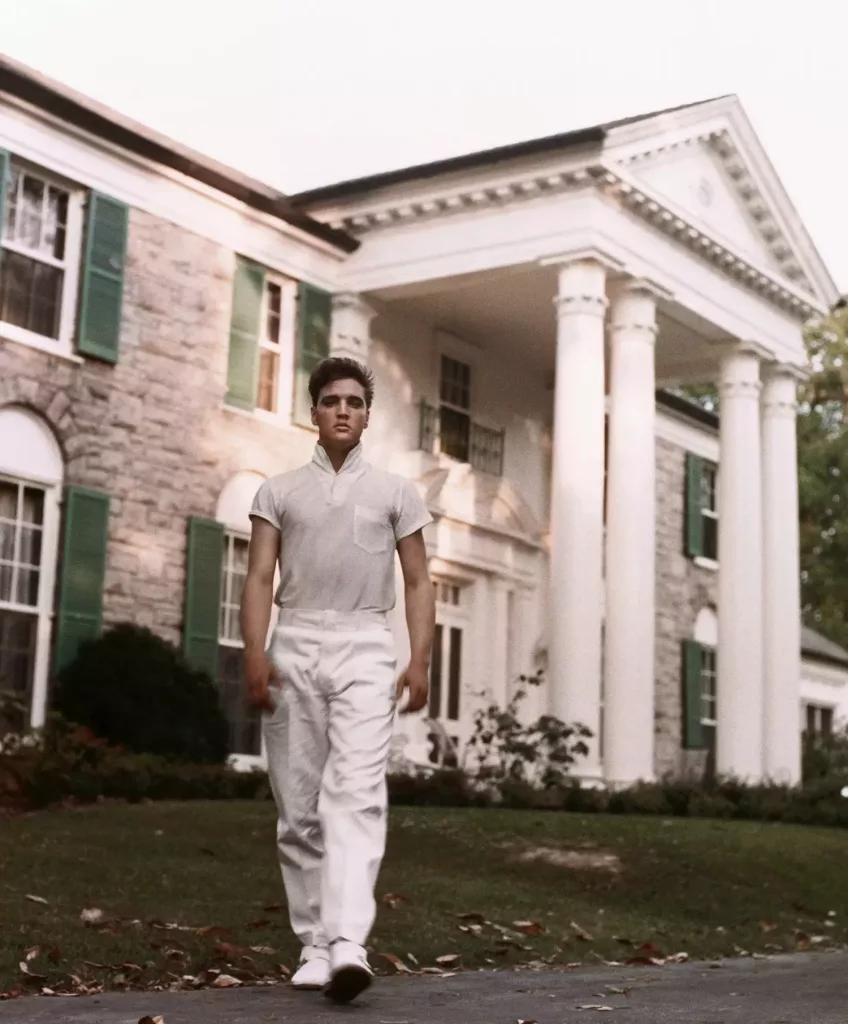 Michael Ochs Archives via Getty Images
Graceland, Elvis's home in Memphis where he eventually died, has been open to the public since June 1982. It serves as a museum of Elvis Presley memorabilia and a way for fans to get a true glimpse into the singer's life. Thus is, of course, a must-see attraction in the south of the US and brings in around $10 million dollars annually.
26. He inhaled is tooth cap while filming Jailhouse Rock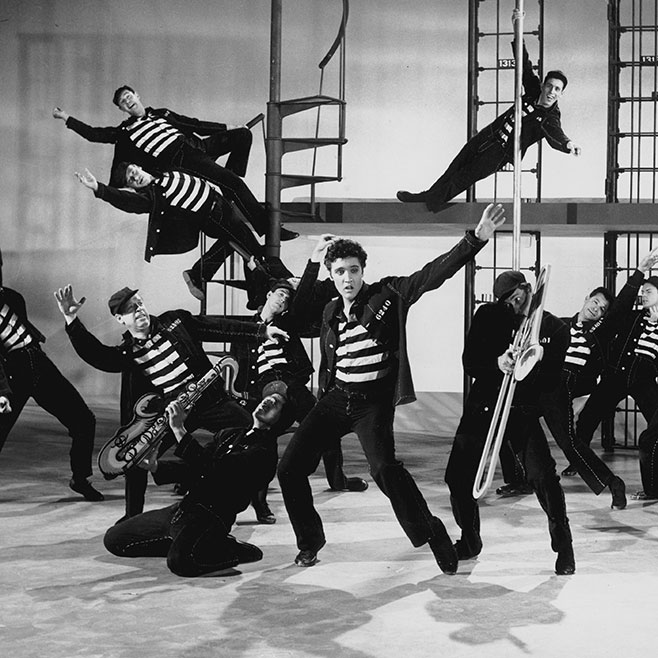 Michael Ochs Archives via Graceland Archives
Whilst sliding down a pole during the filming of "Jailhouse Rock" in 1957, Elvis swallowed his tooth cap and was rushed to hospital the next morning with chest pain as a result of the incident. To remove this, Elvis had to undergo surgery that separated his famous vocal cords to retrieve the piece of tooth, but fully recovered within a few days.
27. Elvis's famous jumpsuits weighed up to 75 pounds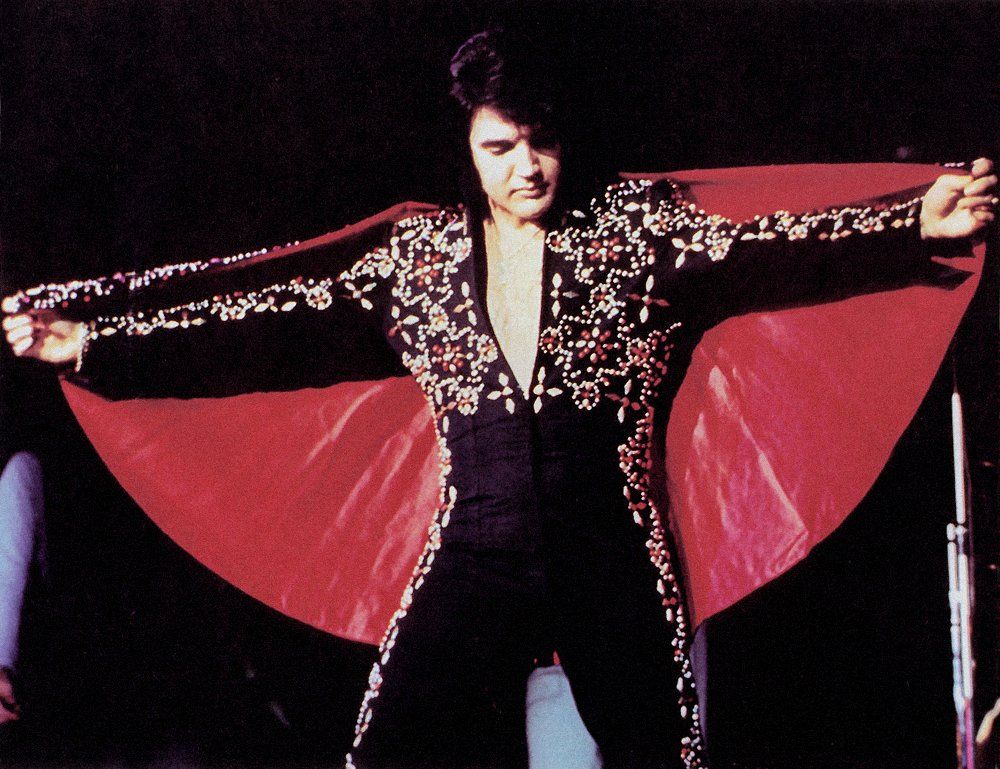 Presley Archives via Twitter
Elvis was known for his bejewelled jumpsuits that sparkled under the stage lights while he performed; and as his career went on these got more and more intricate. His earlier jumpsuits weighed in at around 25lbs, but as time went on and his outfits got more rhinestones added, they became heavier and were reported to have weighed up to 75lbs!
28. He is the second-most paid deceased celebrity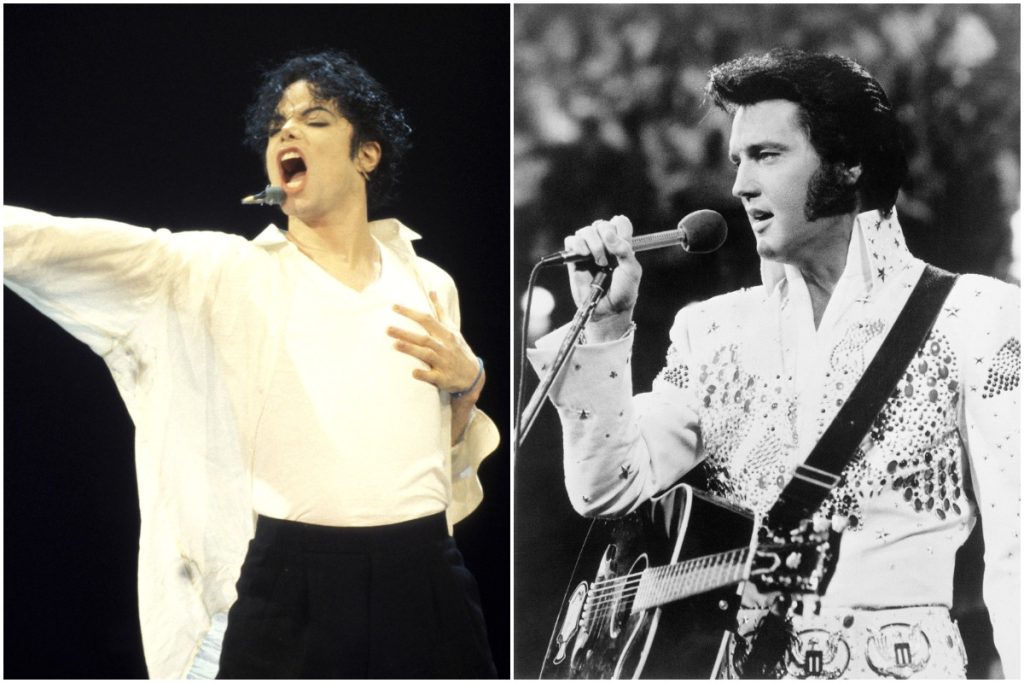 Bettmann via GettyImages
After celebrities pass away, this doesn't mean that they stop earning money. With music royalties, to copywriting licences, Elvis's estate still makes up to $20 million dollars a year. The only celebrity that beats Elvis in this regard is music legend Michael Jackson who reportedly made $100 million dollars in 2020 alone.
29. Elvis couldn't read music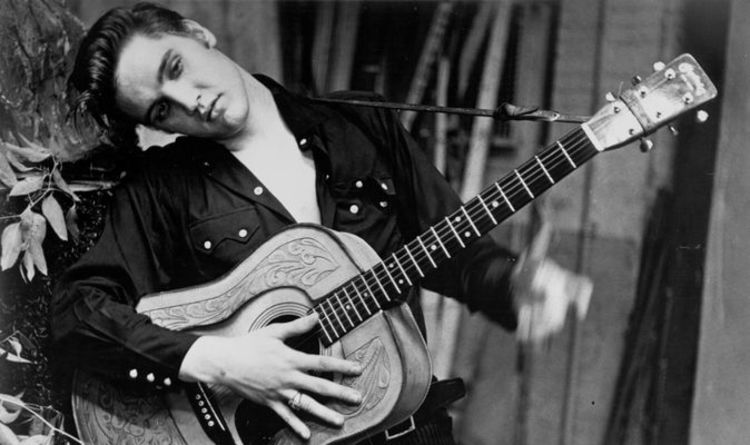 Michael Orhs Archives via Getty Images
Not only did Elvis not write any of his own music, but he couldn't actually read music either! Although Elvis was a talented guitar, bass and piano player, and had experimented with drums, accordion and ukulele, he played all of this by ear. Elvis was a talented musician and could pick up music very quickly without needing sheet music to enhance his performances.
30. A lot of Elvis's songs have 'blue' in the title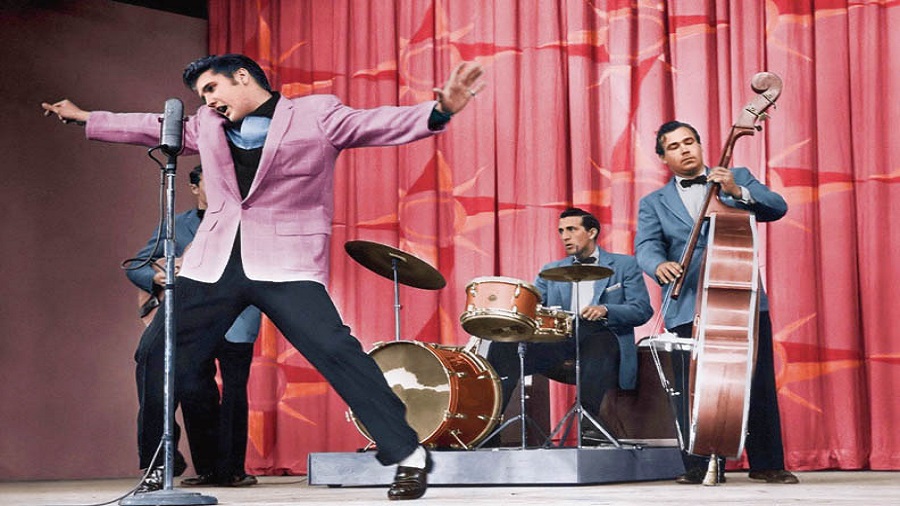 Biswajit via Telegraph India
Elvis was known for his influence on blues music, and maybe this is why 15 of his songs have the word 'blue' in the title. From "Blue Suede Shoes" to "Blue Christmas", Elvis was fond of a sad song. Although this color matches his eyes and his songs, it was reported that Elvis's favourite color was actually pink and he wore a lot of pink clothing throughout his career.
31. Elvis only ever appeared in one commercial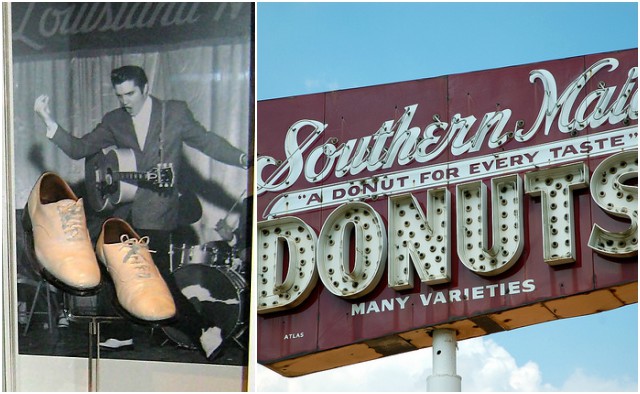 Goran Blasezki via VintageNews
Although Elvis had a long film and music career, and certainly wasn't shy of a camera; he actually only appeared in one commercial. Ever the sweet tooth, he appeared in Southern Maid Donuts' 1964 commercial and sang their jingle, "You can ge 'em piping hot after 4pm, you can get 'em piping hot."
32. Elvis never performed outside of North America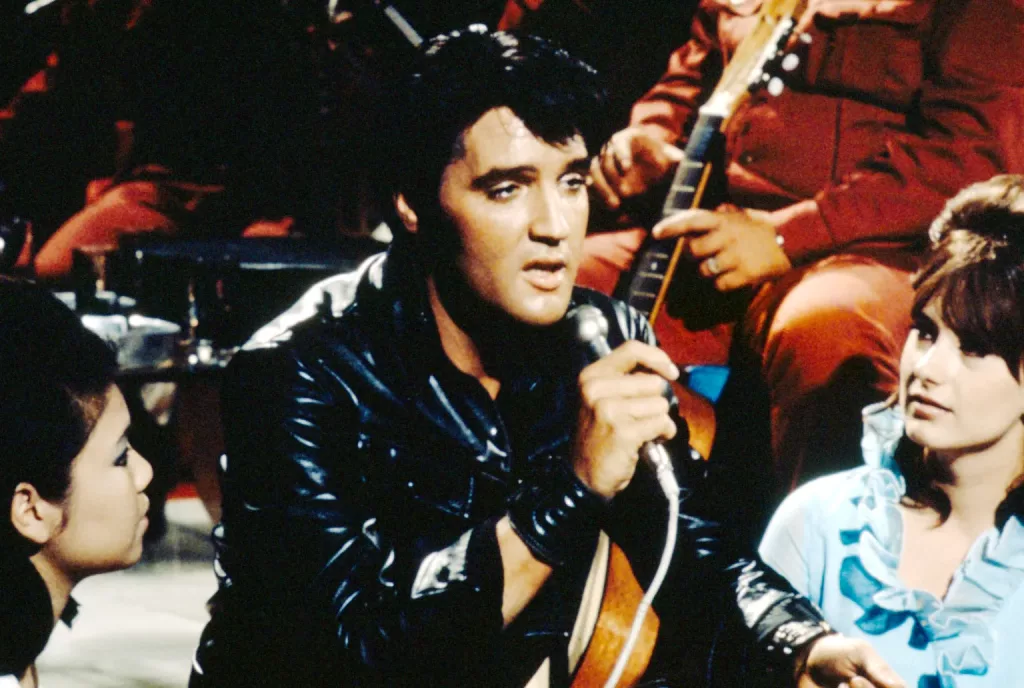 Uproxx via Getty Images
Colonel Tom Parker, Elvis's manager, was masquerading as a US citizen, and was not able to obtain a passport, and this is the reason some believe that Elvis never toured outside the US. Parker was known to be coercive in his management style and had convinced Elvis that he was too unwell to travel outside of the country even though he had expressed desires to.
33. Elvis bought Franklin Roosevelt's presidential yacht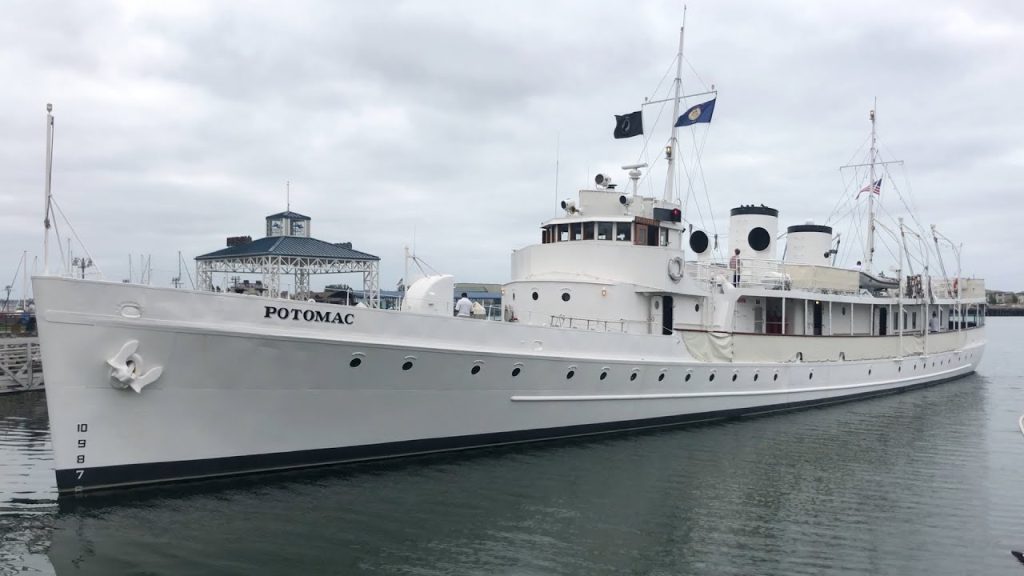 Localish via YouTube
As we know, Elvis was known for his generosity, and the USS Potomac was part of one of his biggest gestures. He bought this yacht for $55,000 dollars from former President Franklin Roosevelt and donated it to St Jude's Children's Hospital so that they could sell it in a charity auction.
34. Presley served in the army after he was already famous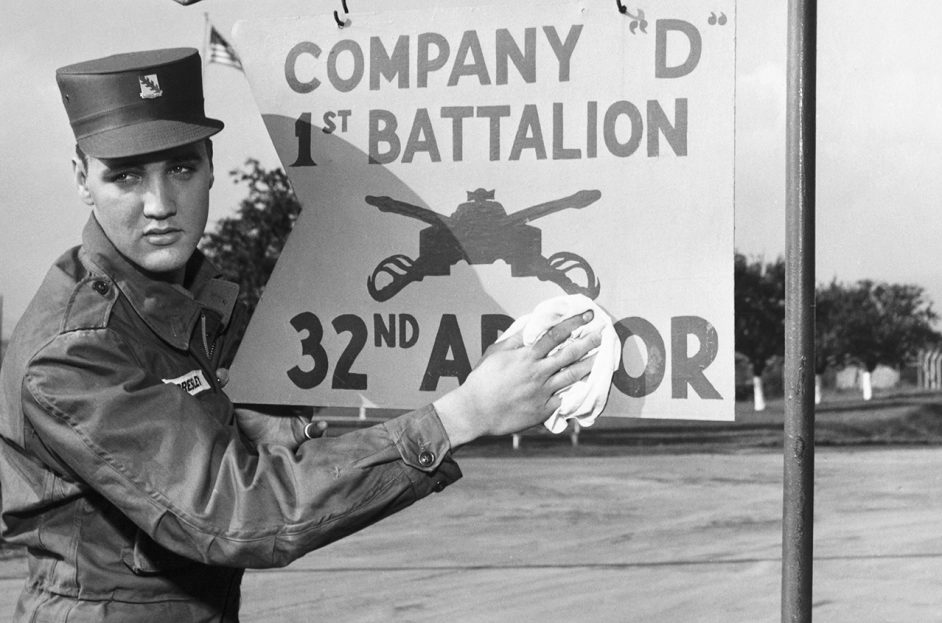 Vittoriano Rastelli via Getty Images
Elvis entered The US Army in March 1958 and left active duty in 1960. He was discharged from Army Reserve in 1964. During this time, Elvis was already widely known as the most famous person in entertainment. But his talents didn't stop there, Presley excelled during his time serving in The US Army and served as a sergeant.
35. Elvis's manager was a former carnival barker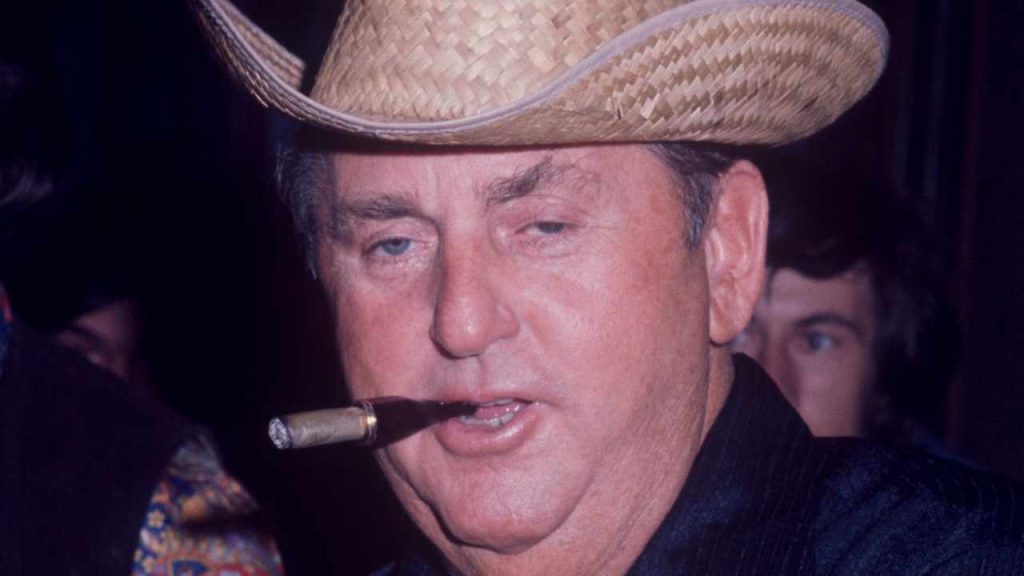 Charlotte Everett via The Sun
Elvis's manager, Colonel Tom Parker, was a shady character to say the least. Not only was he pretending to be a US citizen, but he had had a number of ad-hoc jobs before becoming Presley's manager, including working at a carnival. Whilst working with Presley, he was thought to have lost Elvis a great deal of money.
36. Elvis' wife was 14 when they married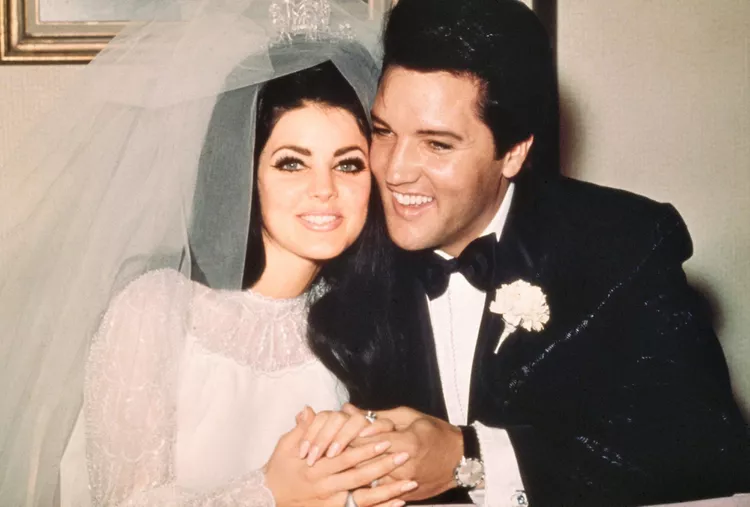 Getty via People
We see some pretty shocking age-gaps between celebrity couples nowadays, but Elvis was guilty of this back in 1967 when he married Priscilla Ann Wagner. The two met at a party in Germany at Elvis's house that he rented whilst he was serving in the army. What's shocking is that Priscilla was 14 at the time and Elvis was a whopping decade older than her, aged 24.
37. Colonel Tom Parker negotiated a deal that gave 50% of Elvis's royalties to himself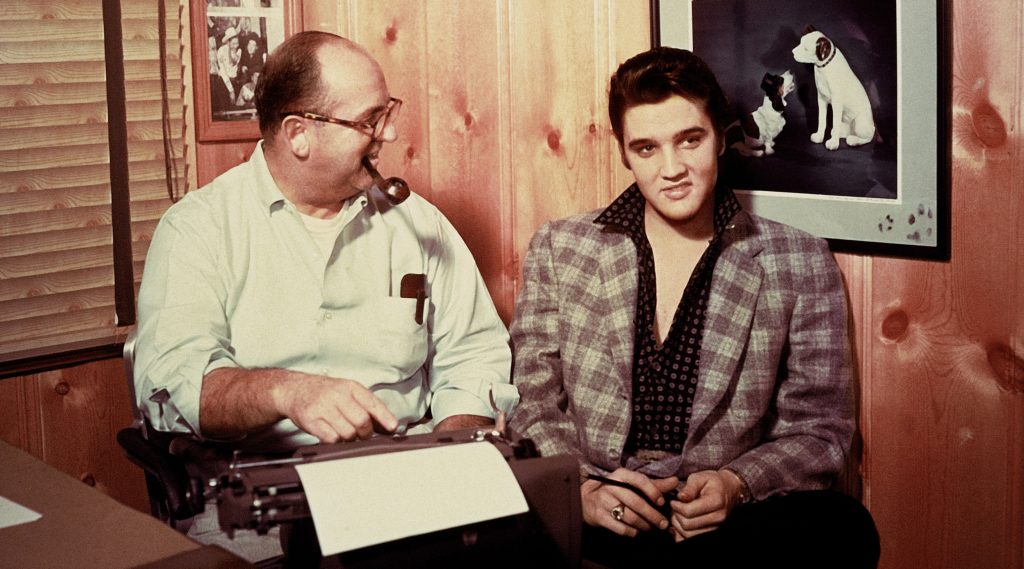 Pictorial Press Ltd via Alamay Photo
Elvis met Colonel Tom Parker in 1955, Parker had managed some other famous crooners before Elvis and seemed to know what he was doing. However, by the time Elvis's career was coming to an end in 1973, it's reported that Colonel Parker was taking up to 50% commission, which was extremely exploitative for the time.
38. Elvis loved to read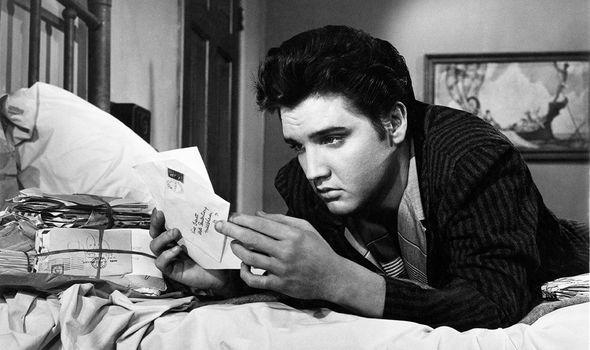 Express via Ben Vaughn
Always a spiritual man, Elvis was known to have read the Bible back to front several times. however, he was fond of some other famous titles too. Notably, Benner's "Impersonal Life" that teaches readers a meditative approach to life. Now, knowing the whirlwind life that Presley had, it's no surprise that he turned to religious texts for comfort.
39. He was influenced with Dean Martin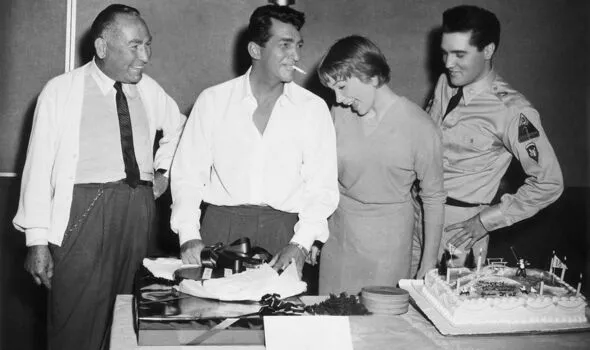 Express via Getty Images
Although Elvis was influenced by many musicians, the most notable is Dean Martin, who Presley dubbed "The King of Cool". The swagger of Martin's singing style clearly rubbed off on Elvis and this is partly where his iconic singing style came from. The two met on a film set in 1960 and were big fans of each other since that day.
40. Elvis's net-worth was around $5 million at the time of his death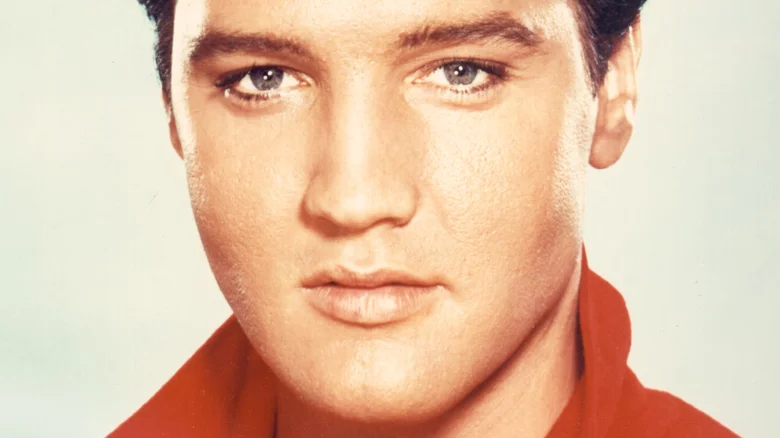 Michael Ochs Archives via Getty Images
This might not seem like a lot for one of the biggest celebrities of the time, but in 1977, $5 million was a lot of money. In fact, that equates to $26 million dollars. Which, surprisingly, is still only $6 million more than what Elvis makes from beyond the grave. It seems he had lots of cash in life and in death.
41. There are more than 35,000 Elvis impersonators in the US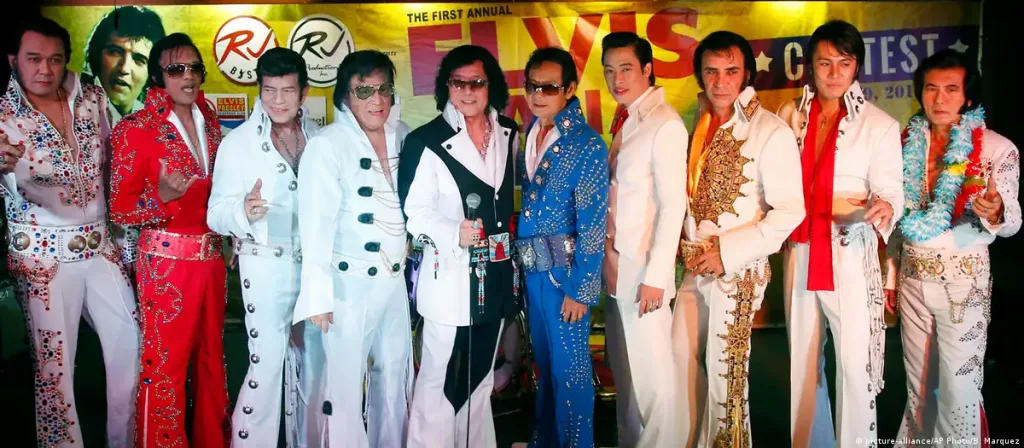 picture-alliance via AP
Okay, everyone knows that Elvis made a lasting impact on the music community, but did you know that there are over 35,000 Elvis impersonators in the US alone? This probably comes as no surprise though, as everyone has had to sit through a terrible Elvis tribute act at least once in their life.
42. Elvis saw a dentist hours before he died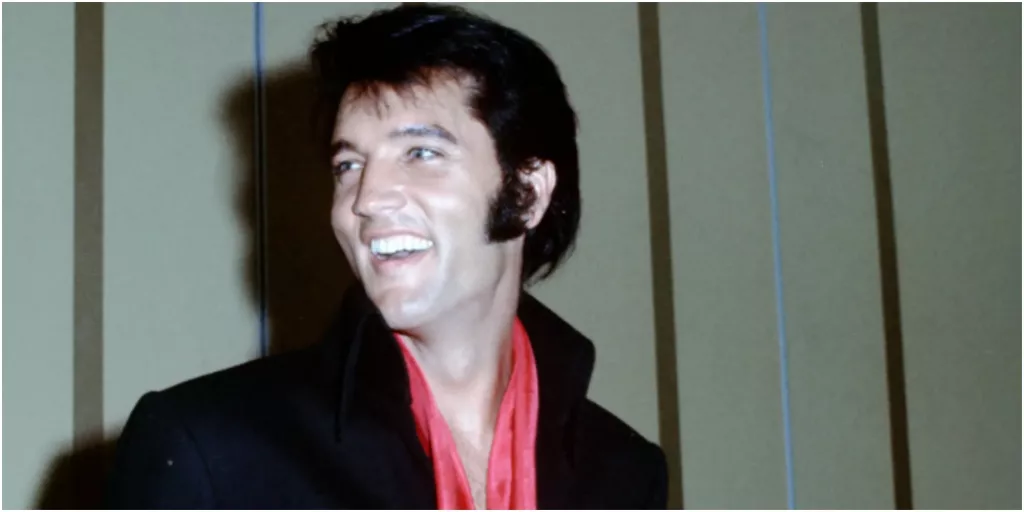 Michael Ochs Archives via Getty Images
Elvis had a personal nurse, doctor and dentist on hand at all times during his career. This isn't surprising, given how unwell he was towards the end of his life. His fiancée Ginger Alden, took him to the dentist at 10.30pm that night because he had a toothache.
43. Elvis's last words were "I won't"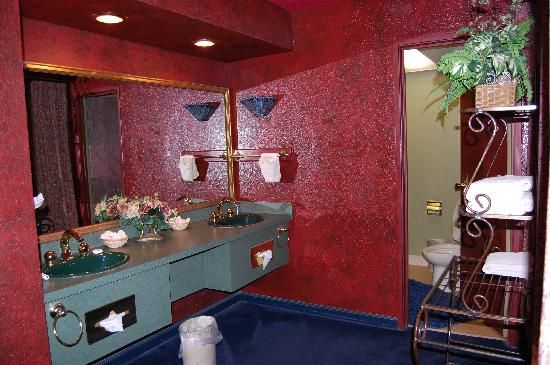 Tripadvisor via Pinterest
Elvis had a habit of spending a long time in the bathroom, and no, he wasn't doing the sudoku – the man ate a lot of fried food. He also had a habit of falling asleep in there, so the night that he died in the bathroom Alden warned him to not fall asleep on the throne, his last words were, "I won't".
44. Elvis' daughter inherited his estate when she was 25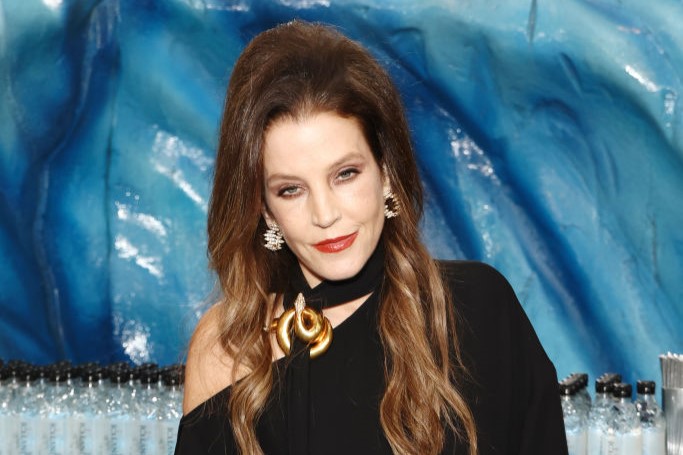 Joe Scarnici via Getty Images
When Elvis died, he left his estate to his father, his grandmother and his nine-year-old daughter, Lisa Marie Presley, through a trust fund. By the time Lisa-Marie was old enough to inherit her father's estate, the others had already passed away. She turned 25 and inherited Presley's entire estate, including Graceland.
45. Presley's private jet is named after his daughter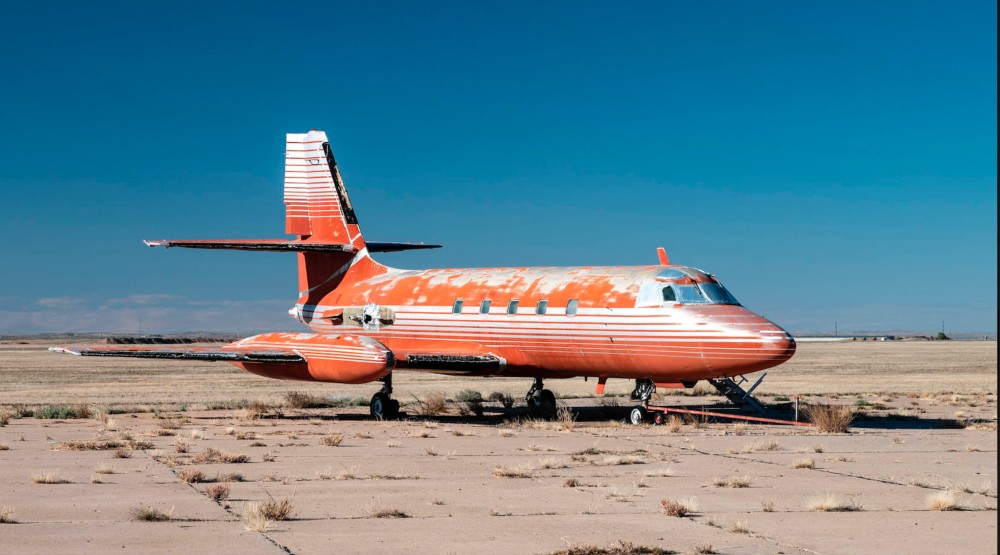 Mecum via Robb Report
Elvis had originally planned to buy a Boeing 707 but after some legal trouble decided against it. Instead, he paid $250,000 for a Convair 880 in 1975 and named it Lisa Marie. He had the interior completely stripped and remodelled the jet to his specifications. Today, this jet would have cost $1.2 million.
46. Elvis never called his daughter by her name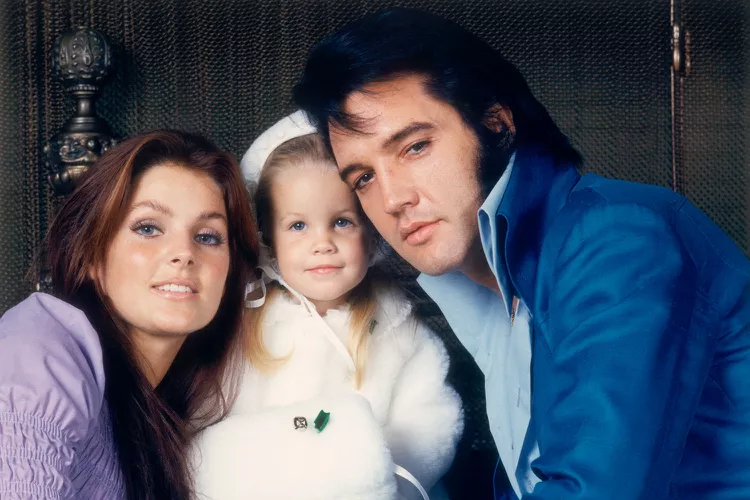 Frank Caroll via Sygma
Although she was given the name Lisa Marie Presley at birth, Elvis almost never called his daughter this. He only ever called her "Yisa", "Sweetcheeks" or "Buttonhead". Unless she was in trouble, then Elvis went into strict father mode and called her by her full name.
47. Presley's daughter was in debt when she died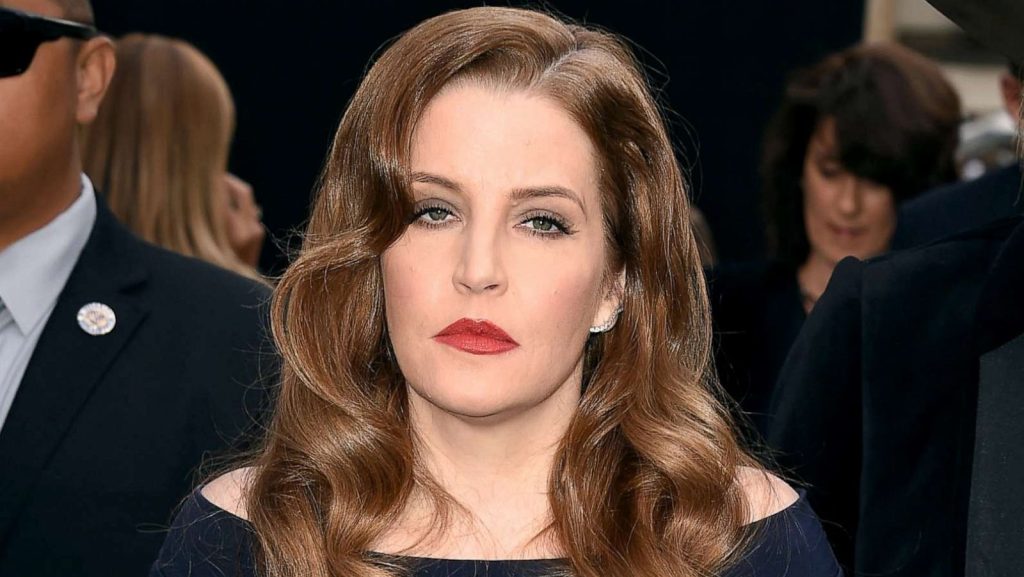 Steve Granitz via Getty Images
After Elvis died, Lisa Marie inherited almost all of his fortune, making her very rich indeed. However, Presley struggled with her finances her entire life and after some shady business dealings and a bad manager, she was actually in debt to the value of about $4 million when she died in 2023.
48. Presley's ex-wife helped make sure the 2022 film was accurate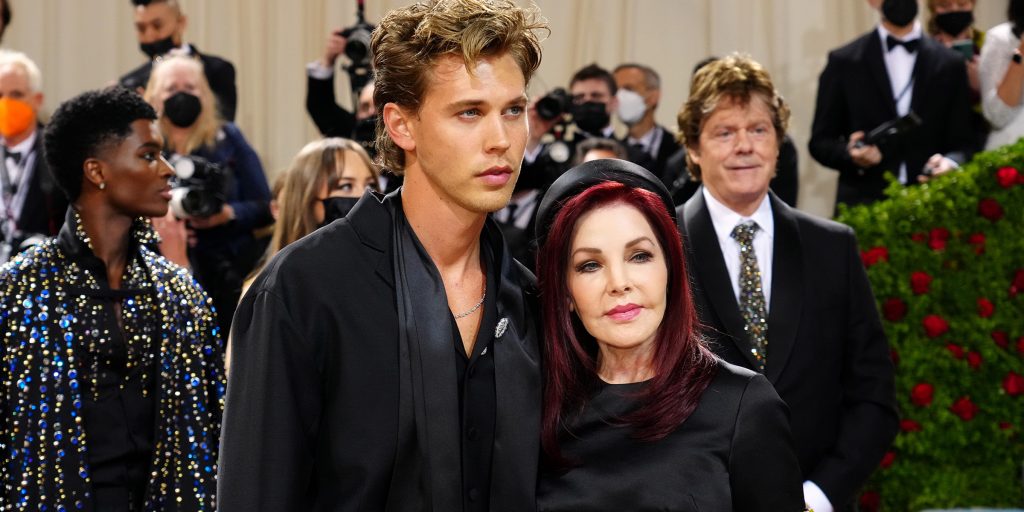 Jeff Kravitz via FilmMagic
Both Priscilla and Lisa Marie Presley helped Baz Luhrmann learn everything he needed to know about Elvis to make the film the spectacle it was, however, neither of Presley's surviving family members tried to influence how Elvis would come across in the film. They even let Austin Butler, who played Elvis, play one of Presley's guitars in Graceland.
49. At one point, Elvis didn't perform for 7 years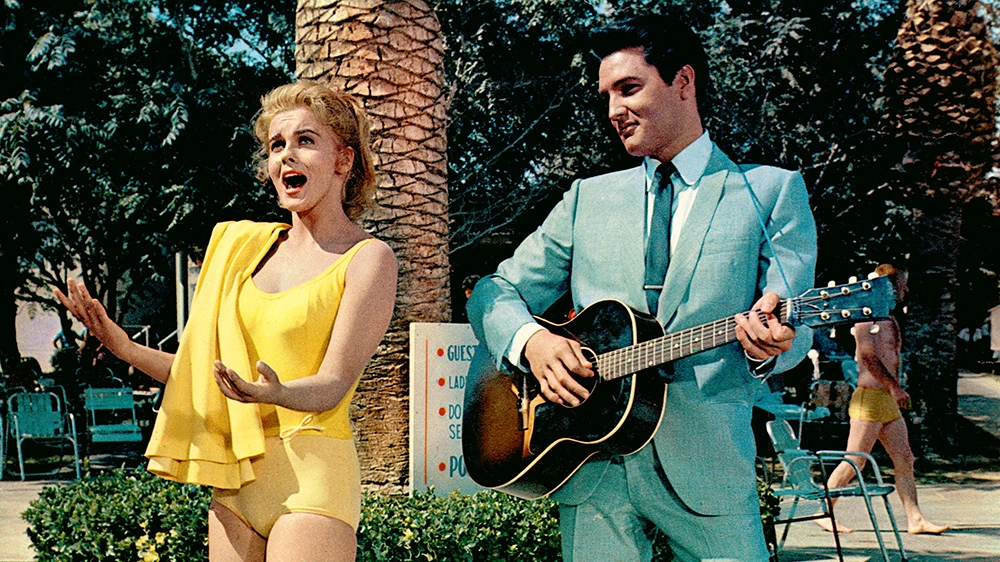 Everett Collection via Variety
In the late 60s, Elvis had been getting some bad press for his not-exactly-PG performances, so his manager took him off the stage for a while. Instead, Elvis was made to clean up his image by starring in movies and recording several soundtracks. This wasn't making him happy though, and he eventually went back to performing live.
50. Elvis's father went to prison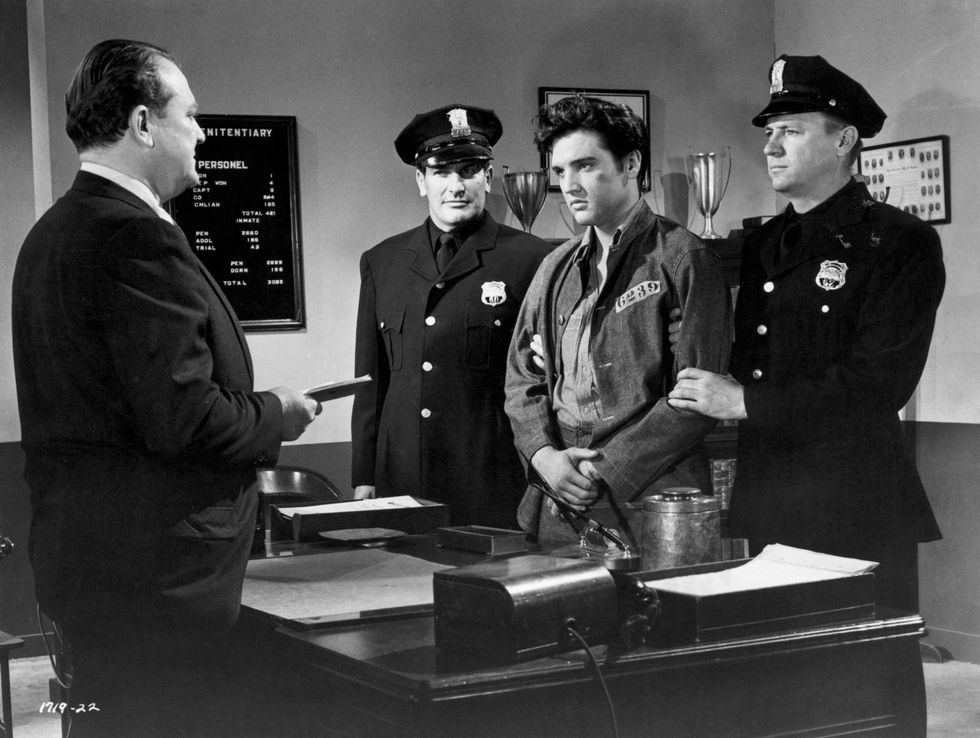 Bettmann via Getty Images
When Elvis was a child, his father forged a check for $4 and was sentenced to prison for three months. This may seem harsh, but this event actually made the Presley family decide to start attending church, and this is actually when Elvis first discovered gospel music and started singing.
51. Elvis wasn't popular at school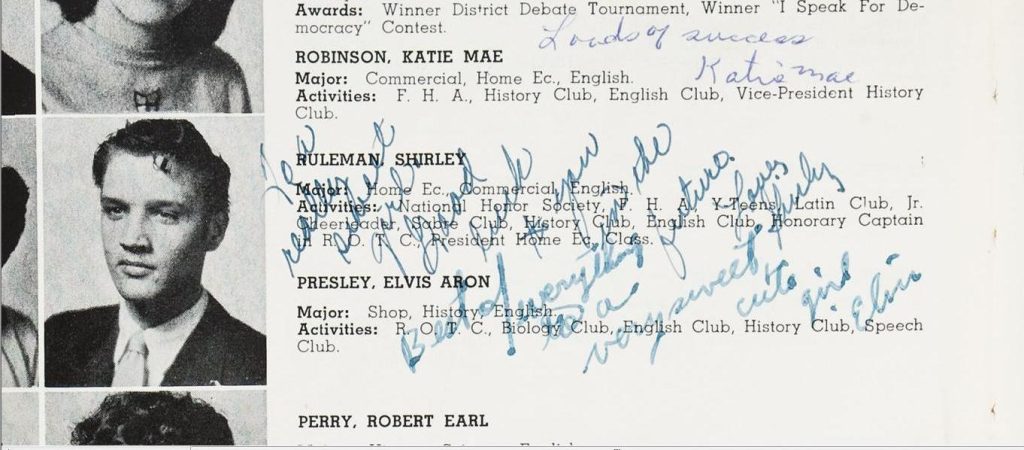 Getty via Elvis Daily
Although Elvis was one of the most popular people to ever exist with bags of charisma, in school his classmates noted that he was. a bit of a loner. Elvis was a quiet child who didn't do particularly well in class, in fact, he even failed a music class. Now, people learn about him in music class; look how the tables have turned.
52. Elvis lived in poverty during his childhood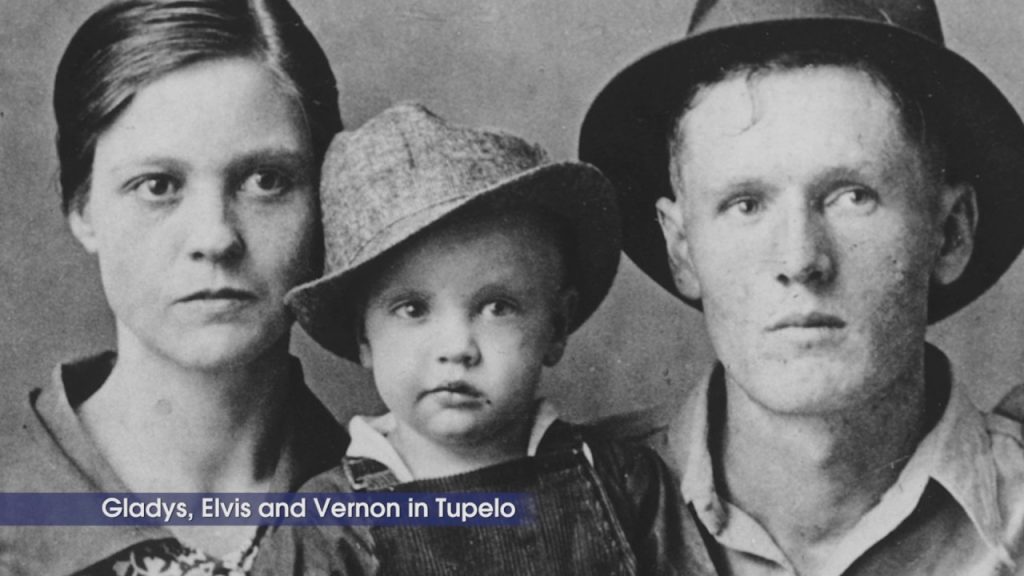 Graceland via YouTube
Although Elvis is worth millions even now, he started with much humbler beginnings. When Elvis was a child, he lived in a house with no running water or electricity. This is why when Elvis became a star, his whole family came to live in Graceland so that they could experience luxury too.
53. Presley is a distant relative of two former US presidents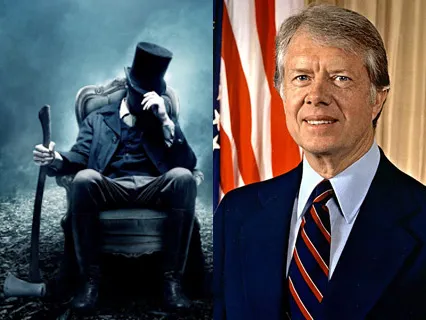 20th Century fox via MotherJones
As if Presley wasn't enough of a staple in the US, he is actually related to both Abraham Lincoln, whose great-grandfather is an ancestor of Elvis, and Jimmy Carter; who is sixth cousin once removed from Elvis. This was a man always destined to make history, it seems.
54. Elvis was rejected from a choir
Bettermann via Getty Images
When Elvis was 12 years old, he had started to really enjoy the gospel music he was hearing church. Because of this, he decided to try it our himself and audition for a choir; shockingly though, he was rejected from the music group because he apparently couldn't harmonize with the other singers. Good thing he was a solo artist!
55. Presley was on a boxing team in high school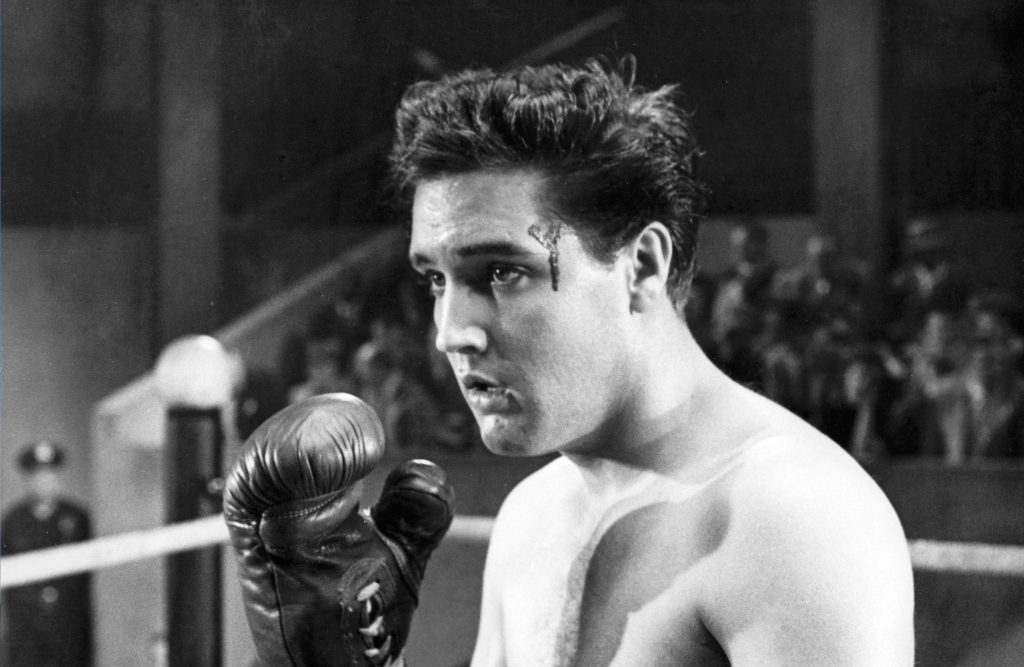 Film Archives via TCM
Although we saw earlier that Elvis was a keen martial arts enthusiast, he was also on the boxing team for his school. Eventually, he quit the team after a bloody-nosed fight; professing that he was more of a lover than a fighter. Good thing nobody messed up that pretty face of his.
56. A judge once called Elvis "a savage"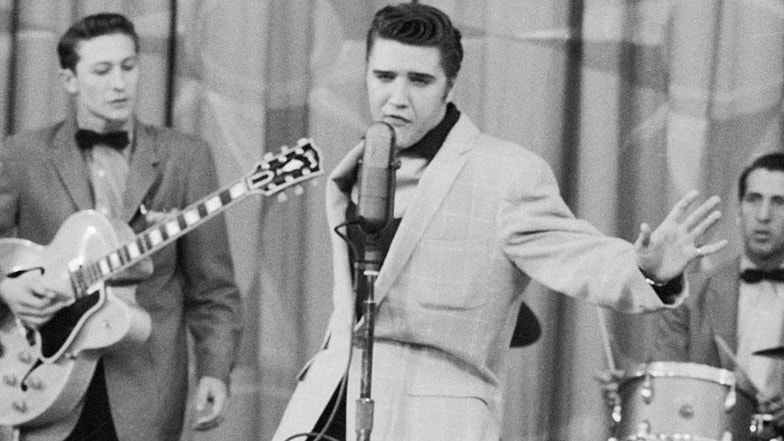 Bettmann via Getty Images
Yup, that's right – not everyone was blown away by the King of Rock. Back in 1956, a Jacksonville judge called Elvis a savage and threatened to arrest him if he shook his hips even a little bit whilst performing on stage to a crowd of Florida teens. He was one of the first of his kind, and a lot of the older generation didn't know how to react to this type of performer.
57. Presley got his first guitar when he was 11 years old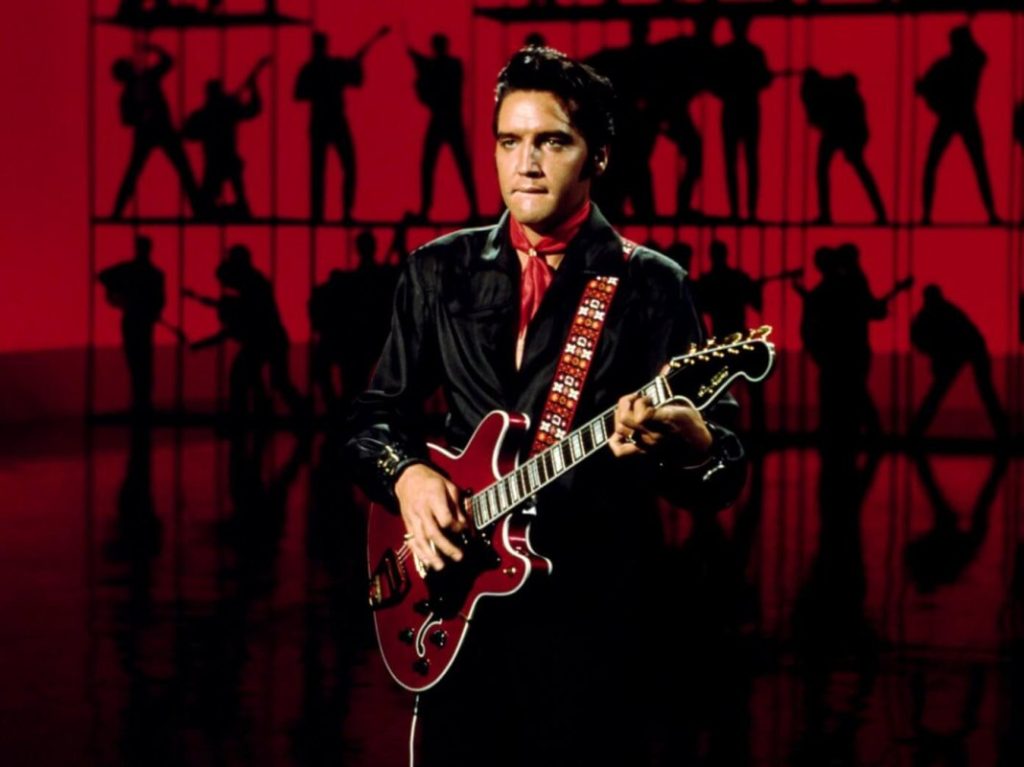 Michael Ochs Archives via Getty
Although Elvis couldn't read music, after he took an interest in singing and church music, his dad got him a guitar. He would sit for hours plucking at that guitar and singing. After years of practice, Elvis became and expert guitarist who could play nearly any riff and look cool doing it.
58. Elvis's most expensive outfit was called "The American Eagle"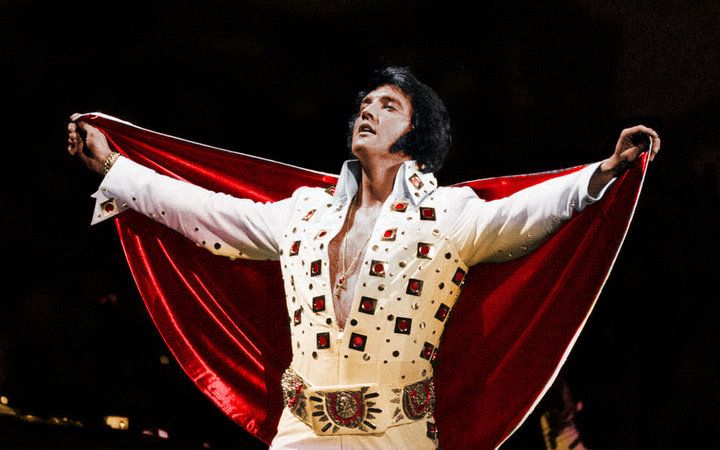 King Elvis via Pinterest
Elvis's jumpsuits were exceedingly glamorous, however, his showiest one was called The American Eagle. It had enough sequins to blind anyone that got too close and cost over $65,000. This may seem like a lot for an outfit even now, but today it would actually be worth four times as much.
59. Elvis starred in over 30 movies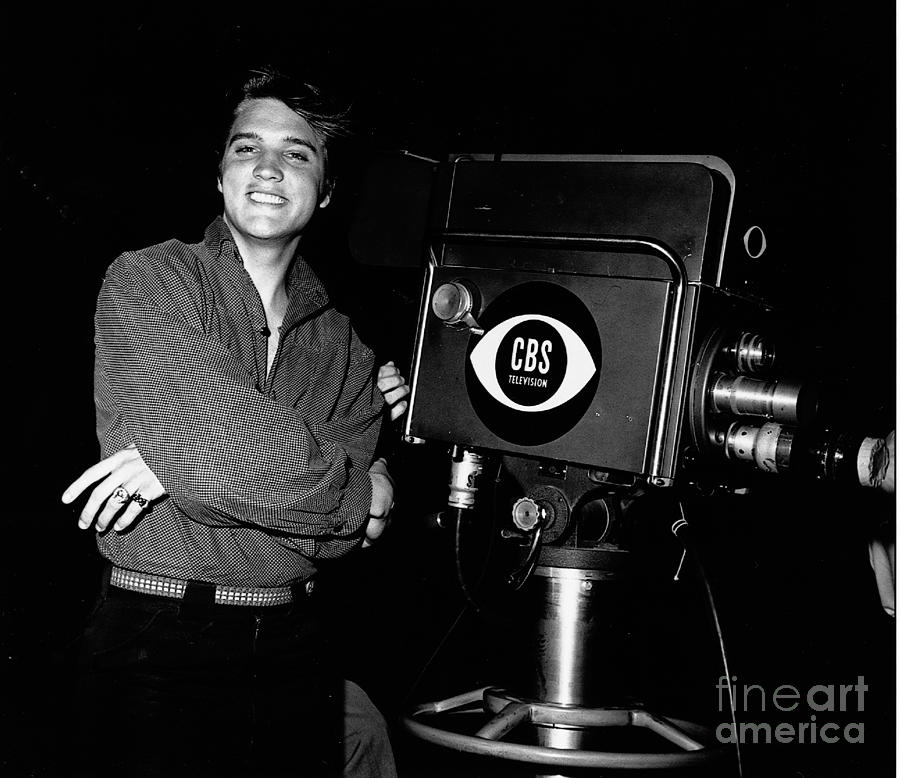 CBS Photo Archie via Getty Images
We all know Elvis to have had a long singing career but, with a face like that, it's no surprise that he was an actor too. Presley starred in over 30 movies up against some silver screen royalty such as Judy Tyler and Nancy Sinatra. It seems that Elvis really was as a triple threat because his acting skills were as good as his singing and dancing.
60. Presley died in his Graceland home
Mandel Ngan via Getty Images
Although there is a lot of speculation around the exact cause of death for Presley, it's a well-known fact that he died whilst doing some "business" in the master bathroom in his Graceland home on 16th August, 1977. Doctors confirmed that although Presley had had issues with addiction, he had died of heart disease as a result of his unhealthy lifestyle.