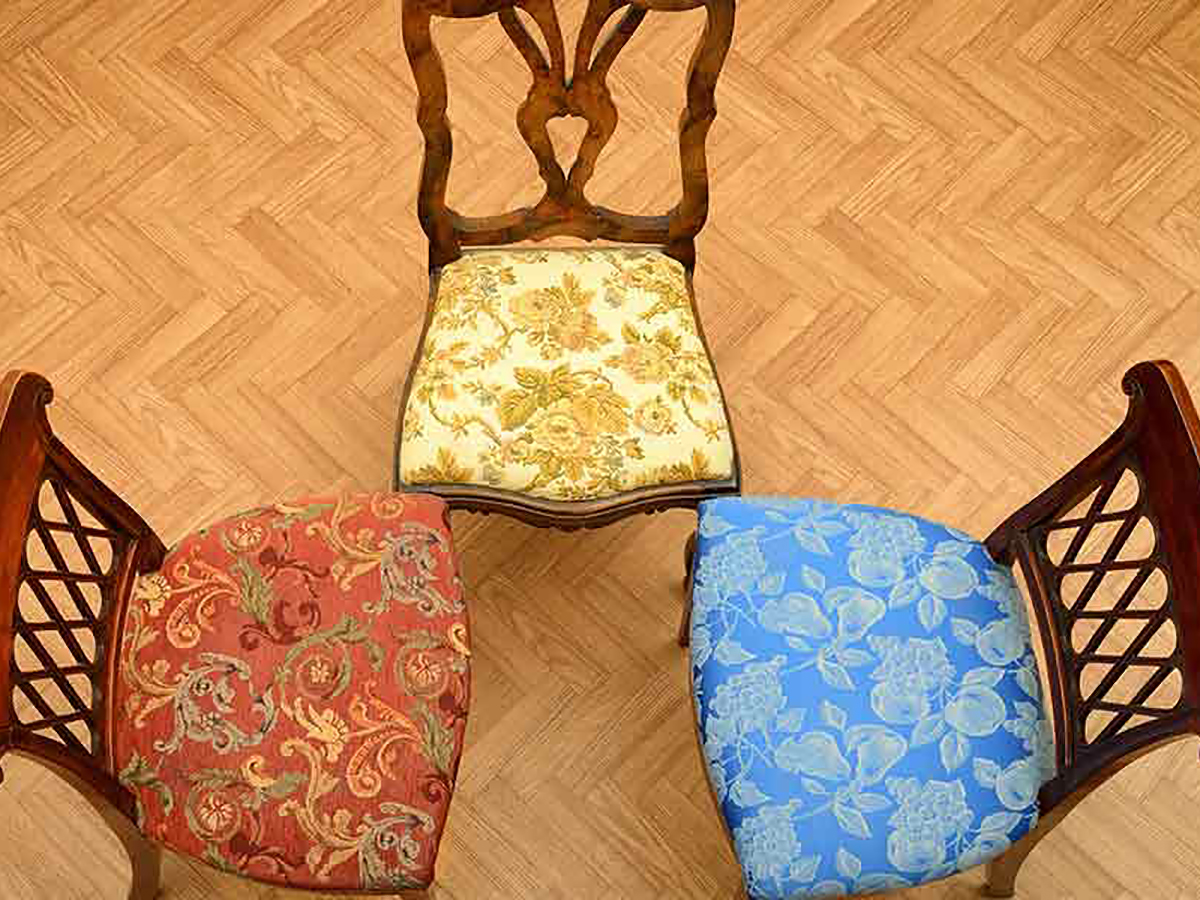 Decorating your home is the perfect way to breathe new life into any property, but it is important to make sure you choose the right trends in order to improve your home over time. But, there are plenty of trends that could make your home look old and outdated, and these are some of the key ones you need to avoid these as much as possible:
Patterned sofas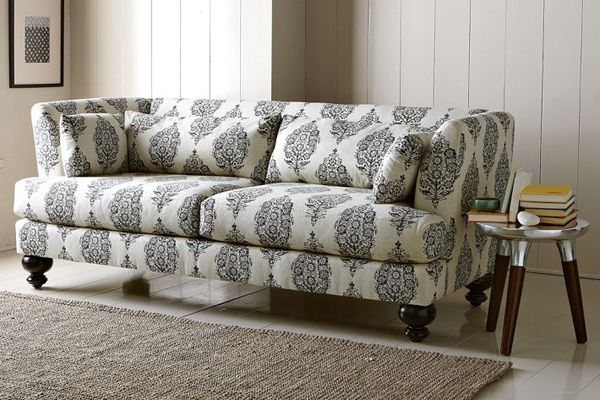 Credit: Refinery29 via Pinterest
Patterned sofas were once a staple of every American home, adding some much-loved garish charm to any living area. However, in recent times these patterned options have been sensibly cast aside in favor of more plain and neutral sofa designs, so make sure you avoid patterns.
Too many framed photos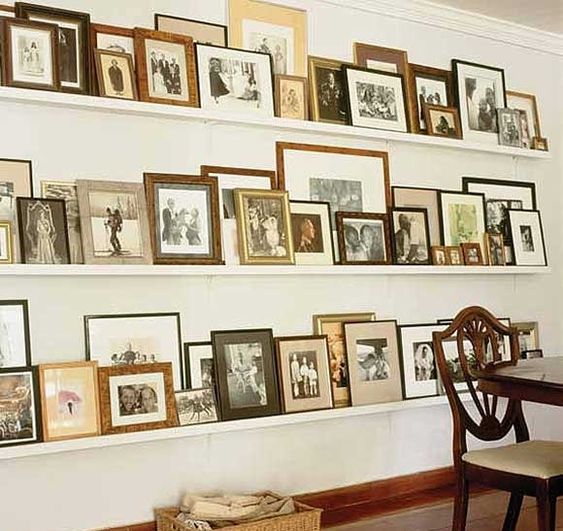 Credit: Chelsea Kim Long via Pinterest
Framed photos are a nice way of preserving memories and remembering cherished people and places, but going over the top with them can lead to your home looking old, outdated, and in dire need of a revamp. For this reason, it is important to make sure you limit your number of framed photos.
Floral print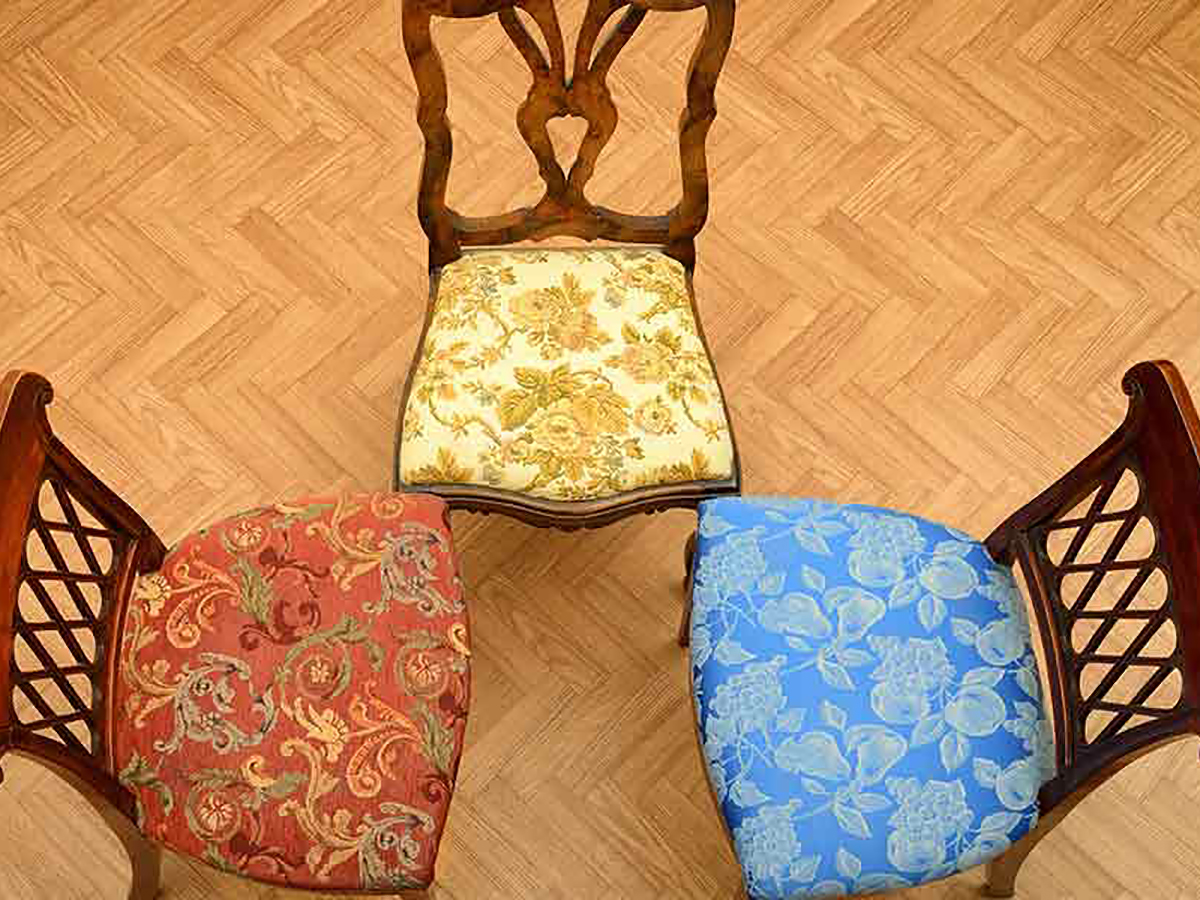 Credit: Etsy
As pretty as floral print might be for a quilt or pillow case, you need to avoid it as a prominent feature of your decor, as this can make it look old and dated. So this means no floral patterned chair covers or sofa prints – keep your home looking as sleek and modern as possible.
Popcorn ceilings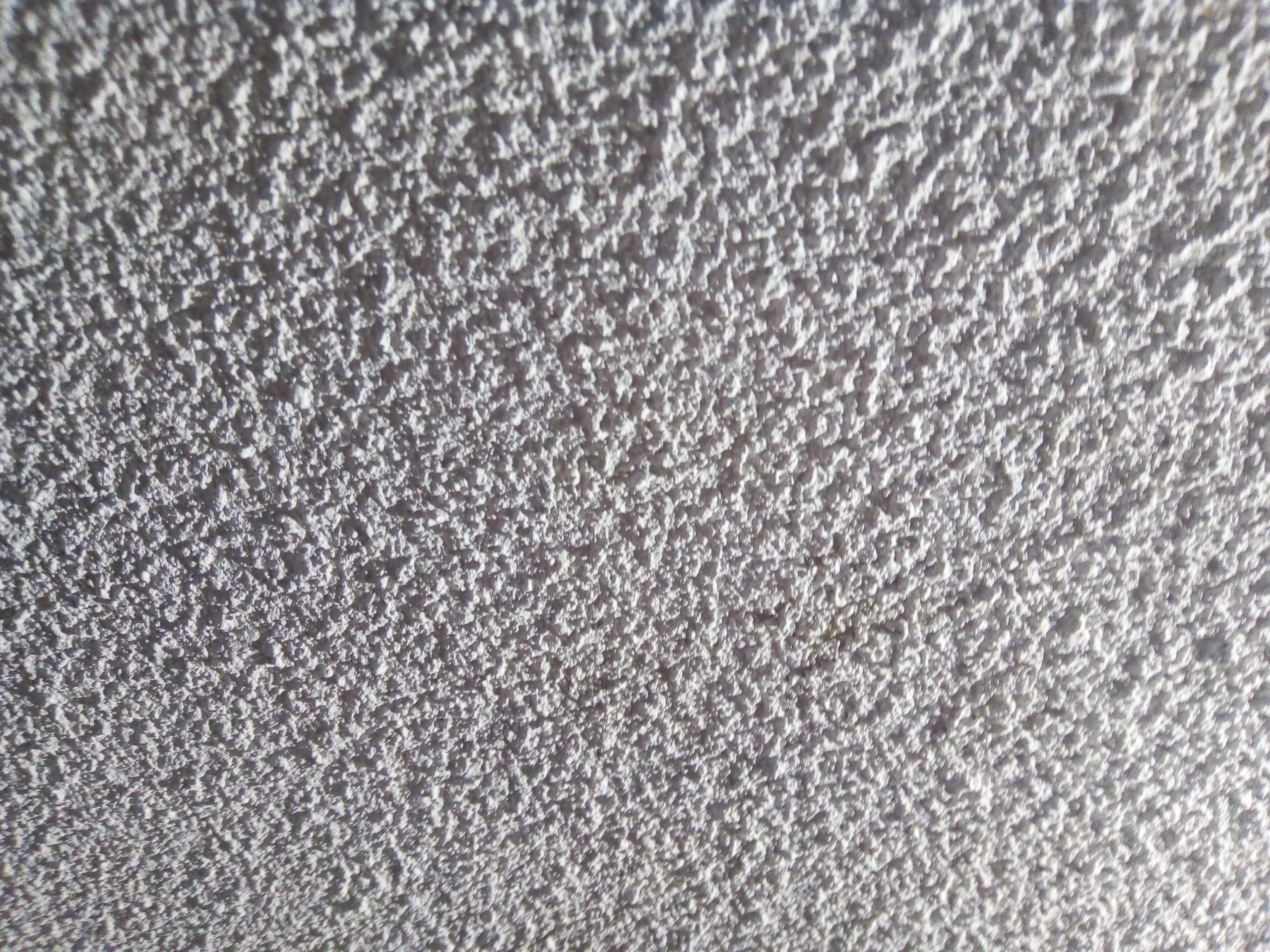 Credit: Doggo19292 via Wikipedia
Ah, popcorn ceilings. For many people, they are as inescapable a part of childhood memories as the smell of freshly cut grass, or an ice cream on a summer's day. Unfortunately, that's where they should stay; make sure you get rid of any trace of popcorn ceilings.
Mirrored wardrobes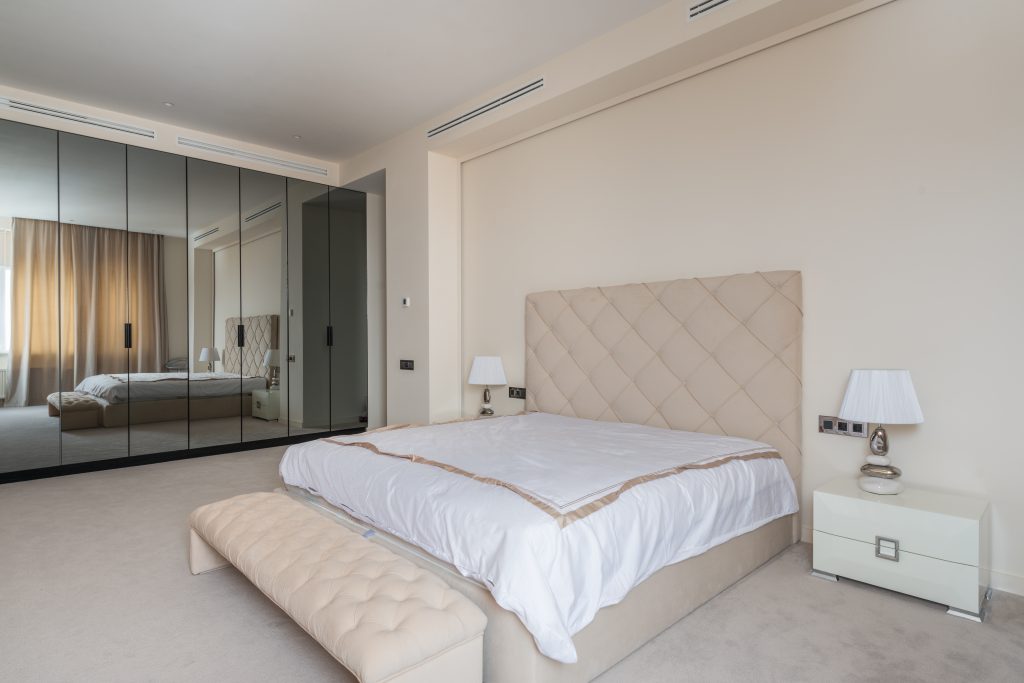 Credit: Max Rahubovskiy via Pexels
Perhaps a surprising inclusion, as mirrored wardrobes were once all the rage, but their popularity has certainly waned in recent times. Instead of going for mirrored wardrobes, try to go with plainer and more versatile options that complement the room, and can be paired well with other things.
Low-quality wood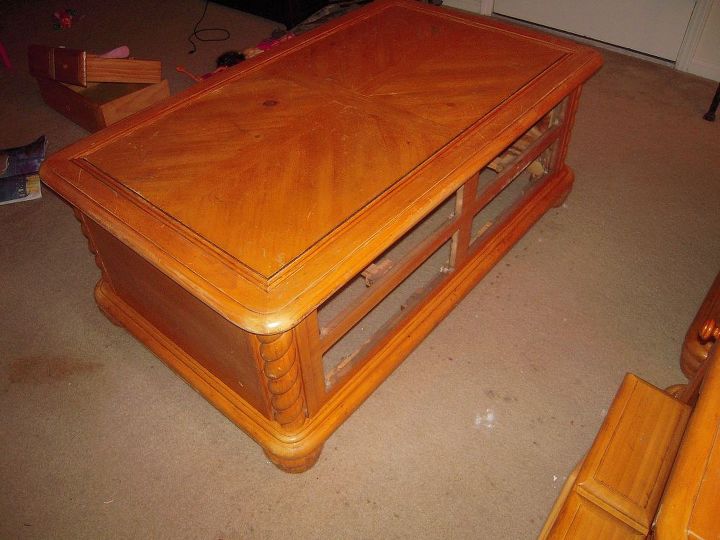 Credit: Pinterest
Low-quality wood is one of the biggest factors that can make your home look old and dated. It is important to make sure you invest in the best quality wood you can find when it comes to improving your home and making it stand out as a modern and homely property.
Clutter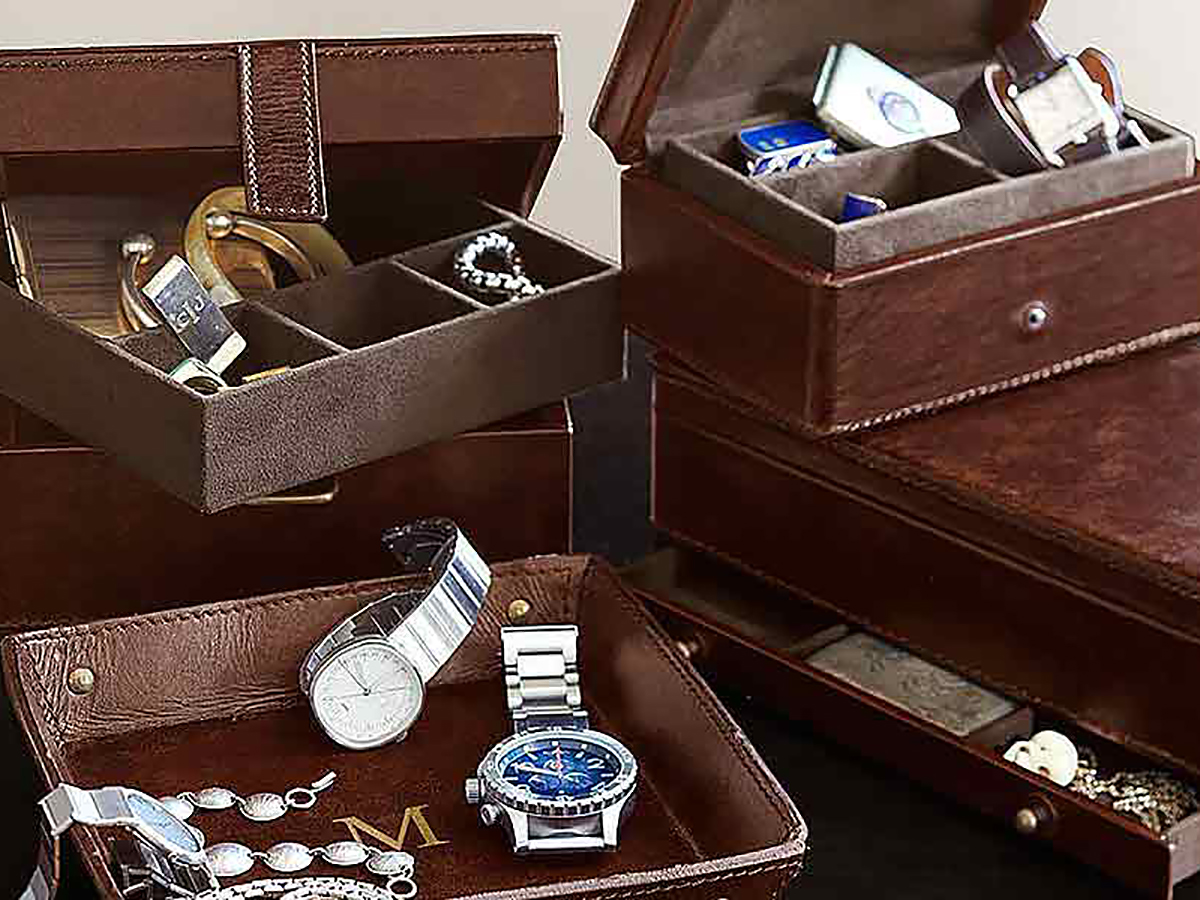 Credit: living.alot.com via Facebook
Clutter is one of the easiest ways of causing issues in your home, and it can make your property come across as old and dated. Getting better organized is one of the best things that you can do to keep your home clutter-free, and make everything look better and more organized.
Old appliances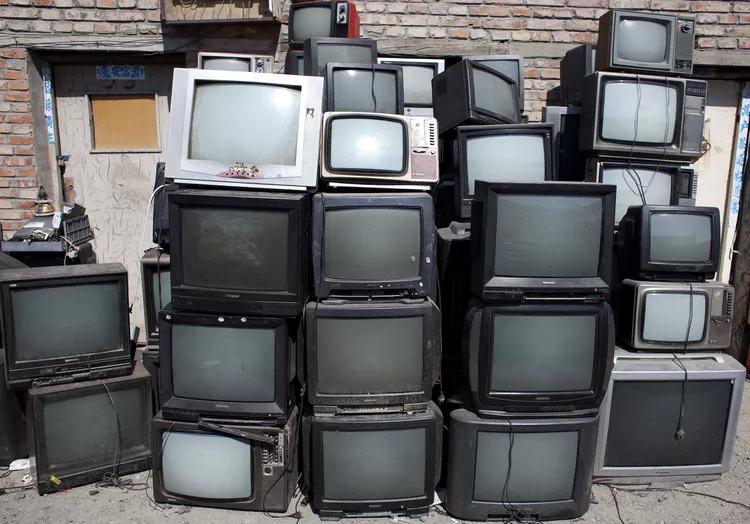 Credit: Ryan Pyle via Getty Images
Old appliances are becoming popular among hoarders and collectors these days, but it is also worth considering that they can negatively impact your home by making it look older and more dated. Update your appliances as much as possible, and make sure you revamp your home in the process.
Minimalist kitchens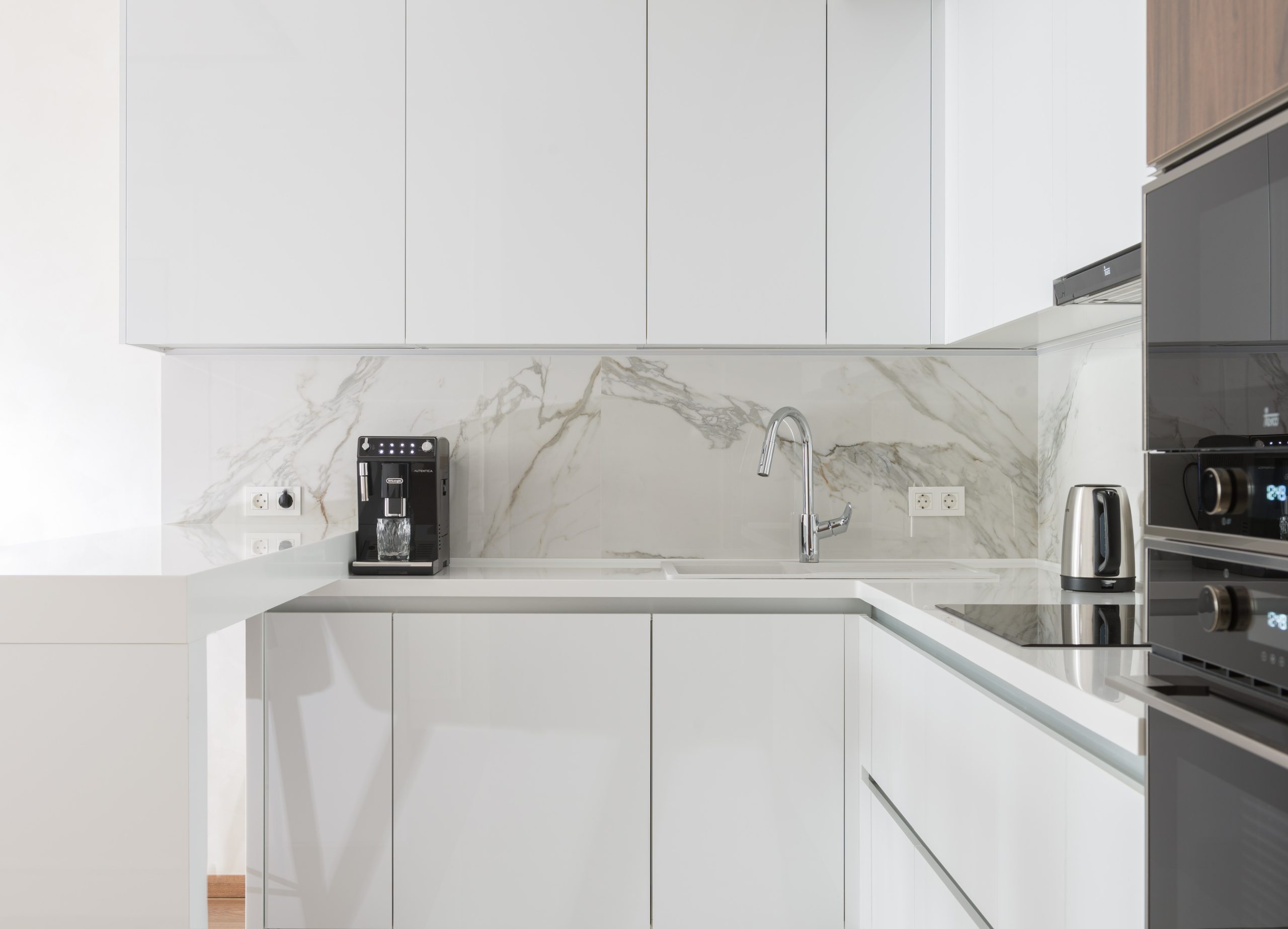 Credit: Max Rahubovskiy via Pexels
Minimalist kitchens were all the rage once upon a time, but the plain and lifeless feel of them now can leave your home feeling old and outdated. Instead, you need to modernize and add splashes of color in order to help make your kitchen stand out and look as great (and trendy!) as possible.
Inflexible aesthetic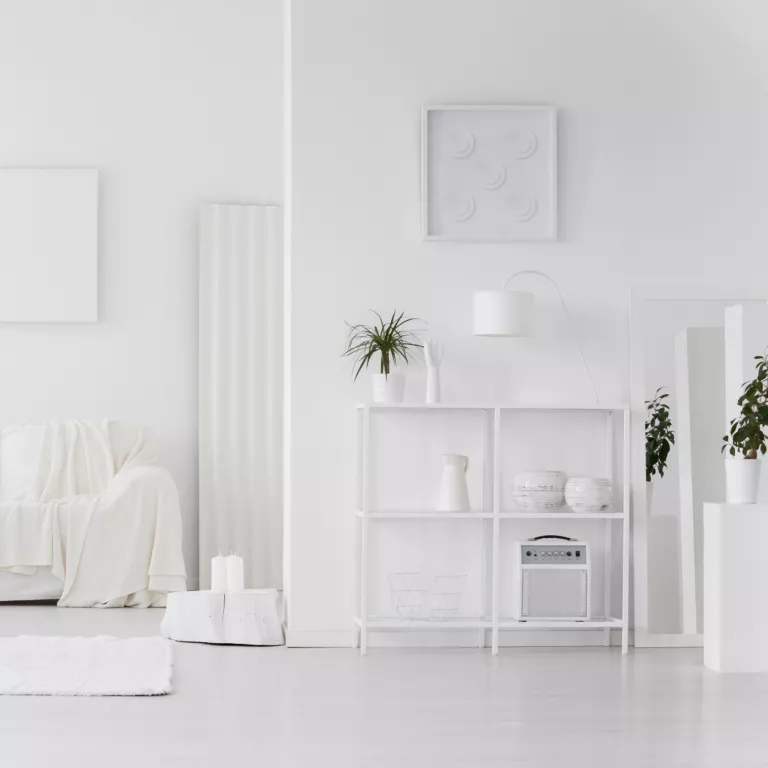 Credit: Katarzyna Bialasiewicz via Getty Images
Having an aesthetic that is inflexible and focuses on just one color or style can leave your home looking old these days. Cookie-cutter design approaches can be dull and boring, and instead you need to try to look at some ways of mixing in color and style to help add life and vibrancy to your home.
Recliners/TV chairs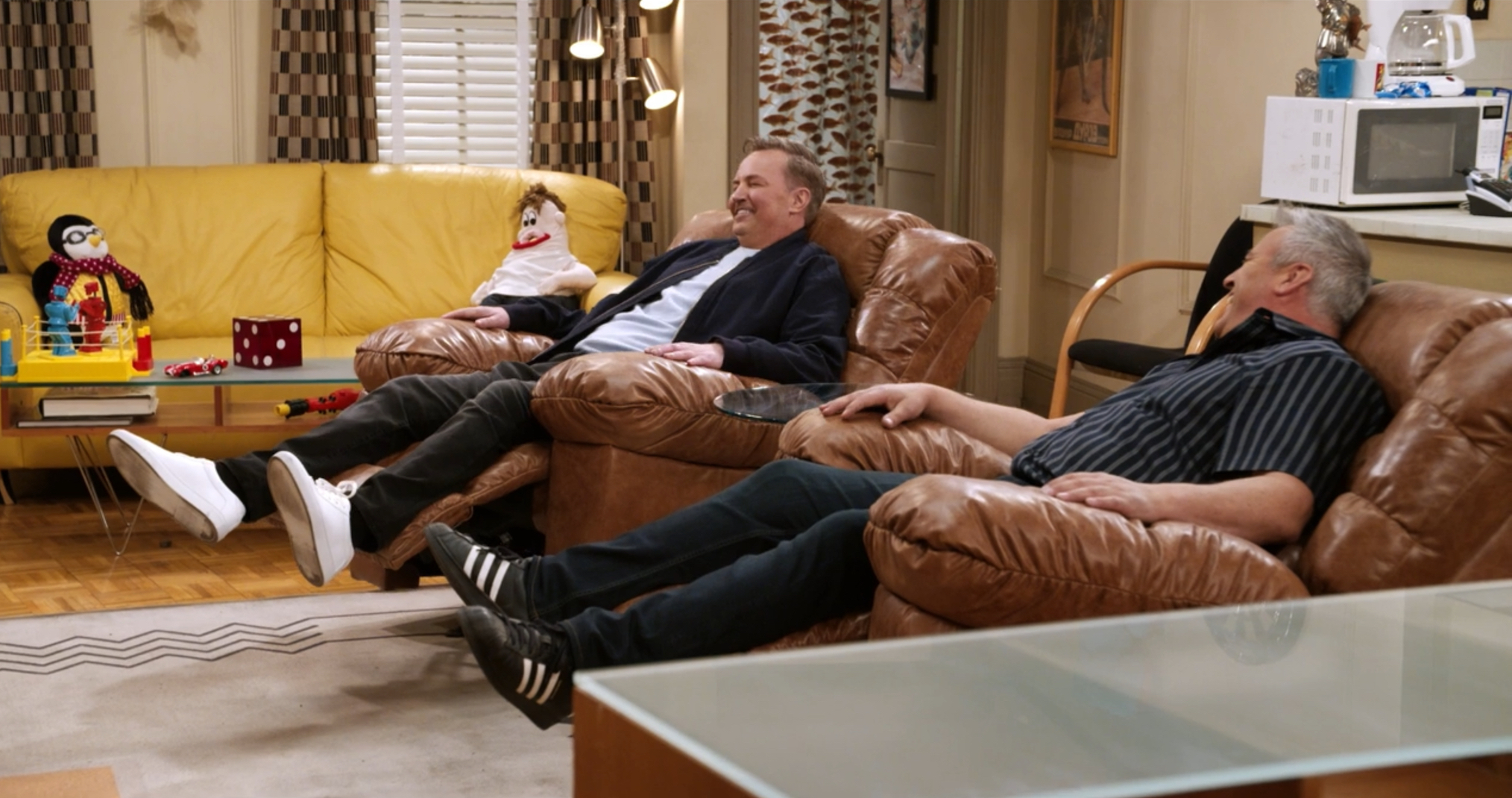 Credit: HBO Max via TV Insider
Having a L-Z-Boy was the epitome of luxury back in the early 2000s but, now, these reclining chairs can come across as tacky and dated; especially if you have two planted square in front of your TV set. Okay, they're comfortable, but so is a nice chair that doesn't double as a cup-holder.
Painting every room magnolia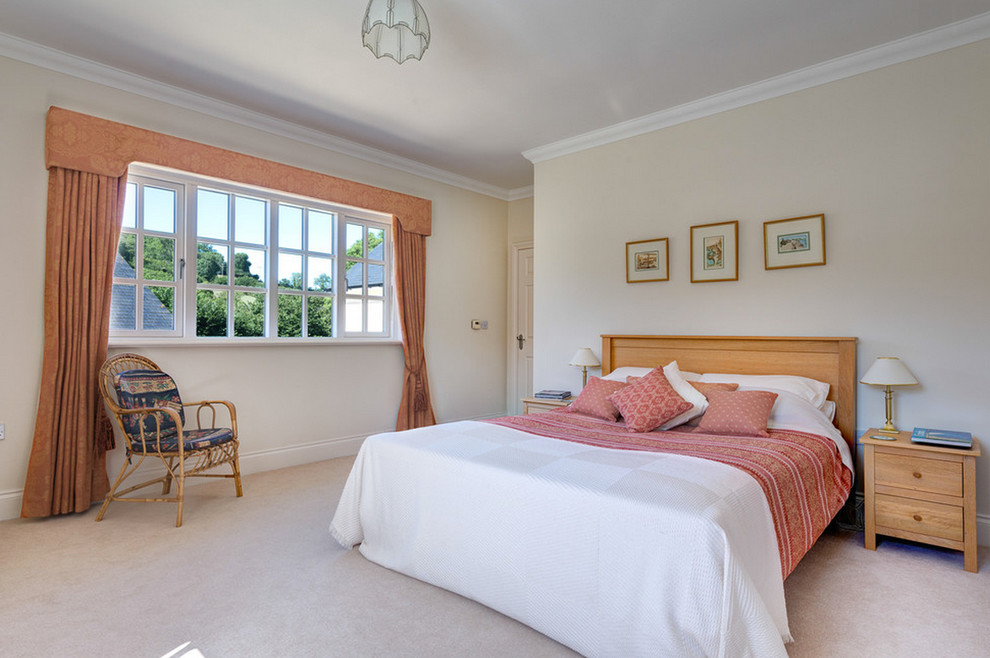 Credit: Emmiline Westen via Houzz
There is literally nothing worse than this color all over a house. It's not white, but it's not yellow either. This wall color just makes your house look an ugly shade of white that hasn't been washed in a while. Try a pop or color or some cool wallpaper to break up any drab parts of your home.
A lot of carpeted rooms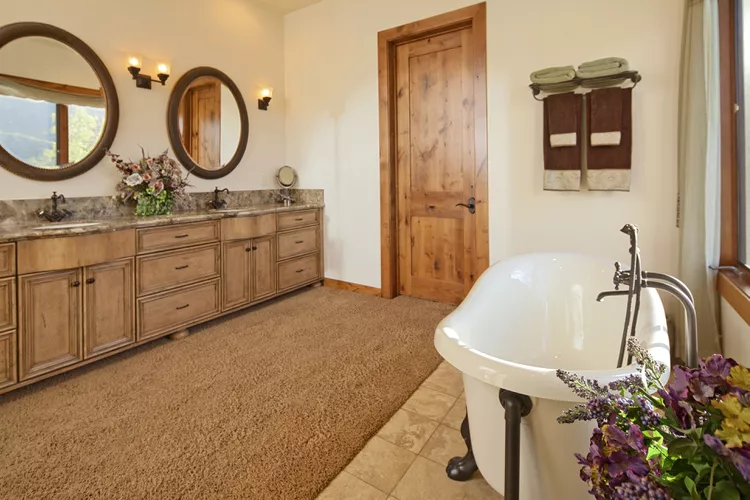 Credit: Moodboard via Getty Images
Carpet everywhere is not only hard to keep clean, but it's a steadfast way to make your house look old. Have you ever seen a house with a carpeted bathroom that didn't have a pensioner living in it? Swap out all the dingy carpets for some nice hardwood floors and stylish rugs.
Plastic furniture covers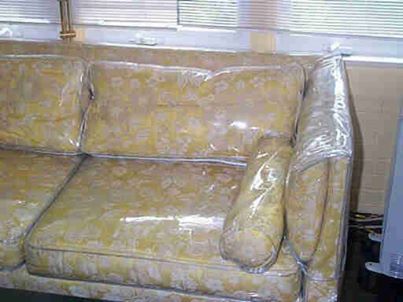 Credit: Sheila Wheeler via Pinterest
Okay, these may be useful for stopping your nice velvet sofa from getting damaged but, over time, they have become more of an eyesore than anything. Taking these off is like ripping off the band-aid, you just gotta do it – especially if you want your house to look modern. Just make sure no one cracks open the red wine anywhere near your white sofa.
Overly matchy-match furniture sets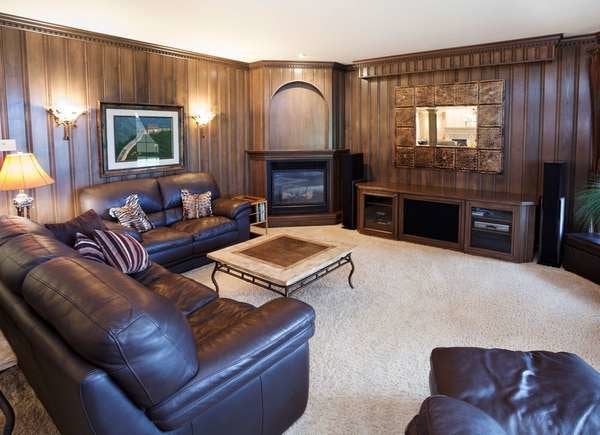 Credit: istockphoto via Bobvila
Matching furniture sets have definitely had their moment in the spotlight, but it's time to put them in storage. Opt for co-ordinating styles and colors that compliment each other but don't match. Alternatively, you could go for a cool contrasting style theme to make your home thoroughly modern.
Tuscan/Mediterranean themes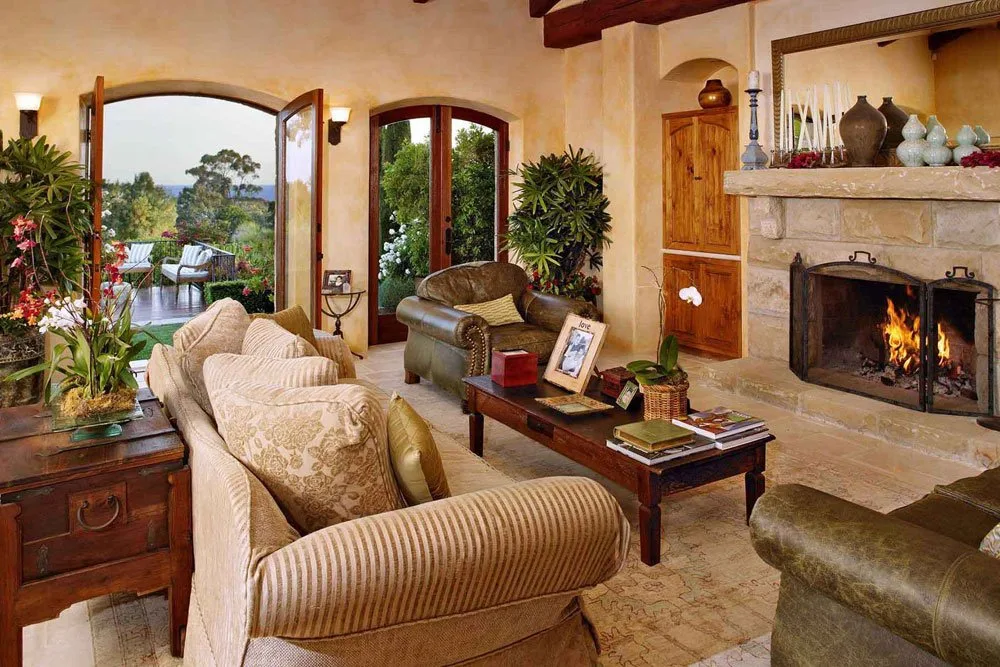 Credit: Lisa Wright via Yahoo News
Everyone wants an Italian summer in their house year-round, but these themed rooms are so done. These interiors, characterised by their earthy tones and a lot of beige, are very early 2000s. They scream "my sitting room was really stylish 25 years ago". Maybe it's time for a refresh.
Sponge painting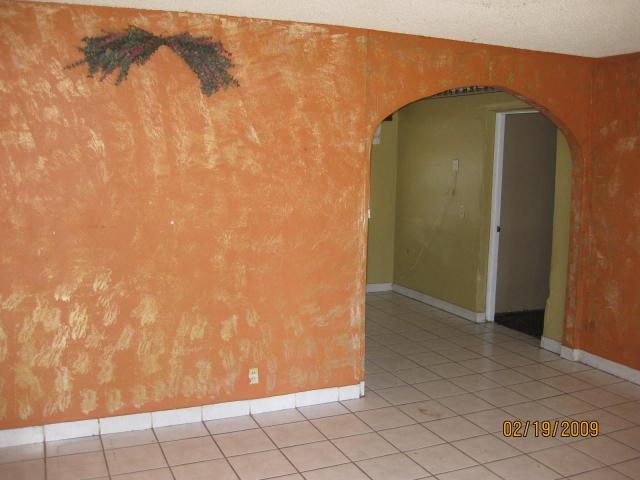 Credit: Getty via CookieandSangria
During the 90s, we witnessed lots of people trying their hand at DIY in the home. Sponge painting was a colorful way to create texture on a feature wall and, at the time, it look great. But now, this trend can make your house look old because it's a staple deocr idea of the 90s.
Wallpaper borders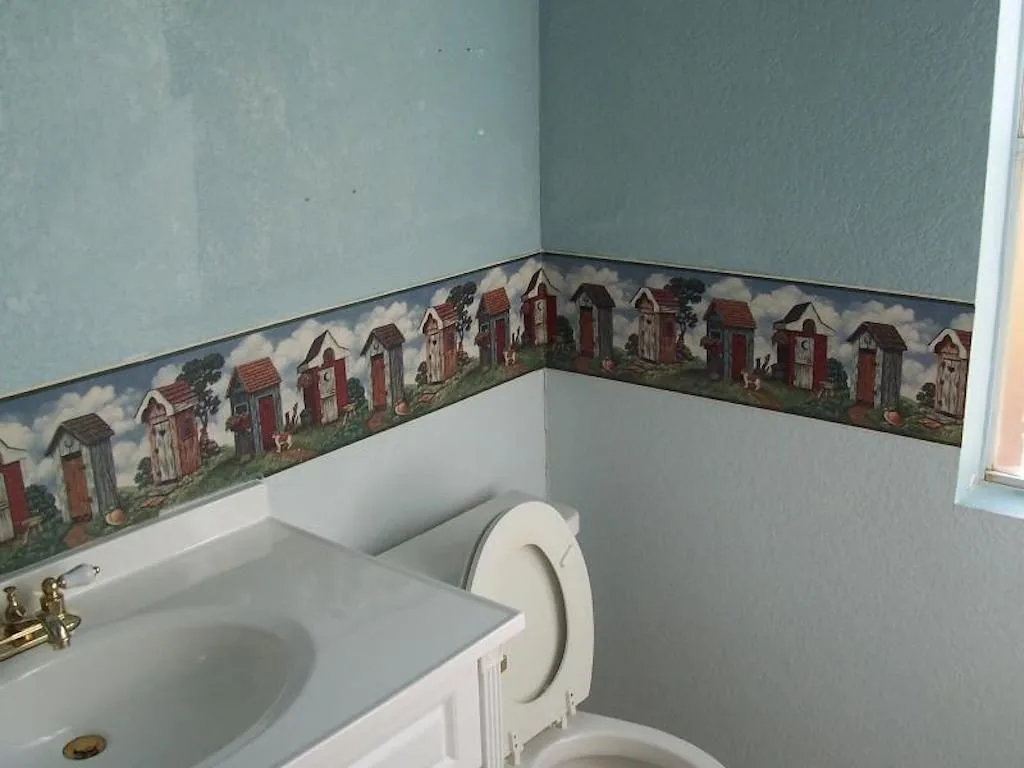 Credit: Old Town Home via Home Addict
You might not have ever liked this at all, but wallpaper borders were a big thing in the 80s. That was a long time ago so they definitely shouldn't feature in your home now. If you don't want your whole room wallpapered but want to add a bit of texture, opt for a bit of timeless wainscoting.
Shabby chic overload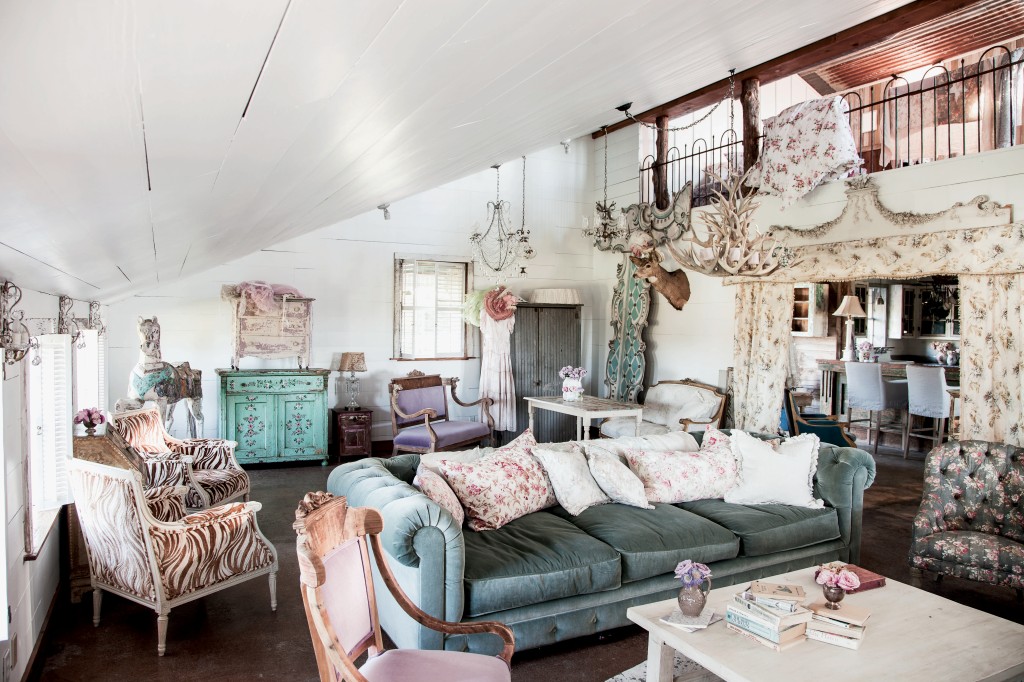 Credit: Decoist via Pinterest
Shabby chic was a big thing at the turn of the century. This was a way to give your home a quirky feel, and at the time was a sign of a thoroughly modern home. However, too much of this trend quickly became dated and it's hard to turn this around without buying all new furniture.
Huge sectional sofas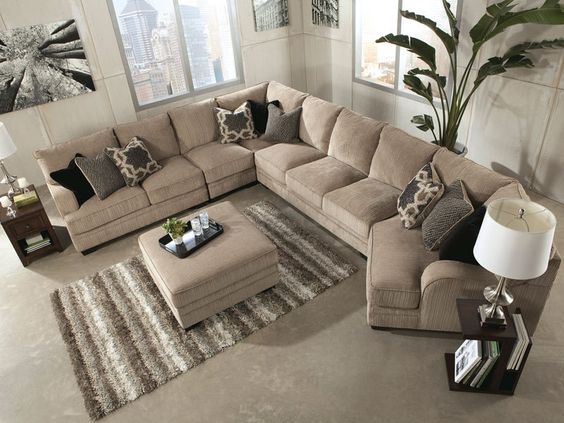 Credit: Trendirs via Pinterest
Okay, these sofas are great for a long nap or cozying up for movie night, but they can be dated. if you really want one of these, it's best to opt for a bright colored one with lots of stylish cushions to make it a statement piece in your sitting room. An old leather or beige sectional sofa takes up a lot of space and doesn't really add anything to a room.
Hanging pot racks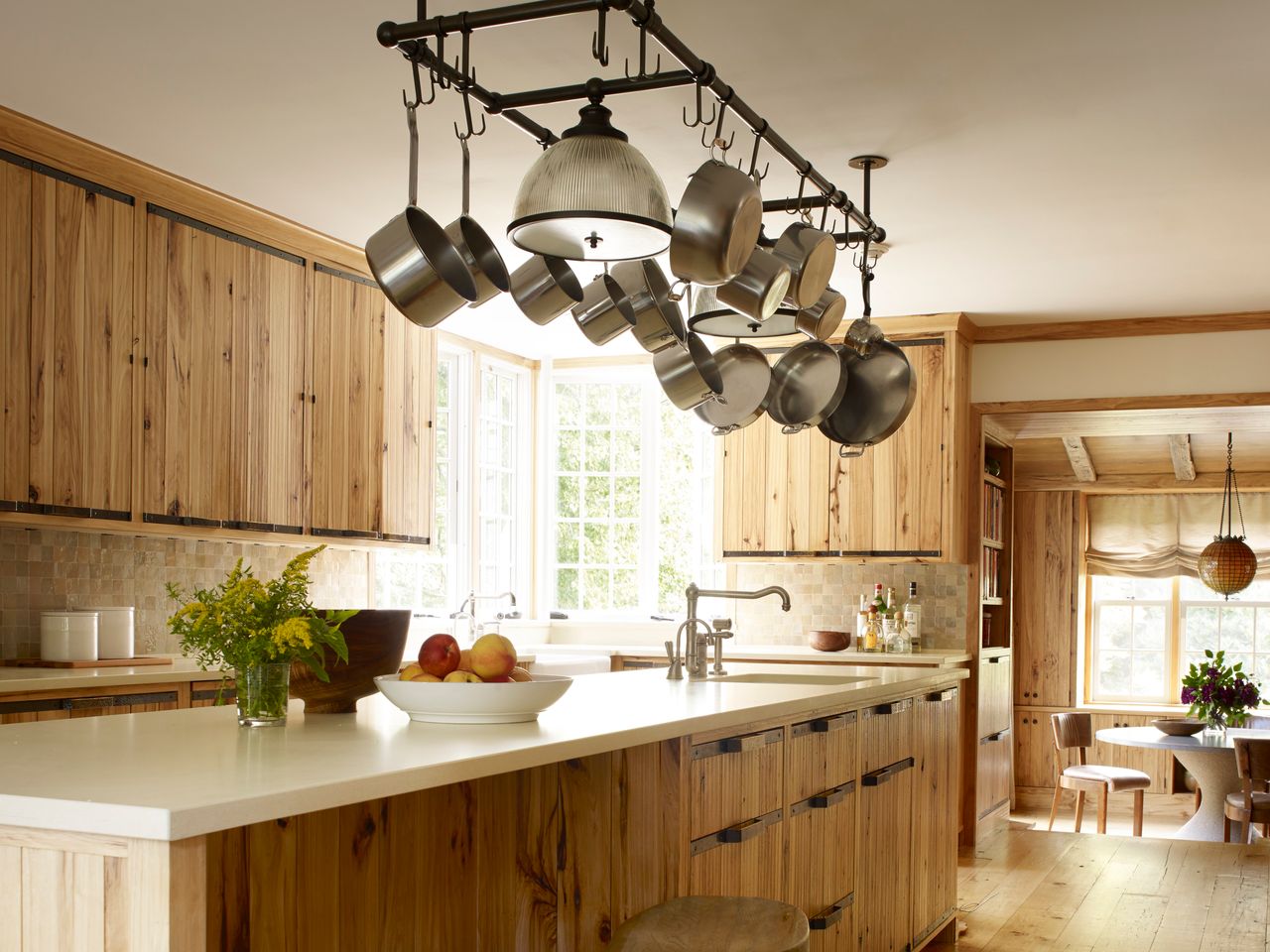 Credit: William Waldron via OTTO
Look, just put them in a cupboard, no one needs to see how many pots and pans you own. These hanging pot racks were a great addition to a country-style kitchen in the 90s and gave the kitchen a lived-in feel. However, it just seems odd now to have some clutter hanging from your ceiling.
Beaded curtains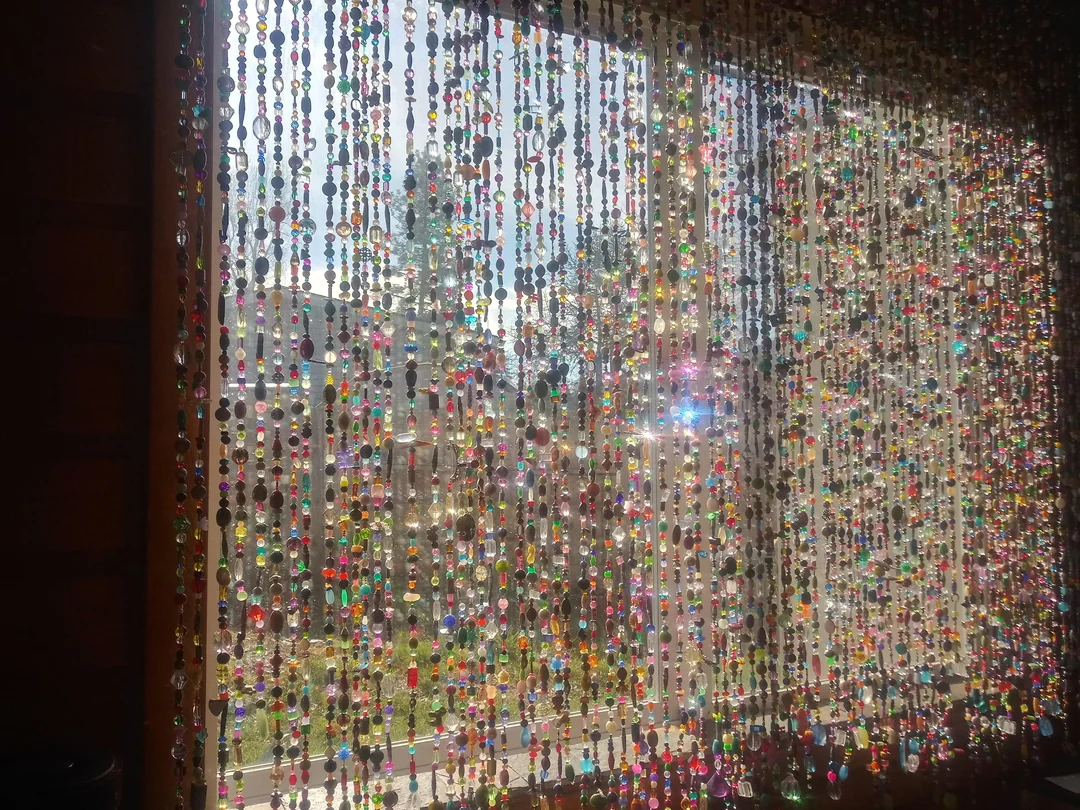 Credit: agrandthing via Reddit
The only way you should have these in your home is if they're decorations for a 70s themed party. These hippy additions may add a bit of sparkle to your doorway, but they are so very old-fashioned. Maybe, just maybe, you could have them in a college dorm. However, pairing them with some tie-dye decor is a sure way to make your home look very old.
Vertical blinds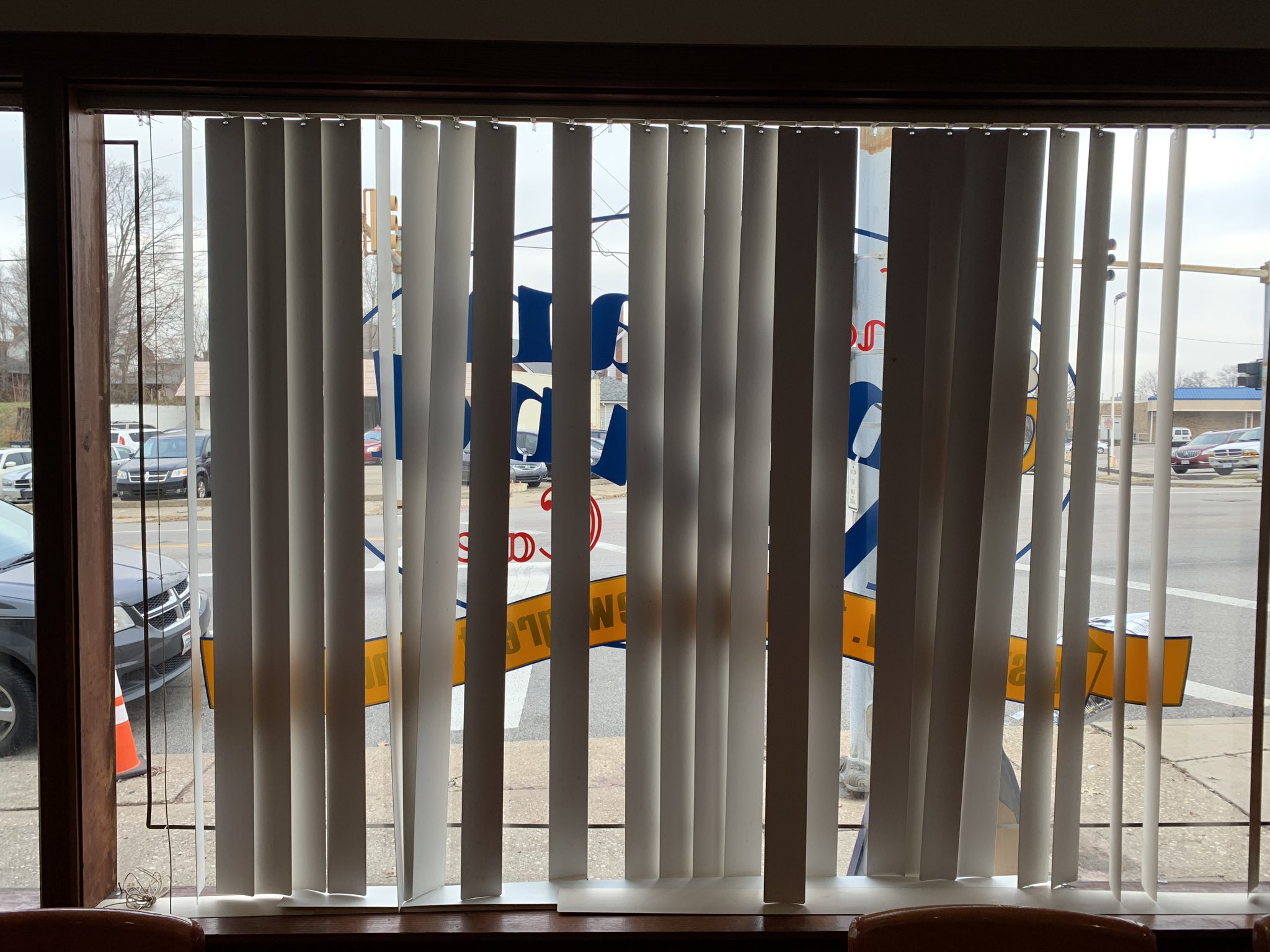 Credit: cincyblindclean via Twitter
Vertical blinds are a perfect addition to any office space, but they have no place in your home. These weren't exactly stylish at any point, but were more of a practical solution for a window covering. To keep your home looking modern, opt for some roman blinds or some curtains in a nice fabric.
Slogan prints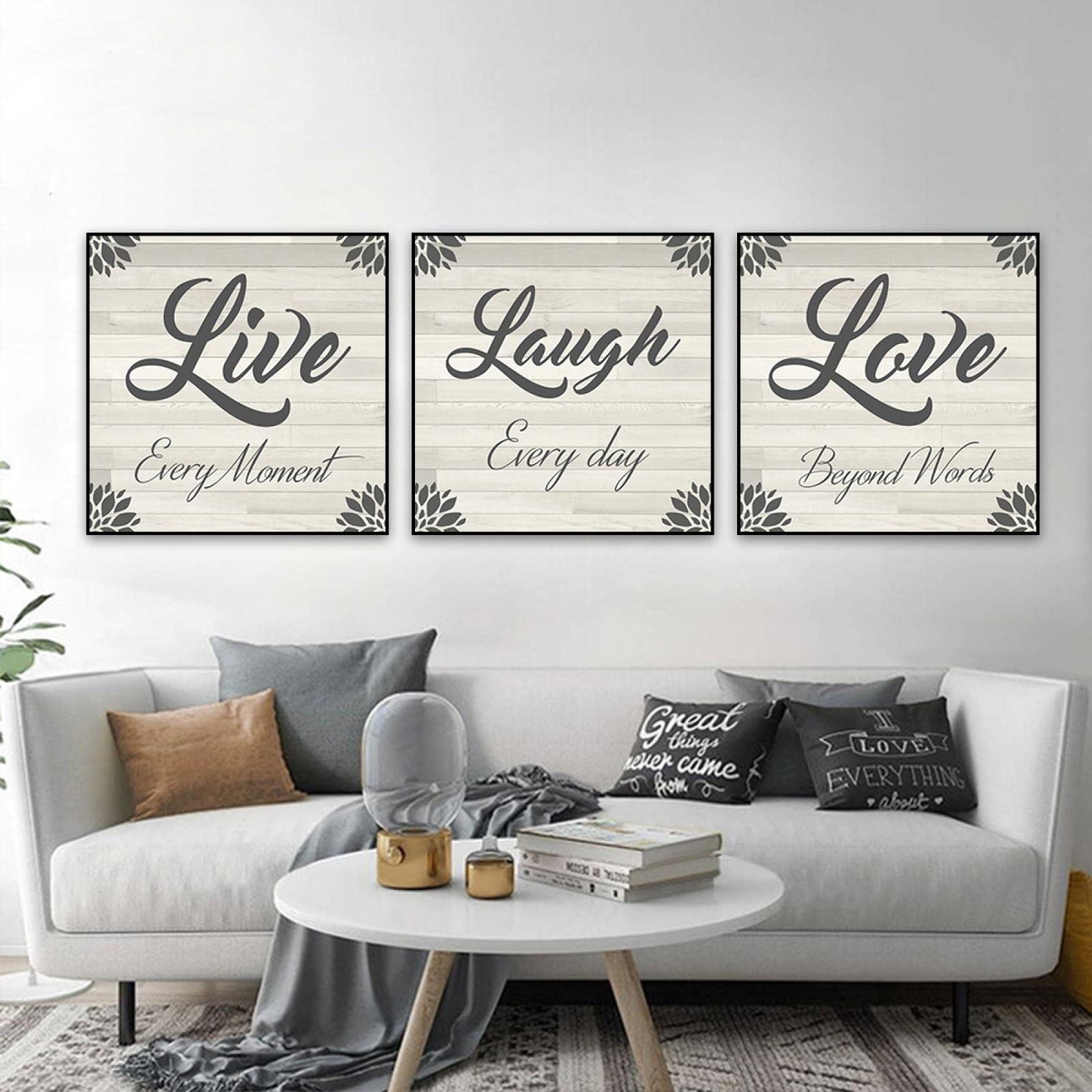 Credit: Ditelle via Amazon
Please don't put a "Live, Laugh, Love" sign up anywhere in your house… not even ironically. Actually, just steer clear of any prints that have motivational quotes written on in white calligraphy. Some prints with writing are okay, but no one needs a sign in their kitchen that says "kitchen", we know, that's why there's an oven here.
Non-specific wall art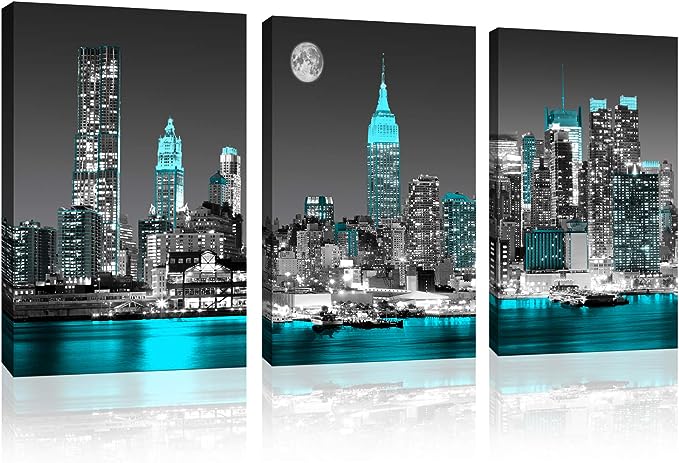 Credit: Huadaart via Amazon
Did you see that NYC skyline print in TJ-Maxx and just have to have it? Or what about that lovely print of a random pink flower covered in HD raindrops? Sorry to break it to you, but these prints not only make you look unoriginal, but make your home look old-fashioned. Shop around for some wall art that means something to you!
Wicker furniture overload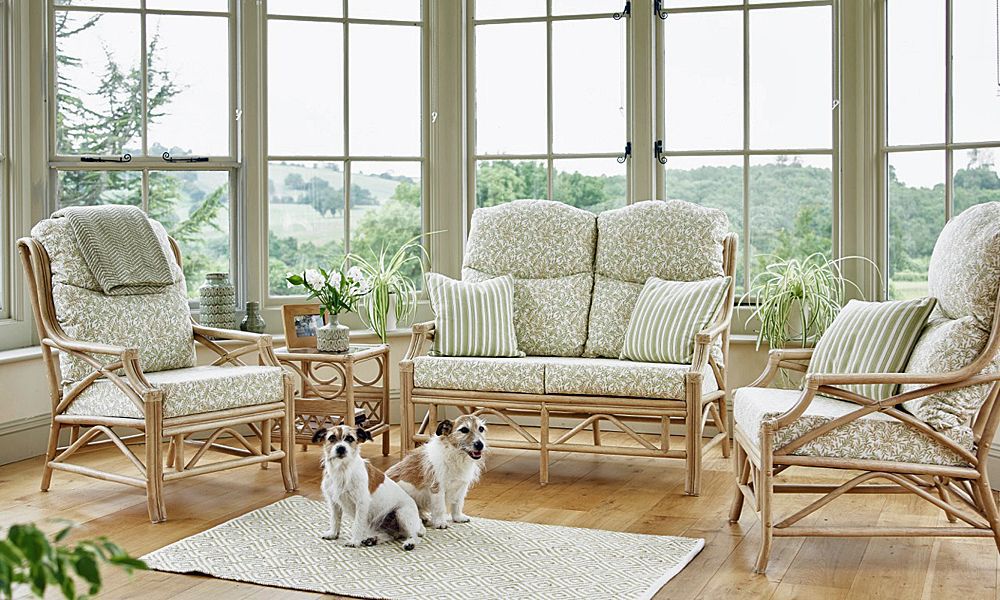 Credit: Holloways.co.uk via Holloways
Not only does this look make your house extremely flammable, but wicker furniture is another one that makes your room look very 90s. A little wicker hamper with all your throws? Super cute. Anything more than that, a tad overdone. If you really must have it though, rattan is a better option.
A lot of crocheted items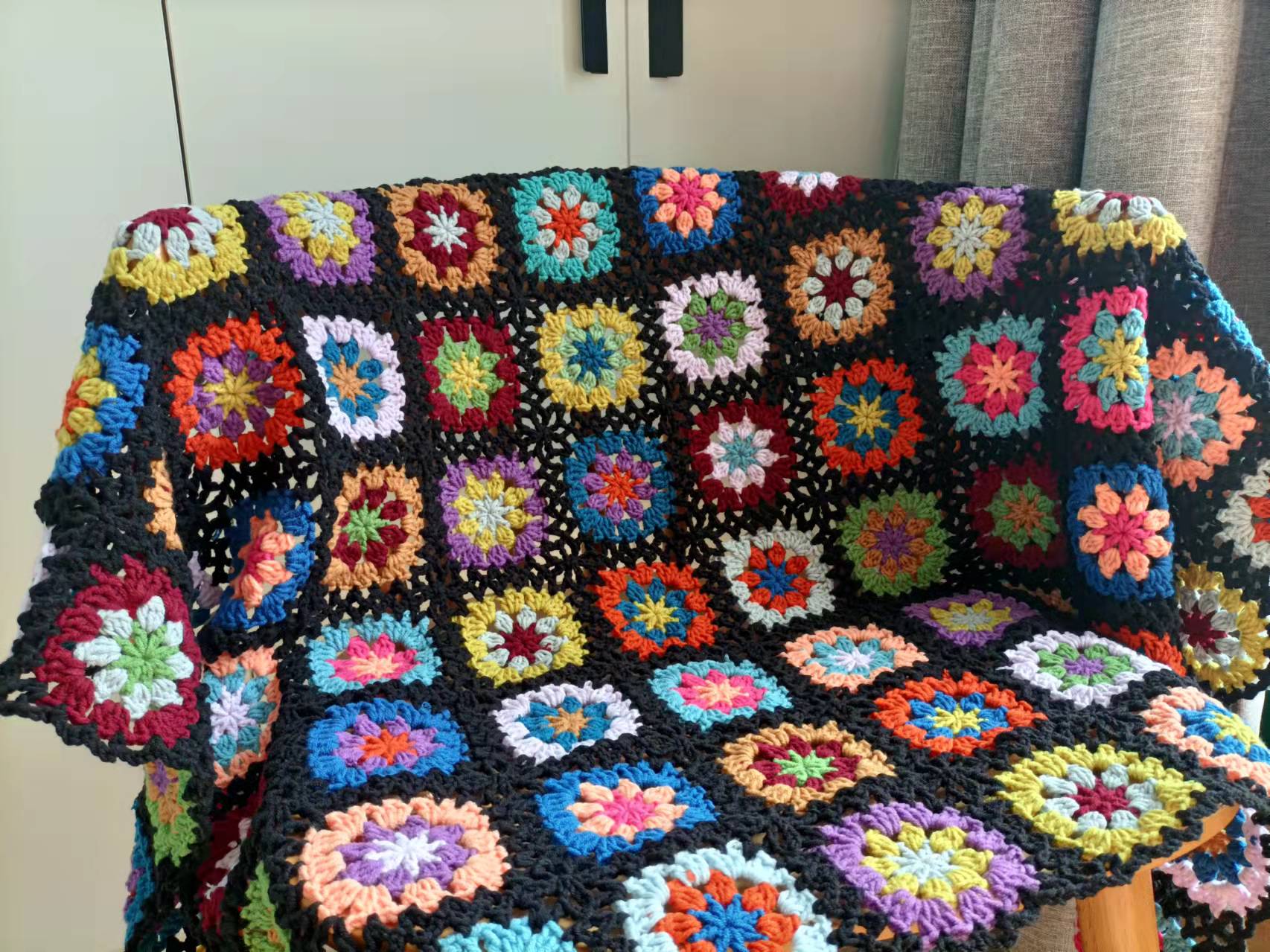 Credit: Sewing Street via Sewing Street
You know what old people love doing? Crocheting. So, don't be surprised when having all of your furniture covered in a crocheted throw makes your house look old. A couple of crocheted pillows add a nice pop of color and texture to a room, or a single throw at the bottom of your bed gives a homey feel – just use it sparingly.
All beige color schemes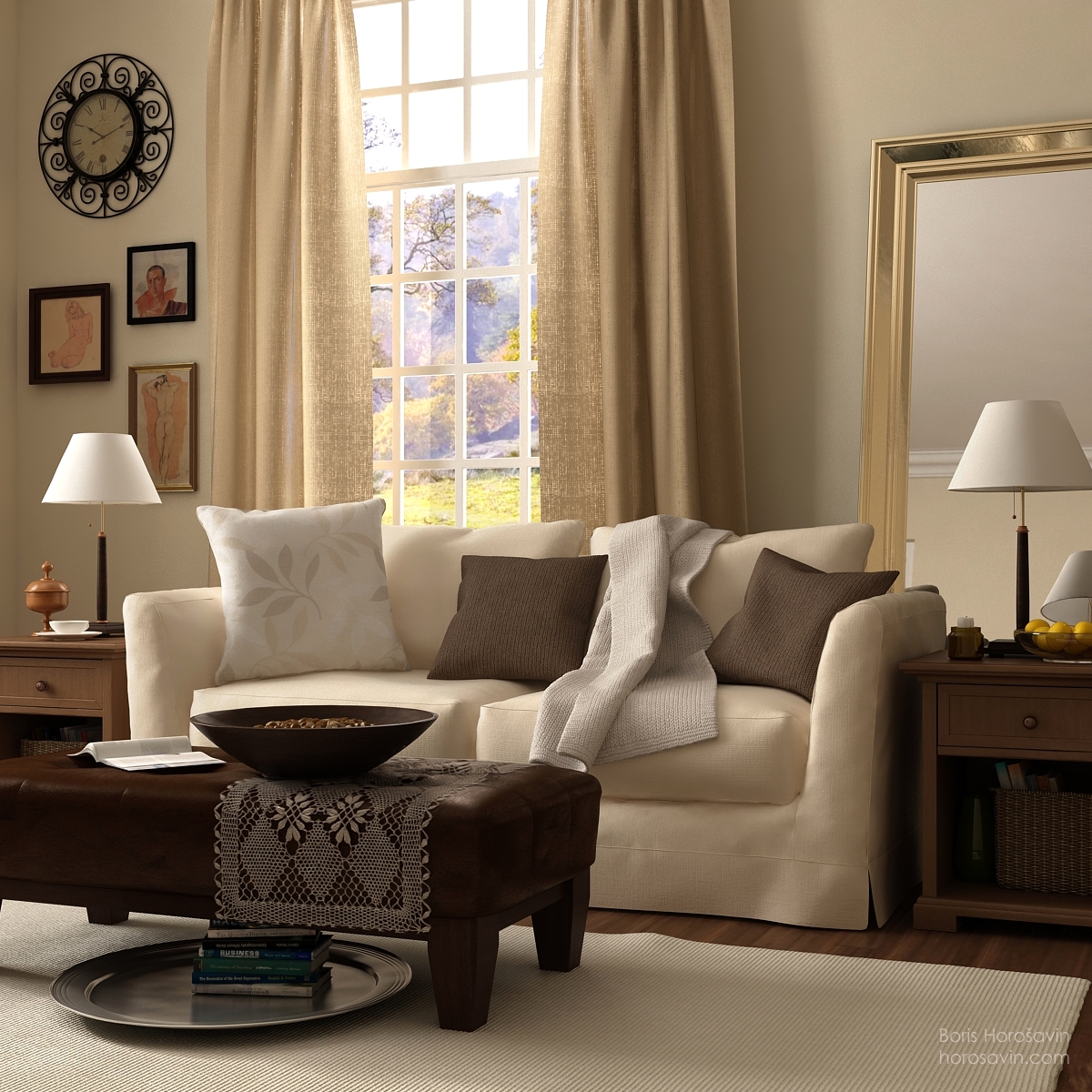 Credit: Boris Harasavin via Harasavin.com
Not only is this boring, but it makes your home look old-fashioned and like you simply couldn't be bothered to pick a color scheme. If you still want to go for a neutral look to give the room a calming feel, this can still be achieved by opting for whites and greys.
Flocked wallpaper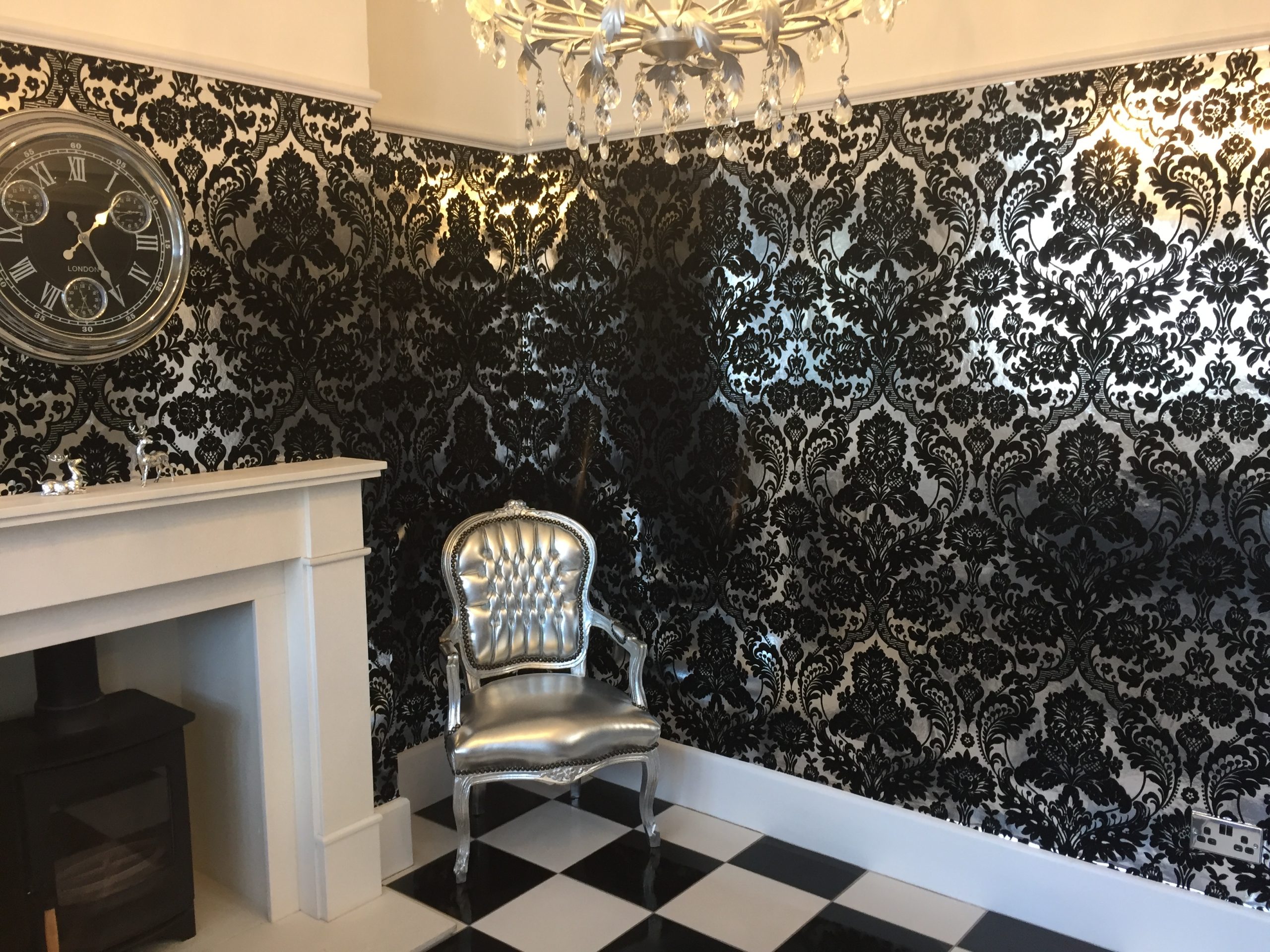 Credit: Jason Cox via jacoxdecorating.com
This may have given your home a regal feel in days gone by, but flocked wallpaper gives your home a hotel vibe, and not in a good way. This pattern on a wallpaper that usually comes in very rich tones, can give your room a stuffiness that no one wants. There's other patterns out there!
Plastic fruit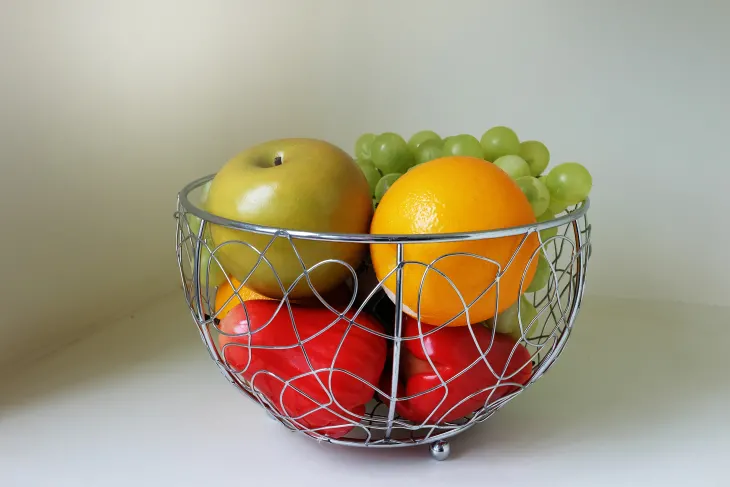 Credit: David Ryo via Pinterest
Why did anyone ever have this in the first place? How many kids have thought they would tuck into a juicy apple but instead come away with a mouthful of styrofoam, that's traumatising! There's a pretty simple replacement for this one, it's this thing called actual fruit…you can even eat it too.
Farm themed kitchens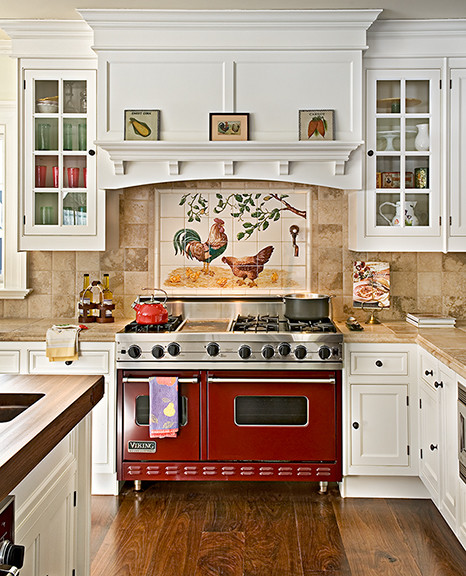 Credit: Crisp Architects via Houzz
Roosters, sunflowers, tomatoes – this was a strange trend in the 90s where just giving your room a loose theme wasn't enough, you had to have curtains and wallpaper that matched your theme. Not to mention novelty shaped butter dishes and teapots. Some of these items can be cool and give your house a modern kitschy feel – but in small doses.
Waterbeds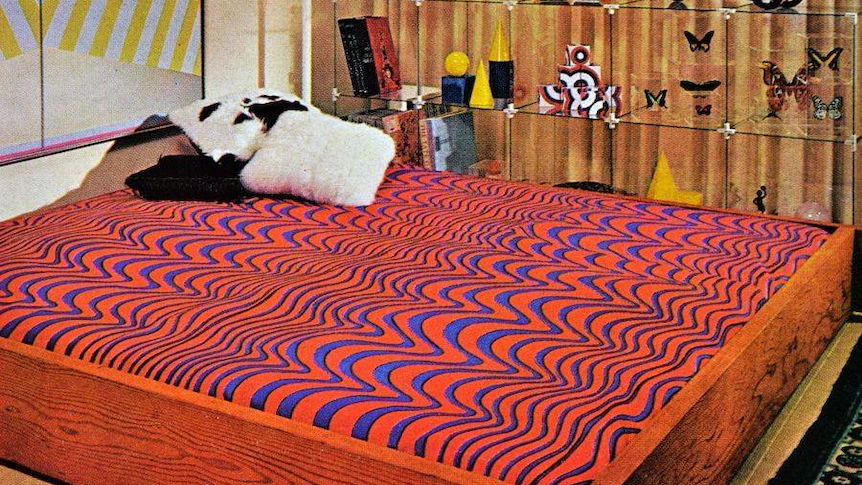 Credit: Flickr via ABC
Just admit that you have always wanted to have one, no one is judging you. Except if you actually do have one, because then your house must be straight out of the 80s. Not only are these impractical and ugly looking – they surely can't be comfortable. Please just stick with a regular mattress.
Bean bag chairs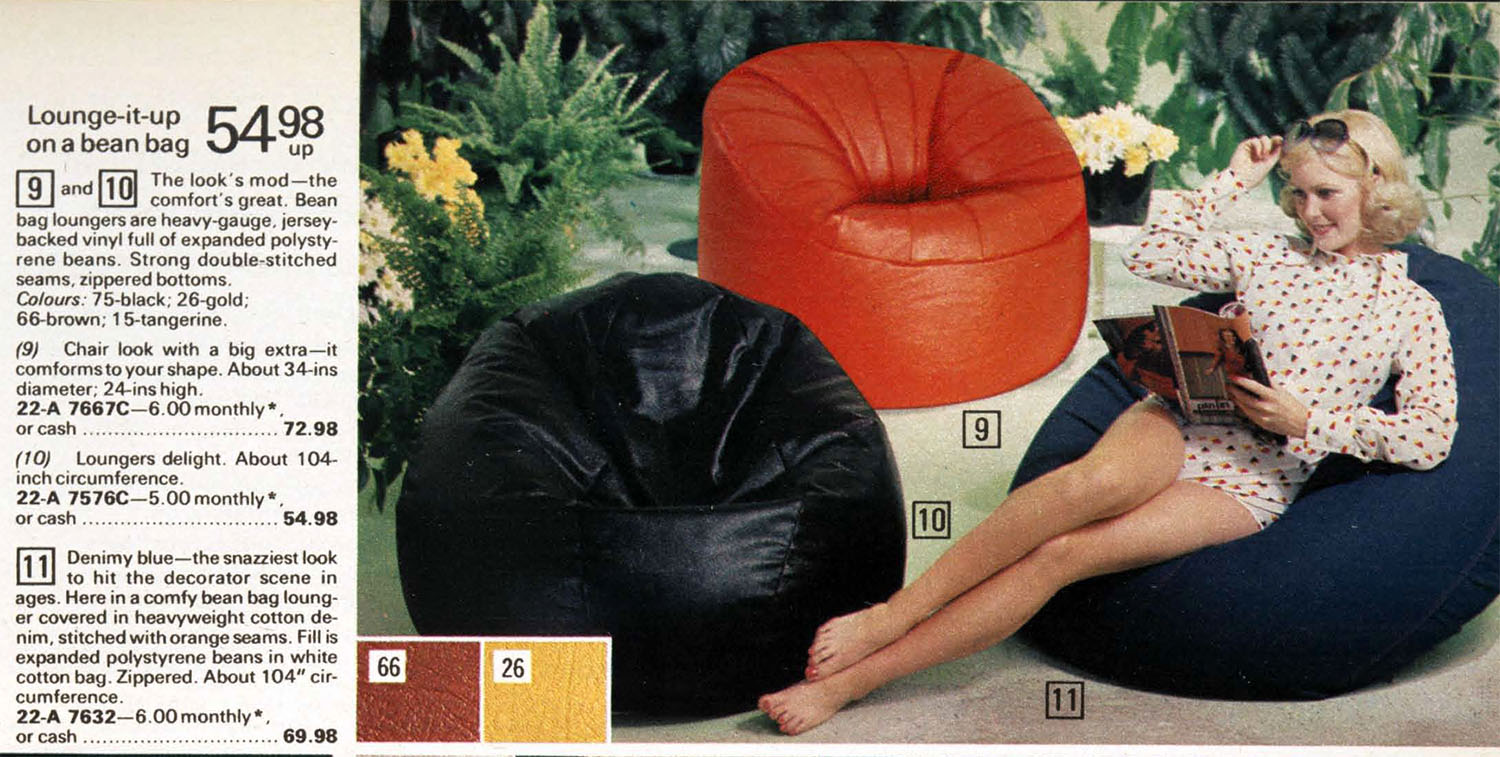 Credit: Mike Johnson via Doyouremember.co.uk
Bean bag chairs are okay sometimes. In a kid's room, in a college dorm, in a den? Sure, no problem. However, if you have these in your sitting room in lieu of an actual armchair, it looks like you're trying to prove that you're young enough to still get in and out of one of these. It actually does the opposite and makes you look old.
Glass block walls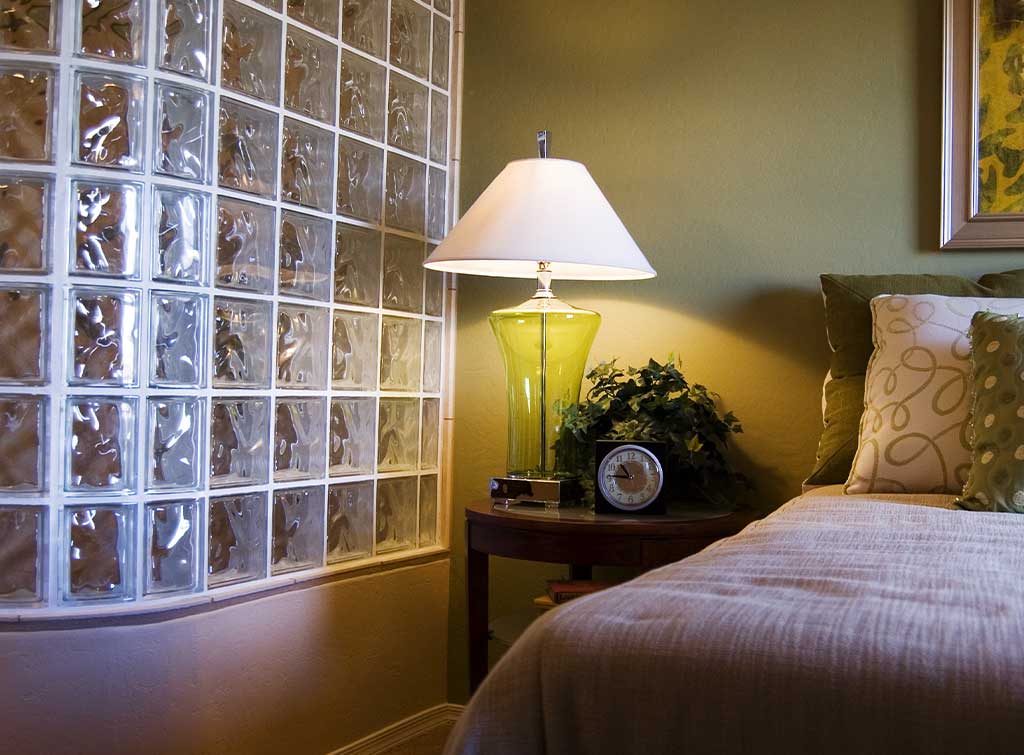 Credit: Getty Images via Checkatrade
A glass wall separating some of your rooms may make you feel like you live in a celebrity's mansion, but too much of this stuff can be tacky. Apart from that, this can also make your house seem very cold and clinical, taking away from any homely vibe that you might be going for.
Pastel bathrooms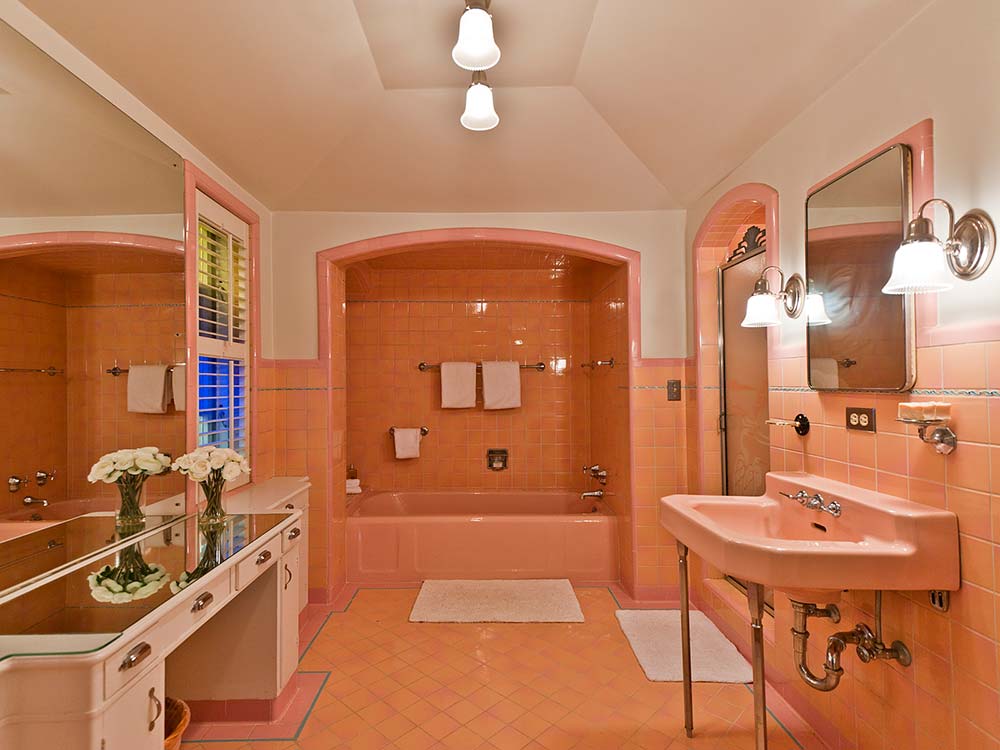 Credit: Retro Renovation.com via Retro Renovation.com
Color in a bathroom is always a tricky move and, if you don't choose right, it's very noticeable. Either stick to all white, or if you want some color in there, stay in the darker tones to keep a relaxing atmosphere. Pastel bathrooms are very outdated, that's probably why everyone's grandparents had one at some point.
Ruffled bedding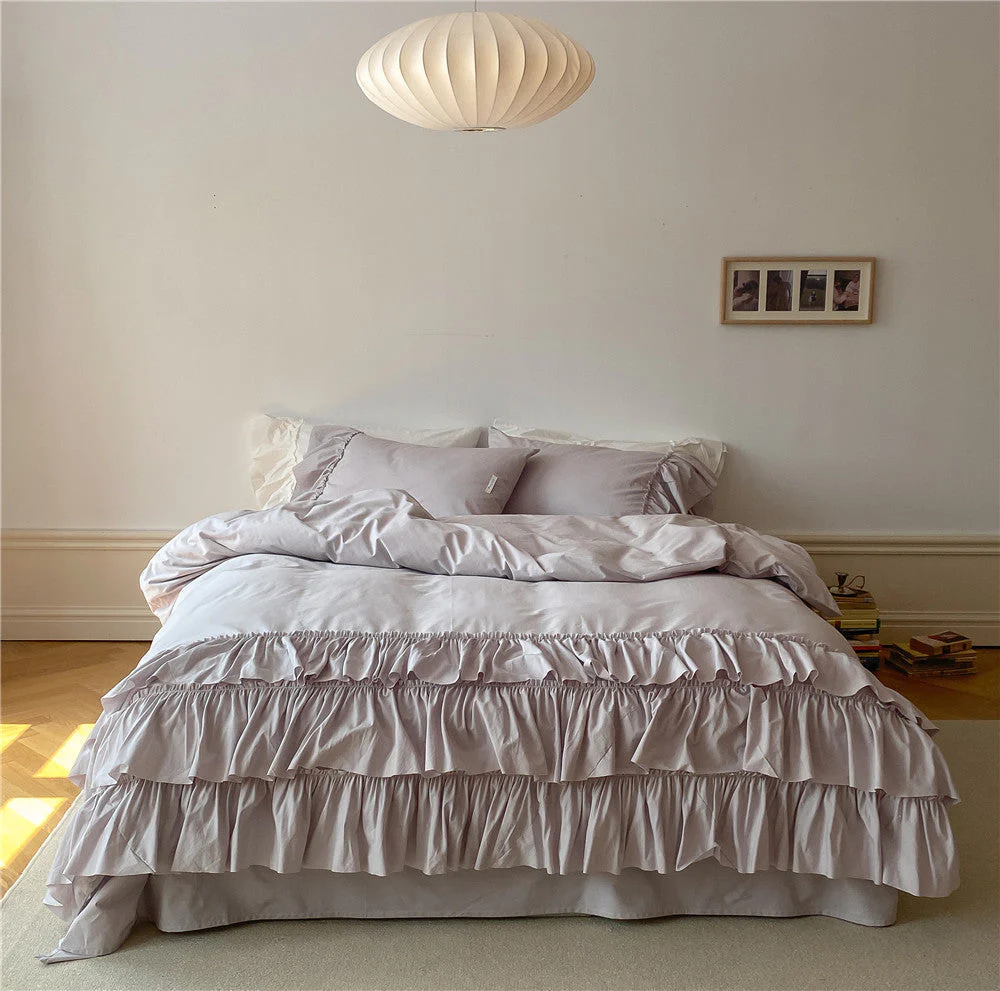 Credit: Purple via Purple.com
Okay, this one seems pretty self-explanatory – ruffled bedding is either for newborn babies or pampered pooches. Have it in your room? You need to swap that out for regular old bedding. Go wild with the prints, color and textures – but please, don't do ruffles.
Silver flower decorations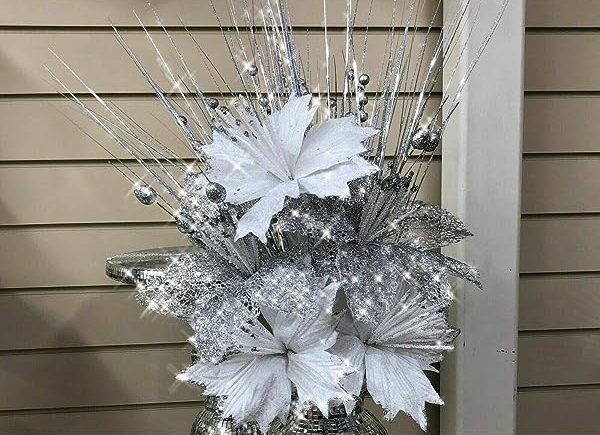 Credit" The Amazing Gift Store via Amazon
These silver flower decorations are a staple on lots of people's windowsills. However, these things are getting more and more old-fashioned as time goes on. You could try these other things called "real flowers". They even come in different colors and scents too!
Seaside themes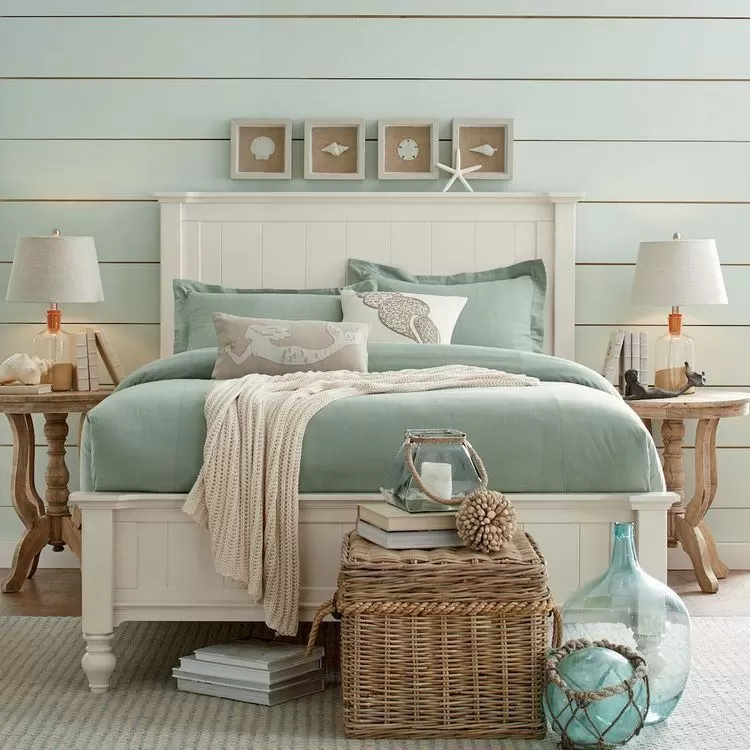 Credit: Tumbler Home via Amazon
If you don't live on the beach, why do you have seashells in your sitting room? Seriously, just go to the beach. You don't need to paint the walls blue, make the carpet beige and add in lots of seagull ornaments; this is a decorating faux-pas that makes your home look old.
Plastic wall decals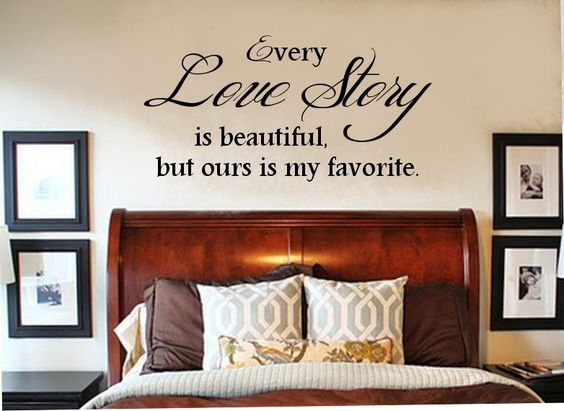 Credit: Kirsten Feeney via Pinterest
Why you would have these in your house in the first place is a total mystery. Just get wallpaper for crying out loud! The one thing worse than a "Live, Laugh, Love" print on your wall, is having it literally stuck to your wall. These really cheapen a nice room and can make you look old-fashioned.
Faux finishes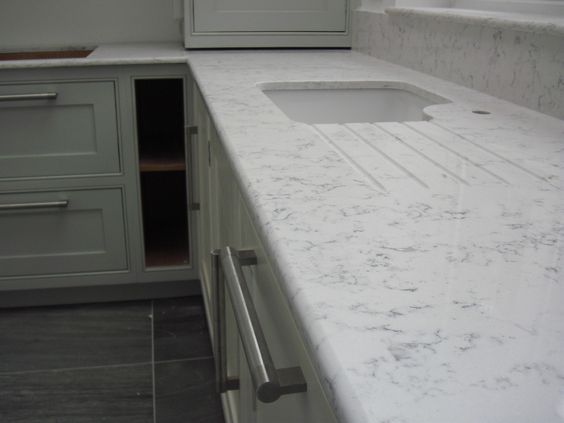 Credit: Cheshire Granite Worktops Ltd via Pinterest
False wood, marble or anything really was once a good way to make your house look classy without breaking the bank. However, these have become quite outdated and if you want to give your house a breath of fresh air without re-doing everything, Pinterest is your best-friend for up-to-date inspiration.