In January of 2012, Melissa Dohme was stabbed in the face and neck 32 times by her ex-boyfriend, Robert Lee Burton Jr.
She was only 20 years old.
She spent 3 weeks in the hospital, and four times her heart stopped.
Though her odds were slim, the staff fought relentlessly to keep her alive.
Now, she's engaged to Cameron Hill, who was the first responder and an active participant in saving her life.
Hill said:
It was so bad. You couldn't tell she was blonde… for some reason, I didn't think it would be the last time I was going to see her.
That fall, she gave her testimony at his church and they began dating.
After her recovery, Dohme became an active participant in advocating domestic violence in her community of Tampa, Florida. She has become so well-known that she was invited by the Tampa Bay Rays to throw the first pitch of their game. Before she could throw the ball, however, Hill brought her his own baseball; on it was written "Will you marry me?"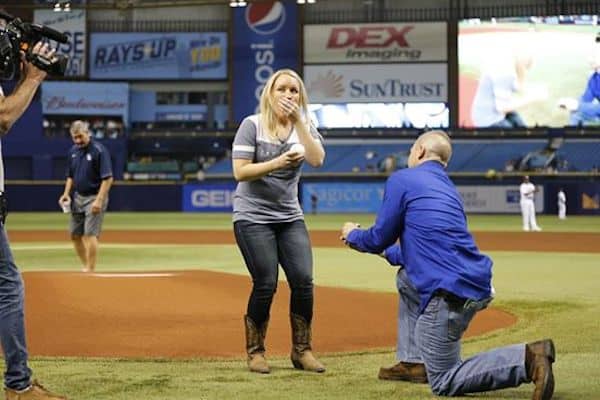 Image Source
She said "Yes."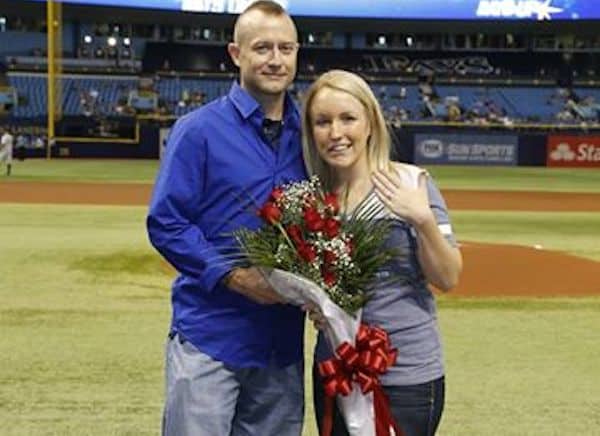 Image Source
In 2013, Dohme had stated:
If you believe there's good in the world then you'll find it.
It looks like she was right.