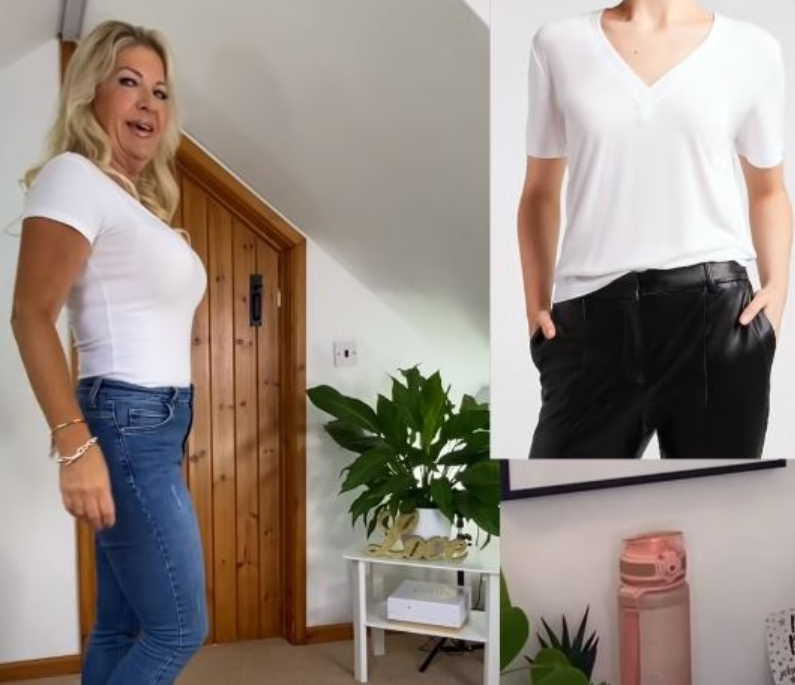 Wear body skimming tops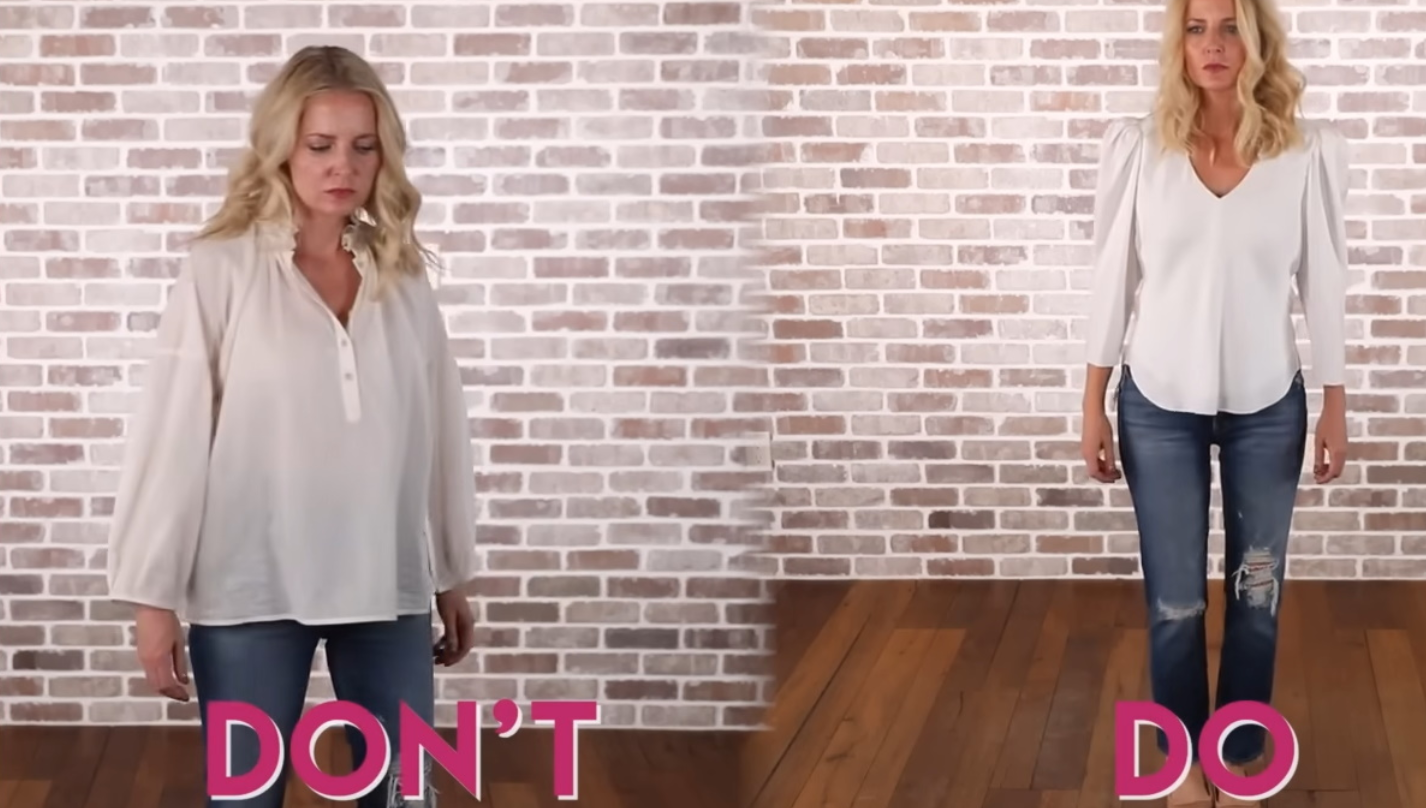 We all have those days when we feel bloated or just not quite ourselves. However, reaching for an oversized, shapeless top is not the solution. Instead, consider wearing a body-skimming top, such as a V-neck blouse. These tops provide definition to your figure without feeling too tight. In addition, the length of the top can be adjusted to flatter different body types, ensuring that you will still look great.
Go for vertical stripes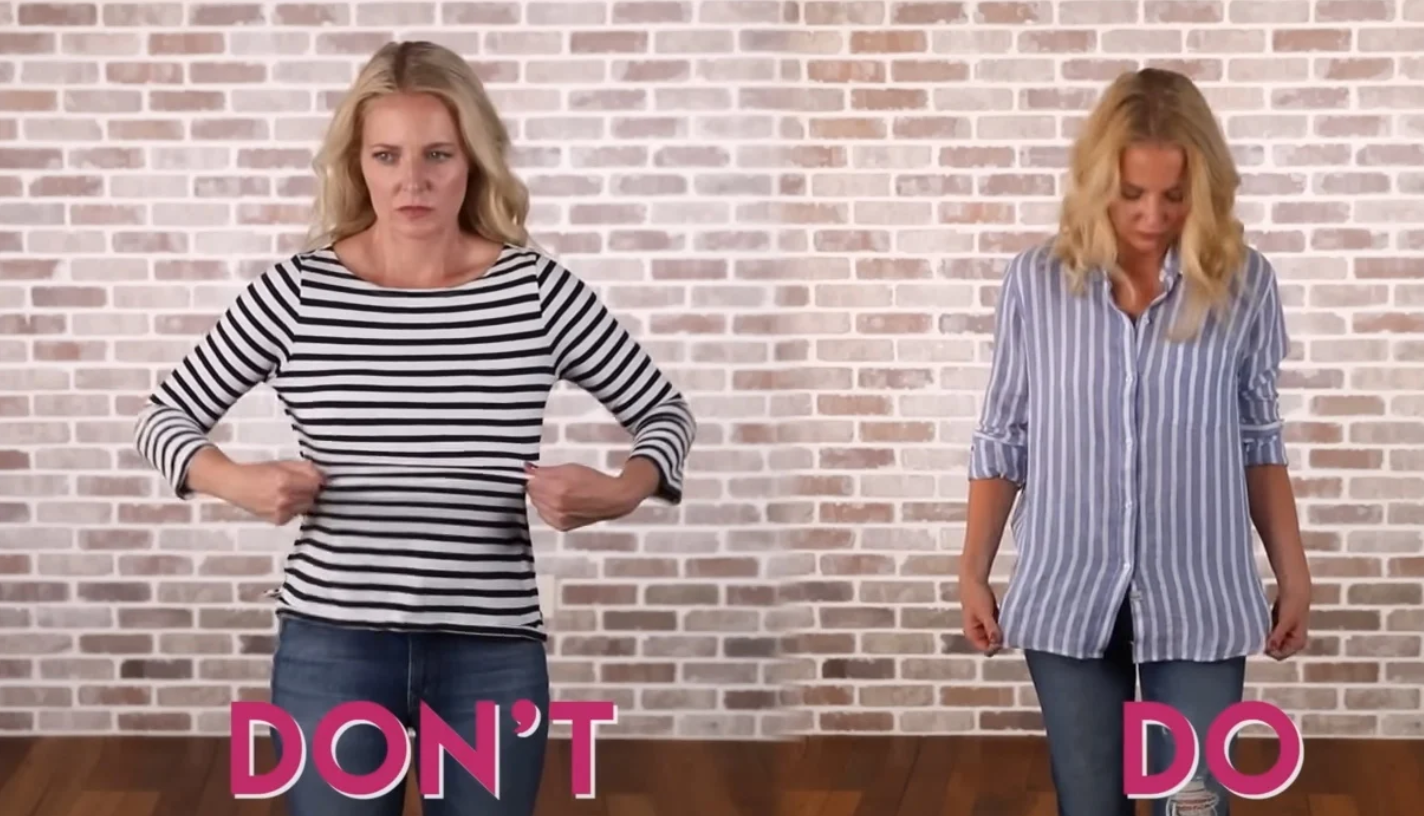 It's a well-known fact that horizontal stripes create the illusion of a wider body, and this is worth reiterating. If you're looking to conceal your tummy, horizontal stripes are not your best option. They tend to accentuate problem areas and draw attention to the midsection. Instead, it's best to opt for clothing with vertical lines or other flattering patterns that will elongate your body and create a more streamlined appearance.
Wear a third layer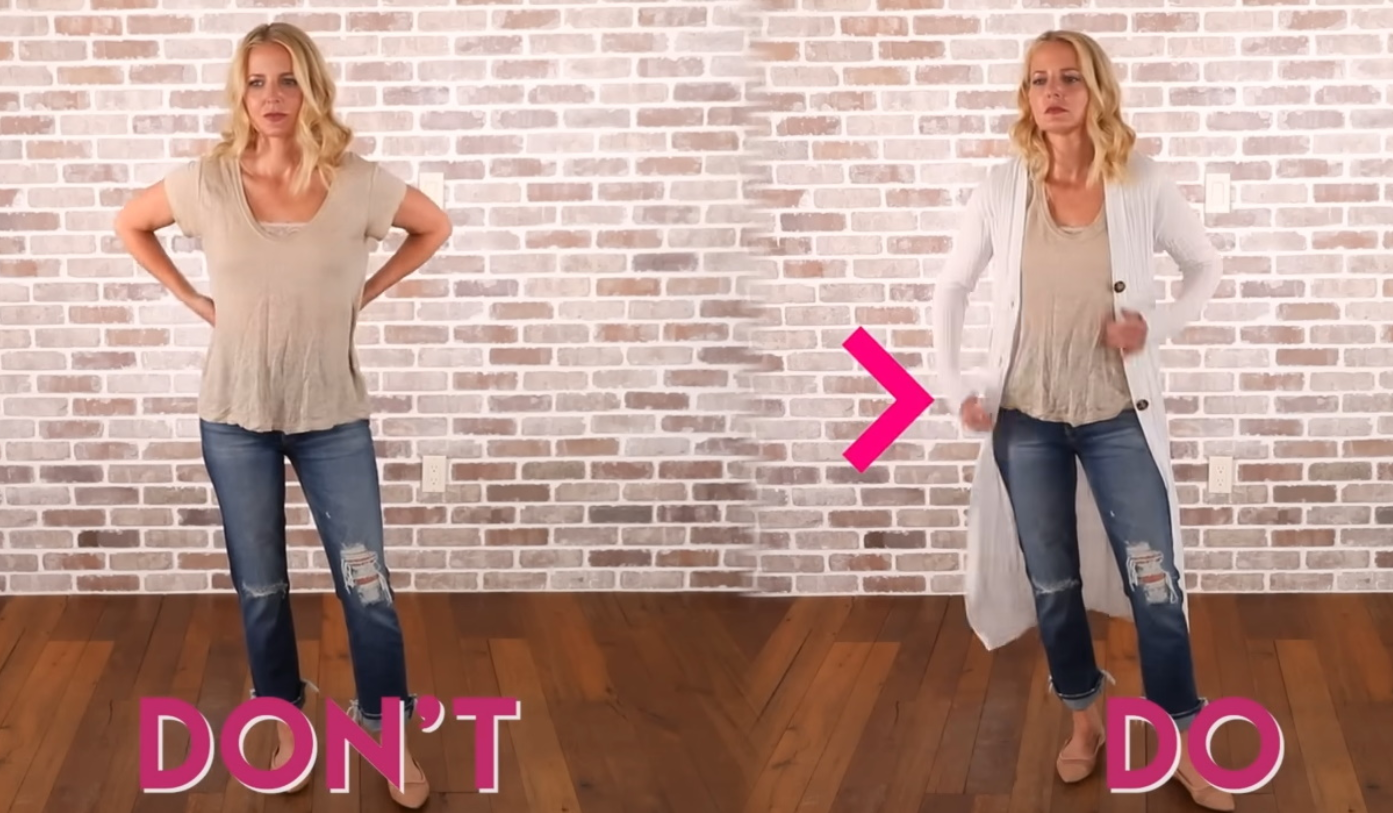 This tip can help you hide your tummy while maintaining a stylish appearance if you reside in a colder region. Look for clothing styles that flow effortlessly and drape naturally. In addition, the layer should accentuate your height rather than emphasizing your midsection. The key is to choose a layer that elongates your body while concealing the sides. Ultimately, the goal is to create a streamlined appearance that flatters your figure.
High rise pants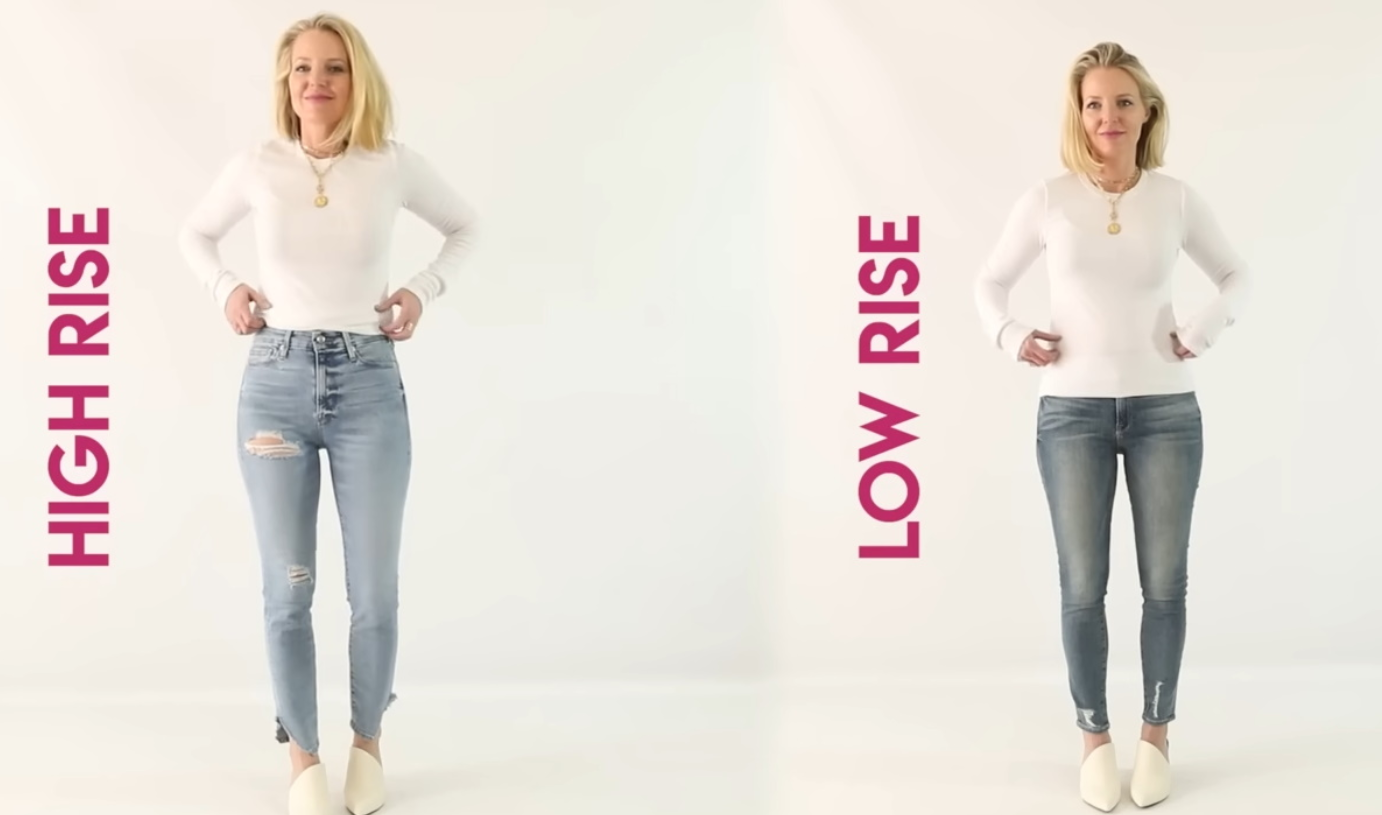 High-rise pants are a great option for shaping and slimming your tummy. The fabric naturally contours to your body, creating a flattering and slimming effect. By wearing high-rise pants, you are allowing the fabric to shape your body, effectively concealing your midsection. This is an excellent way to combat tummy issues and achieve a more confident, streamlined look.
Avoid clingy fabrics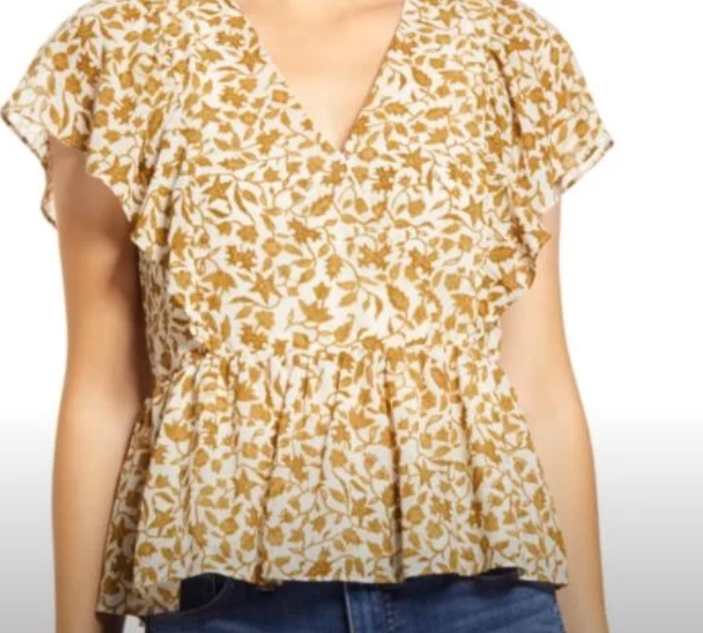 It's best to avoid tops that cling to areas you wish to hide. These types of fabrics tend to accentuate imperfections, leaving little room for forgiveness. Instead, opt for clothing with looser cuts that drape naturally and do not cling to your sides. This will create a more relaxed and comfortable fit while effectively hiding problem areas.
Bolero tops and the like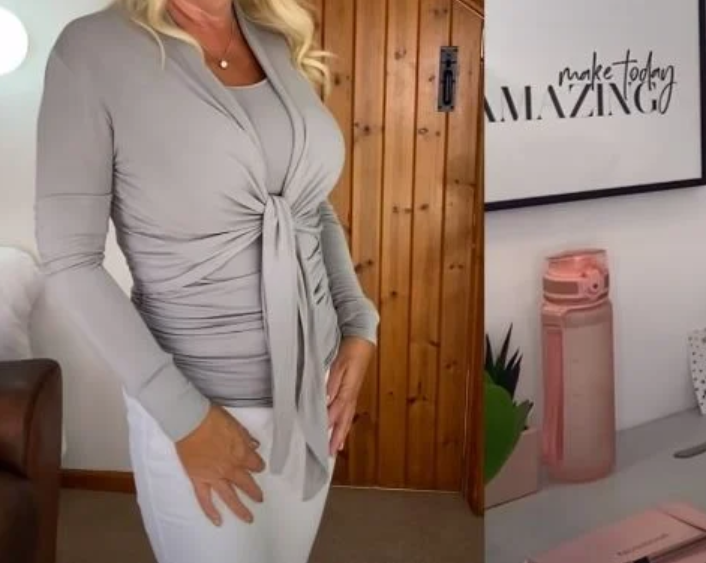 If you're looking to conceal your tummy while maintaining comfort and style, opt for tops with designs that cover the midsection. These designs effectively mask your tummy, leaving others guessing about its size. You don't need to compromise on fashion or comfort to achieve a more flattering look. You can feel confident and stylish with the right top while effectively concealing problem areas.
V-necks give that V-shape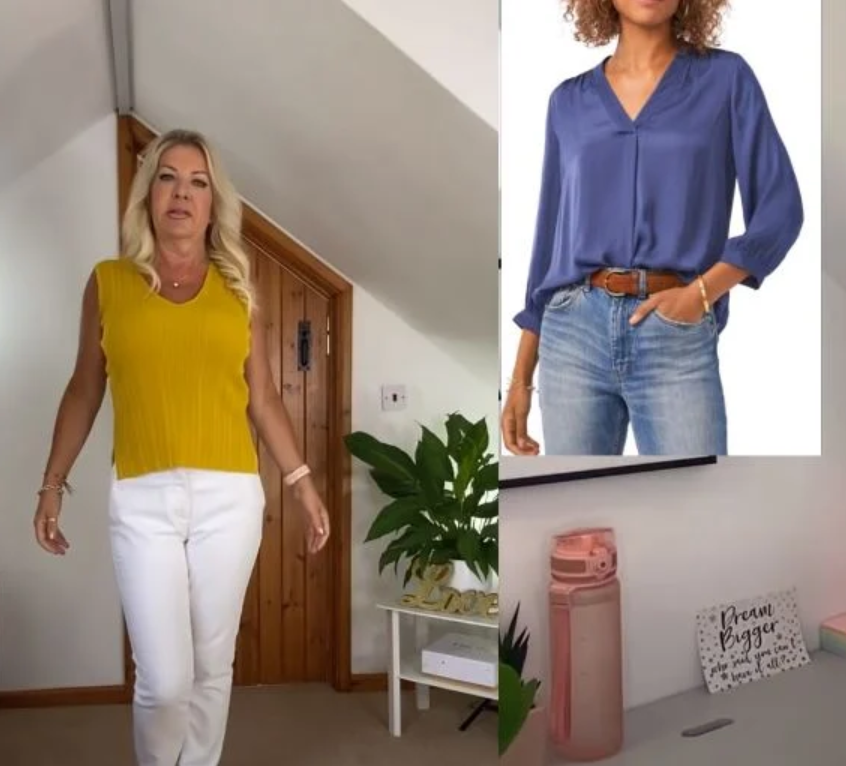 Similar to choosing the right neckline, selecting a V-neck top can draw attention away from your tummy and up toward your neck. The vertical line created by the V-neck flows downward, creating a flattering and elongating effect on your body. V-neck tops come in a variety of styles and colors, allowing you to choose the perfect one that complements your body type and personal style. With the right V-neck top, you can highlight your best features and effectively conceal problem areas, leaving you feeling confident and beautiful.
Don't go for mid-length sleeves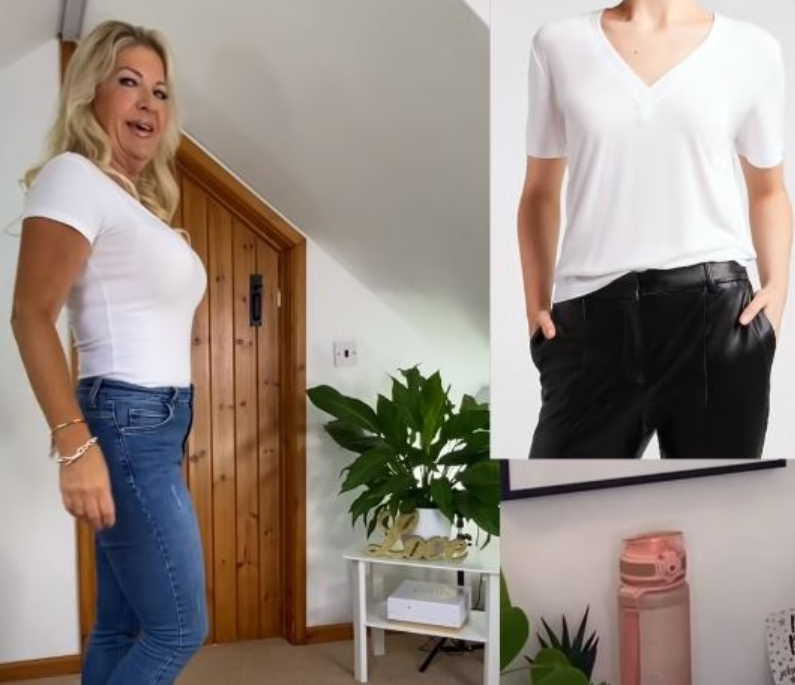 If you wear mid-length sleeves that hang down the sides of your body, it can draw attention to your tummy. This is because the eye is naturally drawn towards the exposed arm. Opting for a short-sleeved top is a better choice, as it shifts the focus towards your shoulders rather than your waist. You can draw attention away from your tummy by highlighting your shoulders, creating a more flattering and confident look.
Build up the shoulders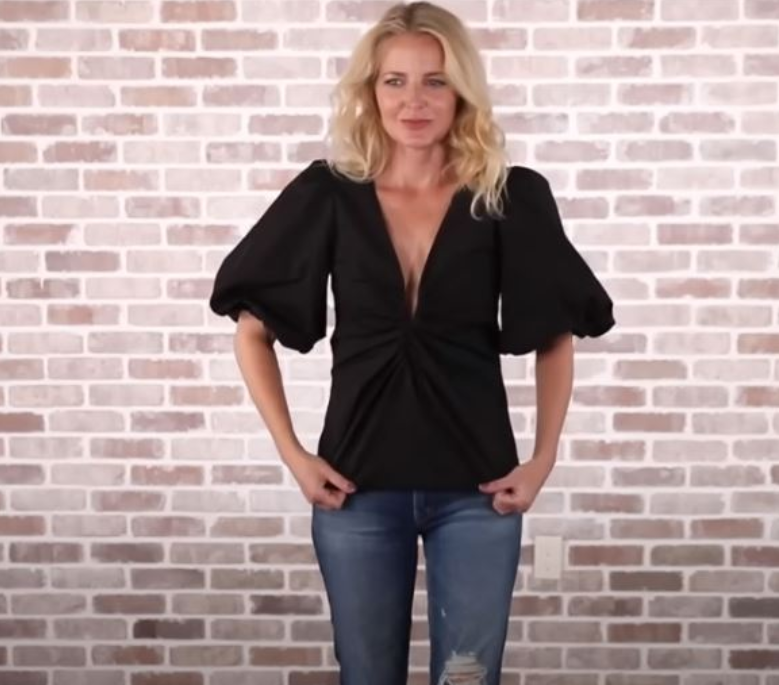 The concept applies to bodybuilders as well. Broad shoulders create the illusion of a smaller waistline. However, it's crucial to identify your body type to determine if this strategy is suitable for you. With wider shoulders, you can rock statement sleeves and emphasize your silhouette. Experiment with different styles to build width and taper, and you'll exude confidence and sexiness.
A thoughtful neckline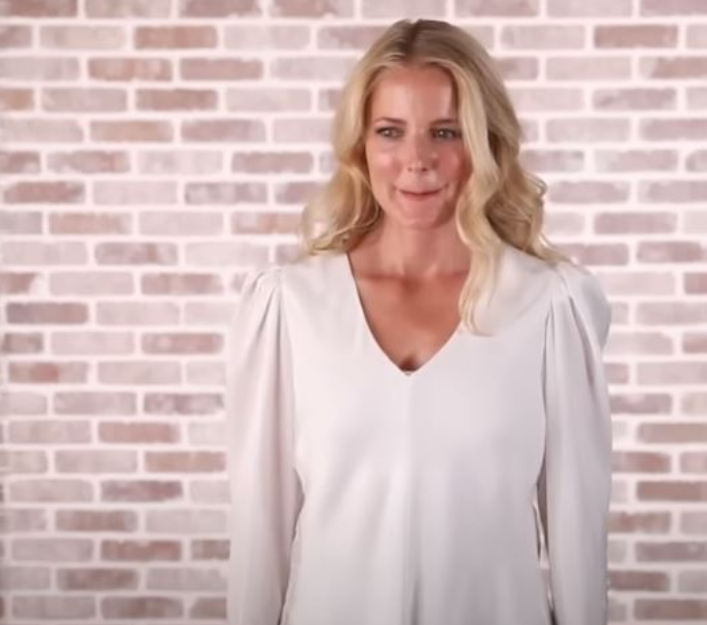 If you want to showcase your neckline and add a subtle hint of the chest, opt for a well-designed top. This will draw attention away from your midsection and highlight your assets. It's essential to choose a top that flatters your body shape and suits your personal style. If you're feeling bold and confident, consider a top with a plunging neckline to add some extra allure.
Untuck your tops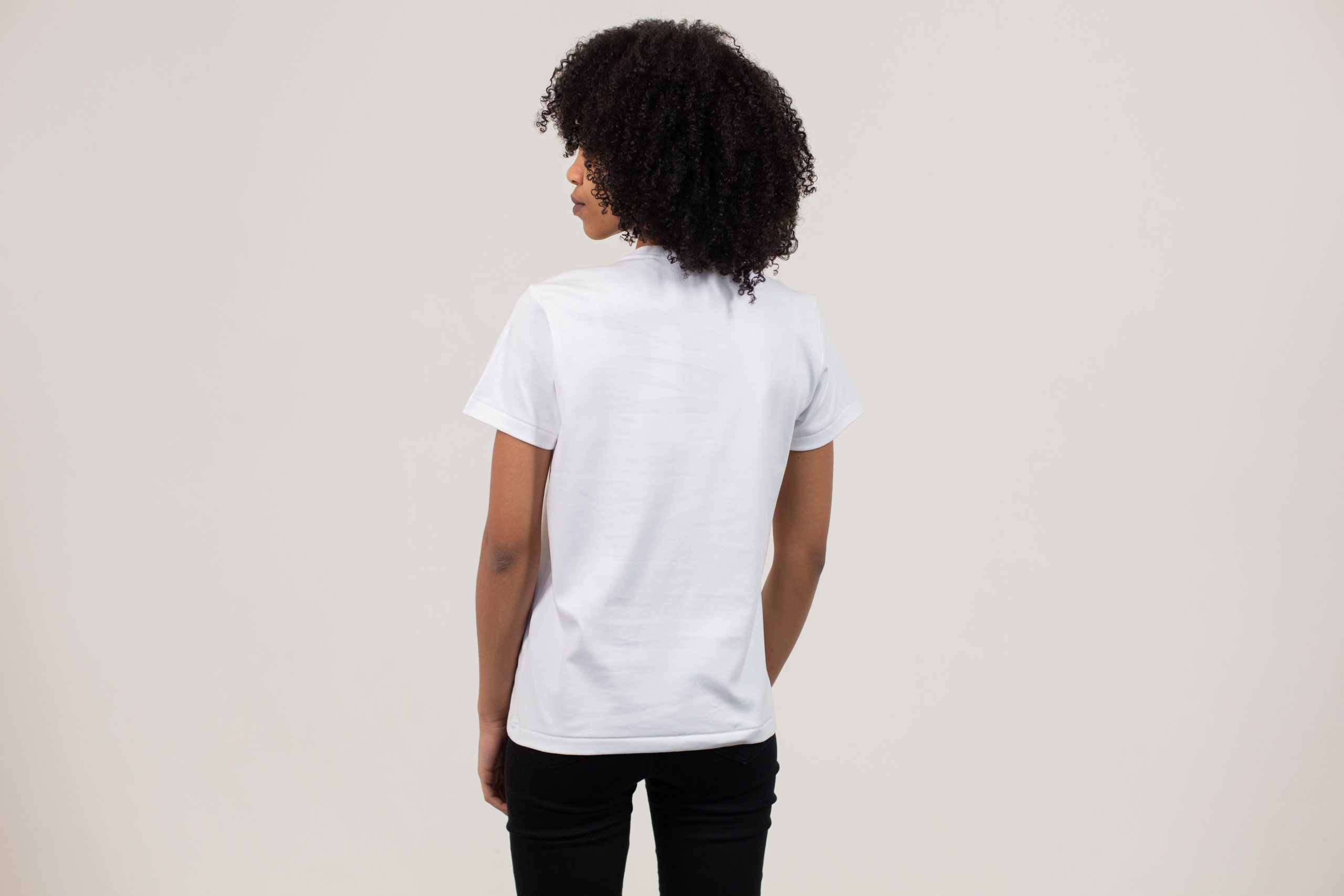 A key tip to trying to cover up an unflattering tummy is to untuck your t-shirts. You may think that tucking your tops into your pants can bring a more flattering look – but the opposite is true. Pulling out your top can give a bit of freedom to the midriff area and will give the fabric a bit more leeway, leaving you feeling more comfortable and confident.
Wear dark colors
Credit: Olga Zabegina via Twitter
White and other light colors tend to bring problem areas into focus. Wearing dark colors, such as black, dark purple, or dark blue helps draw the eye away from the area, bringing the focus instead onto your hands or your hair. Darker colors can also distract from any bumps and bulges you may want to hide, giving you a slimmer look.
Wear light colors up top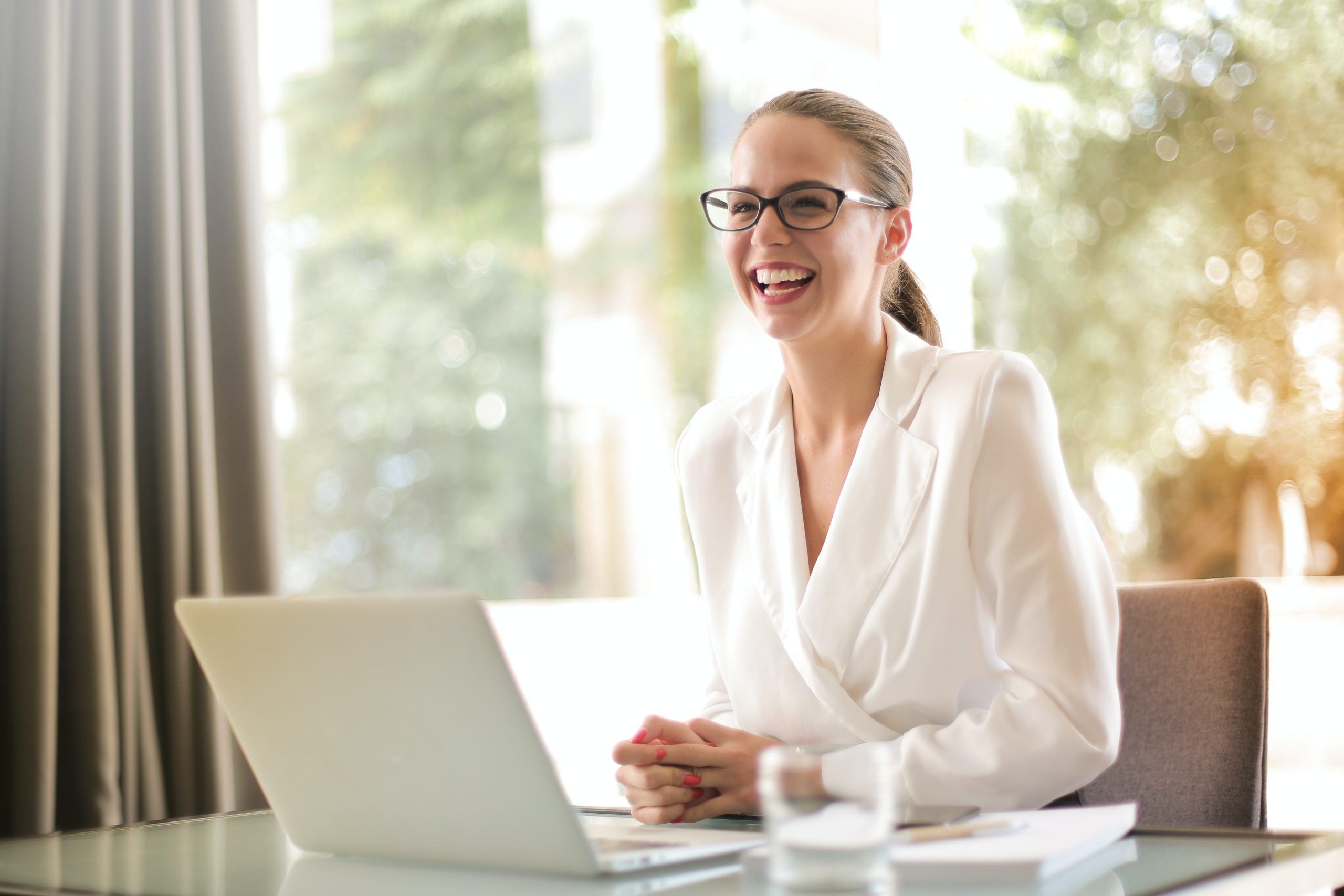 Credit: Andrea Piacquadio via Unsplash
As slimming as dark colors can be, ensure that you wear them the right way around. If you wear black on top, and white at the bottom, people's eyes will naturally gravitate to your lower half, having the reverse effect of slimming. A black pair of jeans with a loose, white tee is the perfect combination to give a nice slim finish. Be smart with how you wear your colors and you'll naturally see them take a flattering effect.
Avoid button-front jeans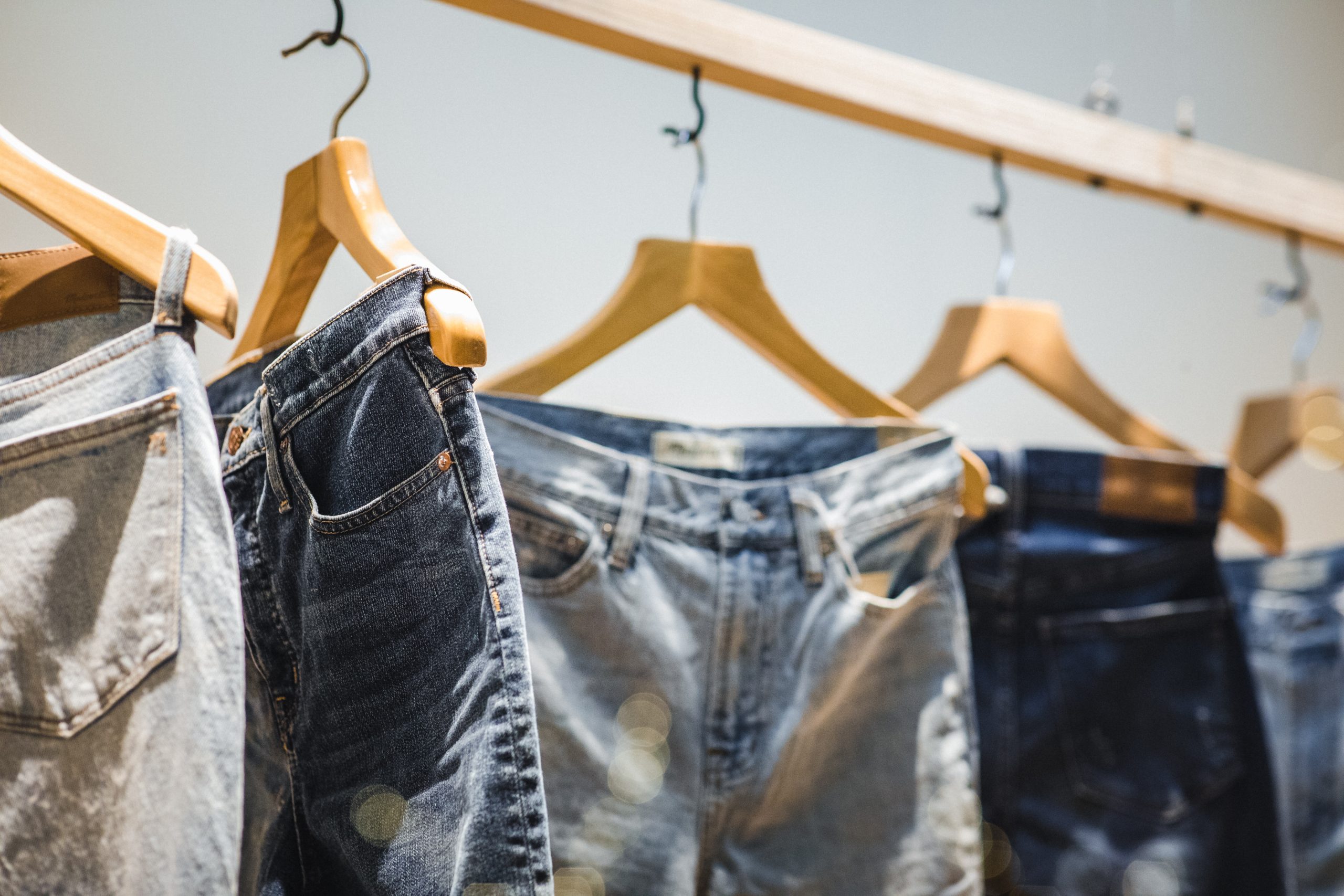 Credit: Jason Leung via Unsplash
As timeless and stylish as they may be, jeans that button at the front immediately draw the eye to your middle area, and subsequently emphasise your stomach. If you're keen to keep people from paying attention to that region, you might instead consider wearing jeans with invisible zips, which will place the attention elsewhere.
Avoid loose-fitting jeans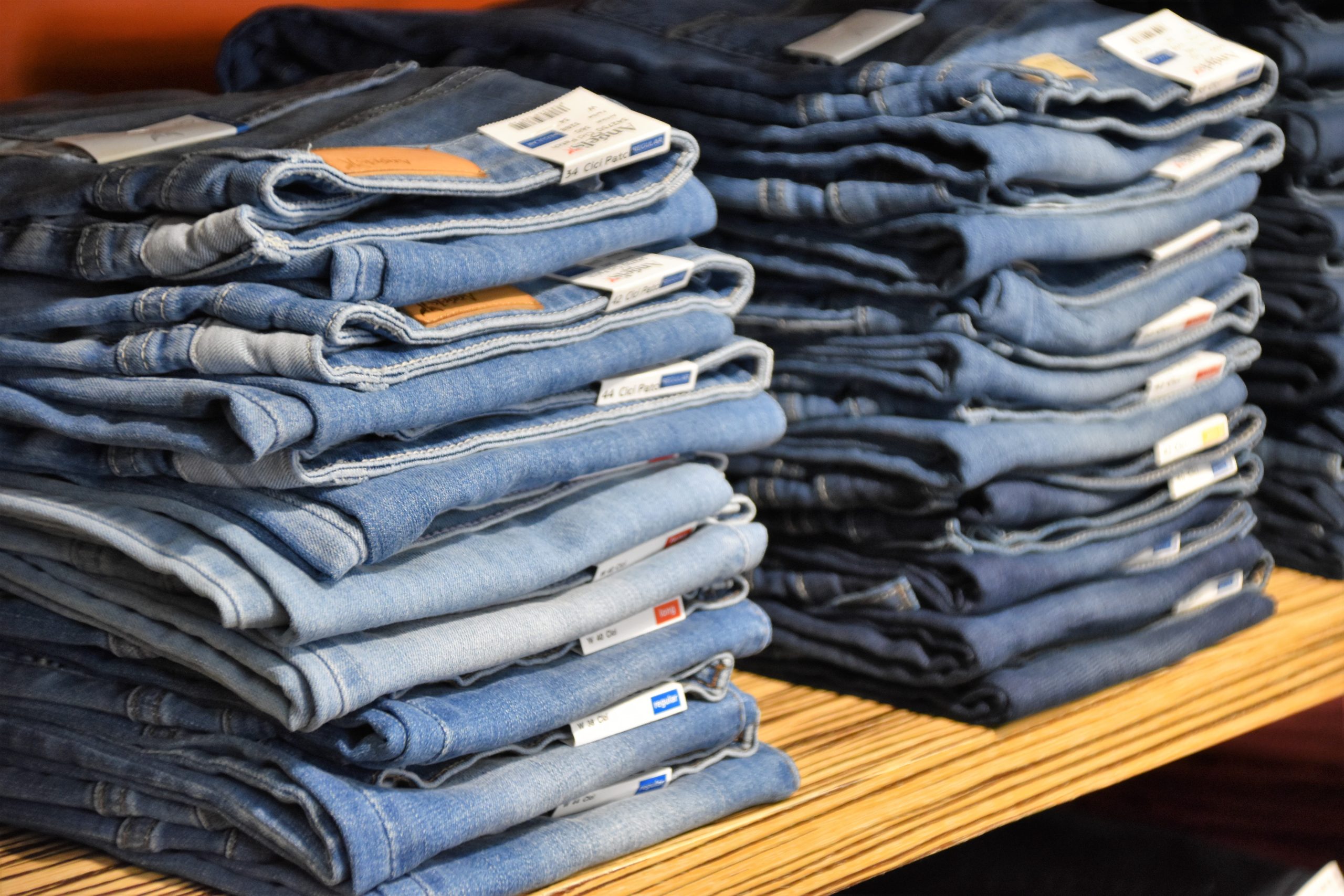 Credit: Waldemar's via Unsplash
It might seem common sense to avoid tighter jeans if you're insecure about your midsection, but baggier clothes are not the answer. Loose-fitting jeans can make your lower half look bigger than it actually is, and won't show off your lovely silhouette. Go for jeans that are labeled as skinny, straight, or slim, to really streamline your figure and hide that tummy – but make sure that they're not too tight or restricting.
Make sure you're wearing the right size clothes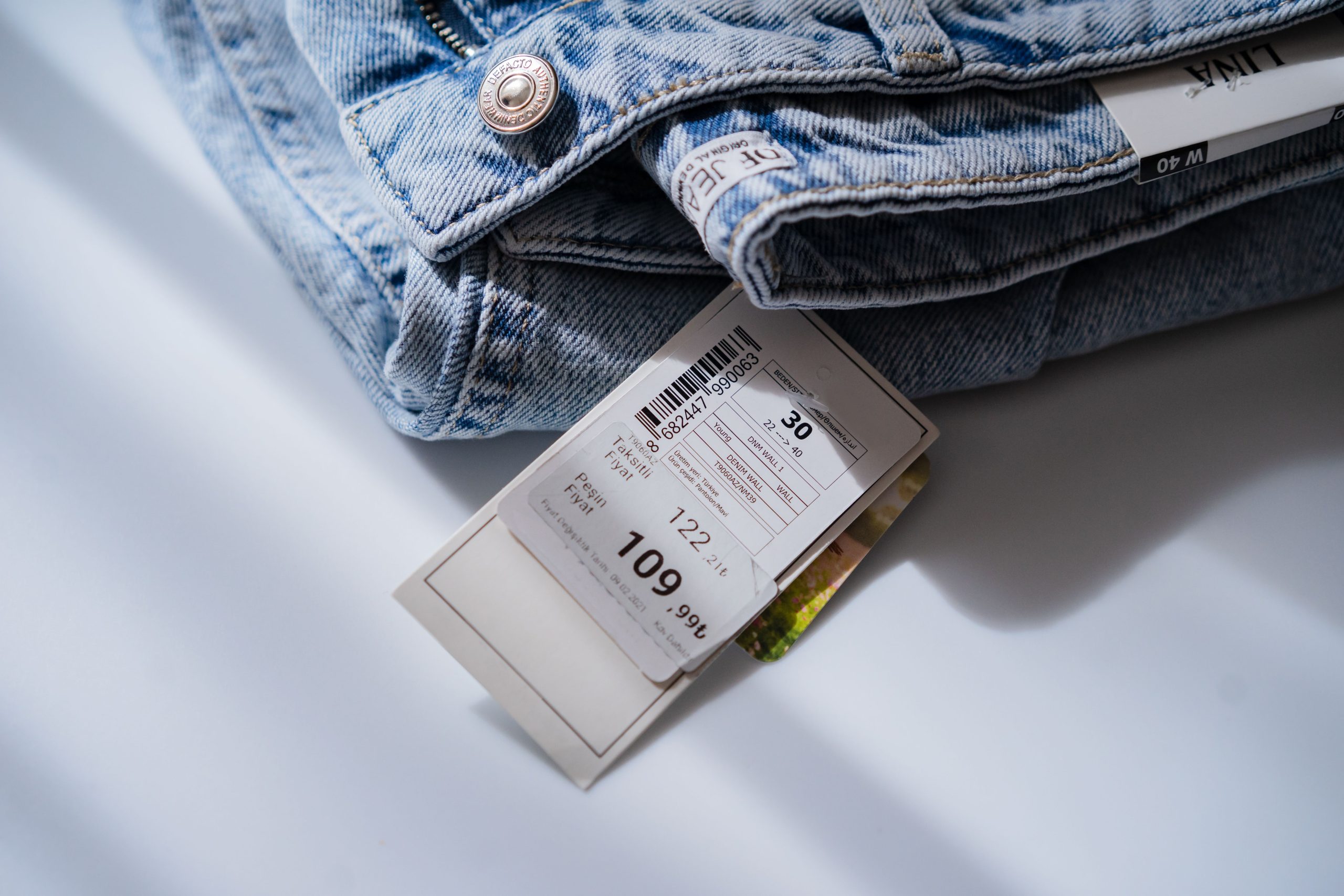 Shockingly, many of us aren't wearing the size of clothing that actually fits our bodies. Too tight, and it can show off belly rolls and draw unwanted attention to areas you'd prefer to keep covered. Too loose, and you get swallowed up in a swamp of unnecessary fabric. Remember, each store's sizes differ, so shop around to make sure you're wearing clothes that are comfy but stylish.
Wear pants with a stretchy waistband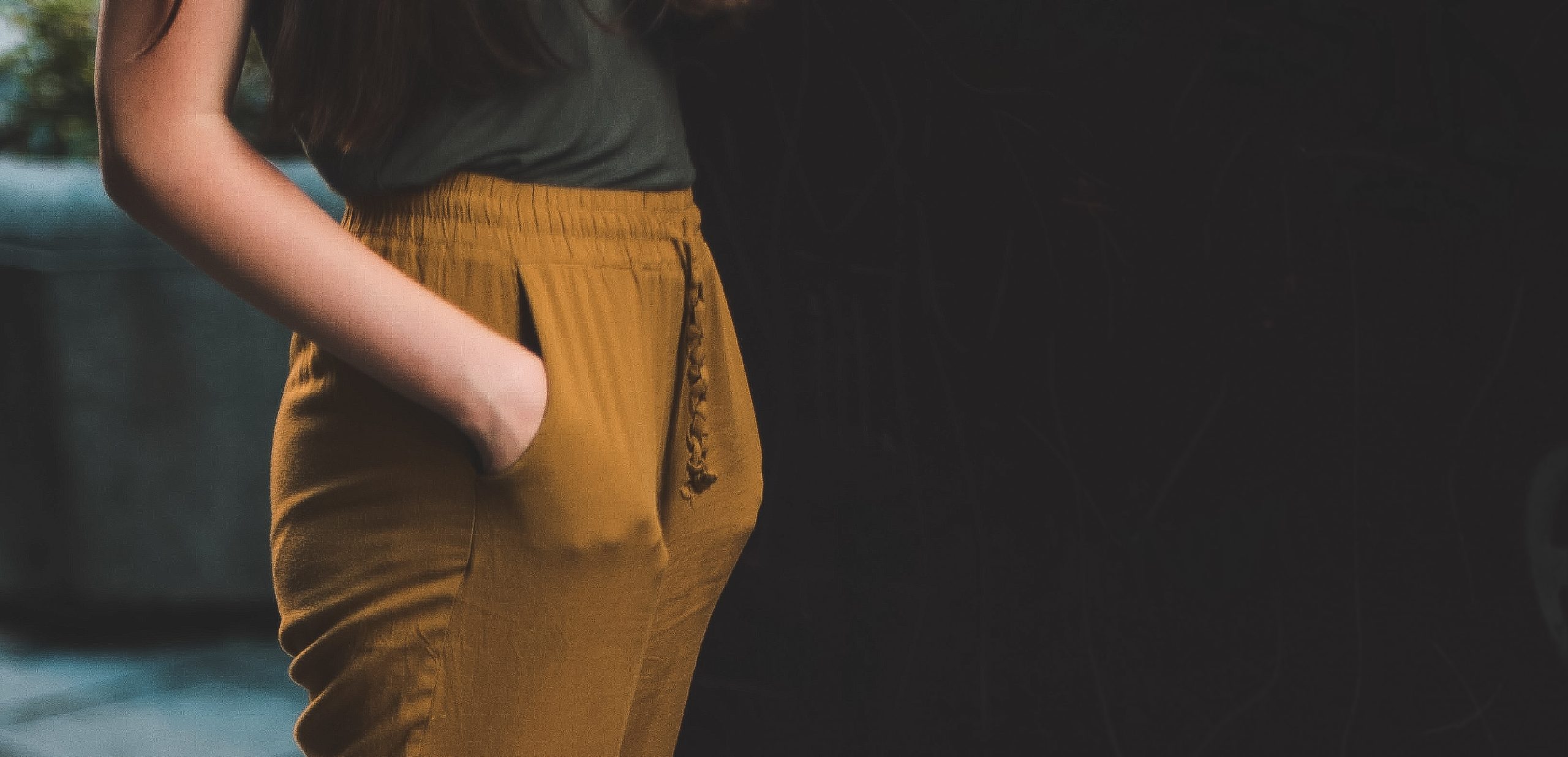 A stretchy waistband is a miracle! Wearing one of these will stop any tummy flab from poking out, keeping it hidden beneath the fabric. They bend to your body, allowing you to look stylish but feel comfortable at the same time. Check what outfits have a more relaxed waistband and add it to your outfit rotation.
Experiment with tones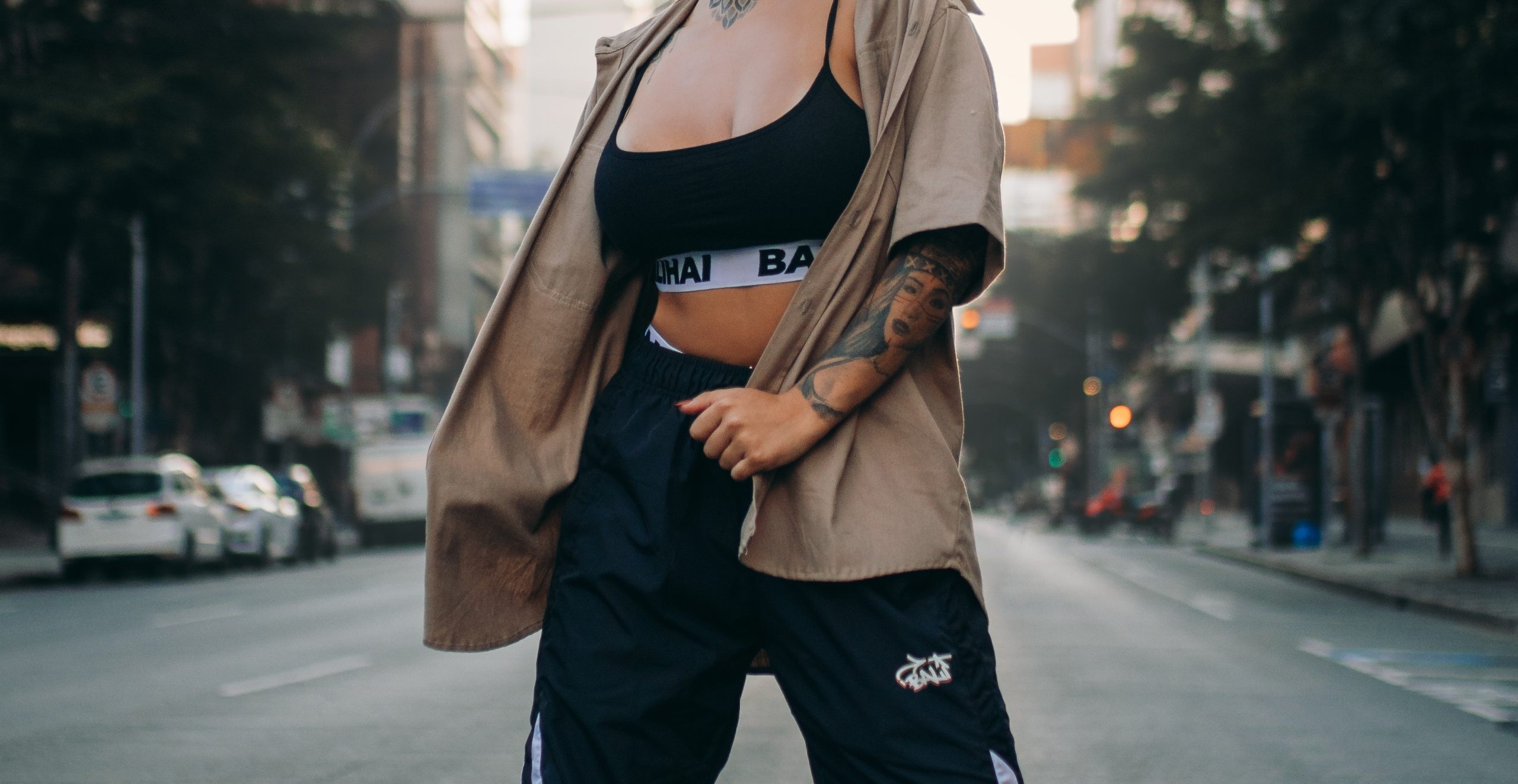 Different tones together can create different results on your body – particularly around your stomach area. Experiment with what works for your body type – but try mixing in a fresh mix of color on different layers of your clothing. A light brown jacket over a black top can do wonders for slimming down the stomach.
Experiment with textures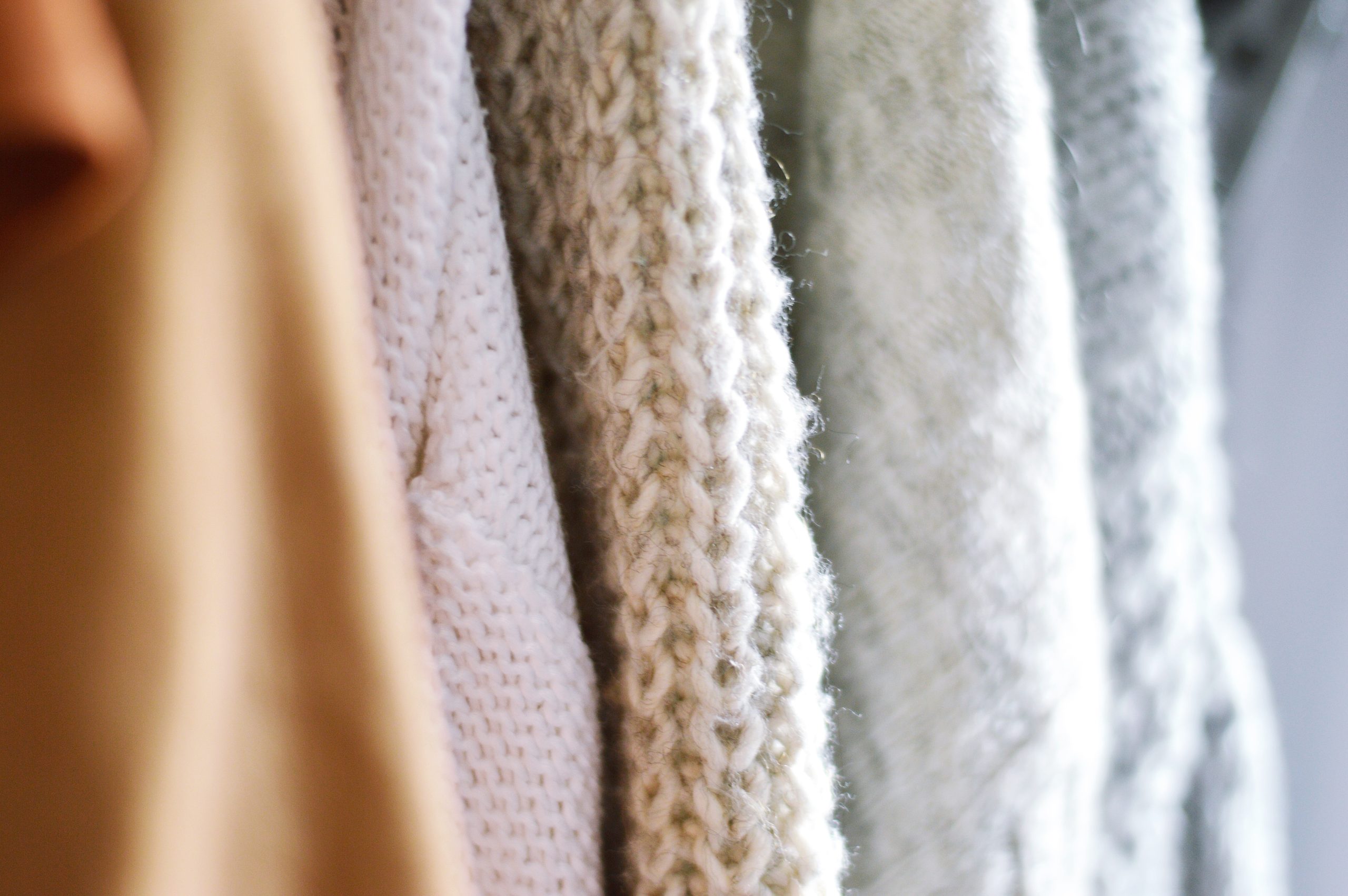 Try wearing different textures to spice up your wardrobe and hide your stomach – just make sure that they're in similar colors. For example, a silky navy blouse with navy denim jeans and a black cotton tee can work wonders in covering up that extra belly flab. Different tones make your outfit appear more structured, which should in turn leave you feeling fabulous and confident.
Wear blocks of color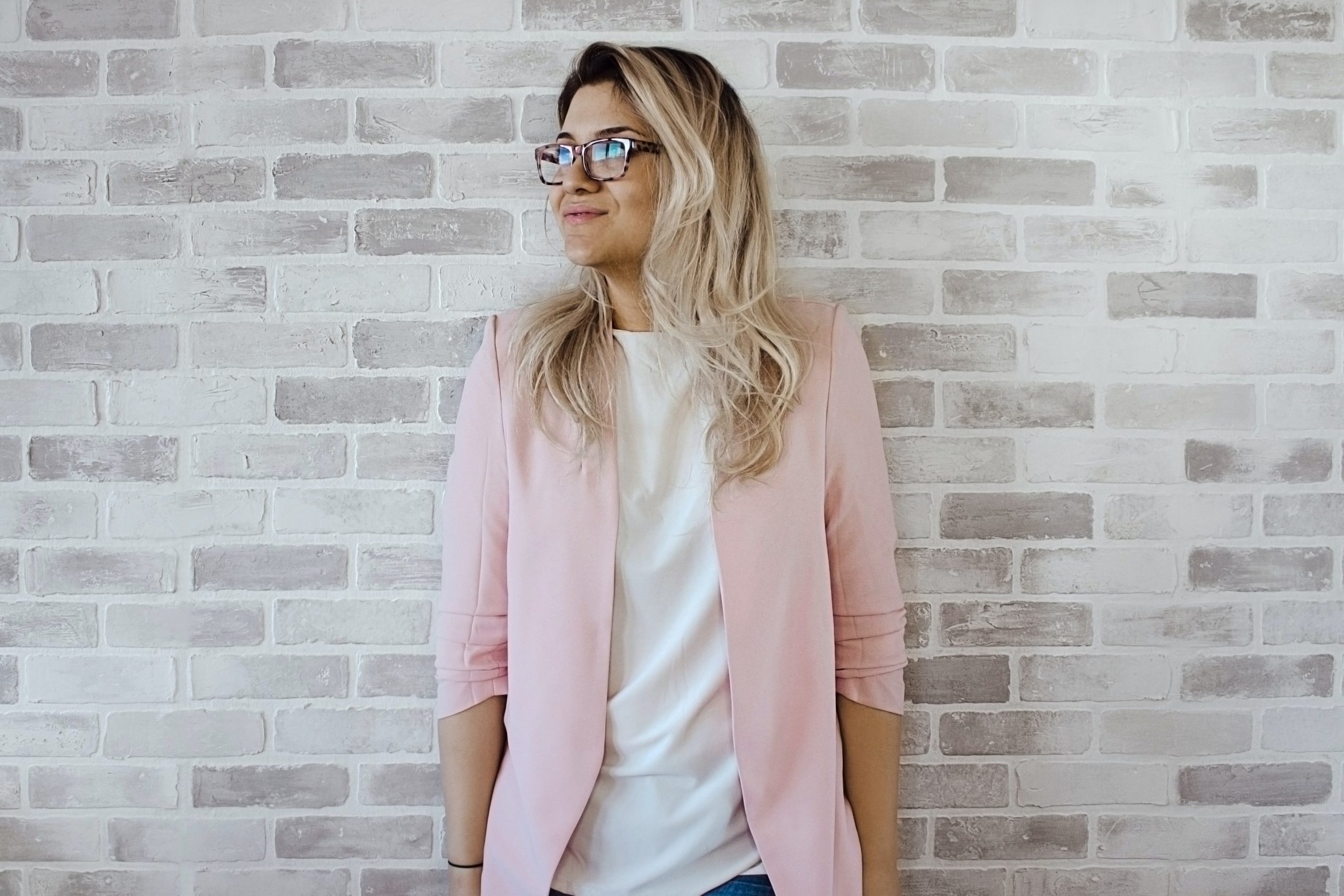 Wearing a block of color can make you seem taller and slimmer. For instance, wearing an outfit with a bright, colorful blazer can add color to your face while simultaneously downplaying your tummy zone. This top tip is especially effective if you wear blocks of color vertically, drawing your eye upwards instead of across.
Wear jeans that are the right length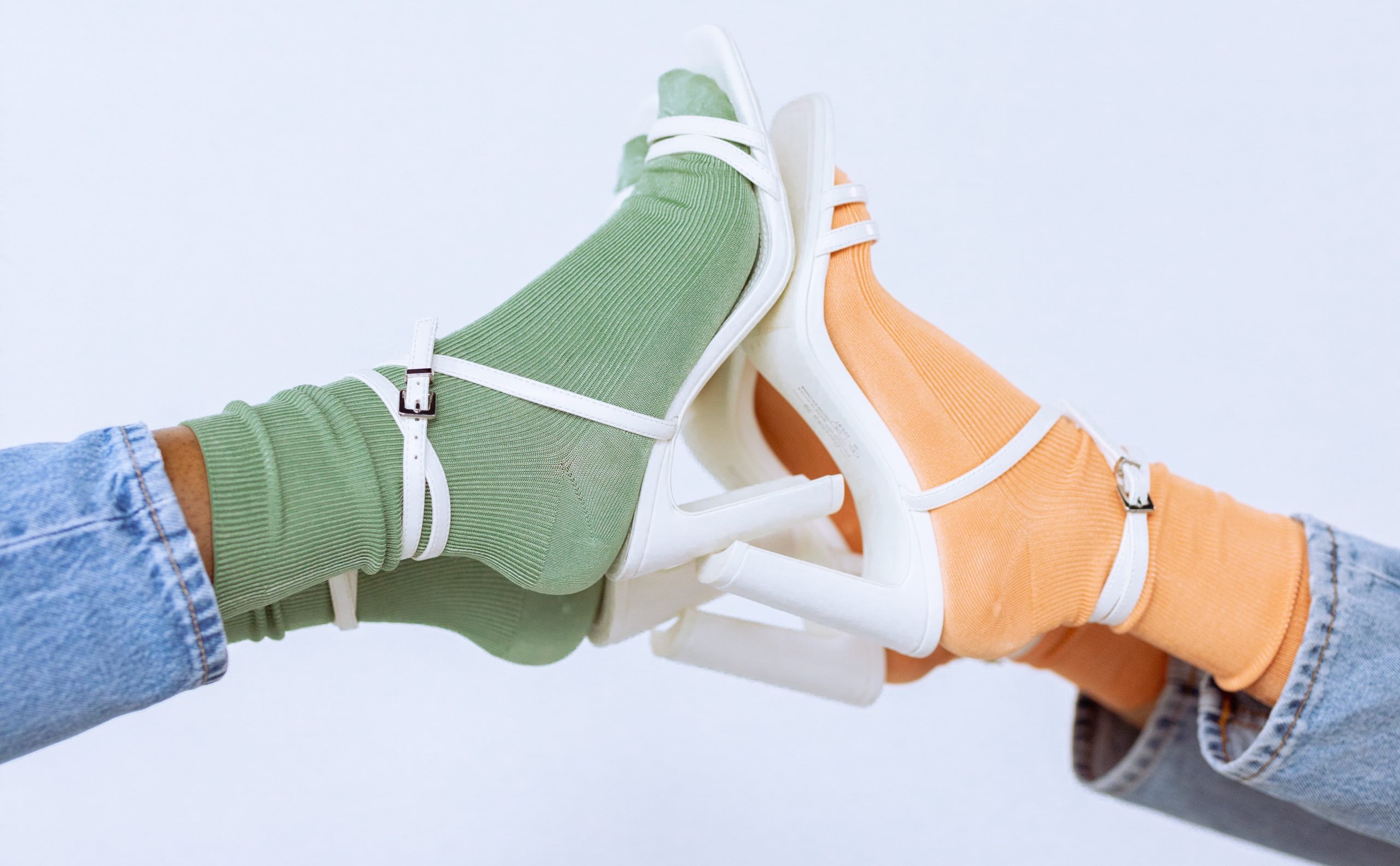 Too many of us end up wearing jeans wrong – without even realizing it! Having your jeans just brush your ankle is the ideal length, as they can make your legs look longer and your frame taller, giving you a slimmer frame overall. Avoid jeans that end up scrunched up above your ankle or ones that only cover half of your foot.
Wear tops that aren't too long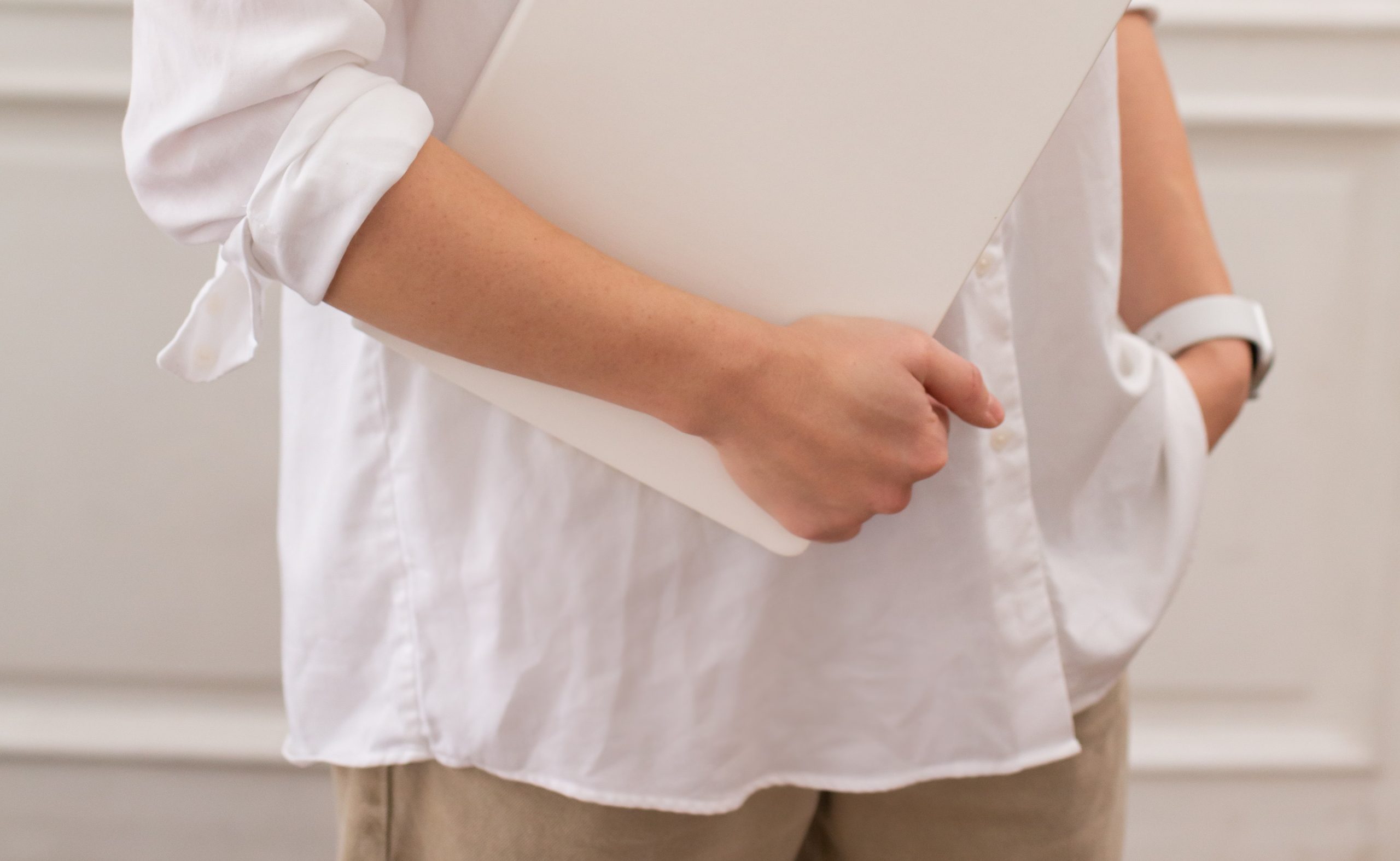 The ideal place for your top to sit is no longer than the tops of your thighs. It's a great length to hide your tummy and give you a flattering figure. Any longer, the top will look baggy and will make you look as though you're carrying more weight than you are. If you wear a top or a blouse that's too short, it may not quite cover the belly bulge.
Avoid thin fabrics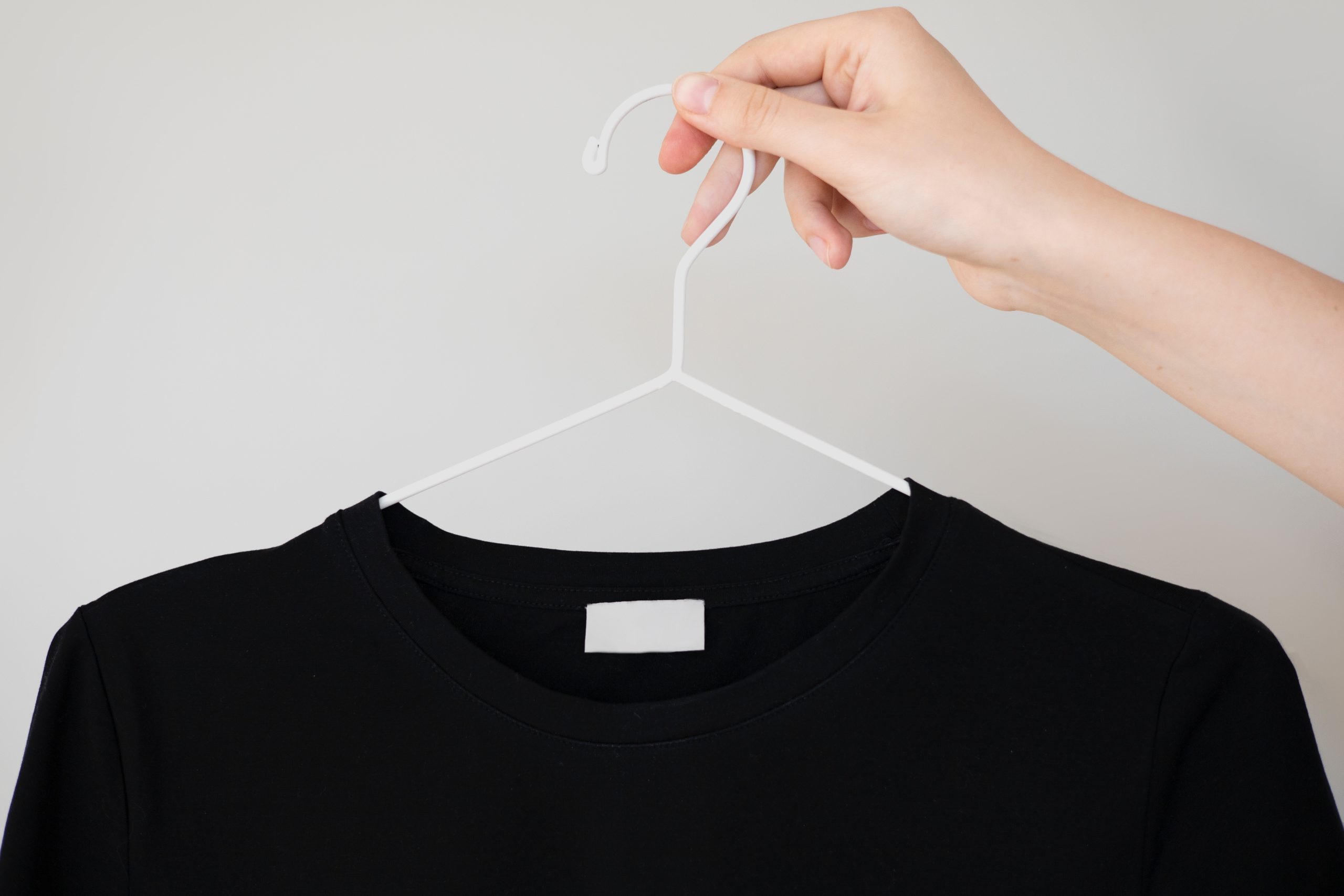 Thin fabrics can stretch more than denser materials, giving the illusion that you're wider than you actually are – a nightmare if you're trying to take the attention away from your stomach area. Purchase clothing that's of a thicker, more durable material to gain an all-around slimming effect. As an added bonus, they'll last longer too.
Wear an asymmetrical hem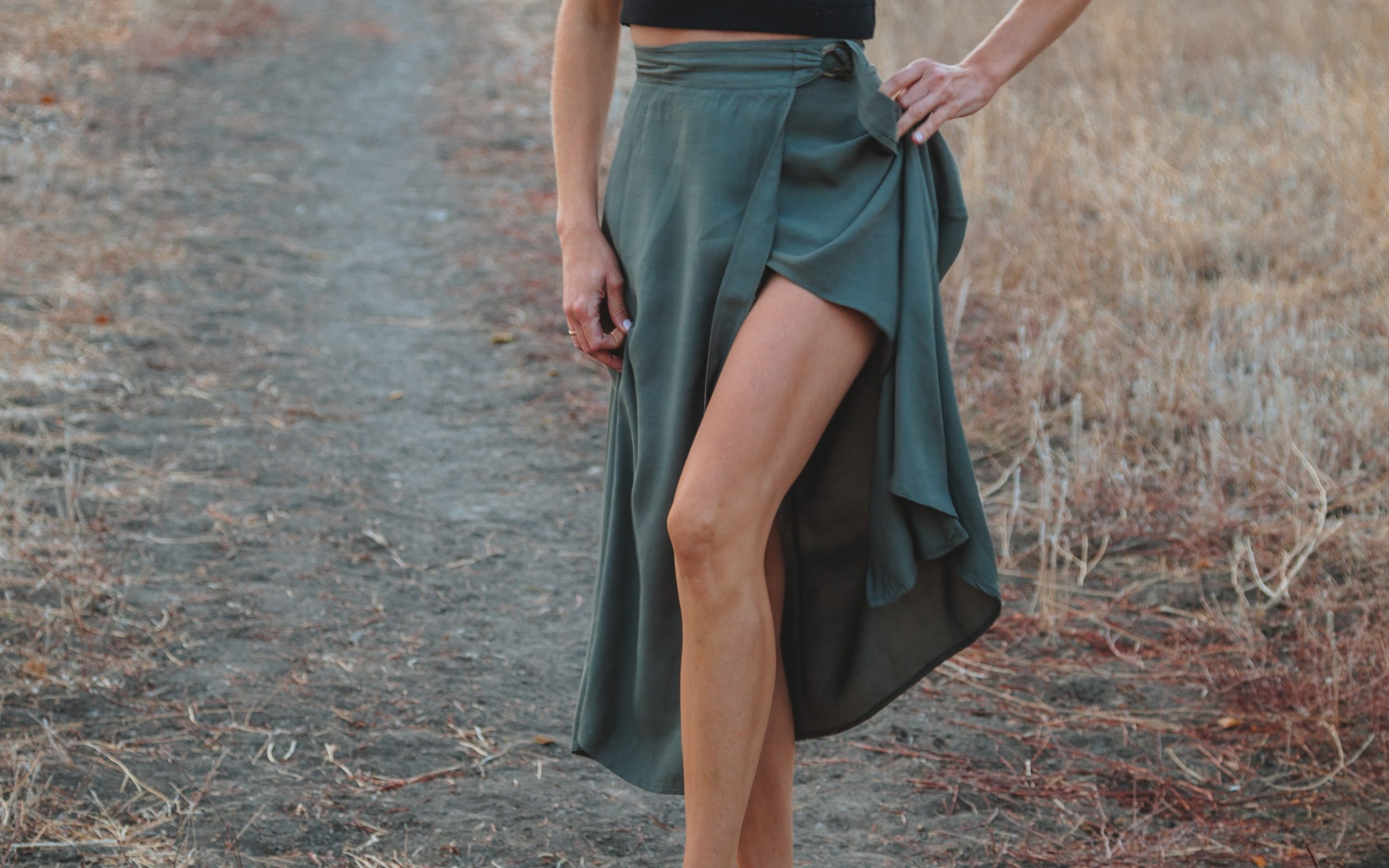 Credit: Marina Abrosimova via Unsplash
Boxy, square shapes can enlarge the look of your frame. Ditch garments like that and swap to an asymmetrical hem for a more flattering look. It'll give the illusion of slimming your outfit by getting the eye to follow downwards, accentuating all of the parts of you you want to show off, while covering up your stomach area.
Don't wear belts across your hips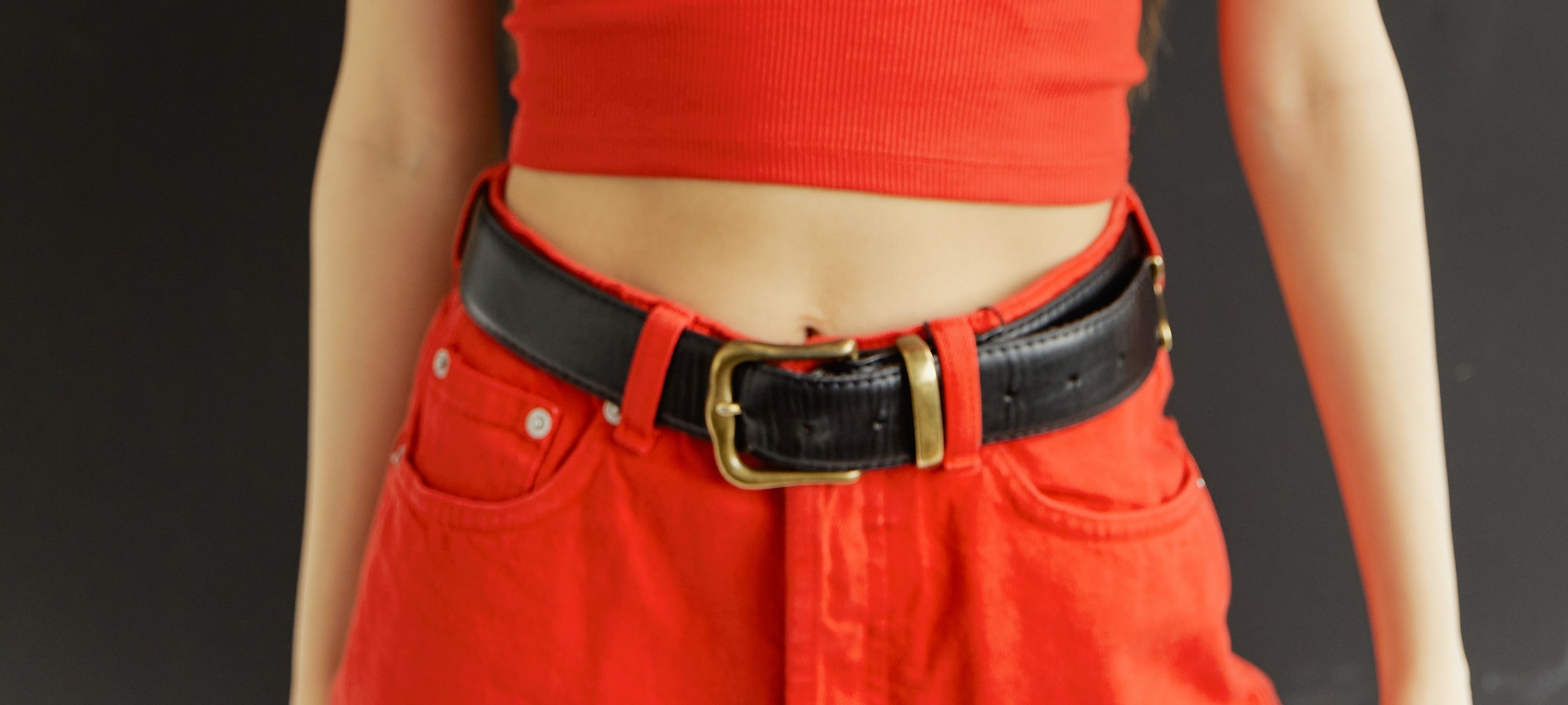 Wearing a belt across your hips only draws attention to your stomach and any love handles. If you want to keep people's eyes away from this area rather than highlighting it, try wearing a belt at the narrowest point of your waist. This will fully sculpt your figure, creating a lovely hourglass shape.
If your top is tight, wear a loose bottom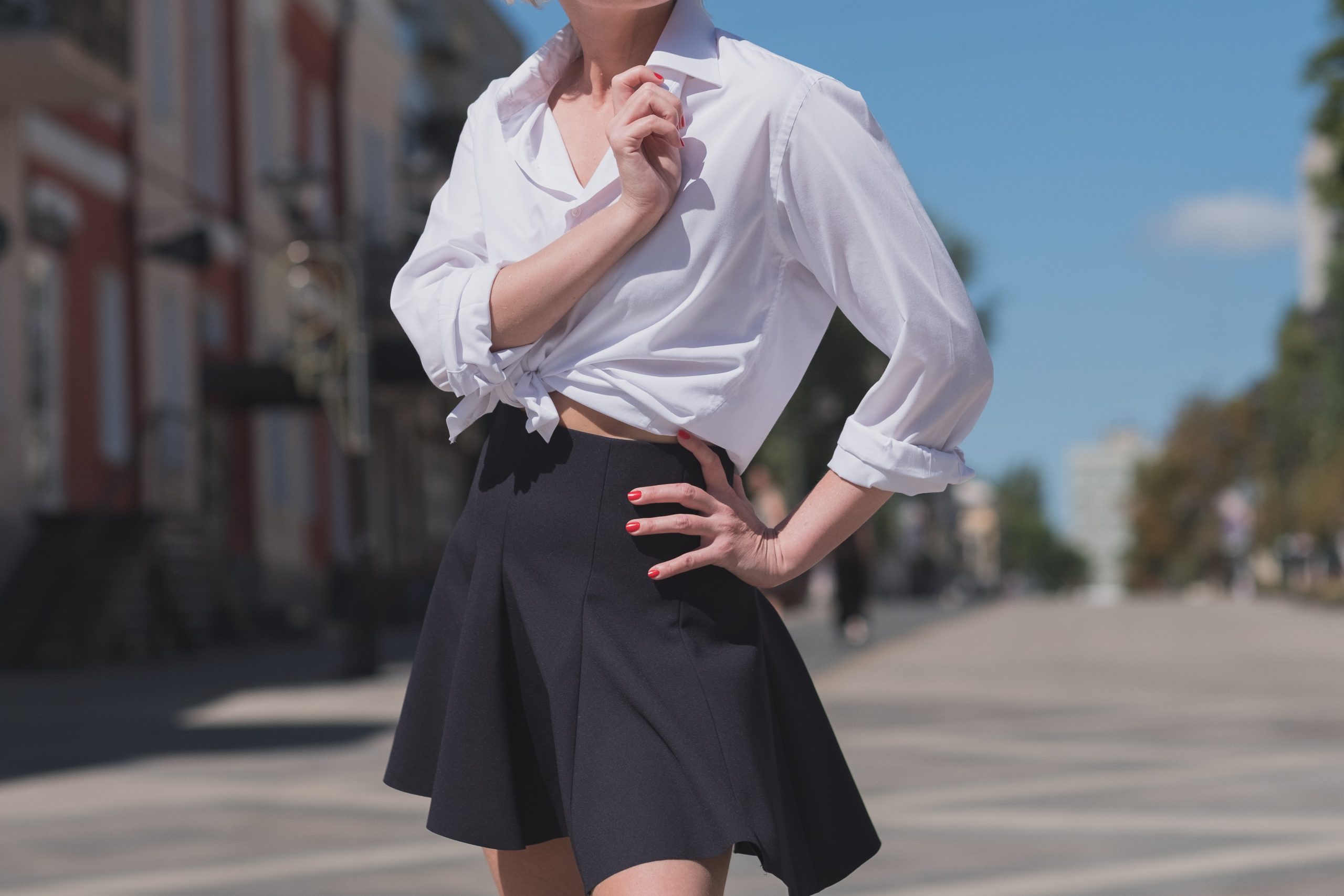 Credit: Anton Mislawsky via Unsplash
Wearing a loose, flowing skirt paired with a tight top is a great way to add a slimming flair to your wardrobe. It'll make your waist look cinched and smaller, while complimenting your stomach area. Remember, you don't want the top to be too tight for it to highlight any lumps and bumps you don't want on display, but just so it's comfortable yet stylish.
Don't wear a skinny belt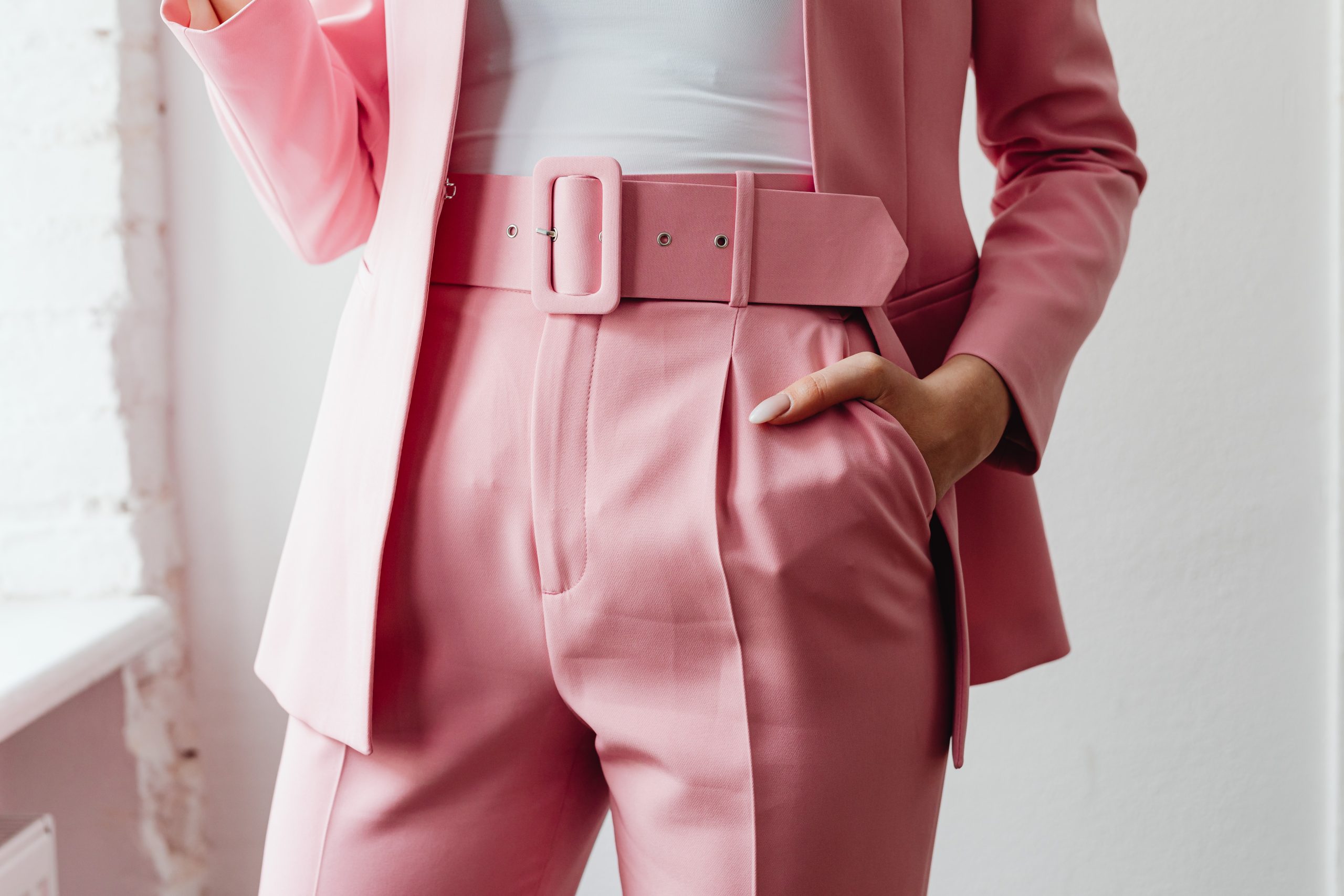 Skinny belts – especially worn across your stomach – are a sure way of getting wandering eyes to focus on your waist area. This rings especially true if you're a curvy woman, as the thin belt will look out of proportion with your body type. Instead, wear a big, statement belt across the smallest part of your waist. If you're feeling extra brave, wear a belt in a bright color for a bigger statement.
Wear a slit skirt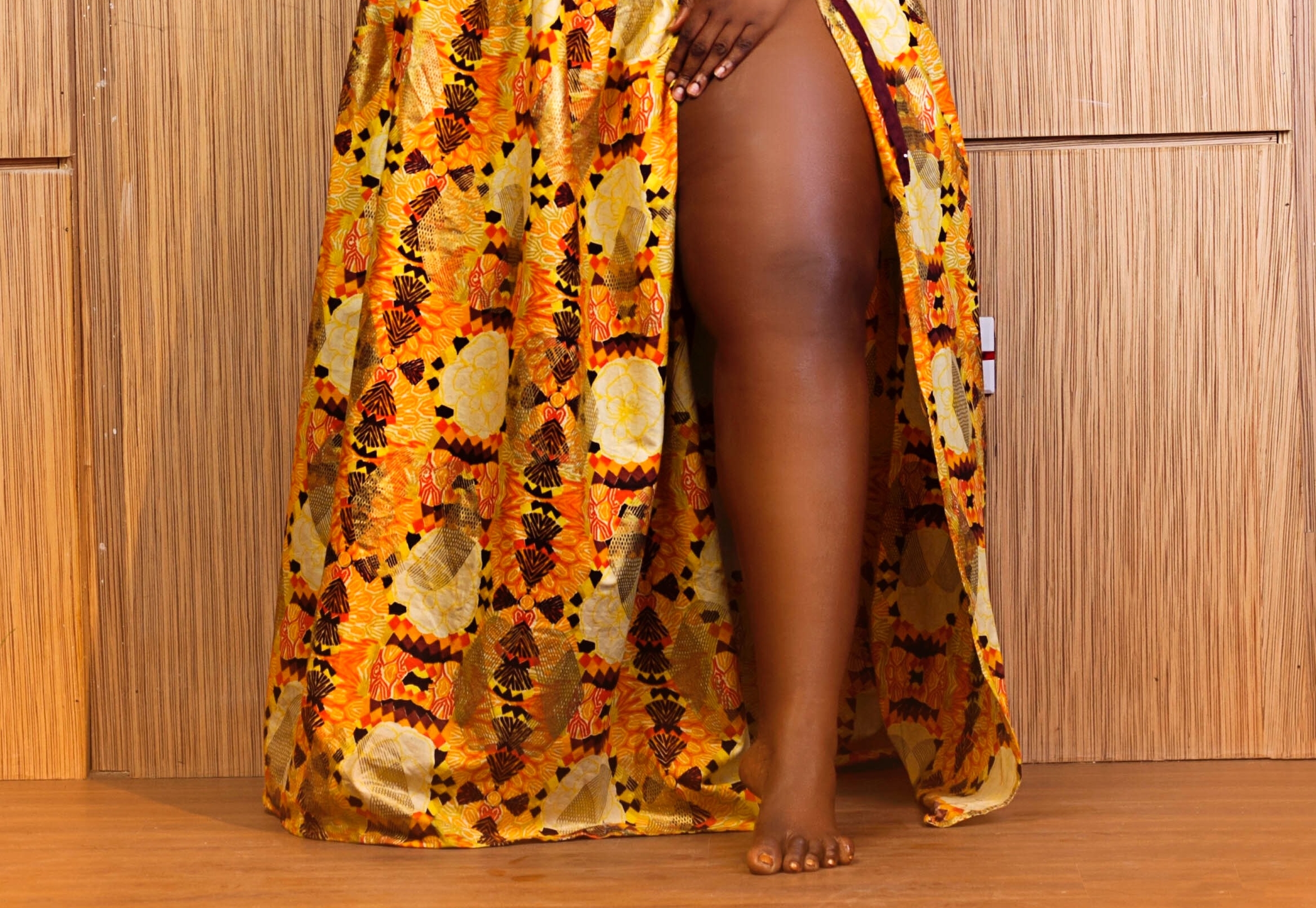 A slit skirt breaks up the swarm of fabric and prevents you from looking too bottom-heavy, highlighting your curves. The exposed leg also serves as a great distraction from any extra belly weight that might be showing, training the eye to look away from the stomach and at the other great features of your body.
Play to your strengths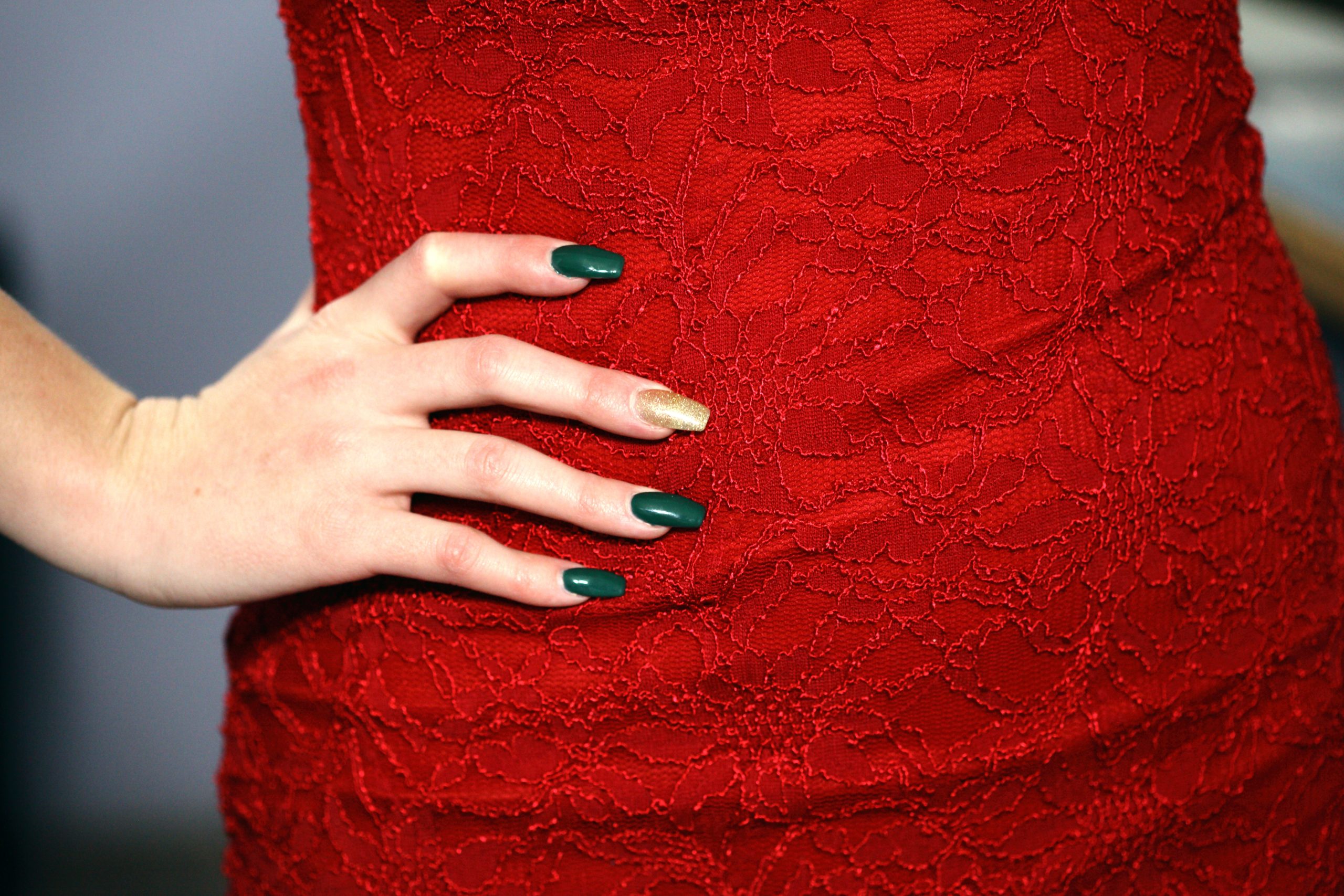 Whatever your best feature is, show it off! If you've got strong arms, wear a sleeveless top. If you've got lovely long legs to display, wear a flattering skirt. Playing to your strengths will not only help to cover up any tummy bloat, but it'll also make your outfit pop overall, making you feel more confident and less self-conscious about your belly area.
Use shapewear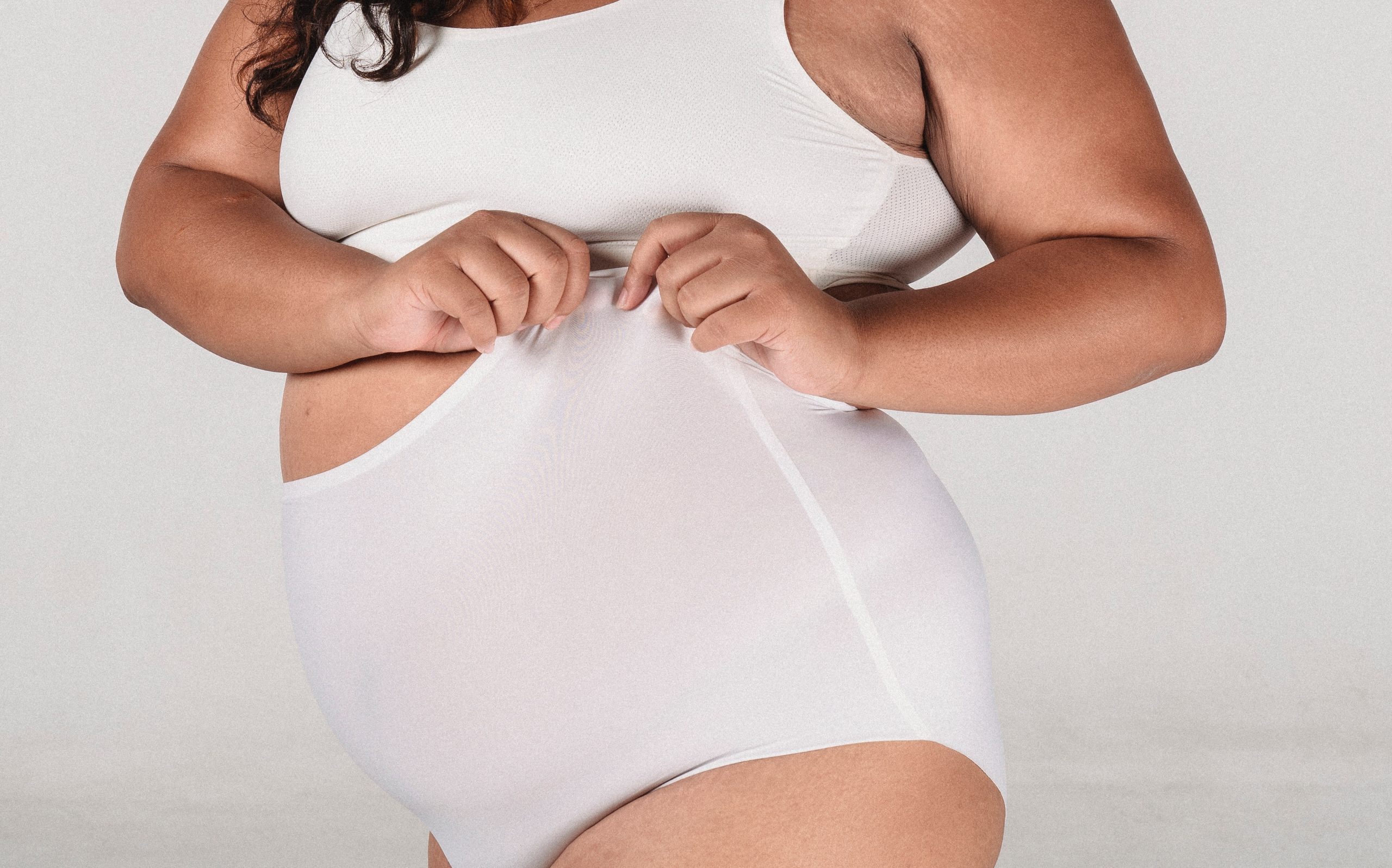 Shapewear is designed purely to smooth out any lumps and bumps, and can be a fantastic tool to flatten out your overall silhouette and really snap your body into an ideal frame. It uses compression to squeeze and flatten everything in just a little smidge, making it a perfect way to conceal your tummy. Make sure you find the right shapewear for you that works with your body type.
Use drapes or frills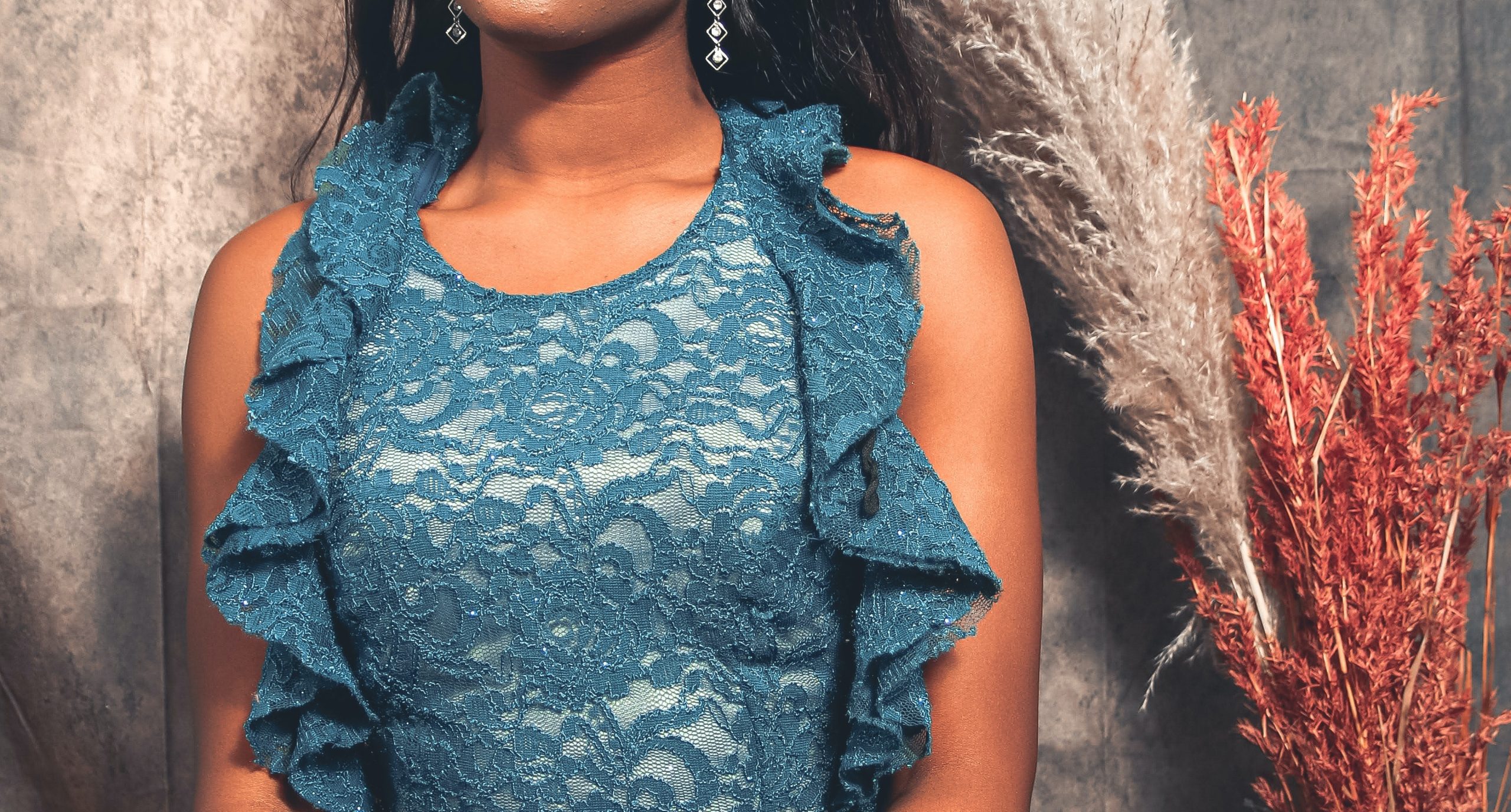 Frills and drapes are a great way of distracting from any problem areas. Simply throw a drape over your shoulder, or wear an outfit with built-in frills, and watch the compliments roll on in. The extra – but purposeful – fabric demands the eye's attention, making you the one in control of what other people focus on. Avoid wearing these across your stomach – especially horizontally – as this will have the opposite effect.
Wear a purse with a long strap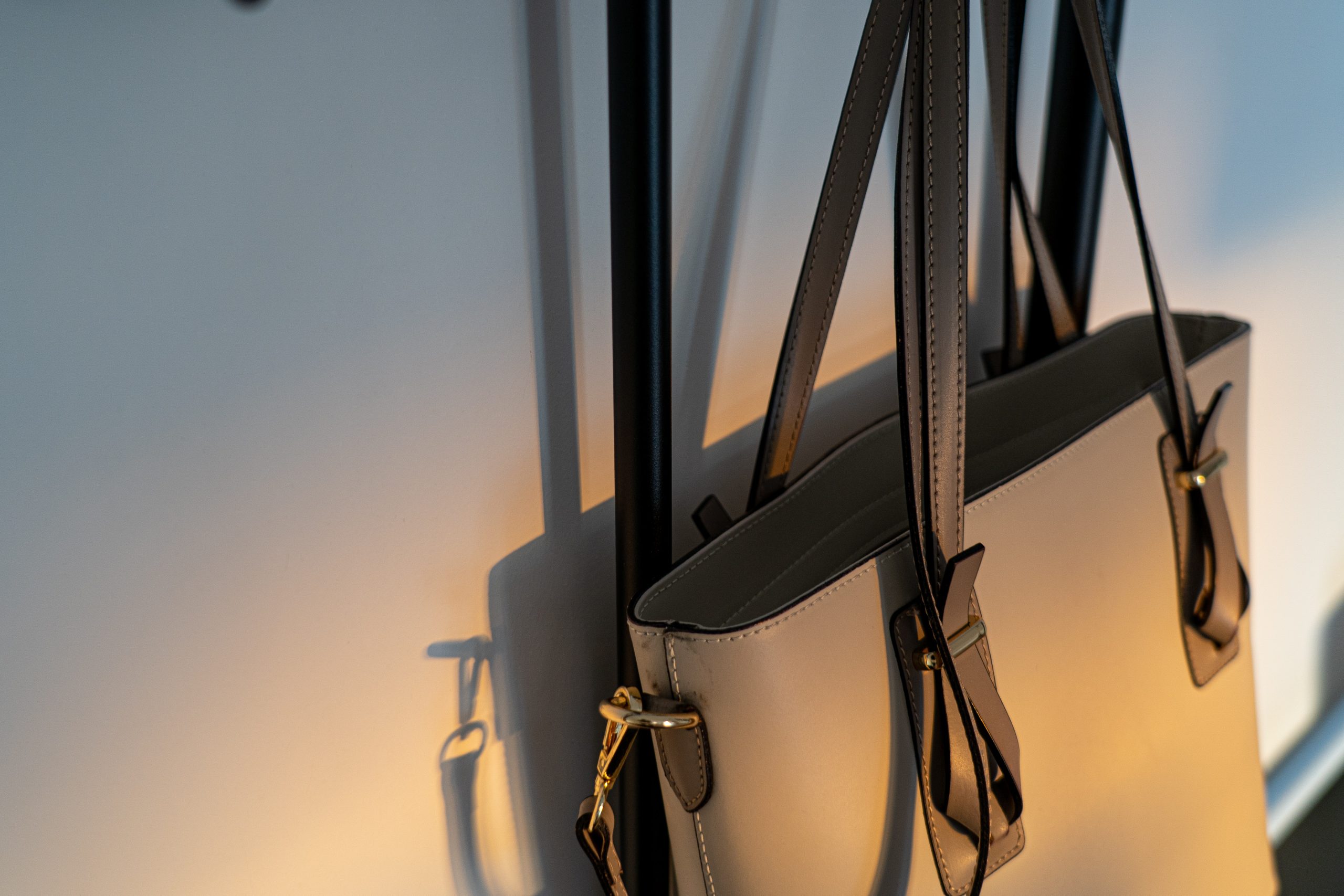 A purse with a long strap is a girl's best friend. If anything, the longer, the better. The extra strap adds an extra layer of height to your frame, making you seem as though you're standing taller, which, in turn, can make you seem slimmer in your midriff. It's a great way to accentuate your best features while simultaneously hiding your less-than-favorable problem areas.
Wear bold accessories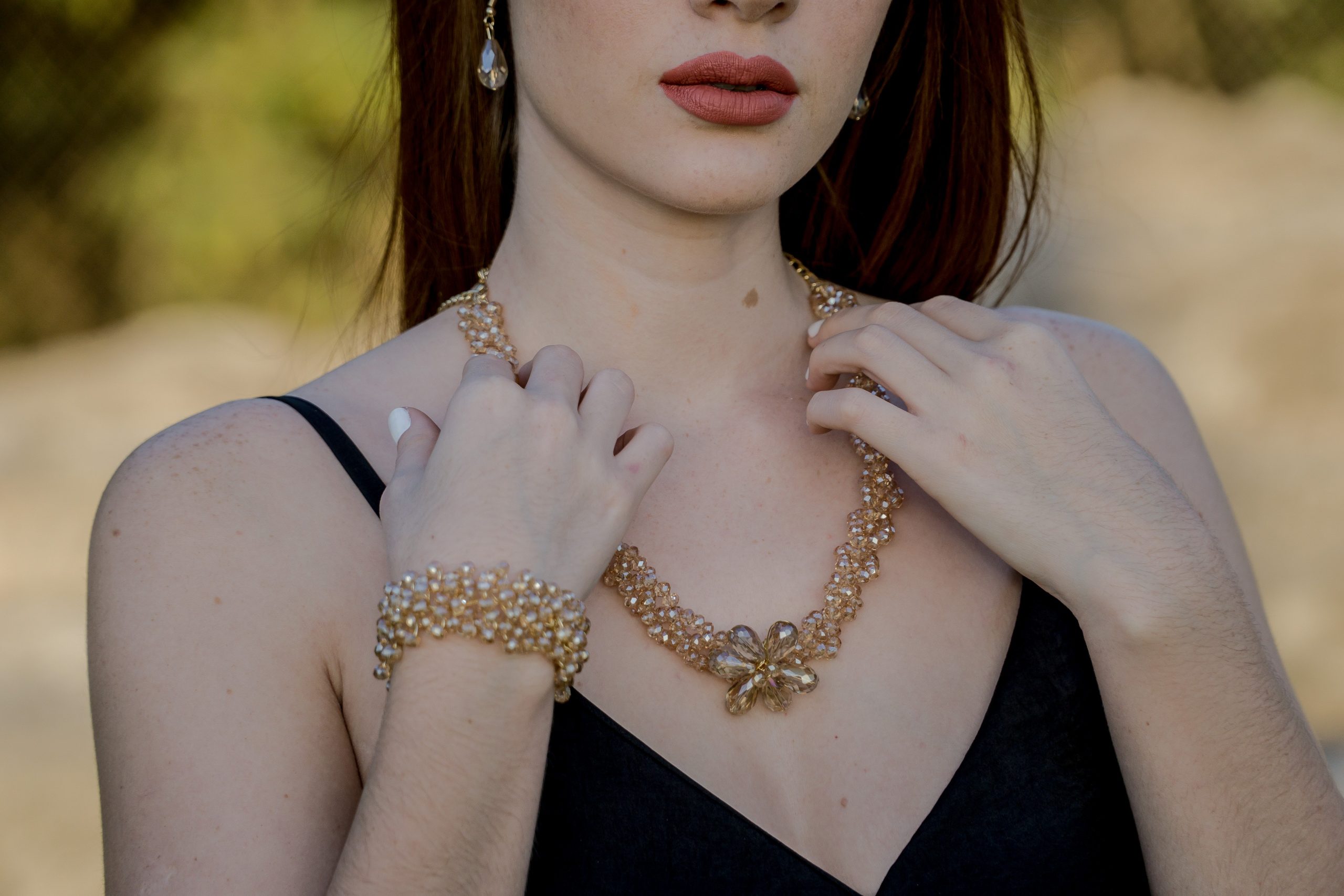 To cover something up, use a distraction. If you still can't quite hide your tummy weight, wear something outrageous. A statement necklace is always a solid choice, as it draws the eye up – and far away – from your stomach, instead bewitching the onlooker with its dazzling beauty. Earrings, rings, and piercings are another great tool – but be sure to only wear one statement piece at a time. Otherwise, it's overkill.
Wear a jacket, a long coat, or a poncho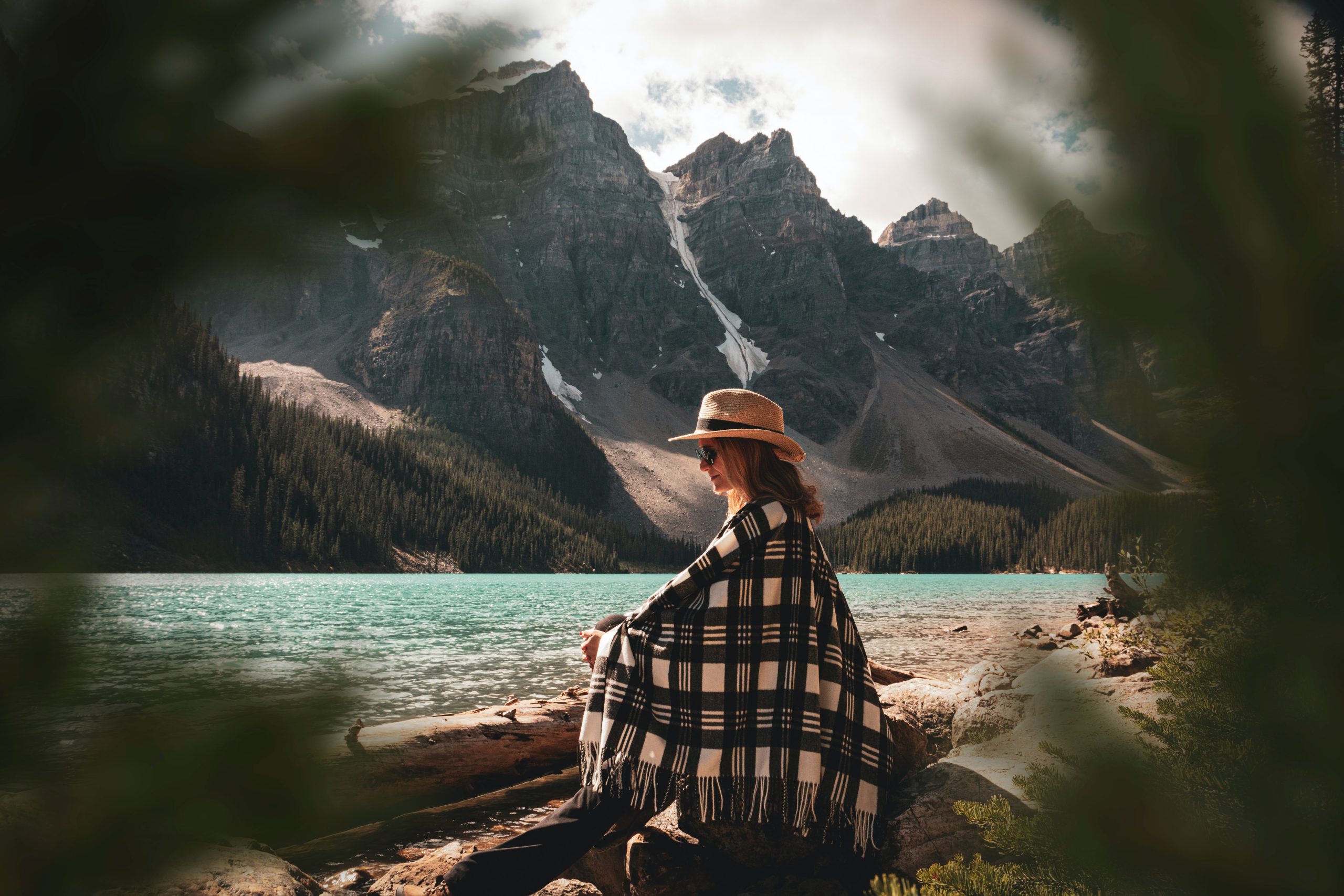 Not only are they comfy, ponchos are practical! Along with coats, jackets, and scarves, all of those wintery items can – quite literally – cover up your tummy area. A long coat is a sure bet of making your frame look longer, and therefore making your waistline seem slimmer, especially if it's in black. For the summer, dig out some light jackets and match them with your dresses, and this extra layer can be highly beneficial.
Use an empire waistline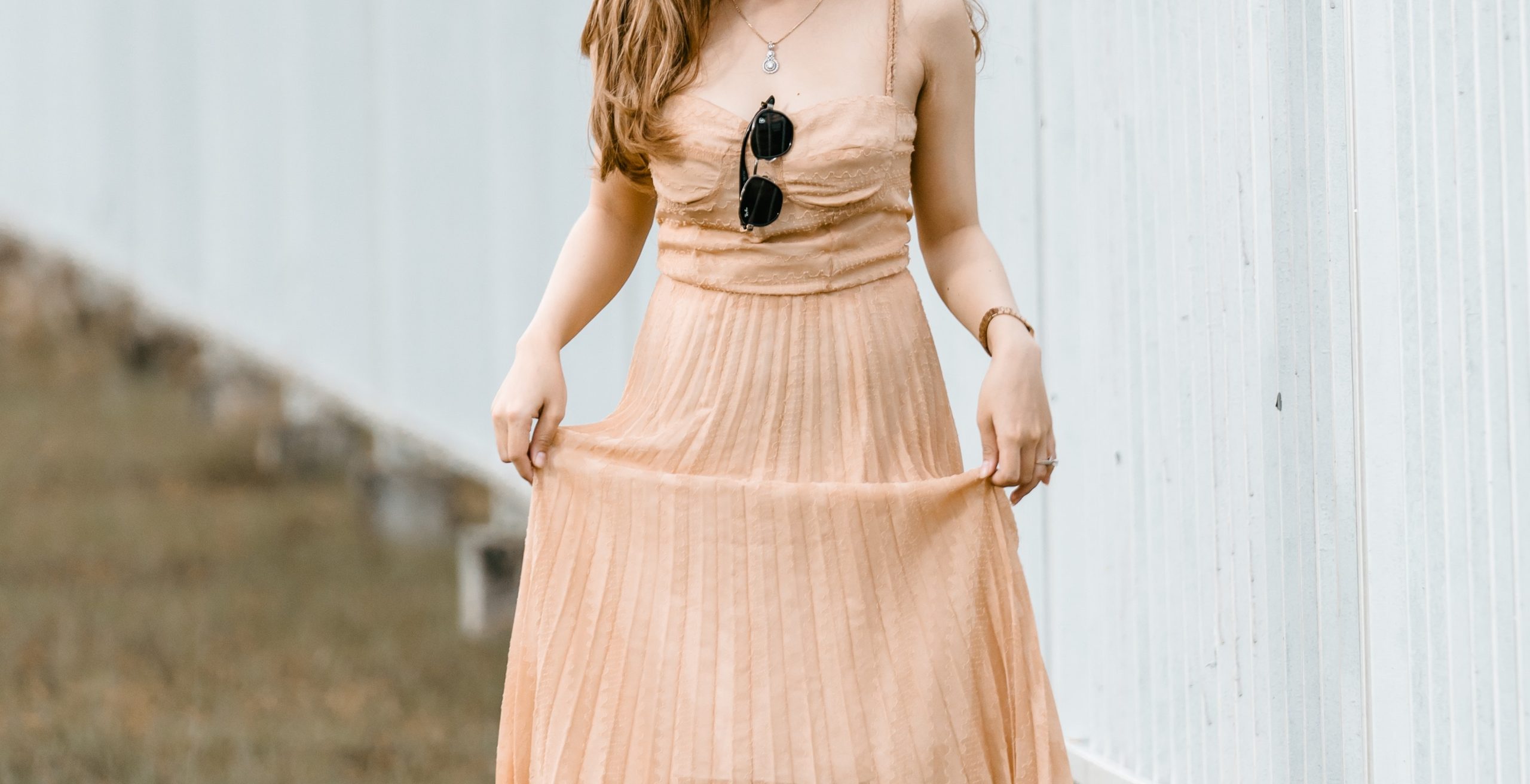 An empire waistline has a fitted bodice just beneath the bust, hiding your entire midsection. This type of dress draws the eye up above your problem area while simultaneously covering it up, making it a win-win. This style also gives the illusion of making your waist look as though it's higher, which, as an added bonus, can make you appear taller. All in all, it's a foolproof way to cover up that tum.
Get your clothes tailored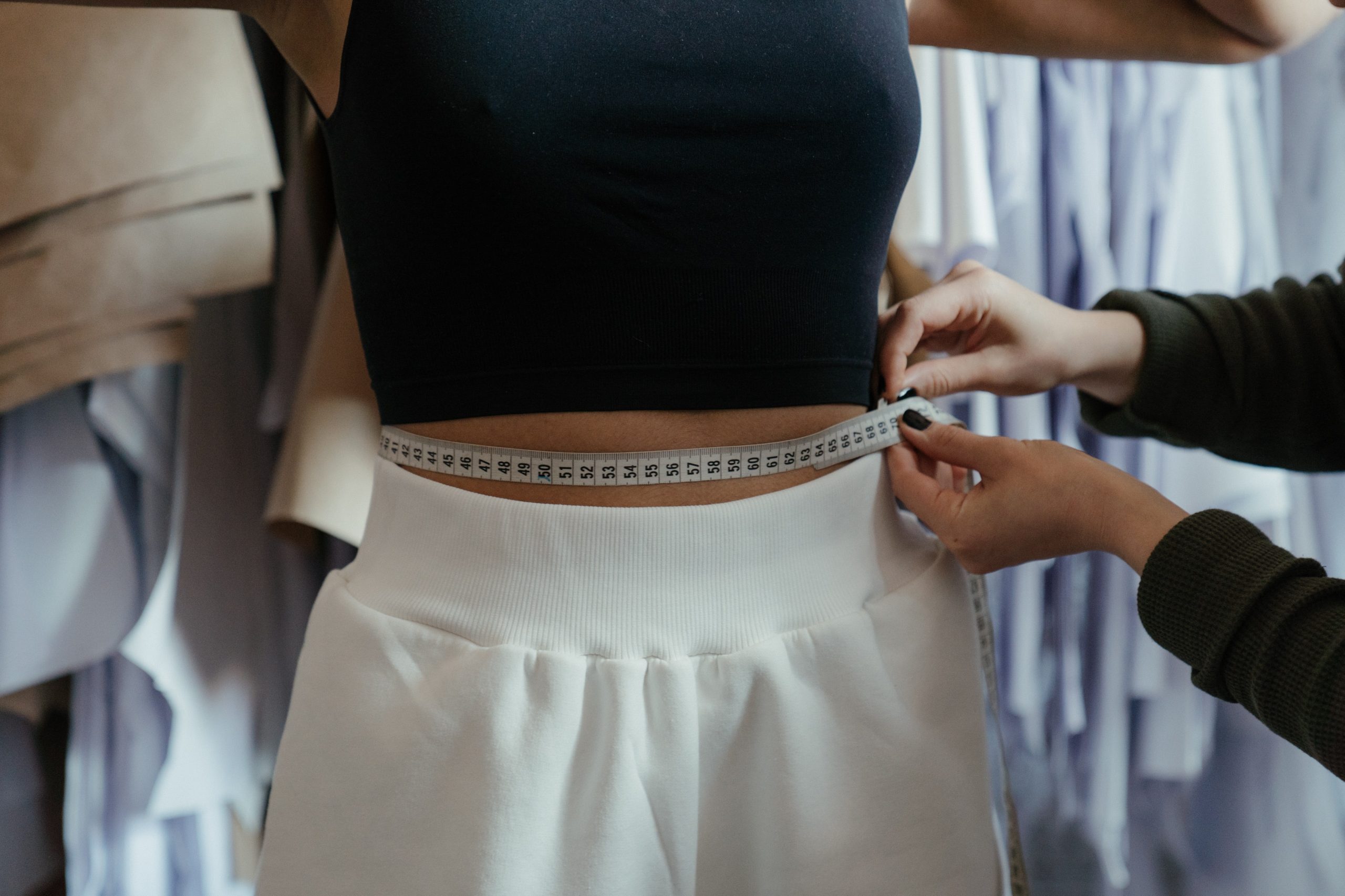 Sometimes our clothes just don't sit right on our bodies. Not every garment is made for every body type. But that's where tailors come in. If you've got that one piece you can't bear to part with even though it doesn't quite flatter your tummy, take it into your local tailors. They may be able to cinch it in and work some magic so that the garment doesn't only fit you properly – it flatters your body type.
Add a hat to your outfit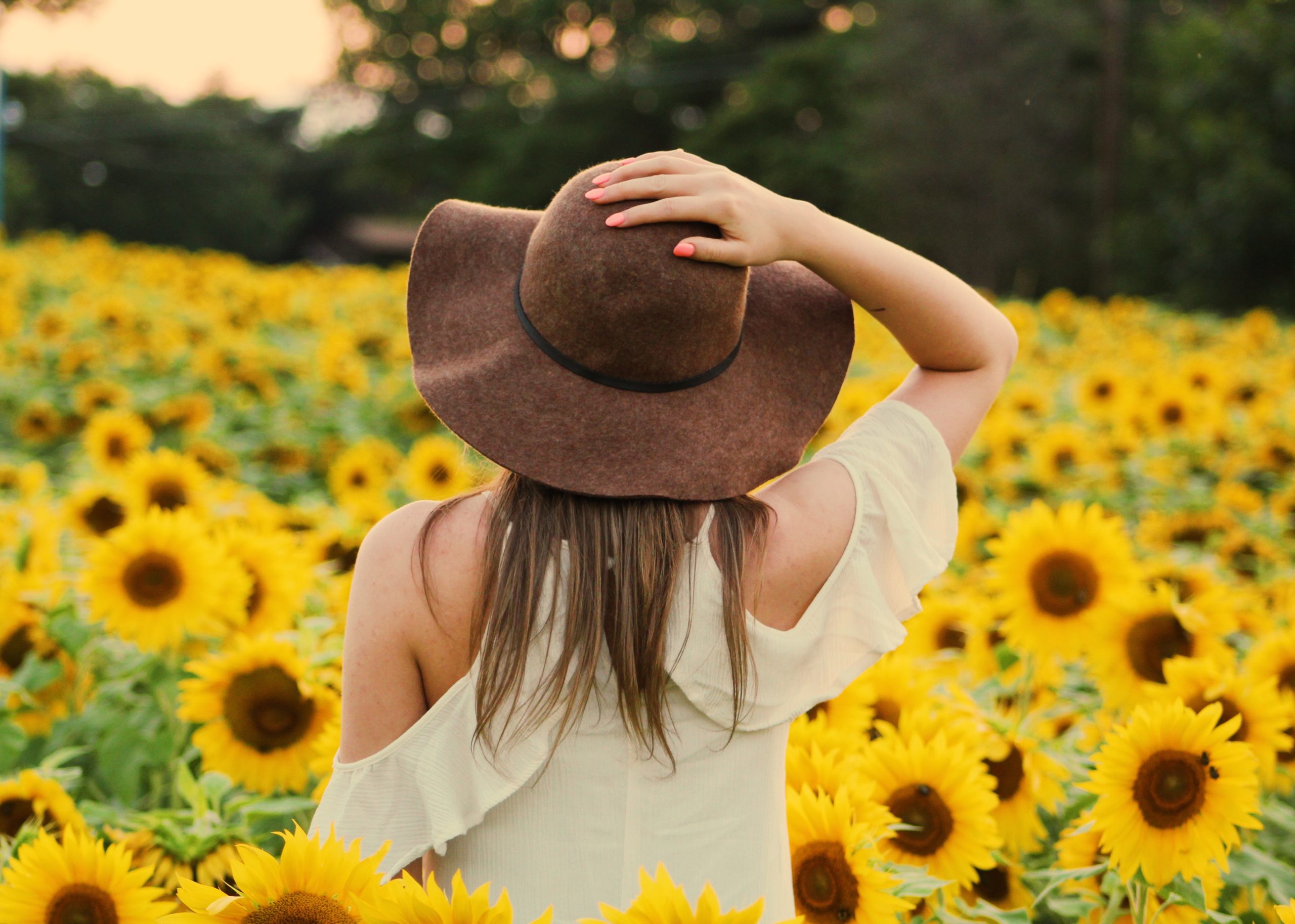 Hats have a trifecta of benefits. They can make you seem taller, which makes your waist look slimmer. They can serve as a great distraction, taking the eye away from your problem area. And, finally, they also broaden the top half of your body, therefore slimming the bottom. Find a hat that matches your outfit and see the difference for yourself.
Use ruching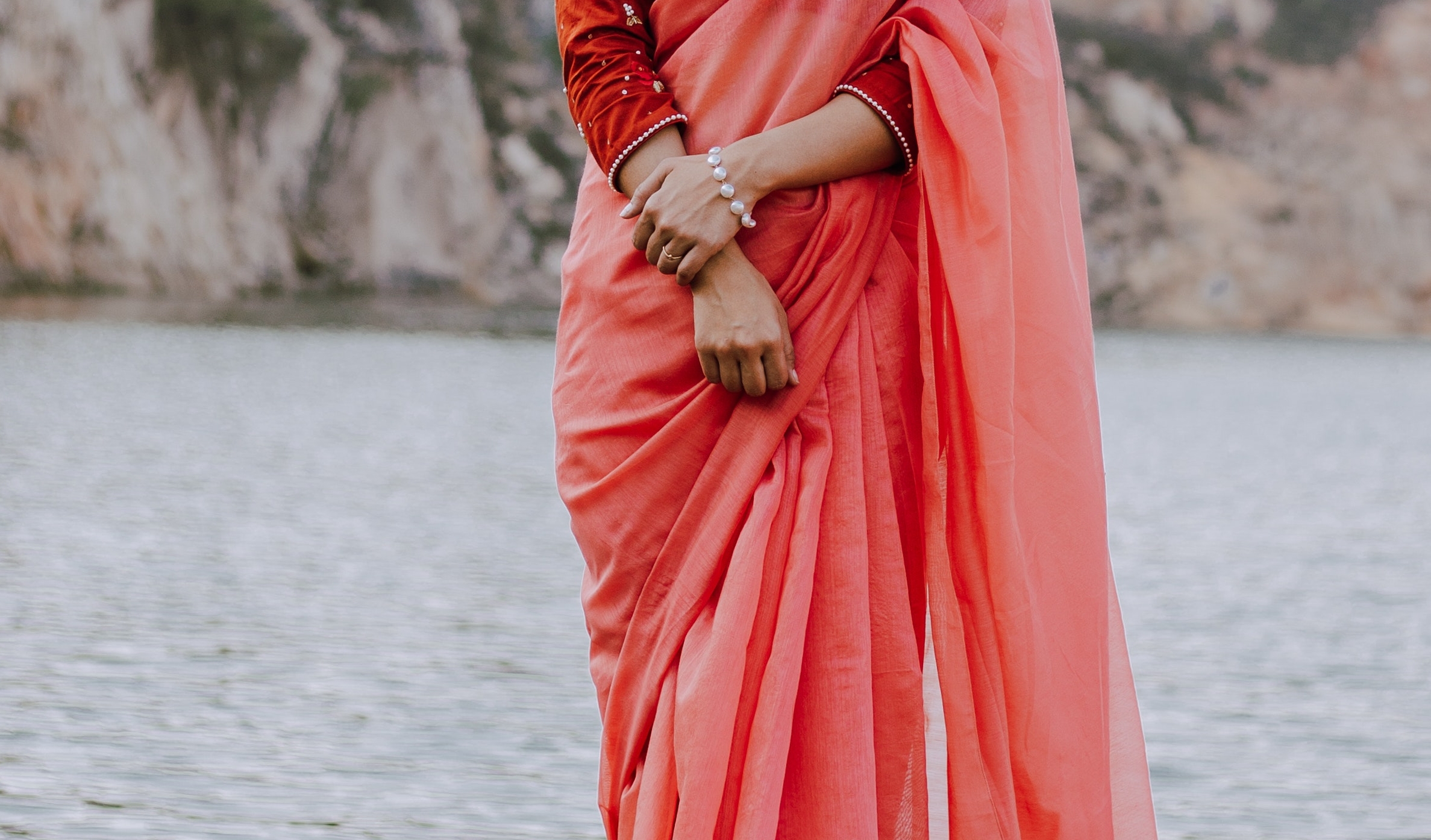 Although it uses more fabric, ruching is a brilliant way to camouflage any tricky tummies. The pleating and folding of the fabric can be used to cover up any parts you don't want to be on show without drawing any unnecessary attention to it, bringing the eye to the center of your body.
Wear a jumpsuit
Jumpsuits are a fantastic way of creating an hourglass silhouette. Look for a jumpsuit that has a tie around the middle, to pull in the extra fabric and create a more flattering frame. Printed jumpsuits are another great way to distract the eye from your tummy area, especially if they have a more structured midriff.
Wear leggings with a long top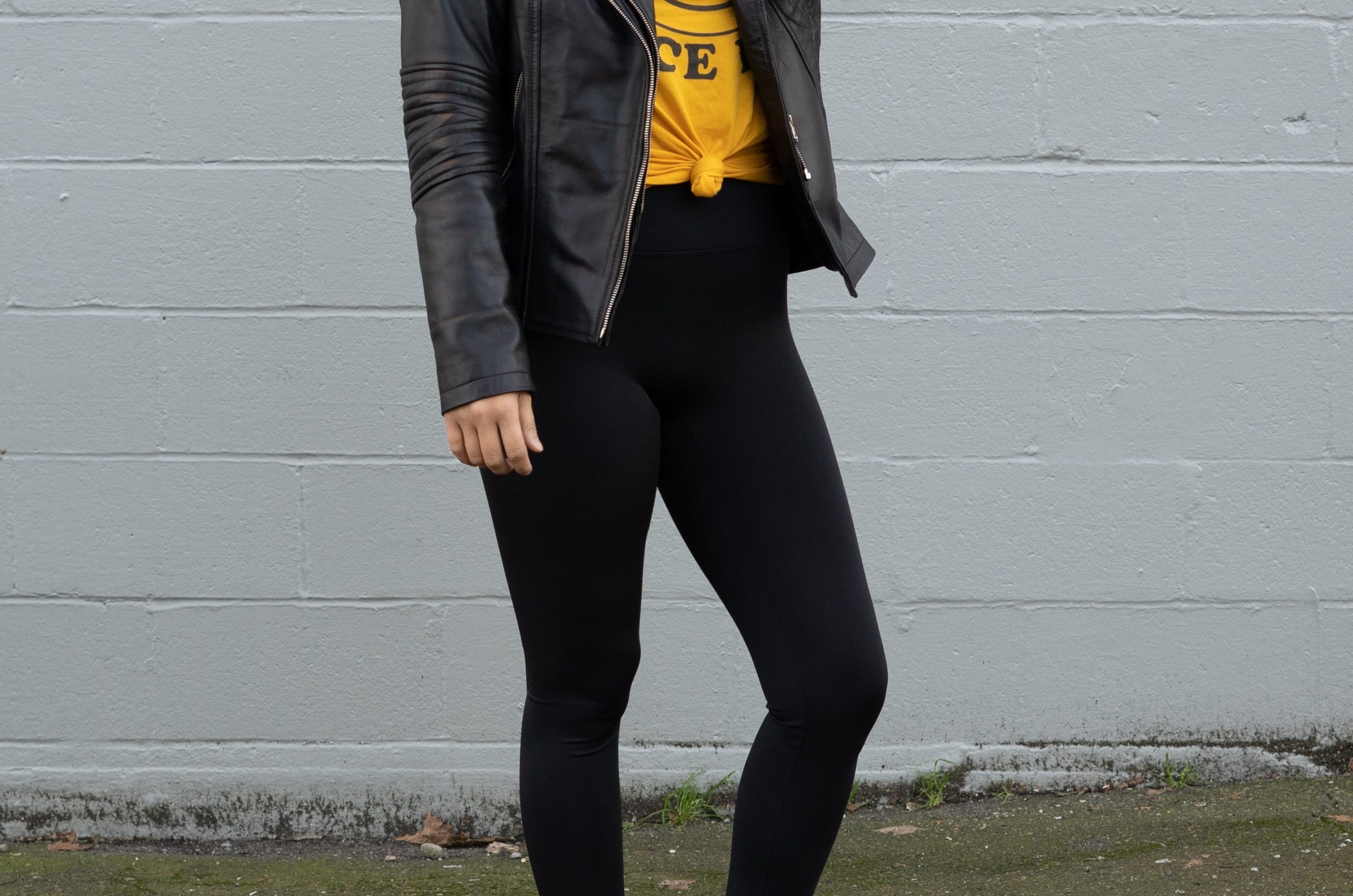 Leggings with a long top are a great slimming combo. Full-length leggings are the best option to go for, as they'll make your legs look longer as well as adding length to your overall frame. To really finish off the look, add a long, or tied tee to the outfit to fully cover up your stomach. If you're feeling extra brave, add high heels to your outfit. This will make you stand even taller, elongating your body height.