Short, tucked-up bob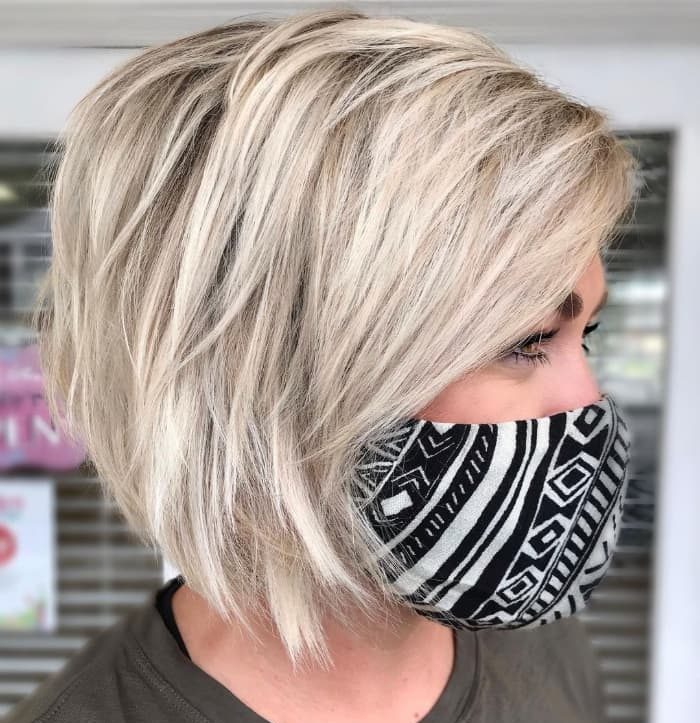 Credit: prissyhippiebeautyshop via Instagram
One surefire way to take a few years off with your do is to opt for something short and springy. This choppy blonde bob is full of layers around the crown and cheeks to add tons of shape, and the swept fringe is fantastic for hiding any age on the forehead. The darker lowlights also help by making the hair look young and strong.
Grey dread crown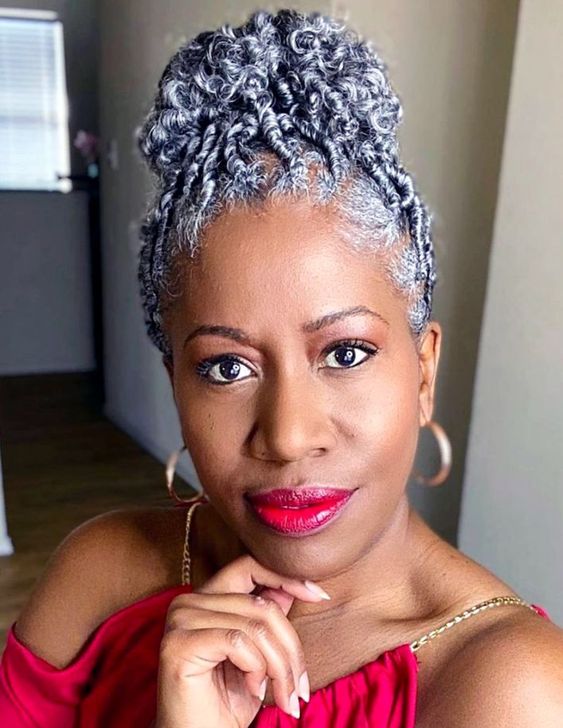 Credit: curlycraze via Pinterest
This super tight and pulled-back braid crown is difficult to achieve, but you're rewarded with a truly exceptional style for your effort! You get the facelifting effects of an updo dialed up to 11, a striking color and texture combination while leaving the face open to plenty of light. It's also made to be accessorized and personalized.
Shoulder-length swept layers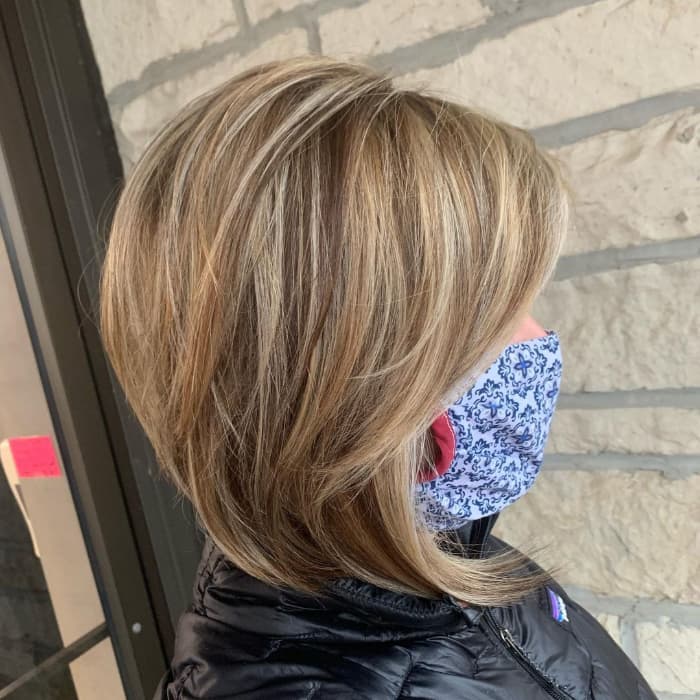 Credit: nikkishair via Instagram
Shoulder length cuts are great for the over 50s. Hair still has a fair amount of strength and lift, so taking your hair to this length lets you keep it a little longer while still keeping a good frame for your face. The mid-length layers sweep back to make the hair seem thick and full of movement, which is a sure sign of healthy locks.
Longer sculpted pixie cut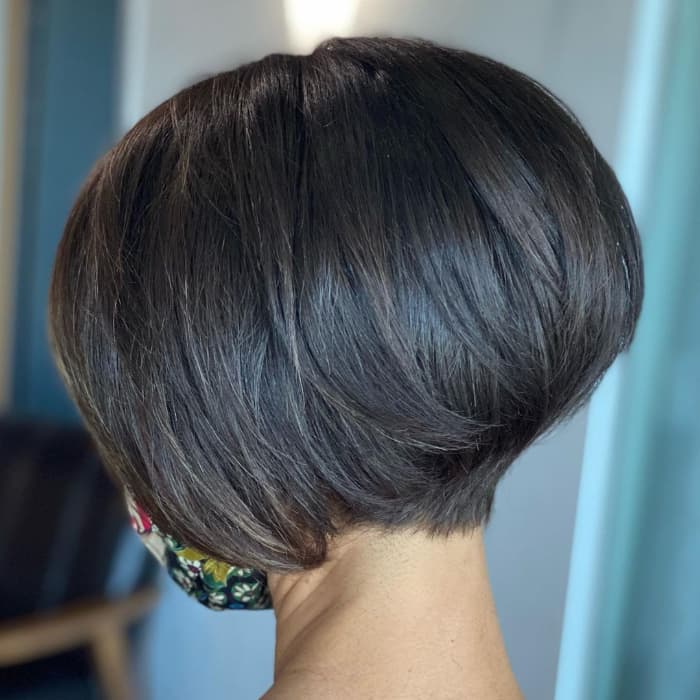 Credit: amyspencerhair via Instagram
We will touch on a couple of pixie cuts later on but suffice it to say the shorter length can be a little scary if it's your first time. This look avoids the clippers in favor of a super tight neck with plenty of lengths left on top. The volume boost you get from that length contrast around the crown is like a face and jaw lift.
Short and permed pixie cut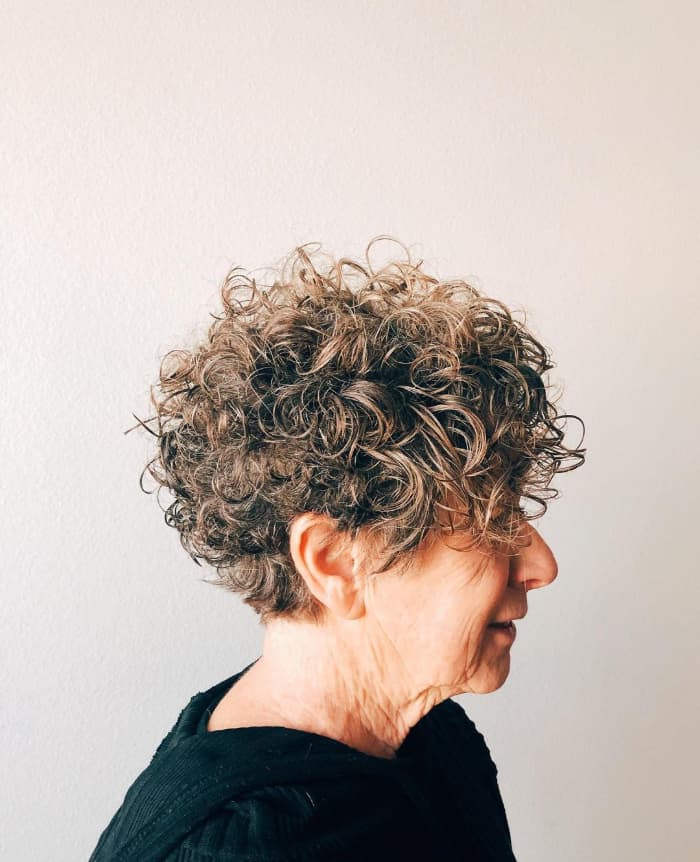 Credit: blendedbeautifullybymisty via Instagram
These gorgeously textured curls can make even finer hair seem thick and full of life. It's about the length of a pixie cut while curled, but remember that they're also disguising the length, so you may want to grow it out a little. You can achieve the curls with an iron, but wet curlers might be better for your hair's health.
Long grey waves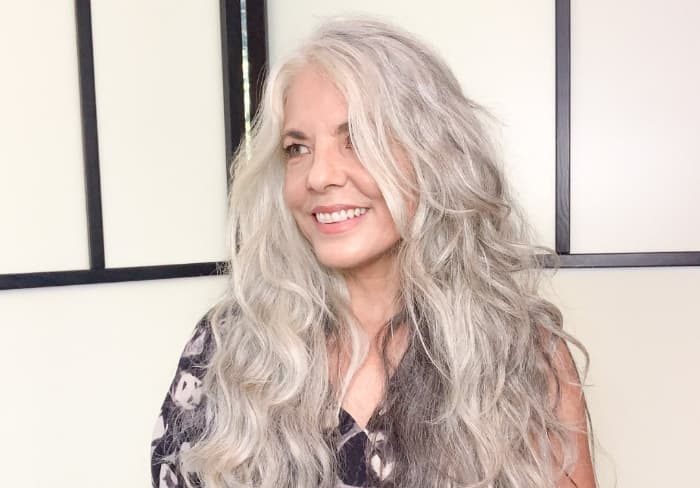 Credit: silver beauty.michelle via Instagram
Sometimes just embracing the grey isn't enough! An all-over color job like this can help to even out any tone discoloration issues you having, and also give you a super distinct appearance. The loose waves throughout the ends and curls through the tresses keep everything alive and pulsing, while the off-center part helps the cheeks pop.
Shoulder length shag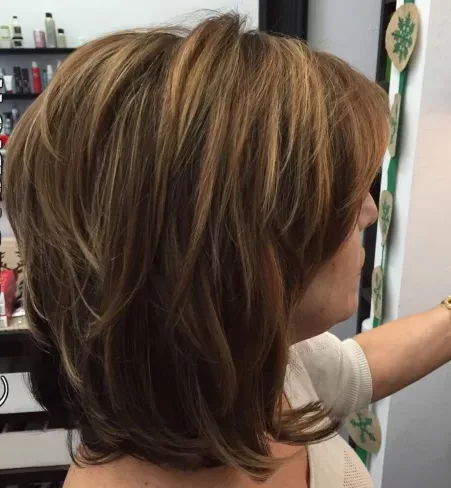 Credit: niquestudio11 via Instagram
Shaggy hair is back in a huge way and is an instant way to add some energy to your hair for a younger look. The length still gives you plenty to sculpt around to frame your face without burying any features. You also get so much natural movement from the layers and flicked-out ends, that you'll feel 40 again in no time.
Honey-toned medium-length sway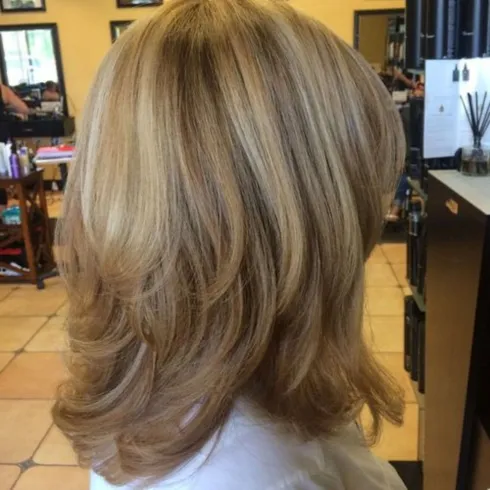 Credit: susiehairhero via Instagram
Blonde tones can do a lot to reverse the age of the face, but they must be well-matched to your skin tone. A balayage treatment of honey and chocolate tones tends to work well with warmer skin, bringing out the brightness. The layers around the neck help add a magnificent bounce to the gentle waves at the ends.
Choppy camel-tone pixie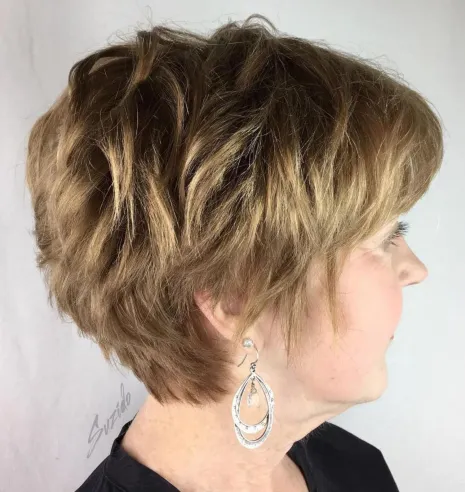 Credit: suzido_ via Instagram
This is an ideal tone for older hair, as it's natural and not so bright that it risks washing out the skin. The midsection and sides get enough length for some shape and definition, but it's still short around the neck and super easy to take care of. The side-swept fringe gives great framing for the face, falling just over the eyebrows.
Mid-length shaggy layers
Credit: edwin_rivera_palmbeach via Instagram
Shaggy cuts can sometimes sit a little heavy on the head, but the feathering here makes the whole look as light as air. It's got a wonderful lived-in feel thanks to the length, which is a 50+ style essential right now. All those lines swooping away from the face are going to flatter the cheeks, eyes, and jawline while making you look younger.
Thick and wavy bob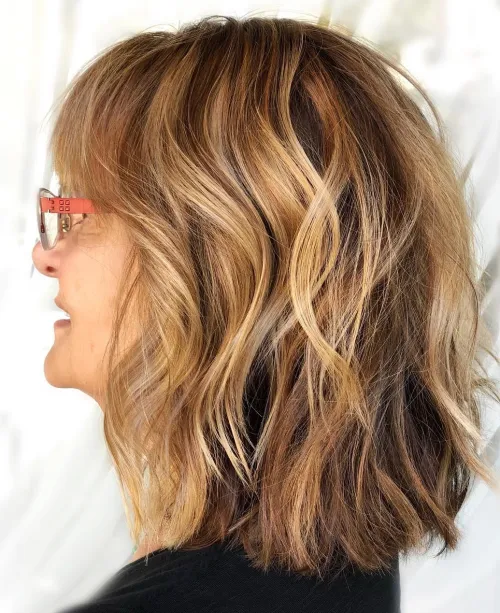 Credit: Brooke bent via Instagram
If you're lucky enough to keep your thicker locks with age, this is a steady go-to option when you're undecided on a style. The length lets you get the most out of that luscious, dense texture, and the blunt ends add a serious bounce to the springy curls. You could wear the fringe down and swept, or a set of bangs would go equally great!
Pixie with an undercut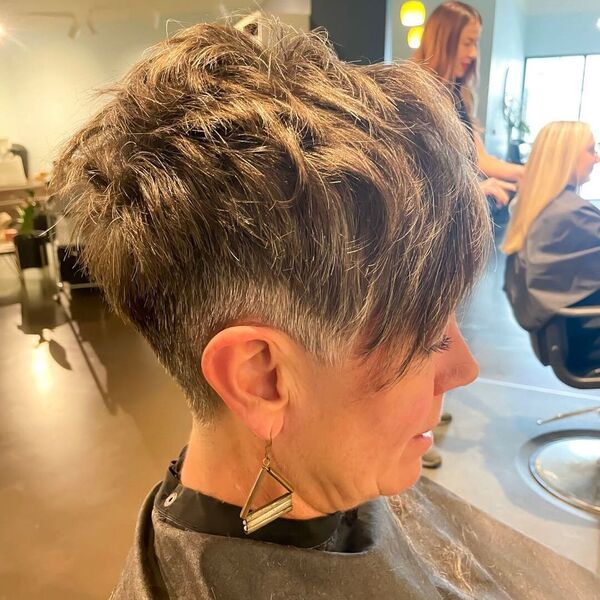 Credit: _thehairpaige_ via Instagram
For those looking to go way lighter on top, this choppy pixie cut is a perfect choice. Short and stacked styles are often highly recommended for older clients since they do such an amazing job lifting and framing the face. The undercut takes that to the next level and adds a nice contrasting texture to keep the eyes on you.
Teased-out grey afro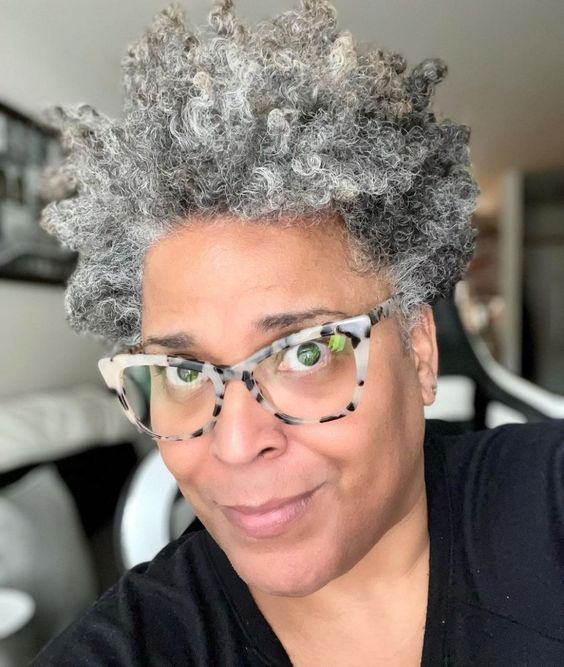 Credit: therighthairstyles via Pinterest
The afro naturally tends to be made of much thicker hair, which means as it ages it becomes somewhat more rigid and able to hold styles like this. With a mix of brighter and darker greys and blacks, you get the illusion of even more thickness and strength, as well as an incredible effect from any voluminous styles you pull off with it.
Short and silver with a spike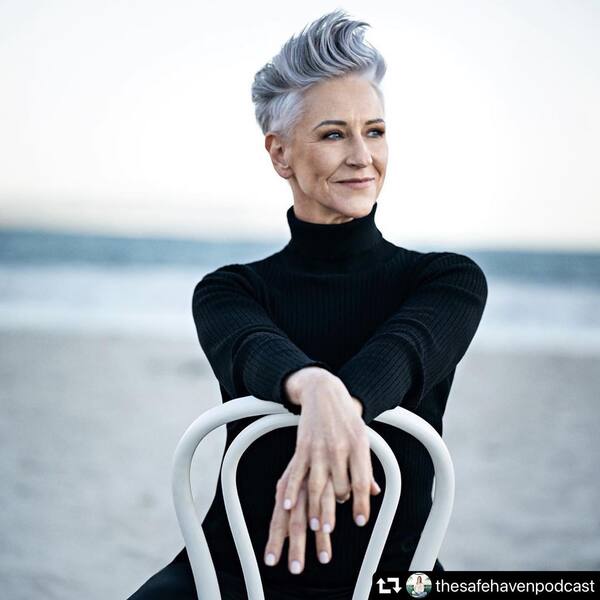 Credit: thesafehavenpodcast via Instagram
Another way you can play with volume for a younger effect is the classic quiff. This version uses two-tone grey coverage, which is often a great way to incorporate their natural colors without a block dye. The tight, cropped length and proud, spiked-up fringe lift everything, from the eyes to the shoulders.
Curly bob with an A-line fringe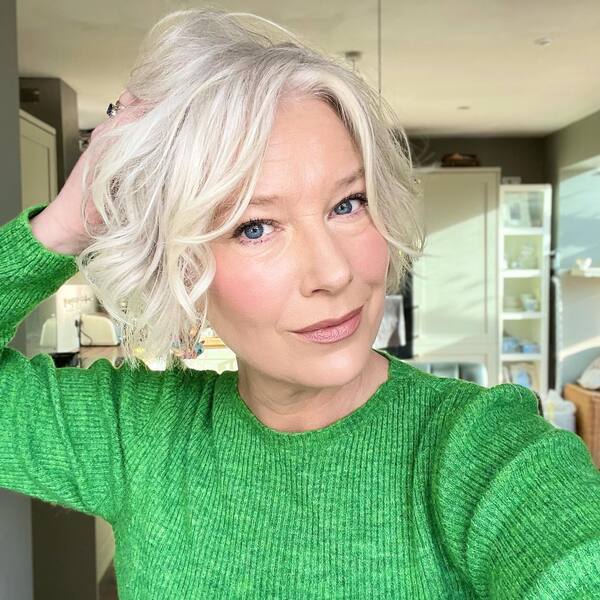 Credit: myskinover50 via Instagram
Center partings are the topic of much debate within fashion, but they're pretty timeless, and who cares about the rules anyway? They work particularly well to bulk the temple area, where hair is often thinner and the first to start dropping. It also brings the eyes into focus, and suits a short, bouncier cut like this!
Quick and elegant braided updo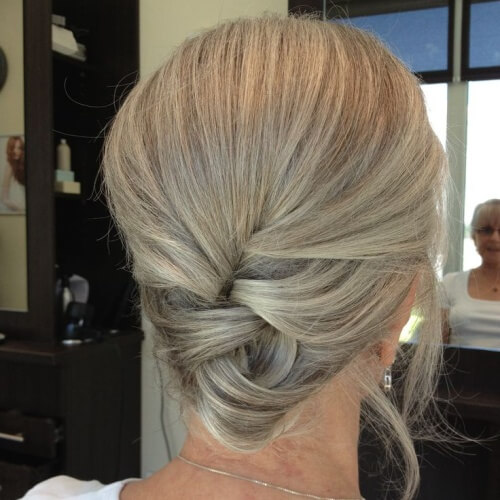 Low-effort simplicity is a pervasive style amongst busy younger people, but you can easily upgrade that for something a little more refined like this style. It would be great for anything, you could do it for a run, to the grocery store, or to visit friends, and it would look just as pitch-perfect. Remember to incorporate some loose hair details for the framing!
Layered and highlighted lob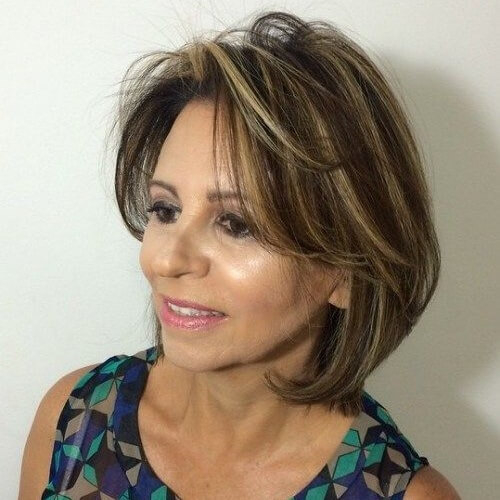 Credit: therighthairstyles via Pinterest
Deciding on hair color can be extremely difficult, but the addition of some highlights takes away a lot of that hassle (and price!). For a layered lob like this, it helps accentuate those already stacked layers, making the face-narrowing effect even more prominent. You'll want to build volume throughout the hair to get the most out of them.
Grombre wolf cut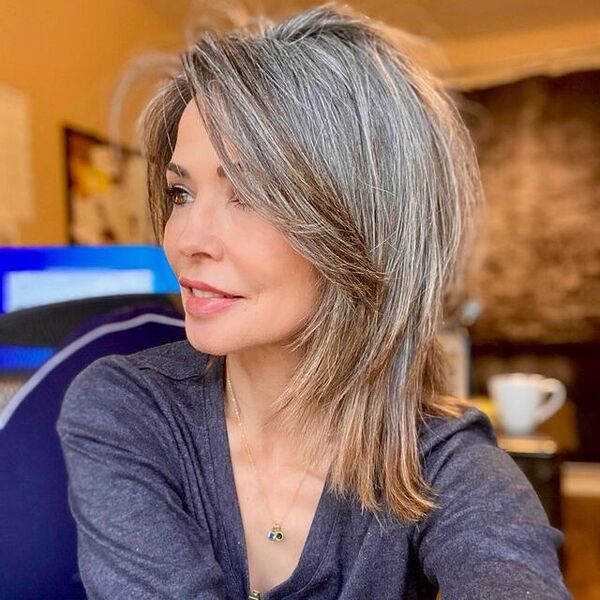 Credit: darby_in_the_desert via Pinterest
Grombre is a growing trend among women past their 50s. It's a gorgeous blend of silvers, greys, and brown that creates a gradient, focused on the chocolate lowlights. Despite the ashen tones, the look is so warm it brightens the skin and would work great with thinner hair thanks to its selective layers.
Shoulder length mid-blowout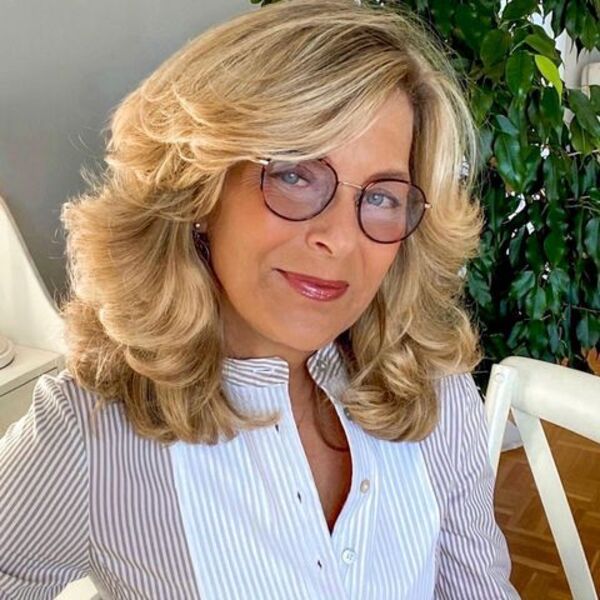 Credit: instatrueffel via Instagram
Mid as in volume! We're certainly not saying that the quality is by any means average, as this modern version of a time-tested classic is an instant shot of energy for your look. It has a hint of Farrah Fawcett but is toned down enough to keep it contemporary. All that while providing a perfect frame with its outward flicking feathers and bouncy body.
Shoulder-length tousled curls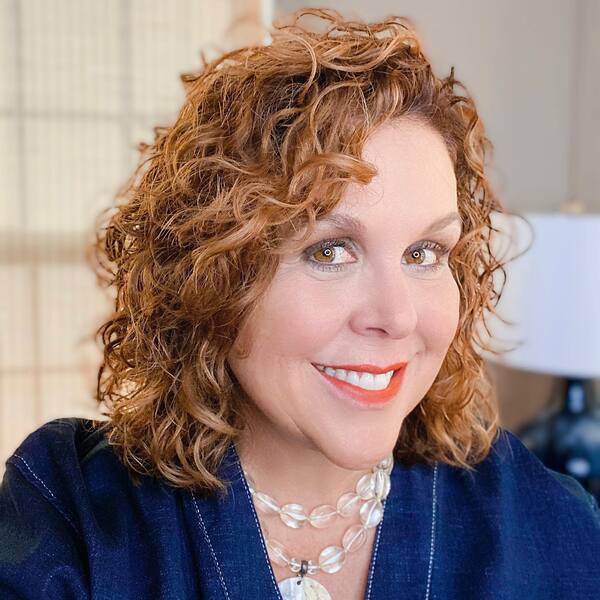 Credit: gracedandaging via Instagram
This would be a great fit if your hair is naturally curly – but it doesn't have to be! Any rollers an inch or less in size (depending on the natural thickness of your hair) will get you this beautiful, bouncy head of curls. They're going to enhance the power of everything this length is ideal for, adding an extra boost to the fringe and parting.
Half up half down do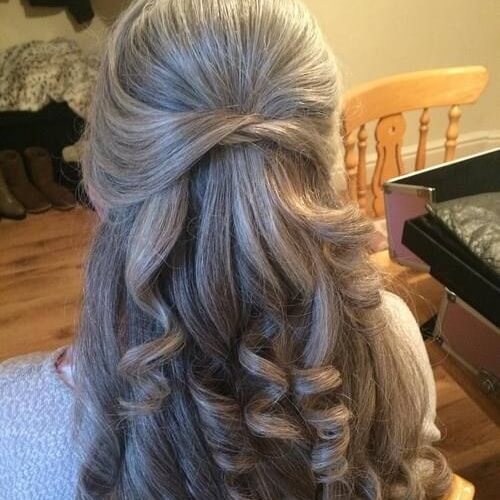 Credit: theirghthaitstyles via Pinterest
You want to be careful with updos around the back, as anything resembling a ponytail will age you in the wrong direction. Thankfully, these spiralling ringlet curls are graceful and suitably age-appropriate. The twisted back bang sections still add enough shape to round out the hair and face, keeping everything in proportion.
Choppy grown-out pixie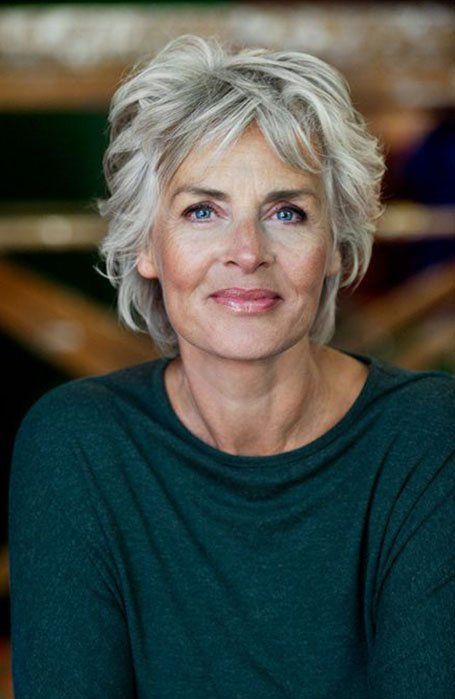 Credit: thetrendspotter via Pinterest
Here is a perfect example of this "lived-in" quality stylists are talking about. It's all about celebrating the natural texture and volume of hair, with razor-cut ends allowed to keep their length and fall enough to flatter the face. The bangs here are constructed from hair surrounding her natural center part, which is a great way to try out new styles!
Deep-set swooping fringe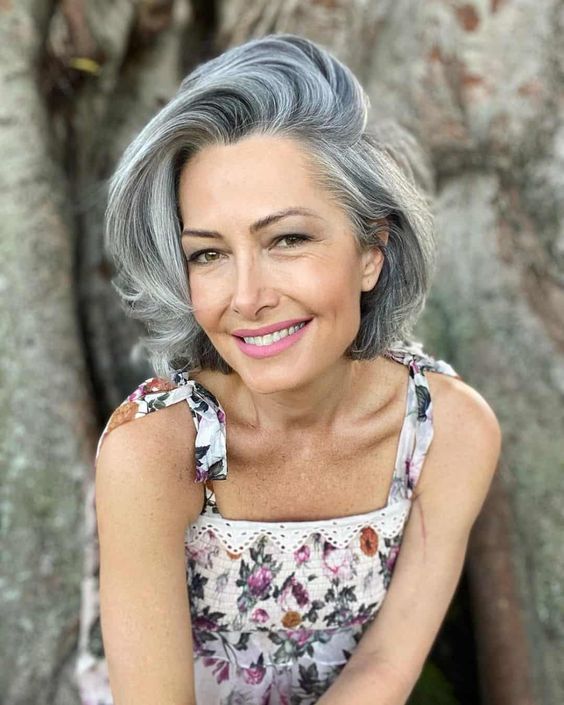 Credit: tattoodmartha via Pinterest
If you're looking for something glamorous that is still going to take the years off, this steely grey bombshell will do just the thing. Volume is a huge part of glamor, but it's not everything. The slopes and shapes that the hair makes are equally as important, and this deep set, golden ratio curve shows exactly why.
Simple, clean-cut pixie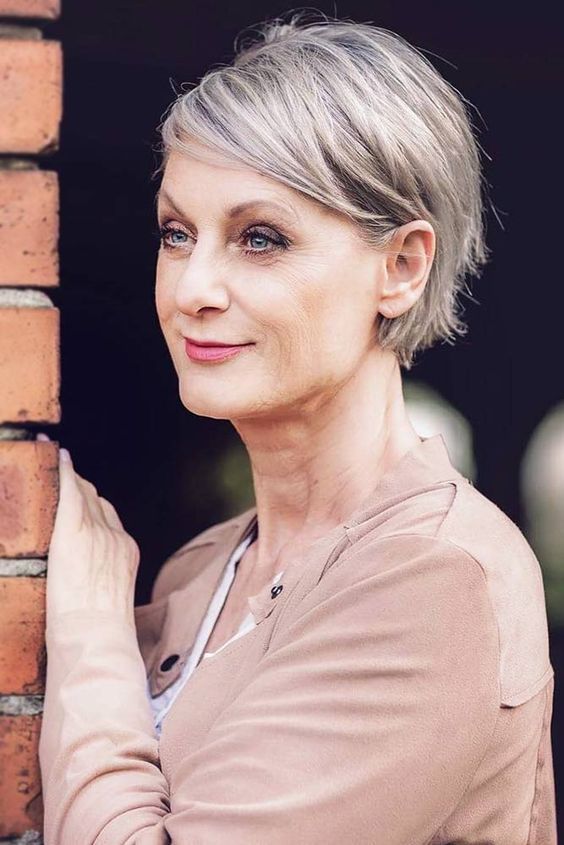 Credit: lovehairstyles via Pinterest
For an easy-to-maintain cut that will give you a good four months before your next salon appointment, you can't go wrong here. It's a simple, sharp silhouette that will take just minutes to have dried and ready to head out the door, and a great canvas for some brighter colors. You will still want plenty of volume and some layering around the crown.
Classic shaggy mullet
Credit: glaminati via Pinterest
There are a lot of '70s classics coming back into fashion, but one that never went away is the mullet. The rough shape of a shorter front, and longer back works with so many face and hair types, and is all about texture. The ashy blonde tresses and darker roots give it a combination of surfer and grunge rocker vibes.
Cropped blonde pixie with layers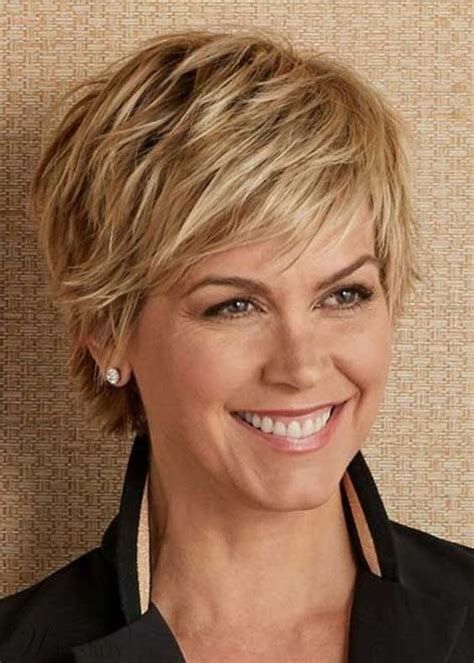 Credit: lovehairstyles via Pinterest
While Ellen DeGeneres might be a little less popular than she used to be, there's no denying a short and spiky look does wonders for age. It has a lot of the chic, near androgynous appeal of the 20s but with a completely updated texture and finish. The sideways swiping fringe and choppy layers help avoid anything falling flat.
A-line swept-back bob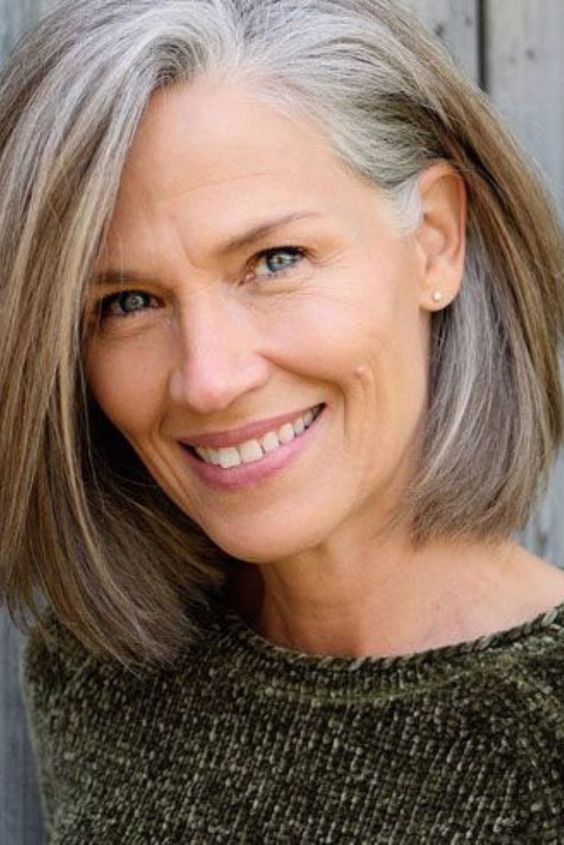 Credit: therightstyles via Pinterest
If you like things sleek and simple, opt for this no-fuss but fully fashionable bob. It's perfect for those who don't want to manage layers or length and rely on the hair's natural body for it's lift. A-line fringes cast gorgeous shadows over the cheeks, and a swept-back ear helps even out the shape for an easy, stunning style.
Blonde 2000s-era do ghost bangs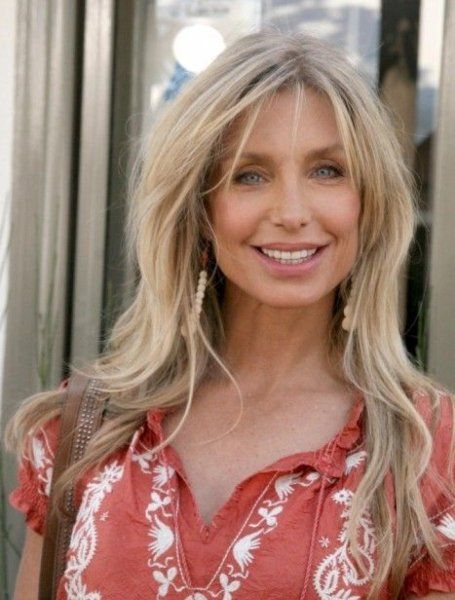 Credit: thetrendspotter via Pinterest
While the 2000s got a bad reputation for fashion, it did have some diamonds. It's halfway between the 90s center part and the 2010s bangs invasion, with a fringe that seamlessly blends into the tresses. It gives a tiny bit of framing and dimension, then vanishes into the gorgeous golden waves to keep the face in full view.
All-white bowl cut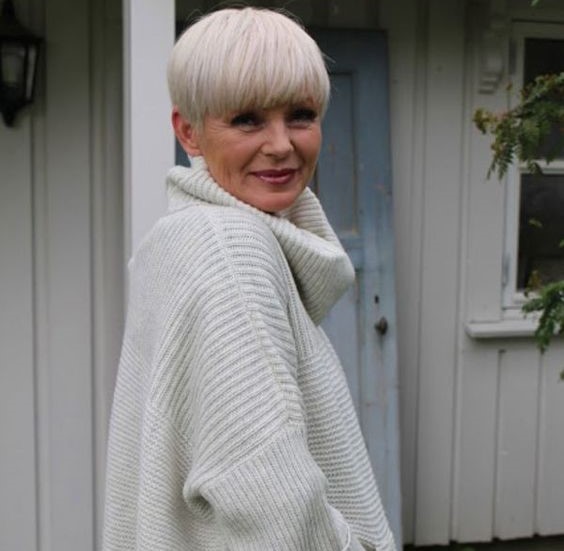 Credit: southernliving via Pinterest
Another way to embrace emerging greys is to go for something bold and out there. Maybe you don't want to go too out there, which is where this luminous, blunt-cut bowl comes in handy. It does a great job lifting a lot of weight from the shoulders and neck, and still has enough movement and pop to highlight the cheeks.
Simple face framing center part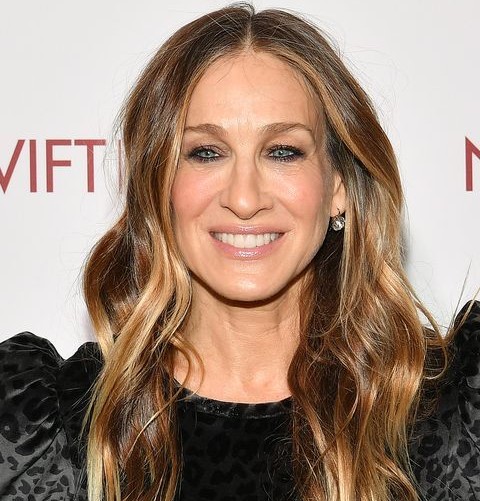 Credit: womensday via Pinterest
Throughout the center part controversy, Parker has held firm on the team "It looks great, deal with it". There's a stunning simplicity to relying on a silky sheen, and there's still plenty of time for over 50s to get in on the action. You can curl the tresses, tease them for some volume, or simply let it all flow down.
Grey highlights on a black, silky body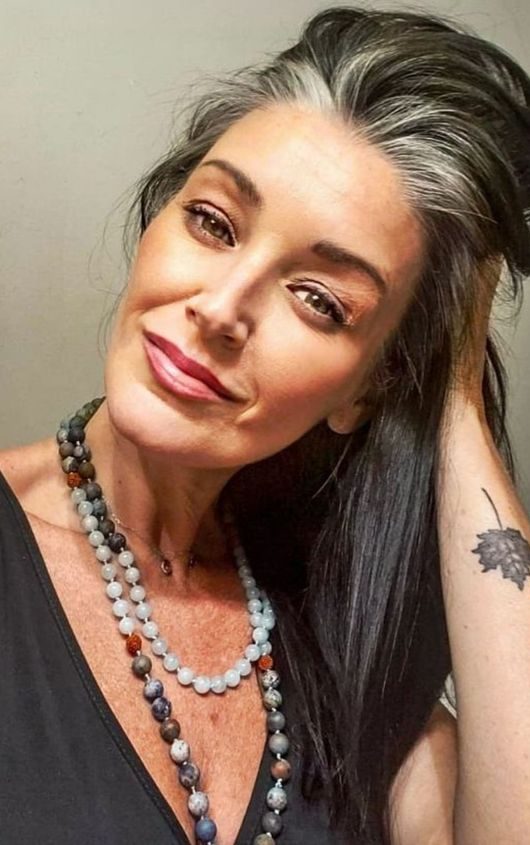 Credit: sparklingsilvers via Pinterest
It's a classic Morticia Addams meets Cruella Deville – and it's perfect for thinner, straighter hair. Dyed fringe roots have been a trend for a while now, but they're usually a much bolder color. These white streaks instead add a touch of opulence, while you let your natural length, hair oils, and straighteners do the rest of the work.
Bouncy retro blow-dry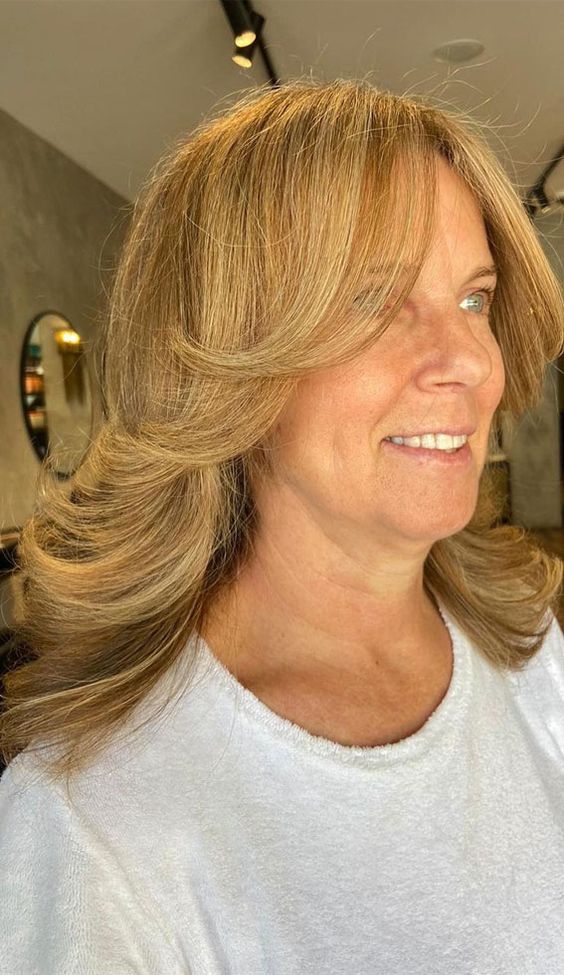 Credit: fabmood via Pinterest
This has everything you could ask for in a de-aging style, from the outward feathering and the vibrant and warming blonde-brown tone. The A-line fringe can be substituted for whatever you fancy, though it does make it super distinctive. You could also take a little off the ends for some more lift and bounce in the body.
Bright grey tones for darker skin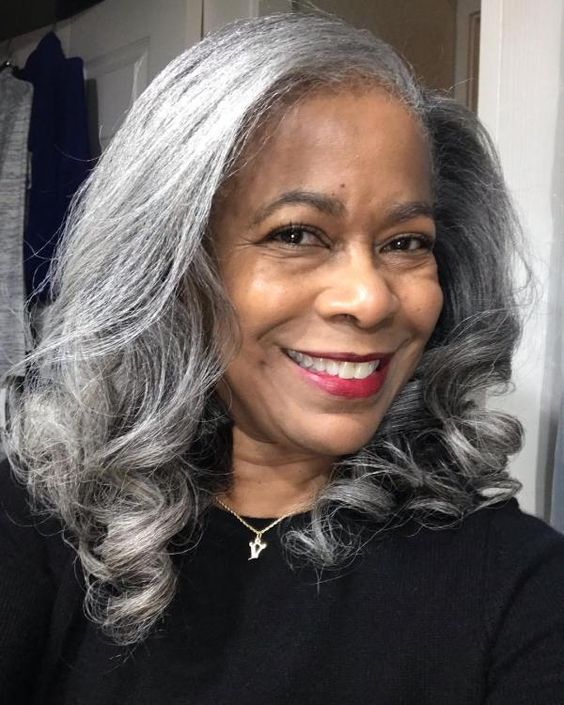 Credit: therighthairstyle
Black women can take advantage of some striking tones and shades that help add so much youthful energy to their appearance. This ashy grey body is highlighted with white specs to give a dazzling, reflective shine. The tight ringlet spirals also help elongate the face by drawing the eyes down, helping to sharpen the face.
Long-length, two-toned hair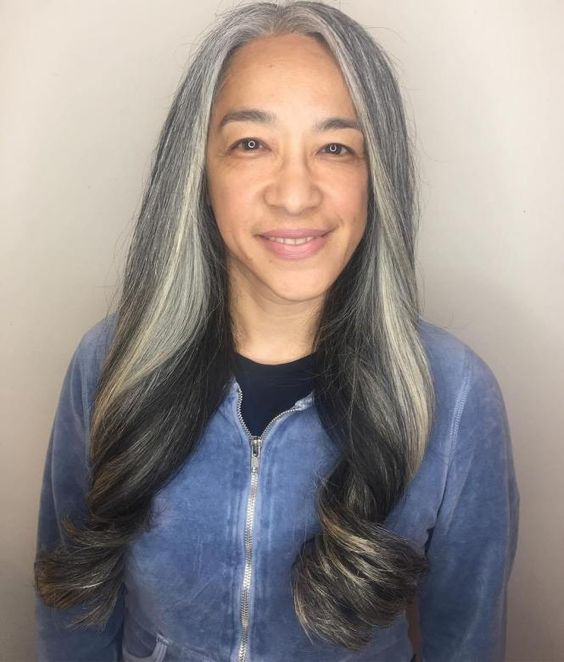 Credit: therightstyles via Pinterest
You don't have to dye your whole a florescent tone to make an impression with color. This style uses a fusion of a simple, natural top half contrasted with the busy lower section. Again, you could sub out the parting for whatever you fancy, since the heart is down in those huge, dark single curls.
Copper bob with baby bangs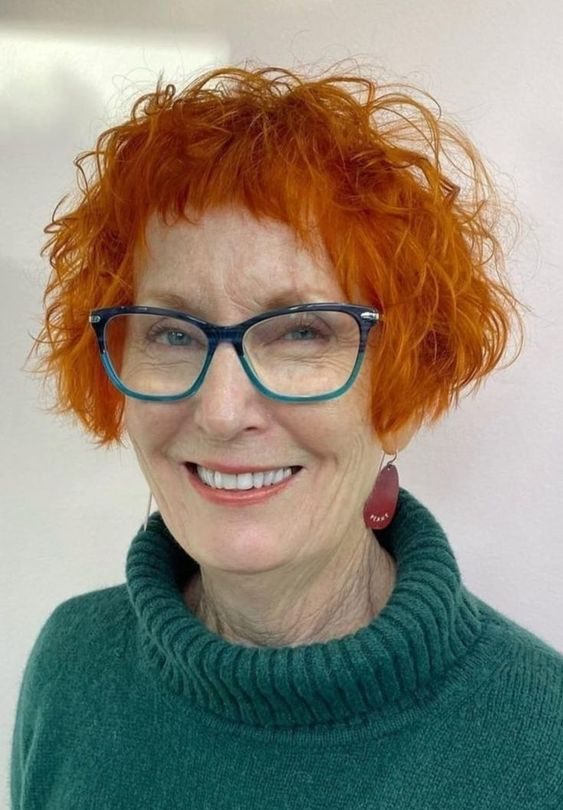 Credit: latesthairstyles via Pinterest
Tiny bangs are a hallmark look for older women, and for some the tinier the better. This length strikes a happy middle ground, where it still covers the forehead and slopes out to frame the eyebrows and eyes. Oranges and reds are also a great choice, as they add an intense flash of warmth and vibrancy to your appearance.
Simple jaw framing bob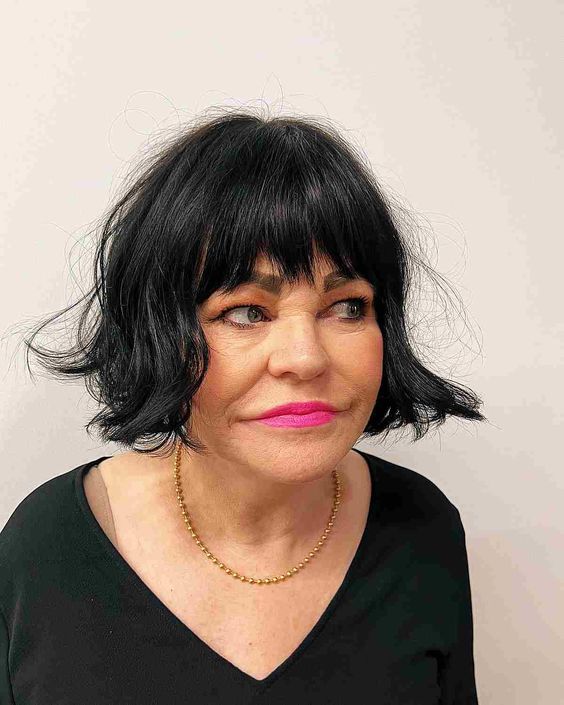 Credit: latesthairstyles via Pinterest
For a cut that takes just minutes to get perfect, this jaw-length bob is simple, stunning, and super flattering. Those ever-important outwards flicks do so much to frame the chin, cheeks, and eyes, and add to that essential sense of movement. You could keep the bangs straight like this, or add in those waves for extra framing.
Warm blonde layers for longer hair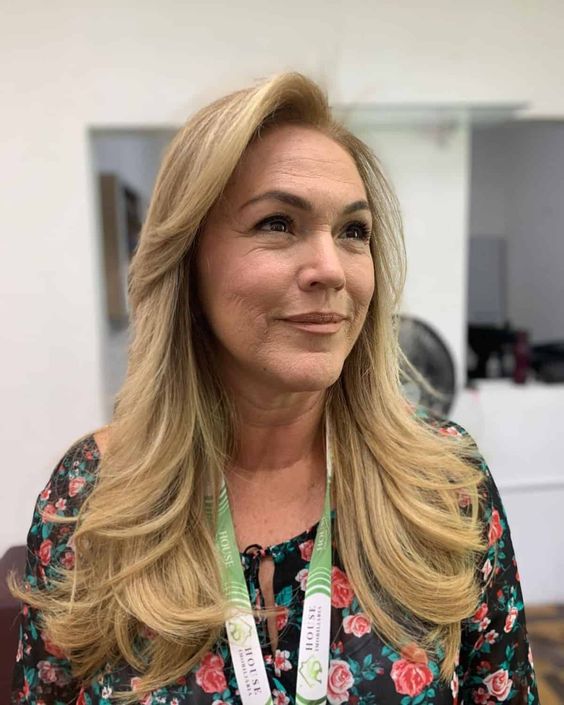 Credit: latesthairstyles via Pinterest
Sometimes simple elegance is the name of the game, and the length and cut here give you plenty of room for both. The basic silhouette works with so many longer styles, but this one uses layers and a wide swooping bang to bring out the cheeks. The off-center parting helps it get that initial boost off the scalp.
Full glam wolf cut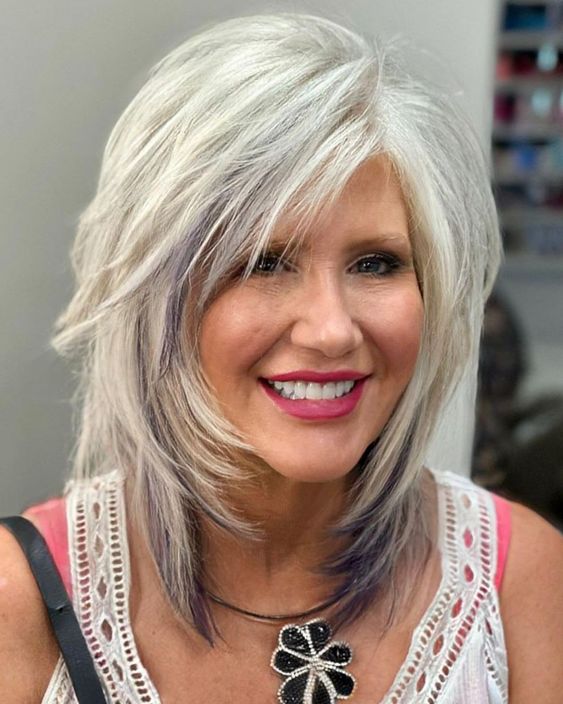 Credit: therightstyle via Pinterest
While glam looks always come with the caveat that they take quite a lot of time and effort, they're pretty much always worth it. By adding tons of definition and shaping to an already flattering cut, this style creates a perfect and pretty border for the face. The purple lowlights might seem a little extra, but you need that contrast somewhere!
Salt and pepper quiff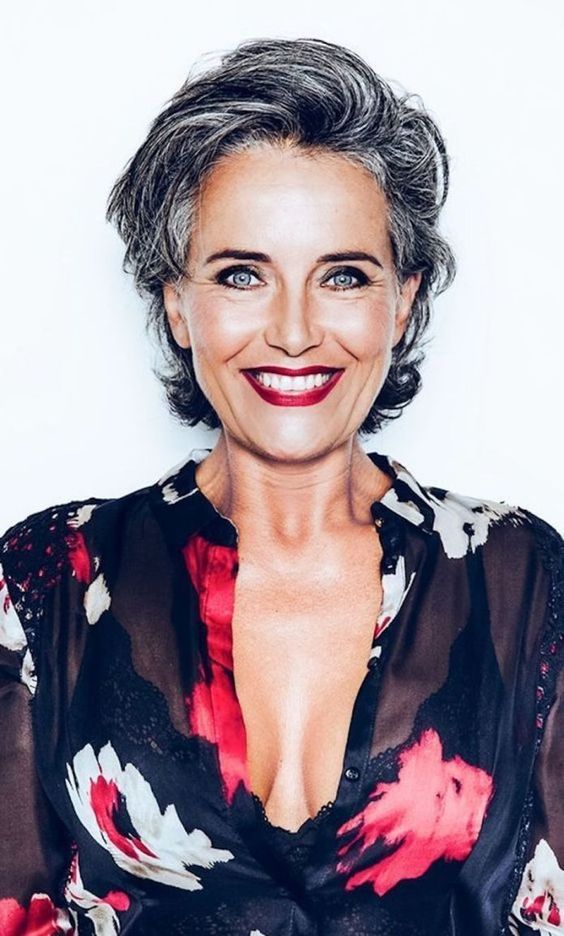 Credit: momooze via Pinterest
Your 50s are the best time to start experimenting with length if you've yet to take the plunge. This would-be-mid-length-for-a-man shape can give you access to a bunch of new ways to frame your face, no matter the shape. Salt and pepper color treatments help to disguise age by making hair seem so much thicker than it is.
Blunt-box bob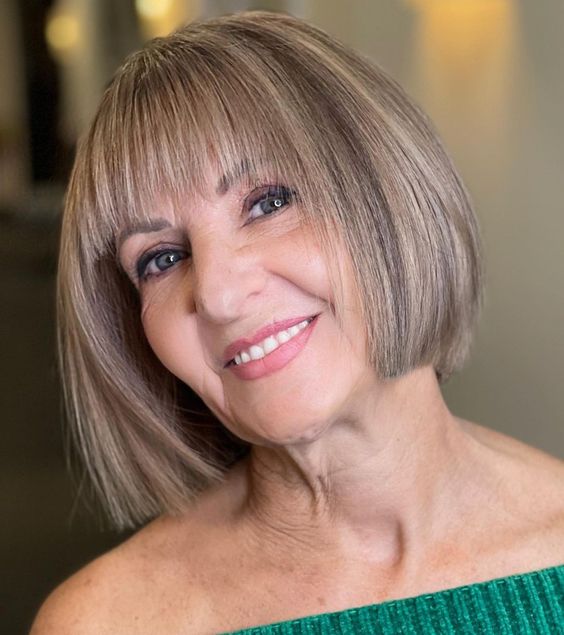 Credit: hadviser via Pinterest
There aren't too many blunt cuts on this list, since for certain styles they can halt a lot of movement, and they don't feel "lived in". Again though, there are no rules! You can totally get away with it at shorter lengths like this, where the block sits bobbing along as you walk. You don't even have to worry about layers.