Salt and peppered short stacked bob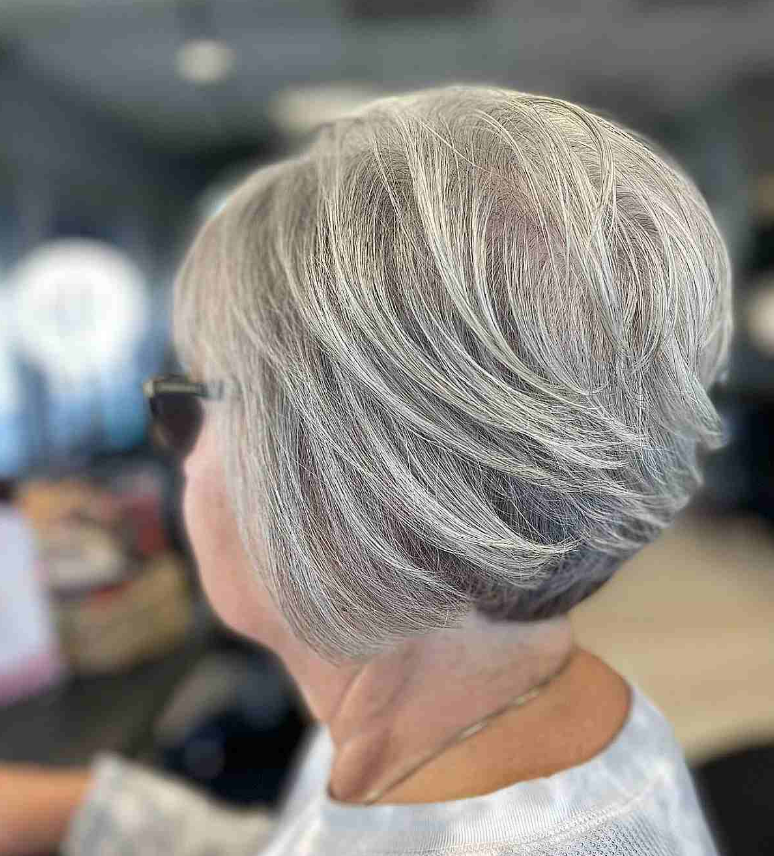 This timeless hairstyle features a flexible grey color, offering the option to enhance the texture or leave it natural. The cut is customized based on the individual's cranial structure, resulting in a flattering triangular shape. It's easy to add volume with the layering, just make sure to keep the back of the neck tidy!
Gorgeous long hairstyle with long bangs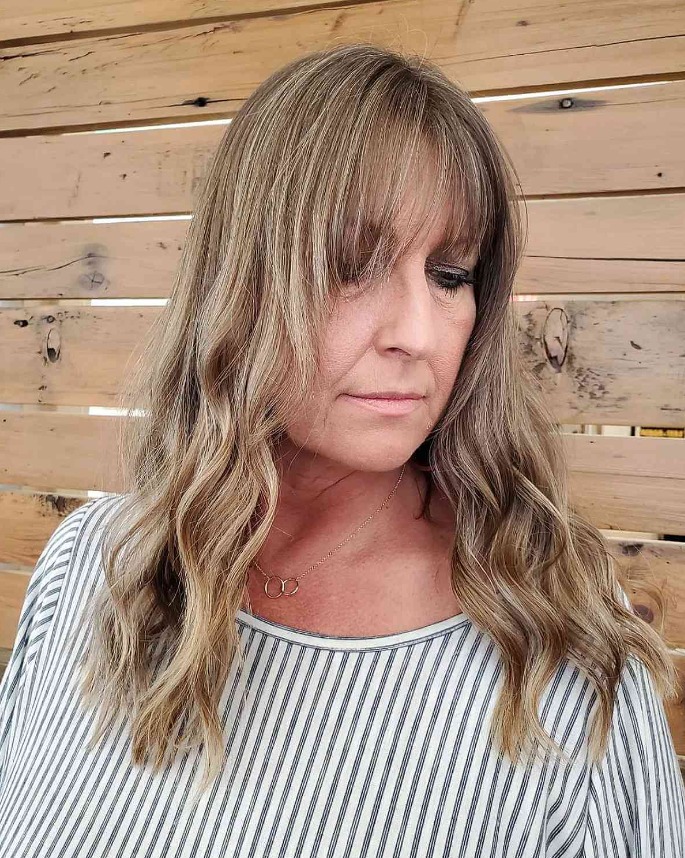 Adding bangs to your hairstyle can be a great way to hide forehead wrinkles and make you appear more youthful. If you have thick hair, consider adding blonde highlights and long layers for a modern twist. You can also utilize the length with curls, or straighten them for a more shaped look.
Pixie cut for women with glasses.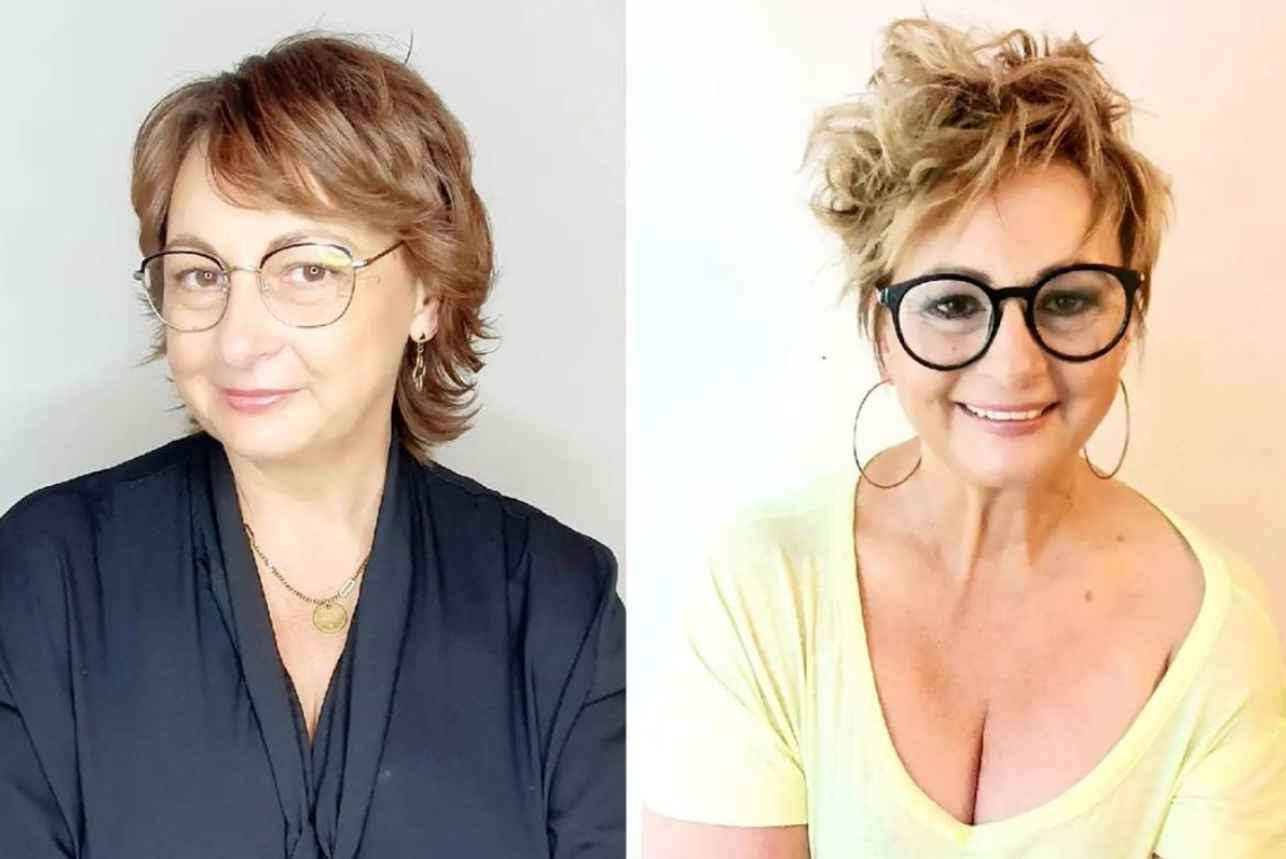 This textured pixie cut is a timeless option for women over 60. If you need to wear glasses, why not incorporate them into your style? The short, unkempt look combined with some sharp frames exude a playful energy. A modelling clay will get you the hold you need without weighing down your shorter hair strands.
Choppy bob with choppy bangs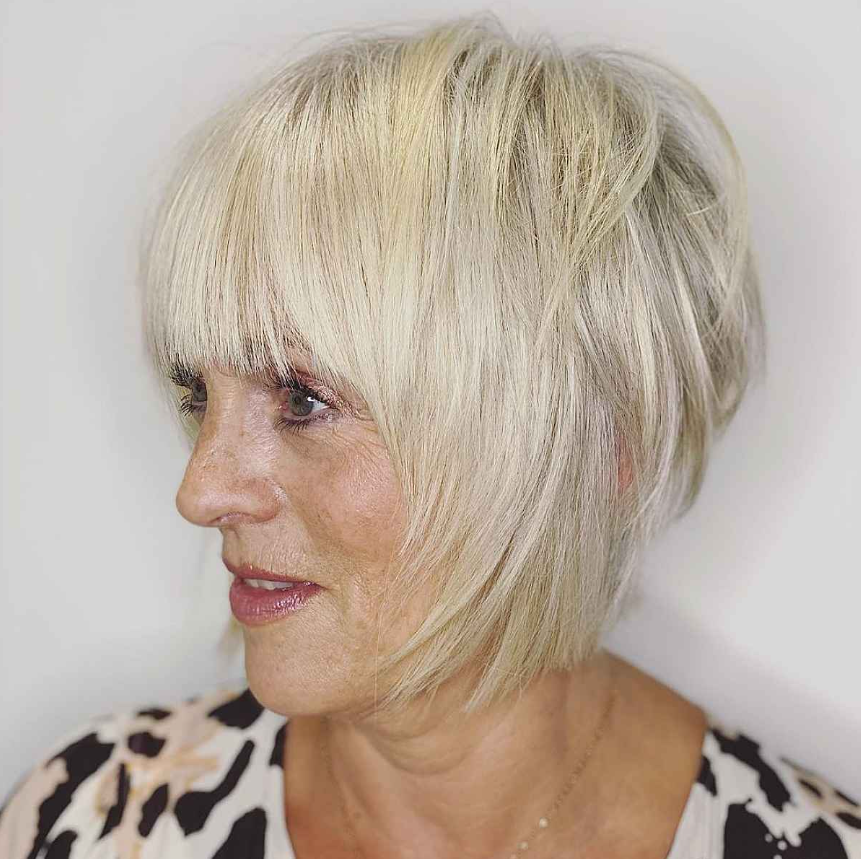 This hairstyle can add volume to thin hair and conceal forehead wrinkles. By concentrating on the front section, maximum density can be achieved, resulting in a full and thick appearance. The cut ending at the jawline can also create a more youthful look for women.
The long shaggy bob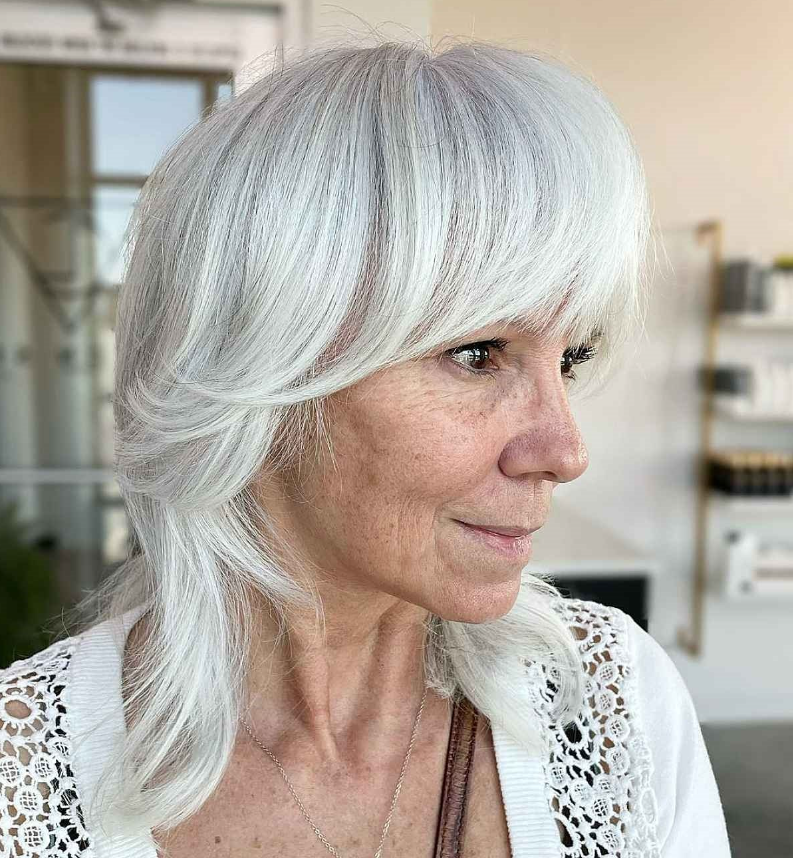 This is a classic haircut that has stood the test of time and is still popular. The front bangs are great for hiding wrinkles while adding a wispy frame around the face. This is an excellent option for women over 60 who want to achieve a youthful appearance. Add a touch more edge with a wolf cut for a little more detail.
The bold quiff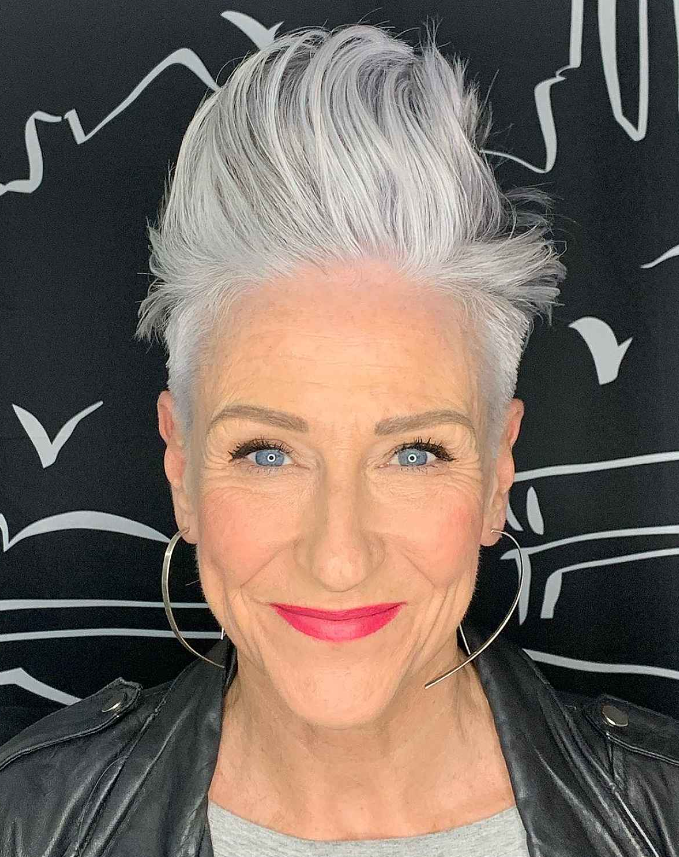 If you want to make a statement, go for this dramatic haircut that is sure to turn heads. The sides are short, while the top is long and sassy, creating a bold and edgy look that is perfect for those who want to stand out. The silver color adds an extra touch of vibrancy to the overall style. You'll need lots of products to keep it looking sharp, but it's worth it.
Textured and spiky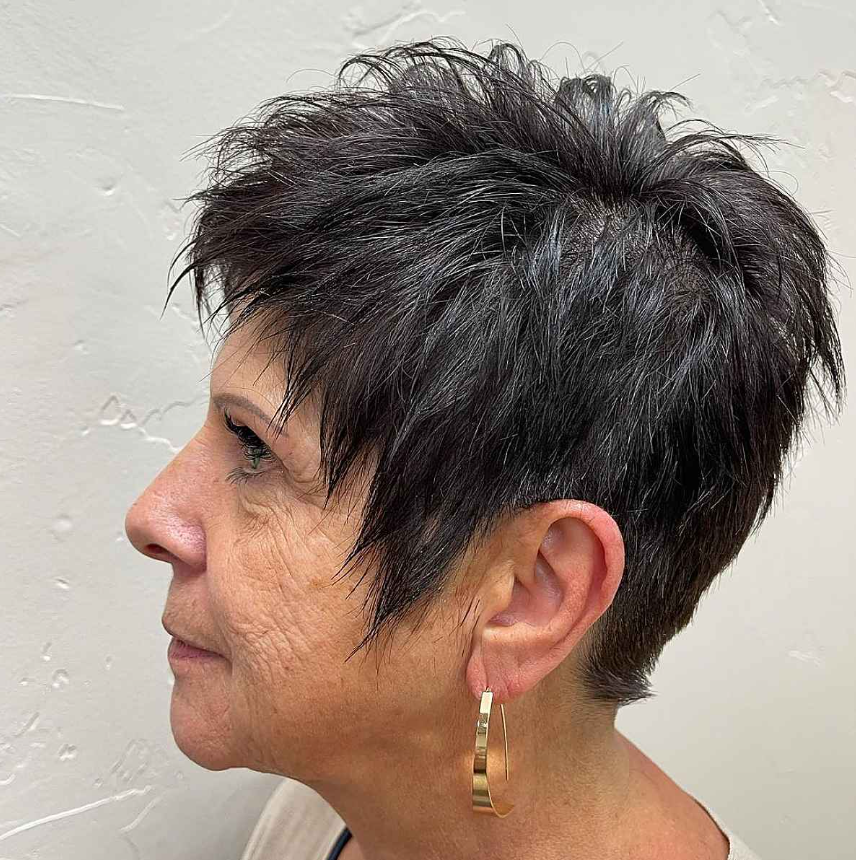 This haircut is perfect for women with mature features, who desire a more daring look. The spiky layers not only create the illusion of thicker and fuller hair but also add a more edgy and trendy element to the style. Thin hair can achieve this style quite easily, as it's shorter length will make appear stronger.
Short curly bob with fringe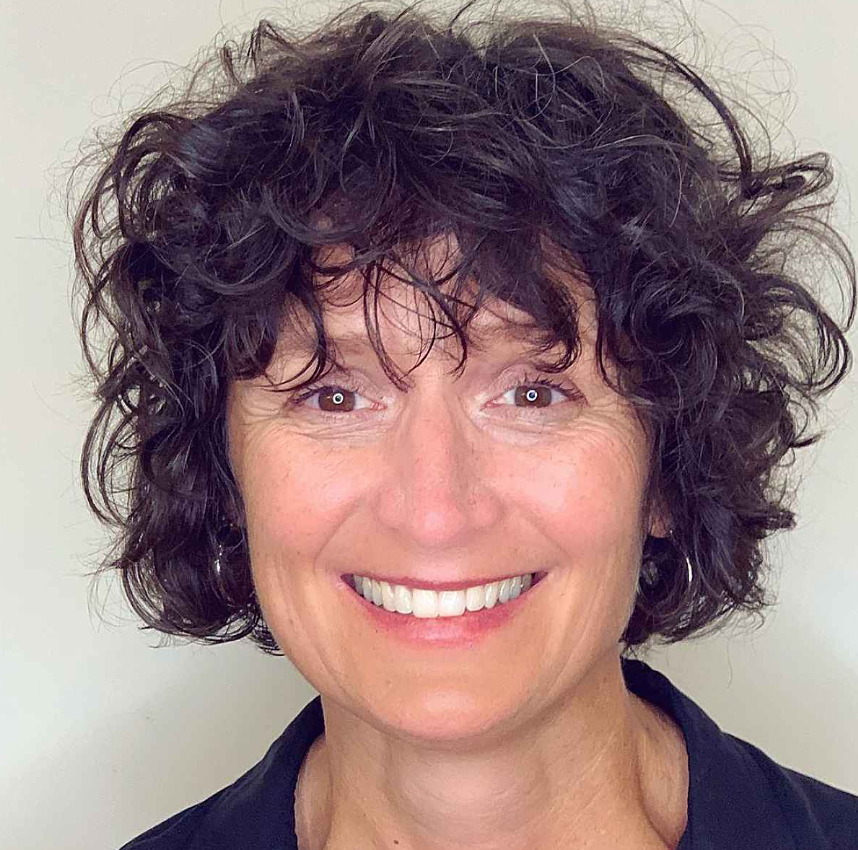 This haircut is an excellent choice for women over 60 who desire a face-framing style. It takes advantage of your natural curls and texture, meaning little maintenance is required to get you looking fabulous. Make sure you keep an eye on the volume, you want curls on curls. Anything too droopy is at risk of pulling the look down.
Edgier short bob with lots of layering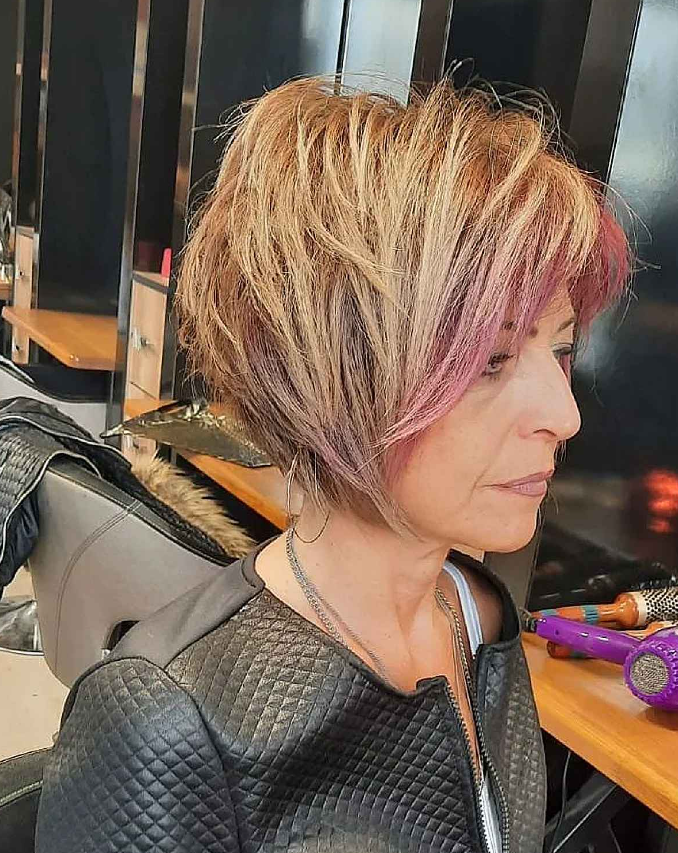 The bob has stood the test of time – since medieval peasants figured out they could use sheep shearers on their husbands to save some coins. This particular one is much more contemporary, with sharp edges, managed volume, and the option to add a burst of color. Go for highlights, different undertones, or a full head treatment.
Messy choppy pixie shag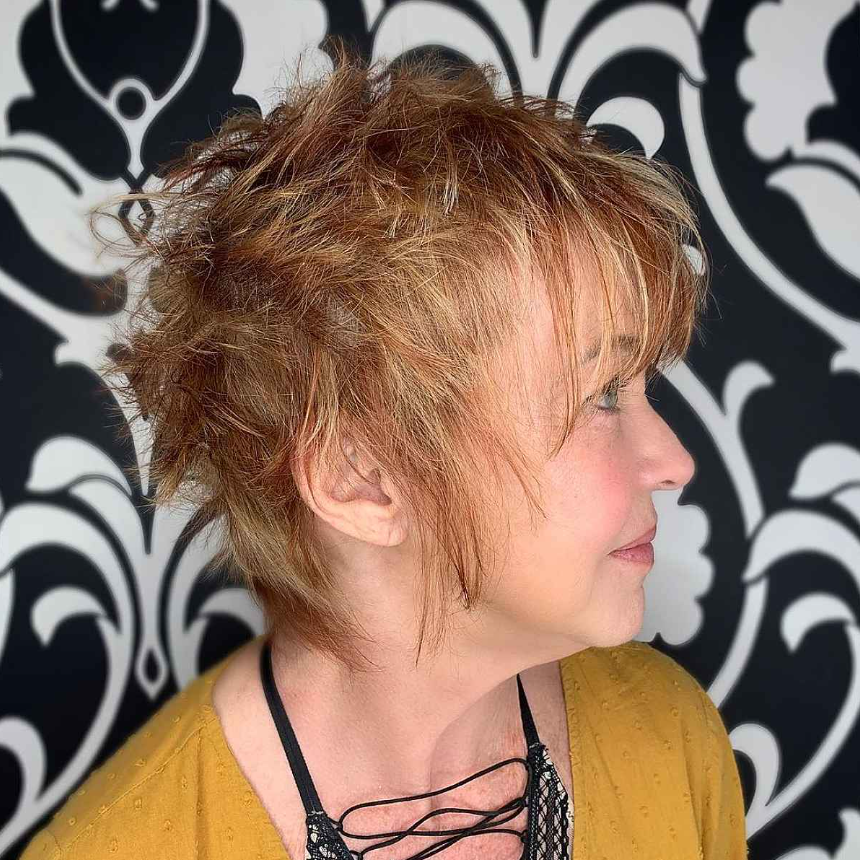 This shag haircut is a daring choice that exudes a punk rock vibe with its voluminous and textured layers. Yet, despite the edgy appearance, it still maintains its softness around the face in order to complement the wearer's bone structure. The longer sideburns and nape area mean you'll need to spare just a little bit of time each day to style it.
Side-swept pixie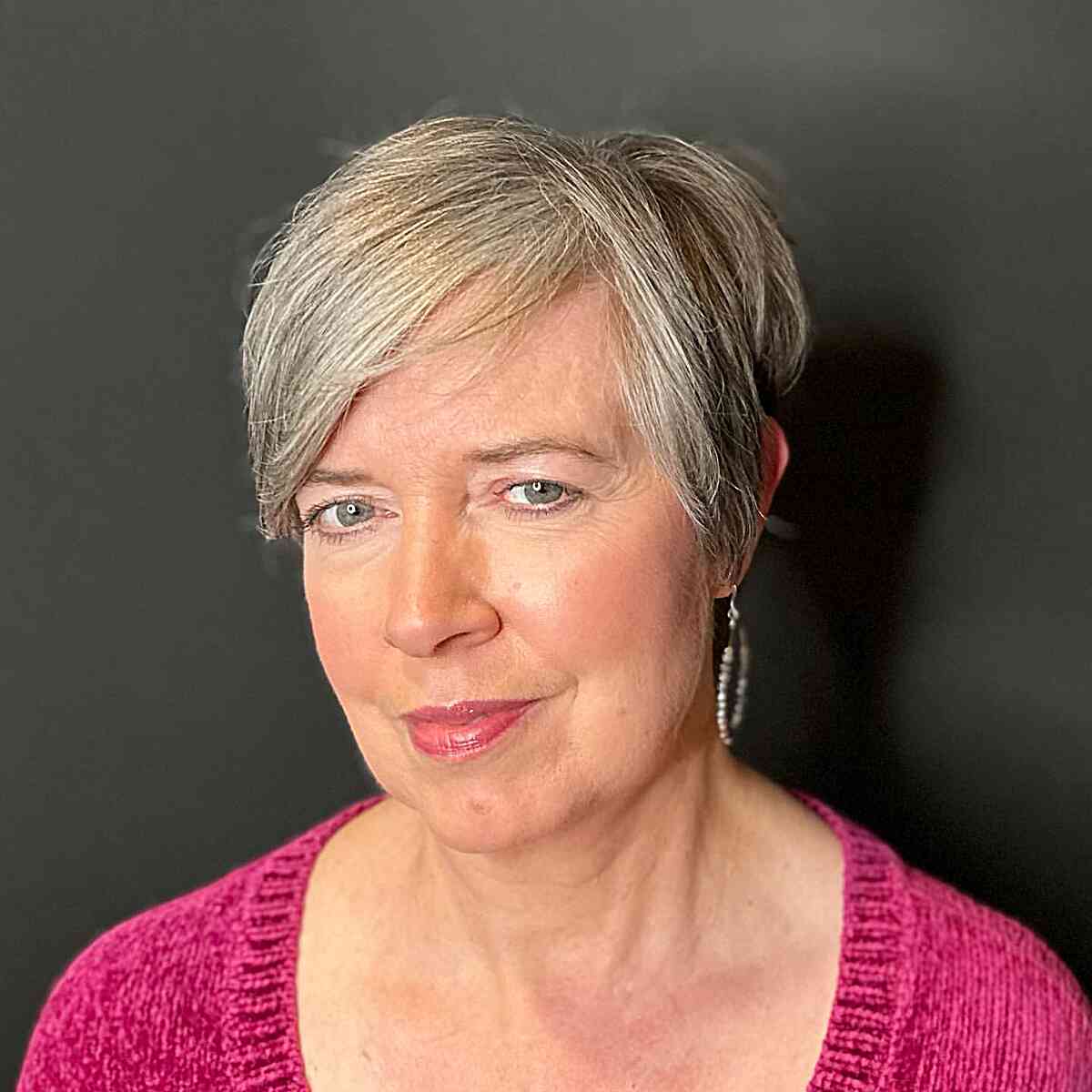 Credit: theaddisonstyle via Instagram
A pixie cut swept off to the side gives an effortless appearance, and works especially well with thick hair. If you want a softer look, go for a feathered-out side fringe, and style with hairspray for extra volume. The beauty of this simple cut is in its versatility. It can easy become a quiff, and you can experiment with your parting as it grows.
Longer pixie cut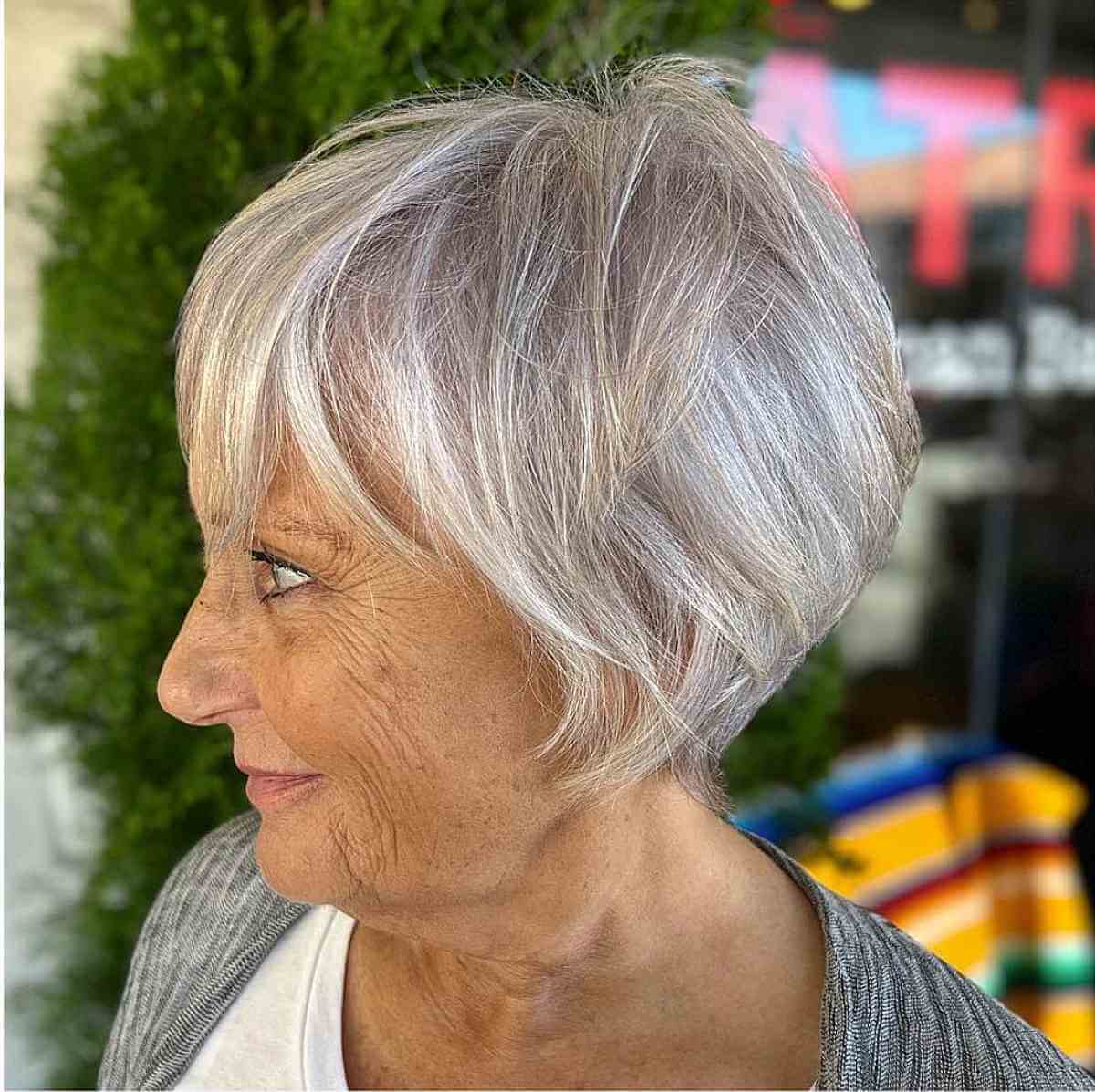 Credit: ingiethepixiequeen via Instagram
This cut with soft bangs and longer strands around the ears makes for a feminine and elegant look. This comes without the extra maintenance of a shorter style. The length gives you a bit more styling freedom too – so feel free to go wild! Part of the core of a pixie cut is the eyes, so make sure they're always in focus beneath your fringe.
Pixie with fringe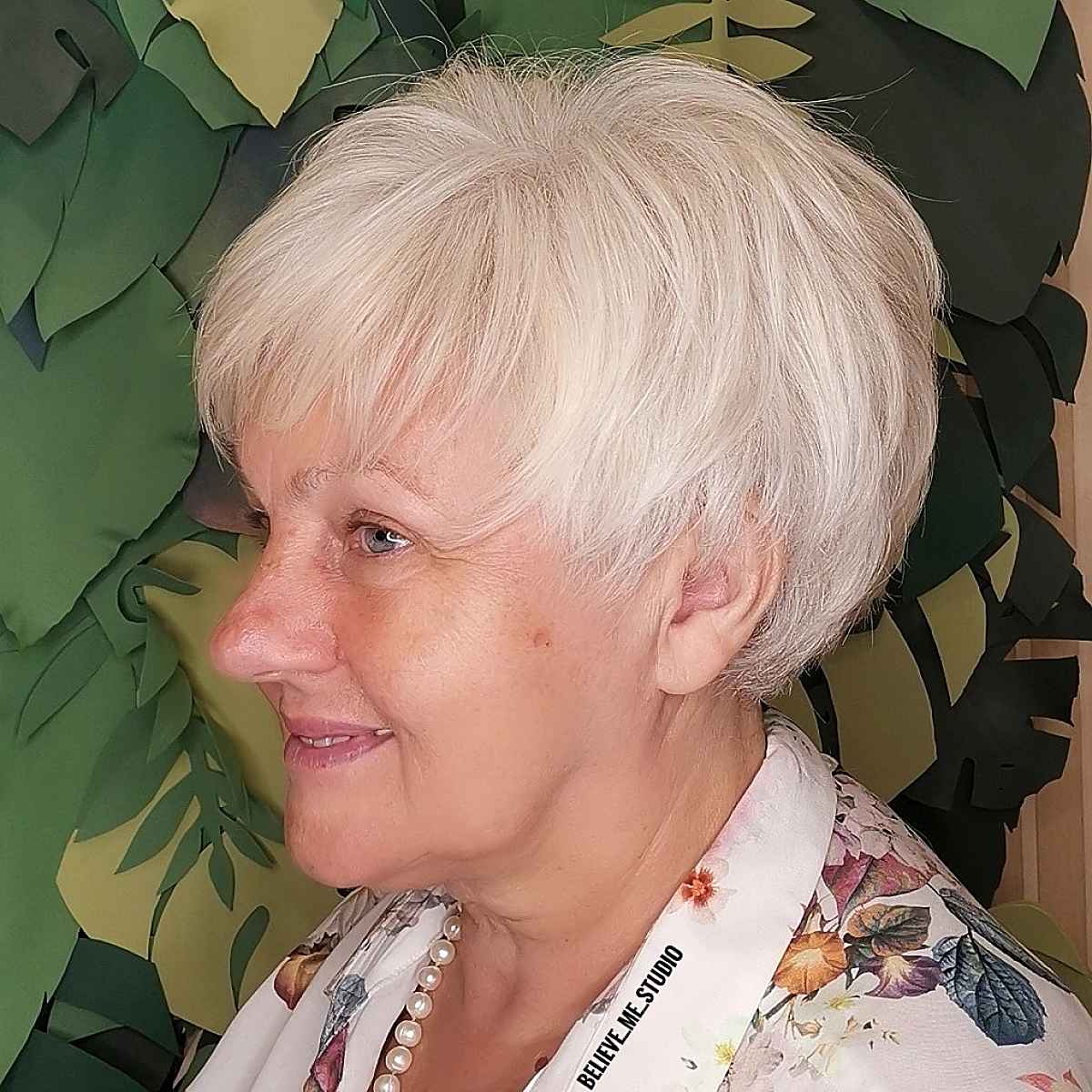 Credit: believe_me_studio via Instagram
If you feel conscious of wrinkles, a classic pixie with the fringe brushed forward can help to conceal any areas of the forehead you'd rather hide. It's still an easy length to manage, it's nice and light for summer. As always with a shorter style, color treatments are quick and easy to apply if you get a little bored with your natural tone.
Bob with side parting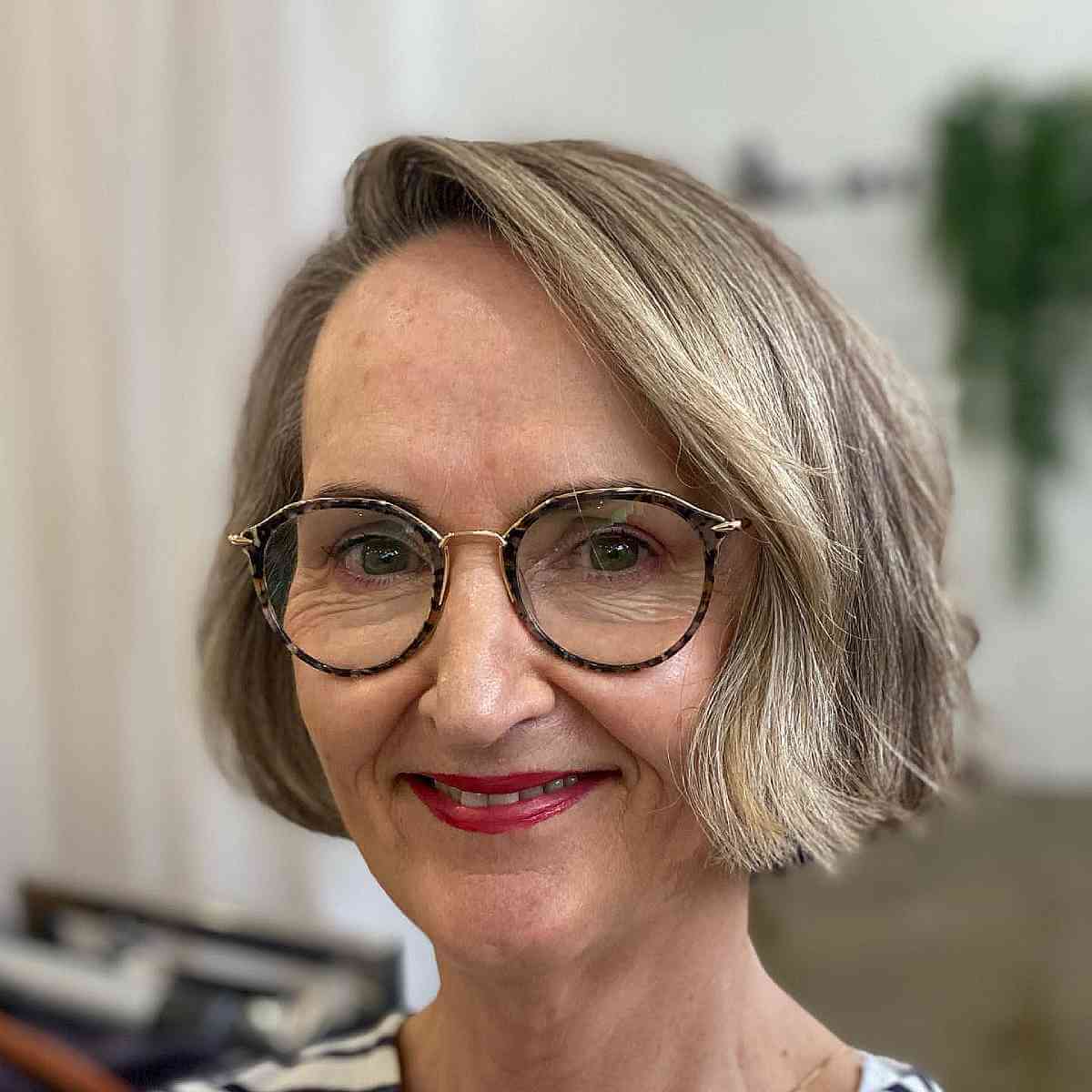 Credit: agapehair via Instagram
If you want a bit of length to your hair without the upkeep, a long-layered bob could be the perfect fit for you. They're super versatile – side bangs can also help to elongate your jawline and add more definition to your face, while long layers can add volume to thin hair.
Wavy asymmetrical bob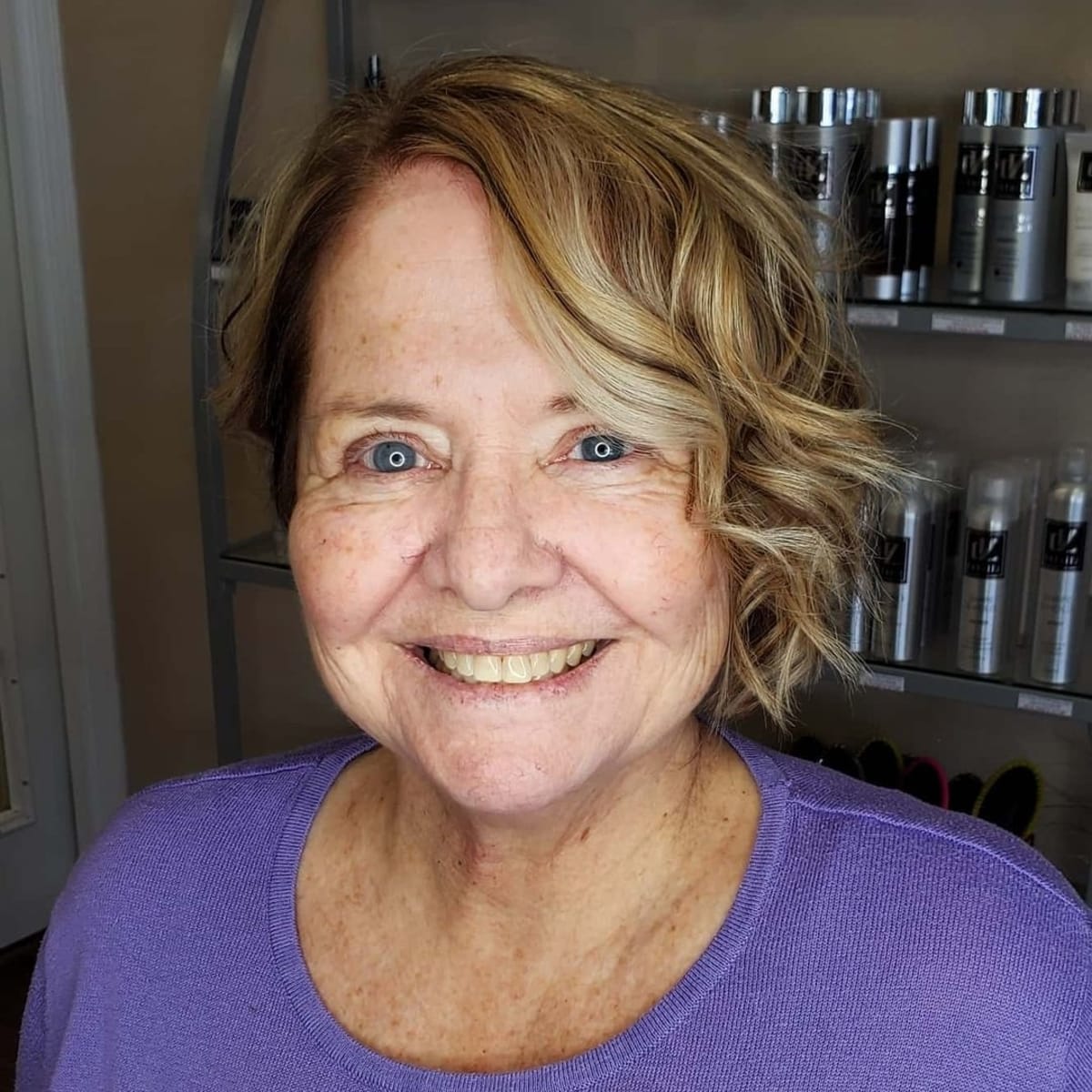 Credit: chicstylezby_anna via Instagram
This fun style adds a bit of a twist to the usual bob. Pair this with an undercut for that extra edge, or lean into your hair's natural curl for a more tousled, fun look. Alternatively, use a curling iron if you'd like a more controlled, elegant wave. Be sure to use products with added heat protection!
Feathered layers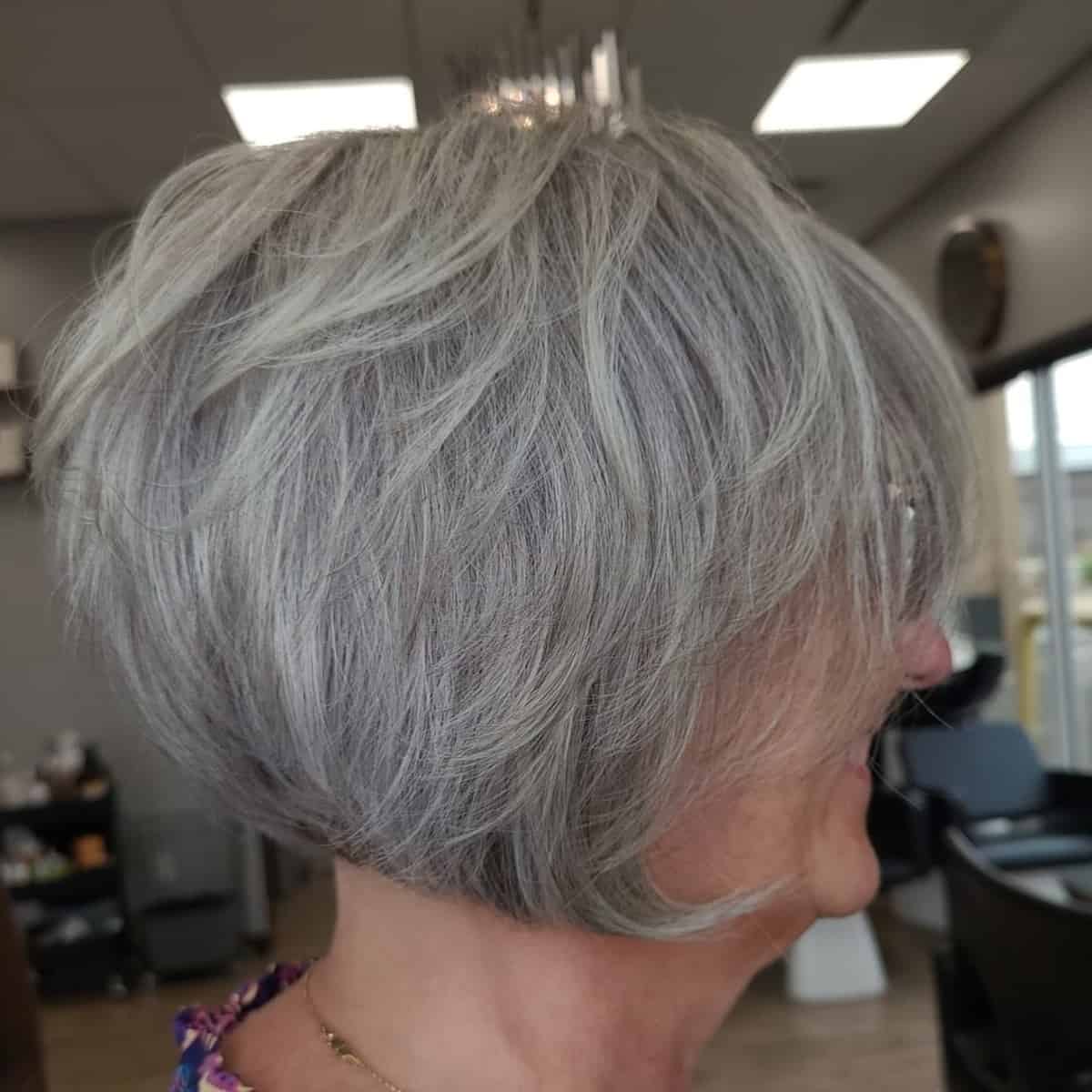 Credit: darilynn.saradee.salon via Instagram
Feathered layers add a subtle softness to long or short hairstyles. They also especially help to give a that often much needed volume boost to thinner hair. Ask your hairdresser to feather your bangs to frame your face and add some texture to your look. Just remember, feathered styles need semi-frequent appointments to keep on top of.
Blunt bob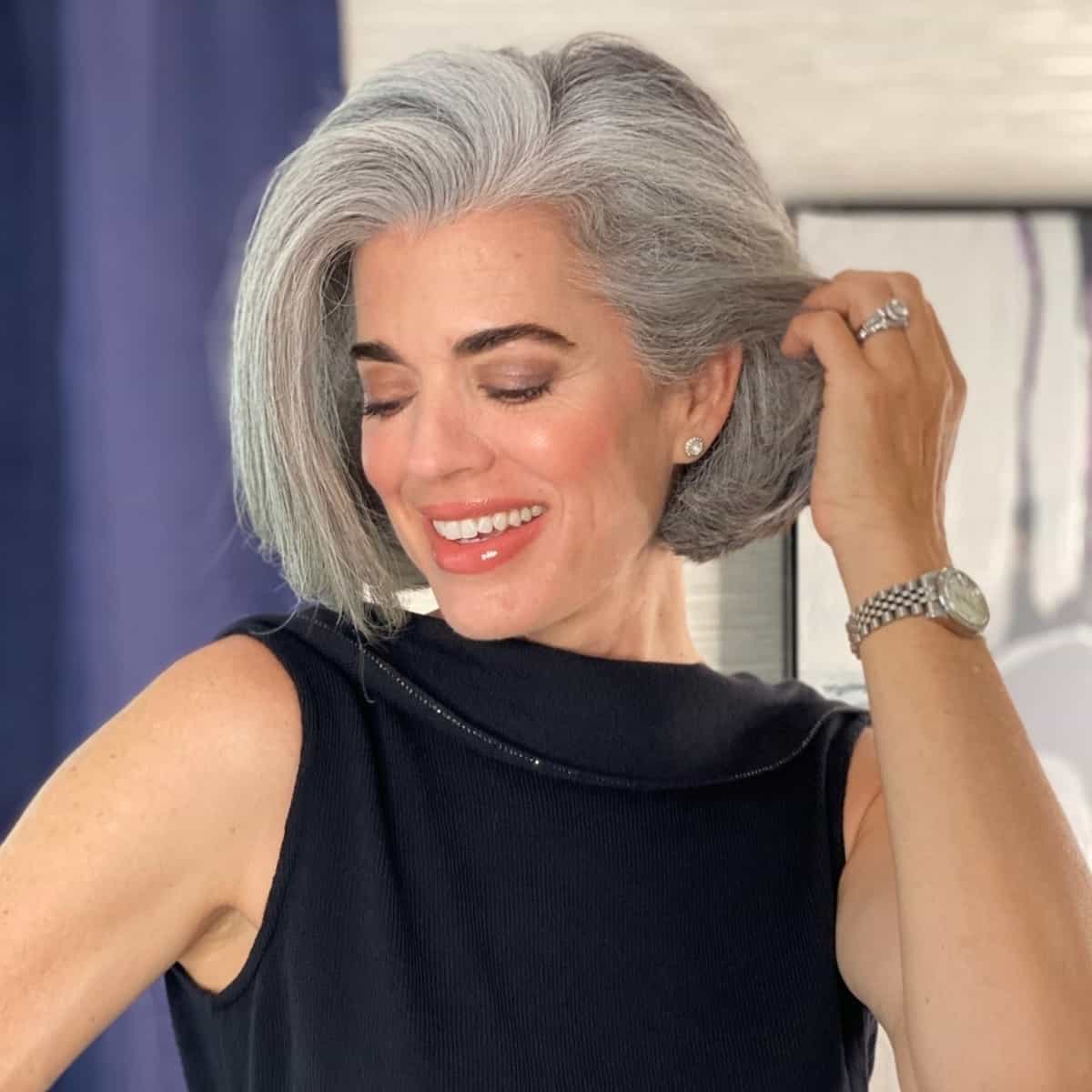 Credit: freshbeautystudio via Instagram
A blunt bob is a great look if you have naturally thick hair, really working to show off your healthy locks whilst complementing your natural gray. This style creates a classic, chic look. It especially suits oval, heart-shaped, or square faces, as it can help to accentuate your natural jawline. The blunt cut is great at attracting the eye with it's severe details and clean lines.
Dyed hair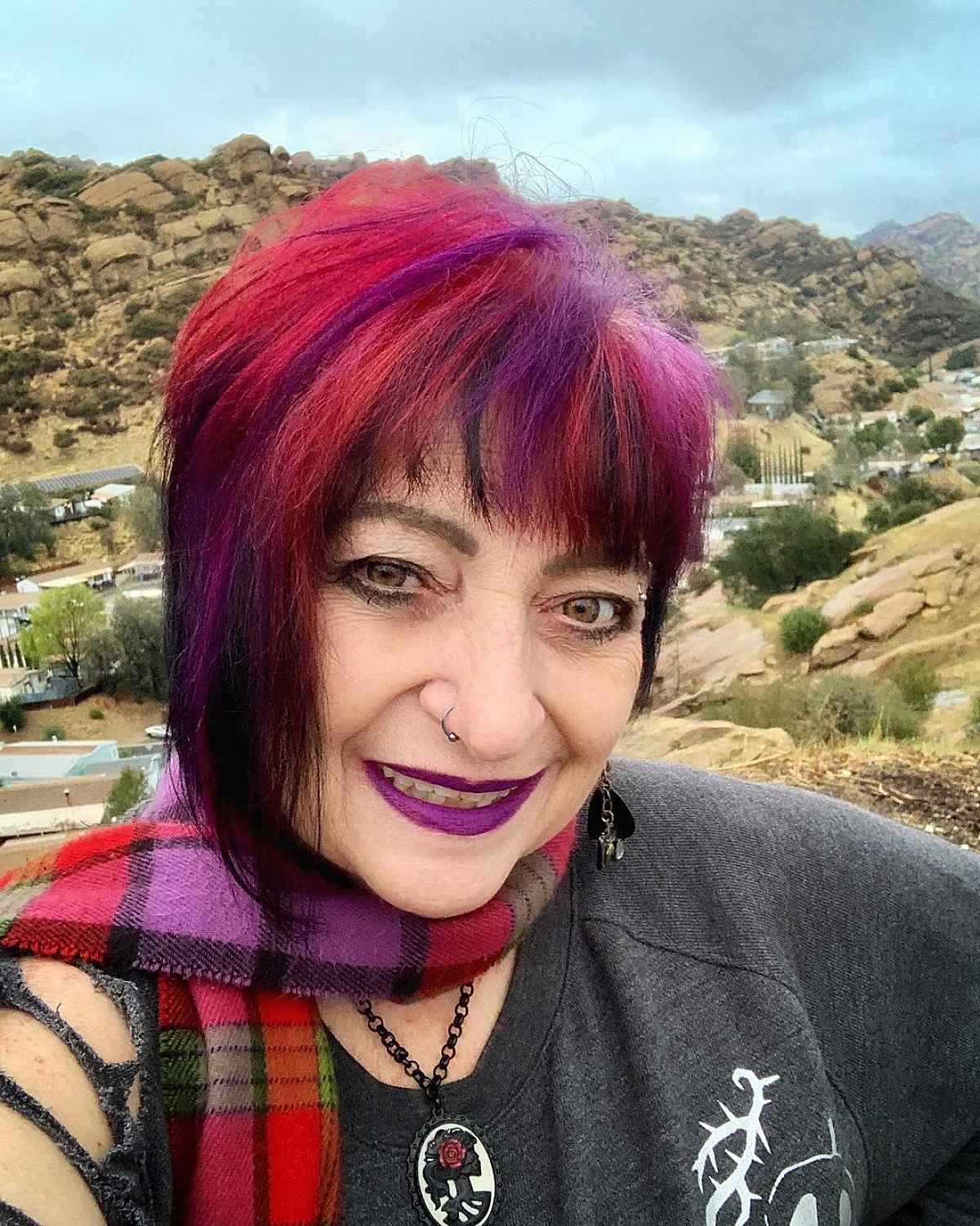 Credit: eyeshutter4u via Instagram
While many choose to embrace their natural gray, adding a bit of fun color to your hair is a great way to make you feel and look younger. Whilst it's not for everyone, it's a great way to express yourself. It adds personality, charm, and gives you a great color scheme to start building your outfits around.
Mid-length waves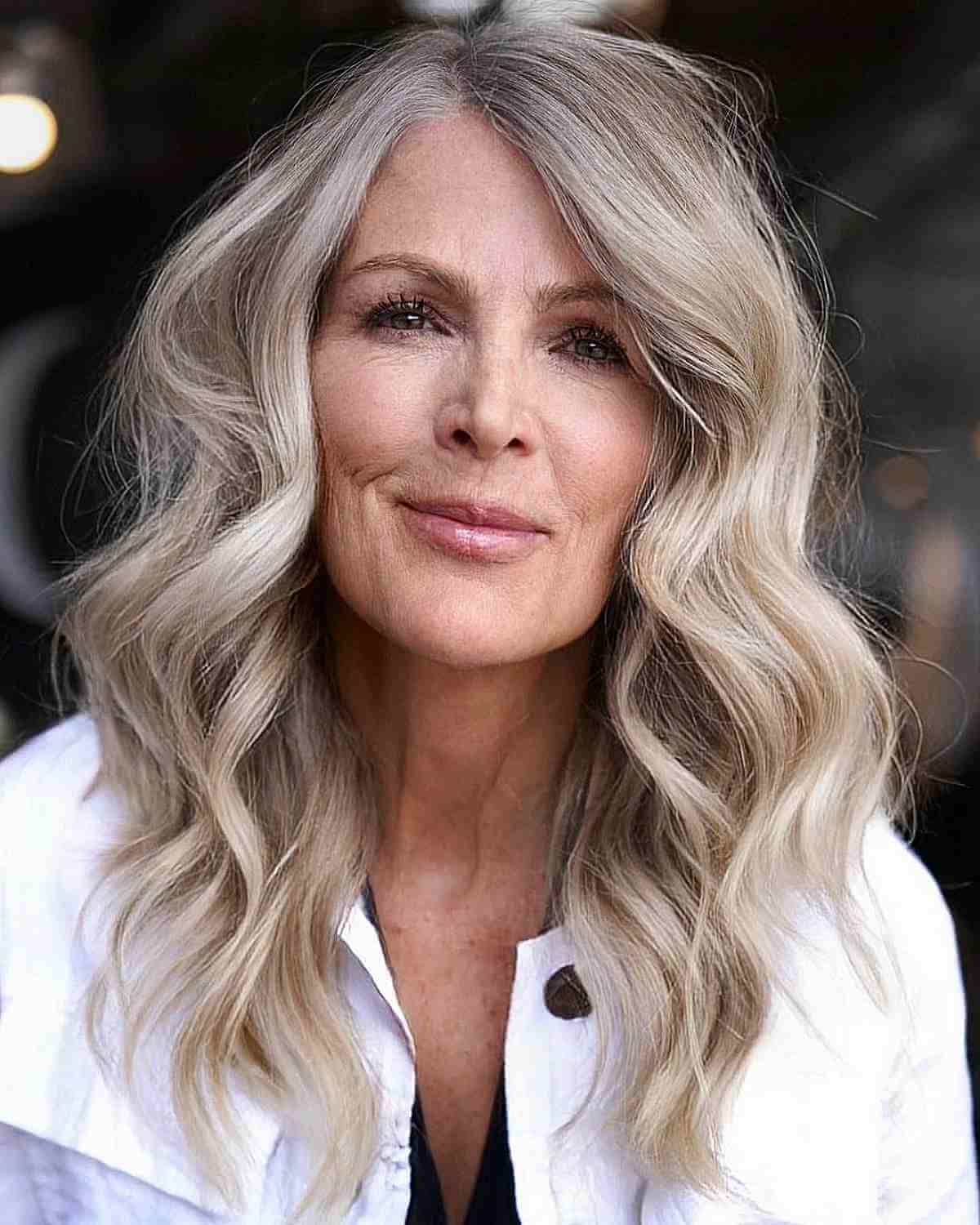 Credit: glorified.hair via Instagram
Waves are a beautiful look on any age or hair type. The best part is that you can style them any way you want. Messy, beachy, or defined, waves can give your hair that extra volume and bounce that will leave others green with envy. Product wise you want something with medium hold, as you don't want your beautiful ripples frozen in time by hairspray.
Angled bob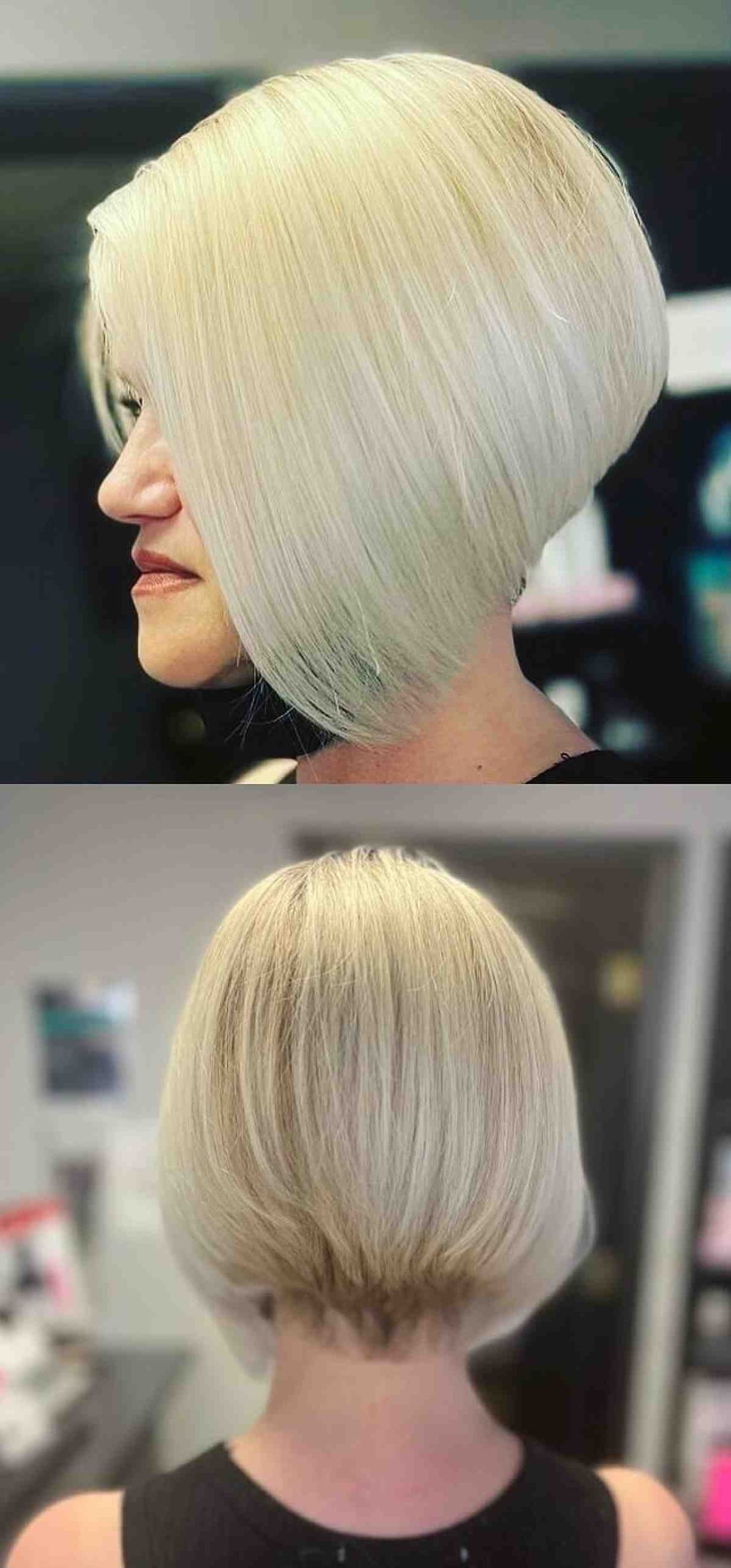 Credit: salonhealed via Instagram
If you have well defined cheek bones then the angled bob is perfect for you! For those of with a round face, a shaggier, more tousled version of this style can help to create edges. This will work to elongate your jawline so you remain in proportion. It does require a little extra effort to get it looking as uniform and angular as you want it.
Stacked bob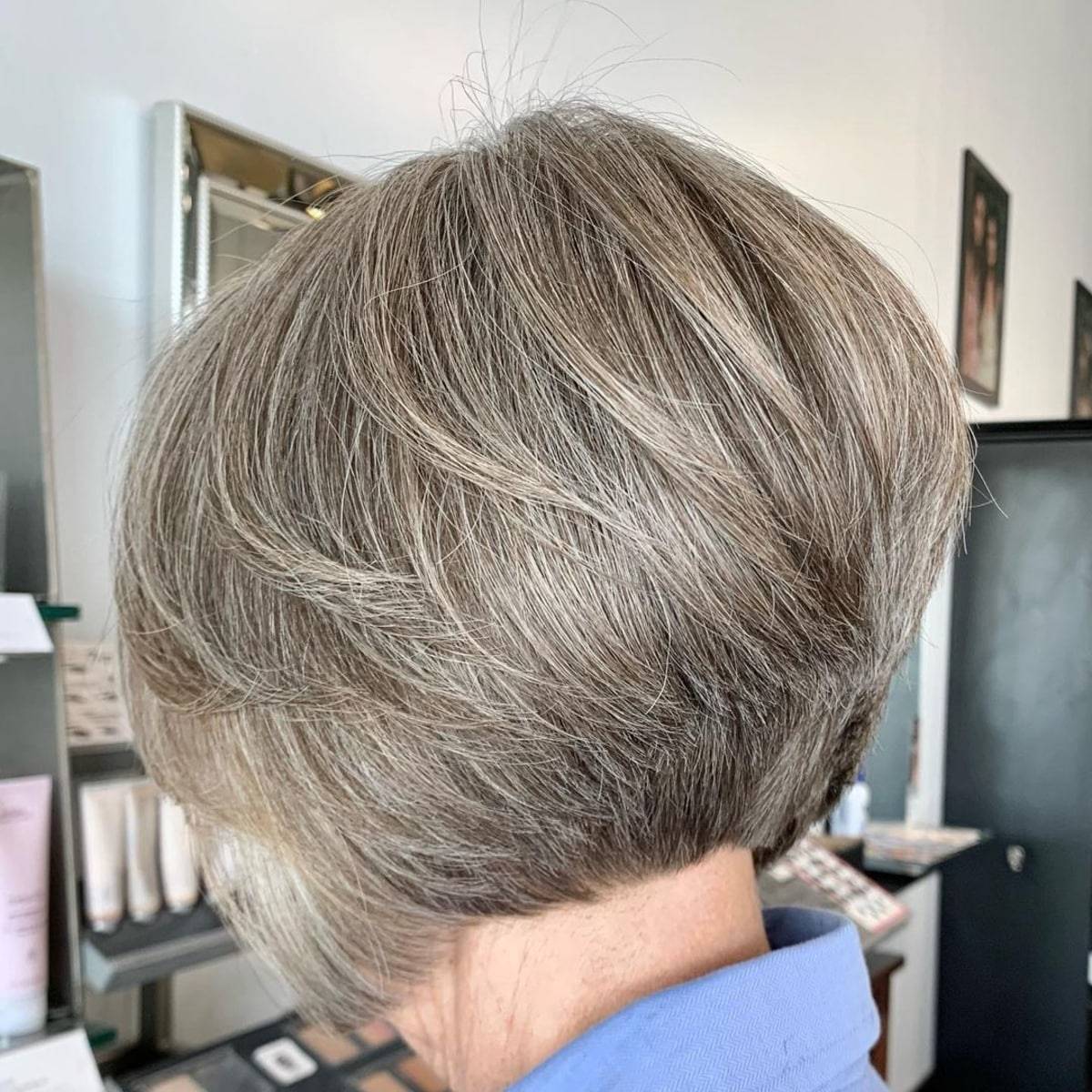 Credit: rachelflynnavedahair via Instagram
If you have thin hair, a stacked bob can be perfect for making the hair appear fuller. The criss-crossing textures and layers create a full, thick bodied hair look, while the short length and tidy styling works to frame your thick locks, creating a look that is equal parts measured, dignified, and a little cheeky.
Wavy hair with undercut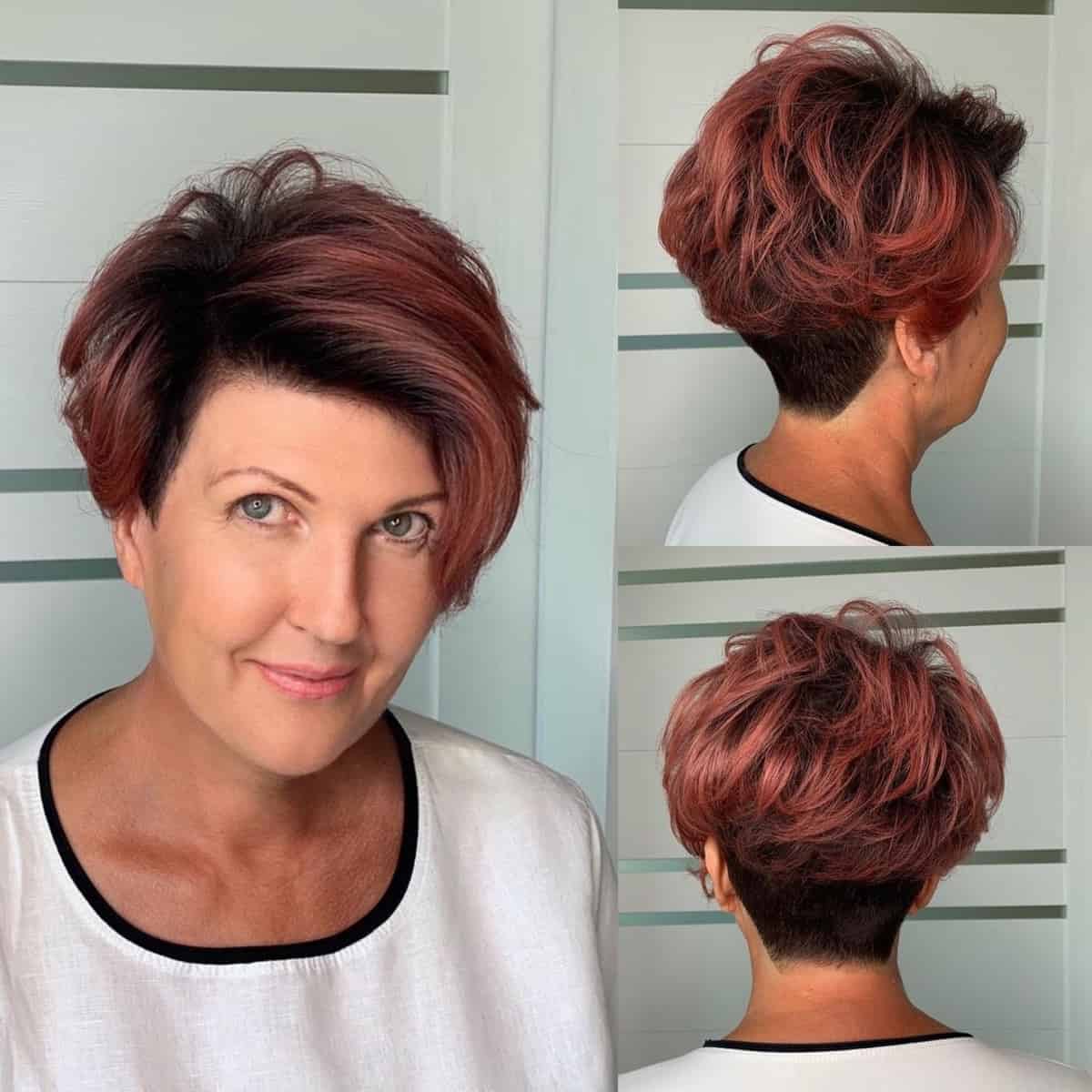 Credit: nikitenko_elen_ via Instagram
An undercut paired with styled, natural, or even messy waves on top is a fun look with an edge. Most people can take advantage of this, as it works with thicker or thinner hair. Add highlights or a splash of color for that extra boost and dimension! You can keep on top of the style with a good pair of clippers to keep the undercut looking sharp.
Wavy bob with fringe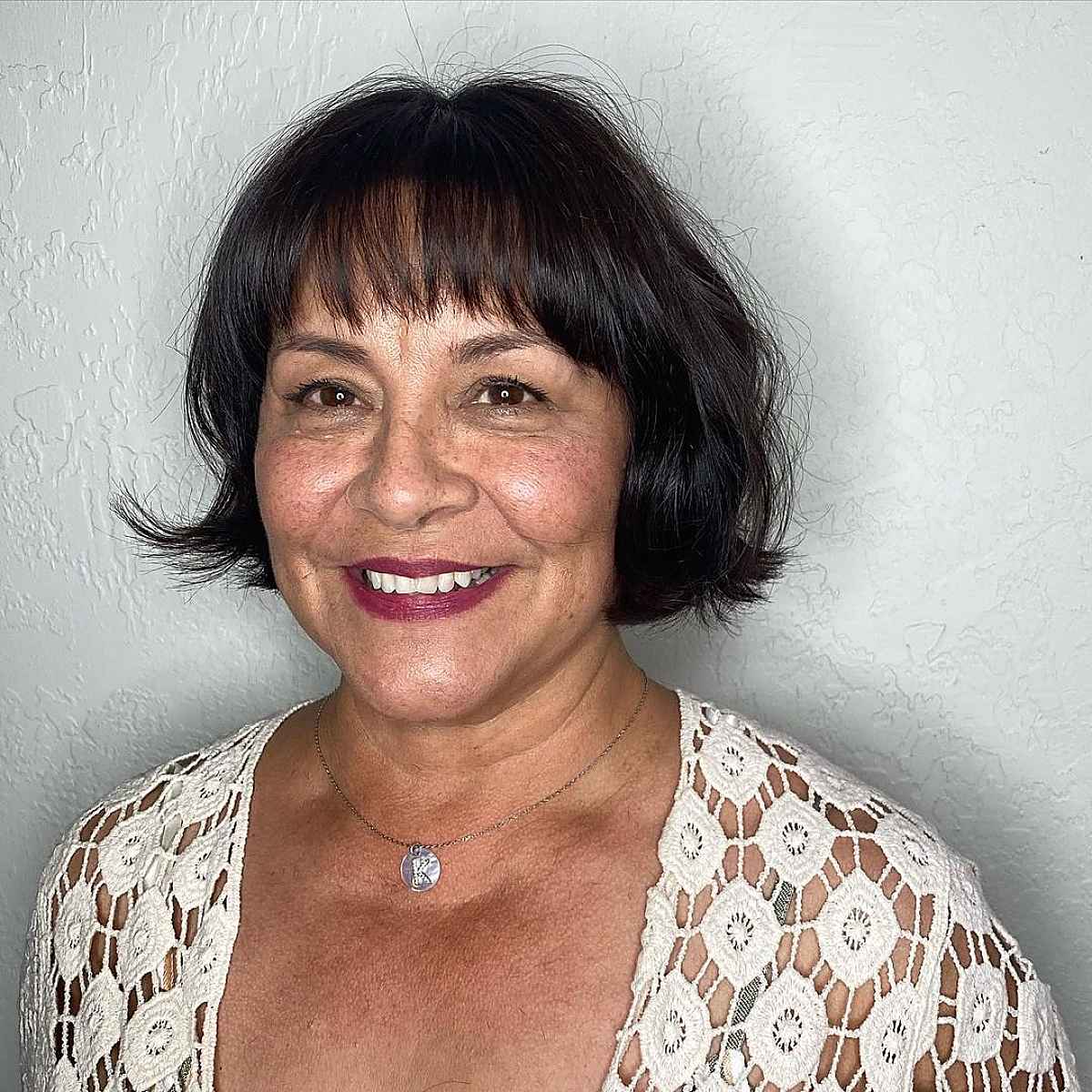 Credit: alanna.oropeza via Instagram
This trendy cut is not only super in style, but it's also low maintenance. Perfect for a busy lady – you can just wash and go! If your hair is on the thinner side, add volume and texture to the look with layers. You can use product to get a little more volume and thickness for the overall style, or to get the most out of the wavy sides.
Pixie with sideburns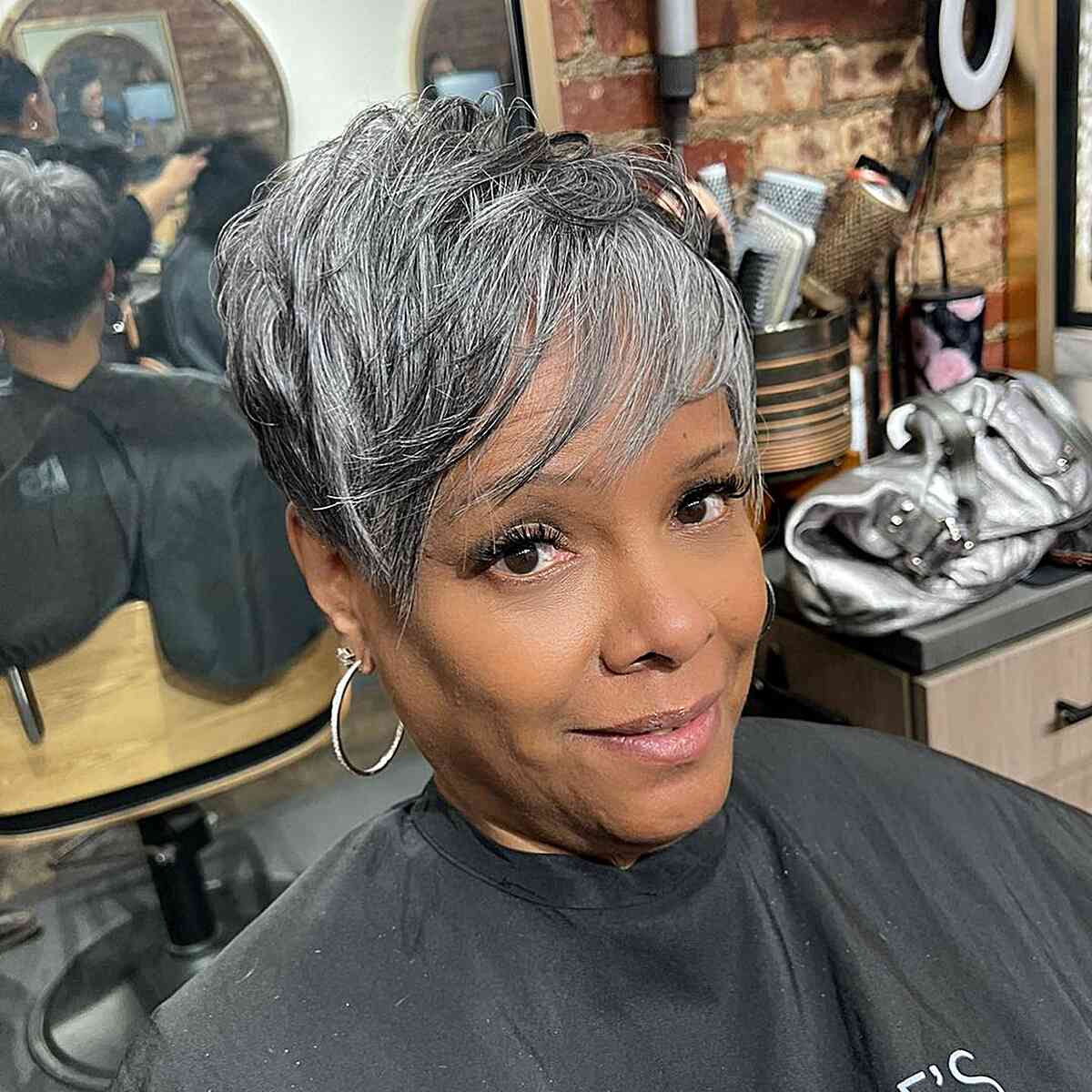 Credit: lhsbeautysalon via Instagram
You may choose to wear your pixie short, or give it a bit of extra length if you wanted something to experiment with. Overall, this cut is a great way to accentuate your cheekbones and draw focus to your best facial features. The sideburns help add a little more structure and direction to the pixie cut, letting you better control the vibe.
Highlights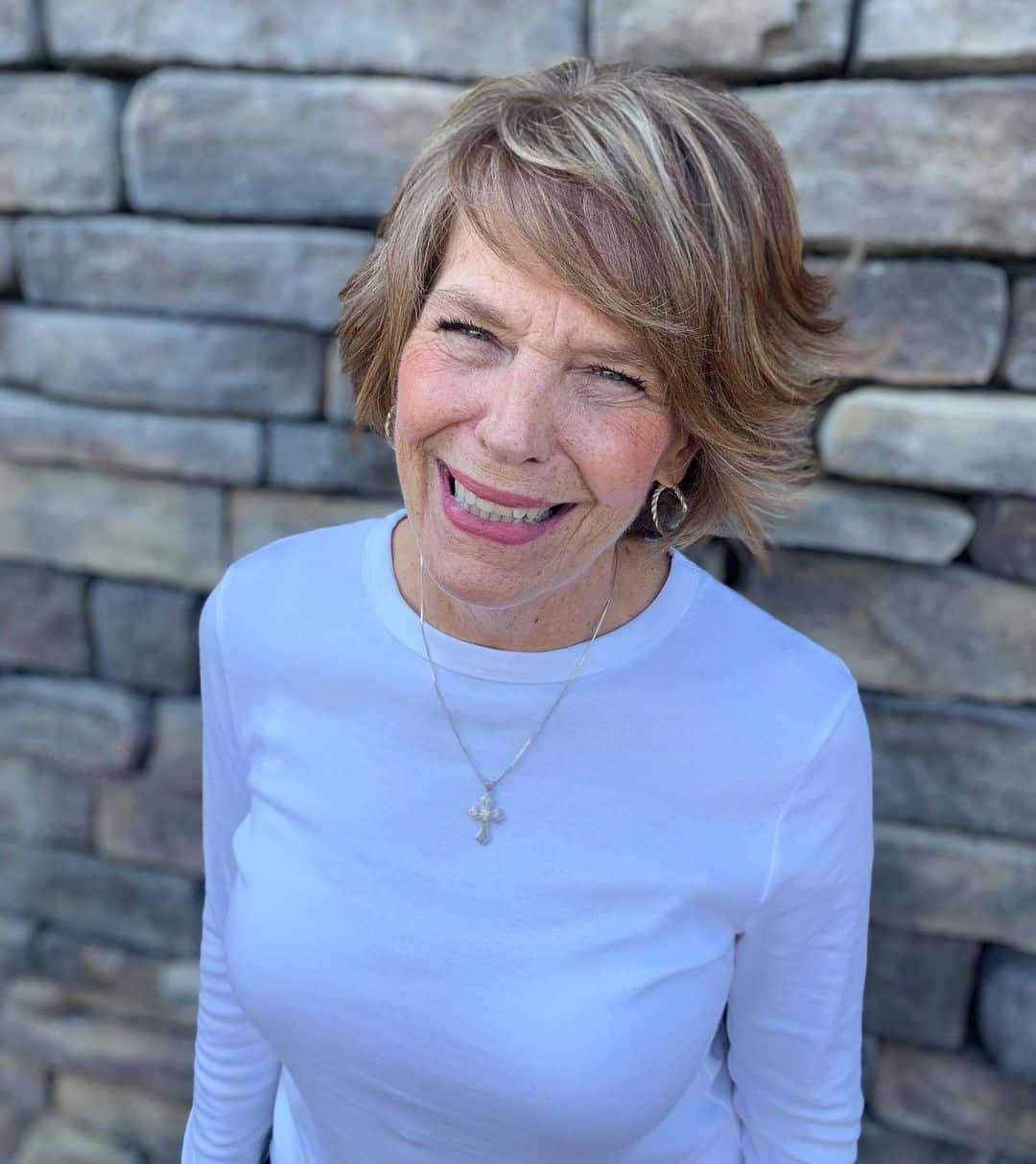 Credit: beicapellierie via Instagram
Blonde, gray, red, copper- no matter what color you go for, highlights and lowlights can work for you! They're a great, low maintenance way to add a natural illusion of volume to any hairstyle, and can instantly boost your complexion. Ask your stylist which colors would compliment your natural tone, and if any other steps might be necessary.
Curly pixie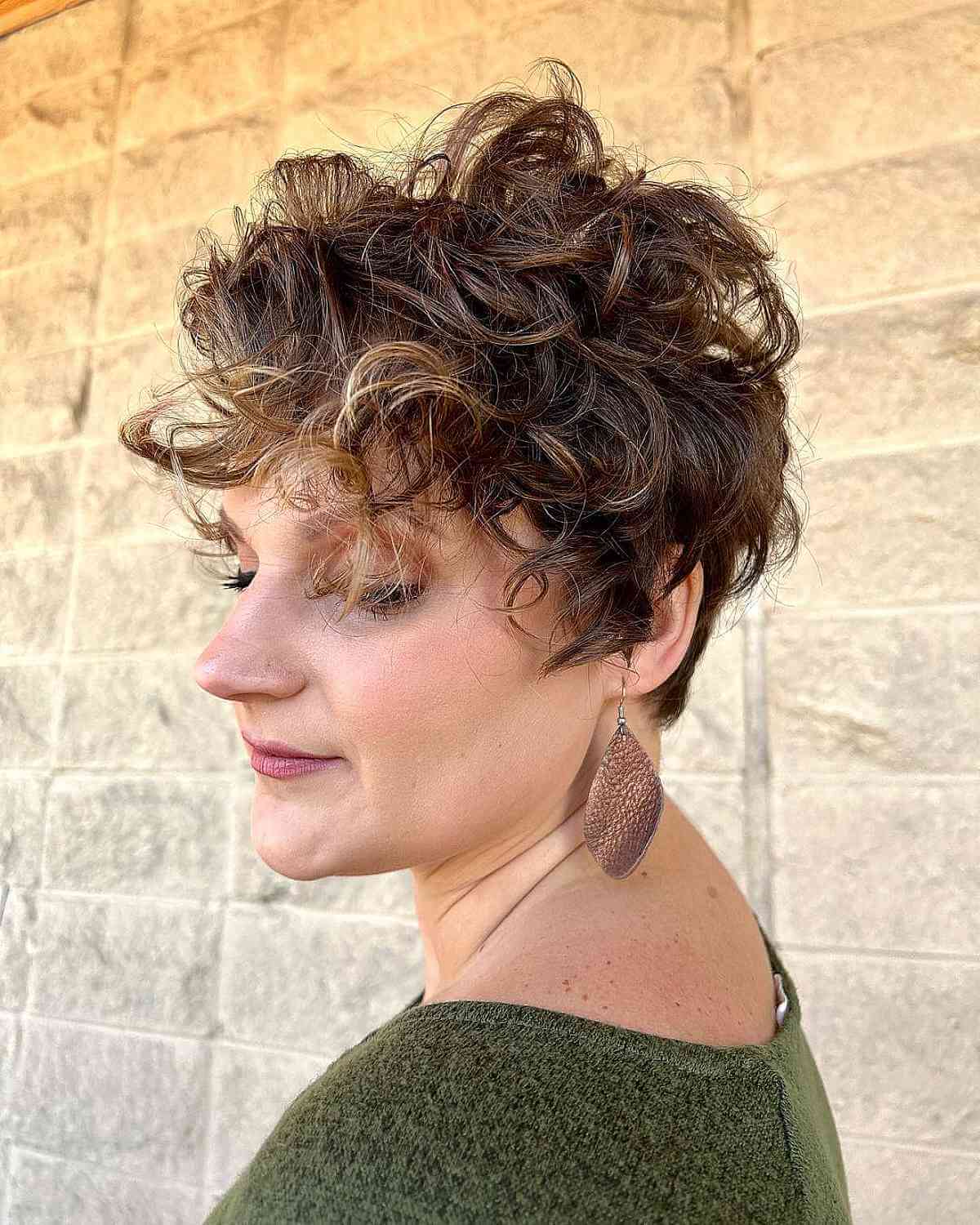 Credit: hairbymacieb via Instagram
Embrace your curls with this curly pixie style! Not reserved for sleek, chic looks, the shorter curls add a lot more elegance to the typically rogue-ish cut. The high volume curls will accentuate the cheekbones and really bring out the eyes. This light, buoyant style is so full of energy and charm and works best with thicker hair.
Swept pixie with undercut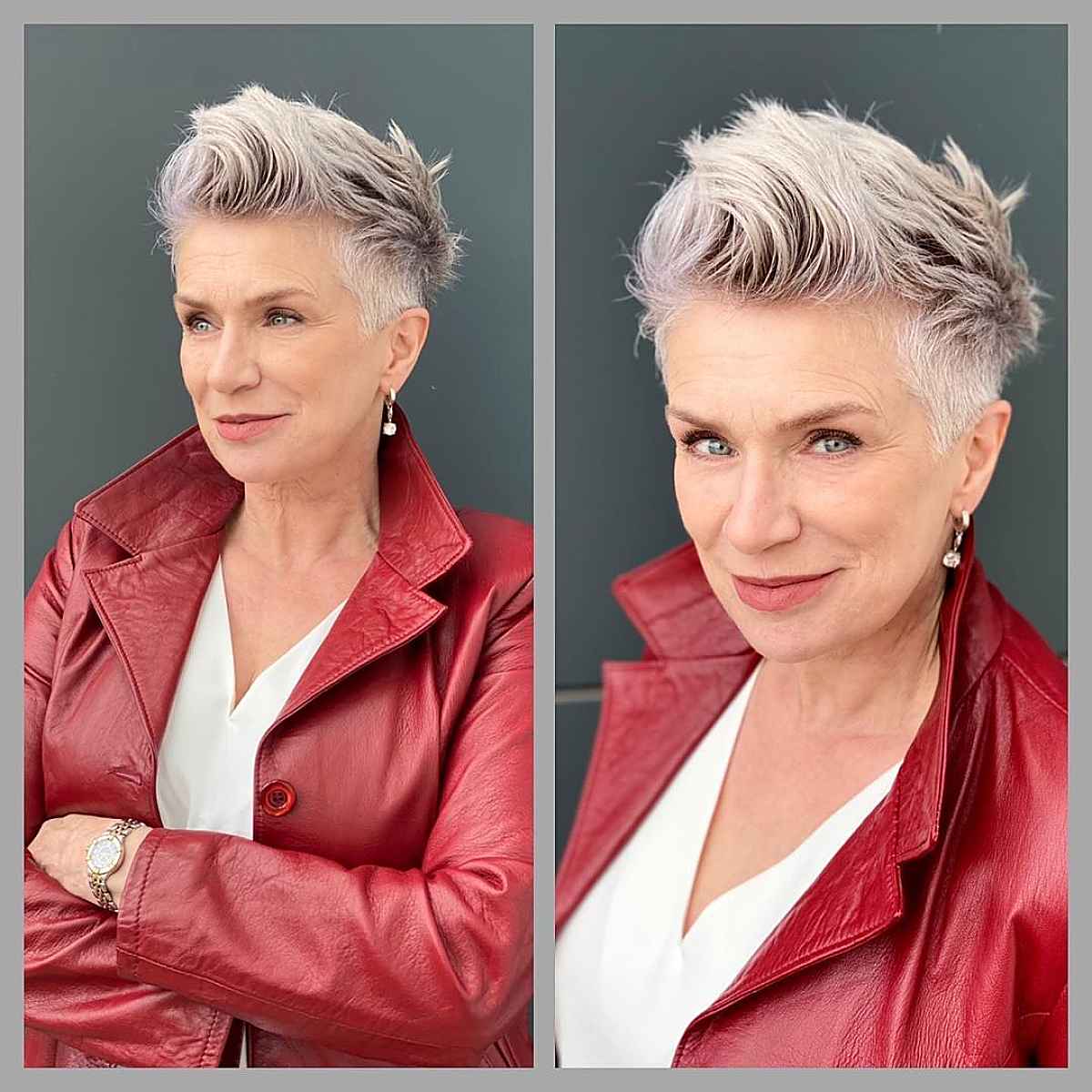 Credit: petra_v1.0 via Instagram
Want to give your hair that extra oomph? This spiky style with an undercut is the perfect way to give you an edgy look while adding a bit of height to your hair. Short sides keep you looking neat and classy, whilst the quiff reveals your fun side!
Wedge cut with side parting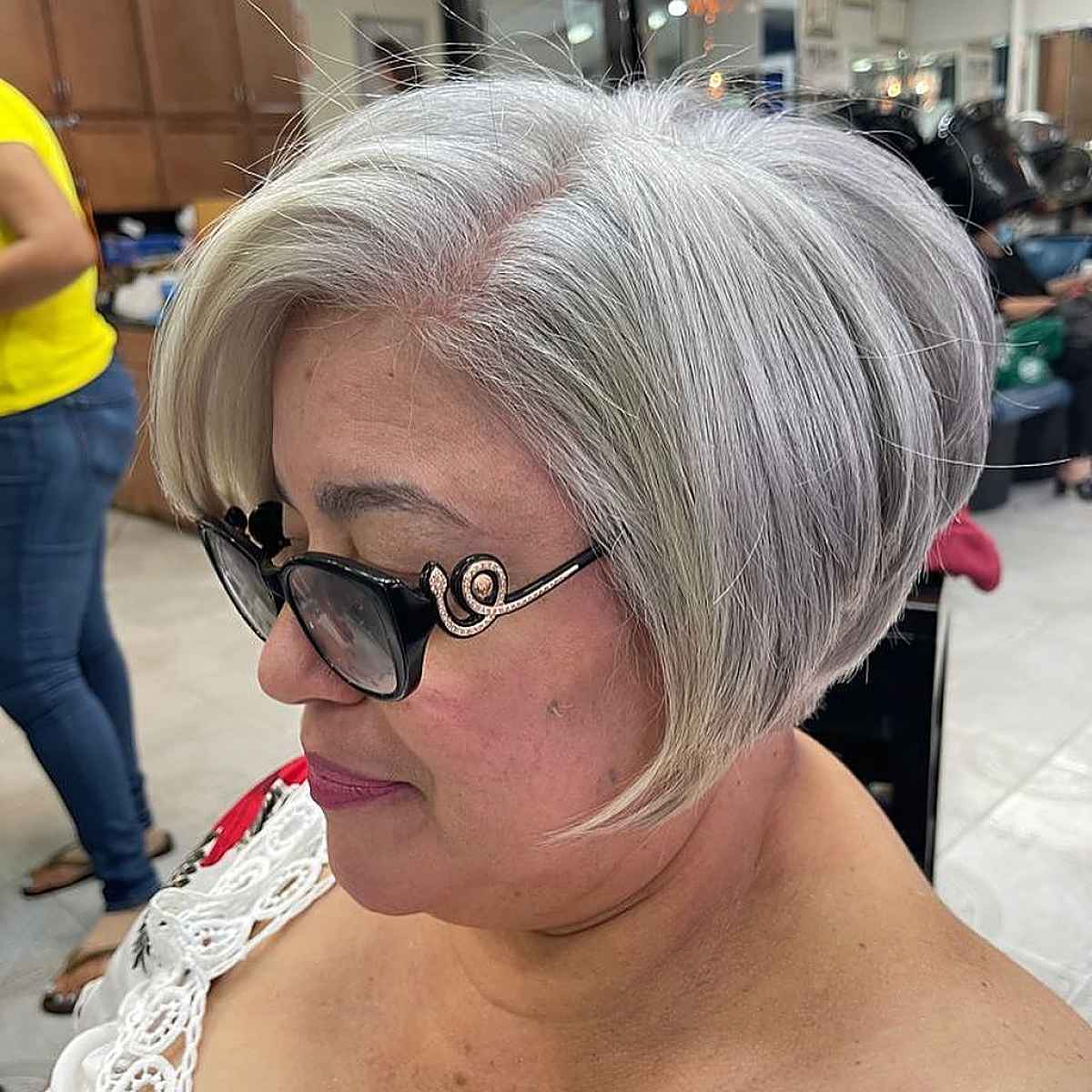 Credit: marysalonbrooklyn via Instagram
If you have straight or wavy hair, this classic haircut is sure to add volume to fine or thinning hair. Kiss goodbye to flat looks and reclaim any hair that has been damaged by heat, split-ends or pollutants. The hair pulling up and away from the scalp will mean there is plenty of attention on the face, as it's framed by the by the wedge.
A-line bob with bangs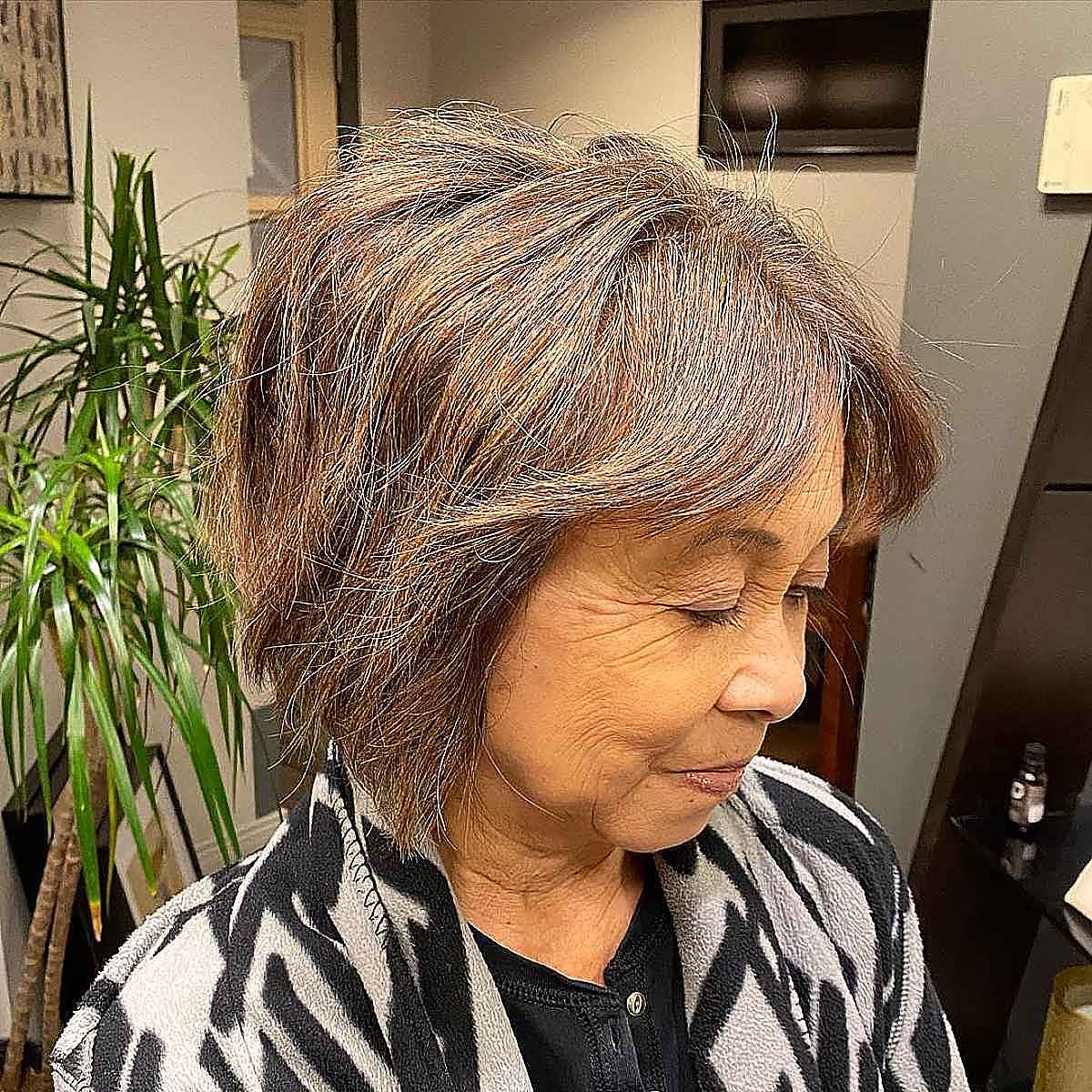 Credit: hairbyjosie via Instagram
A subtler a-line bob can give your hair a bit of fullness if it's on the finer side. Adding bangs can also soften the harsh shapes of the bob, especially if you have a more square shape or harsher features. It's feminine, natural and full of life.
Layered shag with curtain bangs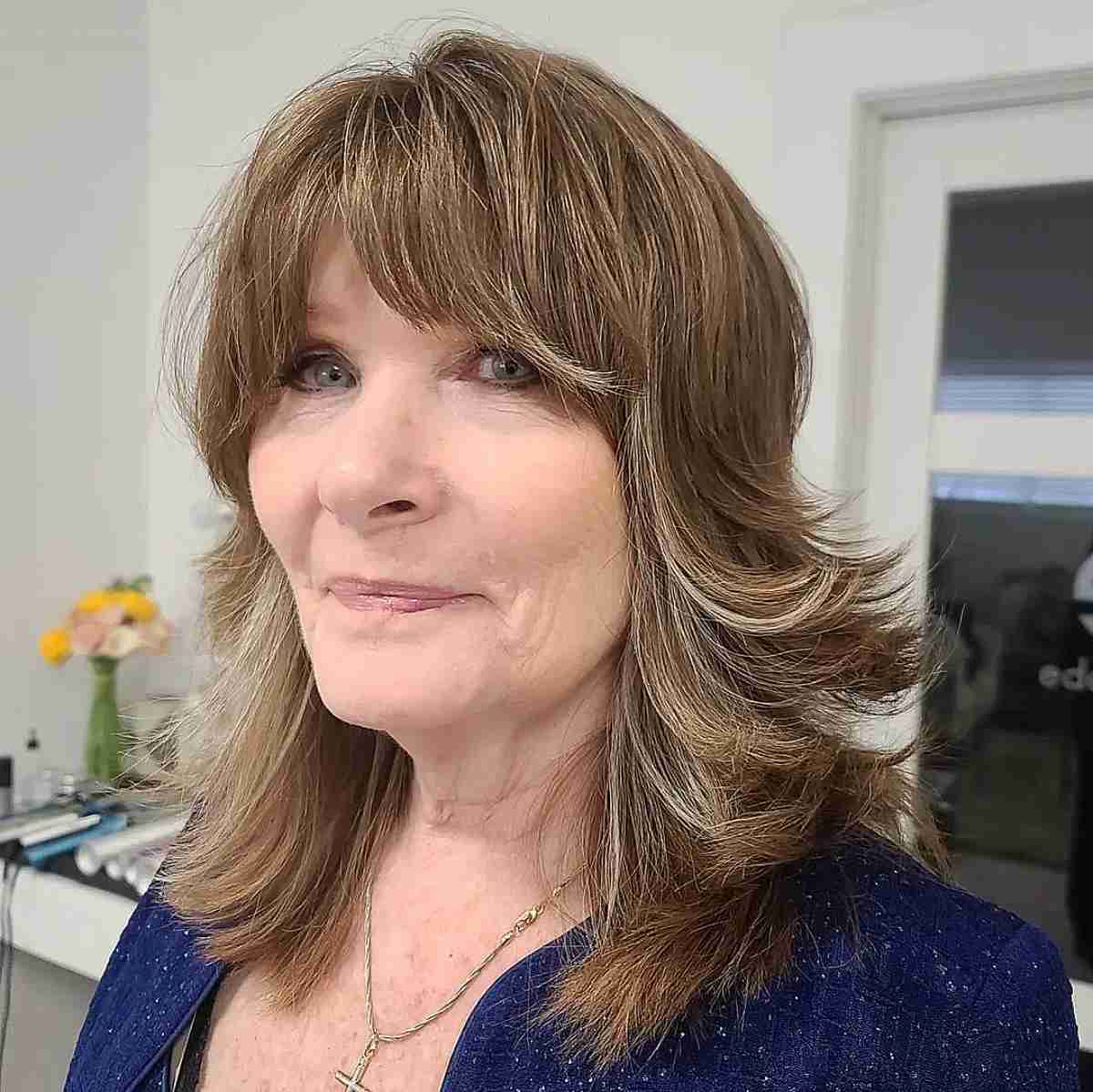 Credit: glammed_by_van via Instagram
This feminine look is perfect if you have a heart-shaped face and want to keep a bit of length to your hair. Its bangs and layers will breathe life back into your hair through both texture and bounce. They also work to accentuate your best features and create a more youthful look.
Balayage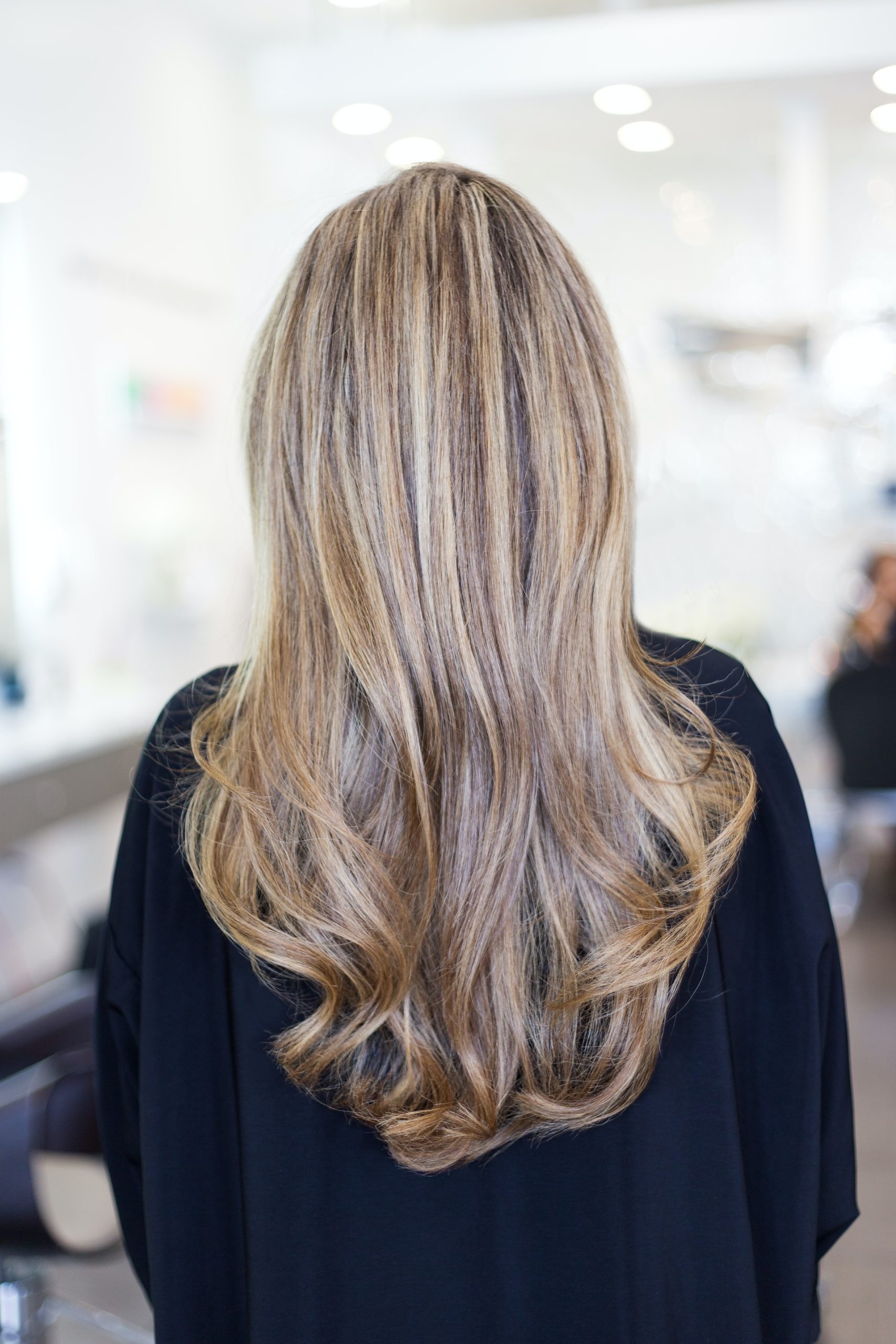 Credit: Jessie Dee Dabrowski via Unsplash
The stylish balayage is a low maintenance way to color your hair. It gives an added layer of volume, no matter how you choose to style it. Its soft gradient also looks beautiful in a wide range of colors, so it's suitable for everybody. It's a much less intensive process than foil treatments, so your hair will keep it's vibrancy and health for longer.
TWA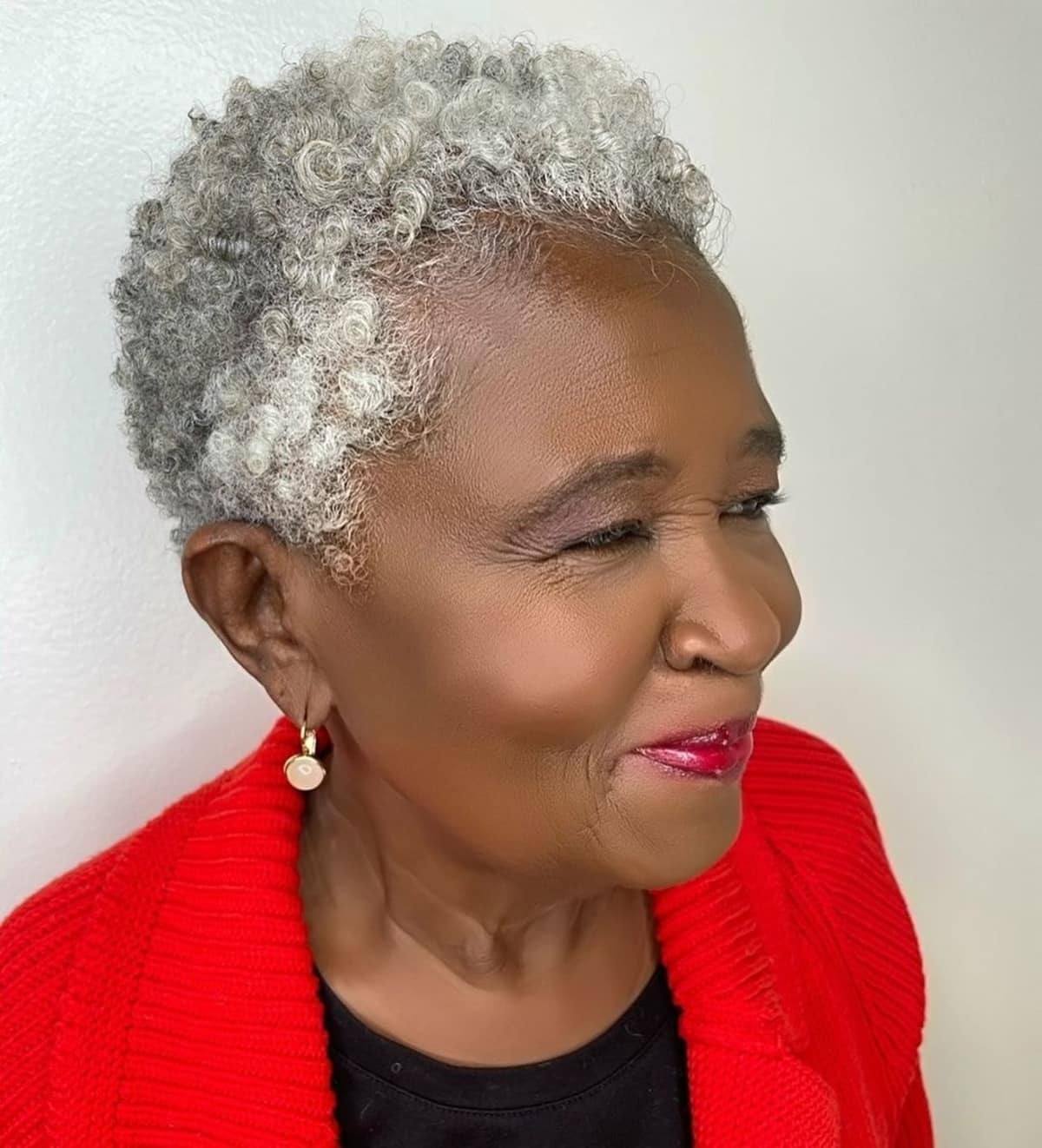 Credit: theloftmedford via Instagram
TWA hairstyles are a beautiful way to show off your natural hair – especially if you want shorter cut. These are especially good if you have thinner hair, and are the perfect way to enhance your facial features whilst embracing your hair texture.
Swept cropped cut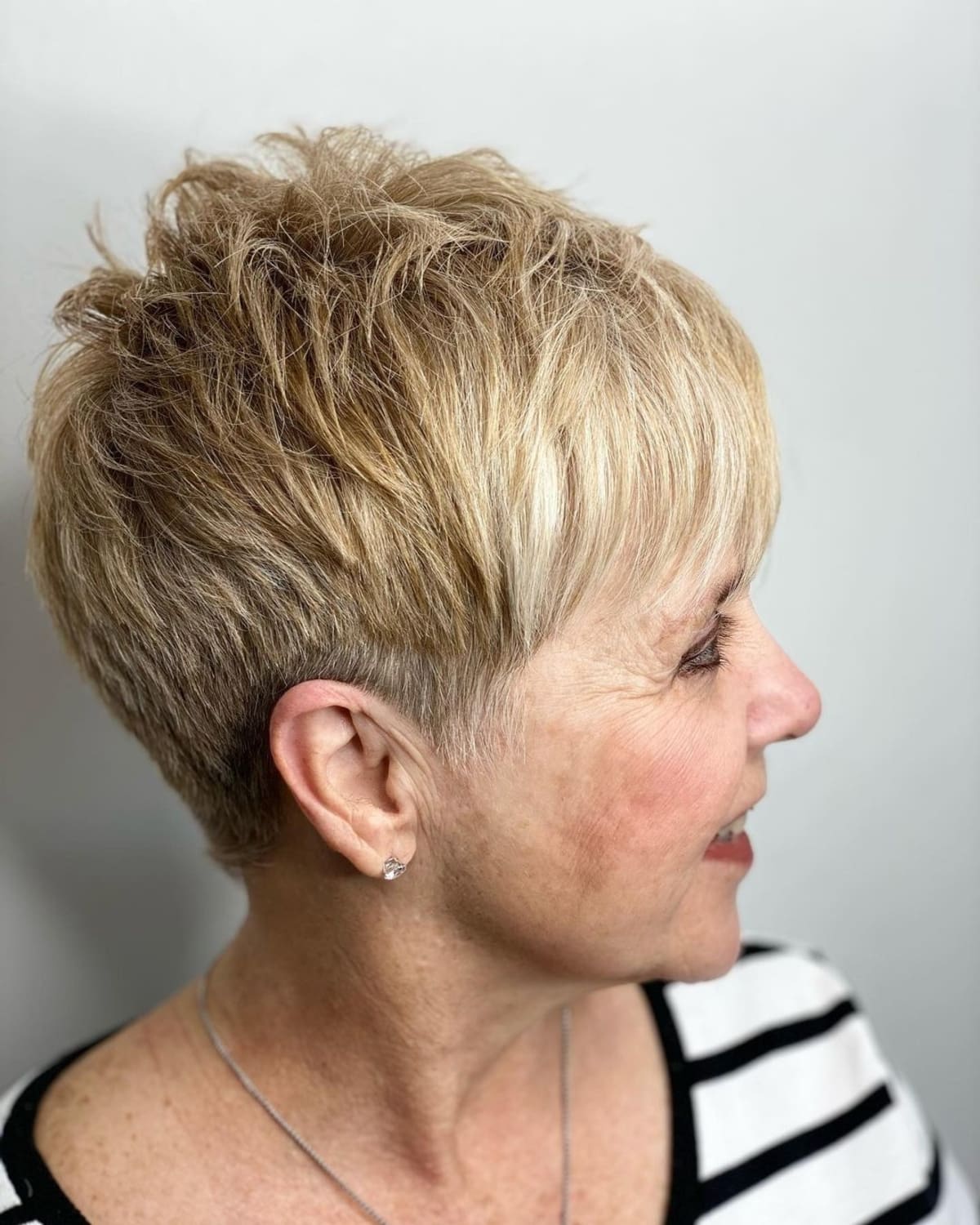 Credit: valentinahairboutique via Instagram
This short, layered style is great if your hair is on the finer side. It is rather high maintenance, so make sure to talk to your hairdresser about its upkeep. If you're a lady who loves to put the effort in, though, it can really pay off. It's all worth it though, as you're left with a tidy, professional looking do.
Layered curls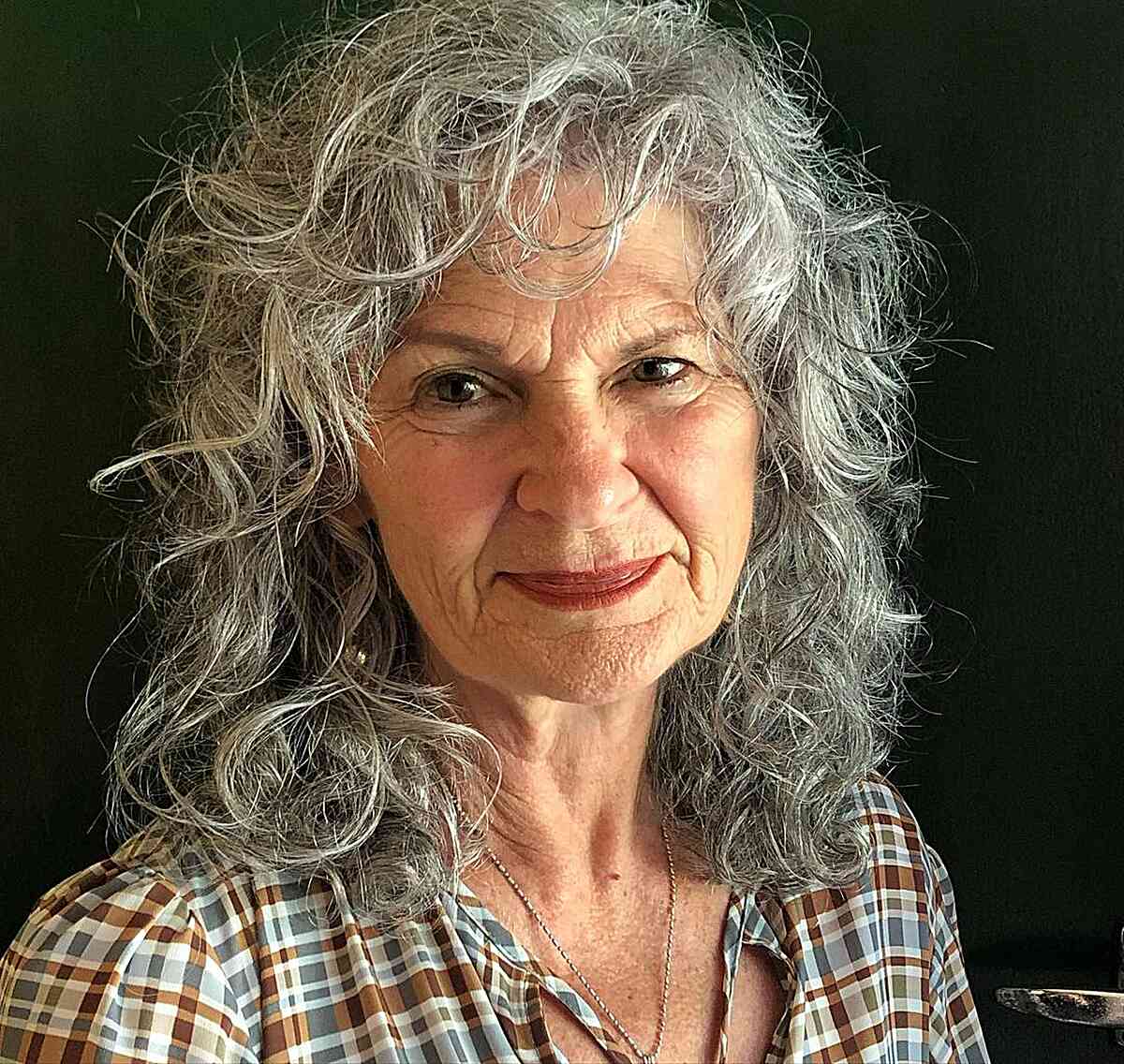 Credit: larmanstephanie via Instagram
This is as low maintenance as it looks. Embrace the wild, unkempt spirit of the 60s with these longer, layered curls. It's carefree, simple to look after, but still has that air of intention to it that stops it from looking a bit too Woodstock. Just make sure you're regularly inspecting for tangles…
Face-framing bob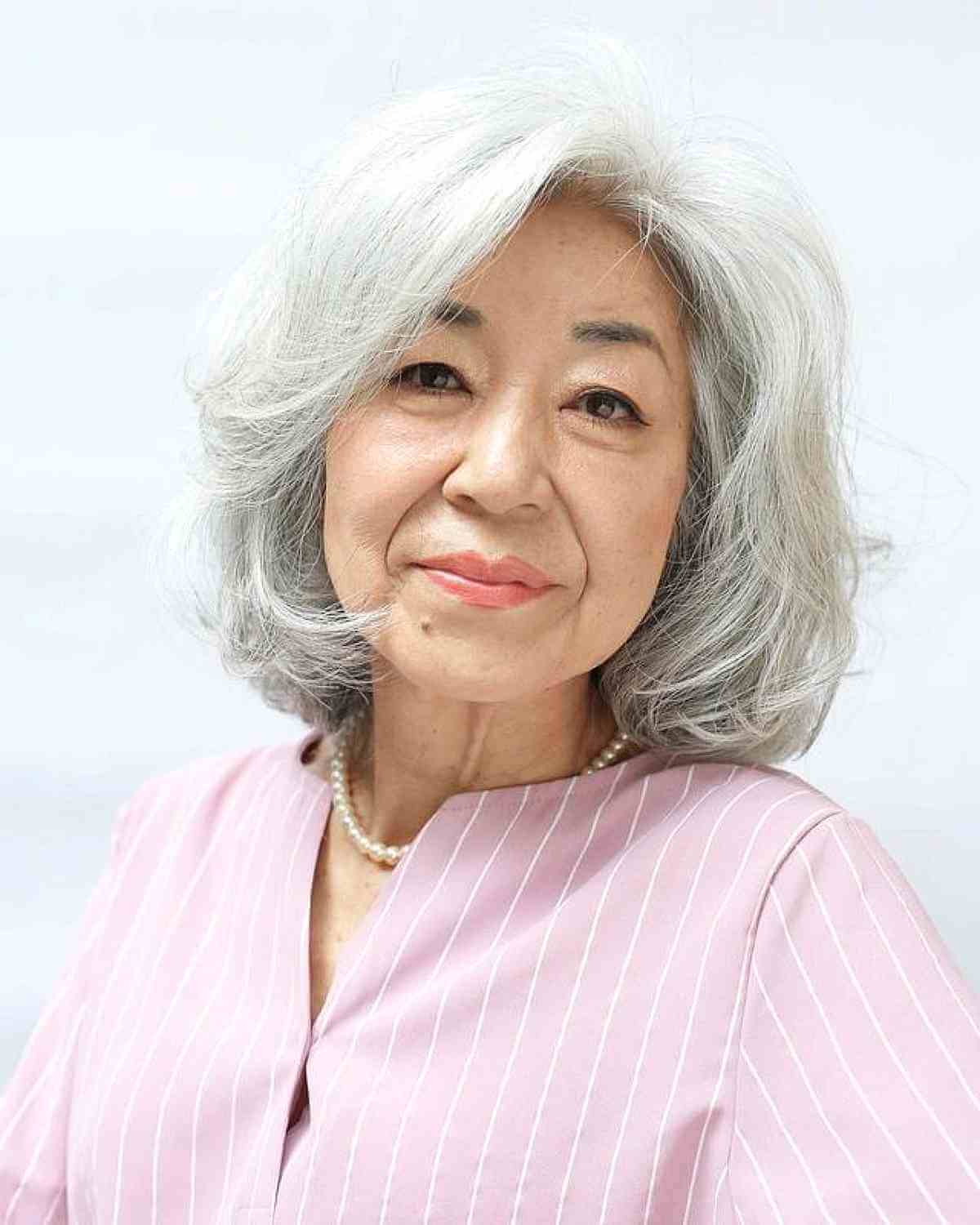 Credit: chinatsu.magnolia via Instagram
A face-framing bob is a feminine, low maintenance style that looks extremely elegant with your natural gray. It keeps you looking youthful, whilst still retaining your class. Whether you have straight, long, or curly hair, this cut is guaranteed to look beautiful. There's a reason this look is so popular among female politicians, it's all business and power.
Spiky pixie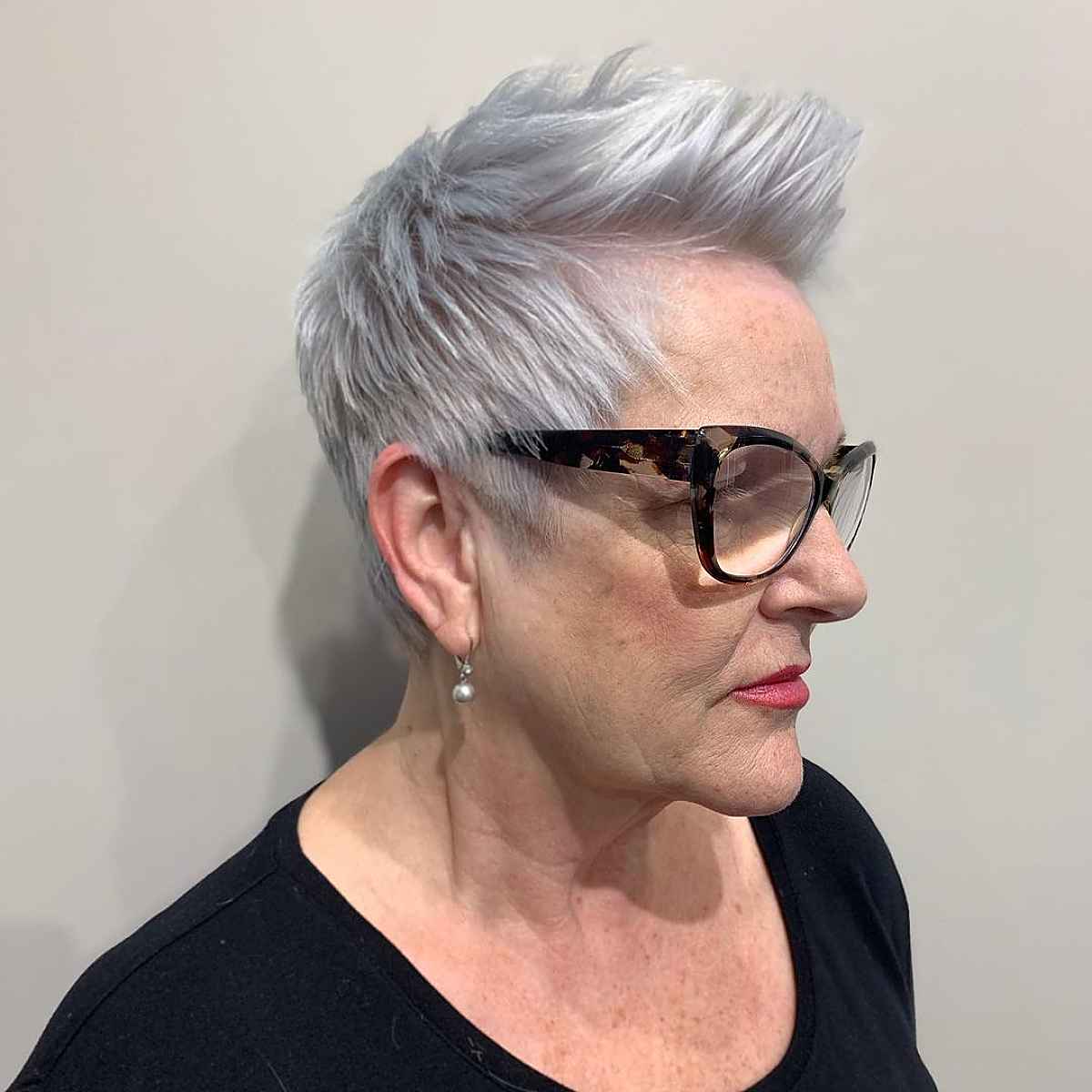 Credit: tress_elegance via Instagram
The spiky pixie is both chic and edgy. Short layers adds texture and movement to naturally gray hair, whilst the top keeps it super fresh. All you need is gel or hairspray to perfect this super fun look! It can be intimidating going so short and also having it spiked and away from the face, but the results speak for themselves.
Longer hair with curtain bangs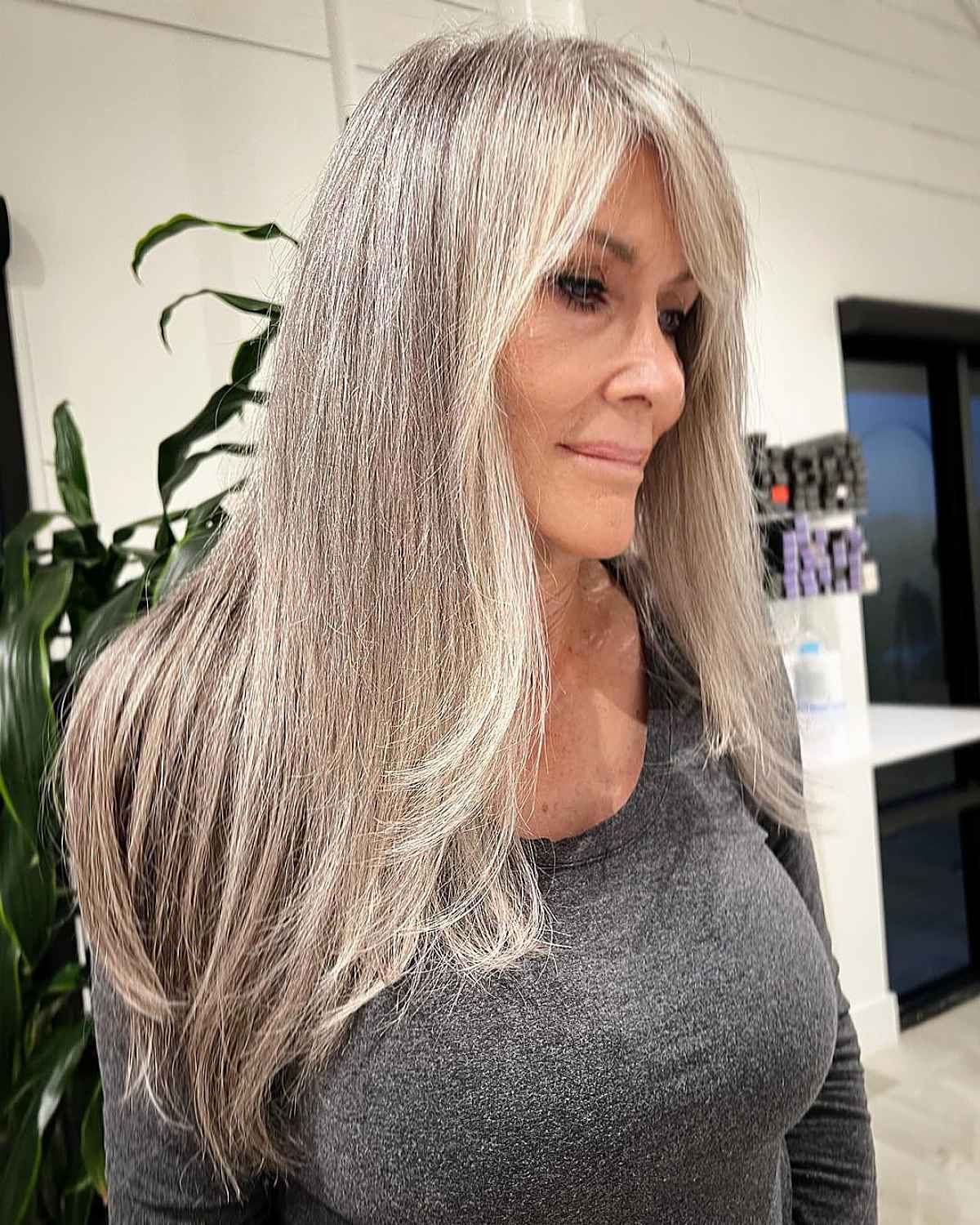 Credit: britt_blondevoyage via Instagram
Let your hair down with this stunning feminine look. Who says long hair can't look mature and classy? It's perfect if you have a longer face shape and you want a simple but effective style. If you don't like styling, it can also be a super low maintenance option!
Wispy bangs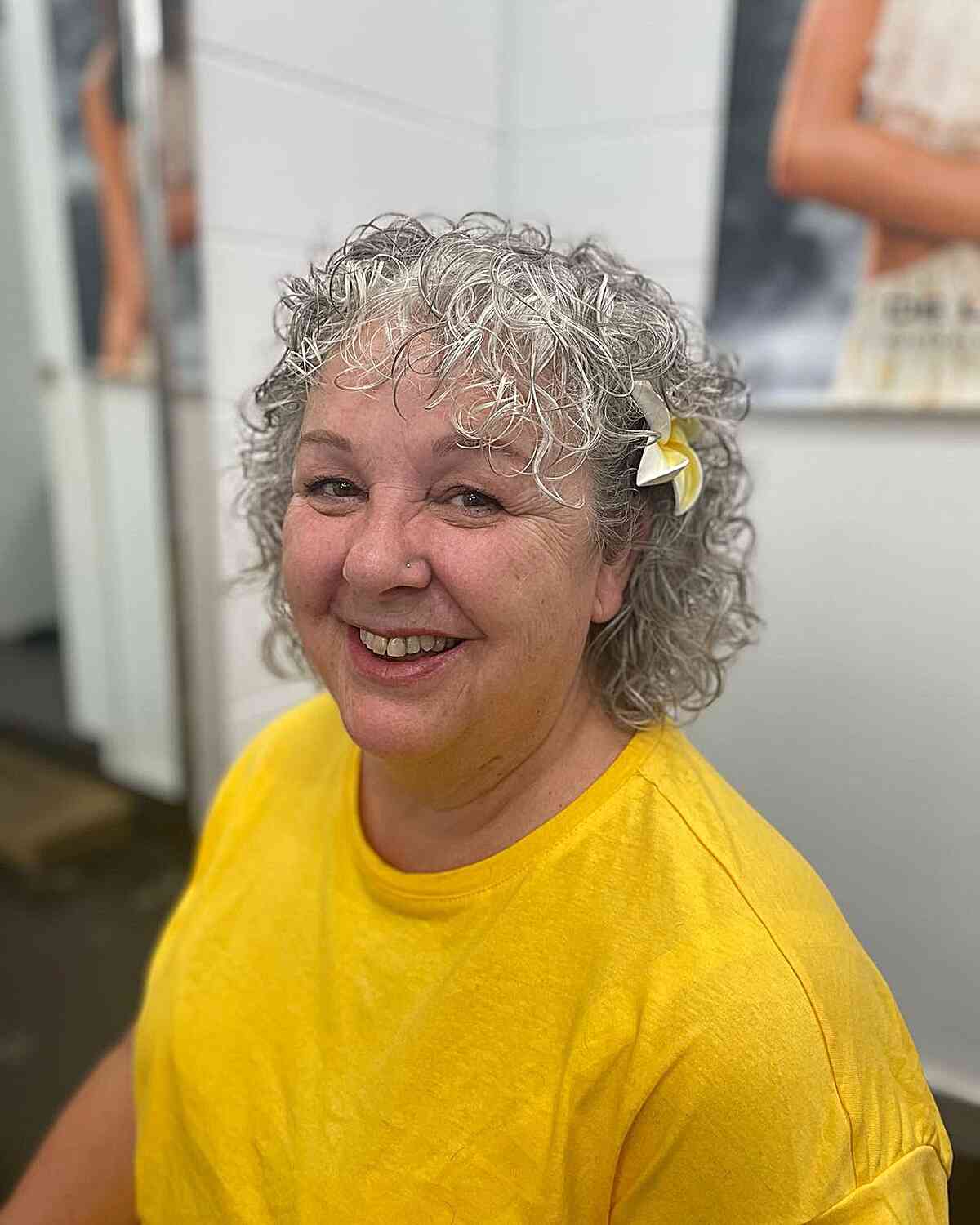 Credit: curlpowerstylist via Instagram
Soft, wispy bangs add a feminine look to any hairstyle, particularly if you have natural curls. They're often cut to frame your face, and thus complement a variety of different facial shapes. Their versatility means that, depending on the style you're after, they can emphasise your favourite features.
Long hair with layers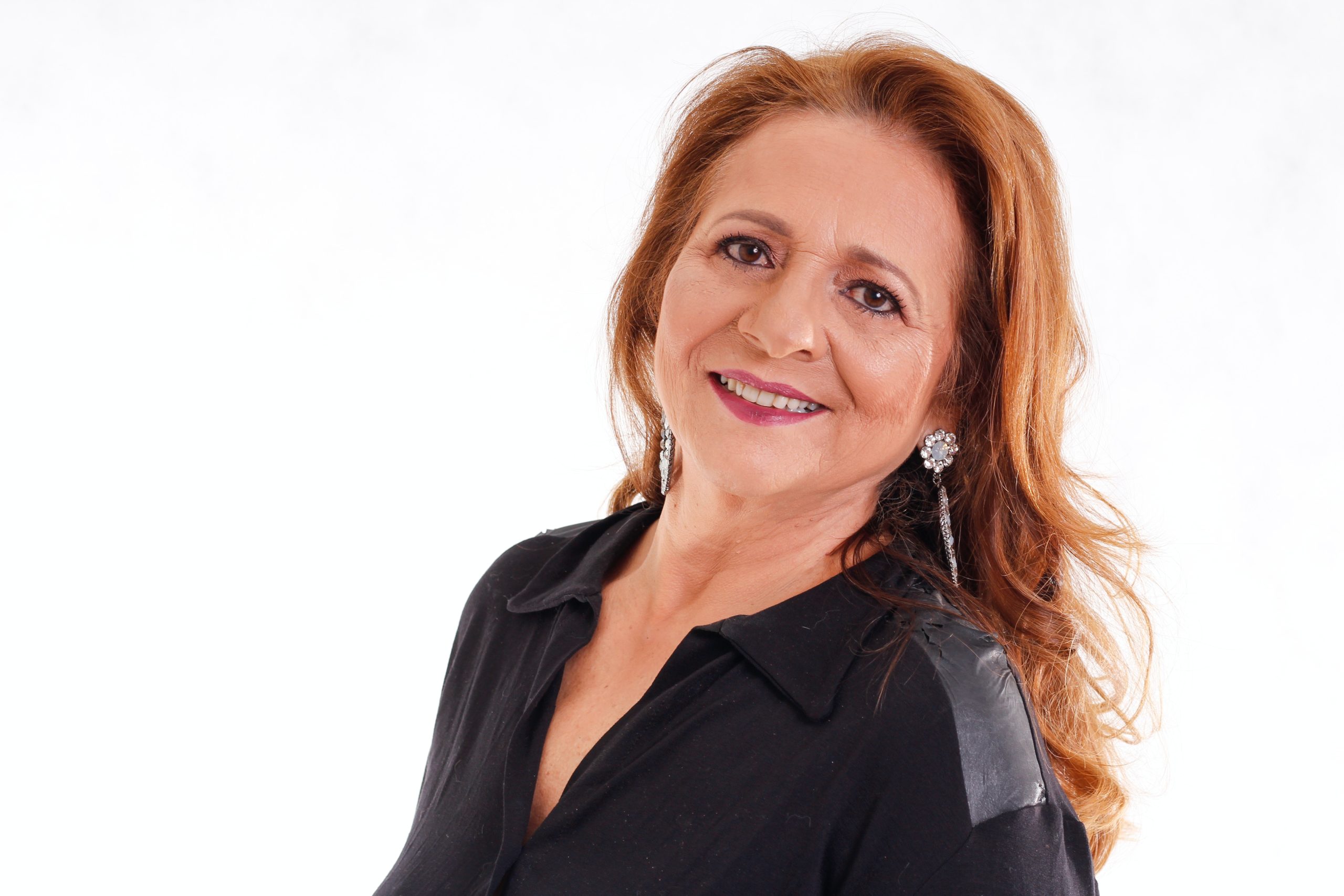 Credit: Anderson Guerra via Pexels
Both long and short layers can add some much-needed volume and bounce to lengthier hair. Paired with some natural waves and a side-part, this look is practically painless to upkeep. Despite being low effort, it remains a classic way to achieve a beautiful and low maintenance look.
Undercut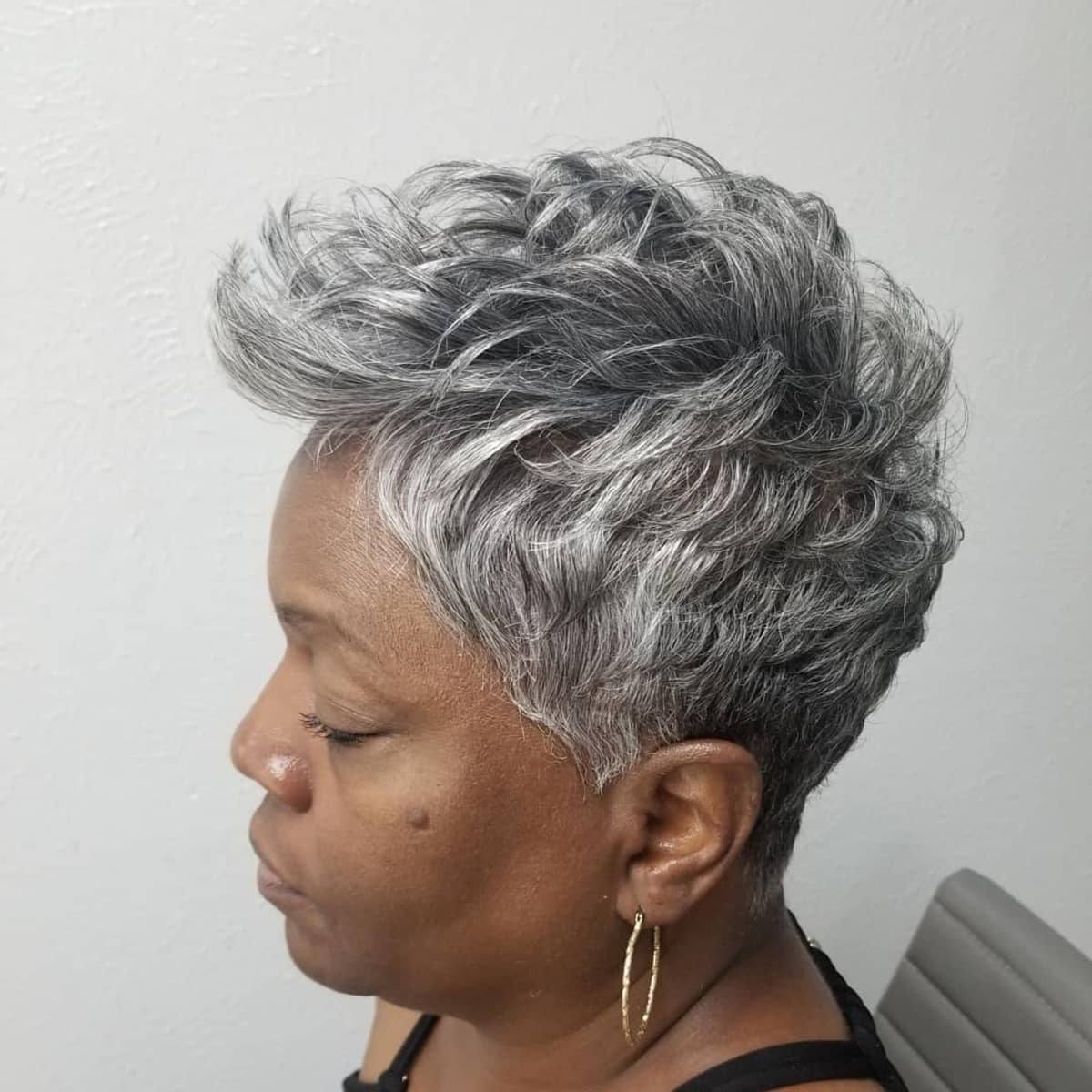 Credit: lipstickcurlsstudio via Instagram
If you have a round face, then an undercut could be a fun, edgy way to elongate it. It look great with both longer and shorter styles. For an even fresher look, try getting a design or pattern! It's a great way to switch up your look.