The number of animals that have been abandoned is enormous. Among them dogs are some of the ones who have it off the worst when left homeless. It is always a tear jerker to see what has happened to some of the dogs who have been rescued, however here you will also be able to see how they've overcome it. So when you're thinking about adopting another animal, try to find a shelter or rescue center where they have saved the animals from death. These are just a few of the wonderfully inspiring stories of our favorite fighters.
Advertisement
-
1. Cedar: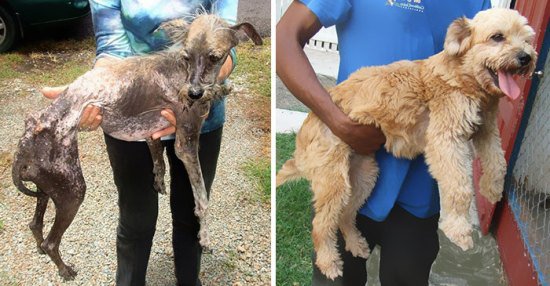 Cedar was about 3 years old when he was found by a golf course (which is where he got his name). Cedar was so stressed from being homeless that he had lost a significant amount of hair. As you can see in the picture he was so unhealthy that you could see his bones through his very thin skin. However now Cedar has found his forever home and is as healthy and as happy as can be.
2. Treasure: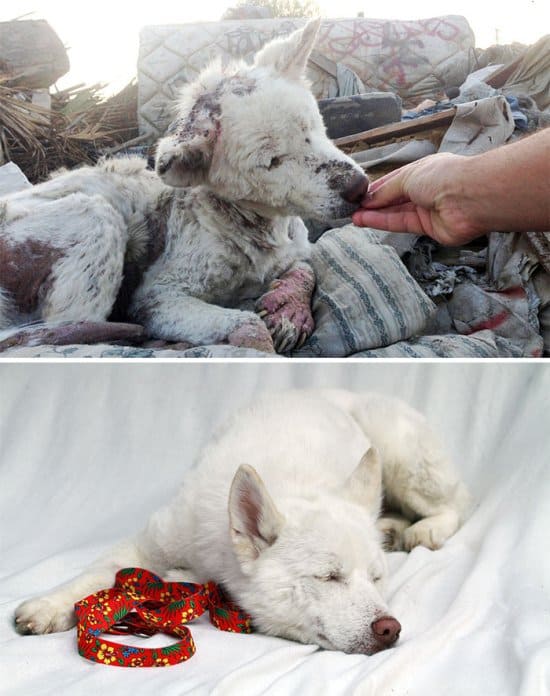 Treasure was 2 years old when she was found by a Good Samaritan in passing who took her to the Natchez-Adams County Humane Society. Treasure's fur has so overgrown, matted and full of dirt that she wasn't even able to walk. However after a long time needed trip to the vet and groomer she was able to get back on her feet in no time!
3. Ellen:
Ellen was found by the Trio Animal Foundation when they went to remove a lump of matted fur from an opening in the shelter, unknowingly stumbling on a living breathing dog. This poor little guy had so much overgrown and matted fur that the hair was starting to rip out from the root! After shaving off nearly 2 pounds of matted hair Ellen is able to be happy and healthy.
4. Woody: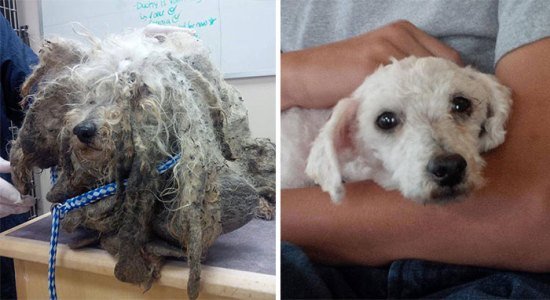 Woody was found roaming the streets after his late beloved owner had left him. Woody was very fearful of anyone who came around him so he hid for several months before any rescuer could get a hold of him. The rescuers found out that the reason why Woody was so scared was because he was blind in one eye.
Advertisement
5. Alana: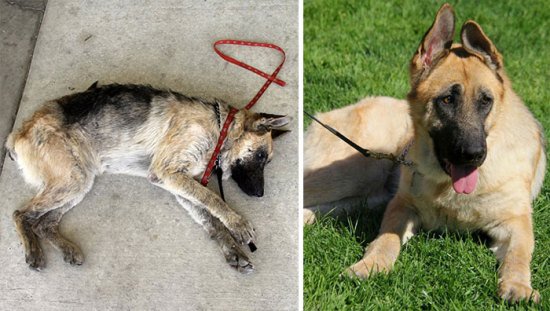 Sweet baby girl Alana was surrendered to a shelter matted so horribly that it was almost impossible to identify her as a dog. After shaving her and giving Alana the proper vaccinations she needed, the shelter discovered that she was much younger than they had imagined in the first place.
6. Iggy: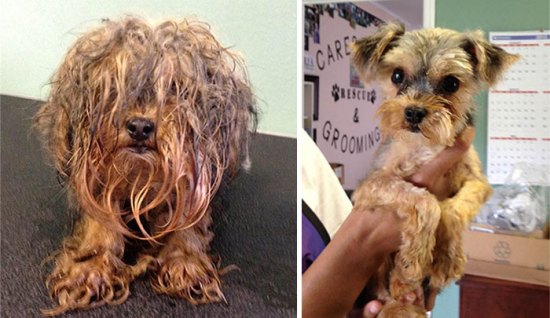 Iggy was found somewhere in Mexico with an atrocious eye infection. This poor little guy was stuck in Mexico with no treatment options, so someone uploaded his story on social media and was able to donate money to get him transported to the US in order to get treated. After a fighting recovery all Iggy wants to do now is run and play with his new brother, being as happy and healthy as ever!
7. Olivia: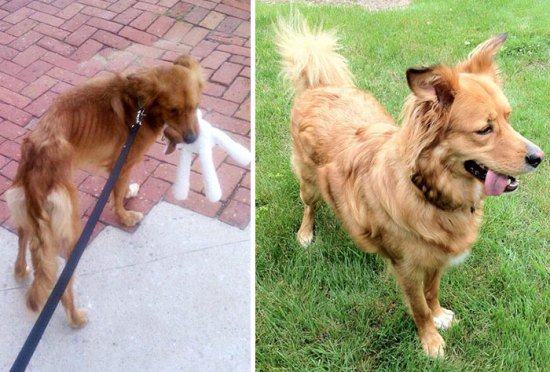 This is Olivia on the day she was taken from an animal shelter by her current owner and one year after. What a difference a year makes.
8. Boo: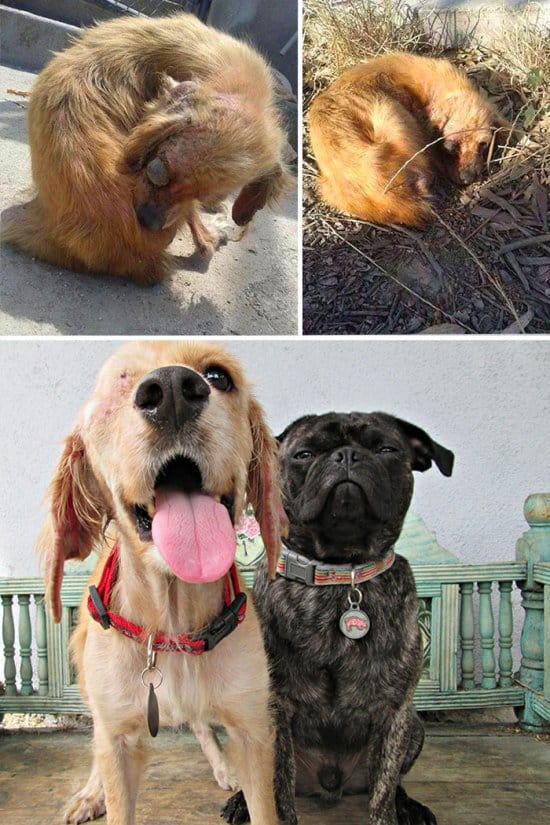 Boo was brought to the CARES Community Animal Rescue & Educational Shelter in Florida after being found on the side of the road, soaking wet and stinking of urine. After being cleaned up and groomed, she weighed only 2.8 pounds and looked adorable. 
9. Dolly: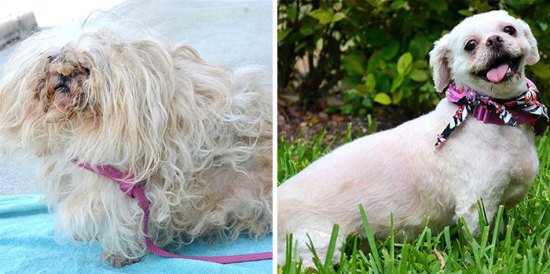 Dolly was spotted in LA eating out of a trash can by a passerby. They then contacted Hope for Paws about the poodle and Hope For Paws were able to get this cutie pie all cleaned up. They ended up removing about 10 pounds of fur from a poor little 15 pound puppy.
Advertisement
10. Vita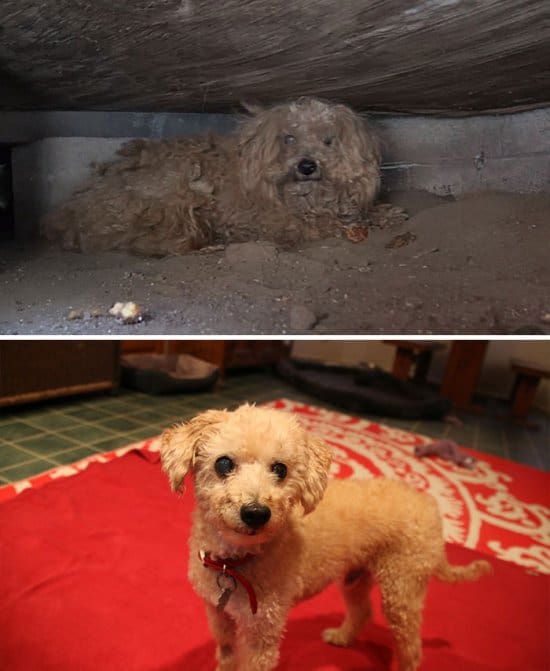 This cute pup was found on the brink of death in a LA area junkyard. The man who found her contacted a local animal rescue service who said she only weighed about 70 pounds. After a very long and extensive recovery Vita is a happy, and health camper!
-
11. Kenzi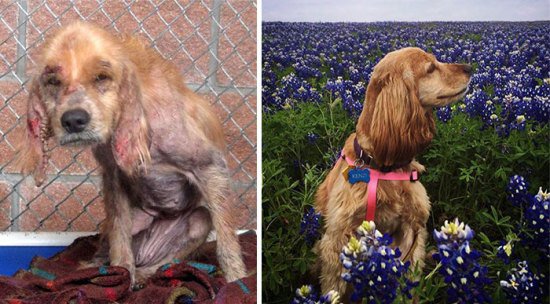 Kenzi came to Cocker Spaniel Rescue of Austin & San Antonio from San Antonio as an abuse/neglect case. Her transformation shows what some tender loving care and soothing baths will do.
12. Shrek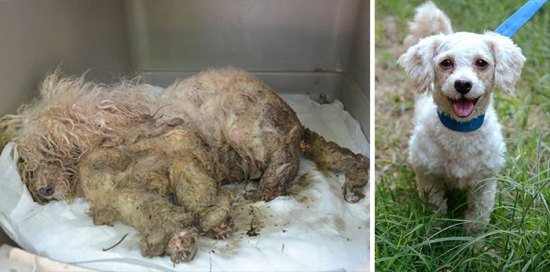 Shrek was found barely moving, with legs covered in sores and fur caked with mud. After his excess hair was removed and his wounds were cared for he soon found a loving home. 
13. Betty

This is Betty; she was abandoned by her owners and left homeless. After starving on the streets for quite some time she was rescued. Now this sweet little girl is ready to meet her new owner.
14. Miley

Miley was just a baby when she was found in a trash can injured so badly that she was barely able to walk. However after an intensive recovery Miley is as healthy and playful as ever!
Advertisement
15. Rasta
Rasta was found wandering the streets of Montreal extremely matted up and dirty. He was looked so bad that you could barely even recognize him as a dog. But after a well needed trip to the groomers he is able to run around and play!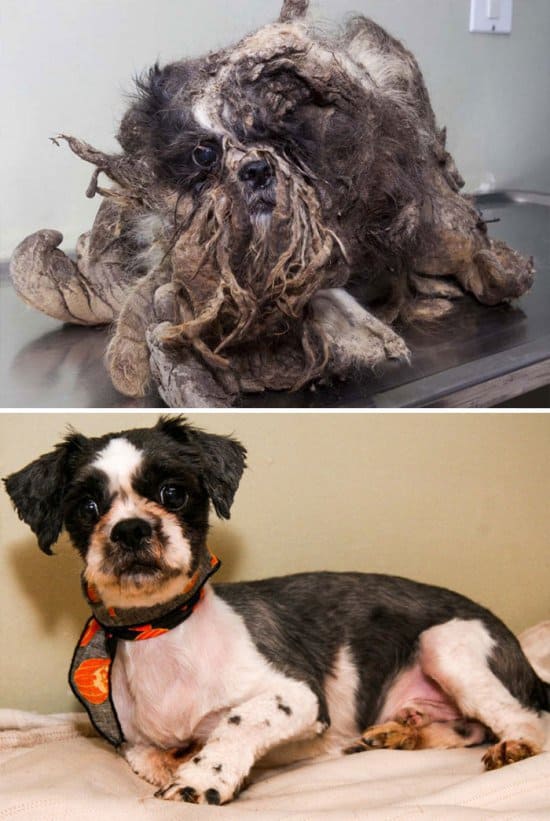 This poor guy was found in the streets of Montreal looking so filthy that it was hard to tell that he was actually a dog. He could barely move underneath all his matted hair. But look how charming he seems after his cleanup!