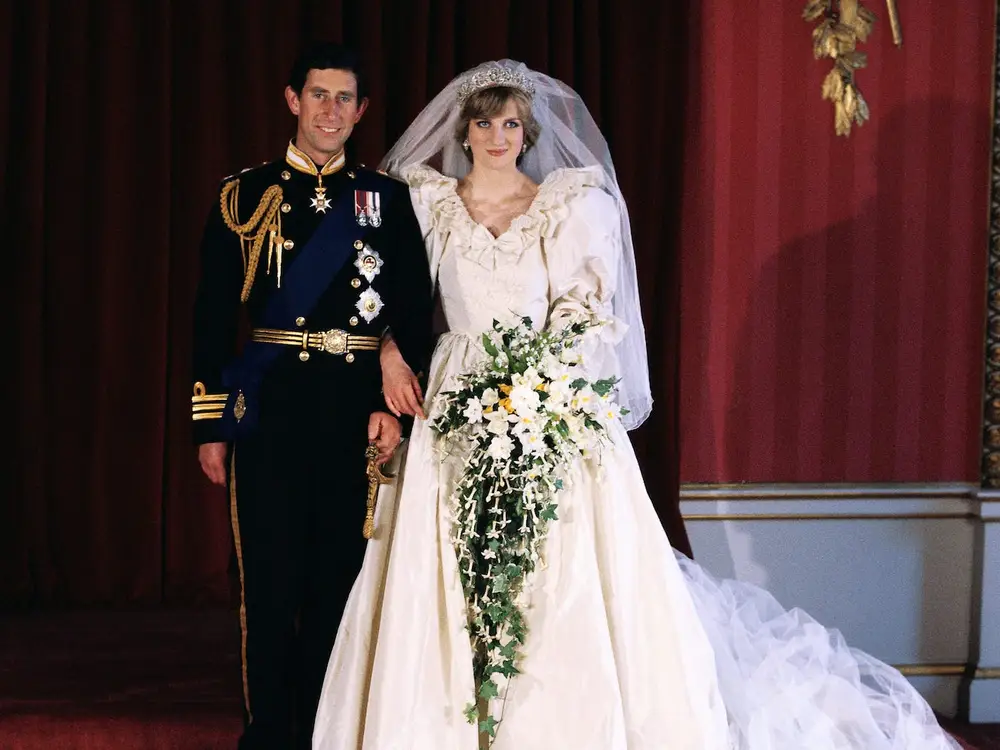 Weddings are a wonderful occasion, and a culmination of a couple's love and devotion to one another. Nothing makes the big day quite like the perfect wedding dress, and there are so many prominent styles and designs to choose from. Here is a list of some of the most stunning dresses from the past, showcasing how styles have changed over the years.
1900s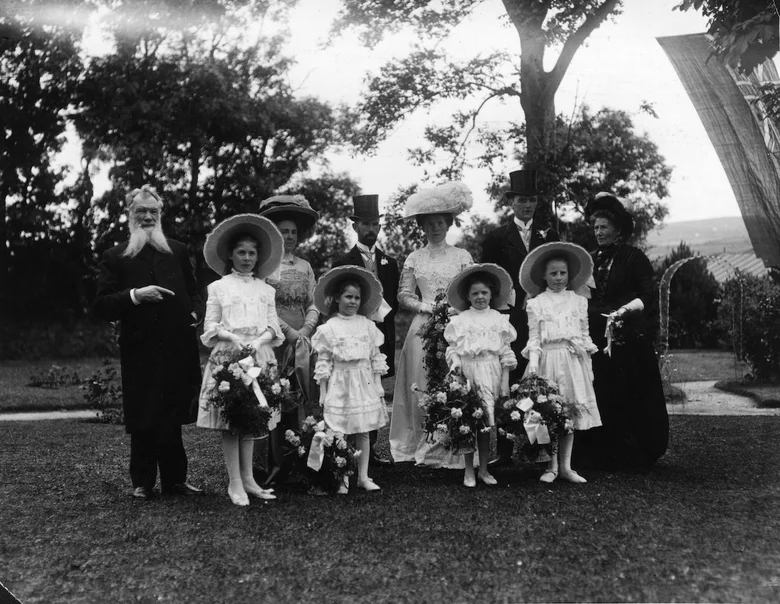 Credit: Hulton Archives via Getty Images
As a decade, 1900s was well balanced, with bonnets and bridal jackets dominating the first half of the decade, whilst veils and folds/patterns in the top half of the dress became more popular in the latter half. Exploring these changes is a fun and interesting way of seeing how brides approached the dresses in a different way across the decade.
1900-05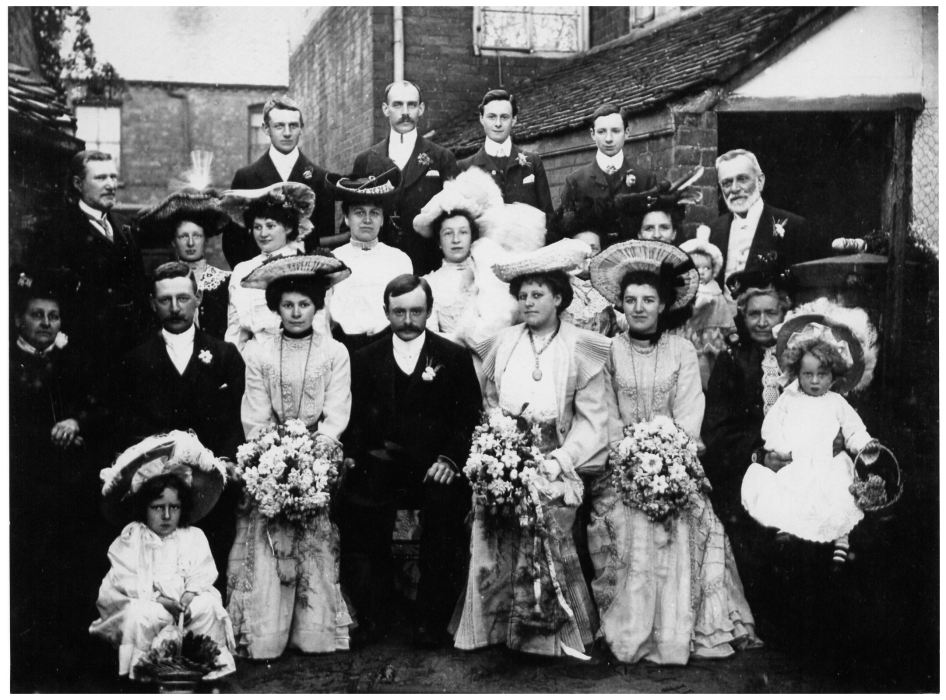 Credit: PInto19 via Shorpy.com
As you can see, the bride (pictured center right, beside the groom) is wearing a very different type of gown to what brides today would wear. The bonnet, frilly shoulders, and baggy bridal jacket are prominent, whilst the bottom half is similar to regular dresses women of the time would have worn.
1905-10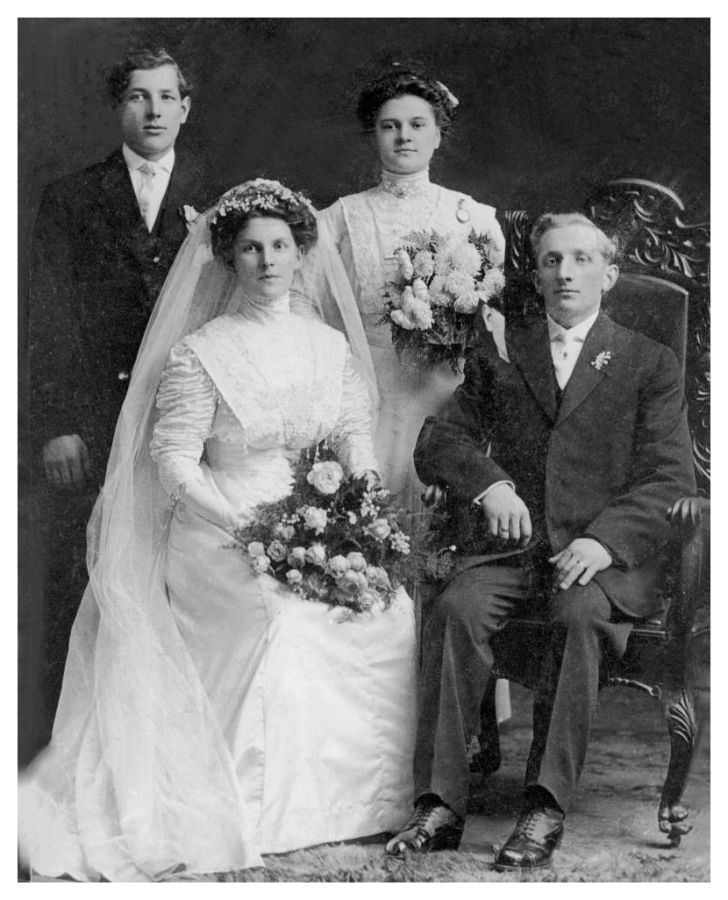 Credit: thedreamstress.com
In the later part of the decade the style did change slightly, with this Detroit, Michigan wedding photo from November 1910, showcasing how dresses had evolved in a few years. Bonnets have made way for a more traditional veil, whilst the folds in the top half of the dress showed the more casual approach to dresses.
1910s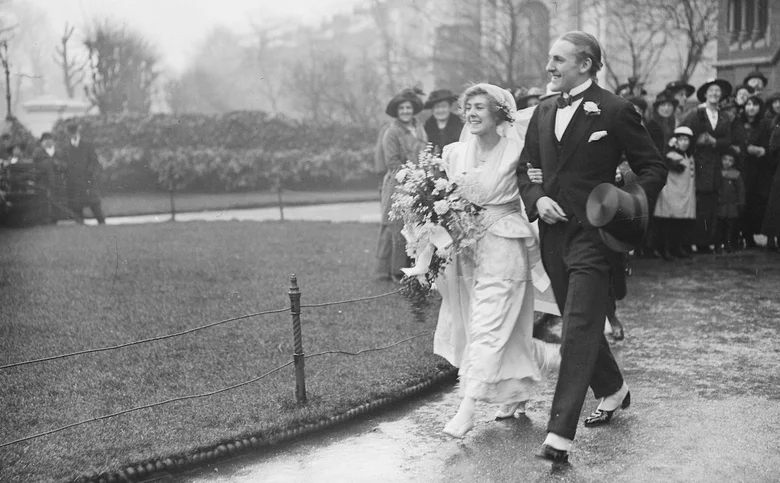 Credit: Topical Press Agency
Whilst the 1910s moved toward simplicity far more, and began to introduce some attributes that would become staples of all wedding dresses, such as veils, and a clear design difference between the top and bottom half of the dress, the back half of the decade saw a collared style with shorter dresses coming down to just above the ankles.
1910-15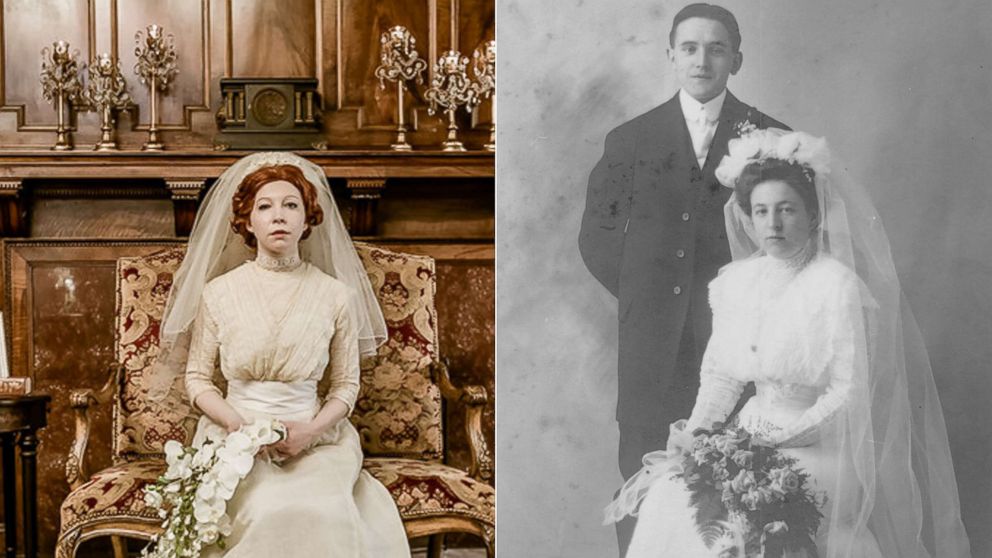 Credit: Jeannine Marie Photography|Patricia Cotter
This gorgeous wedding dress pictured on the right inspired a Minnesota bride-to-be to pose in four generations of wedding dresses from her family, including her great-grandmother's stunning 1910 wedding dress. This is the perfect example of less is more, and the simplicity just works perfectly here.
1915-20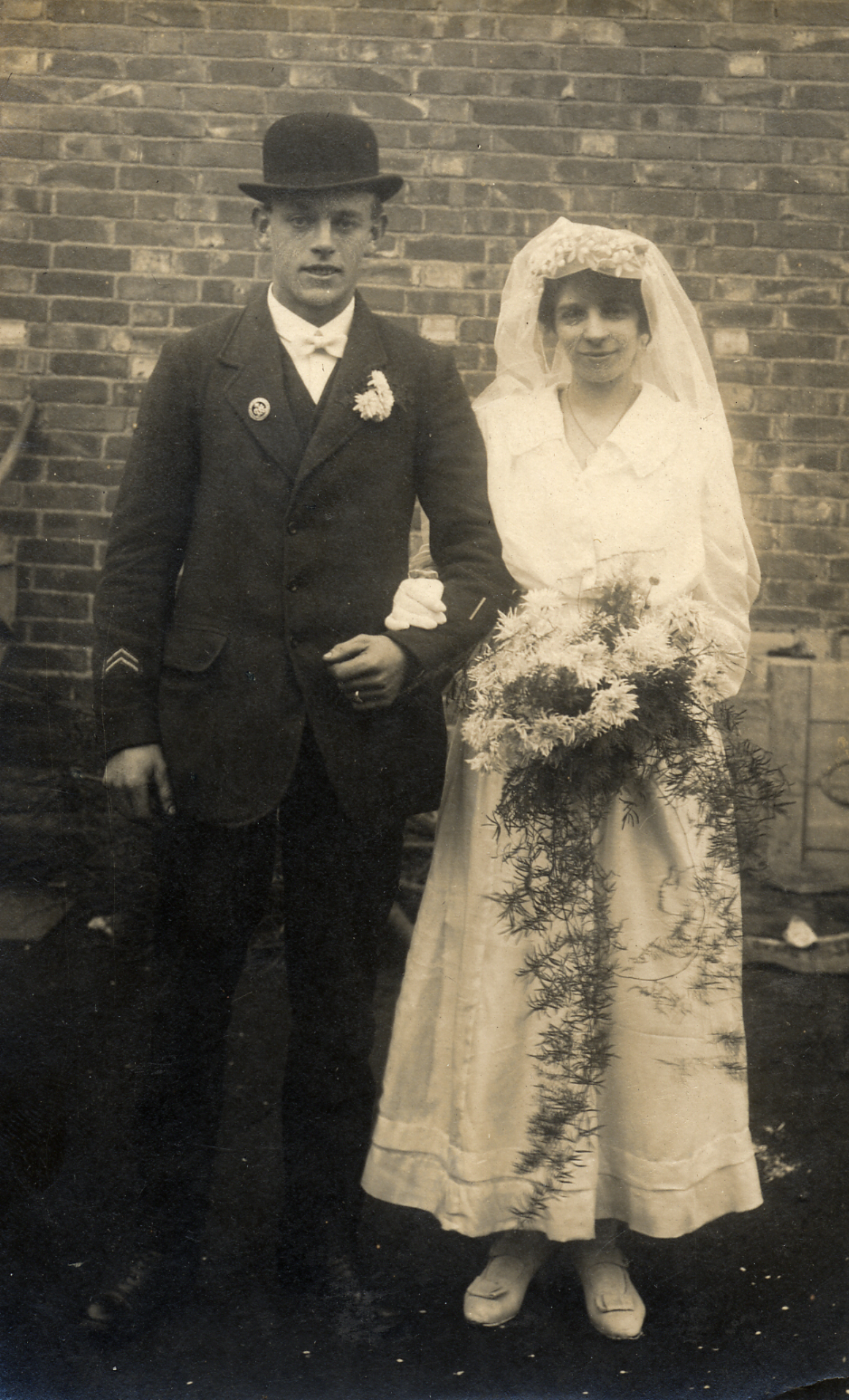 Credit: lovedaylemon via Flickr
In the latter part of the decade, you can see that larger and longer bouquets are the in thing. Also, dresses begin to get shorter at the bottom, not passing the ankles. This picture, believed to be from a wedding in 1918, shows how smart the dress looks. It even has a collar, this formal style a world away from the feminine flamboyance we see today.
1920s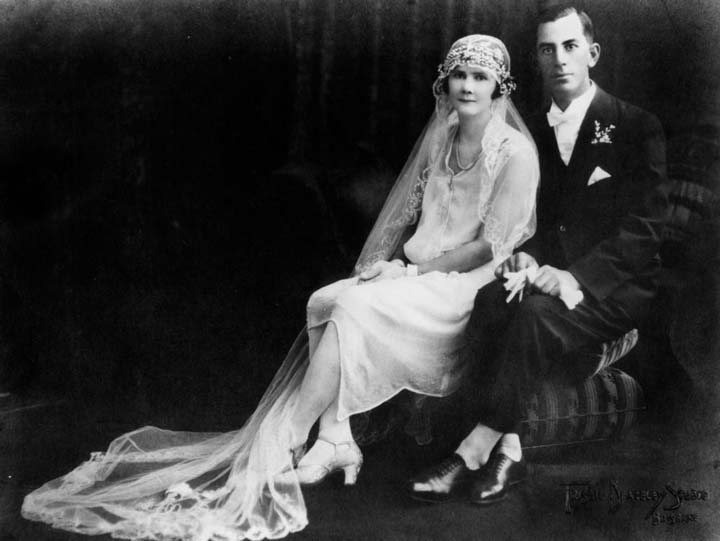 Credit: theweddingsecret.co.uk
The 20s really kicked things up a notch. It was clear to see in this decade that weddings, specifically wedding dresses, were treated as luxuries, with brides wanting to capture unique beauty and style where possible. Jewelry and headwear also began to play a big role in how wedding dresses looked in this era and were a key part of this particular style.
1920-25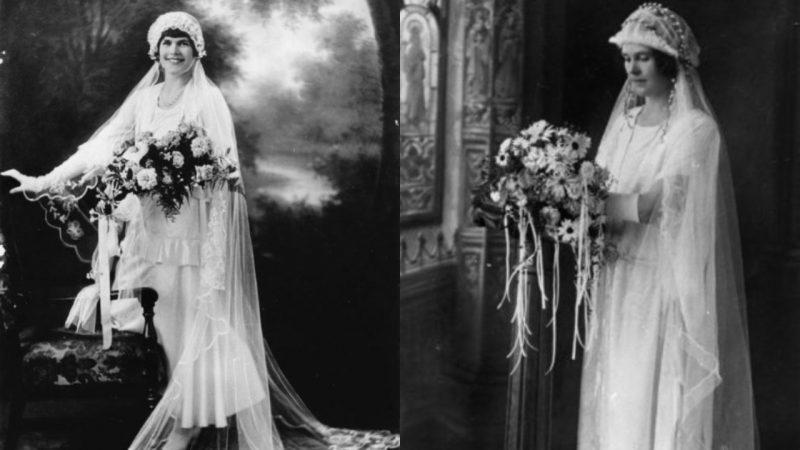 Credit: thevintagenews.com
In the 20s, Gatsby glitz and glamor was beginning to work its way in but hadn't fully taken hold yet, with loose and comfortable tailoring very much the order of the day here. These are unusual choices for wedding dresses, but the flowing, embroidered veils and decadent accessories made them highly popular.
1925-30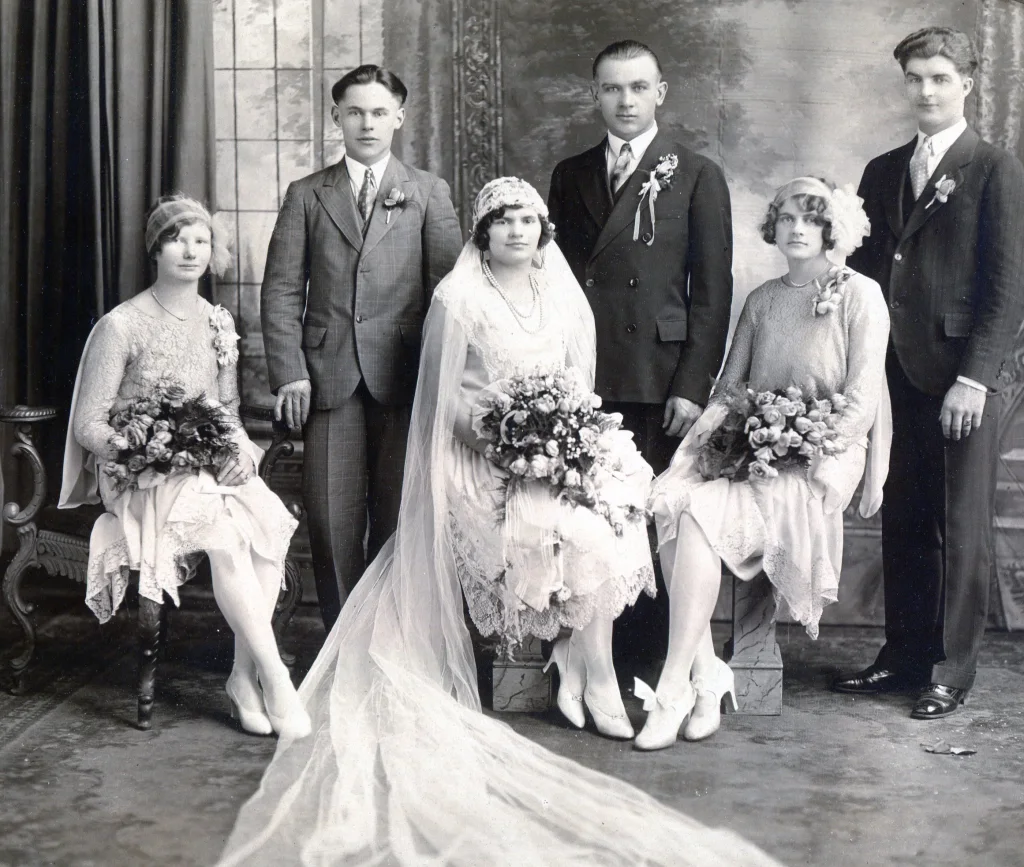 Credit: Kathleen York via vintage-brides-and-bridal-gowns.blog
As you can see in this picture, the glamor is still in full swing! Brides in the back half of the decade were continuing to go all out to ensure they looked as stunning as possible. Long trains and stylish heels are seen for the first time here, with headdresses becoming more customizable and tailored to the style in question.
1930s
Credit: Pauline Weston Thomas via Fashion-Era.com
Brides on a budget became more popular in the 30s, following the Great Depression. This led to many brides having to get creative with their wedding dress choices. This often meant choosing to repurpose existing outfits or dresses in order to get the best possible result. Keep clicking for examples of inspirational gowns and style choices from the decade.
1930-35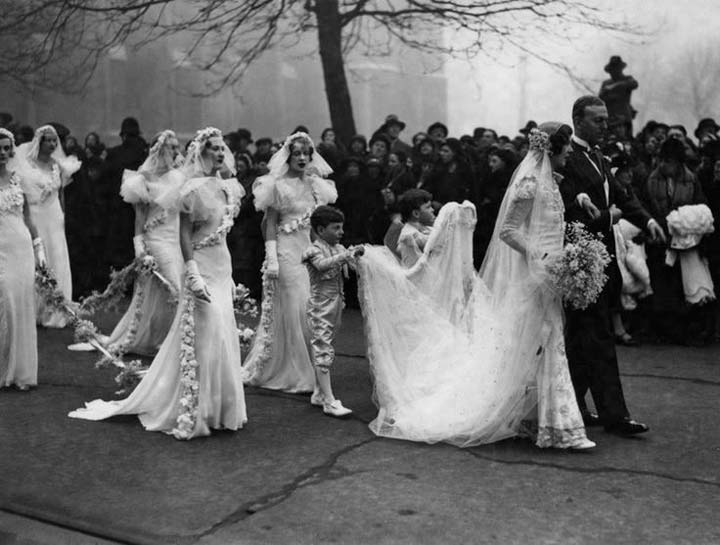 Credit: James Jarché, for Daily Herald via the National Portrait Gallery
This stunning picture of Nancy Beaton during her marriage to Grenadier Guards Officer Sir Hugh Smiley showcases everything great about early-30s wedding dresses. Nancy's is a beautiful, snow white gown with lace overlay, a long train, and, unusually, a floor-length veil to boot. What's more, the matching bridesmaids dresses are also white!
1935-40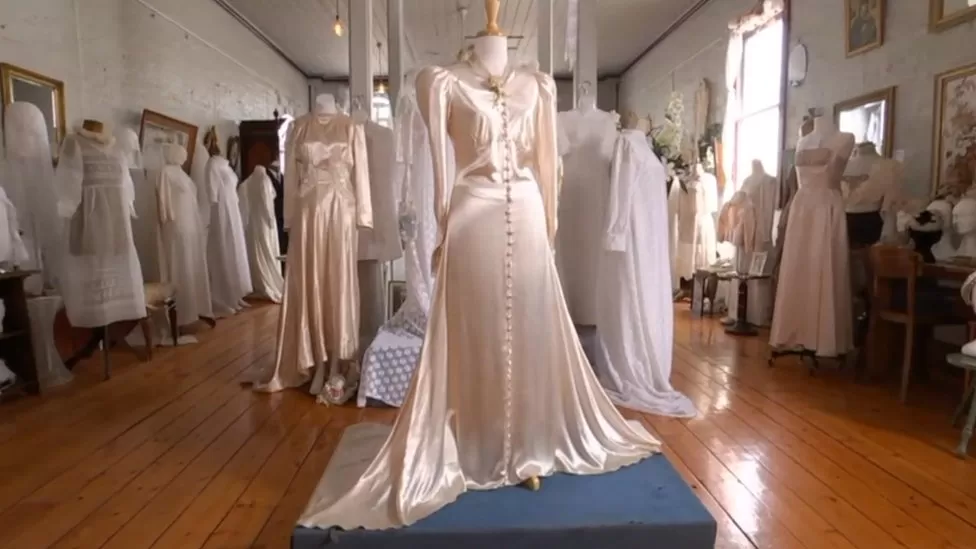 Credit: BBC News South West
This stunning dress was worn by British bride Gertrude Bloye for her wedding back in 1938. The dress found its way overseas, where it was rescued by an Australian bride-to-be after being thrown in a dumpster and donated! Silk, sleek, and sophisticated, 1930s dresses were a heavenly blend of simple and elegant.
1940s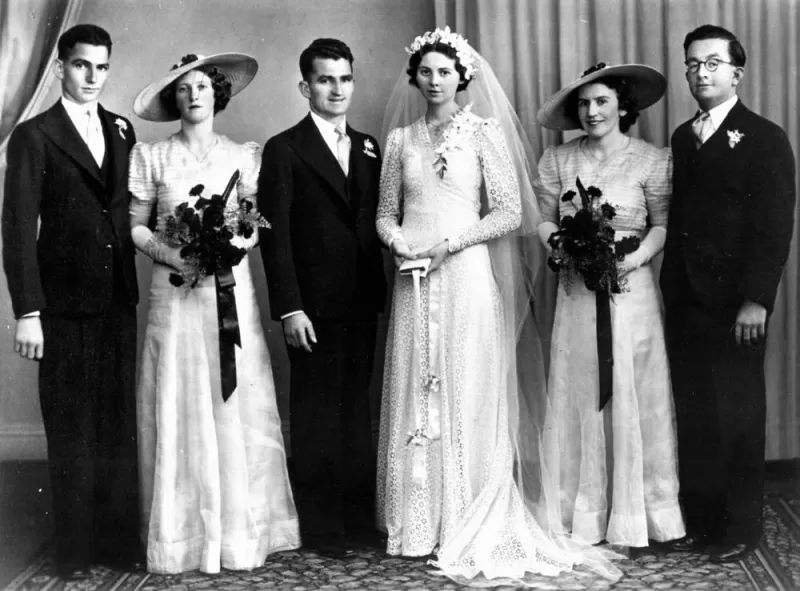 Credit: Public Domain via Wikimedia Commons
Wartime weddings were fewer and farther between, but they still happened, and rationing took its toll. Even Princess Elizabeth of Great Britain had to pay for the material for her Royal wedding dress by saving up ration coupons. Overall, economic circumstances meant that brides tended to go with a 'less is more' type of approach, which was reflected in dress choices.
1940-45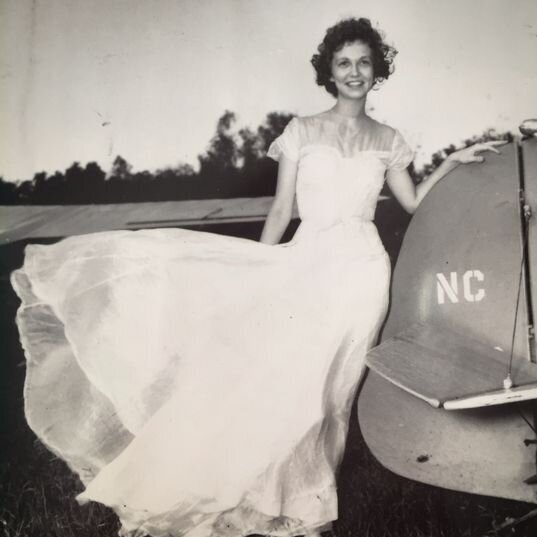 Credit: Christopher Sessums via Flickr
War-time austerity tended to mean the dresses of the 40s were minimalist in design. Crepe and brocade the most accessible and common materials for brides to be, with traditional lace becoming increasingly harder to come by. Here, though, you can start to see early hints of a train, something that has since become the norm on dresses now.
1945-50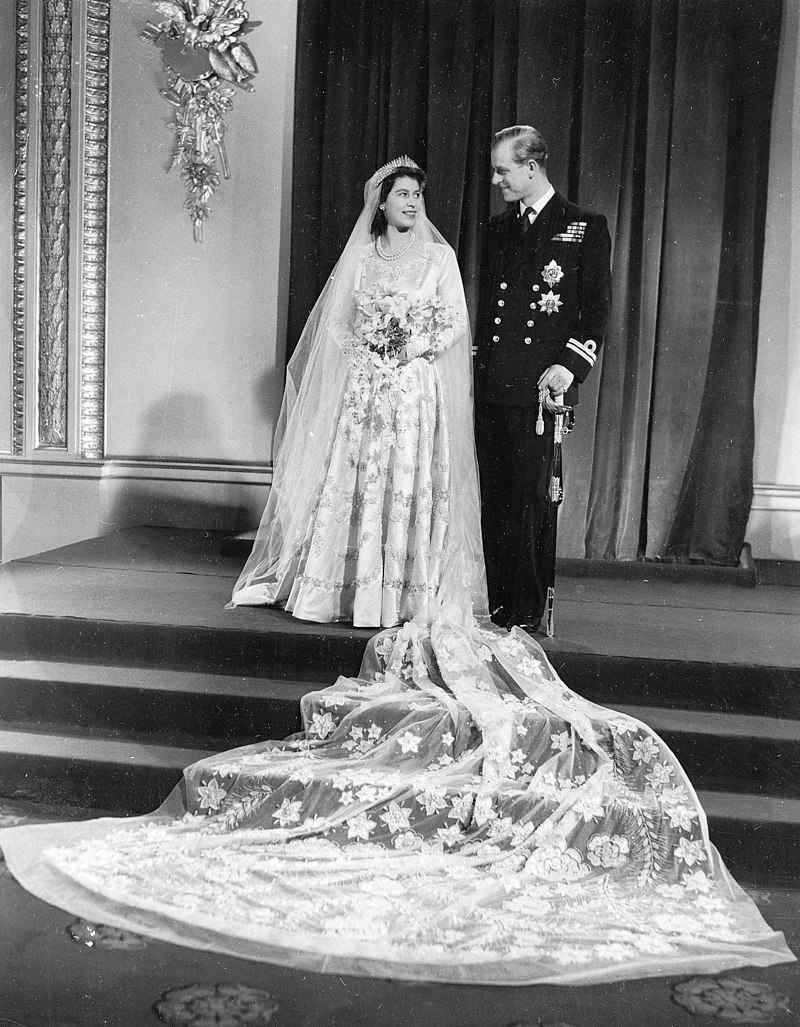 Credit: Associated Press
In the post-war 40s there was certainly a focus on creating an hourglass silhouette for brides, but additions like shoulder pads were not out of the question. Princess Elizabeth, future Queen of England, dazzled in her 1947 wedding gown, which she had to use ration coupons to buy the material for. Made of satin and embroidered with a floral pattern, this ivory dress combine simplicity with extravagance.
1950s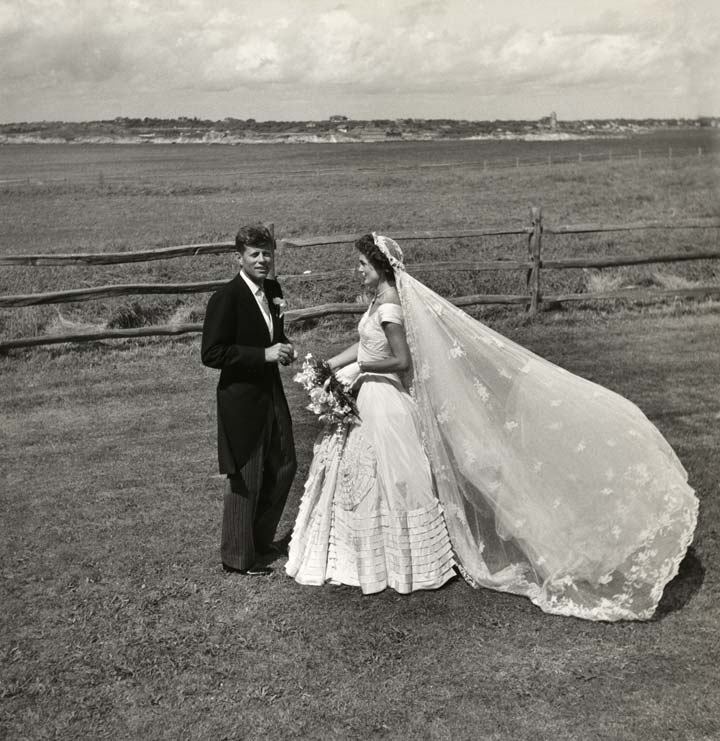 Credit: Toni Frissell via Wikimedia Commons
Hollywood's influence was clear to see on 1950s wedding dresses, both stylistically, and in terms of accessories. Several high-profile weddings over the decade very much put dresses in the spotlight, and lace was a firm favorite, as were designers looking to push their creative ideas, and produce dresses that elevated the gown to the showstopper of the wedding day.
1950-55
Credit: Father of the Bride
By the 50s, wedding dresses like this one, worn by Elizabeth Taylor in the 1950 movie Father of the Bride, changed the style of wedding dresses for the decade. The end of the war and increasing popularity of cinema meant that sleek simplicity began to be replaced with a new kind of regal elegance. Feminine silhouettes focused on fitted bodices, full skirts, and sweetheart necklines.
1955-60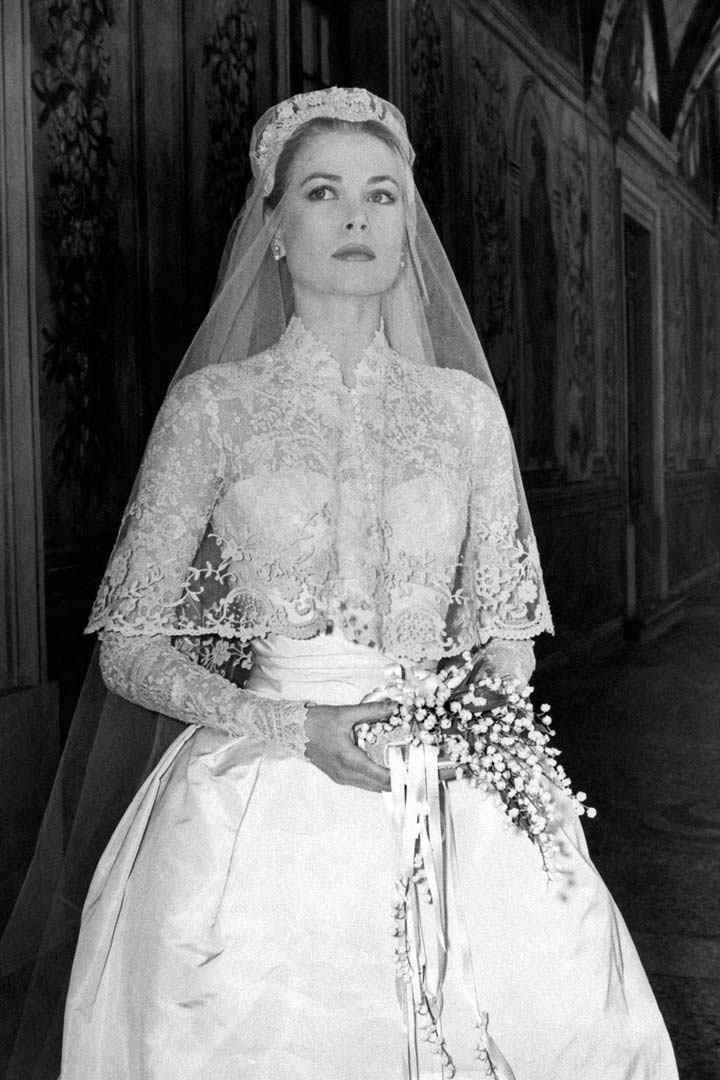 Credit: Getty Images
The late-50s were a time when experimentation really came to the forefront and designers started to push the boundaries of the sorts of dresses they could produce. Grace Kelly's stunning 1956 dress was made from over 400 yards of fabric, and was comprised of 10 separate parts. She wore a bespoke, circular veil, something which would become a popular hallmark of the era.
1960s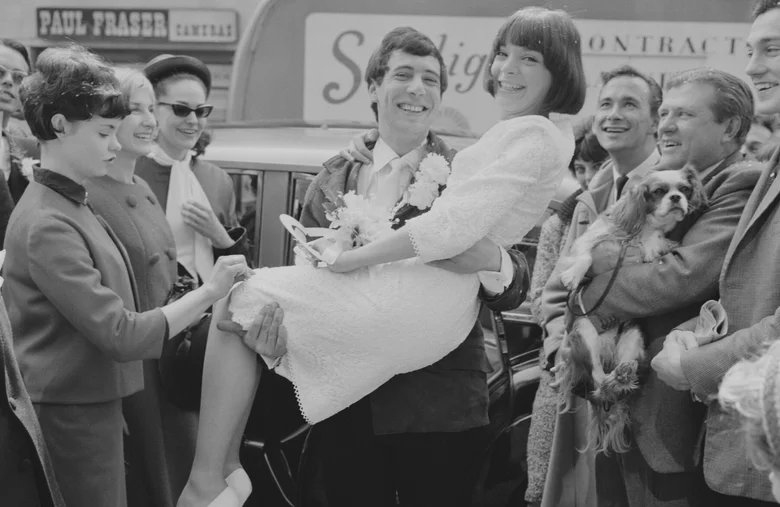 Credit: Kaye/Daily Express/Hulton Archive via Getty Images
The swinging 60s brought with it plenty of changes and one of the key ones was the power of the individual – extending deep into the realm of fashion choices and personal style. Wedding dresses came in every color and shape here, and it was about what worked and felt right for the bride themselves. Even the celebrities were making more unique wedding dress decisions!
1960-65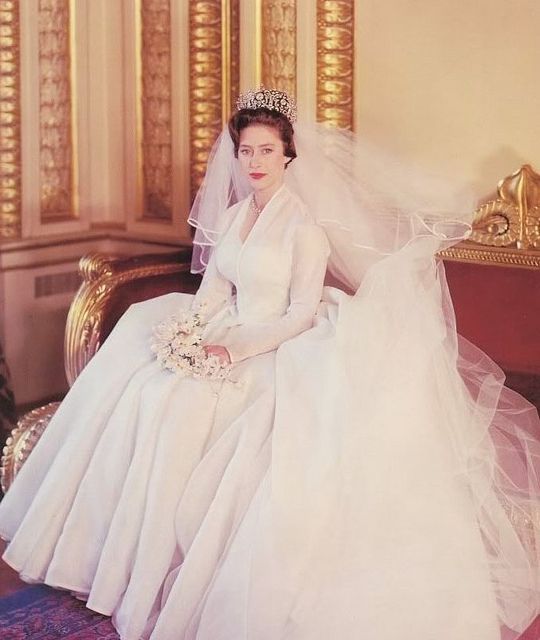 Credit: Jean-Pierre-Montauban via Flickr
Social changes in the 60s began to usher a more individual approach to fashion. Wedding dresses drifted from previous traditions and tended to move to higher waistlines and shorter veils. The wedding of Princess Margaret popularized the wearing of tiaras, and made metallic and floral embellishments more commonplace in weddings across the world.
1965-70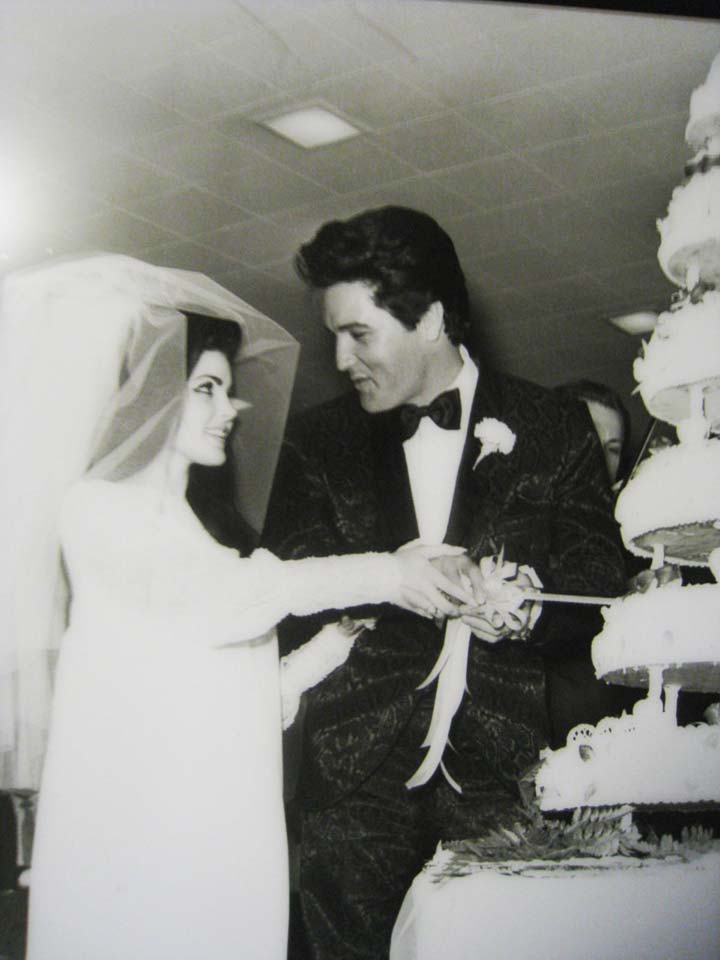 Credit: theweddingsecret.co.uk
The latter half of the 60s saw wedding dress styles continually influenced by celebrity culture, with Mia Farrow wearing a mod-style white skirt suit for her wedding with Frank Sinatra. Meanwhile, at the other end of the spectrum, Priscilla Presley went for a more understated and simple white dress for her wedding to Elvis. Opting for long sleeves and a baggier body, it made her luscious locks center stage.
1970s
Credit: Reg Lancaster/Daily Express/Hulton Archive via Getty Images
The 70s was a decade of change. With the tail end of the hippy movement fading out, but continuing to have a strong cultural influence, and the disco and rock 'n roll scenes becoming more popular, it was a truly innovative time. This informed wedding dress choices, with many brides option for the longer dresses with dashes of color where they could find them,
1970-75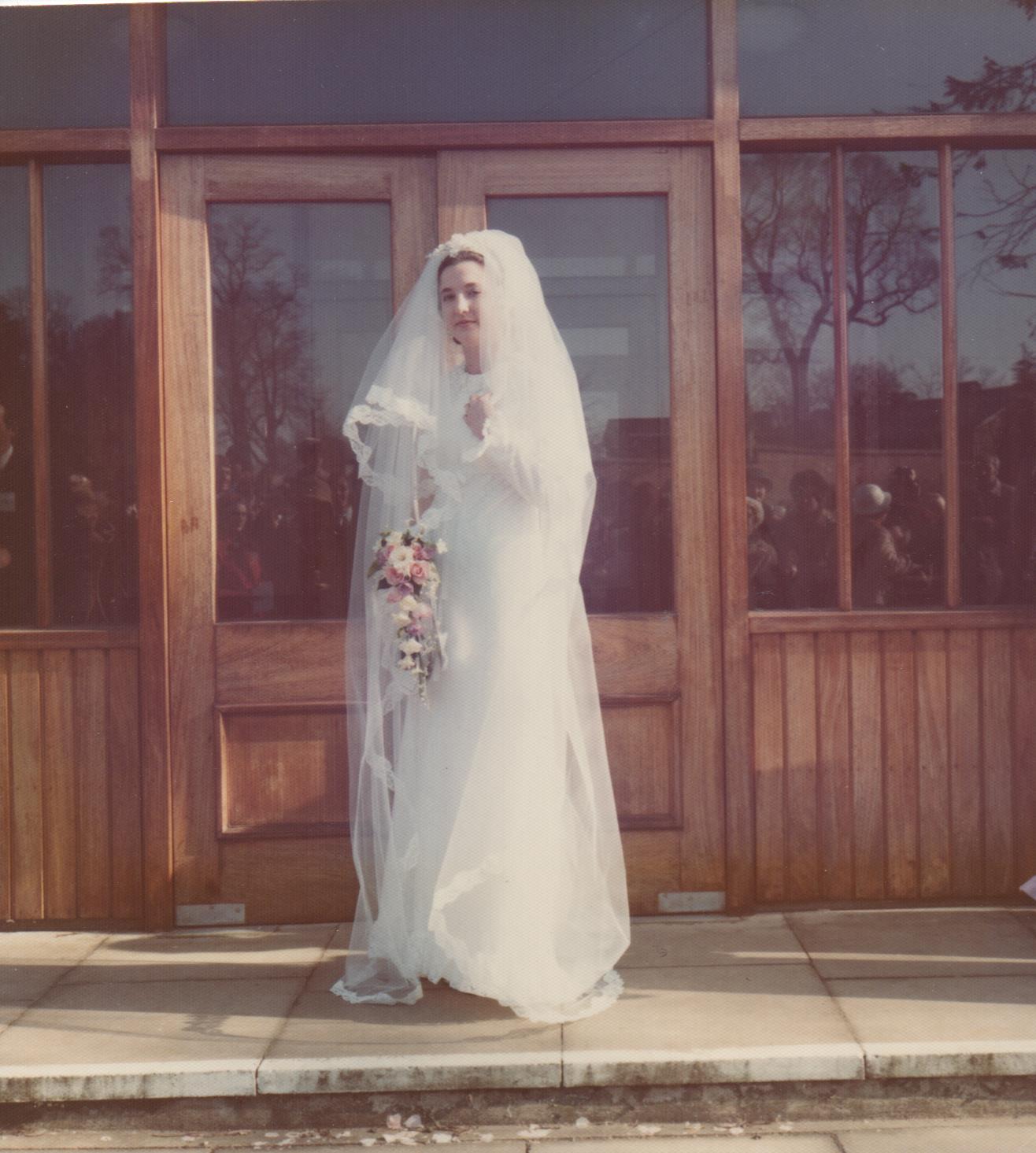 Credit: Hanamidream.co.uk
The early 1970s meant that freedom and self-expression around just about everything, inspiring a much more bohemian approach to wedding dresses. Long sleeved, high-necked, longer length dresses were made complete with a mixture of colorful bouquets. The lasting legacy of the popular hippy-style was all the rage – staying consistent through the decade.
1975-80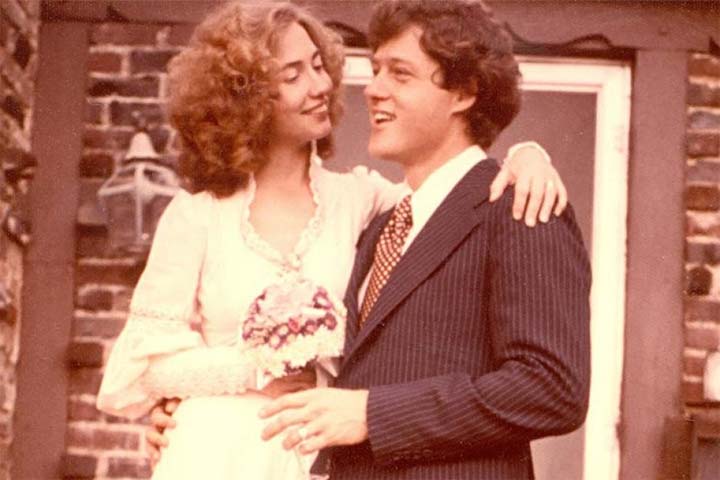 Credit: Hillary Clinton
The latter half of the decade brought with it much of the same. Elements such as gypsy skirts, billowing lace arms, and high collar were popular too, as can be seen in this wedding picture of Hillary and Bill Clinton. This dress is just so effortlessly 70s in style, and contains all of the details seen in dresses across the decade neatly combined into a single dress.
1980s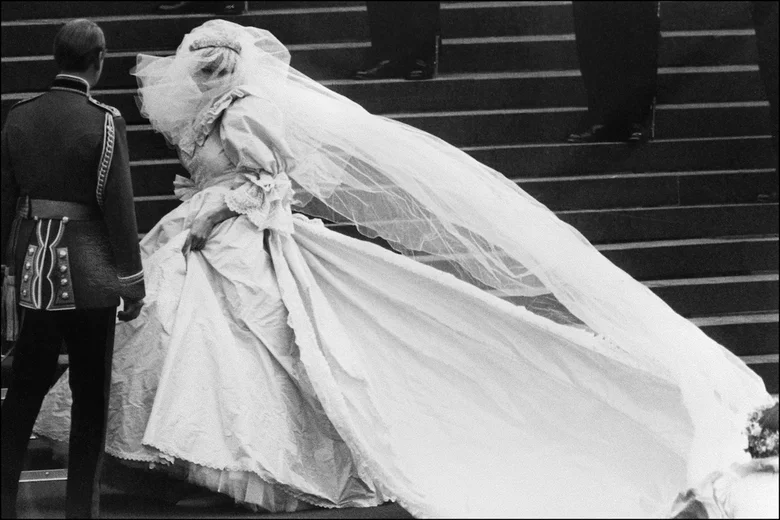 Credit: Associated Free Press via Getty Images
This was the decade in which royalty held sway over everything. There were plenty of iconic weddings that took place in the 80s, but none of them was as universally influential as the late Princess Diana's marriage to Prince Charles. This inspired a generation of brides to attempt the magic and opulence of a Royal wedding, but without the huge price tag.
1980-85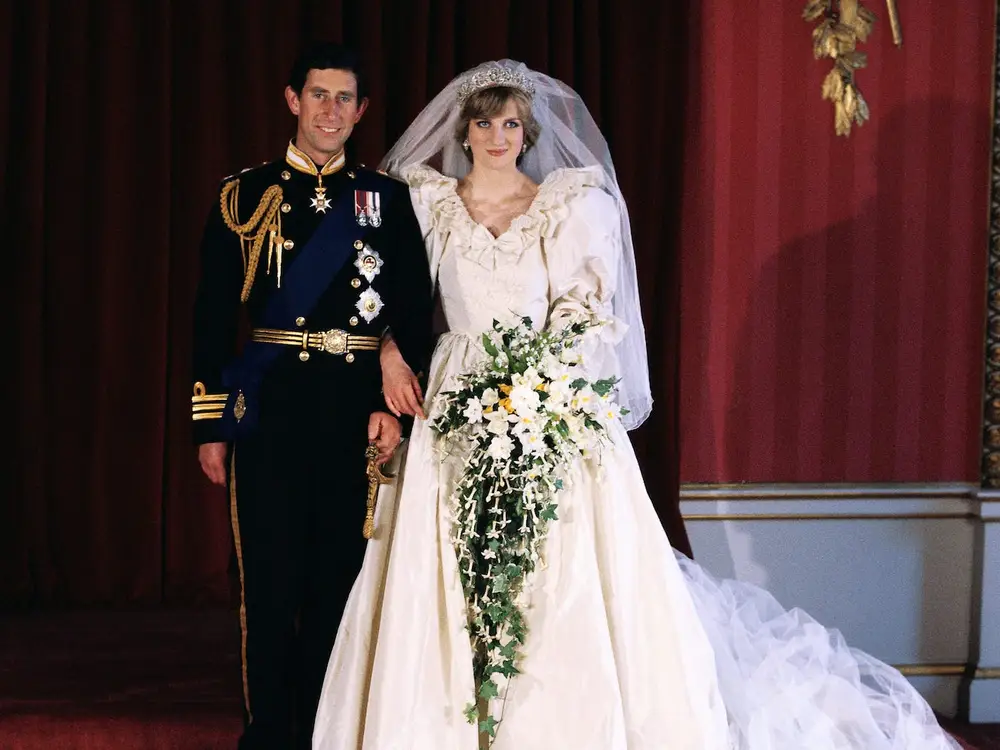 Credit: David Levenson via Getty Images
The 80s was the decade of flowing sleeves, oversized shoulders, long backs, and collared necklines. Big hair was also Back with a capital B. The wedding dress of the late Diana, Princess of Wales had all these things, as well as a large cascading bouquet and 24-feet long train. She helped inspire a generation of brides to live their Princess fantasy and go big or go home.
1985-90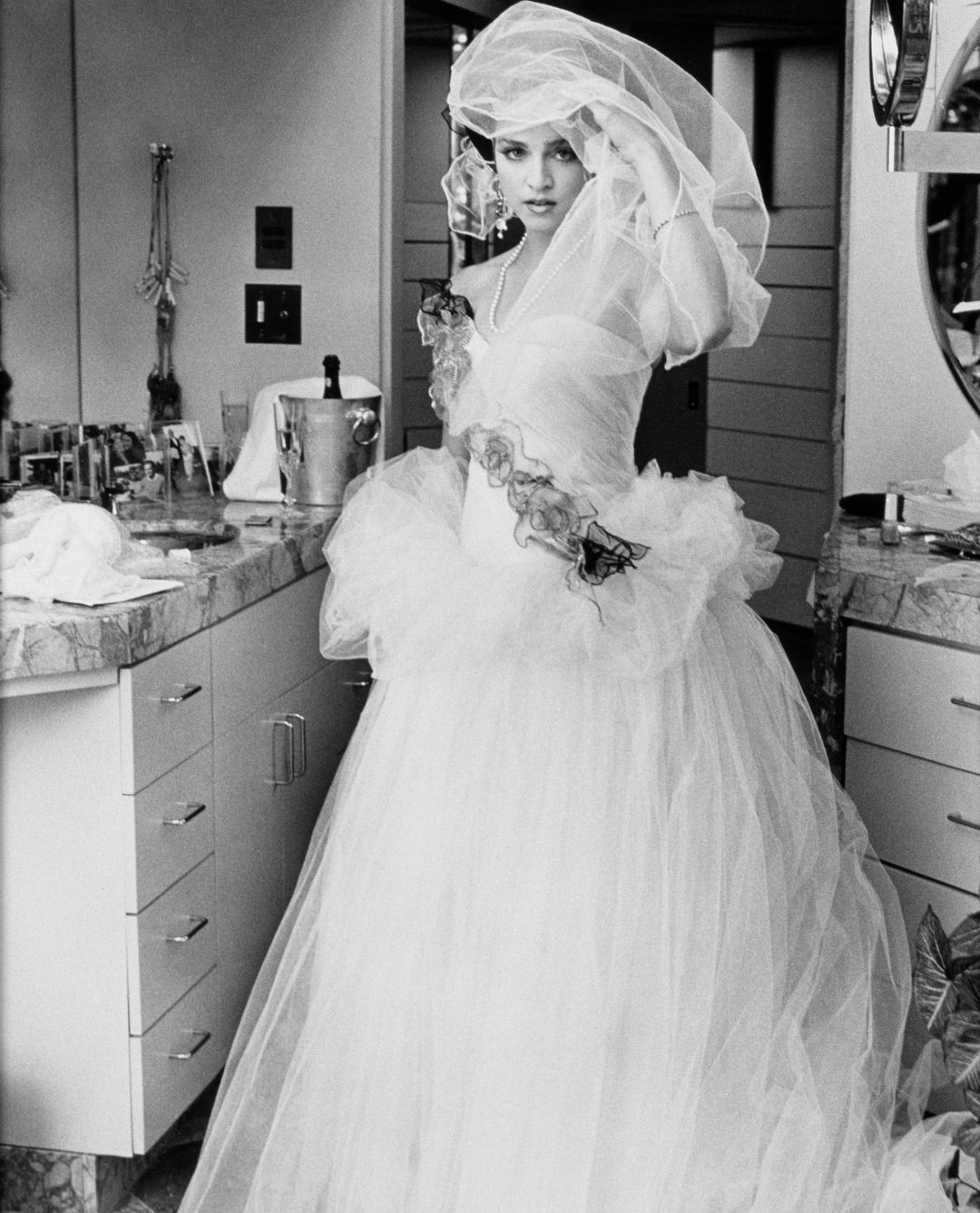 Credit: Herb Ritts via Twitter
It was also clear to see the ever-growing influence of celebrity on wedding dress choices from the era. Princess Diana's was hugely influential, but so too was the dress Madonna wore to her 1985 wedding to actor Sean Penn. This strapless ball gown, with a sweetheart neckline and fitted corset, popularized the off-the-shoulder look.
1990s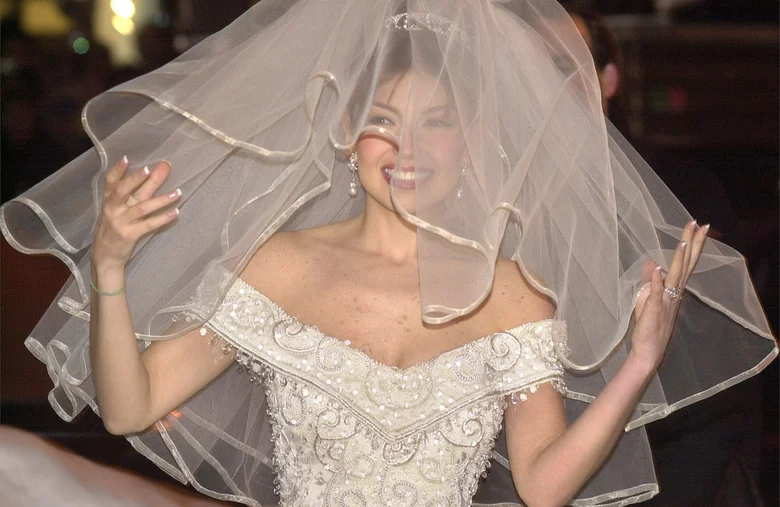 Credit: Chris Hondros/Newsmakers via Getty Images
The 90s was the era in which celebrity influence really peaked in the mainstream and public fascination with the personal lives of celebrities really grew. This is largely thanks to the explosion of the internet and gossip mag culture, and led to an era of more fashion-conscious celebs. Wedding dresses tended to be far more simple and less busy than the 80s versions, which seemed garish by comparison.
1990-95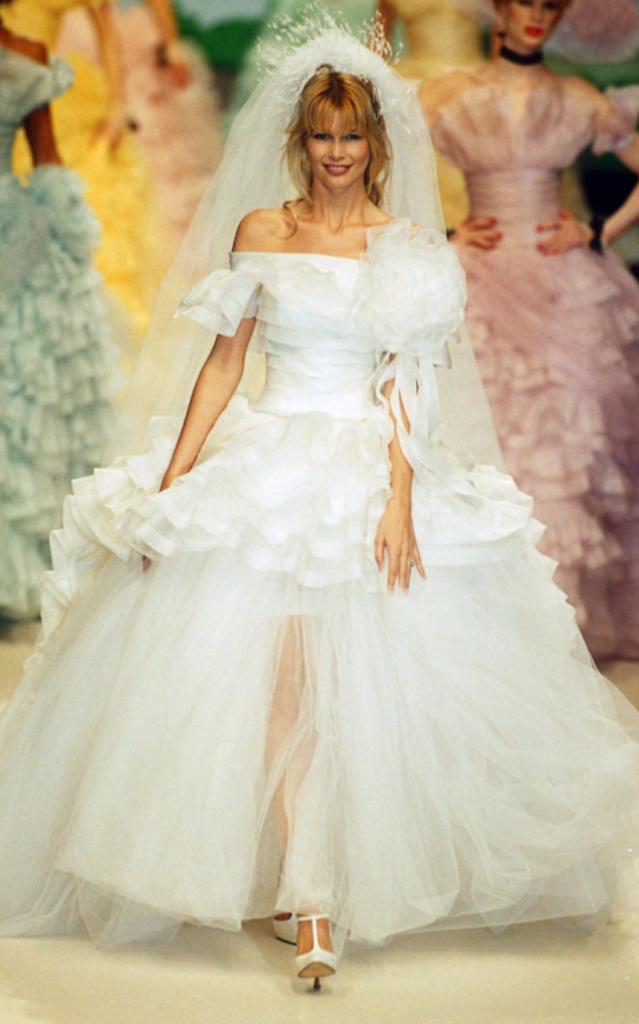 Credit: Getty Images
Simplicity wasn't always the case though, and many of the wedding gown choices in the early part of the 90s were known for being more experimental, either in design, style, or even color. Claudia Schiffer's 1995 Chanel Couture catwalk dress is quintessentially 90s in so many ways. Adorned with ruffles and boasting an extra wide-base, this is as early-90s as you could get.
1995-00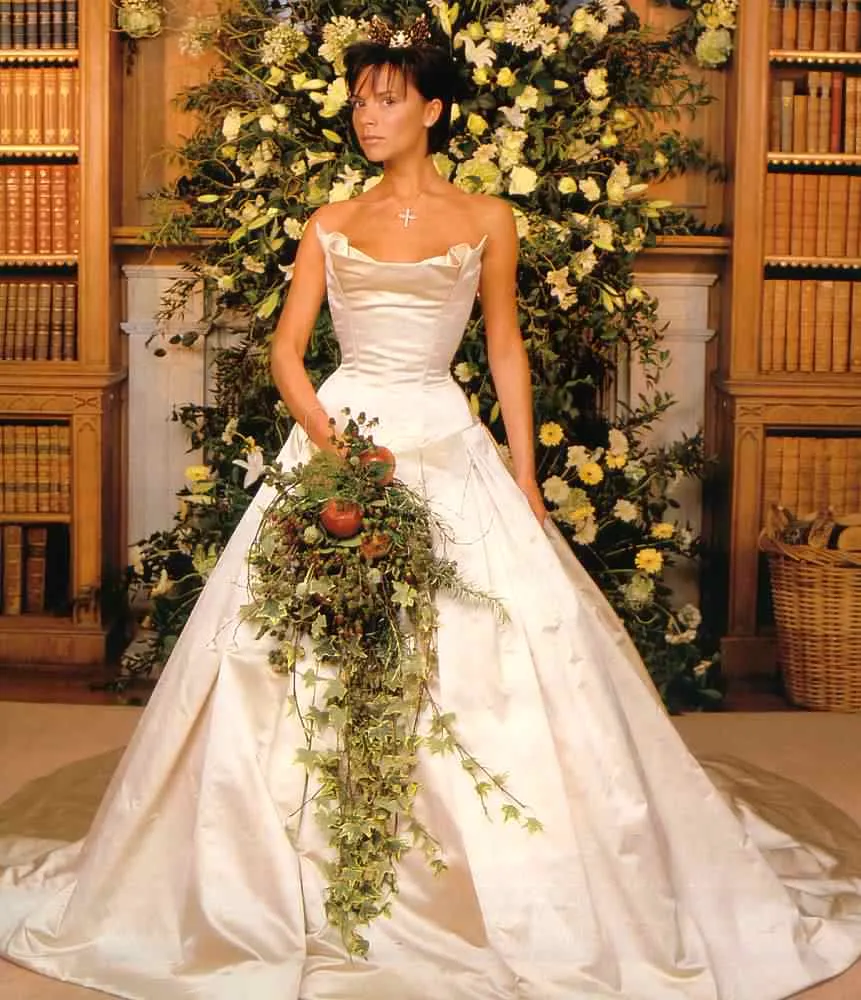 Credit: @victoriabeckhma via Instagram
In many ways, the 90s was a smorgasbord of much that had gone before. Whilst big hair and tiaras were still popular, dresses, for the most part, were more minimalistic, graceful and classy. Victoria Beckham's 1999 Vera Wang wedding gown is a great example of the 90s style; off-the-shoulder, elegant, and captivating.
2000s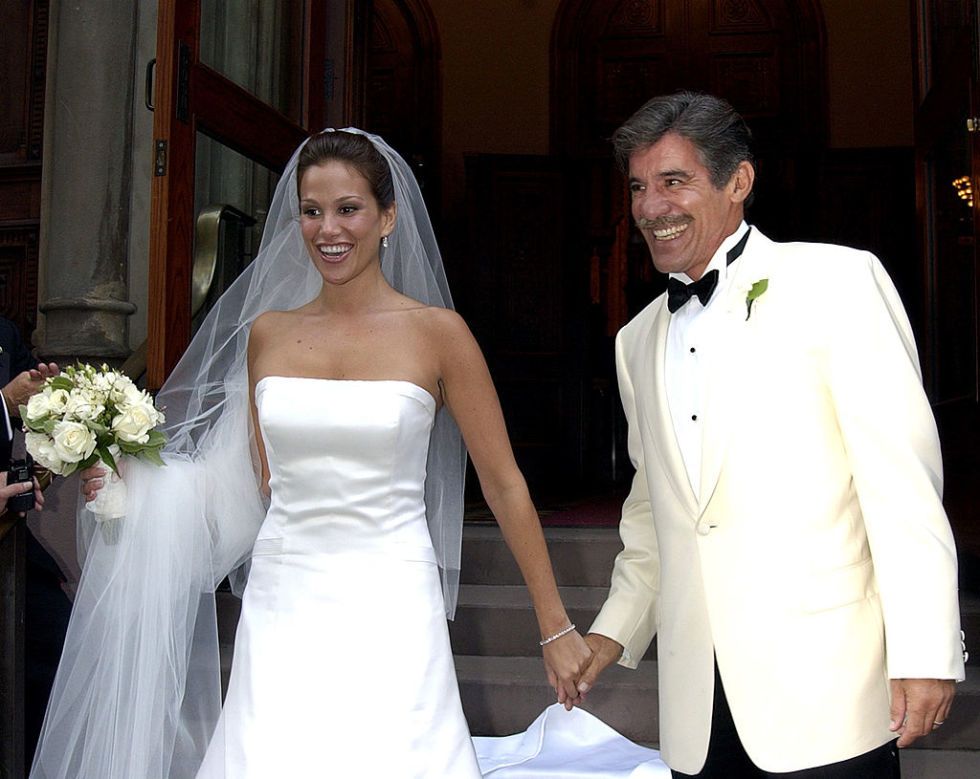 Credit: Debra L Rothenberg / Contributor via Film Magic
The turn of the Millennium heralded a new era for modern weddings, and dress styles evolved over this time. Strapless dresses were a big thing, and spaghetti straps, in particular, tended to be quite popular with a lot of brides. This was also the decade when magazines began feverishly covering celebrity weddings, and things would never be the same.
2000-05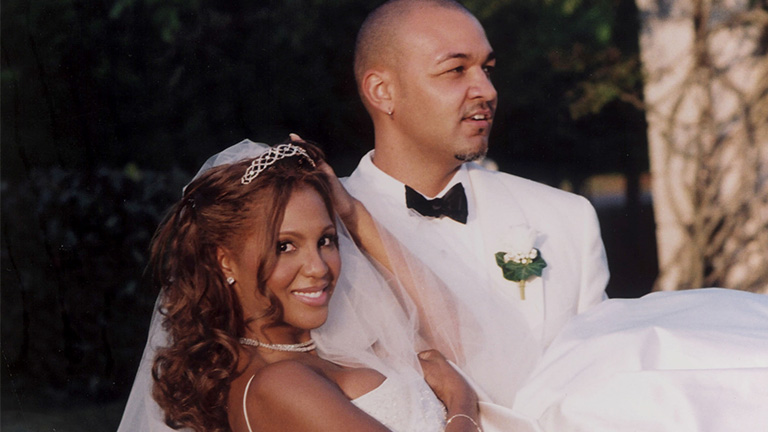 Credit: Derringer & Weitz Communications via Getty Images
The early-00s saw many brides waving goodbye to sleeves and embracing strapless dresses, which coincided with the diversification of venues too. Many dresses became the centerpiece of the day, informing the decor and color schemes. There was a definite rise is glamorous and shiny fabrics, which marked the early years out from the rest.
2005-10
Credit: Robert Evans/Handout via Getty Images
The latter half of the 00s saw an increase in brides mixing and matching to get the kind of style that best suited them. A great example of this is from Katie Holmes and Tom Cruise's 2006 wedding, which shows the bride wearing a gorgeous off-the-shoulder number from Armani that's adorned with jewels, contrasted by an understated veil that leaves the face uncovered.
2010s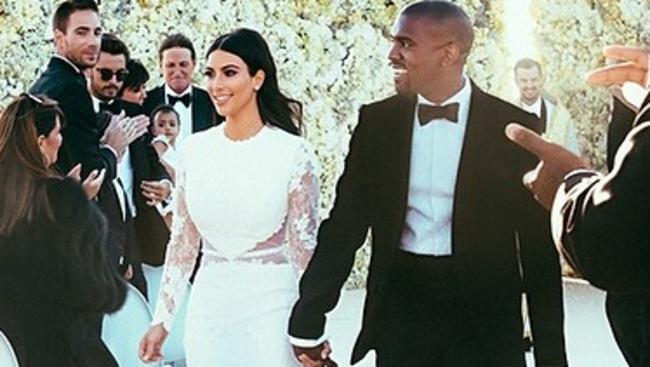 Credit E! News/Kim Kardashian via Instagram
Strapless dresses continued to be popular in the 2010s, however, there were a lot of brides who were also going in different direction, inspired by celebrity brides of the time, such as Kate Middleton, Kate Moss, and Kim Kardashian. Long sleeves began to become popular, and fishtail silhouettes that flattered the frame were present everywhere; it was a time of transition with wedding dresses, and a decade that saw blending styles.
2010-15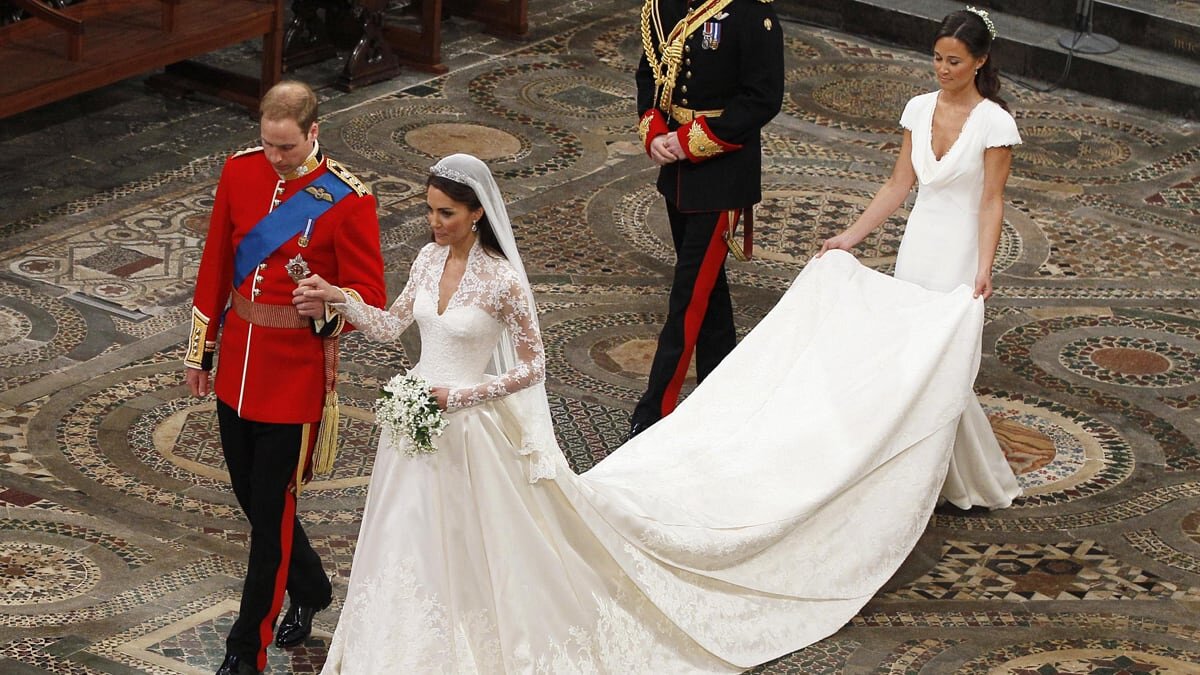 WPA Pool via Getty Images
2011 sparked Royal fever again, as Prince William and Kate Middleton tied the knot at Westminster Abbey. The wedding proved to be iconic and highly inspirational to many brides-to-be, with many opting to copy the regal magnificence of the dress. Lace, long sleeves, dropped waists, and extended trains all made a comeback.
2015-20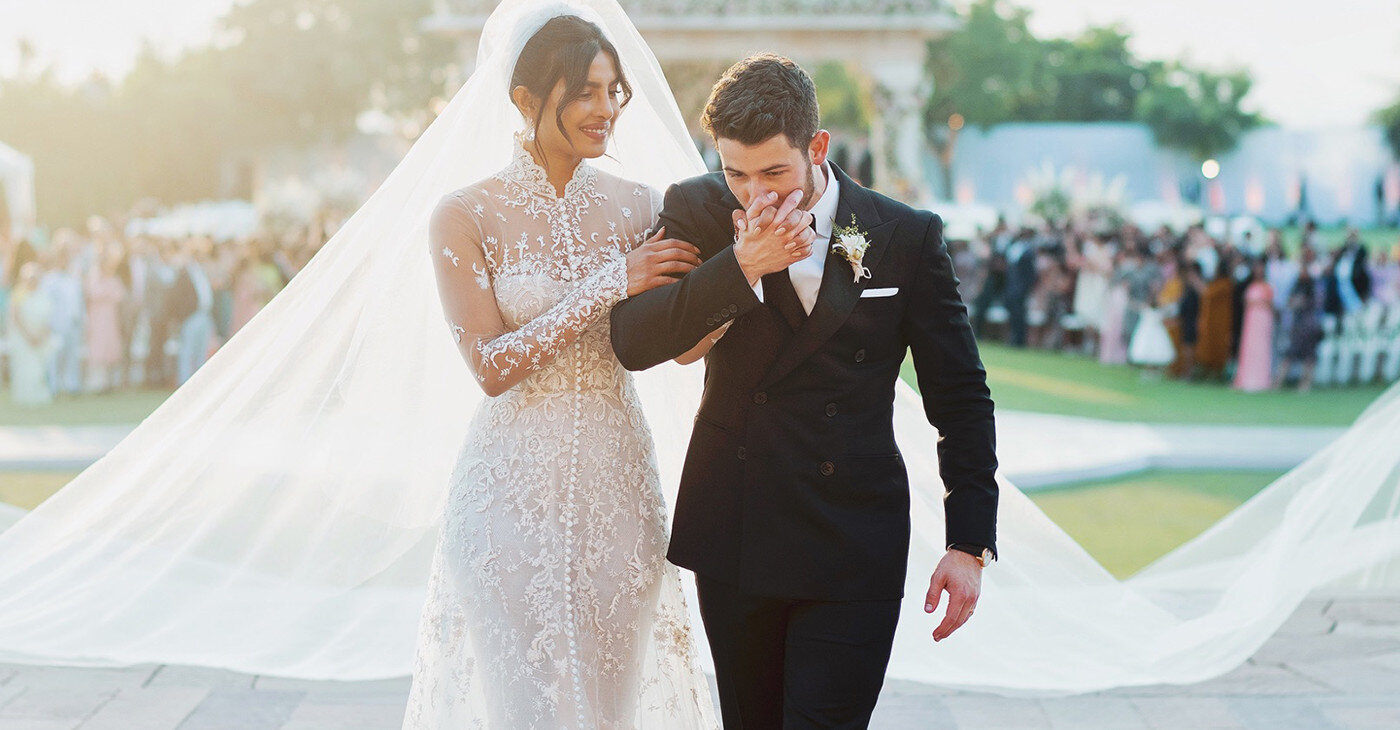 Credit: Vogue Images
The latter half of the 2010s took continued inspiration from the Royal wedding, with a lot of brides opting for higher necklines, longer sleeves, and even longer veils. Take, for instance, Priyanka Chopra's dress for her wedding to Nick Jonas – it boasts a jaw-dropping 75-foot veil, which many considered overkill, but it remains highly influential.
2015-20 (Royal flush)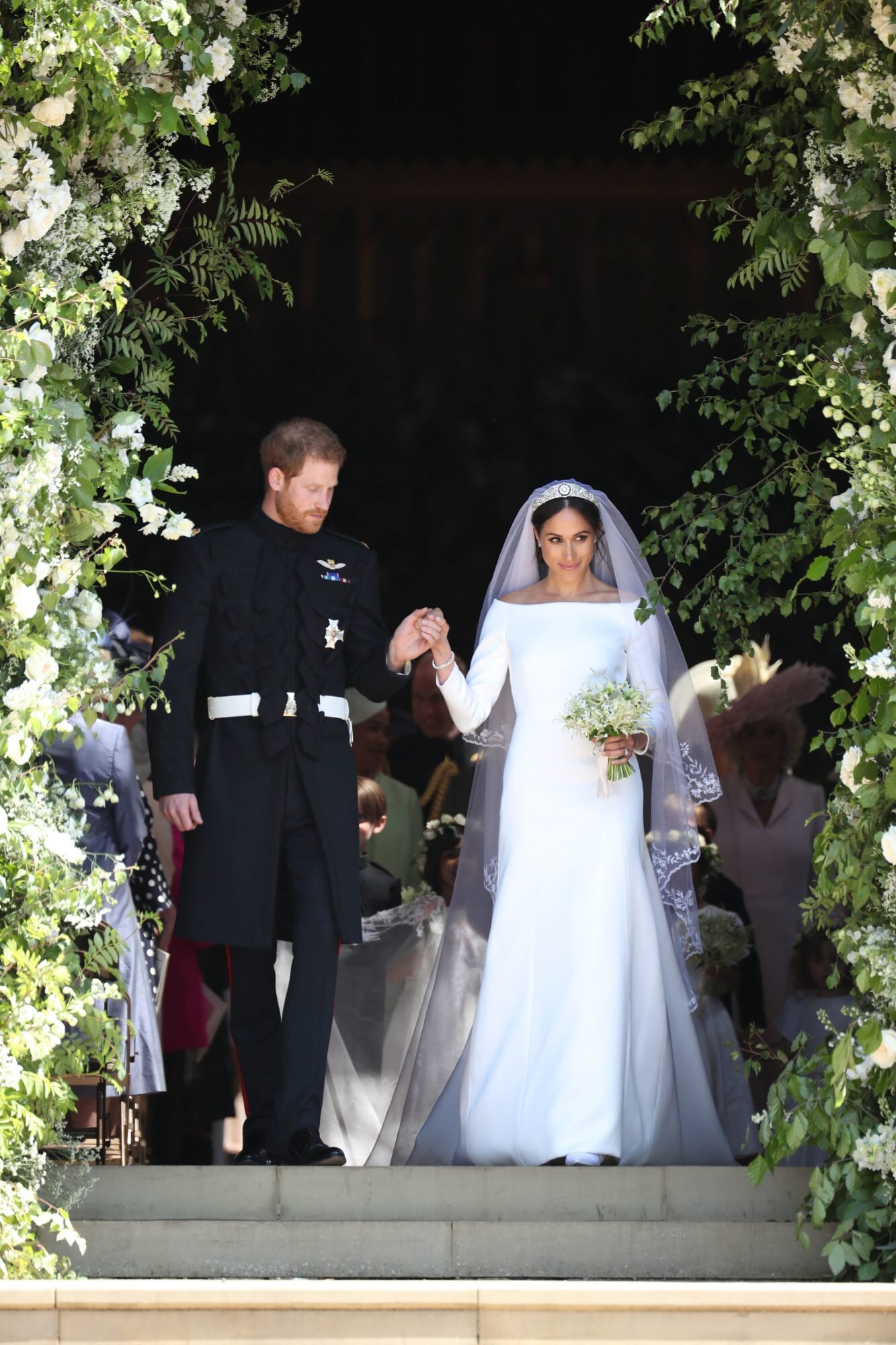 Credit: Getty Images
Wedding dresses in the 2010s have tended to be a celebration of what has come before, with brides adding in their own style and flair for a more personal touch. Here sees Meghan Markle pay homage to past, present, and future through her timeless gown. The simplicity of the gown creates a blend of vintage and modern we see across fashion today.
2020s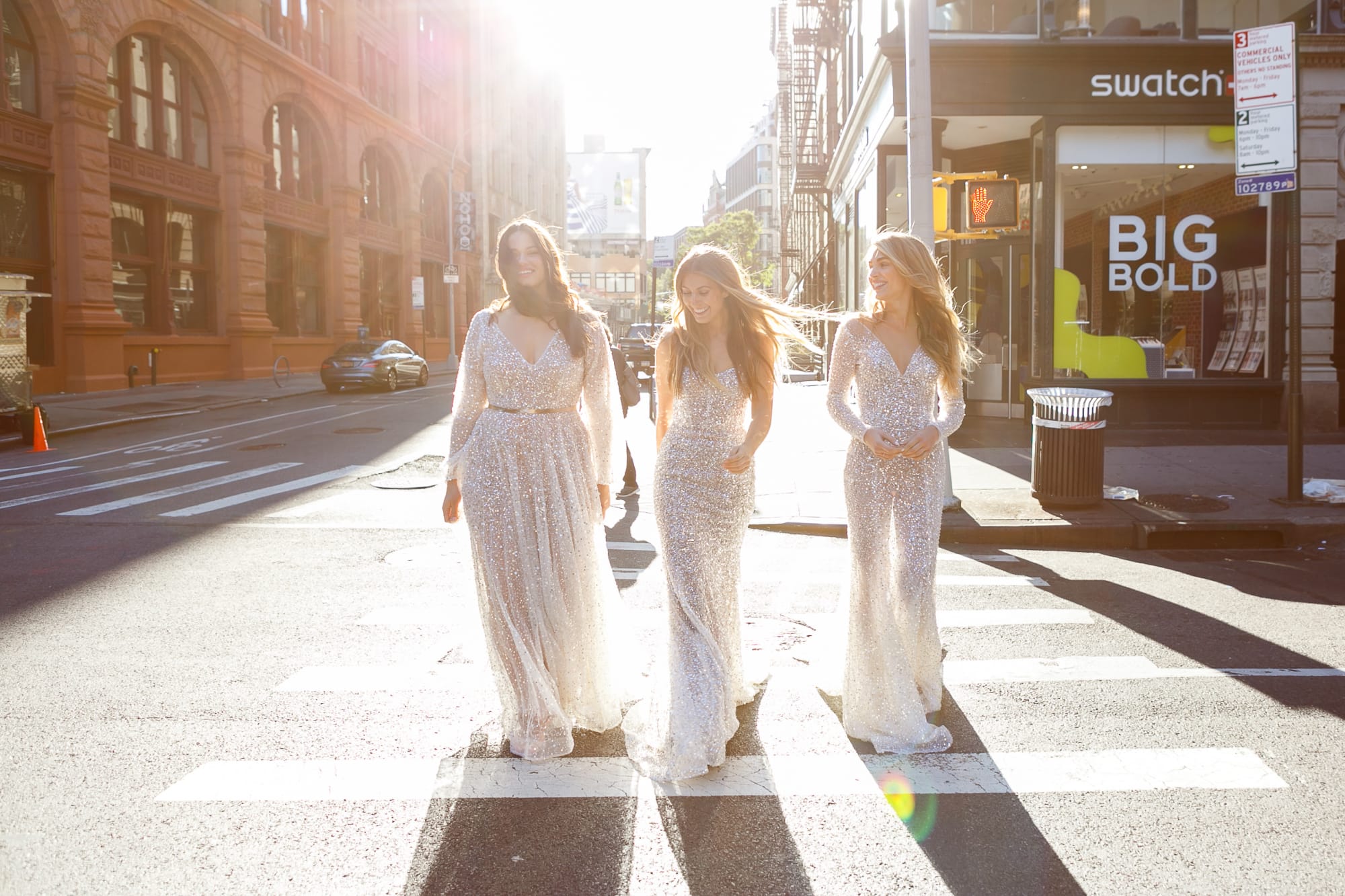 Credit: Chosen By One Day
In much the same way that reboots and remakes are big business in the film and TV industries in the 2020s, the same concept is being applied to wedding dresses. Modern brides are looking to revisit past decades, whilst also putting their own unique stamp on the style. And, as wedding weekends become more popular, so too has the need for practical and versatile dresses.
2020-present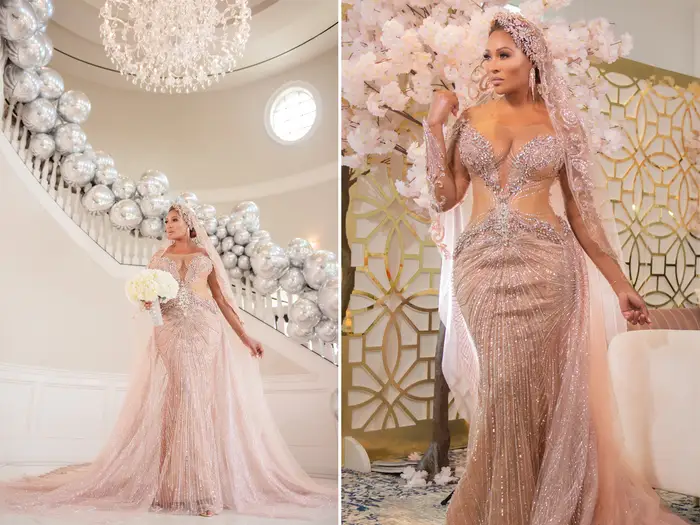 Credit: Inije Photography
The 2020s so far have seen an uptick in brides going their own way when it comes to making decisions about their wedding dresses, as well as a focus on doing things differently. Modern brides are not afraid to show a bit of skin, and often favor unorthodox-looking dresses. We have also seen a rise in bejeweled dresses becoming more popular too.
The future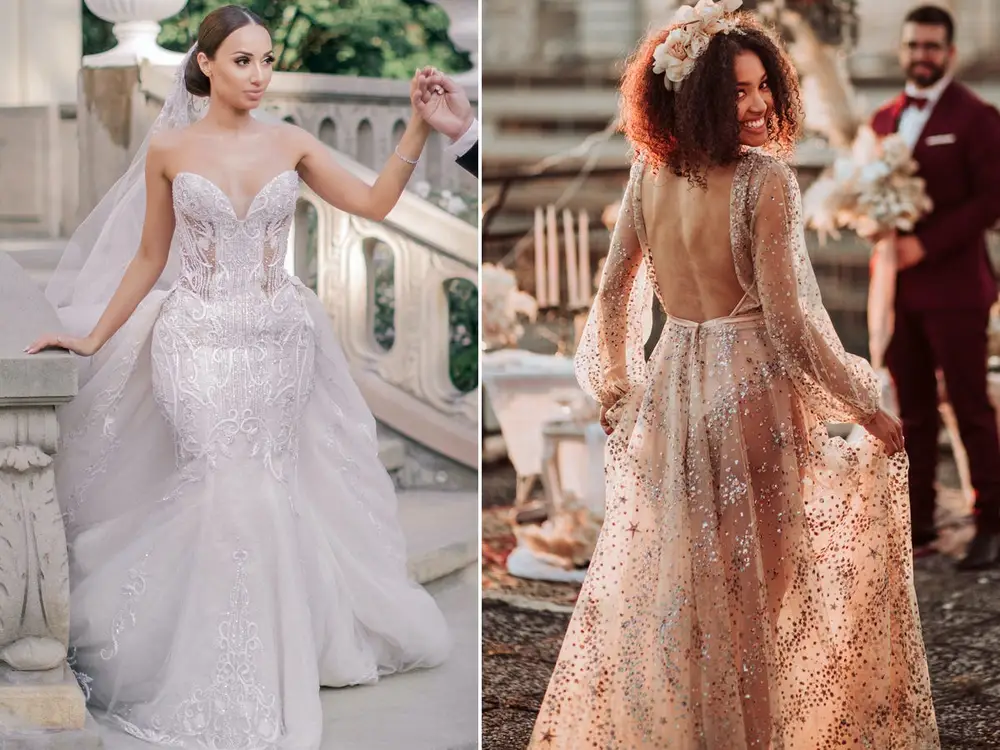 Credit: Rene Zadori Photography/Martina Škrobot Photography
Wedding dress styles and designs are ever-changing, but fashion is also cyclical and trends come back into fashion – something that will no doubt be the case again in the future. We could see more experimental designs, shapes, and styles, as well as a growth in the popularity of colored dresses in a move away from white or ivory. It's going to be a exciting time for brides everywhere.