Would you be daring enough to base your wedding theme on a Disney movie?
Your Cloud Parade teamed up with designer Traci Hines (Ariel) and model Leo Camacho (Prince Eric) to create what the perfect Little Mermaid themed wedding would be like. It looks like some sort of scene straight out of Disney World!
1. Her dip-dyed dress and his turned up jeans

2. Her striking red hair and his uncanny Prince Eric looks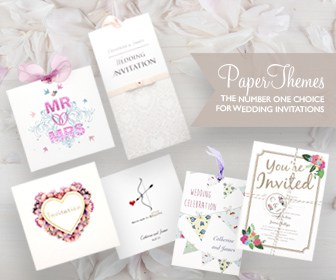 3. Even the food is under-the-sea

4. Ariel & Eric wedding stationary

5. Sea-bed table decorations

6. A tall fish tail 3 tier cake

7. Attention to detail with fishtail and sea shell bites to eat


8. Even the bridesmaids are Disneyfied!

9. They even got the spectacles!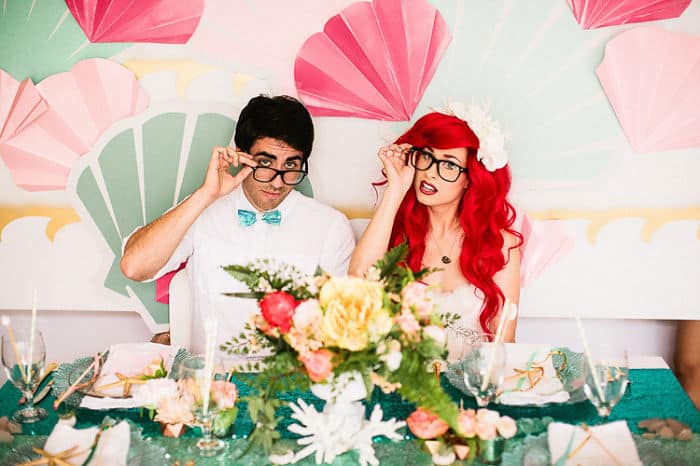 10. Notice the bridesmaids hairstyle copy Ariel's sisters hair from the movie

11. It couldn't be set in a more perfect location

12. For the evening, the bridesmaid change into the colours Ariels' sisters wear in the movie

13. Even her nails have metallic scales on and her jewellery links to the under water theme

14. They look like the perfect couple

13. Her shoes are turquoise, like the bottom of her dress

14. Her beautiful long hair stays perfectly in place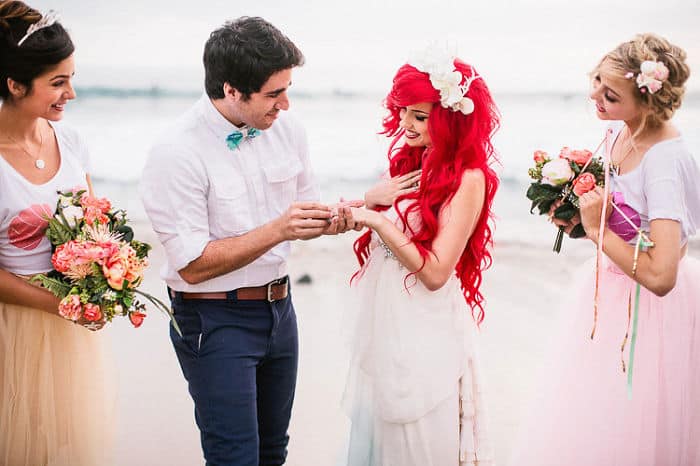 15. Instantly recognisable couple

16. Her beautiful dress imitates Ariels clam shell bra and fades to the colour of Ariels's tail

17. These tasty clams are tiny and include one pearl per guest

18. She even has the fork to comb her hair!

19. No wonder she's smiling!

If You Or a Friend Are Planning A Wedding, Visit Paper Themes For Personalised Wedding Stationary, Wedding Signs And Photo Backdrops.