-
Advertisement
Unlike transexuals, "maskers" or "rubber dollers" don't have the psychological issue that they feel they have been born into the wrong body and they need to change that permanently. Instead these individuals find it fun to wear a rubber suit complete with all areas of the female anatomy you can think of.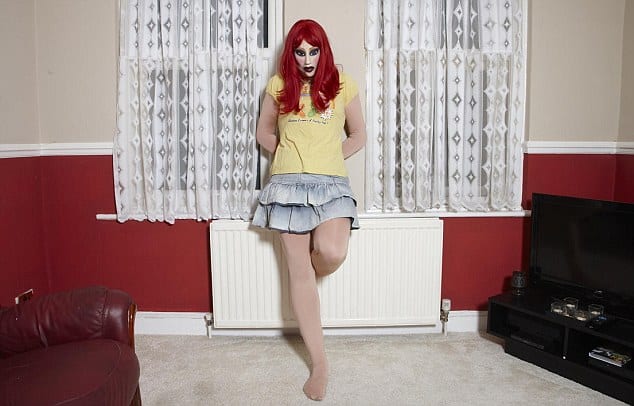 In a documentary on Channel 4 in the UK called Secrets of Living Dolls, we get to see numerous people who enjoy dressing up in this way. The reasons for this do vary between each individual but generally it is just for enjoyment.
Advertisement
'They're not freaky people, they're not weird, they're just like you and me,' explains Barbie Ramos, the owner of Femskin, a company that makes the $850 (approximately £518) custom-made silicone outfits worn by maskers.

'They're just like what they call "vanilla people" – that's you and me – except for at night or on special occasions, they like to put on a mask. Why not?'
 -
Advertisement
One of the episodes focuses on a guy called Joel who is a British bartender who lives with his girlfriend and goes by the female name of 'Jessie'. He says his reason for dressing up is escapism. He says it is an extension of a personality within himself that just wants to have fun. Joel's masking career hasn't always gone smoothly though. Although his girlfriend amazingly accepts his penchant for dressing up as a female, he had to hide it from friends and family for 15 years. He said he would also like to go out dressed up but he is worried how society may react.
Another episode focuses on another masker called Jon who is a father of six and works as a fork lift driver of all things! Jon explains that he dresses up as a female with the body suit and mask while he plays with his daughters. He thinks it helps them bond with each other as they paint nails or do their make up. 'You don't have to have your guard up and necessarily be afraid of other people if you want to dress in a way that makes you feel really good. 'One guy in particular that I trust at work – he knows that I put on the boobies!'.
The advert for the show can be seen below.
Advertisement