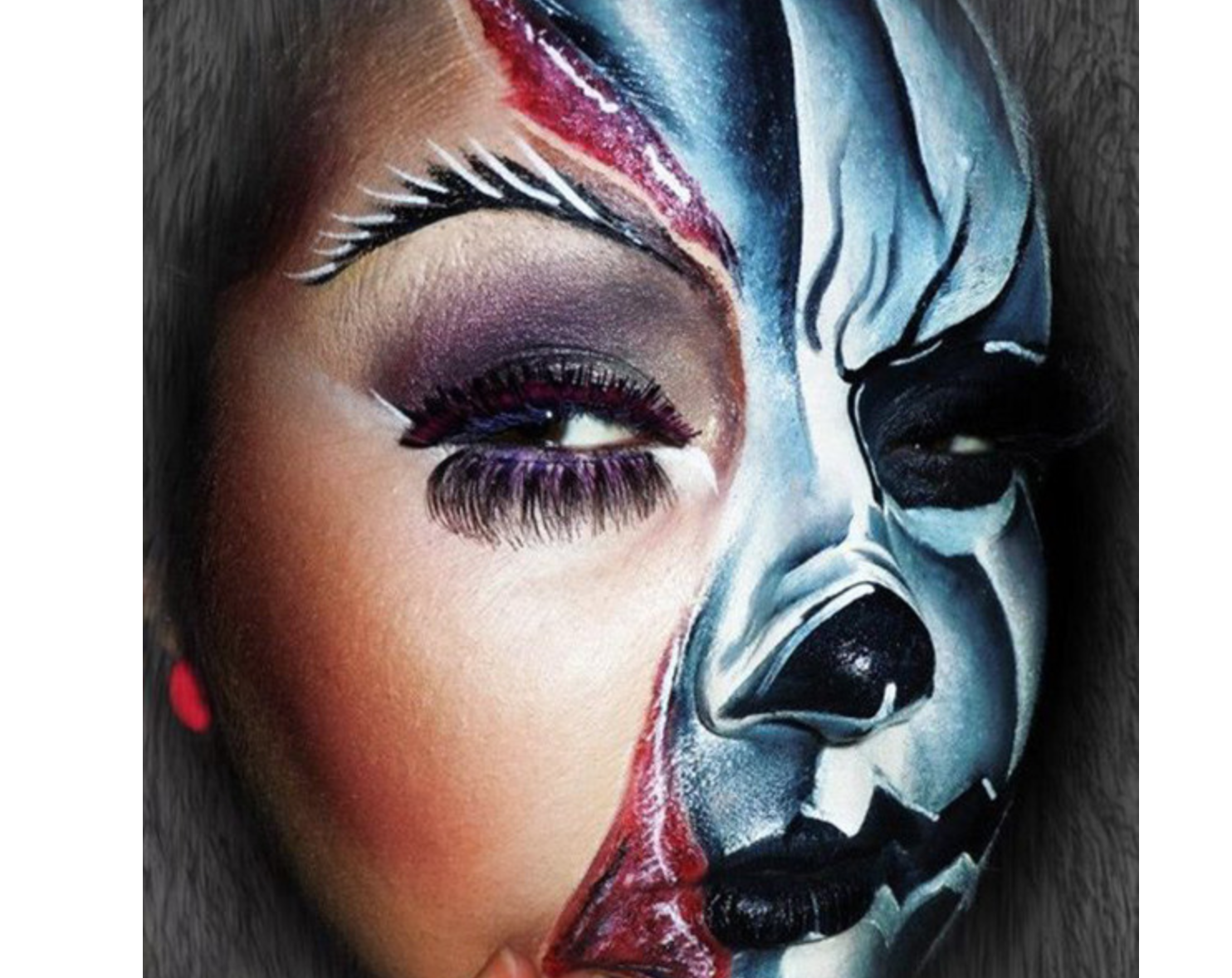 Credit: Beautylish via Pinterest
Evil Queen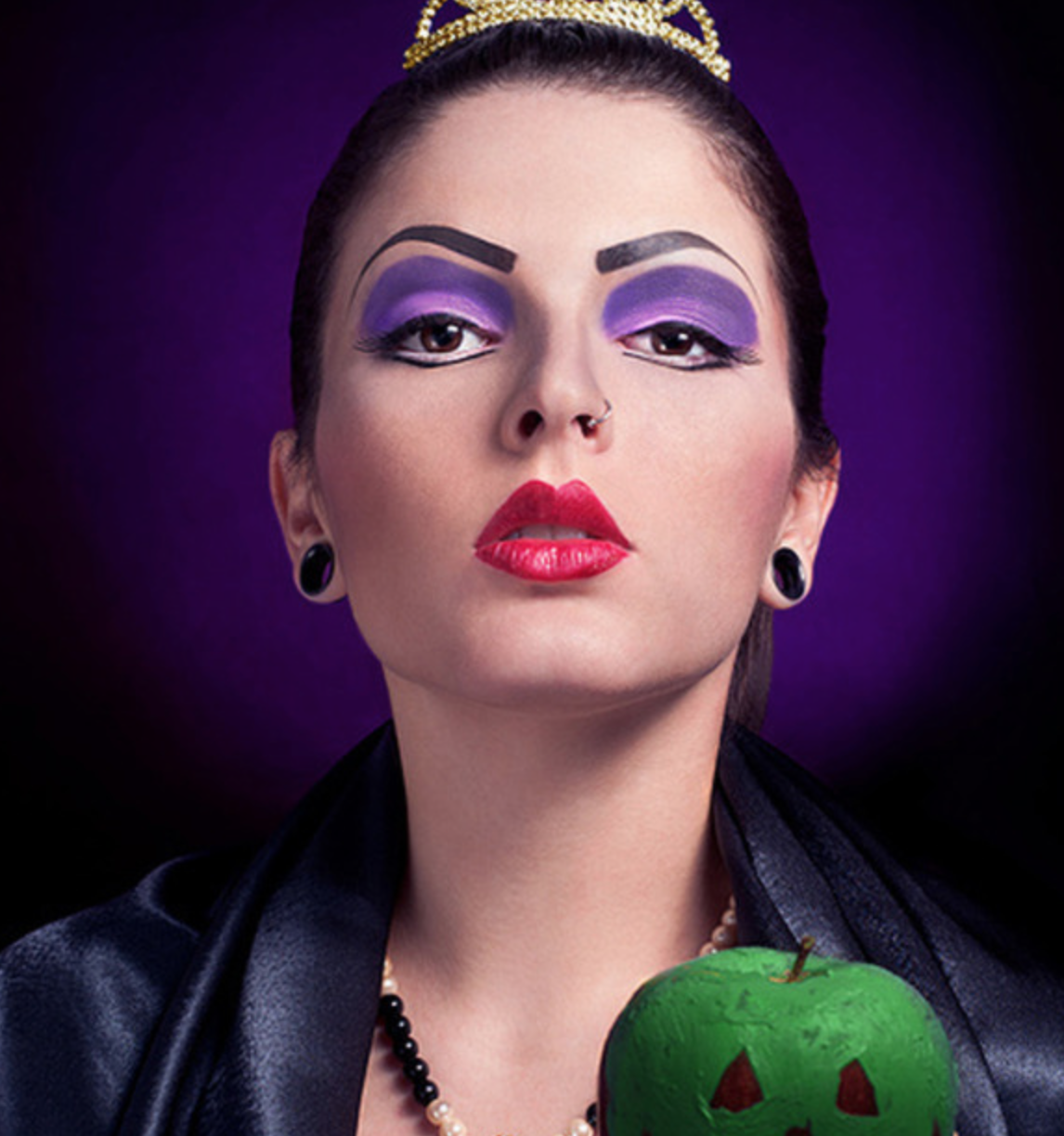 Credit: Beautylish via Pinterest
Snow White's nemesis, the Evil Queen, gets a make-over in this Halloween creation. The original Grimm's fairytale describes this queen as "very beautiful" but "vain" but it's the Disney creation that most of think of when we imagine the poison apple-bearing queen. This make-up creation takes that basic Disney idea to give the Evil Queen – and her apple – a glamorous Halloween-style make-over.
Ram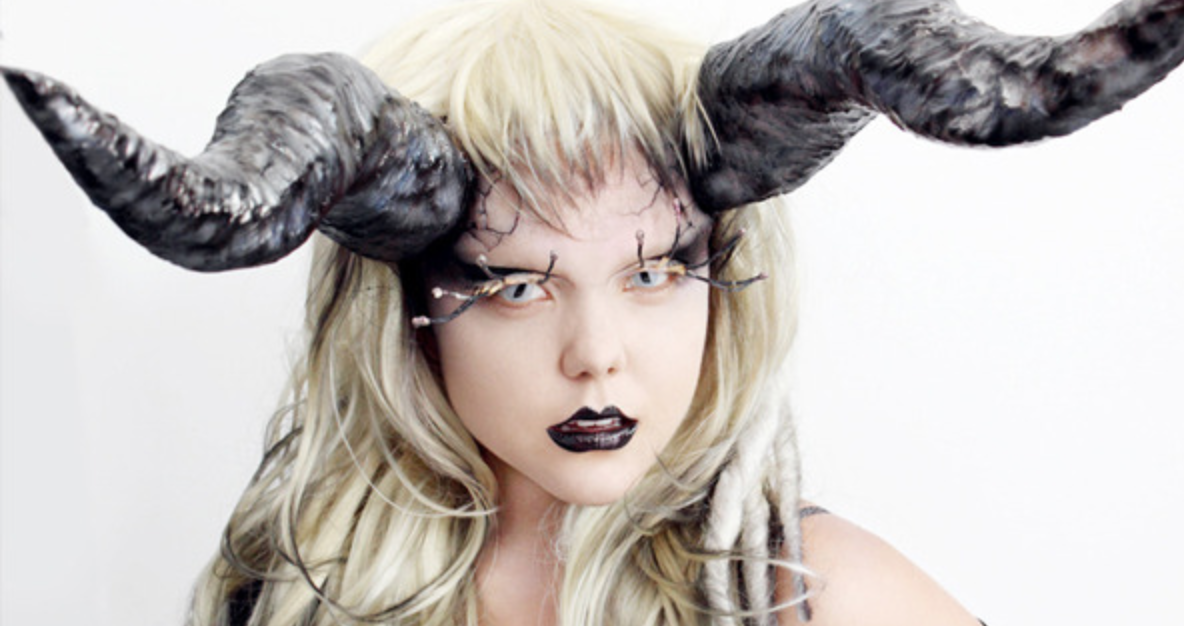 Credit: Beautylish via Pinterest
Is she a ram, an ibex or perhaps even the devil? This dramatic make-up creation is truly stage-worthy. And, of course, it isn't only the pale face, black lips and incredible falsies that make it stand out. First, there are the horns but then there's also the hair. Look closely and you'll see it's styled to resemble the slightly matted coat of an animal.
Red, black and white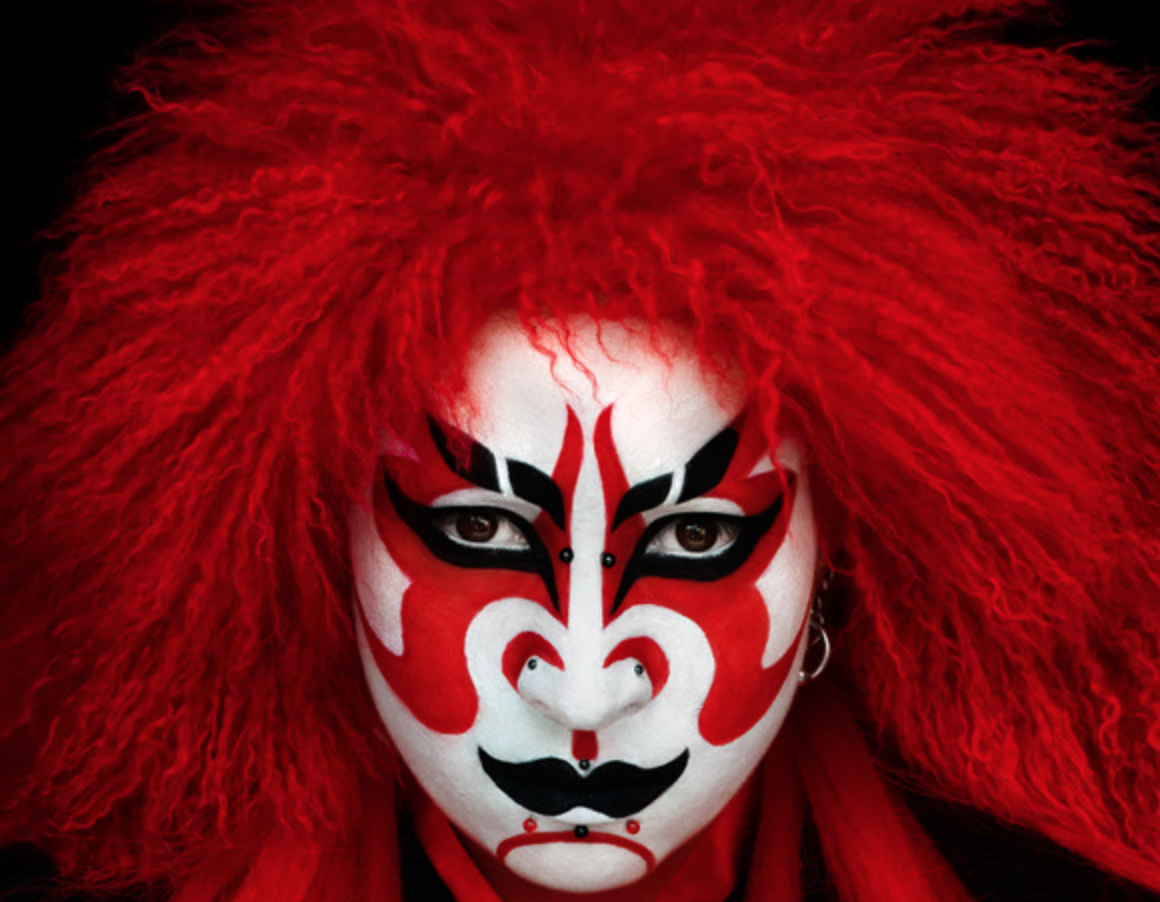 Credit: Beautylish via Pinterest
Always an arresting color scheme, the make-up artist behind this creation uses red, black and white to produce this utterly unforgettable image. The make-up and frizzy hair are almost reminiscent of a clown's – although, if that's the intention, this is no cozy childhood clown. This is one far that's far more akin to the shapeshifting Pennywise in Stephen King's It.
Marie Antoinette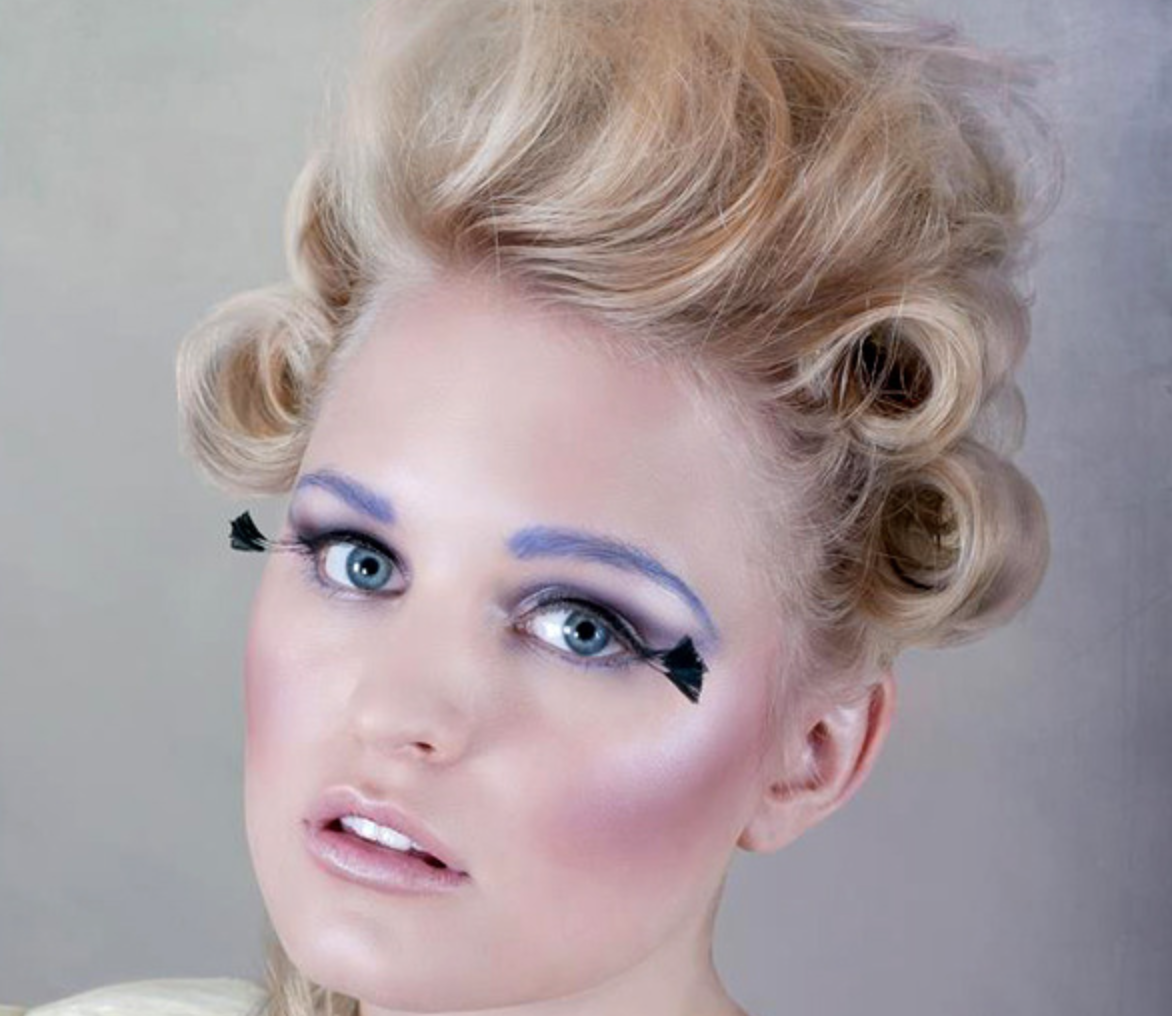 Credit: Beautylish via Pinterest
At just 37, the doomed Marie Antoinette met her end courtesy of Madame La Guillotine in the French Revolution. Here, in this make-up artist's creation, she's brought back to life as a younger, fresh-faced but rather coquettish young woman. Meanwhile, the artfully-rolled hair is a nod to the elaborately-styled wig that the real queen would have worn.
What lies beneath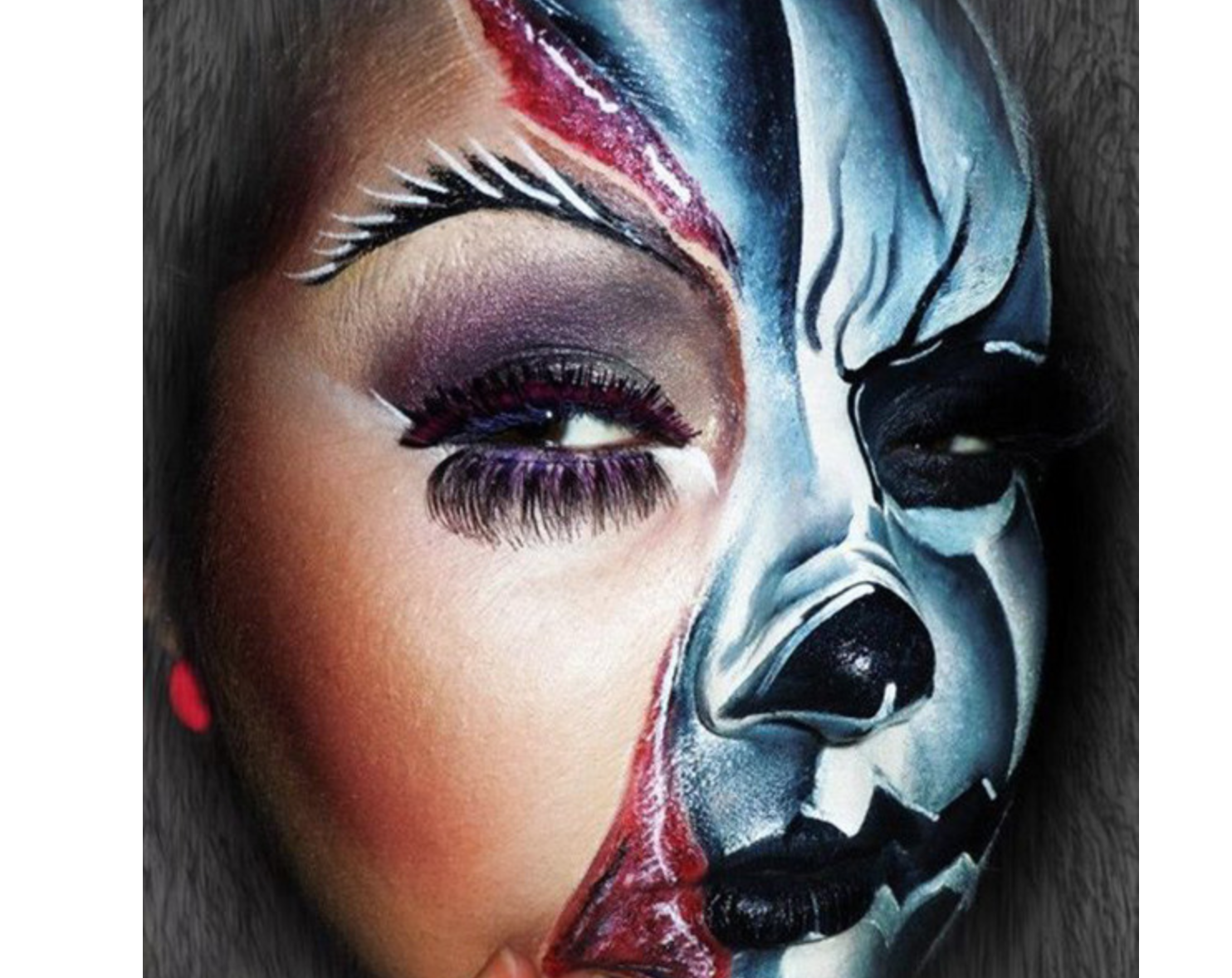 Credit: Beautylish via Pinterest
No, not the movie – because that's a far more psychological story than the more visceral horrors showcased by this make-up creation. With consummate skill and a steady hand, the make-up artist has peeled away layers of skin and flesh from one half of the subject's face, to give us a stomach-lurching look at what lies beneath.
Ventriloquist's dummy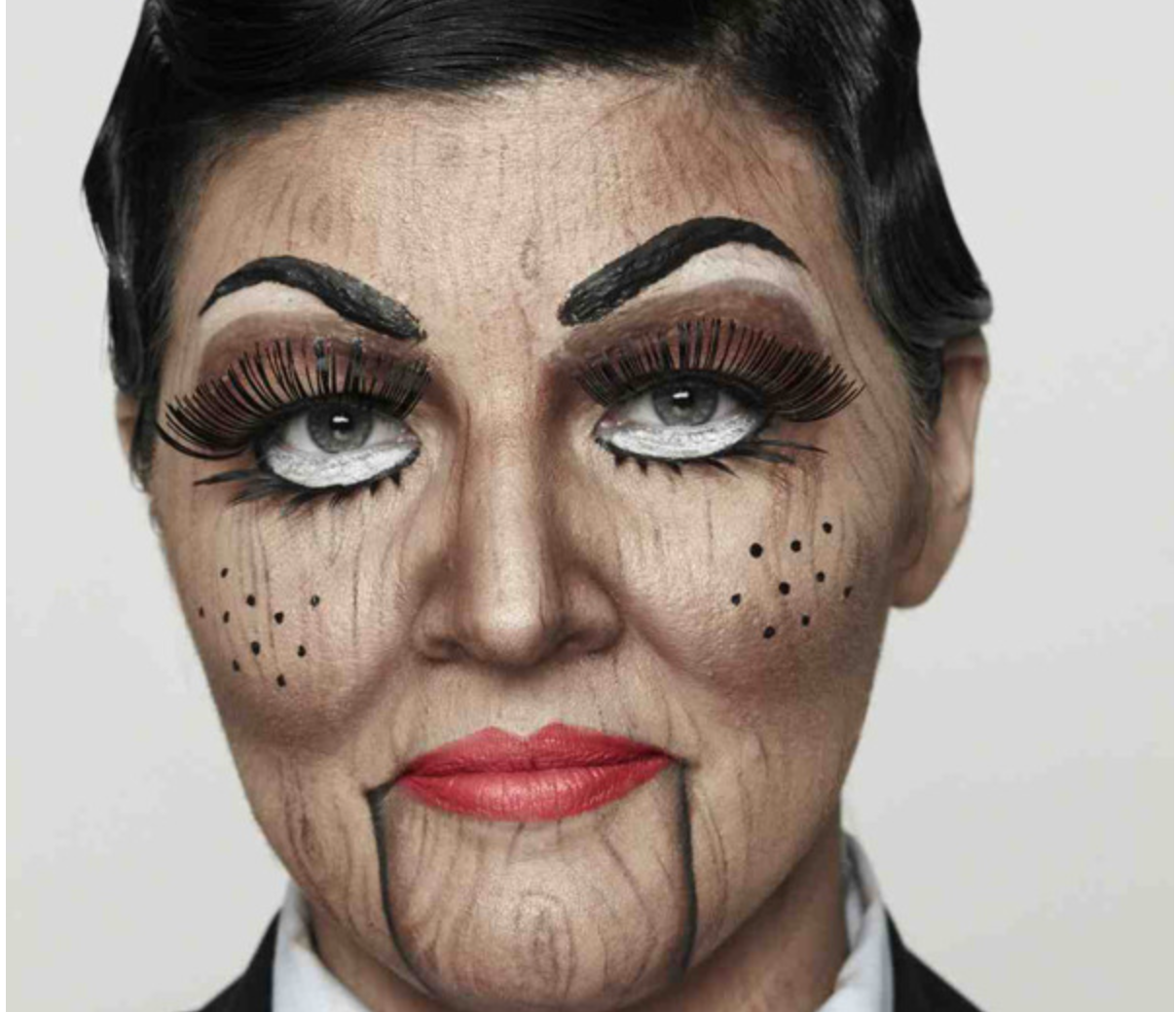 Credit: Beautylish via Pinterest
There's usually something creepy about a ventriloquist's dummy and, with its bold black pigments and vivid red mouth, this make-up creation captures that feeling to perfection. It's a look that could work just as well on a man as a woman or, indeed, also on a child.
Victorian ghost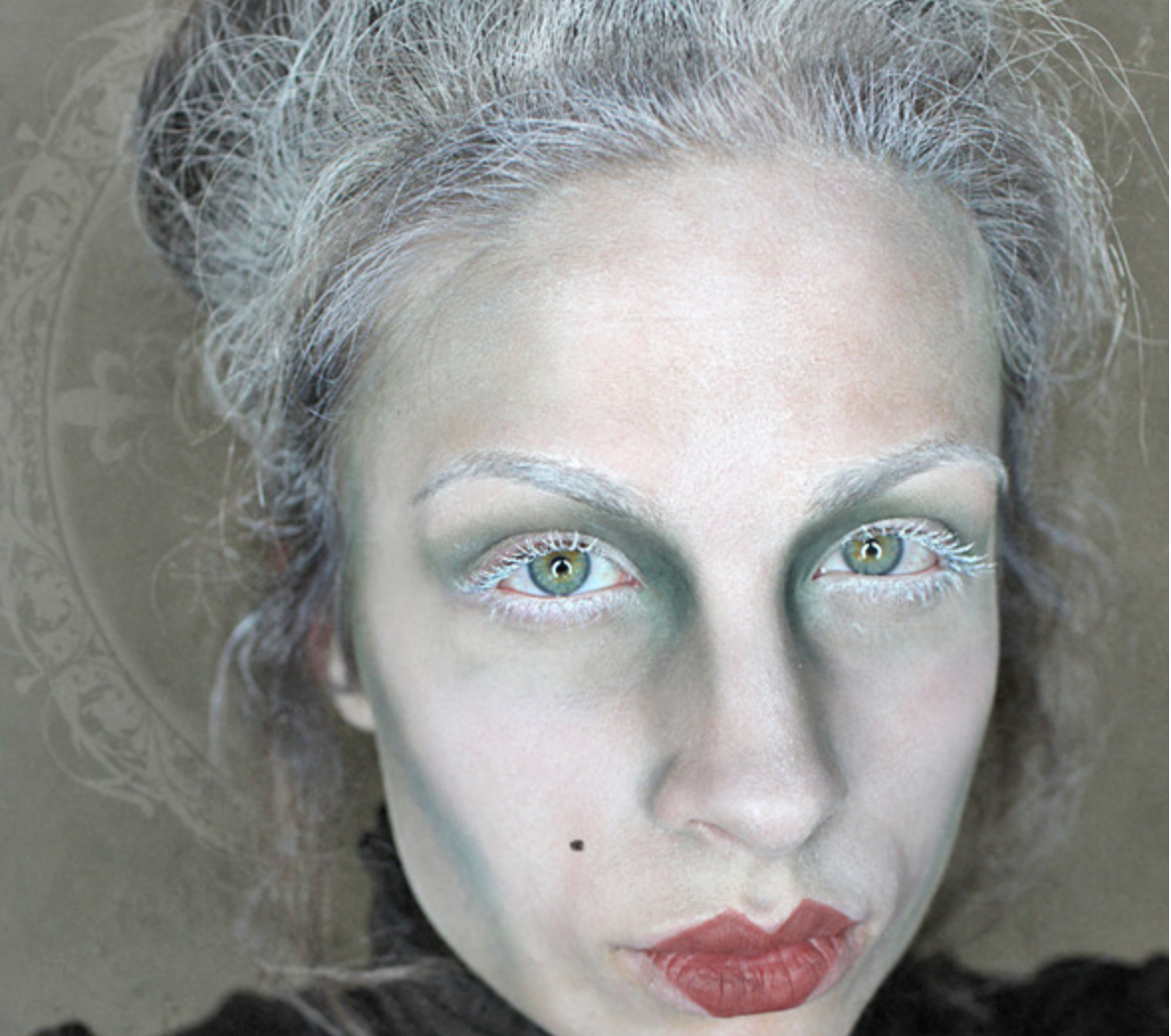 Credit: Beautylish via Pinterest
It's easy to imagine this face in a performance of The Woman in Black by Susan Hill. The make-up would also work well as a look for the sunlight-deprived Miss Havisham in a stage adaption of Charles Dickens' famously Gothic novel, Great Expectations. Alternatively, the white hair and white-frosted eyelashes would make a compelling Halloween costume.
Jessica Rabbit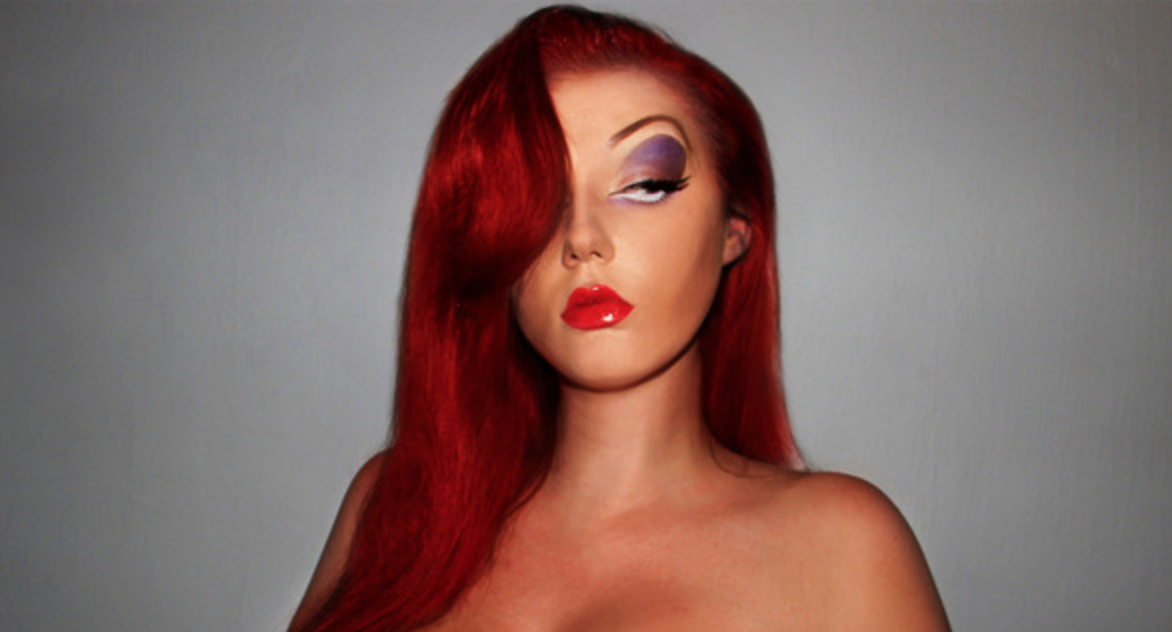 Credit: Beautylish via Pinterest
Instantly recognizable as the human toon wife of Roger Rabbit, this version of Jessica Rabbit does not attempt to deviate from the usually accepted version of her appearance. The make-up artist behind this creation has embraced the character's hourglass curves – and mirrored them in the purple eyeshadow and even in the hair.
Cleopatra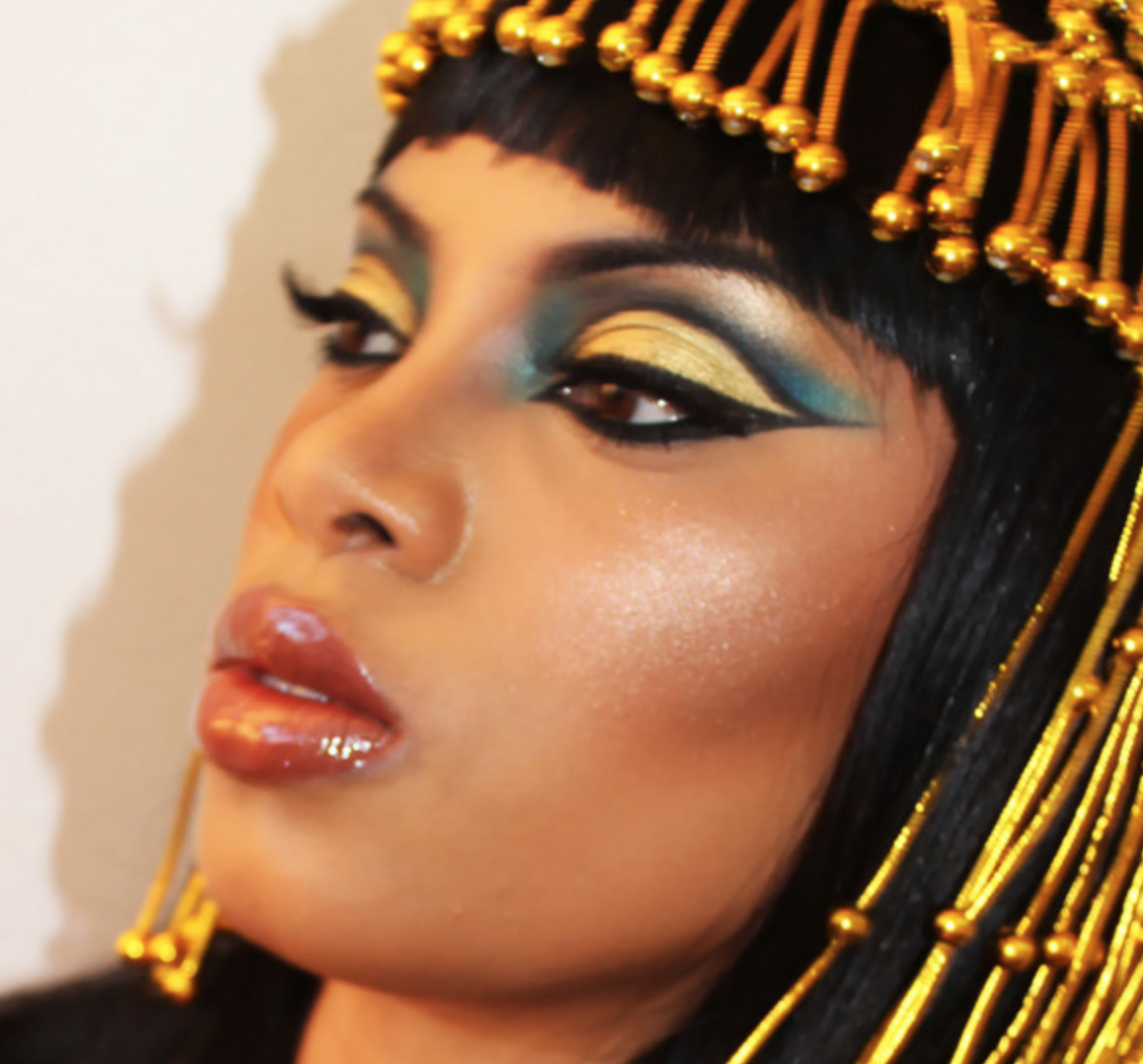 Credit: Beautylish via Pinterest
No-one really knows what Cleopatra looked like. As a result, everyone from Shakespeare to Hollywood has reimagined her appearance. This make-up creation is a worthy addition to the collection. The lustrous gold headpiece – a clear nod to her royal status – is amplified by the striking gold eyeshadow, while the eyeliner and strong eyebrows give her the feline look often associated with her.
Party monster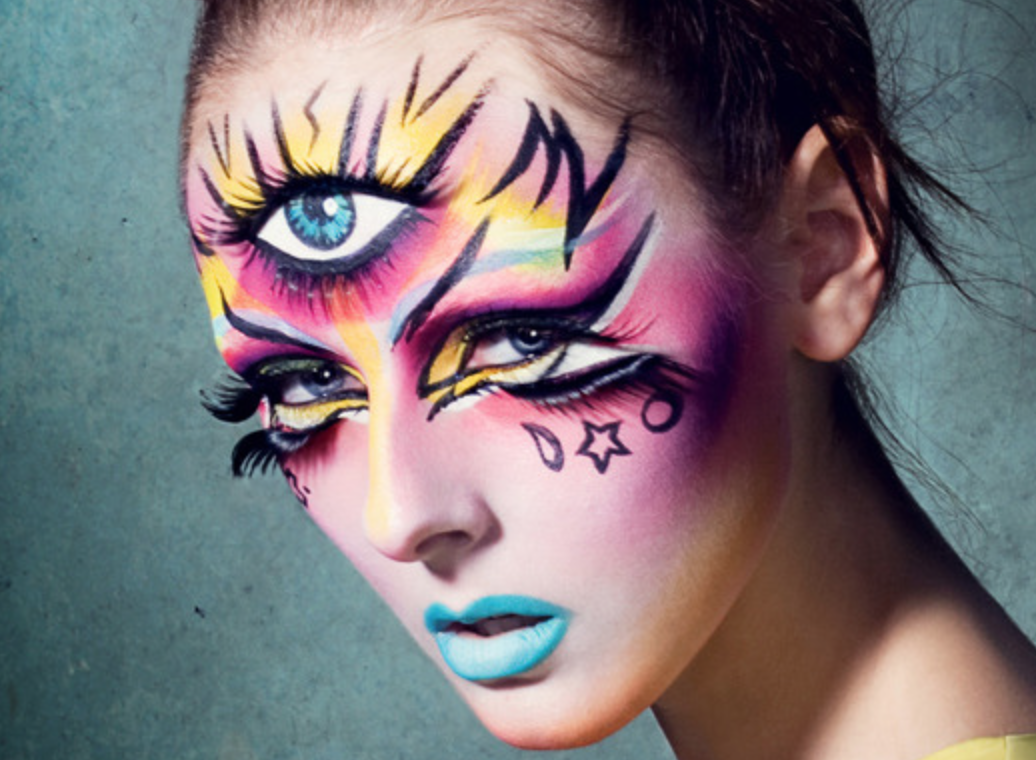 Credit: Beautylish via Pinterest
This is a look inspired by the movie Party Monster, starring Macauley Culkin. Based on a true story, Culkin's character moves from the mid-West to New York. He quickly gets involved with the city's club scene and its "rules of fabulousness". Following these rules is to deliberately attract attention – which is exactly the effect of this dramatic make-up creation with its large third eye.
Halloween bats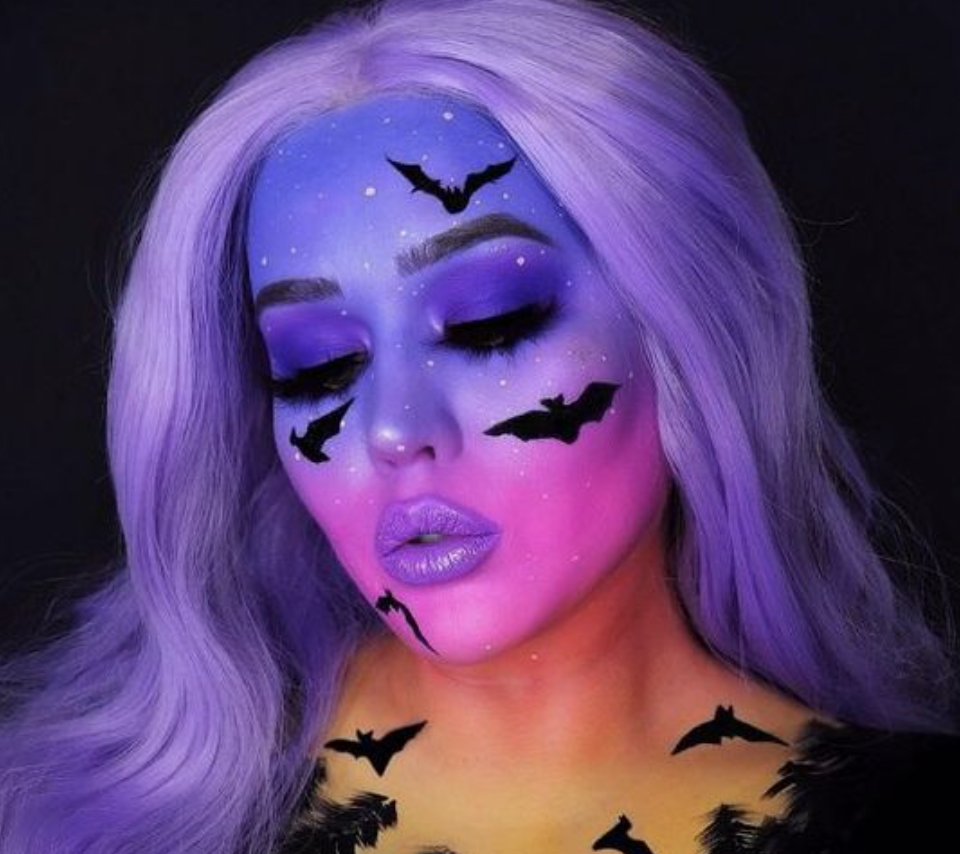 Credit: cueded.com via Pinterest
For a Halloween look that swerves the need for accessorizing with toy bats, witches hats or even a broomstick, this eerie make-up creation takes some surpassing. An ombre design that's reminiscent of the night sky provides a deliciously spine-chilling backdrop to the silhouetted black bats.
Mermaid skull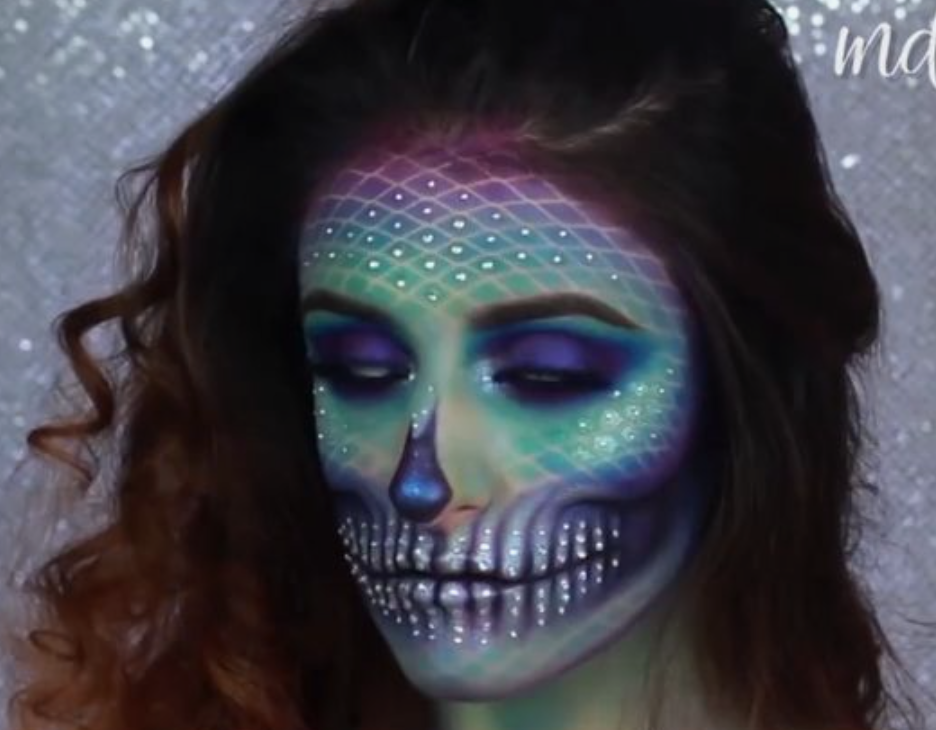 Credit: nisha via Pinterest
If you know your Hans Christian Andersen, you'll know that the original version of The Little Mermaid is considerably darker and more sinister than the Hollywood version. Seemingly taking inspiration from this fact, this make-up creation uses iridescent colors to marry the beguiling face of a mermaid with a skull.
Disney villain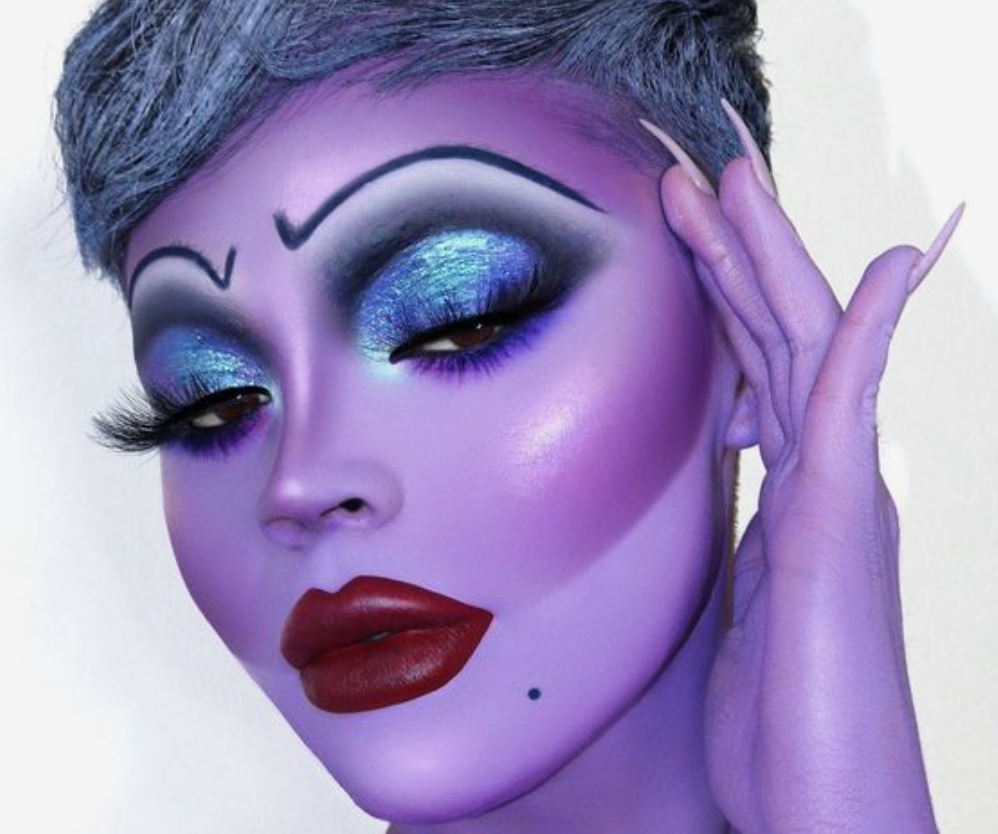 Credit: Insider via Pinterest
With a steady hand and a little patience, it can be surprisingly easy to use make-up to transform yourself into a Disney villain. This gloriously purple example, with its shimmering eyeshadow and bewilderingly long lashes, is Ursula, the antagonist from Disney's version of The Little Mermaid.
Frankenstein(ish)
Credit: Wonder Forest via Pinterest
Look once and you'll see Frankenstein. Look twice and you might see the Incredible Hulk. Look a third time and perhaps the perfect blonde hair will have you thinking of Marilyn Monroe. One thing's for sure: this is a Halloween make-up creation that's sure to have everyone looking again and again.
Cheshire cat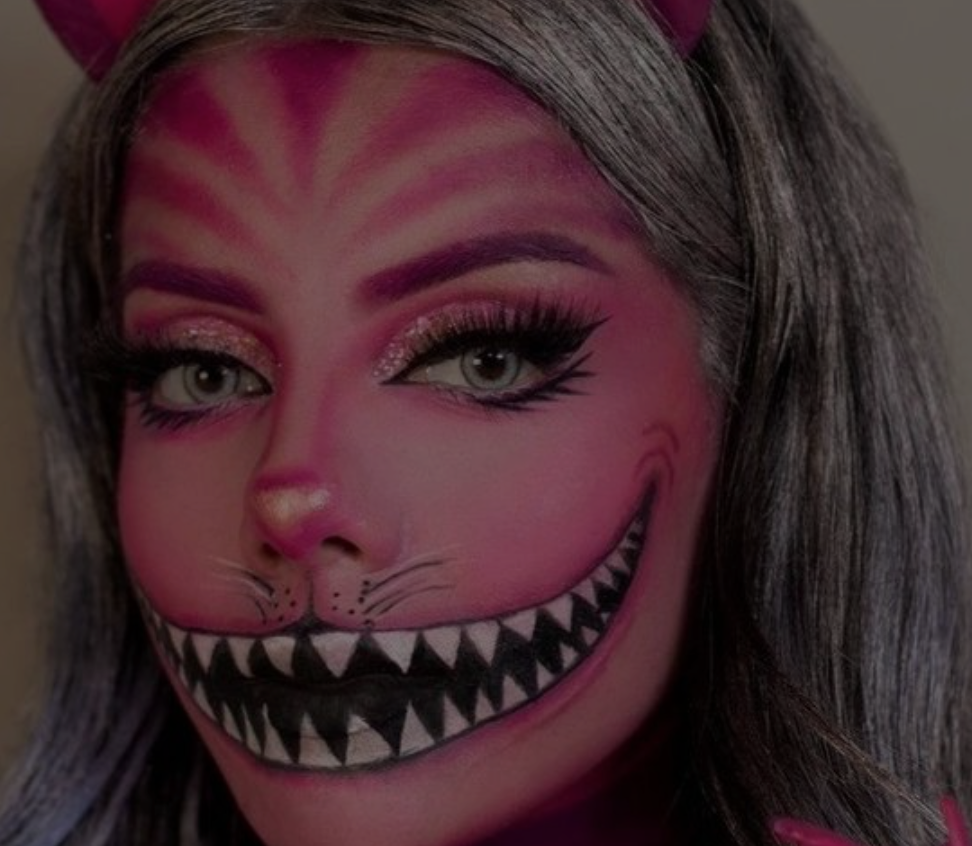 Credit: Lizzy Sixx via Pinterest
It's a version of Alice in Wonderland as you've never seen it before. This grinning Cheshire cat retains the pinks and purples that this fictional feline normally sports but wears them in a far more sultry fashion. However, it's the toothy, almost face-splitting grin that's the pinnacle of this fabulous make-up creation.
Spiderwoman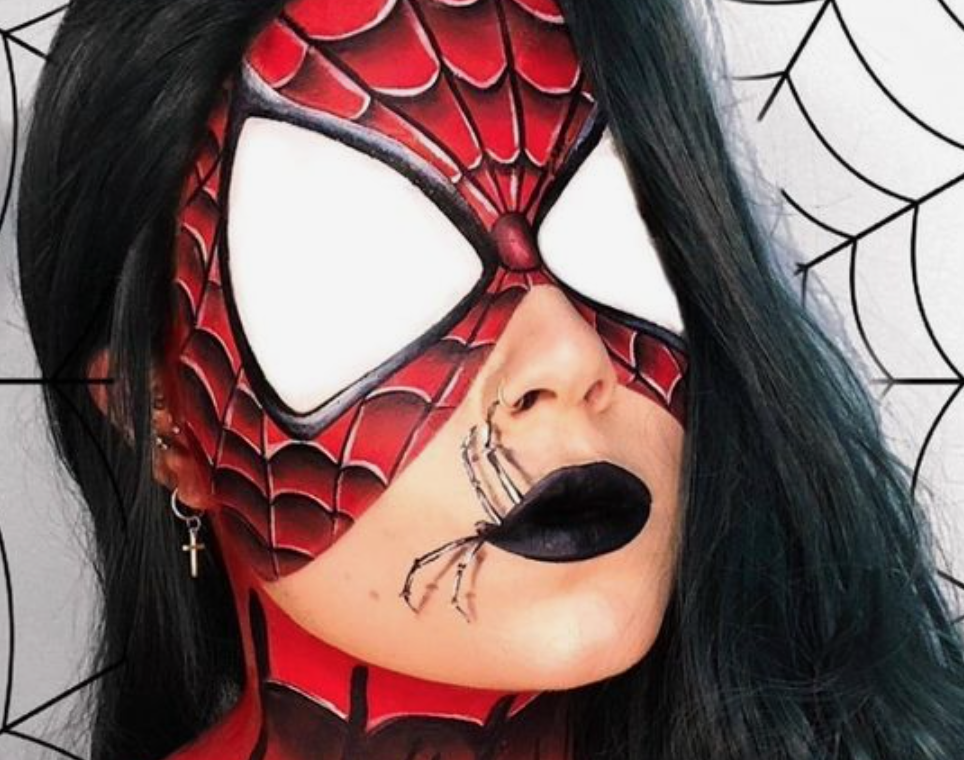 Credit: Fernando Ramírez via Pinterest
This Spiderwoman has all the hallmarks of her better-known male counterpart. Even so, you'll have to remind yourself that this is no fabric costume or mask. Instead, it's a dramatic make-up creation – and its piece de resistance is the bulging black body of the spider in place of a pair of lips.
Ocean waves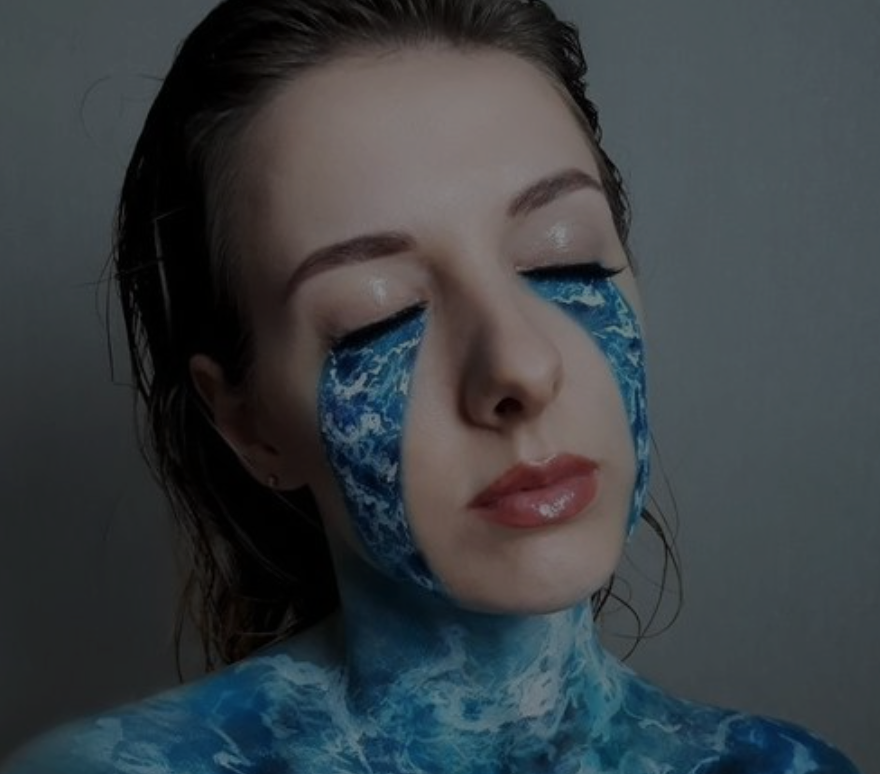 Credit: Consultation Lookbook via Pinterest
Never mind creating beach waves in your hair. What about ocean waves for your face – or even the whole of your body? Deliberately intended to mimic the appearance of ocean waves, this unusual design uses body make-up in different shades of blue to produce a look that'll have everyone who sees you yearning for their next trip to the beach.
Cyborg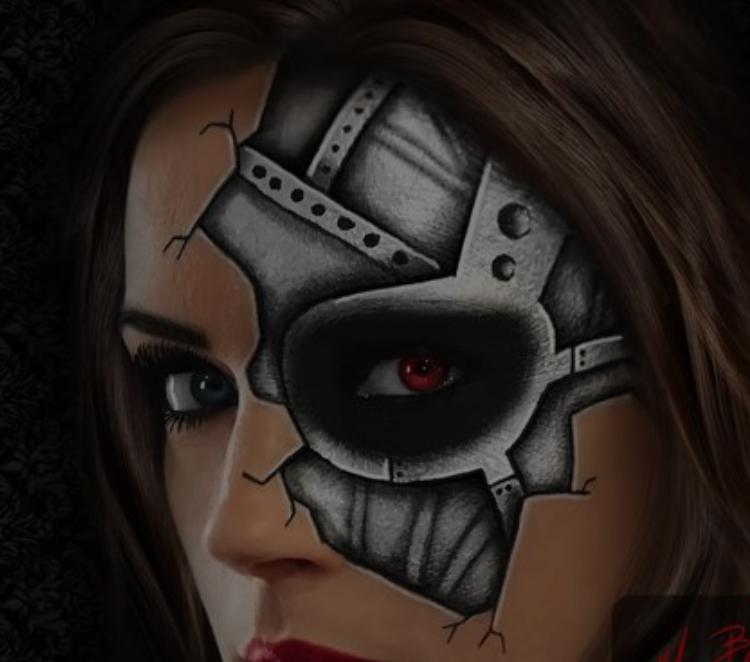 Credit: amasonsayswhat.blogspot.com via Pinterest
Moving away from the supernatural themes common to many Halloween make-up creations, this design is more "Rise of the Machines". It uses metallic silver make-up to produce an arresting look that any Arnold Schwarzenegger wannabe would be rightly proud to sport on screen or stage.
Credit: amasonsayswhat.blogspot.com via Pinterest
Tiger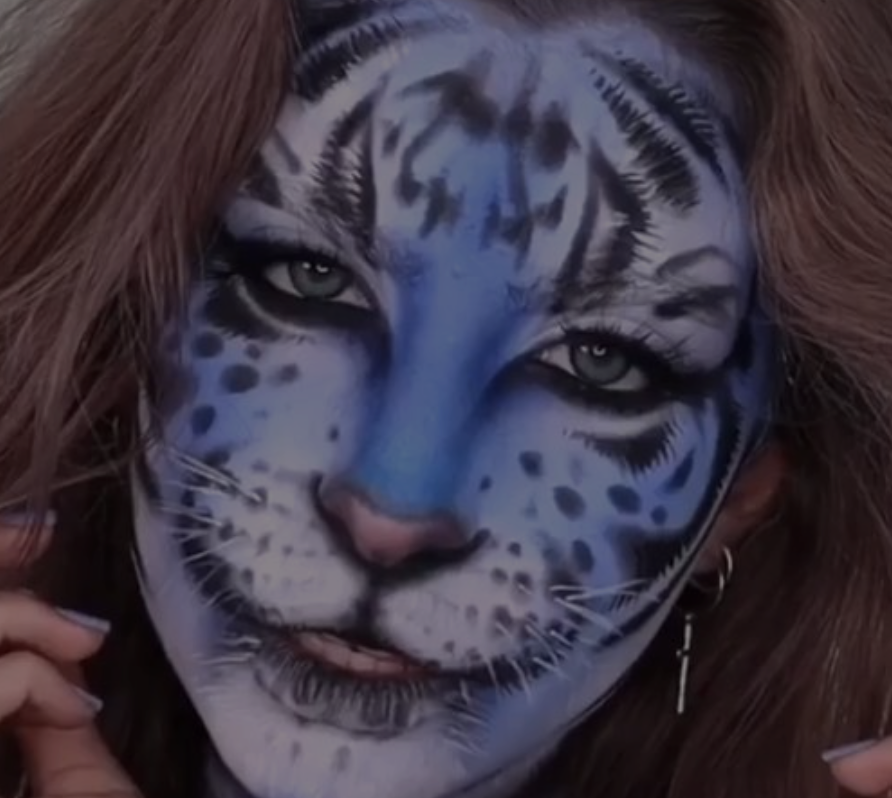 Credit: nisha via Pinterest
Maybe you think tiger make-up is best suited to a kids' fancy dress competition. If so, this clawsome design will have you thinking again. As sultry as it is scary, it's a creation that would work as well in a stage show – perhaps in an adaptation of The Life of Pi – as it would for a Halloween competition.
Friesian cow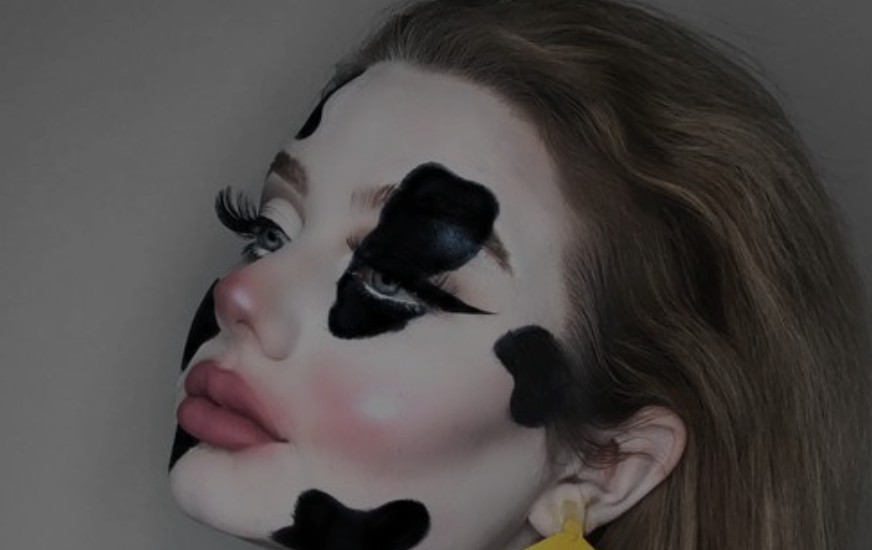 Credit: georgia via Pinterest
This glossy black and white make-up creation is definitely a cow, and a Friesian cow at that. However, it's absolutely not the staid bovine of stereotype. Forget grazing in buttercup-filled meadows or waiting at the gate for milking time, this cow is ready to party.
Fall vibes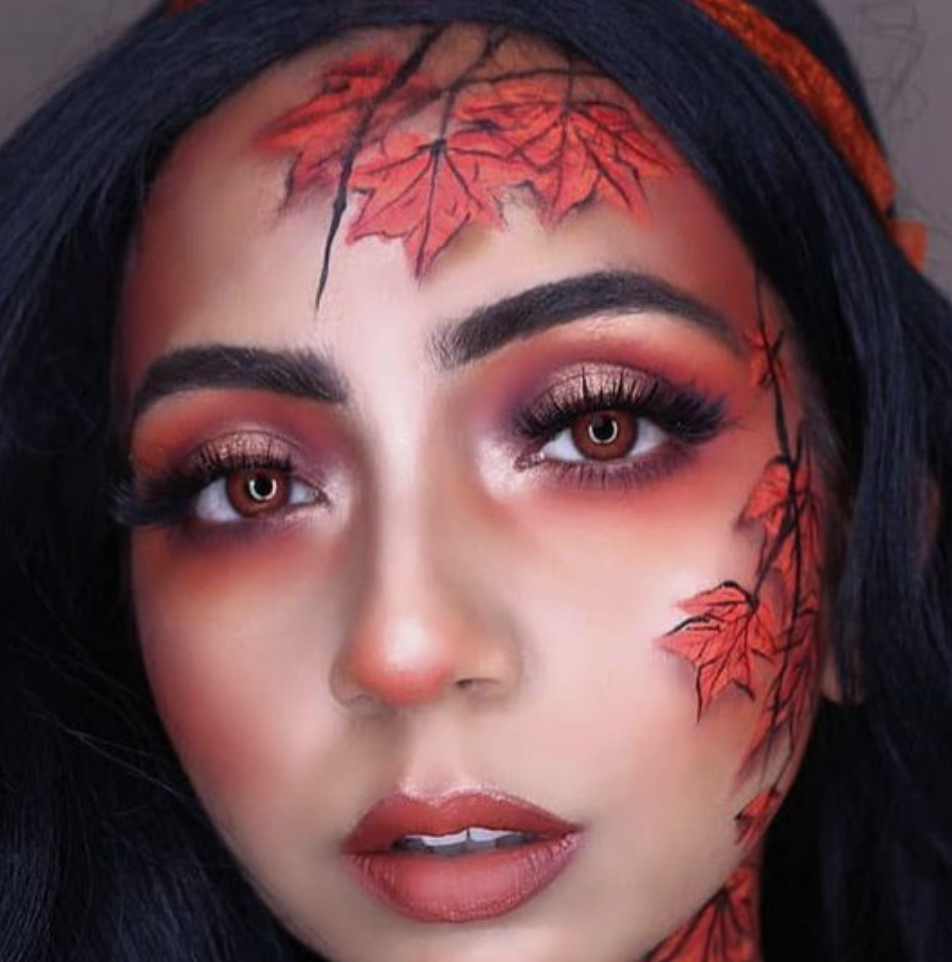 Credit: Glamour via Pinterest
For all the feel-good vibes of fall, what about the warm russet tones of this leaf design? It's a make-up creation that would work particularly well for a glamorous party close to Thanksgiving. Team it with a similarly-toned outfit for the ultimate in autumnal style.
Pretty as a peacock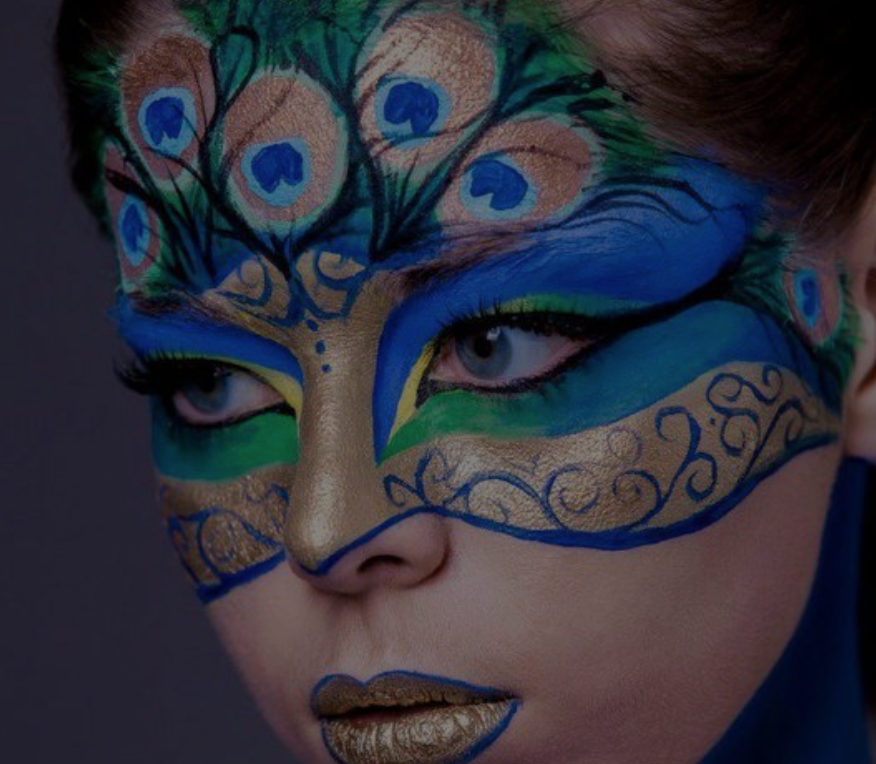 Credit: lovebugsandpostcard.com via Pinterest
There's little to match the colorful showiness of a peacock in full plumage. However, this eye-catching make-up design comes about as close as is possible. Using the same vivid greens and blues as a real peacock, the result is a creation that's fancy dress perfection.
Sun, moon and stars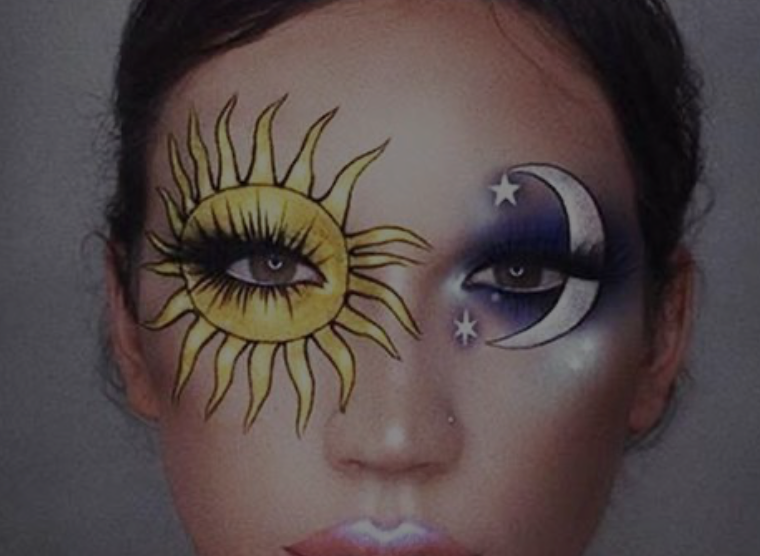 Credit: youngisthan.in via Pinterest
Applying eyeshadow is no easy task but the make-up artist behind this creation has managed to do so in such a way as to reimagine the sun, the moon, and the stars on the face of the model. The result might not be easy for an amateur to recreate but, for anyone who can, it's the perfect look for a masked ball.
Jigsaw puzzle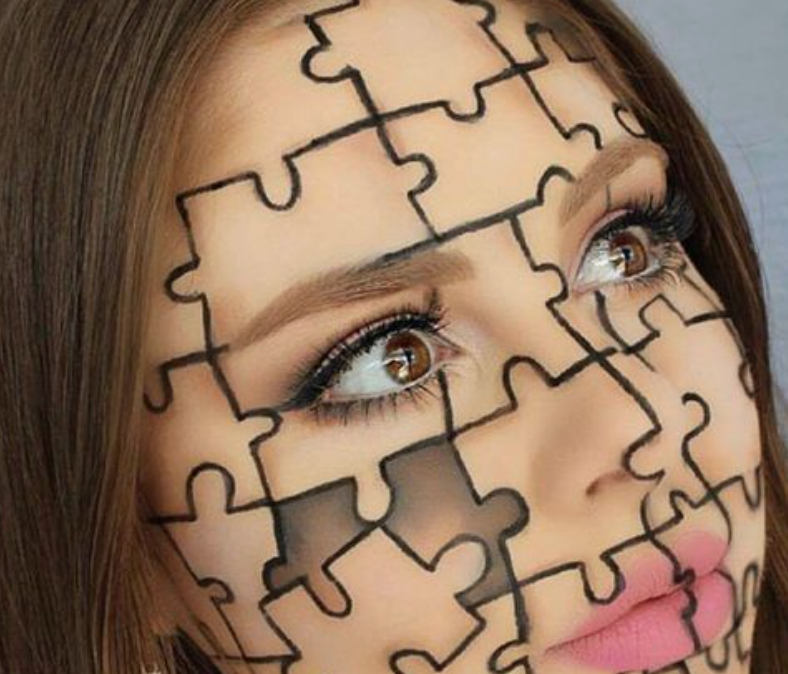 Credit: Glaminati via Pinterest
Is it a game or is it a threat? On one hand, the carefully drawn lines of this jigsaw puzzle are reminiscent of this time-honored childhood pastime. On the other hand, look at the slipping piece and the darkness behind it….. This is one make-up creation that's definitely not all that it first seems.
Skeleton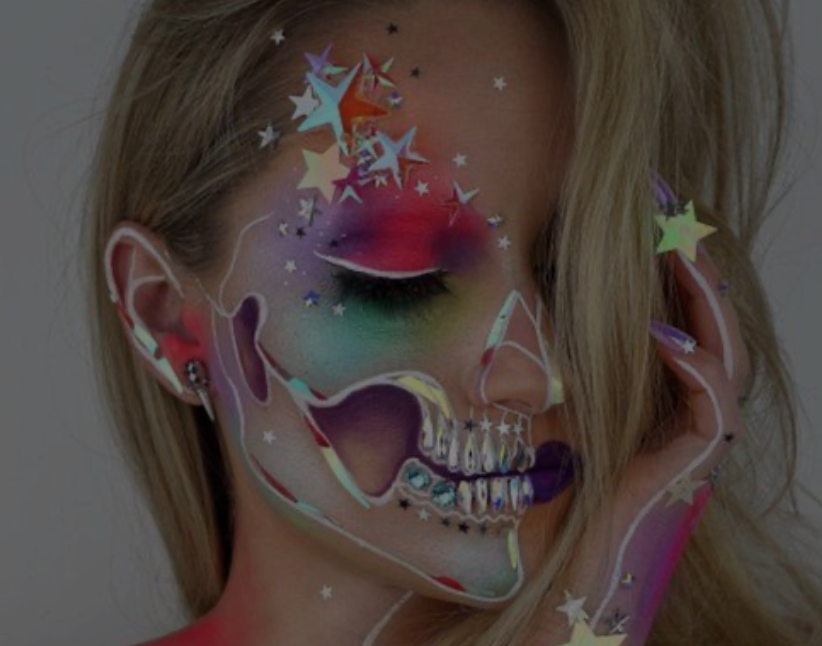 Credit: PopSugar via Pinterest
Taking skeleton make-up to a whole new level, this design is as far from the classic white bones on black background as it's possible to go. Instead, the make-up artist uses bright colors, sequins, glitter and even a sprinkling of Swarovski crystal to create one of the most glamorous skeletons imaginable.
Fairydust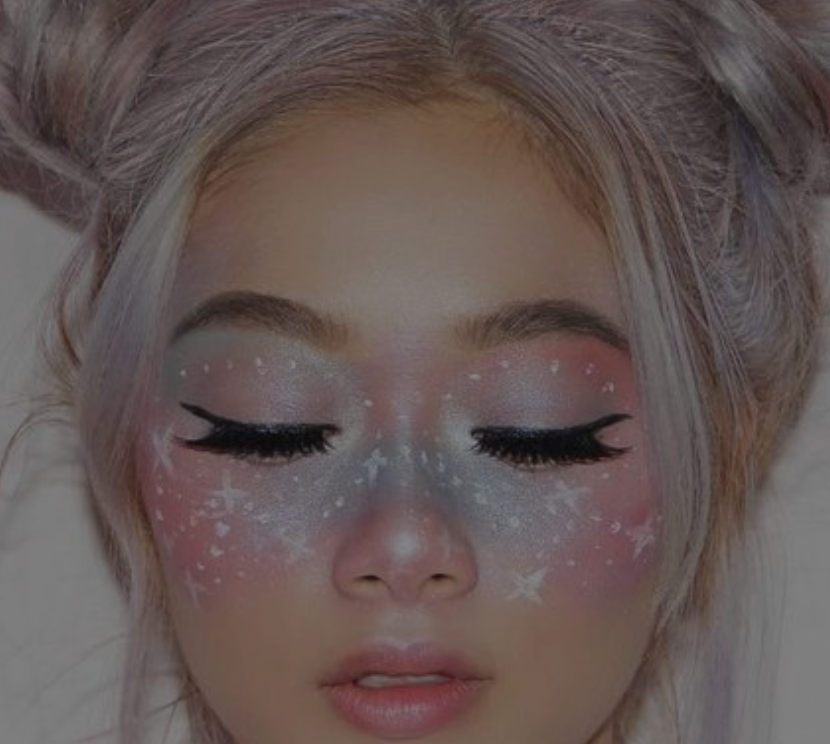 Credit: glaminati.com via Pinterest
The perfect look would any would-be fairy, this pretty design uses soft, shimmering pastel colors to suggest ethereal other-worldliness. Heavy black eyeliner and long falsies provide a striking contrast and suggest that this fairy has considerable hidden strengths. A pastel-toned rinse for the hair provides just the right finishing touch.
New Year fireworks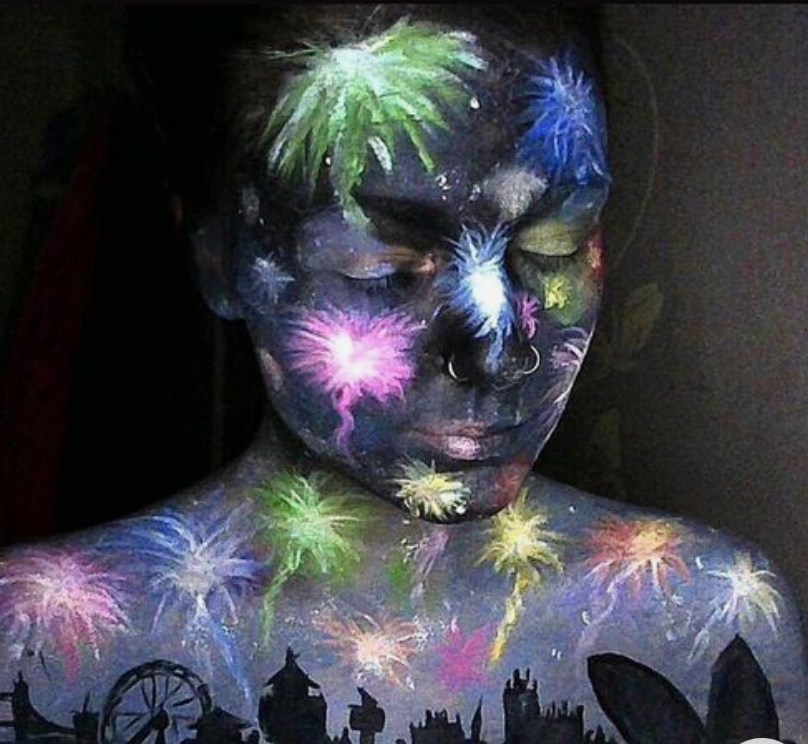 Credit: buzzfeed.com via Pinterest
This bold and bright fireworks' display uses the body and face as its canvas. Beneath the exploding lights, a silhouetted London scene – with landmarks including a recognizable Tower Bridge, London Eye, and the Gherkin – are lit up just as they are for anyone who stands on the banks of the Thames to see in the New Year.
Koi mermaid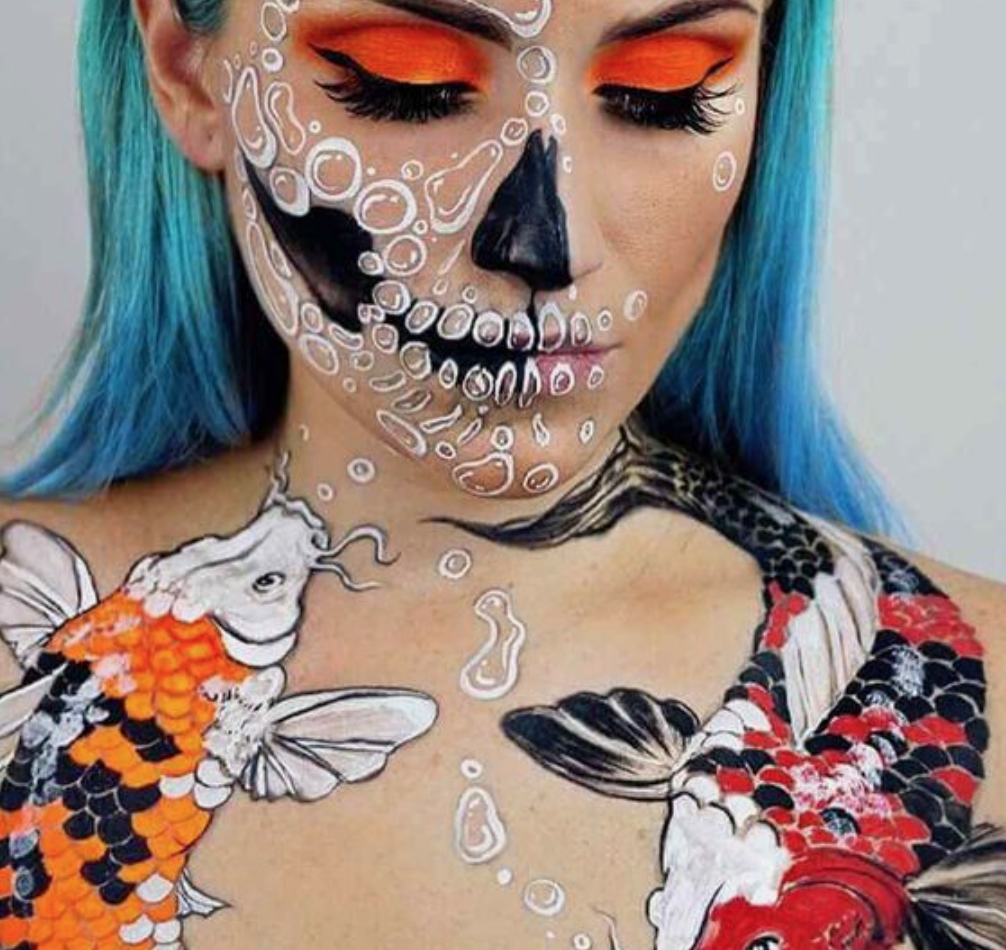 Credit: roc21.com via Pinterest
Body and face make-up come together to create this arresting image of two koi carp swimming in a bubbly pool. However, look carefully and you'll see that the bubbles are not just bubbles: they're also suggestive of teeth and facial bones that lie beneath the model's skin.
Smoky sunrise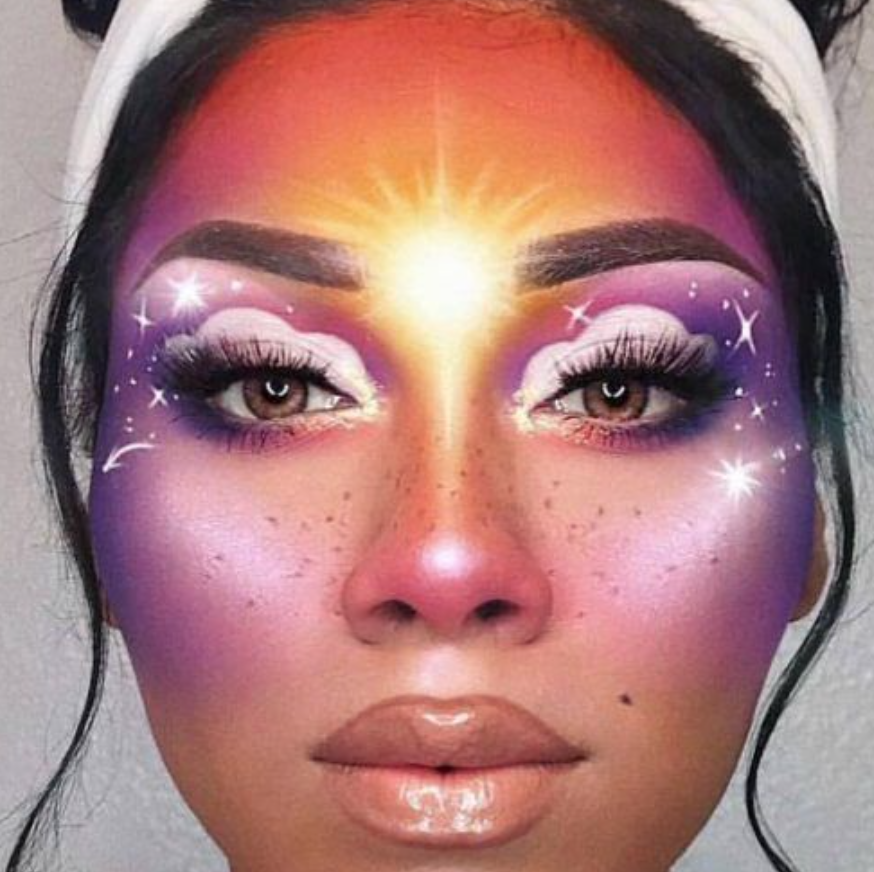 Credit: lasdiest.com via Pinterest
If you're already a dab hand at a smoky eye, why not think about trying to recreate this smoky sunset look! It's the perfect creation for that look-at-me party look, especially if the party in question happens to be a sunset beach disco somewhere hot and tropical.
Optical illusion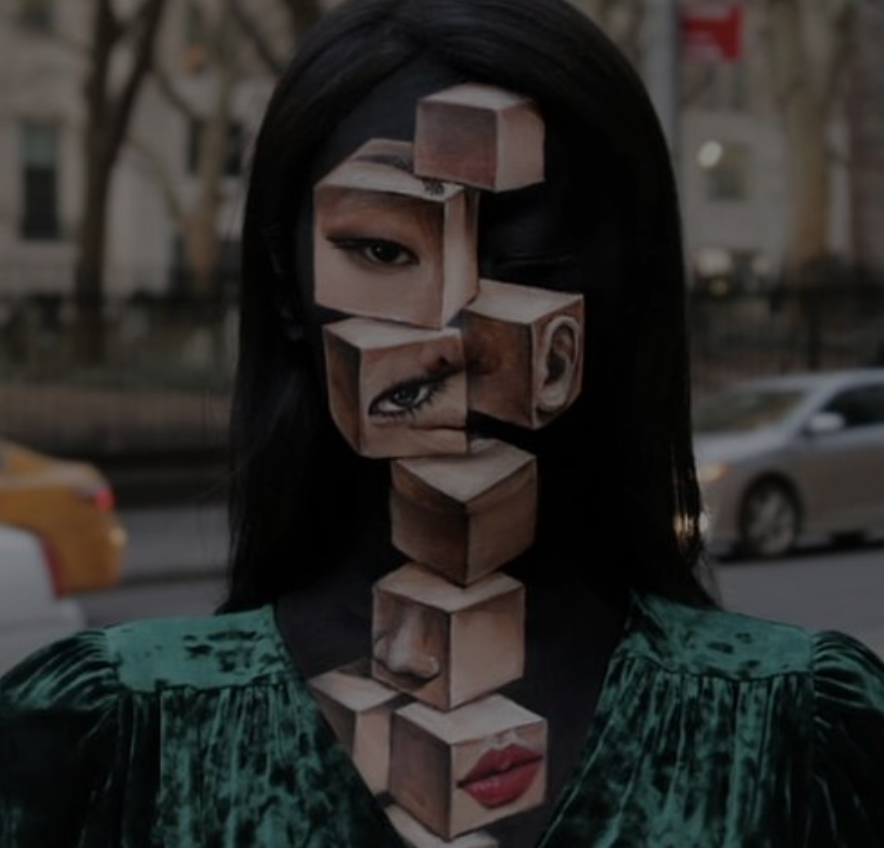 The South Korean artist Dain Yoo uses her creative skills to produce a make-up look that puts most Photoshop efforts to shame. Definitely not a look for the amateur make-up artist, the result is something that will have you looking again and again to try and decipher exactly what it is you're seeing.
Elk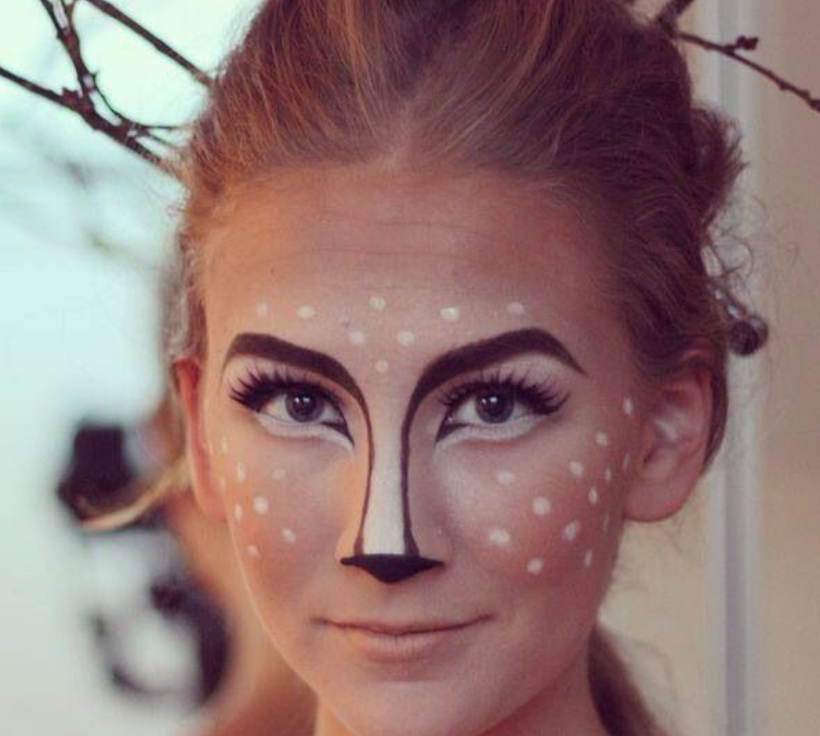 Credit: Kristi Lynn Parish via Pinterest
Deceptively simple but no less effective for that, it's the clever contouring and subtly effective rendering of an elk's camouflage markings that make this such a great look. With care, good application techniques and a fabulous pair of falsies, this is a make-up creation that you could replicate at home.
Lion King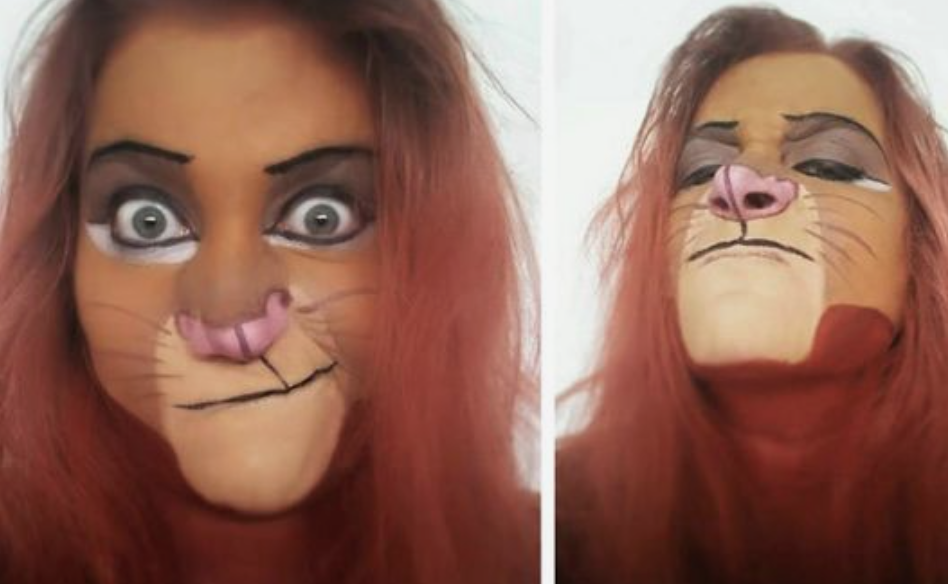 Credit: 9GAG.com via Pinterest
Whether it's Simba from the Lion King, the Cowardly Lion from the Wizard of Oz, or even Narnia's Aslan, this is a make-up creation that has as many possibilities for cosplay as it does for stage shows. It's also a great one for a more family-friendly Halloween costume idea or for kids' birthday parties.
Rainbow vomit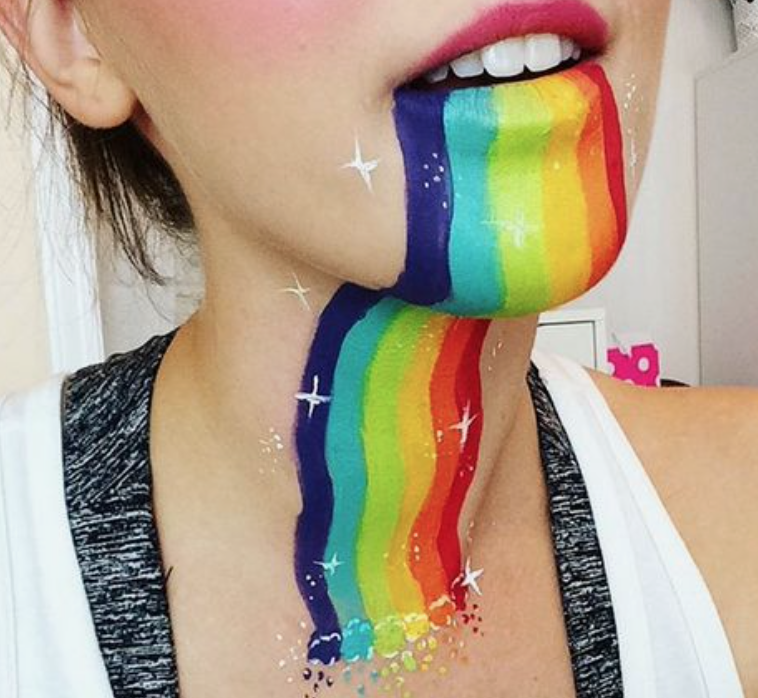 Credit: Brit + Co via Pinterest
All right, so no one's likely to mistake this creation for anything other than make-up but, thanks to Snapchat, it's a very on-trend look. What's more, it's very easy to replicate. If you use the right products, it's also a look that should last the night – or at least long enough to photograph for posterity and your own Snapchat.
Baby doll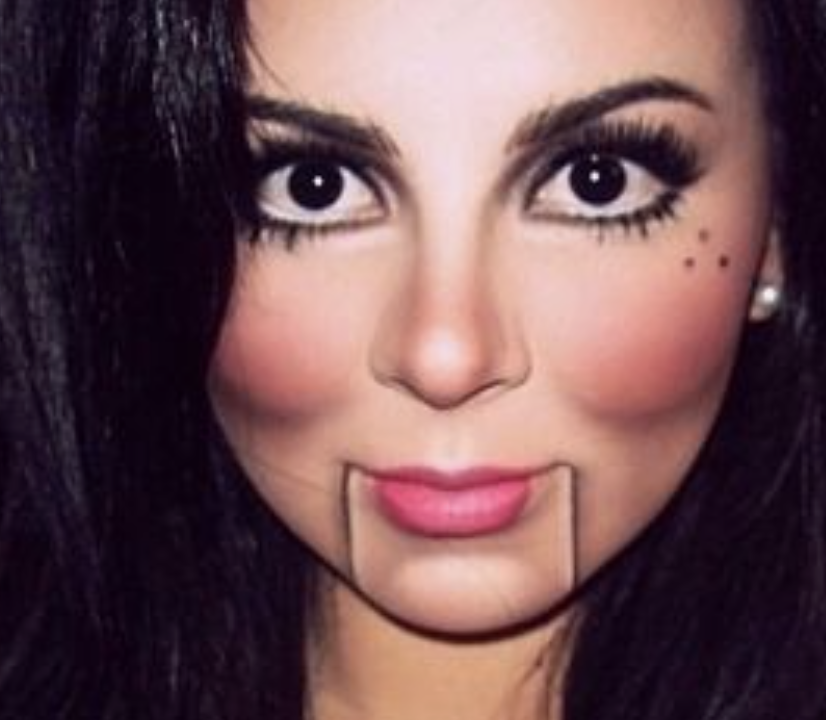 Credit: beautylish.com
Creepily cool, this is definitely a look for a certain type of Halloween party – and a person with a certain amount of confidence. It's also a look that's easy to recreate, requiring no more than the contents of an average make-up purse plus a pair of falsies. Just don't forget the beauty spots!
Spiderwebs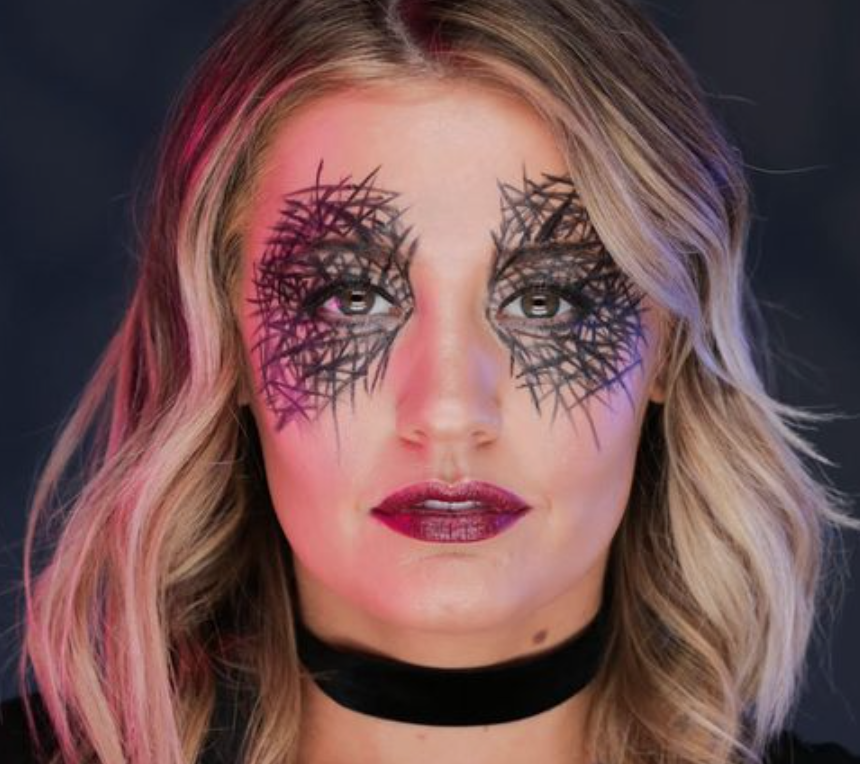 Credit: POPSUGAR Beauty via Pinterest
No matter how little talent you think you have in the field of make-up artistry, this is an achievable look. It requires no more than a decent eyeliner (plus a sharpener) and an idea for your own personal spiderweb. Draw one over both eyes or limit it to just the one.
Greyscale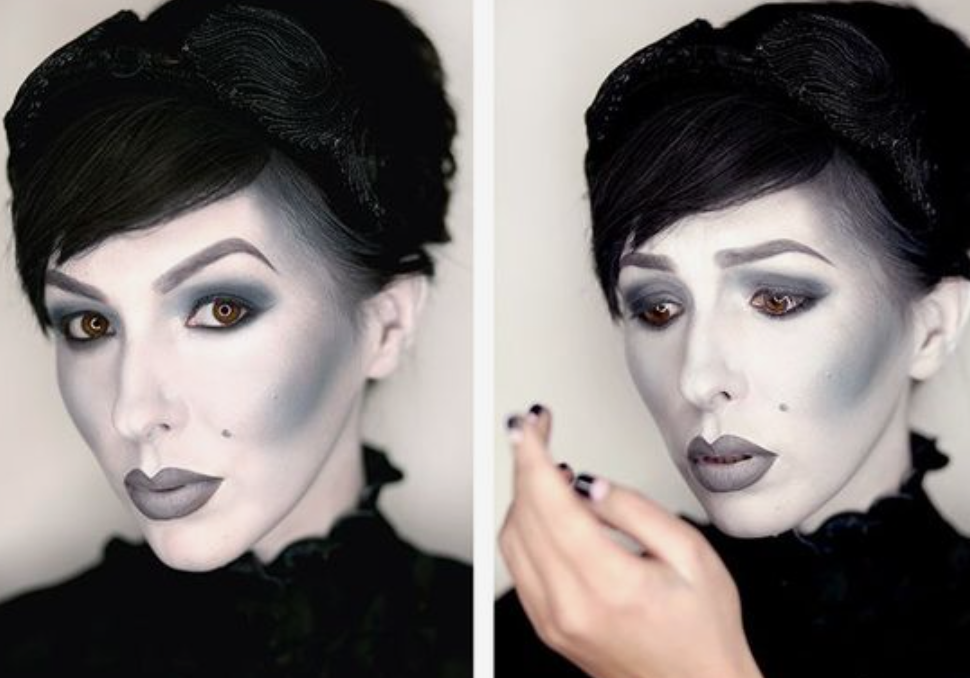 Credit: keikolynn.com via Pinterest
Fancy achieving an old-fashioned look for this year's Halloween? If so, this greyscale make-up creation could be just what you're after. Beginning with a heavy pale base layer, it moves on to contouring. Next, it's eyeliner, eyeshadow, lipliner and lipstick – and, overall, it includes more stages than the stark perfection of the finished result might suggest.
Monarch butterfly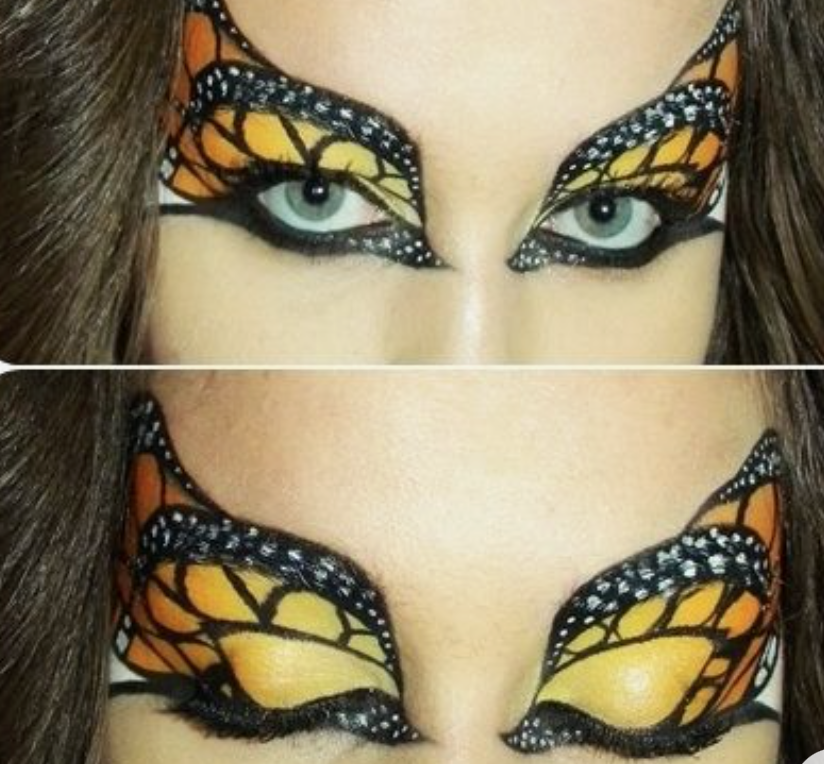 Credit: beautylish.com via Pinterest
A favorite of many a child's birthday party, this monarch butterfly design takes the typical butterfly make-up to a new level. As the picture shows, if anything, it's even more effective when the eyes are closed – perhaps making this one creation you won't want to take off before bed.
Animal lips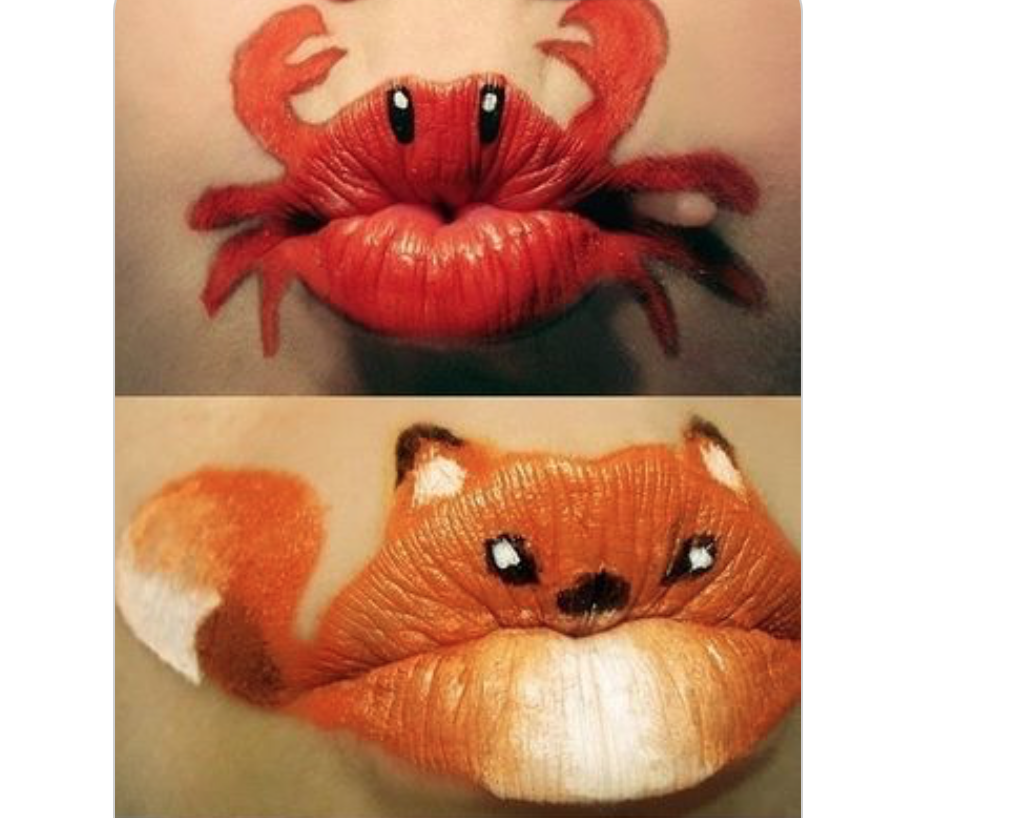 Credit: wheresmysammich.com via Pinterest
It's a look that might not survive your first drink – or kiss – but, for as long as it lasts, it's a fabulous photo opportunity and a great talking point. And as for which animal you choose: it's whatever you fancy and can create. Here's a crab and a little fox for inspiration.
Human skeleton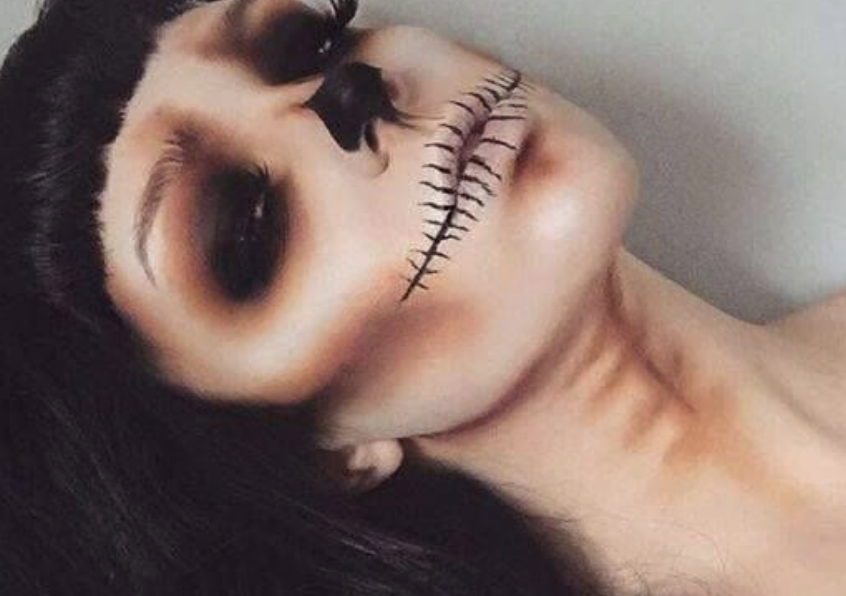 Credit: skullspiration via Pinterest
We all have one even if we never get to see it – and maybe that's why the human skeleton is such an endless source of inspiration when it comes to spine-tingling Halloween creations. This version uses contouring to create an authentically cadaverous look and accentuate the skull bones. Meanwhile, judicious use of more product suggests recently sutured lips and throat.
Grumpy cat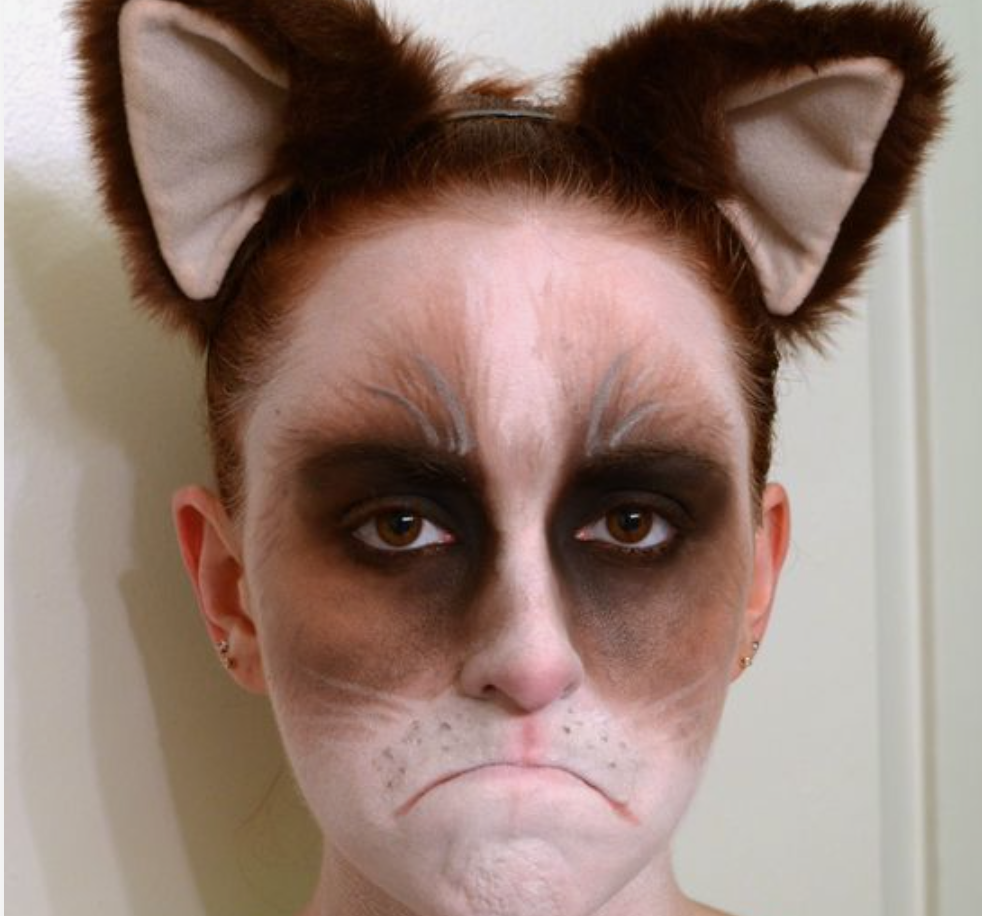 Credit: imgur via Pinterest
Not a fan of dressing up or elaborate make-up for Halloween or any other fancy dress event? If that's you, this grumpy cat creation could be just the image you're after to express your views while also joining in with the fun just a little.