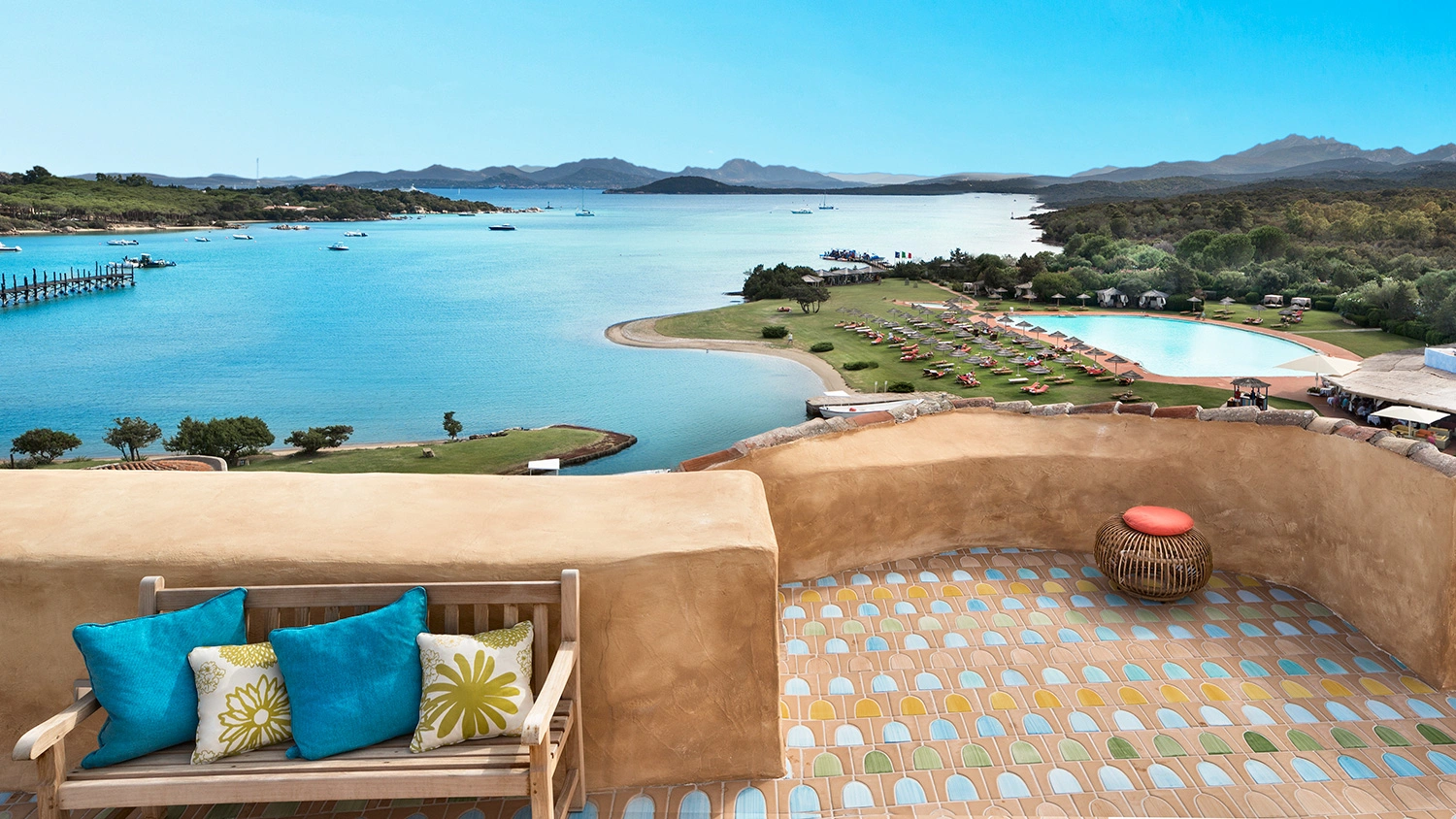 Credit: Robb Report
1. Royal Penthouse Suite, Hotel President Wilson, Geneva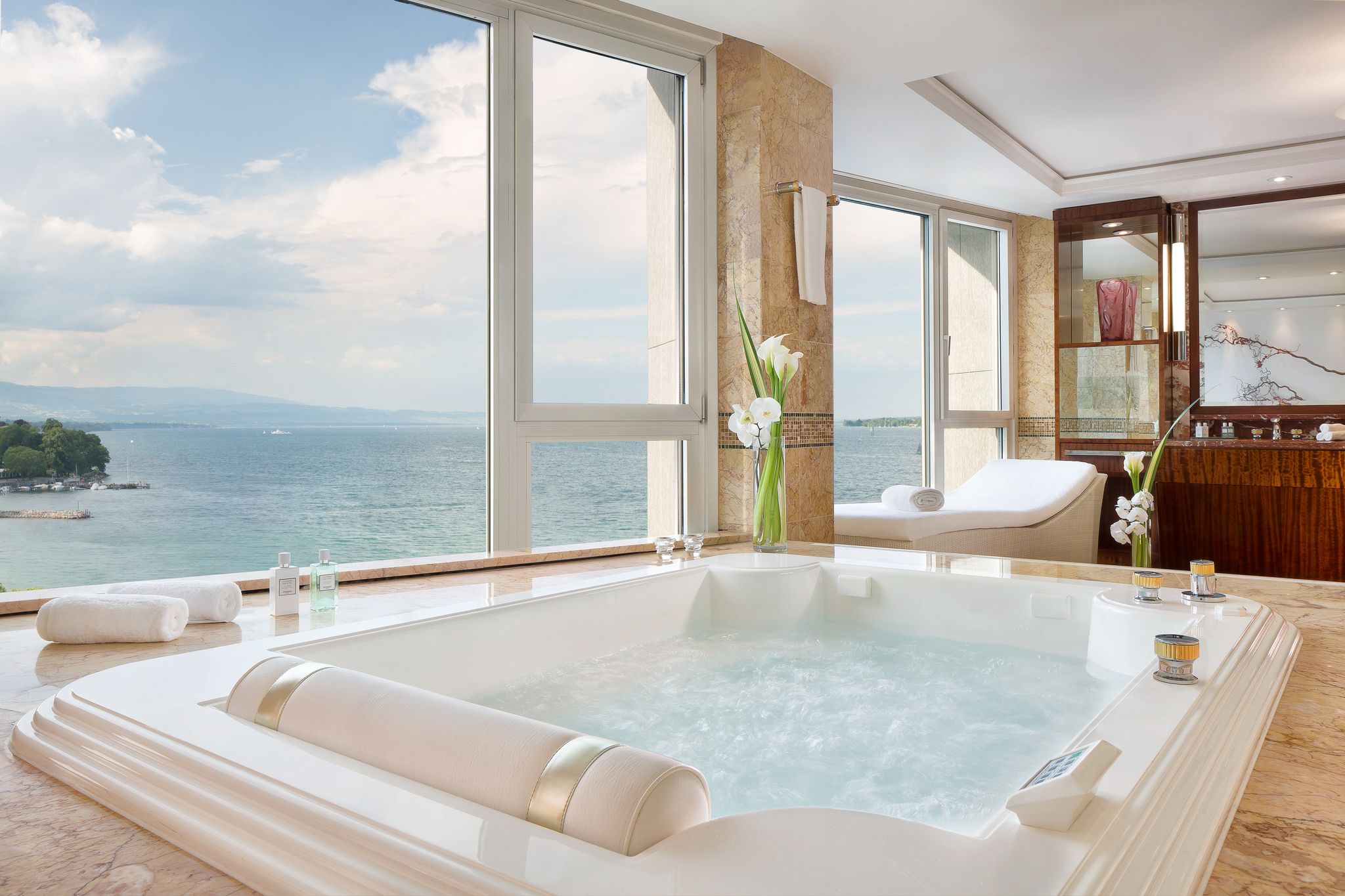 Credit: Elite Traveler/Hotel President Wilson
Geneva is chock full of stunning opulence and serene beauty, and this crowning majesty is one of the most contemporary addresses in the entire city. Taking up the entire eighth floor of this glorious hotel, the suite boasts 12-bedrooms, a Steinway grand piano, telescope, and the world's largest TV screen (103 inches) – all for $80,000 per night!
2. Empathy Suite, Palms Casino Resort, Las Vegas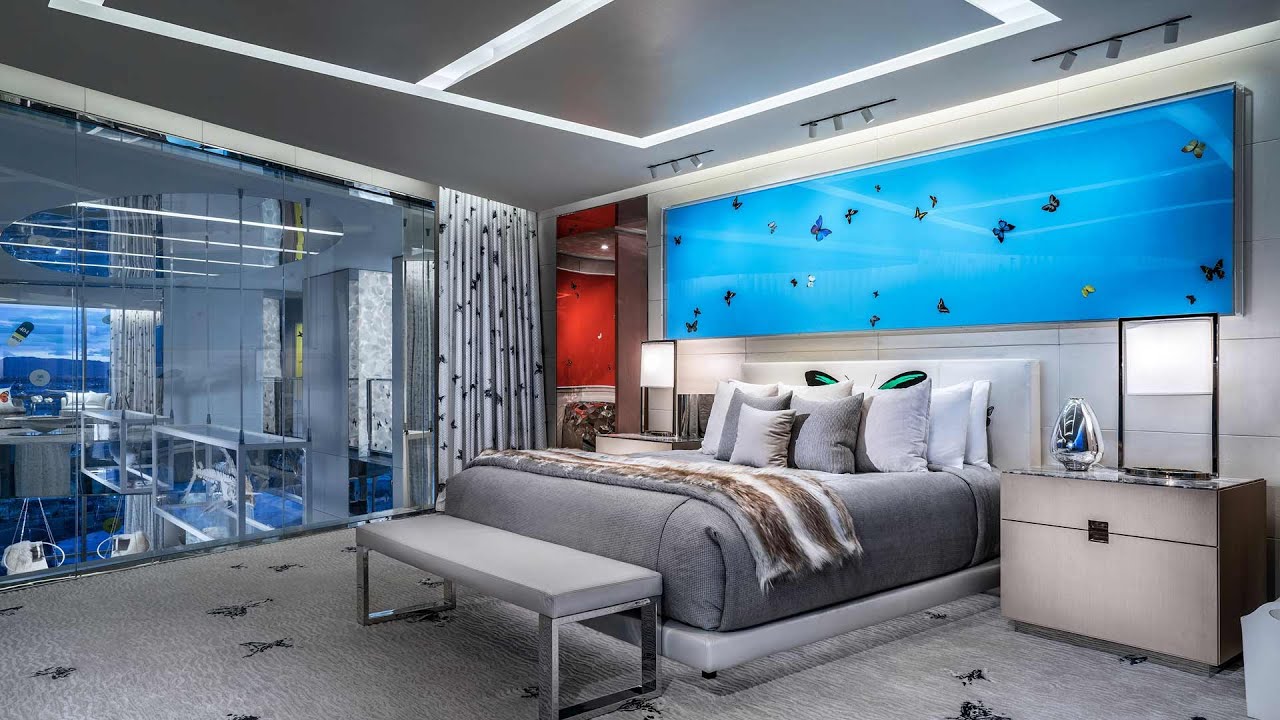 Credit: The Blast via YouTube
This boutique resort was designed by British artist Damien Hirst and features an art program that's interlinked throughout the property. There are two master bedrooms, massage tables, a jacuzzi, and a salt relaxation room. You're one mile from the wonder of the Las Vegas Strip here, and it will set you back the princely sum of $100,000 per night.
3. Jewel Suite by Martin Katz, Lottie New York Palace, USA
Credit: Chic Family Travels
Designer by famed Beverly Hills jeweller Martin Katz, this suite is covered with diamonds, including a six-meter chandelier that resembles a waterfall of diamonds. This is the height of luxury and exclusivity, with the $36,000 per night cost including a diamond micro-band ring, especially designed by Katz himself.
4. Lover's Deep Luxury Submarine, St. Lucia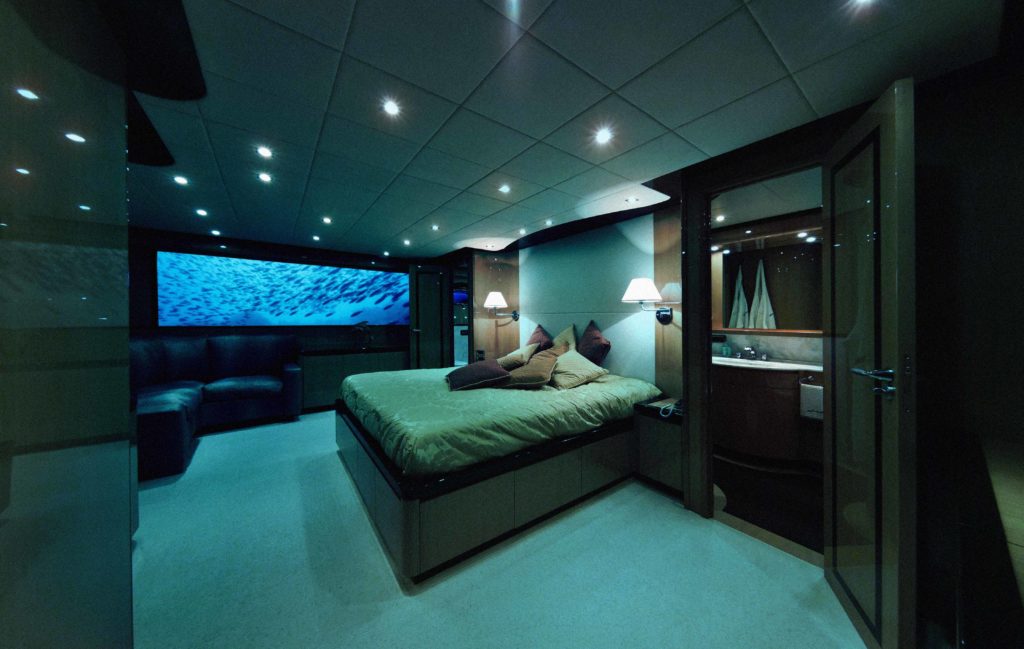 Credit: Oliver's Travels
For those who like their luxury done differently, this is one of the best options to choose from. This underwater hotel gives breathtaking glimpses of the ocean, whilst sparing no expense on its guests. For a whopping $150,000, this is a once in a lifetime experience for some.
5. Ty Warner Penthouse, Four Seasons Hotel, New York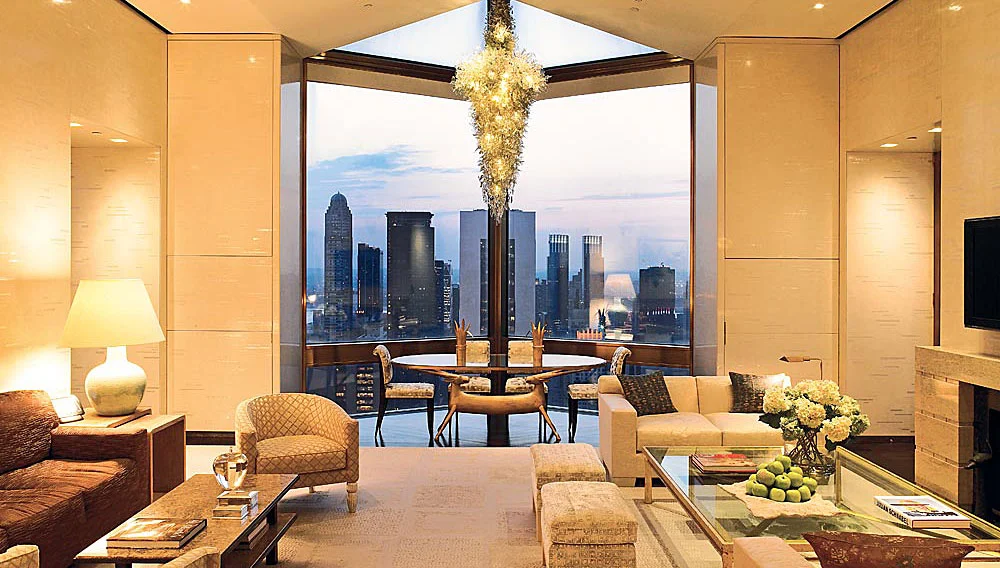 Credit: Robb Report
If glamour is your middle name, then New York City is the place to be! This architectural marvel is one of the leading hotels in the world. The Penthouse is described as an artistic masterpiece, and it's not difficult to see why. It's truly breathtaking.
6. Grand Riad, The Royal Mansour, Marrakech
Credit: Mason Rose
With regal beauty and elegant, Moroccan-style warmth, this is one of the most smart and stunning hotels on this list. With more than 53 riads, replete with handmade mosaic tiles, intricate woodwork and amazing furnishing, the exterior courtyards are almost as beautiful. At $30,000 per night for four bedrooms, this is great value for money, comparatively.
7. Royal Villa, Grand Resort Lagonissi, Athens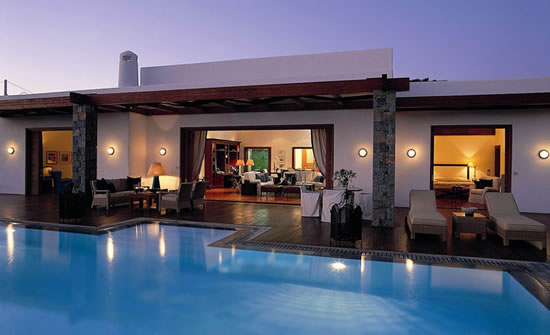 Credit: Luxury Launches
If you want to enjoy all of the beauty and majesty that Athens has to offer, the Grand Resort Lagonissi is the place to be. With a private pool and beach, as well as a holistic spa and all the amenities you could imagine, this might be $45,000 per night but it's $45,000 well spent!
8. Bulgari Villa, Bulgari Resort, Dubai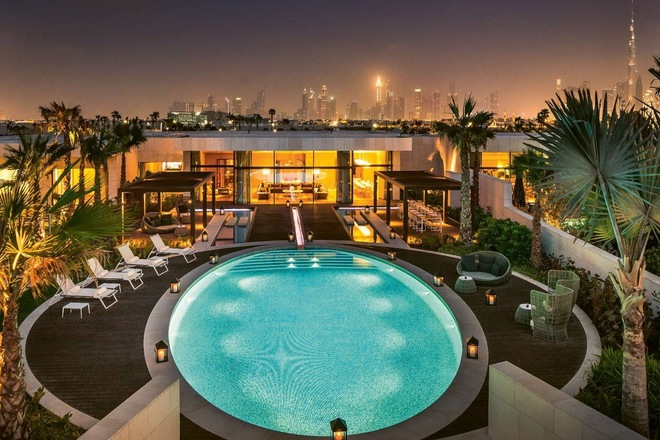 Credit: Booking.com
As one of the wealthiest and most innovative cities on earth, there's no surprise Dubai makes our list. The stunning Bulgari Villa is situated in the highly-exclusive Jumeira Bay and boasts its own pool, sea view, spacious garden, private cinema and more. If you have a spare $35,000 per night, this could be well worth a stay.
9. Mark Penthouse Suite, Mark Hotel, New York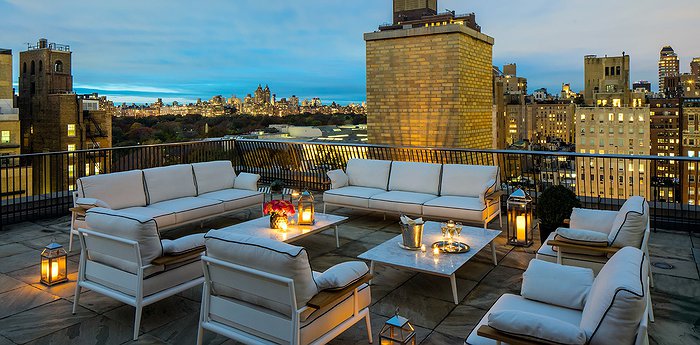 Credit: Uniq Hotels
NYC makes the list again, as the city that never sleeps shows it's cultural magnificence with this jaw-dropping Upper East Side masterpiece. With avant-garde design, unprecedented service, and the finest in luxury and opulence, this $70,000 per night penthouse suite is a game-changer for many hotels.
10. Royal Suite, Burj Al Arab, Dubai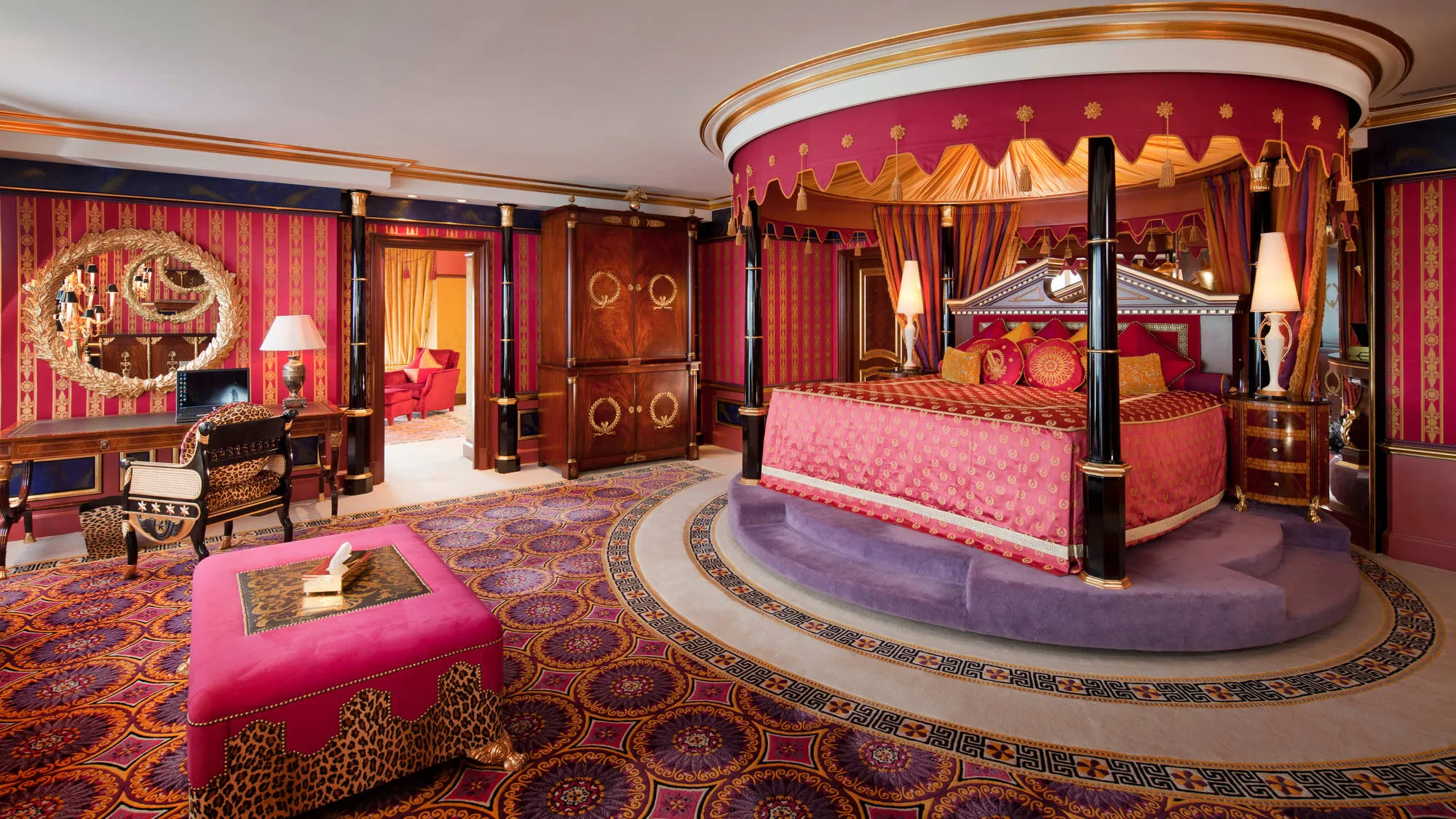 Credit: Architectural Digest
If you live and breathe luxury, you need to head to the most glamorous city on Earth, Dubai. This amazing hotel is one of the finest in the whole city, and the Royal Suite is stunningly perfect in every way. With 780-square meters of space, a private library, and a private dining room, this is truly heaven on earth.
11. Private Island, Cheval Blanc Randheli, Maldives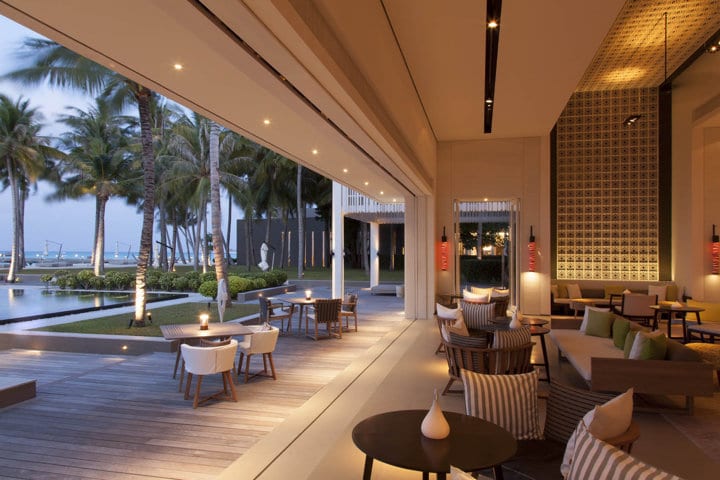 Credit: MyMaldives
This beautiful and deluxe resort is one of the most impressive hotels in the world, and is protected from the water by its own coral reef. This four-bedroom villa on its very own private island is only accessible by sea plane and will set you back around $50,000 per night.
12. Penthouse Suite, Hotel Martinez by Hyatt, Cannes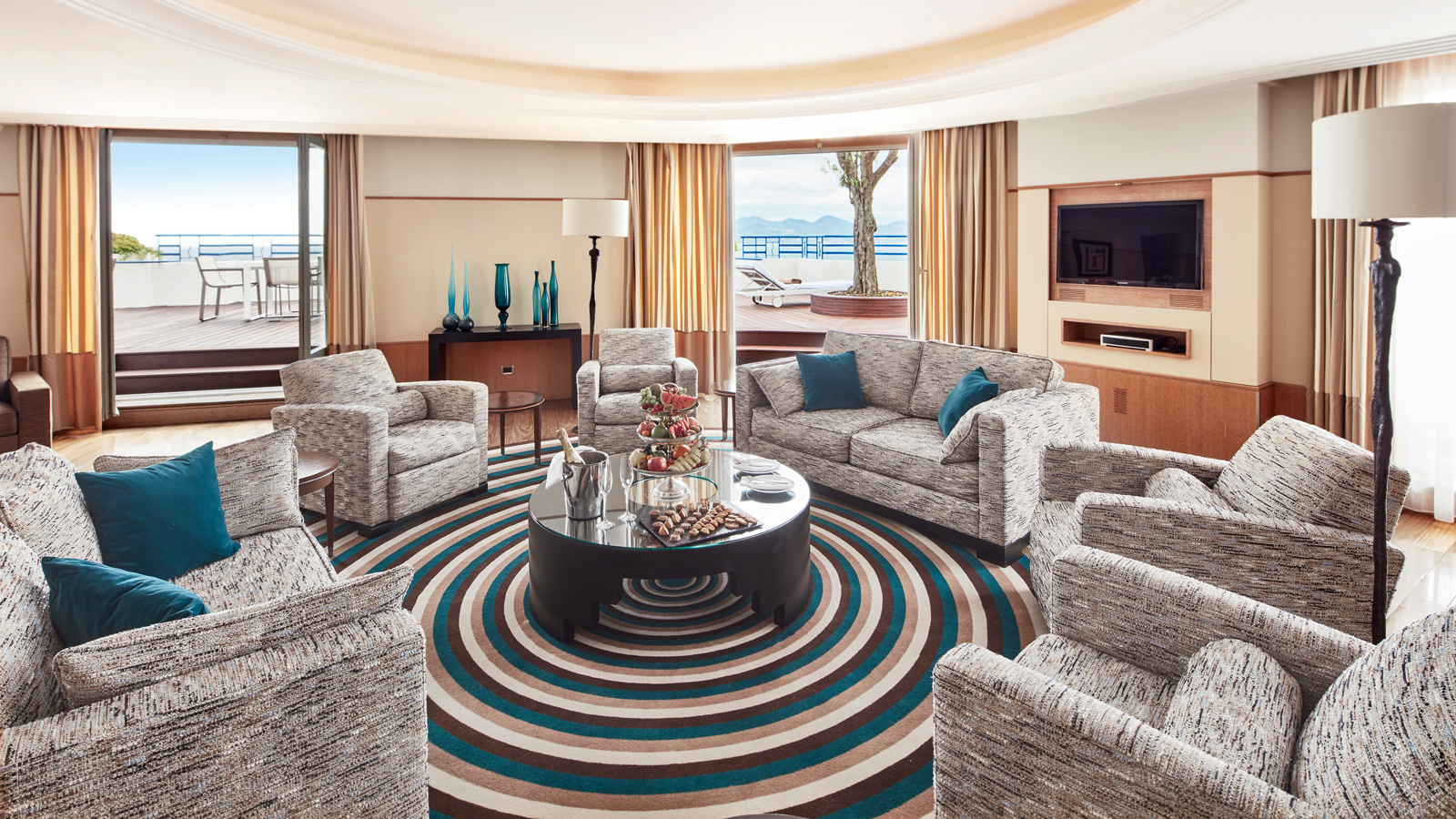 Credit: BOAT International
If Art Deco is your scene, you will feel every bit at home in this glorious hotel on the French Riviera. The penthouse suite comes with its own private wood panelled terrace, which boasts a magnificent view of the ocean. At $55,000 per night, this is one of the most exclusive and expensive hotels on this list.
13. Hilltop Villa, Laucala Island, Fiji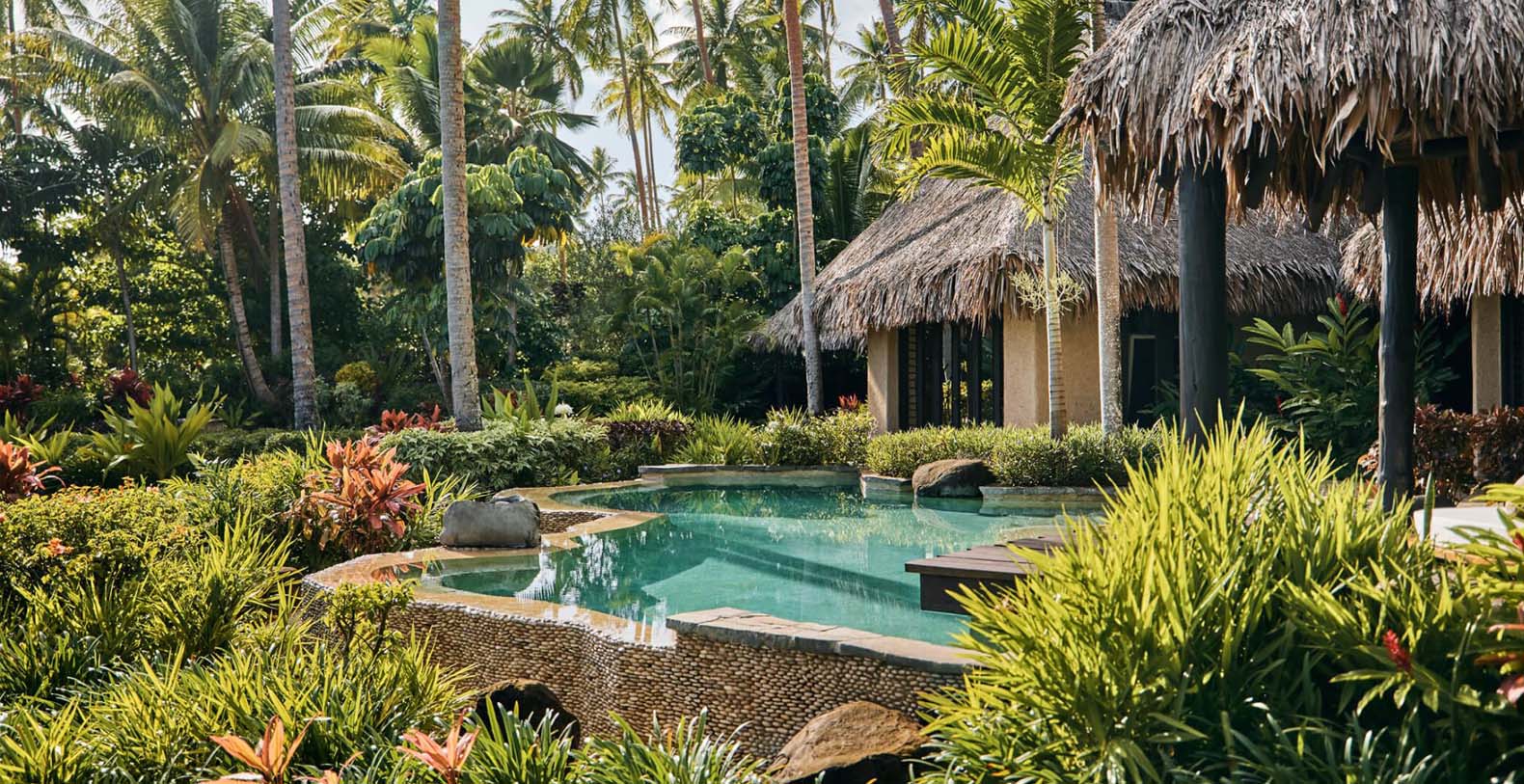 Credit: Dream Exotic Rentals
This is so much more than just a hotel; it's an island experience like no other. With a wealth of options to choose from for an indulgent break, including fishing, scuba diving, yoga, golf, water sports, and more, it's impossible to get bored here. The villa itself, which comes with its own private chef, nanny, and chauffeur, will set you back around $50,000 per night.
14. Ritz-Carlton's Presidential Suite, Tokyo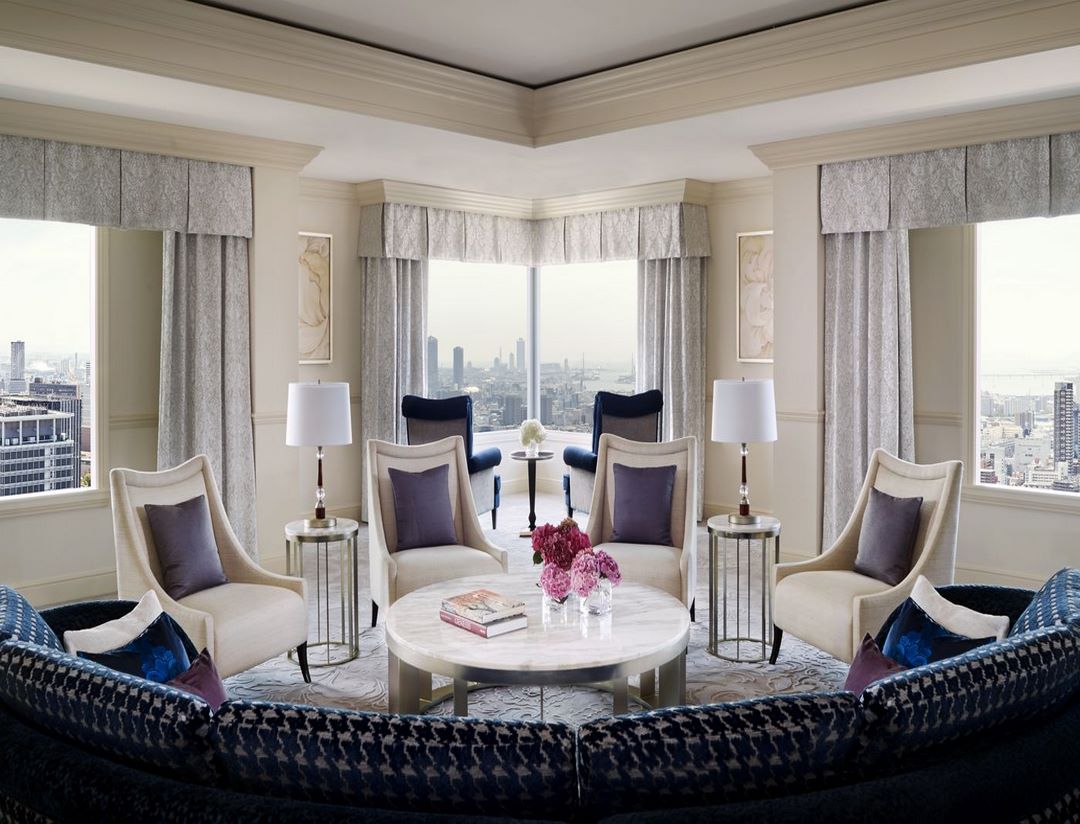 Credit: Texplore
If you want space, this is definitely one of the best names on our list, with more than 307 square meters to enjoy. There's a huge master bedroom, as well as an indoor pool and private gym included, and the bathrooms are all marble. One of the most gorgeous hotels in all of Japan, it'll cost you $40,000 per night to stay here.
15. Westin Excelsior's Villa La Culpa Suite, Rome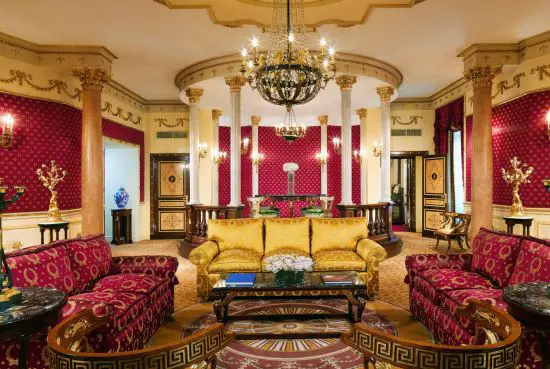 Credit: Italia Living
When visiting one of the most beautiful cities in the world, this is the way to live in style and luxury. You'll enjoy a private balcony, Pompeii-style pool, private kitchen, stained-glass windows, and a private cinema to keep you occupied. And that's before we even mention the private wine connoisseur!
16. Palms Casino Resort's Hugh Hefner Sky Villa, Las Vegas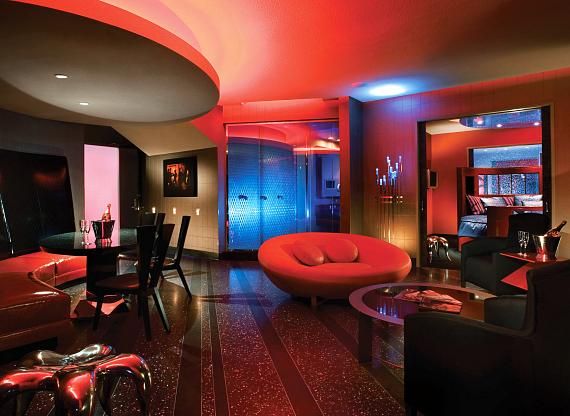 Credit: The Palms Casino Resort
Vegas is one of the most luxurious and memorable places in the world, and its thanks to hotels like this one. This is more like a house than a hotel, decked out to resemble the Playboy Mansion. It's a two storey suite with a glass elevator, three bedrooms, a gym, spa, and custom poker table, as well as 24/7 butler service – got a spare $35,000 lying around?
17. Presidential Wilson Hotel's Royal Penthouse Suite, Geneva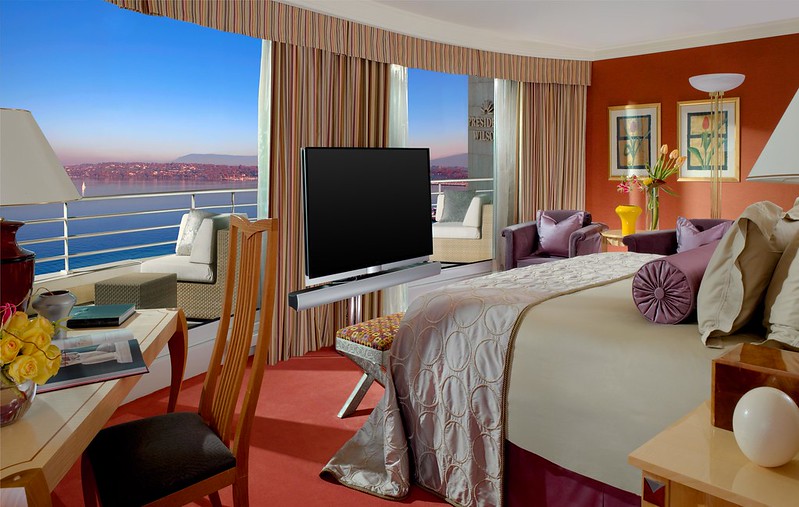 Credit: Hotel President Wilson
If you're looking for modern luxury at its peak, this is the sort of stunning stay you will find unforgettable. $40,000 per night is the price for this entire top floor, but it can accommodate up 40 people, making it wonderful value. There's even a 26-seater dining room and a library to boot!
18. The Maruka, Conrad Maldives Rangali Island Resort, Maldives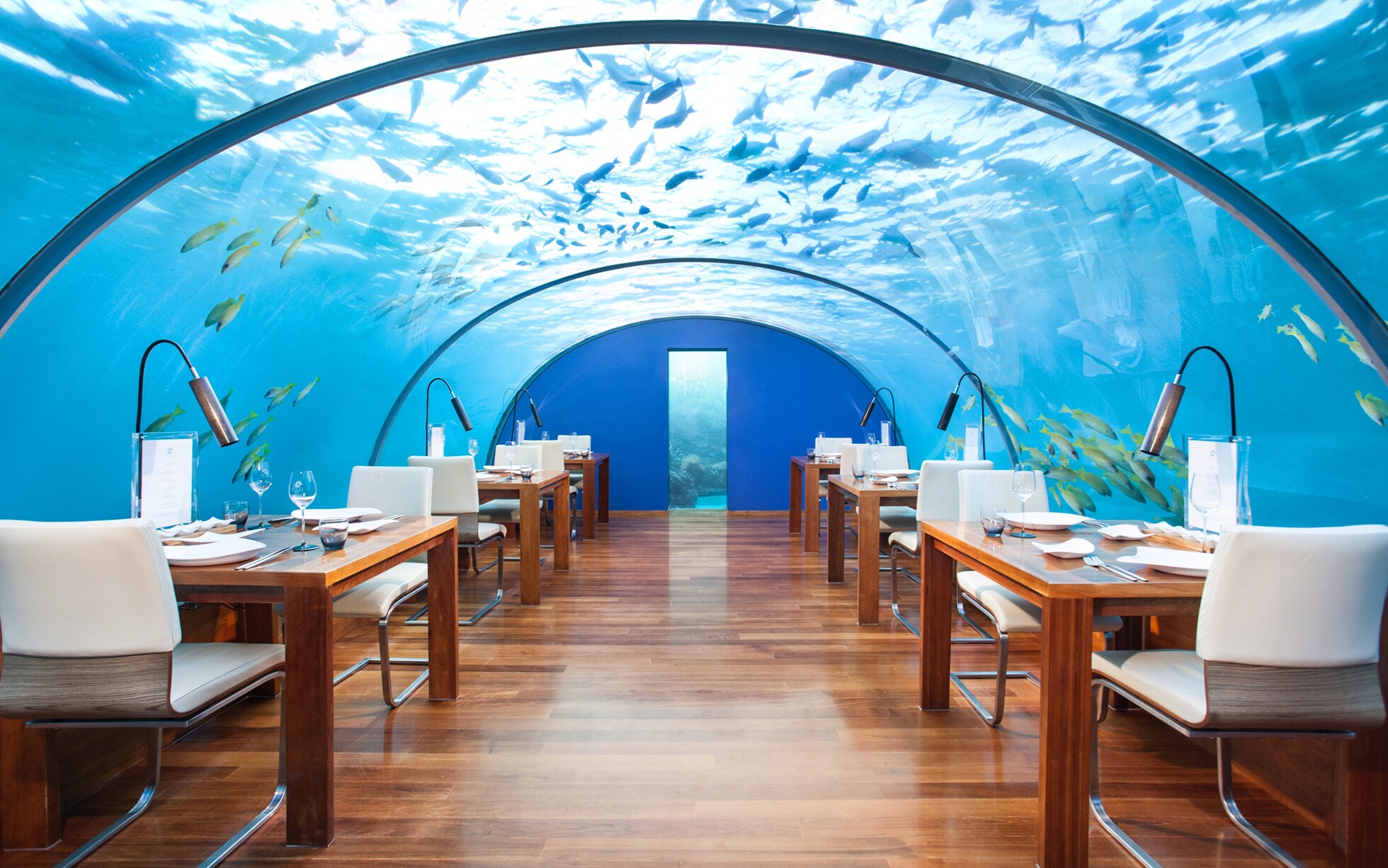 Credit: Caters News Agency
If you want to enjoy the ultimate underwater hotel experience, this is the place for you. It's a gorgeous and unique experience, with mesmerizing views of the ocean, marine life, and gorgeous azure blue. Located 15-feet beneath the Indian Ocean, and it will set visitors back by around $50,000 per night.
19. John Jacob Astor Estate, The St. Regis Maldives Vommuli Resort, Dhaalu Atoll, Maldives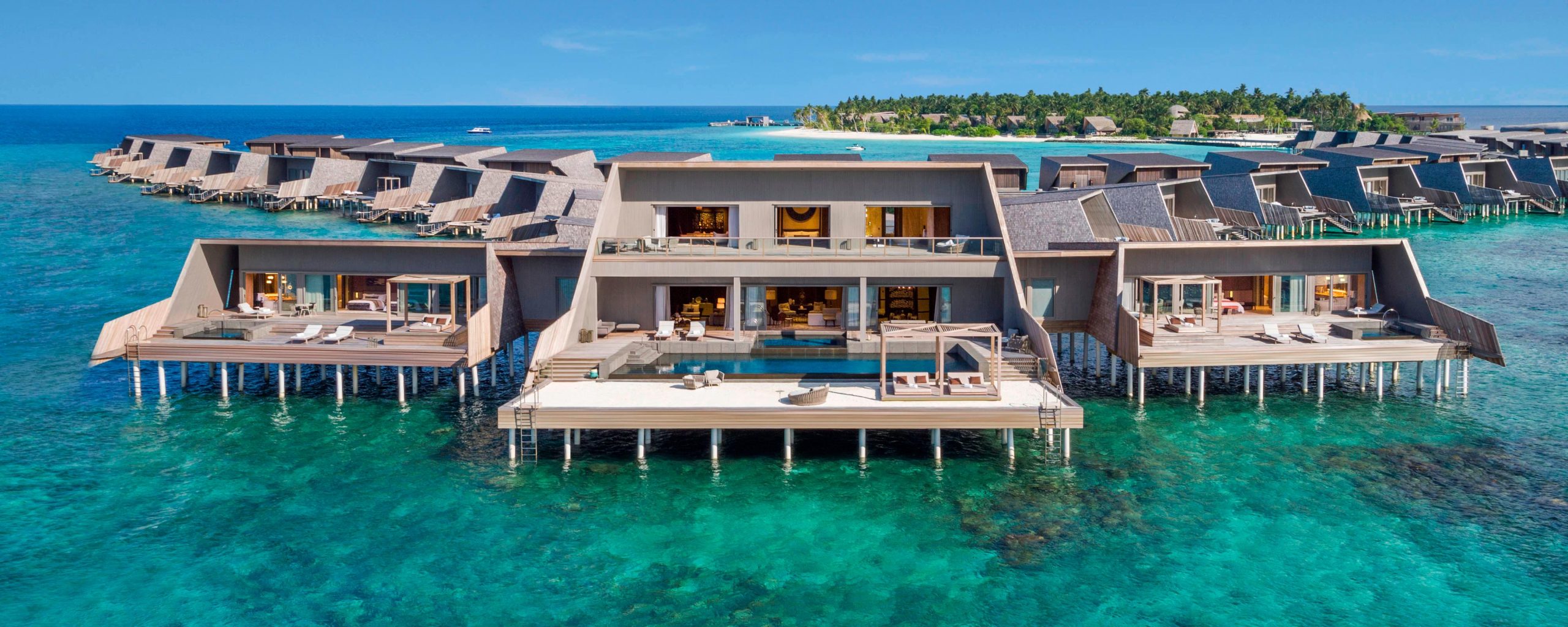 Credit: ADORE Maldives
This jaw-dropping over-water suite is tucked away in a secluded part of the Maldives, and is accessible only by yacht or sea plane. It has everything you could possibly desire, including three bedrooms, a gym, spa suite, private cocktail bar, and more, and it's going to set you back a cool $38,000.
20. Royal Penthouse Suite, Corinthia House, London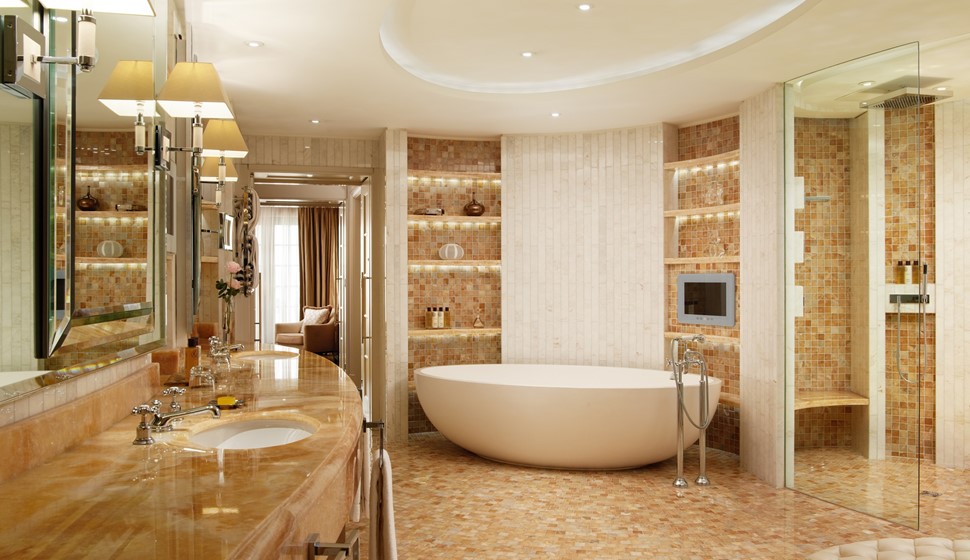 Credit: Corinthia Group
London isn't of the greatest and most amazing cities in the world, and has so much to offer you. And you can't get much better than relaxing at the end of a tiring day in this $40,000 per night slice of paradise. Spread over two floors and offering a 180-degree view of London, this is certainly popular with the rich and famous.
21. Sterling Suite, The Langham, London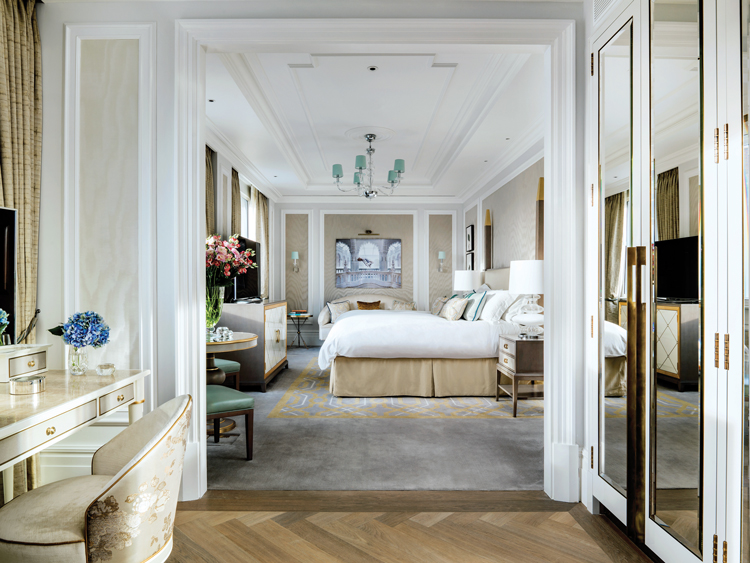 Credit: AEWorld
The Langham is one of the most historically significant hotels in London and was a one-time favorite of Princess Diana. Winston Churchill and Charles de Gaulle are also among the famed guests to have stayed there. The six-bedroom Sterling Suite, complete with personal butler and living rooms will cost you $41,500 per night.
22. Penthouse Suite, Hotel Cala di Volpe, Sardinia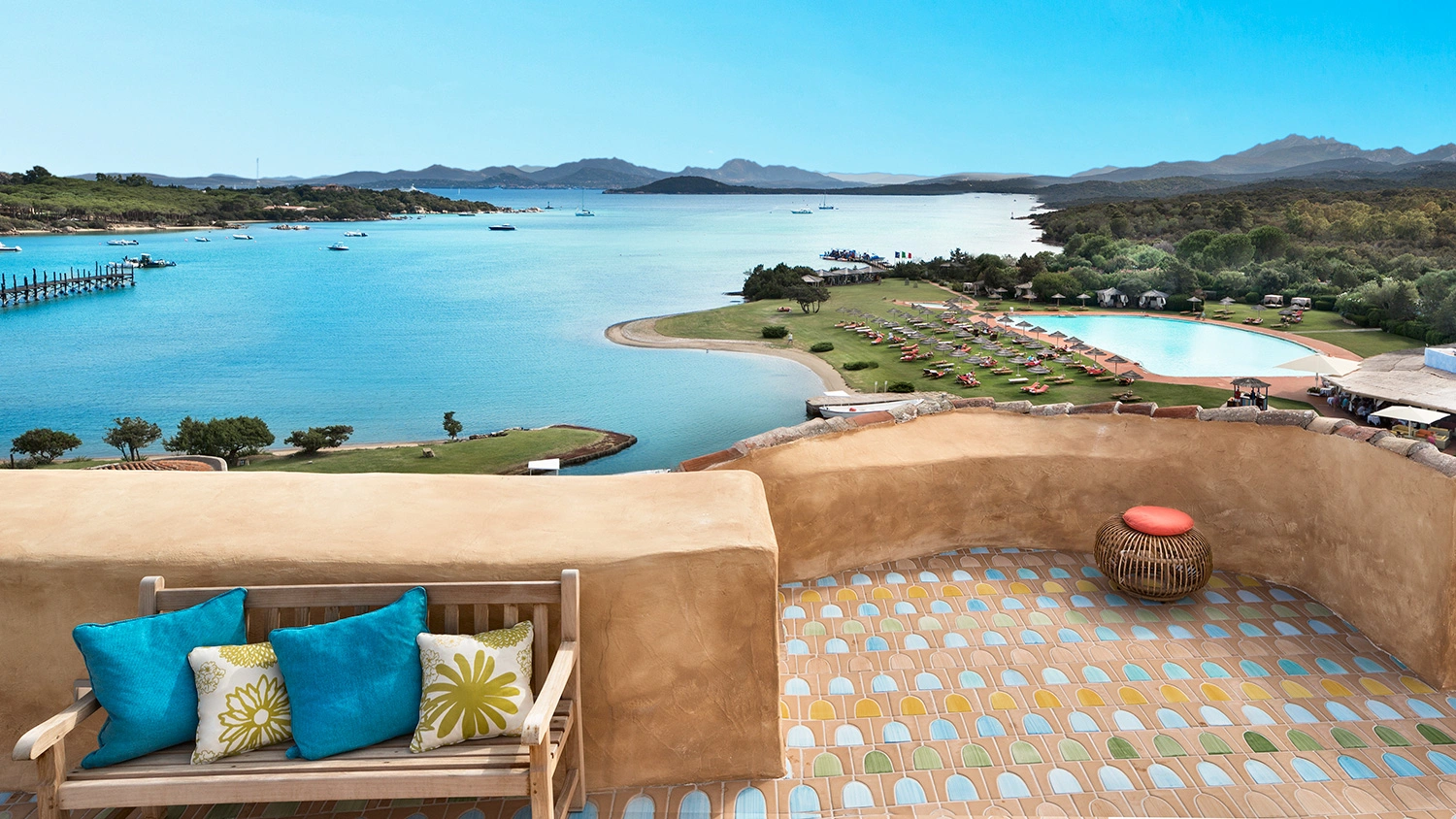 Credit: Robb Report
This idyllic penthouse suite is going to give you the perfect encapsulation of all things Italy. It's a Mediterranean marvel which will set you back a stunning $59,000 per night, but it will be a night of pure luxury and decadence. A private pool, private tennis court, and personal Michelin star chef are among the perks on offer here.
23. Maharajah Pavilion, Raj Palace, Jaipur
Credit: Emirates Holidays
Known as the Pink City, Jaipur is home to a picture perfect collection of amazing architecture – there's a reason they call it the Paris of India, and what better way to enjoy it than staying at the Maharajah Pavilion? For $64,500 per night, your every need will be met and catered to from a personal butler, to a private chef, to your own chauffeur.
24. Four Season Resort Bali, Jimbaran Bay, Indonesia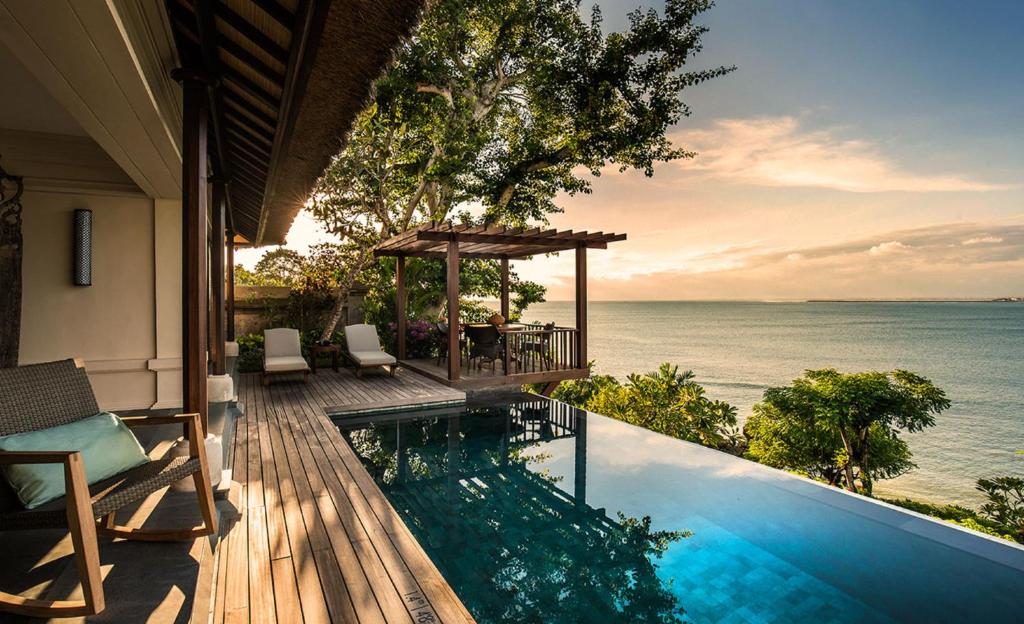 Cred: Booking.com
Combining modernity with classic Balinese culture, this is one of the best and most amazing resorts for those seeking luxury, culture, and natural beauty. The villas boast hand carved furniture, as well as stunning spa facilities, a private chef, and a private balcony with a gorgeous view. Yours for just $28,000 per night!
25. Reagan Presidential Suite, Ashford, Ireland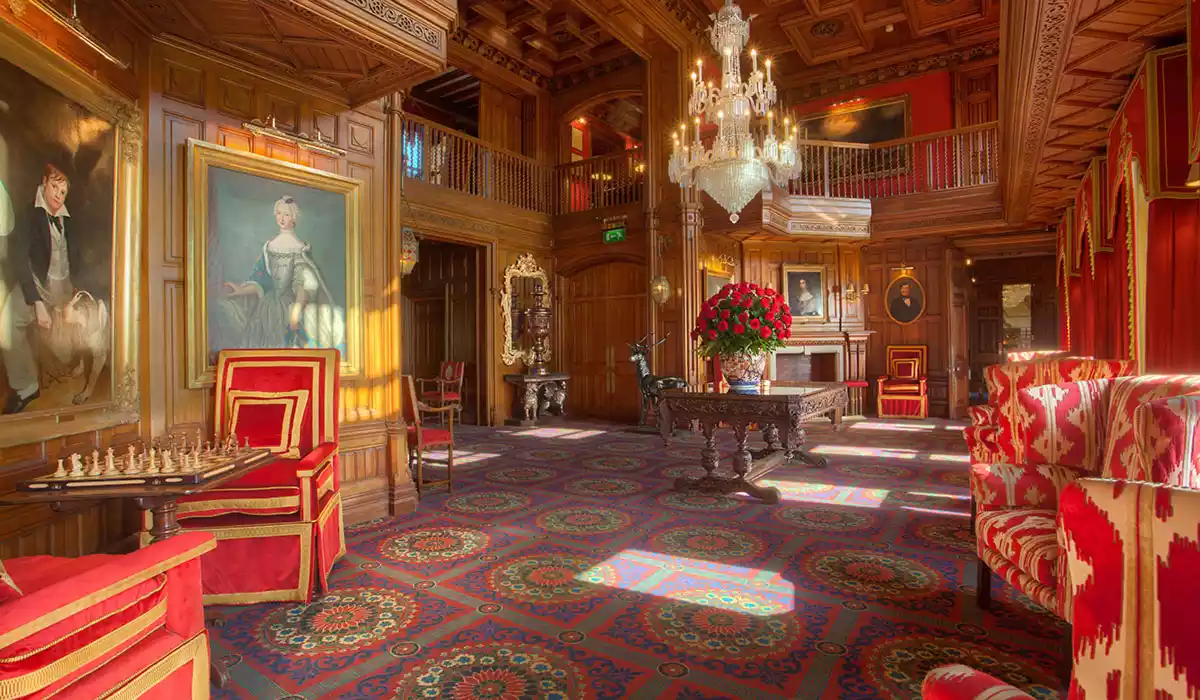 Credit: Ashford Castle
Head to the Emerald Isle if you want to feel like royalty, and step into the majestic Presidential Suite of this iconic castle, built in 1228. This split-level suite, named after Ronald Reagan, has a fireplace, four-poster bed, and spectacular views of the lake, and will cost around $9,000 per night.
26. Royal Bridge Suite, Atlantis Paradise Island, Bahamas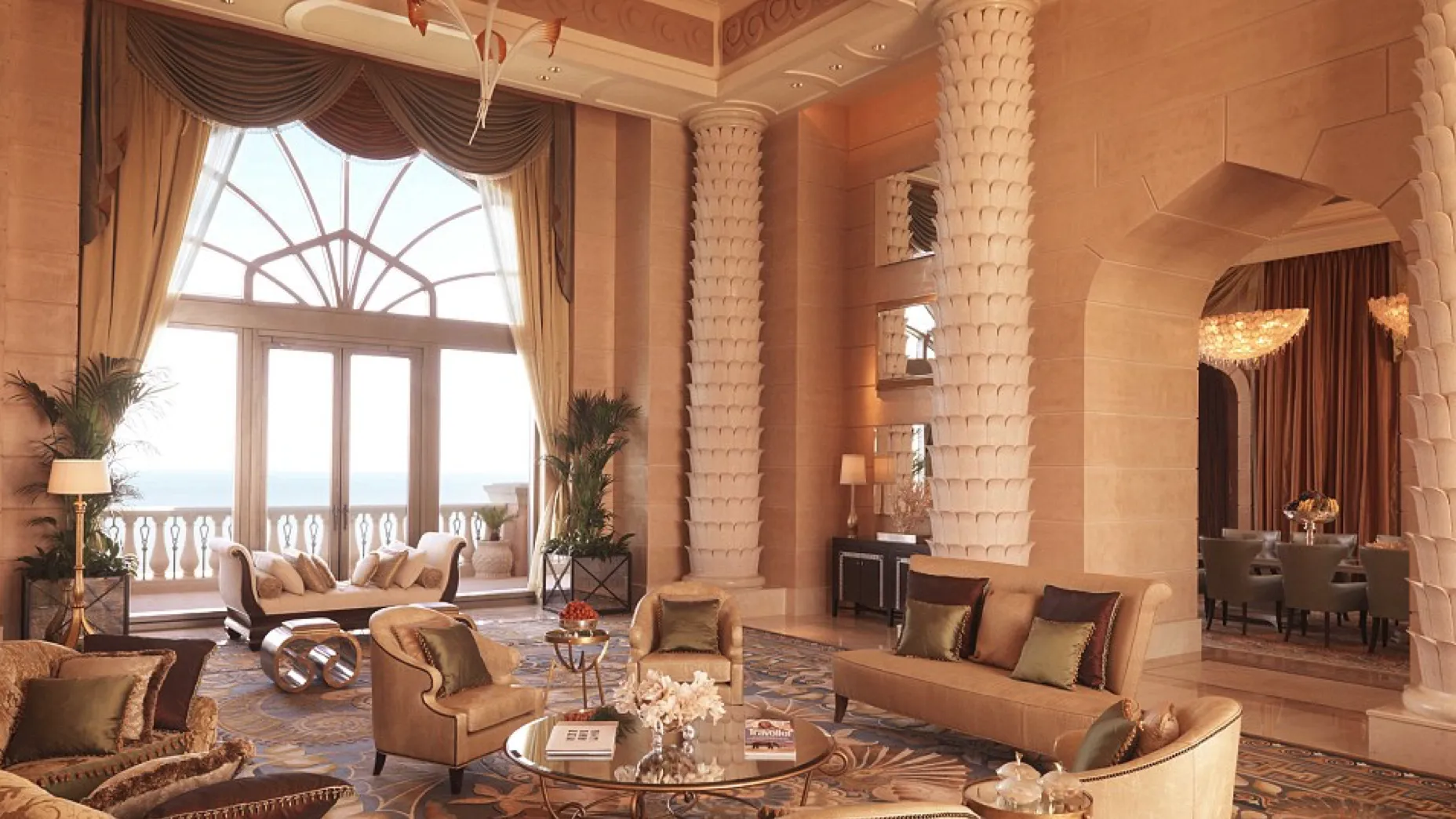 Credit: Architectural Digest
Inspired by the mythical lost city of Atlantis, this luxurious paradise is home to five jaw-dropping hotels. You'll be taking the Royal Bridge Suite on the 23rd floor, which has 10 rooms, as well as wall to ceiling windows. The hotel also has 11 pools, a 19 hole golf course, and 20 restaurants; for $34,000 per night, this suite could be yours.
27. Saffire Freycinet, Cole's Bay, Australia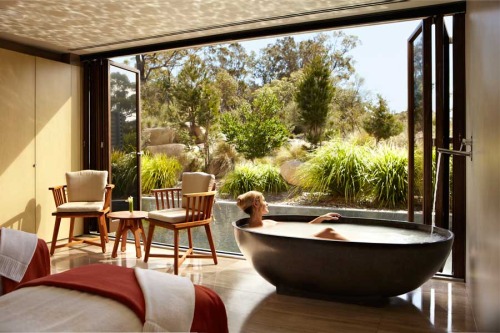 Credit: Tourism Tasmania & Andrew McIntosh
The lavish resort amid golden sandy beaches is one of Australia's most beloved destinations. Private Pavilions are used to provide luxury, privacy, and relaxation, and suites come with their own dining room and complimentary dinner. Unlike most of the other listings on this post, this comes in at a highly affordable $1,500 per night.
28. The Spring Cottage, Cliveden House, London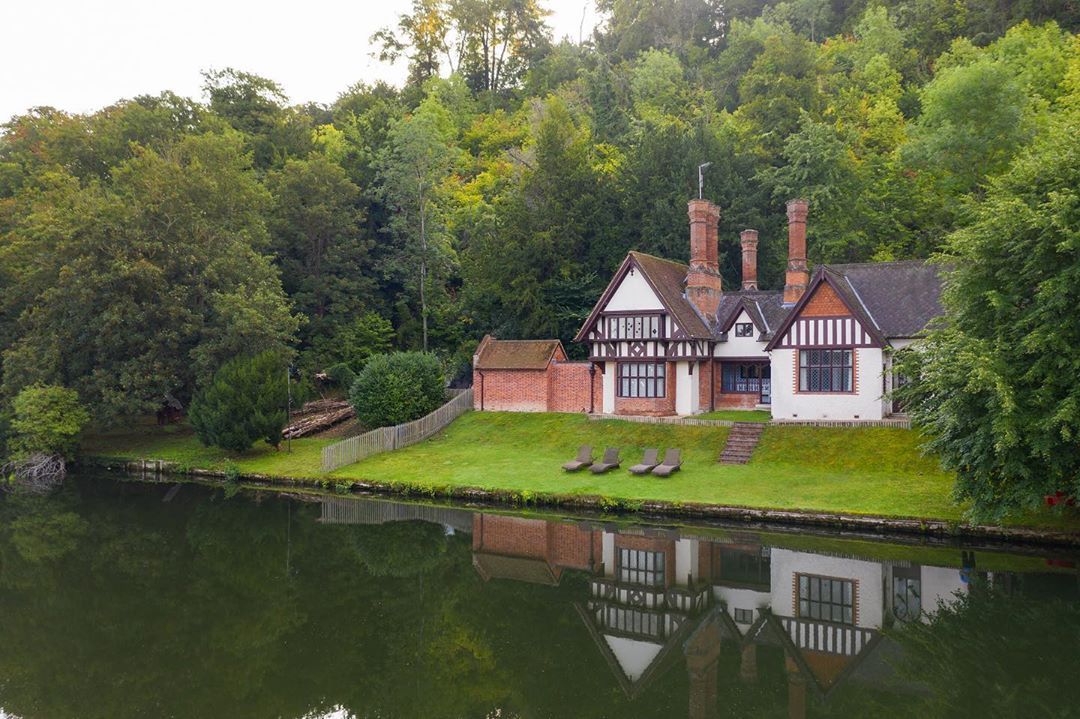 Credit: Pinterest
This amazing stately home resting on the outskirts of London was the place Meghan Markle stayed before her wedding to Prince Harry. It's a three-bedroom cottage separate from the main house, and sits on the banks of the River Thames. The dining room, spa, and heated pool are the height of luxury and opulence, and you'll struggle to find a more iconic option nearby.
29. Tented Suite, Angama Mara, Kenya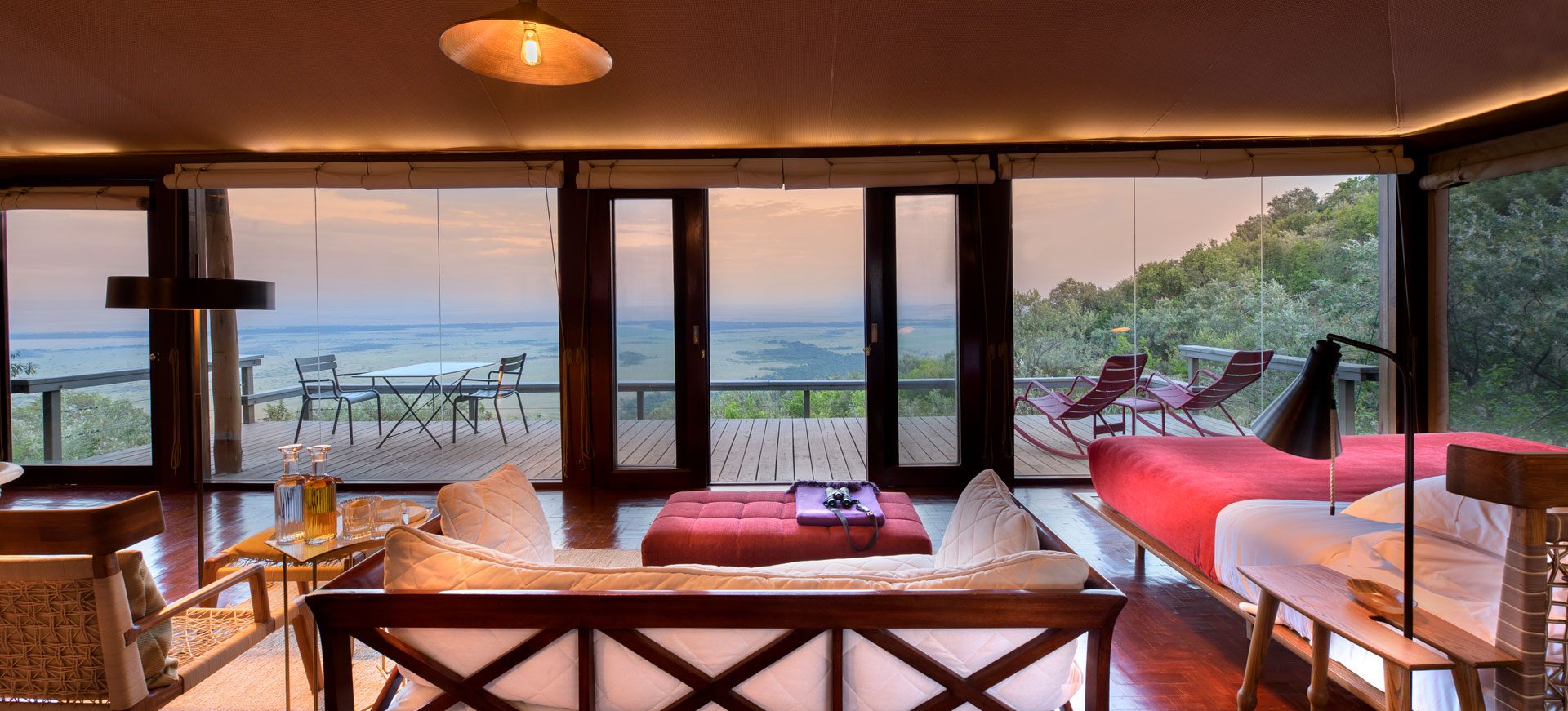 Credit: Angama Mara
This tented suite is beyond anything you could possibly imagine, with floor to ceiling windows allowing a stunning view of the Masai Mara. You'll have a private chef to cook all your meals, safari adventures and there's even a gym, library, and clubhouse to pass the time as well. $18,000 per night gets you this Kenyan paradise.
30. Judy Garland Suite, Lenox Hotel, Boston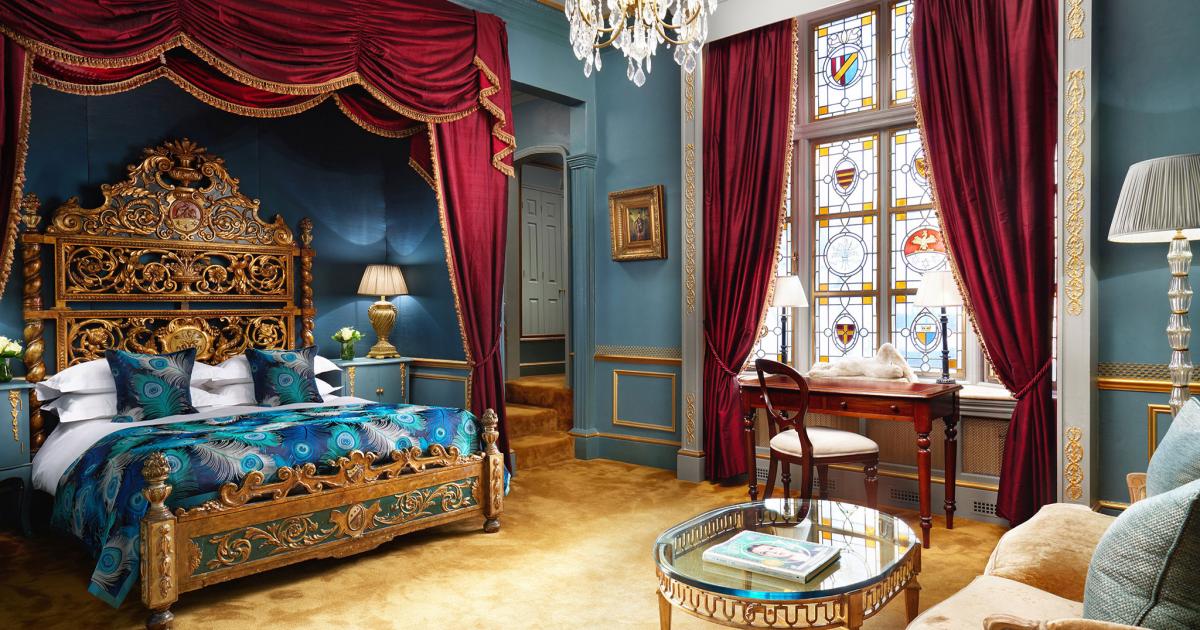 Credit: ABC News
Wizard of Oz actress Garland lived here in 1968, and this is the perfect suite to pay homage to the Hollywood icon. It's full on glamour, with Italian marble bathrooms, vintage furniture, gold trim, and a stunning view of the Back Bay. For $16,000 per night, this is the perfect option for amazing old school glamour.
31. Hotel Unique, Brazil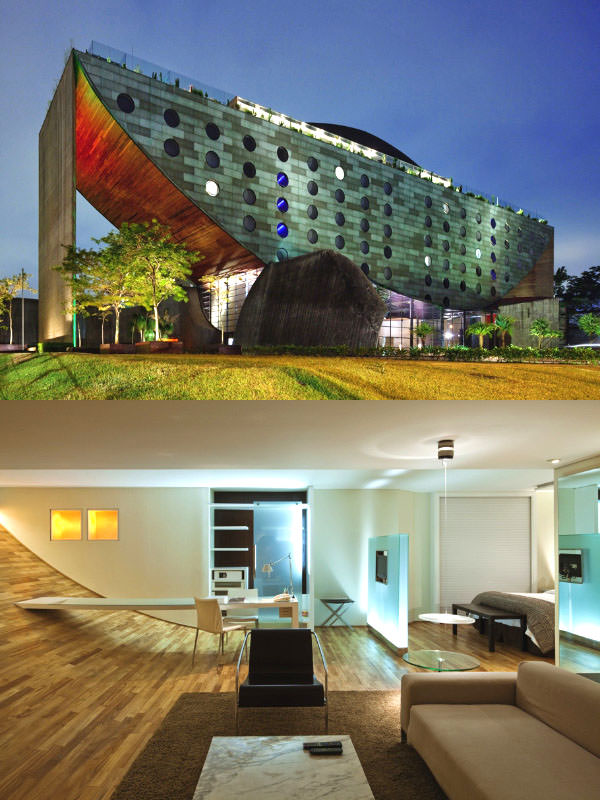 Credit: hongkiat.com
One of the most fun and unique Hotels in the world, this Brazilian masterpiece is famed for its stunningly original architecture, and glorious rooms. Made to resemble a huge ship, this is one of those places you want to stay at, just so you can tell people you've been there. It's memorable, luxurious, and ideal for the perfect getaway.
32. Attrap'Rêves Hotel, France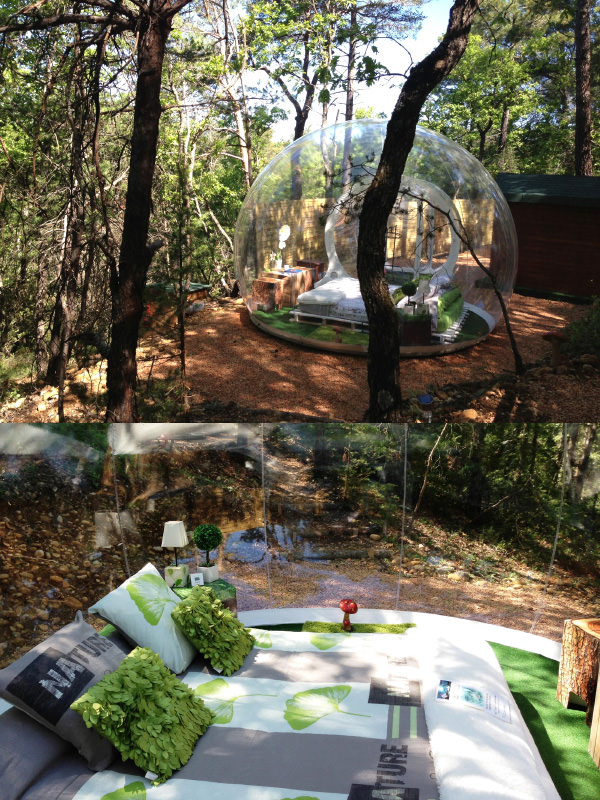 Credit: hongkiat.com
For outdoor lovers, this is pretty much the absolute perfect hotel option and gives you something a little more fun than just a tent. These eco-friendly bubbles are a great way of getting outdoors and being at one with nature, but are more comfortable than a standard camping experience.
33. Poseidon Undersea Resort, Fiji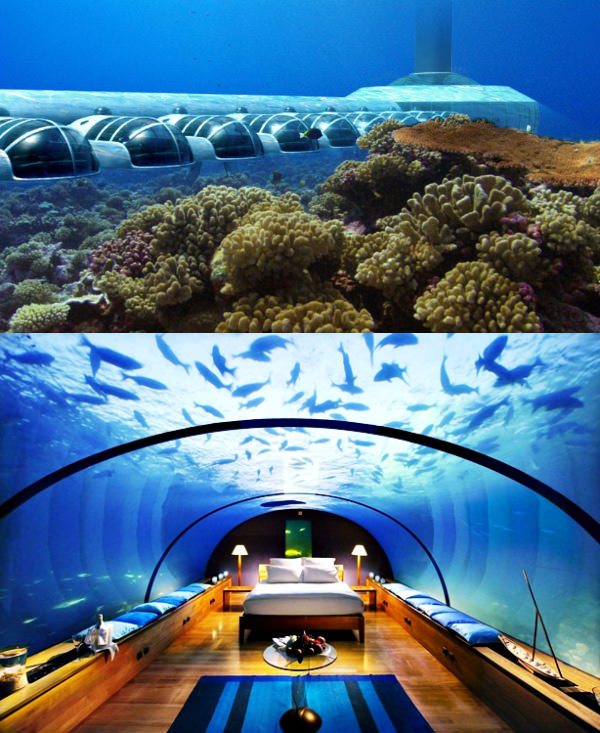 Credit: hongkiat.com
More than simply an ocean-themed hotel, in the Poseidon Undersea Resort you actually get to stay underwater, adding ambience and atmosphere, whilst also giving you an uninterrupted view of the sea throughout. This is a great idea for those who love the ocean and wish to get up close and personal with nature.
34. One By the Five, France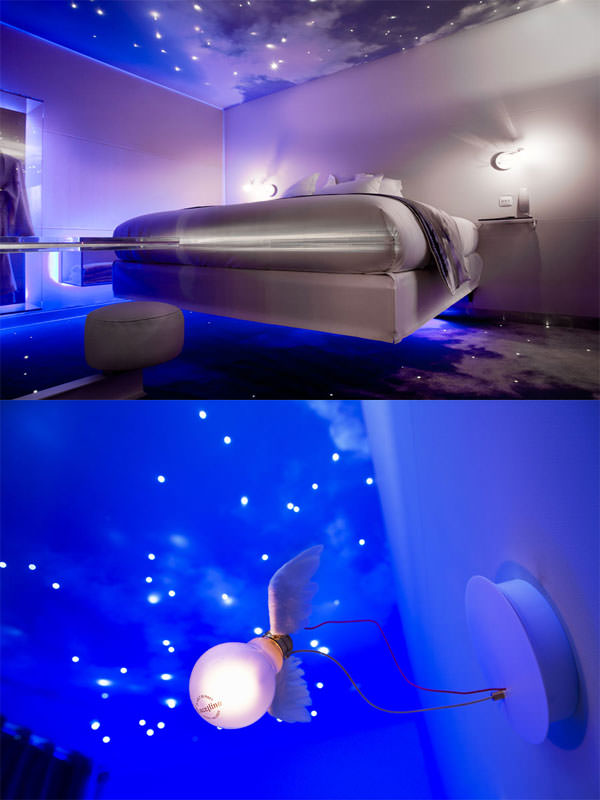 Credit: hongkiat.com
Have you ever wondered what it would be like to sleep on a cloud?! Us neither. Then again, perhaps we aren't as innovative as the French. This delightful room offers a calming star-scape that helps your worries drift away in the soft mood lighting and cooling color scheme. The (seemingly) levitating bed is one of the biggest USPs of this place.
35. Kakslauttanen Arctic Resort, Finland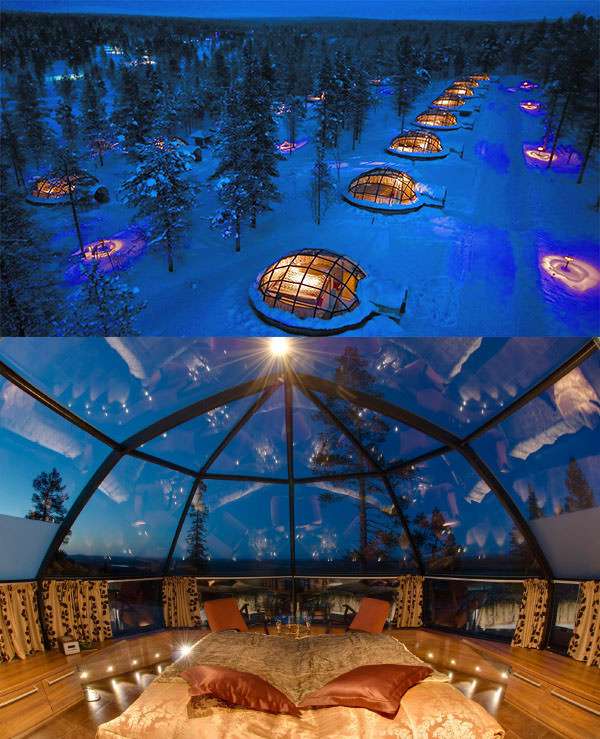 Credit: hongkiat.com
If you want to have an ideal arctic experience without actually having to go to the arctic, this is the place for you. Staying in a glass igloo that is thermal enough to keep you lovely and warm is great for giving you the perfect views of the snow and the stunning night sky, as well as giving you access to the world's largest smoke sauna.
36. IceHotel, Sweden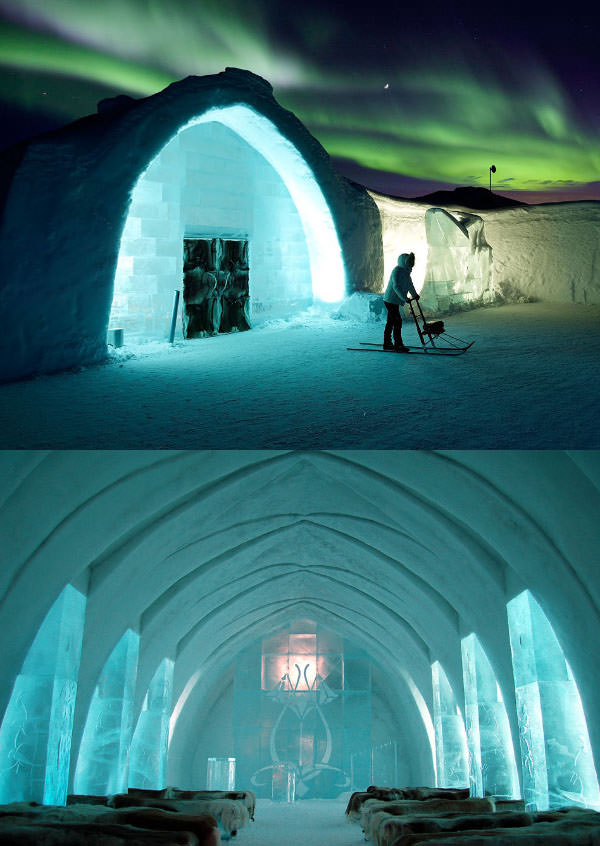 Credit: hongkiat.com
For those who like stripped back travel experiences, and once-in-a-lifetime opportunities, this is the perfect choice for you. This stunning Swedish location is perfect for those who've always wanted to stay in a hotel made of ice, and created from the water of the Torne River. It's a wonderful cultural experience, and one you will never forget.
37. The Manta Resort, Zanzibar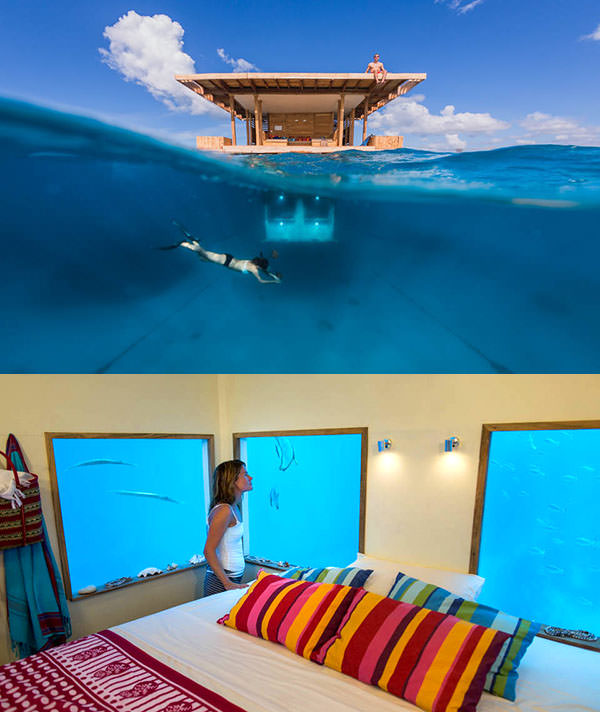 Credit: hongkiat.com
Another great idea when looking to enjoy the ideal hotel is to check out this stunning underwater haven in Zanzibar. This luxury resort actually has your room suspended and floating on the water, with the bedroom section around 15-feet below water level. It makes for a stunning visual treat that you won't forget in a hurry.
38. Sun Cruise Hotel, South Korea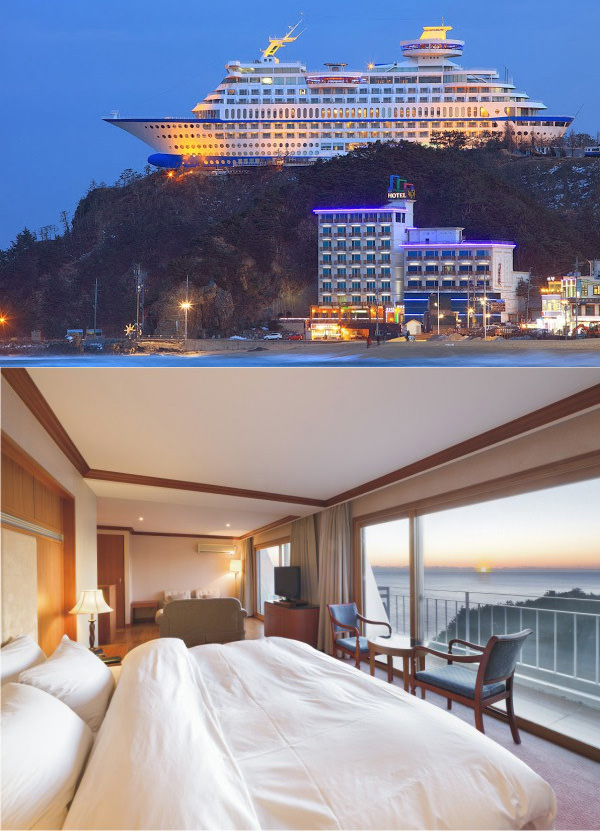 Credit: hongkiat.com
Ever wanted to stay in a cruise ship marooned on a cliff? Well, now you have the opportunity to do just that! The Sun Cruise Hotel is the perfect way of being able to enjoy all the benefits of a cruise, without actually being out on the water. The rotating sky lounge gives you incredible ocean views from every angle!
39. Seven Hotel Paris, France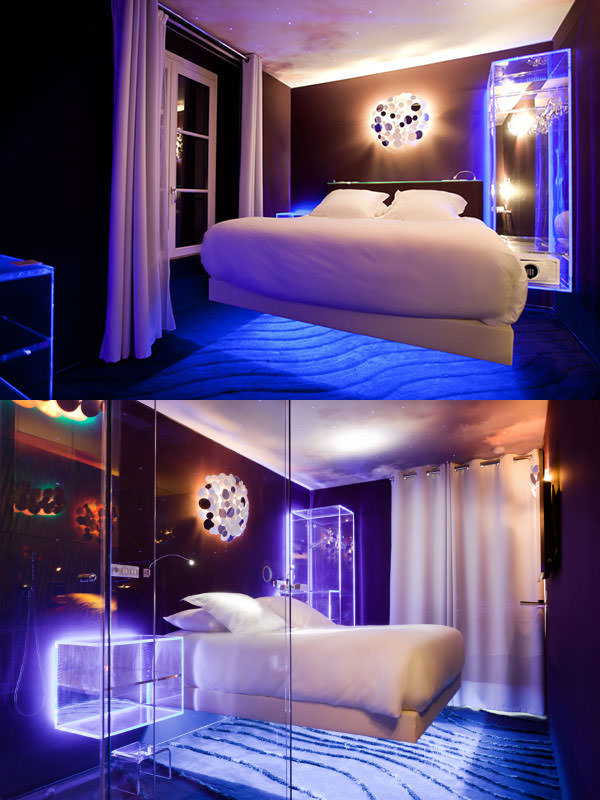 Credit: hongkiat.com
The French make this list again for the stunning Seven Hotel Paris, and this is perfect for those who are into modern decor, floating beds, and fiber optic lighting. The levitating bed might seem like a gimmick but it's an awfully fun one, and there is also a transparent shower lit by LED lighting.
40. Das Parkhotel, Germany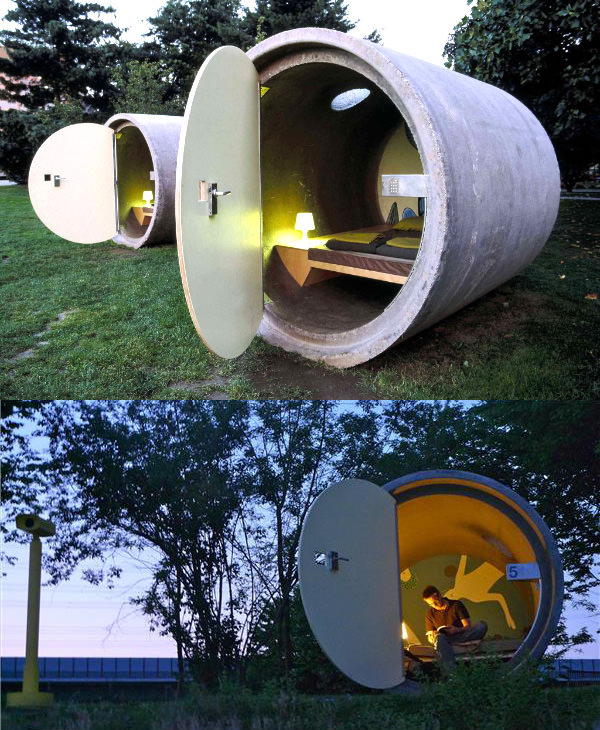 Credit: hongkiat.com
If you want something unique and exciting, staying in a barrel is one for the bucket list. These round rooms are a breath of fresh air from the typical camping experience. The interior is perfectly designed to fit the size and shape of the barrel, and this is one of the coolest and most enjoyable hotel experiences you can have.