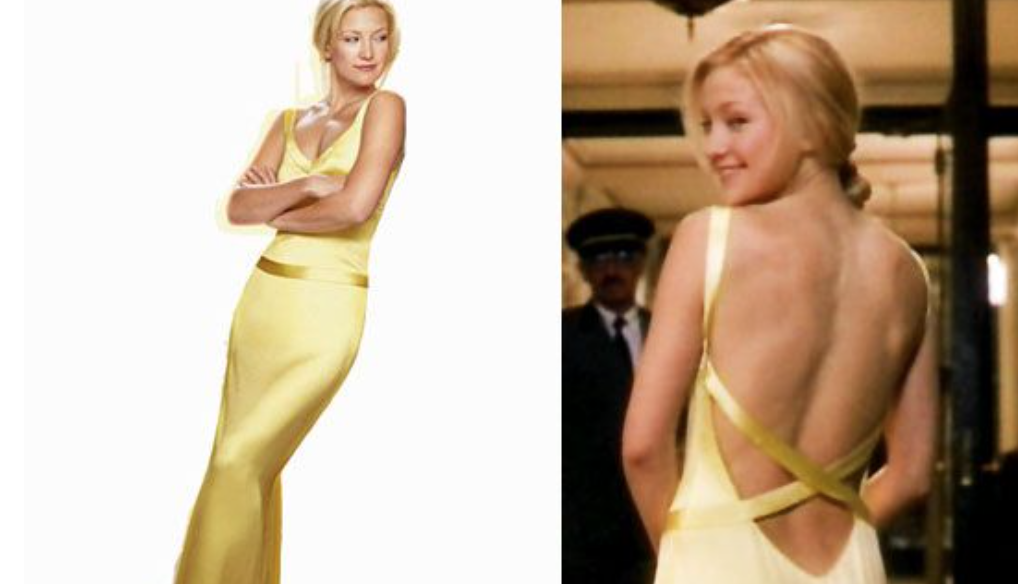 Credit: RADENRORO New York via Pinterest
Nakia's warrior outfit in Black Panther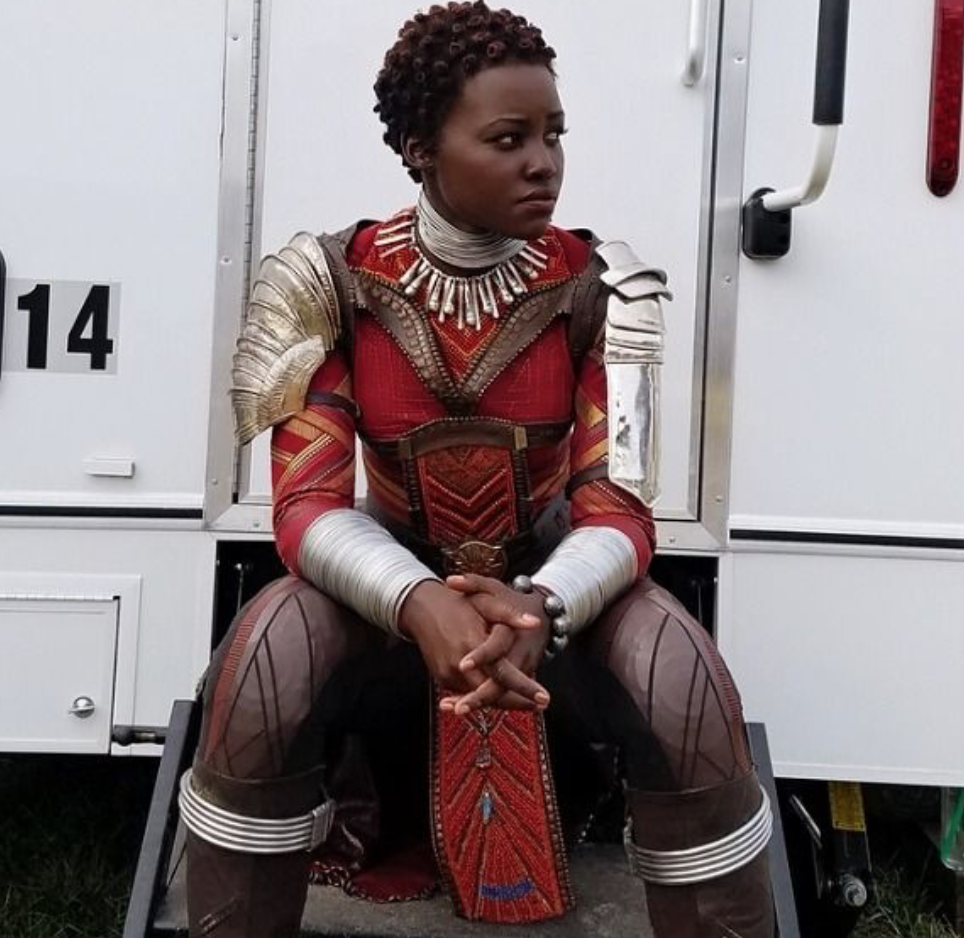 Credit: @lupitanyongo via Instagram
There's no shortage of epic outfits in Black Panther. However, the outfit worn by Nakia – played by Lupita Nyong'o – really stands out as something truly special. The beautiful embroidered armor loses none of its impact even in the behind-the-scenes' photographs. No wonder the movie's costumes have been described as a "work of art"!
Sandy's PVC suit in Grease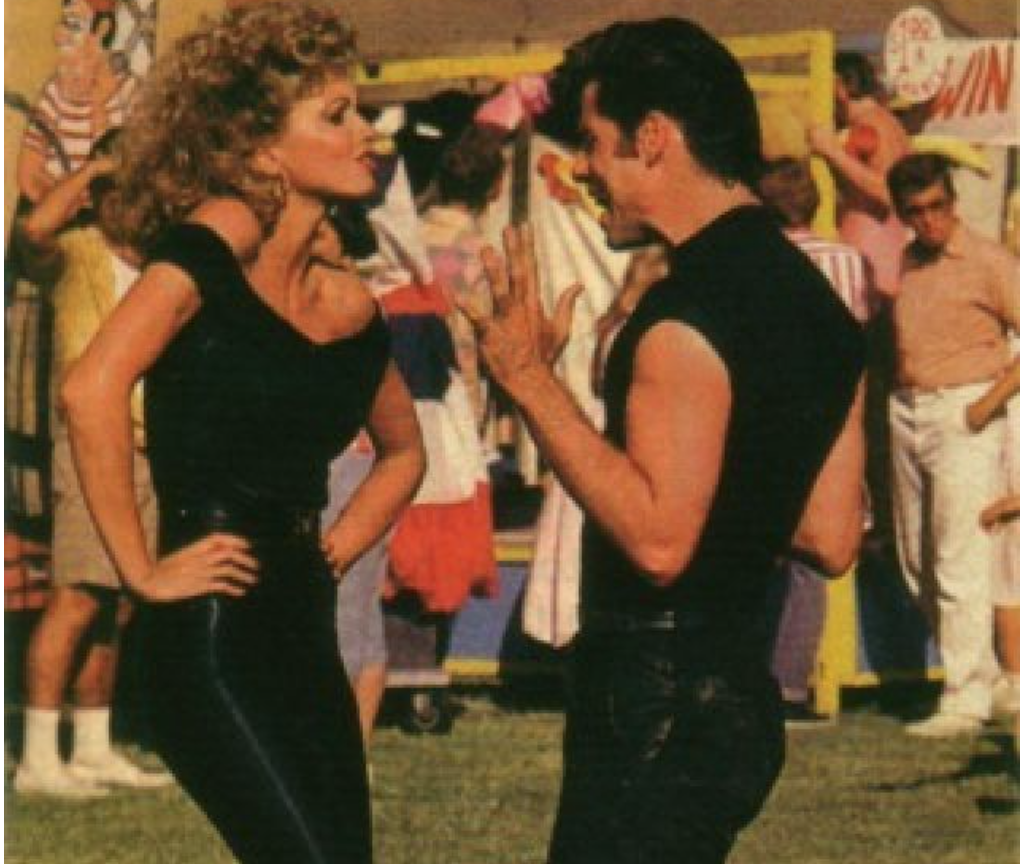 Credit: Becca White via Pinterest
The transformation of sweet, innocent Sandy with her big skirts and Alice bands into sexy Sandy is the culmination of this teen favorite movie. The PVC suit that Sandy wears in the movie's final extended scene was so tight that actress Olivia Newton-John had to be sewn into it!
Mary Poppin's scarf, hat, umbrella and bag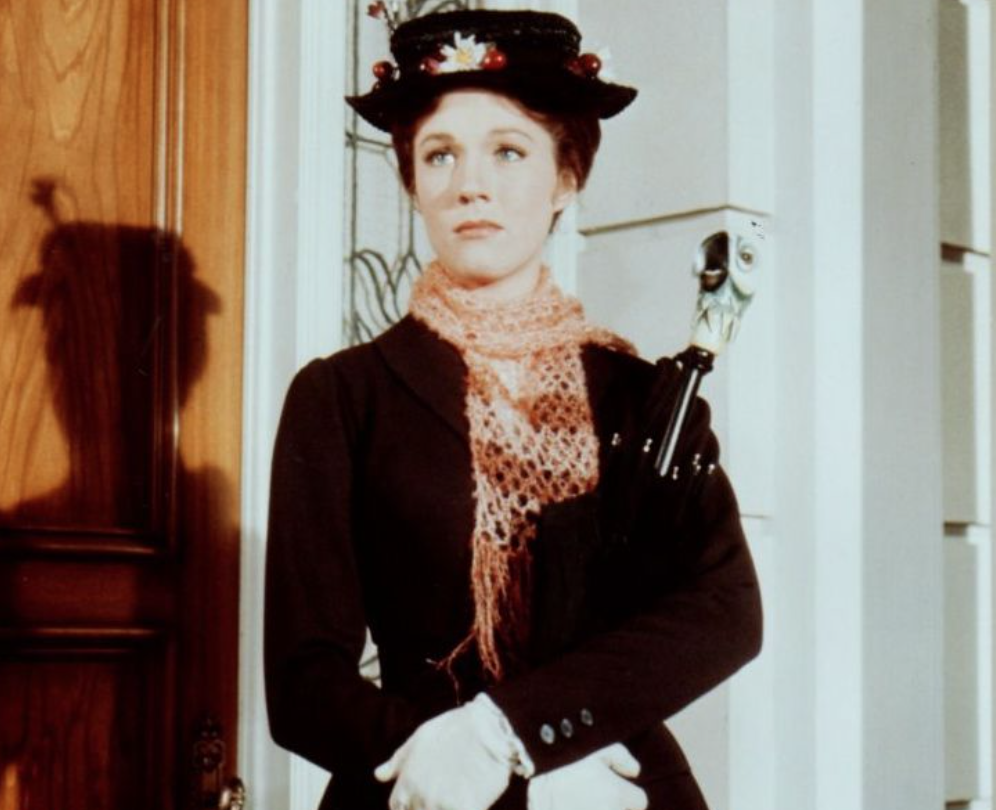 Credit: fabuloushollwoodmemories.com via Katie Bingham via Pinterest
It might not be a look that many people want to emulate but Mary Poppin's ensemble is instantly recognizable. What's more, Julie Andrews, who played Mary in the original movie, has explained how her costumed held a secret. Designed by her then-husband, the costume, although prim and proper to look at, usually hid fun visual flairs, such as vibrant linings.
Andie Anderson's yellow silk gown in How To Lose A Guy In 10 Days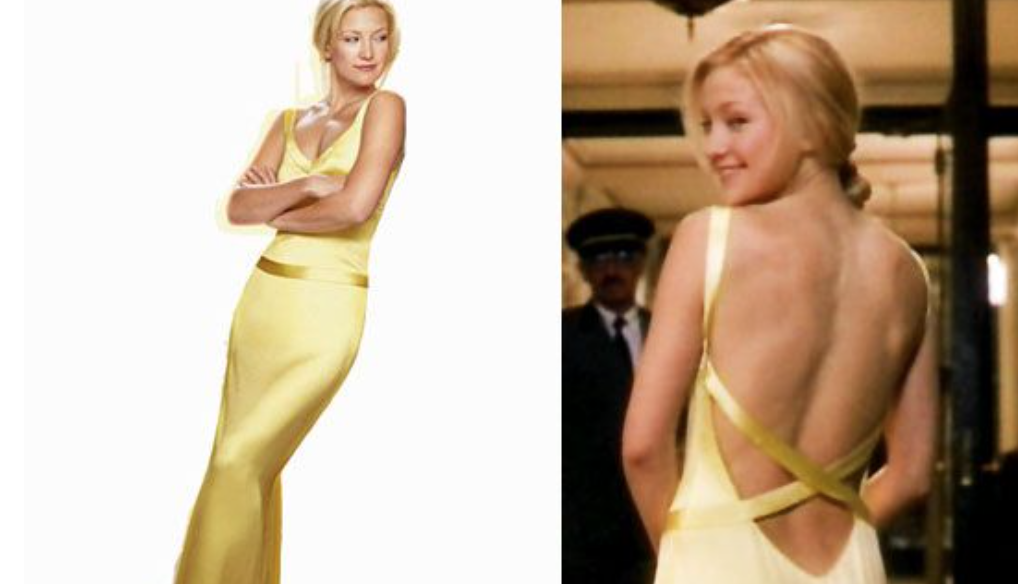 Credit: RADENRORO New York via Pinterest
Not many people look as good in yellow as actress Kate Hudson did when, as Andie Anderson, she donned her famous silk gown in How To Lose A Guy In 10 Days. Designed by the movie's costume designer in association with Carolina Herrera, the dress was a one-of-a-kind. Eagle-eyed fans continue to find dupes even 20 years after the movie first aired.
Blair's gold Marc Jacobs dress in Gossip Girl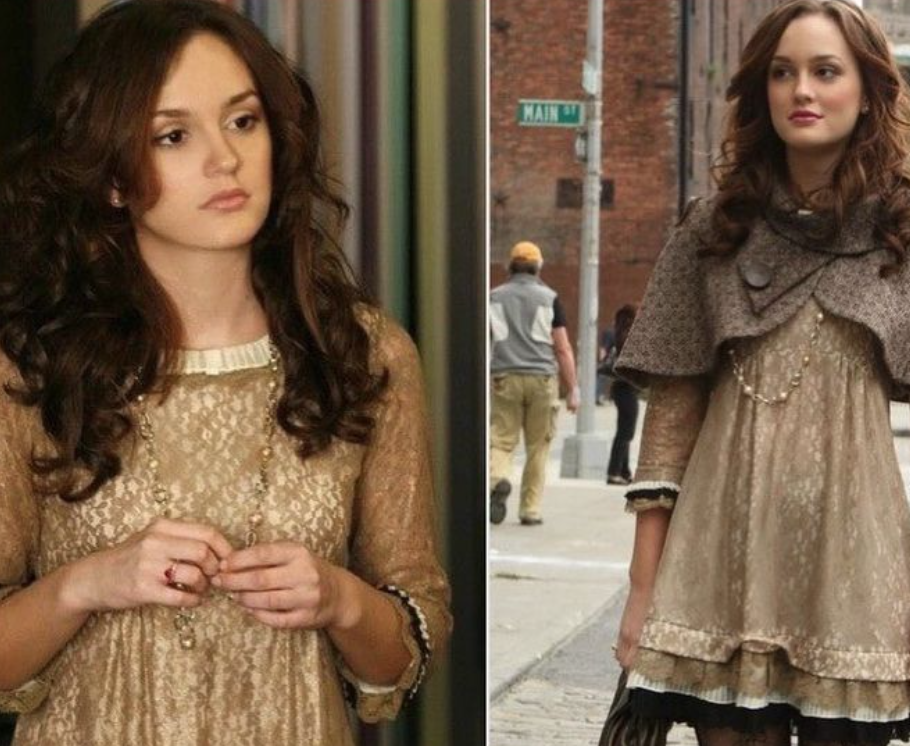 Credit: @waldorf_in_midtown via Instagram
Hey Upper East Siders, what's your favorite Gossip Girl outfit? One of the top contenders has to be the Trina Turk capelet and gold Marc Jacobs dress worn by "Queen B" aka Blair Waldorf, as played by Leighton Meester. Years after the original series ended, fans compete to buy second-hand versions of both pieces when they show up on Ebay and other selling sites.
Vivian's brown polka dot dress in Pretty Woman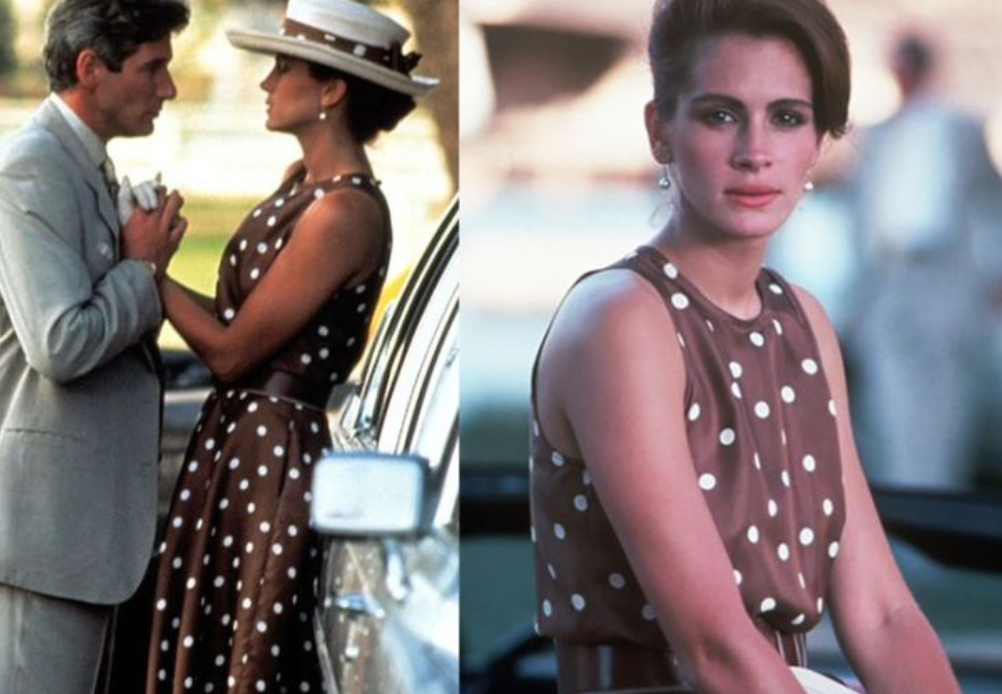 Credit: Kelly Golightly via Pinterest
In just under two hours, Julia Roberts makes cinematic sartorial history several times in her role as Vivian Ward in the 90s movie, Pretty Woman. Marking her transition from street prostitute to high-class escort (and hinting at how rich businessman, Edward, will fall in love with her) is the brown polka dot dress she wears to the polo match.
Rachel's Cinderella-style gown in Crazy Rich Asians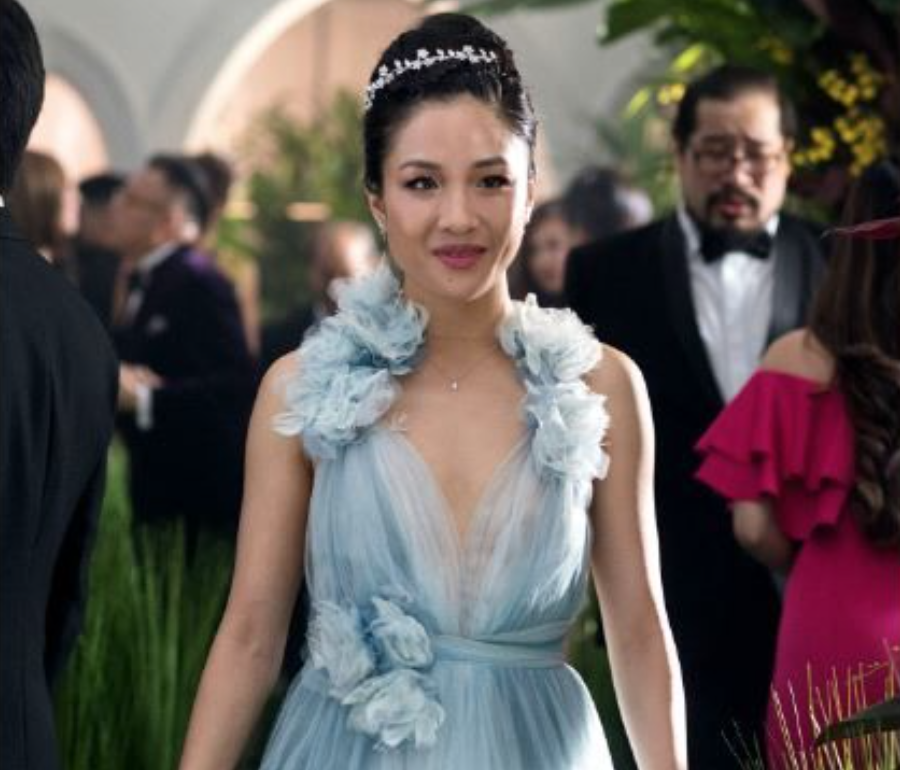 Credit: bugsy via Pinterest
Another movie with no shortage of jaw-dropping fashion gems is the 2018 classic, Crazy Rich Asians – and the Cinderella-inspired gown worn by Constance Wu in her role as Rachel Chu has to top the list. After all, the dress is so special that it's now housed in the Smithsonian's National Museum of American History!
Honey Ryder's white bikini in Dr. No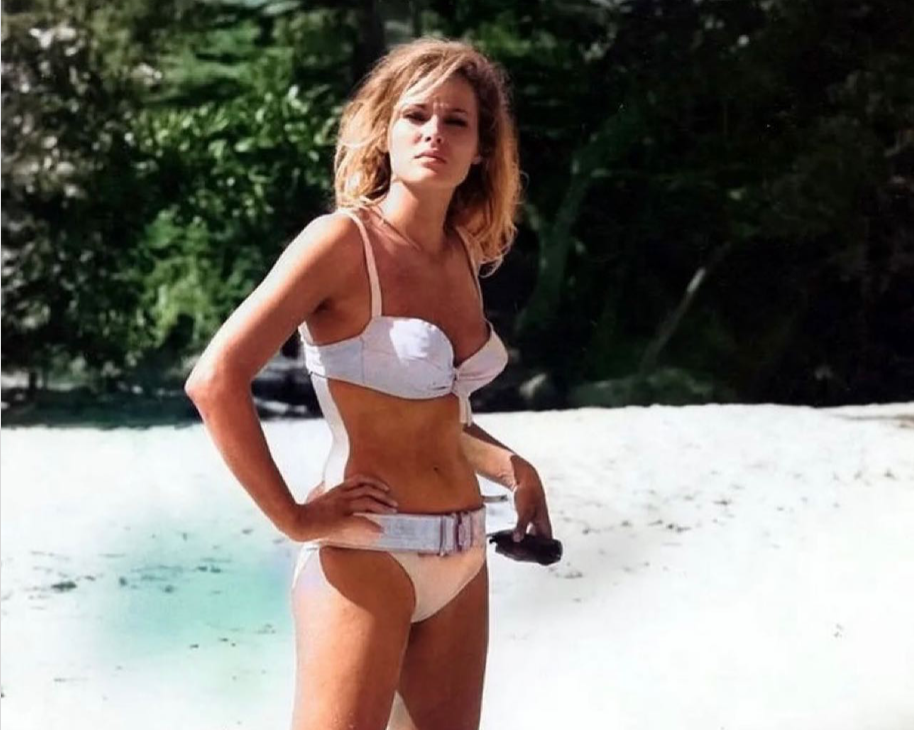 Credit: @jamesbonddownunder via Instagram
Hands up if you've ever accessorized a white bikini with a dagger at the waist? No? So Ursula Andress in her iconic role as Honey Ryder in the Bond thriller, Dr. No, carries the crown – and the dagger – all by herself. In an outfit that's been immortalized in posters on college dorm walls down the generations, Andress totally rocks her bikini.
Monica's brocade dress in Friends
Credit: Cult Nineties via Pinterest
Monica Geller might not have been quite the fashionista Rachel was, but she certainly had her moments. Her brocade rust-colored dress by iconic designer Betsey Johnson certainly hit the spot. The fall hues were perfect for Courteney Cox's coloring and, almost 30 years later, fans still try to recreate the look for themselves.
Holly Golightly's Little Black Dress in Breakfast at Tiffany's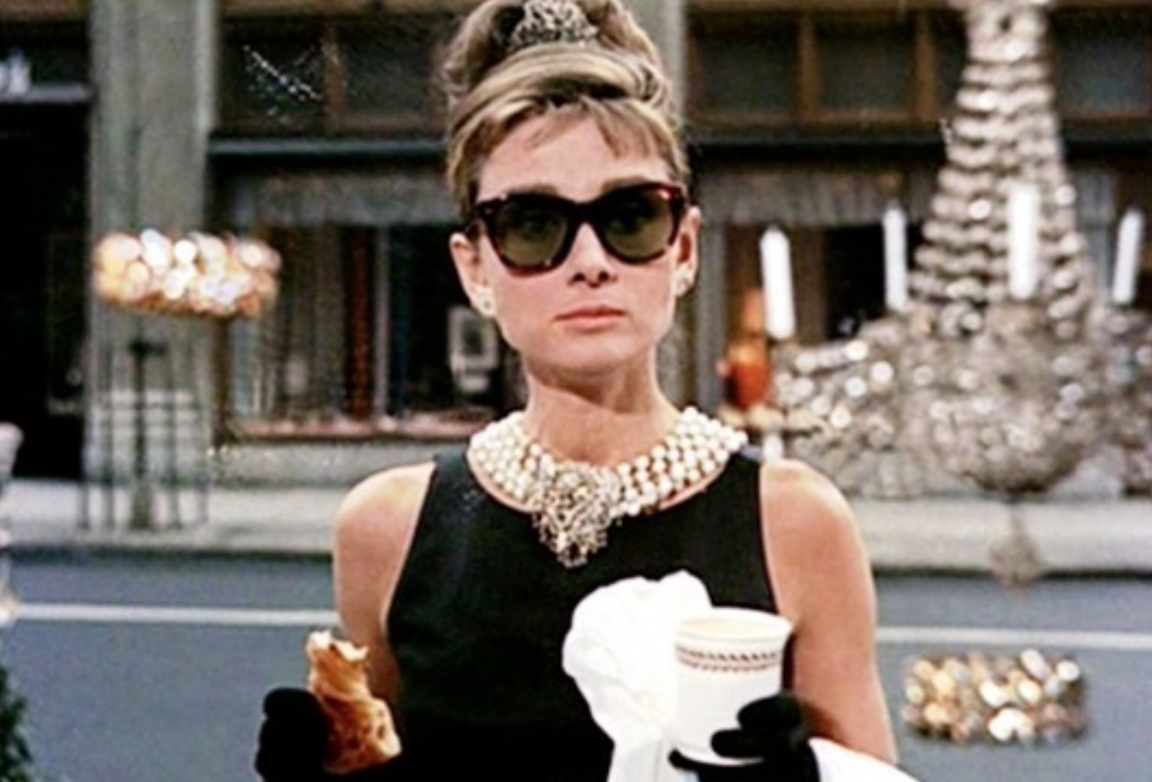 Credit: @rowhouse_lawrenceville via Instagram
Although fashion historians credit Coco Chanel with the original Little Black Dress, or LBD, for many people it's Holly Golightly who epitomises the look. Hubert de Givenchy designed the iconic dress worn by Audrey Hepburn and, even today, that dress is often the first thing that springs to mind whenever Breakfast at Tiffany's is mentioned.
Cher's yellow plaid suit in Clueless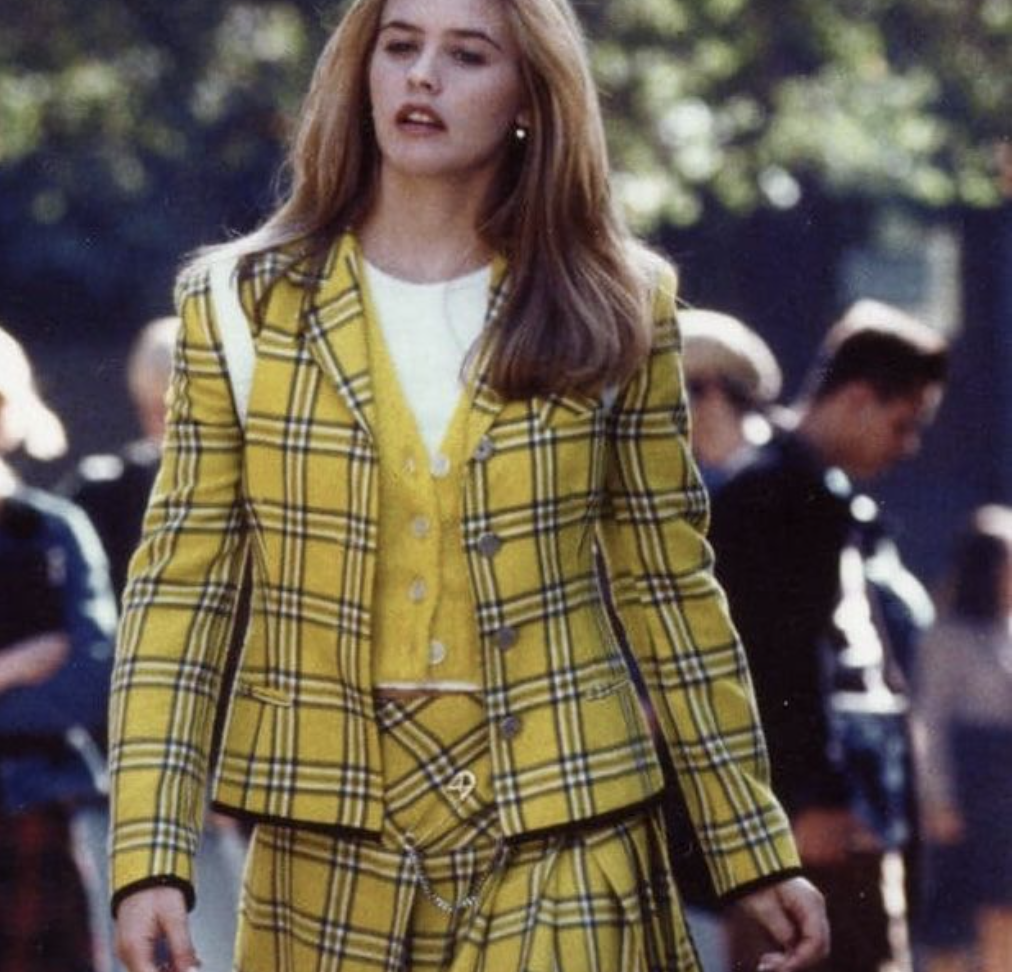 Credit: romi via Pinterest
Not many of us will ever have gone to school wearing a yellow plaid mini-skirt suit, but that might not have stopped us from wishing – just for a moment – to be Cher from Clueless. Whether the get-up would have worked so well on anyone other than Alicia Silverstone is a moot point; it's now definitely an iconic outfit from the annals of cinema history.
Marilyn Monroe's white dress in The Seven Year Itch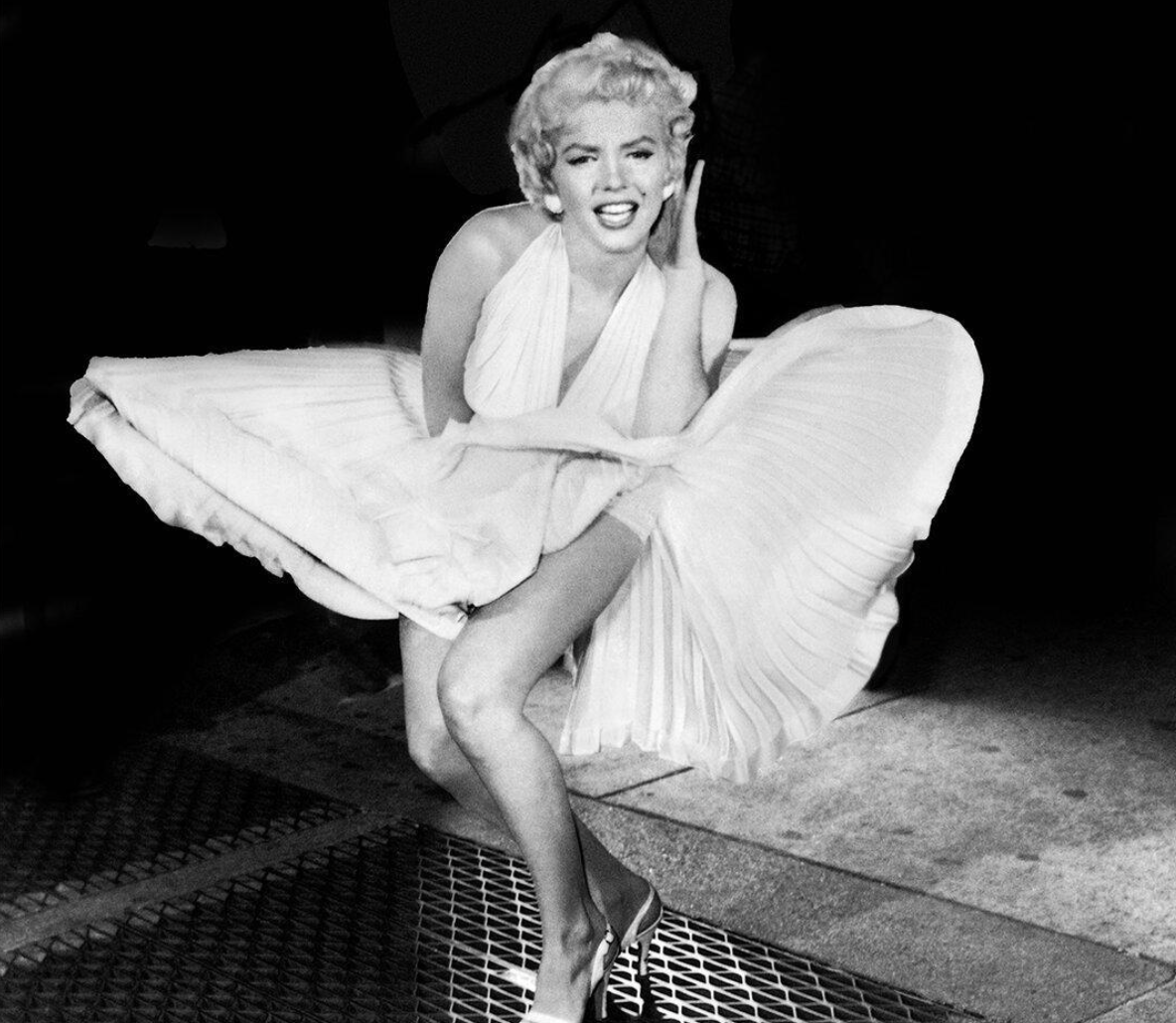 Credit: @marilynmonroe via Instagram
When you think of Marilyn Monroe, there's a very strong chance you think of a certain white dress. You might not even know when she wore the dress (during the movie The Seven Year Itch, when she played "The Girl") but you'd know the dress anywhere. Originally kept by its designer, William Travilla, it's now owned by a private collector who paid more than $5.6 million.
Cecilia's green dress in Atonement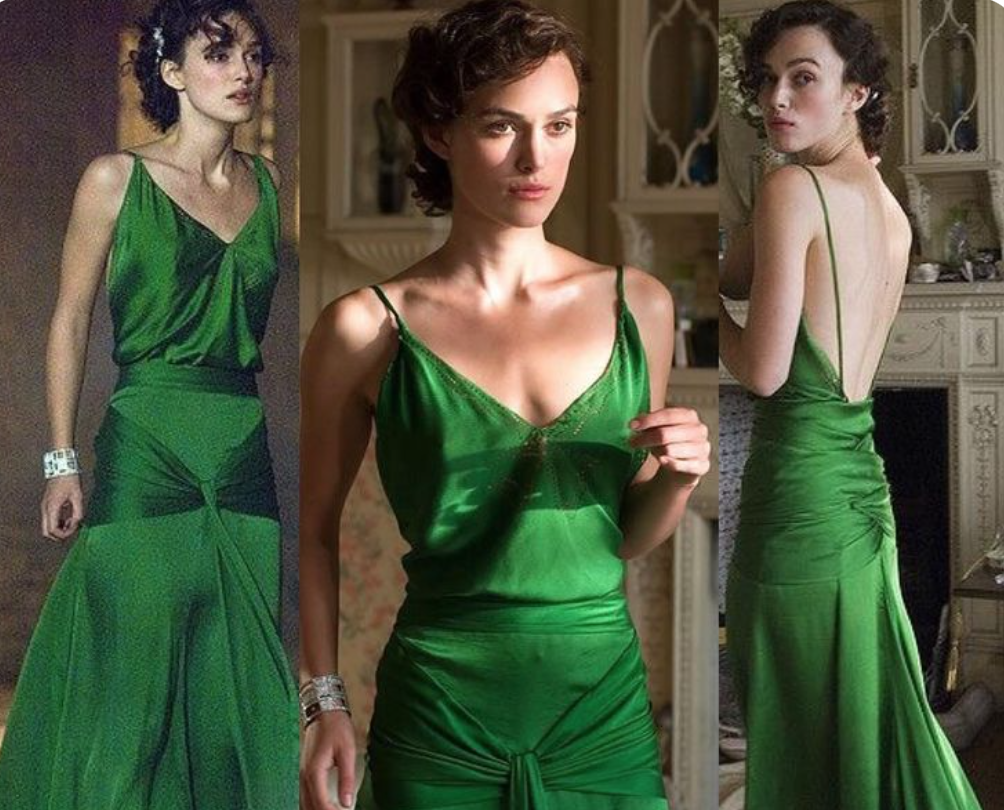 Credit: @the_corsetedbeauty via Instagram
Worn by Keira Knightley in her role as Cecilia Tallis in the movie adaptation of Ian McEwan's novel, Atonement, this green dress was voted "Best Costume of All Time" by Sky Movies. The green color was a specific request from the movie's director, who wanted to reference the themes of temptation and jealousy that run through the story.
Rose's sequinned gown in Titanic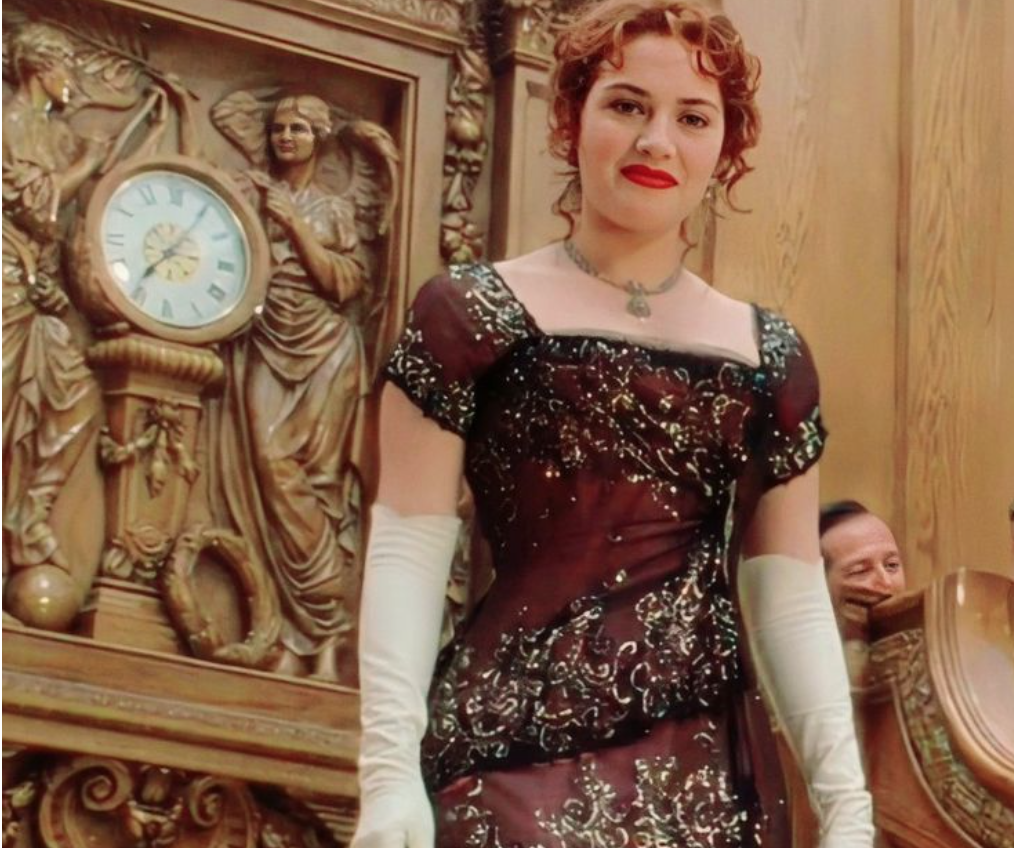 Credit: Ana Carolina via Pinterest
It might not have been the dress Kate Winslet wore during the iconic "I'm flying!" scene in Titanic but this stunning sequinned gown nonetheless encapsulates the desperate irony of the story. All of Rose DeWitt Bukater's wealth and privilege was insufficient to avert either her personal tragedy (the love affair with Jack) or the wider calamity that befell the ship.
Diana Murphy's Little Black Dress in Indecent Proposal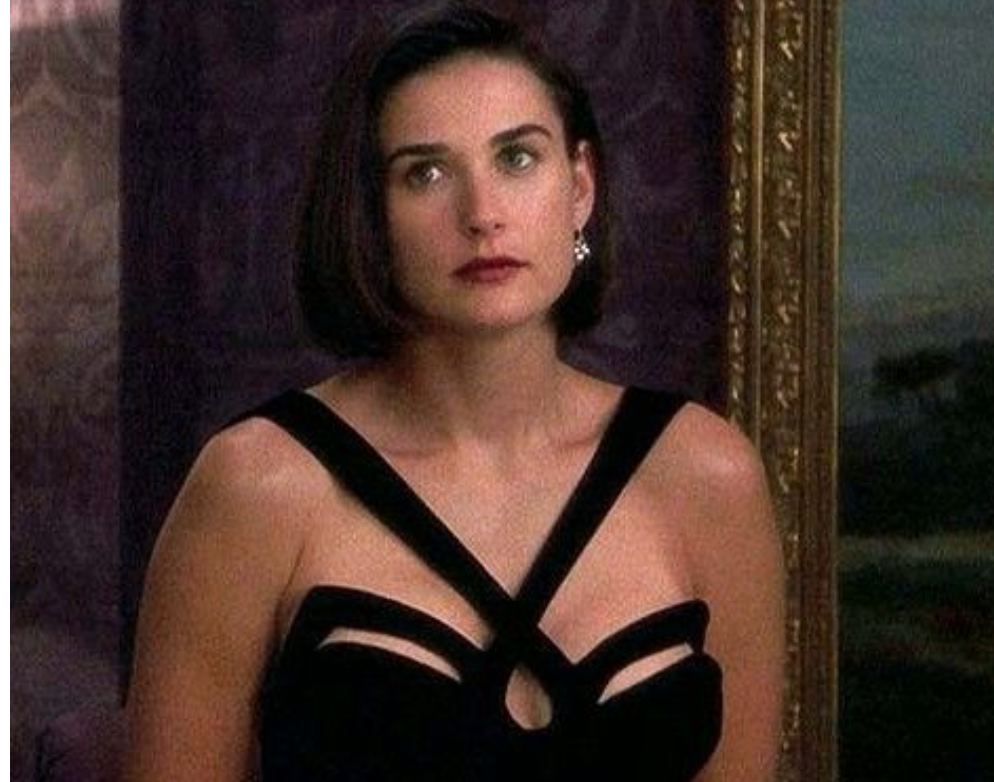 Credit: Francine F via Pinterest
Surely one of the most talked-about dresses from any movie is the cut-out black dress worn by Demi Moore as Diana Murphy in Indecent Proposal. Designed by Thierry Mugler, the dress cost $5,000 – a large sum by any movie costume budget.
Jim Stark's white tee and jeans in Rebel Without A Cause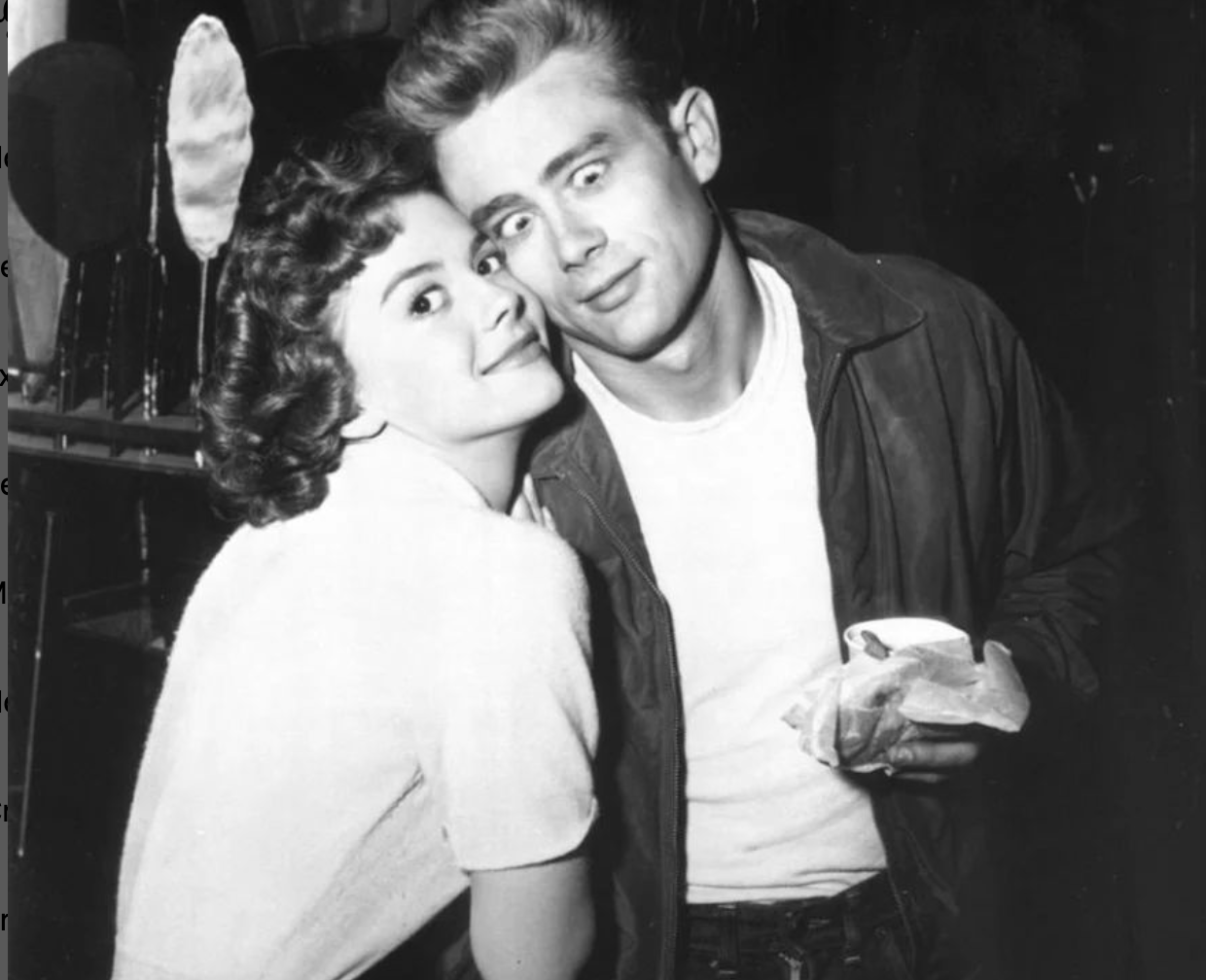 Credit: @jamesdean via Instagram
Most costumes worn by male actors pale into insignificance compared to those donned by their female co-stars. However, the white tee and jeans as worn by James Dean when he played Jim Stark in the cult classic, Rebel Without A Cause, is an honourable exception. In fact, it's one of the very few movie outfits to have made it into mainstream closets around the world.
Frances Stevens' ball gown in To Catch A Thief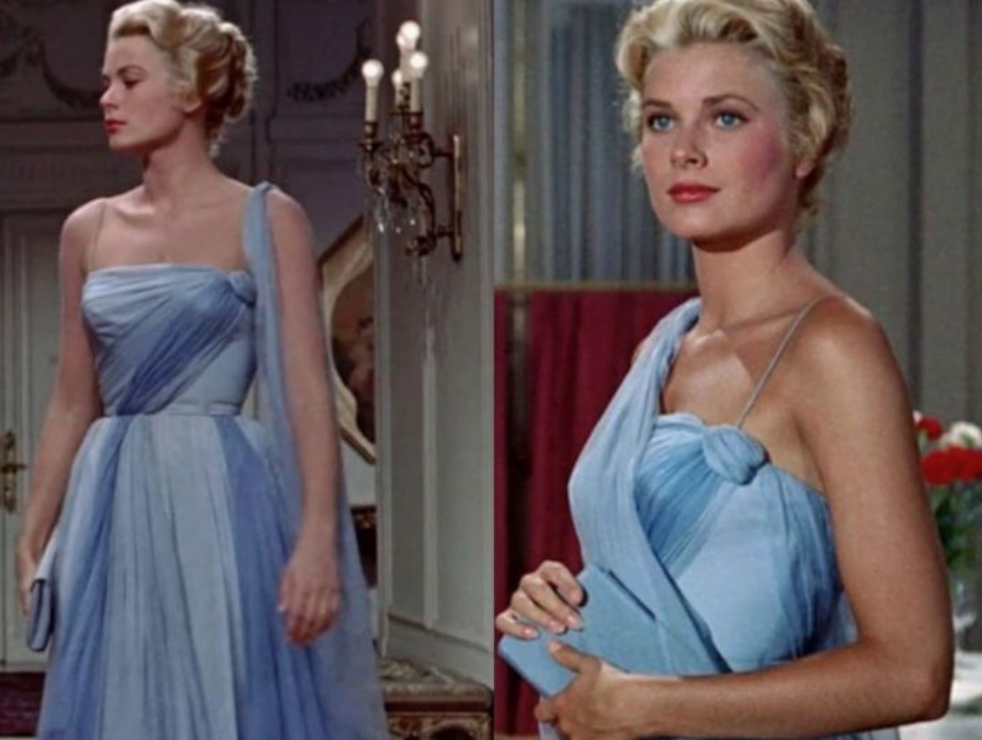 Credit: Joy Roecker via Pinterest
Nothing she wore after she became a princess quite matched up to the blue chiffon gown Grace Kelly donned in To Catch A Thief. Designed by Edith Head for the heiress Frances Stevens, the dress is so dramatic it needed neither jewelry nor any other accessories.
Rachel's bridesmaid's dress in Friends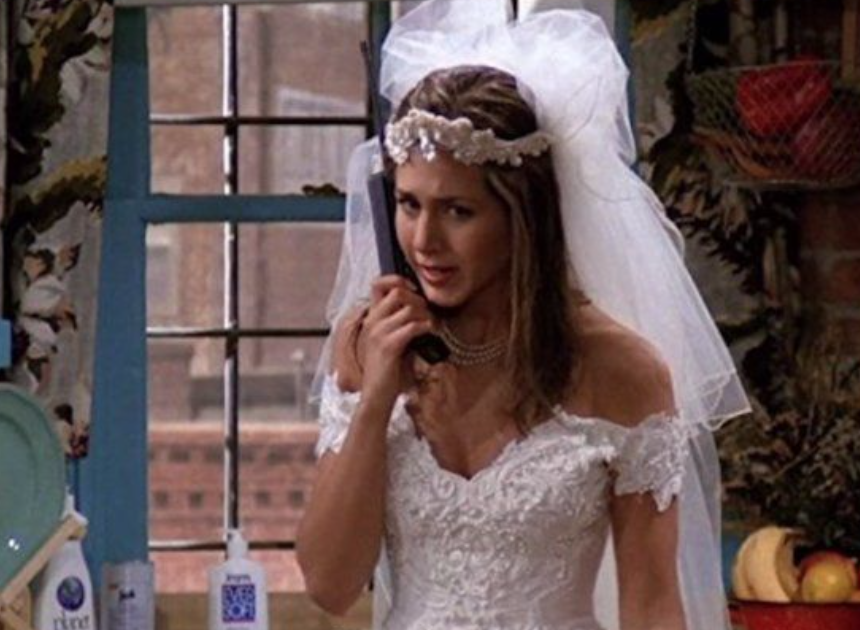 Credit: Margrethe Jensen via Pinterest
Though she quickly transformed into the fashion icon we still love and remember today, Rachel Green's first appearance in Friends wasn't quite so stylish. Running from her own ill-advised wedding, actress Jennifer Aniston appears in a poufy wedding dress that is almost more 1980s than 1990s.
Catherine Trammell's white dress in Basic Instinct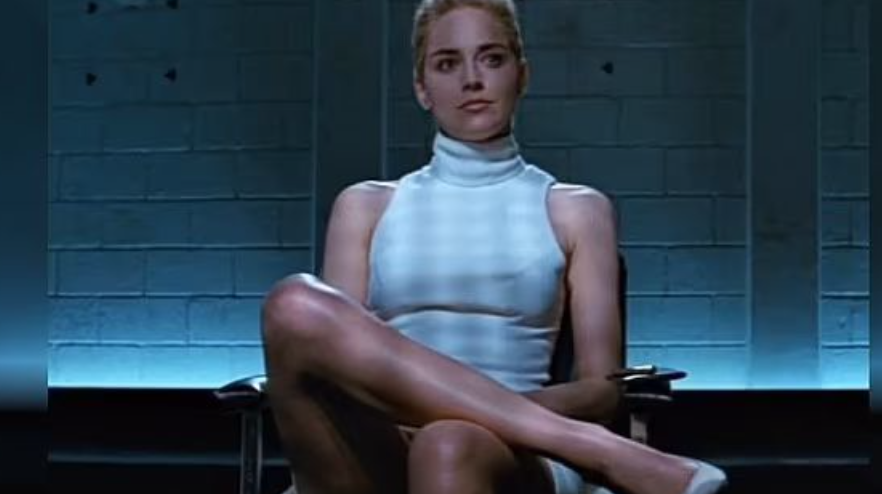 Credit: Daily Mail via Pinterest
Perhaps remembered more for what it didn't quite cover than for its own design, Catherine Trammell's white dress in Basic Instinct nonetheless instantly earned itself a place in movie history. Actress Sharon Stone co-designed the dress – and still owns it today, along with her entire wardrobe from the movie.
The Bride's bright yellow suit in Kill Bill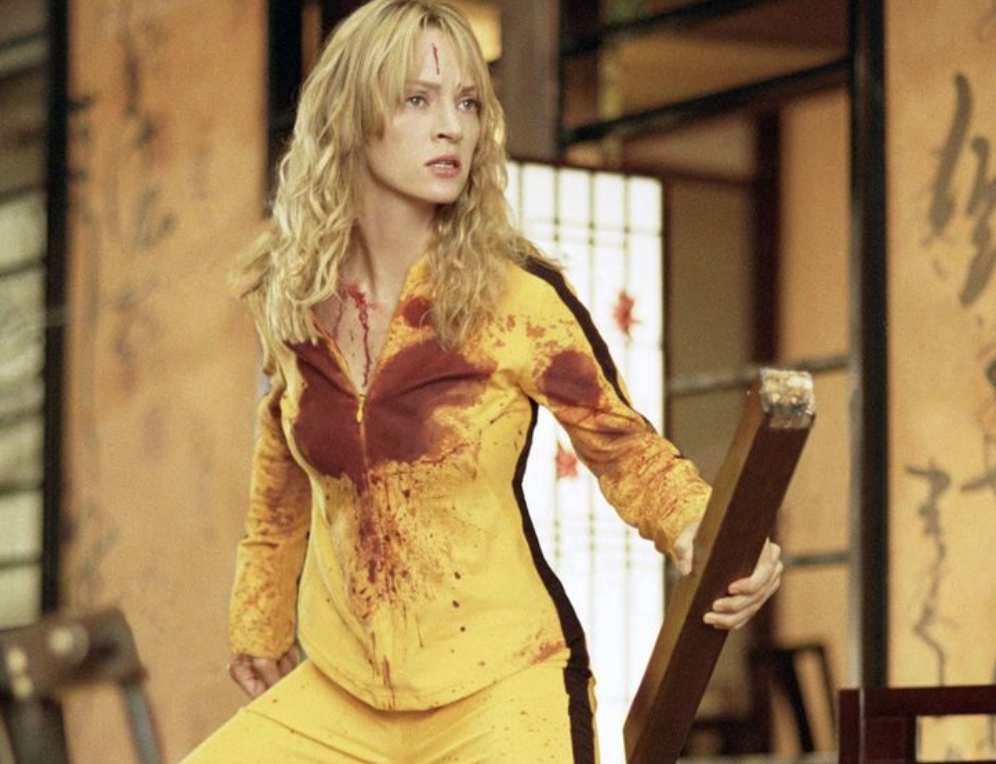 Credit: Rob Martinez via Pinterest
How do you dress a character like The Bride in Kill Bill? Well, the costume designers responsible chose a striking yellow pant suit, teamed with matching sneakers. And Uma Thurman carried the lot off into movie costume history. We might not want to wear the outfit ourselves but we sure do like it!
Cinderella's ballgown
Credit: Lacy Draper via Pinterest
Taking inspiration from the original Disney cartoon, the fairytale-appropriate gown worn by Lily James in the later adaptation is a classic. Apparently, it took 20 people, 500 man hours to make, and incorporates eight skirts and 111,000 Swarovski crystals. Apparently, though, it took 45 minutes to get into and wasn't particularly comfortable to wear.
The Terminator's leather jacket and shades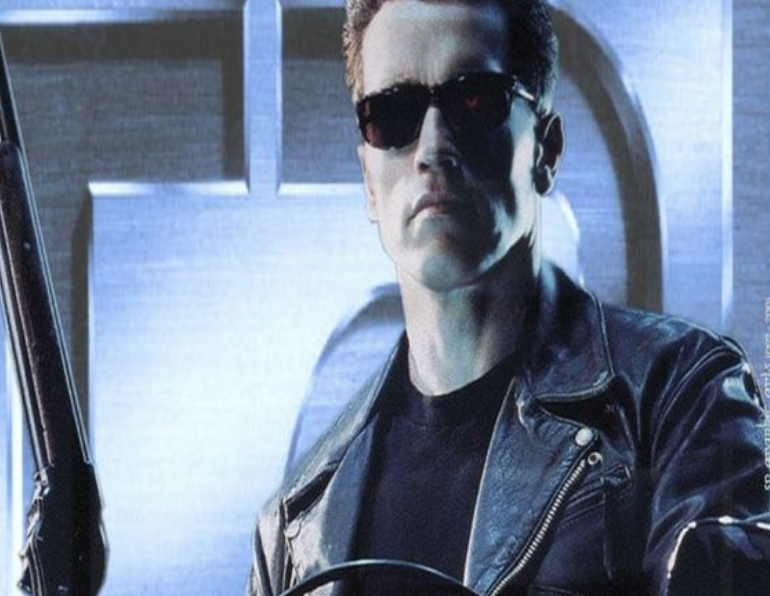 Credit: Asia Nyembo via Pinterest
Has anyone ever worn the combo of leather jacket and shades to quite such good effect as Arnold Schwarzenegger in The Terminator? Another male outfit that became an instant classic, this is one get-up that's easy to replicate if it appeals to you.
Phoebe's orange coat in Friends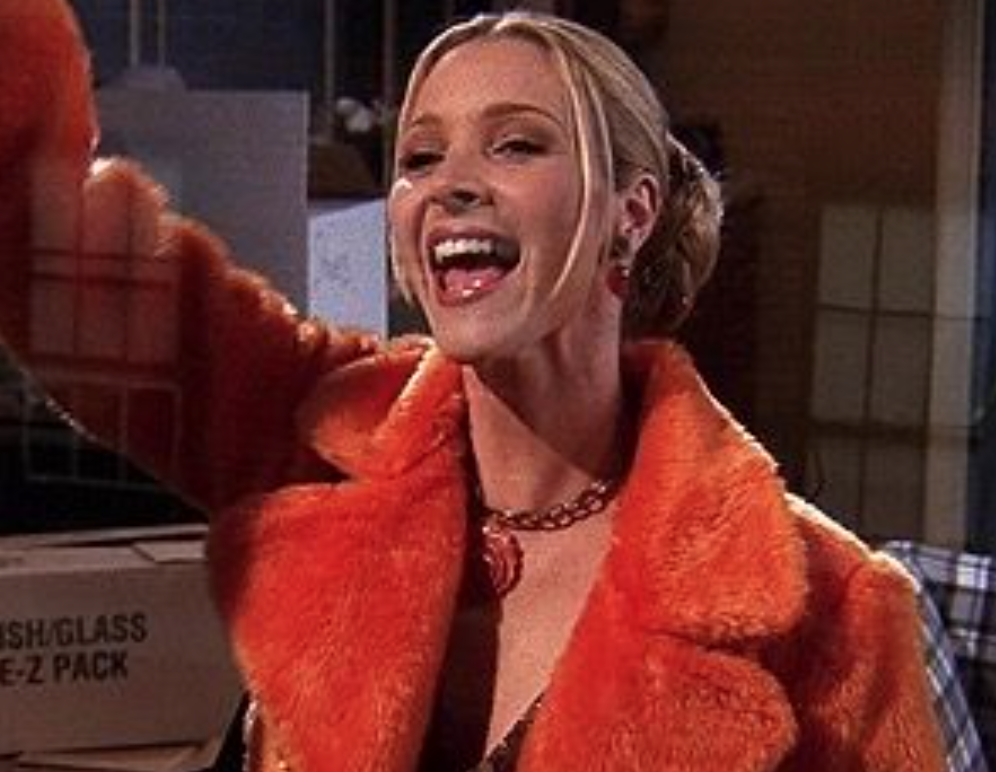 Credit: giovana pavan via Pinterest
Frequently delighting in bright, quirky clothes, Phoebe Buffay's faux fur orange coat epitomises her overall sense of style. Worn by actress Lisa Kudrow, the coat is by cult brand, Rampage, and is a sought-after fan favorite, though fetches a high price when it does show up for sale.
Lorelei's pink dress in Gentlemen Prefer Blondes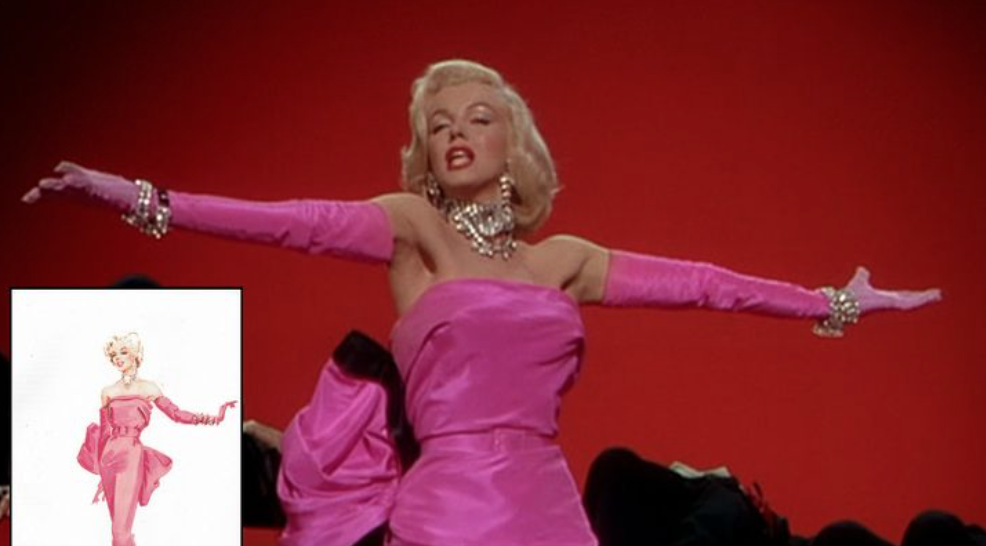 Credit: Connie Landro via Pinterest
As if to prove that it's not only white dresses that she wore well, Marilyn Monroe sported another iconic outfit in the movie Gentlemen Prefer Blondes. Her character, Lorelei Lee, wears a shocking pink dress when she sings about diamonds being a girl's best friend. The dress is so famous it even has its own Wikipedia page.
Eliza Doolittle's Royal Ascot outfit in My Fair Lady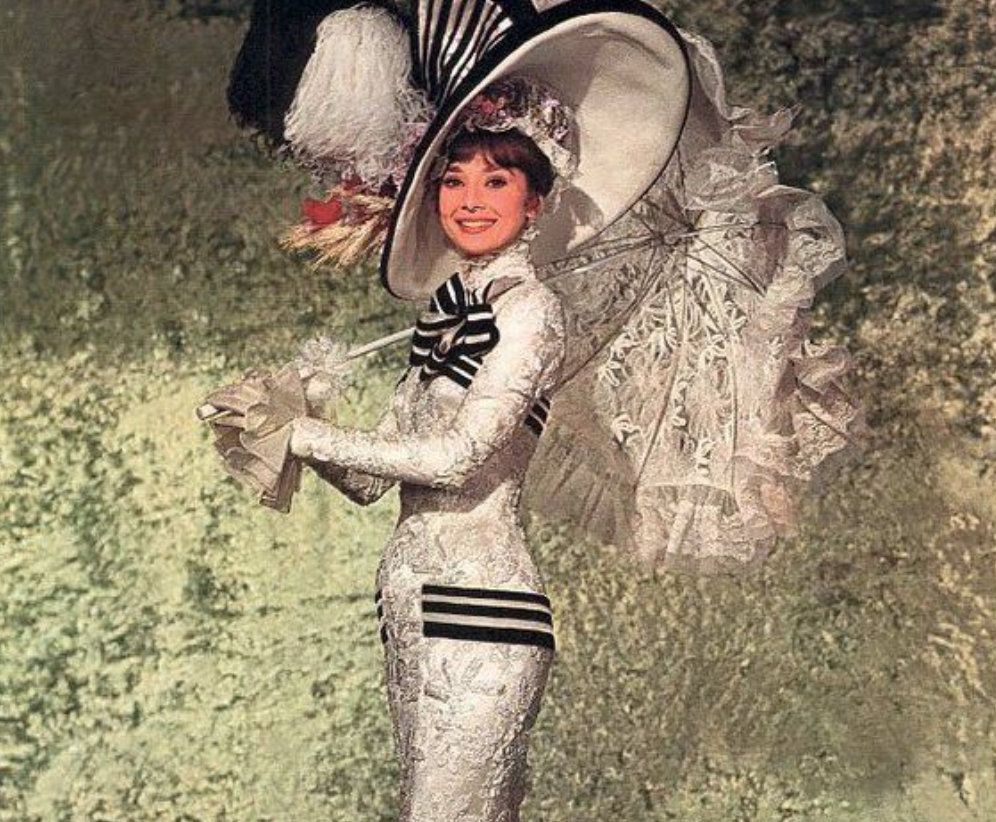 Credit: Etsy via Pinterest
Who better to design an outfit intended to mark a character's admission into the British upper classes than Royal favorite, Cecil Beaton! However the elegant outfit worn by Audrey Hepburn as Eliza Doolittle isn't enough to remind Eliza to keep her mouth closed and her accent to herself when attending Royal Ascot…
Thelma and Louise's mom jeans and band tees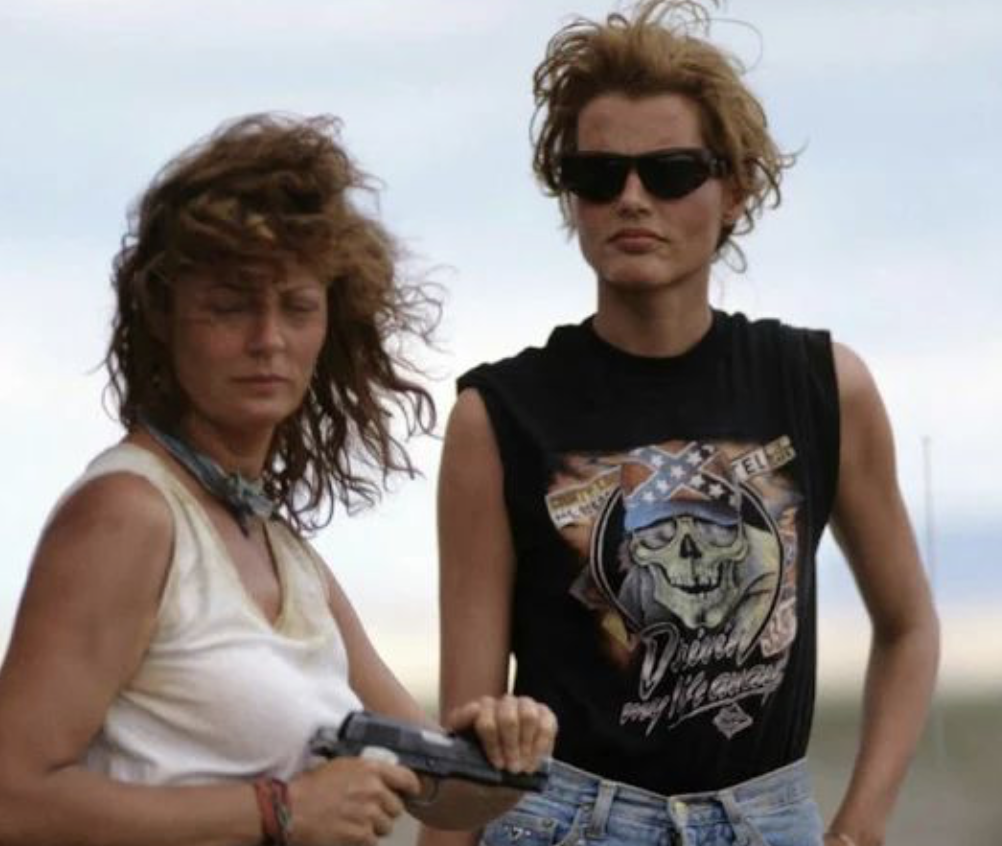 Credit: Google via Pinterest
Perfect for lovers of 90s fashion, Thelma and Louise – as portrayed by Susan Sarandon and Geena Davis – proved that fashion doesn't have to be couture or impractical to be effortlessly cool. Pull on a pair of high-waisted mom jeans and slip on your favorite band tee and you, too, can have some of the sass of this famous duo.
Dorothy's pinafore and ruby slippers in The Wizard of Oz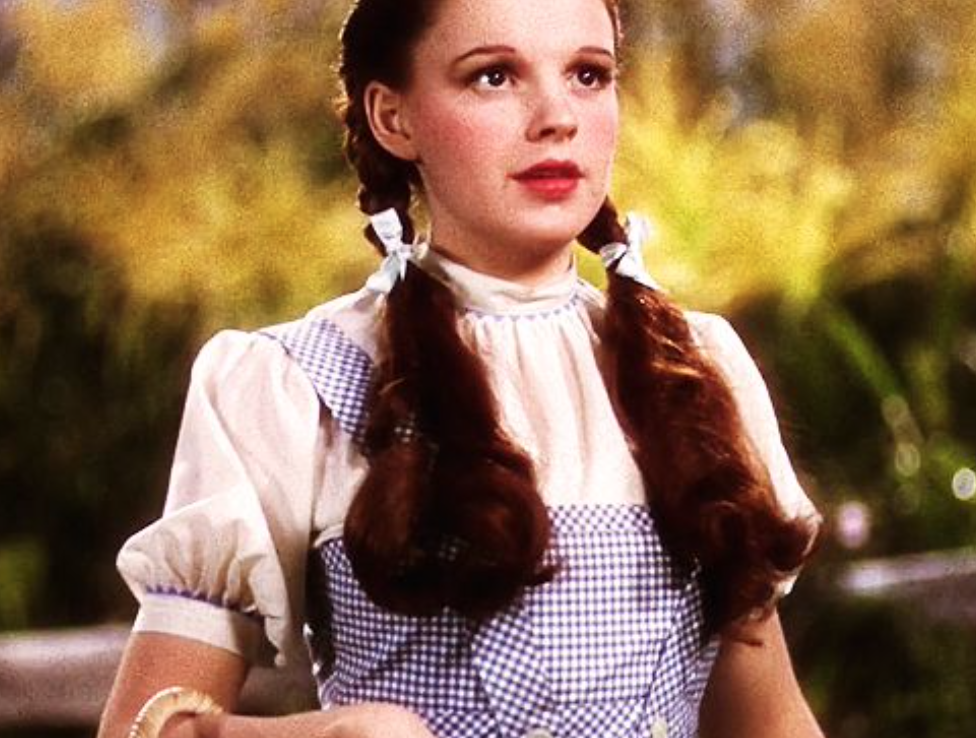 Credit: BuzzFeed via Pinterest
A dress and shoes that spawned many a fancy dress costume and made it onto many little girls' Christmas wish lists, Dorothy's outfit in The Wizard of Oz is still a classic today. Designed to make Judy Garland look like a young girl, the original dress is now the property of the Catholic University.
Johnny Strabler's leather jacket in The Wild One
Credit: Morchlina via Pinterest
Yet another iconic leather jacket and an iconic outfit for Marlon Brando, Johnny Strabler's leather jacket in The Wild Ones has spawned a thousand imitations. The original outfit – complete with heavy boots and rolled up jeans – was chosen to emphasise the character's toughness.
Gloria Wandrous's slip dress in Butterfield 8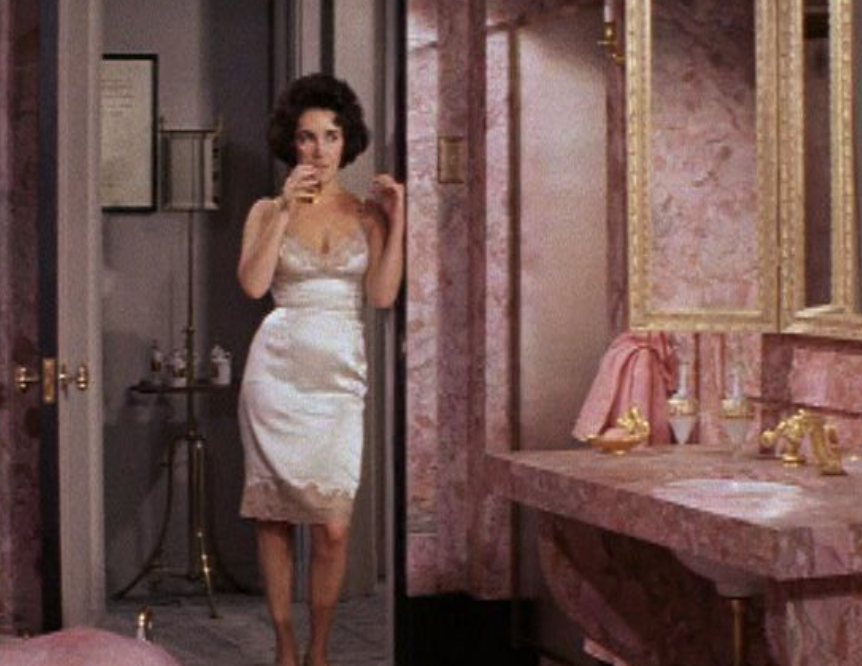 Credit: Lulu via Pinterest
Preempting the 90s trend for underwear as outerwear, Gloria Wandrous's slip dress was designed by Helen Rose (who also designed Grace Kelly's wedding dress). In one of her most stylish roles, Elizabeth Taylor memorably wore the slip dress in the movie's opening scene.
Angela Vicker's ball gown in A Place in the Sun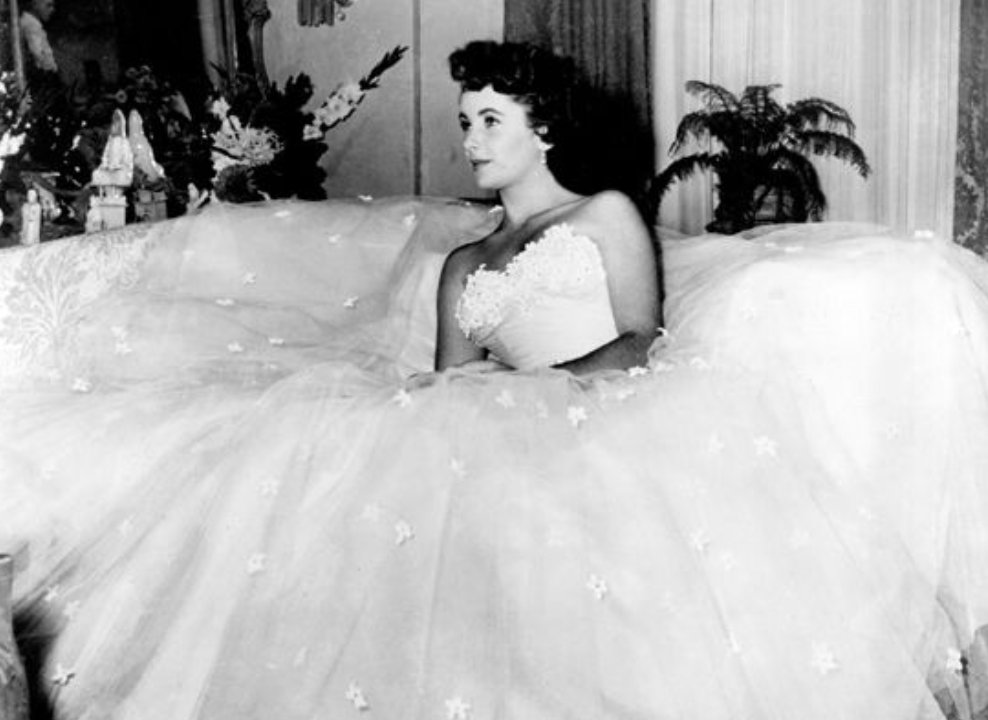 Credit: Gabrielle Elliott via Pinterest
A second entry for the ever-stylish Elizabeth Taylor comes courtesy of her role as Angela Vicker in A Place in the Sun. The costume designer, Edith Head, won an Academy Award for the costumes on the movie. And, looking at Angela's gorgeous and intricately-decorated ball gown, it's clear why the judges were so impressed.
Viola's wedding dress in Shakespeare in Love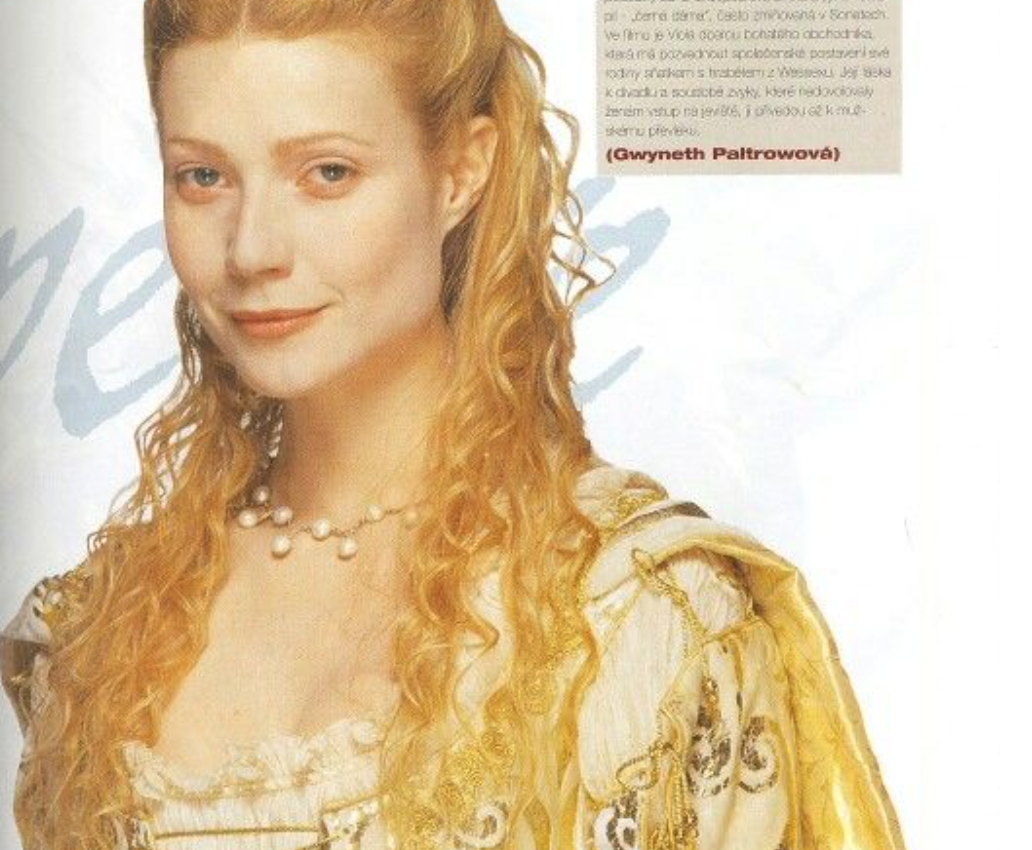 Credit: Triple L Talent via Pinterest
Most of the costumes in Shakespeare in Love are mouth-wateringly impressive but Viola's wedding dress tops the lot. Worn by Gwyneth Paltrow, who starred in the role, the dress has a dramatic quilted bodice. No doubt it was hot and heavy to wear – which was the point. The dress was designed to emphasise how the wedding marked Viola's lack of freedom as she's married off to someone she doesn't love.
Lorelai's pink coat in Gilmore Girls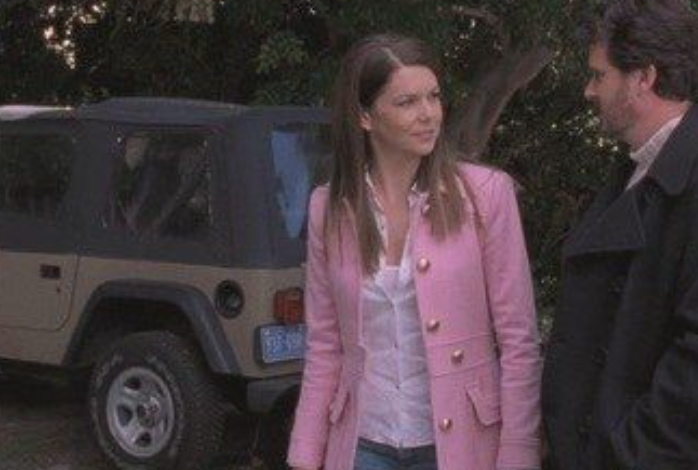 Credit: BuzzFeed via Pinterest
In a dramedy known almost as much for its fashion as its pop culture and witty dialogue, the pink coat worn by Lauren Graham as Lorelai Gilmore stands out above all the rest. Designed by Edward An, it's a fan favorite but the original has long since disappeared – even the costume designer couldn't find it for the 2016 Gilmore Girls Revival.
Vivian's red dress in Pretty Woman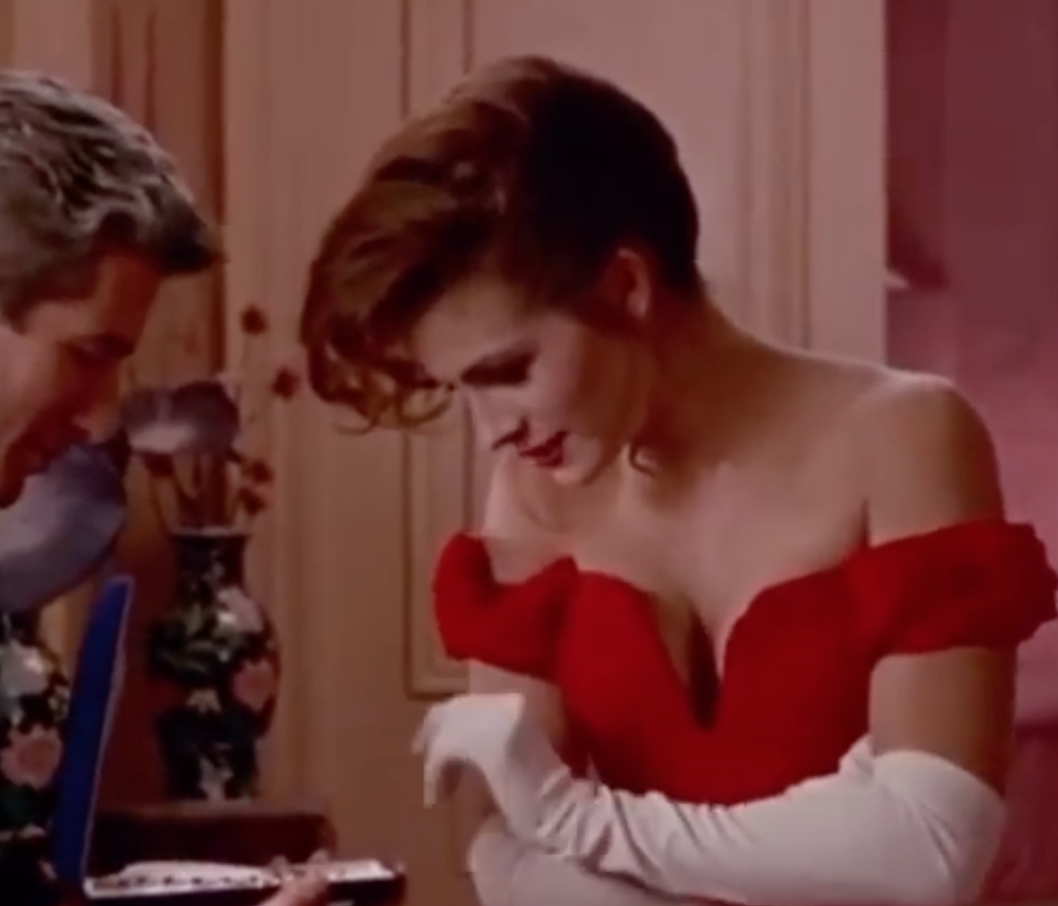 Credit: @90sclassy via Instagram
Another classic from Pretty Woman, Vivian's red dress is the perfect foil for Julia Robert's auburn hair. It's also the dress that provides the most visible representation of Vivian's transformation. Subsequently, it was exhibited at London's Victoria and Albert Museum, and even went to Paris Fashion Week.
Karen Dinesen's safari-wear in Out Of Africa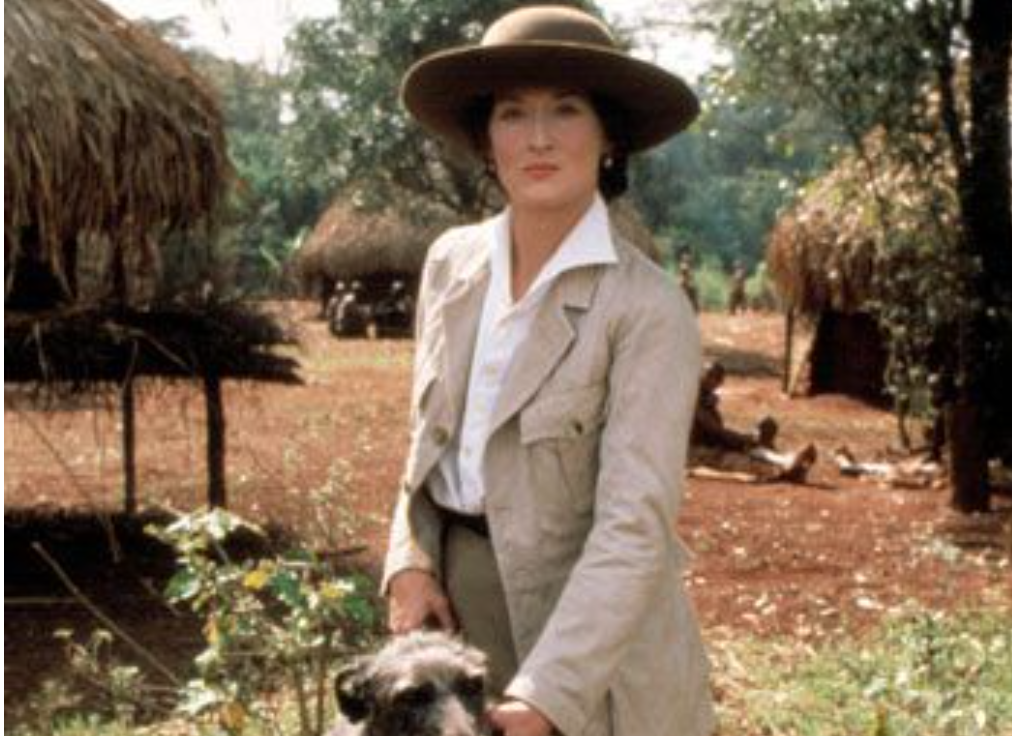 Credit: Stylist via Pinterest
Forget functional shorts and practical shirts, no-one has ever done safari style quite like Meryl Streep when she played novelist Karen Blixen (Dinesen) in Out of Africa. So stylish were the costumes that the likes of Yves Saint Laurent and Ralph Lauren took inspiration from them for their own collections.
Andie Walsh's pink spotty dress in Pretty In Pink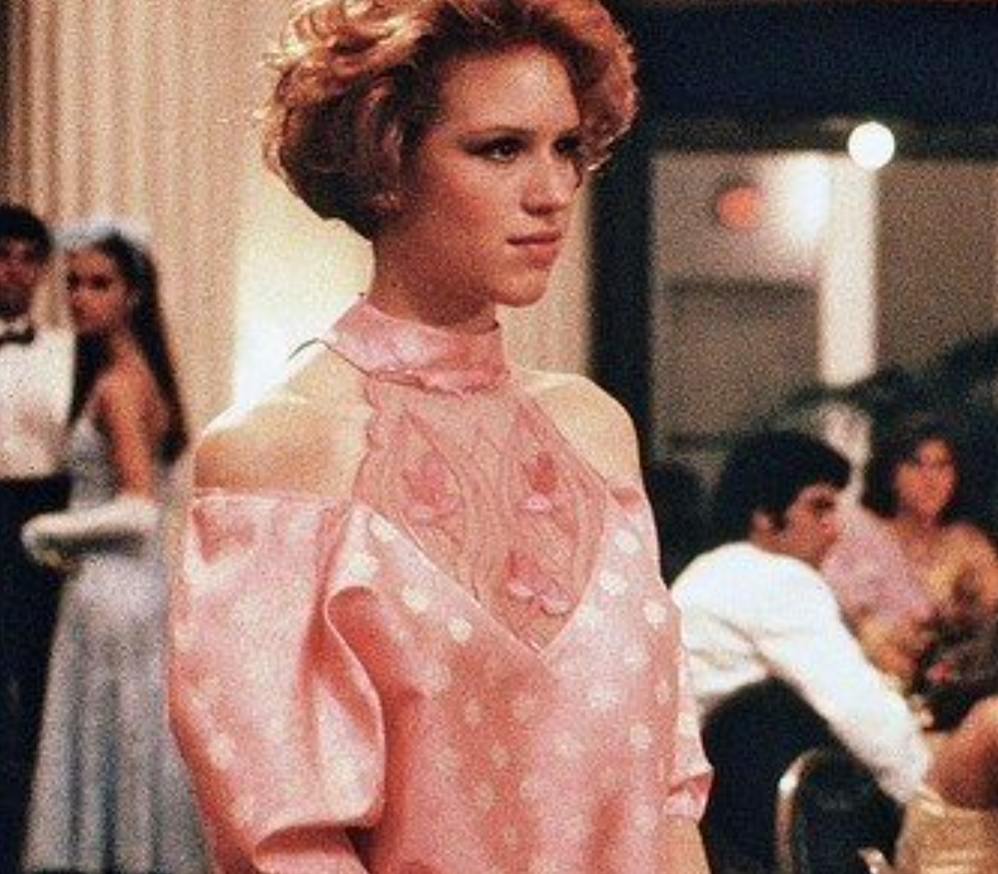 Credit: Woman's Day via Pinterest
A movie that captured the hearts of a generation of teens has fashion to match. Protagonist Andie Walsh, played to perfection by Mollie Ringwald, usually shopped at thrift stores but her handmade pink prom dress – a mash-up of two other dresses – was the ideal sartorial two fingers up to all the mean girls who'd made her high school days so awful.
Tracy's evening gown in The Philadelphia Story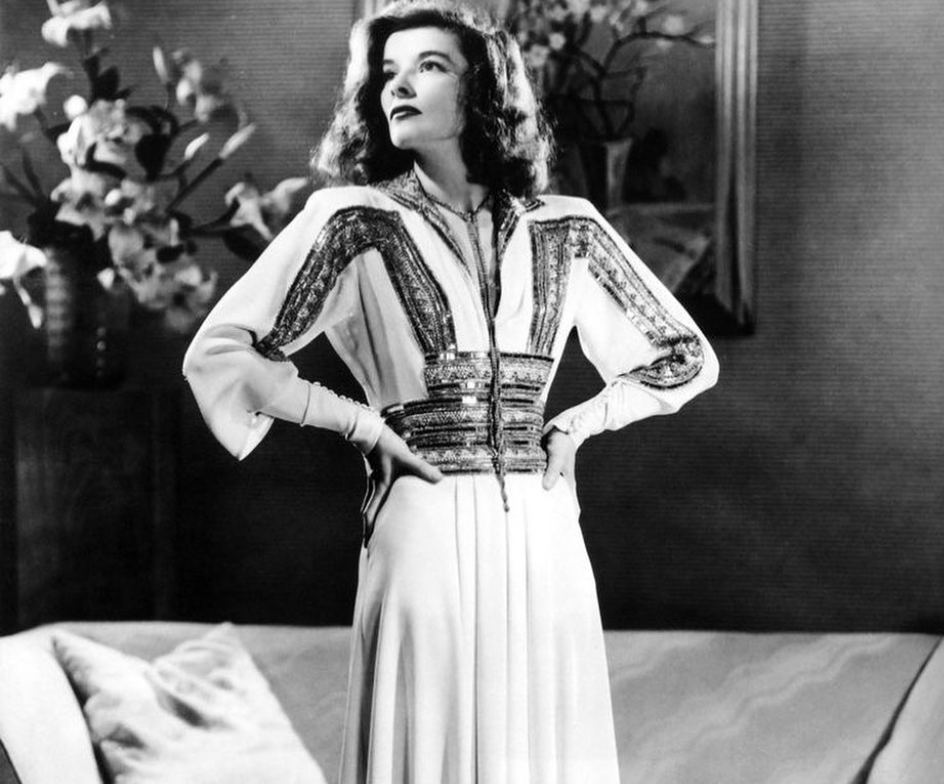 Credit: @oldvintagefilm via Instagram
A style icon both on and off-screen, Katherine Hepburn did not disappoint in The Philadelphia Story. The glamorous Grecian-inspired evening gown that her character, Tracy Lord, wears the night before her wedding was intended to highlight Tracy's feelings of superiority. The gown still exists and is occasionally shown in public exhibitions.
Satine's red satin gown in Moulin Rouge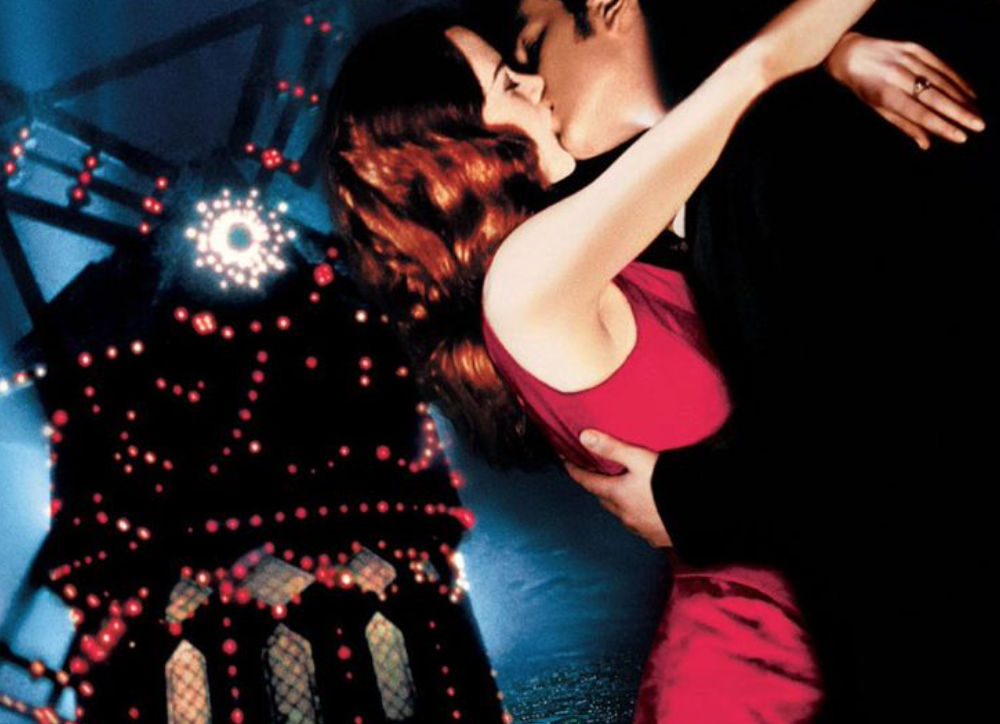 Credit: movie mania.io via Rose via Pinterest
Designed by a theater designer, John Papadopoulas, who absolutely understood how to ensure clothes make an impact, Satine's red satin gown is a showstopper. Given extra drama by actress Nicole Kidman's red hair and vivid scarlet lipstick, the dress features in the famous elephant love medley scene in Moulin Rouge.
Carrie Bradshaw's tiered tutu in Sex and the City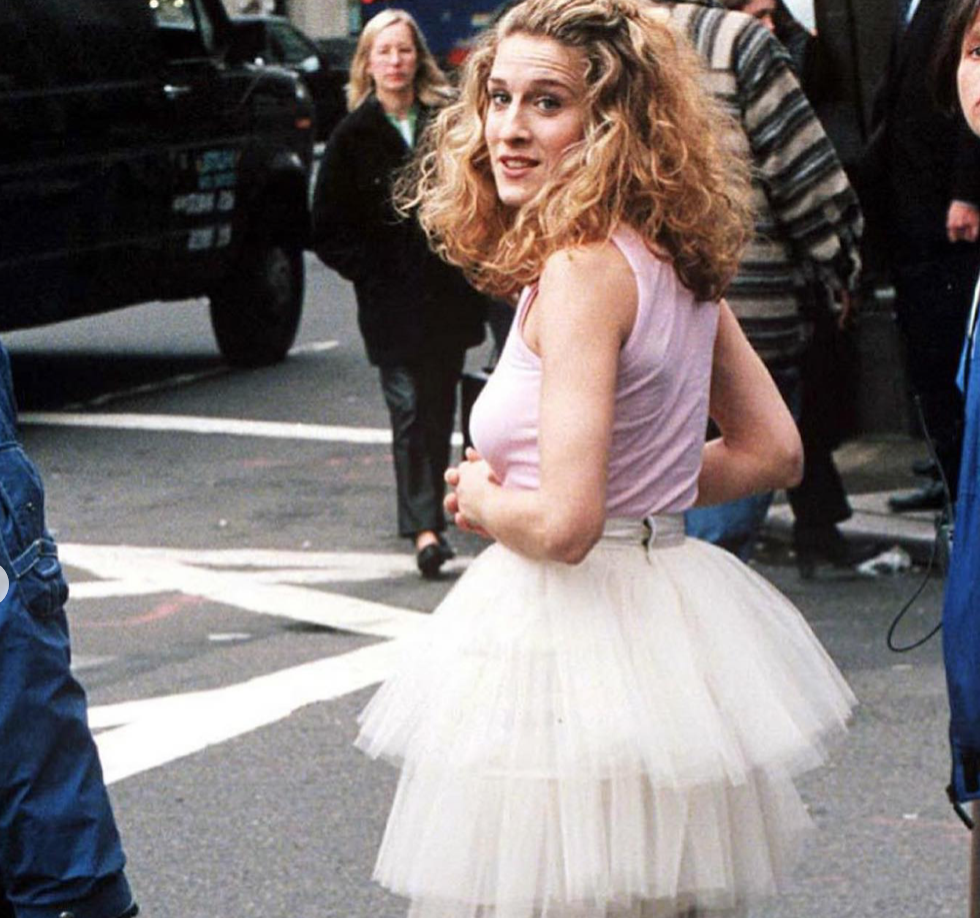 Credit: @Hannah_hcb via Instagram
Most of the pieces featured on Sex and the City were way beyond the average budget. However, not the iconic tutu from the TV series' opening credit, worn by Sarah Jessica Parker as Carrie Bradshaw: it came from a showroom bin, costing a grand total of $5. It was so popular that the show's costume designer made her own version, selling it online for almost 30 times as much.
Baby's cut off jeans in Dirty Dancing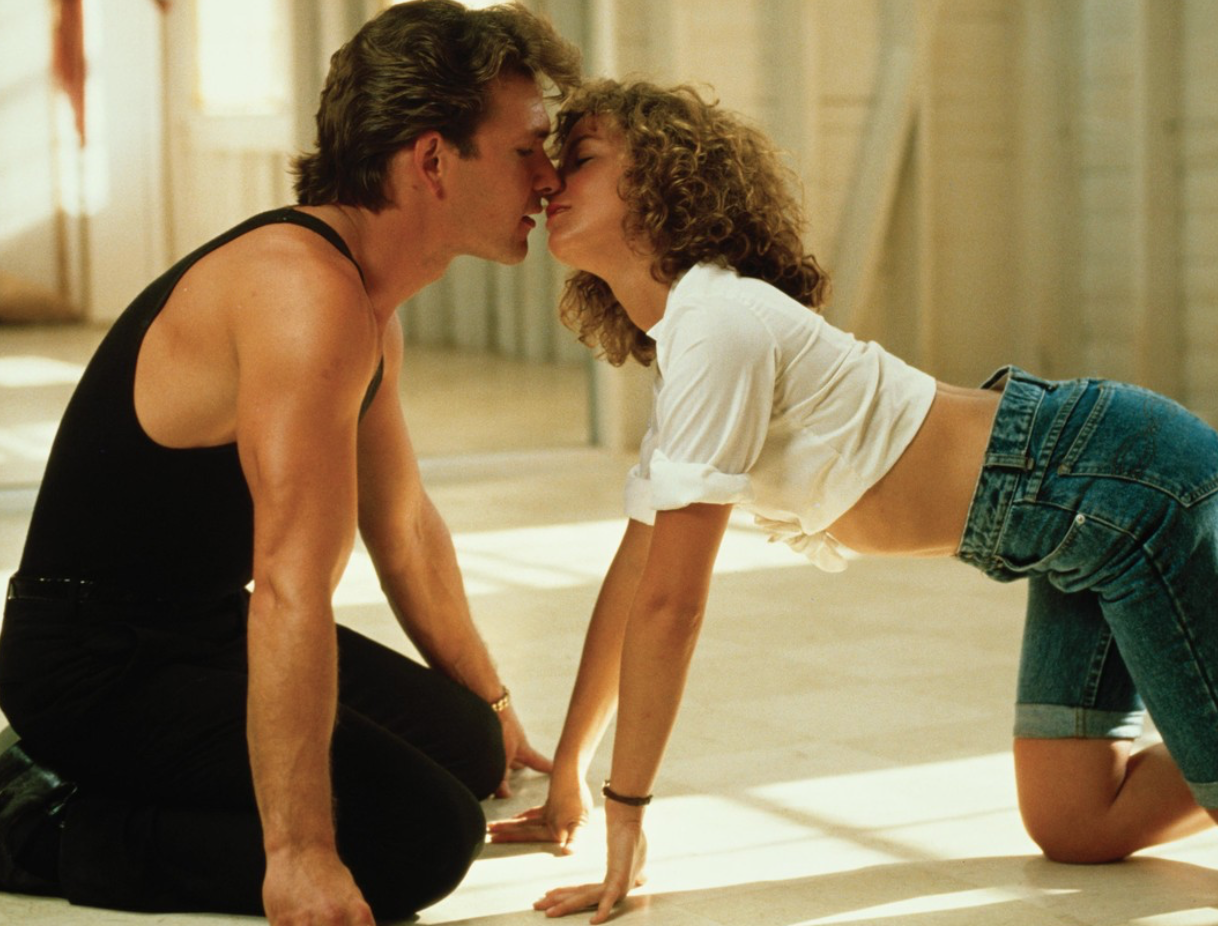 Credit: @dirtydancingmovie via Instagram
No one ever made cut off jeans look as good as Jennifer Grey did when she played Baby in Dirty Dancing. What's more, the jean shorts featured in the movie belonged to Grey herself – and, so Grey says, were Levi's "because that's all I wore". Worn in preference to the more formal clothes Baby arrived with at the holiday camp – they emphasised her growing independence.
Princess Leia's gold bikini in Return of the Jedi

Credit: Princess Leia in the gold bikini appreciation group via Facebook
Made from copper plate, wire, silk and leather, Princess Leia's gold bikini as worn by Carrie Fisher in Return of the Jedi isn't ideal beach wear. Not that it was meant to be. Worn for only two scenes during Leia's captivity by Jabba the Hutt, the costume designers nonetheless made multiple versions of the bikini, including a rigid one for shots when Fisher remained still.