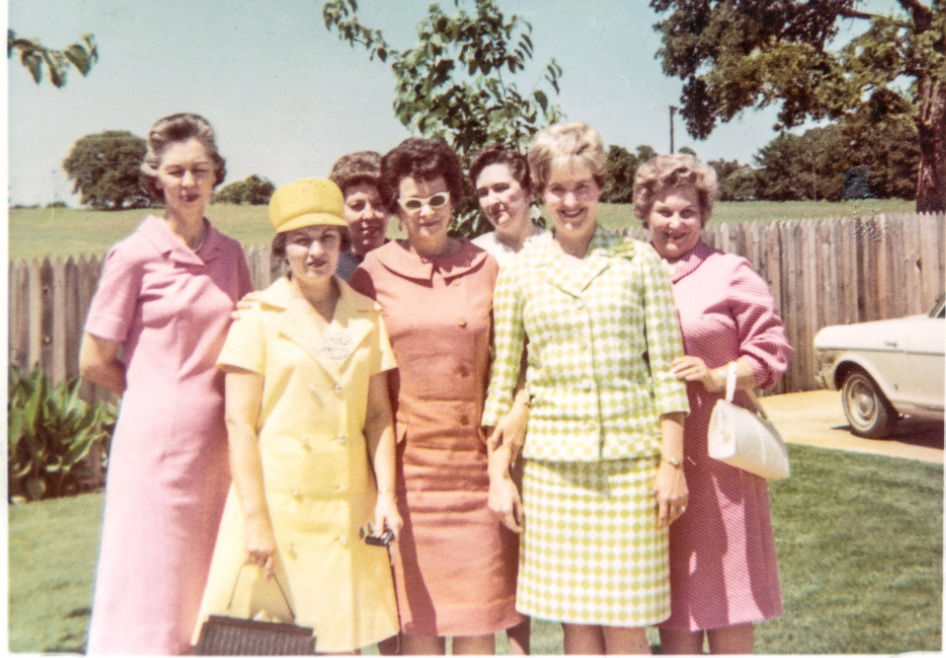 Credit: morganmonroe81 via Reddit
Running shoes with street clothes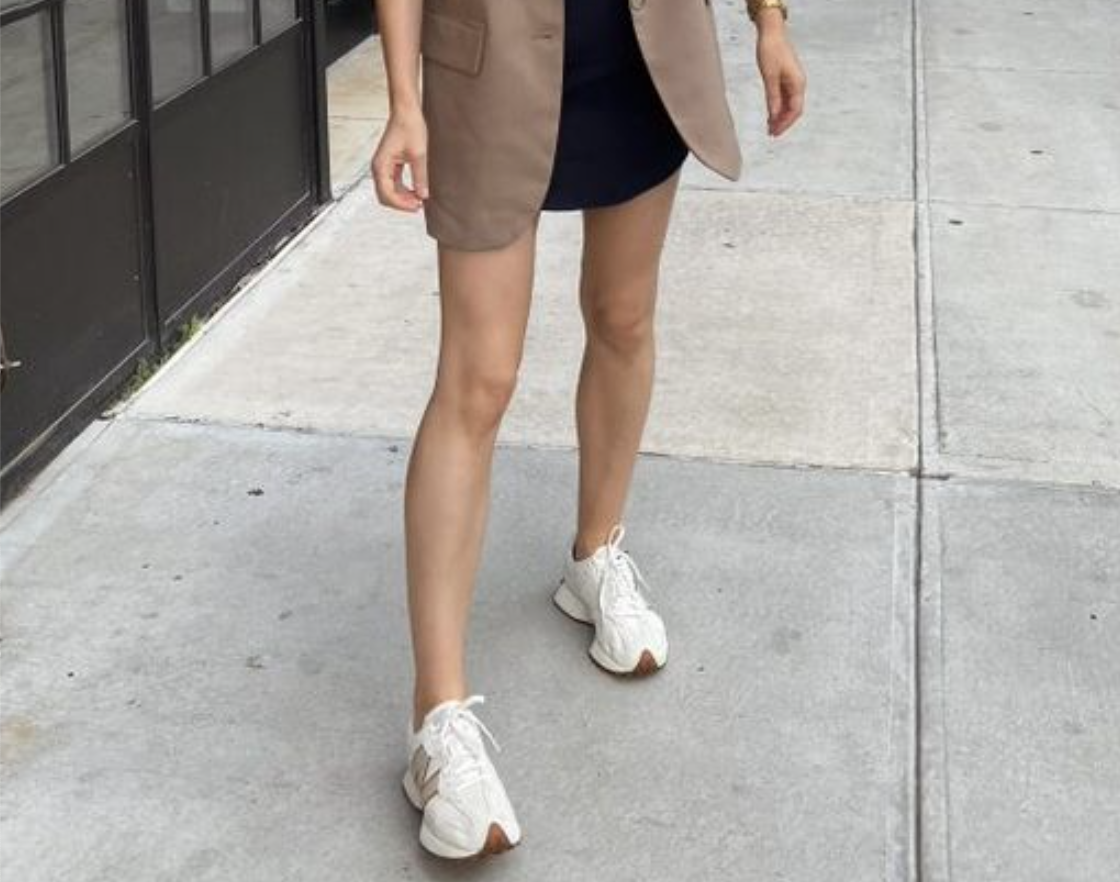 Credit: Charlotte Bridgeman via Pinterest
It's definitely a practical choice. However, teaming running shoes with street clothes – and especially office-wear – is a very ageing look. If other flat shoes aren't suitable, you might want to think hard about how you style your outfit. Colored running shoes might work better than white ones, and metallic shoes can look like a very deliberate – and stylish – fashion choice.
Mini skirt and plunging neckline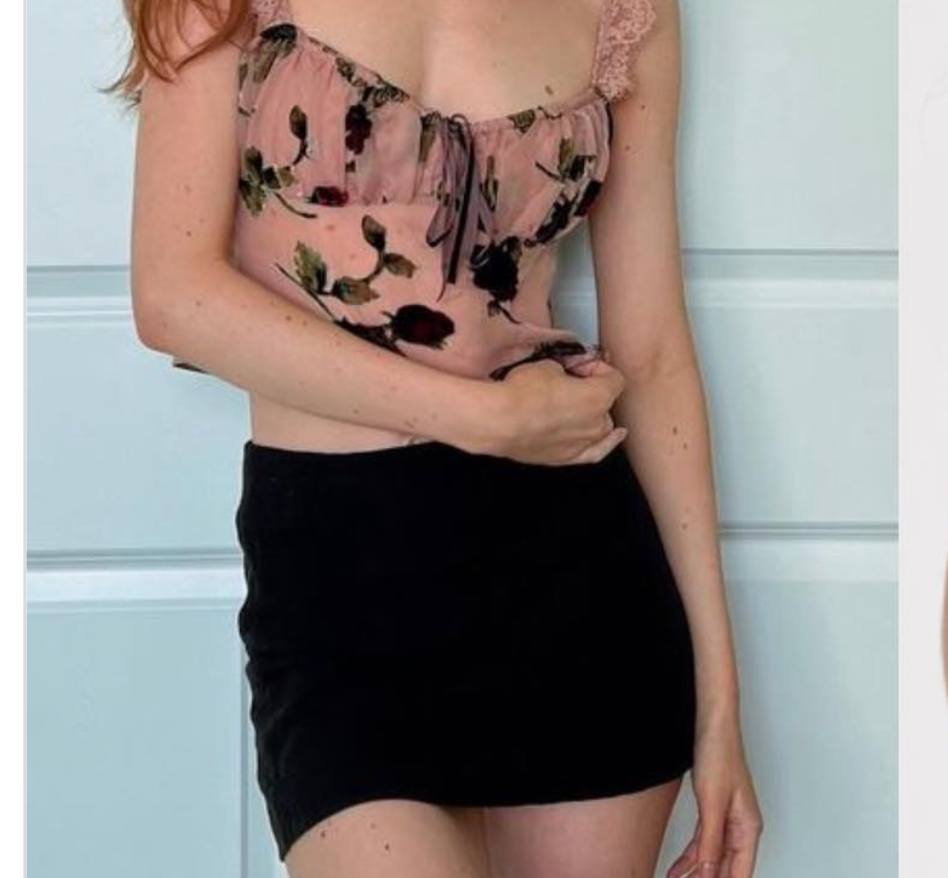 Credit: @kennedywalcloset via Instagram
It's sometimes referred to as "the first rule of fashion": legs or cleavage, but not both. Although you might get away with breaking this "rule" when you're young, it gets harder as you get older. Instead, try to show off either your best asset – focus on one at a time!
Too much pastel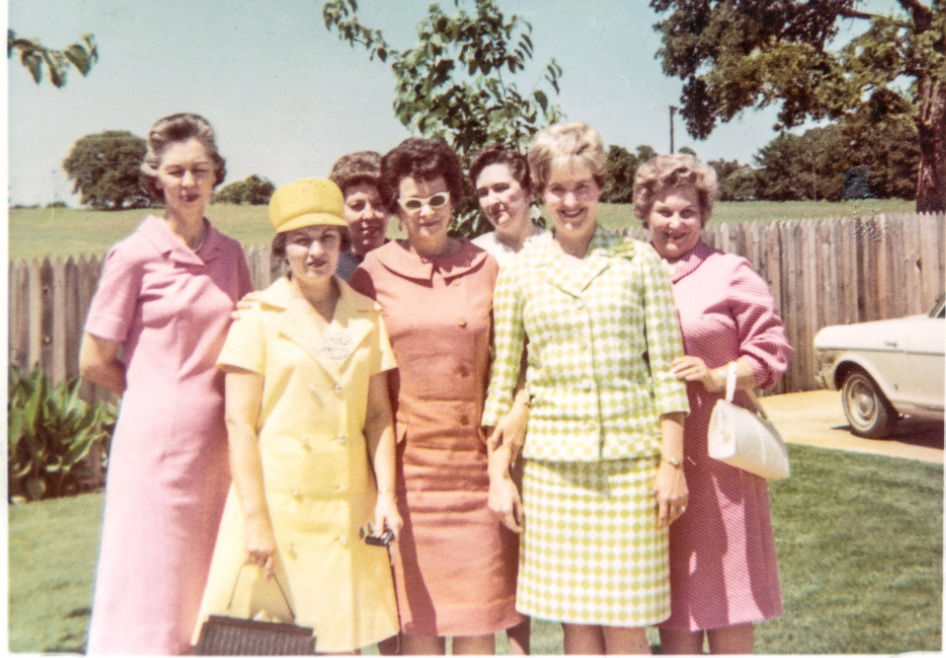 Credit: morganmonroe81 via Reddit
Pastel shades are very pretty. However, like ice cream, too much is rarely a good thing. And, while a small child can get away with wearing head-to-toe pastel shades, on an adult woman it starts to look very ageing. Pale neutrals, such as ivory or pale grey, are often much more forgiving.
Sophisticated pieces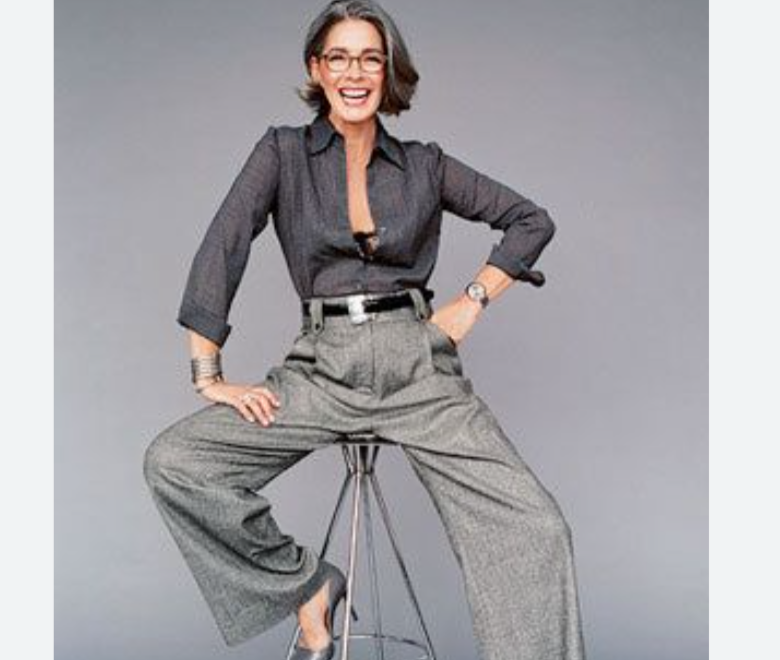 Credit: canistillweardresses via Reddit
Trench coats, pencil skirts, silk blouses and, of course, Chanel bags are all examples of sophisticated pieces. Putting together a fabulous outfit made up of items like these is a great way to boost your self-confidence. It can make others take you more seriously and, especially if you're in your twenties or look young for your age, make you seem older.
Tailored clothes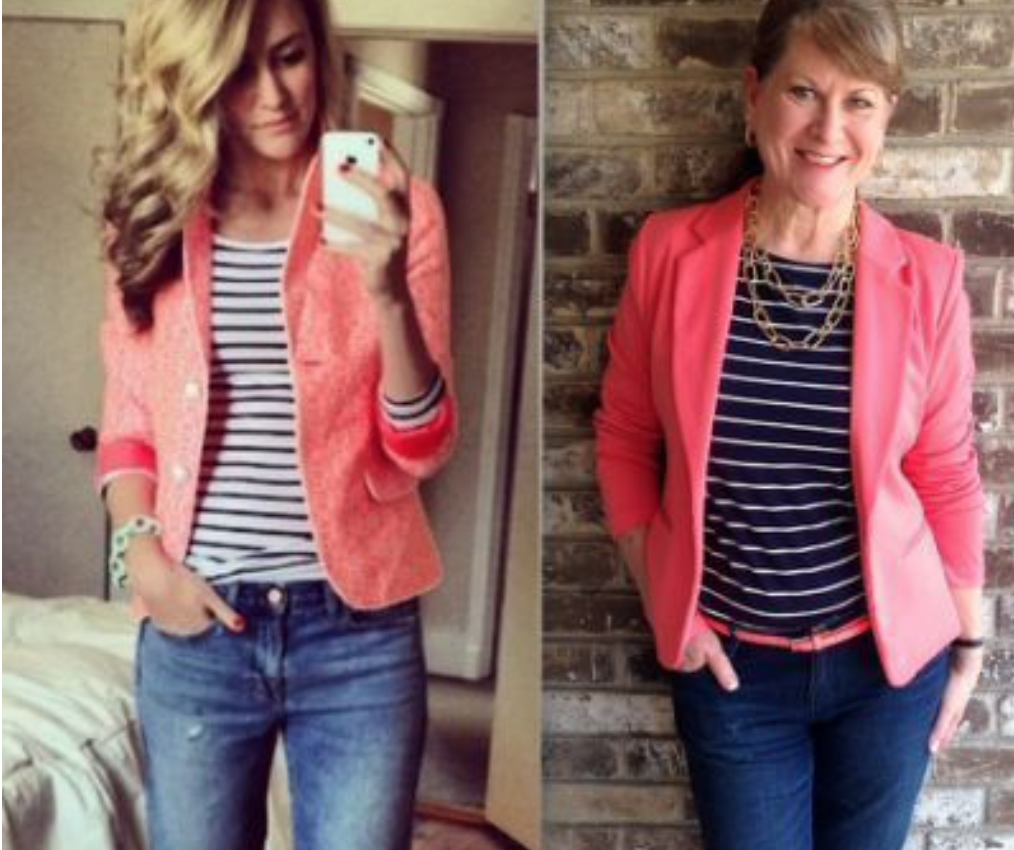 Credit: rebecca gredlics via Pinterest
Tailored clothes are fantastic for showing off your shape to its best advantage. Conversely, baggy clothes can make it look like you're hiding something – even if you're not. And, while tailored clothes might suggest that you have money to spend and so perhaps are older, this is almost certainly a trade-off that's worth making. Smart, slightly relaxed fits are always in style.
Tweed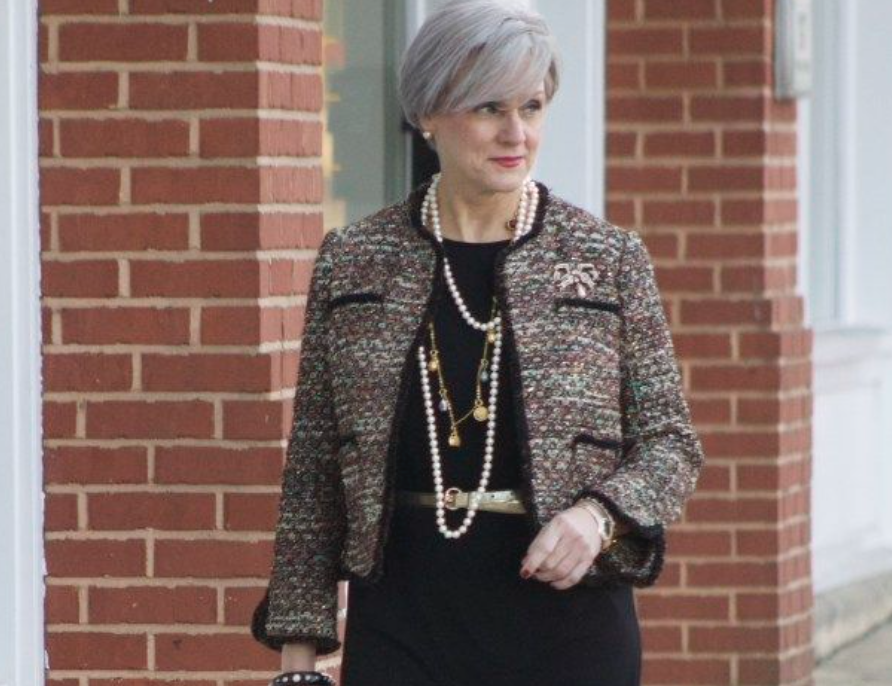 Credit: Style At A Certain Age via Pinterest
Proper tweed is a luxurious, practical and usually expensive fabric. Although younger women dally with it, tweed still tends to be the preserve of older women. Consequently, it's a fabric that prompts certain assumptions. You might not mind these and, frankly, a great tweed jacket is probably worth any assumption – but it's still worth knowing that it might affect people's perceptions of you.
Trends from your youth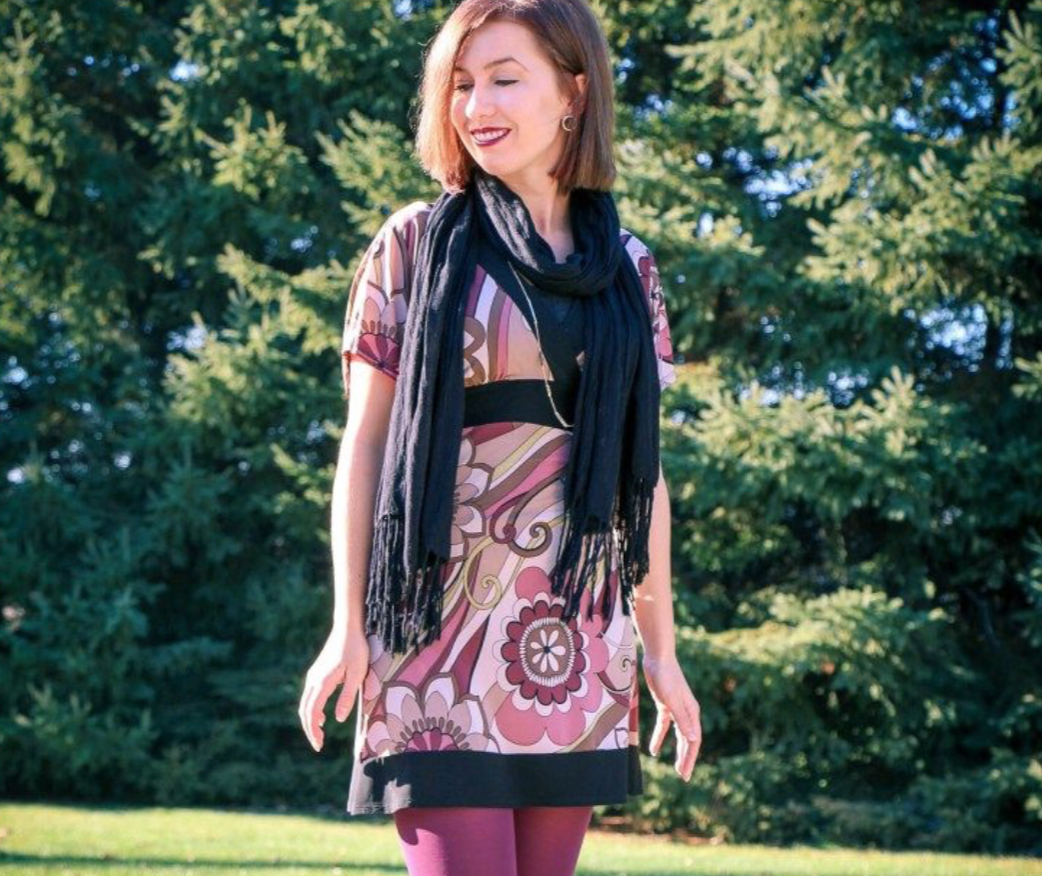 Credit: MasterfulAutumn via Reddit
We all know that fashion is cyclical. After all, just as the 90s "did" the 70s, so the 2020s are now "doing" the 90s. And, while it's tempting to wear pieces from the first time round – especially if they're originals that still fit – there is an inherent risk of looking like you haven't updated your style in the last 20 or 30 years…
Too matchy-matchy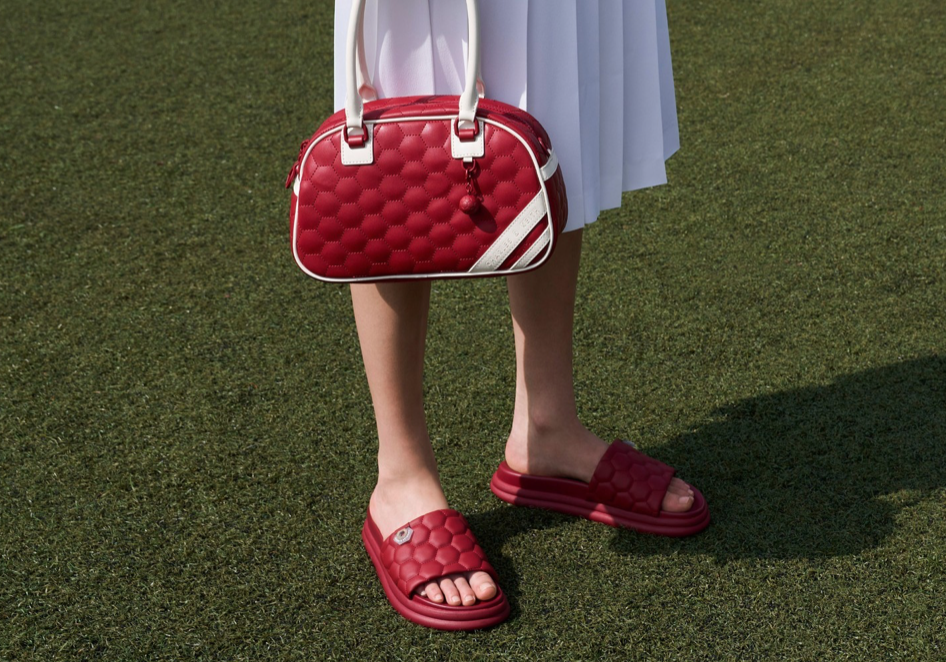 Credit: @charleskeithofficial via Instagram
Matching your purse to your shoes is a style affectation that goes in and out of vogue. It's also a perennial favorite of many older ladies. As a result, if you match your accessories too carefully when matching isn't currently in fashion, you risk openly dating (or prematurely aging) yourself.
All-black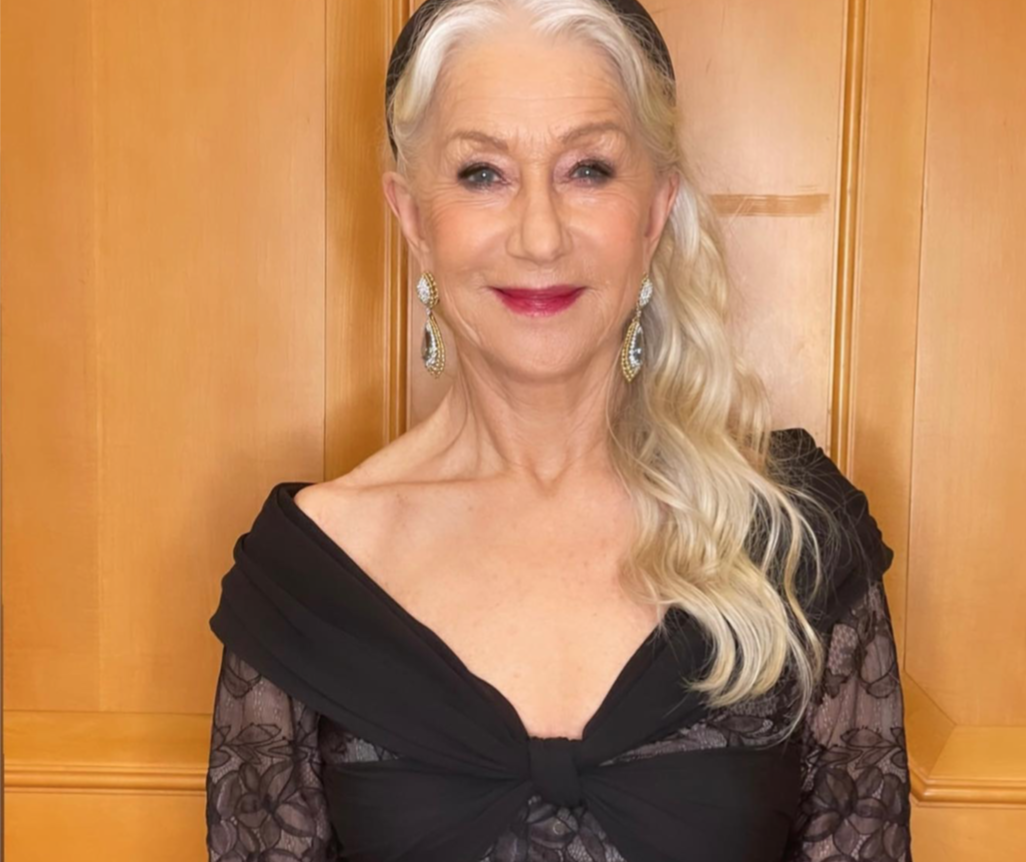 Credit: @jostrettel via Instagram
Even if black flattered you when you were younger, the changes to hair color and skin tone that often come with advancing age can make it a tricky color to carry off. Unfortunately, getting it wrong can be very ageing. If you're unsure whether black still suits you (and you don't trust the guidance of those around you), either opt for a lighter color or accessorise more near your face.
Very baggy clothes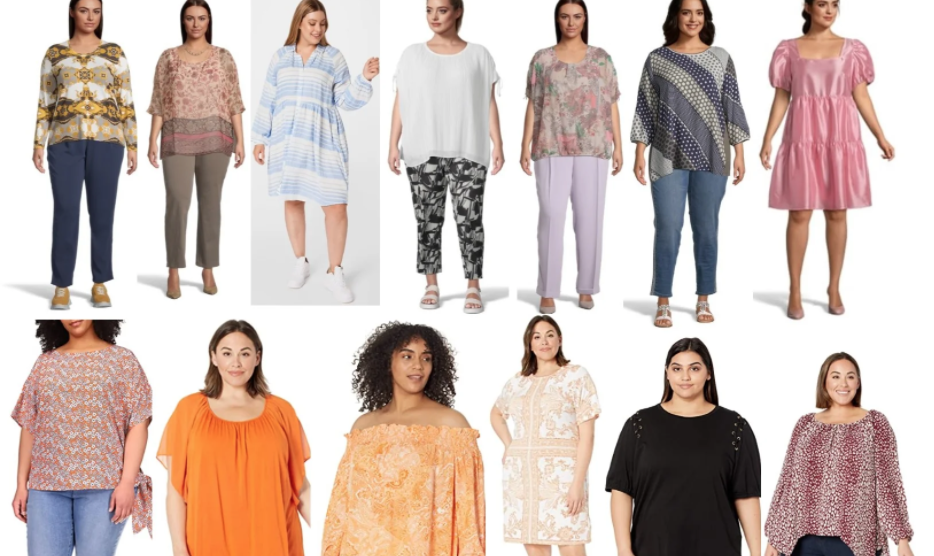 Credit: writerchic via Reddit
Although they may be comfortable to wear, baggy clothes can easily suggest that the wearer has something to hide or is ashamed of themselves in some way. Nothing unfairly ages you like a lack of confidence! They can also be ageing in a way that the same garment with some discreet tailoring – subtle darts at the waist, perhaps – is not.
Very tight clothes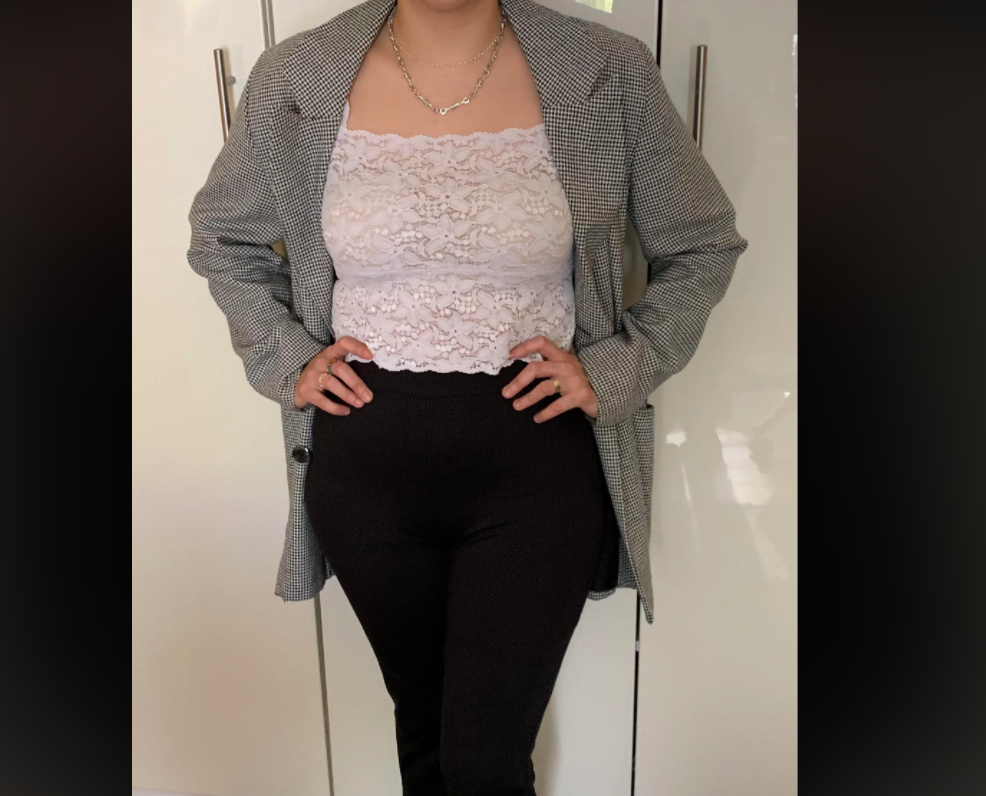 Credit: Mexablatte via Reddit
Too-tight clothes aren't flattering on anyone. However, for the older woman, they deal a double blow. In addition to being unflattering, they can also make the wearer look a little desperate – as if the outfit is an attempt to hang on to a vanishing youth. Don't be that person. Wear clothes that fit properly – and that let you breathe.
Nude pantyhose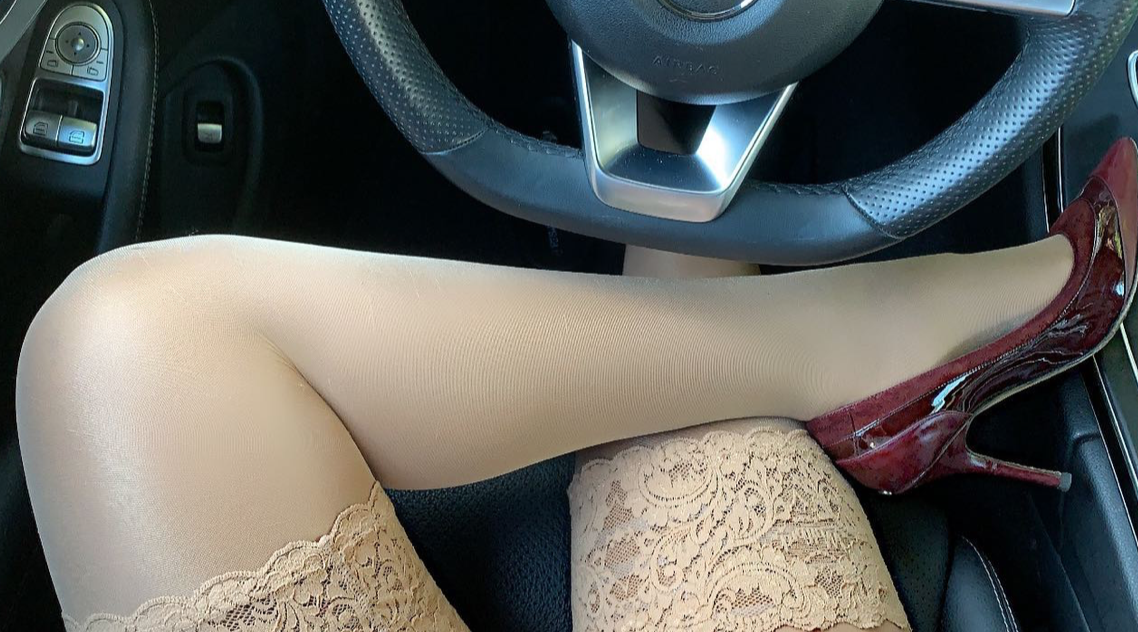 Credit: @_janey2thebaney_ via Instagram
While you shouldn't listen to anyone who suggests that pantyhose is always a bad idea, it's worth thinking about what type, color and denier you choose. Nude shades are particularly tricky. It's important to pick something that isn't too thick and, crucially, matches your skin tone. Getting it wrong risks making your legs look not only odd, but old beyond their years.
The wrong length pants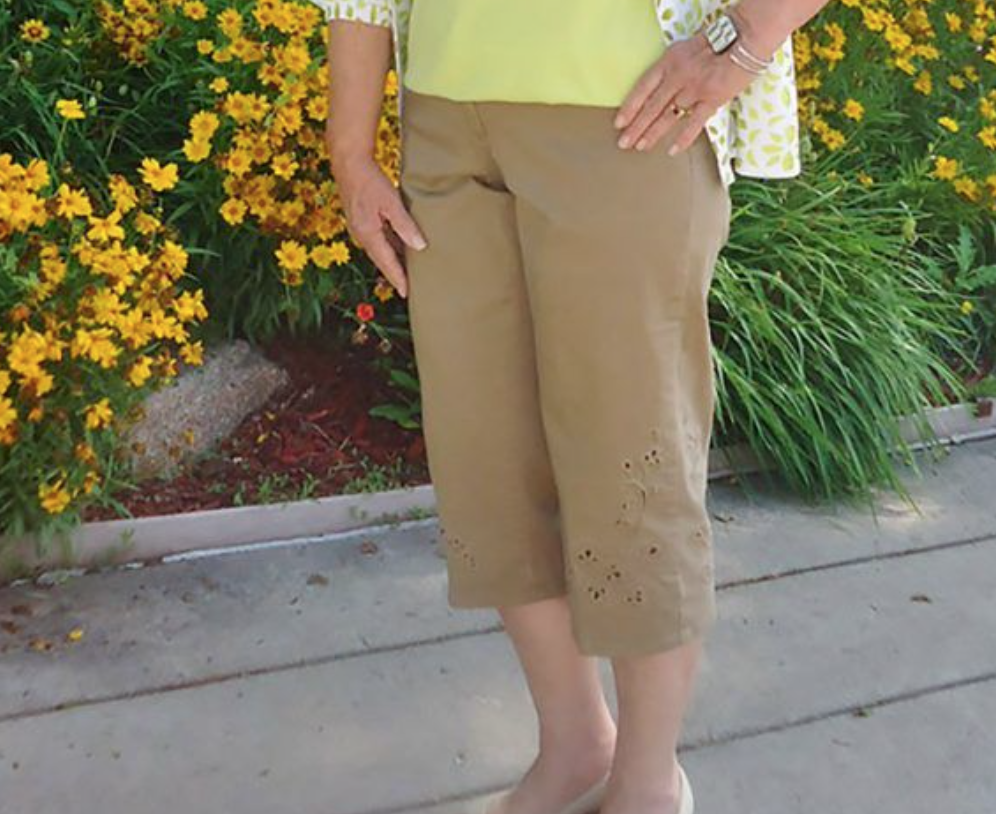 Credit: sixtyandme.com via Pinterest
Pants that cut off the leg at its widest point are one of the most common fashion "crimes" – and yet also one of the most easily avoided. Unfortunately it's often older women who get it wrong, which risks making you look old by default if you pick a similarly unflattering pant length.
Comfortable yet ugly shoes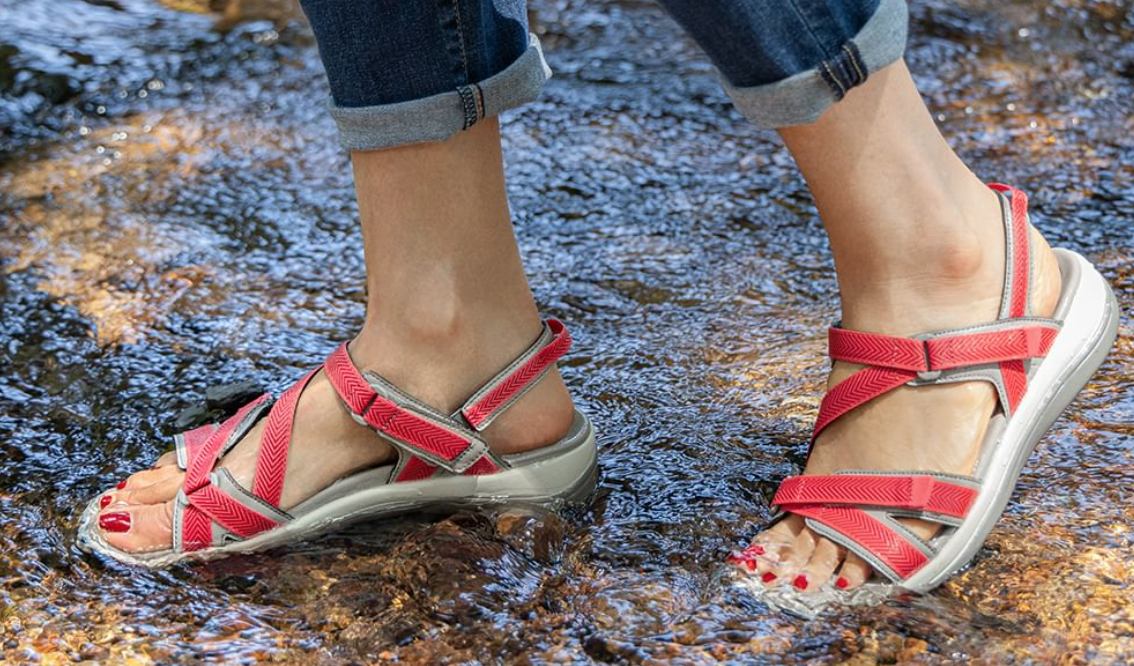 Credit: @orthofeet via Instagram
Many women reach a point in their lives when they swear off heels. However, unless you have very specific podiatry requirements, there's no need to move straight from the Louboutins to the orthopaedic sandal. Not only is it an ageing look, it's also pretty unflattering, no matter how cute your nail polish is!
Poorly fitting bras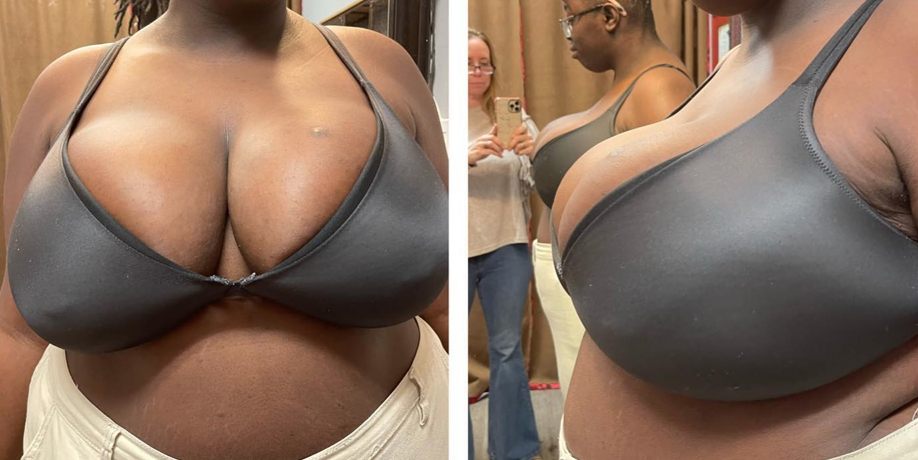 Credit: @thecynthiadecker via Instagram
Not usually an outfit in and of itself, but a bra can definitely make or break what you're wearing. Breast size changes throughout adult life, especially around pregnancy and the menopause. Getting regular bra fittings can make all the difference to comfort and appearance. After all, it's sad but true that a sagging bosom says "older woman" in a way that little else does.
Big statement necklaces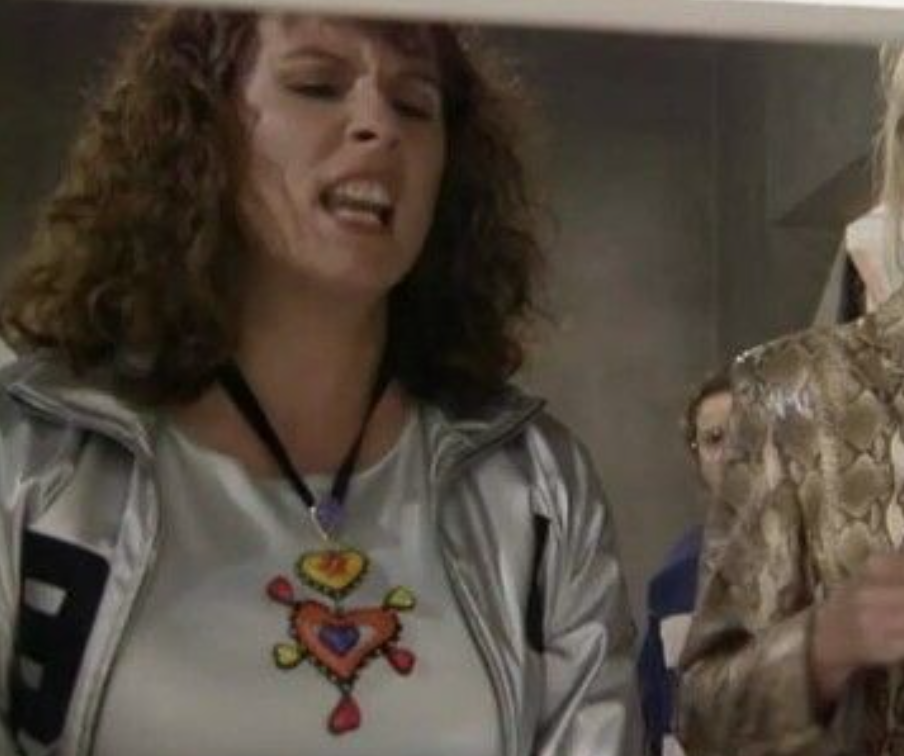 Credit: Paige Moody via Pinterest
Statement necklaces are great but do have a tendency to – drum roll – make a statement. That's fine if it's your intention. However, if you're wearing one to cover up an ageing décolletage, you might want to have a rethink, especially if you don't want people staring at that part of you.
Too-long skirts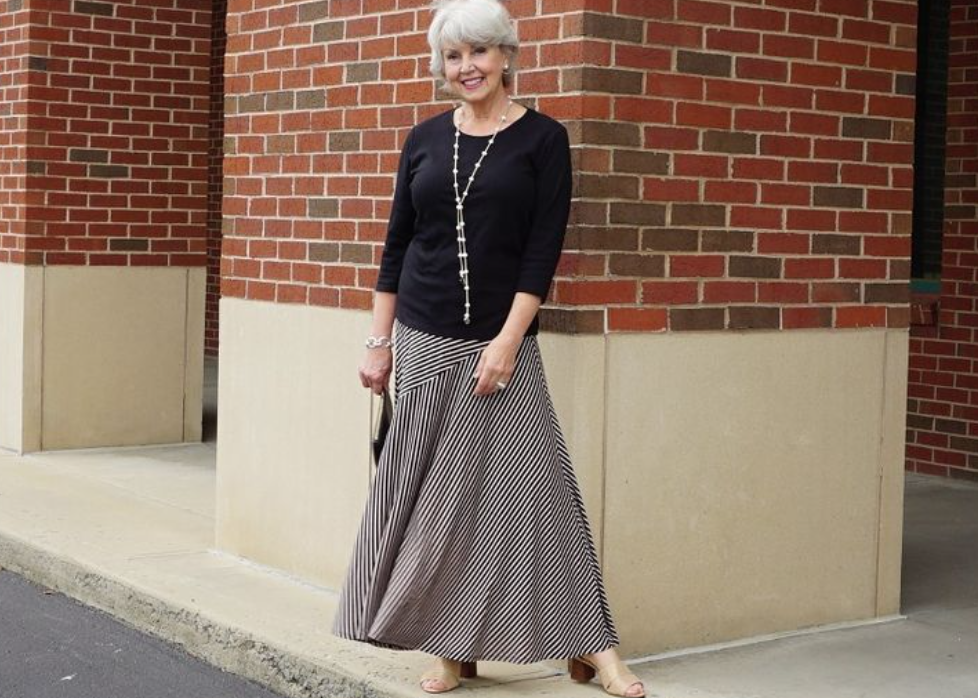 Credit: susanafter60.com via Pinterest
Get the cut, color and style right and a long skirt is a very flattering look – no matter your age. Get it wrong, however, and it can look frumpy, overwhelming or both. If you're a more mature woman, you'll want to be particularly careful to get the drape and length right. If a very long skirt feels overwhelming, consider opting for one with a split or go with midi length instead.
Drugstore reading glasses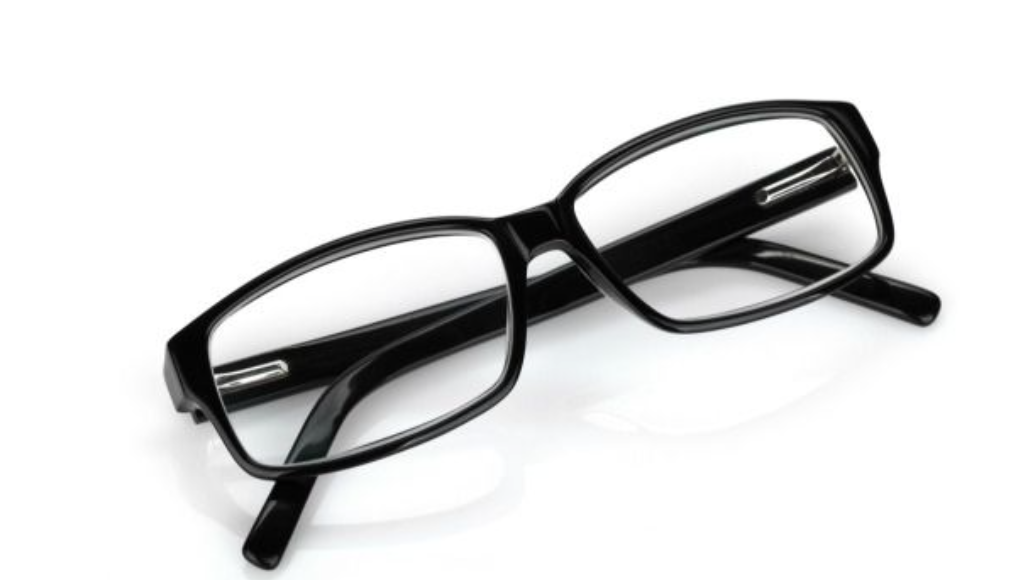 Credit: ThriftyFun via Pinterest
Discovering you need reading glasses is one shock. Discovering how much they cost is another. Luckily – or so it would seem – off-the-peg drugstore glasses provide a reasonably-priced alternative. Unfortunately, the trade-off is that they're usually just not very attractive. Frankly, nothing says "older woman who's recently discovered she needs reading glasses" than a pair of drugstore eyeglasses.
Blouses and button-up shirts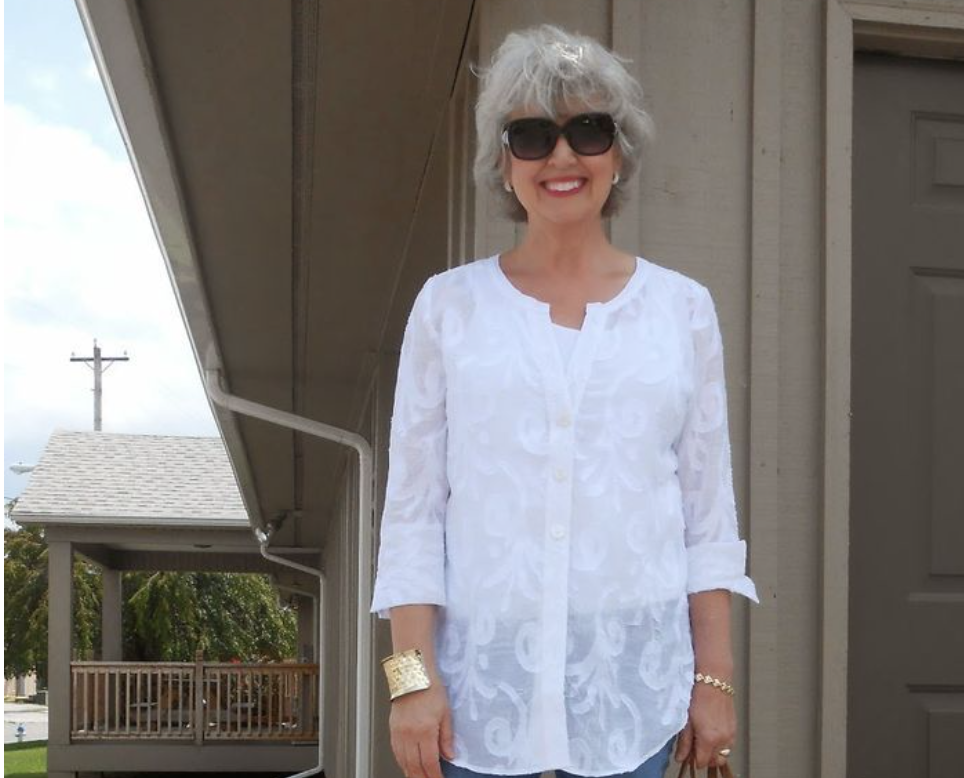 Credit: Outfit Trends via Pinterest
T-shirts and casual shirts, especially anything featuring novelty characters, often suggest that the wearer is young – or wishes they were. Conversely, choosing more tailored pieces, such as well-cut blouses and button-up shirts can suggest the opposite. If looking older is the goal, avoid anything with novelty embellishments, such as ruffled cuffs or "cold shoulder" cut-outs.
Clothes without embellishments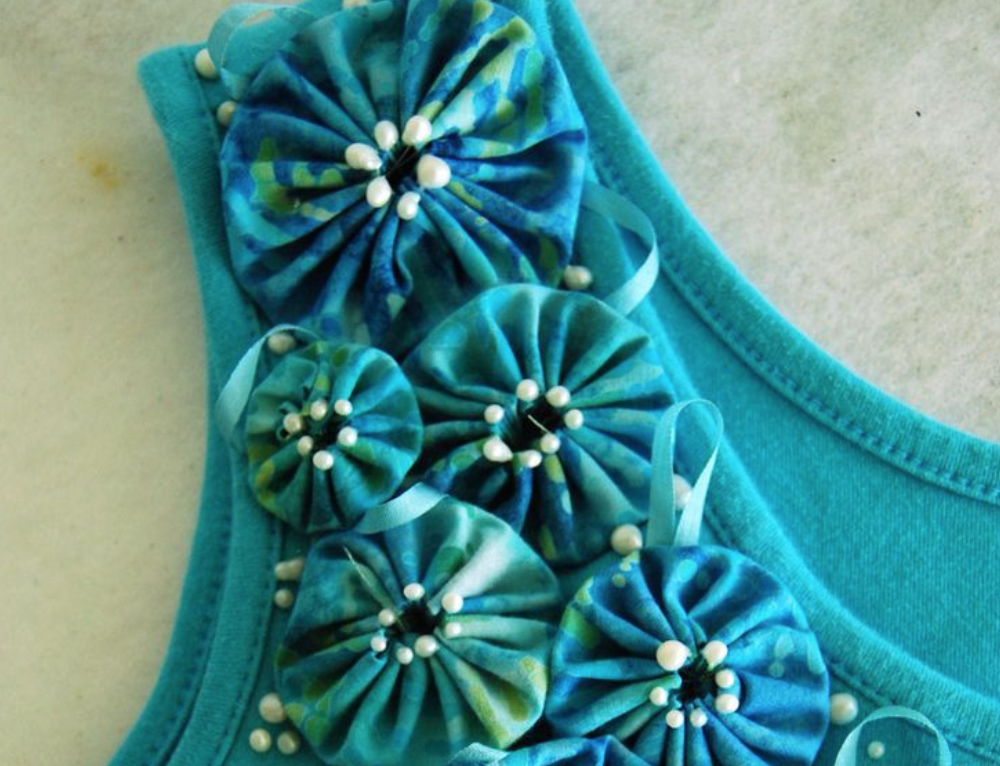 Credit: CraftTestDummies via Pinterest
Whether it's bows, sparkles, appliqué or beads, clothing aimed at younger people often has a lot of it. Clothing aimed at older people, however, usually has much less. Is it chic or plain, and a bit sad? Whilst it's a line we should tread with caution, eschewing the embellishments entirely is an easy way to make yourself look older.
Premium denim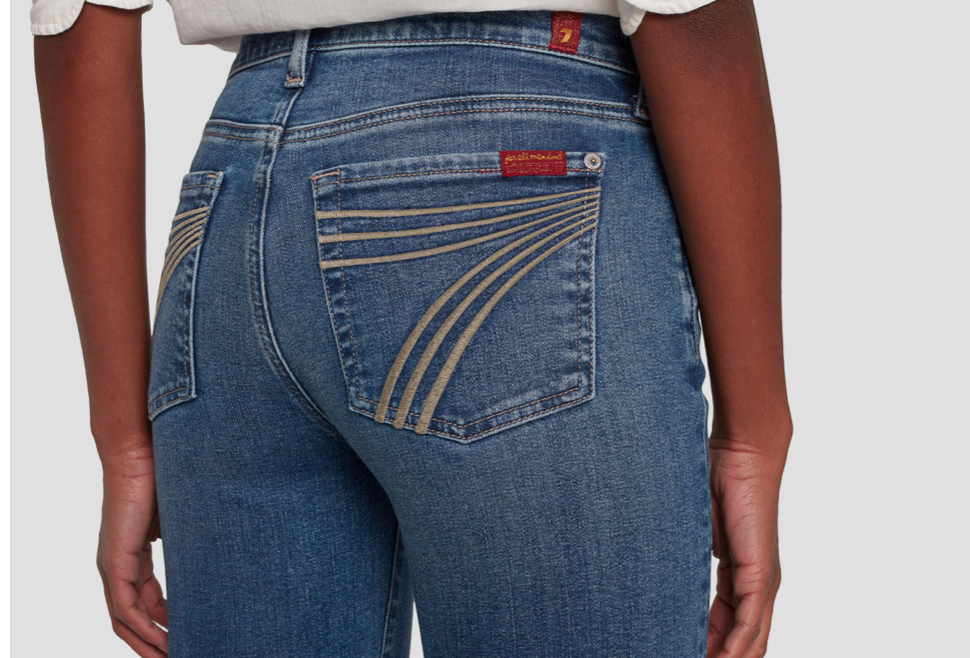 Credit: @7forallmankind via Instagram
Older women may end up eschewing jeans from the likes of Gap and Express in favor of premium denim – which is actually a great thing! Yes, it's more expensive but the fit is much better and the products usually much more durable. Although premium denim is readily available second hand, it's worth spending time in a big store trying on a variety of brands to first gauge what works best for you.
Cashmere and silk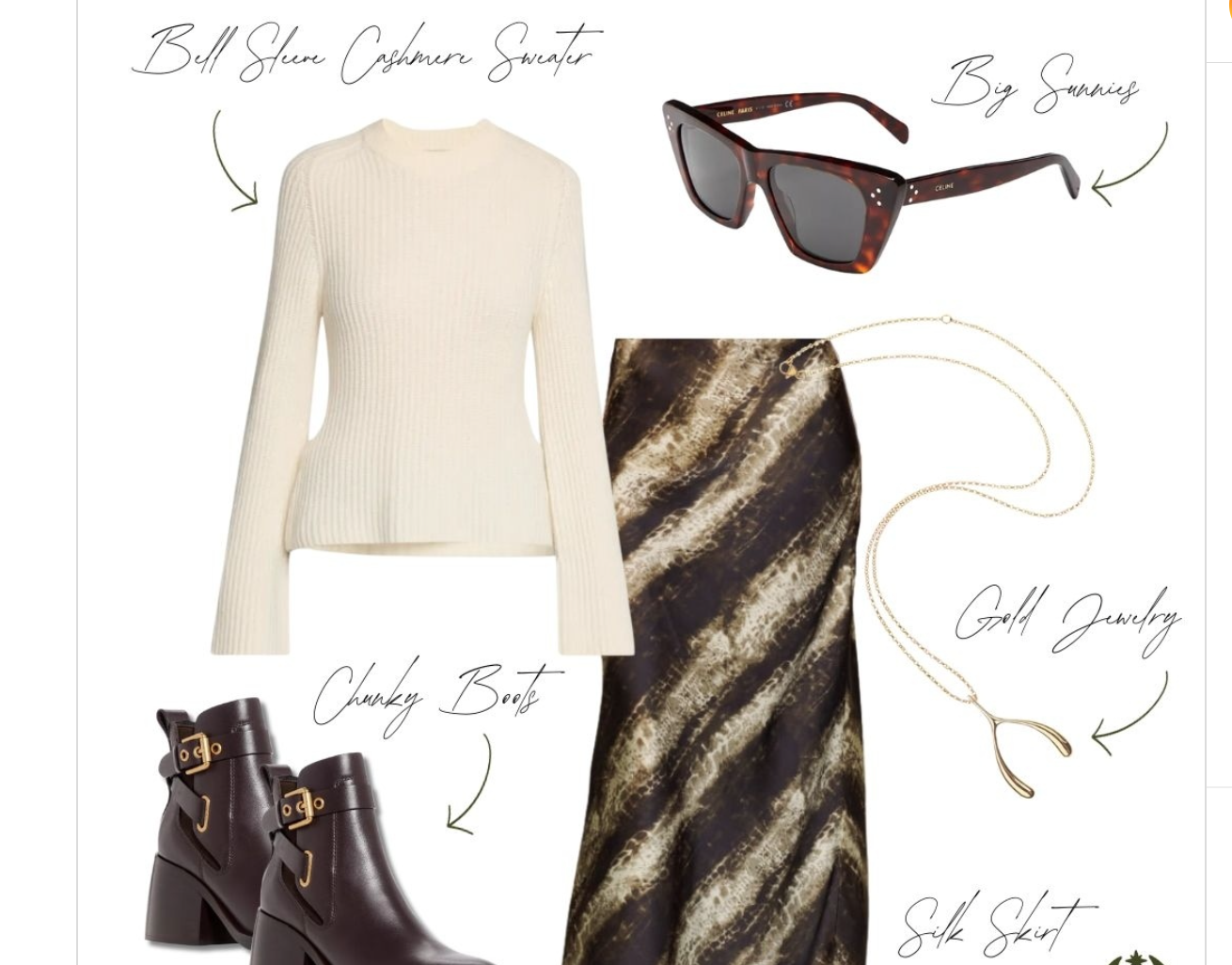 Credit: @janewin_jewelry via Instagram
Both classic "luxe" fabrics, cashmere and silk are shorthand for "I have money and life experience, and I know I deserve the best". Cashmere sweaters and silk shirts are a unique staple of an older woman's wardrobe but they're certainly a signifier. And, if the cost is too high, look out for well cared-for second hand pieces from consignment sites and even thrift stores.
Linen shifts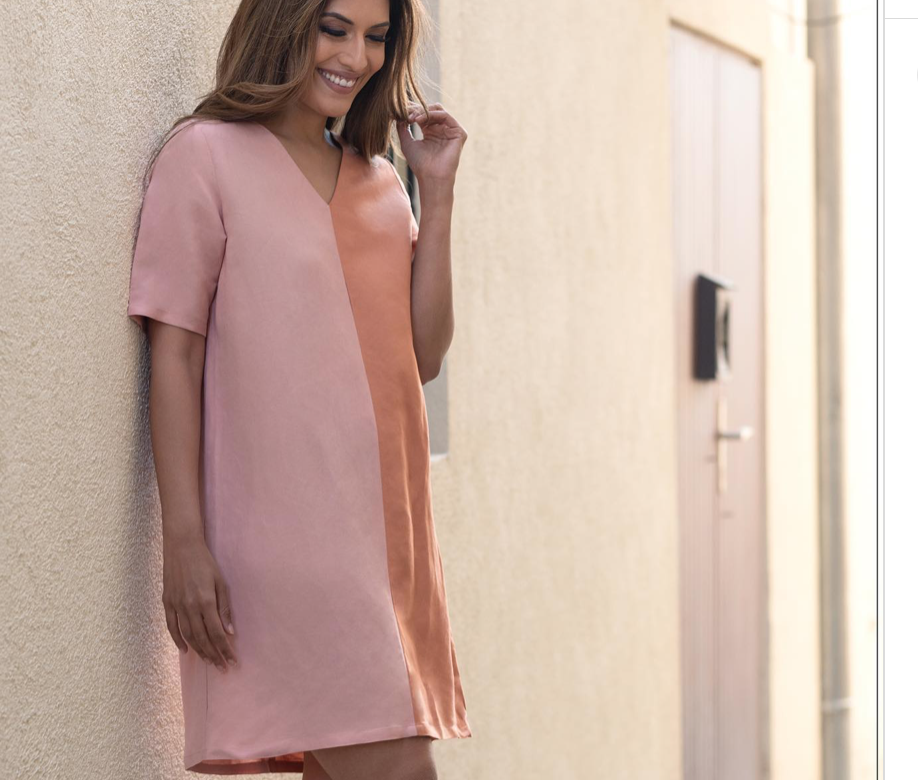 Credit: @gflock.clothing via Instagram
A linen shift poses two issues. The first is the fabric as linen creases easily, even after ironing. The second is the shape. Most shift dresses are straight-cut, quite loosely-fitted and have a tendency to look matronly. Circumvent some of the shape-related problems by choosing a dress that nips in at the waist and has a v-neckline to draw the eye downwards, making you appear taller and leaner.
Oversized blazers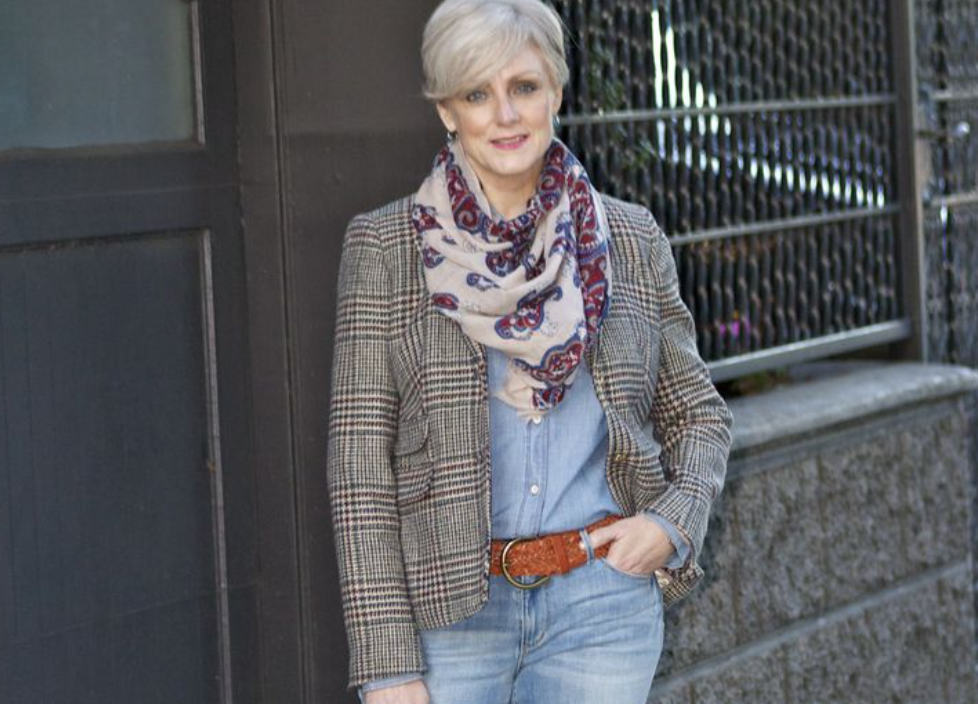 Credit: Style at a certain age via Pinterest
Of course, you can get away with oversized blazers if you're 20. If you're 50, however, put on an oversized blazer and you risk instantly dating your style and yourself. Choosing a more tailored style that retains something of the slouchiness of current trends can prove a happy halfway house.
Moto jacket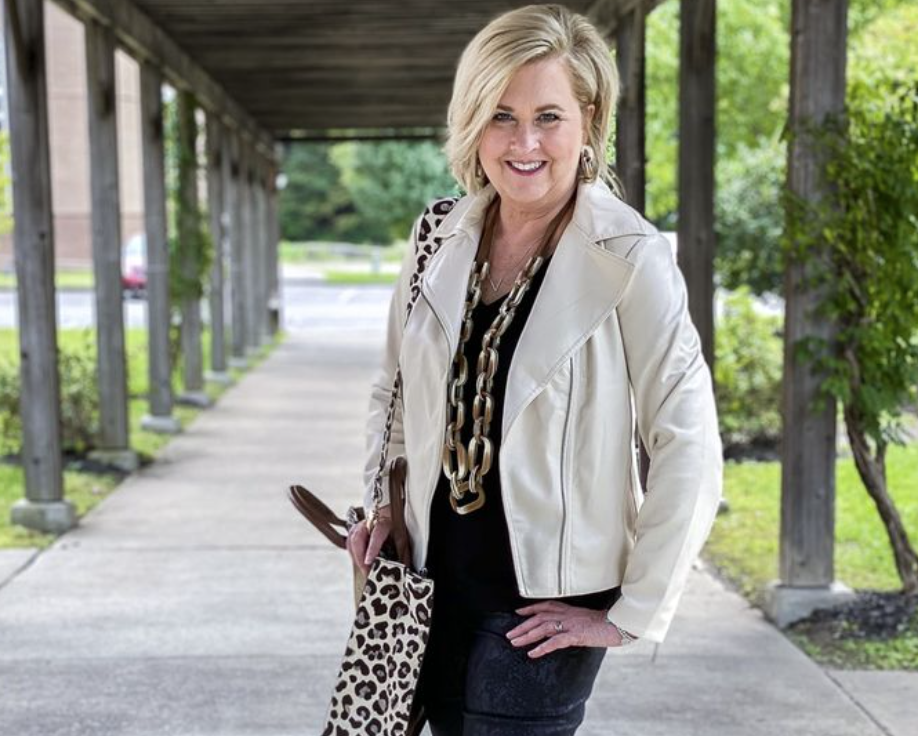 Credit: 50 Is Not Old via Pinterest
A moto, or motorcycle, jacket is a shorter, edgier version of a classic leather (or sometimes suede, denim or even boiled wool) jacket. It's a style basic that comes in and out of fashion. However, watch out: if you wear yours when it's not currently on trend, it's a shorthand way of announcing your age.
Classic, subtle patterns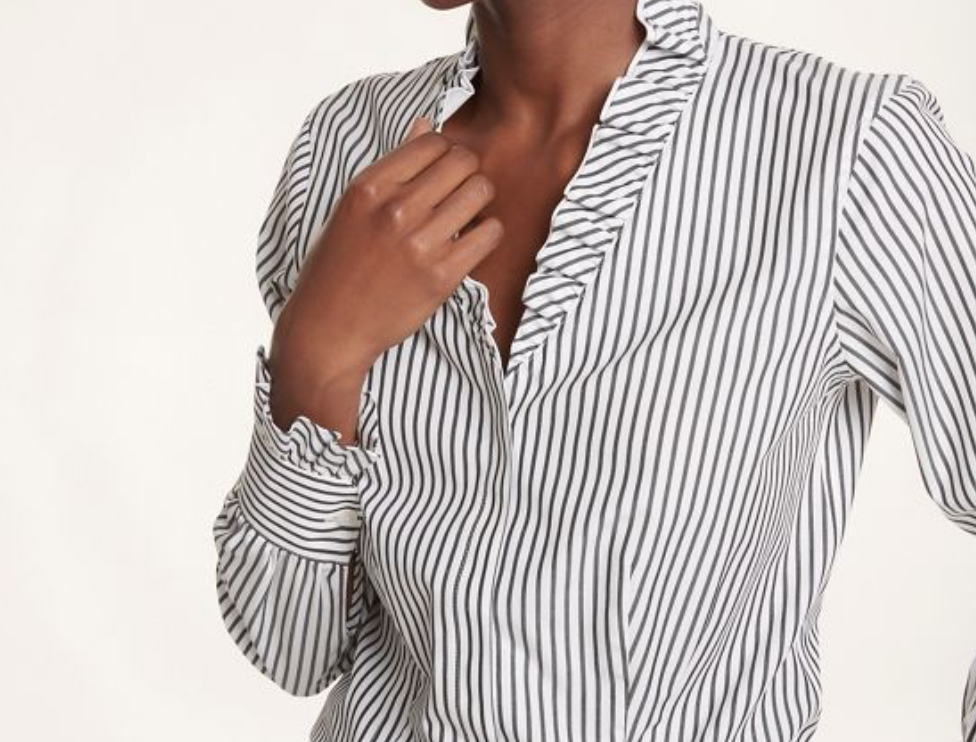 Credit: Brooks Brothers via Pinterest
While older women do wear patterned clothes, these tend to be more subtle than the loud, garish prints they might have worn in their younger years, but still can ooze ultimate chic. Emulate the look by opting for classic plaids, florals, stripes and even paisley. Polka dot and leopard print can work too but may give off a more youthful vibe.
The "career" look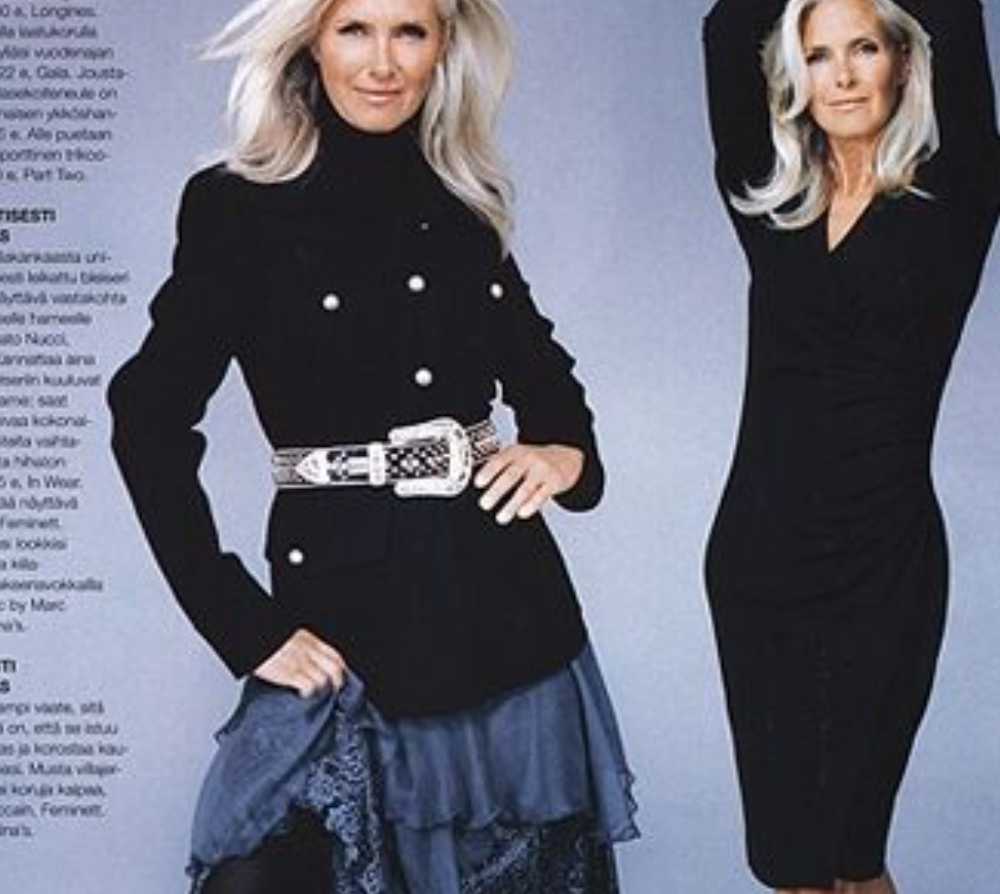 Credit: es.pinterest.com
Tailored suits and dresses are easy ways to add gravitas to your look. However, if you're very young, beware of looking like you're playing dress-up. Choosing pieces from age-appropriate stores can help overcome this potential obstacle. On the other hand, if you're a more mature woman, consider adding a more frivolous piece – perhaps a quirky brooch or gorgeous belt – to "age down" your workwear look.
Subdued colors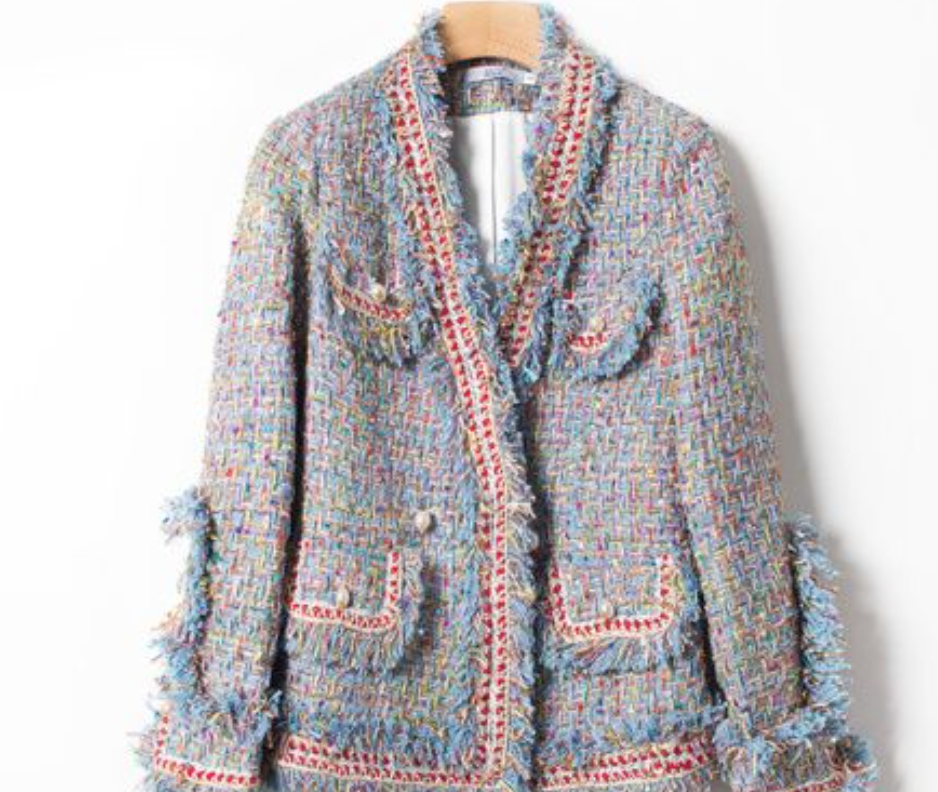 Credit: Funnel Order via Pinterest
Many older women choose to wear subdued colors in a palette of charcoal grey, dark blues, camel, and cream. Opting for similar colors can be a straightforward way of making yourself look older, if that's what you're aiming to do. Equally, if you are older, you might want to switch out more subdued colors for the occasional brighter piece.
Turtlenecks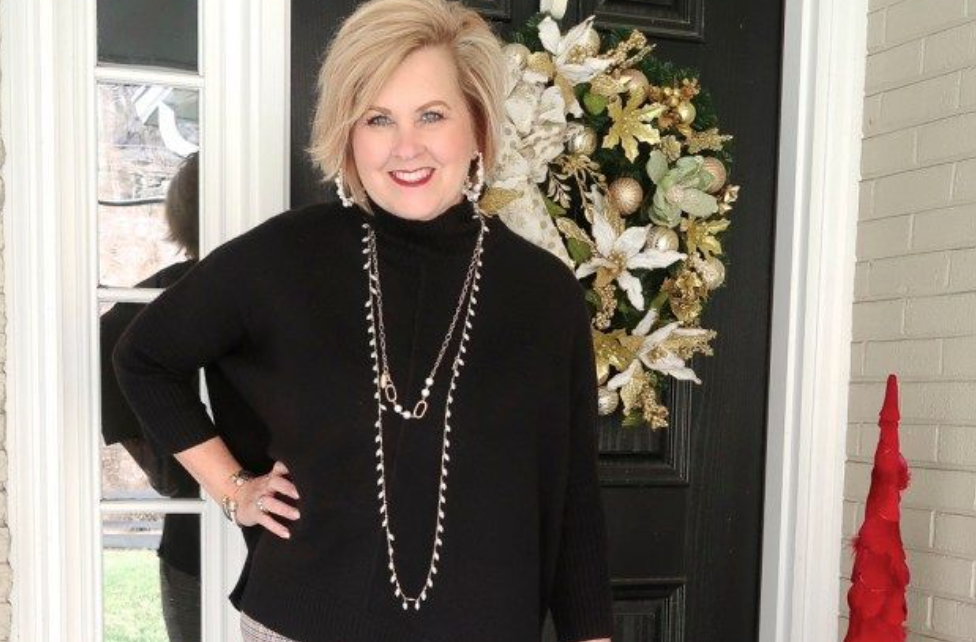 Credit: Style at a Certain Age via Pinterest
Nora Ephron said it best: "I feel bad about my neck". Older women often notice the effects of age on their neck, with wrinkles and sagging frequently affecting it before the face. Hence, the turtleneck as a disguise. And that's fine, provided you understand that other people – especially other older women – might guess why you're wearing it.
Corduroy skirts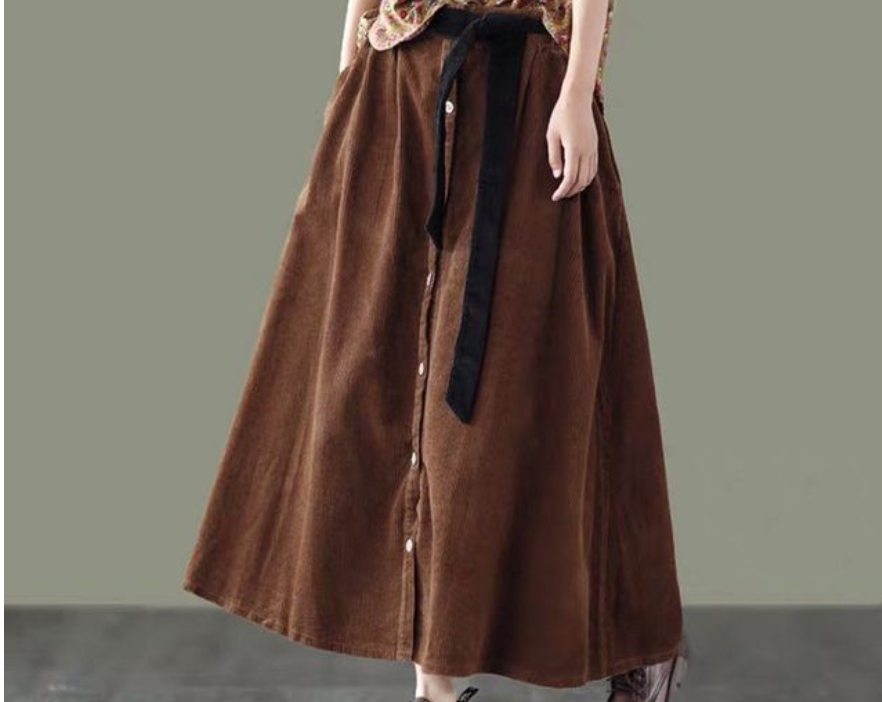 Credit: ohyeahrock via Etsy
By corduroy skirts, we mean a particular type of skirt: hitting just below the knee or reaching to mid-calf, and with voluminous A-line shape, perhaps with buttons down the front. It's a classic look for the older woman who, frankly, doesn't care what anyone thinks of her.
Large floral prints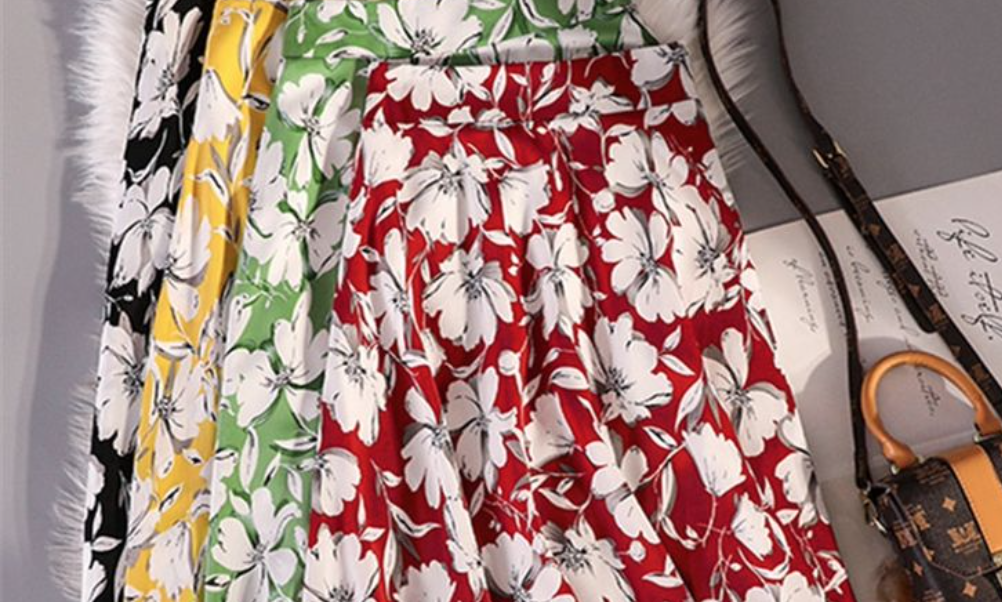 Credit: goddaz via Pinterest
A classic "grandma look", large florals can be tricky to wear as you get older – at least if you want them to have an edgy look. In addition, if you're petite, you risk the pattern overwhelming you. However, if you love your florals and don't want to give them up, steer clear of the more conservative, traditional prints in favor of something more stylised or arty.
Khaki pants and khaki jacket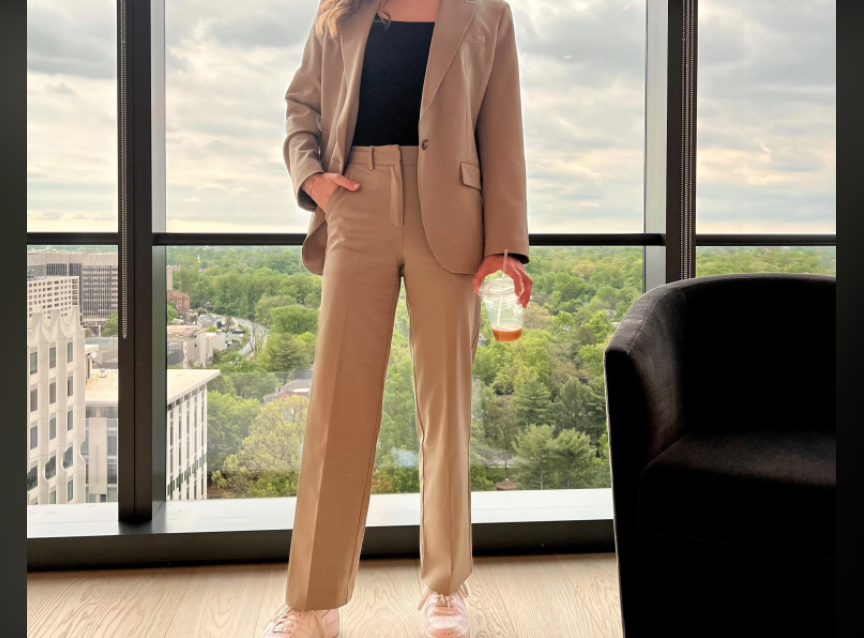 Credit: Queen–B via Reddit
The older woman in beige or khaki is something of a cliche. However, this shouldn't worry you if you like beige or khaki and – crucially – it suits your hair and skin tone. If it doesn't, and you're wearing it as some sort of sartorial apology, think again. Don't use beige – or anything else – to blend into the background. Be proud of who you are and the body that's got you there.
Wide horizontal stripes (especially long sleeved tees)
Credit: @volange.paris via Instagram
Although it's a misconception that vertical stripes are always more flattering than horizontal ones, you do want to exercise care in choosing your horizontal stripes. Very wide stripes can have a tendency to look matronly and hence ageing, especially on a loose-fitting garment. However, you'll need to experiment to see what works best on your body.
Jeggings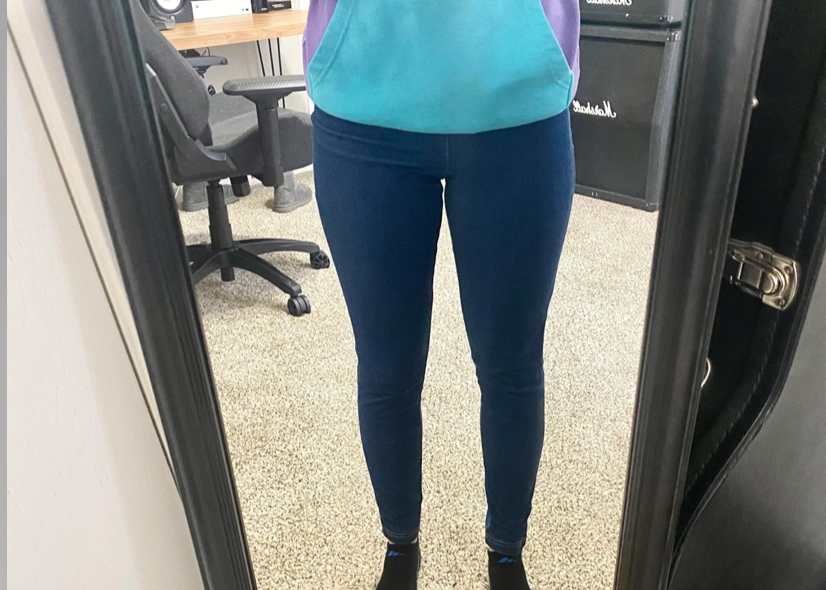 Credit: userabroad via Reddit
This "classic" mash-up of jeans and leggings remains popular with women of all ages. However, whereas leggings are great for the gym and a good pair of jeans can do wonders for your figure, jeggings are really no good for either. The result is often an unflattering, ageing garment that isn't even always as comfortable to wear as it promises.
Tunic and leggings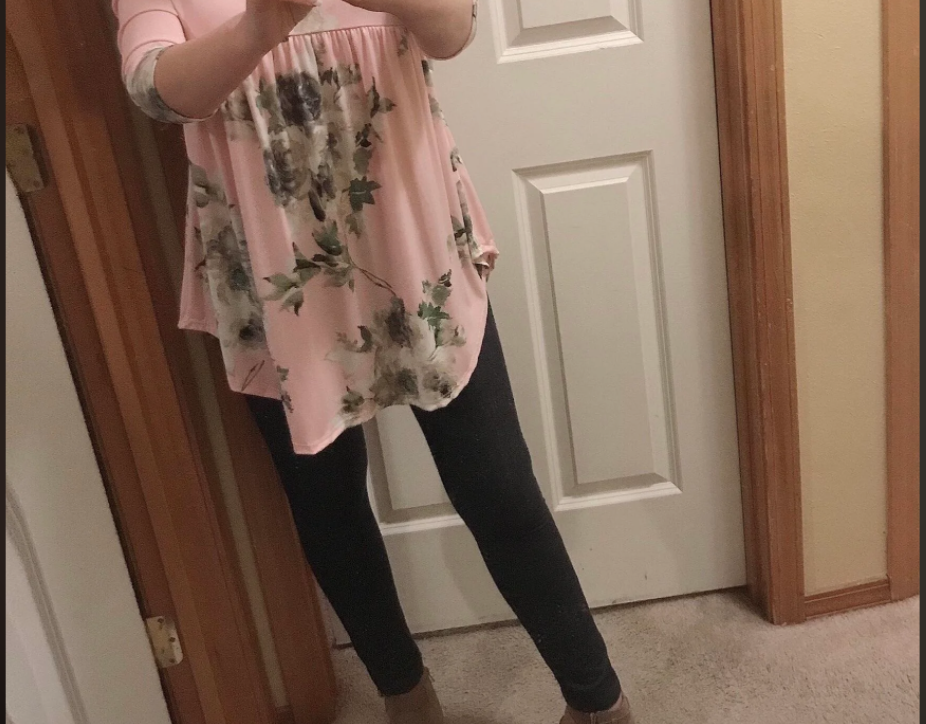 Credit: jlovelysoul via Reddit
Unless you're a kindergarten teacher, there's little excuse for wearing leggings and a tunic. As a combination, it went out of fashion over a decade ago – and is yet to make its comeback. The fact that you're unlikely to see younger women wearing it means that the outfit is more likely to date (and age) you beyond your years.
Jeans with too much stretch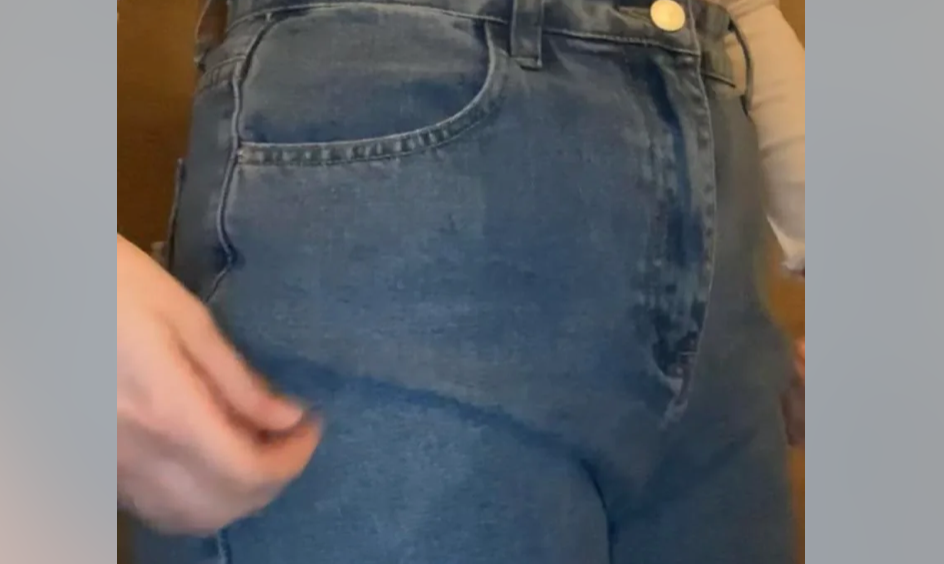 Credit: Top-Consideration678 via Reddit
Yes, stretch denim is superbly comfortable. However, it also has the tendency to be superbly unflattering – especially on the older figure. Whether you buy premium denim or not, look for jeans with 2% lycra to give you enough stretch for comfort but not so much as to give you a saggy tush.
Jersey fabric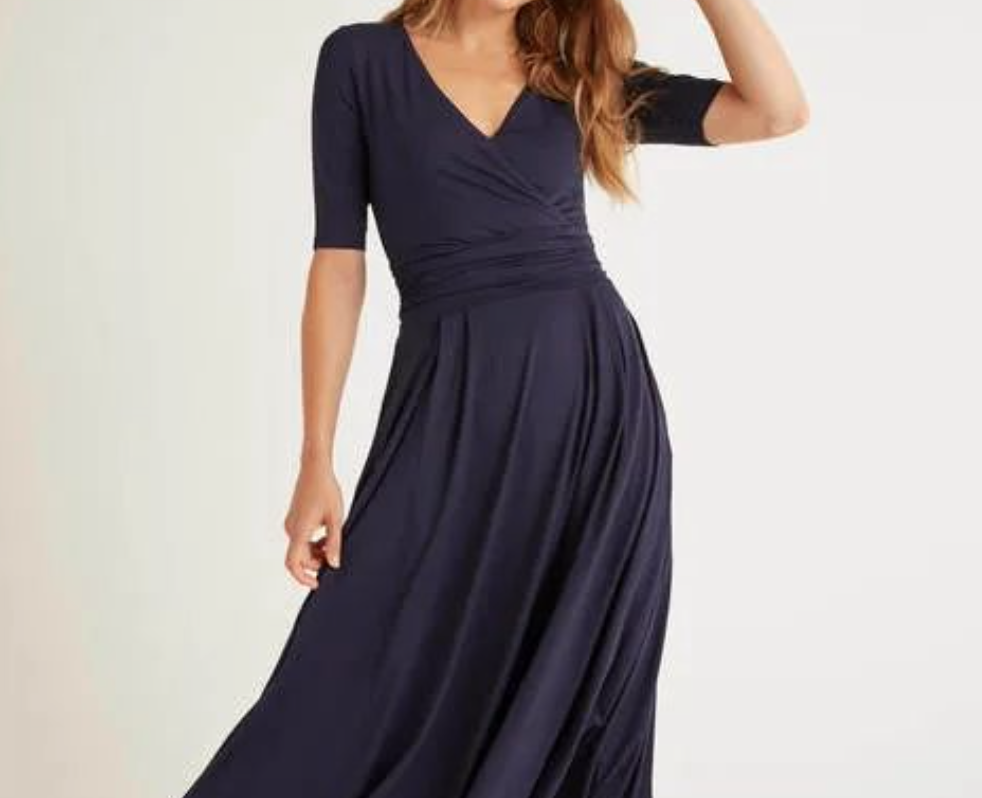 Credit: Bodenusa.com via Pinterest
Good quality, heavy jersey is very flattering. It drapes well, covers what the wearer wants it to cover, and can accentuate the figure in a very flattering way. So, what's the issue, you ask? Well, the main problem is that most jersey is not such good quality and therefore won't do everything you want it to do. Prone to sagginng and bobbling, unflattering jersey garments often also age the wearer.
A silk scarf tied around the neck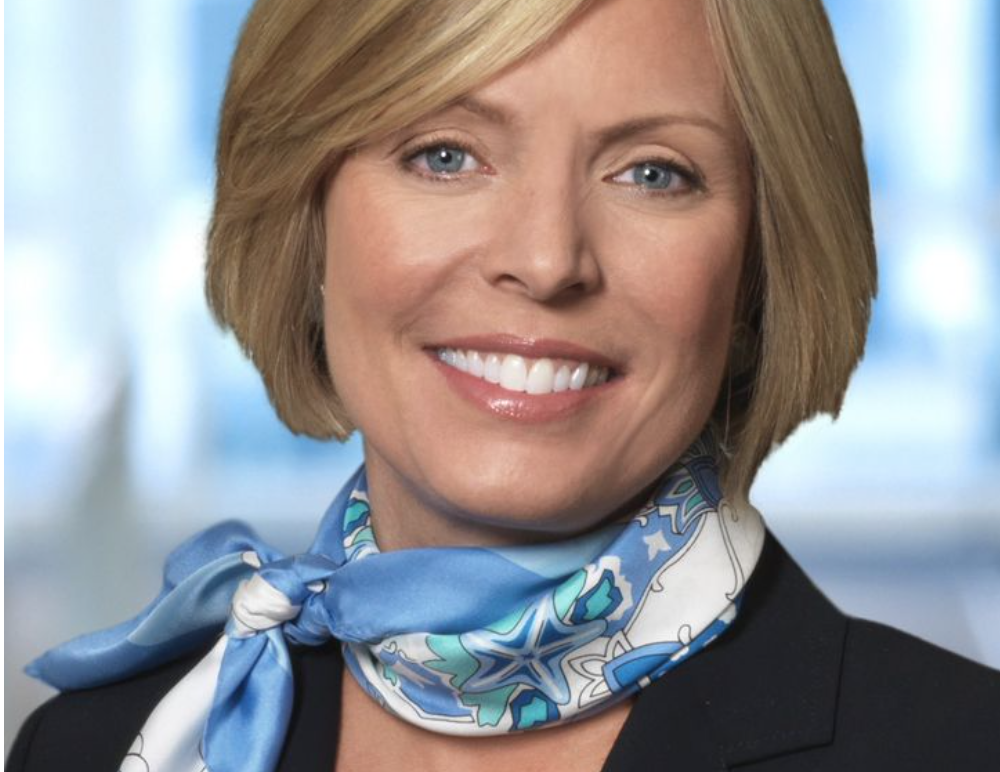 Credit: Silk Scarf Style via Pinterest
You might think it looks beguilingly French, but a silk scarf tied at the neck is in danger of being a cliché accessory – and one that's almost exclusively the preserve of the older woman. Instead, try wrapping your scarf around your purse handle, especially if the two are contrasting colors, to really make an outfit pop.
A brooch or pin on your jacket or blazer lapel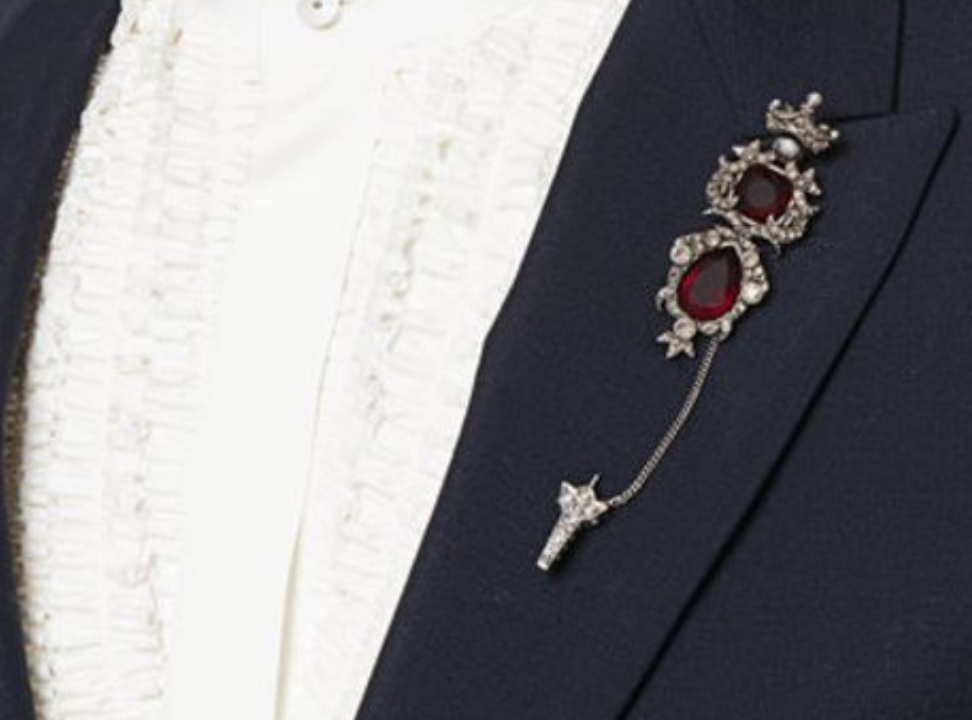 Credit: Valiur via Pinterest
Beware: brooches and pins on lapels go in and out of fashion. Wearing one when they're "out" risks dating you and making you look older. For a more modern twist, try using your favorite brooch or pin to fasten a cardigan. Alternatively, just keep it on your lapel and style it out with an "I don't care" attitude.
"Fun" socks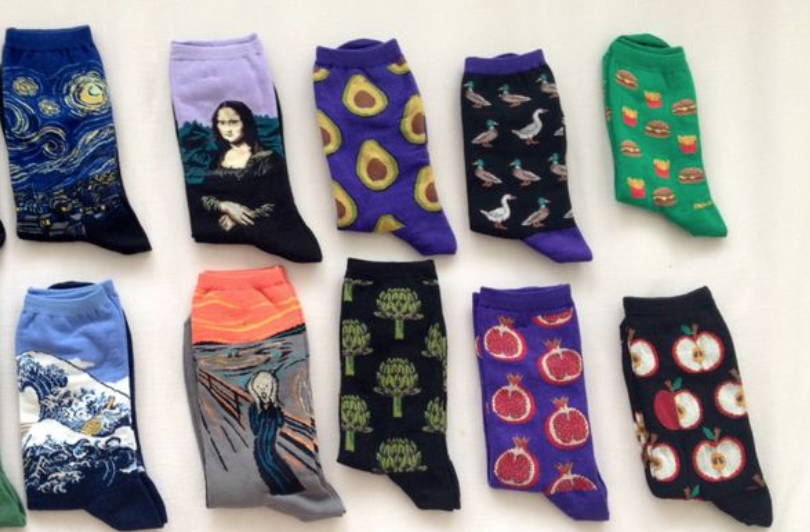 Credit: silly babie via Pinterest
Fun socks are fun… especially on the under fives. On an older woman? Well, they have a tendency to look quirky at best, possibly zany, or downright eye-rollingly odd at worst. If that doesn't bother you, good for you! Wear your socks and have fun doing so!