The traffic was awful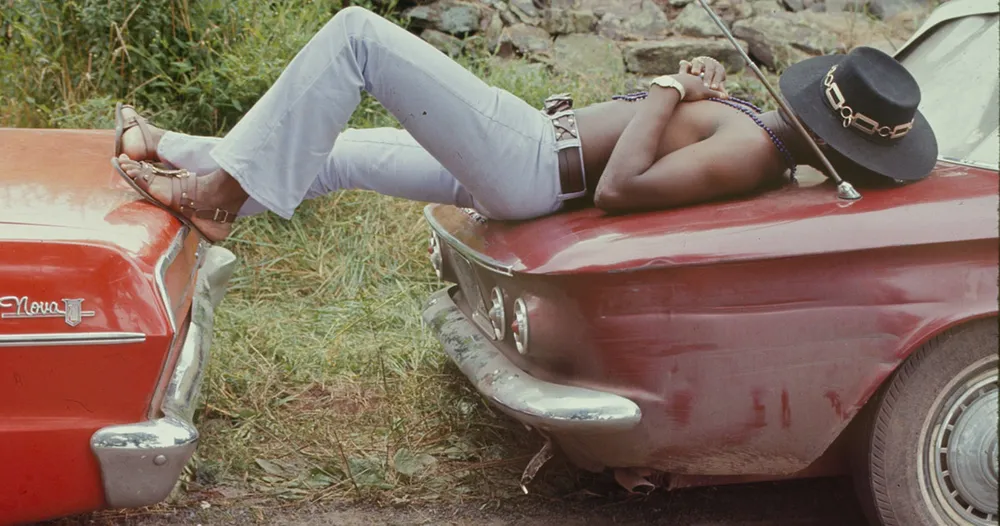 Credit: Bill Eppridge Getty Images
Radio reports from every borough of New York warned listeners about the miles and miles of bumper-to-bumper traffic. This dissuaded some from even bothering to try, but the festival still more than doubled its original expectations. Over 500,000 people showed up for three days of peace, love, music and… some other stuff.
The dairy farm was packed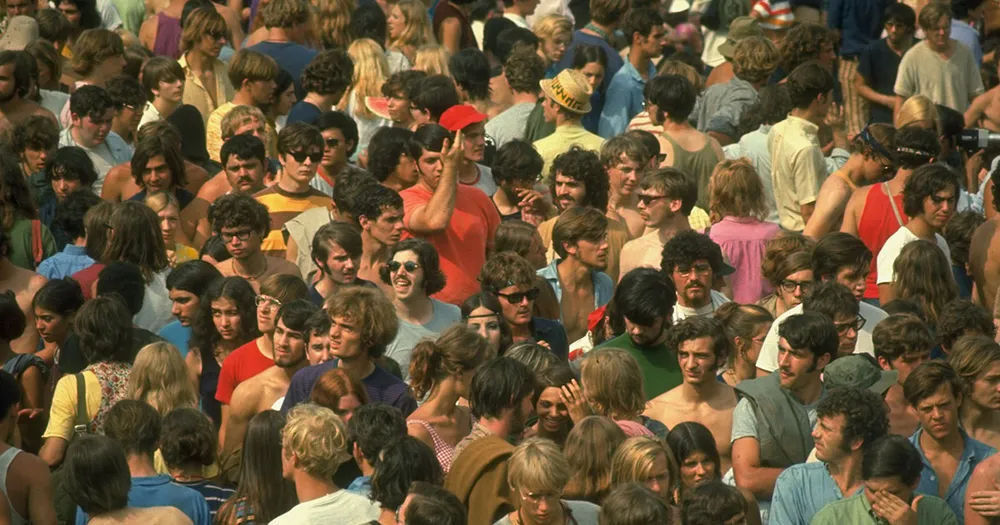 Credit: Stefan Naumoski via Getty Images
The once-in-a-lifetime festival almost took place in Wallkill, a hamlet in Orange County. The initial permits were retracted, however, and dairy farmer Max Yasgur was offered the contract instead. He was paid $75,000, and plans began to construct the event in Sullivan County. The crowds and heat were too much for many!
The original poster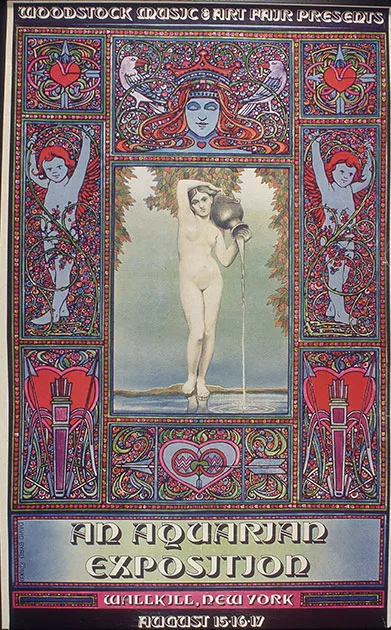 Credit: David Byrd via Getty Images
Legendary graphic designer David Edward Byrd created the original Woodstock poster, which was scrapped in favor of the now iconic white dove and guitar. Byrd had already created album art for Jimi Hendrix, The Grateful Dead, and Jefferson Airplane, creating much of the swirling psychedelic imagery the era is known for.
The Merry Pranksters school bus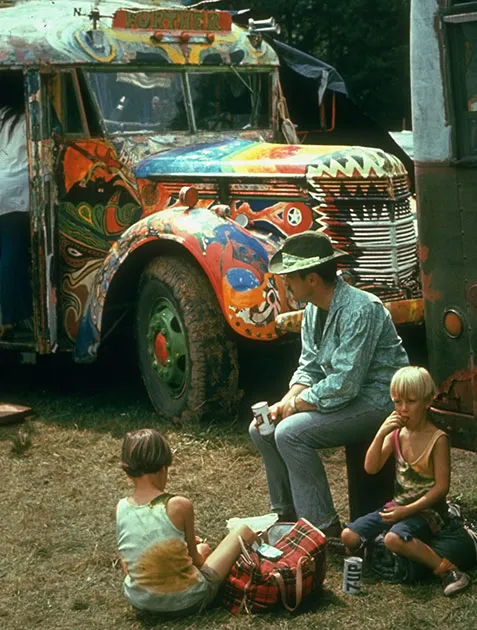 Credit: Brian Hassett Getty Images
This trippy, hippy-chic school bus was famously known as Further and was the roaming home of bohemian authors, including Ken Kesey. He's best known for his 1962 novel One Flew Over The Cuckoo's Nest and, in 1964, began a bohemian cross-country tour. He wouldn't make it to Woodstock, but the Further did.
Tender moments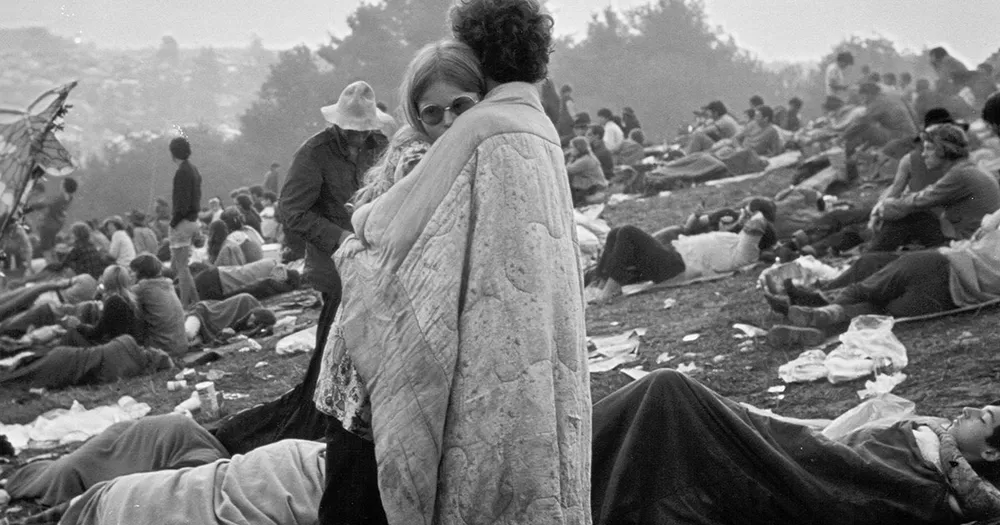 Credit: ANGELA WEISS via Getty Images
While the festival became notorious for its moments of drug fuelled chaos, the celebration of peace came with rare moments of quiet. This picture shows two free lovers embracing beneath a blanket, as the rest of the attendees take a moment to reflect. It captures a wonderful end to the Summer of Love.
Here come the hippies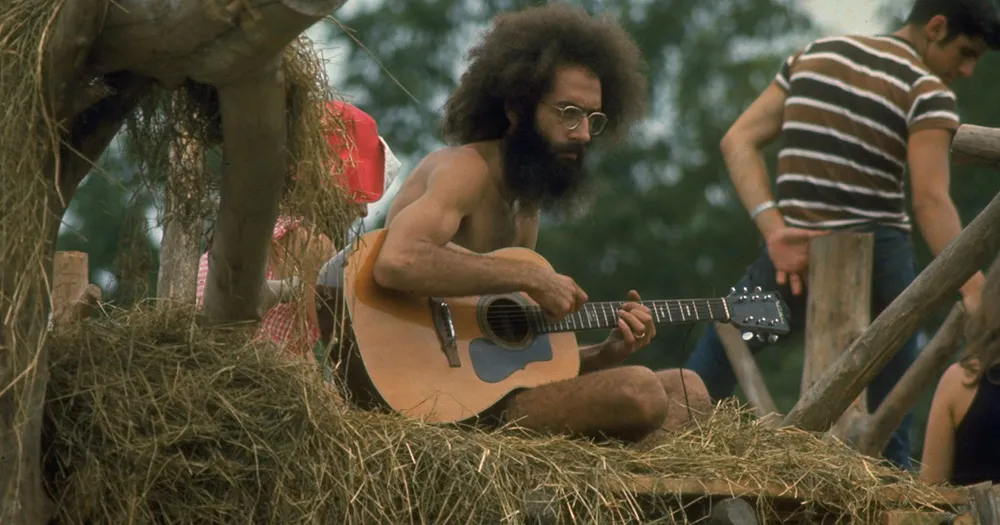 Credit: via Getty Images
With the organization of the festival hitting complications, it tracks that the execution would also be. It ran over capacity in attendance and time thanks to thunderstorms and rain delaying the acts. Little of that ever affected the patron's morale, though! Here we see a long-haired gent strumming a surprisingly pristine guitar atop a tree house structure.
Love so smooth and varied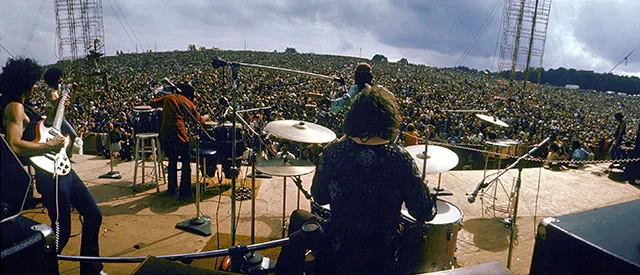 Credit: Bill Eppridge via Getty Images
The festival hosted bands from across the musical world, attracting the decade's biggest acts. Pictured here is the legendary guitarist Carlos Santana, who was on the bill alongside The Who, Janis Joplin, Nash and Young, and of course, Jimi Hendrix. Jim would close off the festival, while Richie Havens would be first to perform.
The police arrive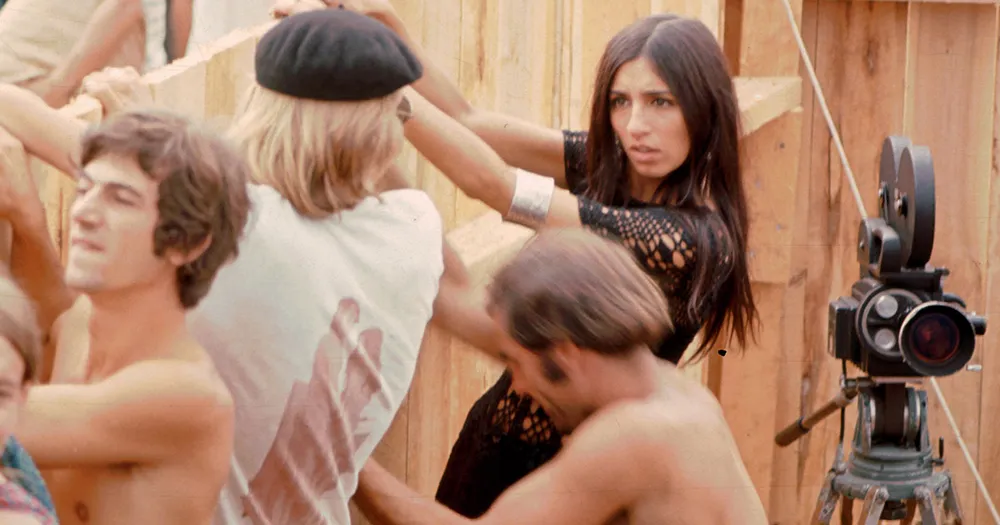 Credit: Ralph Ackerman via Getty Images
Sadly the band wouldn't form until 1977, so when trouble happened it was the duty of the regular police to handle it. Surprisingly, only 33 drug arrests were made over the weekend, although reports indicate that there was only a handful of police present to watch over the hordes and hordes of free-loving beatniks.
Waiting for supply drops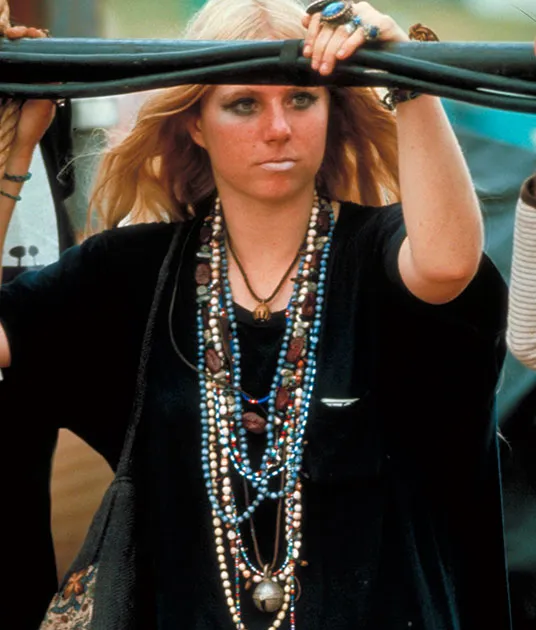 Credit: via Getty Images
We have seen in recent years how logistically complicated running a music festival can be. Both the ill-fated Fyre Festival and 2023's Burning Man ran into huge issues trying to keep attendees safe and fed. Due to the massive, over-capacity crowds, organizations like Jewish Community centers stepped in to provide hundreds of pounds of sandwiches.
Spontaneous jam sessions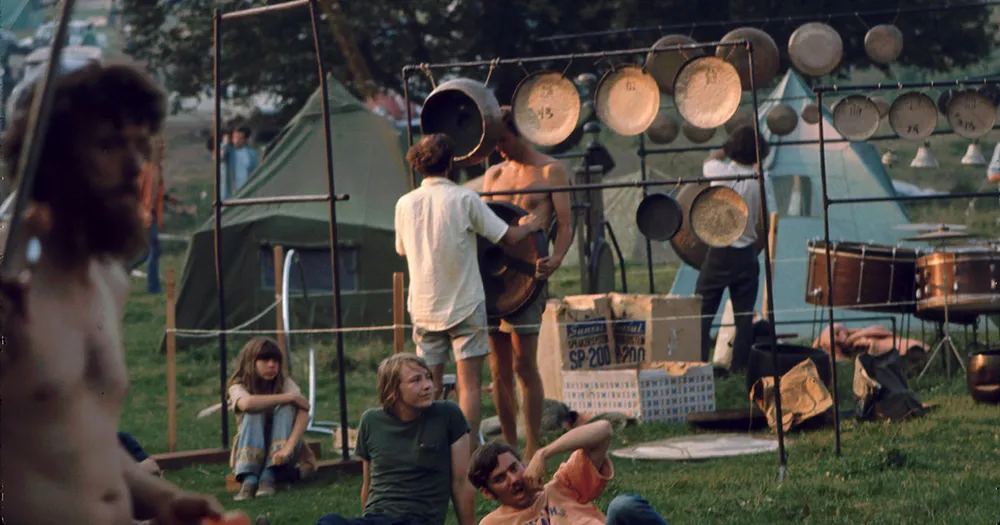 Credit: via Getty Images
One thing an open field packed with creatives and illegal chemicals will inspire is a free-style jam session. It's estimated that only one in every ten people were not smoking illegal substances, which calls into question how the police could have arrested only 33 people. These gong stations were set up by two men across the Free Field.
The organizers ran out of money pretty quickly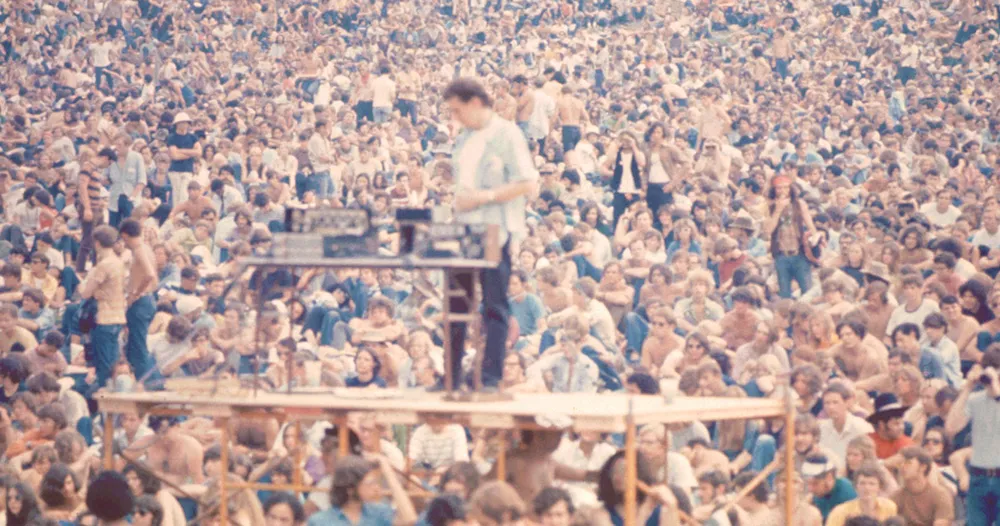 Credit: Ralph Ackerman via Getty Images
Booking so such incredible and diverse talent certainly brought in the audiences, but it took around a decade for the festival to start seeing a profit. They had spent so much acquiring their headline talent that they were already taking on debt before the grounds opened, and soundstages and infrastructure suffered as a result.
So, so much garbage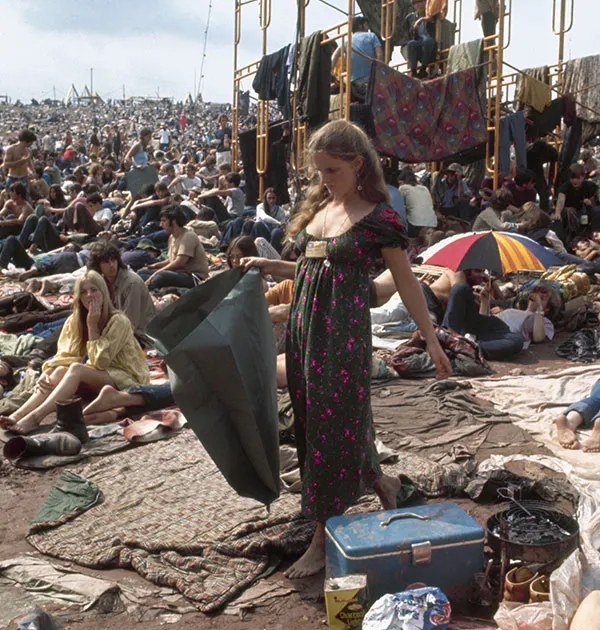 Credit: via Getty Images
With so many people in attendance, a lack of clearly marked refuse areas, and plenty of rain, the festival grounds were a sorry sight come Monday. An unidentified woman, possibly a festival worker because of the badge around her neck, tiptoes barefoot through mud and sleeping bags as she picks up garbage at Woodstock.
Not safe for all ages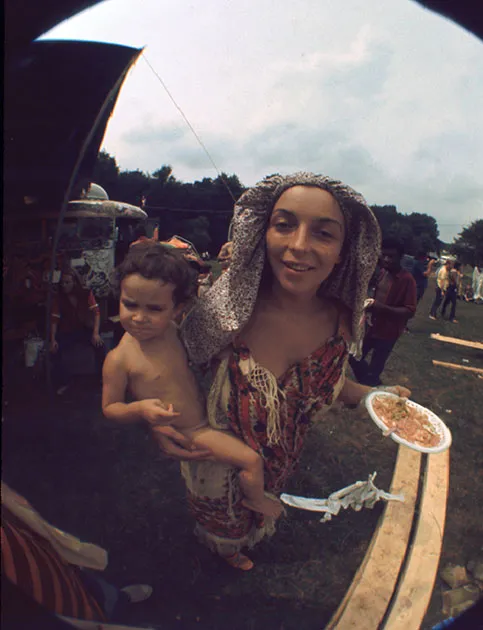 Credit: via Getty Images
Although medical personnel were among the staff on the grounds, there wasn't anywhere near enough. Tragically, eight women suffered miscarriages while in attendance, brought on by the adverse conditions and lack of supplies. Two women went into labour over the weekend but were taken out of the grounds.
It rained and poured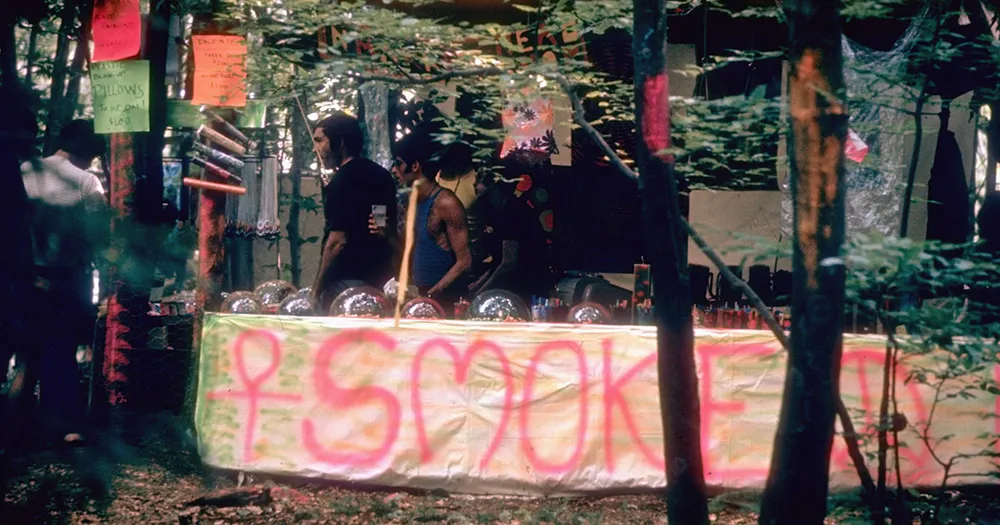 Credit: Ralph Ackerman via Getty
The poor weather was expected, but nobody knew it would be quite so intense over the festival weekend. The heavy rains during the day were capped off with thunderstorms overnight, and there were fears that the performers would be electrocuted by their equipment! Stalls were set up where patrons could buy comfort supplies, like pillows and incense.
The farm's natural bowl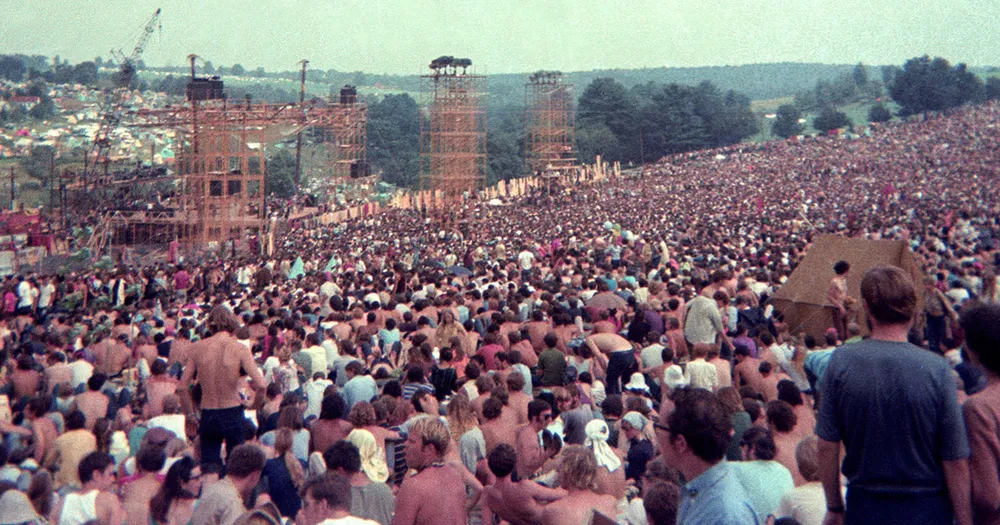 Credit: Ralph Ackerman via Getty Images
Much like the coliseums of old, Max Yasgur's dairy farm and the surrounding hills formed a beautiful dome shape, with the main stage near the pond at the bottom. This means everybody had an incredible view of the immensely talented, and often air-lifted in, performers. It would be difficult to clamber up once wet, though.
How earned was the reputation for drugs?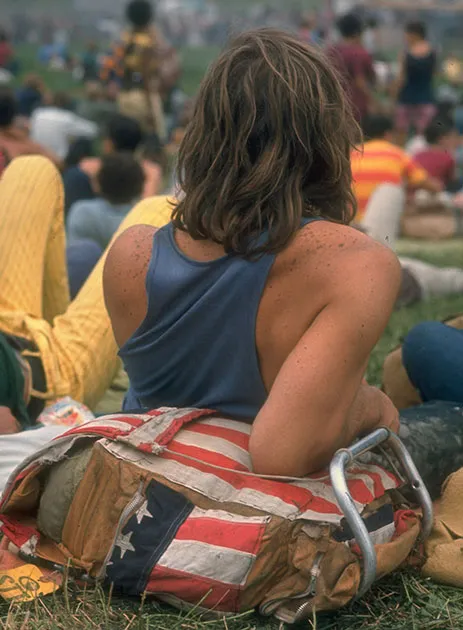 Credit: via Getty Images
Although it seems there was plenty of jazz-grass to go around, New York would legalize its usage half a century later anyway, so how earned was the hippy-trippy reputation? There are conflicting reports on the three confirmed deaths over the weekend, and only two were related to overdoses.
A woman watches the free stage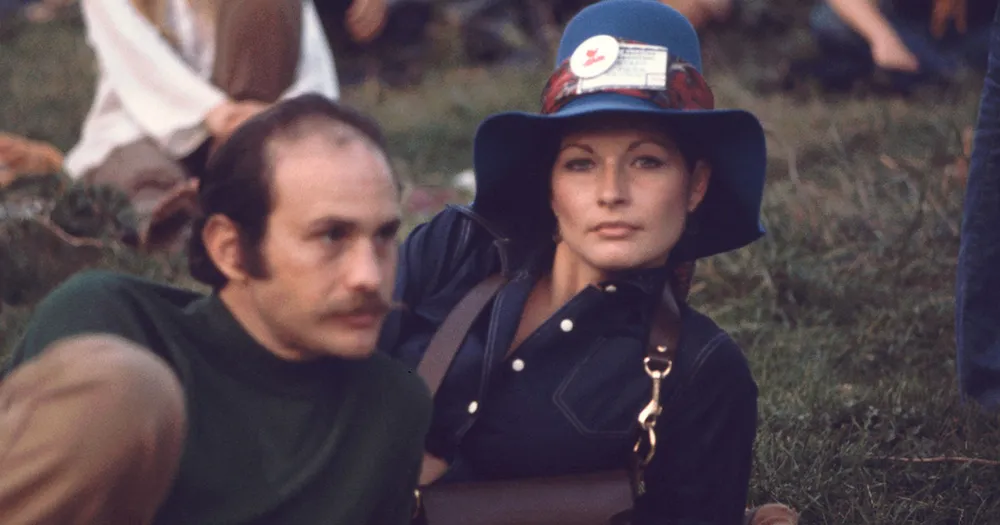 Credit: Ralph Ackerman via Getty Images
As the name would suggest, the Free Stage was an open band set up, where performers and festival goers alike could jam to their heart's content. Odd combinations of established performers would sit at the kits and keys, and if the microphone was free, a lucky audience member could live out the coolest karaoke dream ever.
Peace prospered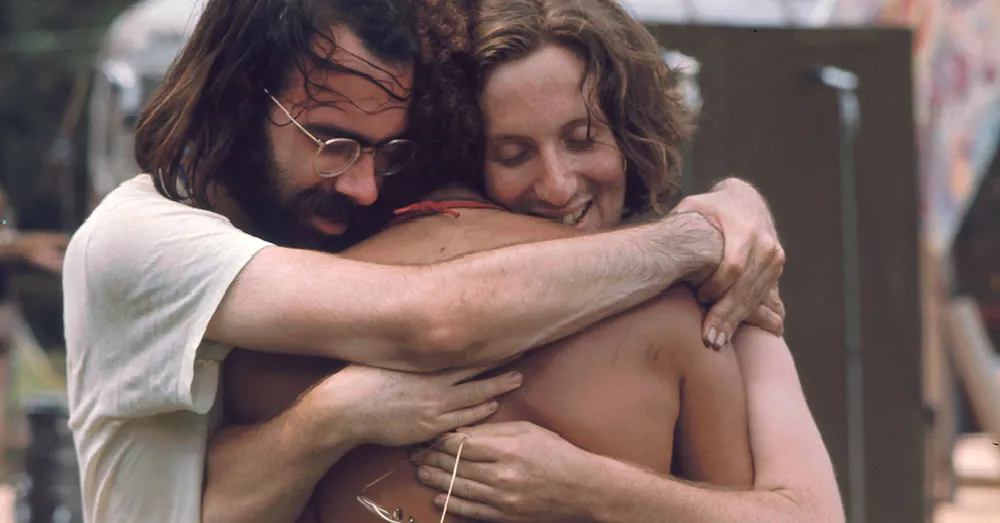 Credit: via Getty Images
The hippy movement was subject to a lot of criticism for its drug use, despite their herbal habits often leading to less fighting and crime than people that drink. They were painted as lazy, though somehow also violent and anarchistic, thanks to their collective anti-Vietnam demonstrations. Despite the chaos, Woodstock 69 was safe and full of love.
The "Woodstock Nation"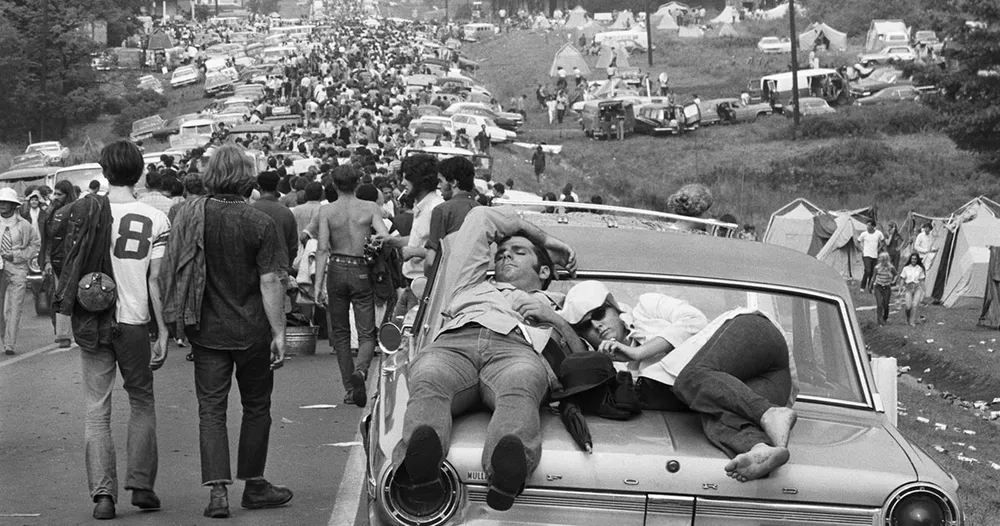 Credit: Baron Wolman via Getty Images
The moniker Woodstock Nation was applied pretty generally to the entire hippy movement as the 70s came around. It was a powerful counter-culture movement, that many believe culminated and began to decline around Woodstock 69. This couple, asleep while waiting for a chance to drive home, shows how trusting an environment the festival was.
Skinny-Dipping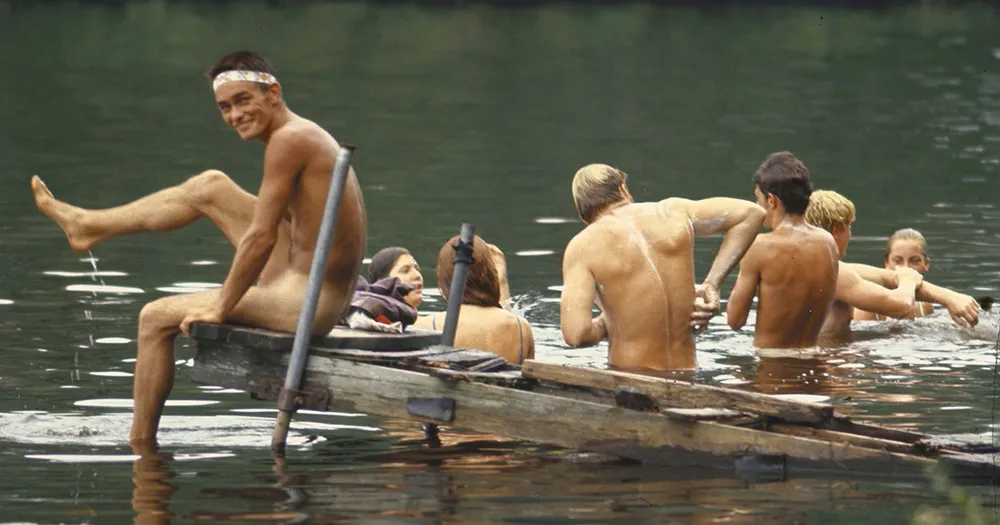 Credit: via Getty Images
Being free-spirited only gets you so far and, after so much rain and mud, even a city-slicker would strip and clean themselves without embarrassment. The main stage was of course very close to Filippini Pond, and there are several rivers running through the area, hence the smiling skinny-dipper.
A duet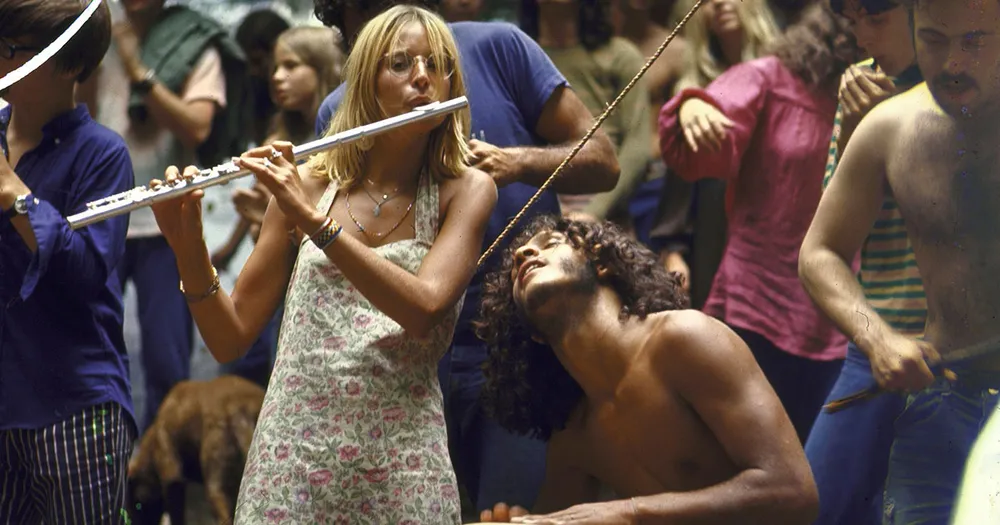 Credit: Ralph Ackerman via Getty Images
This photograph of one of the many jam sessions attendees engaged in shows a flutist and a drummer lost in their music. The festival was as much about creating and celebrating music as it was listening to it, These days, one might expect a similar scene while attending Burning Man, or any University campus jazz bar in New York.
Lost in the music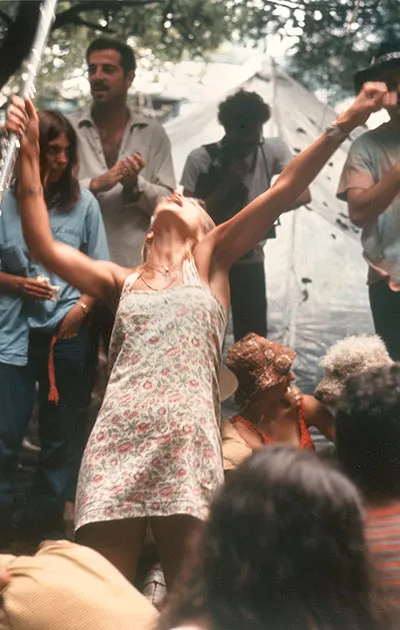 Credit: Ralph Ackerman via Getty Images
Here we see the same flutist as before but from another angle and point in time. She has her flute raised in the air while she dances, embodying the free-spirited atmosphere and complete embrace of the music. This one also features a dog, which automatically makes it better than the other one, with the admittedly very handsome drummer boy.
Parenting on the Woodstock clock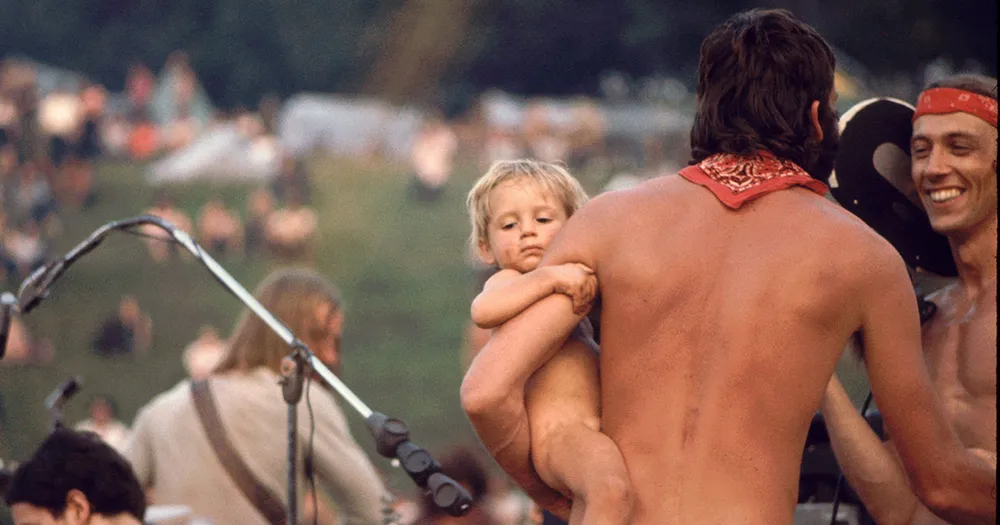 Credit: Ralph Ackerman via Getty Images
This photograph shows famous Merry Prankster and author Ken Babbs, who rode to Woodstock aboard the Further. He's talking to one of the many filmmakers present, who were capturing the event in an official capacity for broadcast and documentary purposes. Both Babbs and his nude baby are still alive today!
An unconventional date-spot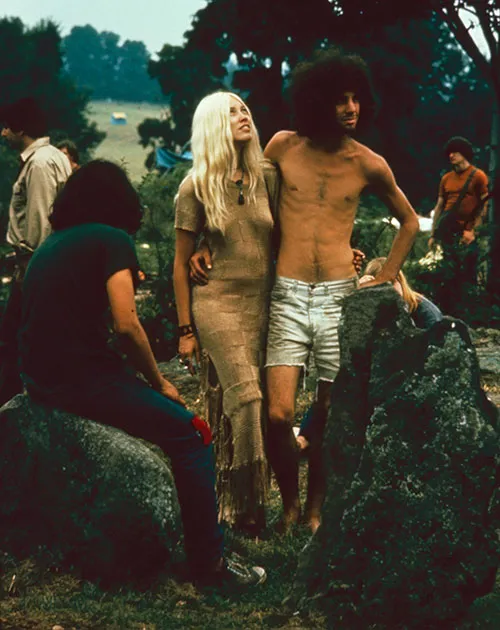 Credit: Owen Franken via Getty Images
The was absolutely an air of romance permeating Woodstock 69, and it would be unfair to attribute that entirely to the copious amount of substances. Despite the numbers, there was an overwhelming atmosphere of peace and harmony, which made it easy for extremely 60's youth like this to partner off.
Road trips!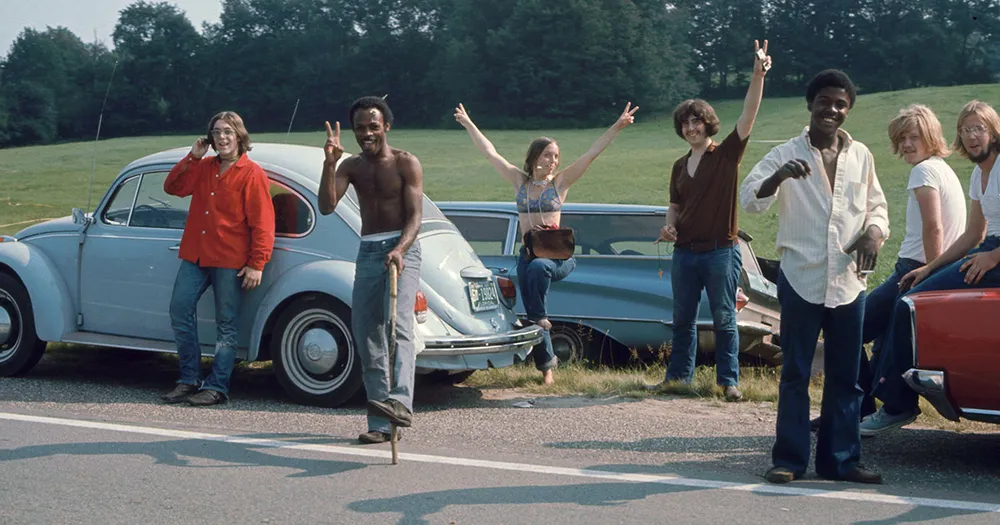 Credit: Ralph Ackerman via Getty Images
This uncharacteristically clean photo was taken before the festival began, showing a group of young friends, unaware of exactly what is about to transpire. The diversity, the peace signs, the hair, the fashion, it's all quintessential 60's, and shows the movement at its strongest. They likely had smiles just as big upon leaving.
Fashion-forward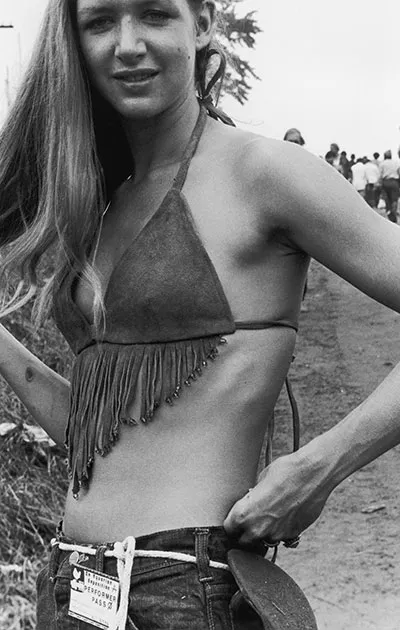 Credit: Archive Photos via Getty Images
One thing the global peace movement had in spades was a keen sense of fashion. Woodstock 69 was a melting pot of fabrics, textures, and prints found throughout history and pop culture, but with an added splash of psychedelic flair. This buckskin bra is old west meets the dawn of the 60's supermodel, and it slays.
The Hog Farm bus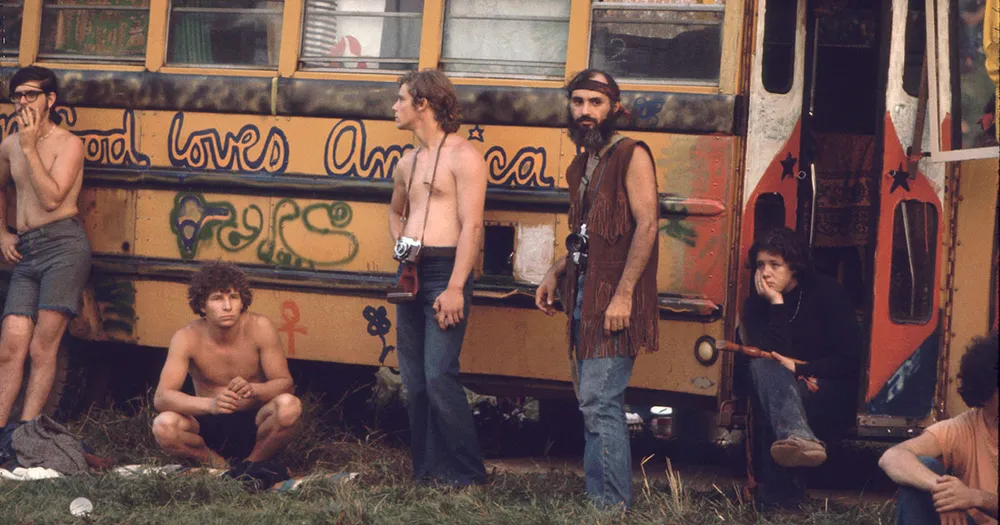 Credit: Ralph Ackerman via Getty Images
Much like the Merry Pranksters and the Further, another fabled bohemian troupe took their set of live-in wheels to Woodstock. It's believed to be the longest-running hippie commune in American history. (It's still around today, mostly in California.) They helped construct the grounds, acted as security, and set up a free kitchen.
Classic cars and slogans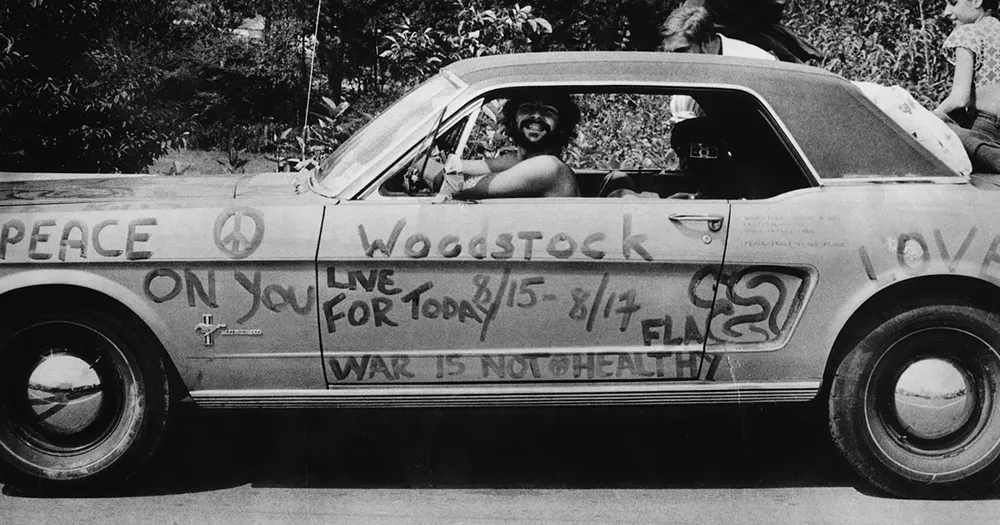 Credit: Hulton-Deutsch via Getty Images
Far from being the militant, drug fuelled super soldiers that the CIA were worried about, many hippies held onto their patriotism with classic muscle cars like this Ford Mustang. Written across the body are several of the decades popular anti-war slogans, such as Live For Today and War Is Not Healthy.
Community baths
Credit: Barry Z Levine via Getty Images
It doesn't take many pictures of Woodstock 69 to get an idea of how free-spirited the patrons truly were. Nudity was a pretty common occurrence throughout the grounds of the dairy farm, so of course the communal bathing areas held no shame. We're all just meat animated by electricity, chill out, man!
The sequel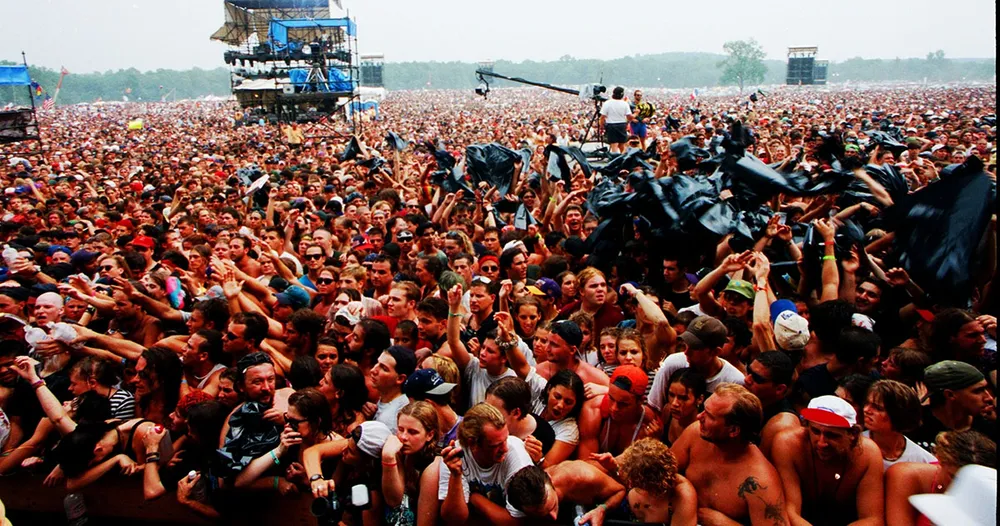 Credit: Scott Gries via Getty Images
Many hold the idea that Woodstock 69 was an unmitigated disaster, with the odd horror story from a pool of 500,000 people getting exaggerated and twisted through time. If that was the case, it would never have gotten another shot! After 25 years, the festival returned with the likes of Green Day and Bob Dylan, who was scouted for the first, but missed out.
Waiting for the Who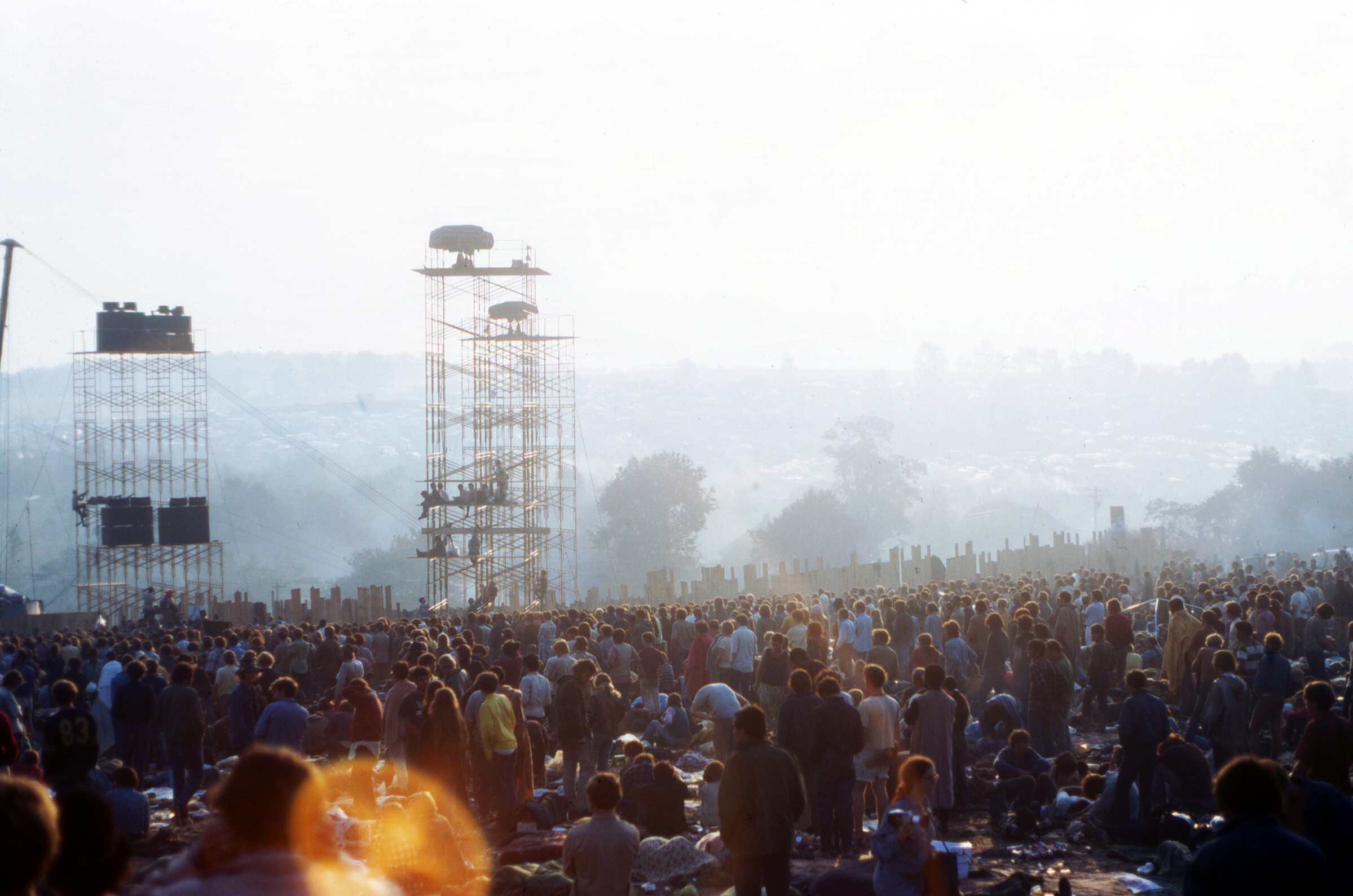 Credit: James M Shelley via Flickr
In a modern festival setting, big name acts get shuffled around quite as circumstances require. Woodstock was a little different, and the weather had already put off the party enough! This sunrise over the main stage area was captured just after The Who's very early Sunday Morning show. Lots of early risers, clearly.
A cold one with the daughter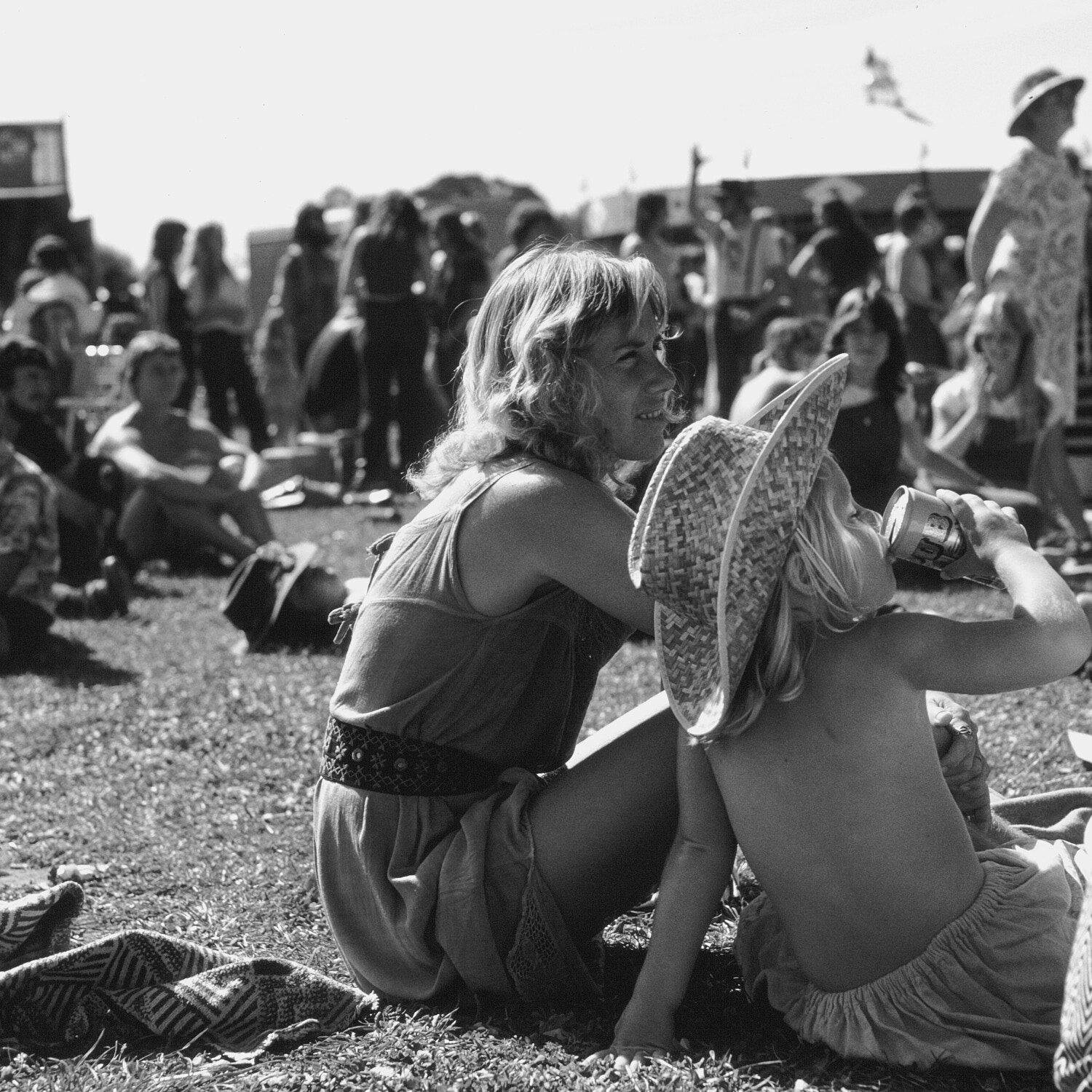 Credit: Paul Francis via RL
Children aren't an uncommon sight at modern festivals, indeed many encourage them to attend and provide age-appropriate entertainment! Woodstock was a little different, there was an air of 'anything goes' and a mixture of 60's communication tools, the weather and general unpredictability meant it wouldn't be awful for the wee ones to miss it.
Waiting for traffic to clear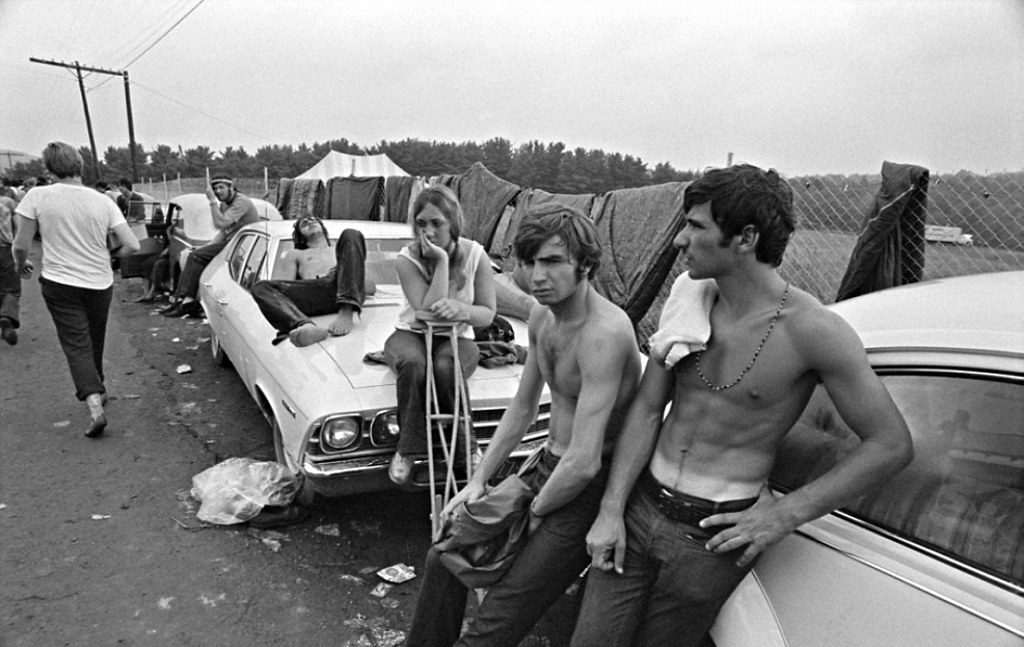 Credit: Baron Wolman via Getty Images
Judging by the thousand mile stares, signs of light injury and general sense of fatigue, this image was taken as attendees were preparing to leave on Monday, August 18th. The suntans, headaches and sense of euphoria would soon fade, but the memories of this once in a lifetime event would last forever.
Saturday night fever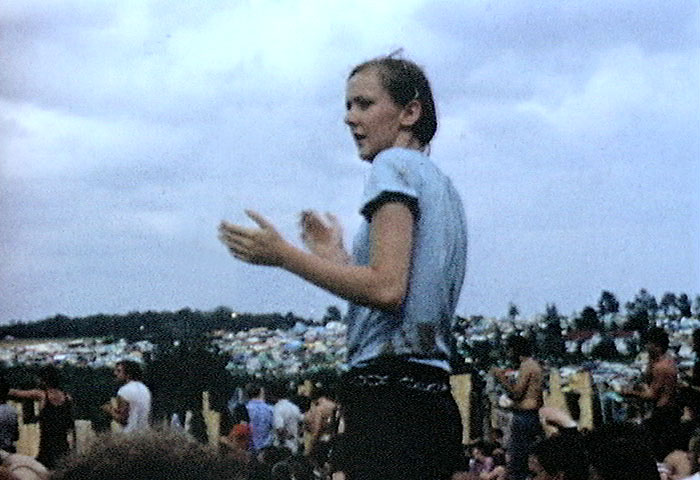 Credit: Derek Redmond via Wikimedia Commons
This young, slightly weather beaten woman was photographed by family on Saturday night. She stands in front of some of the available camping sites, which look as overpacked as they were reported to be! The Saturday line-up featured some of the weekends biggest names, like The Grateful Dead, Janice Joplin and Crosby and Nash.
A panorama of the grounds

Credit: Mike Chen via Flickr
The sheer size, scope and slope of Max Yasgur's farm and the enormous attendance are on full display in this stunning panoramic shot. The audience are sat politely whilst waiting for the next act, as nobody dares stand and face the inevitable head-rush. It's another wonderful time capsule, showcasing the diverse stylings of the decade.
The final, iconic poster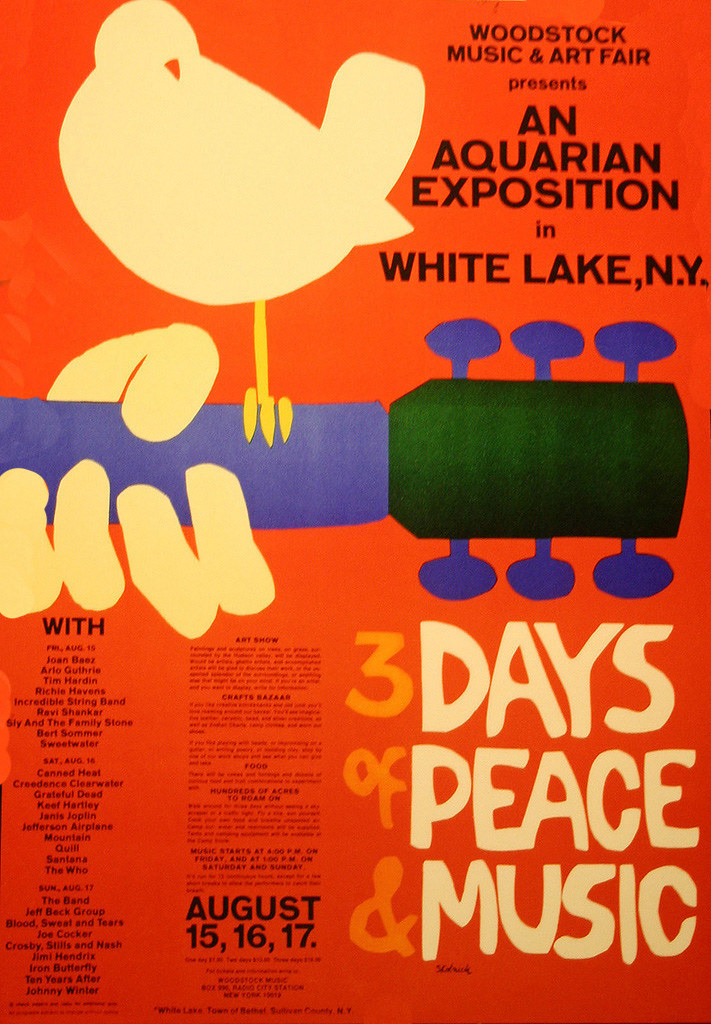 Credit: David via Flickr
This would become one of the most culturally significant images of the 60s, and the design that organizers would finally settle on. It was designed by artist and illustrator Arnold H. Skolnick, who only received a $15 commission fee and saw no money from the ongoing commercial success of the brand.
The two towers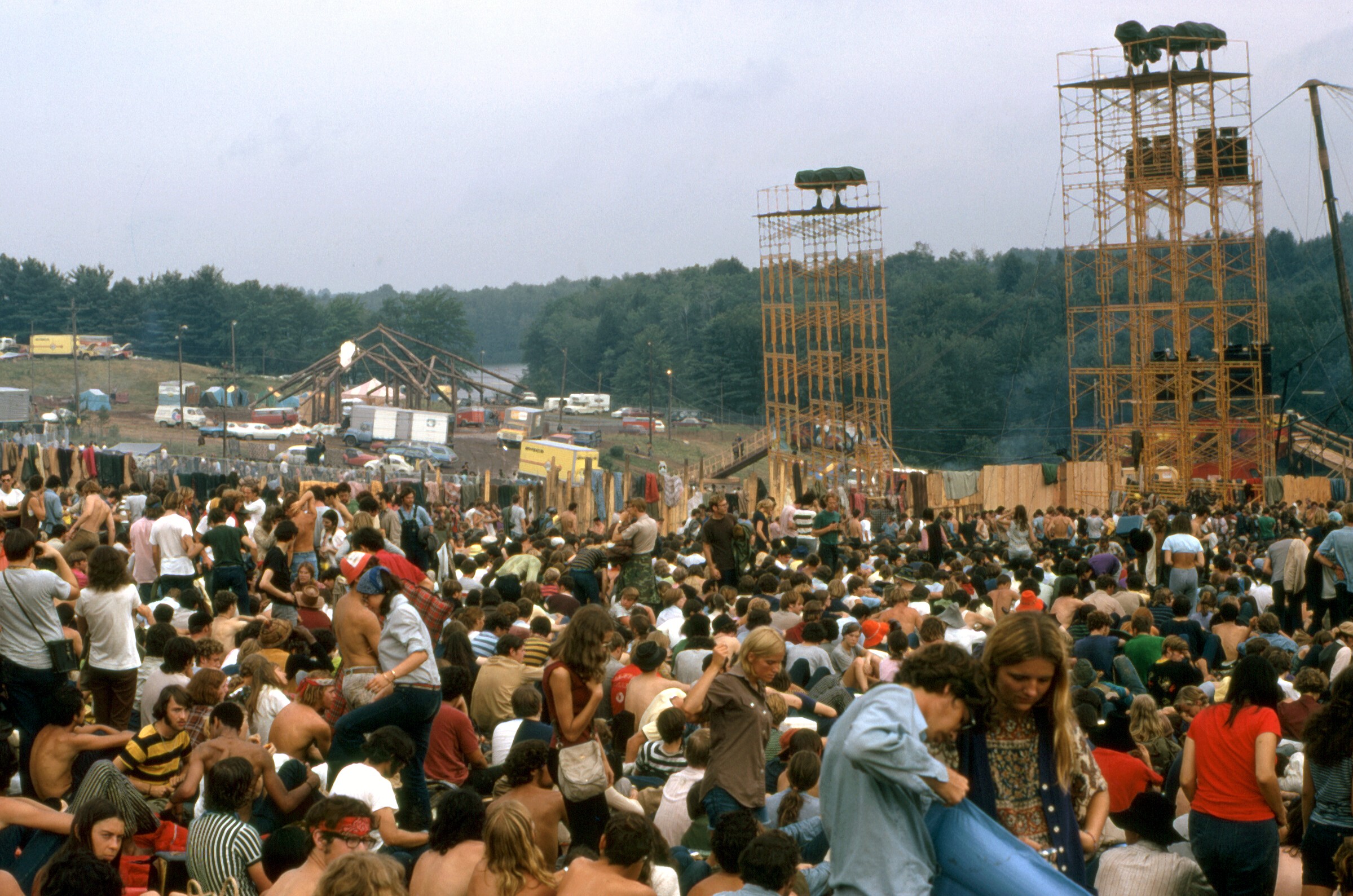 Credit: James M Shelley via Wikimedia Commons
While the wooden scaffolding has certainly become an iconic part of Woodstock 69's legacy, they're also a reminder of how much was sunk in booking artists like Jefferson Airplane and Joe Cocker. Some acts were cutting checks as big as $50,000 for their time, which today would be worth at least half a million dollars.
The opening act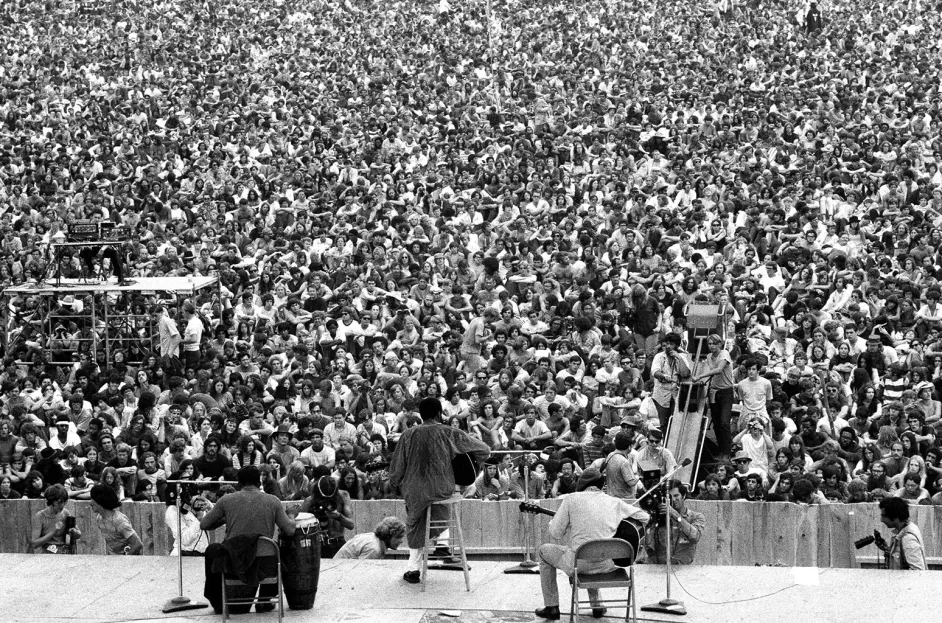 Credit: Paul DeMaria via Getty Images
After the months of build-up, the agony of getting into the actual grounds and the nightmare of finding a good spot to maybe sleep, it all lead to this. Richie Havens kicked off the weekend, a soul artist of incredible renown who also voiced the geo-safari lines of educational toys. Get you an opening act who can do both!
A moment of respite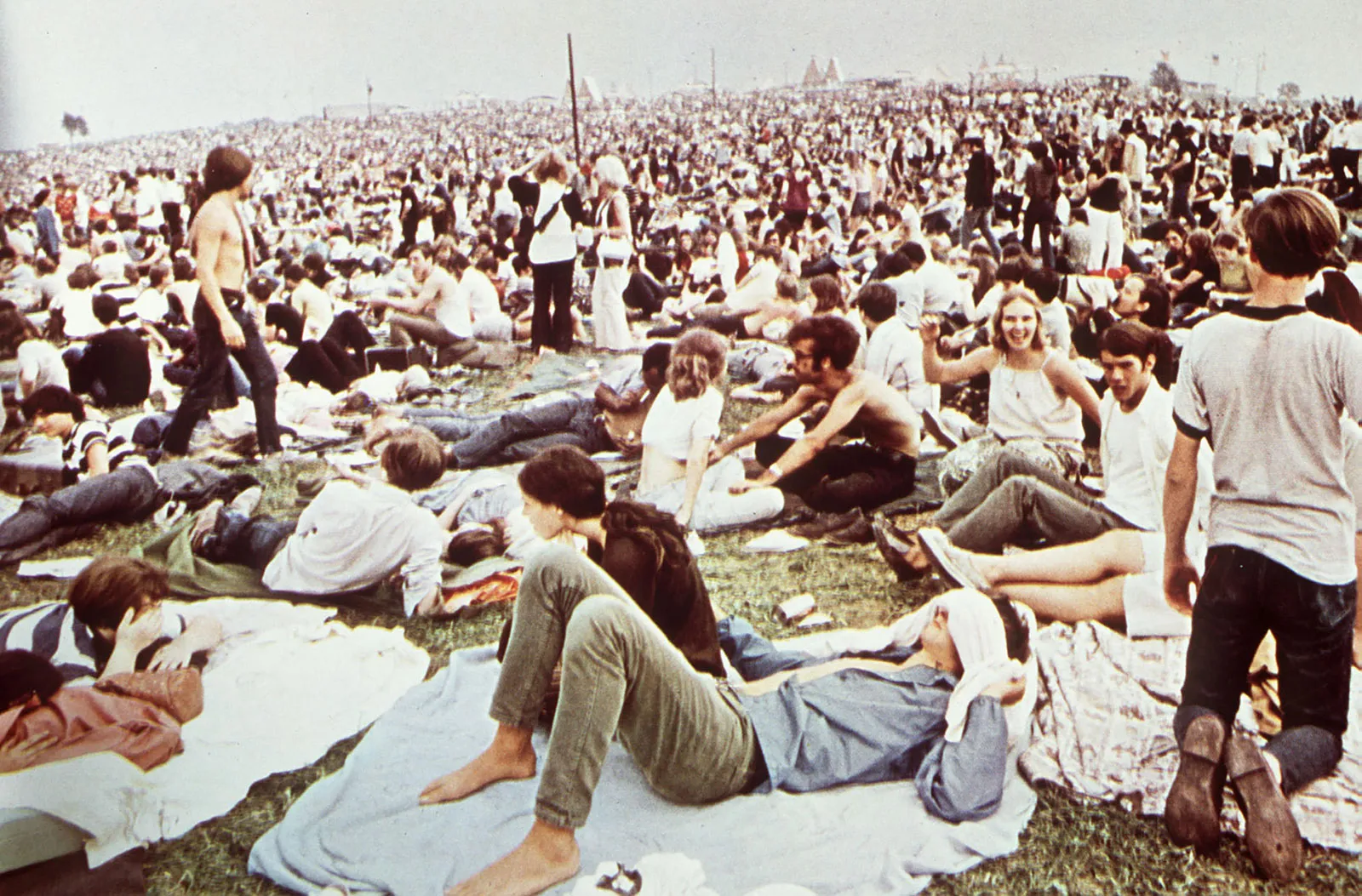 Credit: Michael Wadleigh via Woodstock 1970
Although the substances were supposedly weaker in the 60s, even the weekend party animals needed a moment to switch-off. This candid moment was captured in the 1970 documentary film Woodstock, and shows a general tired but wired vibe. The demographics here are representative of the younger crowd the festival attracted.
Pride in his shelter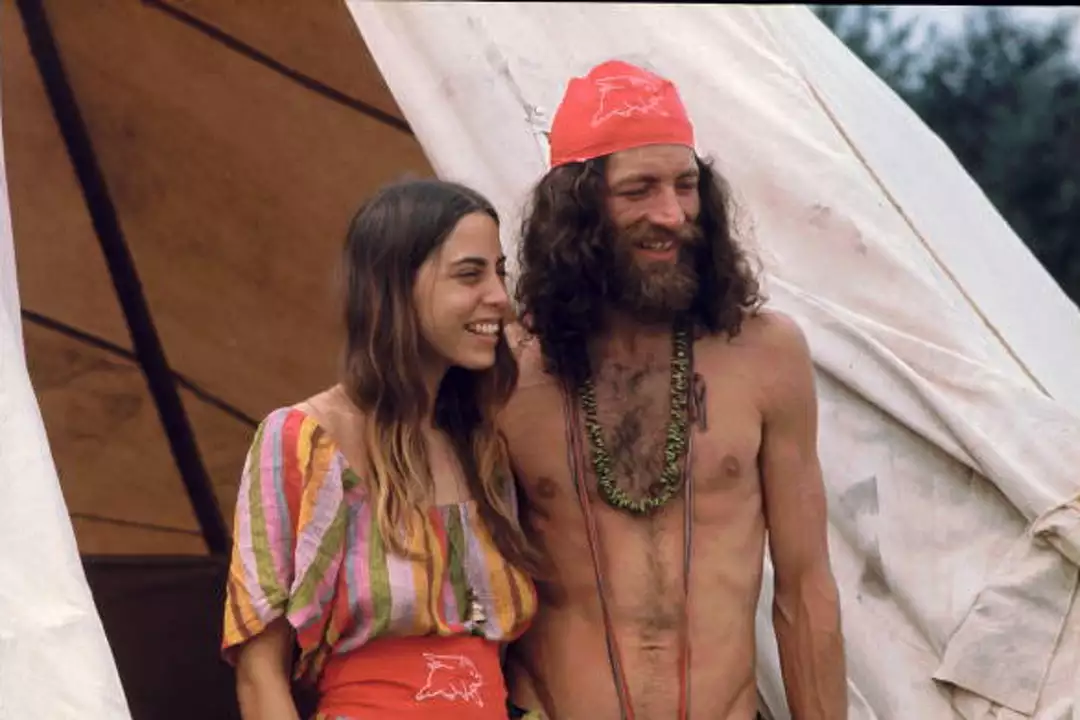 Credit: Ralph Ackerman via Getty Images
It's not uncommon for festival goers to omit bringing supplies with them all together. Those are the ones you see in the line going in and never hear from outside of unconfirmed sightings in the Appalachian trails. This couple stand smiling outside of their impromptu tepee, safe in the knowledge they're only getting slightly wet tonight.