This story really caught my eye and I decided I needed to share it on here. I know we shouldn't judge but I do find this disturbing.
Advertisement
A story from The Irish Sun tells the story of a father and a daughter who are reunited after many years.
Penny Lawrence went in search of her father Gerry Ryan following the death of her mother and grandparents. The Irish Sun reports that she eventually found Dublin-born Ryan in Houston, Texas.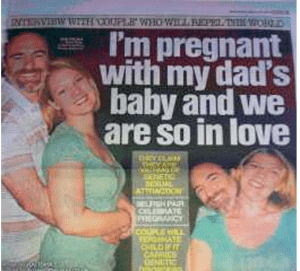 Advertisement
After meeting, the pair began a couples relationship which resulted in Lawrence becoming pregnant. However, they have insisted that their attraction is the result of GSA, a term previously created by Barbara Gonyo to describe the feelings between parents and their children – as well as siblings – who meet as adults.
Ryan expressed fears that laws could see the couple separated, but added: "It's no different than if I met Penny in a bar. I'd have fallen for her as I have now. It doesn't feel [like] we are doing anything wrong."
Advertisement
The pair said that if the three-month scan of their baby shows no birth defects, they will remain together and raise the child.
Discussing GSA, Lawrence explained: "I did some research into it. I was stunned that some brothers and sisters, daughters and dads and mothers and sons were actually living happily as man and wife." However, her father pointed out: "GSA isn't recognized in court."
The video below contains a few other women who have been through the feelings of GSA.
Advertisement