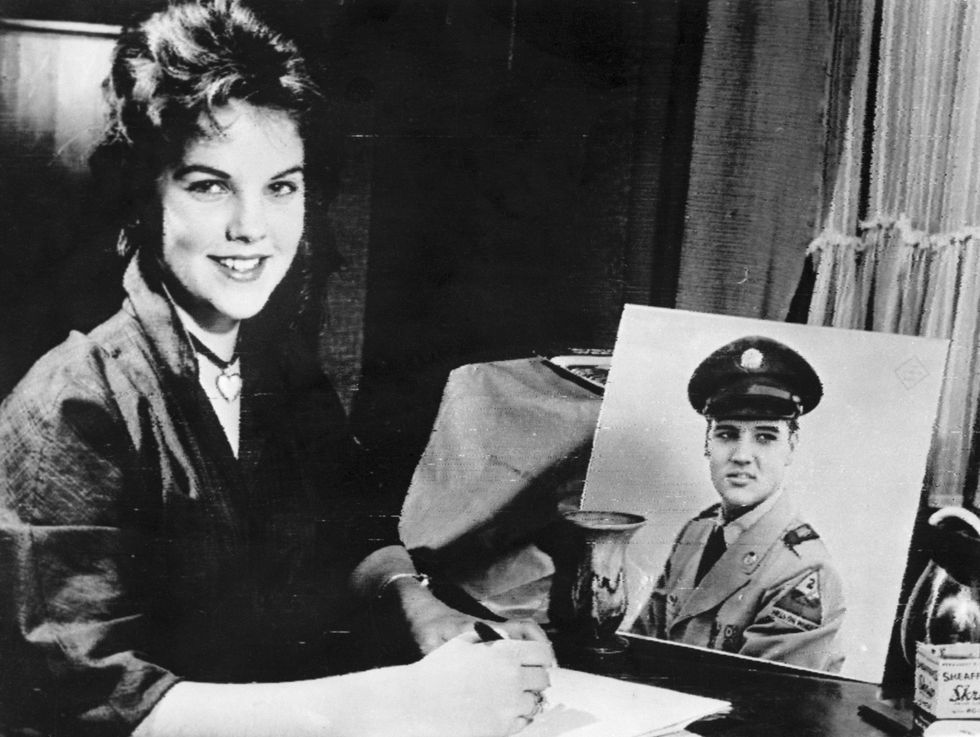 A young Priscilla in the mid-1950s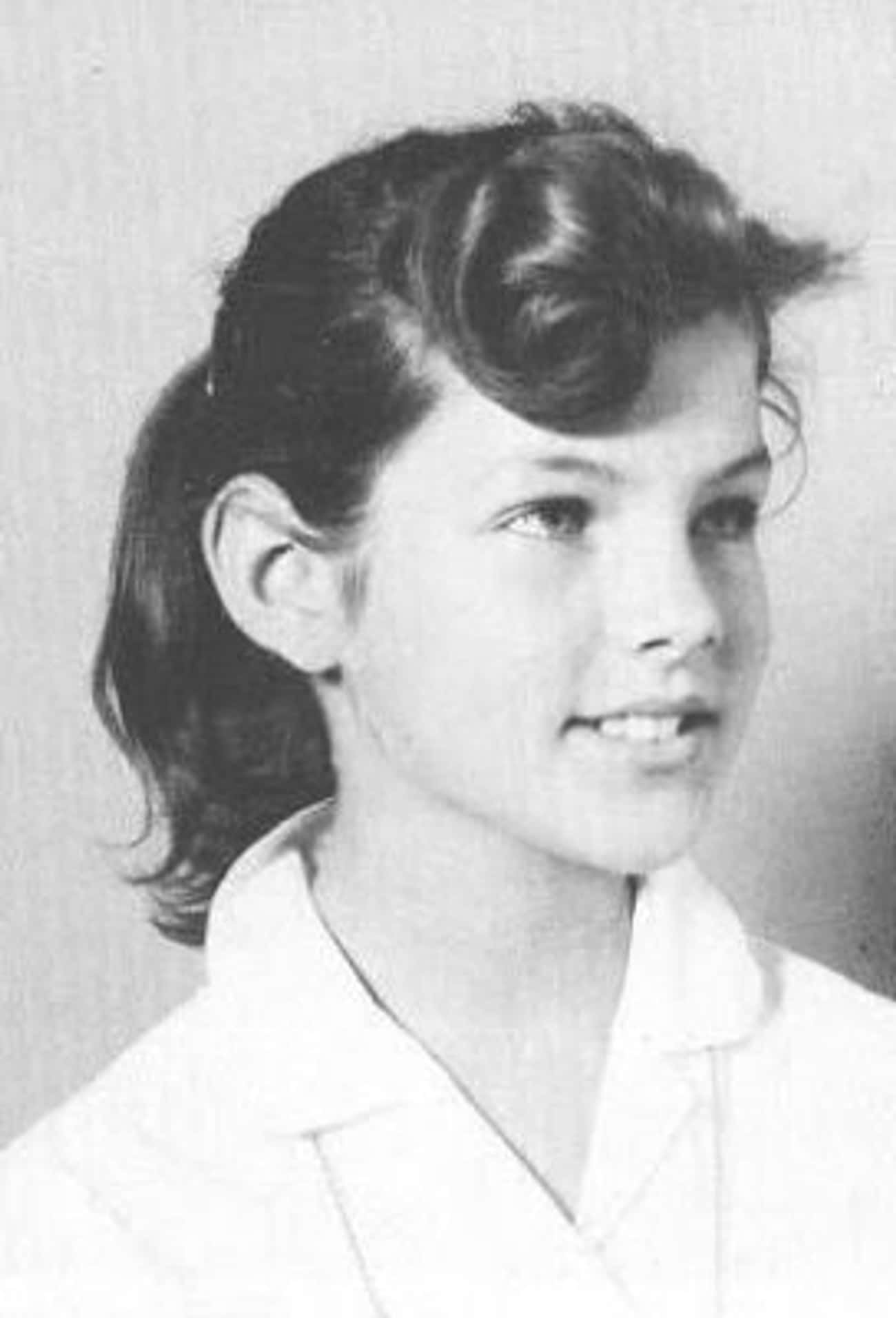 Credit: via Creative Commons
Looking back at the life of Priscilla Presley with our modern sensibilities and understanding of consent, it's likely that if Elvis were still alive he wouldn't want any of her pictures being seen. He would be around 90 by now and cancelled into oblivion. It is worth noting that, even at the time, Elvis' actions were questioned by many.
A young Priscilla settles in Germany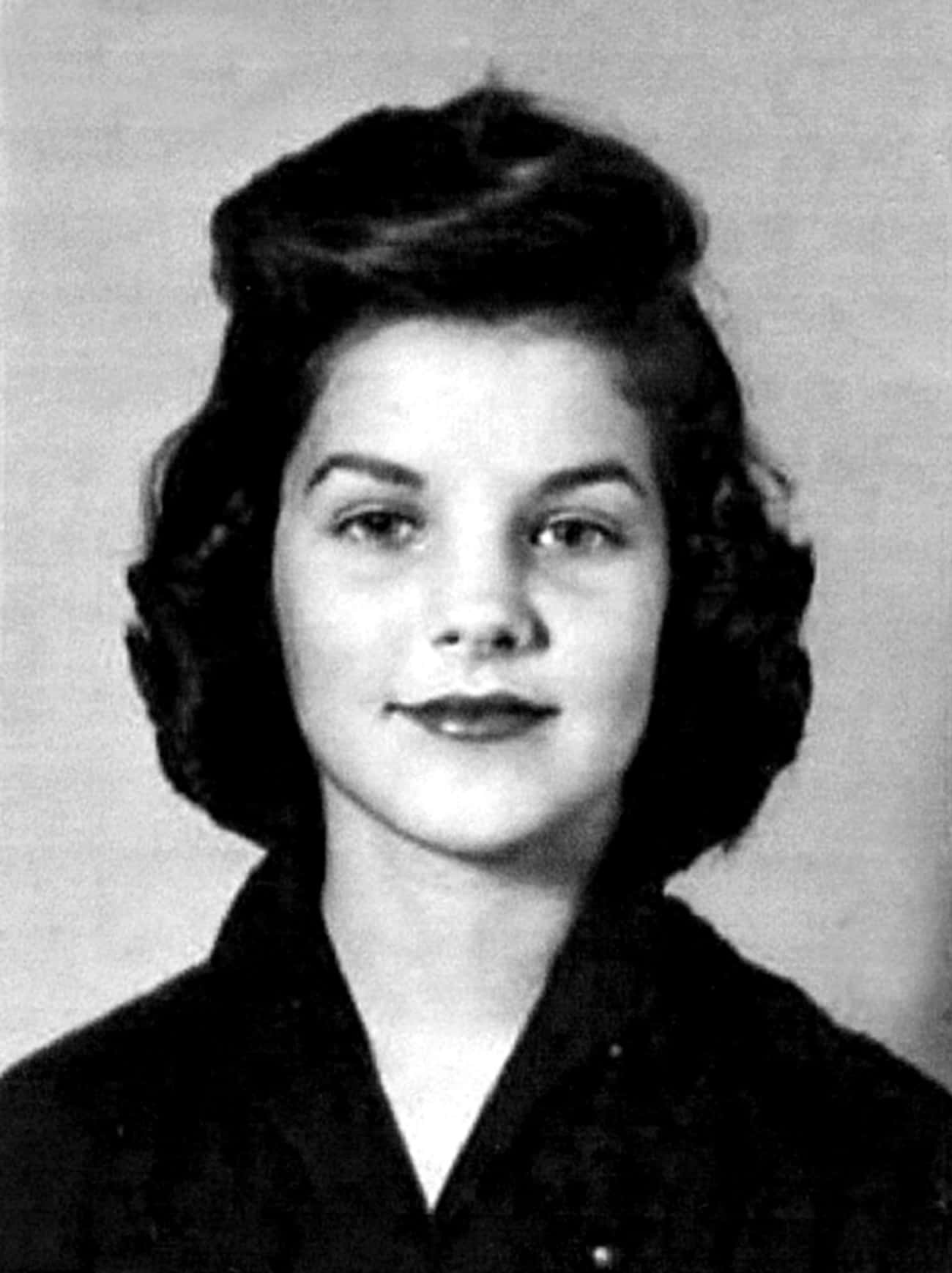 Credit: via Creative Commons
As the daughter of a US Air Force officer, Priscilla was raised around the world in different military bases. Born Priscilla Ann Wagner on May 24 1945, by the 50s her family had settled in Germany, where she would later meet and become infatuated with Elvis Presley, who was 10 years her senior and stationed there for military service.
Priscilla wearing a turtle-neck sweater in the 1960s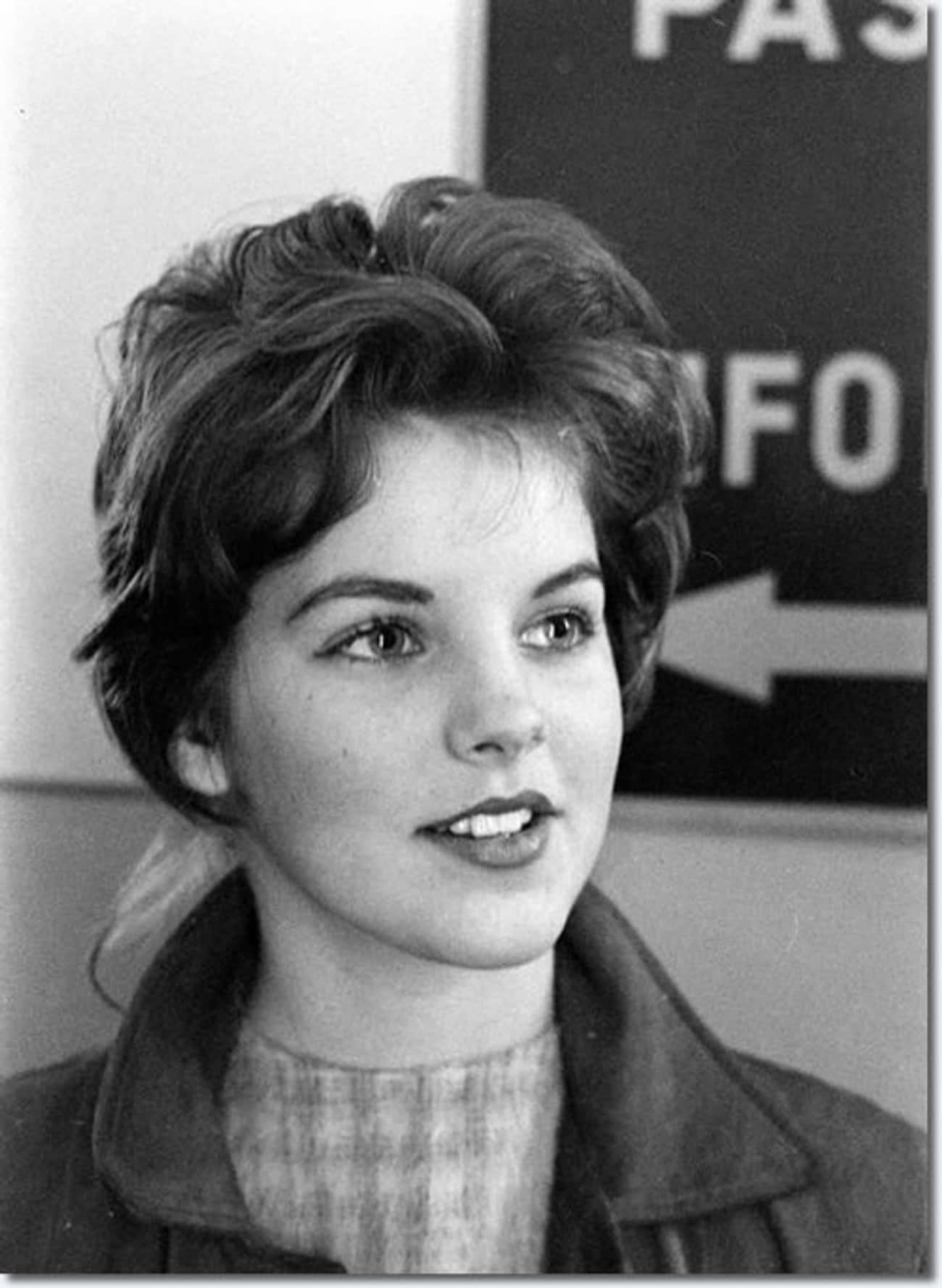 Credit: via Creative Commons
In 1959, Priscilla was invited to a little soirée at Elvis' rented home in Bad Nauheim, where she immediately caught his eye. The two got along well despite her age, and the evening was punctuated by performances to capture her attention. She left not knowing if she would ever see him again.
Priscilla is escorted away after saying goodbye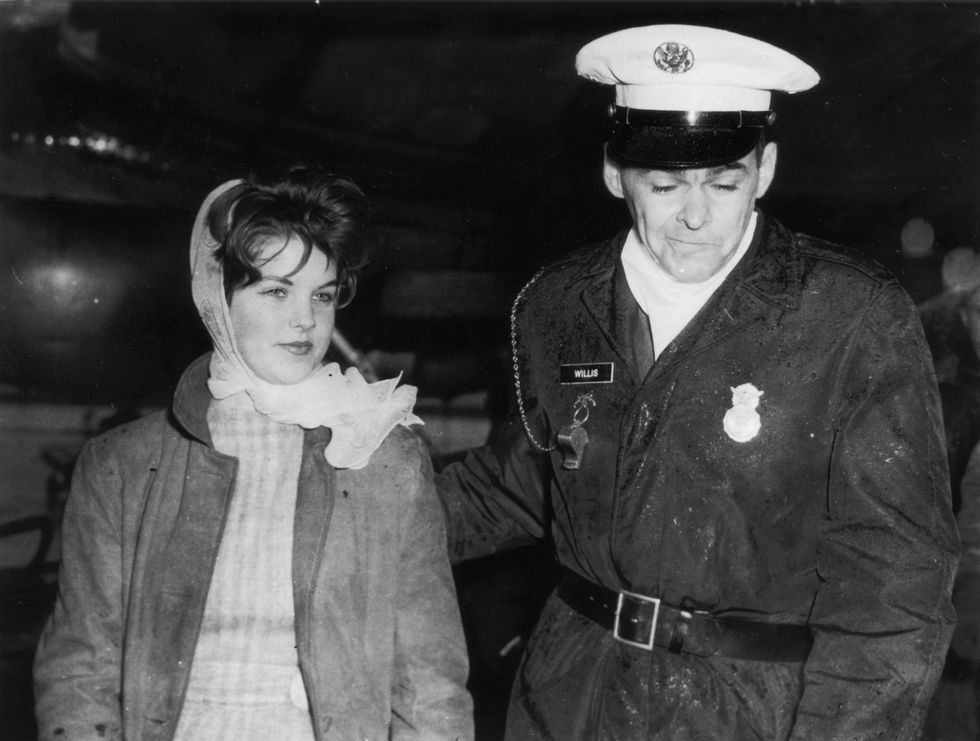 Credit: Keystone via Ghetty Images
By 1960, Elvis' time in Germany had come to an end, and he had spent much of it with Priscilla. Her father was initially concerned by the relationship but, after a long discussion between the pair, he was won over by the rock and roll icon's charisma. He was quoted as saying: "Well, sir, I happen to be very fond of her. She's a lot more mature than her age."
Priscilla writes to Elvis in 1960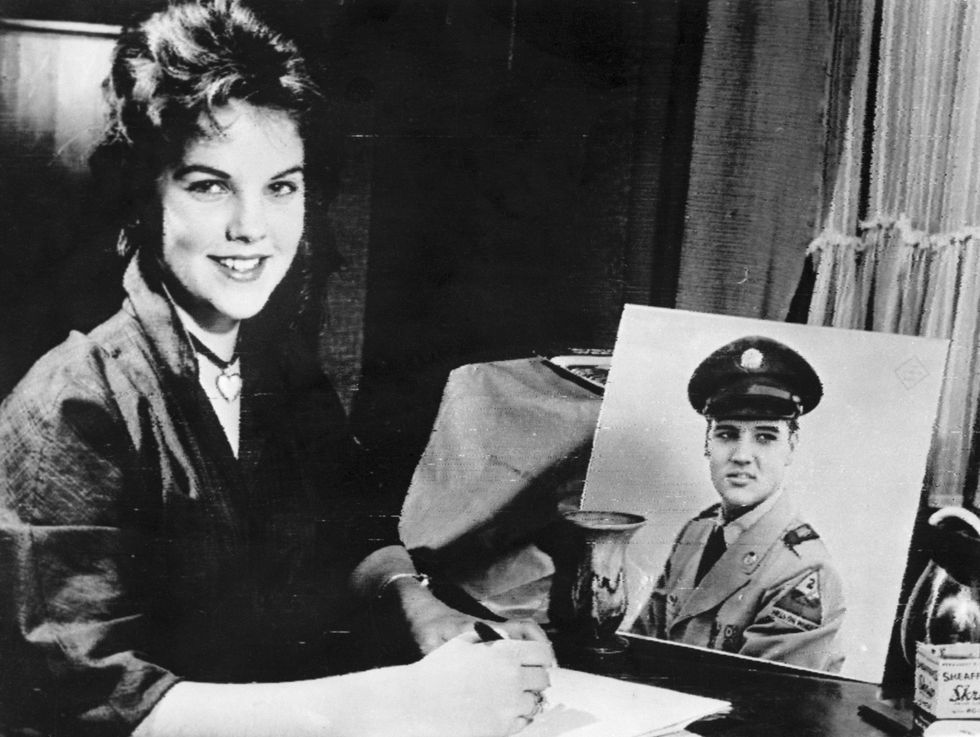 Credit: via Ghetty Images
She was told she had to wait until she finished school at 17 before she could leave for America, so continued writing to Presley in pink envelopes that stood out amongst his mountains of fan mail. They also spoke over the phone while Elvis was at home. By this time, he already owned his Graceland estate in Memphis.
Priscilla listens to Elvis' voice in his absence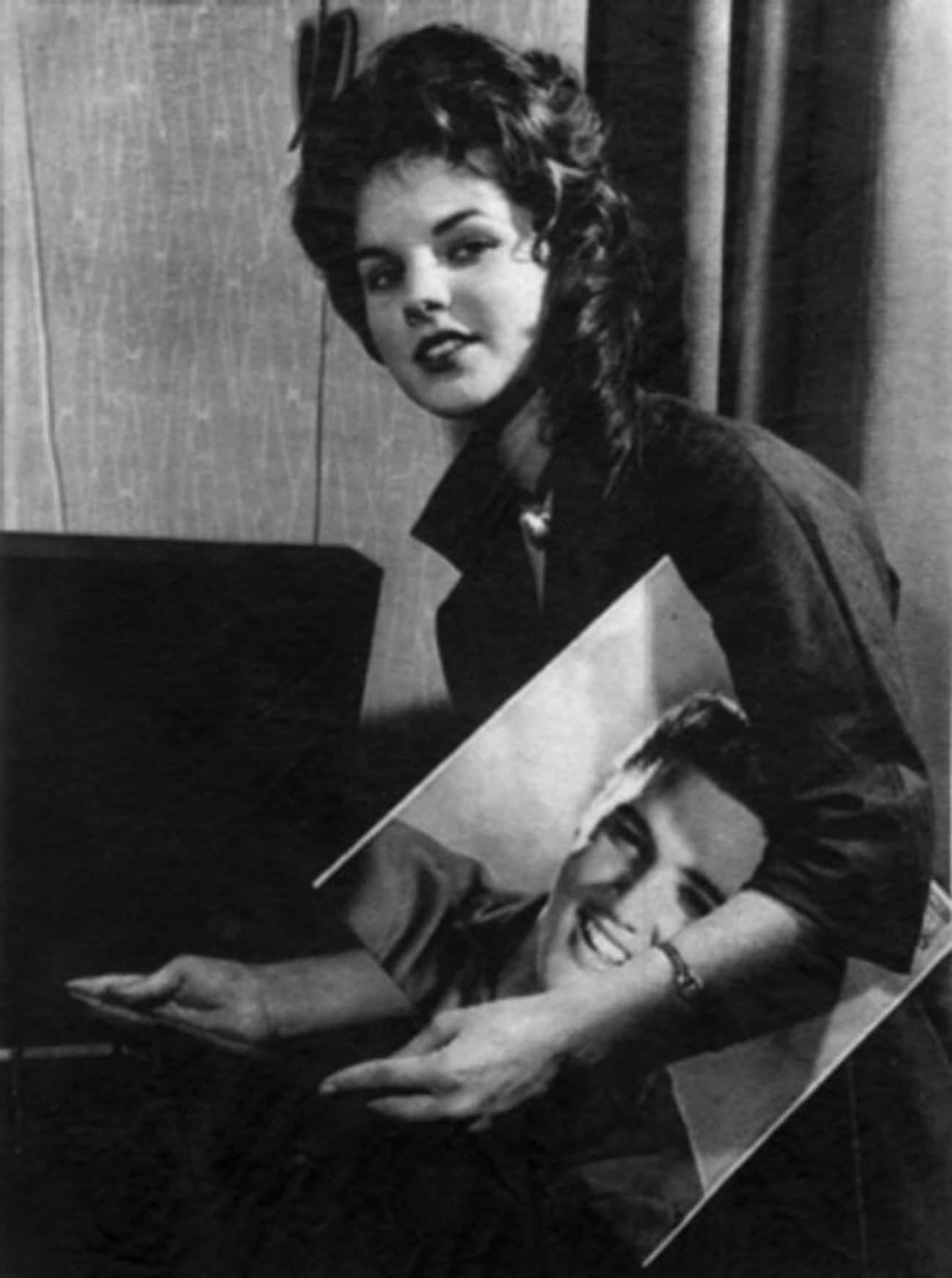 Credit: via Creative Commons
Priscilla made it very clear to her parents that she intended to be with Presley with or without their blessing. She was falling behind in school and spent most of her free time with him, though they couldn't be seen in public together for reasons that were obvious even in 1960s Germany. Presley insisted they remain chaste before marriage, at least.
Priscilla is still in Germany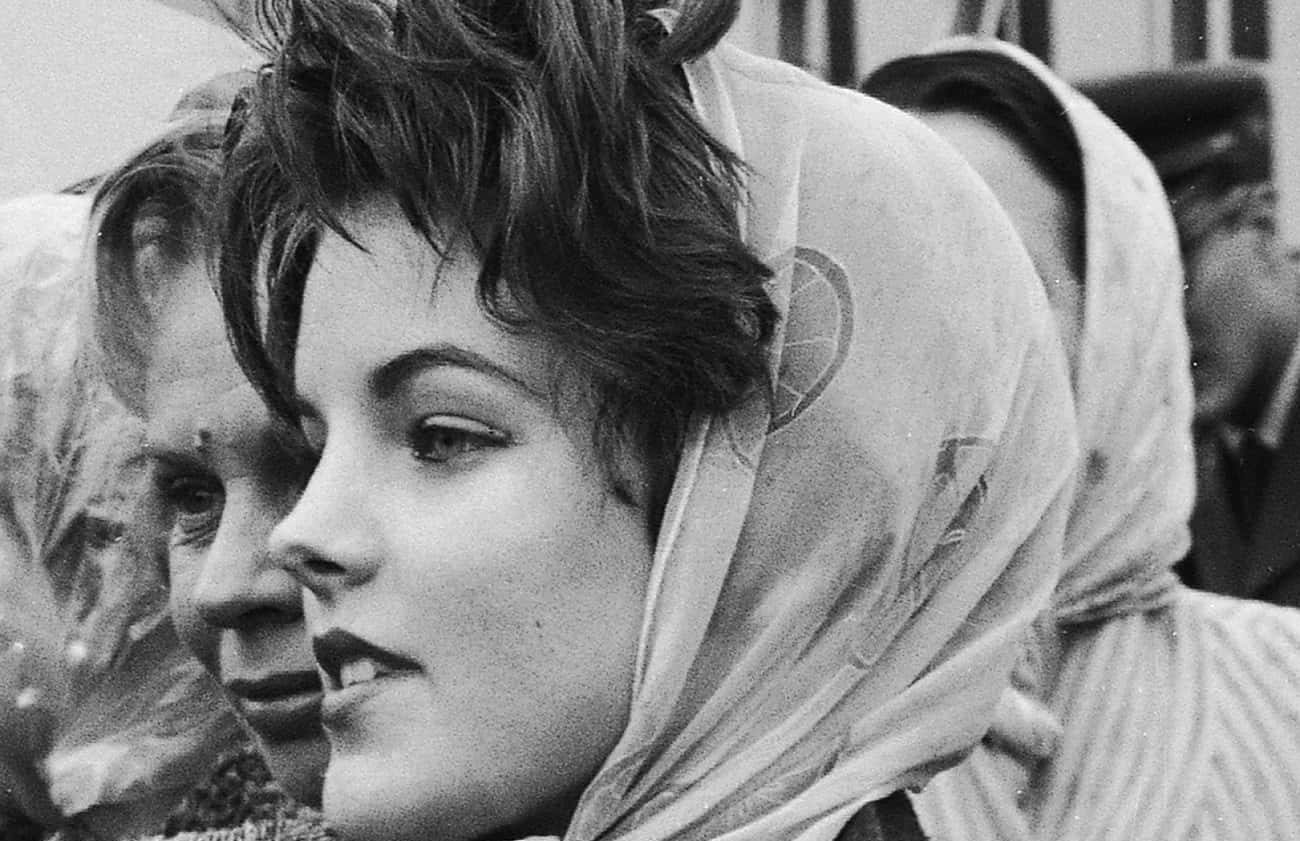 Credit: via Creative Commons
Though her parents were sure Priscilla would be forgotten by the megastar, he called frequently and continued to try and earn their trust. Elvis once told his friend Rex Mansfield that his would be fiancé was "young enough that I can train her any way I want", and this would be the reality Priscilla faced after finally leaving home.
Priscilla struggles with her new life in 1962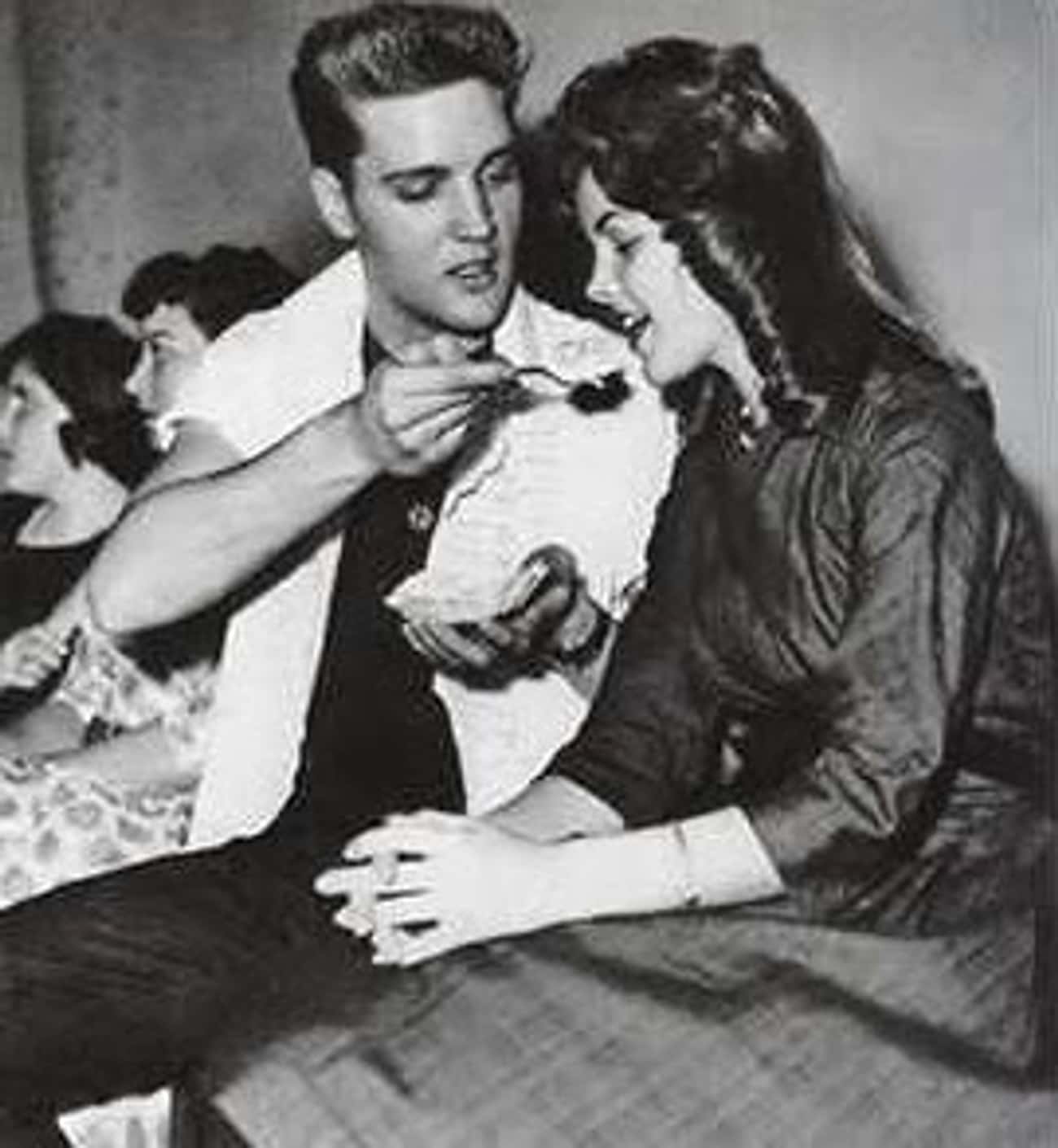 Credit: via Wikimedia Commons
In 1962, Priscilla visited the states on the condition she continue her education, and that Elvis marry her. It wasn't an easy transition for her, as she soon moved away from family and friends into Graceland and an incredibly hectic lifestyle. She struggled with insecurity, seeing the sheer volume of women who were enraptured by the most famous man on the planet.
Elvis molds Priscilla into his ideal women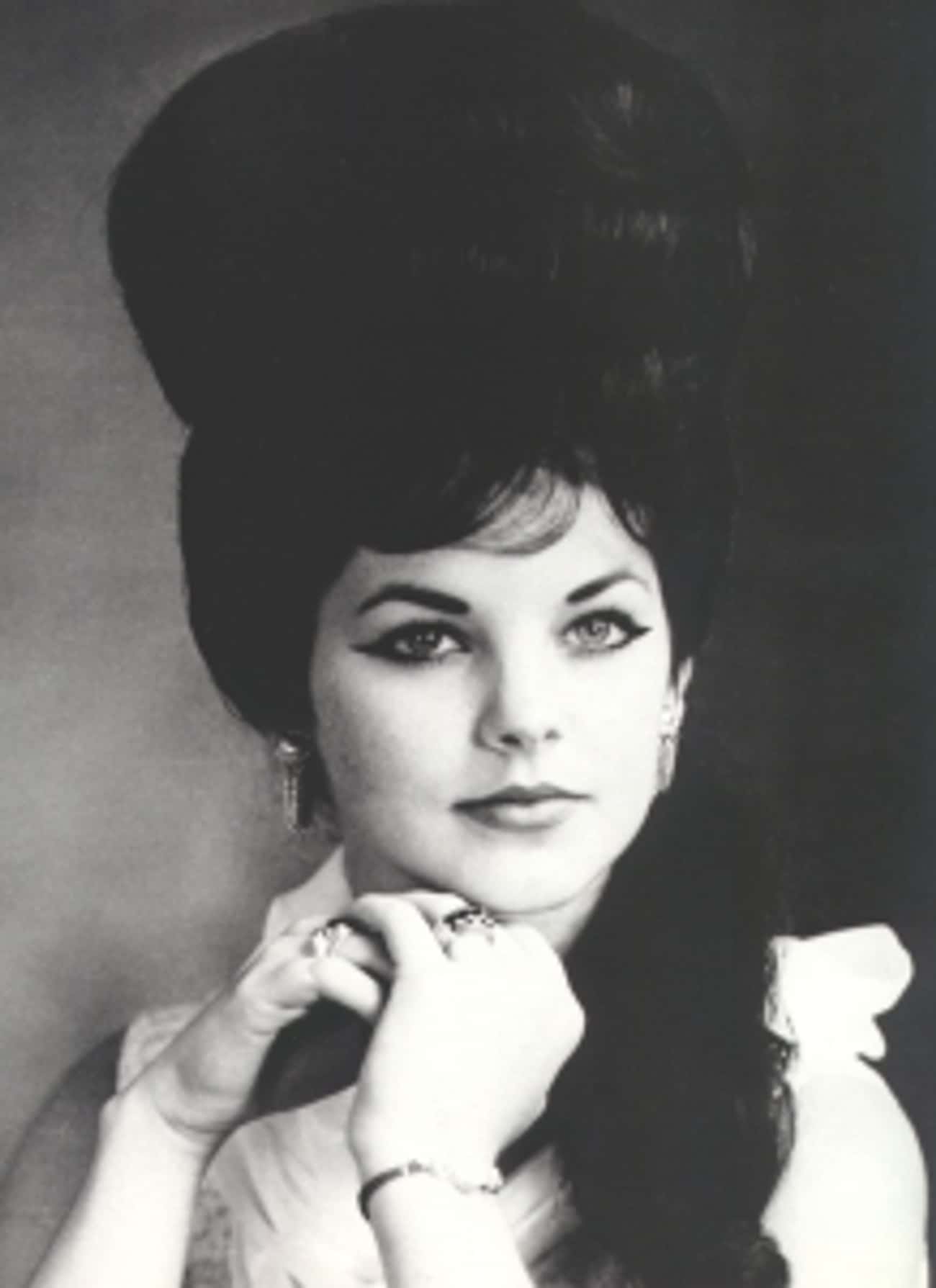 Credit: via Wikimedia Commons
Elvis reportedly cherished the young woman's purity and, while he insisted they never have sex, he did have a hand in all other aspects of her life. He asked that she wear more make-up, berated her to fix her posture, and sport hair and clothes similar to his. Her iconic beehive was chosen to match his pompadour.
Her "Living Doll" era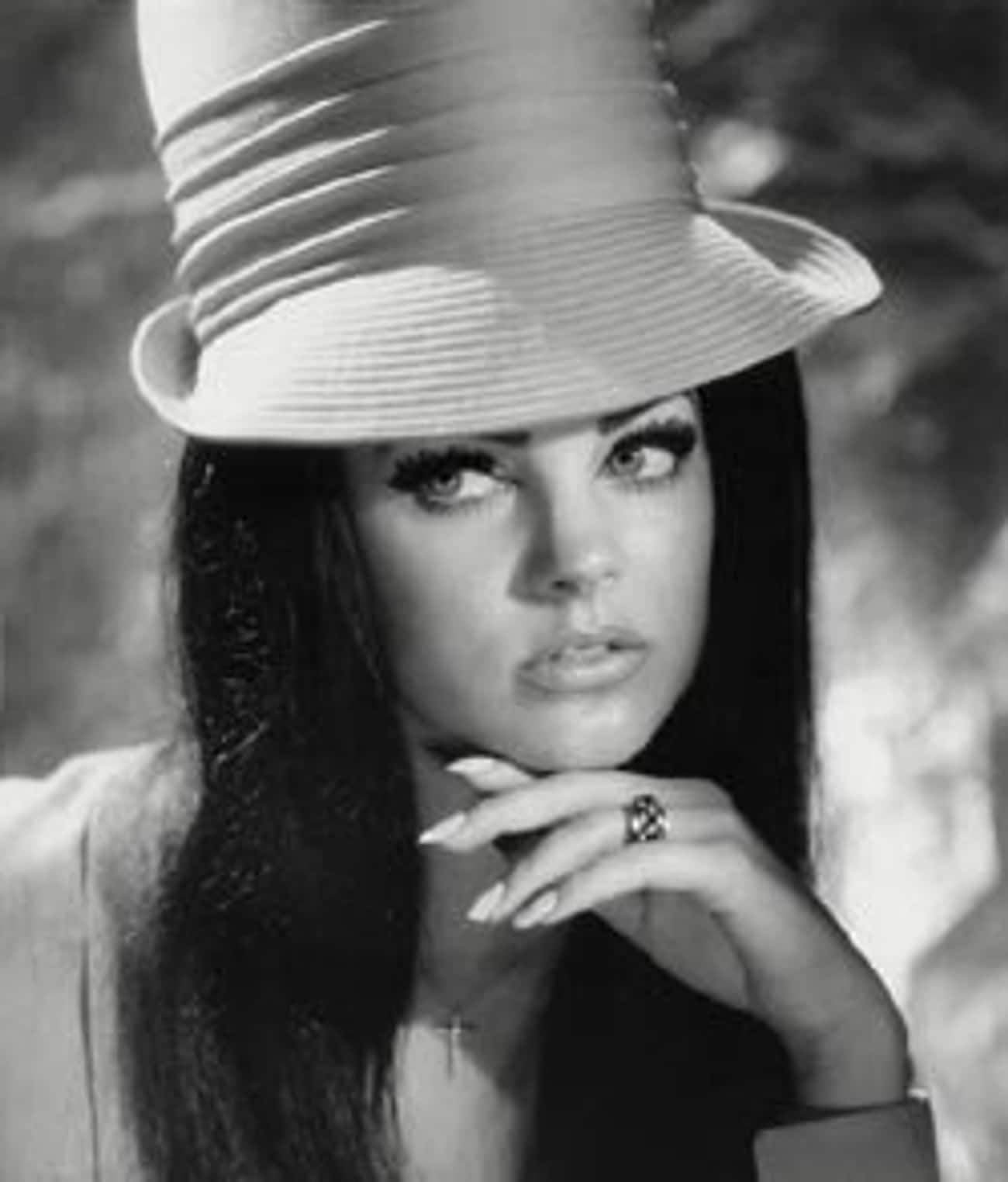 Credit: via Wikimedia Commons
Priscilla struggled with school while her nights were occupied with being, as she described: "Elvis' living doll, to fashion as he pleased." He gave her stimulants so she could stay awake during classes and still accompany him for his busy nightlife, surrounded by the richest and most famous of the rich and famous.
Priscilla 2.0 in 1963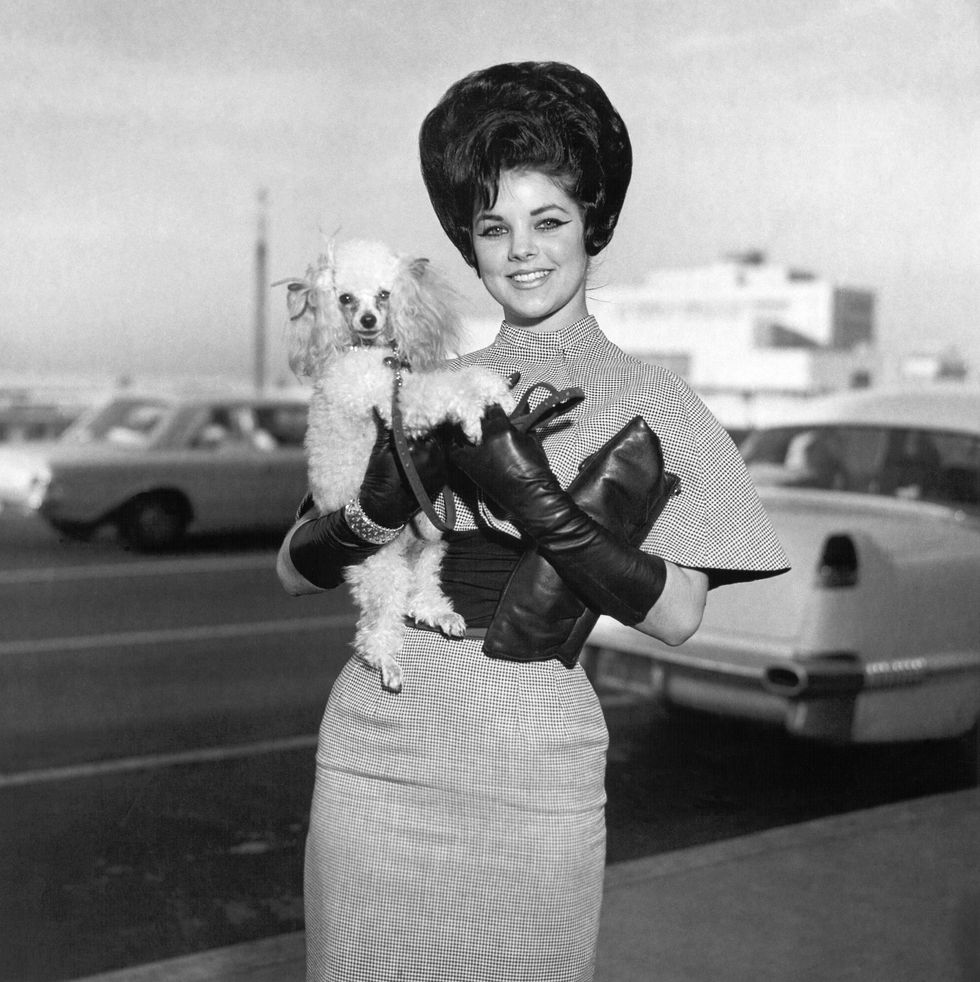 Credit: via Getty Images
It's believed that by now, she had moved into Graceland in secret despite her parent's wishes. Elvis' attentions had turned to acting, which kept him busy and away from home for months at a time, so Priscilla was left home with his live-in groundskeepers. She was referred to during this period as his "Live-in lolita."
Elvis keeps Priscilla at arm's length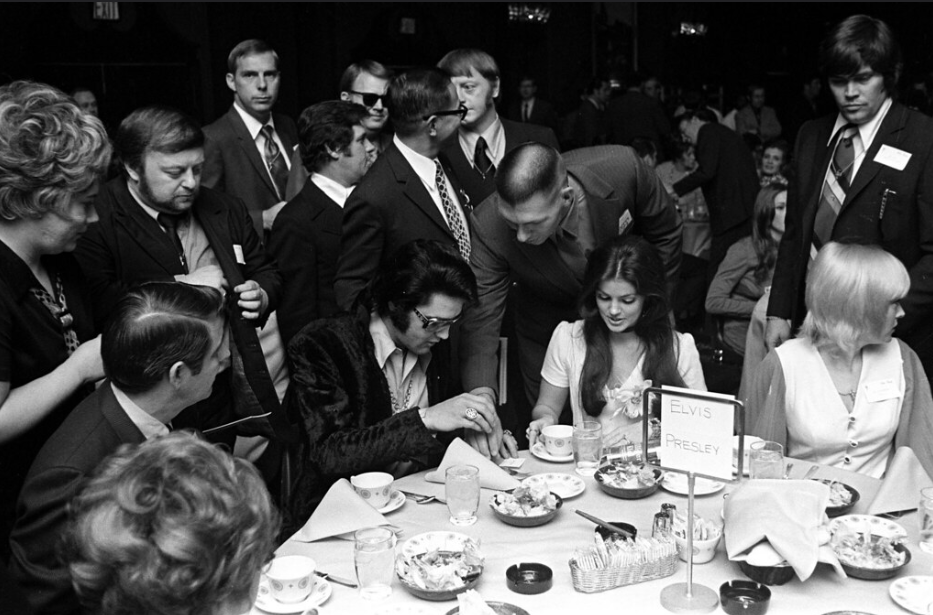 Credit: Dora Britt via Flickr
Priscilla wanted to join her partner in Vegas where most of his work took place, but was told he was too busy and she should remain in Memphis. To make things worse, the press reported that Elvis was sleeping with his Viva Las Vegas co-star Ann Margret. This would be the first of many instances of alleged infidelity.
Trouble in Graceland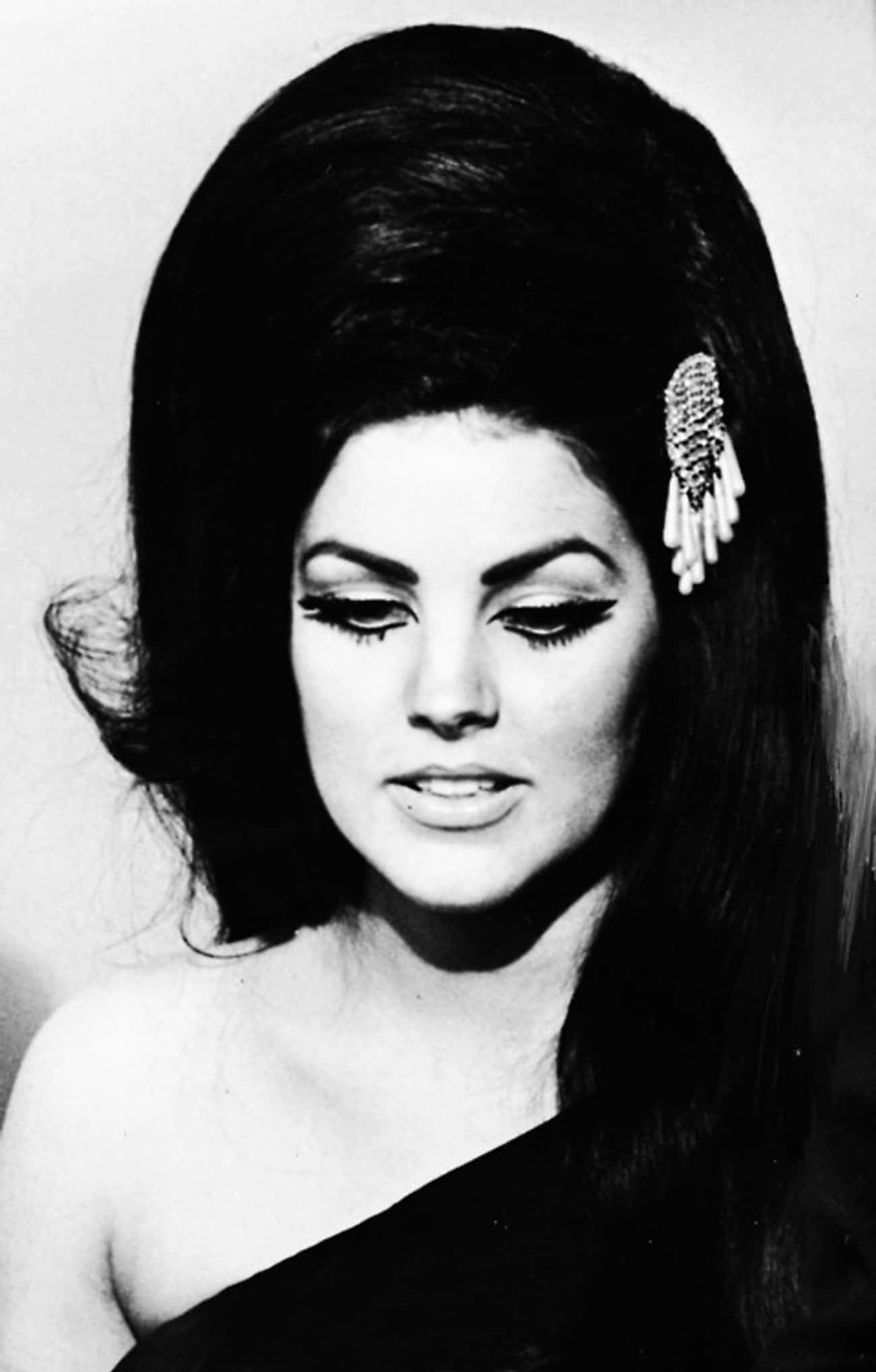 Credit: GNU via Metaweb
While things were undoubtedly intense, Priscilla has made it clear that in retrospect she and Elvis were quite happy living with each other. Presley's manager, Tom Parker, commonly interfered with the two and tried to pressure them into marriage early. Like many old white men of the time, he was, somehow, fine with the underage part but not the unmarried part.
Elvis proposes to Priscilla and they wed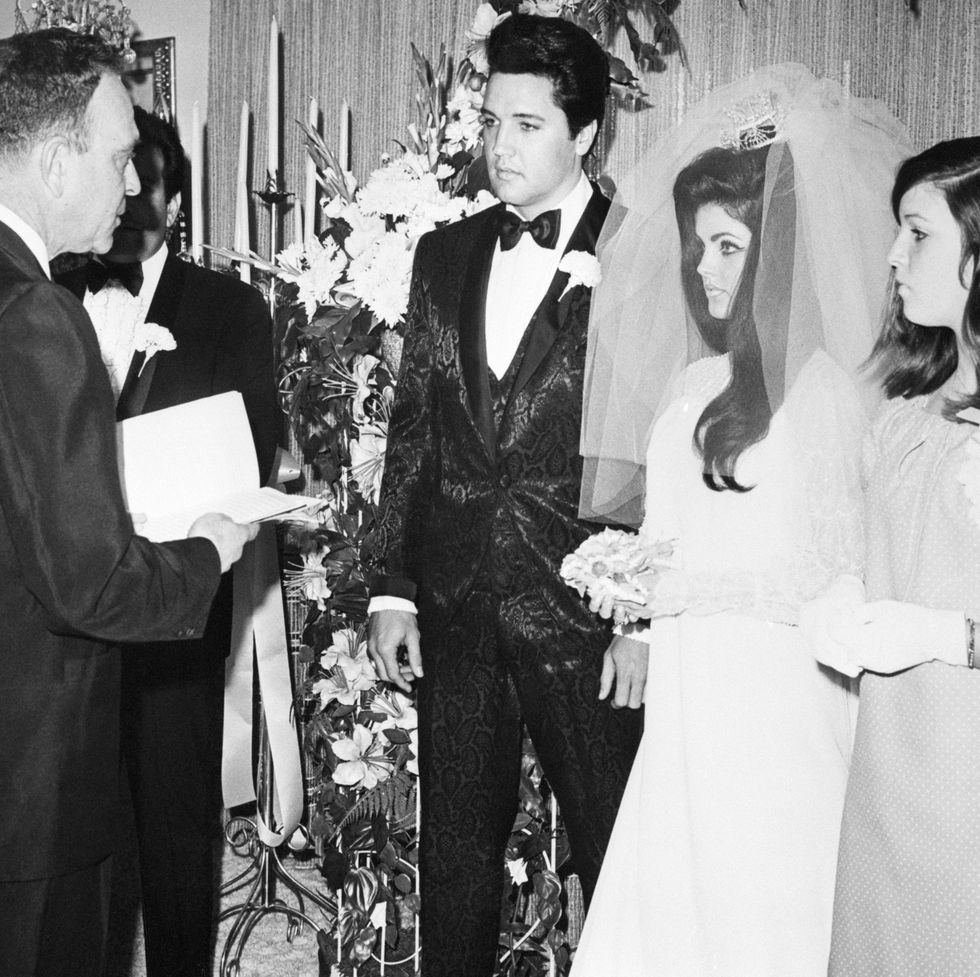 Credit: via Getty Images
Though he was apparently reluctant to marry and frustrated at being forced to, Presley popped the question just before Christmas 1966, and the couple married on May 1st, 1967. The small Vegas ceremony famously featured a banquet buffet, featuring roast suckling pig, oysters Rockefeller, fried chicken, and champagne.
Priscilla changes the wedding industry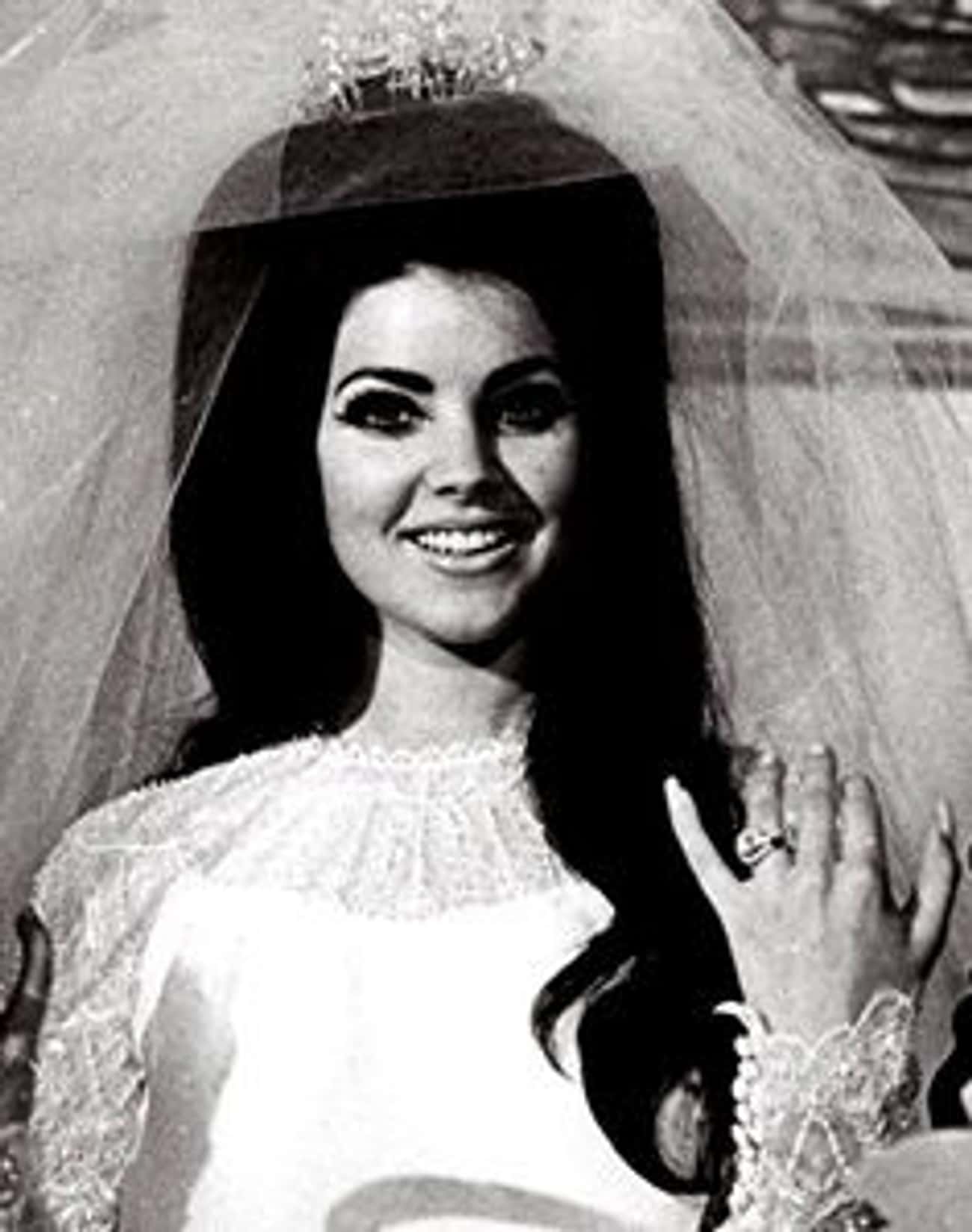 Credit: via Creative Commons
As one of the first big profile marriages in the era of the mega-celebrity, the now 21-year-old would serve as marriage inspiration for decades to come. The dress, hair, make-up, and veil were all emblematic of the era. The dress was purchased off-rack by Priscilla herself from a Westwood department store. She wore a wig for anonymity and only had a single fitting.
The happy couple cut the cake in 1967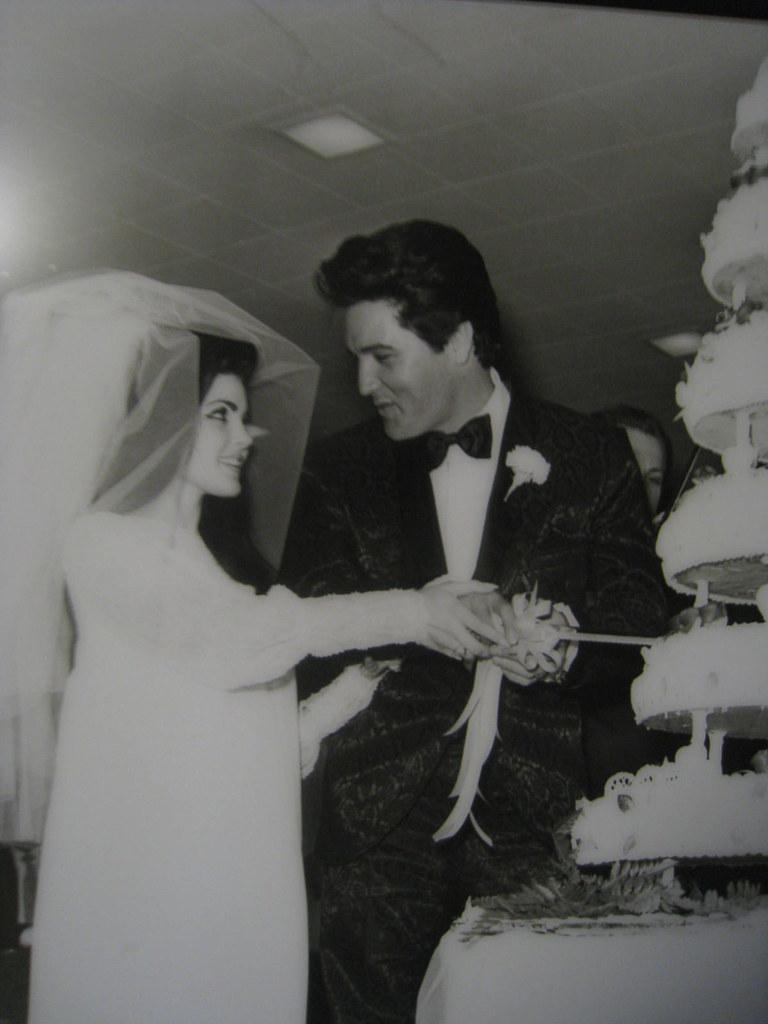 Credit: Dan Perry via Flickr
Colonel Parker held a press conference between the ceremony and the reception, which probably wasn't on the approved register of gifts. Regardless, the weight of the morality clause in Elvis' contract was lifted and the two boarded a private jet for an exotic honeymoon location in Palm Springs, California.
Priscilla is finally allowed alone with Elvis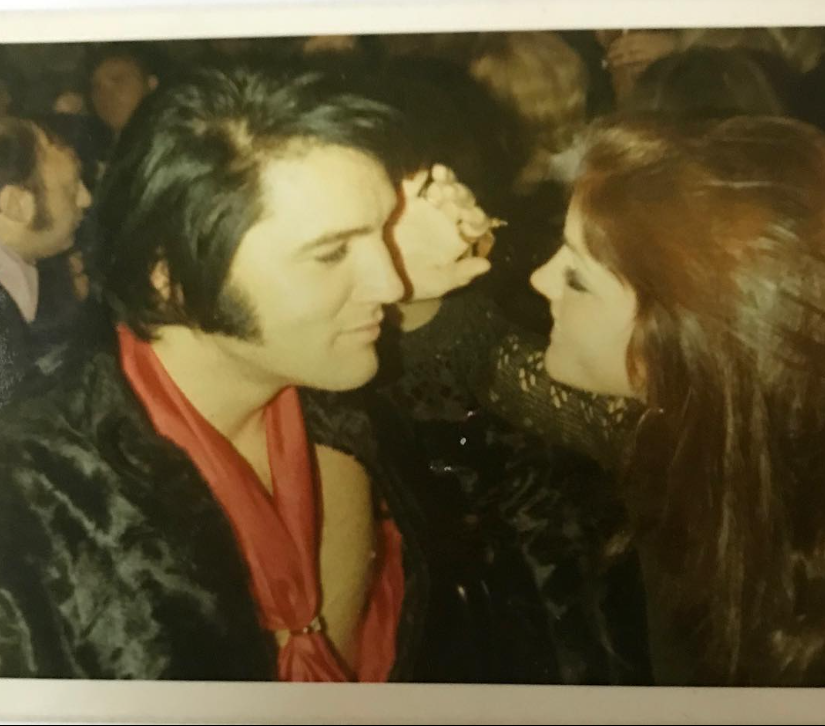 Credit: priscillaelvis via Flickr
The couple returned from their honeymoon to Memphis for a three-week break from the public eye. Priscilla recalled how she finally felt able to "play house" and take care of her now husband without any house staff or assistance. There were a few small gatherings, mostly for Elvis to build bridges with friends who were upset they didn't get to attend the wedding.
Priscilla gets some big news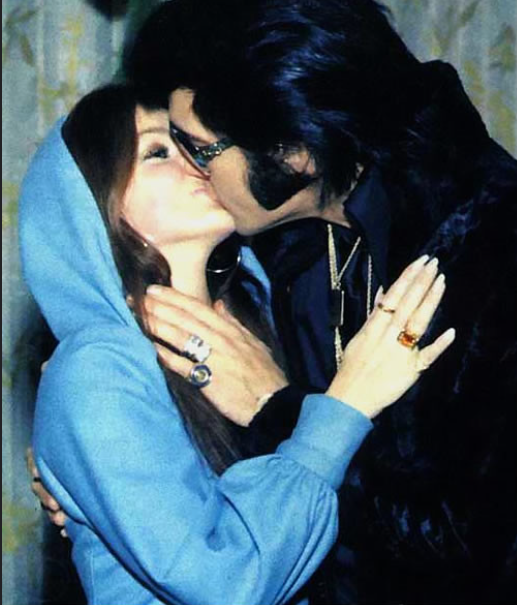 Credit: priscillapresley via Intstagram
Shortly after their wedding, Priscilla learned she was pregnant. Elvis was unsure of the efficacy of all this fancy new 'birth control' medicine, and the two felt uneasy at the idea of terminating the pregnancy. Exactly nine months after the wedding on February 1st, Lisa Marie Presley was born.
Her life as a housewife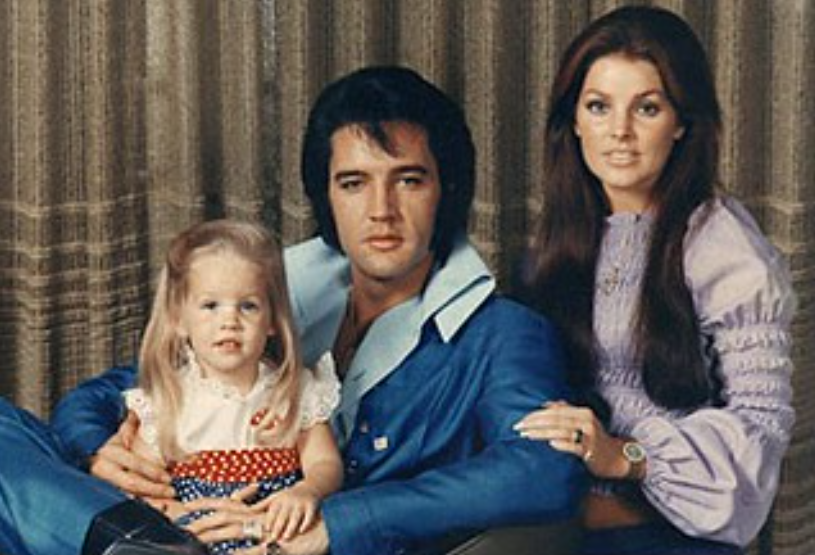 Credit: pricsillapresley via Instagram
Having already been reluctant to get married, Elvis was apprehensive about fatherhood. He was still kept out of the house for long periods by his career, and the media reports of his exploits with co-stars and celebrities became a constant source of stress to Priscilla, who felt they were growing apart.
Trouble in paradise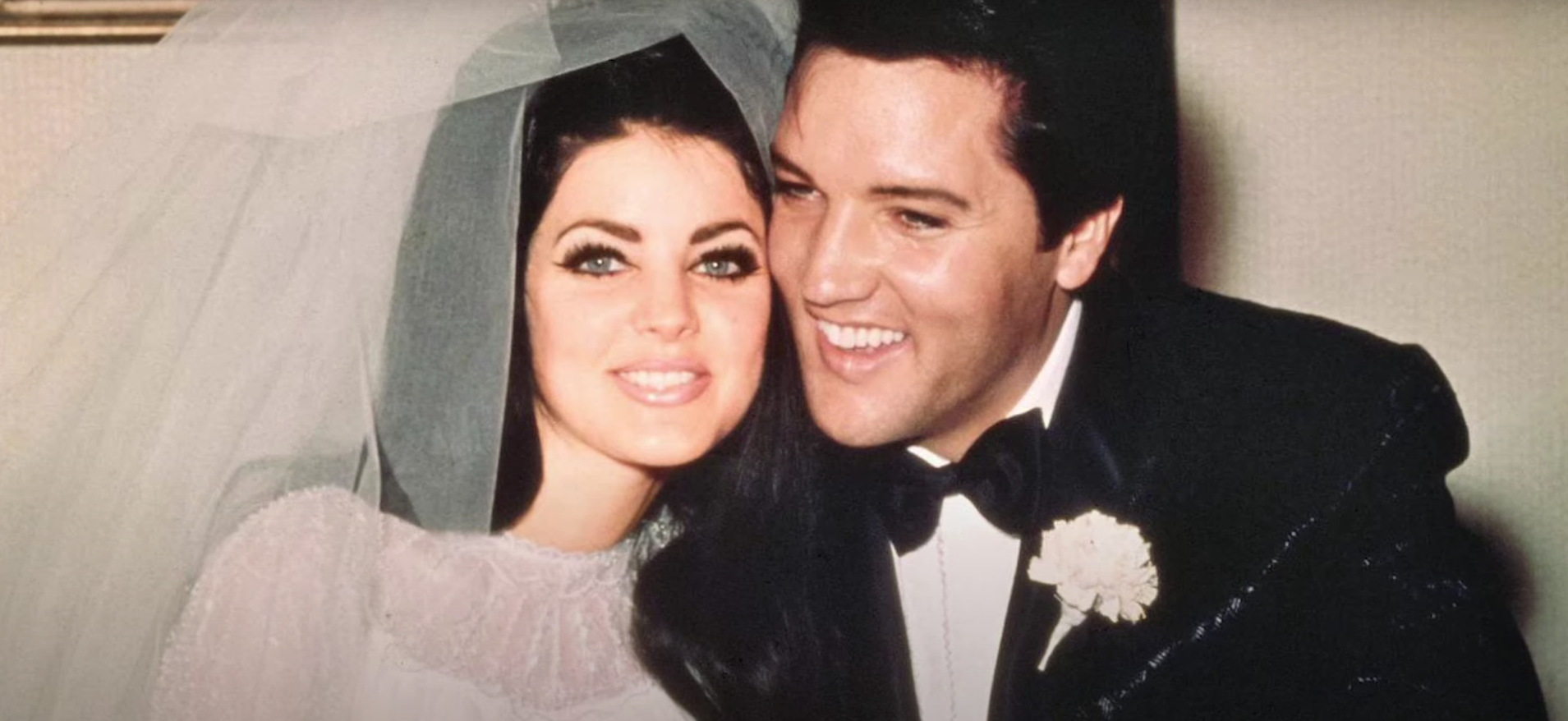 Credit: royalflix via YouTube
Priscilla recalled that her husband once told her he had "never been able to make love to a woman who'd had a child", and found he was growing disinterested. She grew increasingly insecure about their relationship, saying "I was begging to doubt my sexuality as a woman. "My physical and emotional needs were unfulfilled".
Elvis's controlling behavior becomes too much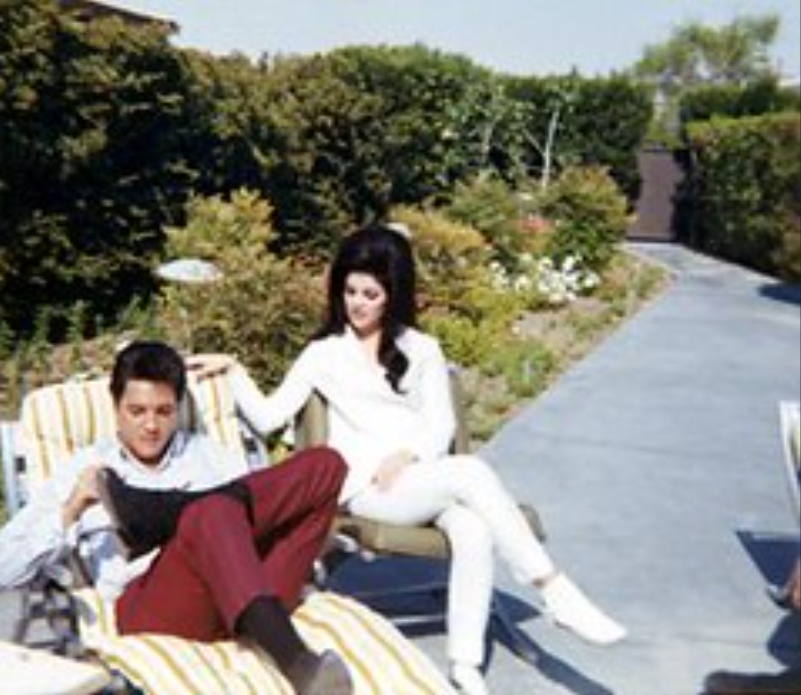 Credit: priscillaelvis via Flickr
"My life was his life. My problems were secondary" Priscilla told Rolling Stone magazine shortly after Elvis died in 1977. She had been neglected physically and felt herself detaching, so in 1968 during the filming of Live a Little, Love a Little, she took up some private dance lessons.
Rumors circulated between 1965-1970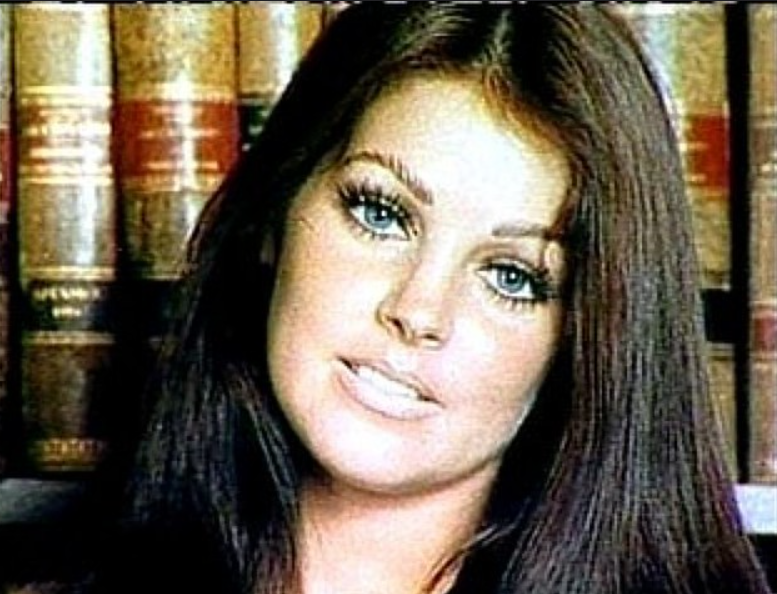 Credit: priscillaelvis via Flickr
Their wedding did not quell the drama, and the birth of their child had driven a wedge between them. Naturally, the press spent much of this time fanning the flames. Though Elvis had always told her to ignore the press, likely because they kept telling on him and his alleged affairs, they still took a toll on Priscilla's mental health.
Priscilla and her child during the late '60s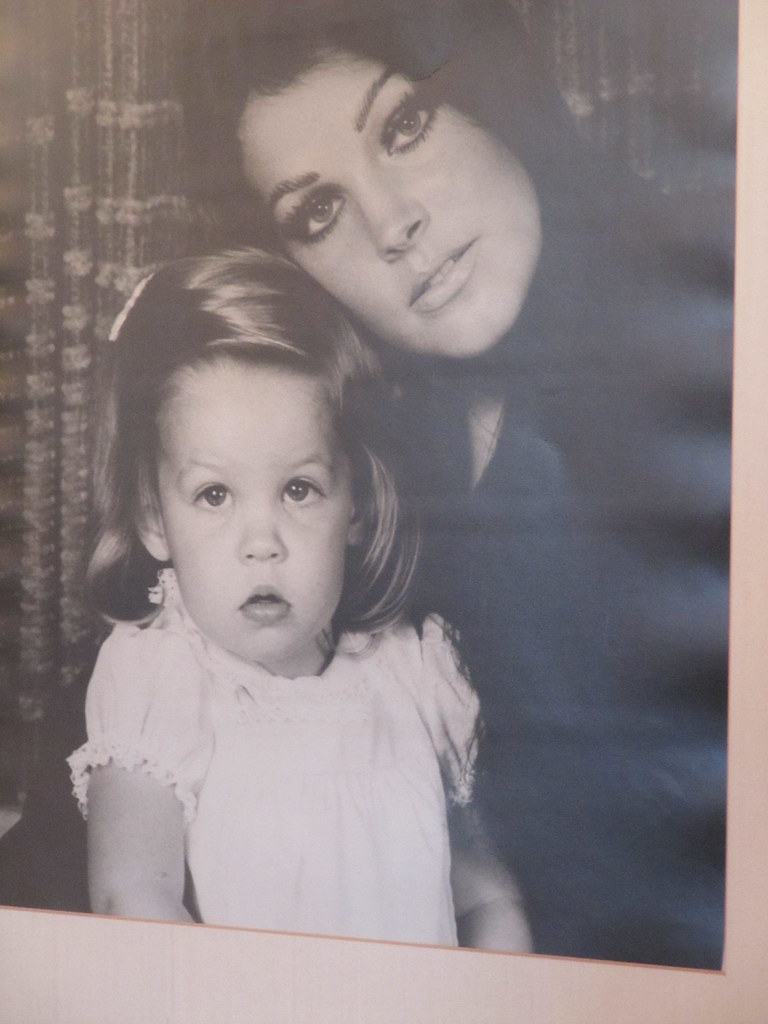 Credit: priscillaelvis via Flickr
Priscilla has documented the numerous, absolutely insane ways she tried to keep Elvis happy. She applied her fake lashes to go into labor, wore porcelain dentures, and wore huge wire-supported hair like her husband. While her look was toned down after childbirth, she was and still is seen as an icon in the world of fashion and make-up.
Priscilla's first affair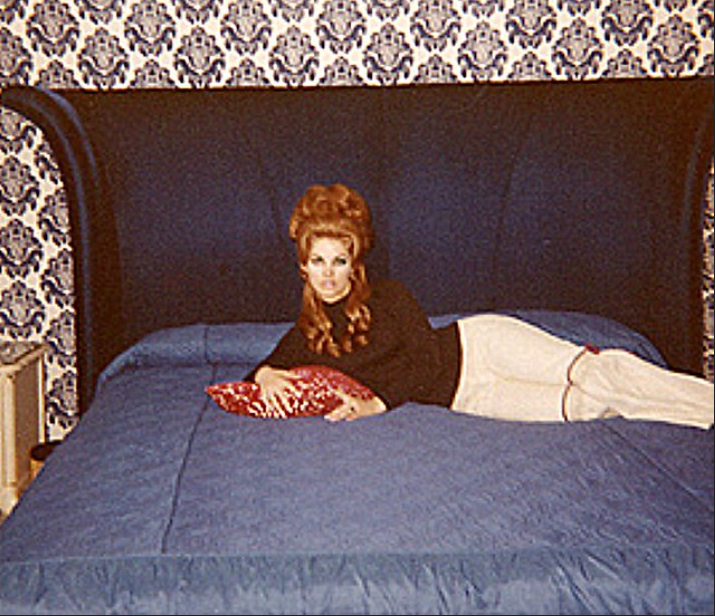 Credit: priscillaevlis via Flickr
Priscilla would take up several hobbies to occupy the huge amounts of time spent alone on the Memphis estate. She quickly became attached to her dance instructor and the two struck up a secret affair. Little is known about who the instructor was, and Priscilla realized how unhappy she had become.
Elvis returned to the building in 1968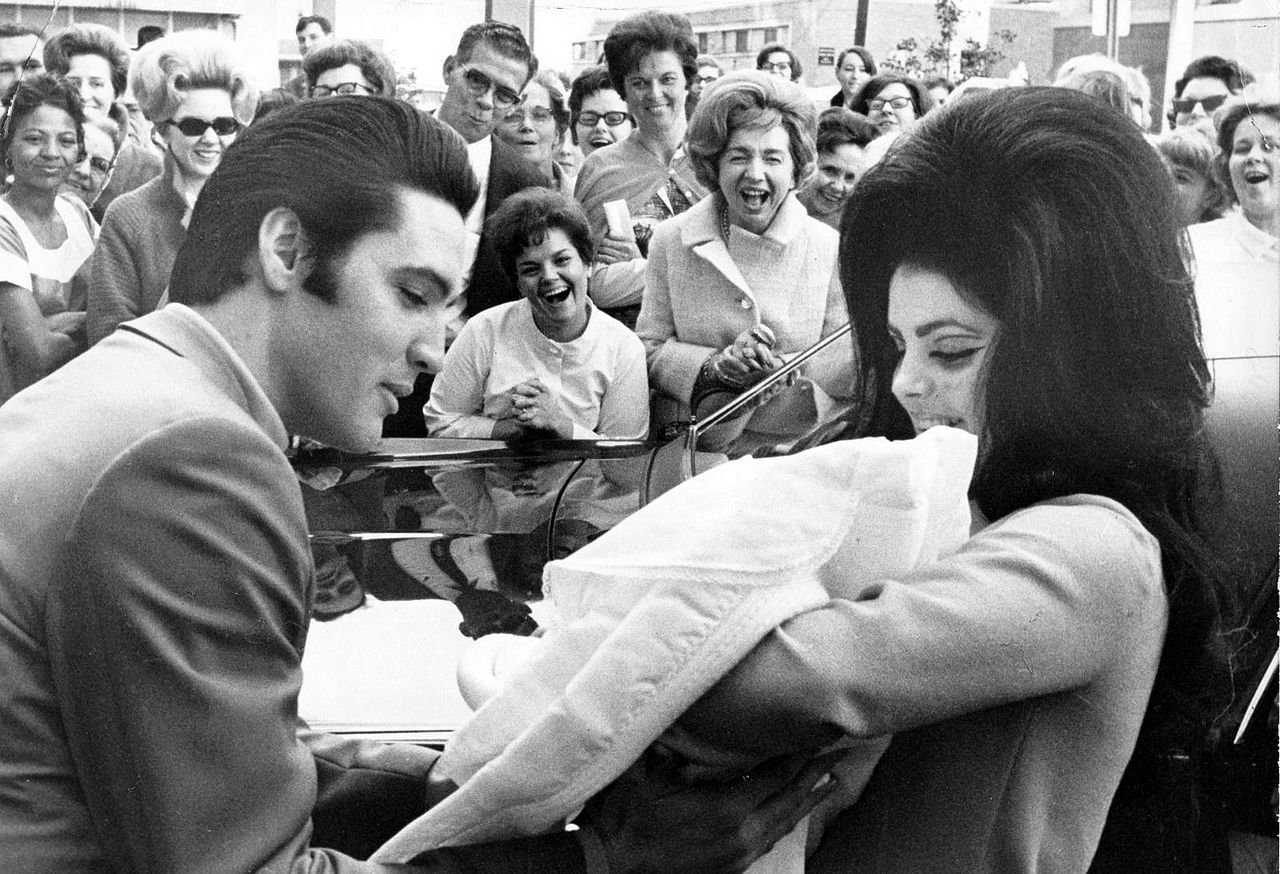 Credit: via Wikimedia Commons
Despite the pair's infidelity, Elvis' work weaned towards the end of the 60s, and the two, again, lived quite happily with each other. In 1968, Elvis' first TV special aired, and he was once again whisked away to Vegas for more work and womanizing. Priscilla was left alone to care for their child and needed to occupy her time once more.
A Presley family photo in 1970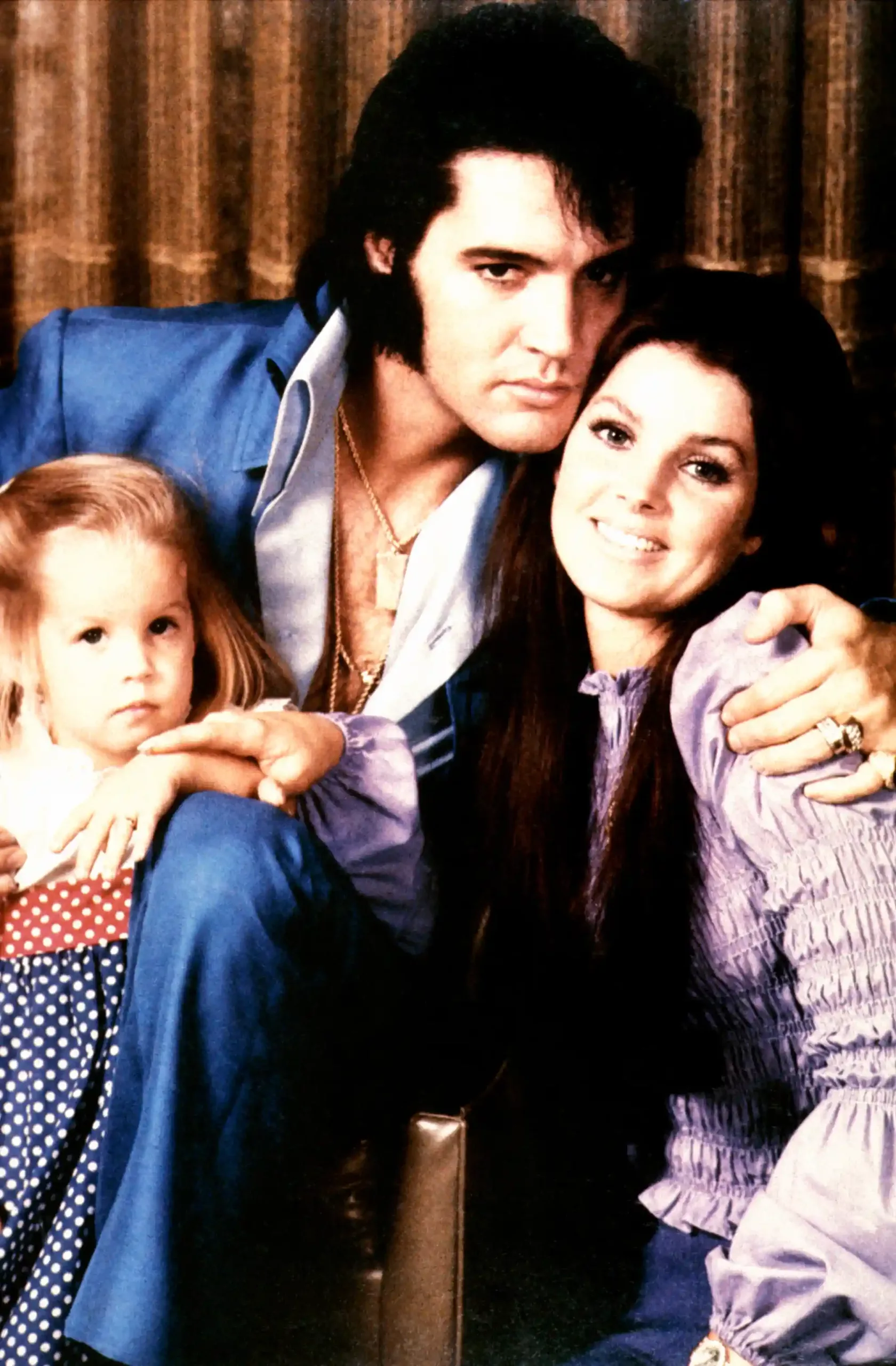 Credit: via GAB archive
This picture illustrates a moment of happiness of the kind Priscilla describes when looking back on her life. When Elvis was home with her and Lisa, not distracted by the cameras and spotlights, life felt somewhat normal for her. Though she does still don the spider leg eyelashes.
Priscilla meets Mike Stone in 1972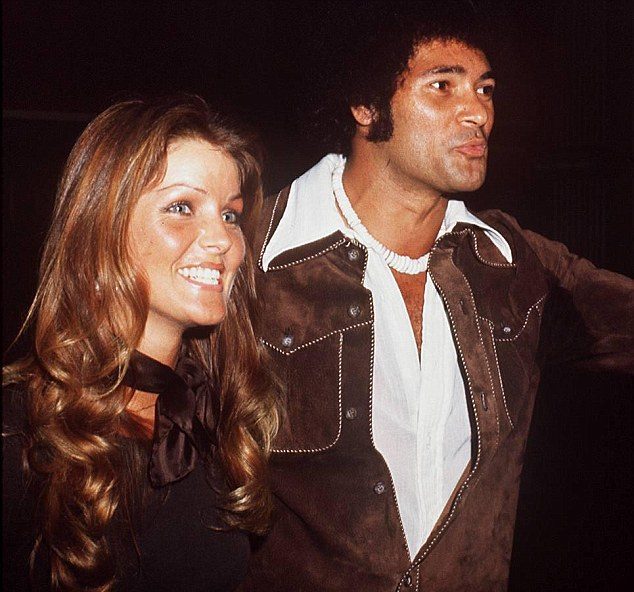 Credit: via Creative Commons
Mike Stone was a martial artist stunt choreographer who had grown familiar with Elvis over his years in Hollywood. Priscilla was encouraged by her husband, a karate student himself, to take up the sport and soon began an affair with Stone. This time, however, it was much more intimate, and Priscilla began to question herself.
Elvis and Pricilla towards the end of their relationship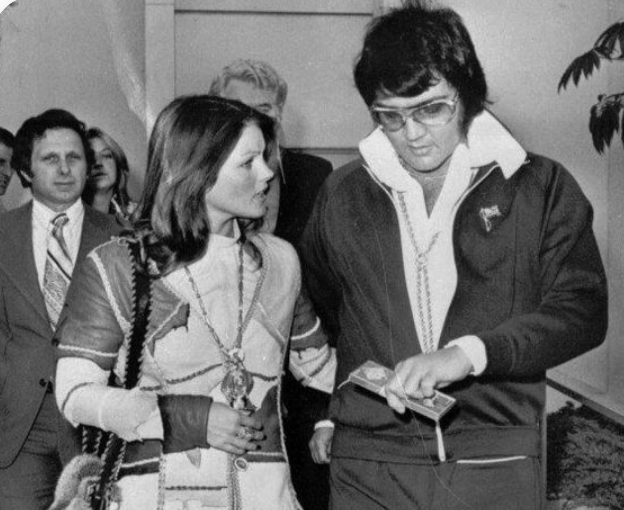 Credit: The Huffington Post via Pinterest
One of the last attempts at reconciliation happened months after Priscilla's affair with Stone. Elvis called her to his hotel suite and forcefully had sex with her in a show of machismo. She doesn't consider what happened an 'assault', saying: "What really hurt was that he was not sensitive to me as a woman and his attempt at reconciliation had come too late."
The couple divorced in 1973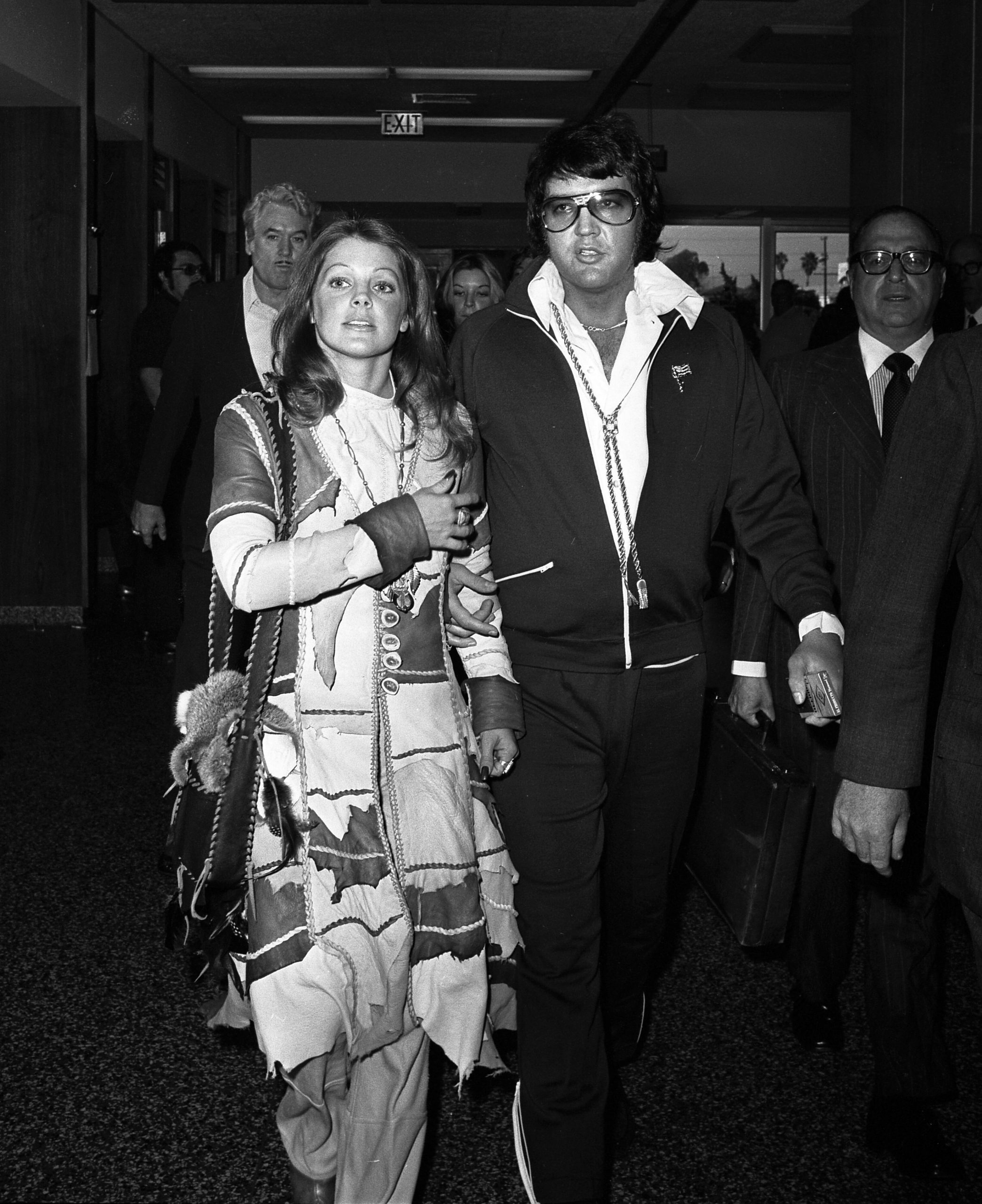 Credit: George R Fry via Wikimedia Commons
To save Priscilla and his daughter from having to publicly list their residence, Elvis filed for divorce himself on his 38th birthday. Priscilla initially asked for quite a modest figure in child support and settlement, but the price grew throughout the legal negotiation to over $700,000, 5% of his publishing rights, and half of their house in Beverly Hills.
Priscilla moves in with Mike Stone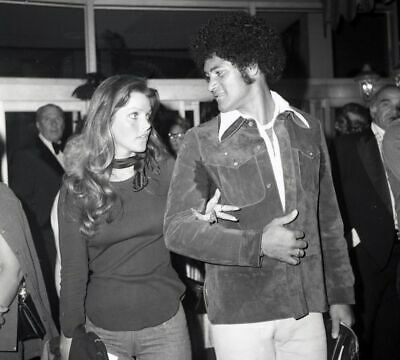 Credit: Naomi Figg via Pinterest
The two remained close and held hands after their separation leaving the courthouse. Elvis grew angry and jealous in the coming months and, for the second time in his life, talked about hiring a contract killer, only this time for Mike. He was put on sedatives by his physician and then denied his bodyguard's offers. Those are some diehard bodyguards.
Priscilla and her daughter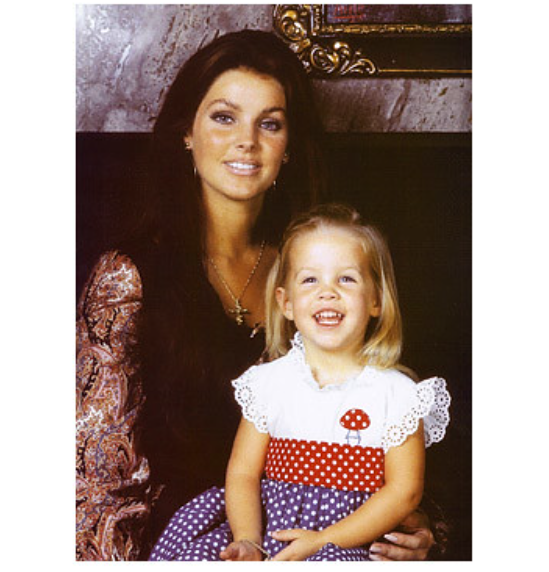 Credit: priscillaelvis via Flickr
Despite the hefty settlement, the former Mrs. Presley would keep very busy during the next few decades. She would continue acting and modelling but with much more creative freedom, she would launch a fashion brand and continue raising her daughter. Lisa's life was tragically cut short in 2023 and was every bit as eventful as her mom's.
Priscilla strikes out on her own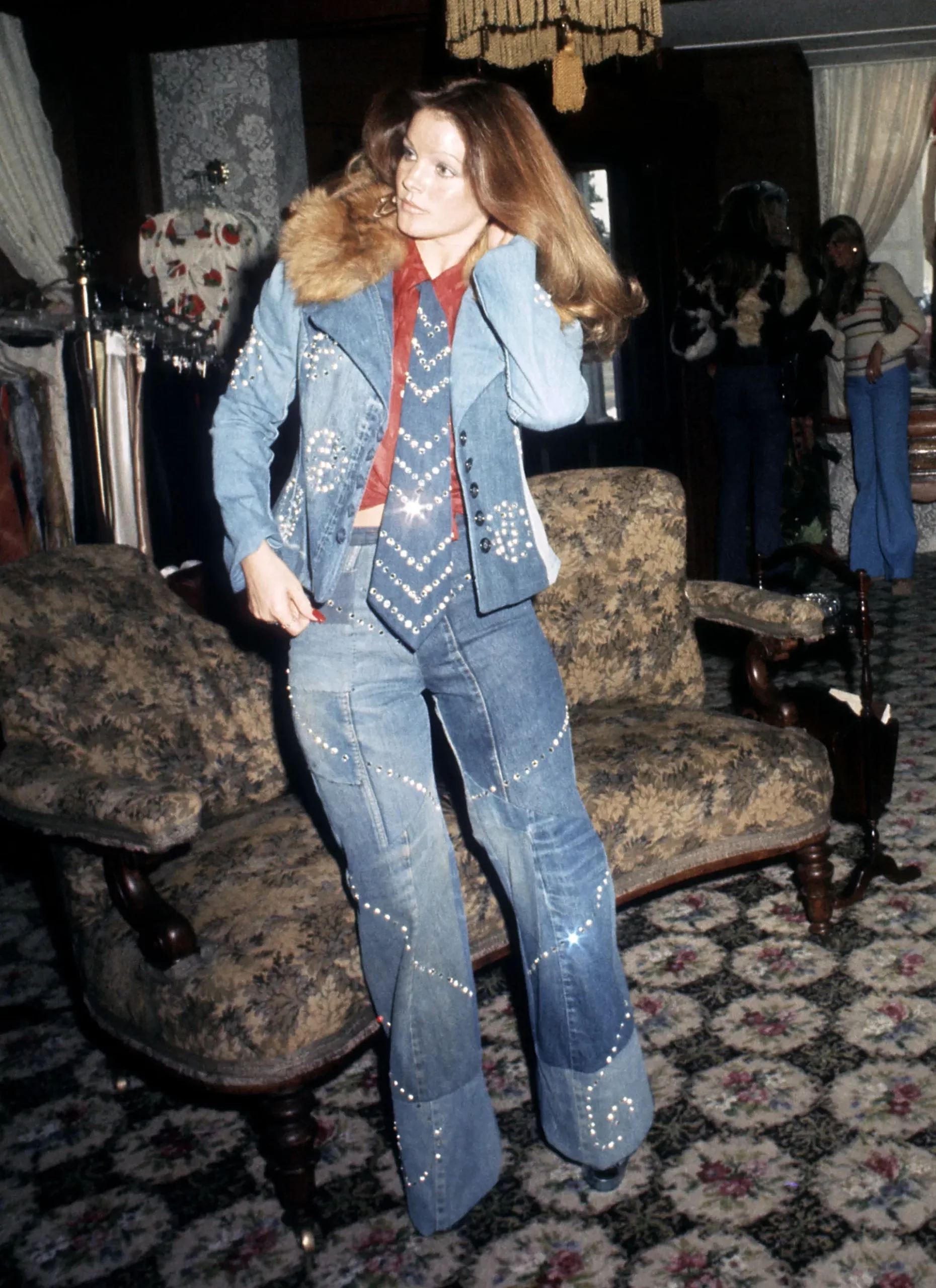 Credit: via Getty Images
Not content with living in her ex-husband's shadow, Priscilla put everything she had learned from a life surrounded by industry giants to the test. In 1973, she and her close friend and stylist Olivia Bis opened a clothing store in Beverly Hills. Bis & Beau Boutique had a hugely successful launch, with A-listers like Diana Ross making an appearance.
Priscilla's modelling work in the 70s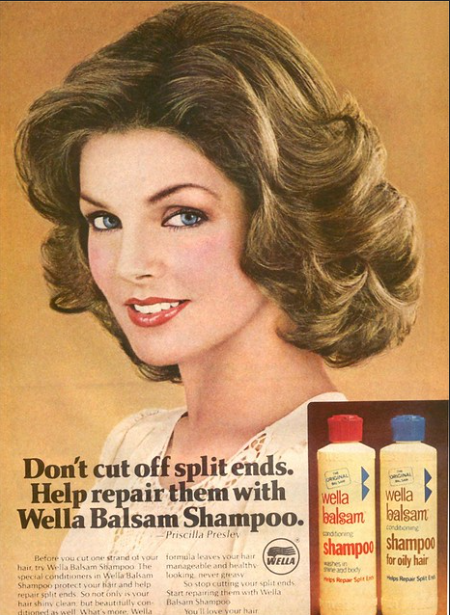 Credit: priscillaevlis via Flickr
The 70s saw Priscilla rocket to new levels of fame she built on her own. Elvis did play a role in her success, both introducing her to the world and calling in his connections to attend her fashion launch, but the sponsorships and endorsements carried her name and face, divorced from any imagery that connected her to the rock legend.
Stone and Priscilla judge a high-school karate tournament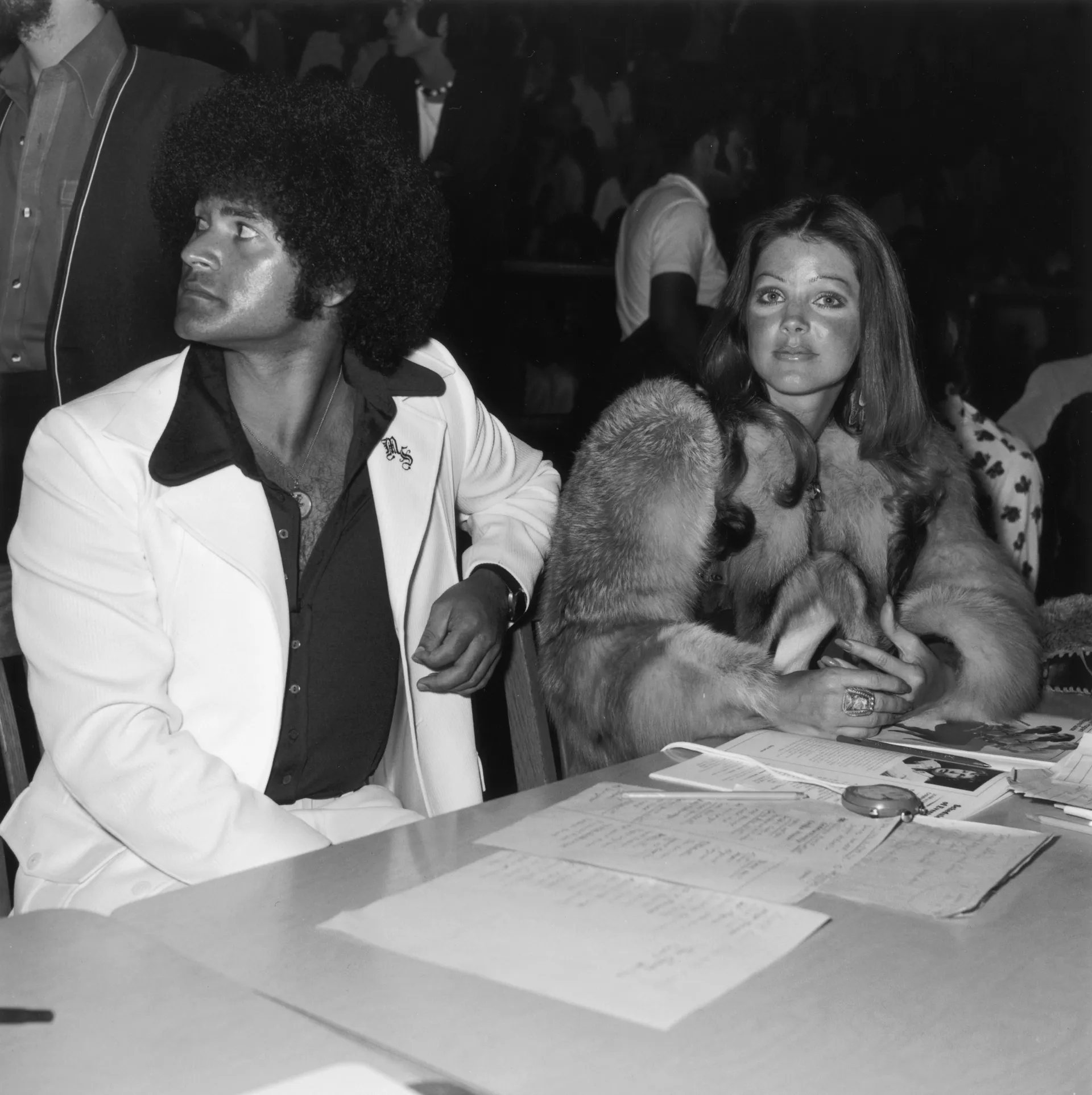 Credit: via Getty Images
Her relationship with the movie-star martial artist lasted a couple of years before finally dissolving in 1975, the same year this picture was taken. Perhaps the custom white suit with engraved initials for a high school karate tournament was the final straw, but her love and business life would continue to expand.
Priscilla and her very temporary boyfriend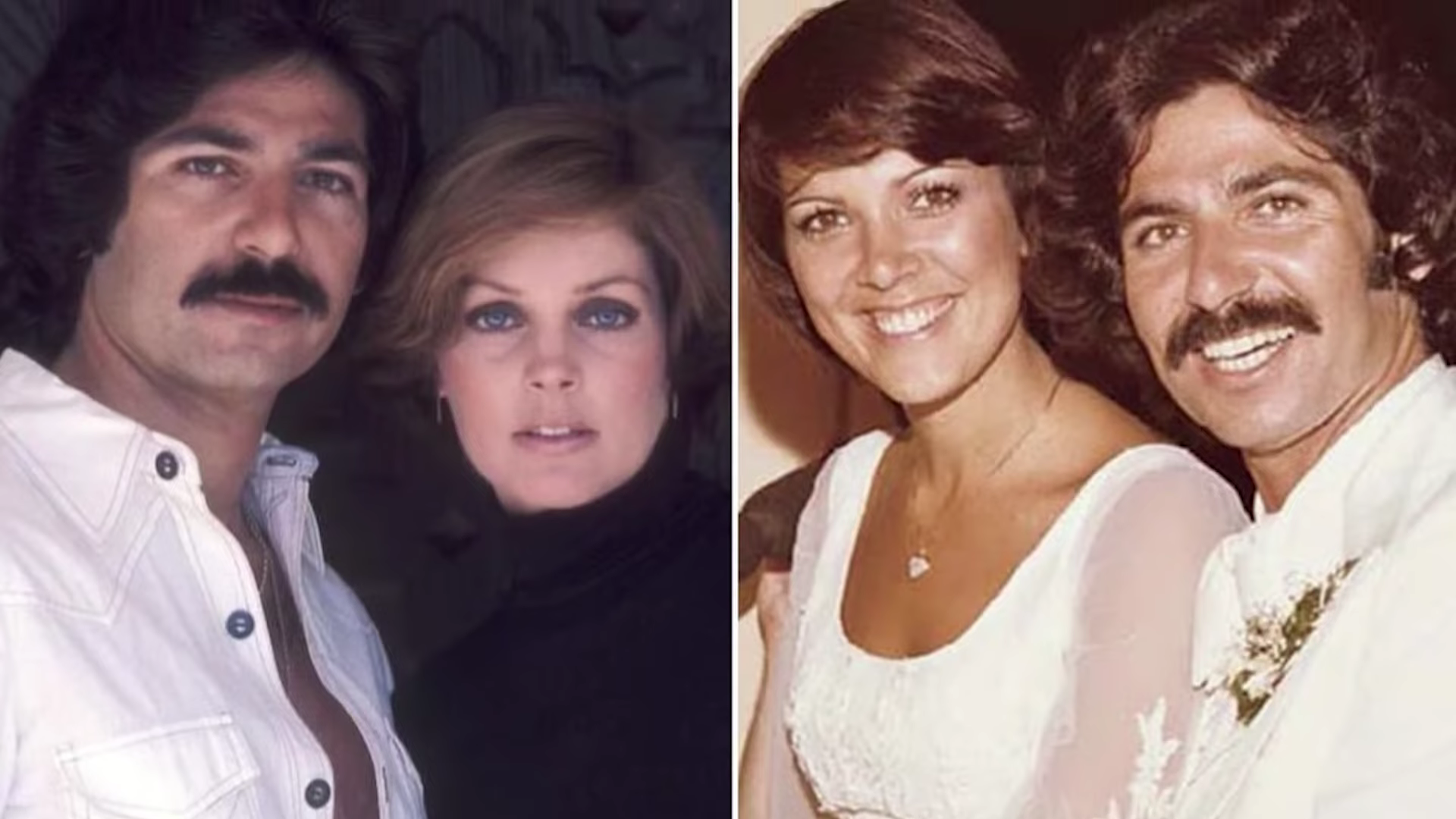 Credit: priscillaelvis via Flickr
After her relationship with Mark Stone ended, Priscilla continued to date a line of eccentric and bizarre men, though in very different ways from her first love. For a brief stint in the late 70s, she dated super lawyer to the stars, Robert Kardashian. This was two years before meeting Kris and over a decade before the OJ trial.
Priscilla and Lisa adopt a cat in 1980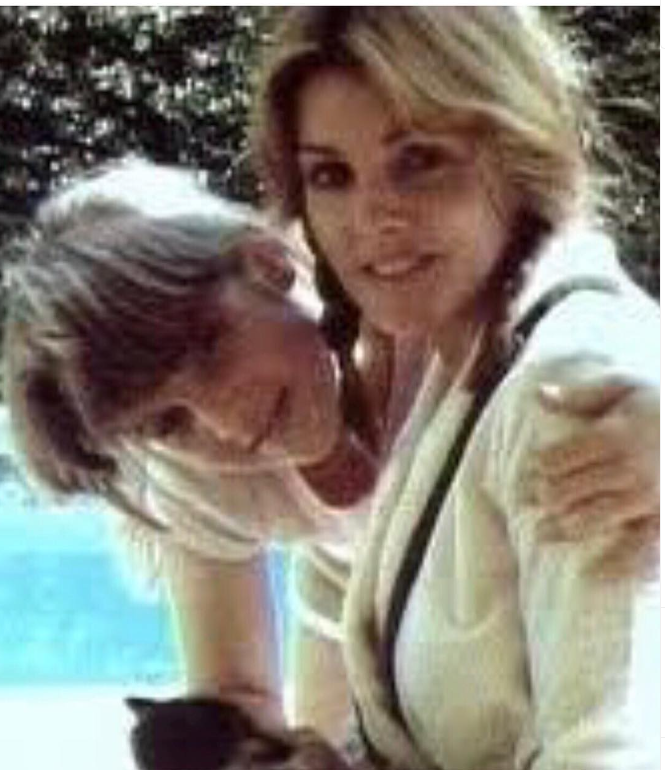 Credit: priscillapresley via Instagram
Animal rights would come to play a big role in Presley's life moving forward, but she was often seen with or around animals as the media trends dictated. Iconic photographs were snapped of her with everything from tigers to a little tiny dog in her purse, the first time it was popular.
Priscilla saves the Elvis estate from financial ruin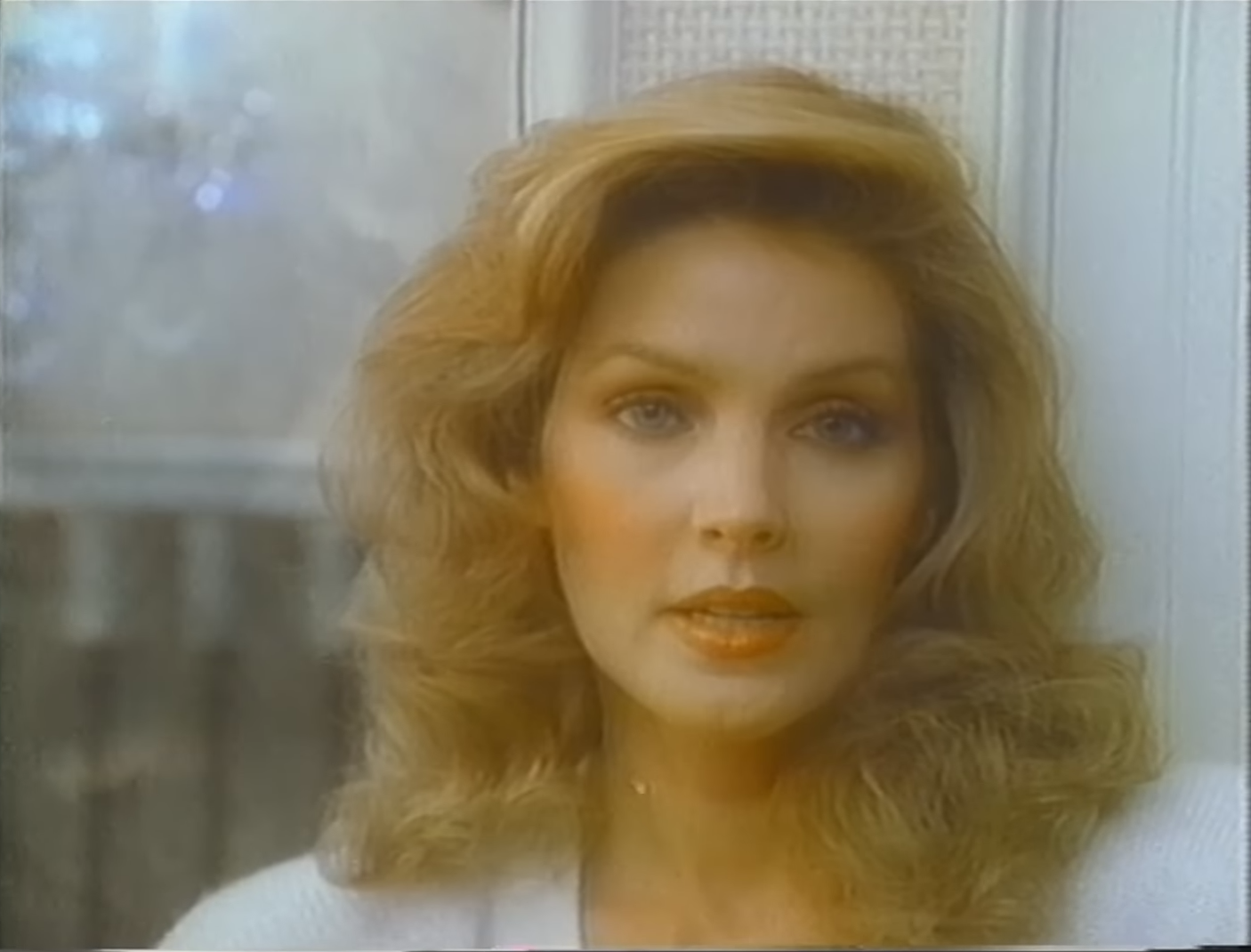 Credit: via Congressional Archives
After Elvis' death, his father Vernon took control of his estate and named Priscilla his successor. That title would matter sooner rather than later, as Vernon died two years after his son in 1979. Big Elvis was in a dire state, as taxes and maintenance left little of the King's millions remaining, but Priscilla was more than qualified for the job.
Graceland became a National Historic Landmark in 2006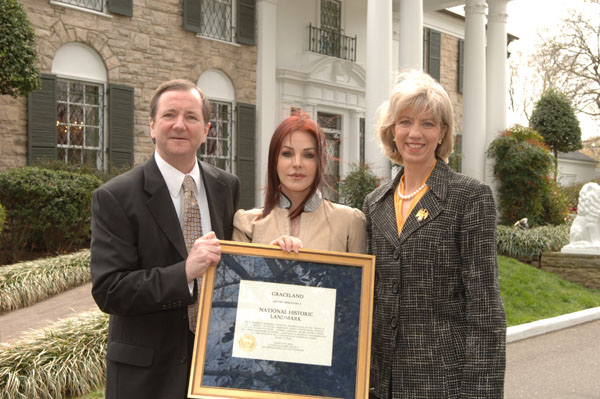 Credit: Department of the Interior via Wikimedia Commons
Her plan to turn Graceland into a public museum celebrating Elvis' life and legacy paid dividends, making his estate's investments back in four weeks. Priscilla had become as successful in business as her lifelong partner had been in entertainment, continuing to manage Elvis Presley Enterprises, launching perfumes, and producing movies.
Priscilla meets Shrek in 2015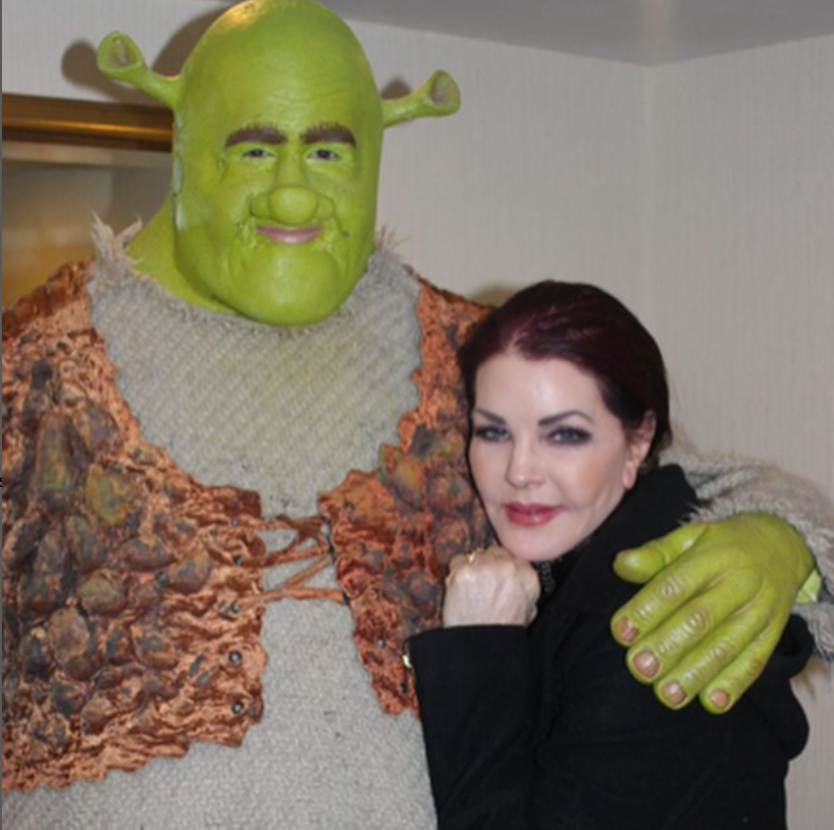 Credit: priscillapresley via Instagram
This is likely a picture Elvis wouldn't want to see. The 1970s were a wild time, but nothing quite like a Broadway adaptation of Shrek had been conceived of yet. 3D animation was a pipe dream and Smashmouth were only babies, Shrek would have tanked his heart faster than the fried chicken and stimulants.
Priscilla and Tom Jones catch up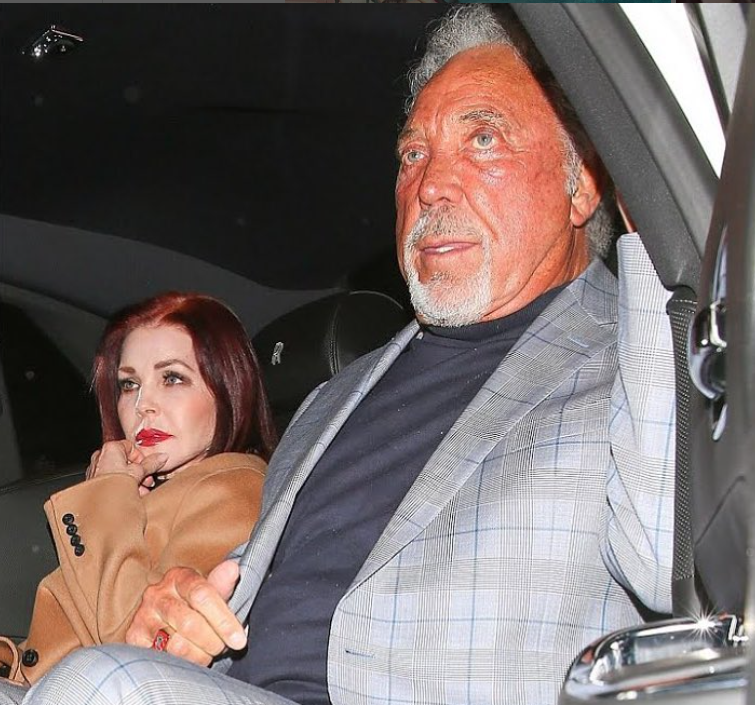 Credit: priscillapresley via Instagram
Welsh superstar Tom Jones has been a friend of Priscilla's for many decades. Jones had lost his wife the year prior, and media outlets speculated on a potential romance between the two. Tom has denied anything romantic has ever happened between them, but is seen here with the face of a man deathly afraid of hitmen.