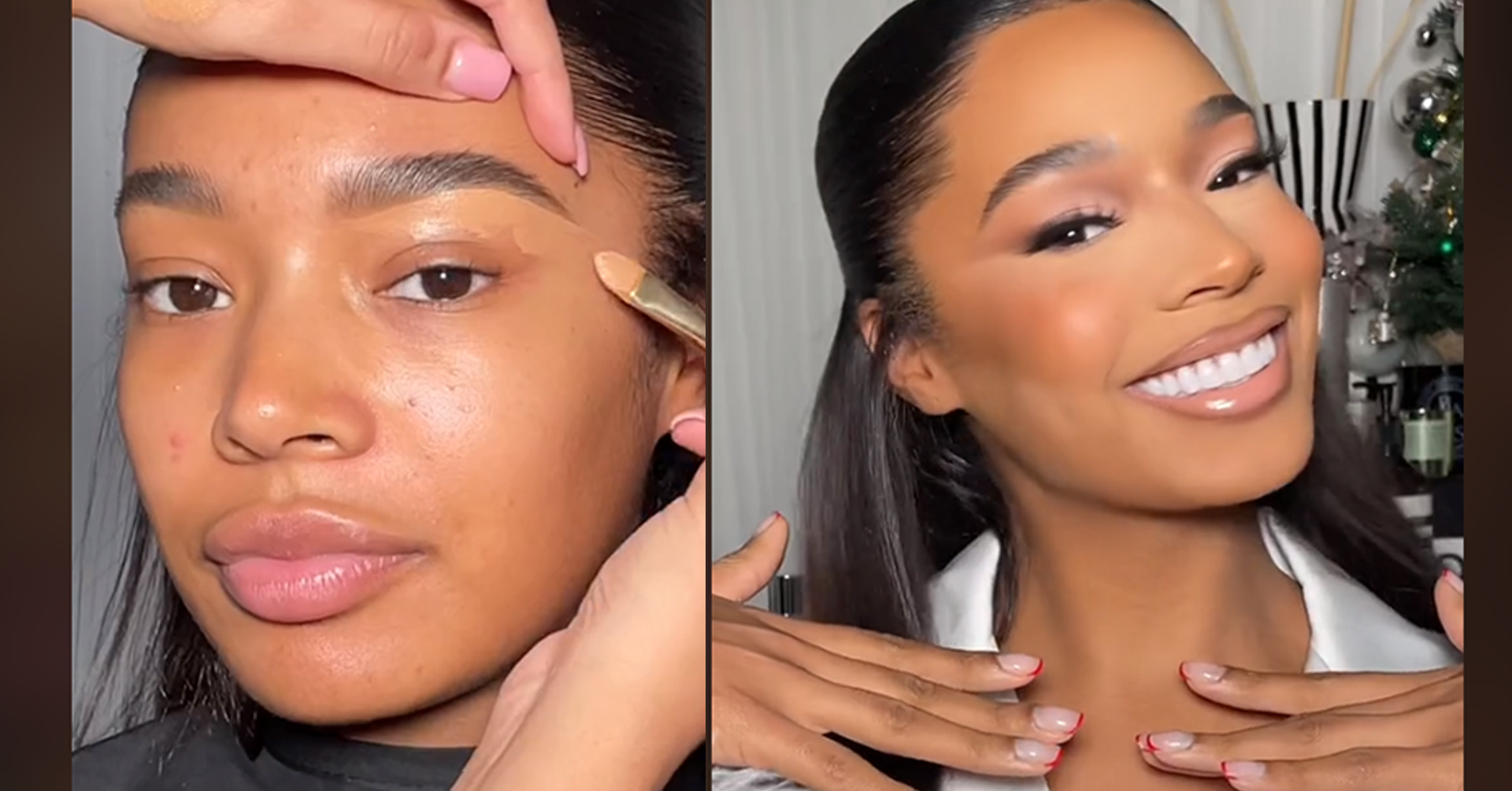 Credit: iservetheface via TikTok
Bronzed and blushing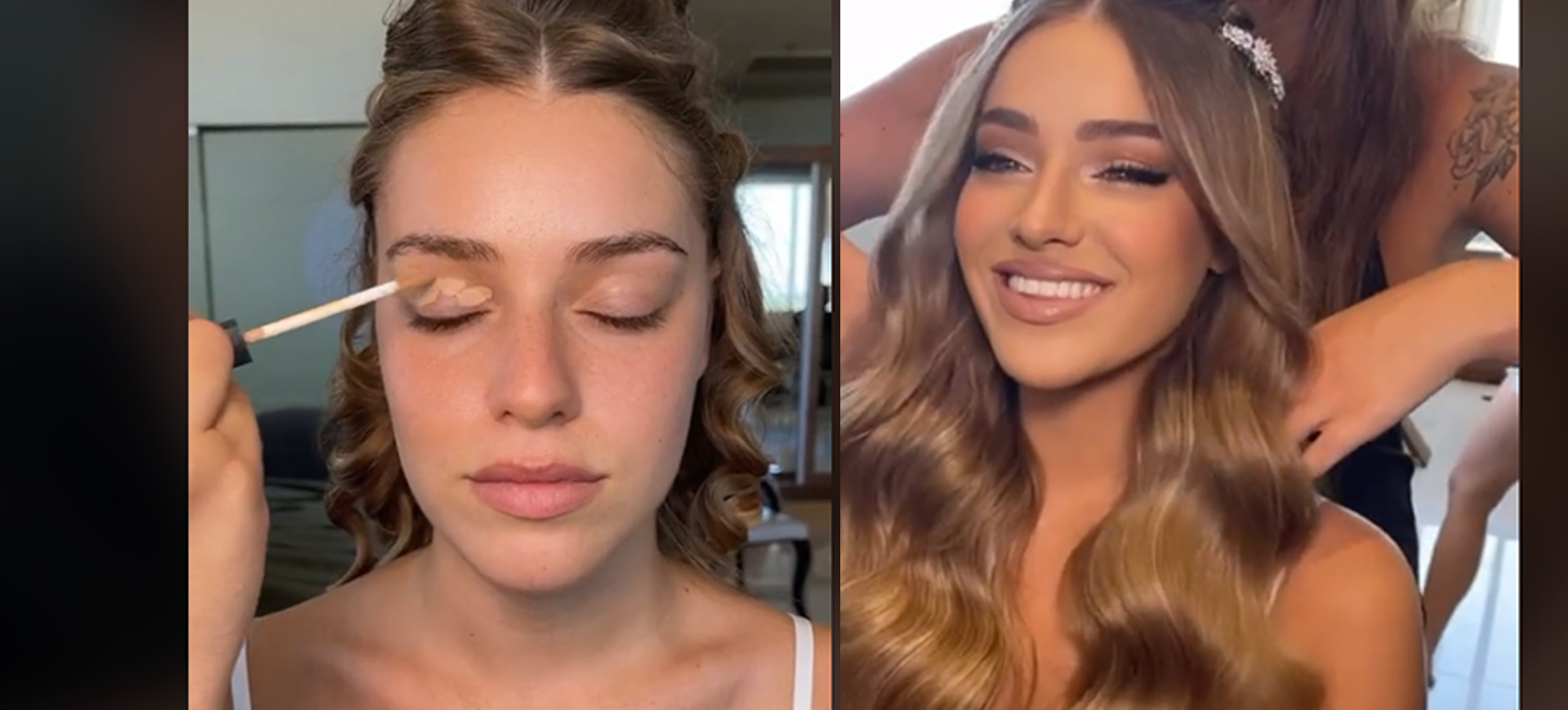 Credit: adrian_hamias via TikTok
This look is a gorgeous example of some wedding-face trends that emerged around the 2000s. It was all about matte finishes, natural and nude lip colors, and letting the smoky eye do all the talking. There are some nice contemporary touches too, the contour on her cheeks and beneath the jaw help frame the bride's heart-shaped face.
Kiss the bride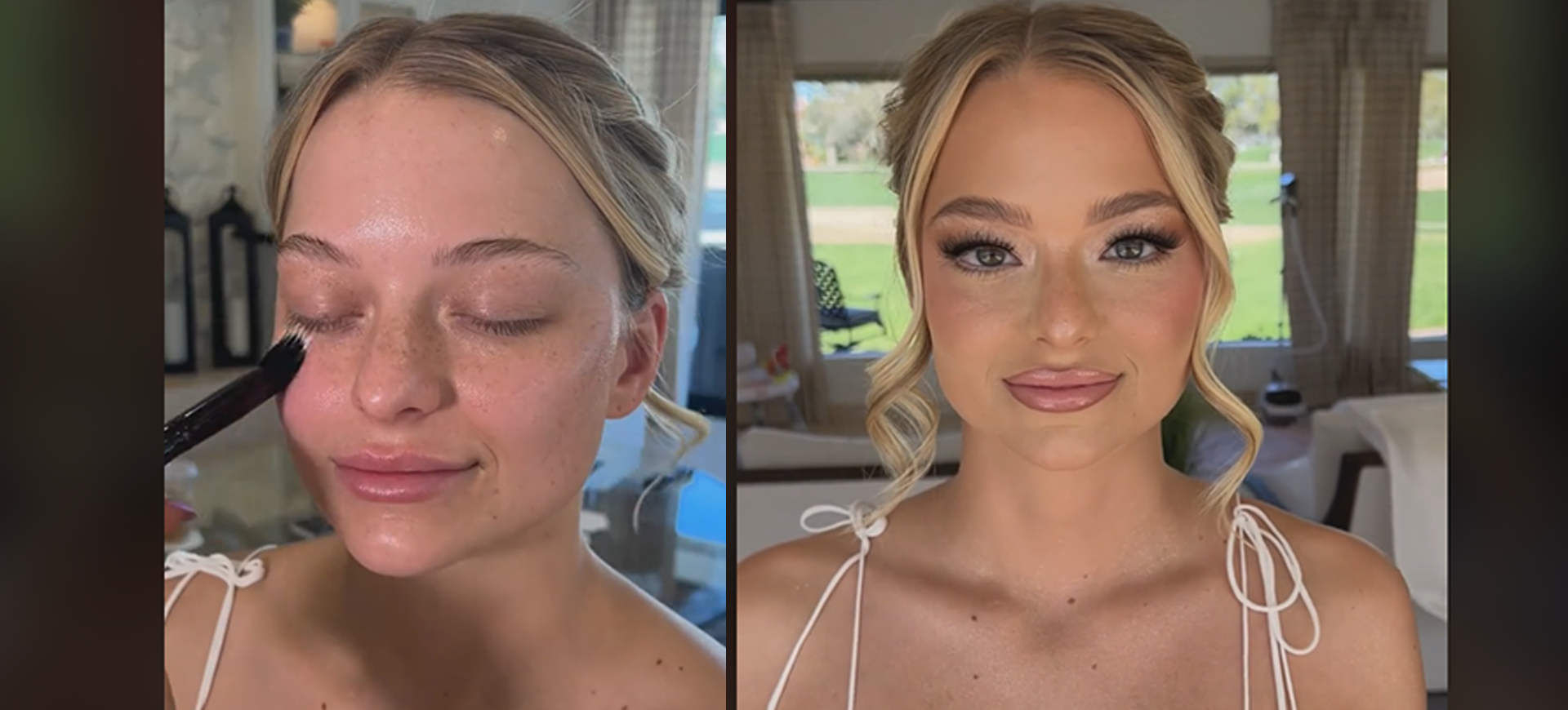 Credit: Emilympsbymakeup
The smooth, matte foundation lays a gorgeous canvas for the eyes and lips to steal the show. The contrasting sparkle and smoke gradient on the lids make those lashes pop with an incredible force, and the model's almond eye shape means there's no need to add extra details like a wing. The distinctly lined lip adds a little smooch of 90s flare.
A little adds a lot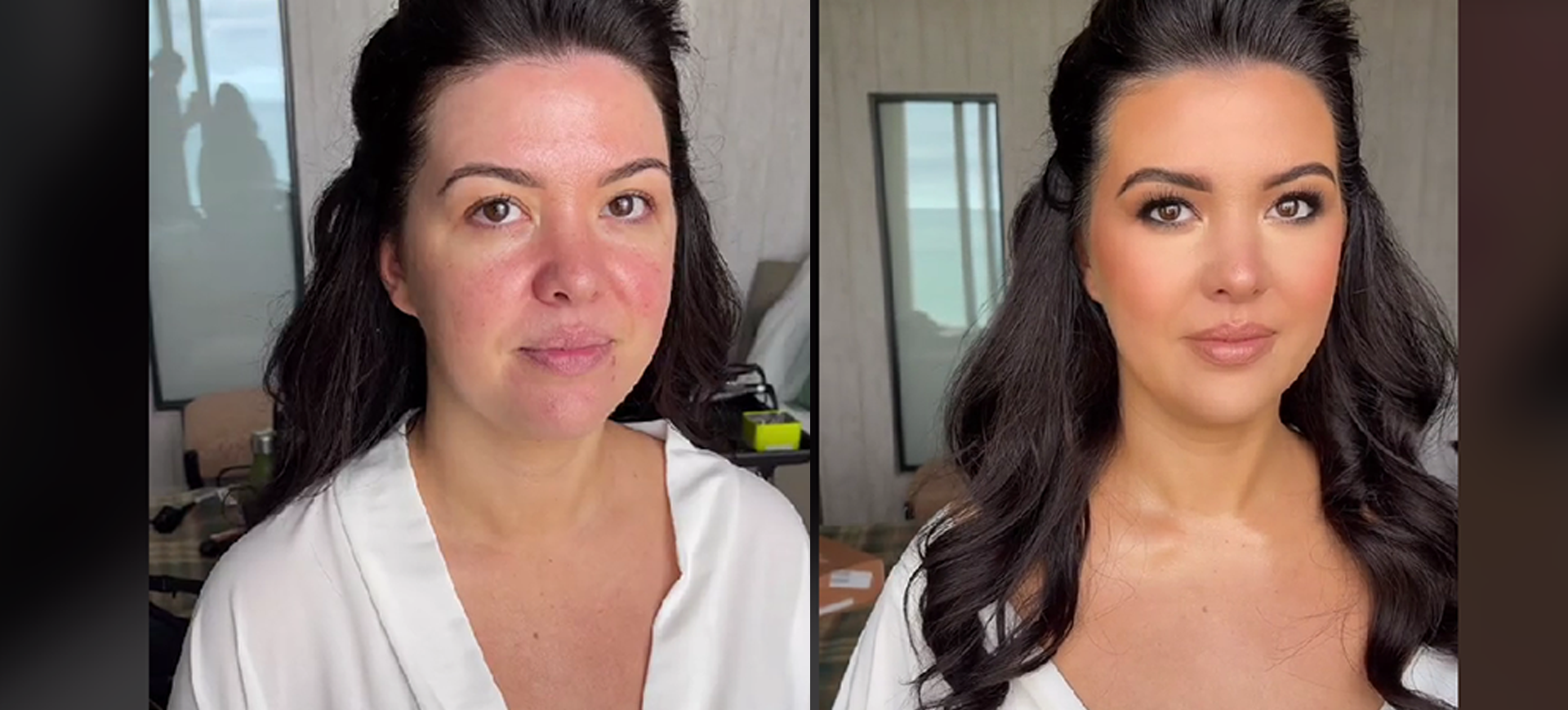 Credit: eemieemua via TikTok
By keeping a look simple, you can emphasize the beauty of a person's face. Here we see that put into practice with a contemporary look that's designed to emphasize the eyes and the soft slope of the bride's jawline. The blush, placed a little higher up on the cheekbone, adds that elongating effect while the strategic lash and shadow placement keep them huge and piercing.
I now pronounce you Meghan and Markle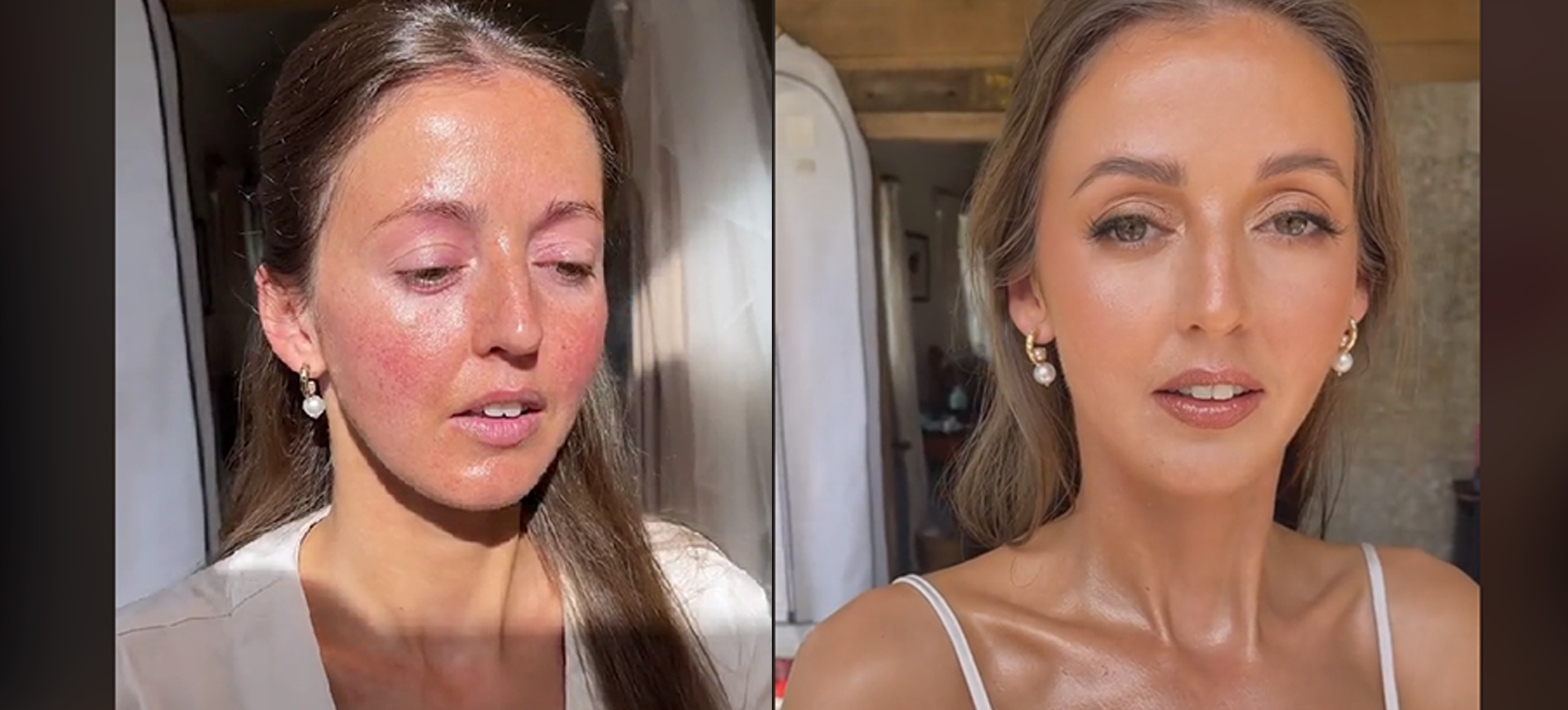 Credit: emmieemua via TikTok
The royal wedding of Harry and Meghan in 2018 drew in around 24 million viewers worldwide. Since then a few trends have emerged, inspired by the LA Duke's radiant look. You can see a few of them here, like the light foundation that lets the freckles poke through and the soft, dewy glow around the nose, cheeks and forehead.
Old-Hollywood glam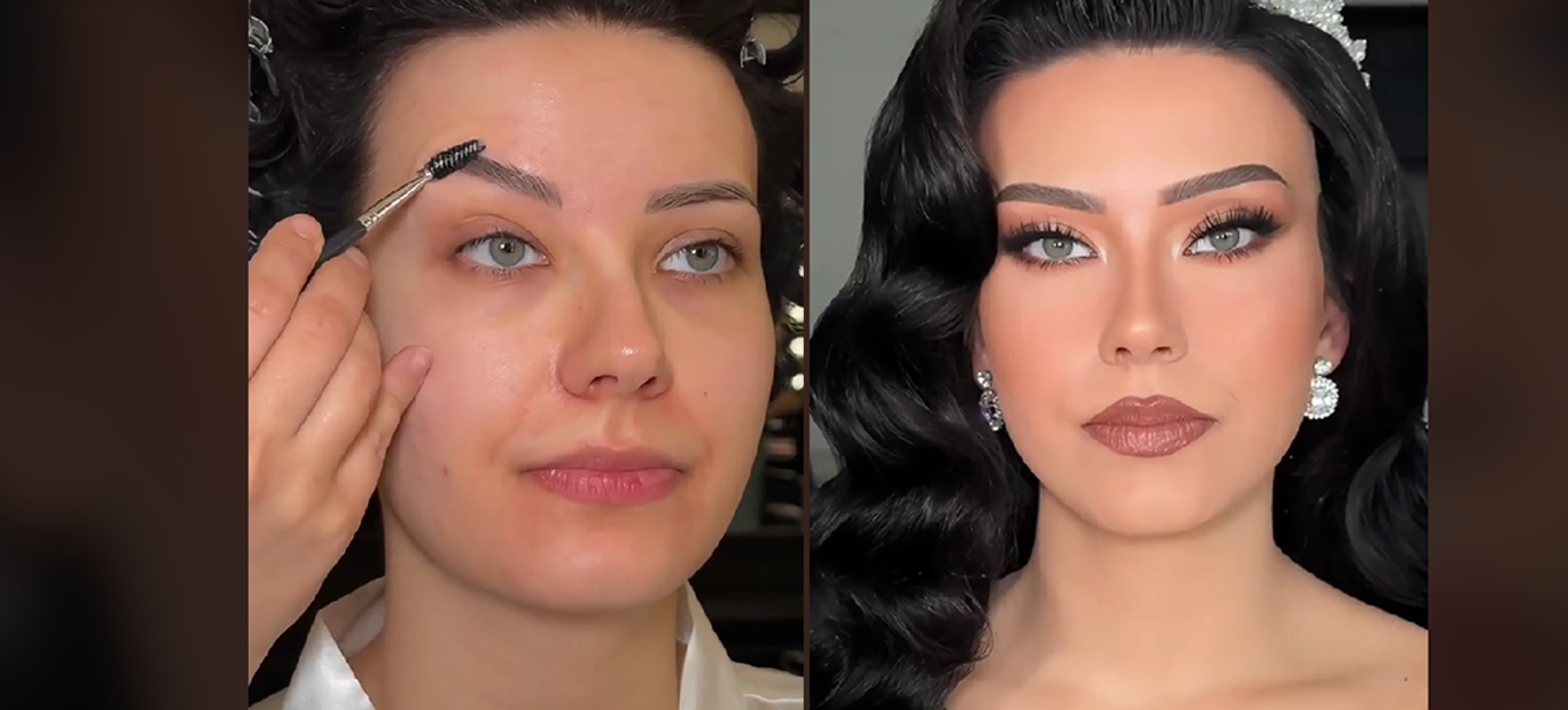 Credit: handesubasoglustudio via TikTok
Glam has never once gone out of fashion. It appeals to something deep inside everyone. We all, even if just for a moment, want to radiate sheer opulence and beauty that nobody can look away from. A few tips to glean from this bride are the lightening around the eyes, the lightly over-lined nude lip, and sea-urchin eyelashes.
The sharpest eyes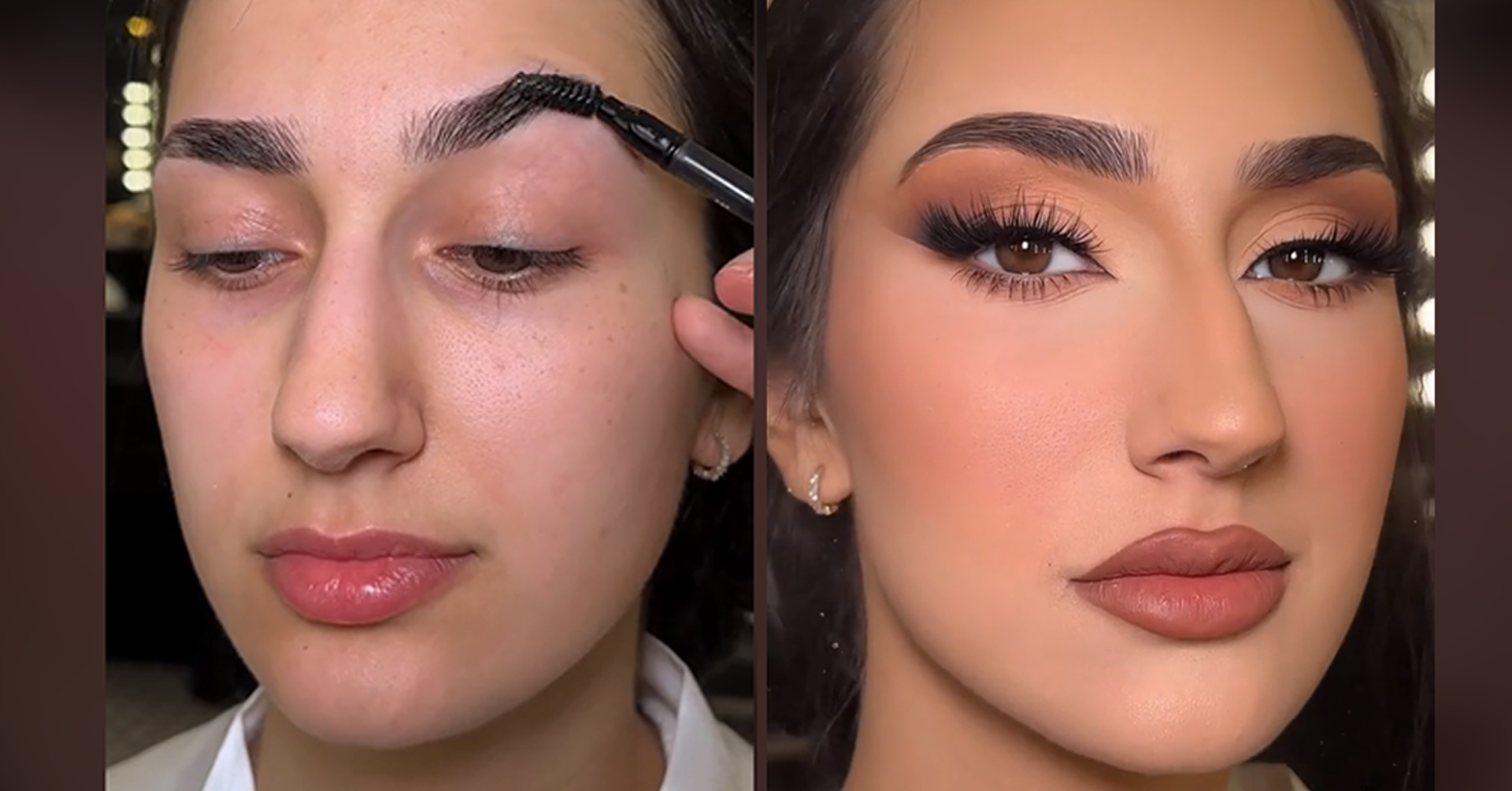 Credit: handesubasoglustudio via TikTok
The sharp and abrupt cut-off of the nude, smoky eye here have the same facelifting effect you get from contour and highlighter. The darker lines from the bottom-middle of the eyebrow, run down to the dorsum of the nose helping emphasize the natural slope of the bride's nose. Again, we see the emphasis on the bride's natural, beautiful features.
The timeless bride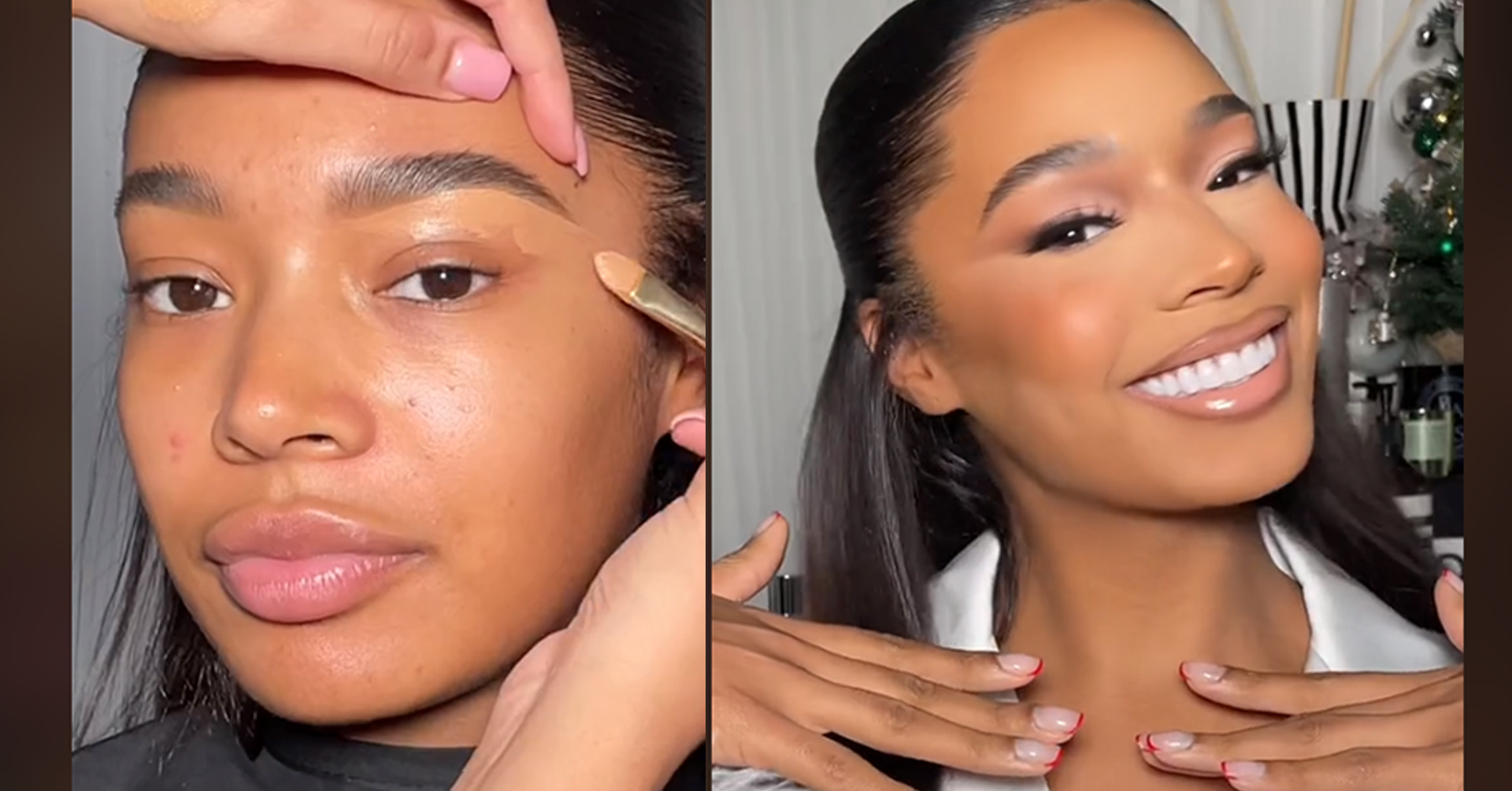 Credit: iservetheface via TikTok
Today's prevalent style of wedding make-up is a mash-up of a couple of earlier decades. It borrows the natural simplicity of the 90s and 2000s with natural, nude tones. There are touches of the 20s with matte, cream foundations that gave the riff-raff a taste of the silver-screen glow, and blush right on the apples for a feminine, 50s charm.
Warming elegance

Credit: jademariemakeup
Skin tone and temperature play a huge role in how the final look will come together. Here the artist has taken the bride's warm, orange undertones and matched everything from the foundation to the lips and subtle eye work. Her high, prominent cheekbones don't need a ton of blush to stand out, and this keeps the color palate focused and consistent.
Maximize the eye
Credit: judy.lim
Make-up is all about geometry. We're often using lines and diffused triangles to create definition or shadows, and the eye look here is a wonderful example of this. Some make-up artists might use eye-shadow to help create the illusion of size, but here it's all handled by the almost-vertical lashes. This way everything can stay simple and refined.
Knowing your stuff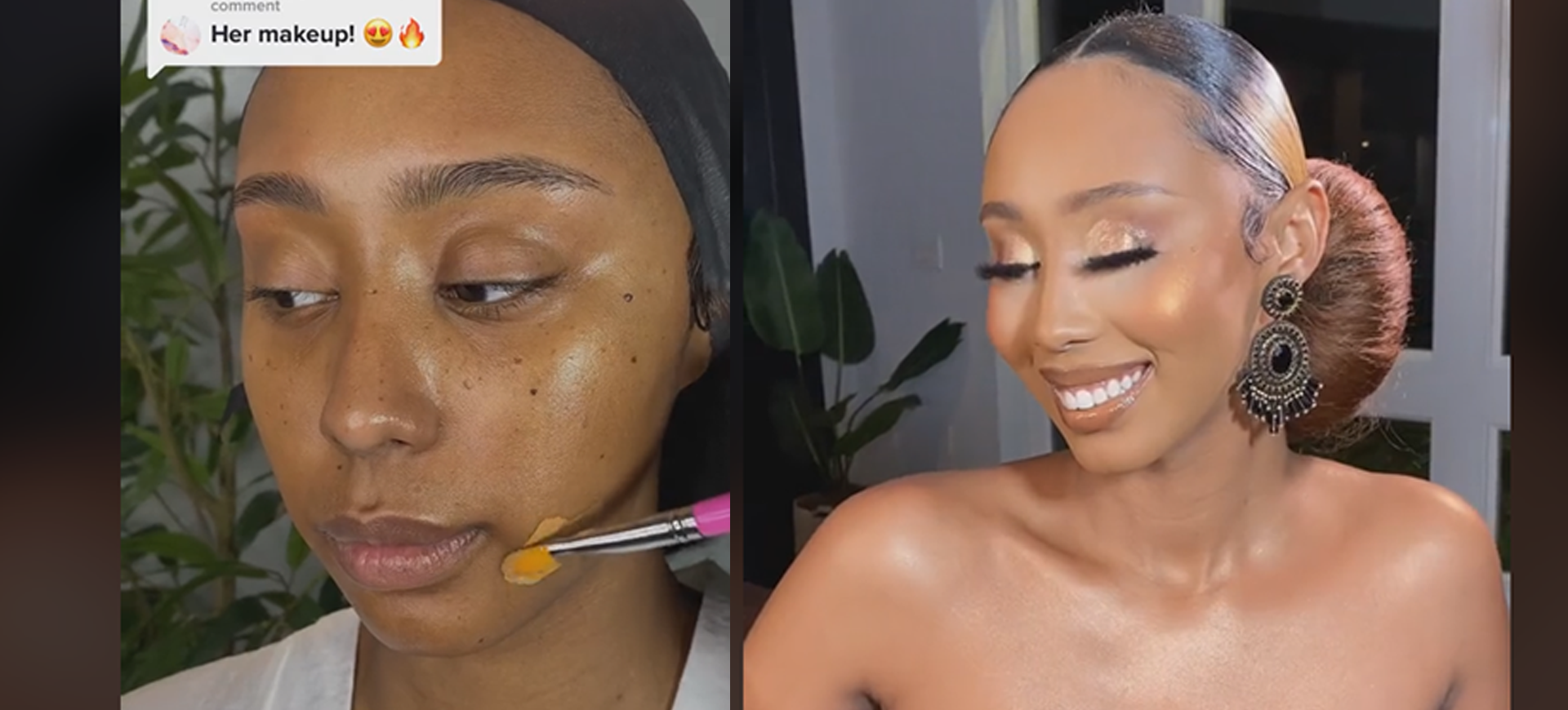 Credit: makeupbyashabee via TikTok
It wasn't really until the 70s that the beauty industry started catering to women of color, and many stylists still don't learn how to work with their complexions or hair textures. Darker skin tones can take advantage of absolutely gorgeous effects like bronze shimmers for highlighter, and how the bride's beauty marks can show through without sacrificing a full, dewy coverage.
Apple of the eye
Credit: makeupbybrielle via Tik Tok
You can see in her smile that her cheekbones steal the spotlight, so the artist has made some very clever balancing decisions. First of all, the blush is quite heavy, which instead of drawing attention, helps weigh down and disperse the apples. Couple that with a dark shadow on the lids and thick lashes, and suddenly the eyes are all you see.
Just popping overseas real quick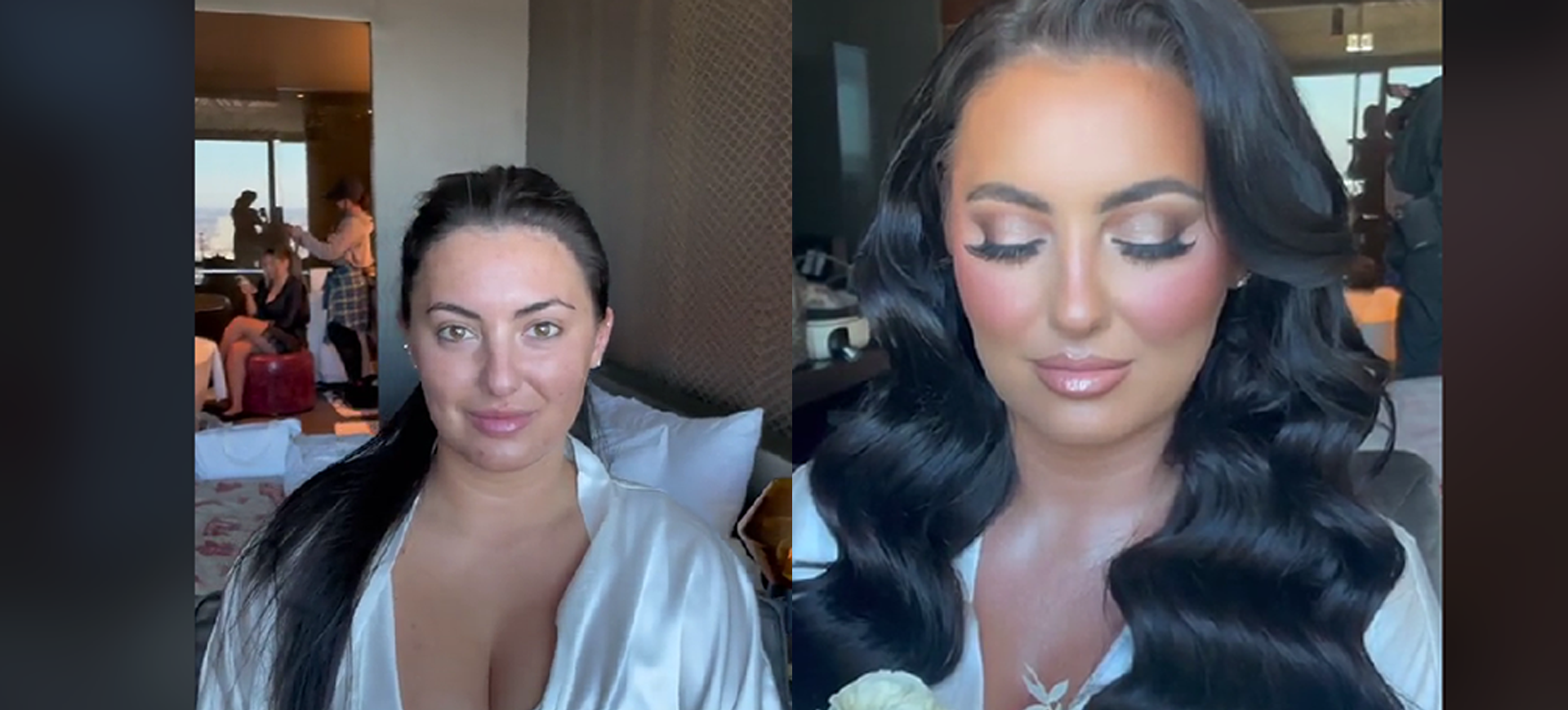 Credit: makeupbybrielle via TikTok
Taking cues from the modern-day make-up trends that have since been dubbed 'Instagram-face', this look features prominent cheek blush and extravagant eye-shadow. The bottom lids are highlighted and the top ones are shadowed, creating huge, bold looks that will 100% show up on all your pics to give you that influencer vibe.
On your best day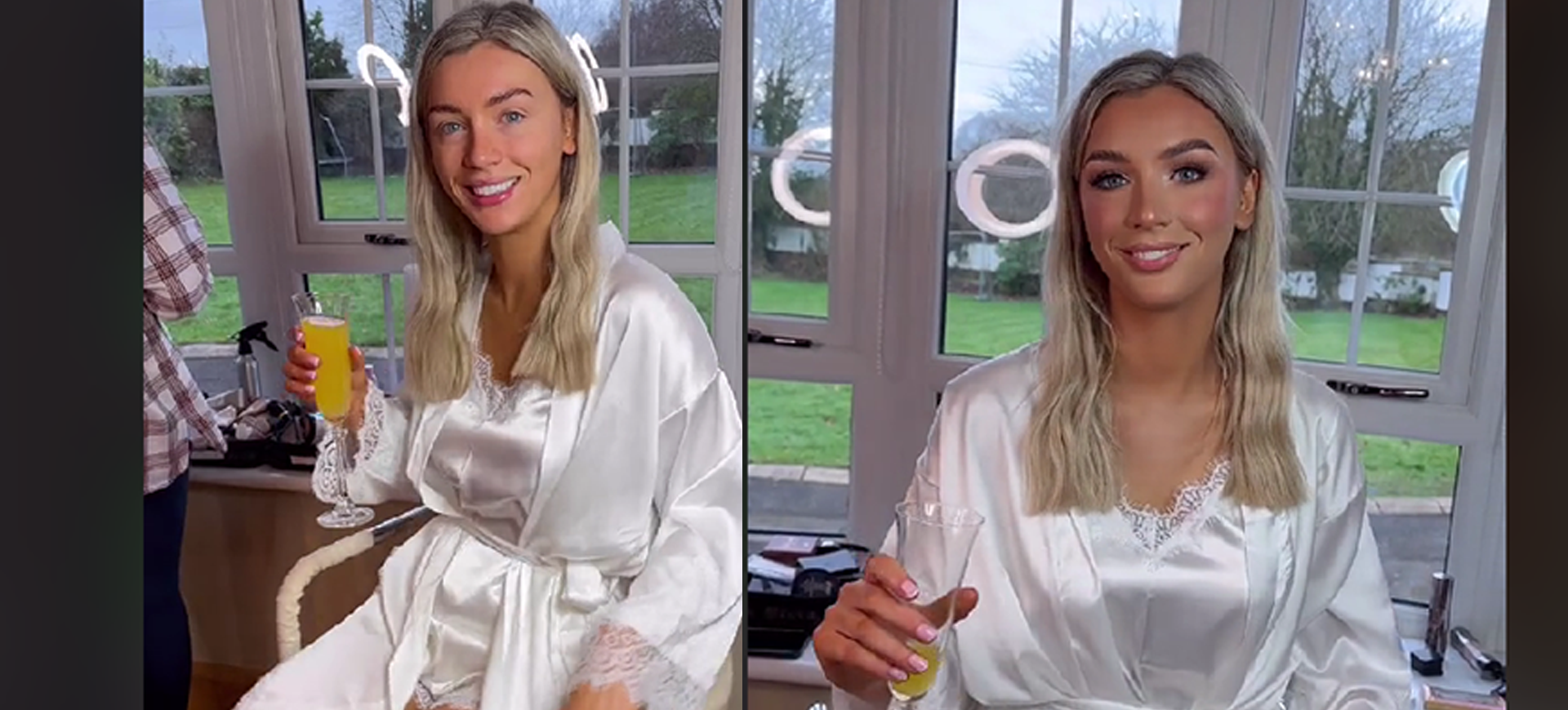 Credit: michaelammcdonnell via TikTok
An interesting trend in wedding fashion happened during the 40s when the pending news of the US joining the Second World War led to a flood of last-minute knots being tied. With little time to prepare, women would take their everyday looks and stretch the magic as far as they could. Styles like this harken back to that time: look like yourself… but on your best day.
Taking charge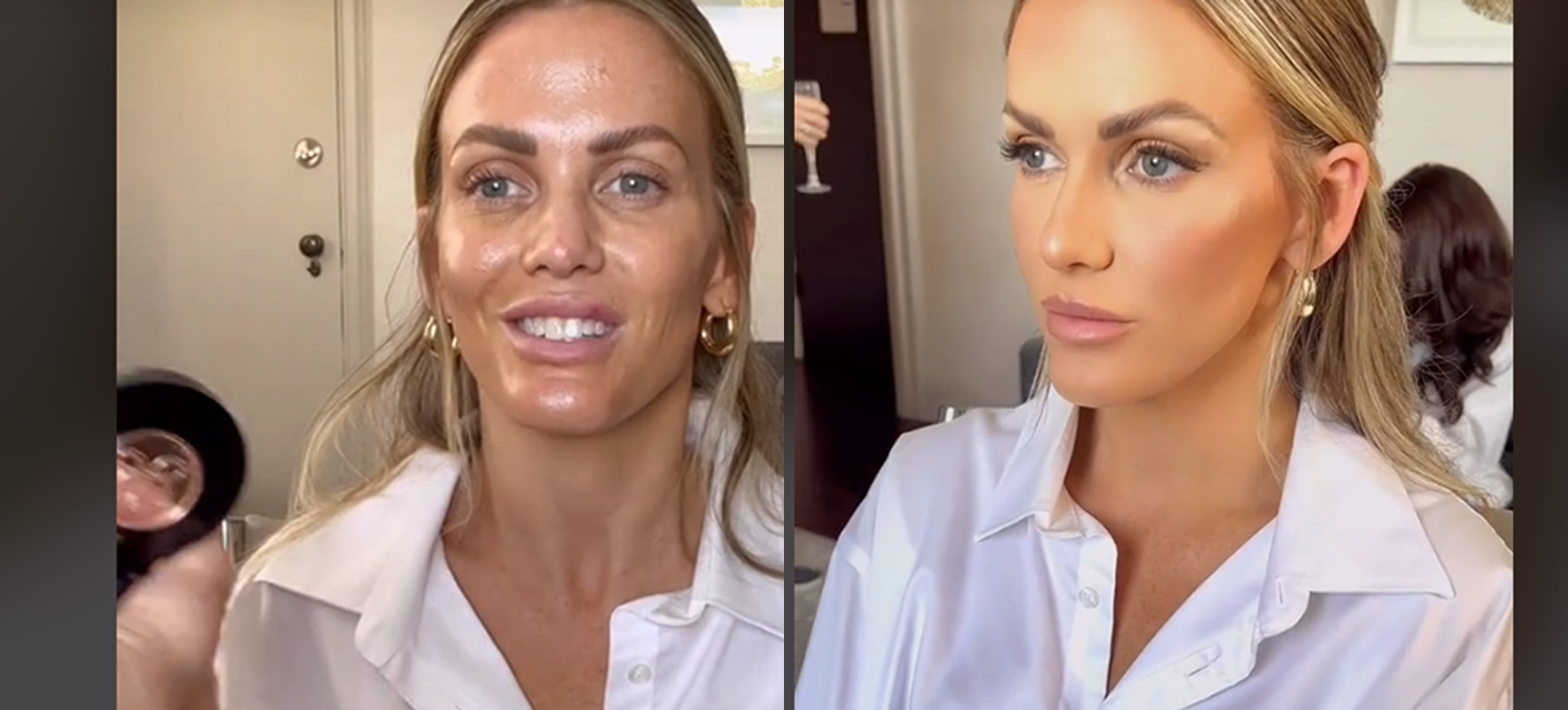 Credit: selenamup via TikTok
This style was very much led by the bride herself, according to the TikTok. Often, clients have some inspirational photos and the artist then fills in the blanks with their experience, but here we see how well a good vision for your look can pay off. A gorgeous, smooth matte finish, simple eyes, and contour make the cheeks sharp as steel. If you know what you want – don't be shy!
Here come the angels

Credit: selenamup via TikTok
The angelic look is super fun and lets you get creative with all kinds of colors and textures. This paired-down interpretation keeps the highlighter and sparkle on the lips, cheeks, and nose, but pairs it with a well-matched foundation tone, and plenty of brightness around the eyes.
Eyes on the prize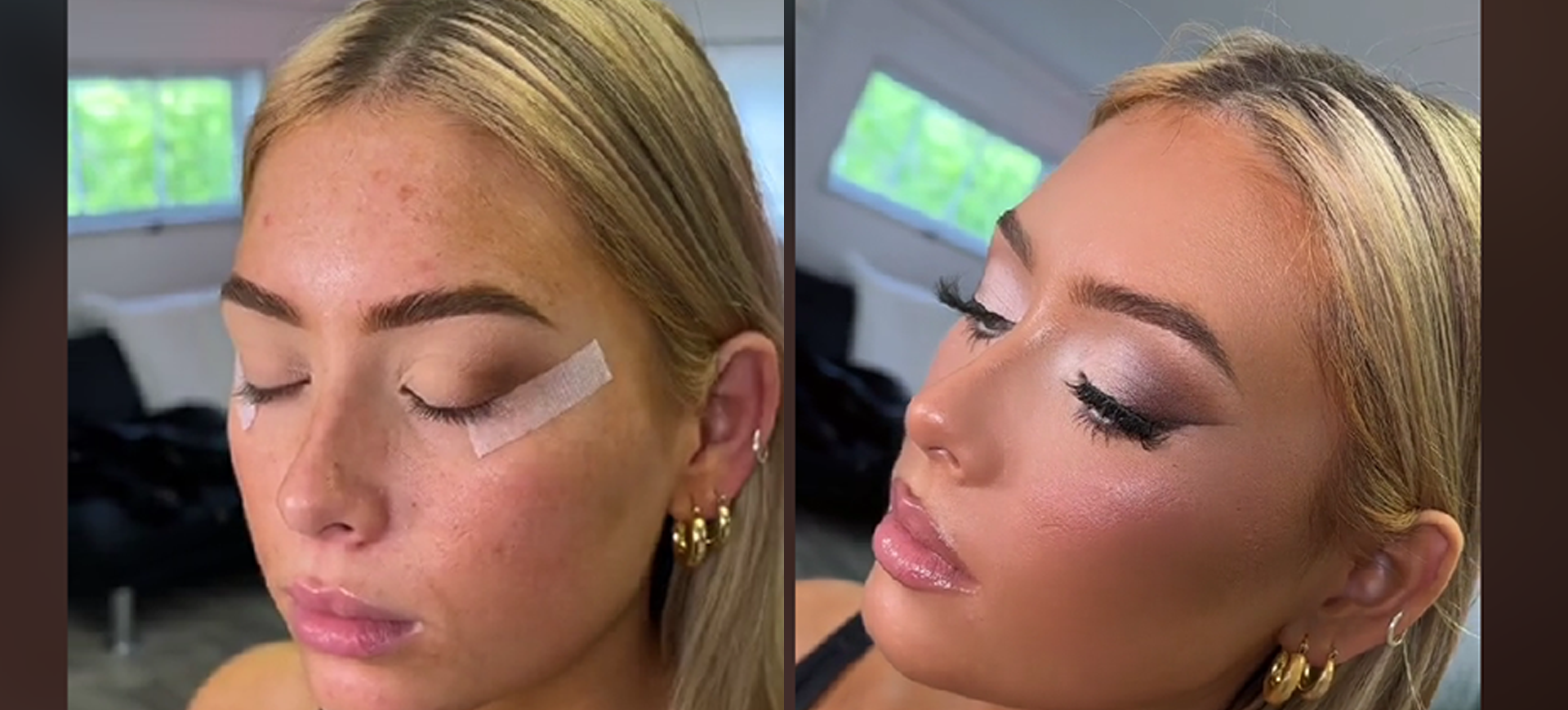 Credit: livmakeupartistry via TikTok
Eye shadow is likely the first cosmetic ever. It is thought to have been developed by the Ancient Egyptians, and what better way to pay tribute to Cleopatra on your special day than with a dramatic, show-stopping color combination? The rest of the look is well-constructed, modern glam, with the shine on the cheek echoing the wonderful halo gradient on the eye.
Don't forget the lip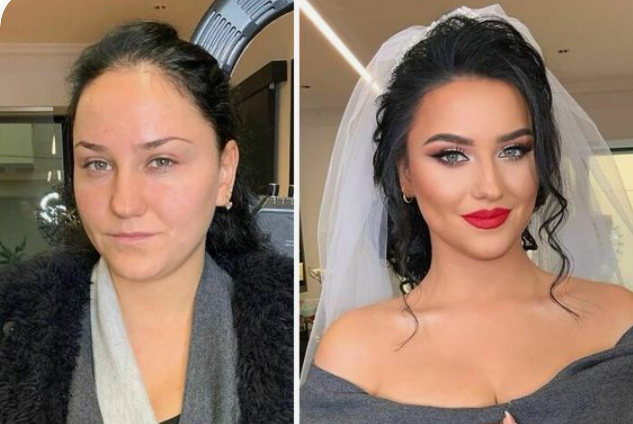 Credit: Bored Panda via Pinterest
Lest you think nude lips were suddenly mandated by the Catholic Church, here's a look that defies that sacrament. Often overlooked now, bright red lipstick is about as classically bridal as you can get, becoming a huge trend in America around the 1930s thanks to the influence of starlets like Greta Garbo. It adds a huge burst of color that can stand out against an all-white ensemble.
Purple pride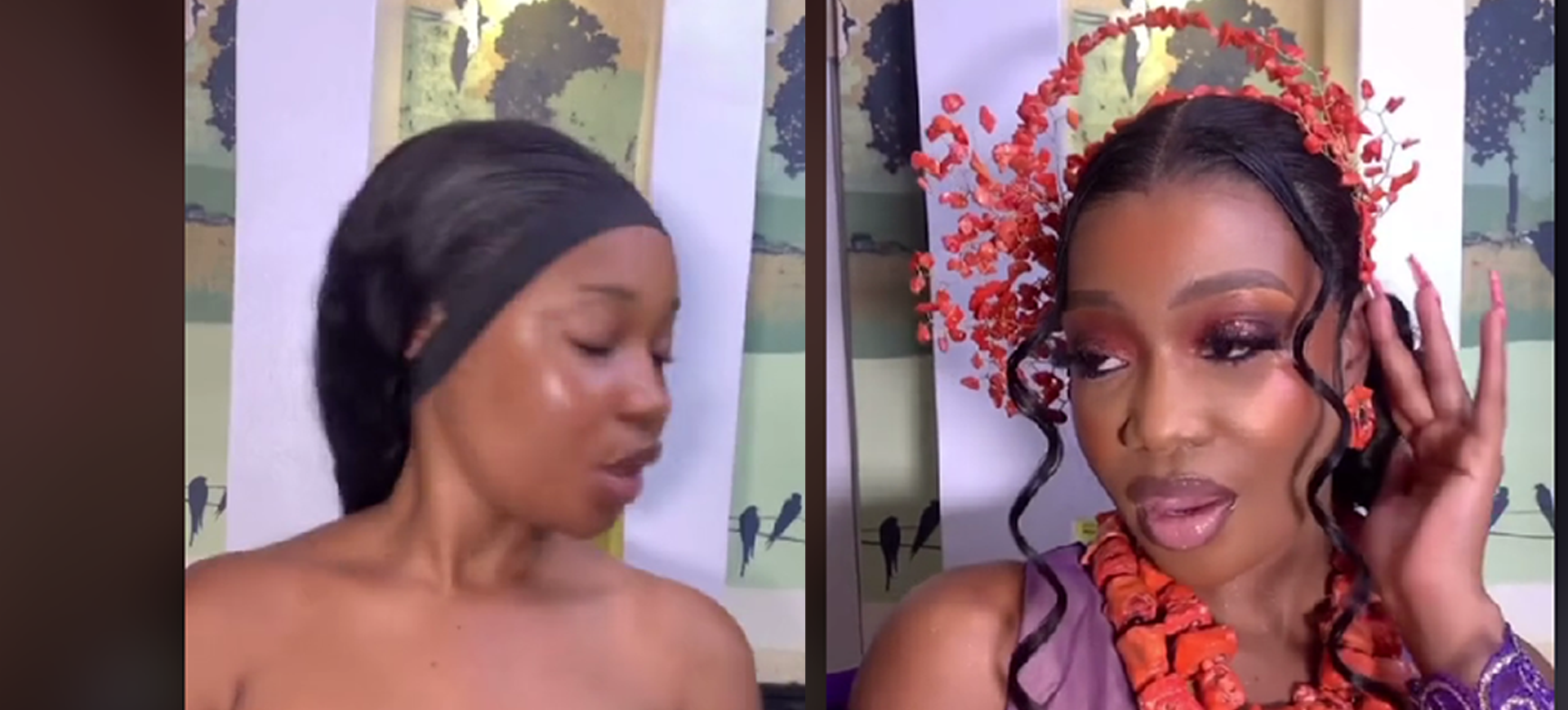 Credit: igboroyalties via TikTok
Gosh, there's a lot you could say about this entire look. Marriage is still a culturally diverse practice across Nigeria, differing between groups. This look finds its roots in Igbo culture, known for their tremendous style that combines all textures and colors. The deep, shimmering purple in the eye is complimented by a matching, partially matte lip for some serious flare.
Gothic chic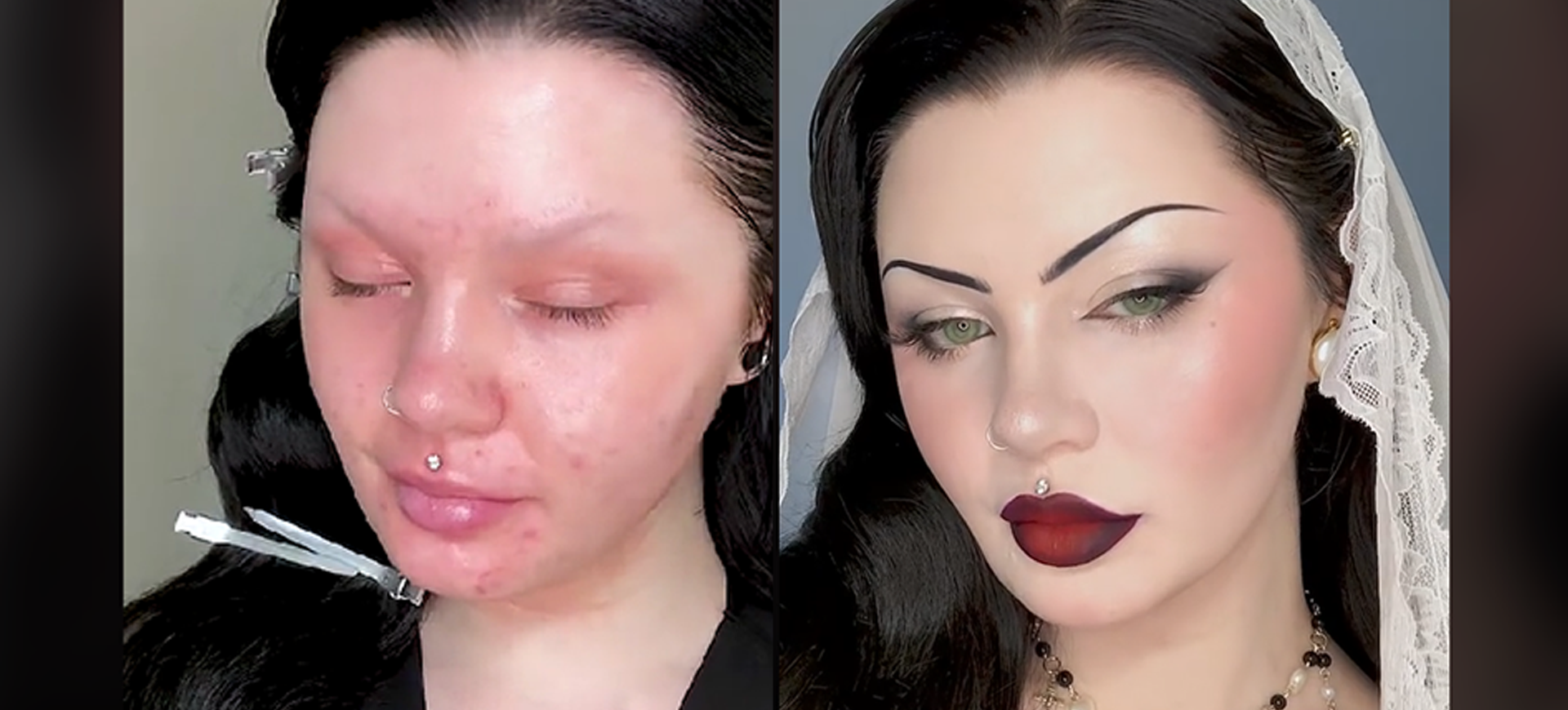 Credit: vocallyshook via TikTok
Hey, the goth kids get married too! As well they should, as this look demonstrates how well the styles of the gothic and bridal mix. The intense, attention-grabbing lip gradient make it clear this isn't just any old glam, coupling the sharp eyebrows with soft, pale tones to keep everything sultry whilst retaining that hint of edge.
DI-Bride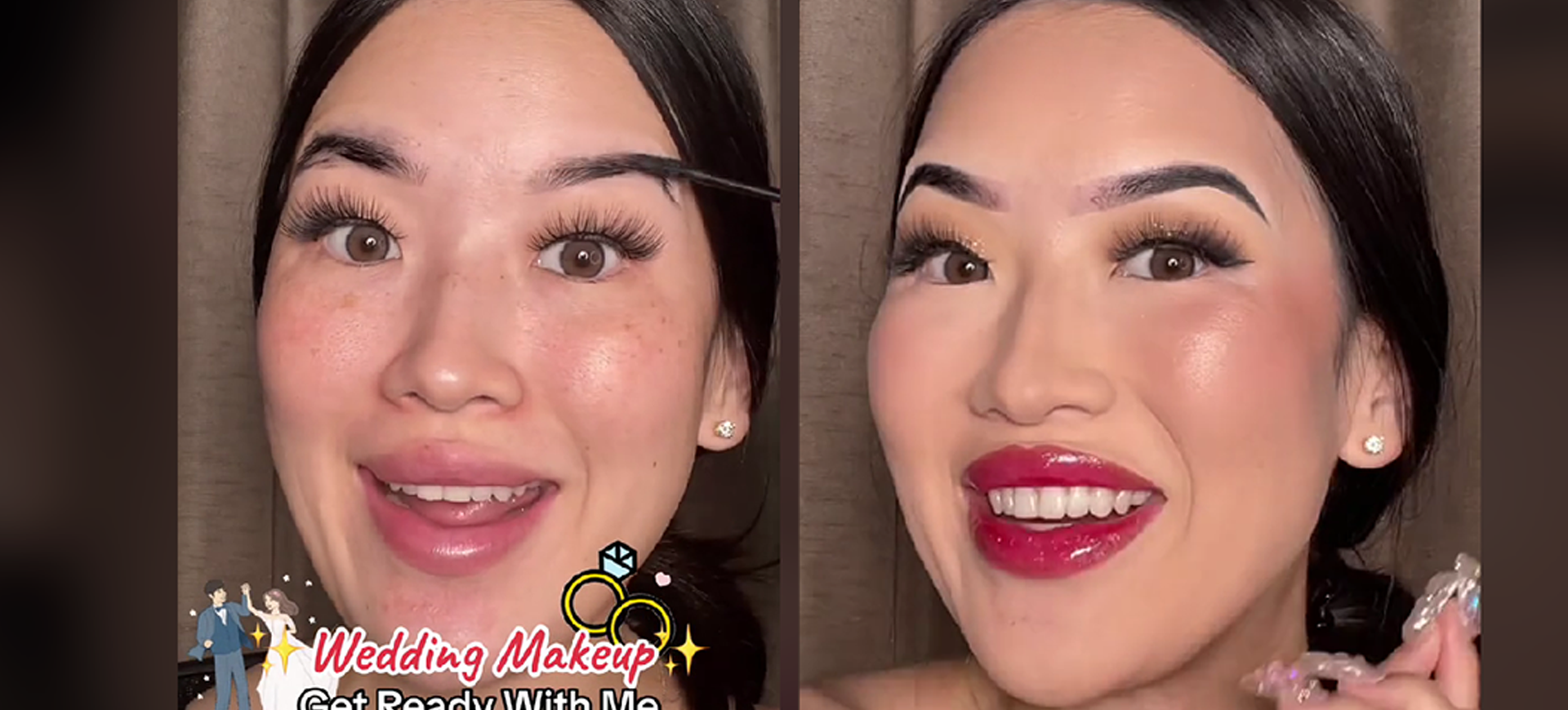 Credit: mangomoniica via TikTok
It must be wonderful getting married as a beauty influencer – you don't have to pay anybody to do your makeup and you probably make a few dollars just from showing your followers what you use! The golden tip from this gorgeous transformation is a little bit of lip stain, set with a high-quality gloss to ensure an amazing color that won't budge all day. Especially with all that kissing!
A softer side of glam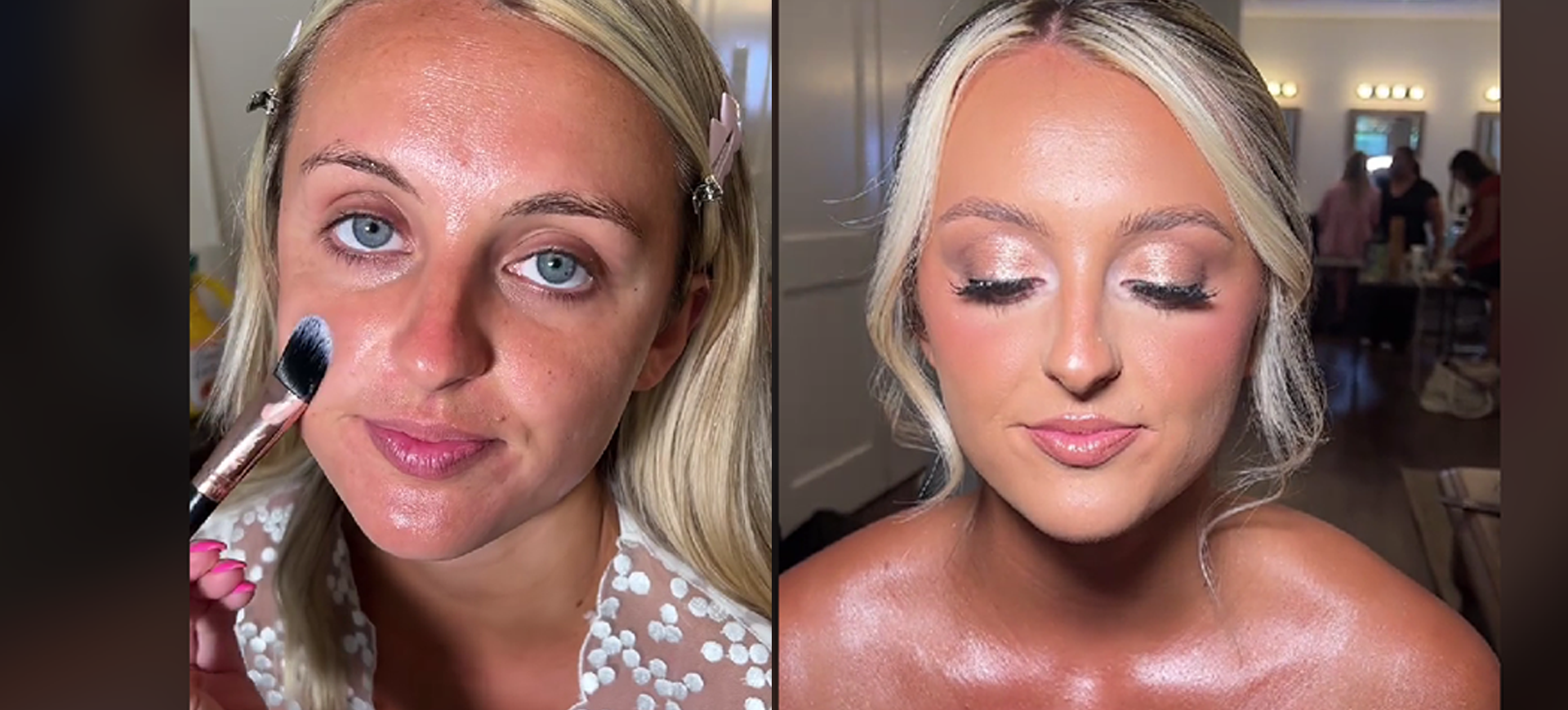 Credit: emilymosbymakeup via TikTok
This combination is all the rage at the moment, with big, dramatic eyes while the rest of the look focuses on a subtle softness. It's core to the Disney princess fantasy that many keep in their heart when it comes to marriage. It involves a thick and luscious layer of primer and moisturizer to lock in that Cinderella sheen.
Serving A-list face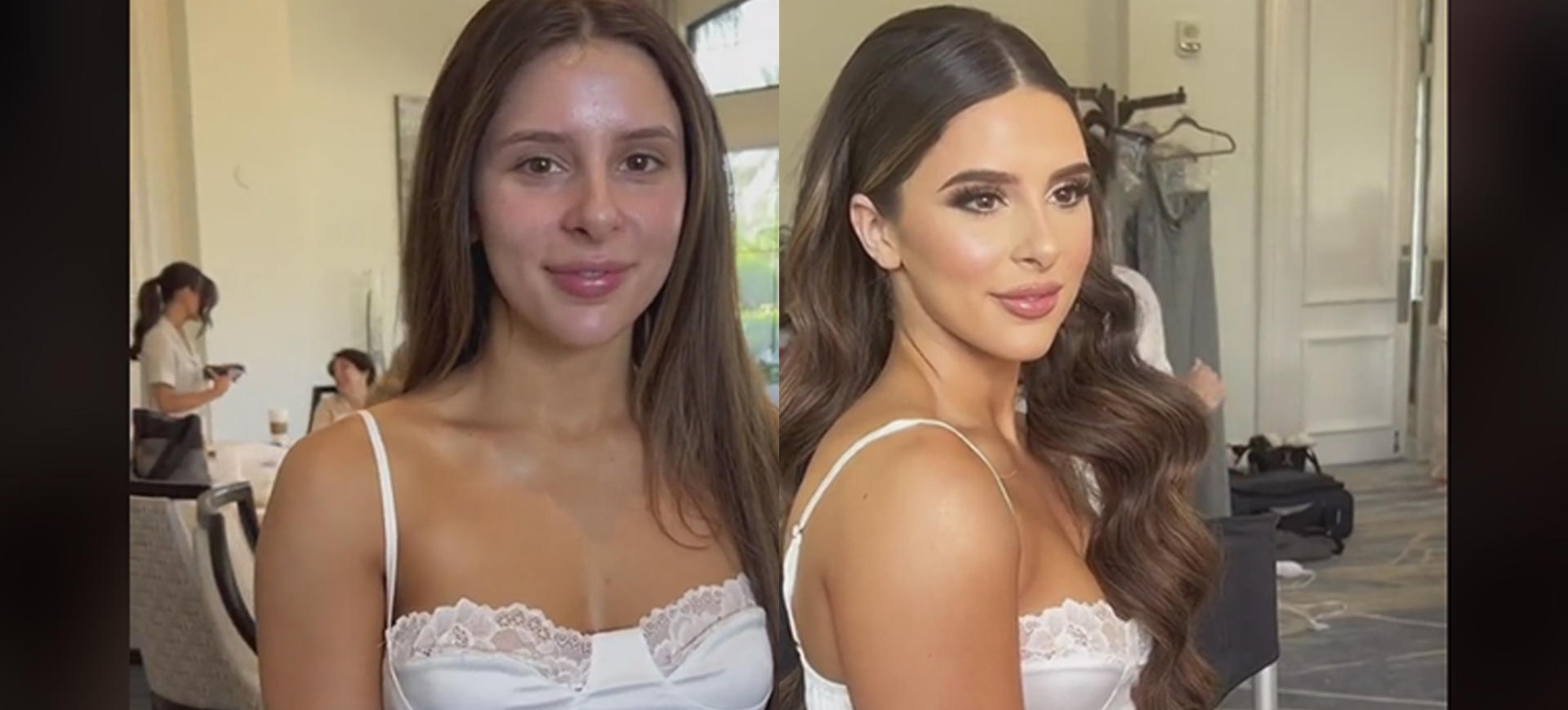 Credit: samirasjewelry via TikTok
While it does have some whispers of a 60s bride, it also takes a lot of cues from the current-day beauty industry giants. Women like Kim Kardashian and Ariana Grande have popularised this kind of flawless bronze coverage, as well as the plumped-up nude lip and heavier shadows towards the corners of the eye. Celebrity chic!
It's never too late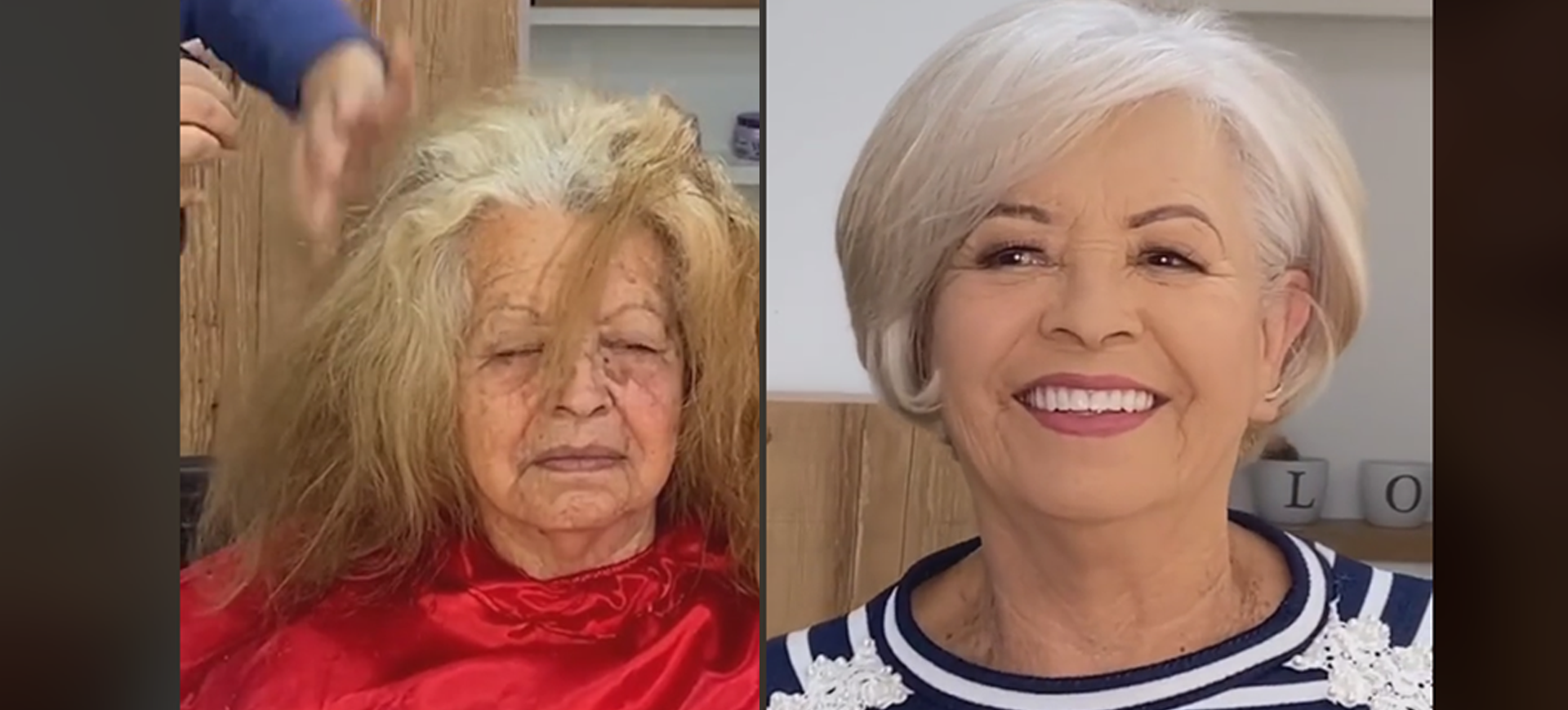 Credit: fabiosa.usa via TikTok
Here's a wonderful bit of feel-good beauty for you. There's no age limit on looking and feeling wonderful, nor is there for getting married or finding love, just as our 77-year-old bride here demonstrates. The makeup look itself is pretty simple, aiming for full and even coverage to work with her textured skin, and subtle shadow to bring the most out of hooded eyelids.
Nepalese traditions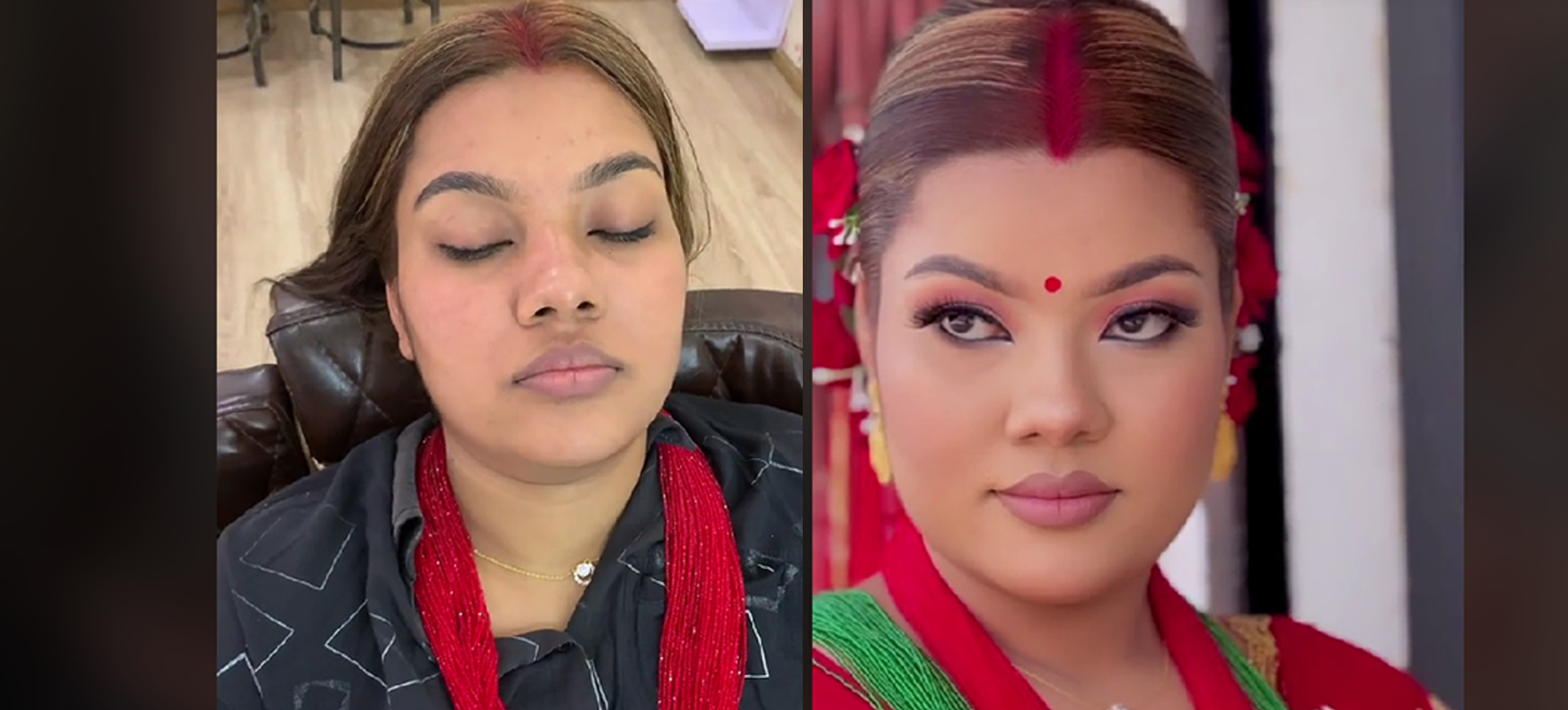 Credit: makeupbykritee via TikTok
Here we see a wonderful harmony in color choice, with dyed red roots that beautifully pair with a slightly blushed choice of eye shade. The pointed inner-liner corners create a striking cat-eye effect that circles right around the tear duct, which is something that pops up every now and again in beauty trends – often in bright colors.
How soft can glam get?
Credit: em_sofiabeauty via TikTok
You'll notice in the beautiful "before" picture that the bride has quite neutral to cool-toned skin. The artist however has skilfully built up different layers and tones with concealer and skin enhancer, which boost the skin's overall warmth and allows her client to achieve that soft, dewy glow and bronzed skin that's all the rage.
If I was your wifey…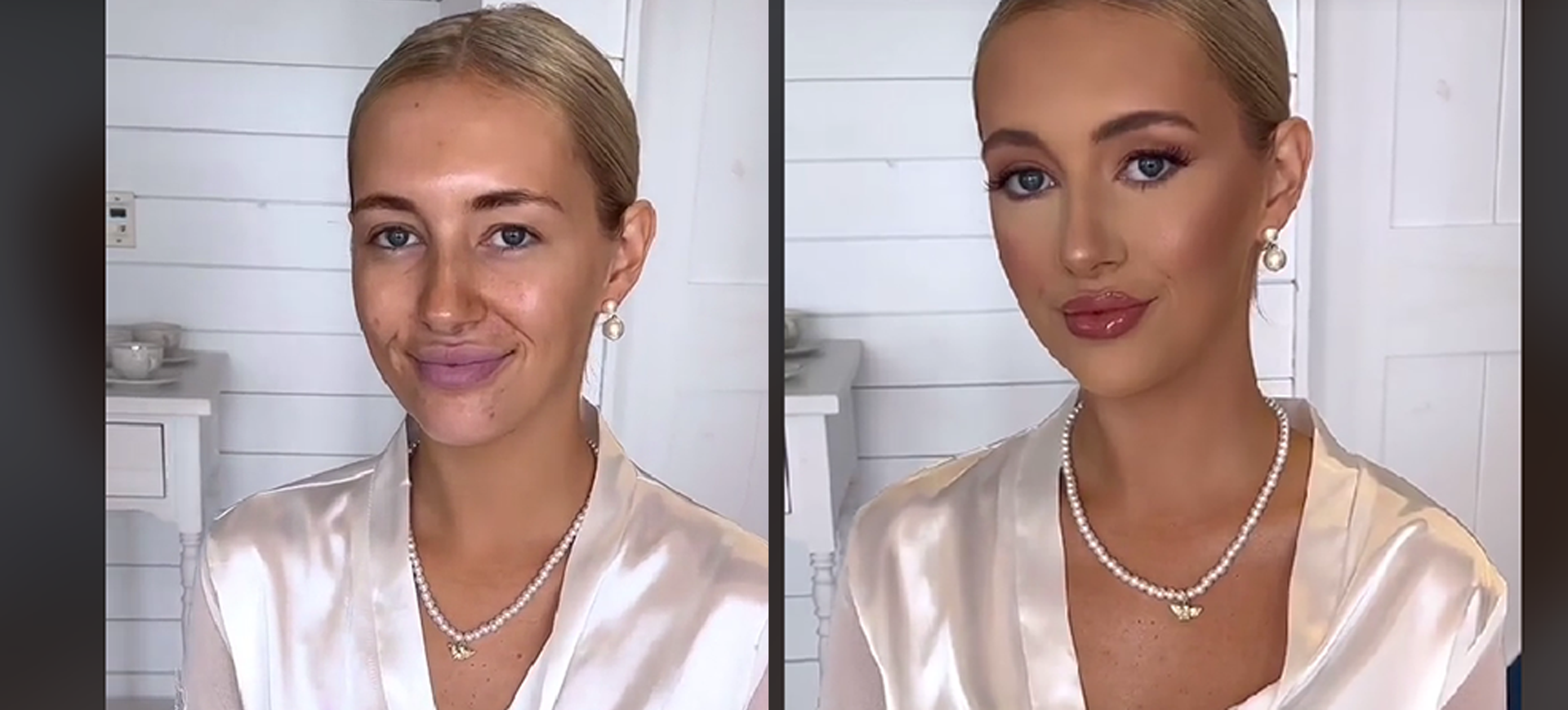 Credit: selenamup via TikTok
Justin and Hailey Bieber's 2018 wedding had a similar effect on their audiences to what the royal wedding had on monarchists, only here the Beliebers are, somehow, the cooler ones. Inspired by the model's special day, this beat adds a touch more blush and lip color than the original. As any makeup fan knows, even when emulating a look, changes like that are necessary to suit different skin tones.
Why is Korea so good at this?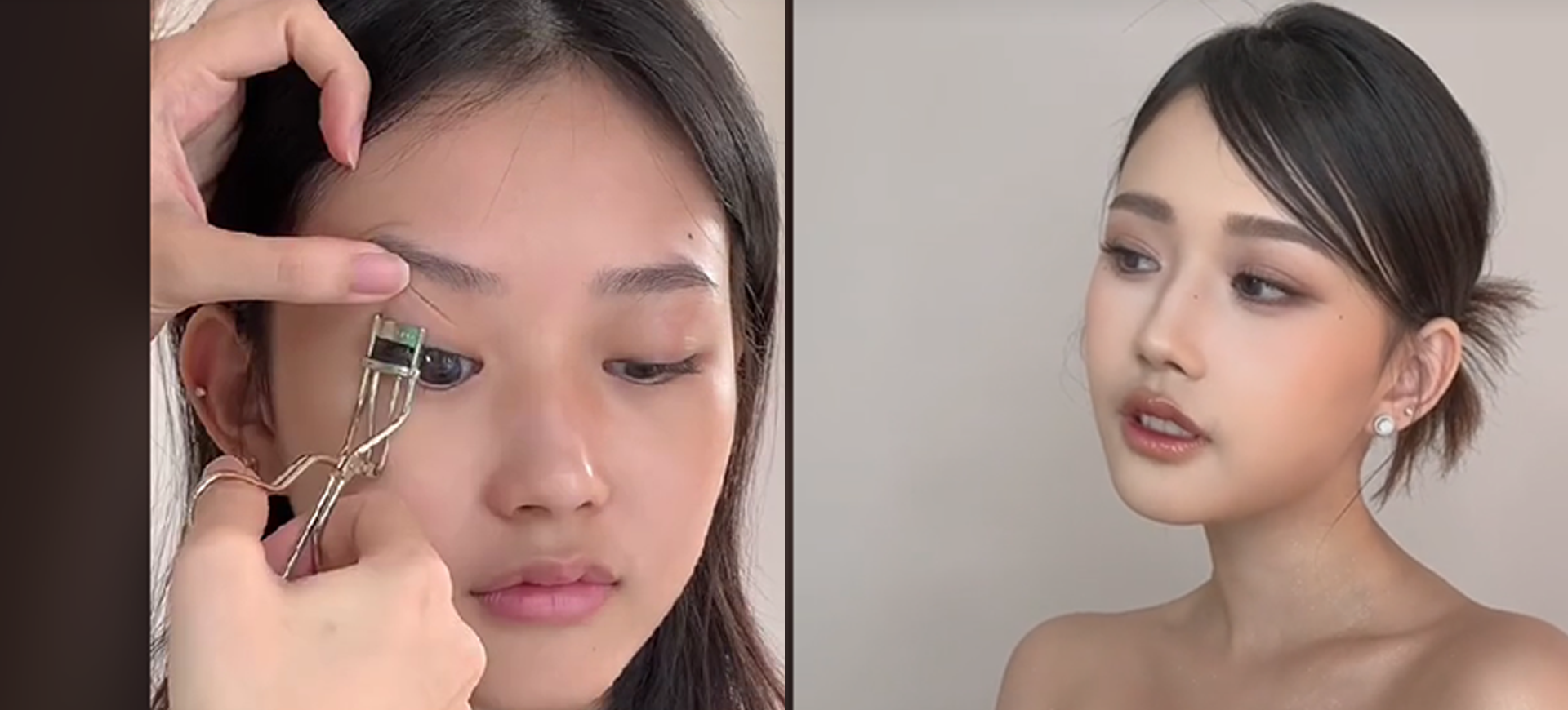 Credit: pricilliasw via TikTok
It's impossible to escape Korea's influence in the world of cosmetics and skincare. In the past decade brands from all across Asia have become massively popular in Western markets, and bridal looks like this are exactly why. The ultra soft and smooth coverage gives you something close to the "bare-faced" looks we loved in the 90s, but with an unmistakable glow.
Walking down the emerald aisle
Credit: rosierobertsbeauty via TikTok
Another wonderfully alternative take on gothic glam – this time for a St Patrick's Day bride. The forehead contour's slightly red pigment helps the transition from hair to skin look seamless, which for brightly colored hair is essential to avoid looking washed out. Then we have the wonderful blend of mint green and flecks of blue to frame and perfectly pair with the bride's bright-green eyes.
Dark fantasy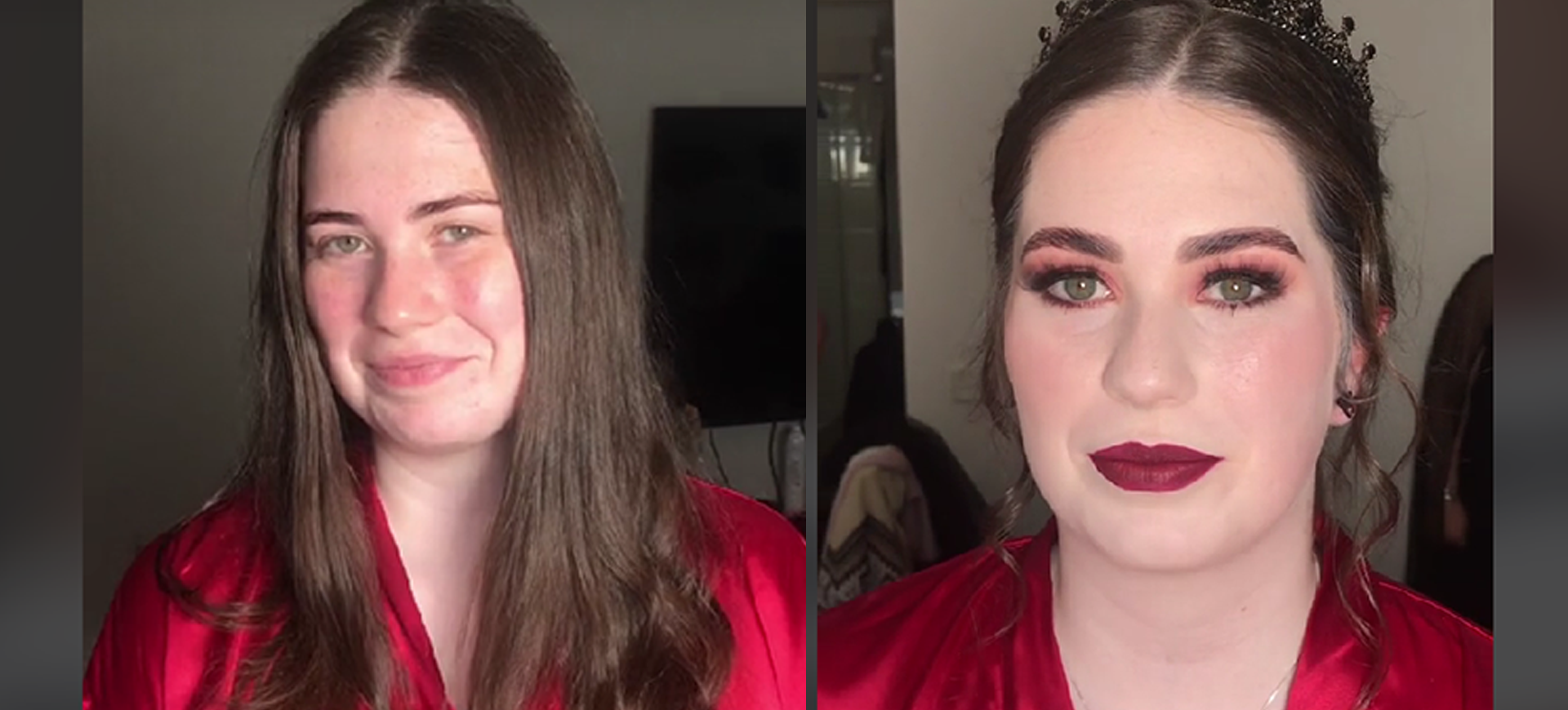 Credit: amandaleemakeup via TikTok
With dark lipstick, a pale foundation, lightly smoked eyes, and a fancy crown, this ticks all the twisted fantasy boxes for another alternative bride. If anything, they could have gone even further on the eye shadow and incorporate some darker yellows or lighter oranges for a little bit more dimension. Though, for naturally paler skin like our bride here, sometimes simple goes a long way.
Style fusions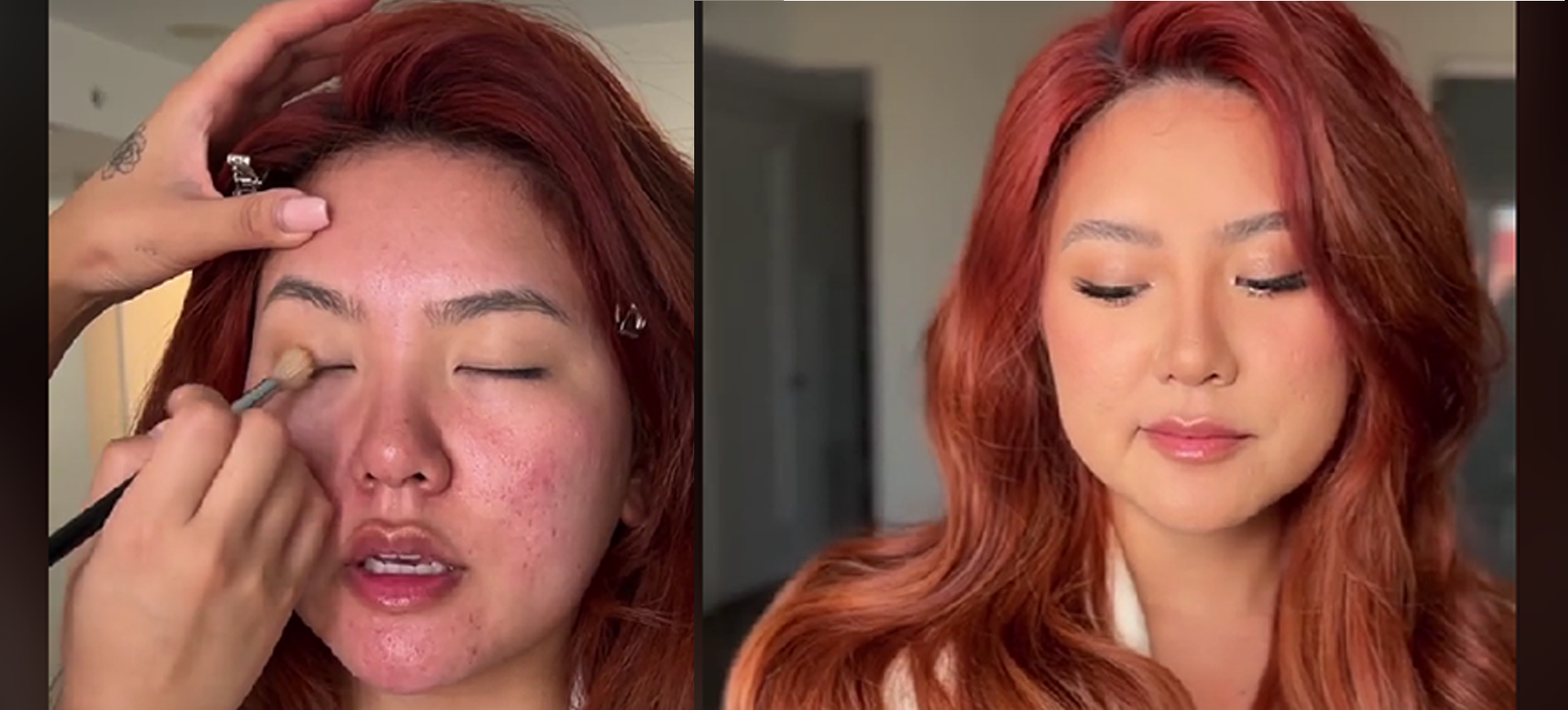 Credit: judy.lim via TikTok
Textured skin comes in many different forms and in no way stands between you and looking flawless for your big day. This application involves delicate brush strokes, building plenty of even layers with primer and moisturizer. The peachy blush brings a little bit of the natural skin tone back to the surface, keeping everything nice and warm.
It's glam, it's drama, it's glamara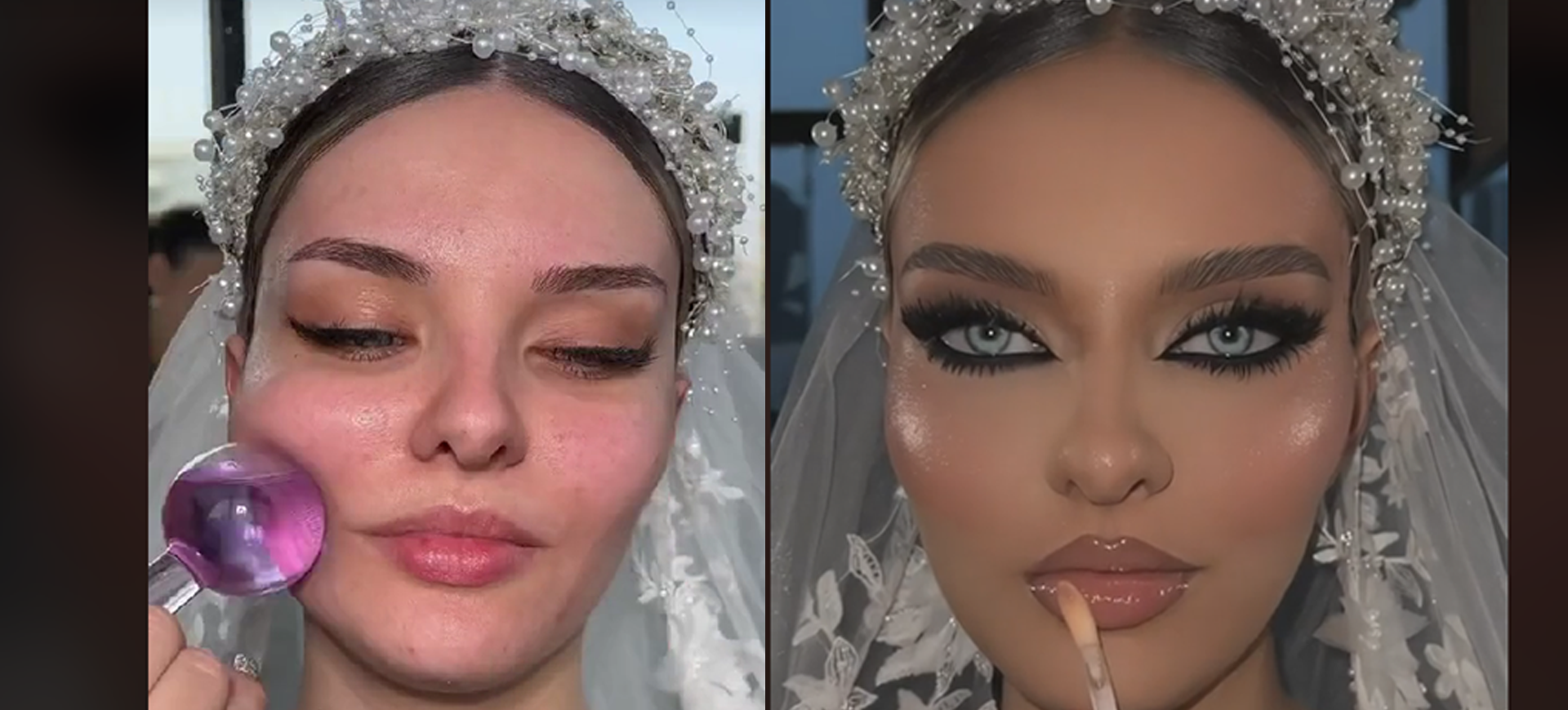 Credit: Makeup via TikTok
It's refreshing to step away from the contemporary, more muted form of glam and see an unashamed glitter bomb. The foundation coverage is heavy but doesn't feel weighed down in the slightest thanks to the clever use of highlighter, shimmer, and immaculate blending. The outlined lips and dense smoky eyes are the ornament atop the wedding cake.
The blush and the brows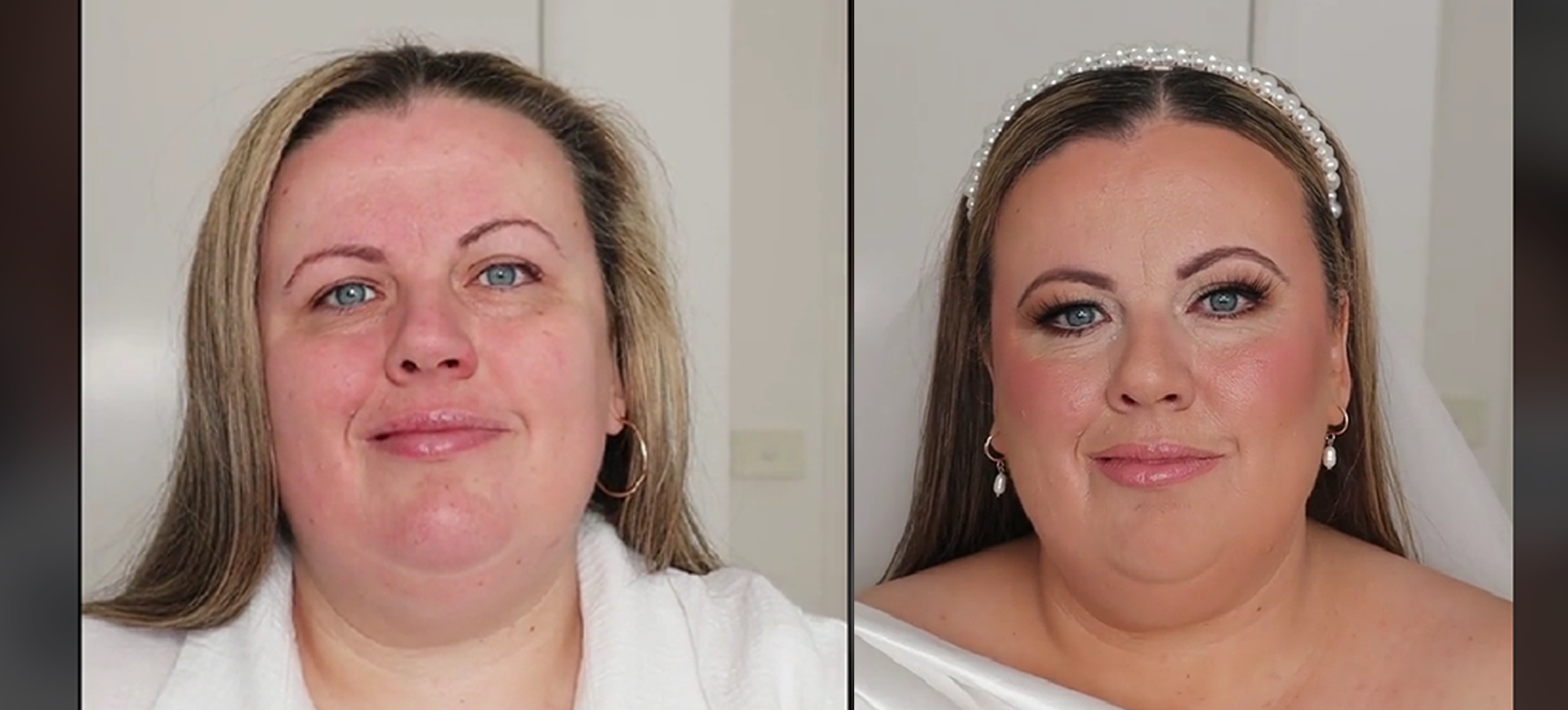 Credit: amandaleemakeup via TikTok
Our wonderful fiancée here has great skin, to begin with, so the artist has chosen a lighter coverage that keeps that gorgeous, natural looking texture but evens out the tone. Some great work has gone into the eyebrows, thickening and sculpting the pre-existing shape to help even out some of the asymmetry, while still helping to frame the model's heart shaped face.
Sculpted to perfection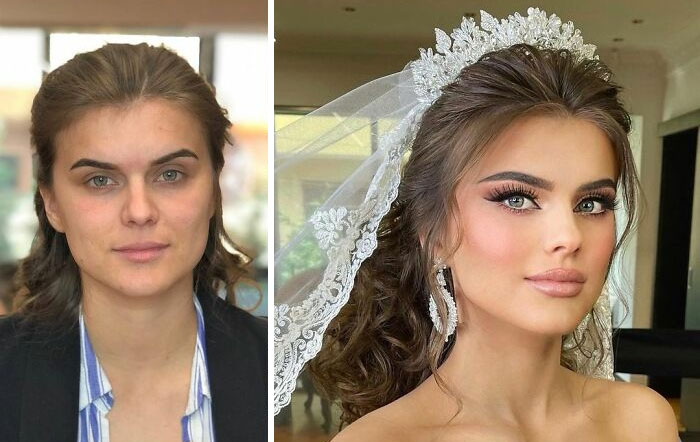 Planning your makeup and hair together can make some wonderful things happen. You can see clearly in the before picture that this bride has a very pronounced facial bone structure, which can make darker eyes seem a little deeper set. The curled bangs and contour around the temples help emphasise those cheeks, with bold lashes and blending to keep the eyes bright and shining.
She could fly with those wings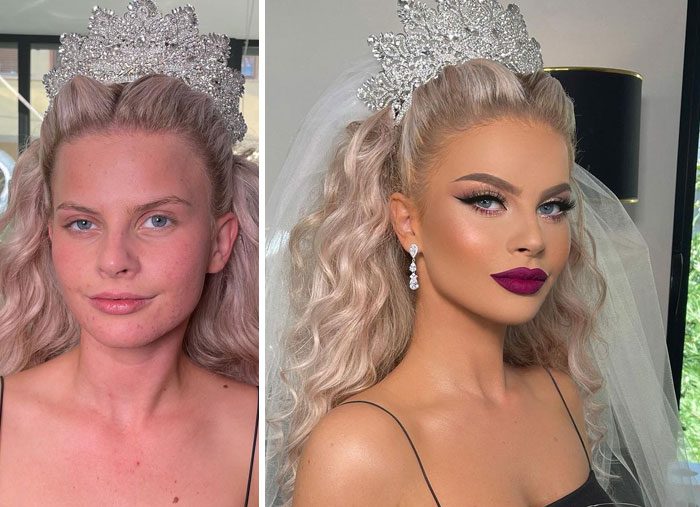 Credit: arber_bytyqi_mua via Instagram
Almond eyes are so naturally complimented by sharp, winged eyeliner that it almost seems a shame not to go all the way with it. The artist has also taken advantage of the bride's smile lines, including them in the liner and lipstick over-line to add extra lift factor to the face using her natural beauty. Add in those feathery lashes and her face is practically floating.
Adding verticality to the eyes
Credit: arber_bytyqi_mua via Instagram
While the cherry red lip shade with a Betty Boop overline is to die for, we really should focus on the upper half of the face. The eyebrows sit with their peak slightly further along, which helps stretch the eye a little, then the beautiful, bright, and very on trend eyeshadow makes everything sparkle. The white lashes and touch of underline are just an exquisite touch.
A splash of passion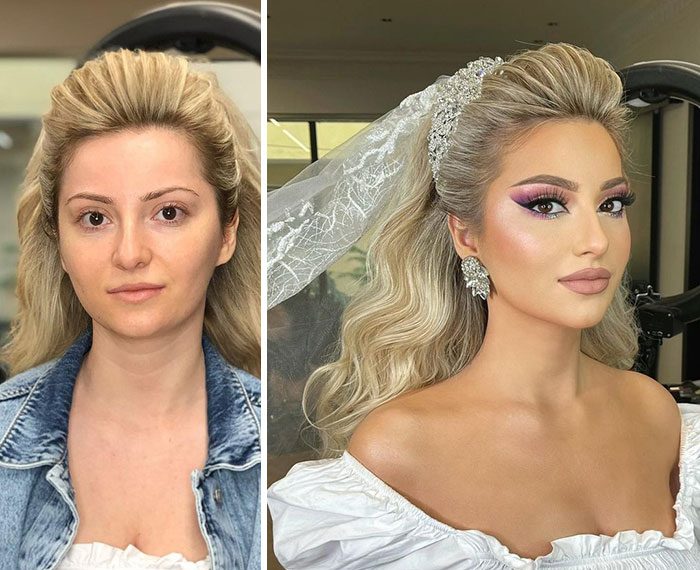 Credit: arber_bytyqi_mua via Instagram
Purple doesn't often make an appearance in wedding make-up, it's a bit too saucy and intense for an occasion that most people would like to keep above board, really prim and proper. Nonsense, says this bride! Not only will a vibrant, energetic purple electrify the eyes, but so do subtle splashes of cyan and shimmer. It's all held together with a glorious inner and outer wing line.
Magic eye(s)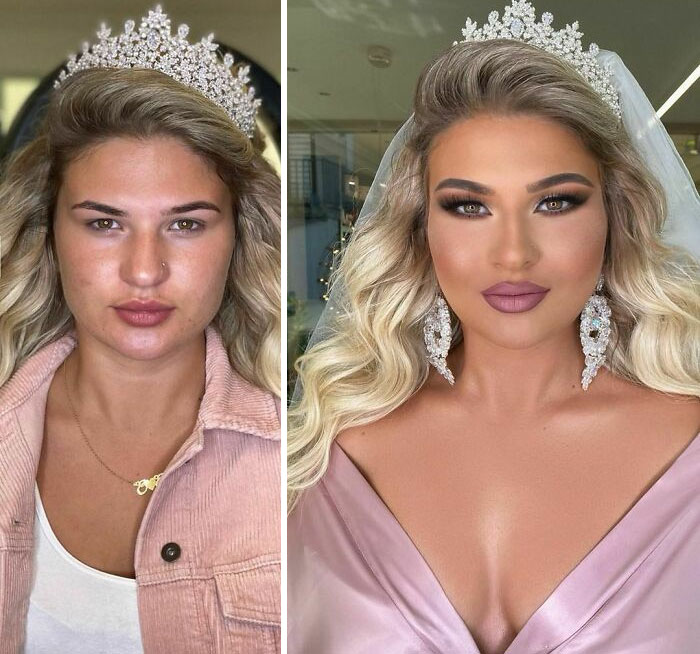 Credit: arber_bytyqi_mua via Instagram
A fantastic example of how much proper application can boost your natural features. Our before bride has a narrower eye shape and a rounded face, which is extremely common. The artist has used a slightly heavier under-shadow, a wide and diffused wing, and a flattering nude on the outer ring to almost double the size of her peepers and keep the softness of her features.
Nude on the beach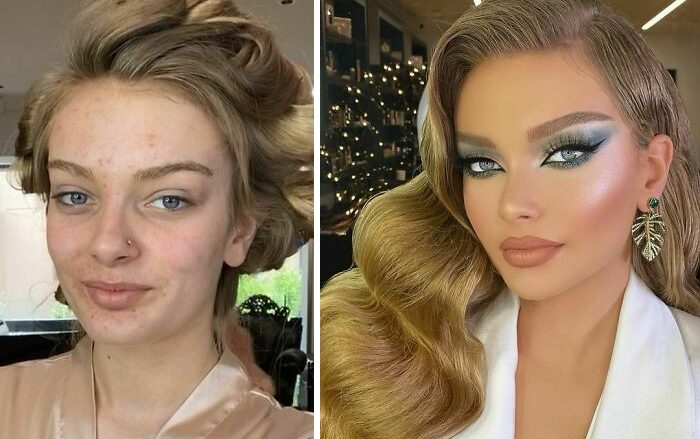 Credit: arber_bytyqi_mua via Instagram
If you fancy something that's still very much in style, but easy to work your personality into, this is the kind of look to go for. The technique here is impeccable but, with this inspiration, even a novice makeup artist could create something outstanding – so why not try? Small touches go a long way as longer blush strokes lengthen the cheeks and the nude lip is contrasted by bursts of ocean blues.
Playing with shadows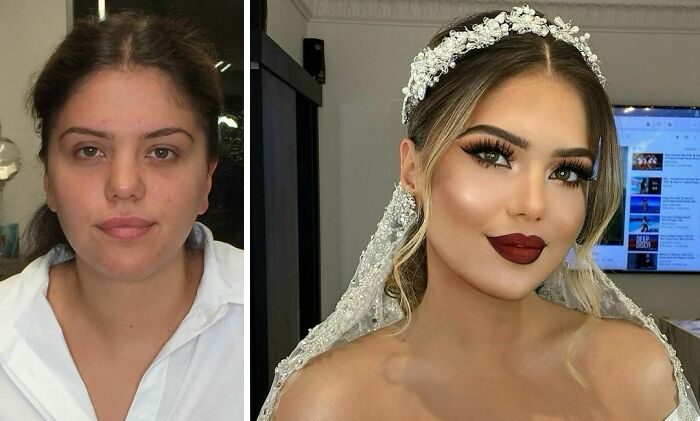 Credit: arber_bytyqi_mua via Instagram
Color isn't the only way to add dimension to your makeup. Before technicolor TVs, you had to squint hard at the 9-inch black and white radiation box to see what was really going on – so contrast between basic concepts of light and dark was important to consider for screen makeup. The selective, dark, and heavy contour and gradient lip here use this knowledge, playing with light beautifully.
Steely-eyed bride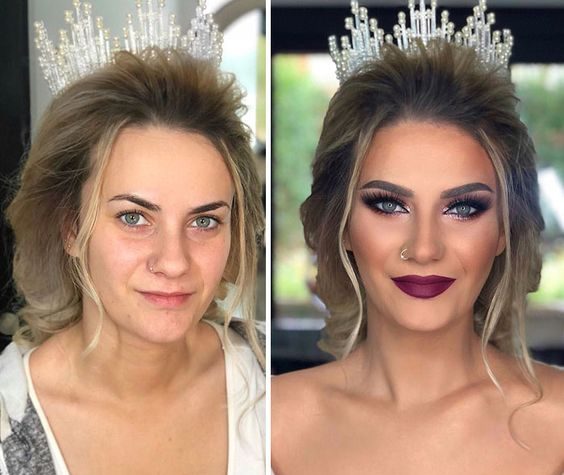 Credit: arber_bytyqi_mua via Instagram
Intense, metallic shimmers and darker colors can make cooler skin tones look ethereal and mysterious. Every bride's dream. The entire eye look is so wonderfully constructed, with the pale, glittery pink smoking out into a cloud of amethyst dust both above and below the eye. The maroon lip overline helps keep the mouth and eyes in proportion harmonious proportion.