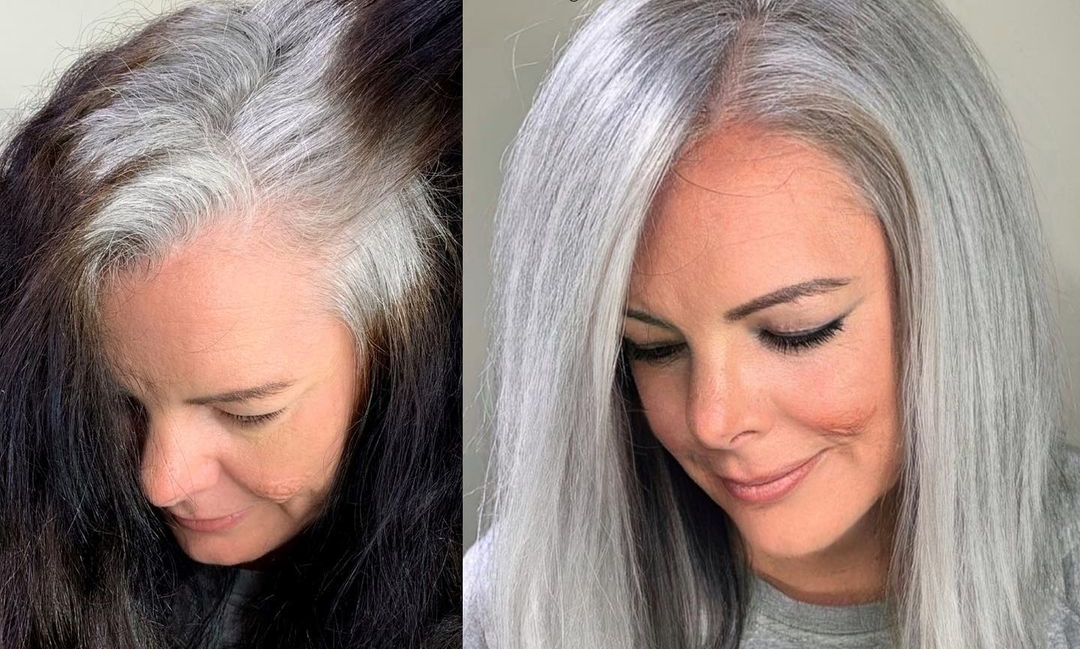 Credit: @jackmartincolorist via Instagram
Use silver balayage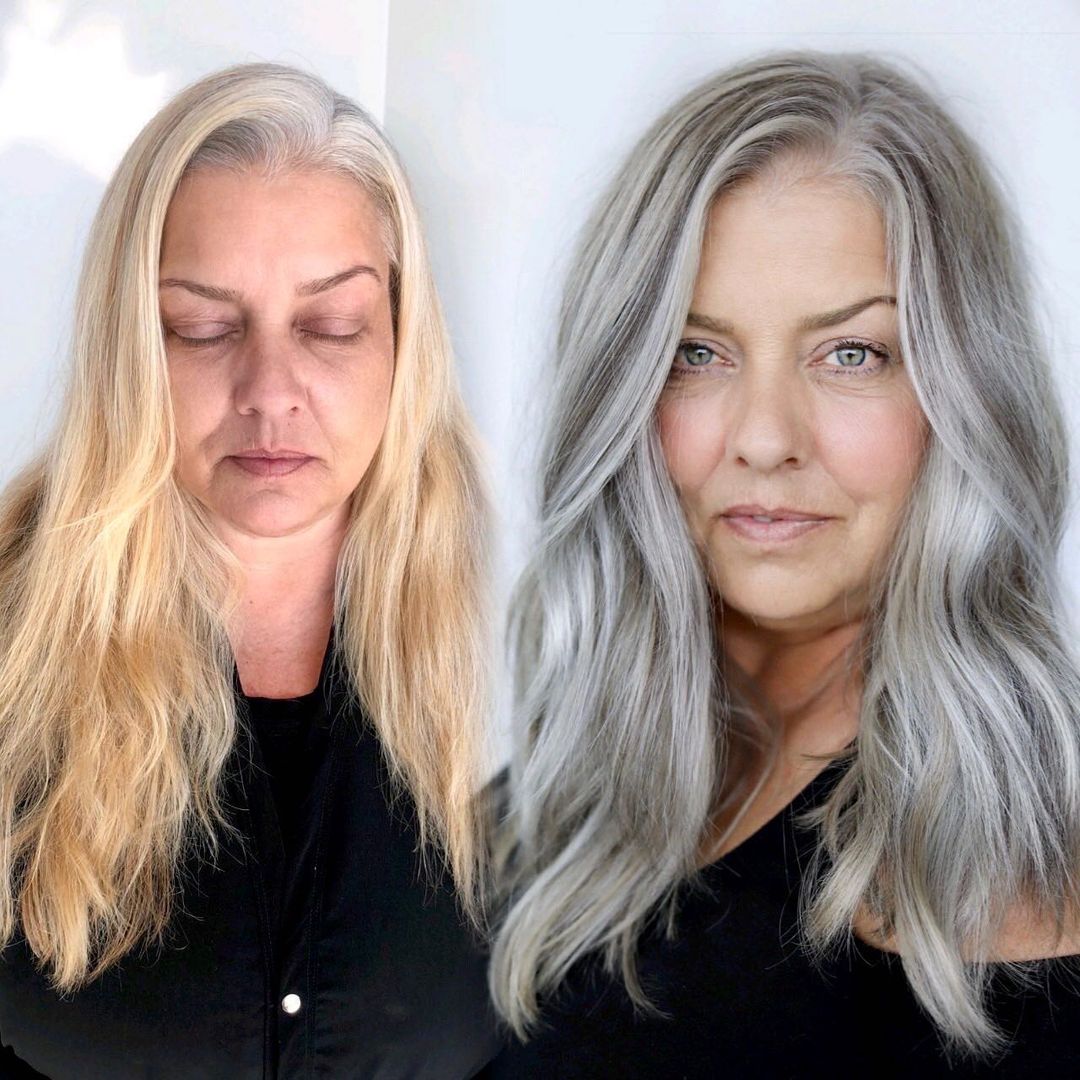 Credit: @jordan.paints.hair via Instagram
Embrace your gray by getting a balayage dye and layering to your hairdo! It'll accentuate your natural grays, emphasizing your hair color's true beauty with a sleek, natural look. Implementing balayage can add dimension and volume, making your hair look thicker, fuller, and that touch more luscious.
Use highlights and lowlights with gray hair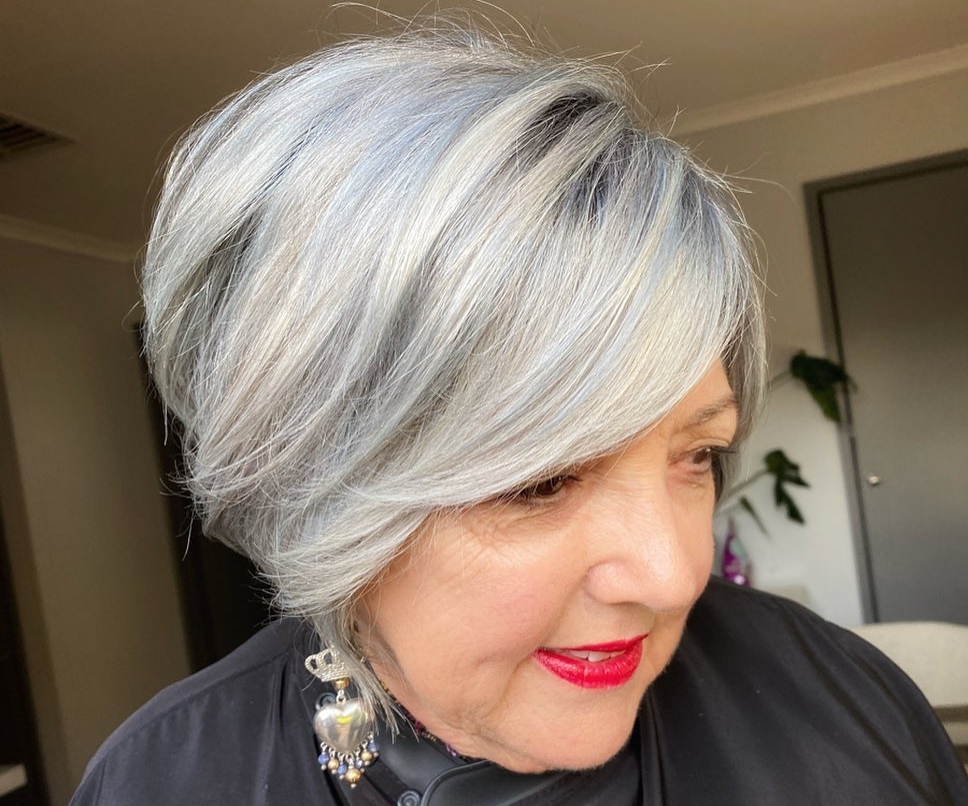 Credit: @courtneytreyvaud_hairartist via Instagram
Use highlights combined with your natural sleek, silver color to create a timeless and classic look. Using a mix of highlights and lowlights can compliment your hair and help to provide depth and contrast to your hair color, giving it natural texture and allowing it to look more appealing to the eye.
Try a silver wavy lob
Credit: @herstudiosinc via Instagram
A wavy lob is a beautiful, classic hairstyle, looking even more elegant in silver. Lobs are ideal for all hair types, but naturally curly hair paired with gray locks can create a stunning display, adding natural volume. Not only is it stylish, but a wavy lob is relatively low maintenance, meaning you don't have to spend hours to achieve a pristine look.
Don't be afraid to try a gray bob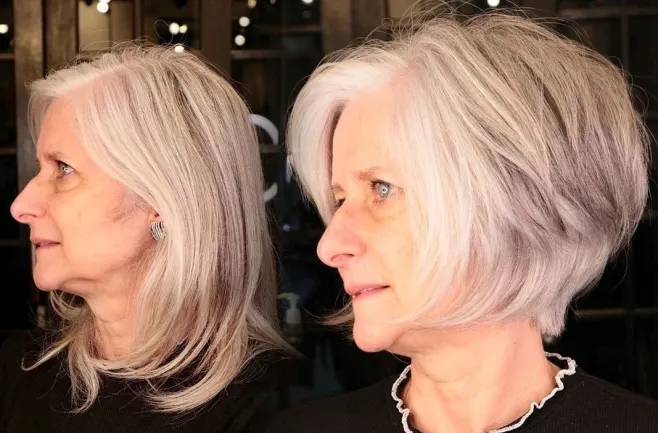 Credit: @maygovintage via Instagram
Don't shy away from the bob – try it out! This hairstyle can make you look younger, as it frames your face well. Styling your hair in a bob also requires little to no upkeep, meaning it's an ideal choice for those who want to keep their grays with minimal fuss.
Experiment with layers
Credit: @jackmartincolorist via Instagram
Don't underestimate the importance of layers, particularly if you're rocking gray hair. Effectively layering your hair can create a better overall shape – both for the volume of your hair and to frame your face. Finding the perfect layers to suit your style can make you look ten years younger.
Mix grays into your natural color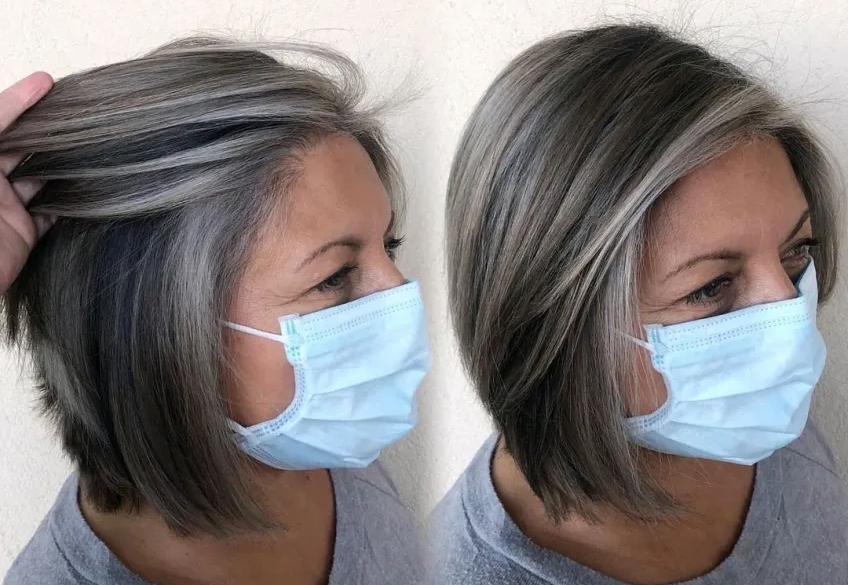 Credit: @lena_piccininni via Instagram
Starting to show gray roots? Don't try to cover them up – embrace them! Go to the hairdresser and get some silver highlights to accentuate the gray, mixing it with your natural hair color, creating a beautiful, varied blend of tones. This hairstyle is chic, stylish, and very on-trend.
A long pixie cut is a timeless choice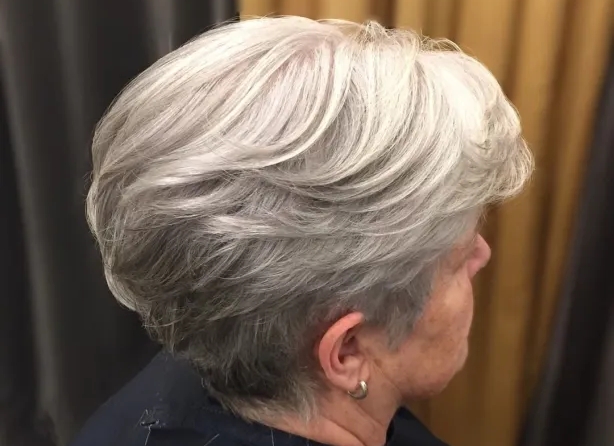 Credit: @Lava Hair Salon via Instagram
Going for an longer pixie cut can flatter your face shape with elegance, highlighting features such as your jawline and your eyes. The long pixie cut works best for those with oval faces and fine hair, but your hairdresser should be able to adapt it to your personal needs. This look is a timeless classic without appearing too harsh, making it a popular choice for people with gray hair.
Go for a medium-length shag style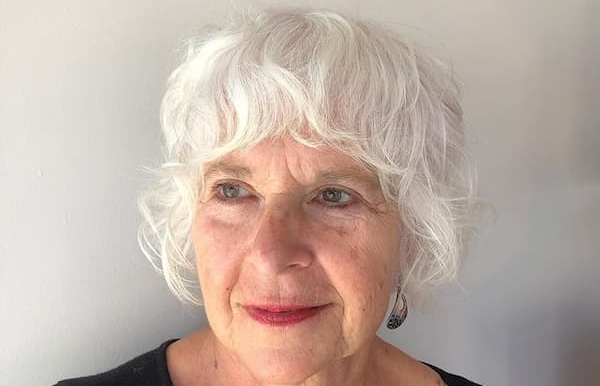 Credit: @howtomake2022 via Twitter
This hairstyle is one length across the entire bottom of your hair, combined with layers and choppy thinning to enhanced your natural texture. It sculpts your face nicely, helping you to look more youthful. It mixes the classic, maturity look of your gray with a more playful cut, creating a nice dichotomy.
Try a straight cut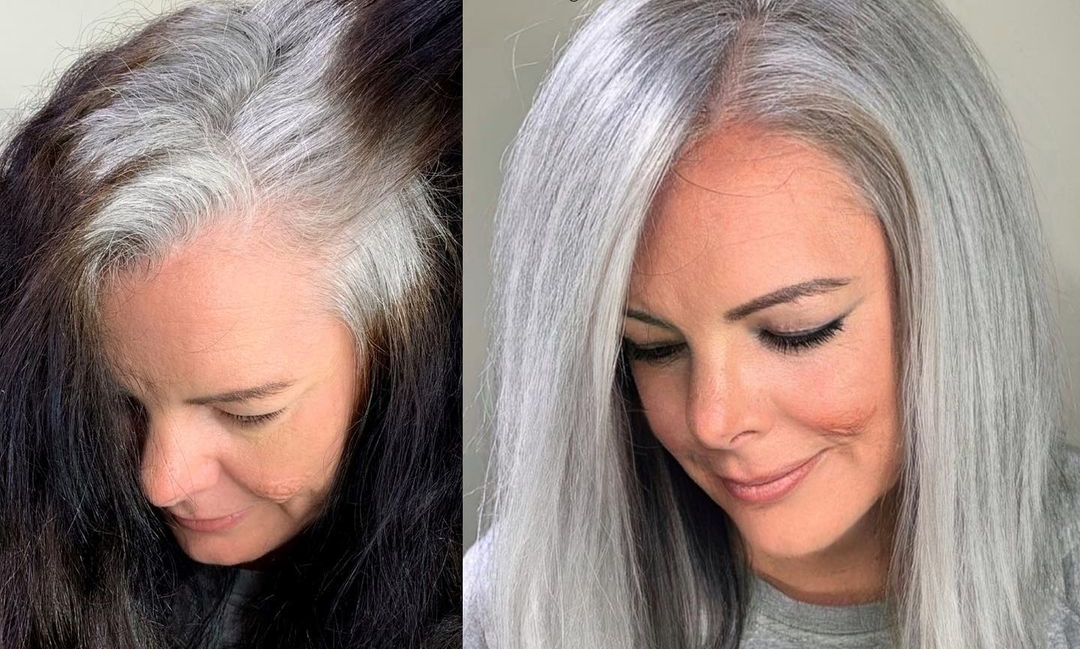 Credit: @jackmartincolorist via Instagram
A straight cut is the ultimate classic when it comes to hairstyles. Pairing a straight cut with gray hair can give a sleek, sophisticated look, allowing you to experiment with a variety of different styles – leave it to fall flat, put it in a ponytail, or try a messy bun. If you go for a straight cut, the possibilities are endless.
Grow your hair out – but make sure it's shaped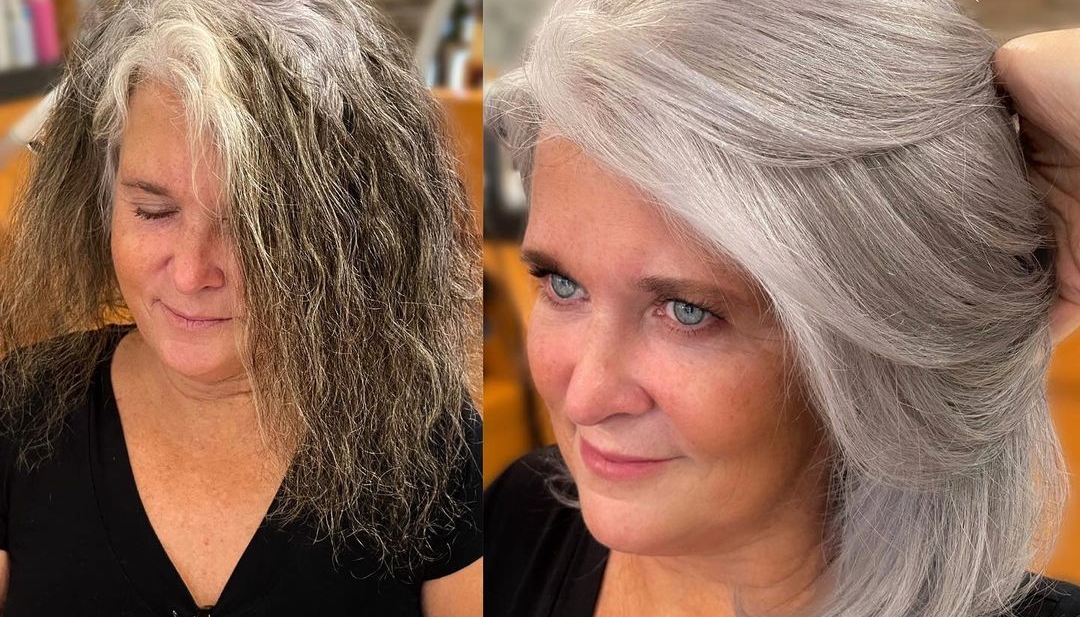 @jackmartincolorist via Instagram
There's nothing wrong with having long locks of gray hair. However, you have to ensure that you make frequent trips to the hairdressers to ensure it's appropriately shaped. Keeping long gray hair unkempt naturally draws the eye downwards, making you seem older than you actually are.
Salt-and-pepper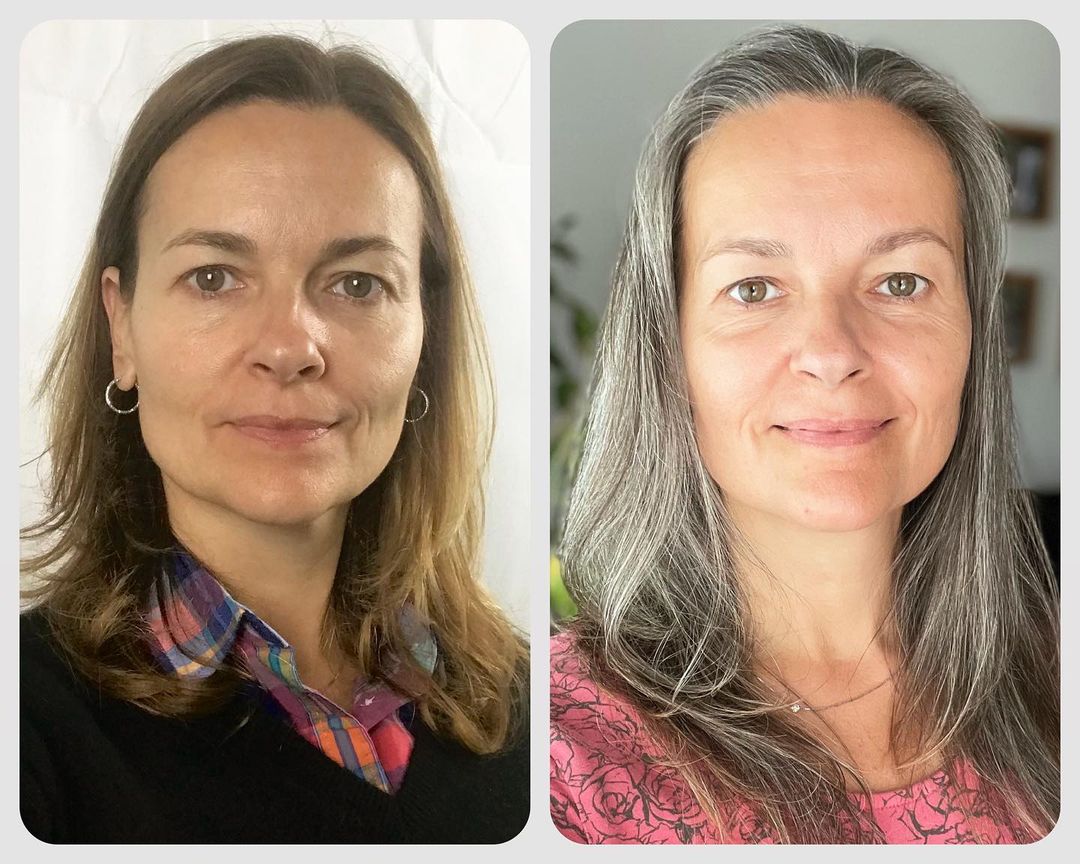 Credit: @brizzolando via Instagram
Don't shy away from your salt-and-pepper hair – rock it! The salt and pepper look is all the rage with the youngsters right now, with some even dyeing their hair gray to achieve the look. Not only is it stylish, but you'll also save plenty of time (and money!) not having to constantly top up the dye.
Spiky pixie cut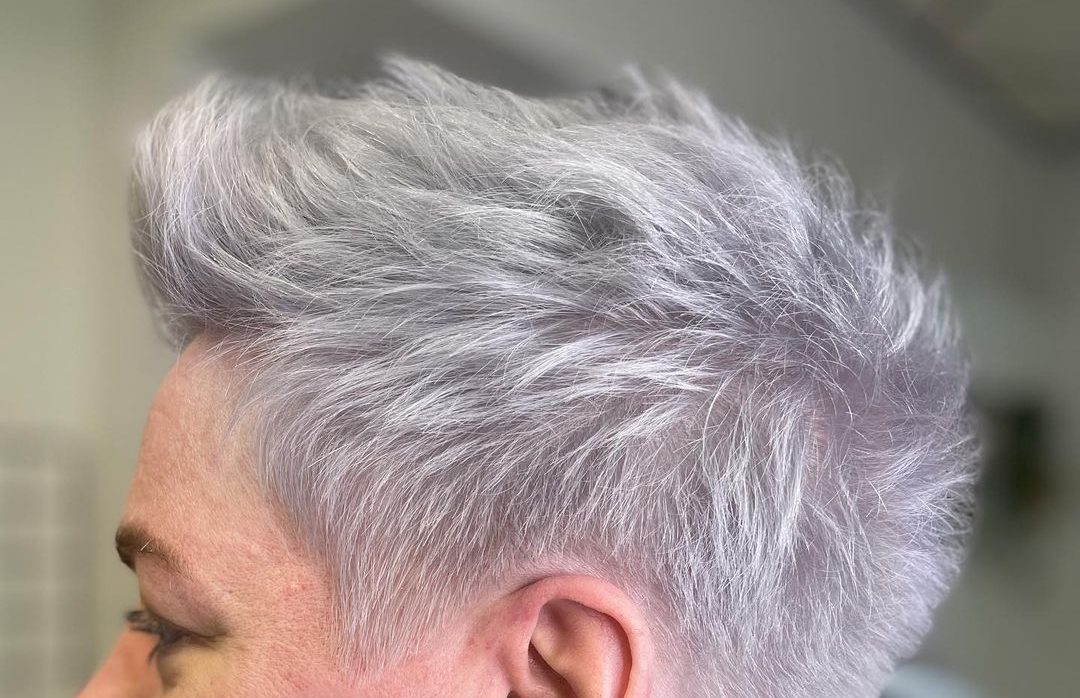 Credit: @jadebyida via Instagram
If the classic pixie cut isn't flamboyant enough for you, go for a spiky do. Spiky gray pixie cuts are appealing to the eye – lightening up your face, helping you to look younger – and insanely easy to replicate. All you have to do is style it with a dash of hairspray and you're good to go.
Feeling brave? Try a shave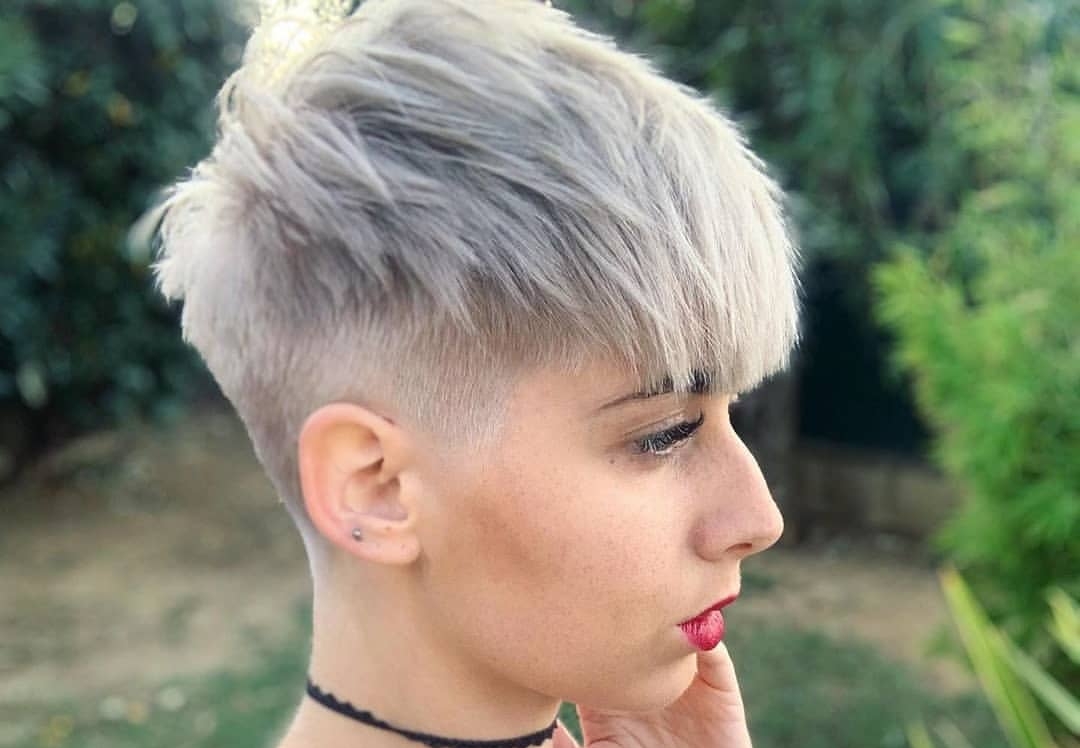 Credit: @lisajulieserra via Instagram
For a lighter, trendier look, consider getting a side shave. The short hair on the side and the long cut on the top can help to frame your face nicely, drawing attention to your cheekbones. If you're looking for a modern edge, look no further.
Go for some lowlights
Credit: @ashlaurie.hairstylist via Instagram
Lowlights are a few shades darker than your natural hair color – acting as the opposite of highlights. Getting lowlights on their own can flaunt your grays, showing that you're not afraid to embrace your age. Speak to your hairdresser about whether lowlights will suit your hairstyle.
Go platinum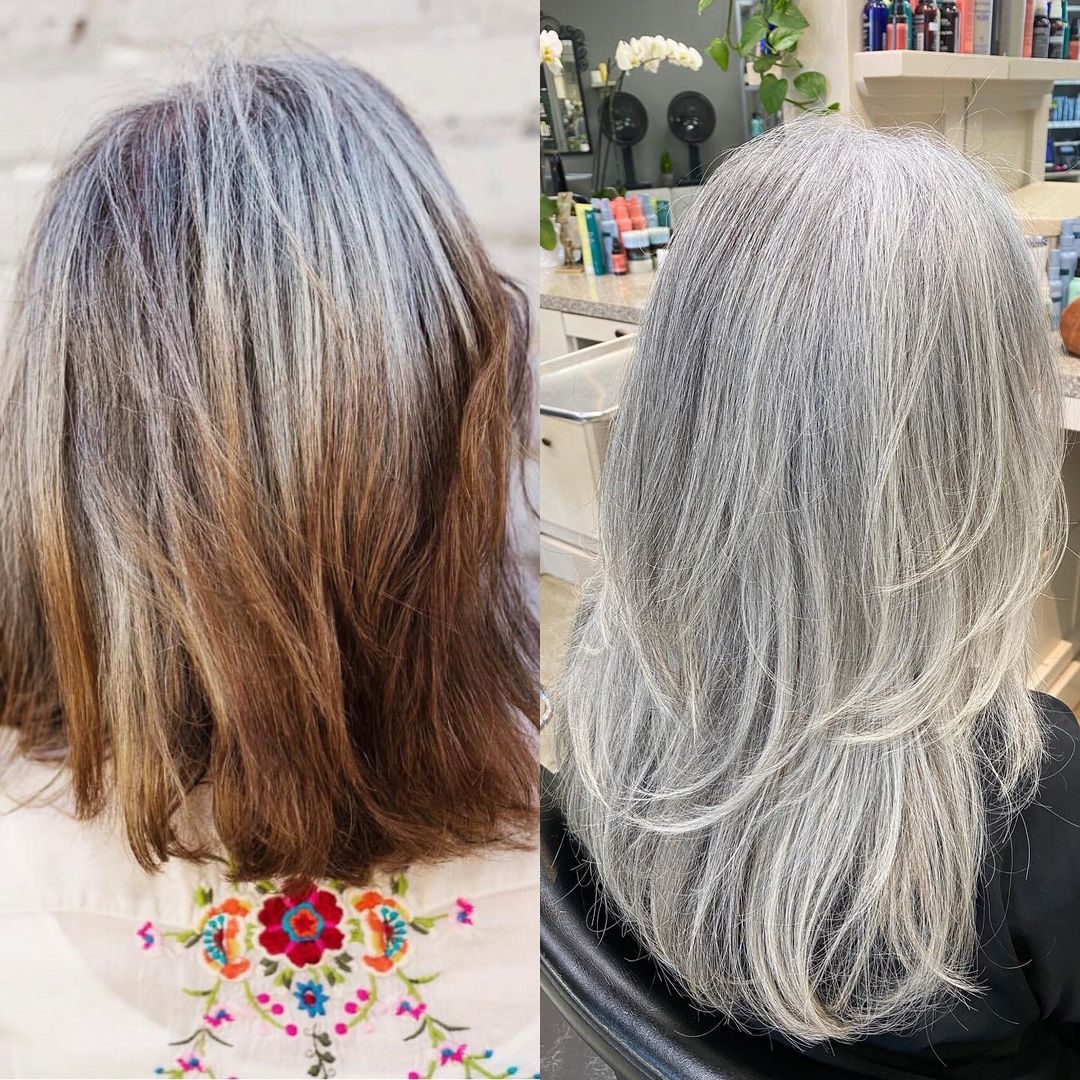 Credit: @katiegoesplatinum via Instagram
If you're going gray, why not go full throttle? Platinum gray hair creates a beautiful look, coating your hair with one consistent color. Once your natural grays grow through, it'll create a stunning blend of silver streaks, which will be sure to turn heads wherever you go.
Get an undercut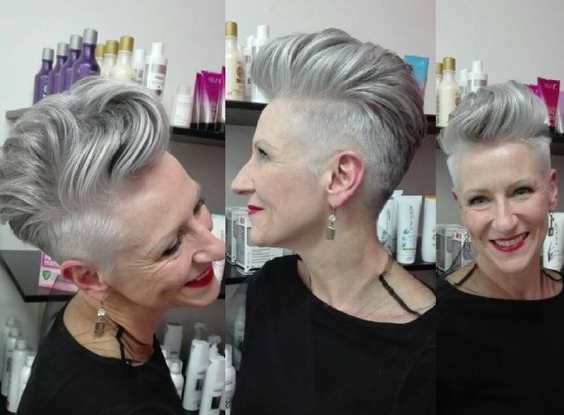 Credit: therighthairstyles via Pinterest
Undercuts are a hassle-free way to incorporate an edgy style into your hairdo. Less hair naturally means less maintenance, speeding up the getting ready process whilst still keeping up an effortless style! Combine an undercut with a pair of statement earrings and a bold lipstick for an iconic, timeless look.
Mix in some lavender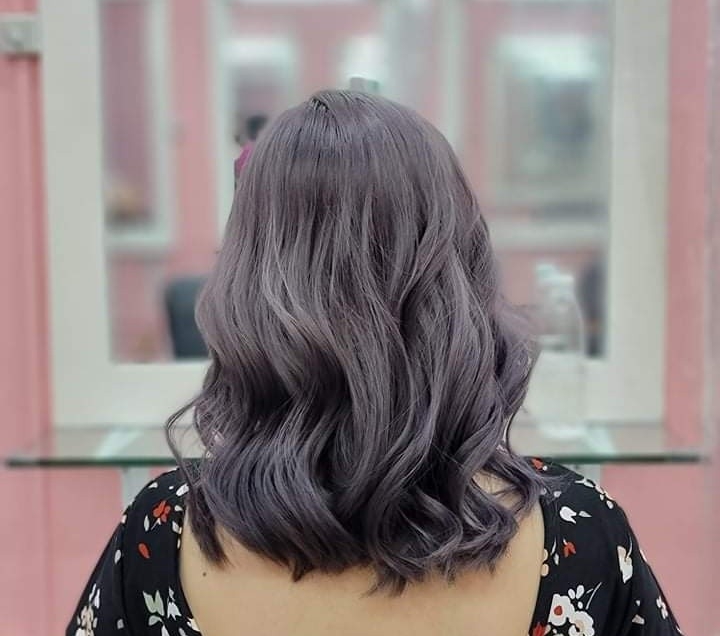 Credit: @natures_massage_salon_and_spa via Instagram
Lavender and gray are a match made in heaven. The added shades of purple remove any tones of brassy yellow, giving your hair a sleeker, more lustrous appearance. Lavender gray colors go with just about any style you can think of – so experiment to your heart's content!
Try an ombre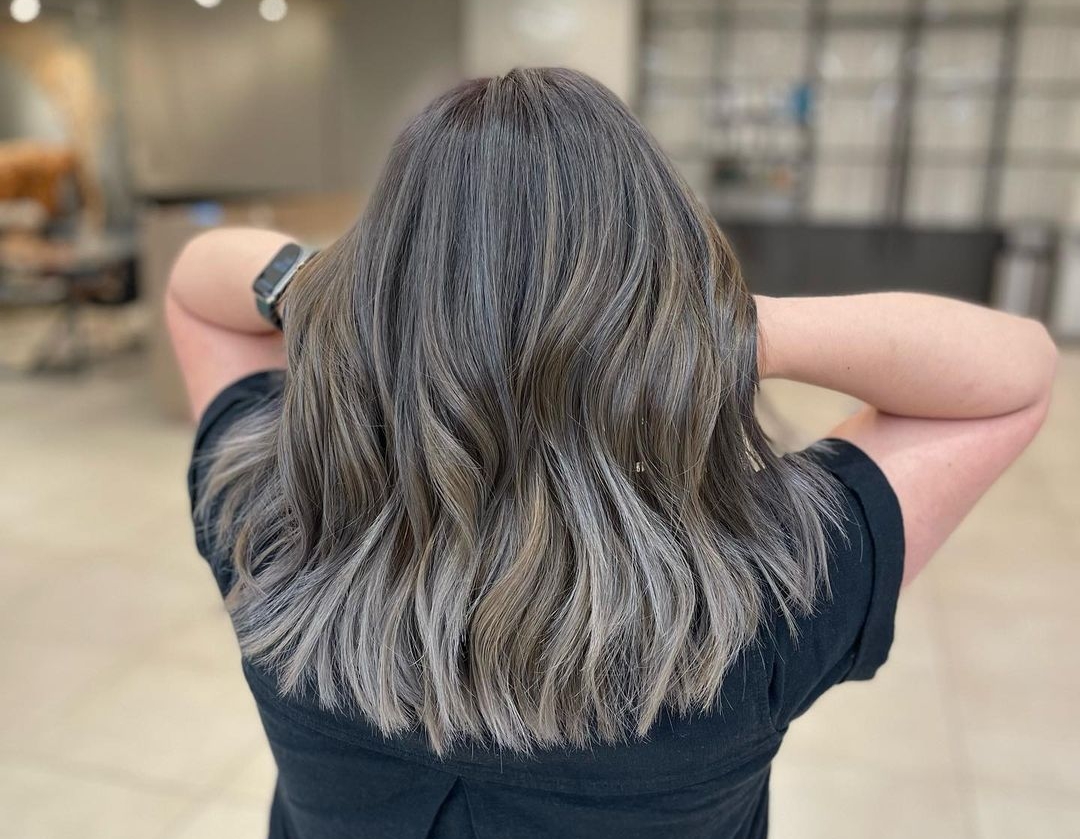 Credit: @aria_etudewsalon via Instagram
A gray ombre can either be super subtle or dazzlingly obvious, depending on the outcome you want. If you're embracing your natural grays, you're more likely to go for a subtle ombre, using delicate styling techniques to create a more sophisticated look. Speak to your hairdresser about your ombre options.
Get a bob with layers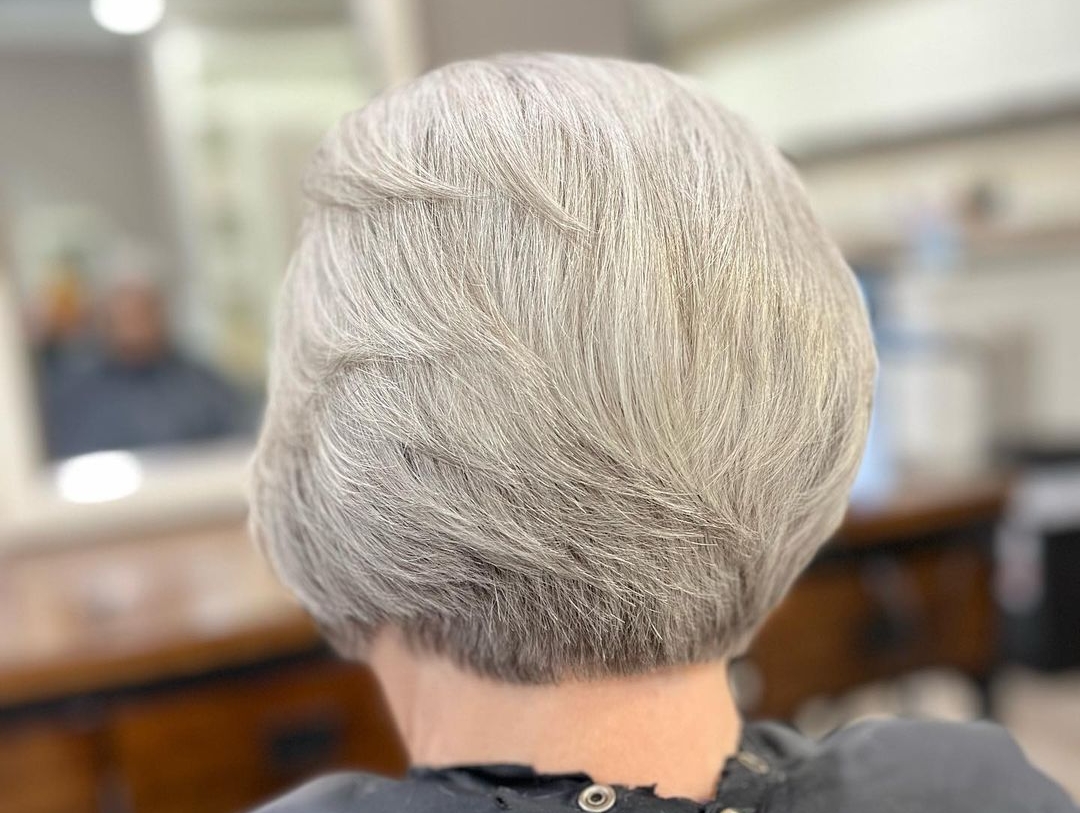 Credit: @cbellasalon via Instagram
A gray bob is stylish enough, but layers take it to the next level. They add depth and definition to your hair, creating a classic look. If you've got long locks, going for a bob may make you look up to ten years younger, getting rid of unnecessary strands of wild, unruly hair for a more streamlined look.
Blond into gray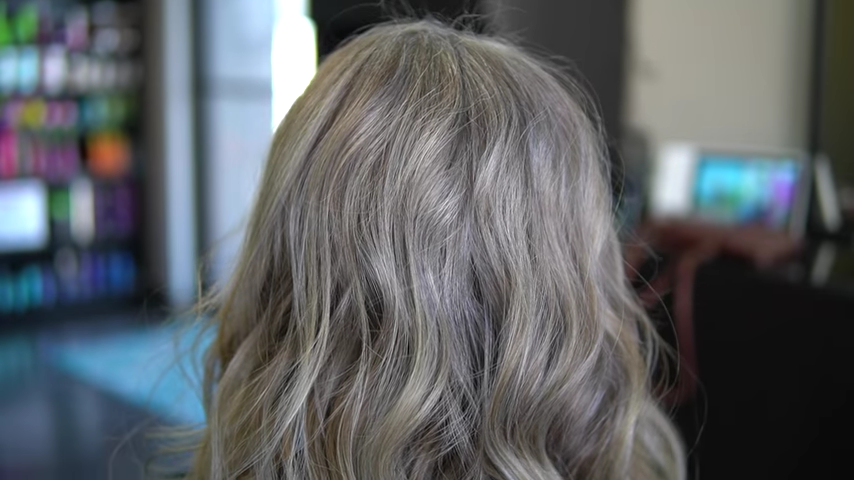 Credit: Chuck Edwards via YouTube
Adding a splash of blond to your gray hair can bring untold benefits. The blond coloring will add a splash of warmth to your hair, which is particularly useful if you have a naturally pale complexion. The best way of mixing blond and gray together is through the use of light blond highlights.
Shorter layered bob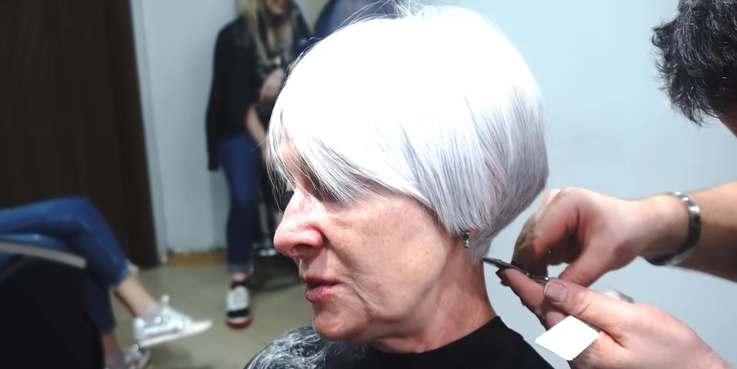 Credit: Tarantula via YouTube
Do you want a bob, but the classic or layered versions aren't quite doing it for you? Why don't you go for an even shorter layered bob? It'll take any unnecessary weight out of your hair, thinning it out to reach a length that compliments your face shape perfectly.
Shoulder-length gray glam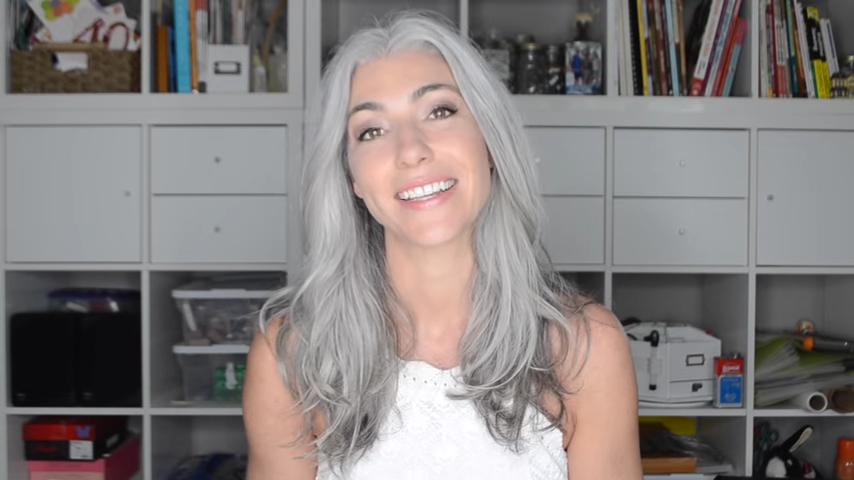 Credit: Erica Henry Johnston via YouTube
Nothing is quite as beautiful as long, flowing locks of hair. Shoulder-length (or ever so slightly beyond, if you're feeling brave) is the perfect reach for gray hair! Through this, you can show off your luscious locks without running the risk of them seeming tangled or untidy.
Cropped cut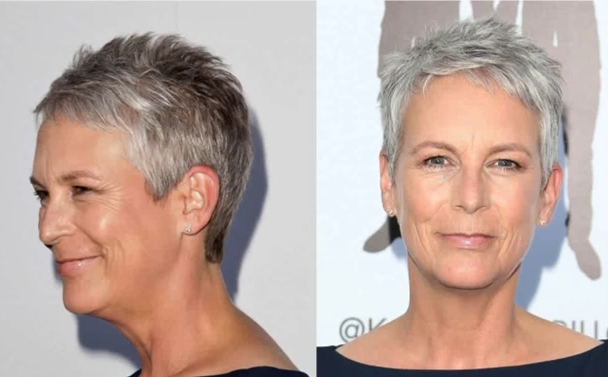 Credit: Антон Шишко via YouTube
Cropped cuts are one of the easiest hairstyles to maintain. Sometimes, you can leave the house without even having to style it at all and walk out of the door with your hair exactly how it was when you woke up! Jamie Lee Curtis has rocked her crop cut for decades, showing just how timeless this hairstyle truly is.
Silver and gold shag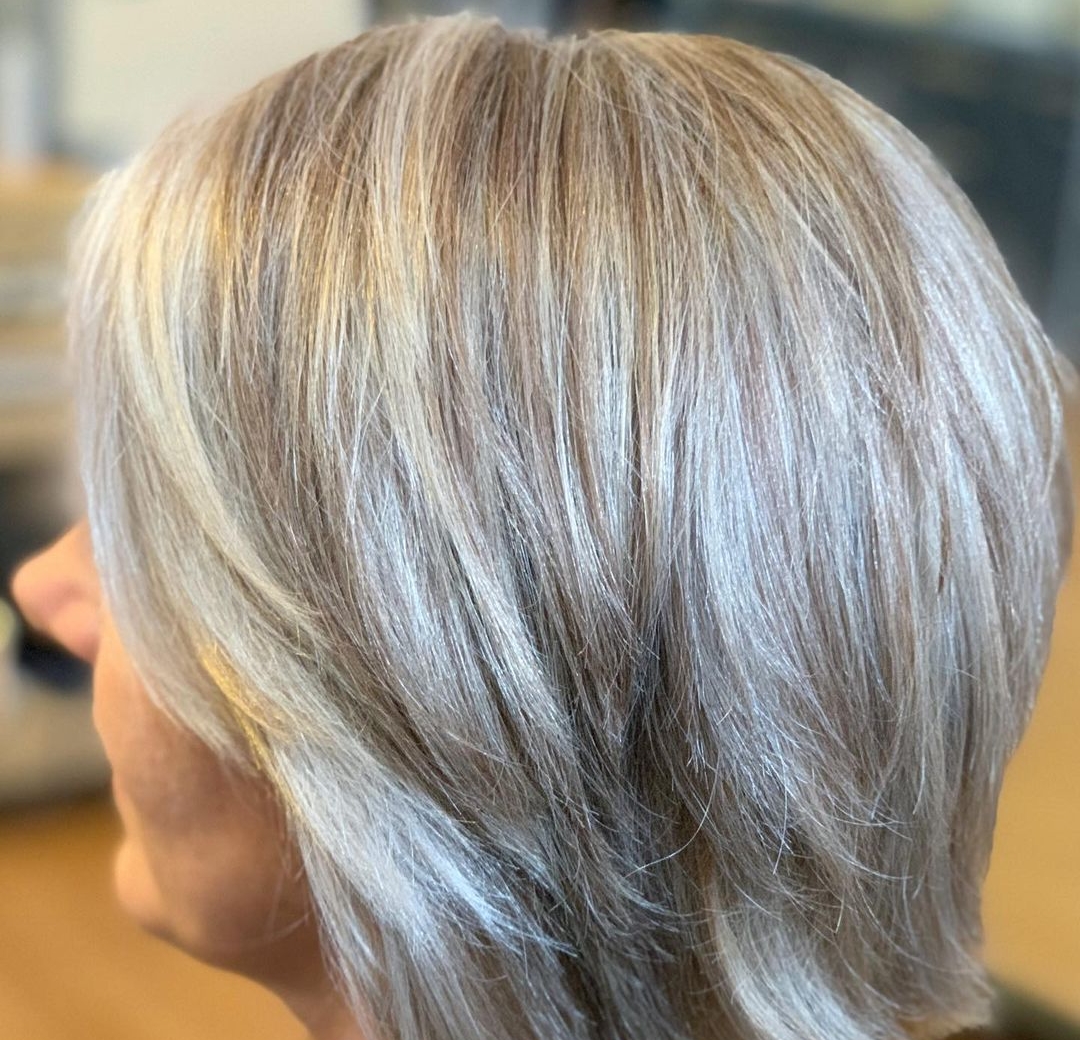 Credit: @sibyls_beauty via Instagram
A gray and blond silver shaggy look mixes new and old together in the most beautiful way. The shaggy hairstyle has made a comeback, giving retro vibes a modern edge. Pair this hairstyle with your natural gray and add in glimmers of blond to bring a touch of warmth. You may have just found your perfect hairdo.
Medium gray swoop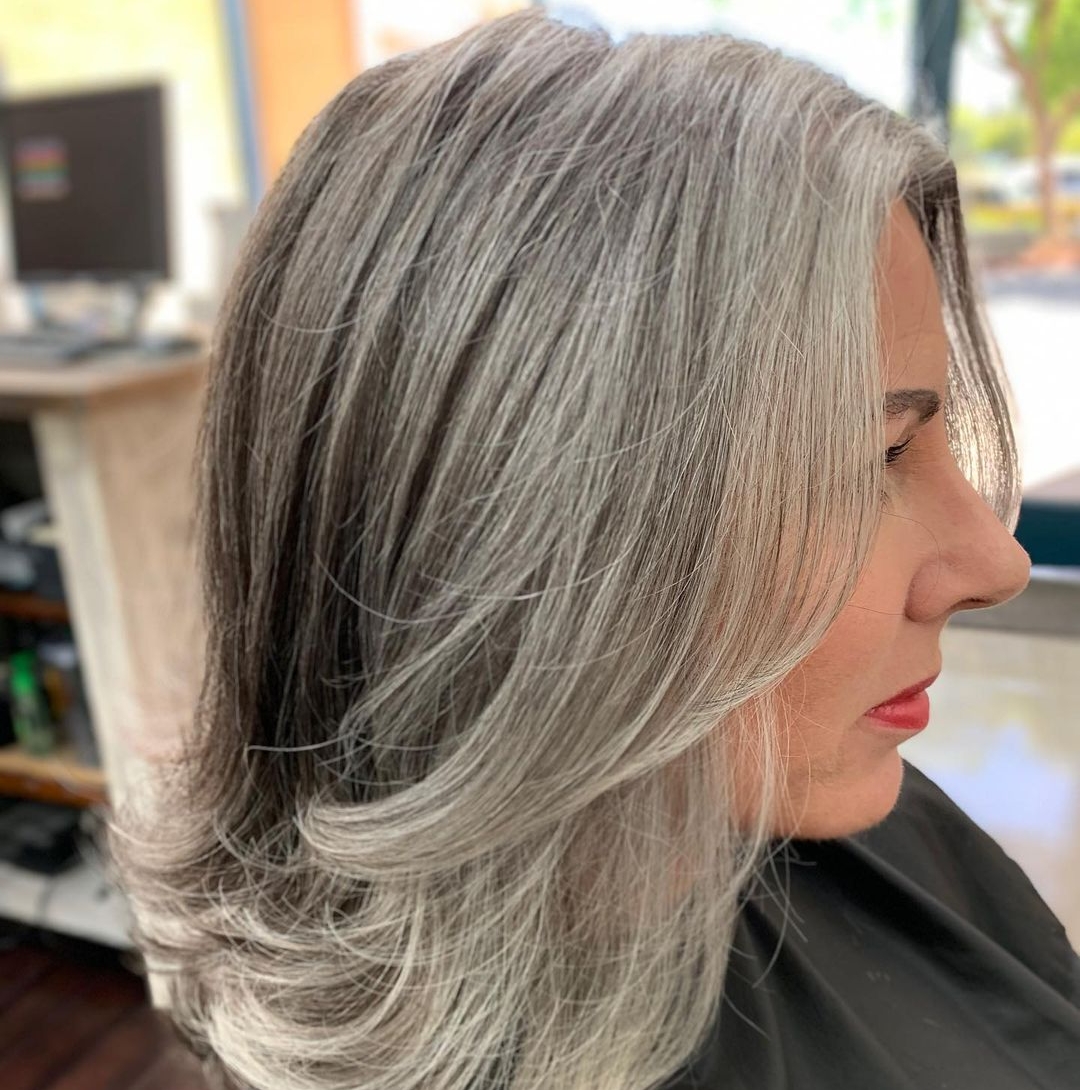 Credit: @dream.strands via Instagram
A medium gray swoop is the epitome of class and grace. The medium-length of the hair gives you plenty of room to experiment with style and shape – leaving untold possibilities. A swooping side fringe can add a sense of style to your do, with minimal upkeep.
Go for gray bangs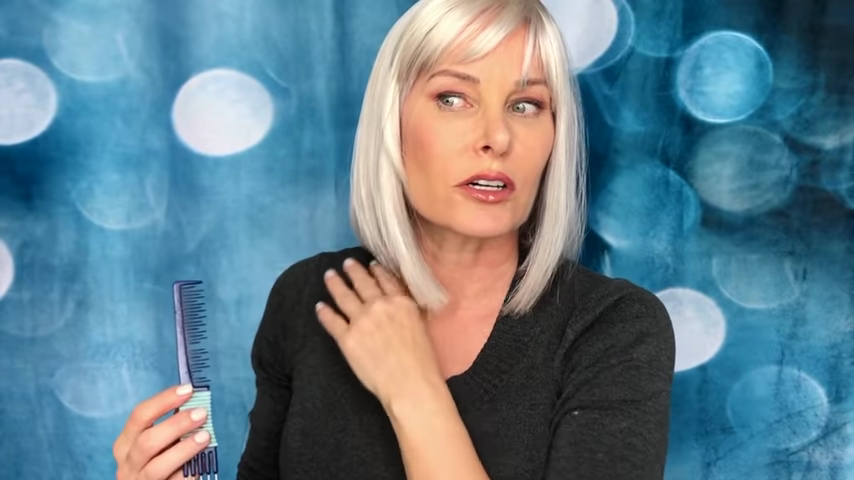 Credit: Monique Parent via YouTube
Want to spice up your look, but you're unsure of what style suits you? Try some bangs! They're easy to implement and better still, if you don't like them, they're easy to remove. Bangs look great with gray hair, framing your face nicely and bringing attention to your eyes.
Super short buzzcut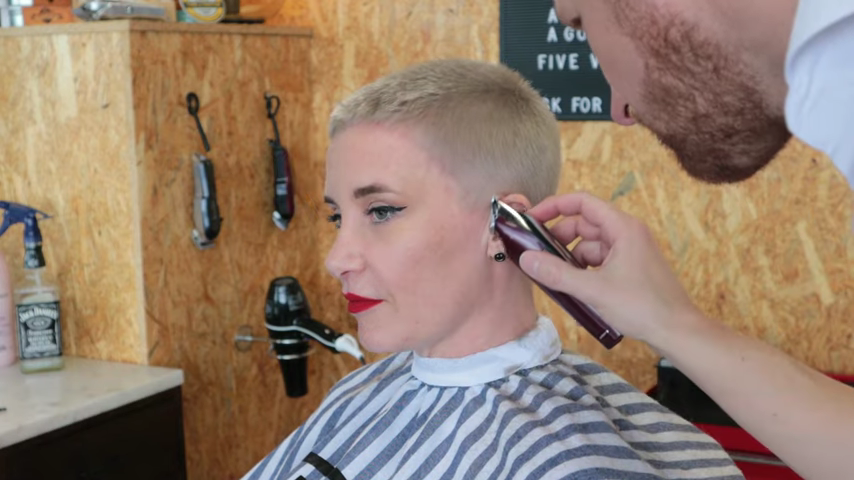 Credit: Women's barbershop HFDZK via YouTube
Feeling brave? Want a complete transformation that will take people's breath away? Go for a gray buzzcut! This hairstyle is, by far, the one with the least upkeep required, needing little to no maintenance. Going for such a drastic change isn't for everyone, so be sure you're ready to commit to it before you take the plunge.
Feathered gray cut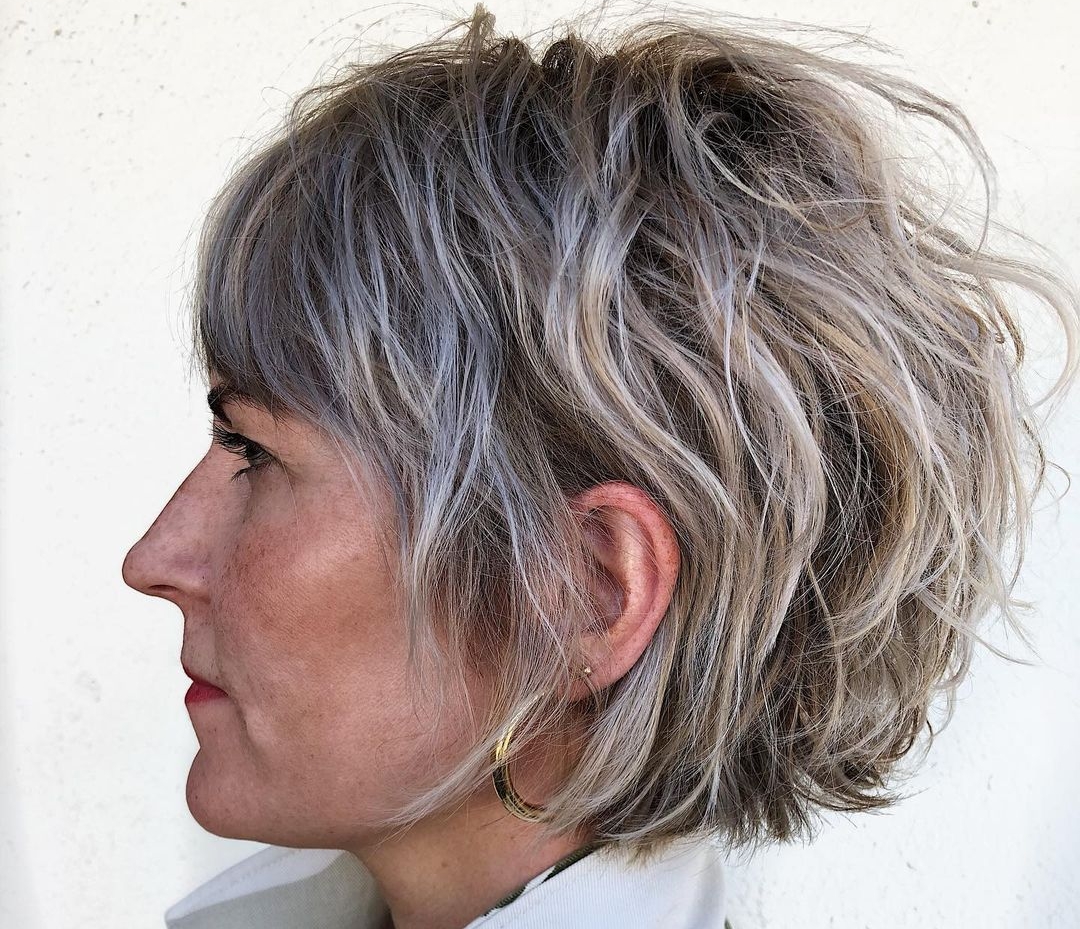 Credit: @modestspotcarrillo via Instagram
Lighten up your gray 'do with a fresh feathered cut. This type of cut is finely layered, typically cut in a V-shape using a razor, giving it an ever-so-slightly jagged finish. It's highly stylish, creating a huge amount of volume and texture in your hair.
Bob with bangs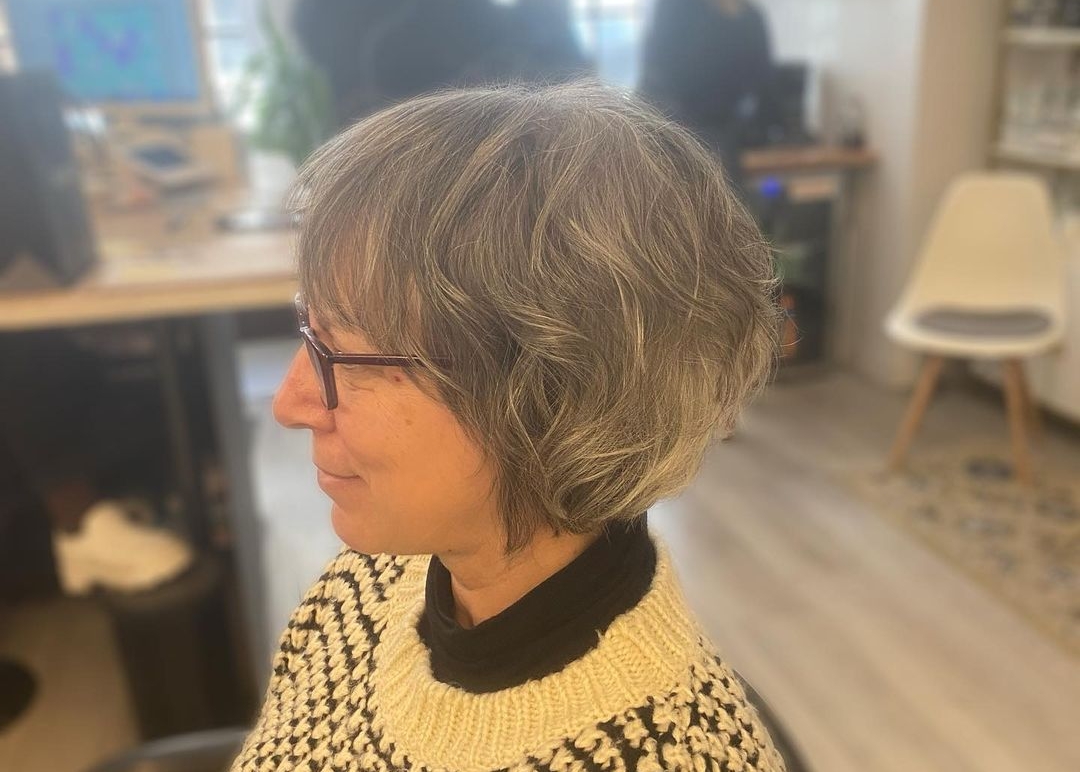 Credit: @sshair215 via Instagram
Bangs can help to counteract the conservative style of the bob, creating a contrast between the two. It's a universal style that can flatter any face shape, with an array of options available to frame your face perfectly. Try it out – it just might end up being your new favorite look.
Thick layered gray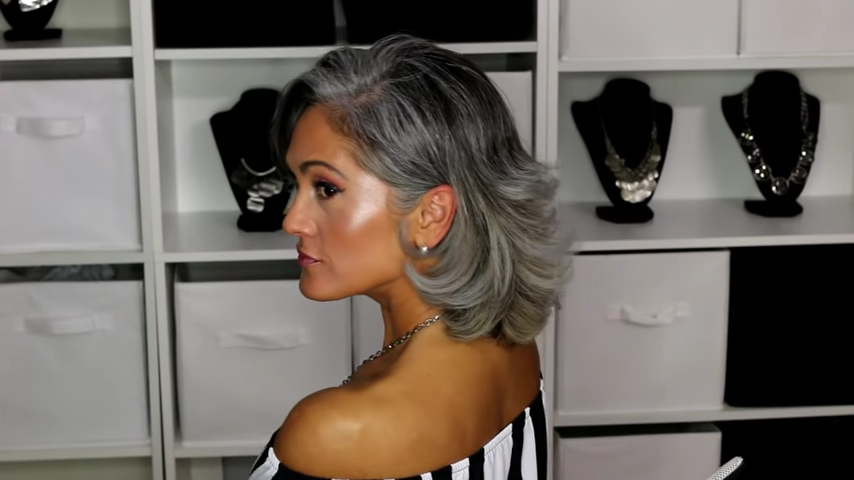 Credit: Beauty101byLisa via YouTube
Adding thick layers to your gray hair adds a classic touch of timeless beauty. Using thicker layers as opposed to a more regular shape creates defined chunks of curls in your hair, leaving untold opportunities for styling. Even better, thick layers also help to hide the frizz.
Try two tones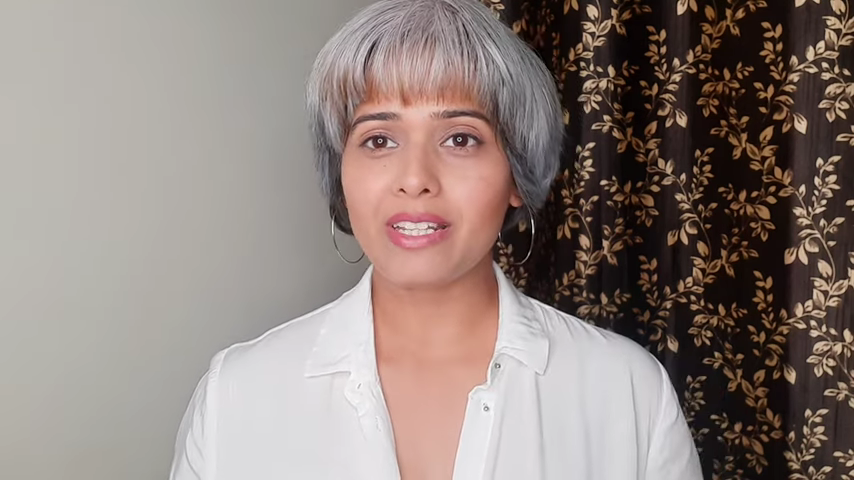 Credit: sparklingsilvers via YouTube
One of the best things about going gray is the beautiful color combinations you can create. It doesn't even have to be anything too drastic – just a light dusting of copper at the end of your bangs, for example, can bring a completely new vibe to your look. Have fun and experiment!
Curly gray bob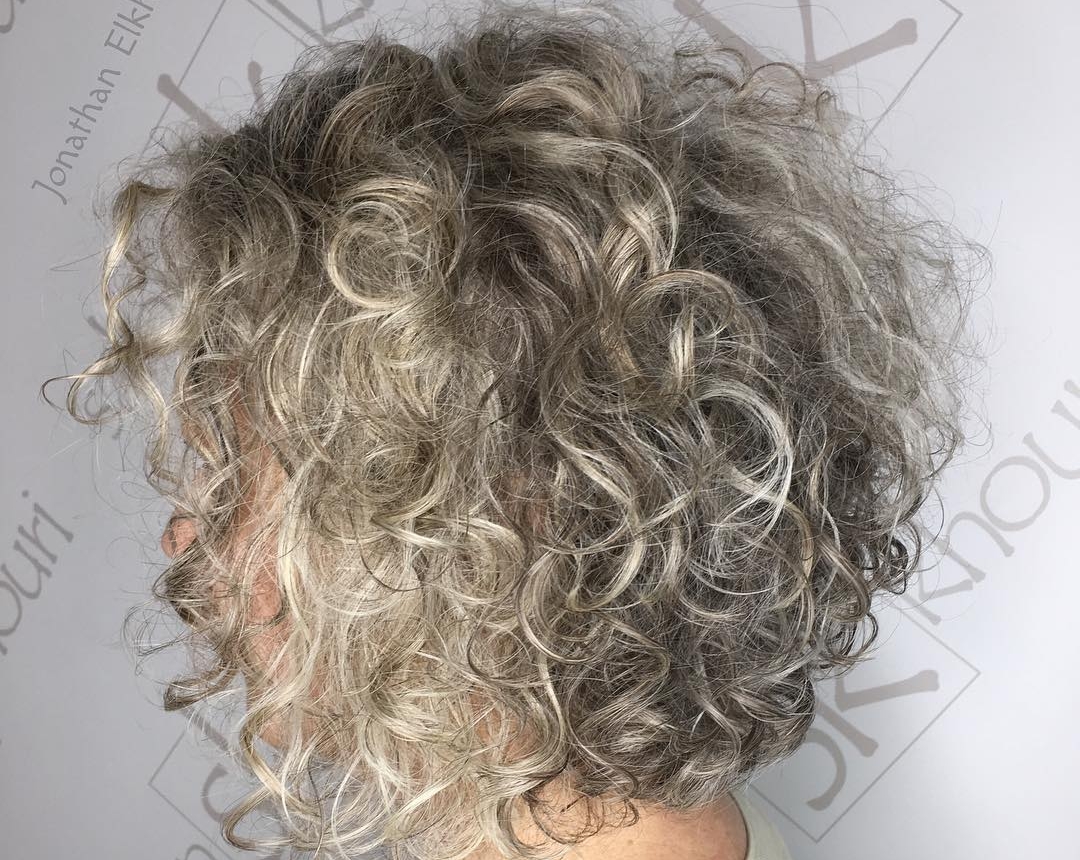 Credit: @salonkhouri via Instagram
Let your curls run wild! Nothing shows your free spirit like letting your natural curls take over, combined with your lovely naturally gray hair. Just be careful that your curls don't dry out – our hair tends to get drier as we get older – so treat it frequently with hair moisturizer.
Classy gray side part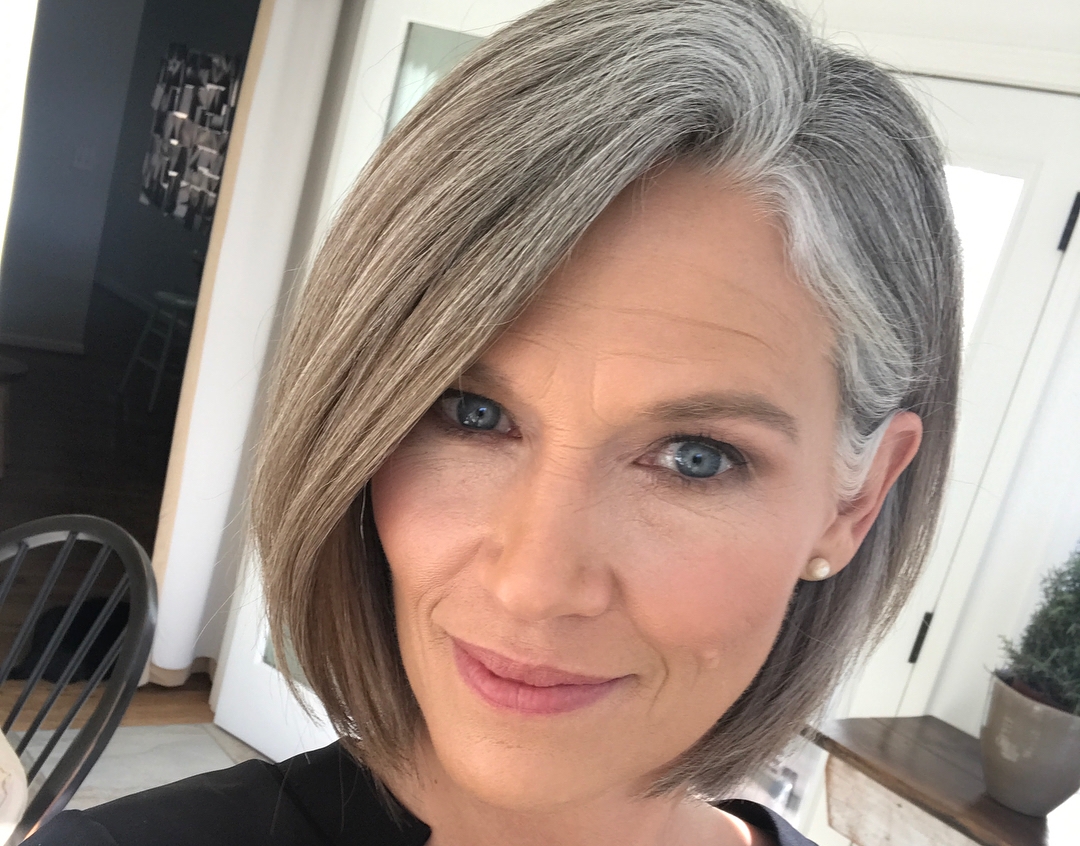 Credit: @lizwparks via Instagram
Having a sweeping side part that sits at your chin can do wonders for your face. Finishing just at your jawline, this style of hair brings definition to your cheekbones, making you look younger and more defined. Style your side part inwards, giving the illusion of having a thinner face.
Wavy gray lob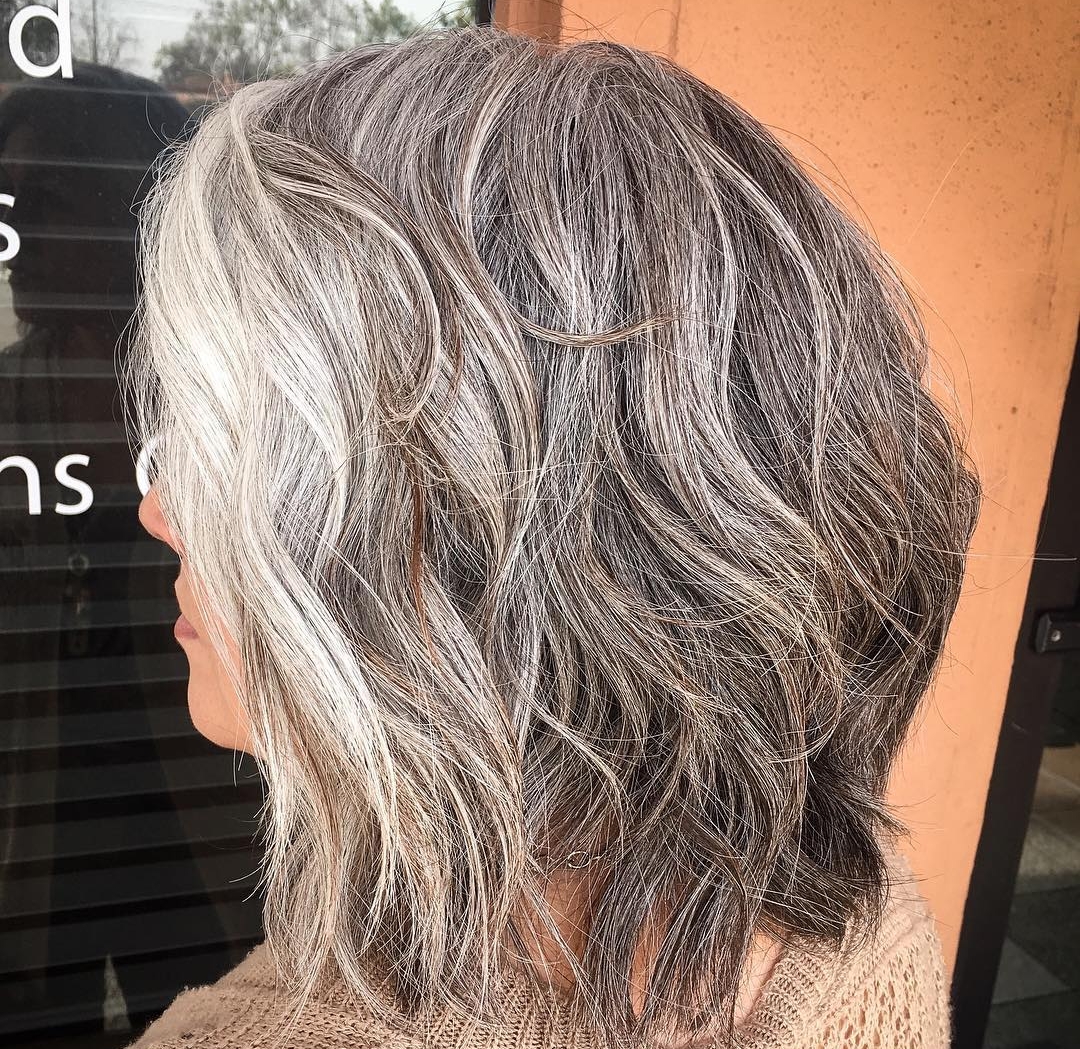 Credit: @prive_danielle via Instagram
Having waves of gray locks is a beautiful look, and easily attainable. Allowing your natural grays to grow through can create a look that's easily layered. You may even want to consider incorporating some thin white highlights into the look to really make it pop.
Straight silver locks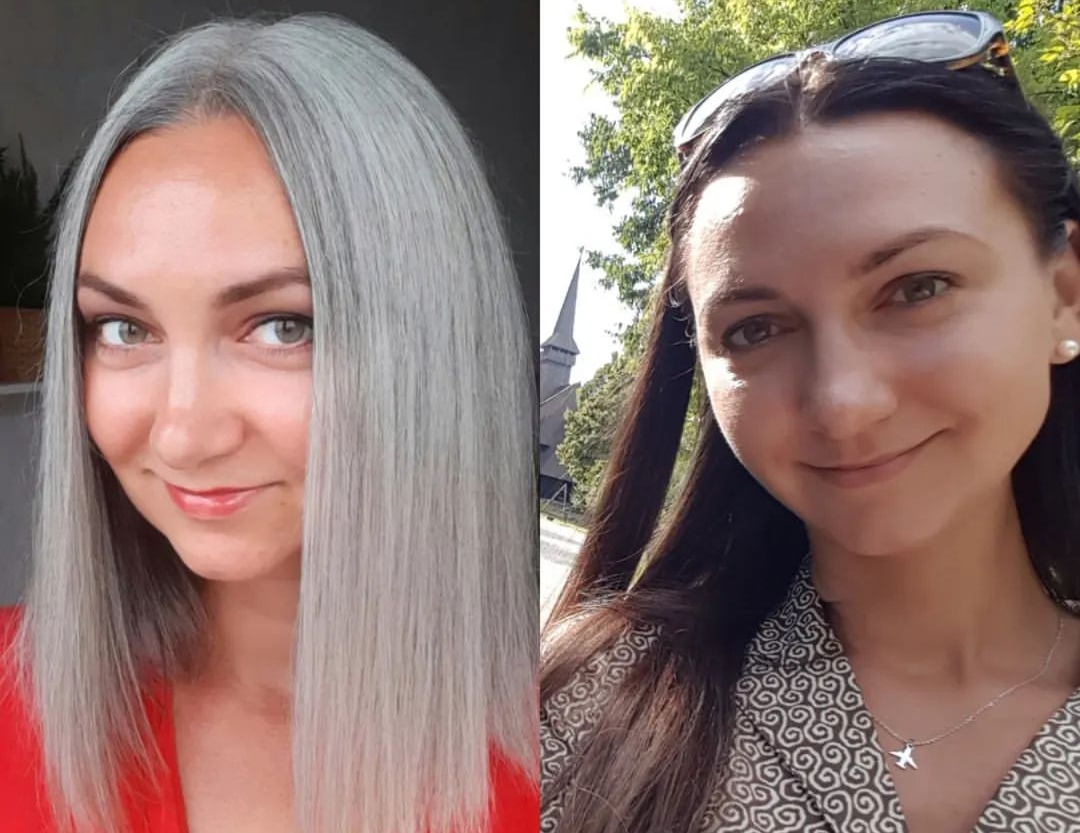 Credit: @gray_feels_great via Instagram
Get rid of those pesky strays and go for a sleek, straight look. This hairstyle requires a lot of upkeep, requiring daily straightening to keep any stray strands of hair at bay – but it's worth it. This hairstyle is the ultimate modern look, bringing a touch of professionalism and added class.
Gray stacked bob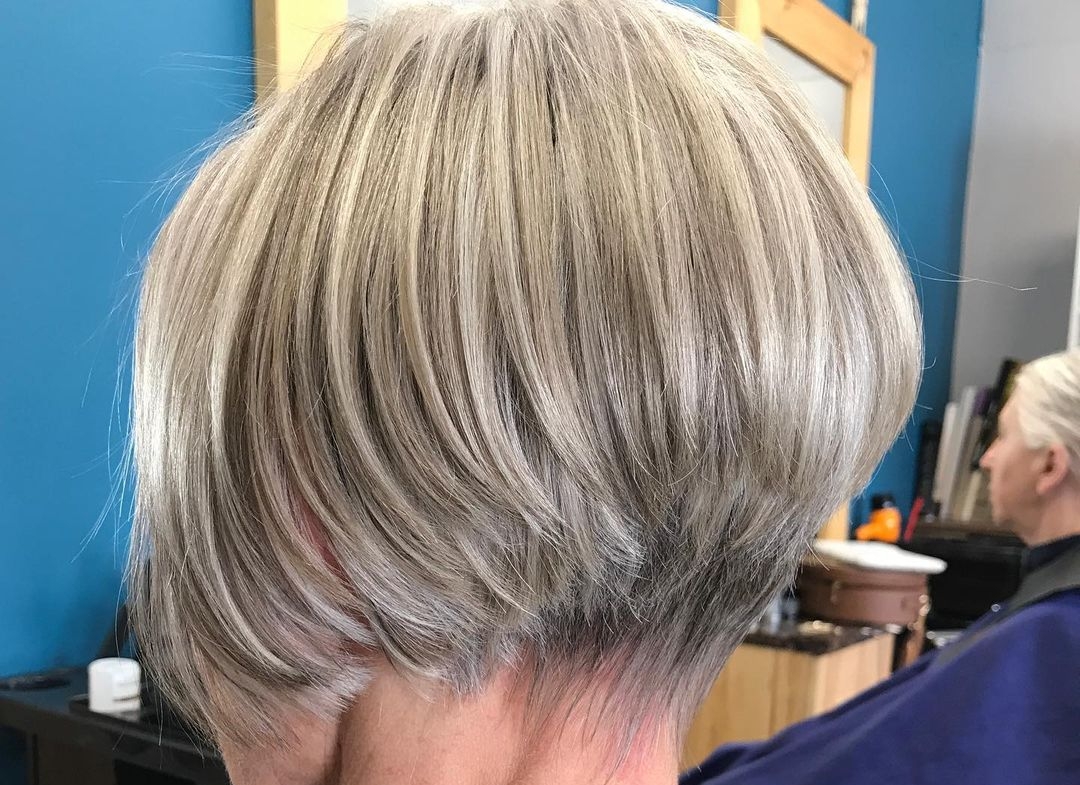 Credit: @divanhairstylist via Instagram
A stacked bob adds some definition to your hairstyle, bringing in varying lengths to create a sculpted, elegant look. You can go as short as you like by your neck, going right to the scalp or leaving a few stray strands for an added sense of style.
Short and wavy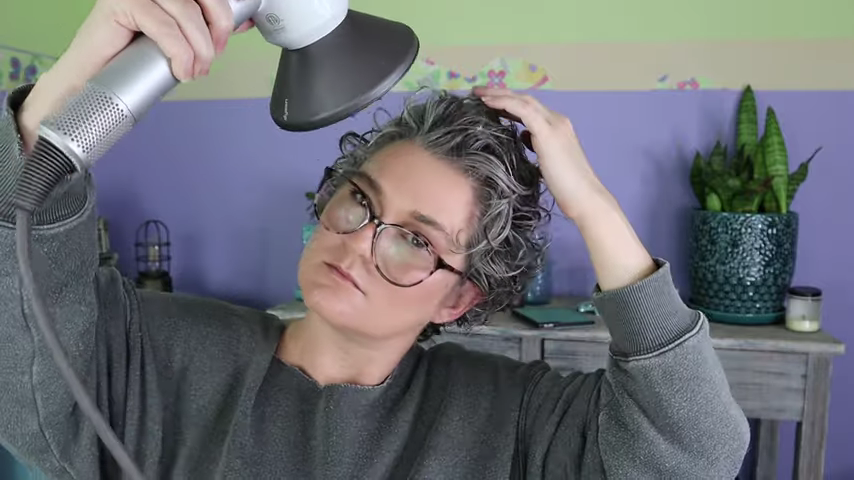 Credit: Carrie-Jessica via YouTube
A short, textured bob has plenty of options, letting you style your wonderful waves in whatever way suits you best. The long, sweeping curls can help to frame your face, making you look slimmer. It's easy to achieve this look at home, too, saving you from spending big bucks on trips to your hairdresser.
Nape-length gray bob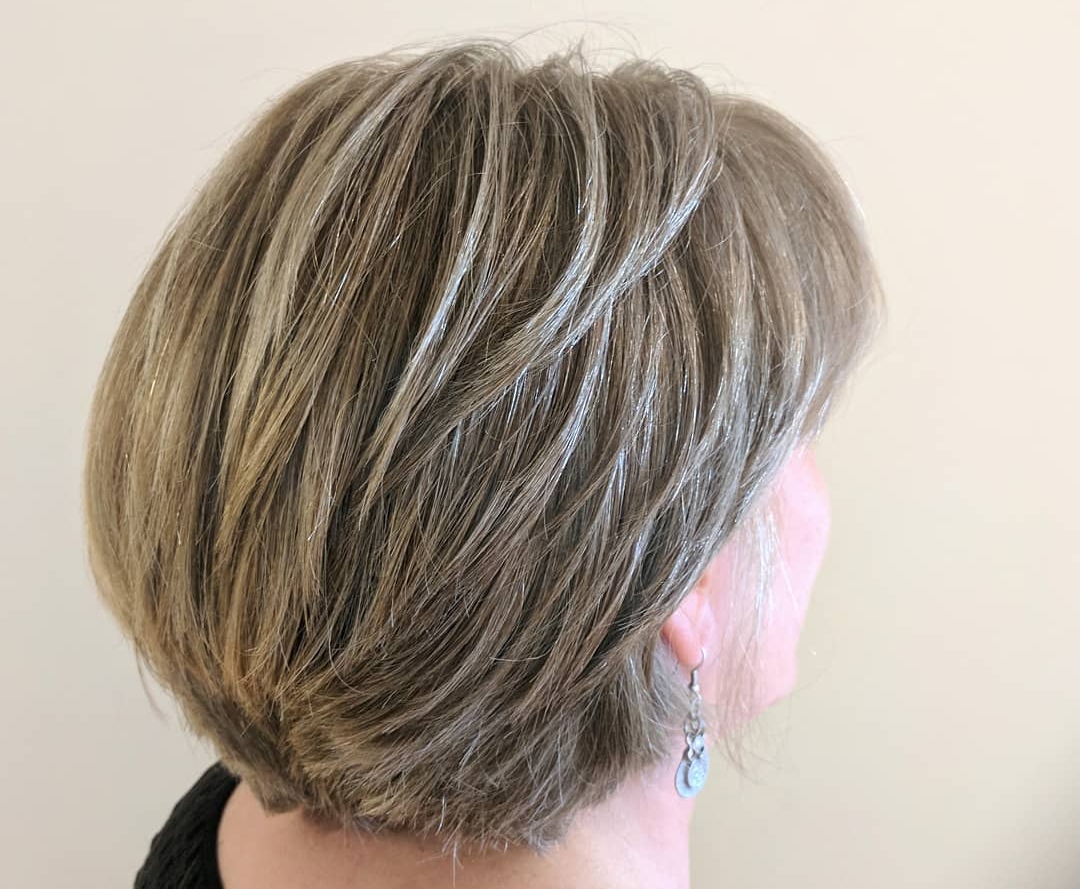 Credit: @haironcentral via Instagram
Mixing in gentle, cascading layers through your short bob will help to negate some of the harshness of gray hair. Stopping at your nape, this little bob is easy to style, while still maintaining a sense of class. If you're looking for ease, look no further.
Neat feathered pixie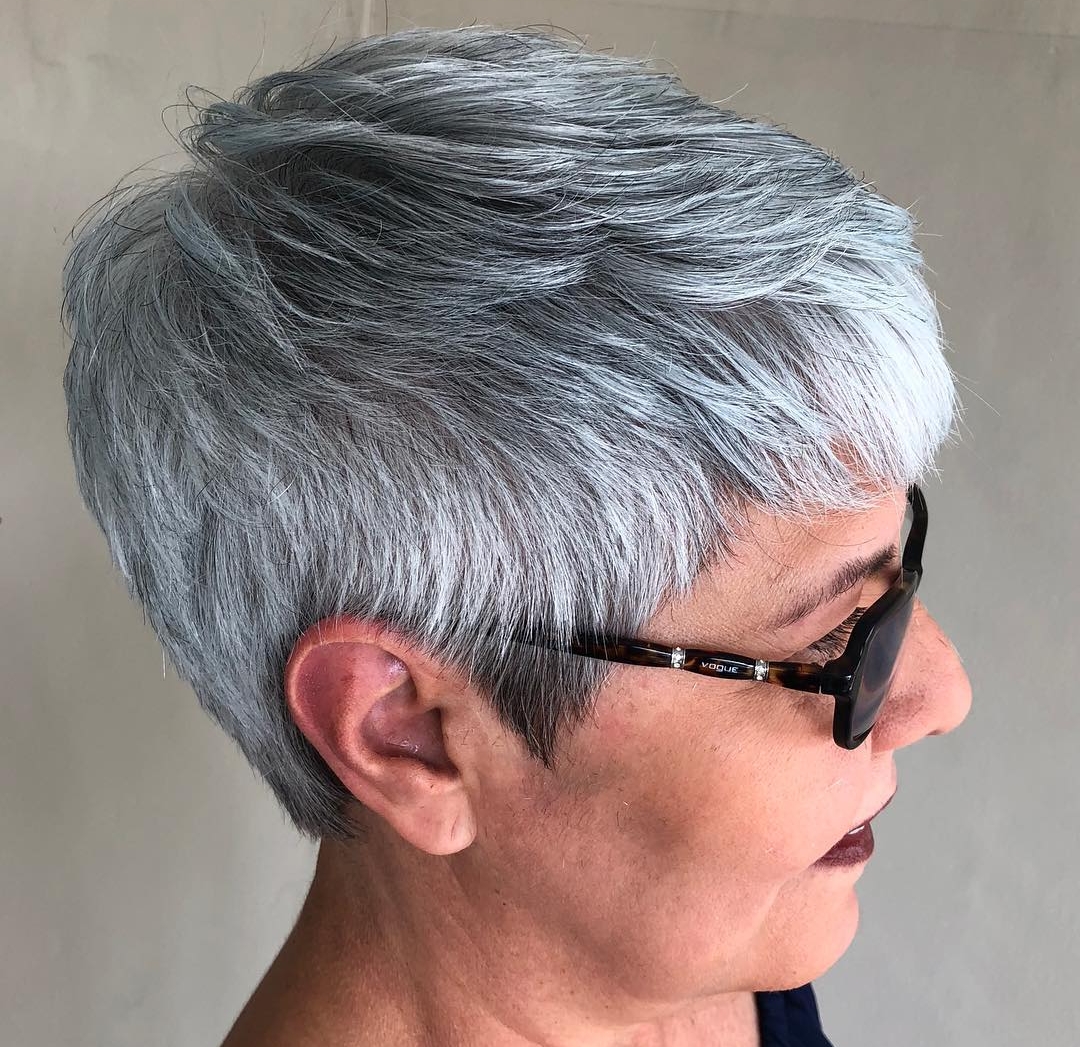 Credit: @rolyhairstylist via Instagram
Mixing a short pixie style with longer sideburns creates a nice frame for your face and, in turn, makes your features more defined. The feathering on top helps to add some height to the look – something that's not always found in regular pixie cuts. Pair this look with some bold accessories to really make a statement.
Medium with white layers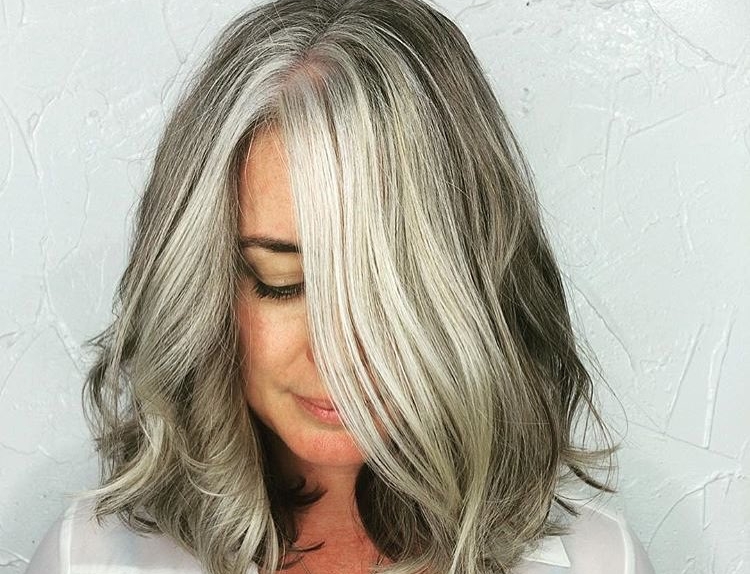 Credit: @indiesixdenver via Instagram
Medium-length hair is a classic, timeless choice. Letting your grays grow out to this length is a bold statement – but to make it bolder still, consider mixing in some white highlights. This will create a nice contrast between the two tones, and will be highly visible due to your hair's lovely length.