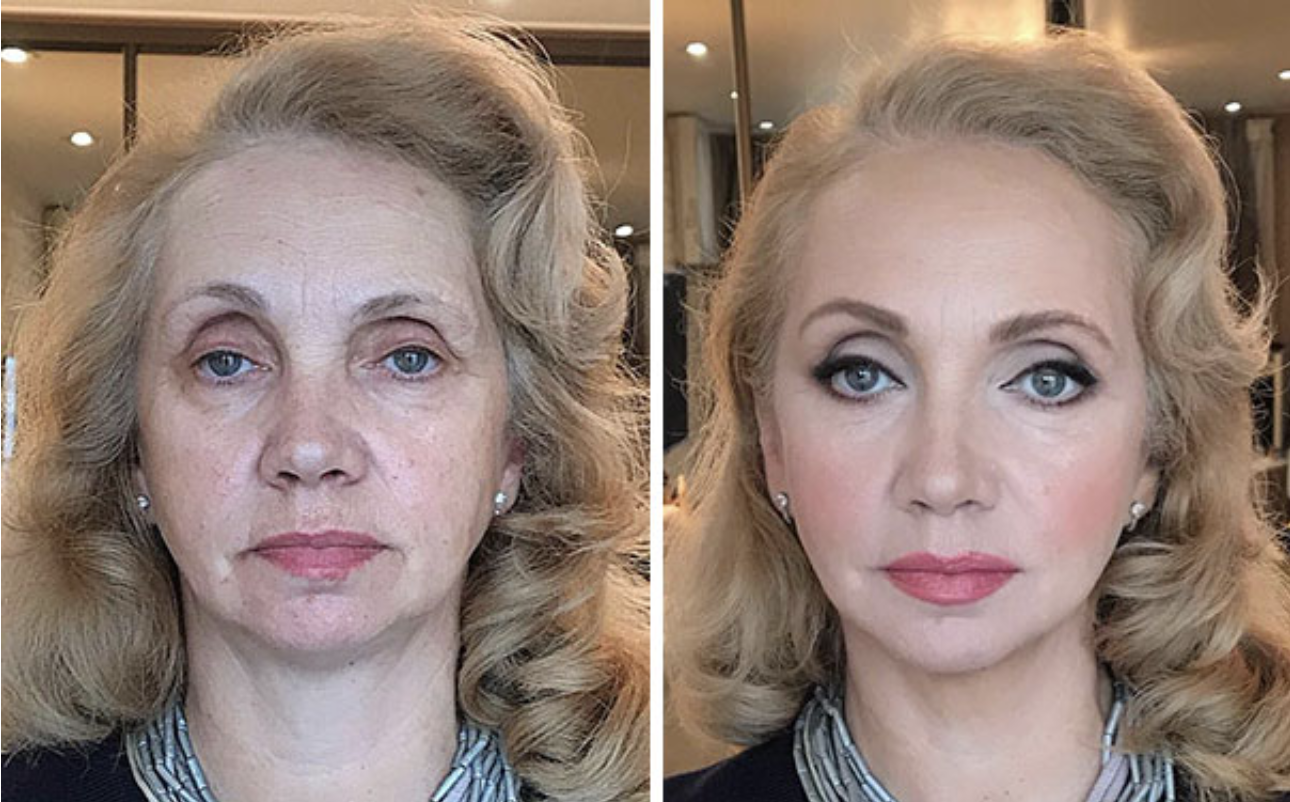 Credit: Vadimandreevmakeup
The right foundation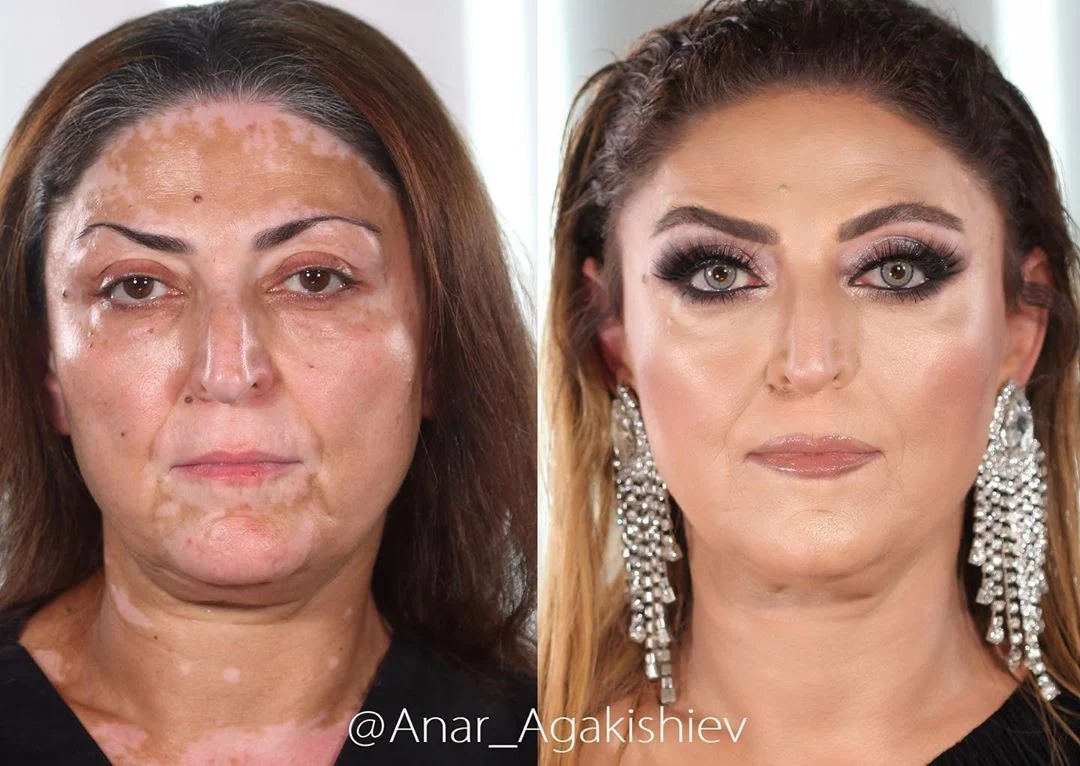 Credit: @Anar_agakishiev via Instagram
The right shade and blend of foundation is all it takes to give a new glow to someones face. Even though this woman's skin is already beautiful, the foundation gives her that glamorous, red carpet ready look. The smokey eye look flatters the shape of her eyes.
Is the sun our friend?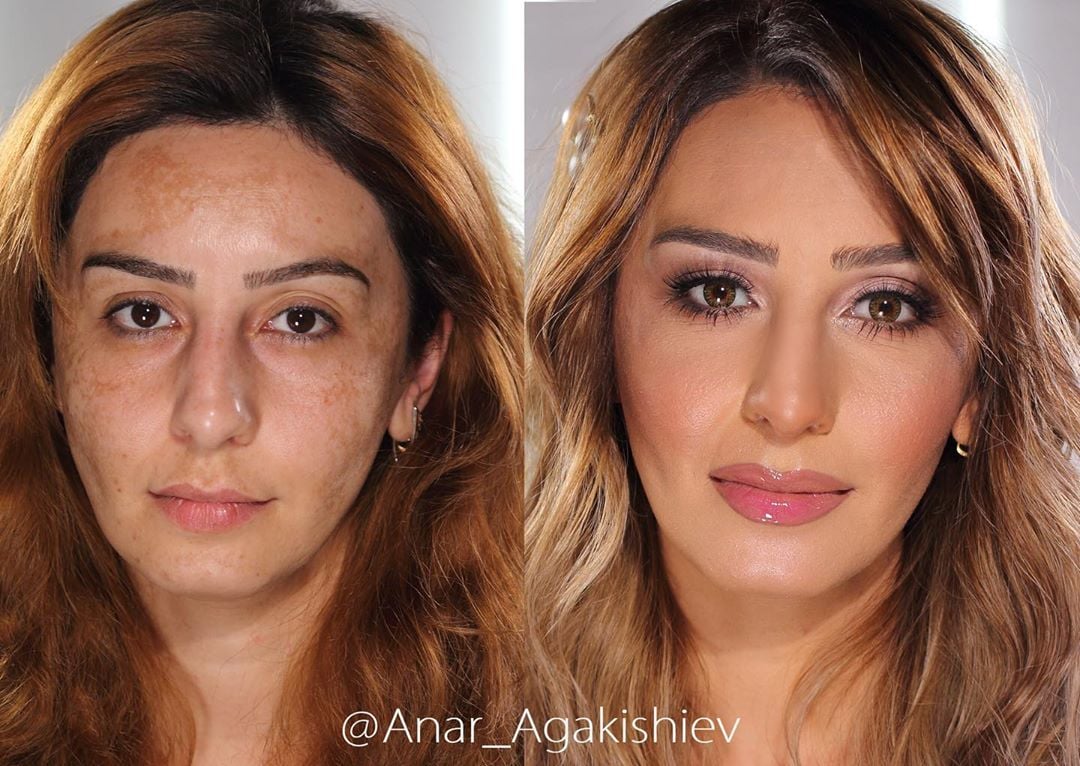 Credit: @Anar_Agakishiev via Instagram
Too much sunbathing can have an effect on our skin, creating patches of pigmentation and clusters of freckles – not to mention the wrinkles. This youthful makeup look covers her skin perfectly without looking too cakey. The glossy lip gives her a glamorous pout and her eyebrows have only slightly been filled in to not take away from the look.
Super model look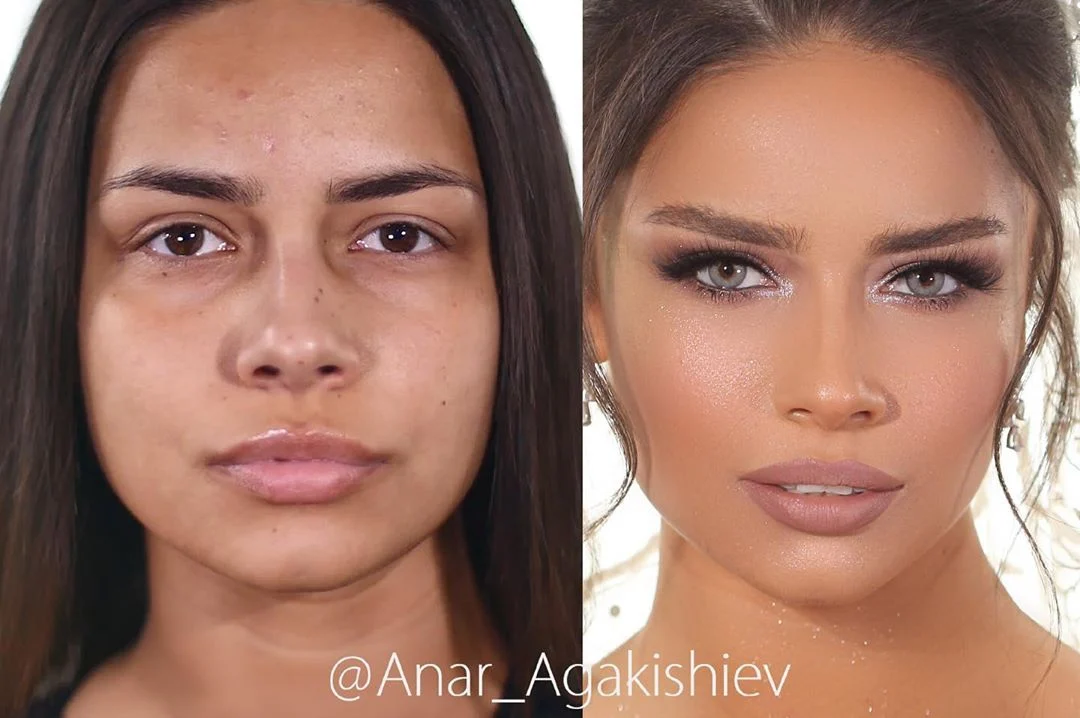 Credit: @Anar_Agakishiev via Instagram
The simple lifting of the end of the brows has transformed this woman's face. A smoothing primer seems to have been used to get that flawless base, and a subtle bronzer has warmed up the face. Matte lipstick will always be in style, especially paired with a soft brown lip liner.
Fresher than ever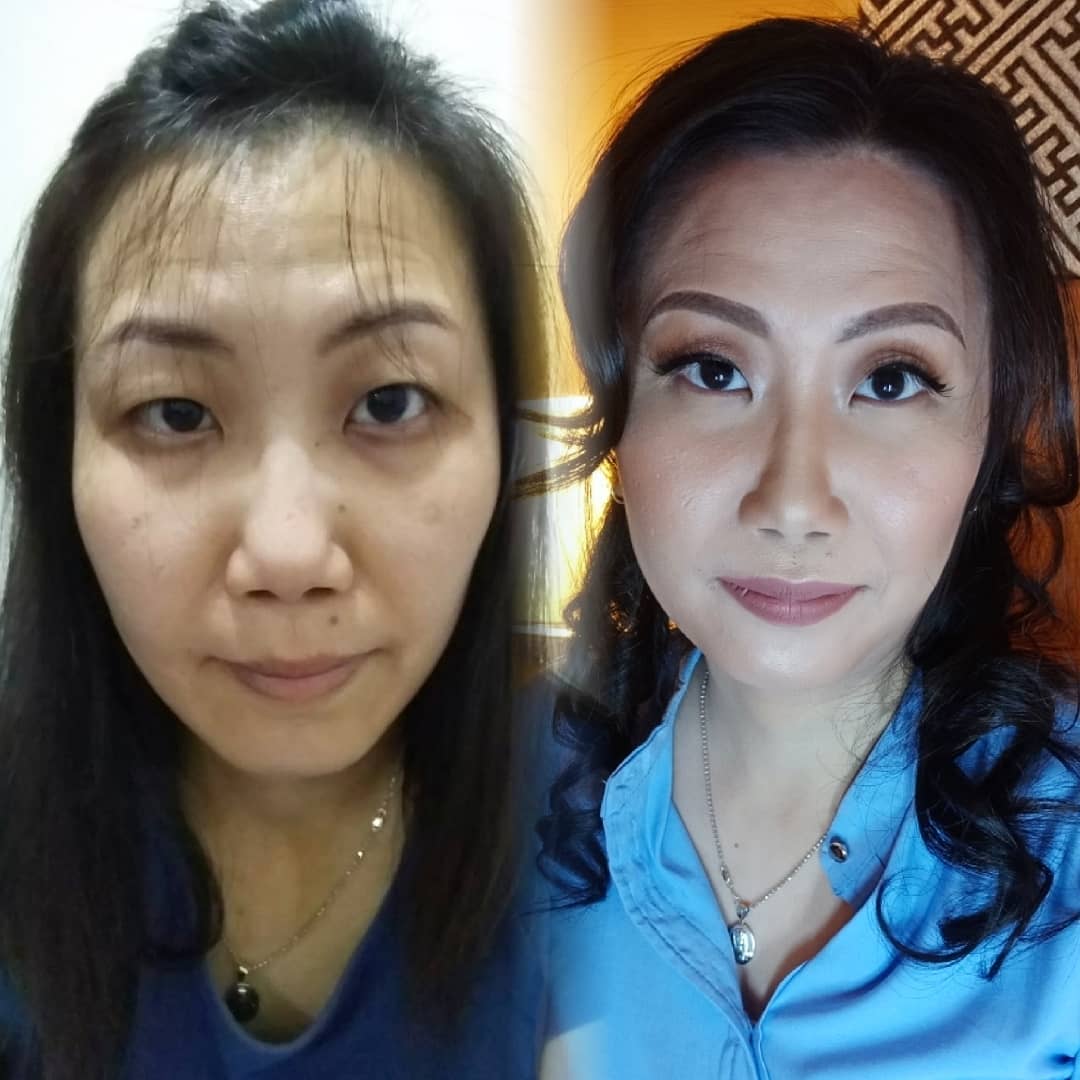 Credit: @Khat.mua via Instagram
From young lady to celebrity. This foundation application is flawless and works well to hide any signs of aging or discoloration. Her eyes are a beautiful shape and have been enhanced by a small wing and corner lash for a fluttery look. The lipstick is close to her natural shade too, keeping the look wearable.
Who needs injections?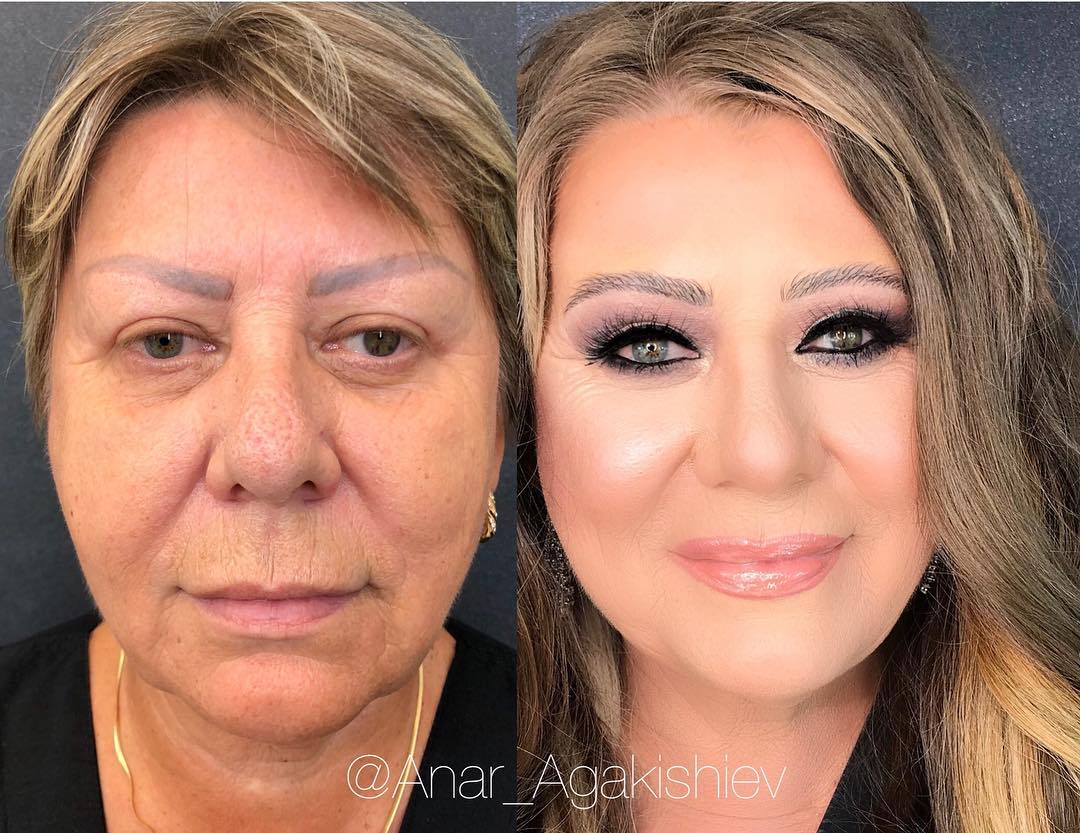 Credit: @Anar_Agakishiev via Instagram
Makeup has completely transformed this woman's face and made her look years younger. Adding hair stroke lines to her eyebrows makes her face look more youthful and fresher. Highlighter on her cheekbones and forehead makes the face glow from within, and pairs well with the baby pink lip gloss.
Time reversed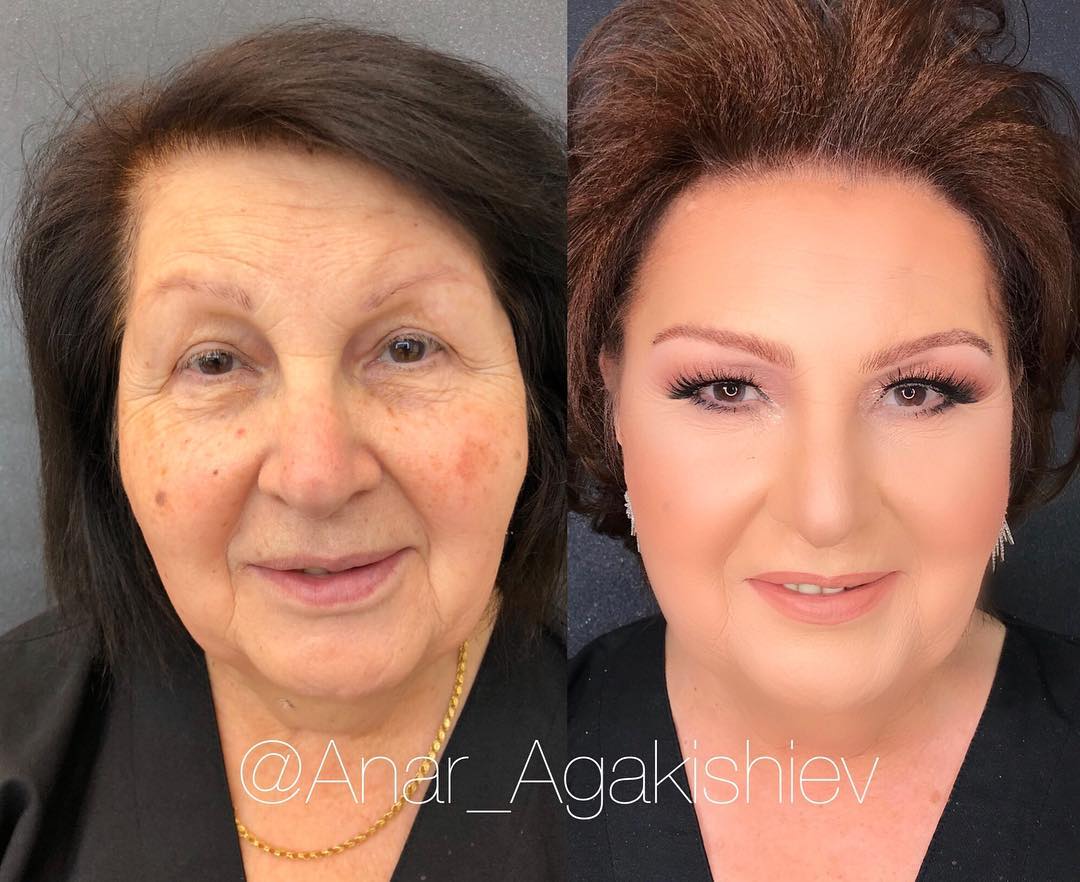 Credit: @Anar_Agakishiev via Instagram
An arched brow can pull a look together and take years off. Her face has been primed for a flawless base and contoured around her cheeks and nose for a younger, sharper look. Long falsies have opened up her eyes and give her a flirty fun look.
Contour away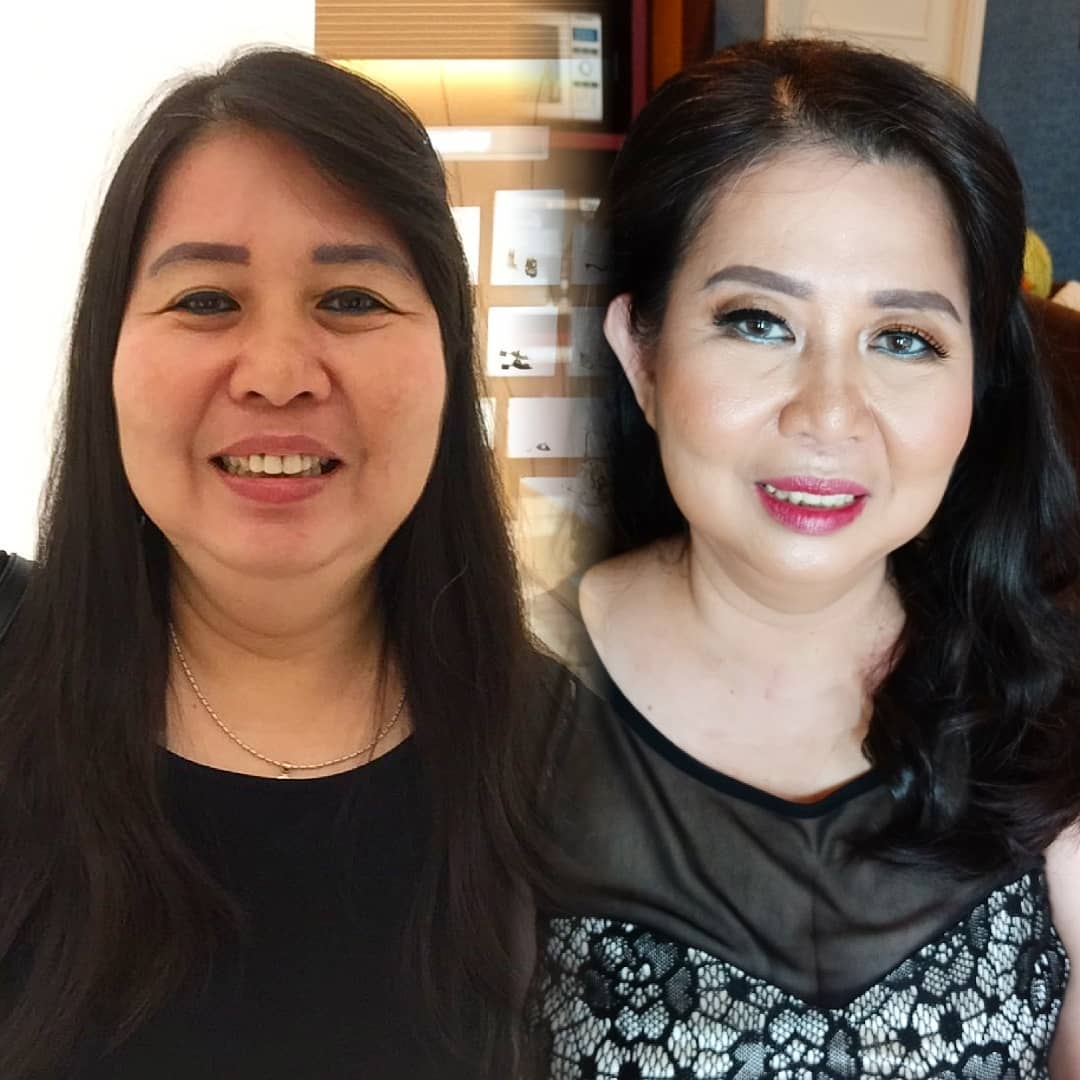 Credit: @Khat.mua via Instagram
Contouring can dramatically change the shape of your face. Her high cheekbones look great with a spot application of this peachy blush. A splash of this shimmery teal color under the eyes makes them stand out and adds something unique and personal to this look.
Spot the difference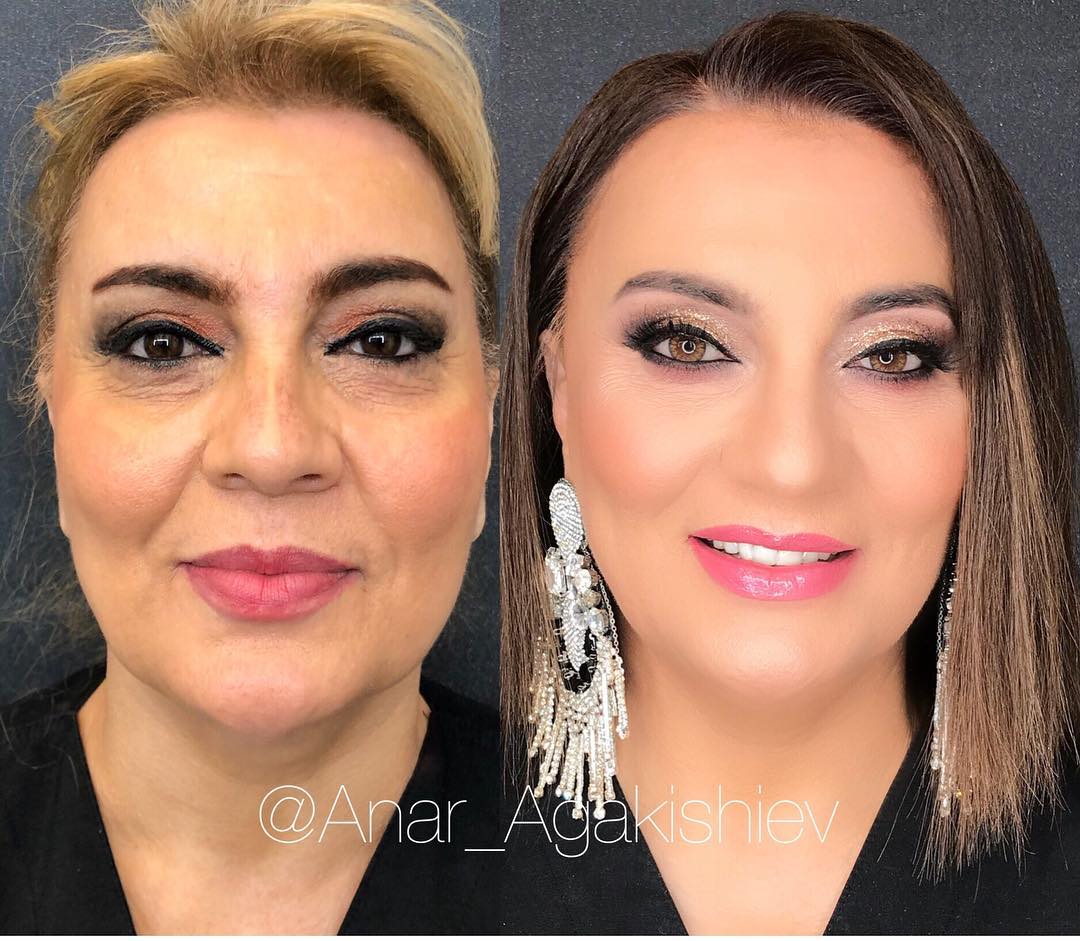 Credit: @Anar_Agakishiev via Instagram
It looks like 10 years has been taken off this woman. She has great cheekbones anyway, but they have been accentuated with a warming bronze and blush combo. The hot pink lip suits her warmer skin tone well and brings a pop of color to the look.
Big smiles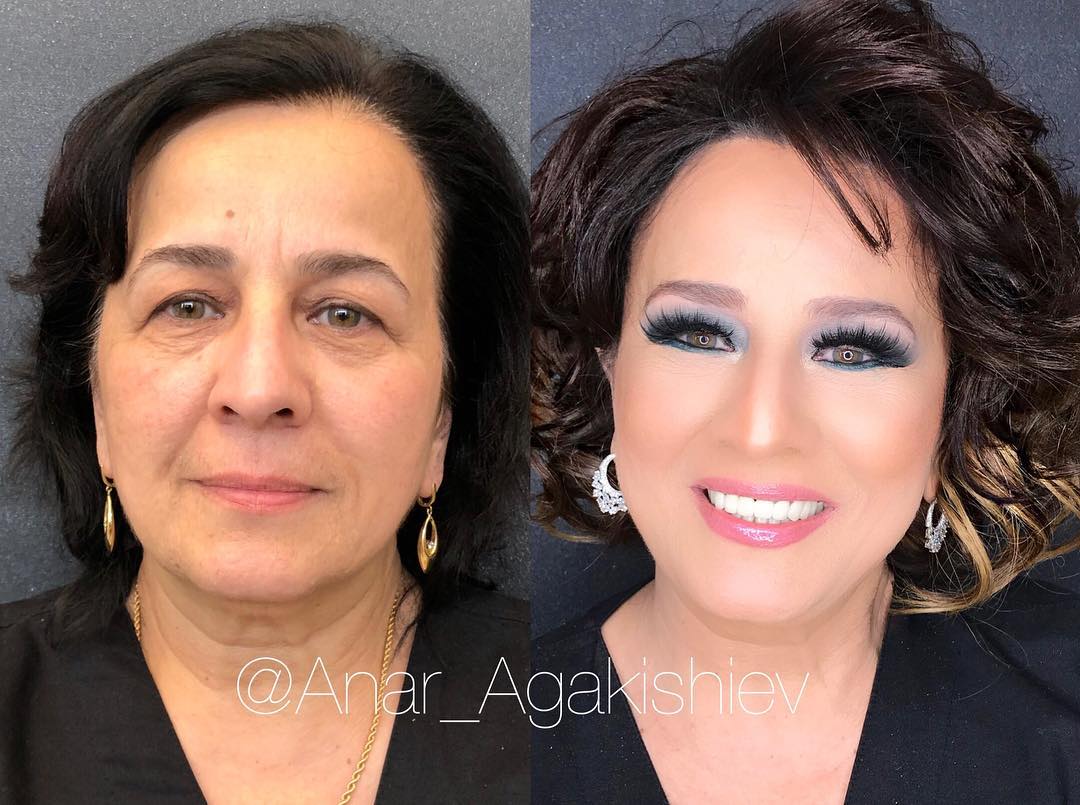 Credit: @Anar_Agakishiev via Instagram
She certainly looks happy with her new look. The striking blue around her eyes really compliments her eye color, and the softer brow doesn't out shine the dramatic eye makeup. The big bouncy hair ties the whole look together and elongates and shapes the face nicely.
Looking cute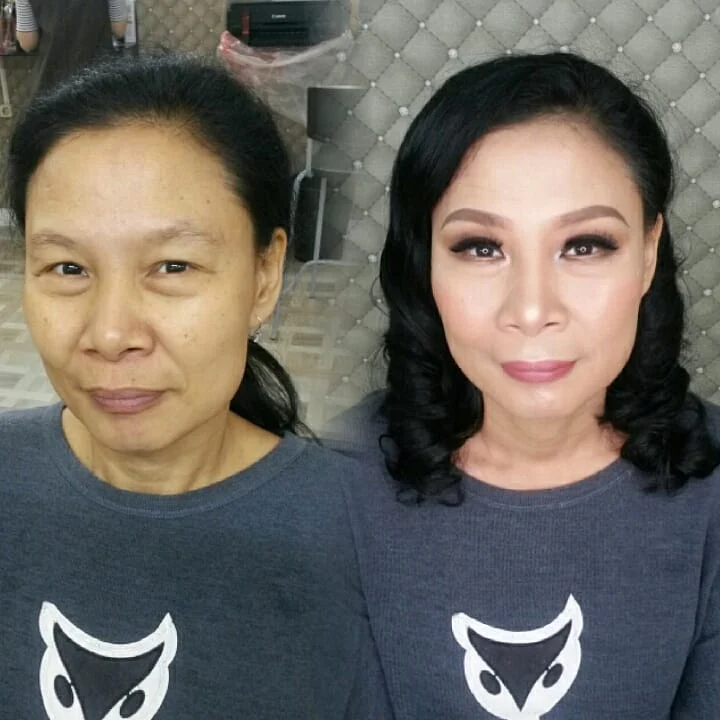 Credit: @Khat.mua via Instagram
Enhancing your own unique features in makeup looks always works well. This makeup artist has accentuated the creases under the eye for a youthful smiling effect, and added a light shimmer for brightening. The pinky mauve lip is wearable all year round and is a timeless shade.
Uplifting look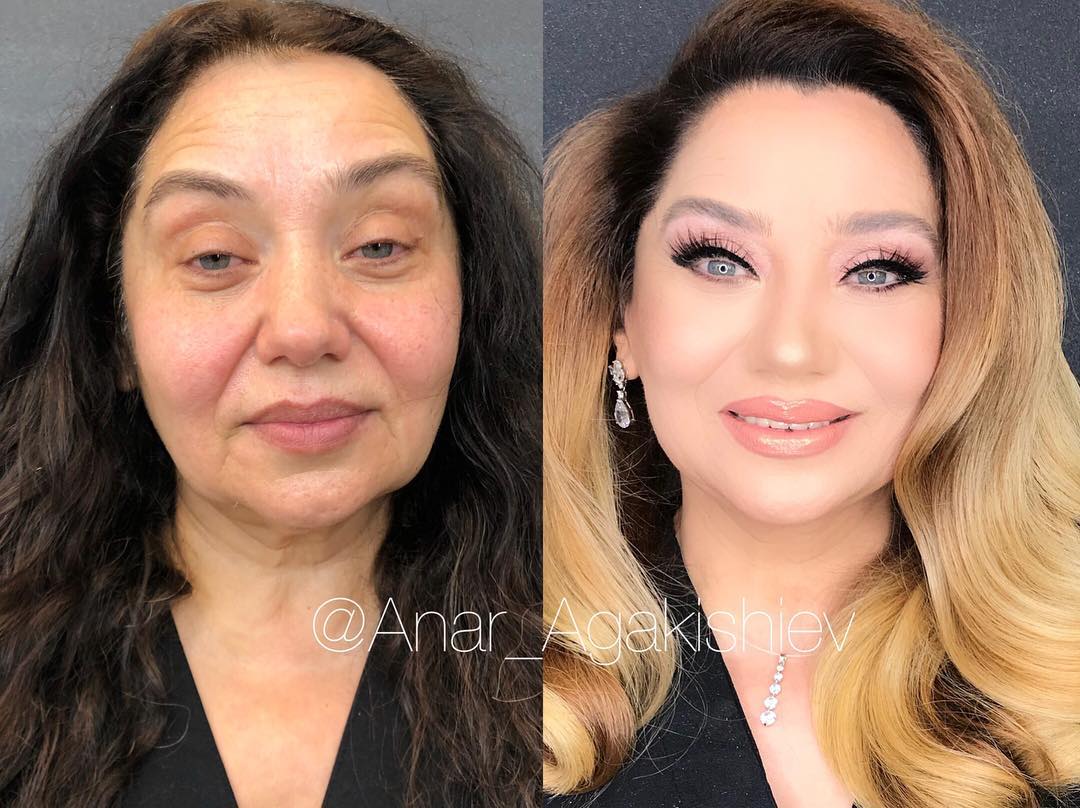 Credit: @Anar_Agakishiev via Instagram
Face tape can work so well and takes away the need for invasive injections. This makeup look is so fresh, especially the subtle pink wash across the eyelid. The warm blonde hair style suits her well and compliments her blue eyes. Can't go wrong with bling accessories!
Red lip magic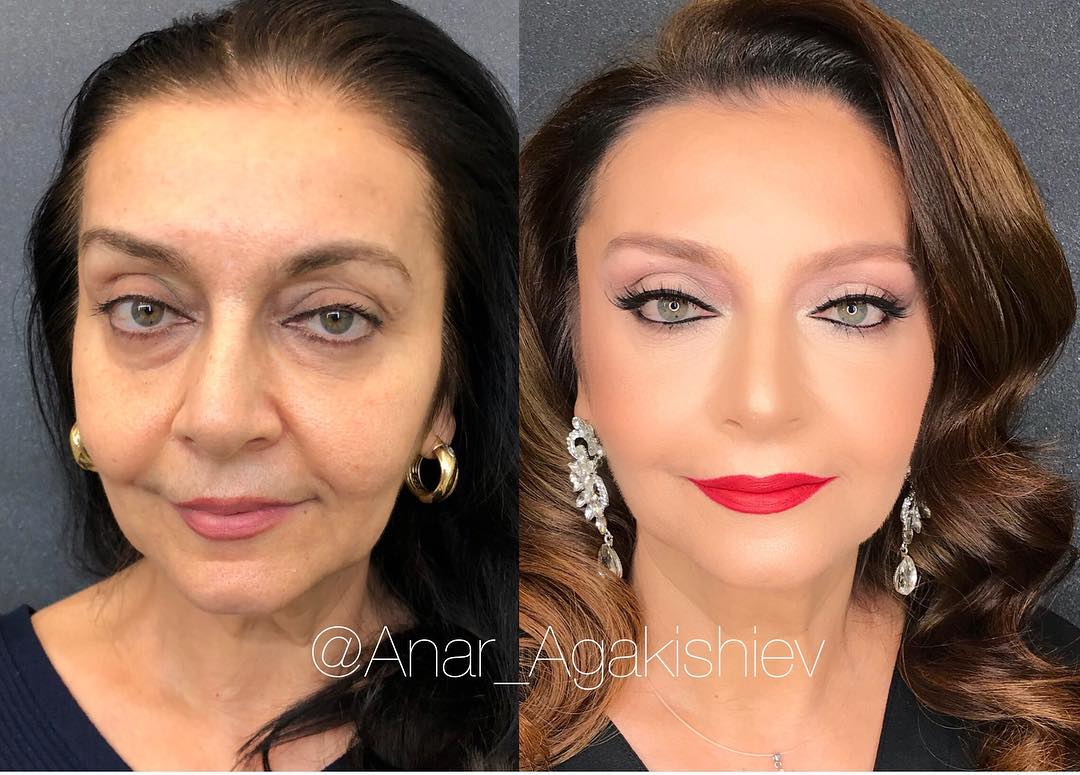 Credit: @Anar_Agakishiev via Instagram
With her stunning green eyes, she can pull off any look. Just warming up the skin and softening the brown, this look has taken years of this woman. The red lip ties the look together and pairs well with the bombshell side parted hair, that's been blown out to perfection.
Fresh look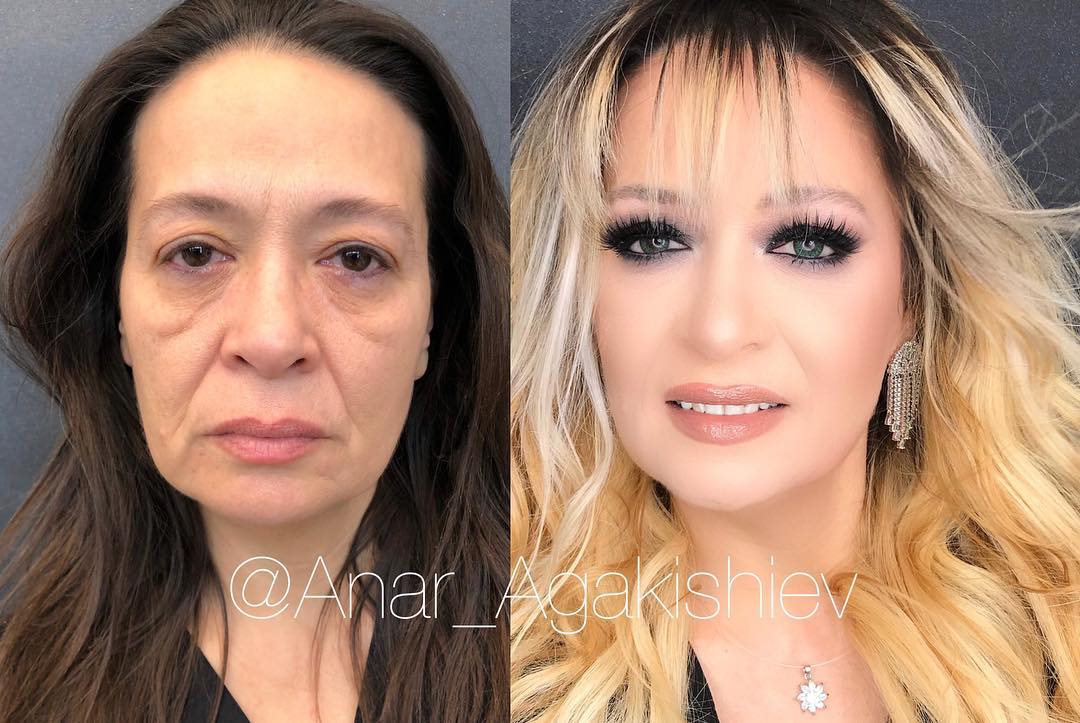 Credit: @Anar_Agakishiev via Instagram
Sometimes we can look sad on the outside even if we feel fine on the inside. This makeup look has reversed that effect and has made this woman beam. The new blonde do has reversed the years and the matching blonde brows gives her a more modern look.
Brunette transformation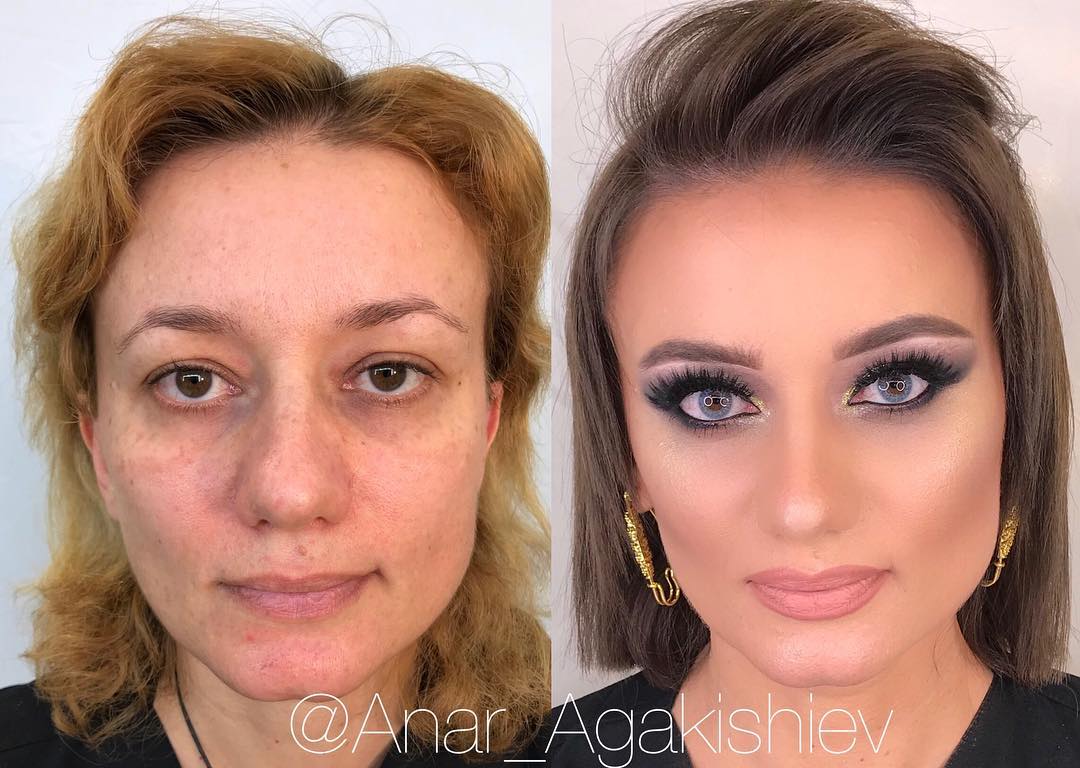 Credit: @Anar_Agakishiev via Instagram
This cooler shade of brown compliments her skin, as she has slight pink undertones. The defined contour has completely changed her facial structure and added definition to those cheekbones. A dramatic smokey eye works well up open and lift the eye and the sparkle of inner corner highlight makes her look bright and awake.
20 years younger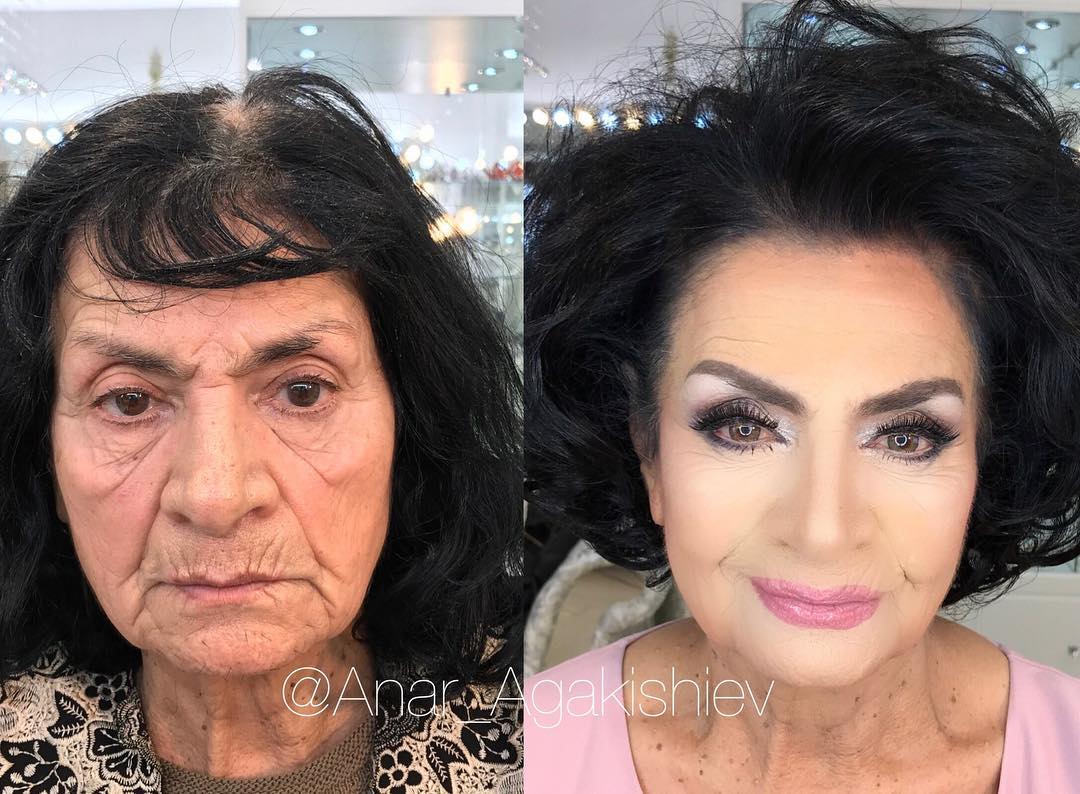 Credit: @Anar_Agakishiev via Instagram
By filling in the sparse parts of her brow, it has instantly added definition and framing to her face. They've added a cute pink lip and glow for a fun feminine touch, and the big blown out hair elongates the face well. She looks so happy after her transformation.
A touch of gold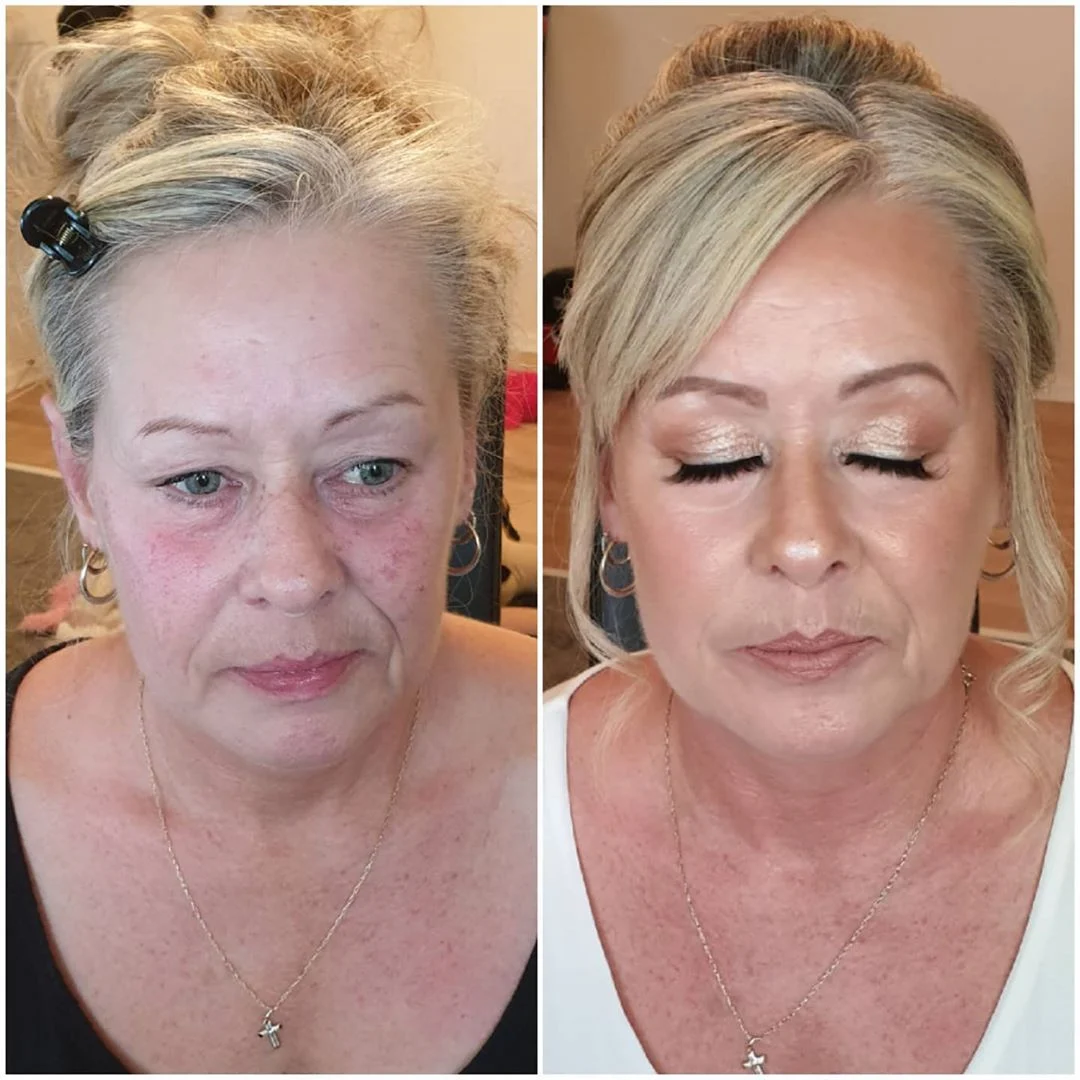 Credit: @Rozy_Mua81 via Instagram
A more natural base with glowey highlighter can transform a face without the need for heavy foundation. This golden eyeshadow look really compliments her soft golden blonde, and the lips don't distract from the rest of the look. They added subtle touches of bronzer which don't turn the face too muddy or overwhelmed with color.
Lash lift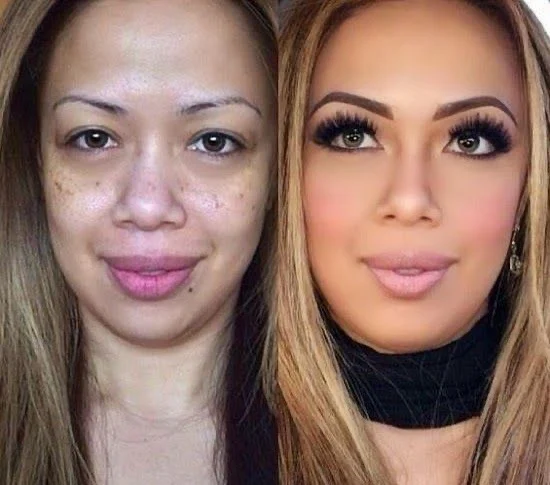 Credit: @Roxannesbeauties via Instagram
This woman already is naturally pretty, but transforms into a doll after this makeup look. Her brows have been defined still in their thinner shape, and the pink blush placement is very youthful. Her big eyes are flattered by the thick lashes and they are the star of the show.
Natural beauty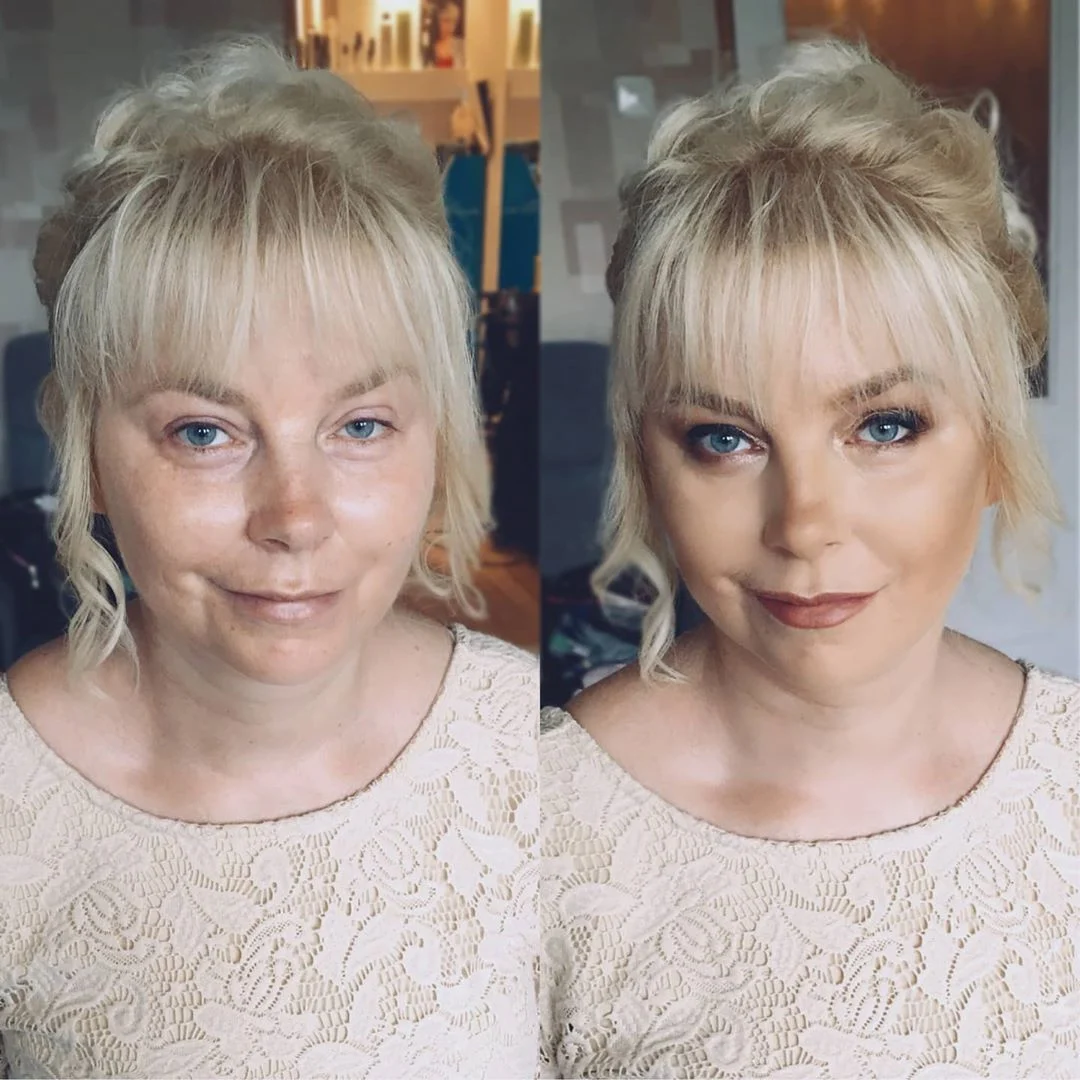 Credit: @Danijabeauty via Instagram
This makeup look doesn't hide anything away, but just accentuates her natural features. The subtle smokey eye always works well with blue eyes and makes them pop. The lip color is super unique and the dark brick compliments the warmth of the bronzer and contour.
Classy touch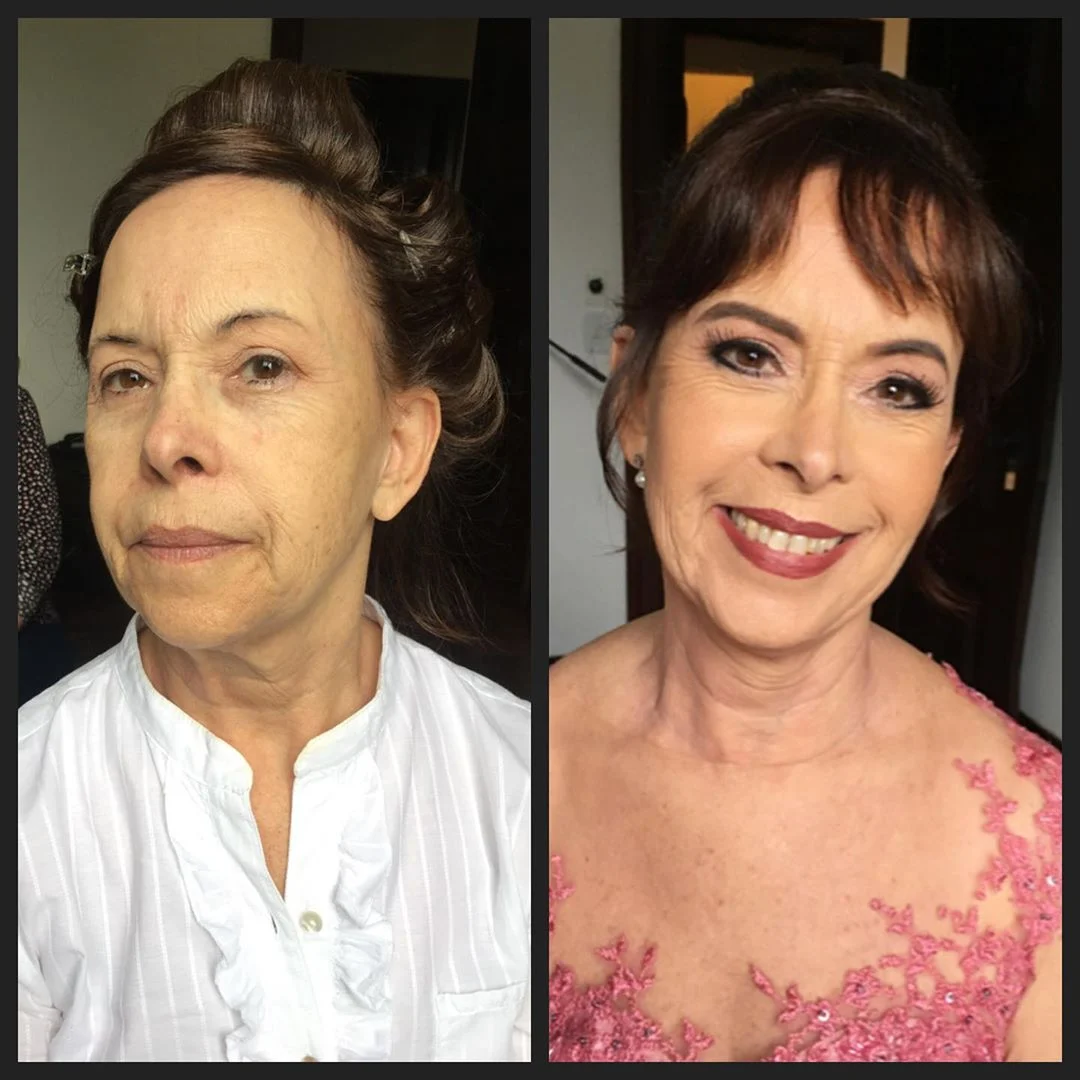 Credit: @Mari.walsh via Instagram
This woman's transformation just oozes class. The skin has a flawless finish without it looking too heavy, and the very subtle blush brings some life and natural color back to the face. You can't go wrong with a muted neutral red lip to match the pink dress.
Classic beauty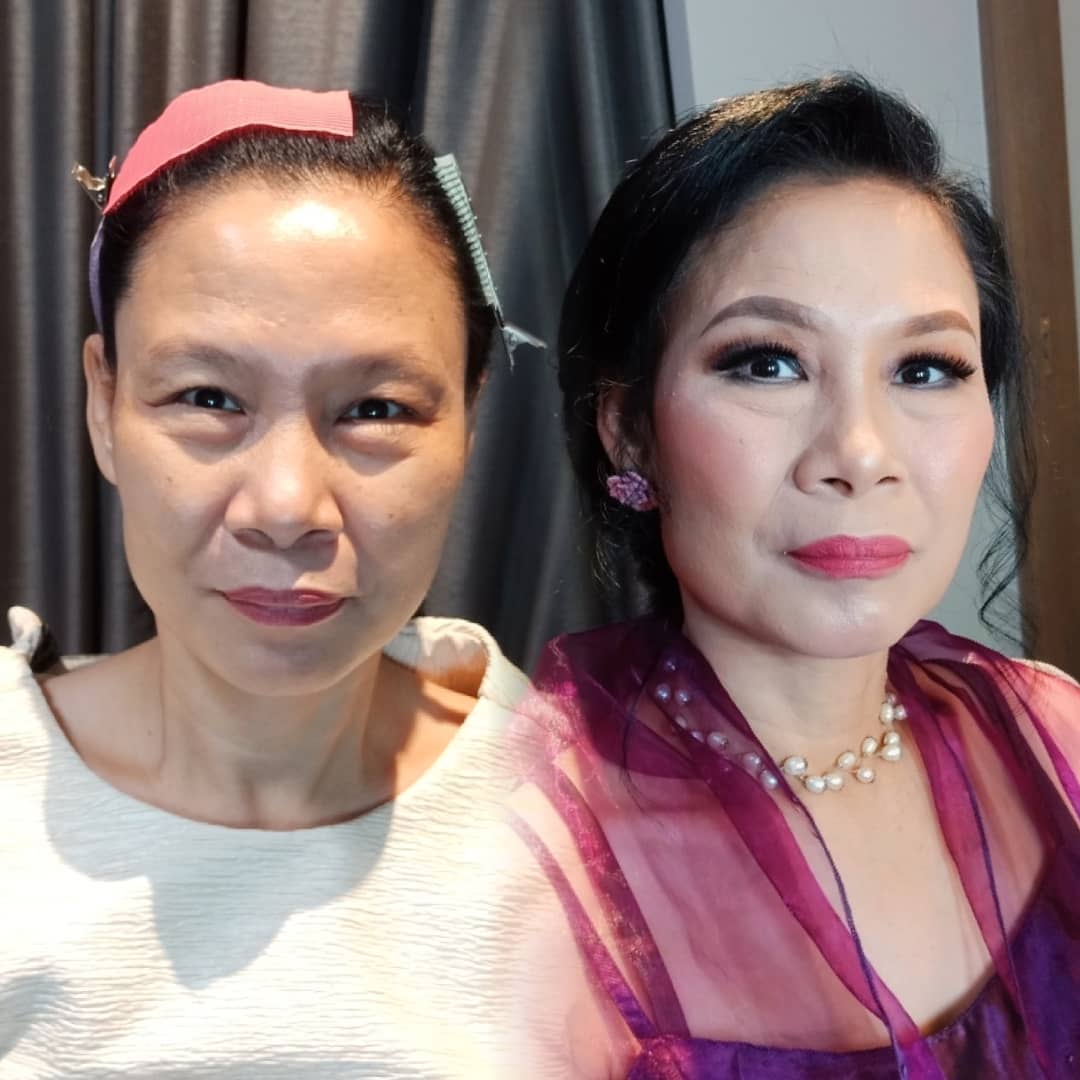 Credit: @Khat.mua via Instagram
This lady suits this style of makeup so much. Her eyes immediately jump out as us because of the definition and fluffy lashes. The blush sitting at the top of her cheekbones lift her entire face, and makes her look healthy and youthful. The pearl necklace is a great touch to this timeless look.
Subtle and sweet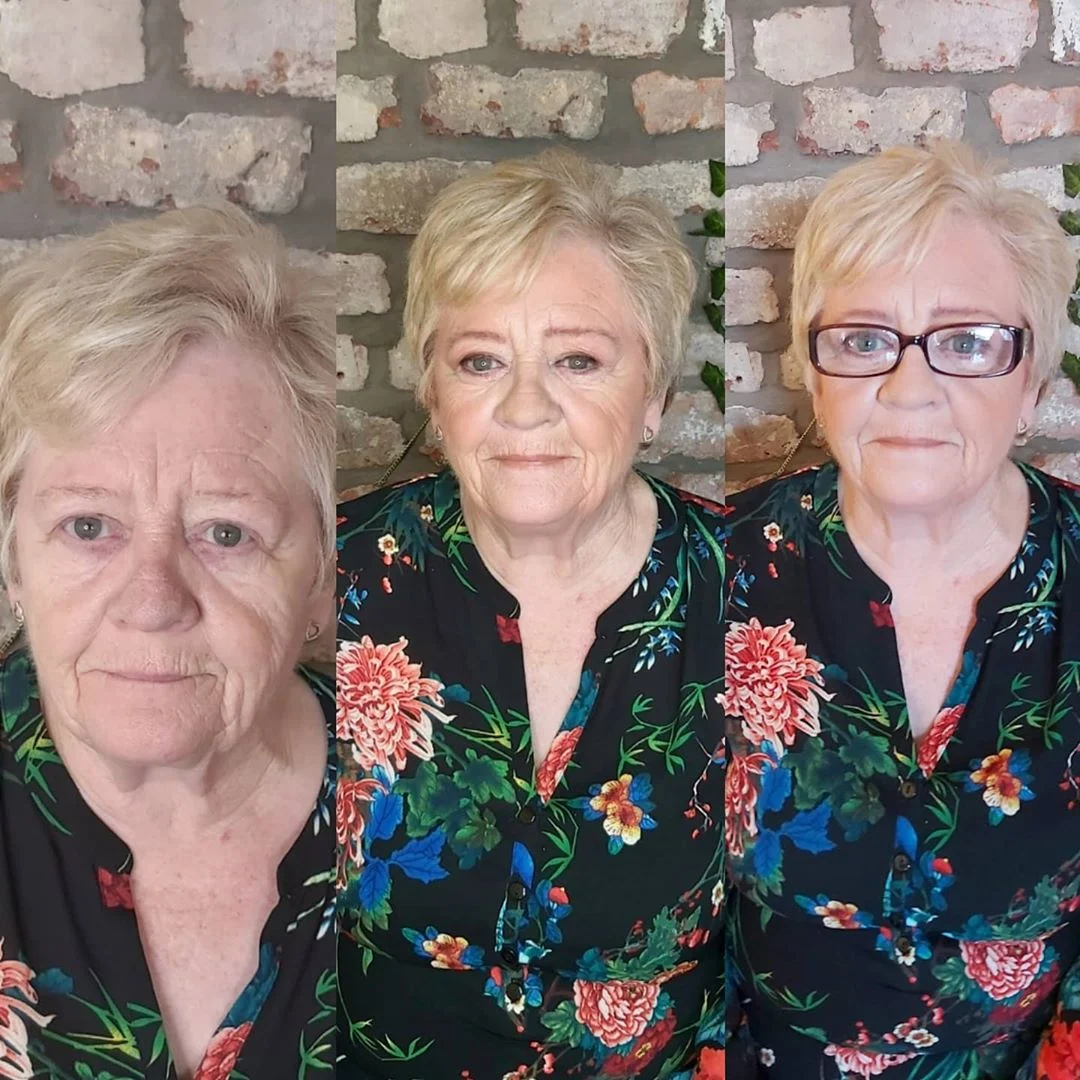 Credit: @Select_Hair_And_Beauty via Instagram
Just by filling in the brows, the face has been completely framed and refreshed. The glowing highlight from the center has opened up the face and brought new life to it. A subtle brush of mascara is all that's needed to brighten the eyes and make them pop.
Mother of the bride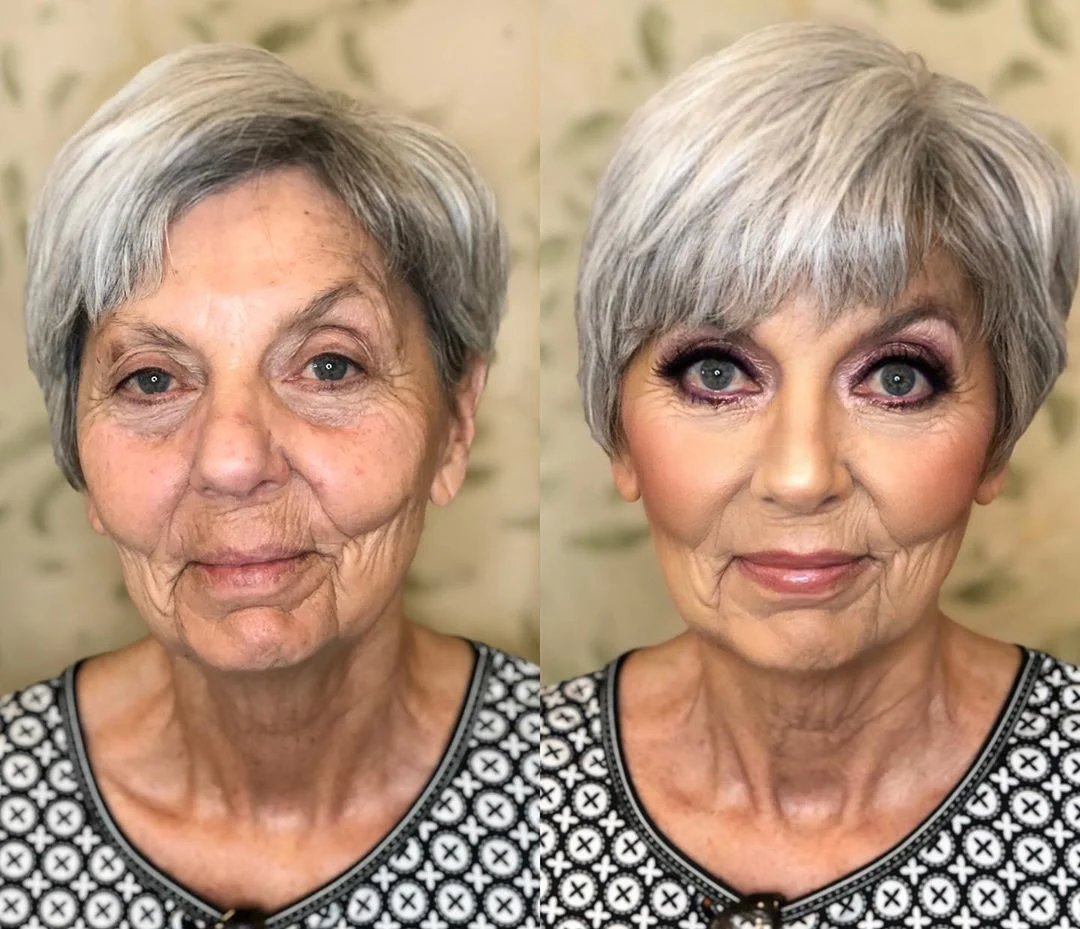 Credit: @Katiswegelmua via Instagram
This mom absolutely looks her best for the bride's big day. Those big blue eyes have been brightened even more by the pink shimmer smokey eye. The blush and lips are similar colors which looks great and ties the whole face together seamlessly. Her silver hair balances out her sparkling eyes well.
It's in the eyes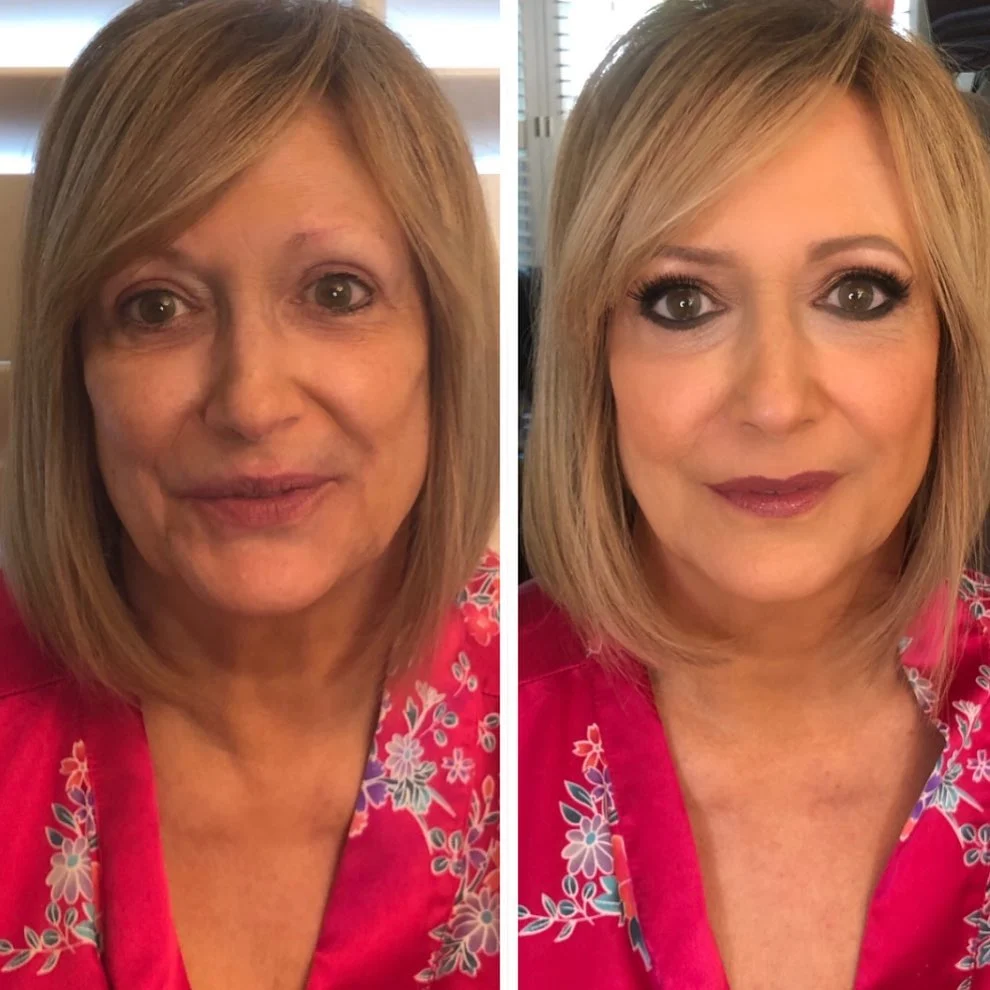 Credit: @Thetrendeemakeup via Instagram
The main focus of this look is the sultry eye look. The under eye has been brightened too to avoid any tired looks from the dark liner. Neatly defined eyebrows frame her eyes and balance out her face. The glossy neutral pink lip finishes off the look.
Elegance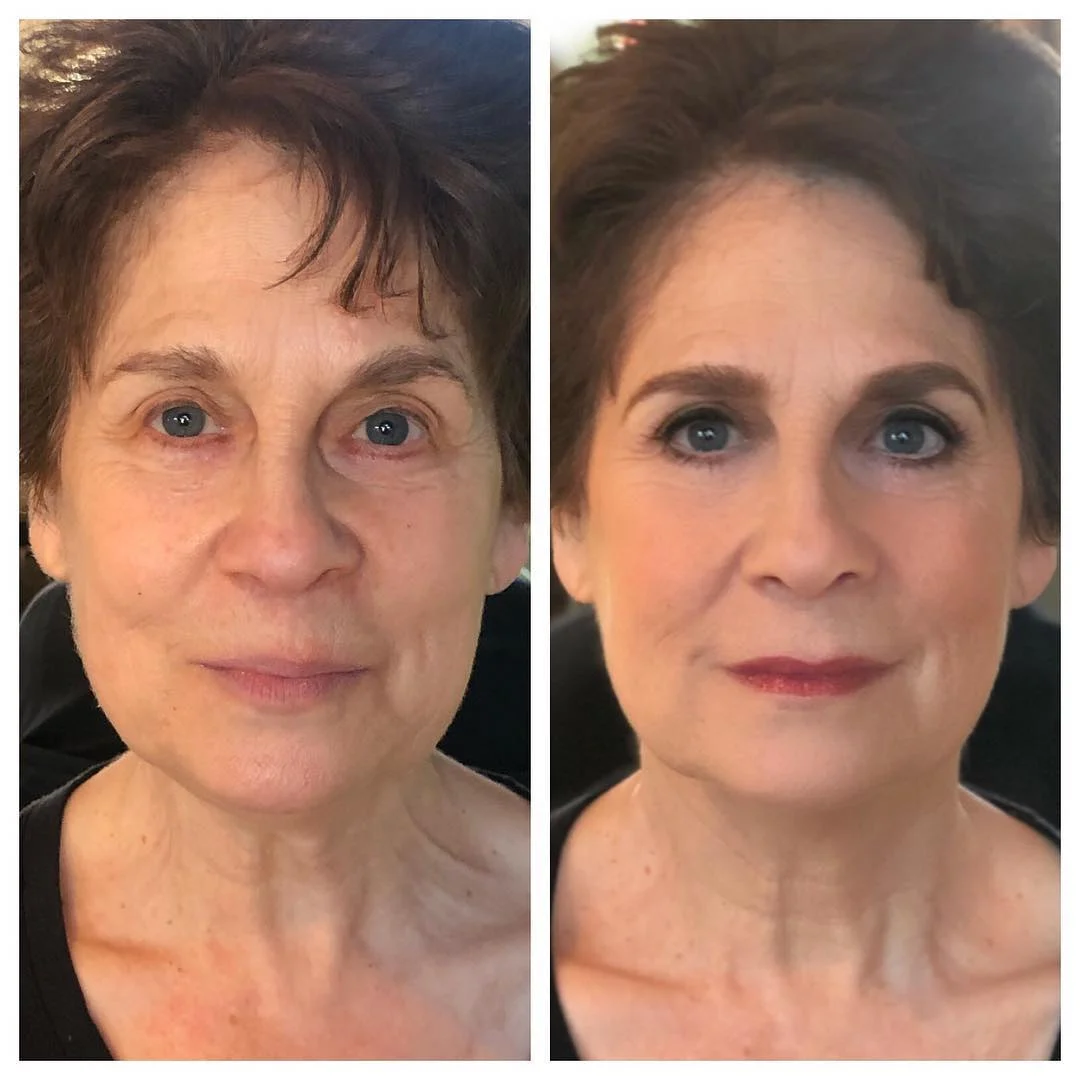 Credit: @Thetrendeemakeup via Instagram
When you already have elegance, the makeup just adds to that. This stunning make up look is subtle enough to not look heavy, but has been smartly applied to hide any 'imperfections'. The blush placement rounds out the cheeks for that youthful rosy look, and it's the same tone as the muted lipstick to balance out the face.
Flawless result
Credit: @Thetrendeemakeup via Instagram
The foundation application has helped reduce the redder areas on the face, and evens out the overall tone of the face. The defined eyebrows help draw attention to the eyes, so the stunning blue color can pop out. The lips are a very subtle pink that give that 'these are my natural lips' look.
What lip fillers?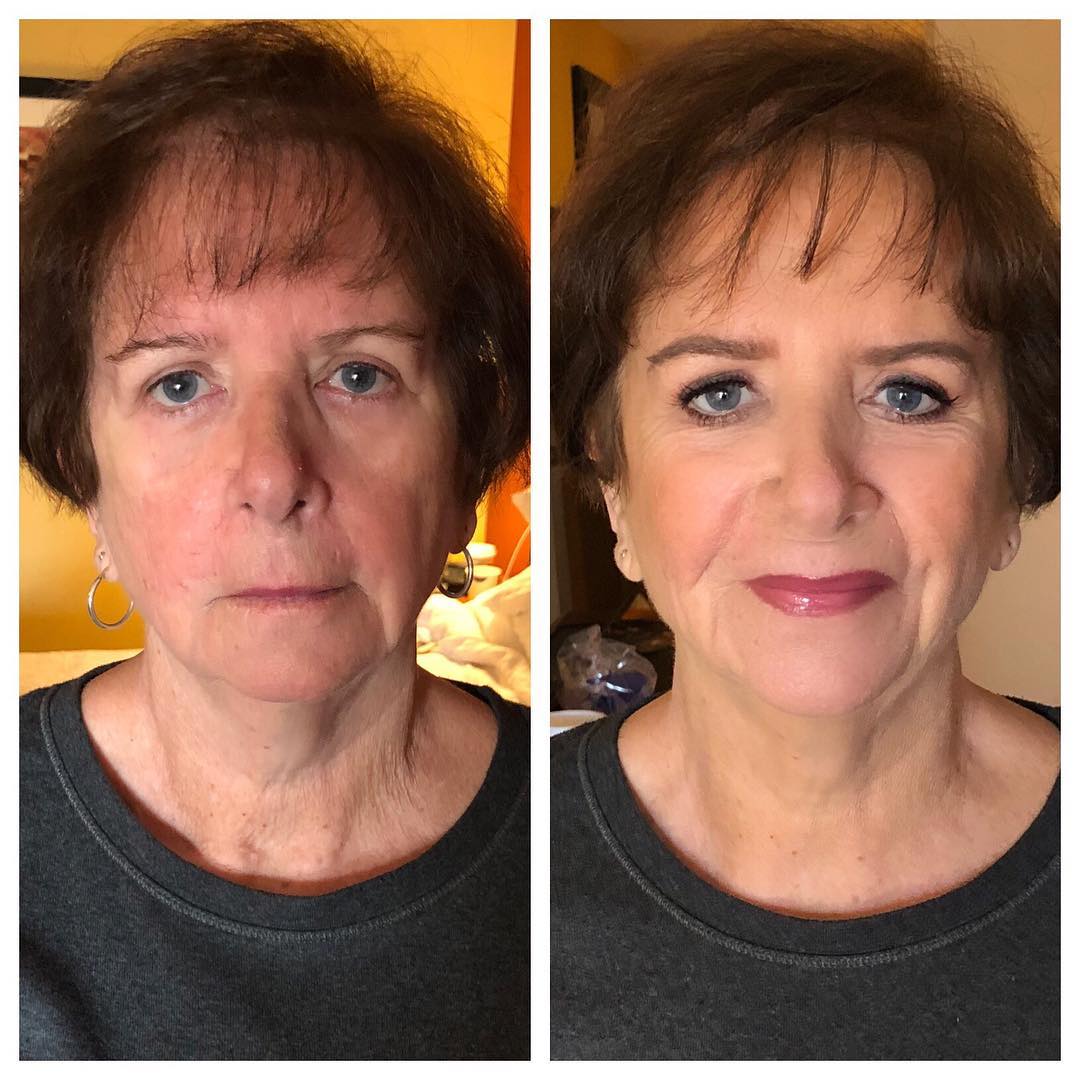 Credit: @Thetrendeemakeup via Instagram
This over lining has been done so well it looks like she's had great cosmetic surgery. A thicker lip takes years off and the defined brows look natural enough to be hers without makeup. This transformation clearly made this woman happy and you can see the sparkle in her eyes.
Just be you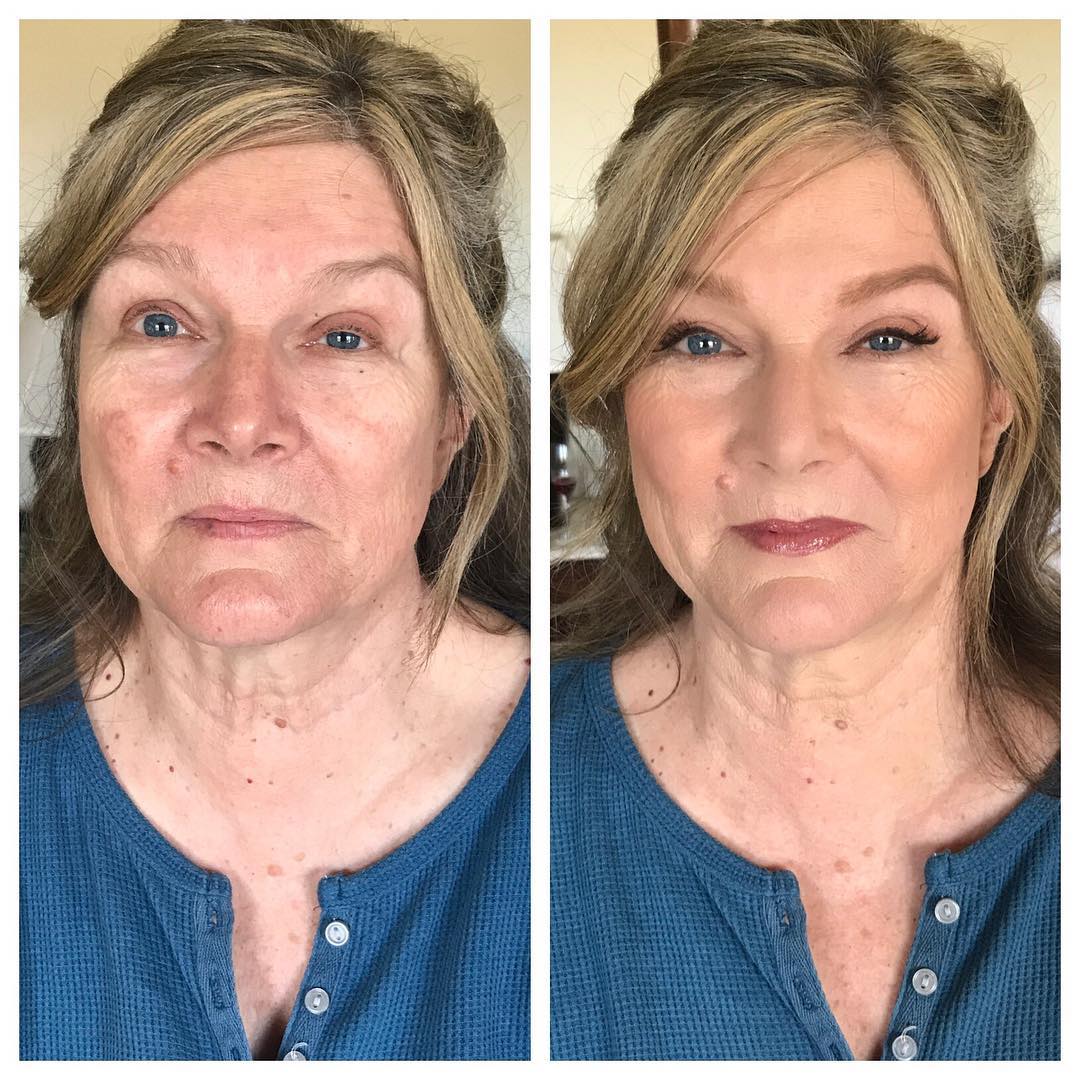 Credit: @Thetrendeemakeup via Instagram
This pretty lady has just been given a confidence boost without changing her overall face. The subtle cat eye look works really well with her eye shape and it speaks for itself without eyeshadow. The foundation has a glow to it and it creates a healthy shimmer across the skin.
Hollywood star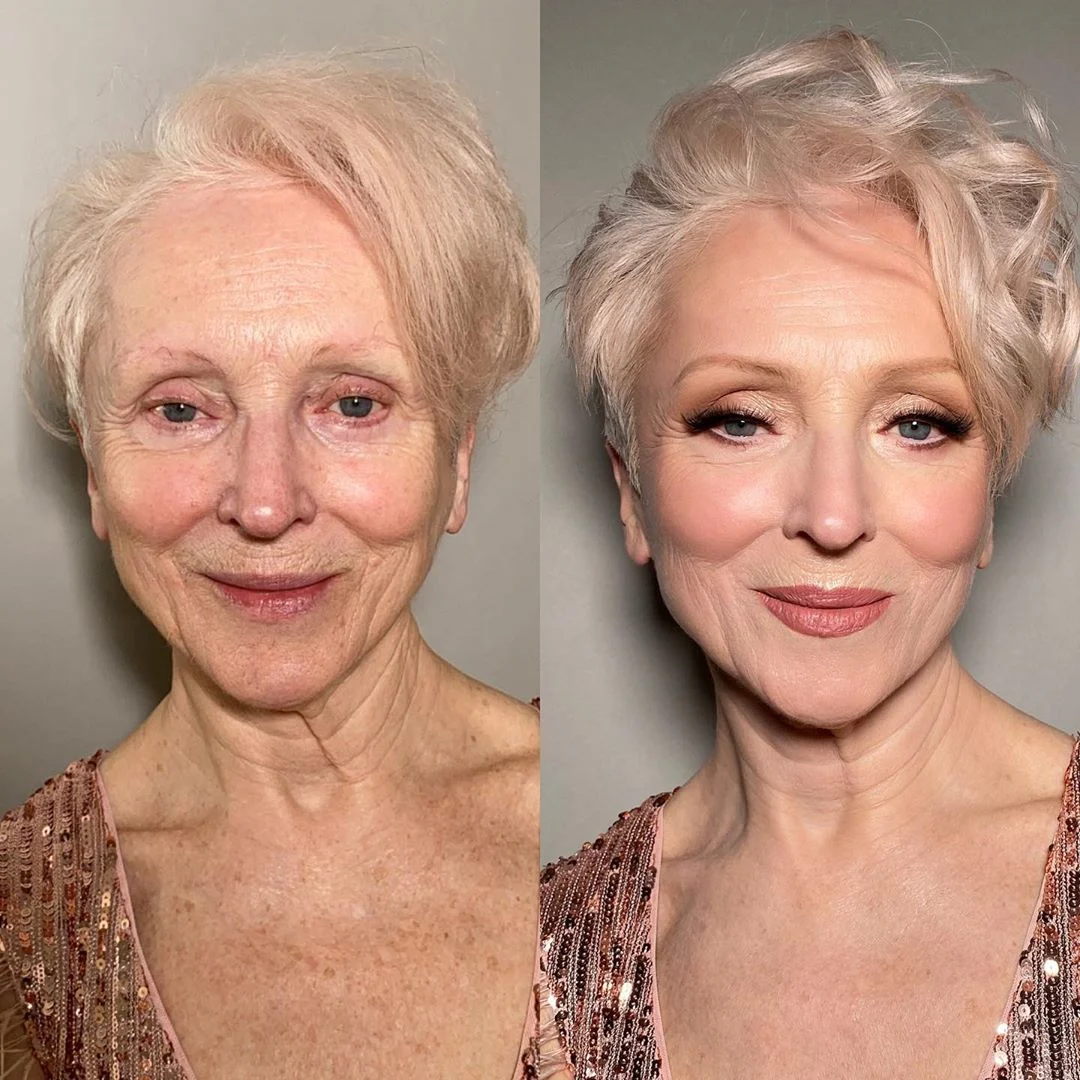 Credit: @Elena_sanko_make_up via Instagram
This lady looks red carpet ready. Blessed with great cheekbones, they've been accentuated with slightly peachy blush and a champagne highlight. The warm tones of her shimmery eye look matches the gold tones of her dress and her soft curled hairdo adds some more luxury to this look.
Refreshed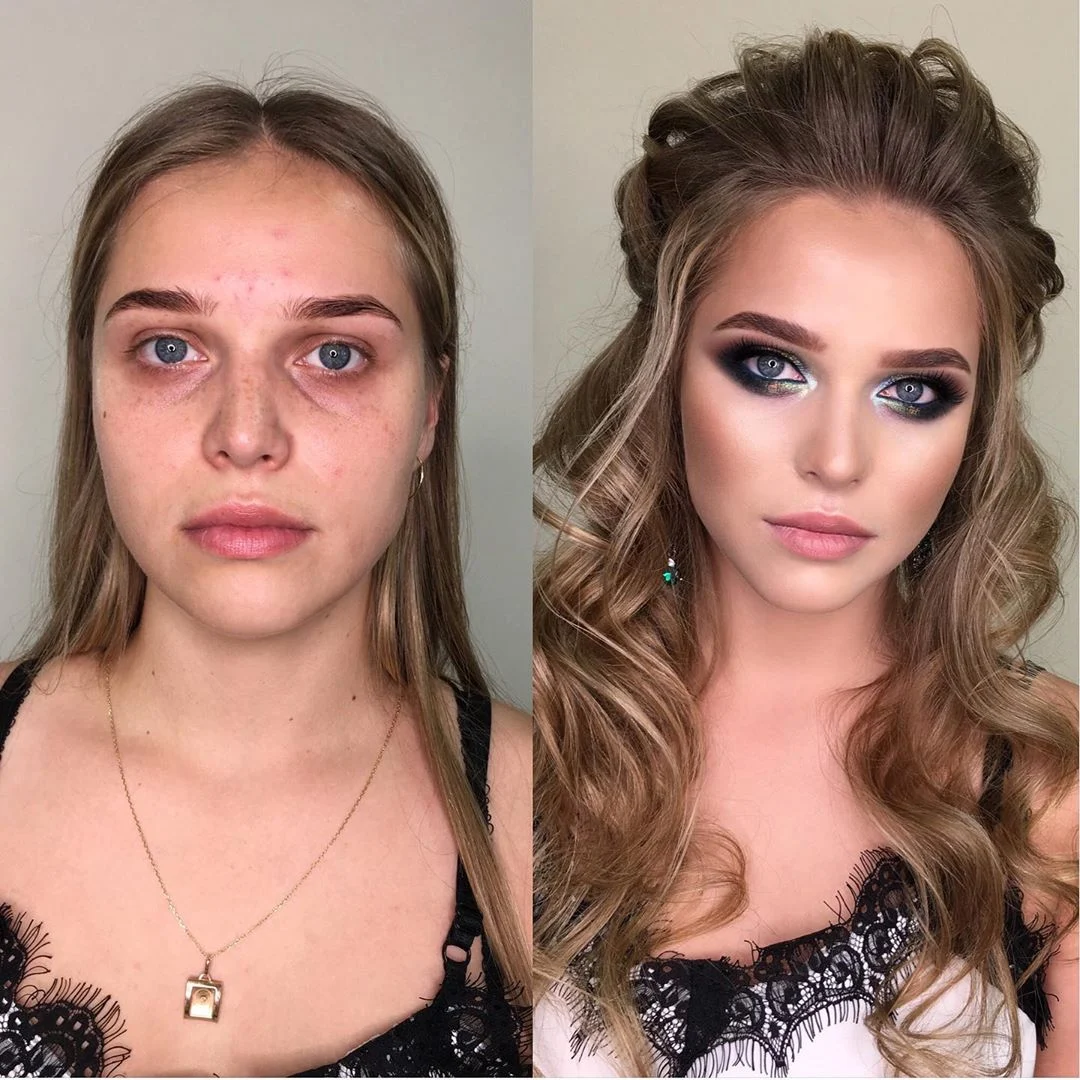 Credit: @Elena_sanko_make_up via Instagram
A bit of concealer under the eye can go a long way. This super sultry and glamorous look has taken this girl from natural beauty to prom queen. The inner corner highlight is a different color to what we usually see, and it's unique enough that it directs our eyes straight to hers.
Lighten up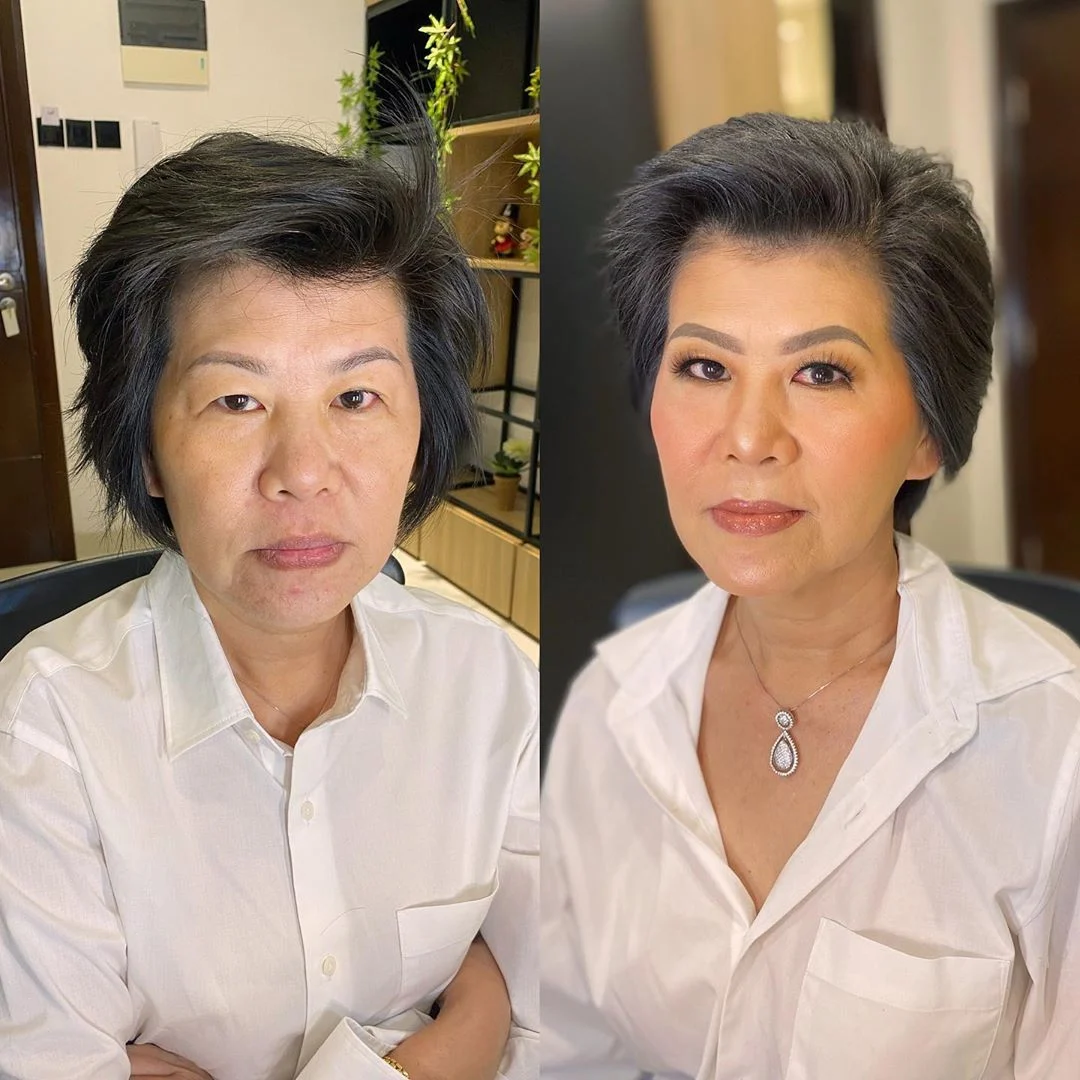 Credit: @Khat.mua via Instagram
This look has taken this lady's natural beauty and heightened it with fresh makeup. The foundation shade matches her neck perfectly, blending everything seamlessly. Her defined eyebrows take off the years too as that style of carved out brow is popular with young women and teens.
Shiny lip look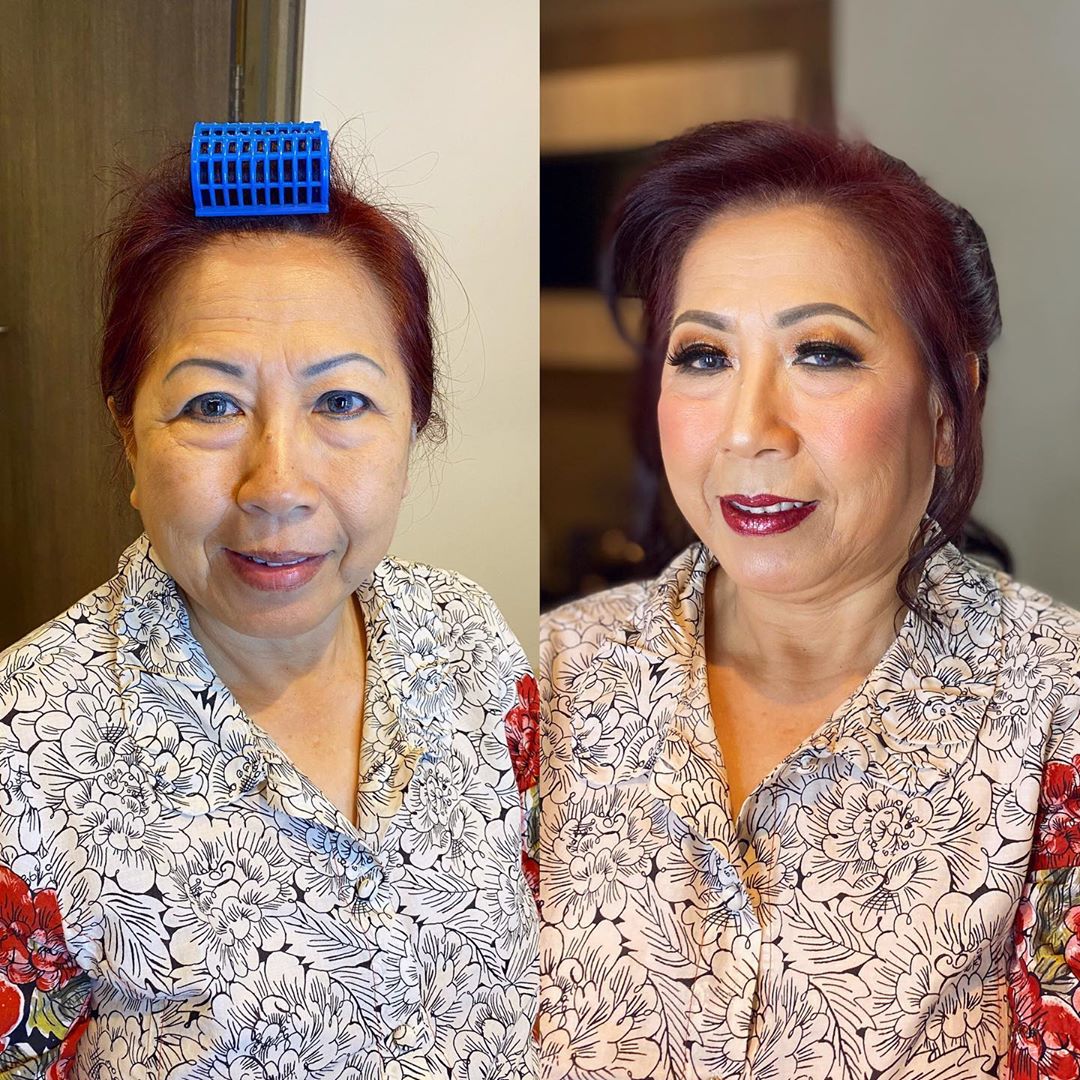 Credit: @Khat.mua via Instagram
This look is full on glam. Adding a natural touch to her brows with a subtle gradient gives her a more youthful look. The warm gold glitter on her eyelids suits her complexion, and it goes hand in hand with the glossy cherry red lip.
Old school glamor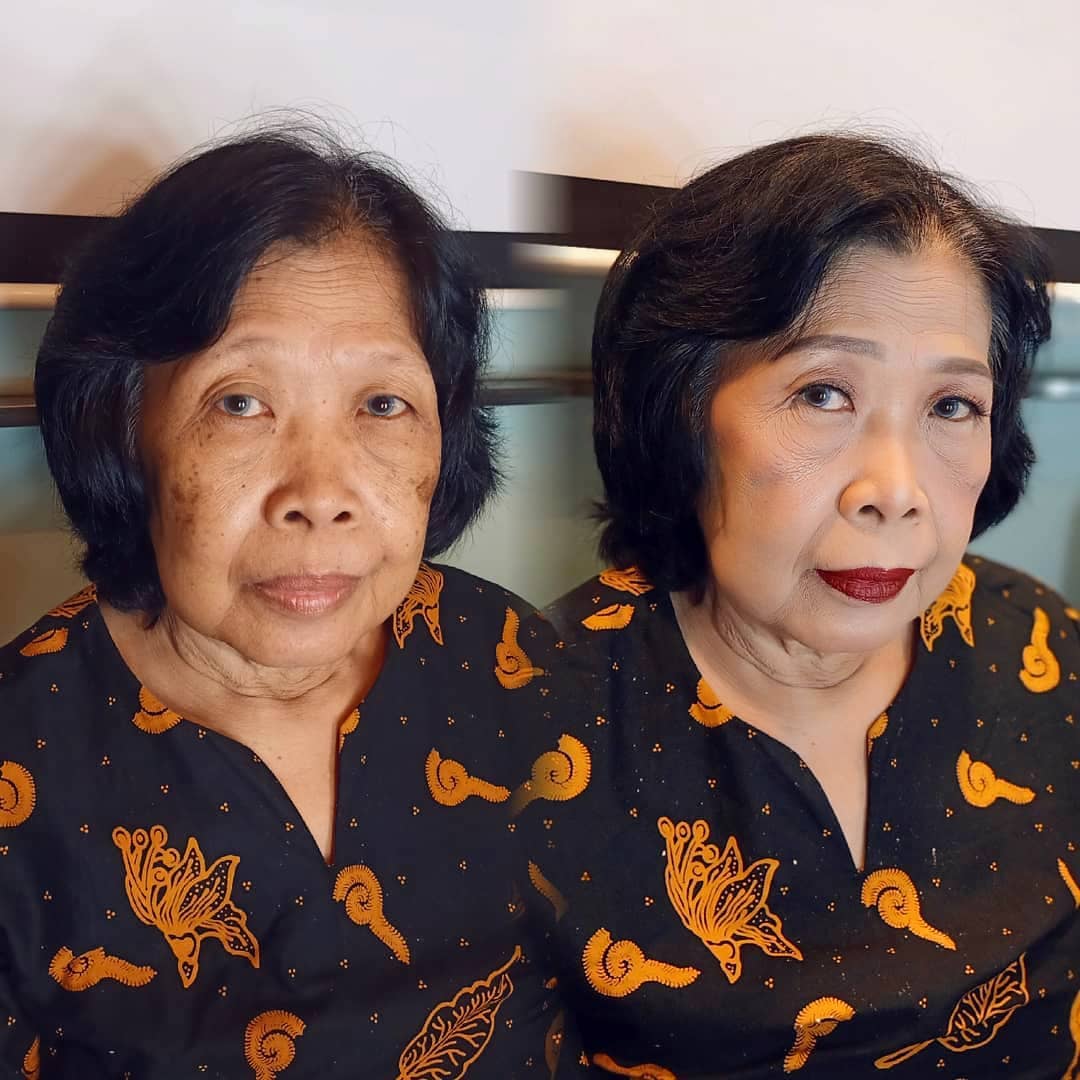 Credit: @Khat.mua via Instagram
Just that touch of definition around the eyes makes them pop and sparkle. A classic red lip can't go wrong here, and with her waved black hair it makes a great contrast for that timeless look. Her foundation base is smooth and flawless and takes off the years.
Cheesin'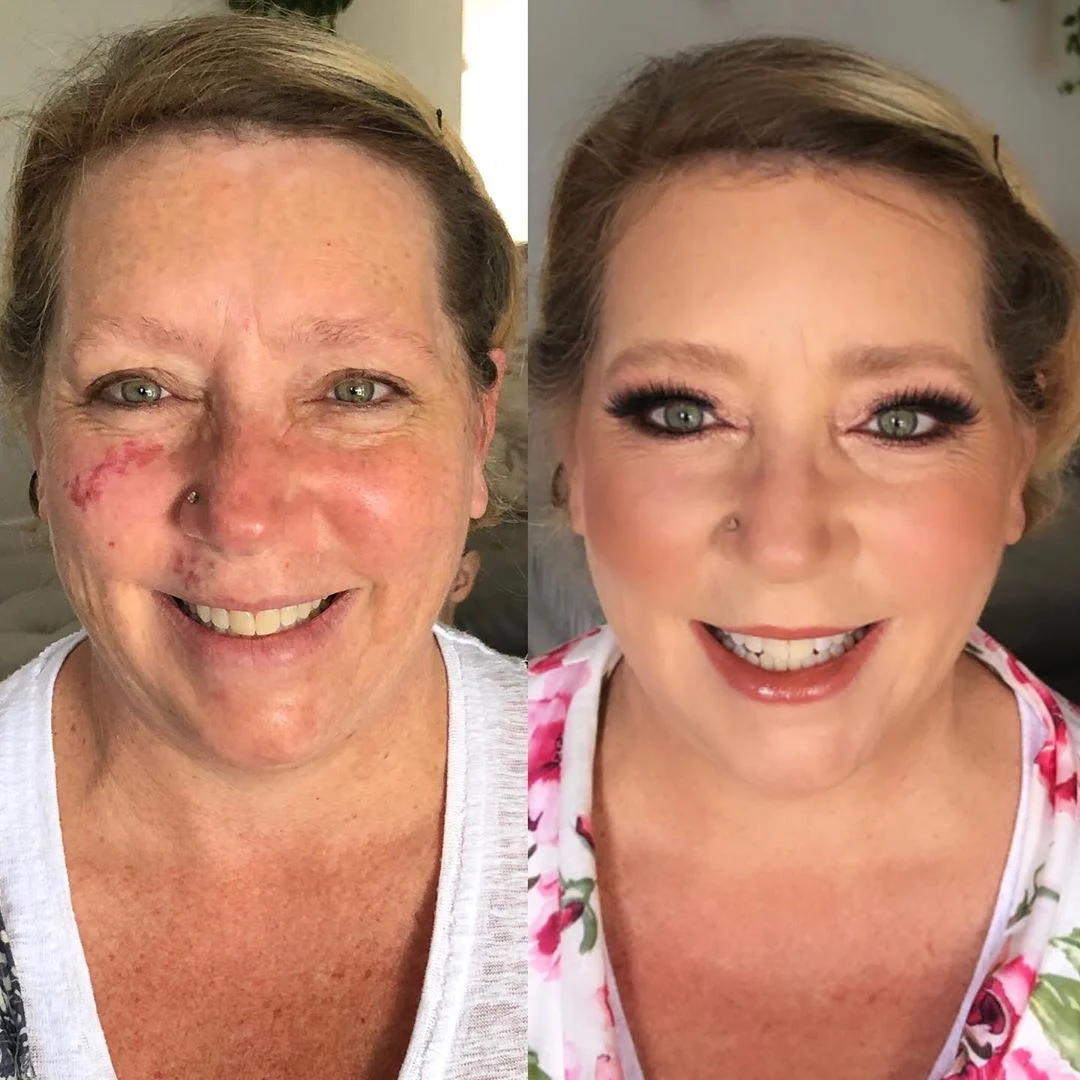 Credit: @Khat.mua via Instagram
Someone's happy with their new look. Fanned out lashes that elongate the eyes always work well when wanting to achieve a glamorous look. She has years taken off her with the flawless application of foundation and rounded blush placement. Slightly bushy eyebrows look super youthful and natural, perfect to not take away from the more dramatic makeup on the eyes.
Looking fresh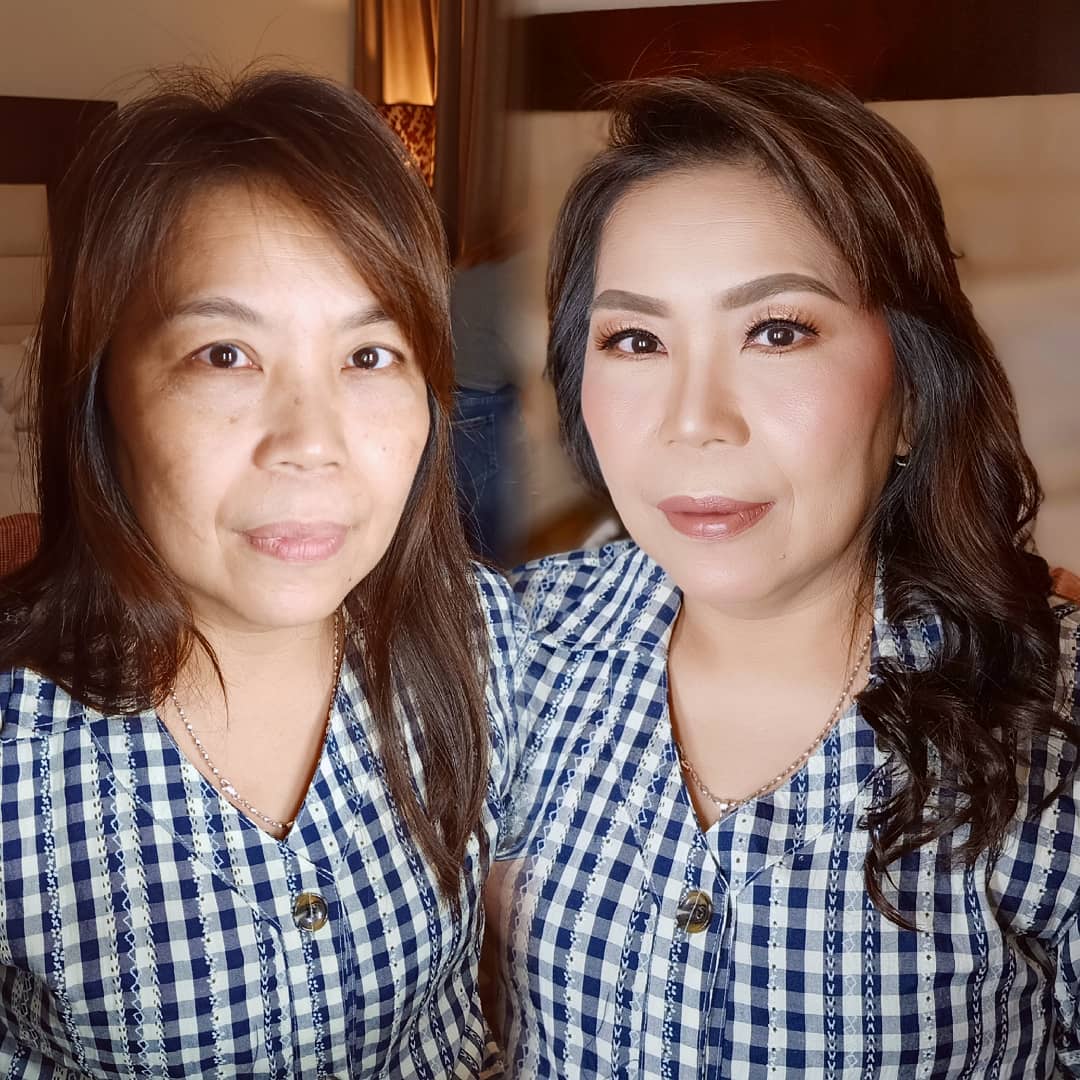 Credit: @Khat.mua via Instagram
This makeup look is sweet and feminine. The nose contour changes the shape of her face and narrows the overall appearance. The light pink blush adds a natural healthy flush to the skin and compliments the glossy neutral lip well. A wispy lash brightens up the eyes too without too much drama.
Flawless base
Credit: @Khat.mua via Instagram
The makeup artist has blended the foundation down the neck to make sure it still looks like her own skin. A soft blended smokey eye makes her eyes twinkle and the shimmer on her cheeks give her a healthy glow. A glossy red lip finishes everything off.
Pretty in pink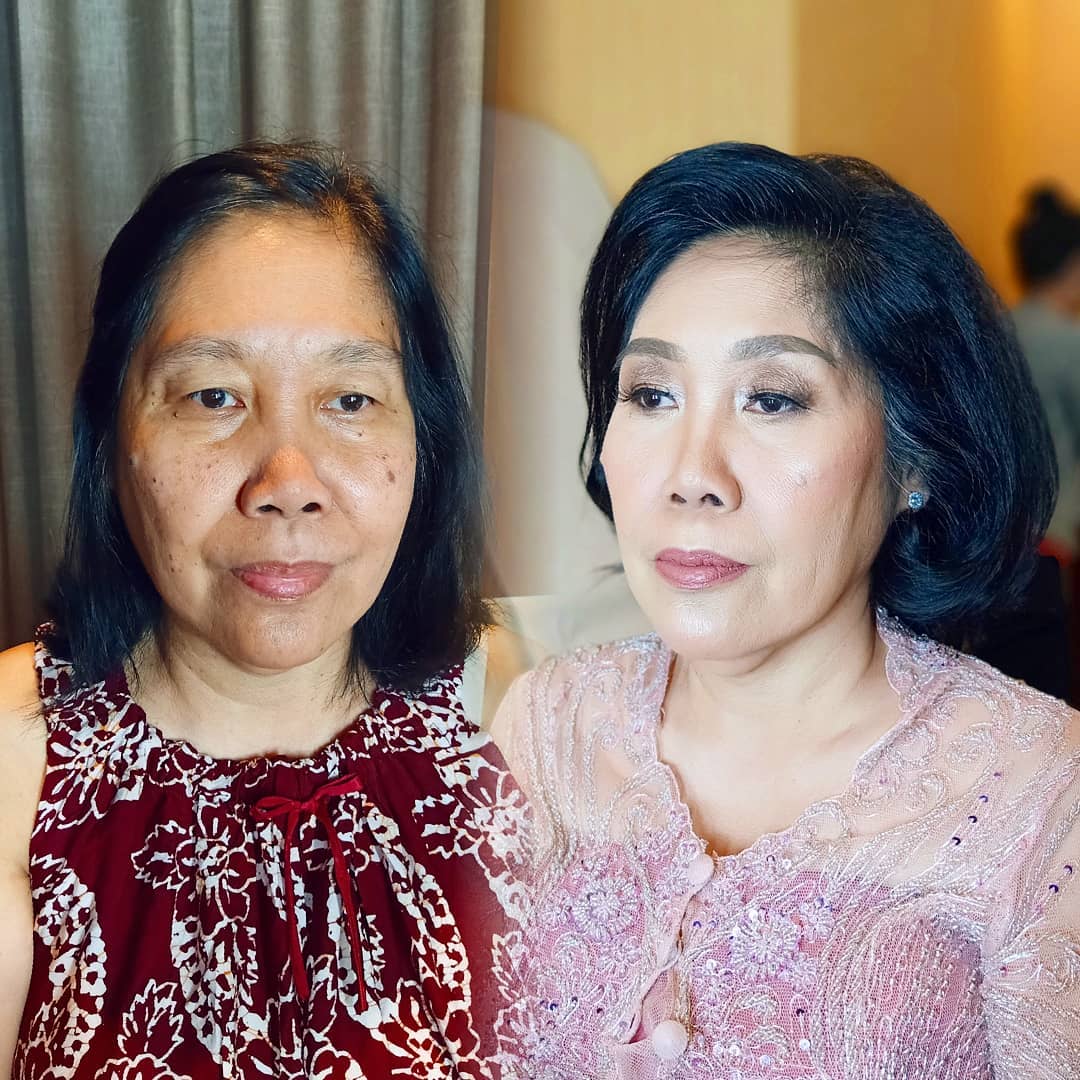 Credit: @Khat.mua via Instagram
The hair and makeup work together to make this super glam look. A soft shimmery brown across the lid is a great neutral base to build the rest of the makeup look off. Subtle blush and highlight carve out the face. The perfectly polished hairdo matches this elegant makeup.
Maternity Glow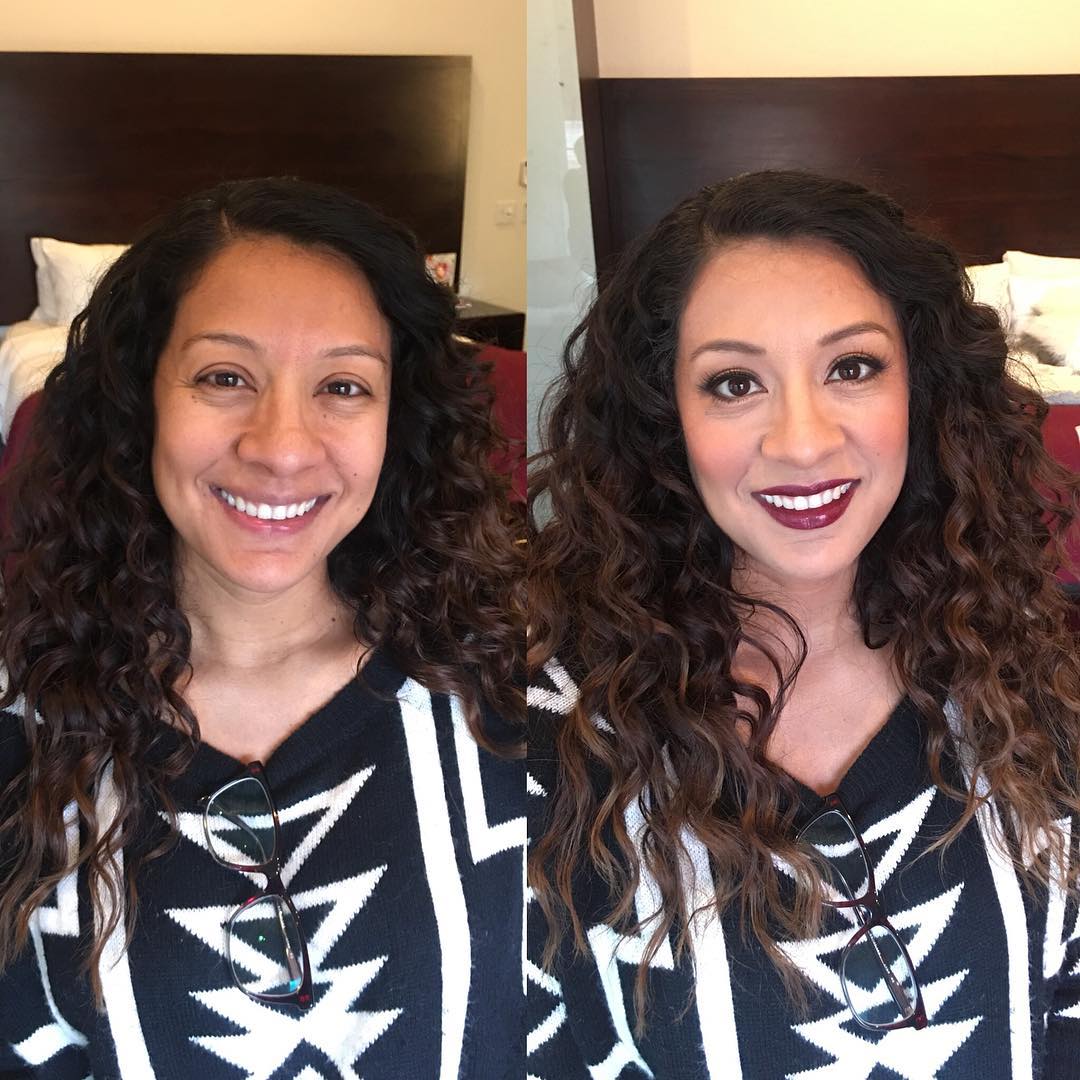 Credit: @Thorneartistry via Instagram
This mom-to-be just got her natural glow enhanced ten fold. Her beautiful smile just had to be accentuated with a stunning red lip, which suits her complexion well. Her deep brown eyes look adorable with some light definition and the whites of her eyes look super healthy and awake.
Cat eyes
Credit: @Khat.mua via Instagram
Her pretty eye shape is accentuated with this shimmery cat eye look. The thick and sculpted eyebrows aren't too dramatic and enhance the eye look. Her lips are slightly glossy and it works well to balance out the glam of the eyeshadow, and finished off with the up-do this lady is ready for her day of glamor.
Young again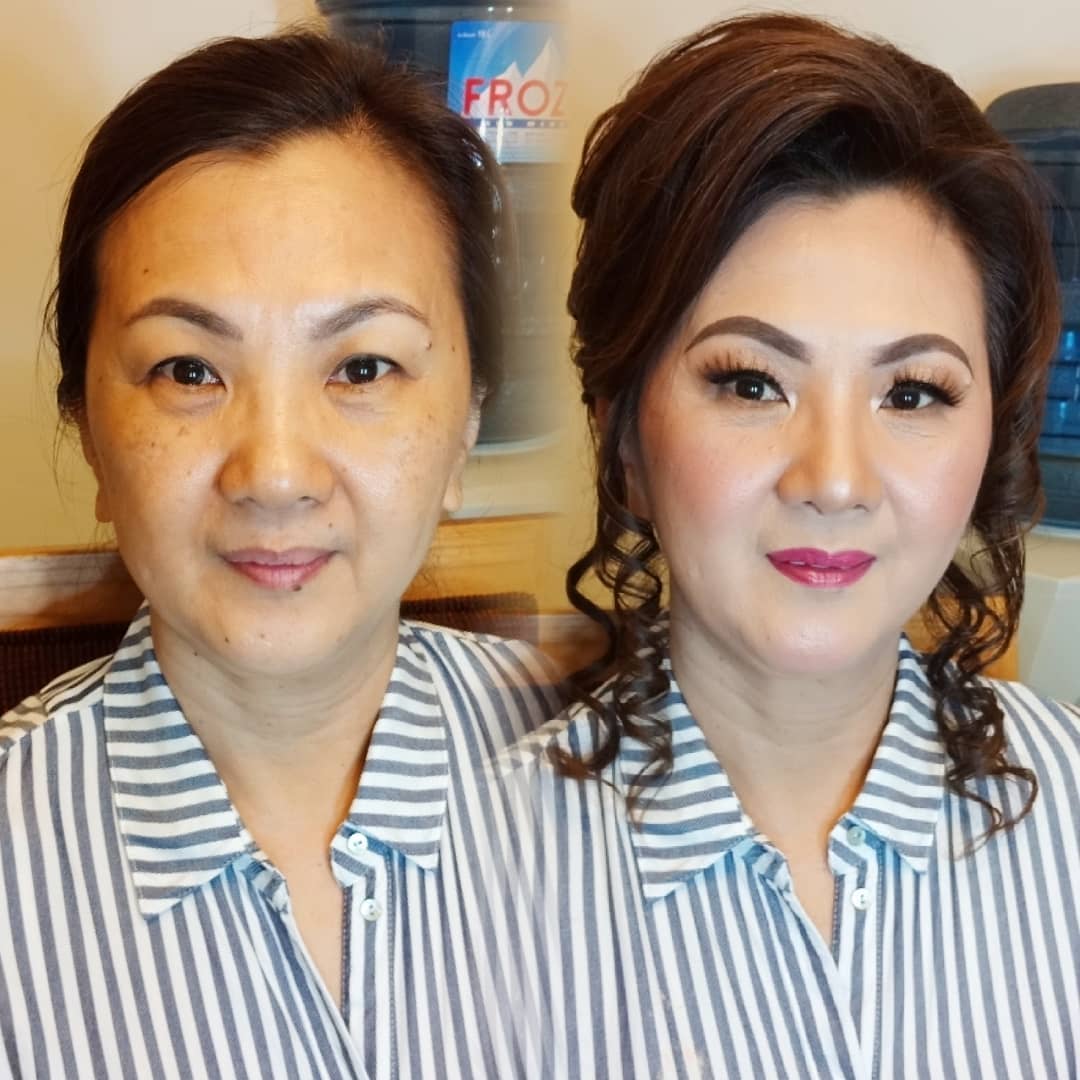 Credit: @Khat.mua via Instagram
This is such a fun and playful look. The arched eyebrows follow her natural shape and give a slightly vintage look. Long fluttery lashes extend the lines created by the cat eyeliner and the shimmer in the inner corner makes her look bright and awake.
New person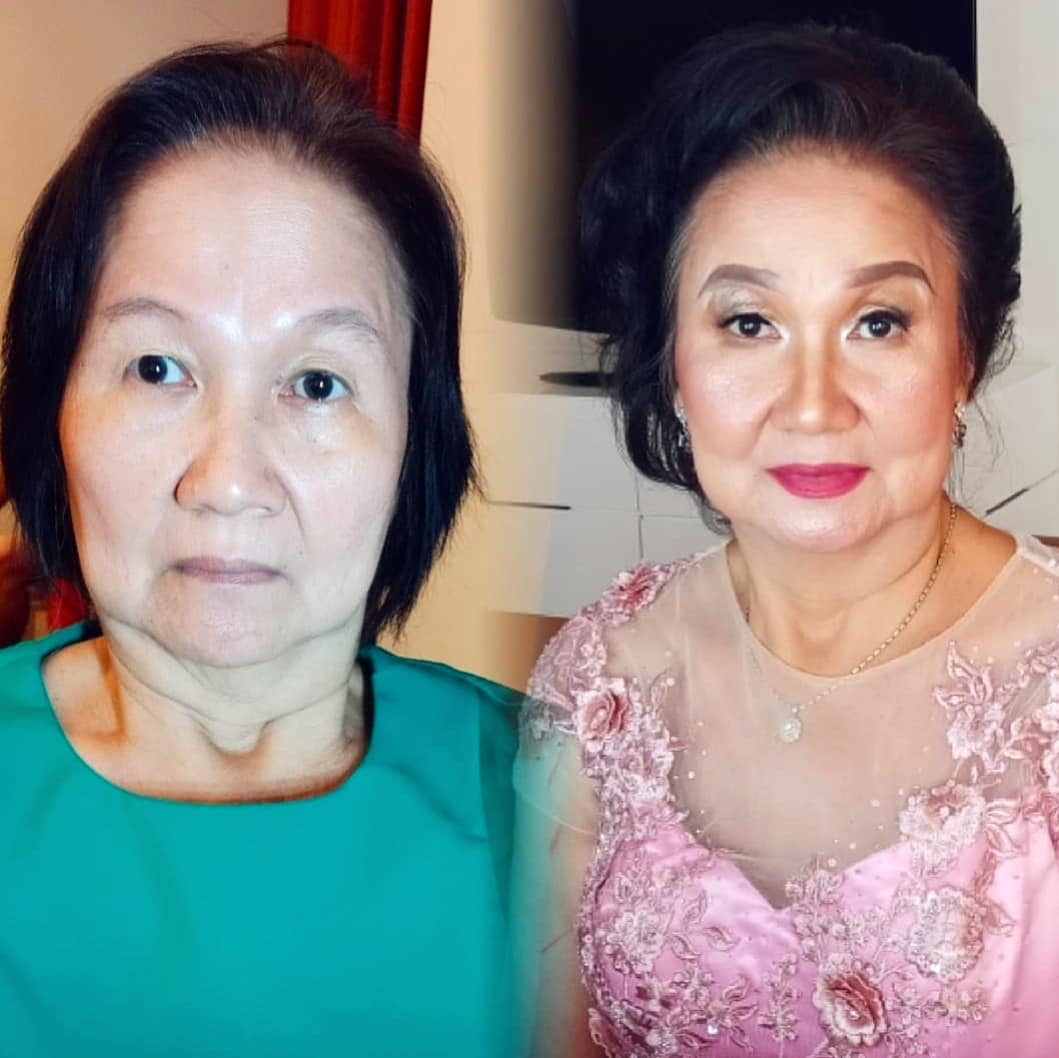 Credit: @Khat.mua via Instagram
Completely transformed. The makeup artist went full glam on this lady, and brought the glitter and bold lip. The nose contour adds structure to the face and elongates her appearance, slimming the face too. You can't go wrong with a bold pink lip to bring the glamor.