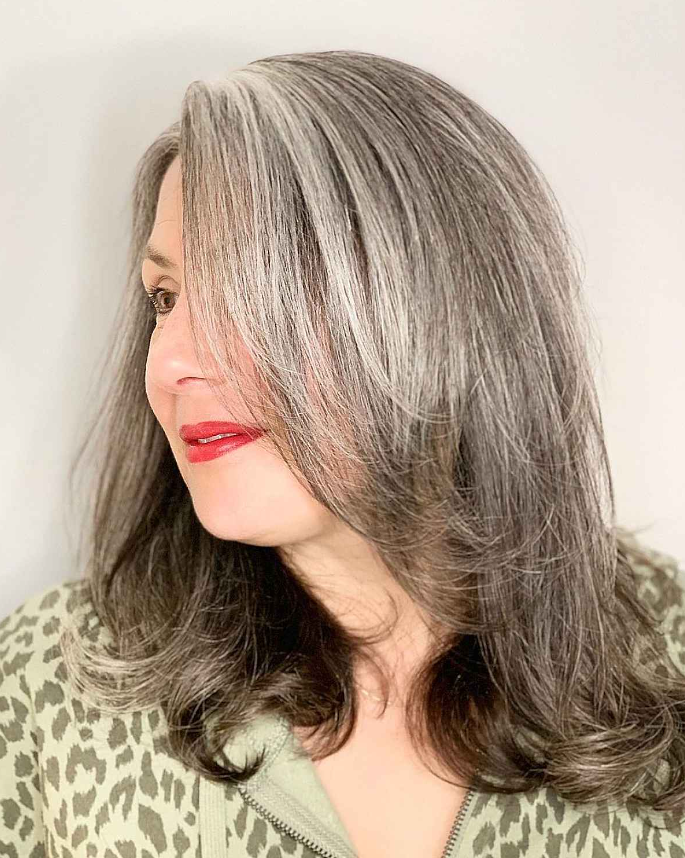 Long and wavy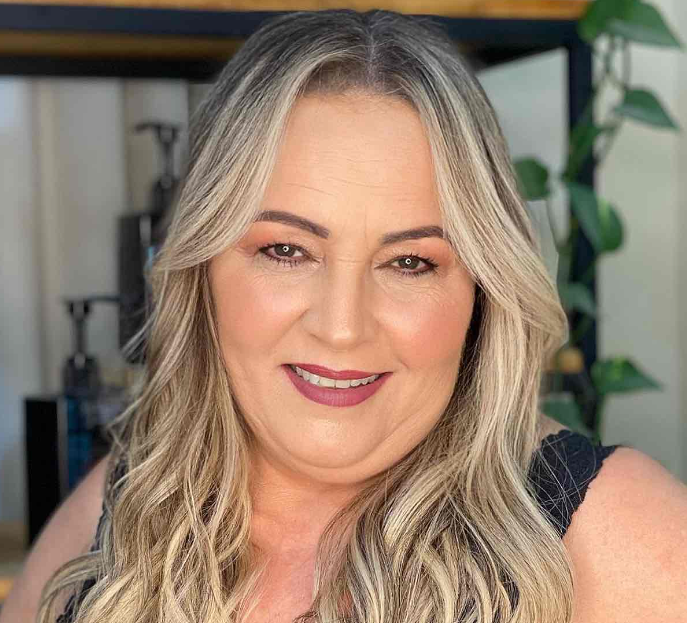 Credit: via Pinterest
Length and texture are key in pretty much all hairstyles, for everyone. That being said, waves have a particular slimming effect on rounder faces thanks to the way they frame the face. By creating light curves along the length, you help fill and even out the shape of the face, where many of us tend to carry our weight.
White bob with layers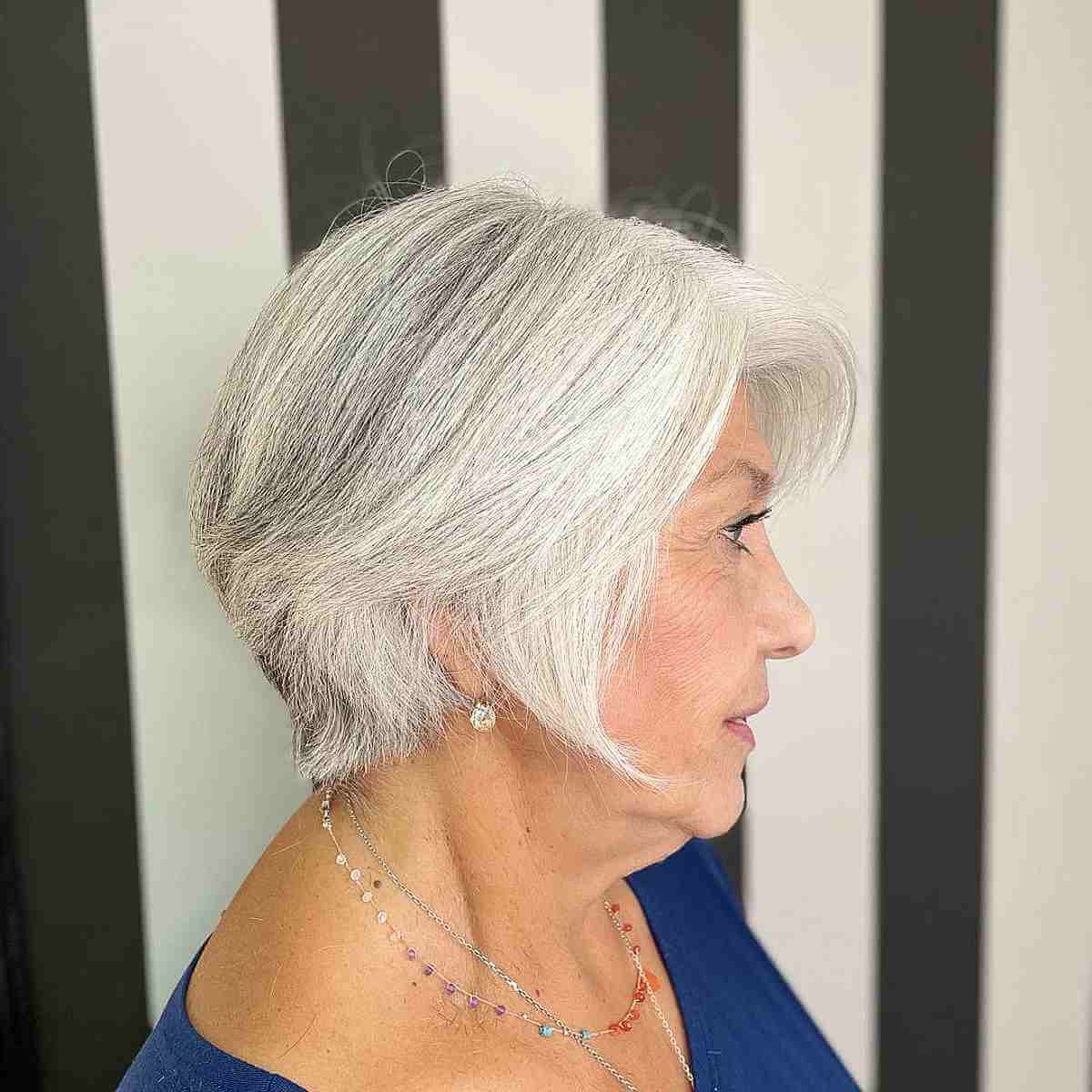 Credit: porquenotecortasesepelo via Instagram
Bobs have a ton of advantages for rounder faces. The body gets a lot of volume because it's not weighed down by extra length, which means it stays light and springy. It's easy to style but keep on top of the layering. Try to get the lengths trimmed every four to five weeks since that texture aids in thinning out the face.
Face framing highlights
Credit: via Pinterest
This has been super on-trend for a few years now and shows no signs of dying out anytime soon. Colored highlights, usually in bangs, are great for adding more shape and definition to the face, and unlike a full-dye job will stay looking good even as the tone begins to fade. Repeated washing will speed up that process.
Longer bob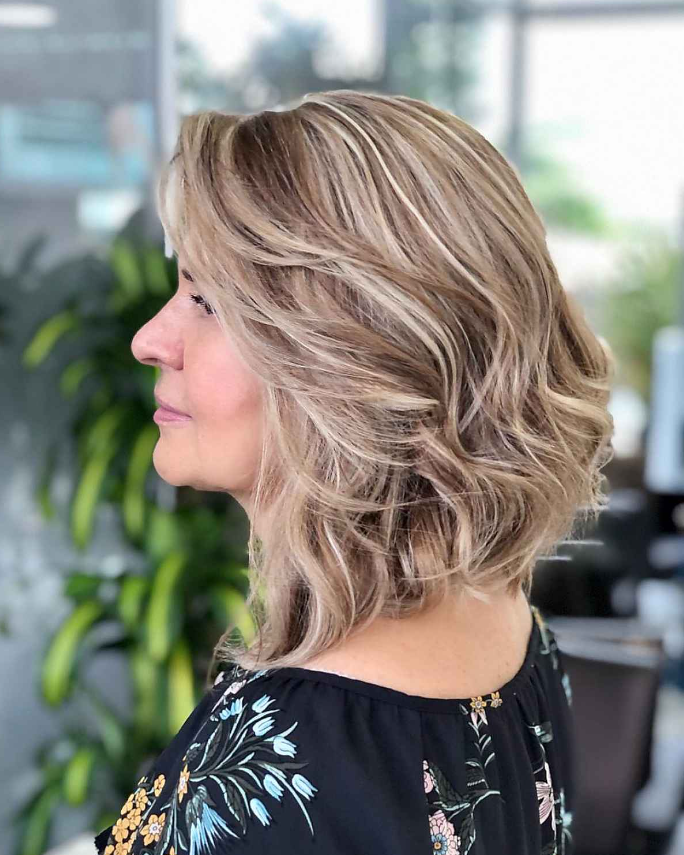 Credit: via Pinterest
This look has all the benefits of a shorter bob but with a few key differences. It has a little more elegance, and shoulder-length hair gets a lot more movement, which is great for framing. You can keep the longer areas thinner and layers to avoid them sitting too heavy on the shoulders, and you can add texture with curls.
Curly bob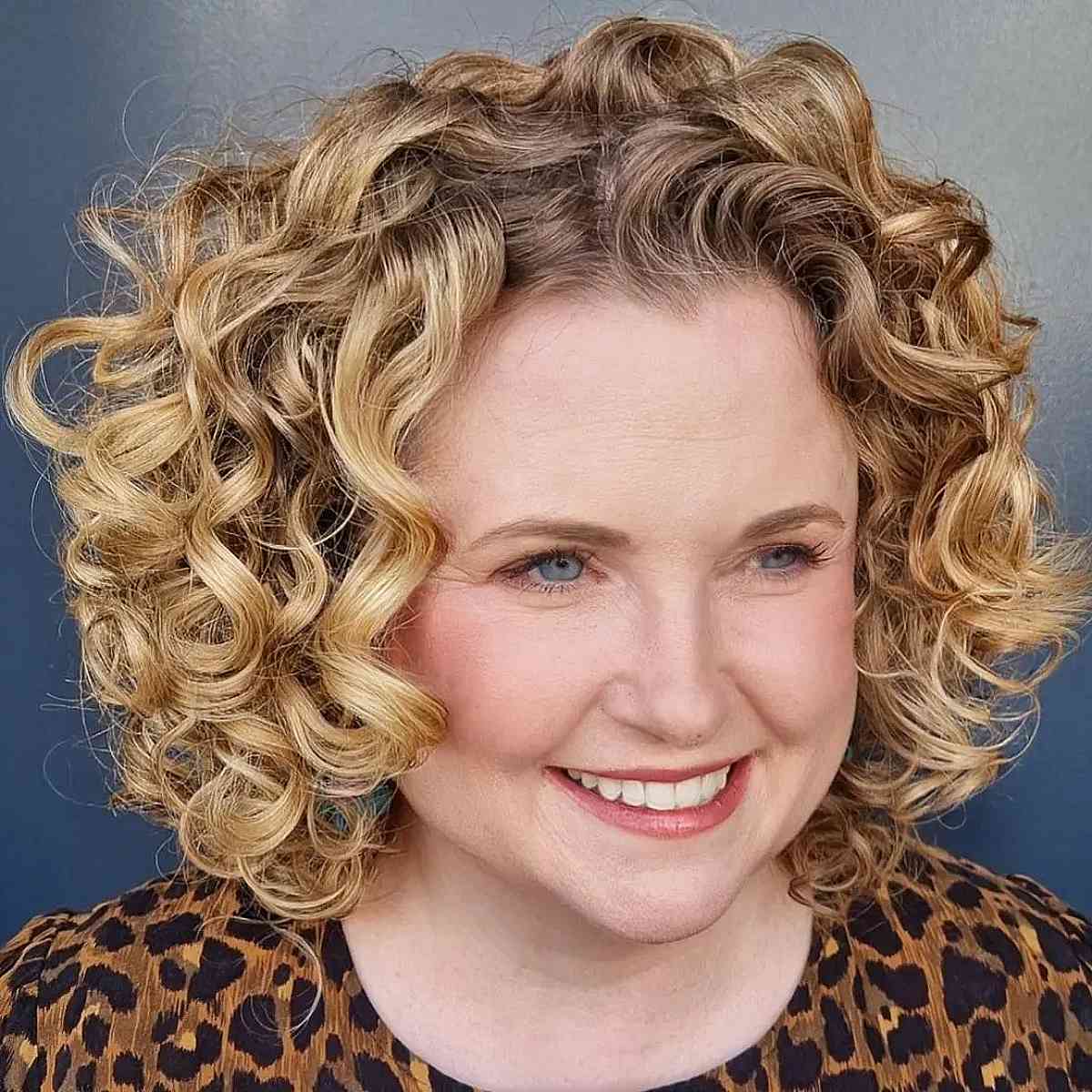 Credit: aoki_hair via Instagram
This style lends itself to naturally curly and thicker textured hair, which makes it an excellent choice for women of color. The length and volume can vary, it's up to your taste, but as a general rule the more volume you get up and away from the face, the more of a lifting effect you get. That's what makes it perfect for rounder faces.
Inverted cut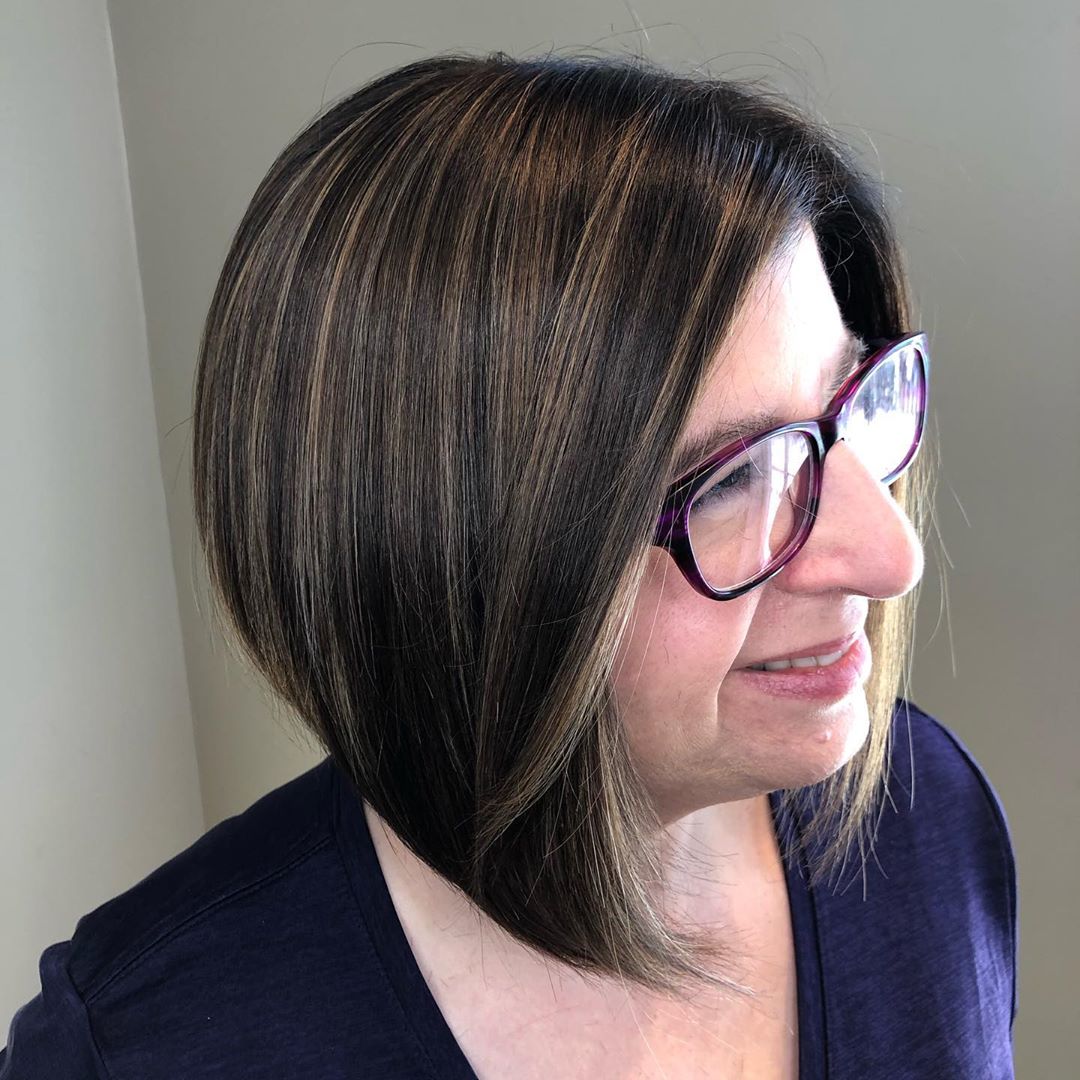 Credit: cindy_hairstylist007 via Instagram
While its length in parts is similar to a bob, the difference is in the construction. By keeping the back of the neck tight and giving the crown all the height and body. The fringe can be worked into the length of the sides for a more uniform appearance, which adds a touch of professionalism and a striking side profile.
Long and soft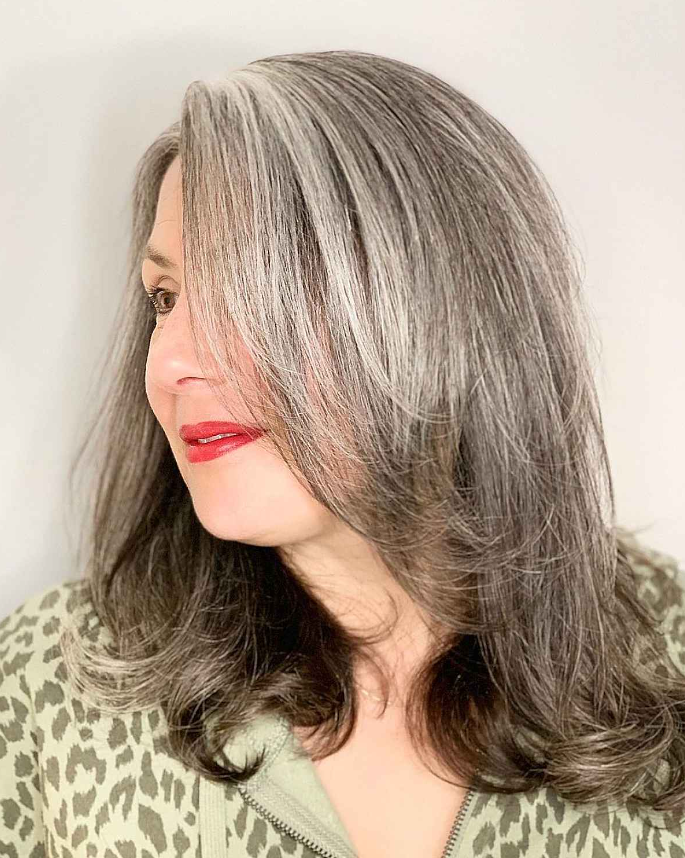 Credit: via Pinterest
Here we see quite a natural, minimal-effort cut that uses the natural shape of the hair to soften facial features while providing a little bit of structure. The length will add shadow to the face, contouring your edges and creating shadows for extra dimension. The bottoms can be curled or straightened, but the body should be allowed to fall naturally.
Layered bob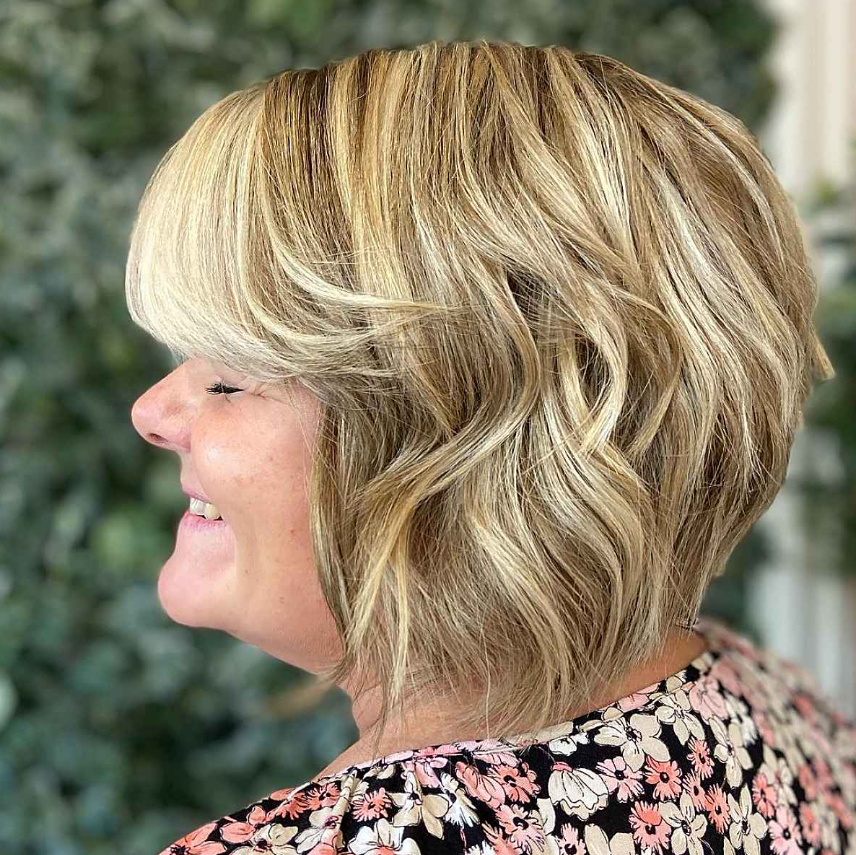 Credit: via Pinterest
Again, layers are so good for older women and rounder face shapes, and its versatility makes it such an obvious choice. You don't want to go too obvious, though! That's where the layers come in, which can be tailored for your particular face shape, or used to add some variety to your daily looks.
The middle part with waves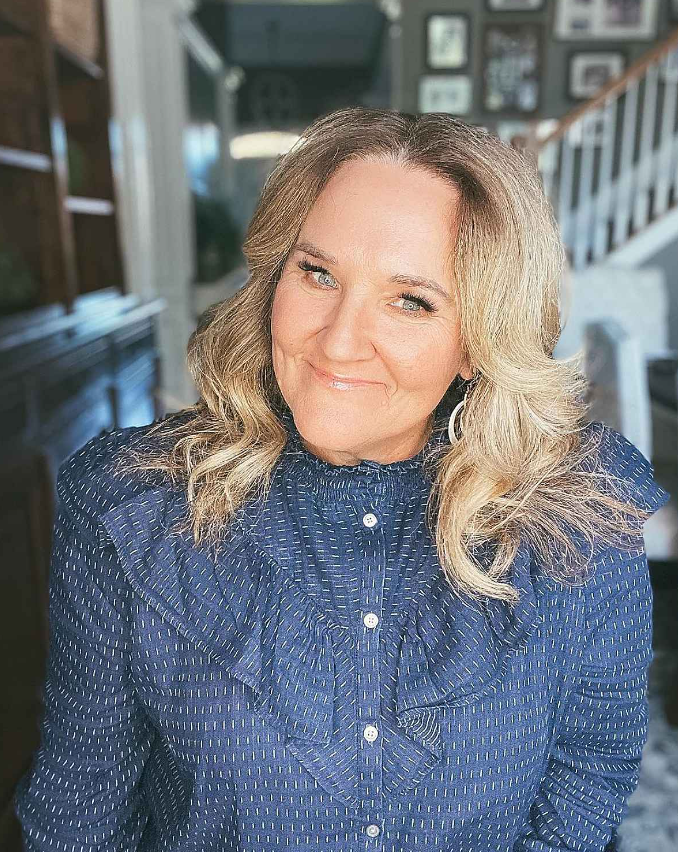 Credit: via Pinterest
Don't listen to anybody who says center partings are out. They have no idea what they're talking about and they're going in the box for bad behaviour. Your parting sets the stage for the rest of your look, and having it central to the face keeps the eyes visible while framing the rest of your features. You can have it natural or tousled, if you want to give it some extra edge.
Medium length shag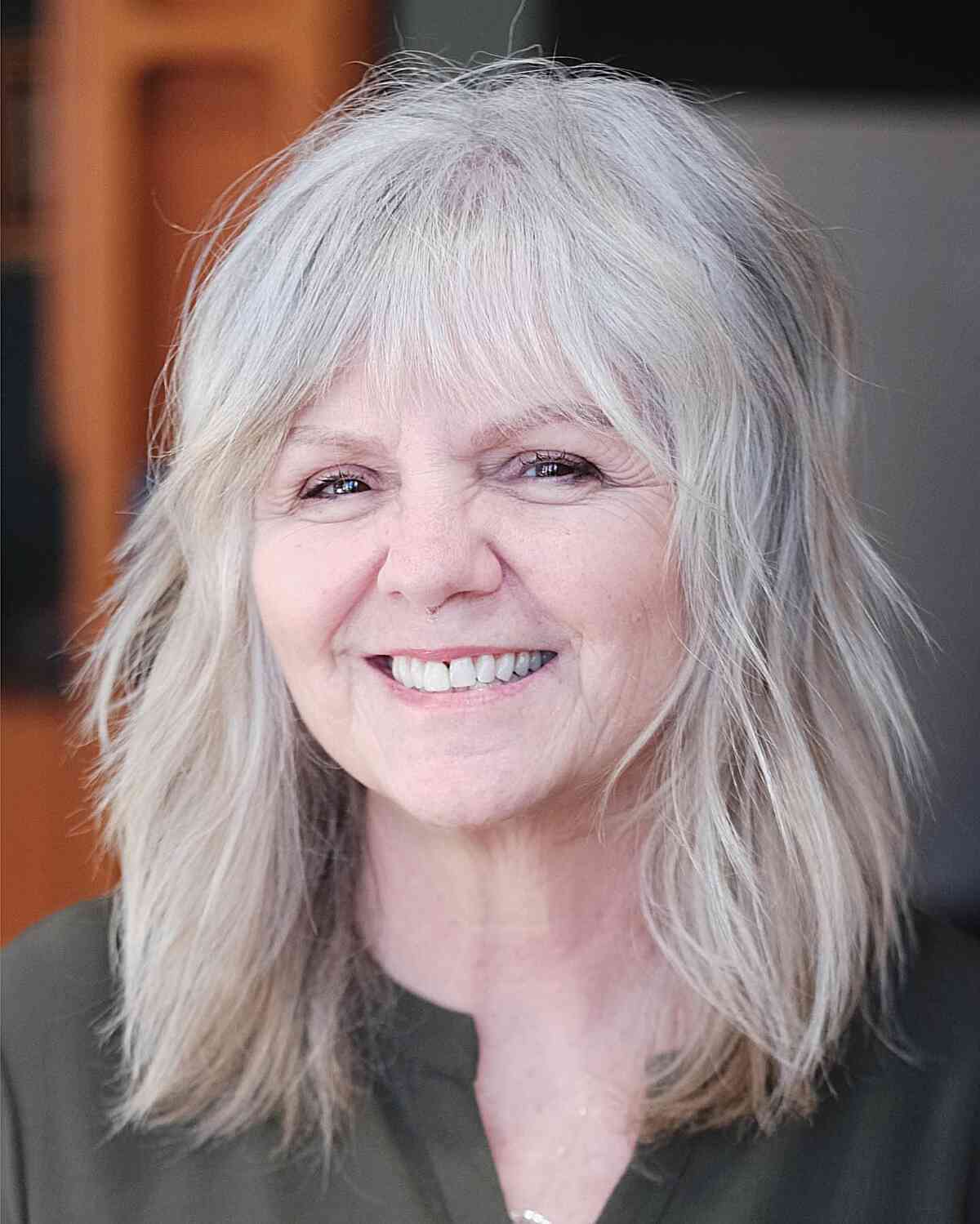 Credit: christinaawesome via Instagram
Shaggy cuts are great for aging hair. Your locks are probably going to thin out at some point with time unless you have some rare genetic mutation, in which case please share with the rest of the class. With that lighter texture comes the opportunity to get some great texture and energy, plus it works with all kinds of hair.
Blonde pixie cut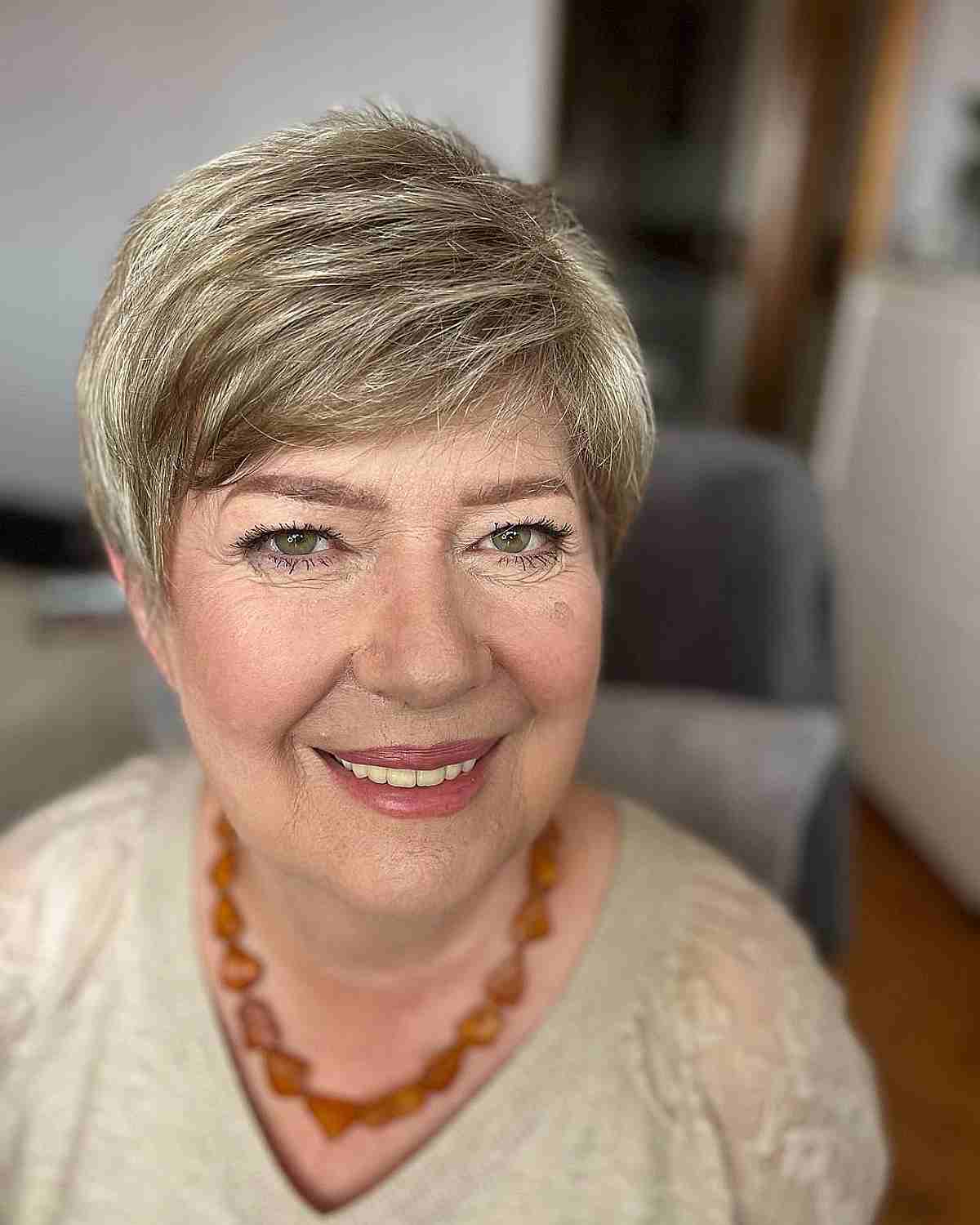 Credit: missix_makeup via Instagram
The pixie cut scares a lot of women. Unless you're super deep into phrenology (get help) the shape of your head really doesn't matter, there's nothing to fear from embracing a short and shaped haircut. It's a style that suits older women, especially those with rounder faces, because it's so light and bouncy. The blonde tones help to emphasize this.
Angled fringe cut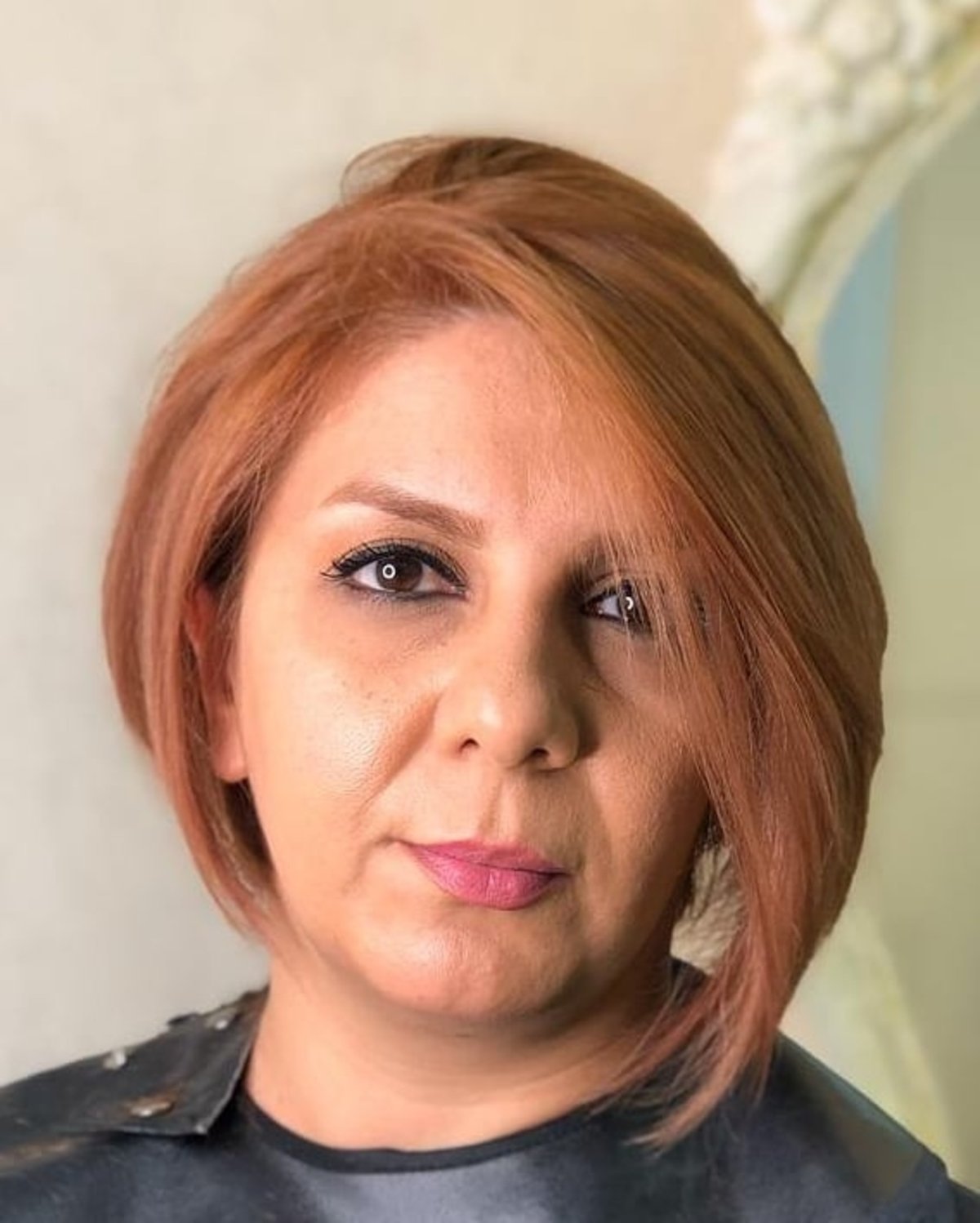 Credit: elhamnikooe_haircut via Instagram
There are a few different styles that suit asymmetric, angled fringes. Bobs are a popular choice, but you can work angles into everything. The good thing about them is that you can suit them to your face shape, keep it longer if you want some shape around your jaw, or take a few inches off to get shade on the cheeks.
Medium shag with a rounded fringe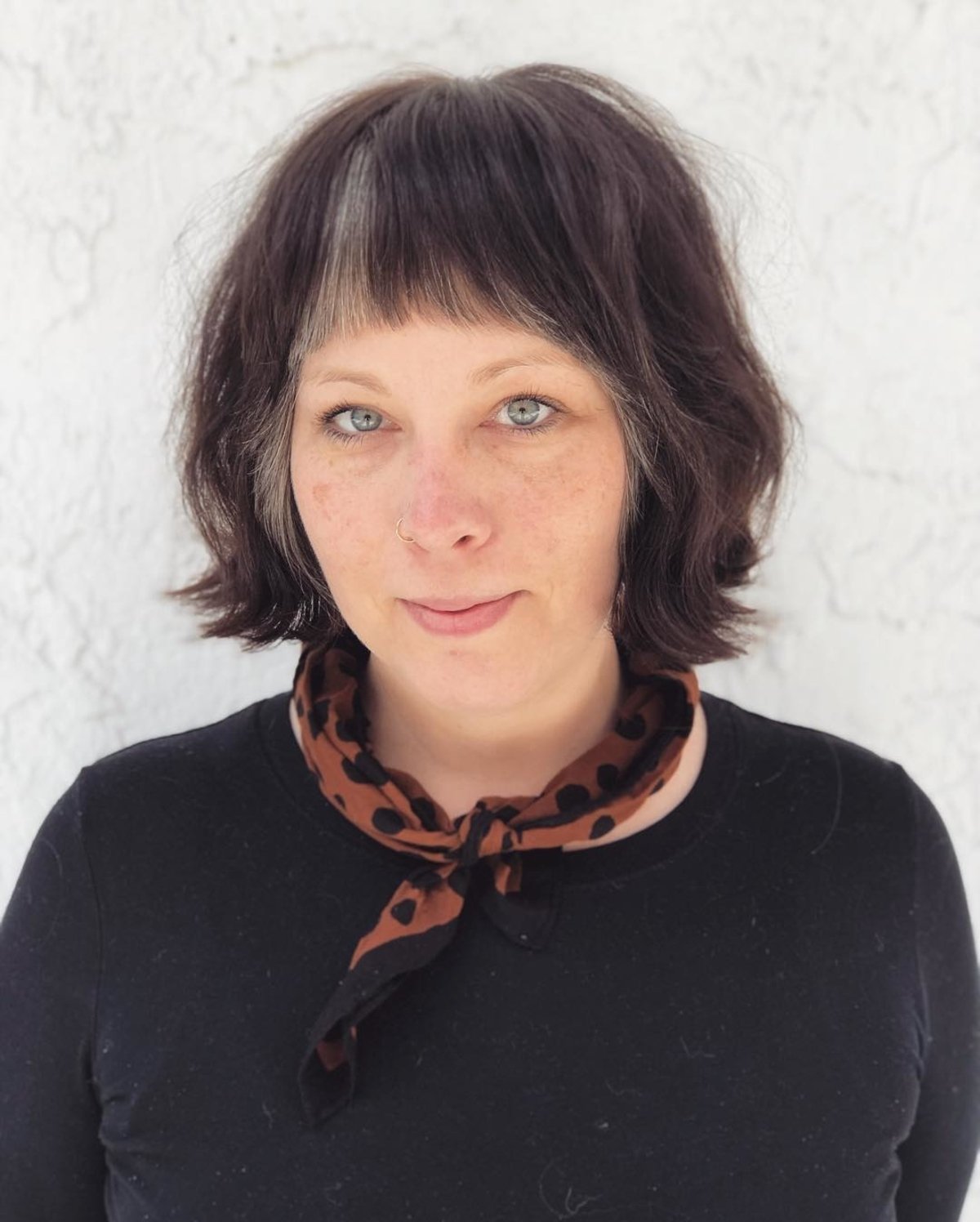 Credit: Lindsaythecurlygrl via Instagram
This cutesy, indie-inspired cut has buckets of charm. Going bold with a fringe takes bravery, so this length is a nice middle ground to dip your toe in the water and see how you feel. The rounded fringe is great for framing the eyes and brows, while the length still has plenty of tousle to keep everything balanced.
Super short pixie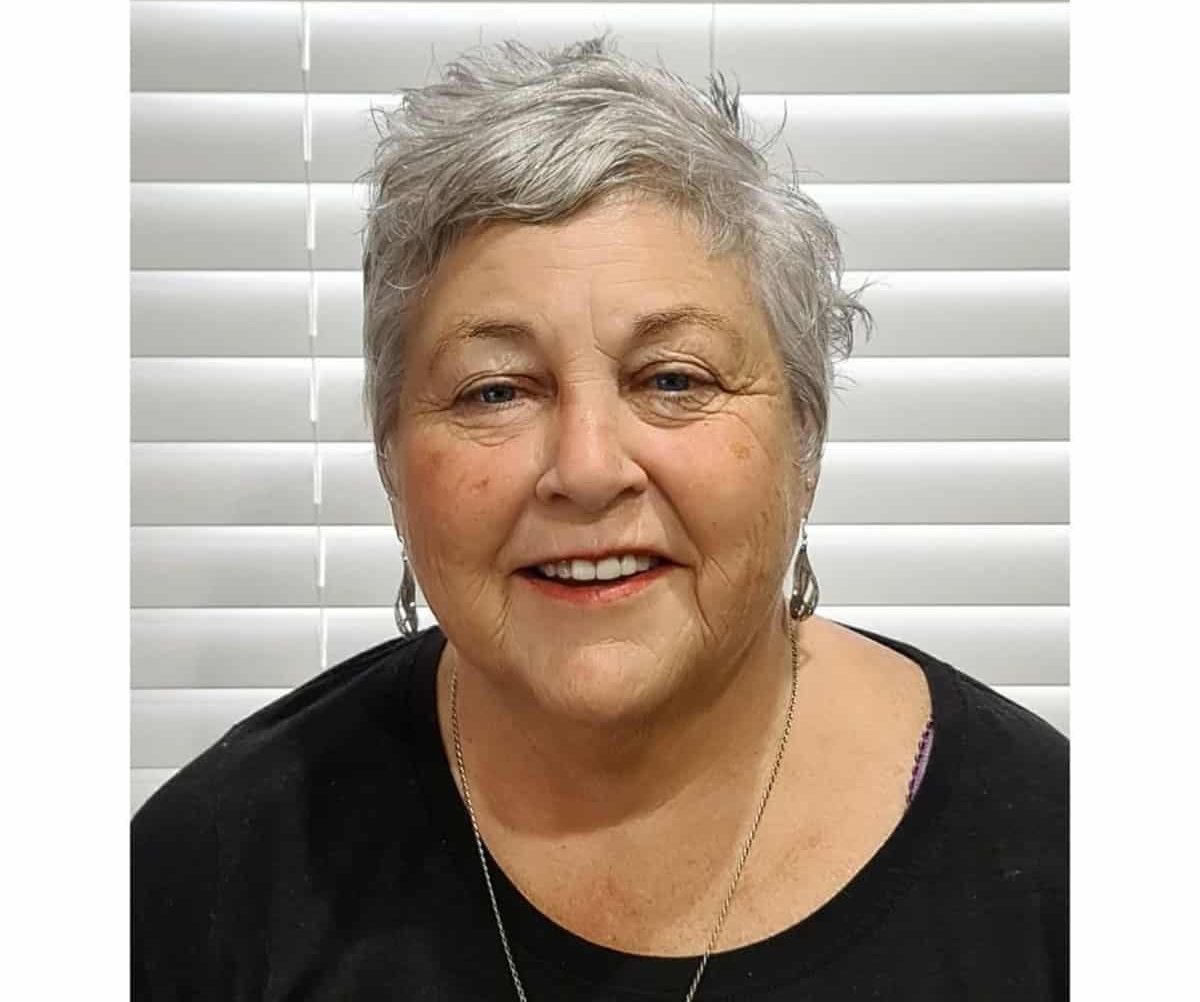 Credit: studio___15 via Instagram
Embrace your Tinkerbell moment with a super short, naturally wavy cut. It's light as a feather, which is going to be like getting a facelift for your scalp. A scalp lift, if you will. All that lifted weight will raise the shoulders and face, and for style options, it's versatile. You could quiff it up for something formal and sharp.
Shoulder length curls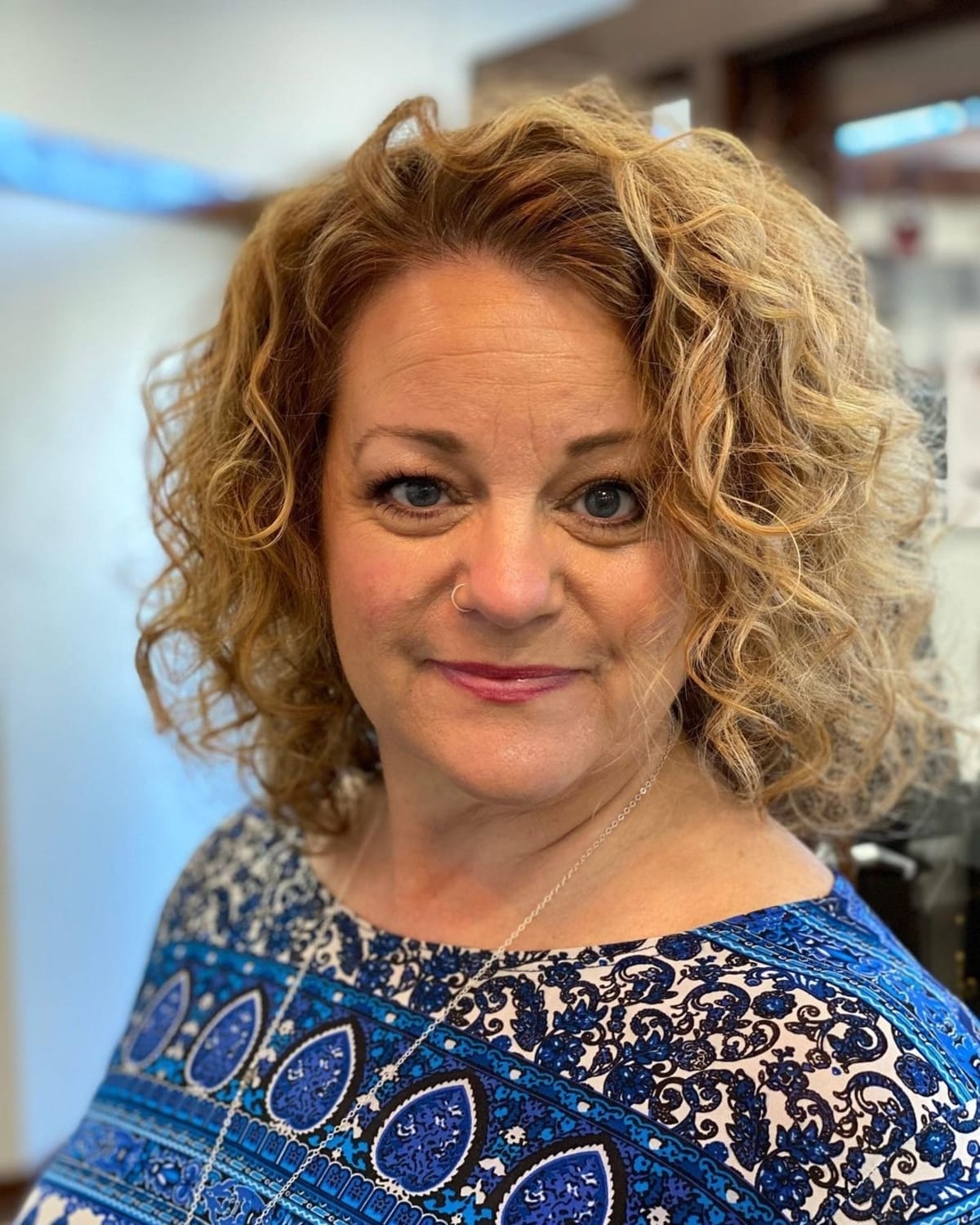 Credit: whitney_coburn via Instagram
If you're handy with a curling iron, you don't need your natural curls to be this pronounced to adopt a similar style, so it works for a lot of women. They add a ton of volume and direction to your silhouette, which turns rounded faces into more of a heart shape. Wet hair products like mousse are great for getting more body and hold.
Feathered layers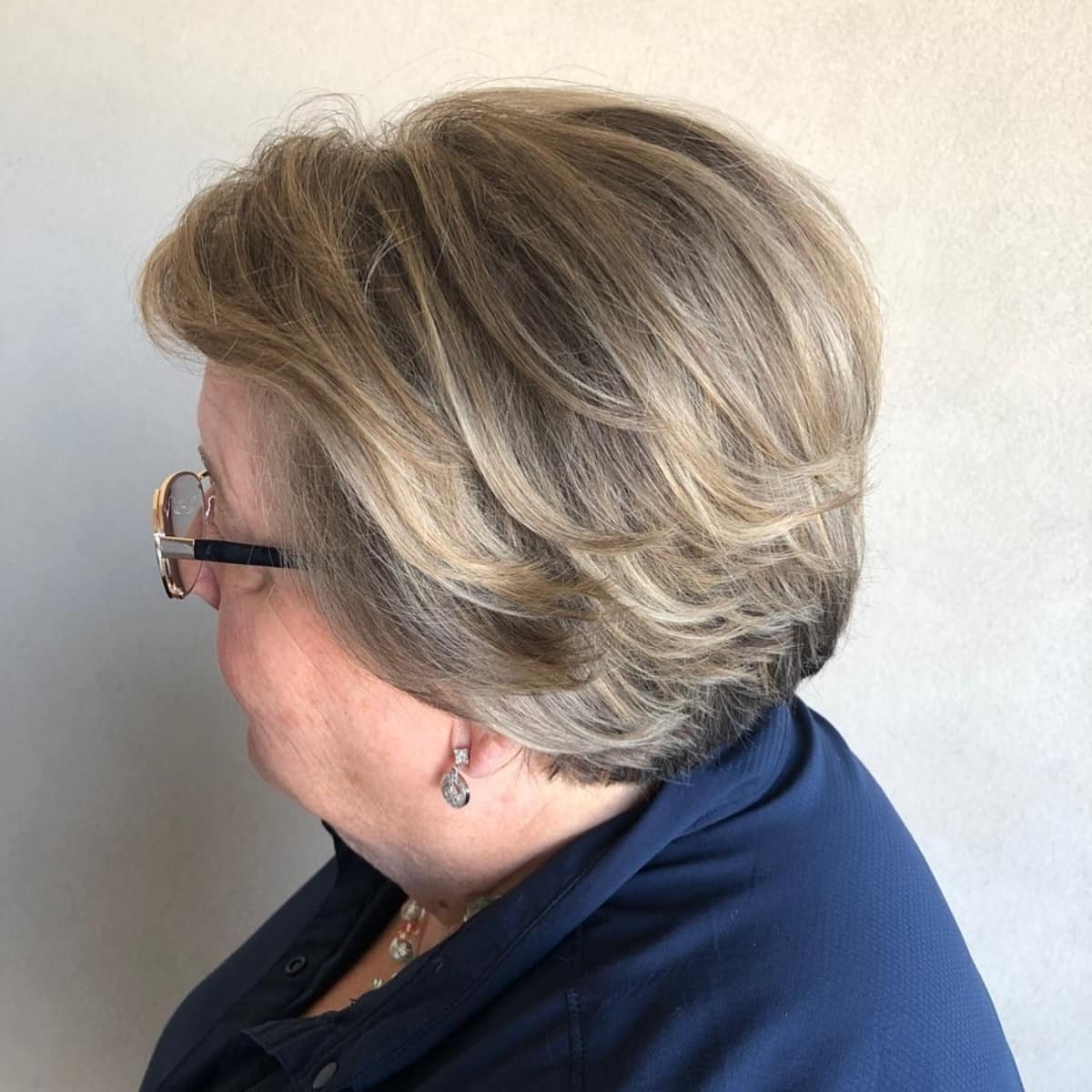 Credit: Kelsey_alteredimagessalon via Instagram
Feathering shorter hair is a great way to create more visual interest while also creating motion. It's that movement and the way the eye follows it that form the basis for how hairstyles interact with the face, and the light, wispy trails of feathered layers work wonders. They sit beautifully over volume, making the effect even more slimming.
Glam bob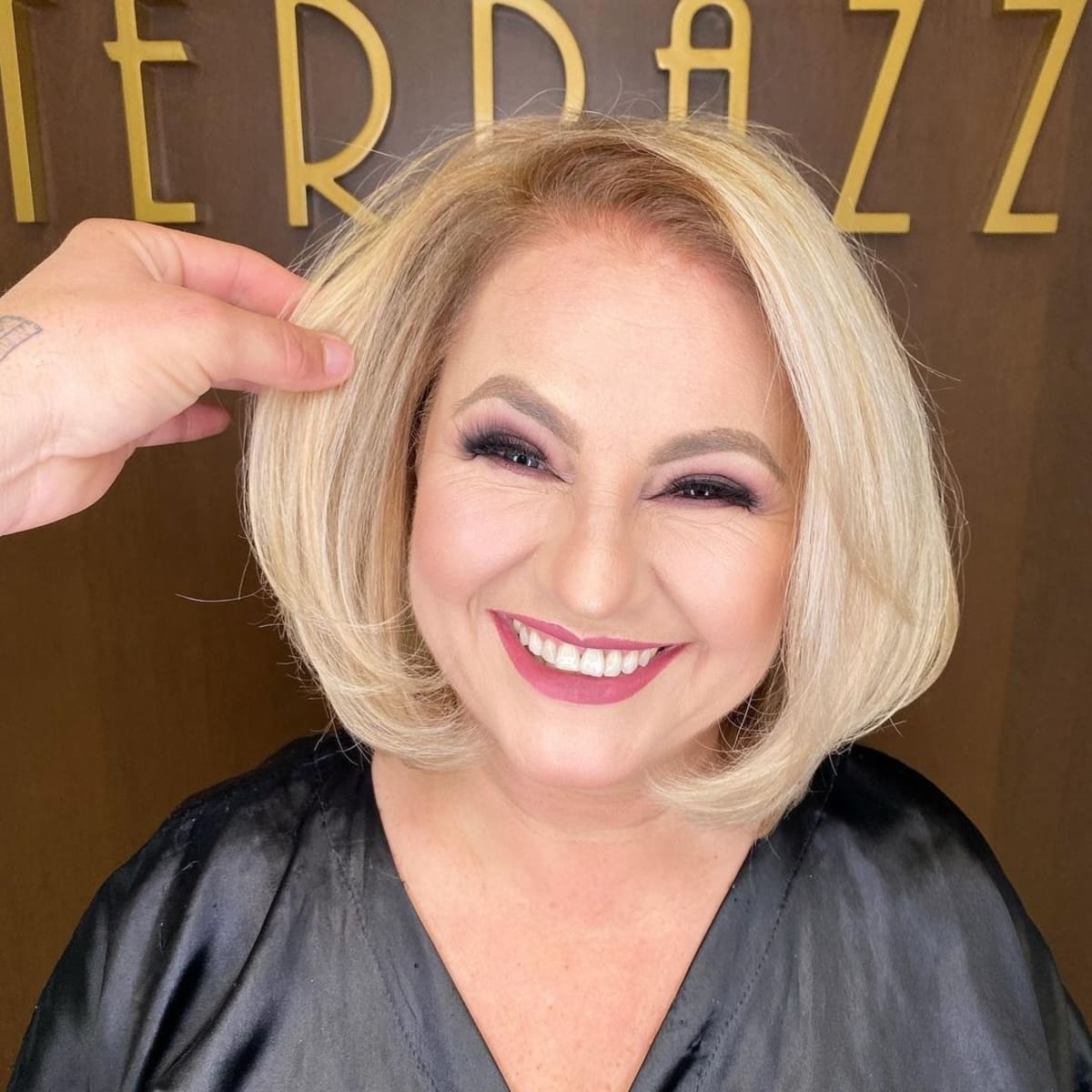 Credit: nellcarmo via Instagram
This is about on the edge of what people would recognize as a bob. Nobody would say "Oh, you suit a bob!' to this, instead their eyes would pop out of their head and their pupils would roulette spin into hearts like a Looney Tunes character. With lightly feathered ends, a little volume around the jaw, and a swept fringe, the glam outweighs the bob.
Blunt razor shag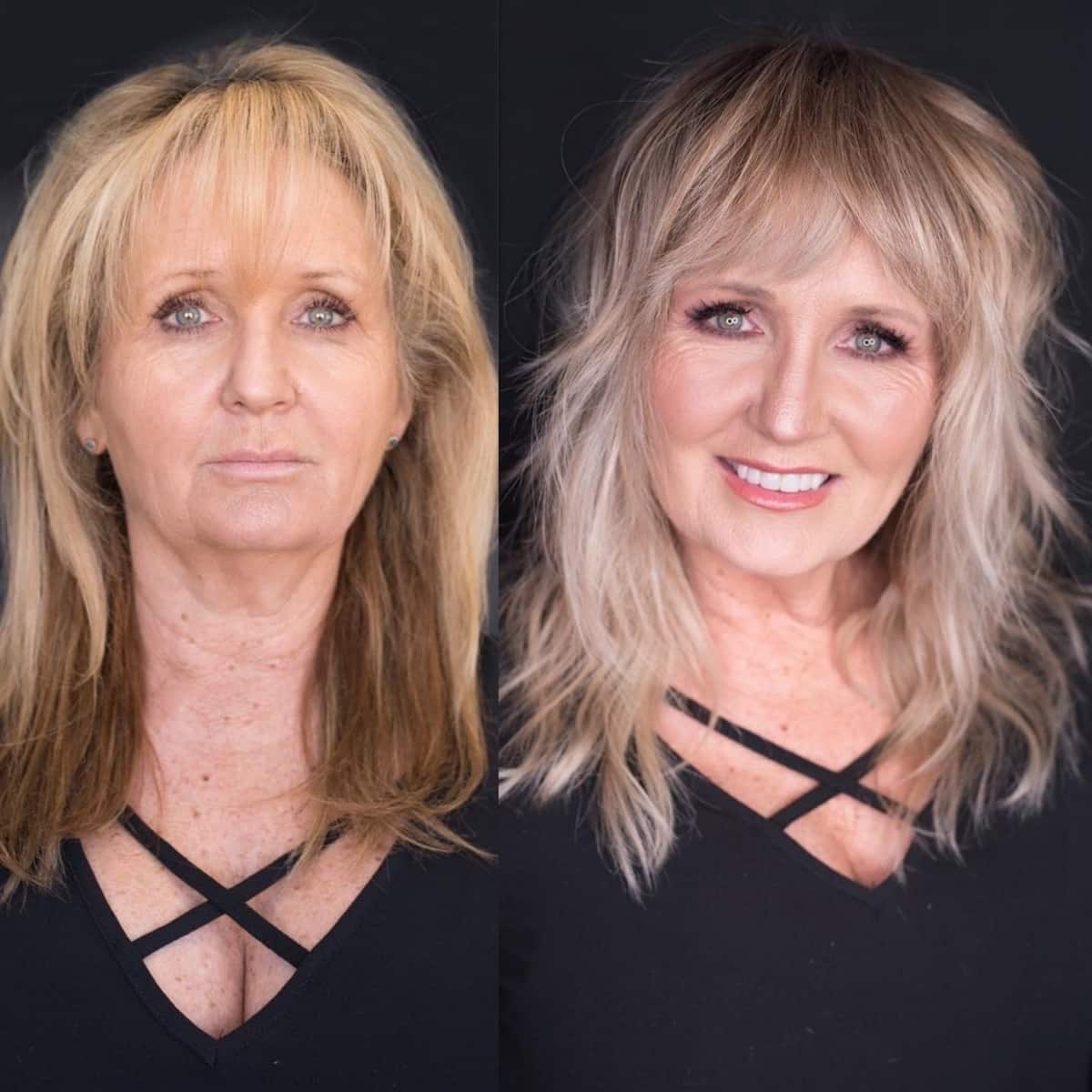 Credit: ashleenormanhair via Instagram
Blunted ends in a shaggy cut make hair seem a lot thicker than it is, thanks to how the errant shorter ends mix, fall, and separate. This kind of effect can be amplified by adding volume to the roots and some curls to the ends. It's a modern look that's easy to maintain and style, saving you time and energy.
The long pixie cut with bangs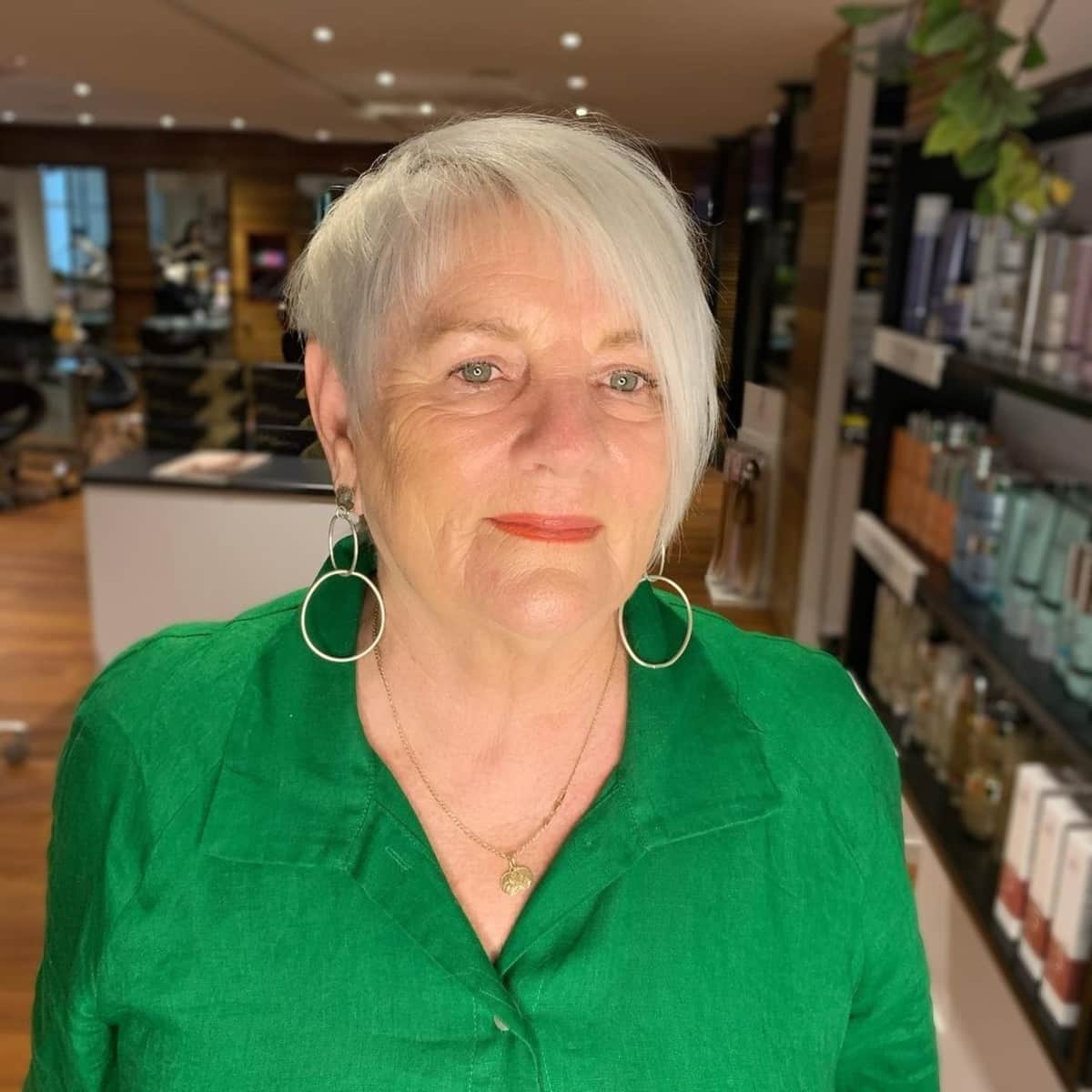 Credit: adamtonyandguybrisbane via Instagram
This is another good option for those who aren't ready to go all the way in on a shorter hairstyle. You still get the lift that comes with shorter styles, and the fringe can be styled to frame your cheekbones or your jawline. The asymmetry is even more pronounced because of the length, which helps slim out wider areas.
Shag with curtain bangs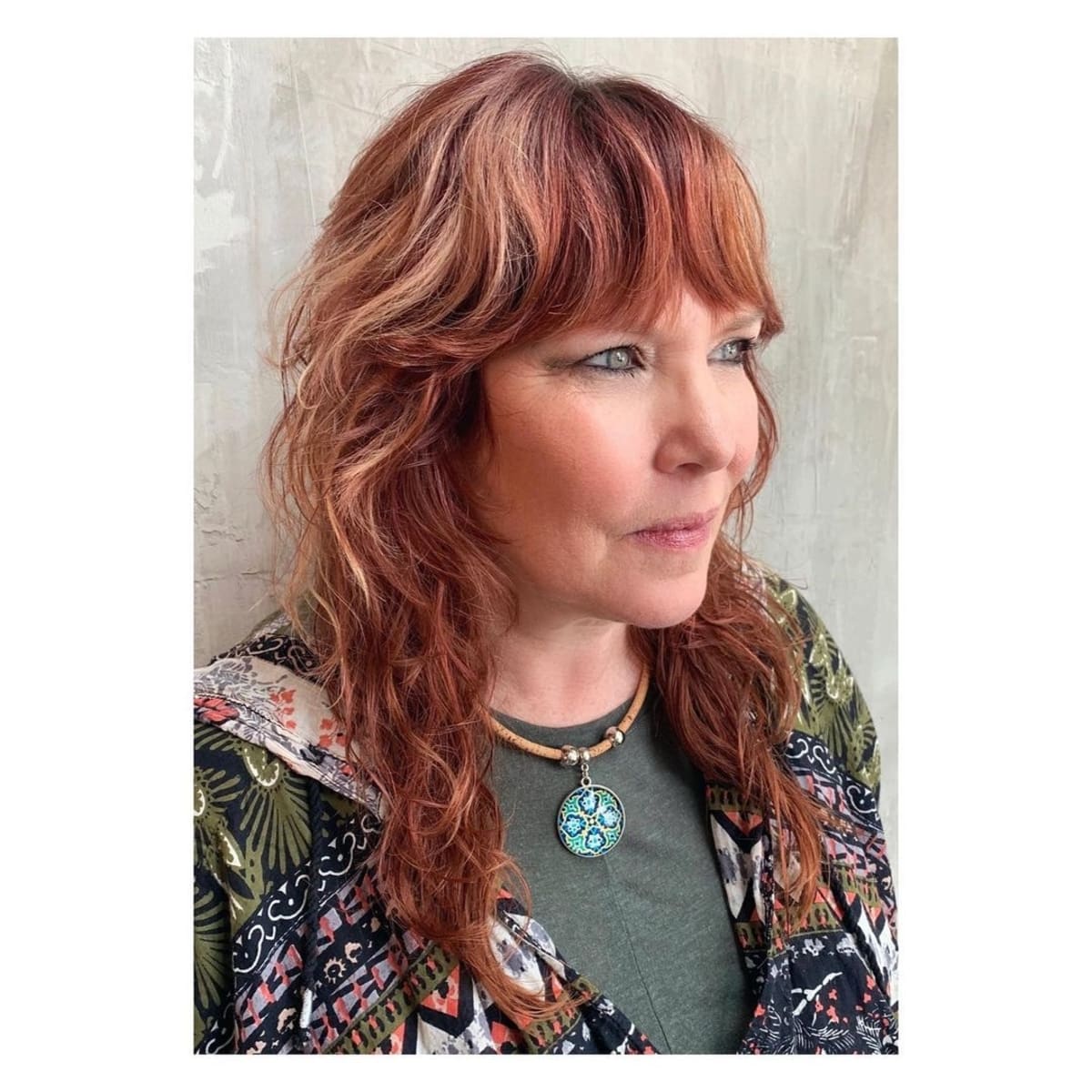 Credit: katiepdxhair via Instagram
This is an incredibly popular style for women with rounder faces, particularly when the roundness extends to the forehead area. You would think shortening the face like this might squish it down, but if it hides where round faces are more pronounced, it achieves the opposite result. The volume at the sides also helps round things out.
Thick A-line fringe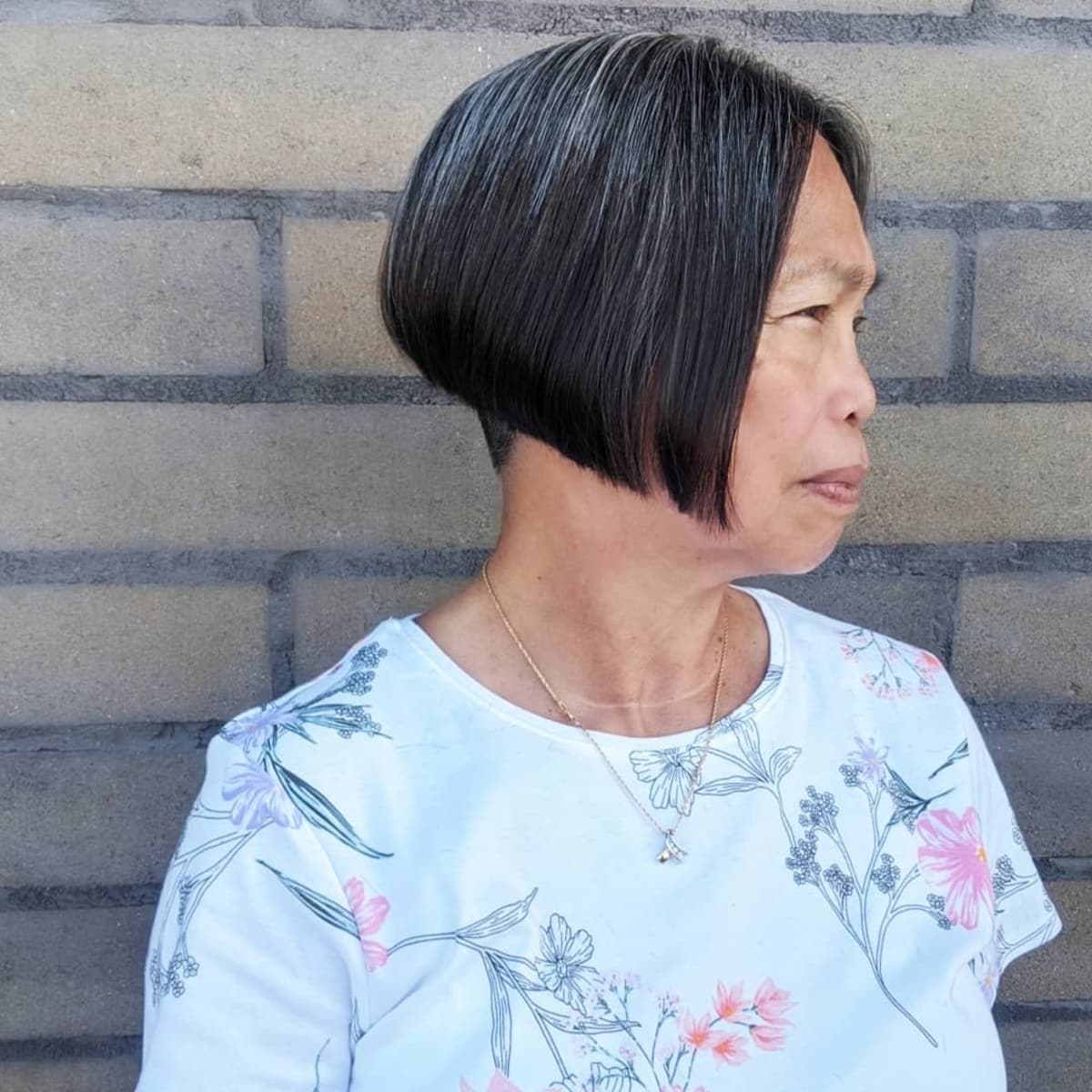 Credit: roxxxyourlox via Instagram
Some stylists would tell rounder faces to avoid a-line fringes. They're quite a particular style, based on straight lines when softer curved lines are better suited for them. However, that's only if you carry the roundness around the jaw. If it's anywhere else, these straight lines can dramatically thin out the cheeks and neck.
Mid-length silver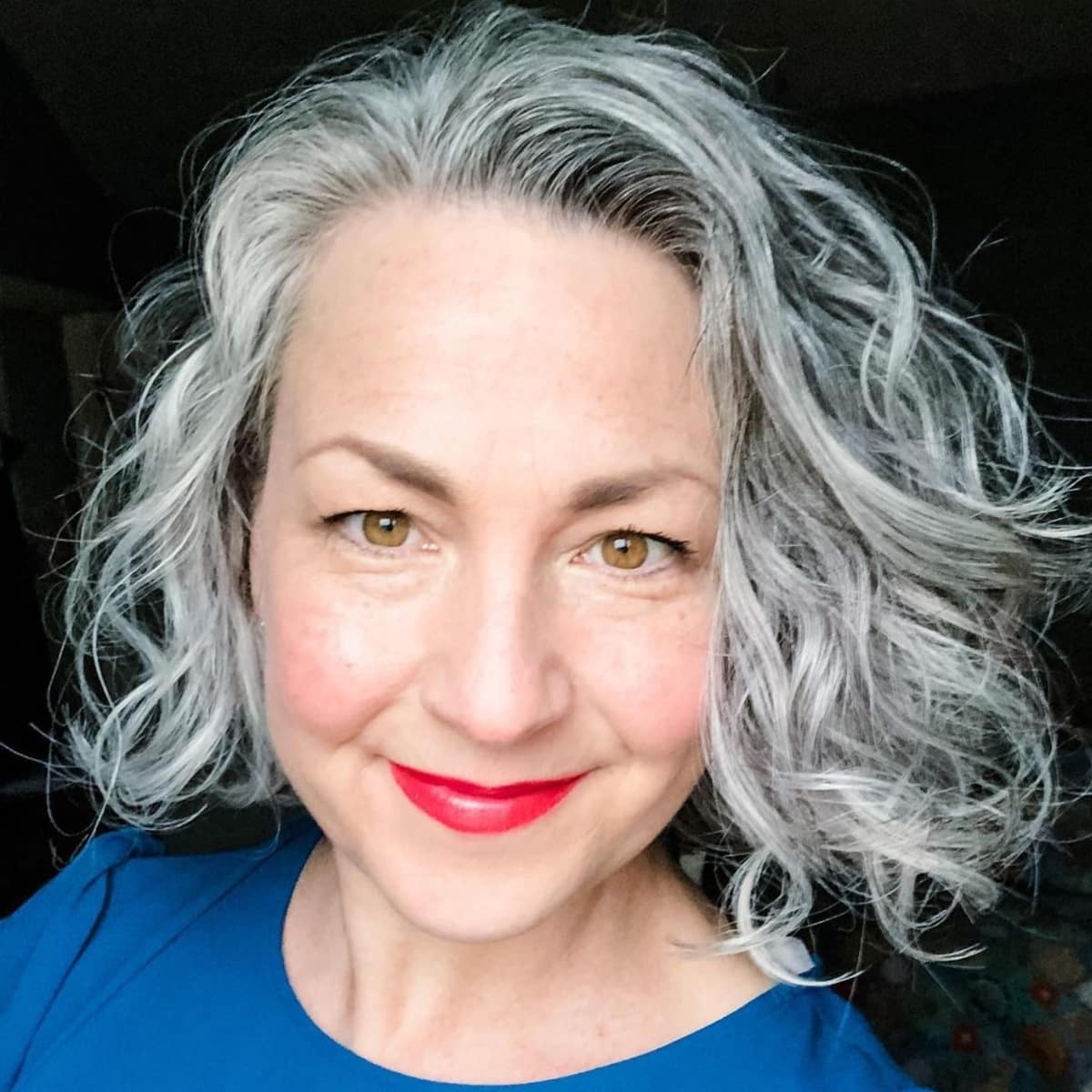 Credit: gray.is.gorgeous via Instagram
Many fear going gray as they age, but a full head of silver is a bold and incredible look. You do get the benefit of seeing what you would look like fully grey, but that's just incidental. It can wash out your skin if the tone isn't right, but if you nail that you'll get the glow of color, and the great facial framing that comes with this length.
Grey ombre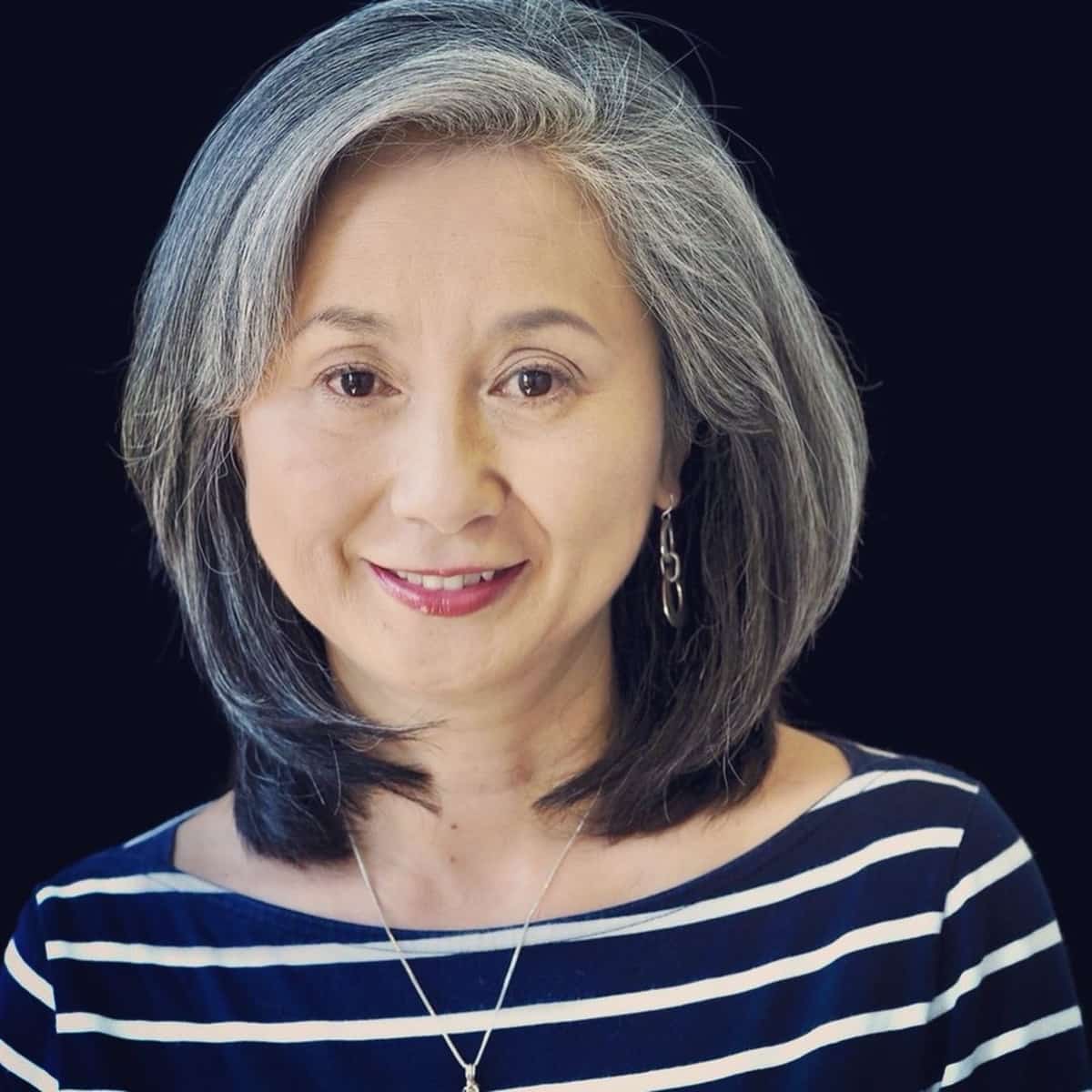 Credit: greyhairprojectny via Instagram
If you don't fancy a full head of ashen hair just yet, ombre styles are still popular and are great for rounder faces. By keeping the visual interest around the top of the face, the hair framing your jaw falls out of focus which adds further slimming points to the style. You can use this for a few different lengths and cuts.
Lob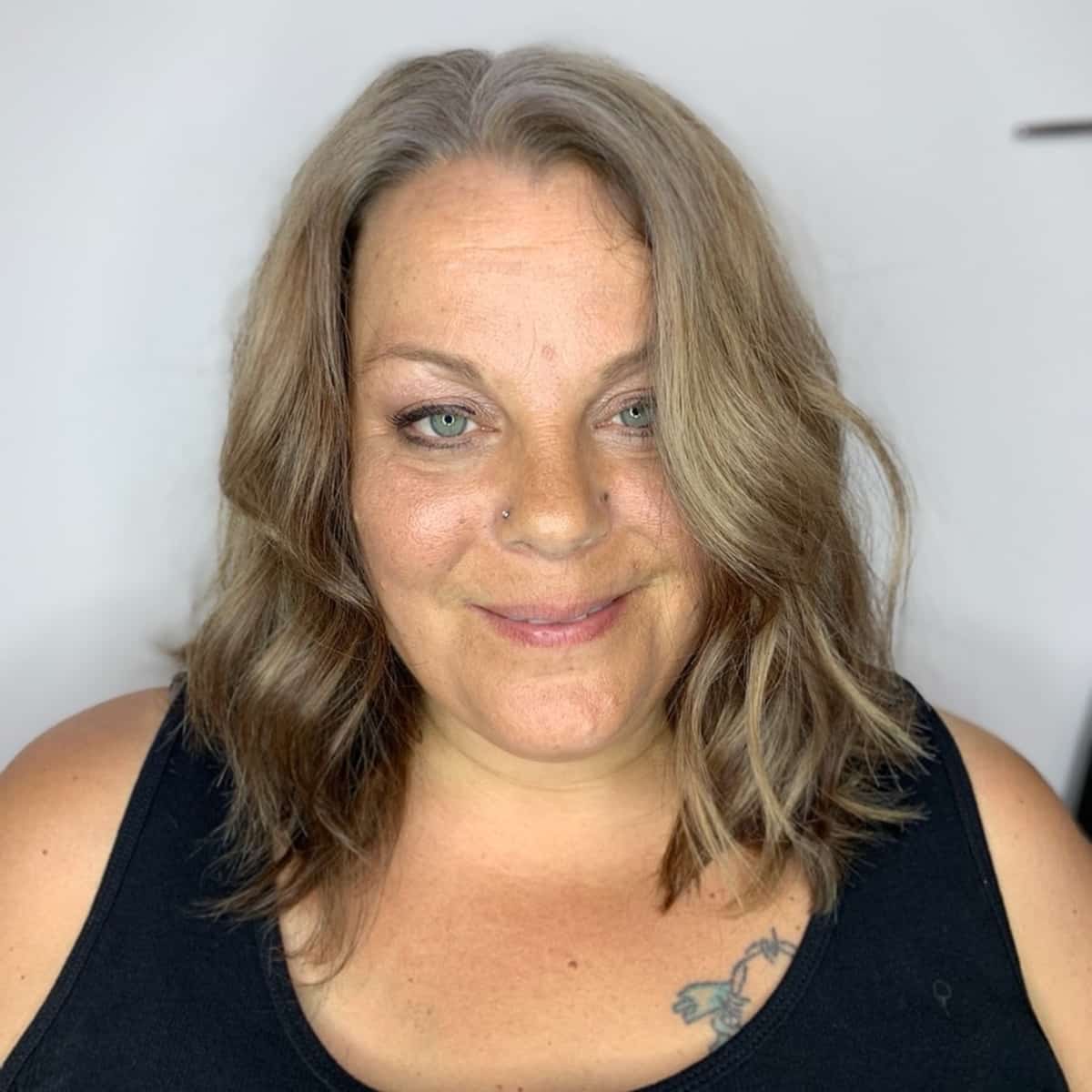 Credit: cindyhstyles via Instagram
If you're looking for a low-maintenance, easy-to-manage style that is super flattering for rounder faces, you can't go wrong with a simple lob. It works with all kinds of hair thickness, gives you soft, flowing lines that slim the face, and layers that keep everything bouncy and full of movement. It's the gravy of the hair world.
Straight and polished platinum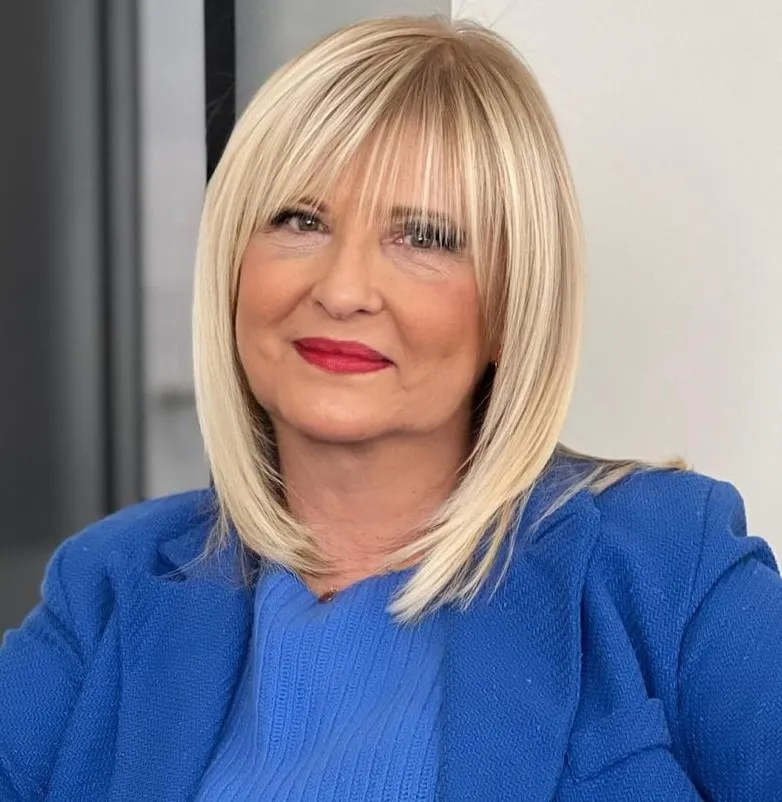 Credit: patrizia_desardo via Instagram
Shine is an under-appreciated method for slimming the face. To use a physics metaphor, the photons can't hit your face if they're reflected by the mirror sheen of your hair follicles. In real-world terms, if you blind people with your radiance then they won't really notice what face shape you have! You can style the fringe length however you like.
Layered up-do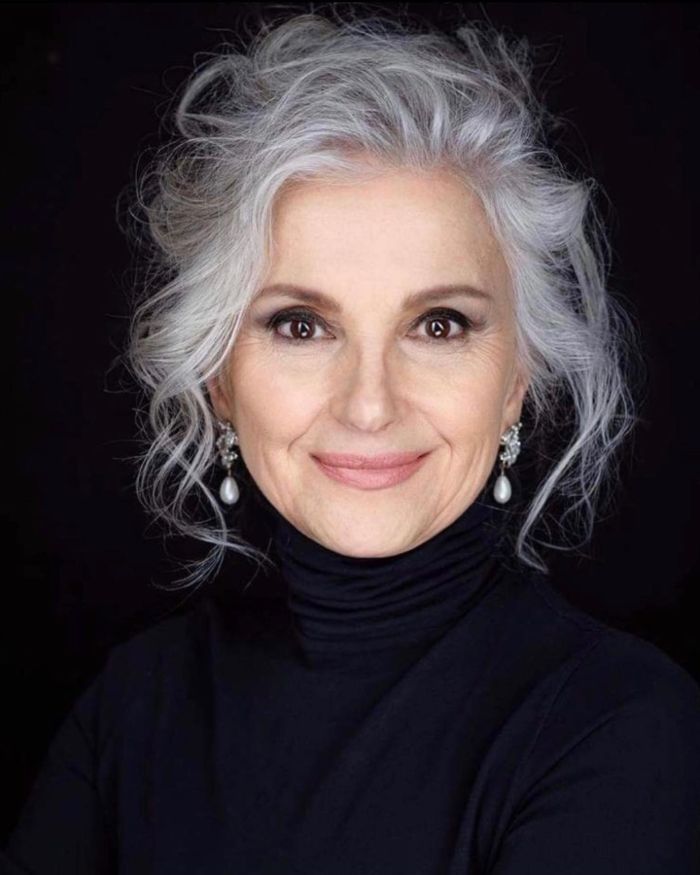 Credit: t.neklyudova_official via Instagram
You don't a trip to the salon to change your face shape, sometimes all it takes is a bobble, some clips, and a can-do attitude. Rearranging the weight and structure of the hair you have, creating volume with a few errant curls and an intentionally lassie-faire style, can be surprisingly effective for evening out your proportions.
Messy mullet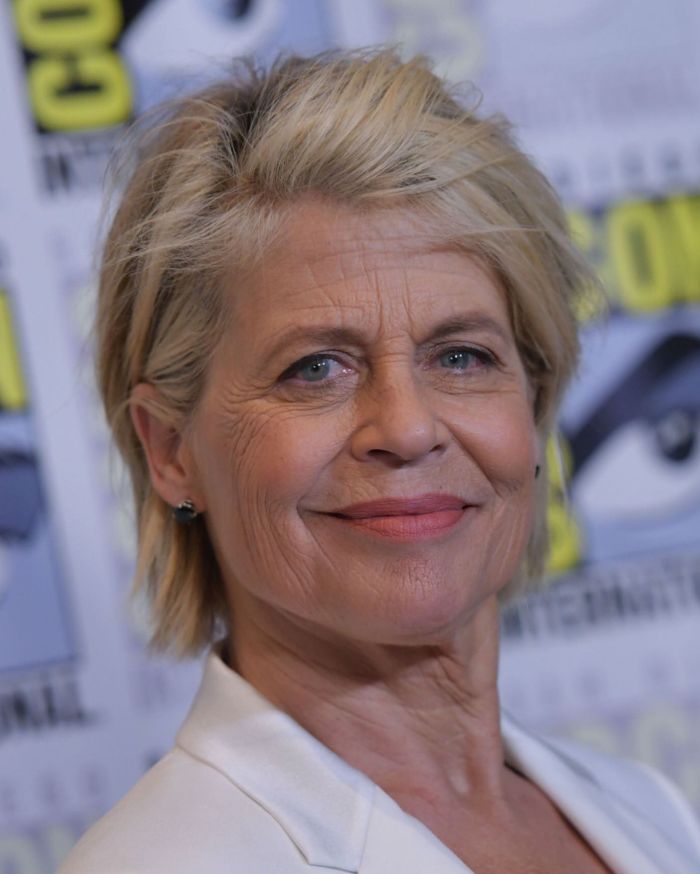 Credit: renaissance via Instagram
That's right baby, it's back and it's never going anywhere. Now that social media shows us millions of different faces and hairstyles every day, we're pretty much in a post-trend society. We see people comfortably vibing with hair from across the decades – we live for them and their retro chic! This is a shorter, tightly kept mullet, with the party happening in the front AND the back.
Short, shaved, and dyed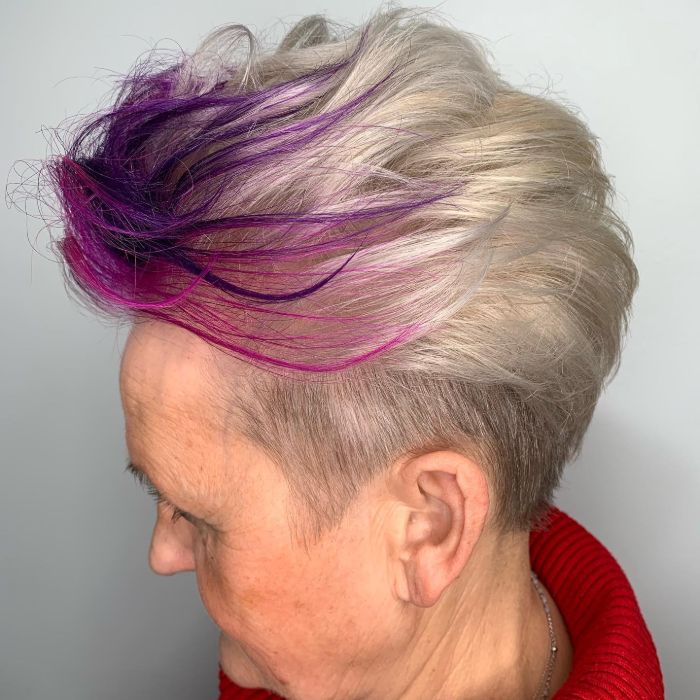 Credit: personalitieshairdesign via Instagram
This is a daring look, it will pay off if you put in the effort. The length on top is ideal for styling the back, creating those ever-desirable motion lines, or incorporating them into a fringe. Shaved sides also help to make the head look longer, which evens out rounder faces by balancing out proportions.
Tight side braid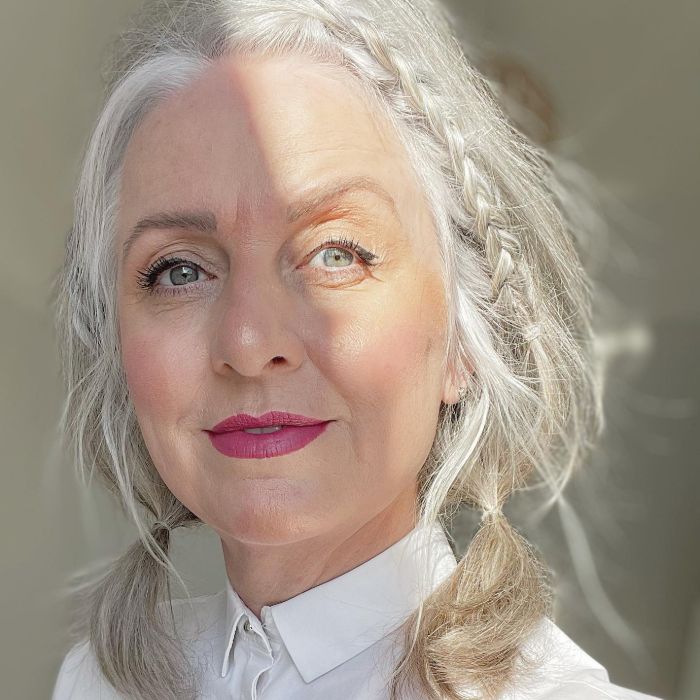 Credit: fiftysister via Instagram
For most people with mid-length or often longer hair, those wispy baby hairs and sideburns feel impossible to work with. They often grow and stick out with a natural slope, which for rounded faces isn't an ideal placement. Incorporating a side braid is a good way to tame those stray hairs, while also elongating the face.
Short grey afro
Credit: doellingcarolyn via Instagram
Thick and dense curls can actually be one of the best textures for rounder faces. The natural hold and body they have make it easy to shape the hair in a way that balances out things like a rounded jawline or a wider face. Keeping the ends natural adds some dimension and helps square things off or you can crop it for a super chic vibe.
Long side swept waves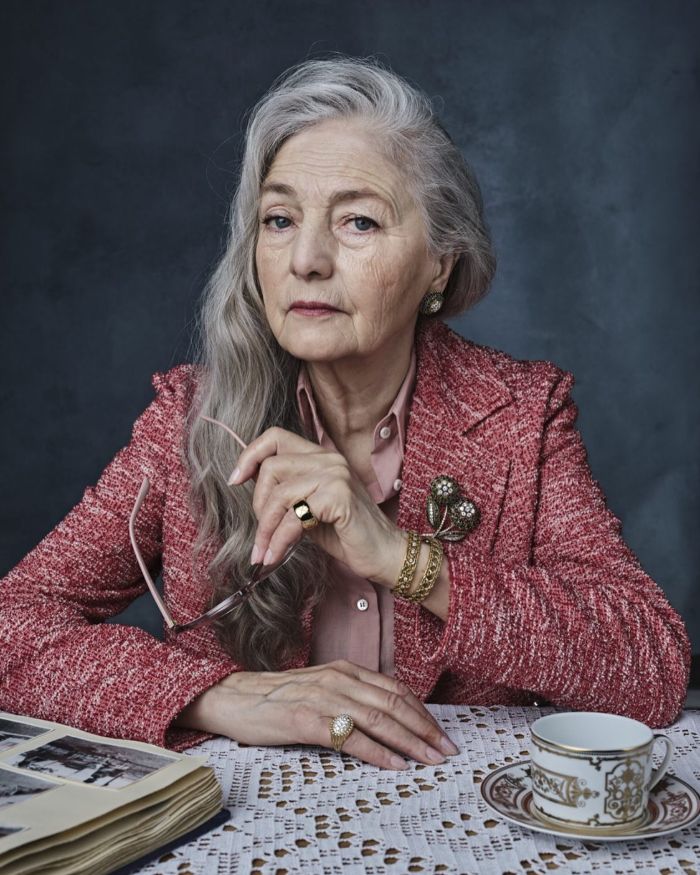 Credit: oldushkamodels via TikTok
This look suits thicker and naturally wavy hair better, but you can still incorporate some of the theory into your style regardless of your mane. It takes advantage of a swept back side, which itself has a great lengthening effect on rounder face shapes, and enhances any pre-existing texture or shade. This creates natural contour to frame and define the face.
Short and blunt with bangs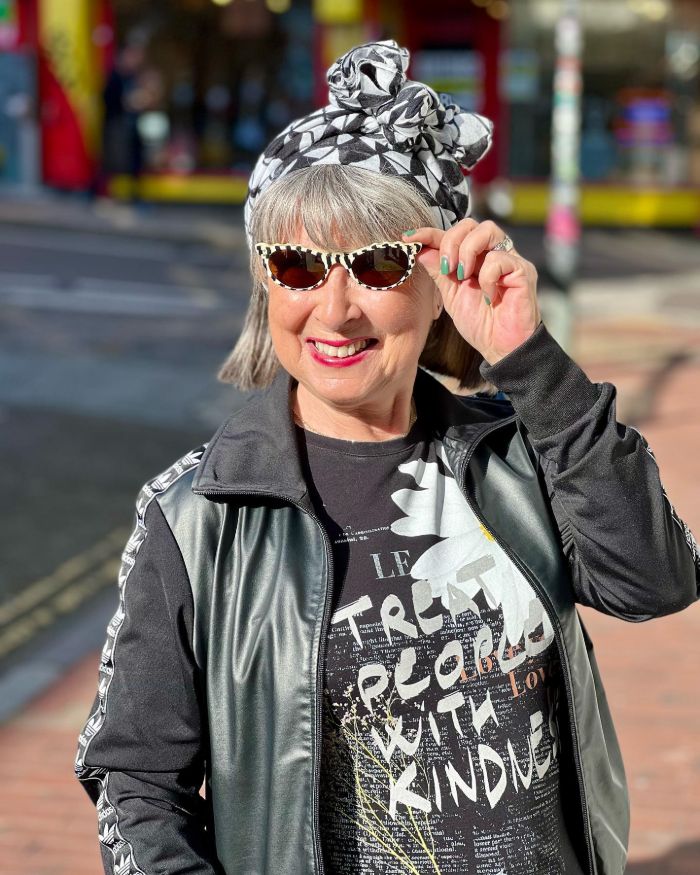 Credit: alternativeageing via TikTok
When talking about hair that suits rounder faces, stylists often emphasize the importance of motion, which usually comes from length and texture. You might think a blunt, short bob flies in the face of that, but it's just a different kind of motion. It's more spring-like, the ends bounce around the cheeks, subtly casting natural shadows for a striking and flattering look.
Darker dyed curls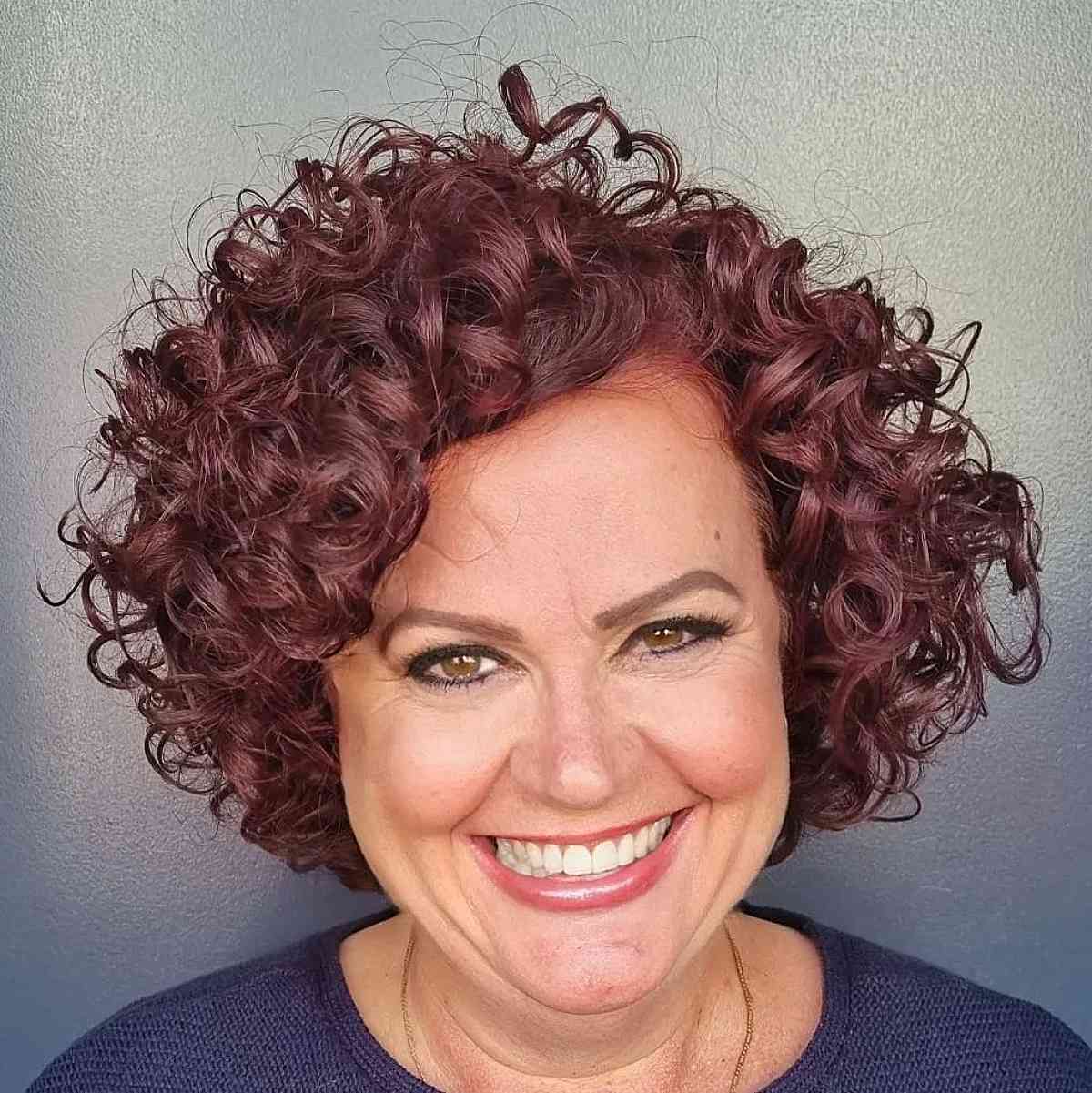 Credit: aoki_hair via Instagram
Lighter hair colors can add a lot of brightness and certain rounder faces do benefit from that. Faces that are rounder at the bottom could take advantage of darker tones, which make hair appear thicker and heavier. Pair that with some curls and plenty of volume around the back of the neck, and the darker frame simply makes the face shine.
Classic mid-length straight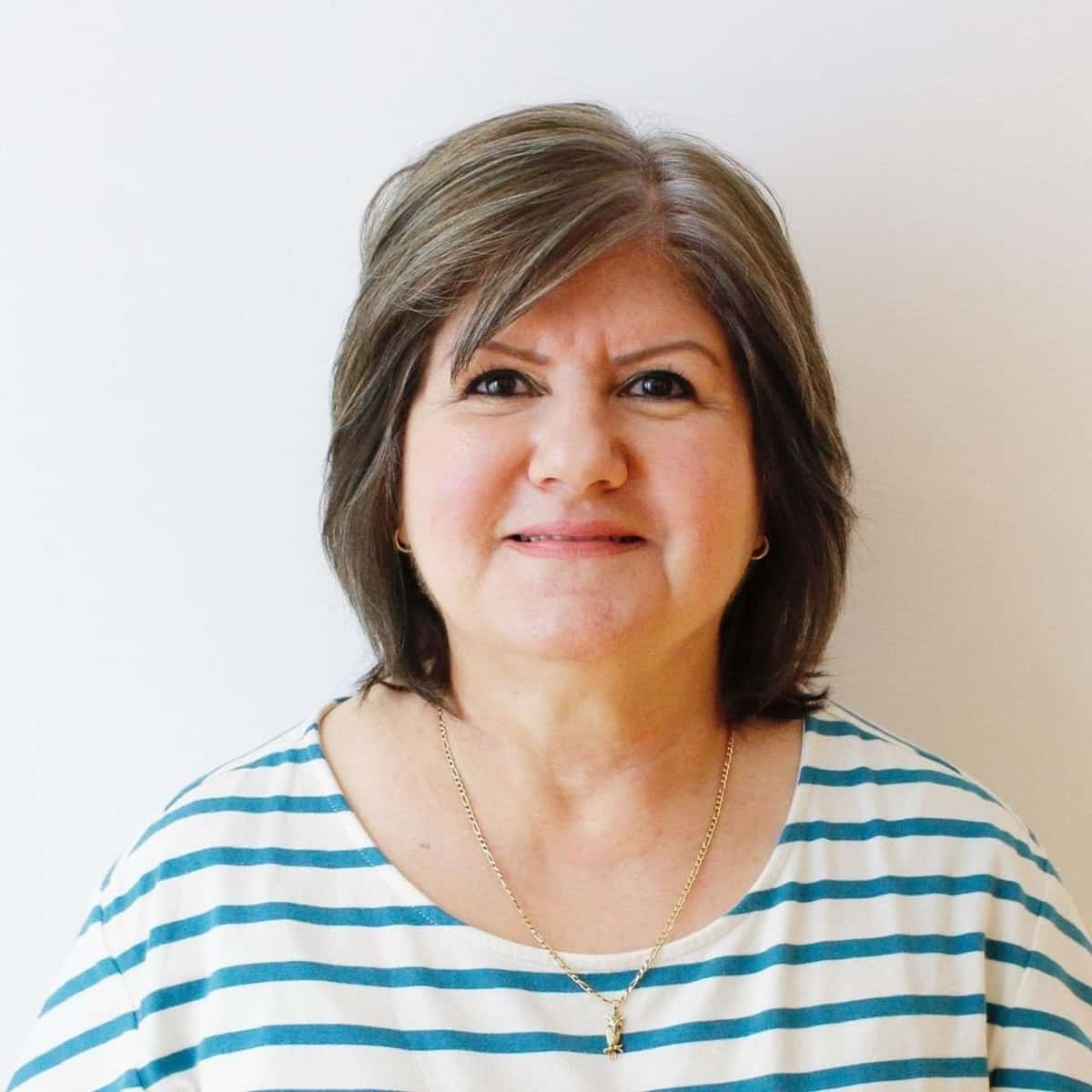 Credit: Cutnj via TikTok
It's a tried and tested look for rounder faces, creating a wonderfully light and easy-to-manage style. It doesn't hide the eyes, looks great with ear piercings, and the layers around the cheeks create those natural angles that work to flatter the face shape. It suits darker colors better, but you can still add a splash of highlight or some ash tones, if that's your style.
Side-swept razor cut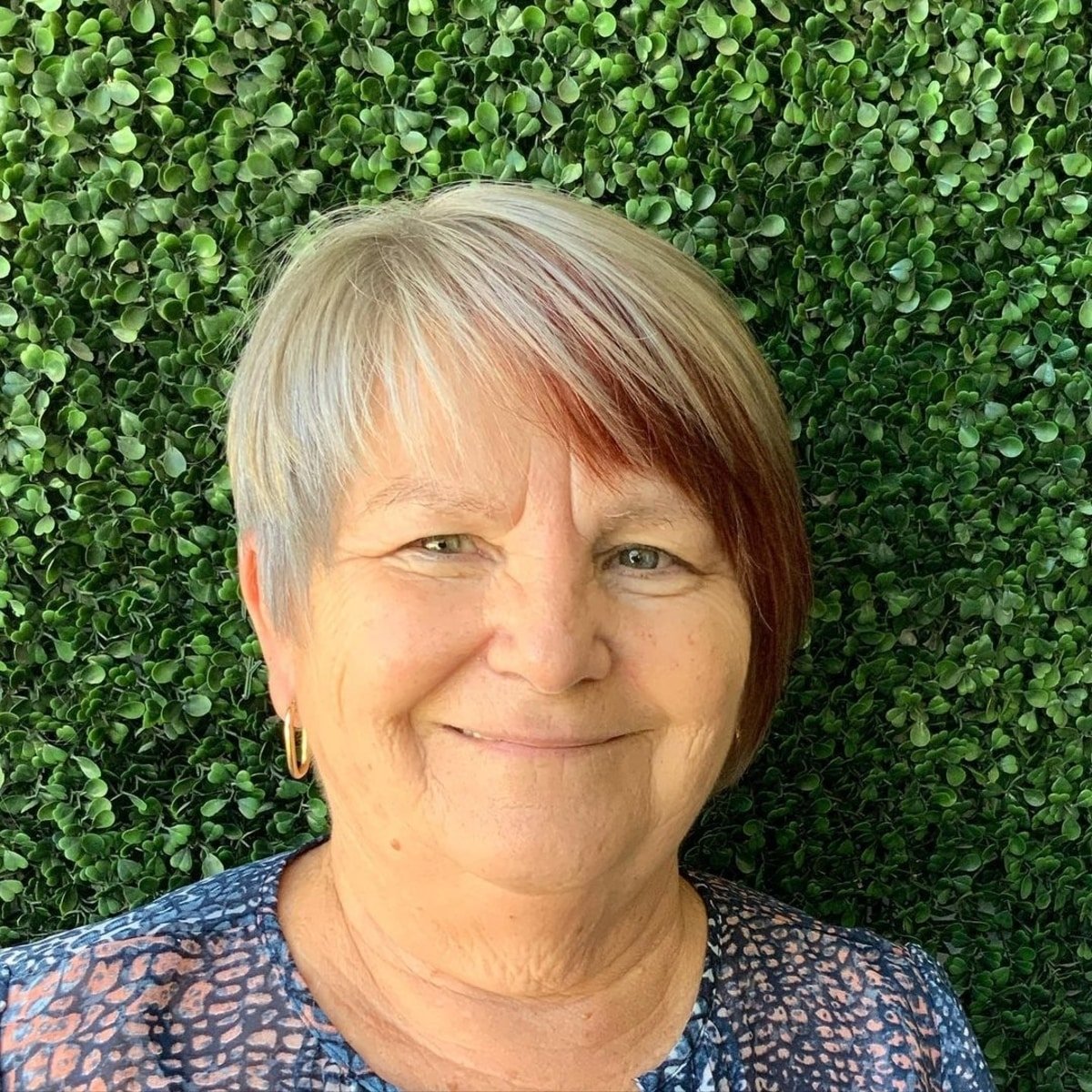 Credit: oakfordbeautyandwellness via TikTok
Side-swept fringes have such a charming appeal to them and people don't often realize that it's one of the easiest cuts to work with at home! Straightening the fringe, if you need to, takes no time at all, and it doesn't take much product to get it spot-on. It also looks fabulous with different color treatments, like this model's striking asymmetrical highlight.
Wavy, mid-heavy bob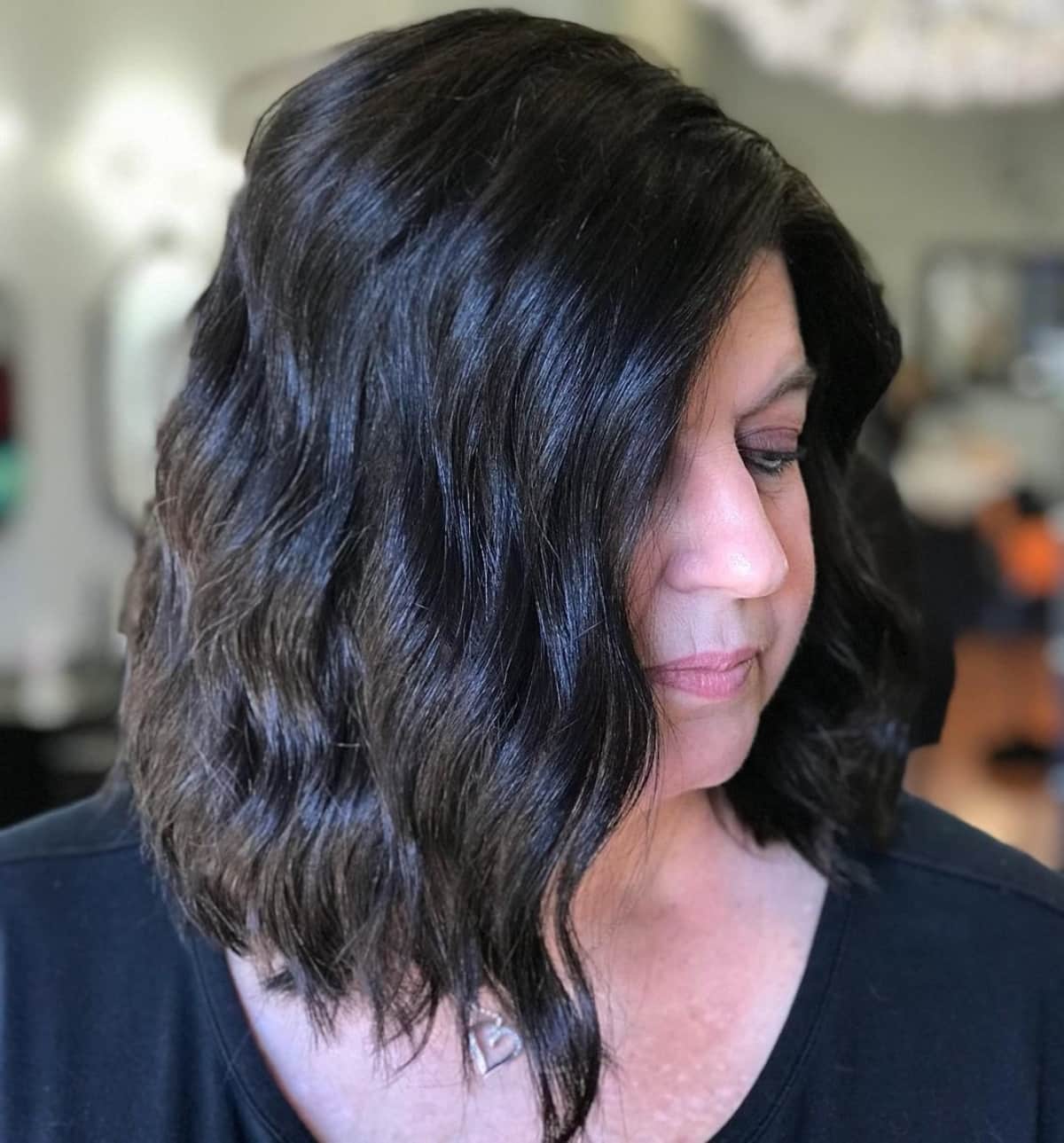 Credit: hair_by_TI
Another look that focuses on creating weight and shadow around the jaw, this cut has been a glamor staple for decades. Without many layers to keep on top of, you only have to worry about the length, cutting down inconvenient and costly salon trips massively. With its thick body, conditioned ends will get you such an incredibly soft sheen for very low effort!
Feminine feathered mane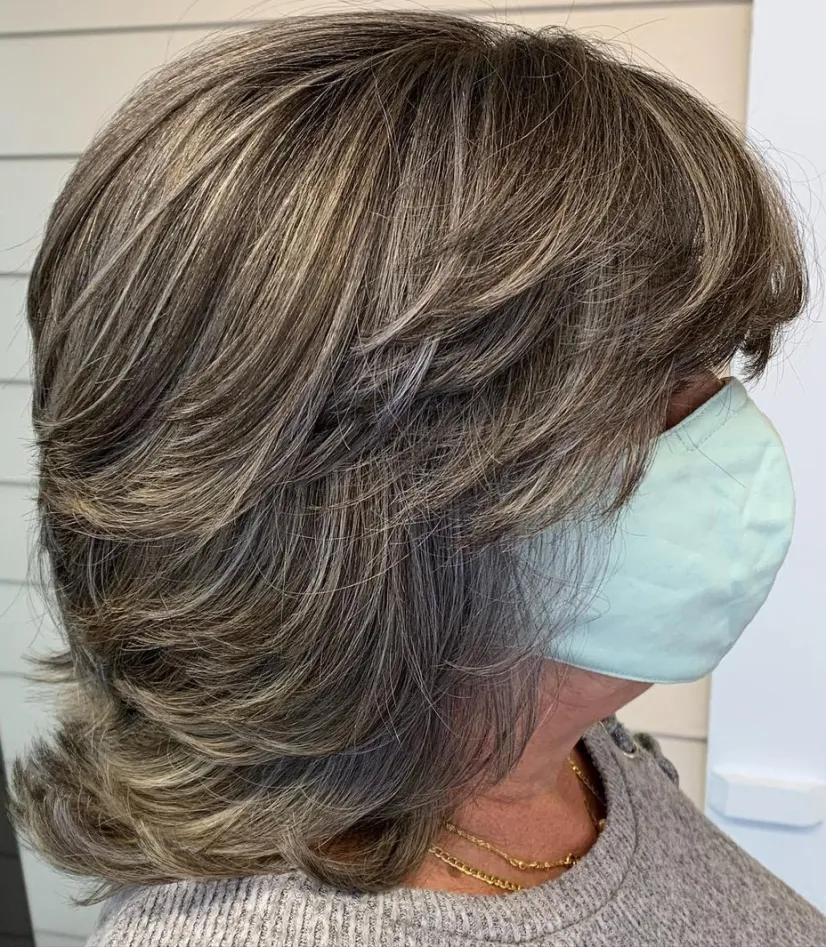 Credit: creationsbyvioleta via Instagram
This look stacks layers on top of layers for a super textured and wildly flattering frame. The proud, poofy volume gets the hair raised and flowing, a key thing to consider for curvier women, and the defined feathering creates a unique and distinctive profile. You can pair it with a fringe that continues and blends into the style, or classic curtain bangs to let your forehead breathe.
Short and flicked out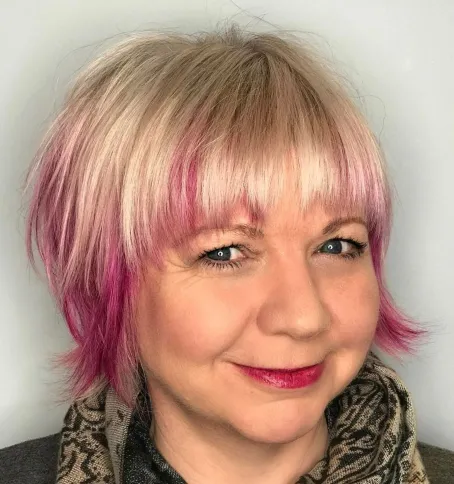 Credit: zoomhairstudio via Instagram
If the blonde and magenta combination is a little too out there for you, this would be as stylish and suited for curvier faces in pretty much any color. It's got the same modern edge as a pixie cut, but softened a little bit by the extra length and feathered fringe. You'll get some lovely cheek contour from the flipped-out ends.
Modest and manageable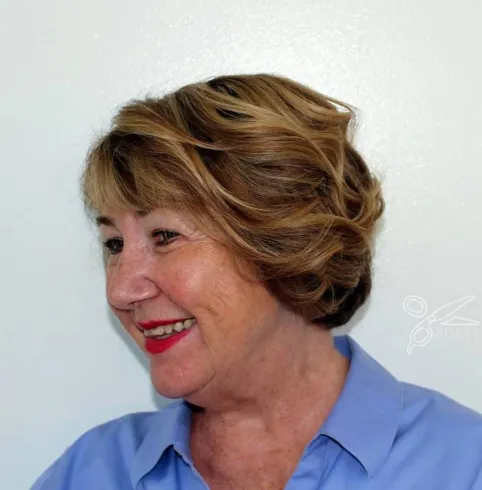 Credit: adamdoesmyhair via Instagram
This is a great look for the conservative older woman looking to brighten up their features. It's a length that's really easy to take care of and requires minimal styling time, most of which can be done while it dries with rollers. It layers up those curls for a cropped, big-volume look that pulls away from the face for a narrowing effect.
The pompadour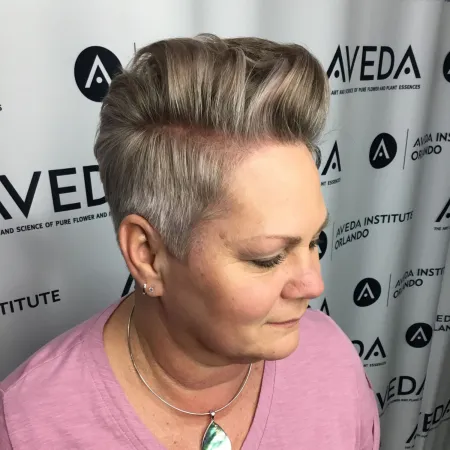 Credit: hairbymikaelrose via Instagram
A lot of people see the pompadour as a masculine cut – it was started by the mistress of King Loius XV of France, after all. What many don't know, however, is that it took over his court as the unisex style of choice. Madame de Pompadour, a round-faced, curvy girl herself, bent gender rules with this gravity-defying quiff and started a style revolution. Do You Hear The People Wig Snatch?