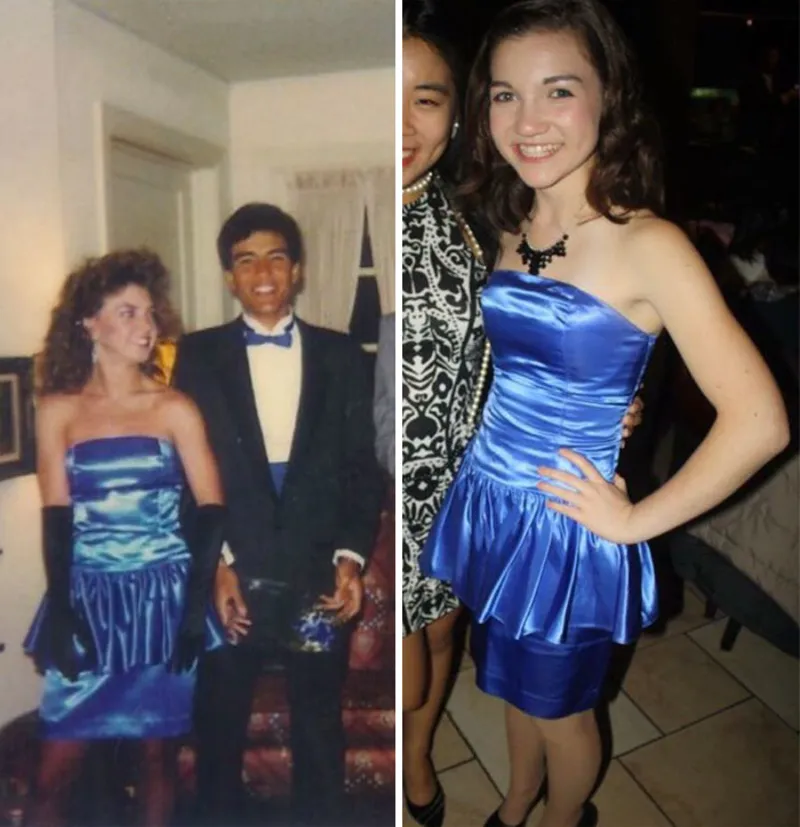 Credit: [email protected]
Maybe it's the dress, maybe it's her!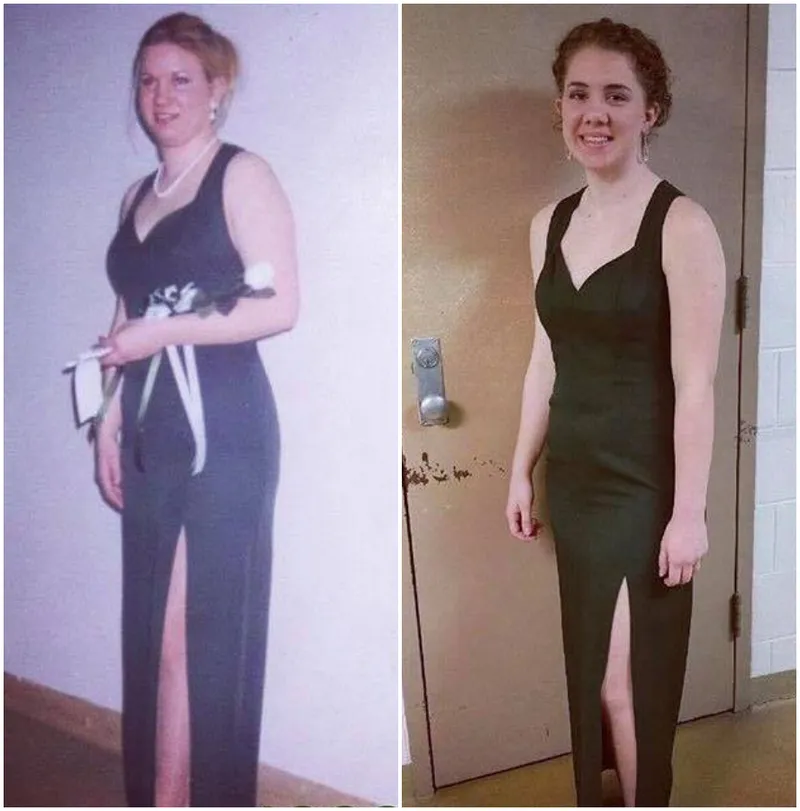 Credit: [email protected]
The emerald green colour really suits both mother and daughter and fits them both beautifully. The cut and style of the dress is timeless and could be continued to be passed down the family. Both of their updos really compliment the neckline of the dress.
Black is always a good idea!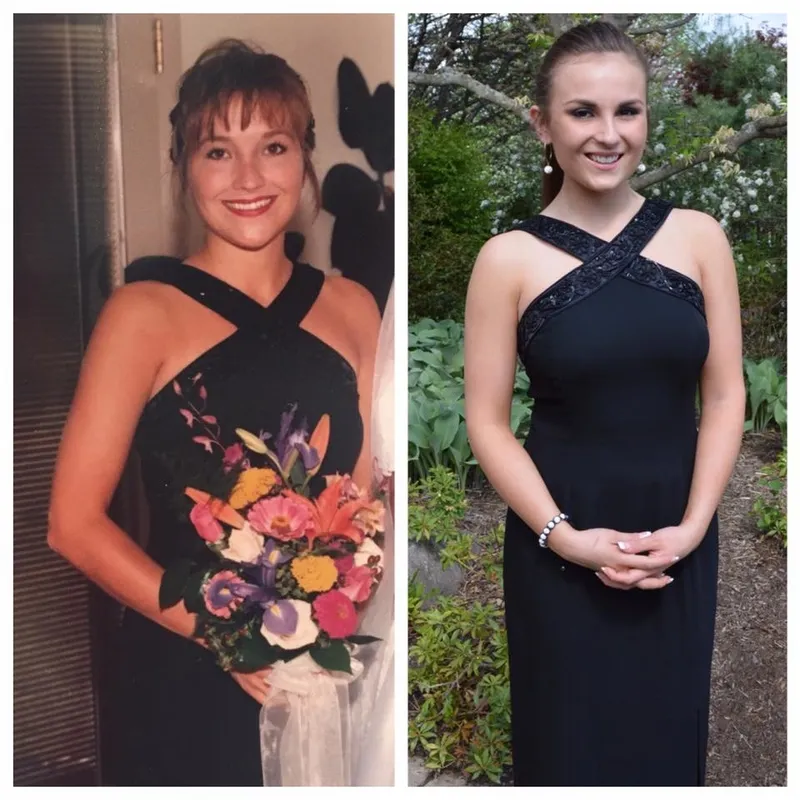 Credit: [email protected]
Can't go wrong with the LBD. The cross neckline is timeless and flattering on both mother and daughter, if both pictures were taken on the same camera you wouldn't know what decade it was. The sequin touches really bring the party to the prom. Classy and sophisticated.
Azure blues and sequins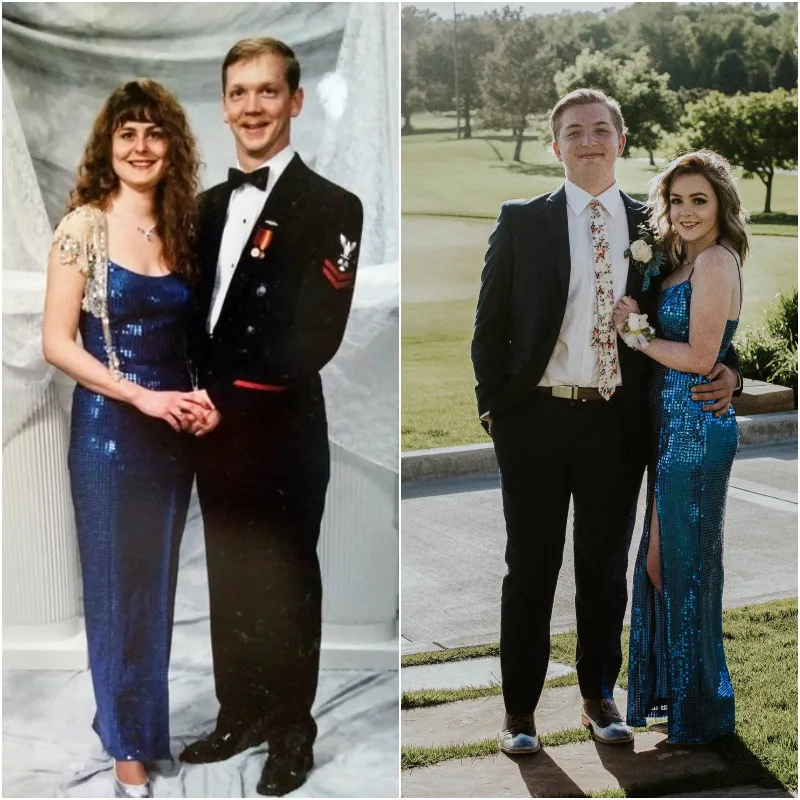 Credit: twitter @hannah_thaiss
This is a super cool dress! The blue vintage number from the 80s still looks amazing a few years later on her daughter. It's a glamorous and chic design and really draws the eye towards the couple. We love to see the cute couple pic years on.
Four women, one dress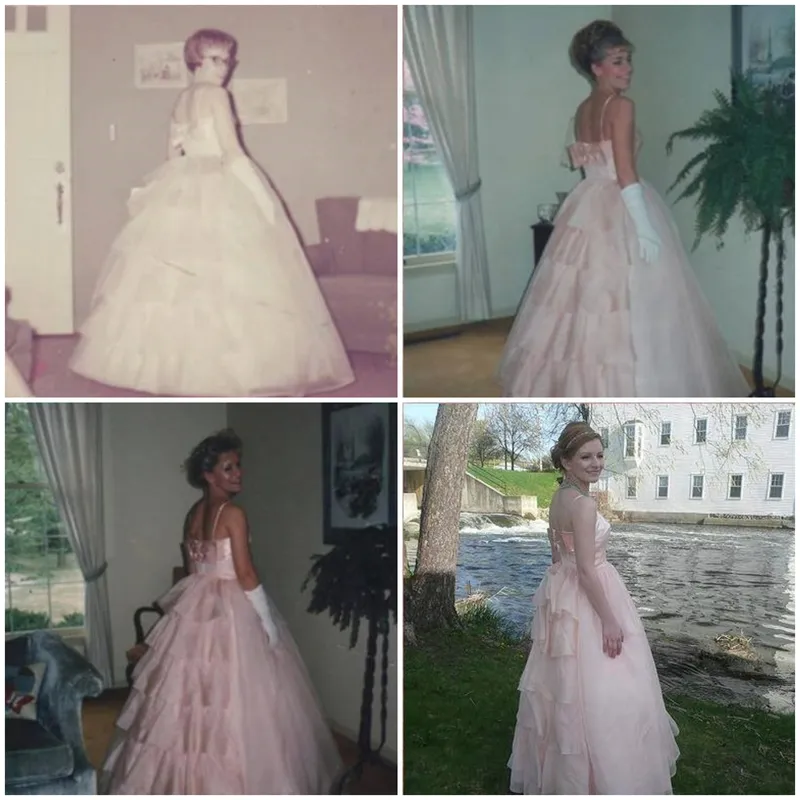 Credit: Facebook @bevyt
This stunning pink dress has been passed down many generations. First worn in 1962 by a great grandmother with a great fashion sense on her way to prom. The three following women followed in her footsteps and look equally as beautiful in this baby pink layered gown.
Candy red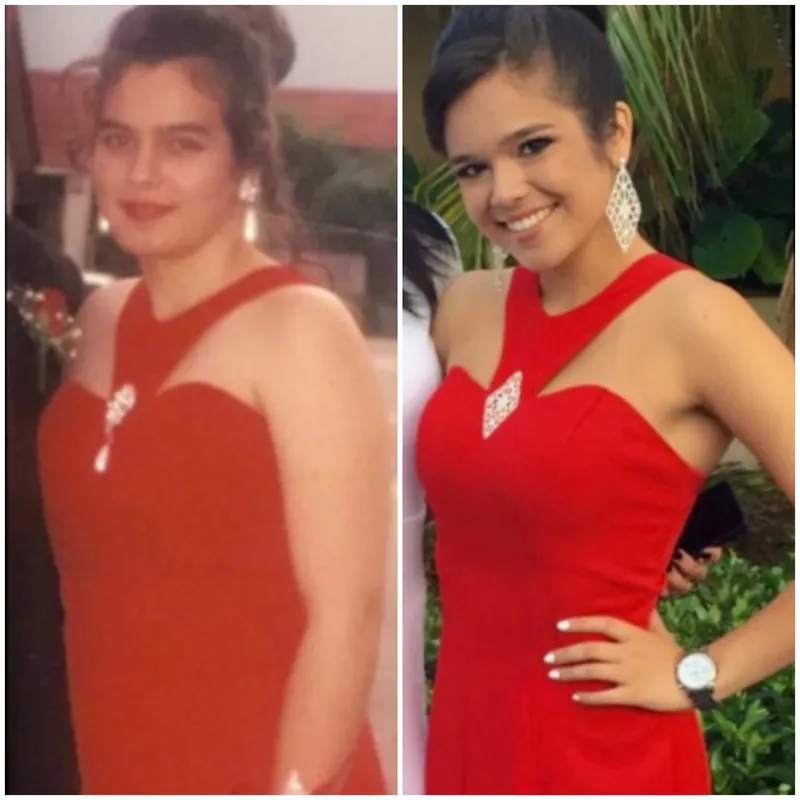 Credit: twitter @bissybun
Red is such a classic and timeless colour. This dress looks to be in immaculate condition 25 years later and fits both mother and daughter perfectly. Let's hope it gets passed even further down the family. They even wore similar hairstyles for the occasion but opted for earrings in their own style.
Re-vamped prom dress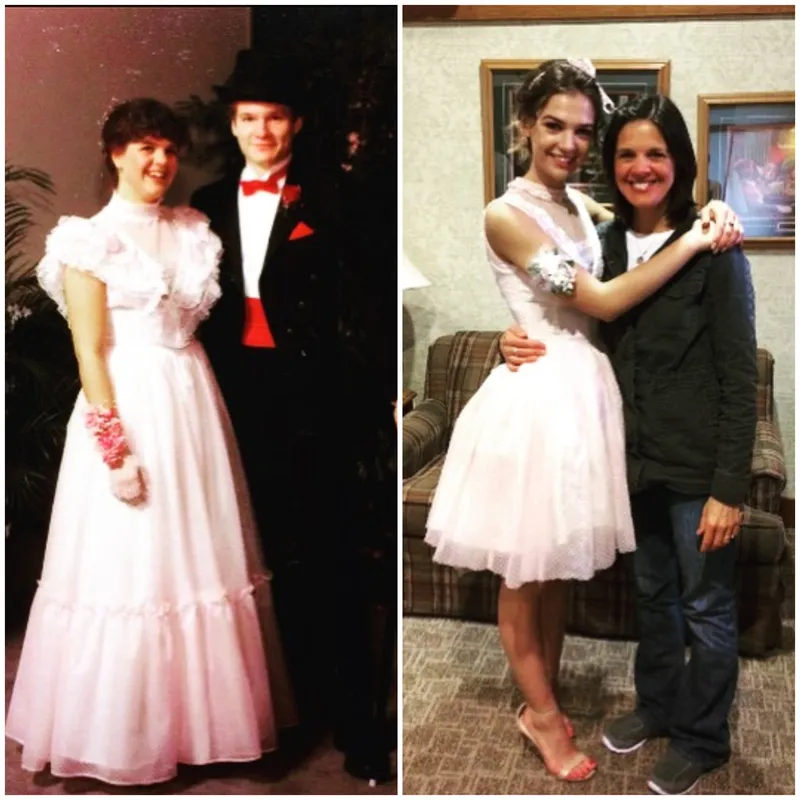 Credit: imgur.com
It's so sweet that the daughter wanted to pose with her mom in this photo. The daughter has refreshed her mom's dress into her own style by shortening the skirt and trimming off the sleeves. She looks just as pretty as her mom did back in the day.
Polka dot prom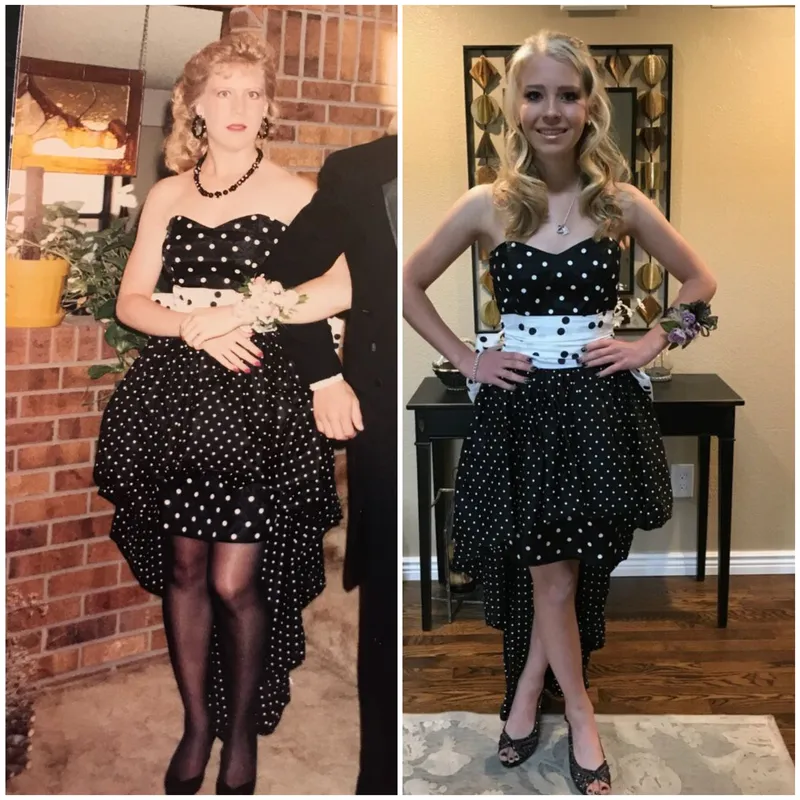 Credit: instagram@jeniferkopaszroos
The cutest polka dot print really makes for a fun and youthful prom dress. Both mother and daughter look great, rocking the wide fabric waistband and blonde curls. The peacock style back of the dress isn't something we see much these days so it makes the dress unique.
Marilyn Monroe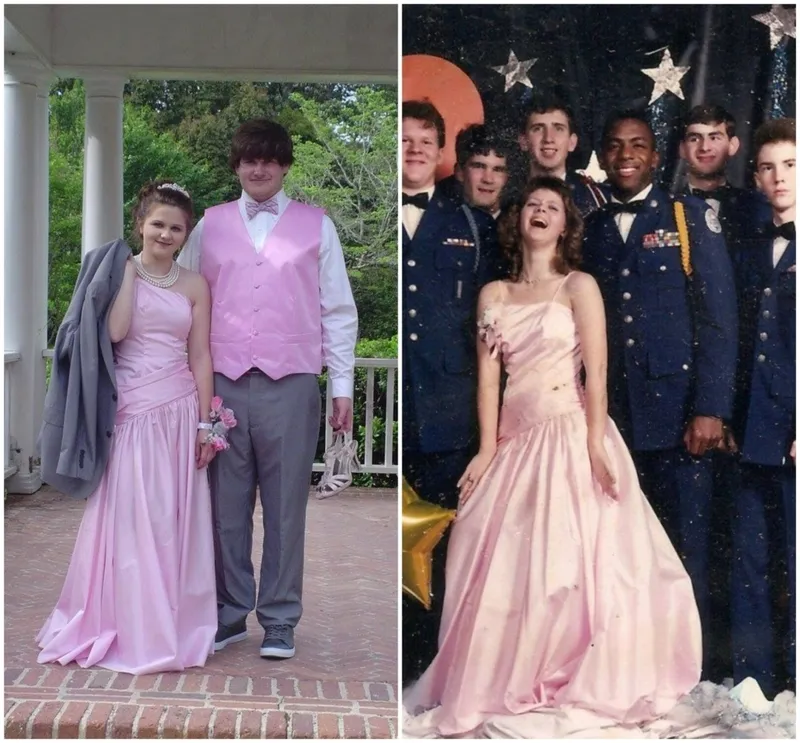 Credit: Facebook @regina.o.richard
Mom on the right seems to be having the time of her life at her prom, smiling and posing with all her friends. She was posing like her idol Marilyn Monroe in 'Diamonds are a girl's best friend' and pulled it off well. Her daughter opted to trim the straps and remove the flower for her prom look.
Snow White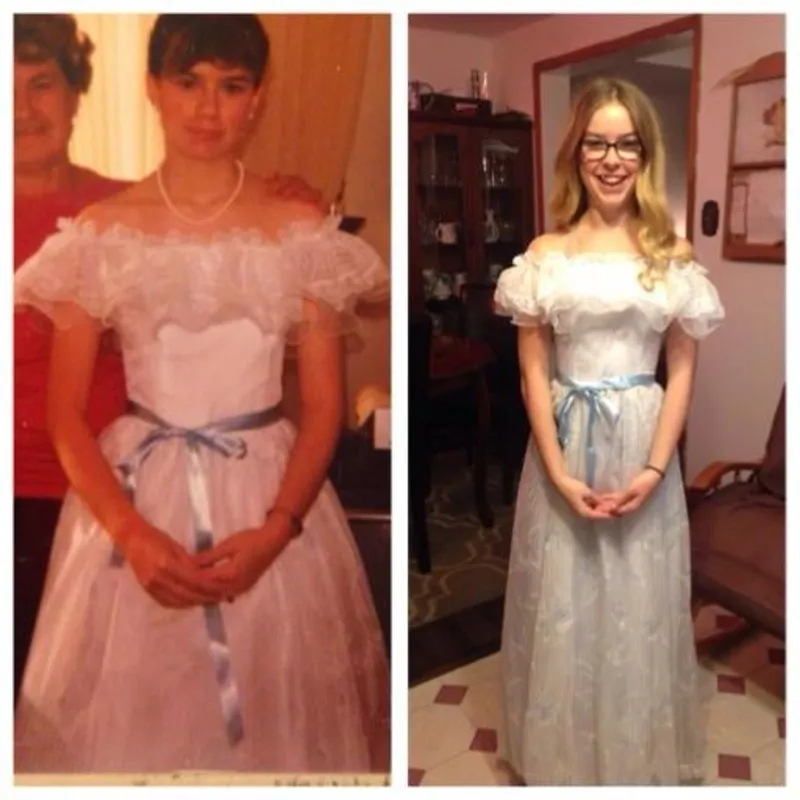 Credit: reddit.com
This vintage dress may seem out of place in the modern day, but it's really sweet and the daughter looks so happy to be wearing it. The off shoulder ruffle is super cute and the ribbon belt ties everything together beautifully. The daughter looks happier than the mom to be wearing it.
Promposal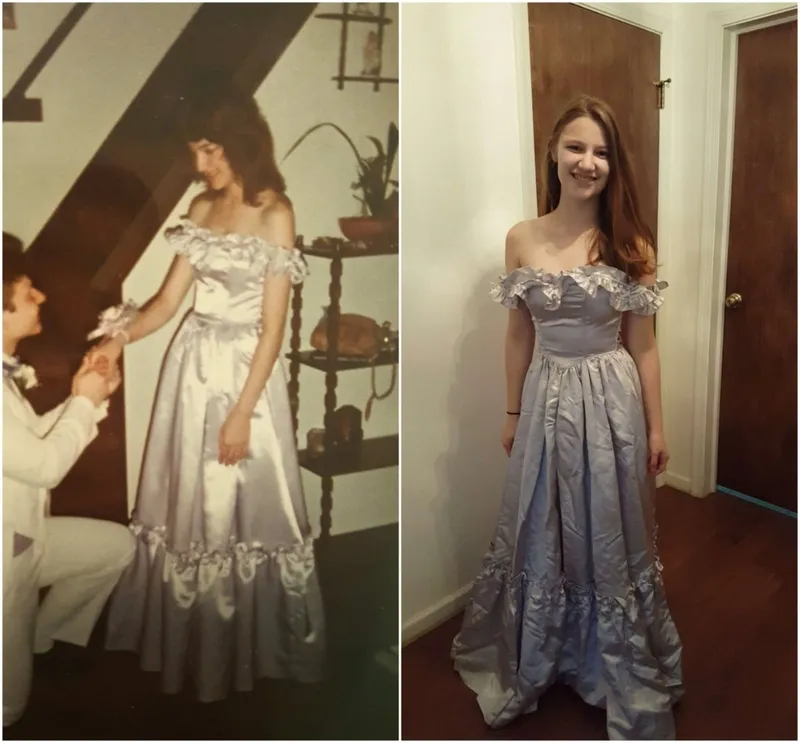 Credit: imgur.com
It may look like a proposal going on, but really it's just a cute prom night moment before they leave to party. This cute lavender colour suits both mom and daughter, and the off shoulder neckline is really sweet and dainty. Maybe could have done with a steam after being packed away all those years.
Lady in red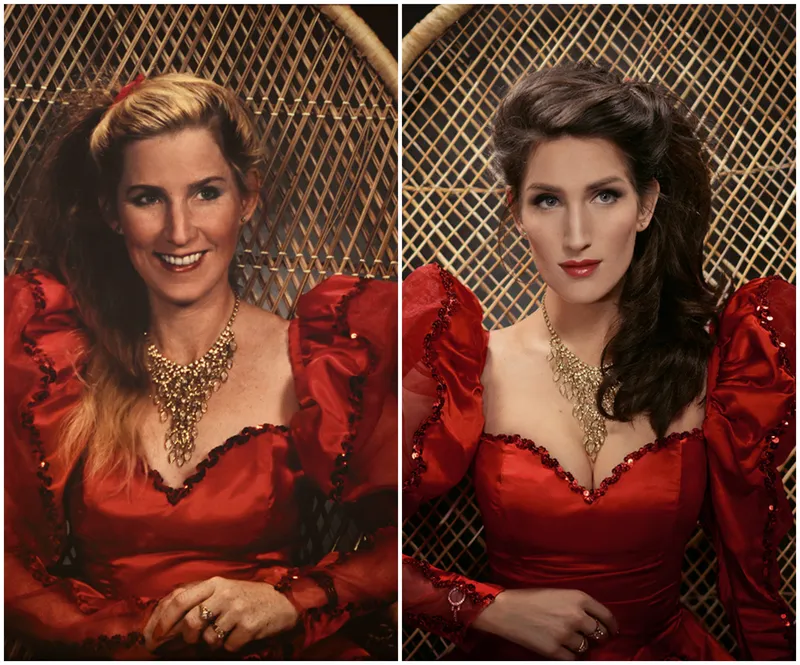 Credit: imgur.com
What a stunning image. This dress really packs a punch and the red is so dramatic. Mother and daughter share so many similar features but they also look like they could be best friends caught wearing the same dress. We love a dramatic necklace and hair-do.
When you have it all, you have it all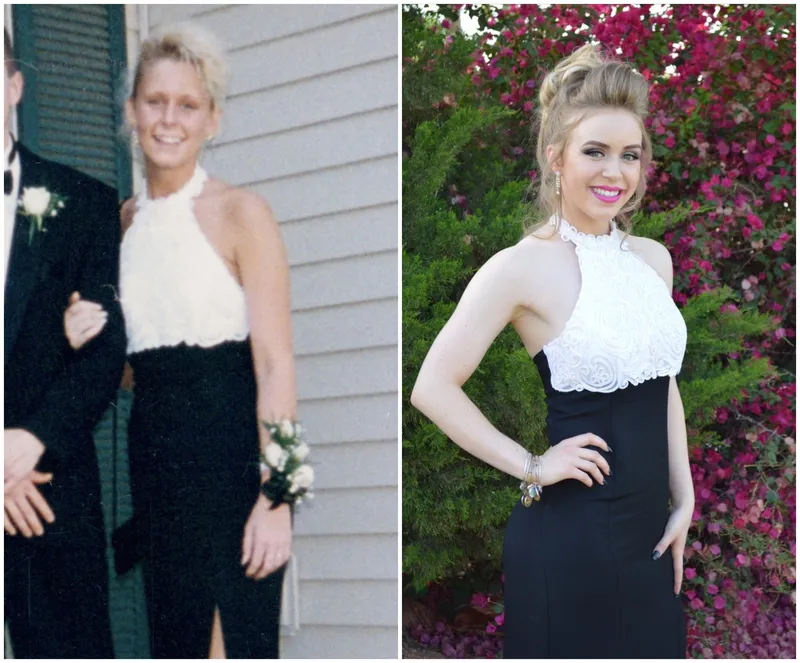 Credit: twitter@punkielou
A timeless classic of black and white, this dress was first worn 20 years ago but you would never tell. Both mom and daughter chose classic up dos and earrings to pair with this dress, and the lace really adds dainty details to the prom look.
Re-creation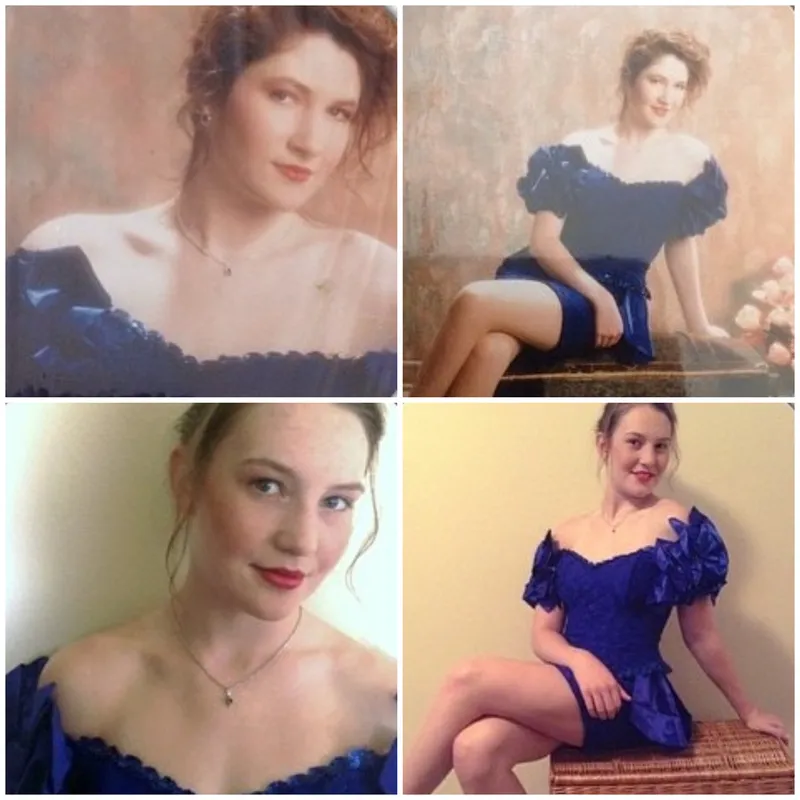 Credit: instagram@iyssyroo14
This daughter wanted to poke fun at her mom's outdated 90s photoshoot and recreate it wearing the same dress almost 20 years later. The neckline is gorgeous and the colour really pops on camera, along with the short flippy skirt. Maybe the ruffles are a little too much for modern day prom dresses.
Green queen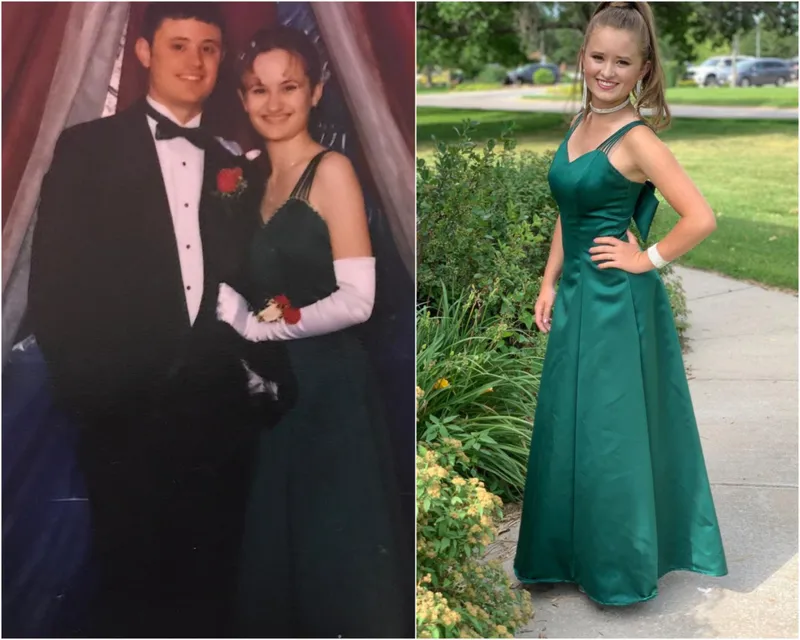 Credit: instagram @kyries_sketchbook
This could be a still from 'Back To The Future', because this mom and daughter duo are the spitting image of each other. The green suits both of them beautifully, and it's a unique shade to rock to prom. The dress still looks brand new after first being worn in 1995.
Something different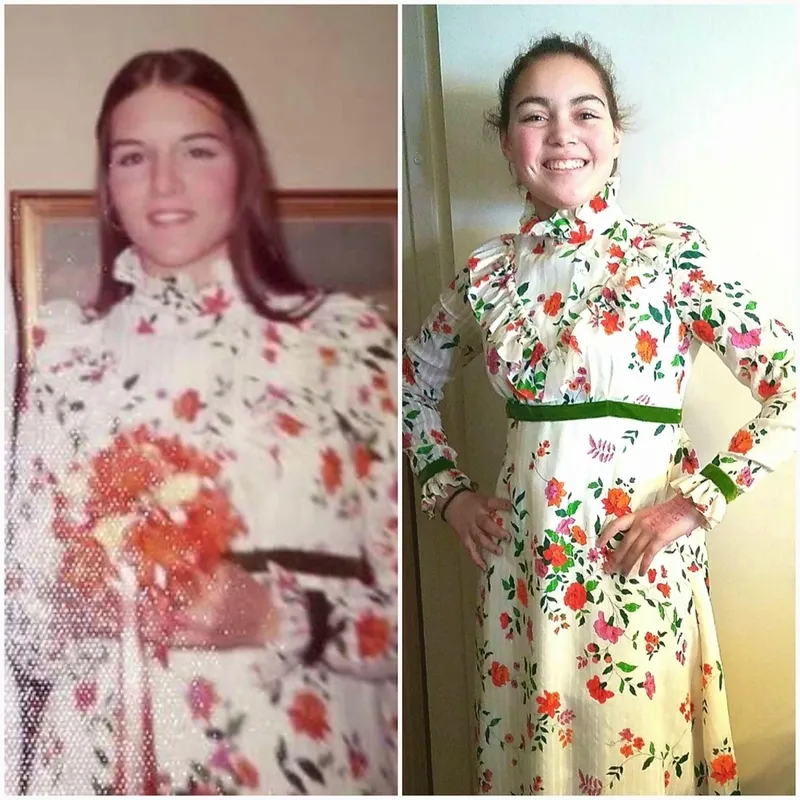 Credit: [email protected]
Whilst this may not be the style traditionally worn to prom today, both mom and daughter look beautiful. The cut of the dress is definitely along those 70s lines with the high frill collar and long sleeves. The daughter looks overjoyed to be wearing her moms dress.
The 80s are back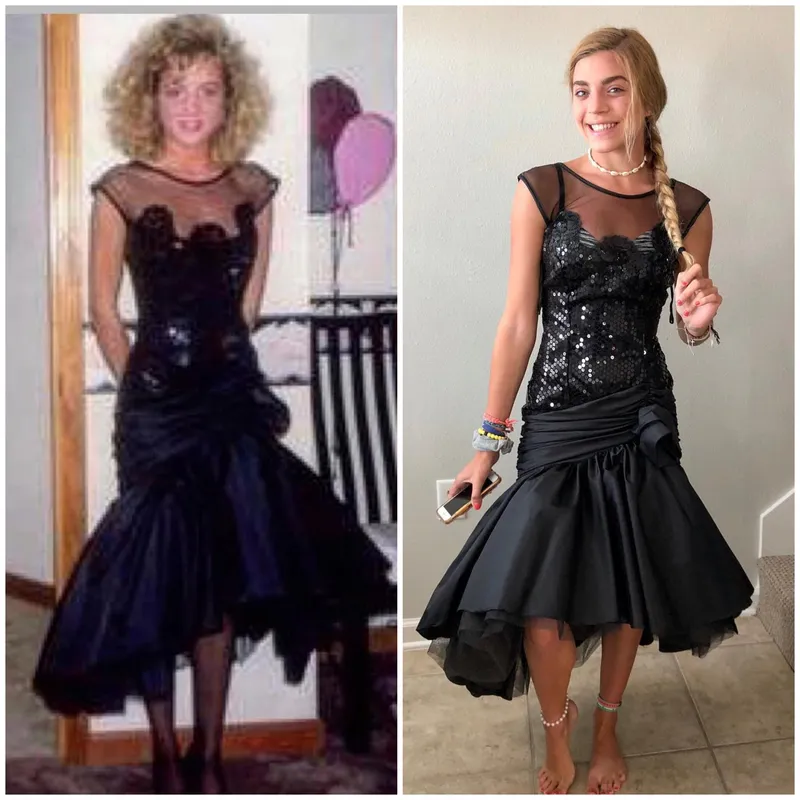 Credit: instagram@beckie_relove
The 80s are known for their outrageous fashion sense. Balloon skirts and padded shoulders are only some of the iconic dress codes that rule the streets at the time. Both mom and daughter rock this shiny black number, and pull of the 80s glamour well.
Little red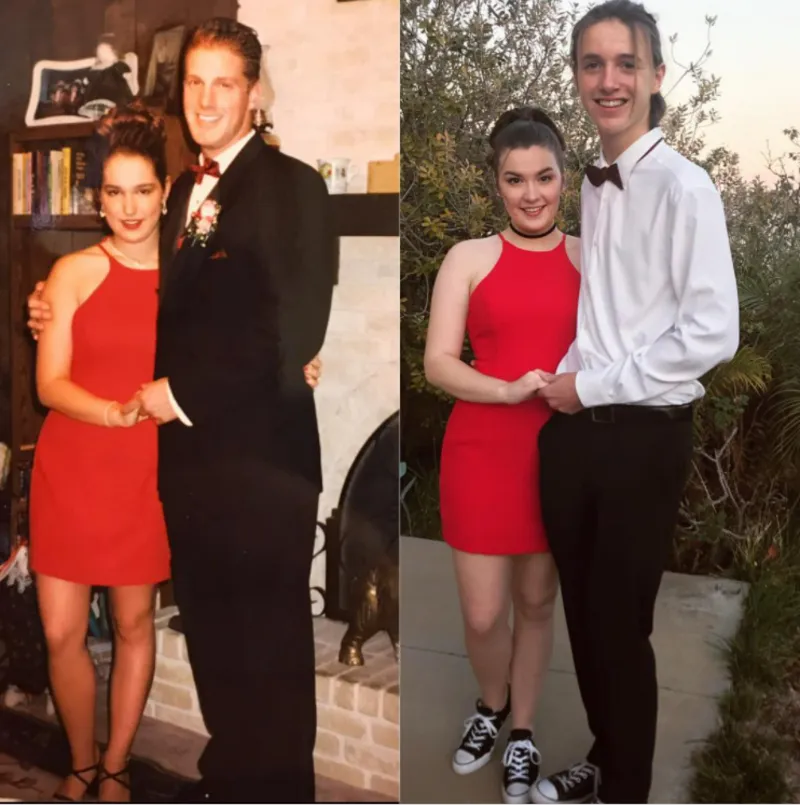 Credit: instagram@momneedscoffee
Mom and daughter look so similar and both pull off this cute little red dress. The daughter chose to wear converse instead of heels, showing off their different personalities. The cute couple pose ties it all together, and maybe this trend will continue further down their family.
It all runs in the family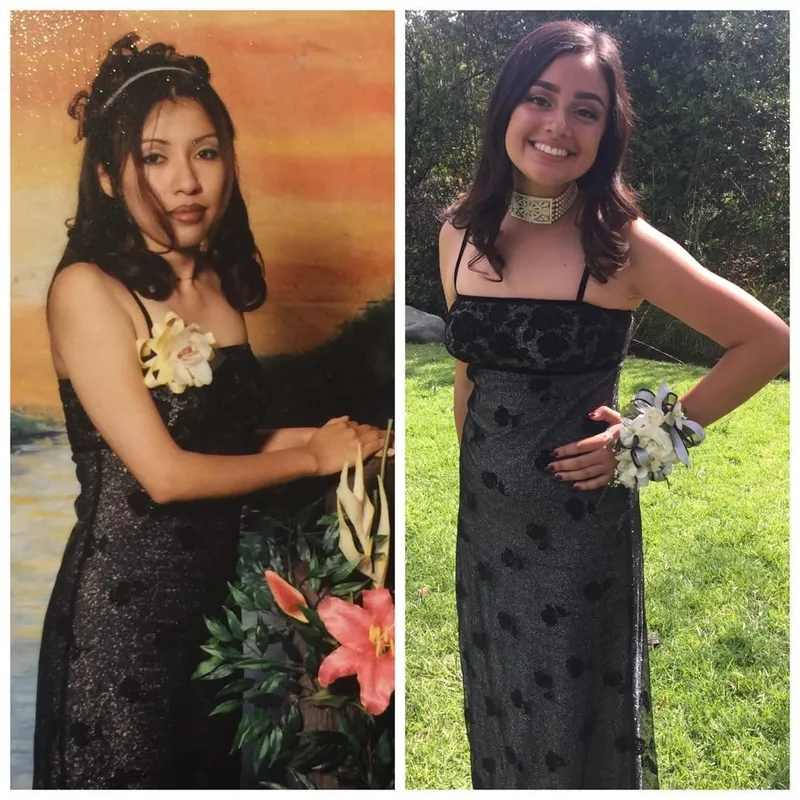 Credit: instagram@sewmuchazucar
This gorgeous dress is almost 30 years old. The stunning bias cut of the dress creates a dainty and luxurious silhouette that flatters both mom and daughter. The floral pattern on the lace overlay is unique and makes this dress really special, hopefully it will continue to be passed down.
Passed down in pink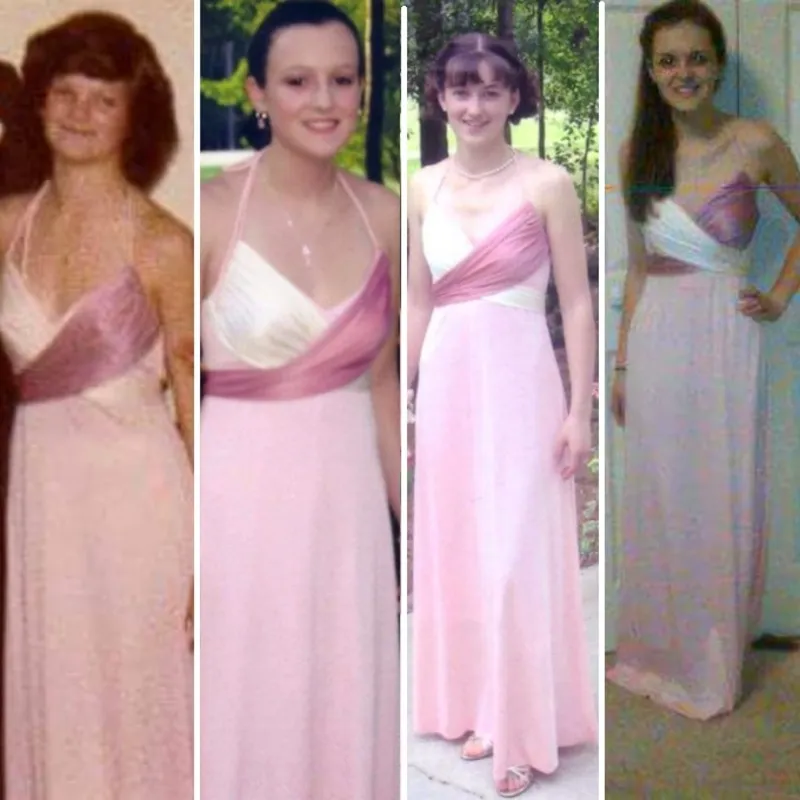 Credit: twitter @durnesque
'Sister hood of the travelling dress'. This pretty pink gown was not just work by one daughter, but by three. It seemed they all wanted to follow in mom's footsteps and it suits them all perfectly. The cross front sash in the darker pink is super feminine and cute.
Gold trim is always in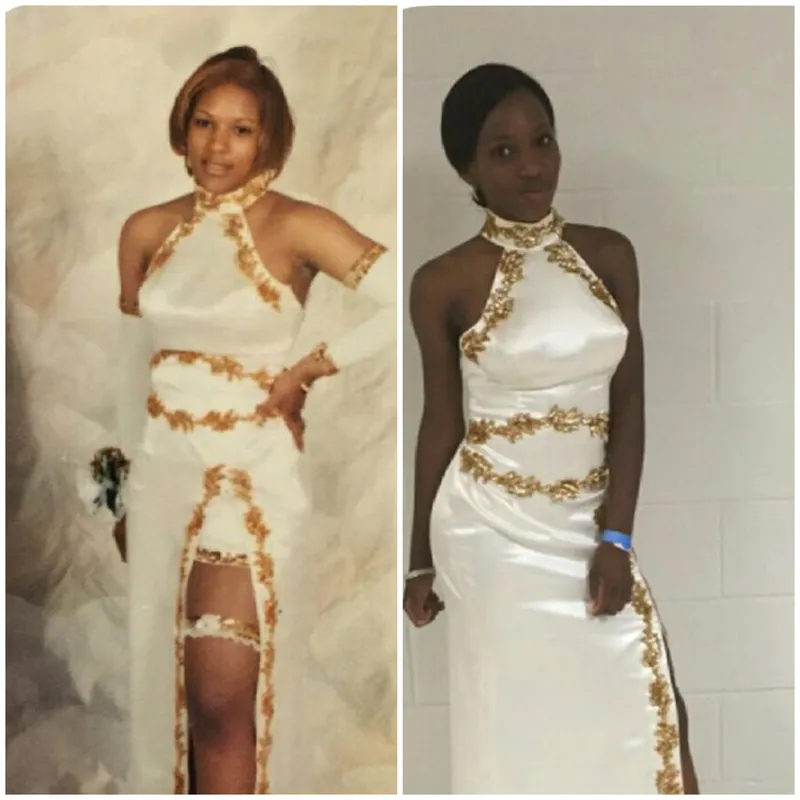 Credit: twitter @justkeyandra
This is so glamorous and fun. The gold trim is very unique and suits them both amazingly well. The white is shiny and classic that this dress could be worn to an award show. The mom went all out with the pose and gloves, whereas the daughter opted for a more minimal approach.
Blue and bling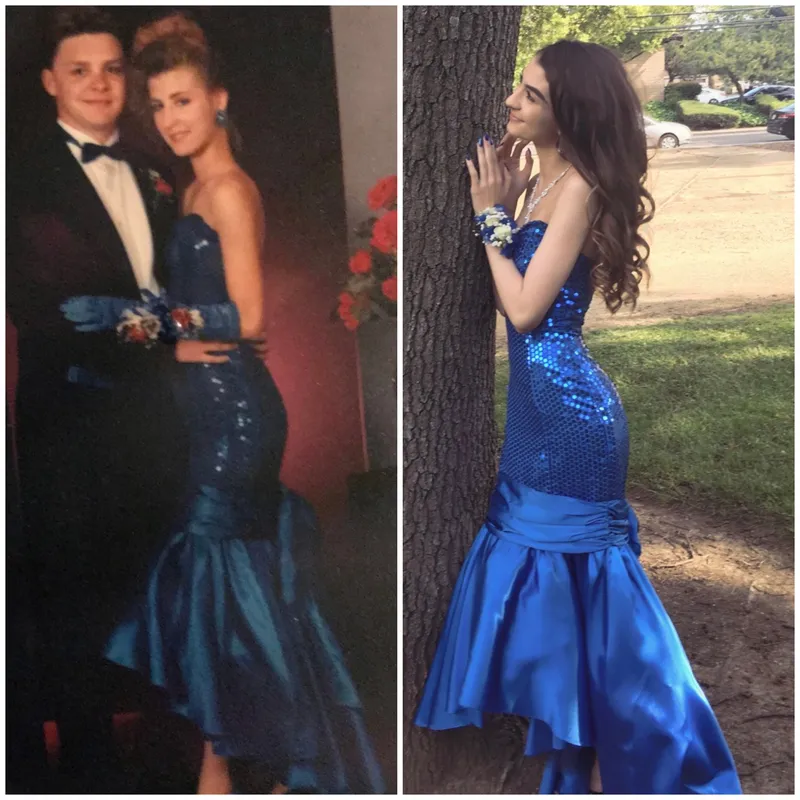 Credit: Twitter @thatoneJAQass
Electric blue, sequins and ribbon, what more could a teenager from the 80s want. The daughter opted to use matching nail polish rather than gloves for her prom look, which is a great homage to her mom. This particular shade of blue can look good on everyone.
An understated classic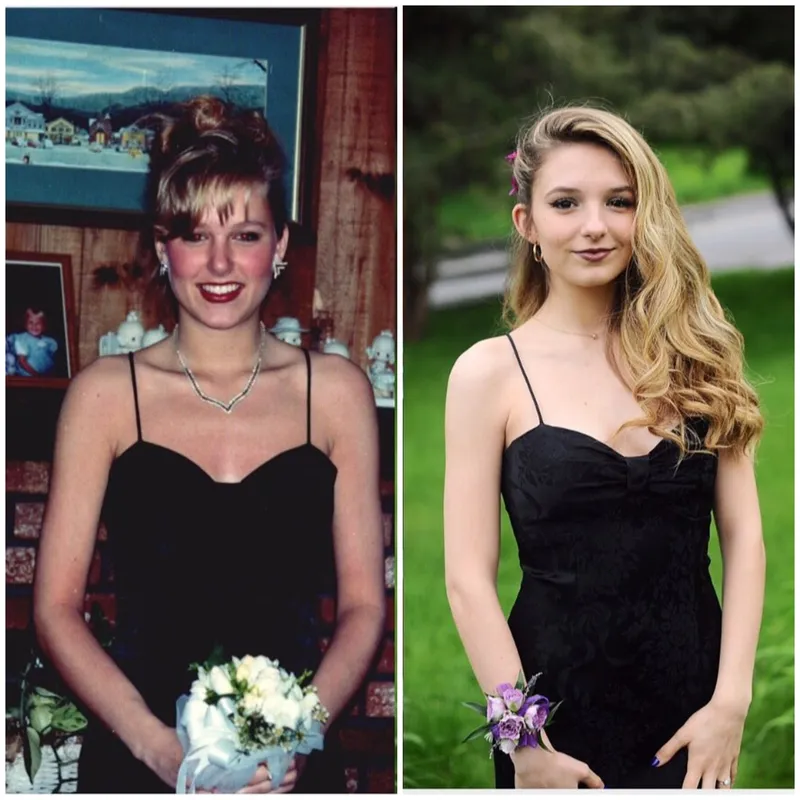 Credit: instagram @kcyoungphotography
Everyone should have a classic black dress in their closet at some point. Luckily for this young woman, her mom had just the thing ready for her. The classic neckline and spaghetti strap makes this dress wearable again and again, and can continually be passed down.
Red redemption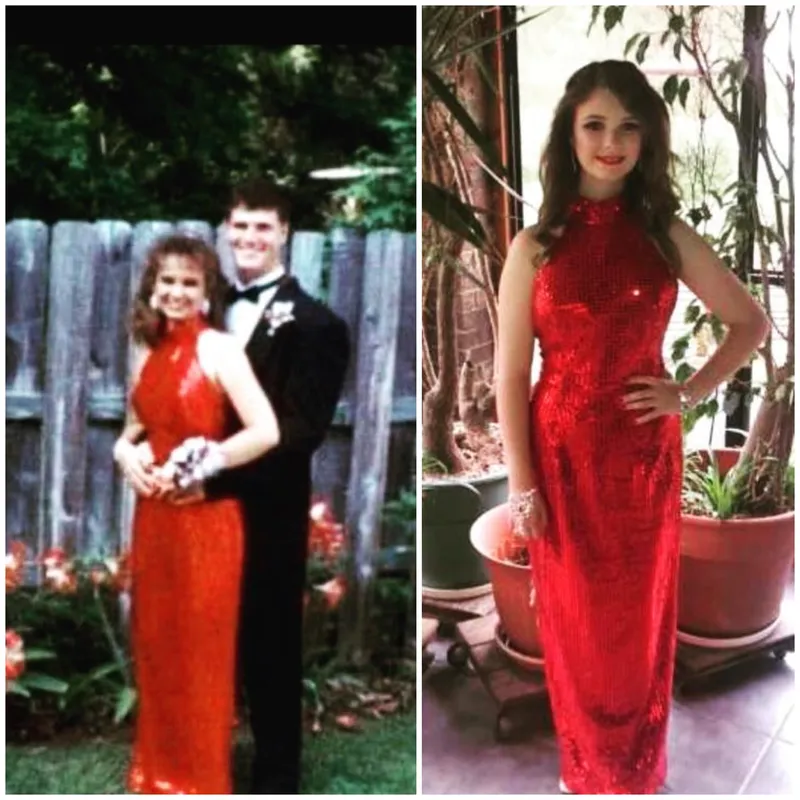 Credit: instagram @charlaboyett
This red sequin dress for sure turned heads in both 1993 and 2019. The silhouette is timeless and sophisticated, and is such a flattering cut on both mom and daughter, the shocking red colour will never go out of fashion. We can see the similarities between the two.
Black and white ballgown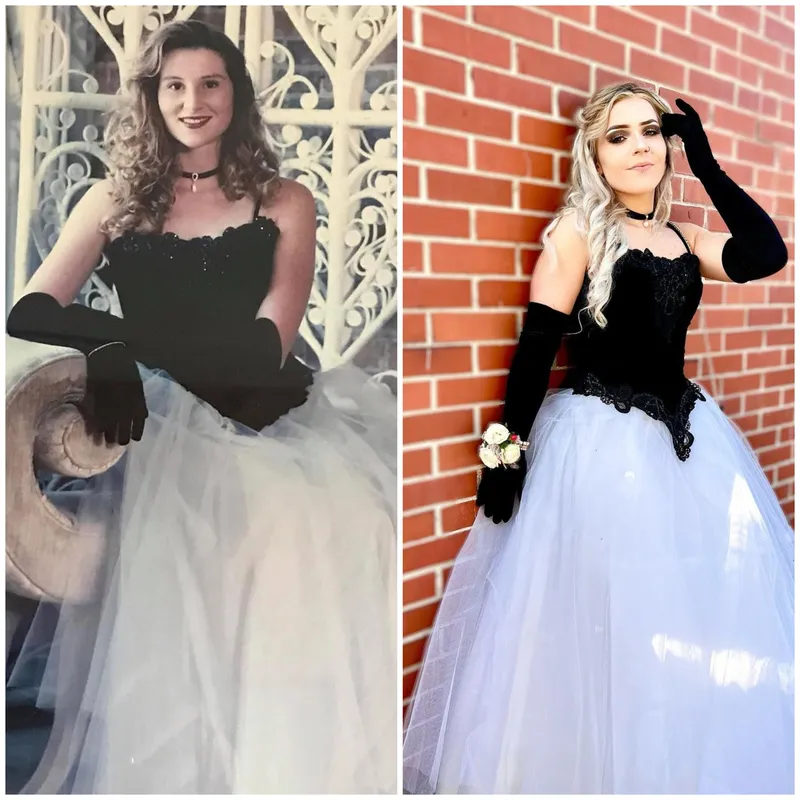 Credit: instagram @islandgurl7896
This iconic black corset and white tulle skirt combo was so impactful, the teen just had to wear it to her prom 27 years later. Both mom and daughter look so elegant with their matching black gloves and velvet choker. This dress could be a costume from a period drama.
The grass is greener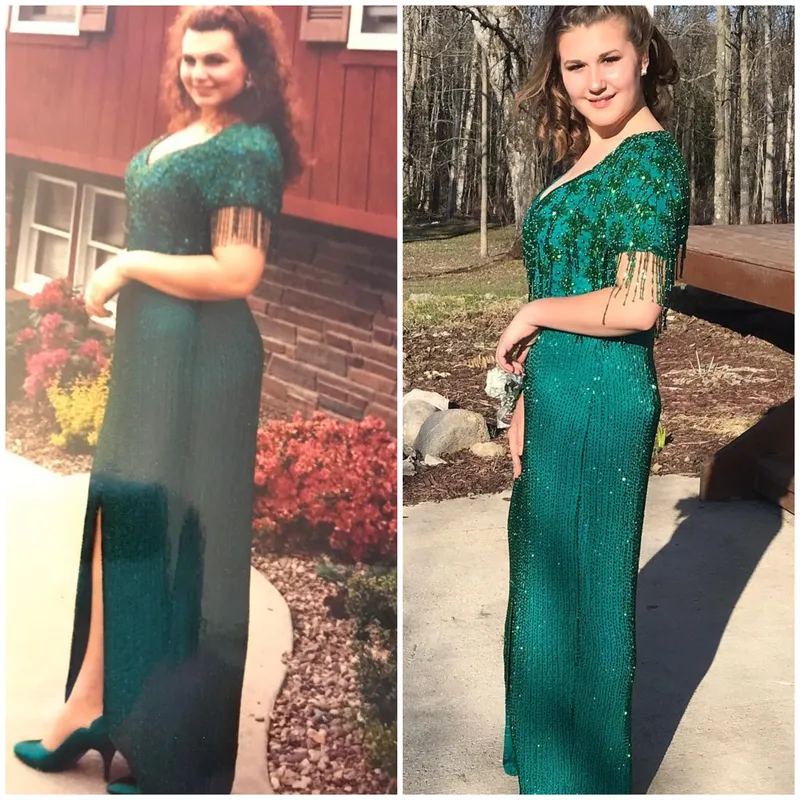 Credit: instagram @ferchakpetrie
You wouldn't have thought a modern day teen would reach for an emerald dress with tassels, but this prom goer pulls it off well. Having a beautiful dress without having to spend any money must be a dream, it's a good job her mom saved it for all these years ready for her prom celebrations.
Notable neckline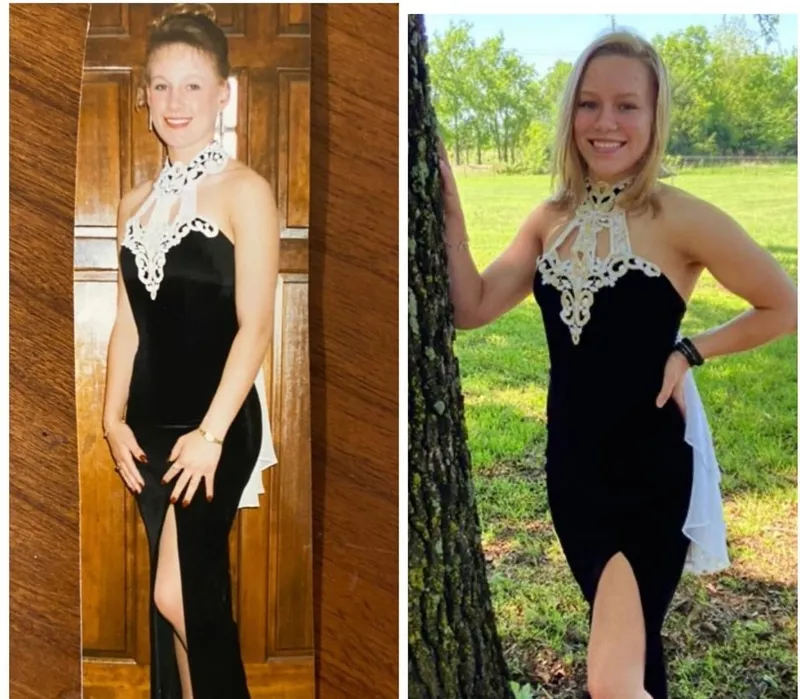 Credit: instagram @joannsbridal
Hats off to this daring duo for rocking such a unique and glamorous dress on their prom night. The neckline is the star of the show, with white lace reaching up and around the neck in a halter style. The black and white colour scheme really brings a touch of elegance to this dress.
Seeing red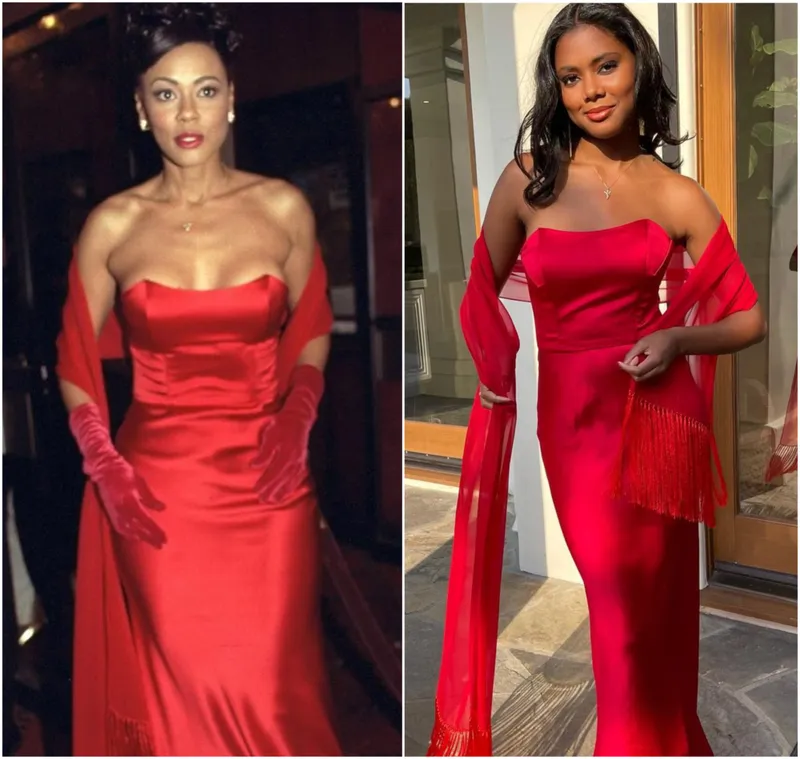 Credit: instagram @iamlelarochon
The stunning actress Lela Rochon lent her just as stunning daughter her prom dress from back in the day. This classic red dress is wearable again and again, especially paired with the tulle shawl accessory. Both women rock this dress and look like twins ready for a 'red' carpet.
Patterned prom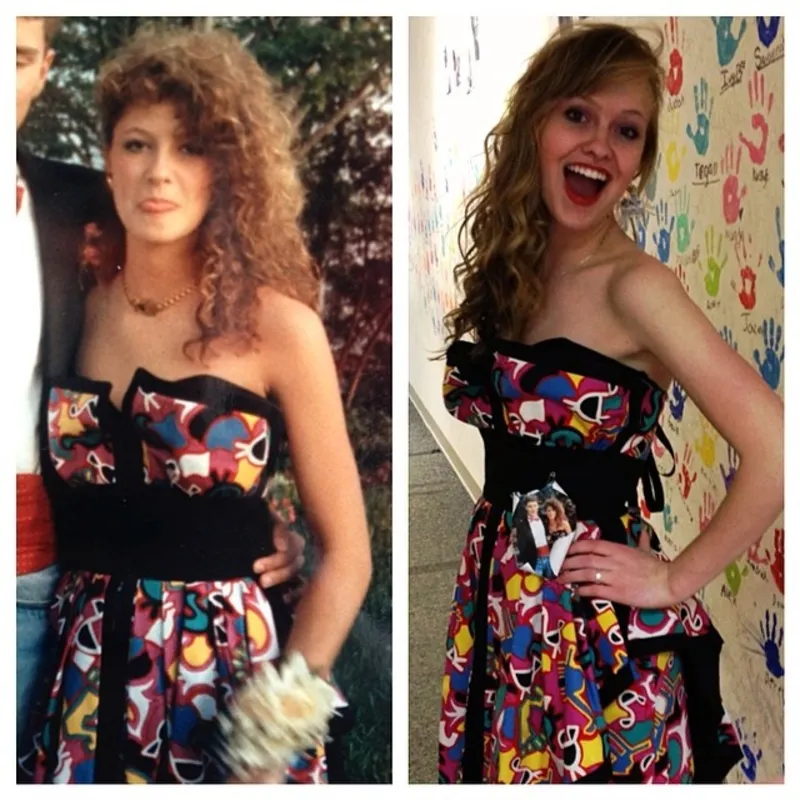 Credit: [email protected]
The 80s called. Nothing screams the decade more like vibrant prints and big puffy hair. Not every modern day teen would reach for such a loud dress, but that didn't stop this teen from wearing her mom's dress to her own prom. Even down to the safety pinned pic of the original.
Sequin chick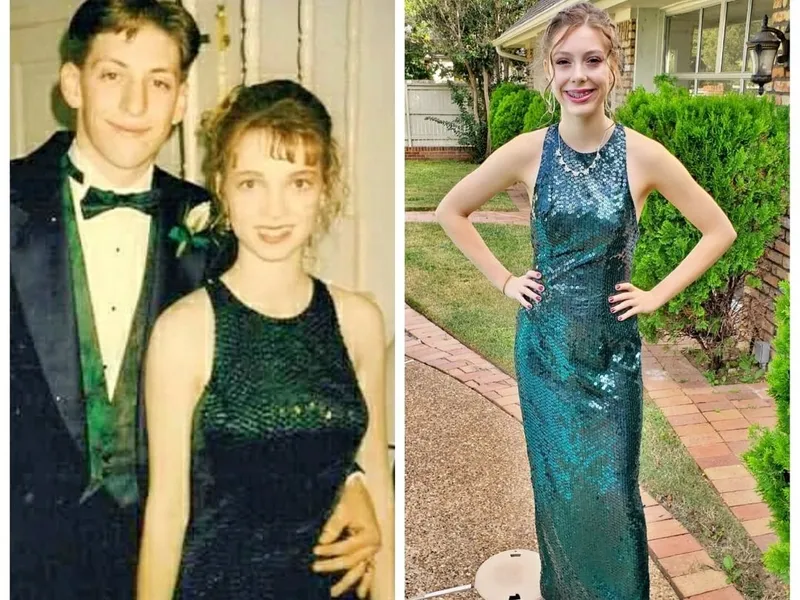 Credit: instagram @mevans9066
Very much mermaid vibes. This shimmery teal sequin gown looks great on both mother and daughter, with both opting for a cute up-do and cheeky smile. Who knew sequins would never go out of style, even, decades apart. Let's hope she didn't blind anyone under the disco ball.
Same same, but different
Credit: twitter @maciehengel
What a dress! This plum frill of a ball gown definitely will have made a statement at both proms. The daughter chose to wear it off shoulder which works really well and kind of modernises the look. It's a super romantic dress, but it looks heavy to carry.
Turn around in purple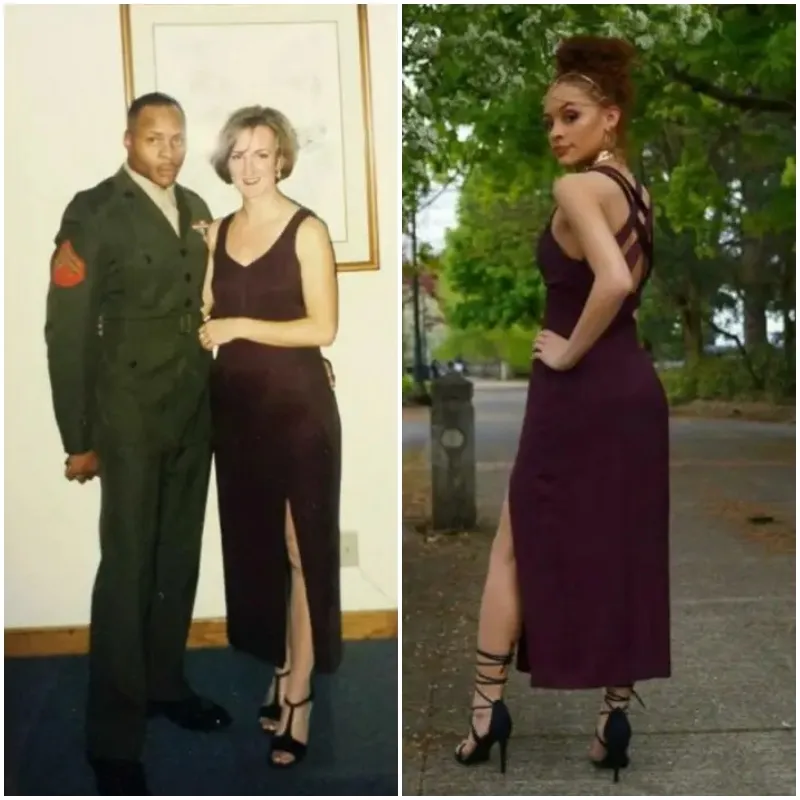 Credit: facebook @hope.buzzellbates
This deep eggplant coloured gown is stunning, and looks like it could have been bought today. The cross back detail adds a little something to an otherwise clean dress, as well as the leg slit. Both mom and daughter rock this dress in their own ways.
Draped in red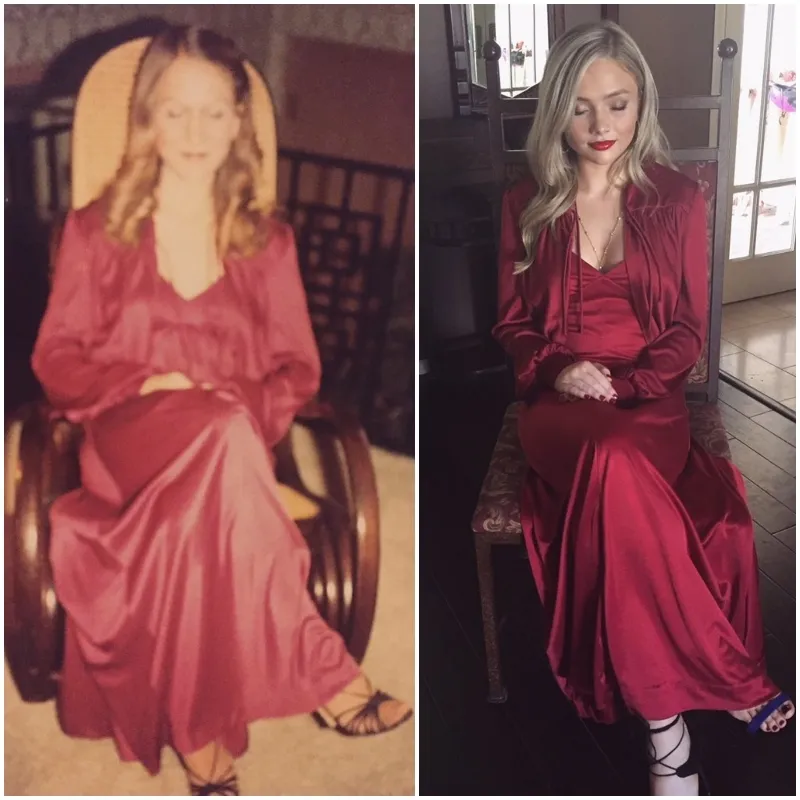 Credit: twitter @barbalynwoods
A totally unique and whimsical dress. The props, pose and shawl are all the same, a great homage and recreation of the OG wearer. The soft waves and red lip really make it look like the teen has gone back in time to hang with her mom at her prom.
Like mother like daughter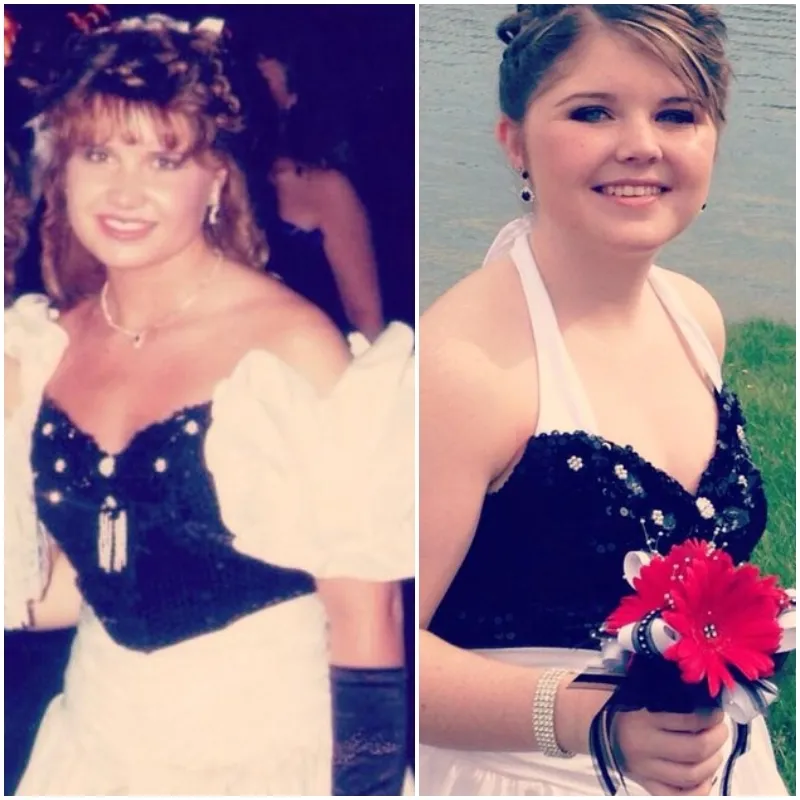 Credit: twitter @englishstaci
The slight alteration to the neckline lets the daughter show her personality whilst still paying homage to her mom. The cutesy, milkmaid style front is adorable for prom and the dress looks good with puffy sleeves or a halter neck ribbon tie. Looks like the earrings are kind of similar too.
Frills on frills on frills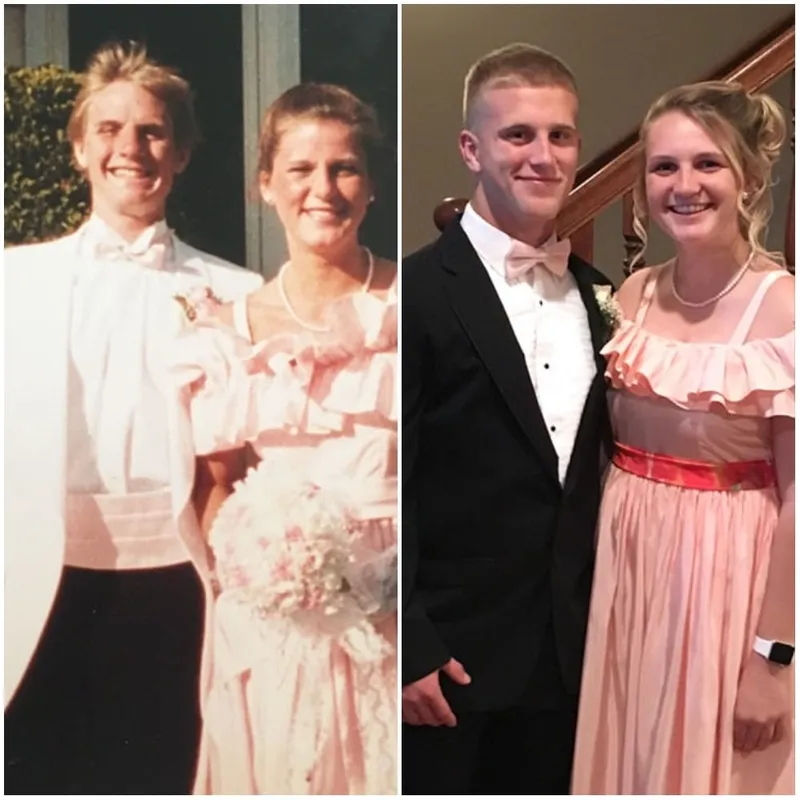 Credit: twitter @TQT1990
This is the cutest shade of baby pink, perfect for a teen going to prom. Some of the many, many ruffles seem to have been removed, as well as a new hot red belt, but overall these two look like twins. Even the pearls look to be borrowed from mom.
Get that LBD girl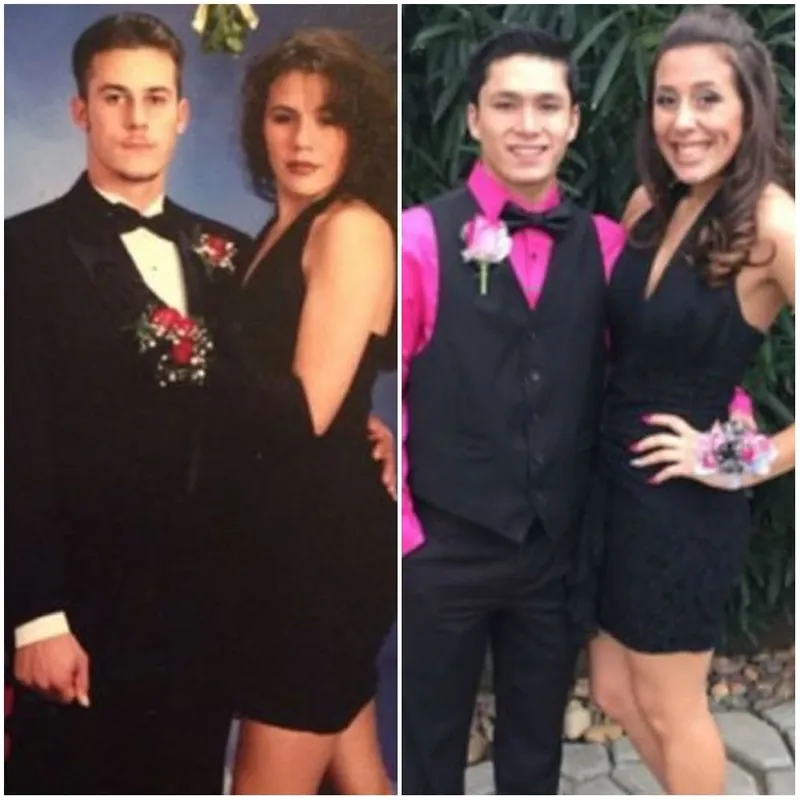 Credit: facebook @jolynn.galdamez
These two scream cool girls. You can't go wrong with a LBD, especially if it's already been worn by your cool mom as a teen. The neckline and gloves are sophisticated and edgy, and the poses say it all. Everyone go buy a little black dress asap.
Spitting image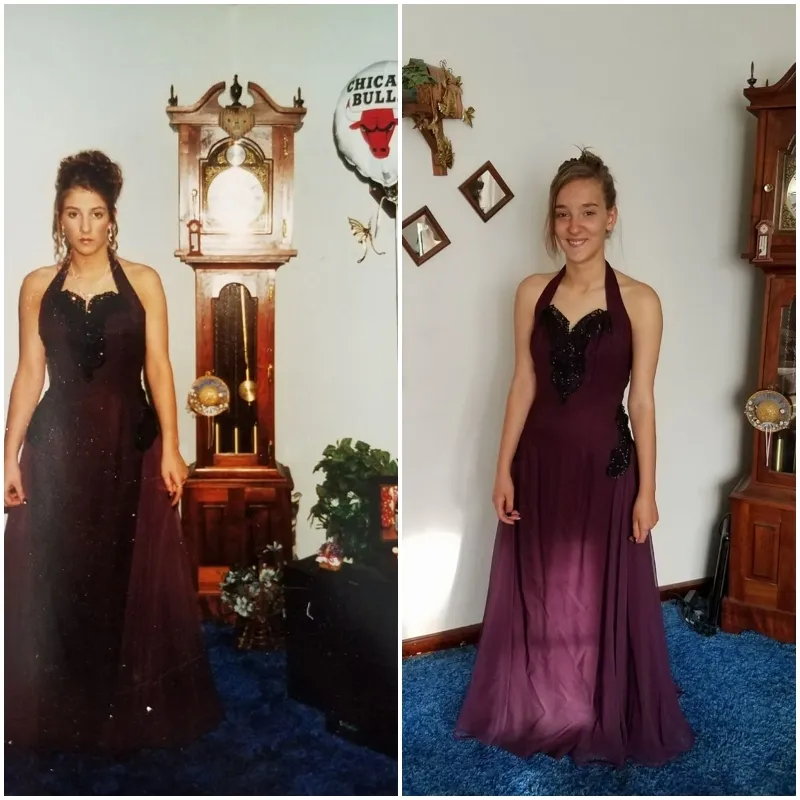 Credit: facebook @TBooper
The same carpet, room and grandfather clock? These two could be the same person. This teen decided to keep almost everything the same, down to the pose and hair. The deep plum colour suits their skin tone beautifully and it's very romantic and regal.
Corsets and skirts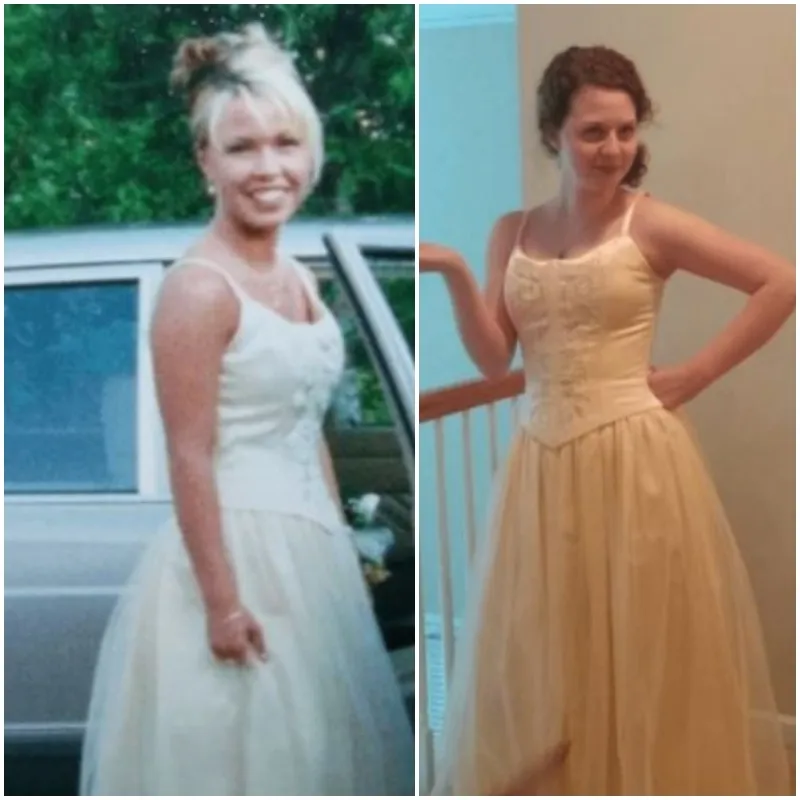 Credit: facebook @hilary.putnambarrett
This trend of a corset with an exploding skirt was definitely a trend for the 80s and 90s. It gives that princess silhouette from the tiny waist and big skirts, and it really suits this teen. We're sure the mom was teary eyed seeing her little girl wear her ball gown to prom.
Red at the prom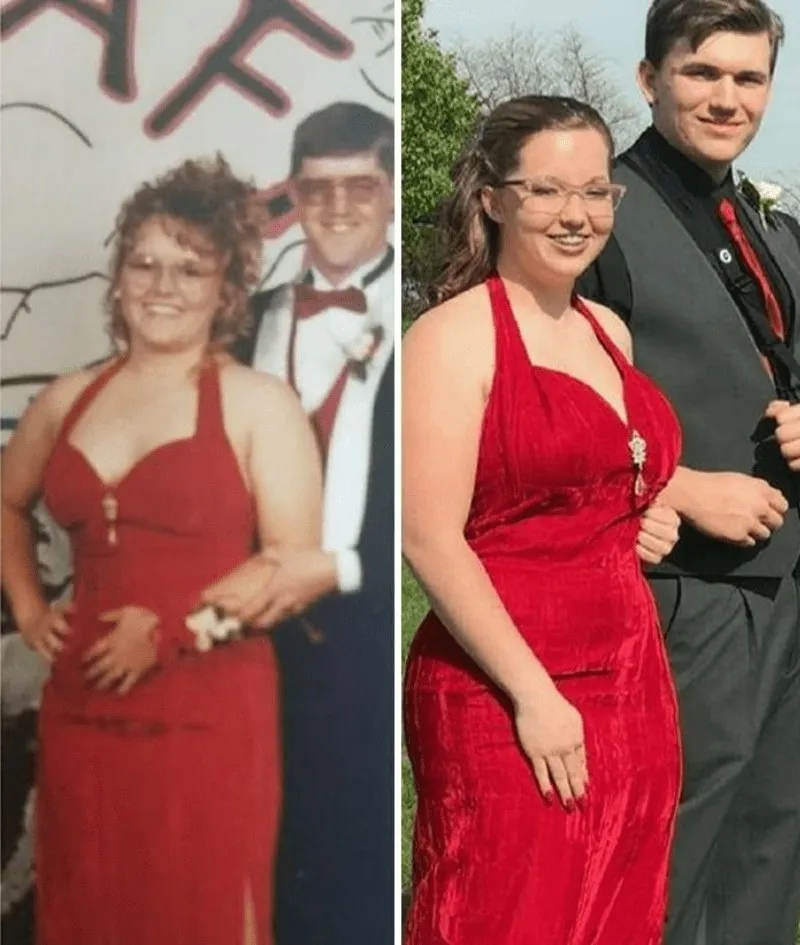 Credit: facebook @brad.groves.7921
These two are adorable with their matching cheery smiles and glasses. This is a stunner of a dress, and the in-your-face red definitely would have turned some heads. The sweetheart neckline is super flattering and the dainty silver broach in the centre adds some bling.
Major animal print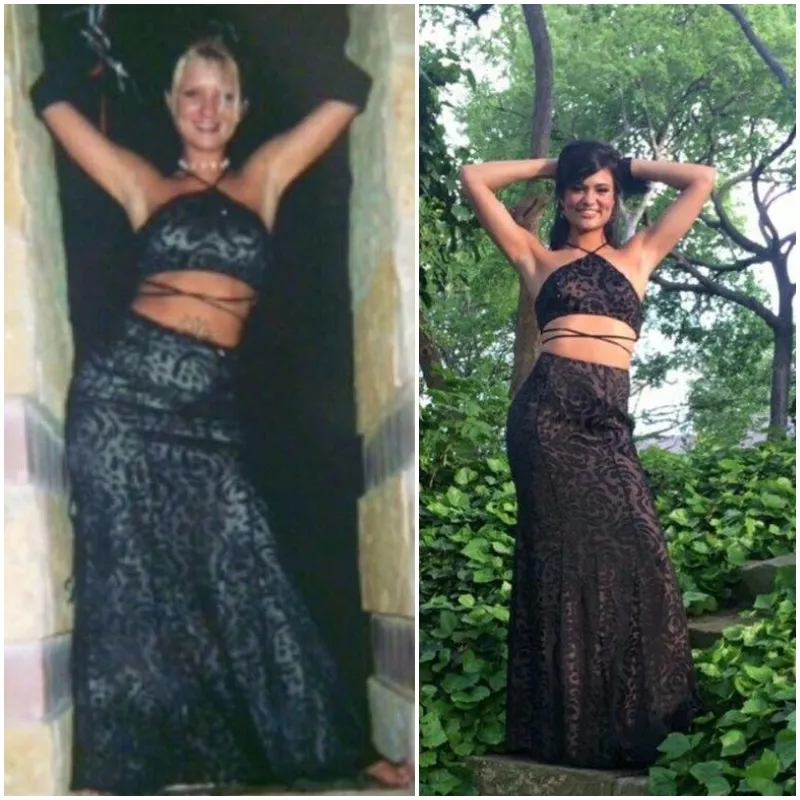 Credit: facebook @tiffany.sims.146
Now this is different. This is definitely something you would see today, the criss cross straps across the midsection are super modern and the cropped halter neck top is still a staple in summer wardrobes. These two rock this unique prom dress and the poses ooze confidence.
Sequin mermaid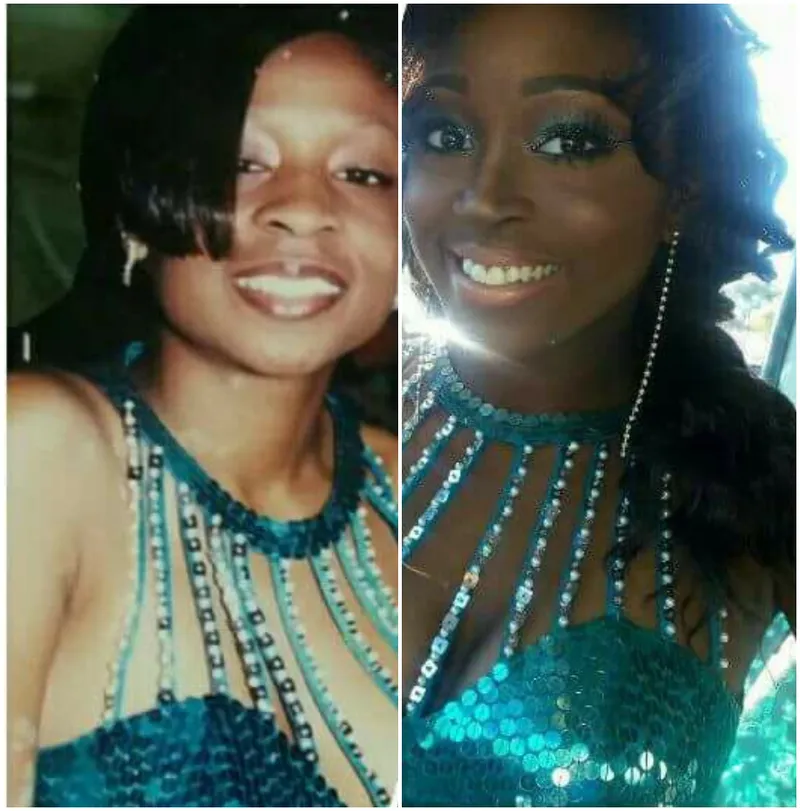 Credit: facebook @lanika.saunders
The gorgeous bluey-green sequins are stunning on both these women, and the neckline cascading up is such a cool detail. The jewel tones really suit their skin tone and are super glamorous. The daughter opted for matching eye shadow that really ties the look together for that mermaid queen aesthetic.