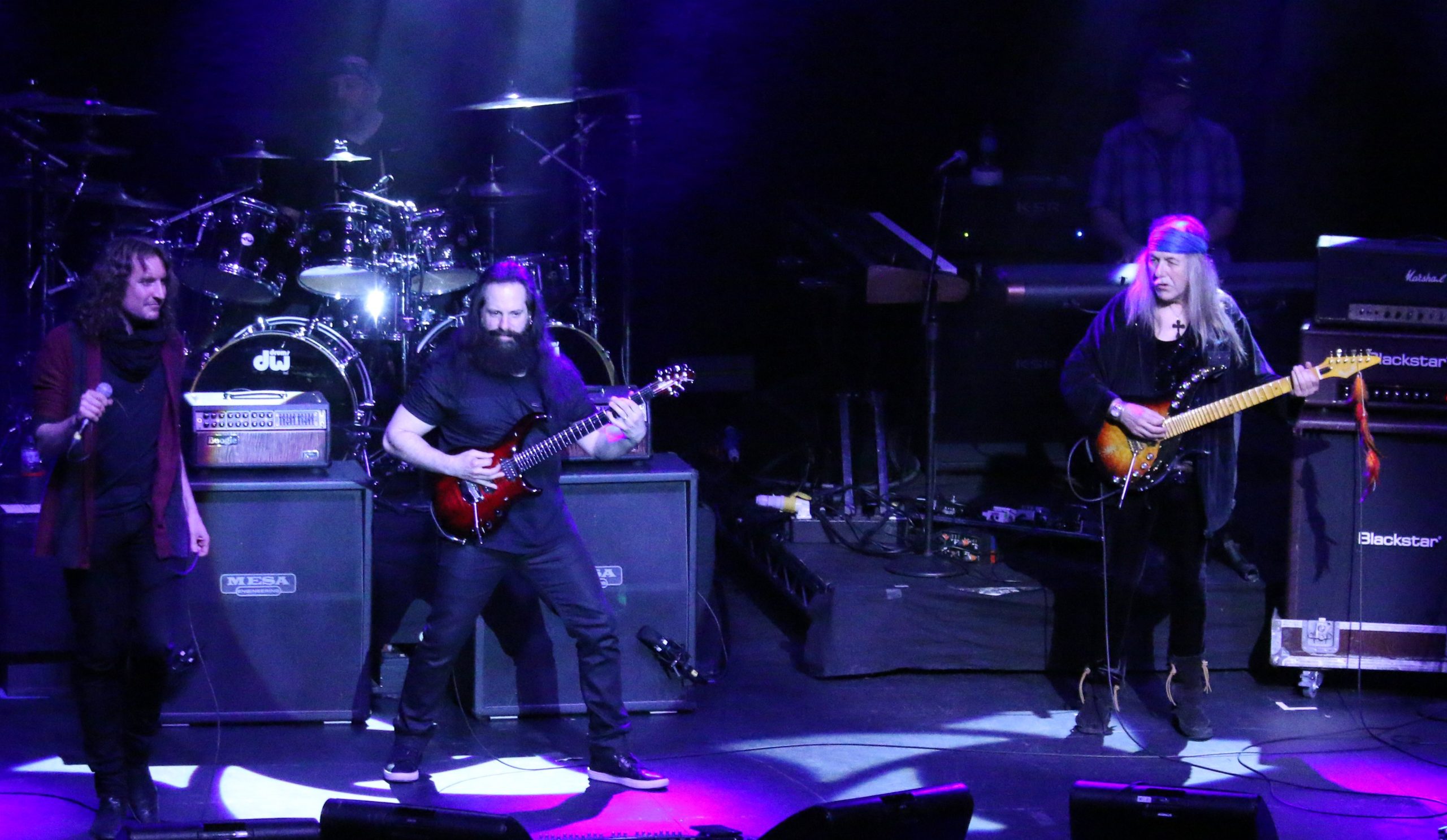 Credit: kitmasterbloke via Wikimedia Commons
Joe Satriani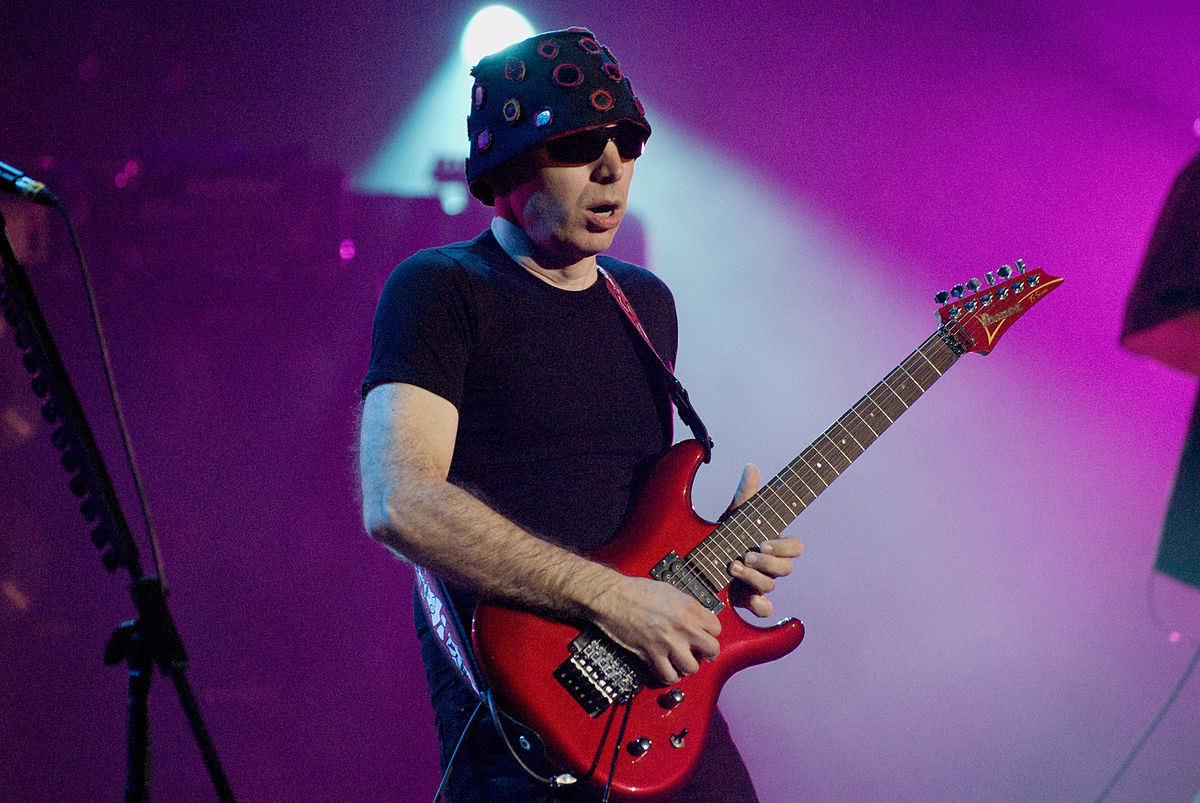 Credit: livepict via Wikimedia Commons
Joe is the guy that your favorite guitarist probably traveled halfway across the world to learn from. He's something of a guru among guitarists, and his music shows exactly why that is. His primarily instrumental and heavily guitar-driven anthems like Surfing With The Alien and Crushing Day showcase his legendary mind and supernatural dexterity.
Tony Iommi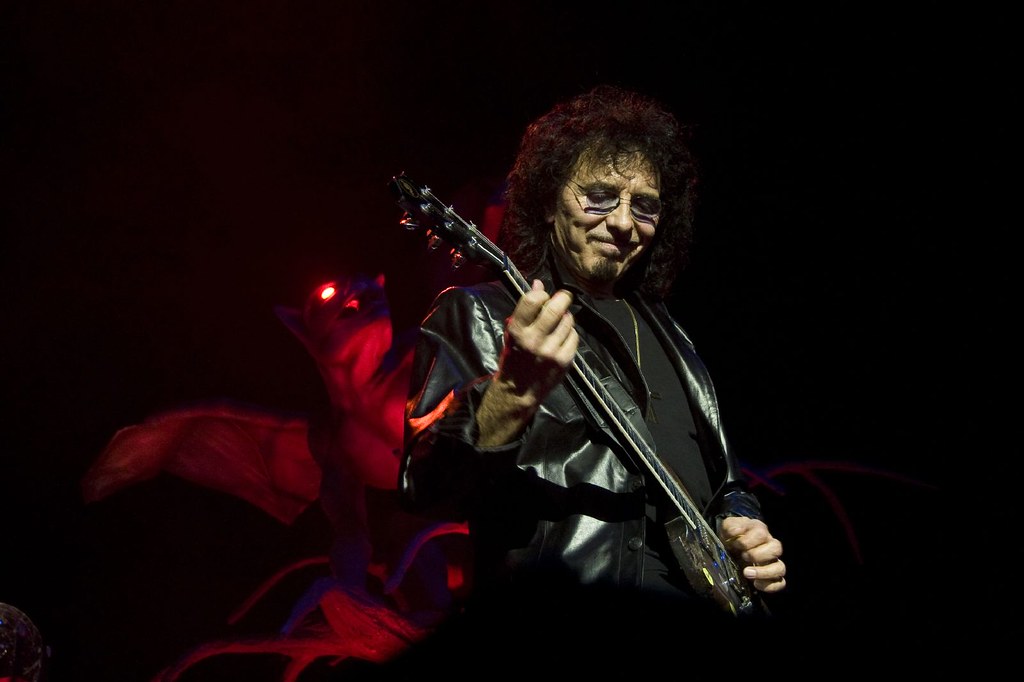 Credit: Arthur via Flickr
Black Sabbath has some of the most iconic riffs in music history, thanks to the four-and-a-half-fingered god, Iommi. He lost a tip in an industrial accident while working, but nothing about his playing comes up short. He wrote the headbanging, power-chord-filled riffs from Crazy Train, Paranoid, and Iron Man.
Steve Vai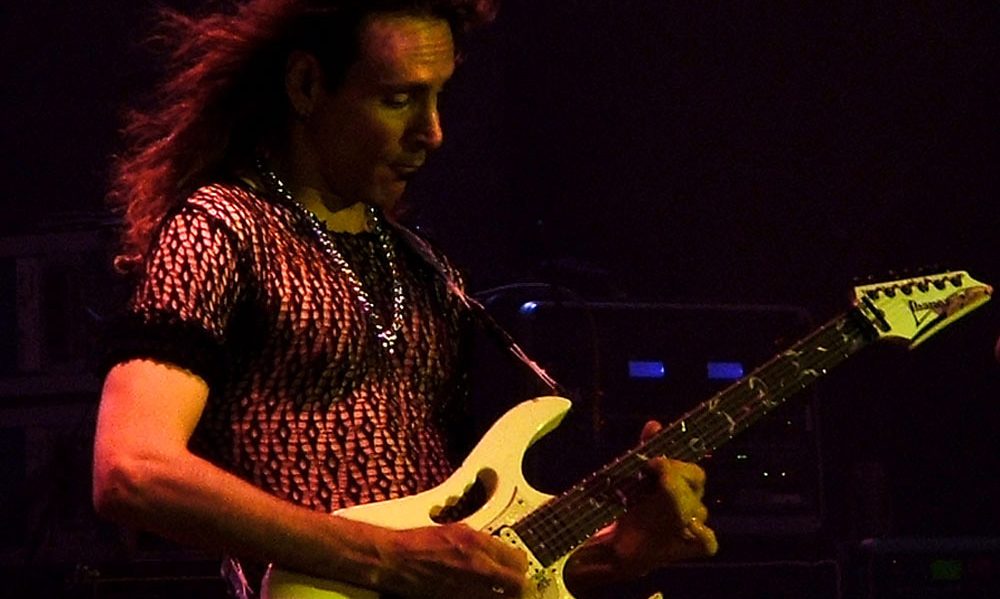 Credit: Vento di Grecale via Wikimedia Commons
A pupil of Satriani, Vai has emulated some of Satch's trademark style and taken it to phenomenal places. He's heavy on the whammy bar and writes licks and solos that hop through scales in a similarly flashy way, but his music stands apart from his mentor's. As do his guitar faces, which are some of the most severe yet seen.
Ritchie Blackmore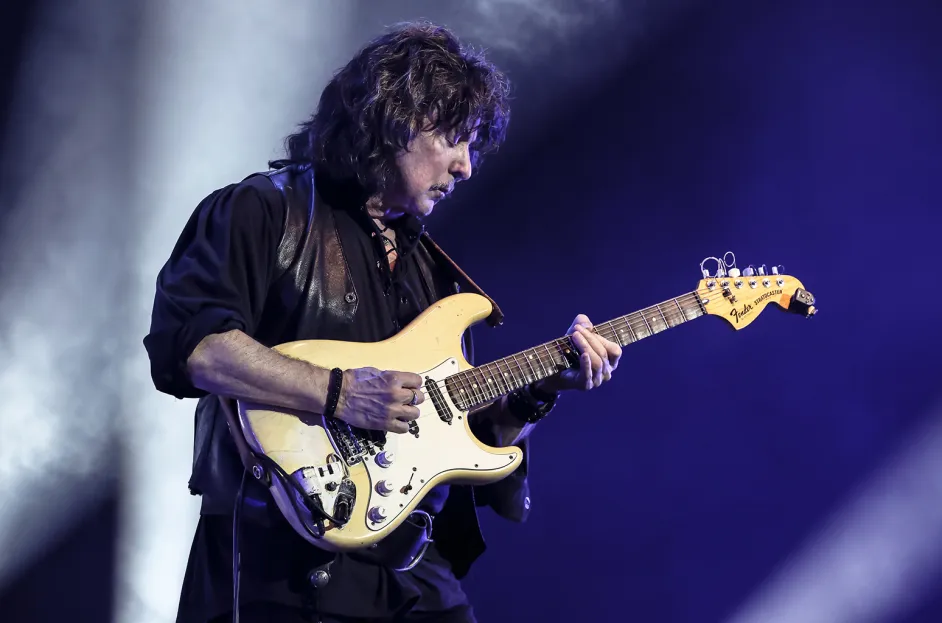 Credit: Christie Goodwin via Billboard
Blackmore gets credit for creating the foundational knowledge of guitar education. Smoke on the Water is the first riff 95% of guitarists learn, and Burn provides the same riff but with ten times the funk for the intermediate players. Deep Purple's back catalog extends beyond the hits, but the hits hit so hard!
Yngwie Malmsteen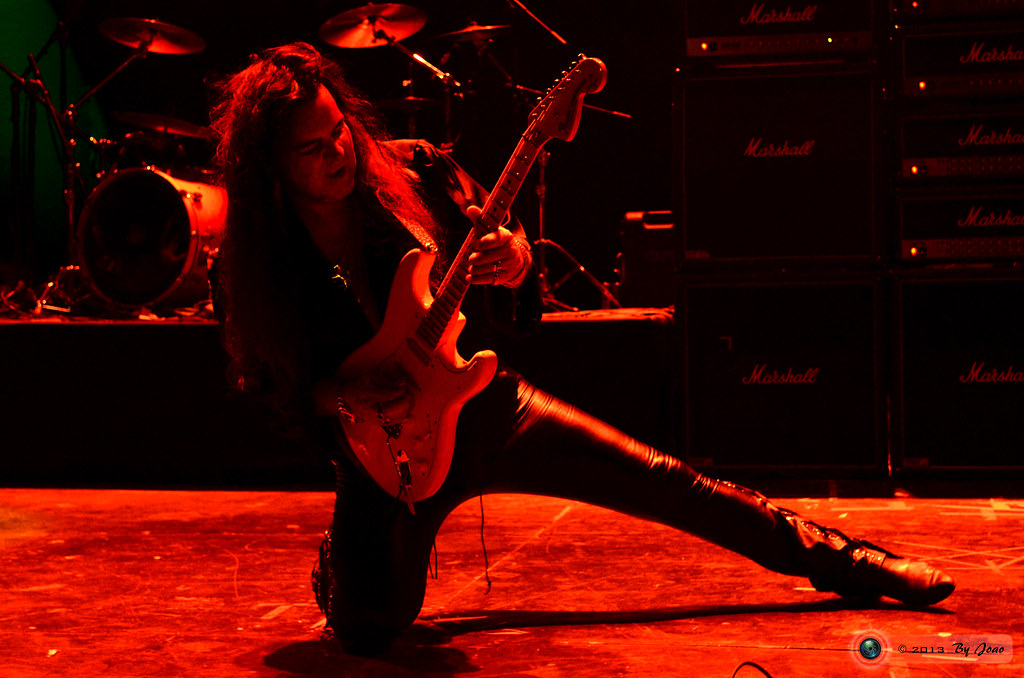 Credit: Joao Apablaza via Wikimedia Commons
Malmsteen is considered the greatest shredder of all time. Many believe he lacks the artistic palette to be considered a true legend, and even though his slower songs can be a snooze, his quite frankly ludicrous speed is something to behold. His neo-classical playing is instantly recognizable, with songs like Capricci Di Diablo ascending the Swede into Guitar Valhalla.
Jimi Hendrix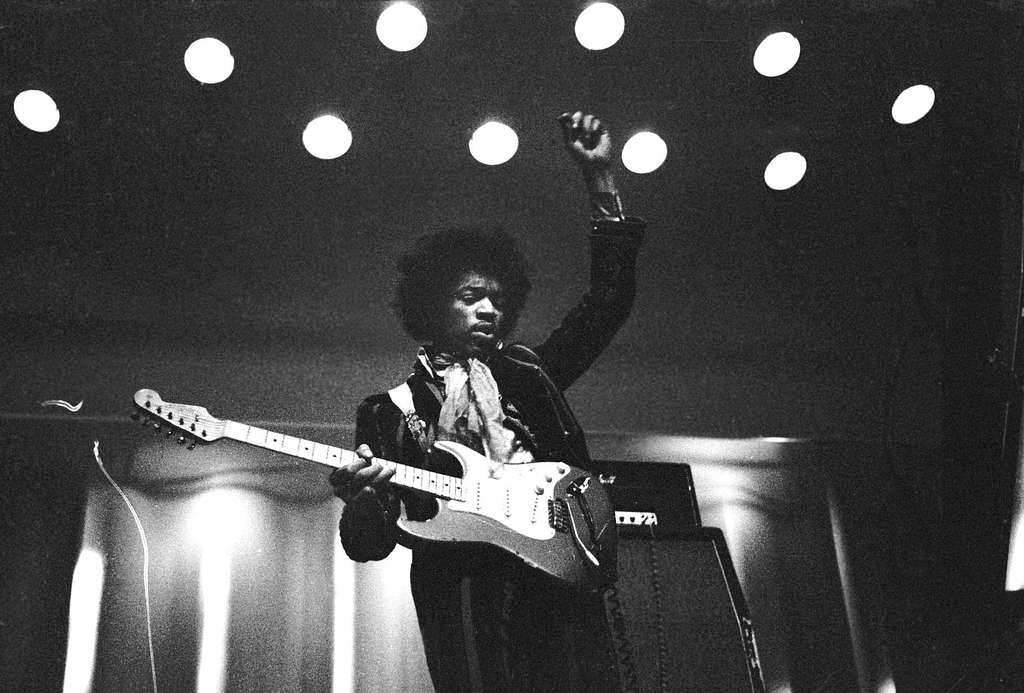 Credit: via PD
Despite a career lasting only three years, Jimi left a huge impression on music, the guitar, and pop culture. He's remembered as an exceptional jazz and blues fusion guitarist, who brought a true trademark style of playing to every track he touched. His discordant rendition of the Star Spangled Banner is a masterpiece of the instrument.
Angus Young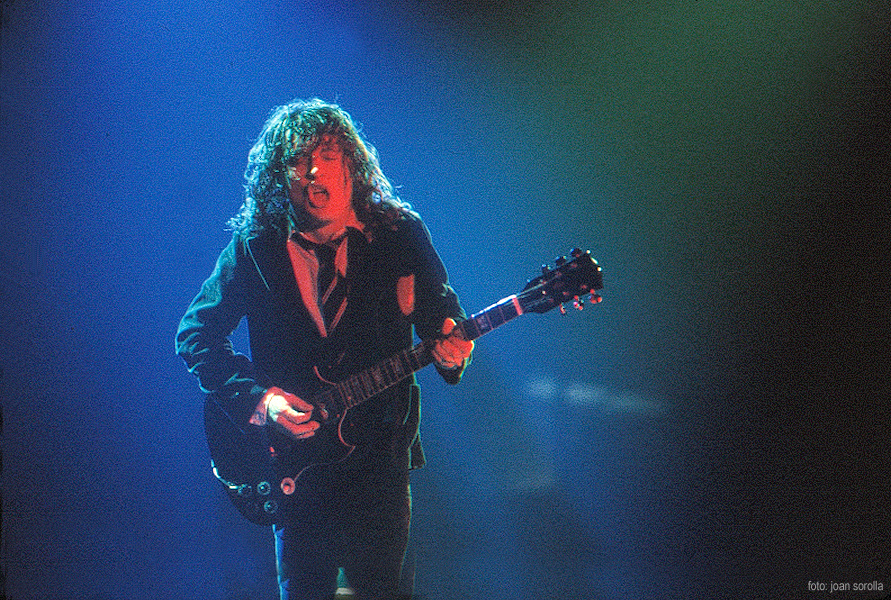 Credit: Joan Sorolla via Wikimedia Commons
Young is the only founding member of AC/DC still performing, with the rest either dead or retired. He was known for his energetic playing style, heavy and anthemic riffs, and the trademark schoolboy outfit. He struggled to pay attention in school, finding it difficult to sit still and do as he was told, which led to the hyperactive student-pensioner we have today.
Jimmy Page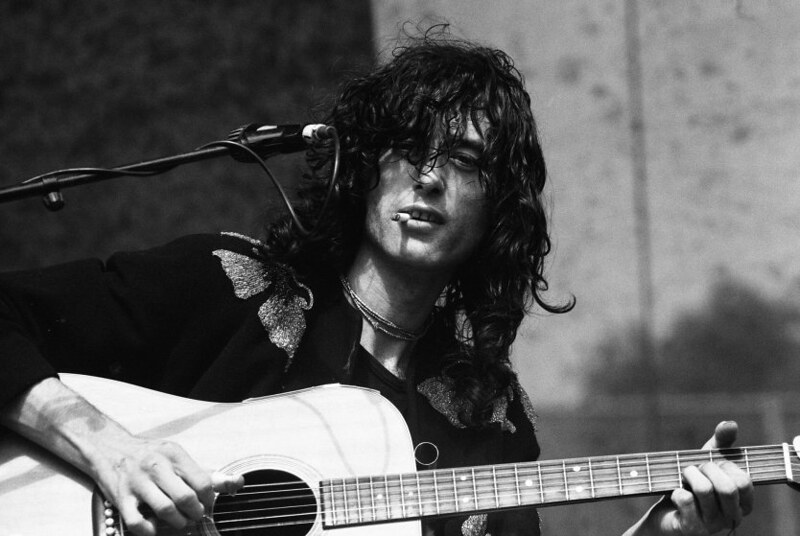 Credit: Susan Ackeridge via Flickr
Much of Jimmy's early career was spent in studios as a session musician, which gave him a varied set of skills and deep knowledge of recording and producing. This came in handy when his band, Led Zeppelin, became the most successful rock outfit of all time. Nobody this deep into the list needs a recommendation, just stick your favorite on as a treat.
Eddie Van Halen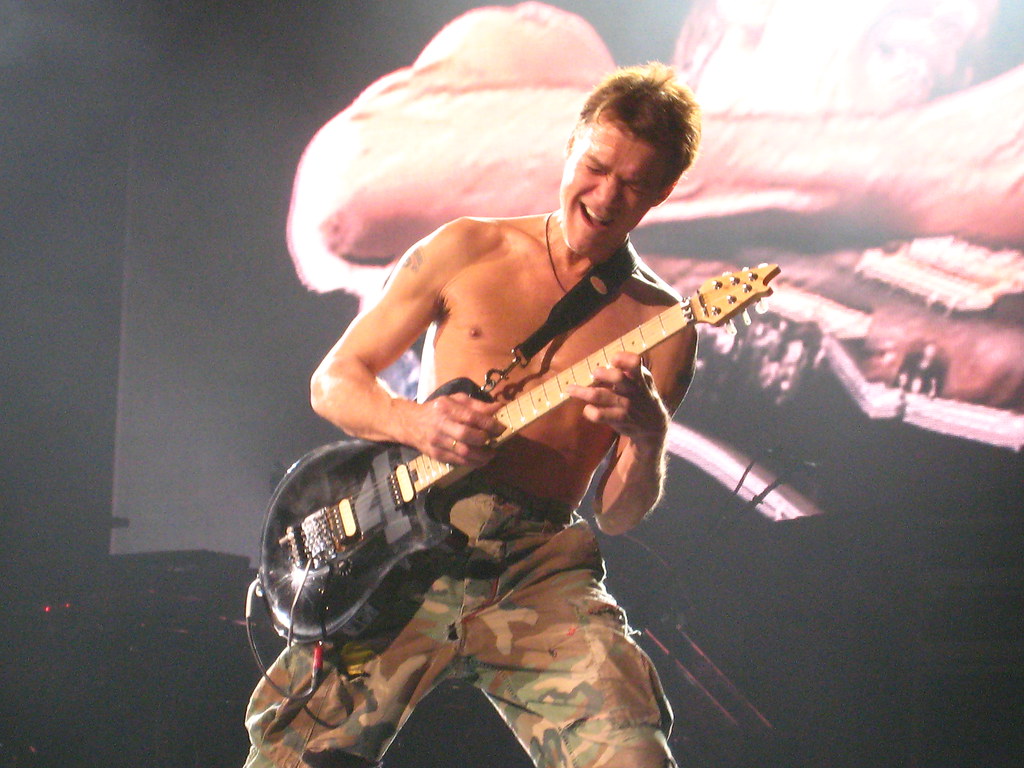 Credit: Anirudh Koul via Flickr
Van Halen's playing set the standard for a lot of 80s guitar solos. Blistering licks and bluesy tapping, huge bends, and going ham on the whammy bar. He also set the standard for hair, which is unrelated to his instrumental talents but equally as important to the brand. Check out his virtuoso solo piece Eruption, or Van Halen's Hot For Teacher.
Billy Gibbons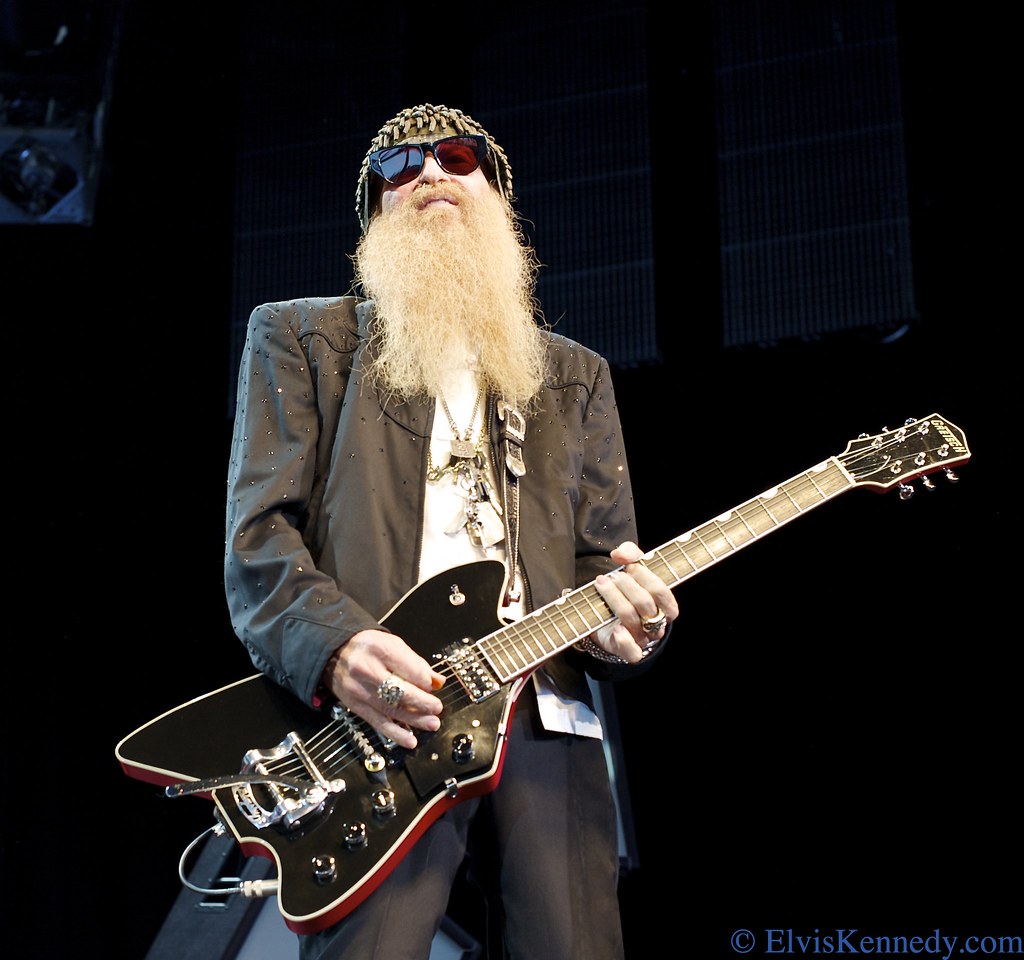 Credit: Elvis Kennedy via Flickr
Blues is a core element in the foundation of Rock n' Roll. Modern rock has moved away from these roots, but ZZ Top's Billy Gibbons is a folksy blues man through and through, wearing his classic influences on his sleeve as he flawlessly incorporates elements of country. Now in his 70s, he carries his axe like a man half his age.
Jeff Beck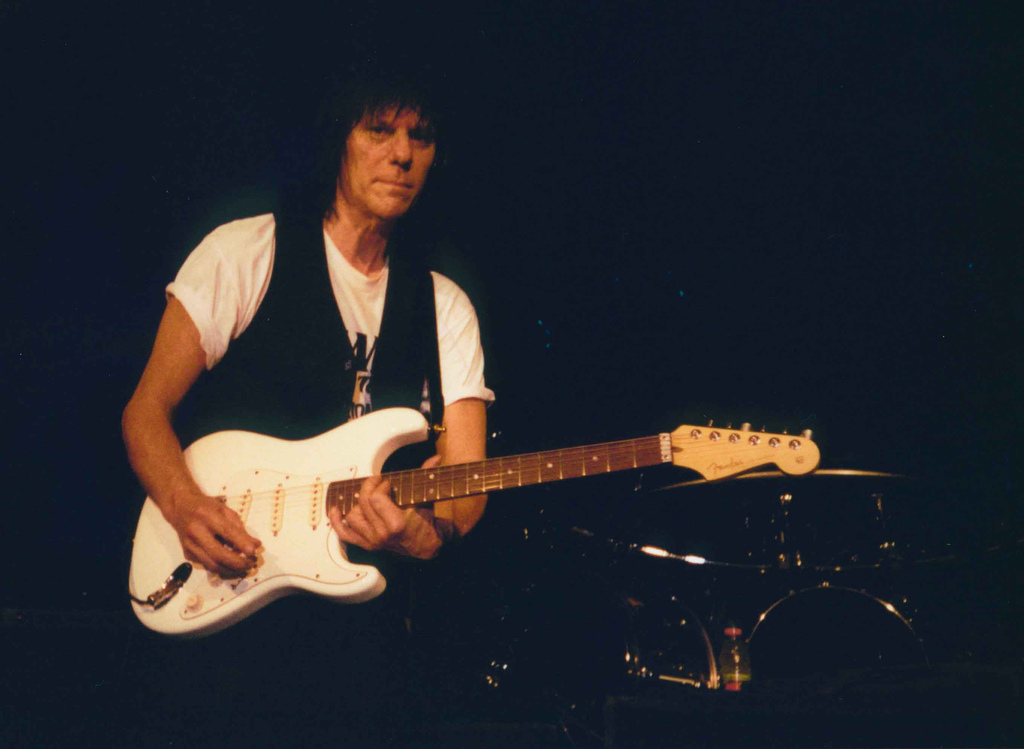 Credit: Matt Gibbons via Wikimedia Commons
Many incredible musicians came out of The Yardbirds, and Beck's fingerpicked, soulful melodies were some of his generation's finest. He sadly passed away in 2023, prompting touching tributes from the world's finest musicians and demonstrating just how well respected Beck's skills were. From his tone to his note choice, he was a true all-timer.
Mark Knopfler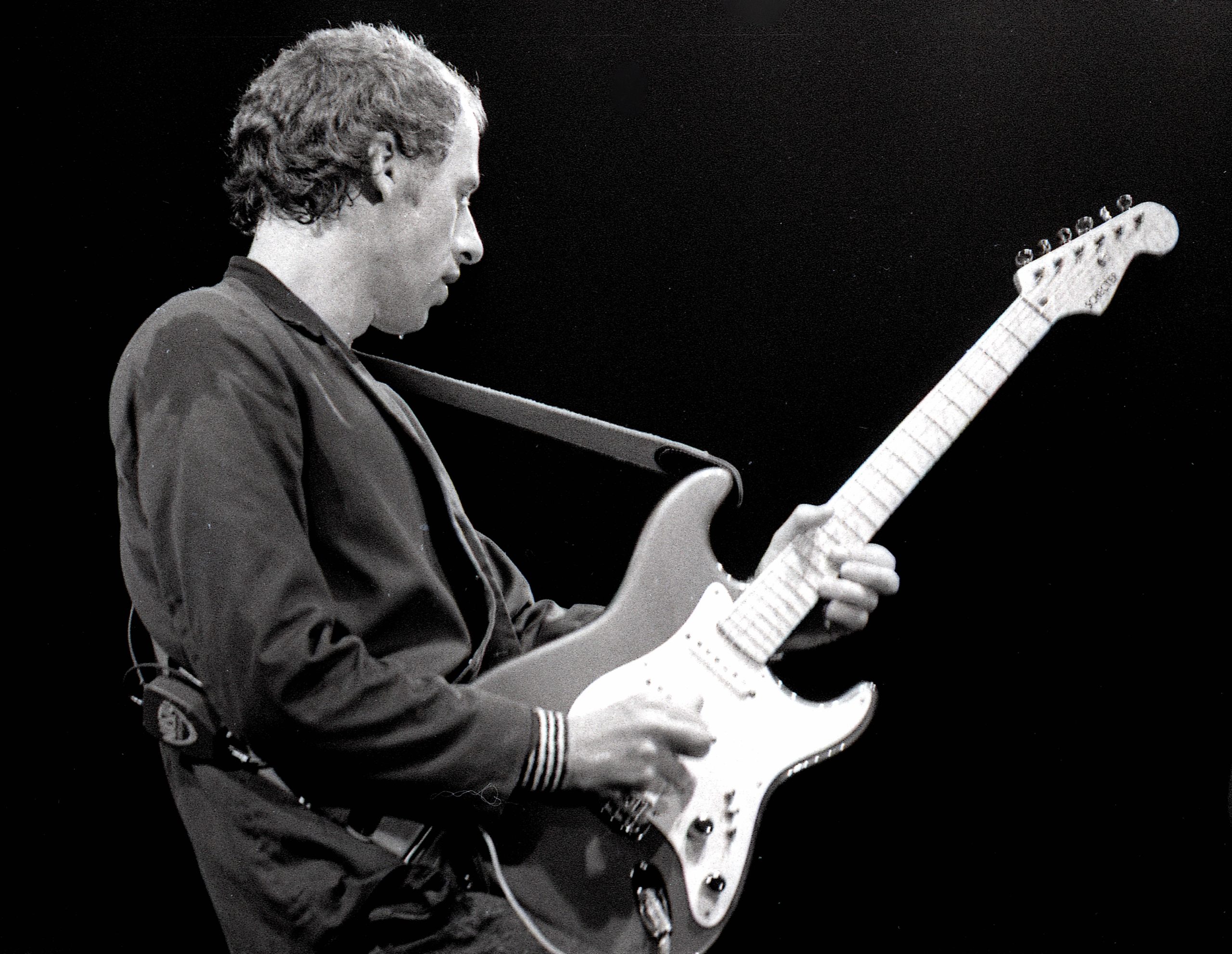 Credit: Victor Schiferli via Wikimedia Commons
Among the electric finger-stylers, Knopfler was known for his excellent control and unorthodox positioning. Many of the greats had idiosyncratic playing techniques, and the true greats turned them into a whole new style, including Dire Straits' Knopfler. Sultans of Swing is an obvious choice, but come on…
Joe Walsh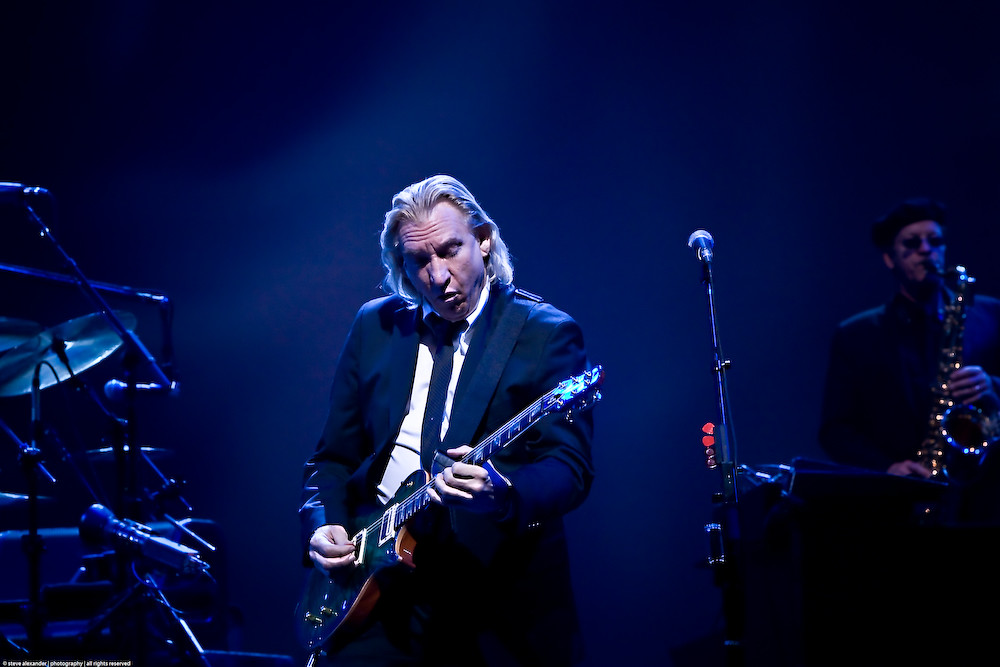 Credit: Steve Alexander via Flickr
Walsh was the second guitarist for the Eagles, joining the band after Bernie Leadon left due to conflict with his fellow founding members. Walsh needed no time to warm up and instantly brought a whole new sound to the classic rock outfit with his knowledge of effects, slide guitar, and impeccable rhythm. Riffs like Life In the Fast Lane still boggle the professionals.
Keith Richards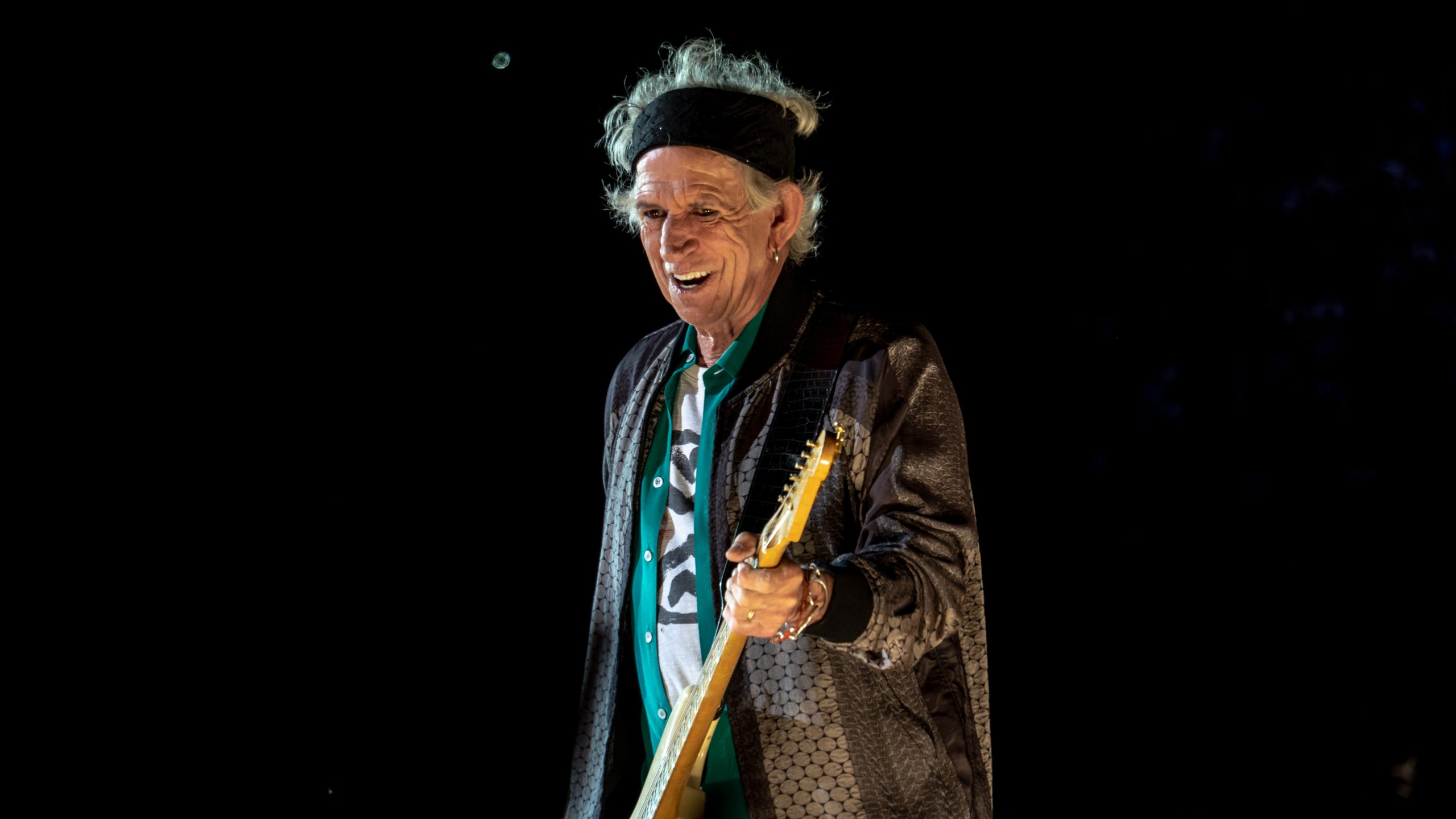 Credit: Raph_PH via Wikimedia Commons
The Rolling Stones' sound is still emulated to this day, but nobody can write a riff like Richards. He would experiment with alternate tunings, limit himself to a couple of strings, and fade between rhythm and lead with the grace and timing of a ballet dancer. He's the ultimate guitarist of the ultimate rock and roll band.
Pete Townshend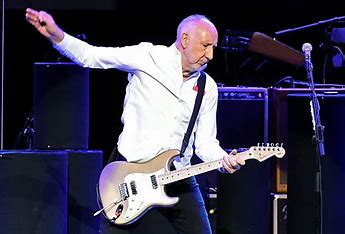 Credit: Ethan Miller via Getty Images
The 50s gave birth to the electric guitar, and by the 60s it had entered its rebellious teen phase. The screaming youth of the free-love decade were gripped by the hand and shown true musical excellence by The Who, with Townshend's whirlwind musical instincts at the helm. Pinball Wizard remains one of the 60s best tracks thanks to the bright, triumphant six-string sounds.
Alex Lifeson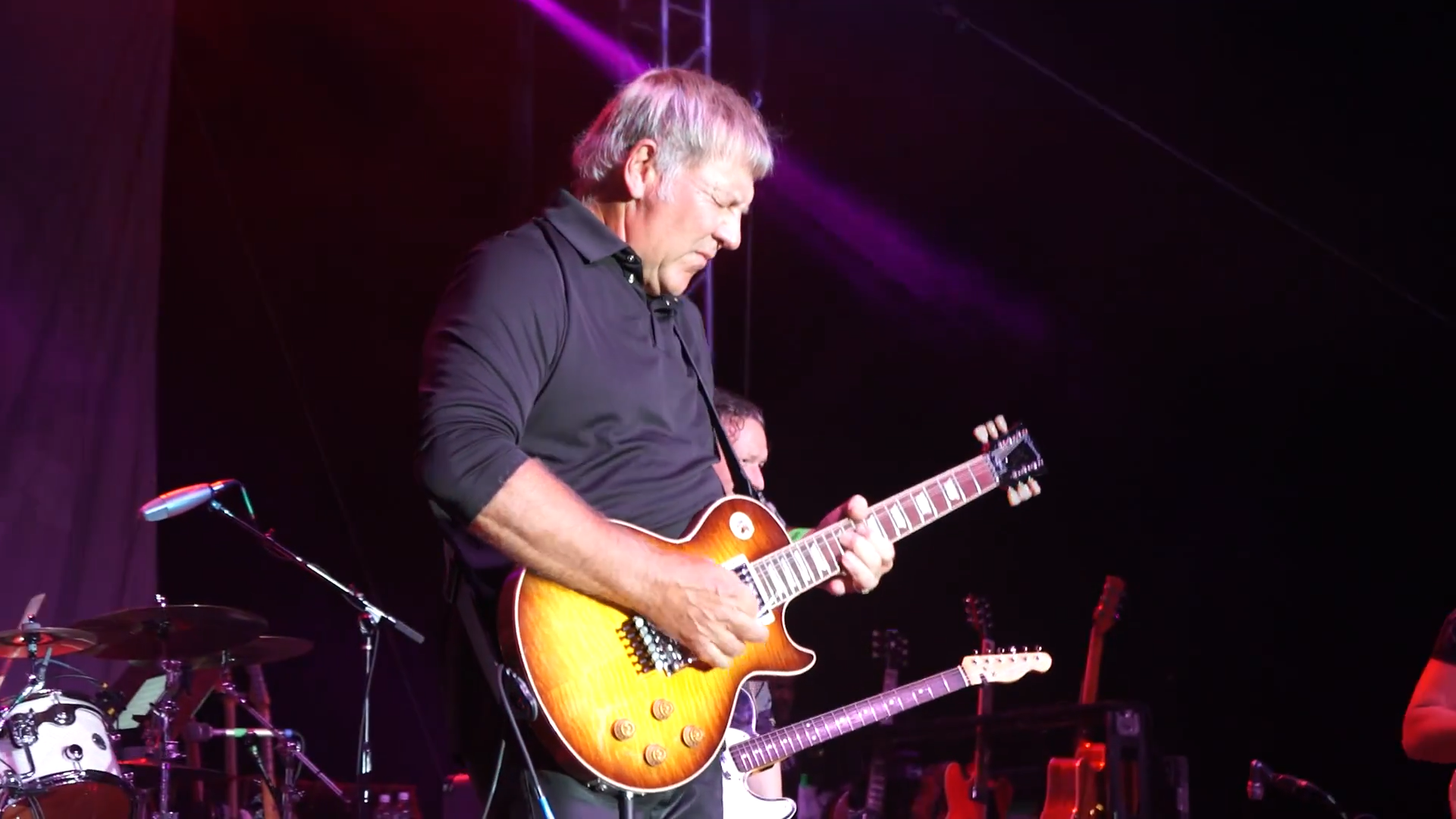 Credit: Karuna Tanahashi via Youtube
The Canadian prog rockers Rush are all practically gods on their given instruments, able to tackle intricate time signatures and subdivisions without skipping a beat. Liefson as a guitarist could play off Lee's basslines and Peart's drumming while keeping his entire body firmly in the pocket, which is the sign of a funky guy.
Frank Zappa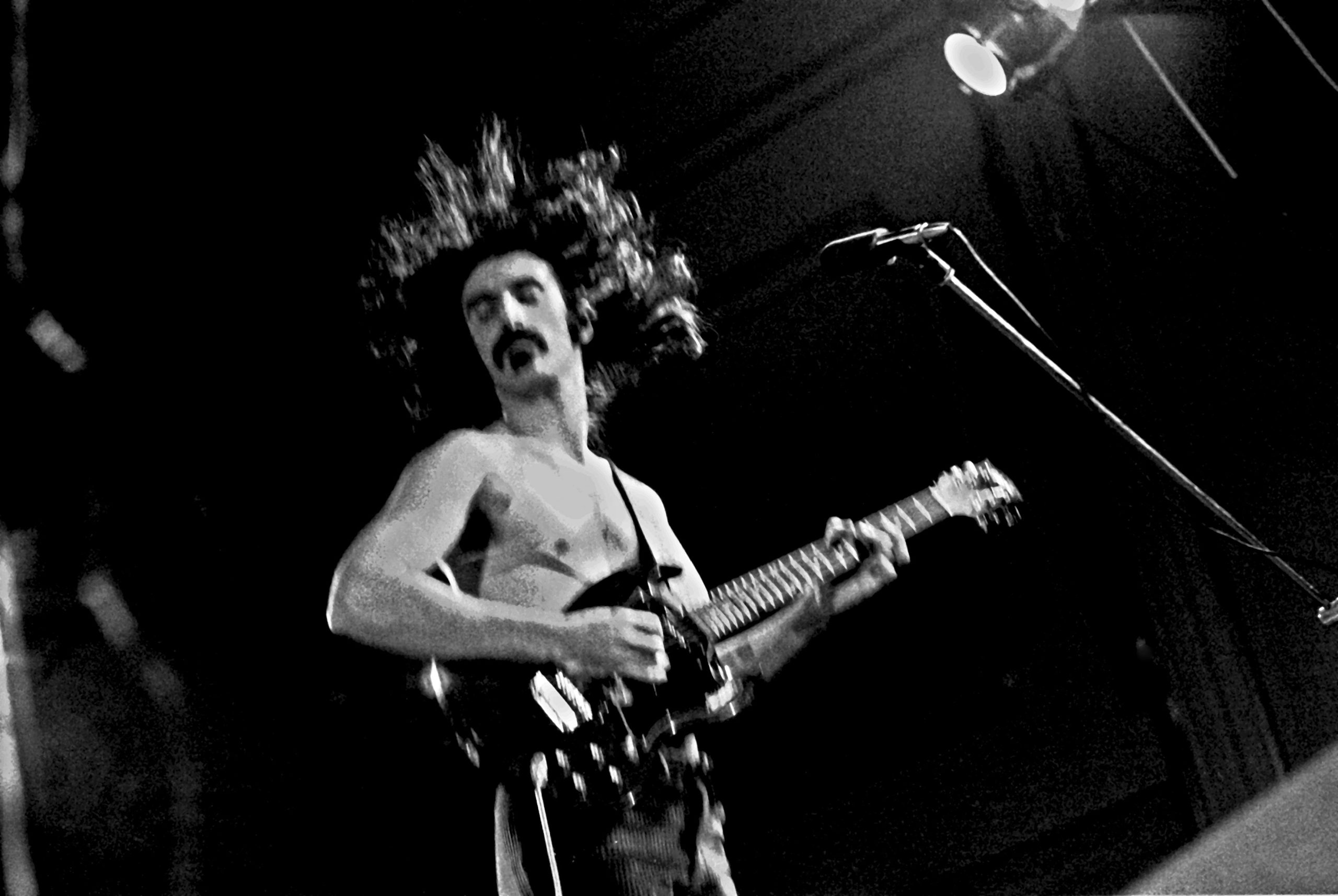 Credit: Heinrich Klaffs via Wikimedia Commons
Zappa's mad-cap composing is driven by a savant-level understanding of music. That can make some of his work almost grating, but you have to trust the process and respect where he's taking you with his compositions. He deserves credit for packaging these ideas in such a way that made avant-garde composition somehow cool again.
Cory Wong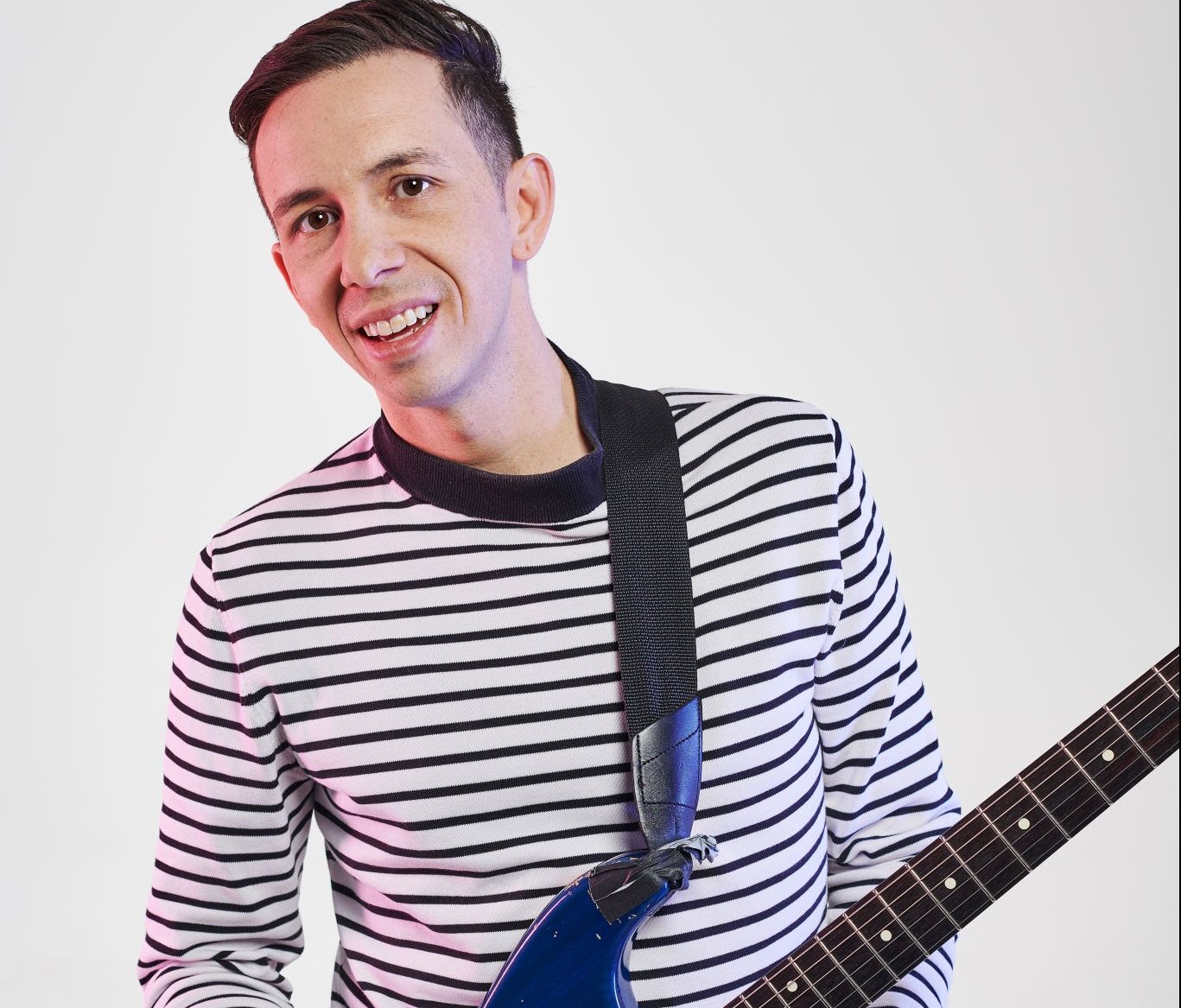 Credit: Ollie Curtis via Getty Images
While not as established as some of the industry giants found in this list, Wong undoubtedly has the best right hand in the game. It's a metronome, an unstoppable force, and an immovable object all in one, which lets him and his equally talented ensemble write the best contemporary Jazz on the market. Check out Assassin and Lilypad, you're welcome.
Eric Johnson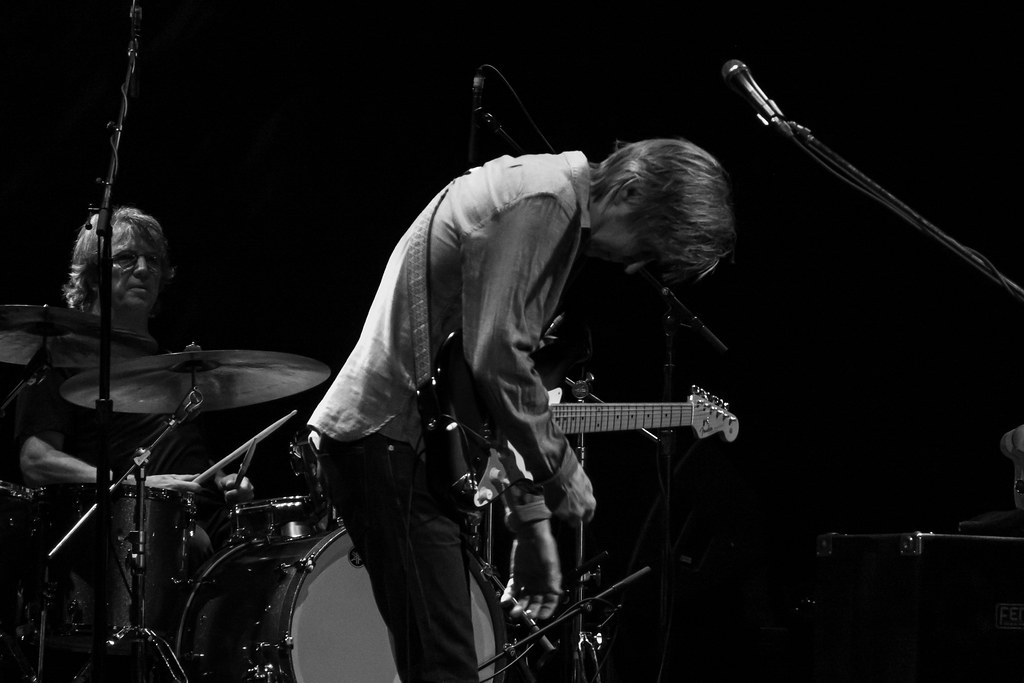 Credit: Monaghan via Flickr
Born into a musical family, Johnson has several instruments under his belt and some of the most decadent guitar solos of all time. Cliffs of Dover is a clear stand-out as a four-minute blaze of blistering six-string glory, but his soft relaunch as part of the alternating guitarist-based band G3 shows what 'back with a vengeance' truly means.
Lindsay Buckingham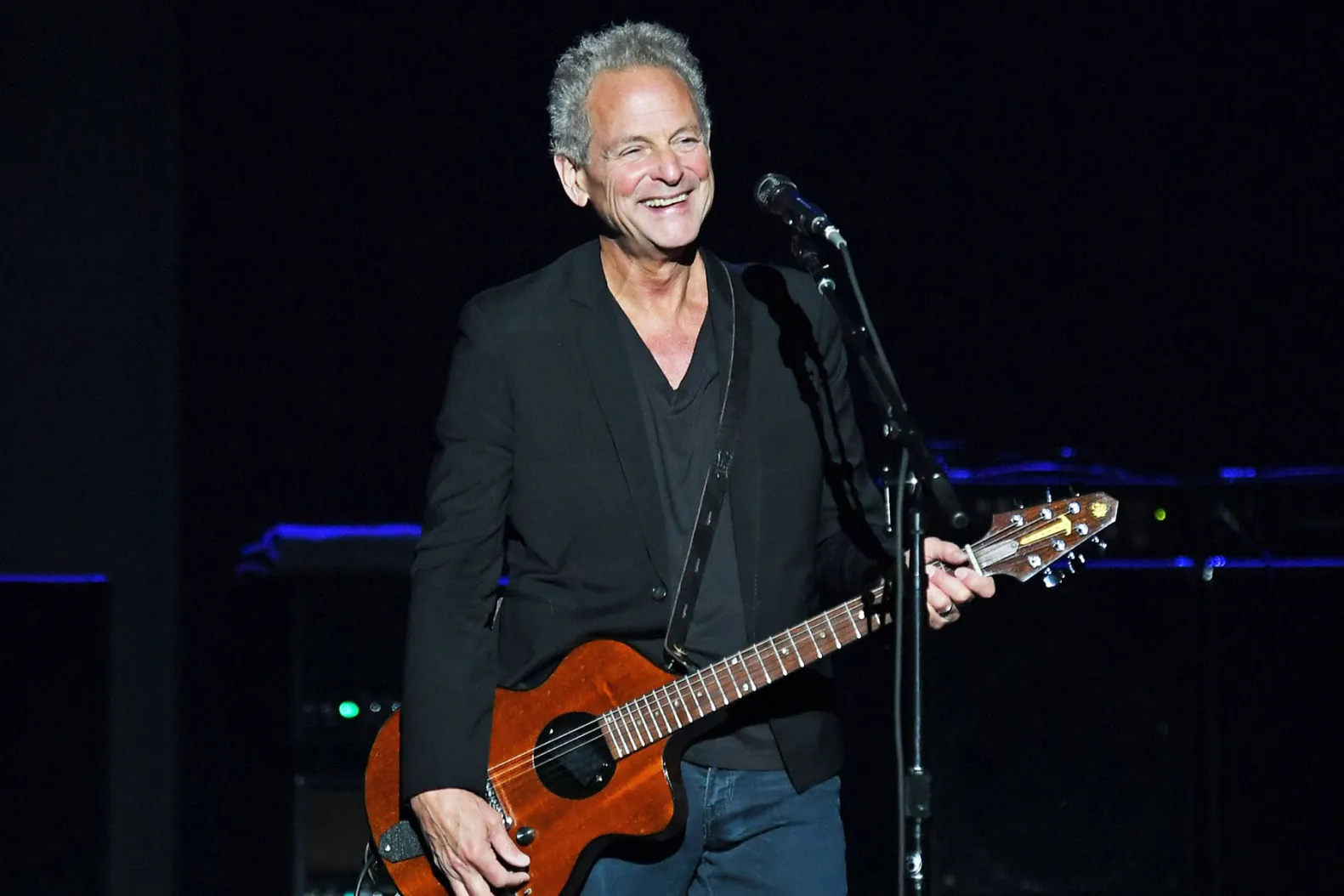 Credit: Larry Marano via Shutterstock
Buckingham joined Fleetwood Mac pretty late in their career, being their fourth and by far most successful guitarist. The band's first project with Buck was The White Album, and the second was Rumours. That's all that needs to be said, he saved rock and indeed music in general, and for this, we all owe him a debt.
Kirk Hammett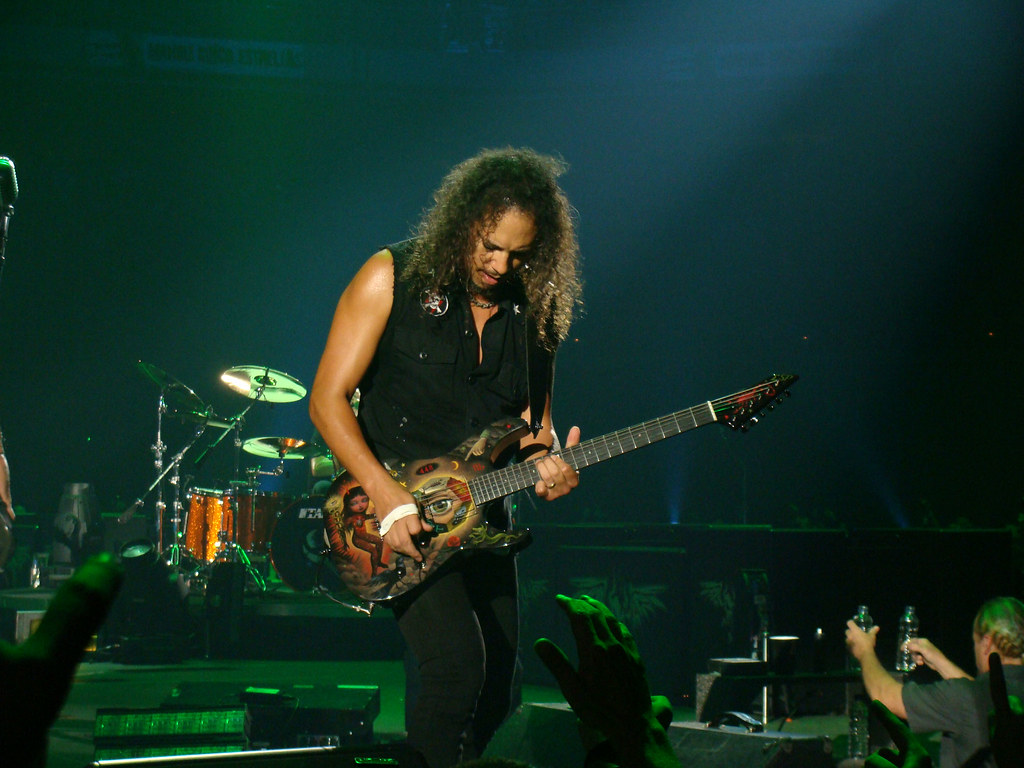 Credit: Alberto Cabello via Flickr
Most Metallica tracks have solos, and a lot of them have made it into numerous GOAT lists. The frantic tapping and emotional wailing in One is certainly near the top of Hammett's crowning achievements, as is near every track from Master of Puppets. His collection of signature ESP guitars also deserves a shout-out for being stupidly cool.
Adrian Belew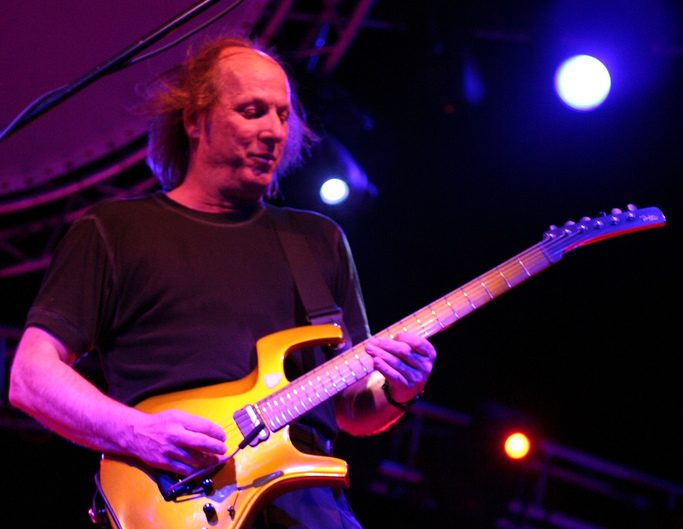 Belew is a true genius who sadly flies below the radar in discussing the modern-day greats. He got his start in King Crimson, before moving on to session and touring work with the likes of David Bowie, Frank Zappa, and Talking Heads. He's as versatile as a musician could ever wish to be, utterly unconfined by tradition.
B.B King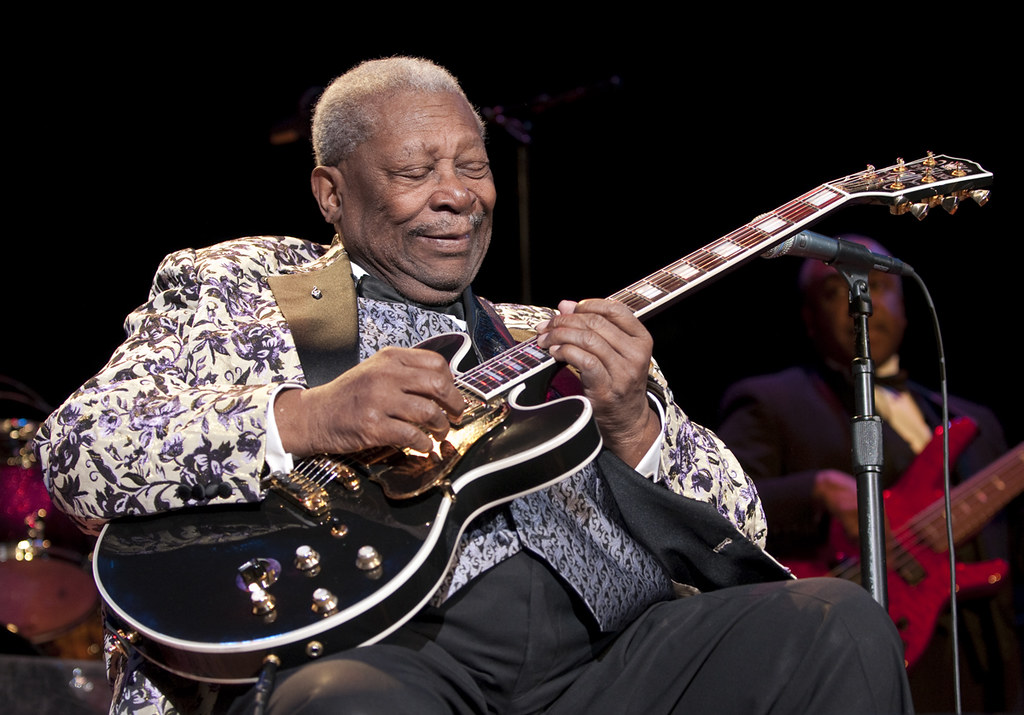 Credit: Eyellgeteven via Flickr
King's soulful pizzicato plucking has had eyes tearing and feet tapping since the 50s. His style mixed perfectly pitched bends and percussive elements with his picking hand to create guitar music that sounds as dense and intricate as an orchestra. His voice was nothing to sneeze at either, filled with a gravelly depth and powerful projection.
Eric Gales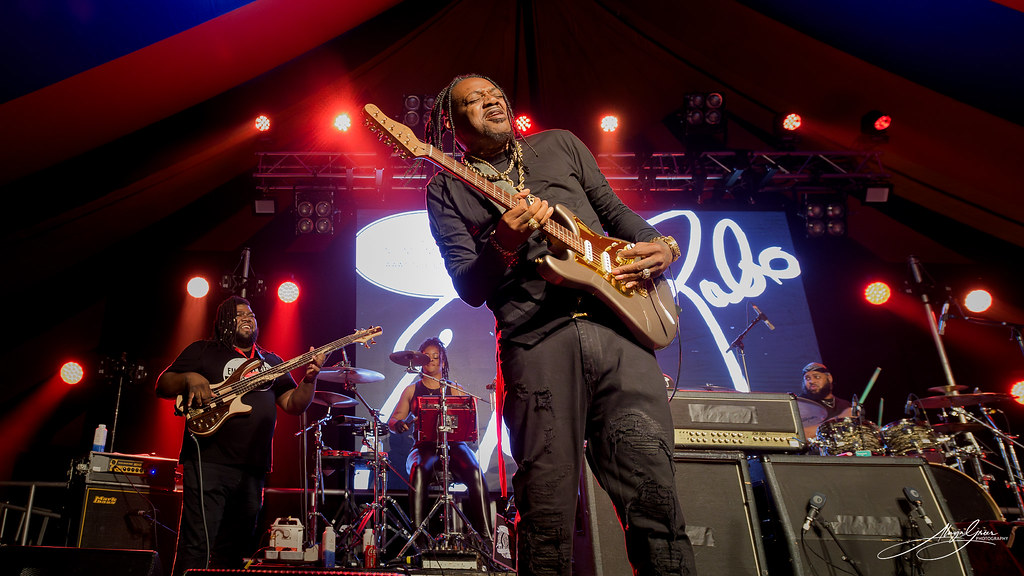 Credit: Alwyn Greer via Flickr
Gales reached virtuosity at an early age and spent the rest of his life doing a victory lap in elaborate style. He's widely considered one of the greatest living soul and blues players alive, with a deep bag of tricks he can effortlessly work into solos. Check out his live performance of Cory Wong's Meditation, and have your lighter ready.
Django Reinhardt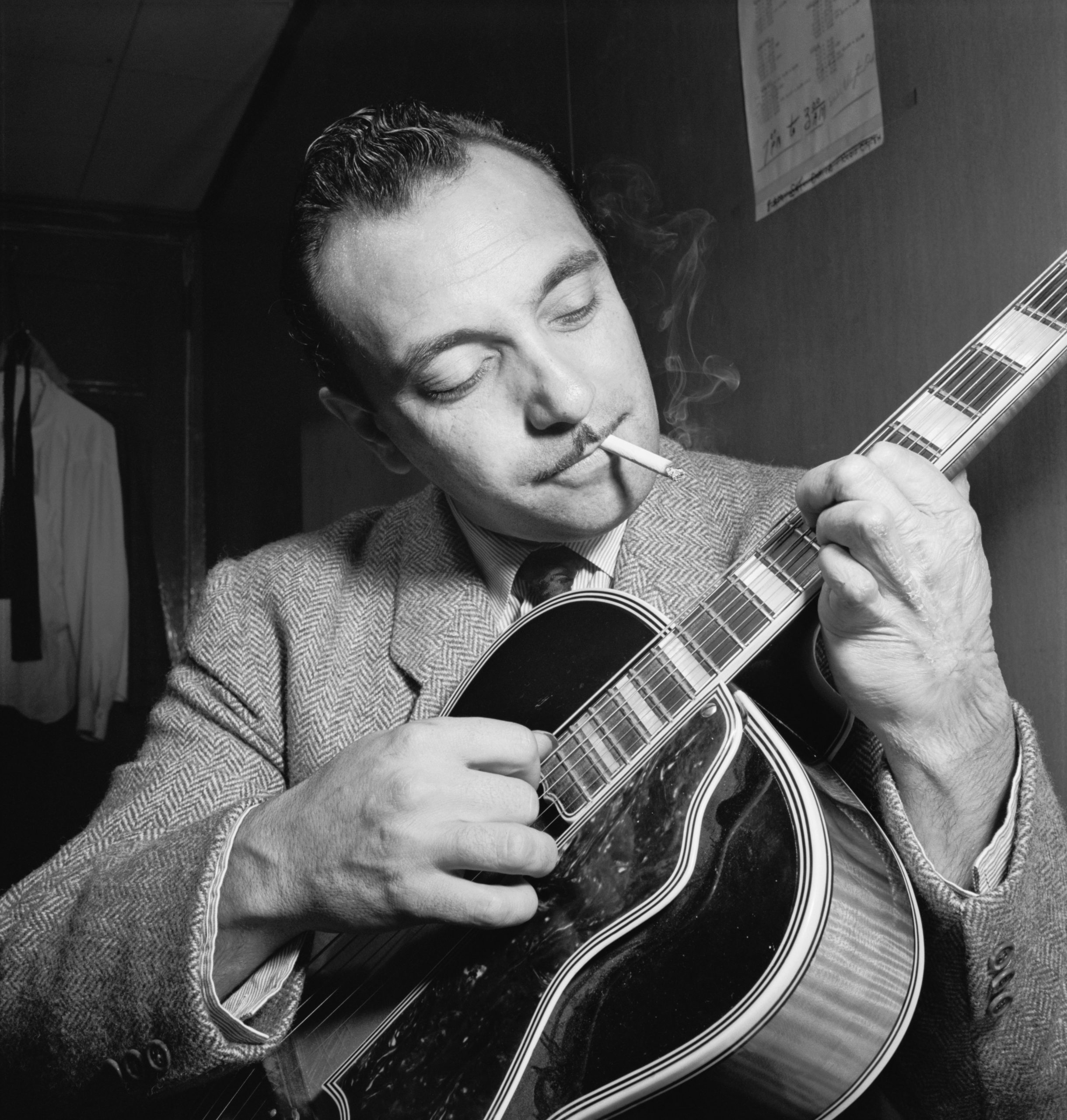 This French-Belgian Roma was a pioneer of "gypsy jazz", a high-energy style of playing that used the guitar to fill the space of several missing instruments. Reinhardt's work is full of joyful polka, swing, and jazz solos, with complex fingering and mind-bending chord progressions. The only thing flashier than his playing was his name.
Dick Dale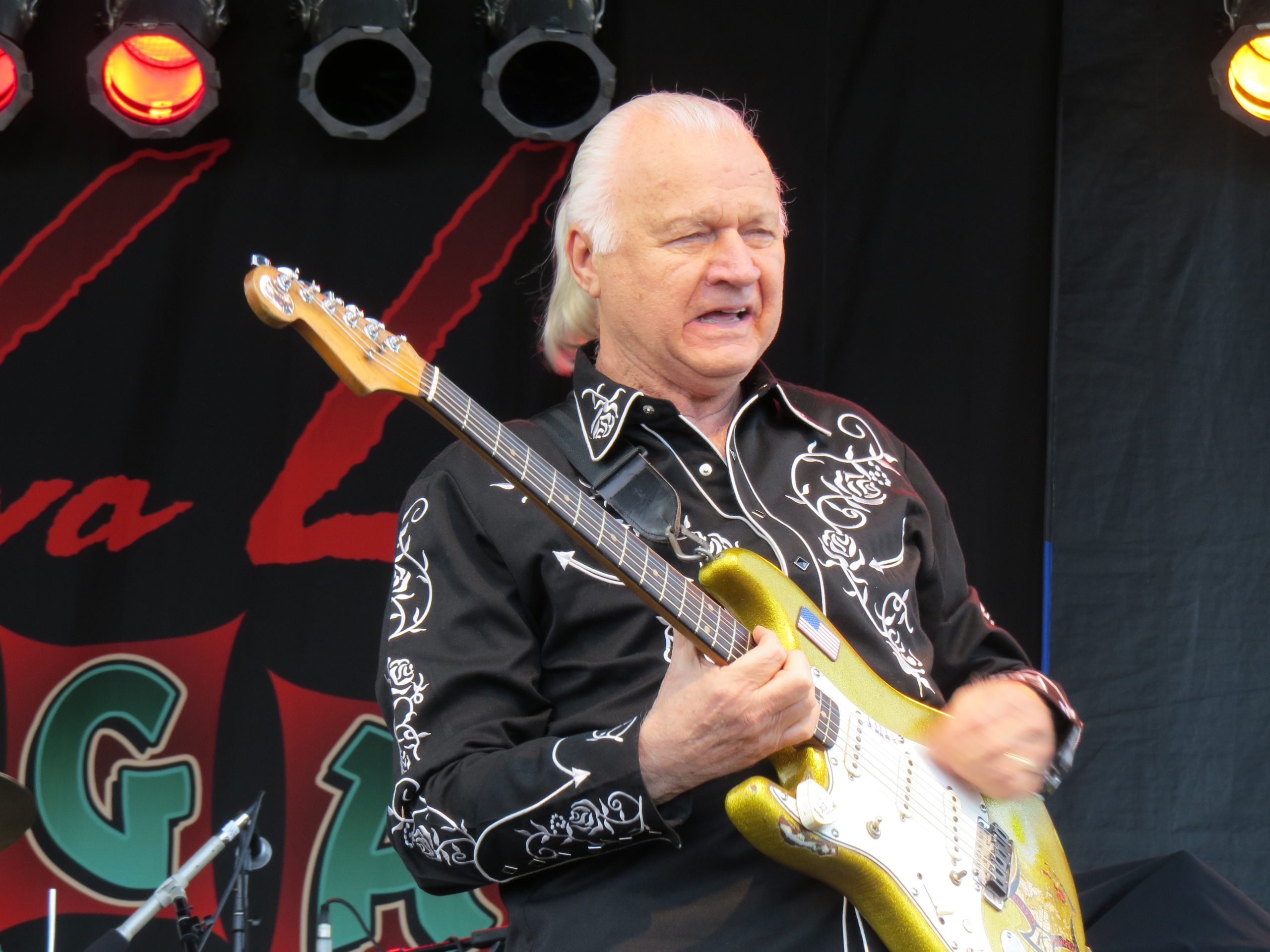 Credit: xrayspx via Flickr
You might think surf guitar is a limited genre, but Dick Dale kept his licks as fresh as the salty sea of California. Despite being from Quincy, Massachusetts, Dale created the signature coast style that most artists only dabble in, and tracks like Riders on the Sky prove he perfected it. Rock on, dude.
Junior Marvin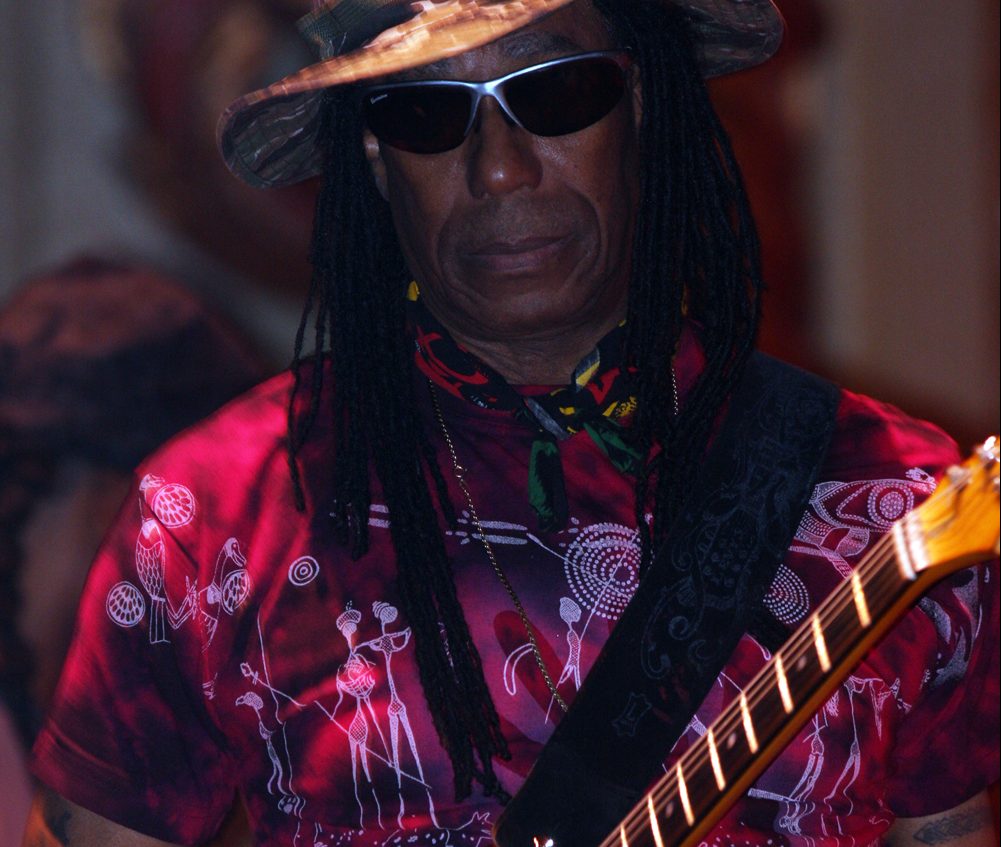 Credit: Eva Rinaldi via Wikimedia Commons
Marvin's most famous work came from his collaboration with Bob Marley and The Waivers, with reggae inspiring most of his work. He worked on the critically acclaimed album Exodus and formed Hanson (that's Hanson the Brit-Pop band, not Hanson the Mmm-bop band). Marvin is as smooth as they come.
Albert Lee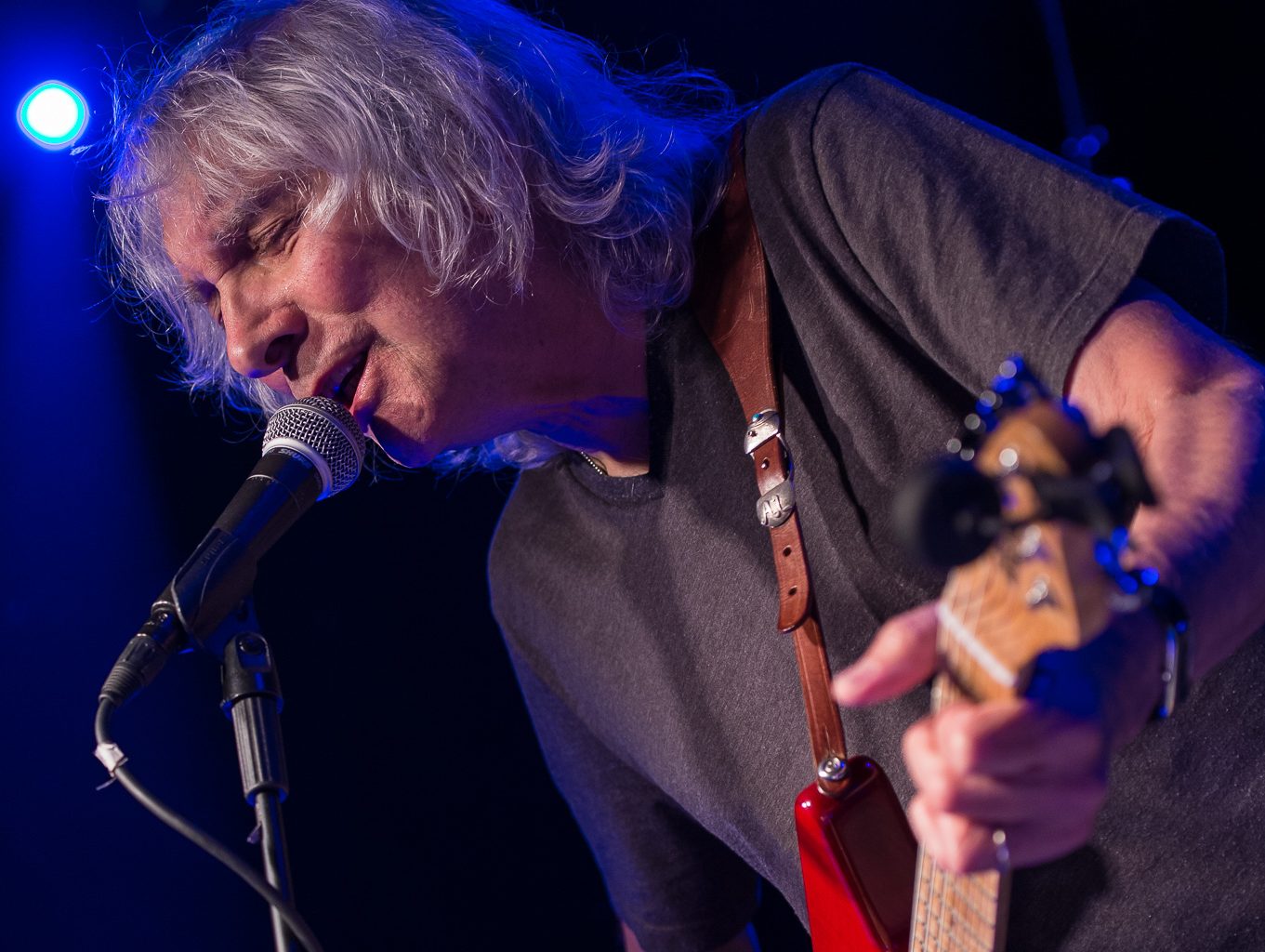 Credit: Stefan Brending via YouTube
Lee has tackled several different genres throughout his life and career and practically set the benchmark while doing so. He came out of the 70's British rock scene, with a signature blend of fingerpicked funk and bright cheery solos. He played in The Crickets, and would later lend his talents to the Everly Brothers' reunion band.
Robert White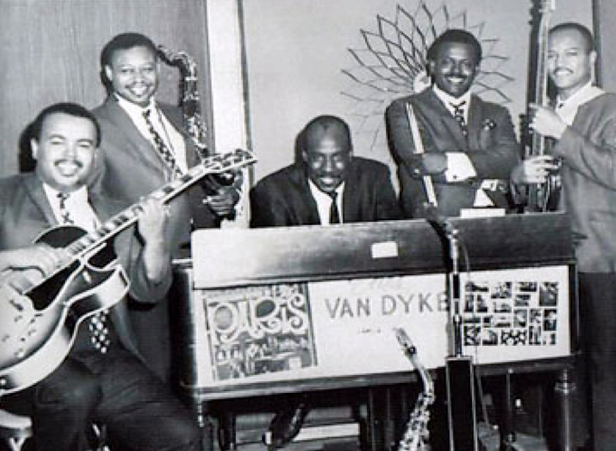 White sat in for session work with artists like the Beatles, the Rolling Stones, and The Supremes. He was a part of Motown Records' in-house band, and fluent in everything from jazz and rock to R&B, and of course his signature funk. He was a master of expression and tempo, living in the pocket and leaving room for his bandmates to snuggle up.
John Petrucci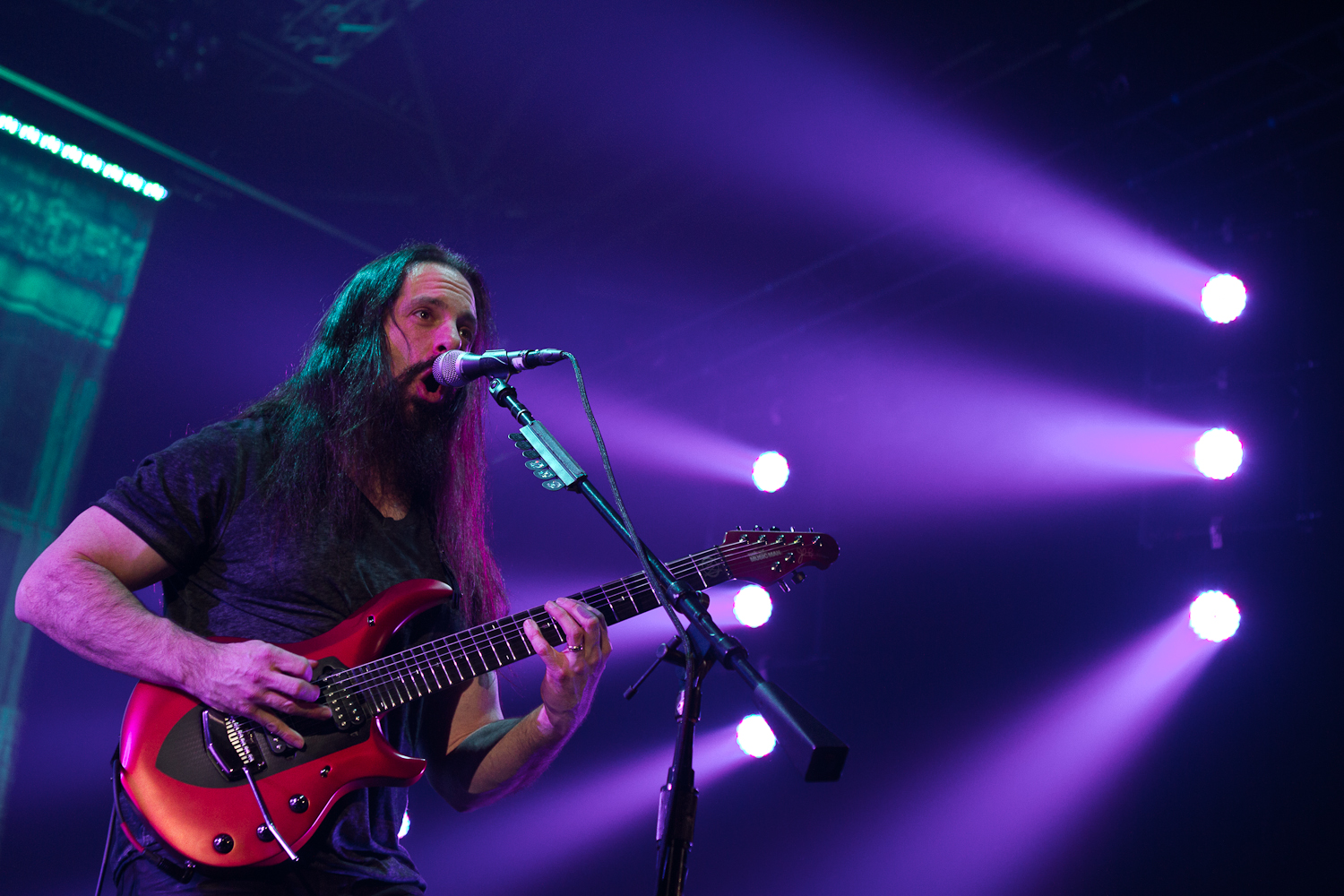 Credit: Markus Hillgaertner via Flickr
Dream Theatre isn't everybody's cup of coffee; you have to be on board with a prog-metal spin on every genre under the sun. Petrucci was the main creative force and guitarist responsible for the expressionist, surreal guitar riffs, and licks that populate their music. His bluesy musings on Line in the Sand are a particular stand out.
Synyster Gates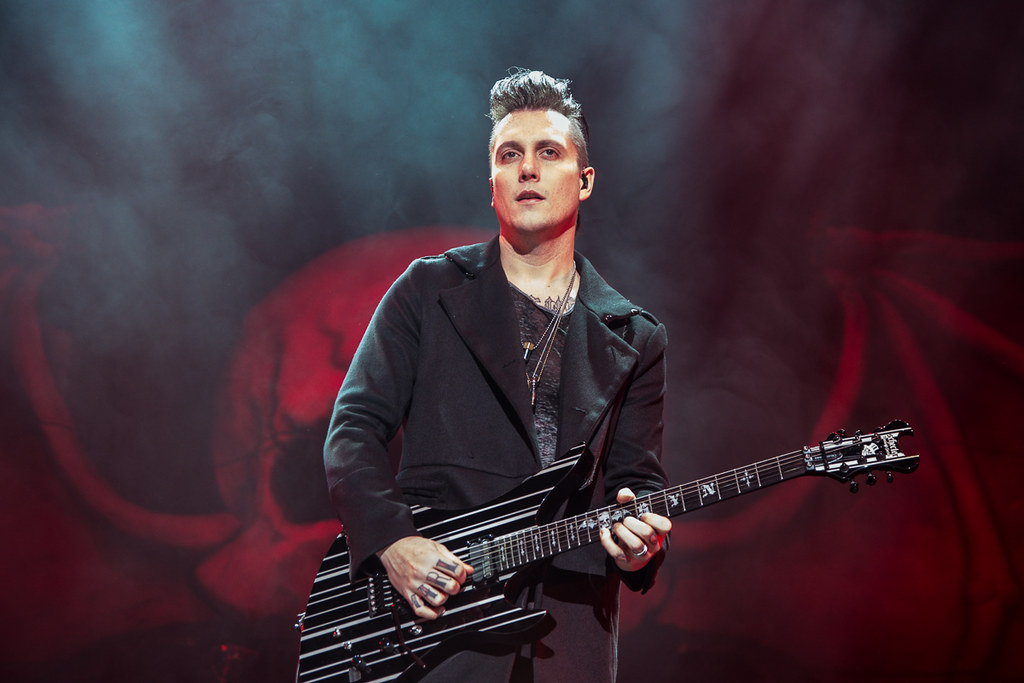 Credit: Víctor Roces via Flickr
Born Brian Haner Jr, Gates grew up inspired by his father's playing. His dad was an accomplished studio musician and incredible flamenco and gypsy jazz guitarist, which influenced his insane soloing in Avenged Sevenfold. The entirety of The Stage is worth a listen for his diversity, creativity, and raw energetic talent.
Sister Rosetta Tharpe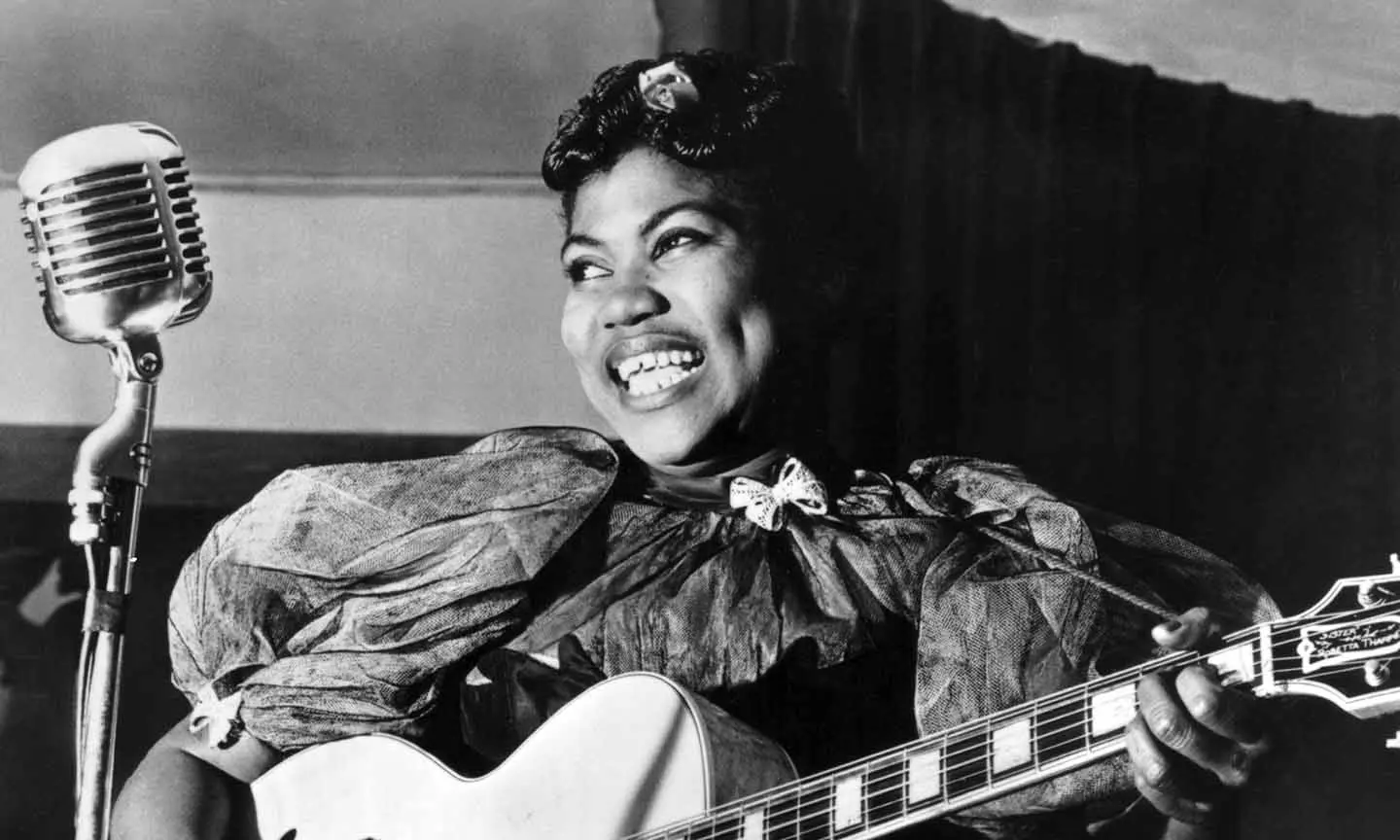 Credit: Michael Ochs via Getty Images
The finest SG player in all of Kansas, or anywhere else for that matter, Tharpe created those distorted, harmonious pluck and strum rhythms much of the blues are known for. Her finest works range from glorious gospel like Down By The Riverside, to heart-warming, clean-acoustic soul ballads like Peace in the Valley.
Chuck Berry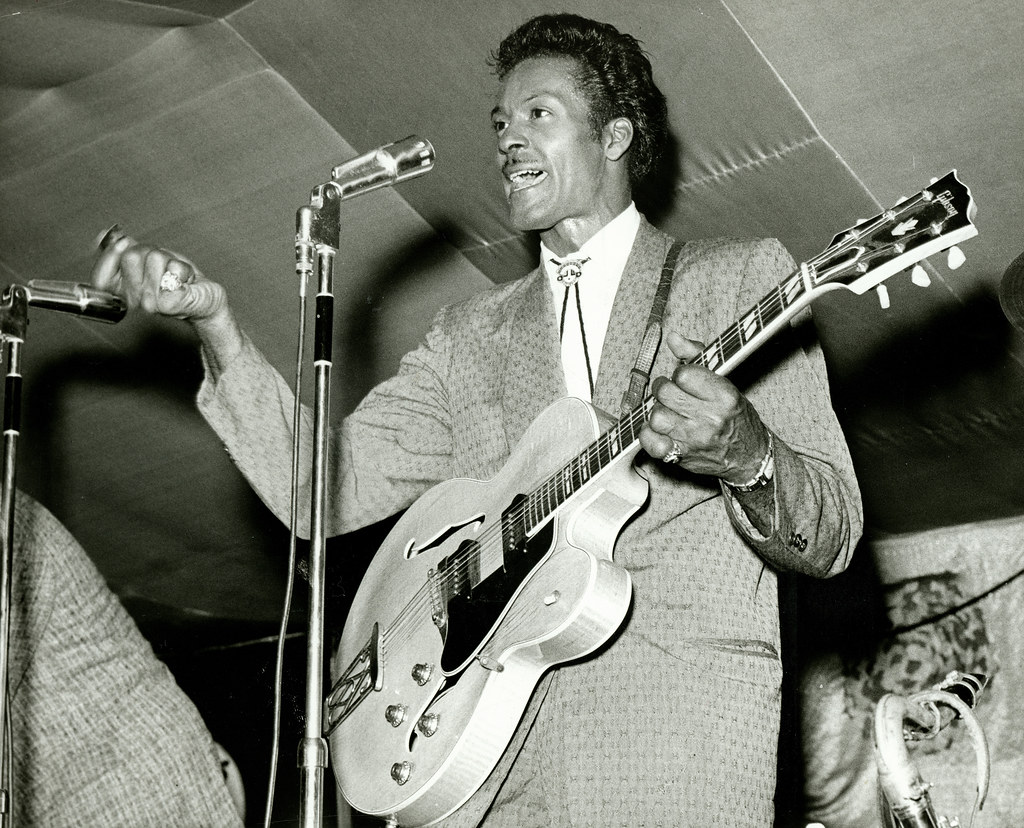 Credit: Missouri Historical Society via Flickr
Berry's influence can be felt in iconic riffs across rock music dating back to the 50s, as he pioneered much of the genre sound across his career. He was born to a middle-class St. Louisville family in 1926 and pursued guitar, performance, and fame from a young age. Johnny B. Goode is so famous they even sent the song to space on both Voyager missions.
Eddie Hazel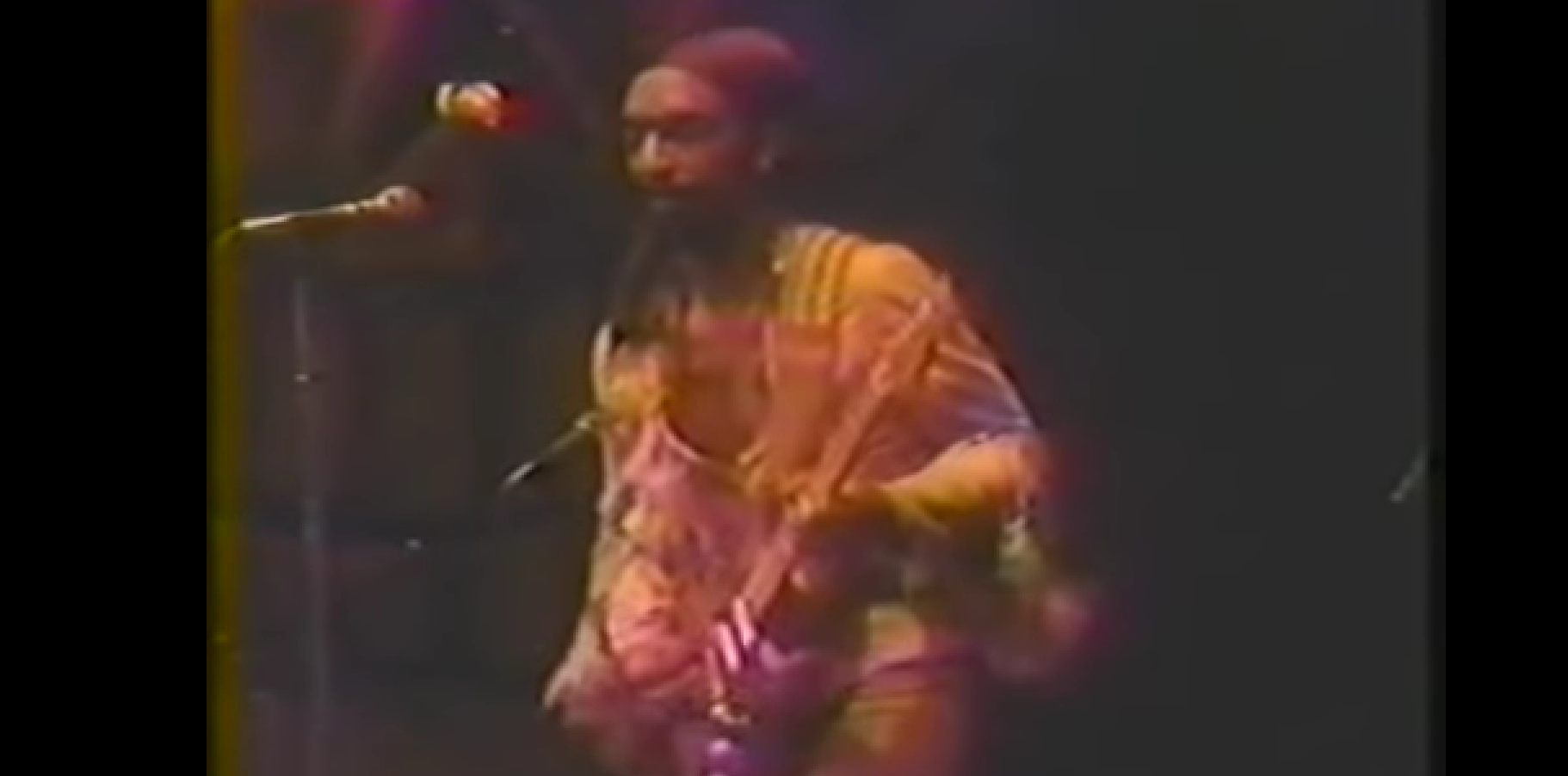 Credit: 898106 via YouTube
Parliament Funkadelic is arguably the most successful funk band of all time, creating the genre-defying staple Bring The Funk and tripped out odyssey Maggot Brain. Hazel loved heavy distortion, reverb, and wah, creating enormous-sounding licks with nothing but a guitar and some space. On the beat or with absolutely none, Hazel shone.
Big Jim Sullivan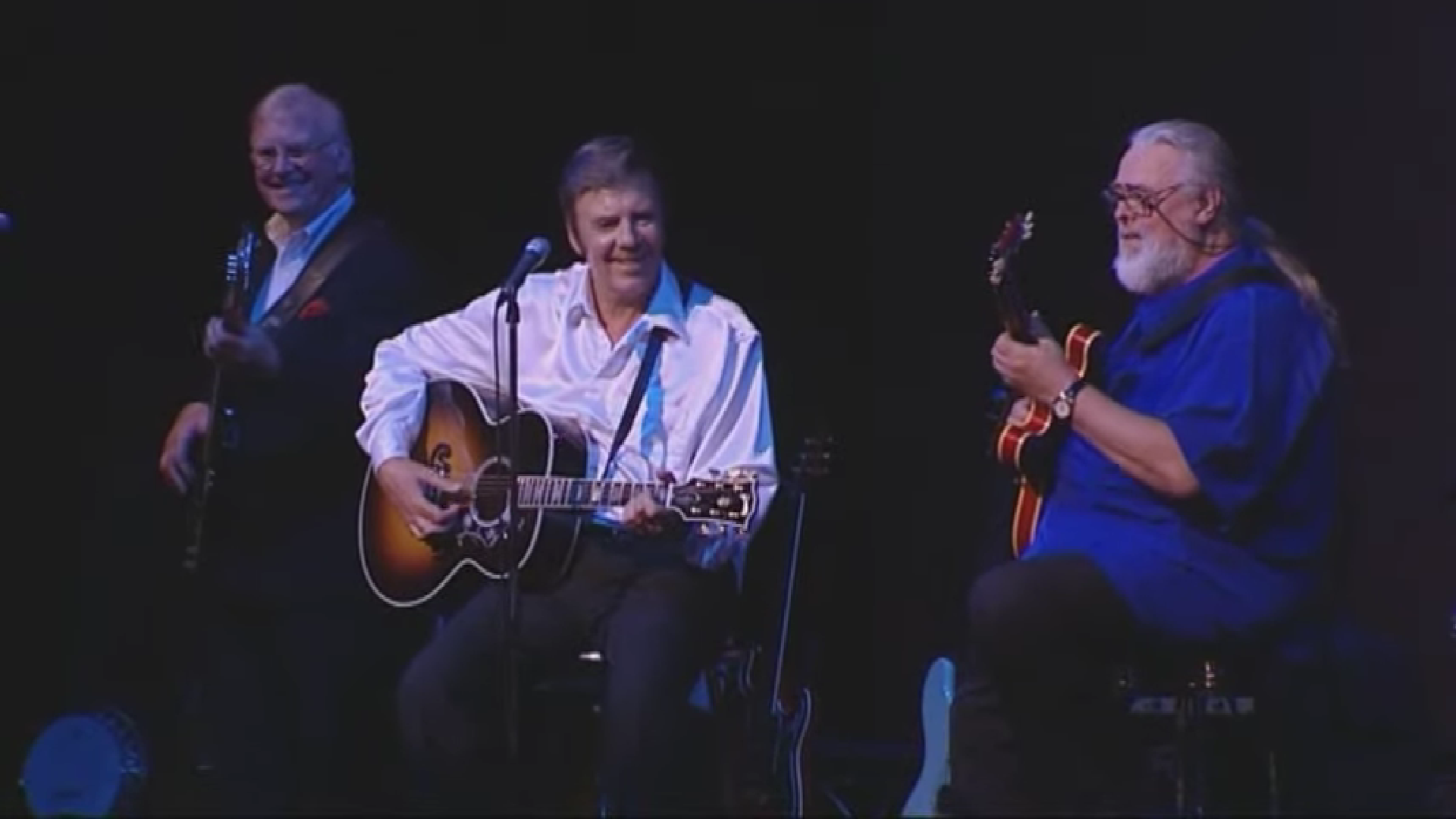 Credit: 78dipar via YouTube
British studio musician Big Jim Sullivan was the most in-demand guitarist of the 60s, performing on over 750 charting hits. It goes without saying that he was versatile, multi-faceted, and skilled as a player; surely nobody is booking the guy because he knows I-IV-V chord progressions. No list is complete without a nod to Big Jim.
Buddy Guy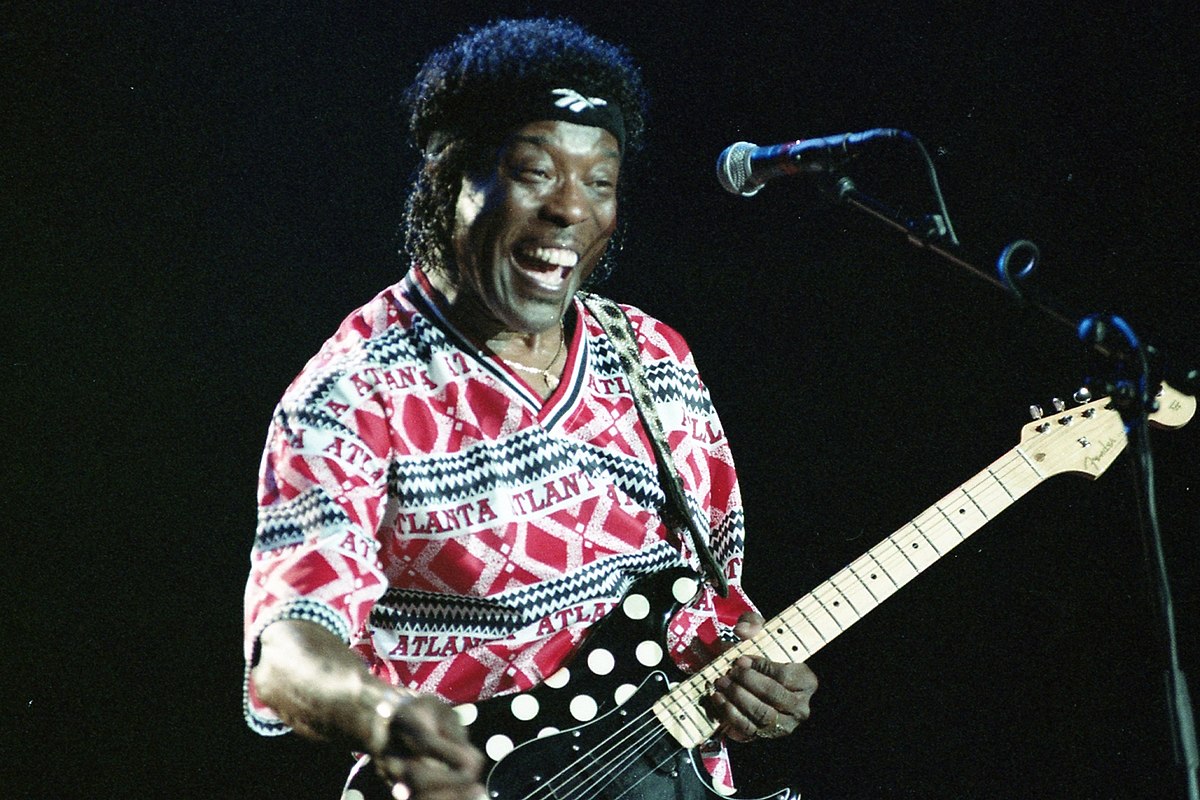 Credit: Robbie Drexhage via Wikimedia Commons
At 87 years old, this Canadian-named American is a living legend of the golden days of jazz. He inspired the likes of Hendrix, Clapton, and Eric Johnson with his screaming bends and soul fusion riffs. He had a trademark sound of gritty, teeth-clenching blues that made you sweat with anticipation, the sign of a true master of the medium.
Prince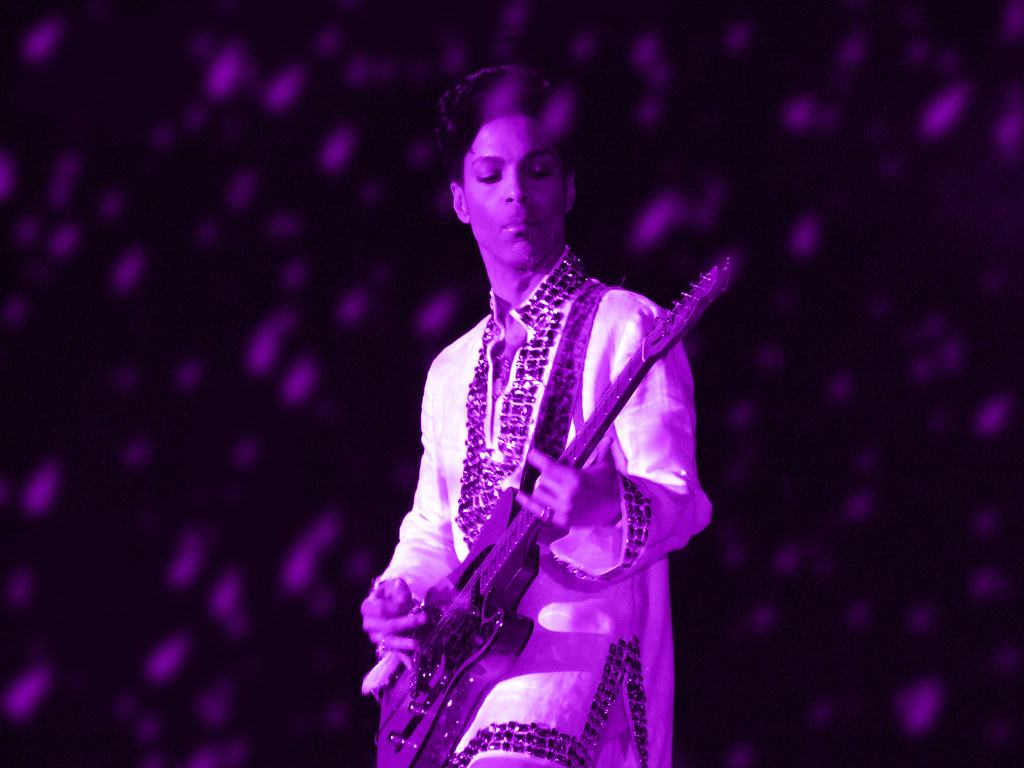 Credit: Beverly & Pack via Flickr
Prince didn't rely on technical flash to dazzle audiences, he instead used his tender, heart-felt expression and arranging techniques to reduce them to tears. He's responsible for some of the 80s and 90s biggest guitar ballads, like Purple Rain and his cover of While My Guitar Gently Weeps, and has been immortalized as a true icon of rock.
Pat Metheny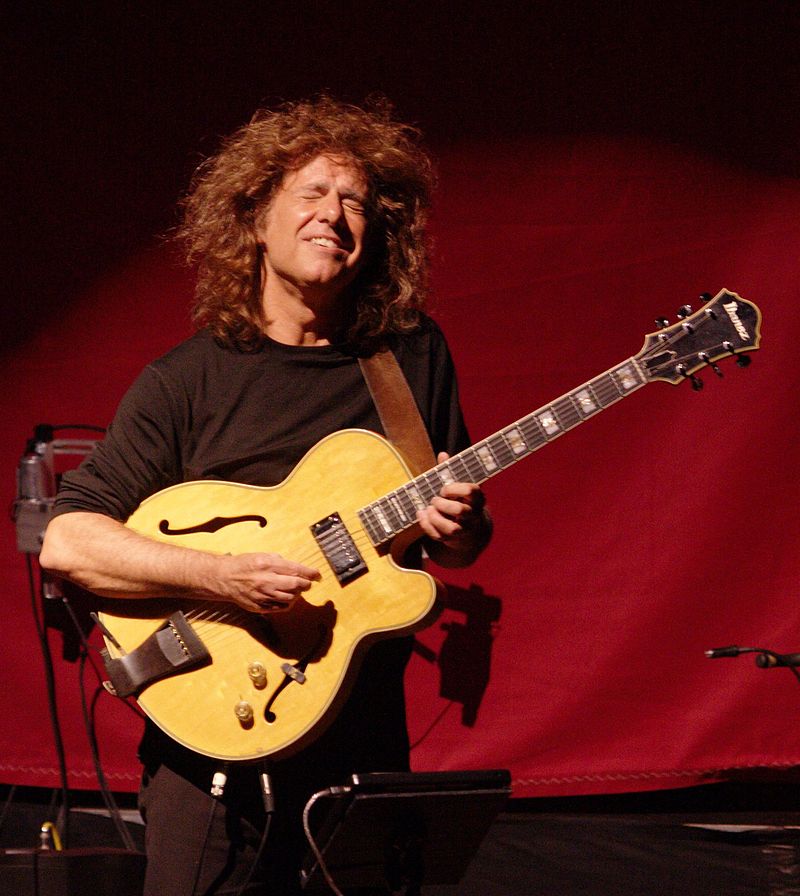 Credit: R. Steven Rainwater via Wikimedia Commons
Depending on whether he's plugged in or not, Metheny either writes the most heavenly elevator music you've ever heard or some real out-there jazz fusion. It's all fantastic, mind you, he has a knack for taking the ear to unexpected places without making it the kind of jazz you need a degree and a beret to enjoy.
Albert Collins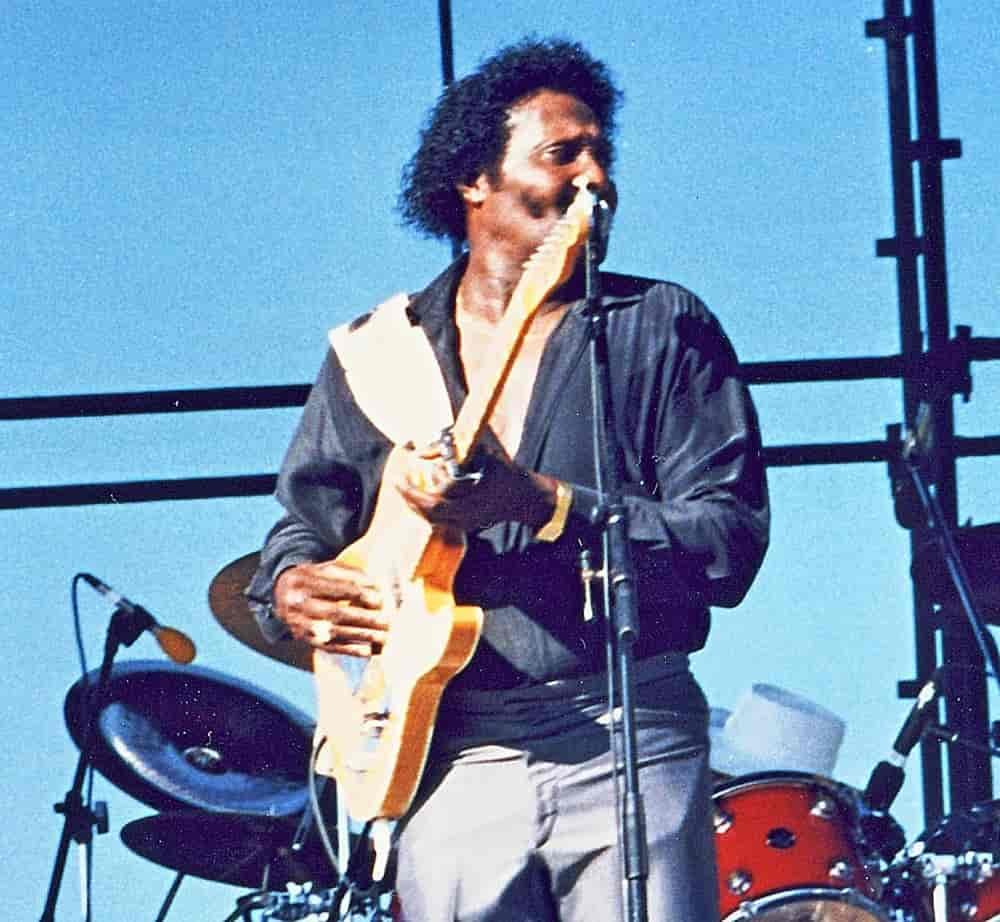 Credit: Masahiro Sumori via Flickr
A ton of notable names play the telecaster, but none can call themselves its master except Collins, because Fender legally forbids it. He used capos and alternative tunings to get sounds so unique and funky that he made it sound like a whole new instrument. His icy tone and naming scheme are a chilly jazz breeze that awakens the senses.
Elizabeth Cotton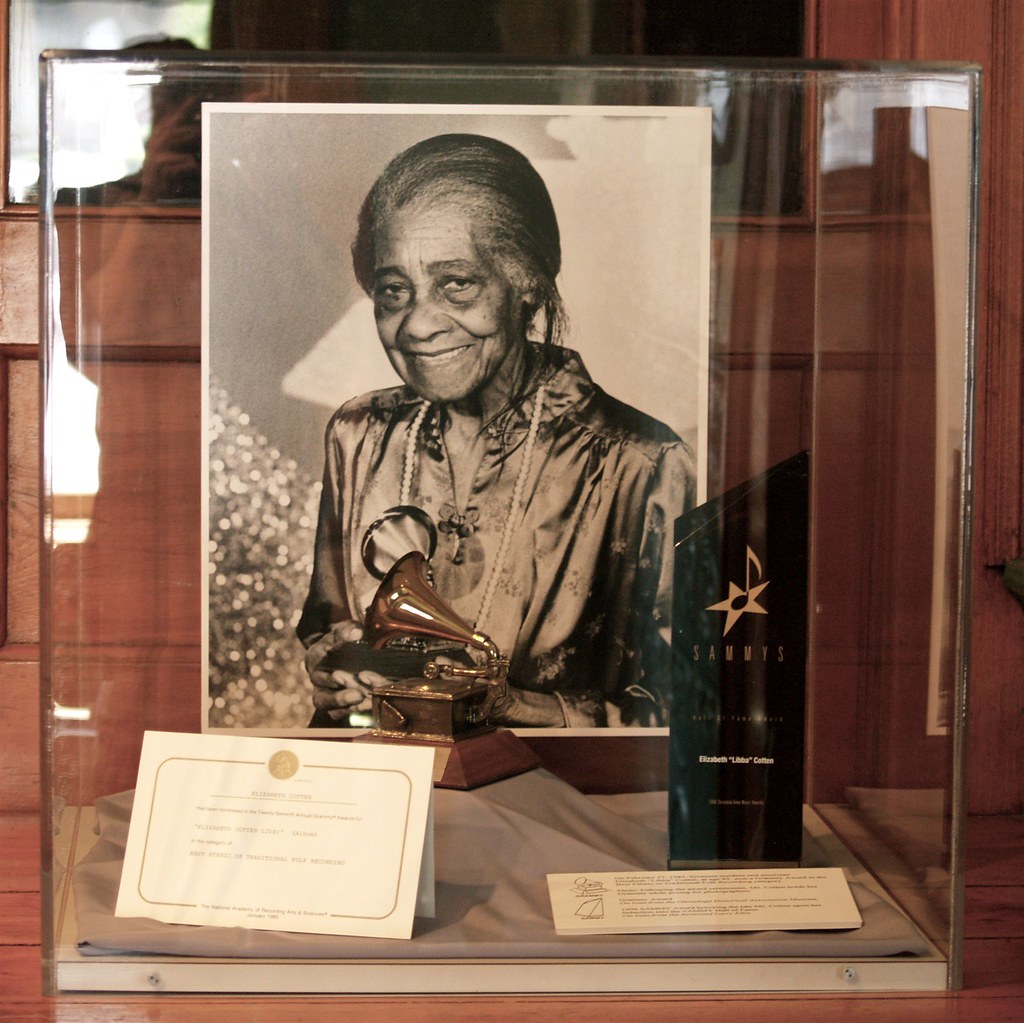 Credit: takomabibelot via Flickr
Cotton began playing on her brother's upside-down banjo, so by the time she picked up a guitar, she had already developed a unique style of playing. That bold and unorthodox approach extended to her music, with foot-stamping country-inspired rock and roll and basslines that hopped from string to string.