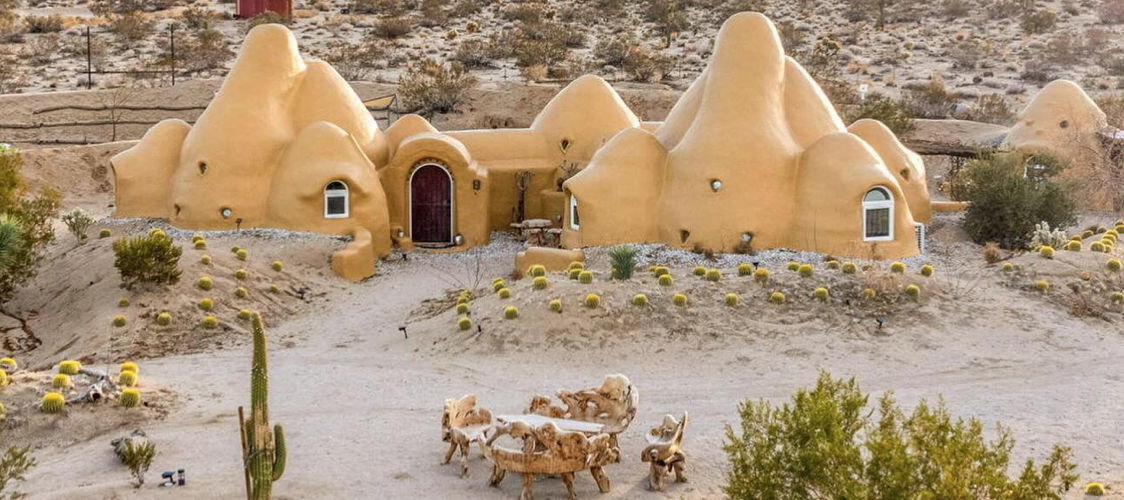 Credit: @zillowgonewild via Instagram
Pagoda-style home with "boat garage"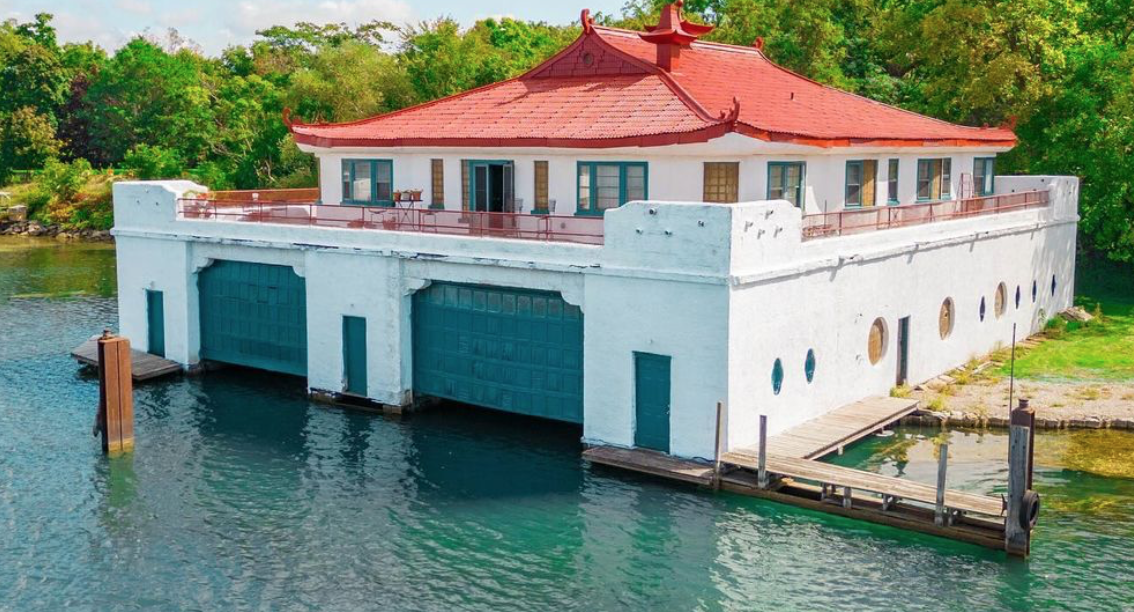 Credit: @zillowgonewild via Instagram
Build by Ford Motor Company as an entertaining venue for its executives, the Ford Waterfront Estate lies on the Detroit River in Gross Ile. Although in need of a little TLC by its new owners, the building's Chinese-inspired style continues inside – at least until it comes to the pink and green bathrooms. There's also a double boathouse, which we can safely call a "boat garage", given the original owners!
Sugar Land mansion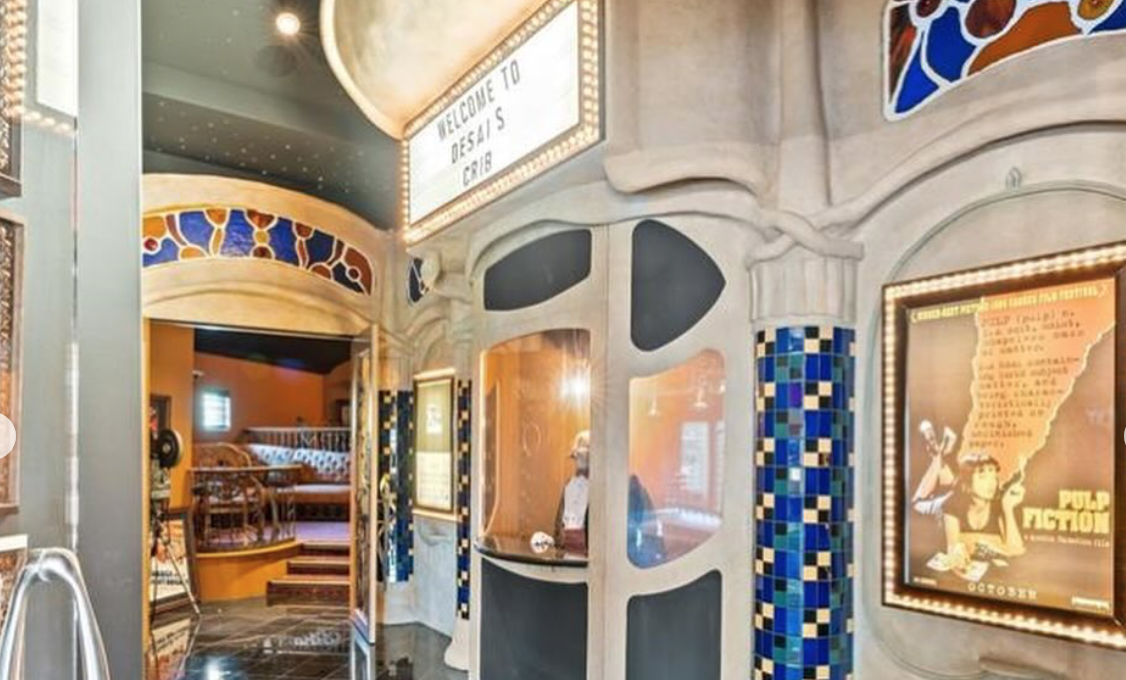 Credit: @zillowgonewild via Instagram
Just under $7 million would buy you a NBA star's-style mansion in Sugar Land, TX. Reputedly on and off the market since 2009, the blinged-up home features its own movie theater, complete with ticket desk, a turquoise and stainless steel kitchen, and an outdoor pool in a shape that might make you think of something other than swimming.
Waterfront home in Minnesota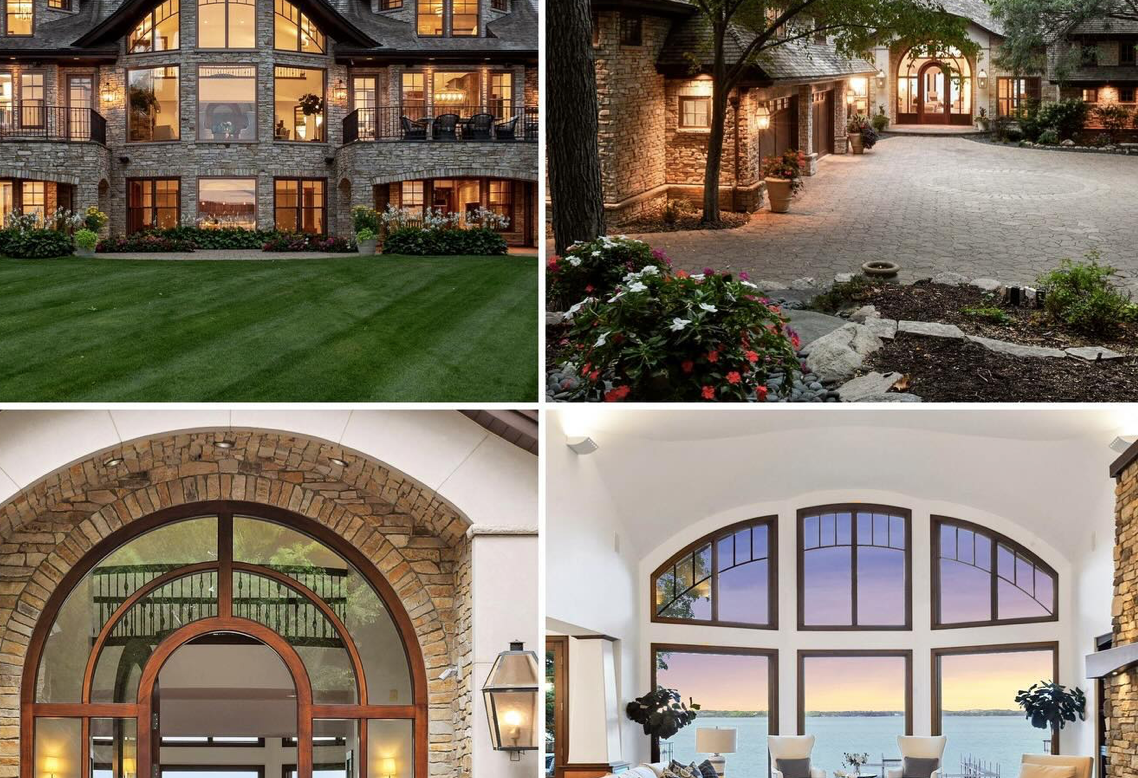 Credit: @zillowgonewild via Instagram
Situated right on the shore of Lake Minnetonka, the designers of this 10,692 square ft Excelsior, MN mansion pulled out all the stops to entice visitors into the water. As well as the impressive views, the $8,995,000 home's walkout lower level has its own wet bar and an enormous integrated aquarium. Notably, there's no swimming pool: occupants and visitors really are expected to use the lake.
Architectural compound among the cacti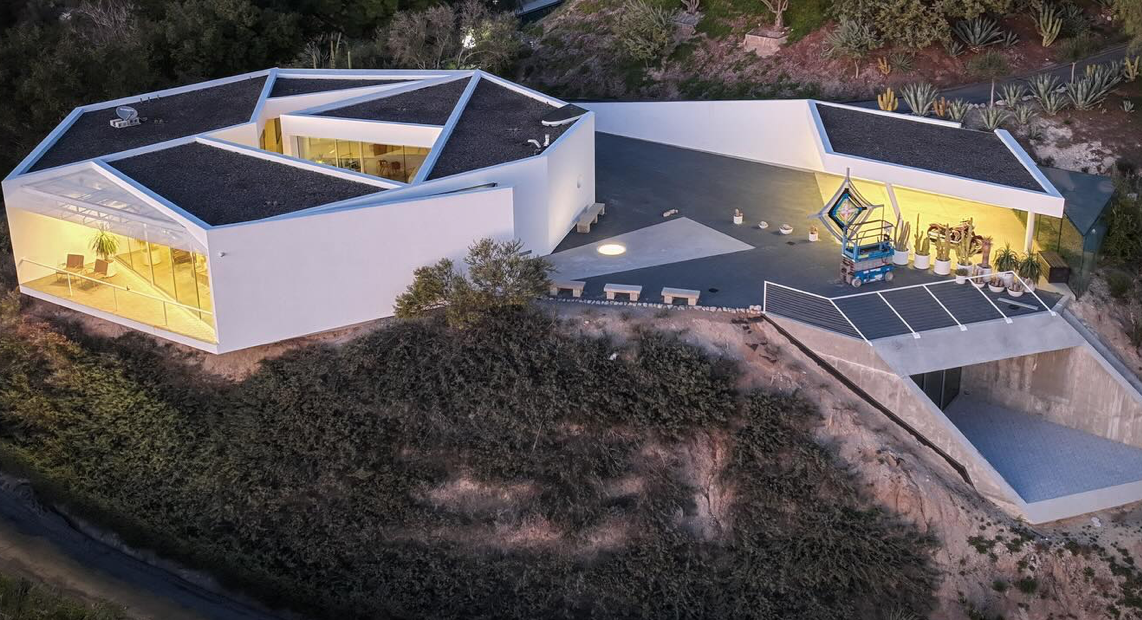 Credit: @zillowgonewild via Instagram
Looking a little like a grounded UFO, this La Crescenta, CA home is described as an "architectural compound". As well as its seven-sided main residence, there's an 875 square ft building providing subsidiary accommodation, a catering kitchen, an outdoor movie theater, a big lap pool, a cabin, and a lot of cacti.
All aboard!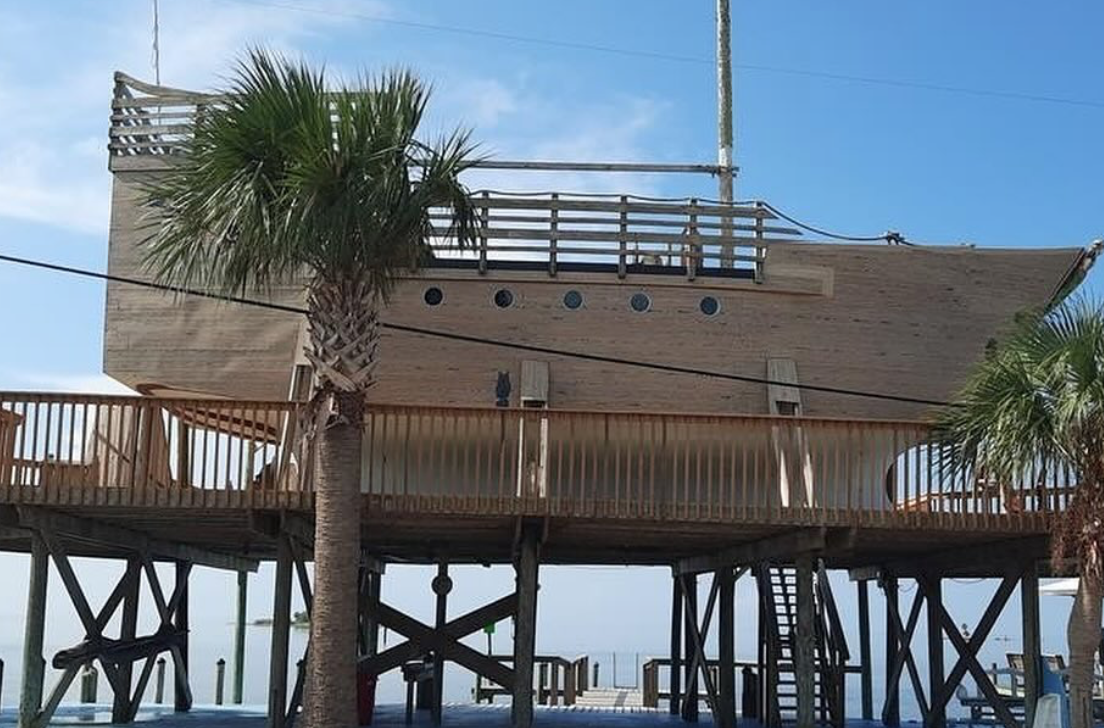 Credit: @zillowgonewild via Instagram
Head to Horseshoe Beach, FL for the perfect home for a landlubber who really wants to be at sea. This boathouse might not be sailing off anytime soon but the interior is decked out like a ship's cabin. There's even a ship's wheel, a miniature canon (hopefully for effect only) and, even more bizarrely, a model owl as a lookout.
Britney Spears' childhood home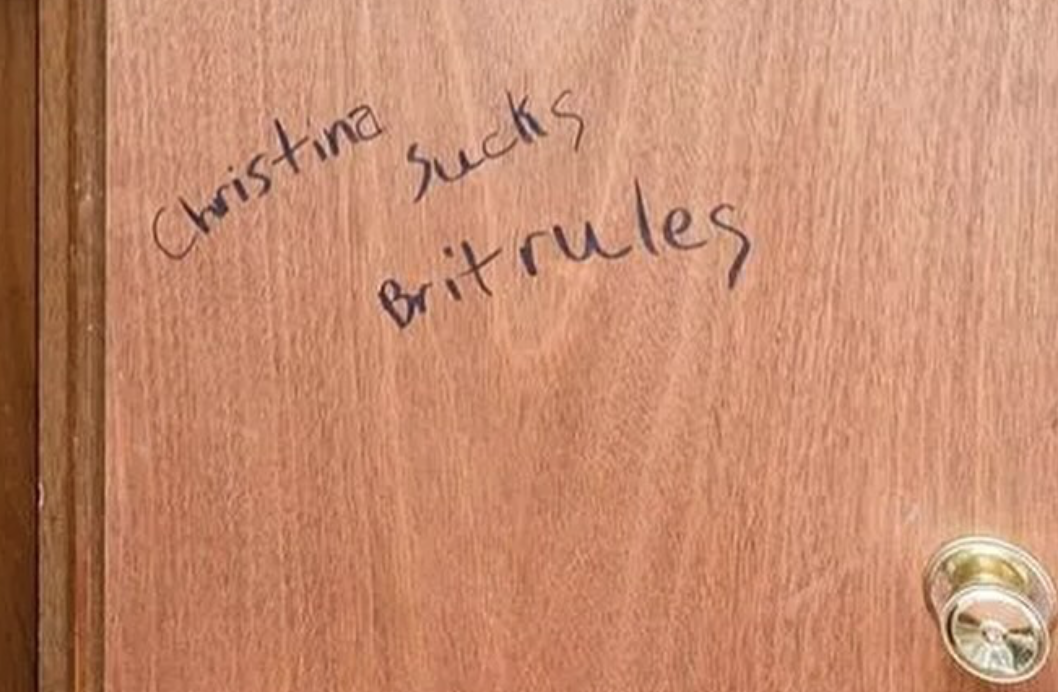 Credit: @zillowgonewild via Instagram
Fancy living in Britney Spears' childhood home in Kentwood, LA? Your $1.2 million will get you a 3 bed, 2,299 square ft home, complete with graffiti by Britney. There's also a half derelict dance studio and an intriguing kitchen table with a rock plinth. Eagle-eyed buyers will spot that the asking price has increased by more than a million in only two years.
Mysterious in Massachusetts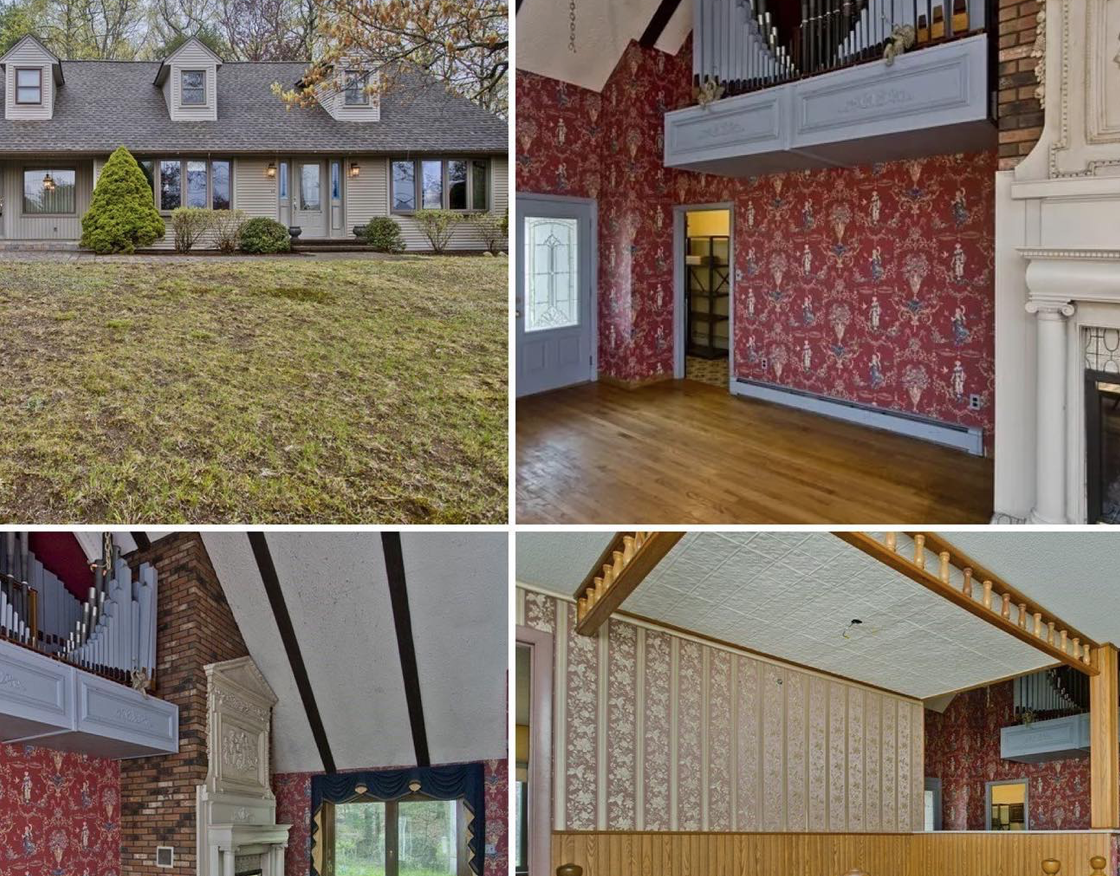 Credit: @zillowonline via Instagram
It's hard to work out what's going on inside this otherwise neat-looking Massachusetts' home. What looks like a church organ is fitted into a recess next to a fireplace that surely belongs in a much older, much grander property. Even less explicable is a sort of wooden enclosure although it might perhaps have once been a bar surround.
Mid-Century Modern entertaining pad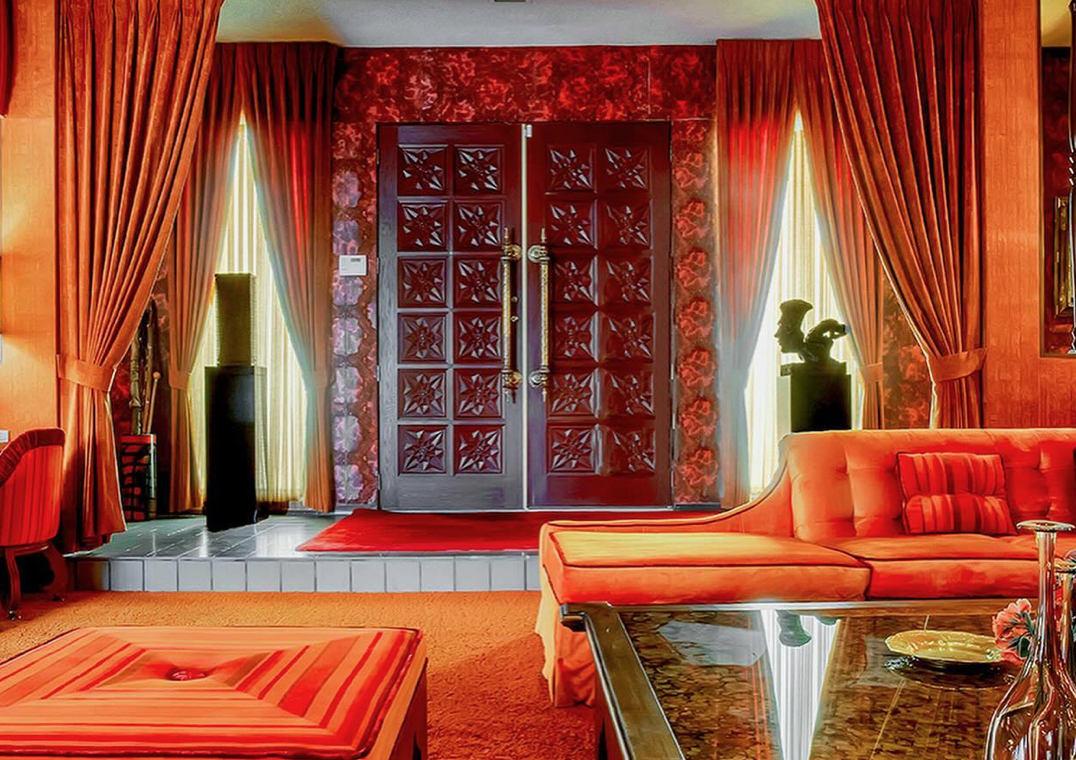 Credit: @zillowgonewild via Instagram
Kitted out in vivid red, this Palm Springs, CA home was decorated to suit the eclectic tastes of the very sociable "Plumber to the Stars", aka Jack Stephan. Known for his love of red and his fabulous parties as much as his plumbing prowess, Stephan lived in his desert home with his wife until his death in 2014.
Mirrored tree house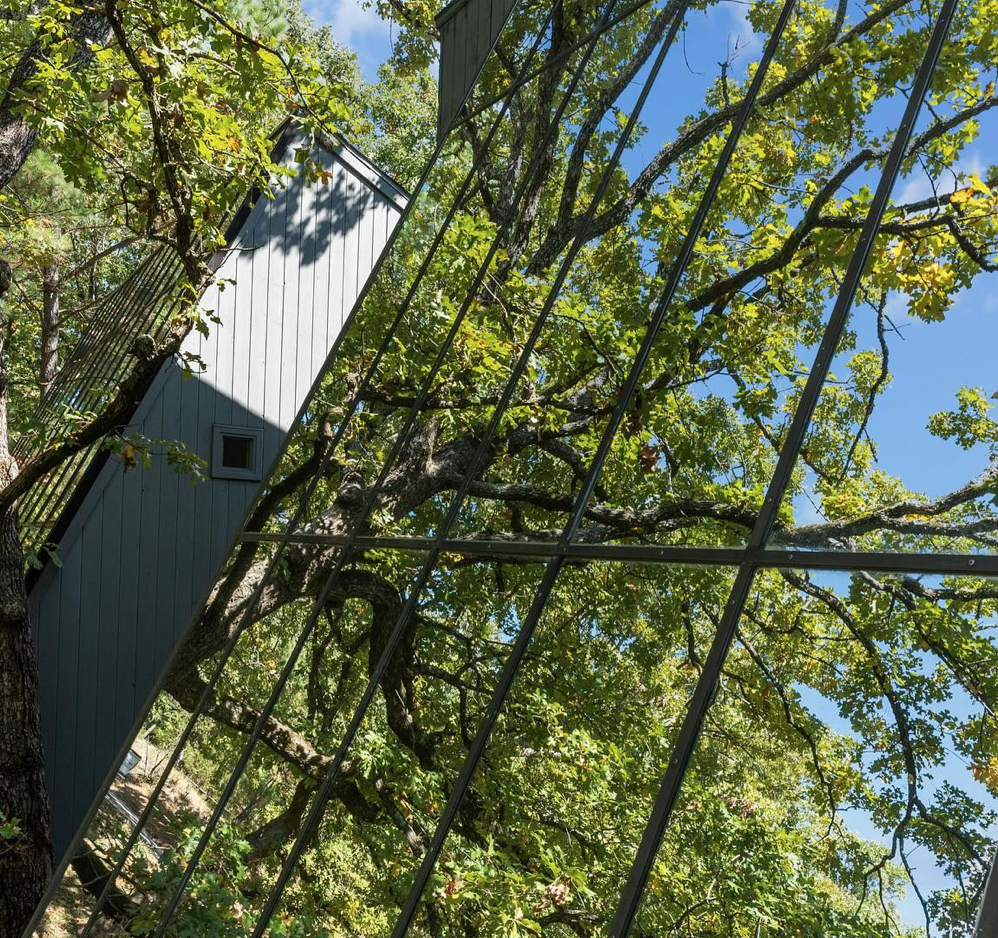 Credit: @zillowgonewild via Instagram
This Arkansas home might be built on the ground but it's a tree house all the same. Trees grow so closely around and over its mirrored walls that living there must feel like living amid the branches – although it's hard to imagine any tree-top home that's as luxurious as this one. The house is on the market for a bough-bending $1.3 million.
Chandeliers and marble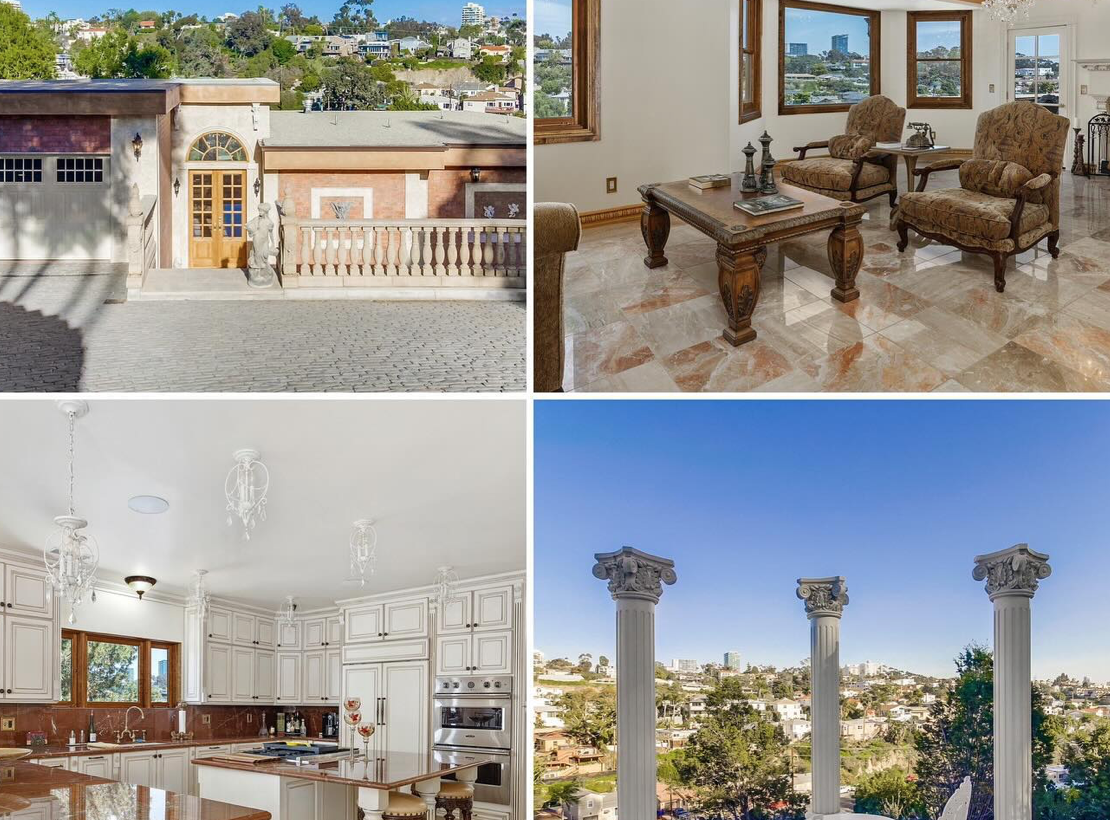 Credit: @zillowgonewild via Instagram
If you like marble surfaces, chandeliers and pseudo-Ancient Greek design, this hilltop San Diego, CA home will tick all the right boxes. Light, bright and with gilt cornicing that seemingly owes more than a little to Middle Eastern tastes, it's a stunner of a property – and a snip at just under $3,000,000 for 5,431 square ft.
Home with an inactive drugs lab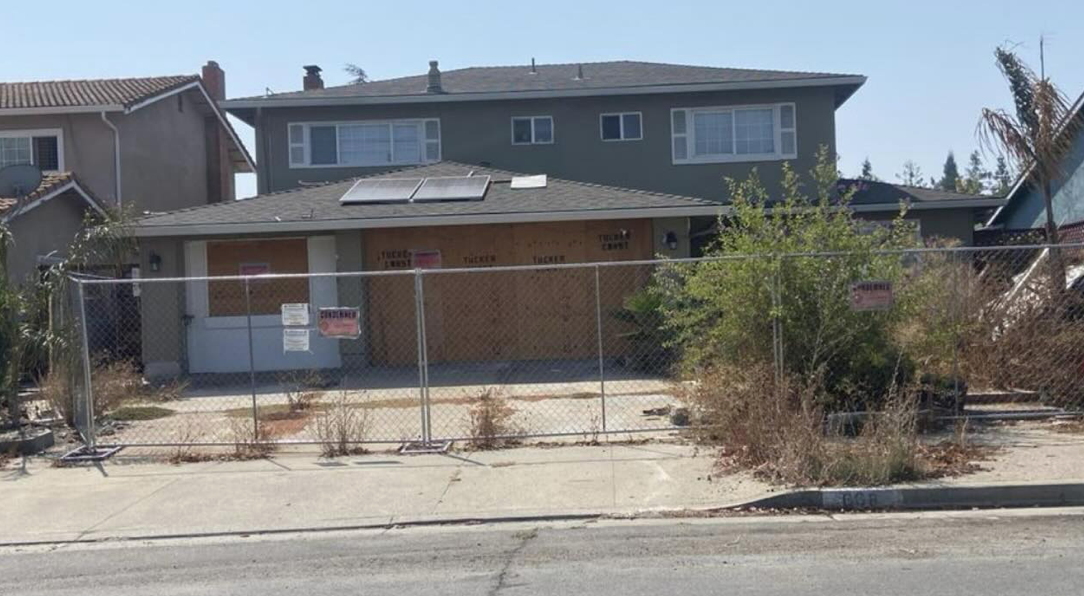 Credit: @zillowgonewild via Instagram
If you're not scared of tackling more than a basic remodel, what about a San Jose, CA home with its own Breaking Bad style lab? According to the real estate listing, the lab itself is "inactive" although the site has known contamination and is to be transferred to its new owner in its existing state. What's more, that new owner can expect to pay more than $1.5 million of the privilege of decontaminating the property.
Converted church with graveyard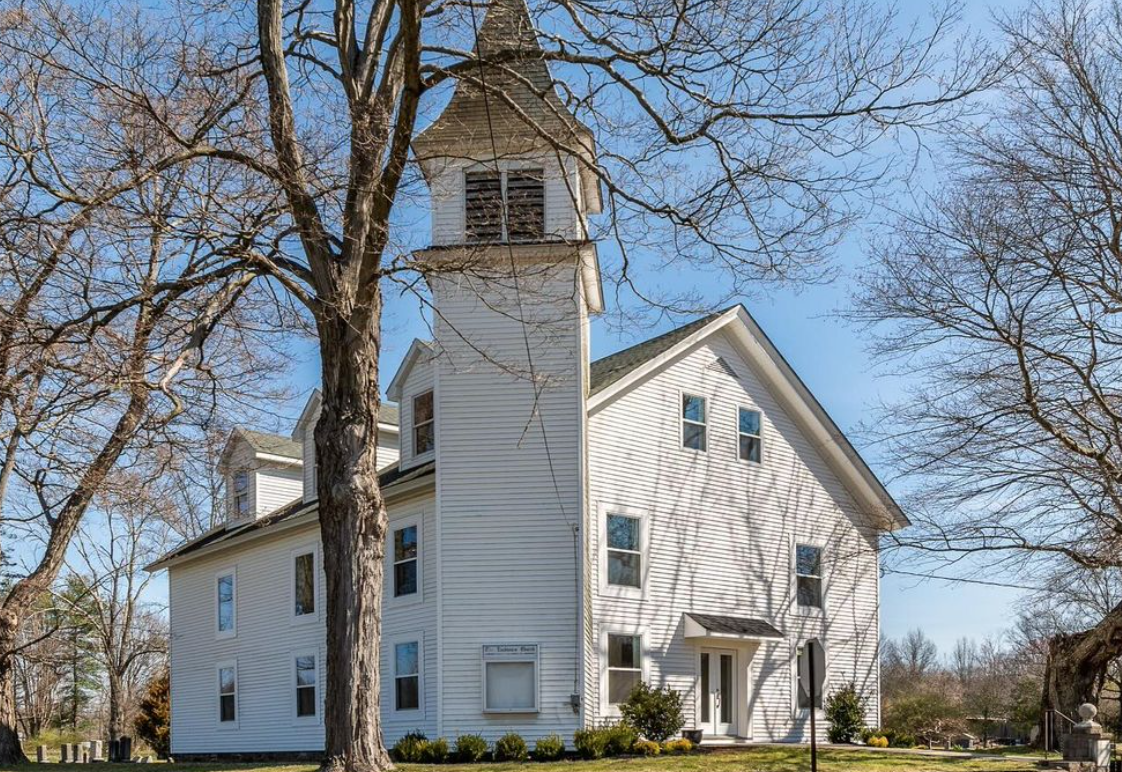 Credit: @zillowgonewild via Instagram
If the dead frighten you less than the living, you might consider this converted church in Delaware Township, NJ. Dating back to the nineteenth century, the handsome building comes with its own "Ancient Graveyard", complete with graves and tombstones. The oldest gravestone is for "Charity Alley", who passed away in 1843. The three bedroom, three bathroom home is listed for $650,000.
Nancy Sinatra's one-time pad
Credit: @zillowgonewild via Instagram
Once home to Nancy Sinatra, this Beverley Hills, CA mid-century modern house has beautiful wooden flooring frequently almost obscured with overly-patterned rugs, and some slightly questionable mirrored walls. It also has a swimming pool with exquisite views. It was listed for just under $3,000,000.
A bargain for the price?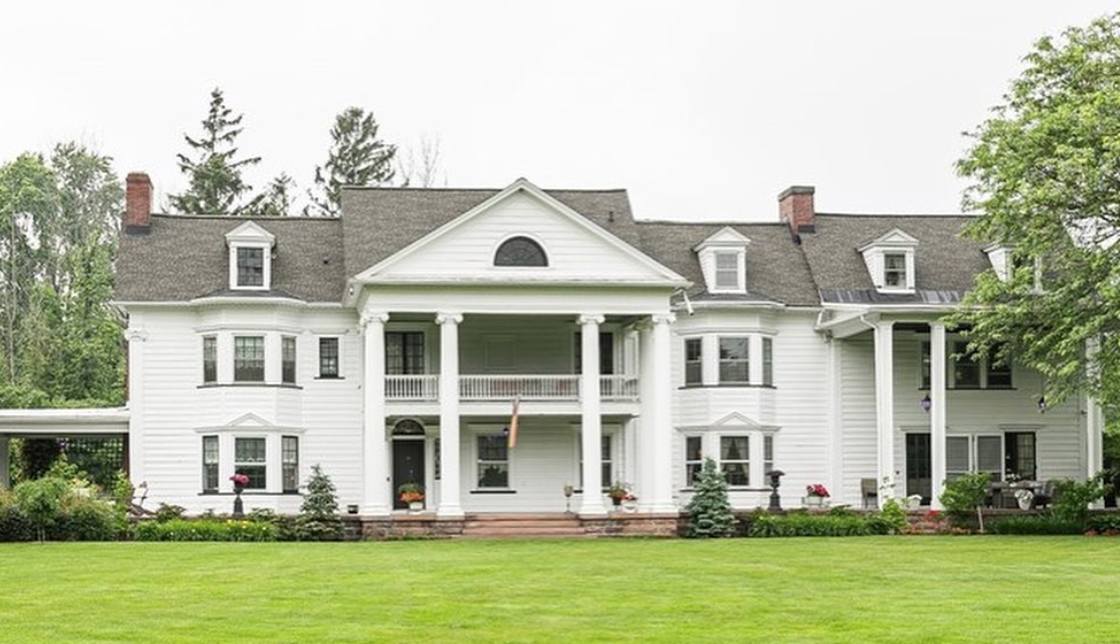 Credit: @zillowonline via Instagram
It's hard to believe that such a handsome, well-proportioned home was marketed at under $1 million. And yet this Brockport, NY property with its eight bedrooms and almost 9,000 sq ft of floor space was up for sale at $999,900. It's not the elegant, spacious interiors that let it down. Rather, it's almost certainly the county's very high property taxes……
Midcentury miracle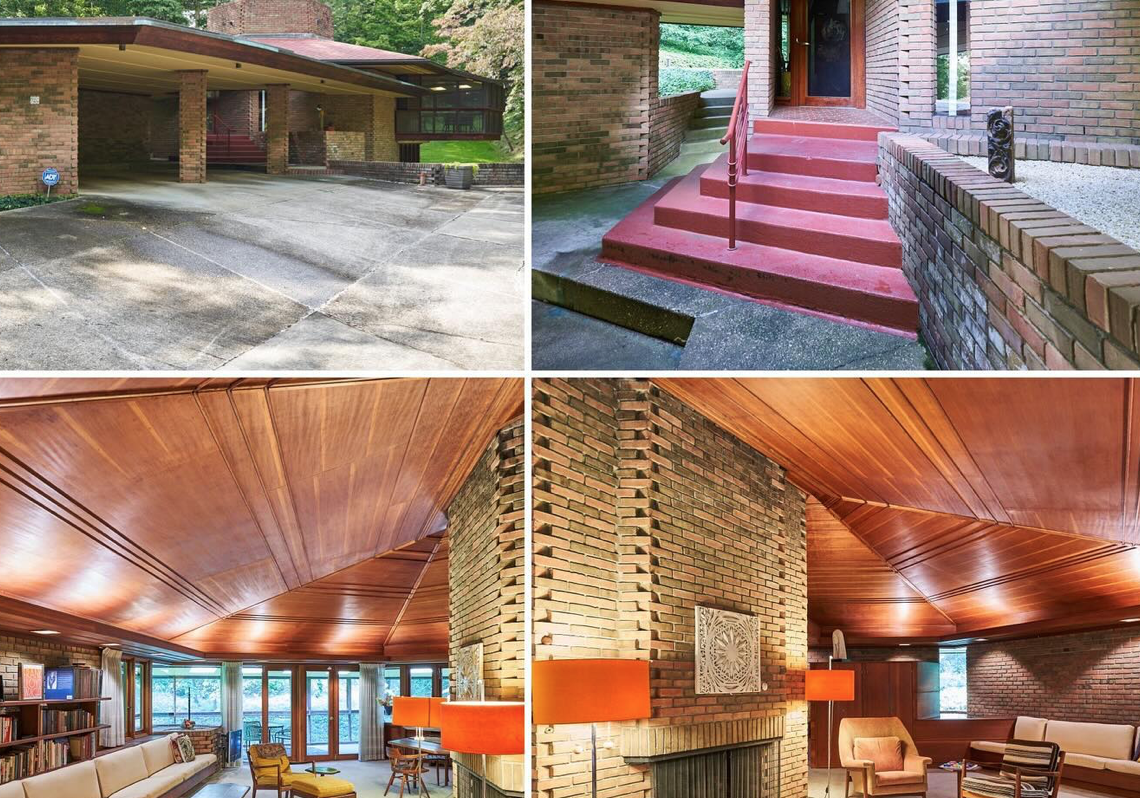 Credit: @zillowgonewild via Instagram
You might hope that the $439,900 listing price of this very stylish Akron, OH mid-century modern home includes at least some of the furniture. Matching the period of the home perfectly, the property's interior is all elegant, richly-hued wood planks, exposed brickwork, orange soft furnishings and clean-lined wooden furniture.
Over the bridge to home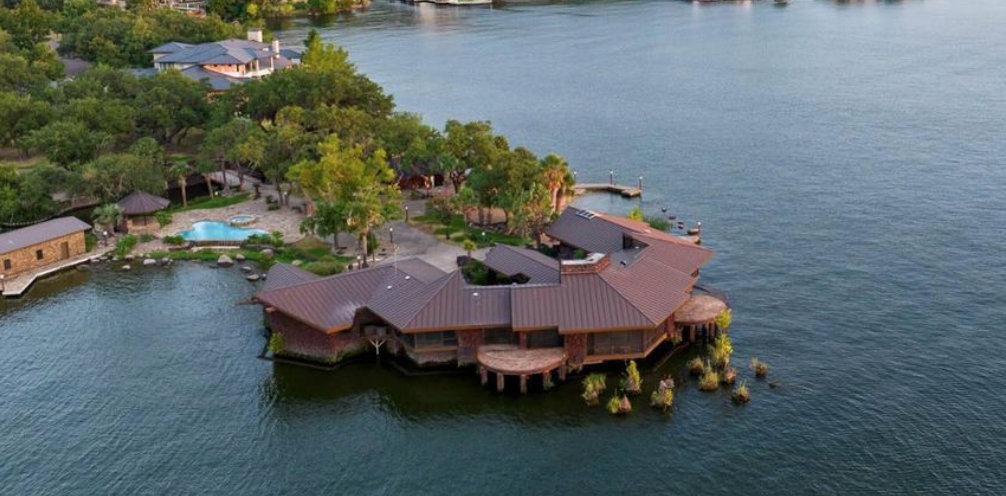 Credit: @zillowgonewild via Instagram
Get to this $13.5 million home in Horseshoe Bay, TX, by crossing a private bridge. Once there, you'll find a property decorated with volcanic rock facades and incorporating a rotating floor, an infinity pool (complete with cabana), two boathouses, lifts for watercrafts and a guest suite. There's also a private beach but the listing includes no information about hurricane shelters.
Unexpected interiors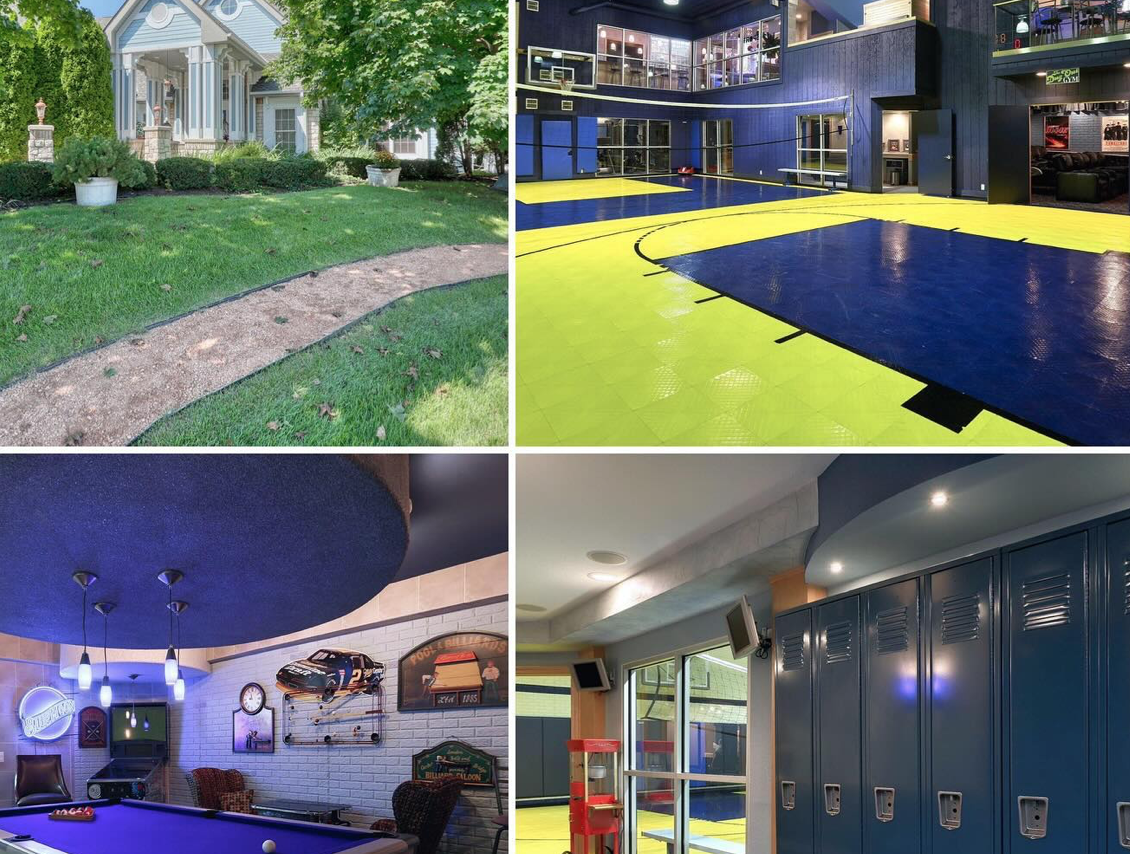 Credit: @zillowgonewild via Instagram
Proving you never know what's beyond someone's front door is this Oconomowoc, WI home. Looking pleasant enough when viewed from outside, the house hides a veritable entertainment feast. As well as a snooker table, exercise machines and a home cinema, there's what looks like a locker room and a high school-style gym, in eye-watering shades of green and blue.
Adobe desert home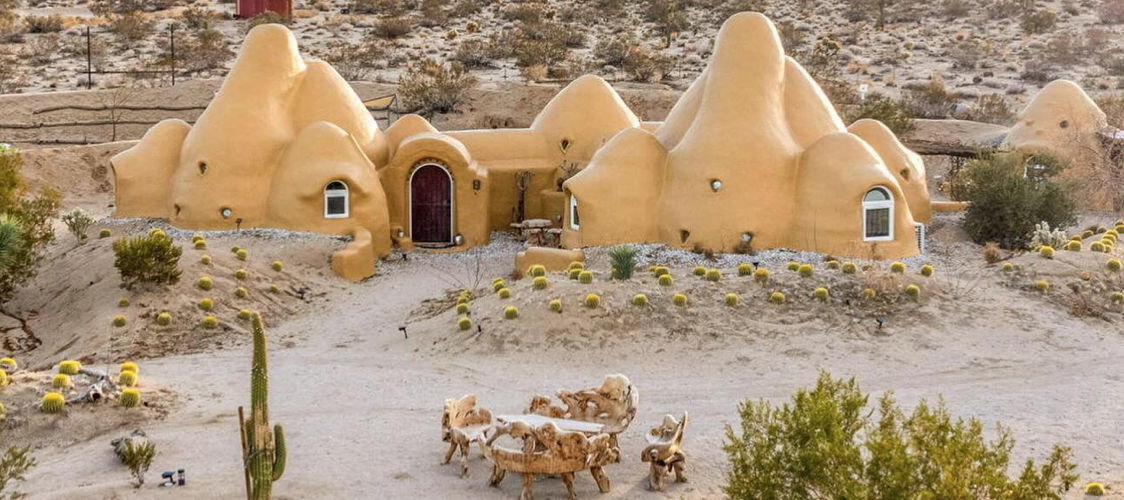 Credit: @zillowgonewild via Instagram
Built in "Super Adobe", using the Cal Earth technique, this Joshua Tree, CA home is known as "Bonita Domes". It includes two big social domes, each with its own pair of sleeping pods with custom built-in mattresses. A kitchen and breakfast nook connect the two big domes. There's also a pool and spa. Listed for $1,799,999, the property is currently used as an Airbnb let.
The Gatsby barn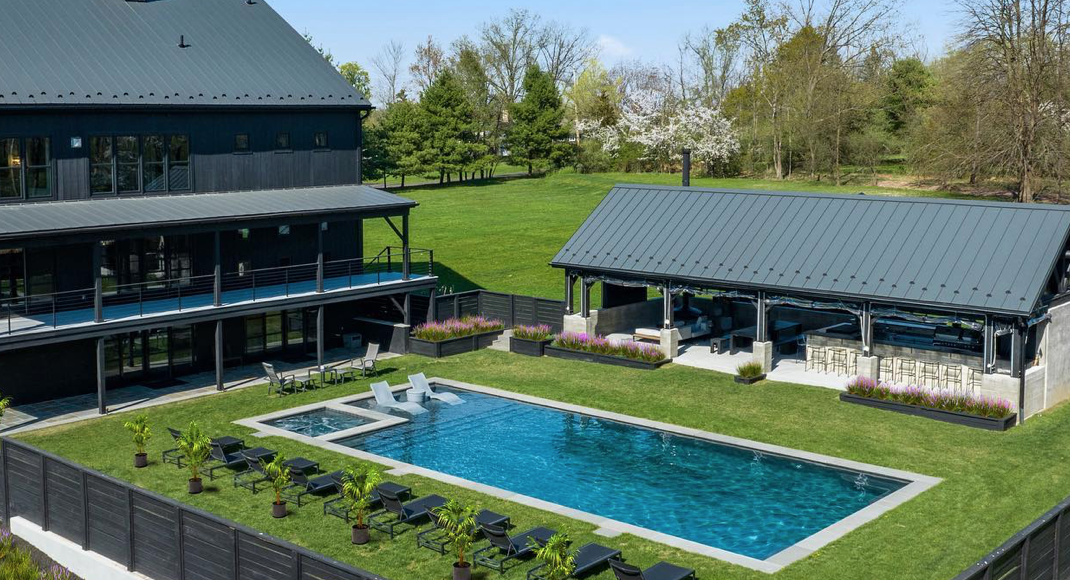 Credit: @zillowonline via Instagram
Once a genuine, honest-to-goodness barn dating back to the 1870s, this New Hope, PA, building is now an achingly luxurious home with over 10,000 sq ft of living space. That 10,000 sq ft includes a 1,300 "event pavilion" that, in turn, incorporates a 22-seater bar, a pizza oven and Japanese hibachi tables. Marketed at almost $9 million, realtors describe it as the perfect marriage between the Roaring 20s with modern amenities.
Floating home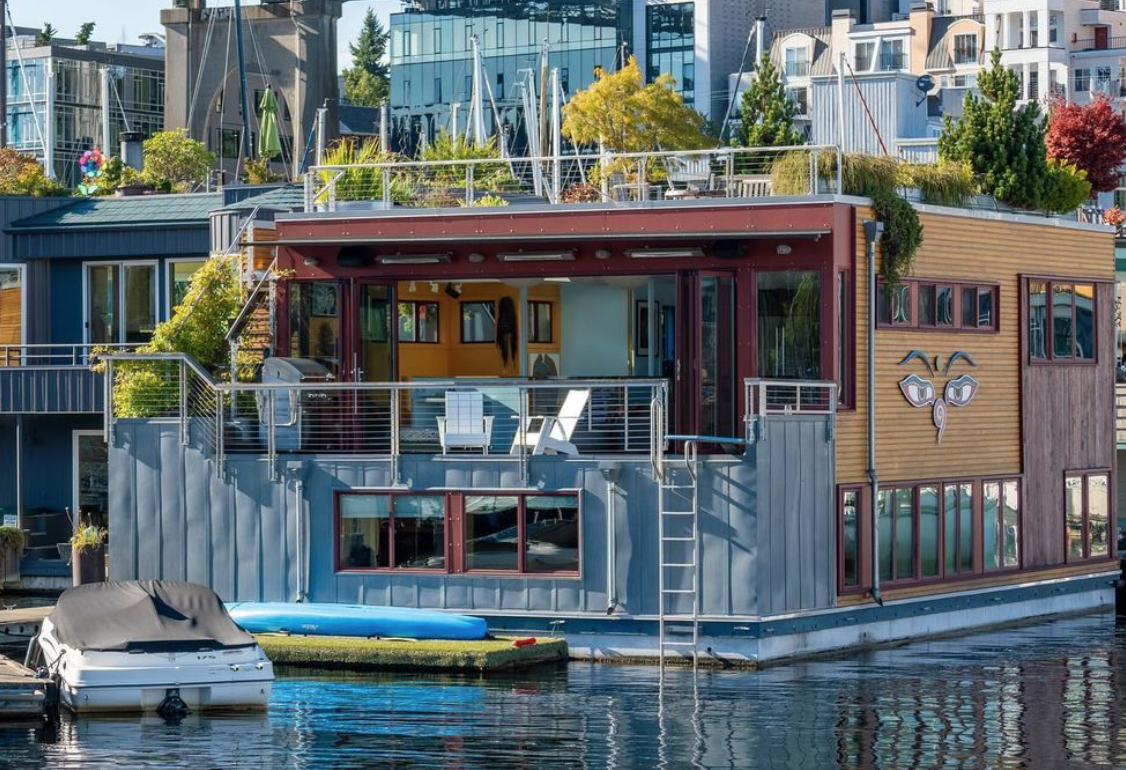 Credit: @zillowgonewild via Instagram
It's not a boat but it is a floating home. $6,200,000 would have bought you this 2,486 sq ft home in Seattle. It has unobstructed views of Lake Union, Downtown Seattle and Mount Rainer – and a curious sculpture in the form of a pair of eyes looking out onto the lake. There's also a rooftop garden, a fireman's pole and, as you might expect, a boat slip.
Concrete "Chant du Cygne"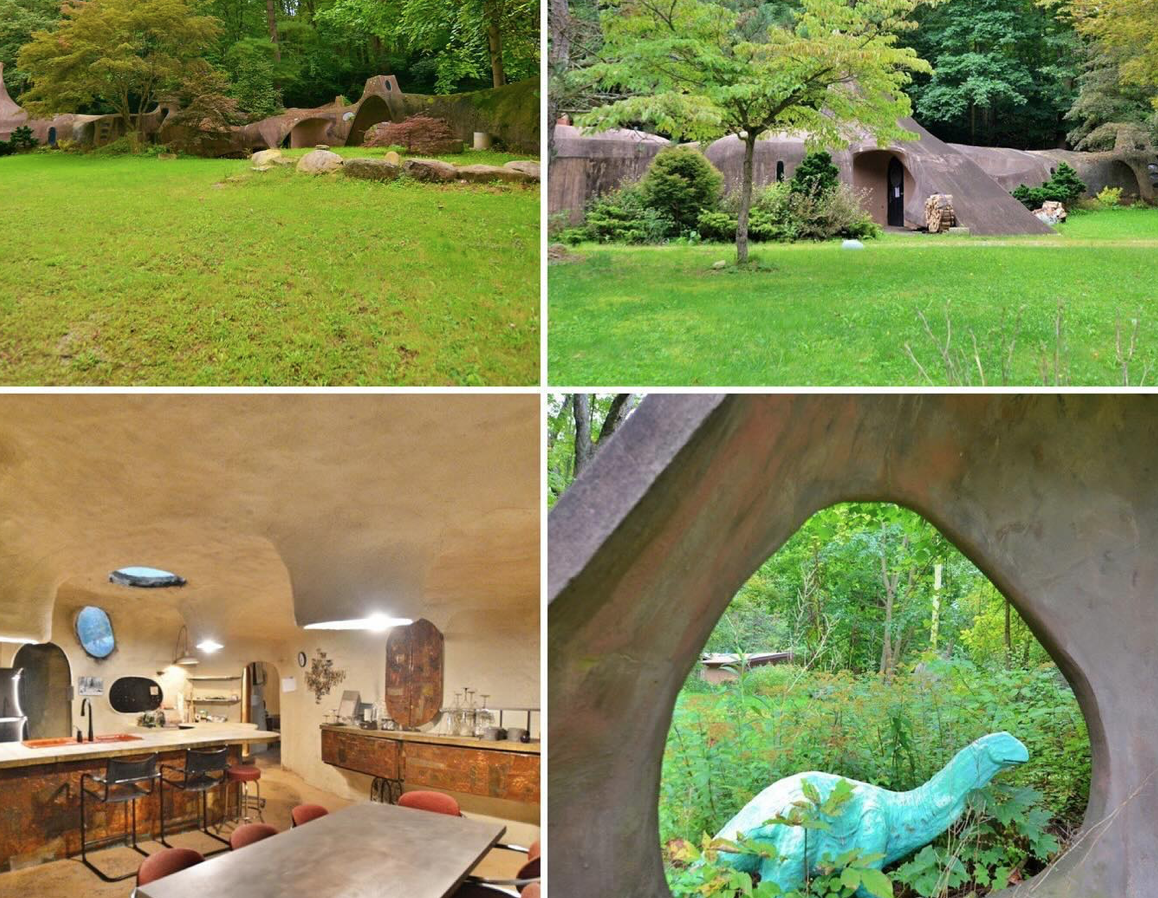 Credit: @zillowgonewild via Instagram
Artist Wayne Trapp takes credit for this cave-like concrete home. On the market for the first time in two decades, contrary to first impressions, it really is a house – albeit a pretty unusual one. Located in Concord, OH, "Chant du Cygne" (which means "Swan song") was built in 1970. Photos show no signs of any swans but there is at least one stone dinosaur!
Red vs black
Credit: @zillowonline via Instagram
The cute, homey redbrick exterior of this small home in Chicago, IL belies the very formal black and white decor scheme inside. Marketed at $650,000, this two bedroom, two bathroom 1,512 sq ft home certainly provides a very specific look that won't be to every buyer's taste. What's more, you'll almost certainly need to scroll through the listing photos twice to spot the kitchen.
Come fly with me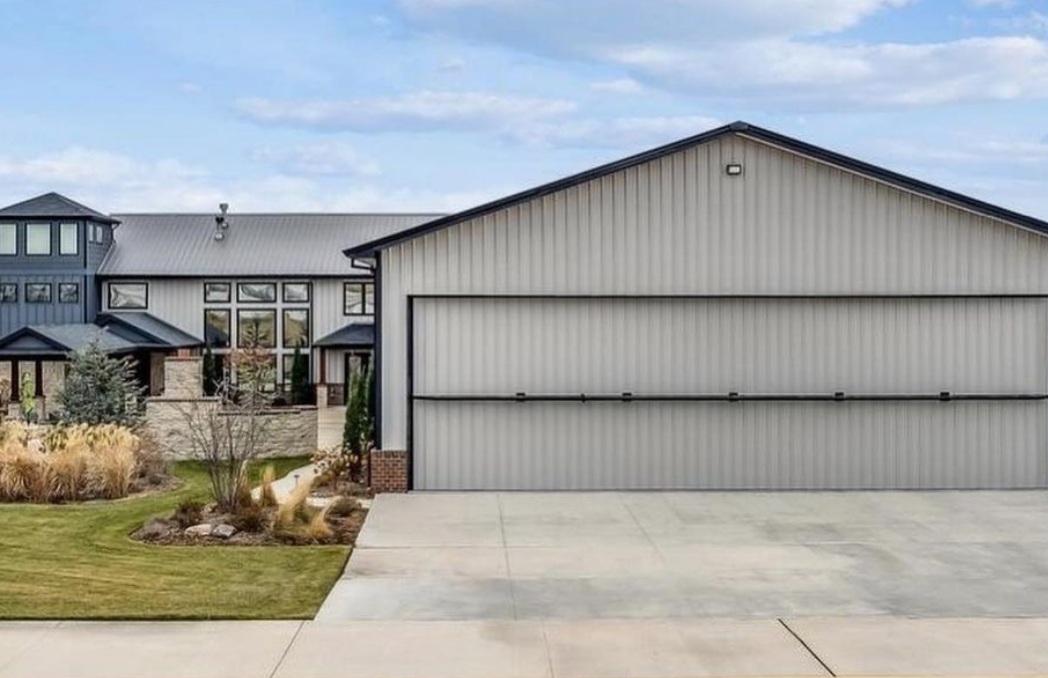 Credit: @zillowonline via Instagram
A mismatch between the number of bedrooms and bathrooms is the least interesting thing about this Derby, KS property. Yes, this three bedroom, five bathroom, 7,274 sq ft home has its own aircraft hangar. A scroll through the realtor's photographs reveals an airy and pleasant interior, a swimming pool and… a plane in its hangar.
Behind bars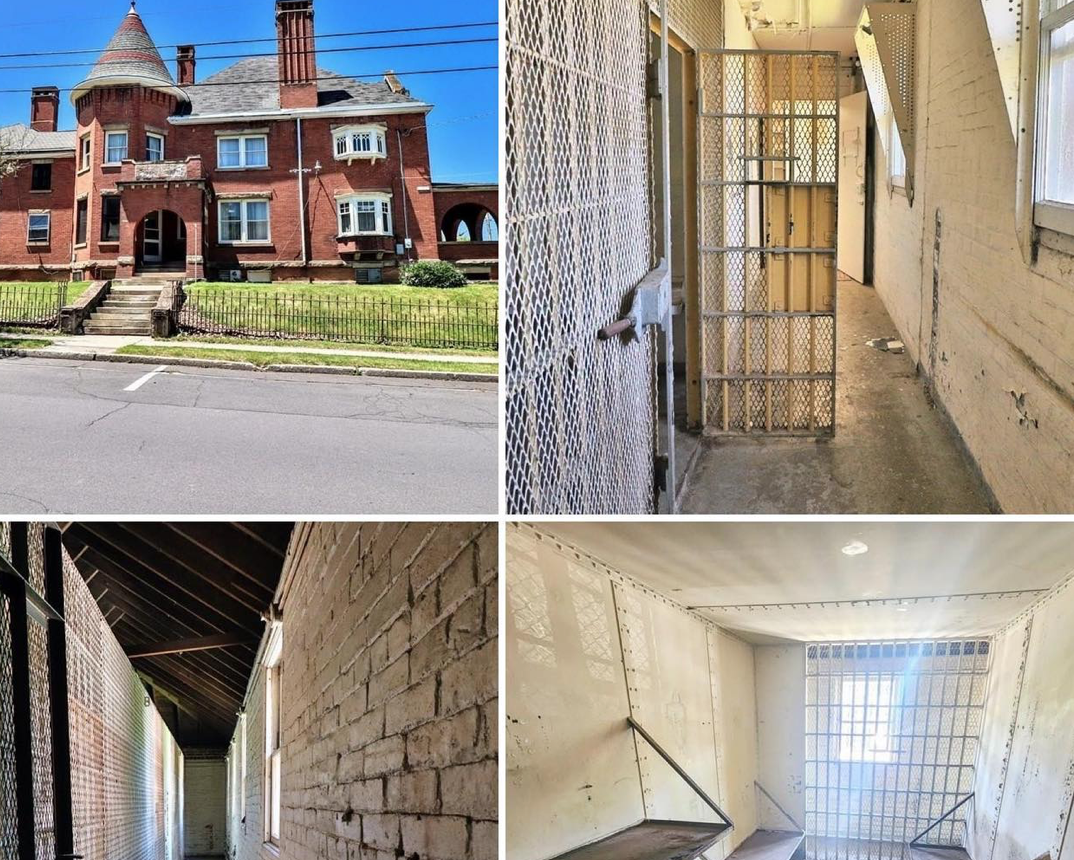 Credit: @zillowonline via Instagram
Once a county jail, this sizeable Bedford, PA needs extensive remodelling and refurbishing. Although the smart red brick exterior looks in reasonable condition, almost every inch of the interior needs work – especially if you don't fancy turning a row of cells into bedrooms for your kids.
Back to the 50s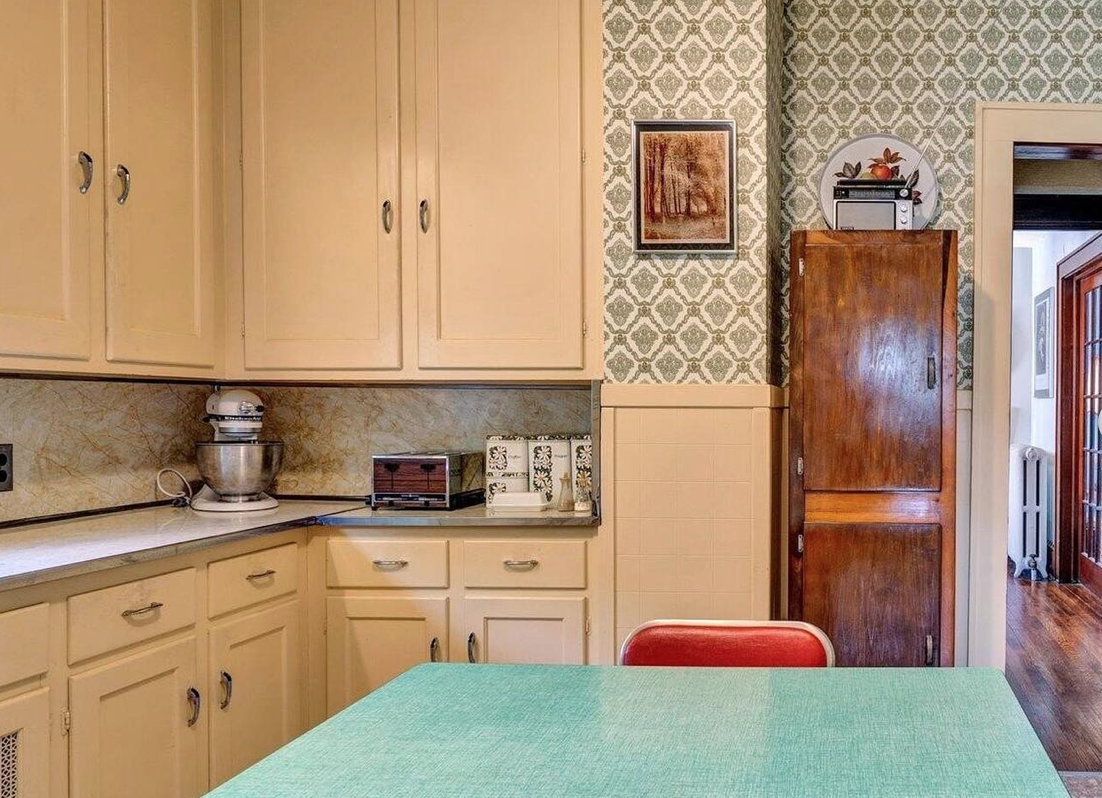 Credit: @zillowgonewild via Instagram
It's rare that a good, unmodernized 50s home hits the market. However, this three bedroom, 1,719 sq ft home in Roanoke, VA is that rare specimen. Everything from its furniture and kitchen appliances to its light fittings and wallpaper are unreservedly, unapologetically 1950s. Even the cars on the lot outside and the gadgets (old TVs) in the workshop fit the period that time didn't forget.
Hobbit house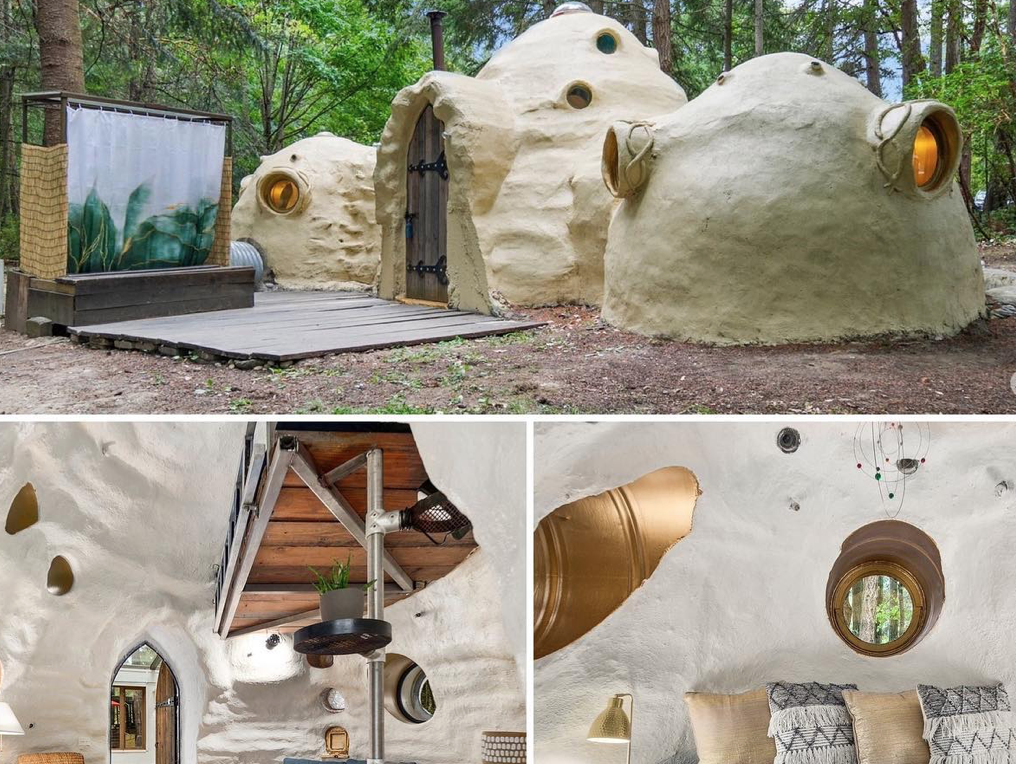 Credit: @zillowgonewild via Instagram
The closest thing to a hobbit house outside of a Lord of the Rings movie, this cute one bedroom woodland home in Camano Island, WA appears to utilise oversize periscopes to make its windows. It also has an outdoor tub, screened only by a shower curtain – so it's to be hoped there are no near neighbors.
A head for heights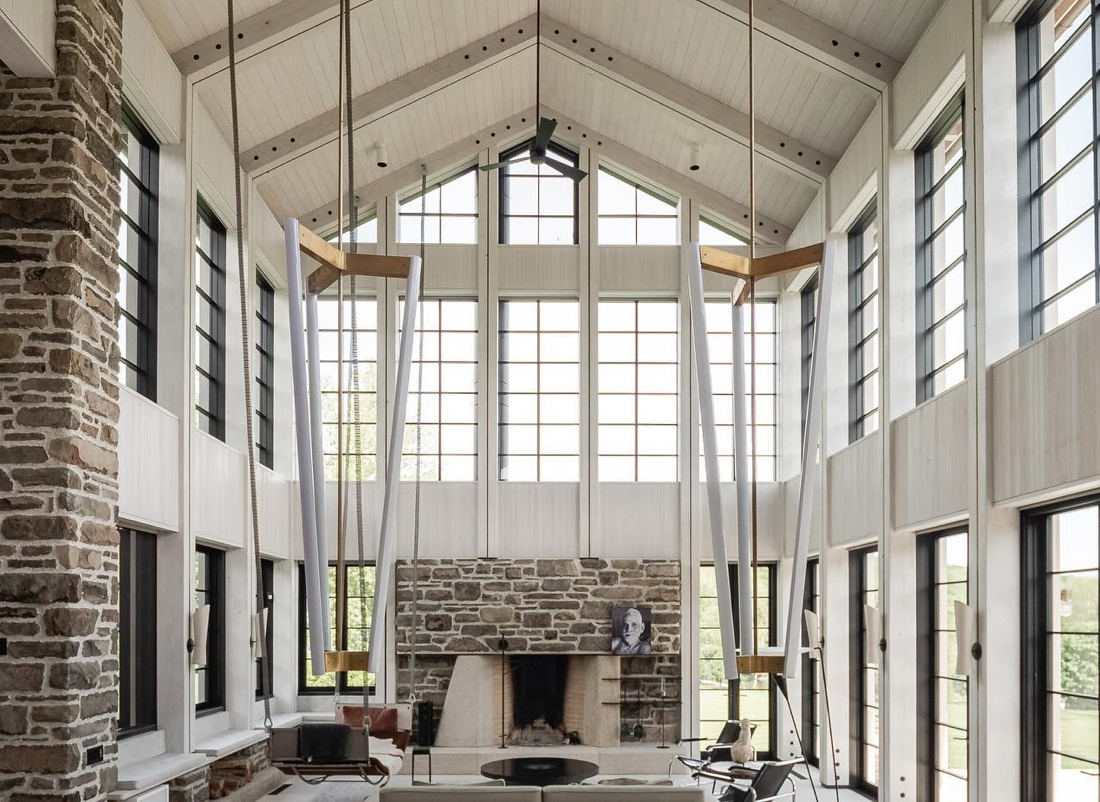 Credit: @zillowgonewild via Instagram
If you've a good head for heights or don't mind dusty ceilings, then this $25,000,000 lime stucco and fieldstone house in Pine Plains, NY, is quite the purchase! As well as that 26 metre high ceiling in the living room, the home has enormous windows to maximize the views and the sense of space and light inside. There's also an inbuilt platform bed and an outdoor swimming pool.
Helmet house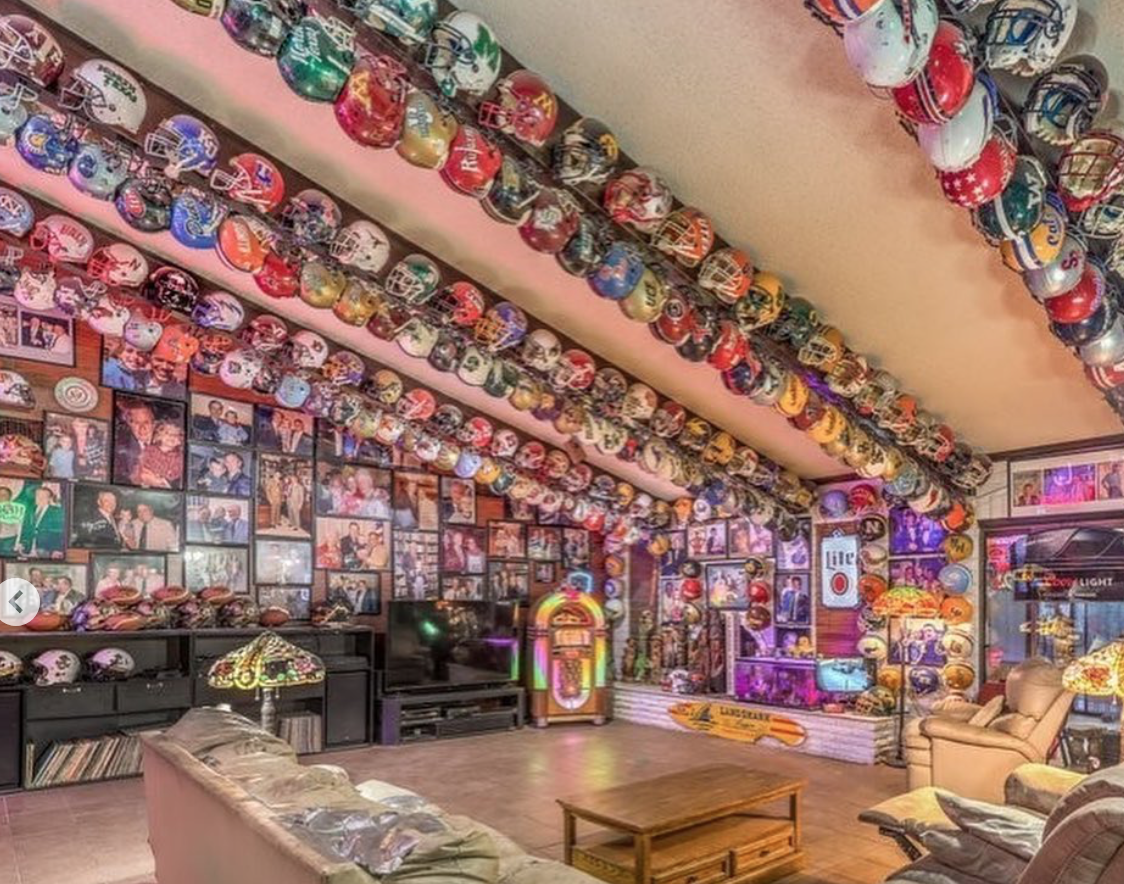 Credit" @zillowgonewild via Instagram
The bachelor pad to beat all bachelor pads, this $1,150,000 Las Vegas, NV home has one obvious defining feature: hundreds and hundred of football helmets. They're the backdrop – and frequently the ceiling canopy – to every room, suggesting that football memorabilia is the central focus of the owner's life.
Barbiecore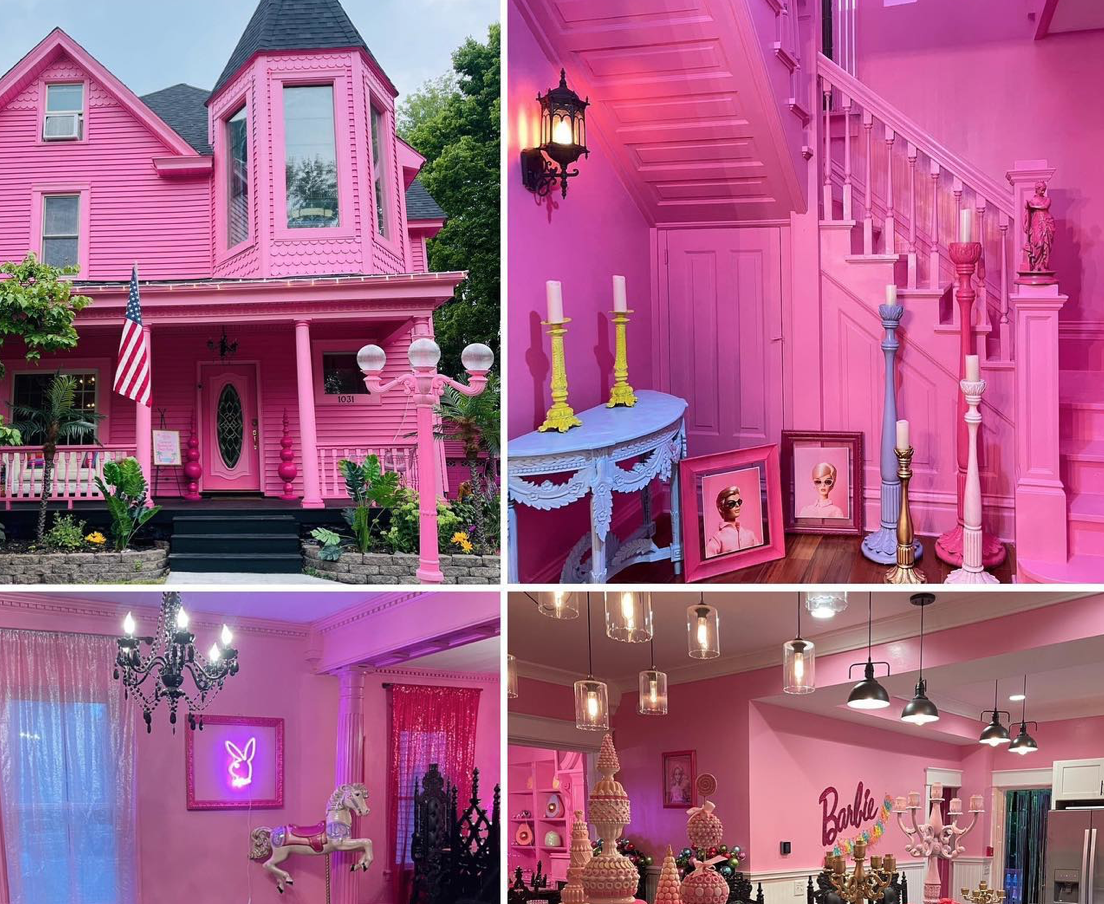 Credit: @zillowgonewild via Instagram
This Hudson, WI home isn't only Barbie pink on the outside. The interior is just as pink and makes no secret of what – or who – inspired the decor. It's unclear how much the color and decor affected the $1,100,000 listing price but, though it might be a lengthy job, a new owner could always repaint…..
May the force be with you?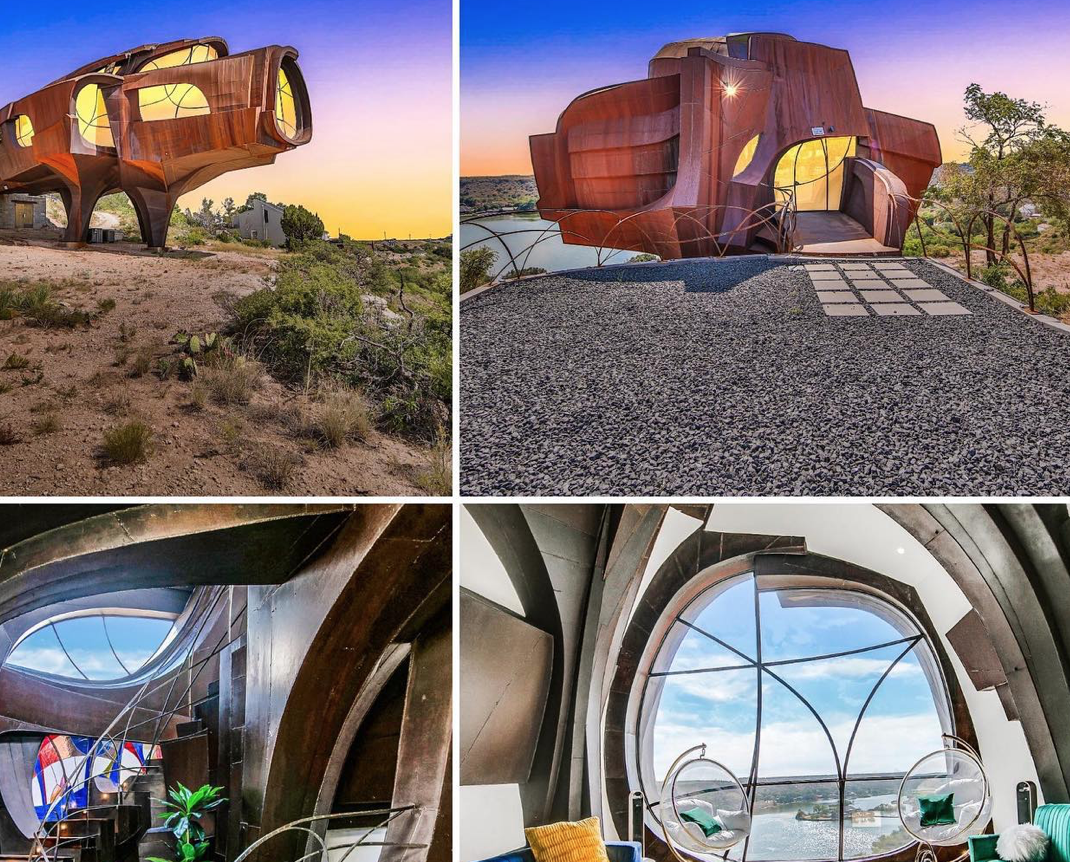 Credit: @zillowgonewild via Instagram
No, it isn't a set from Star Wars. Instead, this Ransom Canyon, TX property, known as the "Robert Bruno Steel House" is a local landmark. It's the unfinished project of one man, who spent more than 30 years designing and building it – and finally moved in to the still unfinished property only months before his death. Although it subsequently went up for sale, it was withdrawn from the market and is set to be a vacation rental.
Sweet studio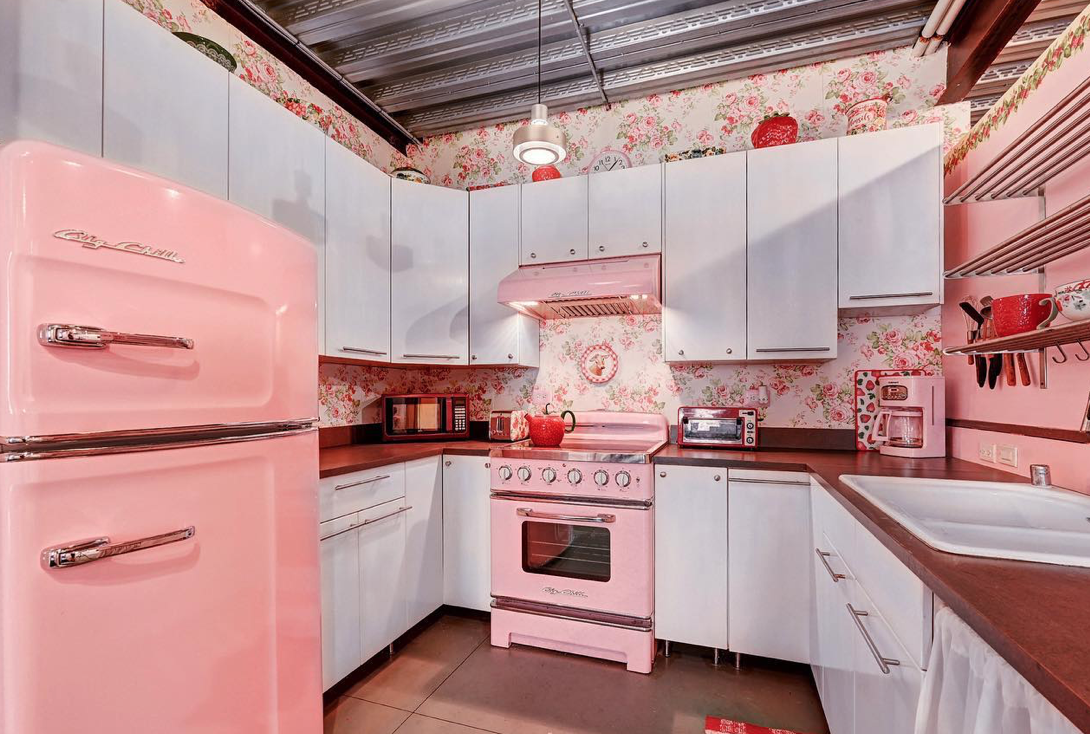 Credit: @zillowgonewild via Instagram
Although less than 1000 sq ft, this Dever, CO studio was listed for almost $500,000. The interior is a quirky mixture of edgy industrial (the steel ceilings and wooden partitions), and Granny chic. Needless to say, the pink kitchen, with its floral wallpaper and steel ceiling, is a particular highpoint.
Mountain hang-out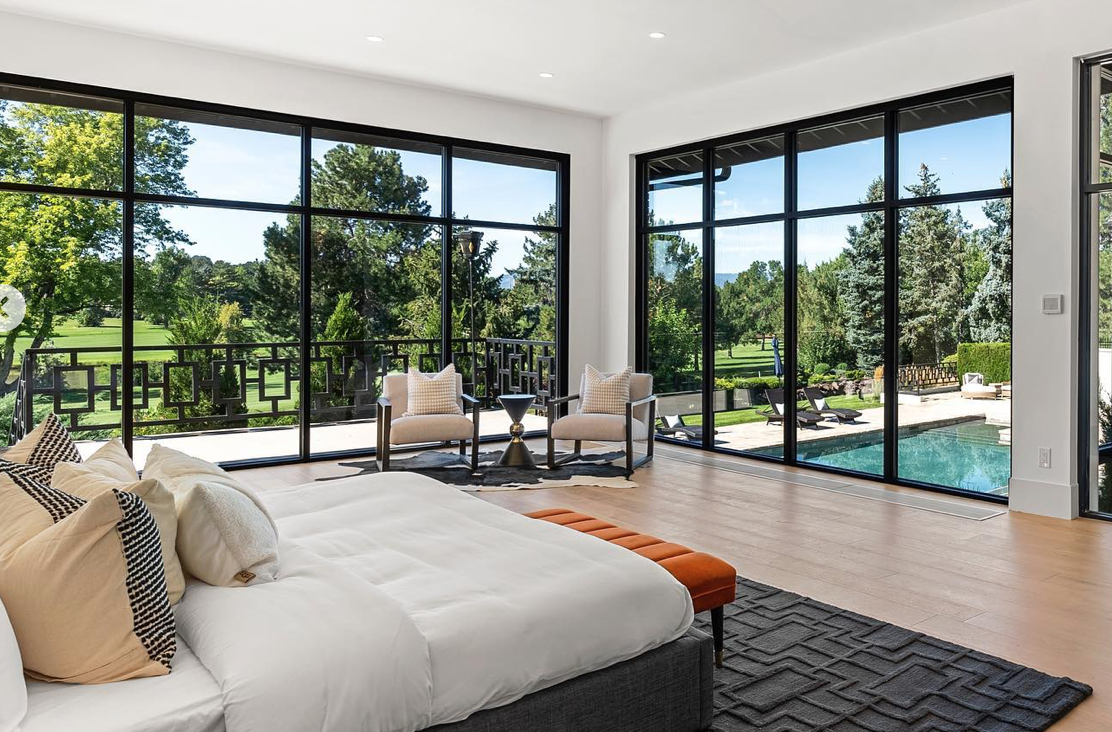 Credit: @zillowgonewild via Instagram
Reputedly once frequented by Elvis Presley, the listing for this Denver, CO home calls it "the celebrity hangout in Denver". Whether that's true or not, it's certainly designed with plenty of space for fun. However, the placing of the bed, within sight of the outdoor pool, is particularly curious and raises more questions than one real estate listing can possibly answer.
Disney in Alabama?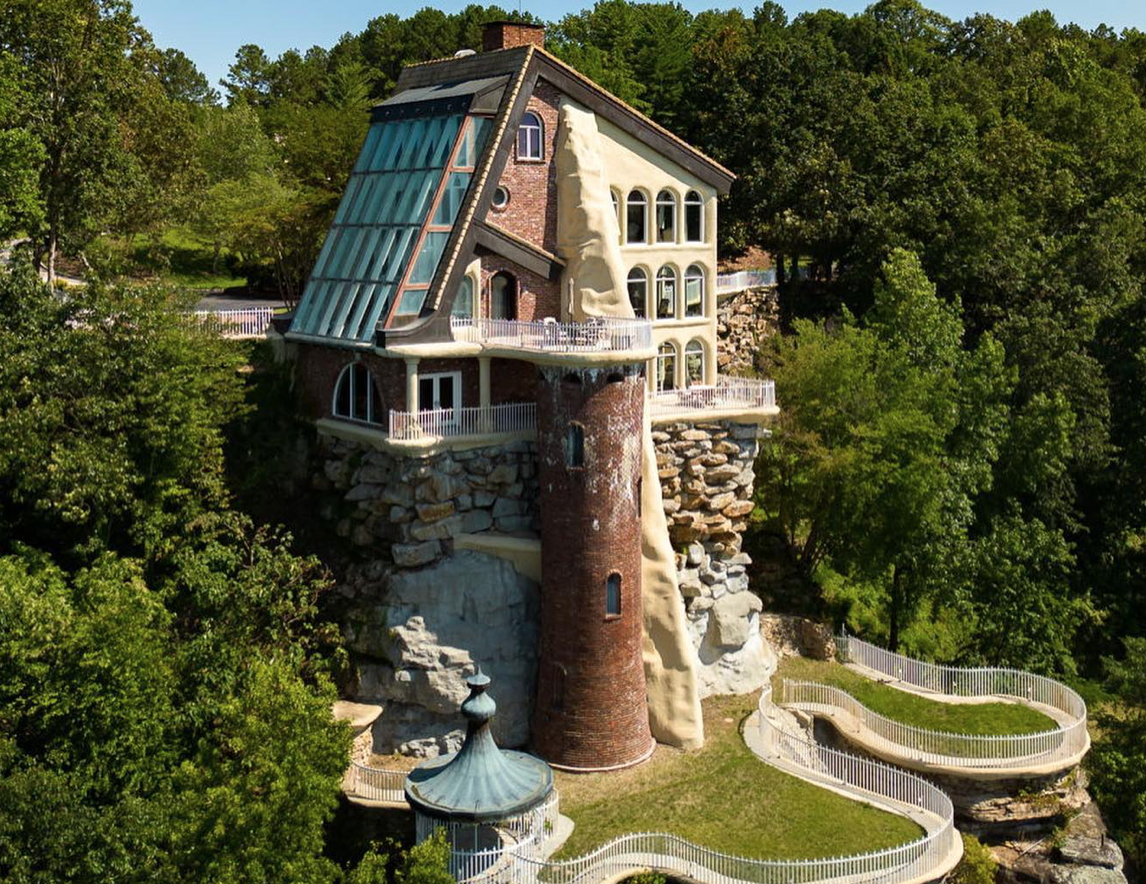 Credit: @zillowgonewild via Instagram
Despite the fantastical tower, it's not Disney in Alabama. Instead, this is the "Castle at Smith Lake" – and you'll find it on Lake Bremen, AL. It's a spacious 4,974 sq ft and its light, bright interior affords far-reaching views across the lake. However, all those views come at quite the price: $4,900,000.
Bleachers with a lake view?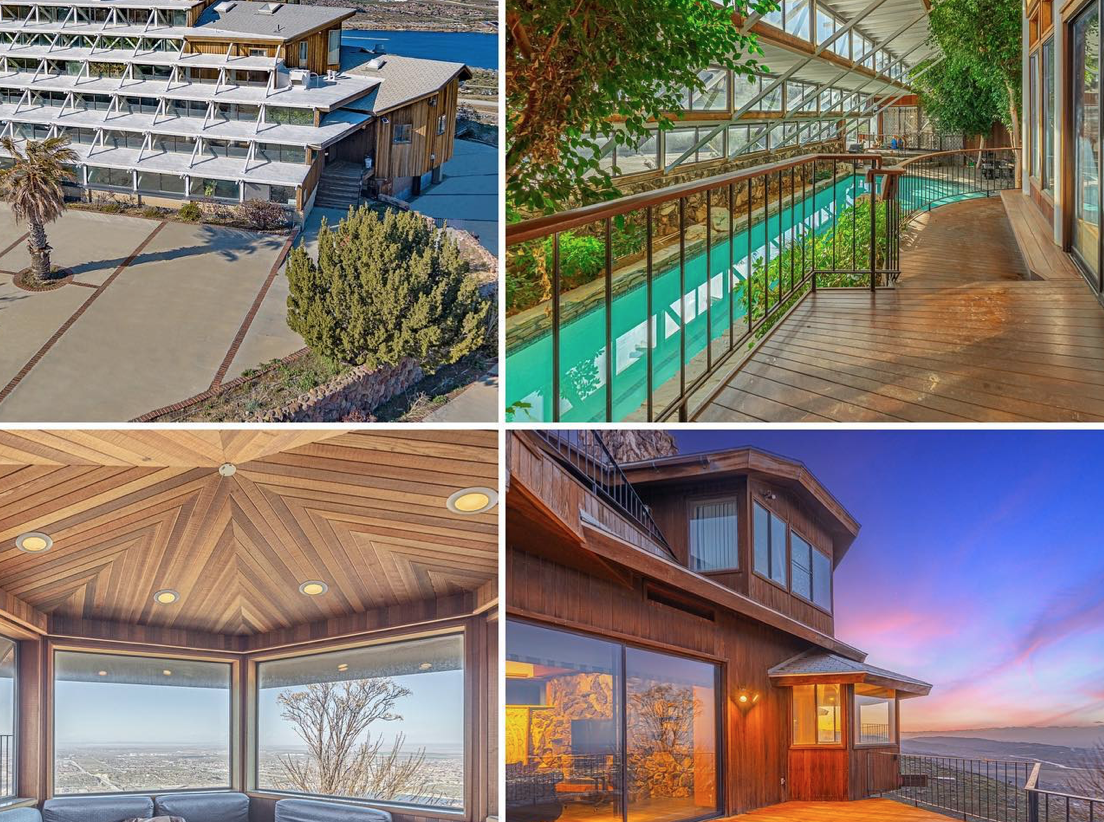 Credit: @zillowgonewild via Instagram
Appearances can be deceptive. Whatever you might first think, this property isn't a stand of bleachers although it does have a spectacular lake view across Lake Palmdale in CA. Inside, however, it's full of elegant wooden walkways, a spiral staircase, small trees and even a long pool that has the look of a river feeding the lake outside.
1970s time capsule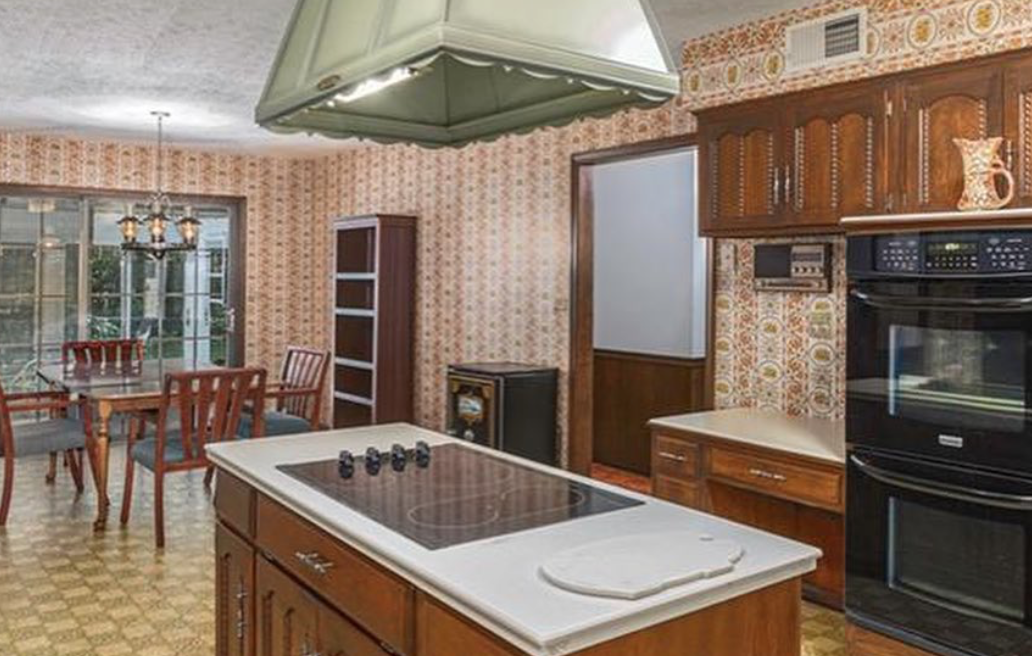 Credit: @zillowgonewild via Instagram
Everything about this Lee's Summit, MO home screams 1970s. From the bright floral wallpaper in the laundry room to the shiny counterpane in the bedroom and the luxuriant orange carpet in the living room, this house is sure to remind many prospective buyers of their grandparents' houses.
An island of your own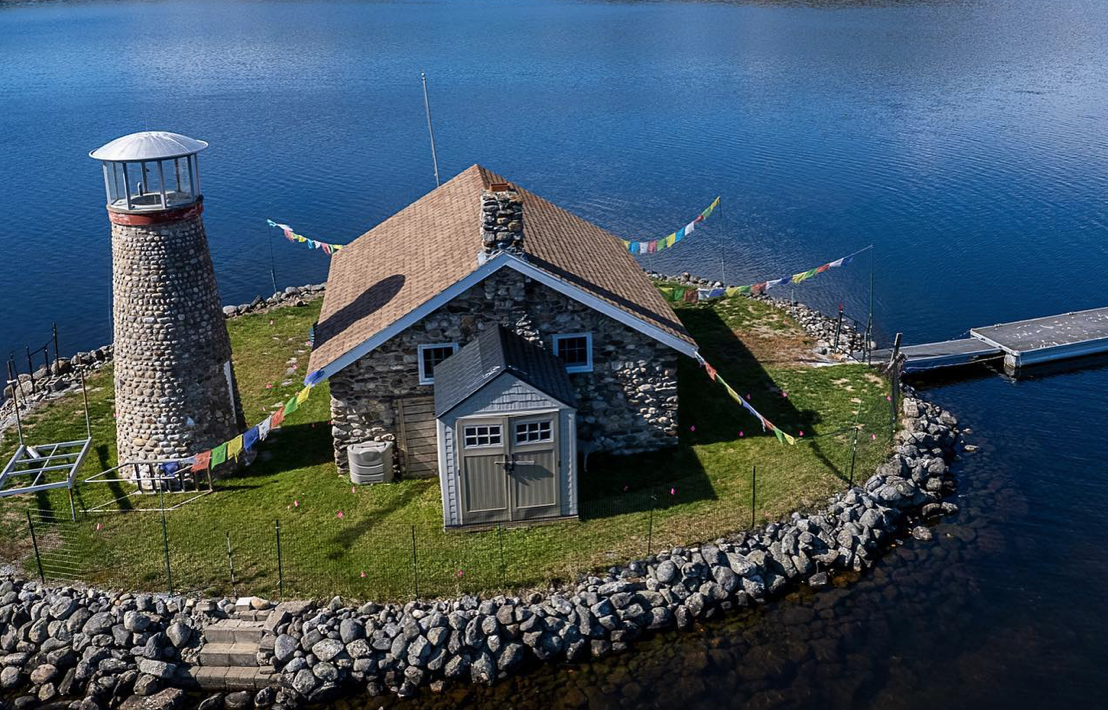 Credit: @zillowonline via Instagram
Never mind a room of your own….. What about an island? And, moreover, an island complete with a cute one-roomed house. Located on a manmade island in Anasagunticook Lake in Canton, ME, there's also what appears to be a small lighthouse and a useful jetty. However, the house has only a compost toilet and no running water. It's also unlikely to be on an Amazon delivery driver's route!
Victorian surprise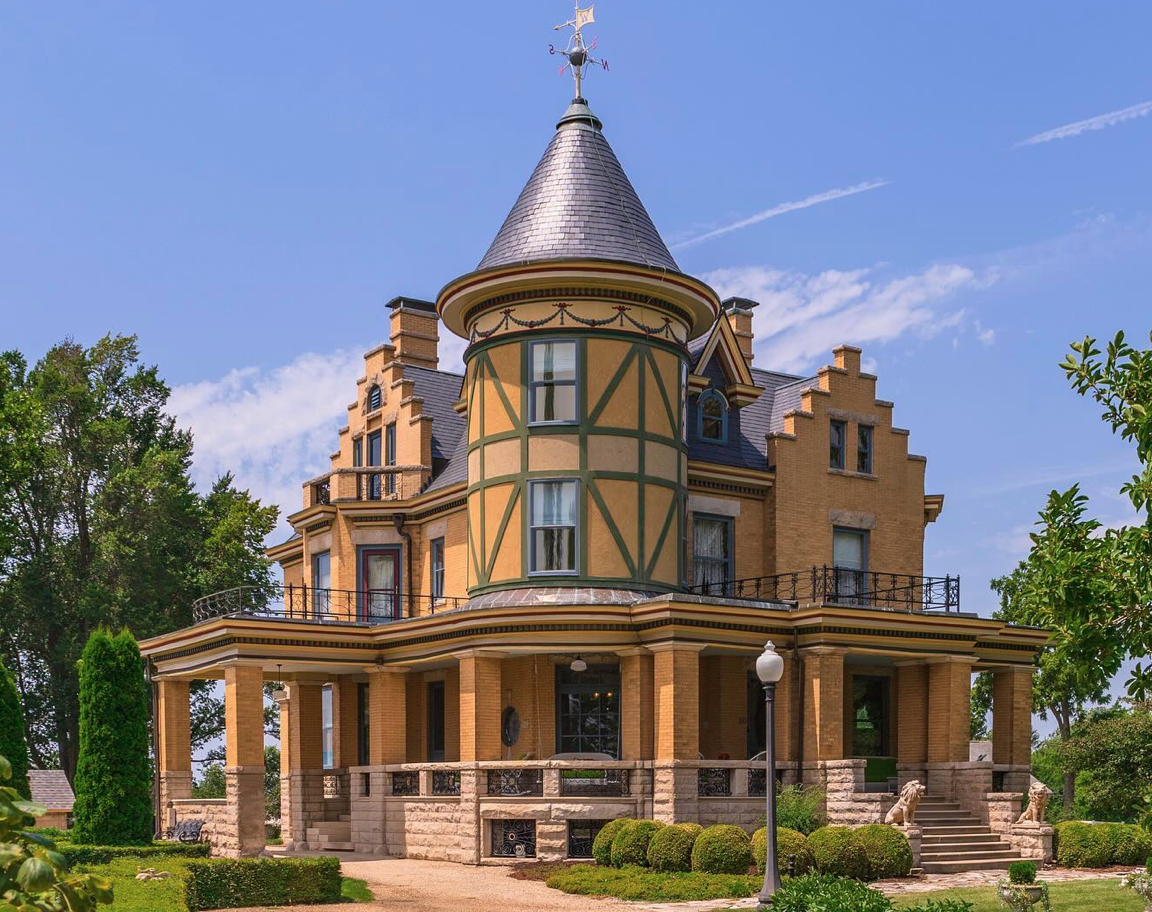 Credit: @zillowgonewild via Instagram
The exterior frontage of this vaguely Gothic-inspired Victorian house is impressive enough. However venture beyond the front door and then on out into the 55 acres in which this Lexington, IL property sits and even more surprises await. For instance, if you weren't expecting a fairground carousel and a working miniature railway that's big enough to ride on, you should be……
Yaba daba do!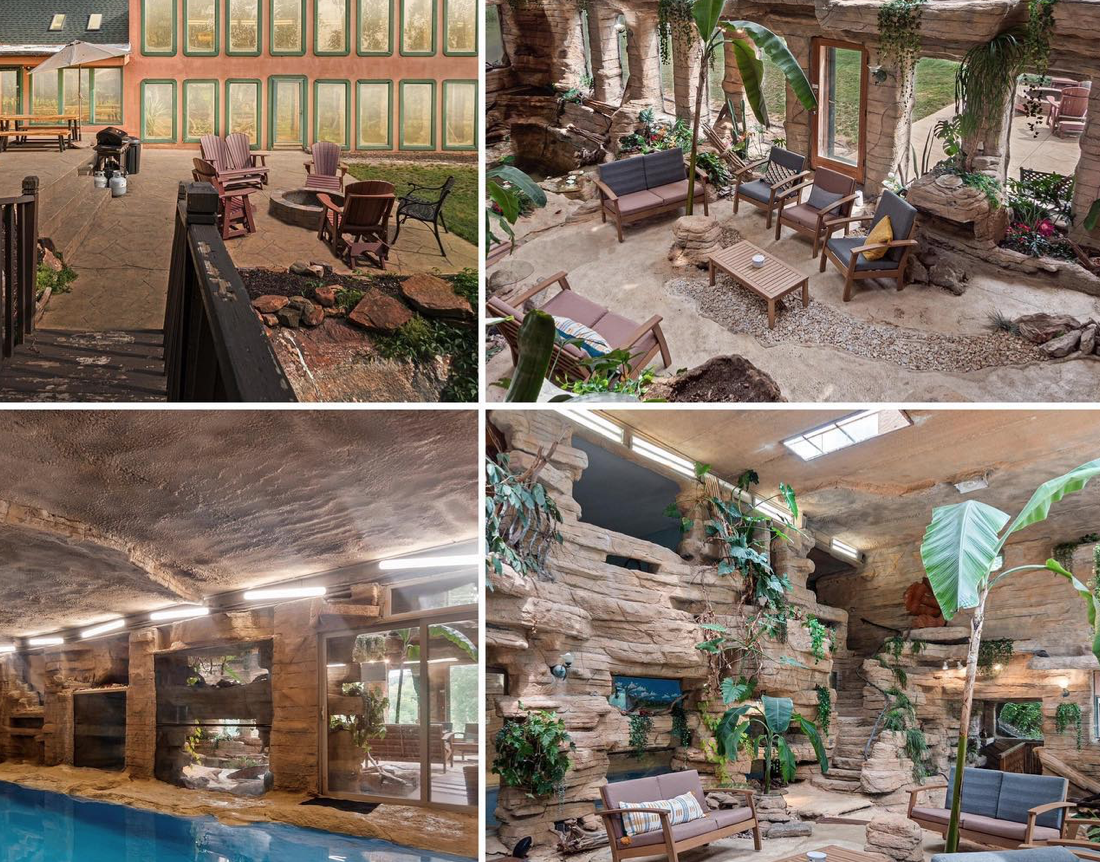 Credit: @zillowgonewild via Instagram
The closest thing to Fred Flintstone's place, this rocky home in New Berlin, WI looks fairly unremarkable from the outside. Go inside, however, and you're transported to a rocky beach, complete with cave paintings of mammoths and other long-gone creatures, a profusion of plant life, and even a pool. Loin cloths optional!
San Fran charm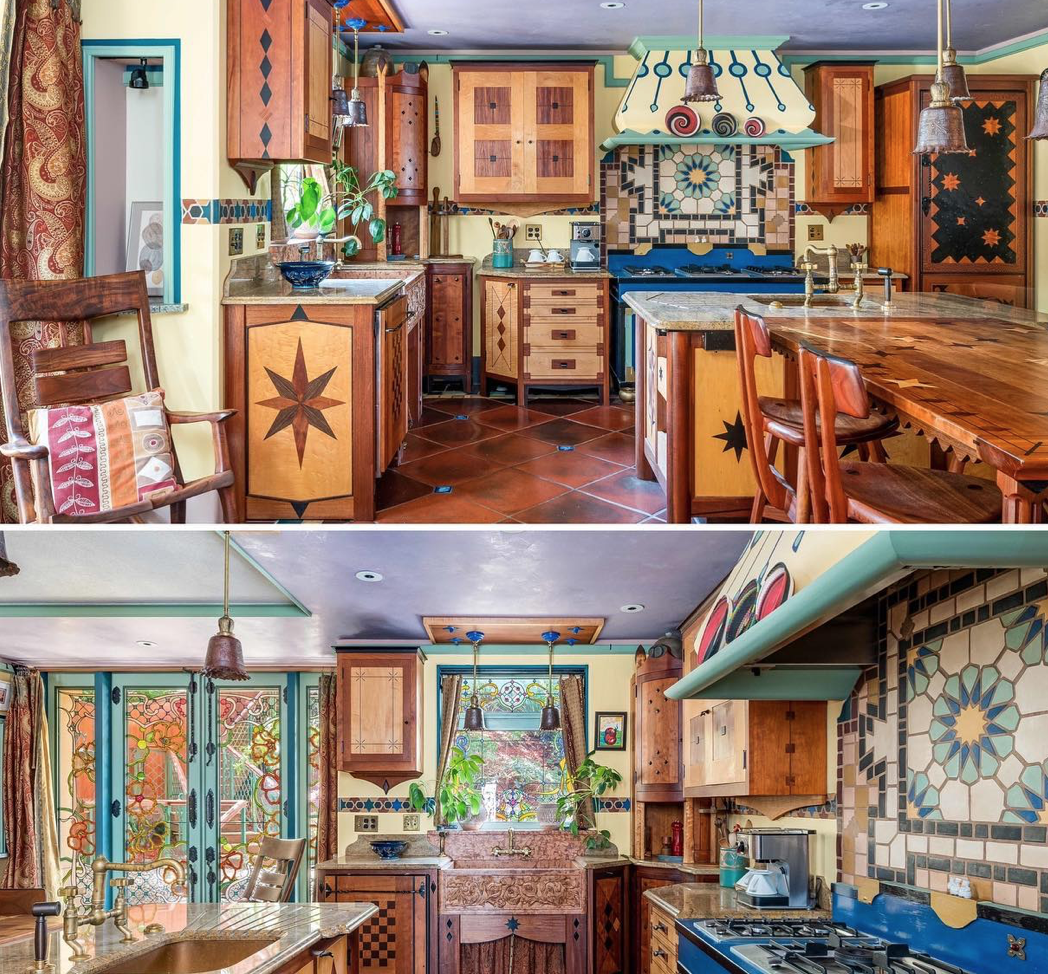 Credit: @zillowonline via Instagram
With a front door accessed via a set of brightly-painted blue and yellow steps, the exterior of this San Francisco home hints at what's inside. According to the realtor, a blacksmith forged every hinge in the property and, quite clearly, someone else was kept very busy creating all the beautiful stained glass. The two bedroom property costs a shade under $3,000,000.
A castle to call home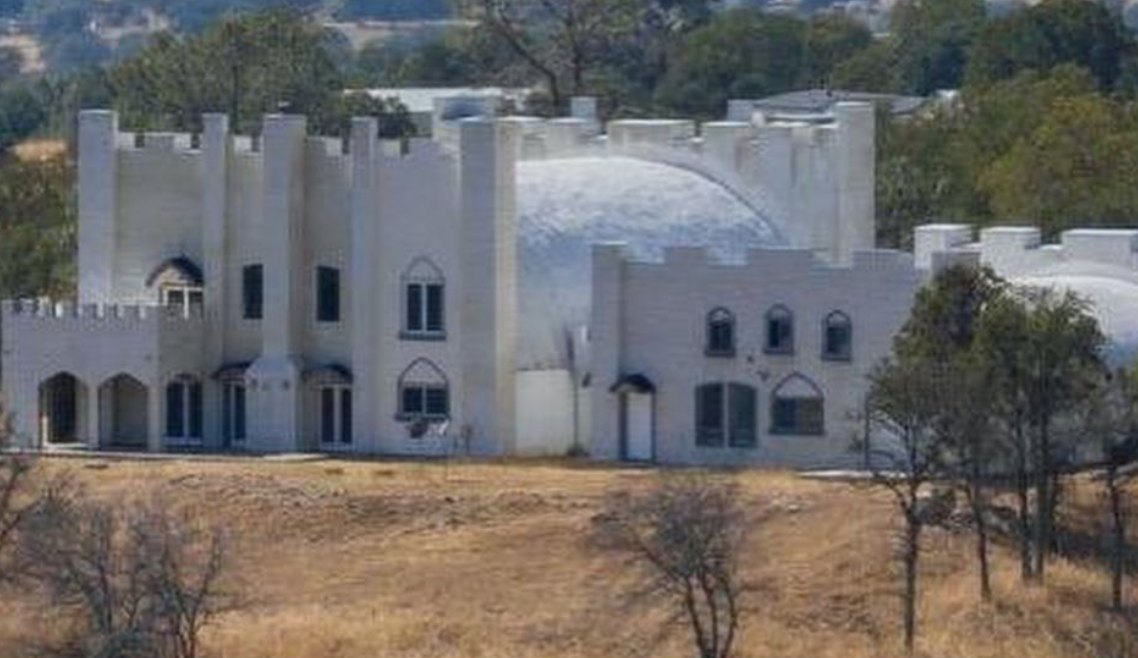 Credit: @zillowgonewild via Instagram
They say an Englishman's home is his castle but here's a real castle – or a decent lookalike – for an American. Located in Valley Springs, CA and costing a very reasonable (for California) $850,000, this slightly spooky-looking and very white home has 6,355 sq ft, 15 acres – and a bizarre empty and apparently windowless room with metal cladding on the walls.
Historic small home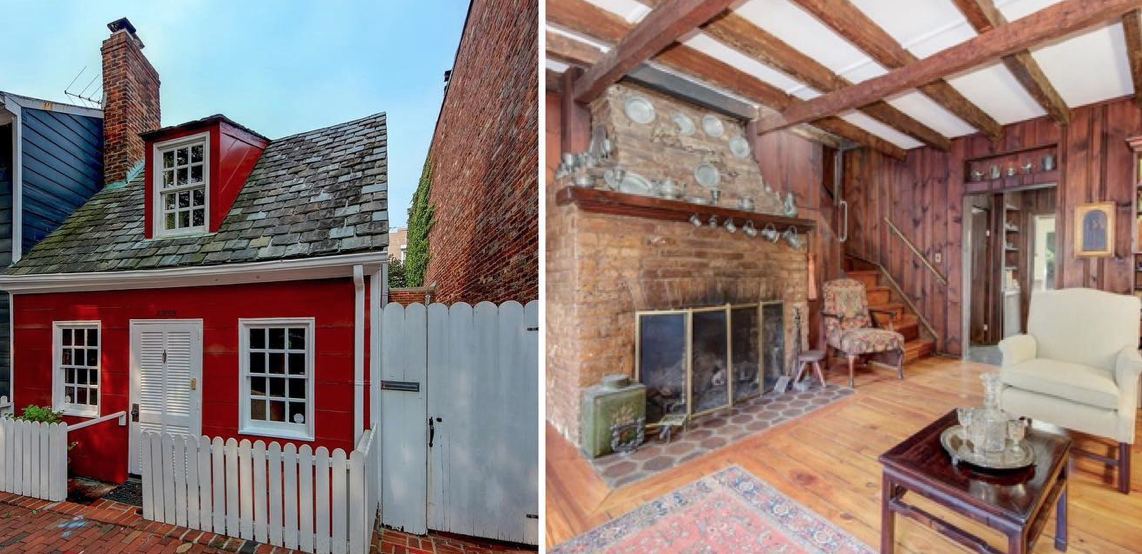 Credit: @zillowonline via Instagram
With its white picket fence and cheerful red exterior, this tiny Georgetown home looks like a playhouse. In reality, it's one of America's most historic houses. The lucky buyer of this 1700s house also gets a collection of books that once belonged to an earlier owner: a World War II cryptologist and the first female deputy director of the NSA.
What lies within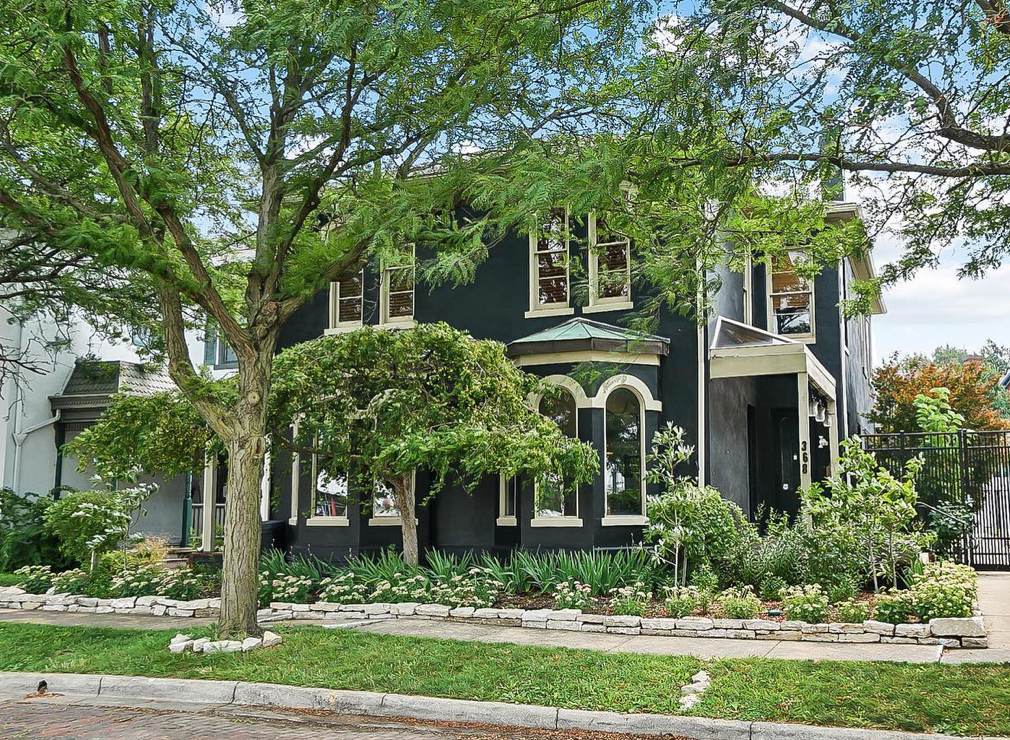 Credit: @zillowonline via Instagram
If you're beguiled by the exterior of this beautiful property in Dayton, OH, you might want to hold off clicking through the realtor's photos to check out the interior. Sadly, the interior of this four bedroom, 4,961 sq ft home doesn't match the exterior. That's not to say it isn't well done – because it is. It's just that it appears to belong to a totally different and much more modern house.