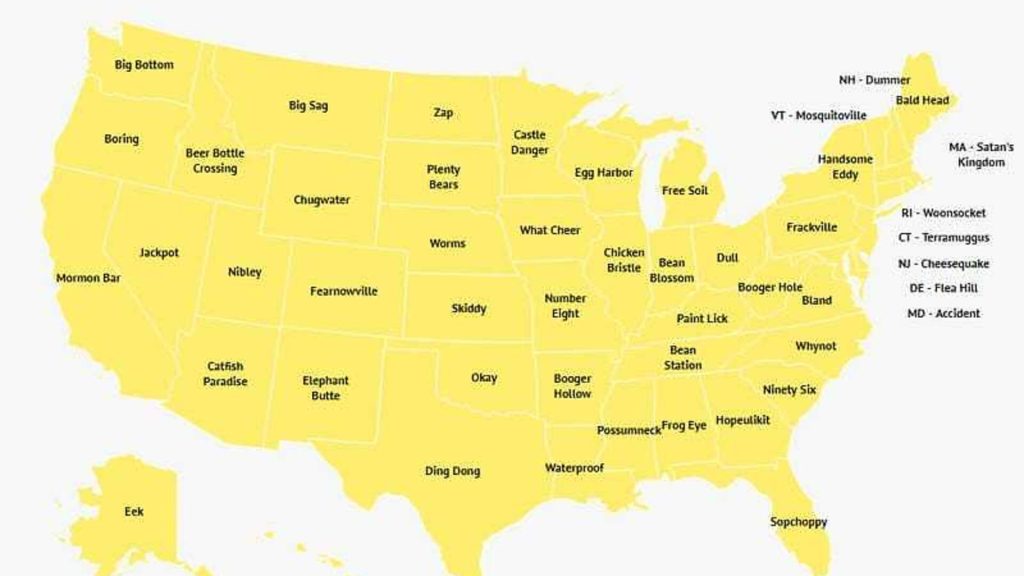 Zippia via TimeOut
There are so many towns across the nation that you've never even heard of, but these ones have such bizarre names; that you should definitely know about them. Why not take a road trip around them all and get a photo beside every road sign too? Just don't steal the signs (which apparently happens a lot!)
1. Scratch Ankle, Alabama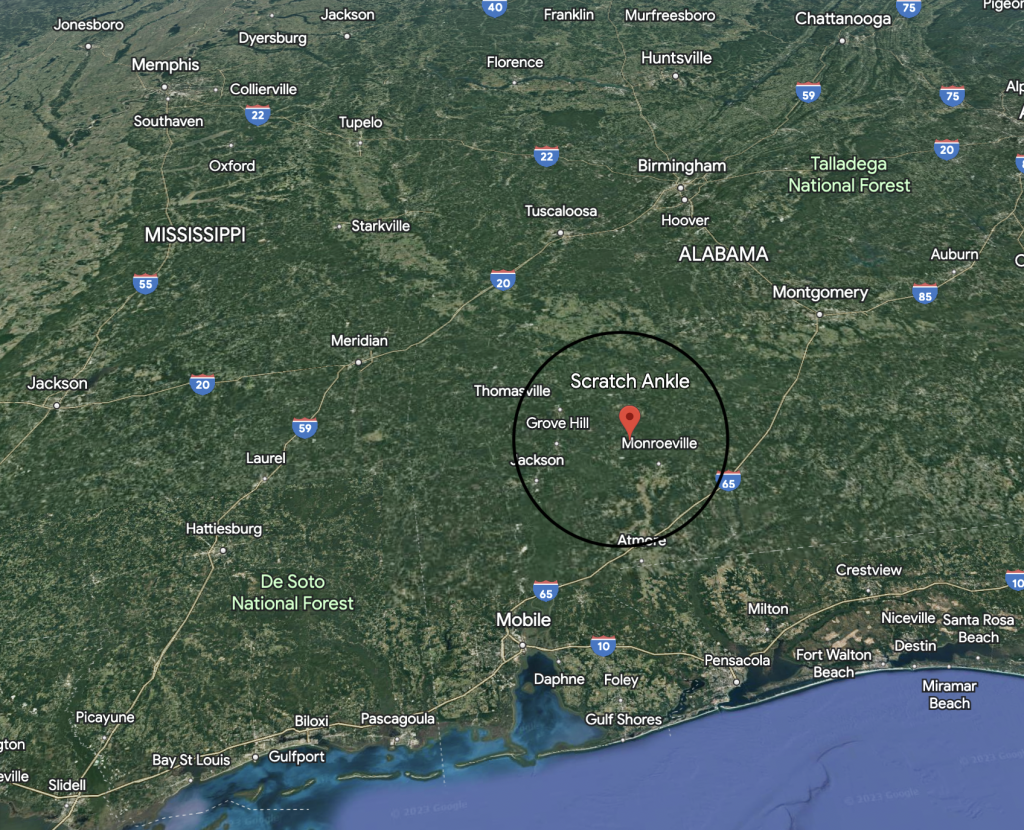 Screenshot via Google Earth
Located in Monroe County this small town has a pretty unusual name, is your ankle itchy now just looking at it? This town got it's name as passersby in trains often commented that they saw the locals scratching their ankles by the train tracks due to the amount of mosquito bites they had. Ouch.
2. Chicken, Alaska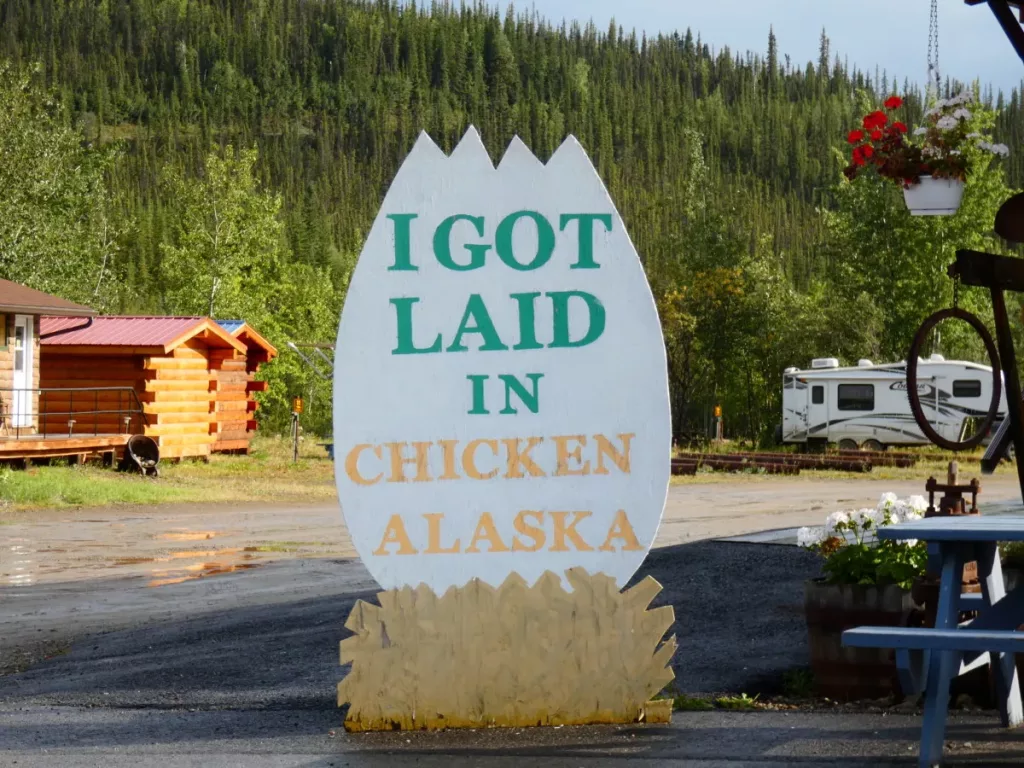 Arthur Chapman via Flickr
This place is literally tiny; it had a population of 12 during the 2020 census. Although you might think it was known for it's poultry industry, it's actually a small mining community. This town is located near Fairbanks and no one really know's why it's called this, maybe their chicken population is higher than their human one.
3. Why, Arizona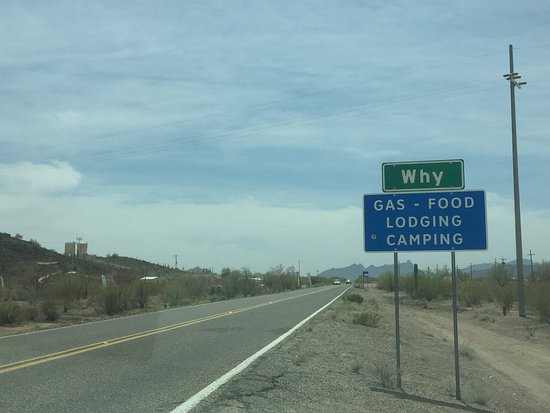 jrosenbergh via Tripadvisor
Why, oh why, would you name a town Why? Also a small town with a population of 167, the town is located in Pima County, Arizona. The town originally got it's name because the town was where two highways intersected in the shape of a 'Y'. At the time, town names were required to have at least three letters, hence it was changed to "Why".
4. Toad Suck, Arkansas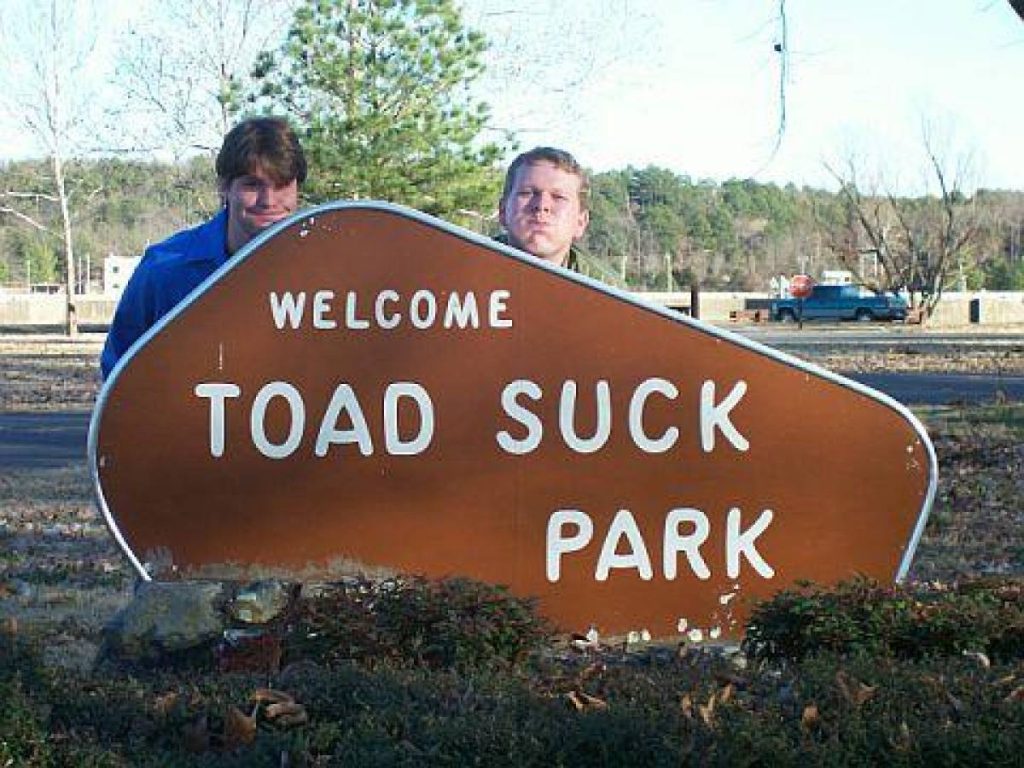 John Newton via Straight
The origin of the name is disputed, but Toad Suck is a pretty bizarre name for a town. Some believe that it was from when idle river-men would meet at the tavern and "suck on the bottle 'til they swell up like toads", others believe it comes from a misinterpreted phrase in french. Either way, it's a weird one.
5. Cool, California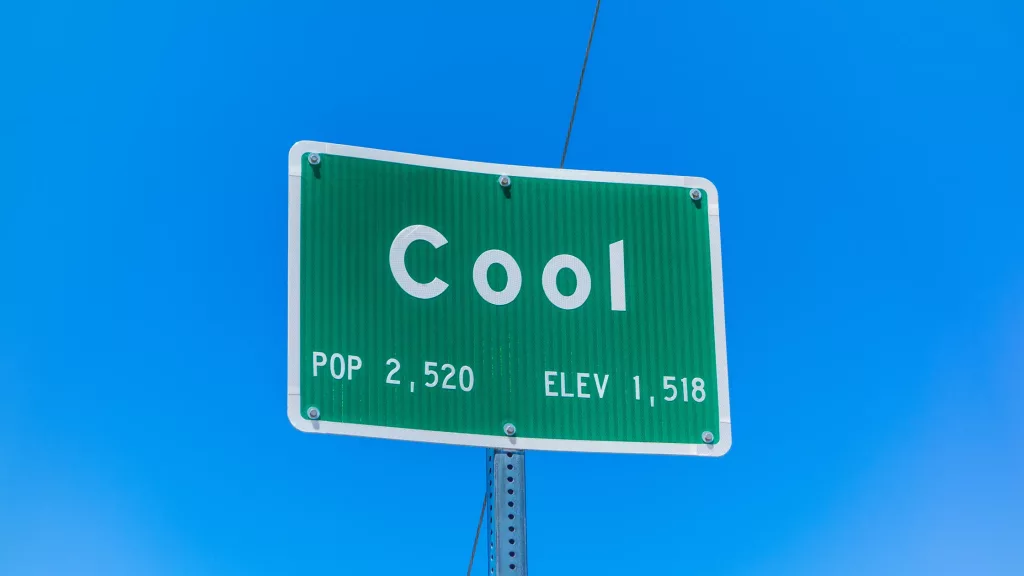 Alamy via Traveler
Everyone in California is pretty cool, but this place has the name to match. Located about 40 miles from Sacramento and formerly called Cave Valley, the town is named after Aaron Cool. Surprisingly, the town has a warm climate and is actually not cool at all. The town has a population of 1,400.
6. No Name, Colorado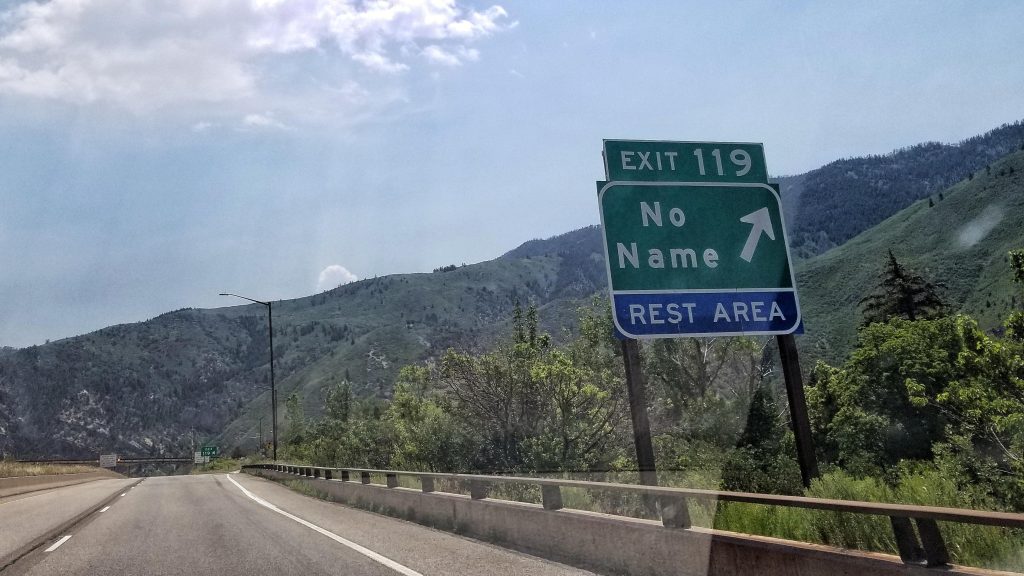 hockeydude0123 via reddit
Out of the 117 people, you'd think they could come up with a name for this place. No Name is located near Glenwood Springs and is named after No Name Creek and No Name Canyon. This strange name came from a famous explorer who mapped out the Colorado River, riding on a boat called The No-Name.
7. Two Egg, Florida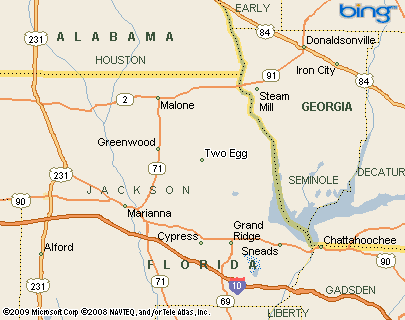 Microsoft Corp. via NAVITEQ
Two Egg is a small community in Jackson County, Florida. The origin of the name is a little disputed though; some say it came from The Great Depression when people would trade eggs for other food. Others say that two eggs were dropped by accident, causing the name to be chosen.
8. Experiment, Georgia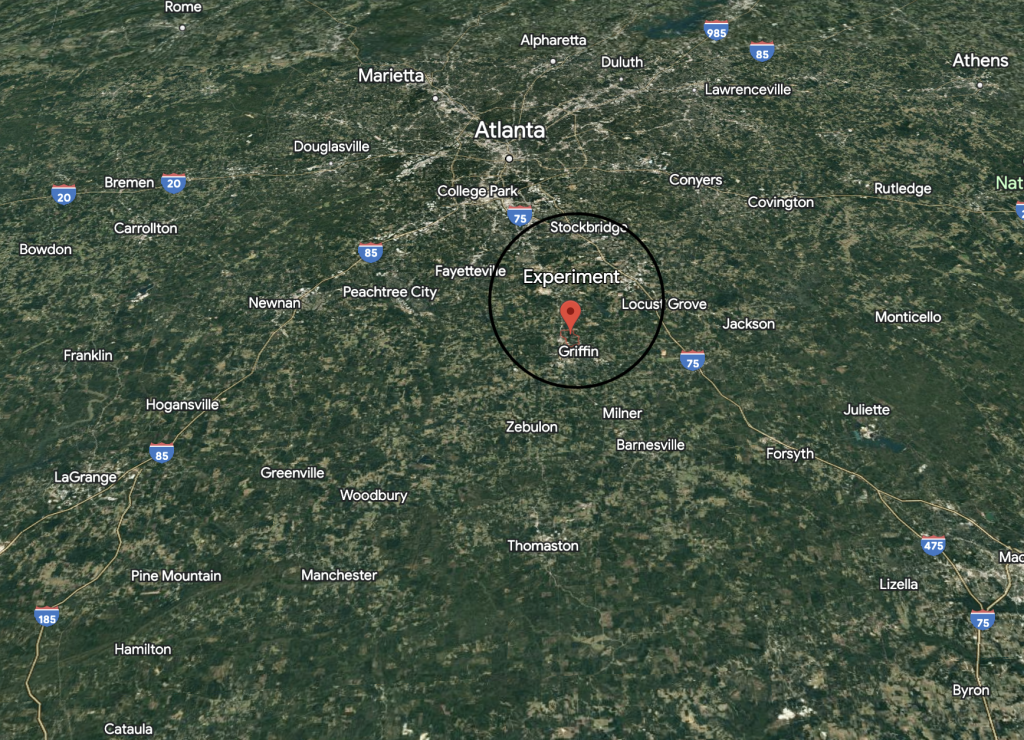 Screenshot via Google Earth
It's like these guys named this town when it was still in development and then forgot to go back and change it later. However, this is not the case; Experiment, Georgia is actually named after The University of Georgia Agricultural Experiment Station that is located there.
9. Slickpoo, Idaho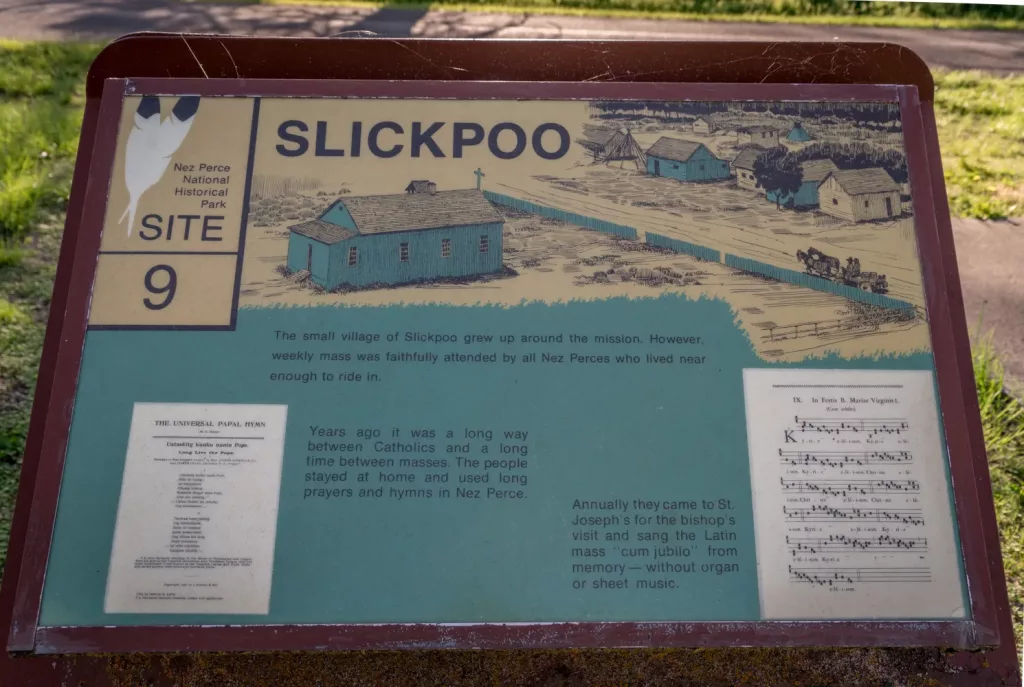 Evan Jones via Travel Obscura
This one speaks for itself, really. The town's Wikipedia page seems to think the same because it is literally one sentence long. Eli Schmickel gave the town its unusual name and nobody really knows why. Even if he had named it after his own surname that would have been better.
10. Goofy Ridge, Illinois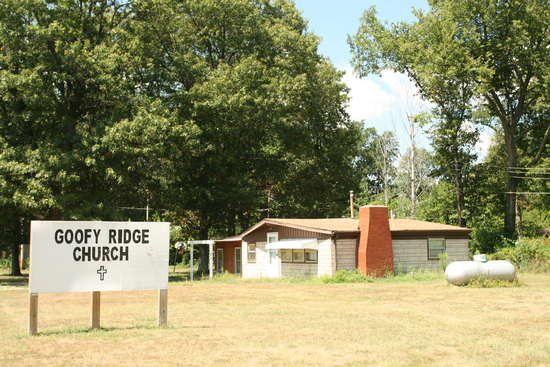 Steve Eighinger via Muddy River News
A town full of silliness to match its silly name. Goofy Ridge, Illinois is in the Quiver Township – all of which sounds made up but can definitely be found on a map. The town was named this after some moonshiners tried to shoot a walnut off the head of one of their friends which was, "one goofy thing to do".
11. Santa Claus, Indiana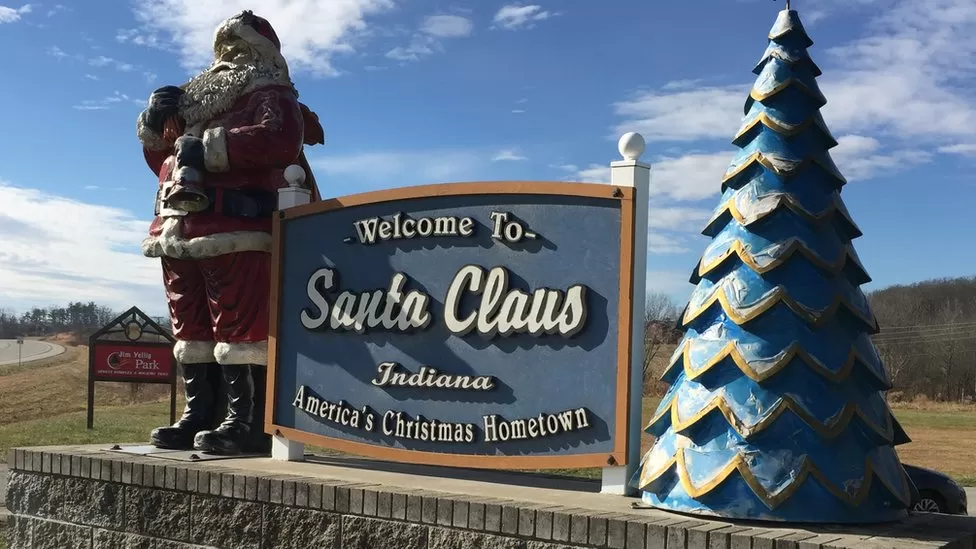 Owen Amos via BBC
It's Christmas every day in Santa Claus, Indiana. This town in Spencer County does holiday season in a big way and even has a Santa Claus museum and a candy castle. The town was asked to pick a name other than Santa Fe and whoever was in charge at the time thought it would be funny to choose Santa Claus instead.
12. Monkey's Eyebrow, Kentucky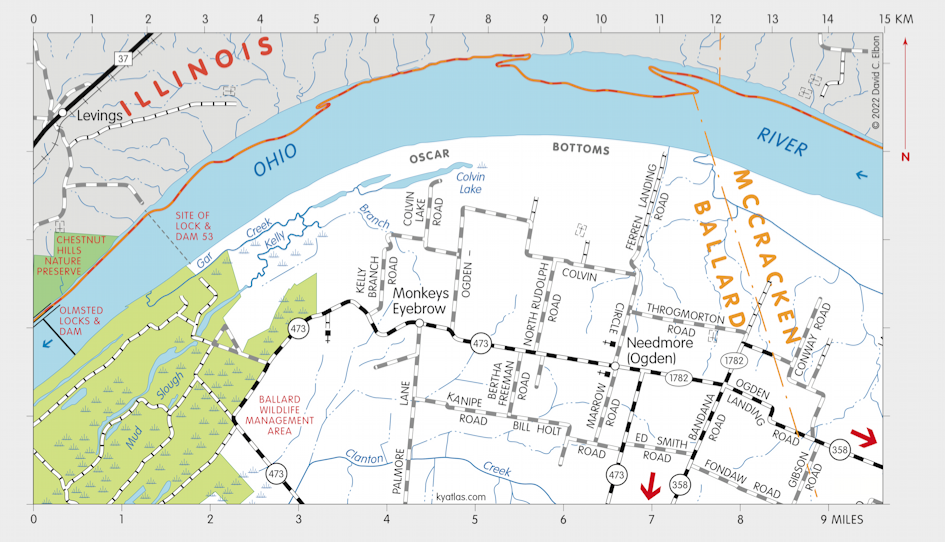 David via KY Gazetter and Altas
Monkey's eyebrow is located in Ballard County, Kentucky and people think that it got its name because Ballard County looks like a monkey's head from the air and this town is where it's eyebrow would be. This town is also near another strangely named town called Possum Trot.
13. Waterproof, Louisiana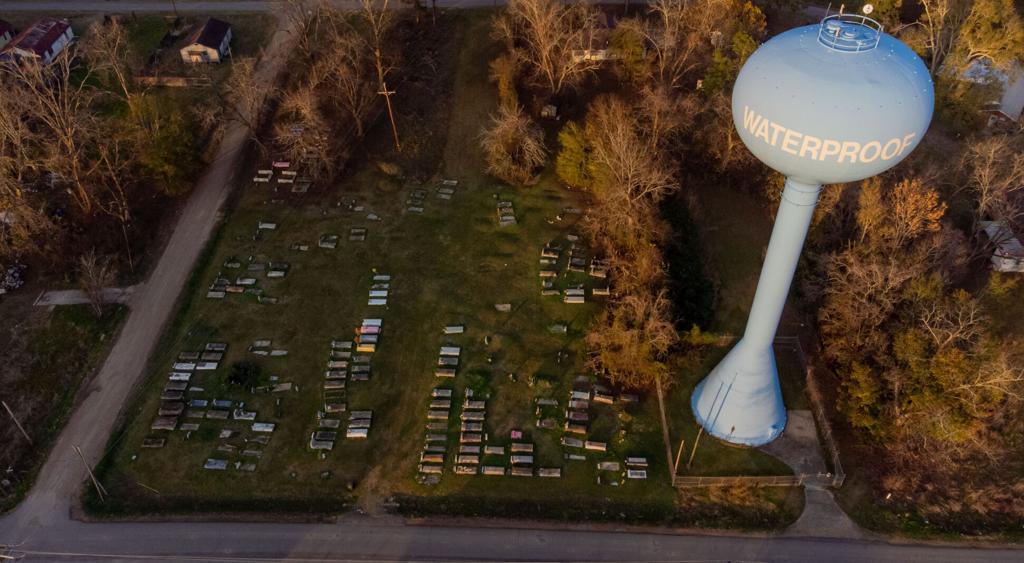 David Gruntfield via Nola
Does it ever rain here? Well, if it does, Waterproof has you covered. The town got its name because after a huge storm when the Mississippi River had flooded its banks, a Mr Abner Smalley commented that a steamboat that made it to the town in one piece must have been waterproof.
14. Burnt Porcupine, Maine
Greg A. Hartford via AcadiaMagic.com
This strangely named island is actually one of the five Porcupine Islands found off the coats of Maine. The island is largely uninhabited, unless you count lots of seabirds. There, however, may not be many burnt porcupines running about. The island is possibly called this due to its unusual shape.
15. Accident, Maryland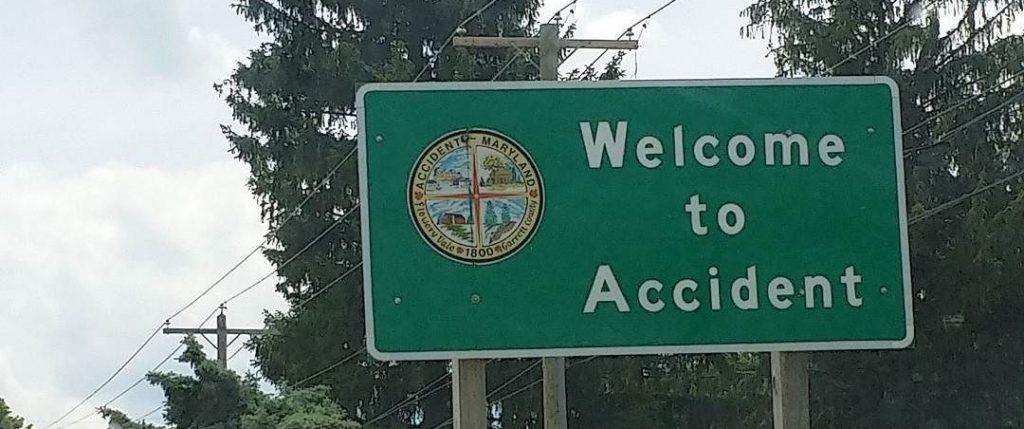 Dan Century via Dan's road trip adventures
Accident was one of the early settlements in the far west of Maryland. The name came about during a survey of the land in the 1700s when both surveyors included the town in their research, which lead to the whole survey being off. Although the name gives it a pretty a good explanation, this town name still seems like a joke.
16. Florida, Massachusetts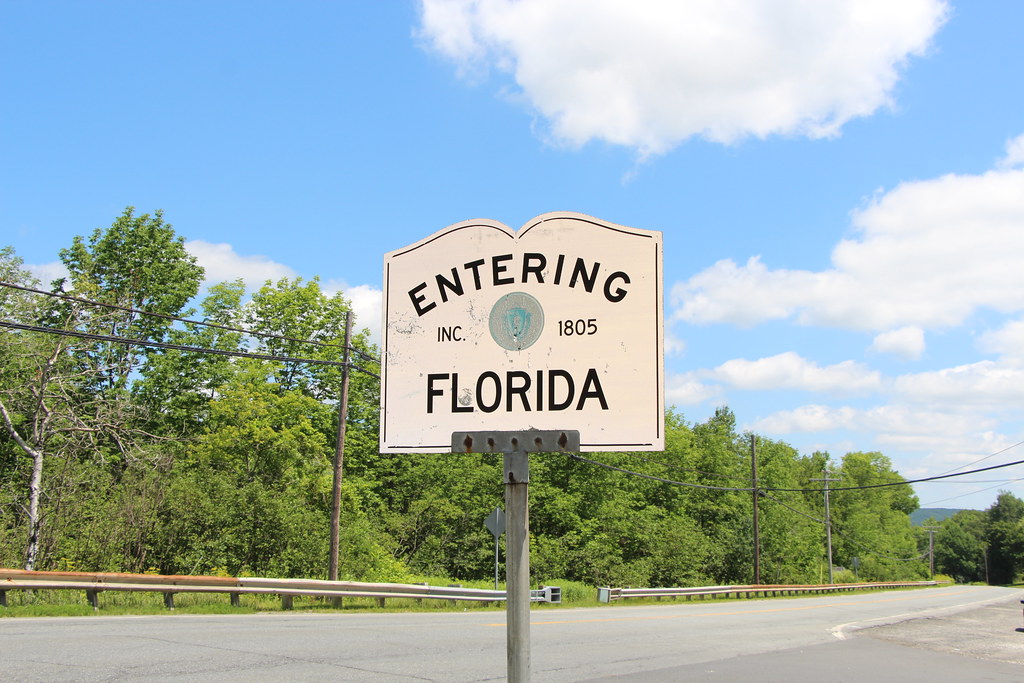 Stephen St-Denis via Flickr
This one could get a little confusing if you're not from the US. Although this town may have the same name, you won't find any theme parks in this part of Berkshire County. What you will find though is lots of potatoes and maple syrup, as these are the own's main exports.
17. Hell, Michigan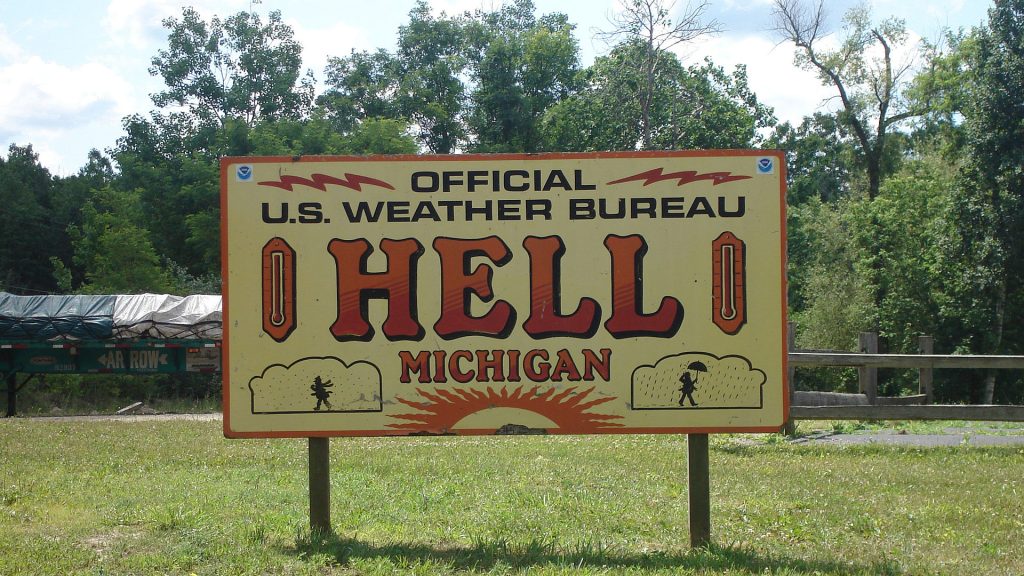 Schwonk via Wikivoyage
Have you ever gotten so mad at someone you told them to go to Michigan? This one may seem fake, but really, it isn't. The name apparently came about in the 1830s when two germans got off a coach and exclaimed, "so schön hell!" Which actually means "so incredibly bright", maybe it's all those flames….
18. Nimrod, Minnesota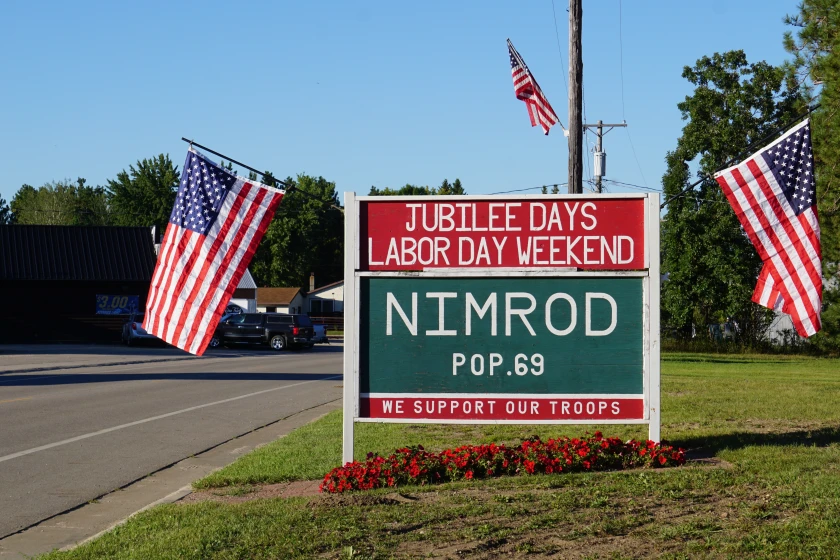 Alex Derosier via Forum News Service
You have to be a Nimrod to name a town that. The town also has a population of just 69. The town is actually named after a biblical character called Nimrod who was the grandson of Noah, although this may seem like a pretty mean thing to name your child now, the insult probably came after poor Nimrod was born.
19. Possumneck, Mississippi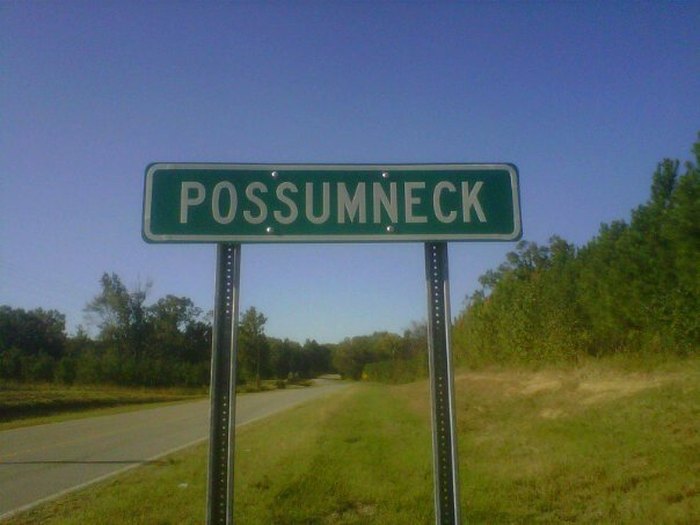 Matt Dabbs via Kingdom Living
"What a great name for a town," said no one, ever. The town is located in a "neck" of land between two creeks and the locals used to joke that the possums there would wreak havoc due to the sheer population of them. The name may make sense now, but that doesn't make it any more palatable.
20. Peculiar, Missouri

Raymore Journal Staff via Raymore Journal
Peculiar is a city in Cass County Missouri. The town got its name when the first Postmaster General submitted several names for the town that had already been taken, including "Excelsior". After several attempts, he was so frustrated that he just submitted a letter that said "I don't care what you name us, as long as it's something sort of peculiar." And so, peculiar was born.
21. Worms, Nebraska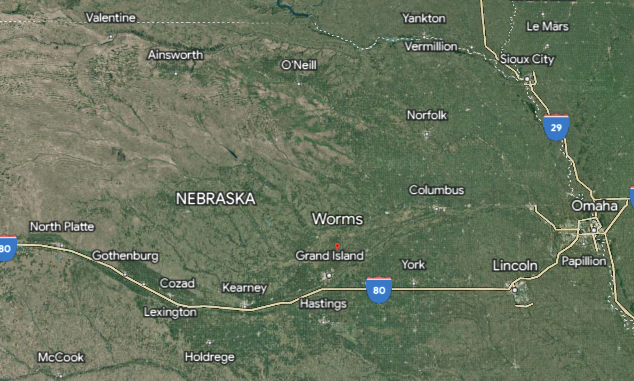 Screenshot via Google Earth
Worms, Nebraska is a simple little place with a pretty gross name. It consists of only a few homes, a bar and a church. The town was likely named after Worms, Germany which actually means "settlement near water" in Celtic. They really should have thought that one through before they named an english town Worms, though.
22. Jackpot, Nevada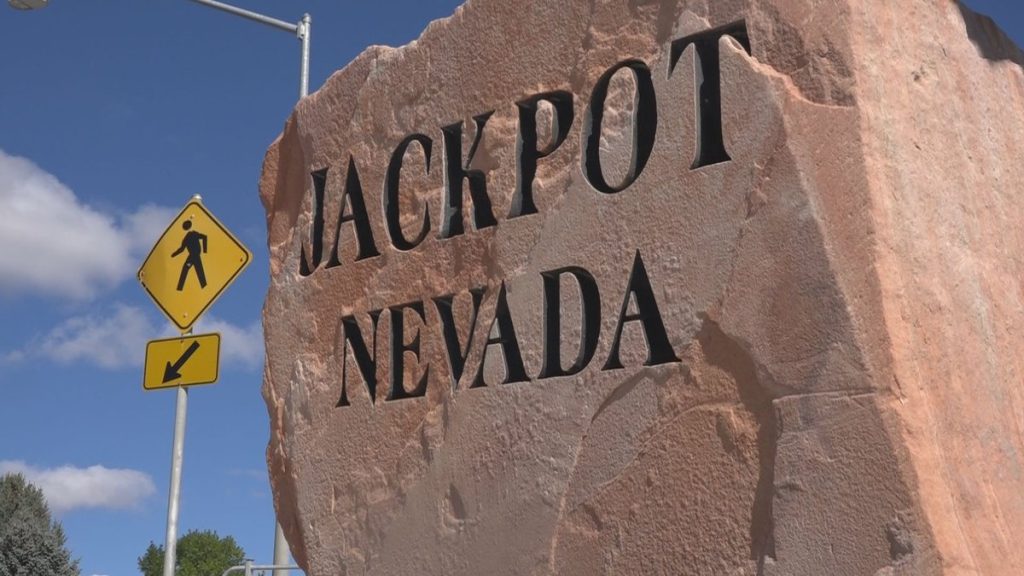 Jack Schemmel via KMVT
A perfectly fitting name for a town in the gambling capital of the world. Although it's far from the bright lights of the Las Vegas strip, this town is close to the border with Idaho and has therefore been a popular gambling destination for Idaho residents. When gambling was banned in Idaho in the 50s, many casinos moved their businesses here, hence the name.
23. Dummer, New Hampshire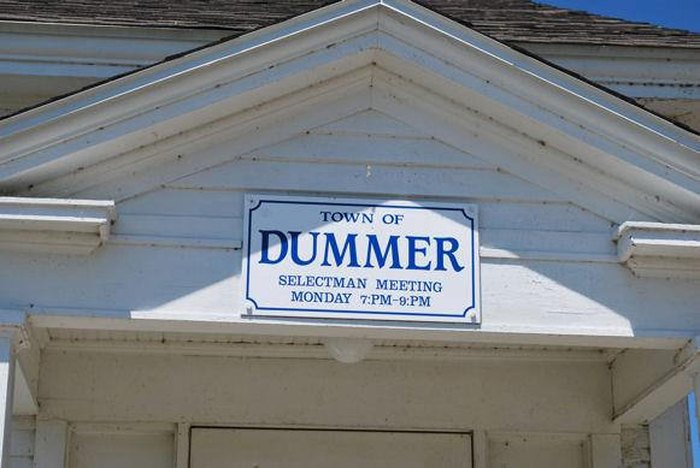 John Bolduc via flickr
Dumb, New Hampshire sadly doesn't exist, but Dummer does. Dummer is a town in the Berlin area of New Hampshire and even has a village in it called Paris. A real hub for strange place names, Dummer only has a population of just over 500 – probably because people are afraid that living there will affect their IQ.
24. Foul Rift, New Jersey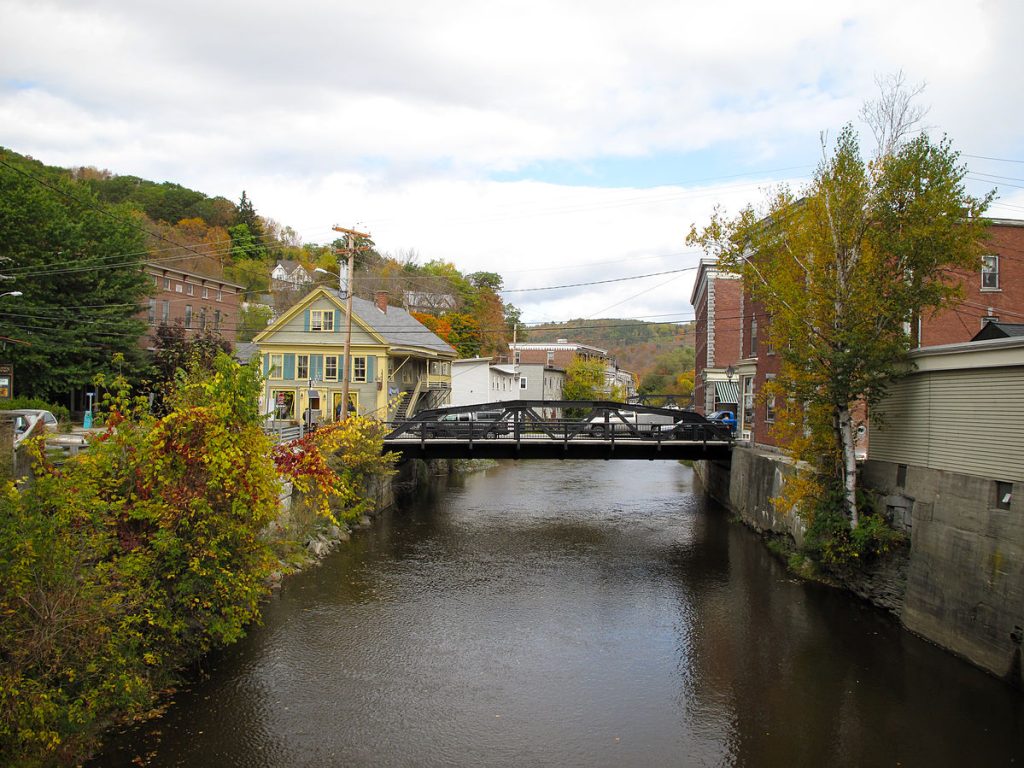 Credit: Michael Calore via Pexels
A more off-putting name would be difficult to come up with. But, the locals don't seem to think so as this town is made up mostly of campsites and holiday cottages, The town is named after the rapids that are part of the Delaware River and are supposed to be pretty dangerous.
25. Pie Town, New Mexico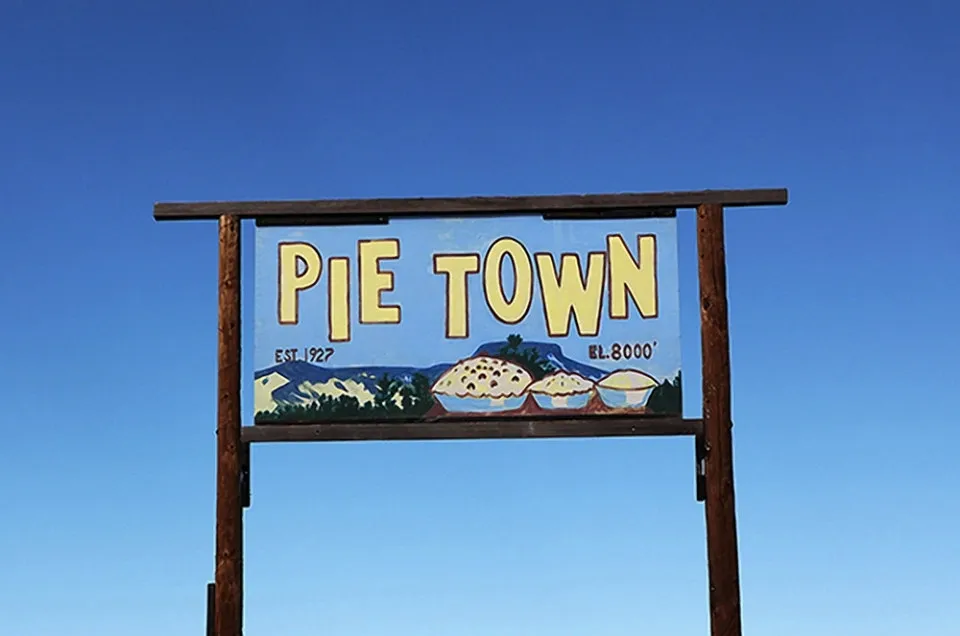 Getty via Pioneer Homestead
a one way ticket to pie town, please. This place sounds delicious, and you'll be happy to know that it is famous for it's pies. The town is named after a bakery that specialized in dried apples and the town even holds a Pie Festival every year. And with a population of only 186, there's plenty of pie to go around.
26. Climax, New York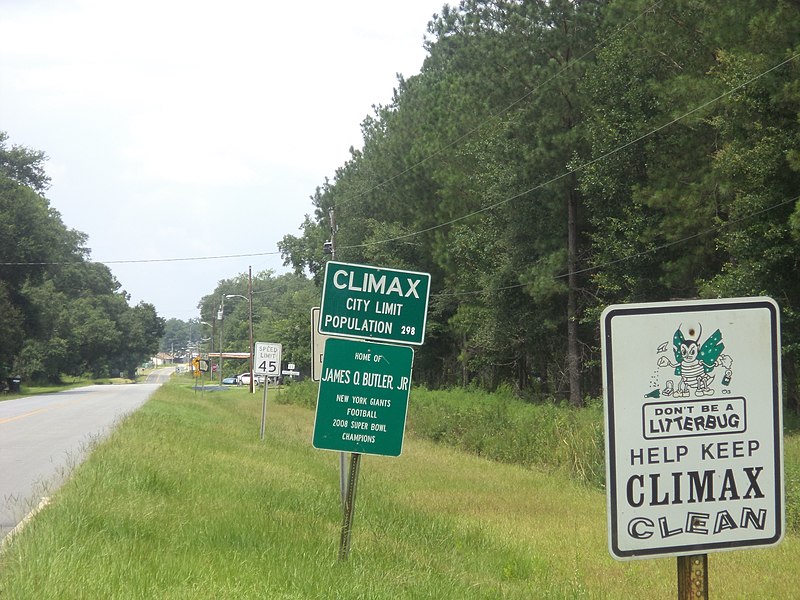 Michael Rivera via Wikimedia
This town has a pretty interesting name, no matter how you get there… Although, it's technically more of a hamlet than a town. The name may promise a good time, but there's actually not much to do in Climax. Tripadvisor has no suggestions for activities in this place, which is a big deal saying as they'll literally list a gas station as a tourist attraction.
27. Bat Cave, North Carolina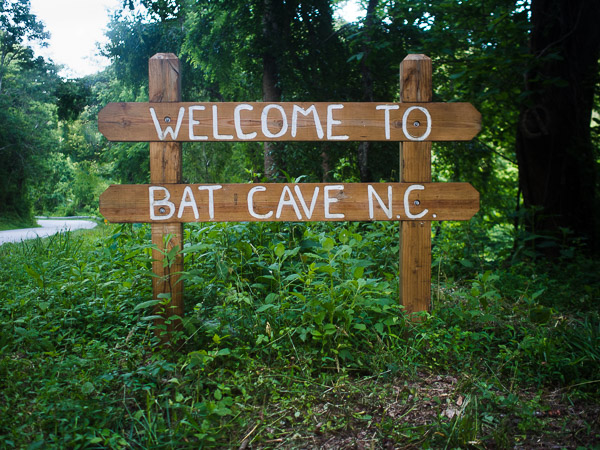 Carol Holloman via Flickr
Who knew Batman and Robin hung out in North Carolina? This town, unsurprising, is named after a massive bat cave in Bluerock Mountain. The town is also located within Hickory Nut Gorge which sounds like something straight out of a charming children's book about woodland creatures.
28. Zap, North Dakota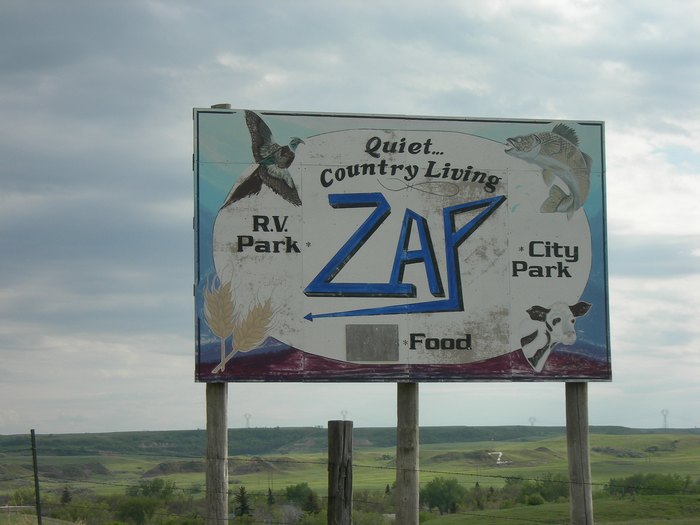 Andrew Filer via Flickr
Tourists often describe their trips here as "electrifying". Just kidding, this town has a population of 220. However, it was the scene of the "Zip to Zap" riot which was originally a spring-break trip organised as a joke in the North Dakota State University newspaper, around 2000 to 3000 people descended on the town and all hell broke loose.
29. Knockemstiff, Ohio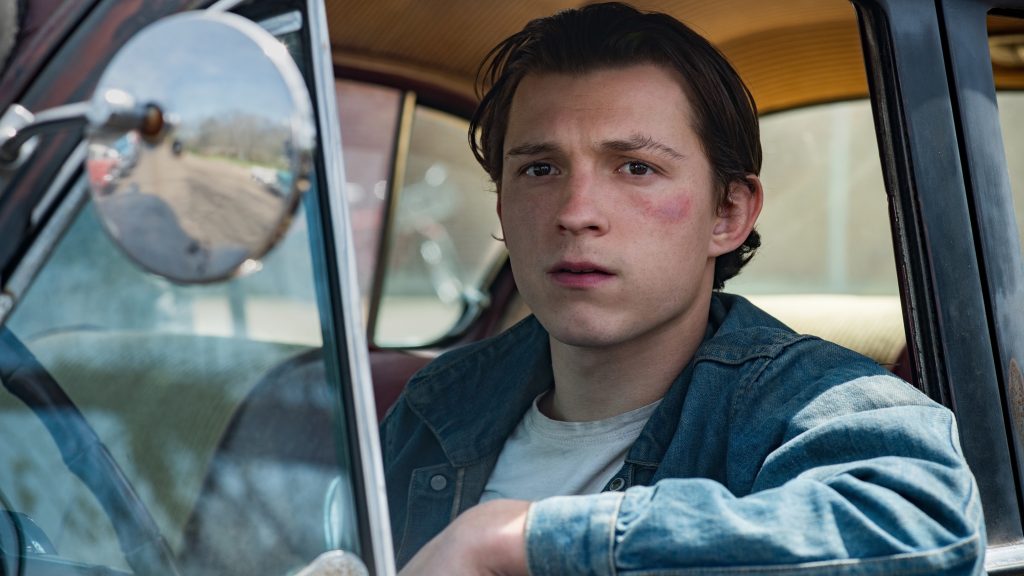 Glen Wilson via Netflix
Unfortunately, no famous boxers hail from this town; which is a real missed opportunity. This place is the setting for Netflix Series starring Tom Holland, The Devil All The Time. Apparently the town was named this after a woman asked at church what she should do with her cheating husband and the preacher replied, "knock 'em stiff."
30. Okay, Oklahoma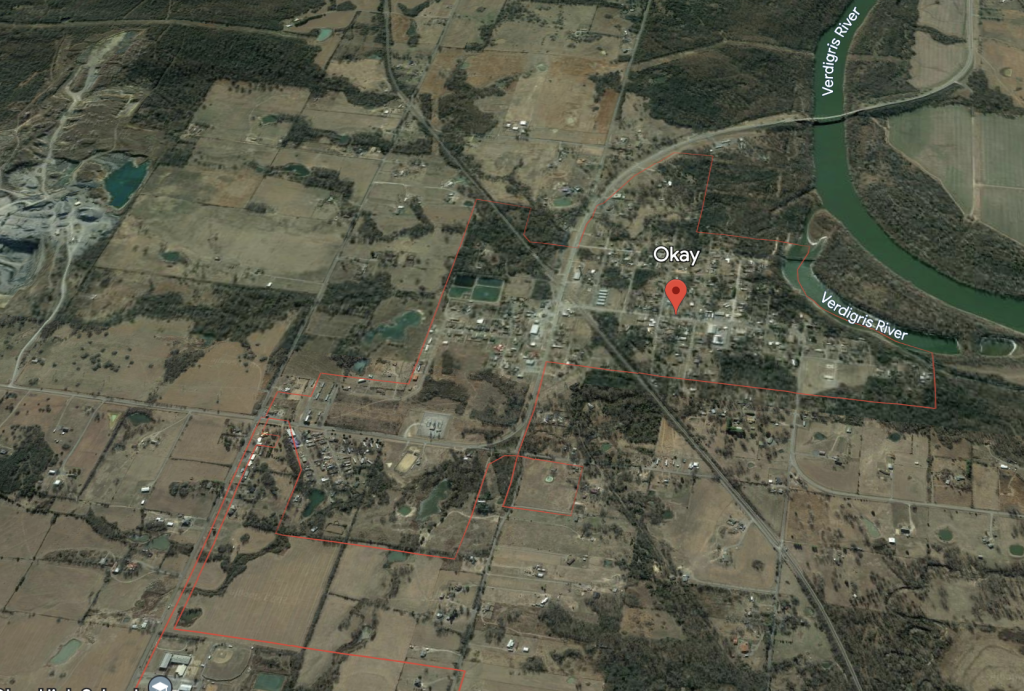 Screenshot via Google Earth
A name perhaps given after asking someone how their trip to Oklahoma was. The town has had a number of different names throughout the years but got its permanent name after "O.K Trucks" oil tankers built a factory in the town. The other town names were good, but this one is only Okay.
31. Boring, Oregon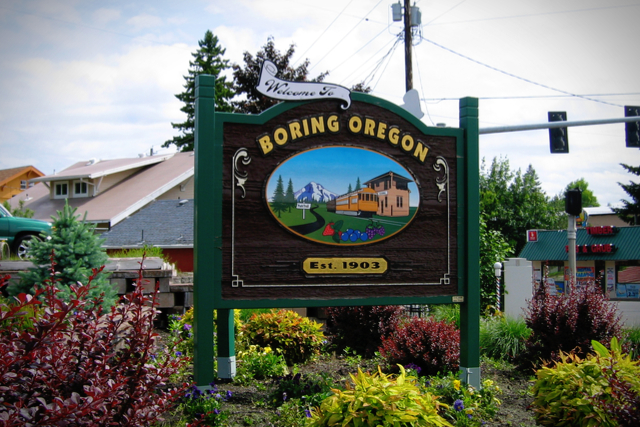 IGN Boards via Alltherooms
A real harsh name, especially in a state that's renowned for its coolness. This town is grouped with Dull, Scotland and Bland, Australia; together they create the "Trinity of Tedium". The town has a sense of humor too, with their motto being, "The most exciting place in the world."
32. Bird-In-Hand, Pennsylvania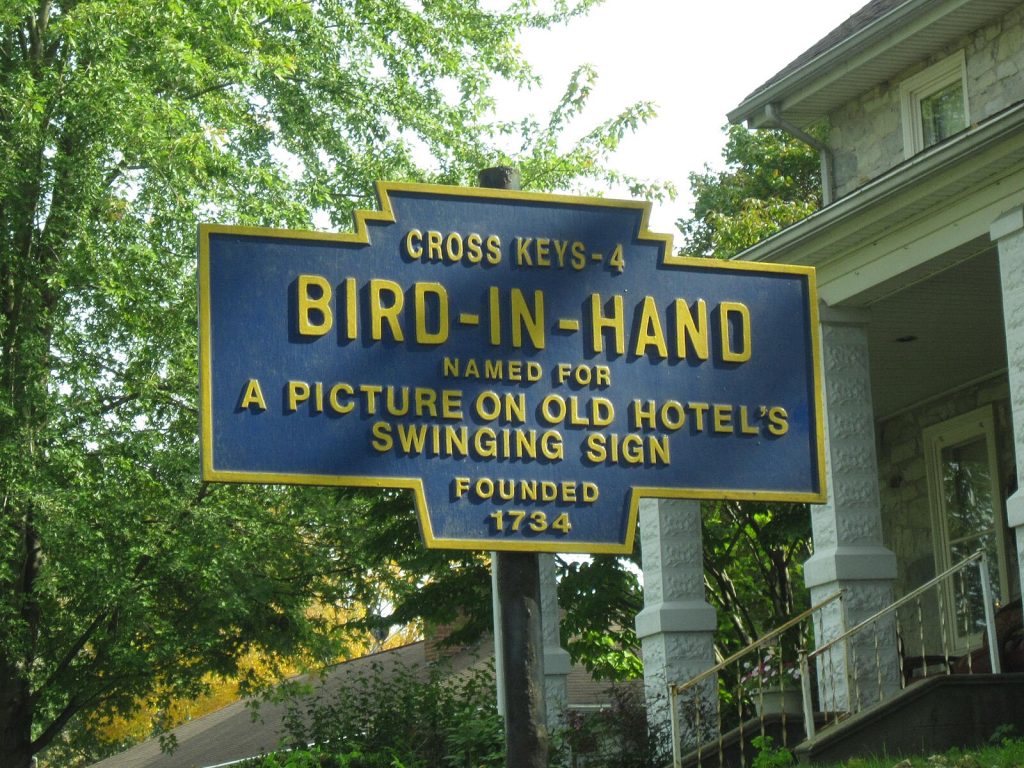 Doug Kerr via Flickr
The town got its name after two surveyors were debating whether to stay in this small town or move on to a bigger one in Lancaster County. One of them replied that "a bird in the hand is worth two in the bush"; meaning that it's better to go with what you already have rather than wait for something better. And hence, this strange town name was born.
33. Coward, South Carolina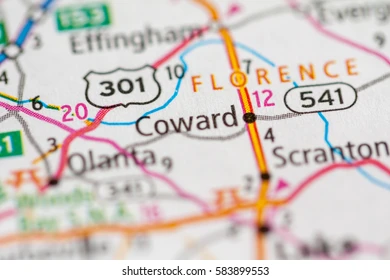 SevenMaps via Shuttershock
This town name has nothing to do with any of the residents being scaredy-cats. The town is actually named after one of its co-founders, a Mr John Wilson Coward. The town has a small population of 600, probably because everyone else was too afraid to live there.
34. Hooker, South Dakota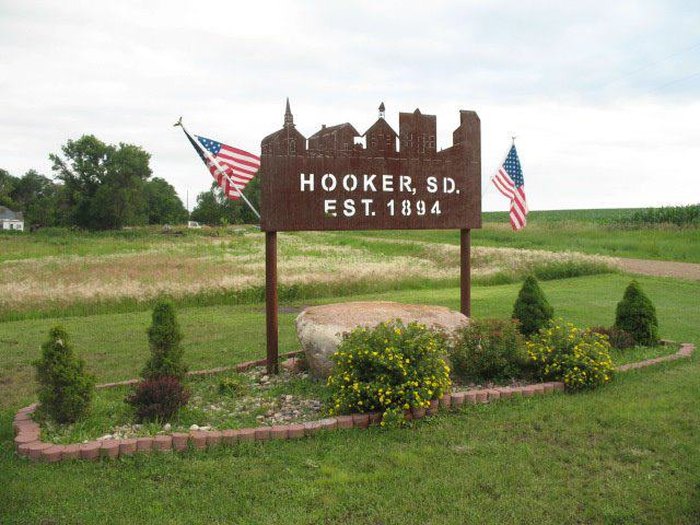 OnlyInYourState via Facebook
Yeah, another unfortunate name for this one. The town was named after John Hooker, a pioneer from the 1800s. The Wikipedia article about this place has virtually nothing on it and is very short, however, the locals have a very long list of jokes about their town's name.
35. Nameless, Tennessee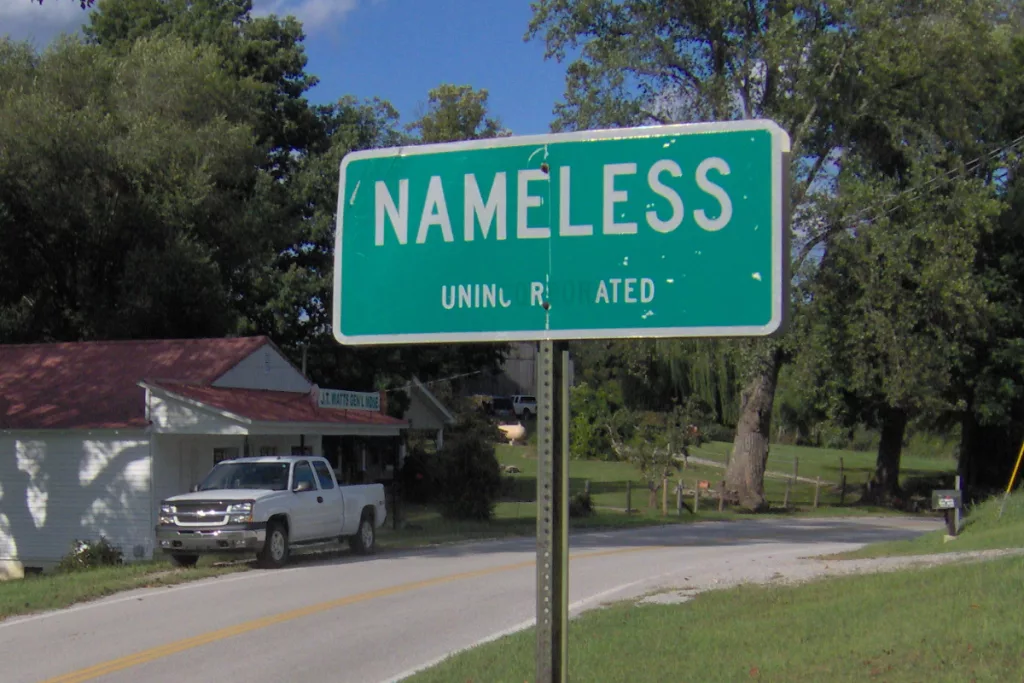 WBIR via TikTok
Well it's not nameless, is it? Nameless had an established post office from 1880 until 1890 and during this decade the town's officials applied for multiple names, only for them all to be taken. The town finally decided to remain Nameless and the post office replied, "Be Nameless and be damned." Damned, Tennessee does have a pretty nice ring to it.
36. Ding Dong, Texas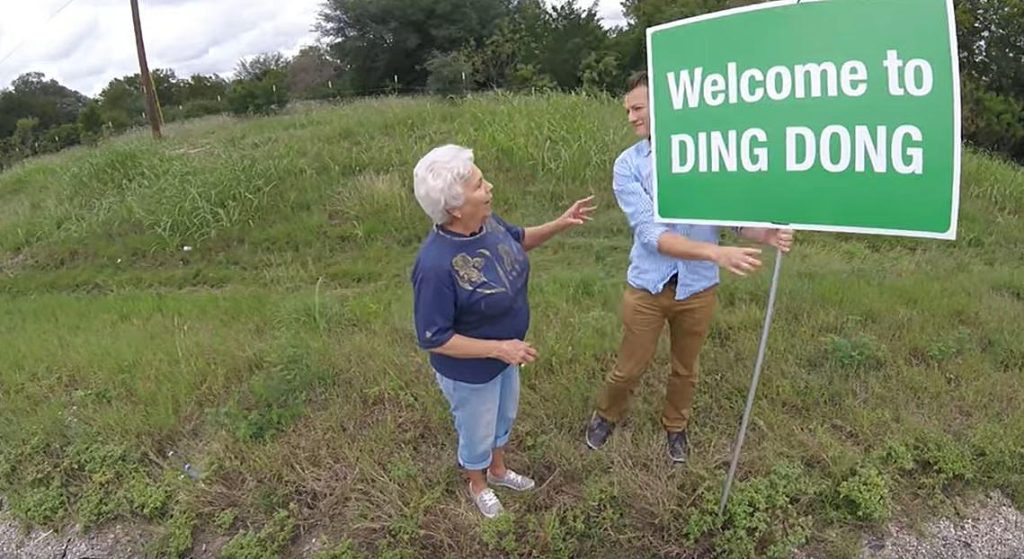 Kicker via YouTube
In the early 1930s, a man with the surname Bell had a general store in this town in Texas; the store's sign featured a painting of two bells. From then on, the town locals just started to call the town Ding Dong. This is a pretty adorable name for such a little town that only has 22 inhabitants.
37. Virgin, Utah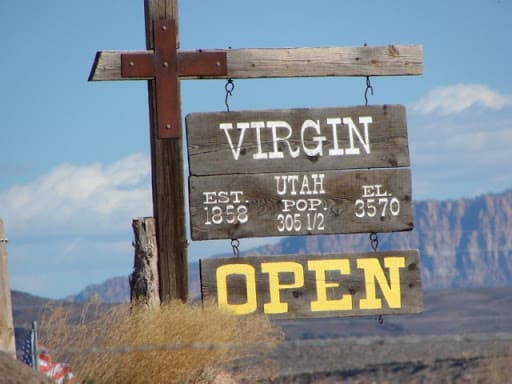 Jacob Barlow via Facebook
There's a lot of jokes that could be made here when you think about how many religious groups there are in Utah. The town is only 11 miles across and has a population of 500. The town is situated on the banks of the Virgin River and it is mandatory for every resident in this town to own a firearm.
38. Mosquitoville, Vermont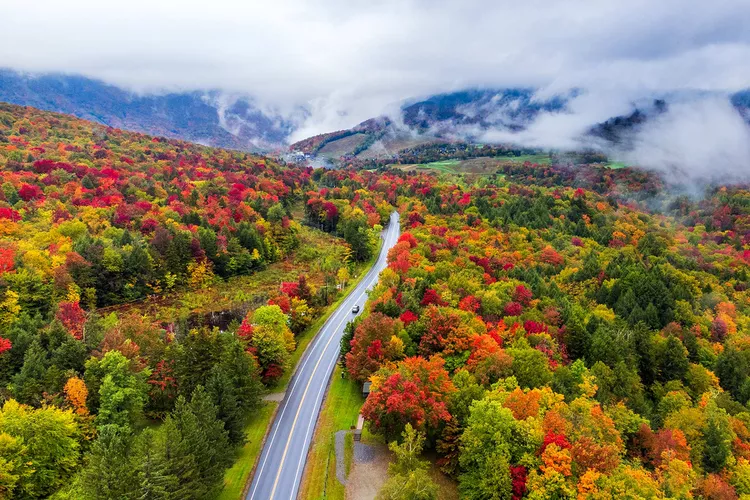 Chun Chen via Getty Images
This sounds like somewhere you definitely don't want to spend the night if you're prone to getting bitten. Although it has a rather unpleasant name, this small village in the beautiful Caledonia County of Vermont definitely doesn't have a mosquito problem and is lovely for a visit.
39. Tightsqueeze, Virginia
Facebook via OnlyInYourState
You don't want to be driving an RV through this town on your next road trip. The town got its name when builders built two buildings too close to each other on the main road that runs through Tightsqueeze. The man who built the general store did this so that women could get straight from their carriages to his store without getting muddy or dusty.
40. Embarrass, Wisconsin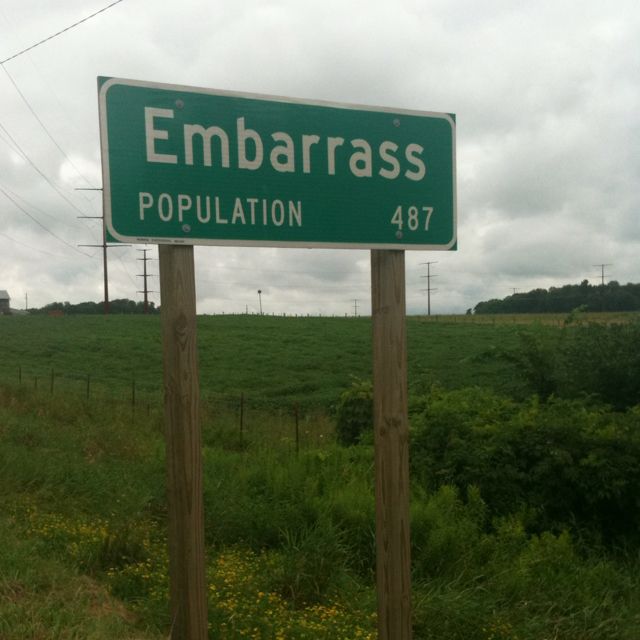 Steven Point via Pinterest
Well, with a name like that, of course the residents are embarrassed. The town actually got its name when French Canadian Lumberjacks tried to transport their logs down the river that runs through the town, only to find out that they kept getting caught on debris. They then called it "Rivière Embarasse" which means a river that obstructs or tangles.