This article originally appeared on gosocial.co
Pripyat Amusement Park, Chernobyl, Ukraine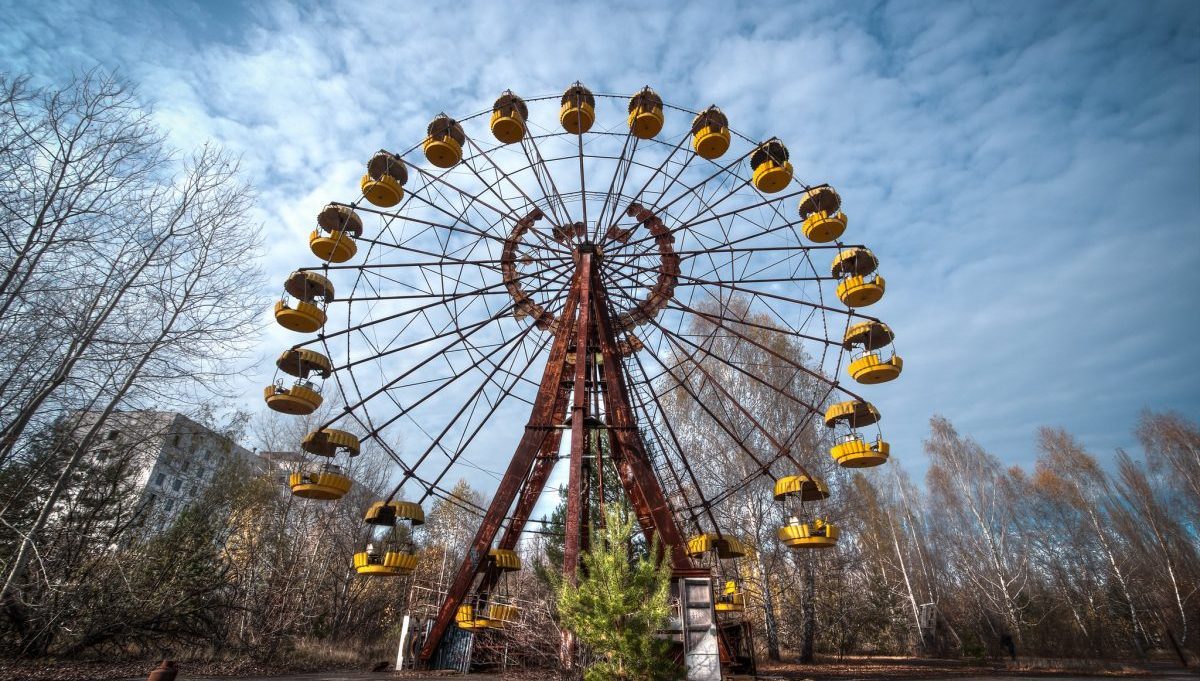 Pripyat is an amusement park in Ukraine that was built to be part of the thriving industrial city of Chernobyl. The grand opening was scheduled for 1986, but would be canceled after the infamous disaster at the nearby Chernobyl Nuclear Power Plant. The park was temporarily accessible to locals, but they were quickly forced to evacuate as reports of dangerously high levels of radiation in the area started to emerge. Authorities had been unaware of the high levels of radiation on the day of the incident. Today, the park remains untouched, with many of its rides falling apart due to neglect and exposure to the elements.
Land of Oz, North Carolina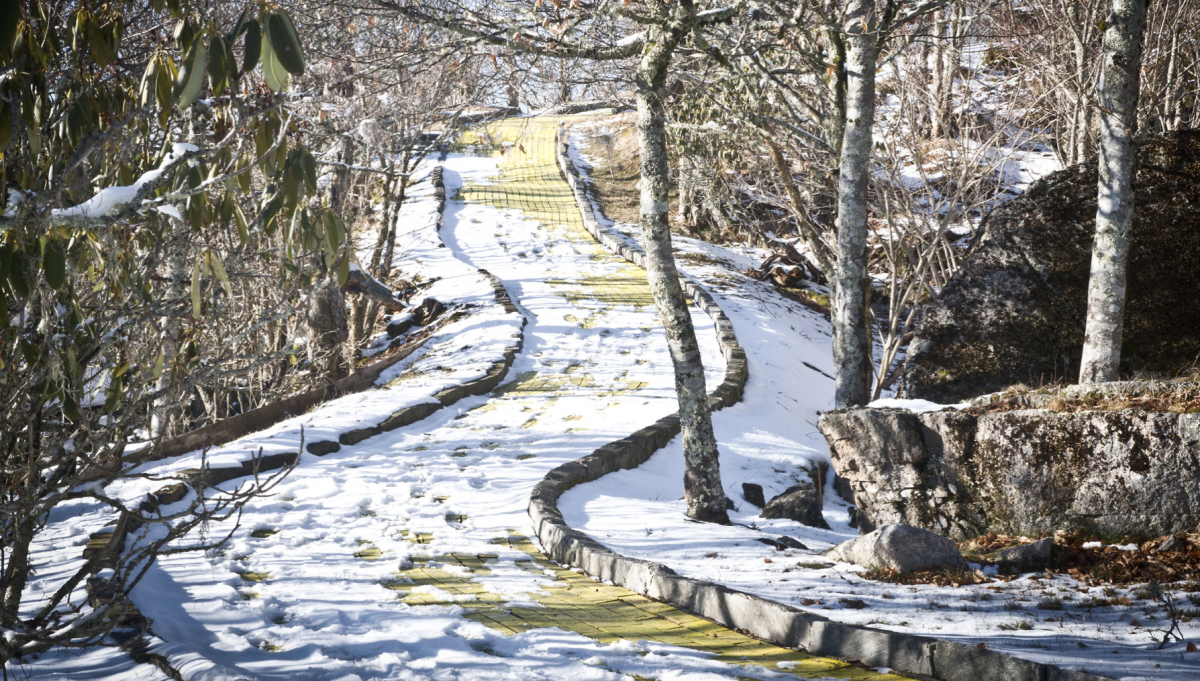 You won't want to visit the Land of Oz in North Carolina, as it is one of the creepiest sites in the United States. In 1970, it opened as a 16-acre Wizard of Oz themed amusement park. Soon after its opening, however, attendance began to decline and the park was almost completely deserted by 1975. A fire destroyed parts of the park in 1976 and the site was officially abandoned soon after. Land of Oz opens its gates a few days a year around Halloween time to allow visitors to explore the remains of this once-popular attraction. In 2019, Land of Oz reopened on Thursdays and Fridays in June and July to celebrate the 80th anniversary of the 1939 movie.
Gulliver's Kingdom, Yamanashi, Japan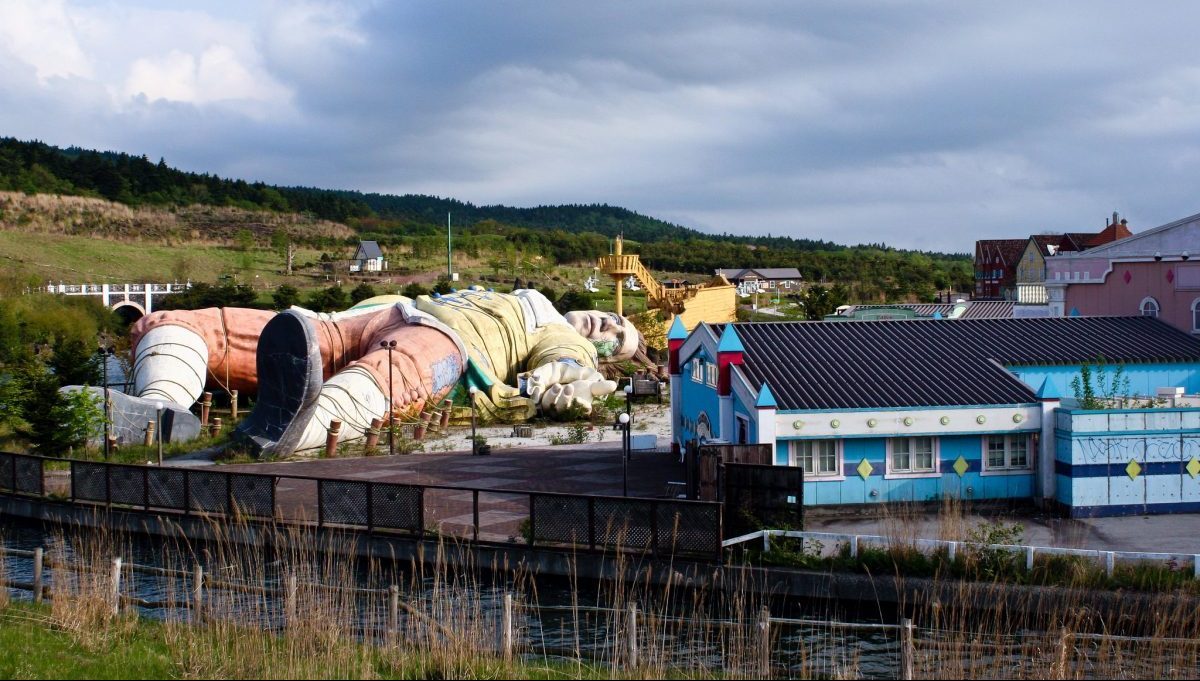 One of the strangest theme parks ever conceived was Gulliver's Kingdom, an amusement park inspired by the novel Gulliver's Travels by Jonathan Swift. The park's centrepiece was an enormous statue of Lemuel Gulliver tied down by tiny Lilliputians as described in Swift's story. The location was not ideal: it sat next to both Aokigahara, the infamous 'suicide forest', and the former headquarters of Aum Shinrikyo, a religious cult that killed 13 people in a nerve gas attack in Tokyo in 1995. The theme park was opened in 1997 for only four years before being abandoned due to low visitor numbers. The park was finally demolished in 2007.
Dunblobbin, Crinkley Bottom Theme Park, England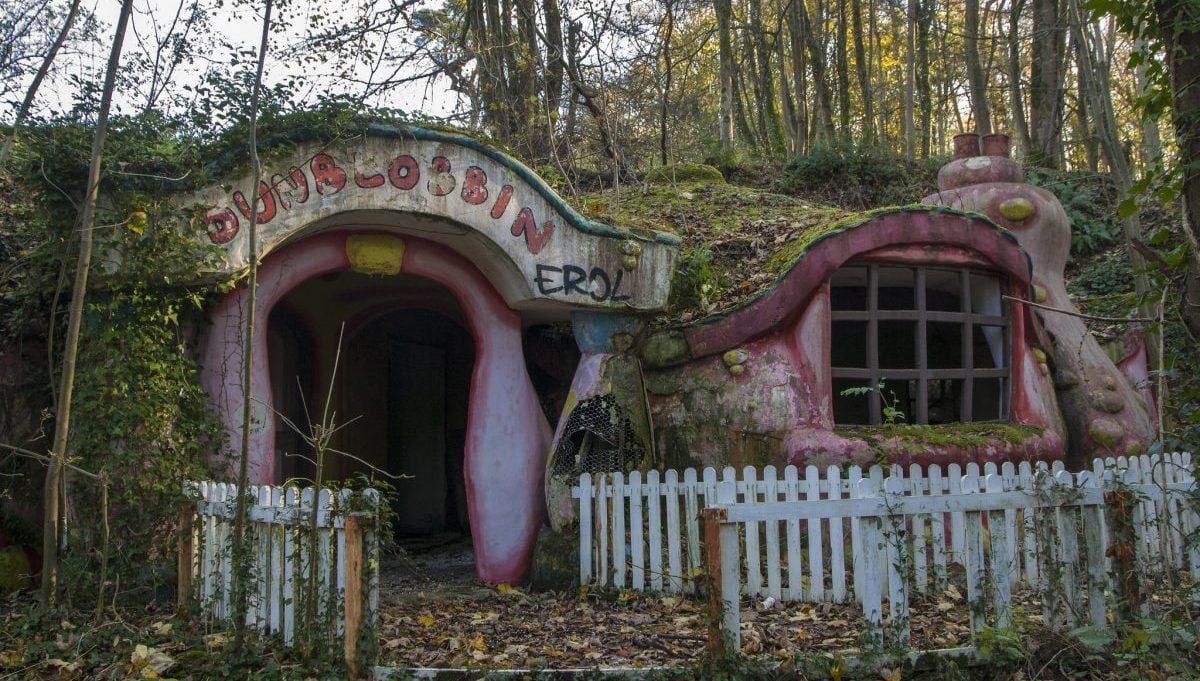 In the 1990s, Noel Edmonds created Crinkley Bottom Park, a Mr. Blobby-themed amusement park based on the popular television show character. The park Dunblobbin was abandoned and left to decay when the rest of the park was renovated and turned into a hotel. There are rumours that the site is haunted, and ghost-hunters often visit to see if they can catch something supernatural on tape. Unfortunately, the site was finally demolished in 2014.
Boomers! Park, Greater Fort Lauderdale, Florida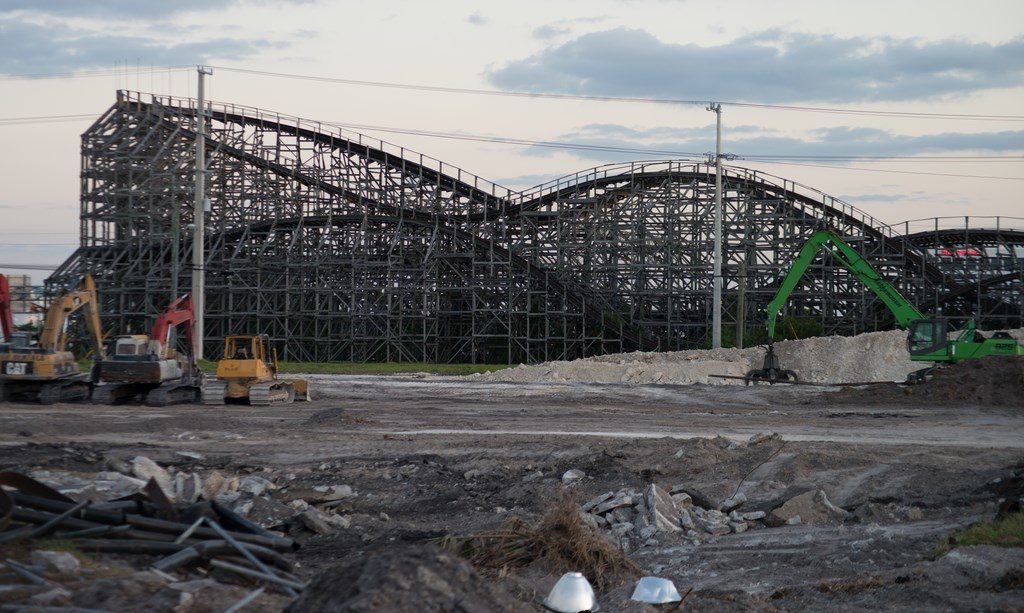 The Hurricane, a 100-foot-tall (30m) wooden roller coaster at Boomers! Park in Dania Beach, Florida, was the longest wooden roller coaster in the state when it first opened in 2000. Although it was part of the Boomers! Park, it was owned and operated independently. However, it was shut down by its operators in 2011 with the owners citing "business reasons." It's thought that maintaining such a tall structure in the humid climate of Florida became unsustainable. The park stayed open until April 2015, when it closed to make way for development. However, once closed, the vegetation had already started taking over the site. For years, developers have been trying to demolish the roller coaster and the buildings on site. In 2013, Dania Pointe—a 102-acre space with offices, luxury apartments, retail stores and restaurants—came to fruition.
Six Flags, New Orleans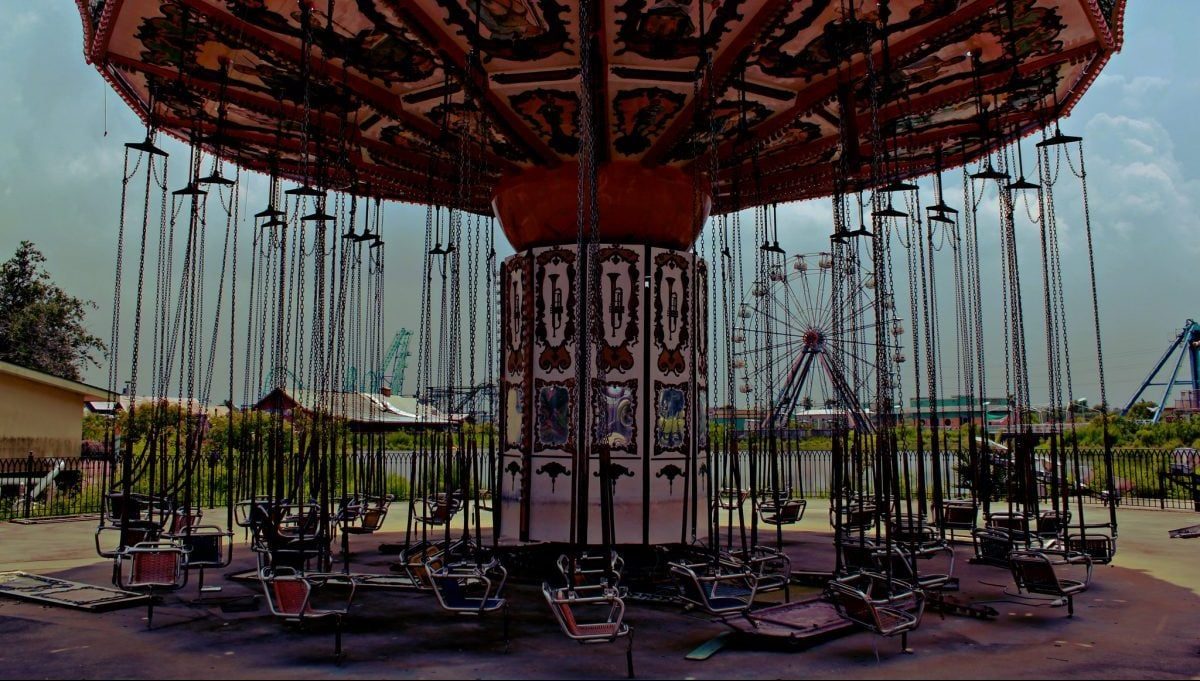 Six Flags New Orleans was once a thriving theme park, but today it lies desolate and abandoned, with only a few traces of its former glory remaining. The park was submerged in 20 feet (6m) of water during Hurricane Katrina, which struck in 2005, and it took another month for the remainder of the park to be drained after the storm had subsided. It has been closed ever since. The park opened in 2000 and was only operating for a few years before falling into disrepair after the hurricane displaced 20,000 and killed nearly 2,000 people. After the destruction there wasn't enough funding for repairs so it fell into further decay. Visitors to the ruins can still see a sign at the entrance that reads, 'Closed for the storm'. However, the site has found a new life since destruction – showing up as an apocalyptic backdrop in movies such as Jurassic World and Dawn of Planet of the Apes.
Nara Dreamland, Nara, Japan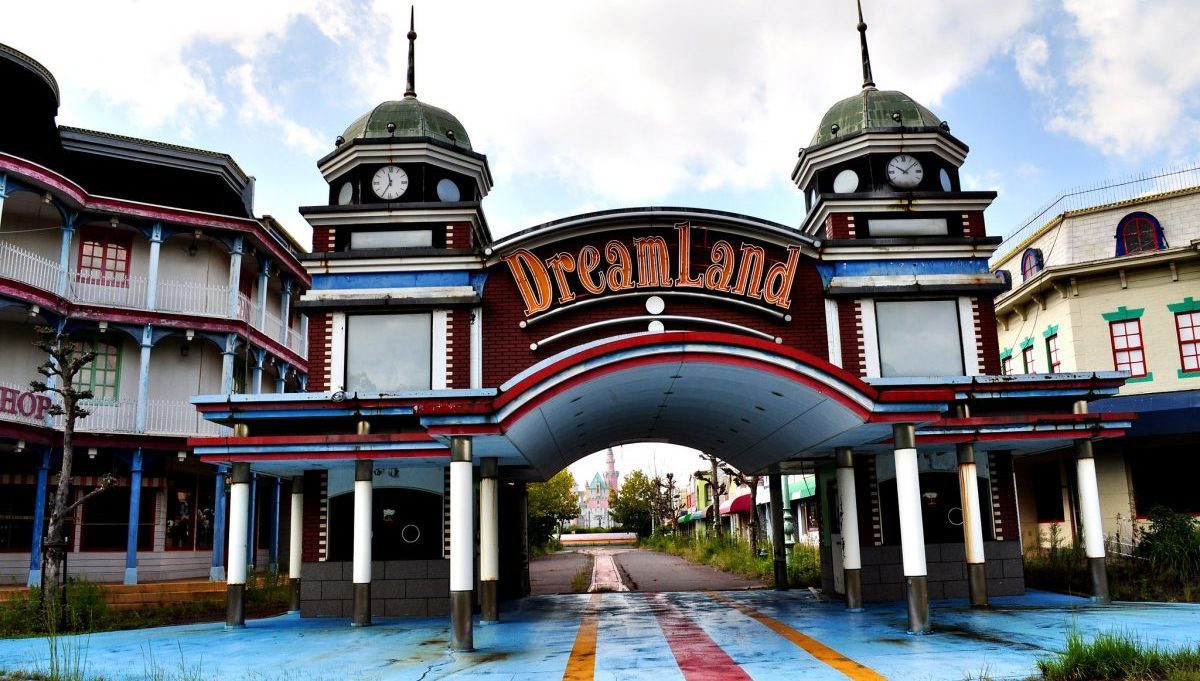 Although Japan has many abandoned amusement parks, the most famous is Nara Dreamland, which opened in 1961 and was inspired by Disneyland. You can see the influences of Disneyland in the architecture, including the large Matterhorn mountain, the fairytale castle, and a monorail. The park is smaller than its American counterpart but attempted to replicate the same feel. In 2006, the theme park was closed due to low visitor numbers after the opening of rivals Tokyo Disneyland and Universal Studios Japan. But rather than sell off its rides or look for another use for the land, it was just abandoned. The park was left abandoned until it was finally demolished between October 2016 and December 2017.
Disney's River Country, Bay Lake, Florida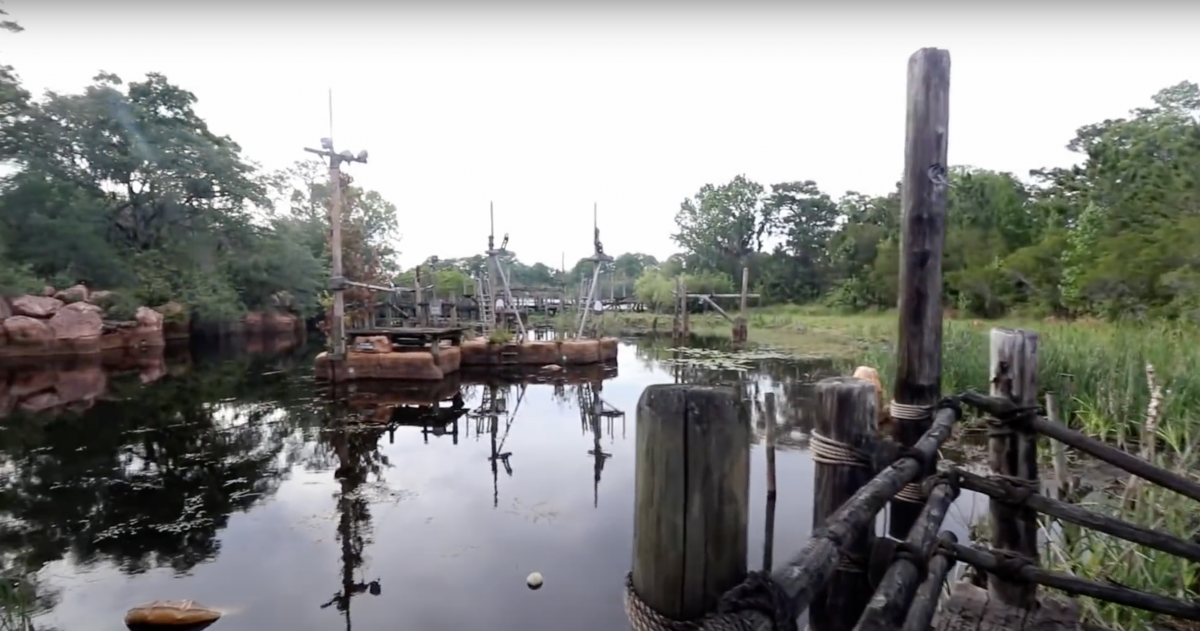 Credit: Dark Exploration Films
Walt Disney World's River Country was the first water park built by Disney. The park opened in 1976 near the Fort Wilderness Resort and Campground and immediately made waves as one of the first fully-themed water parks in the world. River Country was a staple at Walt Disney World in Florida for 25 years. However, after Disney's own Typhoon Lagoon and Blizzard beach opened in the 80s and 90s – River Country paled in comparison. The park eventually closed in November 2001, following the negative impacts of the 9/11 attacks on tourism. The site stood abandoned for over a decade, making it a worthy attraction for explorers and photographers. Disney eventually began working on the site in 2016, but it's currently unclear what will become of the ruins.
Dunaujvarosi Vidampark, Hungary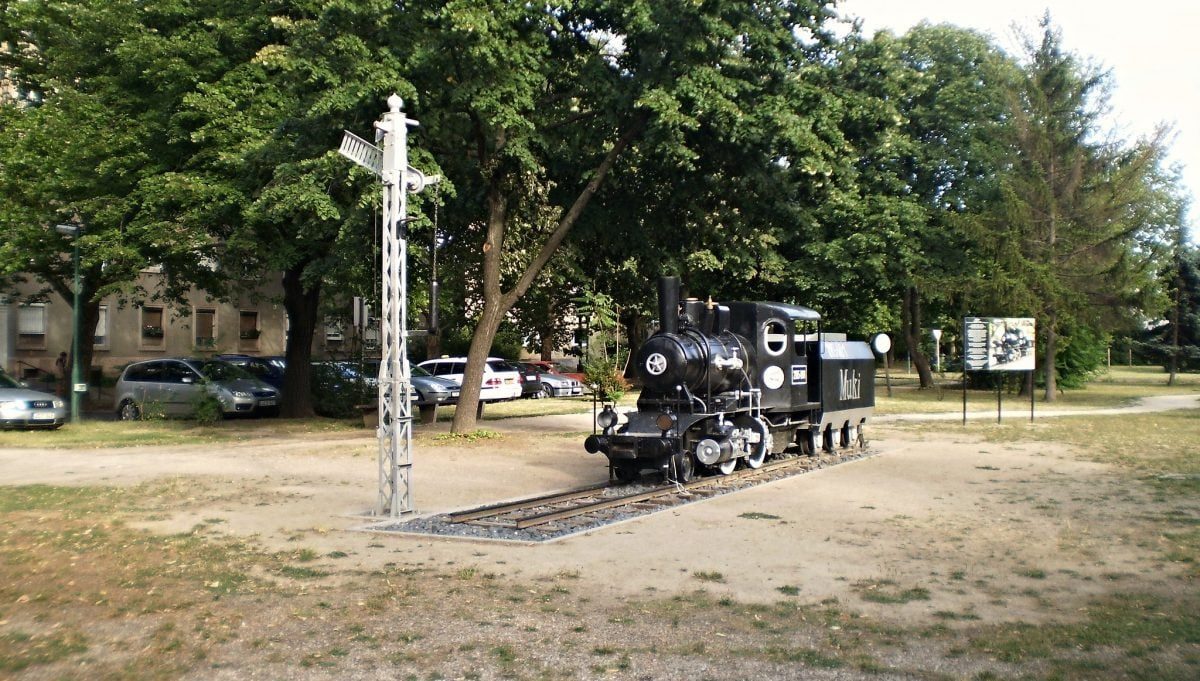 Dunaujvarosi Vidampark, located in Hungary, opened in 1953 as a communist-run theme park offering free fun for all. It survived on funds from the communist party for 40 years but shut its doors in 1993 following the collapse of the Soviet Union. Now it's a truly ghostly sight and an interesting insight into entertainment under the Soviet regime.
Dadipark, Belgium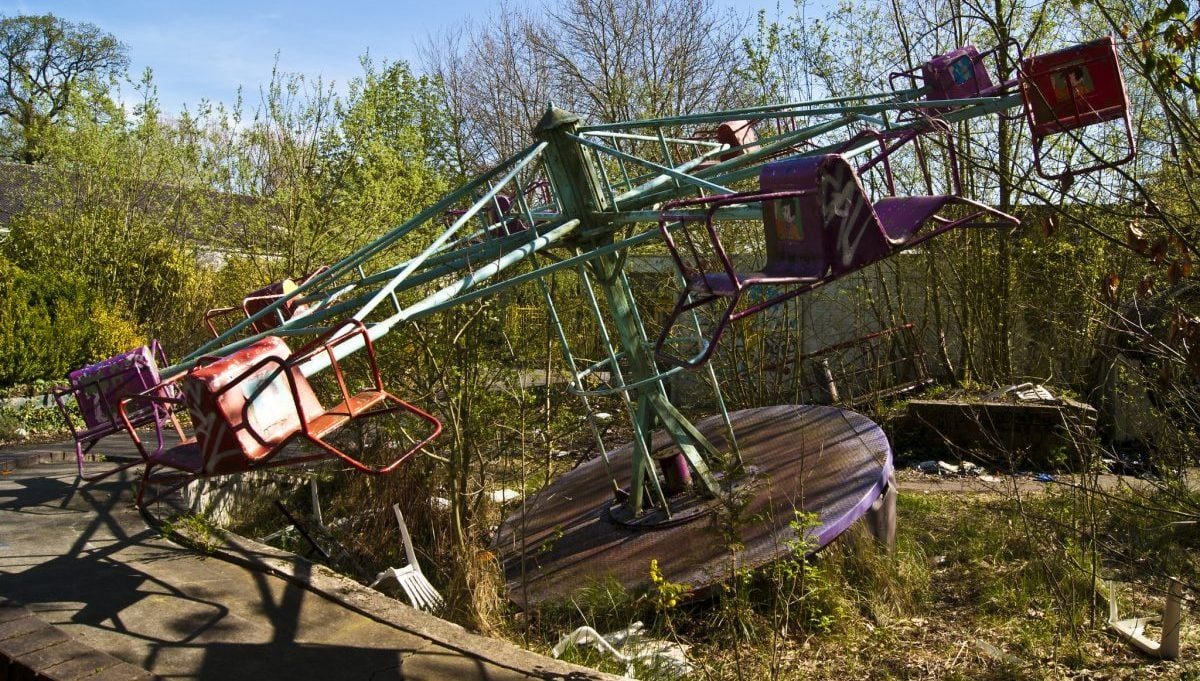 Belgium's Dadipark, which began as a church playground in the 1950s, became an amusement park in the 1980s. Although it was popular at first, with one million visitors during its peak season, disaster struck in 2000 when a child lost his arm on one of the rides. Two years later, the park closed. The park was abandoned after a plan to refurbish it was never carried out, but it is not set to become a tourist attraction like other deserted amusement parks. Instead, it will be turned into a residential area for the local population.
Spreepark, Berlin, Germany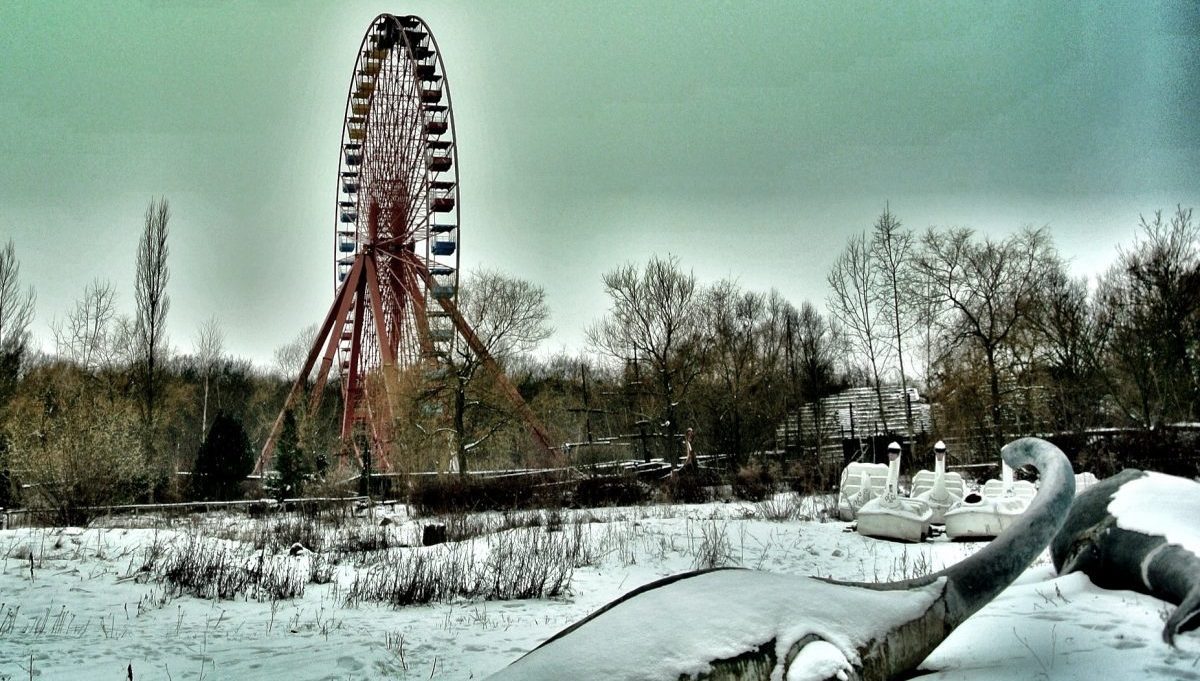 Many people remember the fun they had at Spreepark, the amusement park that opened in 1969 in what was then West Berlin. Sadly, though, decades after it opened, the park ran up millions of euros worth of debt, and it couldn't renovate some of its rides. Today, this once-bustling amusement park stands abandoned east of the German capital. Despite its closure in 2002, the amusement park is still popular with locals, who visit the ghostly site now used for events, performances, festivals, markets, and screenings. It could reopen in 2024 thanks to a regeneration project that includes a beer garden and even a rebuilt Ferris wheel.
Joyland Amusement Park, Kansas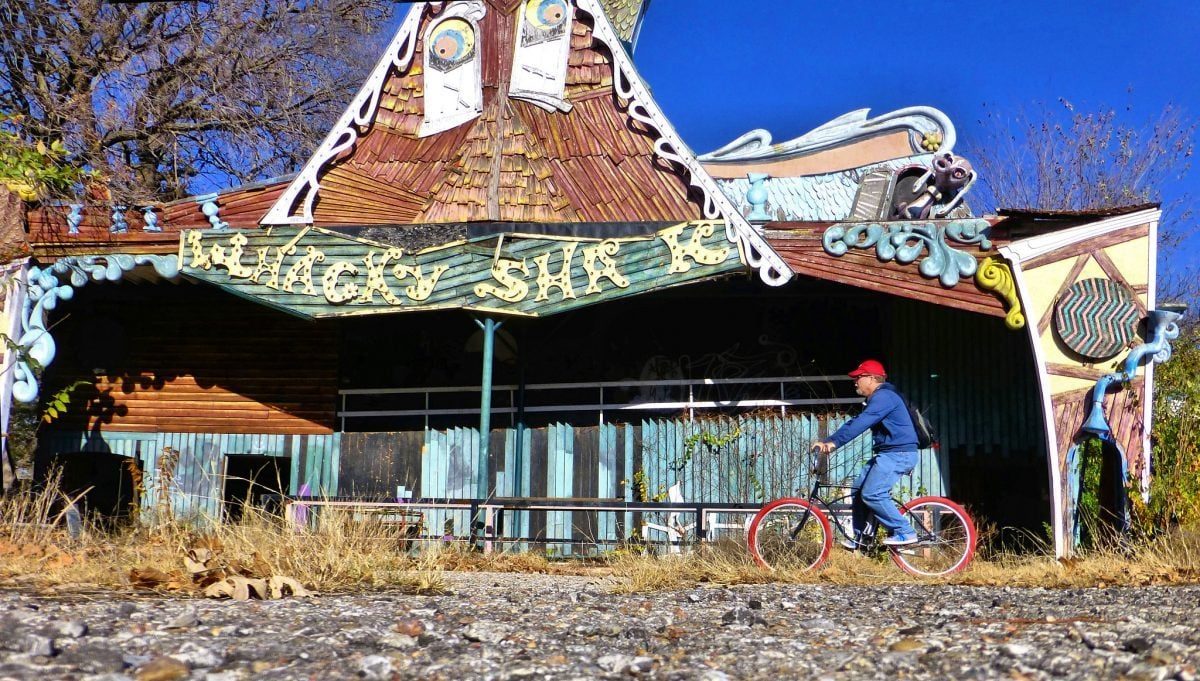 Wichita, Kansas's Joyland Amusement Park opened in the 1940s and was once a popular destination, featuring a wooden roller coaster and 24 other rides. The park had many years of success but suffered a tragic accident in 2004 when a teenager was injured after falling from the Ferris wheel. Joyland was closed in 2006, and although it briefly reopened in 2007, it soon fell into disrepair. Vandals and thieves flocked to the abandoned park, where they broke windows, started fires, and marked it with graffiti. In 2015, demolition began.
Yongma Land, Seoul, South Korea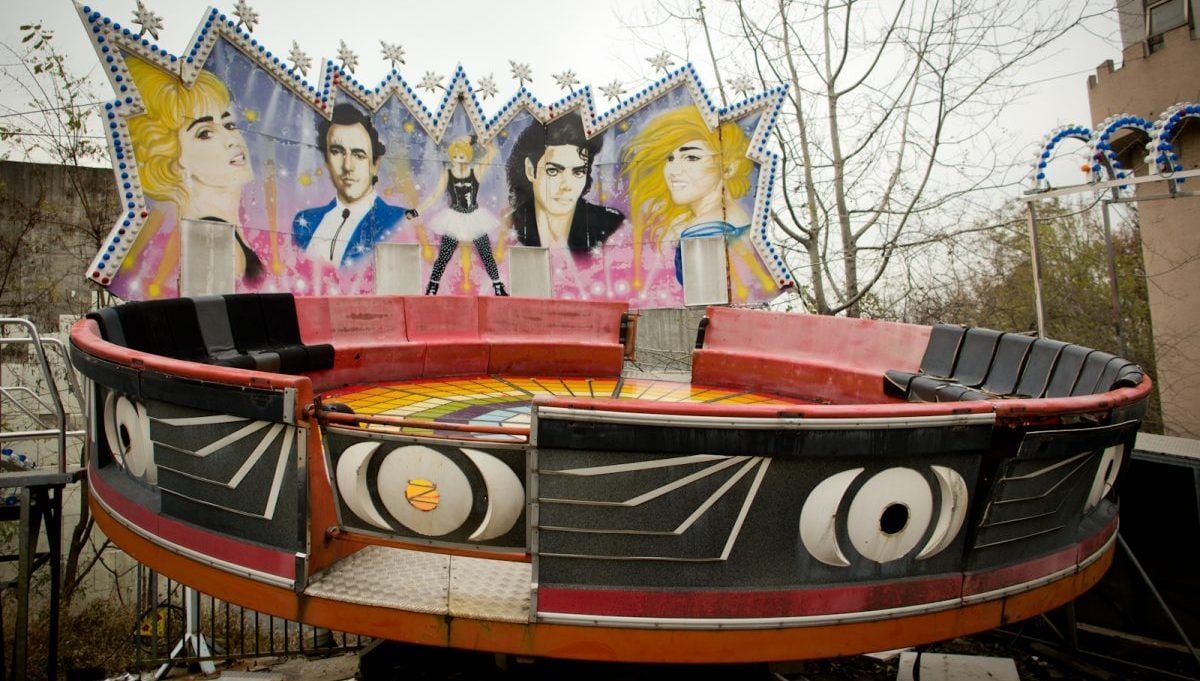 With its abandoned rides and vast green spaces, Yongma Land is a popular place for hikers and picnickers. In its heyday, Yongma was a much-loved recreational park for Seoulites, who came to enjoy its fairground rides. But when Lotte World opened in 1989—a huge theme park with indoor and outdoor attractions—Yongma lost business and eventually closed due to lack of profits. The amusement park has been abandoned for years, but photographers still come to take pictures of the place. The carousel has been featured in music videos and is now owned by a local businessman who will turn on the lights for a fee.
Wonderland, China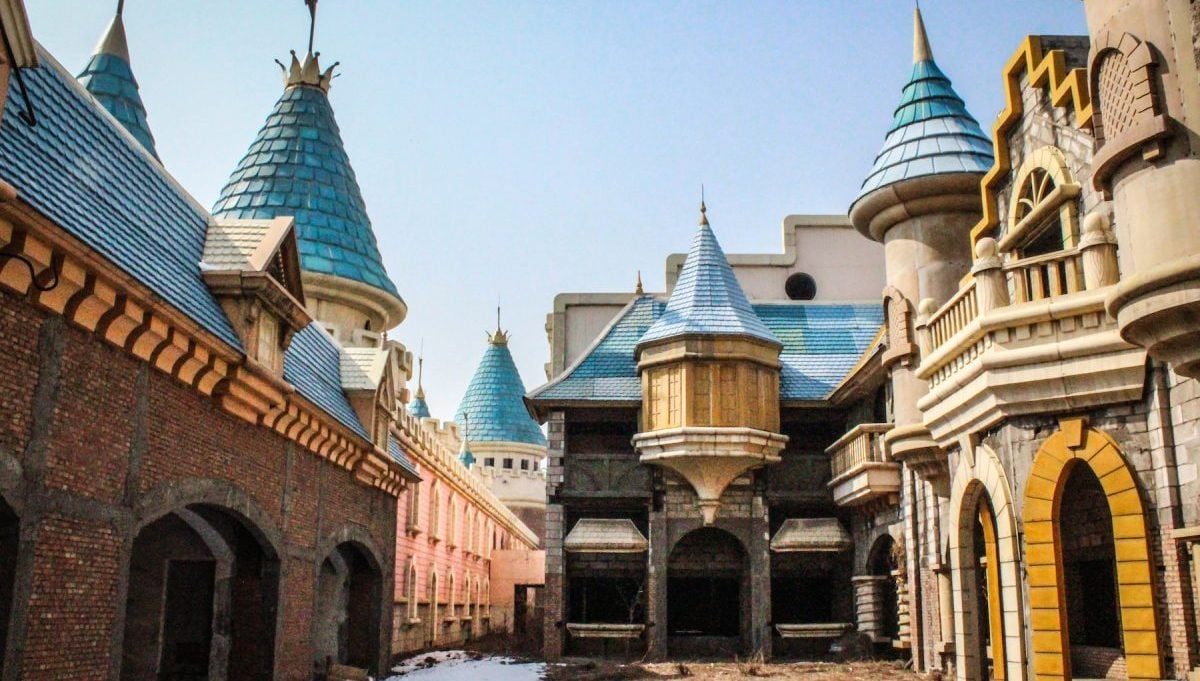 This Chinese theme park never opened its doors to visitors. Wonderland, around 20 miles outside of Beijing, was supposed to be the largest amusement park in Asia, but construction was halted because of disagreements over property prices and a political corruption scandal. The abandoned amusement park – which was only partly constructed and is now covered in graffiti – has drawn photographers and local kids to explore its eerie, half-finished buildings for decades. In 2013, the amusement park was demolished, leaving behind only foundations of the empty buildings. Some reports have said that a luxury shopping centre will be built there.
Ho Thuy Tien, Hue, Vietnam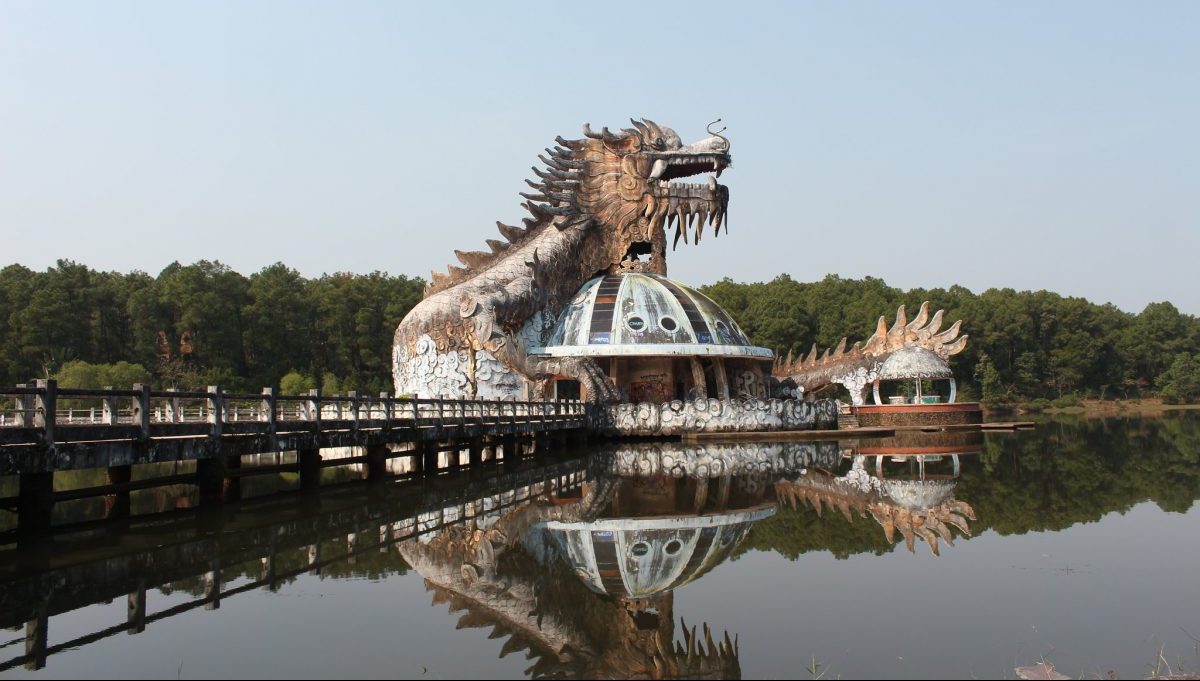 The Ho Thuy Tien water park opened in 2004 at a price tag of approximately three million USD. Although the park was not yet completed, it opened its gates to the public anyway. Ho Thuy Tien was originally heralded as the country's largest amusement park. But the crowds never came, and it closed down in 2006. Today, it stands abandoned, and its water slides—the only attraction that was ready when the park opened—lie dormant. Set in lush countryside five miles from the city of Hue in central Vietnam, it's easy to see the potential this aqua adventure park once held.
Ghost Town in the Sky, Maggie Valley, North Carolina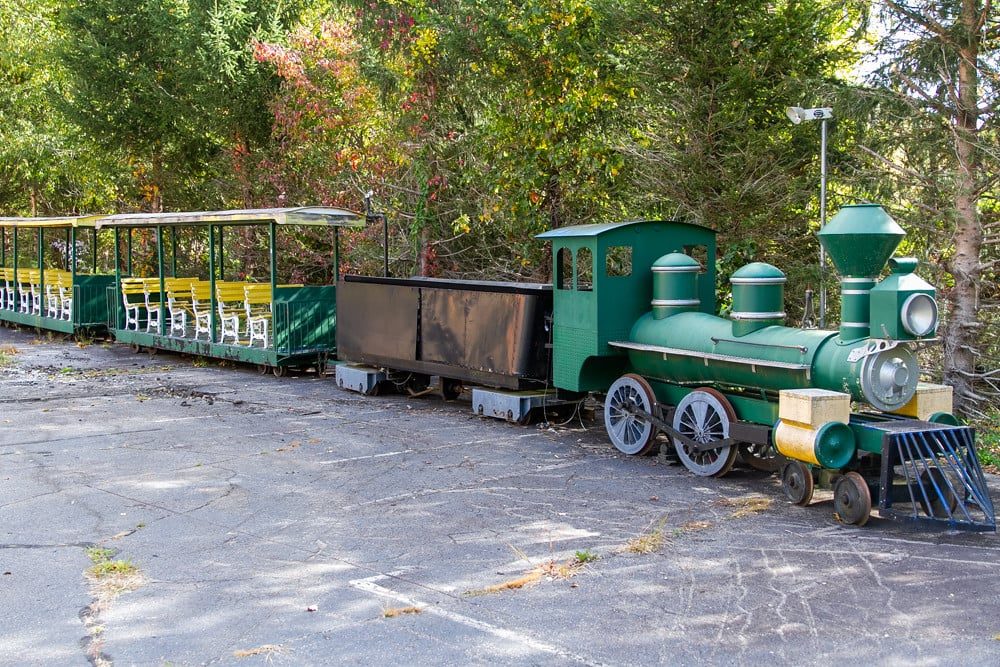 Ghost Town in the Sky was a Wild West-themed amusement park that lies in ruins today. Located on Buck Mountain, a mountaintop site towards the bottom of the Great Smoky Mountains, it opened in 1961 and closed for good in 2016. During its heyday in the early 1970s, Ghost Town attracted 400,000 visitors per season—from families to Wild West enthusiasts. From 2000 to 2009, a series of mechanical failures, expensive repairs, and a lack of cash caused Ghost Town's owners to file for bankruptcy. The park has been abandoned since then.
Camelot, Chorley, England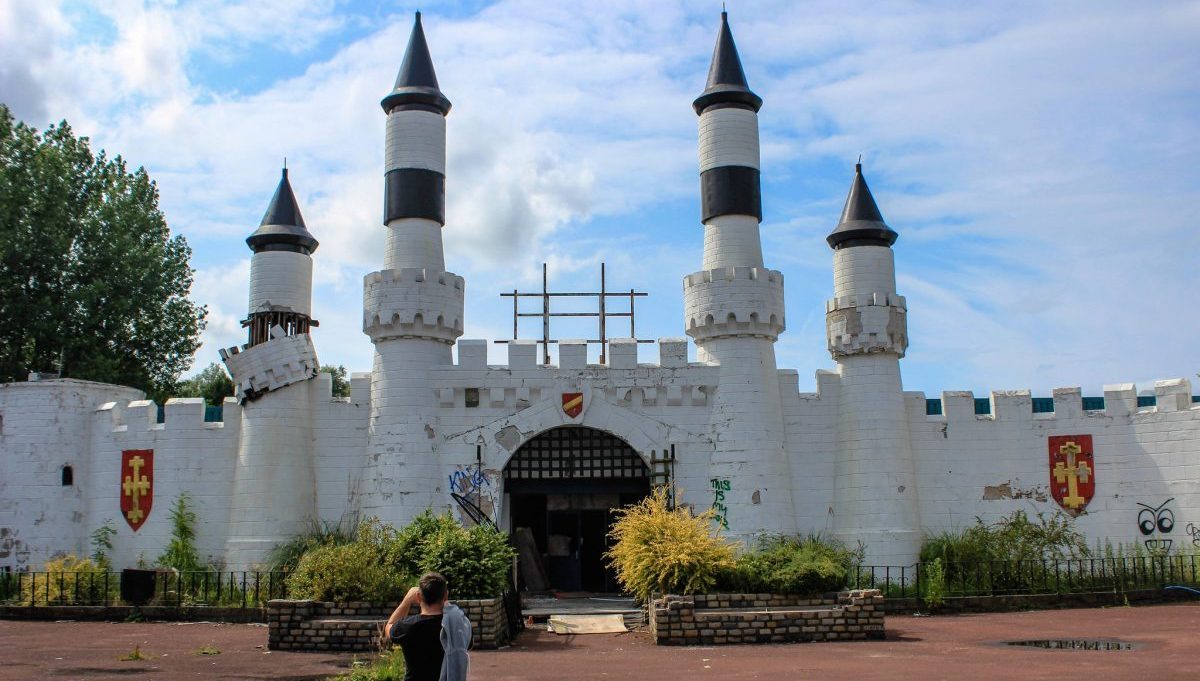 This theme park, located in the English county of Lancashire and named for the legendary Camelot castle of King Arthur fame, opened in 1983 and was a popular family attraction. However, poor food ratings and declining visitor numbers led to its demise. The park finally closed in 2012 and several of its rides were sold off. The site has been a bit of a roller coaster since closure, with the council revoking plans for new housing there and developers pulling out of another plan for housing in 2018. Today, parts of the park remain in a state of disrepair.
Wonderland Eurasia, Ankara, Turkey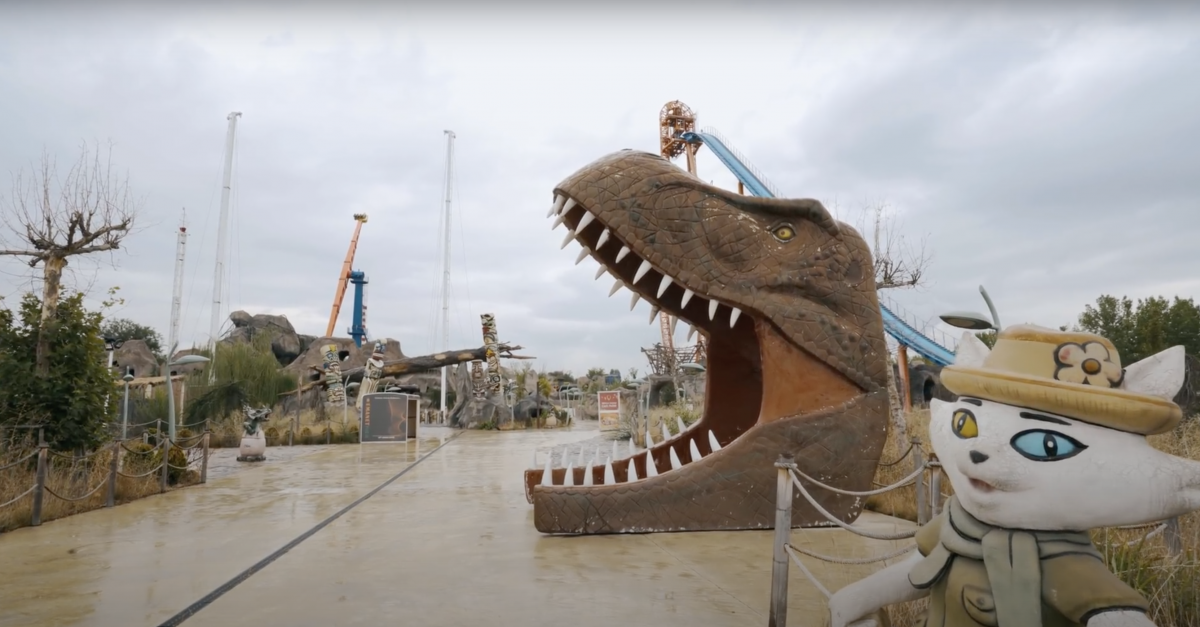 Credit: Explomo
The 320-acre Wonderland Eurasia theme park—Europe's biggest—opened in Ankara, Turkey in March 2019 to worldwide fanfare. The park featured 17 roller coasters, dozens of other attractions and cost the city hundreds of millions of dollars to build. However, less than a year later, in February 2020, it closed its doors permanently. A ride malfunctioned two days after opening, forcing the evacuation of riders. Political turmoil, sub-par ride quality and a lack of attendance contributed to the park's downfall. The operator struggled to pay staff wages and electricity bills and so it closed with some attractions still unfinished. Broken down dinosaurs and other robotic features now dominate the landscape on the outskirts of the Turkish capital, creating a particularly eerie scenery.
Abandoned Western Village, Nikko, Japan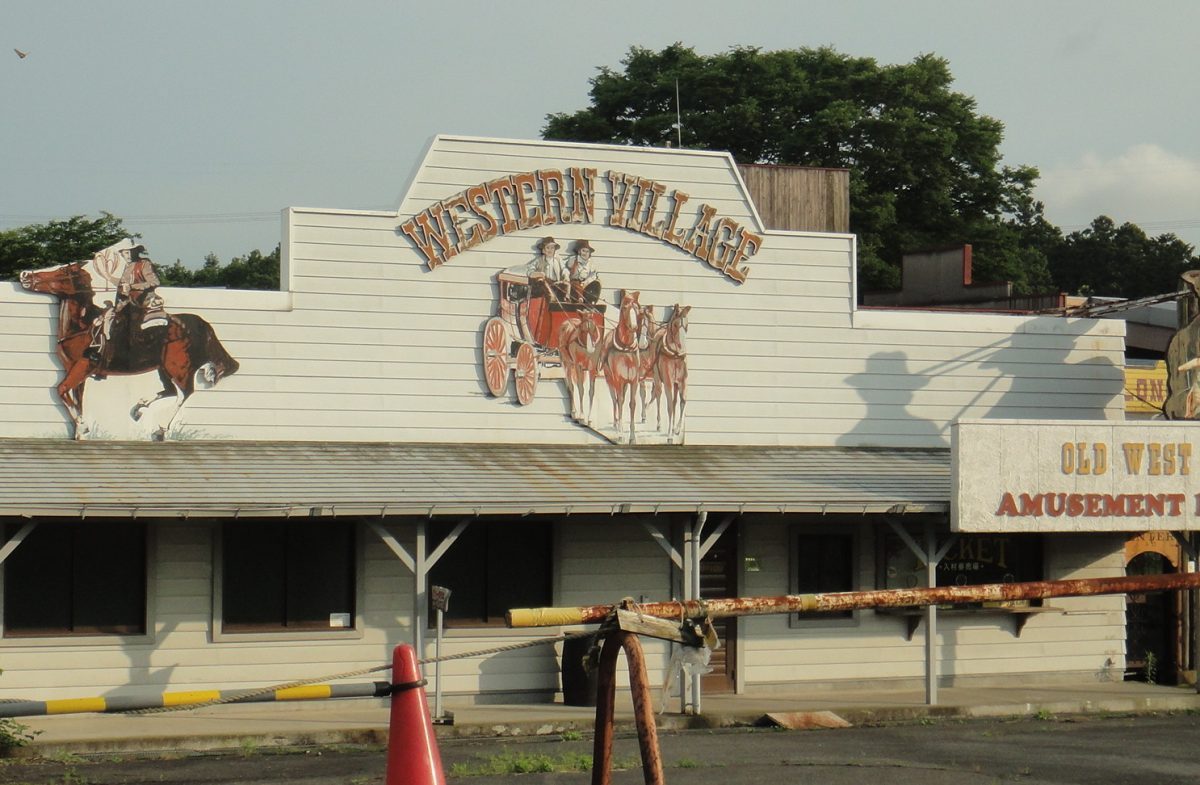 Opened in 1973, Western Village was a theme park inspired by classic American and Italian Western movies. It began as a simple guest ranch, where people could stay and enjoy cowboy-themed activities, including lasso practising, horse riding and fishing. But over time the attraction grew in popularity and evolved into a real theme park. Western Village eventually went out of business in the mid-2000s. The park had been losing money for years and was heavily in debt; it eventually announced that it would be closing temporarily for maintenance. But the park never reopened and has remained abandoned for nearly fifteen years. Today, it's a popular attraction for tourists. The surreal and eerie site is made more unreal by the many decaying animatronic cowboys that populate every corner of the park.
Cascade Park, Pennsylvania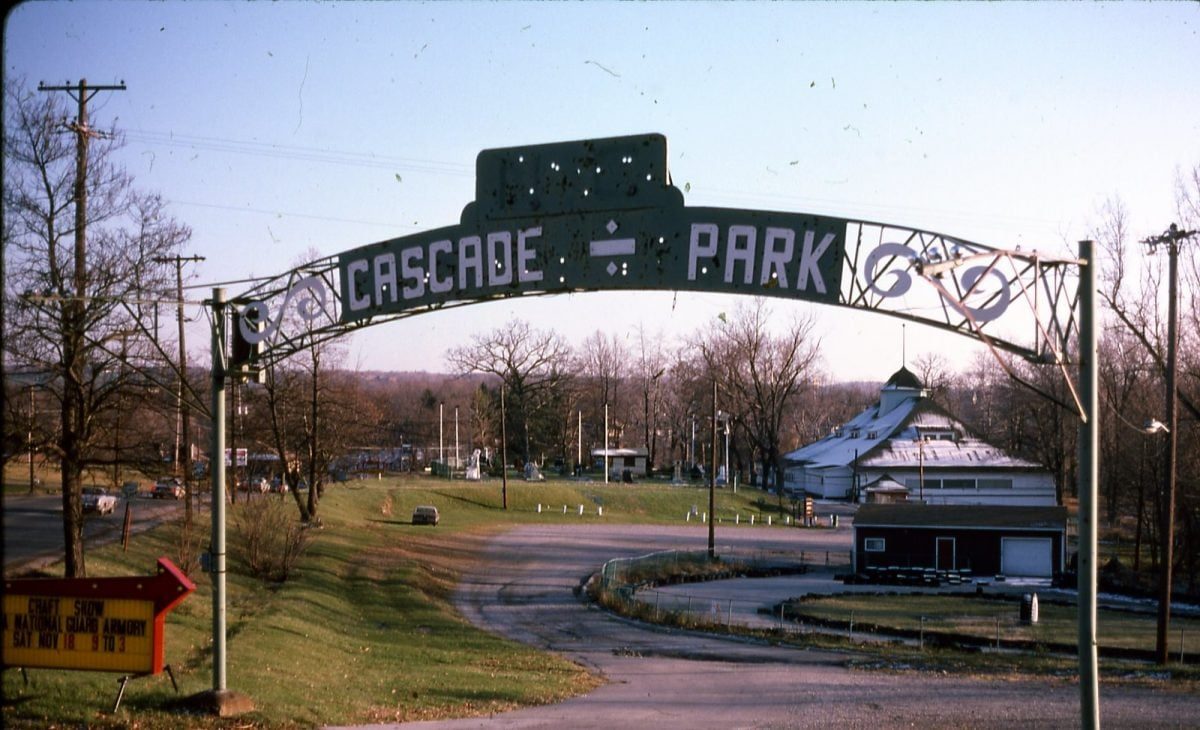 The town of New Castle, Pennsylvania was booming in the late 19th century when Cascade Park opened. The park had a dancing pavilion (once the largest in the state), outdoor theatre, rollerskating rink, caterpillar and dodg'em rides, a grandstand and an indoor roller coaster. However, in the summer of 1927, a tragic accident occurred that would mark the beginning of the end for the park. Two guests were killed when their car on the rollercoaster plunged through a gorge. Over the years, the park fell into a state of disrepair. Many rides were closed for safety reasons, and several were shut down due to lack of insurance. Vandalism was rampant at the park in the 1980s, even during its operating days, including someone stealing 15 carousel horses. The park remains in use today, but many of its rides were torn down long ago. Visitors can still find the supports for the rollercoaster and other relics from the park's past.
Taman Festival, Bali, Indonesia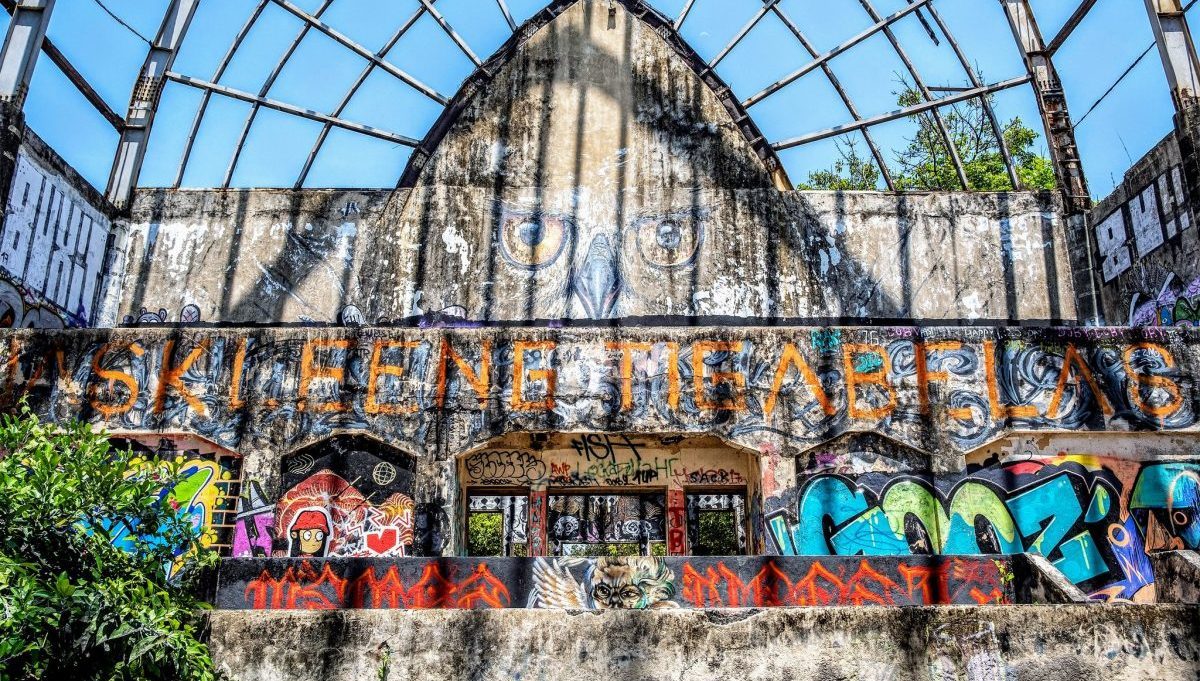 Eerie, overgrown with lush greenery and abandoned before it even opened, this theme park in Bali is an urban explorer's dream. It isn't known for certain why the owners abandoned the park before it ever opened. Some reports say that it was due to fears that the 2002 Bali terrorist attacks would lead to the park becoming unprofitable. Nowadays, the remnants have become a home for graffiti artists and budding photographers. The almost 20-acre site is home to an Olympic-sized swimming pool, a cinema, a wedding chapel, and many restaurants that have been reclaimed by nature.
Fantasy World, Lemery, Philippines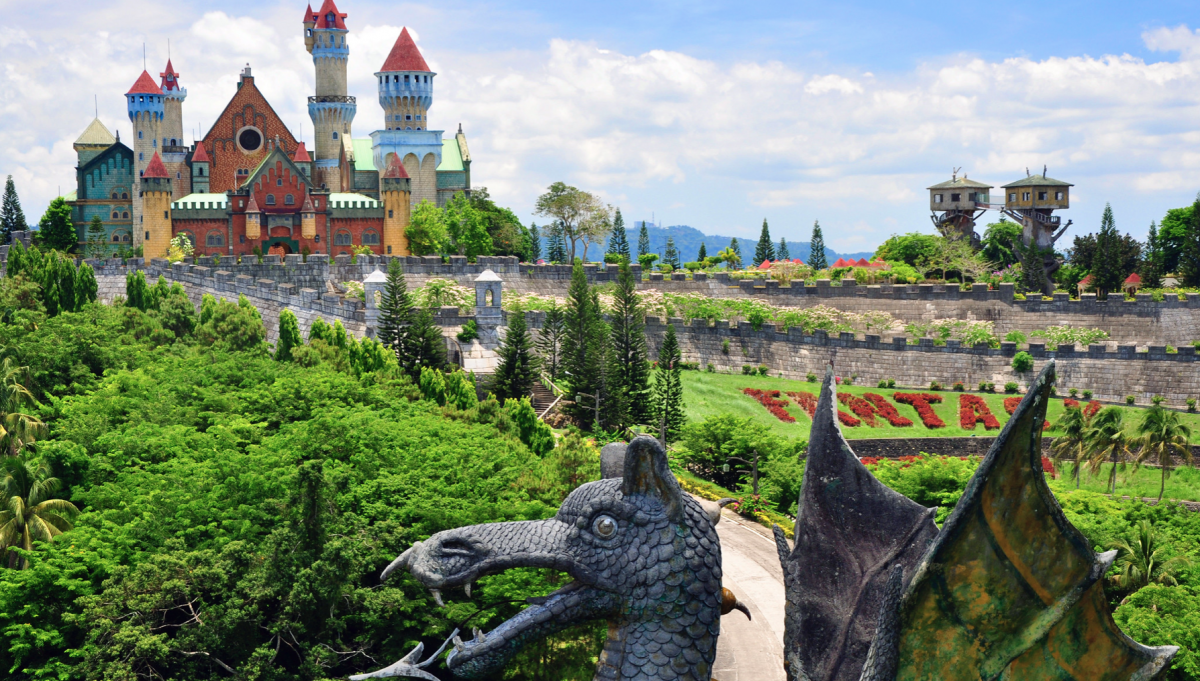 In the Philippines, a colourful castle sits atop a hill overlooking a lush, green valley. The castle was built as part of a larger theme park called Fantasy World and was meant to rival Disneyland. But an opportunity for success never materialized for Fantasy World. The businessman who backed the project ran into financial issues before construction was complete, forcing him to abandon his plan. Though the park never opened as planned, you can still enter and explore the Disneyland that could have been.
Funtown Mountain, Kentucky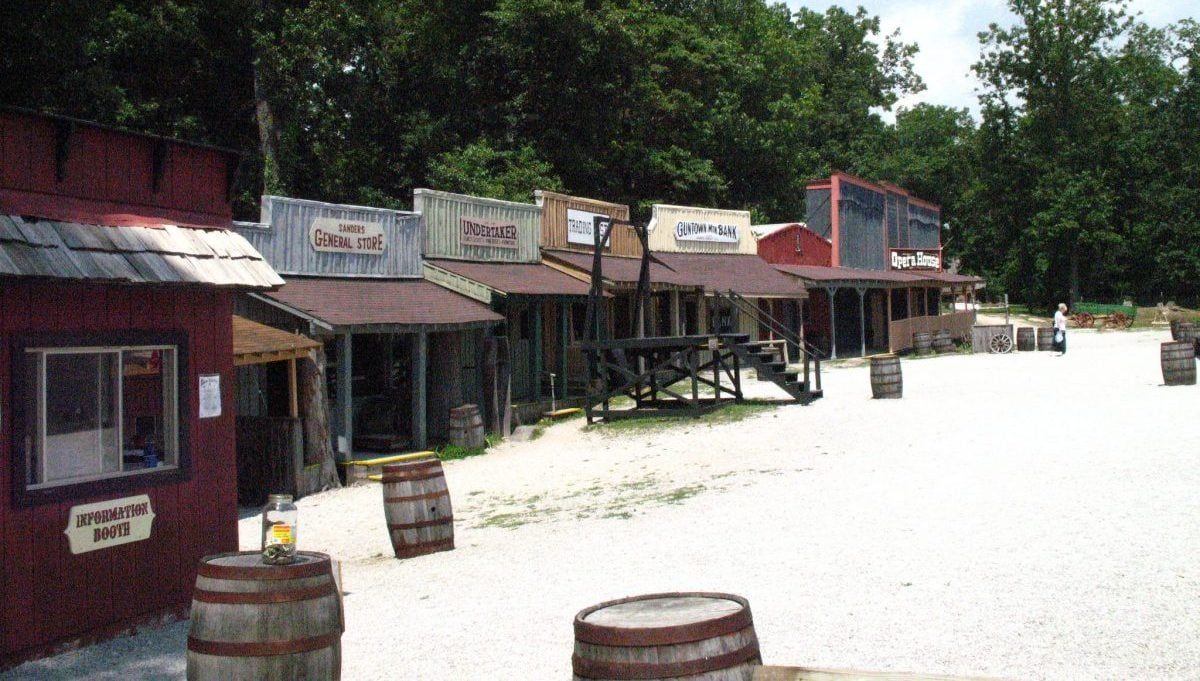 Called Guntown Mountain when it opened in 1969, the park was one of many capitalizing on tourists visiting nearby Mammoth Cave. Wild West-themed, it continued to operate for decades before closing its doors in 2013 after a decline in popularity. Two years later, Will Russell was on a walk in Cave City when he saw that Guntown was for sale. He had a vision for restoring and reopening the property as "Funtown," promoting it as a fun place for families rather than for gun shows. However, after losing thousands on a disastrous tour meant to promote the new park, Russell abandoned the plans. In 2018, Guntown reopened with a resurgence of its original attractions, including the iconic gunfight shows. Visitors can still view the decommissioned chair lift that once operated at Funtown.
Hobbiton, California
In 1975, a recreation of Hobbiton was built in California as an attempt to capitalize on the popularity of Tolkien's fantasy novels. The half-mile nature walk led visitors through the story of Bilbo Baggins, illustrating iconic scenes with accompanying sculptures to depict the characters and story. Each little diorama had a voicebox that would narrate the details of the scene with the push of a button. The hobbit holes in Hobbiton, USA are empty now and most of the attractions are closed. But if you visit the first diorama, you can still see Bilbo's round door, although it has been overtaken by overgrowth and is fading fast. You can also see Gandalf standing in front of it, looking just as he did in the movie.
Rose Island, Charlestown, Indiana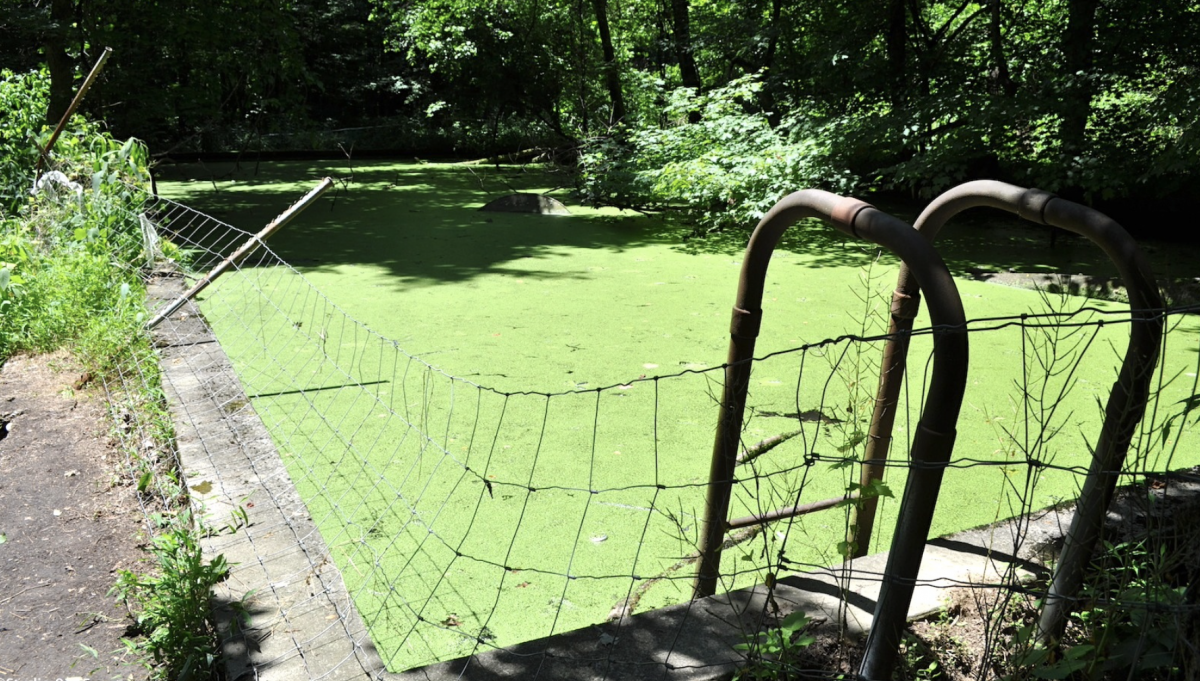 Rose Island Amusement Park, which opened in 1923, was a popular summer attraction for vacationers looking to recreate the fun of early 20th century America. Unfortunately, the park was destroyed by a flood, leaving today's haunting ruins behind. Tourists flocked to the island when it was open, and although the Great Depression hurt other businesses, the booming Rose Island amusement park did not suffer. It was not until the Ohio River Flood of 1937 that the park closed down. The flood left the facilities under 10 feet of water, and by the time they receded, the damage was too great to repair. Today all that remains of Rose Island are a stone footbridge, a swimming pool, and crumbling ruins of a stone fountain.
Lake Shawnee Amusement Park, West Virginia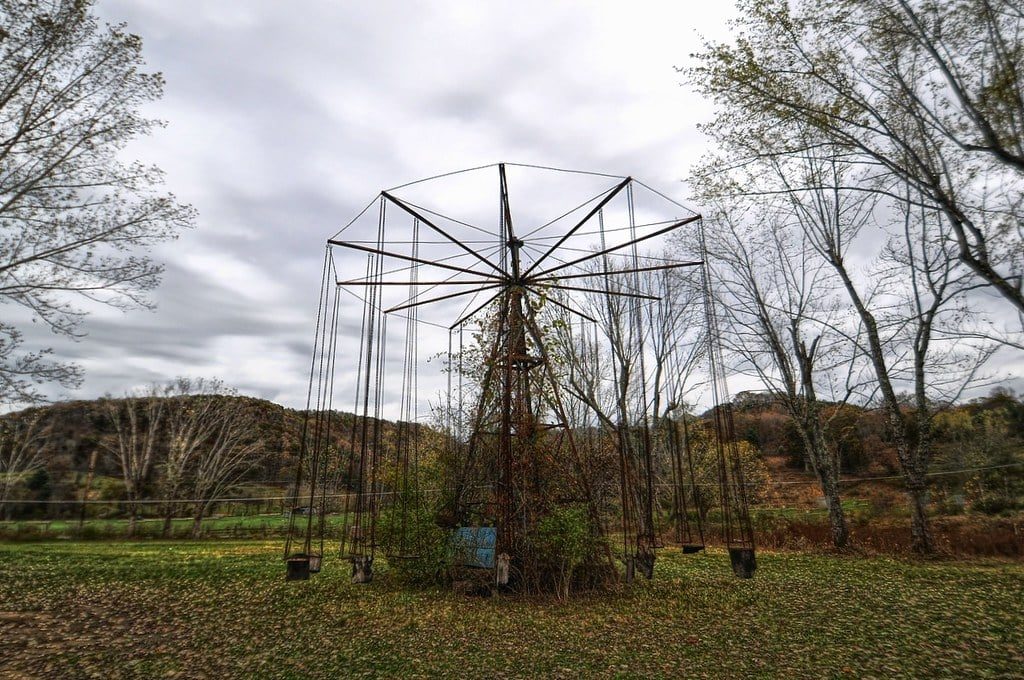 The skeletal remains of Lake Shawnee Amusement Park create an eerie atmosphere, which is appropriate given its dark history. Before the park was built, this was the site of a well-documented conflict between white settlers and the Indigenous Shawnee people – known as the Clover Bottom Massacre. In 1926, the amusement park opened to cater to the families of nearby coal workers. After the death of two children on the park grounds, the funfair closed in 1966, leaving behind many of its rides. The land has been abandoned since the park closed, giving it time to grow into an overgrown paradise for thrill-seekers and urban explorers.
Atlantis Marine Park, Australia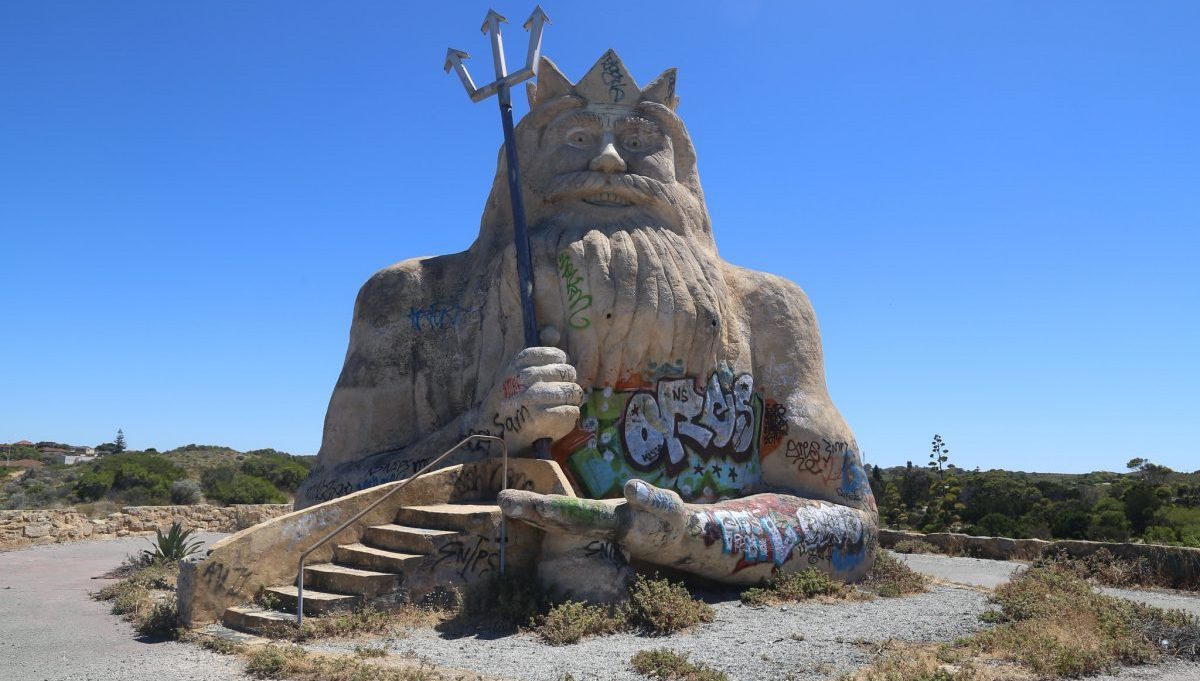 In 1981, Atlantis Marine Park opened in Perth, Australia. The park was to be the first step in turning the area into a "premier leisure recreation region." The main draw of the park were the six bottlenose dolphins, who were caught in the lagoon and trained to perform. However, by the end of the eighties, a decrease in revenue from fewer visitors and a dwindling cash flow led the Tokyu Corporation of Japan to close the theme park in 1990. In an unusual agreement, the park allowed marine biologist Dr. Nick Gales to attempt a reintroduction of the captive dolphins into the wild. Unfortunately, many of the dolphins proved incapable of living in the wild and were sent to a local aquarium.
Trinity Loop, Newfoundland and Labrador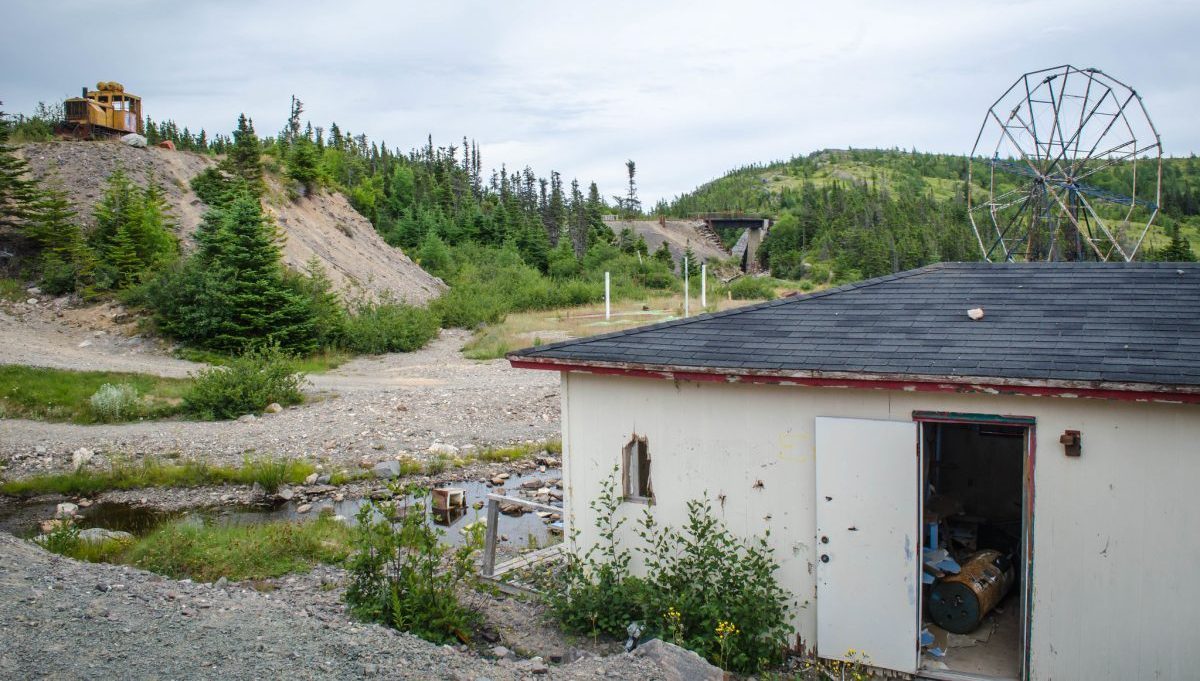 Once a vital transportation link and later a beloved amusement park, the famous train loop, Ferris wheel, and other attractions of Trinity Loop now lie in ruins. In the 1980s and '90s, Trinity Loop was a popular tourist attraction for locals and visitors alike. Visitors could ride trains, boats, and ponies, dine in a railcar restaurant, or see the entire pond from the top of the Ferris wheel. The park also featured live entertainment, miniature golf, a museum, and a petting zoo. When the Trinity Loop streetcar line was abandoned in 2004, the site was left to rot. Today, visitors can explore a sprawling maze of train tracks and ruins covered in graffiti. Unfortunately, Hurricane Igor washed out much of the railway. Many people still visit the site to swim, fish for trout, or film amateur horror movies.
Land van Ooit, Netherlands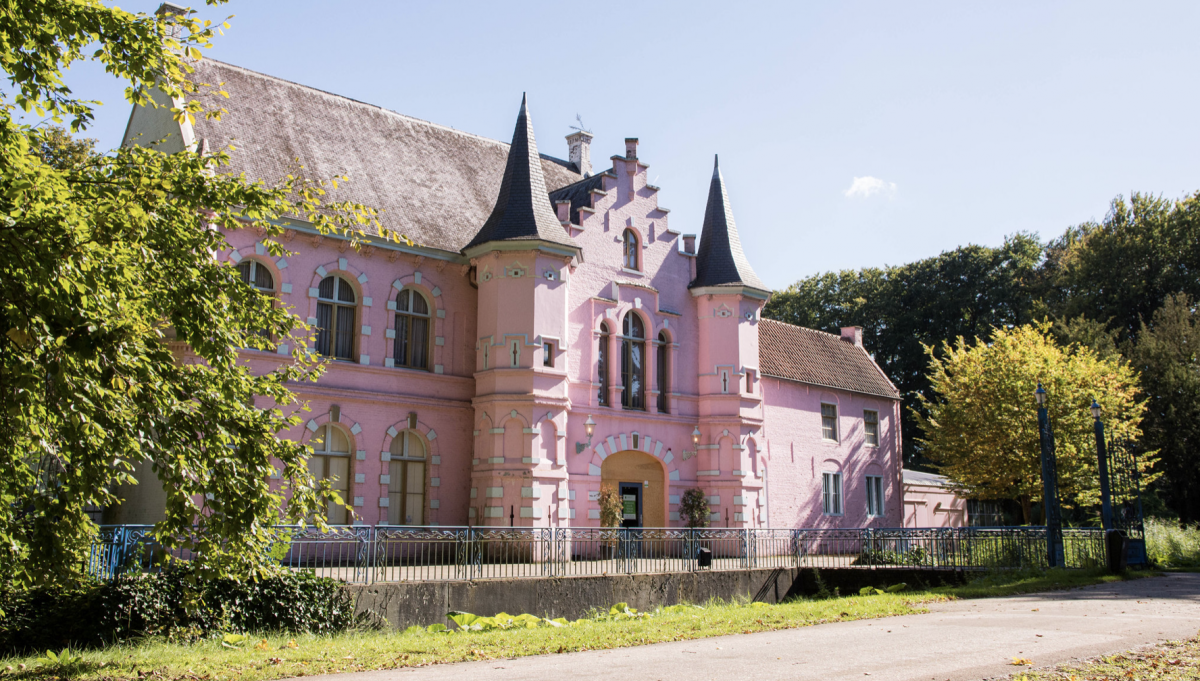 The Land van Ooit was more than a popular children's theme park. It was a little fairytale world complete with a rich tapestry of stories and characters. One particular character, Kloontje the Giant Child, spawned its own television show that was a major part of many Dutch millennials' childhoods. The amusement park opened in 1989 and was famous for its riveting knight fights, though these ceased after one of the actors was tragically killed after one of the duels. The castle that the park is famous for has a beautiful pink exterior, complementing its fairy tale-like features. In 2007, the theme park went bankrupt and closed. Most of the attractions were removed, though a few were left standing, including the iconic castle. The land was later sold to the local government, who reopened it as a public park called Poort van Heusden.
Boblo Island Amusement Park, Ontario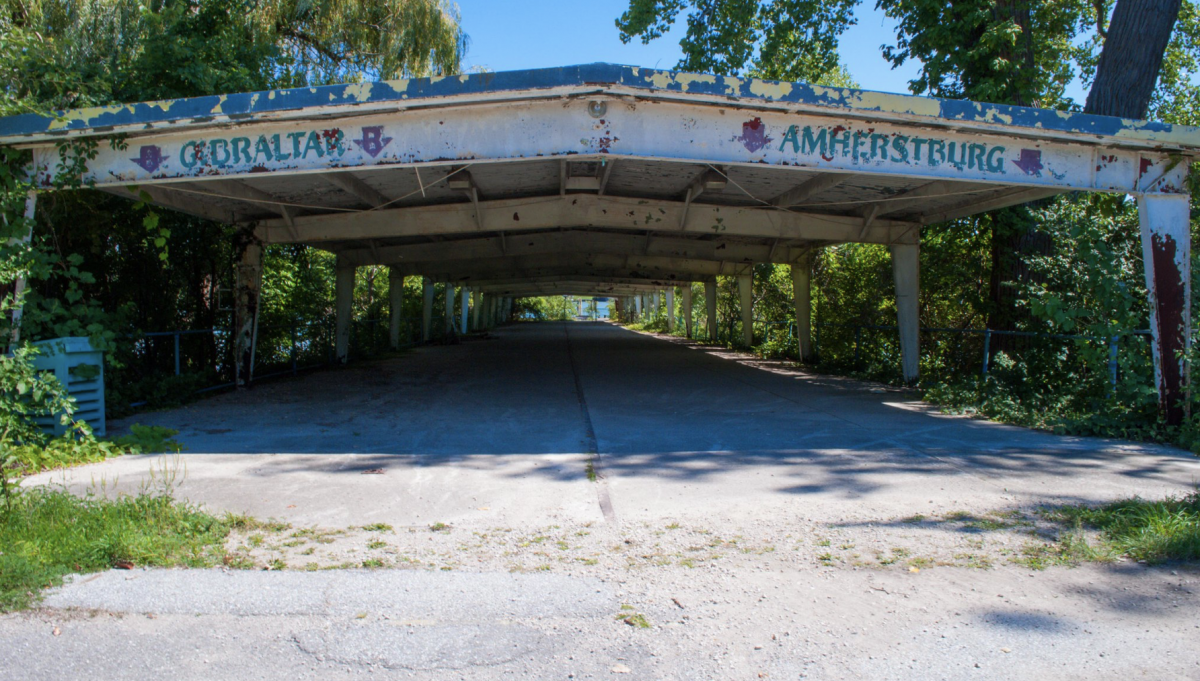 Ontario's Bois Blanc Island, frequently called "Boblo Island," opened its amusement park in 1898. The park offered rides, organ music, and brightly lit attractions to thousands of revelers eager for wholesome fun. Boblo Island included a dance hall financed by Henry Ford, which at one point was the second largest in the world. Attractions included rides such as the Nightmare, the Wild Mouse, and the Screamer as well as a Ferris wheel, a zoo and popular "Scootaboats." Detroiters even referred to Boblo Island as "the Coney Island of Michigan." But the old-fashioned charm of Boblo Island was no match for Cedar Point, a more modern amusement park that opened nearby in 1976. After several years of declining attendance, Boblo Island closed in 1993. After the amusement park closed, Boblo Island was renovated for luxury housing. While many of the structures were torn down, you might still hear a passing shriek and the tinkle of organ music amidst the ruins.
The Enchanted Forest , America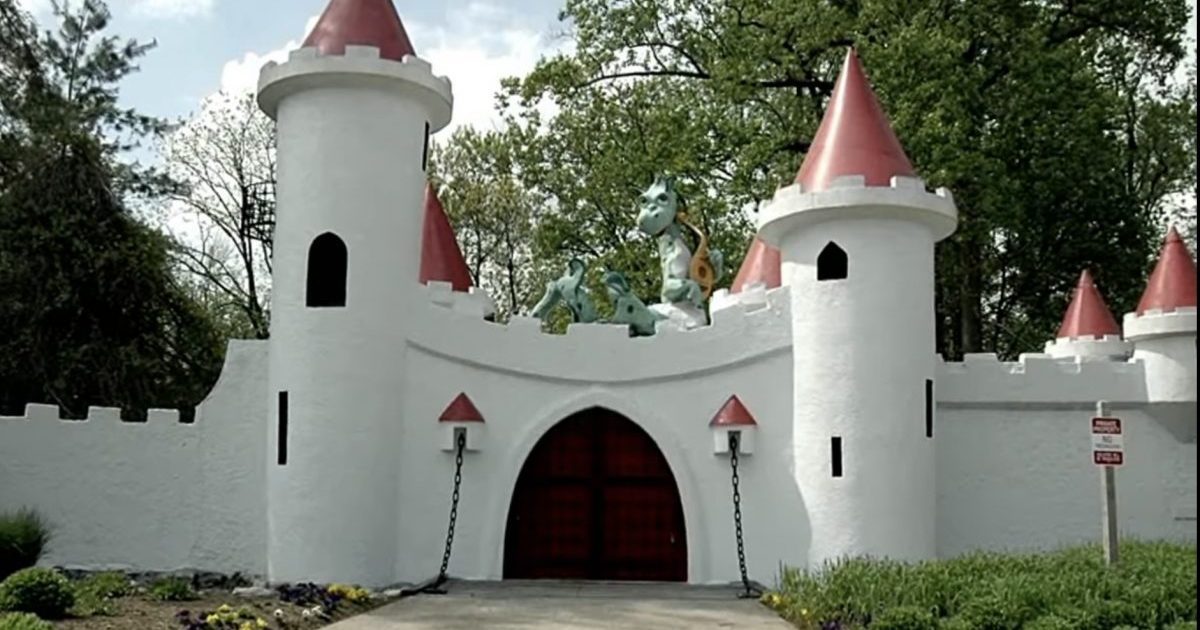 The Enchanted Forest Playland came about when amateur builder R.W. Bishop bought 14 acres of land in North Toledo, Ohio in 2000, transforming it into a bonanza amusement park. Bishop had big hopes. Too big of hopes, really. People never quite turned out in the numbers he had hoped and that hit his budget hard. Five years after its opening, the Enchanted Forest became the Abandoned Forest. Pictures show how the shrubs have since overgrown most of the rides.
Chippewa Lake Park, America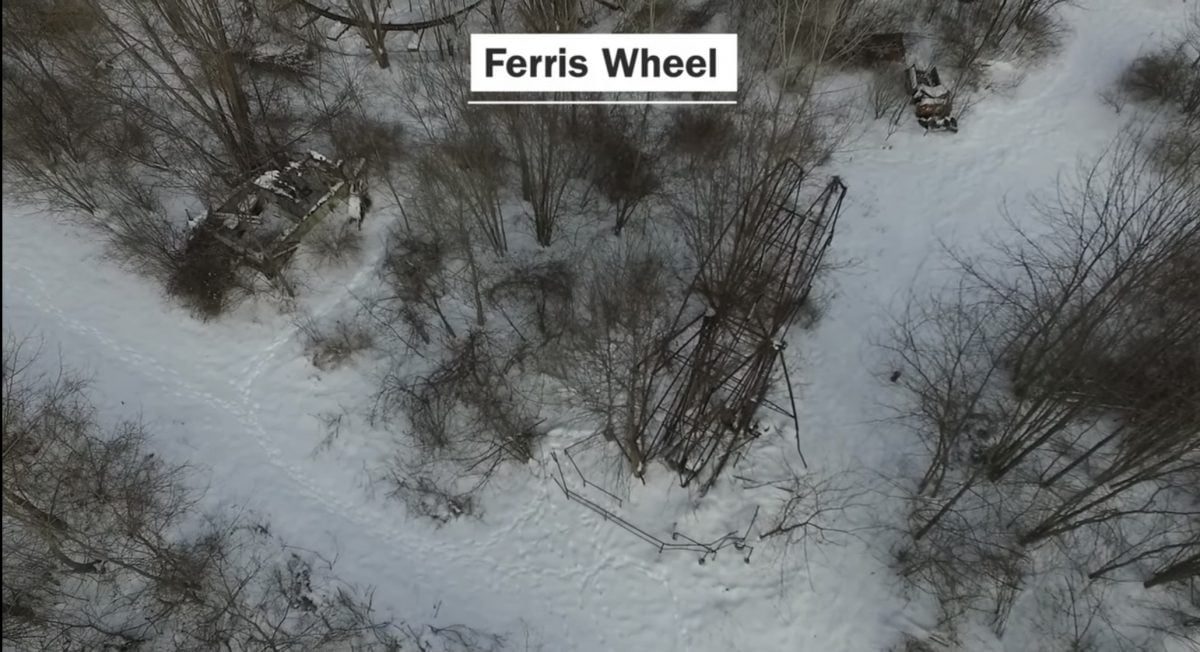 Credit: YouTube
Unlike most abandoned theme parks on this list, Chippewa Lake Park didn't go pot in the immediate aftermath of its closure in 1978. Nearly all of the rides and buildings remained standing in good condition until the tail end of 1990s. By the 2000s, however, trees had begun growing through rides and the ferris wheel. Some of the stalwart buildings had collapsed from the environment.
The Fun Spot Amusement Park , America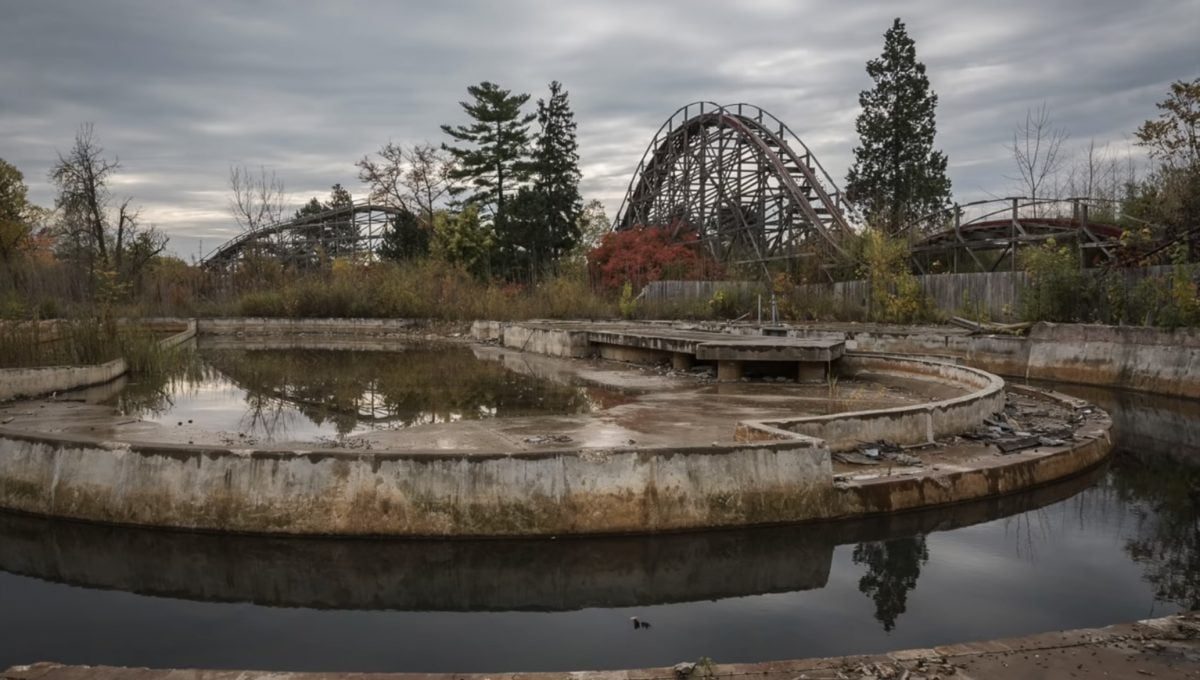 Credit: YouTube
The Fun Spot Amusement Park located in Angola, Indiana also served as a zoo. In fact, the majority of it was parkland. Only offering three rides, Fun Spot did compete with neighbouring Cedar Point and Michigan's Adventure for some fifty years between 1956 and 2008 when it closed. For a time, Fun Spot had the only operating roller coaster with an inversion in the state of Indiana. That was until Steel Hawg entered the game at Indiana Beach in 2008.
Loudon Castle , Scotland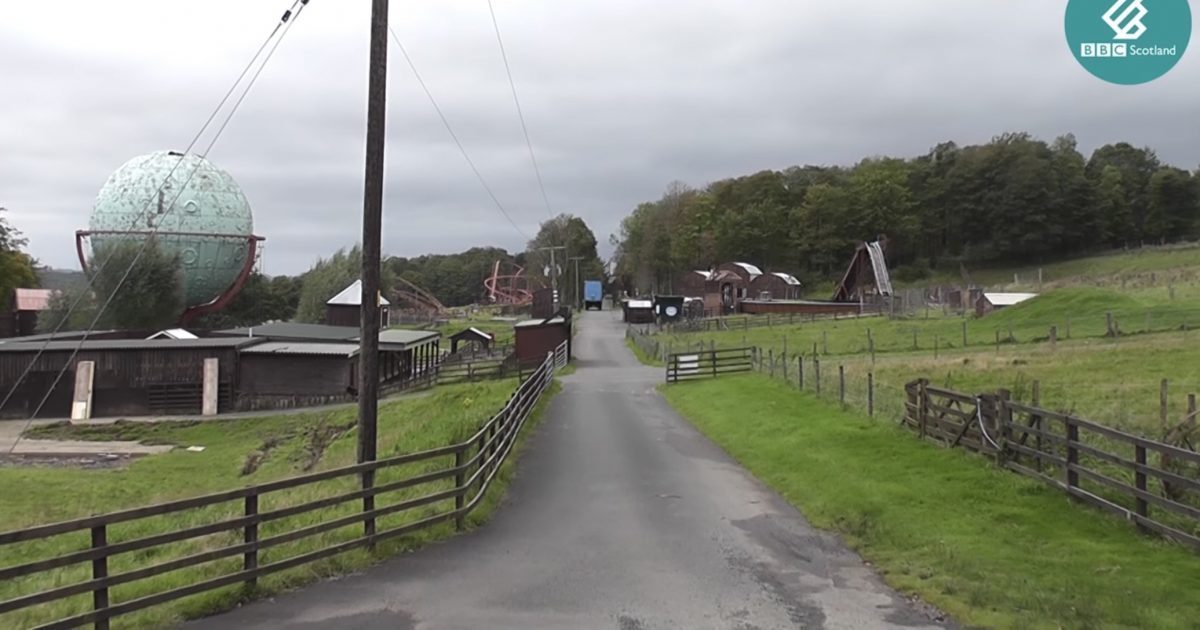 Credit: BBC Scotland
Loudoun Castle Theme Park in Ayrshire, Scotland, opened in 1995, was situated close to the ruins of - you guessed it - Loudoun Castle in Galston. It was created by a company based in London in 1995 before being sold on to showman Raymond Codona, who in turn sold Loudoun to Henk Bembom's Parkware Ltd in 2002. In 2007, tragedy struck when an 18-year-old ride operator died after falling 80 feet while pushing a faulty roller coaster. After a trial in 2010, Loudoun Park was abandoned.
American Adventure , England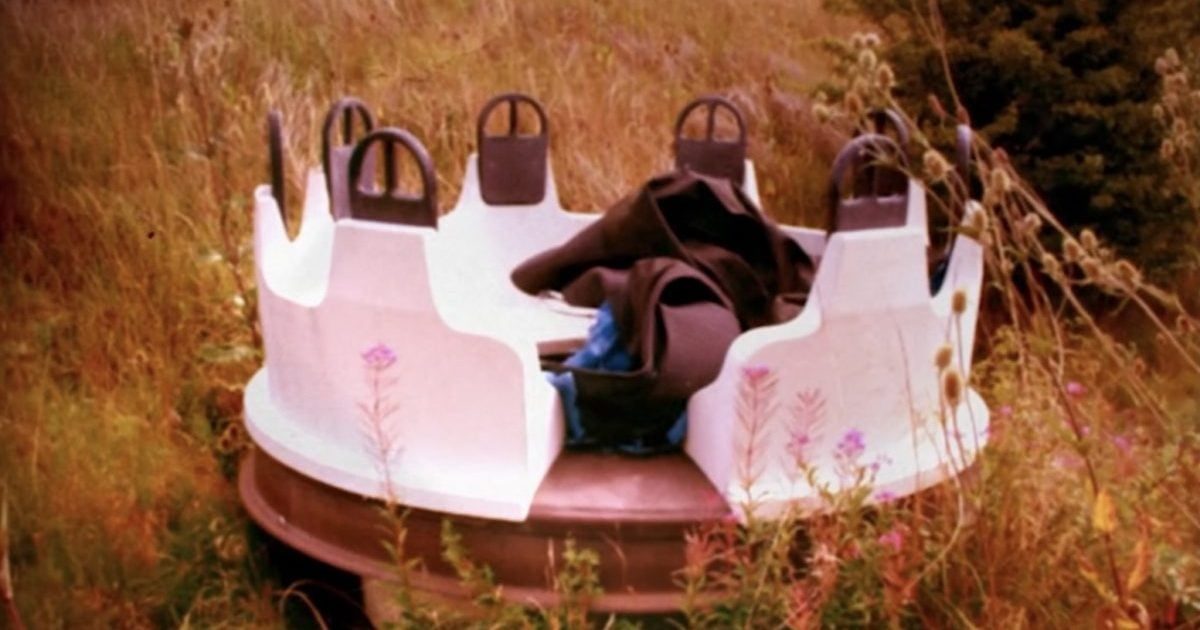 Credit: YouTube/Expedition Theme Park
The American Adventure theme park brought joy to thousands of people in Derbyshire. It first opened to the public as Brittania Park in 1985 before rebranding as American Adventure in 1987. The attraction enjoyed many years of success before declining at the turn of the millennium. It was sold to various companies until eventually closing its door for good in 2006. Many of the rides can still be found to this day, including pirate ship the Yankee Clipper.
Fantasy Glades, Australia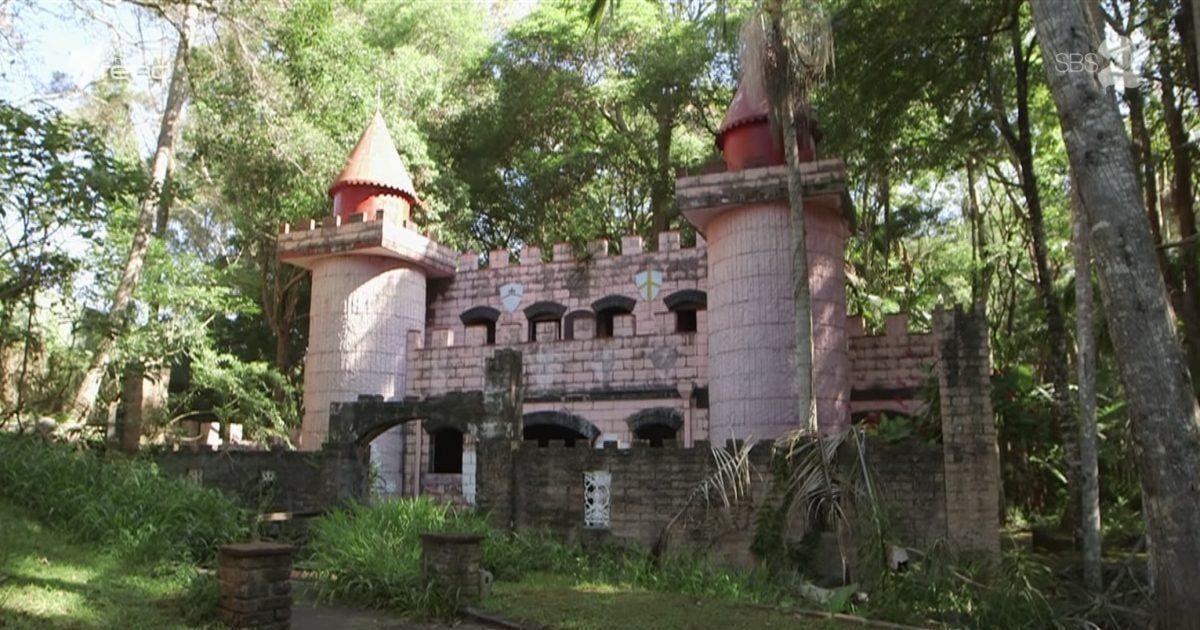 Credit: YouTube/SBS The Feed
Built in the dainty coastal town of Port Macquarie, the Fantasy Glades theme park shut its door in 2002 after 35 years of prosperity. Packed to the rafters fairytale characters, here you could venture into a giant shoe house, walk the grounds of Cinderella's castle or spook yourself silly in a witch's cottage. The park was marketed on Gumtree for $422,800 in 2015 and actually found a buyer, though they haven't appeared to do anything with it.
Mirapolis, France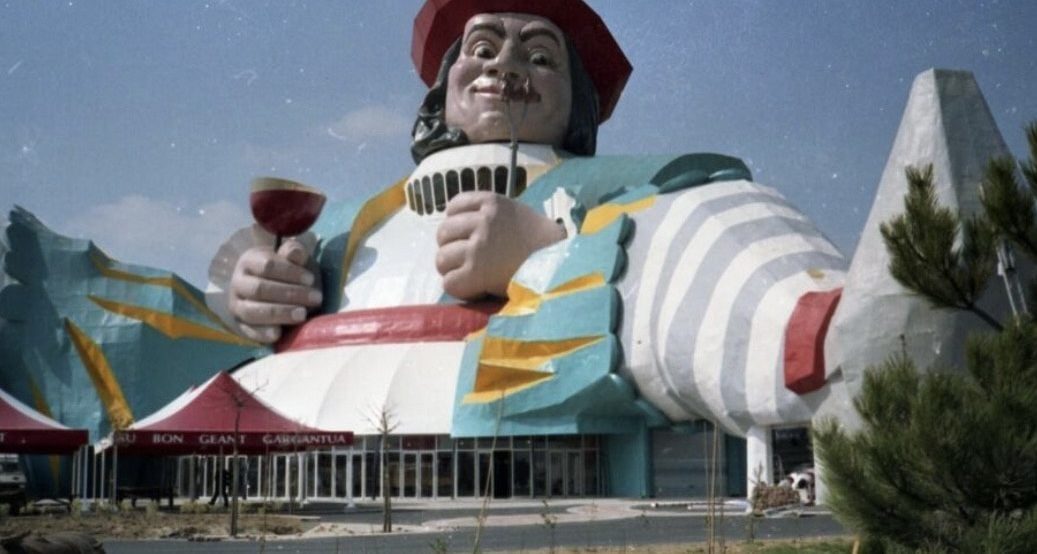 Credit: Wikipedia
If you were a kid in in 1987 living in the Courdimanche, Val-d'Oise area in France, and had a taste for French literature, chances are you were all over the Mirapolis theme park! Spanning 136 acres, it was described as being 'France's first large amusement park'. Unfortunately, this daring attraction faced stiff opposition in the form of Zygofolis or Big Bang Schtroumpf, and closed in 1991. Most of it was demolished but some remains to this day.
Frontierland, England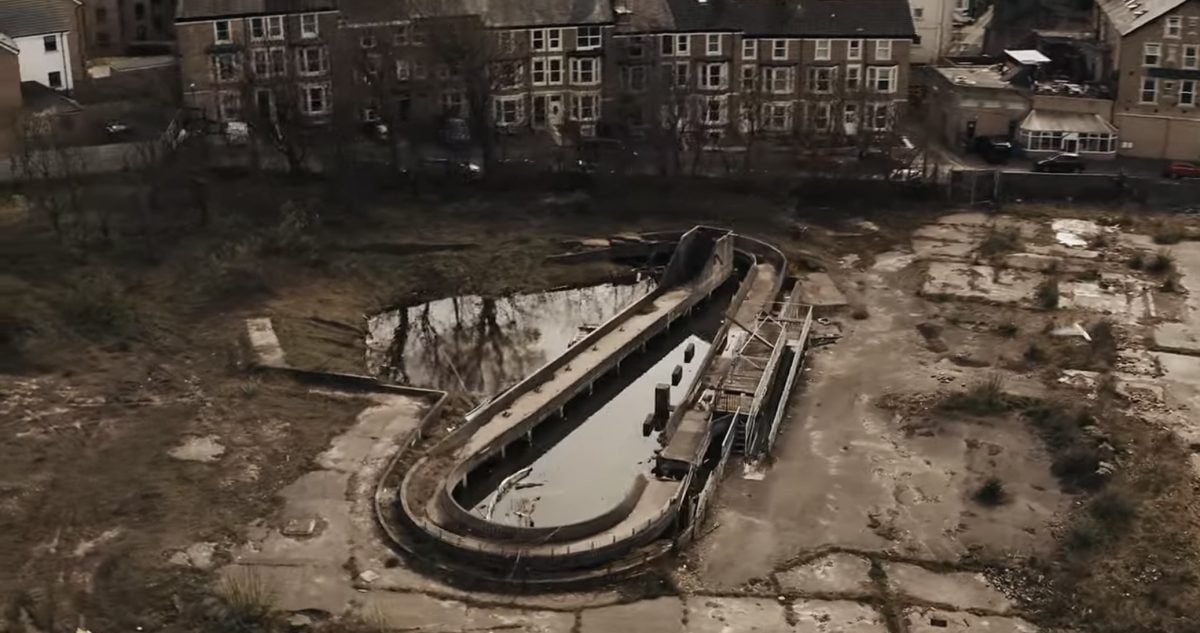 Credit: YouTube/Squadding Quads
They tried to save Frontierland. They really did. When it closed in 1999, Morrisons decided to build their branch beside the site instead of over it. A scheme involving a restaurant, pub and hotel as proposed and approved by the city council but planning permission eventually expired. In 2021, the city council bought the site and promised to make a step towards regeneration, though nothing has been planned just yet.
Grand World Scenic Park , China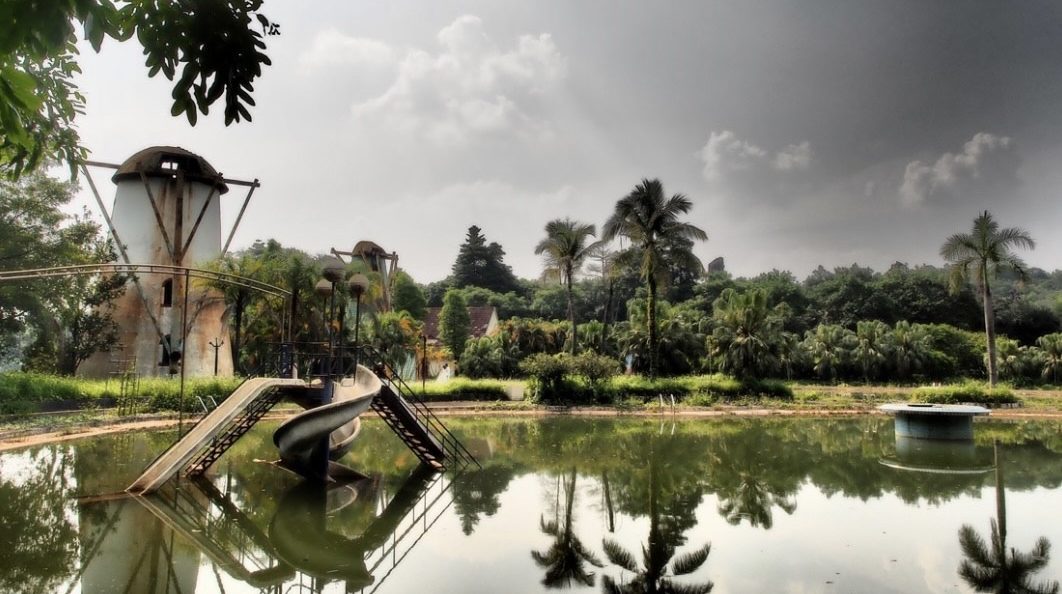 Credit: Thatsmags
Grand World Scenic Park was/is located at Dongpu, Tianhe District on the outskirts of Guangzhou, China. Opened in 2005, the park covers 710,000 square metres, most of which are in disrepair today. Over its short history as a functioning attraction, four fights were reported between the amusement park and its workers. In April 2009, 40 men rioted through the park destroying equipment and attacking workers with knives, iron bars and even guns. Police arrested 13 people in connection with the attack.
Sports World Izunagaoka , Japan Mike Grist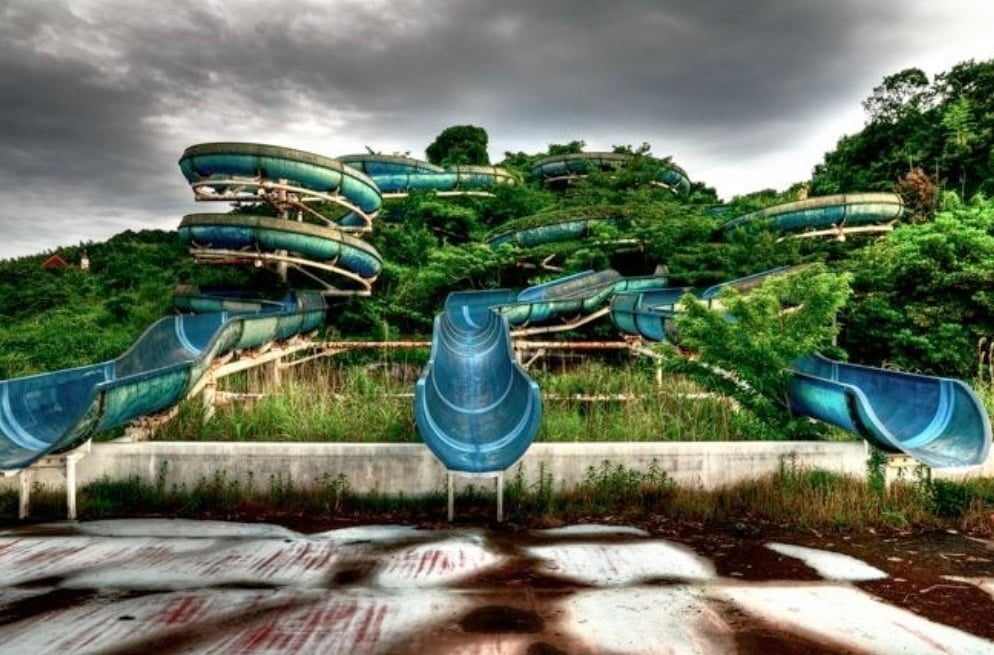 Credit: Mike Grist
Sports World, situated at the crown of the Izu peninsula and overlooking a vast landscape of forested mountains, was at one time a nirvana for sports and leisure. Although it boasted tennis courts, mini golf, a diving pool, restaurants, a hotel, a wave pool, spa and gym, Sports World shut up shop in 1993 due to an economic dip. The only visitors to Sports World today are urban explorers and graffiti artists.
Atraktzia, Israel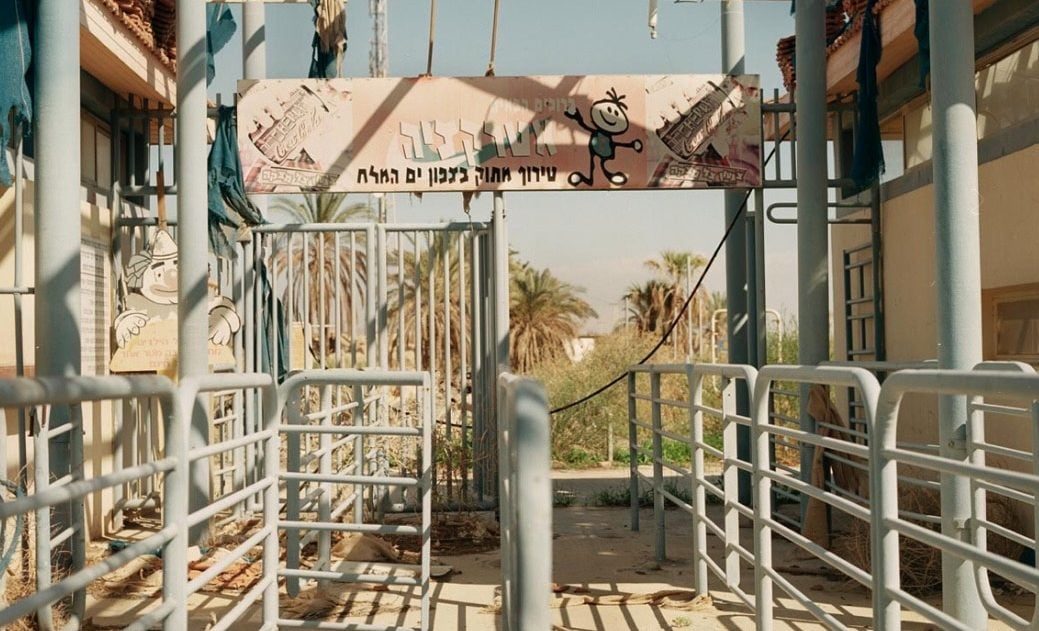 Credit: Dana Stirling
Atraktzia, or attraction to you and me, was the name of a short-lived water park near the Dead Sea in Israel, somewhere you might not immediately associate with the kind of frivolity inherent to theme parks. It was shut down in 2000 due to political tensions in the area and lay dormant for years after. Photographer and former visitor of Atraktzia, Dana Stirling managed to capture some amazing photos of the place when she toured the ruins in 2013.
Blub, Germany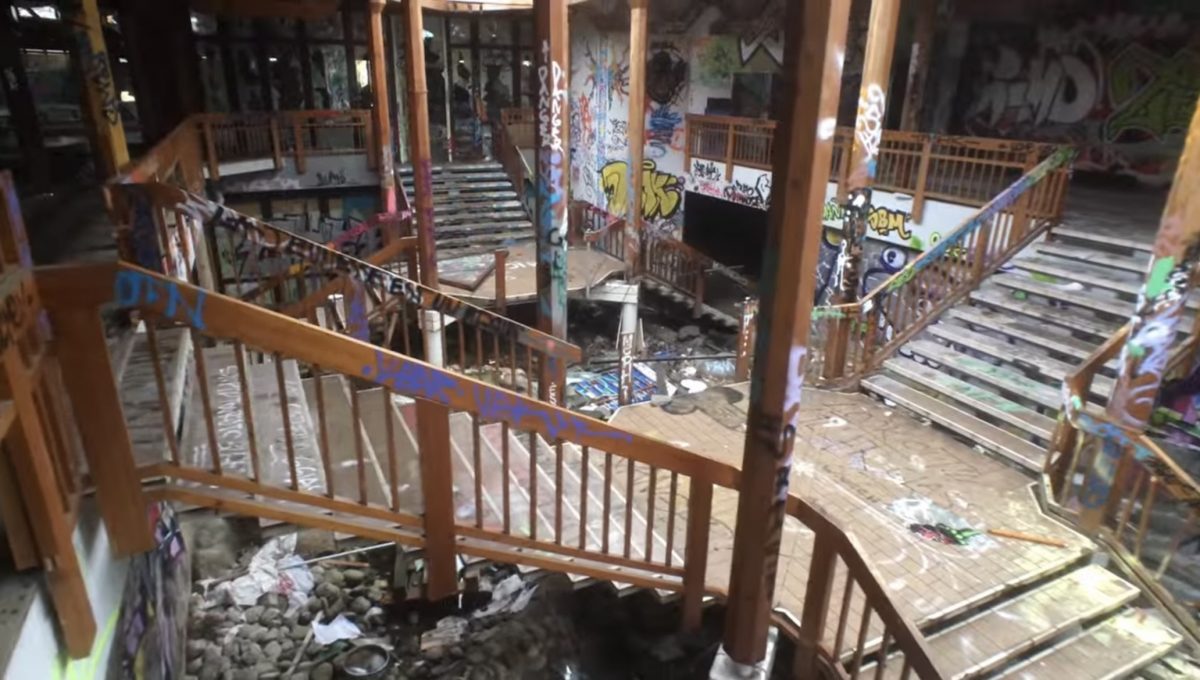 Credit: YouTube/Josh2477
Blub, short for Berliner Luft und Badeparadies (Berlin Air and Bathing Paradise to you and me), first opened in February 1985. The power of Blub even earned them a sponsorship with Bundesliga team Hertha Berlin. For a good decade, this water park thrived, attracting some 600,000 visitors a year. Then it took a nosedive. The city councul closed parts of Blub in 2000 thanks to a string of hygiene problems, with accusations of rat droppings being found on the grounds. In February 2005, almost twenty years since it opened, Blub was shut entirely.
Old Sydney Town, Australia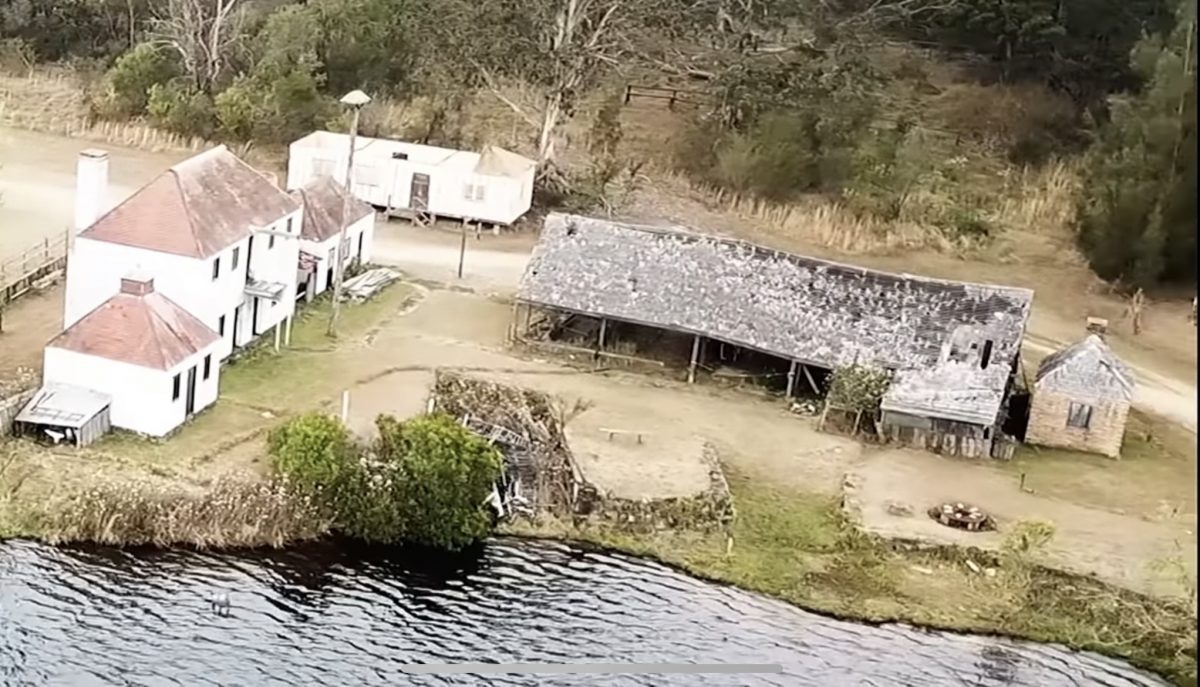 Credit: ReviewTyme
Recreating the look of early-stage colonial Australia - a unique angle on the theme park - Old Sydney Town became a favourite for local schools and passing travellers. Located near Gosford north of Sydney, it opened in Australia Day in 1975. Prime minister at the time Gough Whitlam turned out, as did 11,000 tourists. The concept was eventually its undoing. Turns out kids like rides not history! The site operates occasionally as a movie set, with many buildings still intact following its closure.
Wet N Wild, England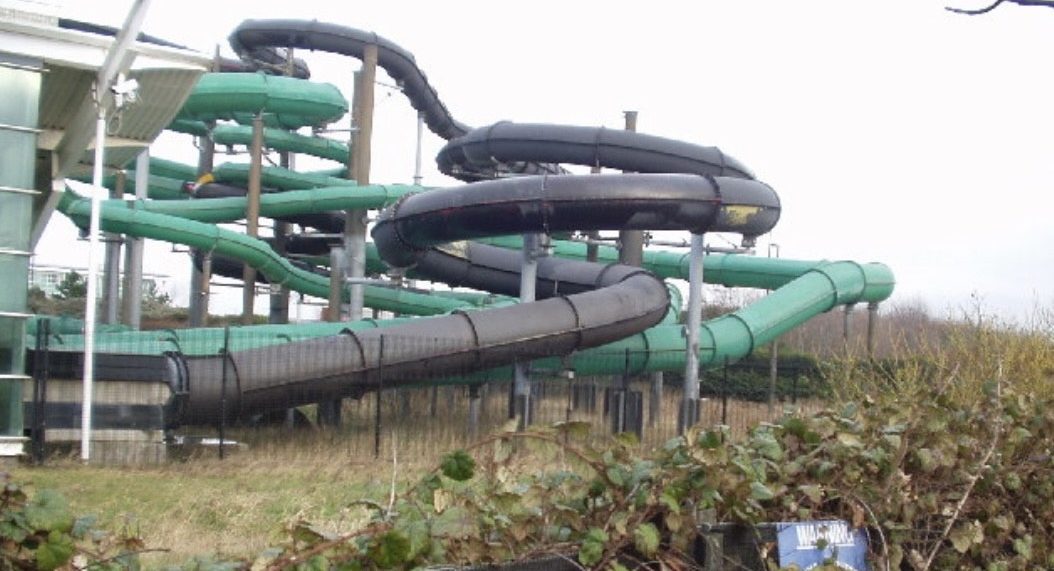 Credit: Chronicle Live
When it opened in 1993, Wet N Wild, in North Shields, Tyne and Wear, was the biggest indoor water park in the UK until Sandcastle Waterpark came along and nabbed the title. Wet N Wild had several big hitters when it came to slides, perhaps most famously The Kamikaze which boasted an 80-foot drop. But it also catered to smaller children in a section called Discovery Island. In 2020, the children splashed about for the last time. Lease holders Serco Leisure bought the building outright and the park has stayed closed ever since.
Wild Rapids Waterslide Park, Canada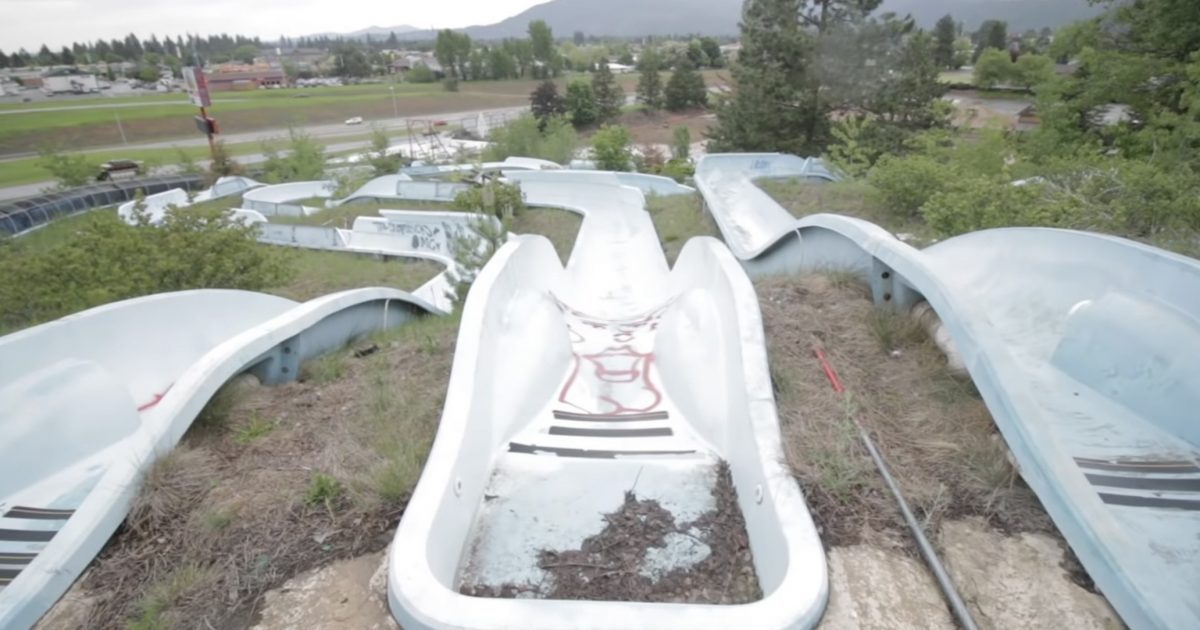 Credit: YouTube/adamthewoo
This rip-roaring bonanza of a water park was based on the shores of Sylvan Lake in Alberta, Canada. Opened in 1982, it was the province's second-largest water park after West Edmonton Mall's World Waterpark. The park was made up out various dipping pools, three hot tubs and 12 water slides. In 2016, Wild Rapids was no more – as a corporate entity, that is. The grounds themselves, well… you know the deal.
Geauga Lake
Credit: YouTube/Bright Sun Films
Based in the Bainbridge Township and Aurora in Ohio, Geauga Lake was an amusement park created all the way back in 1887. The first roller coaster, the Big Dipper, was built in 1925. In the sixties the park was sold to Funtime, Inc. and expanded upon. In 1995, Premier Parks took the reigns, before selling it onto Cedar Fair. Then, at last, it was announced in 2007 that this long-standing theme park was to close.
Hobart Zoo, Australia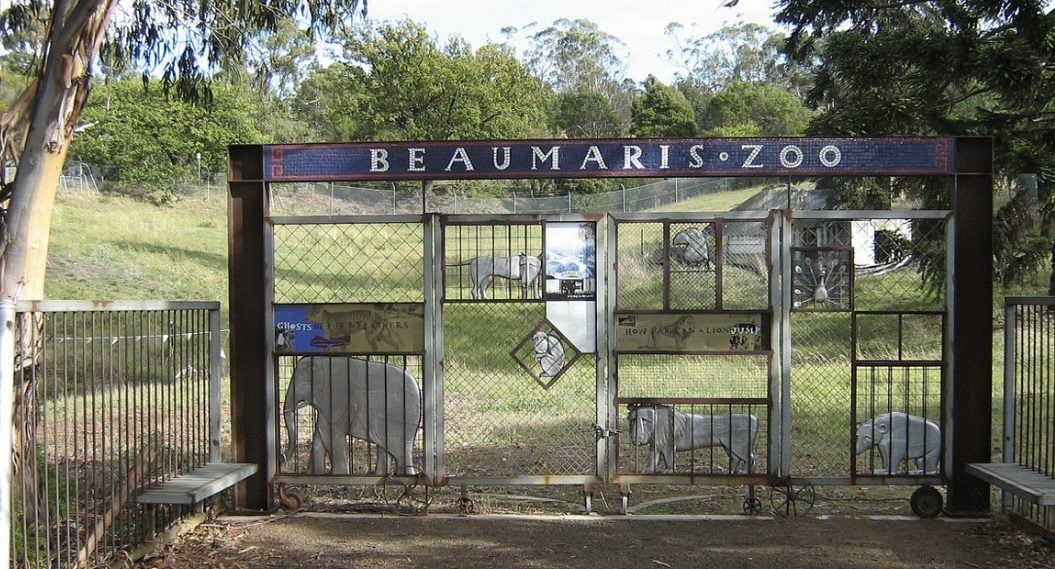 Credit: Wikipedia
Hobart Zoo, originally called Beaumaris Zoo, was opened in 1895 on the private grounds of Hobart it girl Mary Grant Roberts. The zoo became famous for a breeding programme for Tasmanian devils, altered the image of many wild animals and attracted some scientific interest. Hobart became famous in 1936 for photographing the last known Tasmanian tiger, or thylacine. Sadly, it shut a year later under financial pressure but some of the remains of this attraction remain standing today.
Dinosaur World, Arkansas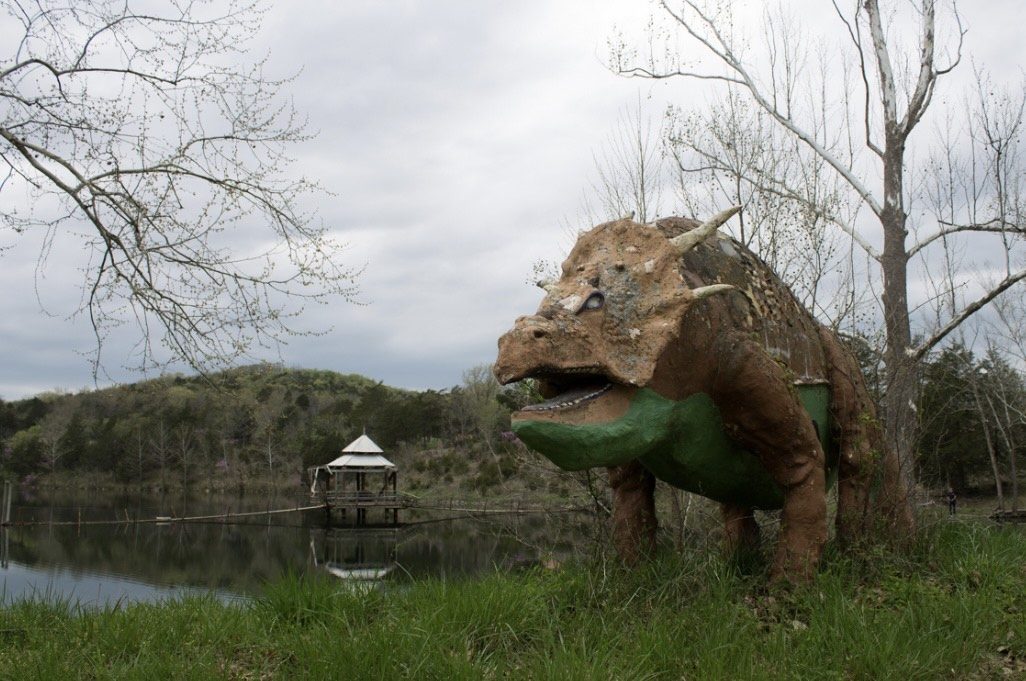 Credit: Only In Your State
Formerly known as John Agar's World of Kong, Dinosaur World was a scintillating and huge dinosaur-themed amusement park. Opening in the 1960s, Dinosaur World once boasted over 100 life-sized statues of dinosaurs and the world's largest statue of King Kong. Propped up near Eureka Springs, what remains of Dinosaur World - which closed in 2005 - is surrounded by forest. It fades deeper and deeper into it as the years roll on by.
Magic Kingdom, Australia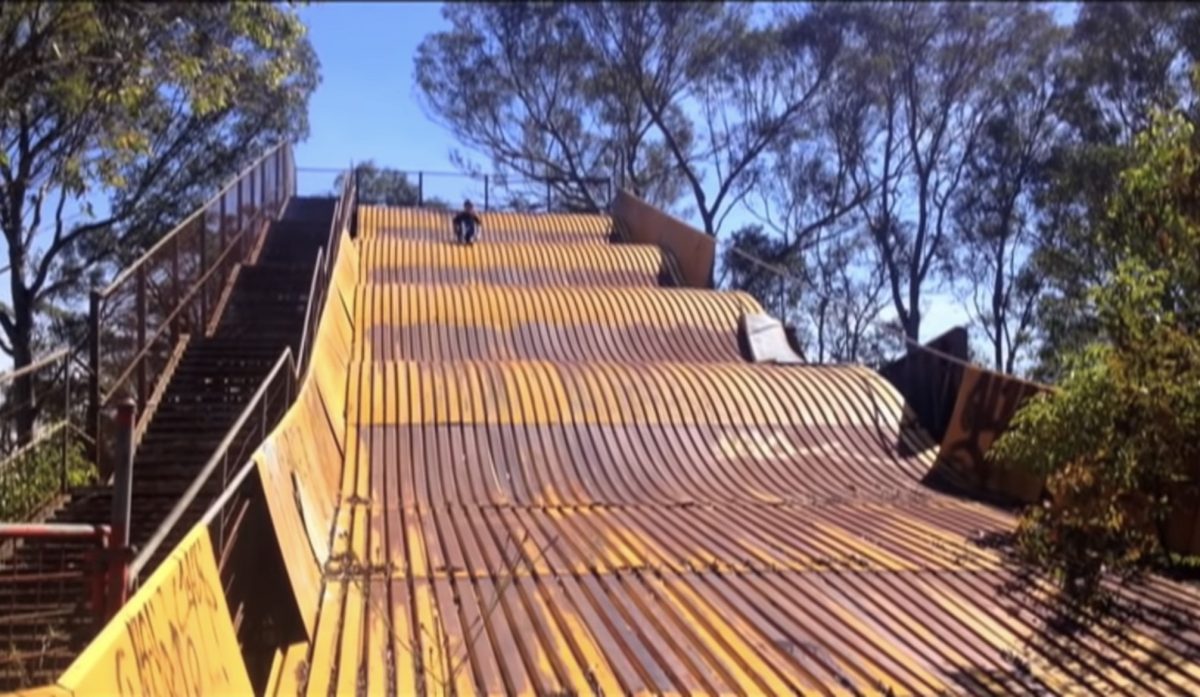 Credit: YouTube/Shaun
Sydney's Magic Kingdom may have been doomed from the get-go when you think about it. Established in the obscure western Sydney suburb of Lansvale in the 1970s, Magic Kingdom brought together open green lands and barbecues with a smattering of decent rides to keep the kids occupied. In the early 90s Magic Kingdom was shut down thanks to a fierce competitor in Wonderland. The rotted and rusty remains were catnip to teenagers looking for somewhere they could muck around.
Greenhills Adventure Park, Australia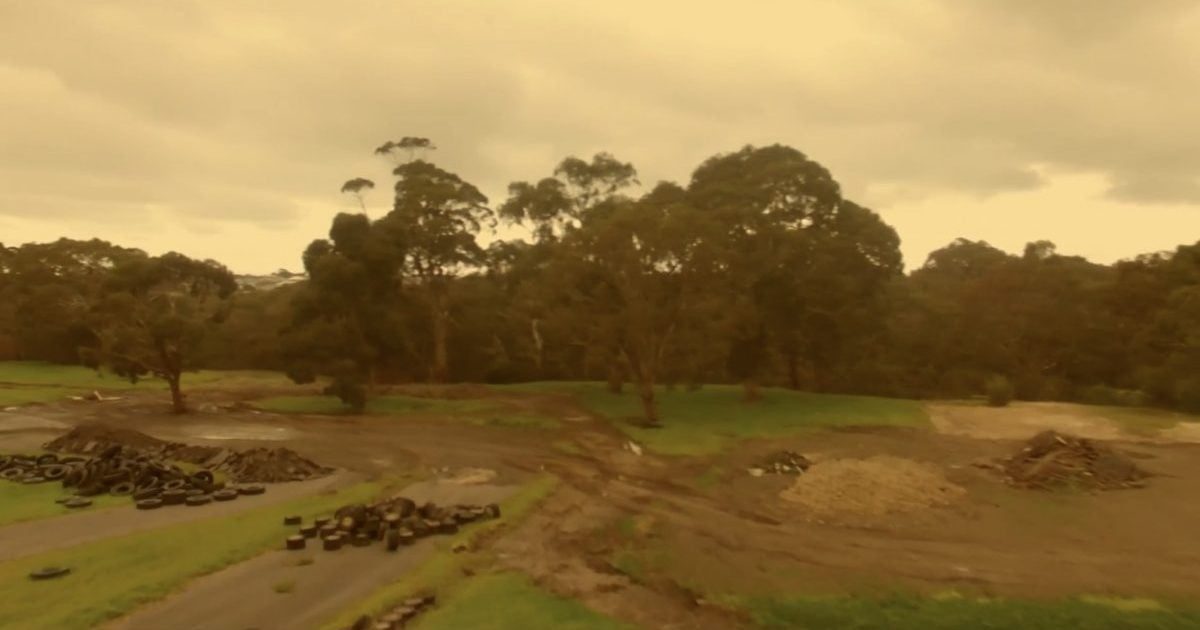 Credit: YouTube/Aces High FPV
Opened in 1983 by founders Margaret and Bill McKenzie on a 25-acre plot of land, Greenhills Adventure Park boasted over 20 attractions in its day. This theme park based in Victor Harbor, South Australia, managed a good twenty years of business before the McKenzies sold the land to developers in 2009 who planned to build apartments over the site. In 2016, Greenhill Adventure Park held an auction to sell most of its equipment.