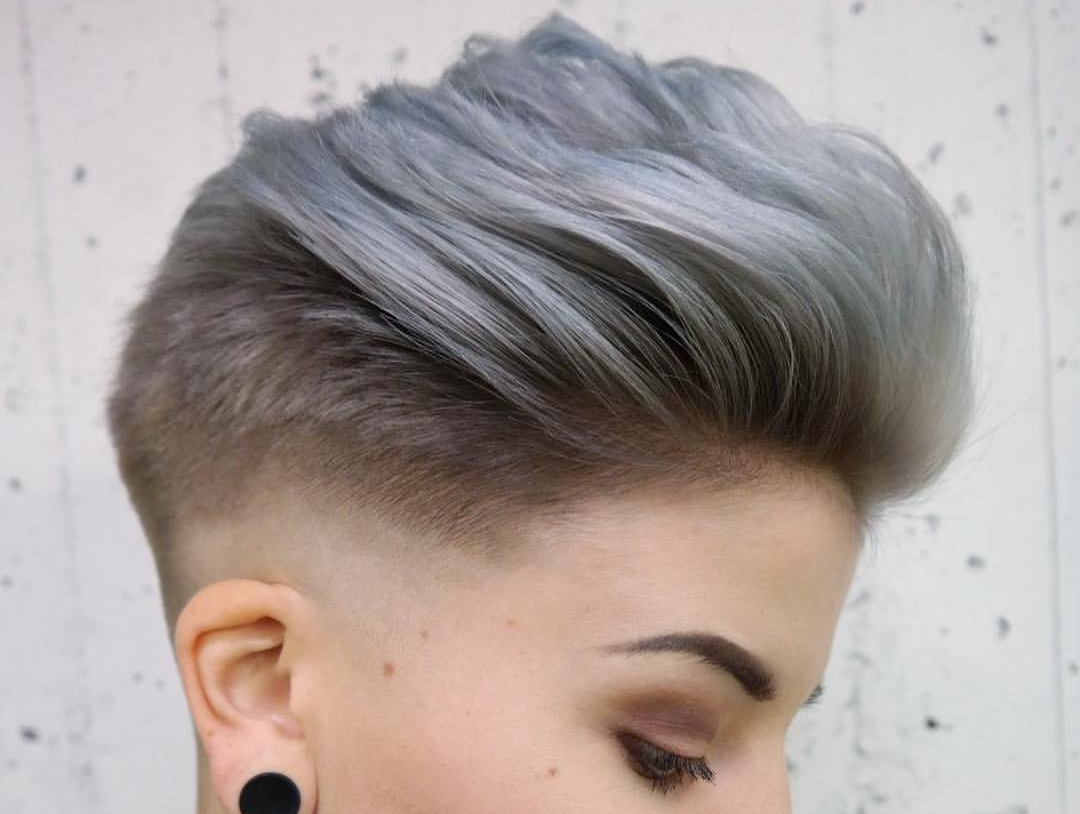 Choppy and blond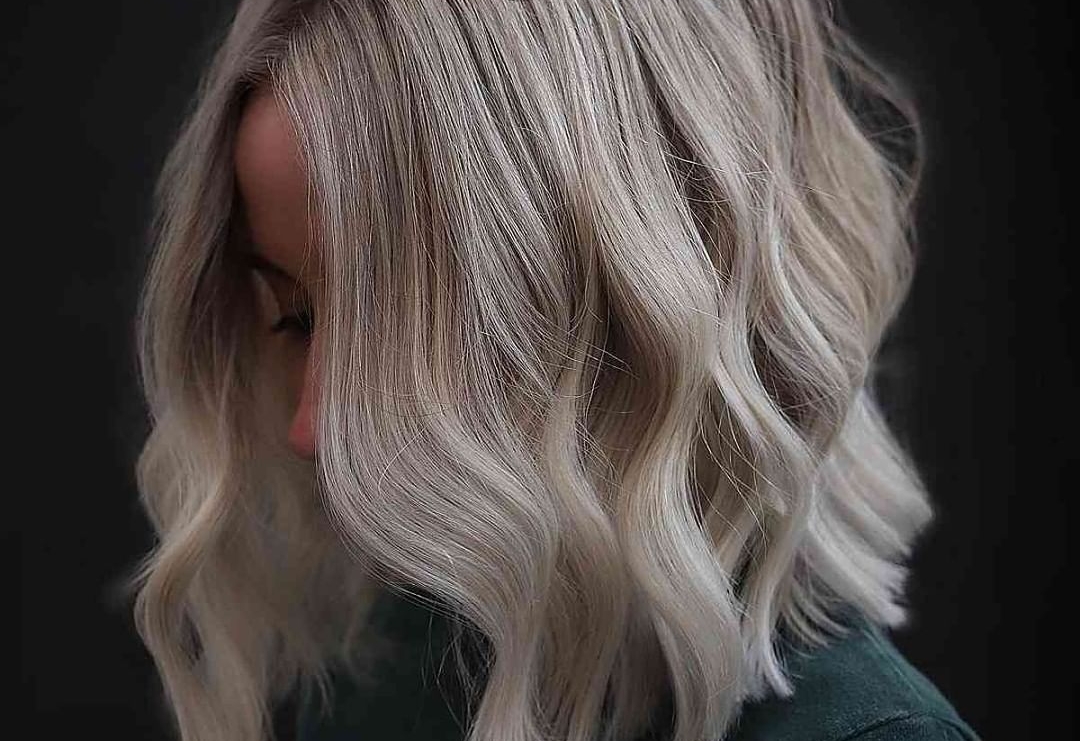 Credit: @latesthair via Instagram
This chic hairstyle is versatile and can complement various face shapes, making it a great choice for anyone, regardless of their hair type. Make a request to your stylist for layered and slightly messy cuts, along with flattering highlights. Keep the length sufficient for an array of styling possibilities.
Sideswept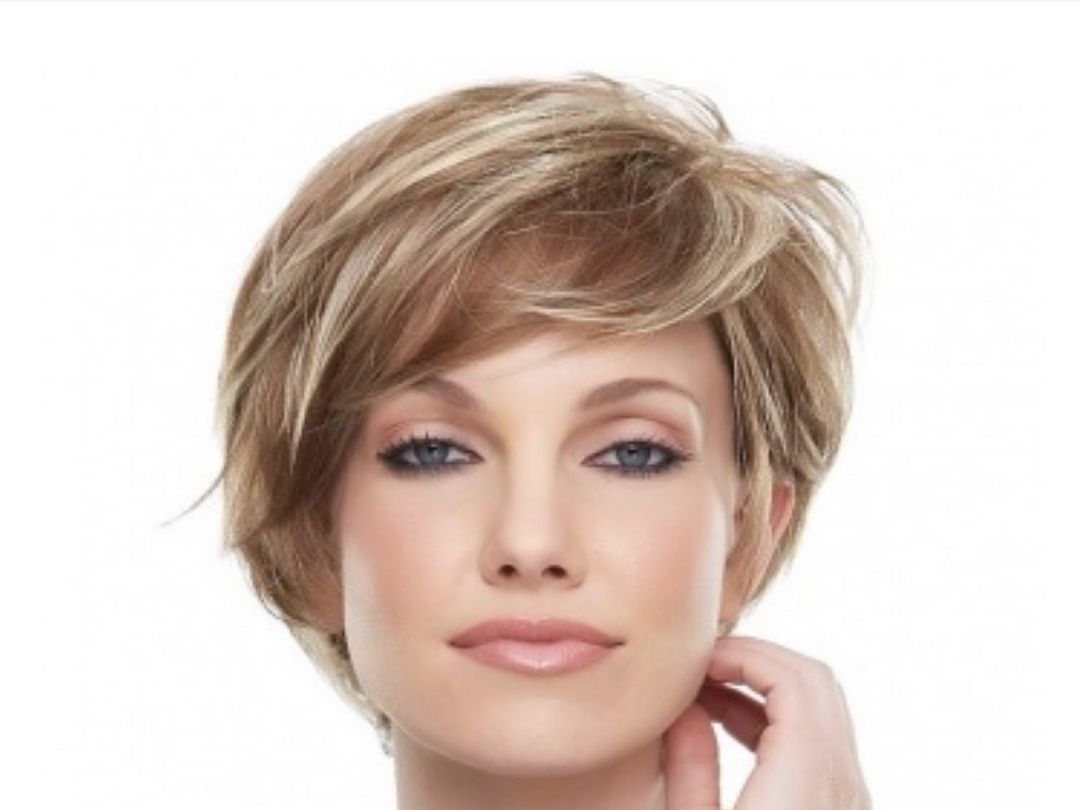 Credit: @wigsandpieces via Instagram
This trendy short hairstyle is an excellent option to revitalize thick hair. It features an asymmetrical cut, with one side slightly longer than the other, creating a unique and edgy look. The mix of blond and brown highlights enhances the pixie cut's overall appeal, making it stand out.
Pixie haircut with bangs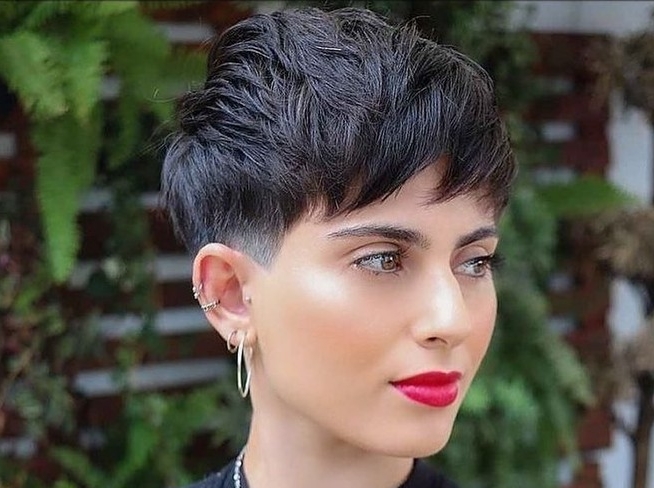 Credit: @acaroline.couto via Instagram
This trendy short hairstyle exudes sophistication and style for 2023. When visiting your stylist, request a bob at the back while leaving the front and top longer. This look creates a beautiful frame around the face, drawing attention to the eyes. Additionally, the layering adds volume to the back, giving your hair a fuller and more voluminous appearance.
Wavy messy angled shaggy bob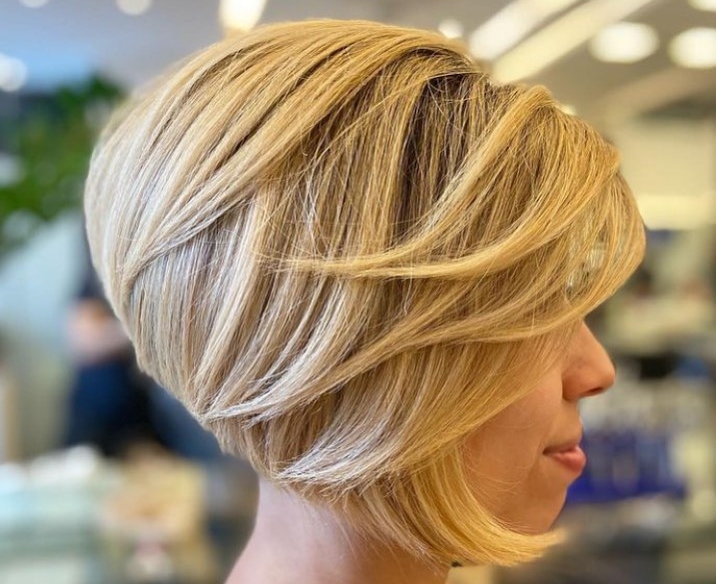 Credit: @corteumchanel via Instagram
This short hairstyle showcases an inverted bob, with the front being left longer than the back. Opt for choppy sections to enhance the textured look, especially if you already have some natural texture in your hair. Leaving a few waves near the face adds a touch of femininity to the overall style.
Super short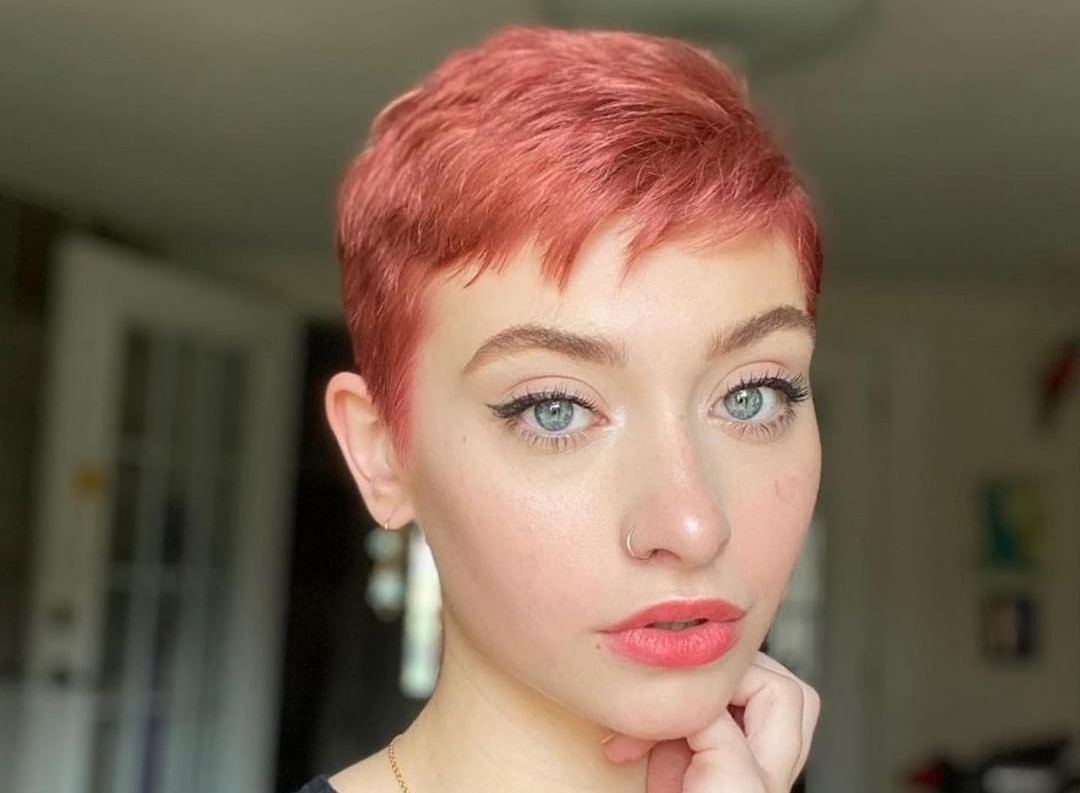 Credit: @shorthairlife via Instagram
This trendy short hairstyle for 2023 can instantly boost your confidence. The tousled and cropped bob creates a fashionable look that complements your facial contours beautifully. The addition of a bold, bright color enhances the texture of the hair and creates a dimensional effect, making this hairstyle even more eye-catching and stylish.
Messy and gorgeous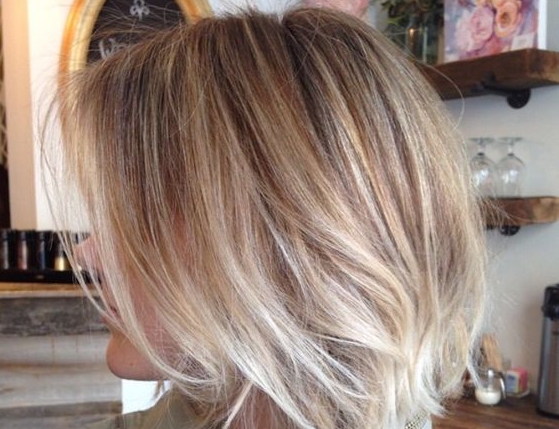 Credit: @Radi8Beauty via Pinterest
This sexy and chic hairstyle is a perfect choice for 2023. The dark roots fading into blond make for an effortlessly trendy look, eliminating the constant need to hide visible root growth. By incorporating the roots as part of the hairstyle, you can save yourself trouble and maintain a stylish appearance.
Going gray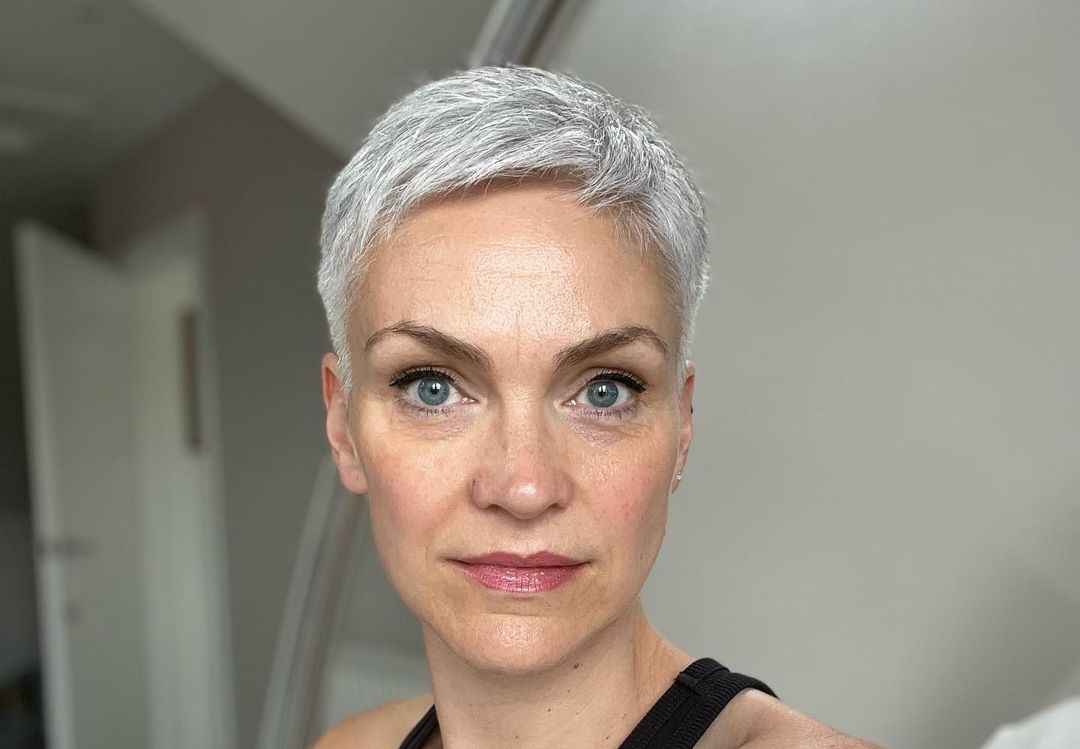 Credit: @joining_the_greyvolution via Instagram
The "granny" hair trend is a popular style choice for fashionable individuals who want to experiment with a brand-new color. The short haircut and pale color beautifully frame the face while adding texture to the hair. The short sides and cropped top create a stylish and well-balanced look.
Chopped bob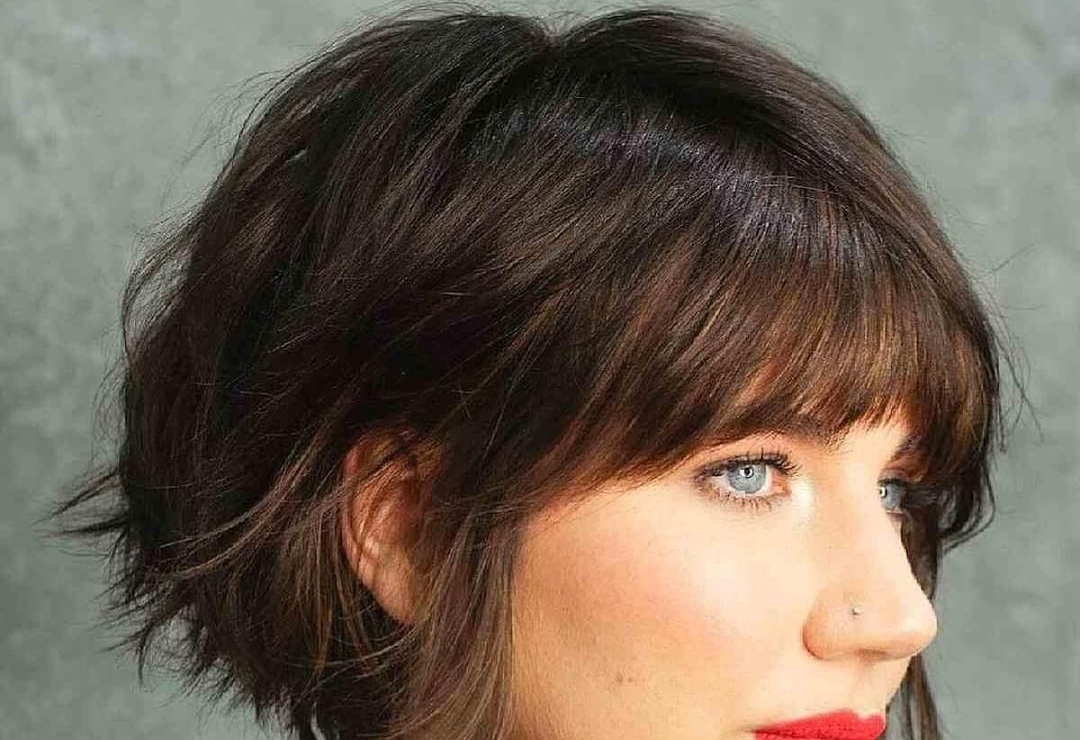 Credit: @latesthair via Instagram
This is one of the most elegant short haircuts for 2023, exuding femininity and style. The addition of brown balayage enhances the overall look and is a perfect choice, especially for those trying it out for the first time. With minimal upkeep, the chopped bob offers style with ease.
Modern short haircut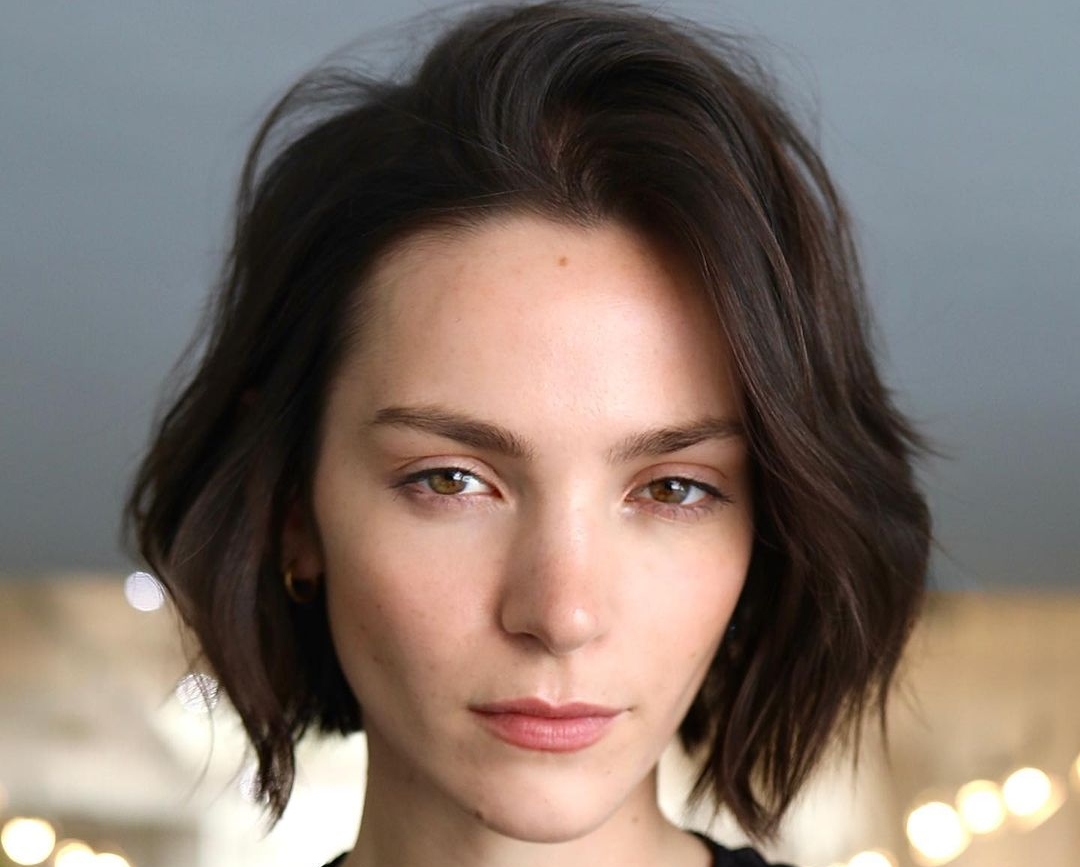 Credit: @hirohair via Instagram
This popular short hairstyle for 2023 is ideal for women with thick, unruly hair. By incorporating choppy layers and creating two tiers with edges cut at varying angles, you can effectively reduce the overall thickness of your straight hair, sculpting a look that's naturally beautiful.
Fauxhawk style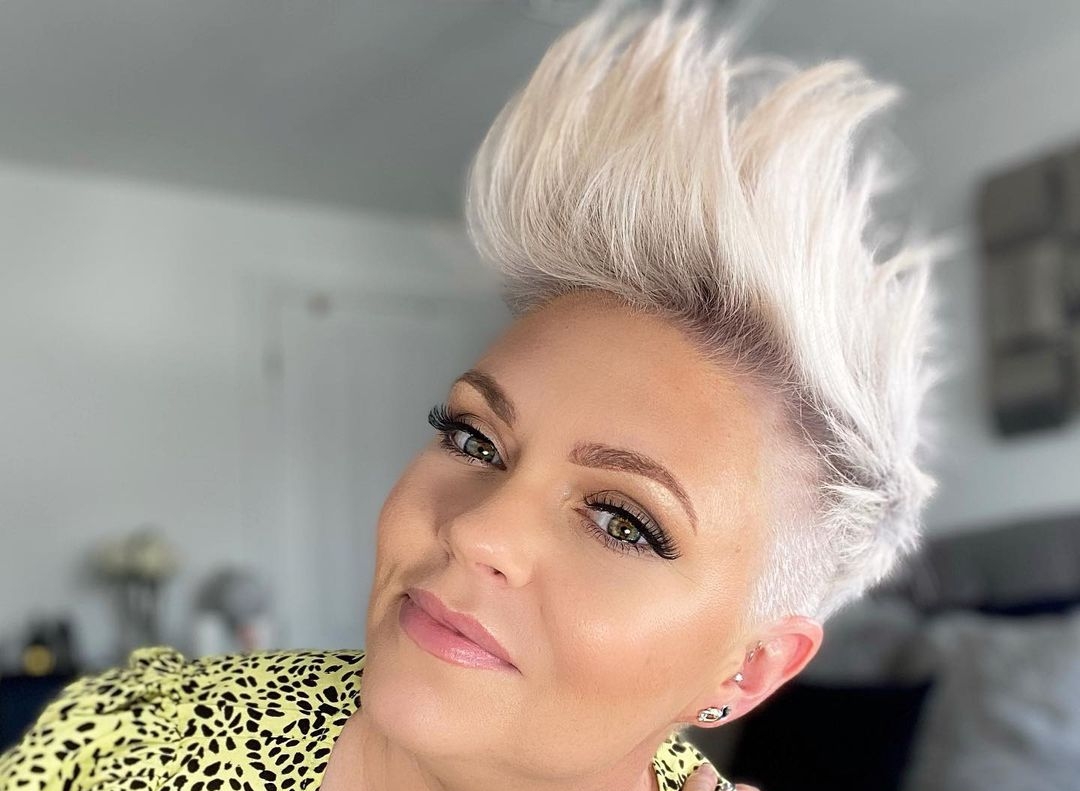 Credit: @jcx28 via Instagram
The fauxhawk hairstyle is a fantastic way to showcase your individuality and express yourself through your hair. Women with a daring and confident personality will make a statement with this edgy style. To make it more suitable for everyday looks, you can easily transform your hair by pinning back the longer section.
Multi-colored pixie cut
Credit: damasterstylist via YouTube
Having a pixie cut is one thing, but having a multicolored pixie cut is another ballgame altogether. If you're feeling brave, take the plunge and add some color to your short do! It'll swap out your long locks for a colored display of texture and warmth, ultimately mixing up your look.
A choppy bob for fine hair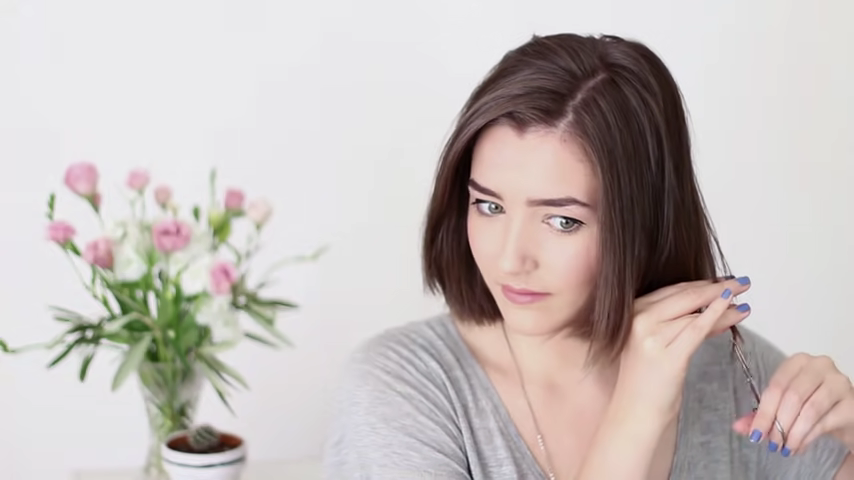 Credit: Ellen & Tara via YouTube
If your hair is on the finer side, say goodbye to your matted mane and try a choppy bob. Chin-length hair can be spiced up through layering, giving it a sense of volume and texture. It's also easy to style – only requiring a squirt of dry shampoo and a little spritz of hairspray.
Layered crop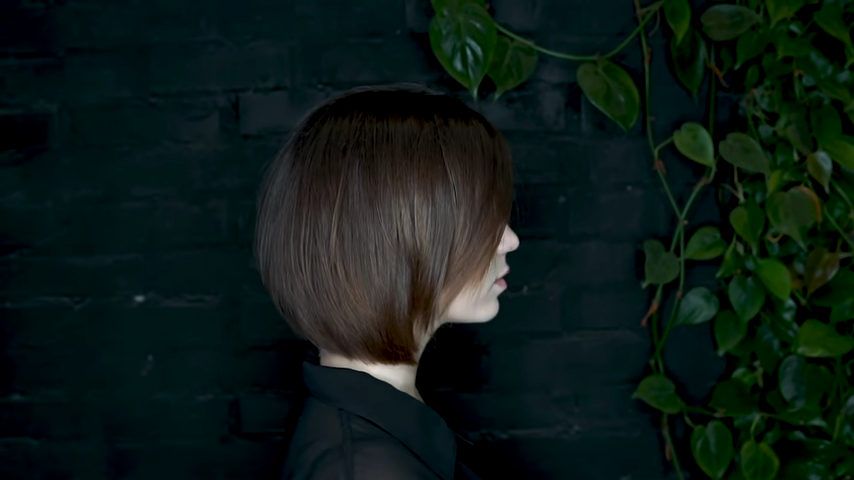 Credit: Maksim Nikitochkin via YouTube
If you're going for a crop or a bob – make sure it's layered. This type of hairstyle works particularly well with round faces as the sharp angle of the hair works to slim fuller cheeks. If you're feeling daring, add a splash of color to your crop – it'll help to add a sense of fullness.
Short layered bob with bangs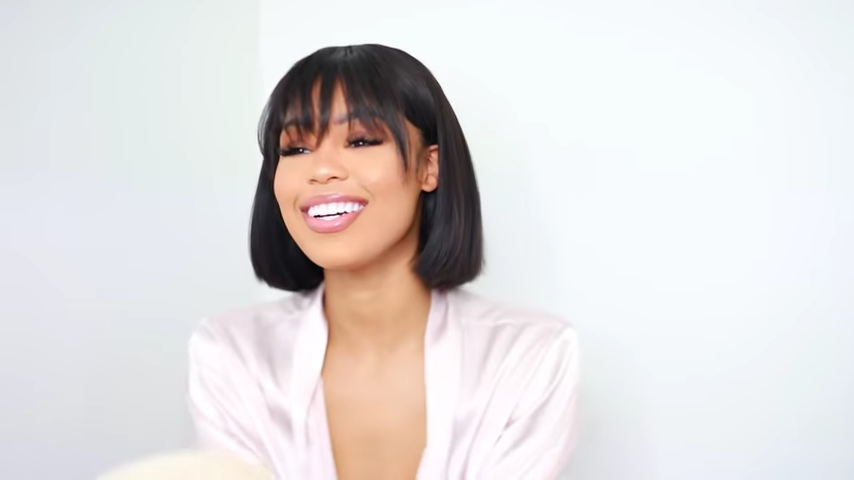 Credit: Teaira Walker via YouTube
A bob with bangs is a match made in heaven. While the short length of your hair can help frame your face, the bangs bring an added sense of youth. The bob is considered a relatively professional hairstyle, but having layered bangs can bring an increasingly youthful feel.
Bob with shaved sides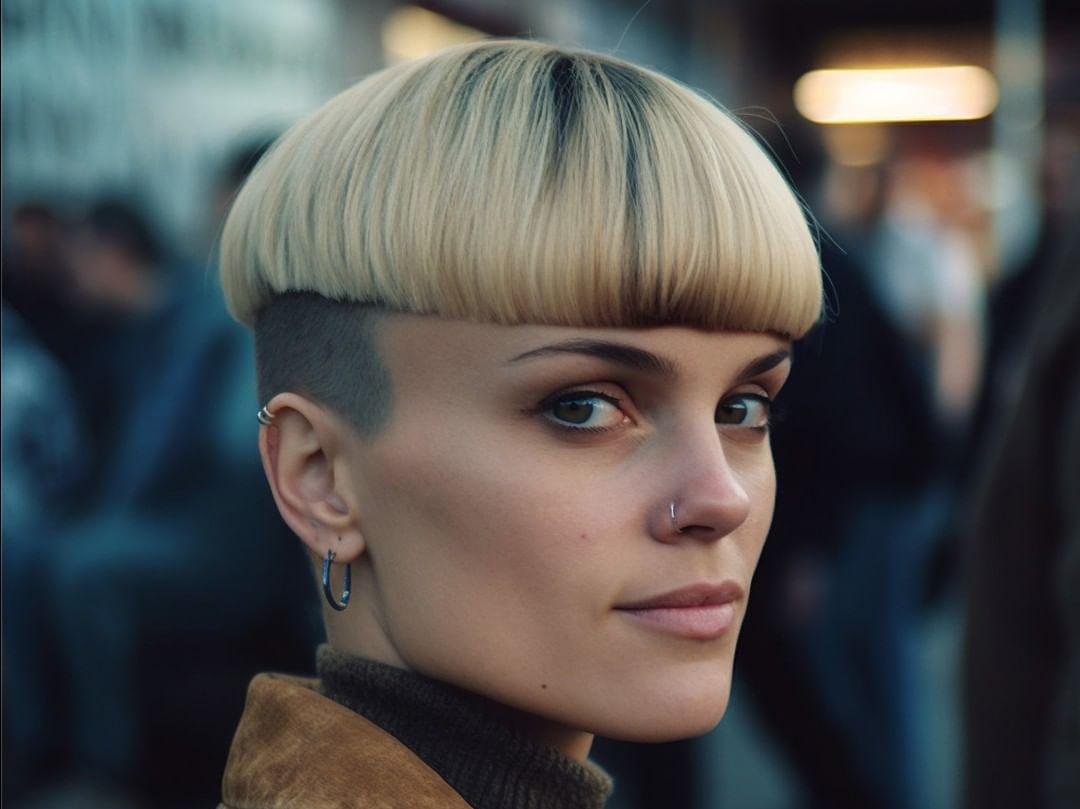 Credit: @hairheaven00 via Instagram
This hairstyle is only for the adventurous. If your style is naturally edgy – wearing vintage clothing and adorning a few piercings, this hairstyle may be for you. It's modern and chic, rejecting long hair for a shorter, more manageable look. Feeling like you need a drastic change? Try the bob with shaved sides.
Undercut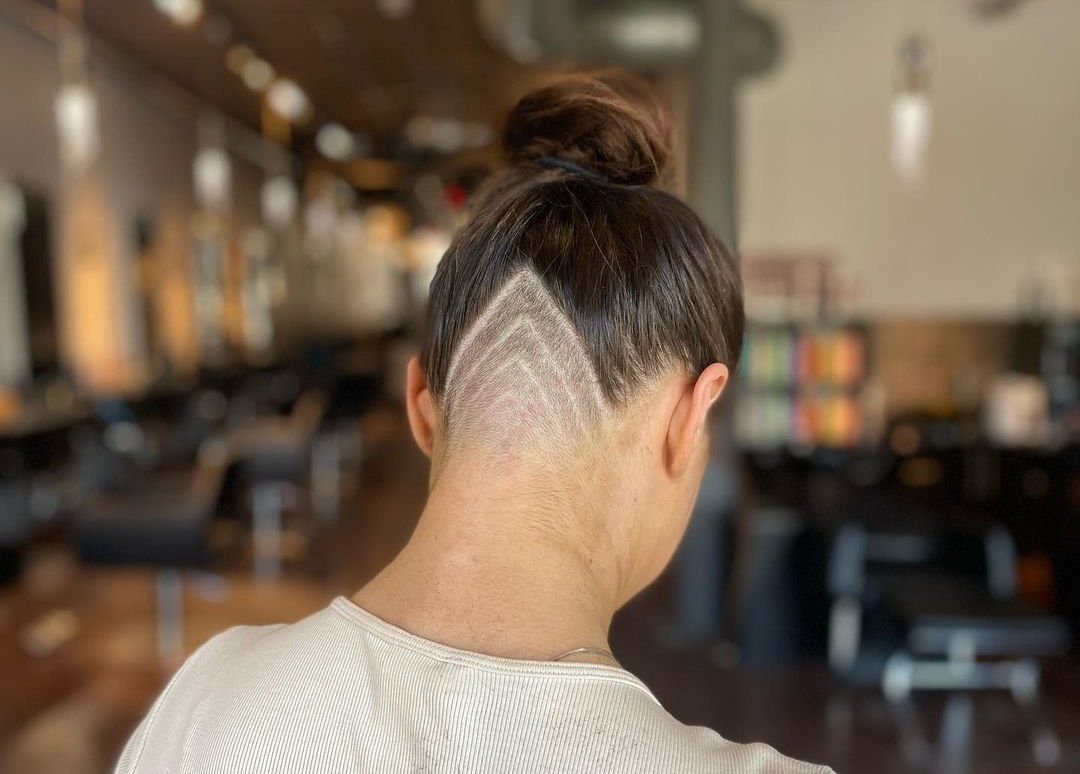 Credit: @bee.all_in via Instagram
Undercuts are a bold hairstyle statement, helping you to stand out from the crowd. Not only do they provide a stylish edge, but undercuts also require far less maintenance – you've just chopped off about a third of your hair, after all. After getting an undercut your hair will feel lighter, and you'll feel like a brand new woman.
Platinum buzz cut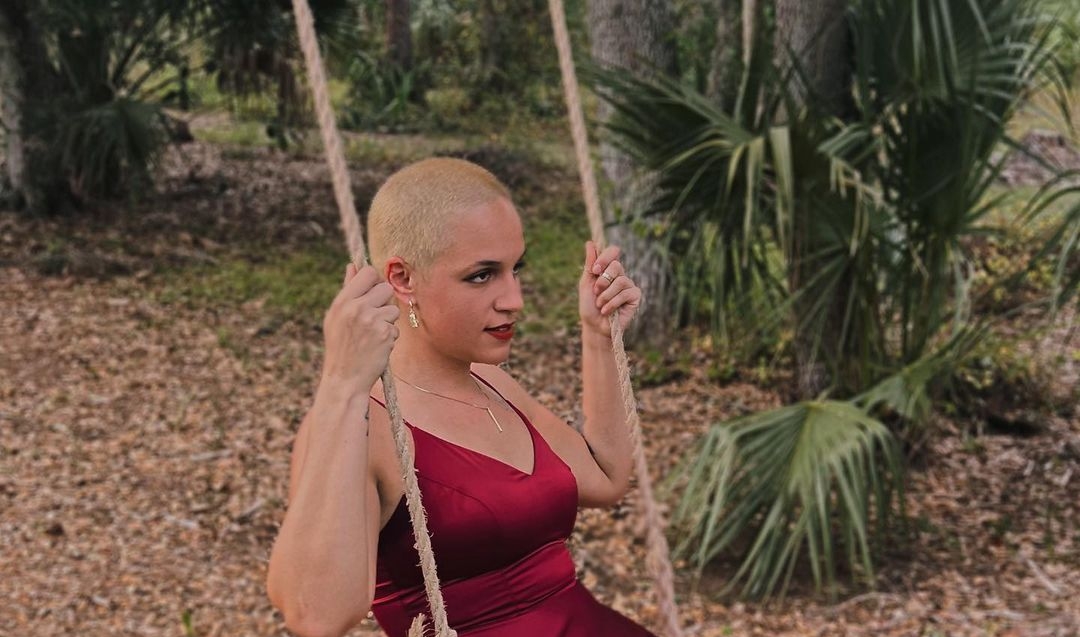 Credit: @kbs_and_chucks via Instagram
Follow in the footsteps of superstars like Amber Rose and Kristen Stewart and rock a platinum buzzcut! Despite what you may think, this haircut suits women of all shapes and sizes, ethnicities, and personalities. All you have to do is be confident enough to pull it off.
One shaved side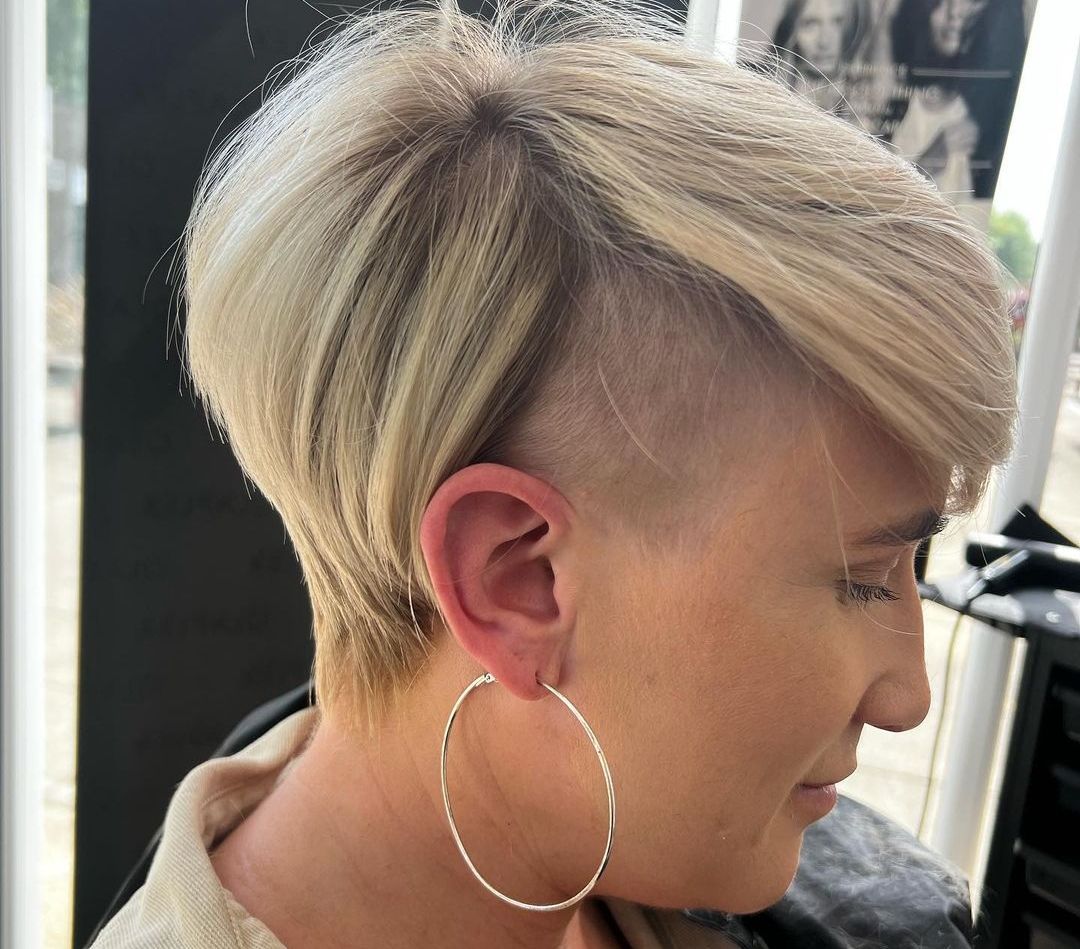 Credit: @hair_by_marie1271 via Instagram
Want to stand out from the crowd? Try a side shave! Shaving just one side of your head creates an asymmetrical look – creating an intriguing silhouette for the onlooker. Side shaves can also help to bring attention to your eyes, and can make you look several years younger.
Boyish cut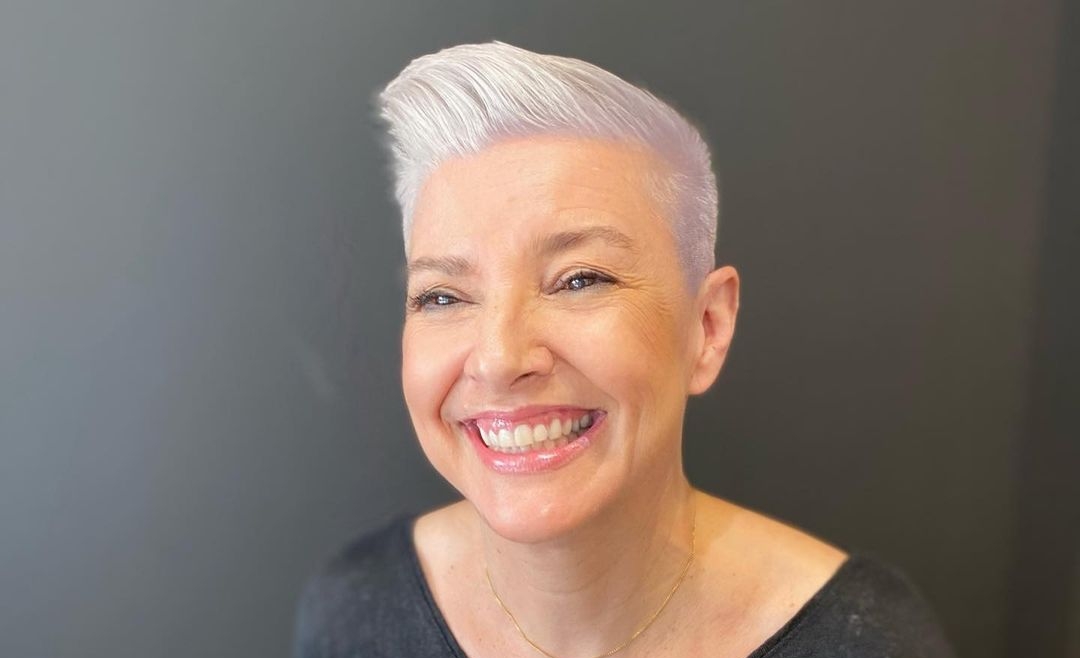 Credit: @brindluxe via Instagram
The boyish cut is a fantastic way to reclaim your independence, forging a new sense of style for your future self. If you still want to retain a touch of feminine edge, color your boyish cut with a pale pink or purple. Pair this style with some bold earrings and accessories and you'll certainly have a spring in your step.
Curly top with etched edges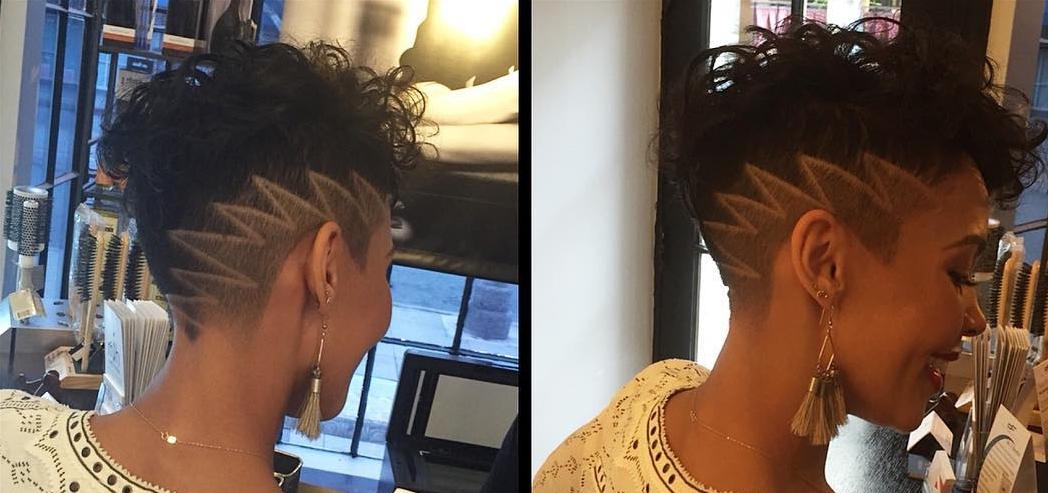 Credit: @philipwolffhair via Instagram
If you've got a creative side – flaunt it through your hairstyle! Curly hair on top can create a nice amount of texture and height, while having a pattern etched into your sides can create a unique look that nobody else is going to have. Live a little and try it out!
Vintage curls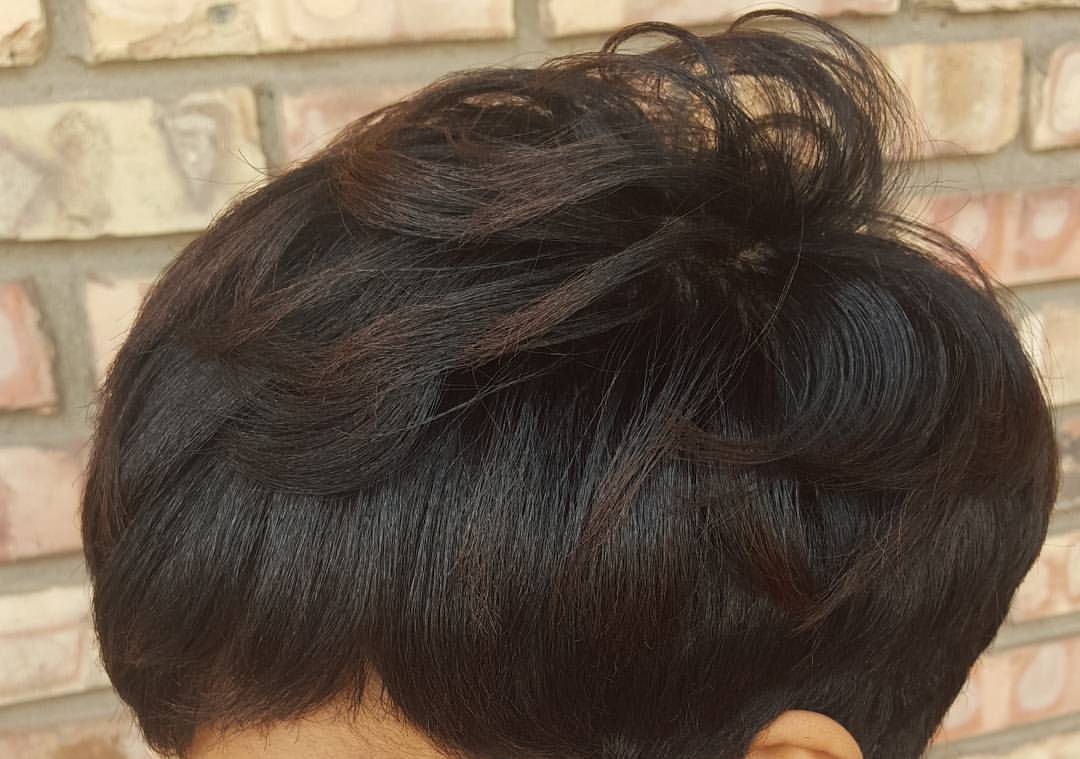 Credit: @angieshairstudio_53 via Instagram
Vintage curls will bring a splash of elegance and class to your short hairdo. Strange as it may sound, touches of retro style mixed with modern trims complement each other perfectly, creating a dichotomy between old and new. Ensure that you remain on top of your styling, however, as if you leave this hairstyle be it can fall flat.
Long pixie cut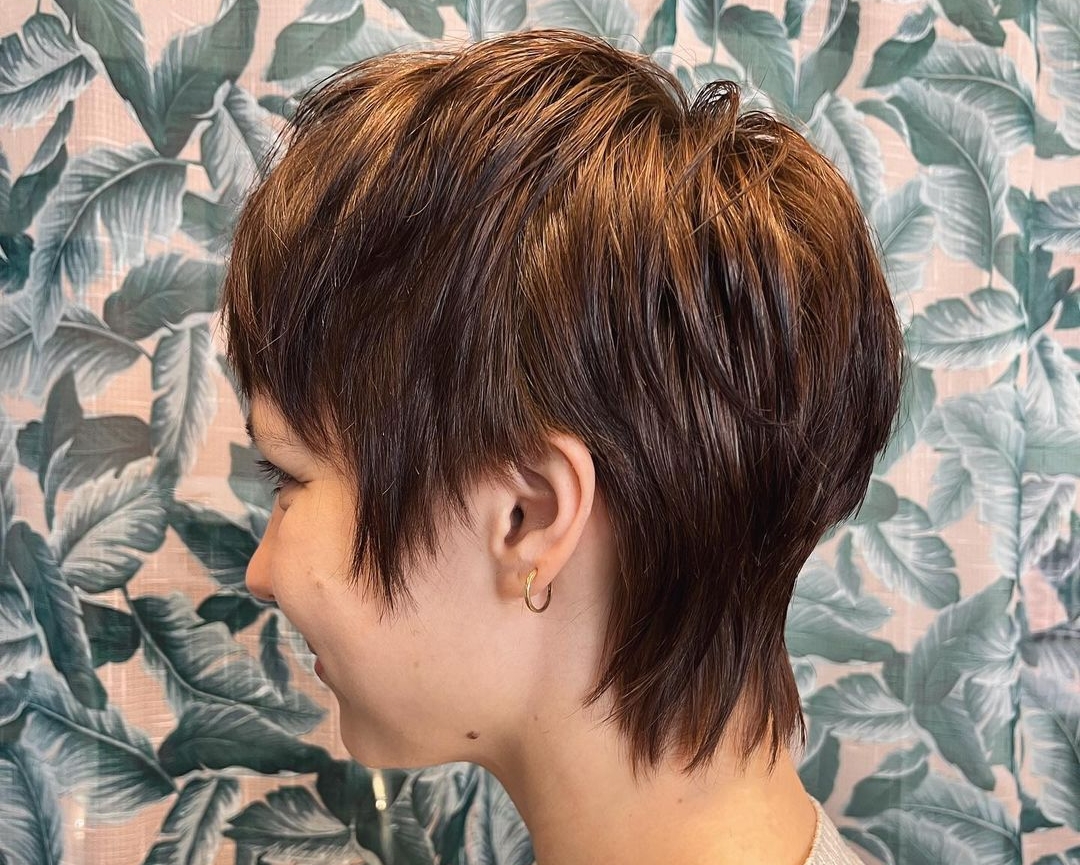 Credit: @niinadoesmyhair via Instagram
This hairstyle plays with different lengths to create a hassle-free – yet stylish – hairdo. Longer than the standard pixie cut – but shorter than the mullet – the long pixie style takes a popular hairstyle and gives it a modern twist. Lighter colors at the top of the head will show off your short, stylish layers at the back.
Two-toned short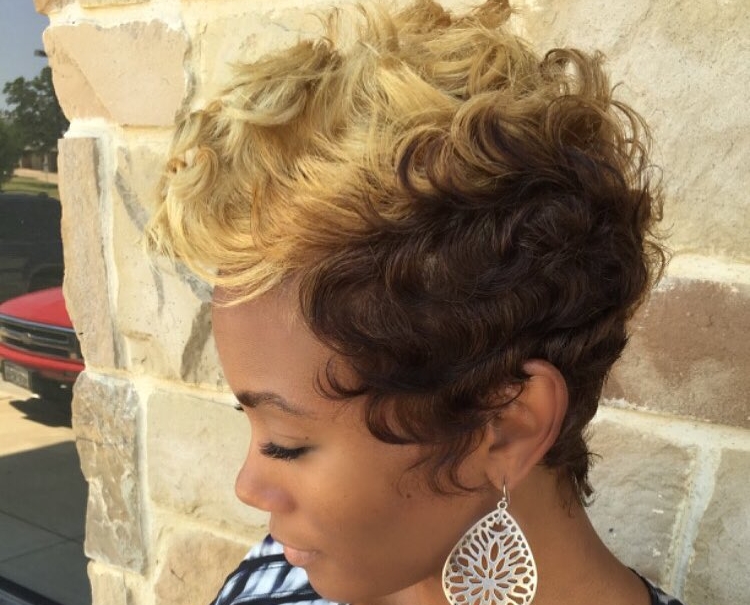 Credit: @khimandi via Instagram
Mixing two colors into your short style can bring a creative flair to your hair. Defying the norm, two colors can spice up any short do and transform it into an eye-grabbing haircut. The possibilities are endless when you use two colors – consider they complement each other.
Asymmetrical pixie cut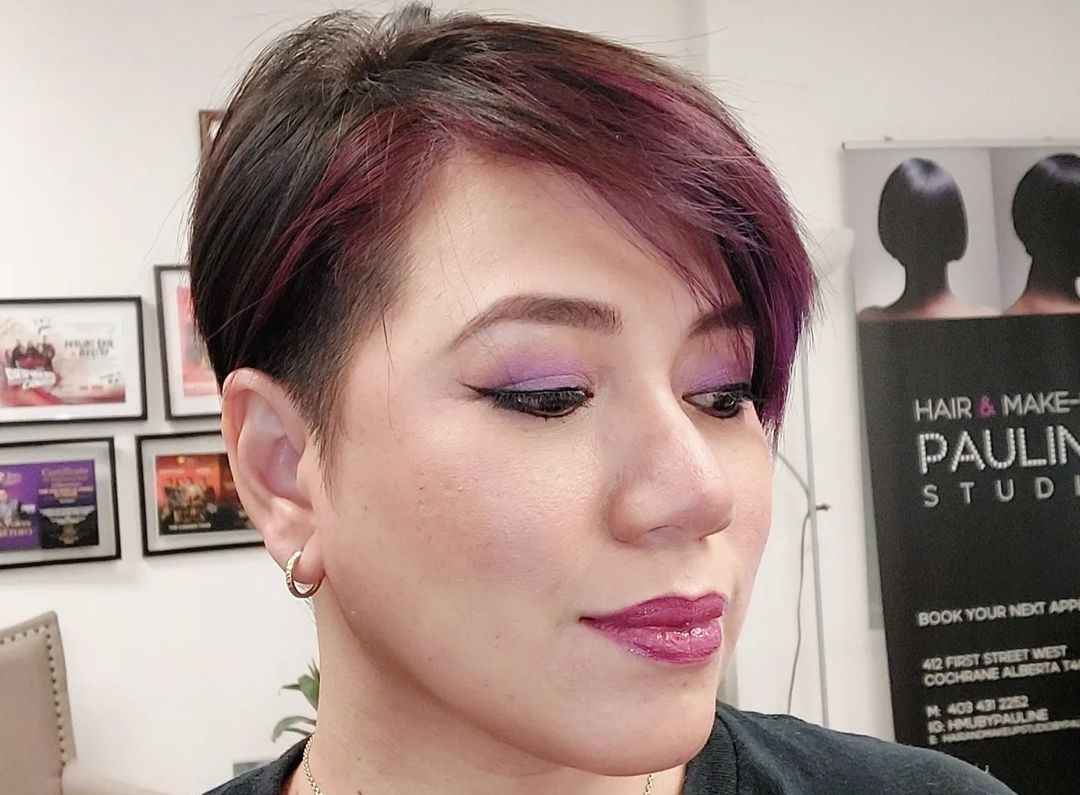 Credit: @hmubypauline via Instagram
Want to take your pixie cut to the next level? Go asymmetrical! It creates an interesting-looking hairline, adding yet another edge to your already quirky style. The best thing about this haircut? The styling possibilities are endless – you can literally style it in any way you can imagine with minimal effort.
Modern mullet
Mullets aren't just for the boys! In fact, girls rocking mullets is making the iconic hairstyle to have a comeback. If you're already rocking an edgy style – don't let your hair hold you back, go for a cut that truly represents your fun and wild personality.
Bright colored pixie bob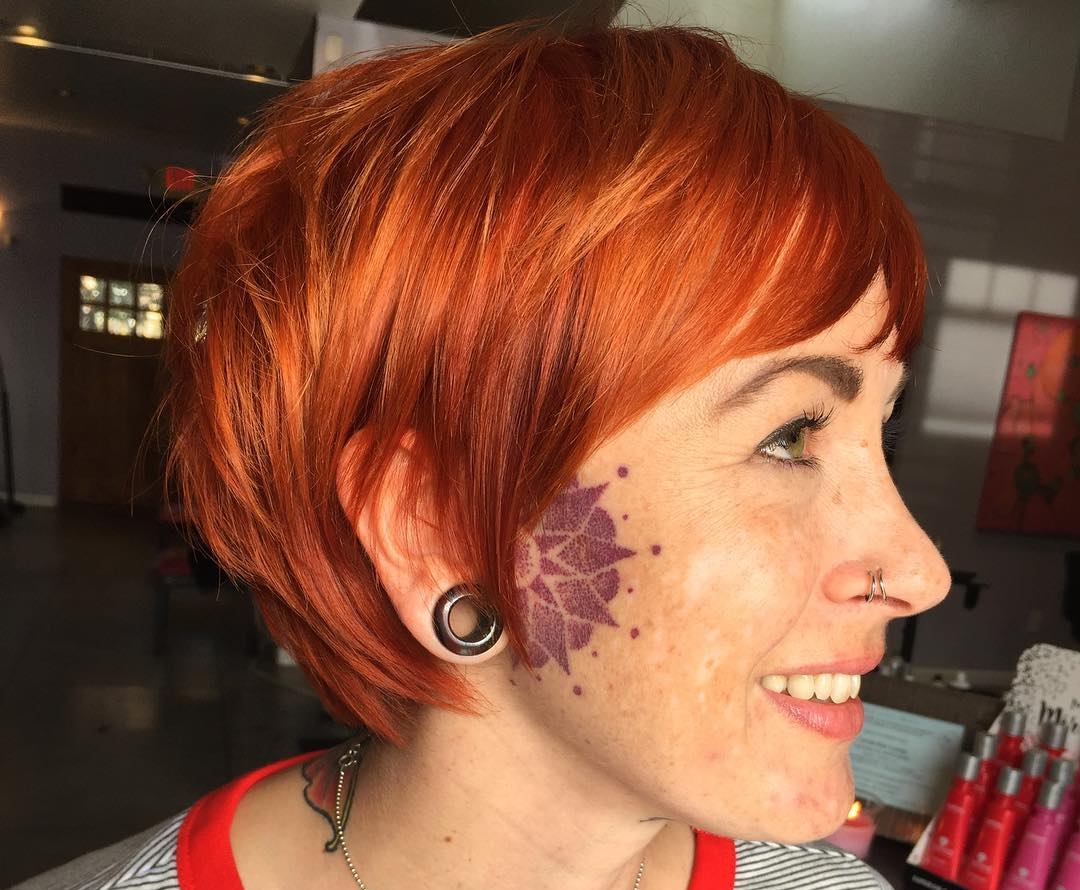 Credit: @desirre_escobedo via Instagram
A pixie bob – as you can probably imagine – is halfway between a pixie cut and a bob, the length lingering on the line in between. While a pixie bob is a modern cut in itself, to really spice things up consider dyeing your hair a bright color. Bright oranges or purples work particularly well with this hairstyle, distracting from any uneven strands.
Stacked bob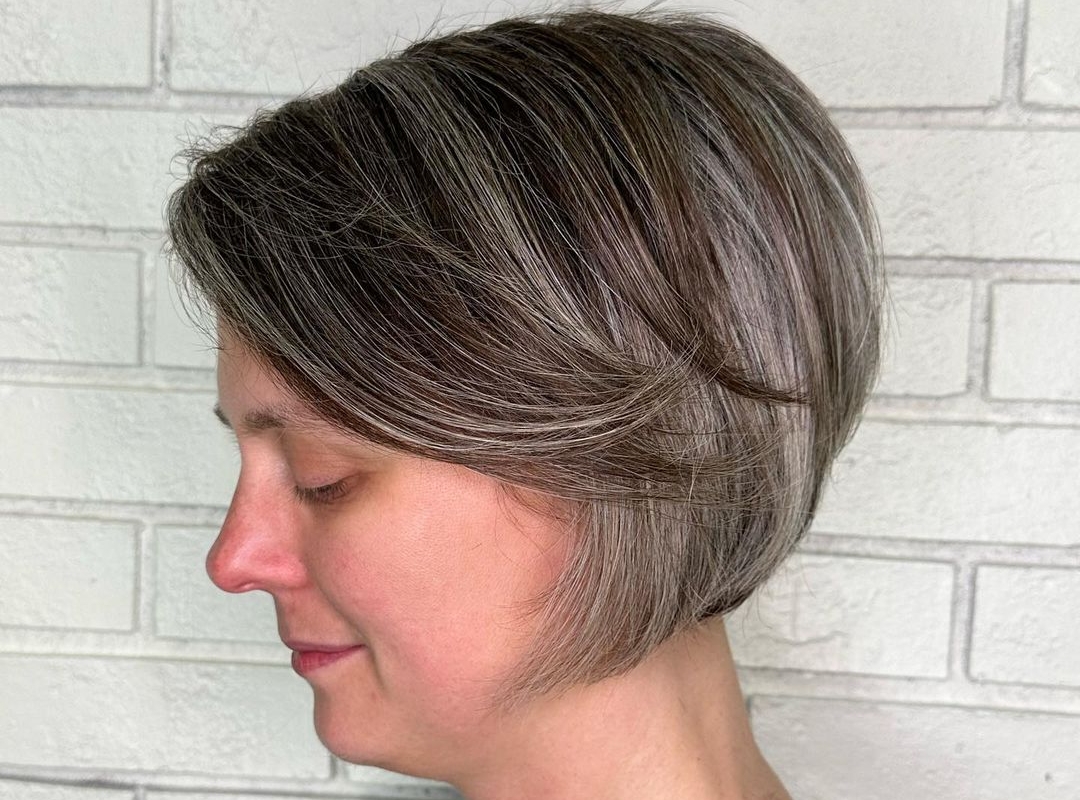 Credit: @belleza.con.esperanza via Instagram
A staked bob will give your hair a gentle sweep. It's the perfect style for those with thin hair, or those that can't seem to give their locks any volume or texture. Better yet, a stacked bob is low maintenance, creating a sophisticated look without much upkeep.
Short bangs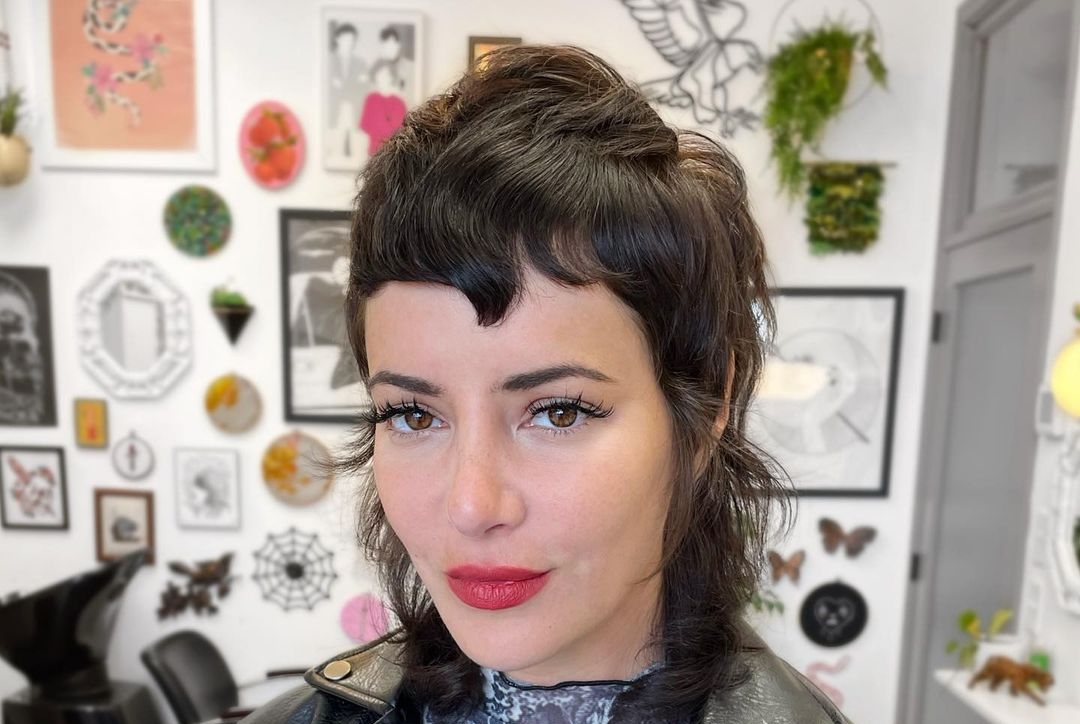 Credit: @pinkdagger via Instagram
Want bangs, but don't want to risk looking old-fashioned? Try getting super short bangs – it's all the rage with the youngsters right now. Not only do short bangs highlight your eyes and make you look more youthful, they can be paired with pretty much any hairstyle.
Razor bob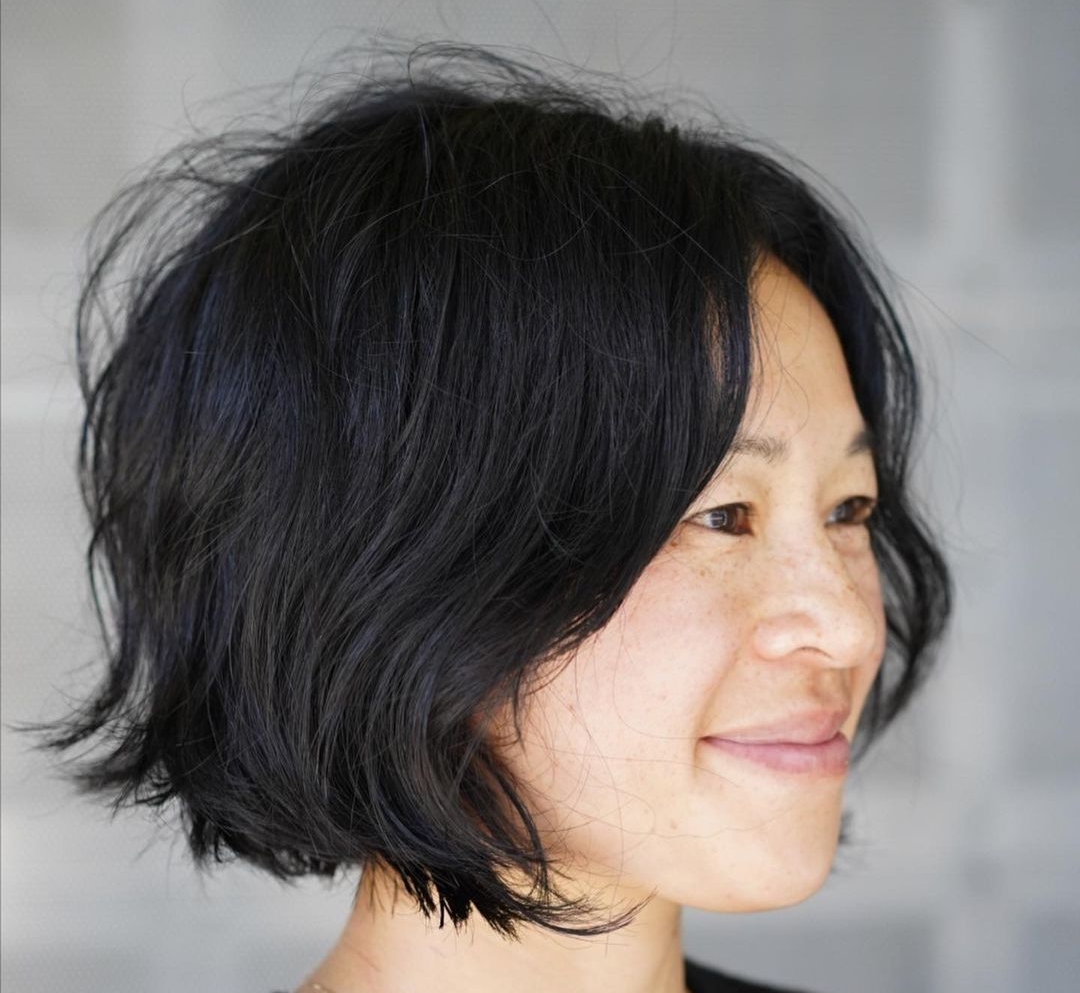 Credit: @nothingobvious via Instagram
A razor bob takes a classic hairstyle and slashes it with a modern finish. This hairstyle creates a purposely messy look, with your hairdresser slicing through the ends of your hair with a razor blade instead of scissors, creating a mix of different lengths and layers.
Pixie quiff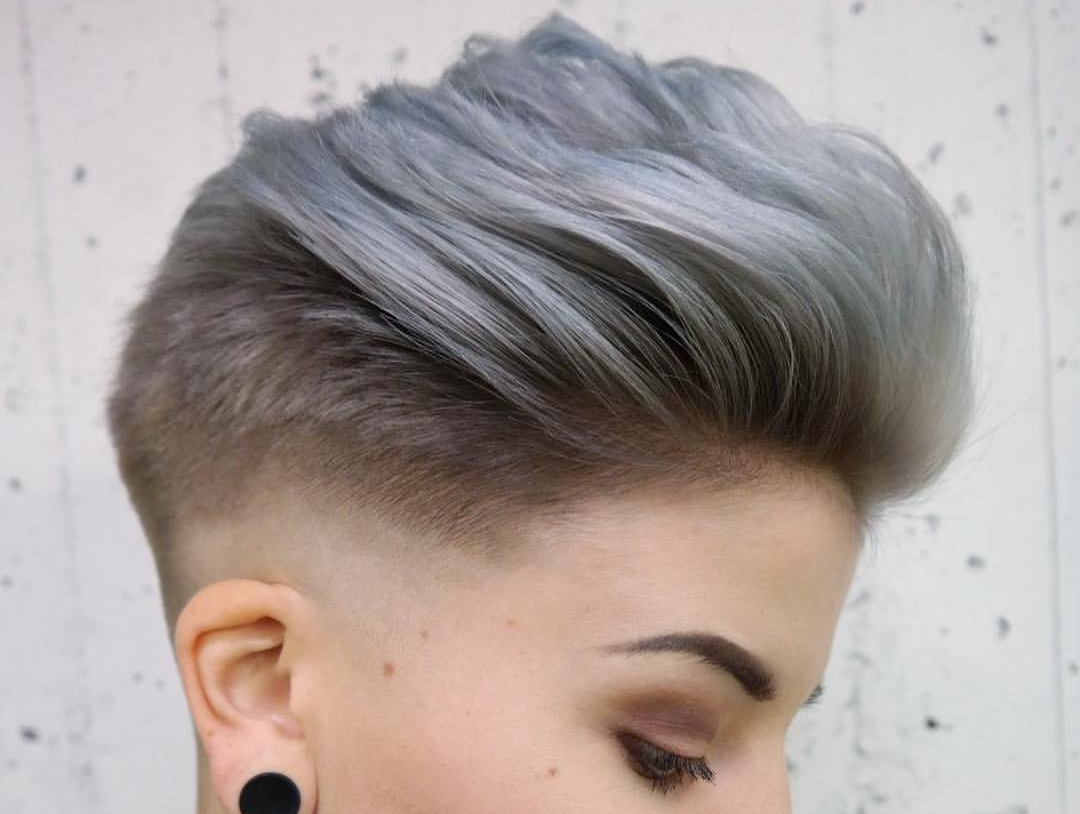 Credit: @art.with.sara via Instagram
Pair your pixie cut with a quiff for the ultimate modern look. The quiff brings an extra flair to your look, adding a youthful vibe that's appropriate for all ages. Pair the quiff with a lighter color – such as blond or gray – to add a touch of softness to your hairdo.
Two tone undercut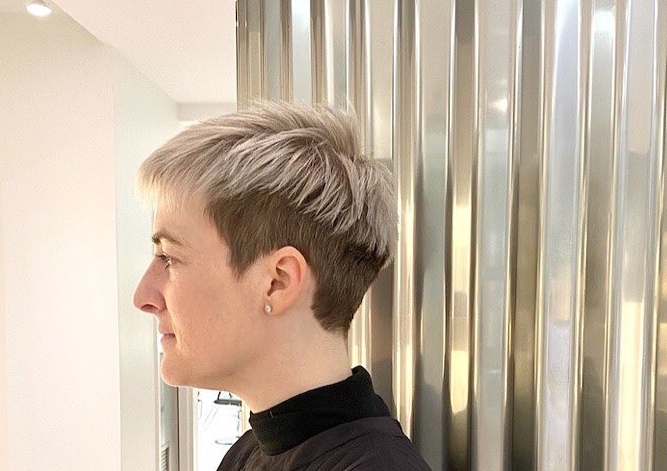 Credit: @maxinesalon via Instagram
Getting an undercut and dyeing the top section is a sure way to make you stand out from the crowd. Mixing two opposing colors – such as dark brown and light blond – can create a nice balance of tone. Having a contrasting undercut can keep the shape of your hair nicely defined.
Choppy graduated pixie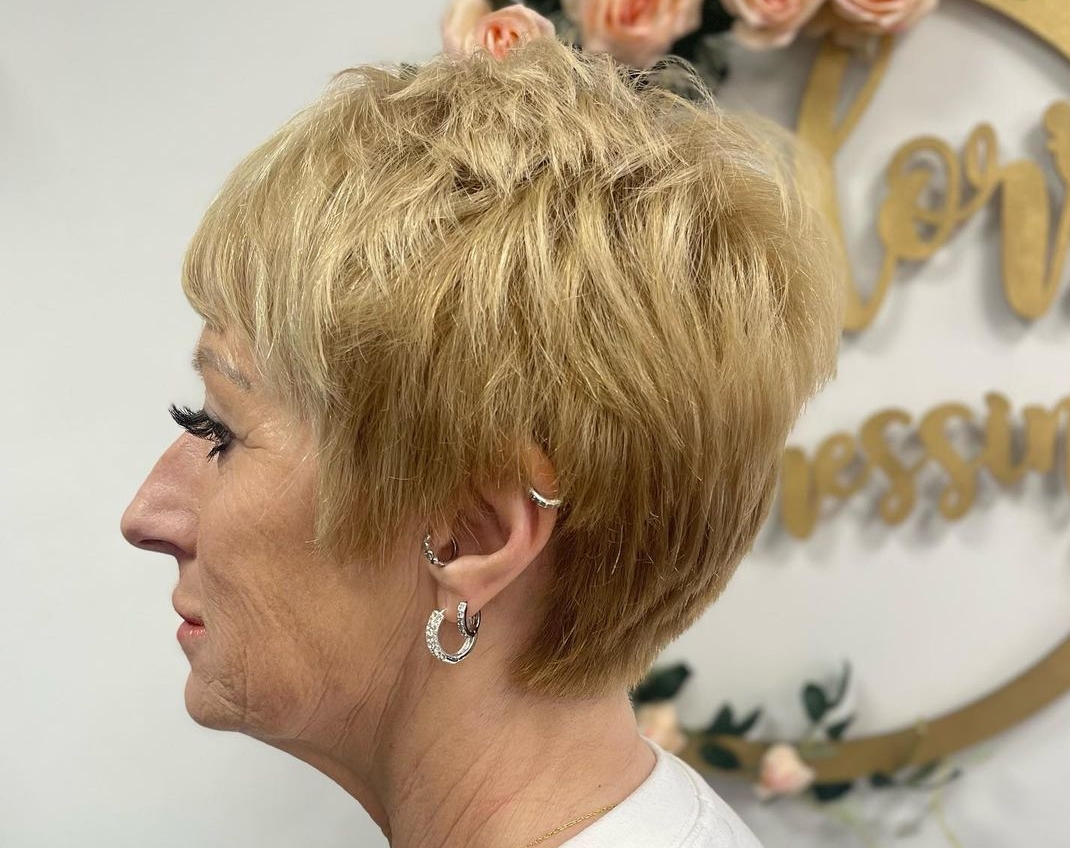 Credit: @katie_taylorshairsalon via Instagram
A choppy pixie cut is a highly textured hairdo, using an array of different angles, lengths, and layers to create a voluminous style. This hairstyle can bring more attention to your face – so only go for this look if you're comfortable in your own skin.
Colored bob with soft bangs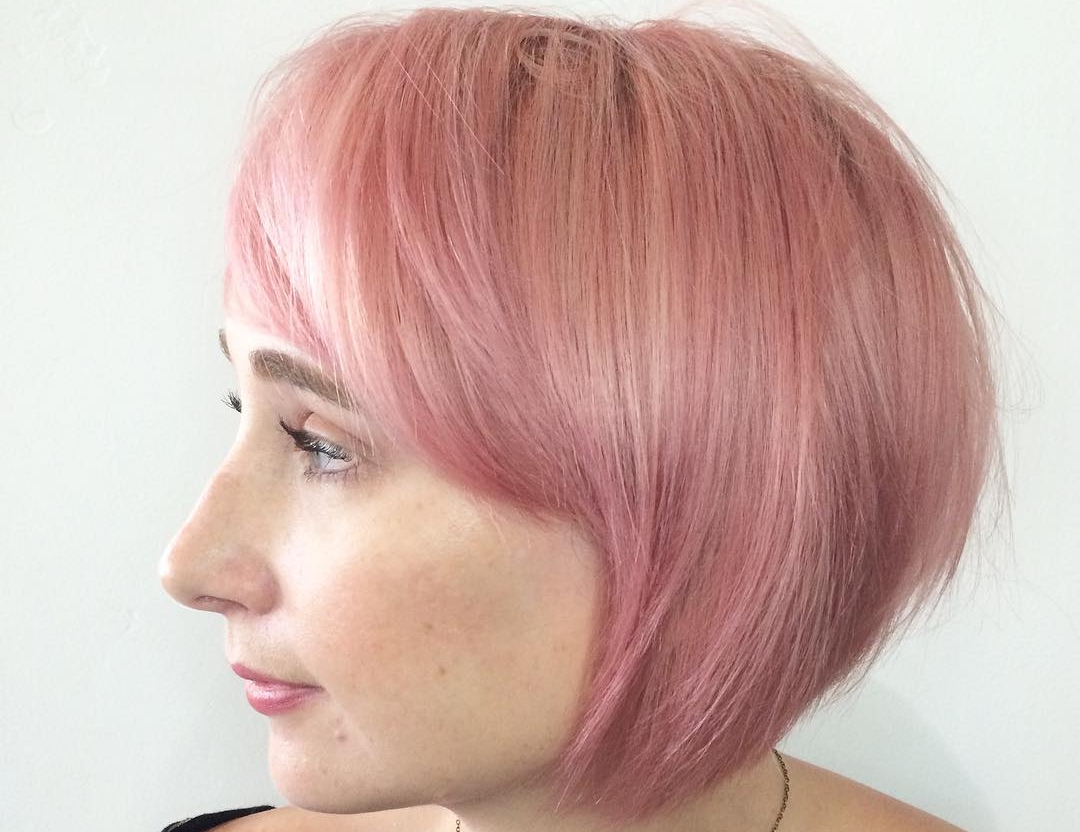 Credit: @andybateshair via Instagram
There's denying that the bob is a classic short hairstyle. If you feel like mixing it up – but don't want to drastically change your hair length, consider implementing soft bangs with a pastel hair dye. The bangs will frame your face, while getting your hair lightly colored will offer a more modern edge.
Short curls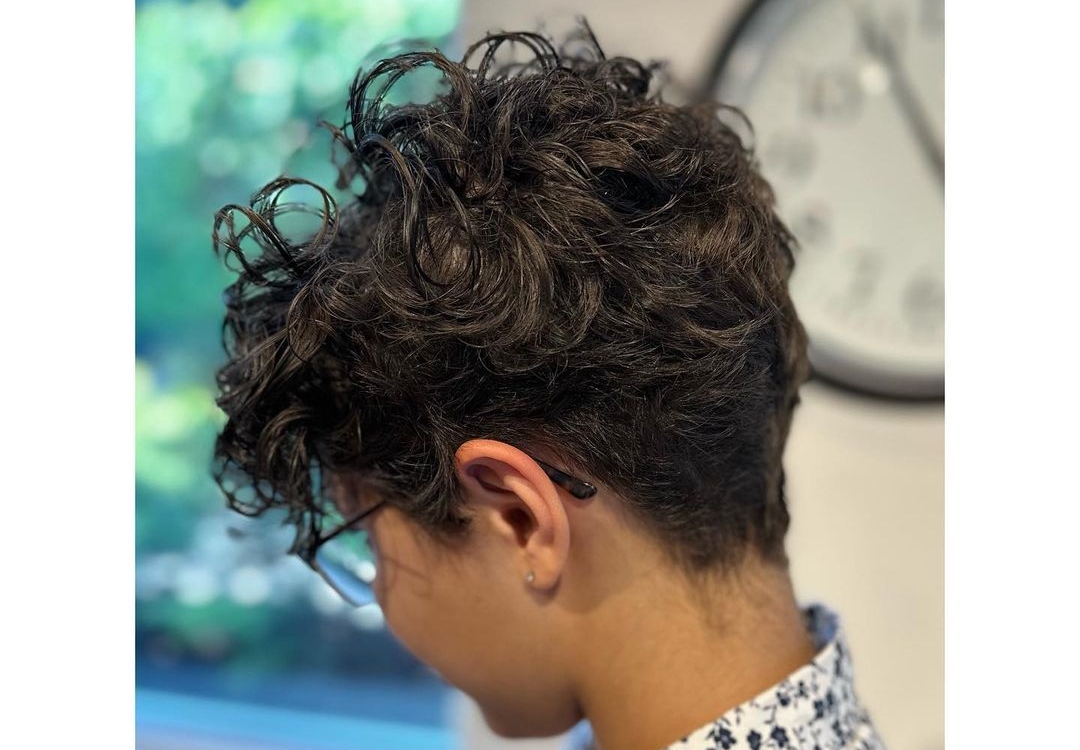 Credit: @marawiththecurls via Instagram
Most girls with curly hair go for long or medium-length styles. Stand out from the crowd and go for a short look! It's appealing to the eye, creating a contained amount of volume and bounce. Run some curl enhancer through your locks and you'll never look back.
Bouncy blond bob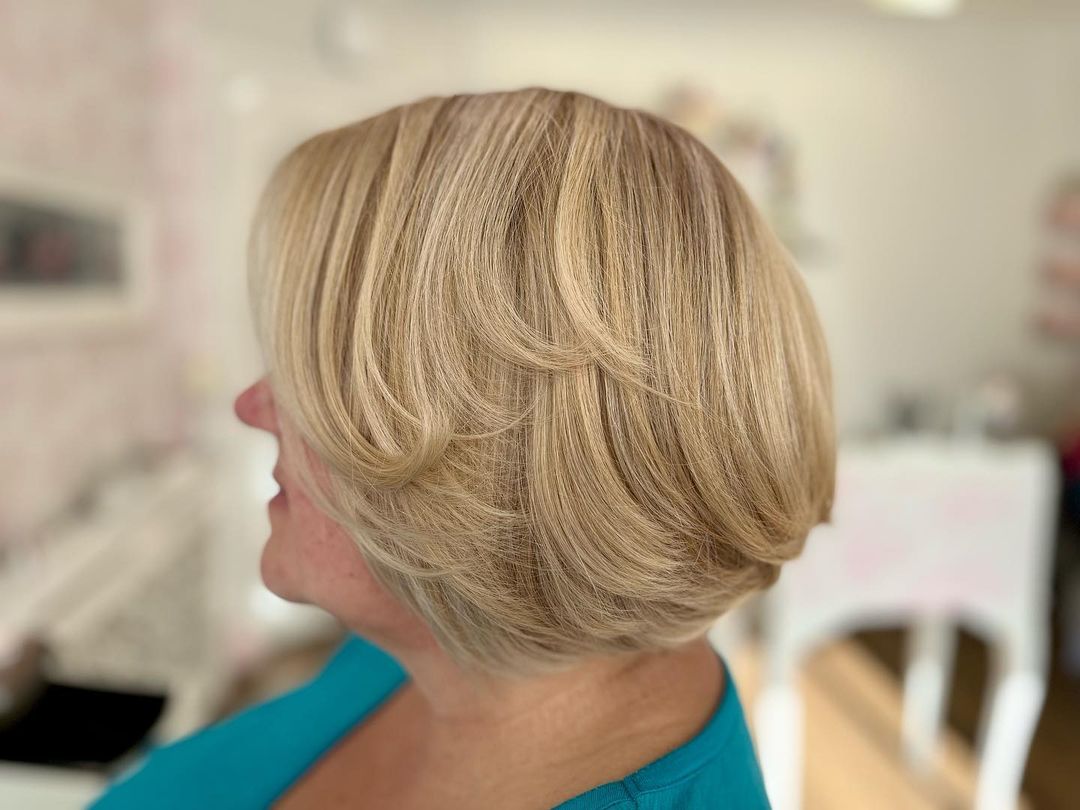 Credit: @precisionhair_and_gaden via Instagram
A bouncy bob takes the classic bob and elevates it to the next level. It incorporates effective layering to give your hair a bounce when you walk, living up to the name. Keeping it sleek and simple, go for a light ashy blond color for your bob, helping to elevate the style's conservative connotations.
Short with layers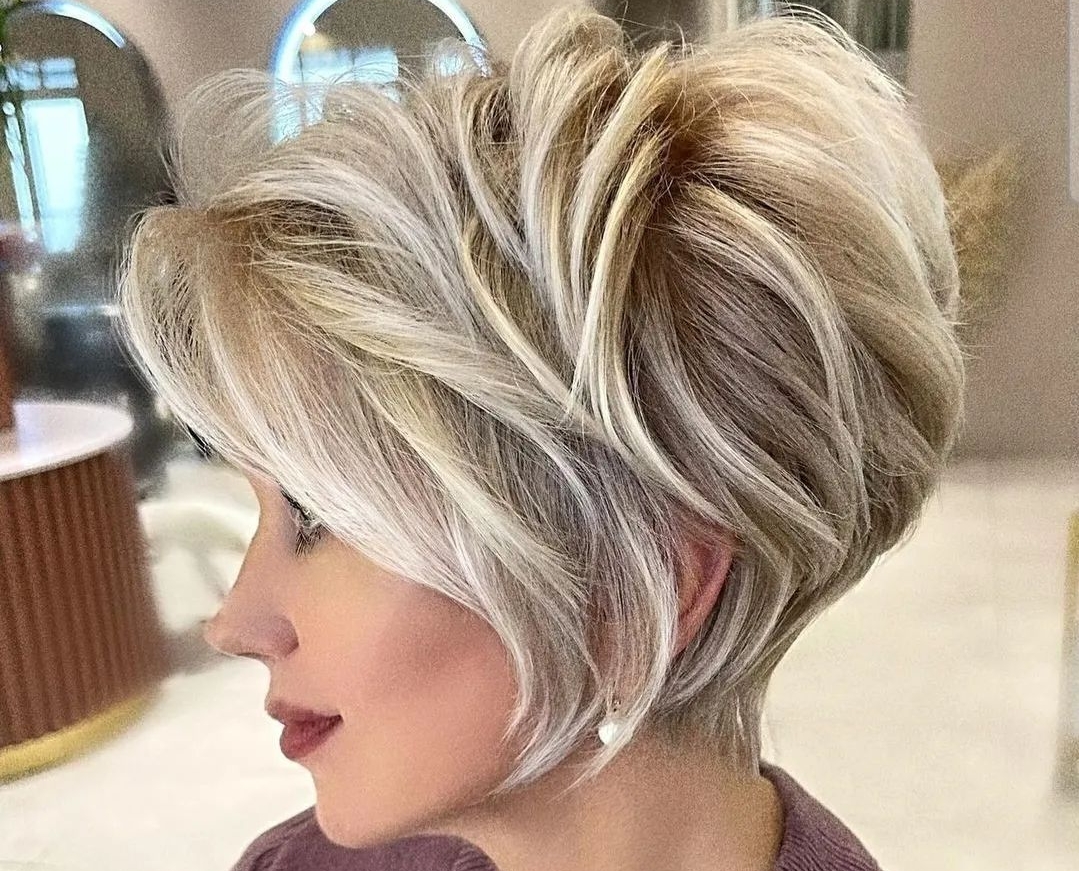 Credit: @mila_kryshchykhina via Instagram
Short hair doesn't have to be boring. Add some layers to your hairstyle, showing off your sense of style. Better still, long gone are the days of searching for hair ties and spending ages drying your locks – a short hairdo complete with lots of layers is super easy to maintain.
Angled cut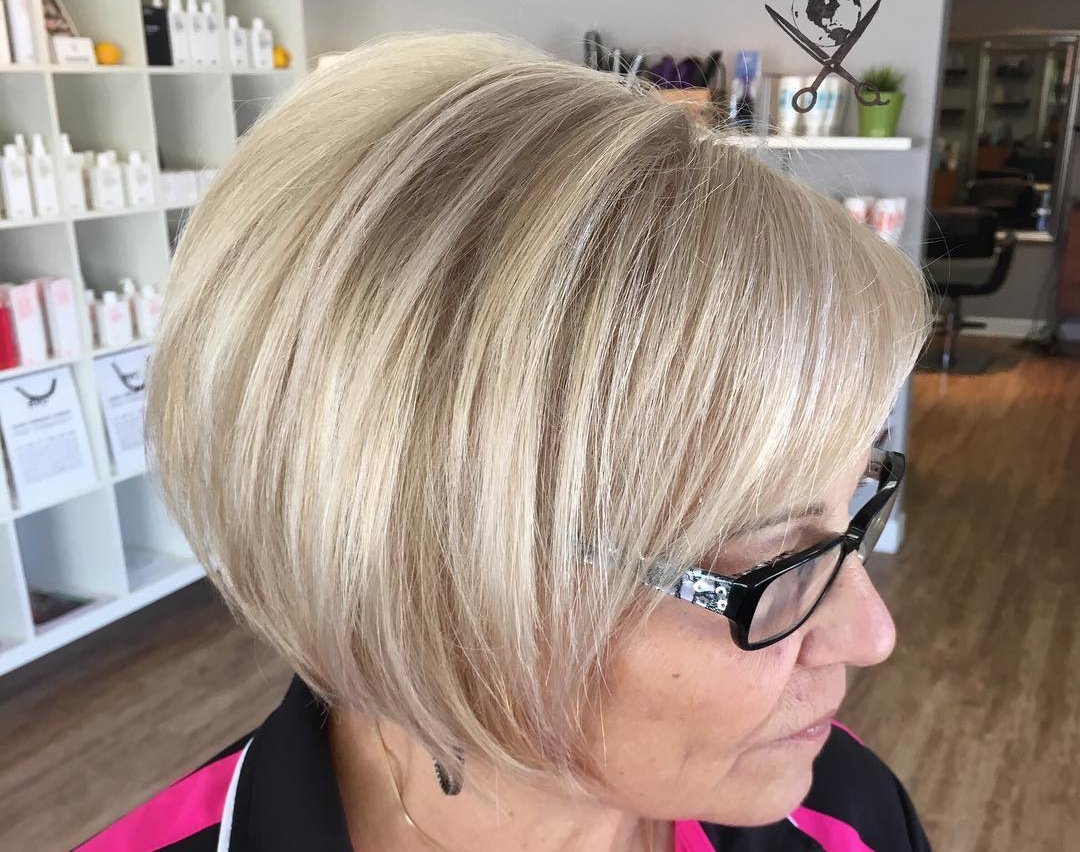 Credit: @itsacuthairworld via Instagram
Getting an angled cut adds a sense of sharpness to the face, helping to dispel any chubby cheeks, making your face appear slightly narrower. Angled cuts also help to maintain the shape of your hair more effectively, meaning that once you've styled it for the day it should stay in place.
Gray rounded bob with a stacked nape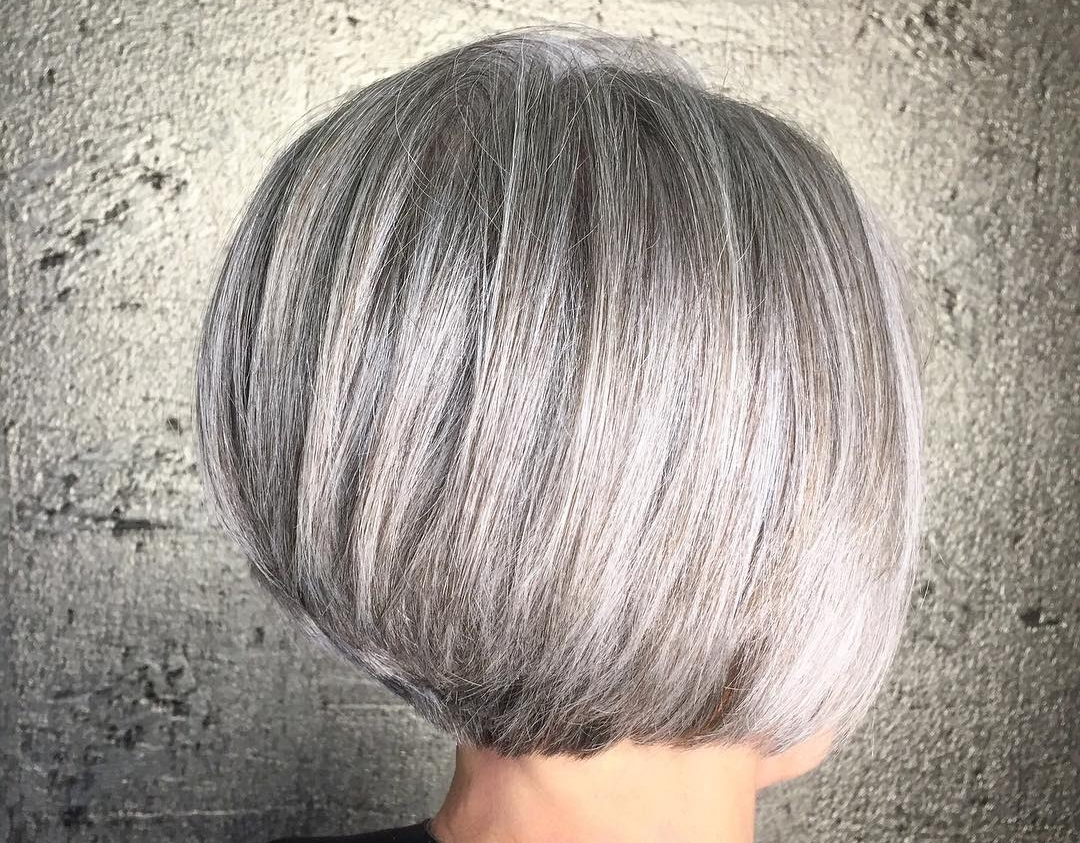 Credit: @hairobsessed_jacob via Instagram
Having a staked nape means that your bob is chunkier at the back of your head, creating a well-rounded, fuller effect. Pairing this hairstyle with a platinum gray color combines a sense of both modern and classic, a great style to carry with you throughout 2023.
Salt and pepper pixie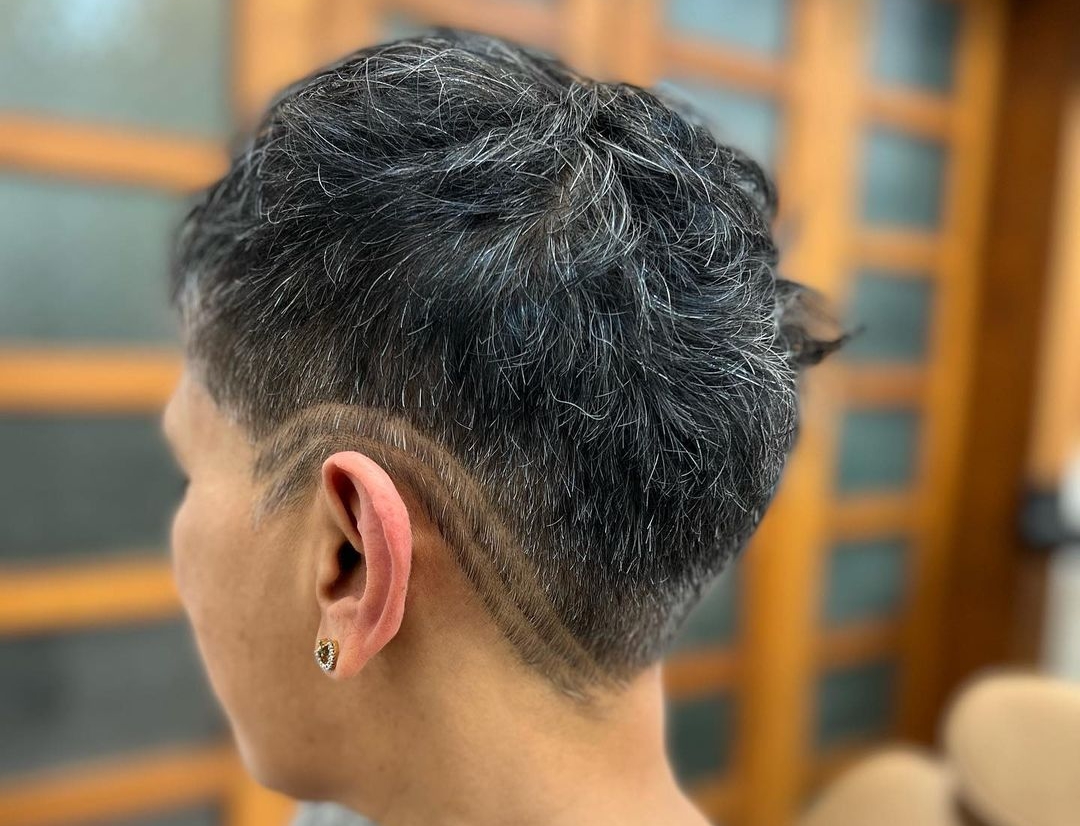 Credit: @makingheadlinespro via Instagram
Salt and pepper hair is the new in thing. If you're naturally blessed with it, don't try and cover it up with an array of dyes – simply try a pixie cut. If you're feeling particularly brave, add a two line edge to your hairstyle, giving it that extra sense of definition.
Short and choppy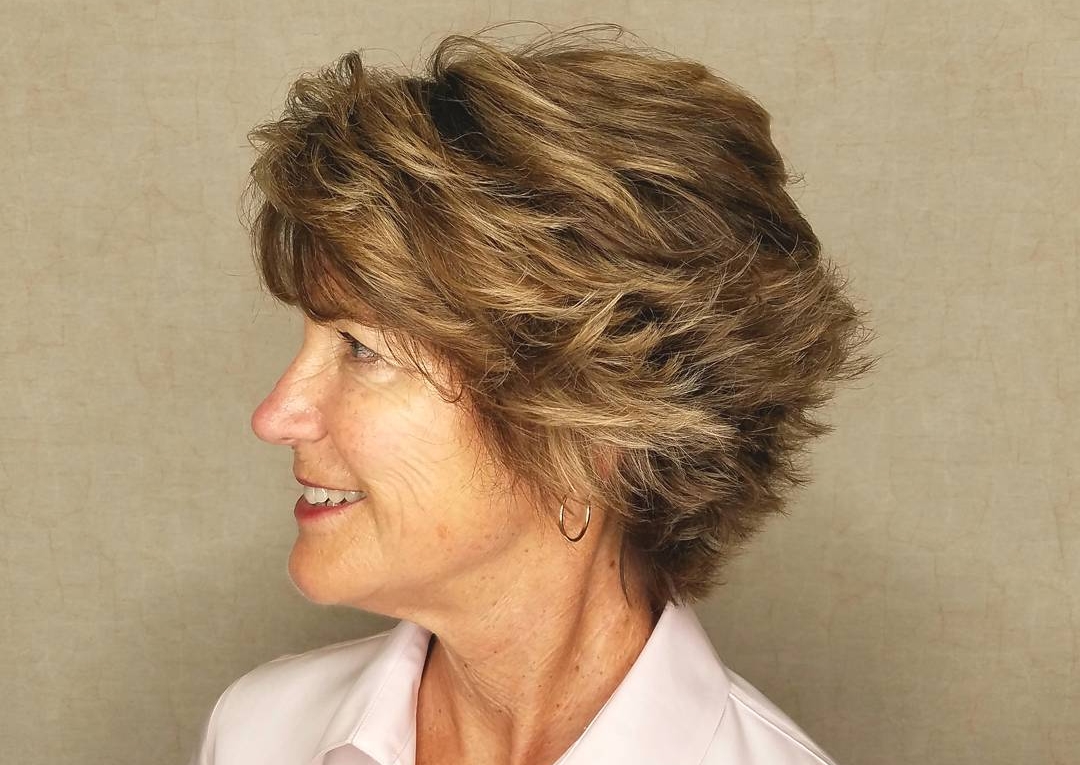 Credit: @elainedoes_hair via Instagram
Short and choppy are a perfect combo if you've got thick, coarse hair. Ask your hairdresser to incorporate a shorter, more jagged look to your hairstyle. To spice it up, consider getting some blond highlights to help add a lighter, softer touch to your new look.
Pixie at the back, bob at the front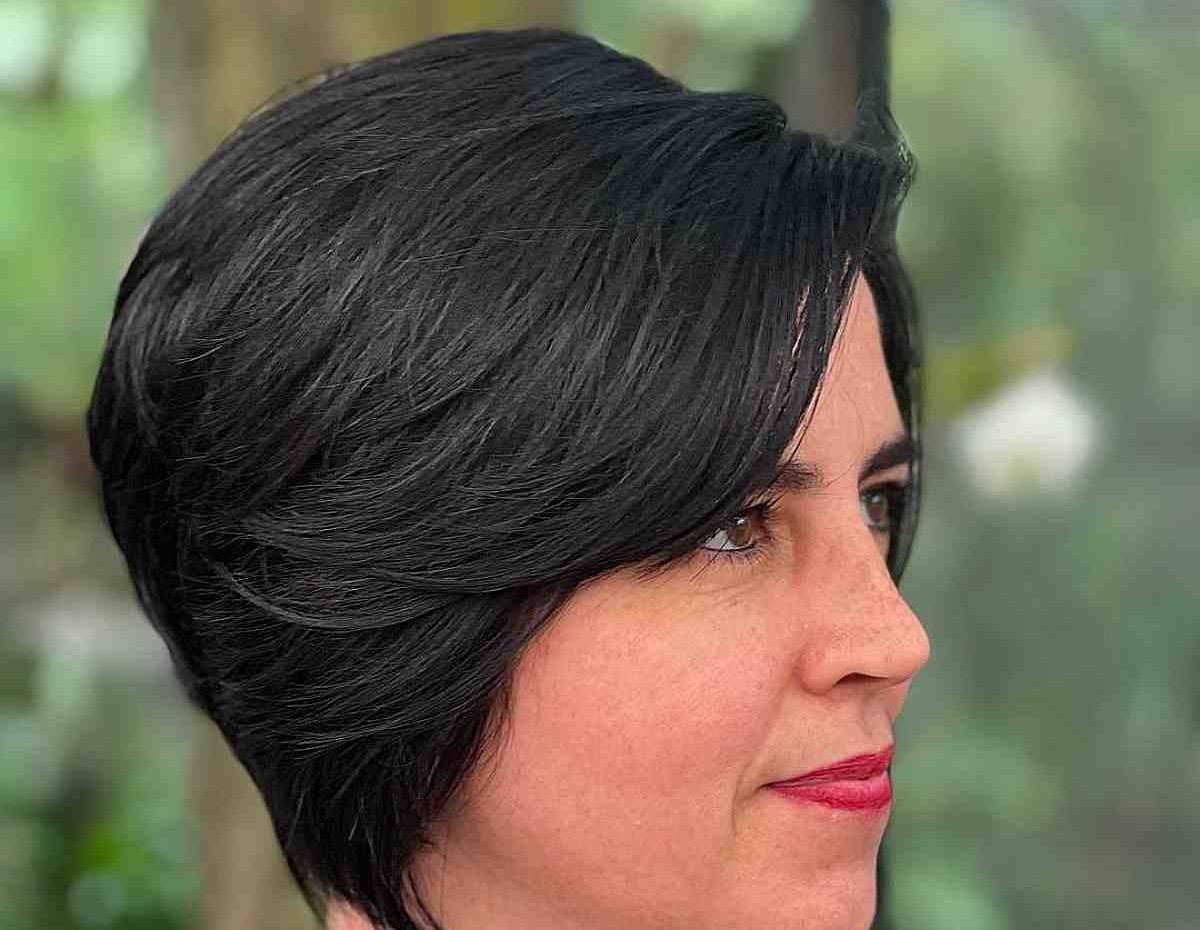 Credit: @alisonallvess via Instagram
Combining these two popular hairstyles will create an iconic look that's easy to maintain. This hairstyle is best for those with medium thickness and can help to flatter round faces. Featuring heaps of lovely textured layers – and styled elegantly straight – the pixie-bob combo will be sure to turn heads wherever you go.
Undone braids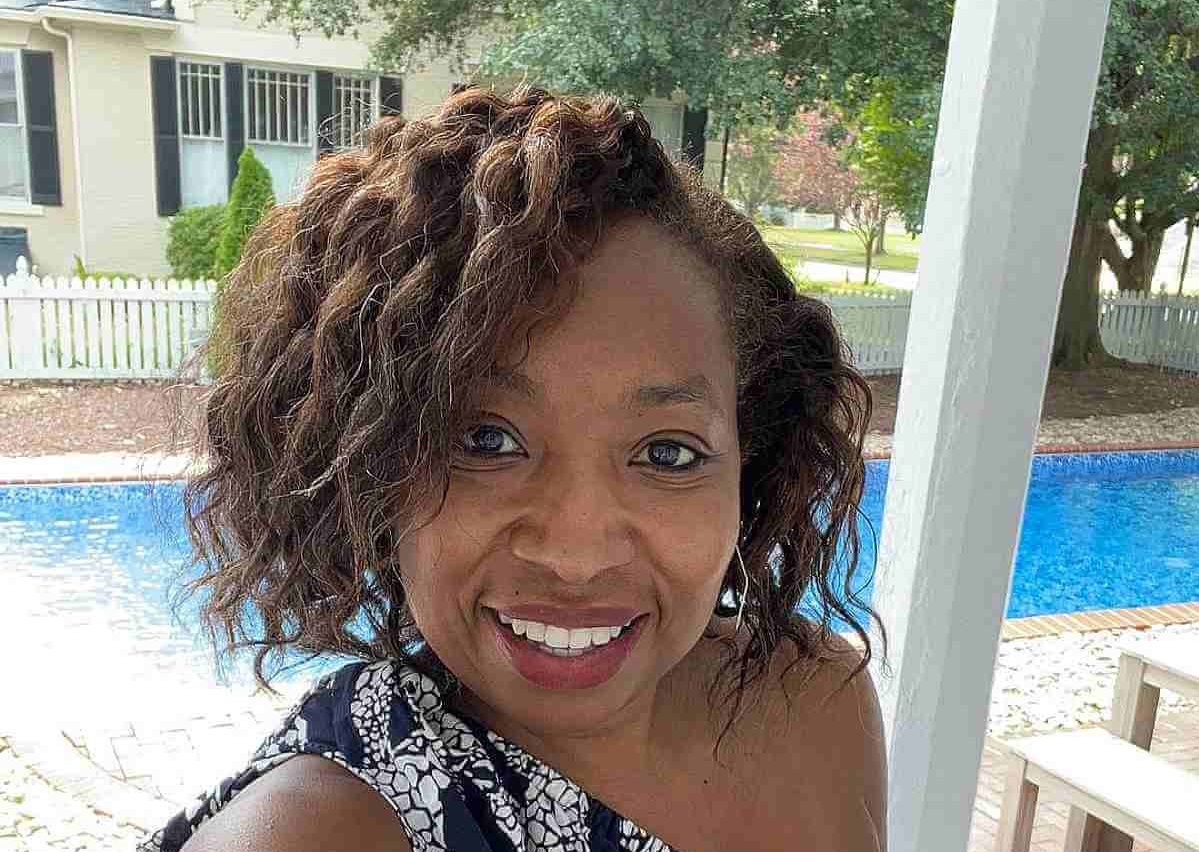 Credit: @foodwineluv via Instagram
If you're blessed with braids, you get two hairstyles for the price of one. Consider letting your braids hang free, creating a naturally curly, effortless look. Undone braids give the a completely carefree vibe, making them a great way of showing your free spirit.
Dark French bob with bangs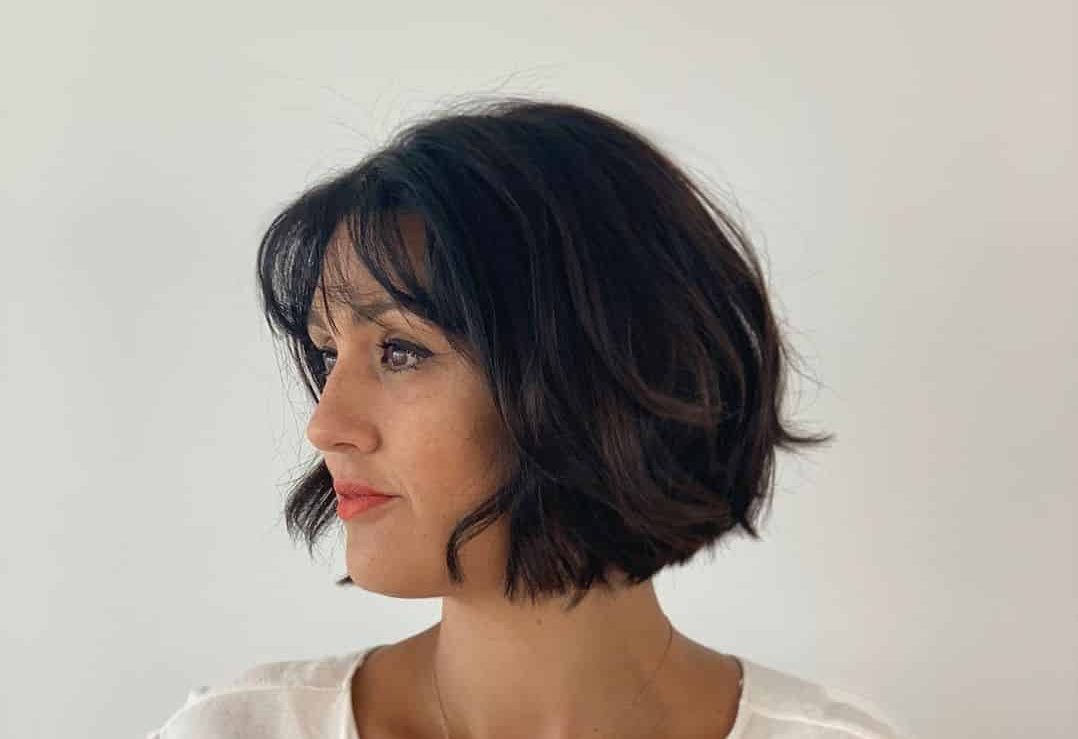 Credit: @alberto_spiteri via Instagram
A dark-brown or black French bob is a timeless, stunning look. Combine the bob with bangs and you've got a beautiful blend of new and old. Better still, this hairstyle suits all hair types – meaning that anyone is able to pull it off with ease.
Short layers, lots of texture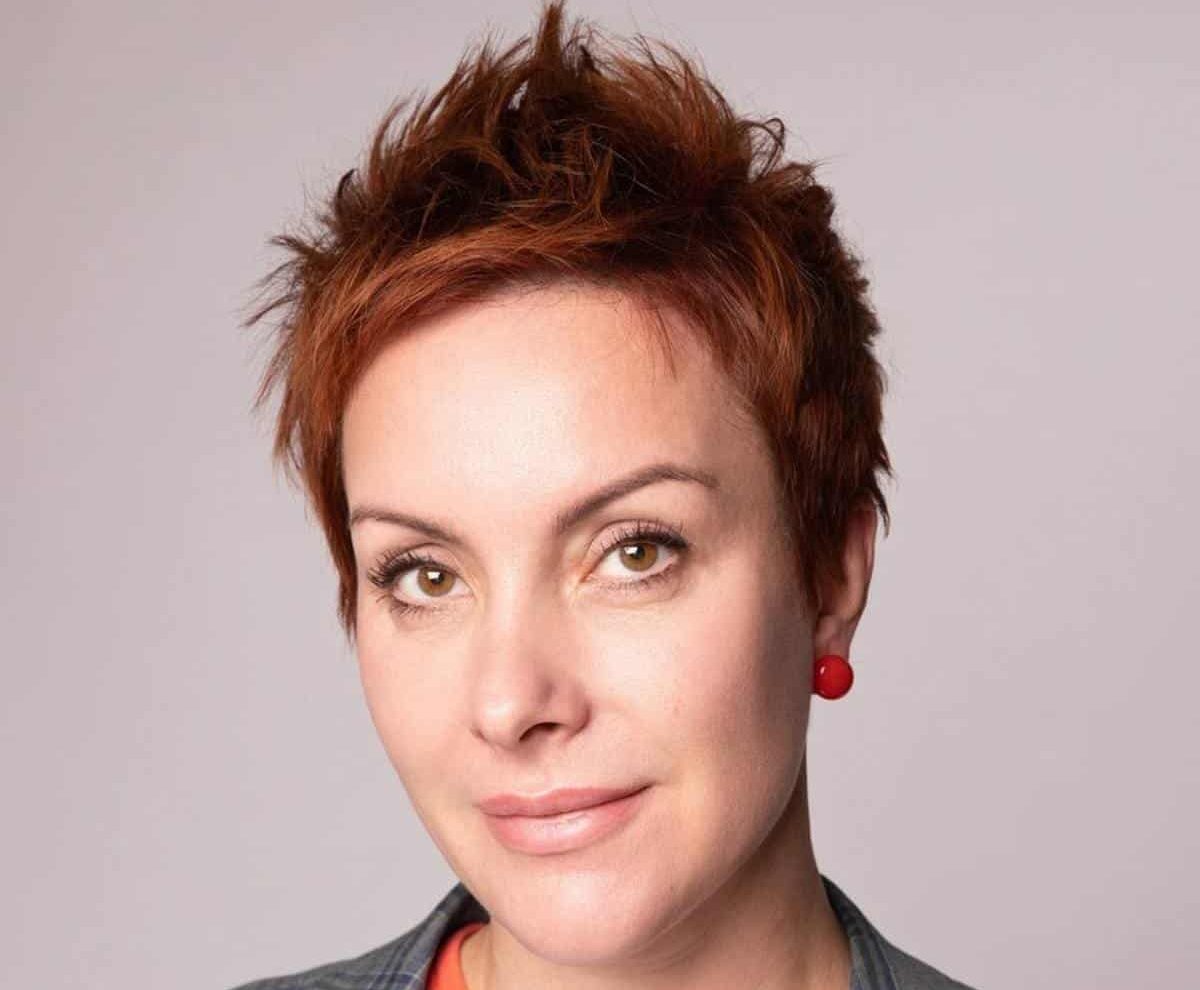 Credit: @demetriusschool_eng via Instagram
This super-short haircut is the ultimate cool look. Featuring short but plentiful layers, the hairstyle creates an abundance of texture, with the eye never quite settling on one place to look. If you've got short hair that constantly falls flat, this might be the perfect style for you.
Textured waves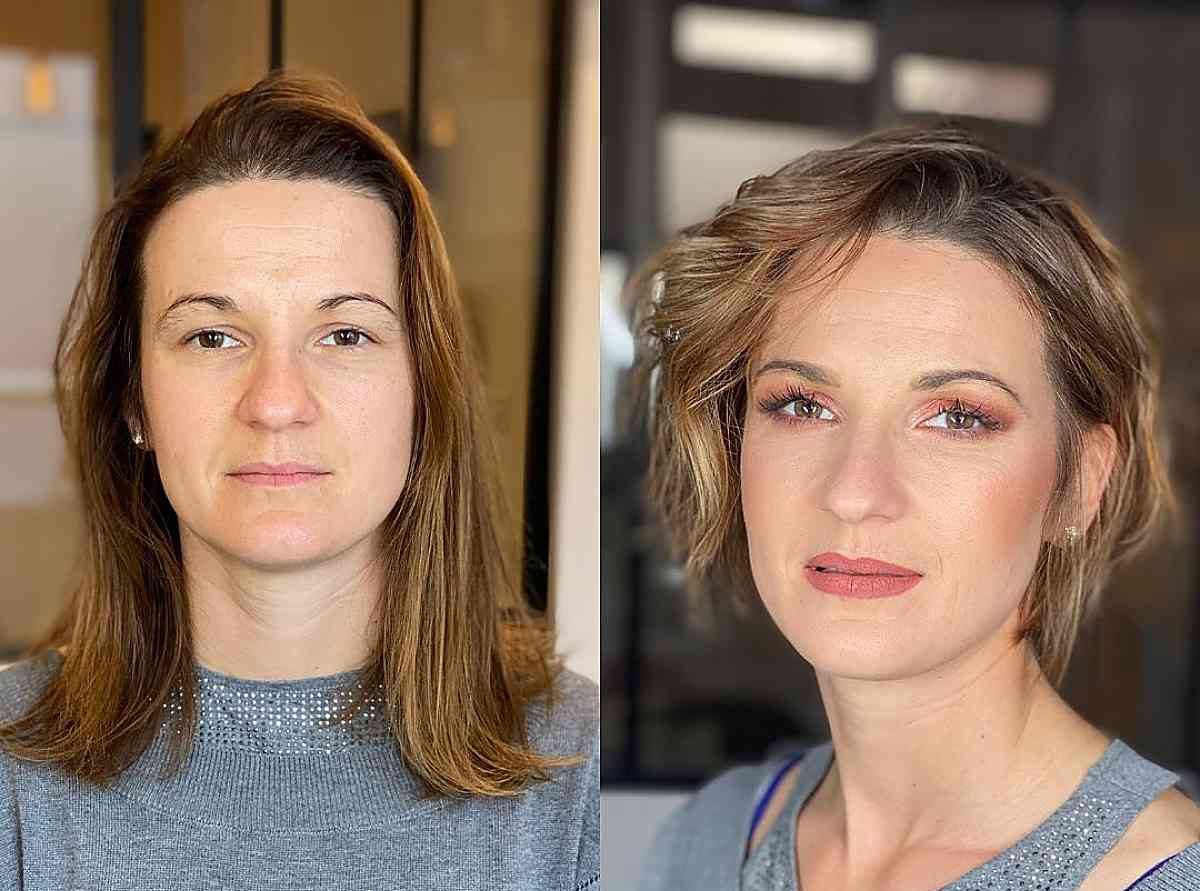 Credit: @amelie_become_you via Instagram
Chopping off your long locks can leave you with a beautiful, lighter look. The loss of weight in your hair can lead to gorgeous waves, using volume and texture to help accentuate your best features. Short styles like this are easy to maintain, making for a quicker getting ready process.
Tight curls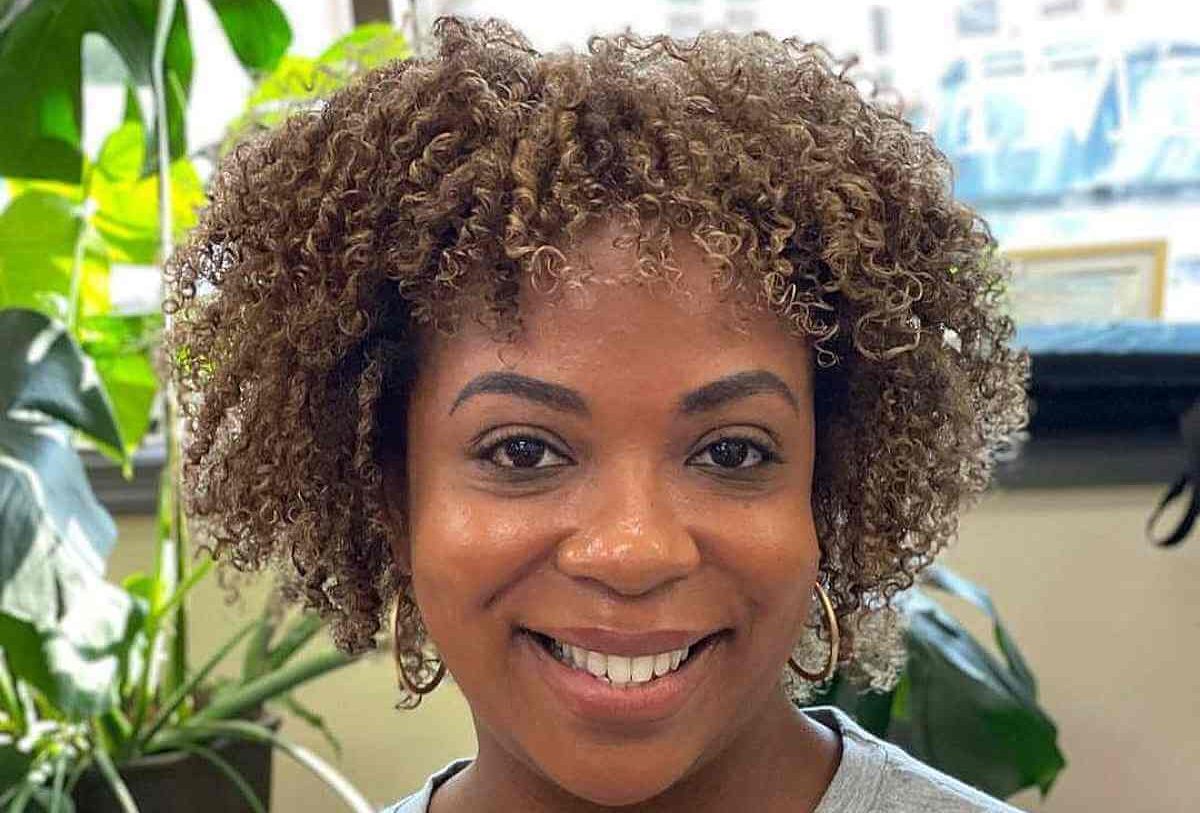 Credit: @joemiguel_ via Instagram
Tight curls have never looked better. This hairstyle creates beautifully defined dimension, putting your face in proportion perfectly. Tight curls can help you appear younger, freshening up your youthful glow. To take tight curls to the next level, consider asking your hairdresser to implement some blond highlights.
Short copper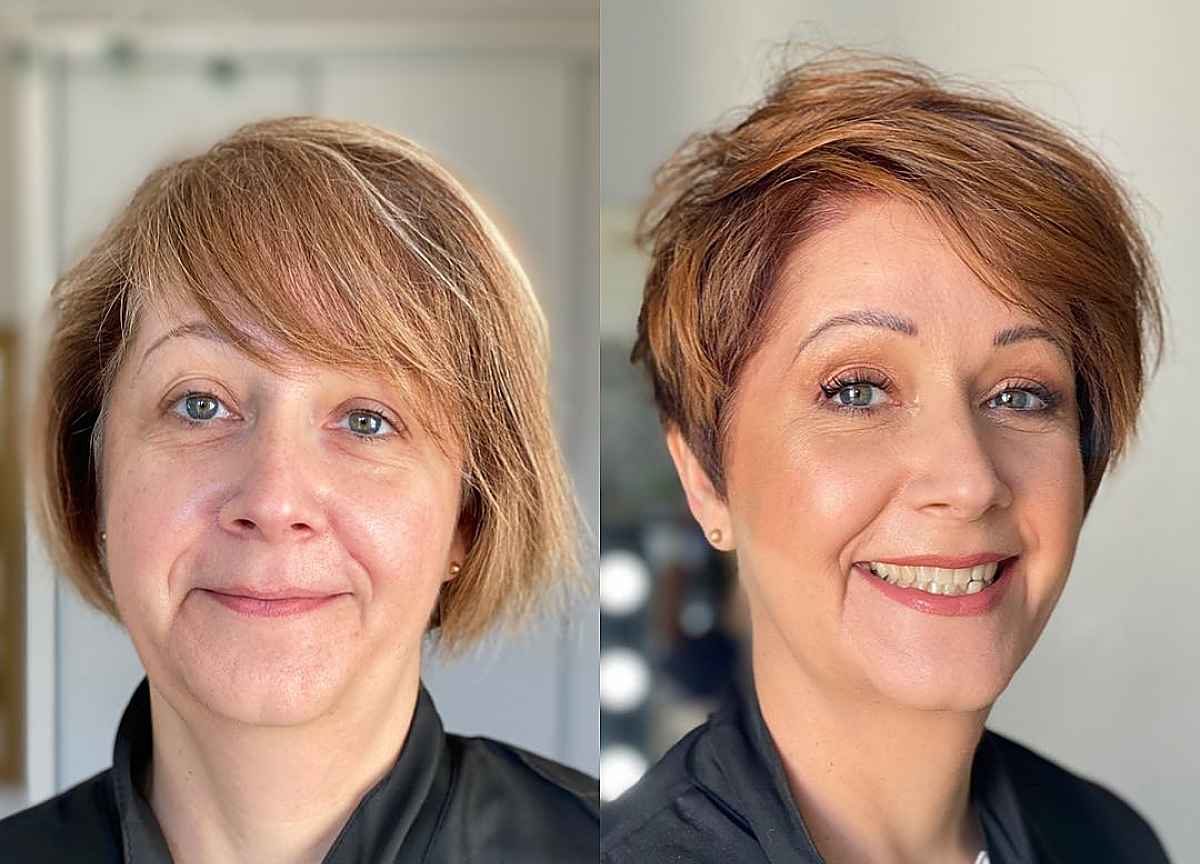 Credit: @amelie_become_you via Instagram
What a transformation! Cutting out limp, stray strands of hair can lift your face, bringing out your inner youth, while a deep side part gives it a stylish edge. Pair this lovely, fresh cut with a cool copper color to really make it pop.
Teased bob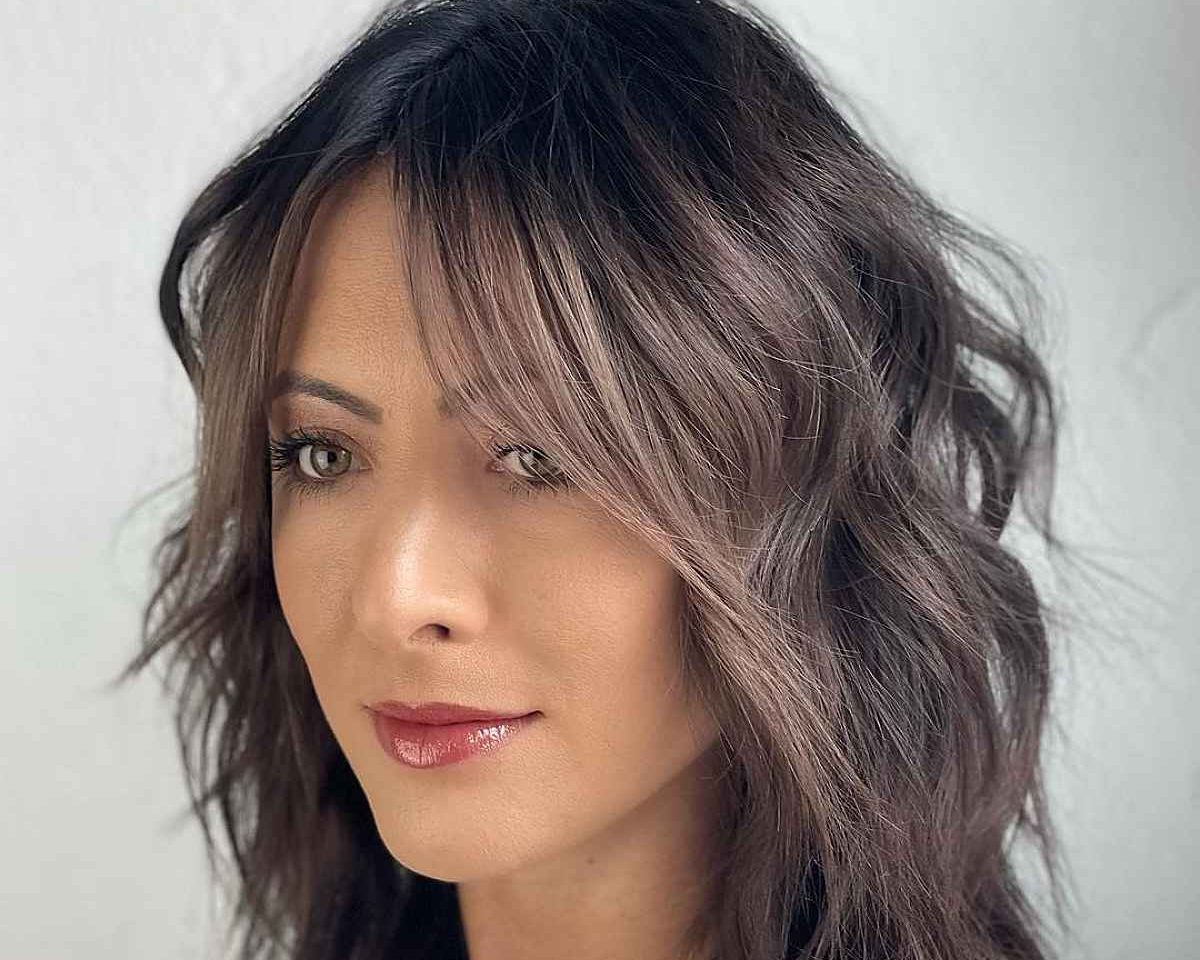 Credit: @david.oshell via Instagram
The teased bob takes the classic hairstyle and adds a modern twist – perfect for those who want something new, without making a drastic change. These layers fall ever so slightly shorter at the back, and longer at the front, shaping your face beautifully. This hairstyle is perfect for wider face shapes.
Long highlighted blond bob without bangs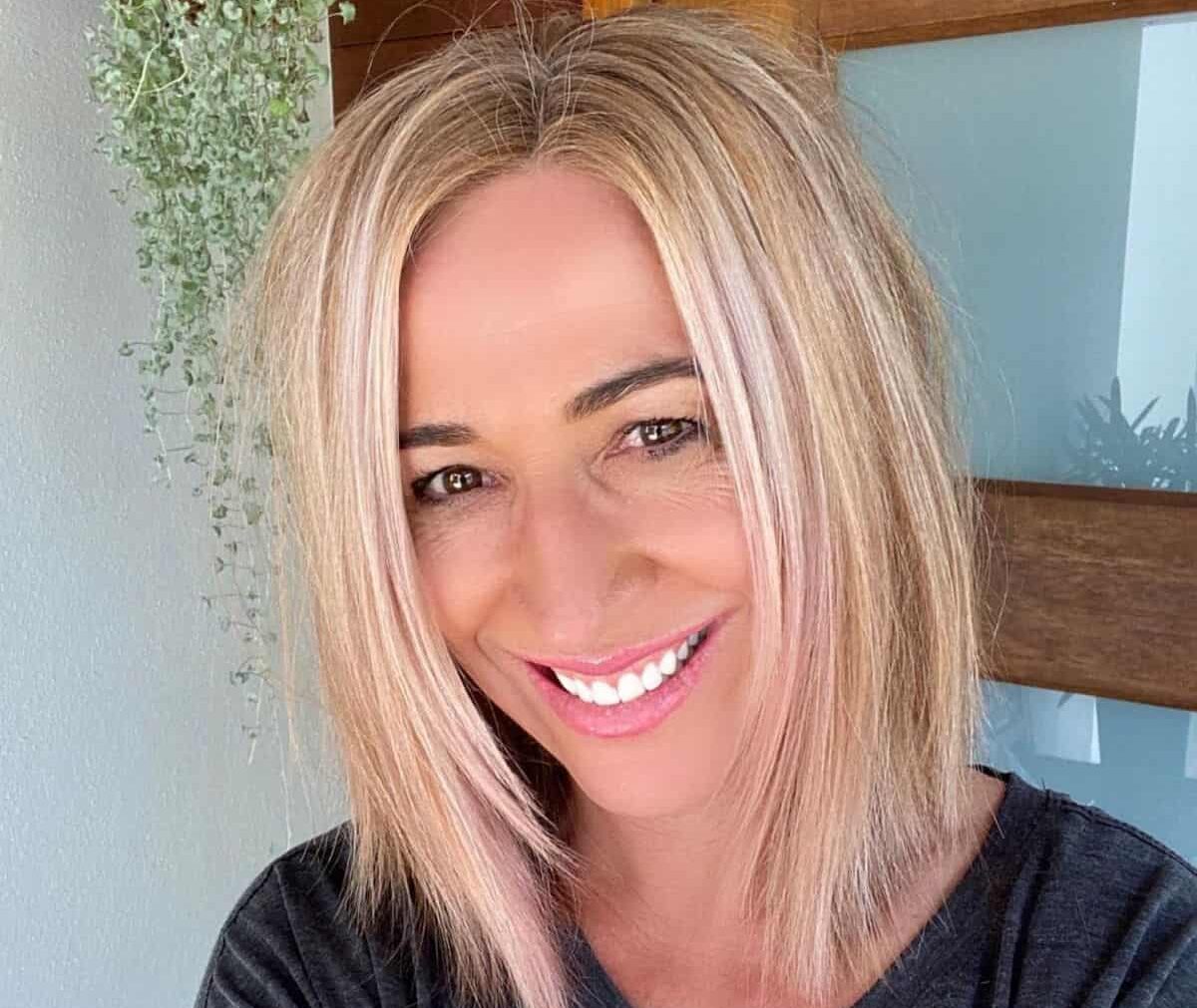 Credit: @hairbymissyredlands via Instagram
Dyeing a bob blond helps to fend off the harshness of the hairstyle, bringing a touch of light. Growing your bob out until it's medium in length and then adding highlights can create a beautiful illusion of length without all of the hassle. Keep this hairstyle bang-free to maintain its simplicity.
Multi dimension with bangs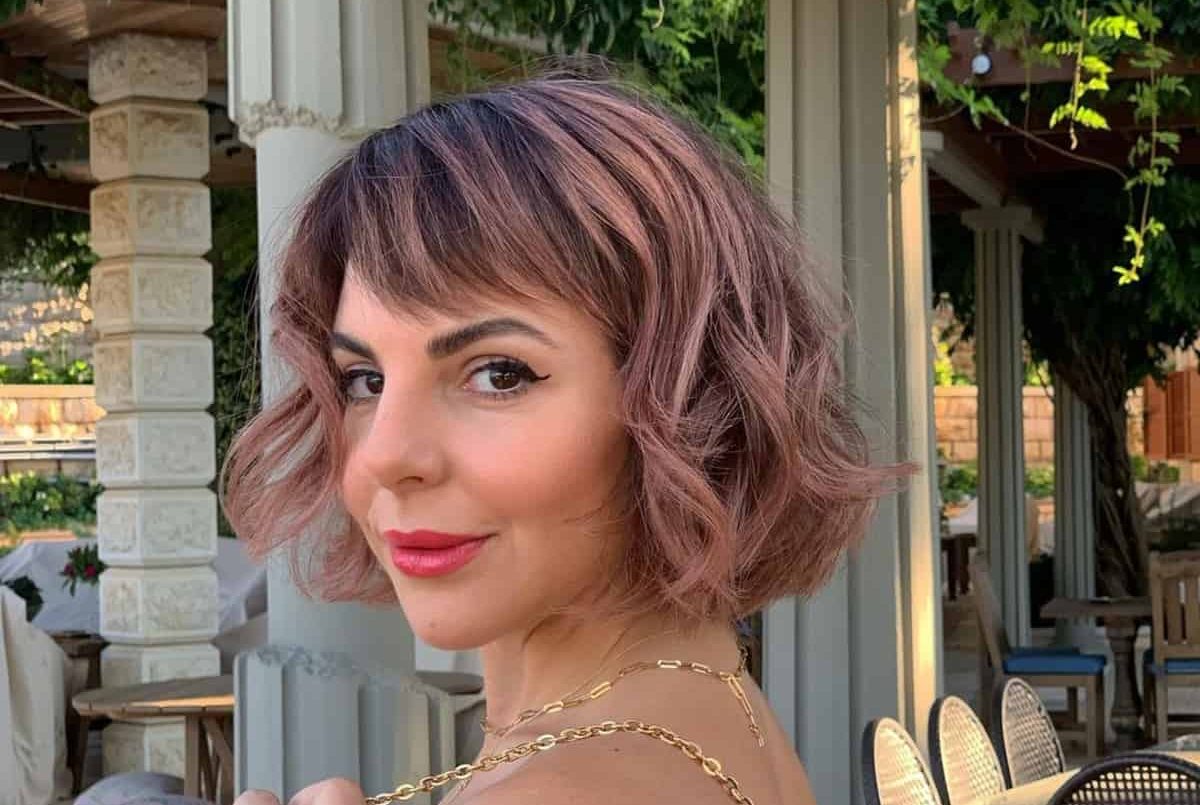 Credit: @walidzeineddine via Instagram
Pairing a multi-dimensioned bob with bangs creates a timeless look. Using lots of texture and lines, this hairstyle gives off the impression of increased depth. Pair this bob with a light color for an even edgier look, making you look younger than your years.
Long asymmetrical pixie cut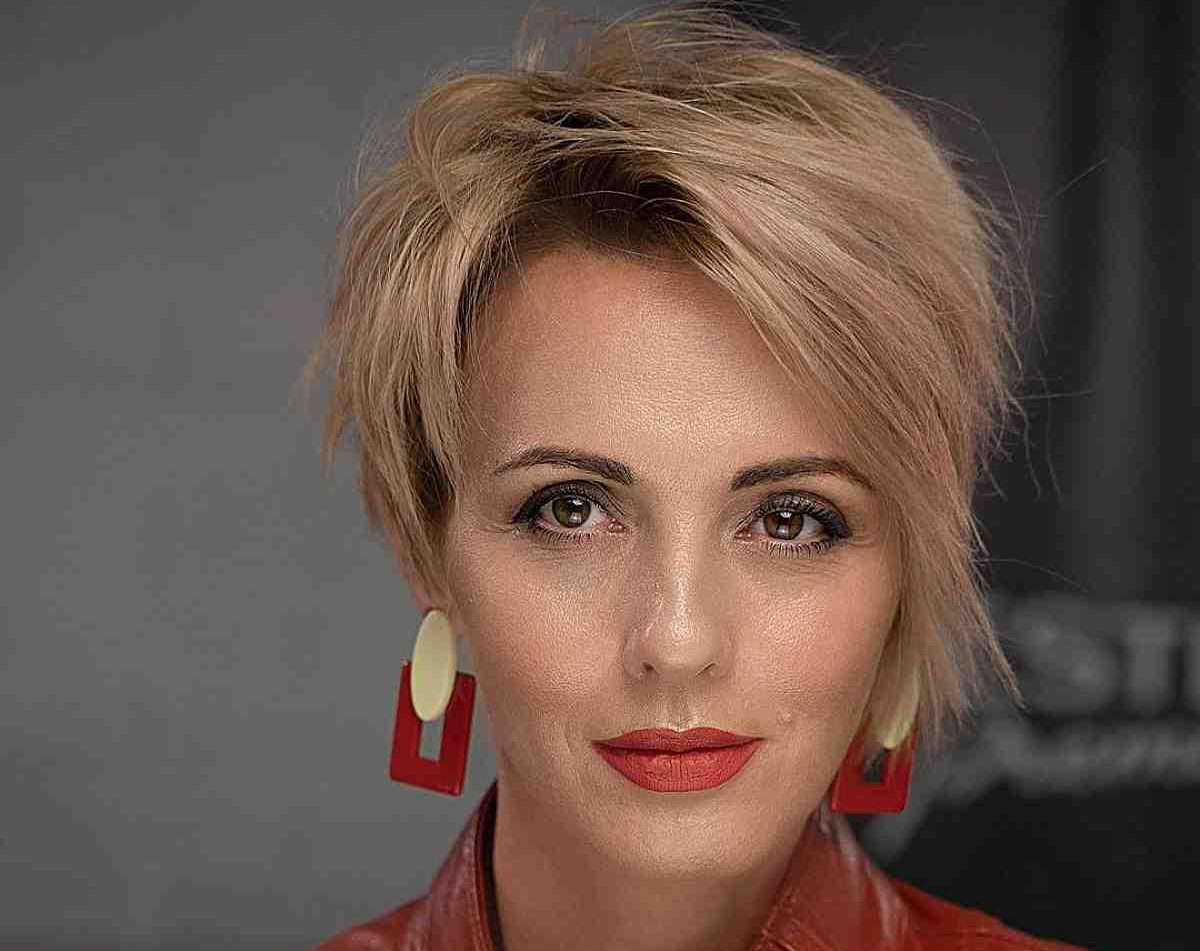 Credit: @seville_hair via Instagram
Taking the asymmetrical pixie cut to the next level, the long version of this hairstyle shows off a huge sense of personal style and confidence. This haircut is best suited for locks that already have some form of texture, helping to maintain its unique shape when styled.
Short hair with swooping bangs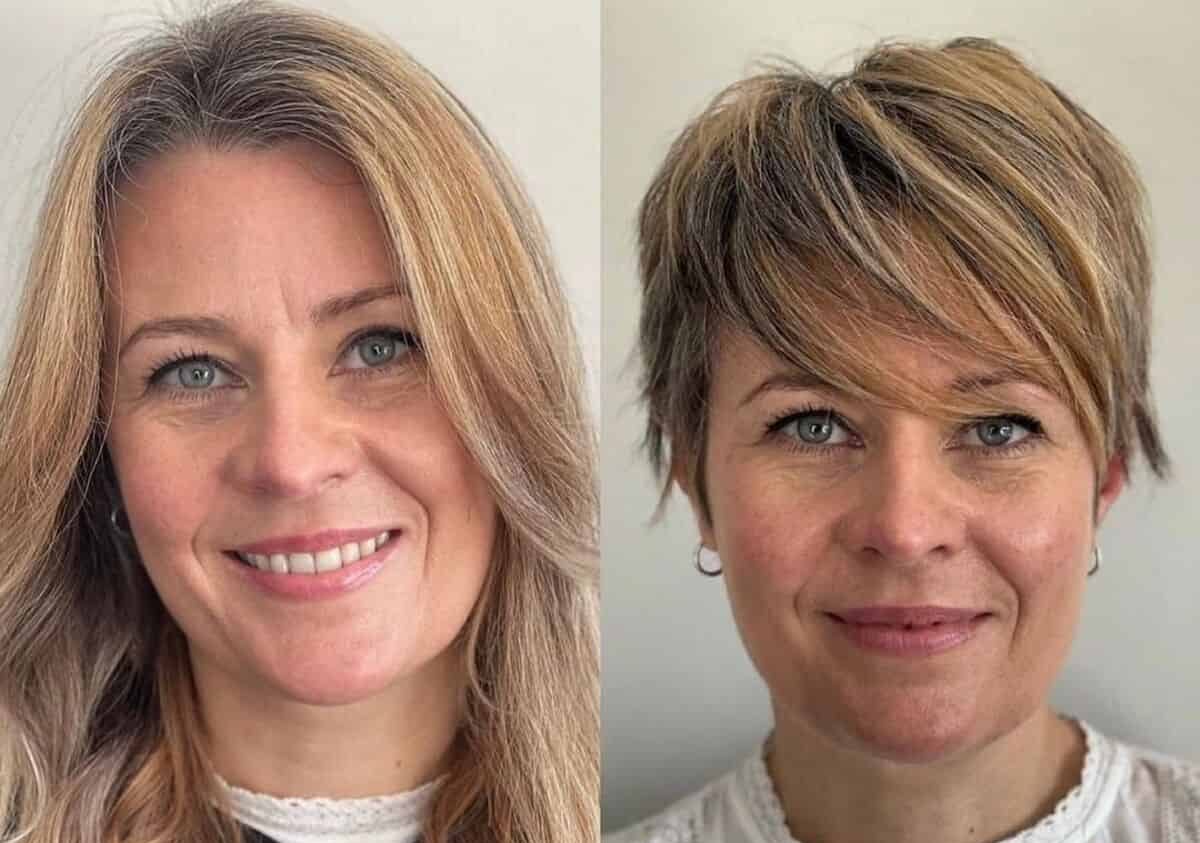 Credit: @olivercunninghamcuckfield via Instagram
Go big or go home! That's the case for this particular hairstyle. The swooping fringe adds the illusion of length to the hair, while perfectly framing your face. Ensure that your fringe is expertly layered to provide additional movement and show off your truly unique style.
Red and tousled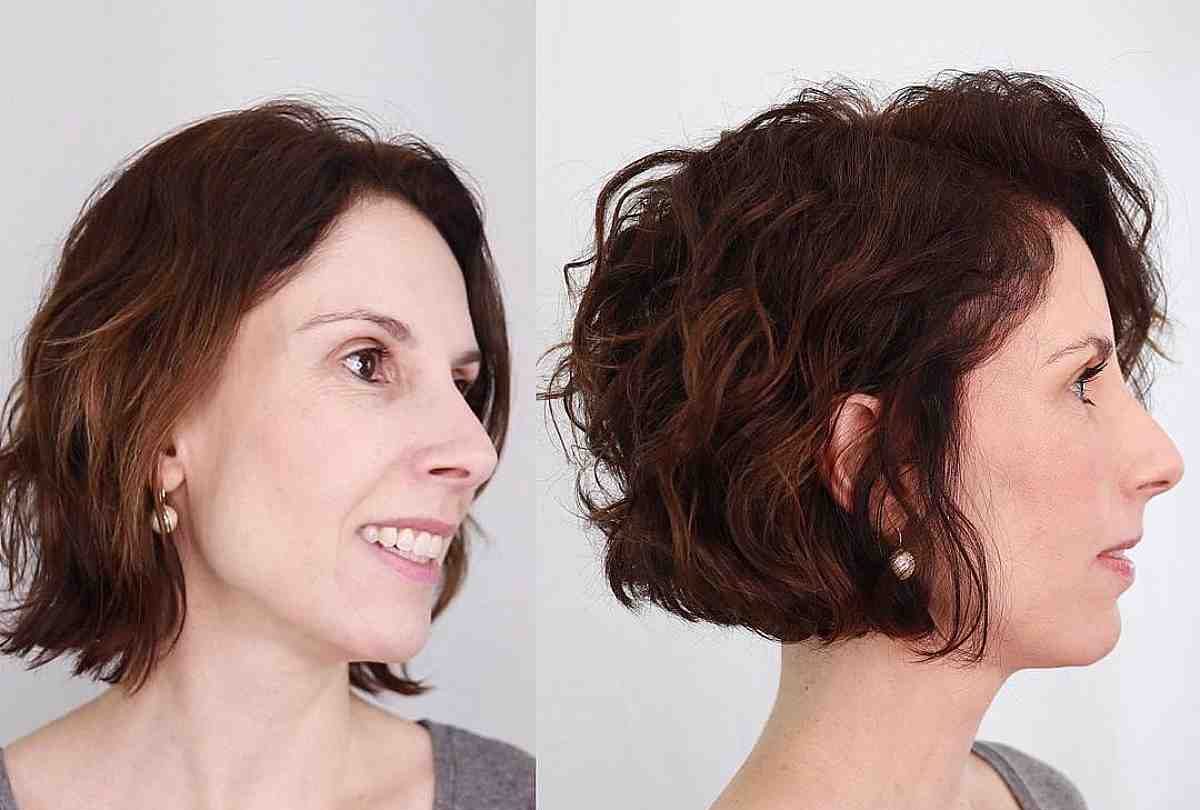 Credit: @ruteboazhair via Instagram
Going red creates a vivid, eye-catching look that will fill you with self-confidence and put a spring in your step. The deep hues can help to bring a sense of warmth to your skin tone, while the tousled look makes for an easy – yet stylish – hairdo.
Organic brunette waves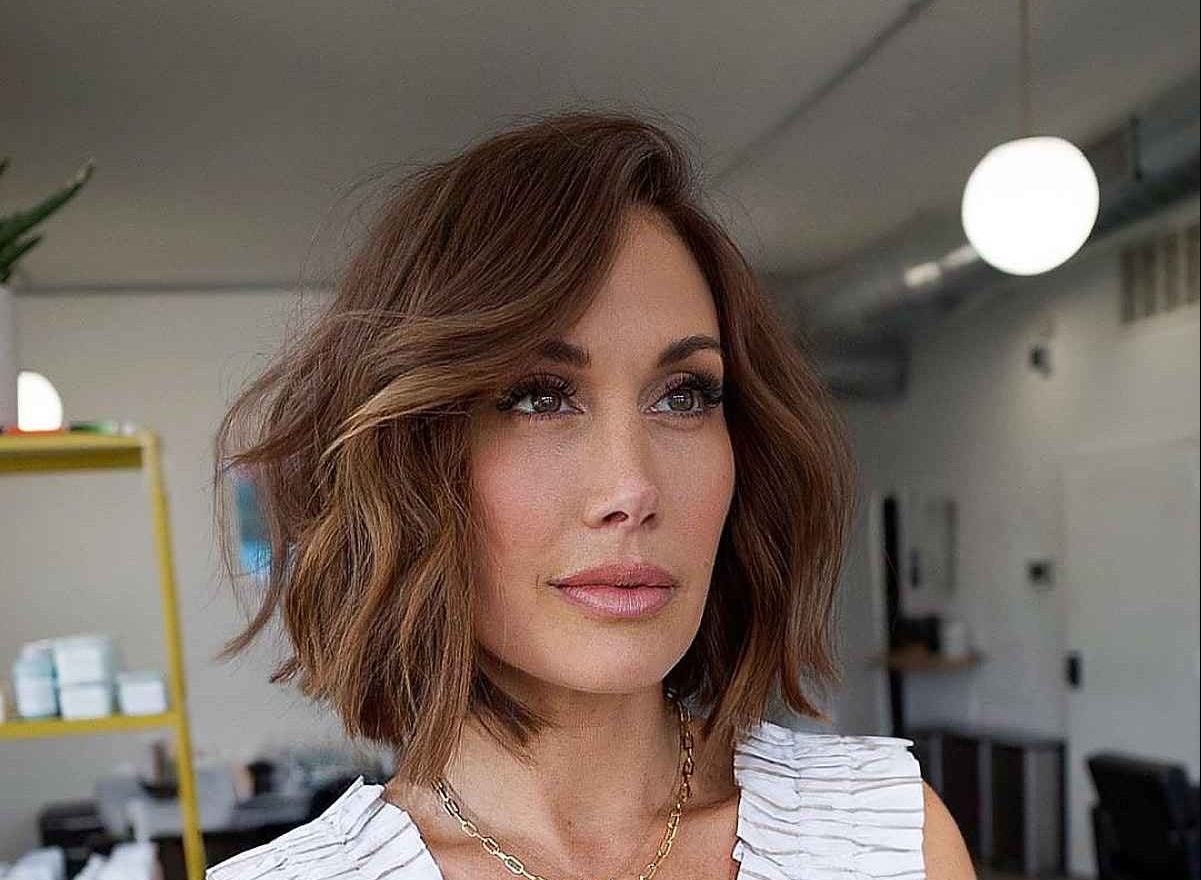 Credit: @tyler_the_hairstylist via Instagram
If ain't broken, don't fix it! That's the case for these beautiful waves. Sometimes, all you need for a fresh look is a slight trim, keeping all of your hair in place. Keep your natural, organic hair color, and let your small curves fall free!
A bob with dimension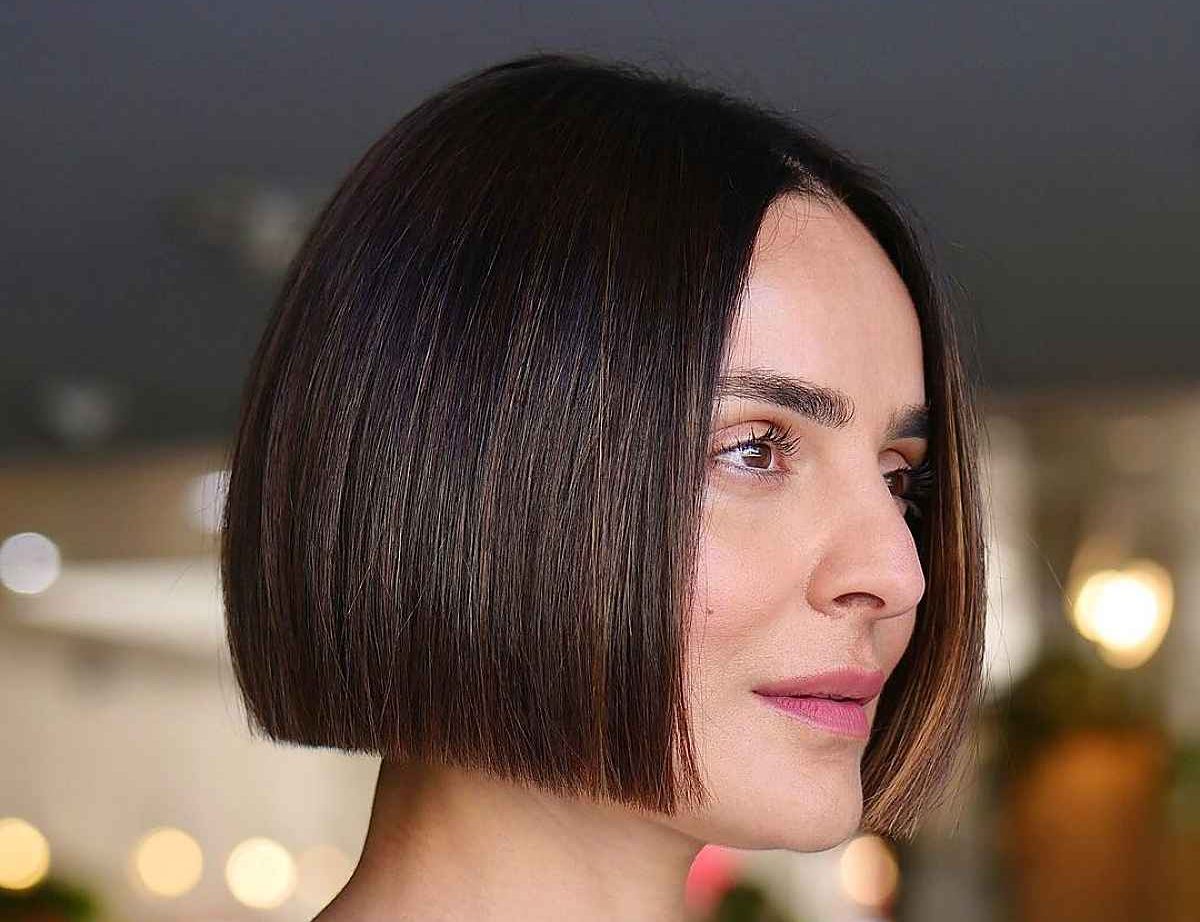 Credit: @yukistylist via Instagram
This is a super modern version of the bob, making it the perfect choice for 2023. With straight edges that look as though they could cut glass, the dimension-centric bob doesn't leave a strand out of place. Though it may take a lot of work, it's worth it for such a beautiful look.
The mini mullet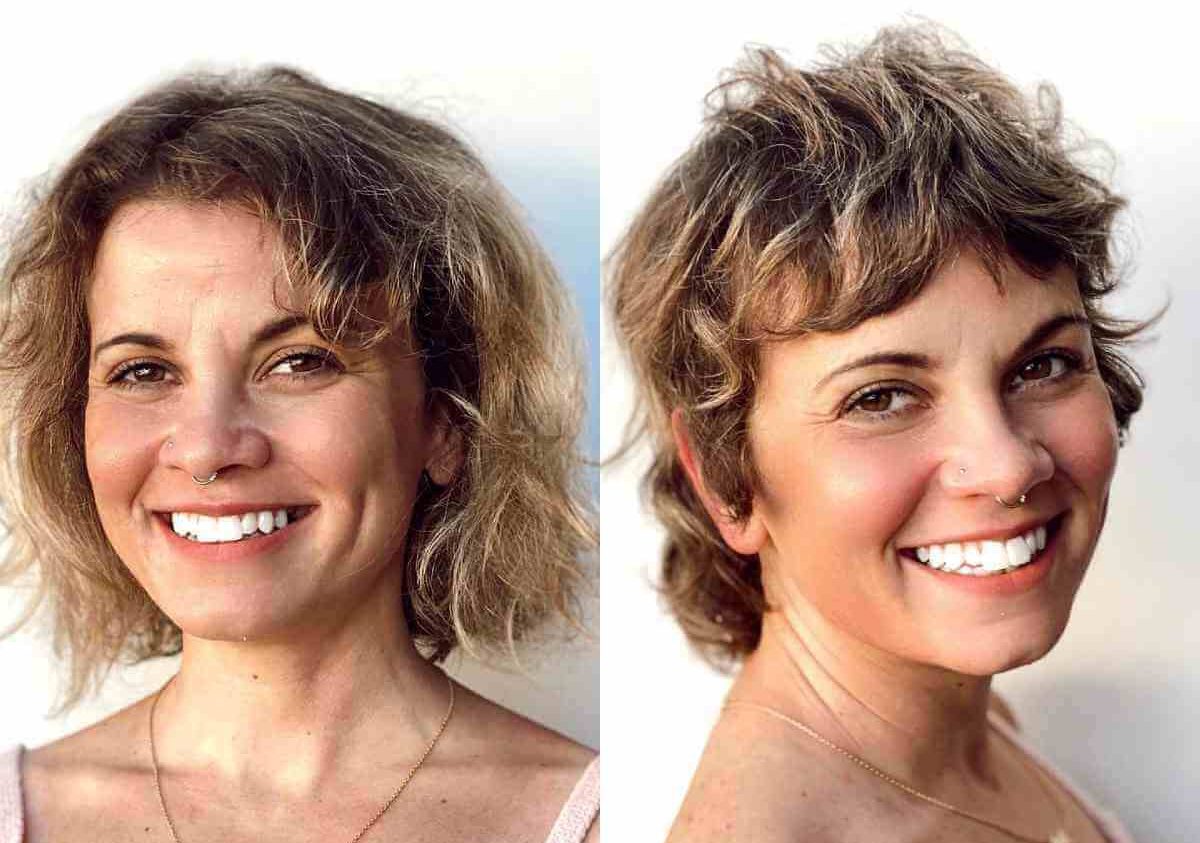 Credit: @nakedeyebeauty via Instagram
Does a full-on mullet seem like too much work for you? Consider getting the mini mullet – the ultimate hairstyle for an alternative chick, boasting sleekness and ease. A mini mullet is a perfect choice if you're looking to mix up your look, as it's relatively easy to style back to normal.
The short princess cut
Credit: @georgiykot via Instagram
The princess cut is the epitome of elegance and class. Made all the more iconic by the late Princess Diana of Wales, this hairstyle creates a gorgeous, vintage look. Blow your hair backward, before holding it in place with a setting spray and you're good to show your new look off to the world.
A bob with a side part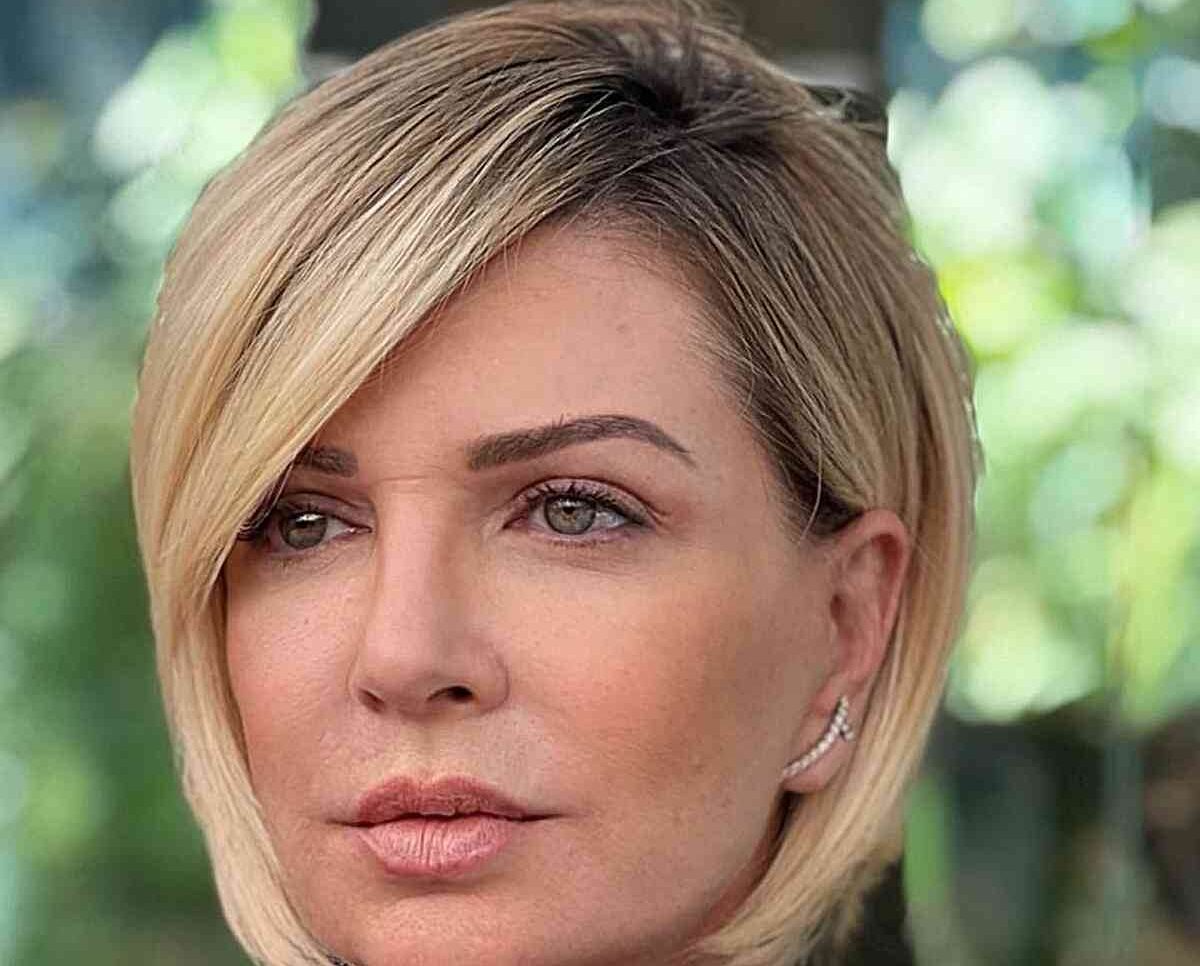 Credit: @ro.hsiqueira via Instagram
A side part can elevate any basic bob to a modern, stylish do. Keeping your bob at jaw-length, go for a deep parting that's clearly visible, dividing your hair up into solid sections. For an even edgier look, consider having your roots on display – it's all the rage right now!
Side swept pixie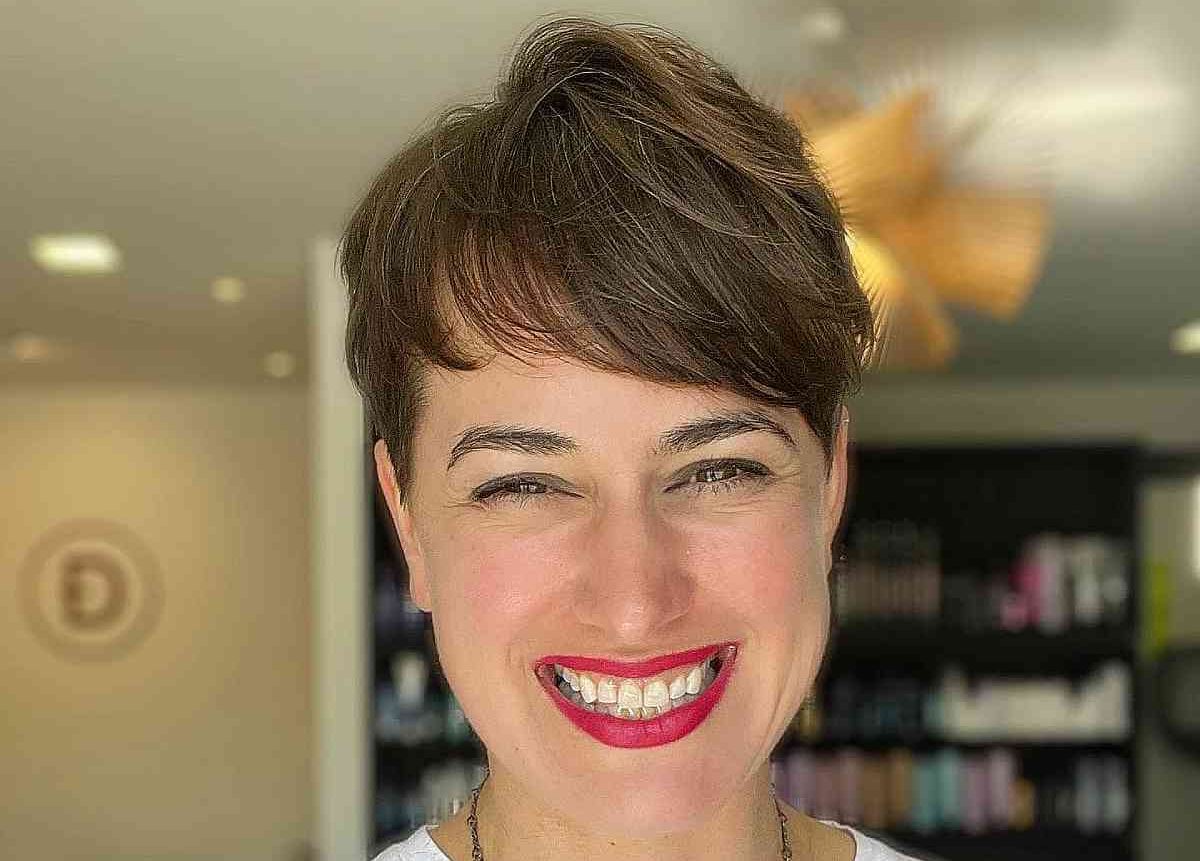 Credit: @dinh_hairsalon via Instagram
The possibilities of the pixie cut are endless. If the basic version of the pixie cut doesn't inspire you, perhaps consider getting a pixie with side swept bangs. It adds an extra dimension to the haircut, allowing you to show off your fun and playful side.
Mullet with a choppy fringe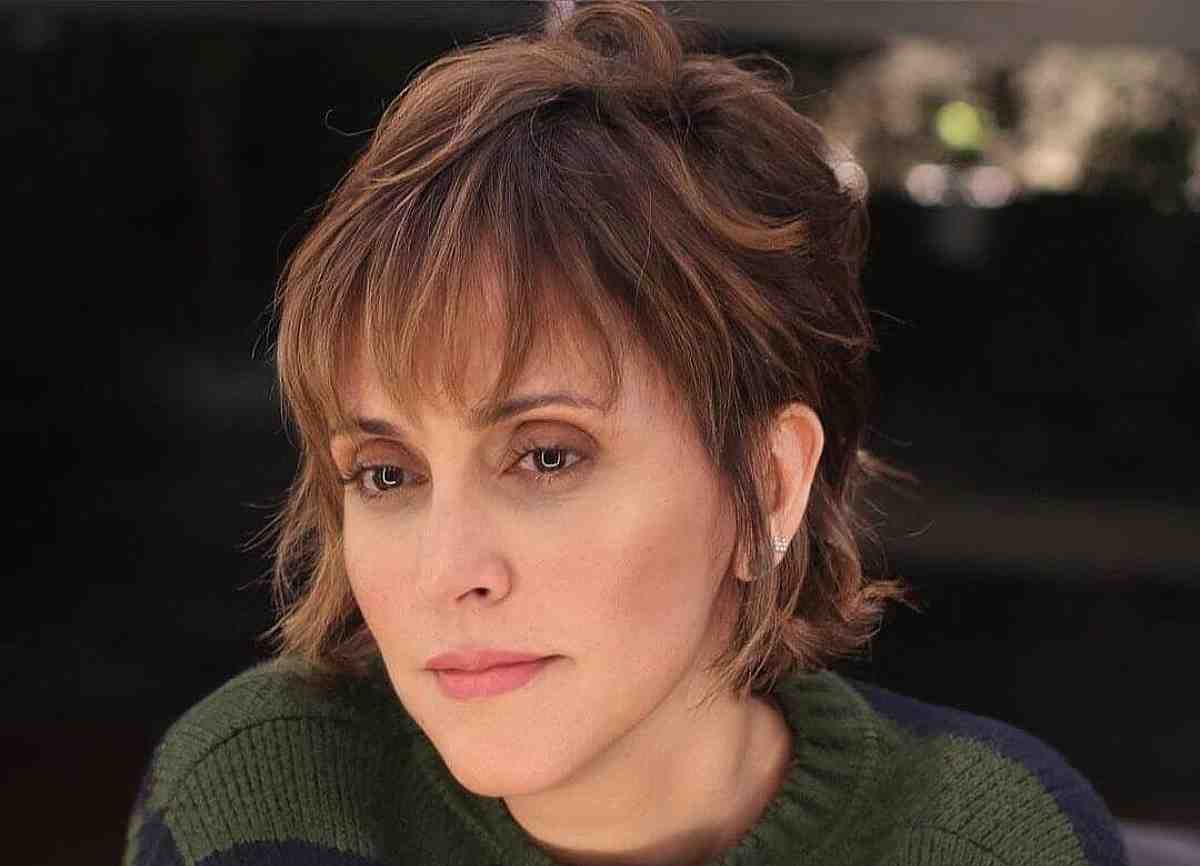 Credit: @belximenes via Instagram
If the basic mullet isn't doing it for you, consider getting a mullet with a choppy fringe. The bangs can help to frame your face, giving your jawline and cheekbones an extra sense of definition. Better still, if you go for wild-looking bangs, they don't take much time to style.