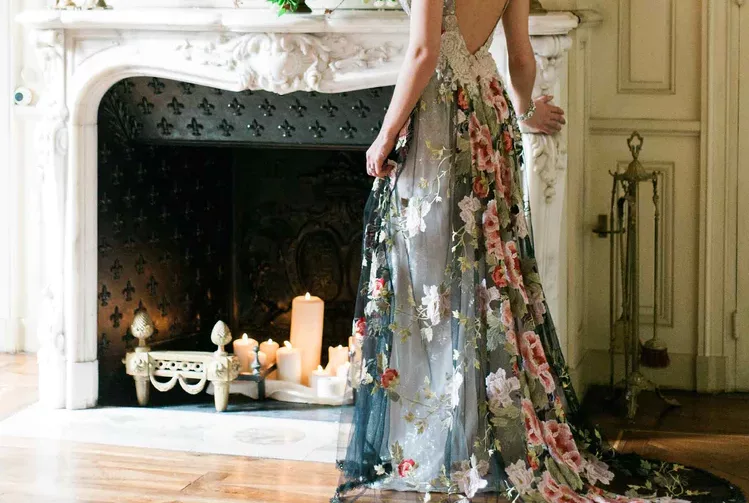 Credit: clairepettibone.com
A unique bohemian dress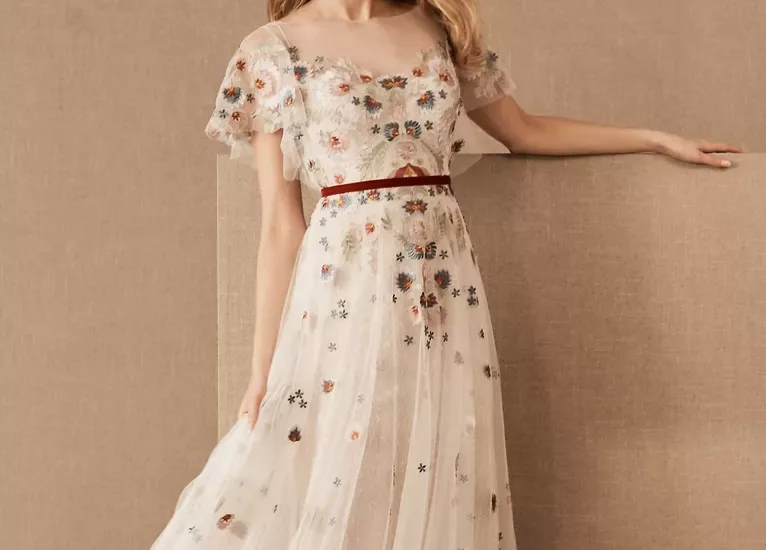 Credit: BHLDN.com
This dress is for a particular kind of bride, aimed at women who want to show off their quirky yet feminine side. The A-line cut makes for a gorgeous, airy silhouette, while the intricate floral designs dotted about the fabric add a small splash of color. Costing $1,852, the dress ensures that all eyes will be firmly focused on you during your big day.
This stunning black-and-white gown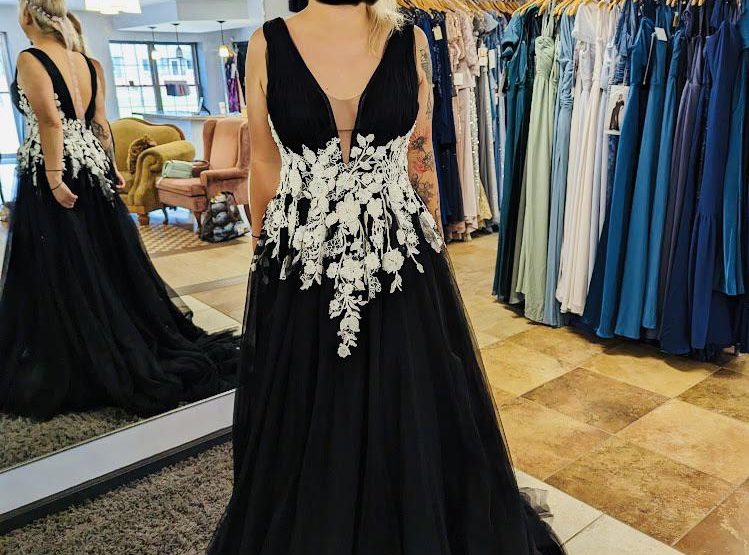 Credit: u/throwaway0152 via Reddit
This bride ignored the norm and opted for this breathtaking black dress, incorporating a small essence of tradition with a whimsical white floral design across her midriff. With her tattoos proudly on display, the newlywed manages to show off her unique personality, all while looking positively beautiful.
A big dress for a big day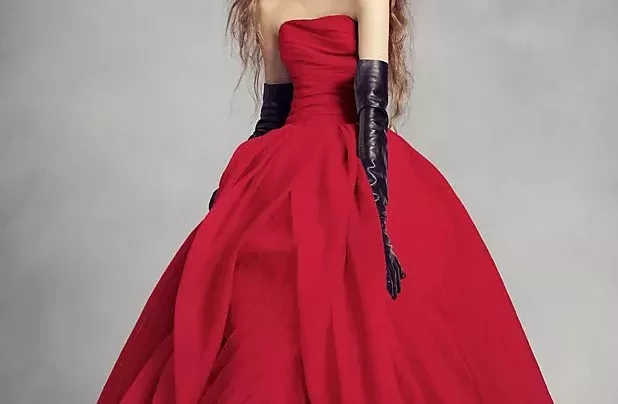 Credit: DavidsBridal.com
That's one way to make sure your wedding will be a day you'll never forget! Opting for this lush crimson ballgown, the dress is sure to make any bride-to-be feel as though they're living in a fairytale. The PVC gloves are optional, but certainly add to the overall drama of the look. Designed by Vera Wang, the dress costs $1,000.
This bold patterned gown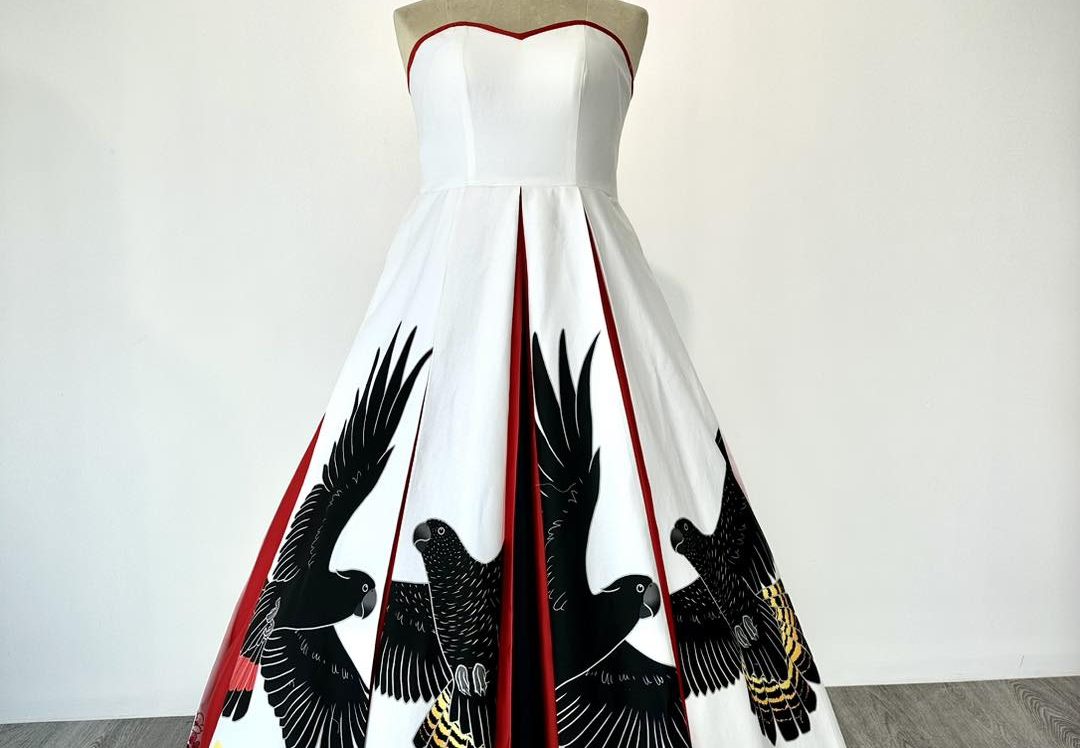 Credit: u/roxybudgy via Reddit
This bride chose a daring design for her wedding dress, featuring mid-flight cockatoos in an nod to her Aussie roots. The scarlet lining adds a sense of drama and depth to the gown, breaking up the monotonous black-and-white color scheme, while still keeping the traditional wedding dress shape.
A blush dress for a blushing bride
Credit: TheReformation.com
This dress is the perfect choice for a laidback bride. Favoring simple yet elegant tones, the soothing pale pink allows the bride's complexion to shine through, while the tie-around waist helps to break up the material. Costing just $278, this dress is ideal for brides who are planning a minimalistic wedding.
She's got her something blue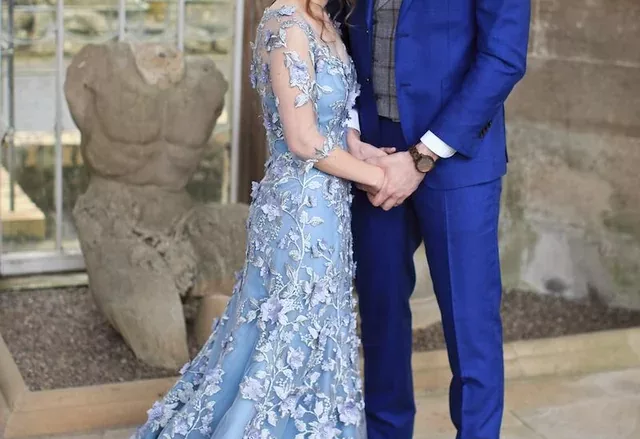 Credit: u/ItsRavenclawesome via Reddit
When she couldn't find a dress that resonated with her, this bride designed her own. The custom-made gown looks gorgeous in shades of baby blue, with intricate 3D lacing blending modern sensibilities with timeless tradition. Overall, the dress took seven months to create from start to finish.
The bigger the tulle, the better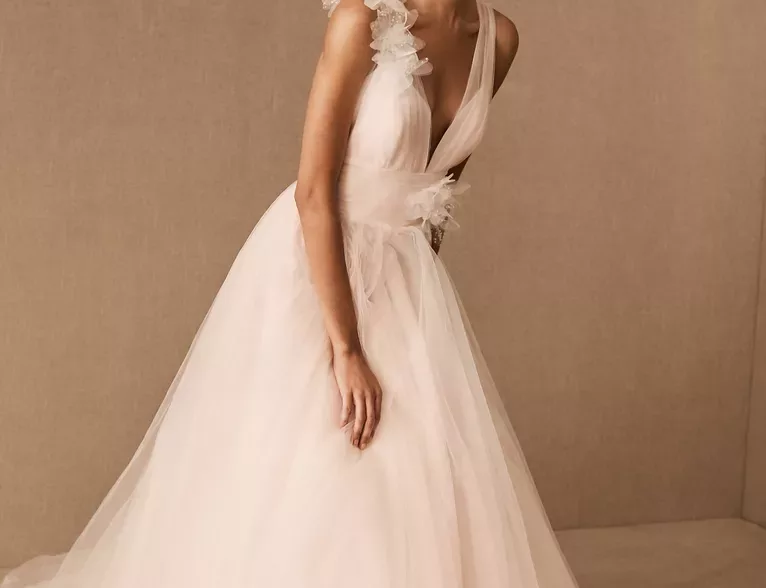 Credit: Anthropologie.com
Just because white isn't your thing, it doesn't mean you have to avoid neutral tones entirely. This off-white, pale pink gown manages to capture the traditional wedding dress, but with a unique spin. The heaps of airy tulle and flowery midriff offer a timeless, yet memorable, look.
This dress will make you green with envy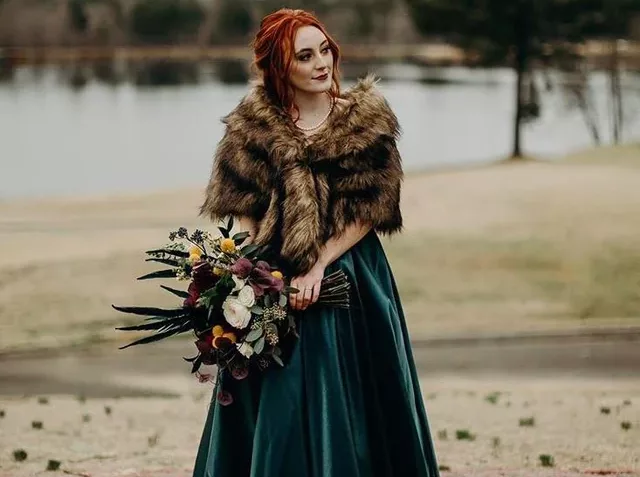 Credit: u/Danswoman via Reddit
Green is a symbol of luck, so what better color to wear on your wedding day? The deep emerald hues are an unusual choice for a wedding dress, but it's a choice that works beautifully. The gorgeous green gown – paired with a faux fur shoulder wrap – makes the bride look as though she's stepped straight out of a fantasy novel.
Look pretty in pink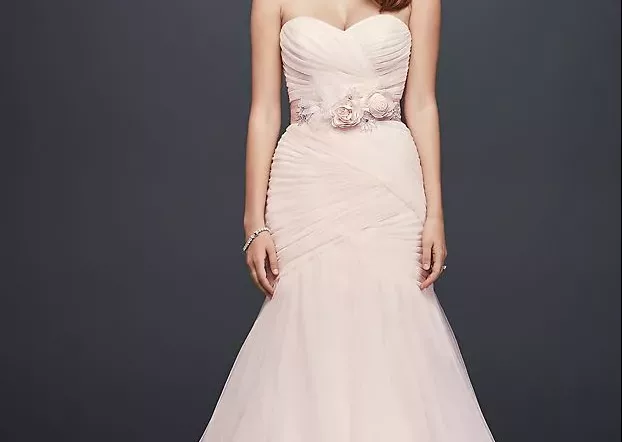 Credit: DavidsBridal.com
This gown is the quintessential wedding dress in every way but color. The pale pink hues bring a touch of warmth to the skin, while the delicate flowers further the gown's sense of femininity. The strapless mermaid gown creates a beautiful silhouette, with the intricate ruching furthering the dress's beauty.
Show off your unique personality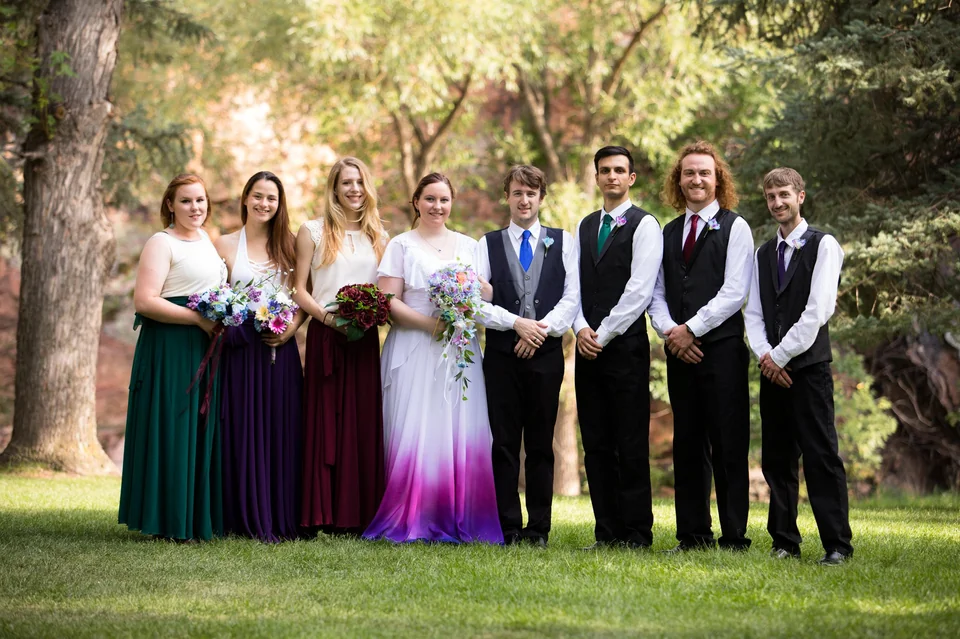 Credit: u/Allaeria via Reddit
If you don't want to fully ditch the white, opt for a dip dye – a unique gown that'll be sure to make you the star of the show. This bride even chose mismatched gowns for her bridesmaids and differing suits for the groomsmen, creating an aesthetically-pleasing blend of color.
Sparkle your way down the aisle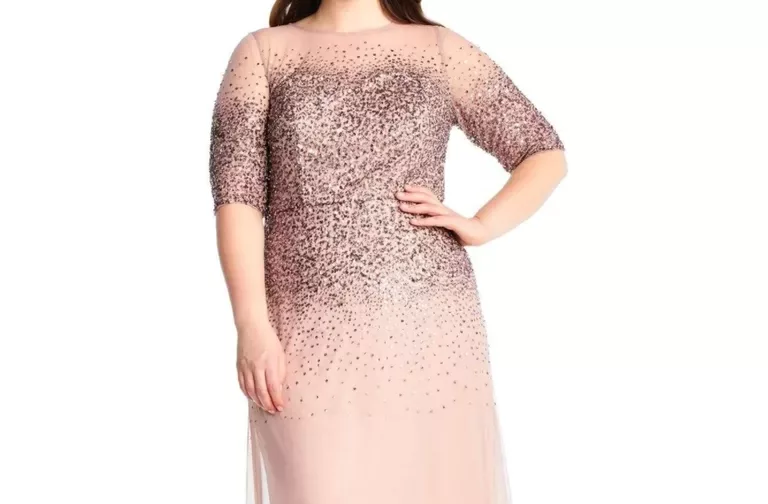 Credit: Coedition.com
Sheath yourself in stunning sparkles for your big day with this beaded illusion gown, costing $335. The rose gold color prevents the dress from being too garish, while the beaded gems ensure that you'll be sparkling like a disco ball, keeping all eyes on you.
Orange you glad you didn't choose white?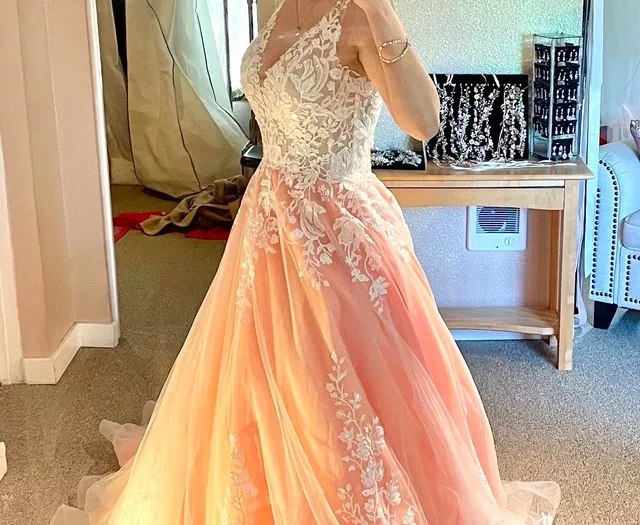 Credit: u/pkerman via Reddit
Orange, peachy tones are a great choice if you're looking to forgo tradition and wear something unusual. This gown was custom-made, colored in tones that mimic a gorgeous summer sunset. The floral design that features across both the bodice and the train helps to bring a sense of style to the gown.
Go gray for your big day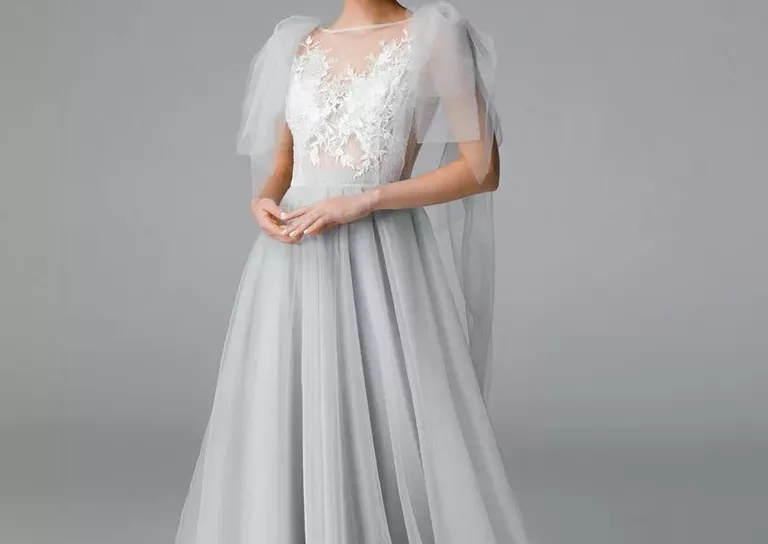 Credit: Etsy.com
Some brides like to think outside of the box, with some even wishing to bring a touch of the morose to their wedding day. This gorgeous pale gray gown features huge puffed sleeves and a beautifully designed bodice, mixing 80s fashion with a modern flair.
The bride hand-painted her gown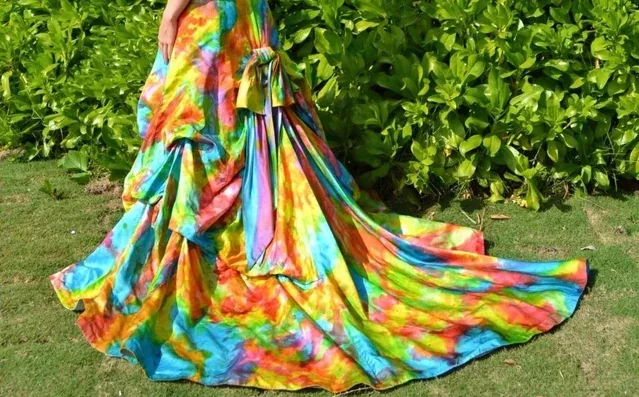 Credit: u/CatPooedInMyShoe via Reddit
If you're the crafty type, why not consider painting your dress? It'll give you complete control over your gown's look, choosing shades that show off your personality. If you're feeling particularly brave, you could always go for a rainbow color scheme, sheathing yourself in color.
This lovely lavender look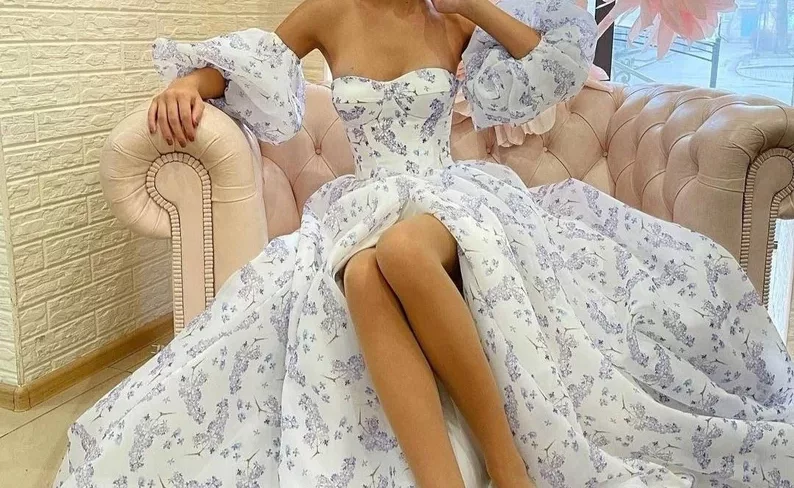 Credit: Yaroslavska Dresses via Etsy
This dress is sure to make a statement. The lavender bustier corset gown comes with detachable sleeves, making showing off your dance moves post ceremony that much easier. The strapless corset features a stunning sweetheart neckline, with the dress's cut finishing just above the knees. This gown is available on Esty for just over $400.
This dress is dreamy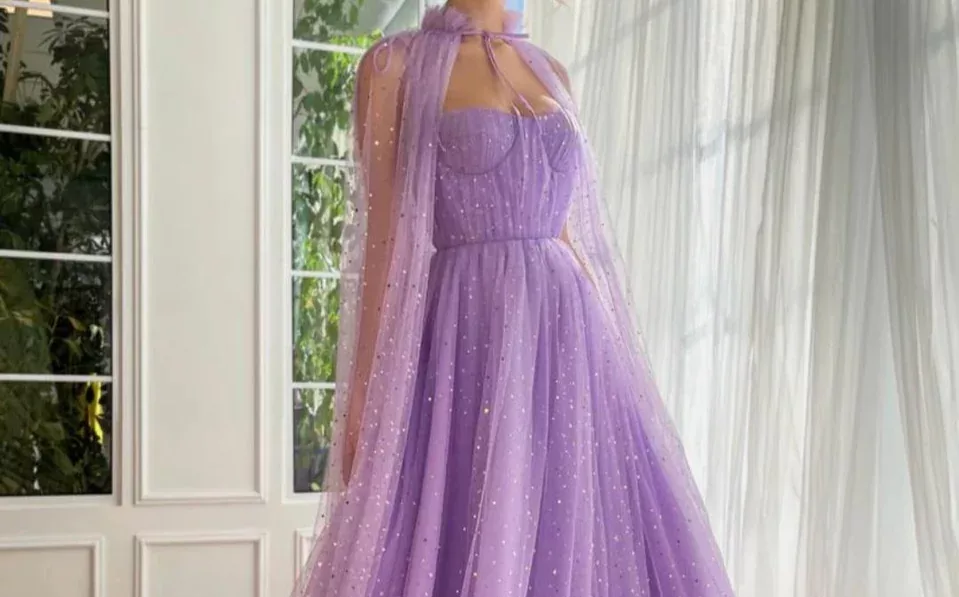 Credit: u/pastelpurplepixie via Reddit
Glitter, tulle, and even more glitter makes this the dress of every girl's dreams. With a detachable train, tied nicely around the neck with a simple yet sleek ribbon, this gorgeous gown is perfect for brides who don't want to shy away from the limelight.
This handmade gown comes with a corset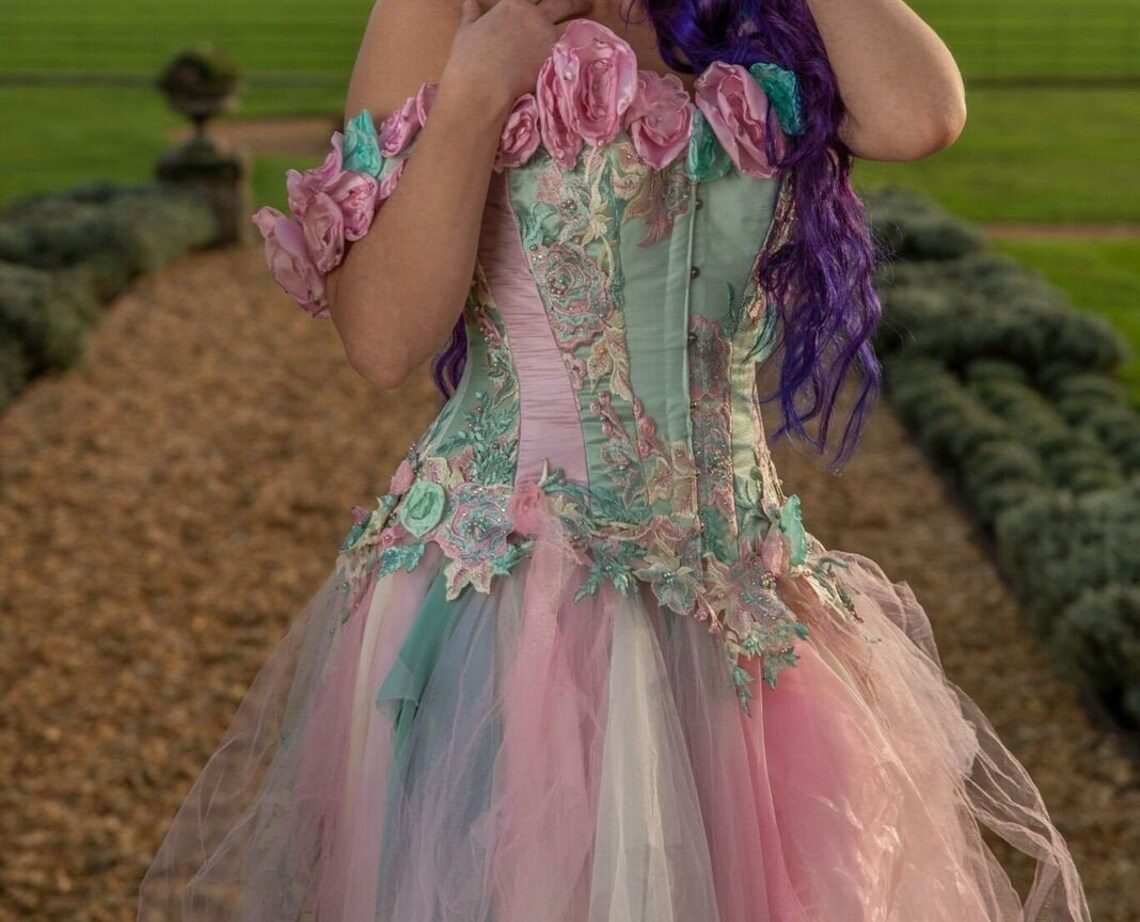 Credit: Lyndsey Clark via Etsy
What more could you want from a wedding dress? Dreamy shades of pastels swirled with lace, tulle, and handmade silk flowers make this dress a dream come true. With a detachable train and a non-stretchy, rigid corset, this gown looks like something straight out of a fairytale.
This gown is perfect for a summer ceremony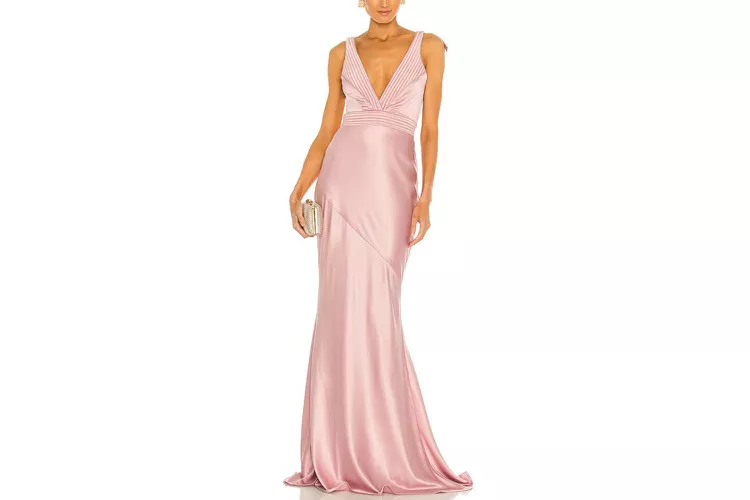 Credit: Revolve
This pale pink satin dress features a quilted trim at the waist, helping to break up the sheaths of fabric. The floor-length gown will suit an array of accessories, whether you want to go for a gold or silver theme. The neckline is low and plunging, ideal for brides who aren't afraid to show a bit of skin.
Black is the new black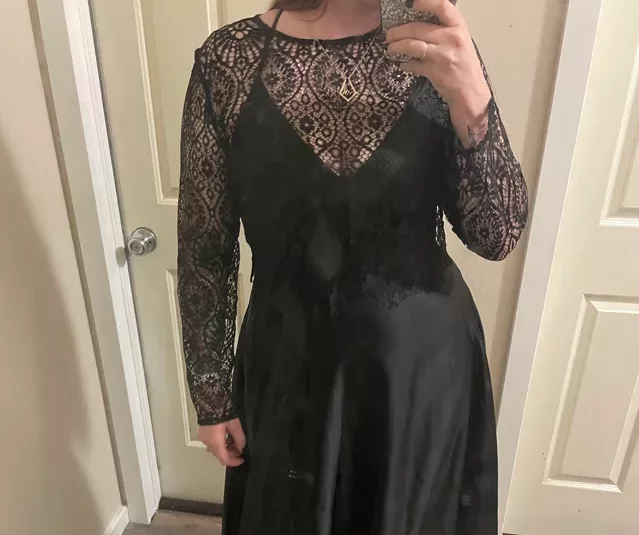 Credit: u/milliemaywho via Reddit
Black doesn't have to be reserved for morbid affairs. In fact, more and more brides are choosing to don the dark color for their big day, leaving pristine whites for more stereotypical brides. What's particularly eye-catching with this dress is the mesh arms, featuring delicate patterns that help to break up the monotony of the design.
Look drop-red gorgeous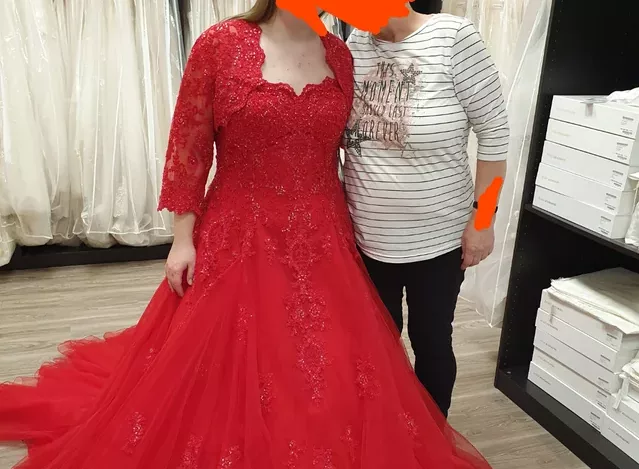 Credit: u/AriaKiitten via Reddit
Go big or go home! This bride opted for this stunning bright red dress, choosing a color that perfectly complements her skin tone. The delicate, light-catching pleating ensures a touch of brightness shimmers throughout the gown, while the gorgeous sleeves blend perfectly into the bodice.
Battle those wedding dress blues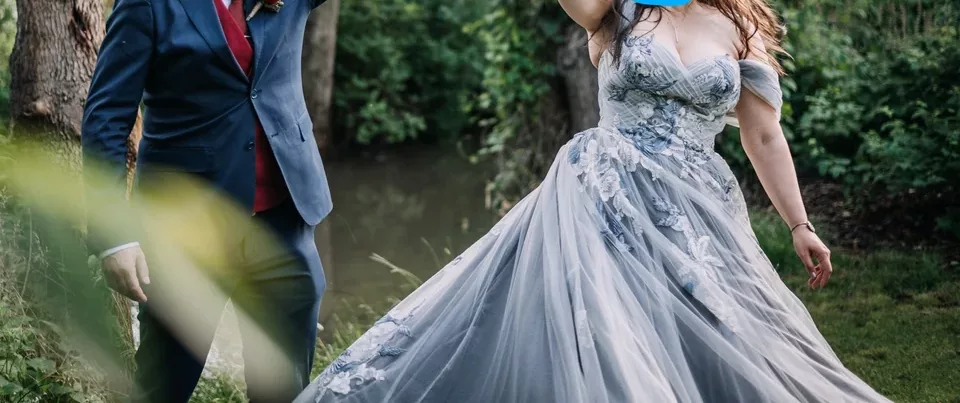 Credit: u/xKobito via Reddit
This blushing bride wanted to match her husband's suit, opting for a gray-blue dress to match his navy ensemble. With heaps of floral designs coating the entire dress and small, airy sleeves keeping the gown in place, it's the perfect choice for a bride who wants to blend tradition with something on the edgier side.
Stand tall in your tulle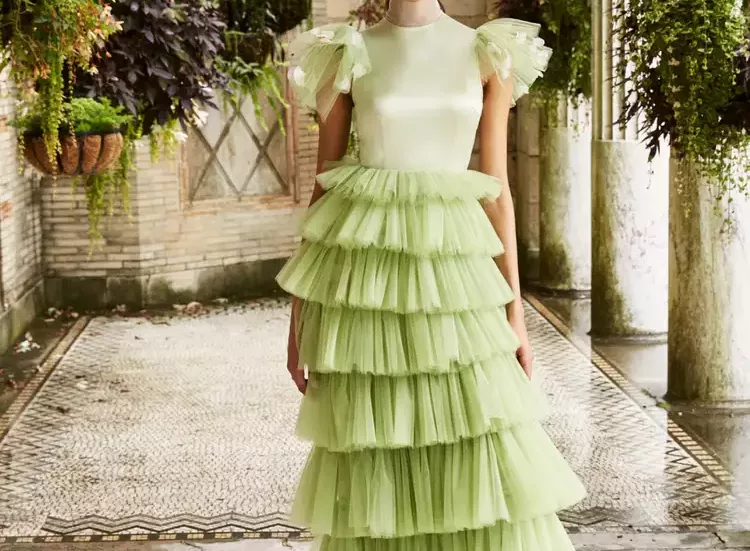 Credit: Andrew Kwon
This dress is sure to make a huge statement. The sleek bodice complements the huge amounts of tulle and ruffles perfectly, all being sheathed in an unusual lime green color. Forgoing the need for a veil or a train, this dress makes enough of an impact without any extra parts.
Patterns are the next big thing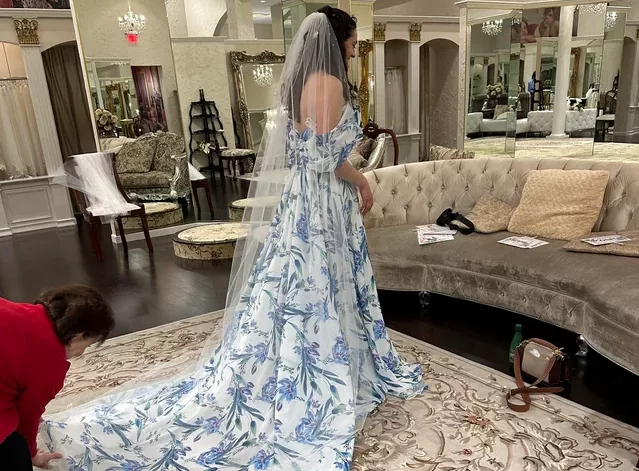 Credit: u/delicatepunkrock via Reddit
If block colors aren't your style, consider opting for a patterned dress instead. This beautiful bride chose a blue floral pattern, sat atop an ivory-white gown. The possibilities for patterns are endless, with an array of designs and colors available to create the wedding dress of your dreams.
Forest green for a forest theme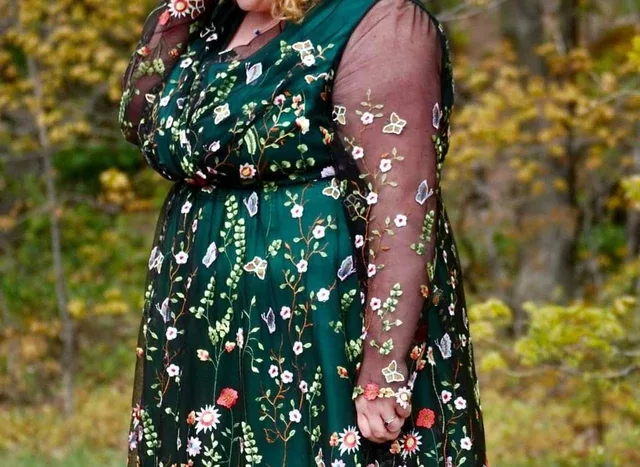 Credit: Tonena via Etsy
If you're choosing to forgo the classic white look, it's important to incorporate your colored dress into your wedding's theme. This bride's backdrop was a lush forest, so she chose a dress that included the shades of the leaves and the brightness of the flowers. Costing around $600, this gown is unlike anything you can buy off the rack.
If you're feeling brave, go short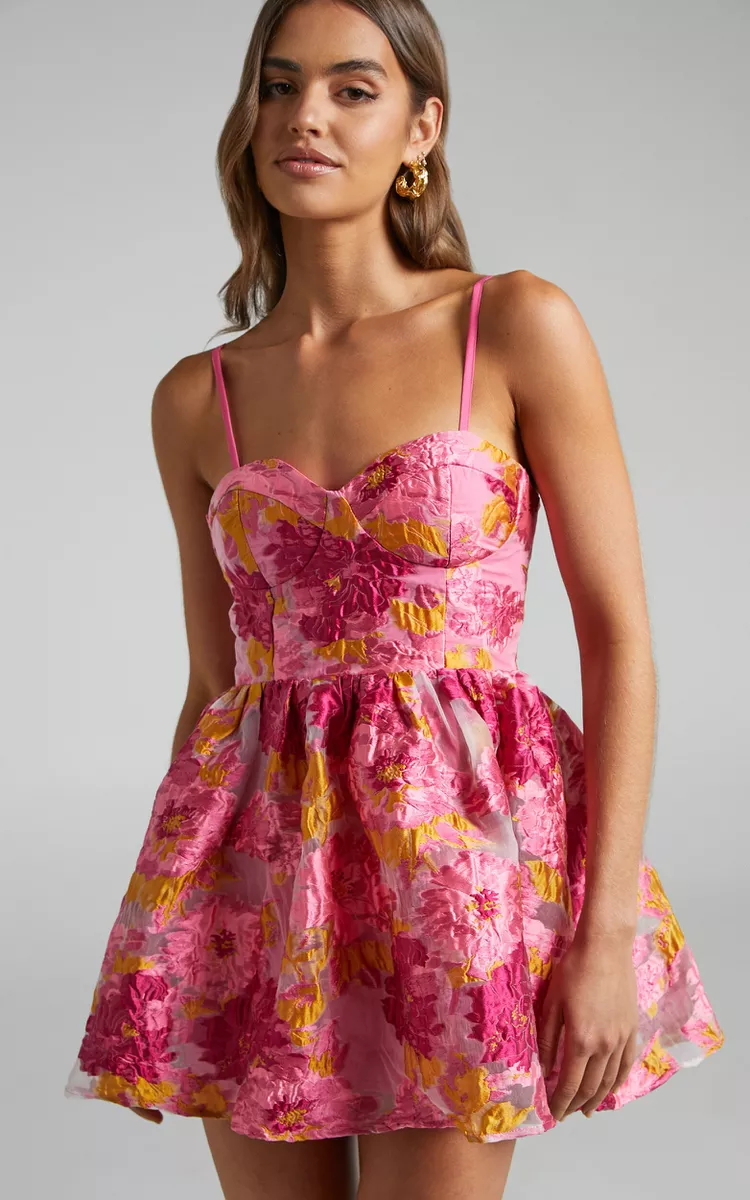 Credit: Showpo
While this outfit may not be the first thing that comes to mind when you think of a wedding dress, it's a great way of incorporating a sense of whimsy into your ceremony. With a sweetheart bustier neckline, this polyester mini dress only costs $90, making it a prime choice for stylish brides who are on a budget.
Ditch the dress altogether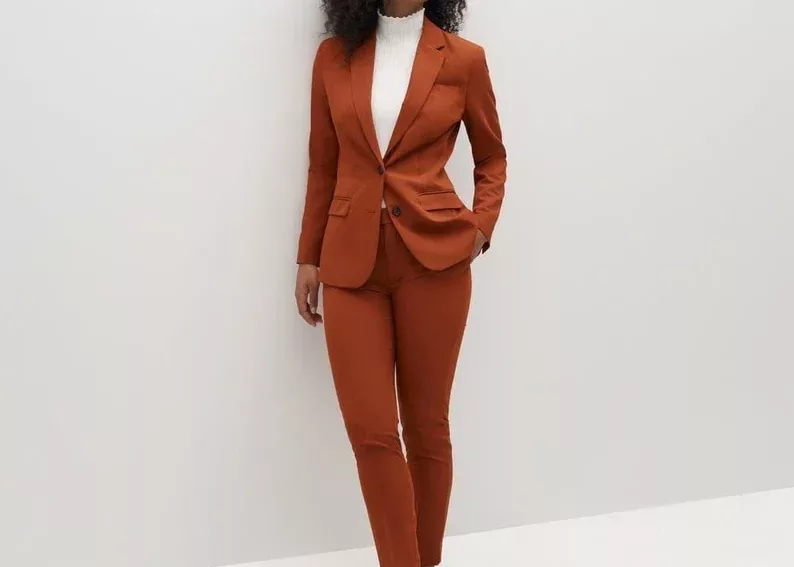 Credit: u/Fancy-Ad5104 via Reddit
Some women prefer to wear a suit for their ceremony, leaving the outdated notion of a dolled-up bride as a relic of the past. This autumn-shaded two-piece suit celebrates the modern bride, but still manages to retain a sense of elegant beauty. Redefining bridal styles, a suit may be the perfect choice for brides looking to break tradition.
Bring your own sunshine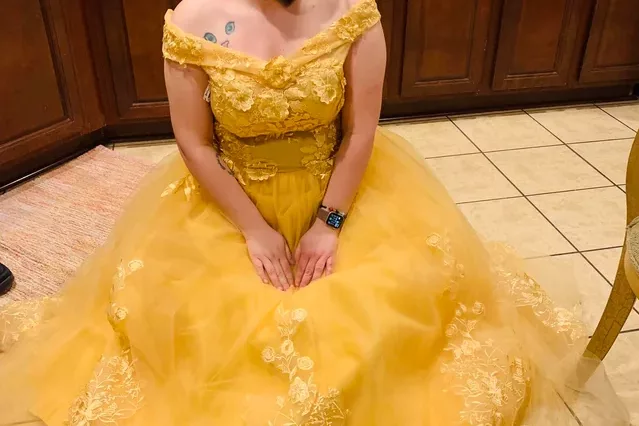 Credit: u/bakedbaker1989 via Reddit
One of the most stressful parts of planning a wedding is never knowing what the weather will be on the big day. Skip those weather woes, and bring your own sunshine! Opting for a bright yellow dress is sure to brighten up any ceremony, regardless of the skies outside.
Flourish in florals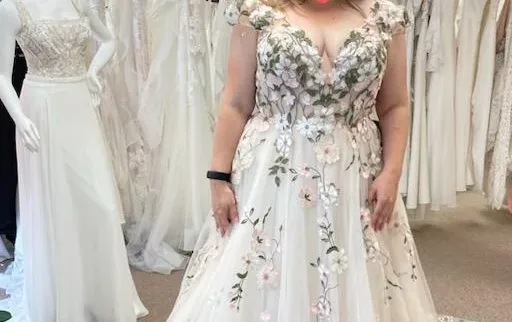 Credit: u/hpthg77 via Reddit
Opting for a non-white gown doesn't mean you have to completely throw out tradition. This gorgeous floral dress, for example, keeps undertones of the classic bridal look while adding an extra twist. The gown's cap sleeves are incorporated the dress's pattern, adding a sense of unity.
Champagne all round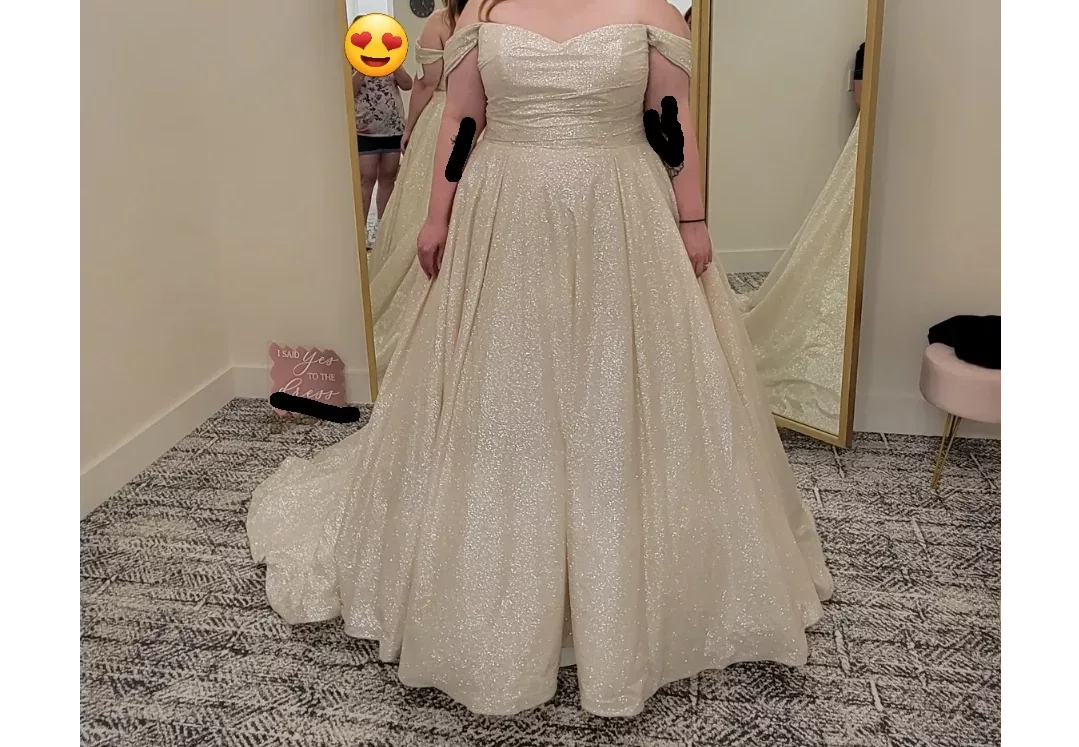 Credit: u/verifiedgarbagecat via Reddit
This gorgeous champagne color looks great against any skin tone, making it a perfect choice for women everywhere. The material catches the light beautifully, making the bride feel beautiful as she glides down the aisle. At a distance, the gown looks almost white, making it ideal if you don't want to stray too far from tradition.
Add couture to your ceremony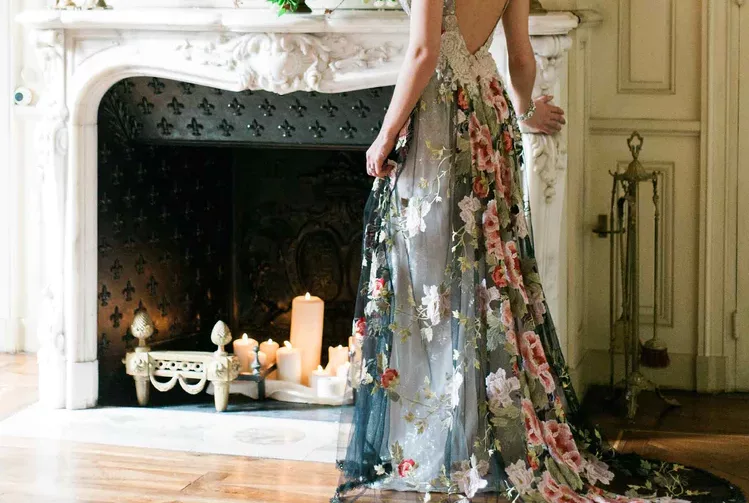 Credit: clairepettibone.com
This unique dress features a floral still-life set against a dark and brooding backdrop, exuding a sense of mysterious romanticism. Embroidered with shining silver sequins, this dress offers a low open back to combat its high levels of fabric along its dramatic train. The rich embroideries give the illusion of a painting come to life, making this gown truly special.
Battle bland looks with color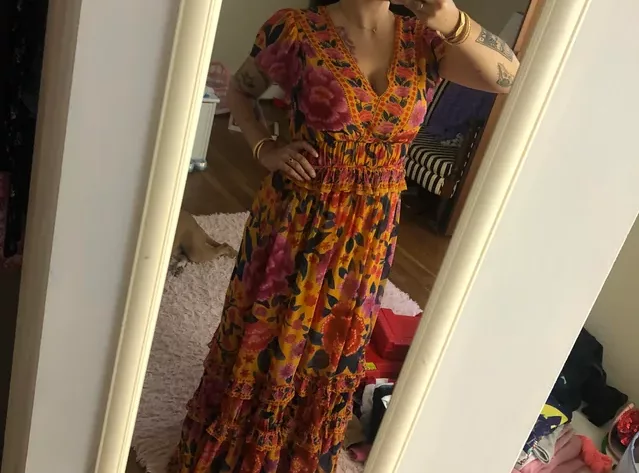 Credit: u/faroutsunrise via Reddit
If you're going to wear a colorful wedding dress, you may as well fully commit. That's exactly what this bride did, wearing this stunning floor-length gown that's coated in bright and bold floral patterns. She even customized the dress, taking up the sleeves to ensure that it suited her personal style.
Add some color to your veil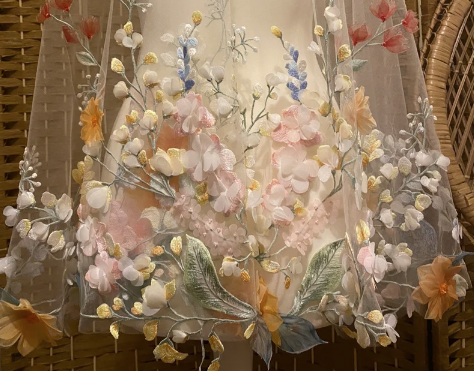 Credit: u/SwitchingObsessions via Reddit
If you want to tie the knot wearing a conventional white gown, but still desire some pops of color here and there, consider adding some different tones to other parts of your outfit. This bride added a gorgeous floral design to her veil, while keeping her dress nice and simple, getting the best of both worlds.
Design your own dress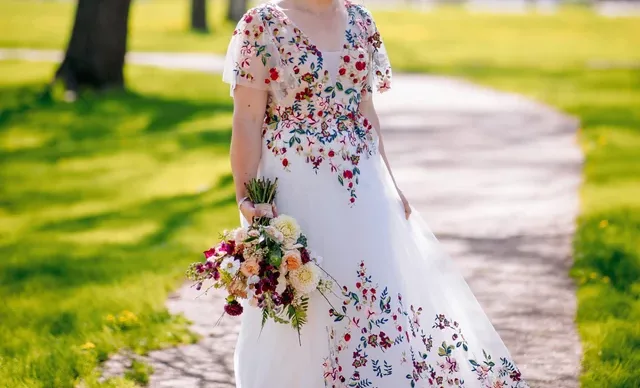 Credit: u/m29color via Reddit
This blushing bride couldn't find the dress that her heart truly desired, so she set about designing her own. The custom-made gown features splashes of crimson, emerald, and pale yellows to spice up the overall look, giving it an unusual edge. Matching her dress to her floral arrangement is an inventive way of ensuring her colorful gown matched the rest of her ceremony.
Blue and gold is an eye-catching combo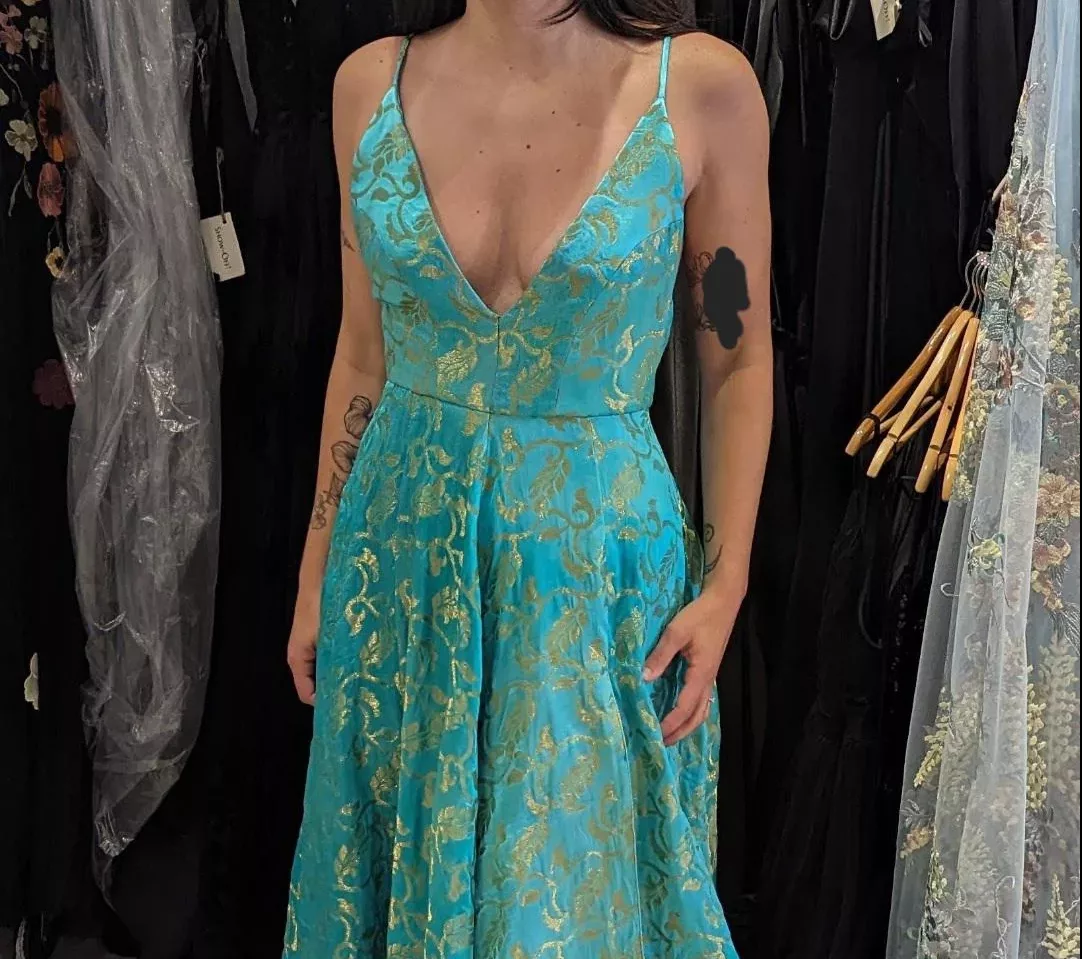 Credit: u/ambrosiapie via Reddit
This gown brings a touch of magic to the bride-to-be, sheathed in shades of glimmering gold and tranquil turquoise. The deep V-neck cut adds some definition to the overall look, combating the material-heavy bottom. The intricate gold design captures the light beautifully, ensuring that all eyes will be on the bride on her big day.
Stun in sequins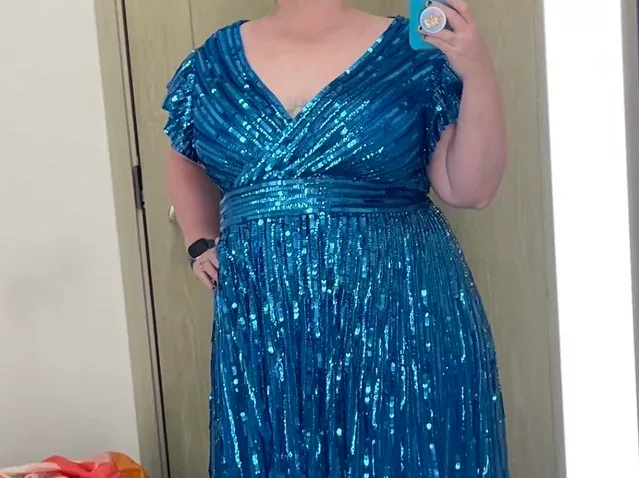 Credit: u/KieshaK via Reddit
This dress will fulfill all of your mermaid fantasies, coated with sequins placed by hand atop a gorgeous sapphire fabric, with unusual flutter sleeves finishing off the look. Costing just under $600, this gorgeous gown is sure to make a bold statement as you walk down the aisle.
Bloom in blue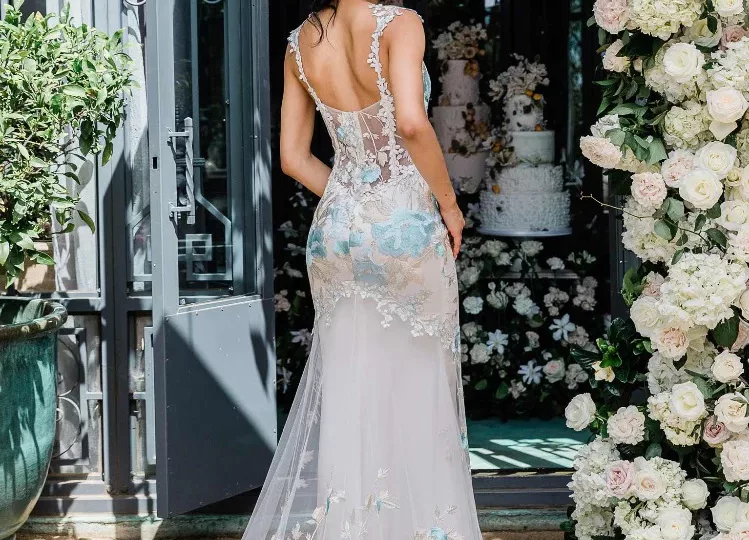 Credit: clairepettibone.com/
Add subtle shades of color to your wedding dress to offer a glimpse of your personality. The azure blue flowers mixed with stunning silver branches make this gown pop, creating a one-of-a-kind look that guests are sure to remember long after your ceremony is over.
Black-and-white offers a timeless appeal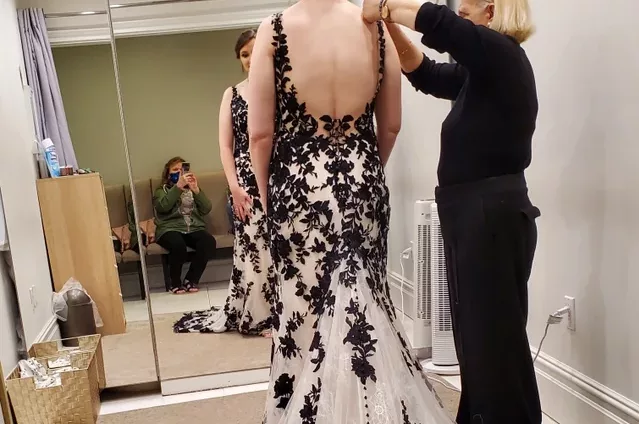 Credit: u/bxnutmeg via Reddit
If you're seeking a dramatic dress, consider choosing a black-and-white color scheme. This monochromatic gown features exquisite detailing, right down to its tiny black buttons. The floral pattern works seamlessly as the dress's straps, ensuring that not one inch of fabric or material goes to waste.
Look lovely in lilac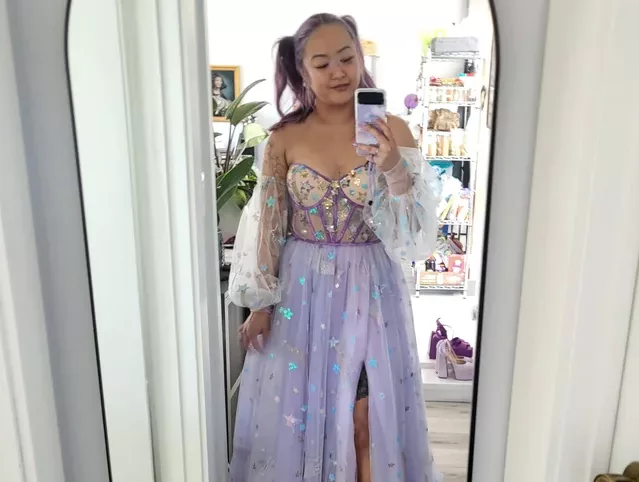 Credit: u/steensley via Reddit
If you've got a theme – commit to it! This bride opted for a lilac-colored wedding dress, complete with purple hair, lavender shoes, and lilac nails. With bold stars covering the sheer fabric, this dress was sure to turn heads as she glided down the aisle.
Teal death do you part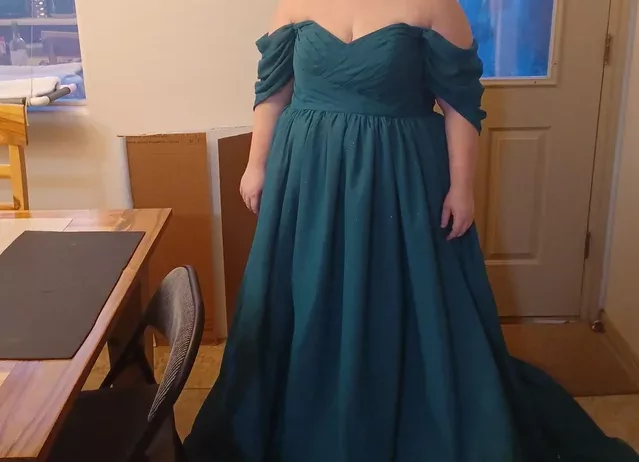 Credit: u/smokestackcat via Reddit
If you're struggling to decide on a color for your wedding dress, teal is always a safe option. Not only does it complement any skin tone, it's also easy to build a theme around. Bridesmaid dresses can be easily matched in shades of gray, while floral arrangements need to only feature a pop of blue to tie the entire ceremony together.
Be a vision in velvet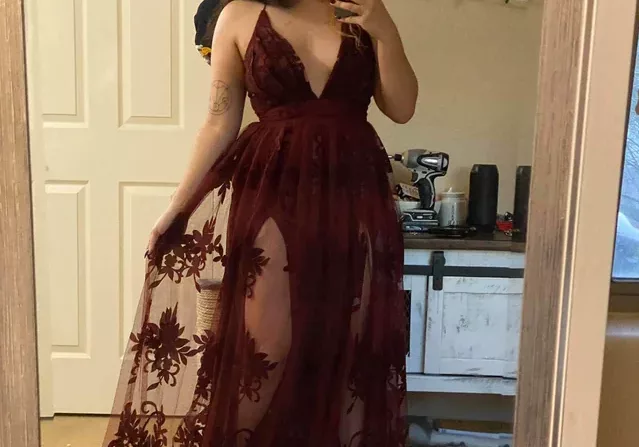 Credit: u/rebelrebel66 via Reddit
Wedding dresses don't always have to be made of sheer or tulle fabrics – experiment with what suits your body best! This bride managed to snag this dress for only $55 – showing that not every dress has to break the bank, but can still sheath you in style.