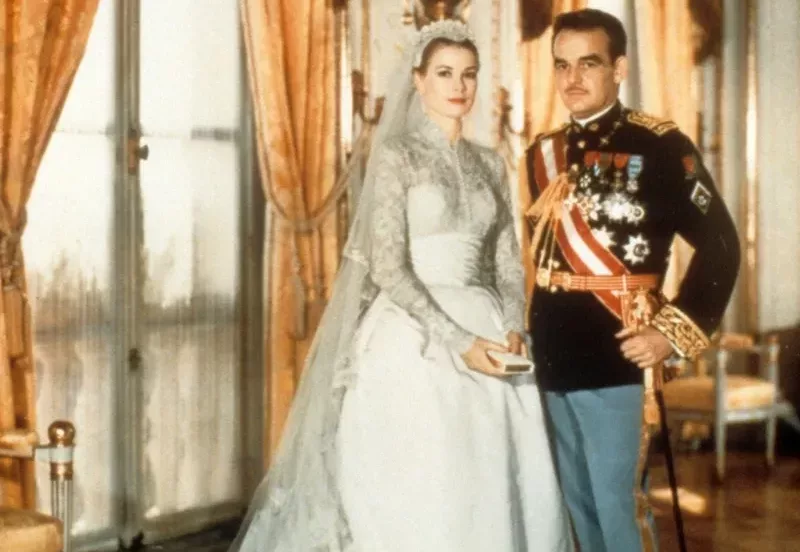 Credit: Alamy Stock Photo
Elvis and Priscilla Presley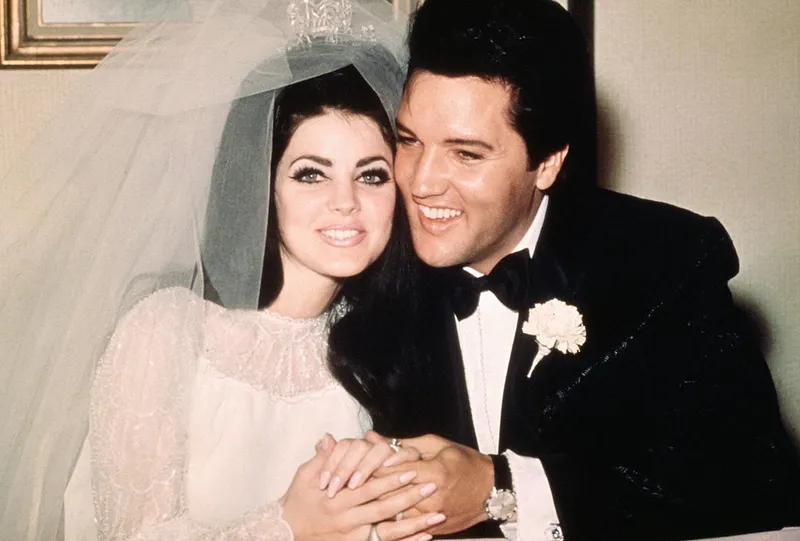 Credit: Bettmann via Getty Images
This is one of the oldest dresses on our list, because over half a century ago on May 1 1967, Priscilla married Elvis Presley. It really was only fitting that the King of Rock 'n Roll took his fiance all the way to Las Vegas to get married! They held their ceremony at the Aladdin Hotel, where they also recited their vows their too, and Priscilla actually designed her own dress – how impressive!
Buster Keaton and Natalie Talmadge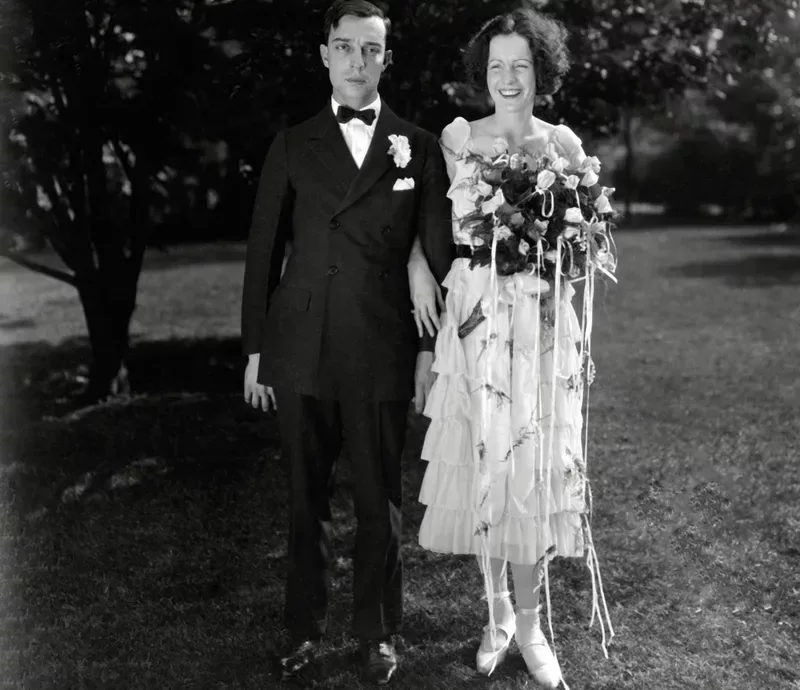 Credit: Alamy Stock Photo
Weddings in the early 1920s were miles away from what they're like now 100 years later – and this photo from 1921 is a great example of the major differences. These silent film actors, Natalie Talmadge and Buster Keaton, had an absolutely beautiful wedding as they tied the knot. Talmadge carried a bouquet of roses with long ribbon streams – this was a hugely popular style of bouquet at the time.
Cindy Crawford and Rande Gerber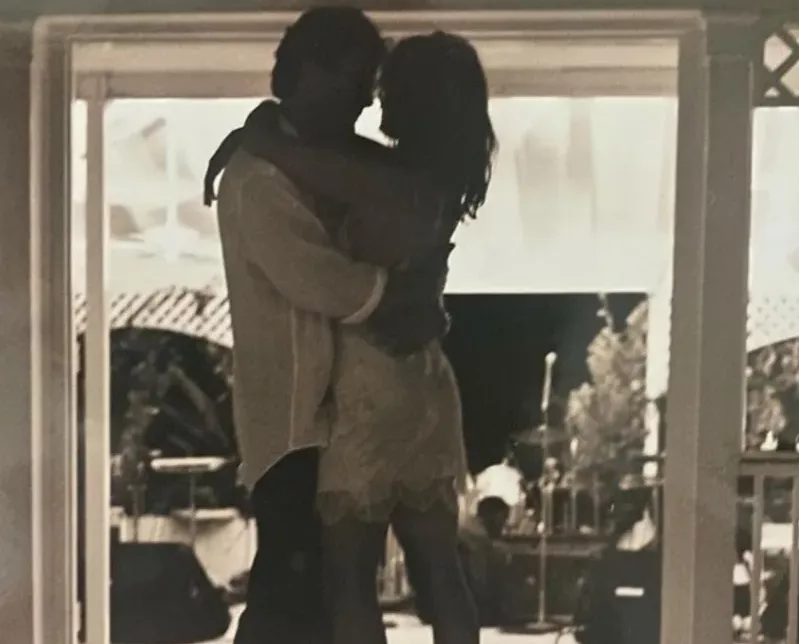 Credit: @cindycrawford via Instagram
Top model Cindy Crawford married fellow model Rande Gerber in the trendiest way. They had a beach wedding on May 29th 1998 in the Bahamas. The laidback wedding vibe had Rande wearing a white shirt and black pants, and with Cindy wearing just a lacey slip dress. Apparently, after the ceremony, both of them got into their swimming suits and went for a swim – what a cool way to spend your wedding!
Harry and Bess Truman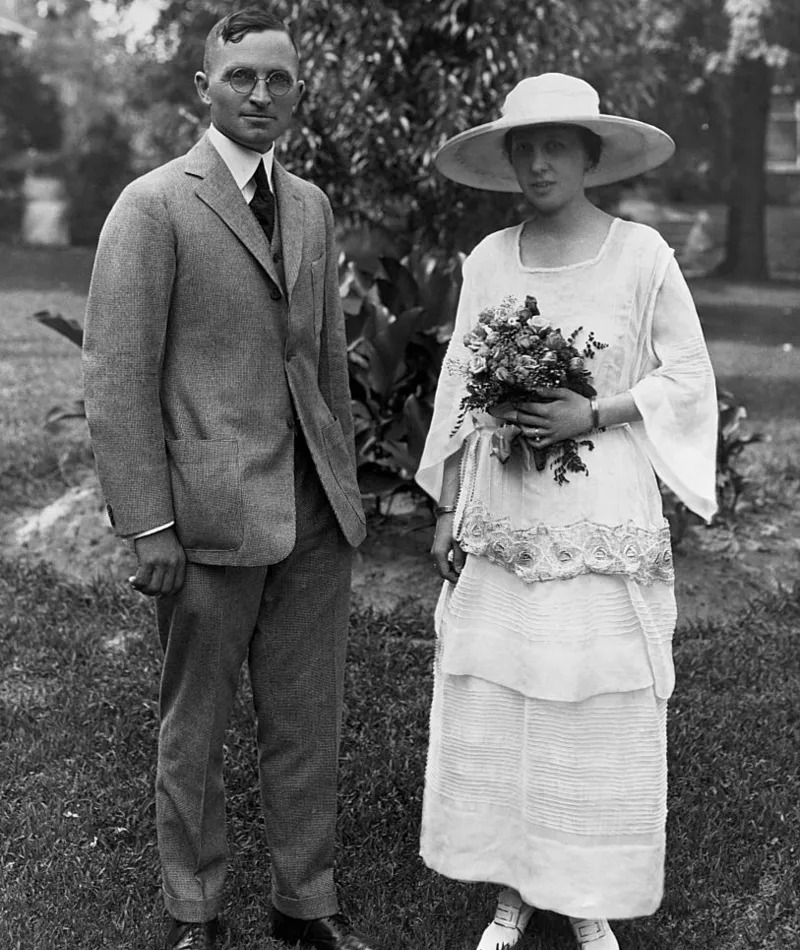 Credit: Historical via Getty Images
On June 28th, 1919, Elizabeth Virginia "Bess" Wallace got married to Harry Truman, who would then go onto becoming the president of the United States eventually. Bess particularly loved fashion as she got older and loved to wear interesting, trendy hats. Harry and Bess met before World War I, with Harry proposing to Bess in 1911, to which Bess said no. He then went onto decide that he wanted to give Bess a comfortable living before proposing to her again.
Betty and Gerald R. Ford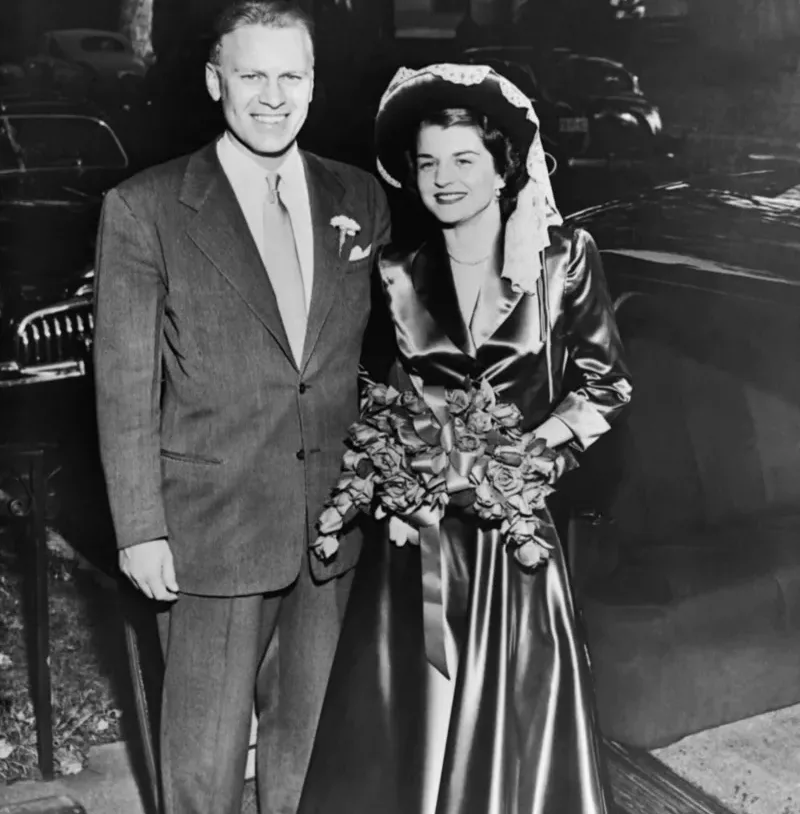 Credit: Historical via Getty Images
In 1948, at the Grace Episcopal Church, Elizabeth Anne "Betty" Bloomer married Gerald R. Ford. Going against stereotypes, Betty decided to wear a stunning shiny dress with a matching pair of pumps to coordinate – a beautiful choice that stays away from the 'white dress and heals' wedding dress. Prior to Gerald, Betty was married to William G. Warren, but got divorced in 1947. Due to Jerry running to congress, they had to put the wedding on hold so that the divorcee didn't affect the voters opinions.
Grace Kelly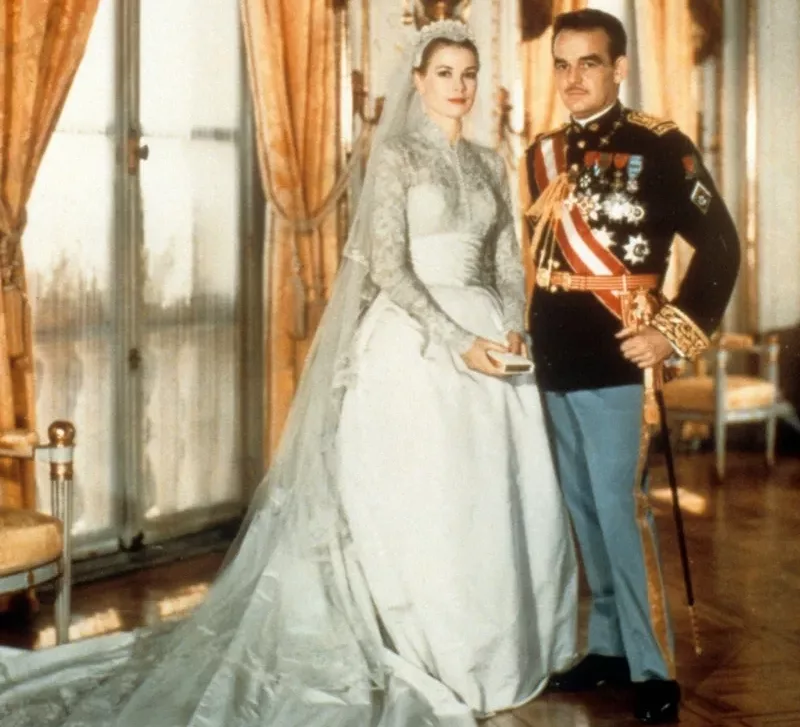 Credit: Alamy Stock Photo
When it comes to classics, Grace Kelly's wedding dress is a hard one to beat. She married Monaco's prince in 1956, wearing a Helen-Rose-designed dress with a high-necked, long sleeve gown. The bodice was made of delicate Brussels lace, with beautiful pearls hand-sewn into it – and lets not forget the breathtakingly long train! This dress is regarded as one of the best celebrity wedding gowns ever, including Kate Middleton.
King Edward and Wallis Simpson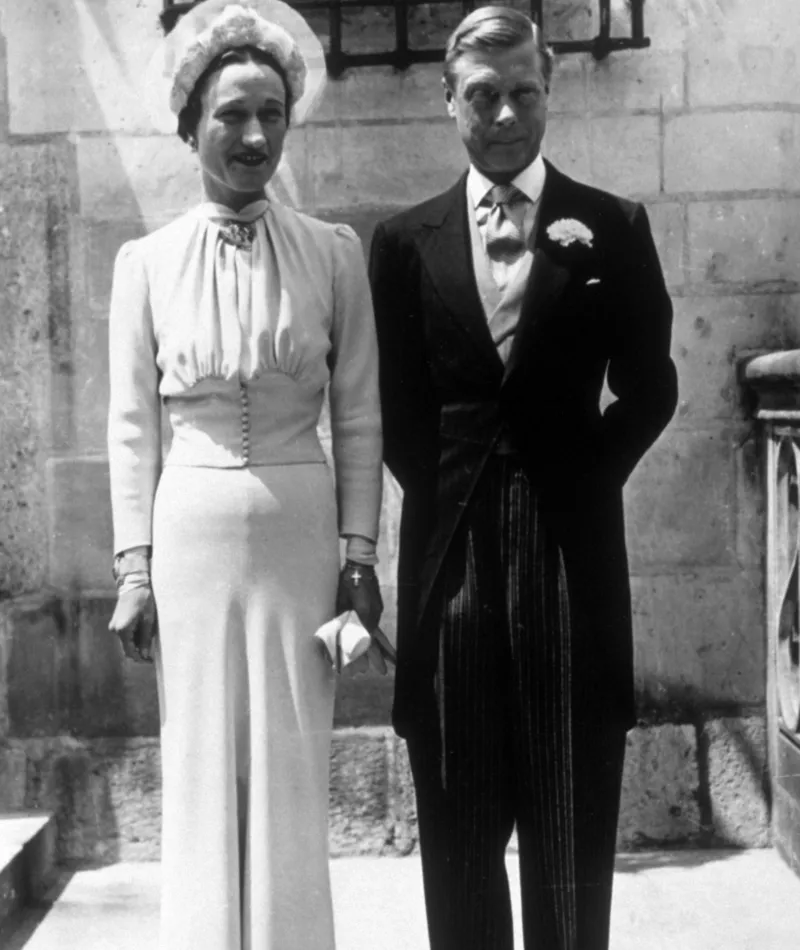 Credit: Keystone via Getty Images
In 1937, King Edward made the crazily big decision to abdicate the throne to marry Wallis Simpson, an American who had been divorced twice. This result was the biggest sacrifice ever, and resulted in the shortest reign in British history. Of course, the wedding wasn't exactly smiled upon everybody, but Wallis seems to look extremely happy in her wedding gown.
Burton and Taylor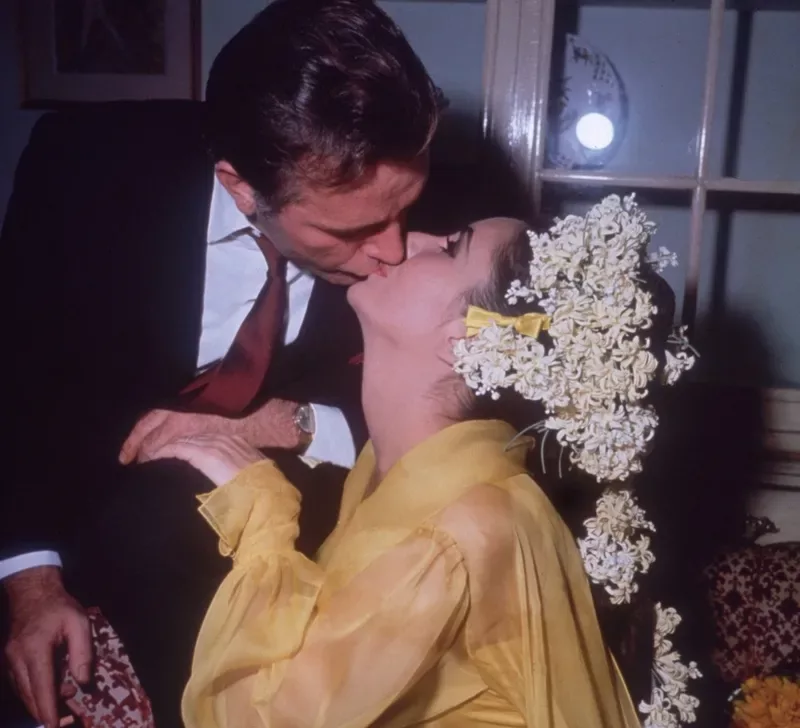 Credit: Hulton Archive via Getty Images
Richard Burton and Elizabeth Taylor actually had 2 weddings! However, at their first wedding in 1964, Taylor wore a bright yellow dress with a beautiful floral headdress, with her long flowing hair wrapped within it. They unfortunately divorced in 1974, but did manage to rekindle things in 1975 and eventually remarried each other – it sounds like it's straight out of a romance novel!
Natalie Wood and Robert Wagner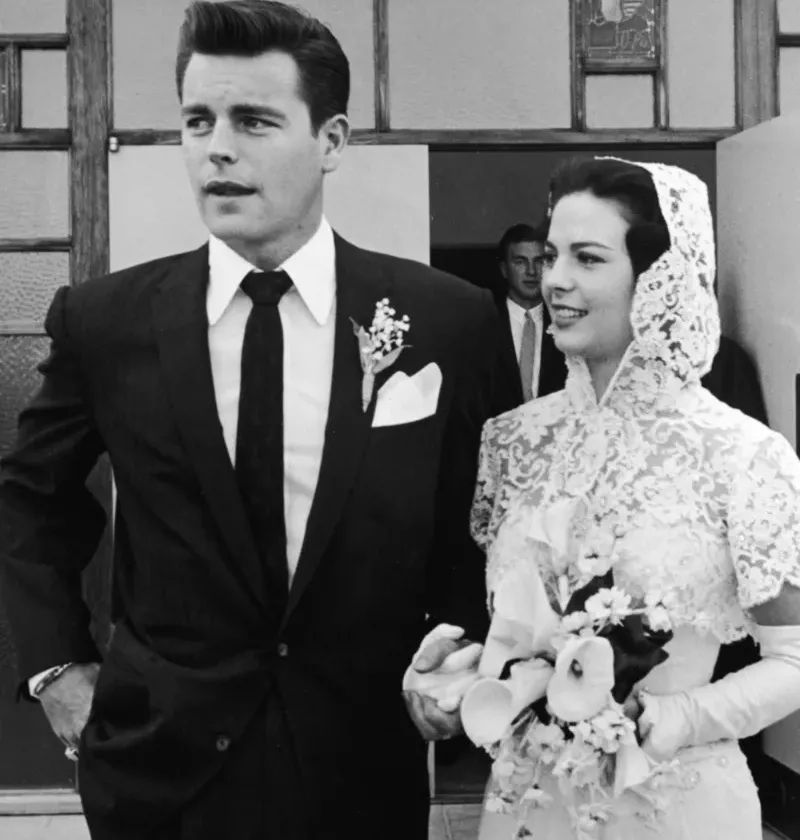 Credit: Jack Albin via Getty Images
Natalie Wood and Robert Wagner had a controversial relationship to say the least. The two got married in Arizona on December 28, 1957, with Wood wearing a stunning white dress, with a bejewelled, laced shoulder cover, however they were divorced by 1962. 10 years later in life, they were remarried to one another and continued to have an often fiery relationship, until Wood's mysterious passing in 1981.
Marilyn Monroe and James Dougherty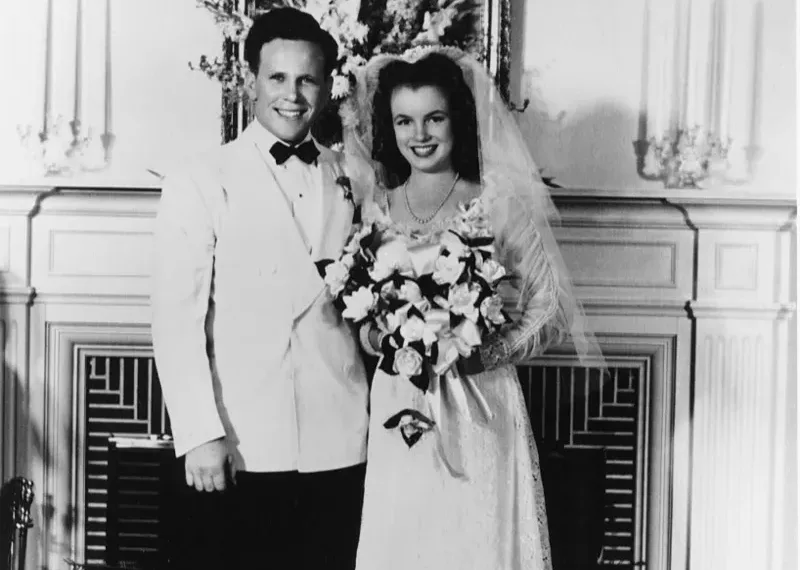 Credit: Sunset Boulevard via Getty Images
Norma Jean Baker, also known as Marilyn Monroe, got married for the first time at just 16 years old! James Dougherty was 21 years old and was Marilyn's neighbour, they got married on June 19, 1942. Their marriage only lasted 4 years, but for an extremely sad reason. Norma Jean was discovered for modelling and acting by an agency, and they stated she could only sign the contract as an unmarried woman – therefore it ended.