French Twist
Credit: Andreaa Haba via hairstylecamp
Much like with cuisine, many classic hairstyles find their origin in France. Unlike French cooking though, this style is super simple and doesn't require hours of effort to achieve the desired glamour. Comb the hair back into a low ponytail and twist the base clockwise while holding the tail upright, then secure and repeat with any leftovers.
Long, romantic curls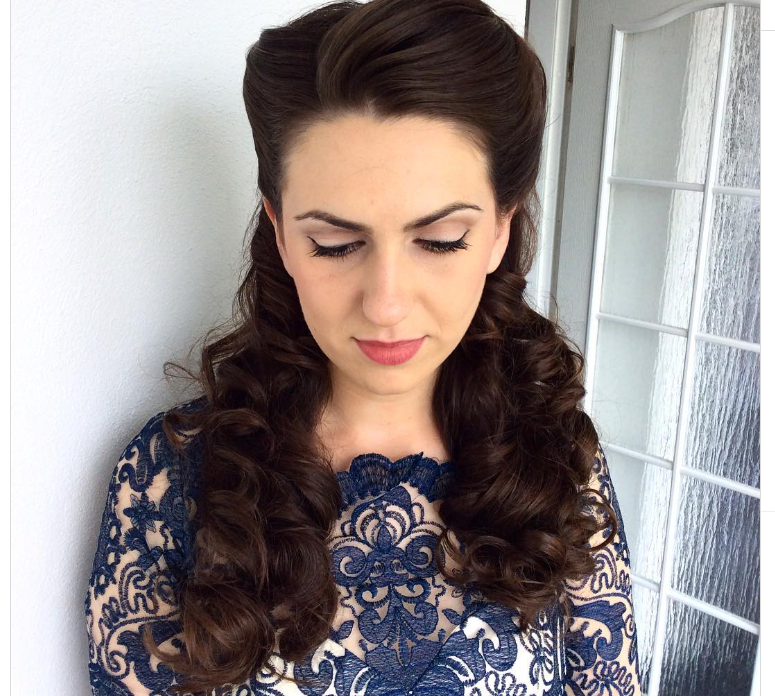 This style is reminiscent of the 1940's victory curls, which as the name suggests, saw a sudden emergence after May 1945. You can identify the style by a few key characteristics, such as the pinned back sides, elegant sloping fringe section, and bouncy, bushy curls. It fits wonderfully with the contemporary trend of playing with natural textures.
Shorter modern V-curls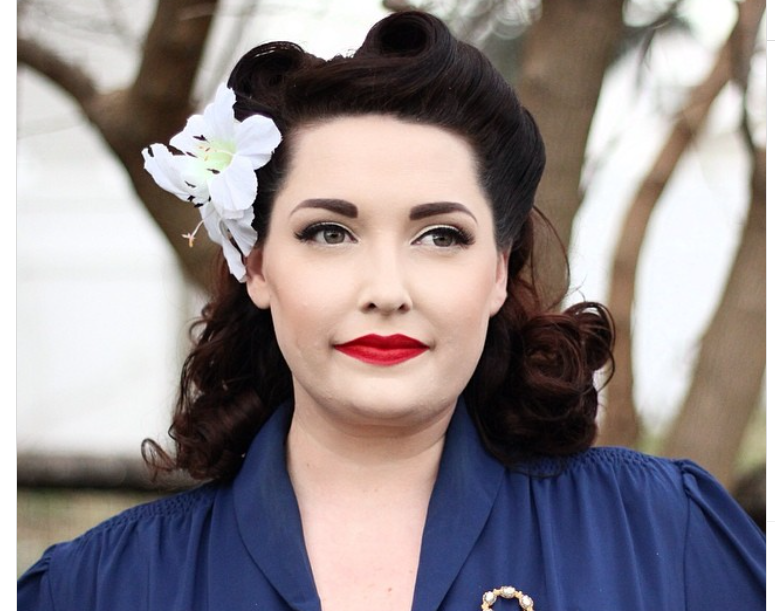 Credit: the_glambassador via Instagram
This look takes the victory curls and uses them to celebrate shoulder-length hair. You can get this style with thinner hair too, as you're relieving some tension with a shorter cut you get more volume in your curls. It also features a much more dramatic and shiny curve, a nod towards Rosie the Riveter and her contemporaries.
Marilyn Glam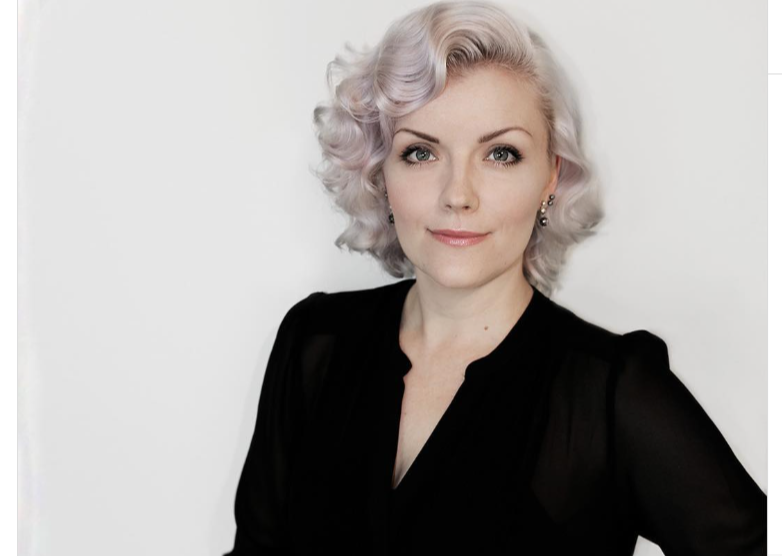 Credit: mariaoldenstedt via Instagram
A short and springy look like this mixes classic and modern-day trends wonderfully. Small touches like the blunter ends around the neck and the gorgeous wavy fringe give that glow of old-school glam, while the silver-grey with subtle pink and purple undertones is the kind of effect only modern professionals can achieve.
Lazy girl meets Midsomer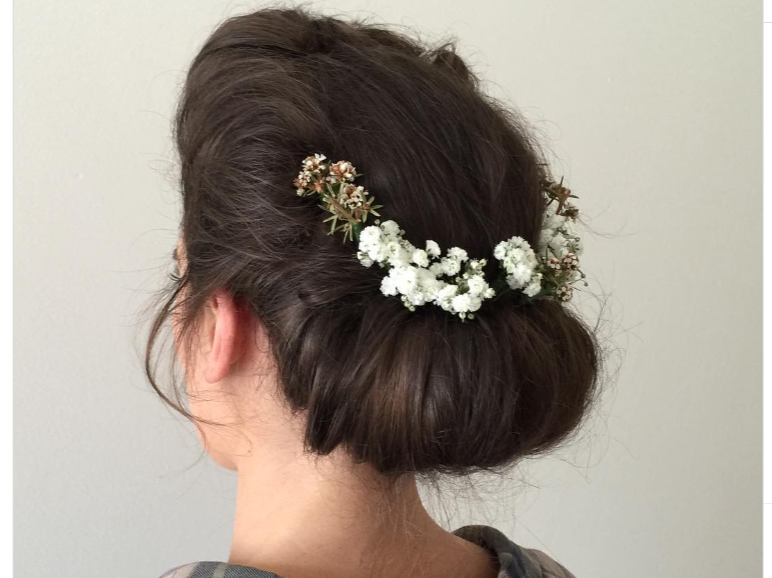 Credit: theprettyparlour via Instagram
This kind of hasty, tossed-up bun is perfect for those with longer hair who just want to get out and enjoy life. As long as the structure is sound enough, you can pull out a few curls for some studied carelessness, and if the half bun/half plait technique is a little tricky you can use the headpiece as a hack for hold.
Scraped updo for natural curls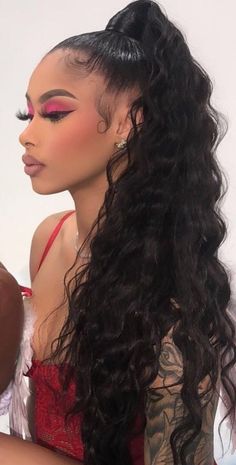 Credit: rosehair via Pinterest
This phenomenal look plays with contrasting textures and incorporates elements that black women have been pioneering since the mid-1900s. You see these precise, shaped curls flattened against the skin in a couple of places over the century, but it's possible that Josephine Baker, French actor, dancer, singer, and freedom fighter, was the first person to popularise them.
Beehive in a bandana
Credit: allieliliokalani via Instagram
A lot of vintage styles are all about volume. Hairspray was invented in the 1920s and immediately took the country by storm, and by the 60s that burst of volume and hold reached the beehive. A beehive or bandana is great to emphasize the fact you haven't gone completely 60s with it, as the modest size of the hive keeps things in proportion.
Vintage diner girl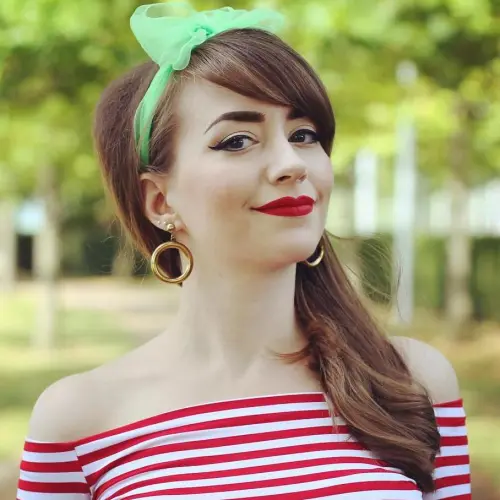 Credit: cicimariestyle via Instagram
This retro throwback is bursting with charm and pretty versatile, it would work great with most textures and any mid to longer-length hair. The fringe is simple and frames the eyes and brows, the pinned back sides help elongate the face, and the shoulder-swept hair can be tousled or curled for your desired amount of edge.
Low-blonde bun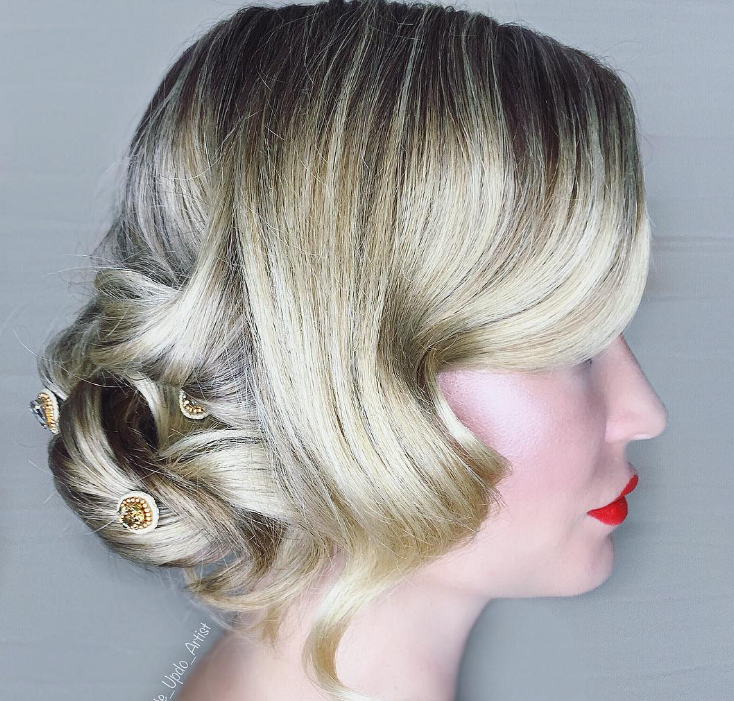 Credit: annette_updo_artist via Instagram
The blonde is pretty essential for the right vibe, but it works well with most hombre effects too. This 1920s flapper-inspired updo takes the low braid look that's traditional of bridesmaids and adds some thunder-stealing highlights. The swooping fringe rests perfectly over the cheekbone for that Zelda Fitzgerald look.
Face framing copper curls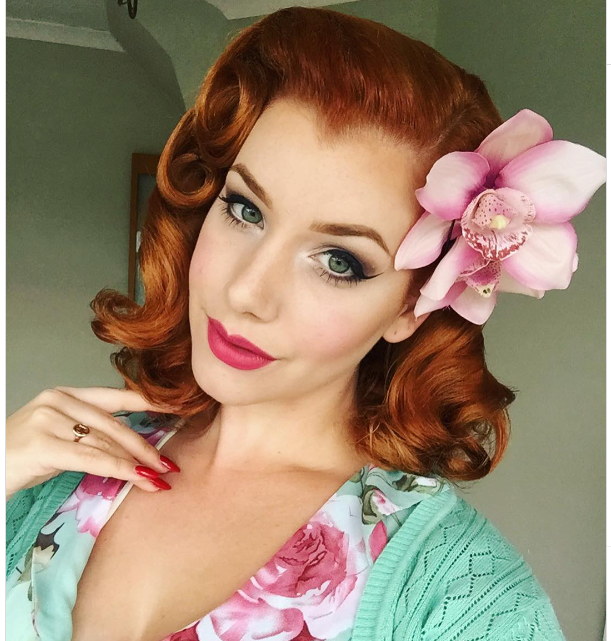 Credit: missvictoryviolet via Instagram
Here it's all about squaring off of the top of the head. The sharp slope of the quiff, the flat and defined curls, and the well-placed orchid all help to add shadows and highlights where it's needed. Hair ornaments like flowers have been popular for centuries, and can instantly elevate a look to something more formal or celebratory.
A wave frozen in time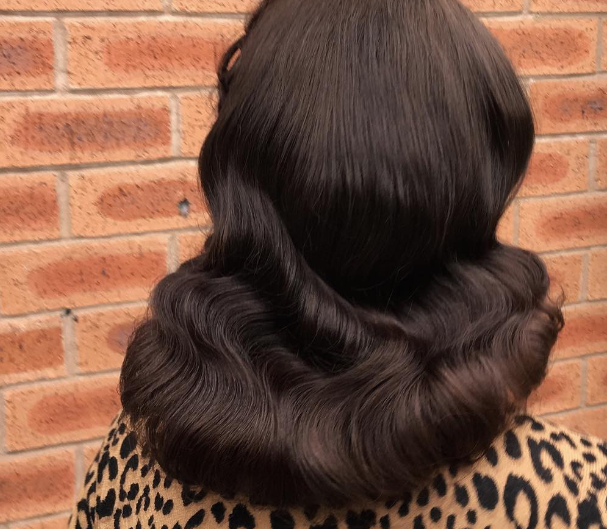 Credit: neciashairstyling via Instagram
The foundation here is one solid wave held in place by plenty of products. It's a striking effect from around the 1930s that makes a striking silhouette from every angle. Its jazzy appearance can be achieved with a combination of a curling iron, hairdryer, and plenty of mousse of hairspray, but it's such a statement it's well worth the effort.
Hot-roller curls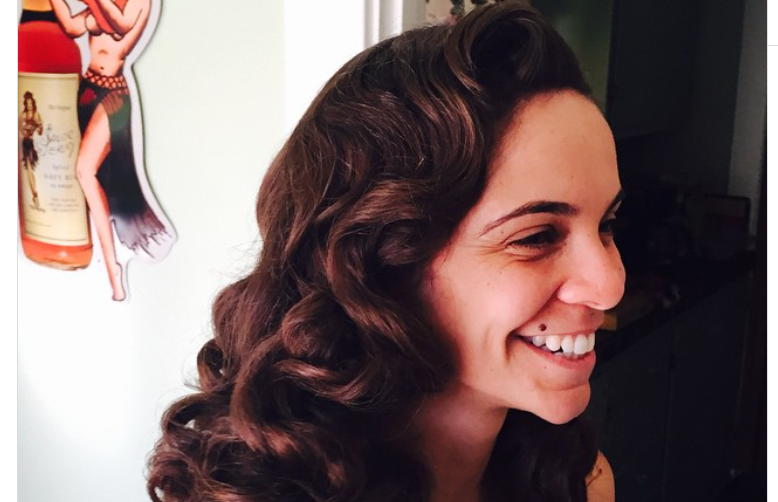 Credit: iconicpinups via Instagram
These tight, tidy waves are perfect for any occasion you want to add a little modern-Bond girl twist. It can sit quite heavy on the head and shoulders, so it wouldn't suit rounder faces as well as it does other shapes, but it's much easier to achieve than it may seem. Plus you get to feel retro while getting ready with your rollers in.
Flapper faux-bob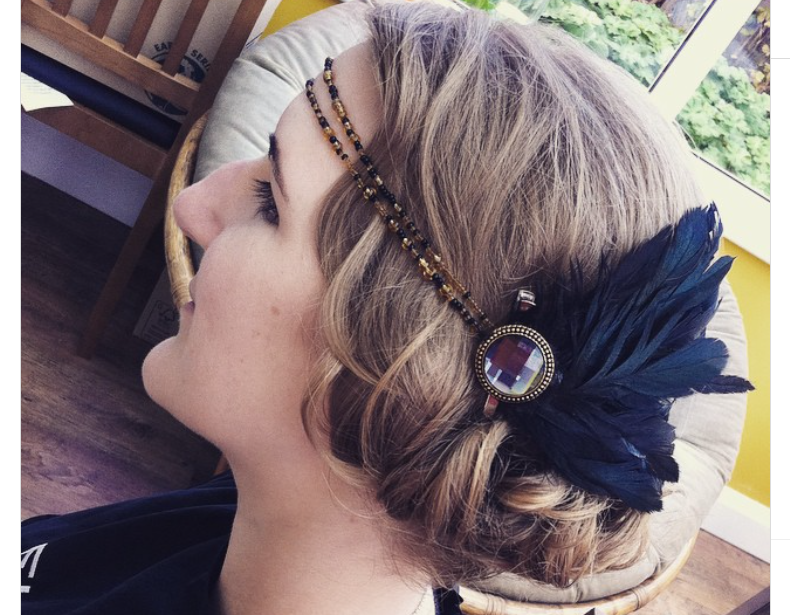 Credit: ljc_hair via Instagram
This simple take on the flapper bob can be thrown together in minutes, as the headdress and feather give you most of the hold. You can see from the density of the low bun that the model has quite long hair, which is tied and hidden underneath the updo and crown. You can incorporate braids or twists to get the shape right for your length.
As seen from space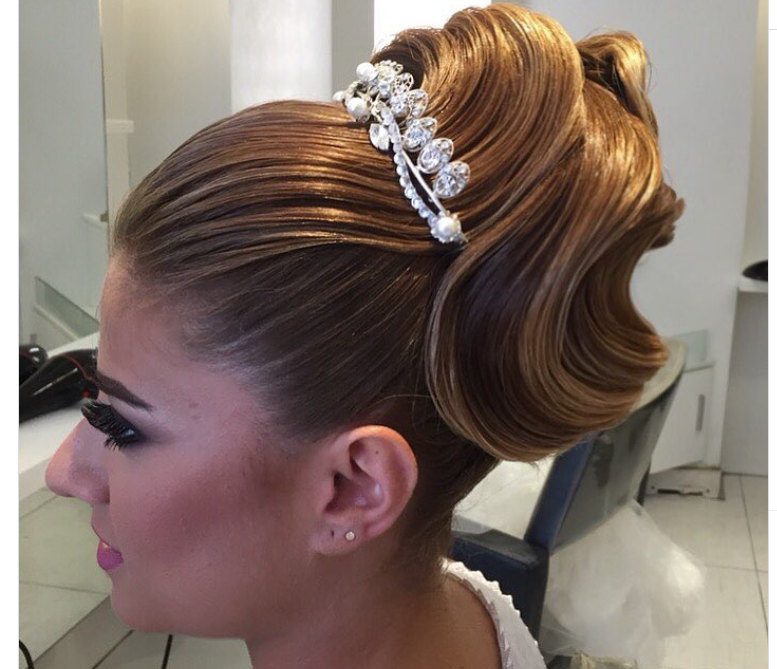 Credit: mikekojak via Instagram
These kinds of striking curls and slopes were popular among brides between the 1930s and 1960s when pomade really hit its stride. The wavy, buttery smooth finish is so unlike what people wear at the moment that it comes right back around to being cutting edge and out there. You'll need a strong holding gel and plenty of sprays to finish.
Fingerwave bun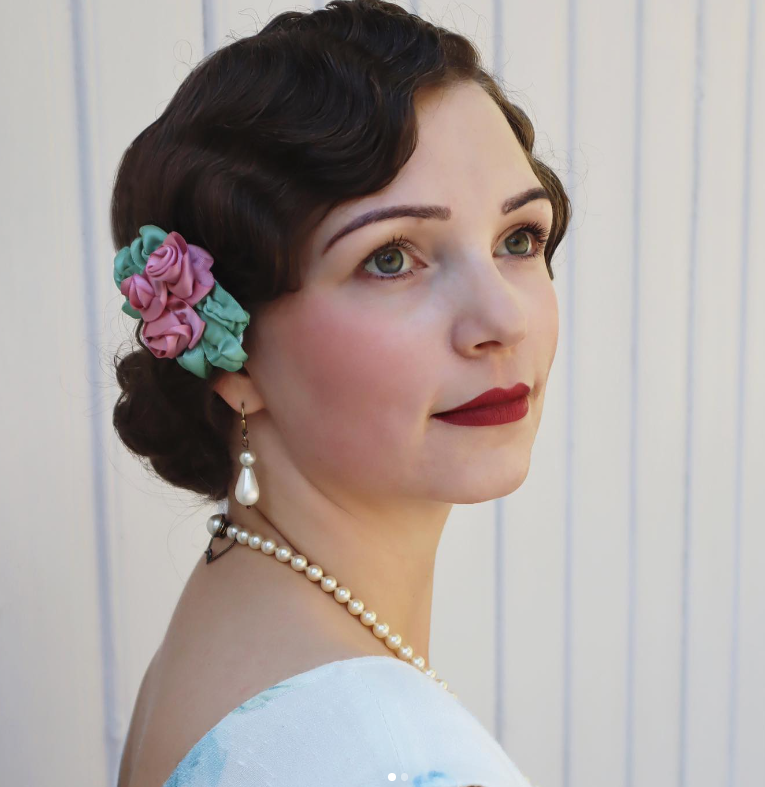 Credit: kajakulbraaten via Instagram
These stunningly simple waves are easily obtained with a light curling and are a fantastic way to add more dimension and texture to shorter hair. The back is another low updo, which you can add more interest to by continuing the light wavey curls all the way around the back. The thinner eyebrows and bright lipstick are also core to the style.
Thick and longer Mod cut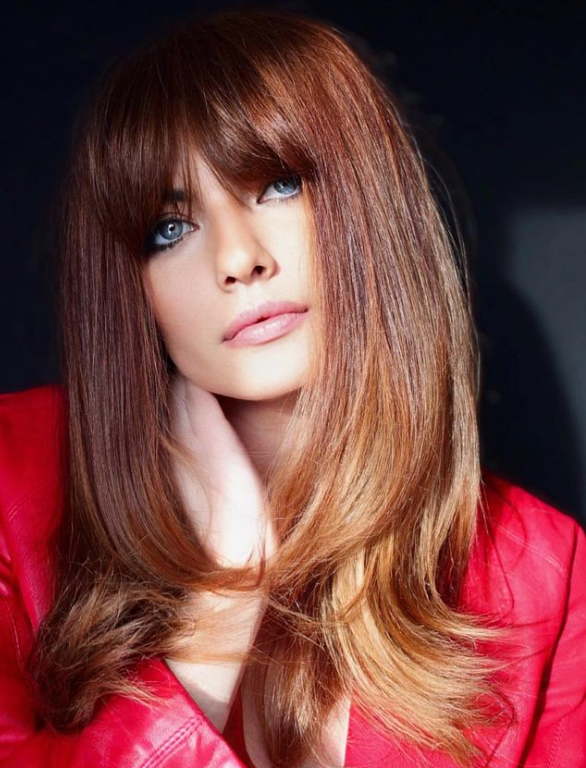 Credit: sarabotsfordhair via Instagram
This chic 70s-inspired cut has been adapted by every great frontwoman in music at some point in time. It's an iconic, youthful, and energetic style that's part glamour and part wild at heart, and the basic style can be worn in a couple of great ways. It's handy for framing the eyes and hiding the forehead if you need to.
Red carpet waves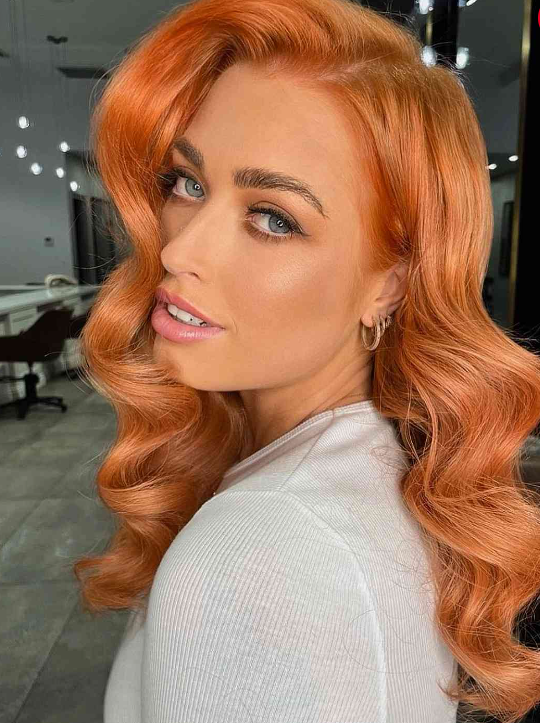 Credit: bel_pipsqueekinsaigon via Instagram
As the name suggests, this is a go-to for red-carpet stylists. The old-school Hollywood curls were popularized by Veronica Lake and have become a timeless, glamorous look that frames virtually any face shape with ease. Take it an inch at a time with the curling iron and get some volume in the body by drying it with a mousse.
70s shag and feather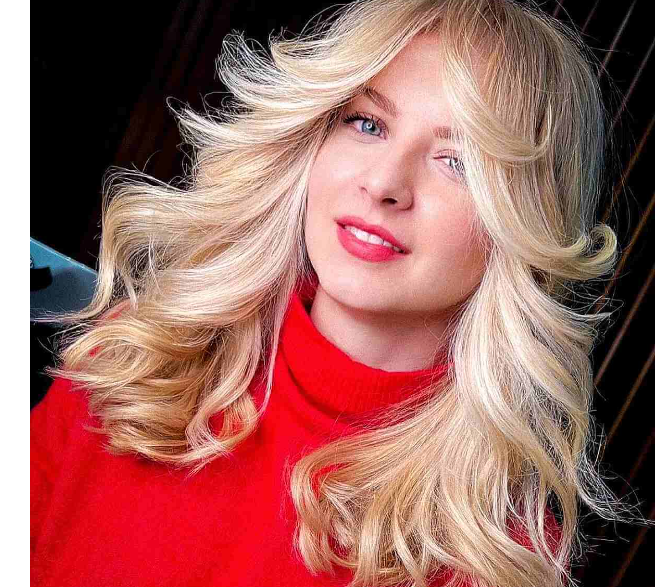 Credit: lessiashport via Instagram
Shaggy does tend to fall quite heavy on the face, but this one is as light as air. The blonde helps brighten everything up, and the choppy, feathered ends add so much bounce and movement while helping to add shade and dimension to the face. The blowout center parting lets the face breathe and float among the waves.
Sculpted side part waves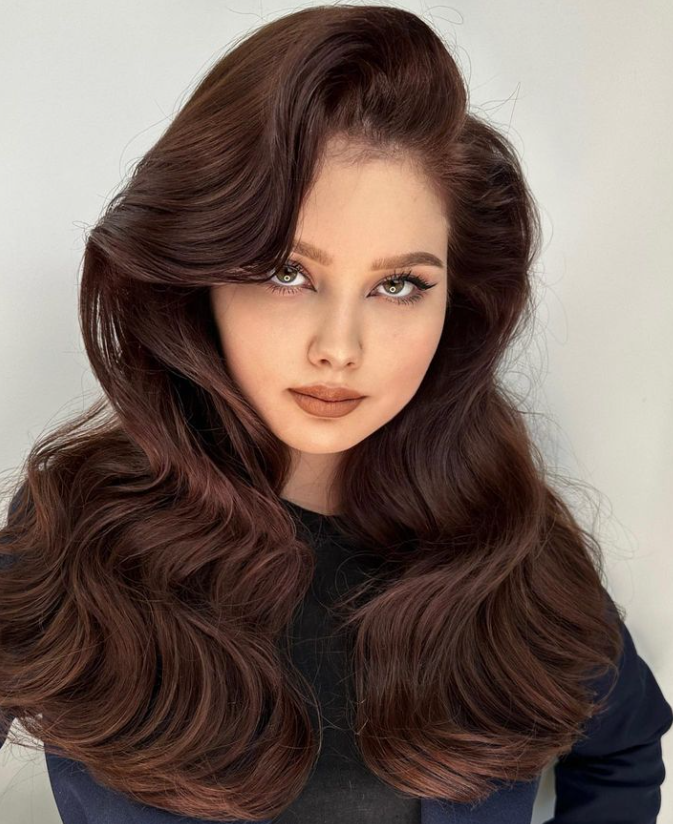 Credit: alexandrmaslovsky via Instagram
This takes the idea of the huge single-body wave and turns on the tide pool. A huge, swooping side part adds a ton of volume that pulls away from the face for a lifting effect while falling back in time to highlight the cheek. The thick and firmly held waves have a little more motion at this length, which helps everything spring to life.
Curly bob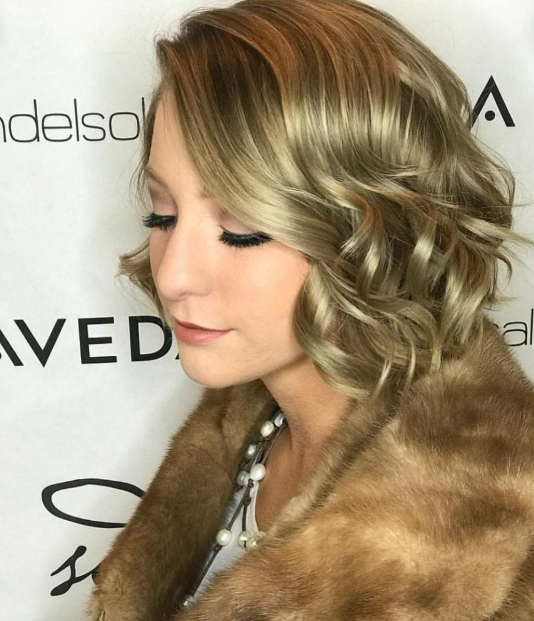 Credit: rebaatsalondelsol via Instagram
Some vintage styles thrive on being simple and stunning, and usually, they're based around a bob. You'll find variations of the bob in every fashion scene, every era, and every subculture because it's just so easy to manage and style in a million ways. This look focuses on embracing the naturally soft, shiny texture of your hair, with some jaw-sharpening curls.
Tight rosettes
Credit: medwayhairacademy via Instagram
These fabulous individual black hole curls have popped up a few different times across history. It's possible it first became widespread way back in the 1880s when sculpted curls and volume became the go-to look. It works great with naturally thicker hair, that might otherwise struggle with certain styles of updo.
Bardot curtain bangs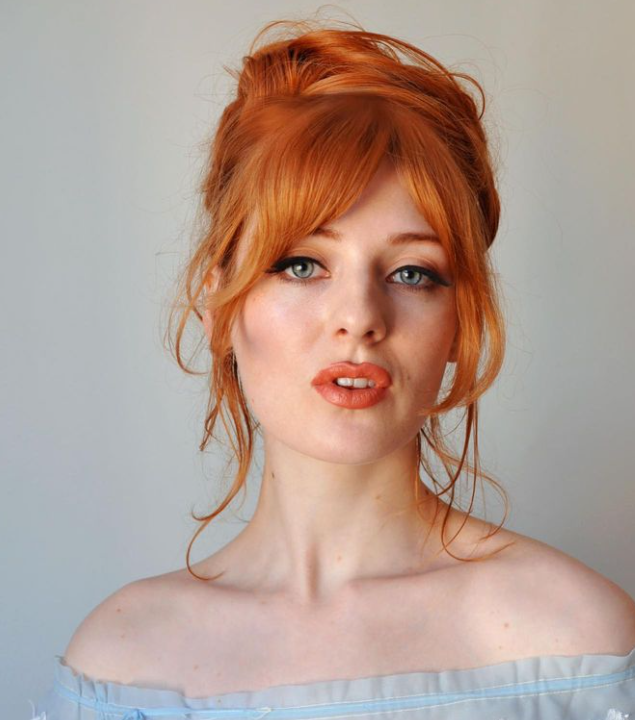 Credit: lydiahelen_ via Instagram
Bridget Bardot was one of the first European pop-culture fashion icons to make it big stateside, and her legacy goes far beyond her bangs. But what incredible bangs they were, full of the kind of rugged, unkempt energy of the 60s French youth stylings. The bangs are longer and more sultry, with a natural tousle instead of a defined curl.
A-line country bangs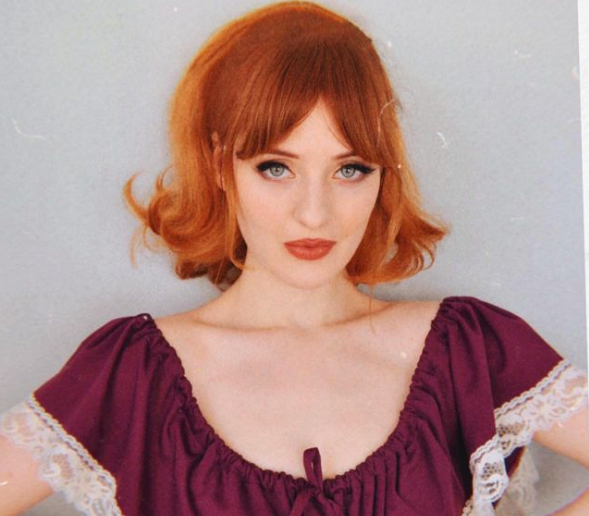 Credit: lydiahelen_ via Instagram
She's a little bit rock and roll too but she doesn't like to brag about it. A line bangs at this length give a wonderful half-60s Nashville country starlet and half-indie rock chic vibe that's guaranteed to be a hit with everyone. The shorter body is easy to get plenty of volume and hold in, and there will still be plenty of swish and flow.
Short curtain bangs with an updo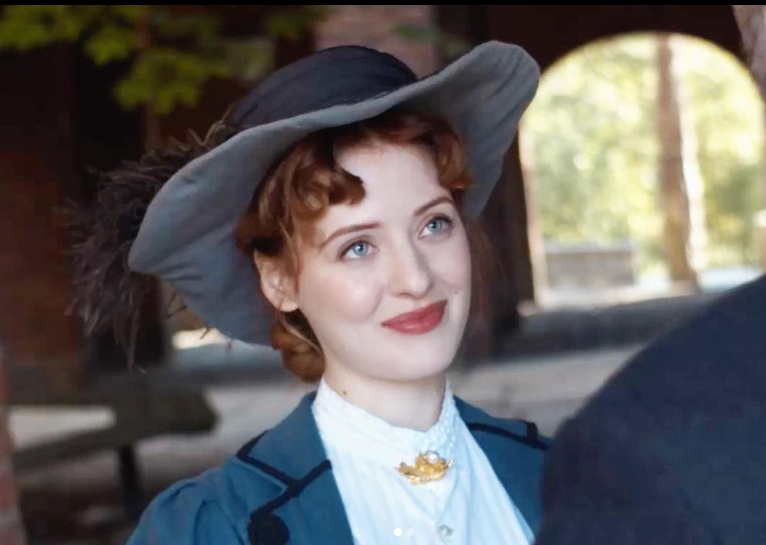 Credit: lydiahelen_ via Instagram
Contemporary stylists would consider a fringe cut this short and blunt to be something akin to the pixie cut, and the way it contrasts with the longer back creates a surprisingly modern fusion. While it would have originally been in vogue in the 1800s, the way it puts the face on full display and fits current alternative trends is pure 21st century.
Super short rosettes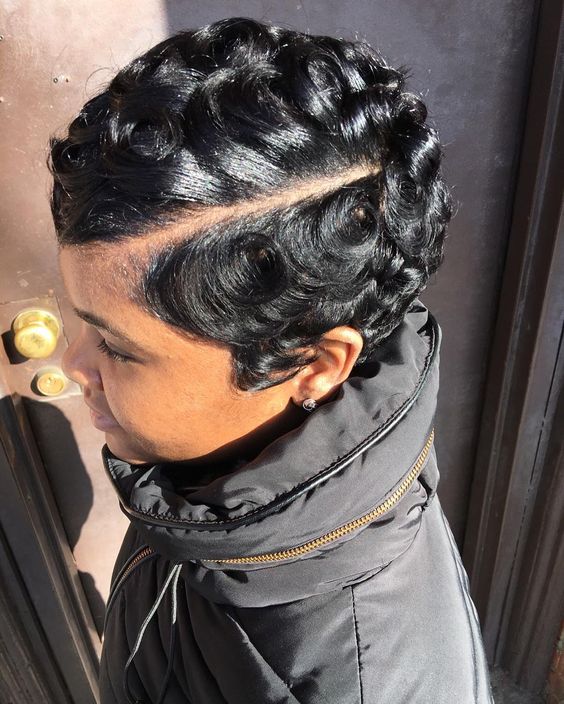 Credit: gilliangarciaartistry via Instagram
Texture as intricate as this takes time and dedication. There's a ton of sectioning done with a fine comb and curls sat on top of curls. With the right natural curls and length, some curlers would cut down the effort considerably, but some general points anybody can apply are incorporating the often-forgotten top sideburns and working the entire part line into a look.
Full roller blonde-blowout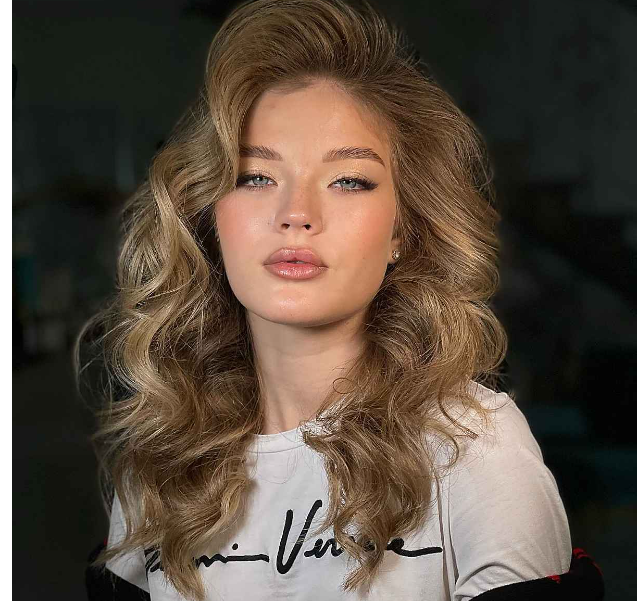 Credit: david_galstyan__ via Instagram
These kinds of curls are closer to what we expect to see more often these days. The texture is much more natural and unrefined than the sleek, gel-soaked ones we see across prior decades, though it's still achieved with rollers. It's a wet curl, so mousse and time are all you need if you'd like to use less heat on your hair.
Rock-a-billy purple pomp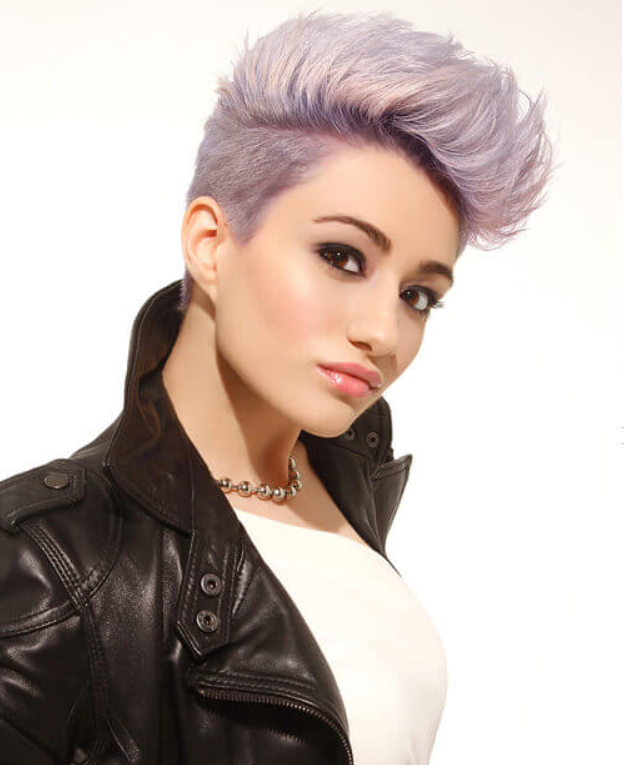 Credit: herzhairdesign via Instagram
The faded-pastel purple with silver undertones is very much on trend at the moment, as are bolder short styles on women so you're already coming out on top, no switchblade required. Instead what you'll want is razor-short sides and a few inches left on-top to play with. This spiked over slicked approach softens up the look a little to keep it playful.
60s bombshell beehive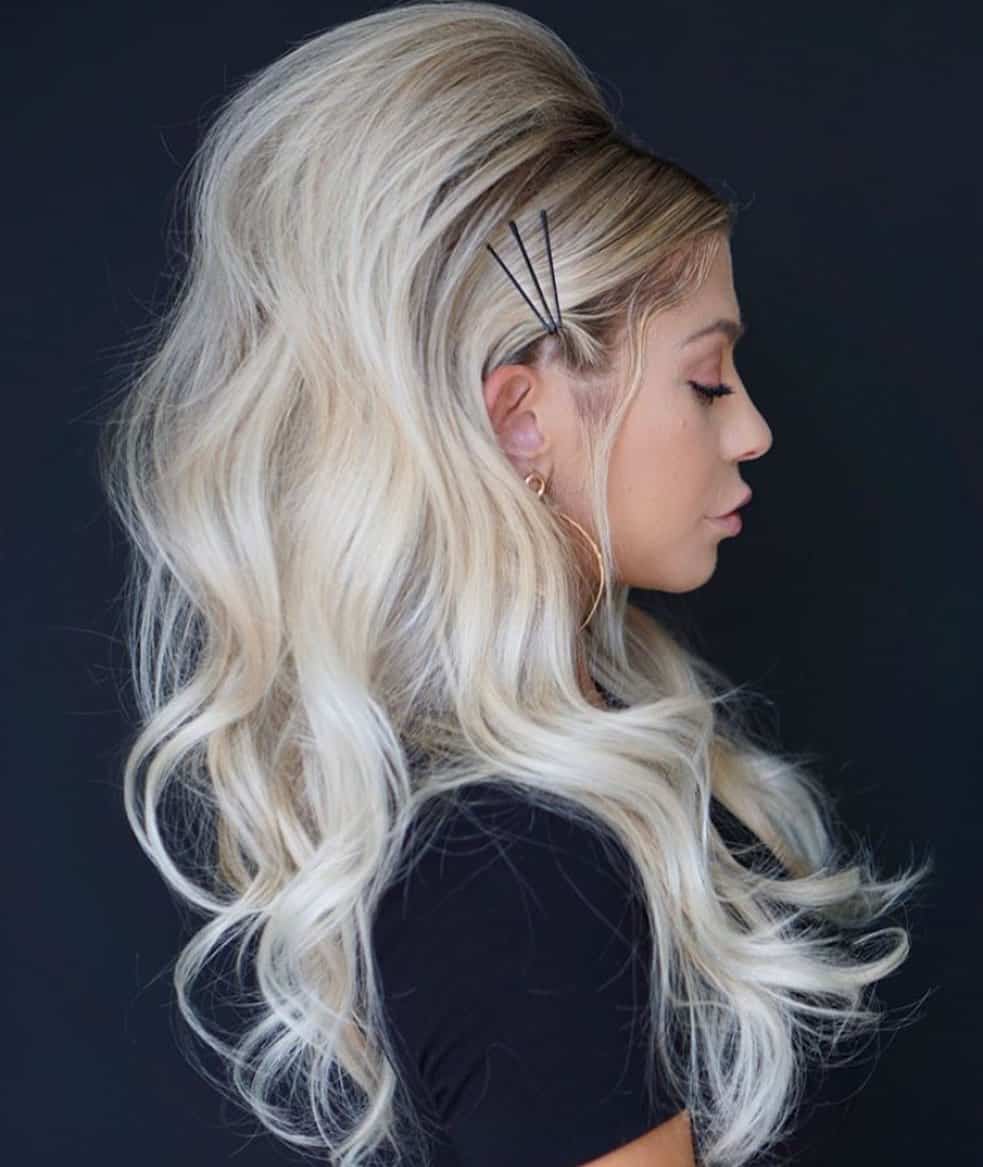 Credit: maggiemh via Instagram
Vintage beehive looks like this needs a little work to nail the volume, but the results speak for themselves. You'll have to bring back the early 2000s and start backcombing the tresses and the foundation of the hive to make sure everything is sturdy and use plenty of product for hold. Keep the curls at the end bold and big to match.
Classic chignon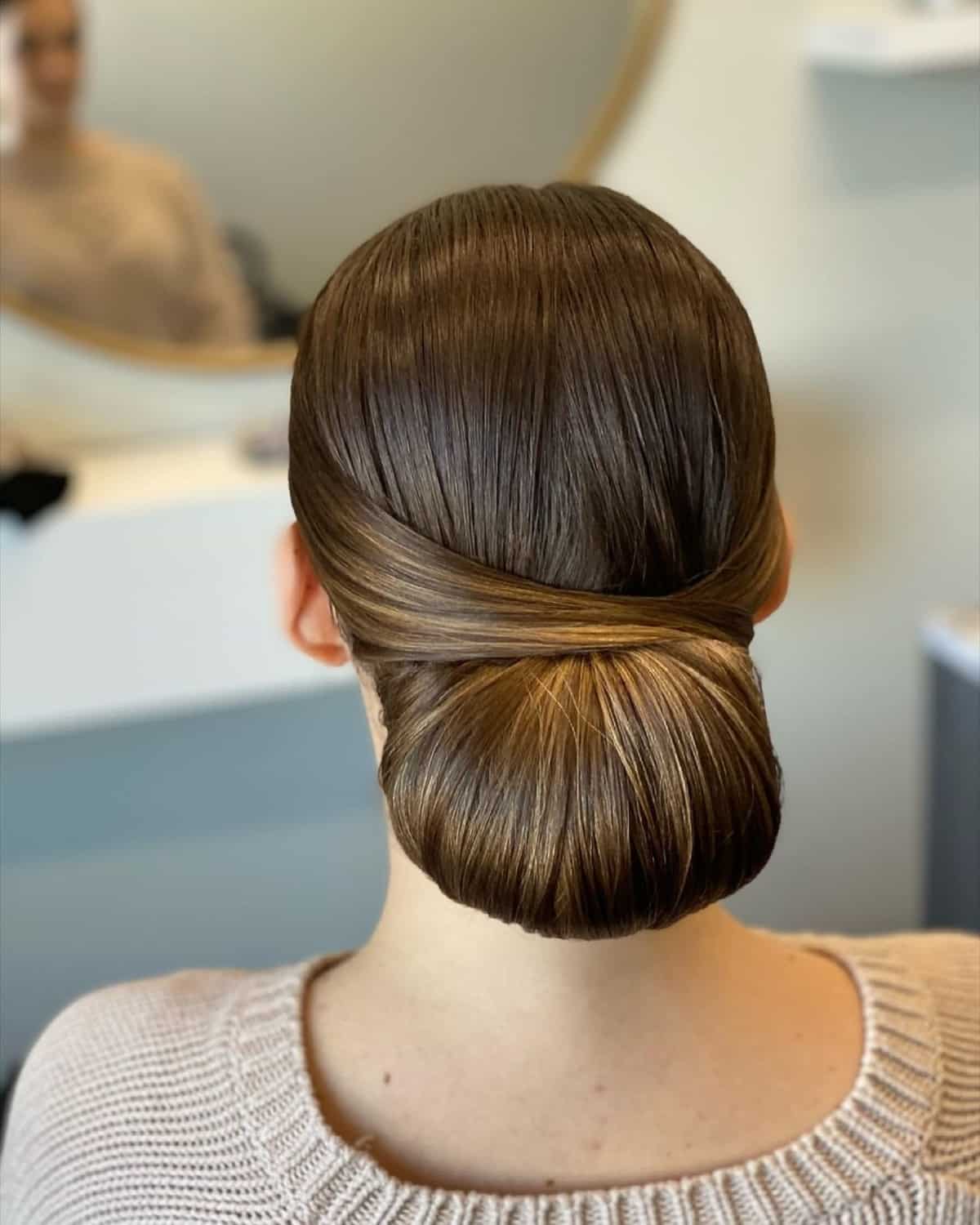 Credit: maggiemh via Instagram
The chignon has been around since before the birth of Christ. It was incredibly popular among Roman and Greek men and disappeared in the 2nd century. By the 18th century, it was reborn and still worn today in many styles. Like a bingo card-free space, you decide the decade you want to emulate with your simple chignon bun.
Blunt-cut bob with curtain bangs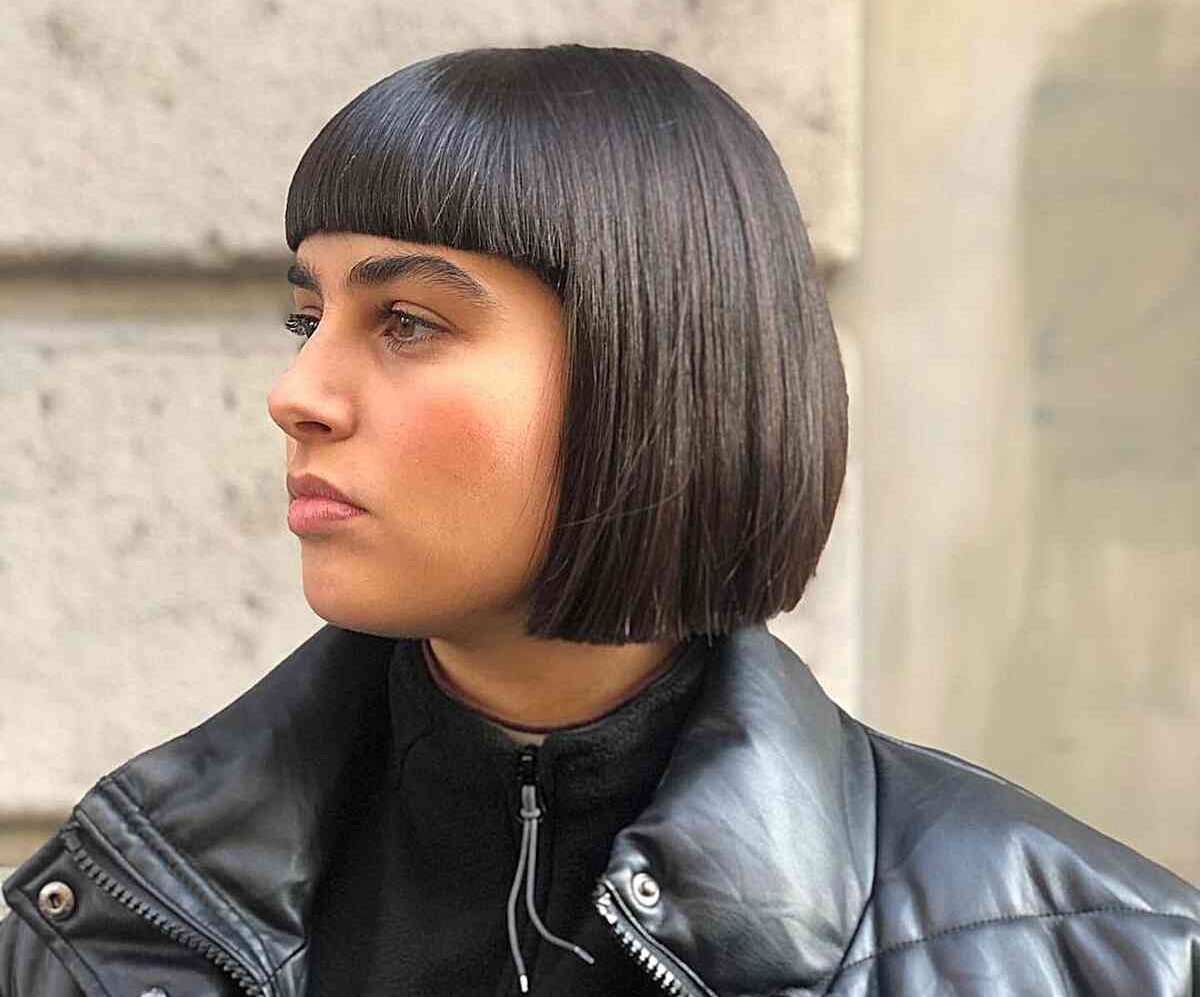 Credit: papillonhairstudiomilano via Instagram
This edgy, straight-cut look is often used for futuristic sci-fi settings like cyberpunk, but first hit the mainstream with 20s flapper culture. They're often referred to as Cleopatra bangs, but that's based on Hollywood imagery, the real woman. Regardless, they clearly span millions of years in the human brain. They're Schrodinger's bangs, totally retro, and also somehow look cool on aliens.
Longer asymmetric bangs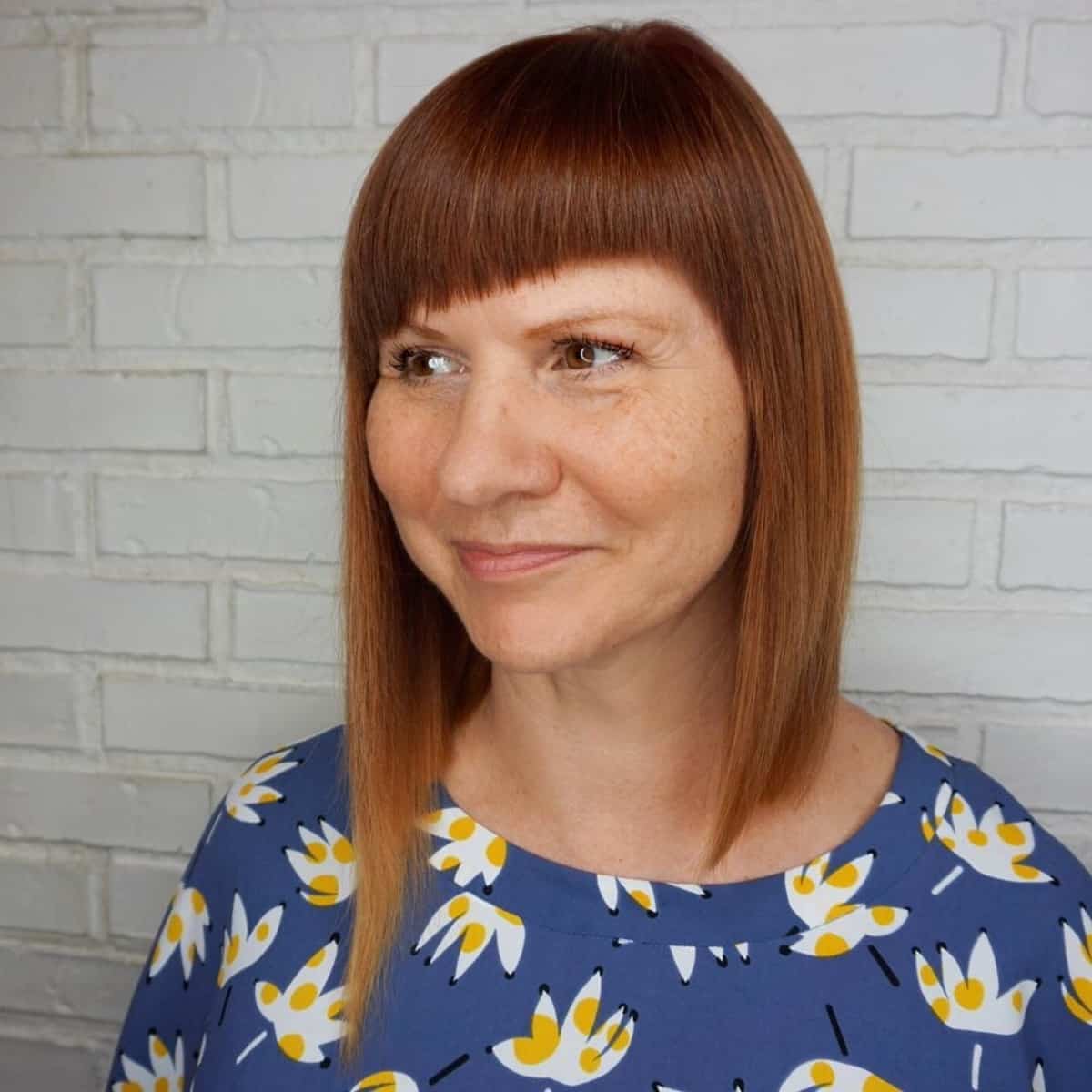 Credit: rebecca_inthelab via Instagram
Asymmetry was huge in the 20s. Beforehand many female styles were strictly based around some ideal of pretty perfection that involved huge curls and explosive bonnets. The liberation that came with the economic boom and the ensuing party culture gave way to cuts like this! Still every bit as cute and edgy as it ever was.
Peace and love and mullets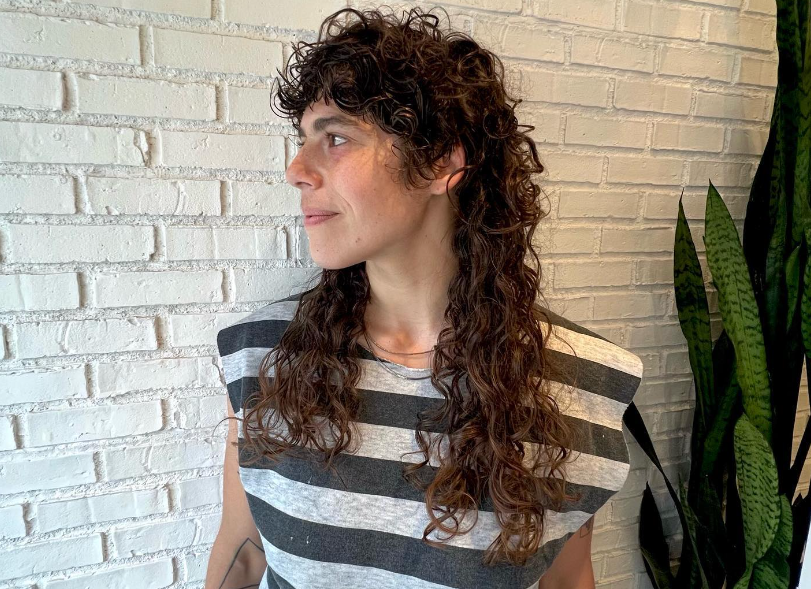 Credit: rebecca_inthelab via Instagram
Fusing some of the biggest trends of the 60s like the long and natural hippy locks with the flare of the 80s mullet, this is vintage with a twist. The perm-like curls are hard to manage at this length without the already having naturally curly hair, but the blessed few who can rock this look can make a huge impression.
Perky 60s ponytail
Credit: jackiewyers via Pinterest
This look is a quick and easy throwback to the 60s that you could go a few different ways with. A tie, bobble, scrunchy, or headband would all let you add some personality into the style while still separating the hair into that high ponytail that's so core to the appeal. The heavier back hair falling near the face gives you some gorgeous natural shadow.
The 90s chick-flick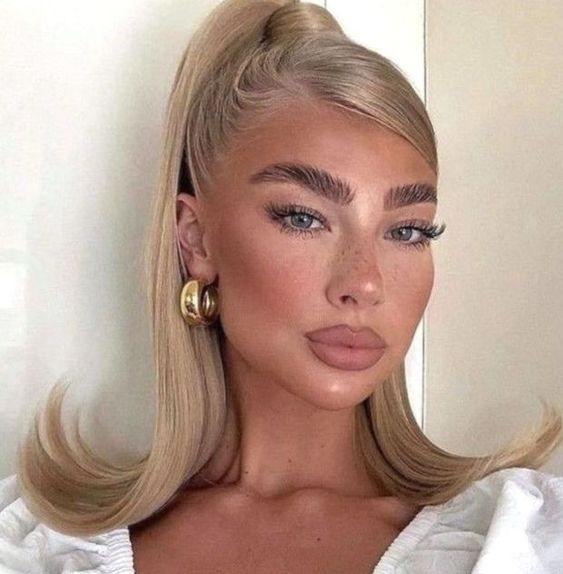 Credit: kezia via Pinterest
This style popped up all over the place in the 90s, and back then it was a throwback to the 60s. From TV high schools to runway models, the stylish swish was great for narrowing the face, neck, and shoulders. The high tucked fringe wasn't as common in its original incarnations, but is a lovely touch for making the high ponytail less severe.
Silver blowout bob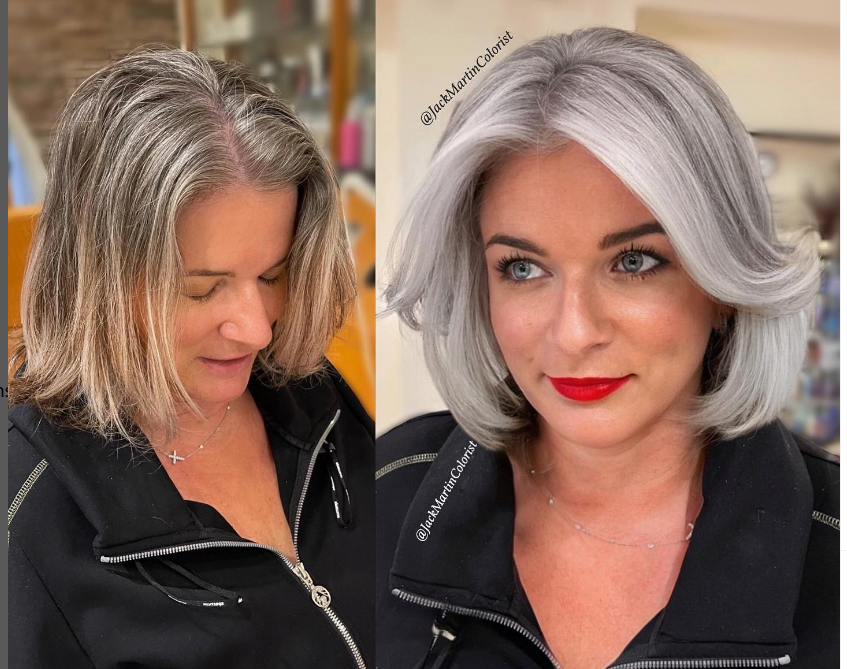 Credit: jackmartincolorist via Instagram
We can thank chemistry for the wonderful innovations in hair color treatments, so while the silver-grey became popular in the 2010s, the style is pure 90s. Depending on the season, you could throw on an episode of Friends and see Monica, Rachel, and 80% of the extras sporting this gorgeously shaped, carefully cropped mane.
The Aniston blow-out with highlights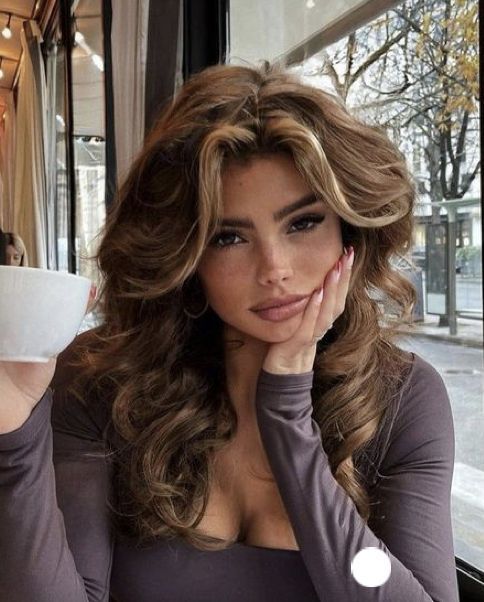 Credit: ugeat via Pinterest
This is another look that was popular on 90s TV, and it simply couldn't be missed by the camera. The dramatic roller curls have so much body, and the volume at the sides to shrink the head was very emblematic of the era. We think of highlighted fringes as quite a modern touch, but that's also something you could see Rachel rocking!
Shaggy wolf cut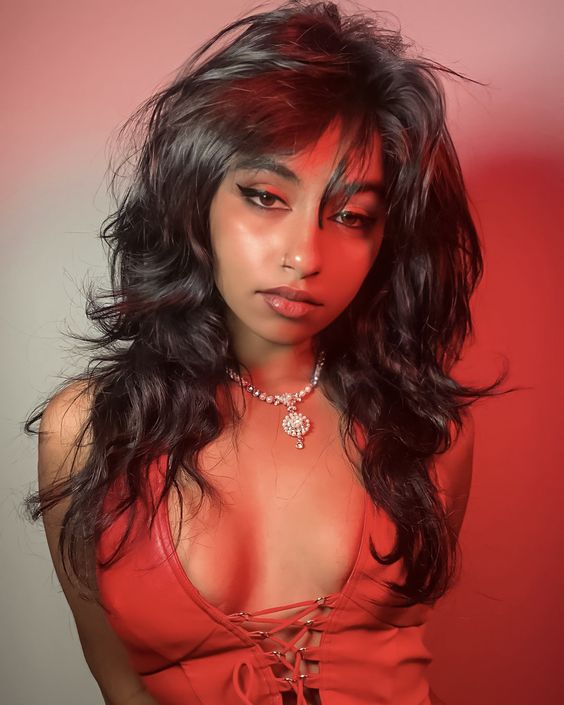 Credit: Lizbreygel via Pinterest
Both shaggy hair and the wolf cut emerged around the '70s and '80s, so it was only a matter of time until people figured out how amazing their fusion was. Bangs are sometimes called "The French Facelift" because of how good they are at making the eyes, cheeks, and jaw pop, and that effect is only increased with the gorgeous, unkempt texture of shag.
Shaped curtain bangs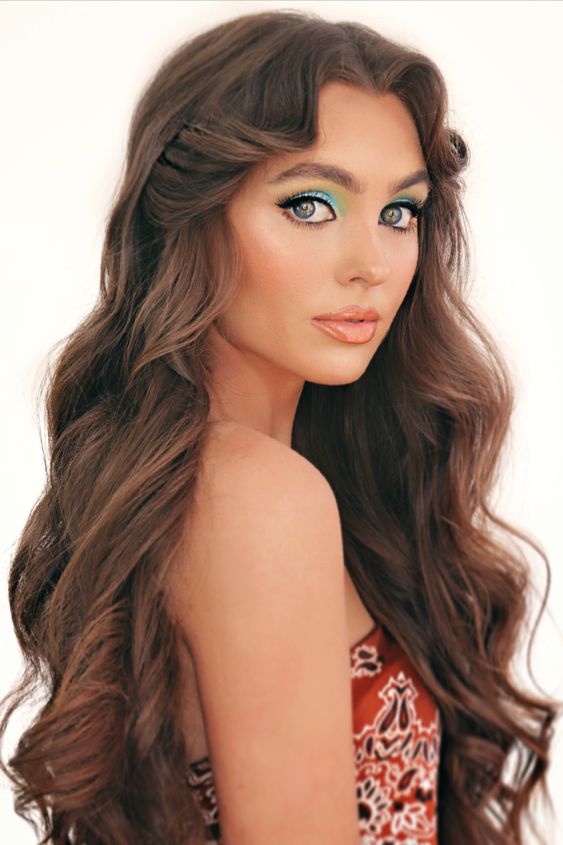 Credit: Jackie Wyers via Pinterest
The cascading, lengthy natural curls here are a hippy-dippy nod to the 60s, but those bangs are a historical amalgam as interesting as it is splendid. Curls that are cropped and tight to the forehead have been popular for women since the Victorian times, but without all that tar slicking them down, they get to spring free and make the face seem long and elegant.
Crowning afro updo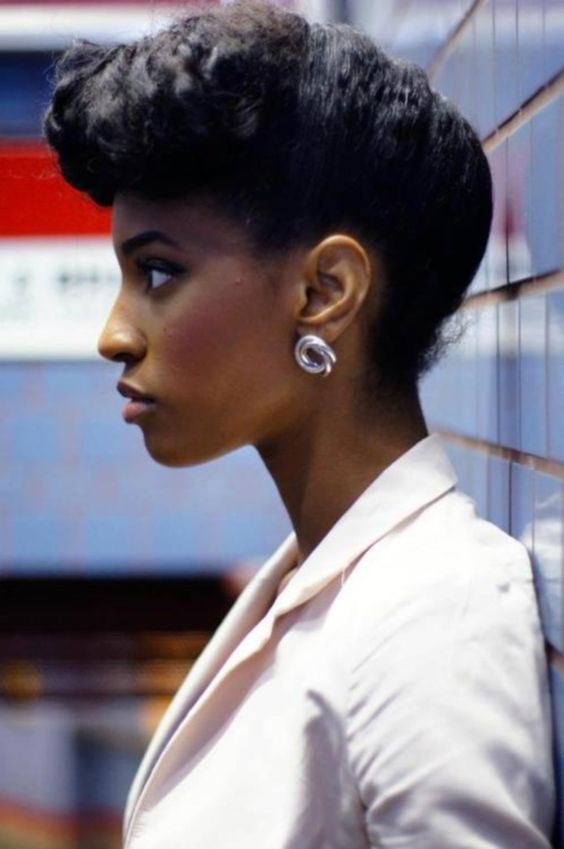 Credit: blackgirllonghair via Pinterest
Shorter updos for thick, natural hair have been around for thousands of years, but this sleek, chic, and glamorous take harkens back to the iconic Nichelle Nichols. Her work on Star Trek and in the public eye as an activist means we have entire collages of all her best do's and one of the most popular was a cropped, gorgeously textured updo.
Pin-up curls with a swooping fringe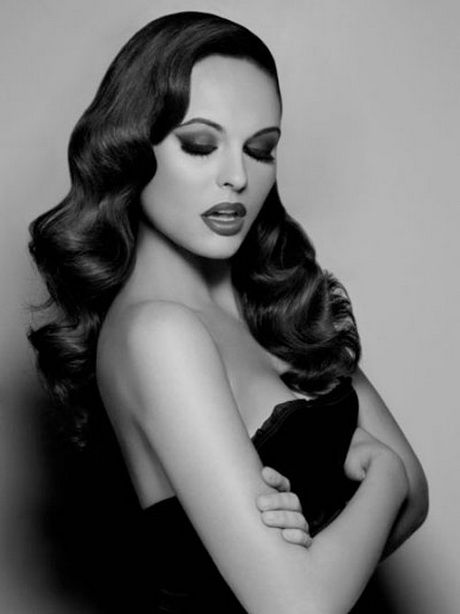 Credit: stileandbeauty via Pinterest
Mid-intensity curls like this are great for creating these kinds of flowing, graceful pin-up looks. It can easily be paired with bangs if you want to cover the forehead, but the Jessica Rabbit swooping fringe feels so at home with this kind of silhouette that this would be the time to start experimenting. Channel the rabbit and go for it.