Margot Robbie – Original Barbie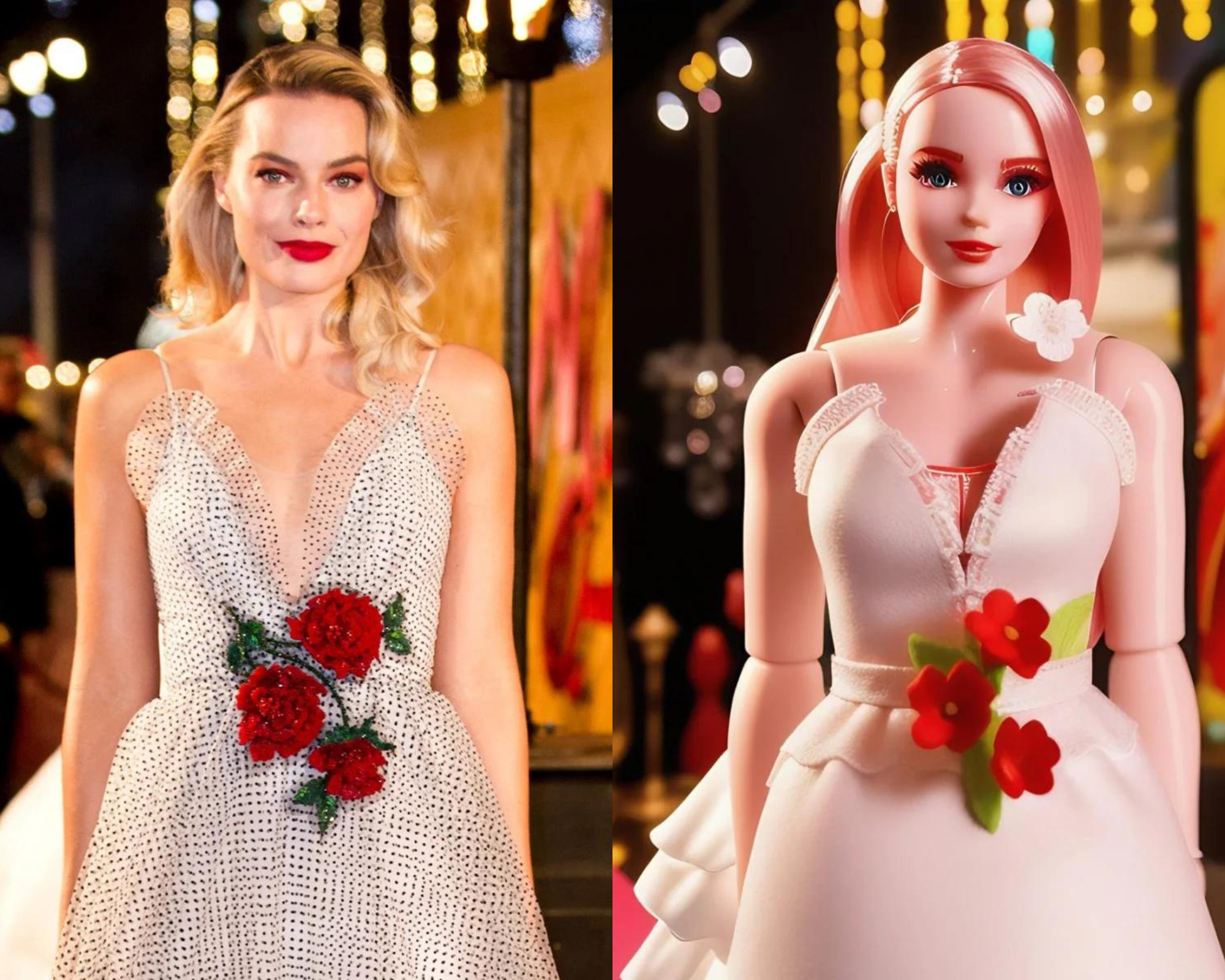 Source: Isabel Infantes via Getty Images
Wow! Even the dolls dress looks unbelievable, but lets not look past the fact that the Barbie has serious competition up against the actual Margot Robbie! The flowing polka dot dress adds some class with the beautiful red roses, giving that elegant vintage look. Clearly, we have stepped into a Barbie dreamland and it did not disappoint!
Ryan Gosling – Ken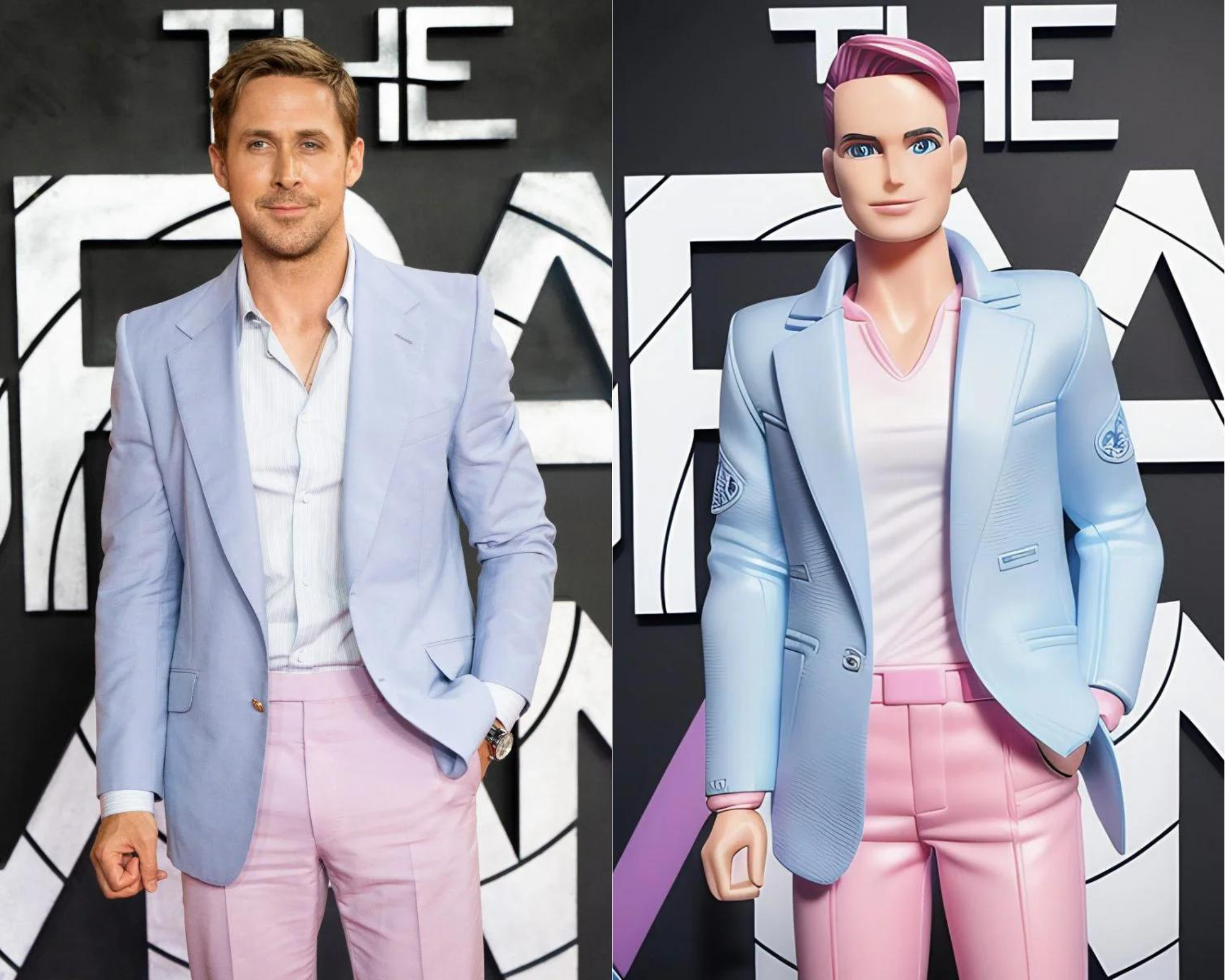 Source: Samir Hussein via WireImage
Ryan Gosling, the man that was our celebrity crush for years, has not been transformed into the ultimate Barbie fantasy! Both Gosling and Barbie Gosling are rocking the casual white tee, with a stunning lilac jacket and baby pink pants to give that contrast. But, Barbie Gosling has began to rock his daring pink hair, we love it! Barbie might have to step up her game to even try and compete with Ken!
Nicola Coughlan – Diplomat Barbie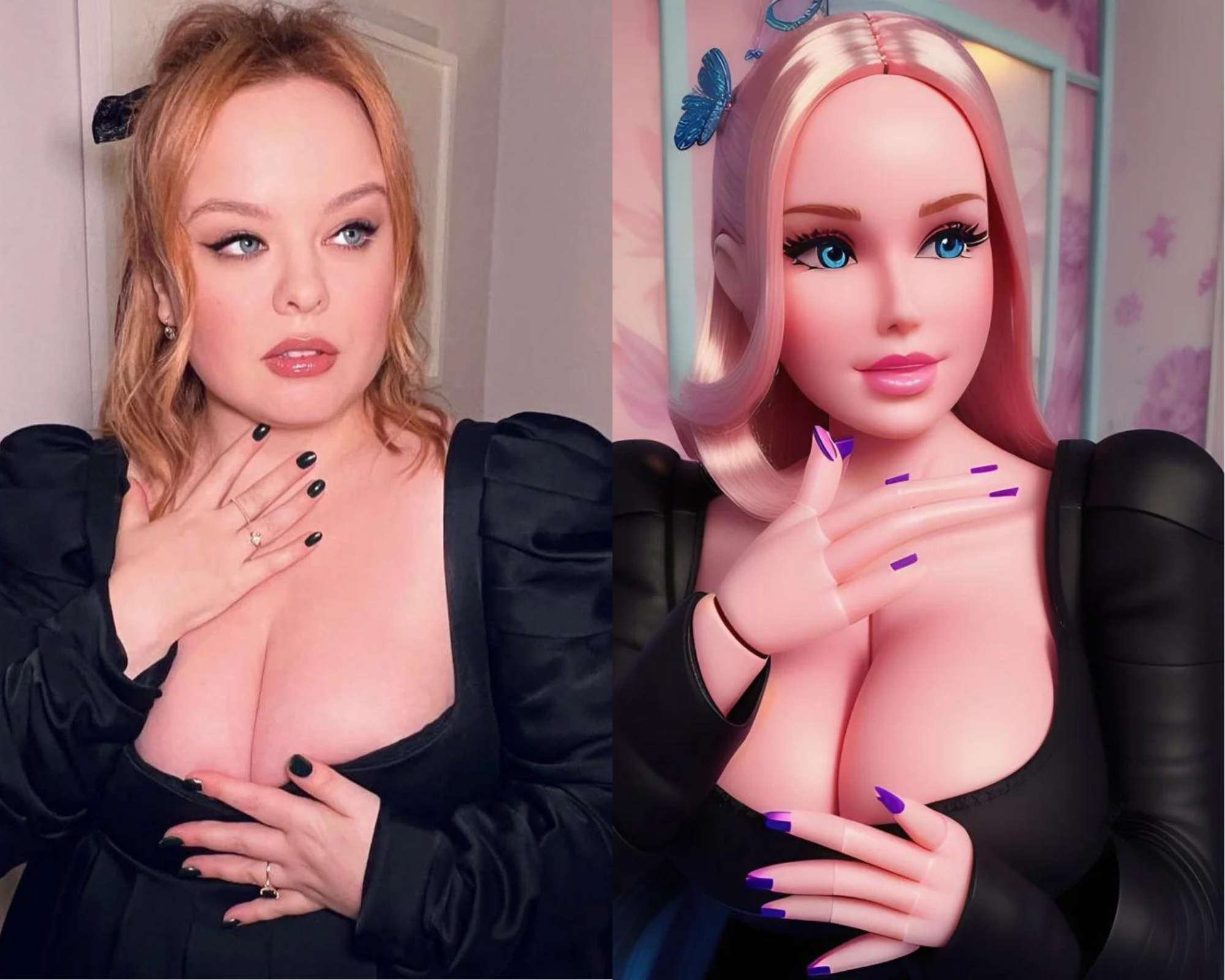 Source: Instagram via @nicolacoughlan
Nicola Coughlan blew us all away when she sport gosh chic to the table. Both Coughlan's and the dolls dress speaks nothing but enchantment, with the dramatic black dress, the purple nails and the Barbie-esque butterfly hair pin. The bay blue eyes and pouty lips scream 'Barbie' and we wish we could buy this doll in-stores!
Issa Rae – President Barbie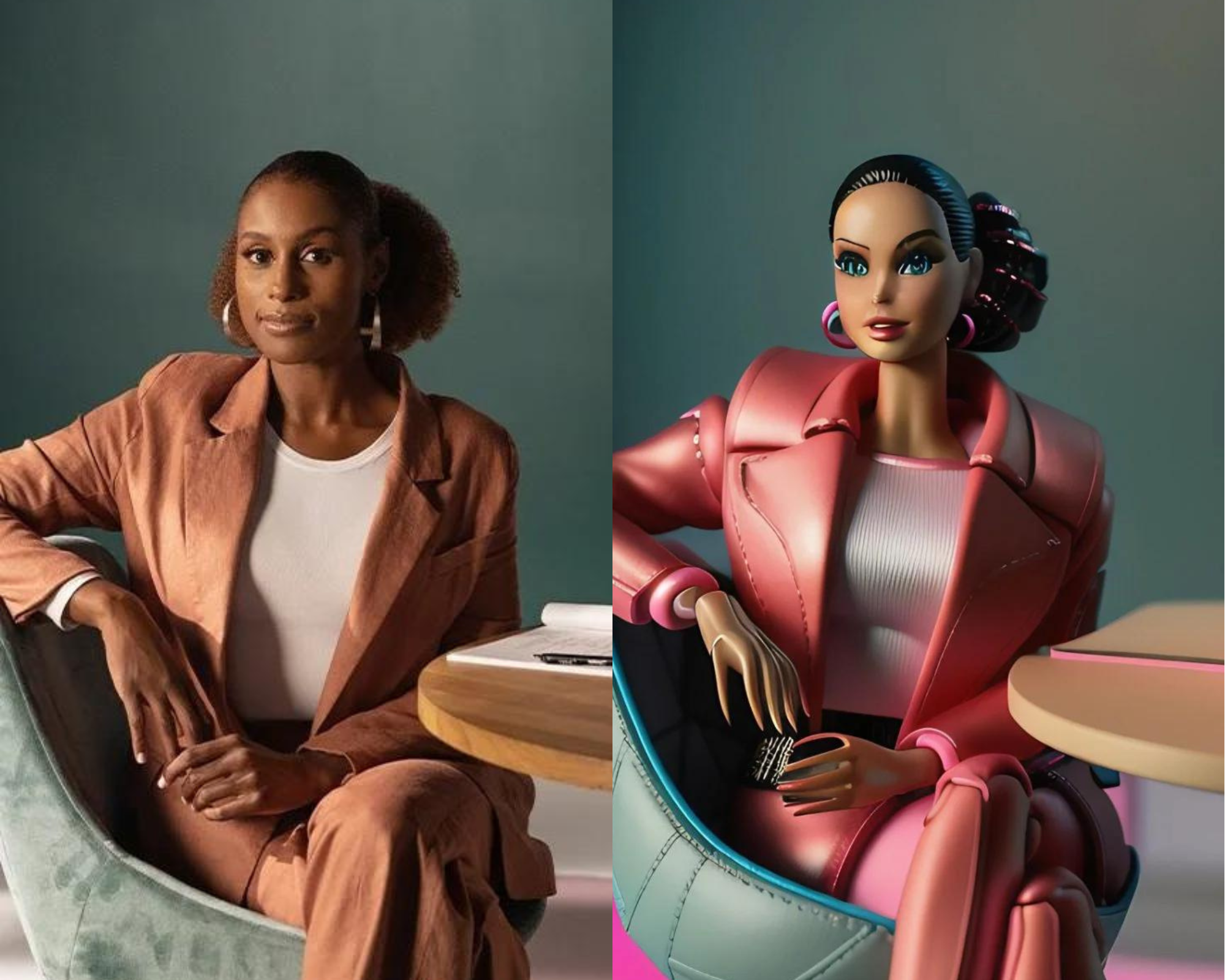 Source: Courtesy
This Issa Rae miniature is something we all need in our lives. From her smart camel-coloured suit to the diversity of the simple white tee – this is a fashion statement we will always strive towards! With her signature effortless style matched with her blend of humour and intelligence from Barbie Land, could there be a comedy act in the 'pink world' tonight?
Simu Liu – Ken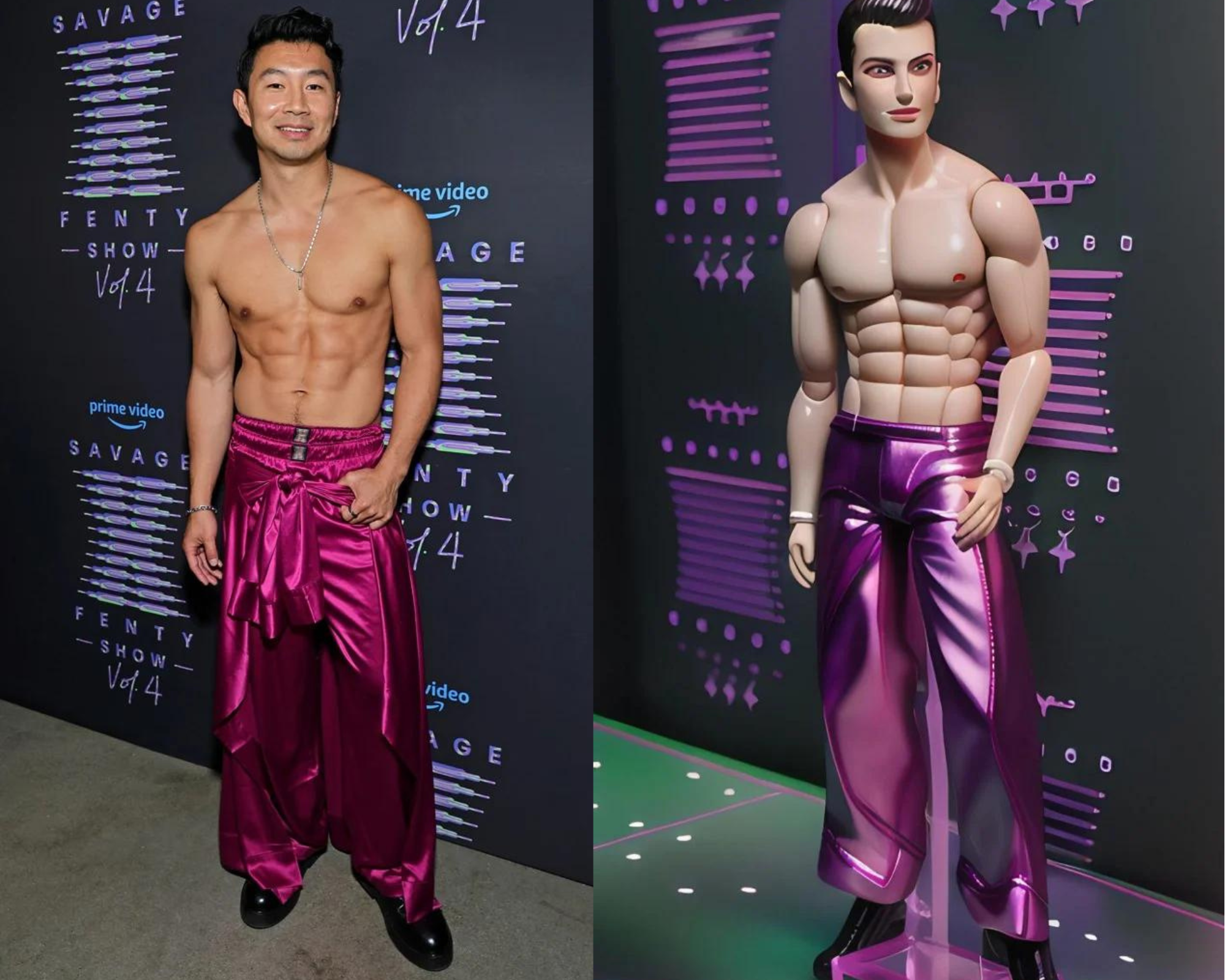 Source: Matt Winkelmeyer via Getty Images
Clearly Simu Liu isn't the only one that's welcome to the Savage Fenty Show… Ken is too! They're dressed in stunning satin pants (of course in the colour pink), and, well, no top! And we are not complaining! This look redefines the meaning of 'plastic fantasy', making any normal guy jealous. If this is a new trend in the dollhouse, we do not want to miss out!
Emma Mackey – Physicist Barbie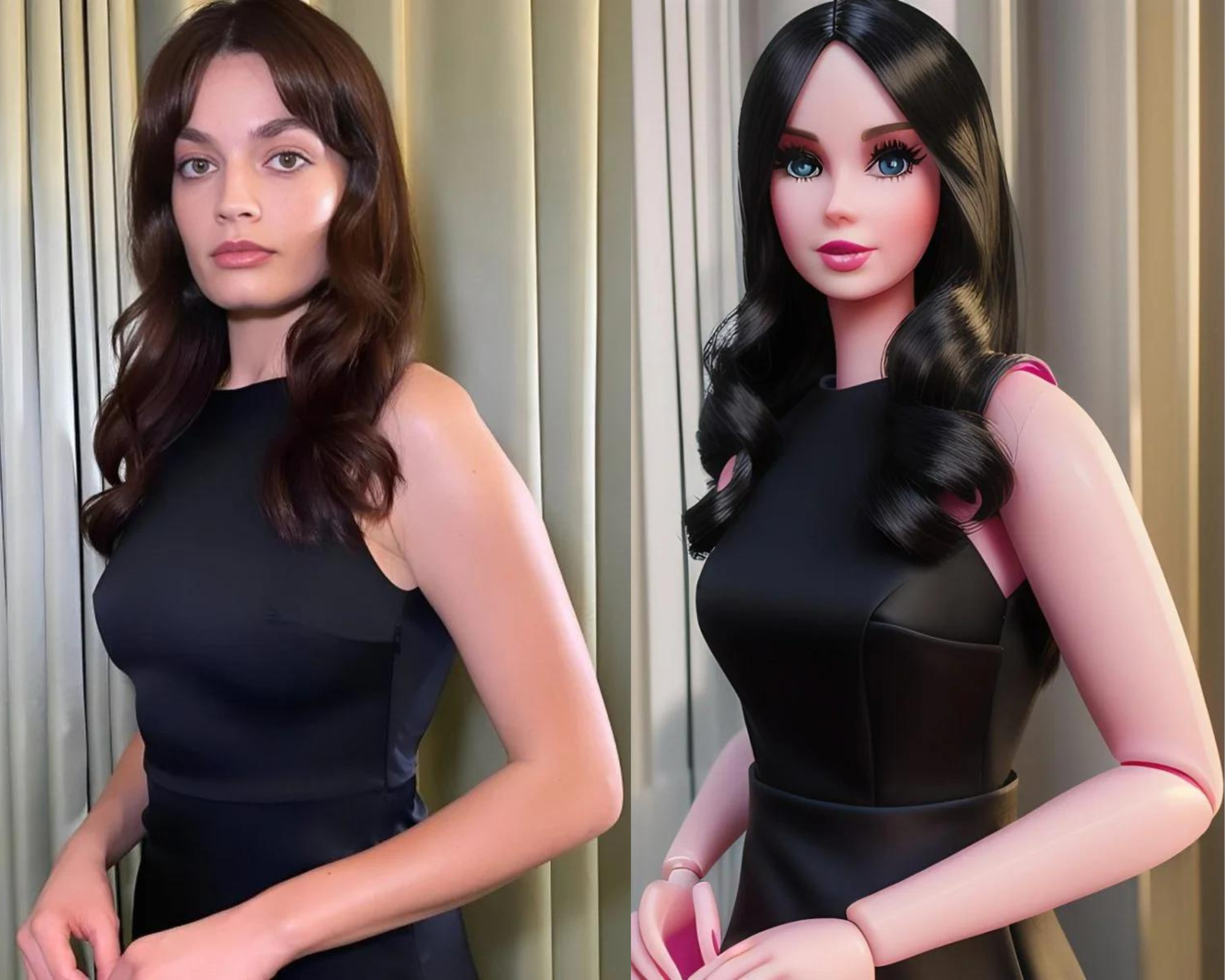 Source: Twitter via @EmmaMackeyx
Emma Mackey is sporting a classic black dress and luscious brown curls, giving both herself and her Barbie that extra chic look, with a hint of British-French allure! Even in plastic, she's still absolutely stunning, in fact, she's a Barbie we'd all want as a child – or maybe even now! This modest Barbie won a Nobel prize in physics in Barbie Land and we can see why!
Alexandra Shipp – Author Barbie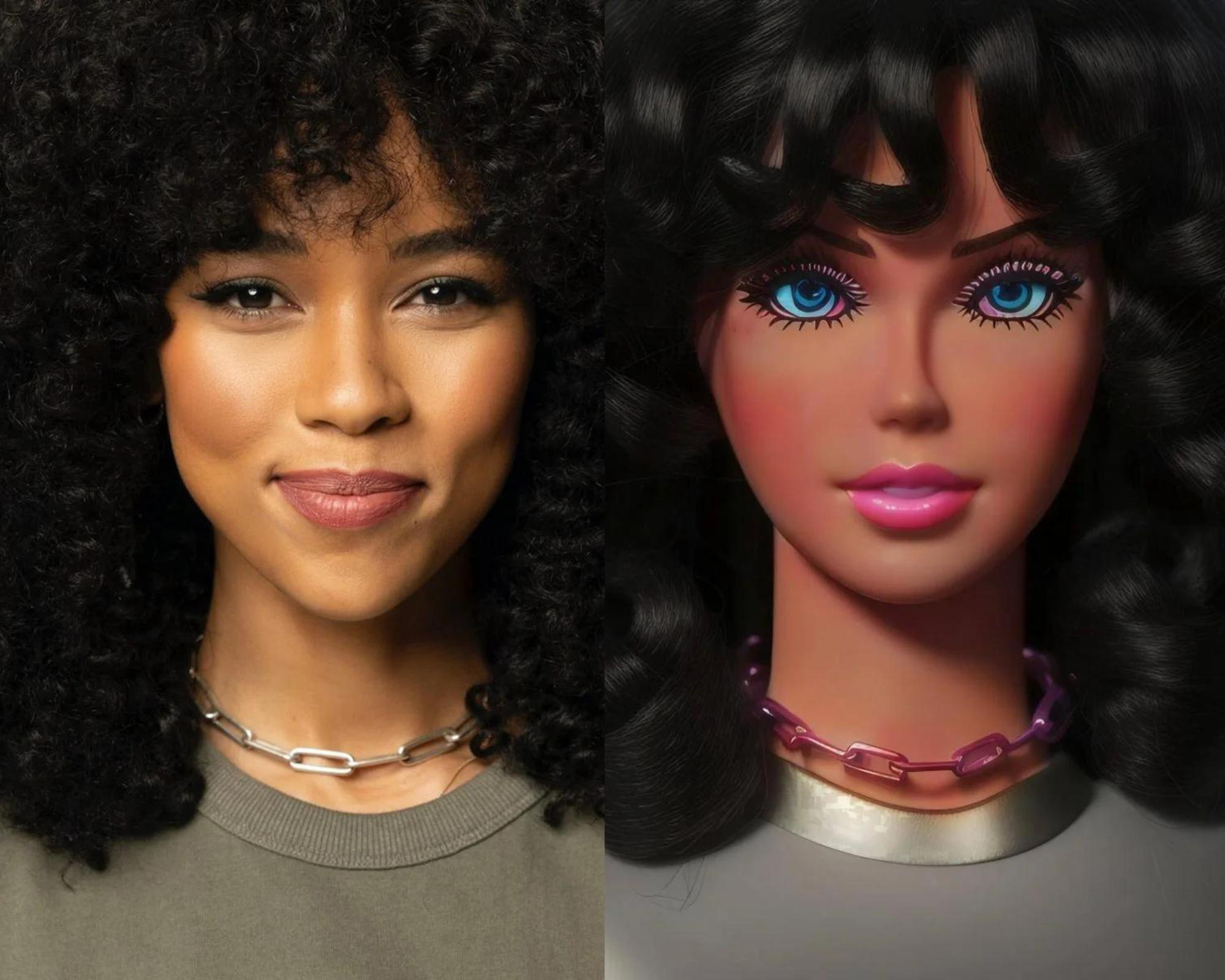 Source: Twitter via @KamilahKshorey
This Barbie rendition of Alexandra Shipp is something that we could only dream of! We think all Barbies should have that radiant smile and natural black curls bouncing with life that this Shipp Barbie is blessed with! And not to forget the chained necklace in that pop-of-colour purple. This dreamhouse has just got a whole lot more fabulous!
Michael Cera – Alan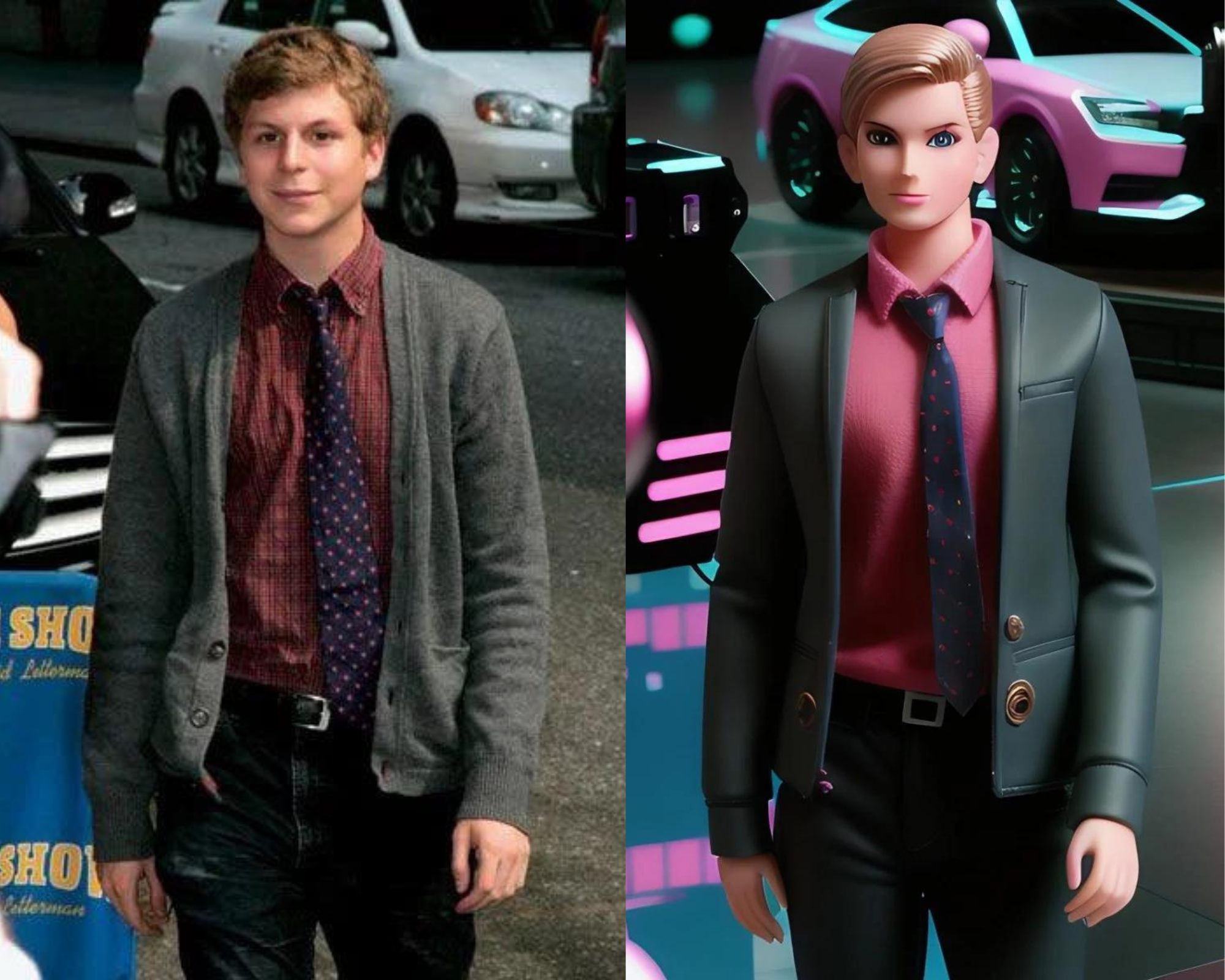 Source: Getty Images
This 'Alan' is no longer just the funny guy, he's the stylishly handsome Michael Cera in Alan Doll form! Rocking the casual yet classy look, Cera is wearing a burgundy shirt, with a dark green jacket to perfectly match. And let's not even mention the hair! Who knew an Alan Doll could serve looks that most can only dream of?!
Kate McKinnon – Weird Barbie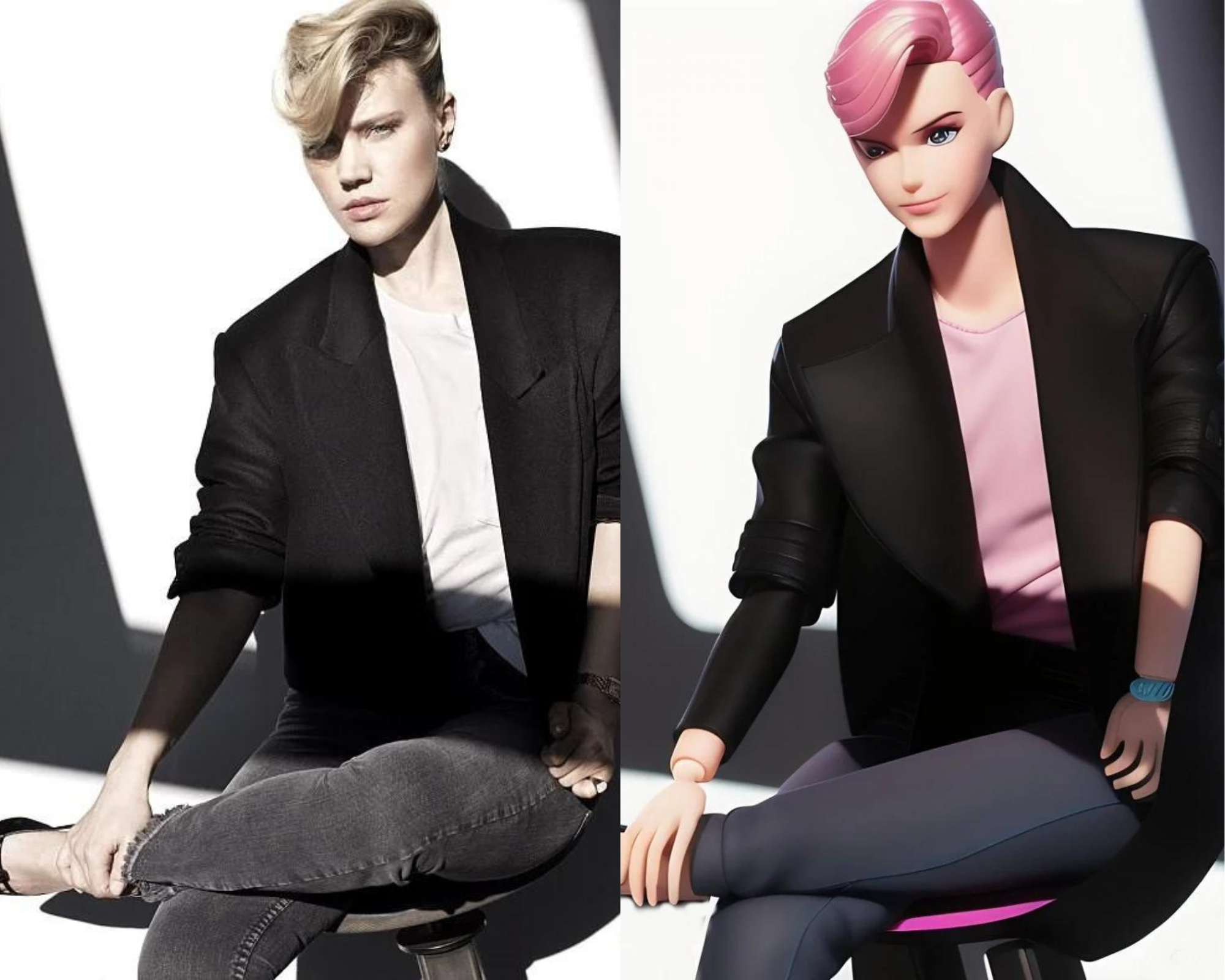 Source: Paola Kudack via ELLE
This Weird Barbie is far from weird in the way she dresses! Kate McKiddon is beaming with confidence, wearing a simple white tee, black jacket and jeans, and high heels to stay within that Barbie style! Rocking that casual yet sophisticated look – Kate McKiddon is a plastic force to be reckoned with!
Ncuti Gatwa – Ken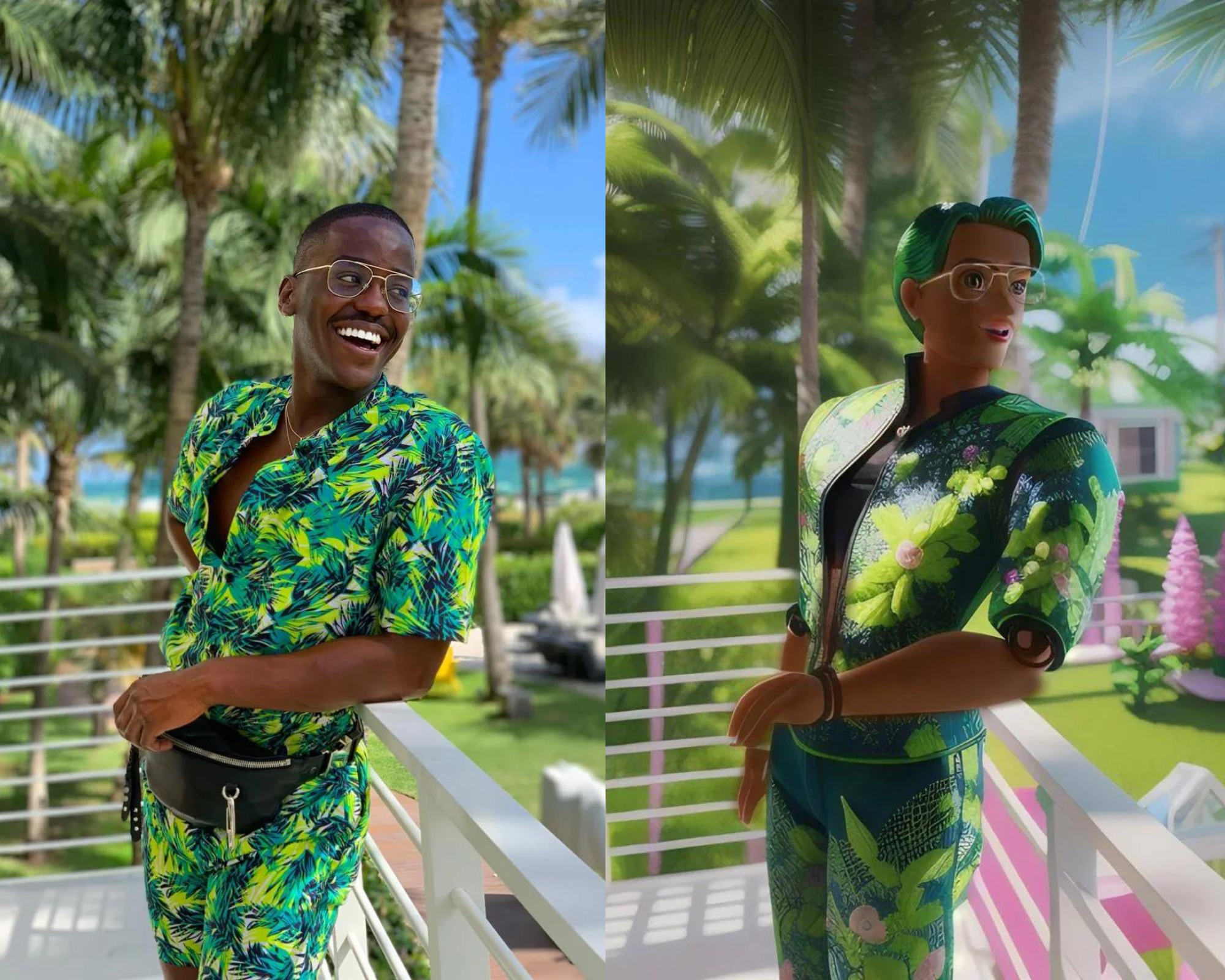 Source: Twitter
Ncuti Gatwa has already stolen our hearts from Netflix's Sex Education, but this Ncuti Gawti Ken doll could steal our money if we could buy it! His easy and natural charm and wit means that this Ken doll would be invited to any beach party! And the green hair? Well, we love it for Barbie Land and Human Land!