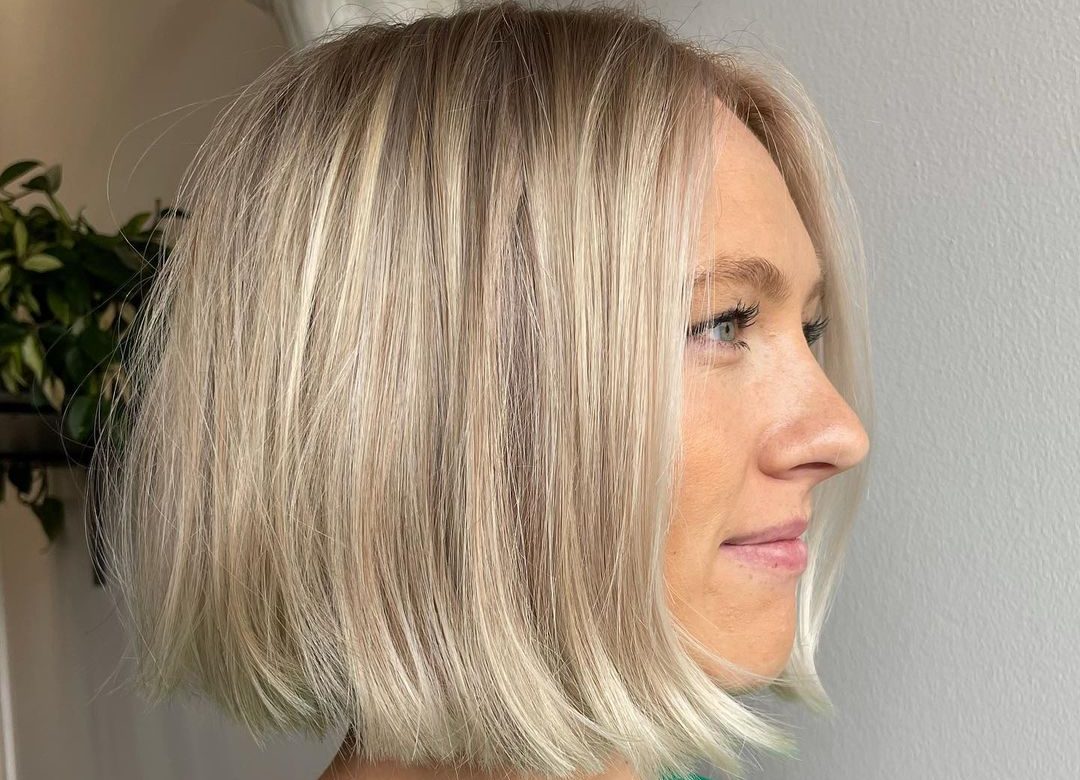 Credit: @tash_poonka via Instagram
Long blonde pixie with root fade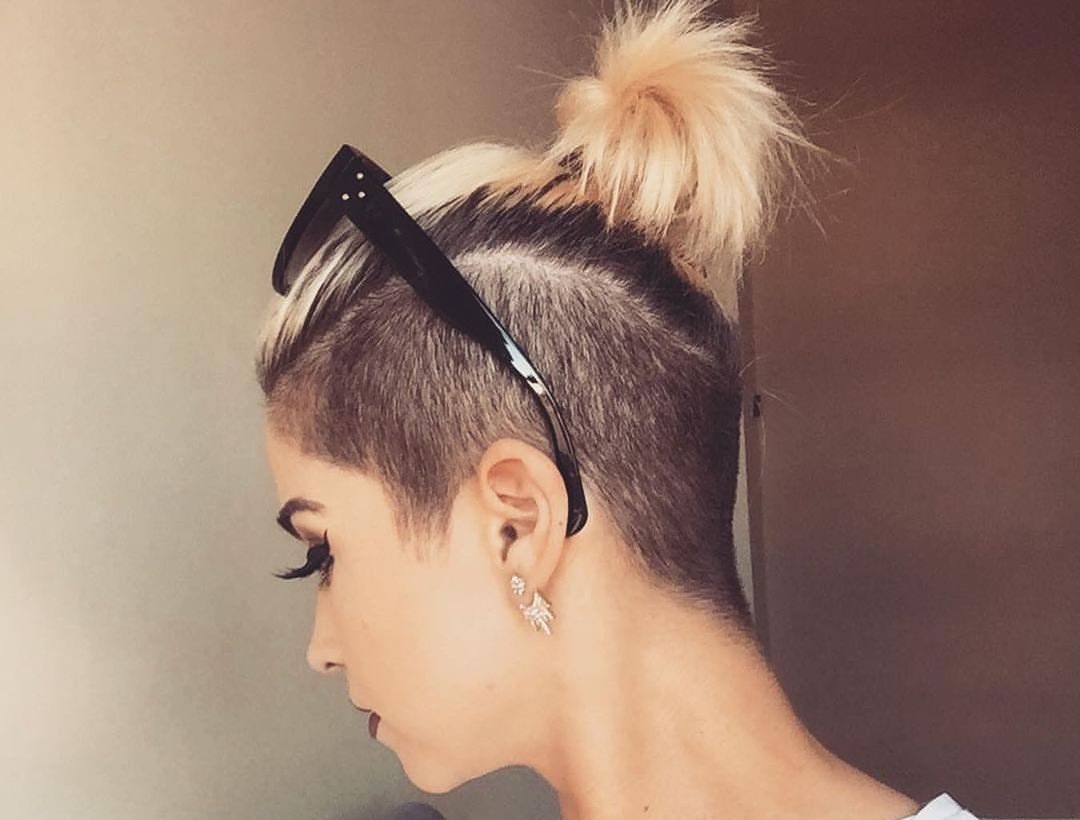 Credit: @short_hair_sweethearts via Instagram
Consider asking your stylist to give your thin, fine hair a trendy pixie cut. You can enhance the look by adding dimension with your preferred shade of blond to accentuate the surface layers. Thick and choppy highlights can create a natural color effect that adds depth and thickness to your hair. Don't hesitate to consult with your stylist to achieve the perfect look.
Tousled wavy bob for fine hair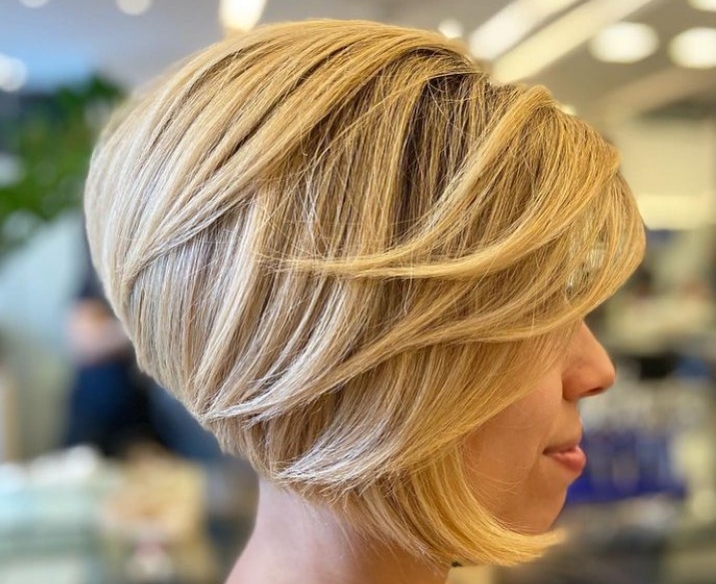 Credit: @corteumchanel via Instagram
To achieve a casual and sporty appearance, consider opting for a wavy bob. An off-center parting can let the dark roots peek through the bronde balayage, creating depth. The tousled back section adds more volume and shape to your hair. With this style, you can rock a relaxed and effortless vibe.
Textured bob with bangs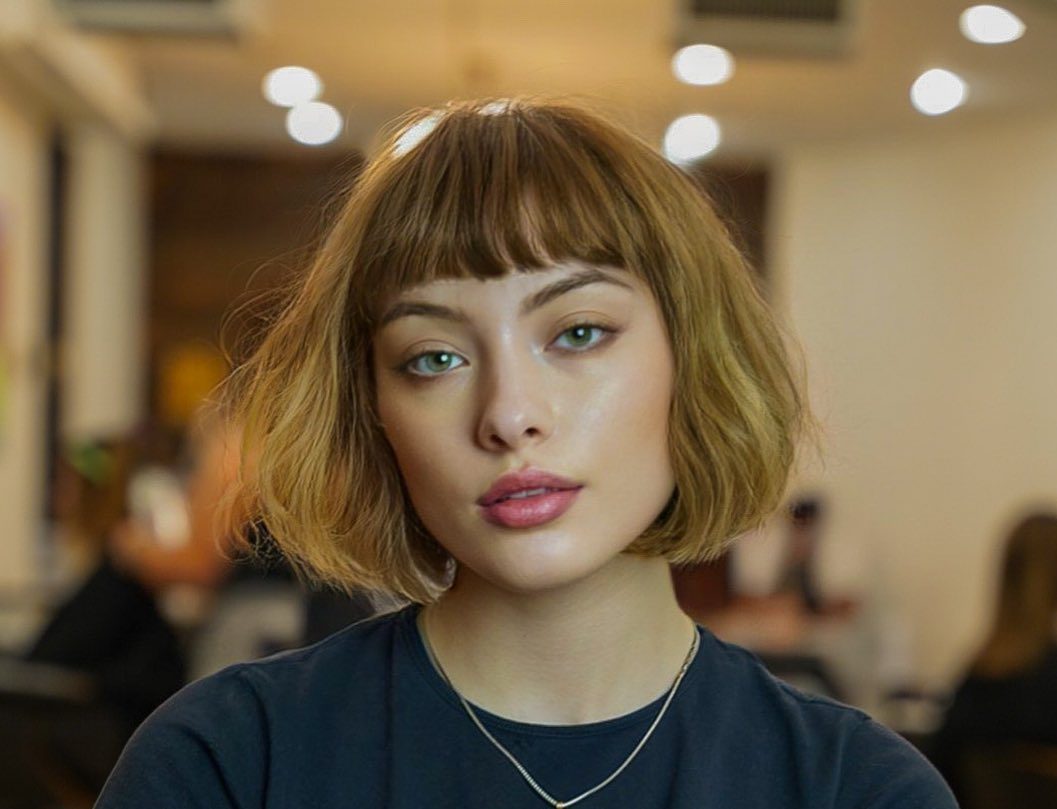 Credit: @joeprofita via Instagram
For those with fine hair, incorporating bangs and layers can make your hair look thicker. The wispy layers of this shaggy cut can enhance volume around the face, resulting in a fuller appearance that's perfect for fine hair. By adding this style to your repertoire, you can achieve a more voluminous and textured look.
Choppy rounded ash blonde bob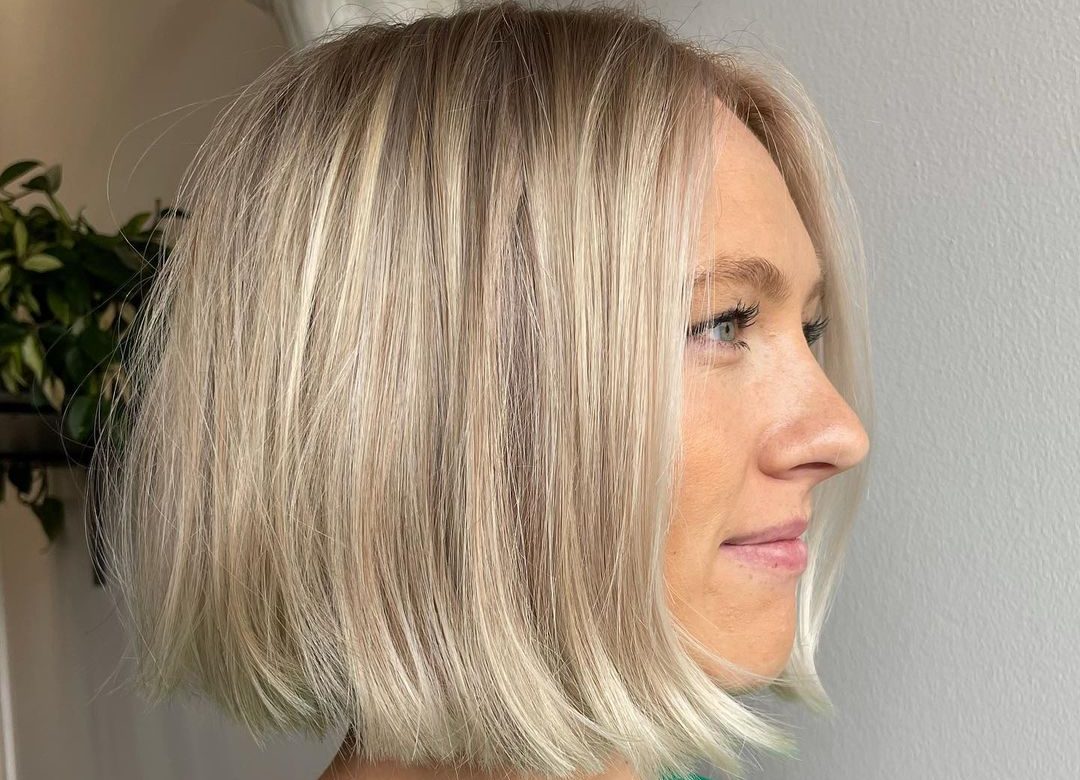 Credit: @tash_poonka via Instagram
If you have fine hair, it's best to opt for styles that are easy to manage while giving the illusion of fuller, thicker locks. A short bob can be perfect if cut correctly and styled with a bit of texture. Ask your stylist for choppy layers and a rounded cut, and use sea salt spray to add a natural body and enhance the overall look.
Short feathered bob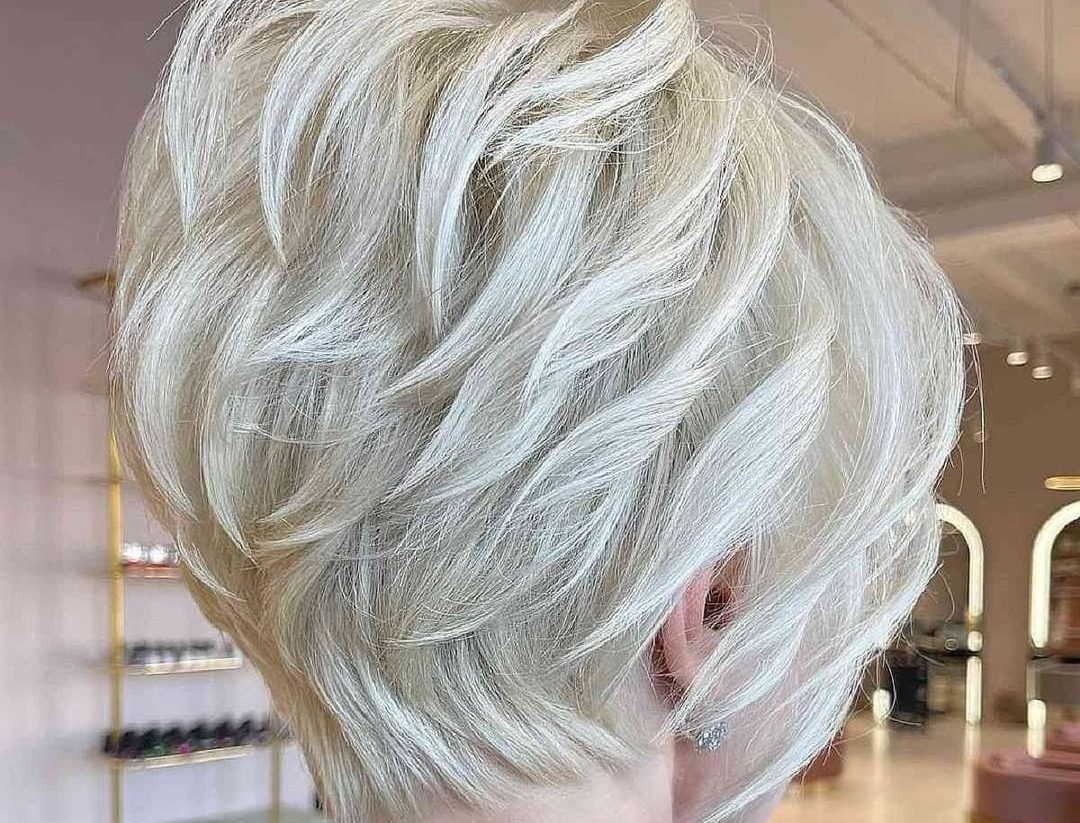 Credit: @latesthair via Instagram
Typically, women with fine hair tend to opt for low-maintenance styles that grow out nicely. This feathered jaw-length bob is an excellent option as it showcases fullness and volume, thanks to its crisp layers around the crown. Additionally, the blunt ends give the hair a thicker appearance at the bottom.
Short choppy pixie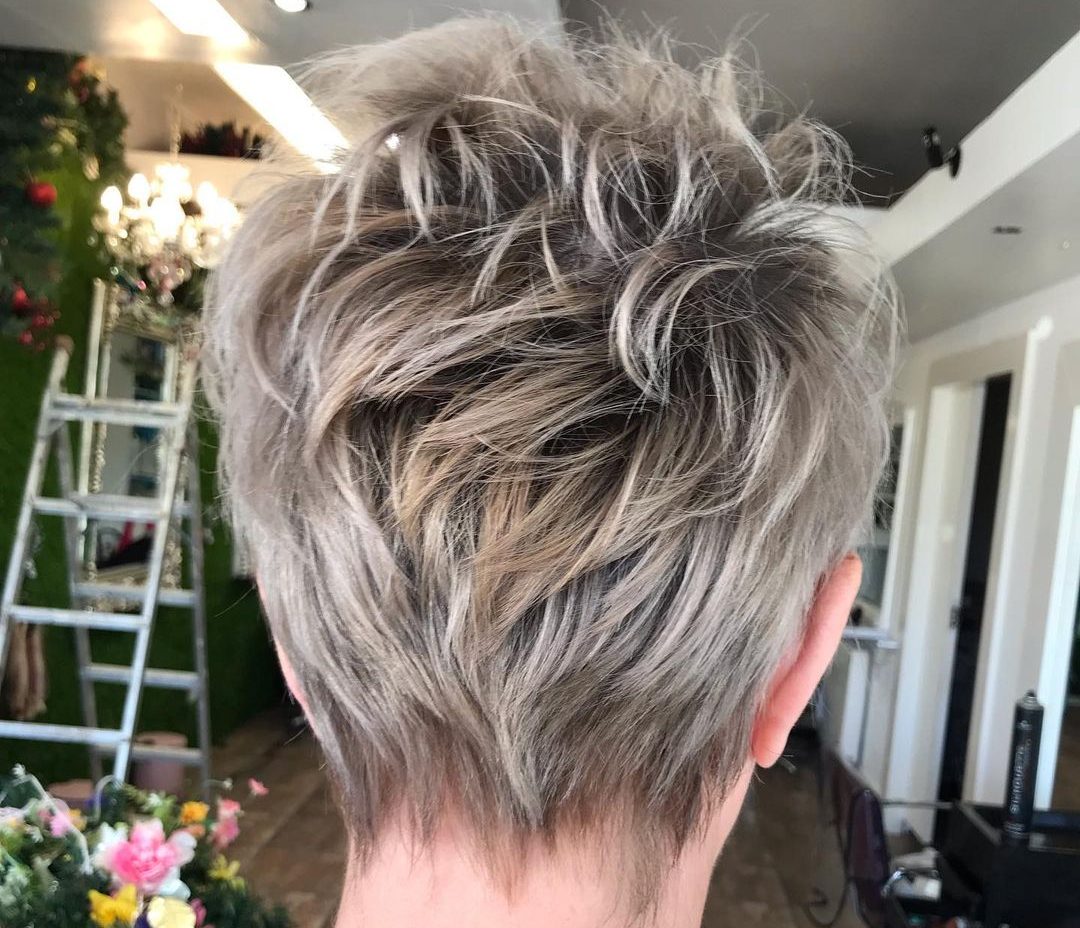 Credit: @rockpaper1111 via Instagram
If you have thin hair, don't be afraid to go for a shorter haircut. This woman's hair looks full and luxurious due to her stylist's technique of shaping the hair into side-swept, feathery layers. By opting for this style, you can achieve a voluminous and textured look, making your hair appear fuller than it actually is.
Wavy bob shag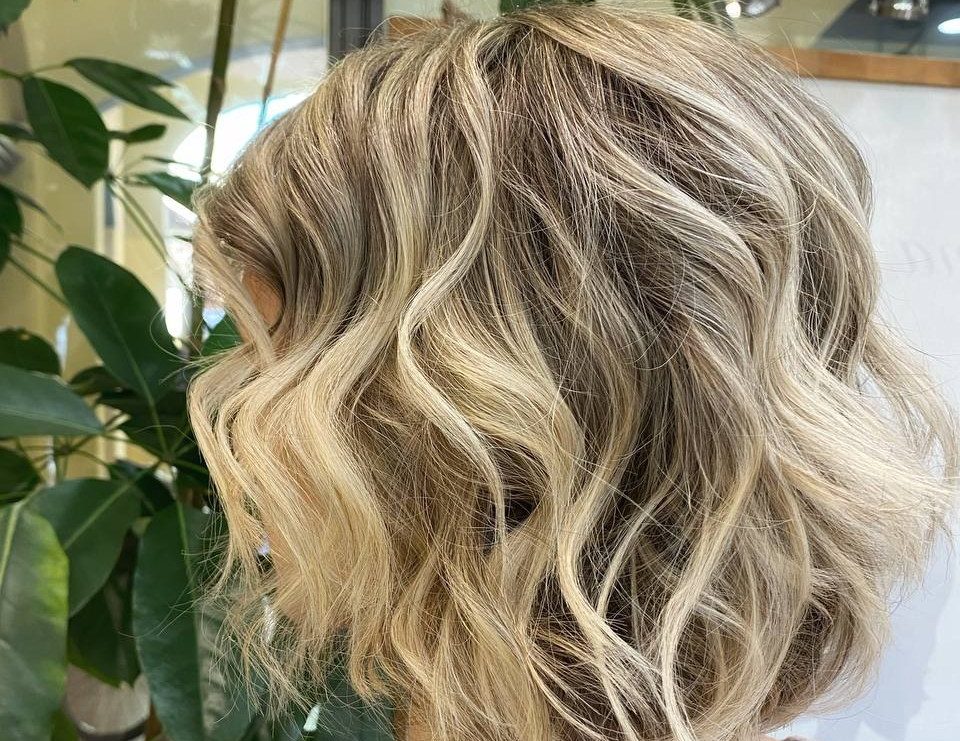 Credit: @fabianahairlabcento via Instagram
Achieving waves in super-short hair can be tricky, as it's important to avoid overdoing it. To create the perfect look, use a one-inch curling wand to wrap large sections of hair around, leaving the bottom inch out. Once the waves are set, gently rake your fingers through your hair to break them up and create a beachy, shaggy feel.
Blunt bob with layers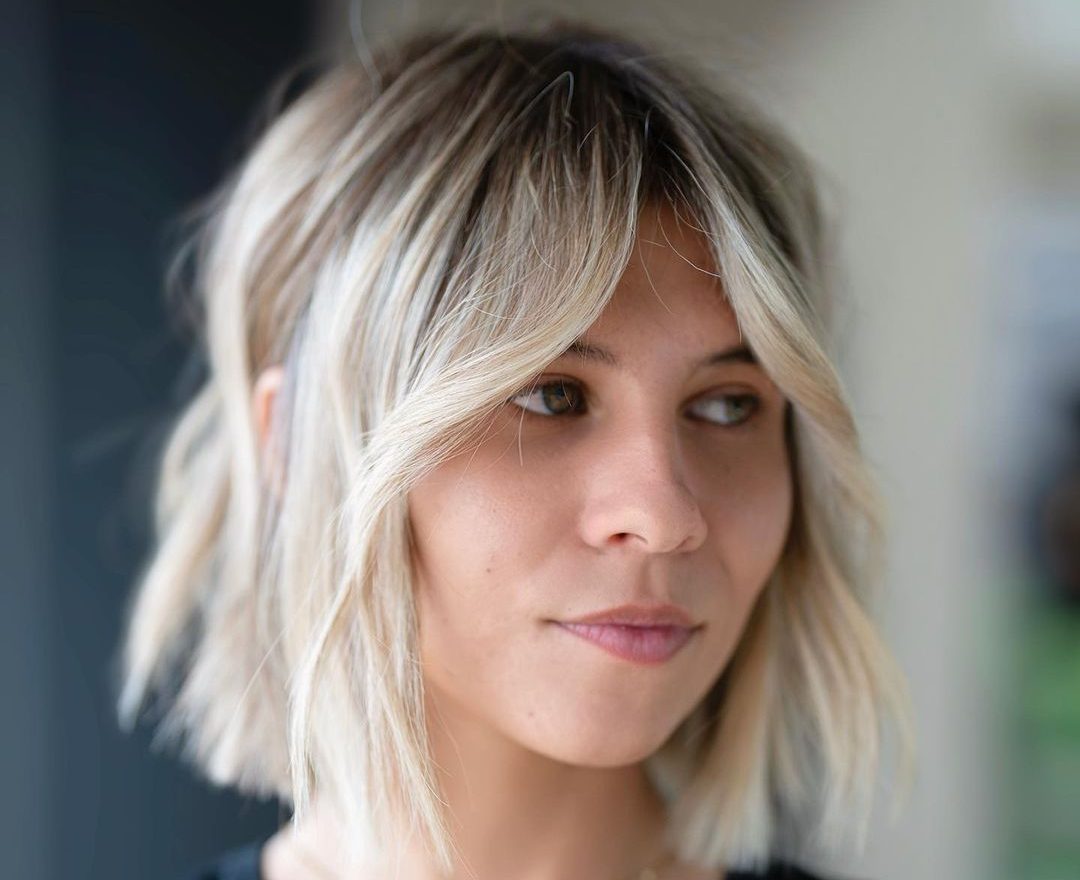 Credit: @brianaguilarhair via Instagram
The right combination of beachy blond highlights and long textured layers can create a full and voluminous look for fine hair. To achieve this, it's important to have your hair cut with a razor to create shaggy ends, especially if your hair is on the straighter side. By using this technique, you can create the illusion of thicker hair, giving you a more youthful appearance.
Crisp wispy bob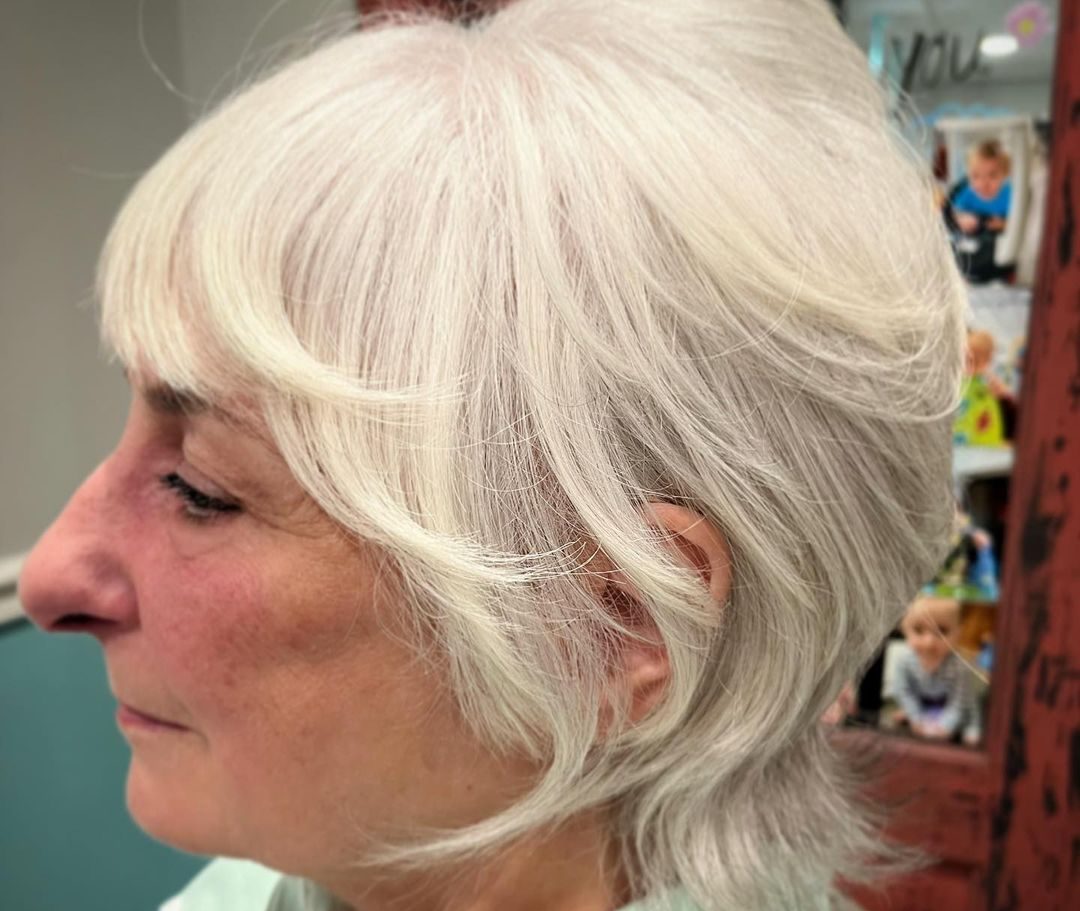 Credit: @hairlove_salon via Instagram
Consider a cute wispy bob with lots of fine hair tucked behind the ears for an edgy look. This style looks particularly chic in a white-blond color. Also, create feathery bangs and side pieces with a non-defined side part, allowing them to soften your features. By incorporating these elements, you can achieve a playful style that adds dimension to your fine hair.
Crisp, layered hairstyle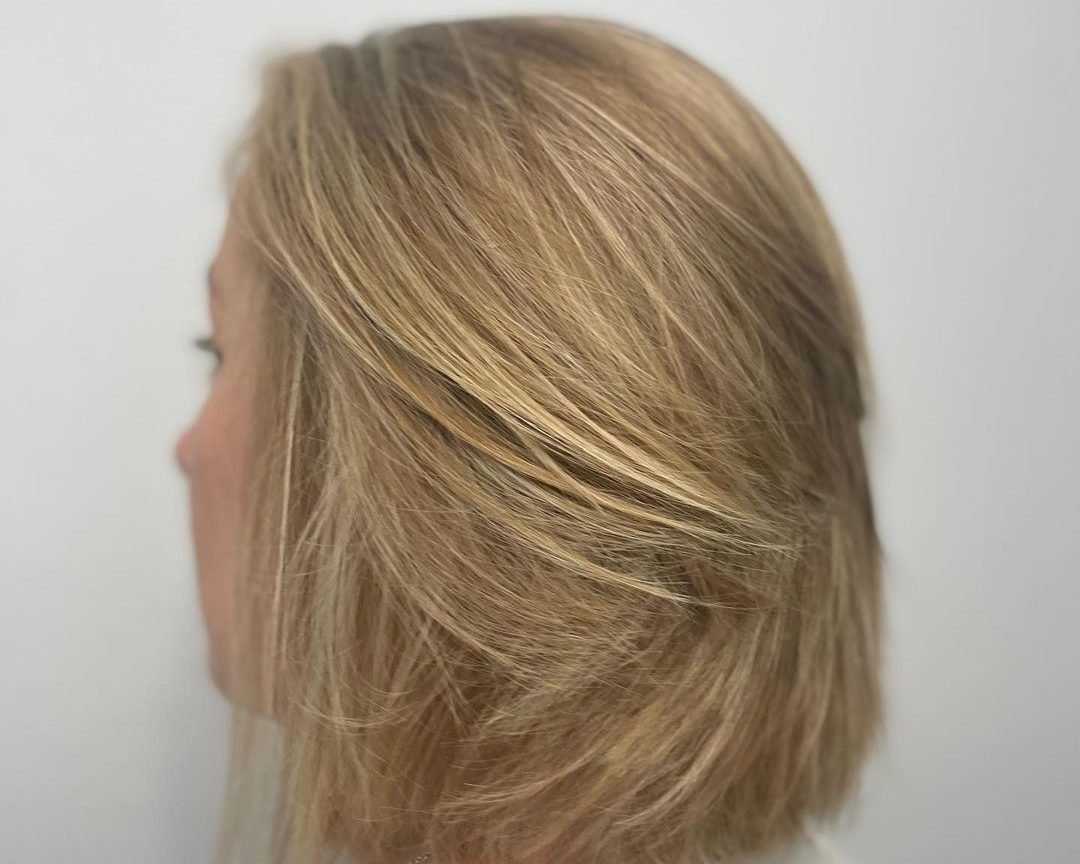 Credit: @camille.beauty.bar via Instagram
If you have naturally straight fine hair, consider opting for short-to-medium layered hairstyles. These styles can help boost the volume and texture of delicate strands. A feminine bowl shape and razored ends can create a windblown, rockstar finish. To add some additional flair, try incorporating wispy bangs that cover a bit of the eye and extend down to frame the face without overwhelming it.
Super short
Credit: @shorthairlife via Instagram
Going super short can be the ideal choice for fine and wispy hair. Saving stray strands from easily going out of control, this super short hairstyle is the epitome of ease. Better yet, it saves hours of styling time, creating a look that's both stylish and easy to put into place.
Fauxhawk pixie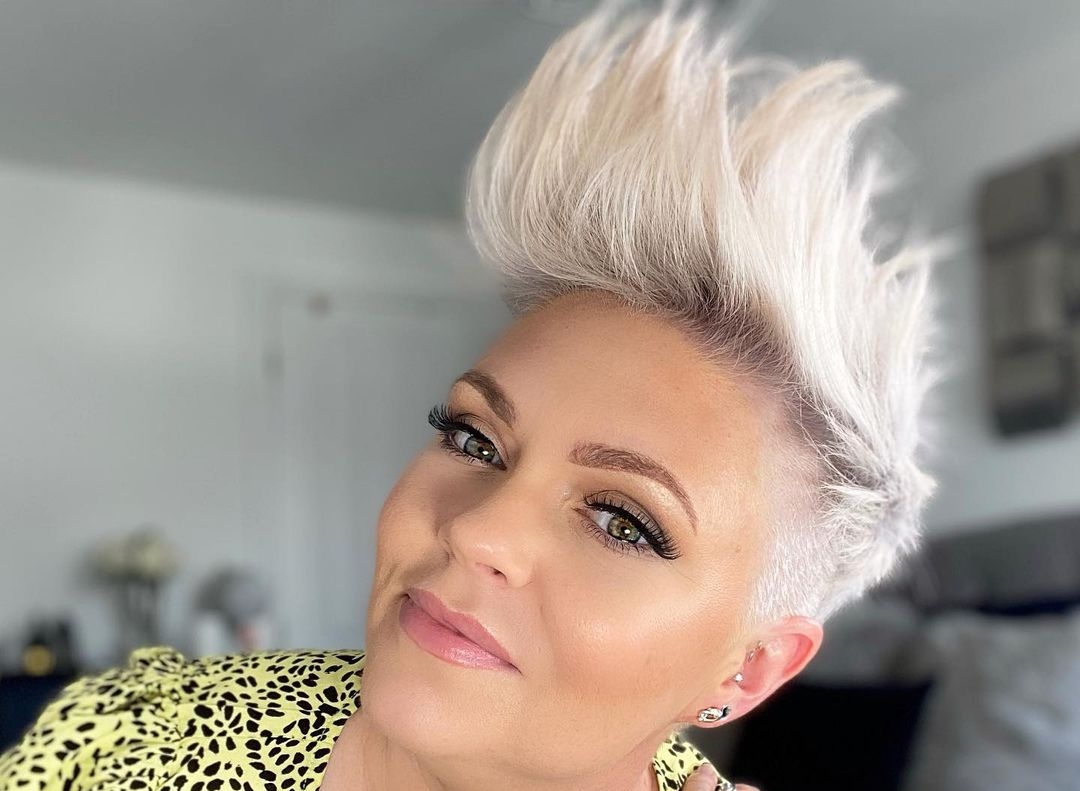 Credit: @jcx28 via Instagram
The fauxhawk pixie cut is a daring and bold choice for those who want to show off their individuality. Oozing style and sass, this haircut is the perfect choice for women with wispy hair. Better yet, you can pin back the long hair on top to make it more appropriate for everyday use.
Textured, layered bob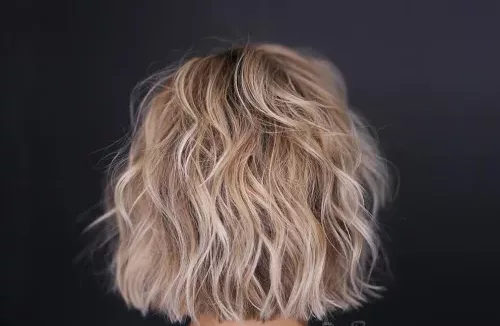 Credit: @buddywporter via Instagram
Instead of sticky with a dreary, regular bob to hide your thin hair, consider getting your hair textured and layered. Strands will lay ontop of one another, creating an impressive illusion of thickness. Adding highlights to the mix further extends the enrichment of your hair.
Medium choppy hair with long bangs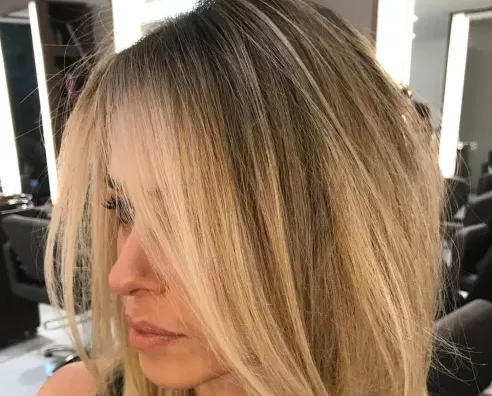 Credit: @romeufelipe via Instagram
Combining thin hair with long bangs is a bold, iconic choice. Adding more length to your hair can grant the illusion of thickness, particularly if you grow out your bangs a considerable length. Ensure you get your hair regularly styled so it keeps its chic appearance.
A-line bob with highlights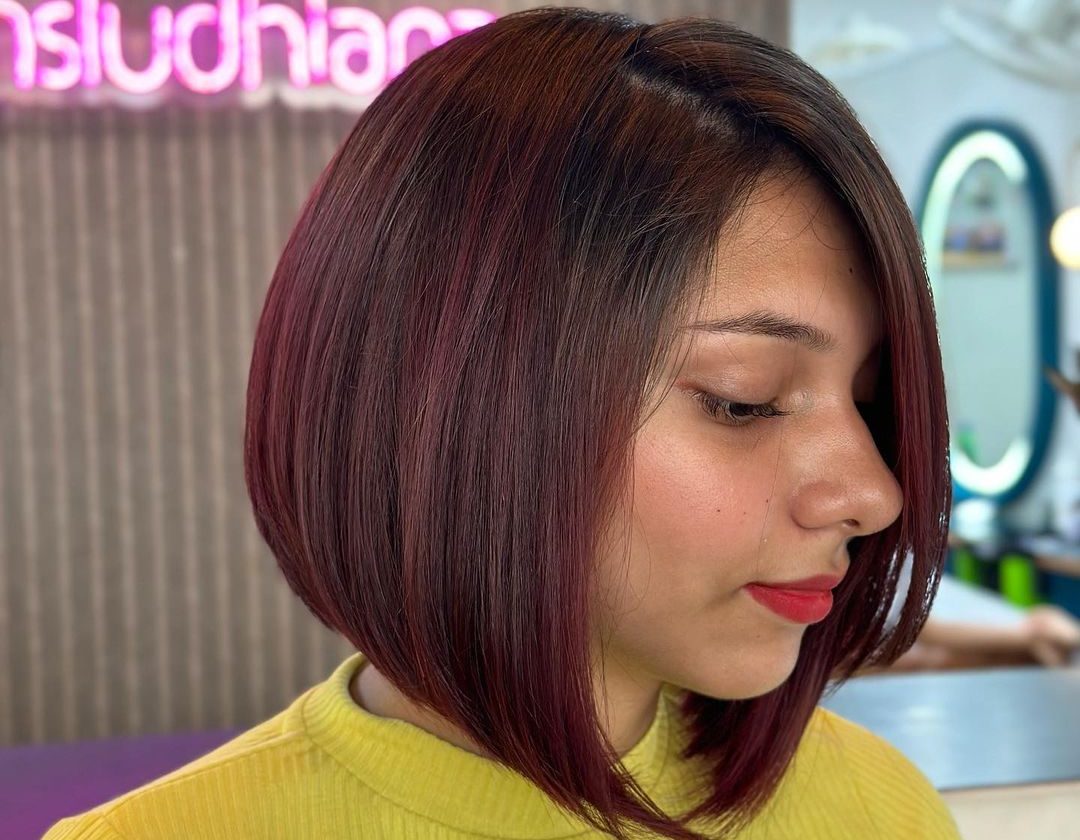 Credit: @smsludhiana via Instagram
An A-line bob creates a nice frame for your face, helping to make you look more youthful. Combining the style with brightly colored highlights can make your hair look thicker, while bringing an added sense of pizzazz. Talk to your stylist about which highlight color would best suit your skin tone.
Layered honey and platinum style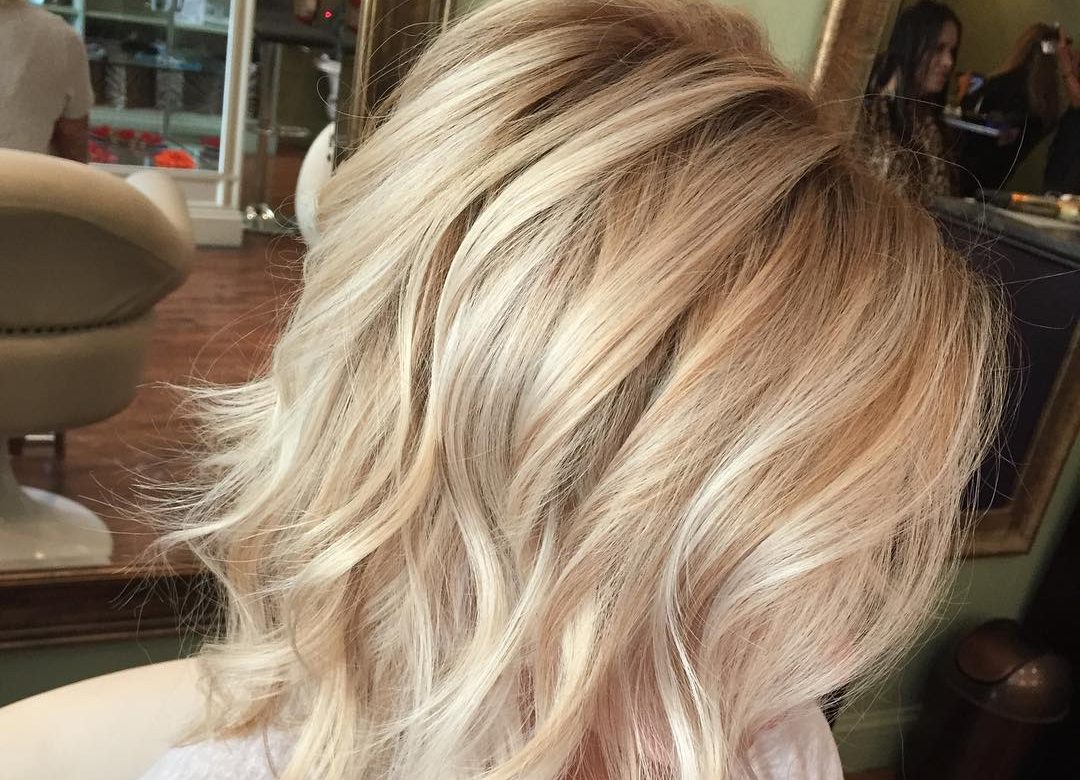 Credit: @saloncouture_ny via Instagram
Vary the length of your tresses in order to make your hair look fuller. Adding layers to your cut can also instantly make your hair look thicker. Mixing blends of honey and platinum to your hair can also add a touch of warmth to your style, bringing a glow to your complexion.
Long line A-bob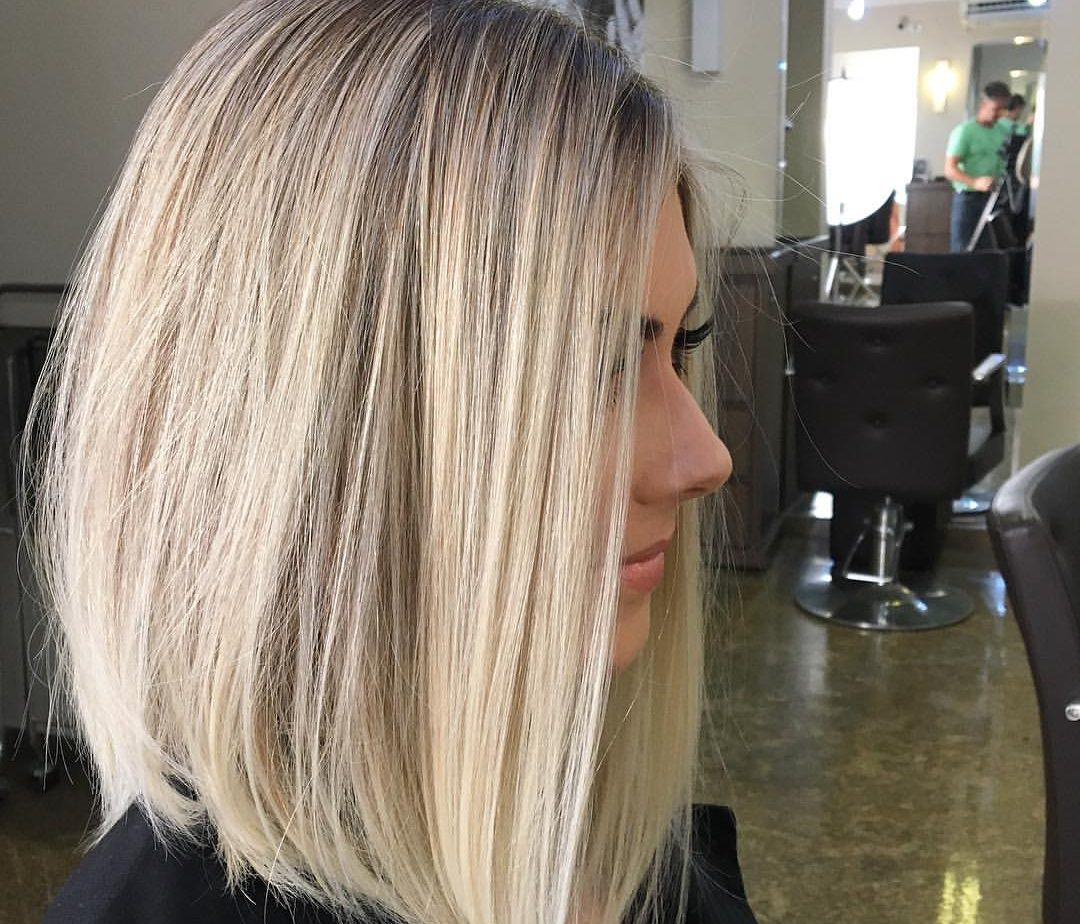 Credit: @rafaelbertolucci1 via Instagram
Bring a touch of modernity to your thin hair by rocking a long A-line bob. The straight uniformity of the style keeps it sleek and timeless, while the shape can add a sense of volume. This hairstyle still oozes style still even when it's grown out, meaning you won't have to take frequent trips to the salon.
Blond lob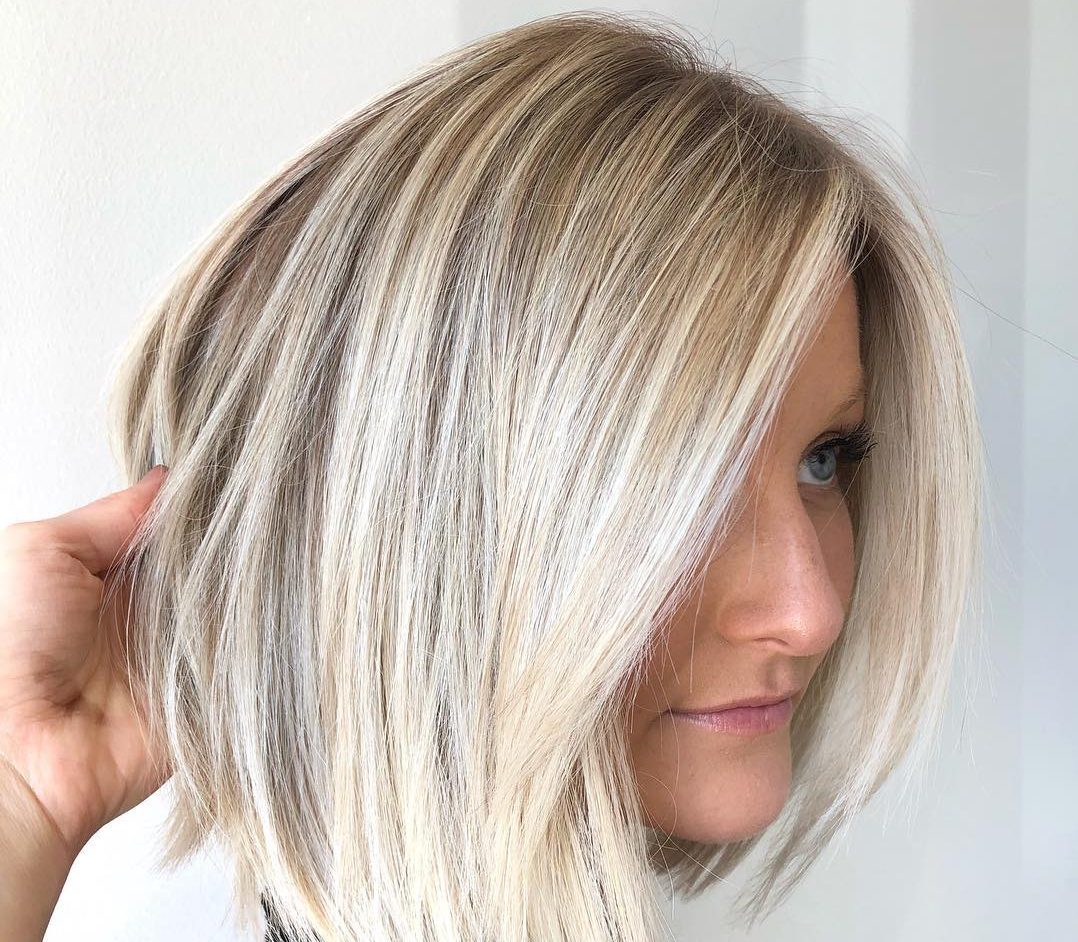 Credit: @maeipaint via Instagram
A lob – otherwise known as a long bob – is a great choice for women with fine hair. Due to the style's asymmetry, it creates a flattering look that accentuates all of your best features. Consider adding layers or balayage to your lob to effectively elevate your look.
Side-swept bob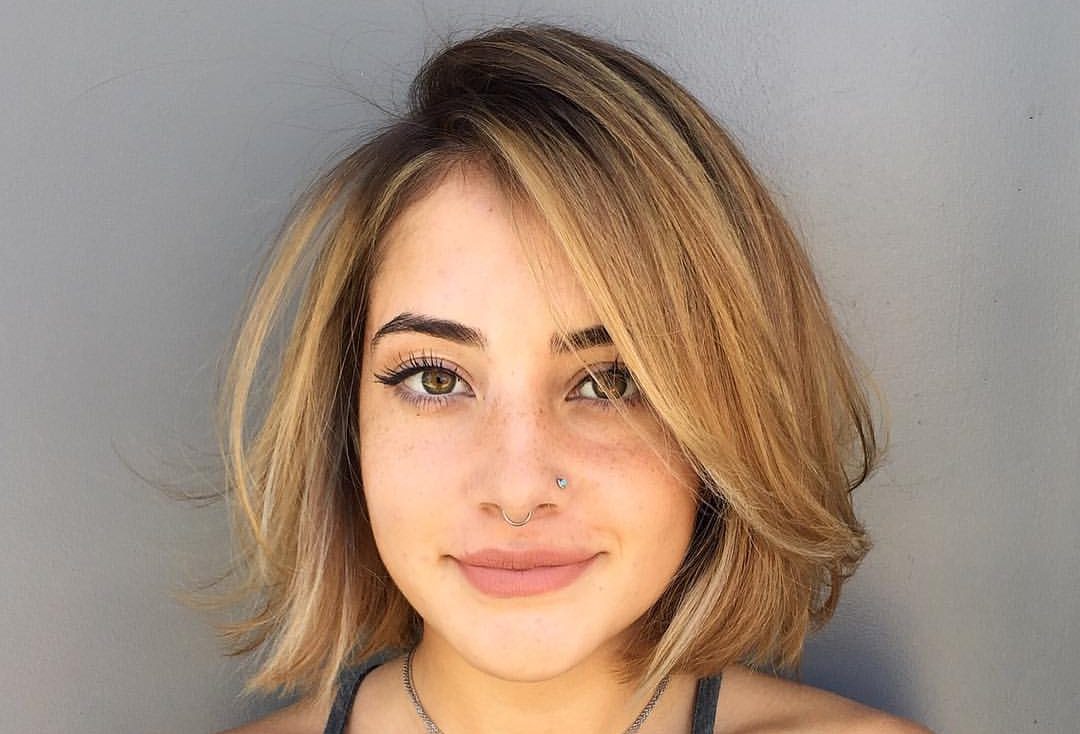 Credit: @caitycaatt via Instagram
A side-swept bob can perfectly cover up any thinning patches of hair. Training the eye to focus on your luscious locks, this hairstyle is easily attainable – with beautiful results. Consider getting your swept bob blown out to add even more layers of texture and volume.
Thinly chopped shag
Credit: @salsalhair via Instagram
A shaggy haircut is a great way of incorporating a modern edge to your hairstyle. The shaggy cut works perfectly with thin hair, as finer locks are easier to shape. This mid-length cut is also easy to maintain, meaning you're able to walk out of the door in the morning with minimal prep.
Shaggy ends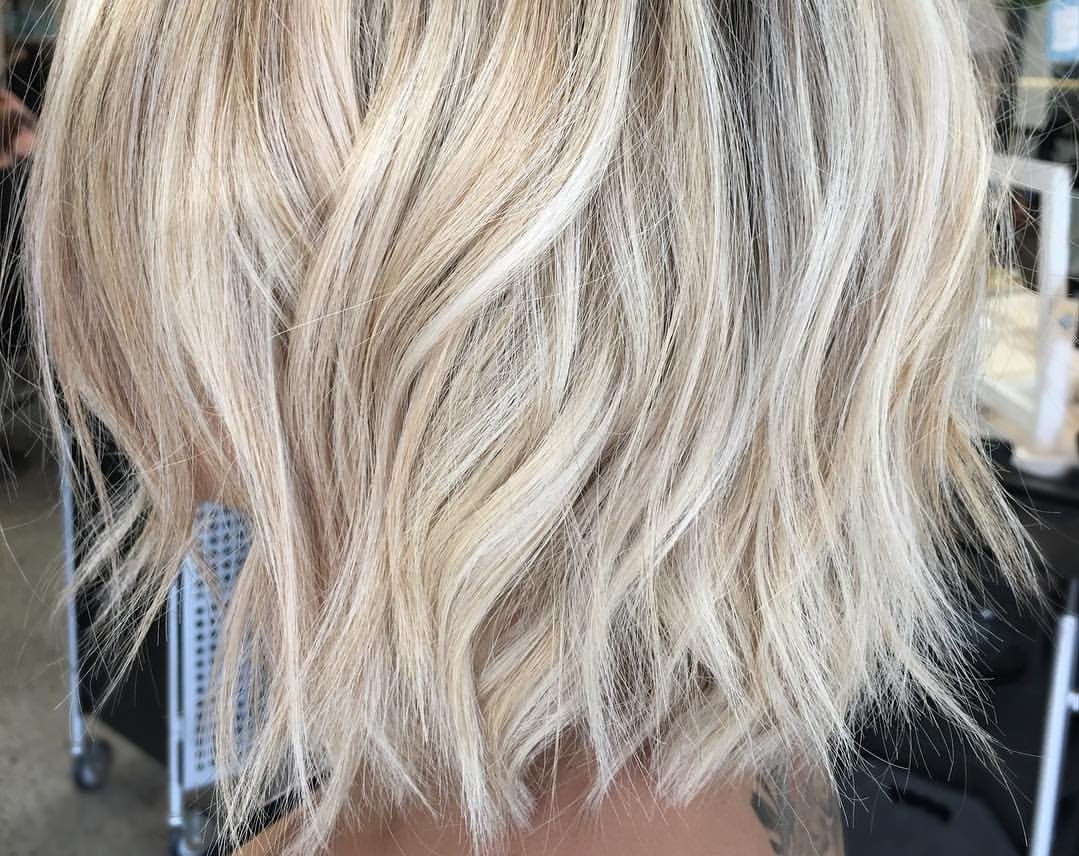 Credit: @salonailbhe_ via Instagram
Going for a shaggy style doesn't necessarily mean you have to transform your entire haircut. Simply get your hairdresser to chop at your ends with a razor blade, creating a stylish, edgy look that breathes new life into your fine hair. Implementing shaggy ends can bring an added sense of texture to your style.
Curtain bangs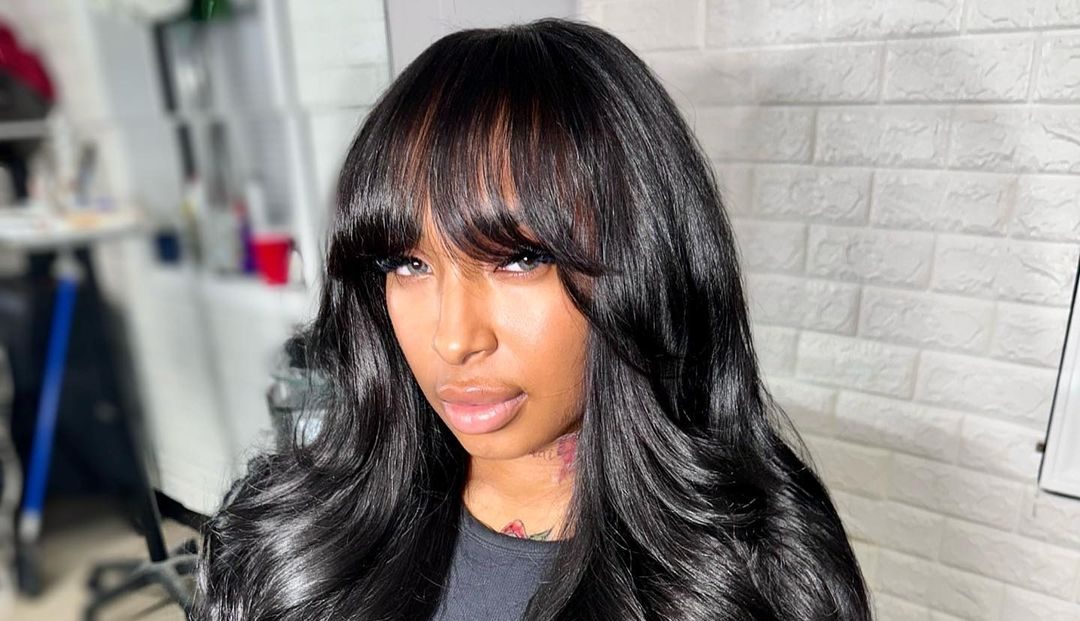 Credit: @foreignbeautyinc via Instagram
Curtain bangs add a sense of width and thickness to your hair, counteracting any wispy woes. Although you may be dubious about trying out thicker bangs if you're already paranoid about having thin hair – have no fear – it's the perfect solution to add a sense of definition to your haircut.
Medium-length middle part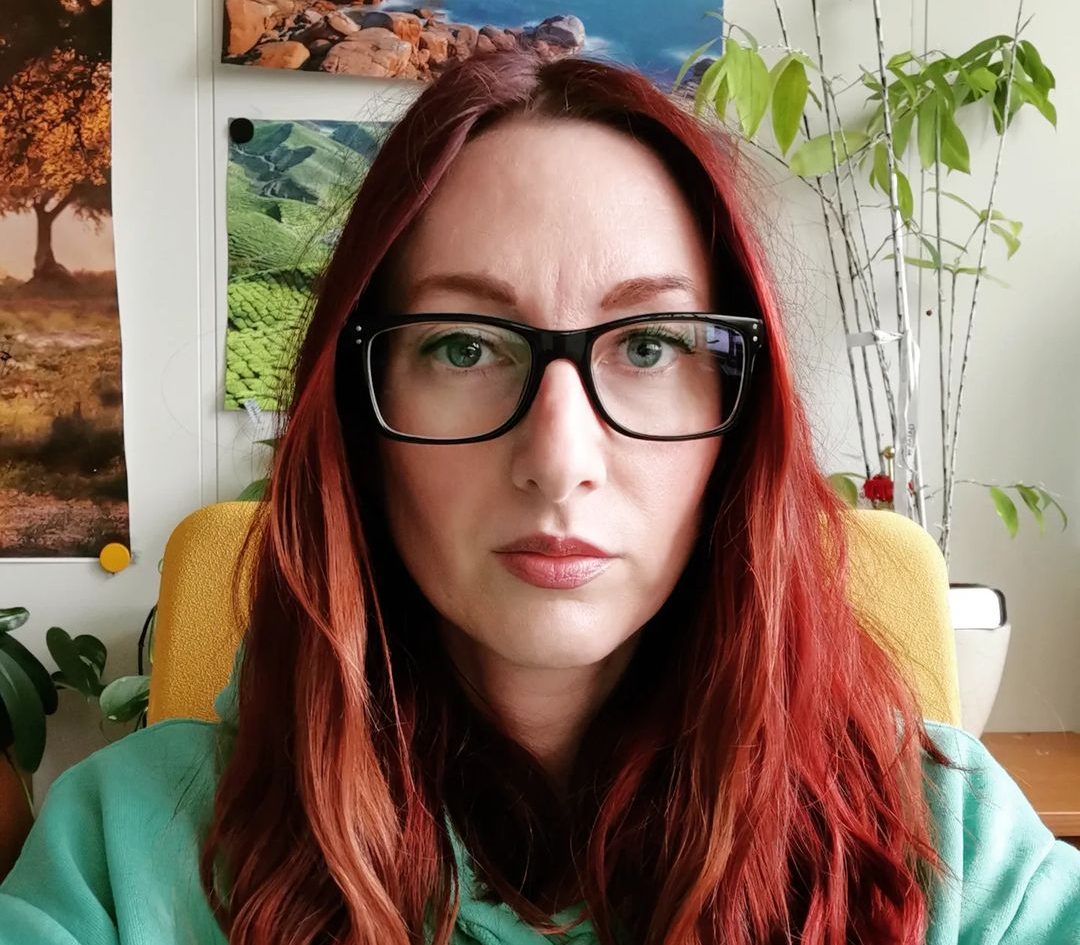 Credit: @missnuttree via Instagram
A middle parting can flatter women with oblong or oval faces. Letting your hair fall down either side of your face creates a beautiful silhouette, making your hair appear thicker than it actually is. For added spice, consider going for a bright red or auburn dye.
Icy blond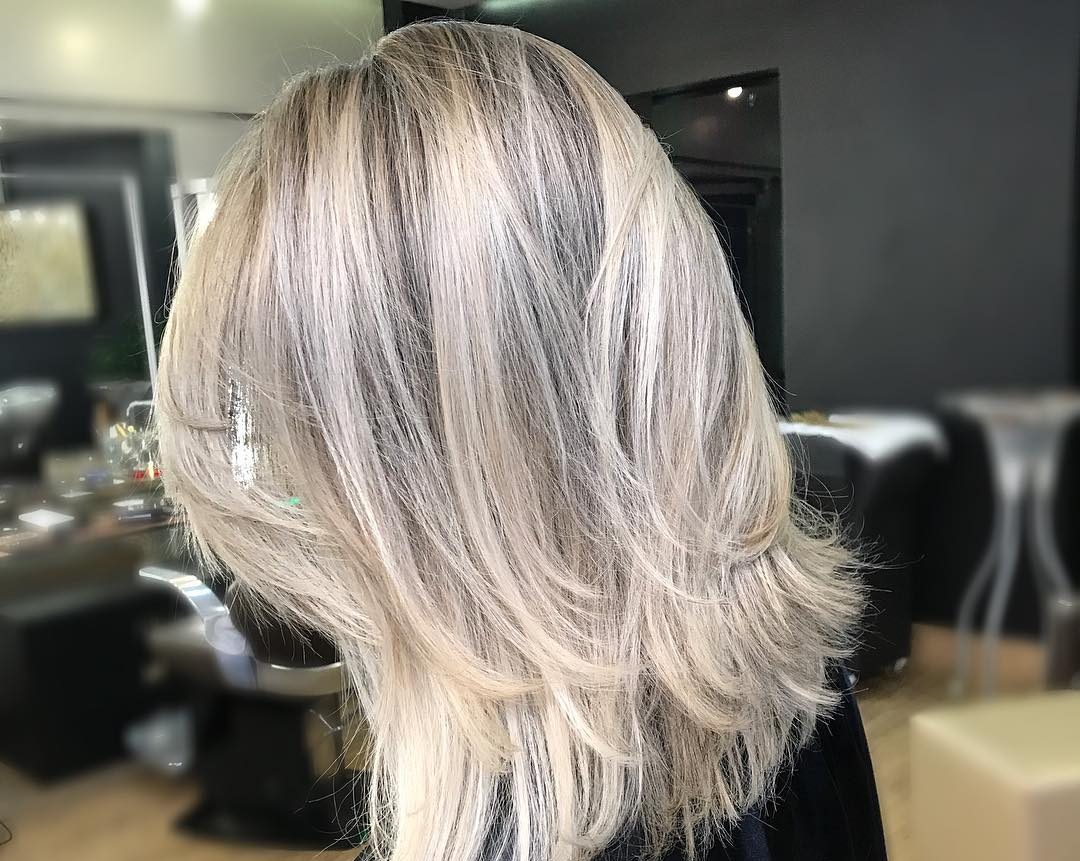 Credit: @maxwellmathson via Instagram
Cool, icy hues can turn any hairstyle from drab to stylish, sheathing you in stunning shades of blond. Although thinning hair is an inevitability, you can take command of your style by going for a medium-length style that'll suit your face shape, complimented with gorgeous shades of white.
Short chocolate lob with highlights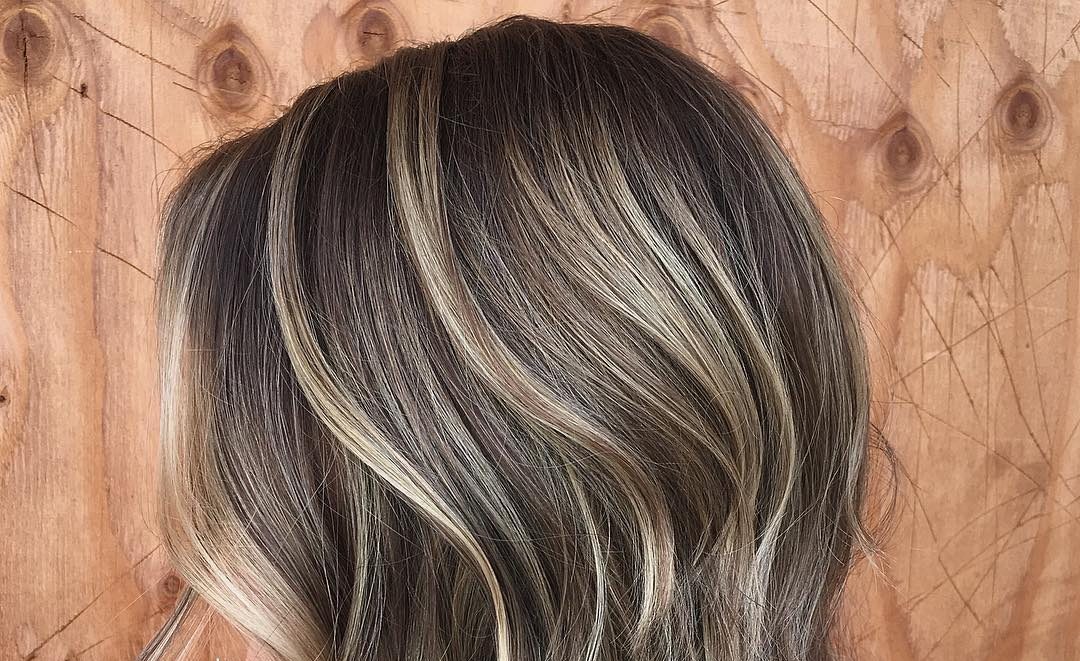 Credit: @hairby.ashleypac via Instagram
Sheath your hair in beautiful shades of chocolate brown, broken up with stunning blond highlights. The dichotomy of color creates a gorgeous blend, allowing your thin hair to truly pop. Better yet, this color combo will suit any style you can think of, making the styling possibilities endless.
Deep side part
Credit: @katierosehair via Instagram
Sometimes, mixing up your look can be as simple as adjusting your side part. If you're struggling to style your thin hair, go for a deep side part, as it'll take advantage of layering your fine style. Tucking your hair behind your ear can make the other side of your hair look thicker, making it that bit more appealing to the eye.
Wispy salt and pepper look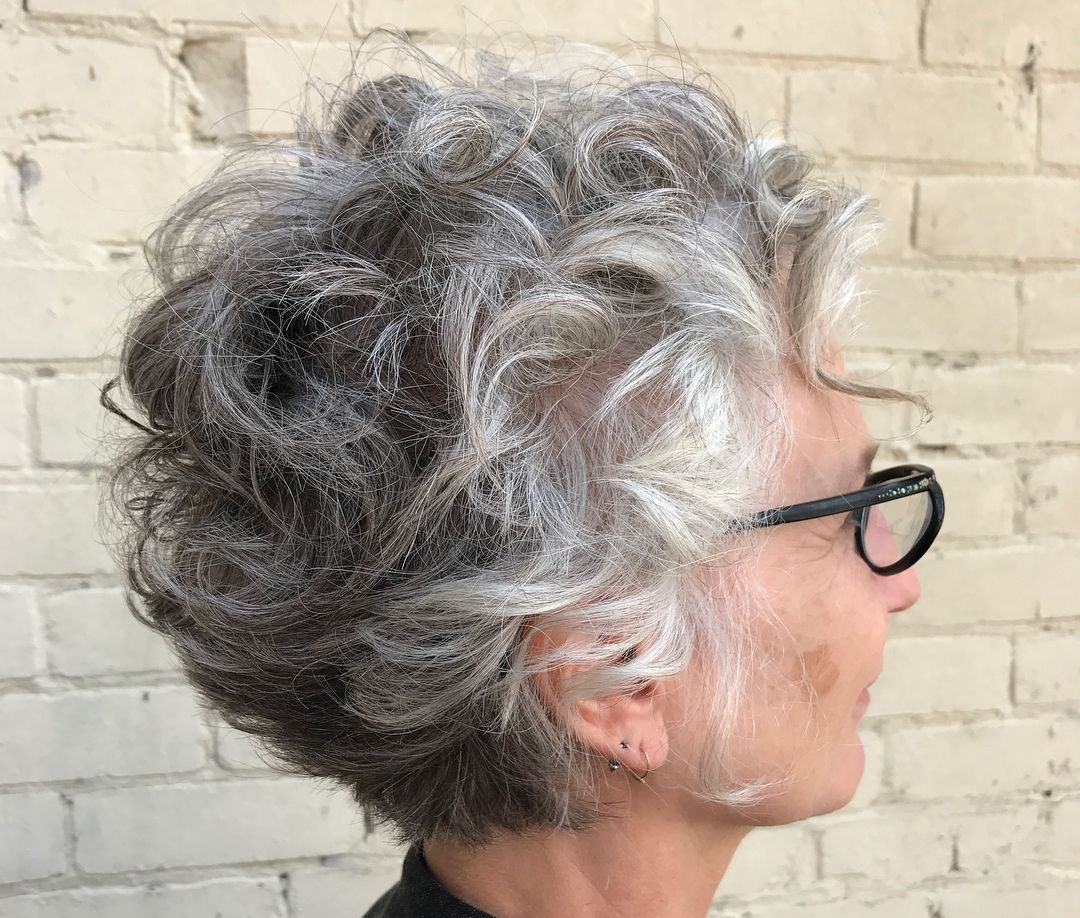 Credit: @rachbenshair via Instagram
Combining thin hair with salt and pepper coloring may go against all of your instincts, but don't knock it until you've tried it! The mix of your natural color and thin hair shows an unabashed sense of confidence, donning a hairstyle that takes minimal morning prep.
French bob with bangs
Credit: @salsalhair via Instagram
A French bob is a timeless classic – a look that anyone is able to pull off, regardless of hair type. Combine the iconic French bob with some hefty bangs to bring a modern edge to your look, mixing timeless beauty with the latest style. If you're feeling brave, go for a burnt-orange color, ensuring that you'll turn heads wherever you go.
Straight cut lob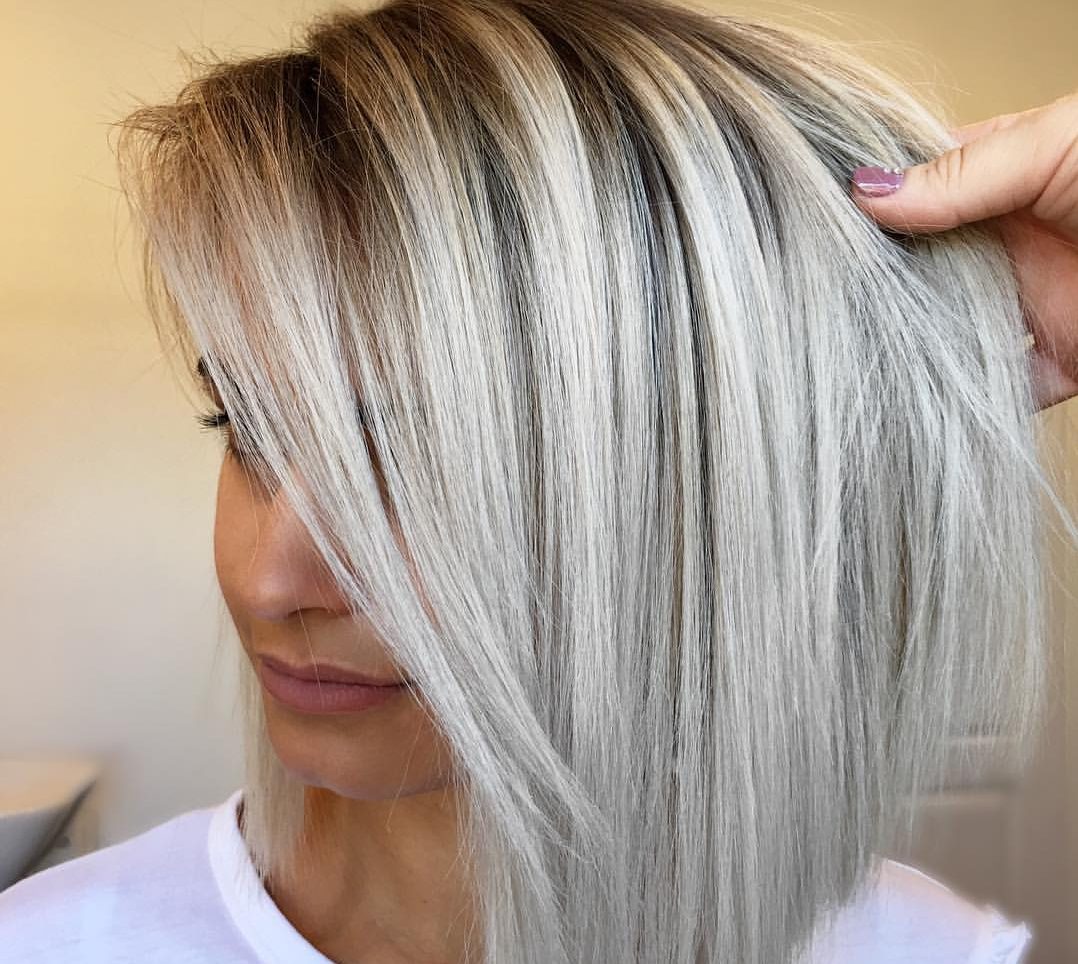 Credit: @hotteshair via Instagram
Opting for a straight-cut lob is a fantastic choice if you're struggling to style your thin hair. The straight edges of the cut provide a bold sense of straightness, helping to frame your face beautifully. Consider sweeping your bangs to the side to help bring a sense of fullness to the crown of your head.
Twisted lob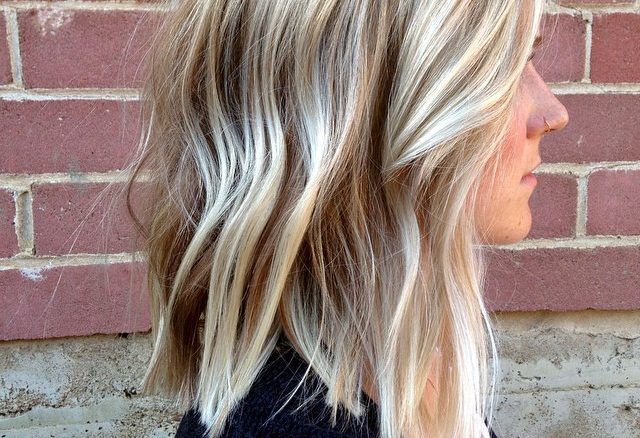 Credit: @patriciajhair via Instagram
Having thin hair doesn't mean you have to stick to dull styles. Grab a flat iron and twist locks of your hair around it, ensuring you evenly apply the look across your hair. These slight twists will add huge amounts of volume to your hair, while adding extra movement and bounce while you walk.
Blown out bob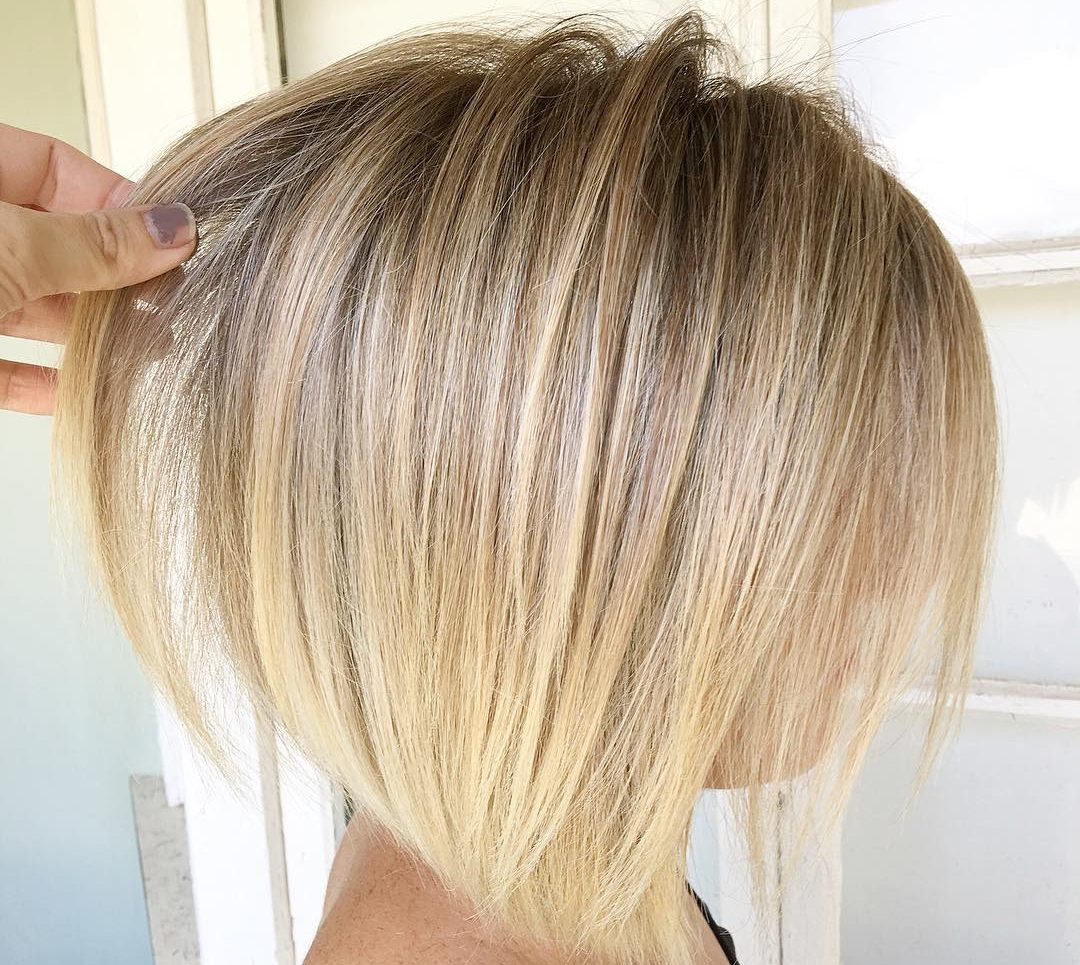 Credit: @hairbycassiebond via Instagram
Going for a blowout is a sure way to add some depth to your fine hair, especially if you're rocking a cut on the shorter side. Ensure that you continuously use various styling products between trips to the salon to keep your hair lifted, strong and in good shape.
Curls and waves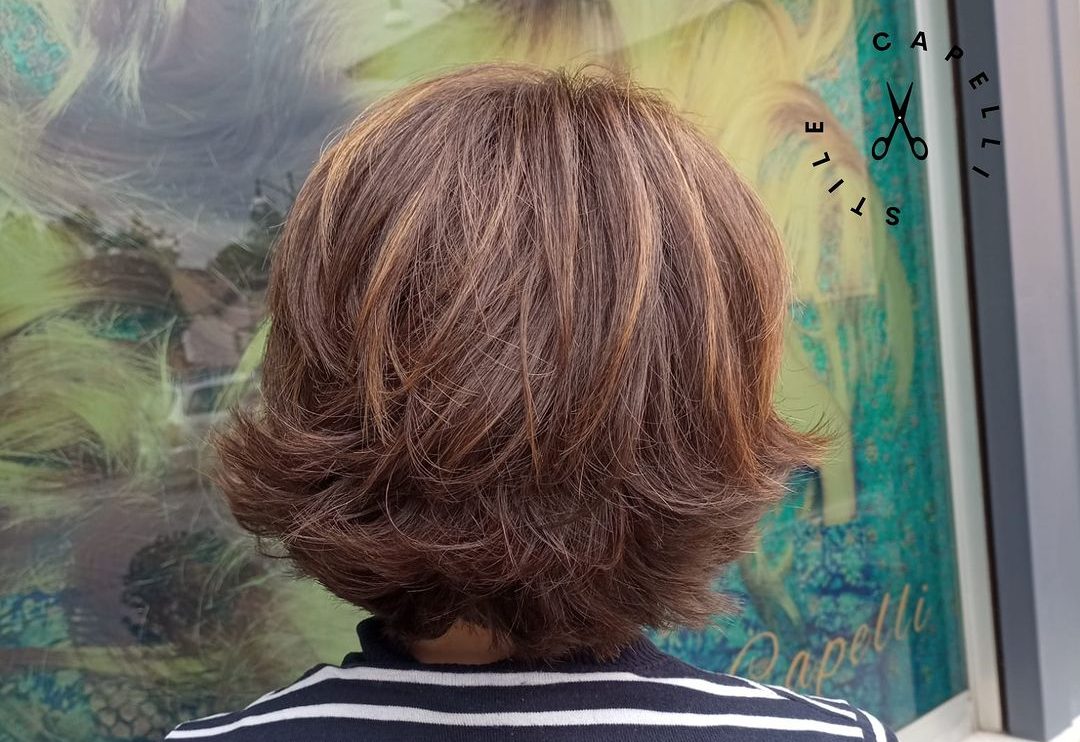 Credit: @stilecapelli_brescia via Instagram
Women with curls automatically ooze a sense of classy style. Add subtle waves from your roots with a curling wand, then set your hair with a spray. Combine this hairstyle with cool shades of brown to bring an added touch of beauty to your new do.
Gray pixie
Credit: @hairby.kansla via Instagram
An airy gray pixie cut is the perfect cut for women with thinning hair. Not only is it easy to style, the feathered look also brings an element of effortless class. Slightly longer on the front, with the rest tucked behind your ear, this hairstyle is perfect for ladies who want an easy look that shows their carefree side.
Highlighted ends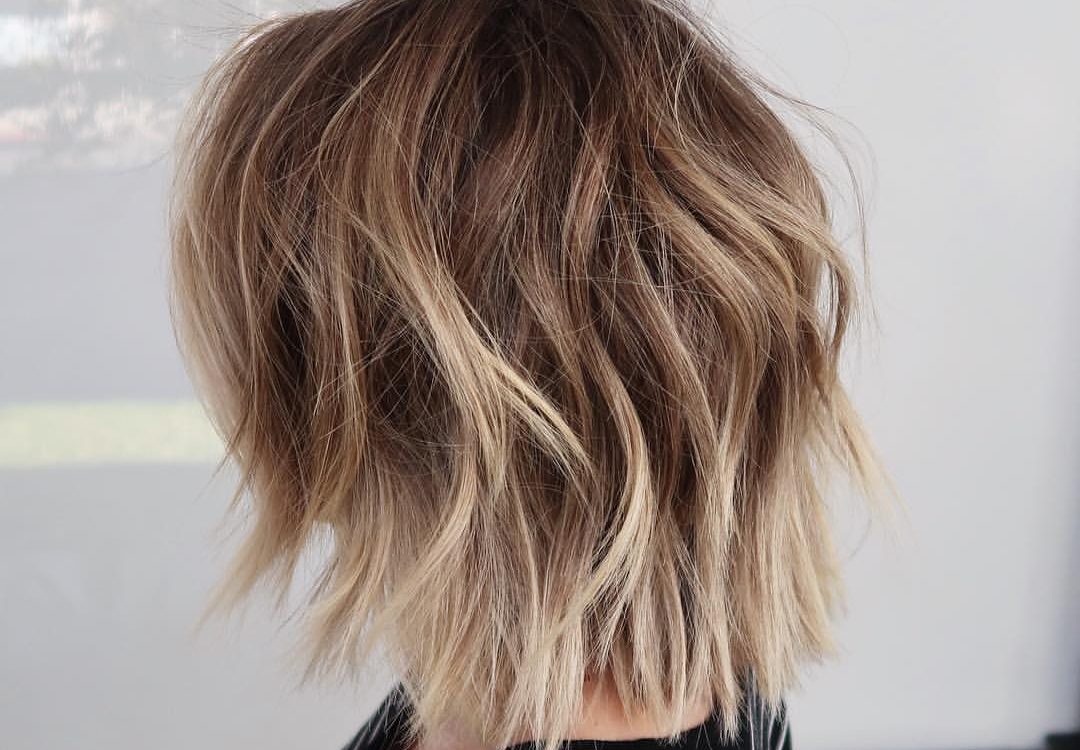 Credit: @donovanmillshair via Instagram
Highlighting your ends is a great way to add depth and structure to your fine hair. If highlights aren't for you, perhaps consider getting a dip-dye – a quick way of introducing another slice of style to your haircut. Go for a lighter color at the end of your hair to bring a youthful glow to your face.
Two tone undercut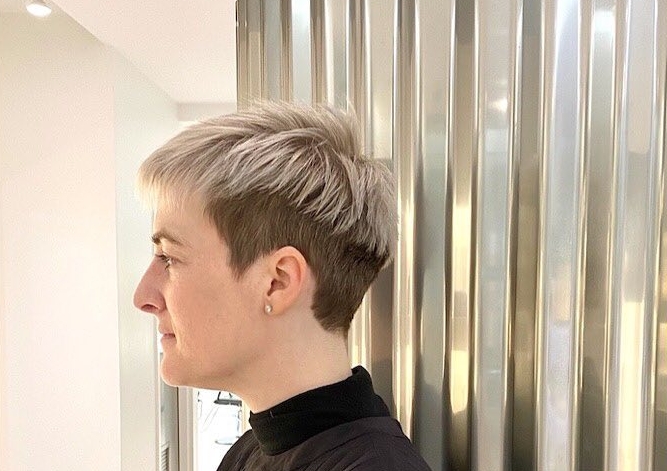 Credit: @maxinesalon via Instagram
An undercut can shape your hair like no other trim, giving an illusion of sculpture. Mixing two opposing tones – such as blond and dark brown – creates an attractive, stylish blend that compliments thin or fine hair. This short cut suits any face shape, meaning it could be the perfect choice if you're looking for a dramatic change.
Long hair with long bangs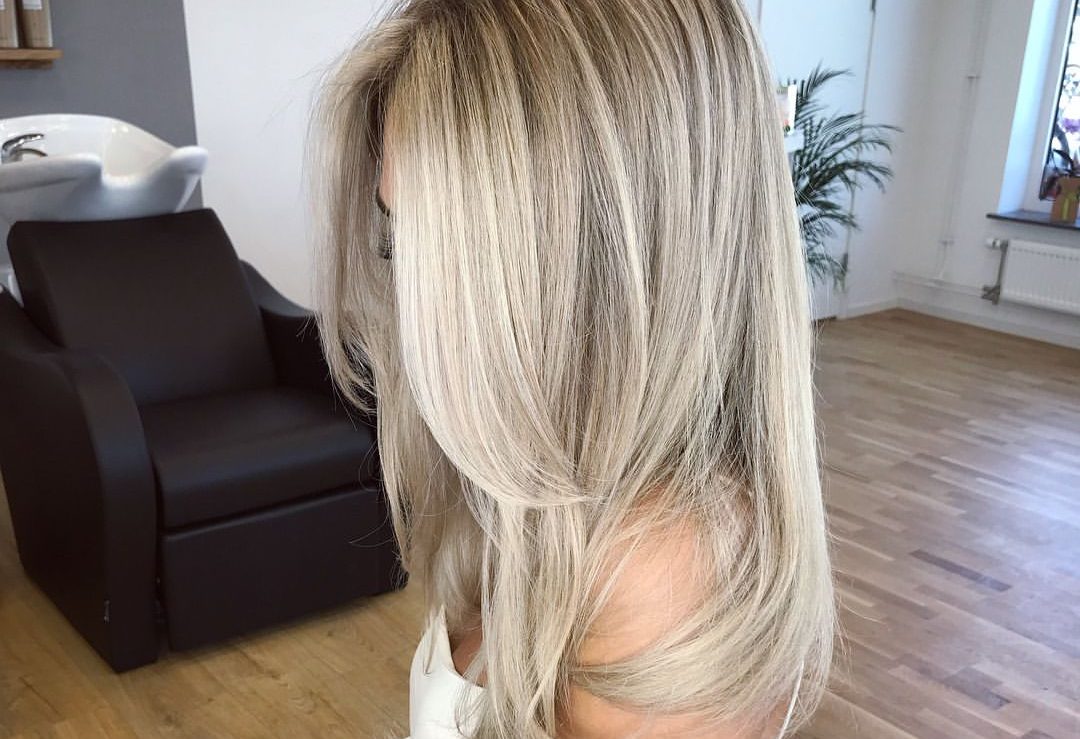 Credit: @aydaukalo via Instagram
Just because your hair may be thinning, it doesn't mean you have to cut it short. Keep your long locks but style them with hints of twists, or consider introducing levels of stylish balayage. Grow your bangs out, having them cascading down either side of your face for an added glimmer of beauty.
Angled cut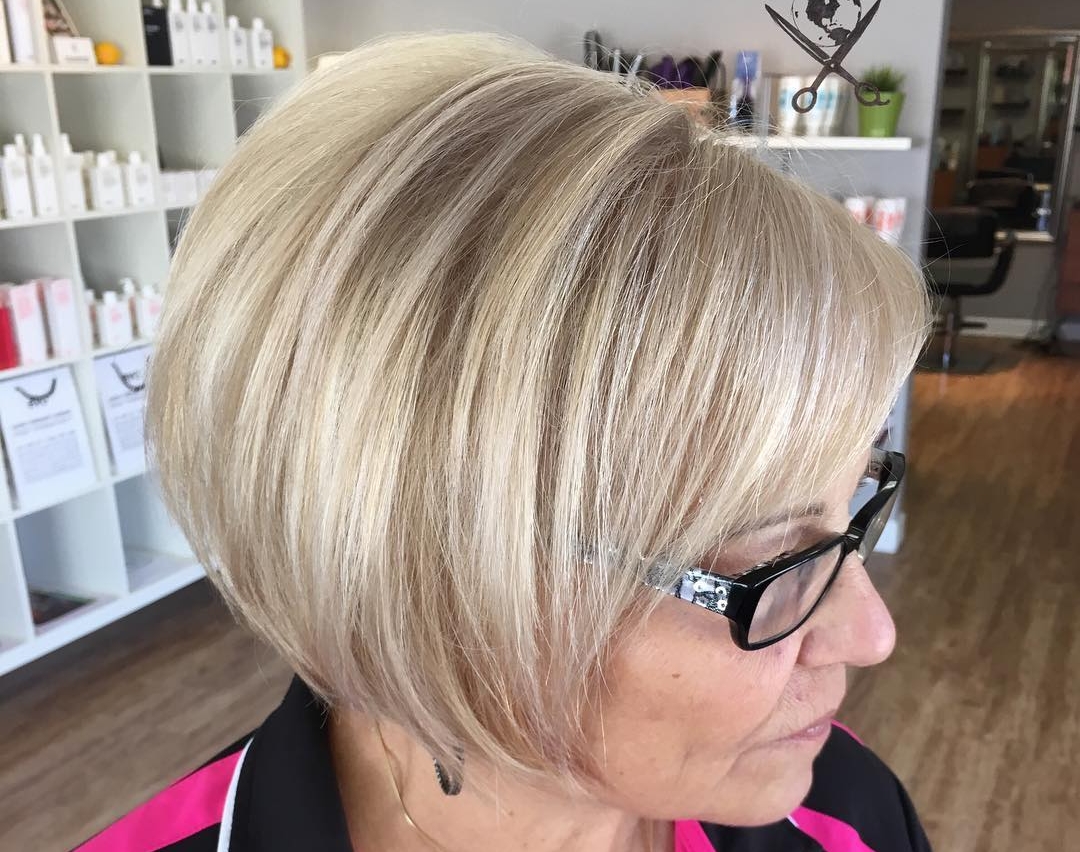 Credit: @itsacuthairworld via Instagram
Angled haircuts bring a sense of sharpness to your face, perfect for covering up any thin spots. The sharp edges compliment your jawline, immediately shaving years off of you. Combine an angled cut with a light color to help combat the harsh edges. These styles are also easy to maintain, requiring minimal daily upkeep.
Wavy curls with bangs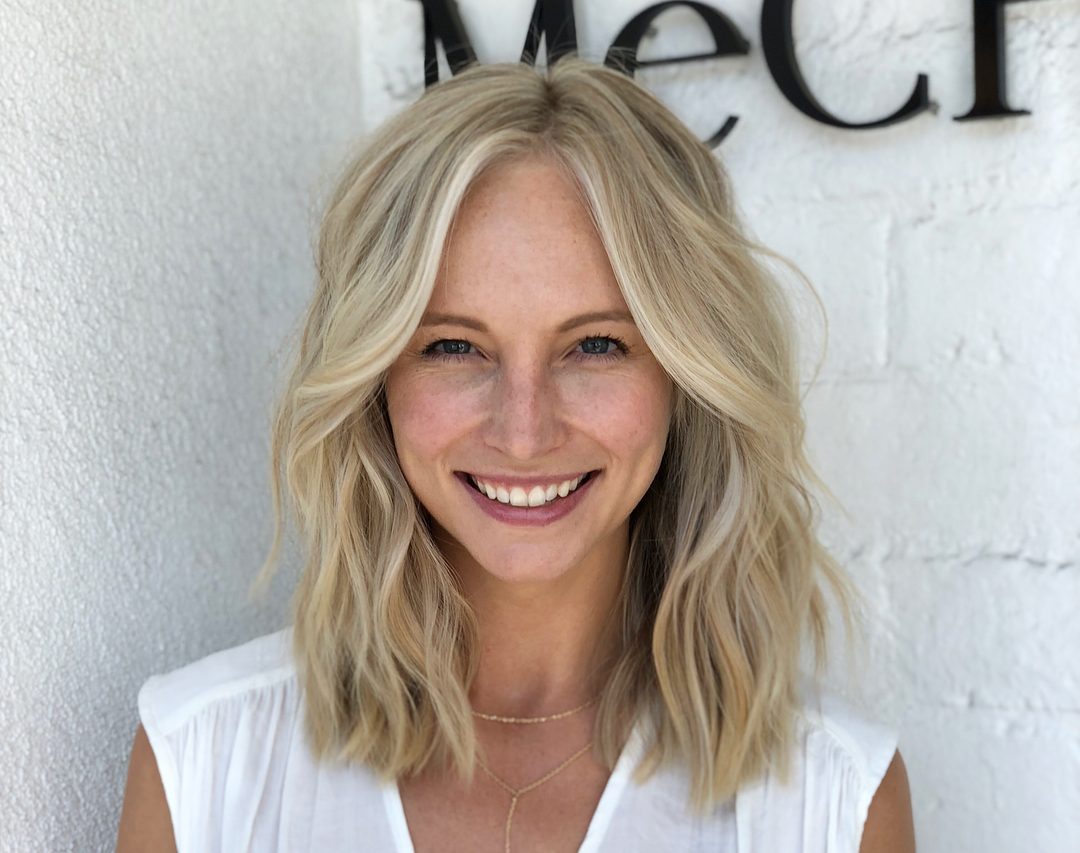 Credit: @karihillhair via Instagram
Waves, curls, and bangs are a match made in Heaven. The bangs create a modern finish, while the curly waves bring a touch of softness to the overall look. Thin hair may struggle to maintain waves without the use of products, so speak to your hairstylist about what products are best to keep your look in place.
Tousled blunt bob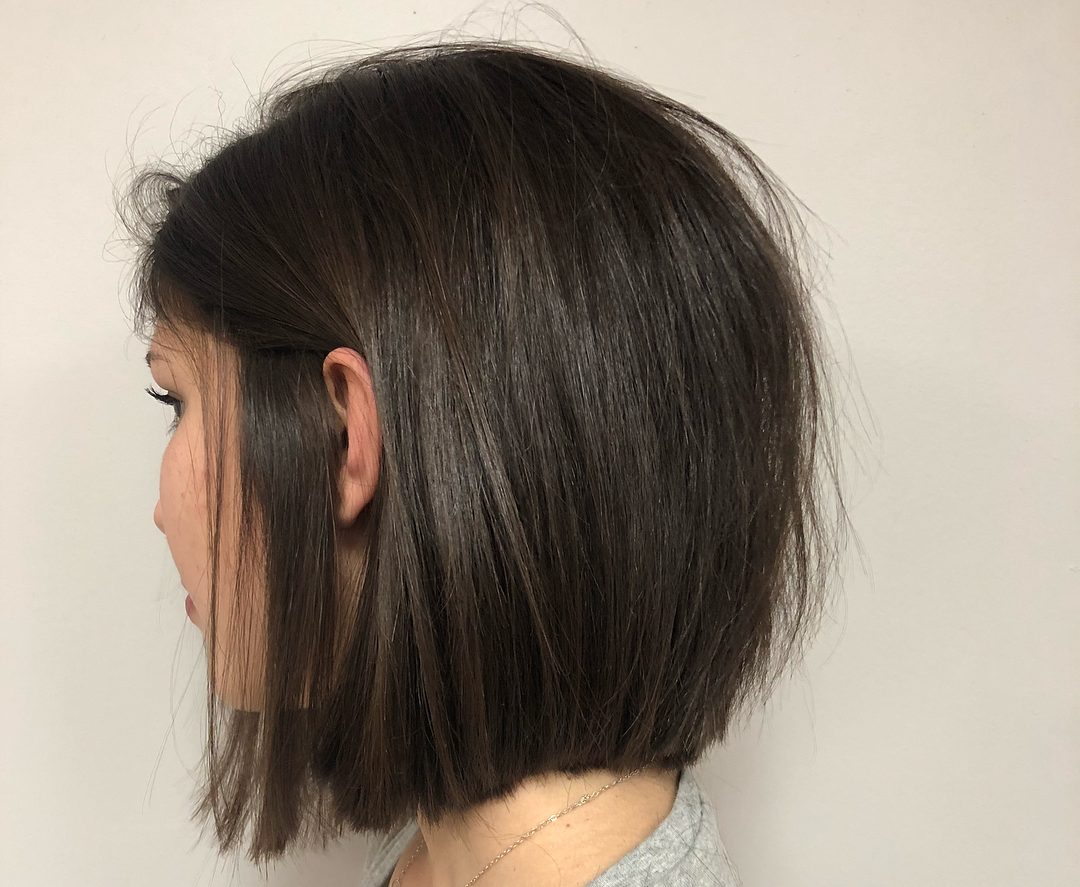 Credit: @hair_by_kennedy_ via Instagram
A blunt bob is a timeless look that works perfectly for thin hair. As thin hair tends to fall relatively straight, the blunt bob will require minimal effort to sculpt it into shape. To add an edgy twist to the look, consider tousling your hair, giving off a carefree vibe.
Layered bob with platinum highlights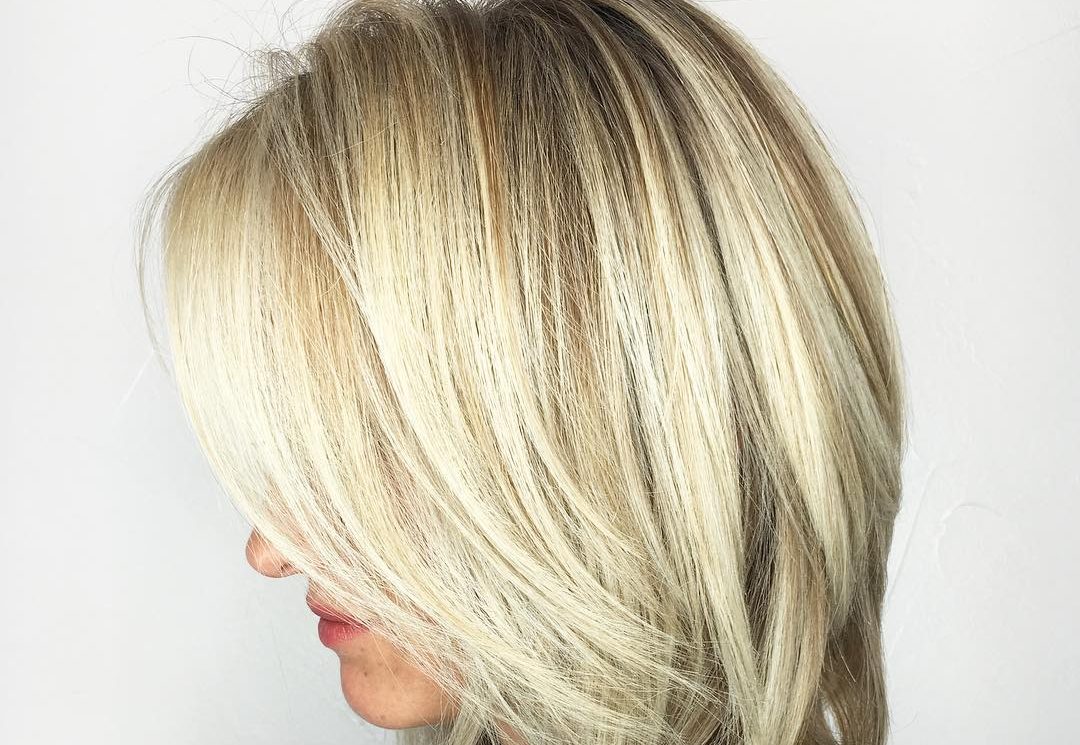 Credit: @headrushdesigns via Instagram
Incorporating a layered bob with highlights is the perfect way to disguise the onset of thinning hair. The assortment of color and texture is the optimal blend for a bob (or lob, if you don't want to go short), as it nicely frames your face.